Thinking About Rotational Mass
Tuning is not only about upping power and shooting for greater performance, it's about refinement too.
One of the nicest upgrades I've ever made to Project GT-R was replacing the slipping stock clutch with something more durable. At the time, ATS had been on the market for a couple of years with its carbon single and multi-plate clutches, and after developing and refining them, it launched a more street-oriented application. Aside from weighing a lot less than comparable performance clutches, these ATS carbon clutches also had the added benefit of a much more natural feeling of slip on engagement, rather than the snap you get with metal plate equivalents. This totally changed the nature of the car; the RB26 felt more rev happy, and the car was a joy to use even in terrible Japanese traffic jams.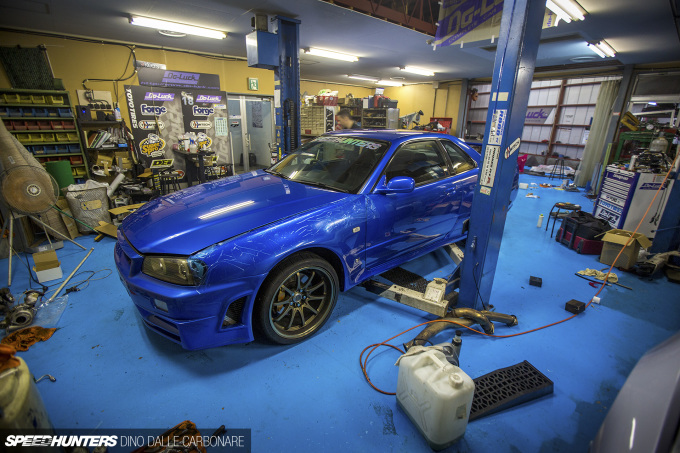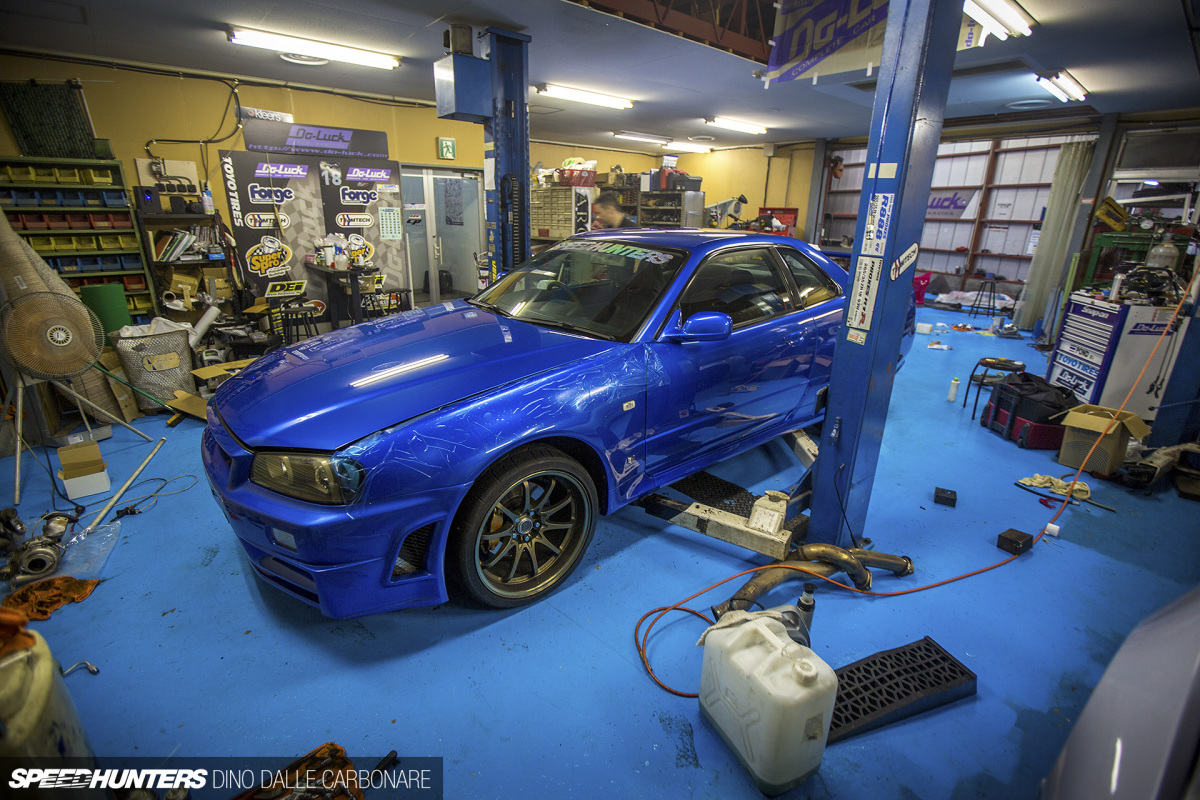 Since then I've been wanting to refine the driveline further, the obvious next step up from a carbon clutch and lightened flywheel being the propellor shaft (driveshaft). Seeing the R35 GT-R come with a carbon fiber component from the factory only made me crave one more, the need to modernise and perfect every aspect of Project GT-R becoming stronger than ever. It was always something I assumed I was going to do when the rest of the car was 'completed' (if ever that happens with a project like this!), so it was put on the back burner.
That was until earlier this year when I got in contact with the guys at The Drive Shaft Shop in North Carolina, following a discussion at Tatsumi PA with a fellow GT-R owner which reignited my interest. They were keen to come on board, and in no time had sent me out one of their lightweight carbon prop-shafts.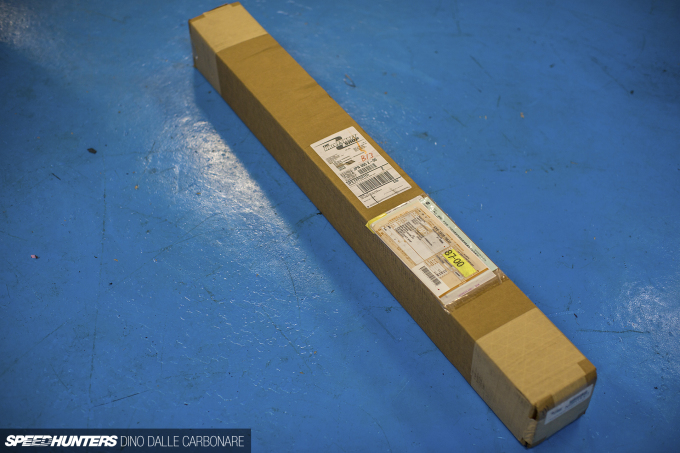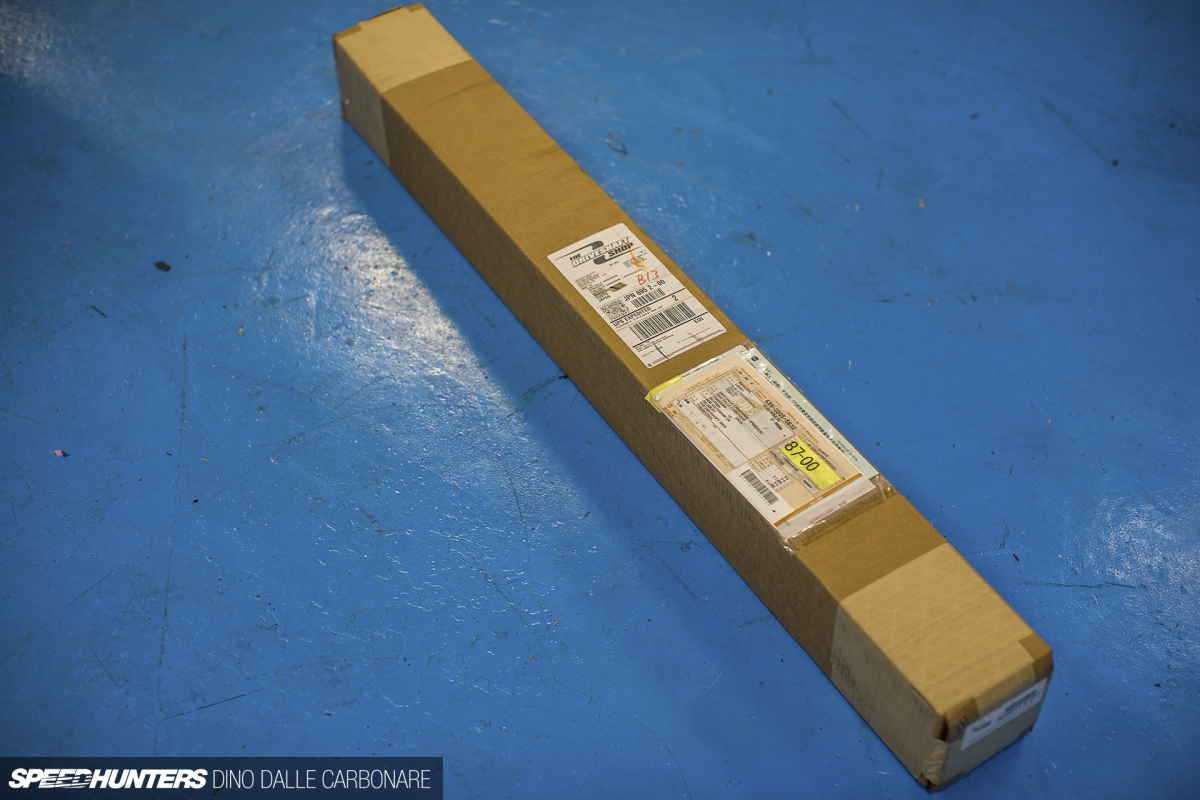 It's always nice receiving boxed-up goodies for your car, and this time around there was no hiding what the long package contained! Like many things that I stock up for Project GT-R, the box ended up sitting in the office for a few months, but the time finally came to fit it up when I dropped the car to Ito-san at Do-Luck for a bunch of work the week prior to R's Meeting.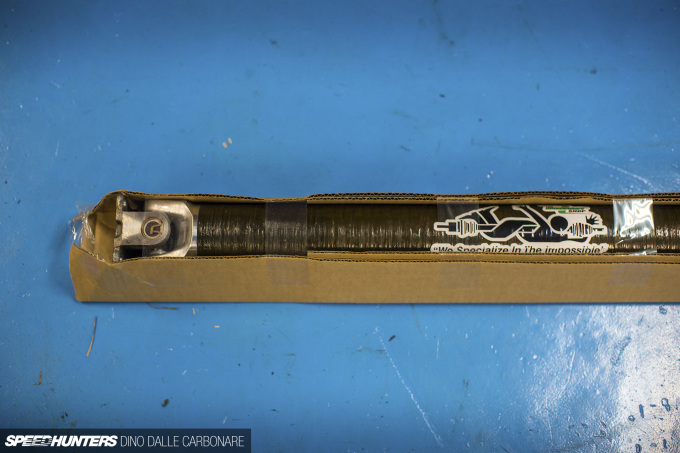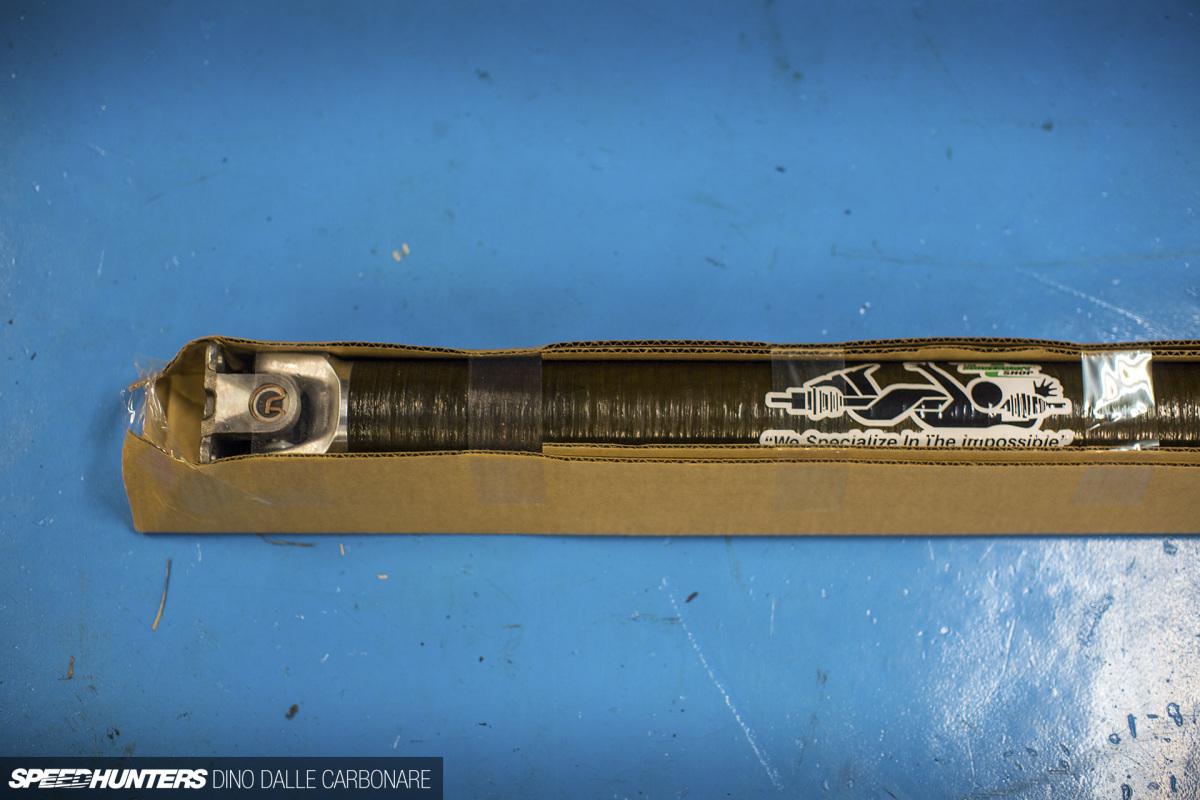 So while Ito-san and his mechanic were busy routing water lines for the new turbo install, I unboxed the carbon shaft and took a closer look at it.
It's easy to see that this shaft is built tough. Despite being considerably lighter than the factory two-piece item, it's rated up to 1200hp, which should do me just fine and dandy. At the rear differential end there's a custom modified High Speed 108mm CV in which the 300M spline slots into.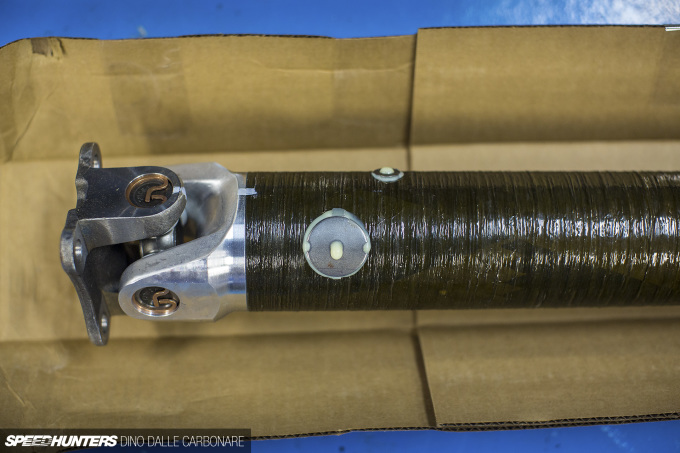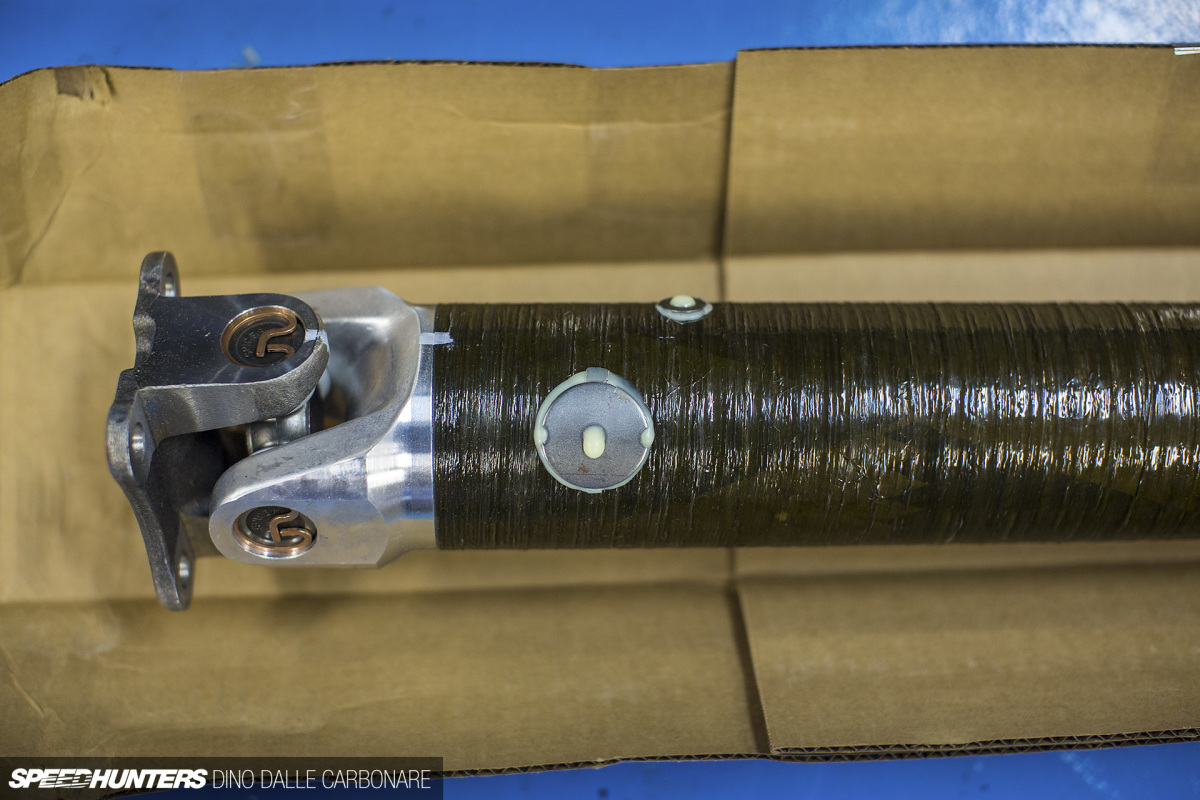 The other end of the prop-shaft has a flange that bolts right up to the transmission. Each and every shaft from The Drive Shaft Shop is balanced to ensure there are no nasty vibrations or harmonics, and you can see the one sent over to me had couple of metal weights glued in place for this very reason.
The Weight Comparison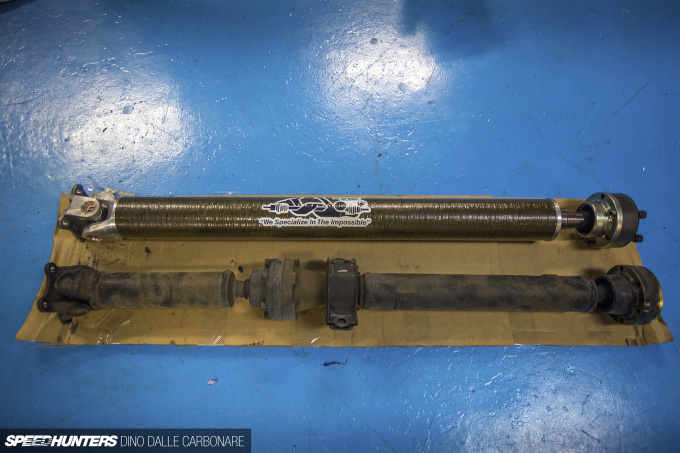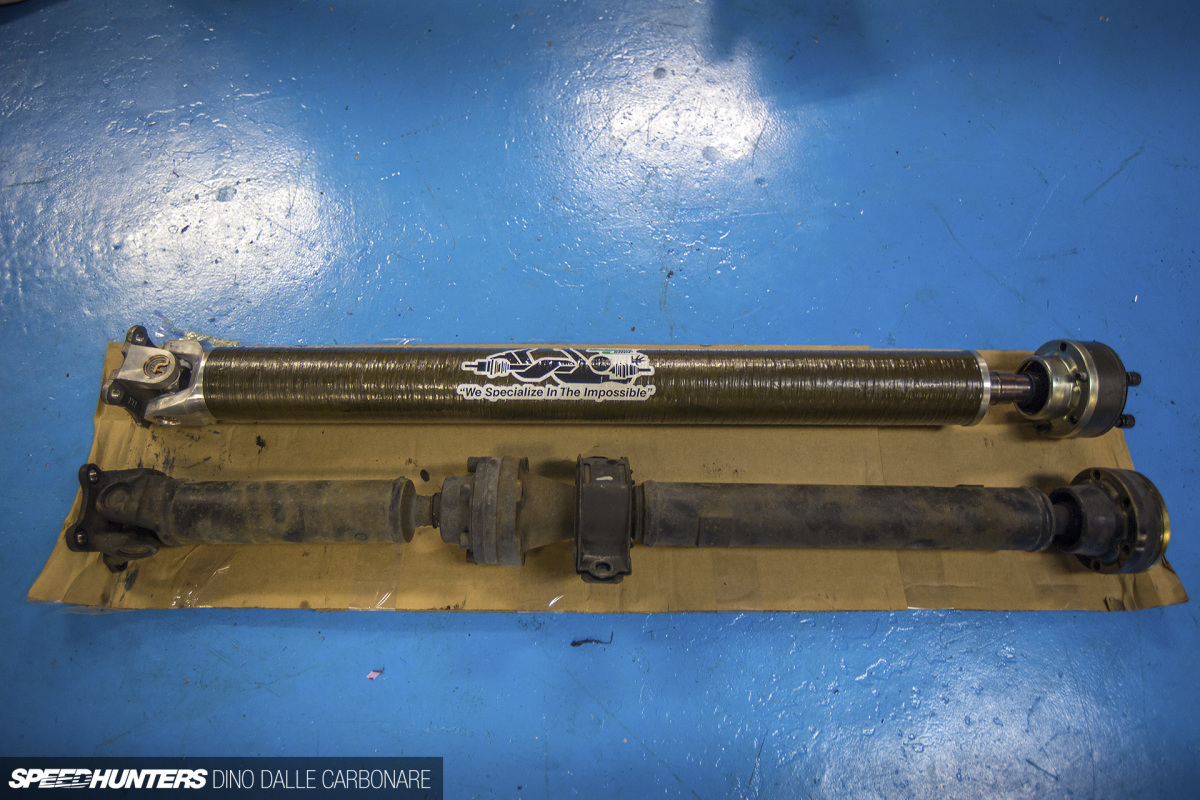 After dropping the stock two-piece driveshaft out of Project GT-R, a direct comparison was needed. Lining them up alongside each other, the simplicity of the single piece, carbon constructed shaft became obvious.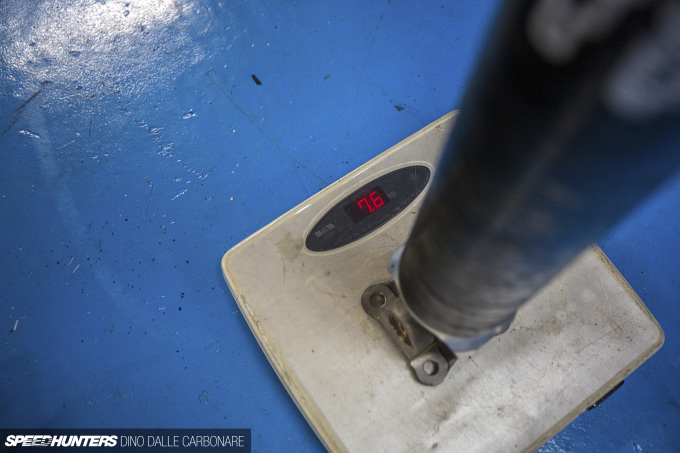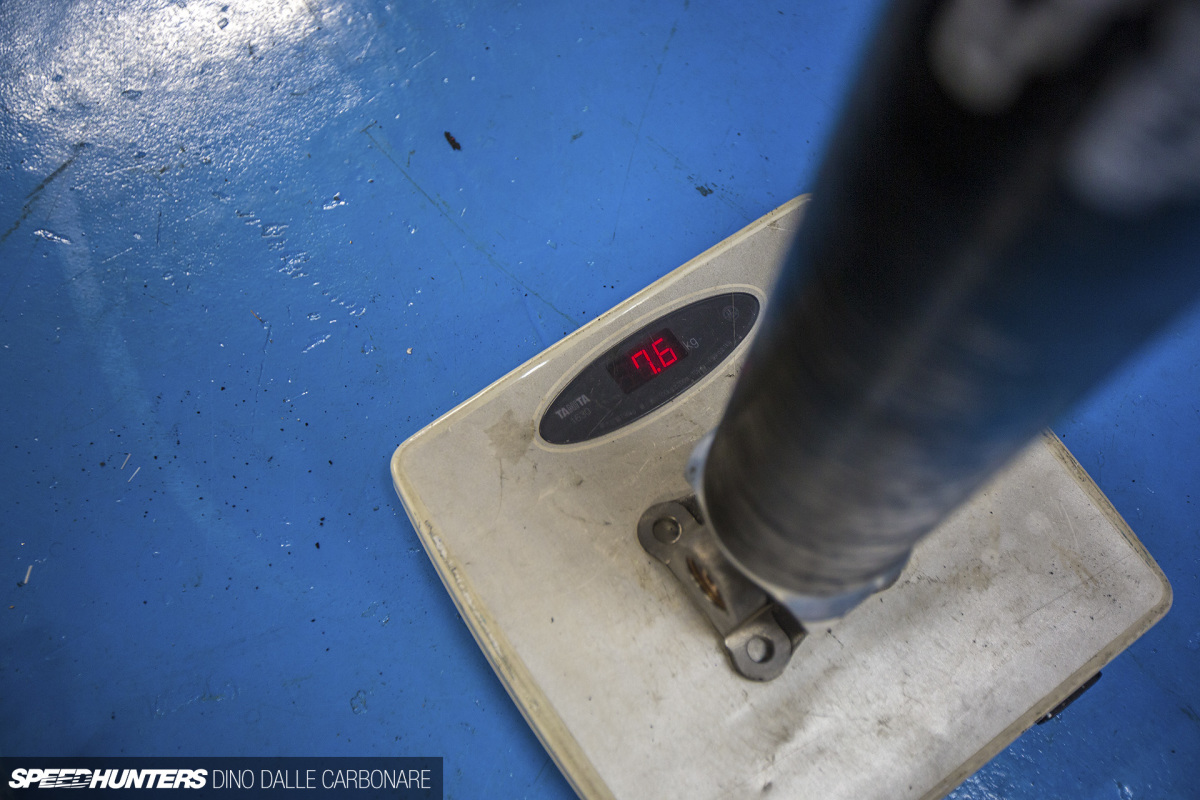 Luckily, Ito-san had a digital scale handy, so I stood The Drive Shaft Shop shaft on it, revealing of weight of just 7.6kg (16.7lb).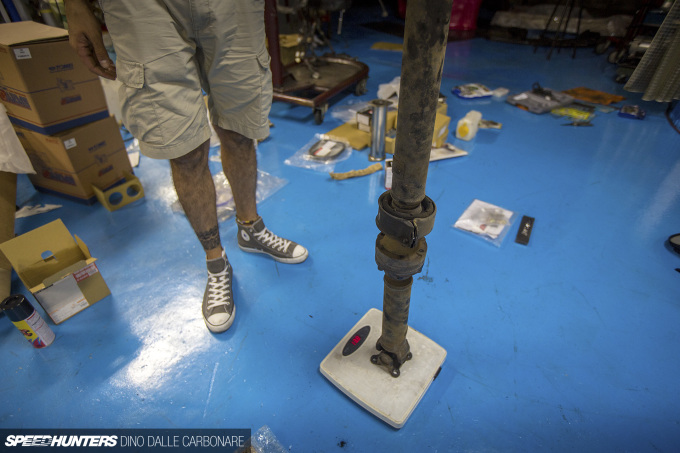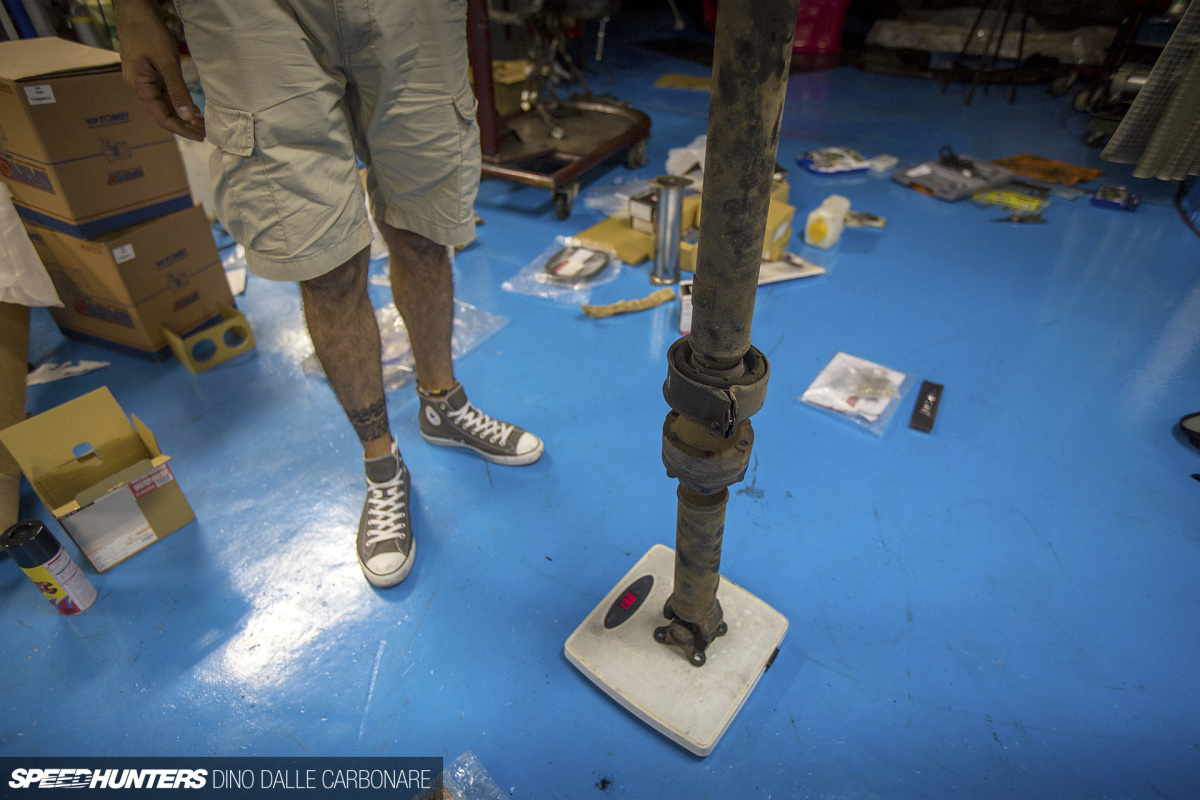 Doing the same with the two-piece stock item proved a little trickier, so I pulled Ennio away from his ECU prepping duties and had him balance it on top of the scale.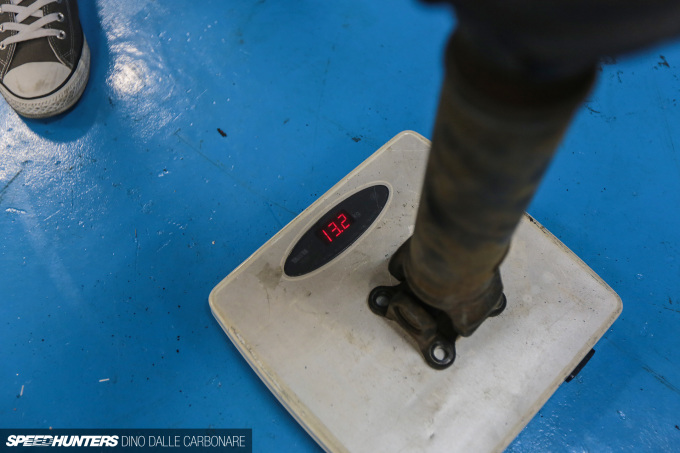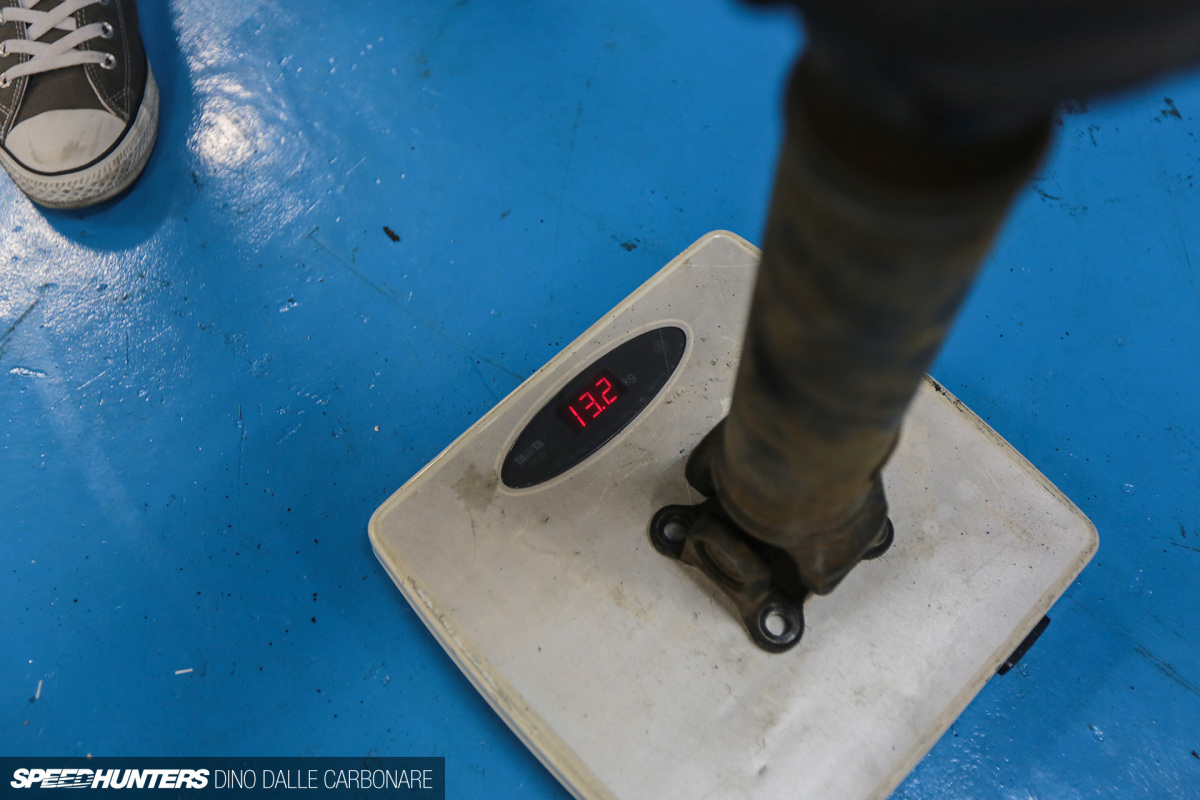 The result this time was 13.2kg (29.1lb). This makes the carbon one 5.6kg (12.3lb) lighter, which is quite a drop in mass off the driveline.
Adapting & Fitting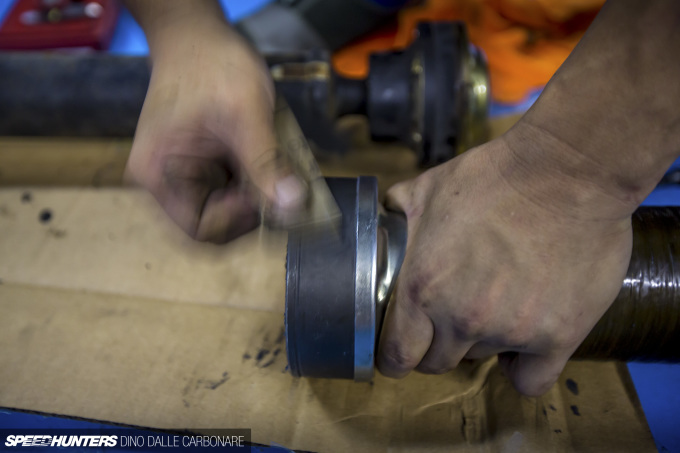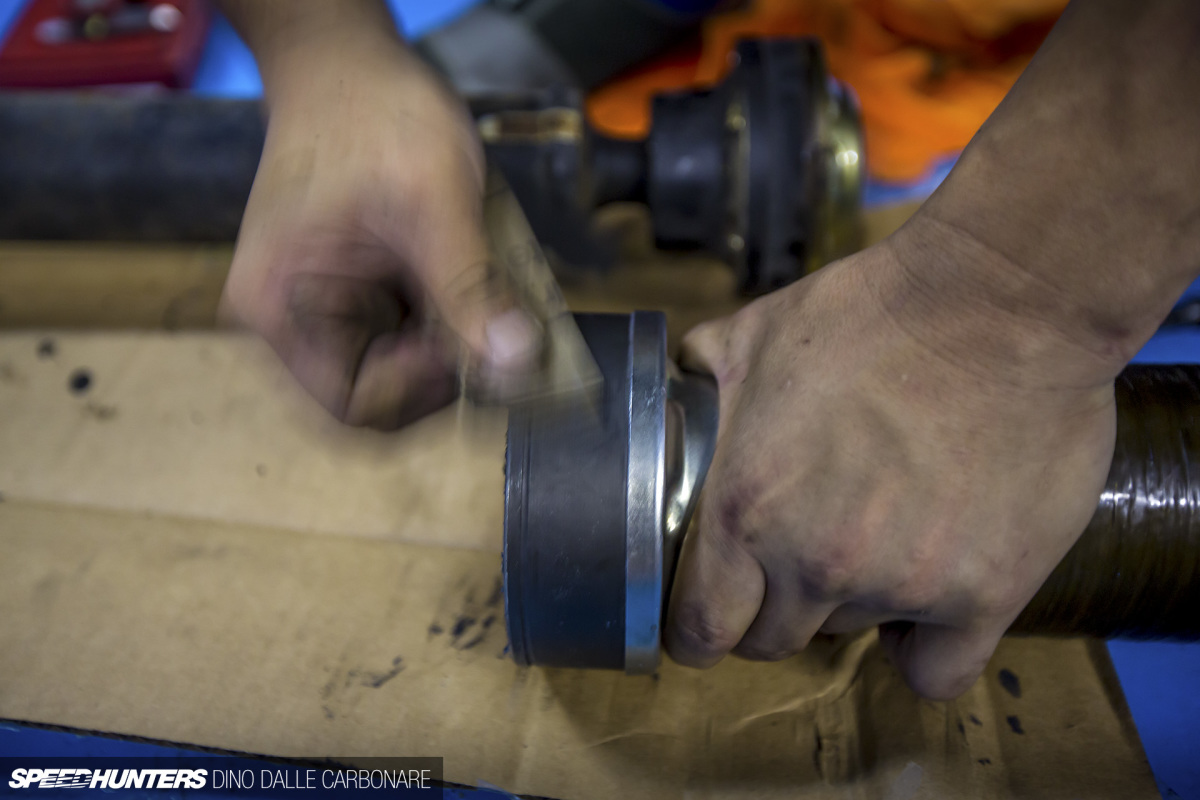 After the first test fit, Ito-san realised that there were a couple of issues. First up, the whole assembly seemed to be a couple of millimeters too short, which meant he had to make use of the longitudinal play in the CV/spline and pull it to get it to fit properly. That wasn't going to be too much of an issue, but upon checking again it turned out the CV joint itself was a few millimetres too big, and wouldn't fit into the receiving end of the diff mount. Ito-san said this happens at times and tried to sand it down a little.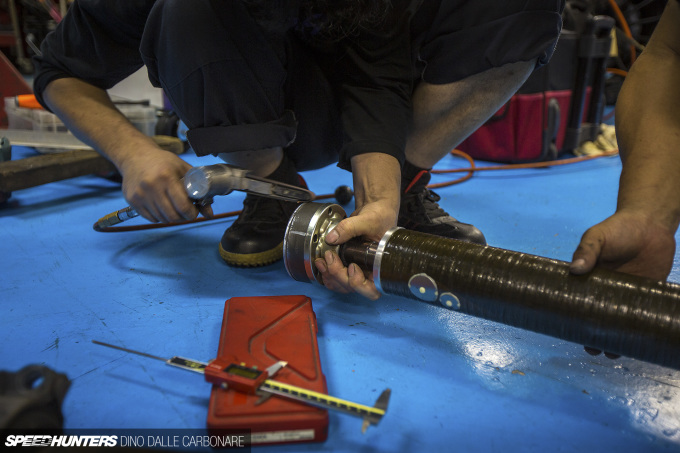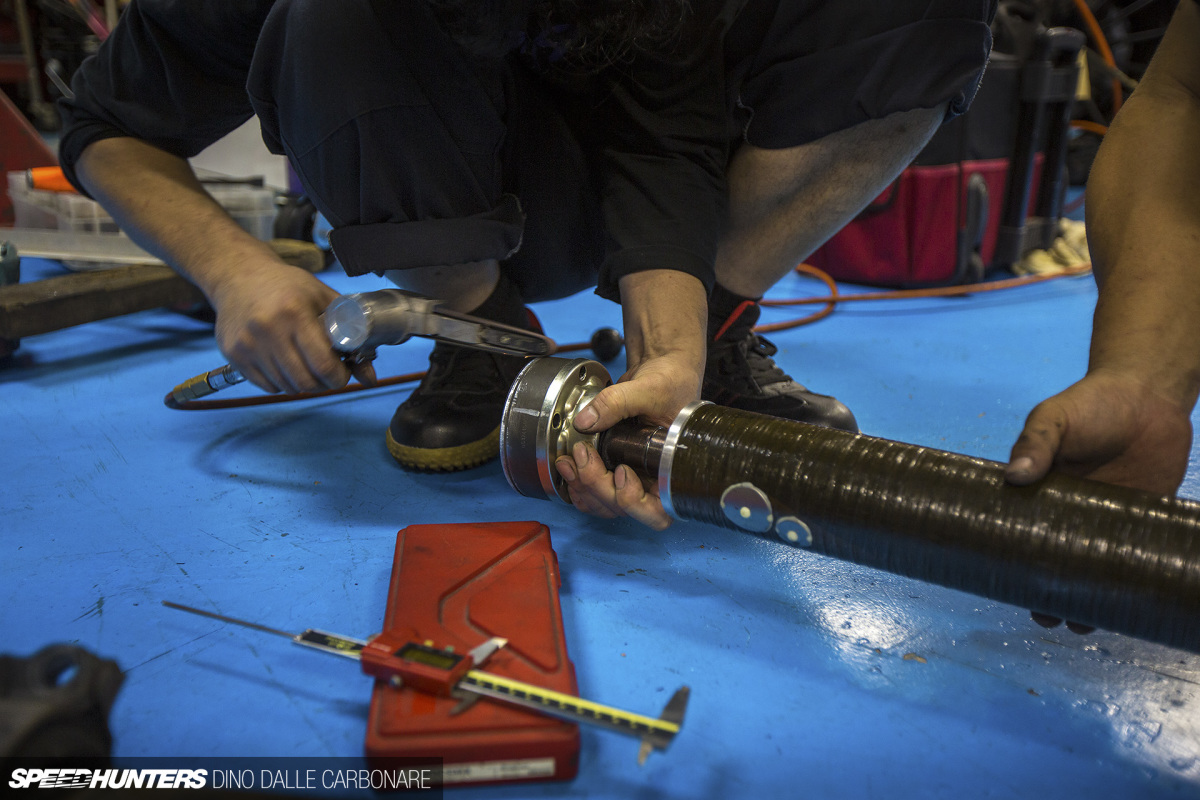 That didn't remove as much as was required, so Ito's mechanic, who's quite handy with a belt sander, took off just what was needed.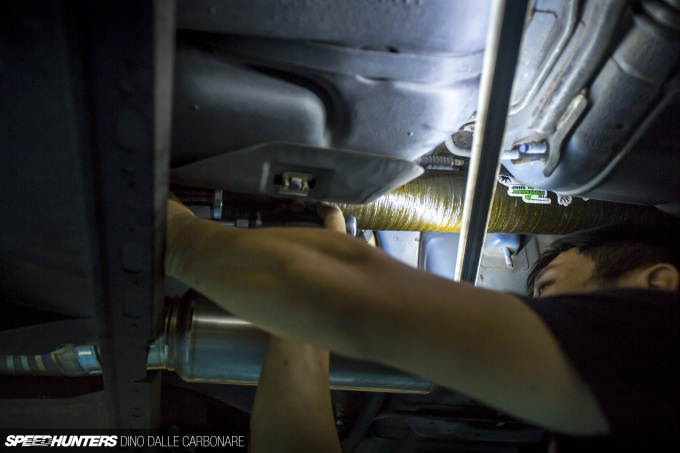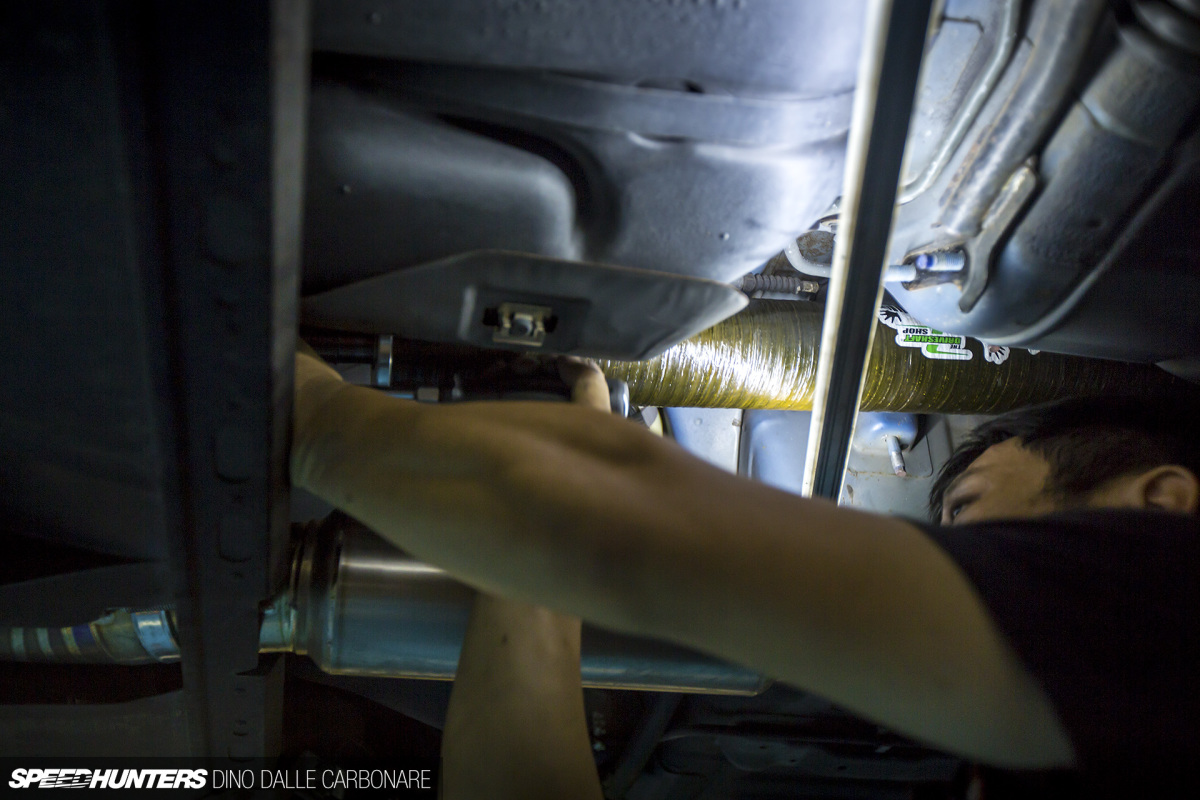 A second quick test fit and all was fine so the bolts were added and everything was tightened up.
So what is the effect of an upgrade like this? Well, as you can imagine, 5kg removed from the rotational mass can be felt instantly. When driving the car around, the driveline reacts much faster when you get on the throttle so the response is greatly improved. There is no more hanger bearing there to sap such feel from the driveline as there was previously with the stock item. But the most pleasing thing is zero harshness or driveline shunt when accelerating and backing off the throttle, like in stop and go traffic. It all runs smooth and I'm more than pleased with it.
With the car running on stock injectors and not quite finished yet I could only push it so much, so I will have to explore this further the next time I have the chance to drive Project GT-R hard. It is, however, one nice small step towards a more modern and higher performing BNR34 GT-R.
Dino Dalle Carbonare
Instagram: speedhunters_dino
dino@speedhunters.com