Self Therapy
Beep! Beep! Beep! Beep! For six days of the week, my morning alarm is the most dreaded sound I'll hear all day. It marks the start of the grind. It forces me out of my warm and extremely comfortable bed. On a Sunday morning however that annoying tune is music to my ears. Okay, so I'm exaggerating a bit; I don't enjoy leaving the comfort of a warm bed, but I do enjoy mixing the aroma of an espresso coffee with petrol fumes and some amazing scenery.
While everyone else is making the most of their Sunday morning sleep in, I'm taking advantage of the empty roads. I can cruise stress-free on roads that are usually slow and infuriating. The size of your city shrinks in the early hours of the morning.
On this particular morning I was making the epic trek from compass point to compass point across Sydney in my Lancer Evolution. See, I live near at the foot of the Blue Mountains, there are literally a dozen houses that stand between me and the literal edge of Sydney. My destination this morning was Palm Beach, which is as far north of Sydney that you can travel without a boat or hovercraft.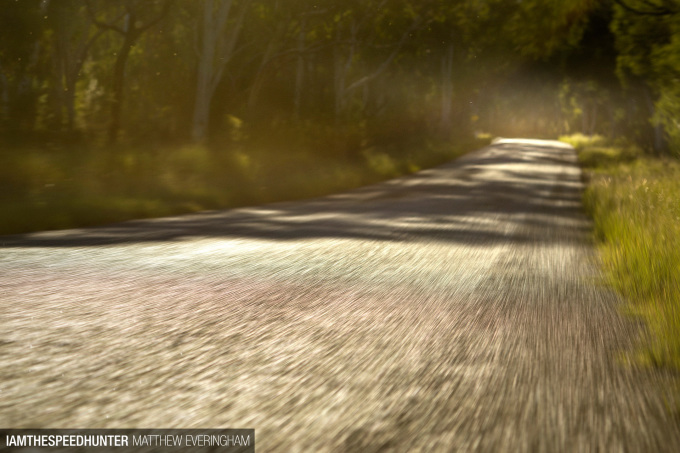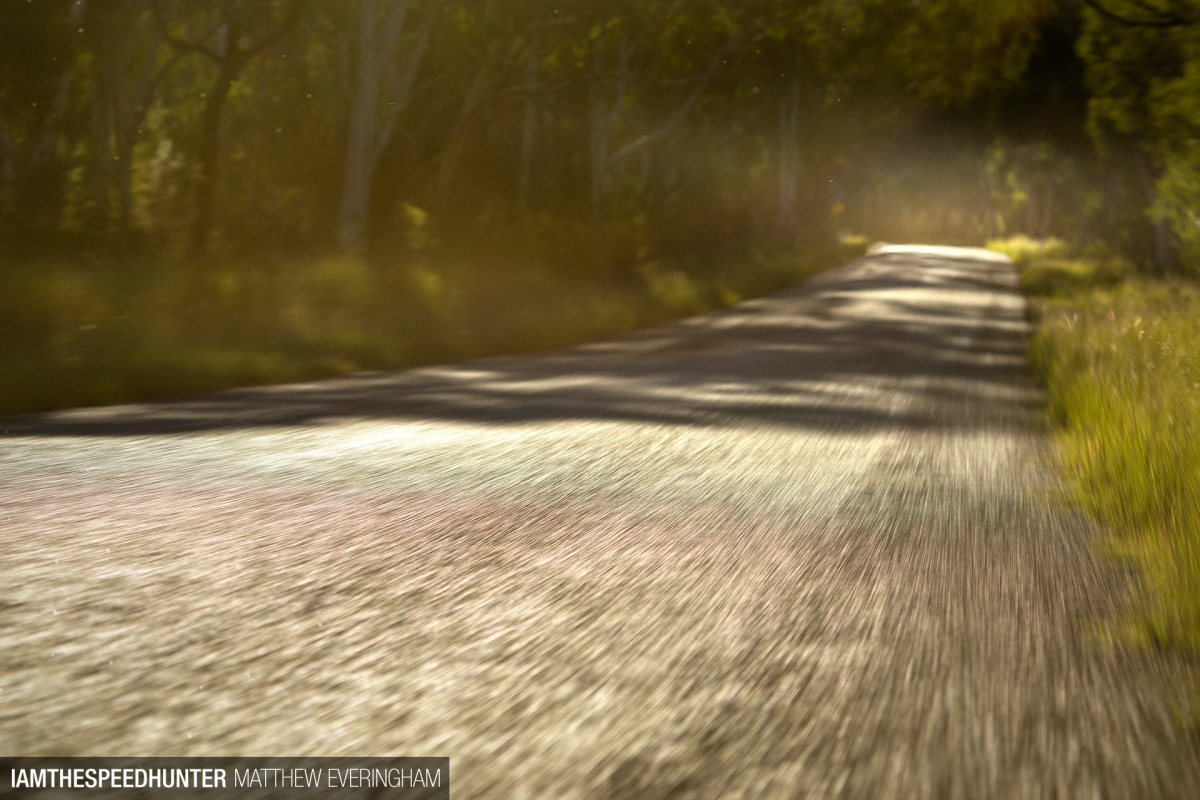 What would normally be a stressful two and half hour marathon is a fun, relaxing cruise darting between rural and city areas. Being one of only few cars on the road I make the trip in under an hour and a half in the Evo. That's even with a couple of detours along some 'recreational' roads.
Having none of the usual distractions of the daily grind I am able to appreciate the scenery a lot more. I take my neighbourhood for granted, but Greater Sydney is home to some truly amazing spots. I'll try to document and share some more of these locations with the Speedhunter family as we get more acquainted.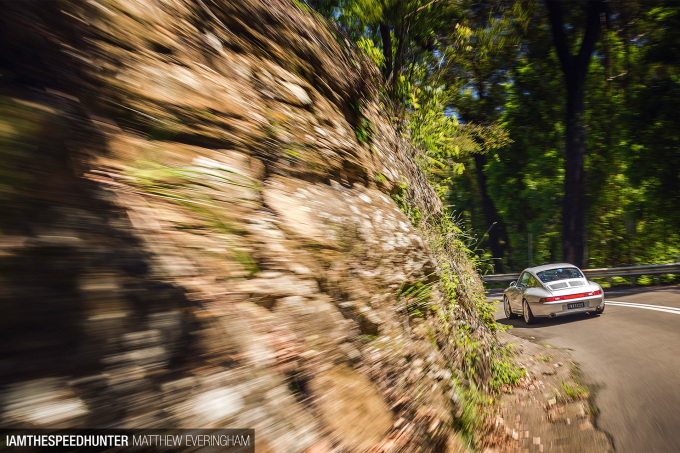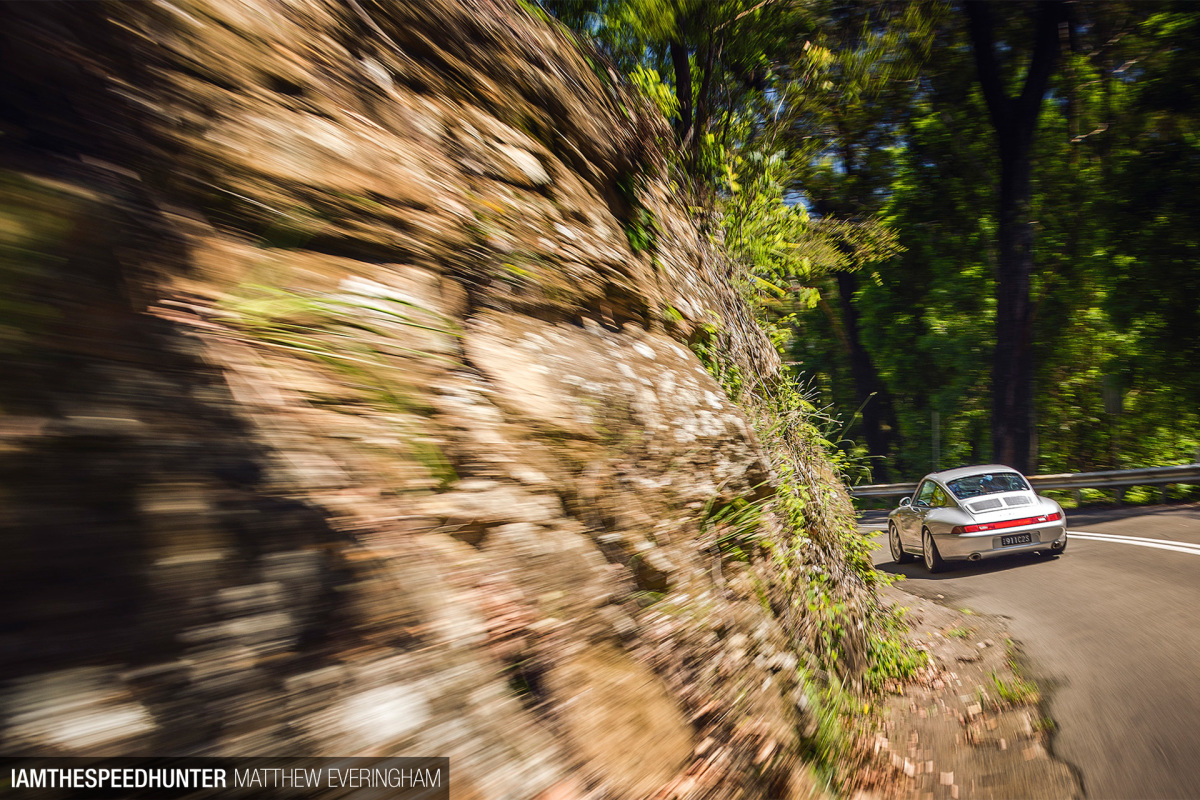 I wasn't the only one taking advantage of the fresh air and empty roads though. In every corner of Sydney, Porsche fans were on the road for their own weekly therapeutic drive. They were answering the call put out by the guys at Autohaus Hamilton, one of Australia's premiere Porsche workshops.
The premise for the event was super simple: great coffee, delicious breakfast, many Porsches. It was a great excuse to hit the road early, catch up with old friends and maybe meet a few new faces.
I sipped coffee, listened to some tunes and my engine roar on occasion. Yep, Sunday morning drives are therapy. By the time I arrived at the beautiful Palm Beach I was a new man. The previous week's worries had melted away and I felt reborn. I was calm, I was centered, I was relaxed, and I was ready to see what Sydney's Porsche community had to offer.
Surf. Sand. Porsches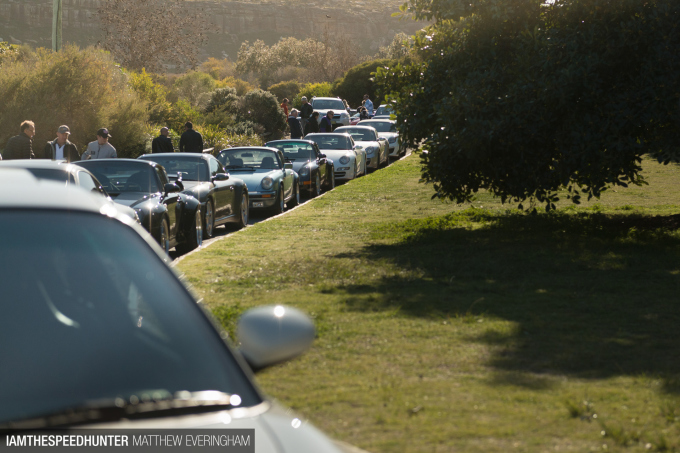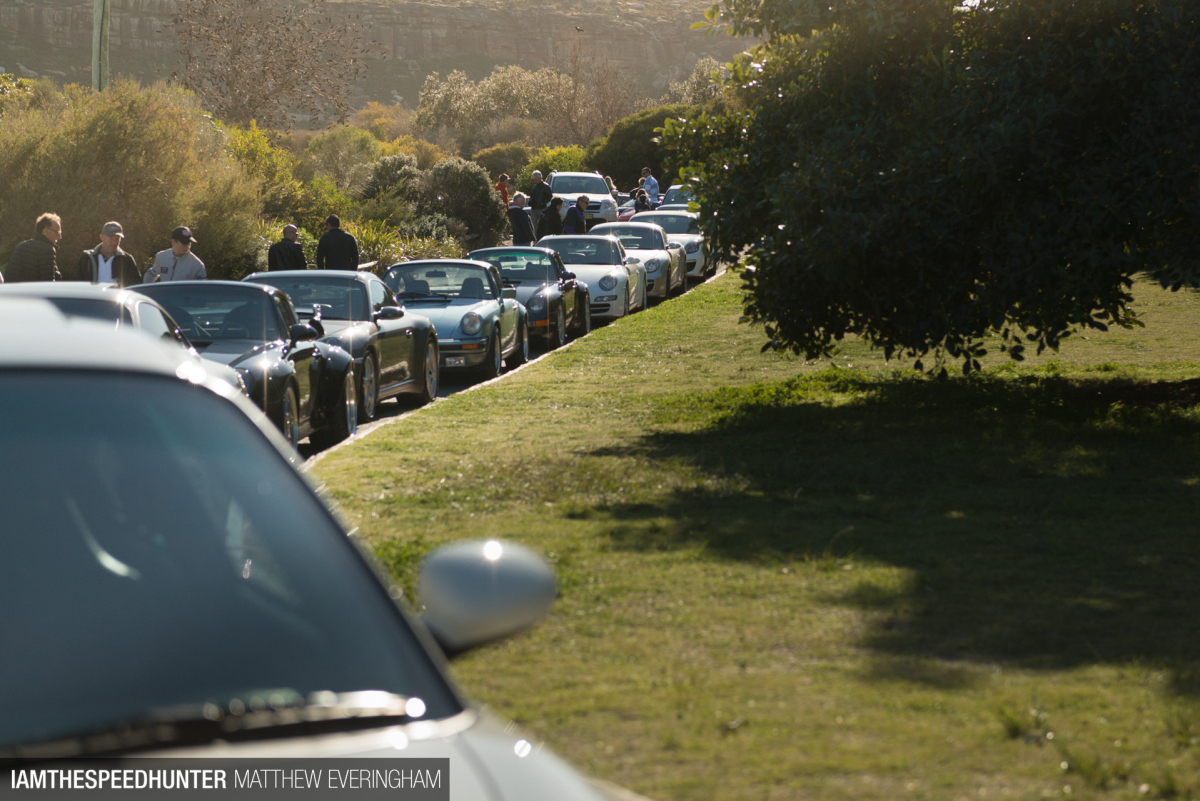 Last month, a similar event was held in Melbourne, Sydney's sister city and friendly adversary. Almost 100 Melbournians got together, and while that might sound small in scale compared to numbers in Japan and the States, it's an impressive turn out down here. Today's main mission, apart from having a good time, was to eclipse those numbers. It was possible, Autohaus Hamilton is pretty well connected and respected in the scene.
Through word of mouth, social channels and club connections, the team managed to rally all of the various communities and individuals alike. If you owned a Porsche or loved a Porsche you were here.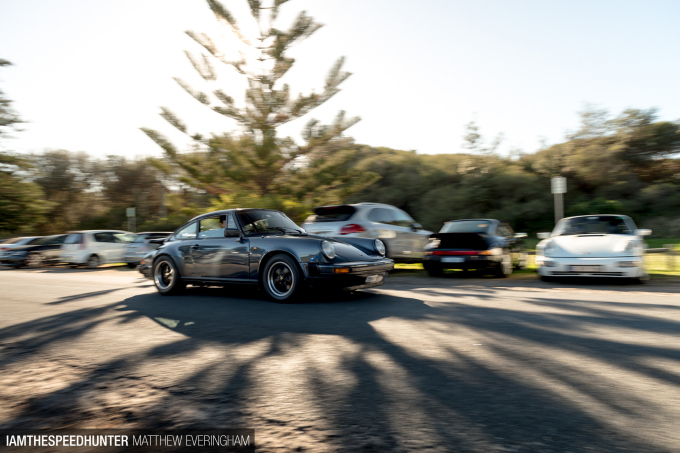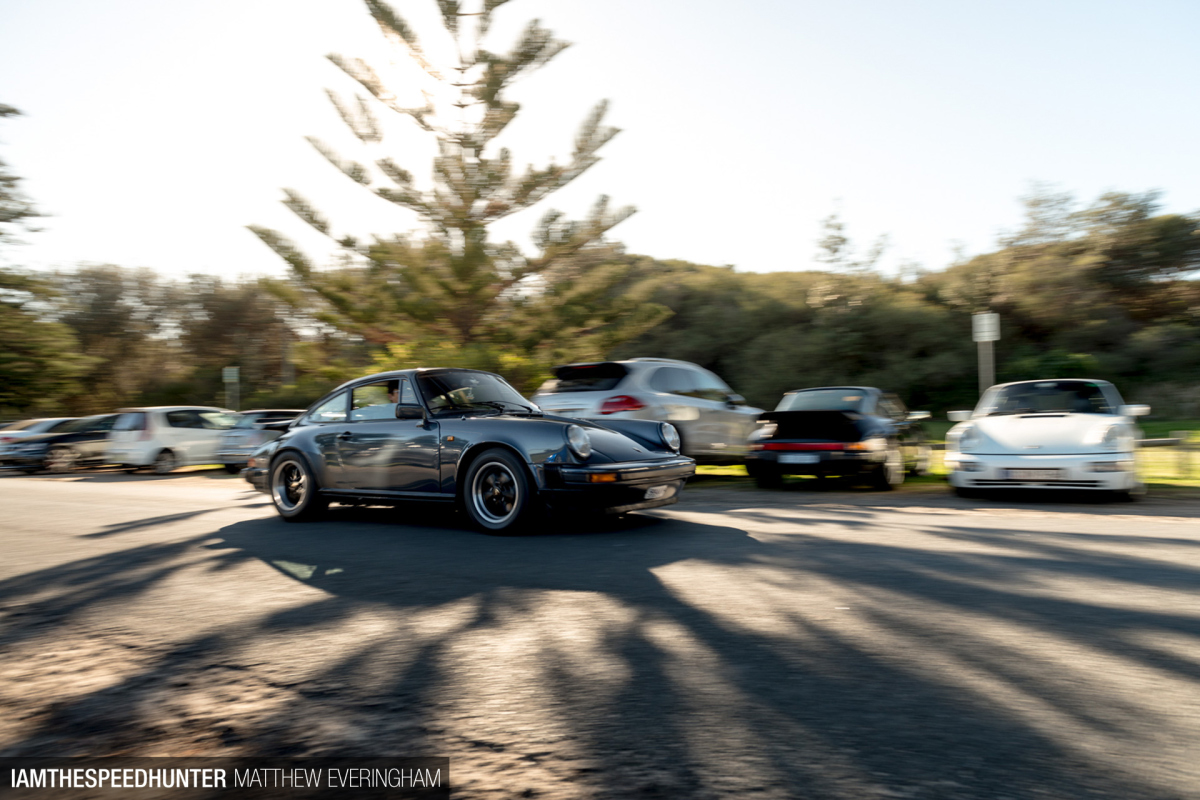 The event was originally scheduled for a smaller, more secluded spot in one of the National Parks, but due to the overwhelming number of Porsche punters showing interest a new location had to be found, and fast. On the day before the event a last minute notification was sent around the communities advising that we'd be meeting at Palm Beach.
While the larger venue lacks a level of intimacy, it makes up for it with breathtaking views. The cold snap that had gripped Sydney seemed to be on hold for the day. The lack of clouds and warmer winds really made our destination shine.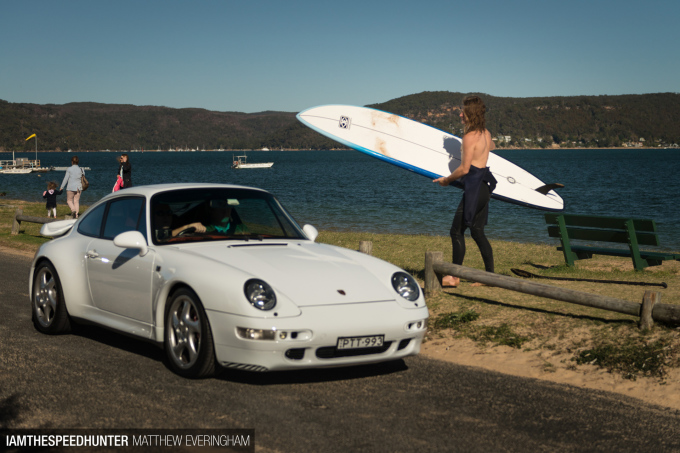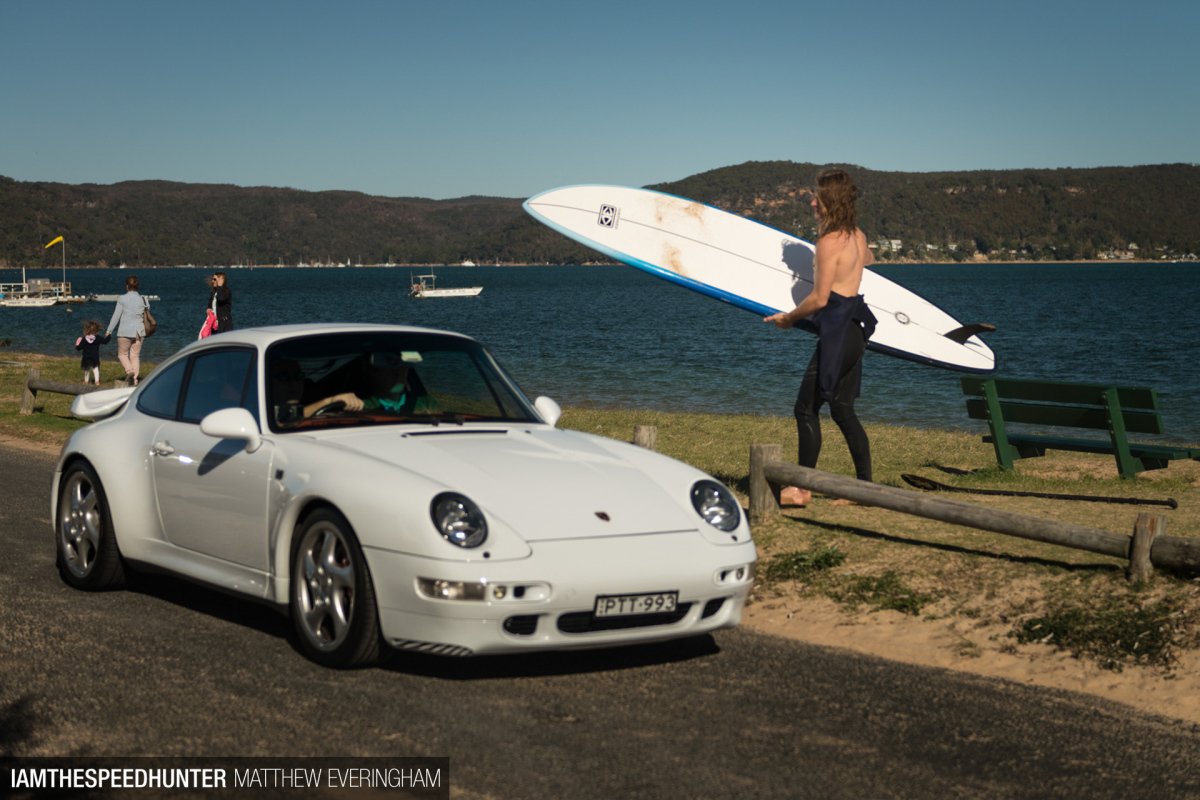 We had sun, sand, coffee and cars. What more could one ask for?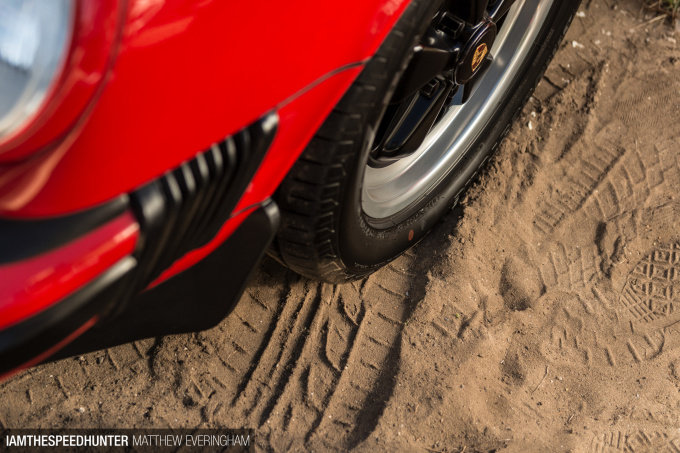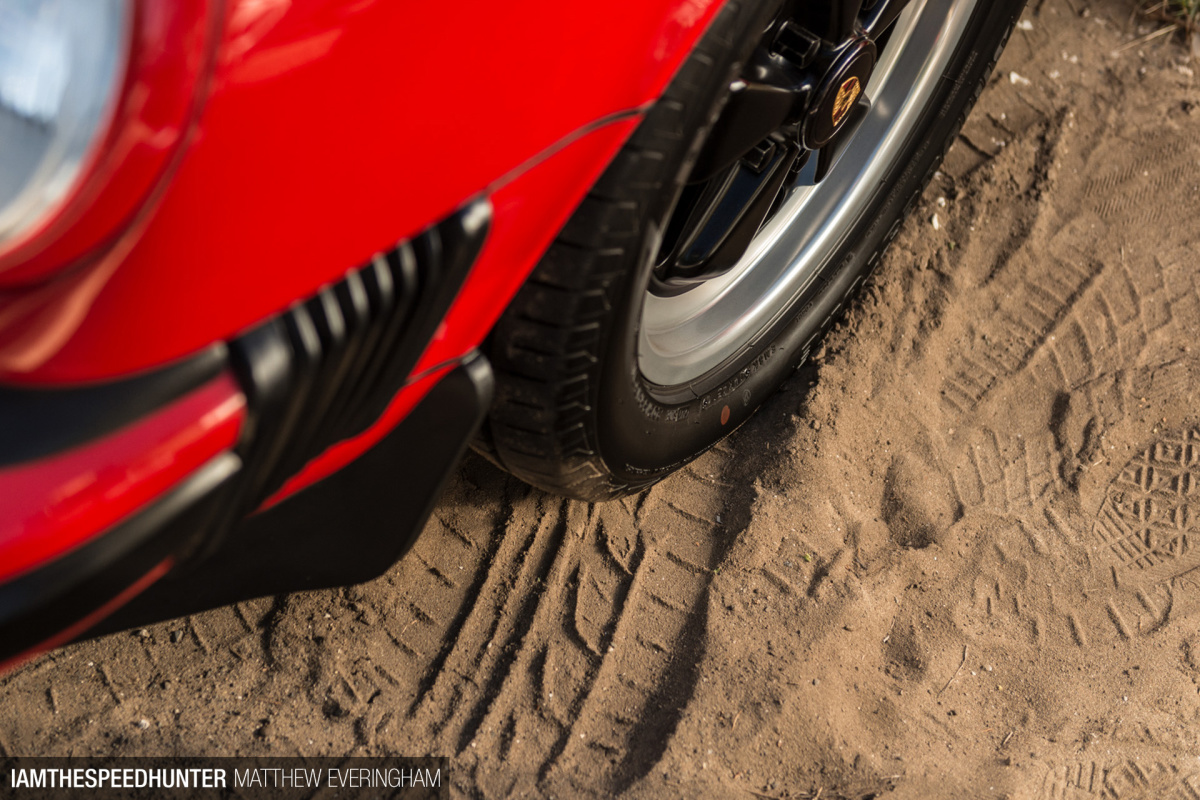 The entire Porsche history was represented. Old, new and plenty of everything in between were making the most of the temporary sun.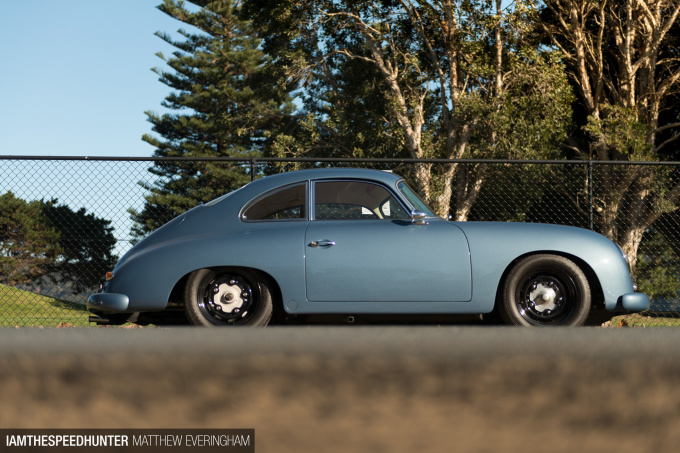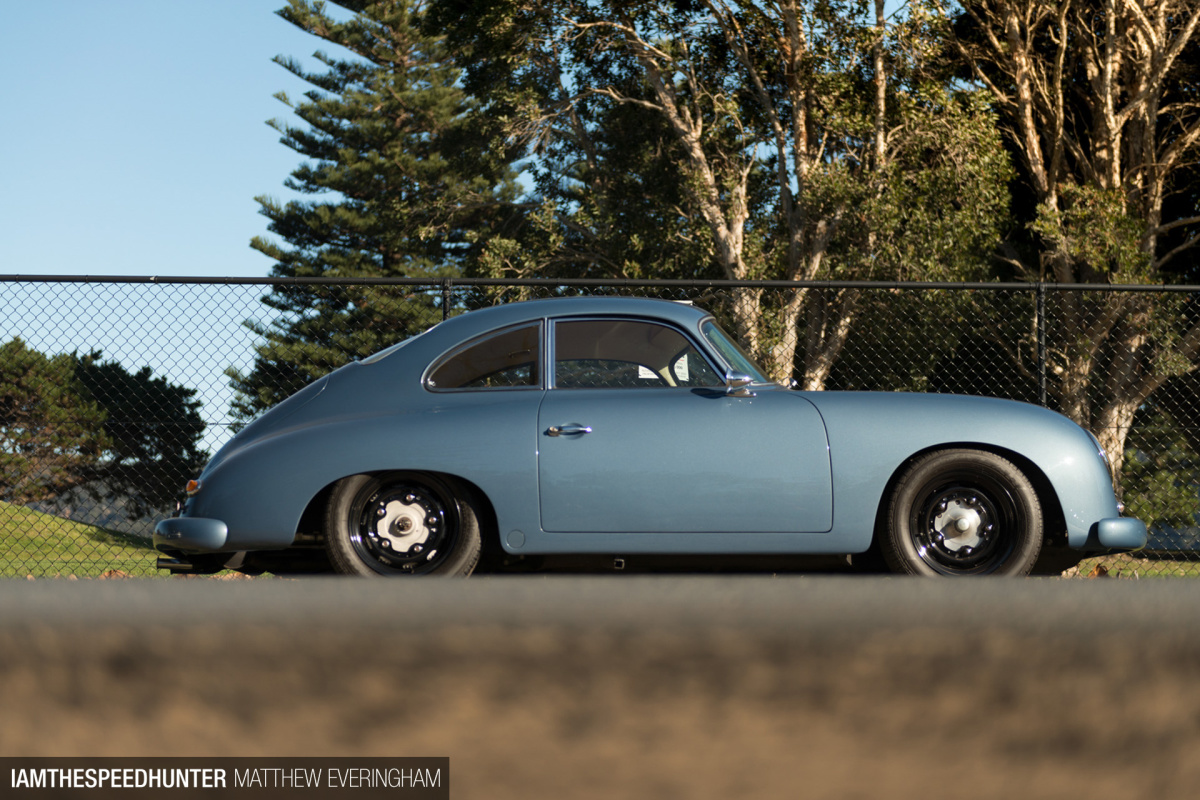 Standing out from the brightly coloured crowd was this beautifully restored 356. I love the simplicity of its amazing lines; it's so humble and pure. I wonder if the design team knew they'd created the framework of everything to follow?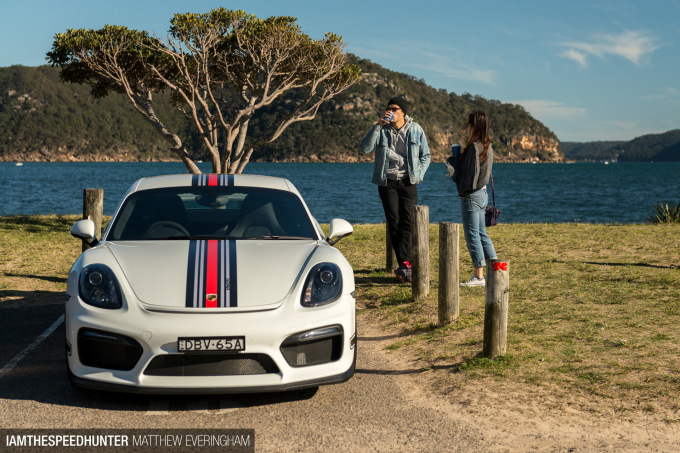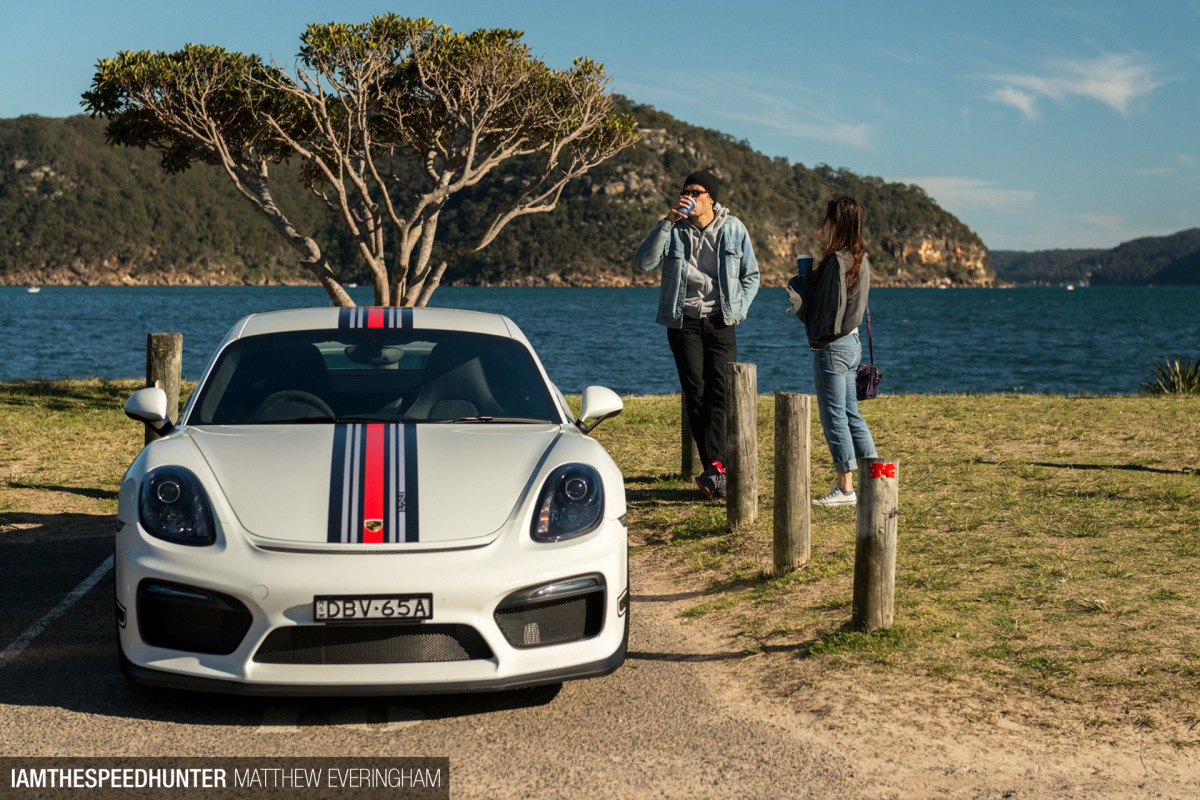 All hands were on deck, including the super-fresh Cayman GT4. To be honest, I kind of just dismissed the first Cayman series when released. It was a few years later when I was forced to spend some time with a Cayman S that I understood what the car truly is and appreciated it. Fortunately, if you've had your head buried in sand as I had and haven't yet had the opportunity to get up close and personal, the new Cayman GT4 provides some clarity by screaming out loudly exactly the new range is capable of being more than just 'not a 911'.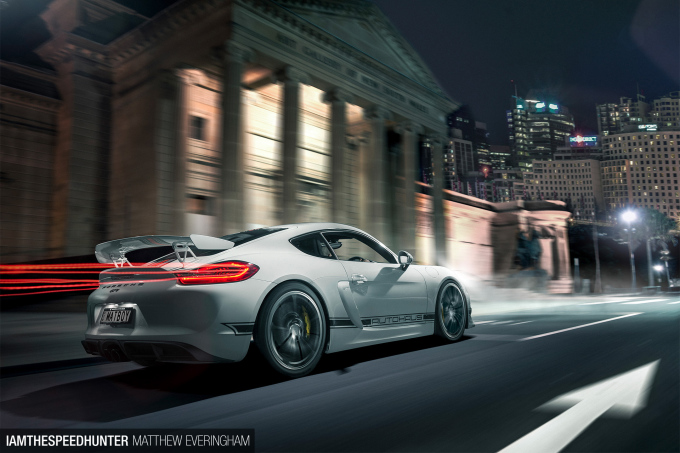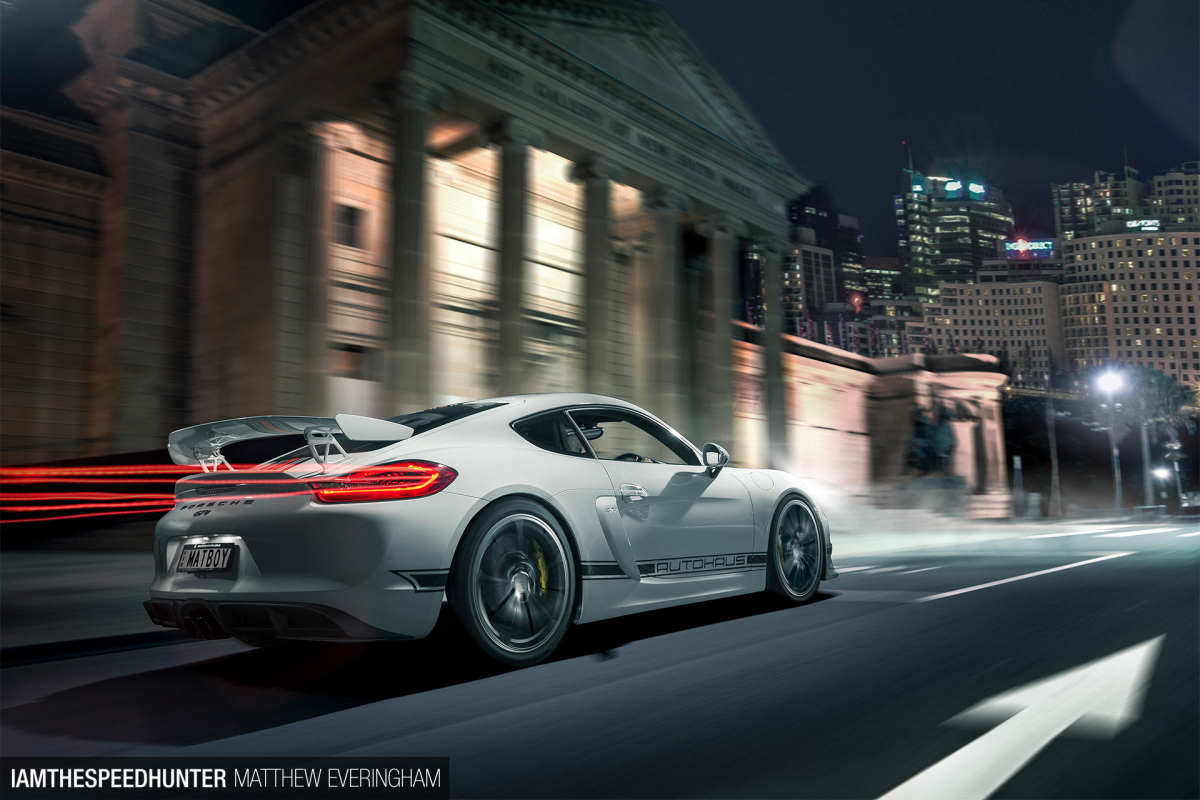 This isn't the first time I've spent some time with Autohaus Hamilton's GT4. A couple of months ago, myself, Sergio from AH and a couple of friends spent an entire night in the city cruising around and taking some snaps to celebrate the new acquisition. This was my favourite image from the night.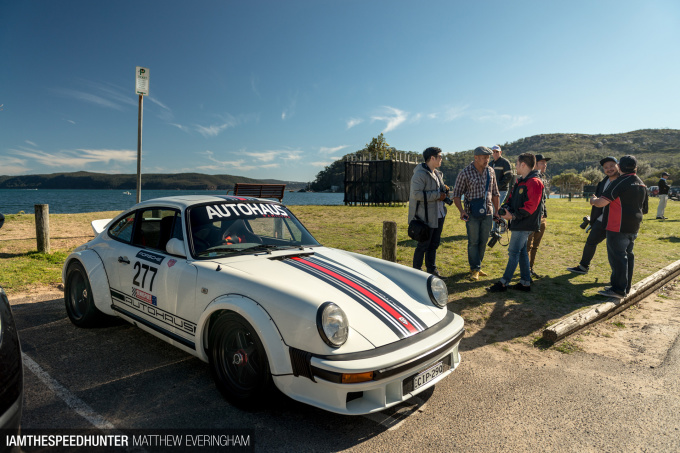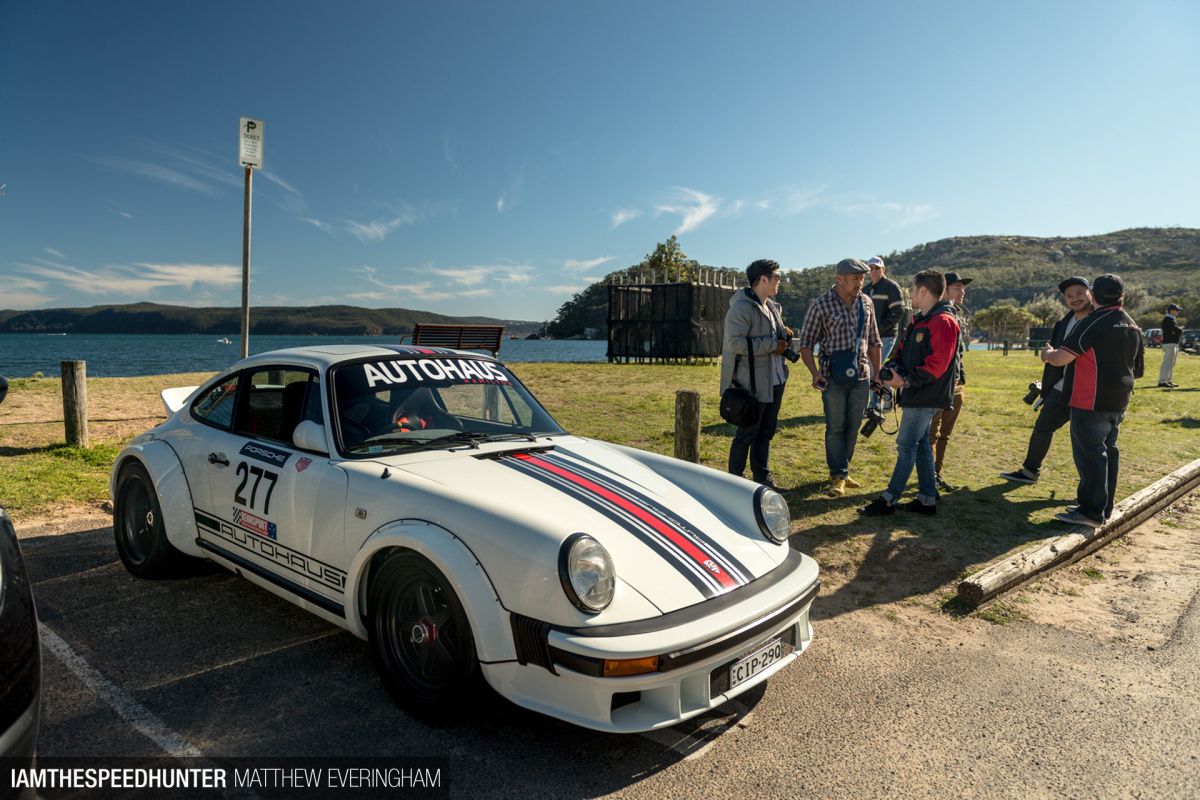 As cool as it is though, it's got nothing on the 911 Group 4 built by the same team. It's heavily inspired by the insane rally machines produced in the late '70s and early '80s, you know, back before things like safety and common sense interfered with how far both machine and drivers would be pushed to be number one. It was both a golden age and dark age for motoring. The cars of this era are something else. Completely wild!
To prevent the car from being a garage queen, the owner of the Group 4 left some of the brutality of the Group 4 build in the workshop. Don't get me wrong, it's still got plenty of brute strength and is set up to steer quickly when given the opportunity, it's just been tweaked to deliver a slightly gentler, more drivable experience in day-to-day conditions.
This particular build sports the full Group 4 external trim and spoilers. It's powered by a blueprinted and tuned 3.4-litre engine that runs through a fully rebuilt G50 gearbox. Magnus Walker himself took 'ownership' of it during his recent visit to Australia for the Rennsport Festival.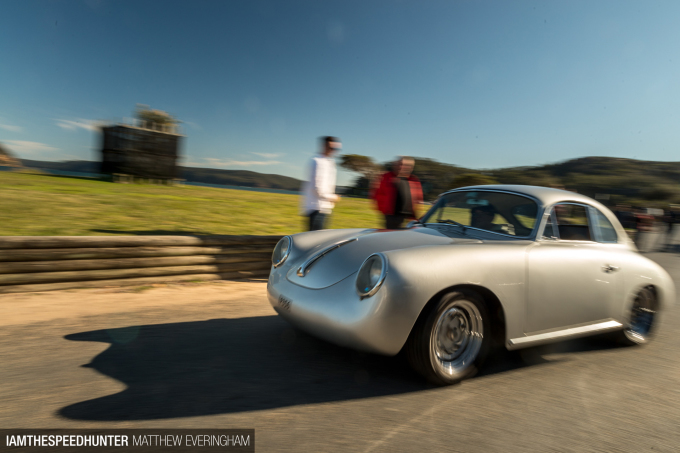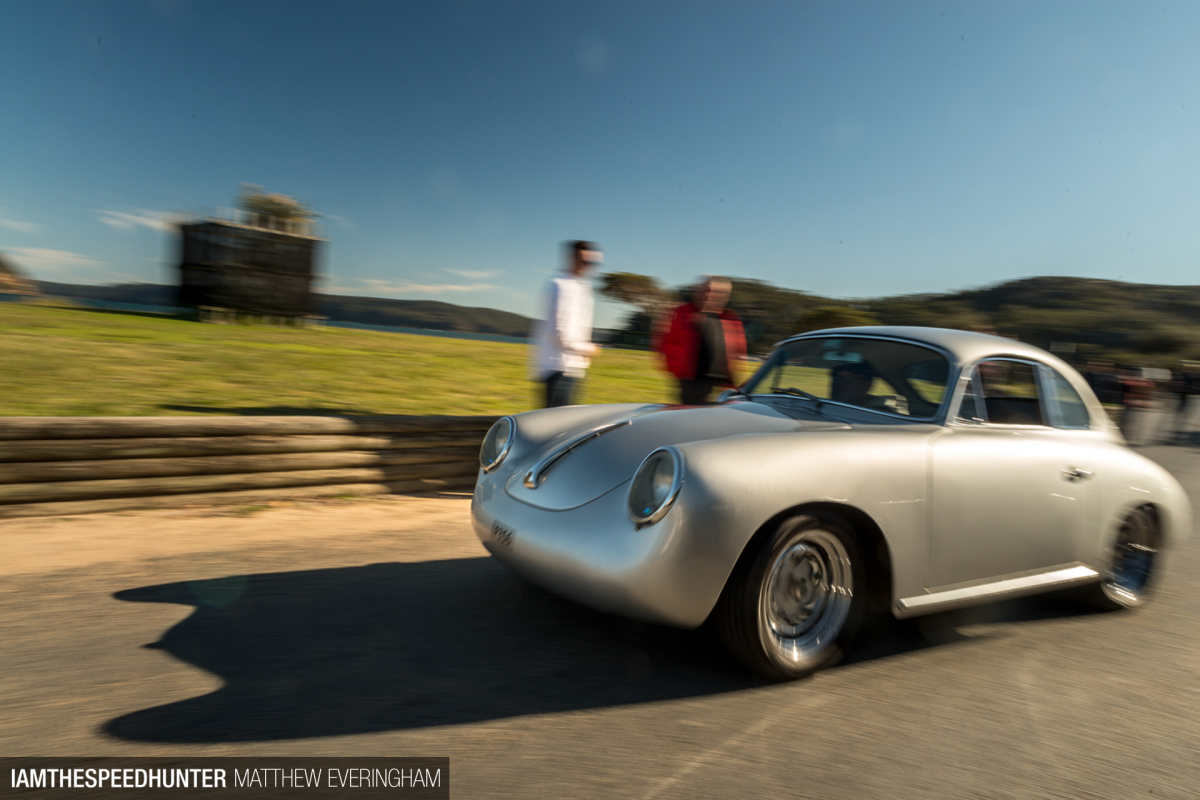 Now let's get to the best part – it's time to share some of the rides I felt stood out from the crowd, which was a really difficult task considering the company.
One of my favourite pieces of machinery was this 356 with shaved and smoothed bumpers. The shape of the car flowed uninterrupted as it cruised through the park. Upon a closer inspection, the workmanship was immaculate and well executed; it almost looked factory.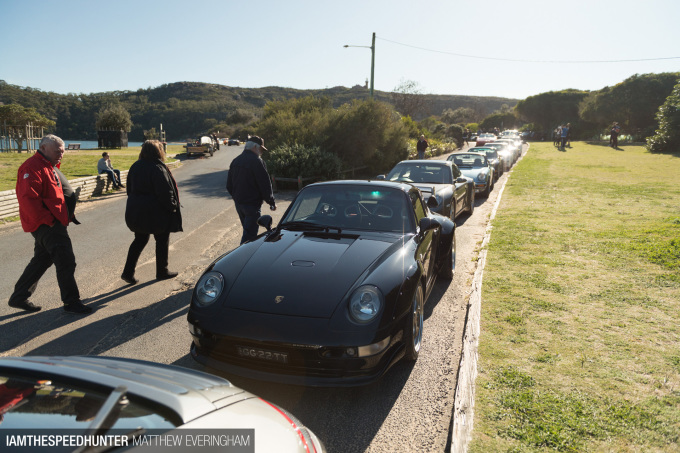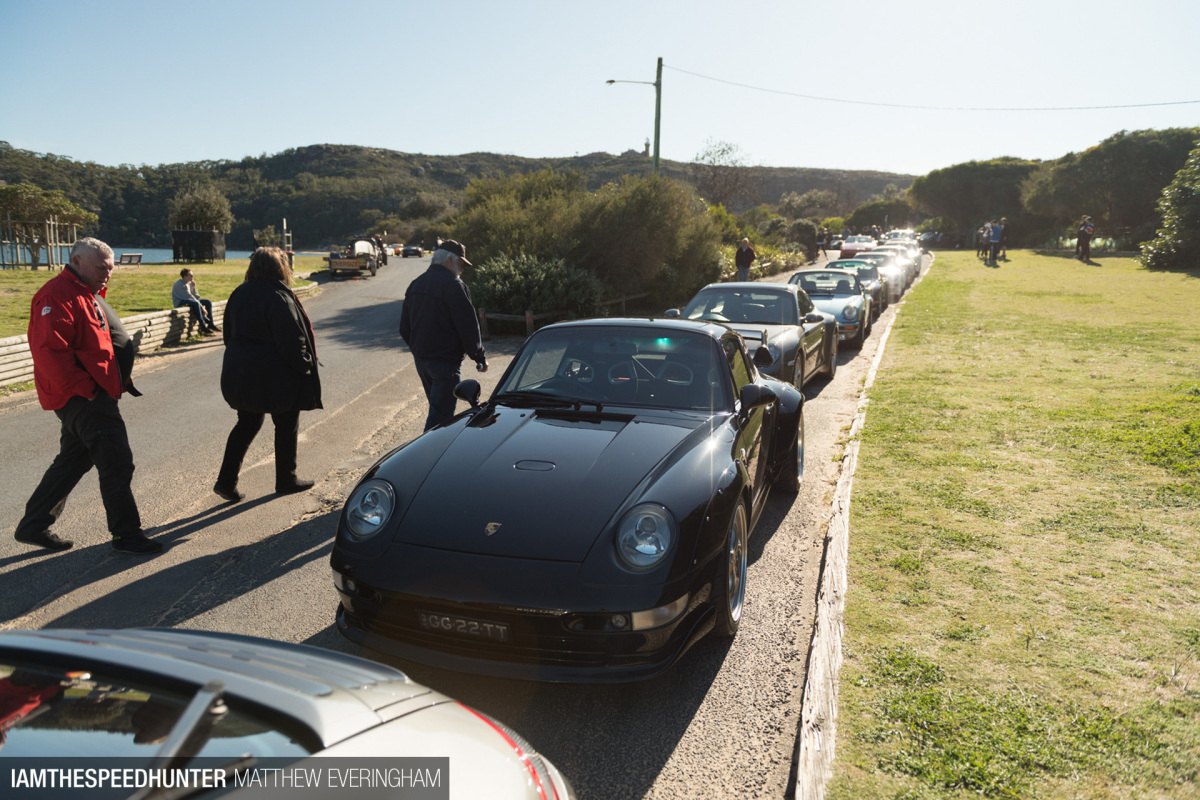 Another absolute head-turner was Darth Vader, my nickname for this 993 Turbo sporting the full GT2 kit. The original 57 GT2s built were made purely for homologation of the GT2 entries, hence the name, and the motorsport heritage is apparent from every angle. The black duco, extra wide track and pumped guards all work together and have such a menacing presence. I see this car regularly out on the scene and I still get a little bit fanboy-excited when I hear it grumble it past.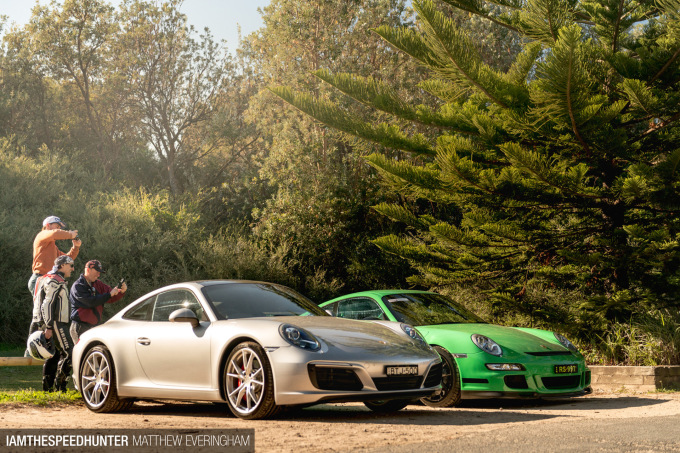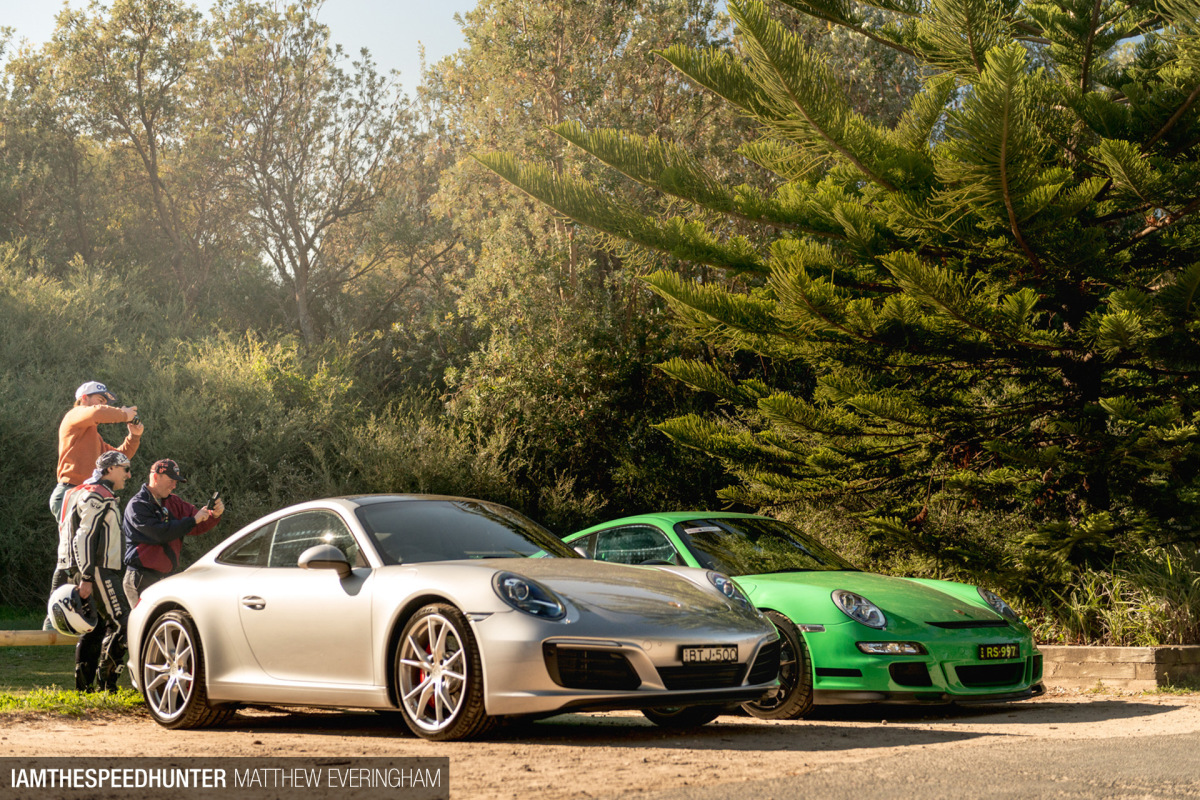 I walked past this track-ready 997 GT3RS a few times during the morning, and each time it had attracted an audience of super keen photographers and admirers. It would have been one of the most photographed cars of the morning for sure.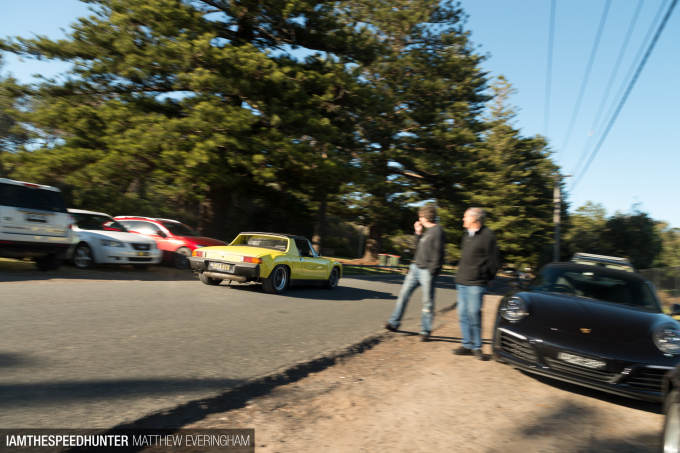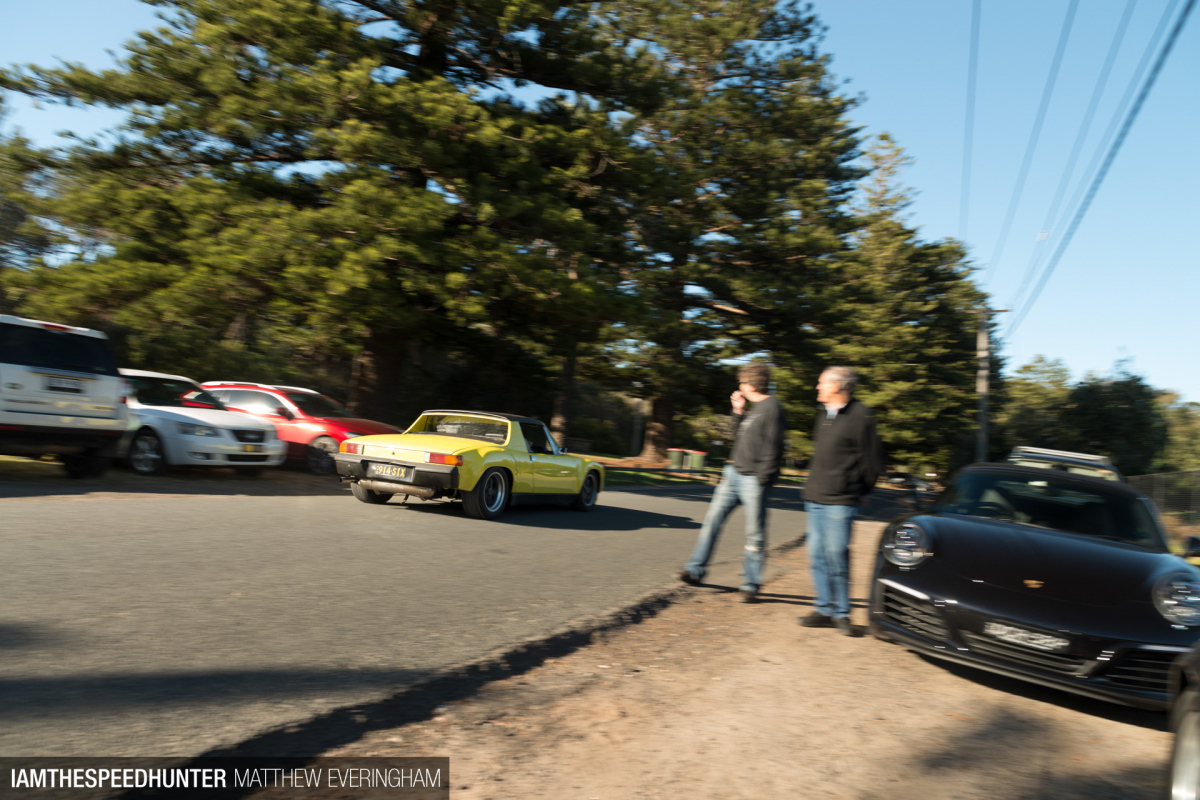 Unfortunately, this super rare 914 was leaving just as I arrived. Although I missed out on giving the old girl a closer inspection, I did get to hear her leave though. Everyone she passed had to turn for a second look after hearing the deep rich six-cylinder burble. On a side note, how fun would one of these be out on the track or a skid pan?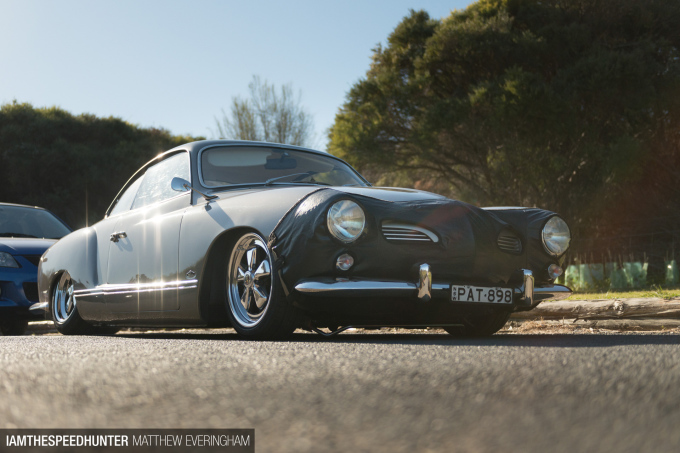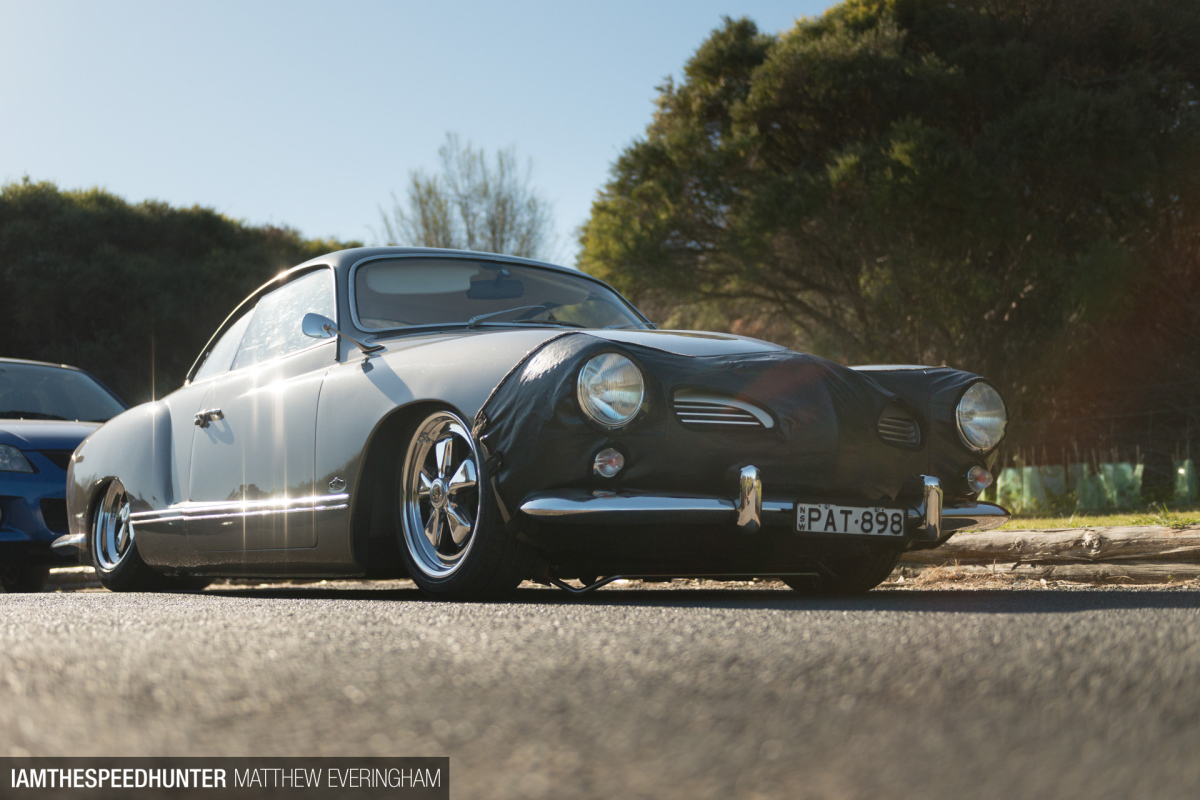 The car that caught me most off guard was Pat Eung's 1967 Karmann Ghia, which while not strictly a Porsche is still an important piece of Porsche and Volkswagen history. It's the direct predecessor to the 914 you just saw leave. In fact, Pat's Ghia is the heart of a 914, being powered by the 2.0-litre Type 4 engine. The extra low ride is made possible by bolt-in air bag suspension, the only kit of its kind in Australia right now. A closer inspection of the car revealed some very subtle custom fabrication work.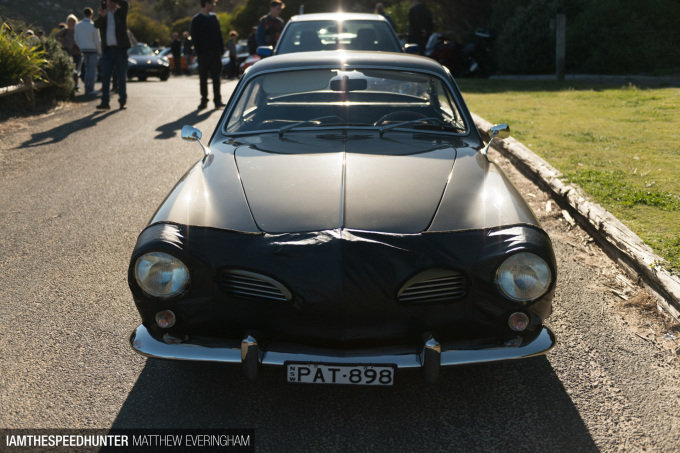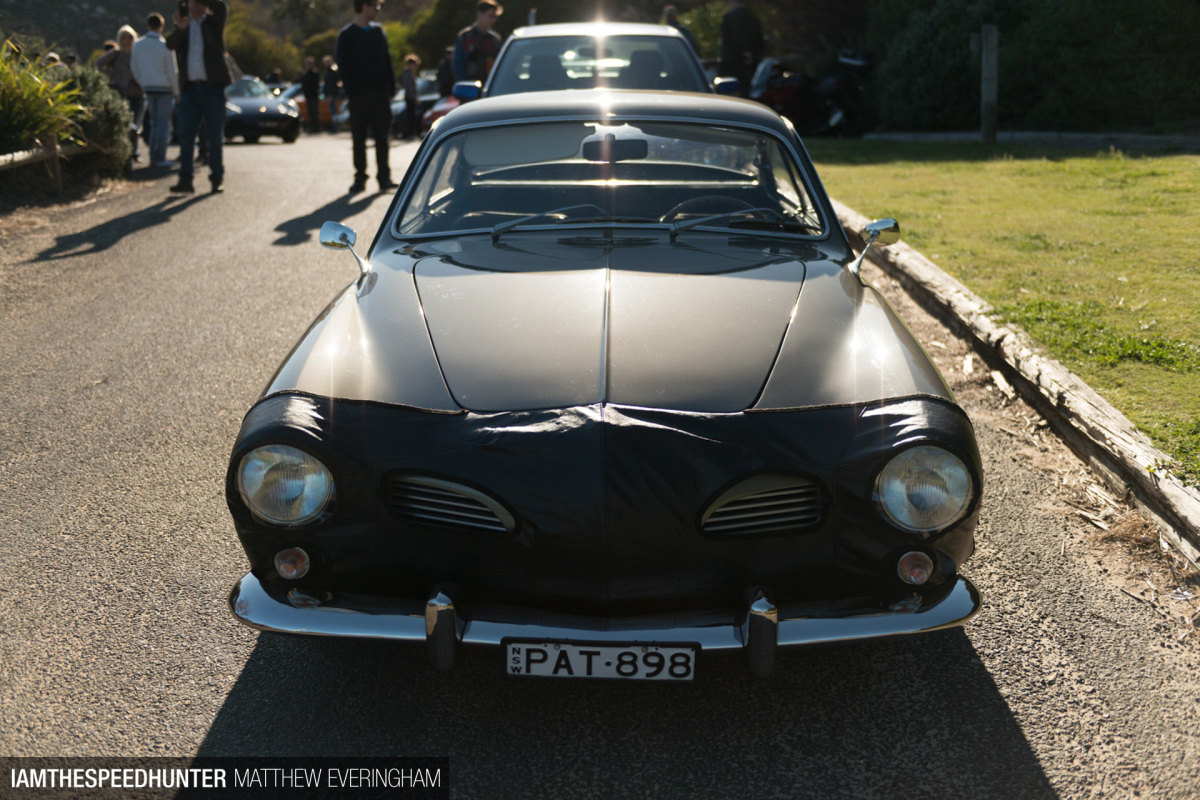 The aim of the body work wasn't to change the look or feel, but simply to enhance what is one of the most beautifully designed cars ever produced. Custom work includes an additional air vent on the nose cone and having some additional gauges mounted into the dash. Finishing the classical look is a set of 16×6-inch and 16×7-inch detailed Fuch rims.
Hitting The Road
By now it was closely approaching 10:00am, and all this Speedhunting was making me hungry. More importantly, my caffeine levels were dipping dangerously low; it was time to recharge and refuel myself with some high octane coffee before I made my way back to the wild west.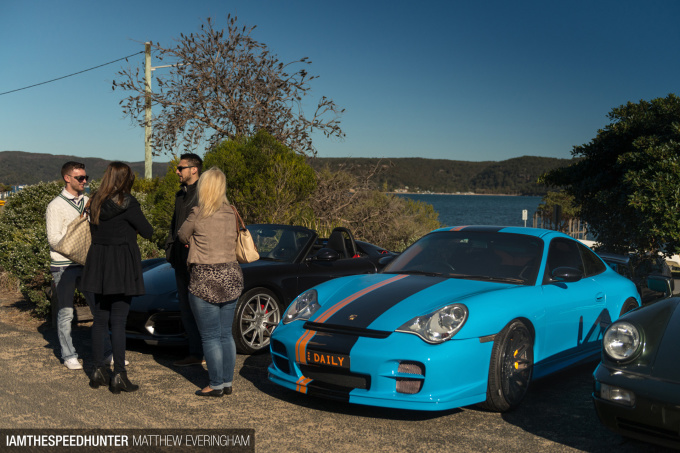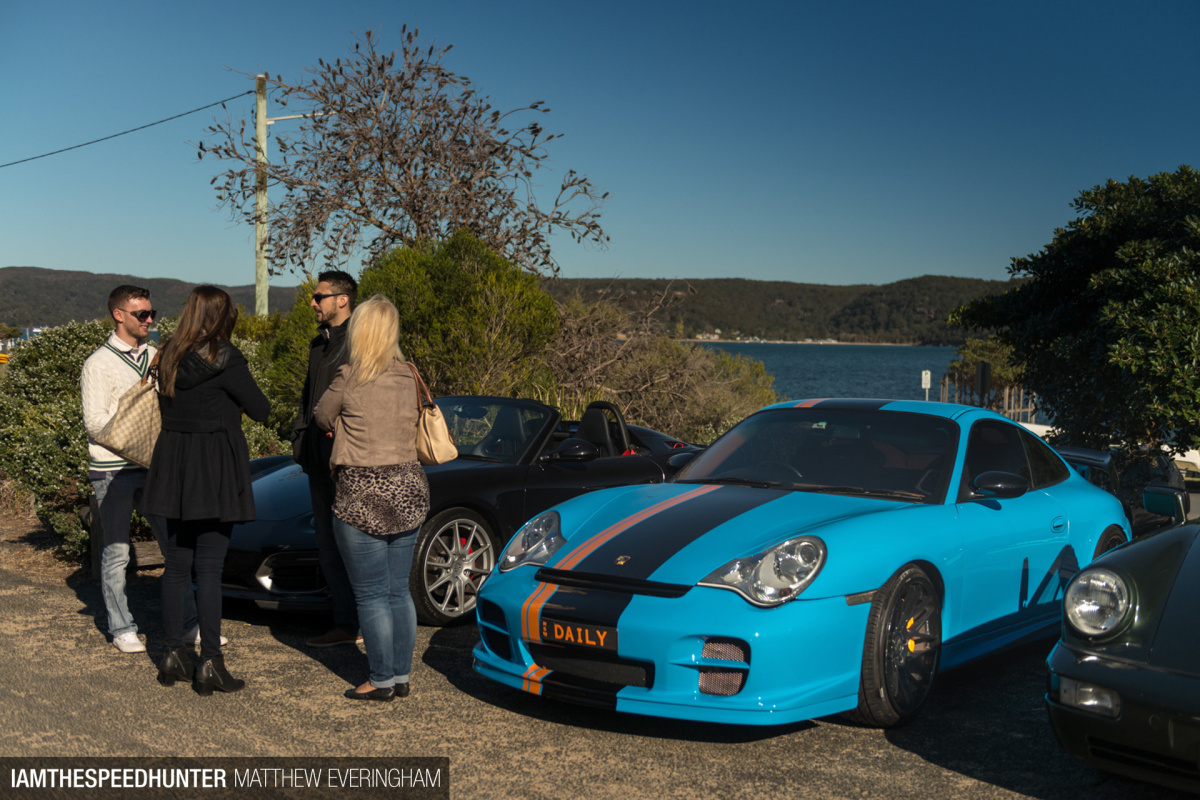 The final count was close to 190 Porsches. Outside of Rennsport, that would have to be the highest concentration of Porsches that Australia had ever seen together, especially on a social level. Hopefully it's more than just a one-off and a sign of things to come.
The vibe at the event felt spot on with plenty of chilled, smiling faces and polished metal. The cold air was offset by hot coffee and amazing views from The Boat House cafe, which some of you may recognise as a 'Summer Bay' location from the Aussie soap show Home and Away.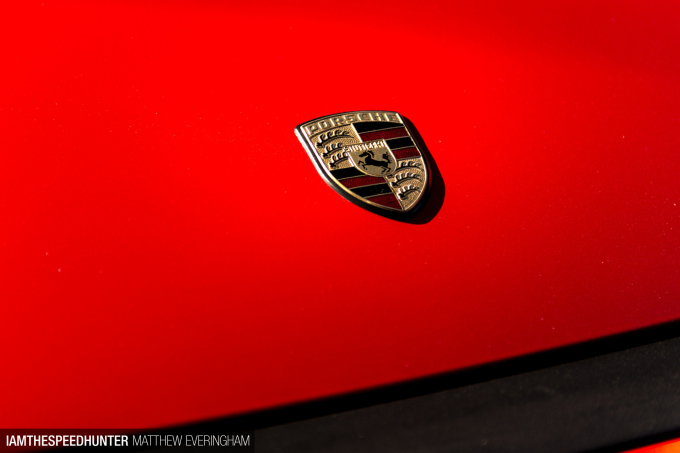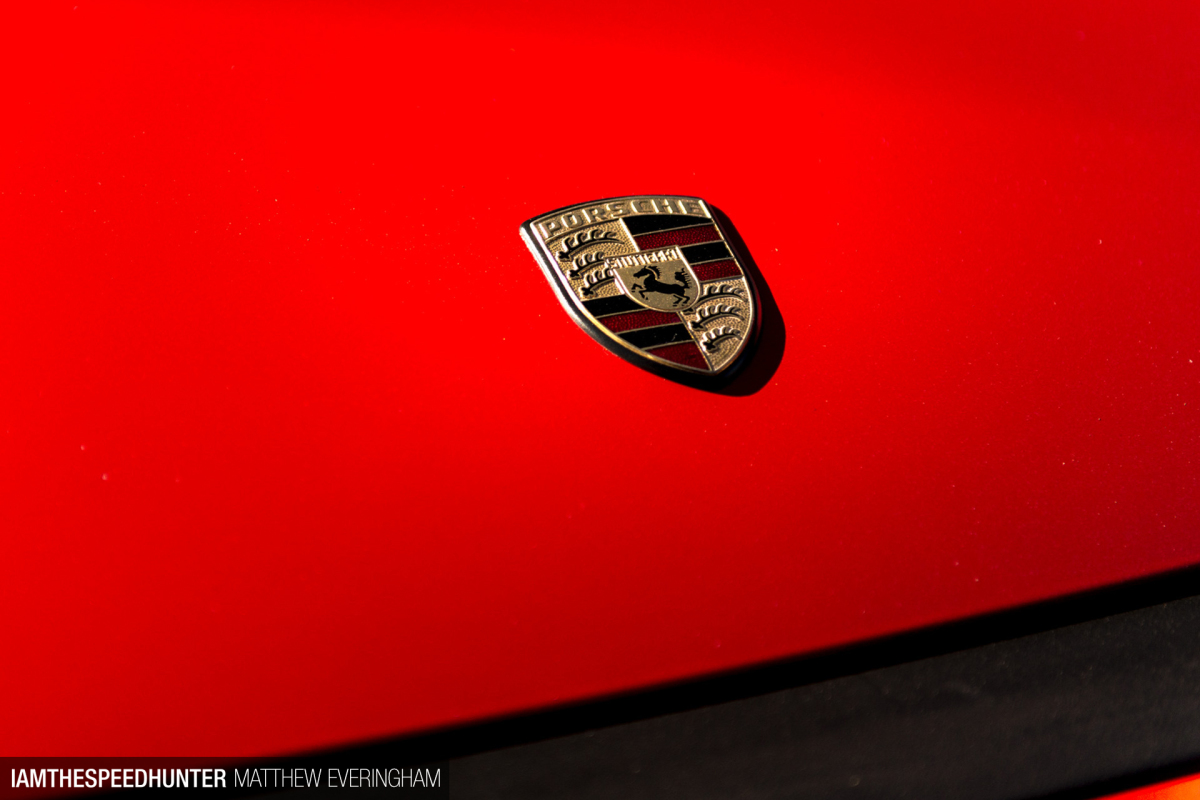 As the weather down here warms up again, I'm really looking forward to seeing more people make it out to events and more polished chrome of course.
If you've been thinking about getting out to more shows and cruises, do it! Be social. Share your passion. Social networks are not the best way to socialize. Getting in your car and driving with friends and other enthusiasts is. Who knows, I might even see you out there!
Matthew Everingham
Instagram: Matthew_Everingham
matt@mattheweveringham.com
Cutting Room Floor