Secret E-Mails
Coming from a country where even twin-rotor cars are a rare sight, the term 'quad-rotor' was up until quite recently something on almost a mythical level for me.
We've all sought out the videos online, whether it be the legendary Le Mans 787B or one of the many, many Mad Mike clips, just to experience what is arguably one of the most glorious automotive sounds. If you've only heard it via video and not in person, there's always going to be that doubt in your mind that maybe it's one of those things that might not live up to the hype. At least, that was always the doubt in my mind.
Before I visited Australia for Fitted Friday earlier this year, by chance, I received a message from a Speedhunters reader asking if we were interested in shooting his car. Typically, when a message comes in from the other side of the planet we would pass it off to someone a little bit more local, but in this case I decided to keep the e-mail for myself. You see, this wasn't just any old feature car suggestion…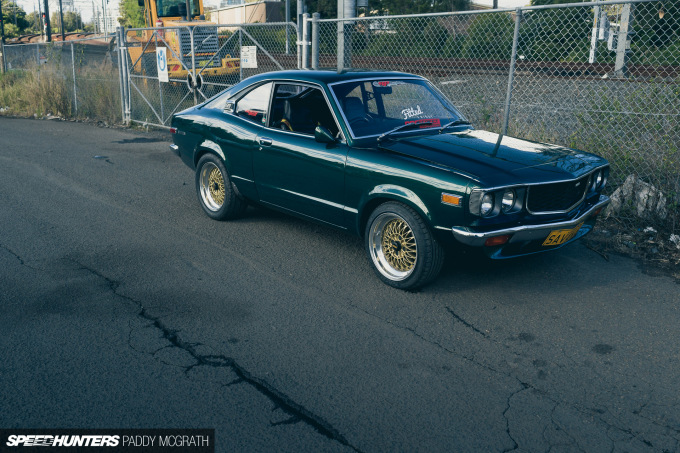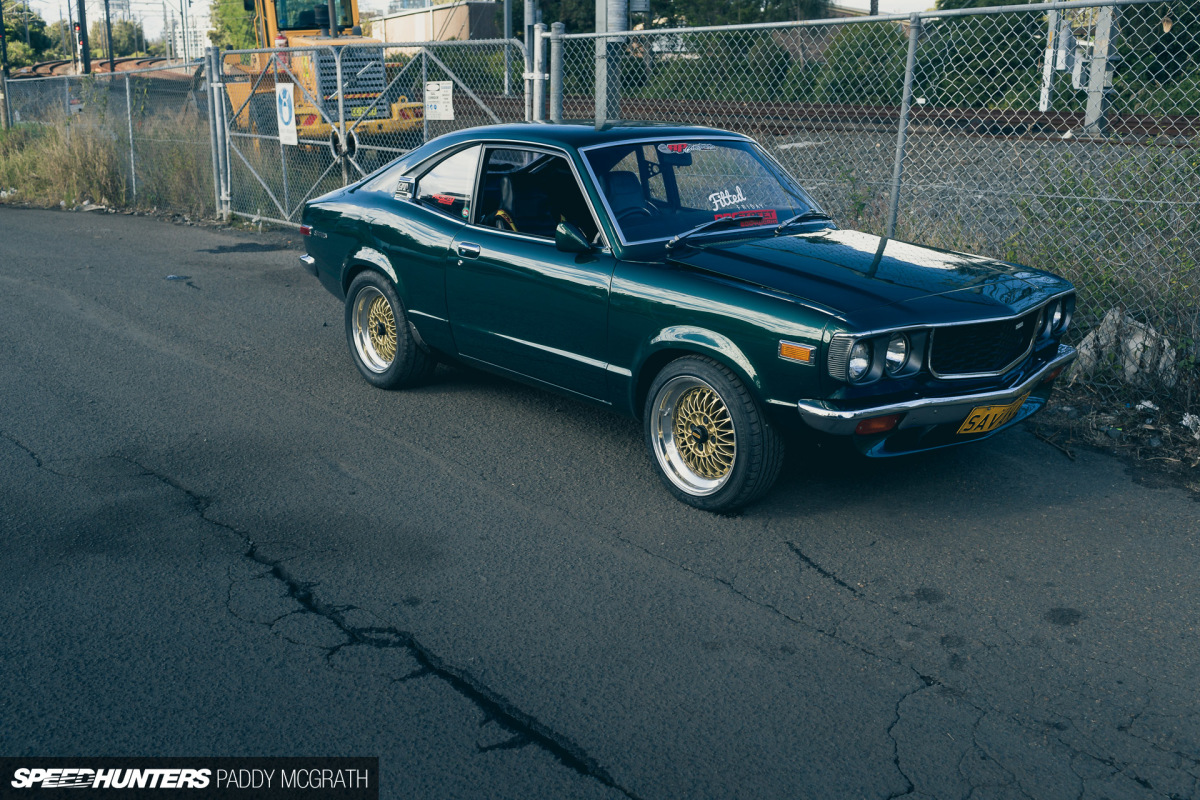 Fast forward a few weeks and one hell of a longhaul flight and I found myself in some industrial area in the passenger seat of SAVANA, a 26B-powered Mazda RX-3 coupe. I'll tell you this much, I don't think I've ever been in a car where at 4,000rpm it's so lumpy that you'd be forgiven for thinking it's going to cut out. With one eye on the tachometer, I watched the needle absolutely scream far beyond anything I've ever personally experienced inside a car. The only comparison I can possibly make is when I visited Spa in 2013 for the last V8-era Formula 1 race to be held at the Belgian circuit.
Let me remove any doubt that some of you who are still waiting to hear a 26B in action: it's even better than you can imagine.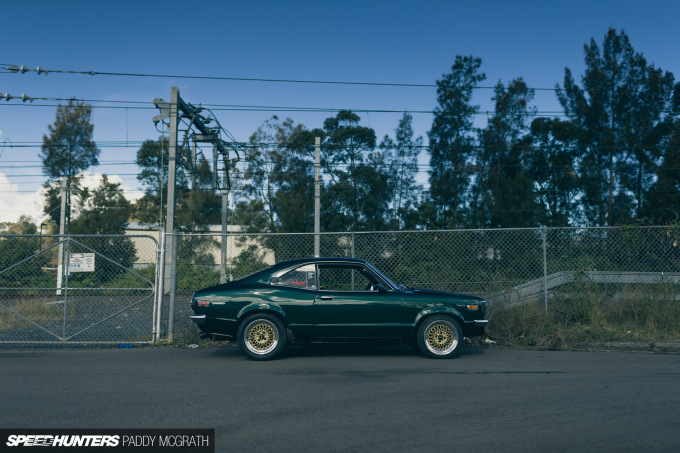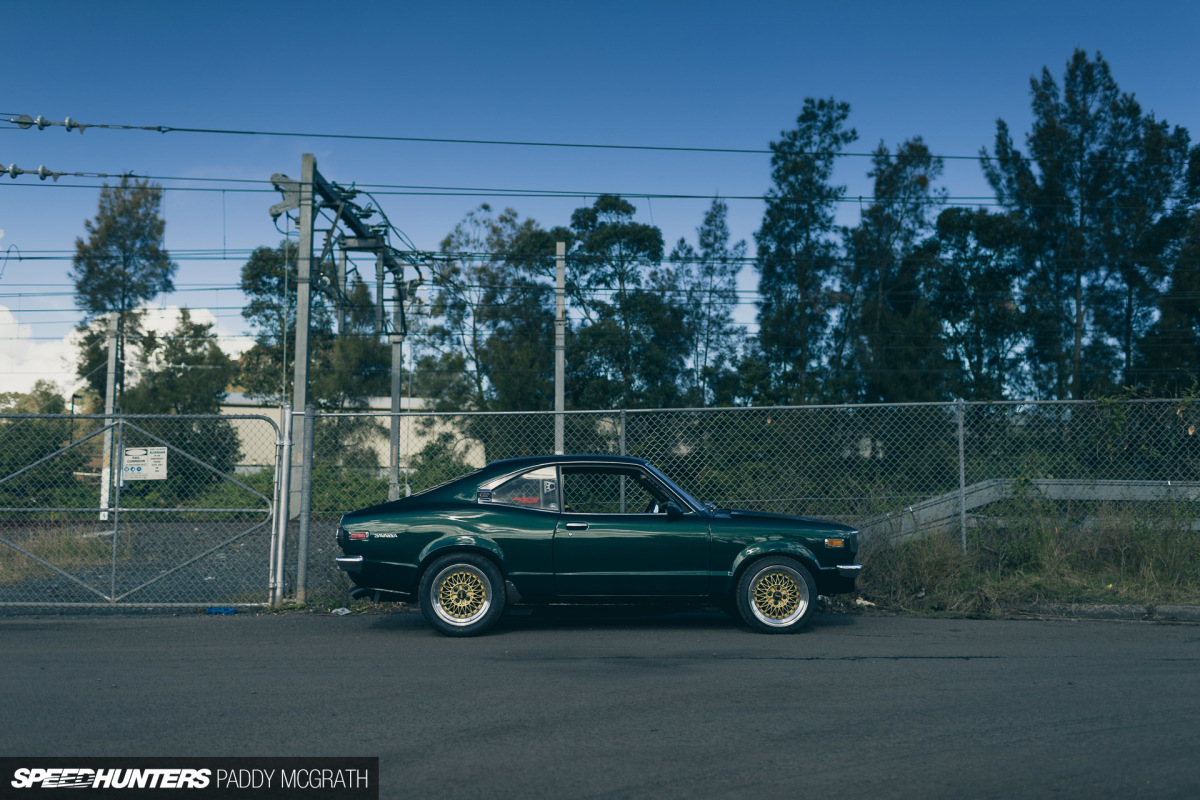 This is not a car that has been built on a whim for a quick automotive fix. The RX-3 has been in Telly Pieratos' family since 1980, and he's owned it for the last 30 years. It's hard to imagine the Mazda as anything but its ultimate evolution after its RP Customs 2015 build, although you'd be forgiven for not realising its potential as it sits stationary at the side of the street with its engine switched off.
It's a humble looking car from the outside. There are no 'tells', so to speak, of the performance it's capable of. With 505hp at the rear wheels and a personal best of a 10.6-second quarter-mile (on drag slicks), it's plenty capable too.
The party piece is a Curran Bros. Racing quad-rotor 26B with a custom billet shaft and peripheral ported rotor housings. There's EFI Hardware throttle bodies with a custom CBR intake manifold on the inlet side and a custom 4-into-1 4-inch exhaust system, while fuelling is taken care of with eight ID1000 injectors, custom fuel rails and three Walbro in-tank pumps in a custom fuel cell. Ignition is handled by Bosch coils, RP Customs race leads and an RP Customs big amp alternator.
A Microtech LT16C is responsible for engine management, with a custom alloy radiator and oil cooler along with a Meziere water pump to keep things cool. That's not all, either. In the engine bay you'll also find a custom dry sump tank, a Peterson oil pump, custom catch can and custom in-house Hammertime wiring.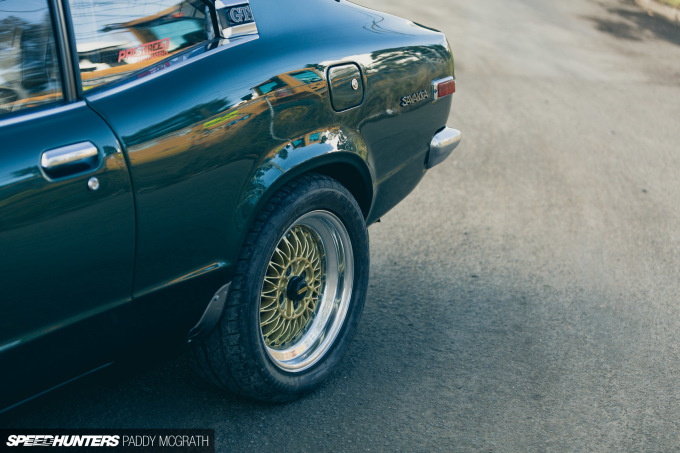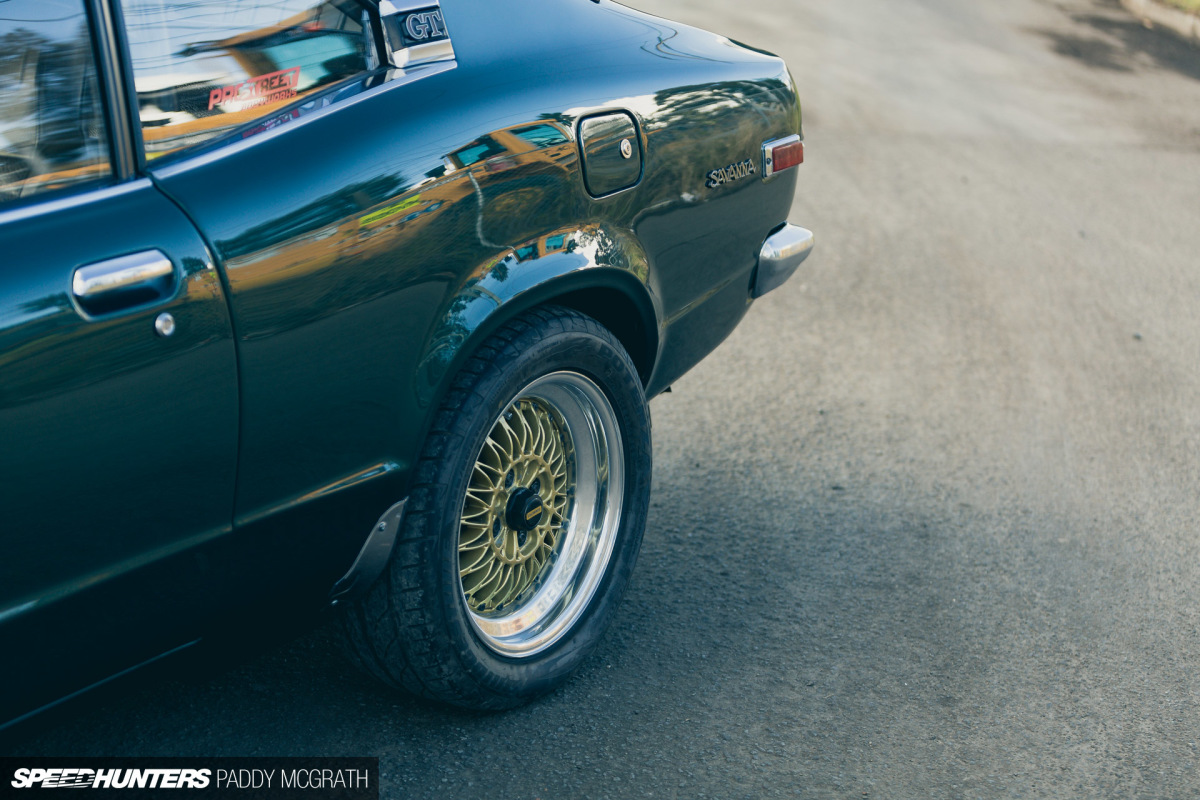 Typically, when you hear the words 'Australia' and 'RX-3′ you instantly add 'Simmons' to the equation. It's no secret that the Australians love to represent their home brand when it comes to wheels, but the manner in which they typically do is pretty unique in the styling stakes. Telly has managed to represent with the simple mesh-style, three-piece V5, which gives the car a subtle JDM look whilst still being proudly Australian.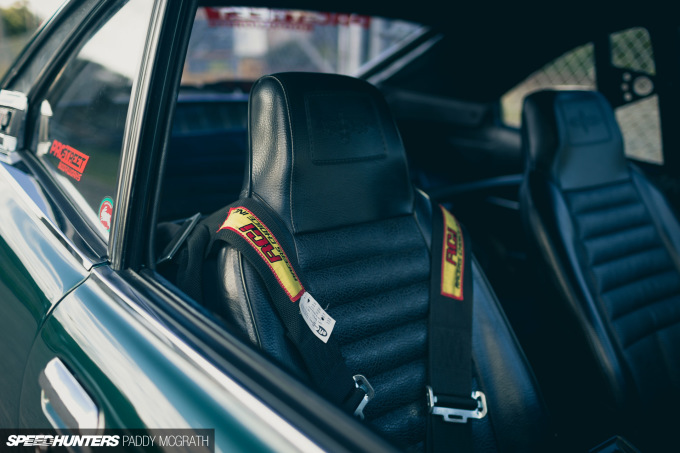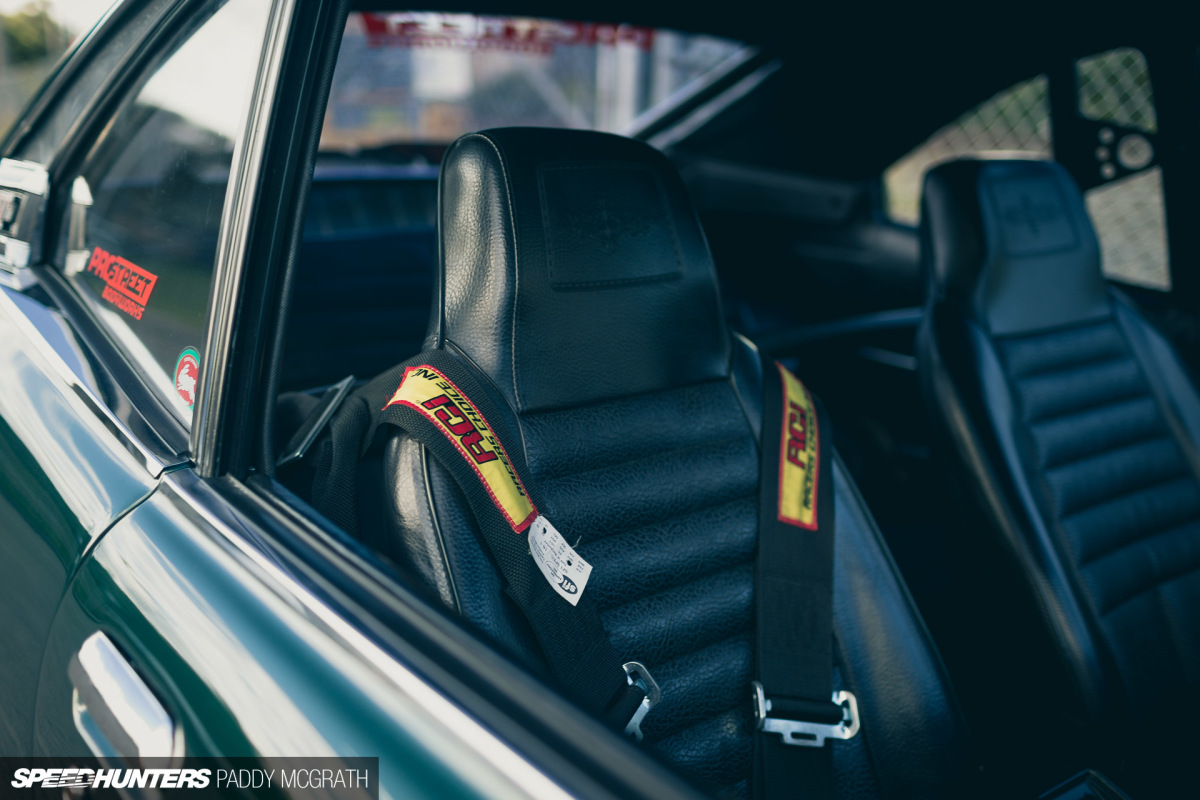 It's probably inside the car that gives you the most amount of clues as to SAVANA's potential, although it's still reserved. A half weld-in rollcage with door bars and harnesses slung over the factory RX-3 seats is the first observation, but around the steering column reside a large Auto Meter Sport-Comp tachometer, an Innovate air/fuel ratio gauge and a Microtech digital dash. It's all very much in keeping with the understated theme of the car.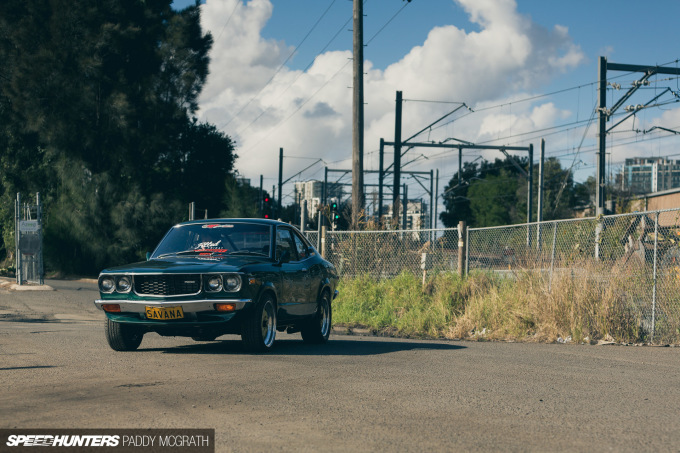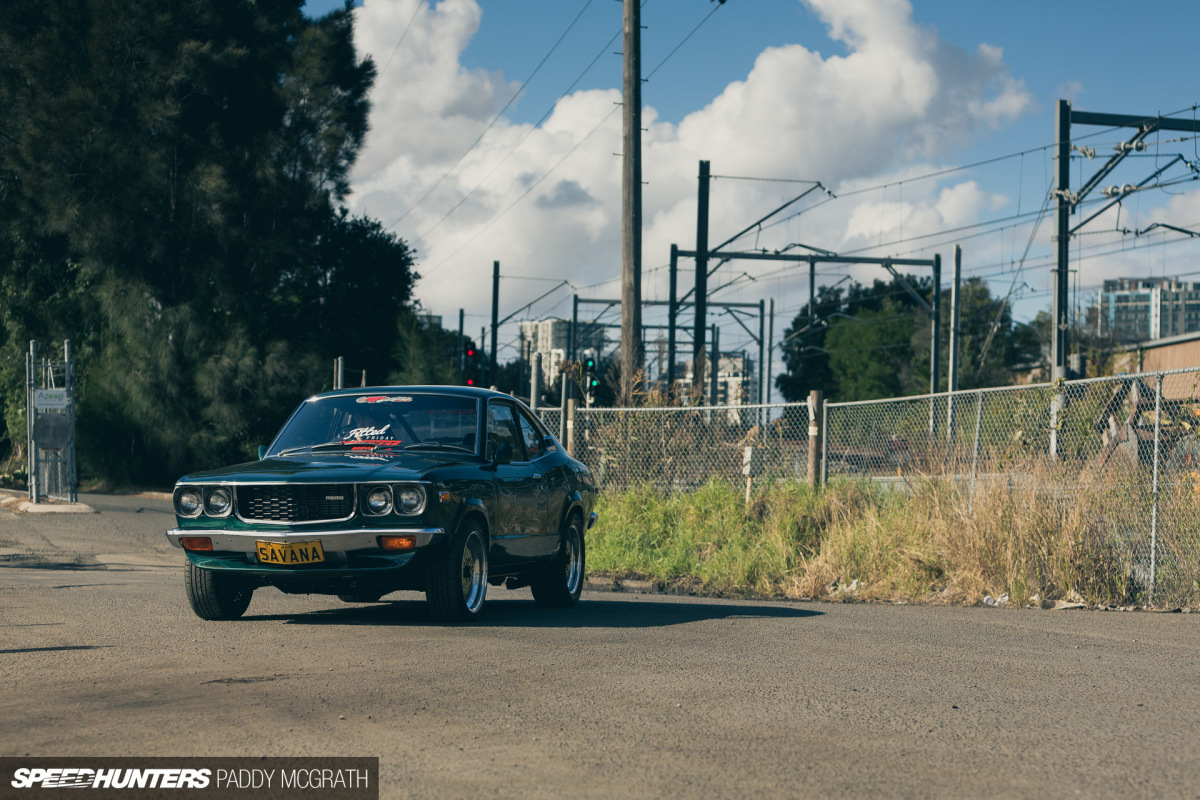 I guess that when you reside in a country like Australia where custom cars are often looked at negatively, then sometimes you don't really have much choice but to choose the subdued path. In this case though, it's worked in Telly's favour. The Savanna green bodywork perfectly suits the short and muscular nature of the Mazda coupe; its original style has been perfectly retained.
It's only when the car barks into life that it begins to show its more sinister side. At part throttle it's only just anti-social, but once opened up, there's absolutely no mistaking the famous 26B scream as the small Mazda vanishes into the distance.
It rarely, if ever, gets any better than this.
Paddy McGrath
Instagram: pmcgphotos
Twitter: pmcgphotos
paddy@speedhunters.com
Australian Car Culture on Speedhunters
Cutting Room Floor