Fika At Brostugan
I was on my way home from the Speedhunters office on Wednesday when I remembered that I'd promised to meet up with a friend to celebrate his new job. As both of us are into cars, we decided to have a fika at the local Cars & Coffee meet in Stockholm. For you who don't know about fika, it's the word we Swedes use to say 'let's sit down and have a cup of coffee'.
I double tapped the main iPhone button, moving the album cover of Stephan Bodzin's Power Of Ten on Spotify away to navigate my contacts, looking for 'Tim with the orange car'. For some reason, I know 20 different Tims, and the only way for me to call the right person is to give each one of them a ridiculous name like this. 'Tim with the orange car' picked me up from my place and we drove up to Brostugan.
In local Stockholm car culture, we don't actually call our Cars & Coffee, Cars & Coffee. We instead call it Brostugan, because the location where the event is held is called Brostugan. The same goes for most other events; Paddy went to the Vallåkraträffen, which is in Vallåkra. Alok drove to Gatebil Mantorp, which, you guessed it, is in Mantorp. So, if you ever visit Sweden and are looking for something to do, simply Google the place name and add 'meeting' (träffen) without a space in between and you will likely find tons of forum threads and Facebook events.
Usually, I don't bring my camera with me nor write a lot on Speedhunters, mostly because I spend all my time working on maintaining and developing the site and helping Rob, our Managing Director. But on this occasion I decided to bring it along to shoot some future Speedhunters merchandise. We have a couple of new Speedhunters products releasing this fall, and I was hoping someone at Brostugan would be interested in having a go and trying them out. It's very important that we deliver high quality products, and one way to get feedback is to place them in the real world and have car enthusiast test them. Without saying too much, one of the products we have coming took over a year to design and develop.
What Is Gemballa?
After a sip of coffee, and talking about cars, food and Tim's new job, we decided to have a walk around and see what we could find. I hadn't planned to shoot any cars on this day, but on seeing an odd-looking Porsche 996, that all changed.
I have been a Porsche guy for a long time, and have had the fortune to see and drive many interesting cars from the German automaker. But this was the first time I had actually laid eyes on a Gemballa GTR 750 Evo before.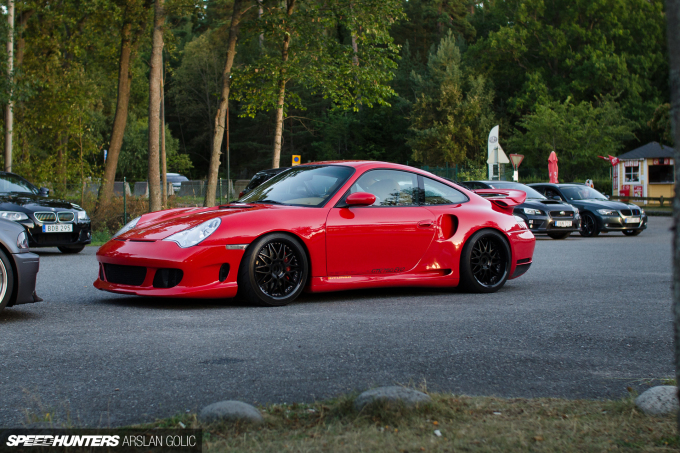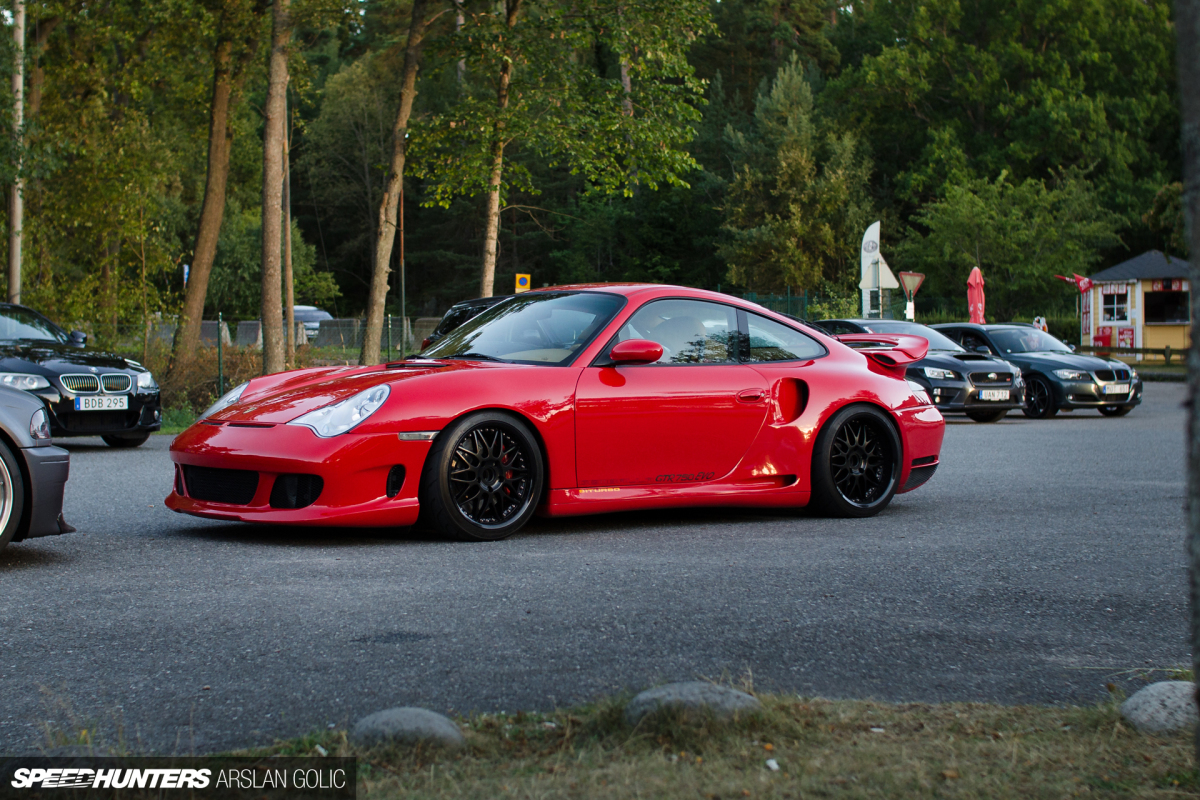 Gemballa is a German tuning company that started off modifying BMWs and Porsches in the late '70s, but later put all its effort into exclusively modifying Stuttgart's finest.
So what's a GTR 750 Evo? Gemballa had different levels of modification, from the entry 550 to the monster 750 which included chassis, engine and body modifications. This particular 750 is based on the Porsche 996 Turbo, but one thing Gemballa fans might spot is that there's a 550-spec wing mounted at the rear.
The Death Of Uwe
For as interesting and awesome as Gemballa cars are, the most intriguing story is about the man behind the name. Uwe Gemballa was a true visionary who took Porsche performance to new levels. In 2001, Gemballa set a lap time of 7:32.52 on the Nürburgring with the Porsche GTR 550 Biturbo, running road legal tires. It's a record that stood for years.
But in February 2010, Gemballa was reported missing while on a business trip, and shortly afterward his company filed for bankruptcy. CEO Andreas Schwarz and investor Steffan Korbach managed to buy the rights to the brand name and save Gemballa, and today it still survives as Gemballa GmbH. The main focus remains on Porsche, but the company also builds Gemballa specials based on Mercedes-Benz, McLaren, and Ferrari models.
But what happened to Uwe? Well, somewhere along the line it's alleged he became involved with a crime syndicate from the Czech Republic and began exporting cars to South Africa as a means to smuggle money from Europe. As the story goes, Gemballa sent a Porsche Cayenne with 1 million euros hidden inside, but when it arrived in South Africa the money was gone. On the back of the missing million, Gemballa was lured to Johannesburg and reputedly kidnapped, some days later calling his wife and asking her to transfer 1 million euros into a South African bank account. But that was the last anyone heard from Uwe Gemballa until he was found shot dead near the city of Pretoria. It's suspected that his death was the result of a money laundering operation that went bad, and late last year four men were convicted on charges of the renowned Porsche tuner's kidnap and murder.
This Gemballa GTR 750 Evo that I spotted has a very interesting look and gives you many reasons to come in for a closer look. Uwe also made sure there's more than just cars to talk about whenever you see a Gemballa at a Cars & Coffee event.
Arslan Golic
Instagram: arslangolic
arslan@speedhunters.com
Cutting Room Floor