The Dilemma
It's 10:00pm on a very hot 6th of August in Tokyo and I have a dilemma. Do I go to Daikoku PA and join in the Hachiroku festivities, or do I do something completely different?
Had 8/6 fallen on any other day, I surely would have been soaking in 4A-G buzzing sounds all night long. But this year it didn't. It was the first Saturday of the month, which meant that Shibuya and its surrounding areas would soon be overrun by low-riding American iron of varying vintage. Given that it was a spectacle I'd never experienced as Speedhunter, and that Blake had attended 86 Style at Fuji Speedway the weekend prior, it didn't take me long to make up my mind.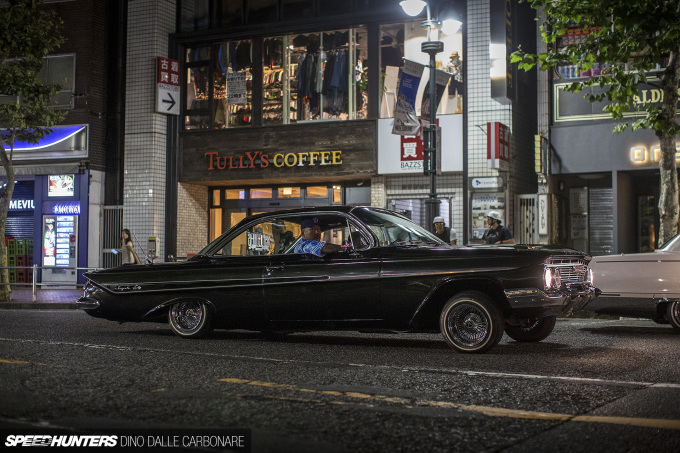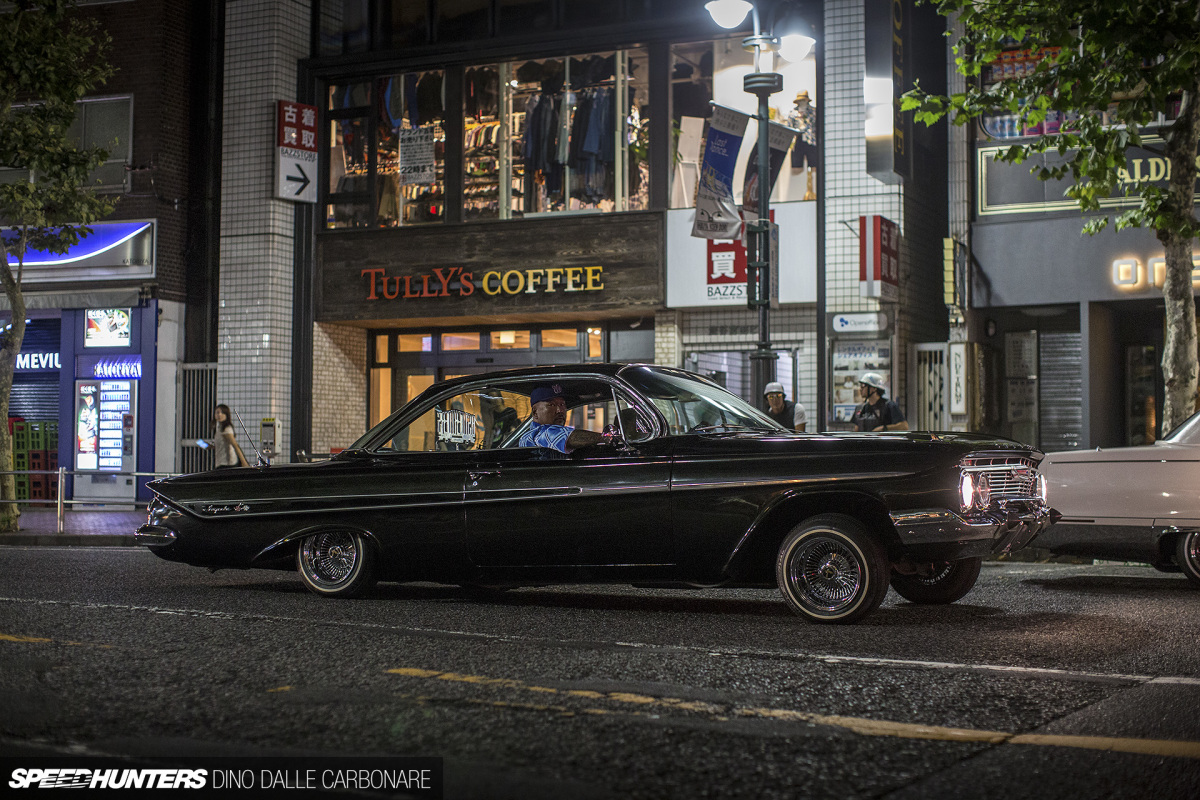 It was like a well choreographed military assault as Shibuya began to quiet down, the odd squeeze of throttle followed by an occasional squeak and a metal scrape or two, all combined to create quite an alien atmosphere for someone who's more used to hearing good old fashioned showing off courtesy of high-RPM or boost-assisted acceleration.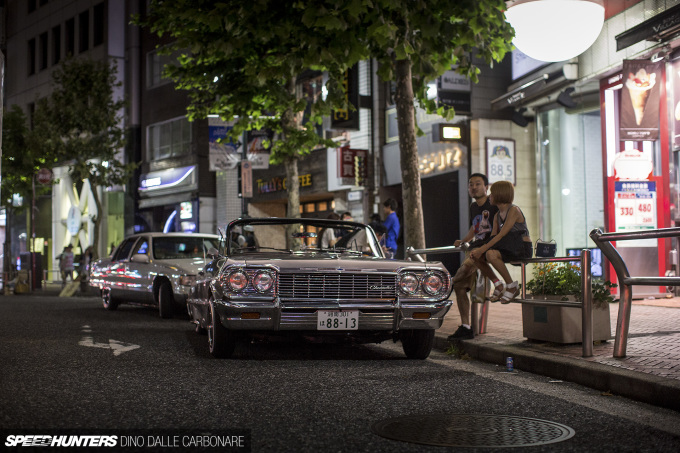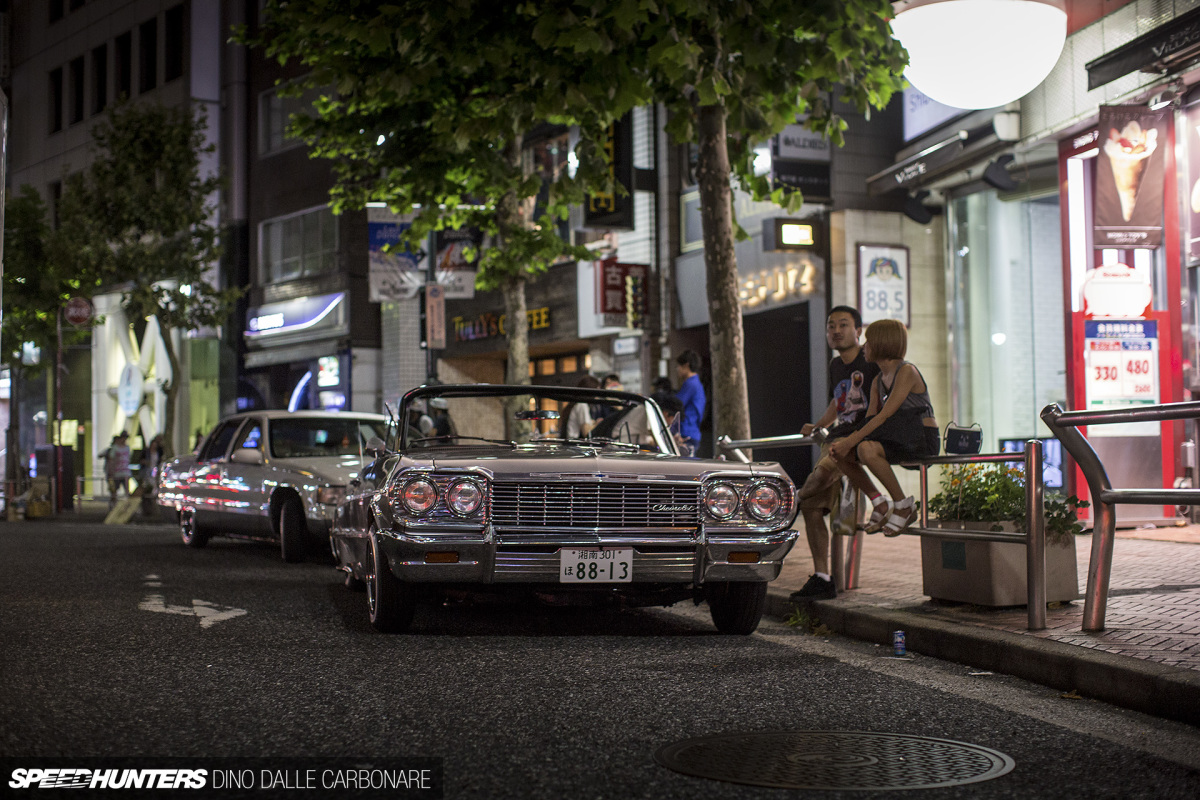 But showing off for these guys is executed in a slightly different fashion.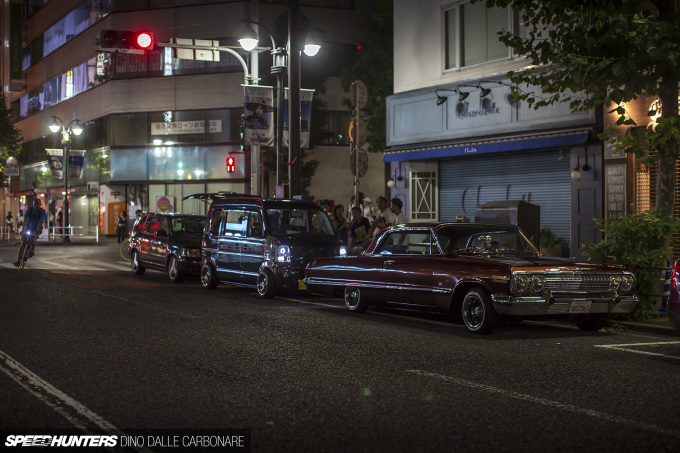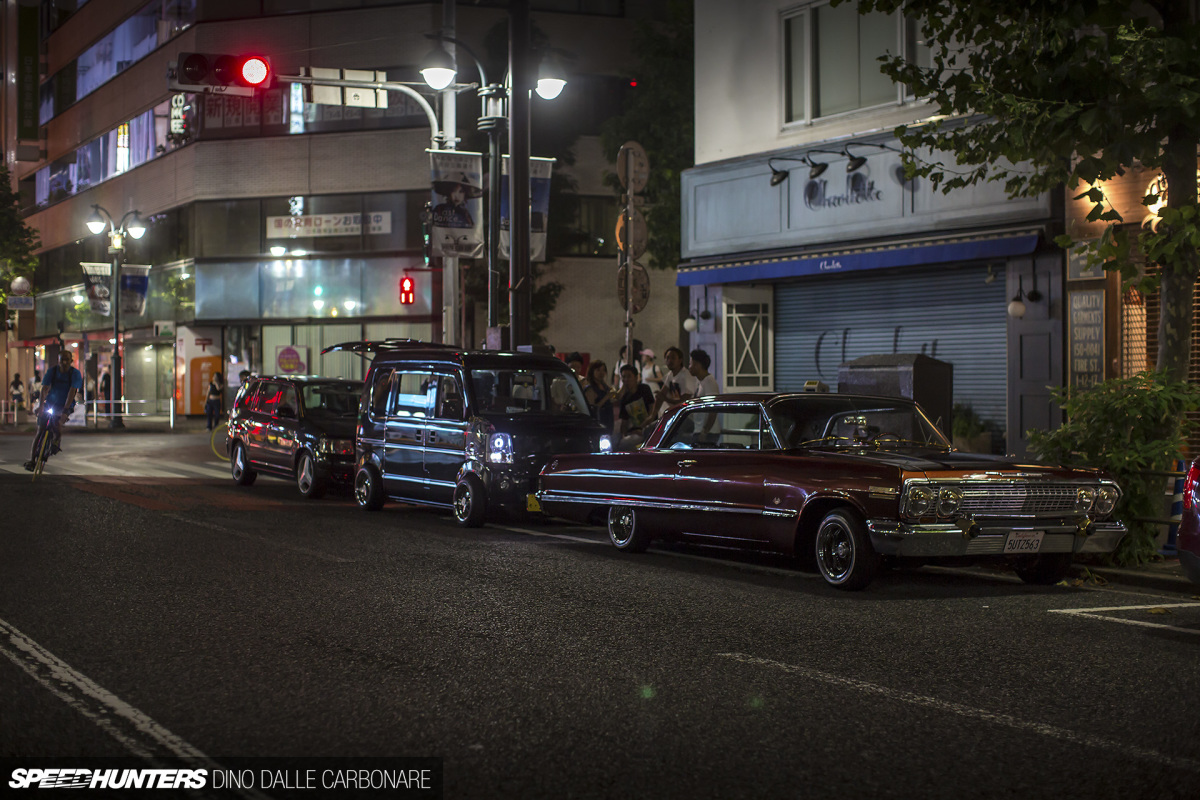 In no time at all the majority of side streets in the high-end shopping side of Shibuya were taken over.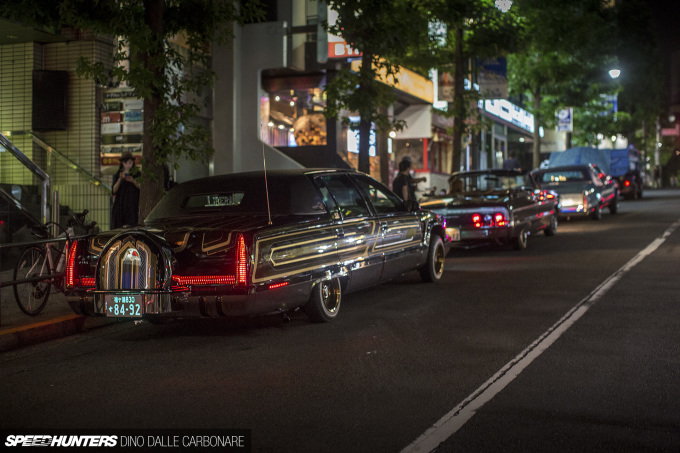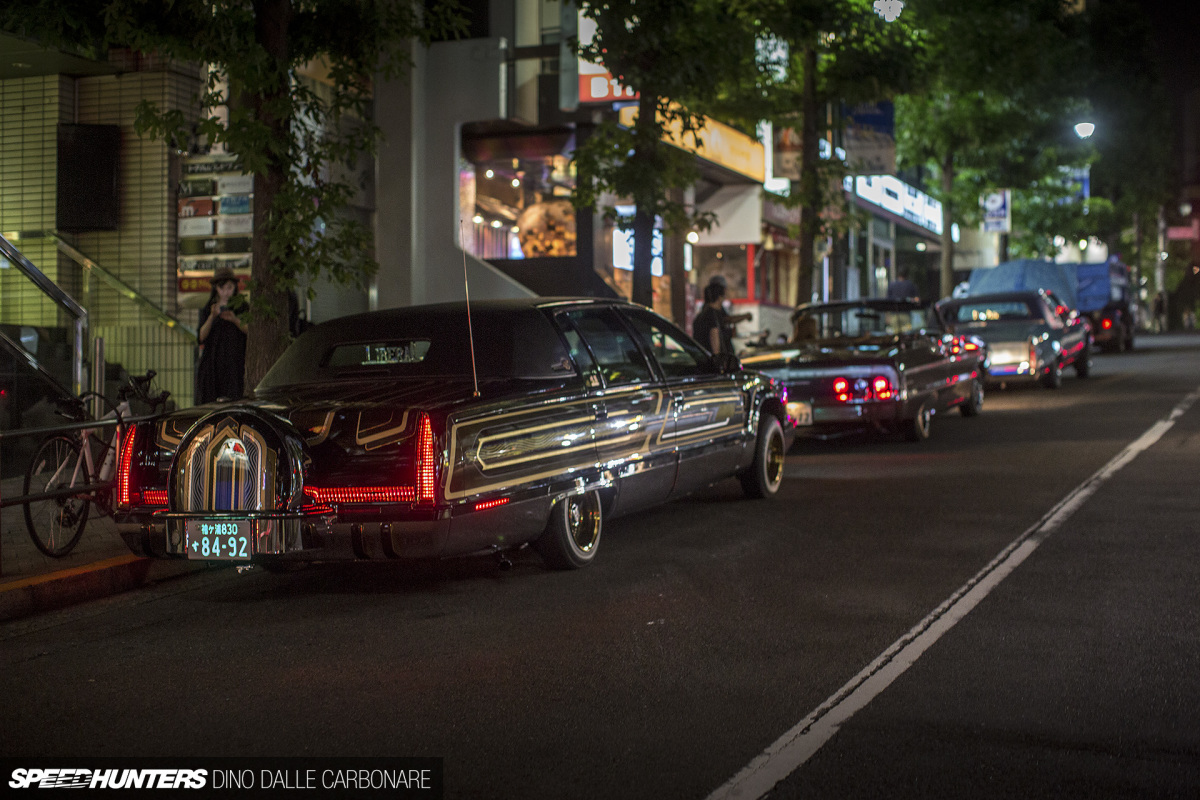 Usually the street that Tower Records is on becomes the main place for people park up and show off what their hydraulics can do, but the police have caught on to that and hours before this monthly meet kicked off they had already placed cones and barriers over the parking spots.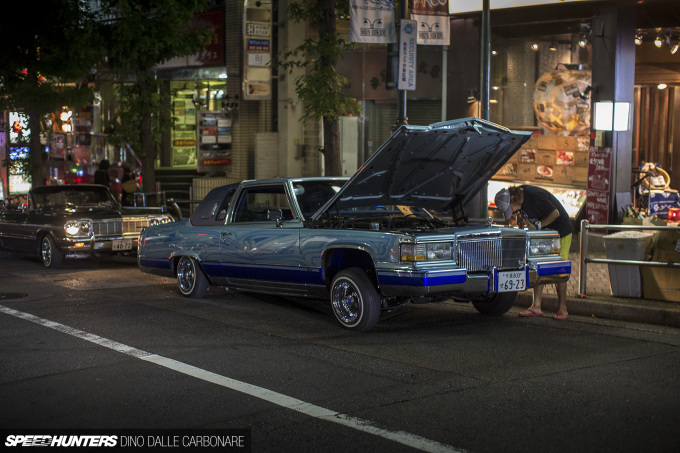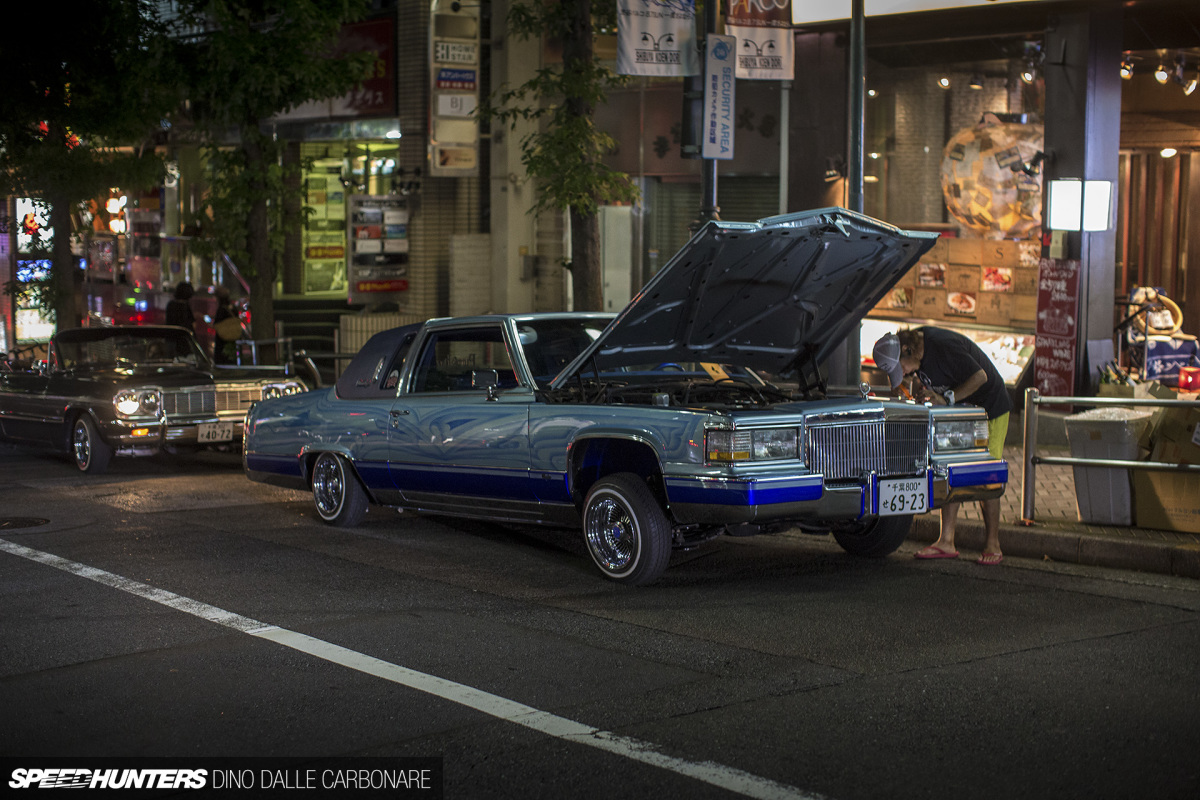 As if that would stop guys flowing in from surrounding areas of the city and prefectures further away though. This is something people get ready for; it's a big deal and you have to make sure your car is ready to be dealt some abuse.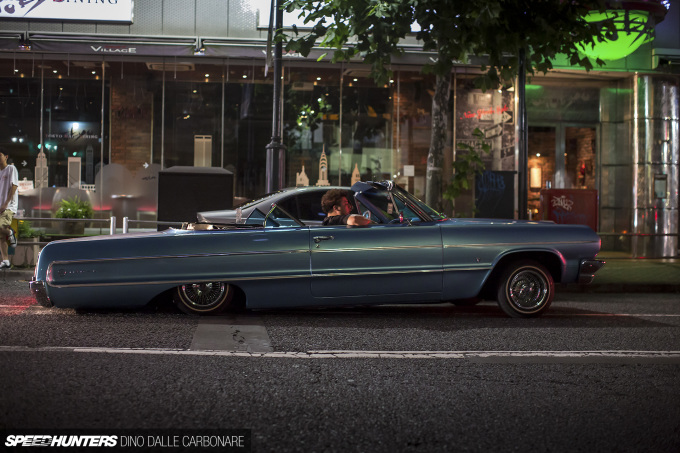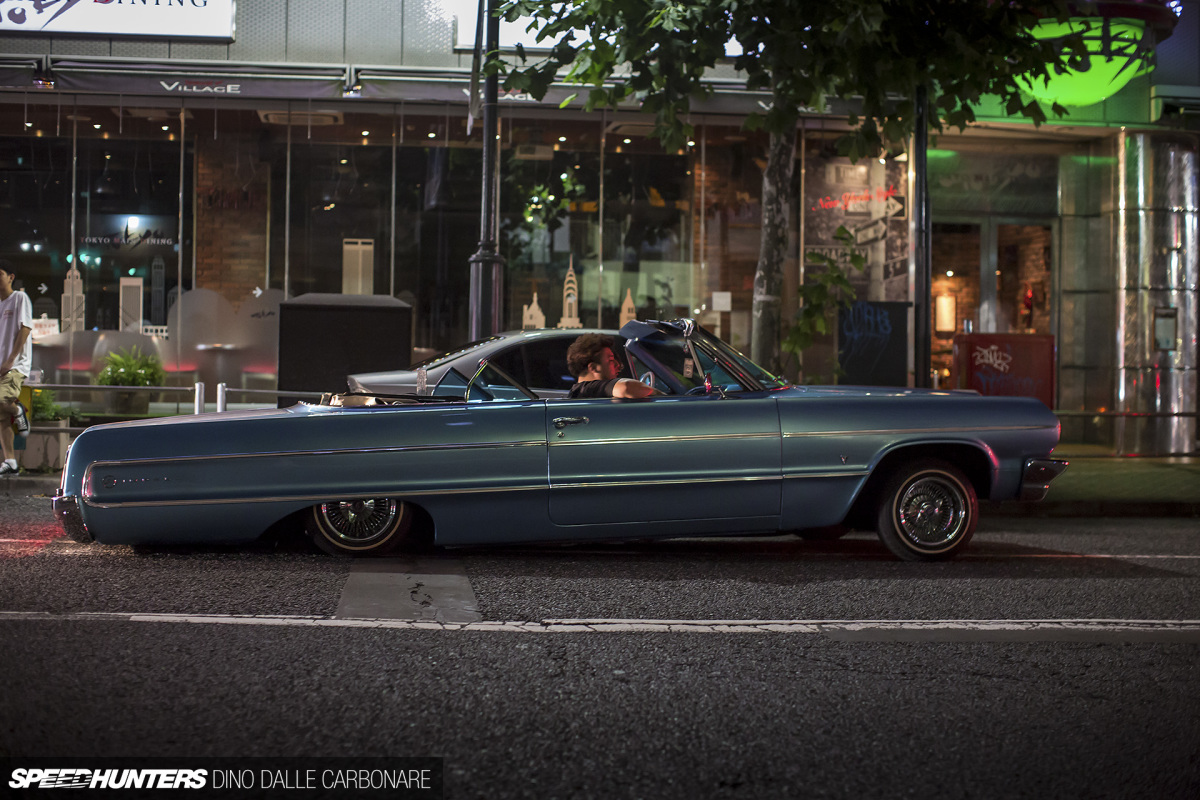 I kept seeing guys arrive, park up, chill out for a few minutes and then drive off.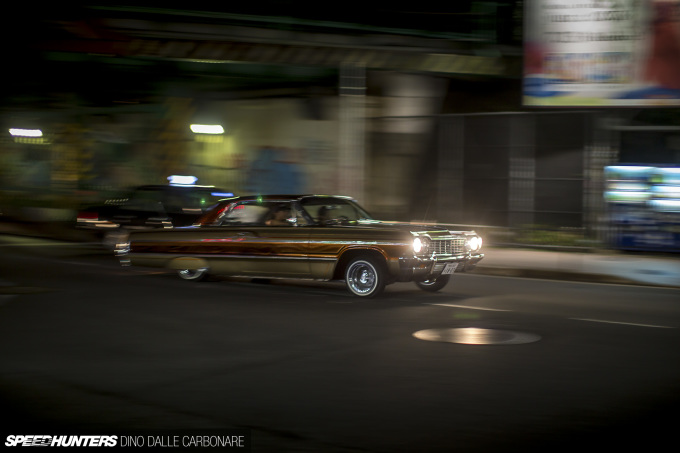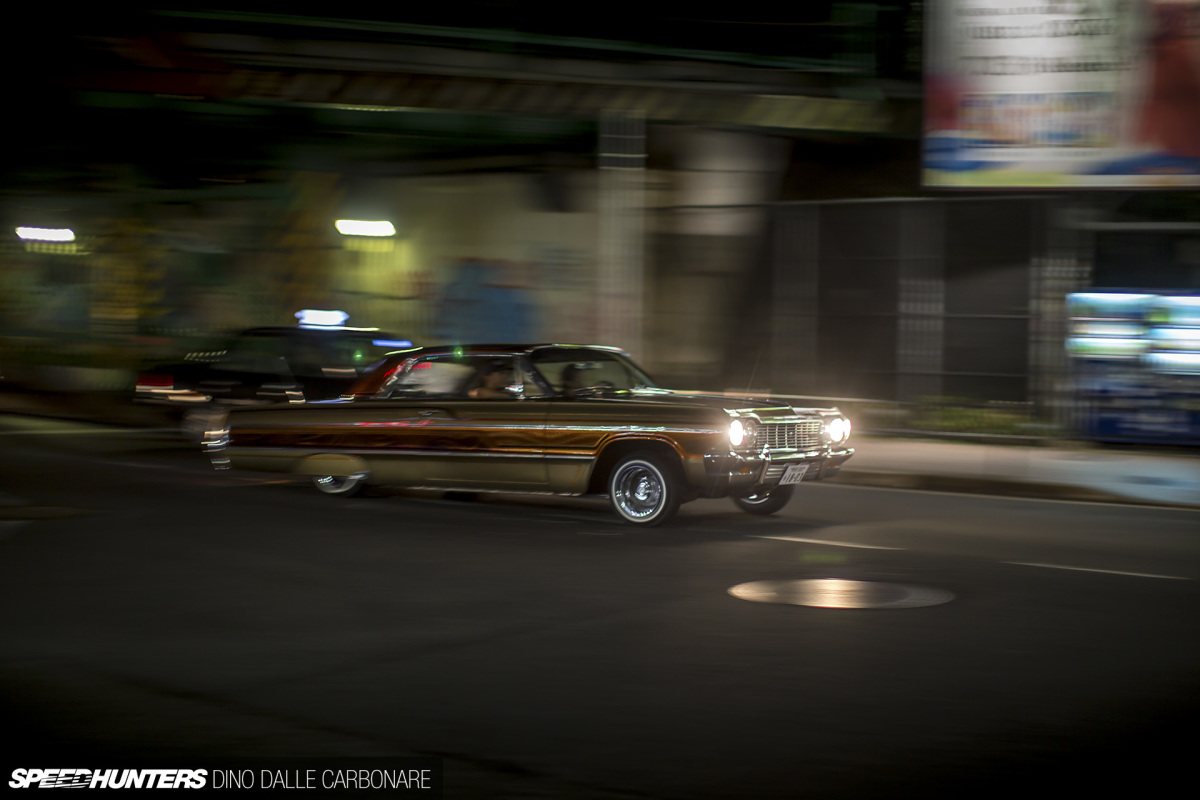 There was so much movement, cars going by in every direction. It was obvious something was going down and that this area was more of a temporary meeting place than anything else.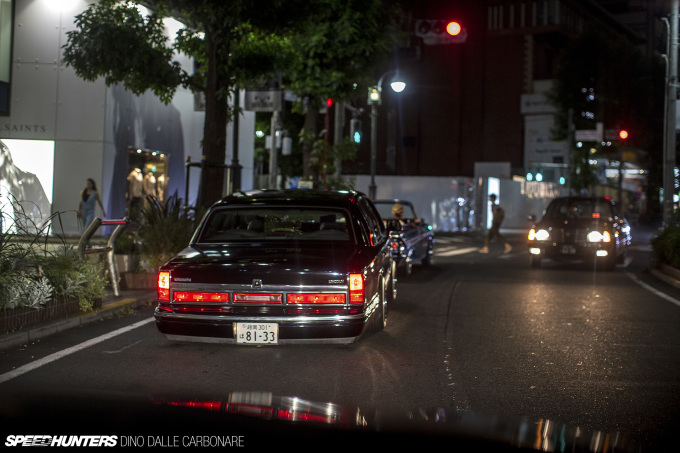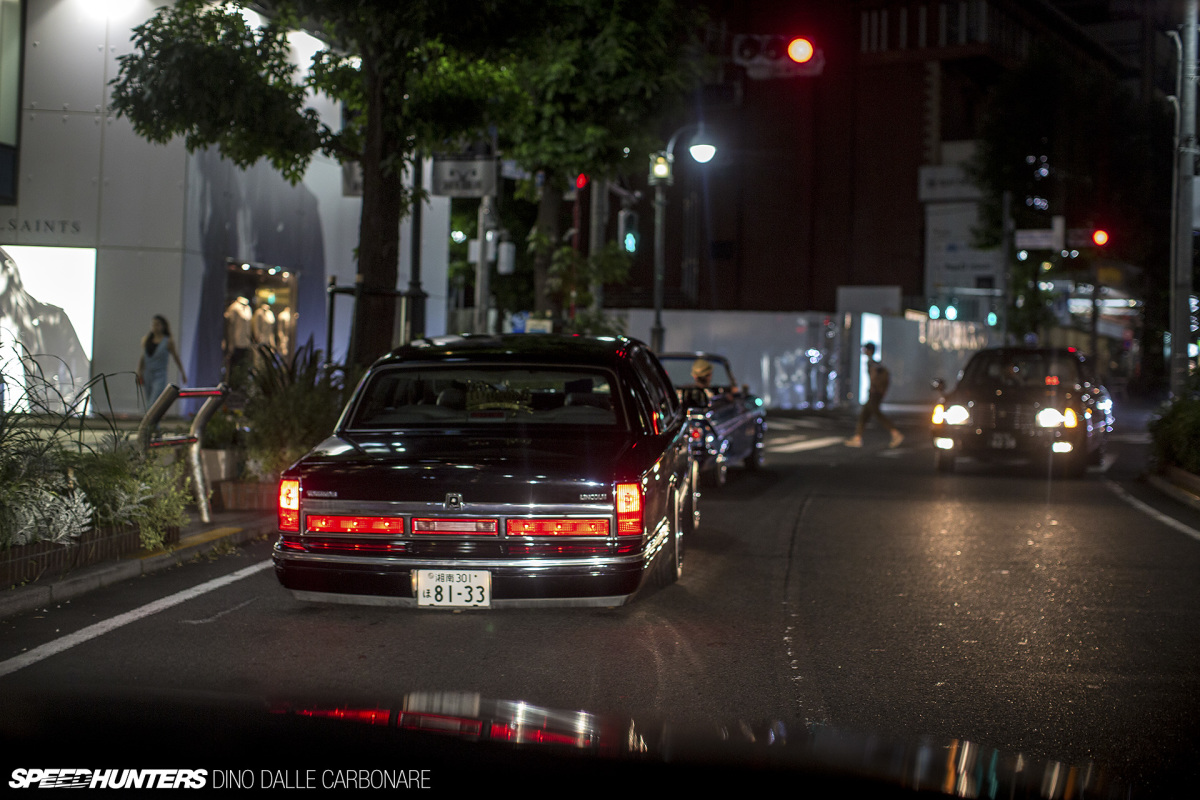 I jumped in my trusty Legacy, blasted the A/C to cool off from the humidity that had turned me into a sweaty mess, and followed this Town Car as it scraped its way past the Seibu Department Store and Apple Store in Shibuya.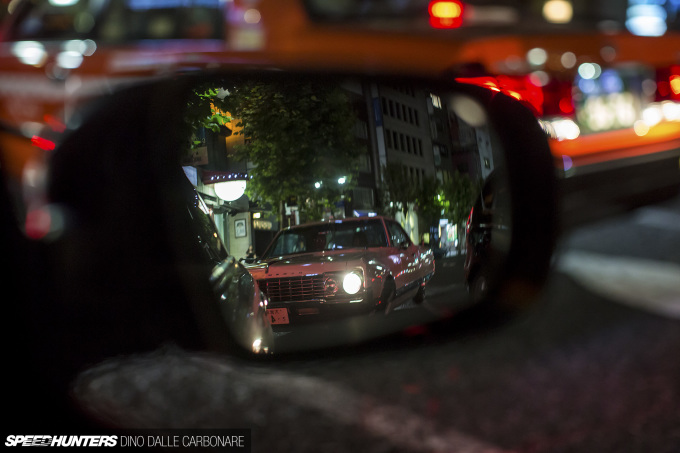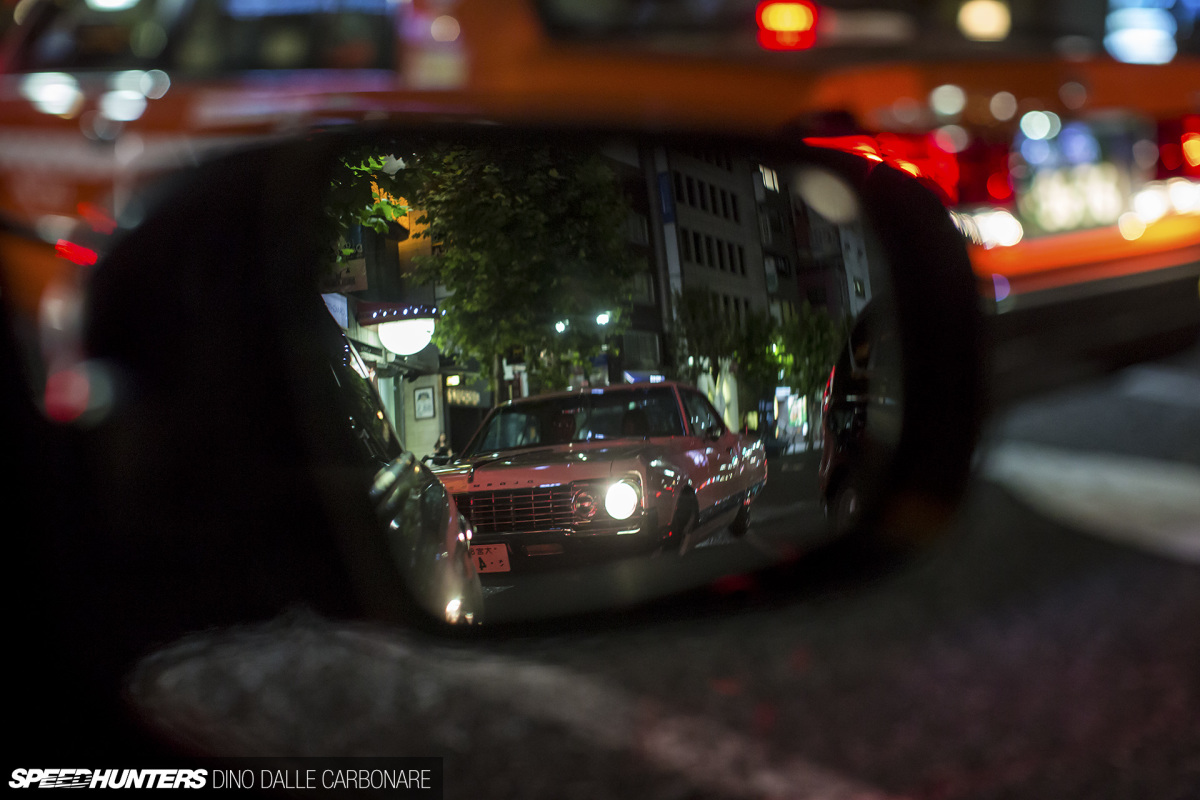 It, and the other cars in procession, kept going straight up the hill which then connects to the road that takes you over to Harajuku.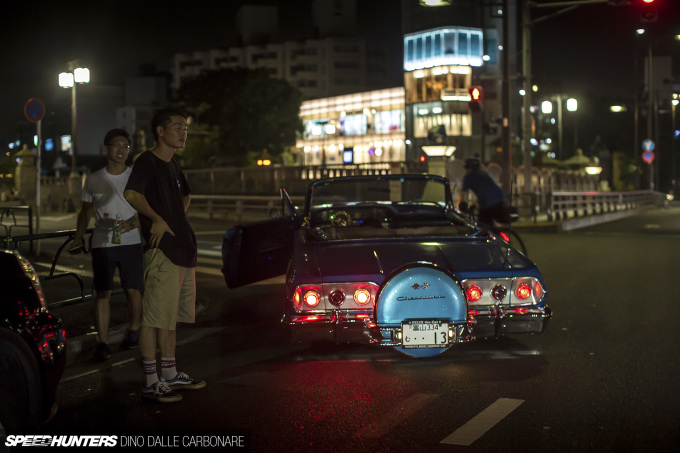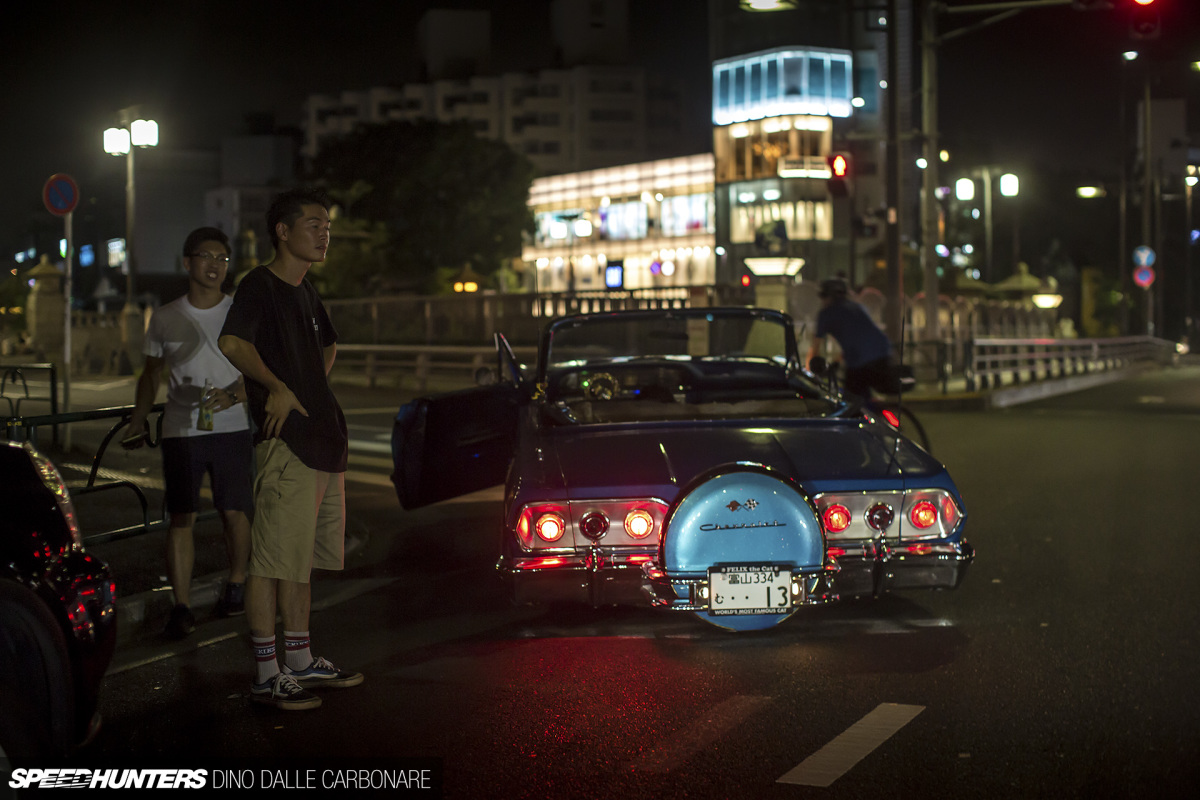 And as it turns out, that's precisely where everyone was headed.
The Hunt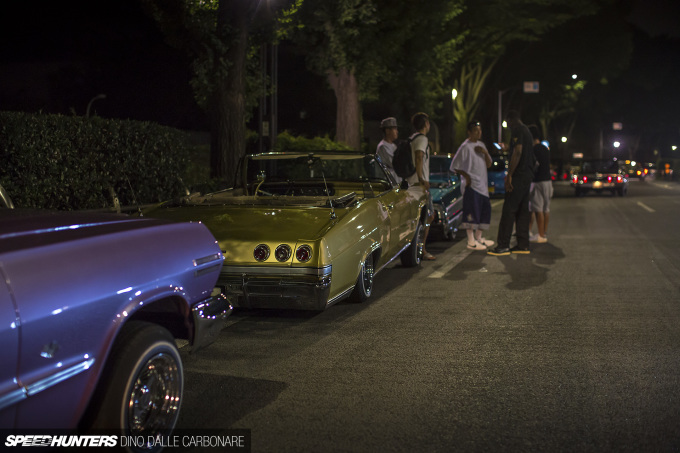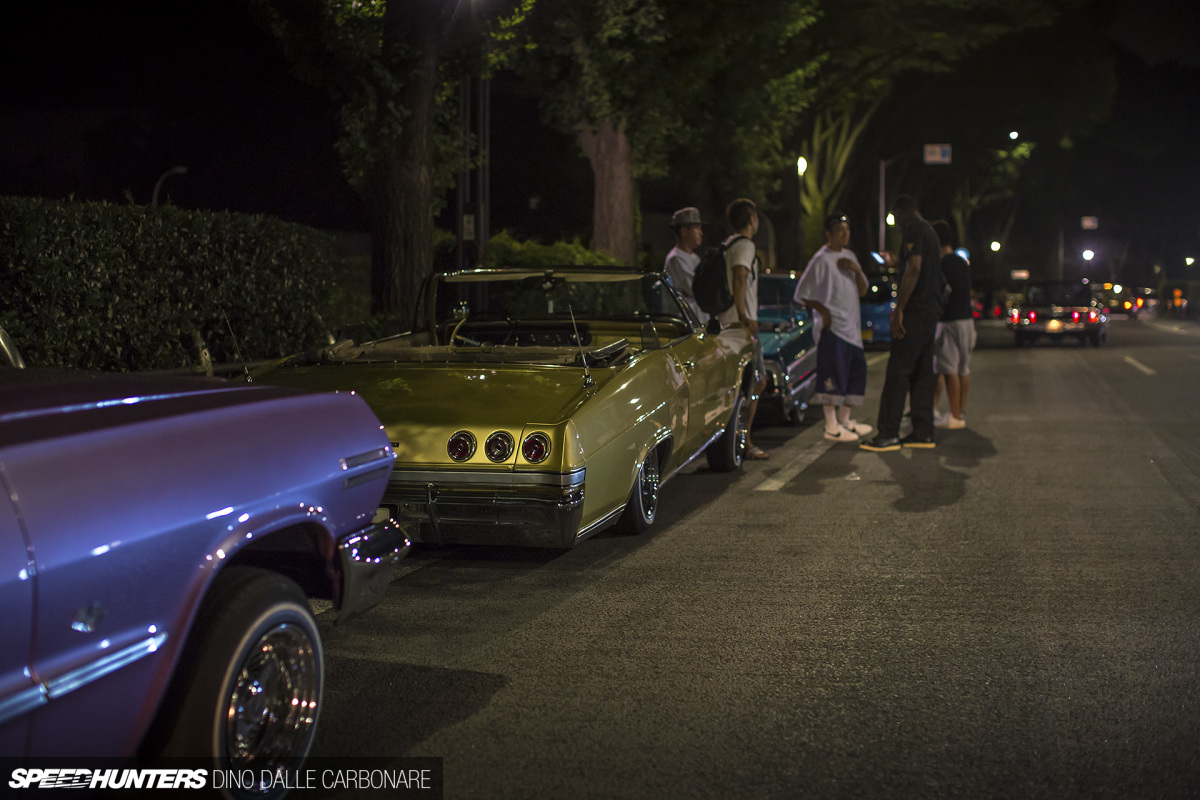 The road that runs across Yoyogi Park from Harajuku over to Inokashira-dori was completely packed out with lowriders. This is exactly where I had seen this meet go down years ago, but never on this scale.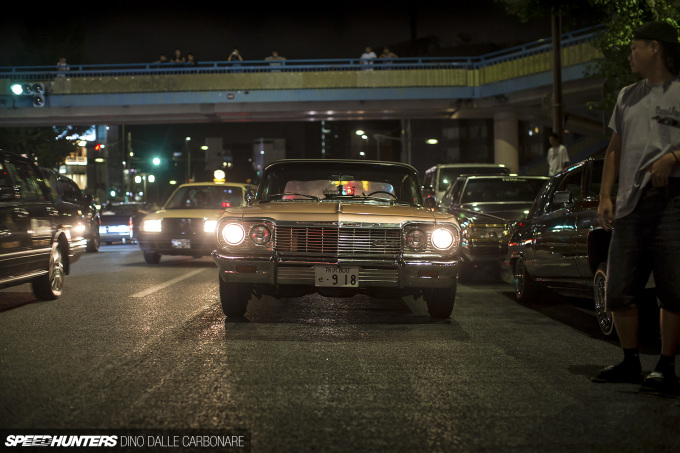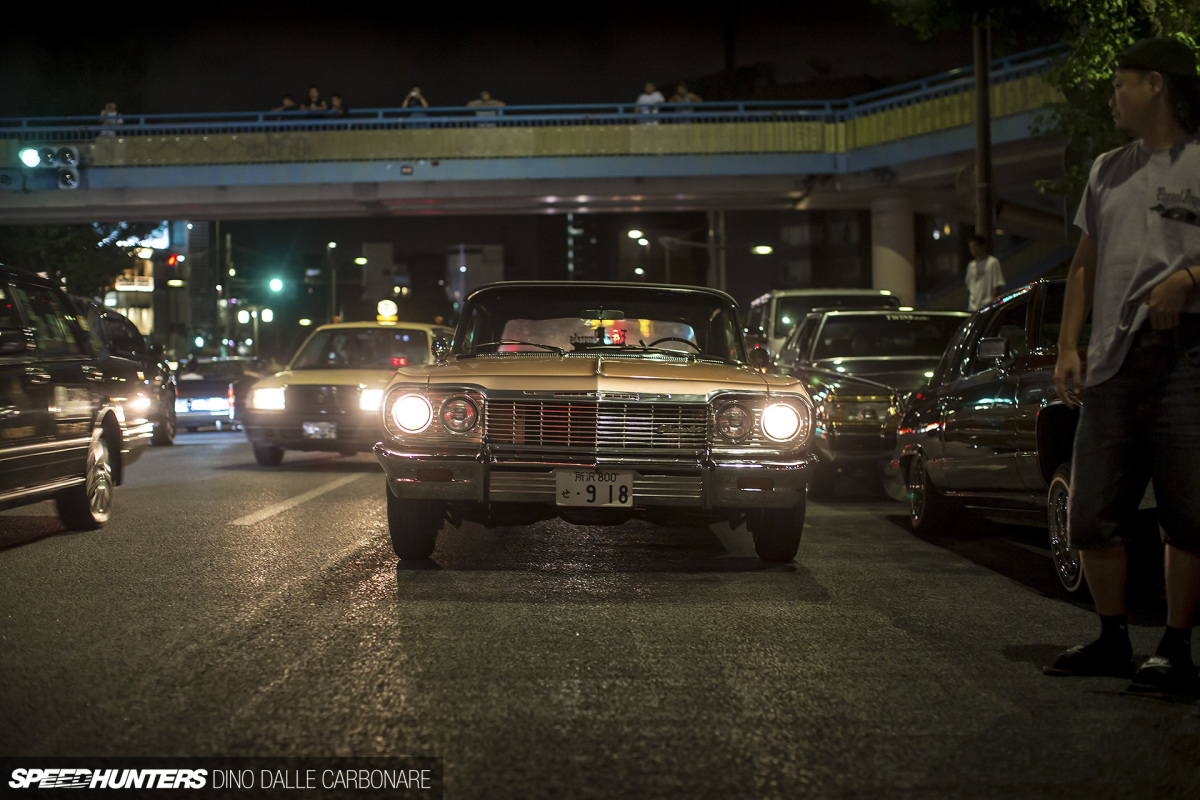 It was almost overwhelming as the sheer number of cars present made it feel like I was no longer standing in the center of Tokyo.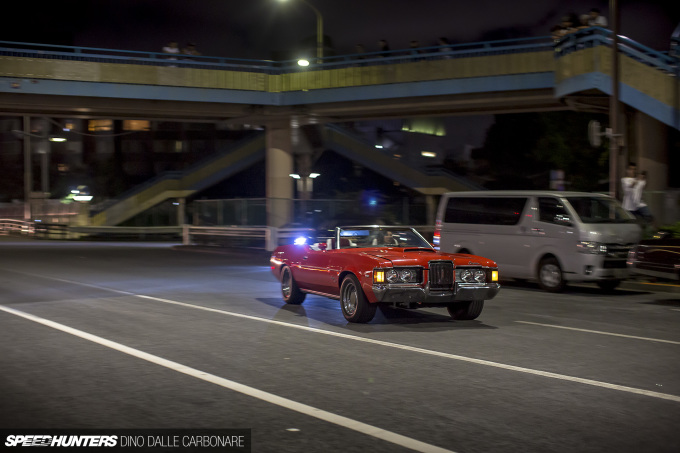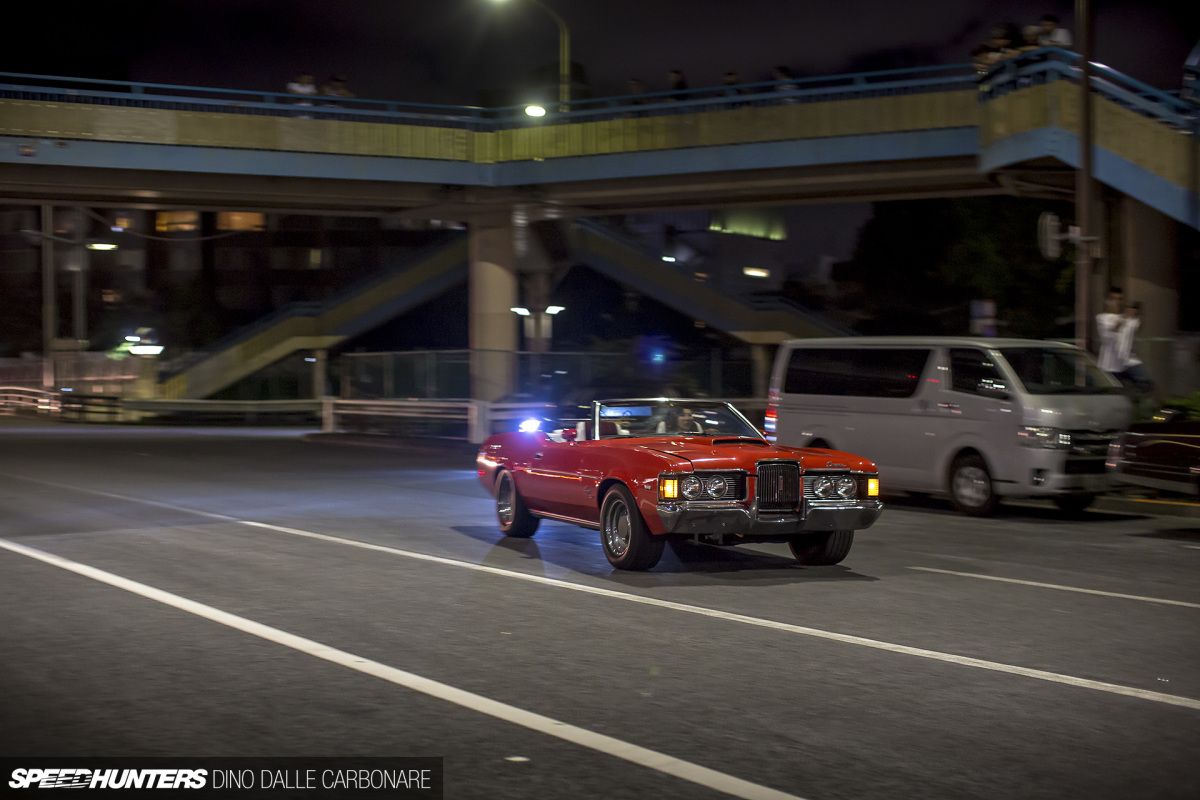 And with the whole idea here being to parade your car in front of the crowds that have gathered watch, shoot and film, there was a constant stream of American iron cruising through.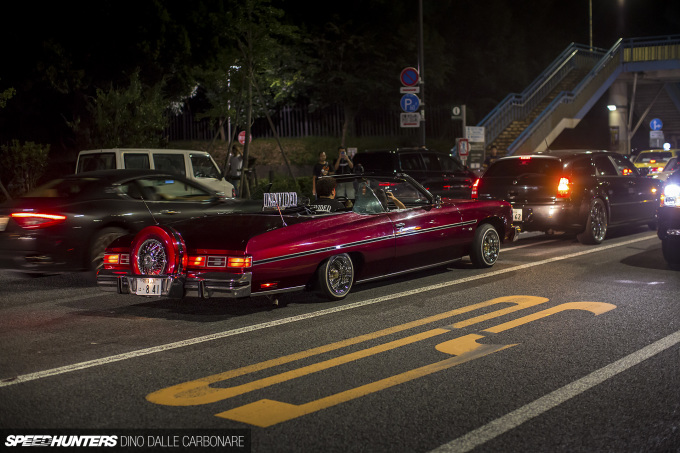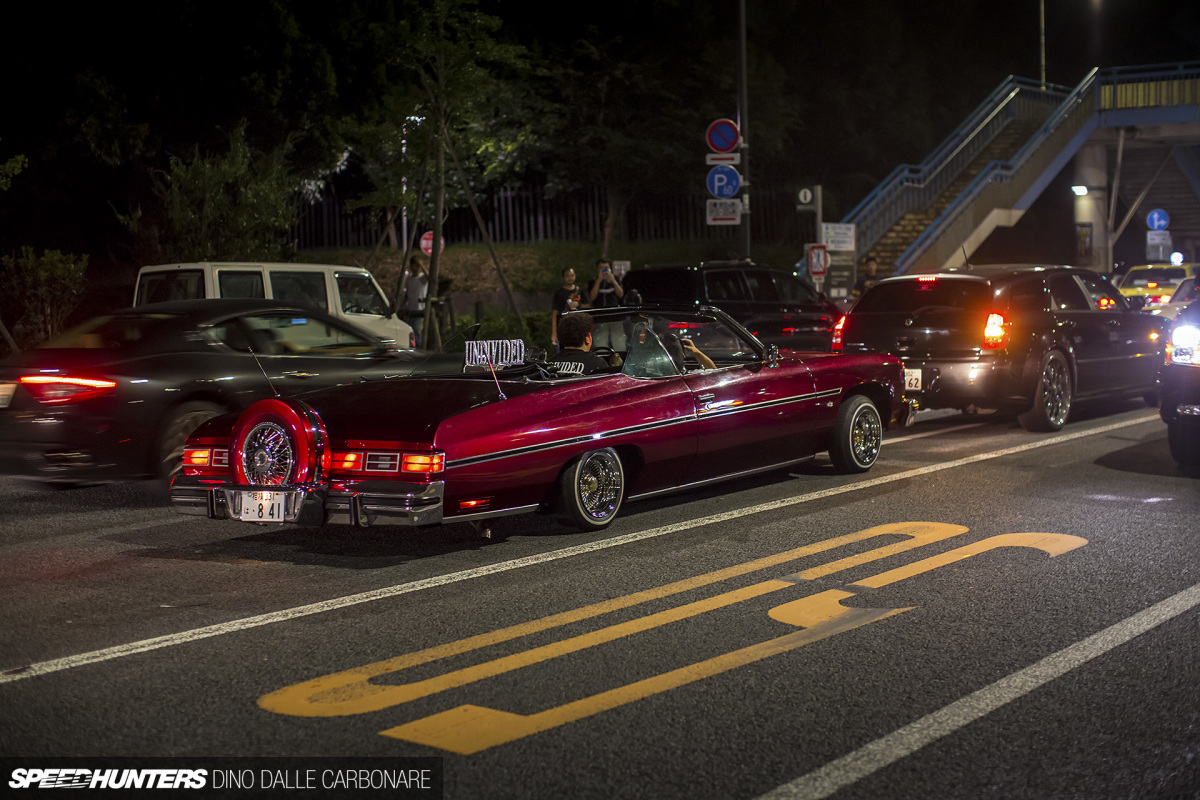 It was at this point that I pulled out my phone and did a live video on the Speedhunters Facebook page – essentially walking up and down the street for a few minutes just to share the awesomeness that I was witnessing.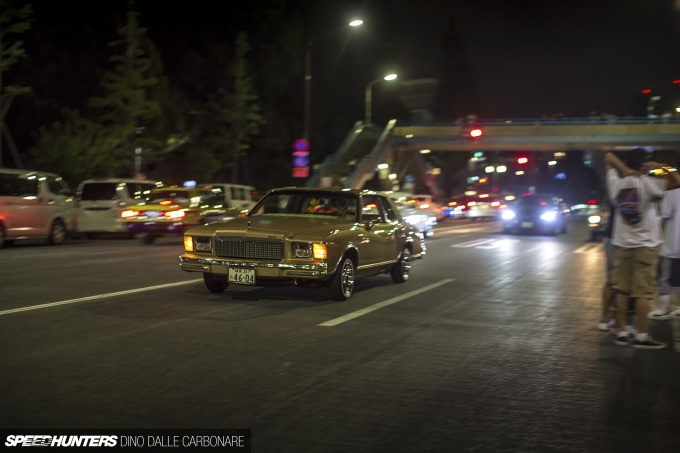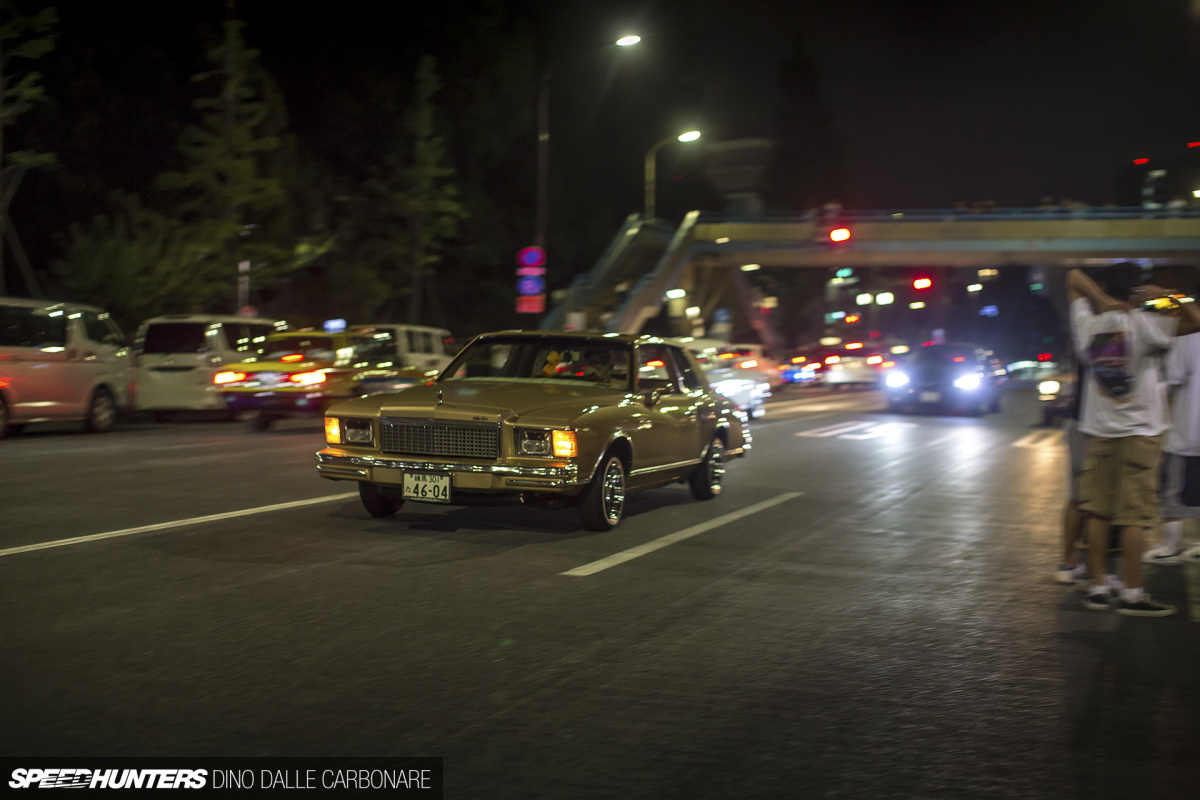 One thing that has always seemed curious to me is how one slice of this scene is made up of '80s Lincolns, Buicks and Cadillacs. To me, they seem almost too generic and normal to be considered viable base cars for lowriding.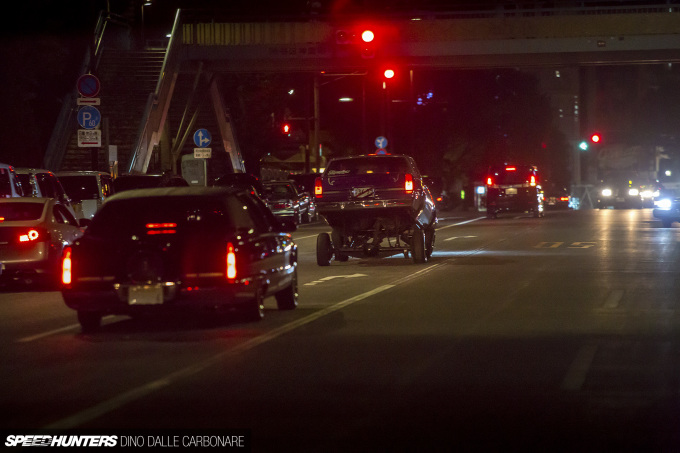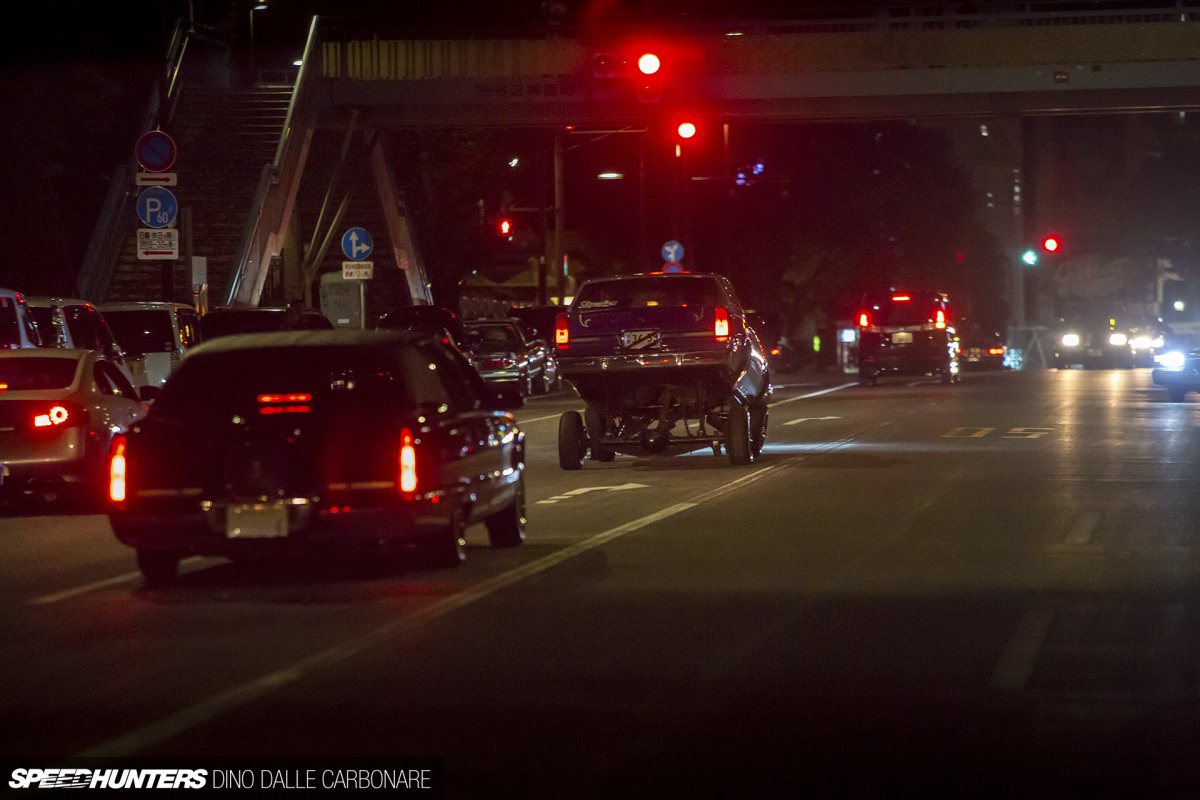 That is, until I saw them doing their thing down the street. Once you see it in front of your eyes, you get it.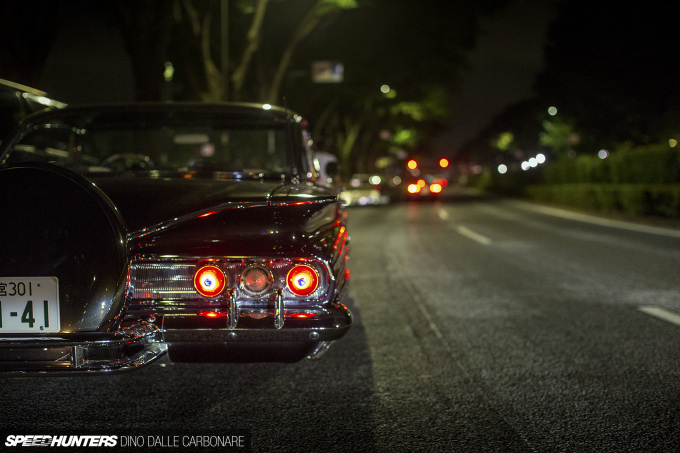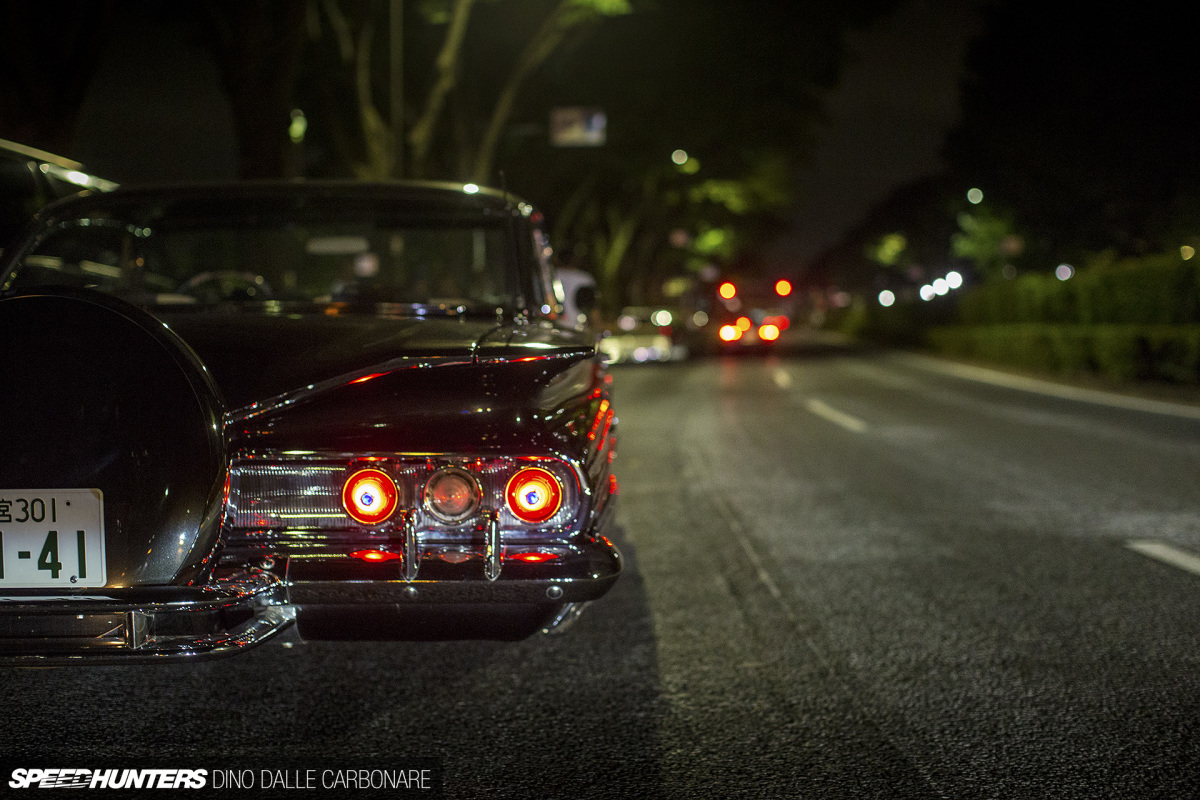 After all, you can't be bouncing and pulling crazy tricks with older and more sought after cars, right?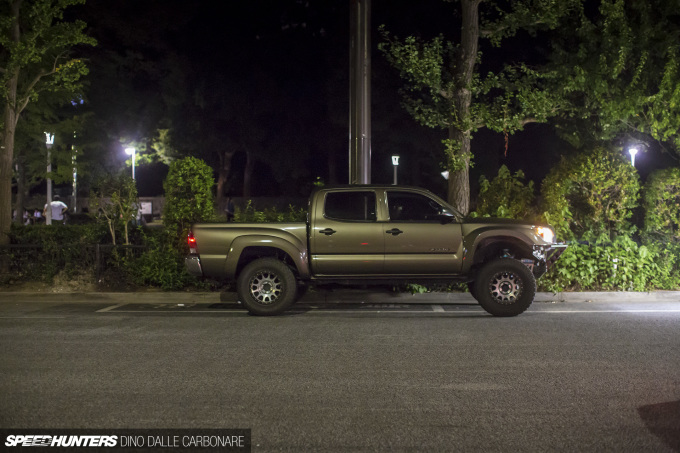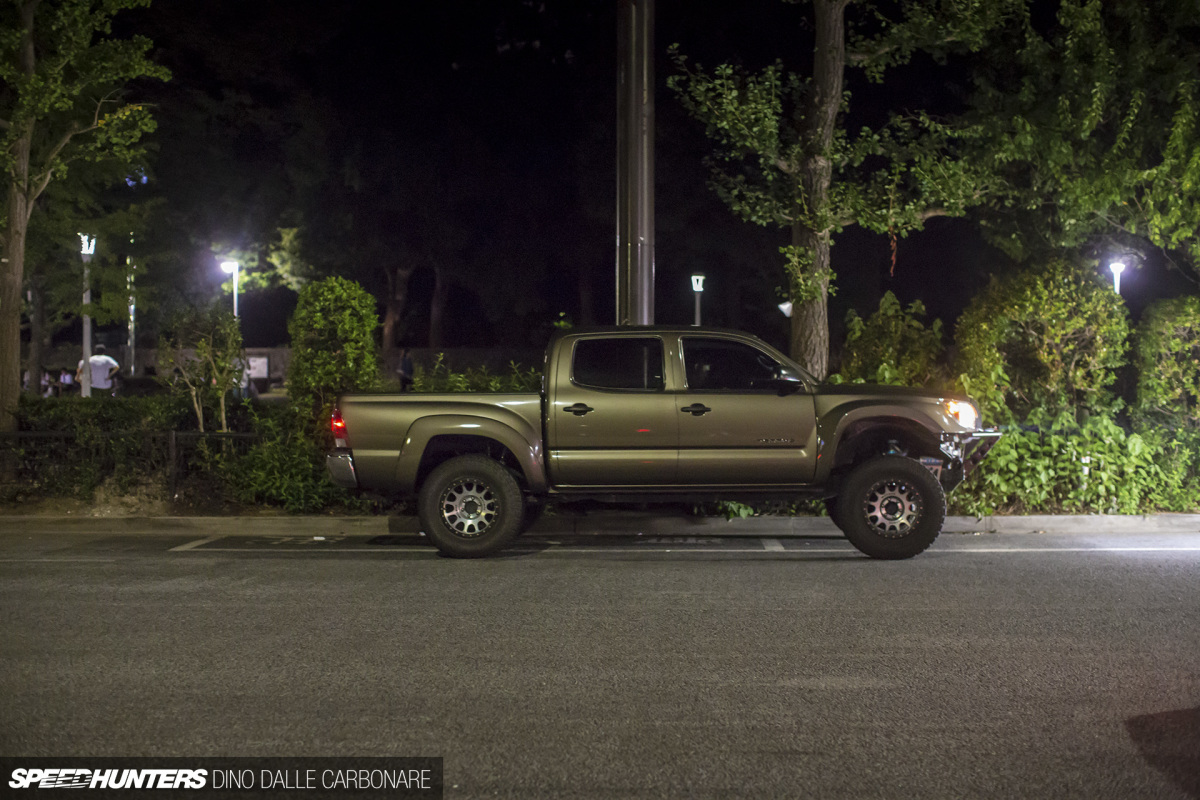 Highrider? These sorts of events always bring out other sides of American car culture, and along with full-sized SUVs riding on enormous wheels and show bikes decked out with all sorts of lights, these lifted, Baja-inspired pickups are slowly gaining popularity in Japan. Anything to stand out from the crowd!
The Show
As I walked up towards the center of Yoyogi Park, the cars became more exciting and varied.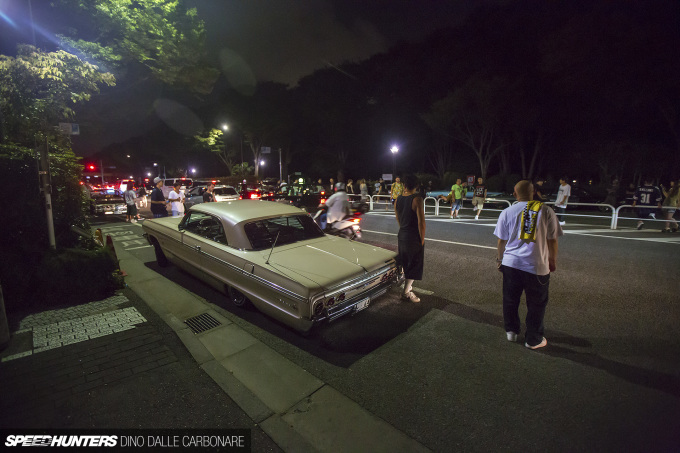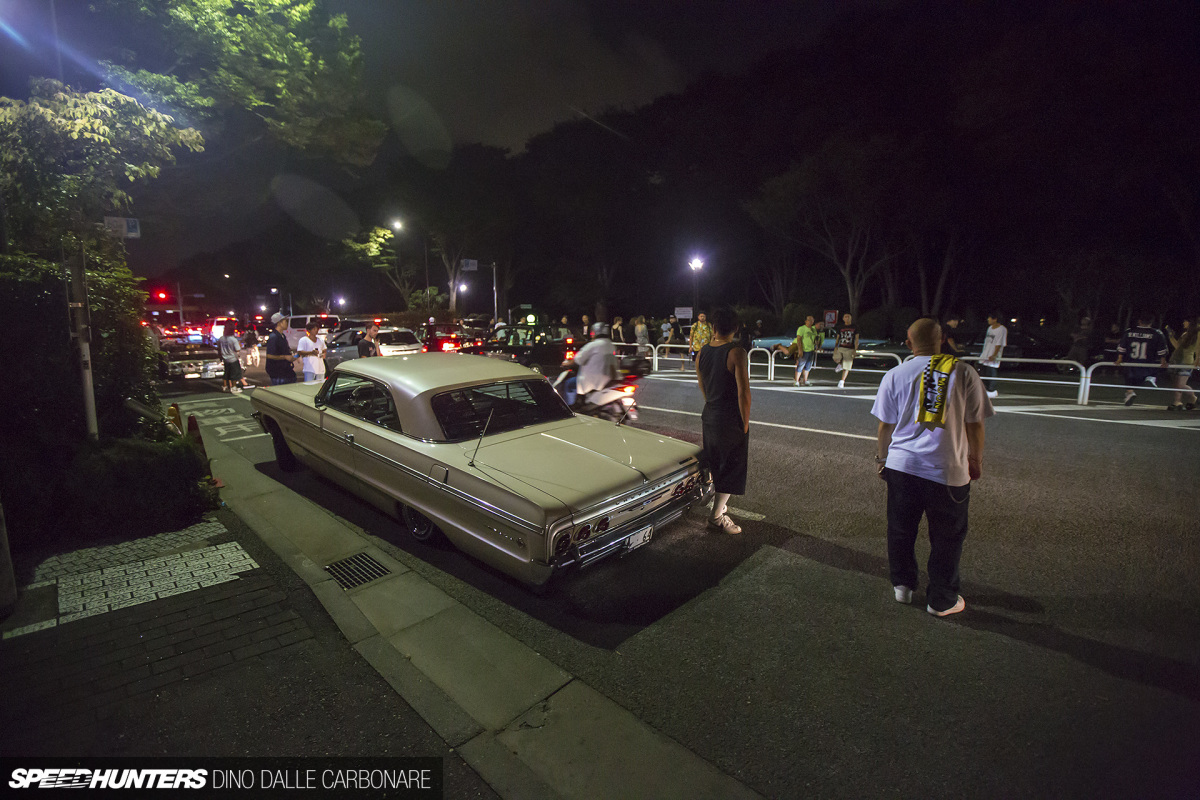 It was right across from the National Stadium where a small crowd had formed.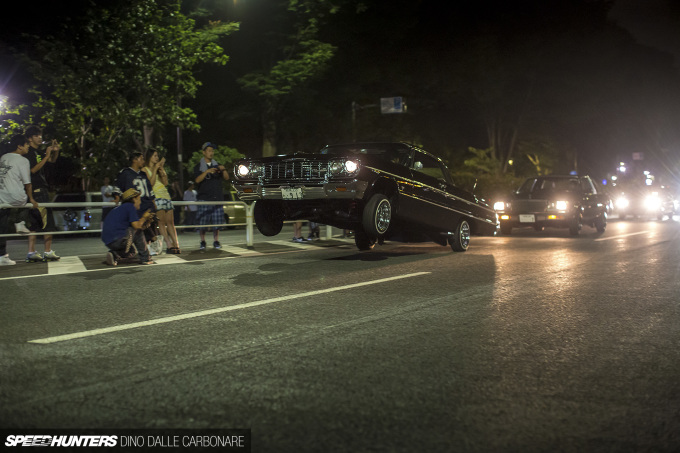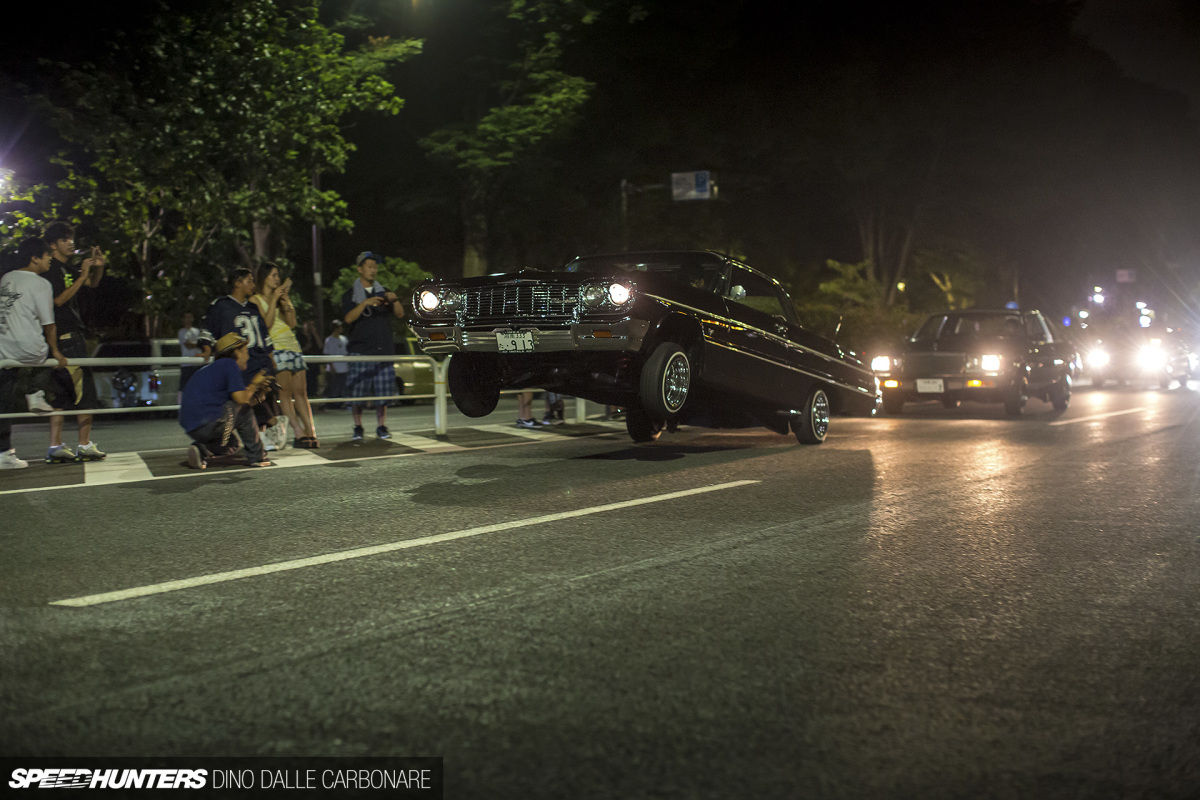 Provided the traffic lights right after this spot were green (or blue, as the Japanese say) and there was enough space up ahead, the guys really let their hydraulics rip.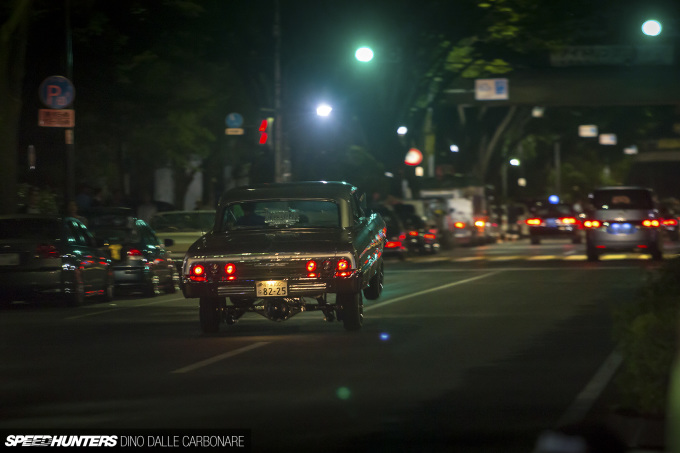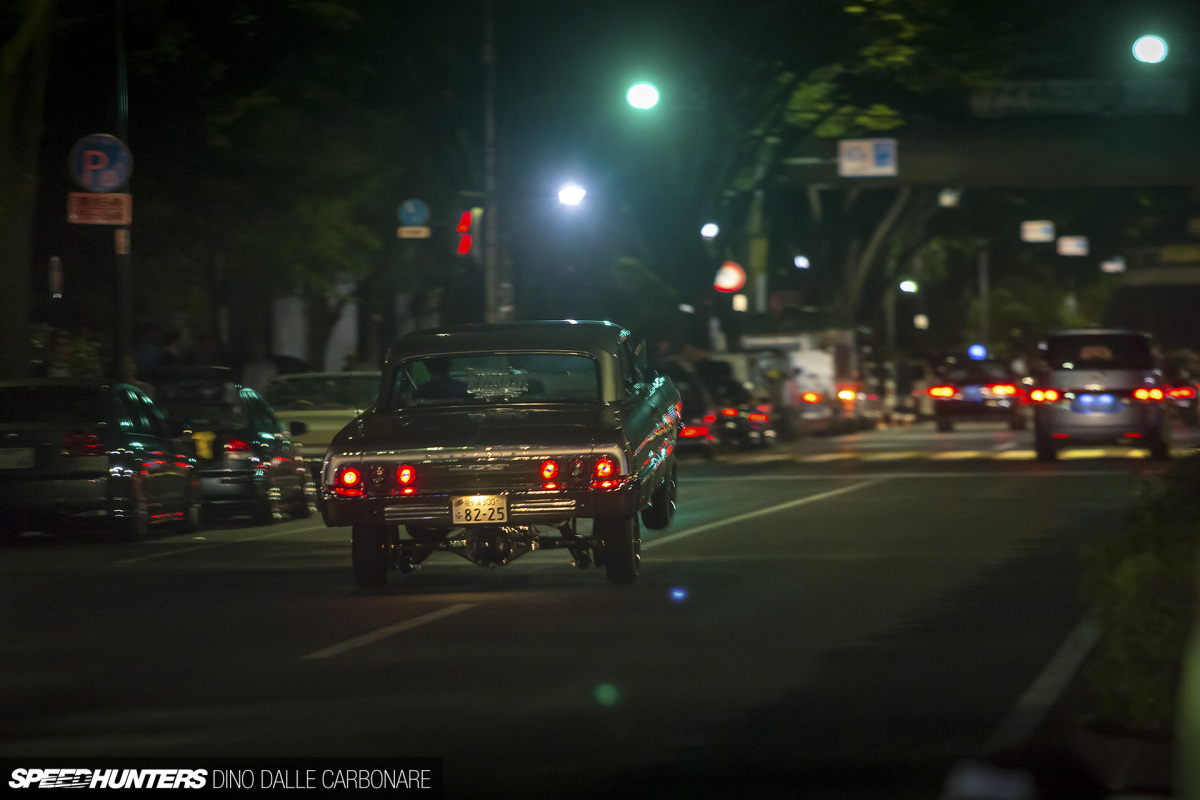 Some kept their front end bouncing right up the street. It was an awesome sight.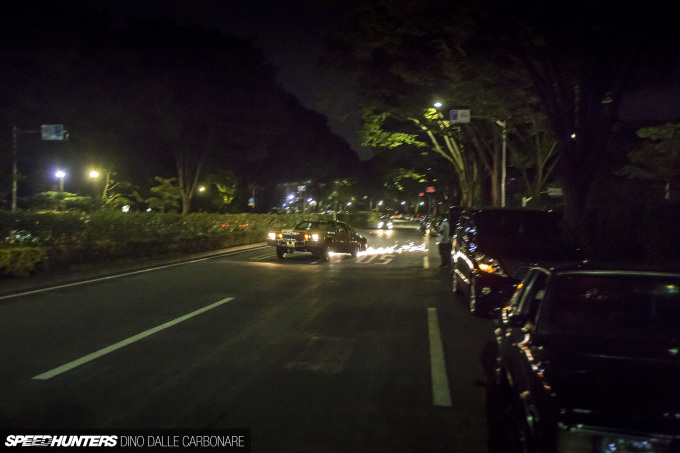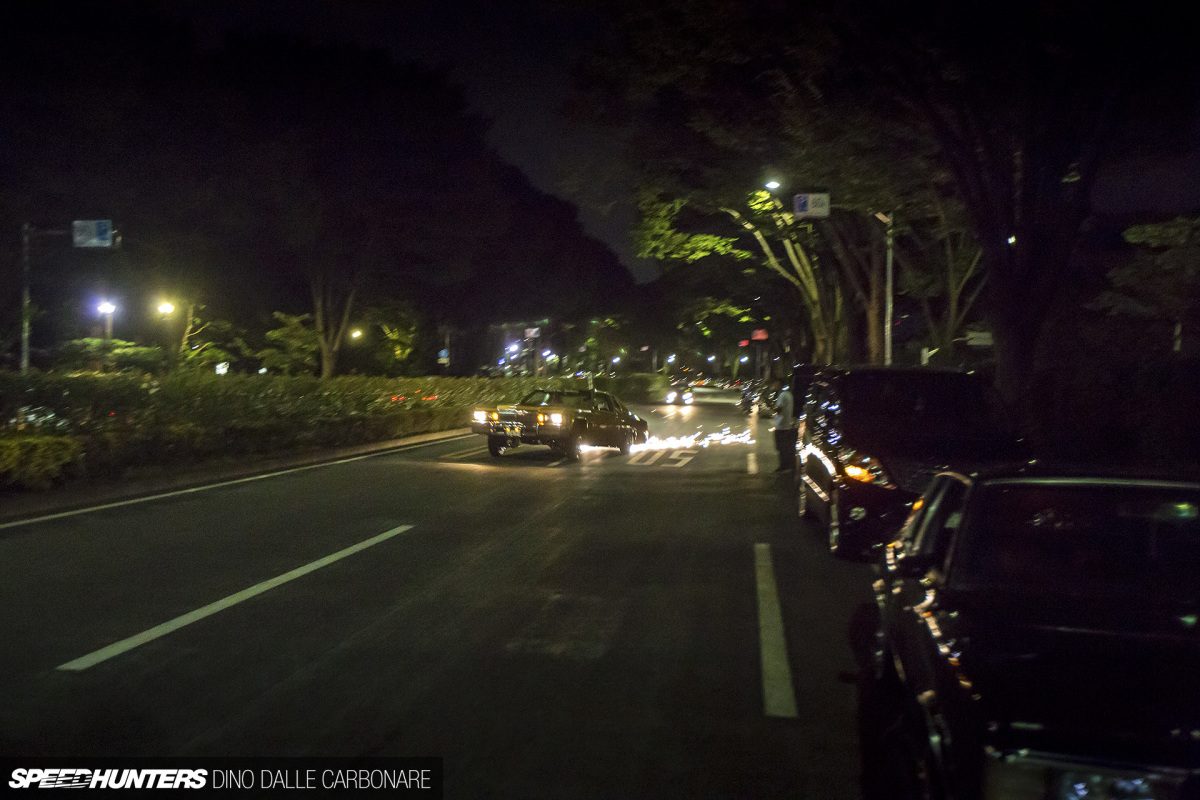 Then people started putting on light shows as they dropped their cars' rear ends right onto the ground and slalomed left and right.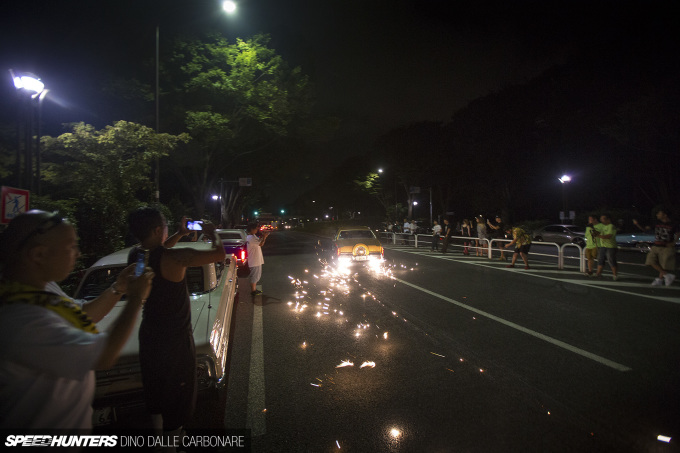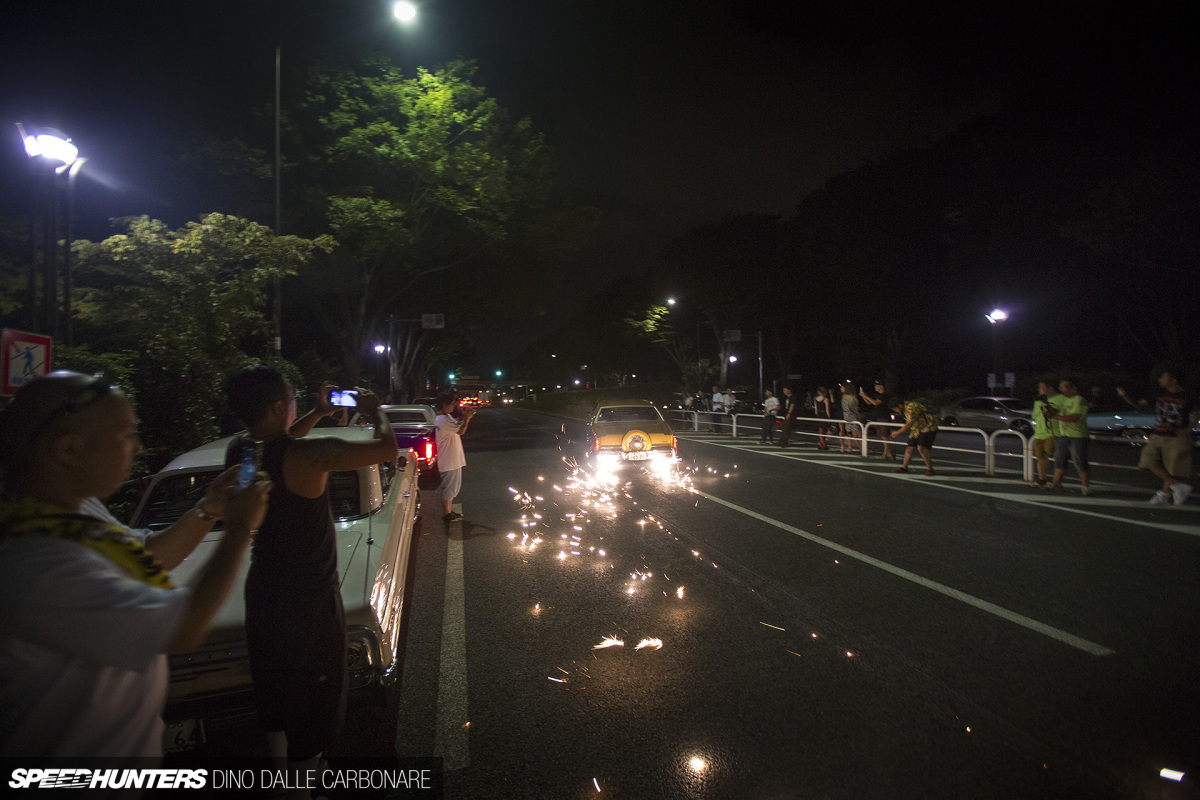 Many sparks were thrown and bystanders were cheering on for more.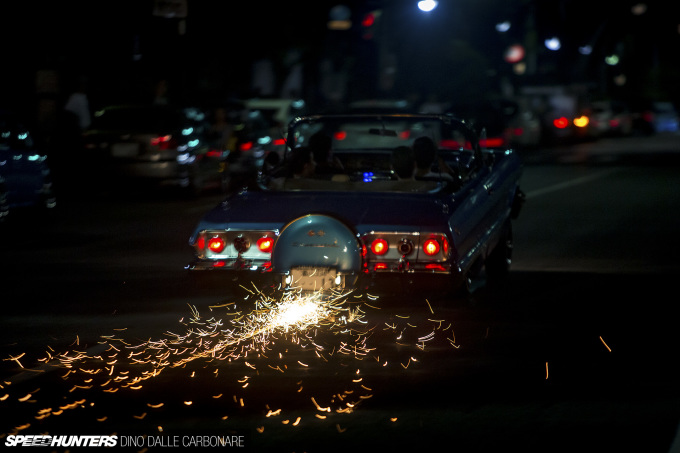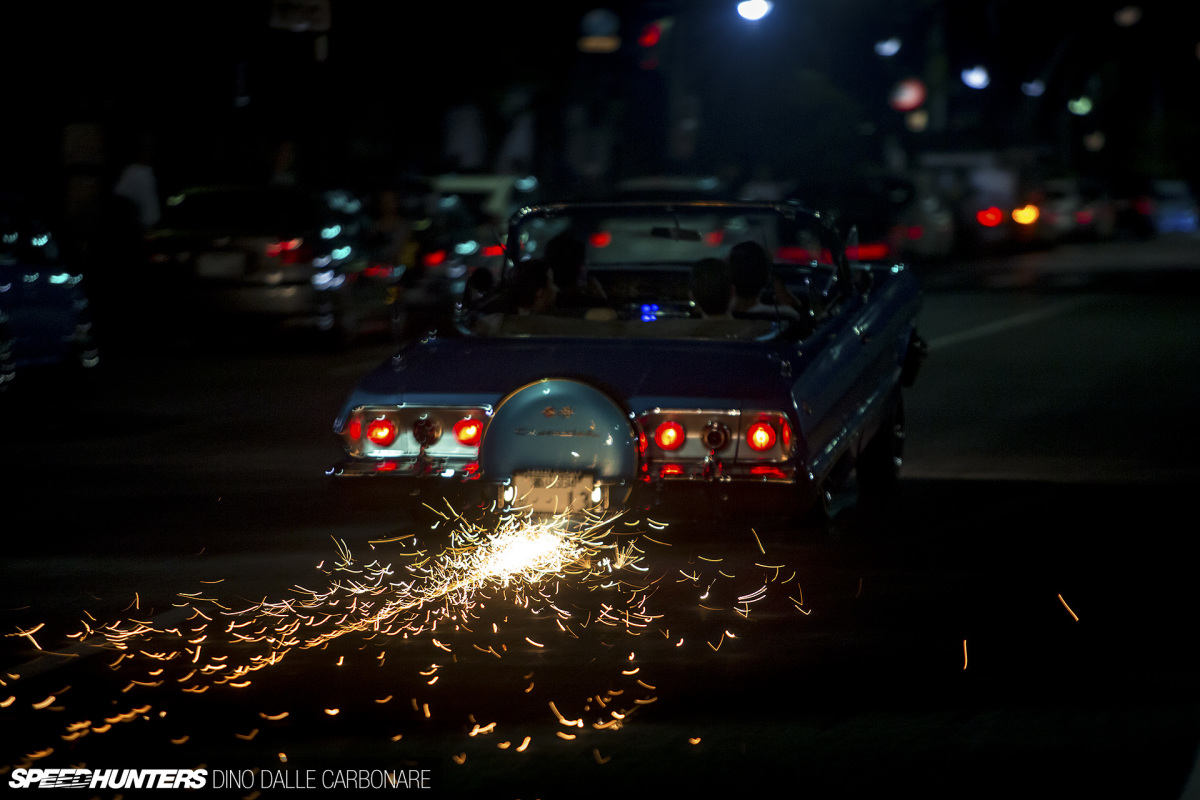 By this time I had well and truly forgotten about AE86s and what may have been going on at Daikoku PA.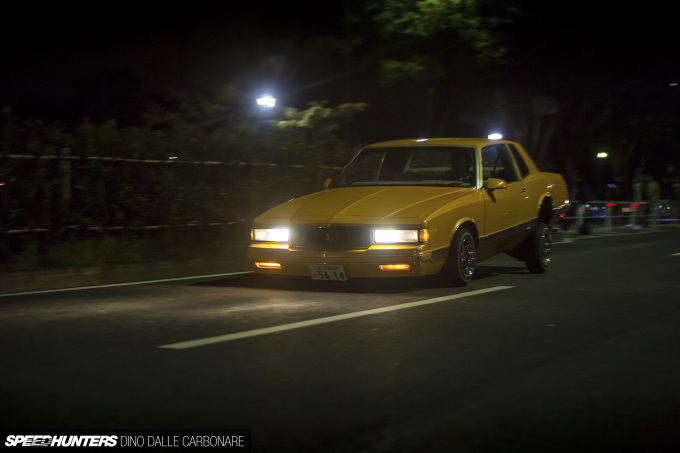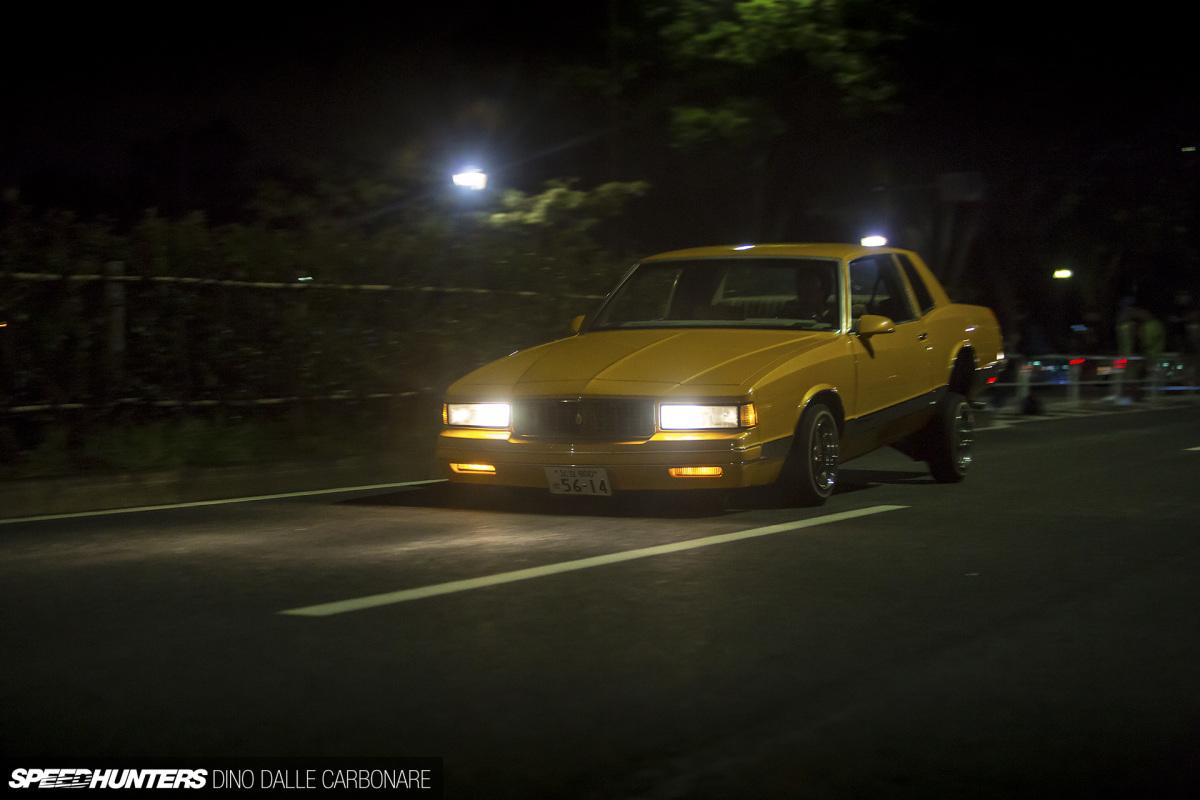 What makes this street a superb venue for this sort of thing is the easy way that cars can either loop around or go a few blocks to then drive up it once again. It kept the parade flowing all night.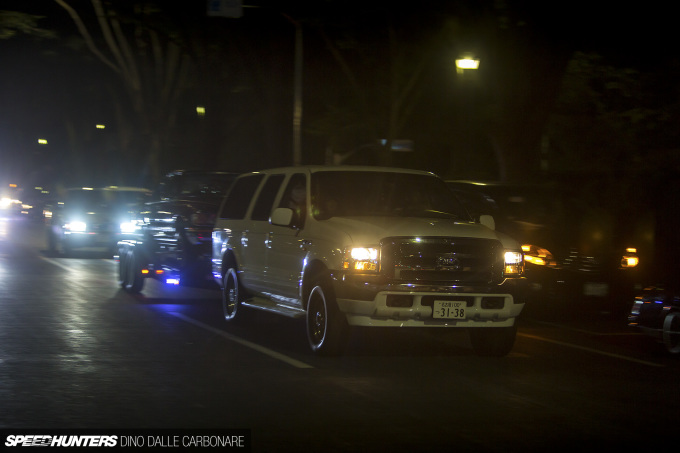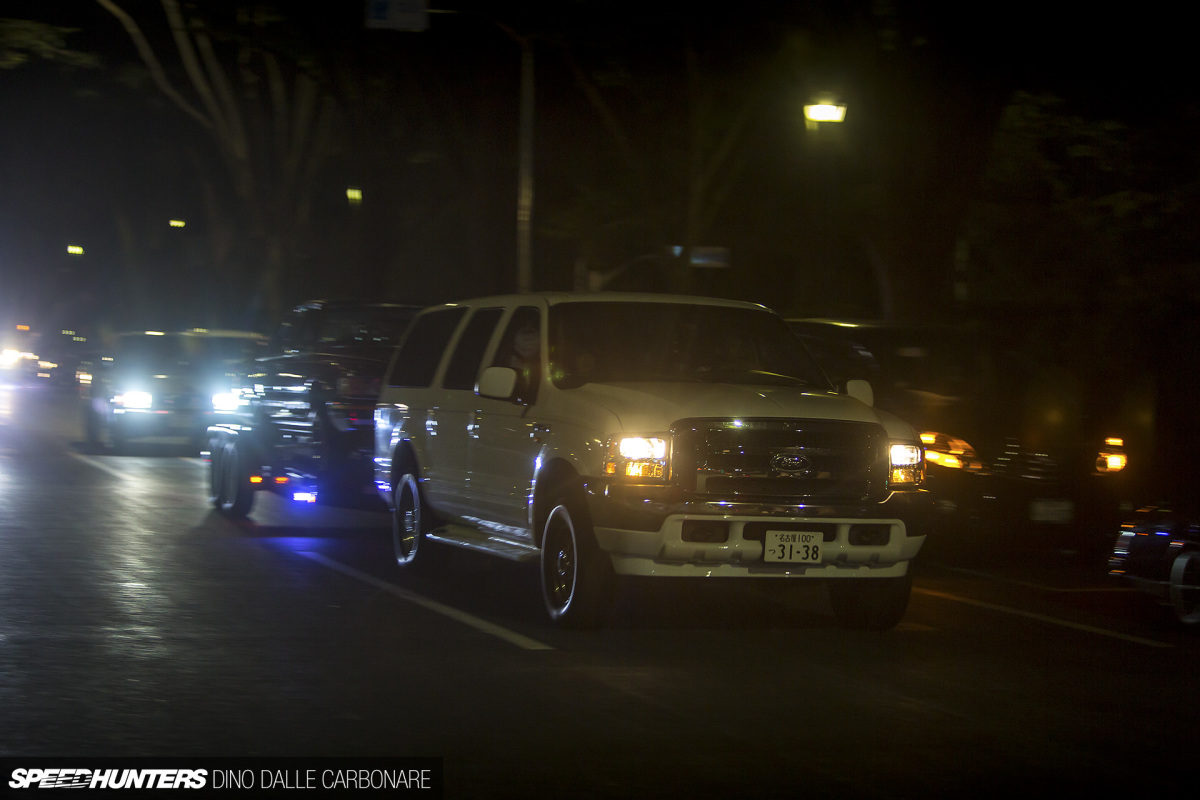 Of all these monthly lowrider meets, August always has the largest turnout, which is why some had driven up from as far as Kyoto and Nagoya. People were really impressed when this massive Ford Excursion from Nagoya rolled in…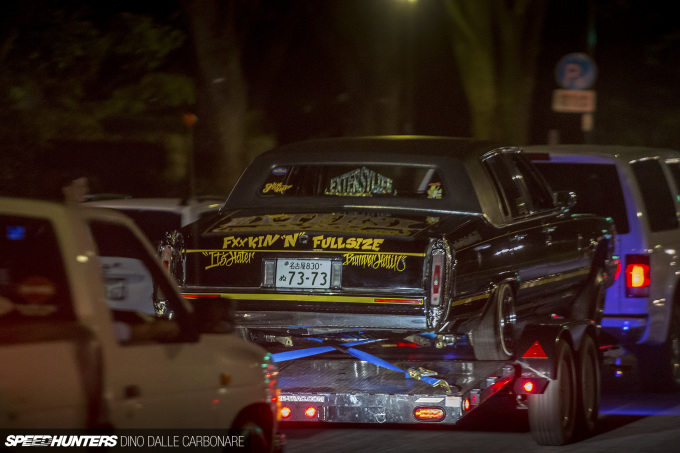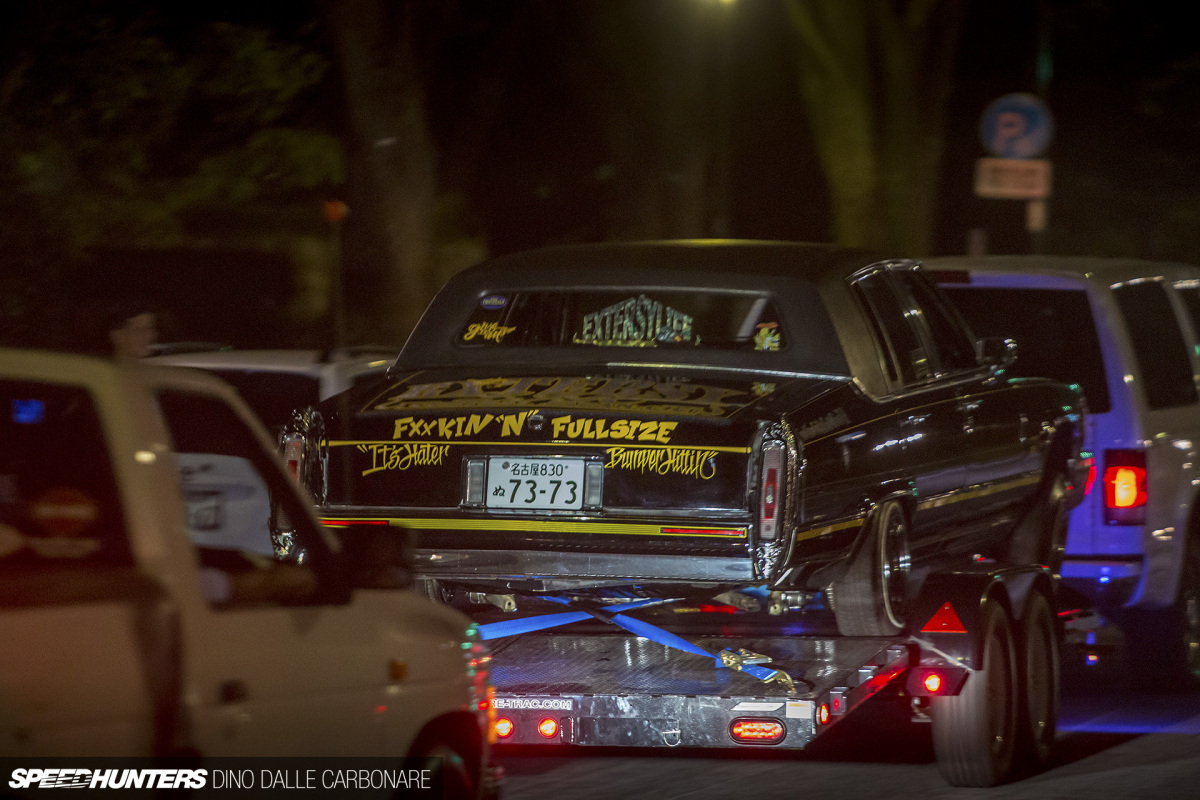 And this the reason why: one of Japan's most well known and respected 'bouncing cars' on the trailer.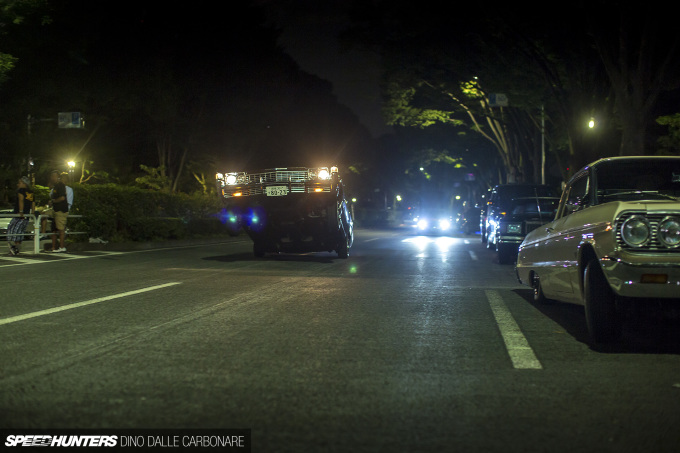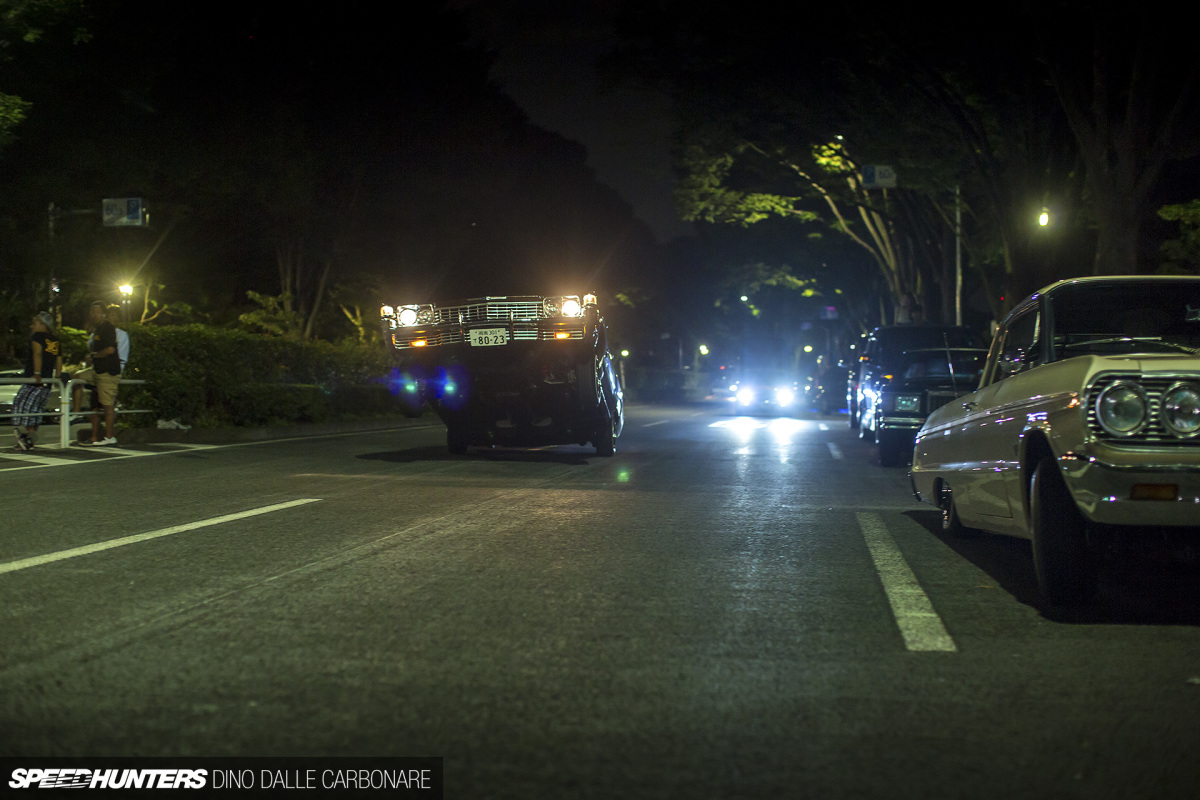 It went out a couple of times to do its thing, but I was so taken aback at how damn high it could lift its front end that I totally forgot to grab a snap!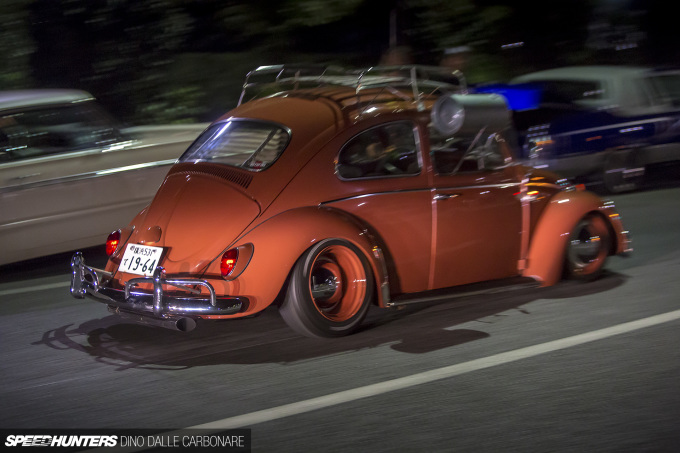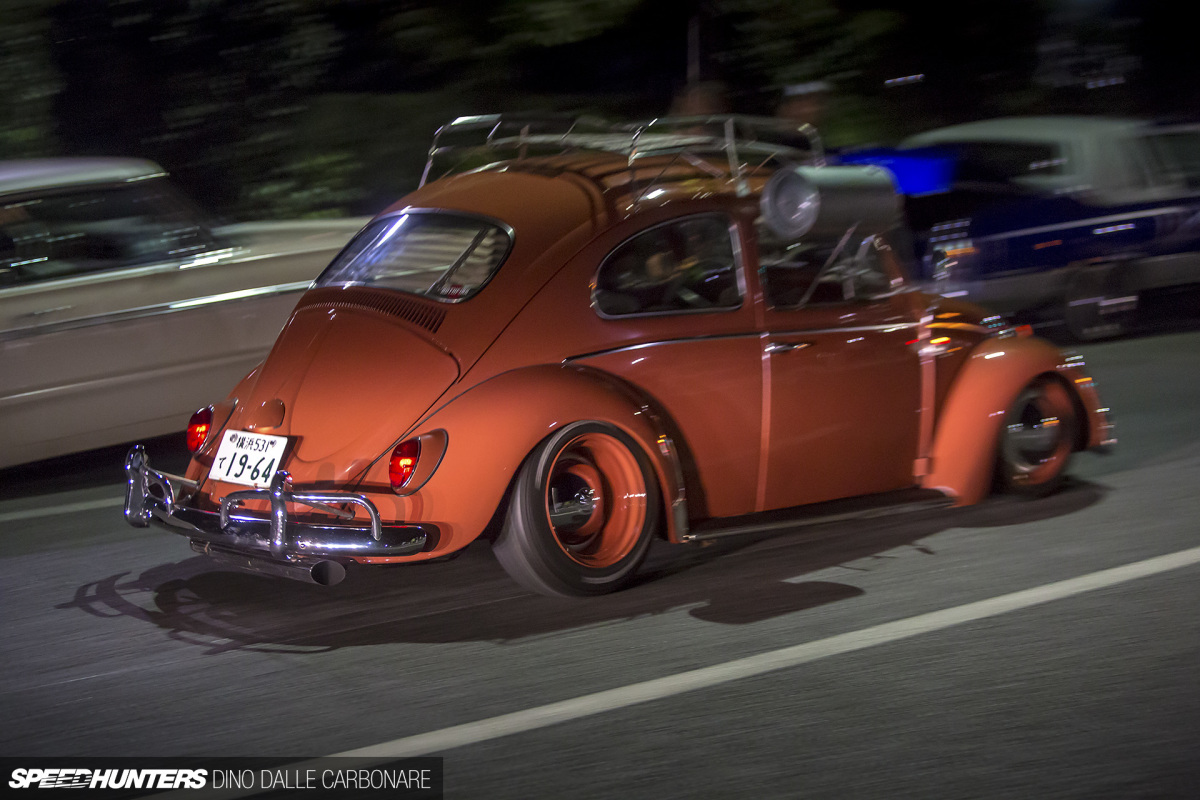 Not to matter, the cool rides kept on coming. Check out this '64 Bug with an A/C unit mounted on the side of the window! I hope the owner had filled it up with ice as the humidity didn't let off all throughout the night.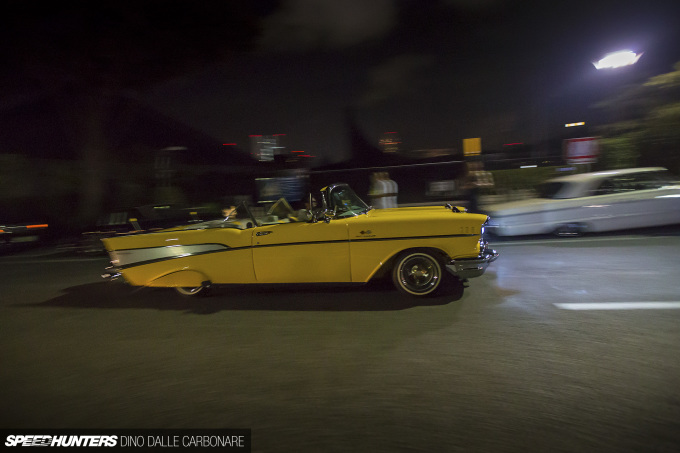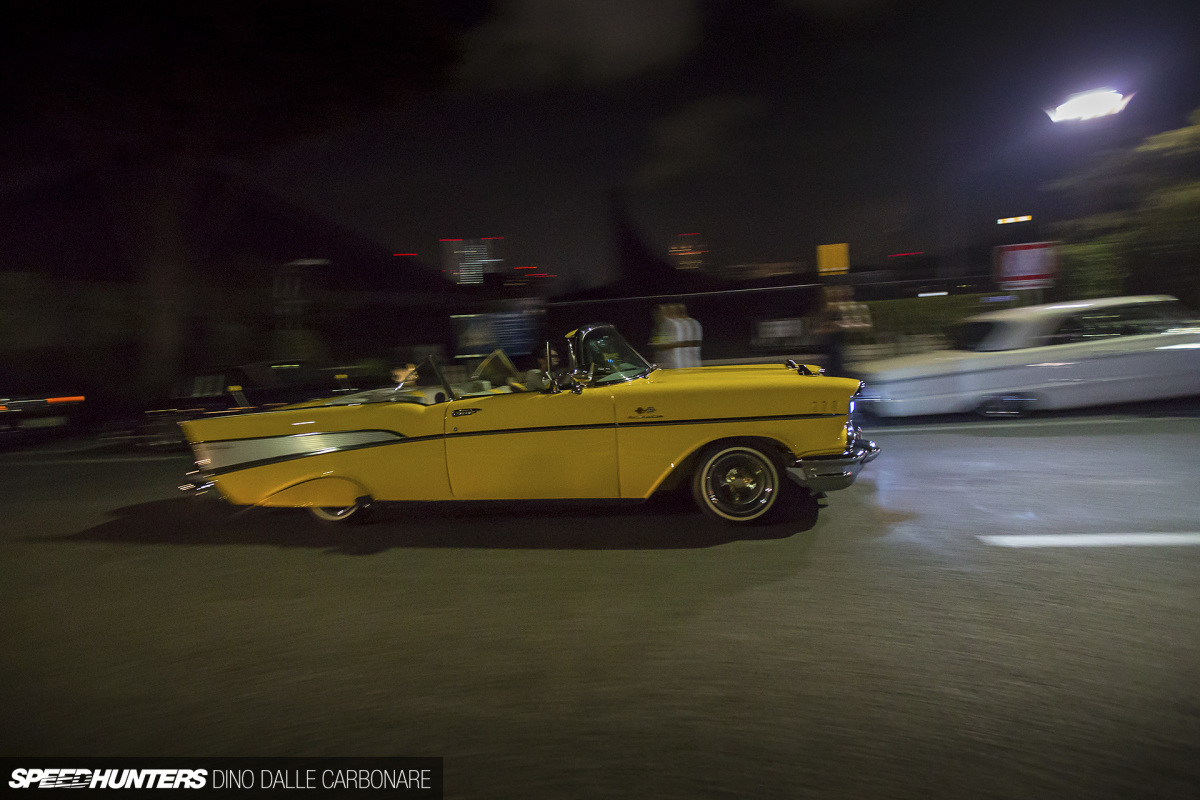 Not only are Bel Air convertibles quite a rare sight in Japan, but I can safely say I had never seen a yellow example on the streets of Tokyo until this one rolled by.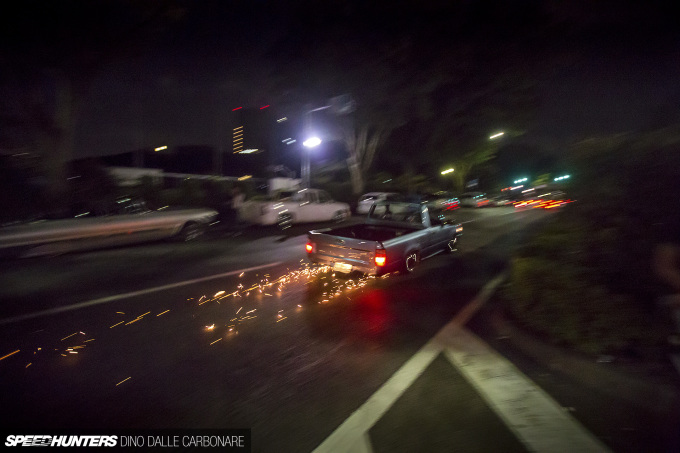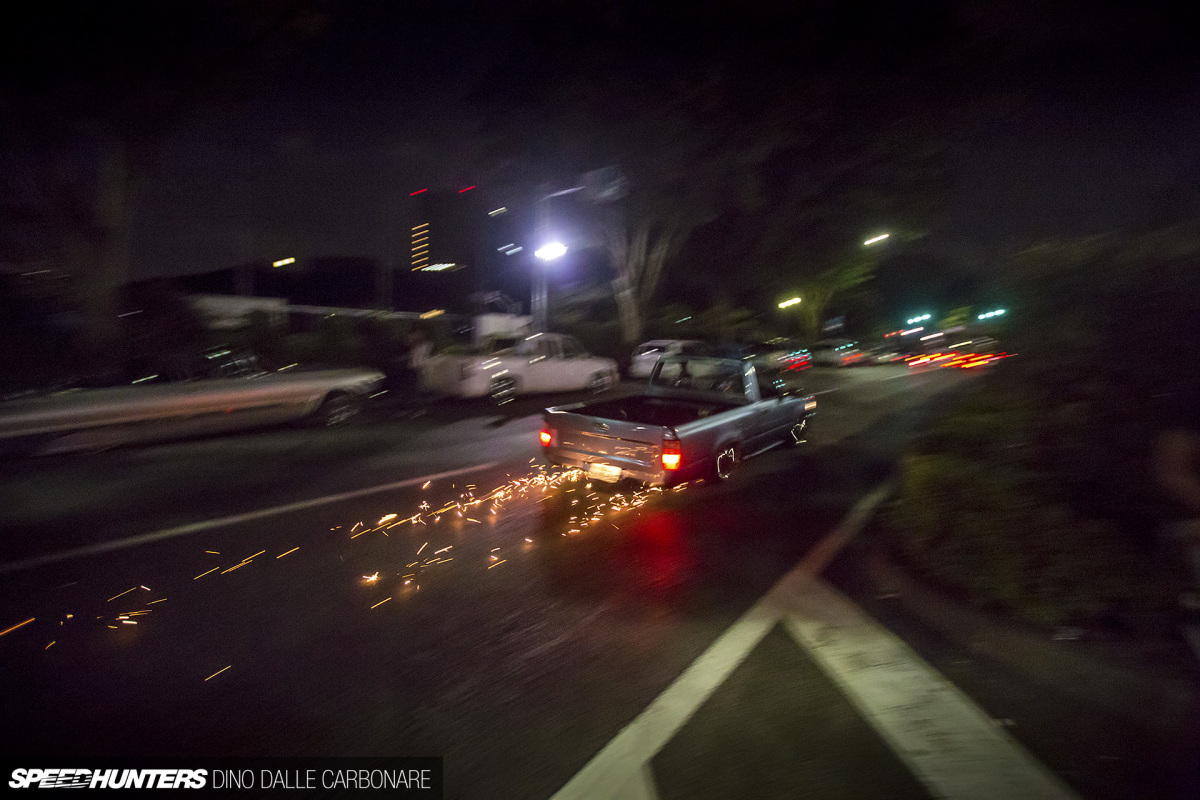 This being Japan, the selection of cars is always spiced up with something JDM, and on Saturday night that 'something' was a Sunny truck almost hitting 88mph!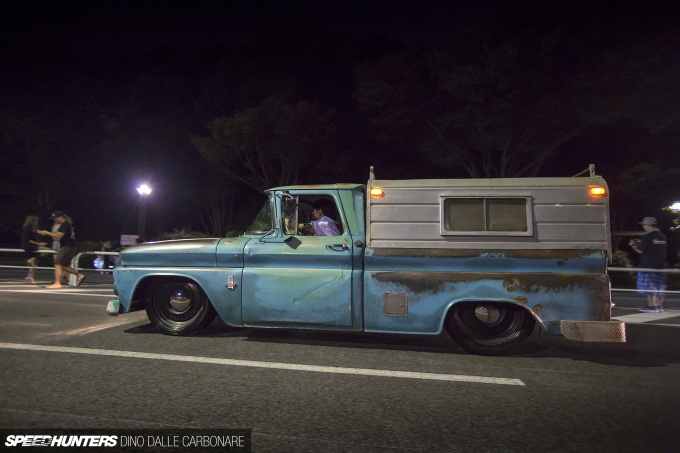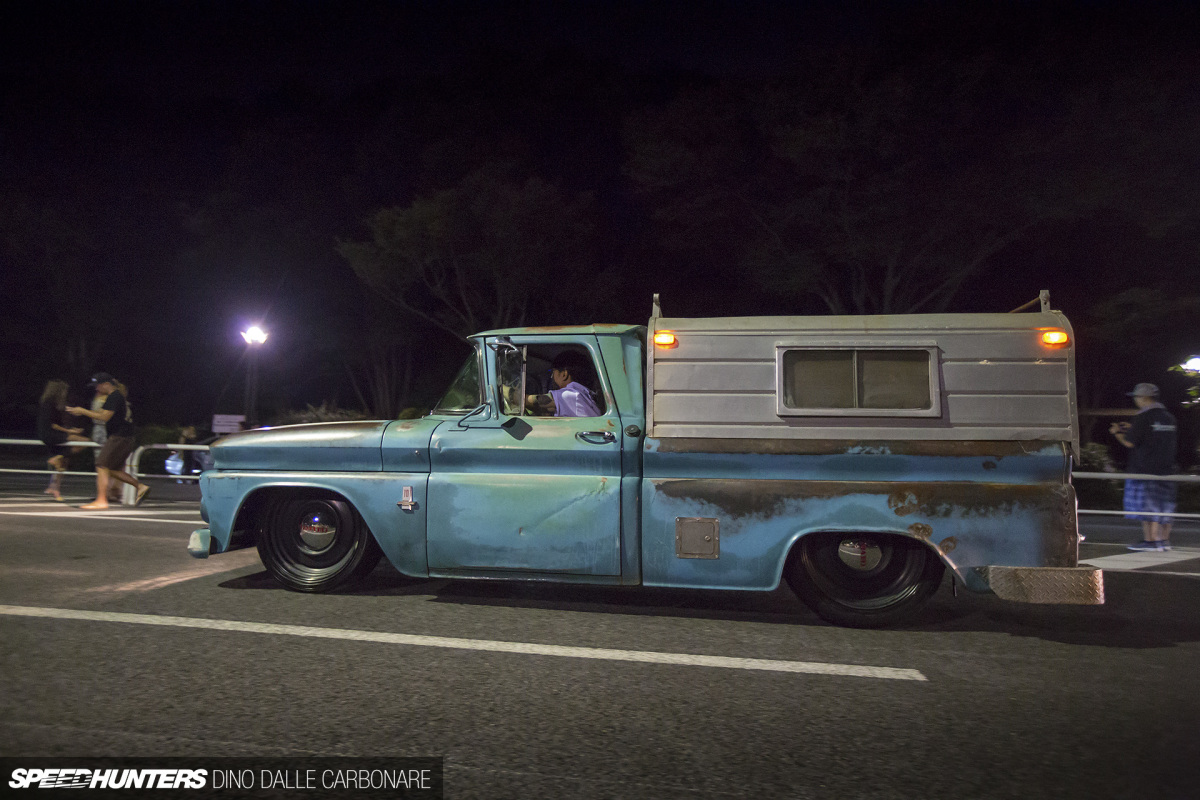 And on top of a few other cool Japanese kustoms, there was definitely a lot of variety to indulge in.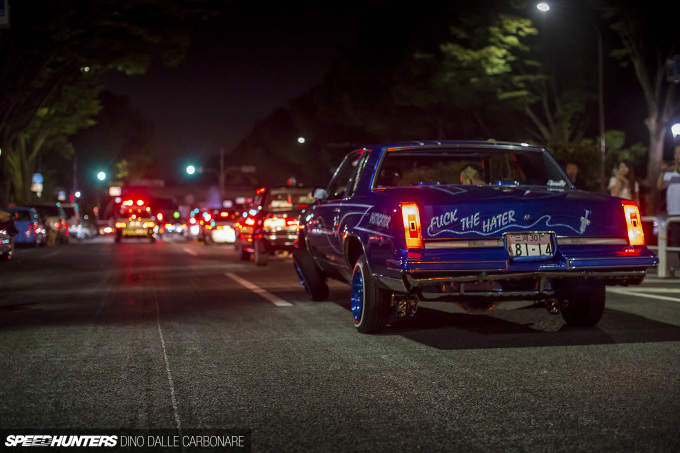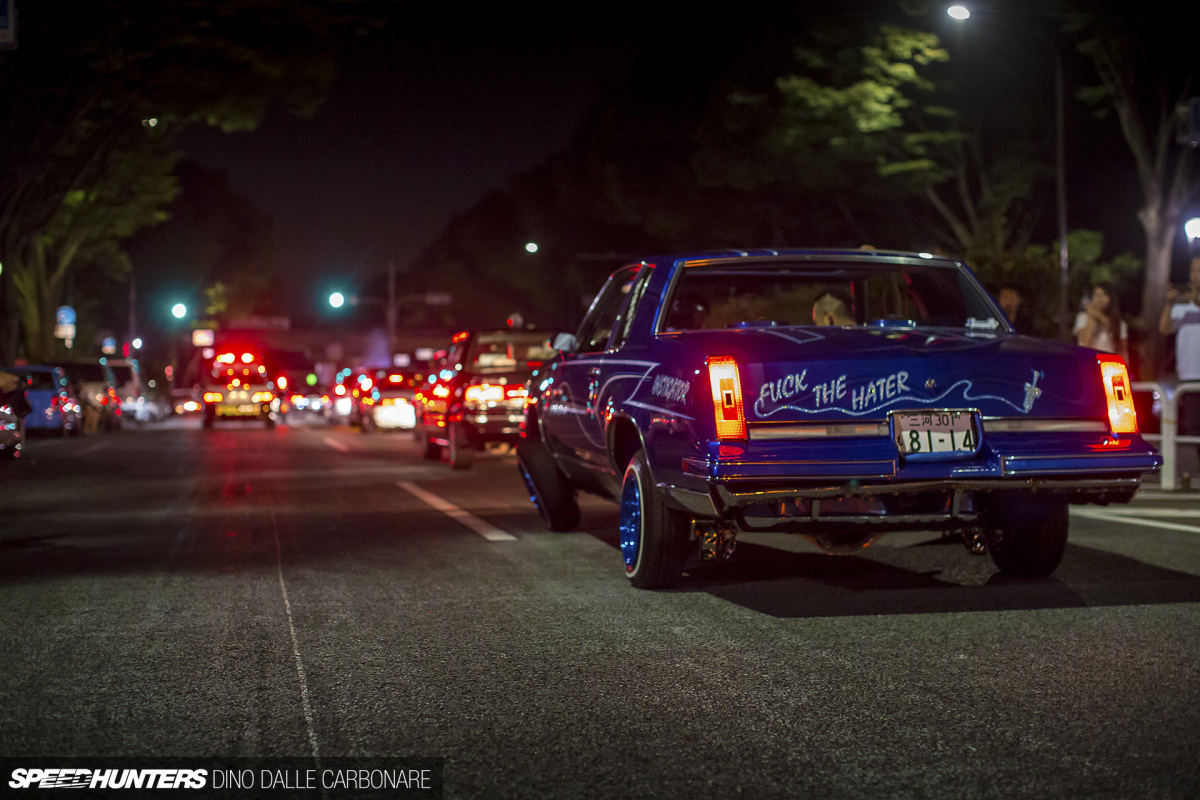 After being exposed to yet another facet of Japanese car culture I felt beautifully satisfied. It was as if a Mooneyes Hot Rod Custom show had come to life right in front of my eyes, in central Tokyo.
I say it often, but when it comes to cars Japan never disappoints.
Dino Dalle Carbonare
Instagram: speedhunters_dino
dino@speedhunters.com