Realising Dreams
It's easy to describe Japan as a motoring mecca. Enthusiast events every weekend, modified cars on every street corner, and an active motorsport scene that's all underlined by a strong automotive manufacturing industry – what's not to love?
It's been my goal to build a career for myself in the automotive industry since I was about 14 years old, and as a natural development I've always known that my future was either in Europe or Japan if I was to really learn from the best in the business. Six weeks ago I tucked my first-ever one-way ticket into my Aussie passport, and boarded a flight from my hometown in Sydney to Tokyo for a new opportunity.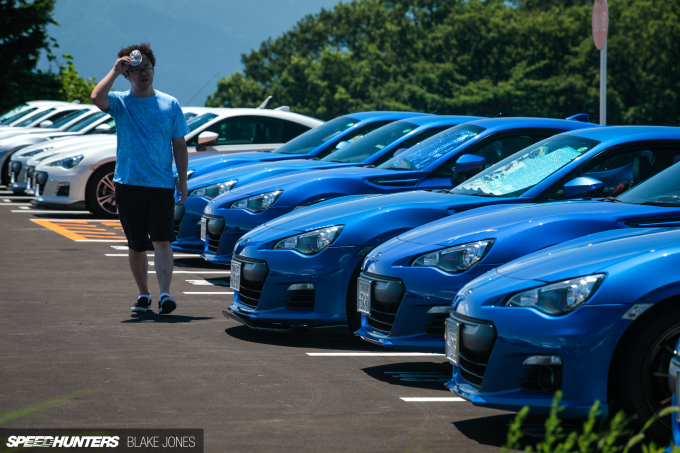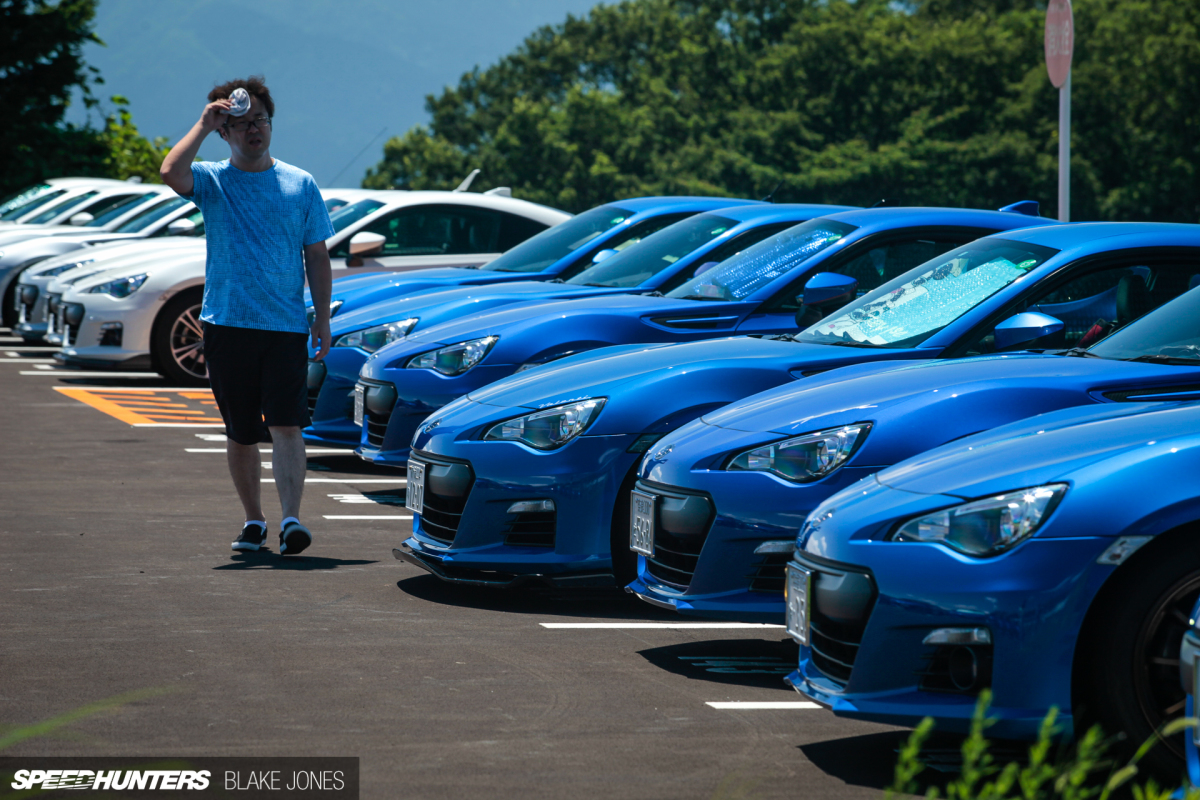 So while the reality of picking up my life and moving it to a foreign country has slugged me with plenty of unexpected challenges, I knew it would be all gravy in the end. I was in automotive heaven!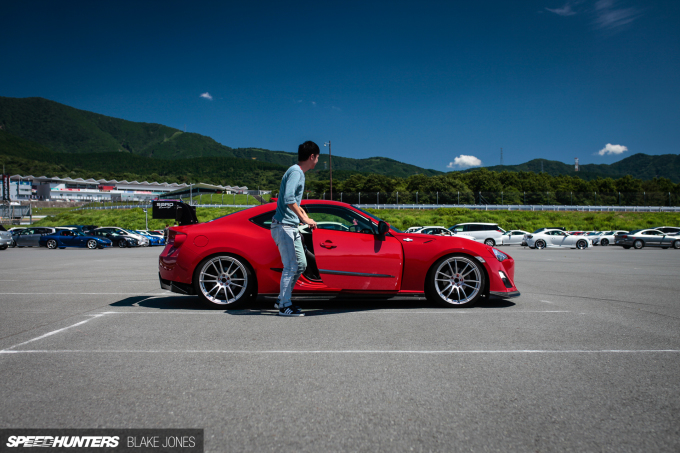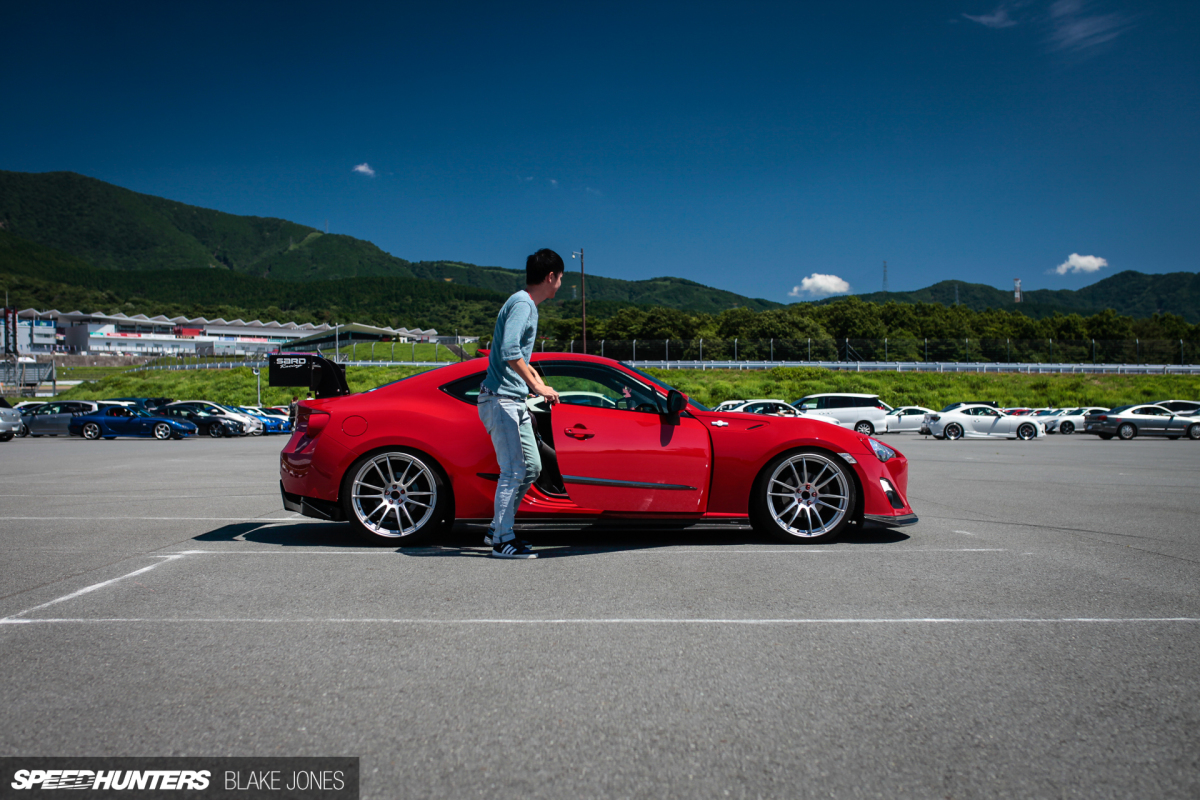 So pushing aside adult responsibilities for a day, I decided to shoot down the Tomei Expressway and check out the culture on display at the annual Fuji 86 Style event, held at Fuji Speedway.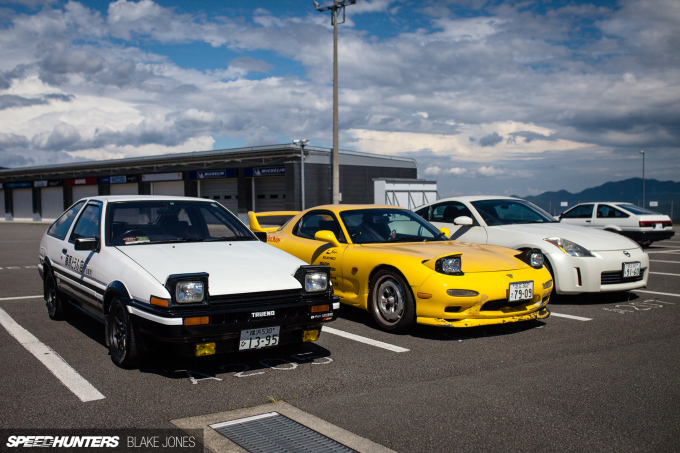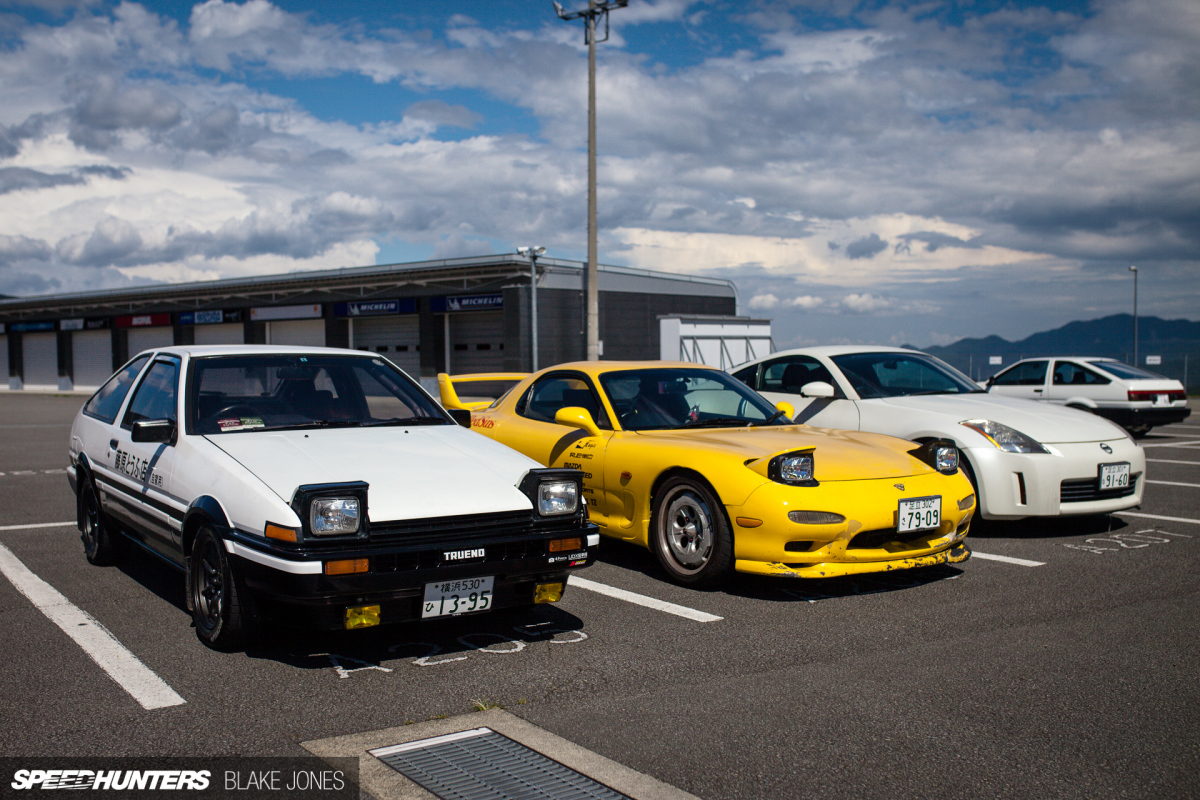 The world-famous race track is a pretty special place, perched in a mountain range under the watchful gaze of Mt. Fuji and immortalised in racing games which were formative for my enthusiasm towards all things fast.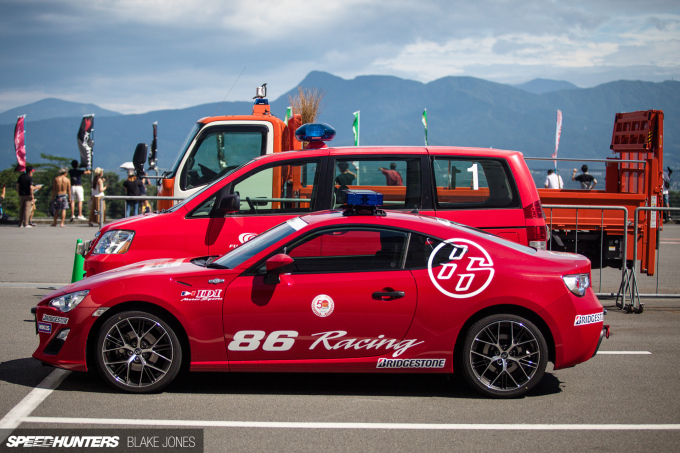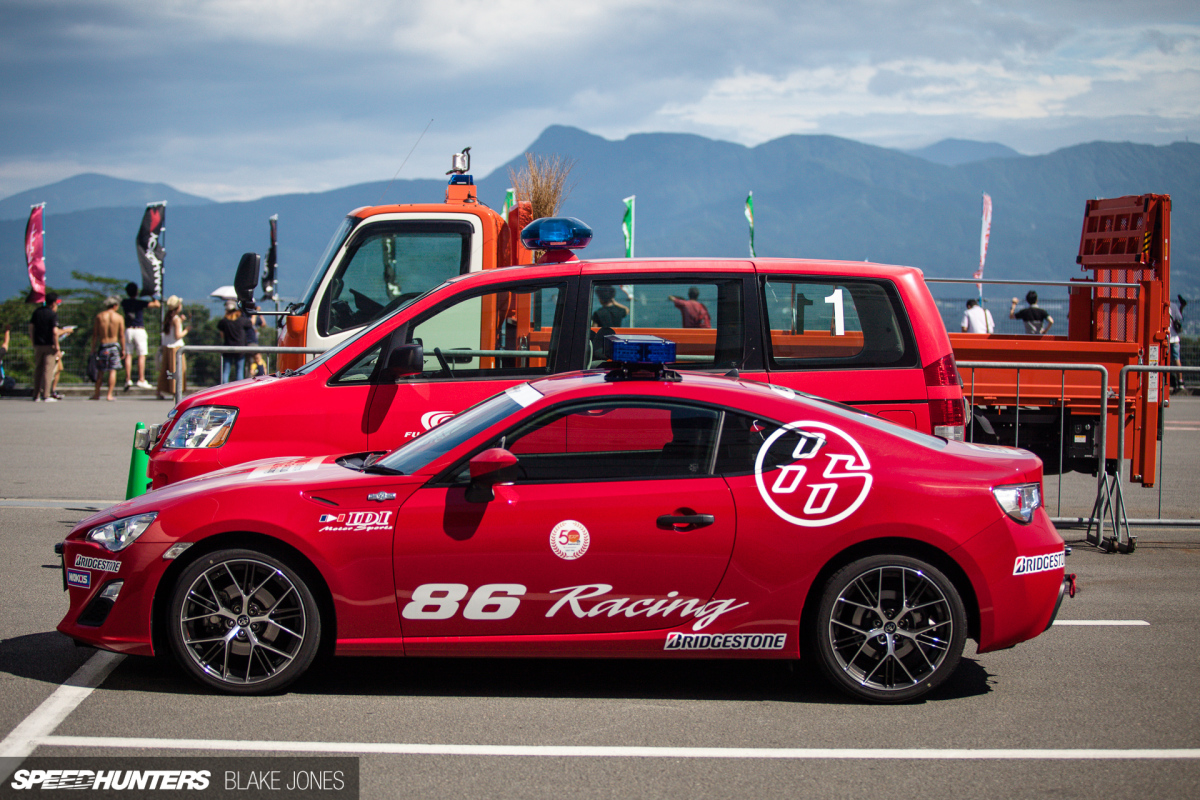 Although Fuji Speedway partners with a number of different automotive manufacturers in Japan, it's actually owned and operated by Toyota. Fittingly for this event, all of the support vehicles either wear a Toyota or Lexus badge.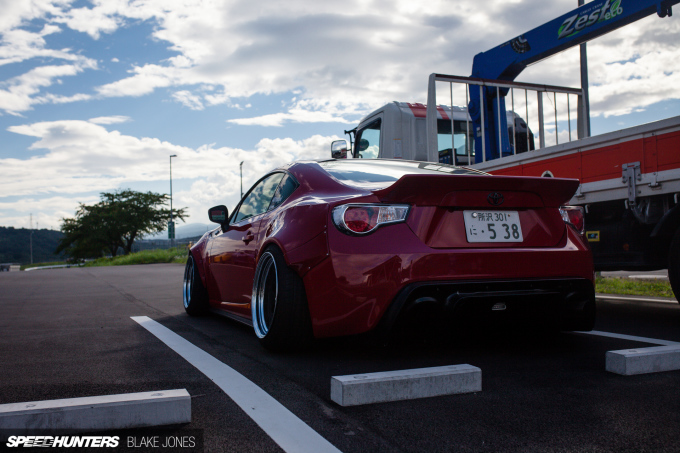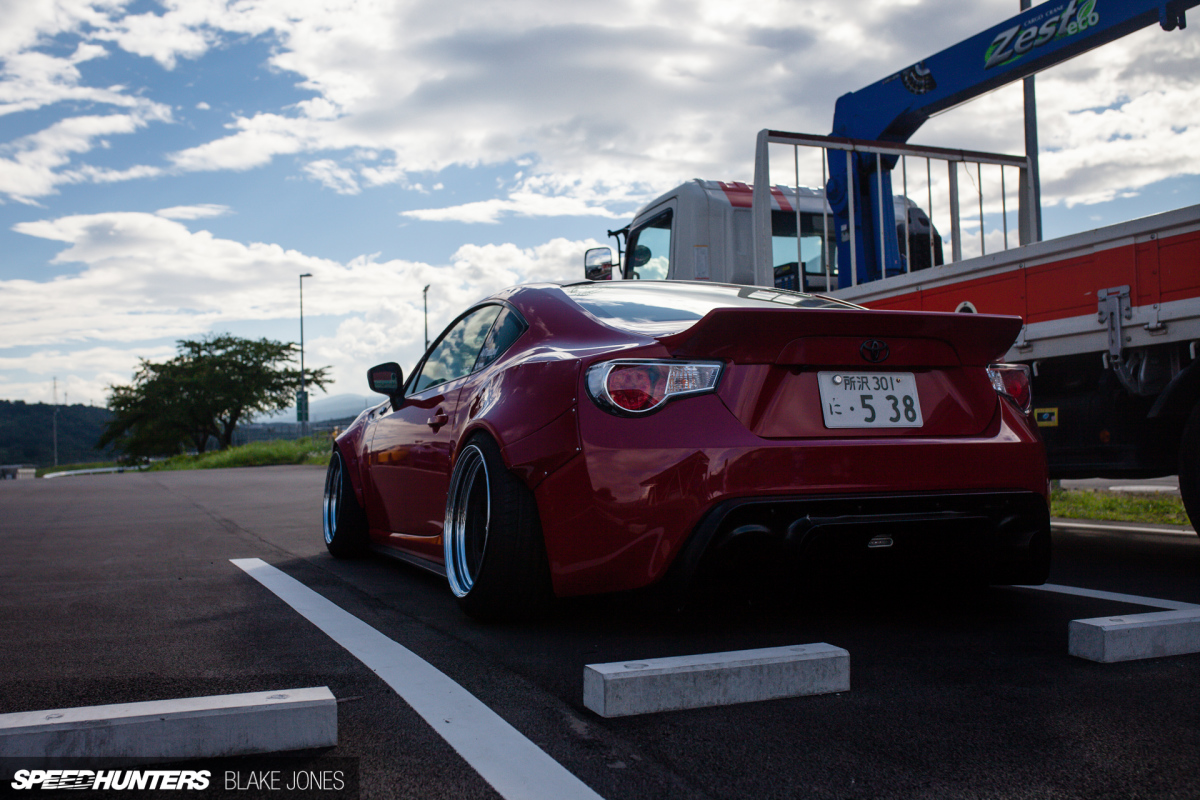 As you might expect, Fuji 86 Style is all about celebrating the new 86 and the community that has grown around Toyota's ZN6 platform. It's been said countless times before, but this car brought so much passion to a lacklustre period for both Toyota and the Japanese auto industry as a whole, and the resulting fanfare has proven to be lasting.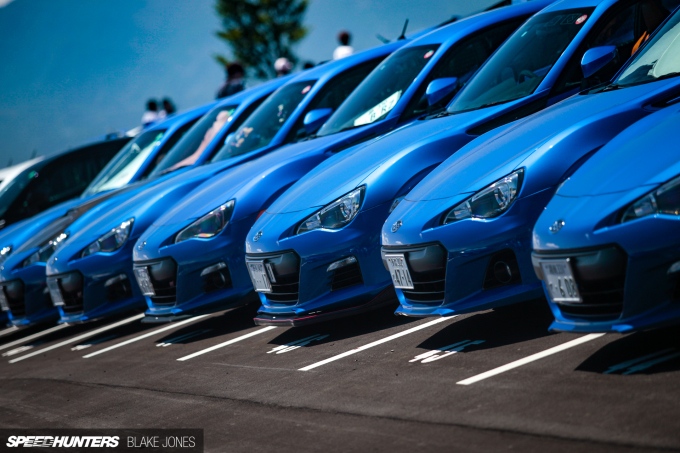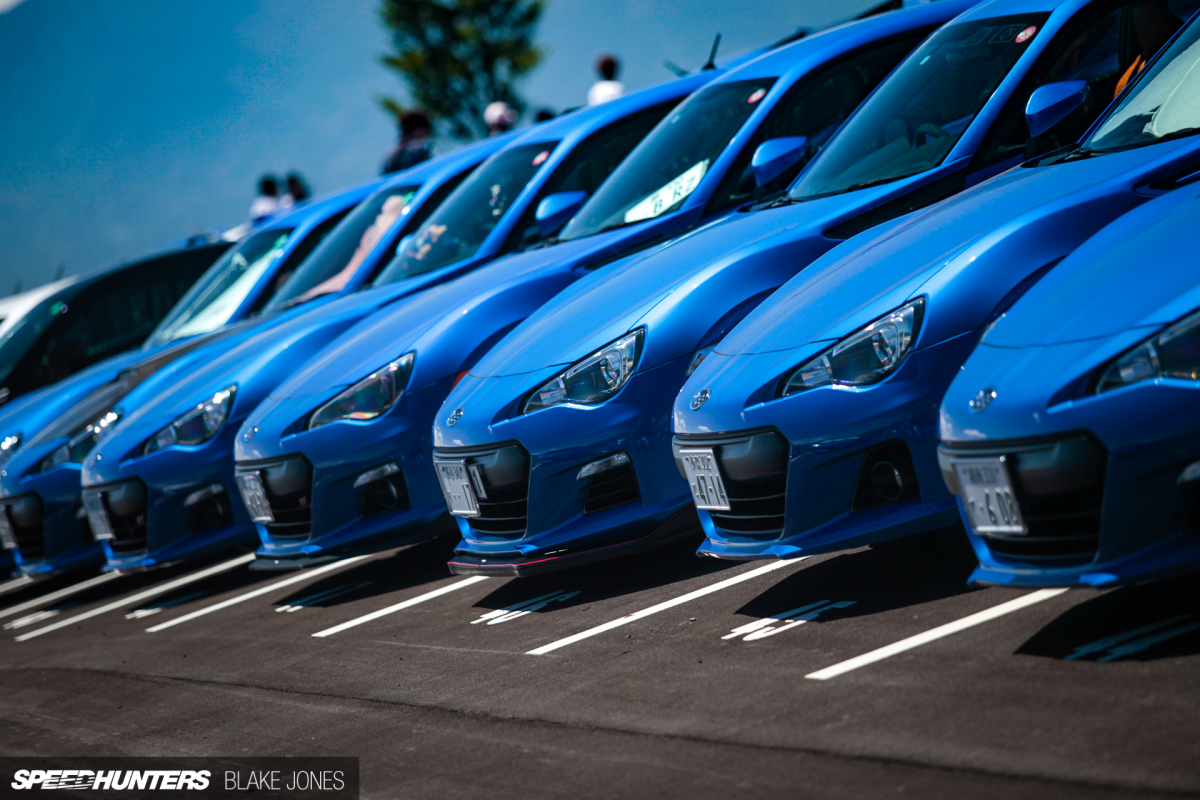 Although Fuji 86 Style is a Toyota-run event, the gates are mercifully thrown open to the Toyota's Subaru twin. The section of parking allocated to BRZs was one of the most visually stunning, just for the conformity of colour. It looked almost like a holding area for cars fresh off the production line. I guess blue is the default colour choice at Subaru, who would've thought!?
The organizers were even kind enough to invite along a small contingent of AE111 owners – the model that signalled the end of the Levin and Trueno namesakes in the Japanese domestic market. But the model is probably best known for its 'Black Top' 20V engine – the final incarnation of the 4A-GE, and a very popular swap option for AE86 owners.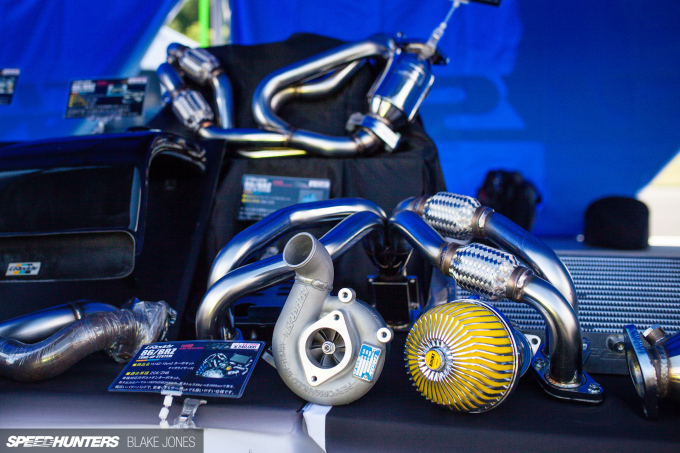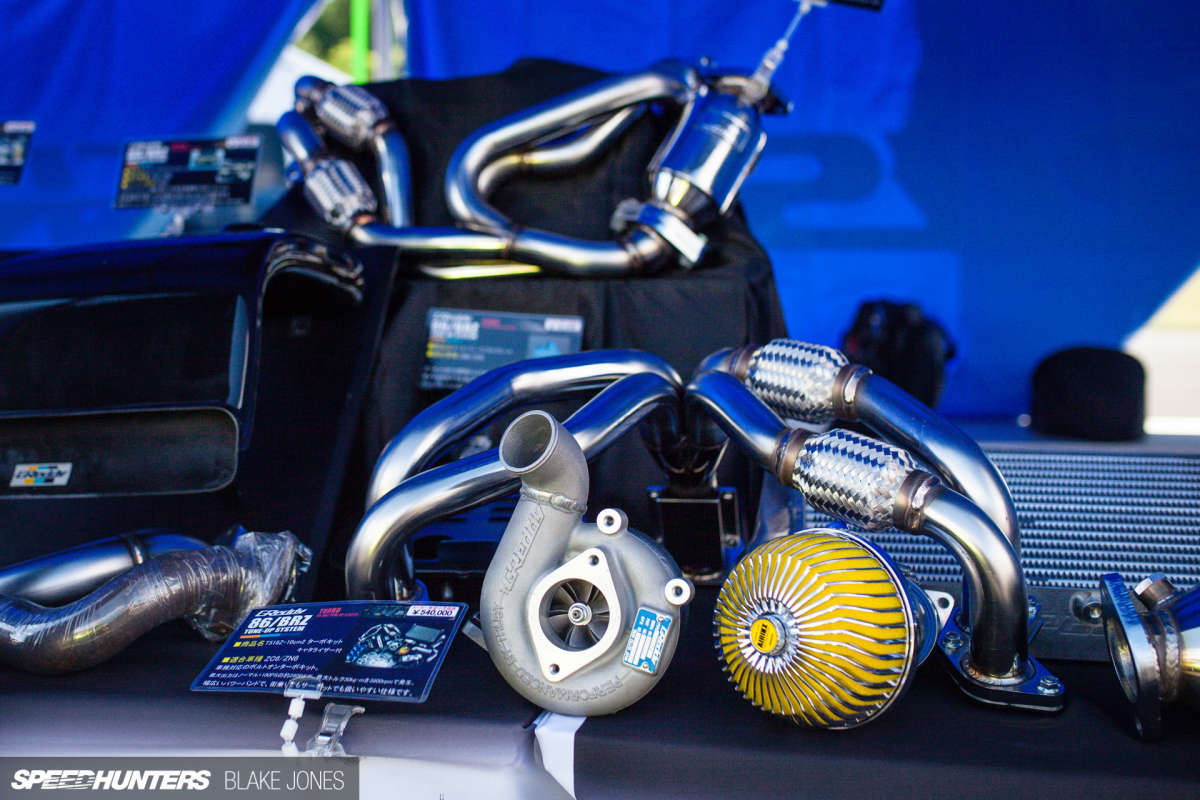 One of the best things about events like Fuji 86 Style is the number of top-tier brands who come out to support the community and show off their wares – stark contrast to what I'm used to back in Australia.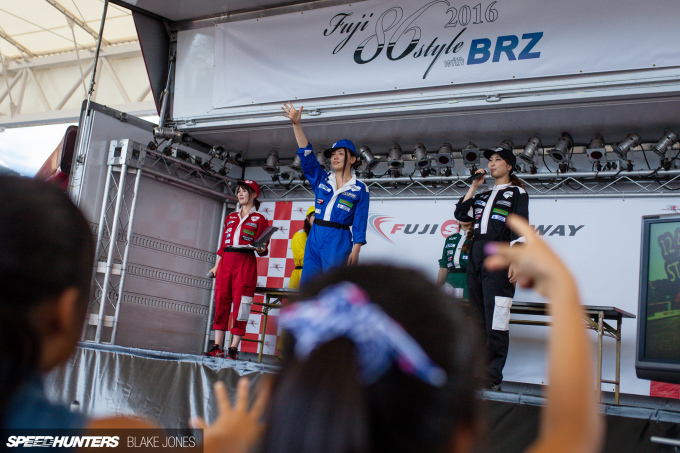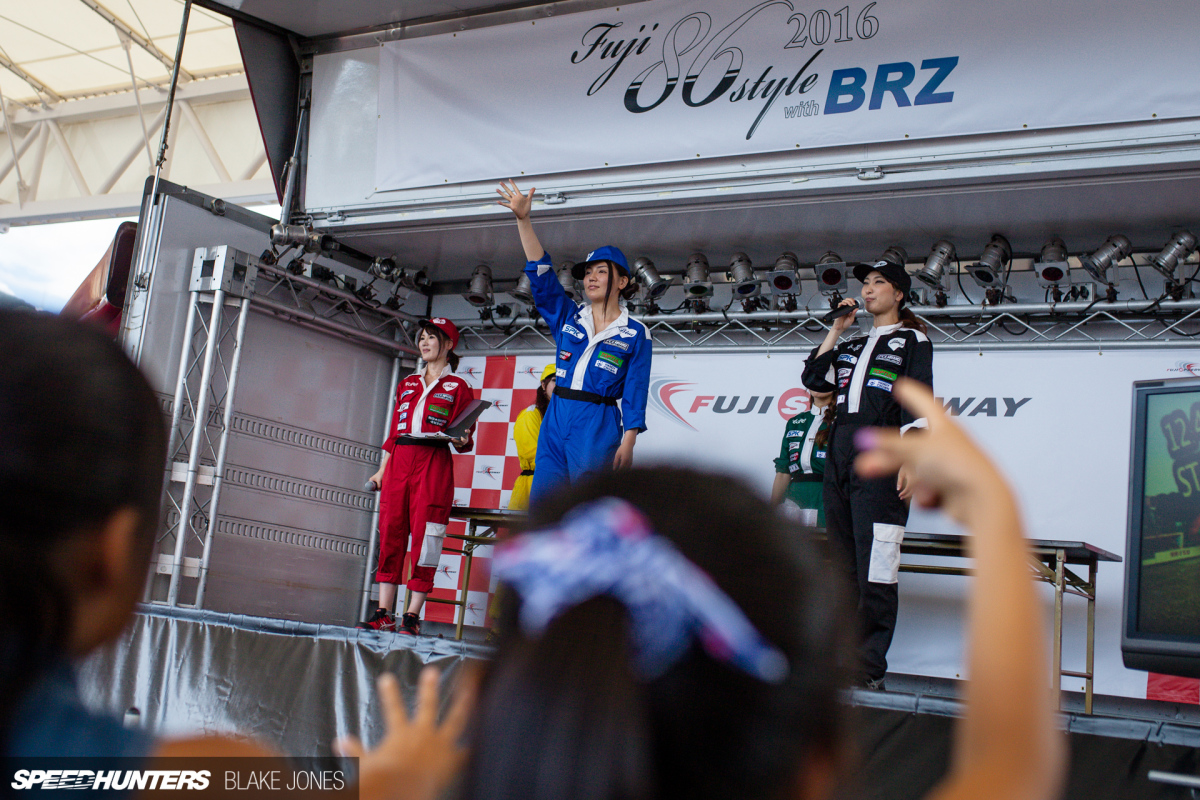 Being Japan, there was also plenty of action on stage, including interviews with racing drivers (Tsuchiya and Taniguchi, amongst others) and live demonstrations. Here the 'Pit Crew' teaches dance moves to a large group of children, and a small group of grown men…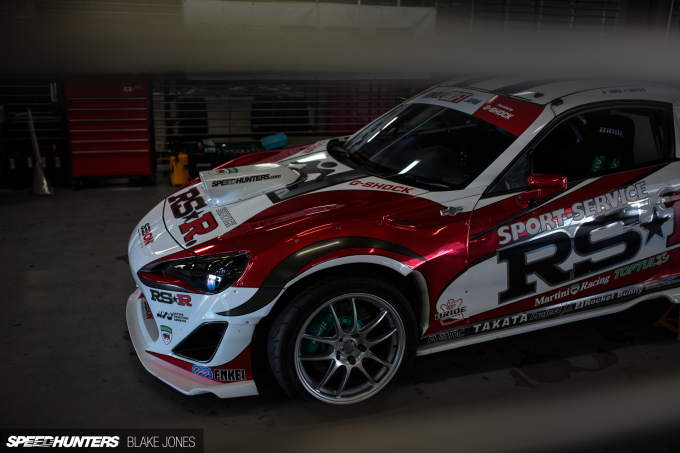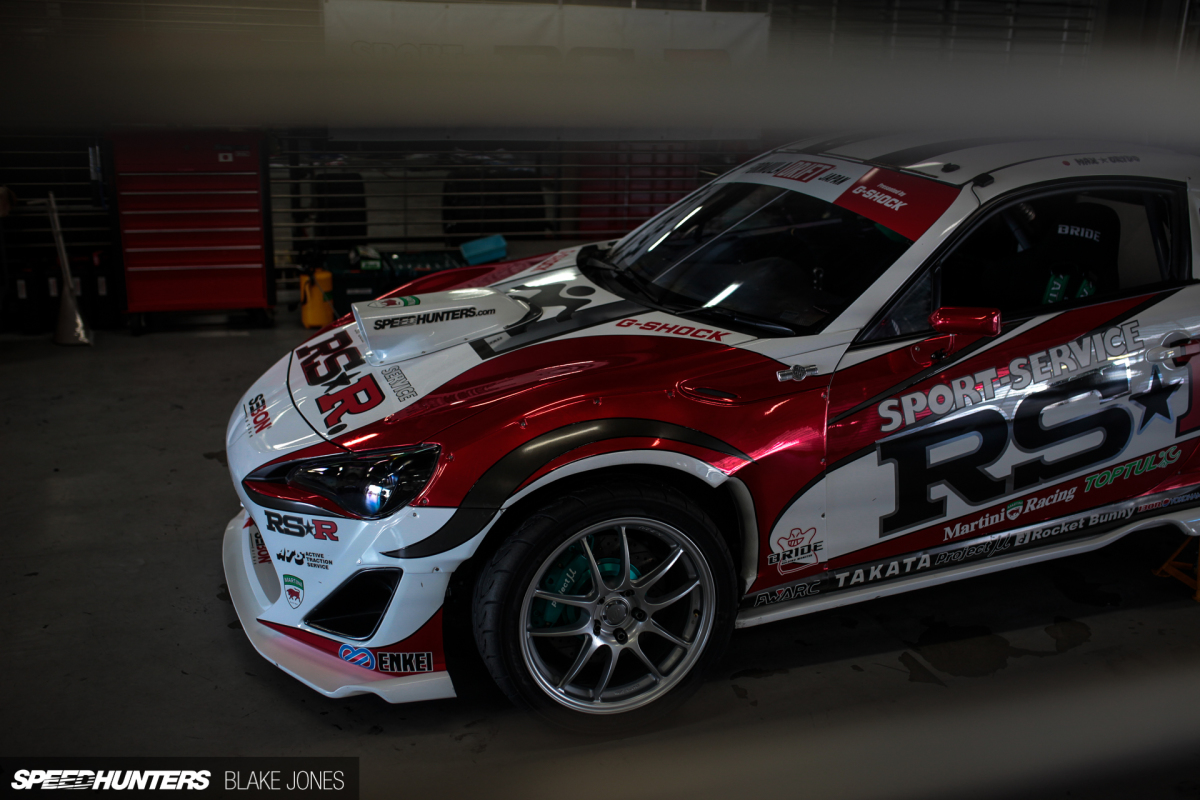 There was also a drift demonstration tied to the Formula D Japan event happening on the same day. It's always nice to see the RS-R team and their simply epic NASCAR V8-powered 86 drift car.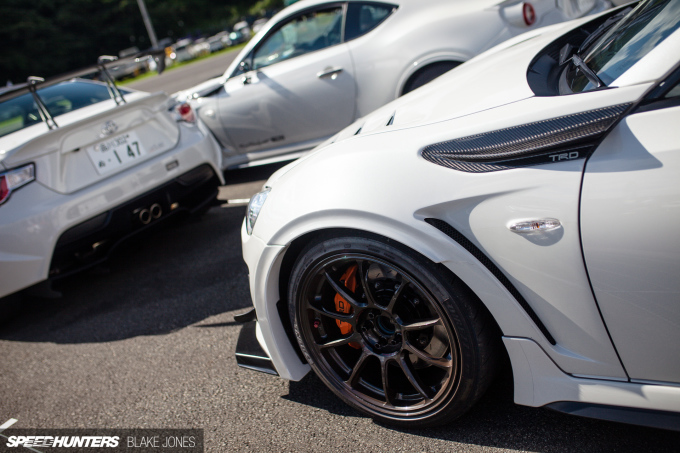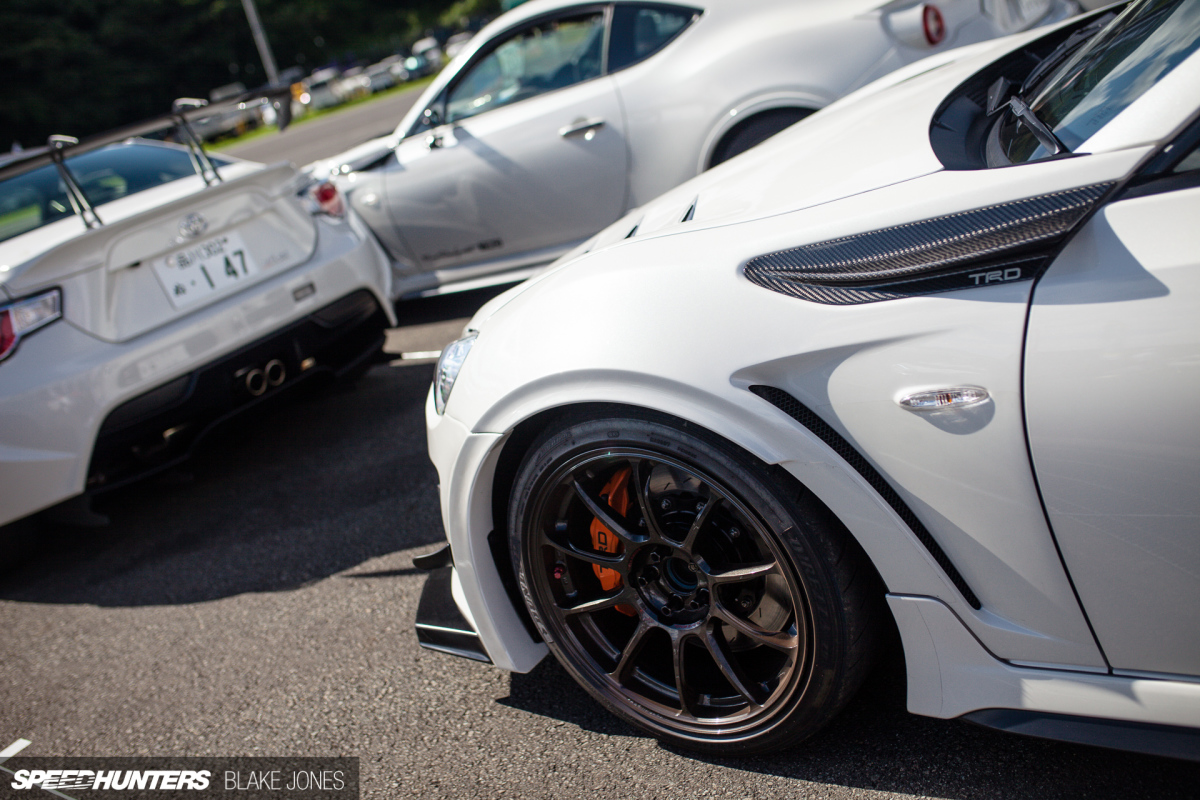 TRD brought along a squadron of its latest 86 iteration, the oddly named 14R60, of which only 100 were produced for the Japanese market.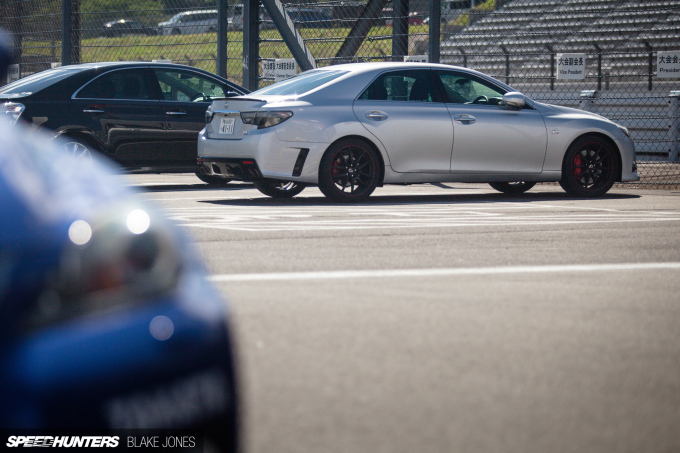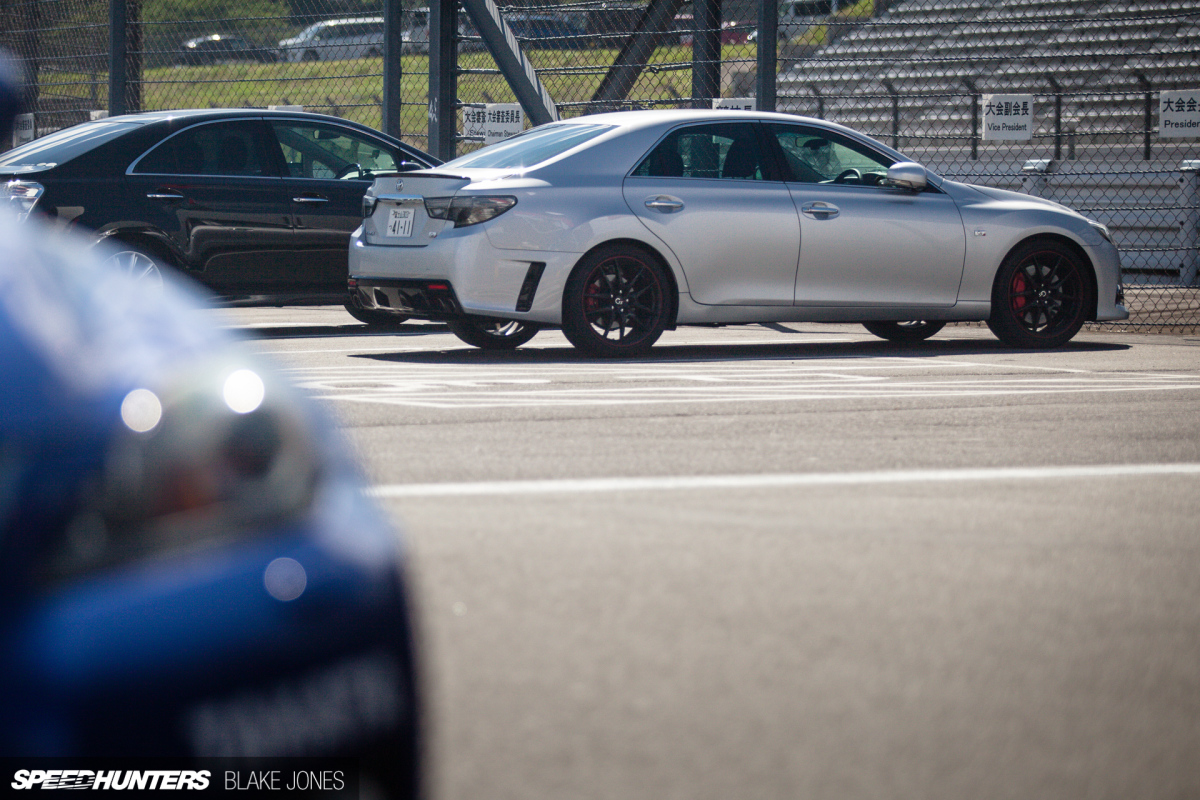 For a long time TRD was by assumption the 'hero' tuning brand for Toyota products, and to this day it continues to develop race cars (such as the spectacular 86 Griffon Concept) and limited edition road cars as above. Today, however, Gazoo Racing is responsible for the sportier offerings available through domestic Toyota dealerships, including the Mark X G's that I spotted next to the control tower. This writer was especially excited by this find because he's picking a white one up this weekend. I think it looks great stock, but it's hard not to imagine it a few inches closer to the deck.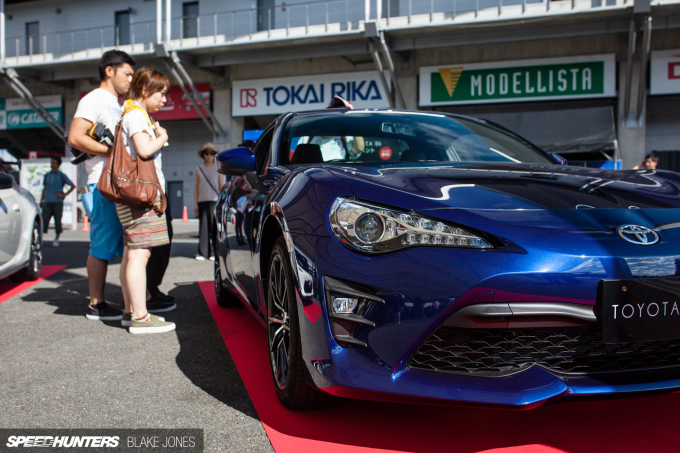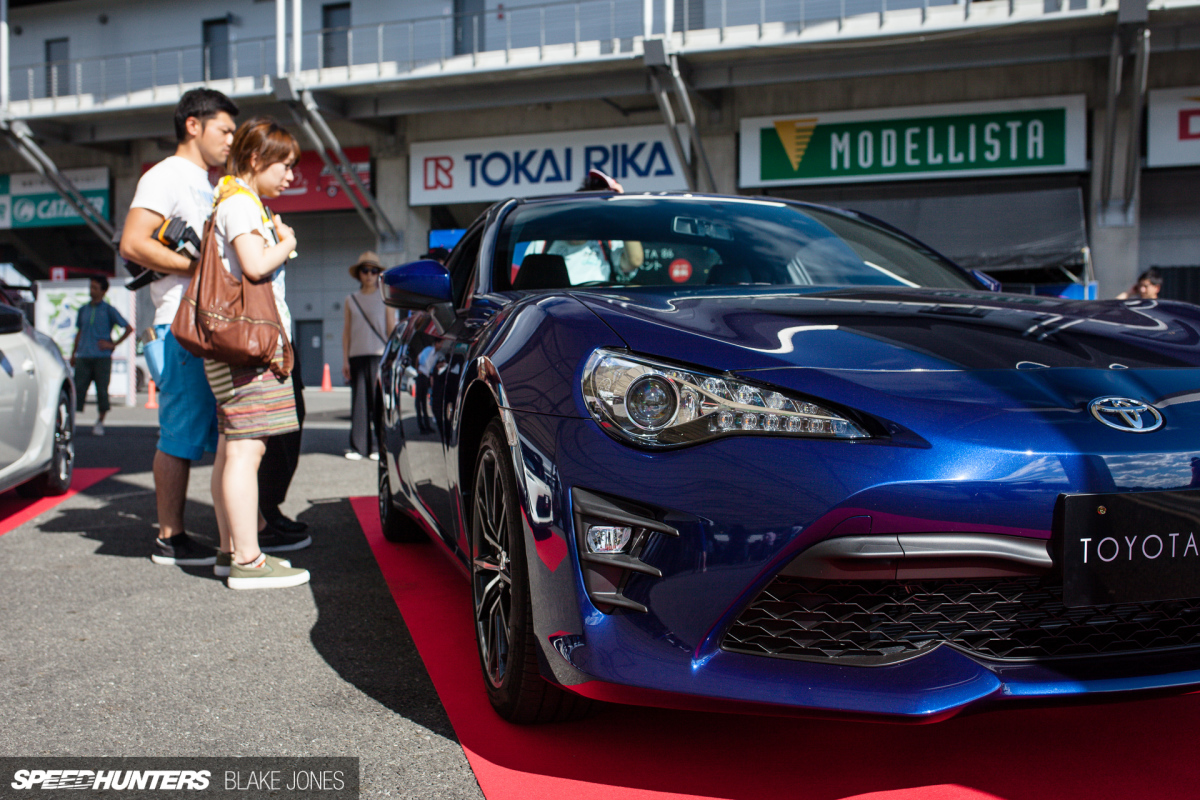 More importantly, the event was also the first chance for many (including me) to take a look at the 'new' 86 which will be in showrooms by the third quarter of 2016. It's hoped the slight bump in power and exterior redesign will keep customers interested amongst renewed competition from Mazda with its new Roadster/MX-5, and even Ford with the new Mustang.
The New School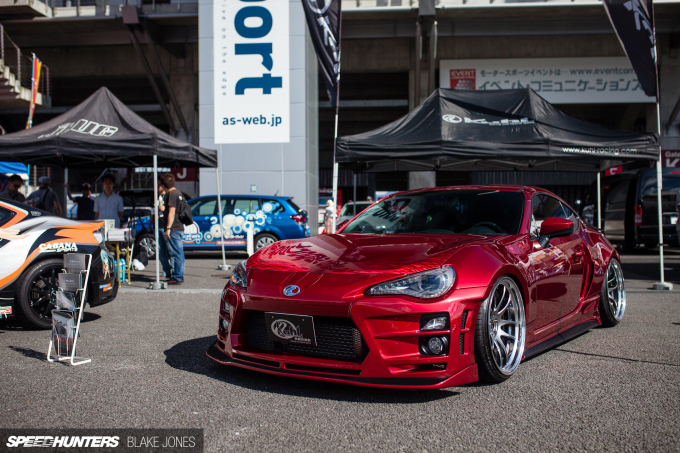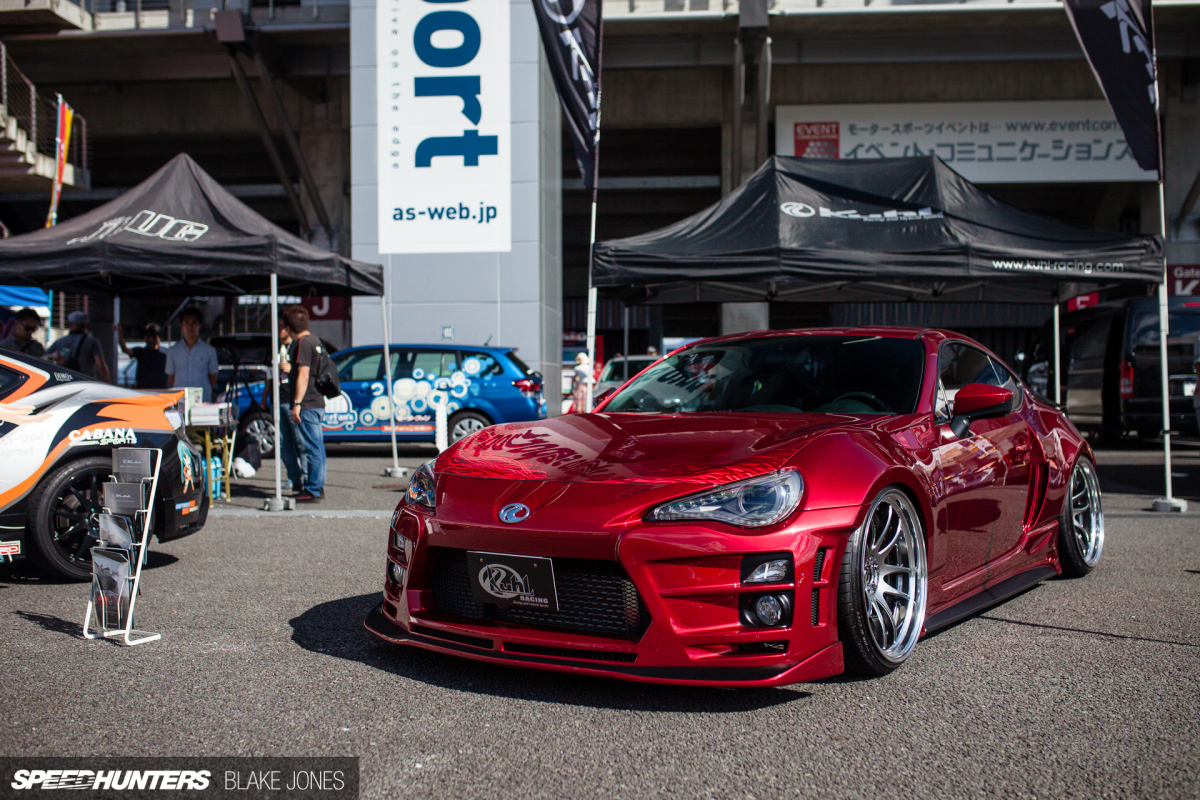 What better to do at the 86 Style event than check out some differently styled 86s? Japan is still keeping the ZN6 platform fresh and challenging conventions of what is 'right', as is evidenced by this VIP or bippu take on the nimble sports car.
Merging the worlds of track and show together successfully was the lustrous Weld FR-S – yep, a left-hand drive Scion.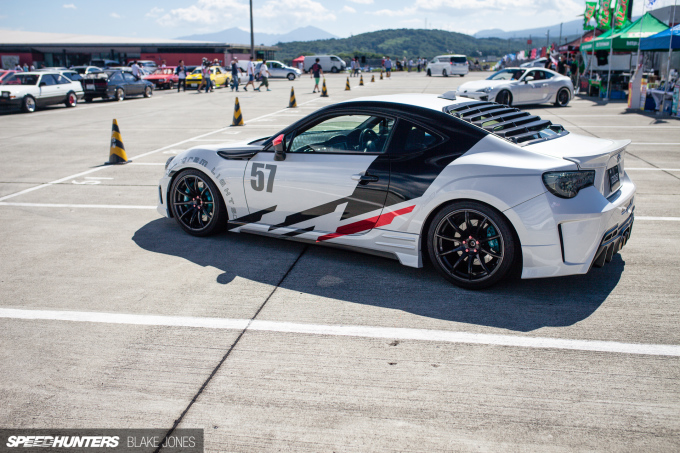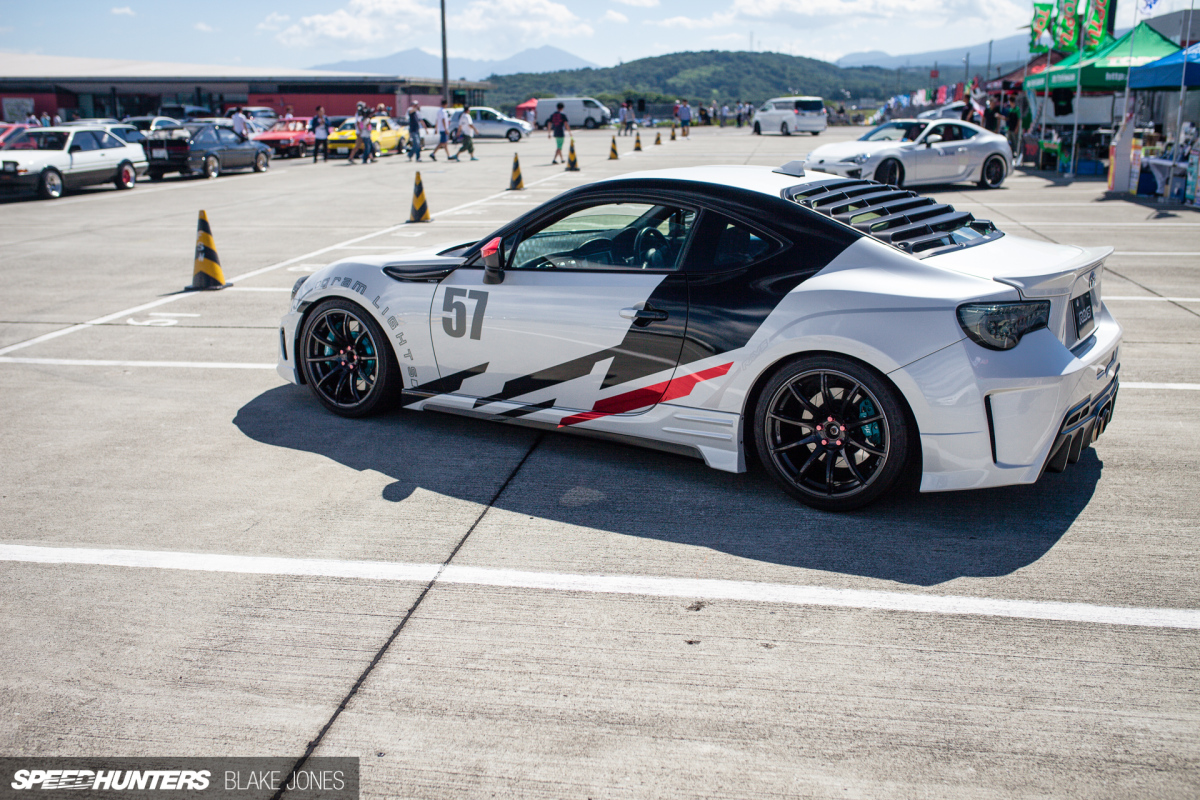 RAYS had also created its version of a race-inspired road 86 featuring Gram Lights 57Transcend wheels. I thought the rear window louvers were an interesting addition.
Scissor doors, a Varis wide body kit and that colour ensured that I couldn't not take a photo of this show car. I have to admit that driving something like this through the neon-bathed streets of Tokyo is totally on my bucket list.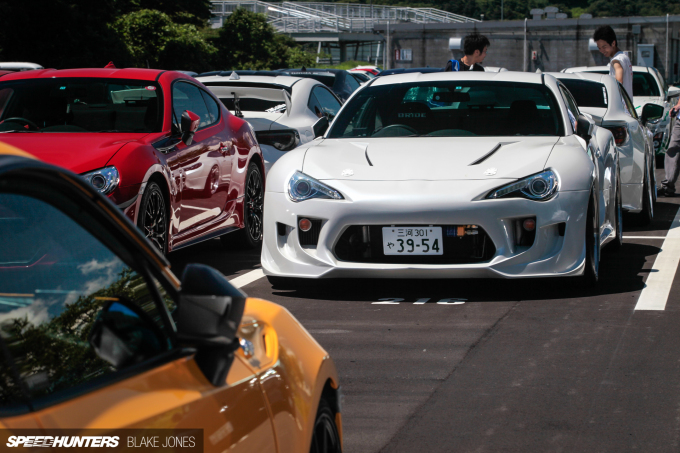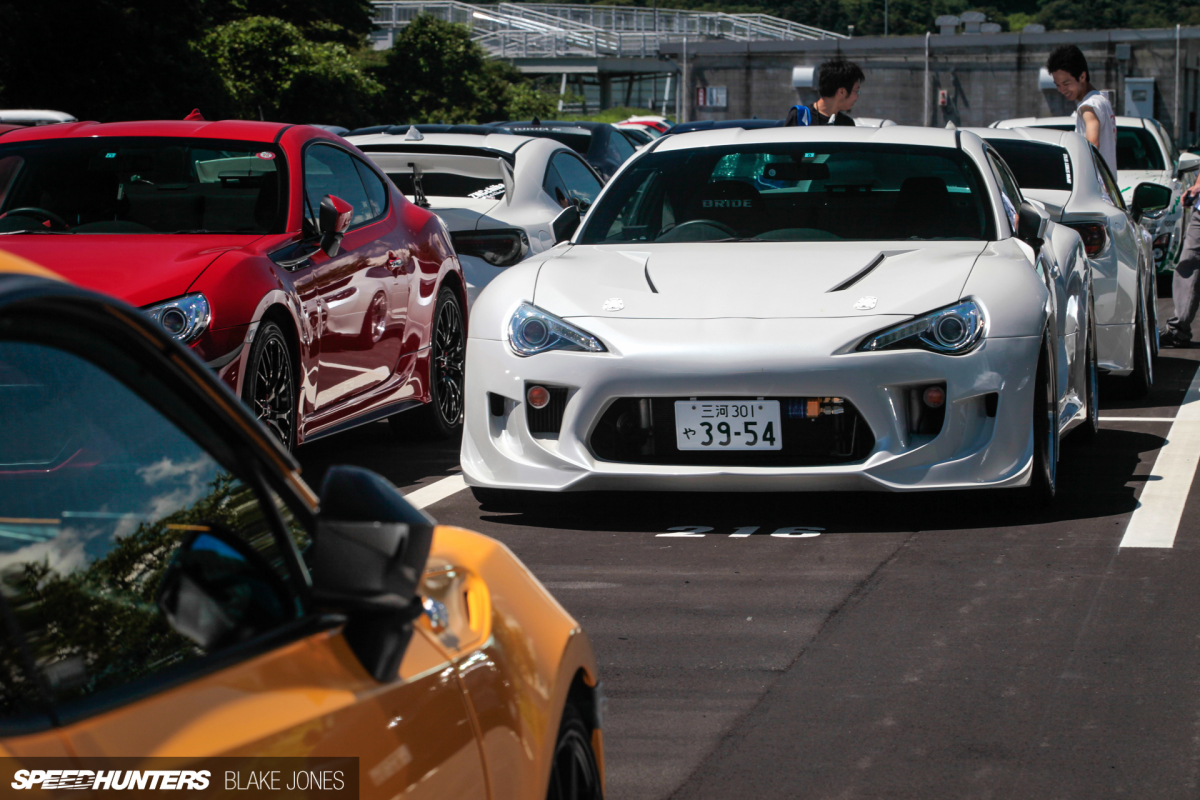 The non-show carparks had plenty of variance on display, and provided me an opportunity to showcase a few different approaches to going wide on the 86. Here we can see an integrated kit that reminds me a bit of a Lexus LFA with the extra metal to the sides of the headlights.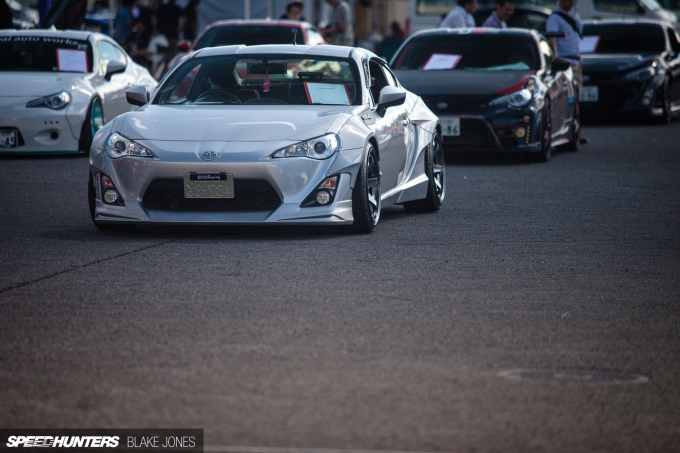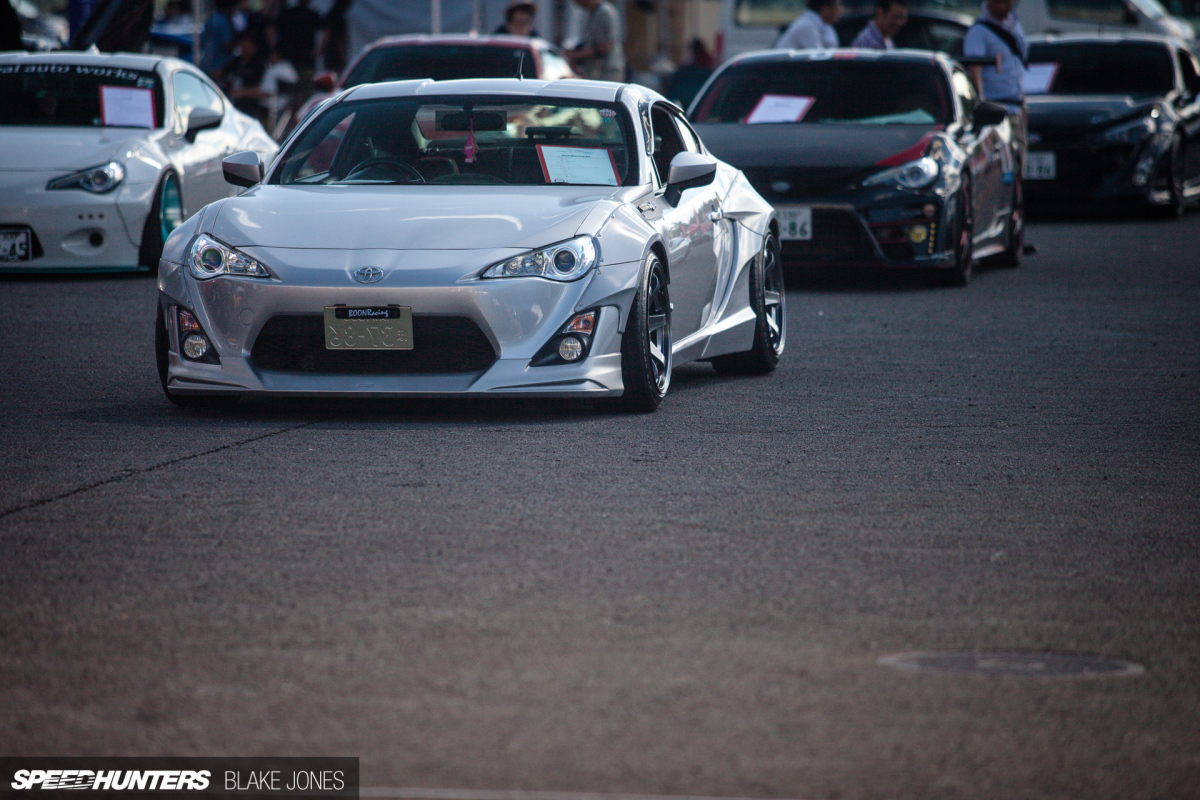 What would otherwise be a fairly tame ZN6 has been made much more aggressive by simply bolting on flares and filling the resulting wheel abyss with some suitably concave rims.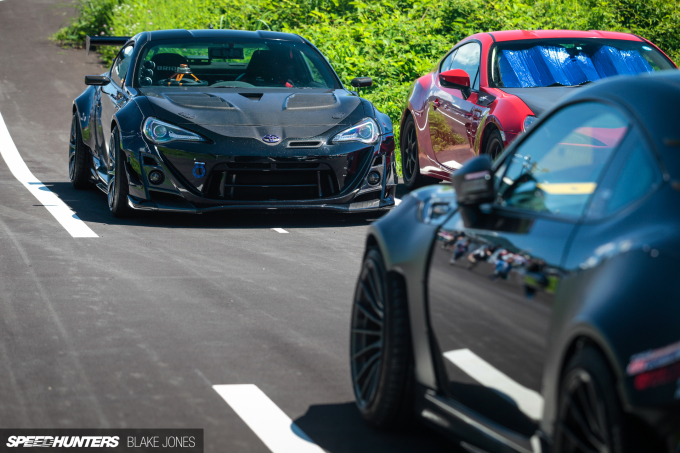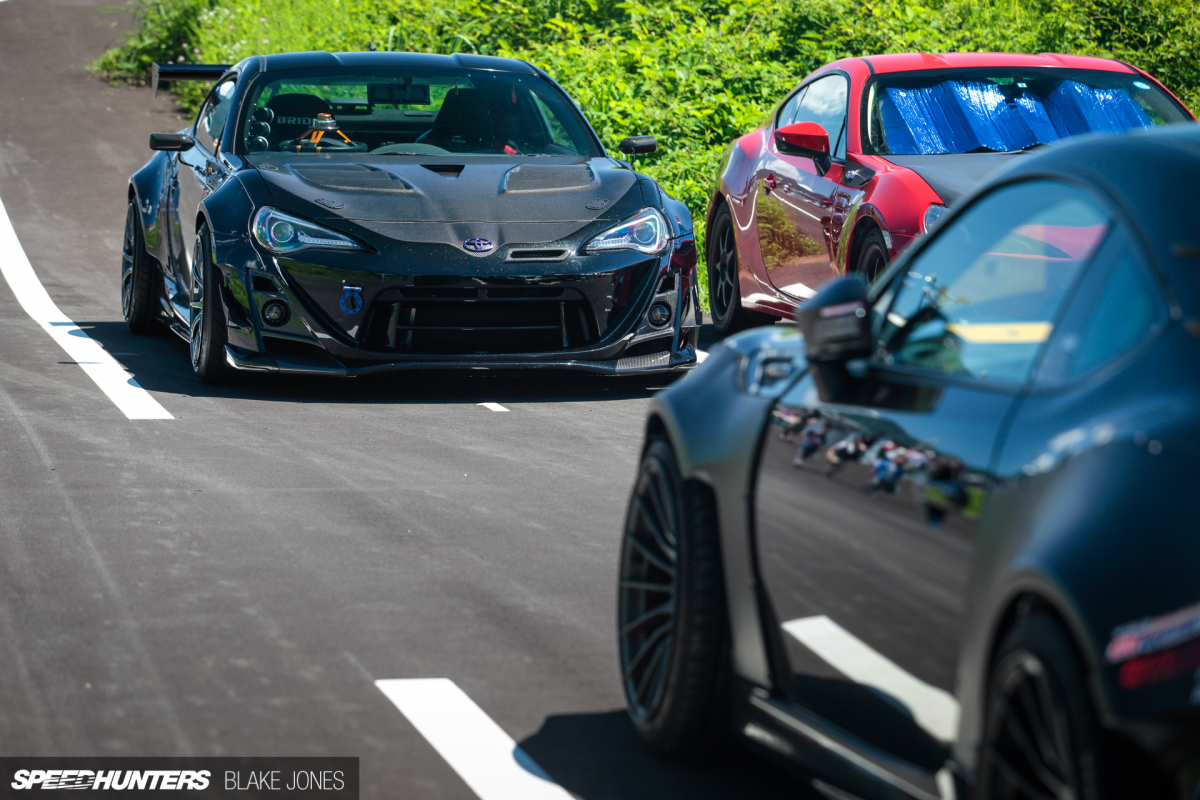 It's impossible to say '86' and 'wide body' without subsequently saying 'Rocket Bunny.' Go on, try it! Carbon fibre Craft Square mirrors and a GT wing complete this track-styled build.
When you want to channel James Bond but don't have a HMSS budget, aesthetic tuner DAMD comes to the rescue. The exterior is undeniably strange, but over time becomes simply sublime and enjoyable to look at. And that interior – gorgeous.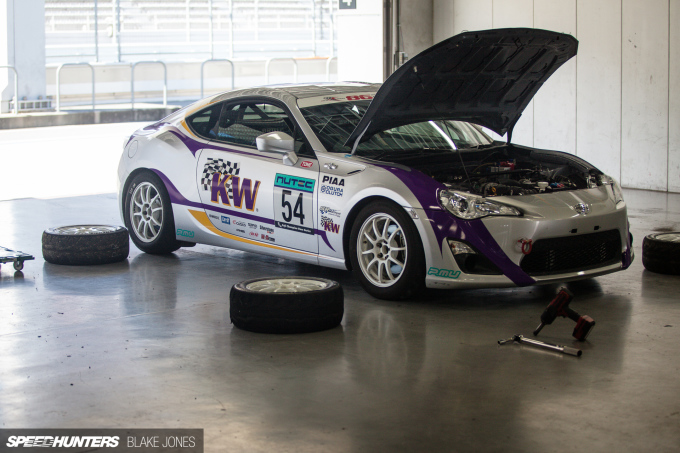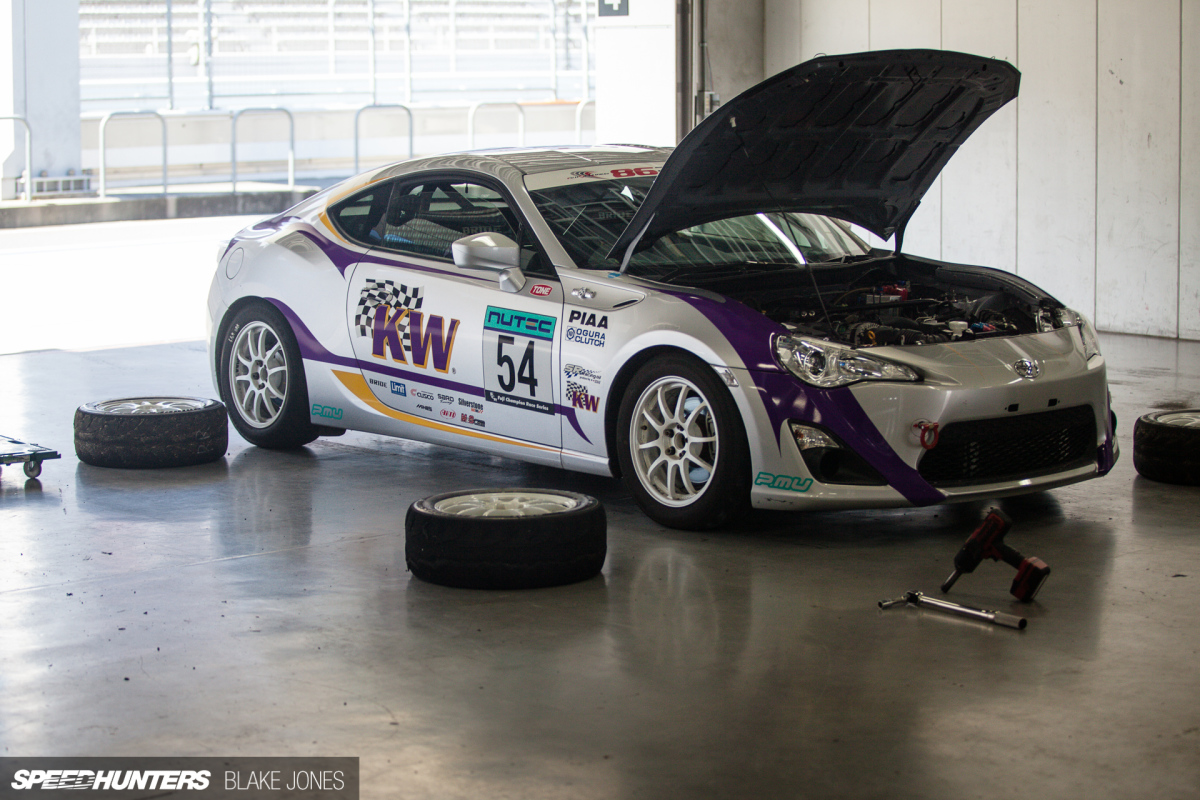 Toyota Japan launched an 86 race series to foster up and coming driving talent in the country, and before long similar series began appearing elsewhere around the world. Cars are built to a control spec to ensure exciting racing, this particular one sponsored by KW.
Taking things well and truly to the next level is the Team R&D Sport GT300 car.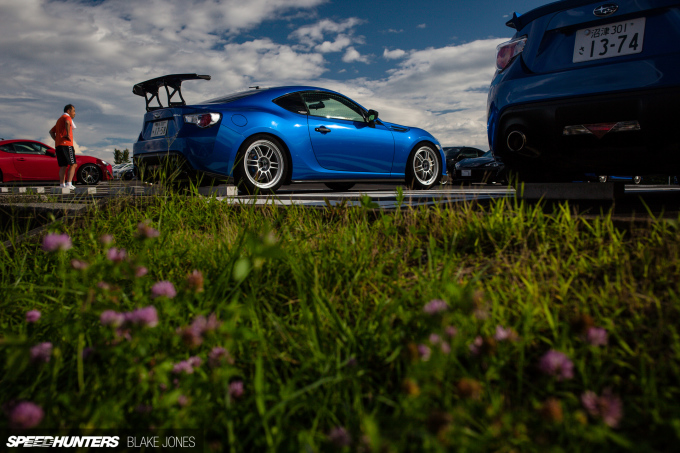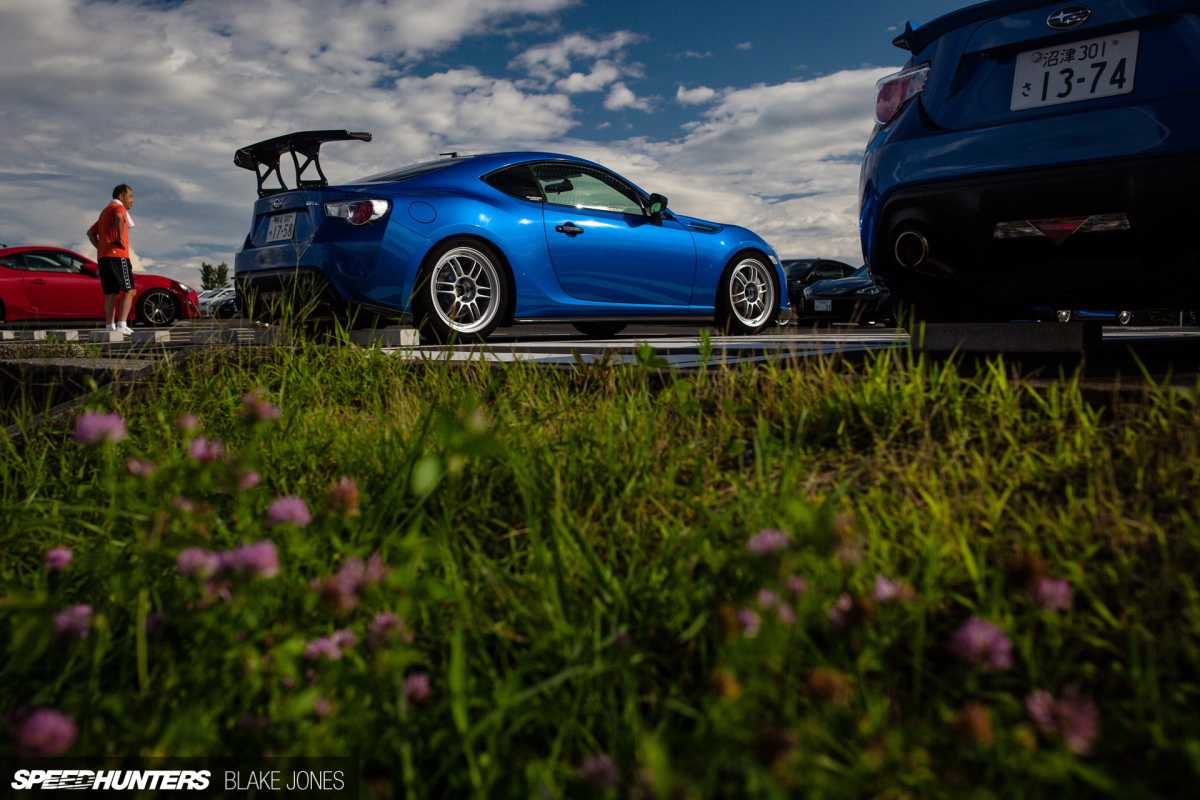 It wasn't until I was on my way to the exit gate late in the afternoon that I spotted this BRZ, and with good reason – it's pretty tame compared to the usual fare. However, the combination of Enkei RPF1s, upgraded brakes and suspension and a GT wing just topped off the day for me. A car that plays to the strengths of the original with slight enhancements for track or spirited driving.
The Old School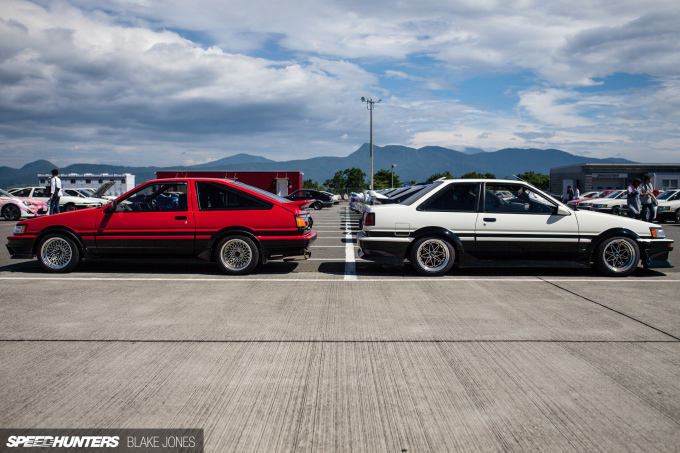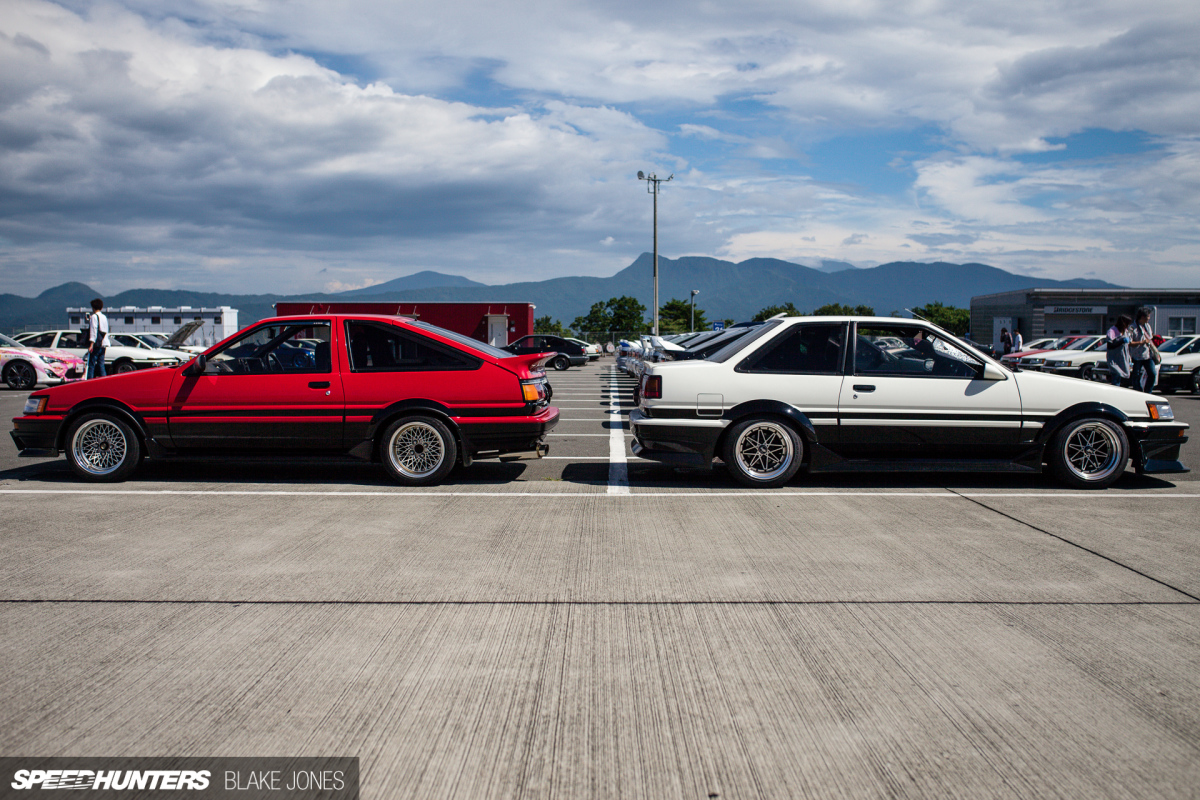 As great as the new 86/BRZ twins are, I know I'm not alone when I say I have a serious soft spot for the original AE86 that spawned the legend. On Instagram I asked whether you thought the new cars would ever be as collectible as the older car and the answer was a fairly resounding 'no!' I guess time will tell…
I figured it was my duty to hunt down some of the more interesting Hachirokus for all you passionate fans out there. You just can't go wrong with flares, a ducktail and deeply dished RAYS Volk Racing TE37Vs.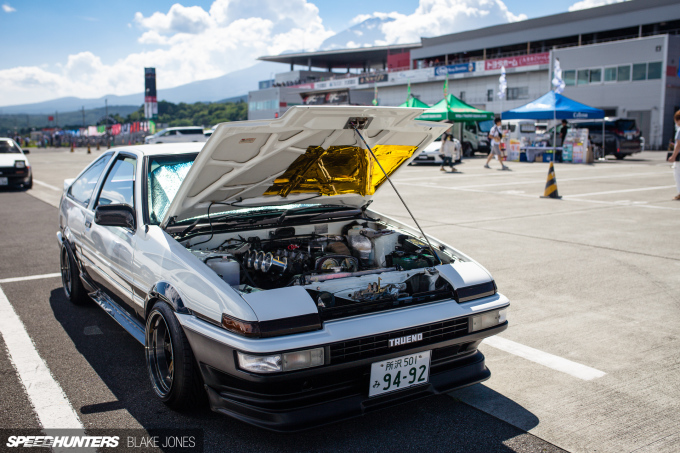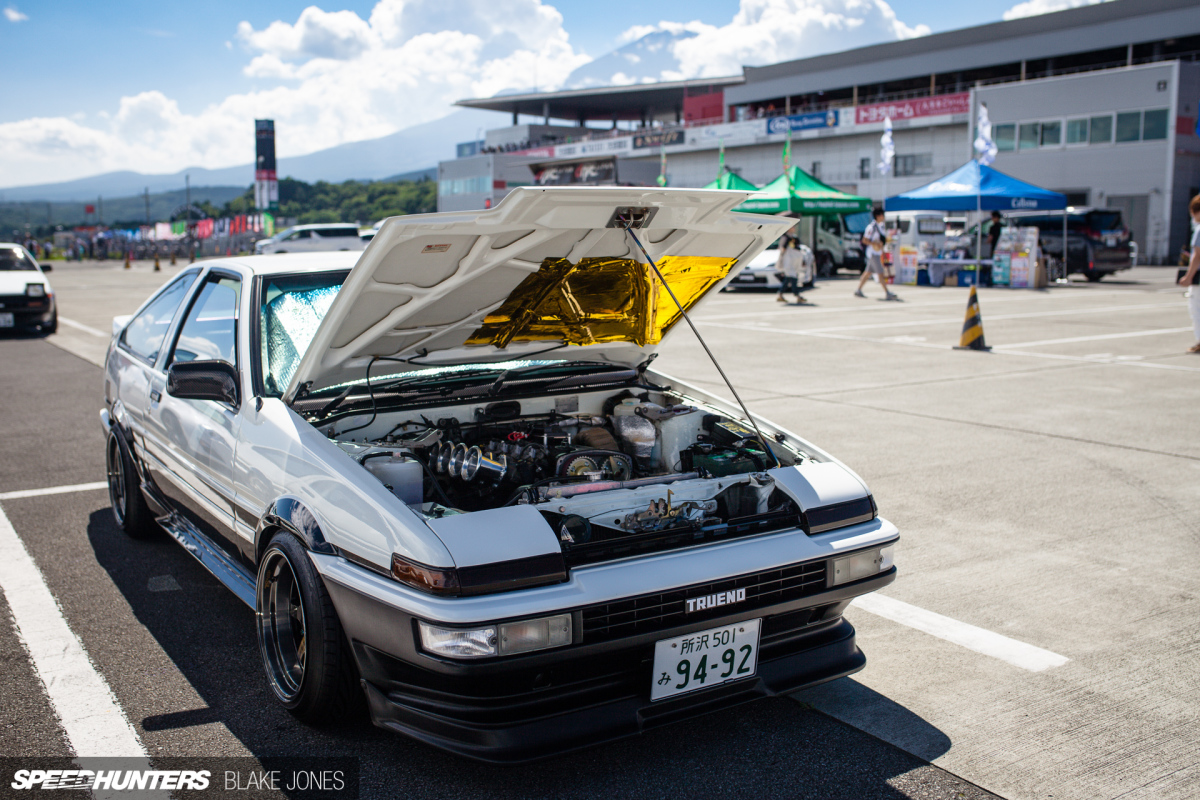 A similarly-specced Trueno sat on the opposite side of the main straight, where most of the other AE86s were sitting baking in the sun.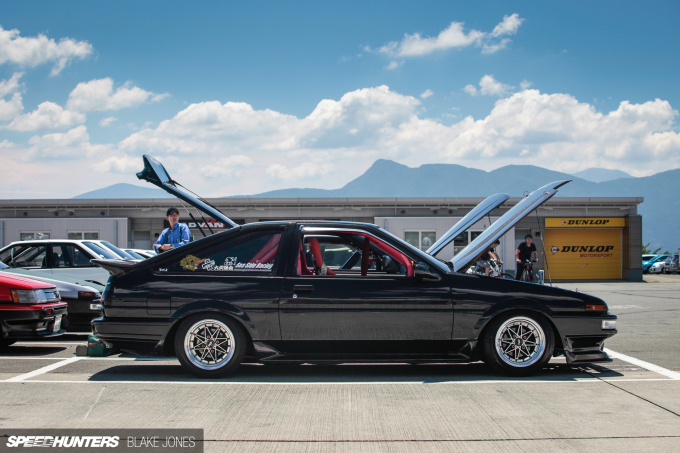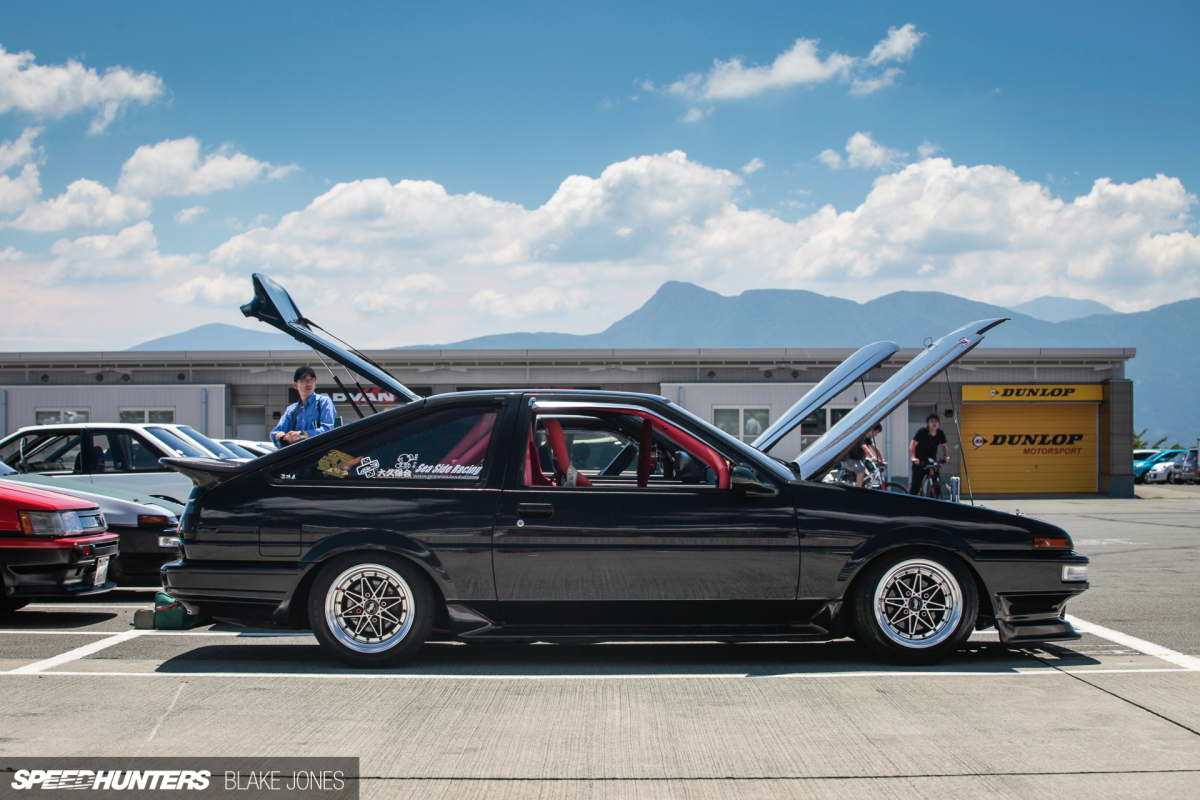 Work Equip 03s – another timeless choice for this chassis.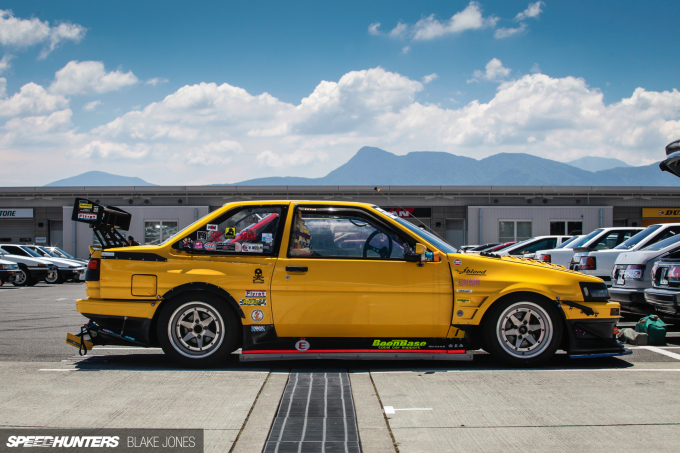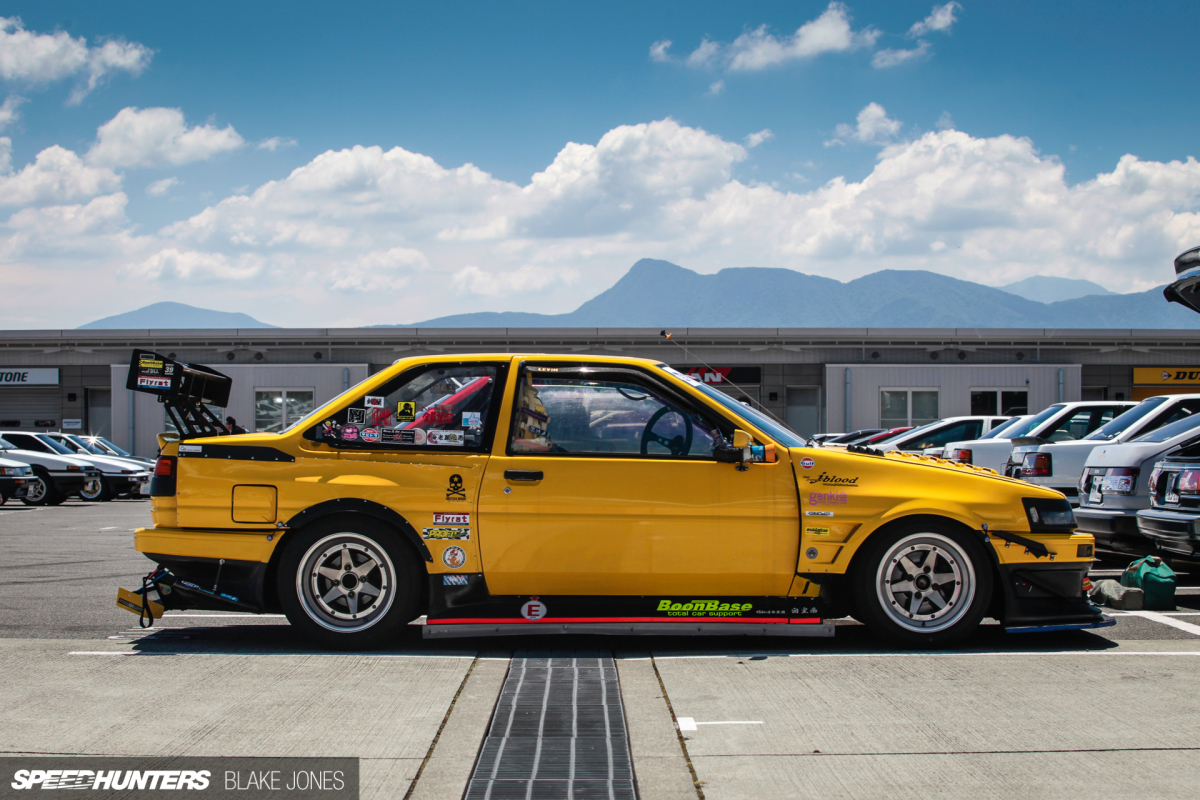 Not to mention the SSR Longchamp XR4 – not the lightest wheel for a race car, but they certainly deliver in the looks department. Side note: this car was road registered!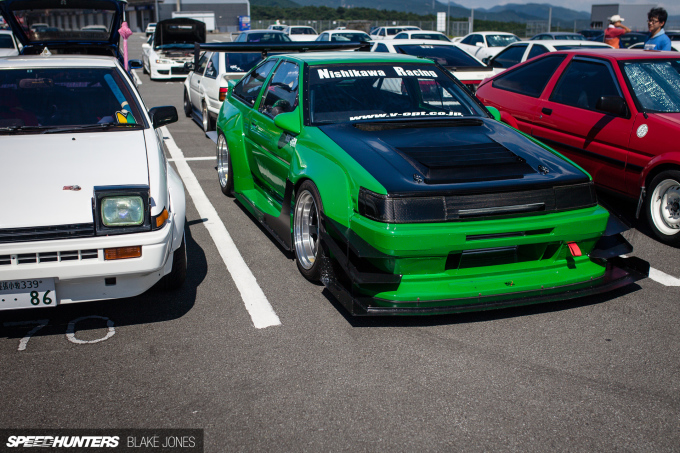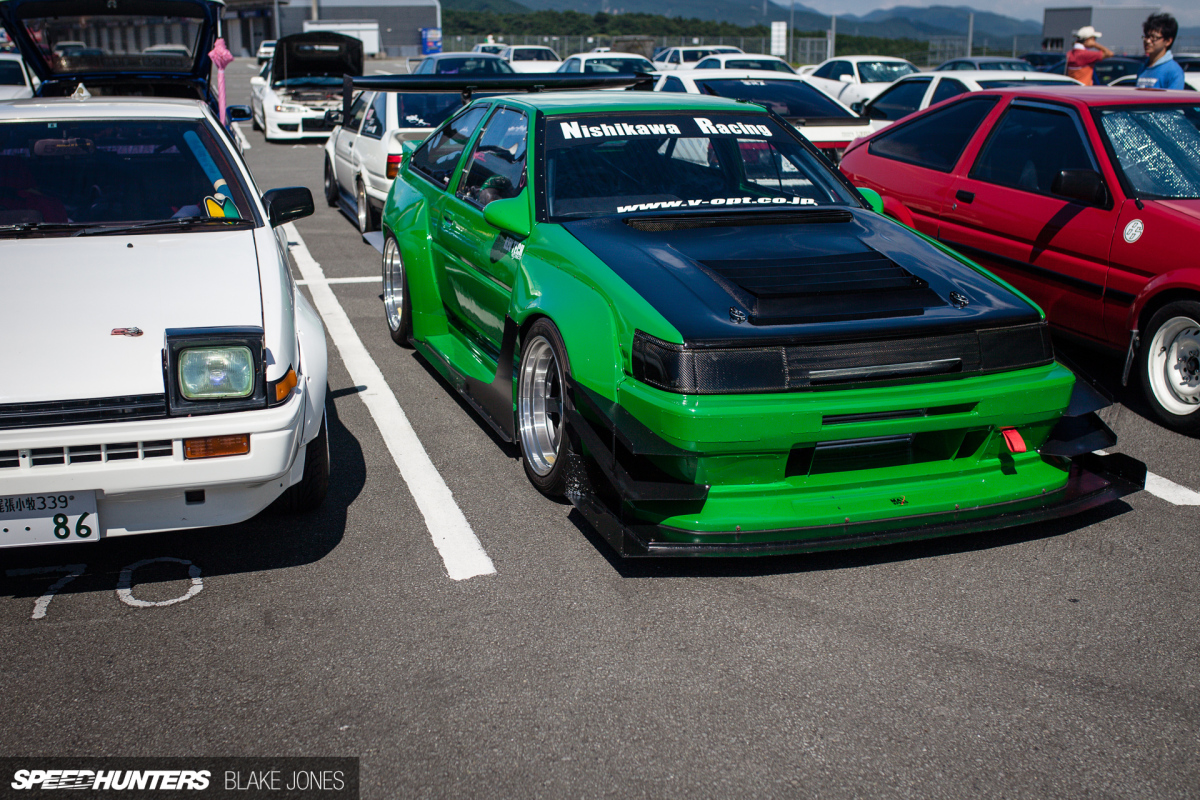 Definitely not road legal was this green machine. During the ZN6 exhibition race, and to the apparent surprise of everyone, including the commentators, this thing hilariously screamed out of pit lane and started attacking the rear of the pack in some sort of attempt to prove the supremacy of the AE86. However it broke down soon after…
The N2 category remains a popular series for the AE86 in Japan and still features some great racing and big names – including the one and only Keiichi Tsuchiya.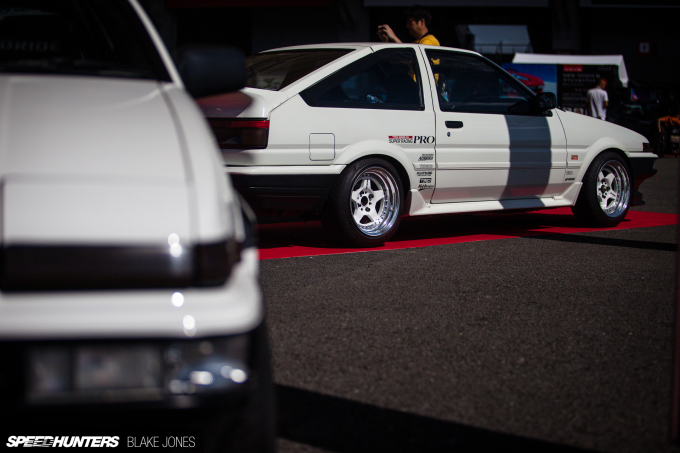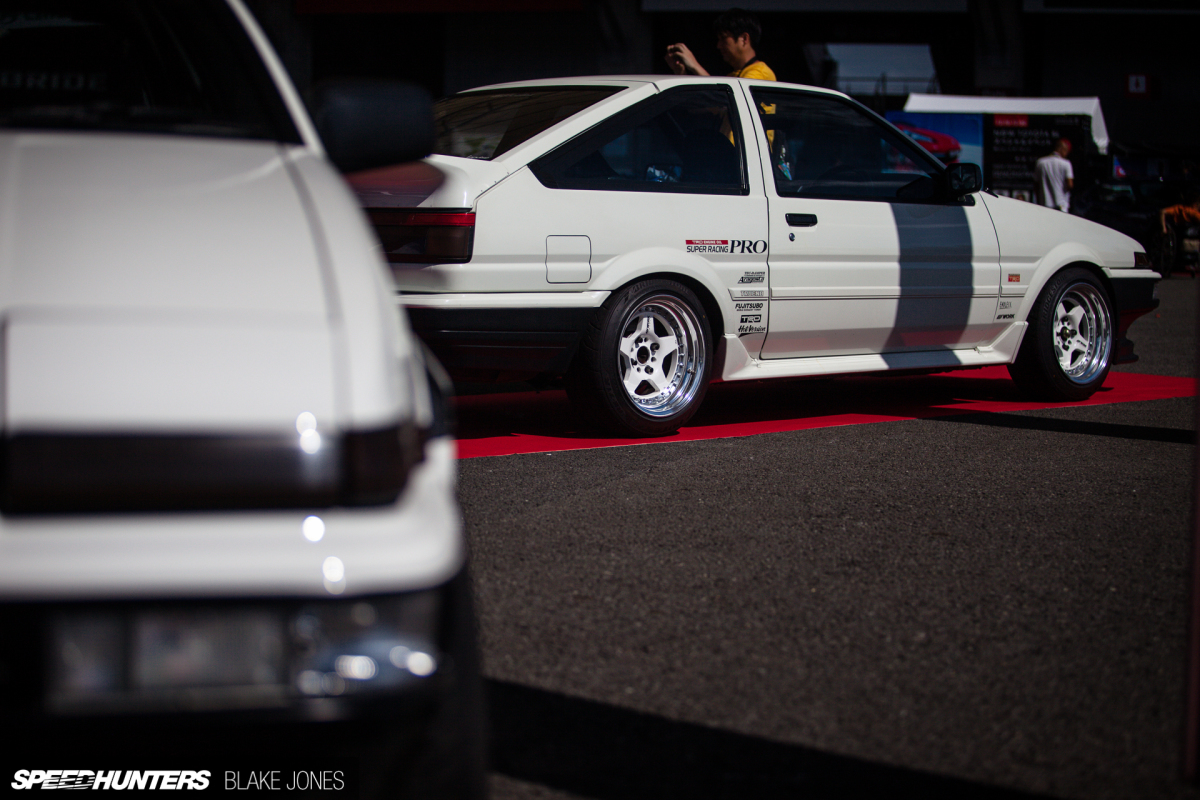 And on that note, an AE86 that should require no introduction is Tsuchiya's personal Trueno. Thanks to Best Motoring, I've watched KT fling the agile Hachiroku through countless corners on the Gunsai touge, so it was a bit of a thrill seeing it in the metal for the first time. I can only dream of putting a full feature together one day.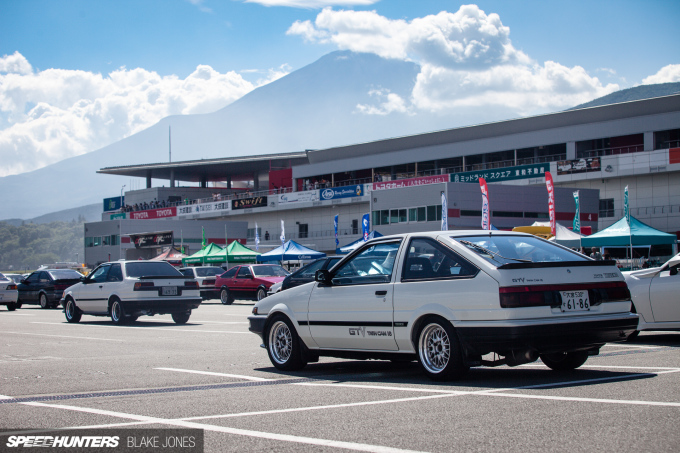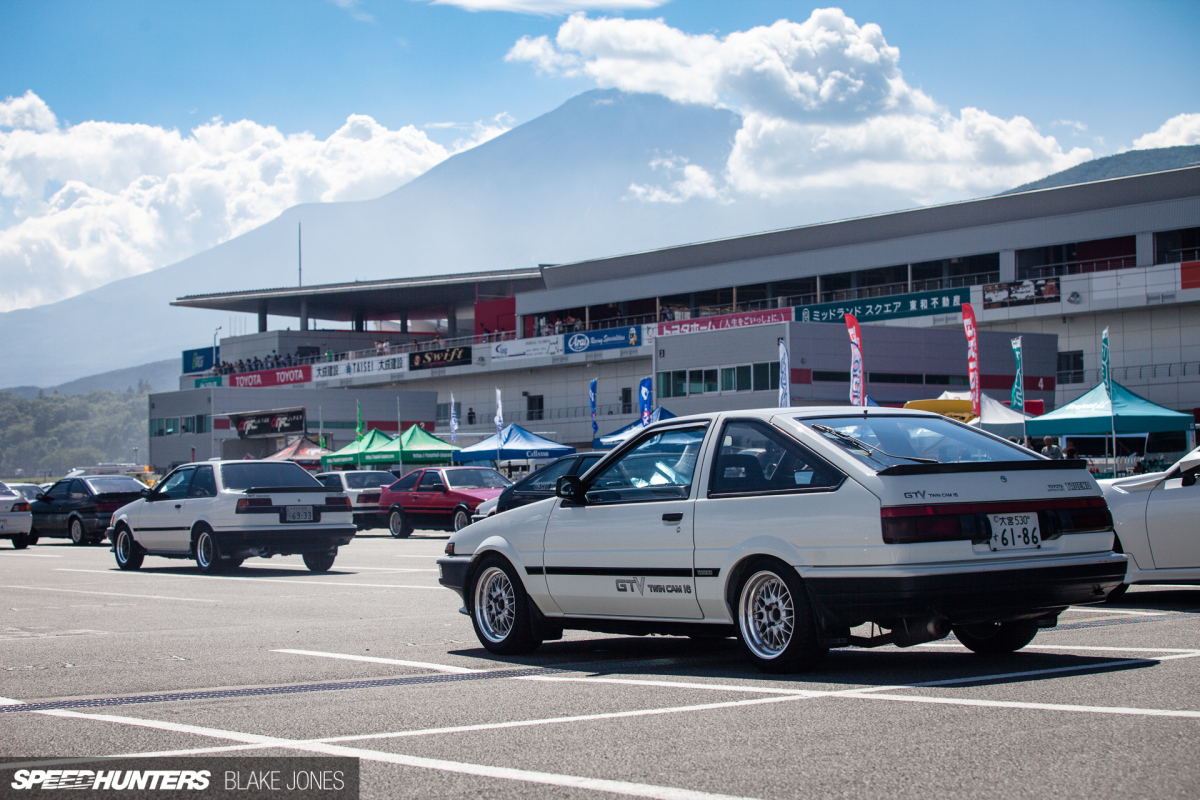 If you squint hard enough, the roofline of an AE86 looks exactly like Fuji-san (Mt. Fuji), don't you think?
Saving the best for last leaves us with this incredibly clean, handsome, gorgeous, perfect (I'm running out of superlatives here…) Levin hatchback. From the impeccable paintwork and interior to the purposeful but detailed engine bay, not a single box has been left unticked. I'd cringe to imagine the investment in building an AE86 to this level (especially in comparison to the original purchase price), but you simply can't question the result. Magnificent.
Overall, the personality on display certainly left me impressed and looking forward to next year's event. As the 'new' Hachiroku continues to age it will invariably become more and more accessible to everyday enthusiasts who will continue to add their own flavour to the dish, just like the original.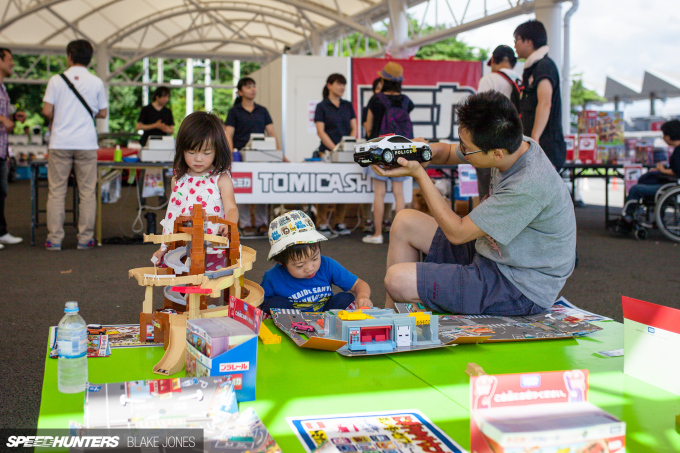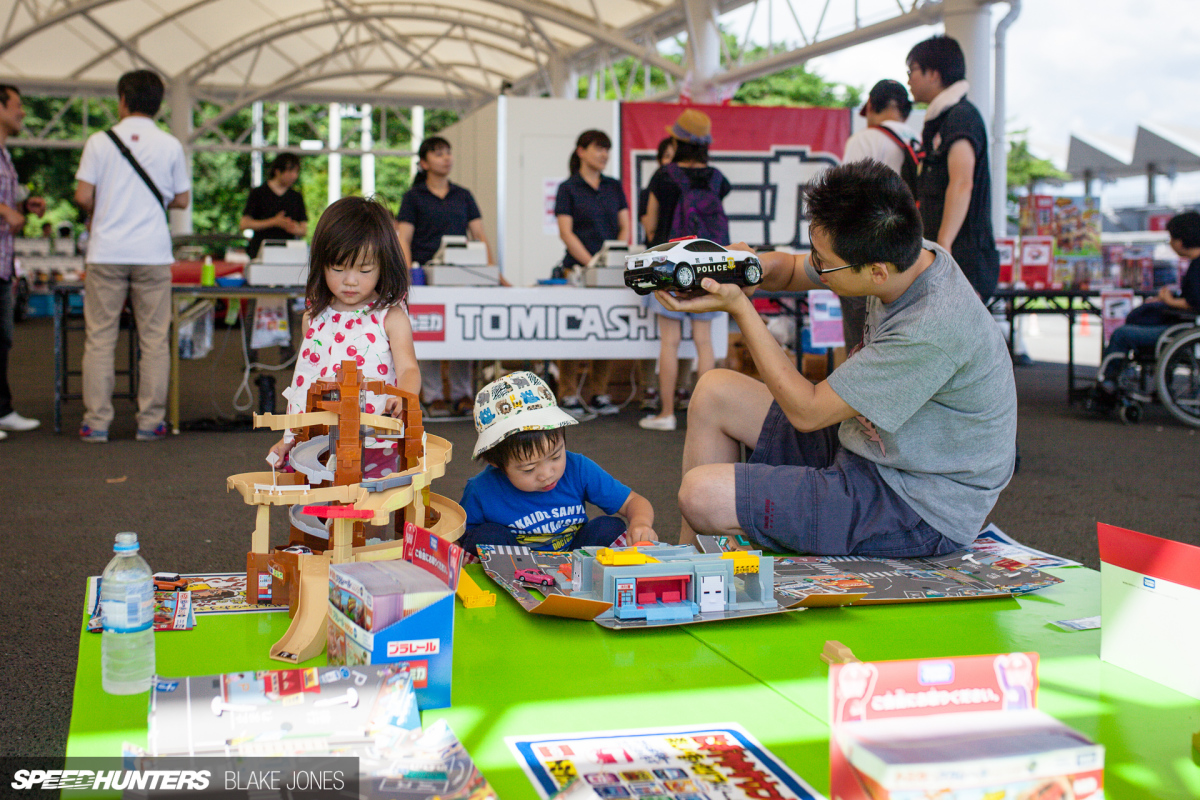 And who knows, it might just be the toy of choice for the next generation of budding car enthusiasts.
Blake Jones
Instagram: blaketjones
blakejones.90@gmail.com
Cutting Room Floor