Cultures Collide
Full disclosure from the outset: I didn't really know what to expect from the German tuning and show scene.
I'd heard that Germany is a land where modifying your car is made incredibly difficult by bureaucracy. To be on the right side of the law any parts you add or replace on your car need to be approved, or there's a number of hoops you need to jump through to ensure that everything is kept above board.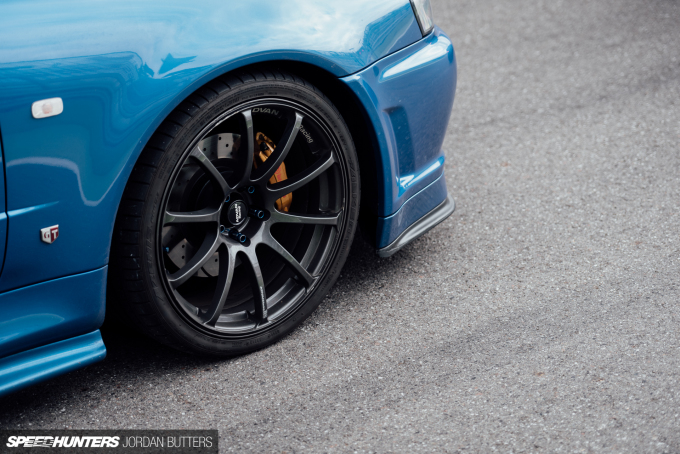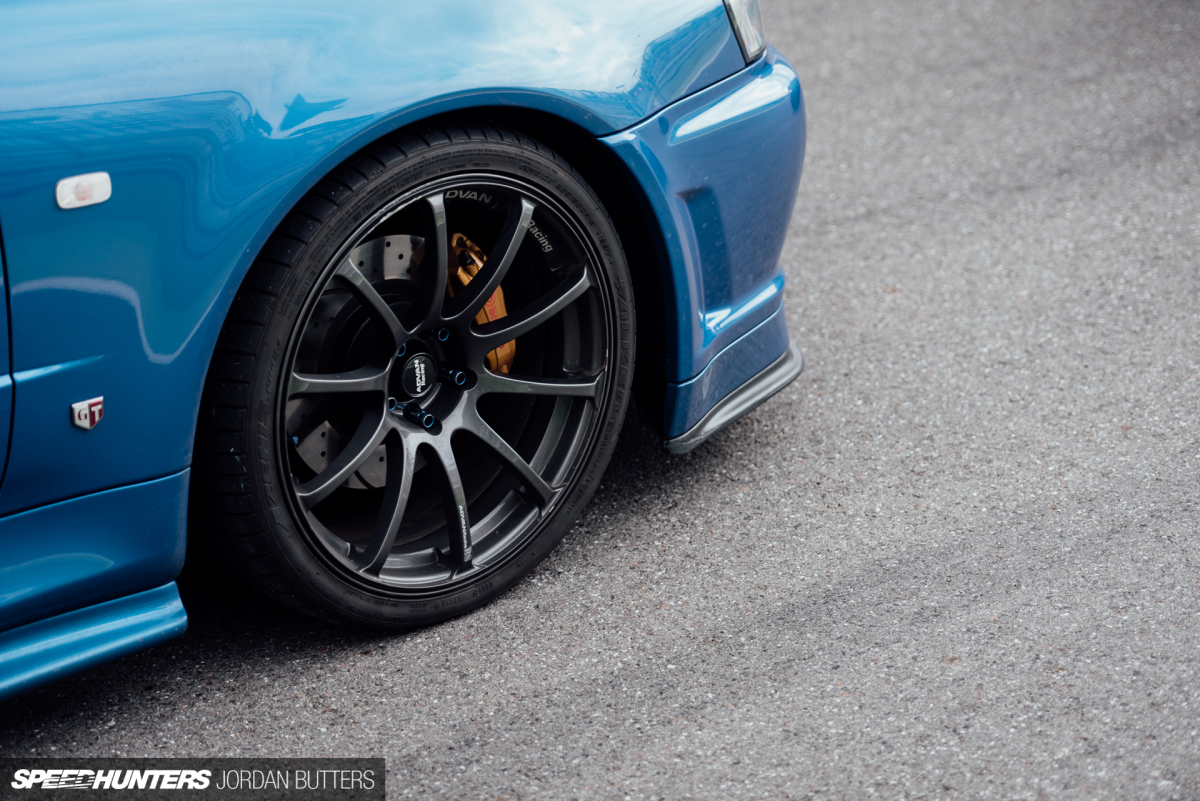 I also knew that the Germans love their BMWs. I've visited the Nürburgring a number of times, and there's always been a gaggle of immaculately engineered Bavarian motors lapping the circuit. Sorry to disappoint the BMW fans, but there won't be any of that in this story…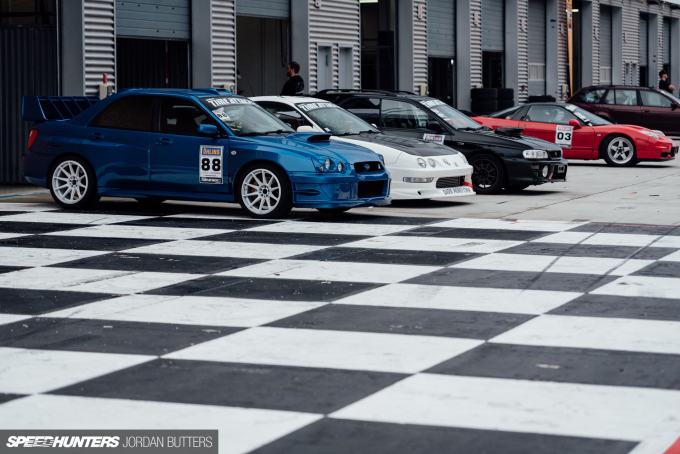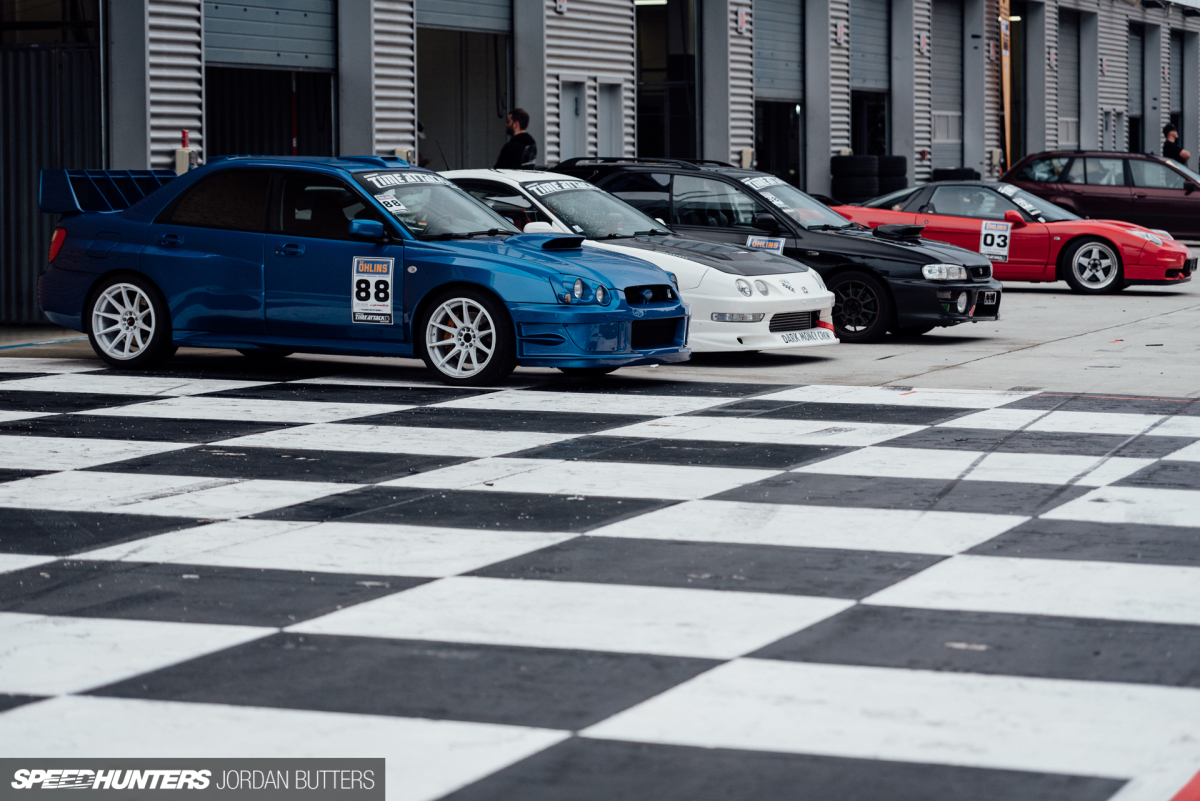 When I found out that i would be visiting the Reisbrennen show as part of shooting Drift Allstars Germany this year, my interest was piqued.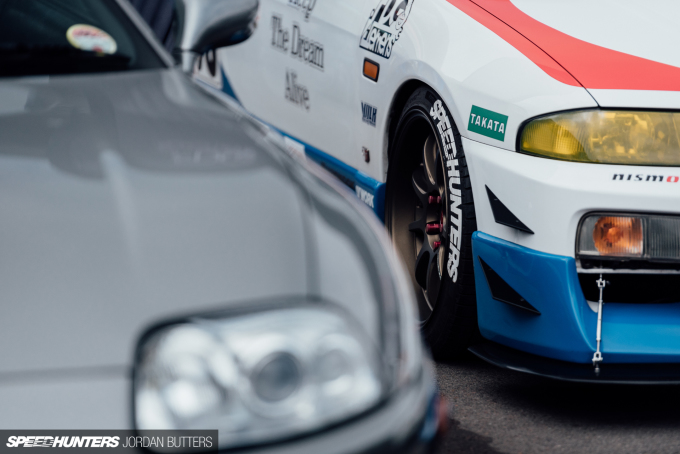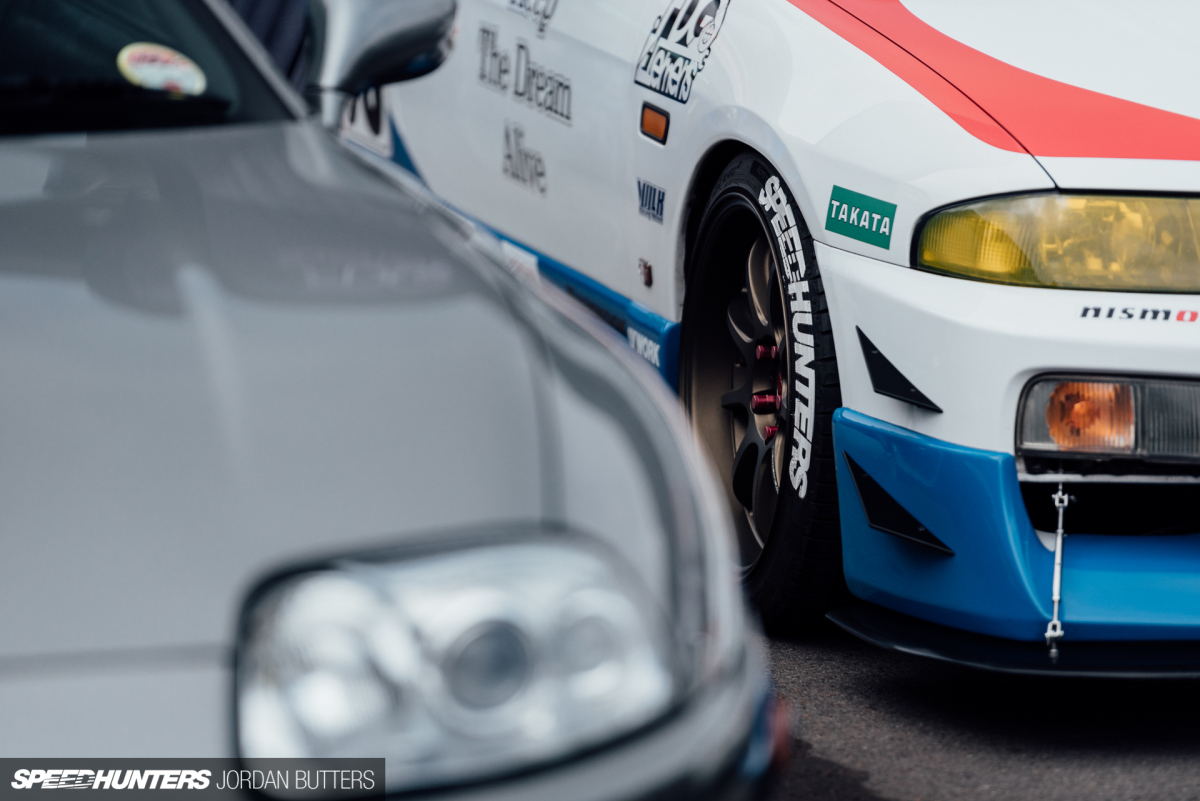 See, Reisbrennen translates, literally into 'rice burning'. I'm not sure the name is 100 per cent politically correct, and that's an entirely different discussion, but the long and short of it is that the show is strictly limited to Japanese marques only.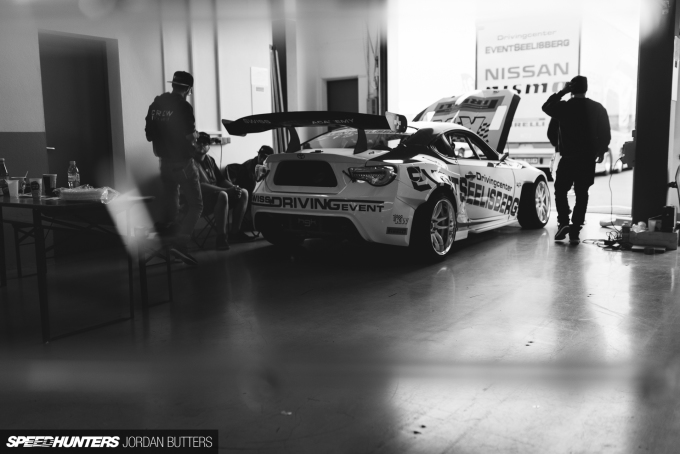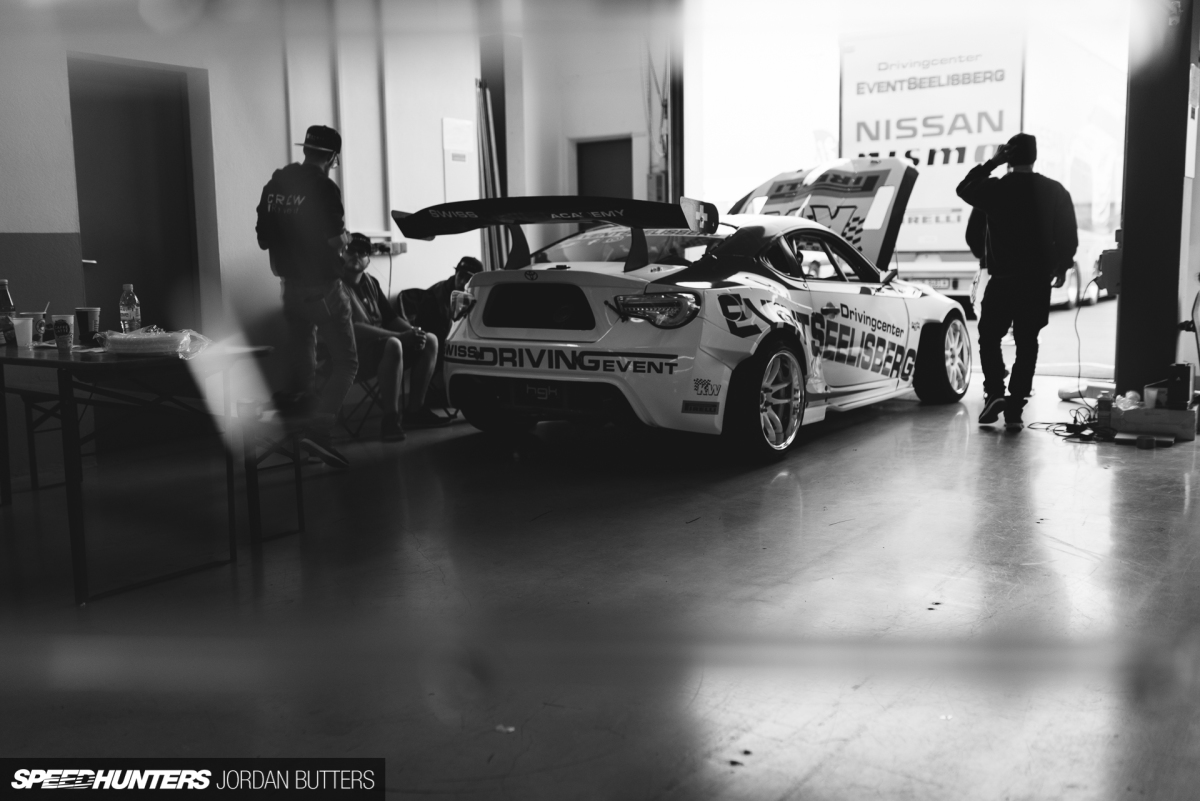 Obviously, the import tuning scene reaches far and wide across the globe with influences and trends spilling across borders, but I guess I'd never really considered what the German import scene was like.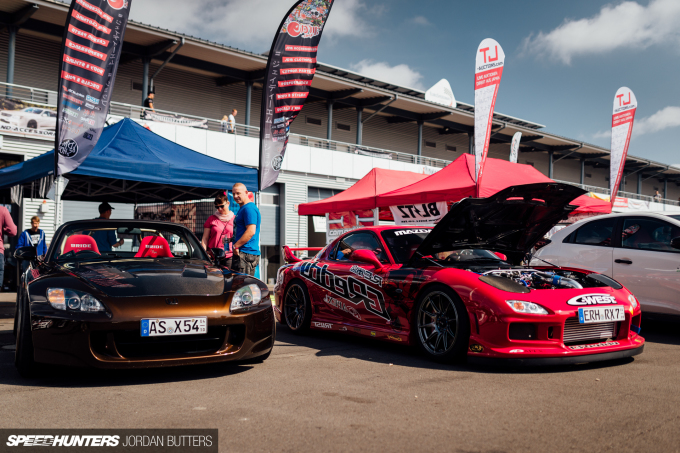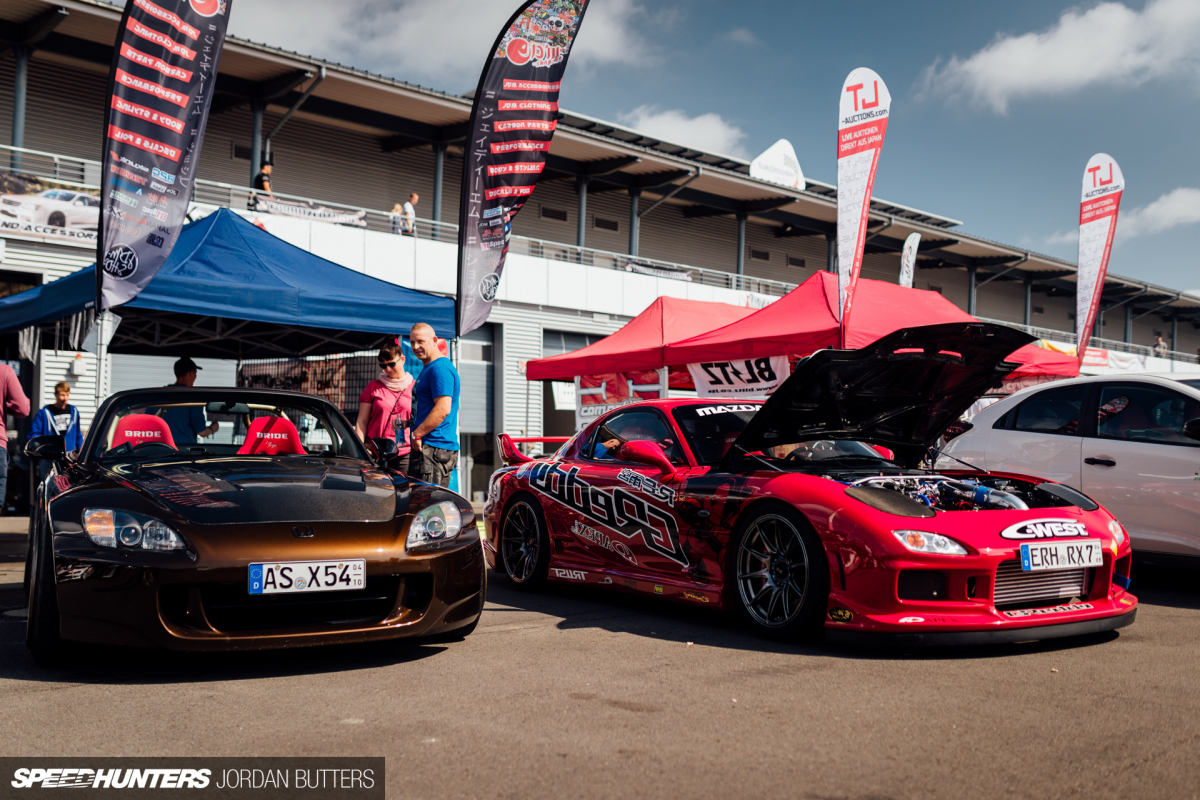 Reisbrennen takes place at the Eurospeedway Lausitz (formerly known as the Lausitzring). This huge venue offers petrolheads the perfect playground for a motoring festival, and this particular one plays out over the course of three days, (and the nights in between). There's a celebratory atmosphere that is very much non-stop.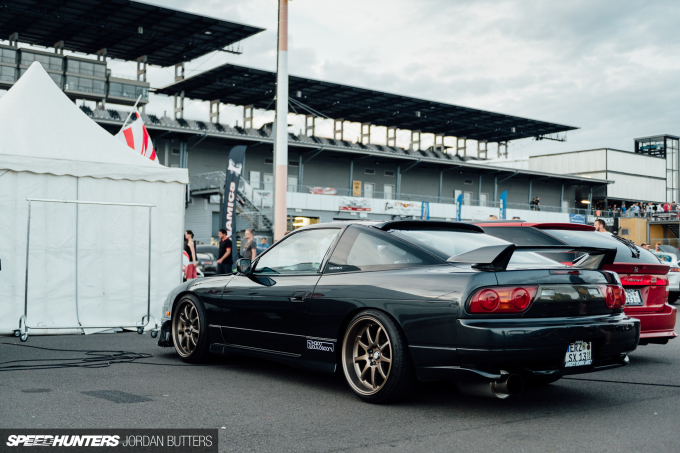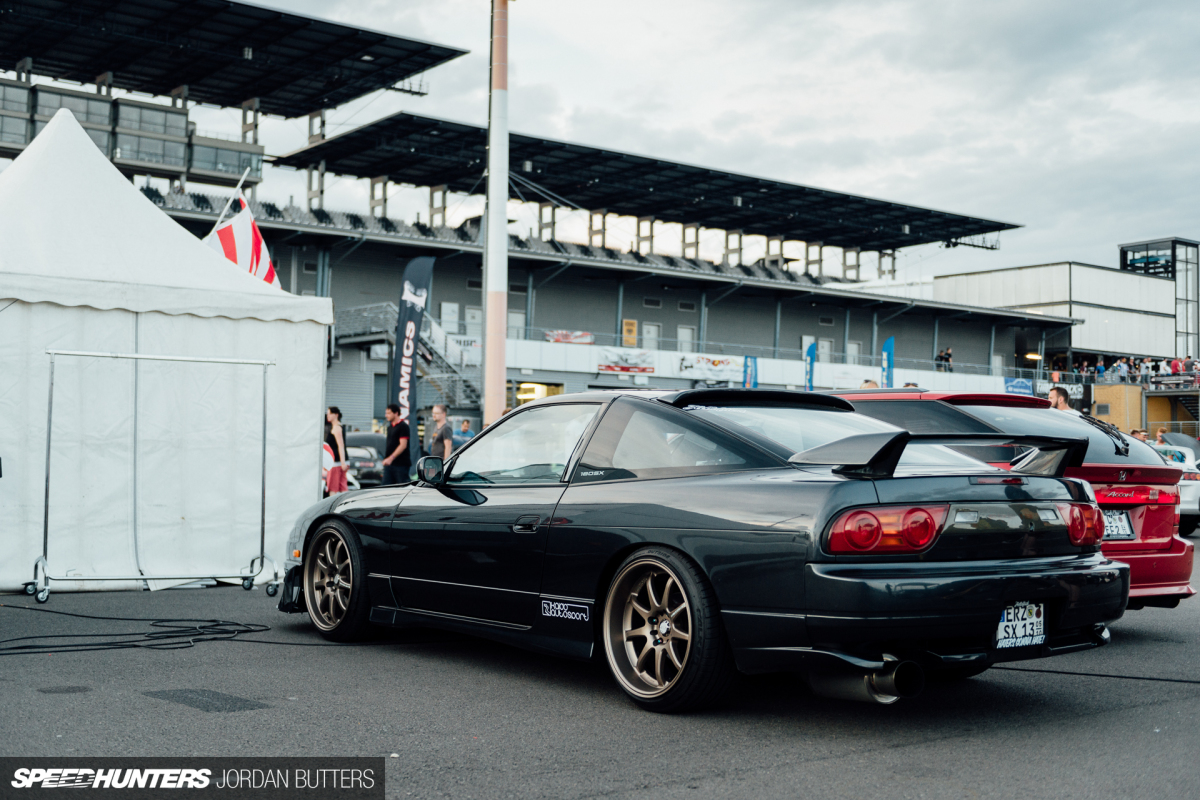 Whilst I was at Reisbrennen to cover the drift competition, and only had a very brief time to actually explore the show, I'm hoping this gives you a glimpse into how Deutschland does Japan.
Beasts From The East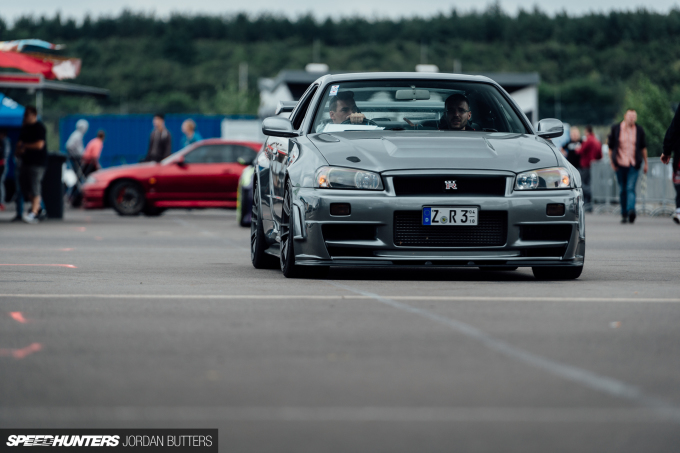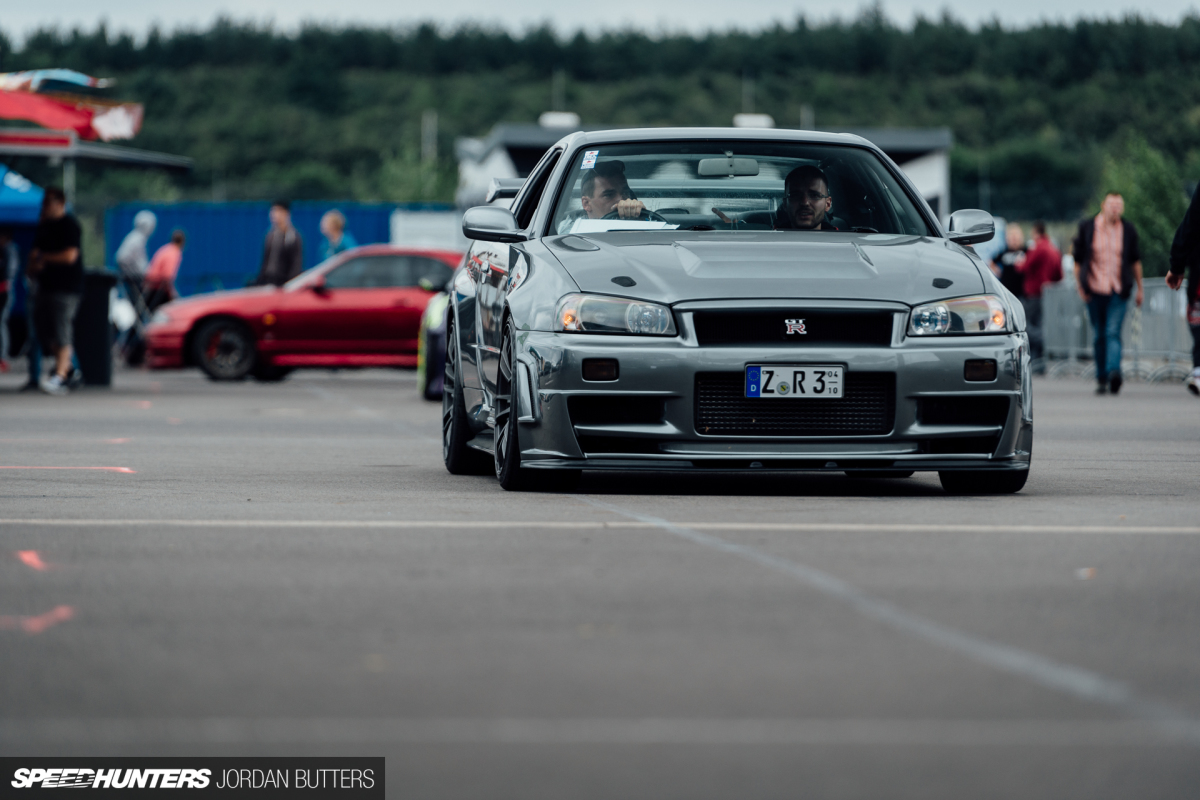 As I was on site early, I got to have a wander around the paddock while it was quiet. In fact, many of the first cars were just arriving.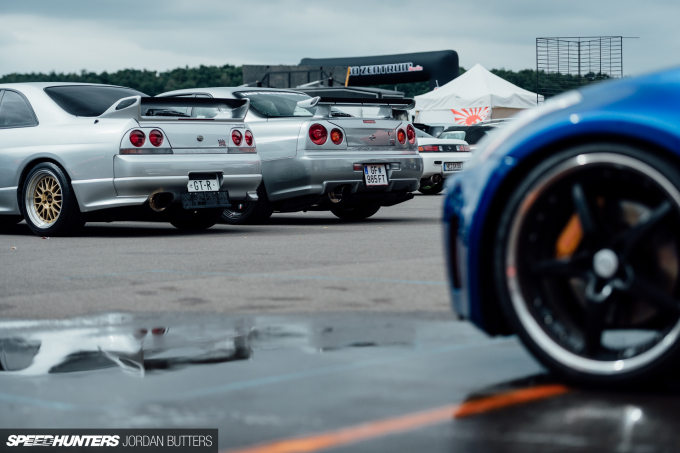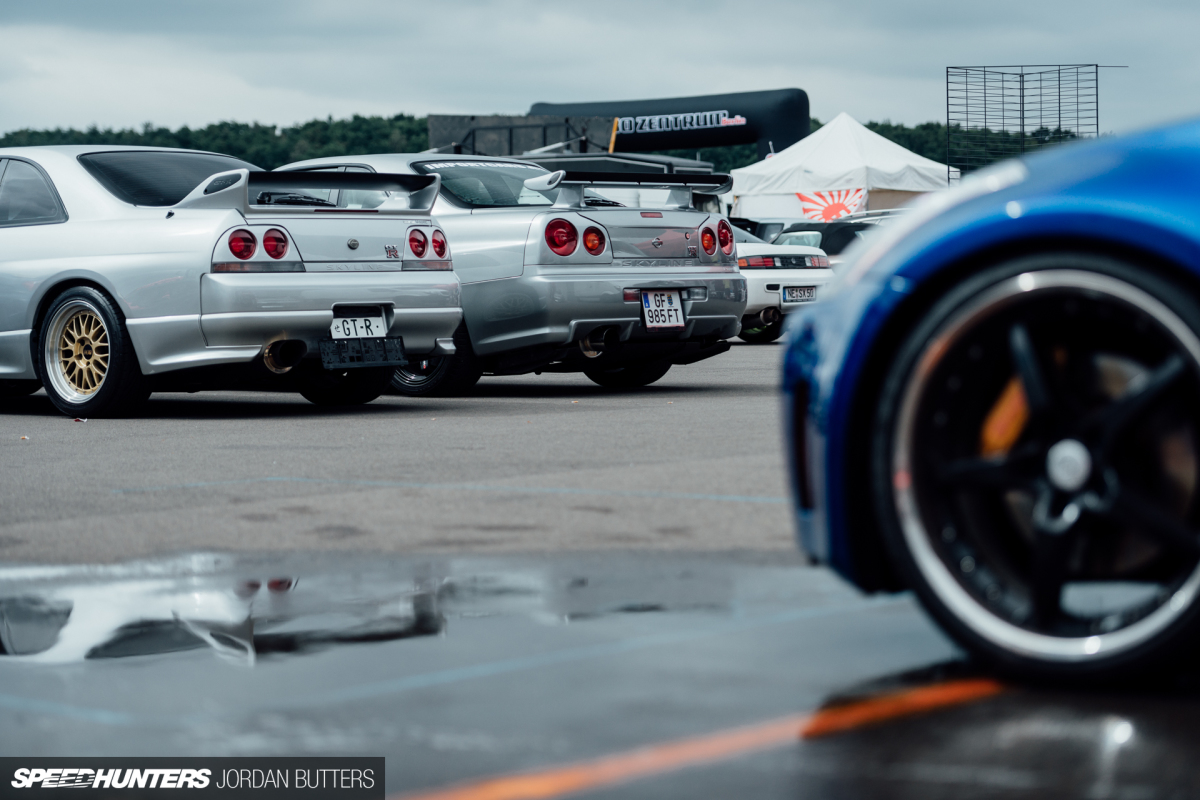 The first thing that struck was the sheer number of GT-Rs rolling in. From R32s to R35s, they were everywhere!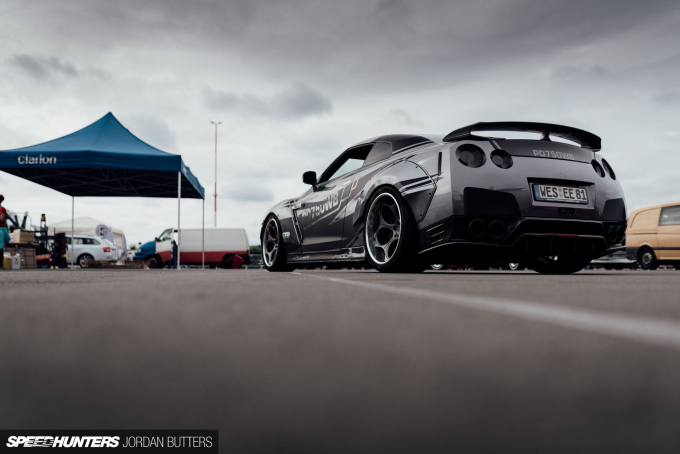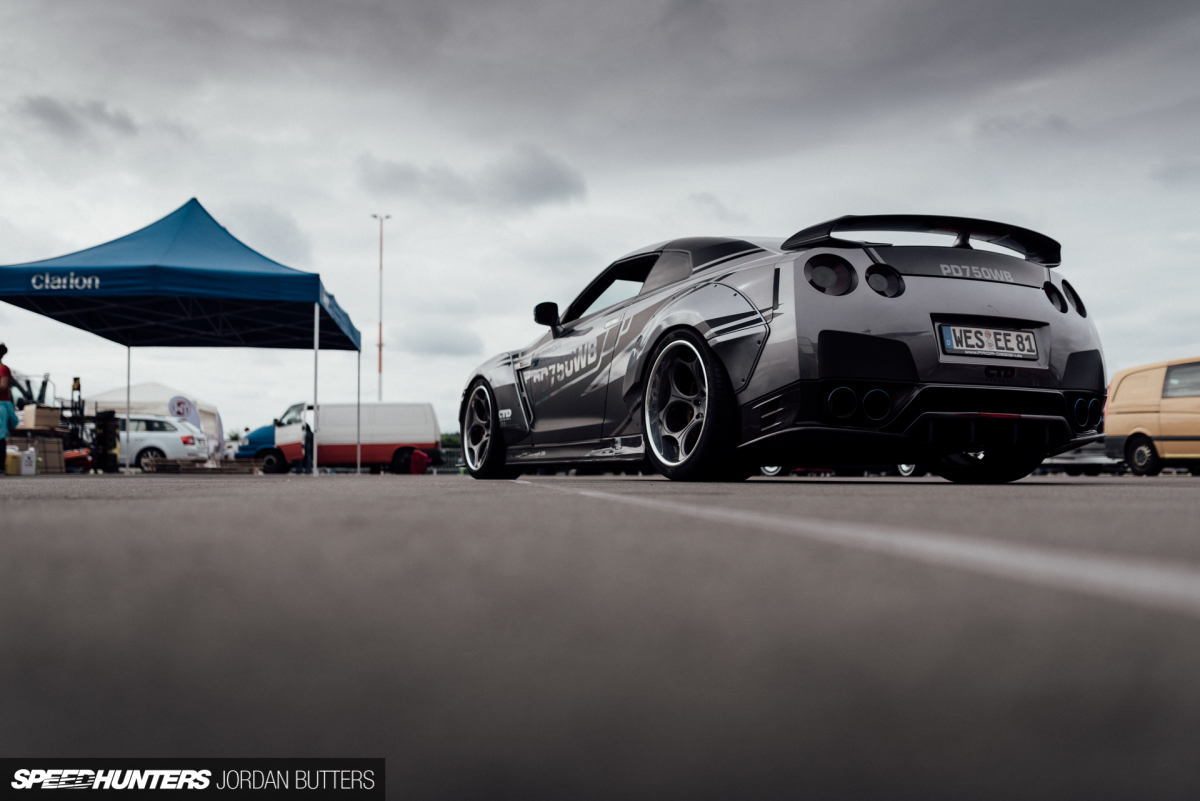 If you see an R35 on the roads in the UK you take note – they're not rare, but hardly a common occurrence. At Reisbrennen you started overlooking them before long, there were that many.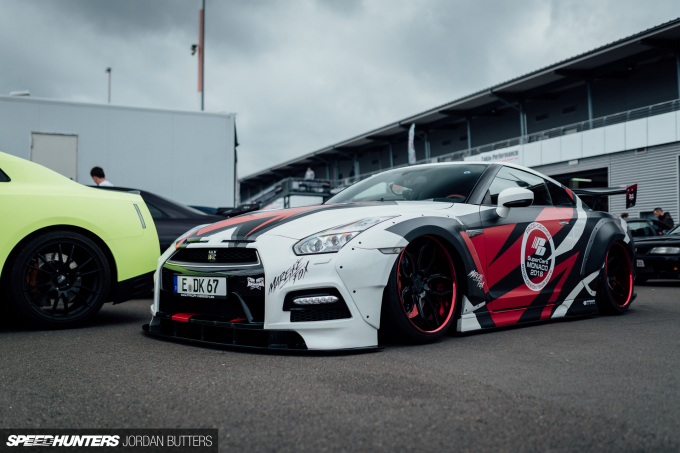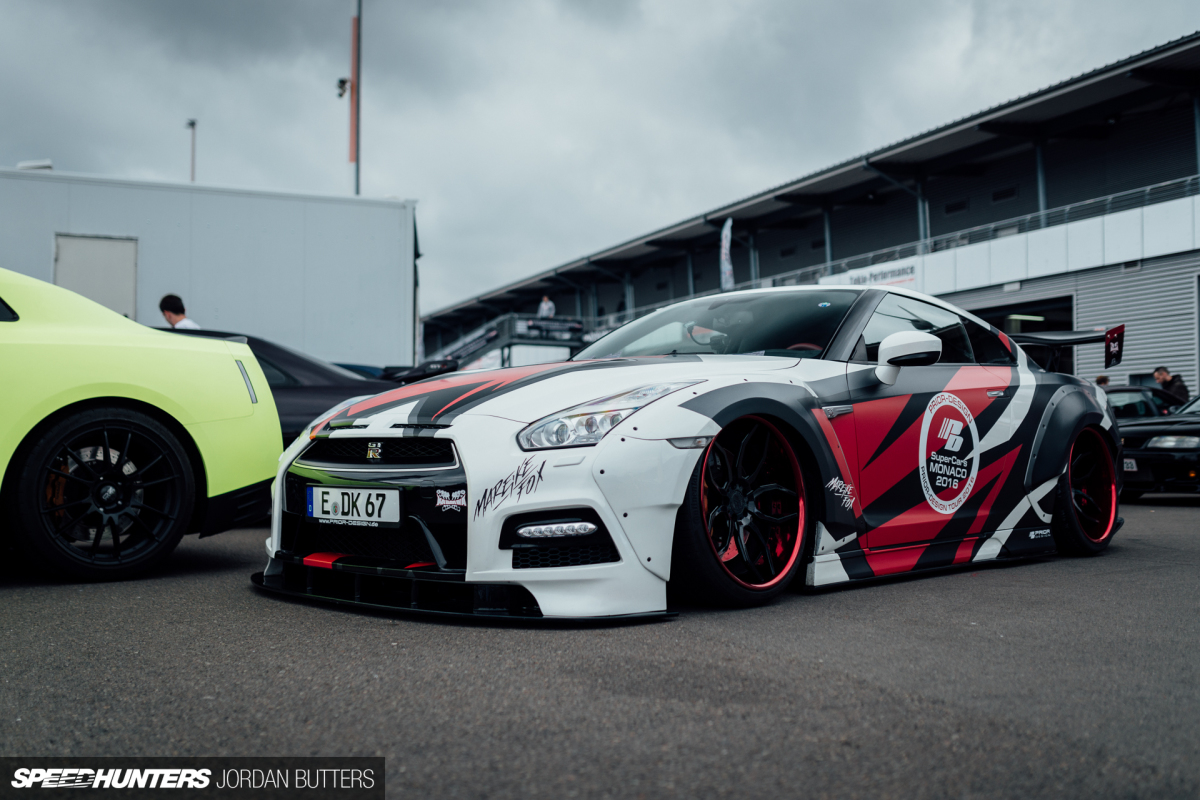 Prior Design brought along two of the Nissan supercars, both wearing Prior's PD750WB bodykit.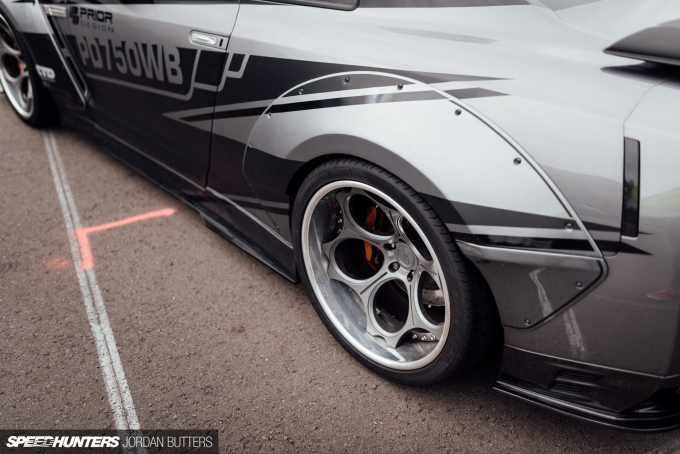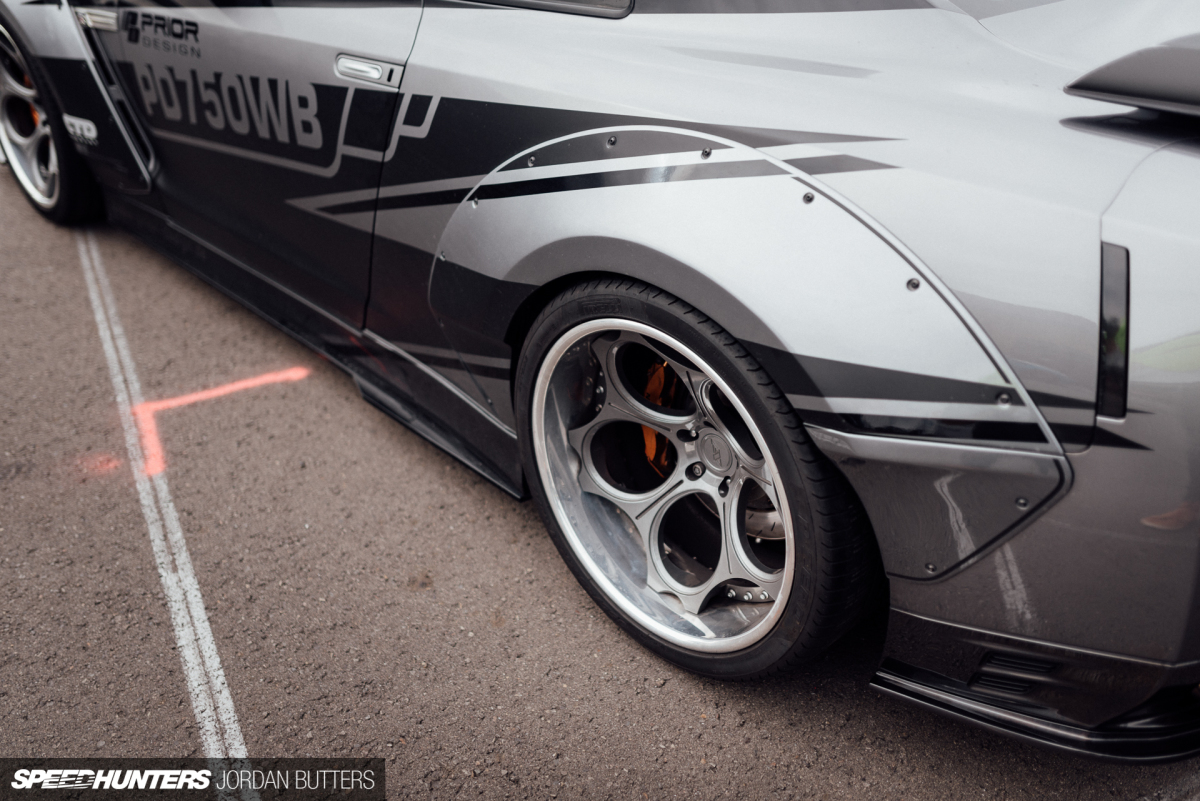 A stock-bodied GT-R almost look tame when compared to this steroid-enhanced version.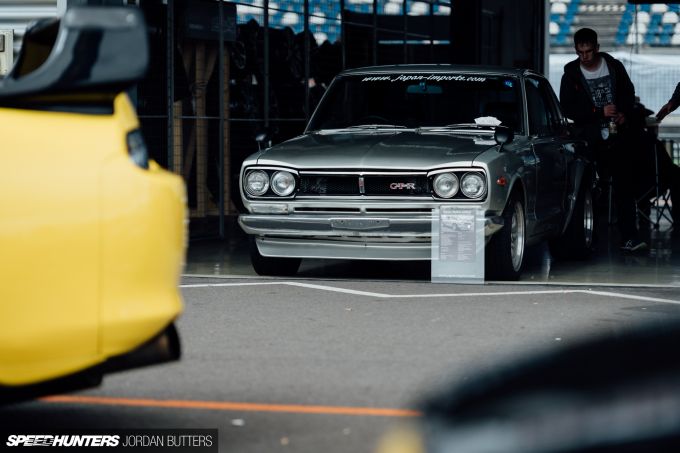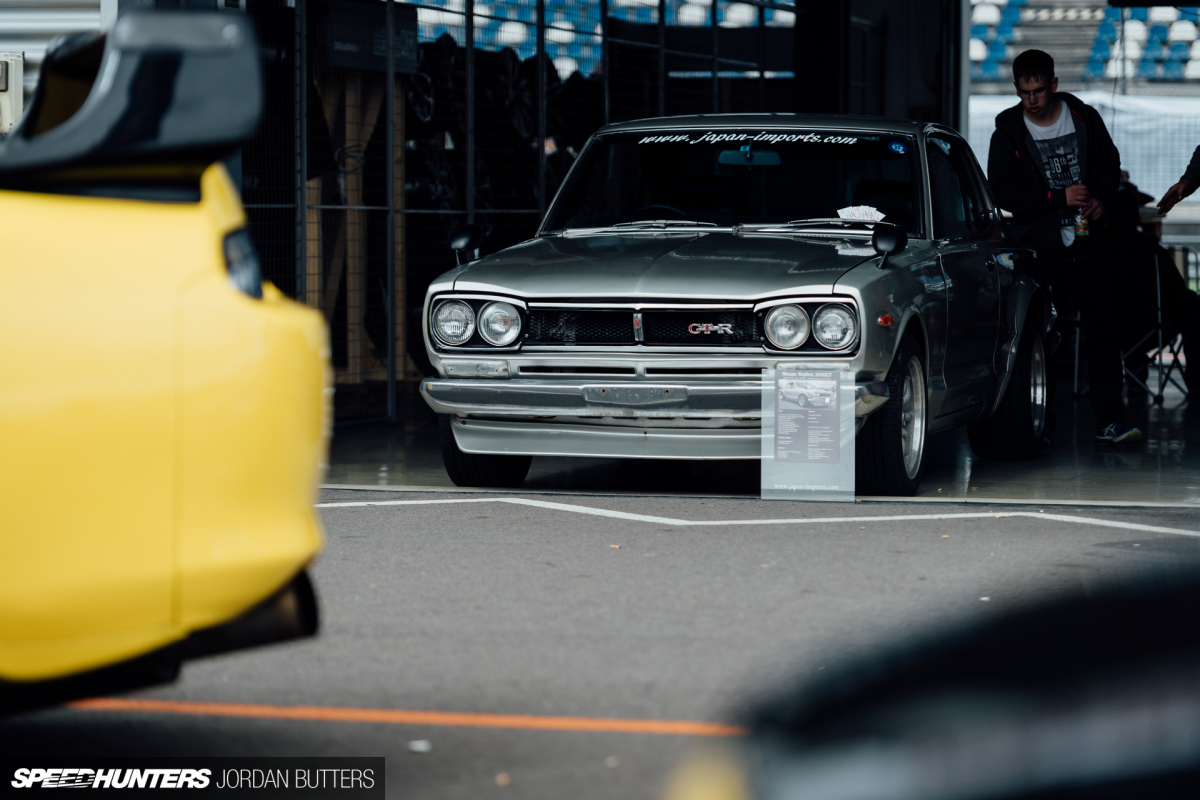 Not far away, I spotted this Hakosuka nestled in a pit garage. These things fetch silly money now. It's also funny to note just how small this model is next to a modern day GT-R.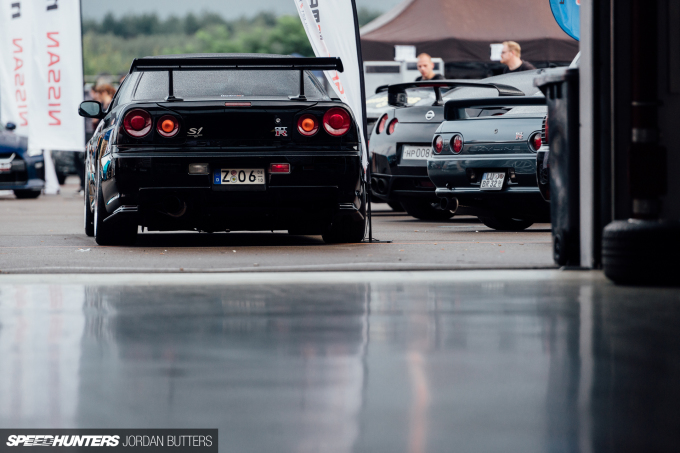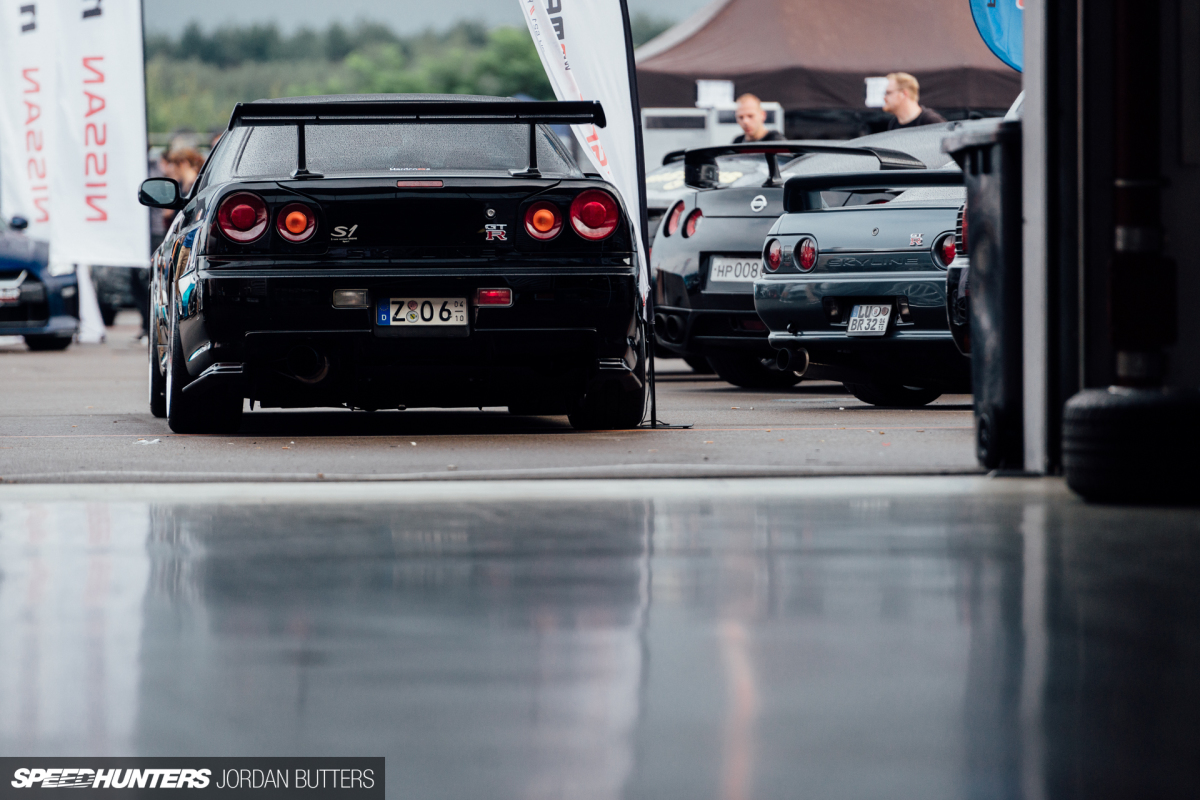 What caught my eye more was the equal number of R32, R33 and R34 GT-Rs in attendance. Money no issue, I'd probably go for an R32 as a weekend car and an R34 for the daily commute. How about you?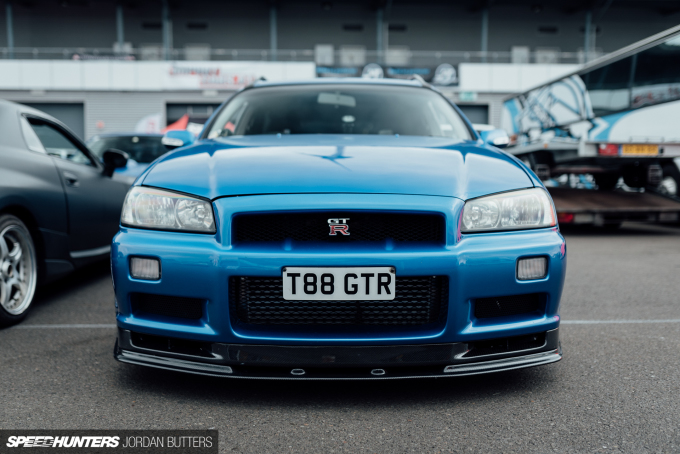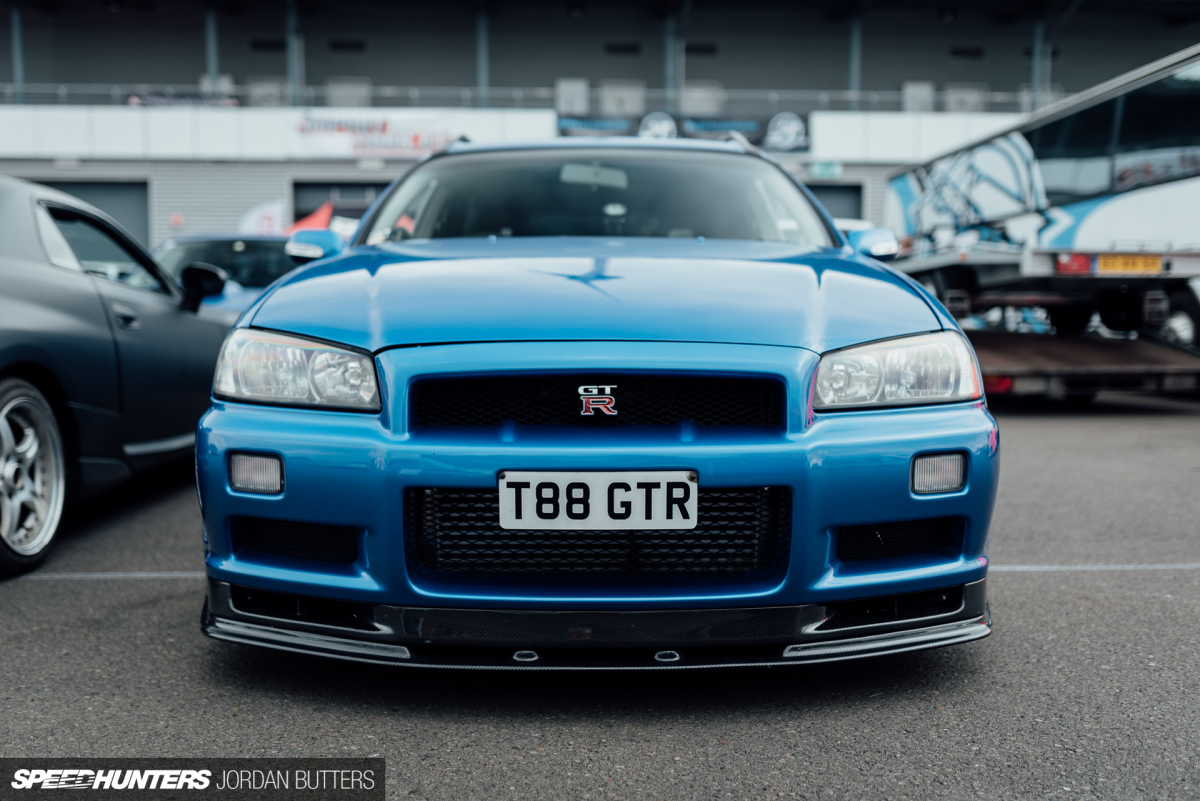 What's wrong with this picture? Fifteen internet points if you guess before scrolling down…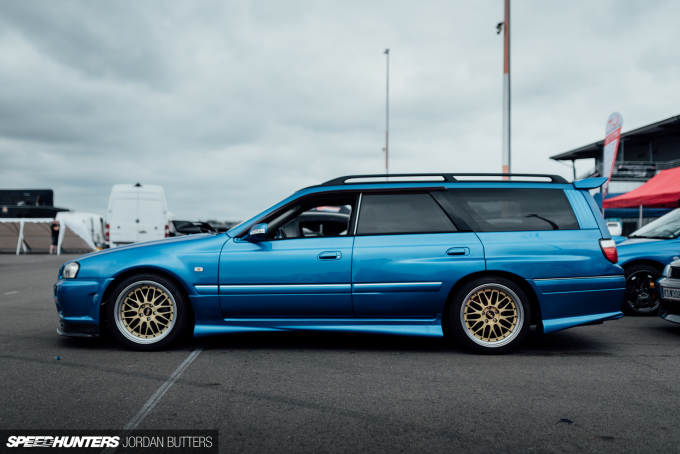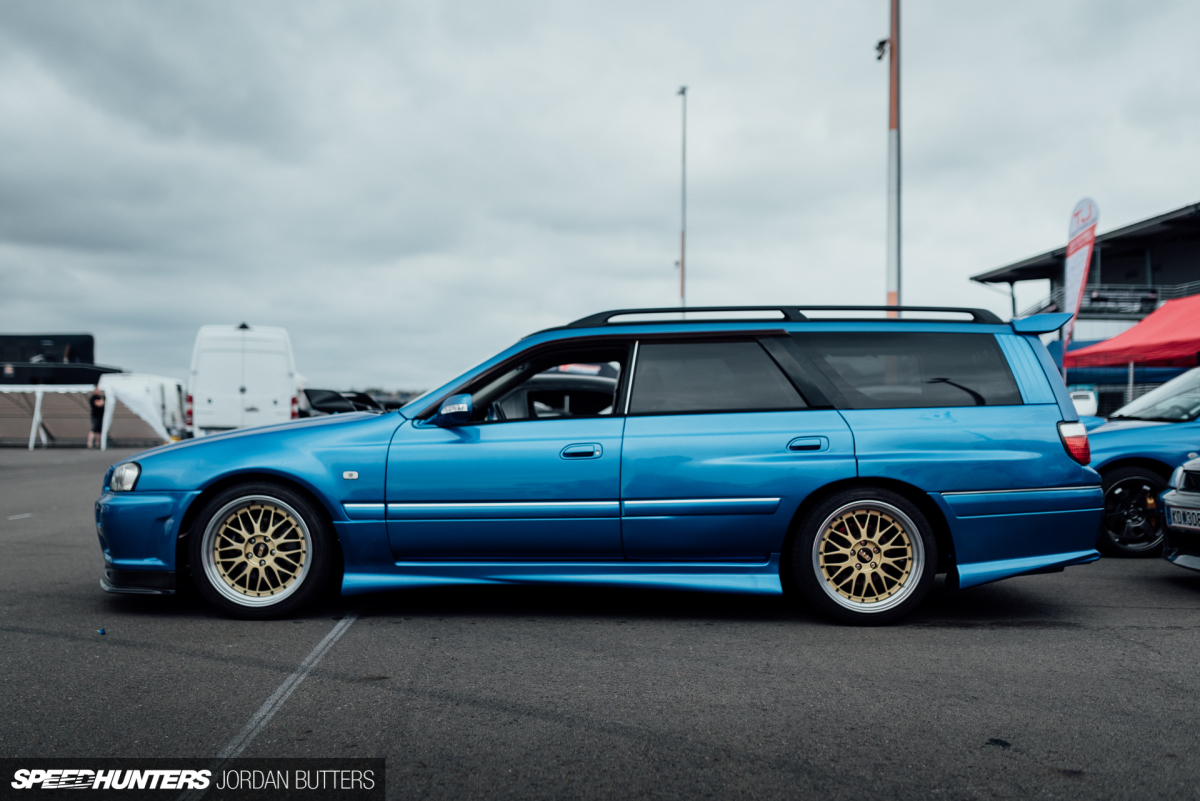 When you want blistering performance, classic JDM looks and the ability to transport the family and dog on holiday, then a GT-R-facelifted  Stagea is the only way to go, I guess? This RS4 would've originally packed an RB25DET, although the numberplate hints that an RB26 has since taken its place…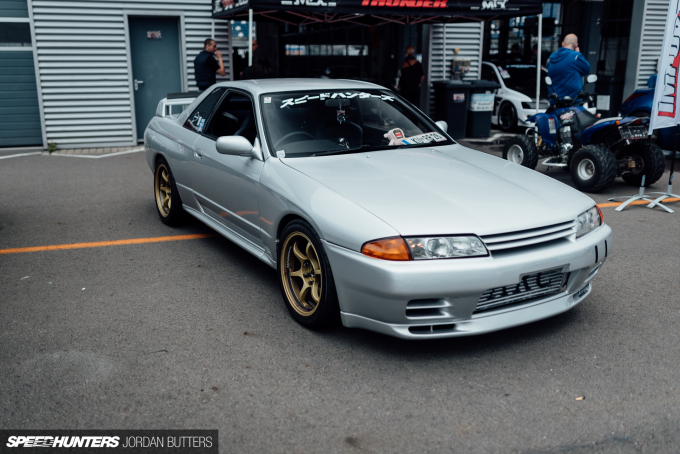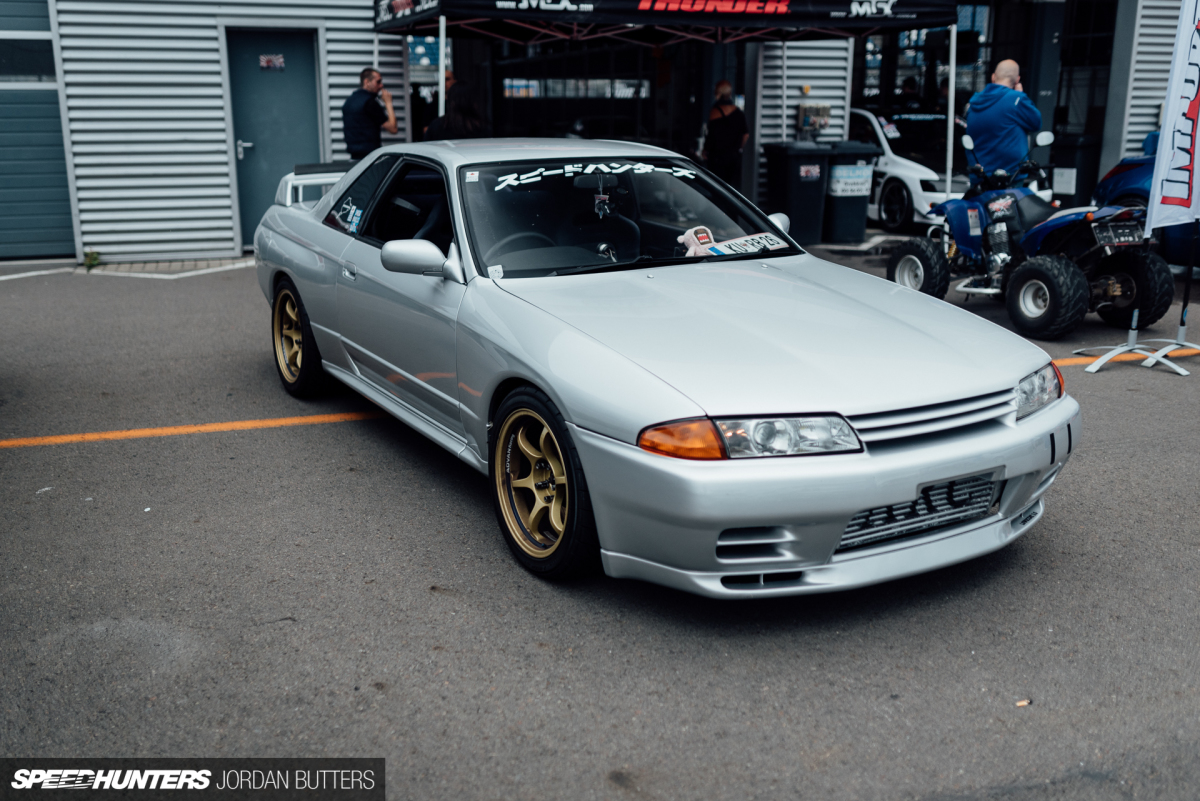 I find myself magnetised to gorgeous wheels, and when I spotted this super-clean R32 GT-R sporting one of our Katakana windscreen banners I was pleased to see it wearing a set of cool gold Advan RG IIs.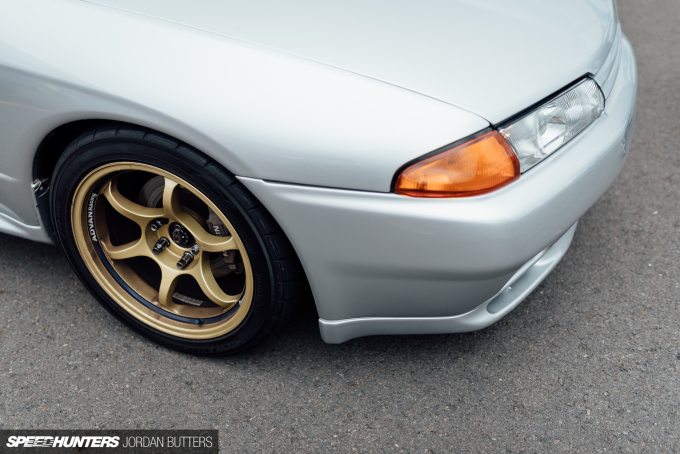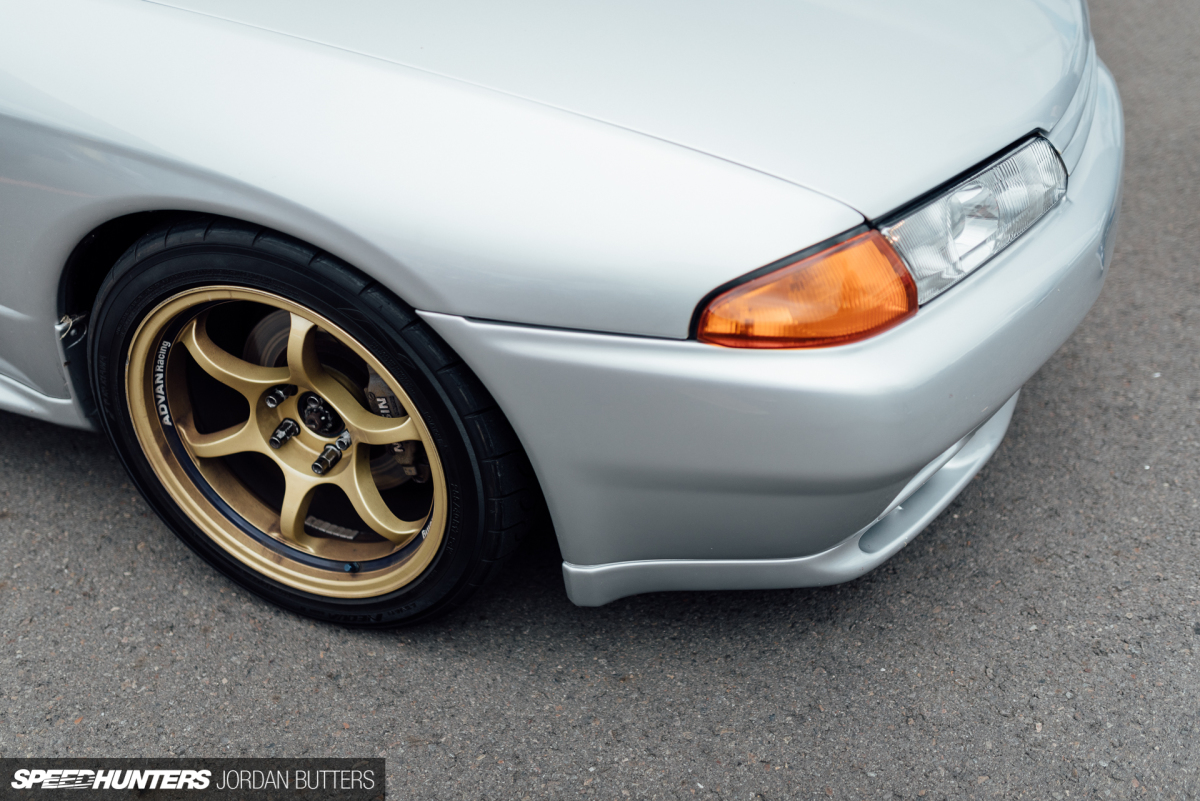 This has to be one of my top 10 all-time favourite wheel designs.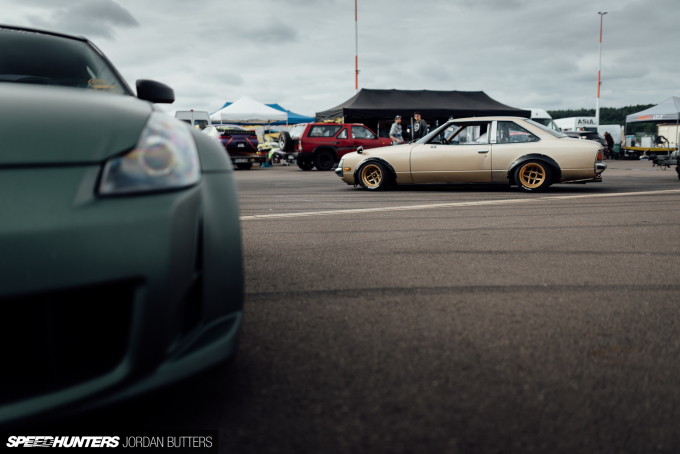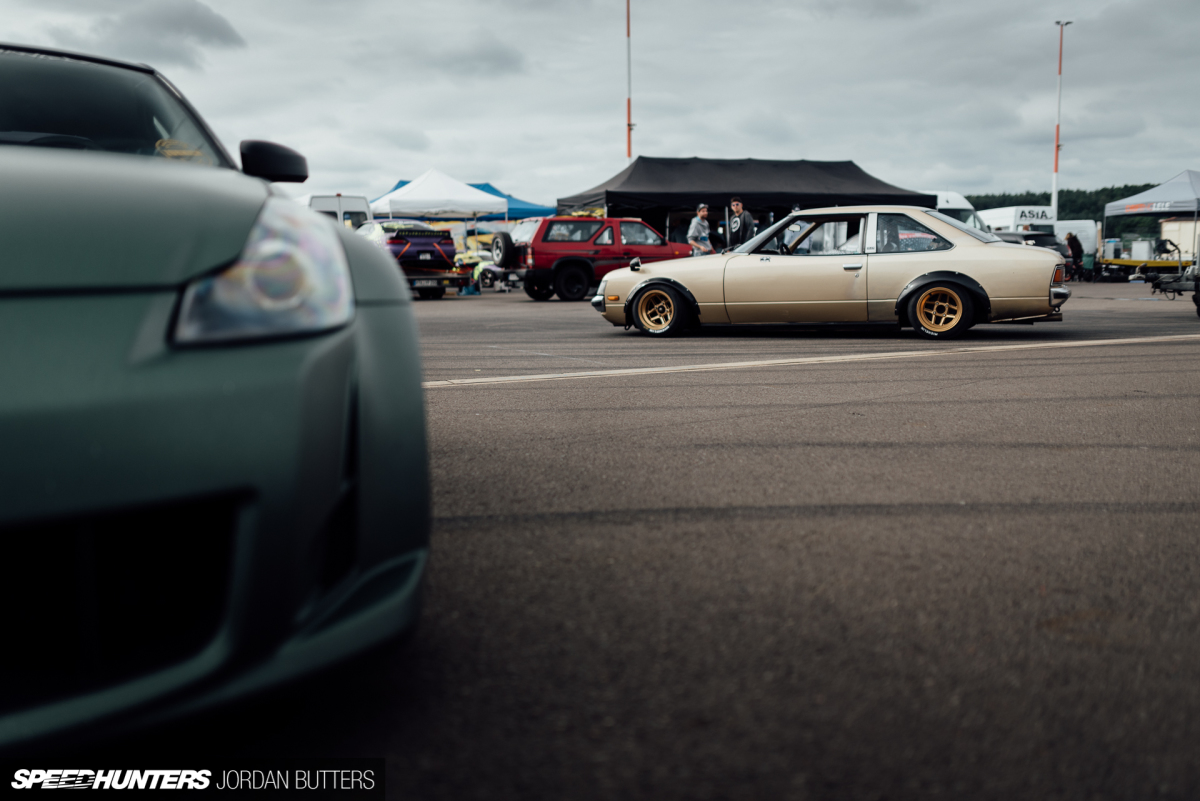 It wasn't all GT-Rs either; this weathered gold TA40 rolled in and instantly started breaking necks.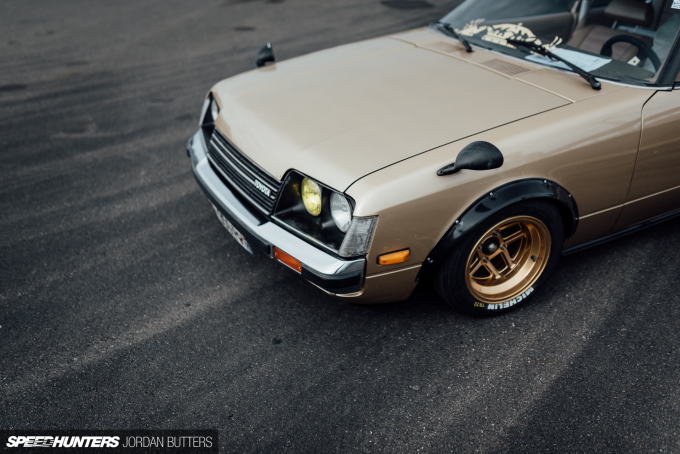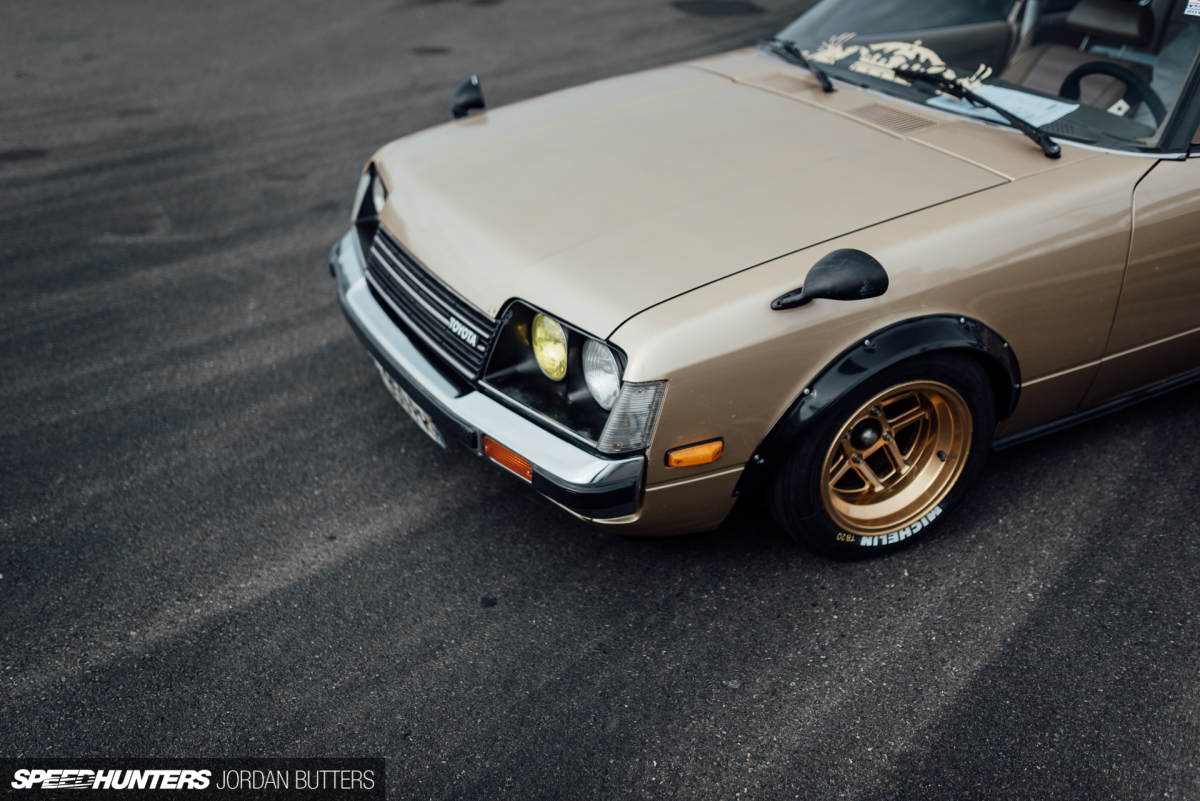 I didn't see it again after this fleeting moment, but sitting on a slightly-more-gold set of TOM'S Igetta wheels covered by gloss black overfenders, cool wing-mounted mirrors, and with a mixed-message interior comprised of part retro-original and part race-car inspired rollcage, I was glad our paths crossed.
The humble AE86 was represented too, although in fewer numbers than I'd hoped. I've got a real soft spot for these classic Toyotas, and with values always on the increase we're bound to see less and less of them being displayed and more retained in private collections.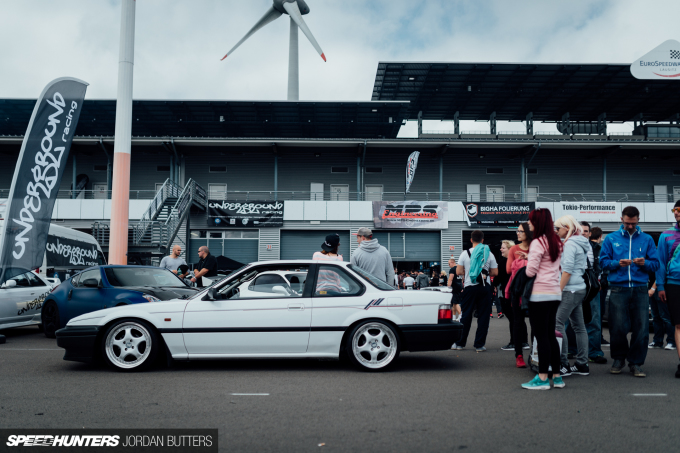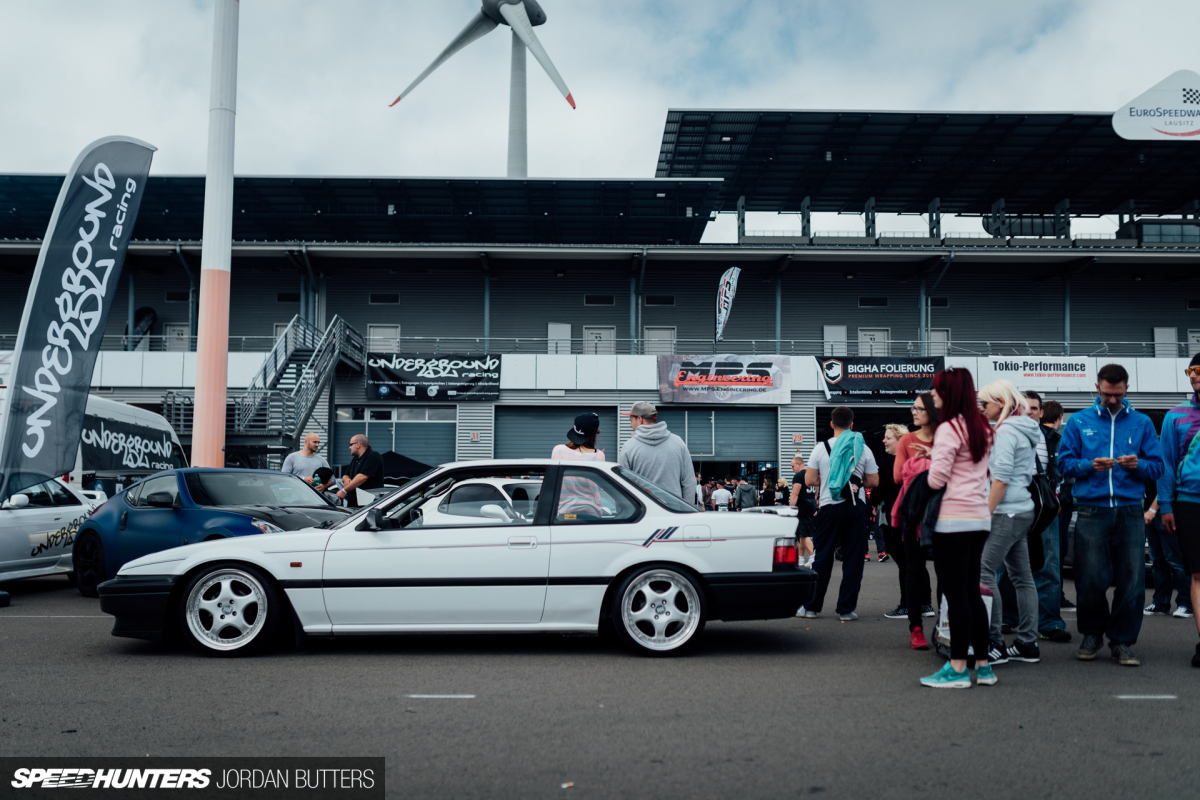 This classic-shape Prelude drew a crowd of in-the-know appreciators too. Sitting low over a set of dished RH wheels, it struck the perfect OEM+ balance.
At the other end of the scale the Hot Import paddock played host to some of the most 'out there' builds. It seems the The Fast and the Furious franchise had (or has?) a strong influence on the more show-car elements of the German import scene. In case you were wondering, that's a Honda CR-X on the right.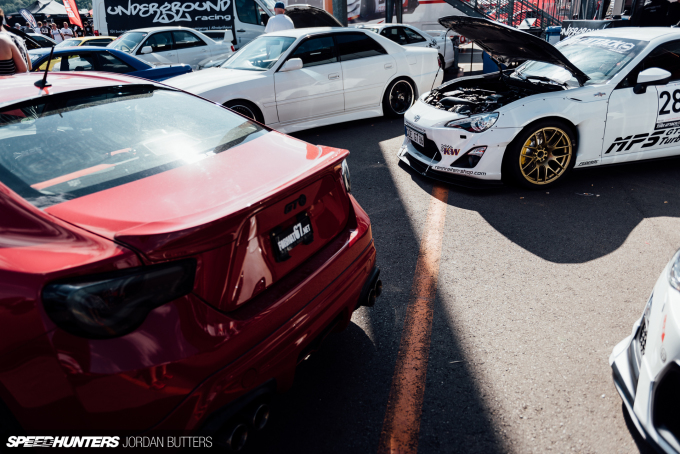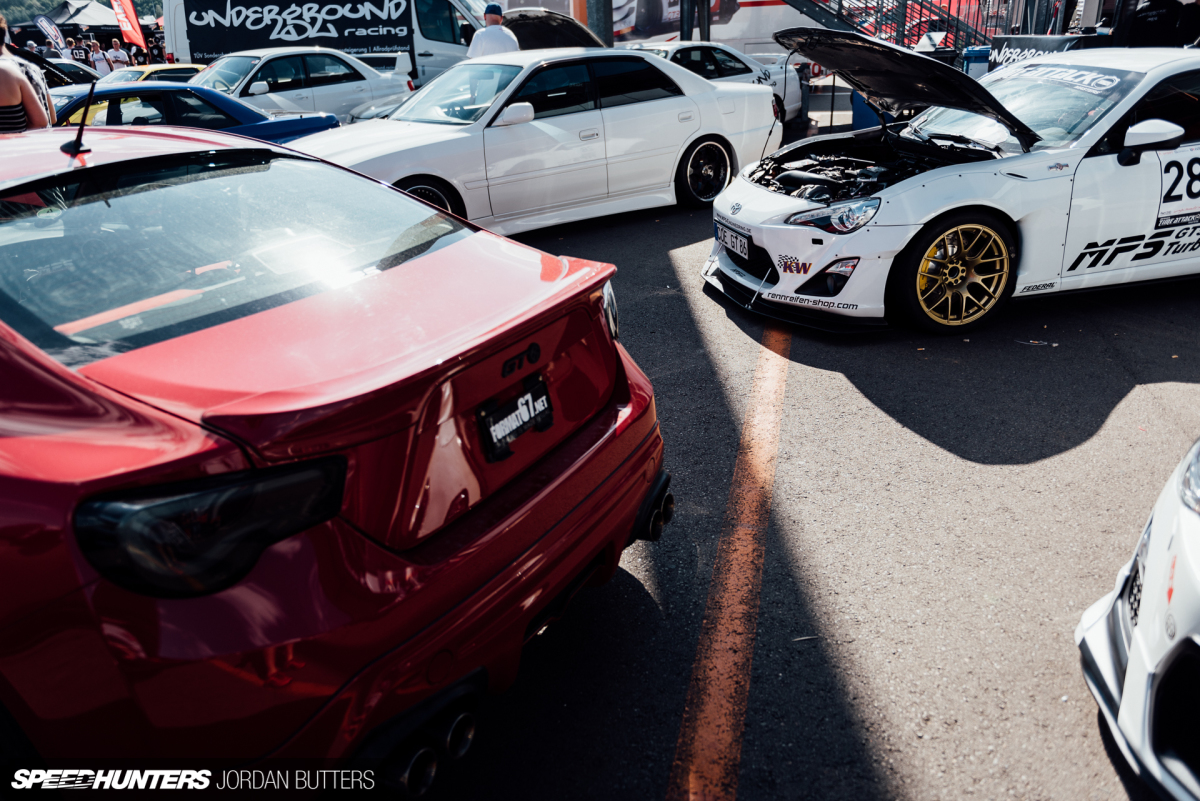 The new 86 chassis has enjoyed huge success in Europe as well as around the world. The surefire combination of reasonable affordability, great looks, decent power and an excellent rear-wheel drive chassis have made it a popular choice with tuners. I'm really hoping more manufacturers see the market for this type of car.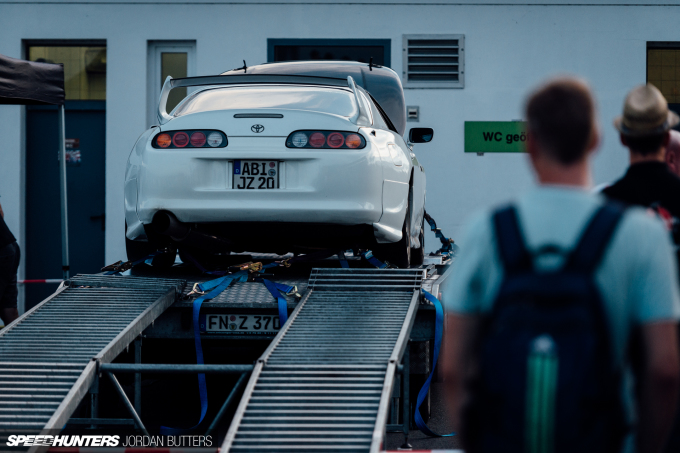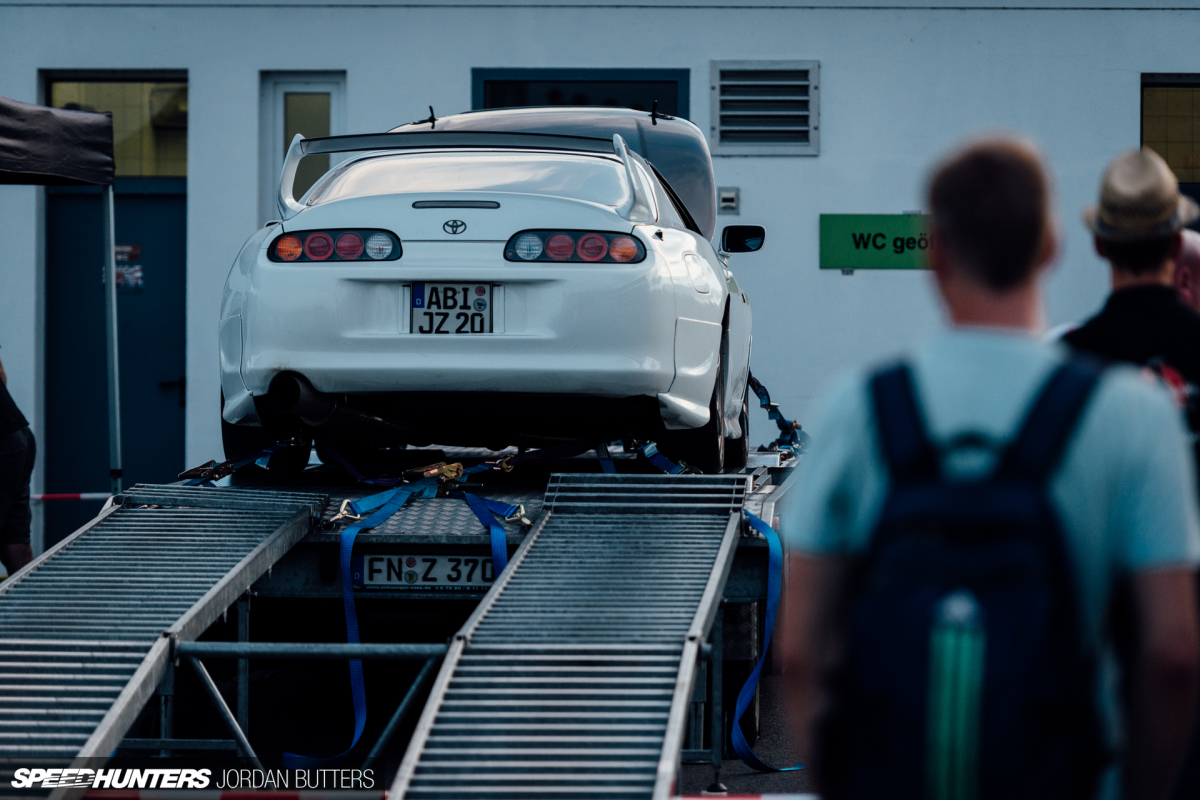 It seems that the Germans really enjoy their Supras too. The familiar sound of 2JZ motors reverberated around the gigantic grandstands of the Lausitzring as punters queued for a run on the dyno that had been set up in the paddock. The JZA80 is a classic shape that's stood the test of time very well – they still turn heads, even today.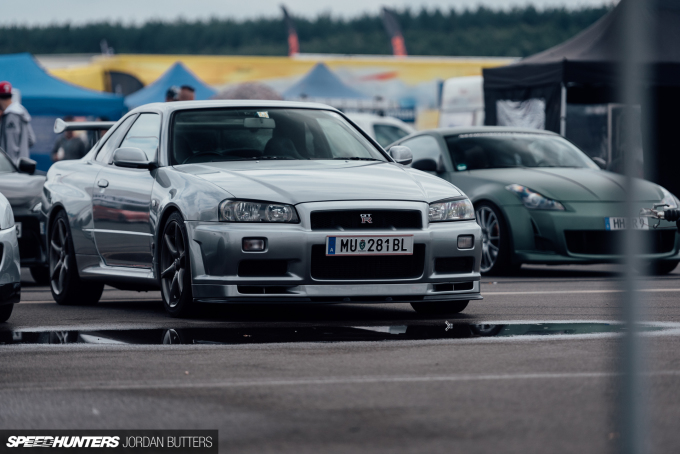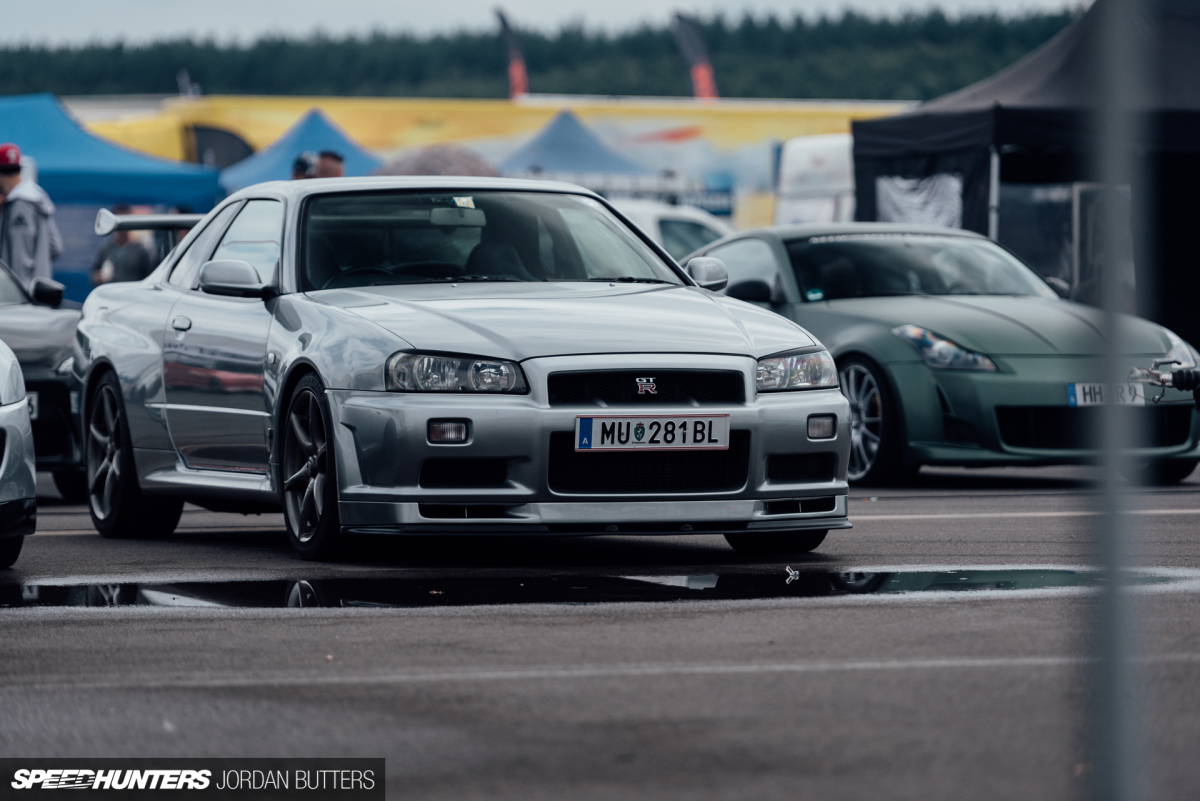 Due to the Lausitzring's geographical location, right in the east of Germany between Berlin and Dresden, Reisbrennen is a truly international affair. It's only a quick skip across the border into Poland or the Czech Republic. The show attracts visitors from all over; I even saw a handful of vehicles running UK plates.
Track Action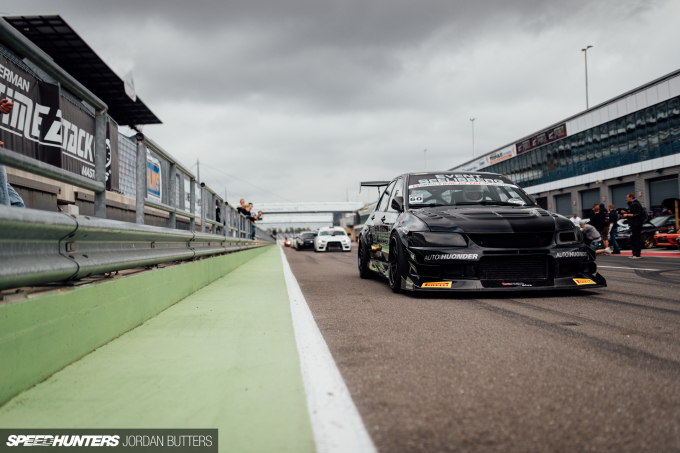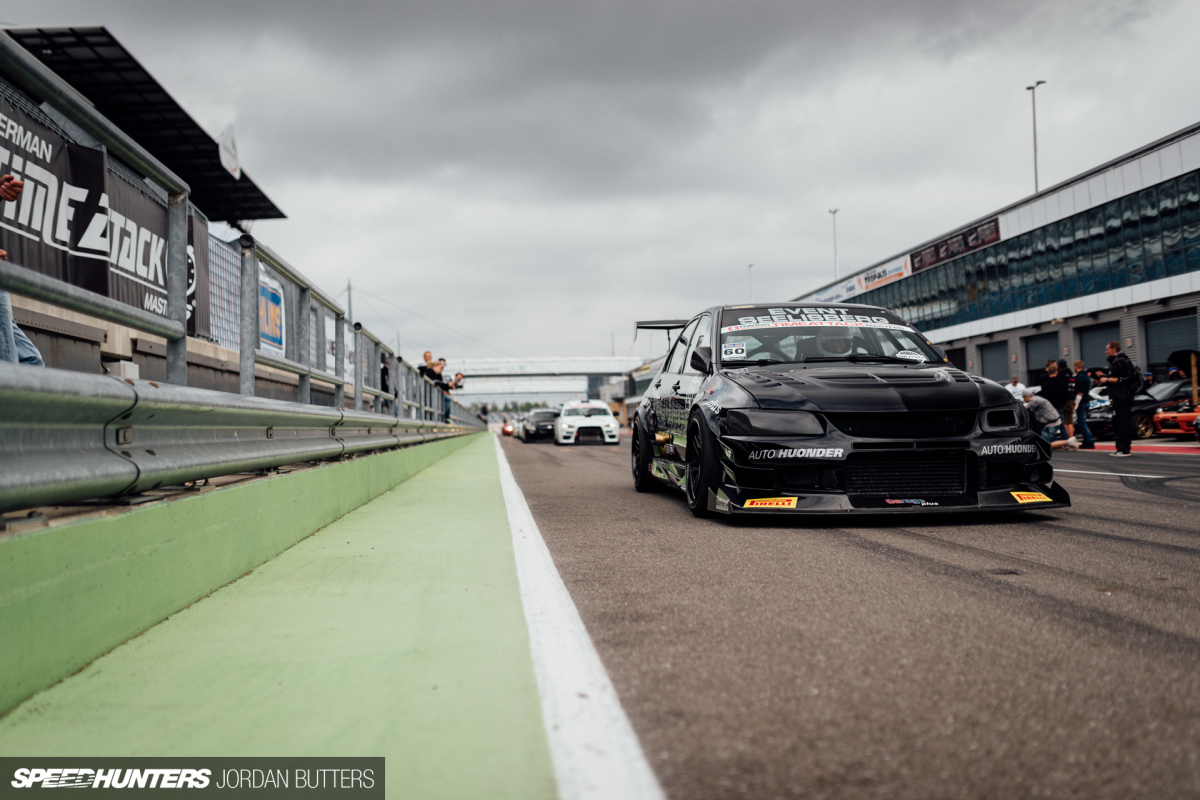 As well as the Drift Allstars event, Reisbrennen also hosted a round of the Time Attack Masters championship on the same circuit, in between the drifting, obviously.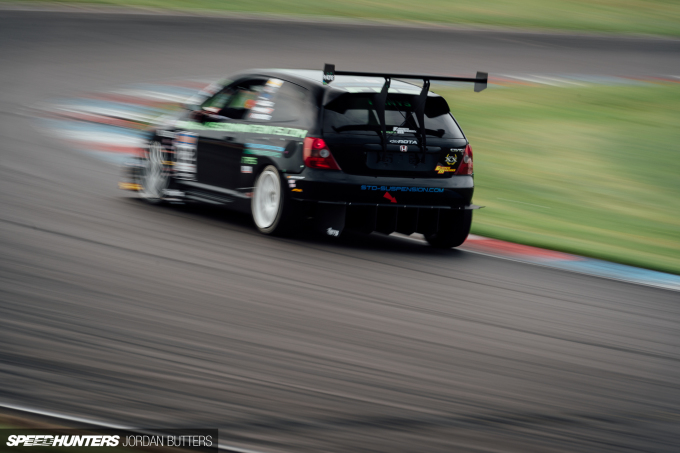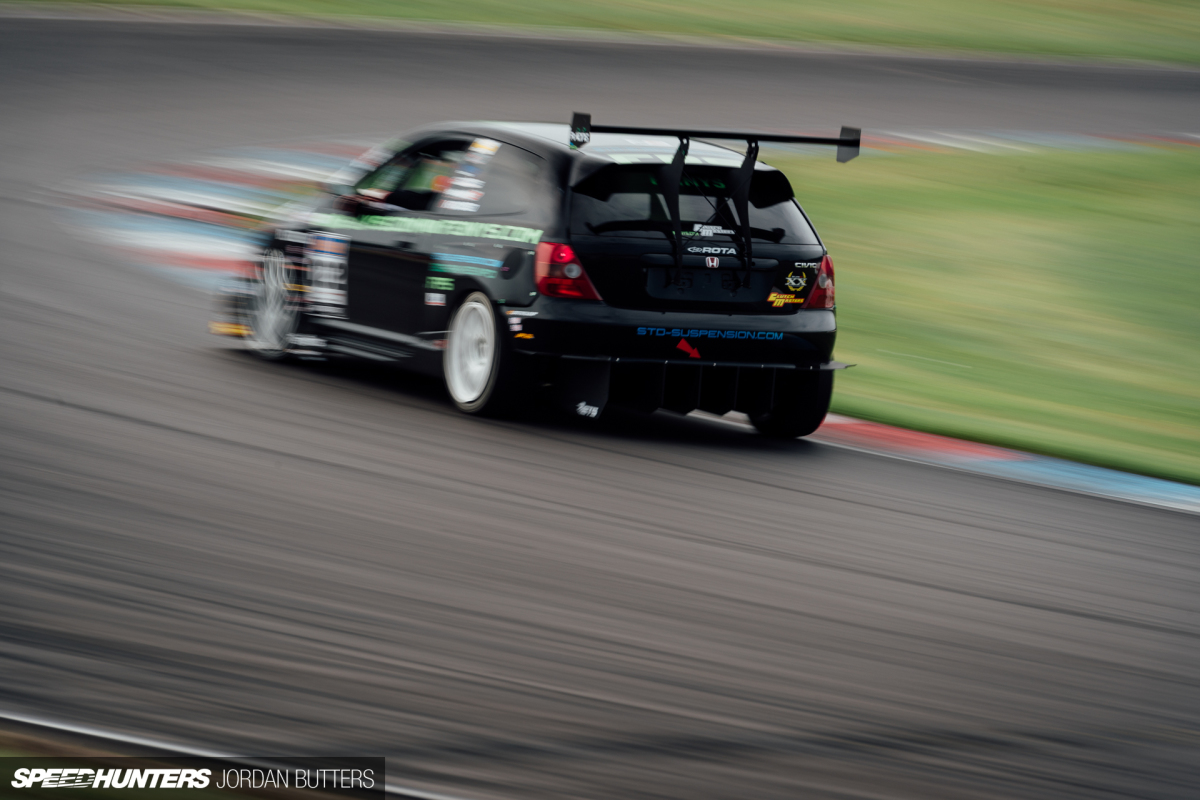 Two of the giant oval's main straights were used, linked by two sections of twisting infield circuit. The track looked pretty good fun to drive.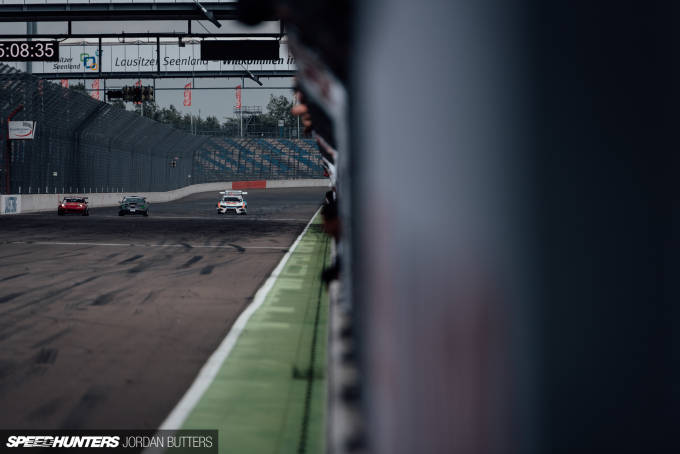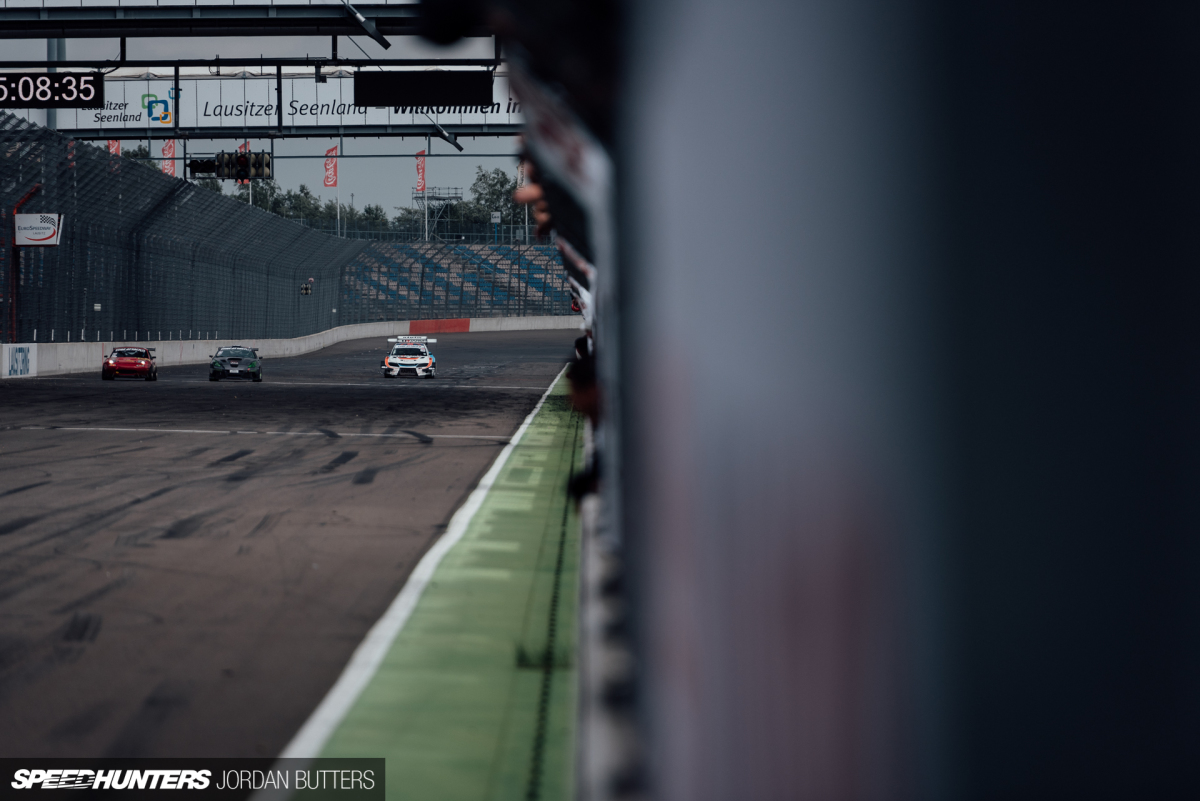 Hanging over the pit wall on the main straight just before the braking zone, you really got a sense of the speed and momentum that some of these cars carry into the bends. The acoustics of the surrounding grandstands, empty for the most part made everything sound amazing!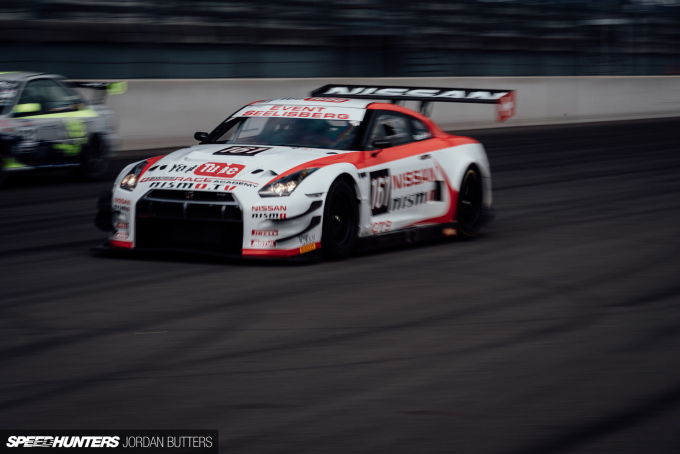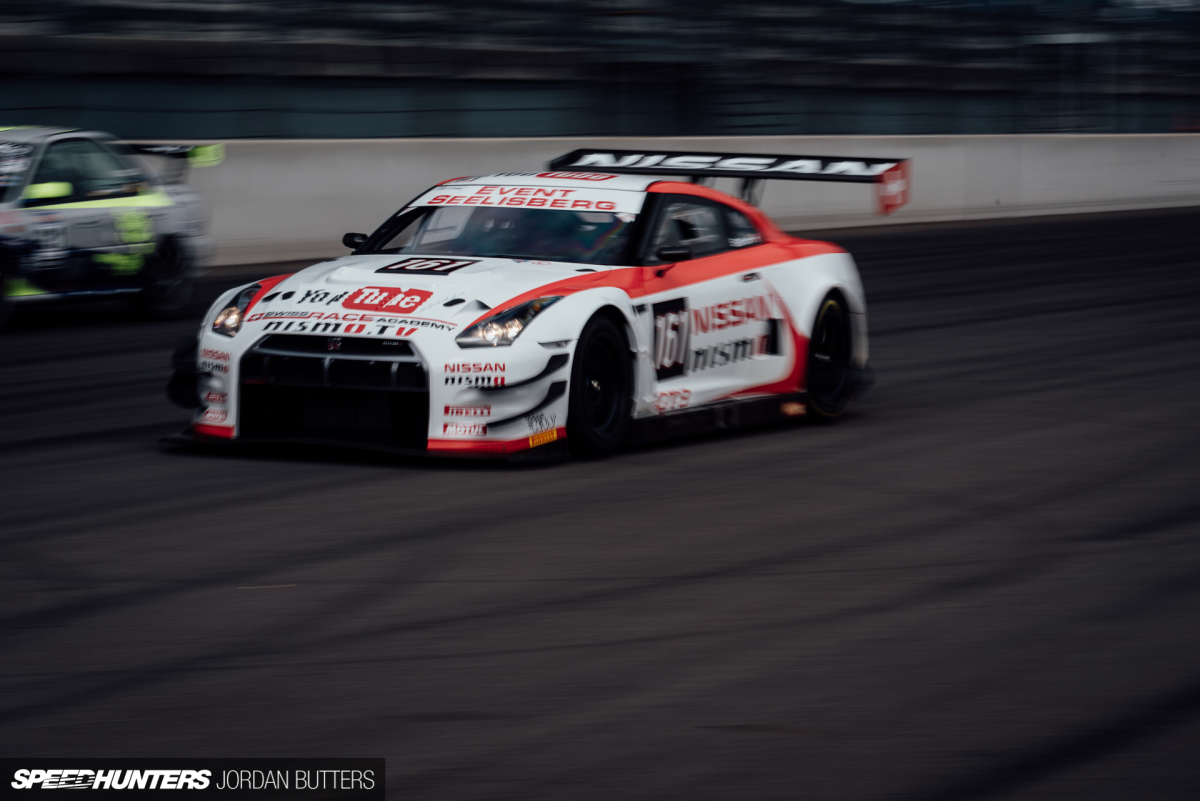 Suddenly, a wild Nismo R35 GT3 appeared – not what I expected to see at a tuning show! This thing hauled ass, and made some of the other cars lapping the Lausitzring look as if they were travelling in reverse.
I later went in search of the GT3 and found it raised up on airjacks in a pit garage. This is a serious piece of kit to put up against the homebrew Time Attack cars at Reisbrennen. The equivalent of bringing a fighter jet to a gunfight.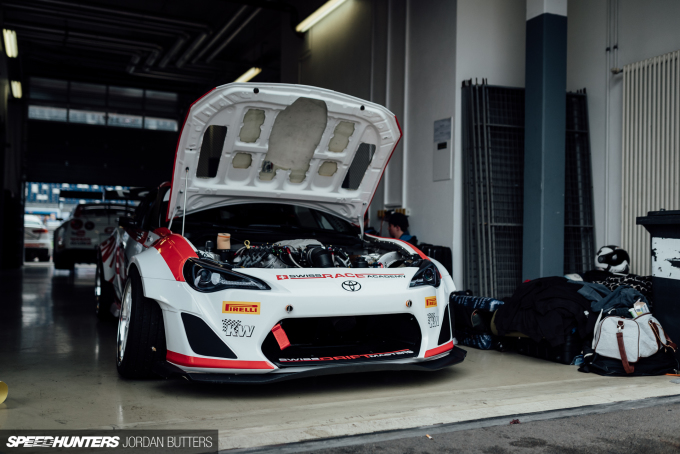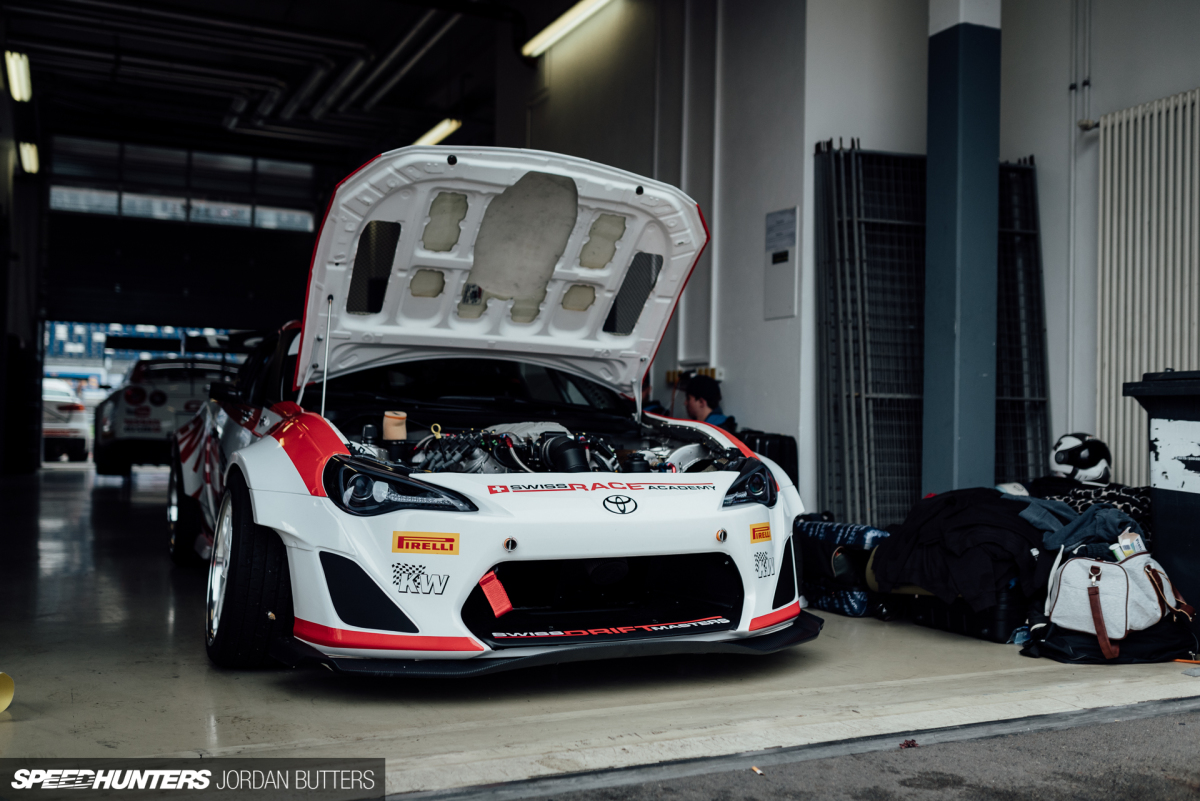 Its stablemates were equally attention-grabbing. This HGK Motorsport-built GT86 caught my eye from across the room, wearing dished Work CR2P wheels and an HGK bodykit.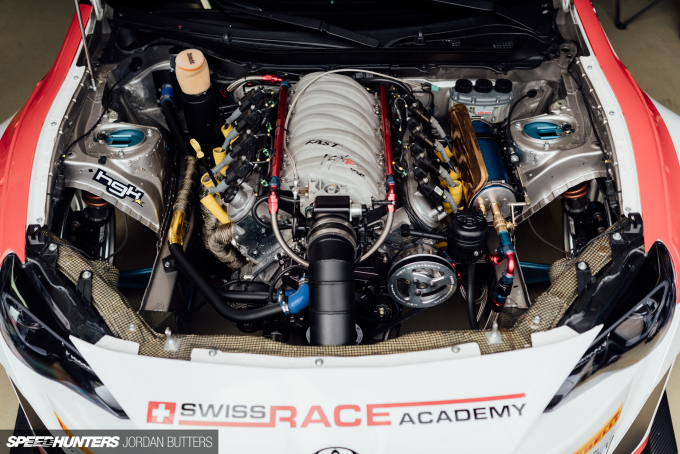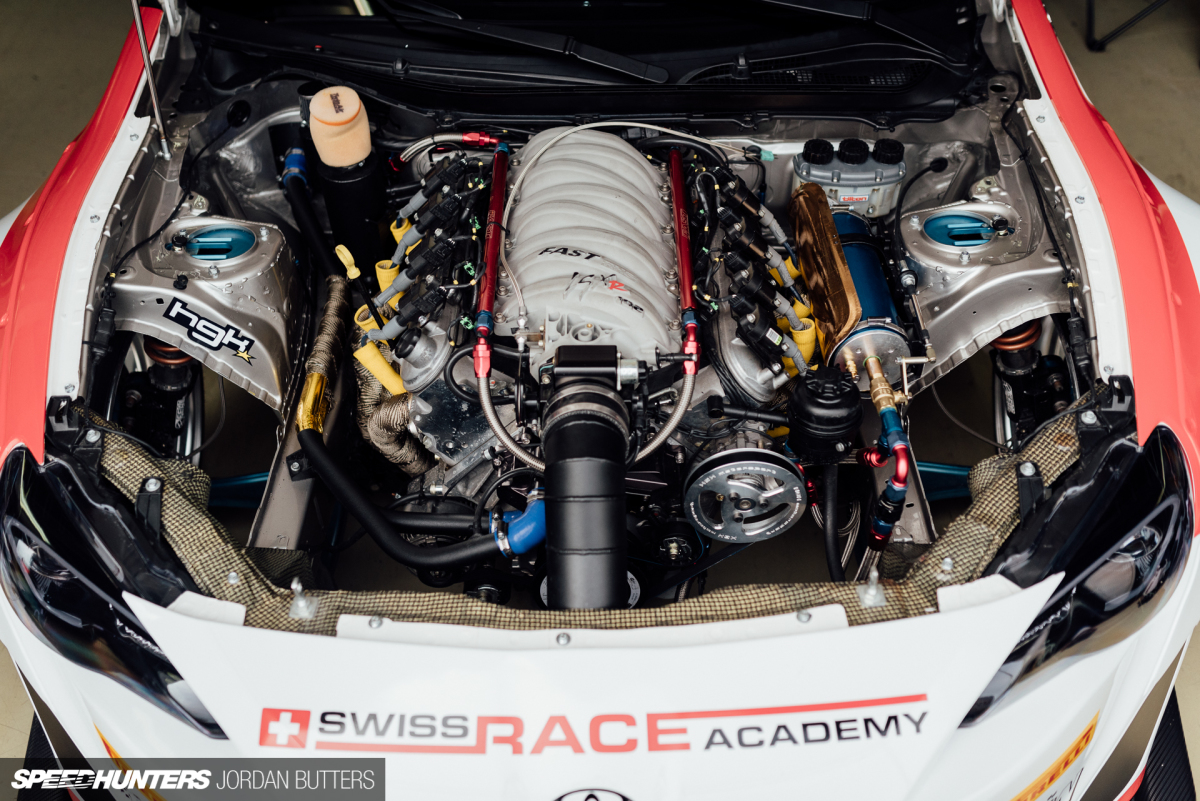 Under the bonnet sat a race-tuned LSX motor, impeccably shoehorned in as if it was always meant to be there. HGK's work never fails to impress me, just check out that Kevlar slam panel!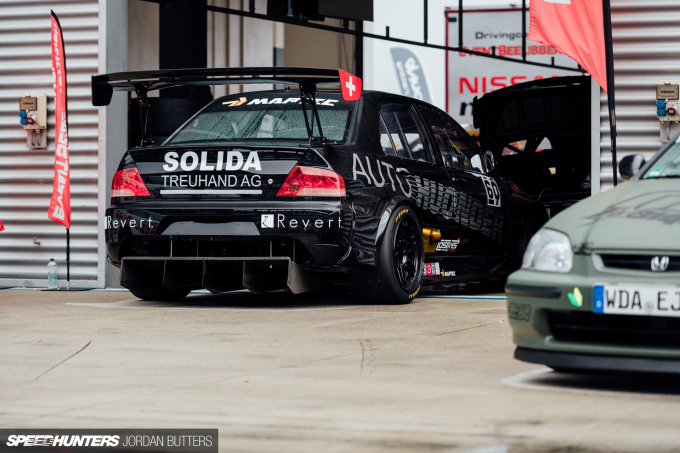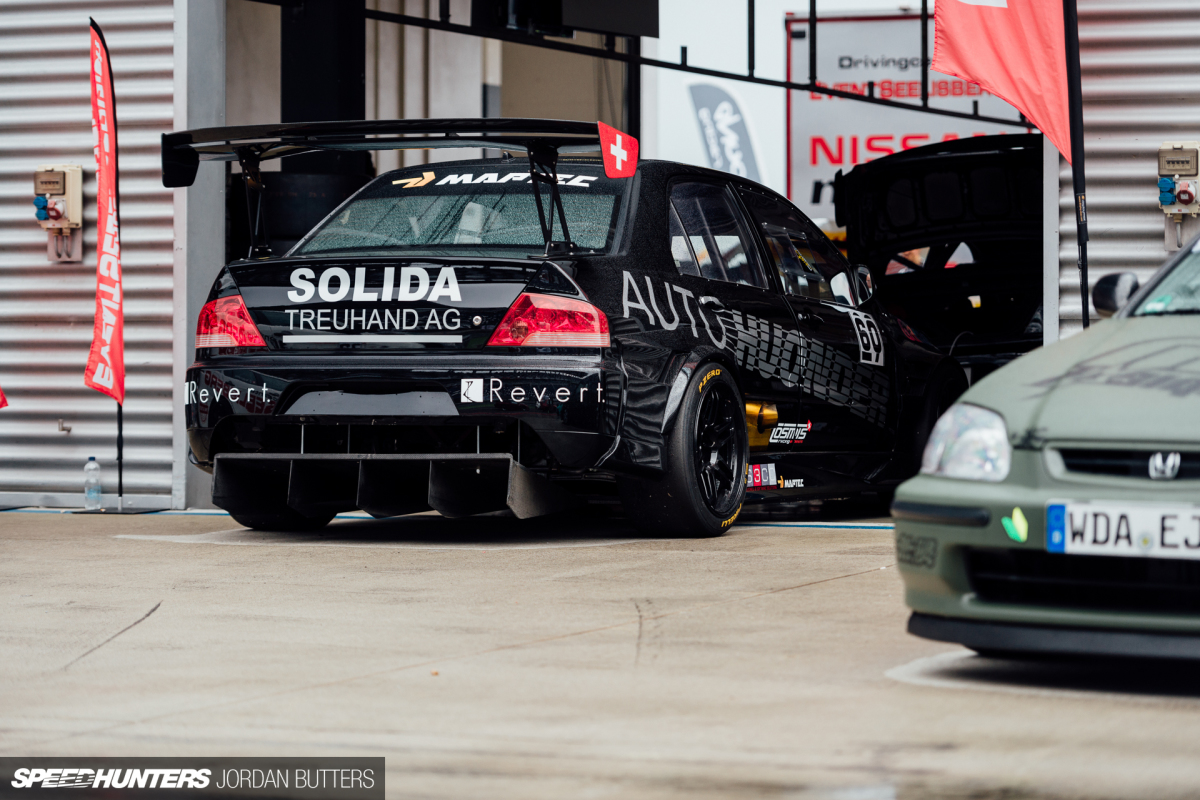 If you're wondering why the Swiss flag adorns all of the wing end plates, I was reliably informed that the cars in this garage all belong to Swiss hillclimb champion Hans Schori. Alongside the GT3 and GT86 there were a duo of fast-looking Time Attack Evos. Quite the line up!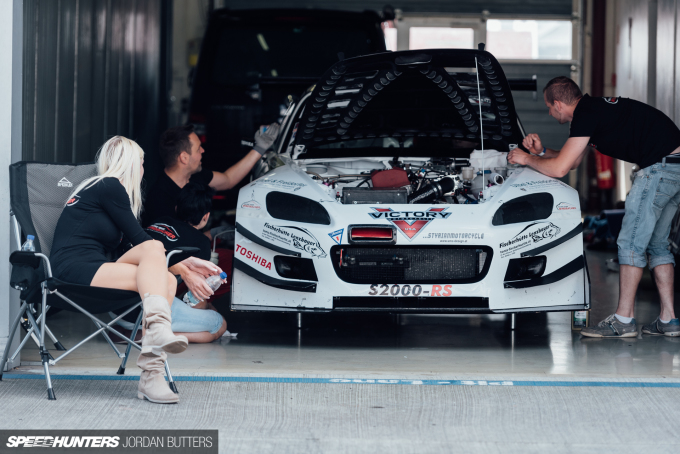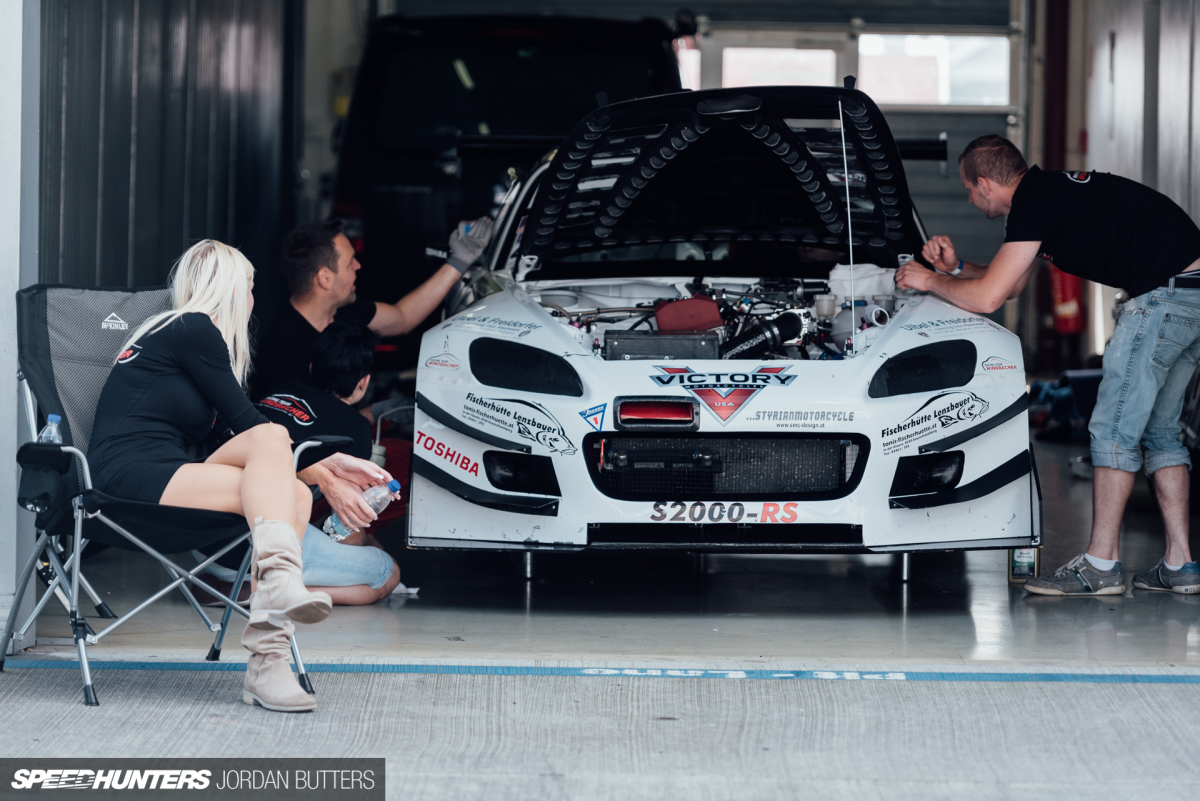 As a fellow S2000 owner, I'm always interested to hear how tuners have managed to squeeze out any extra power from the F20C. I'll have a small spotlight on this stroked and aerodynamic Time Attack Honda to share with you shortly.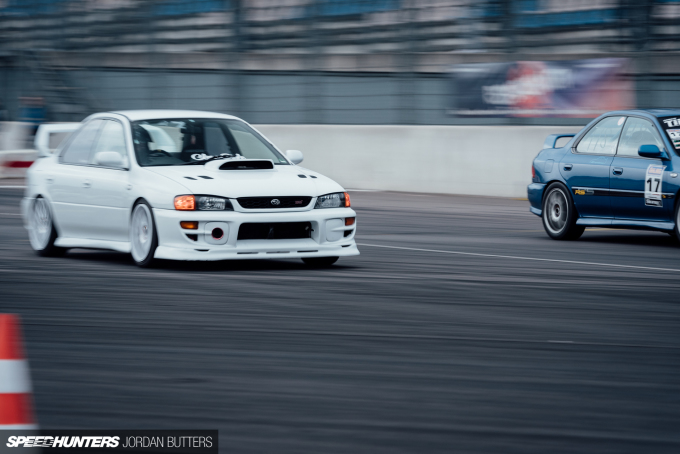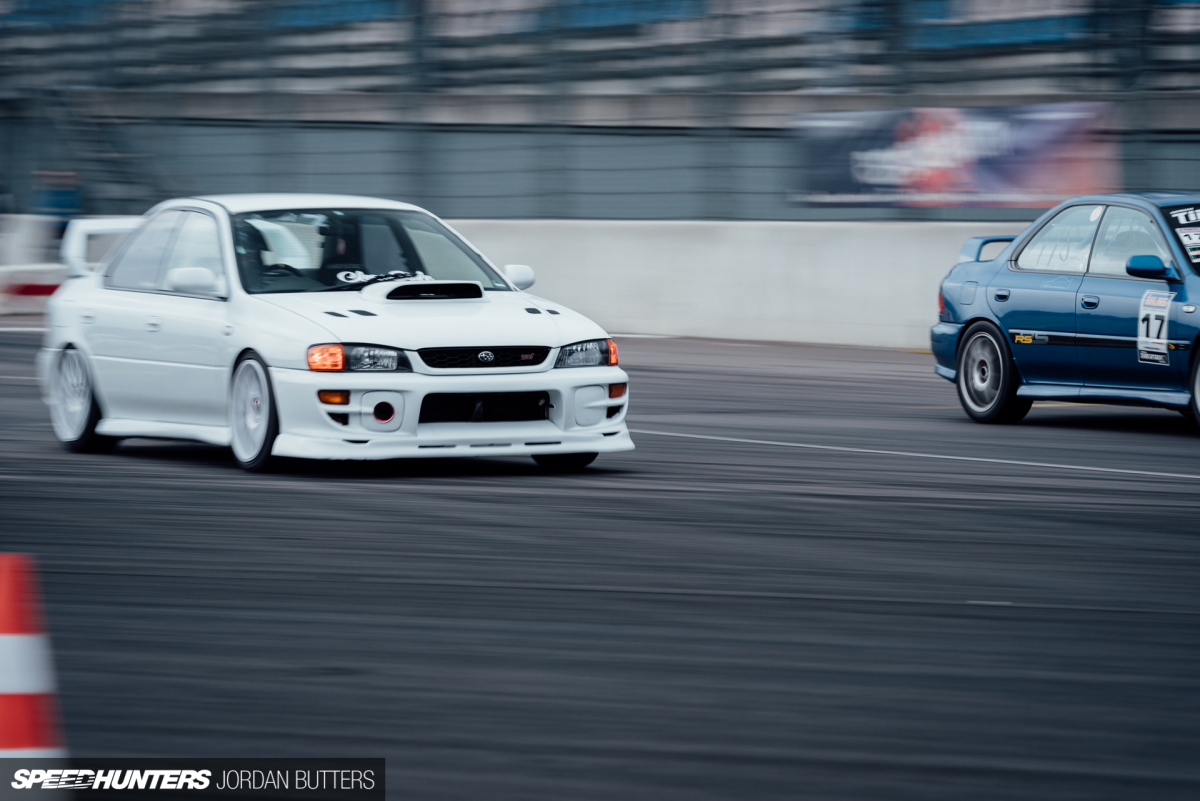 Alongside the Time Attack sessions and a small drift practice track, there was also a 'run what you brung' format drag strip set up in the evening, allowing entrants to test their mettle (and metal) down the quarter mile.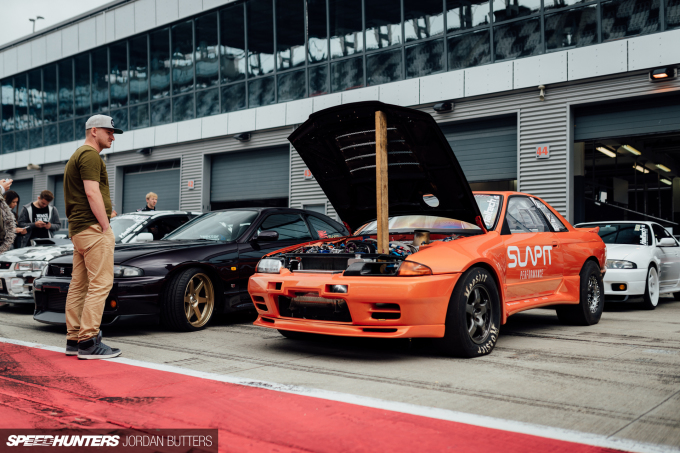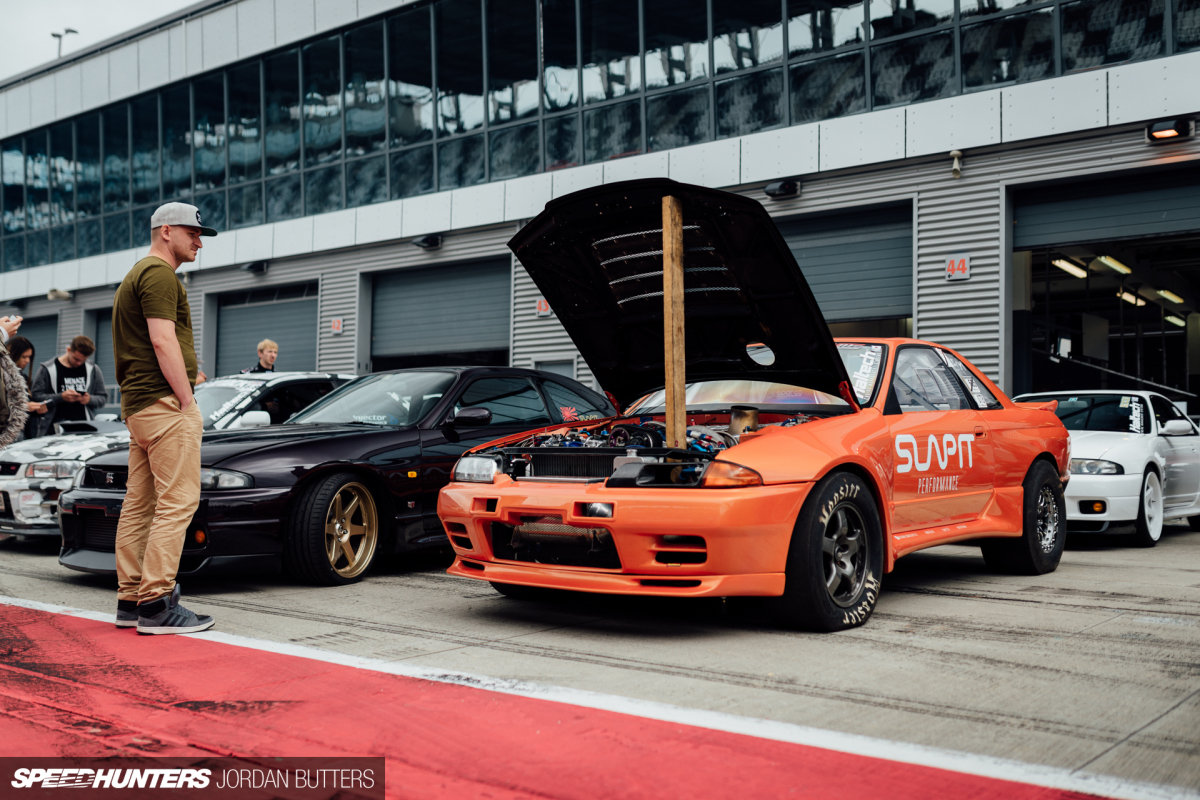 Obviously, some were better equipped than others for this. I'm hoping to bring you more on this 1,700bhp R32 in the near future…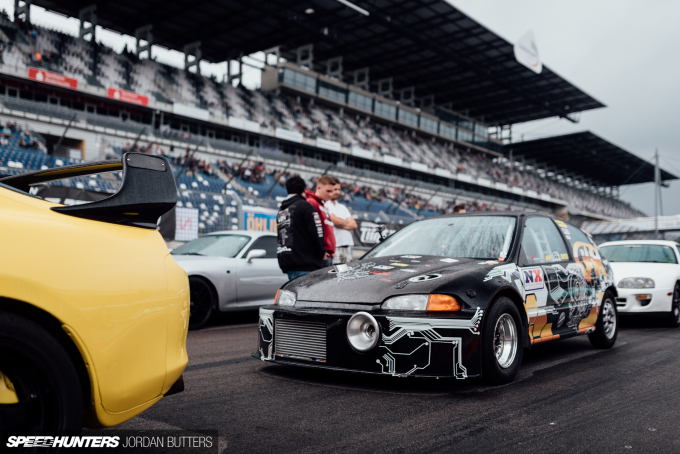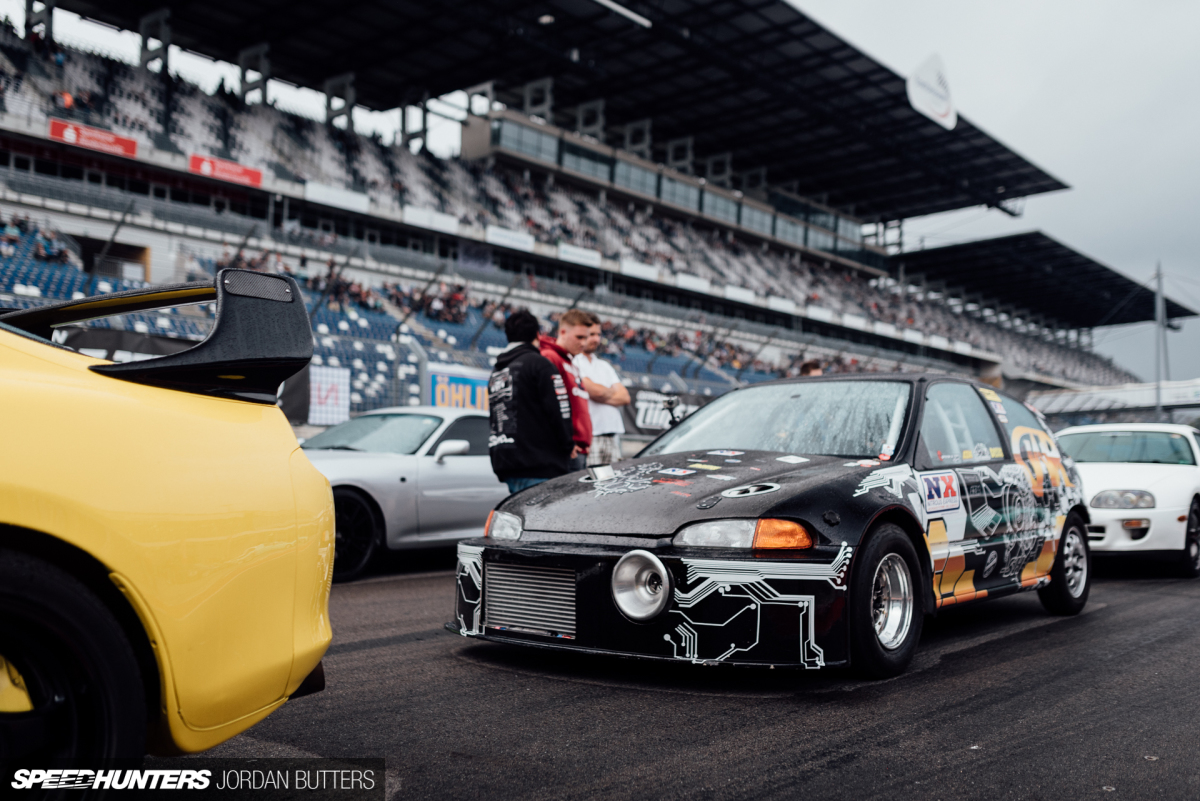 This little EG Civic looked as if it had a few tricks up its sleeve. Packing a turbo and nitrous-fed B16A2 motor, the little Honda hatchback packs in the region of 700bhp.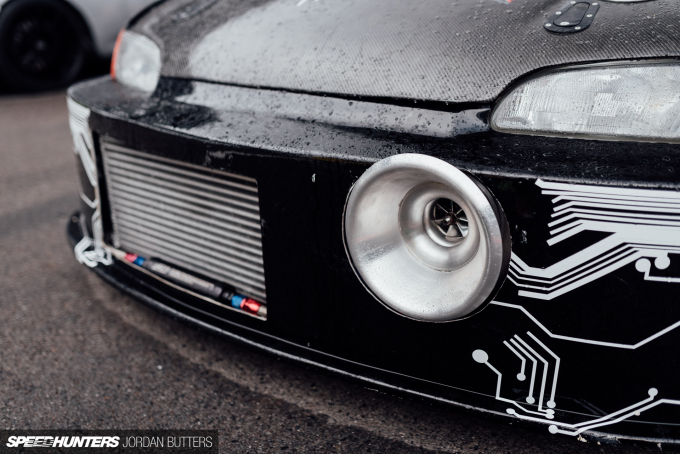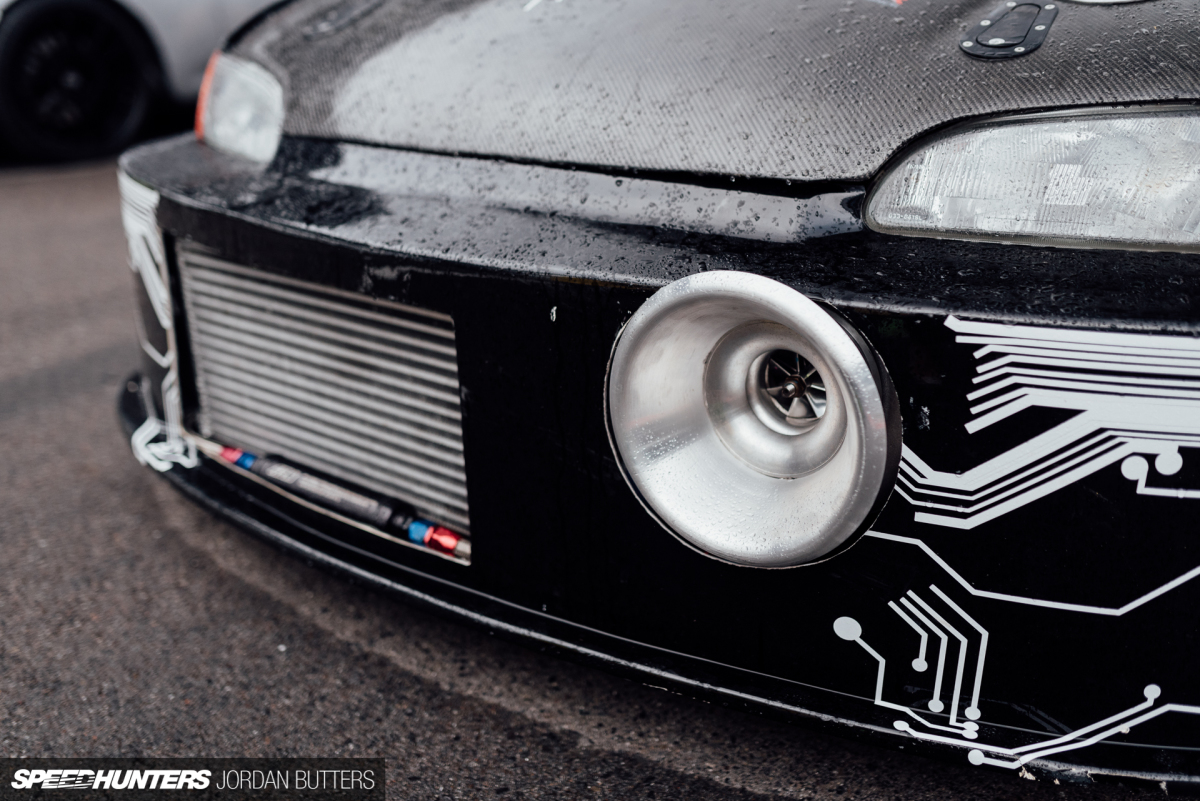 The sight of a 67mm BorgWarner turbo trying to suck in the world in your rear-view mirror would be enough to make you move over. Not that I'd imagine many people get far enough ahead to see this Honda their mirror…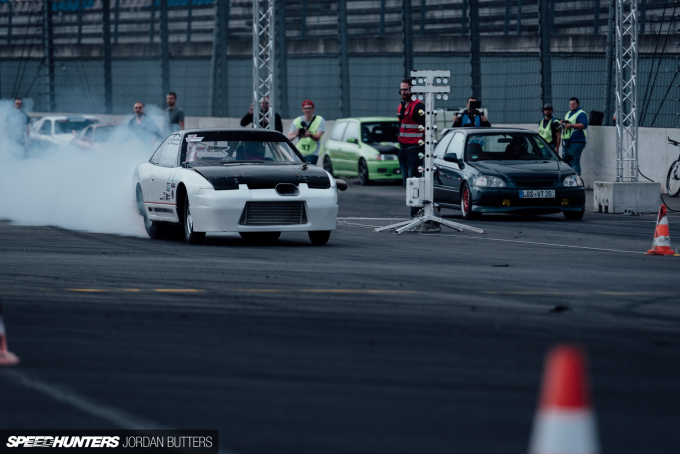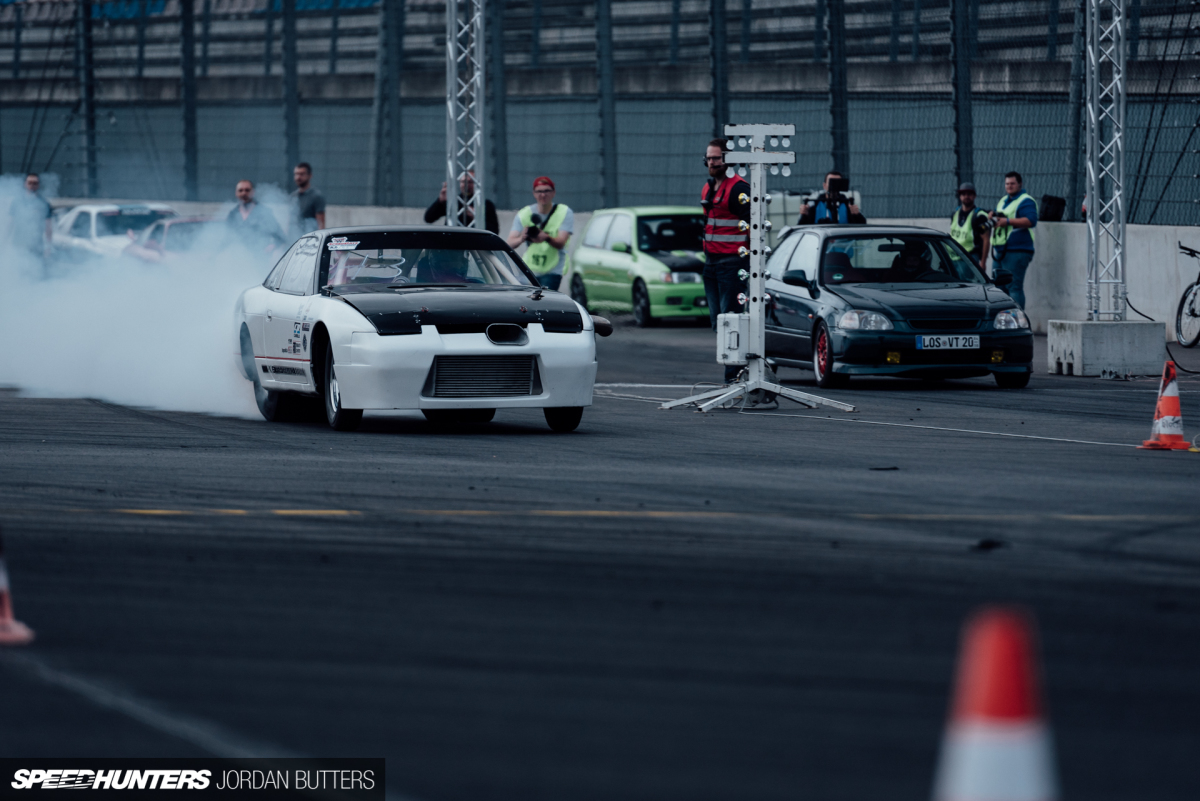 Here's a rare sight, an S13 that's forgotten how to S13. Why aren't you drifting?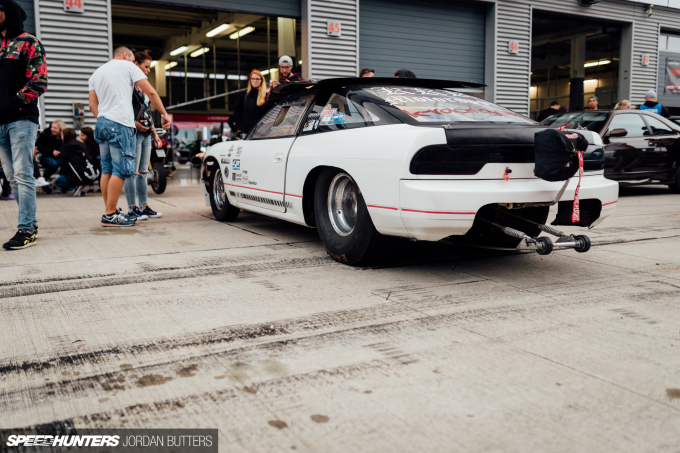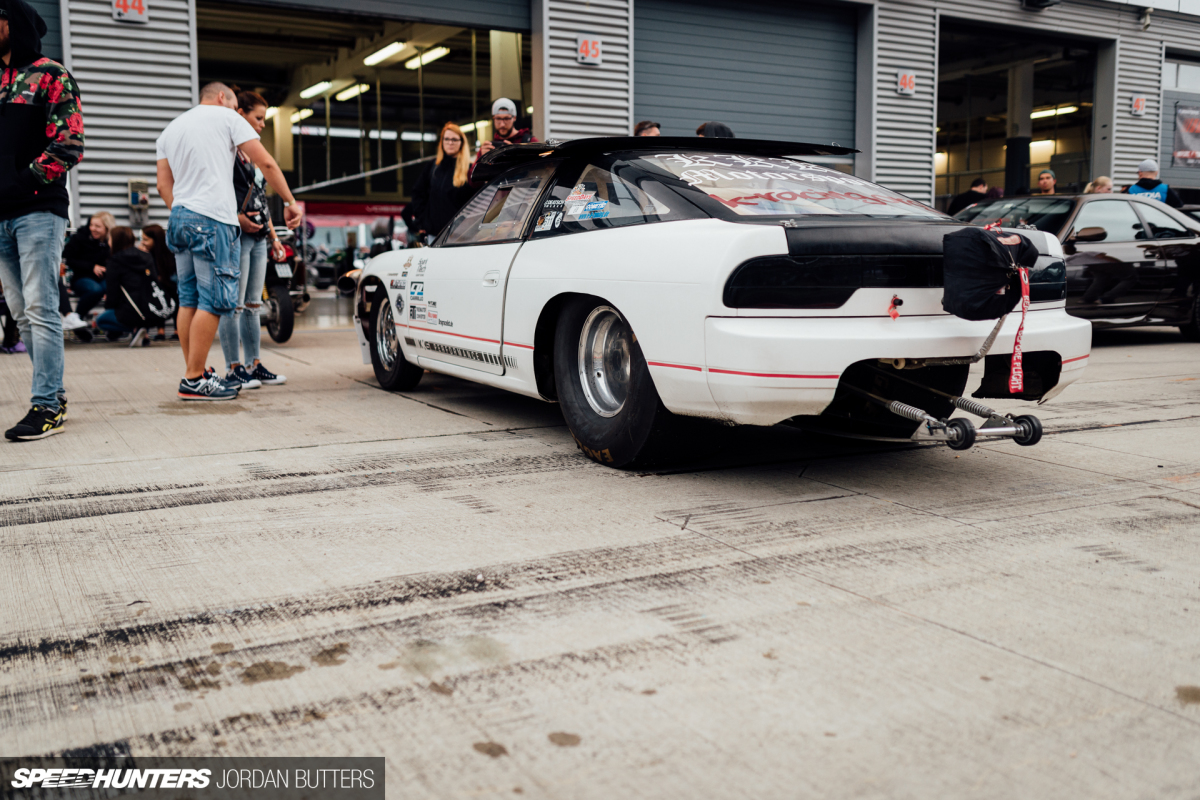 Taking a closer look around this drag S-body, it was very agricultural and somewhat rough around the edges. But, powered by a repositioned RIPS RB30 motor and a huge front-fed turbo, it looked to do the job. On a dry strip it runs mid 8s.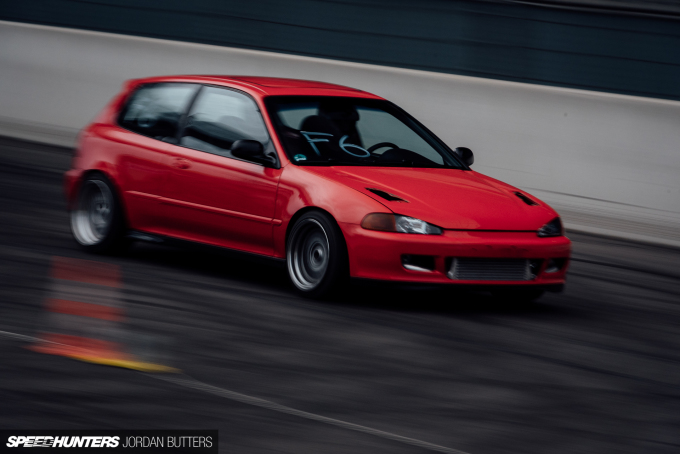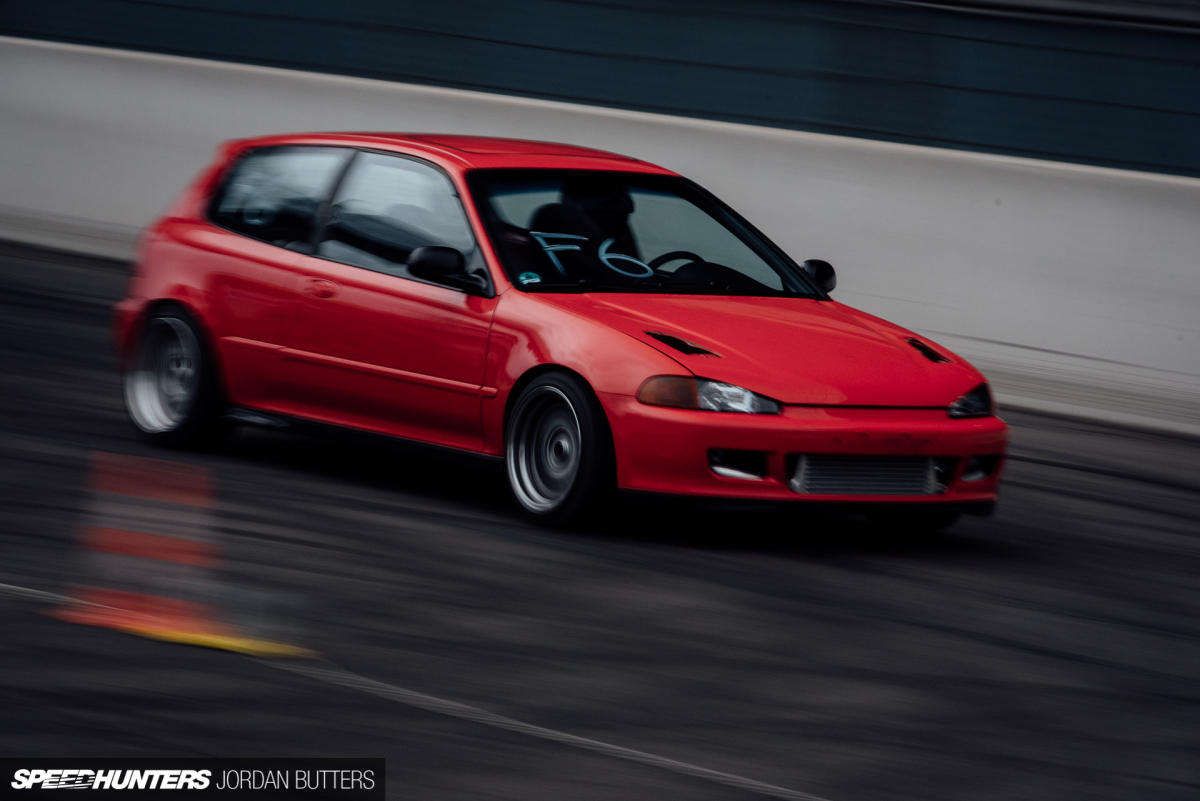 Although the track was slightly damp, it didn't stop a huge number of cars lining up into the night. As my weekend was pretty packed with the drift event, it served as a good way to see many of the cars from the event in one place, if only for a split second as they blasted past.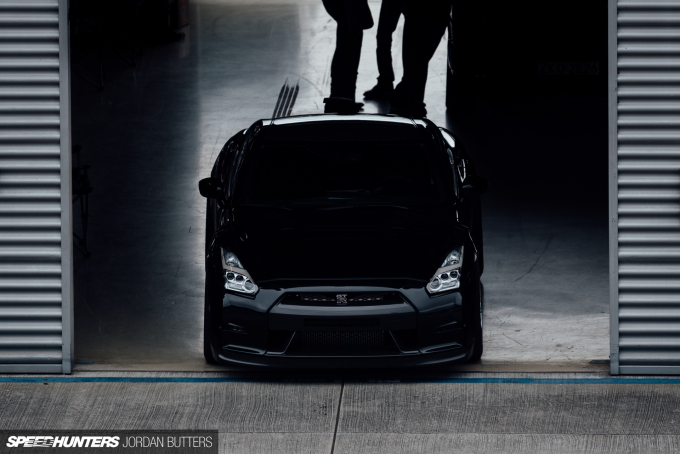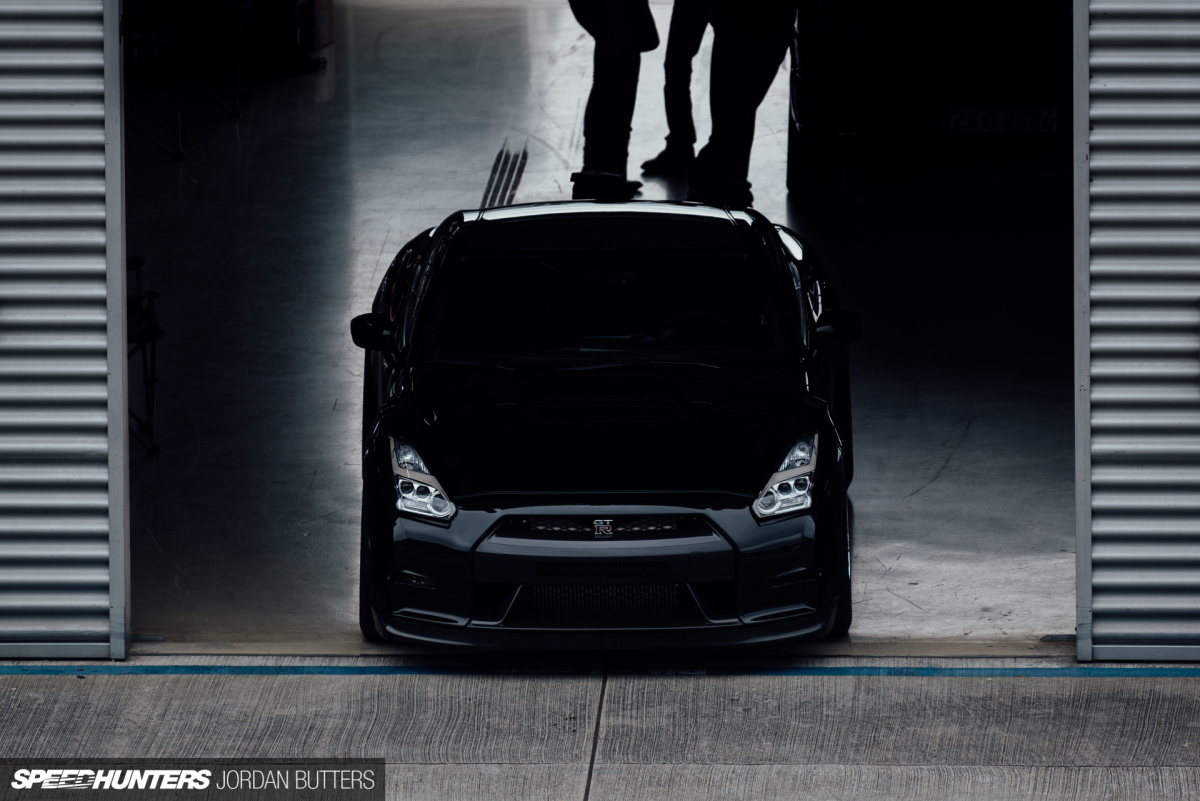 I had spotted this black GT-R wearing huge drag tyres earlier in the day and, in the mass of R35s all around me, not paid much attention to it.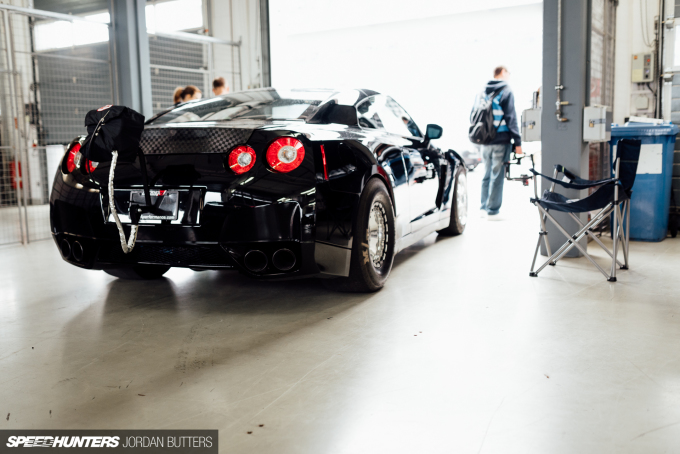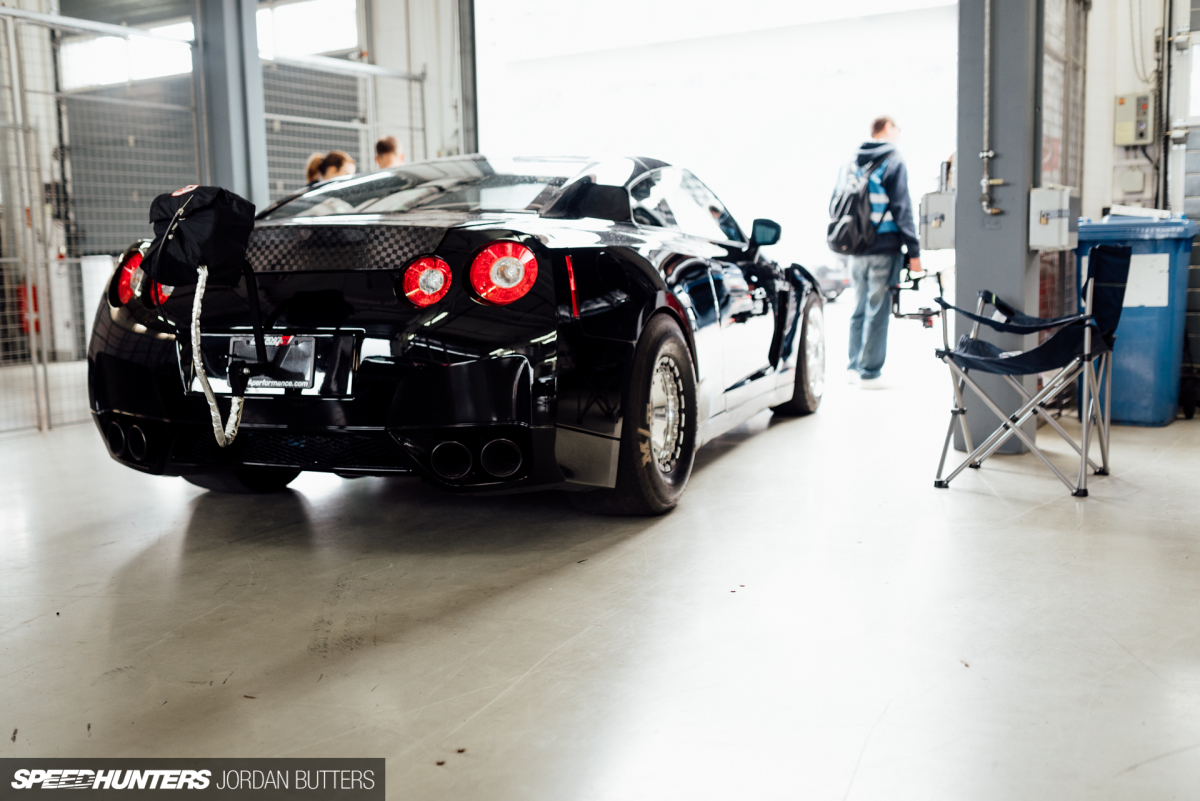 It wasn't until I took a closer look that I realised it was an Alpha18 GT-R. To the uninitiated, Alpha Performance offers a range of tuning packages for your GT-R, with the Alpha18 option boosting it from the stock 540bhp up to a ridiculous 1,840bhp, with over 1,200lb-ft torque to boot. When this thing launches from the line I'm surprised the Earth doesn't spin the wrong way momentarily.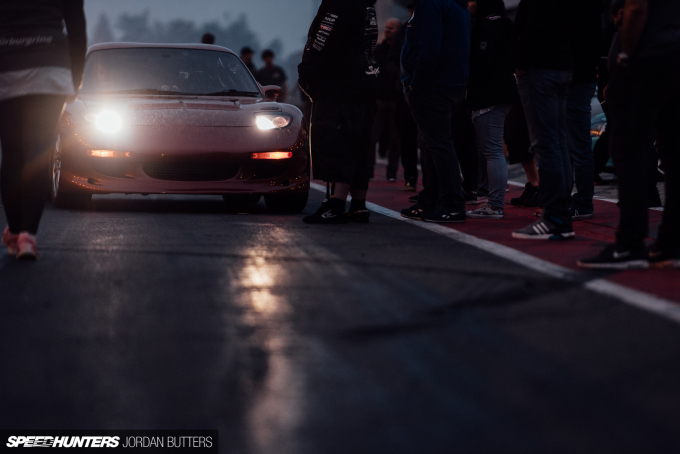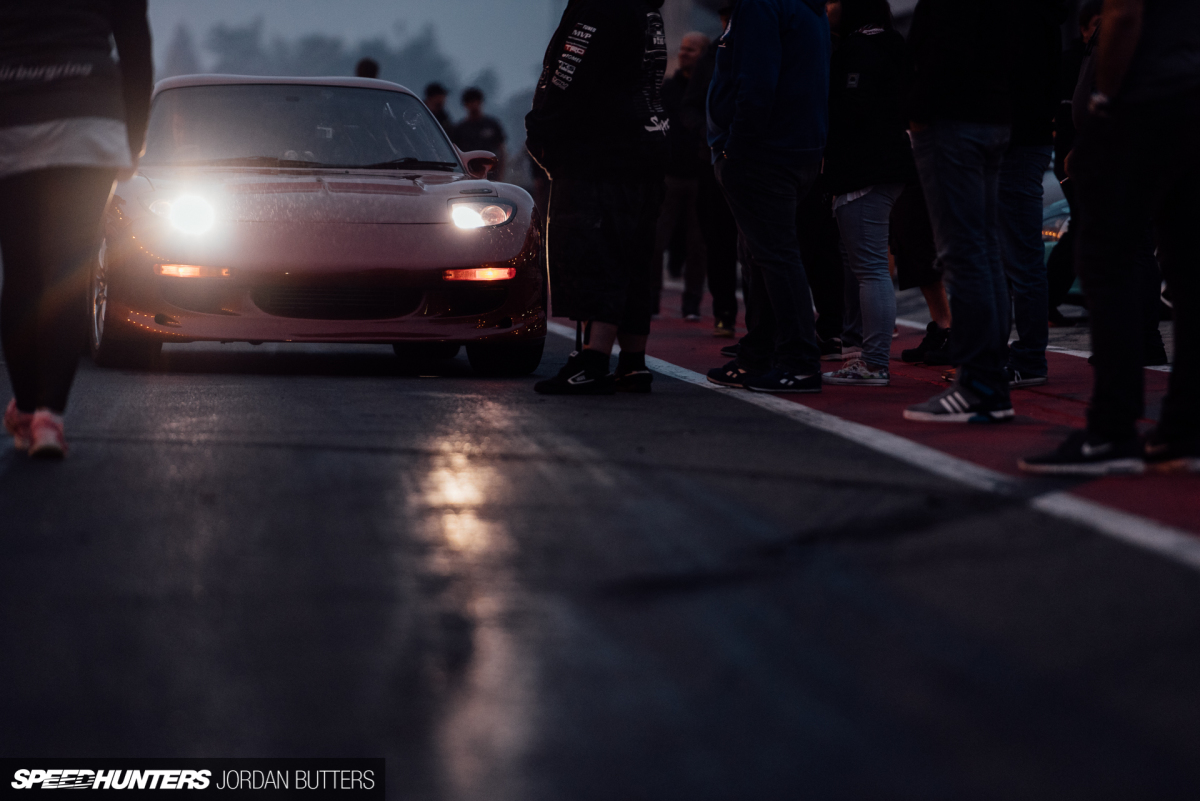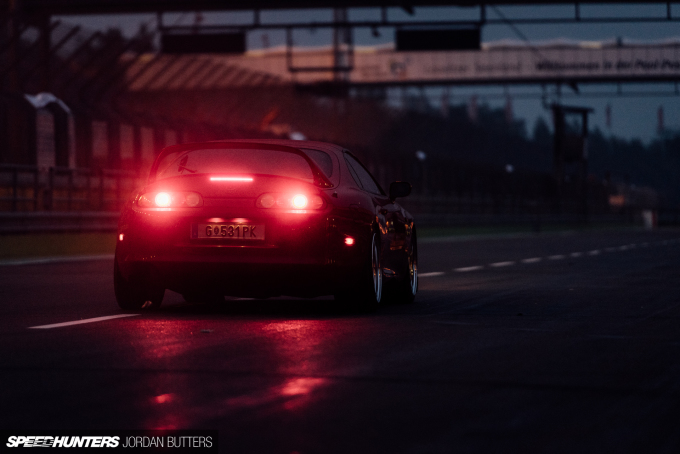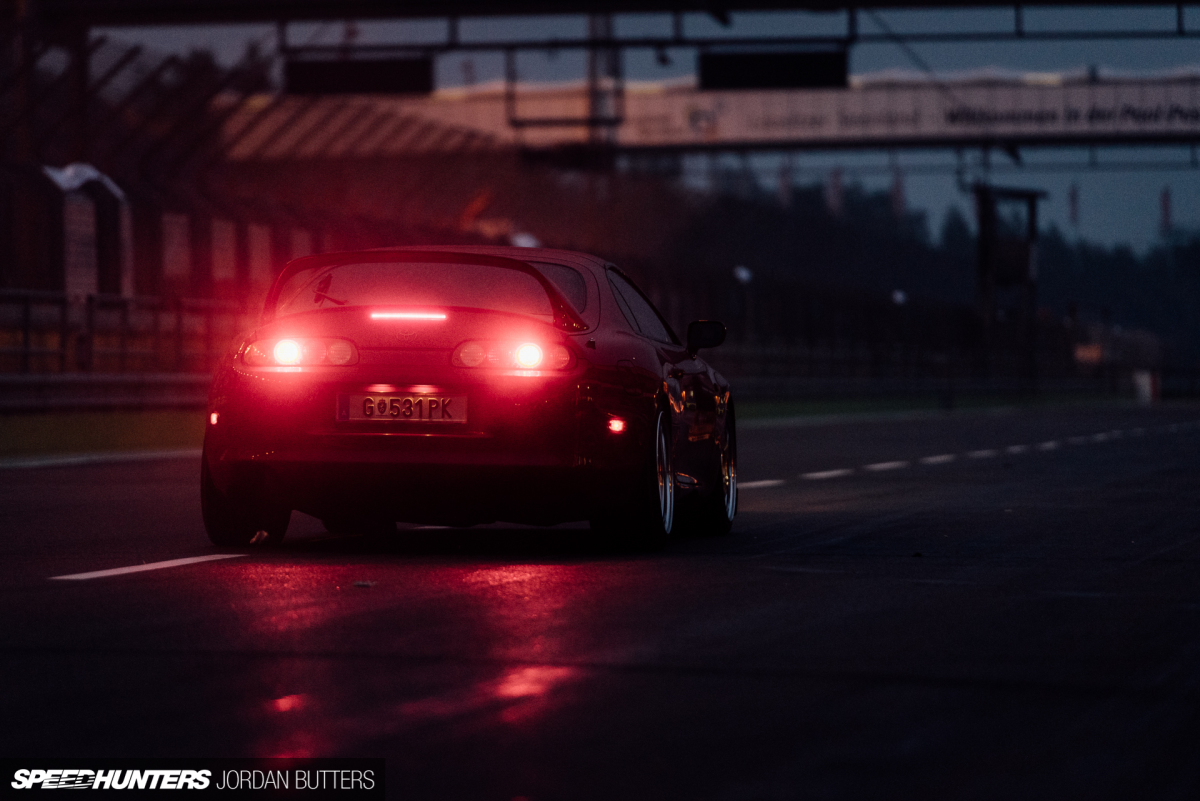 By the time the drag strip wound things up it was long after dark, and the spectators descended on the paddock to get a closer look at the cars. Cheers and applause greeted the drivers who could abuse their rev limiters in the most hooliganistic fashion.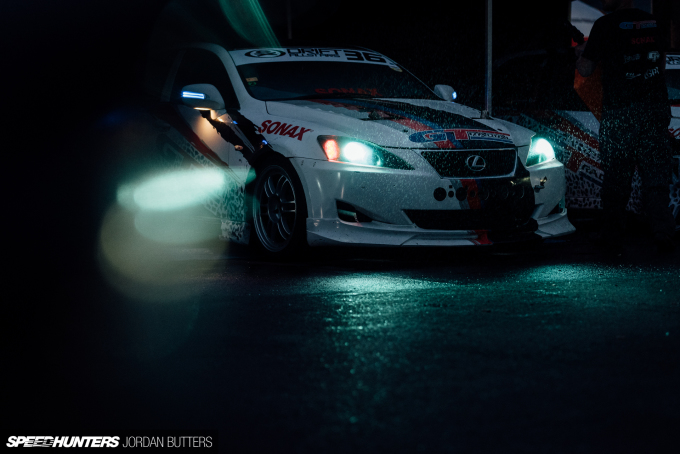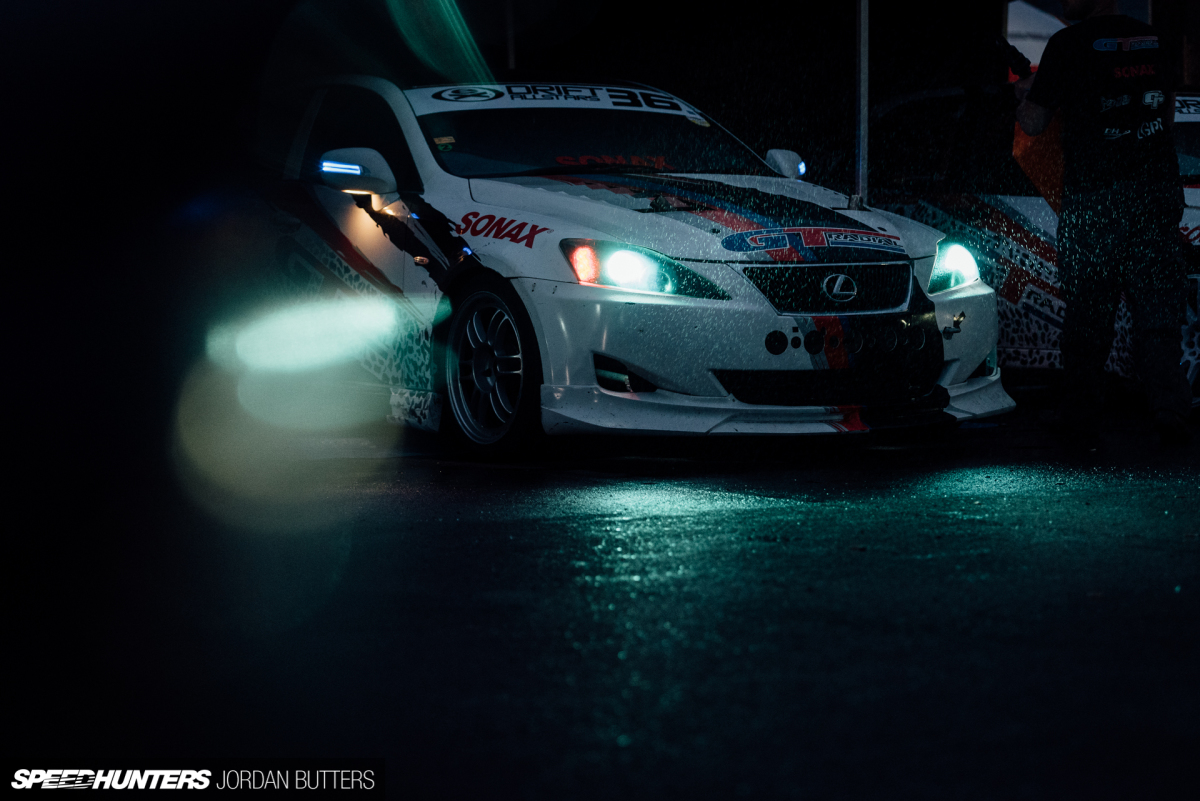 However, I had to be up early the next day for the main Drift Allstars competition, so I bid Reisbrennen adieu for the night.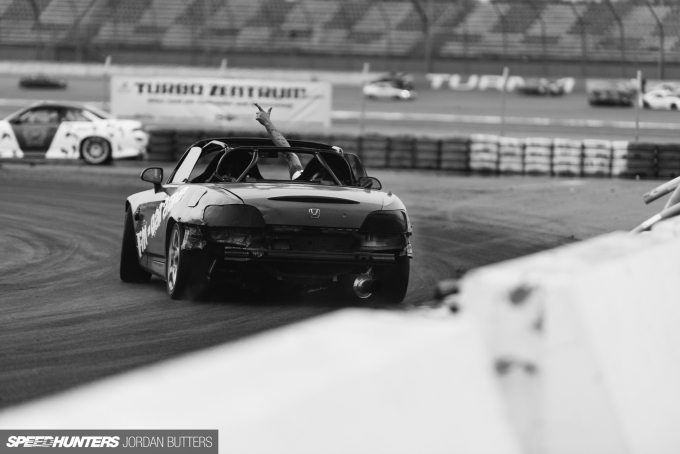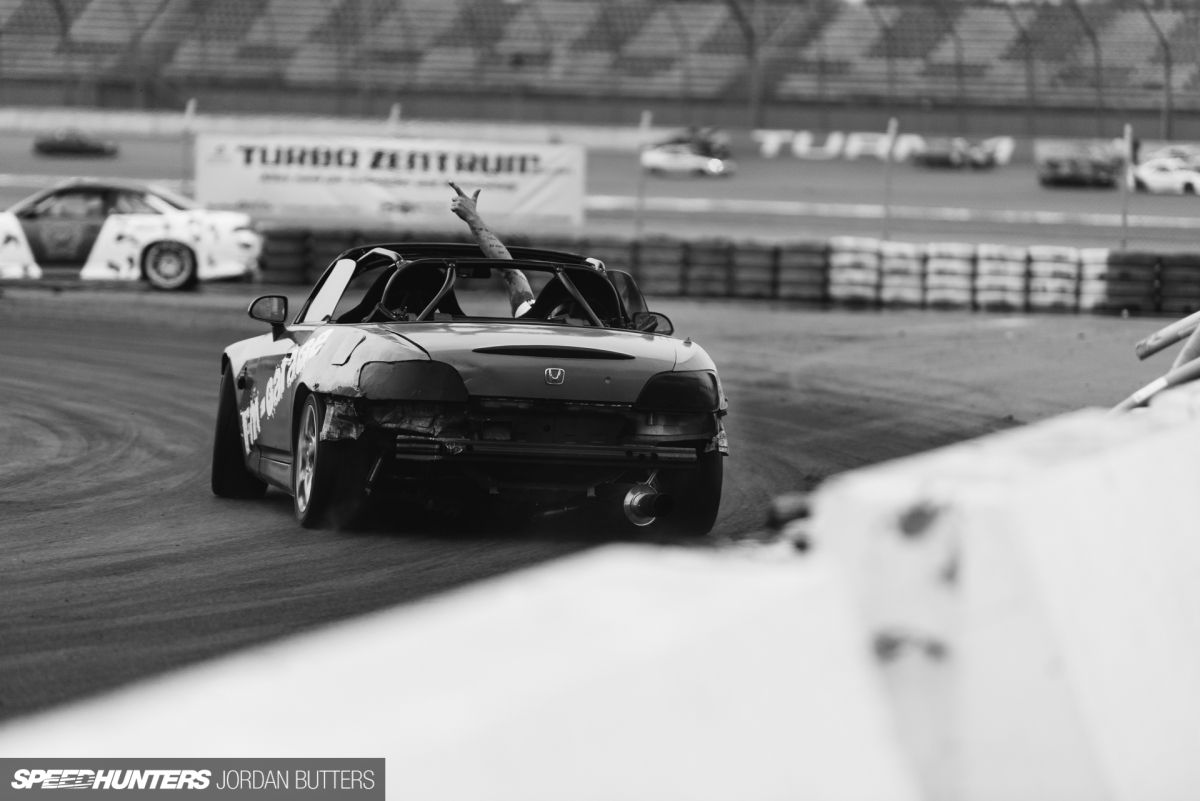 As we drove away the sound of flames exploding from exhausts and tyres screeching whilst impromptu burnouts initiated could be heard far behind us. Germany's biggest celebration of import car culture wasn't ready for bed just yet.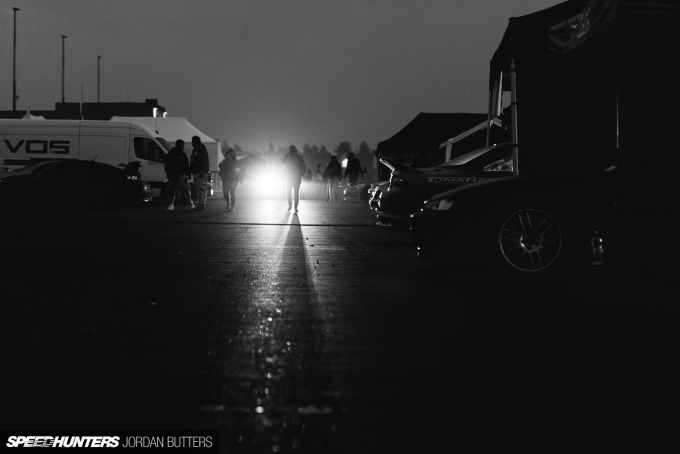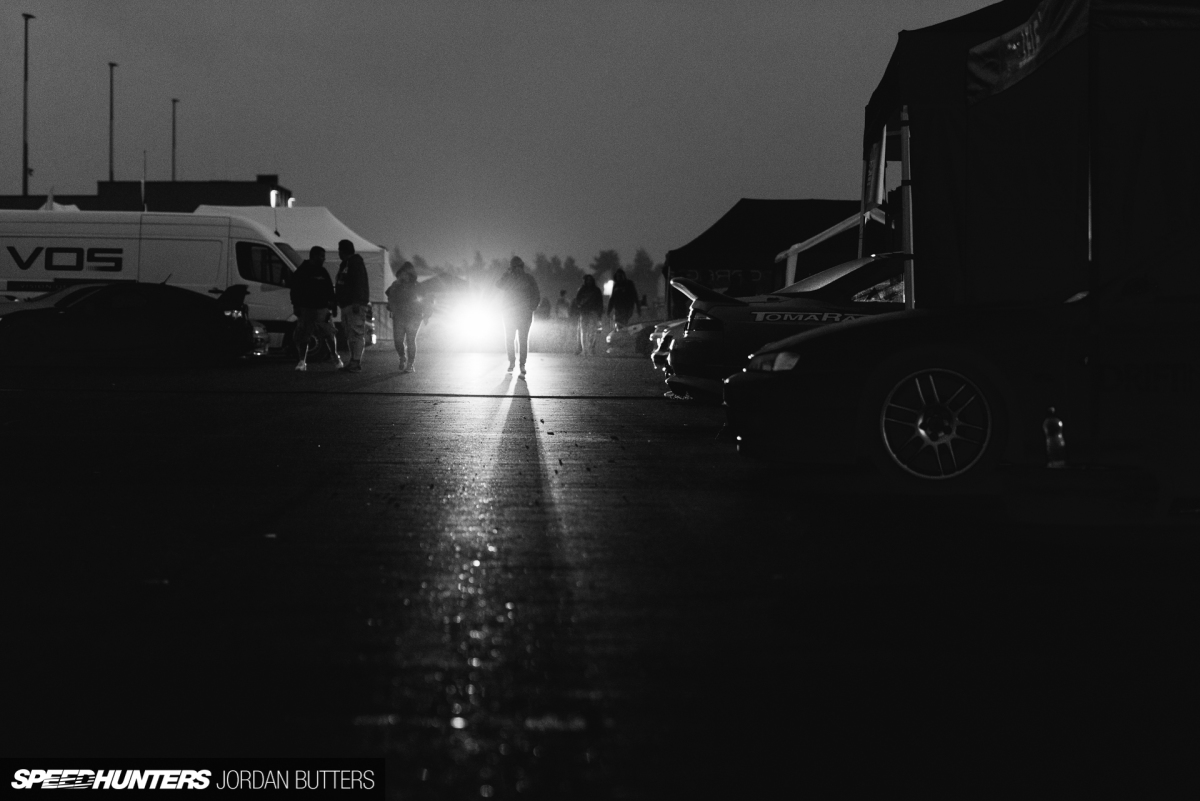 The day at Reisbrennen was over, but I sensed the night had only just begun…
Jordan Butters
Instagram: driftagram / jordanbutters
Jordan Butters Photography
Cutting Room Floor