Tell No One
In this day and age it's pretty hard to keep a secret.
Forget rumours whispered by mouth, or even news leaked to journalistic outlets – the reality is that everybody is now a broadcaster and publisher all rolled into one. Smartphones facilitate us to reach a gigantic audience with the tap of an LCD screen. It's that easy.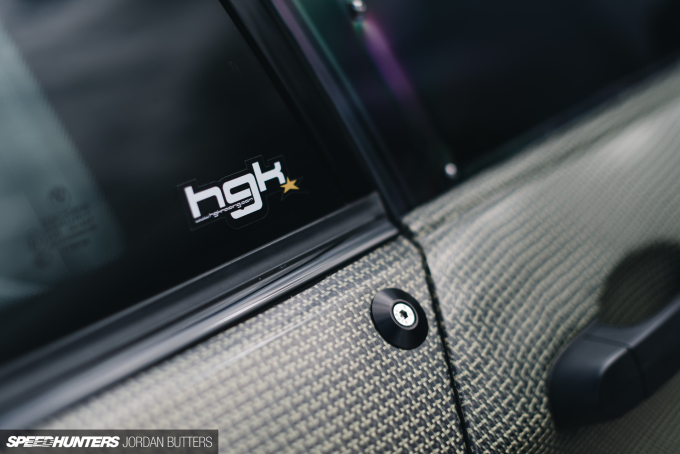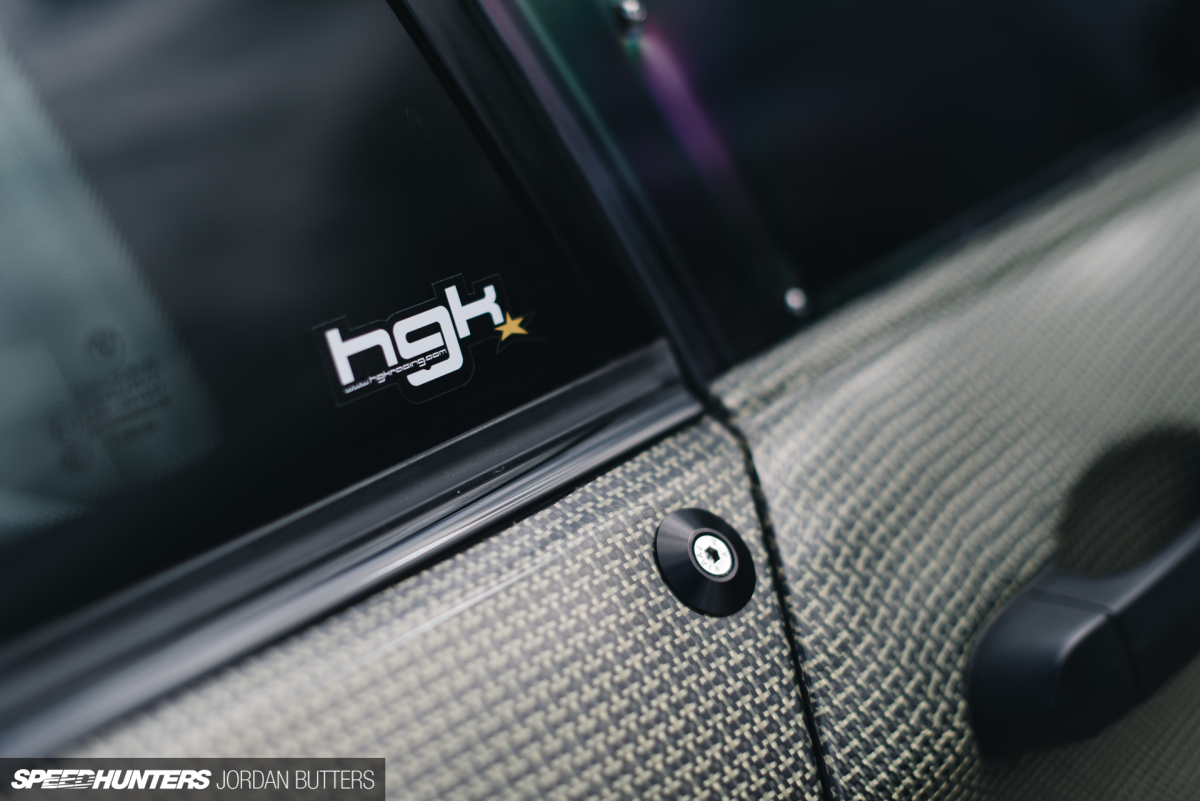 So when you're building a car that you don't want the world to know about, you have to be very careful who you tell and show during the process. Especially when you're HGK Motorsport in Riga, Latvia.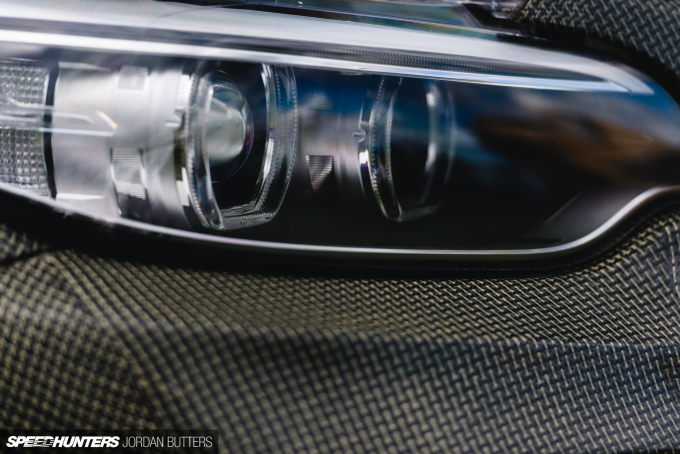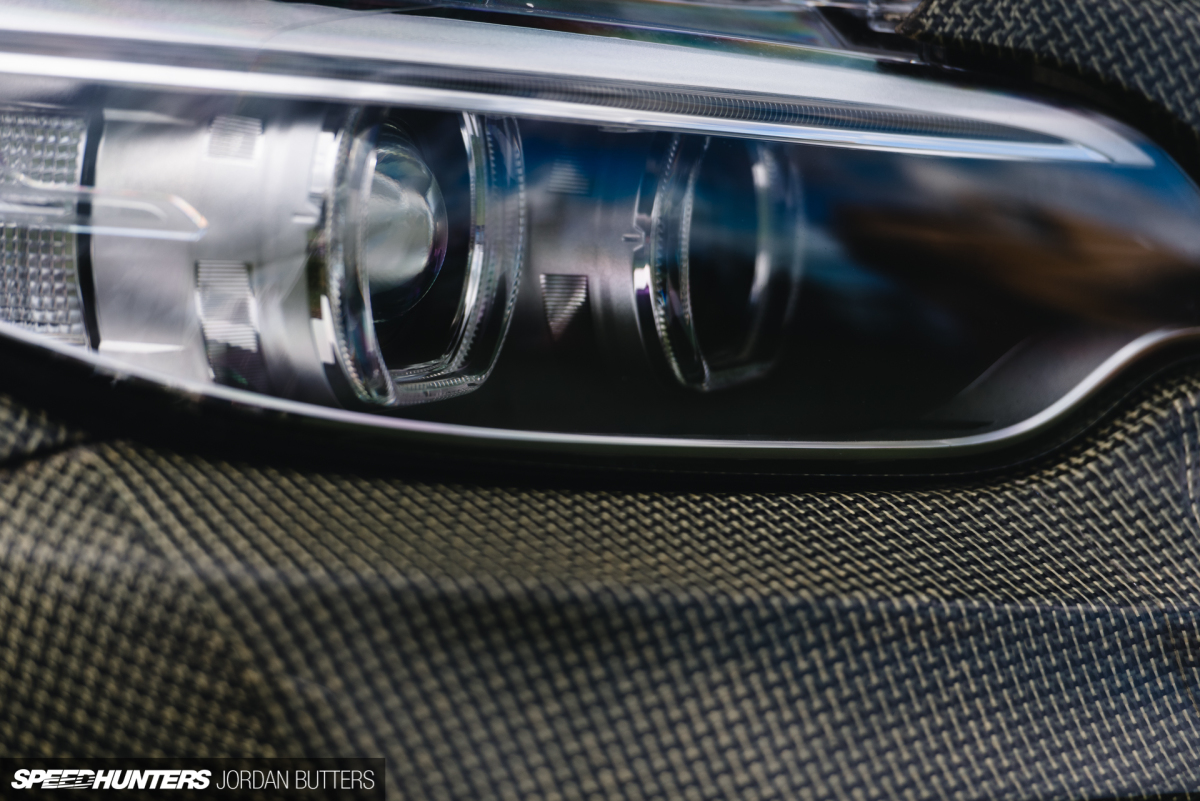 If you don't know much about HGK Motorsport (where have you been?) or haven't read Paddy's shop visit from last year, I suggest you head off and do so now. It sets the scene pretty well for the type of car that HGK likes to stamp its name on.
Up to speed? Good.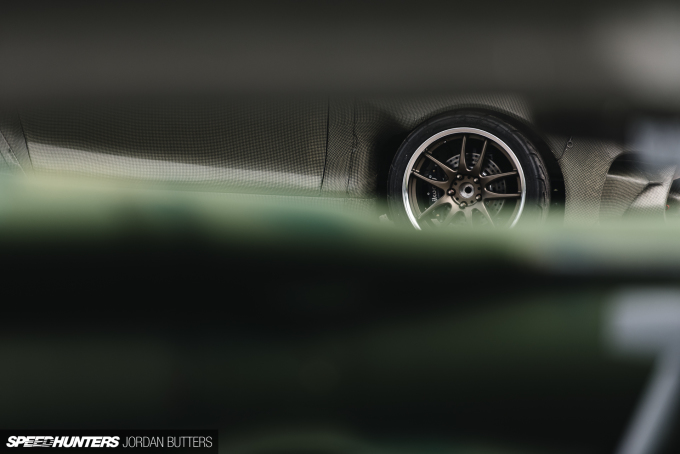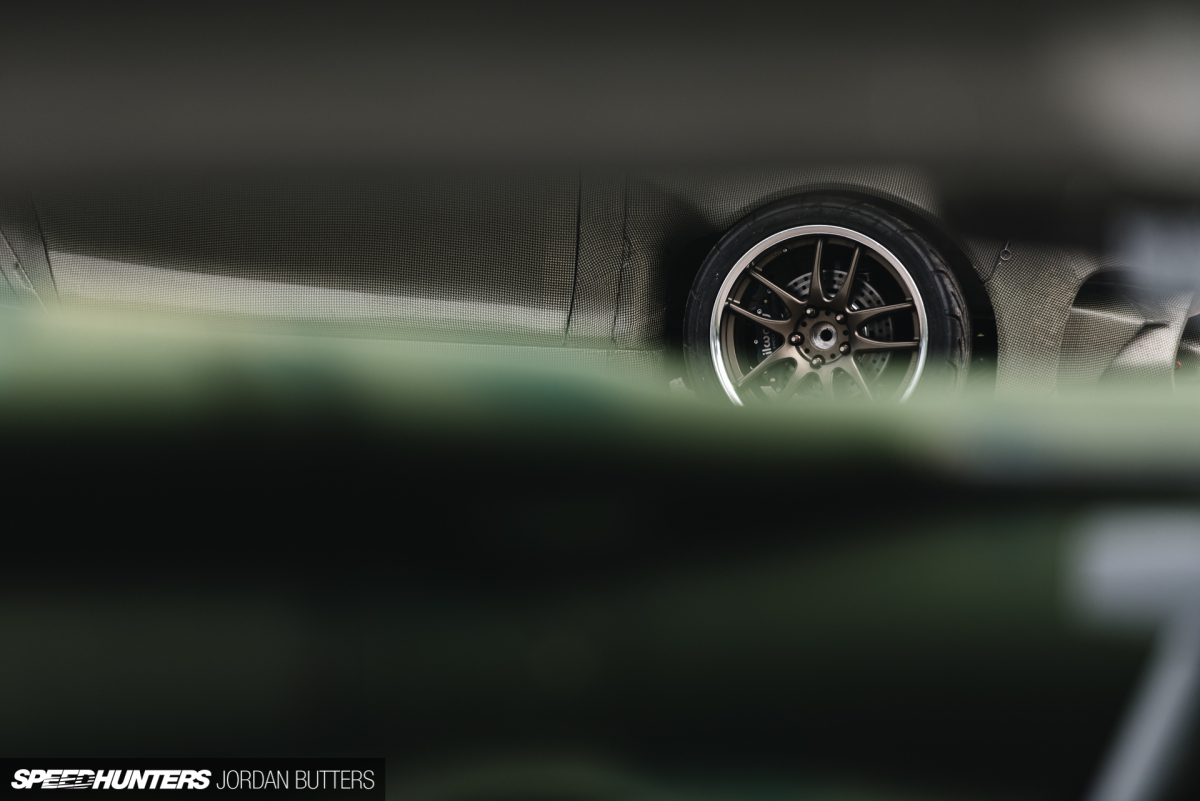 I'd heard tales of a car locked away from view at the HGK workshop, safe from prying eyes, but no-one could really tell me much about it. Chinese whispers, tentative glimpses and best guesses were in abundance. In truth, during my visit to HGK's hometown for the Latvian Drift GP last month, I almost forgot about the gossip. That was until my phone rang.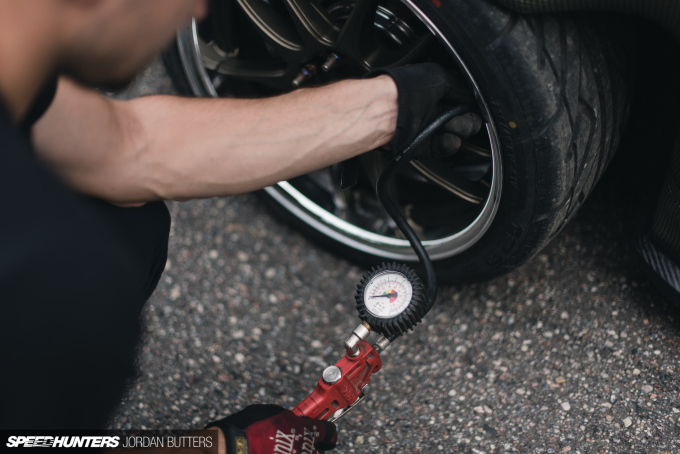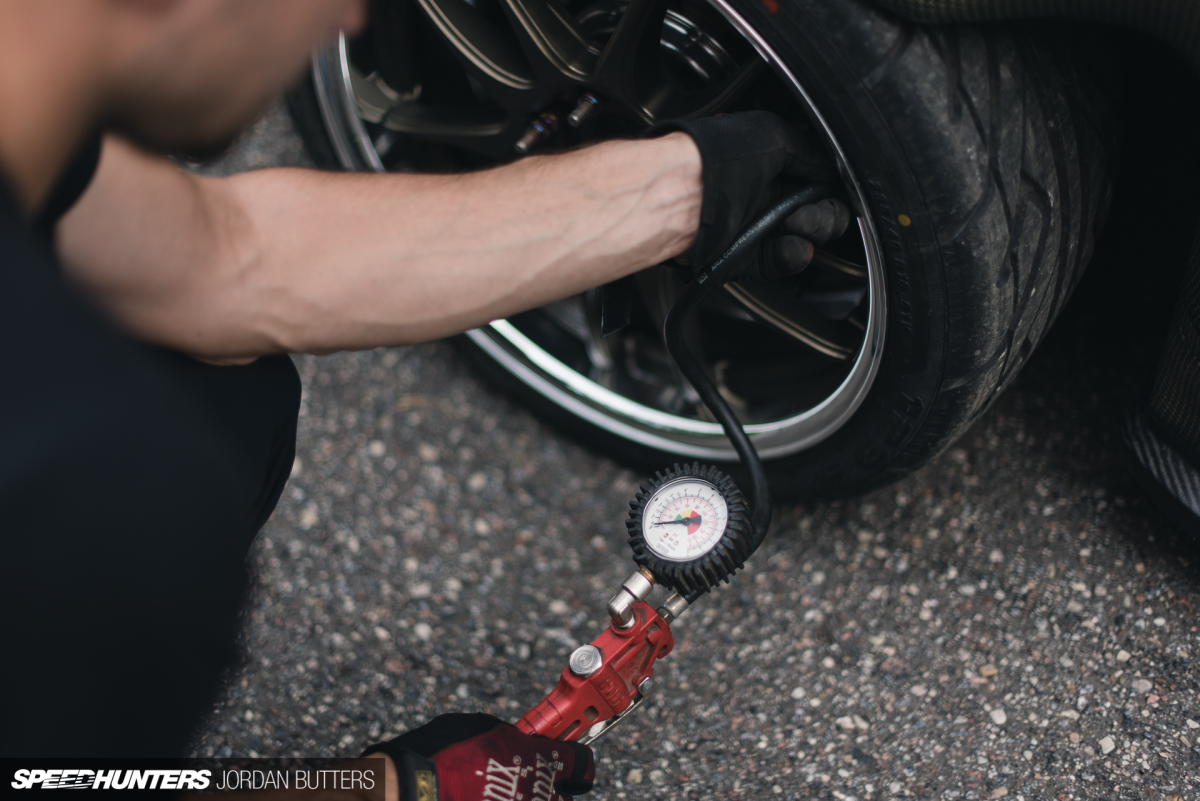 The voice on the other end of the line belonged to HGK's tame racing driver, Kristaps Blušs. He, together with race and design engineer and HGK co-founder Harijs, were in the US for Formula Drift at Evergreen Speedway, but there was a car at HGK that he thought I might be interested in. Colour me intrigued.
HGK's shop manager Valdis couldn't tell me much for fear of news getting out. It was a BMW, but that was about it. He couldn't tell me who it was built for, where it was going or any specifications. Unfortunately, the car wasn't quite completed, and wouldn't be before I flew back to England.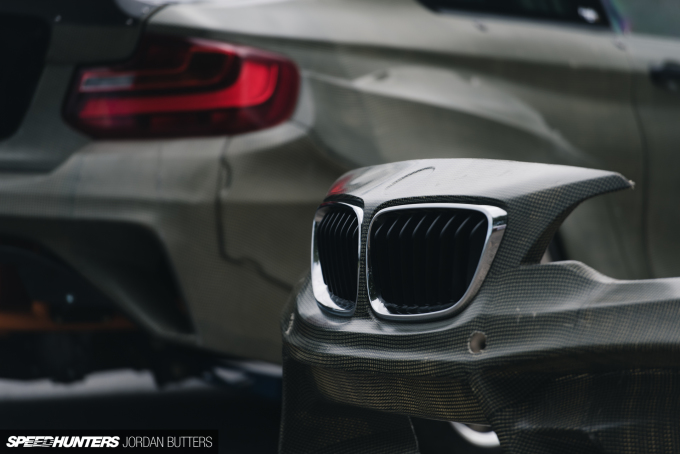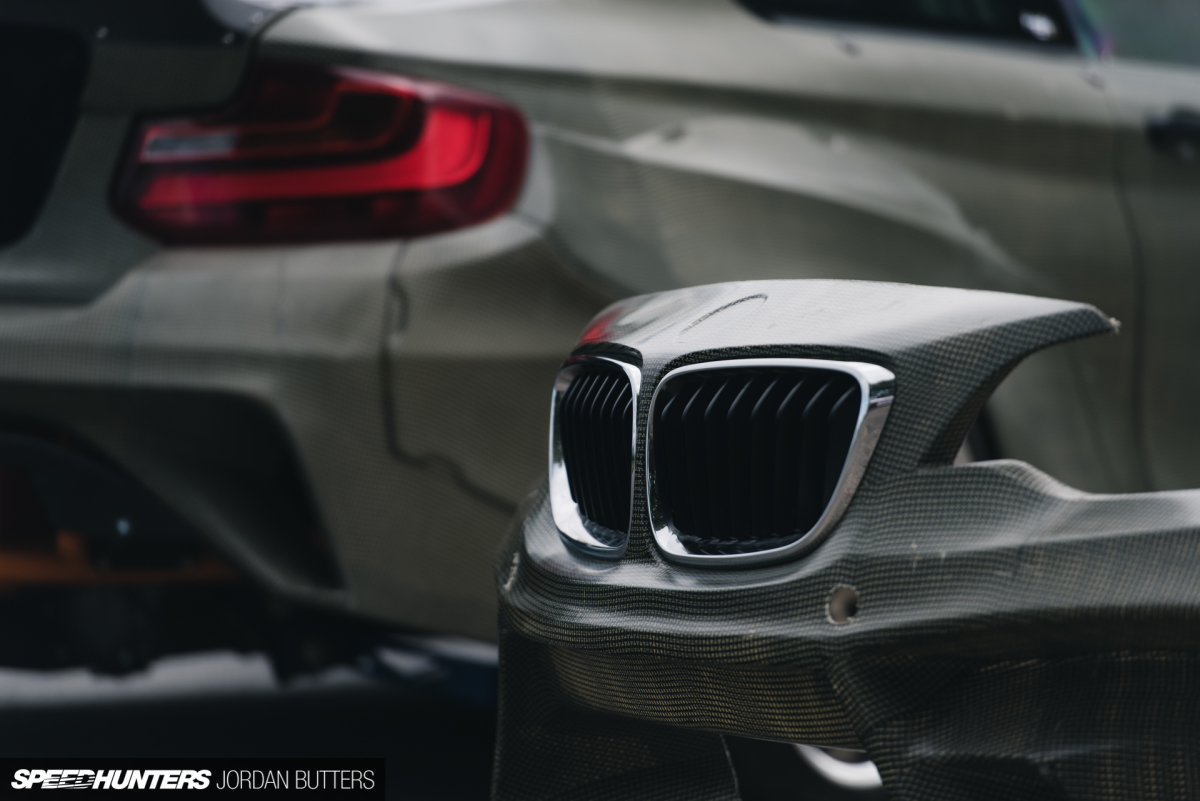 Fast forward to a week later and I found myself on a last minute flight from Berlin, where I'd been shooting Drift Allstars Germany, to Riga, once again. I would be in the country for just four hours specifically for the shoot. HGK's latest masterpiece was ready, and we only had that day to spare before it was loaded on the plane and delivered to its new owner, MK Racing in Qatar.
No pressure then.
Beneath The Skin
HGK is in the business of building BMW race cars. Its relationship with the E46 chassis is well documented, and, thanks to Kristap's rapid success with HGK CrocoFD in Formula D, the whole world knows it. This, however, is HGK's first time fettling with BMW's 2 Series F22 chassis.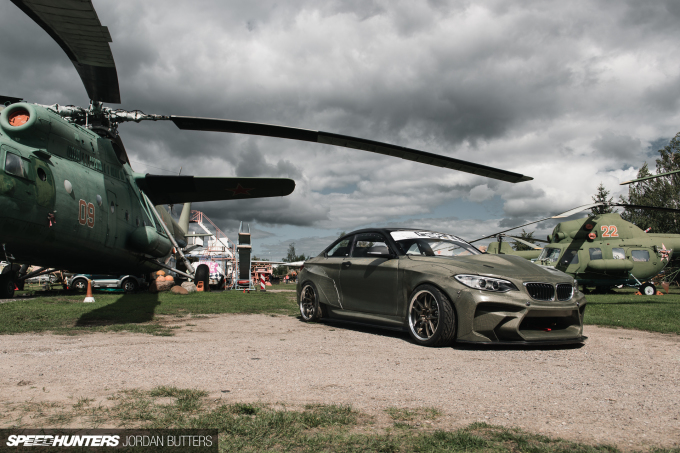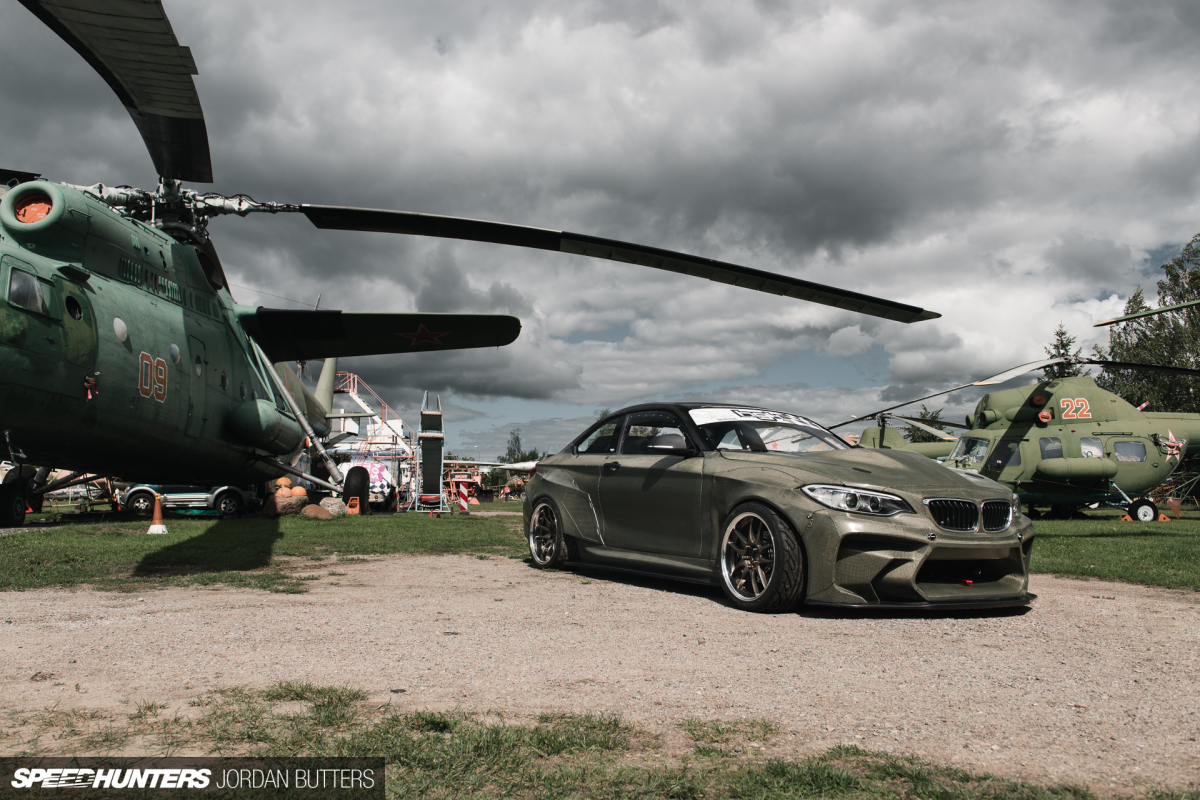 And boy, did they get it right.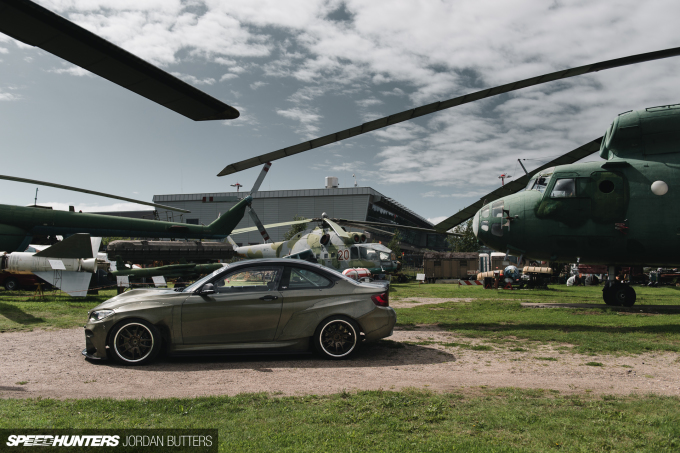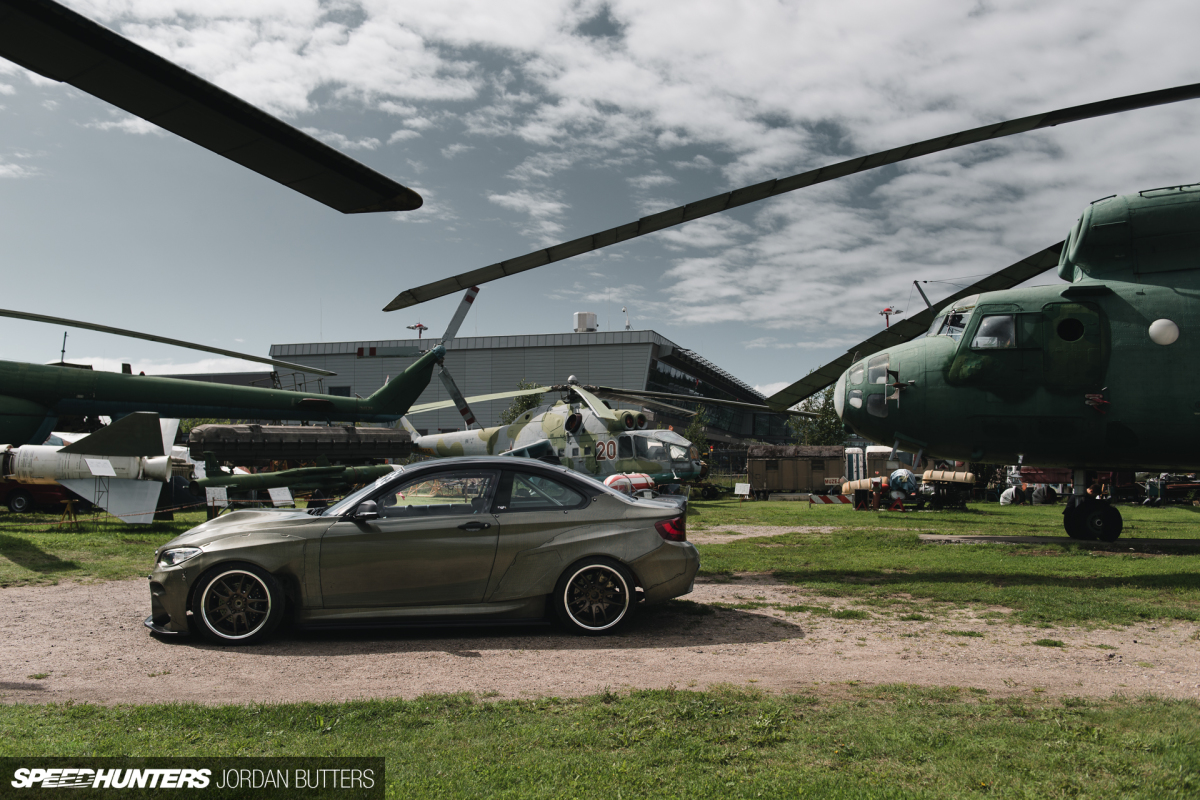 The first thing that strikes you about the Kevlar-clad exterior is just how menacing and aggressive this F22 is wearing HGK's new Eurofighter bodykit. But we're getting ahead of ourselves. I want to show you what's under the lightweight skin of this beast before we settle on the aesthetics.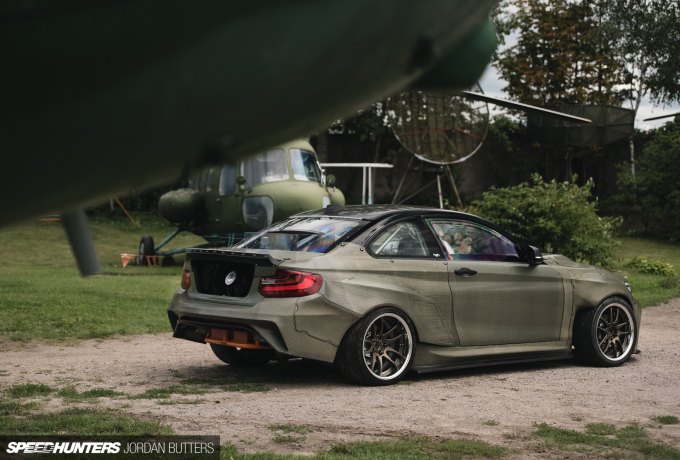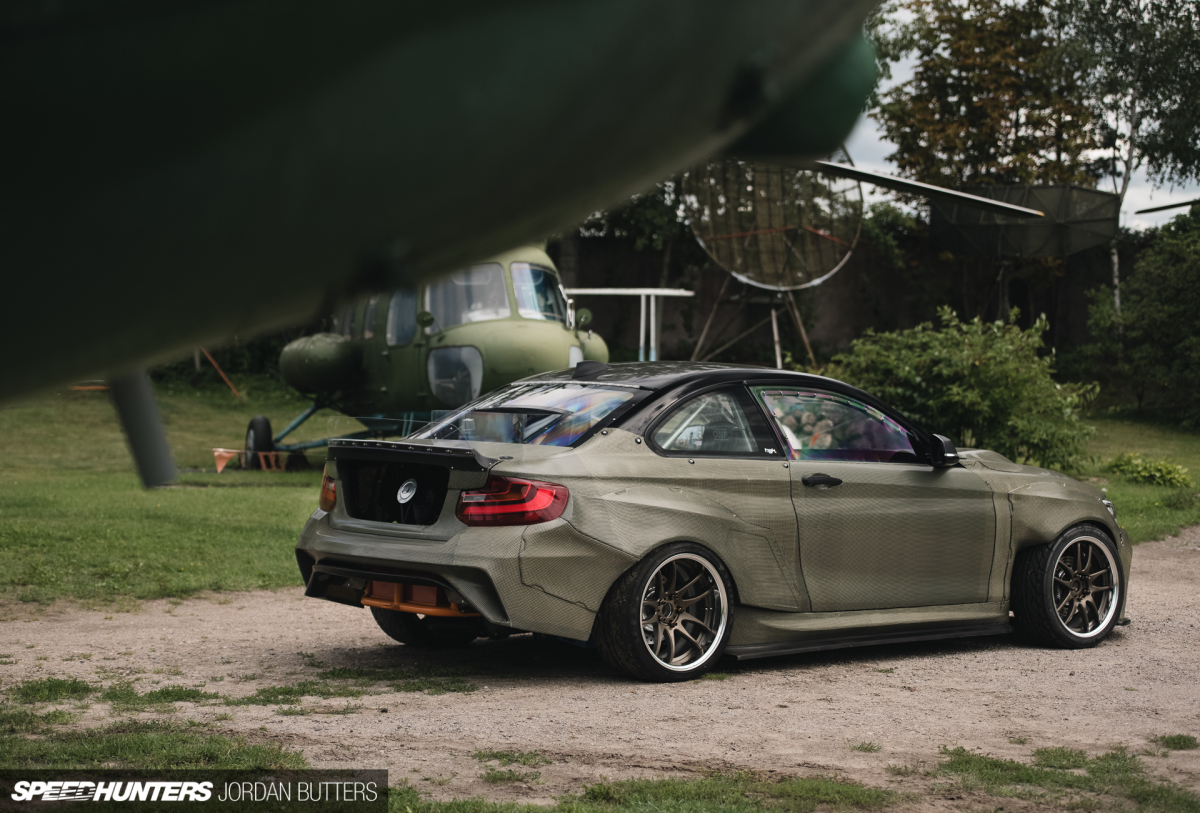 The aim was to build the ultimate 2 Series for drifting, so the brief was simple. It had to be lightweight, reliable, powerful and capable of carrying out physics-defying things whilst sideways on a racetrack.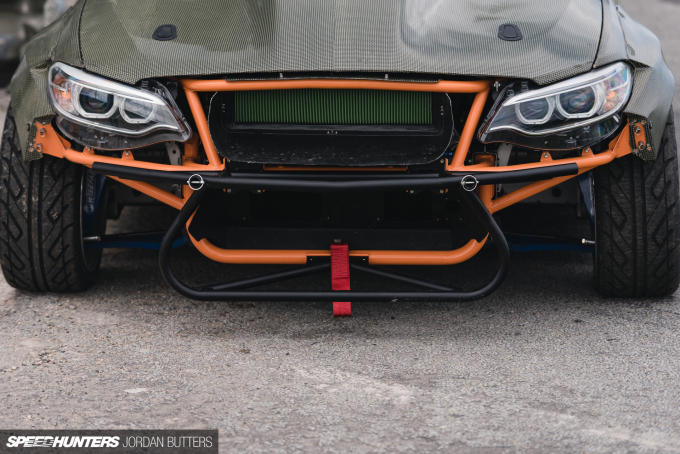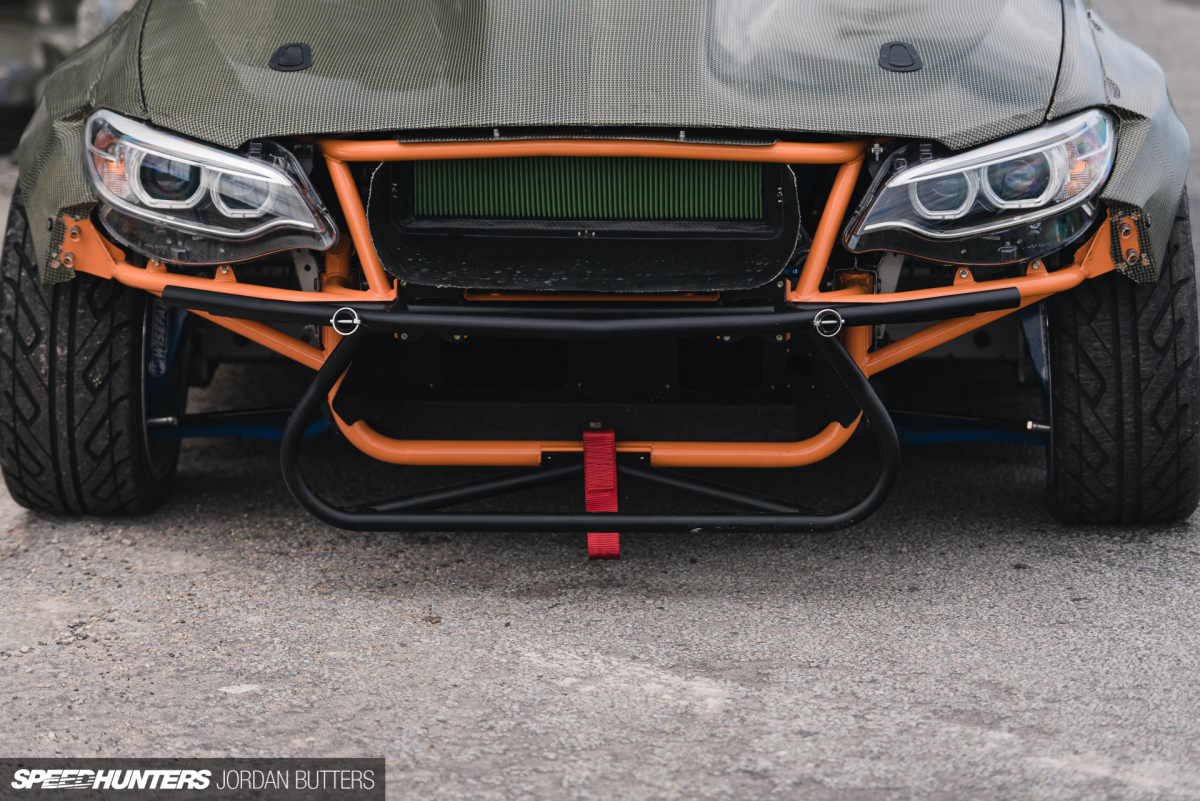 As with all HGK builds, chassis prep is at its heart. The F22 was stripped back to bare metal and the full chassis was stitch welded. The front and rear slam panels were removed and replaced with custom, removable crash bars, painted in an eye-grabbing shade of orange. With the demands of competition drift layouts throughout the world now, solid rear clipping points have become the norm, so the ability to easily remove, repair or replace the front and rear crash structures make the continued maintenance of the car much easier.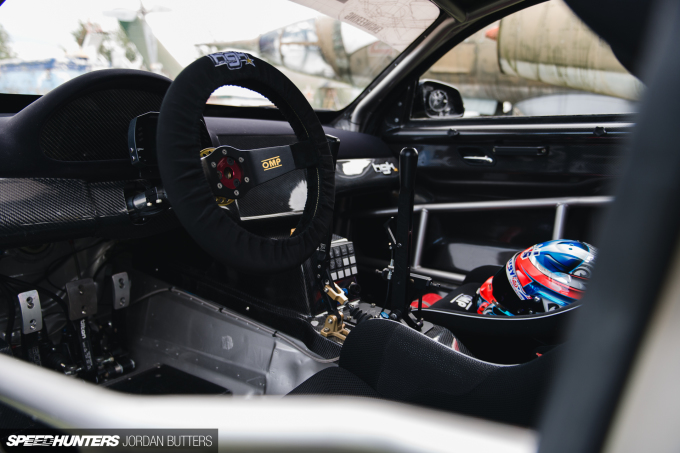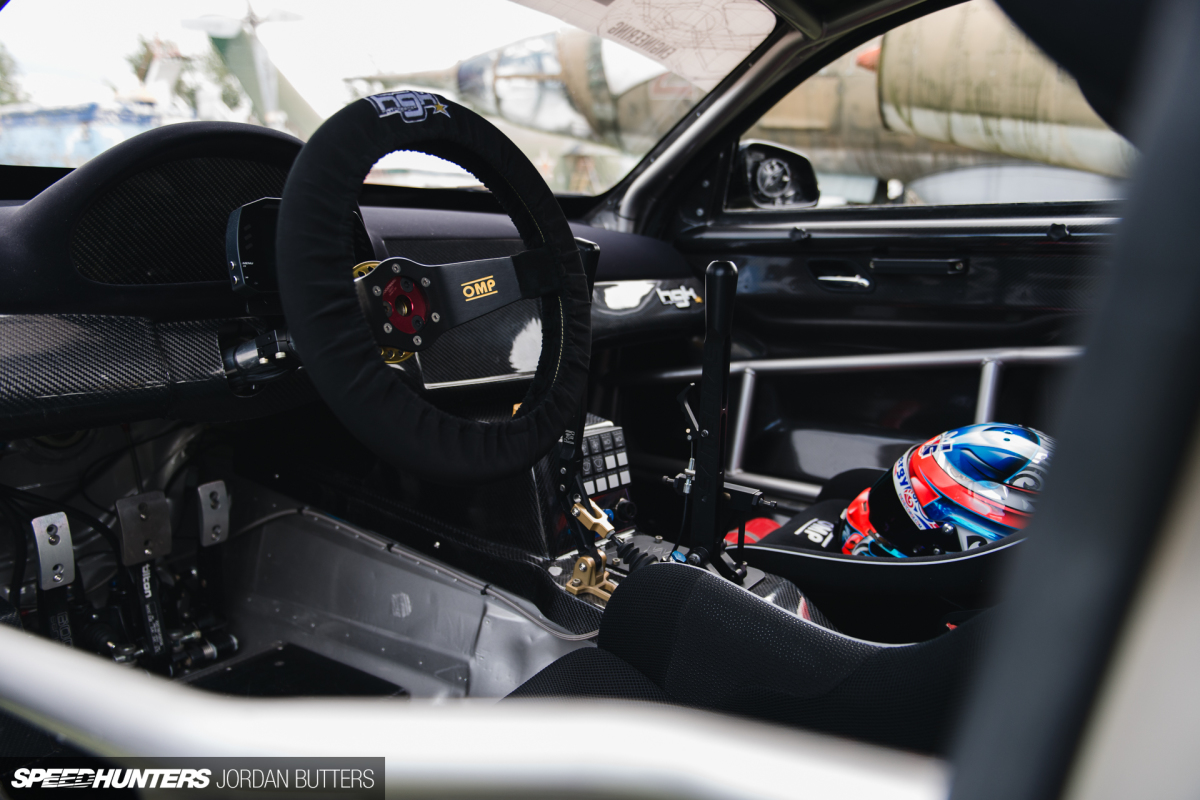 Inside, HGK got to work fabricating a full roll-cage, built to Formula Drift specifications. I'm not sure if the car's new owner is planning on campaigning in the series, but the car has been built with the rulebook in mind, if not for eligibility, then at least for the high safety standards FD demands. Wise move.
British suspension manufacturers Nitron supply the footwork on Kristap's FD car, so it was called upon again to create custom-made 3-way adjustable coilovers for the F22. These are mated to the chassis via custom HGK's own CNC-machined, camber-adjustable top mounts at the front. Every single component has had the highest possible level of care and attention poured into it. Wisefab supplied all the suspension arms, knuckles and components, allowing for complete control and adjustability of every conceivable alignment parameter.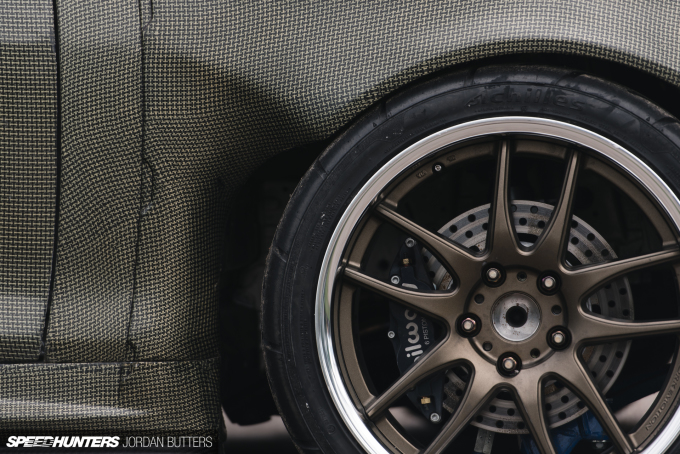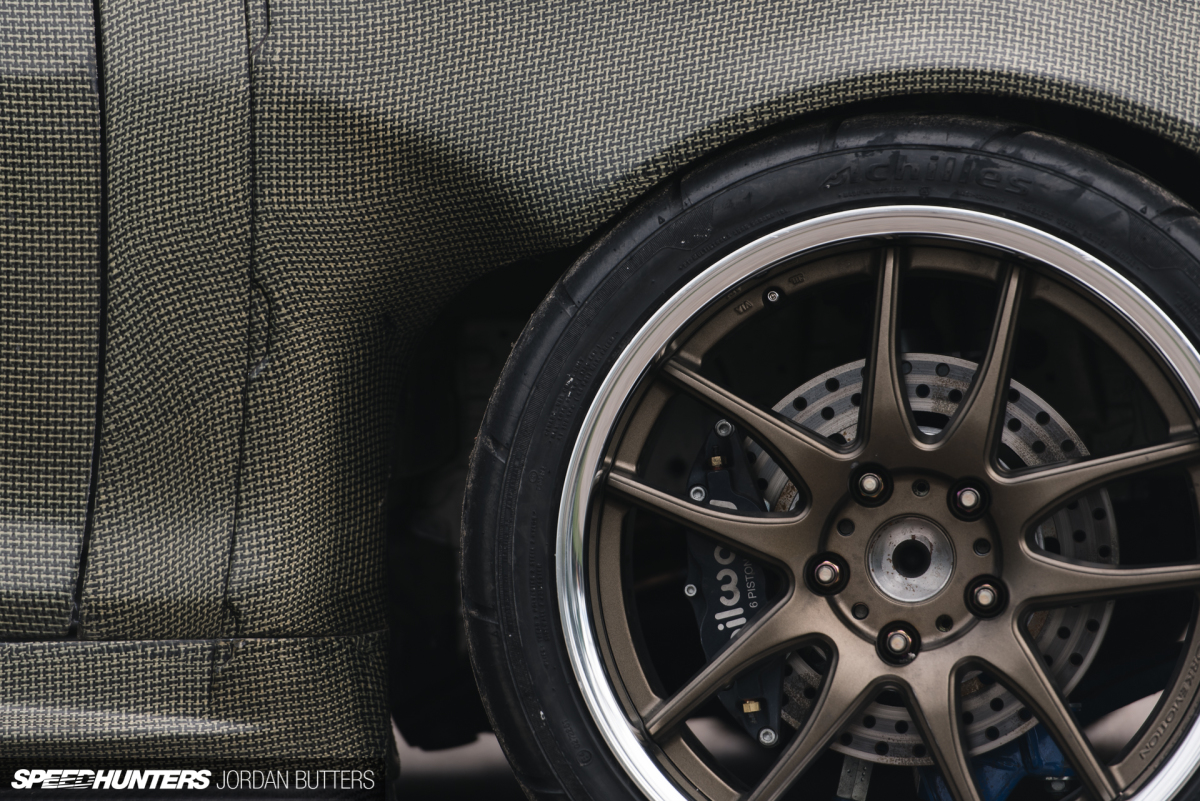 Stopping is handled courtesy of Wilwood 6-piston calipers at the front wrapped around 11.75-inch Wilwood drilled rotors, and Wilwood 4-piston rear calipers with 12-inch discs. The brakes are mounted using CNC HGK aluminium centre bells and adaptors.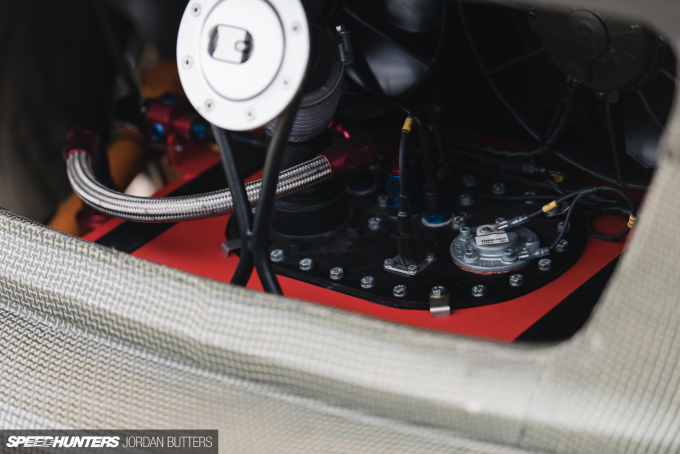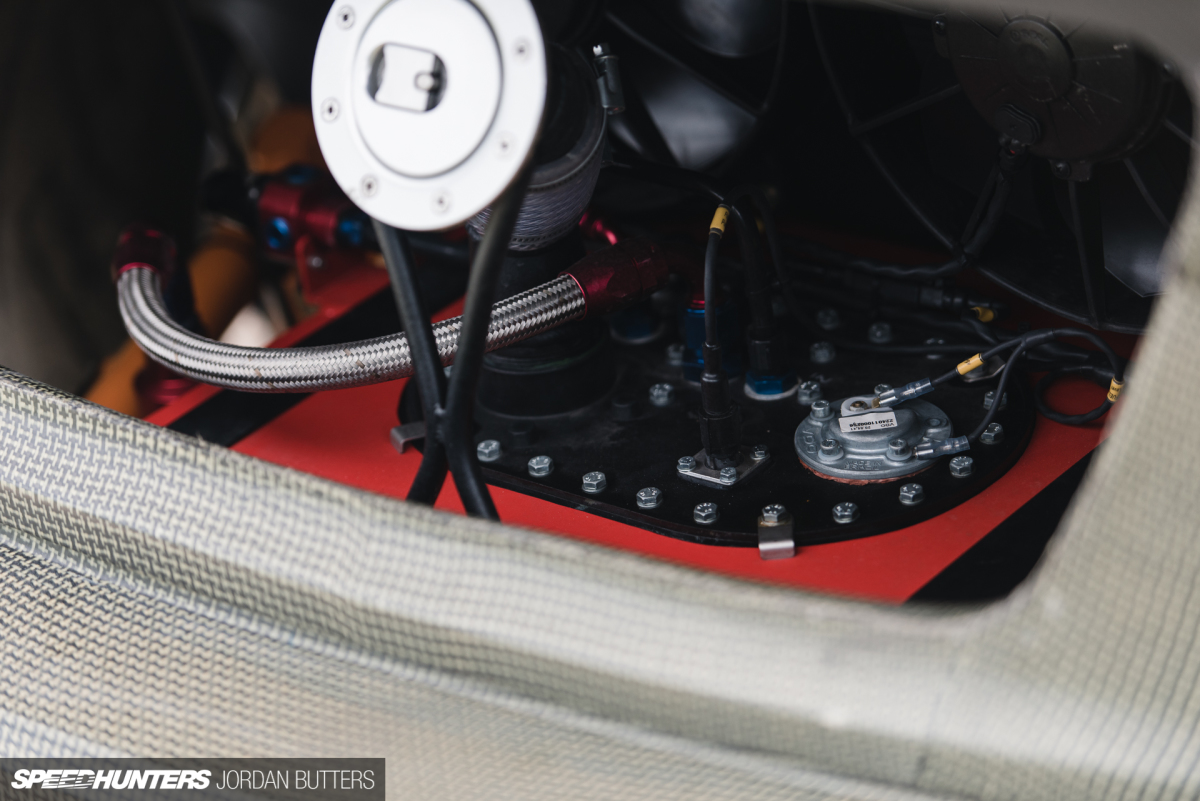 At the back of the car a Merin FIA-approved lightweight 40-litre fuel cell with internal lift pump system nestles in amongst the rear crash bar. An Aeromotive A1000 fuel pump does the work, and Aeromotive pre and post fuel filters and fuel regulator keep things in check. The explosive dinosaur juice is added via a custom filler neck in the boot opening, and carried forward via lightweight aluminium hard lines coupled with aluminium fittings throughout.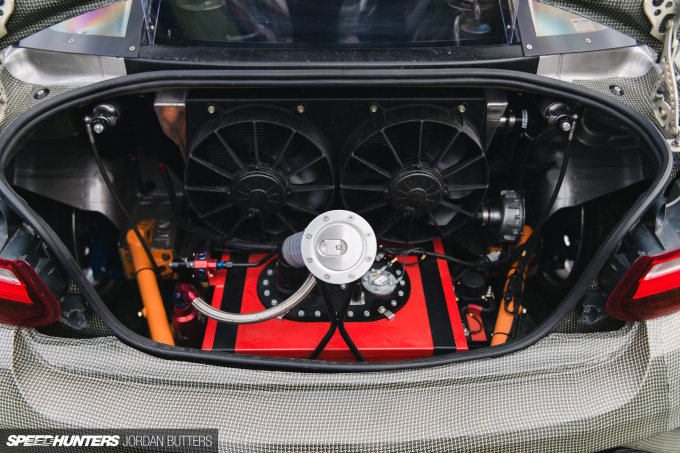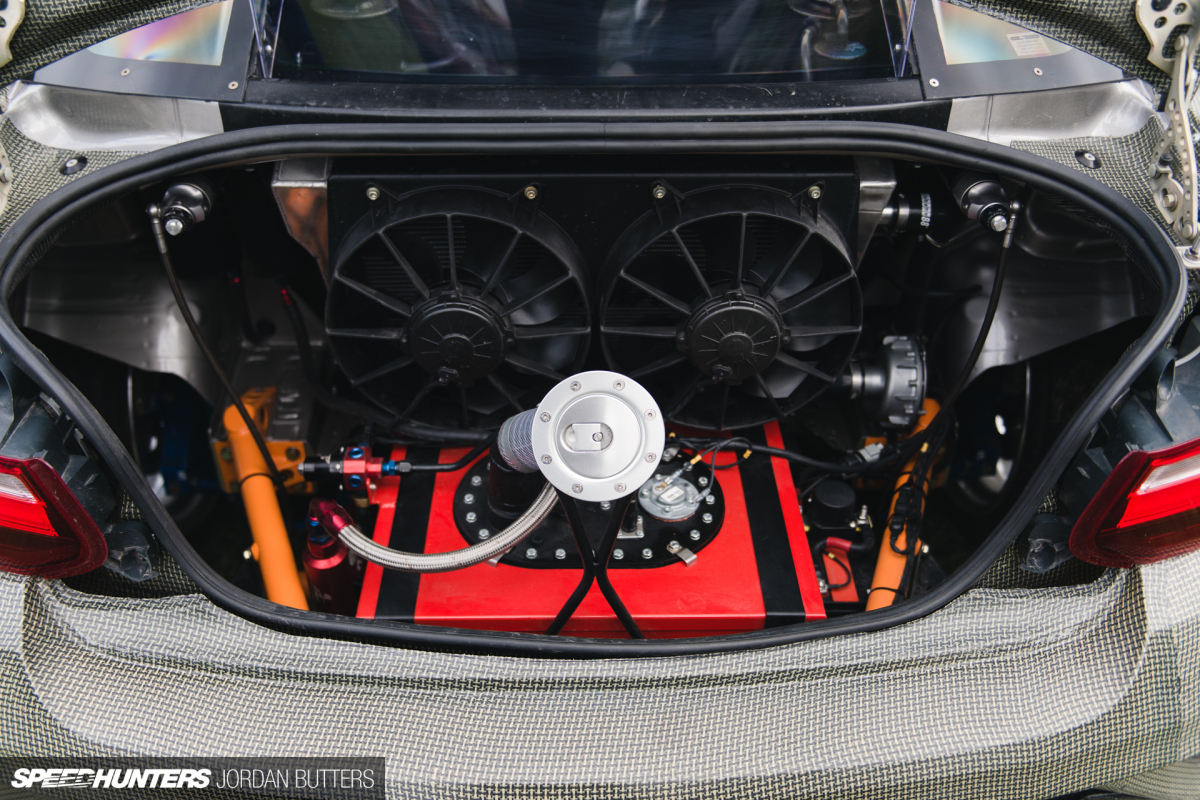 The cooling system has also been relocated to the rear of the chassis, with a twin-core, dual-pass radiator mounted beneath a custom opening in the rear window, providing optimum airflow through and out the rear of the car.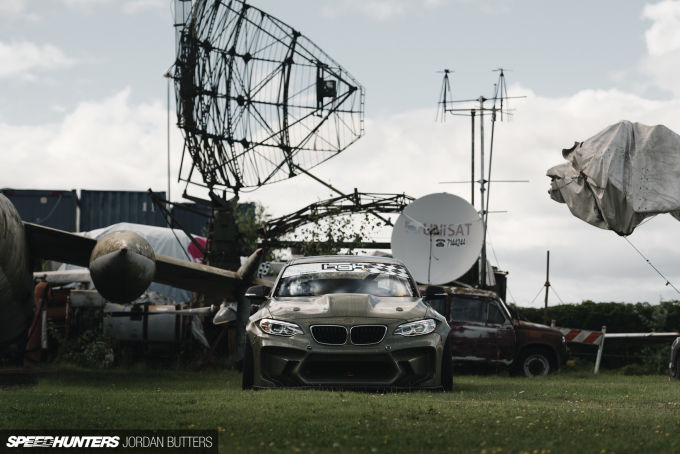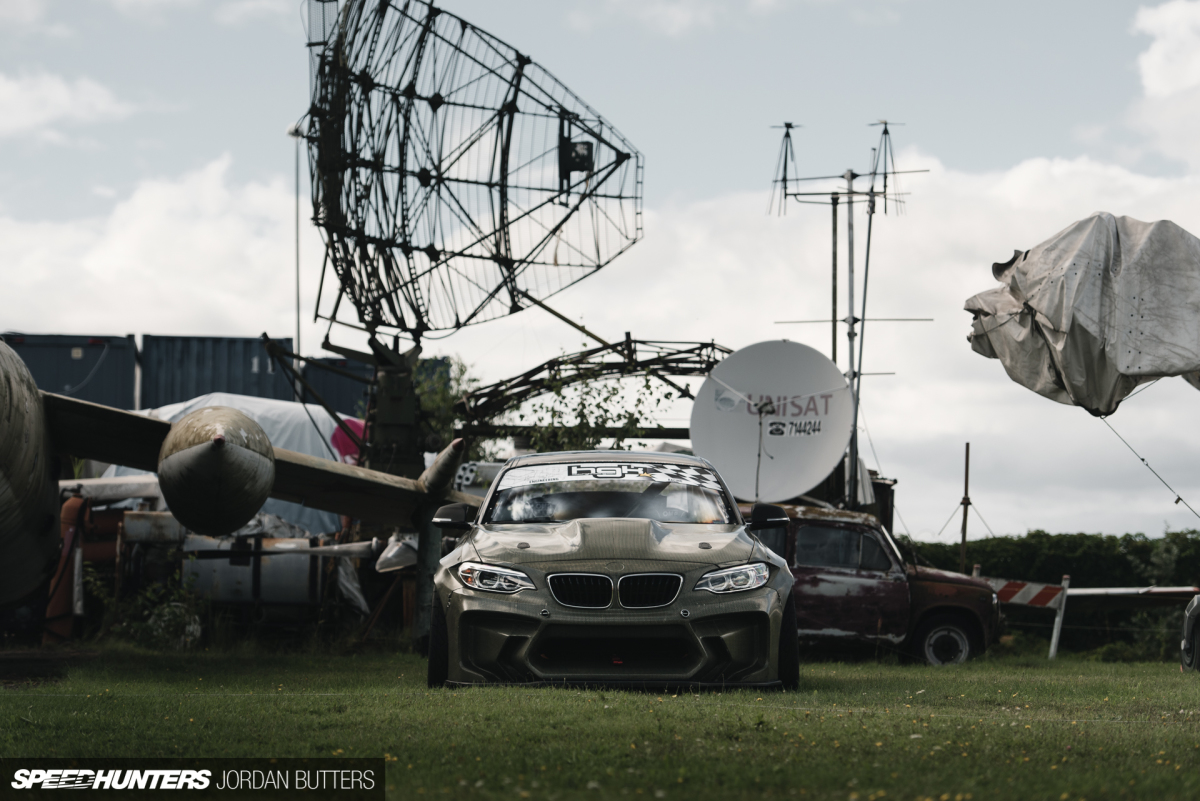 Of course, all of this leads to feeding the powerplant residing underneath the Kevlar bonnet. The bulge should tell you it's concealing something really quite special…
Pinnacle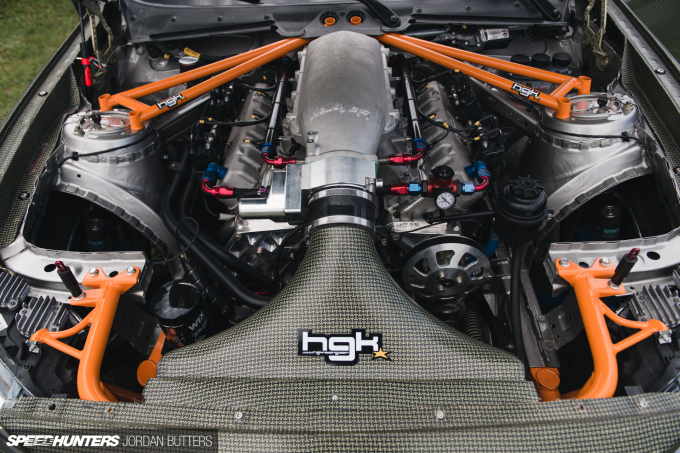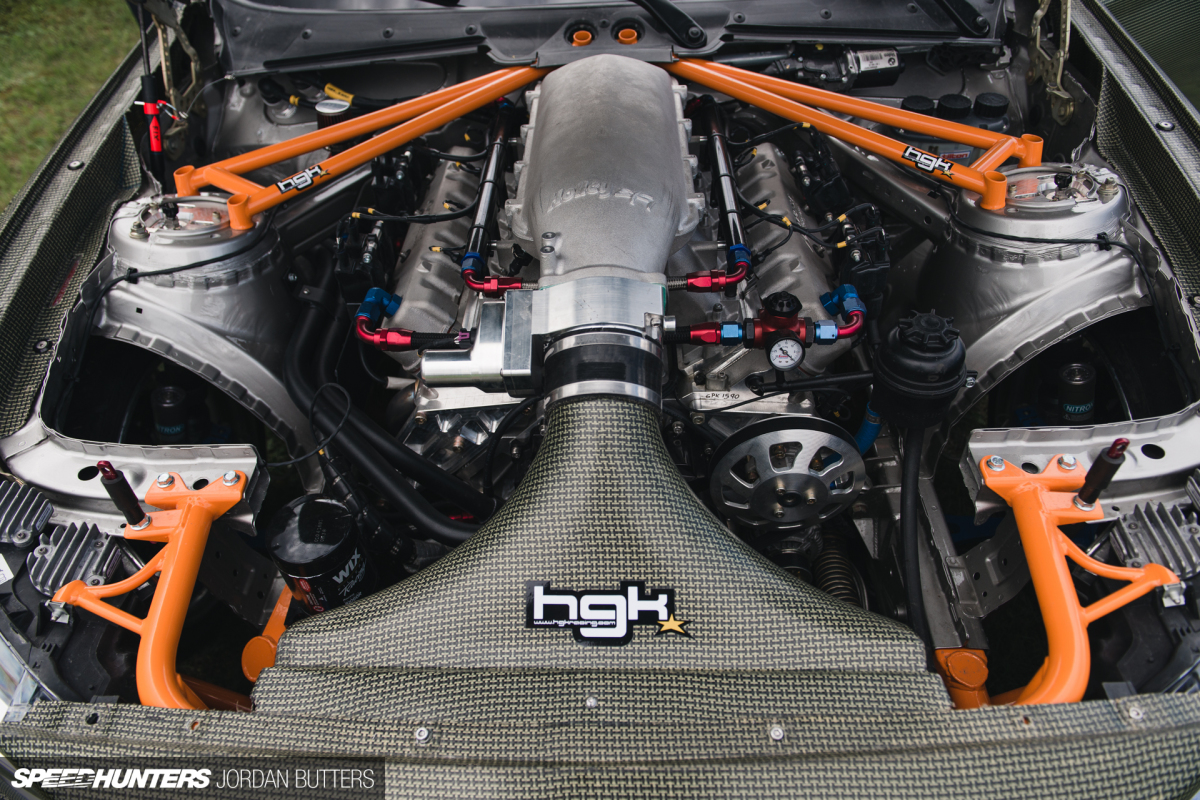 The engine of choice was a Mast Motorsports crate motor. Specifically, a RHS446 – again, the same unit used in Kristap's Formula Drift machine.
The aluminium race block is manufactured from heavy-duty A357-T6 aluminium by Racing Head Service in Memphis. Based on a GM LS unit, the race block is then hand-built by Mast to HGK's exacting specifications, utilising a Callies Magnum crank, Billet rods, Diamond Racing pistons, Total Seal Advanced Profiling steel rings, titanium intake valves, retainers and valve locks and 305cc LS7 heads. The motor is mounted to the F22 chassis using HGK CNC engine mounts that again align with the Formula Drift rulebook.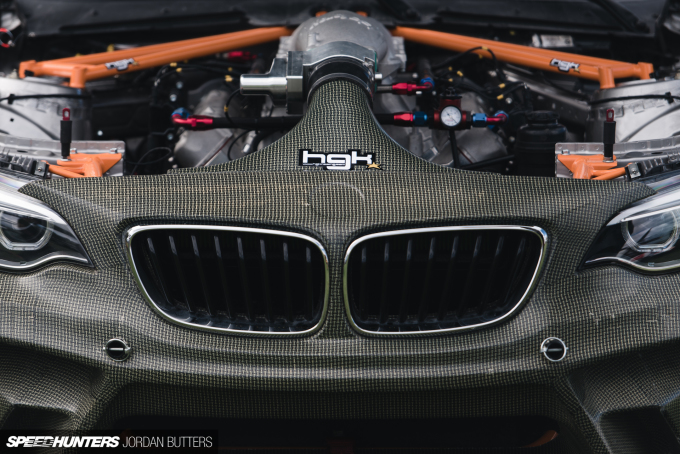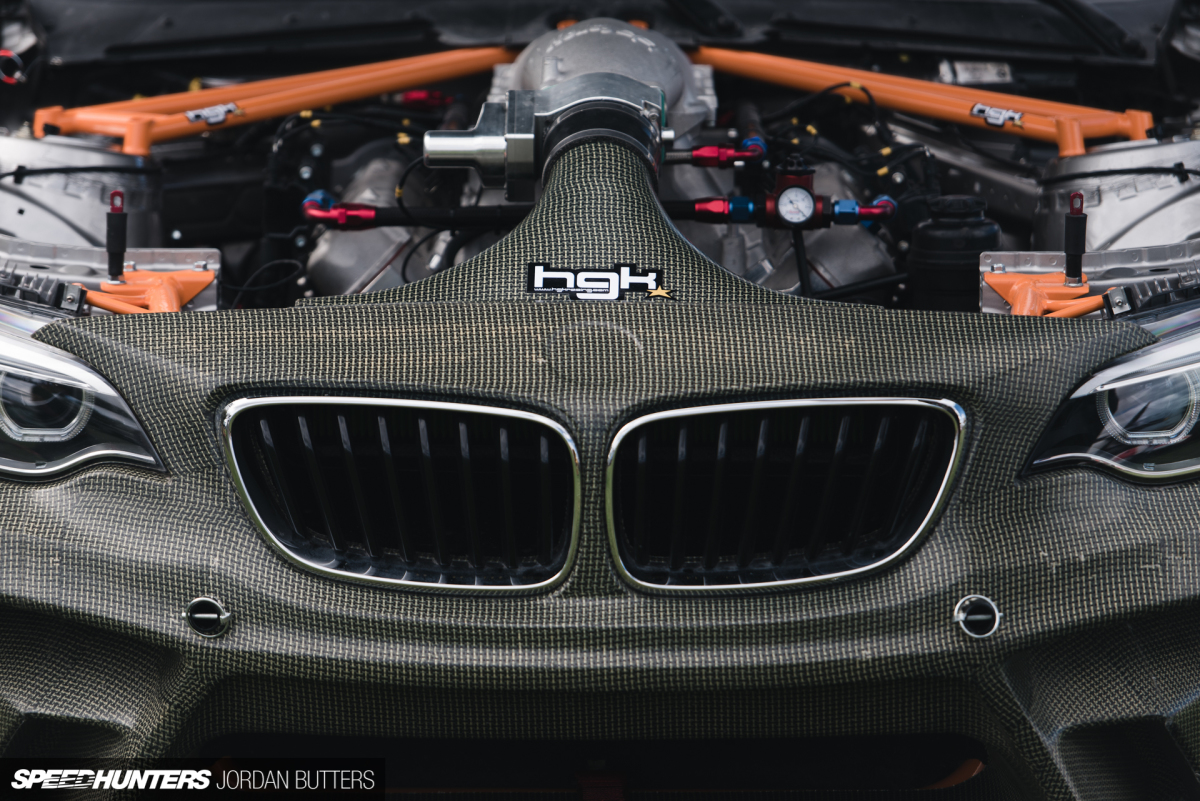 The result? The engine dyno'd at 820hp at 7000rpm and peak torque of 920Nm. I can hear the drift 'purists' frantically smashing their keyboards in disgust from here, but this is the pinnacle of naturally aspirated race V8s. With 800Nm of torque available from just under 4000rpm, you can't argue or dispute the amount of engineering brilliance that has gone into this motor, even if it's not deemed to be 'cool'.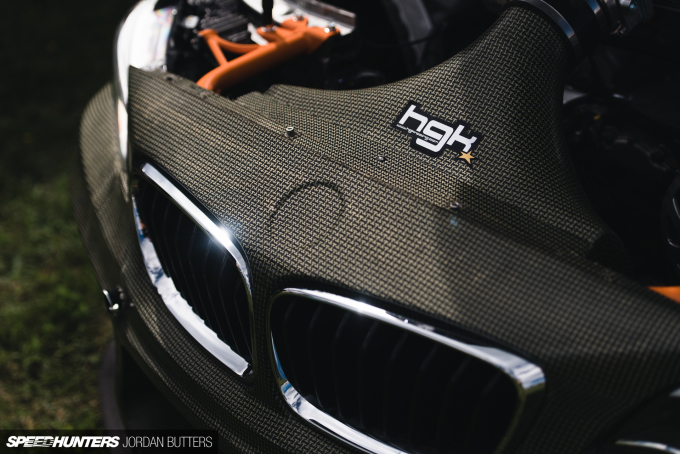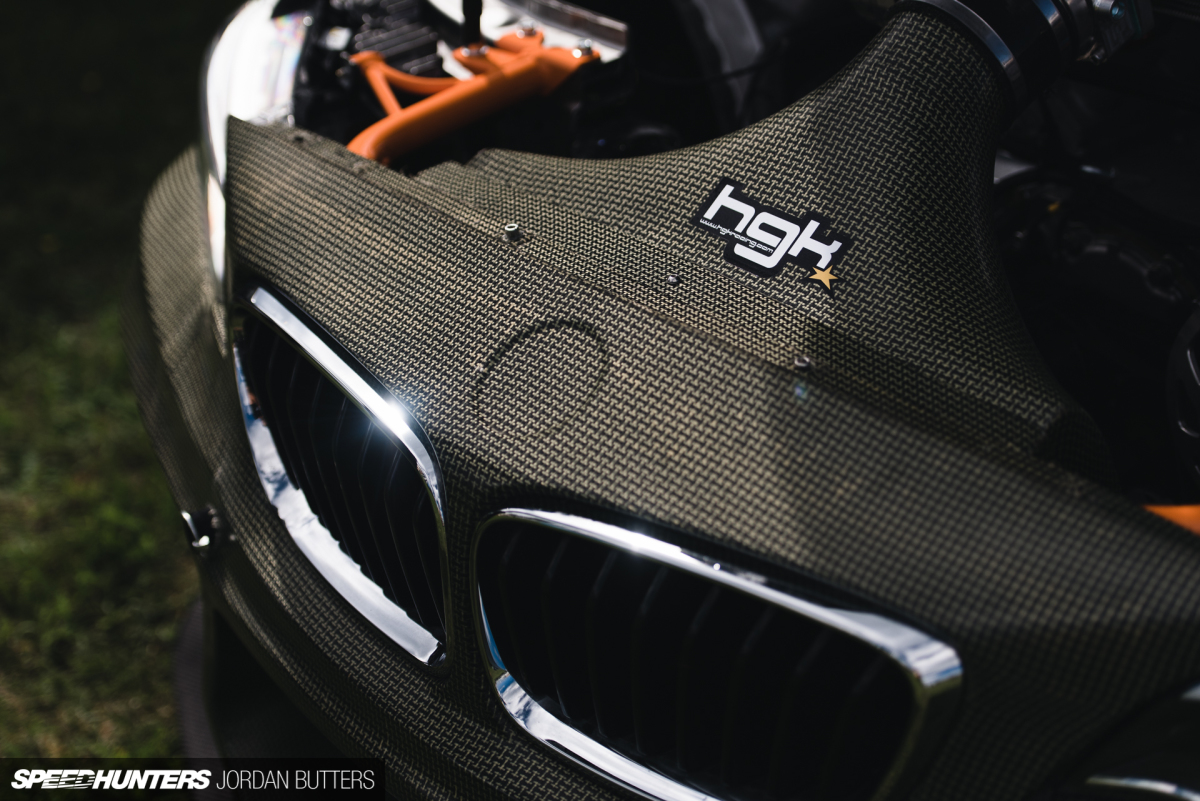 Air is fed in via the BMW's 'nostrils', through a large panel filter and channeled into the Holley EFI intake by a custom carbon/Kevlar intake system.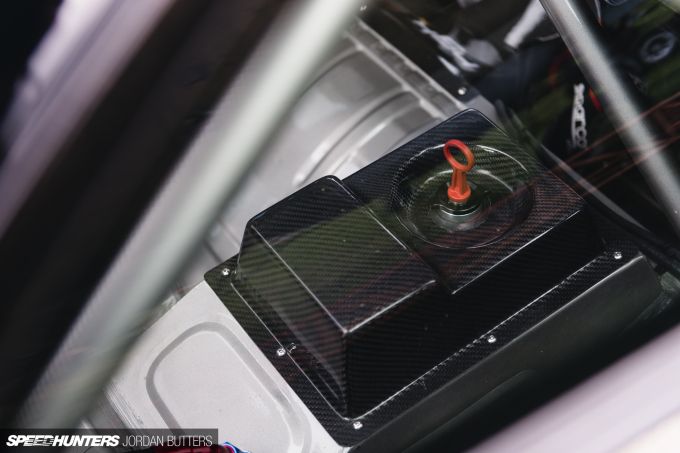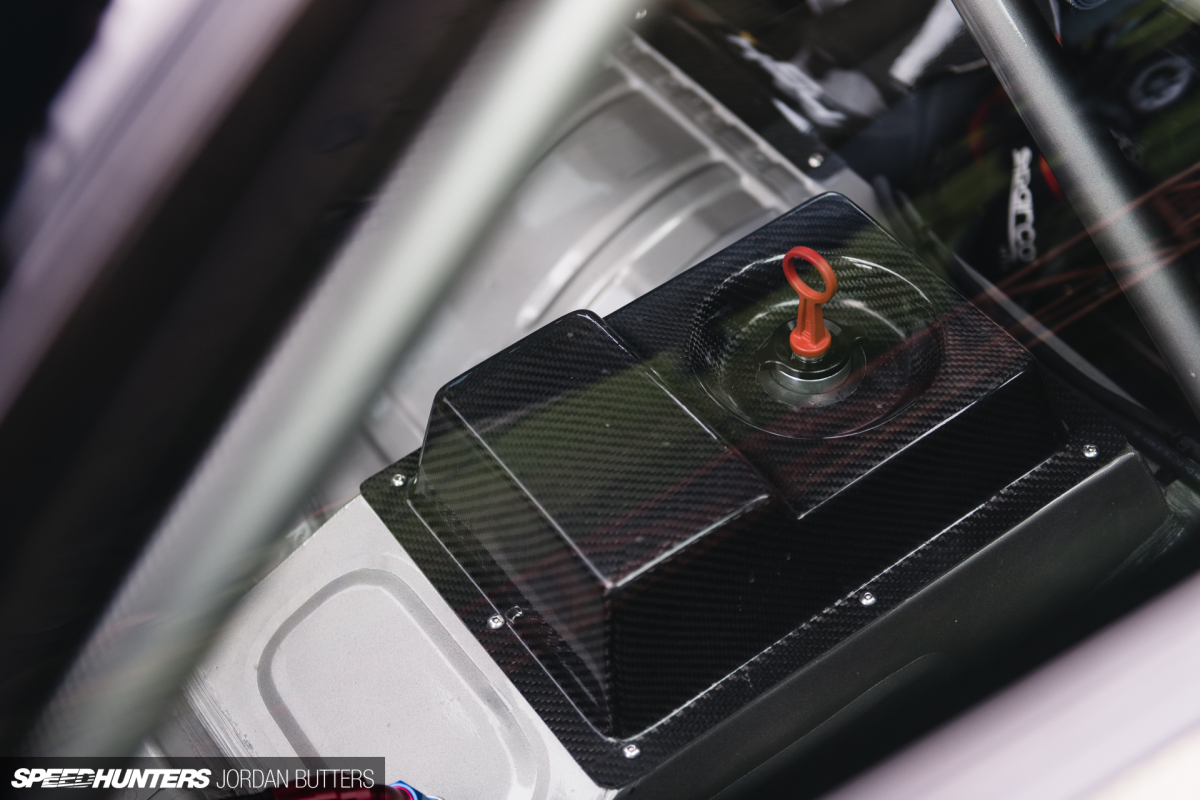 A Dailey dry sump with air separator is mounted inside/under the cabin, covered by a carbon panel. HGK wanted a way for the owner to be able to check the oil quickly and easily, so it engineered a dipstick system, easily accessible behind the passenger seat.
Gases are expelled through 48mm 4-to-1 stainless headers and out via a 89mm titanium exhaust .The sound is pure sensory assault. The F22 barks and growls with a breeze across the throttle and response is instantaneous. As Kristaps fired it up I couldn't help but laugh – it's ridiculous. The gargantuan dollops of power are delivered to the rear wheels thanks to a Samsonas 5-speed sequential transmission and Winters quick-change differential.
Mean Mug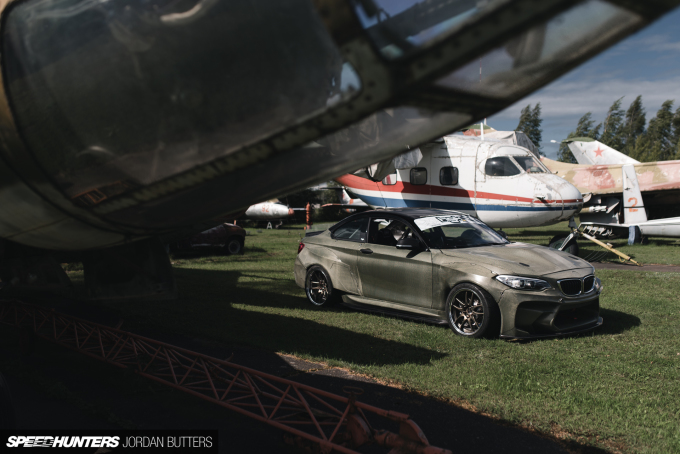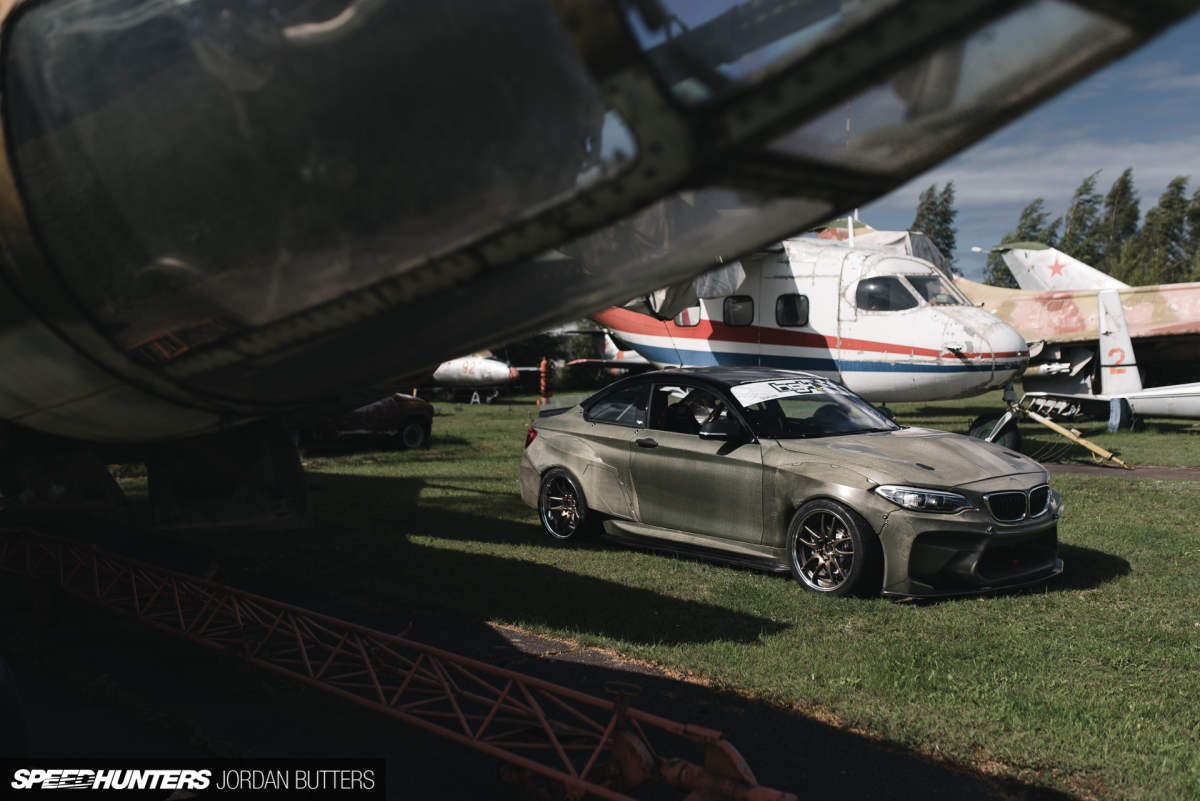 Of course. in drifting aesthetics are crucial, and the F22's exterior has received an equal amount of TLC.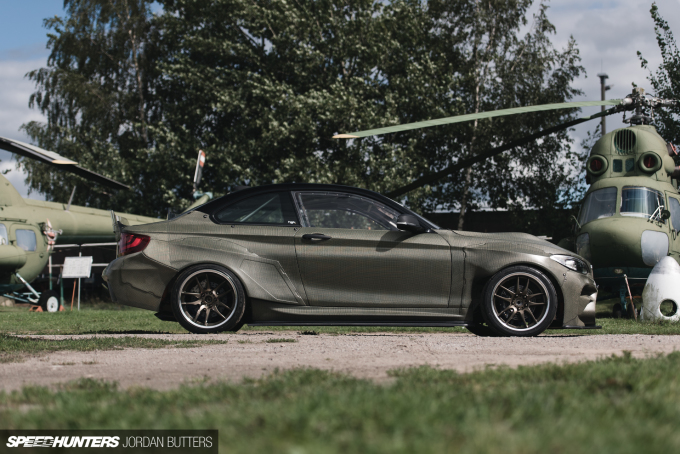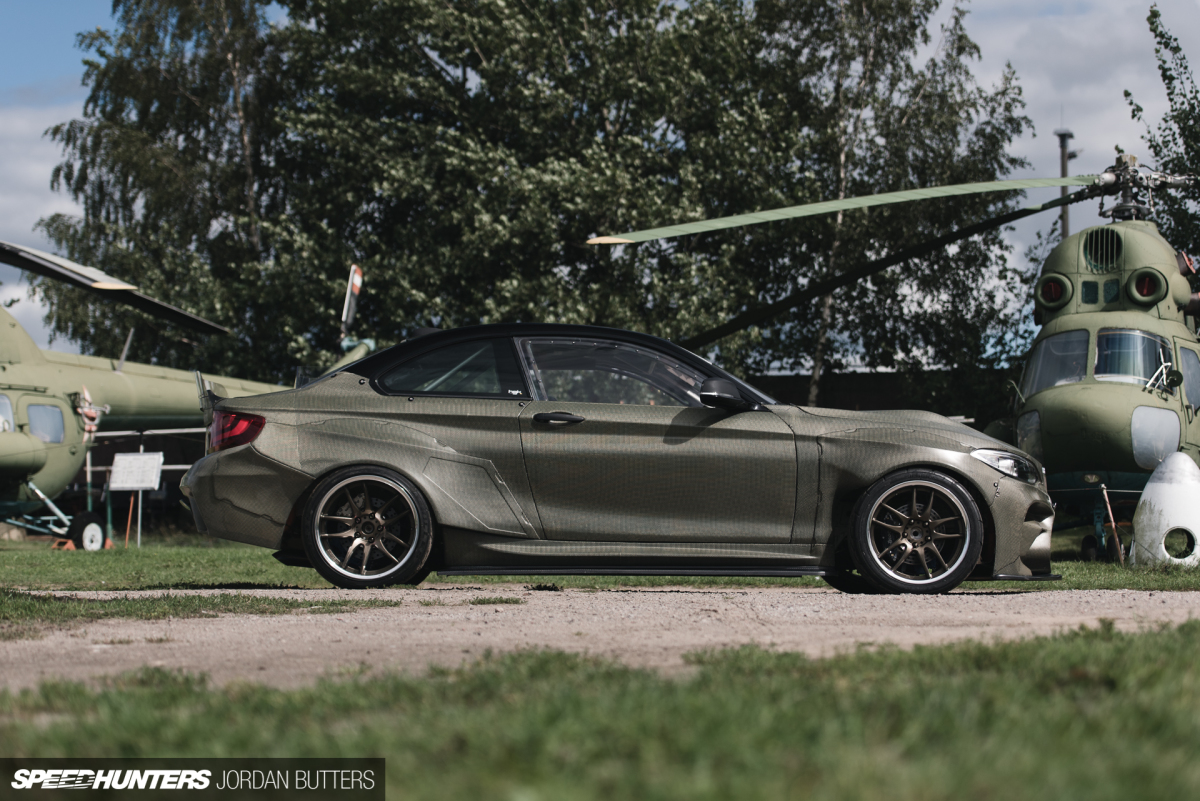 HGK's design engineer Harijs, alongside Edijs from D1 Design in Riga, designed and built this Kevlar bodykit in-house from scratch, comprising of front and rear bumpers, overfenders, lips and sideskirts and a rear wing. This particular build also features Kevlar fenders, doors, bonnet, boot and a carbon roof.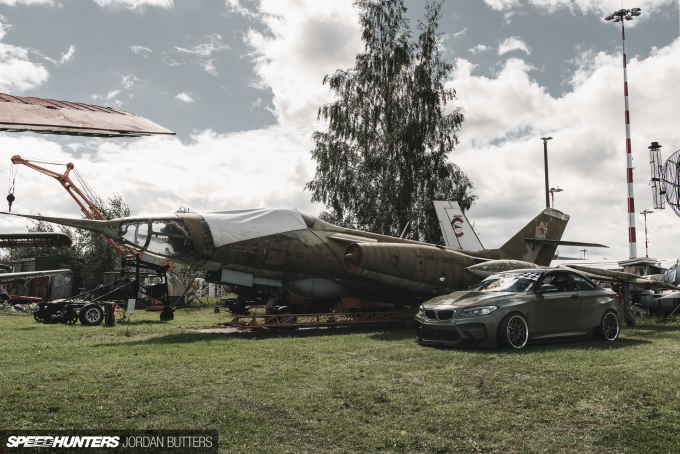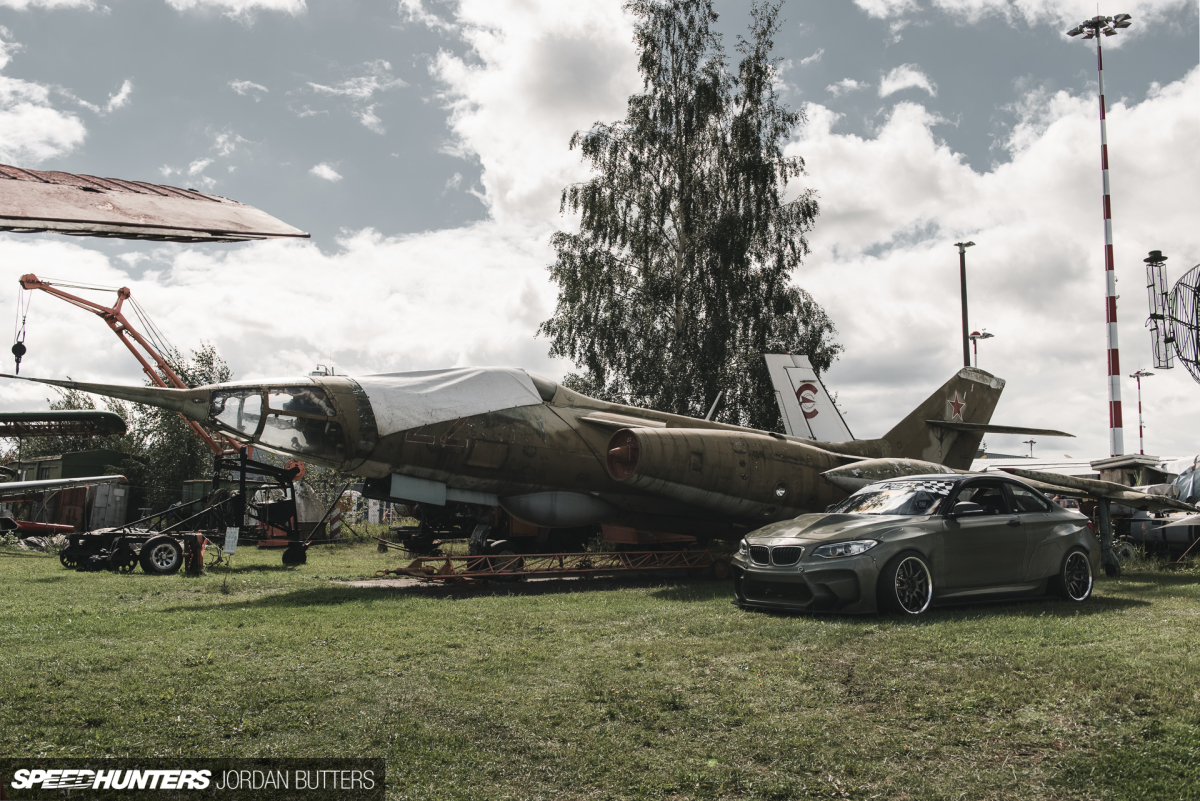 It's called 'HGK Eurofighter' and boy is it aggressive. I like the way that HGK has resisted going down the traditional 'drift' styling route of low-slung bodywork with big lower lips.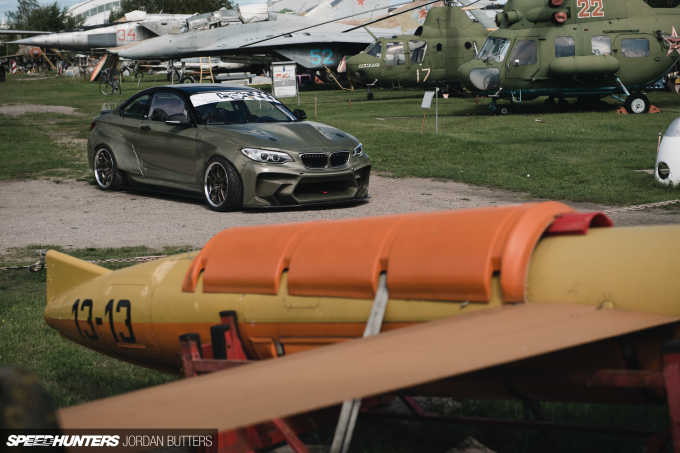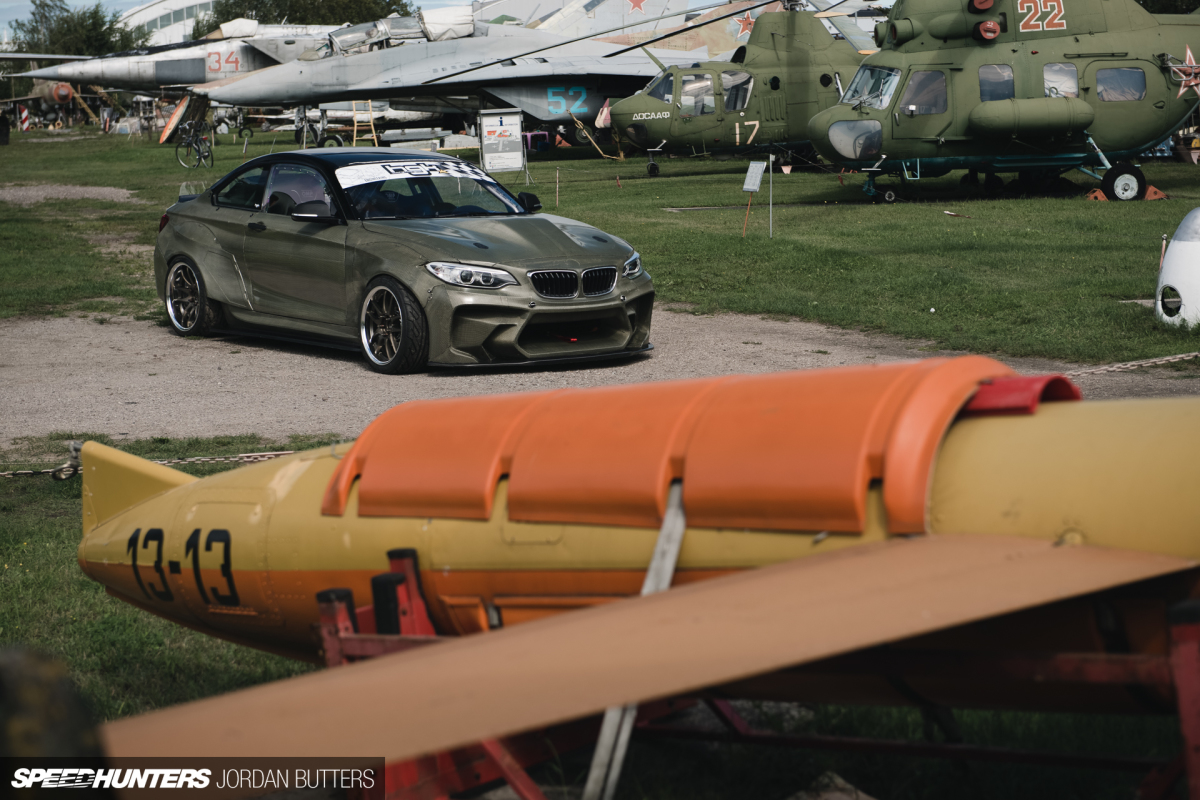 From the front, the Eurofighter kit mixes the right level of aggression with an OEM-esque design that you could imagine BMW offering M2 owners as an optional extra.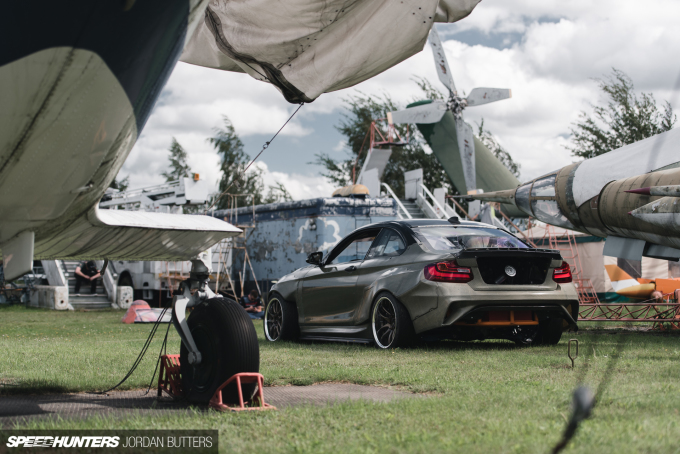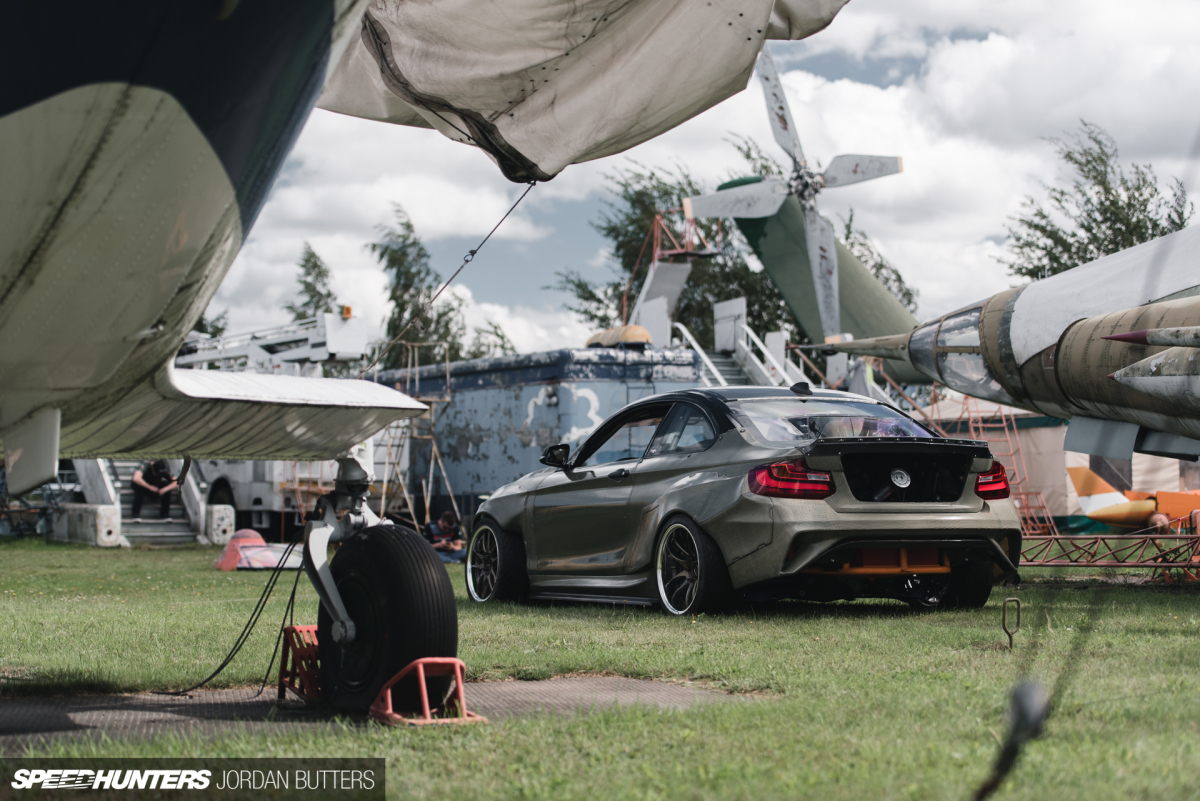 The rear is more race car, with the half-height rear bumper showing a tentative up-skirt glance at the orange crash bar and bright red fuel cell.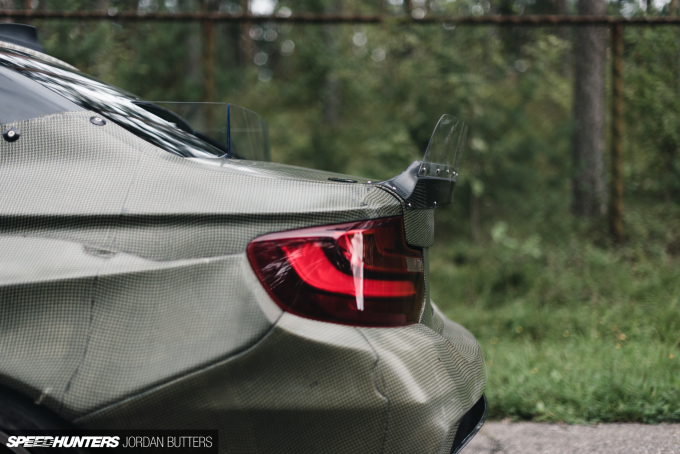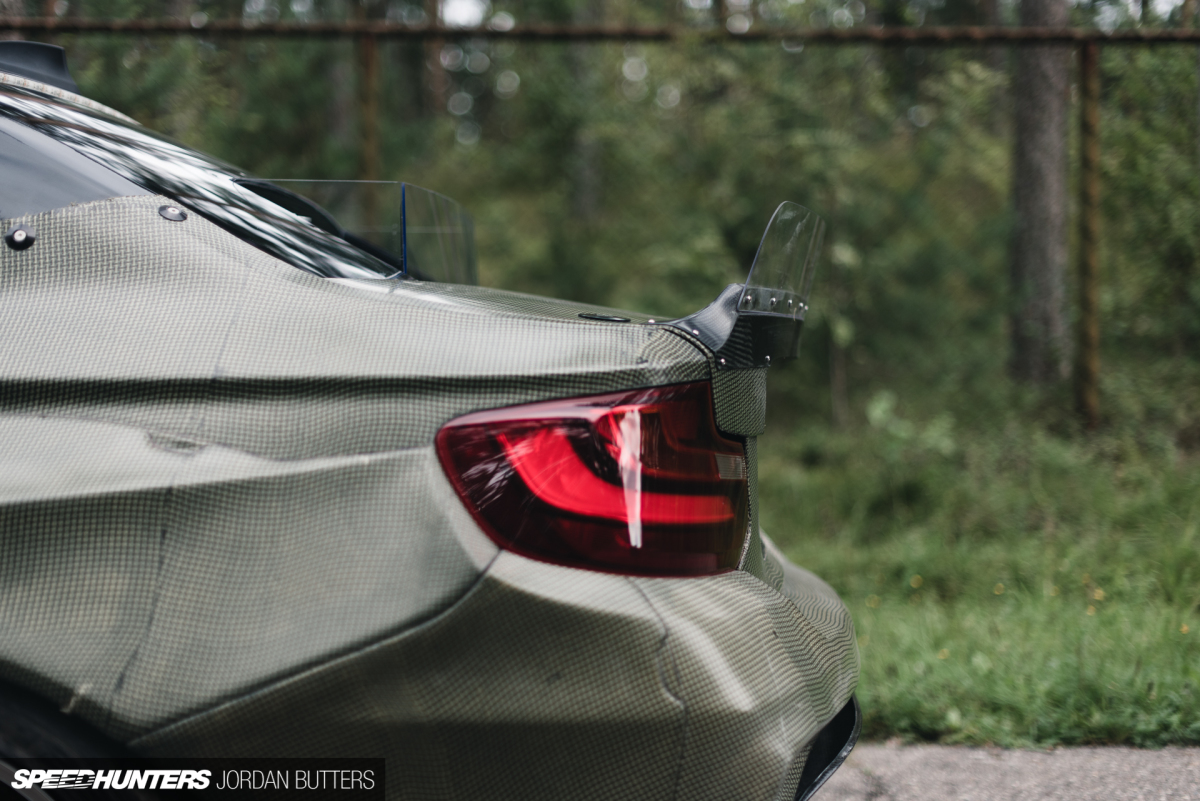 The NASCAR-inspired rear wing is part carbon, part polycarbonate; I guess you need to be able to see the wall you're about the scrape against, right?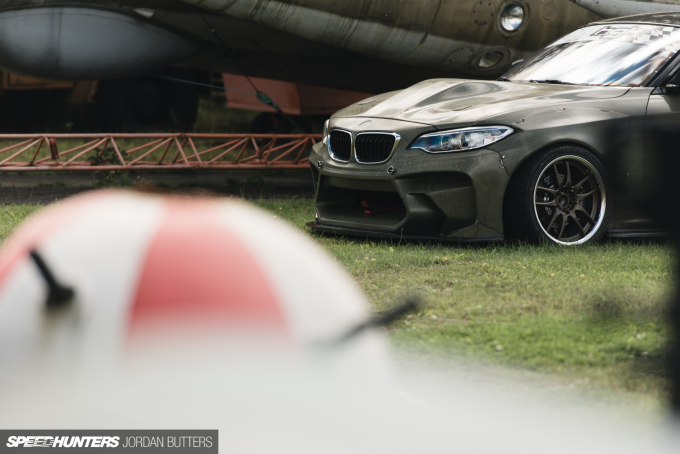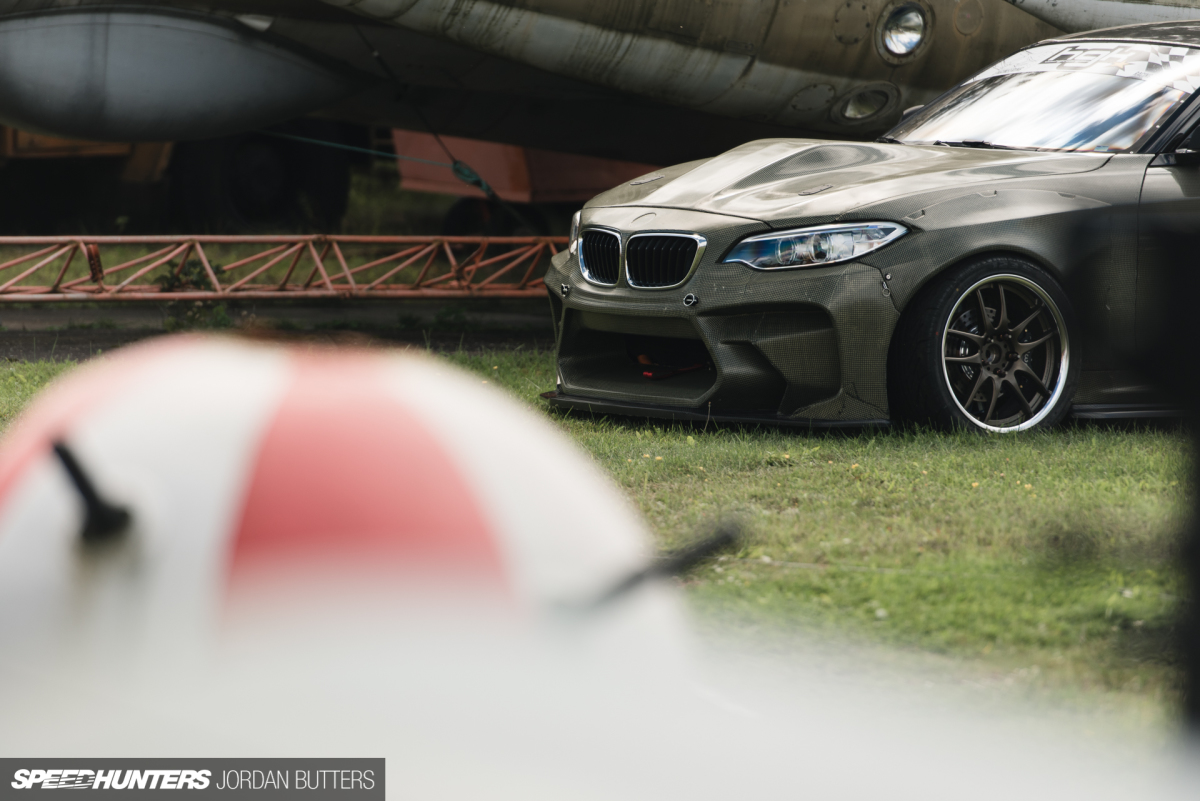 As mentioned earlier, HGK didn't want parts of the motor haphazardly protruding into the exterior, so a custom bonnet was made to accommodate that monster intake.
Forget zip-ties, the exterior panels are held on by heavy-duty sprung fasteners and pins, ensuring that the posh Kevlar bodywork isn't unsettled by smaller knocks and bumps. These details are the result of HGK's 10 years of experience in building drift cars. You'll notice just how thin the bodywork is too – it's positively transparent!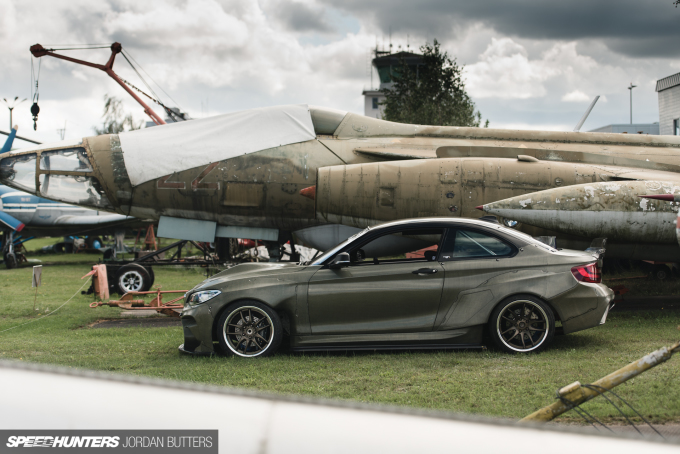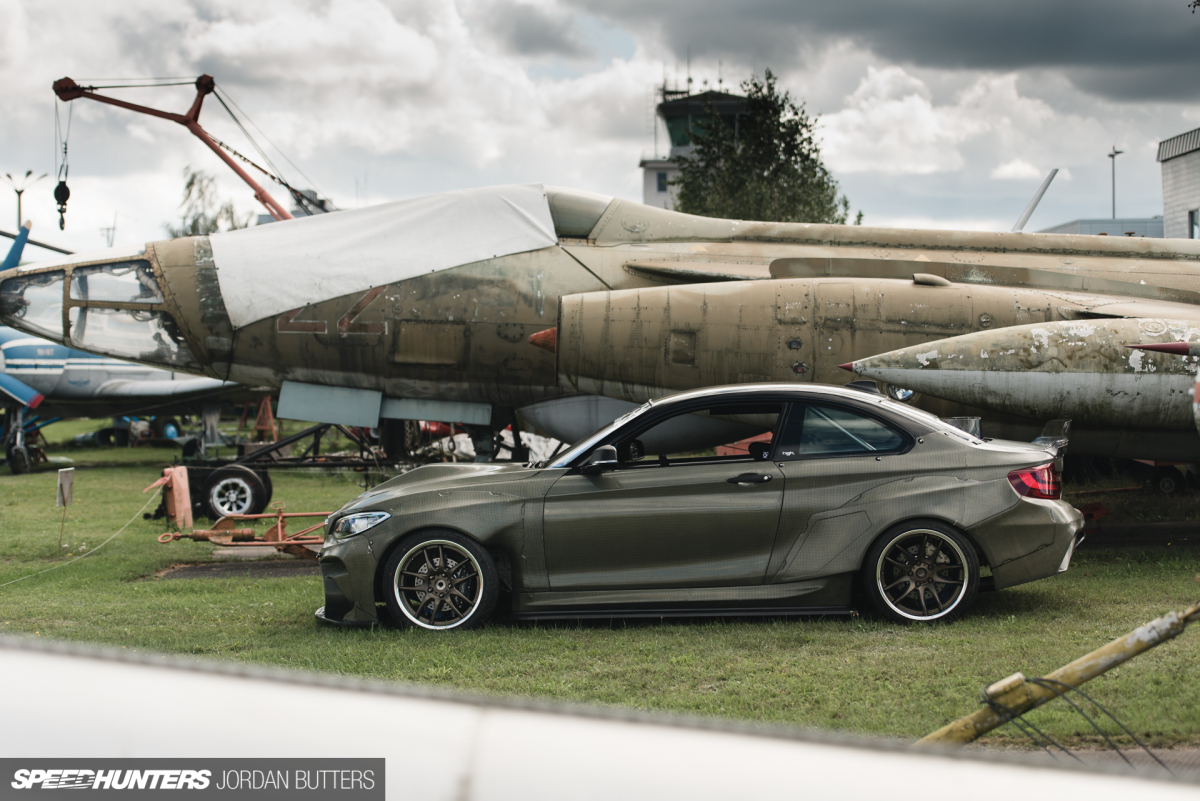 All of this lovely carbon, Kevlar and weight saving means one thing – the F22 is seriously light for a chassis of its stature. It tips the scales at just 1200kg (2645lb)!
Work Wheels provided the rolling stock, the beautiful bronze CR-2Ps measuring 18×8.5-inch in the front and 18×10-inch in the rear, wrapped in 235 and 265 profile rubber, respectively.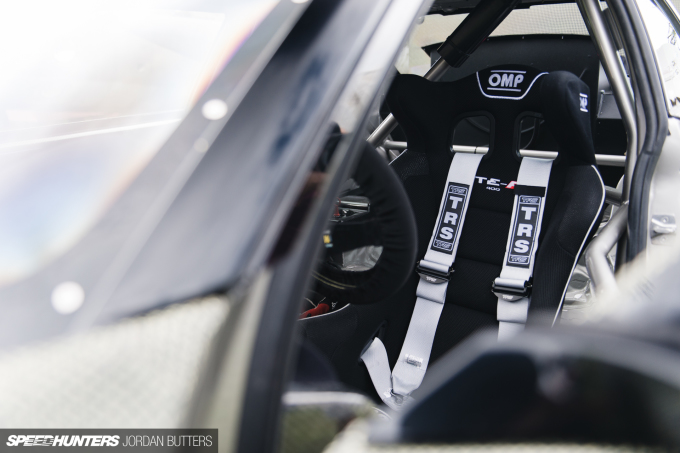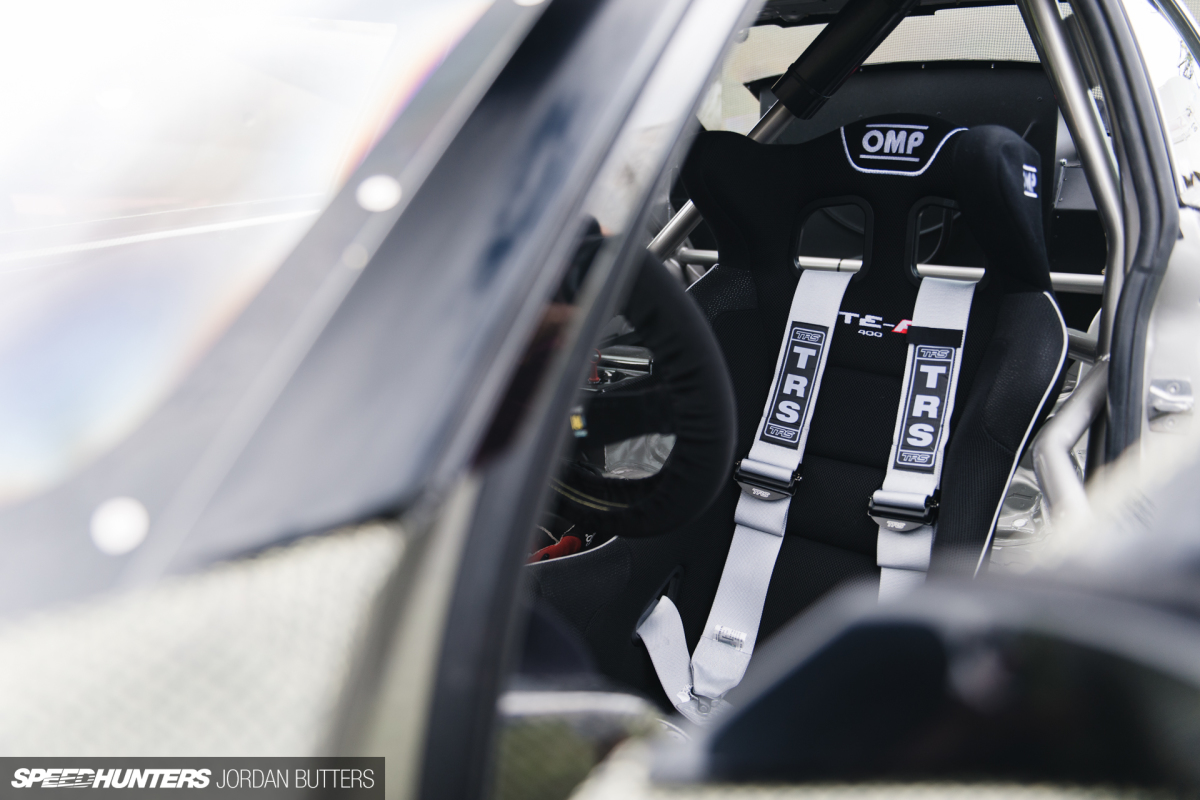 Inside the cabin, two OMP seats keep the squishy organic matter in place, strapped down by TRS 6-point harnesses.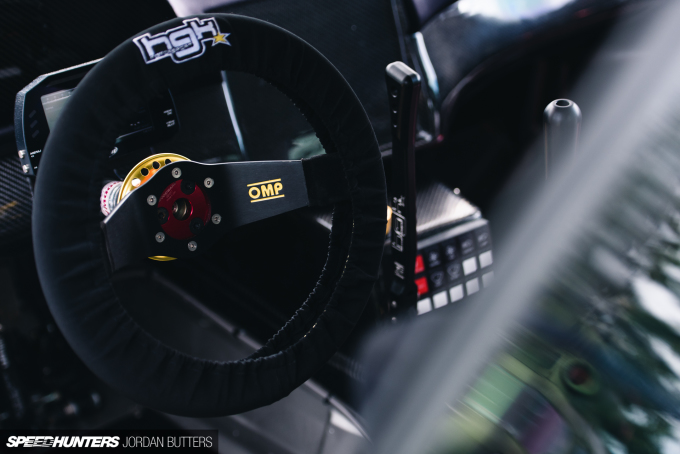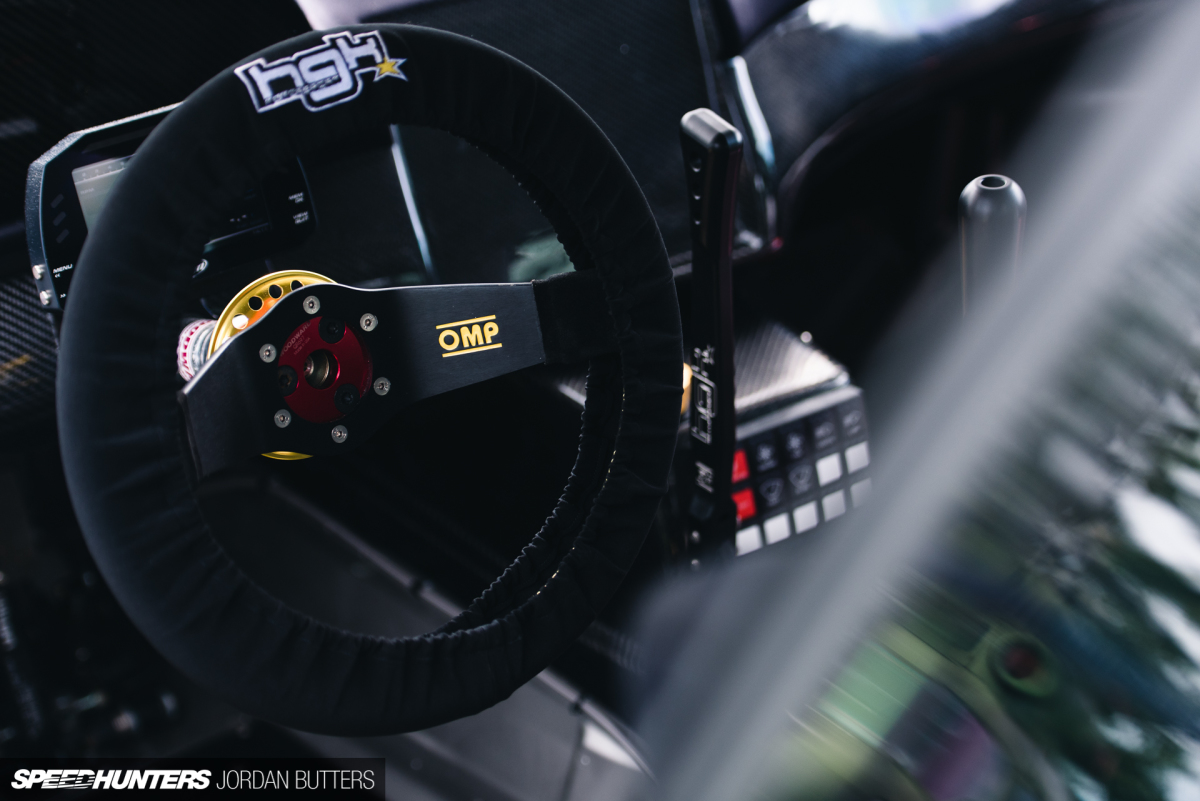 Strap into the driver's seat and an OMP wheel (and HGK wheel cover, naturally) occupy your primary vision. Peer through and you're greeted by an AIM digital dash. Close to hand is a HGK hydraulic handbrake mated to an AP Racing cylinder, alongside the Samsonas sequential shifter. There's lashings of carbon on display too. Whilst half of the carbon dash is flocked for its anti-glare properties, the rest of the weave is exposed for all to admire. A control panel offers access to the vital buttons.
Unlike most race cars, the driving position is completely adjustable. The floor-mounted Tilton pedal assembly can be repositioned, as can the custom steering column thanks to a HGK CNC adjustable mount. If you're a race car and/or engineering geek, this sort of stuff should be incredibly pleasing.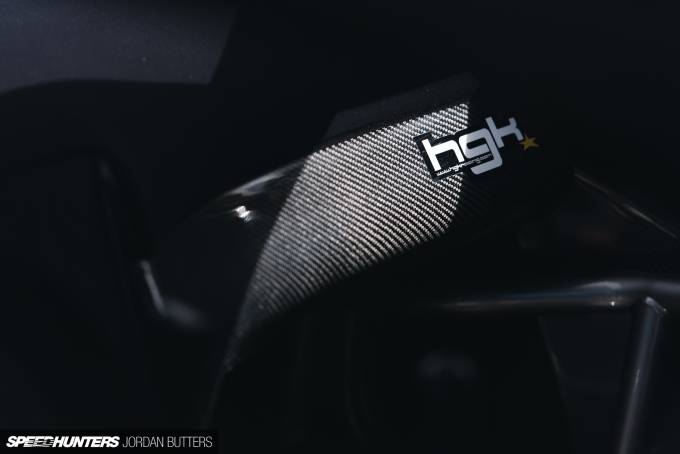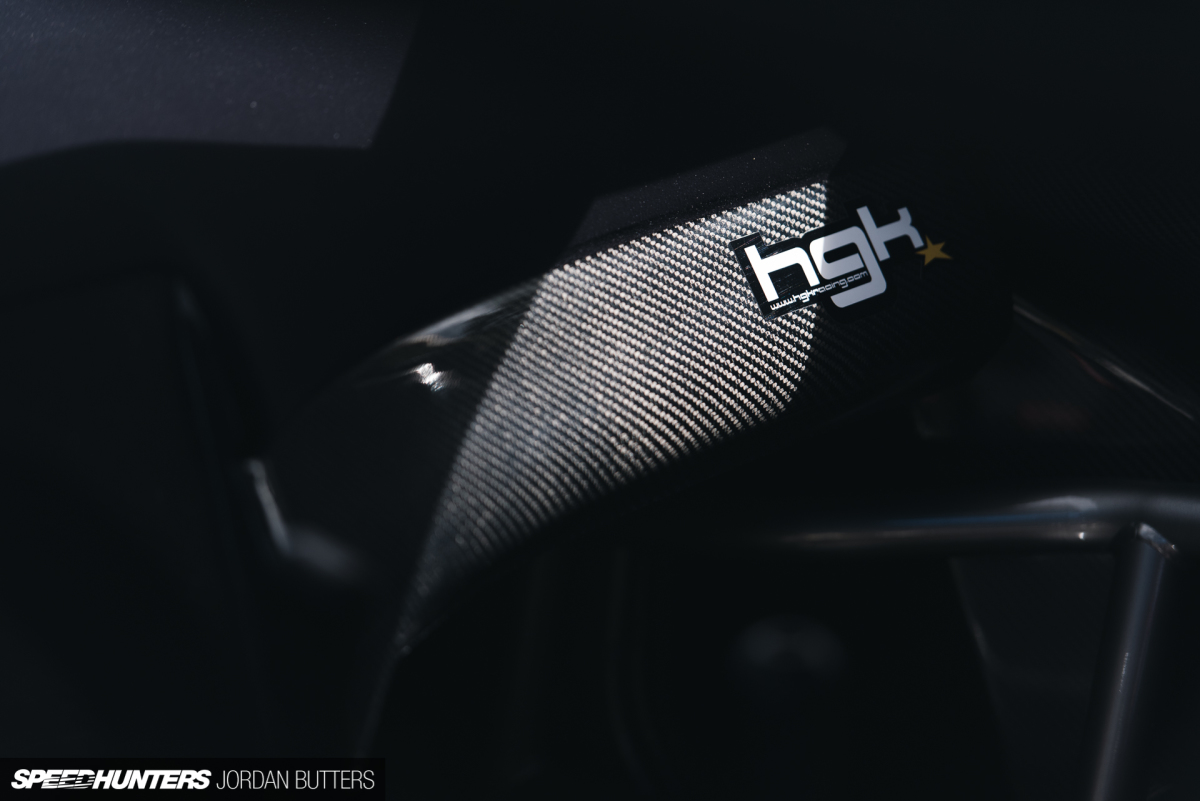 There are many nice finishing touches too, such as the carbon floor plate on both driver and passenger sides. My experience of drift cars is that they're usually pretty uncomfortable and unpleasant places to spend any amount of time. I make an exception here.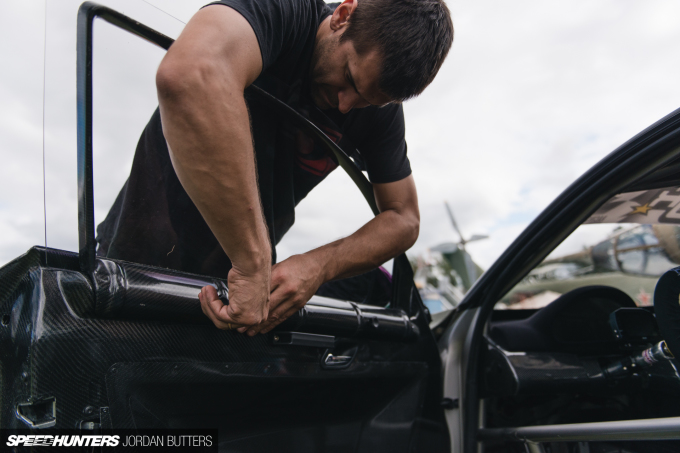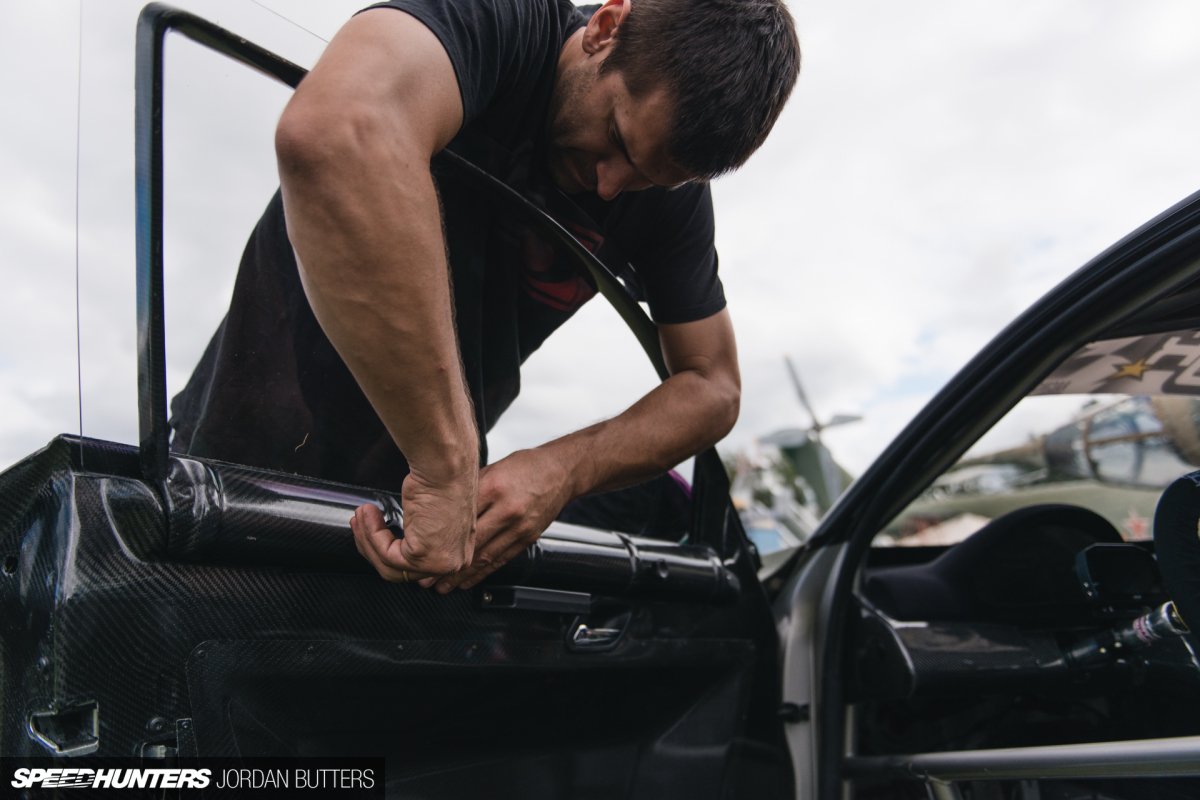 The lightweight window system that HGK has engineered is very clever and effective too; both windows and their carbon frames can be removed completely in seconds with two small grub screws. Every little detail has been considered and Kristaps, Harijs and Valdis are visibly proud of what they've achieved.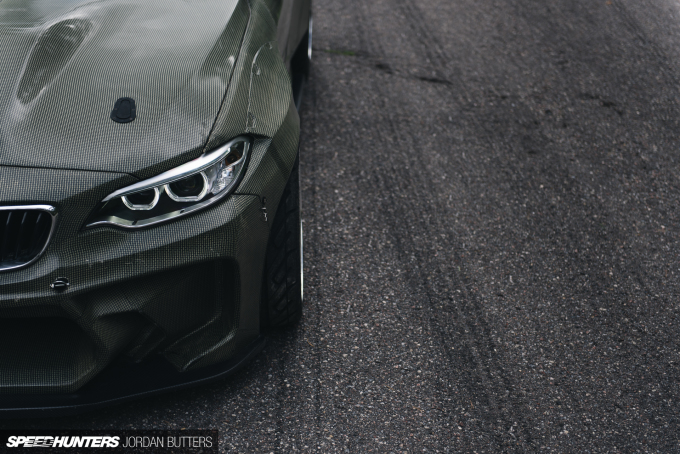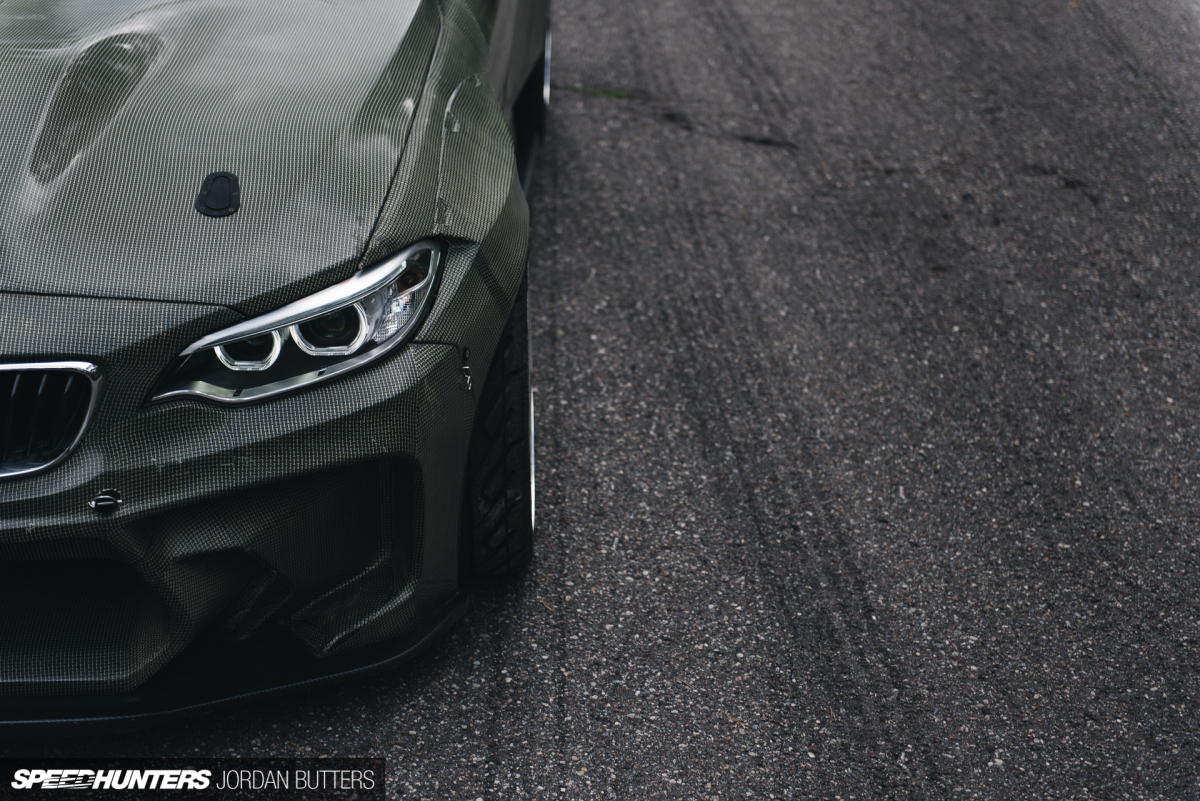 With my return flight on my mind we bundled into the van and made our way to the track to shoot some quick action shots of the car.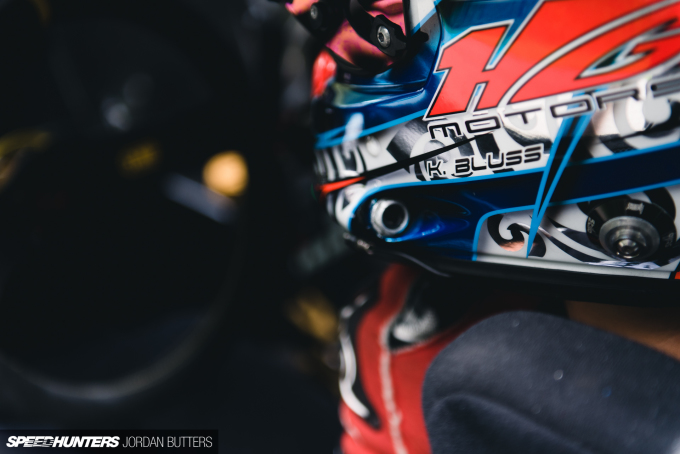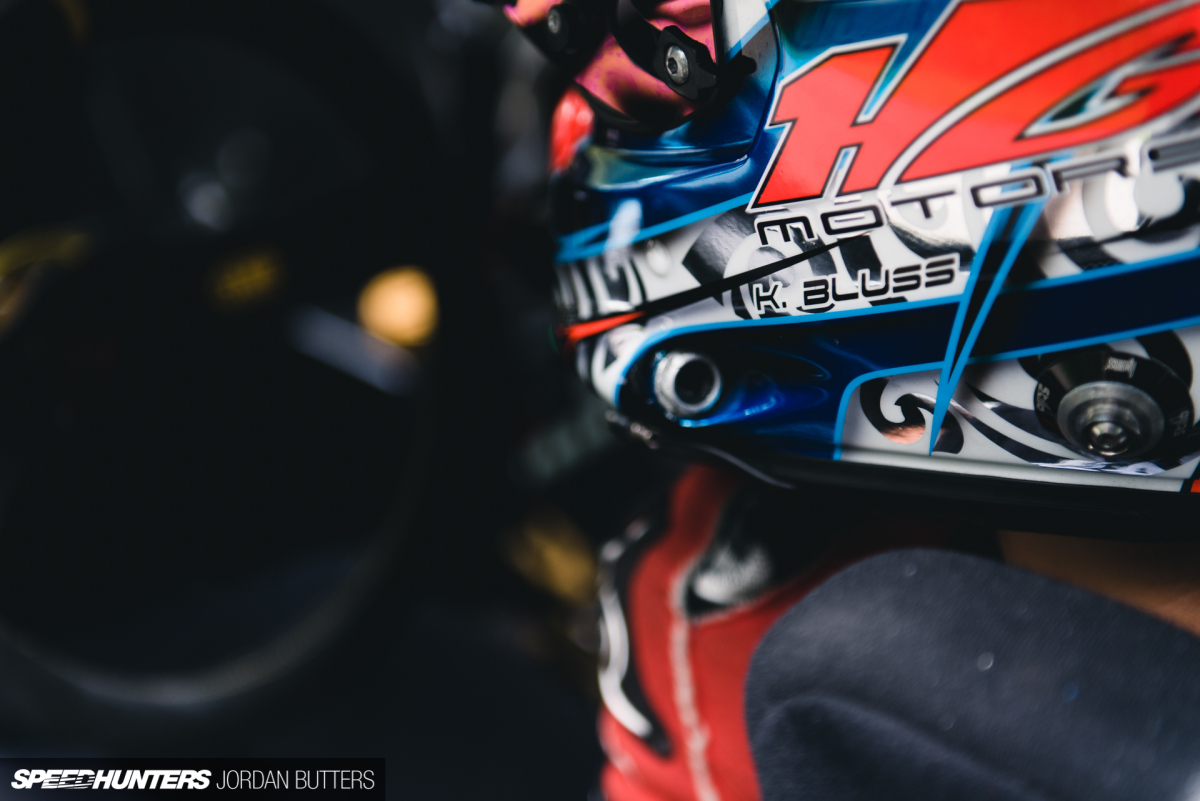 Naturally, as part of the service, who better to test out HGK's new builds than Kristaps himself. With the workshop situated in the grounds of the brilliant Bikernieki Circuit in Riga, HGK has the ideal playground right on its doorstep.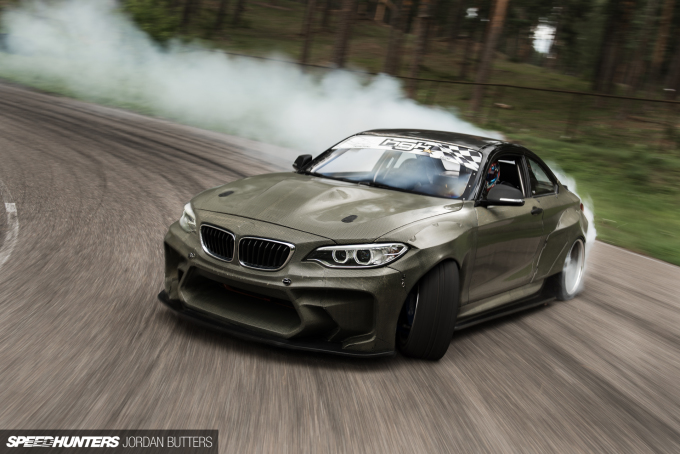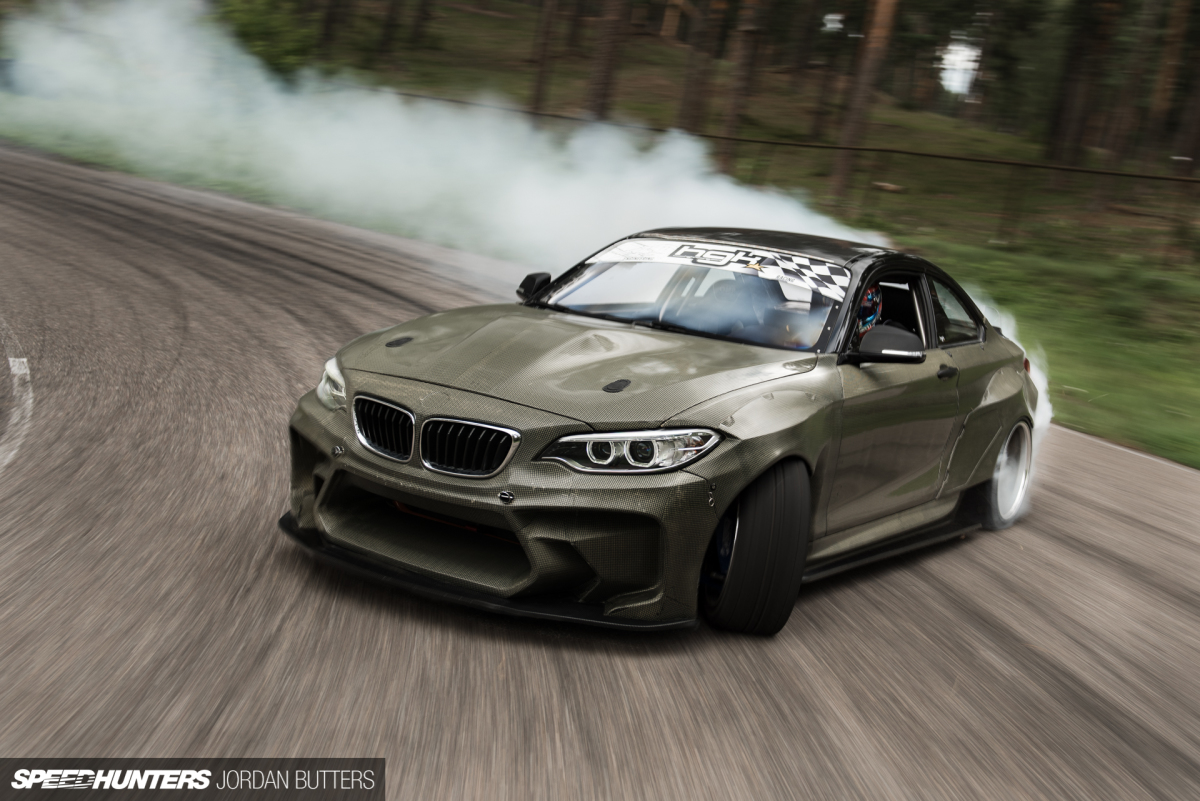 The F22 looked to move effortlessly under each blip of the throttle, changing direction quickly, but in a controlled manner.
Kristaps was beaming from ear to ear.
I guess it feels very familiar to him, with much of the build being based on the success of his Formula Drift car, CrocoFD. Even so, he seemed very impressed. HGK is confident that MK Racing will be over the moon with the results.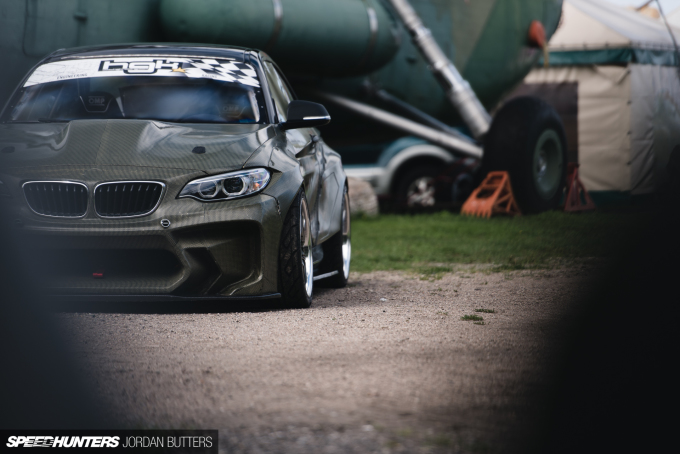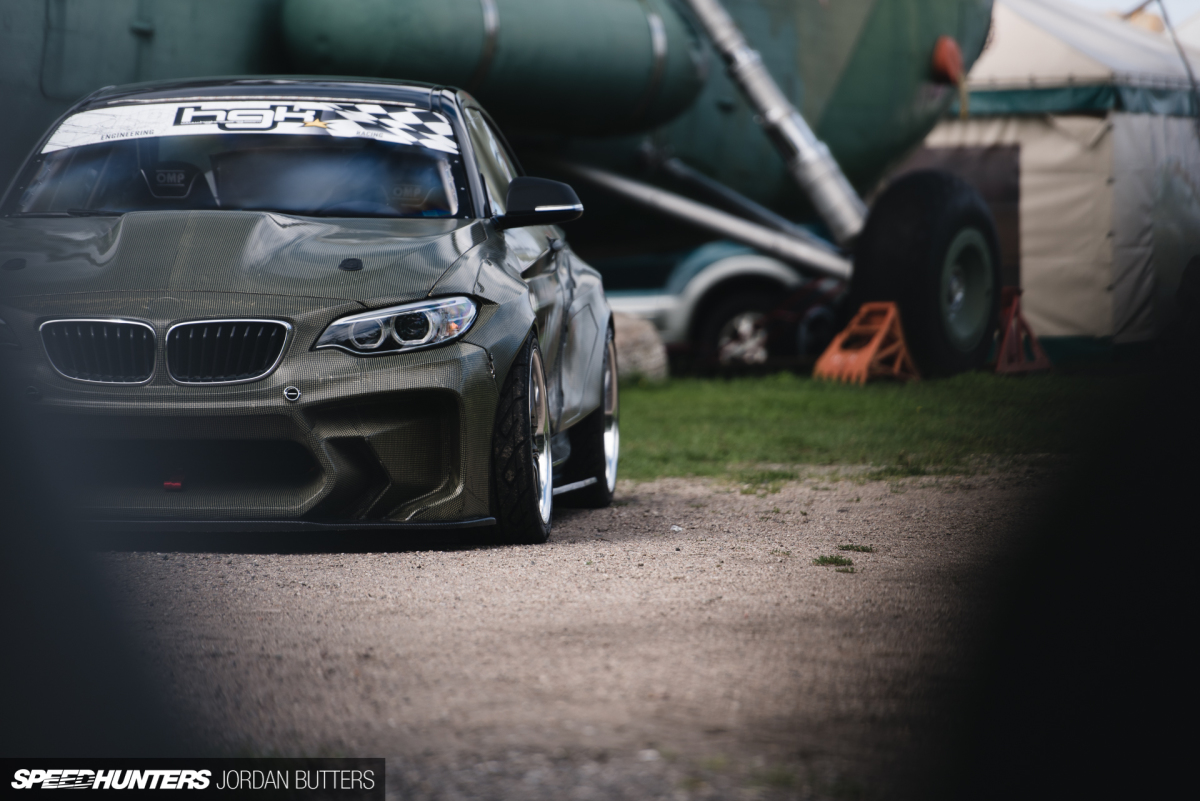 With F22 now safely despatched to Qatar, HGK has its eyes set on repeating the achievements of this build and pushing the envelope even further. The guys are working on an E92 'Eurofighter' as Kristap's next Formula D machine.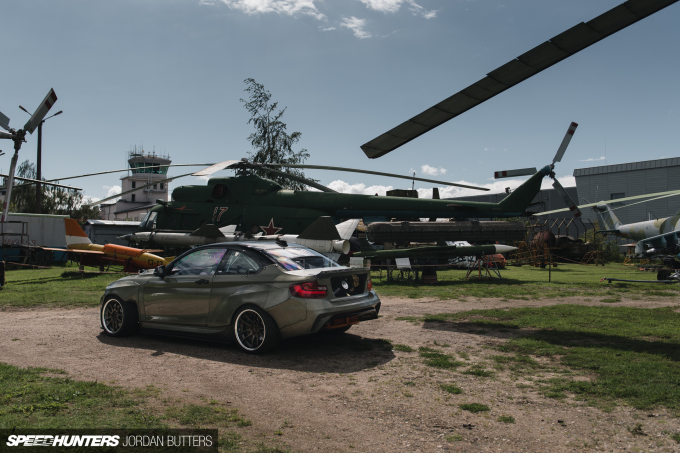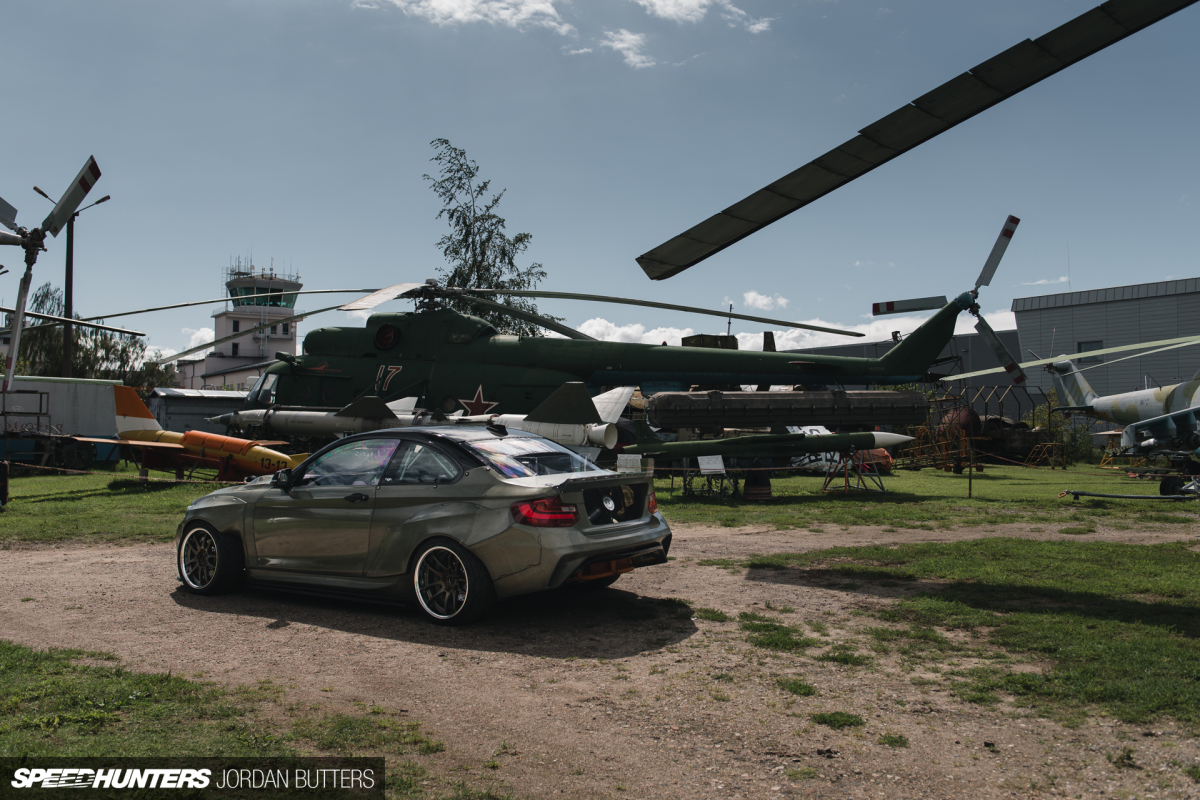 Looking at their humble workshop in Latvia, it's crazy to think of the level of quality that the guys at HGK are capable of.
Even if you're a die-hard anti-drift antagonist you should be able to appreciate this level of attention to detail and finish. Take a moment to enjoy this short video by talented Latvian filmmakers Robyworks.
It almost seems too good to drift?
Jordan Butters
Instagram: driftagram / jordanbutters
Jordan Butters Photography
HGK Motorsport BMW F22 2 Series Eurofighter
Numbers:
Max Power: 820hp, Max Torque: 920Nm, Rev Limit: 8000rpm, Weight: 1200kg/2645lb
Chassis:
BMW F22 (2 Series coupe), Formula Drift-spec cage, fully stitch-welded chassis, custom front/rear crash bars
Engine:
Mast Motorsports V8 RHS466, 4.155-inch bore, 4.250-inch stroke, 11.6:1 compression ratio, Callies Magnum crankshaft, Billet 6.460-inch rods, HGK-spec Diamond pistons with Total Seal AP steel rings, H13 Tool steel wrist pins, Low Lash solid roller .757-inch lift, Crower solid roller lifters, PSI Max Life valve springs, Xceldyne titanium intake valves, valve spring retainers & valve locks, billet dual roller timing chain, Jesel rocker arms, 305cc LS7 heads, Dailey dry sump with air separator, 48mm 4-to-1 stainless headers, 89mm titanium exhaust, rear-mounted twin-core dual-pass radiator, electric water pump & auxiliary water pump, racing steering & engine oil radiators, Merin FIA-approved 40L fuel cell with internal lift pump system, Aeromotive A1000 fuel pump, pre & post fuel filter & fuel regulator, lightweight aluminium fuel hard lines with aluminium fittings, MoTeC M130 ECU, MoTeC PDM30 distribution module, WR-Tec mil-spec wiring harness
Drivetrain:
Samsonas 5-speed sequential transmission, Winters quick-change differential, The Driveshaft Shop driveshaft & pro-level axles
Steering/Suspension:
Nitron 3-way adjustable front & rear coilovers, HGK CNC top mounts, front & rear Wisefab knuckles & arms
Brakes:FWilwood 6-piston calipers with 11.75×1.25-inch Wilwood rotors (front), Wilwood 4-piston calipers with 12.0×0.35-inch drilled Wilwood rotors (rear), HGK CNC machined aluminum center bells & adapters, HGK hydrolic e-brake w/AP Racing cylinder
Wheels:
Work Wheels CR2P 18×8.5-inch (front) 18×10-inch (rear), 235/40R18 (front) 265/35R18 (rear) tyres
Exterior:
Complete carbon/Kevlar HGK Eurofighter bodykit, carbon roof, carbon/Kevlar doors, custom removeable front windows, Plastics 4 Performance polycarbonate anti-fog front & rear windows
Interior:
OMP seats, TRS 6-point seat belts, OMP steering wheel, part-flocked carbon fibre dash, AIM 7-inch color display, floor-mounted Tilton adjustable pedal assembly, HGK CNC adjustable steering column
More BMW related stories on Speedhunters
Cutting Room Floor