Behind The Build
I don't know what is more interesting at times when I'm featuring a car – the car itself or the story behind it.
More often than not, the actual path to a project opens up a whole new appreciation for the car you are looking at, and that is very much the case with one of the more unusual creations I've ever shot in Japan – and possibly the smallest…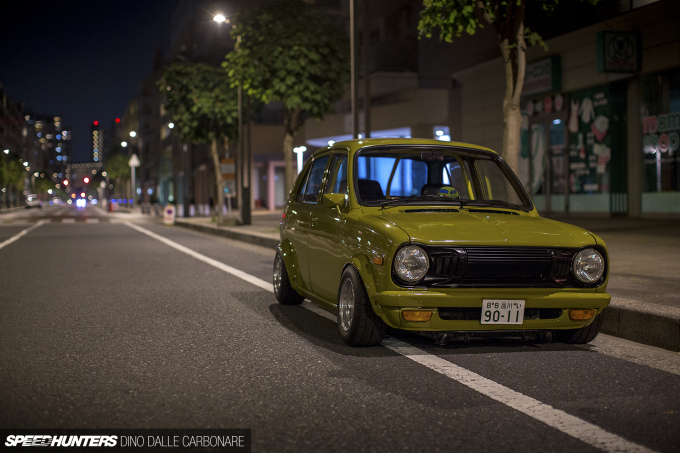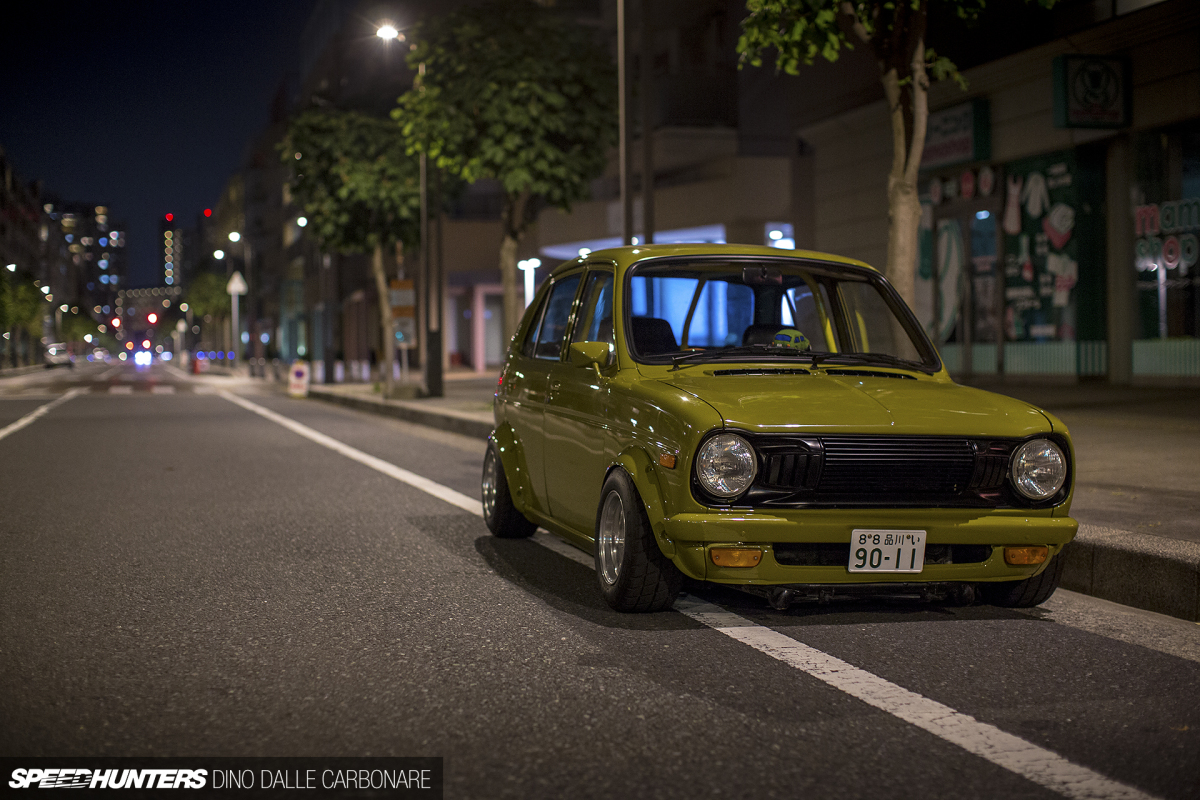 Park Baker from the shakotan-oriented blog High Top Fade is a guy that likes to do his research. Every since arriving in Japan, he has taken the proverbial dive deep into the unique sub-culture that combines popular styles like kaido racer, kyusha, and the more general shakotan term used to describe any vehicle that's been slammed. Originally, Park's interest was centered around American lowriders, so the quest to find the Japanese take on that same sort of style was an obvious progression.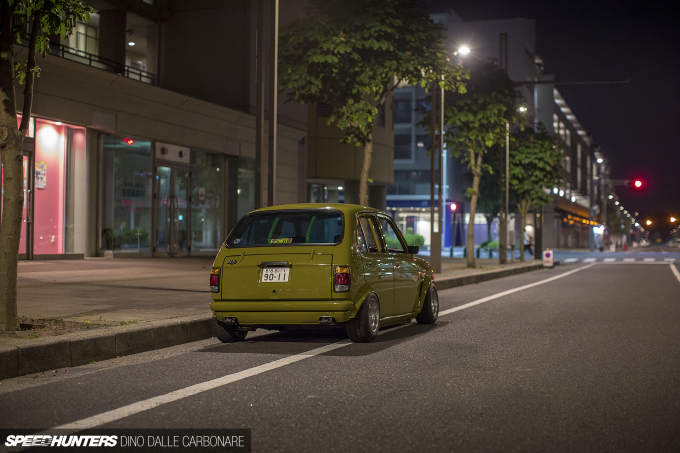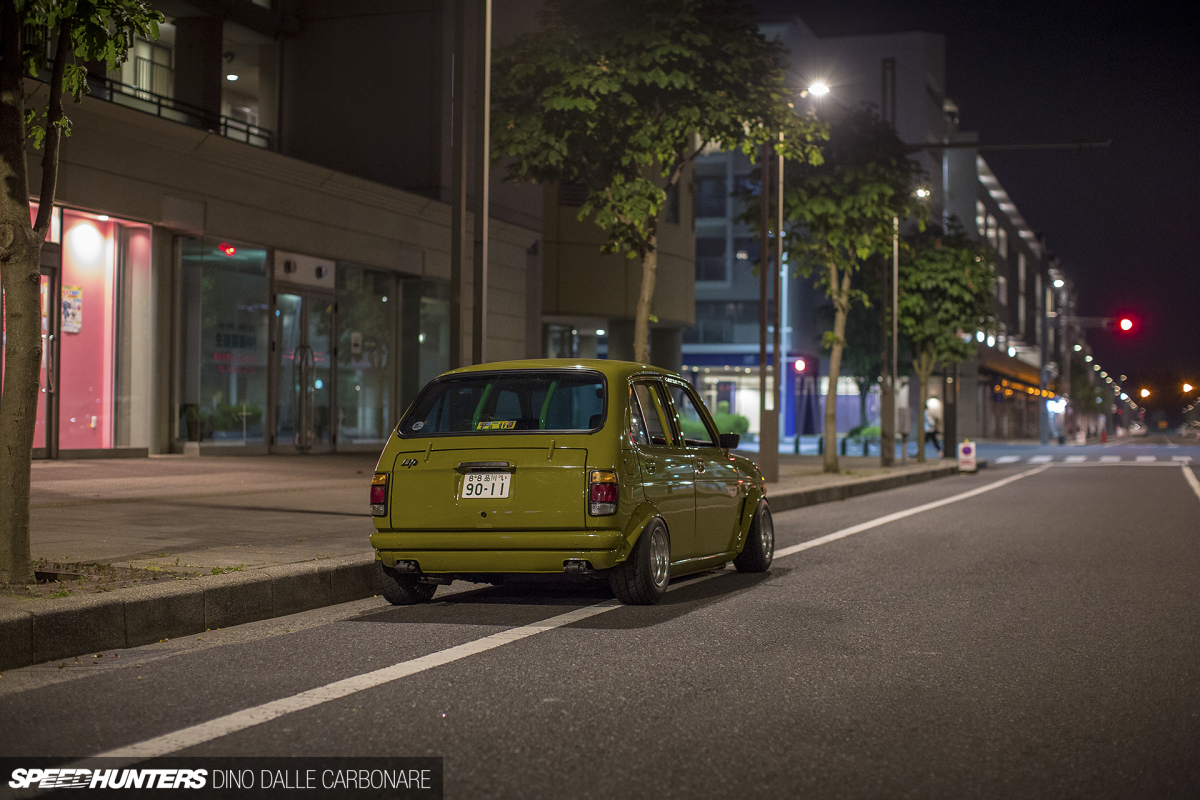 Park has been following the Japanese scene for years, and has become quite a well known gaijin who covers the smaller club gatherings and hunts out some really unique cars. The urge to begin a project was always strong, but Park didn't want to make a move until he was clued up enough to take on a build of his own. He wanted something that would fit in, yet at the same time stand out. Looking through early '80s issues of Car Road magazine, Park stumbled upon a group of guys in central Japan that were modifying little city cars. They were slamming them and swapping out parts like grilles and taillights to make them look like other cars. This 'boy racer' style was something that struck a chord with Park, and he researched it further, eventually discovering a page on Minkara dedicated to one guy and his crazy kei car collection from the old days.

Ultimately, this is what led Park to select a 1973 SA360 Honda Life as the base for his project. The little city car manages to pack a lot into its almost comically-small dimensions; it's got four doors, space for four adults, and reasonable trunk space. But most all, Park new he could turn it into something special.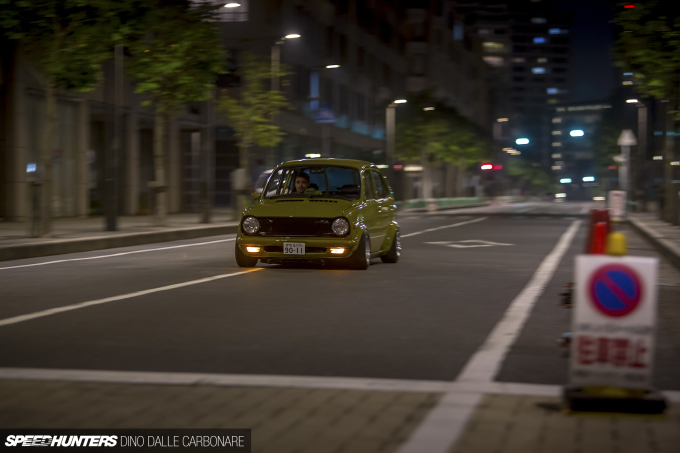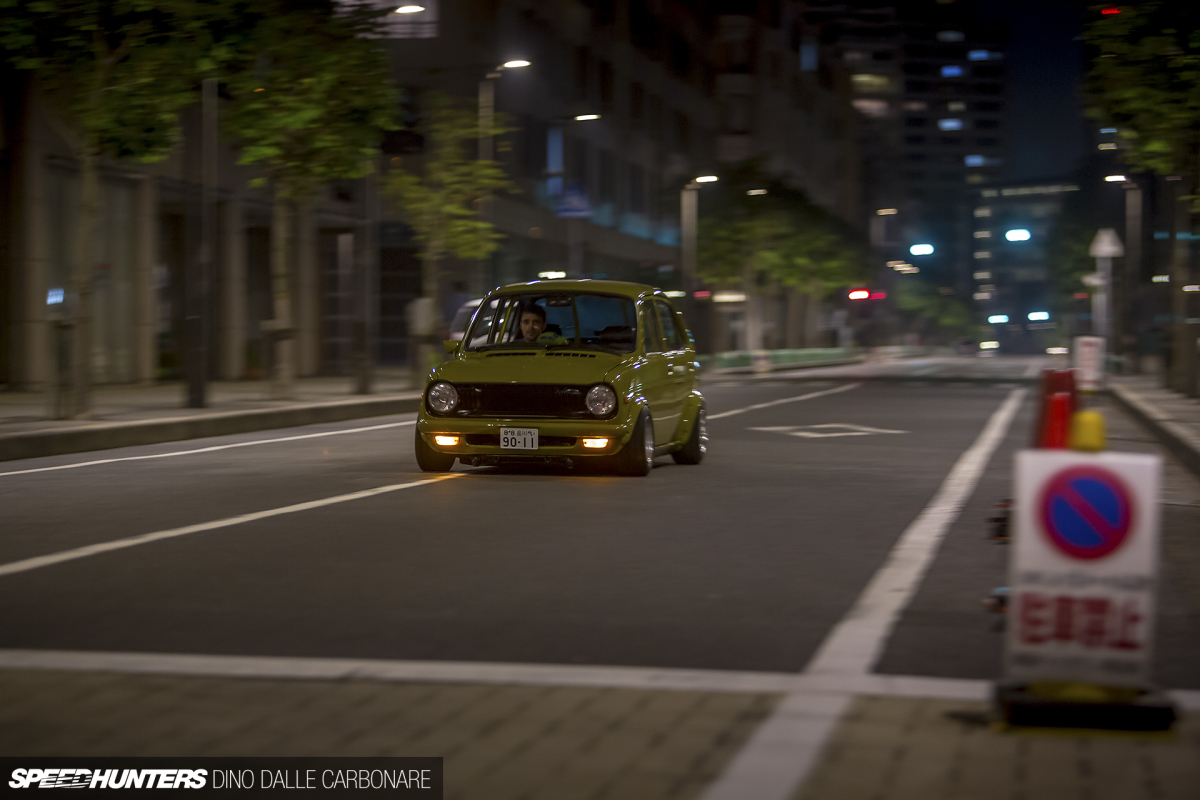 There were the added bonuses that come with this model too; kei cars in Japan don't require proof of parking to register, the shaken is cheaper, the yearly road tax is on par with a big capacity bike – so a fraction of what a normal sized car would be charged, and of course they're cheap to run. With so many boxes ticked, it was just a matter of tracking a decent car.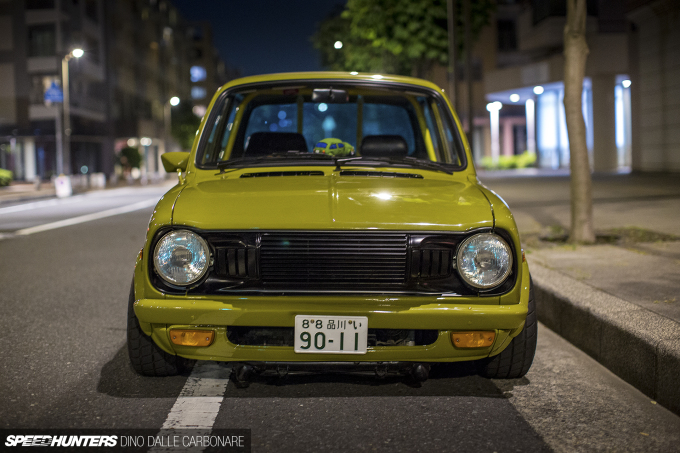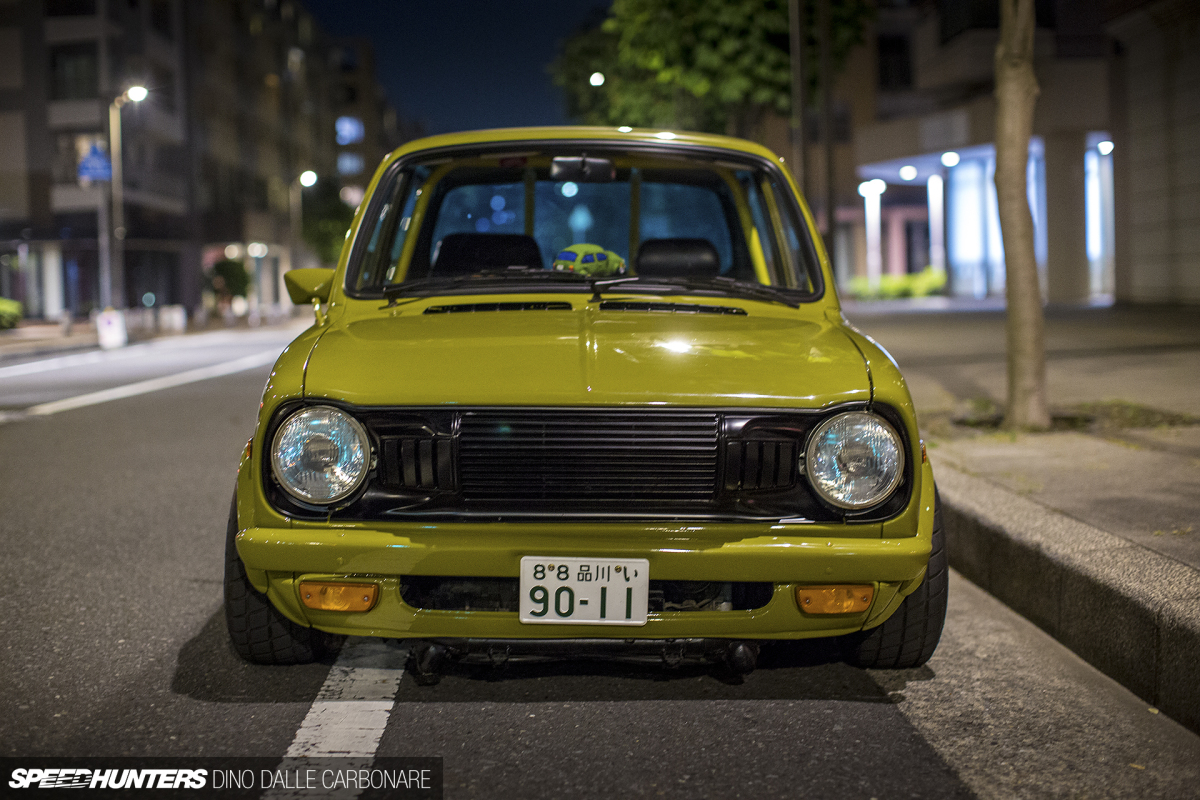 The customisation began almost immediately once Park had secured a good base car and was able to store it at his friend's bodyshop. This would be a great help in the year that followed as he put the car together, allowing him to work on it when time allowed.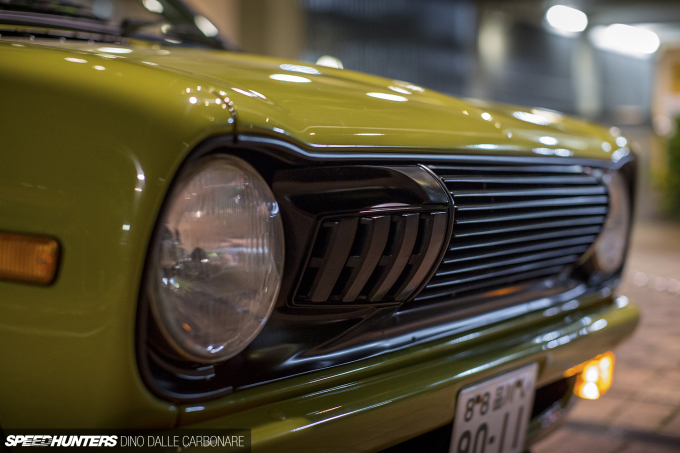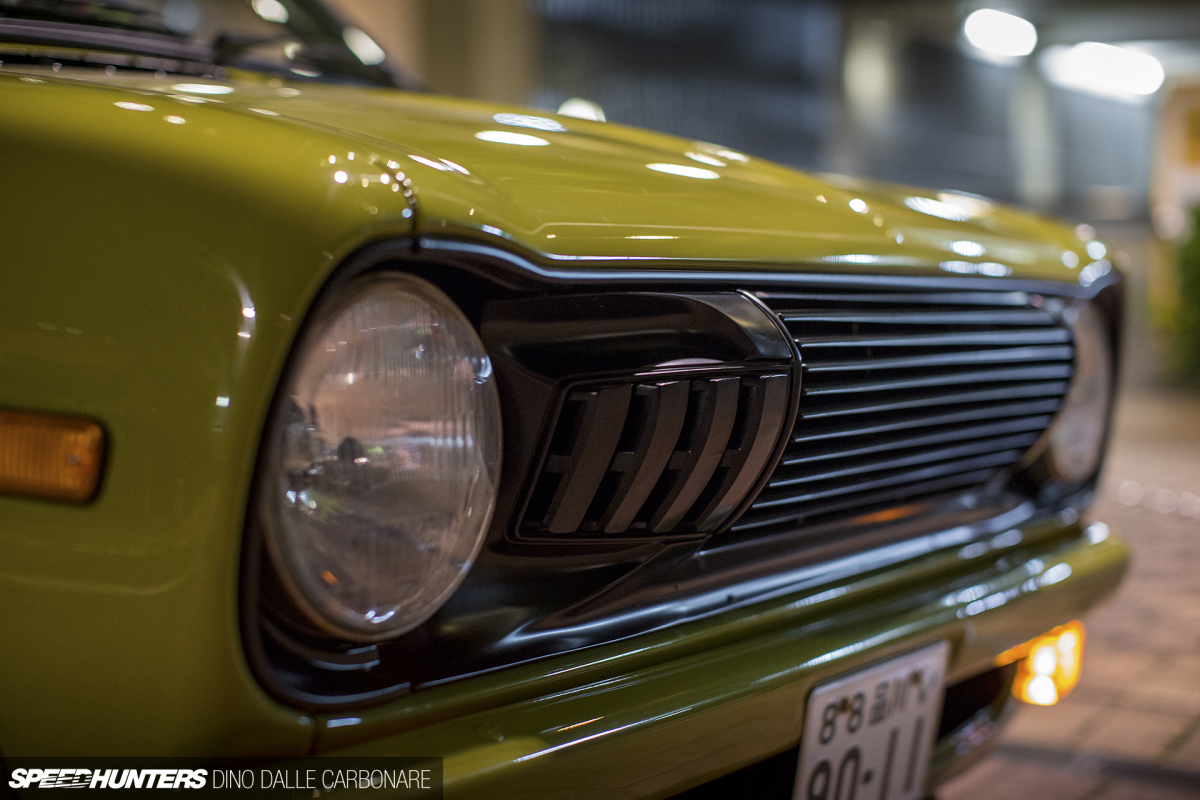 Subtle, and at times not-so-subtle changes are what guys love to do in this scene, be it swapping parts like head and tail lights, or more complex details to confuse onlookers. Park wanted a really unique look, and one of the first things he did was adapt and fit the front grille from a B210 Sunny. To do so was actually far more complex than what the image above would have you think though; it took lots of cutting to shorten it and then to get it fitting perfectly into the front of a different car altogether.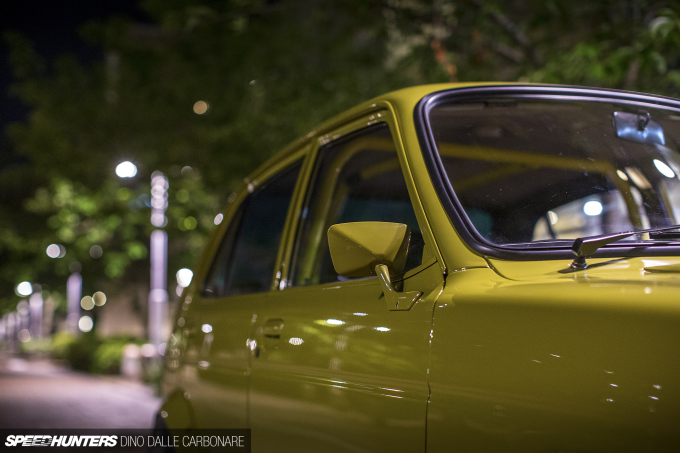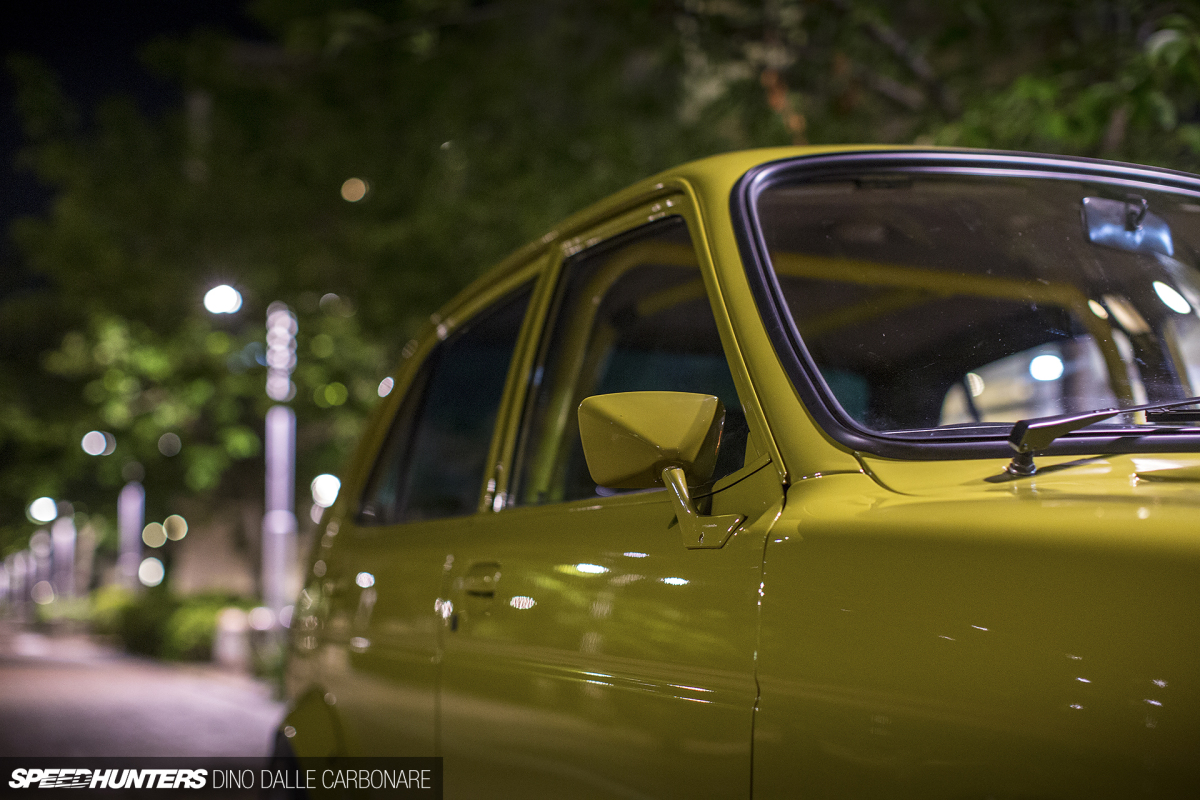 Other custom exterior touches include the smoothing off of the roof rack line, cutting small vents into the front fenders, custom modified Toyota TE27 overfenders, and finally respraying the car a shade of olive green which Park had a painter friend match up from a toy truck he happened to see on Instagram.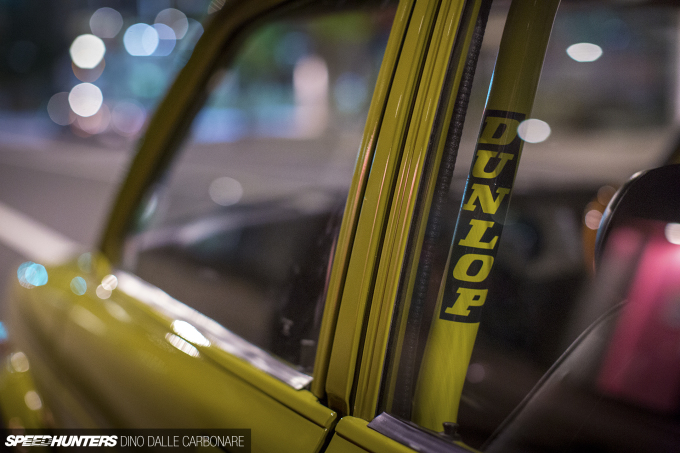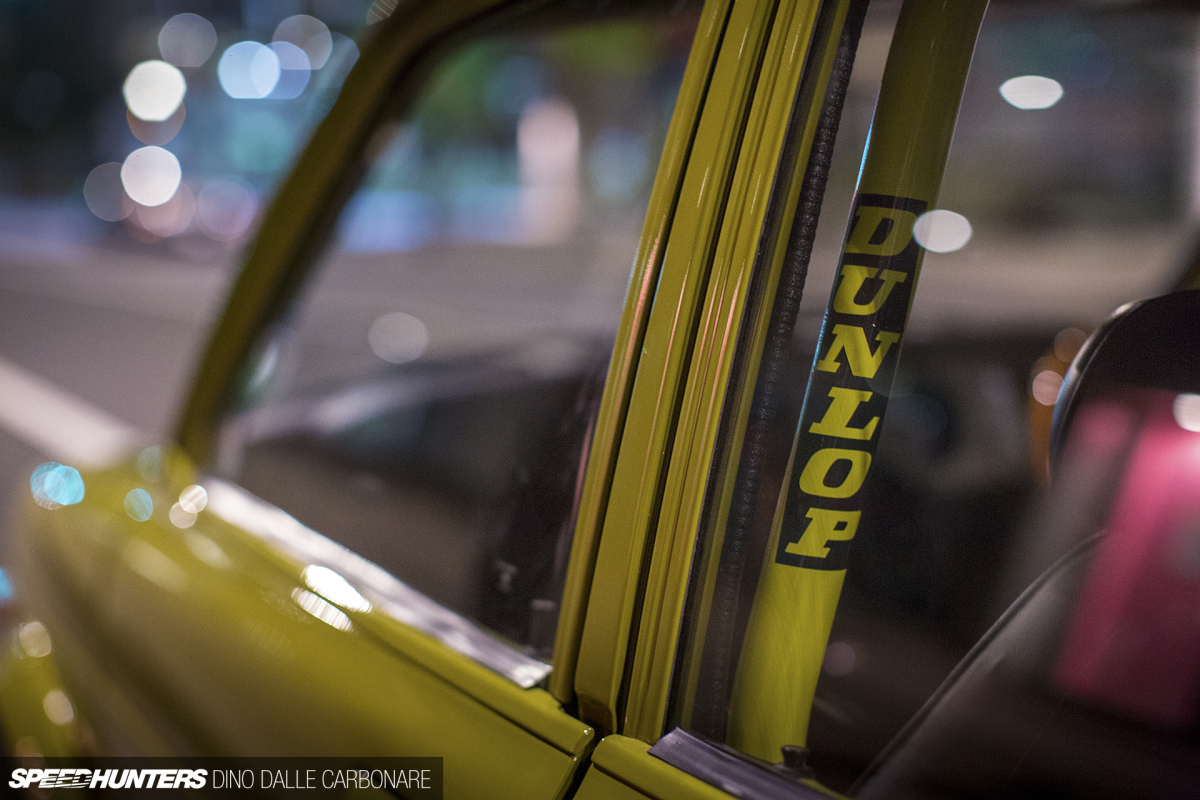 At this point, Park was well on his way to creating something special and very individual.
Setting Your Goals
Park's 40-plus-year-old Honda kei car is so different in fact, that he picked up the Yarujaneka (translation: 'wow, you were able to do it!' – yes, very Japanese!) award at the Skyline Meeting I covered back in May. That was the first time I actually saw the completed car, and I knew then and there that I needed to feature it.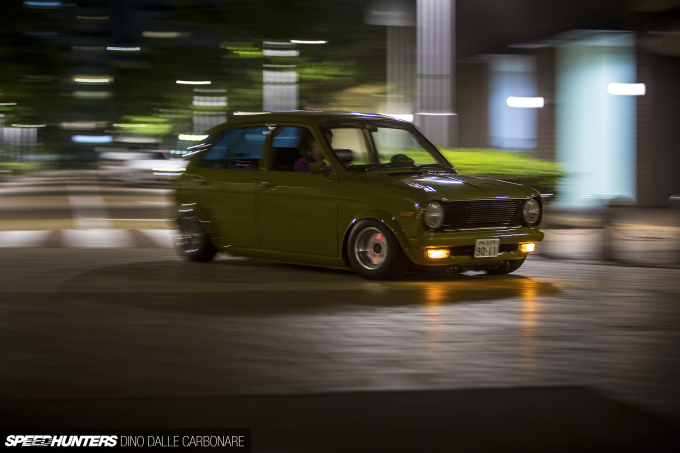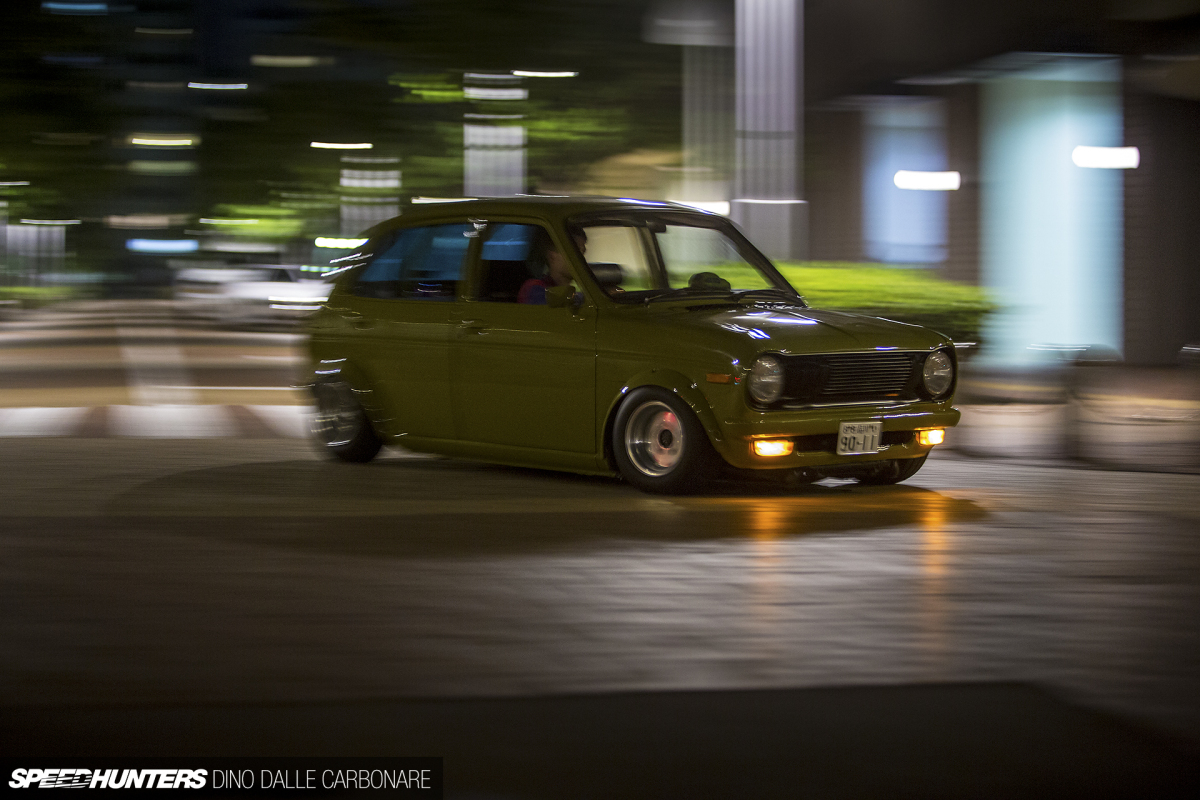 It was probably the following week that Park and I met late one night and headed to a deserted housing estate just outside Chiba city to take some snaps of the raucous little Life.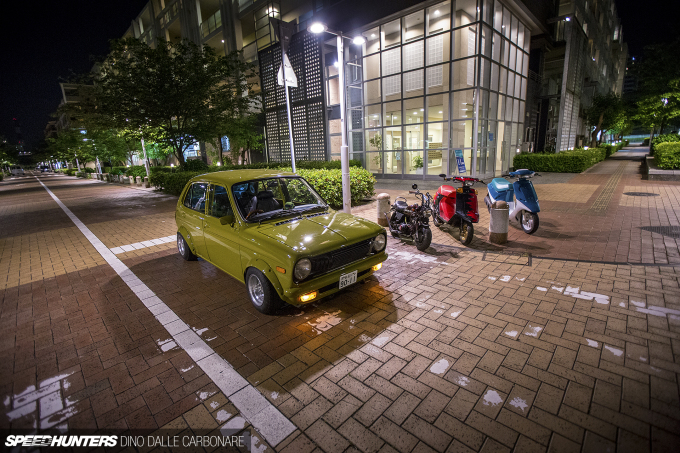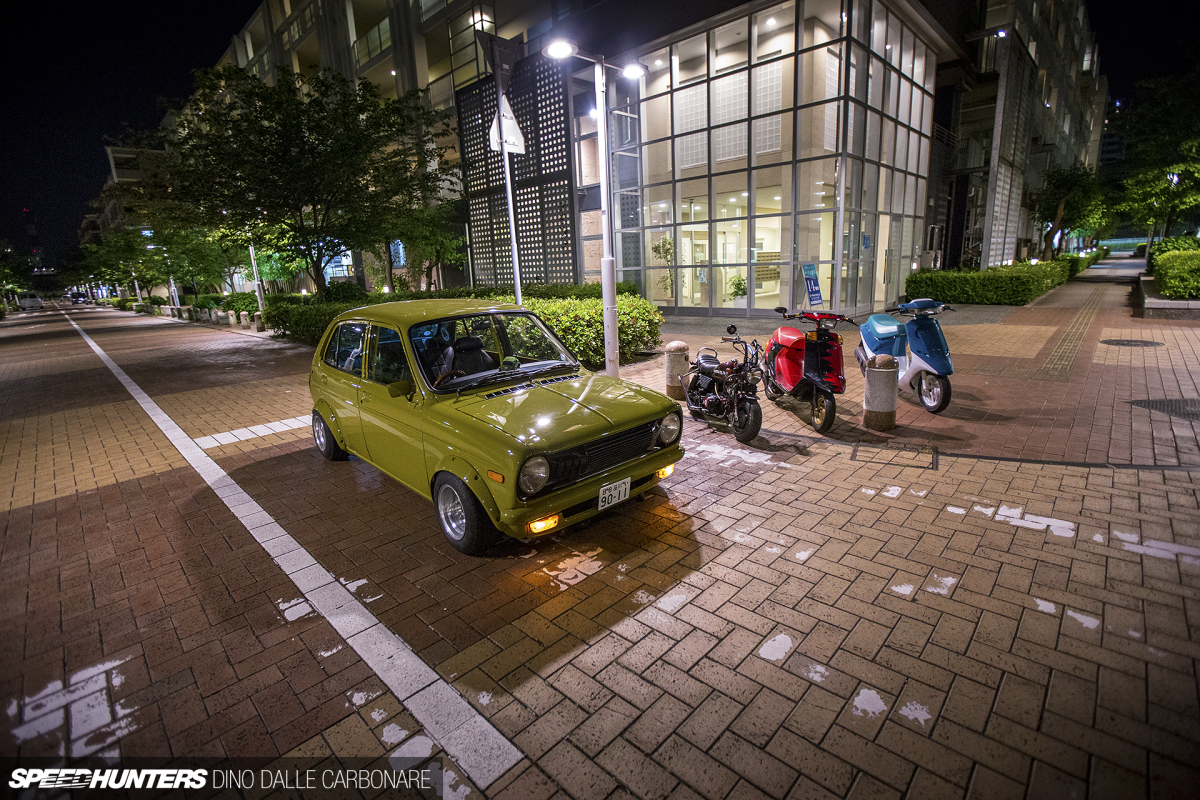 And when I say deserted, I really mean it; I think there must have been a curfew or something.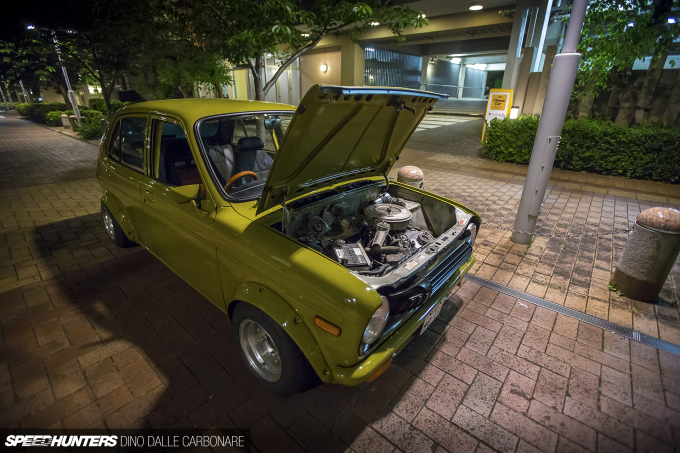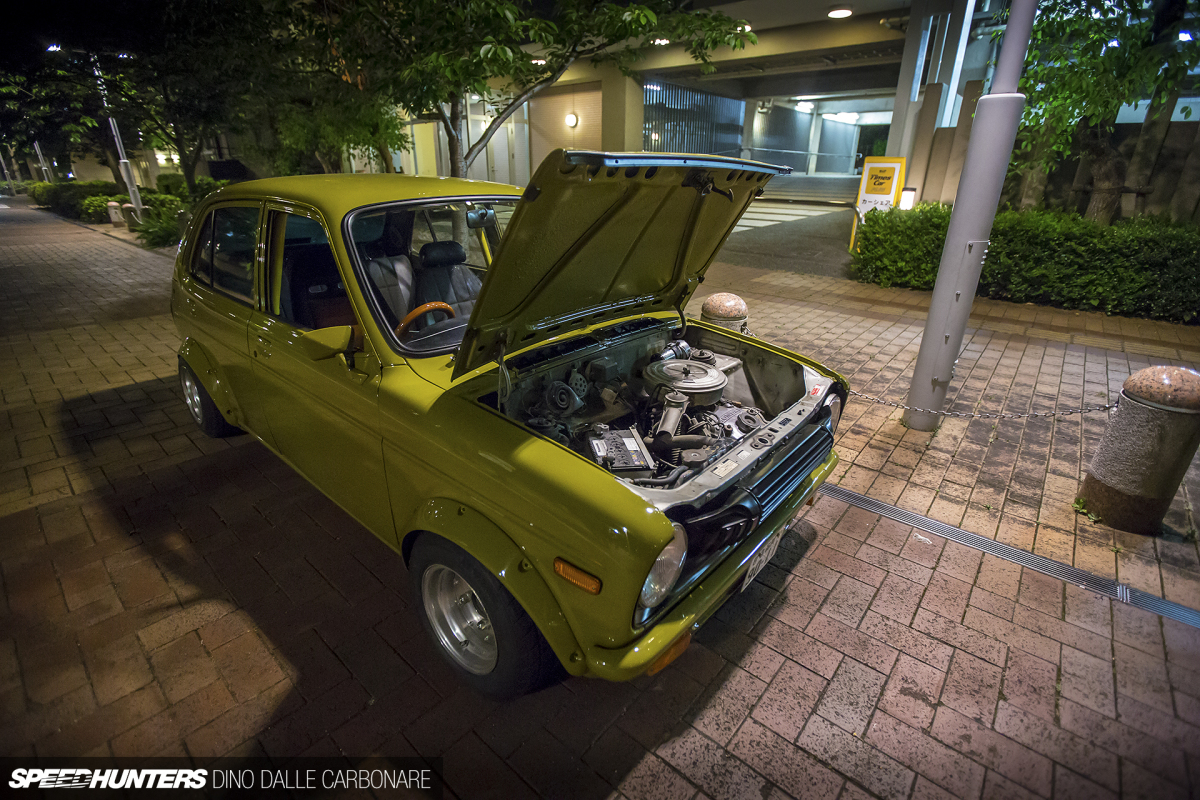 But that was all good with us, as we had all the time in the world to chat about the creation and take in all the details. The two-cylinder 356cc engine was something I wanted to see right off the bat.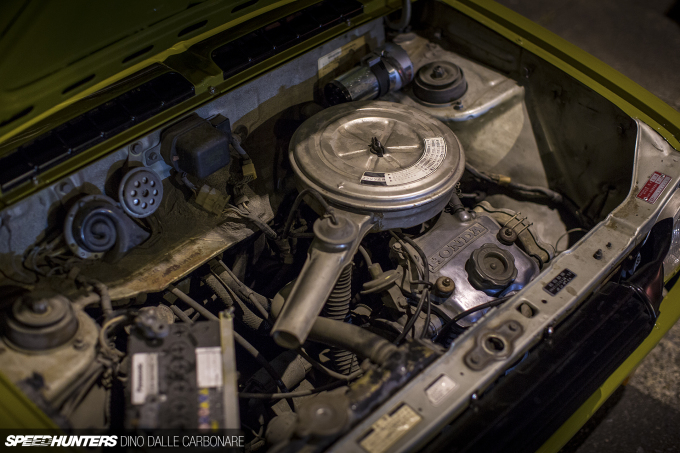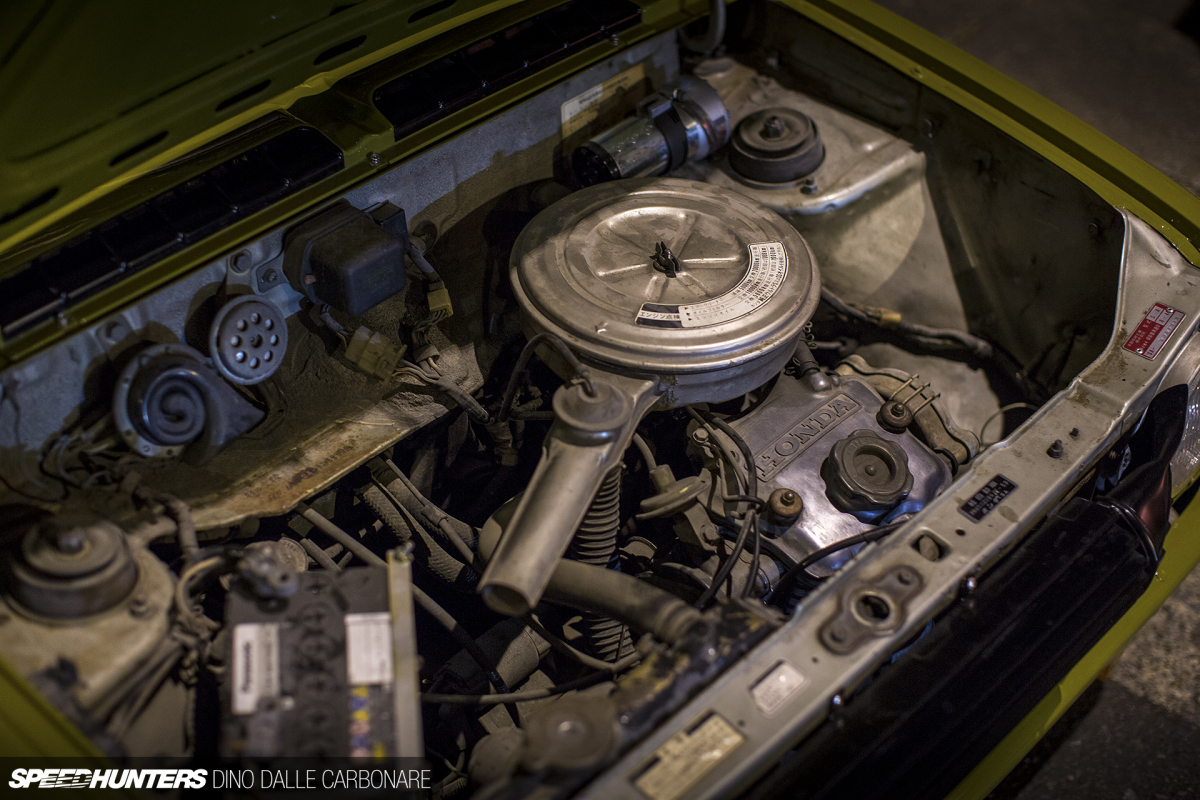 As you'd expect, it's pretty damn compact too. It's no surprise that this engine is derived from the larger unit that powered the Honda CB450 bike.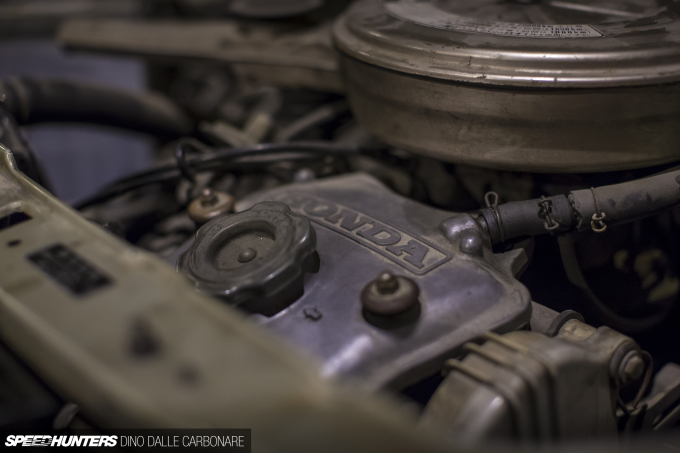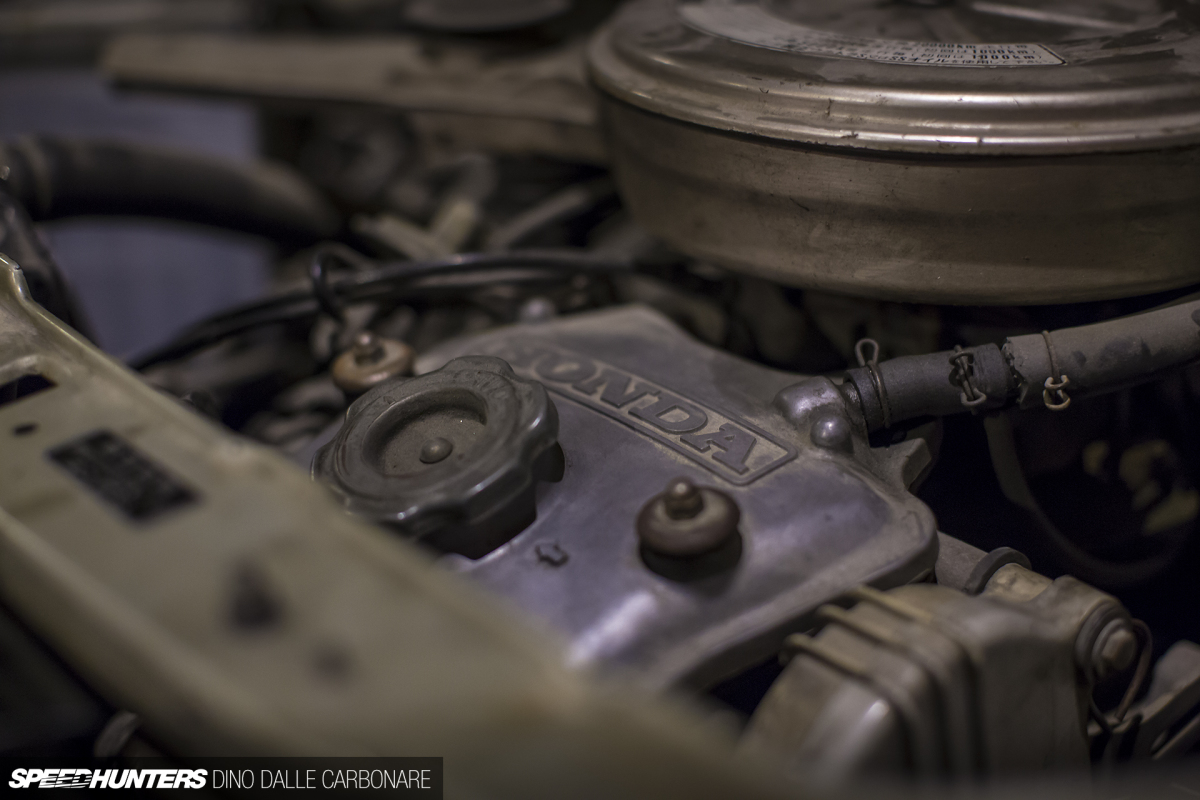 In its current stock state it should be developing around 30PS, and Park says it can rev past 8,500 rpm – it's a Honda engine after all. The only thing that's been added here is a custom and fully straight exhaust to give the car the sound it deserves, but Park has plans to swap the SOHC head and run a twin carb setup for a handful of extra ponies and a more lively feeling. Keep in mind that the car hits the scales at around 500kg, so what it lacks in power it makes up for in, well, a lack of weight!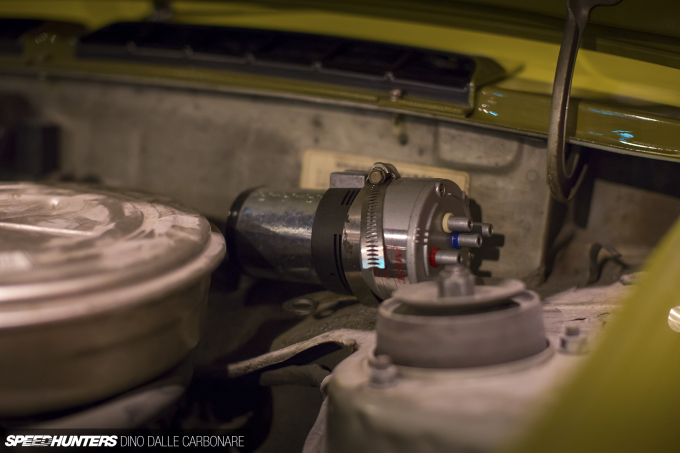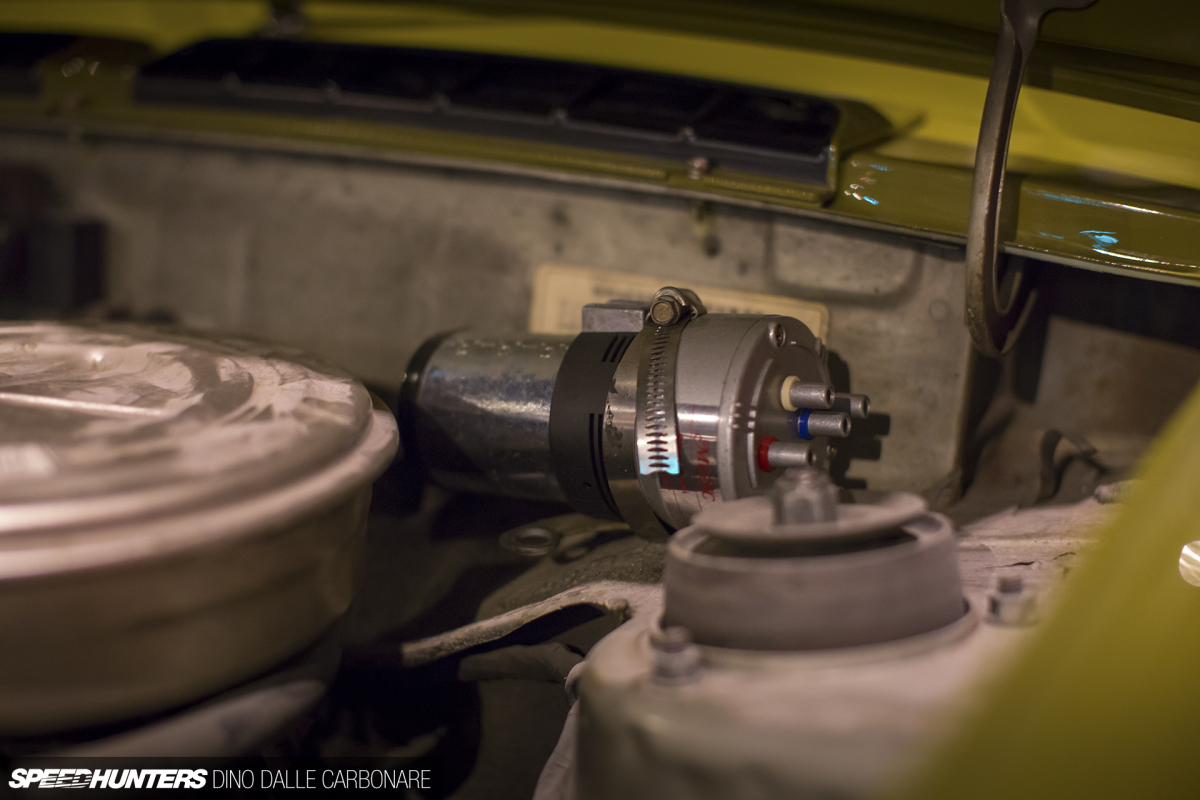 The air horns – an absolute must on any self-respecting shakotan ride in Japan – are also going to be plumbed up very soon.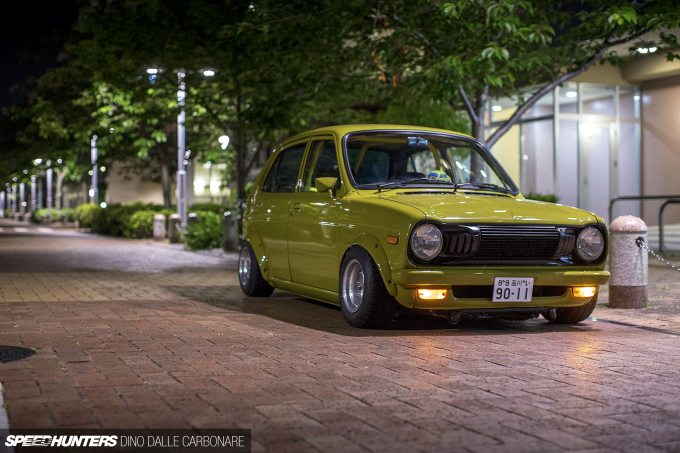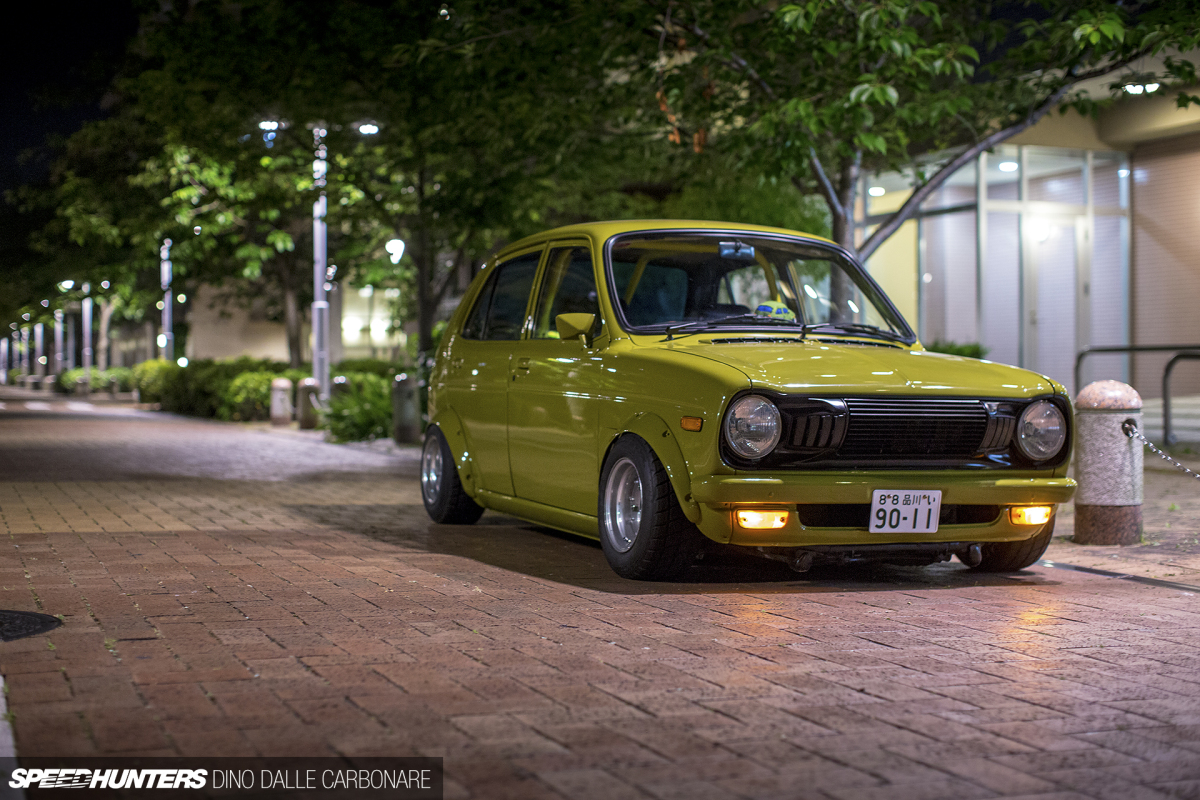 Suspension work was obviously a must, and to get things sitting just right Park ended up swapping the front suspension to a Honda Acty kei truck short strut and cut spring setup, while the rear leaf springs were flipped and combined with lowering blocks.
As with any build, wheel choice can make or break a car, but it's a detail that's even more critical to get right on a vintage shakotan machine, as it's all so style oriented. Park, however, already had some wheels that he knew would set the whole thing off rather well; namely 10-inch SSR MKIs measuring 6.5-inches across at the front and 7-inches wide at the rear. They're the perfect wheels for proper boso style and in the right size for the Life, but the issue here was the tyres. Getting the right size required Park to think outside the box, and he ended up going with Hoosier ATV tarmac racing rubber. They're a tad soft in the sidewall and seem to have a tough time holding air, but they sit just right with the adapted overfenders.
Each Piece Of The Puzzle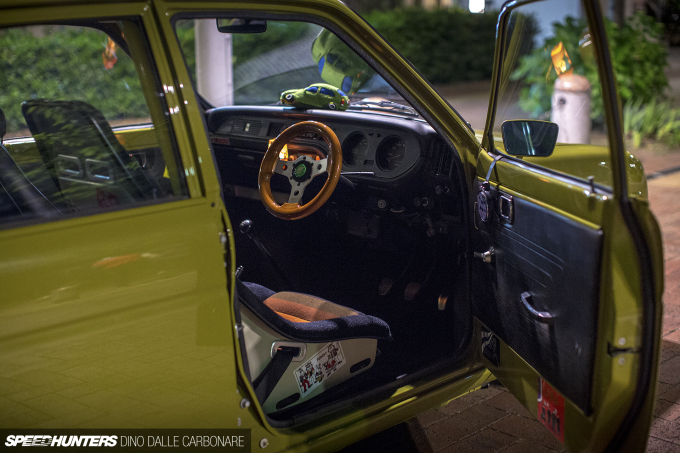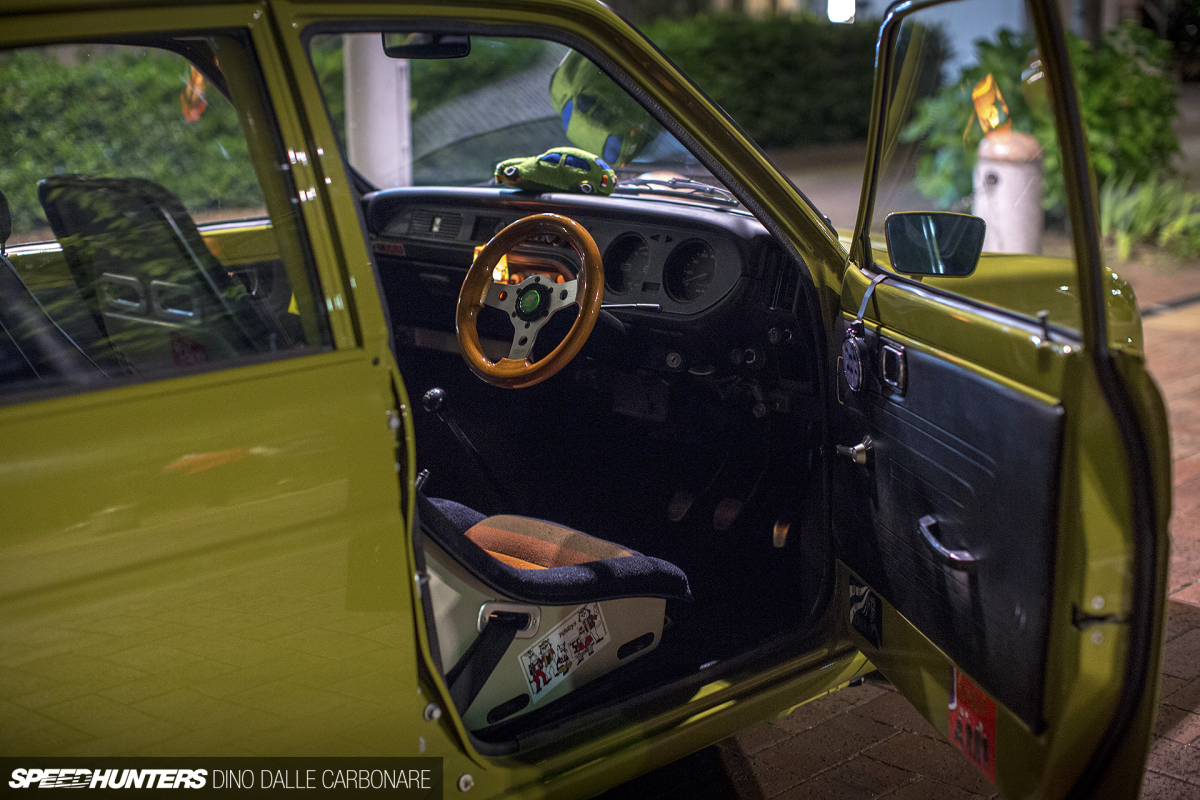 A proper '70s ride built in this style cannot forgo those important Japanese boy racer interior details, and one crucial touch you notice as soon as you open the driver's side door is the Mizuno Works 265mm wooden steering wheel.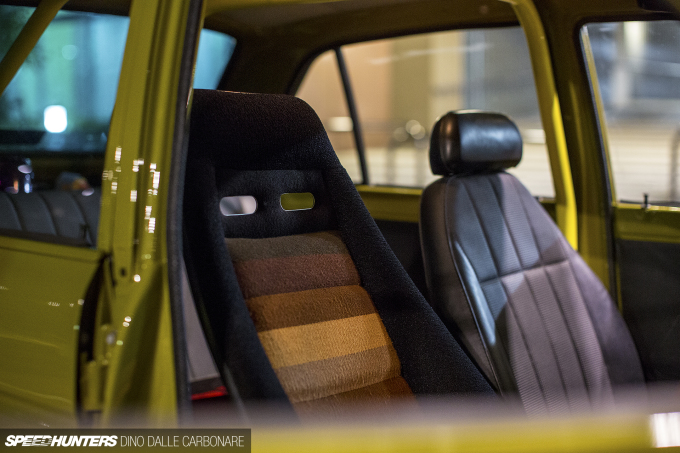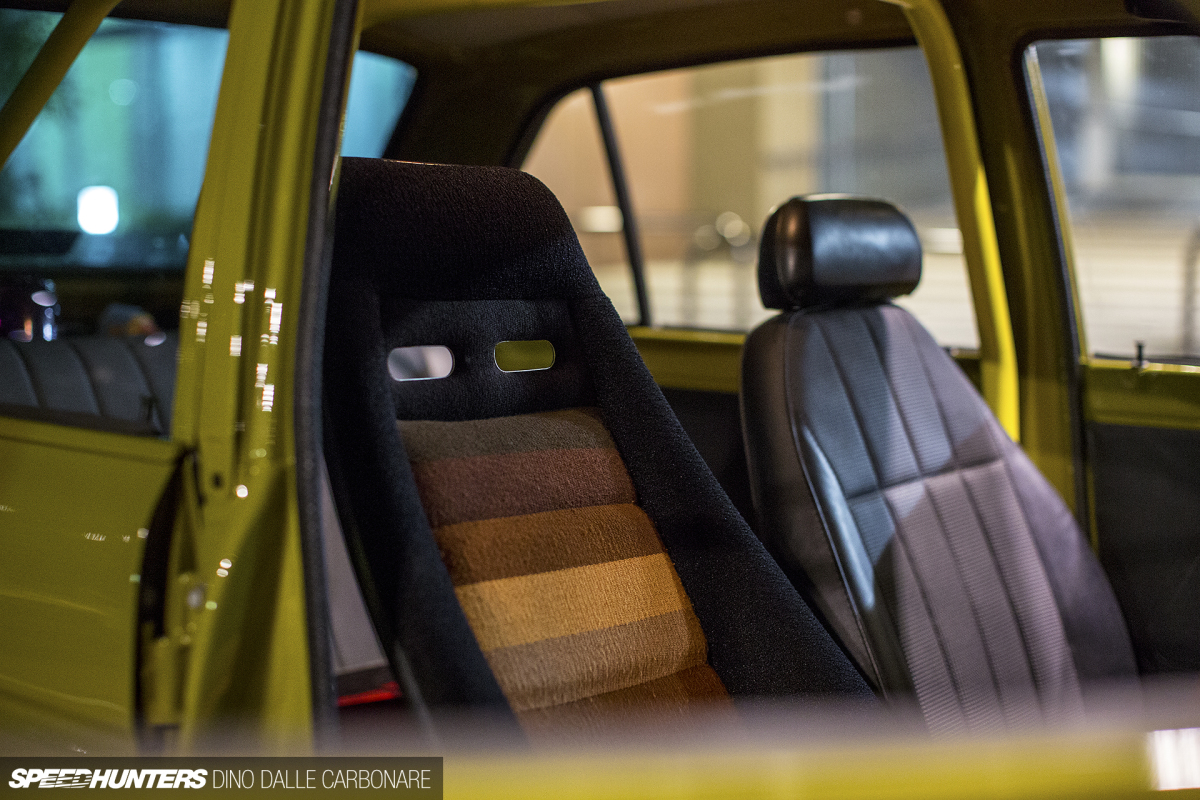 And check out the period-correct bucket seat fitted next to the Life's stock passenger chair.
Park even managed to track down an old style window-mounted cup holder, which he gave a personal touch to by adding a sticker of the popular '80s Japanese pop band The Checkers. I love the illuminated cigarette lighter and the fluffy model of the Life that Park actually made himself!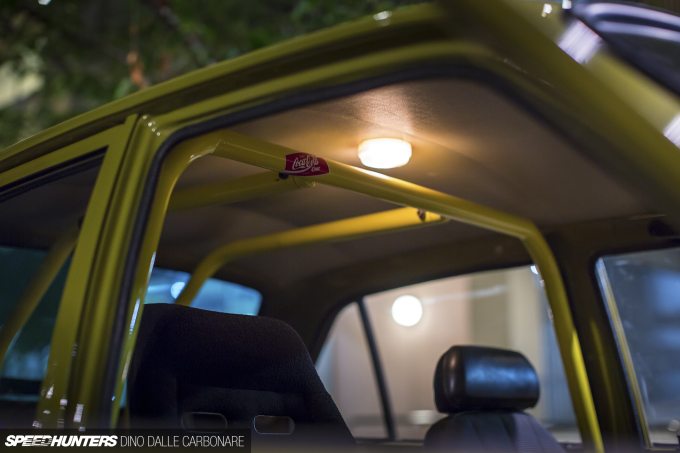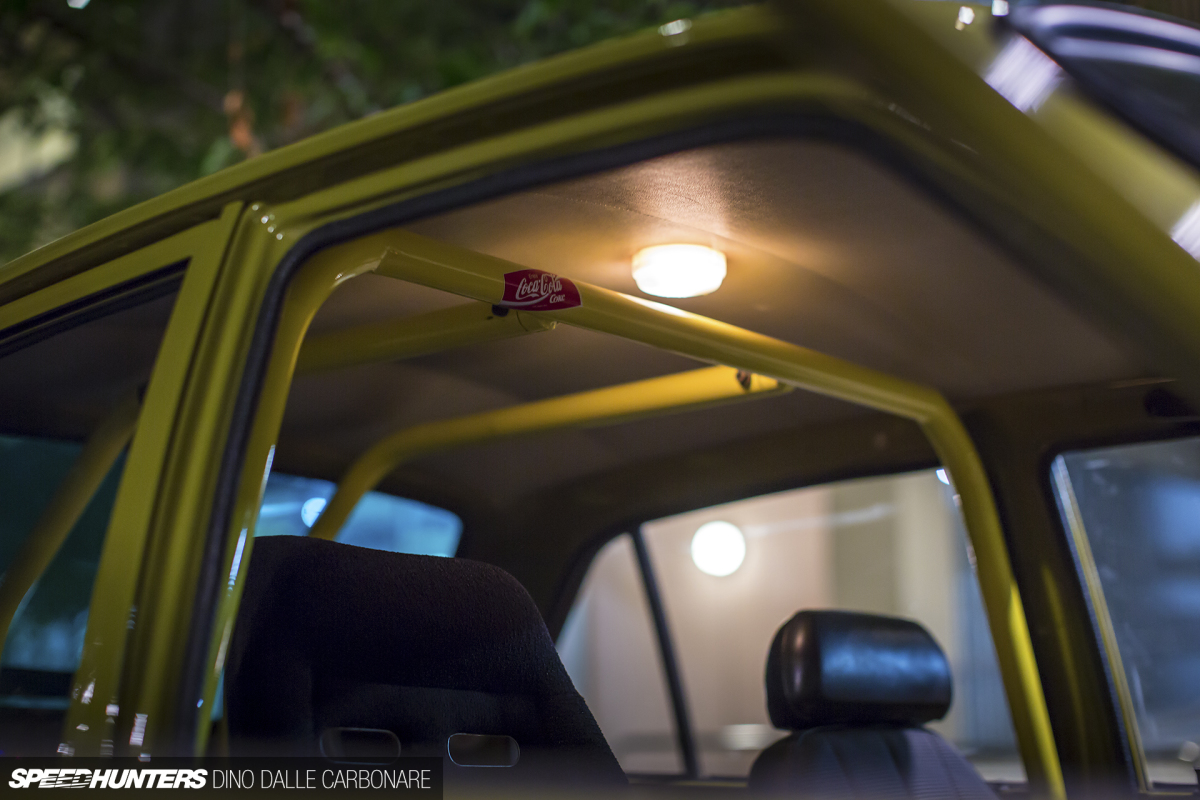 He even went so far as to fit a 'fashion' roll-cage, a detail you find in most kaido racer cars. This particular one was originally from a KP47 Starlet.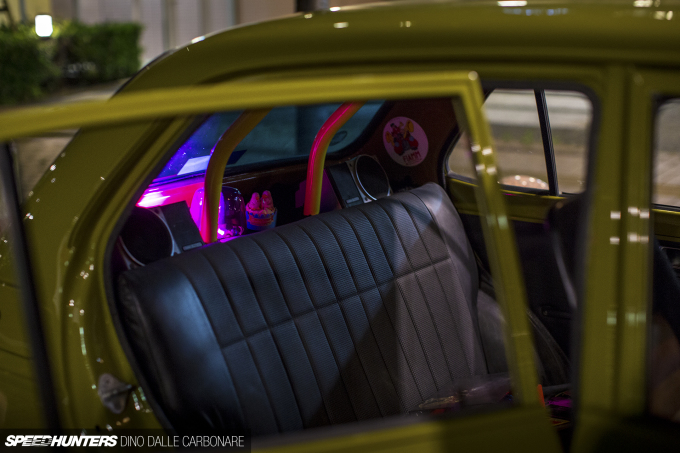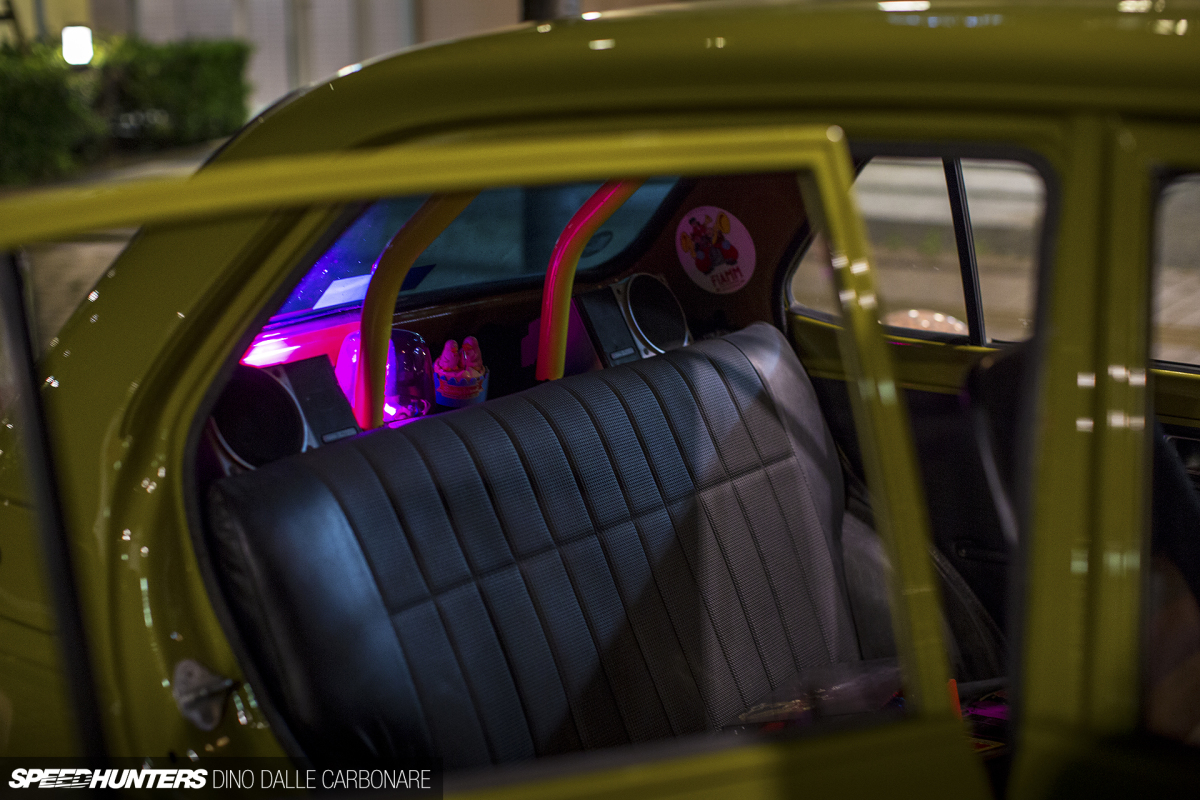 It extends with two connecting pipes down onto the rear parcel shelf where the obligatory big speakers are positioned along with a flashing purple light. Again, it's very bosozoku, and in all the right sort of ways!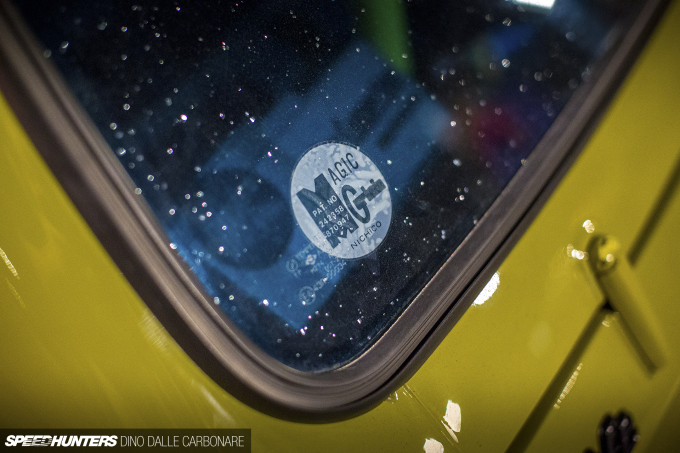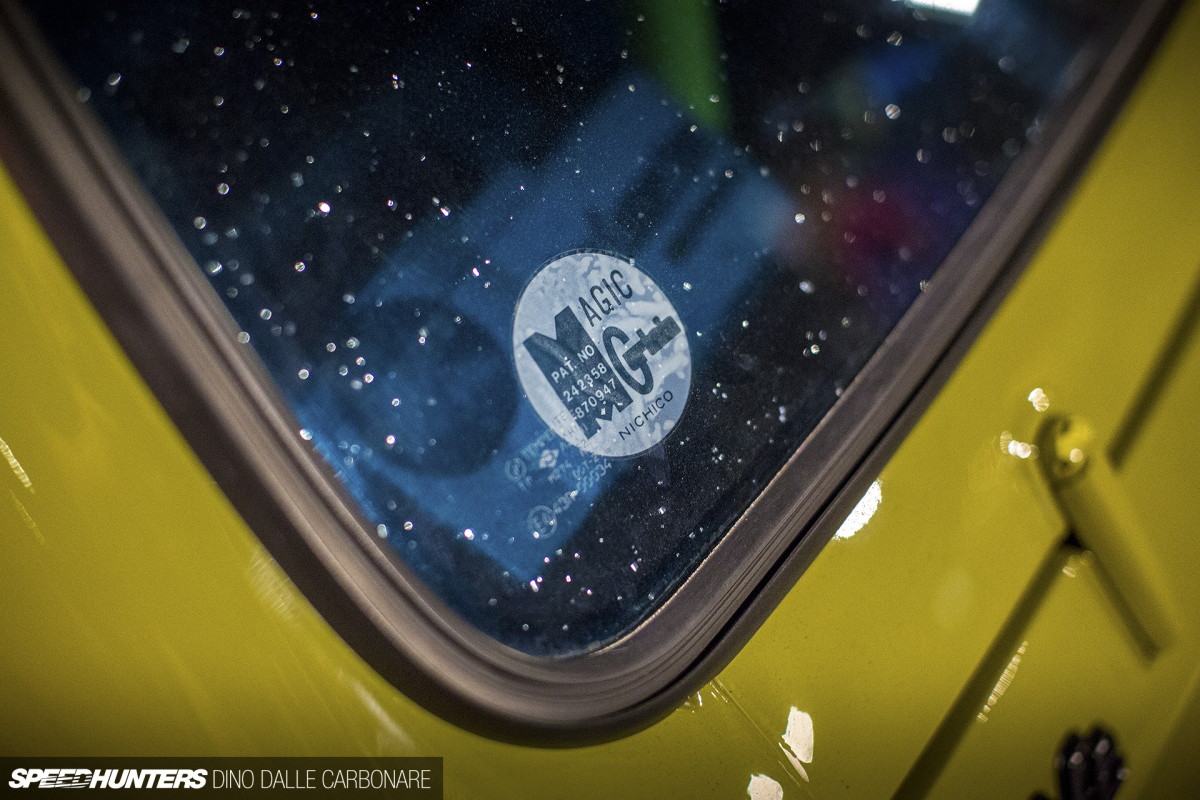 Sourcing authentic parts gets you kudos from the people that appreciate this style, and one rare touch Park was able to secure was the sparkly blue-tinted glass used in the rear. It's yet another period-correct addition that truly completes the little Life.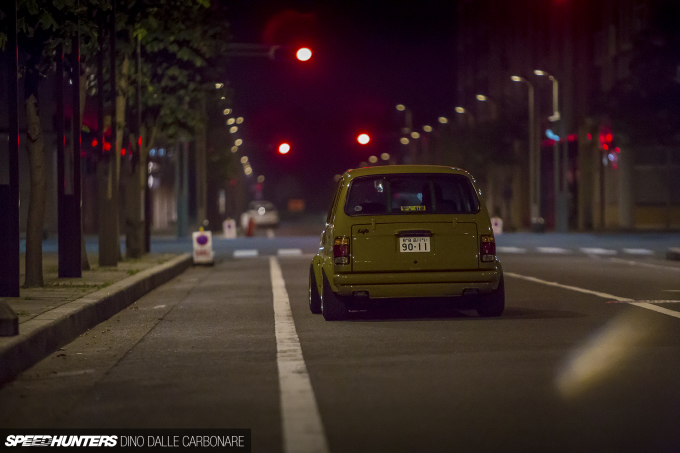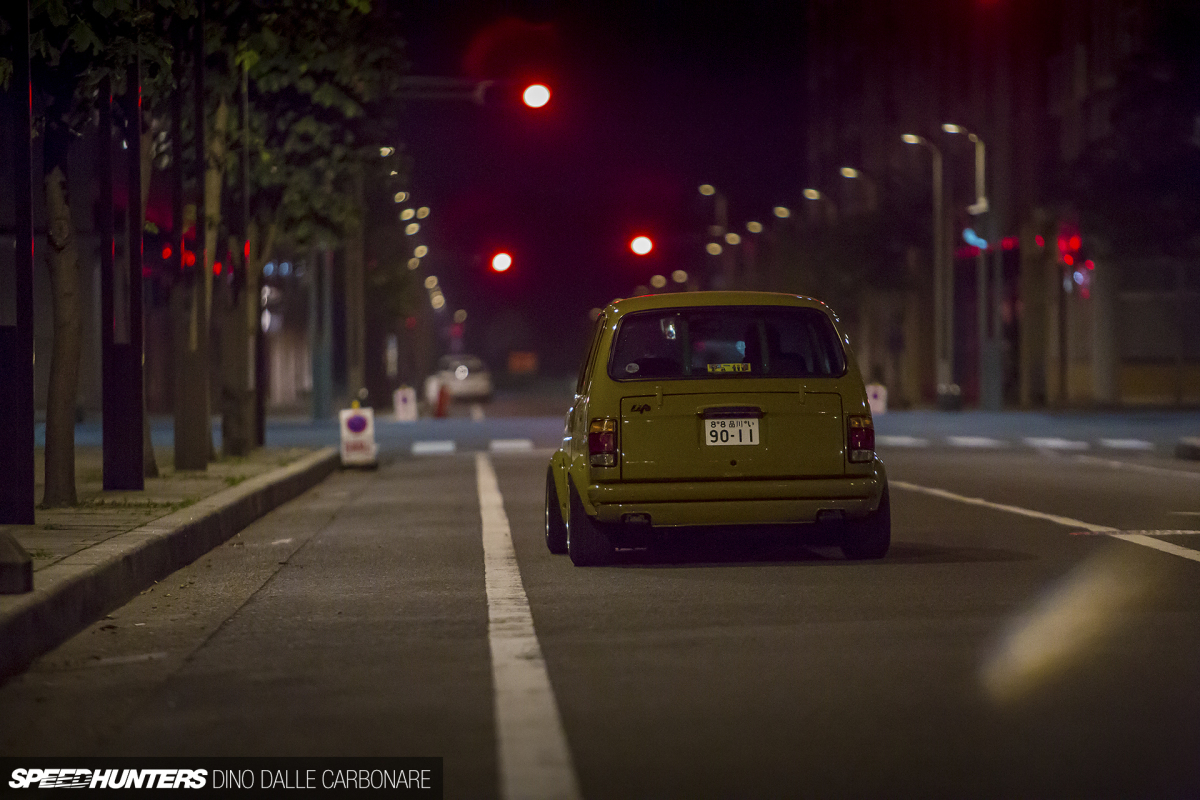 As you might expect, Park gets plenty of attention when he drives his little kei car around the streets of Japan, but regardless of how much the Honda comes across as being a boso type of ride, and therefore somewhat rebellious, its diminutive size helps keep it very lighthearted for those that might not understand the style.
Dino Dalle Carbonare
Instagram: speedhunters_dino
dino@speedhunters.com
The Specs
1973 SA 360 Honda Life Deluxe
Engine:
Factory Honda EA 356cc 2-cylinder, Jast.on full straight twin-exit exhaust system
Driveline:
Factory 4-speed manual transmission
Suspension:
Front swapped to Honda Acty kei truck – short struts & cut springs, rear leaf springs flipped, lowering blocks
Wheels & Tires:
SSR MKI 10×6.5-inch (front), 10×7-inch (rear), 18.0×5.5-10 Hoosier ATV Quad tarmac racing tires
Exterior:
Modified B210 grille, fender ducts, Sunny truck tail lamps, custom made FRP overfenders from TE27 Corolla, smoothed roof, custom green body color
Interior:
Le Plus bucket seat, Mizuno Works 265mm steering wheel, Starlet KP47 'fashion' roll-cage
Cutting Room Floor