It was the mid-'90s when I first learnt of Japan's infamous highway racers and their late-night exploits on the Wangan, and as my fascination in this illegal and highly dangerous phenomenon grew, so did the will to one day experience it for myself. Hidekazu Koseki of Scoot Sports was able to make that dream come true in early 2001.
I had met Koseki-san in late 1999 when he took part in a Video Option top speed trial event held on a long stretch of country road here in New Zealand. I'll save the details for a future Time Machine post, but of the seven hardcore Japanese demo cars that took part, Koseki's 'Wangan Special' FD3S Mazda RX-7 left the biggest impression on me. Not only did the Scoot machine look wild with its RE Amemiya aero, adapted Lola F3000 rear under-tray and diffuser, and spats that completely covered the rear wheels, but its HKS T51R-equipped 13B semi-peripheral-port engine beat to the sound of a 600+hp drum; I had never seen or heard a Japanese street car like it. Of course, the RX-7 did the business too, blasting 327.3km/h (203mph) through the traps on its best run.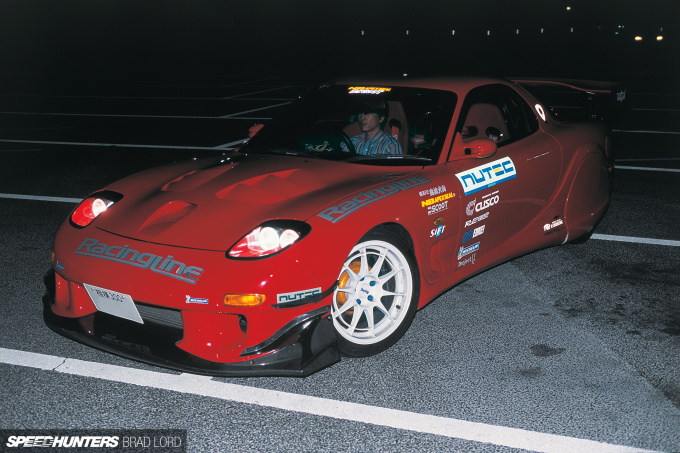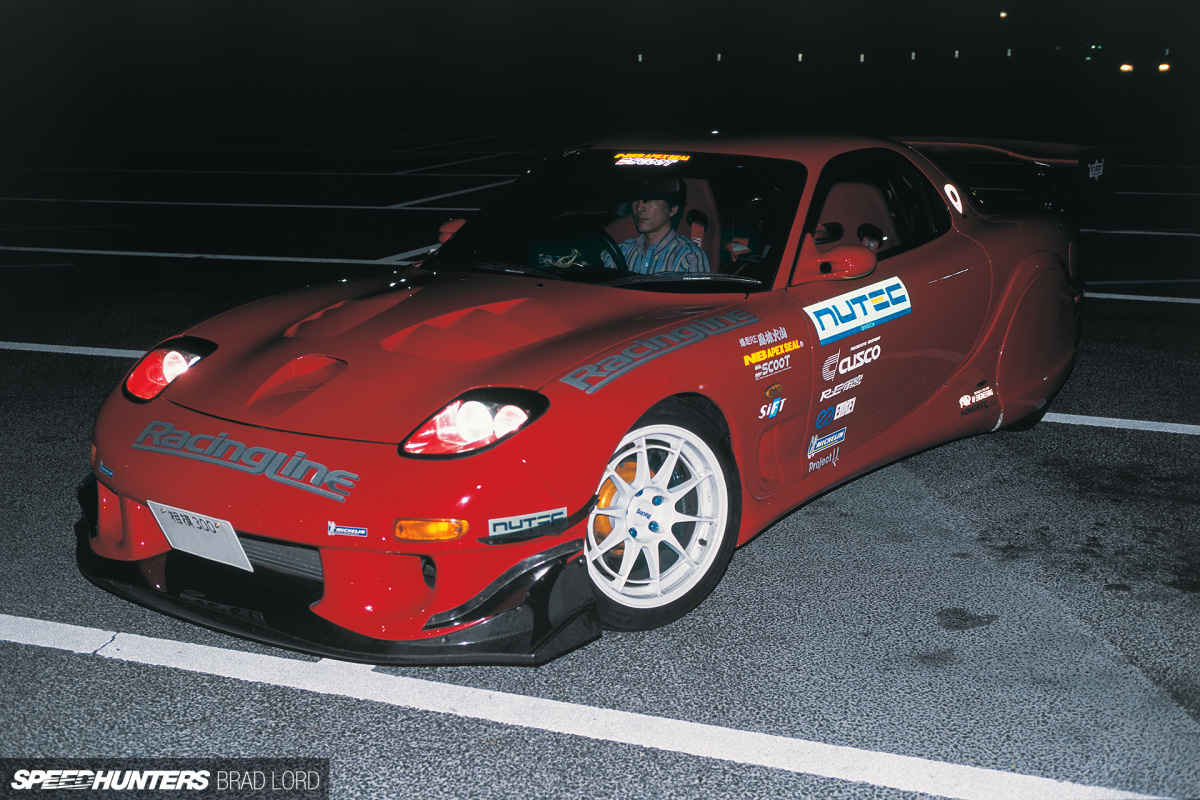 Eighteen months later I found myself in Japan, sitting next to Koseki in his rotary creation (now packing 700+hp, but also a shorter final drive ratio) and giving one final self-reassuring pull down on the harness belts securing me in the passenger seat as we dipped into the Tokyo Bay Aqua-Line entrance.
As far as top speed proving grounds go, this underwater tunnel under connecting Kanagawa with Chiba is as good as it gets: smooth and straight for 9.5km (5.9mi); no oncoming traffic; no speed cameras. Or at least there were no cameras back in '01… At this early morning hour, when the above-ground Tokyo highway network was at its quietest, the then expensive-to-use Aqua-Line (¥4000; approximately US$40 one way) was all but deserted.
The resulting ride was a bit of a blur – Koseki winding the engine out to 9,800rpm in top gear, and me furiously firing away on the trigger of my trusty Nikon F4S with a roll of Fujichrome Provia slide film loaded up; one eye locked on the vanishing point in the distance. It felt every bit as fast as 300+km/h through a tunnel actually is, and the sound – just wow.
As I'd hoped, there were a few would-be challengers along the way too, one of which was a very evil-looking and angry-sounding R33 Skyline GT-R if I remember rightly. But on this particular evening 15 years ago, none could match the Scoot RX-7 for acceleration and top-end speed.
After a few hours of fun hitting all the Tokyo highway hotspots, the night came to end at 3.00am. I'm guessing I was slightly delirious from the experience, because I had Koseki-san drop me off in the completely wrong part of the city, which resulted in a 90-minute walk back to my shoebox-sized apartment in Shinjuku and a bizarre encounter with a bosozoku bike gang along the way. But that's another story…
Brad Lord
brad@speedhunters.com
Check out this old Video Option compilation featuring Koseki-san and the Scoot RX-7 on the Tokyo Aqua-Line from the 12:15 mark.