From Japan, With Love
Living in Japan and working for Speedhunters, I'm presented with amazing opportunities to see cars that before I could only read about online or in magazines.
And one of the cars I remember poring over was the C110 Nissan Skyline, better known as the Kenmeri.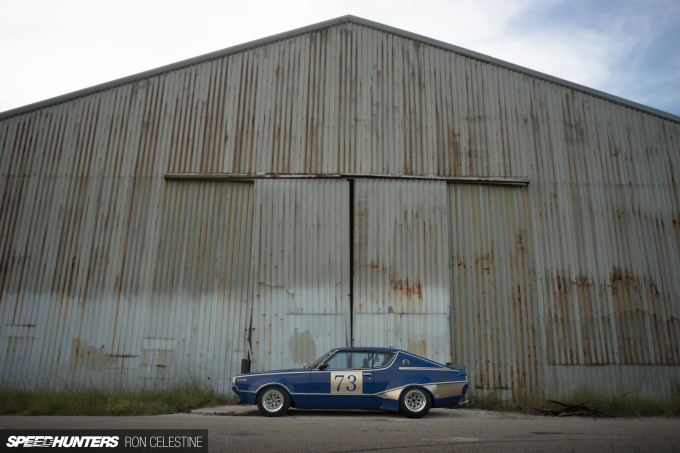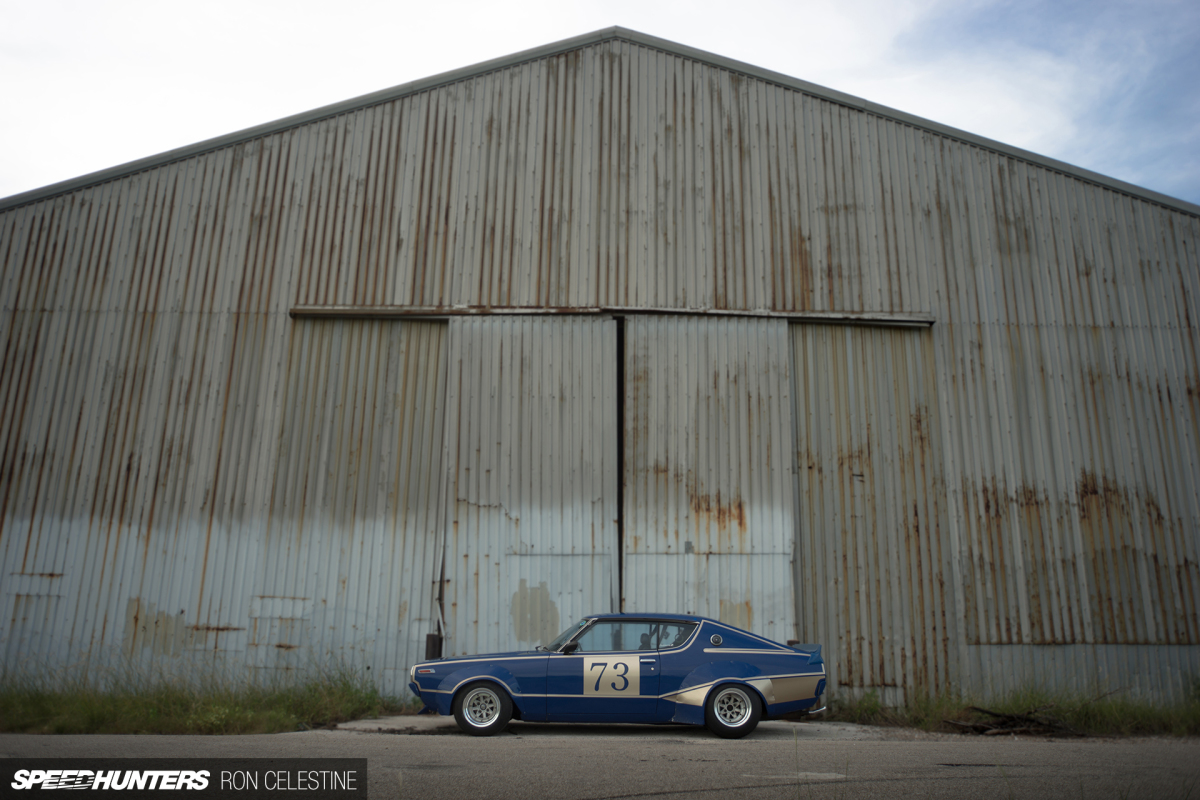 Don't get me wrong – I absolutely love the boxy Hakosuka, but there's something special about the Kenmeri that makes me favor it more. I'm pretty sure it's to do with the model's classic sports lines that have really withstood the sands of time.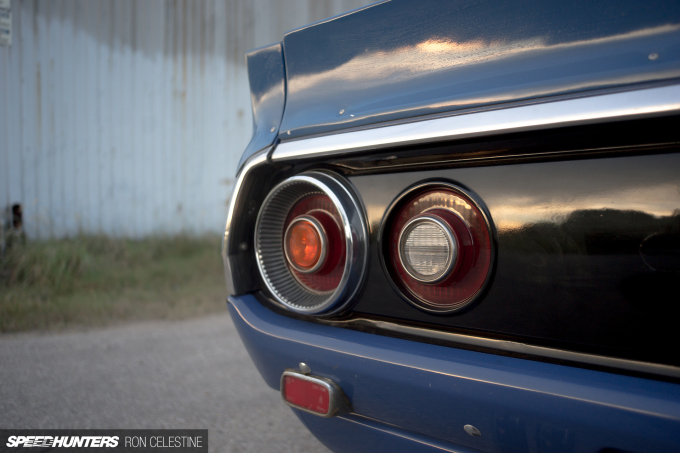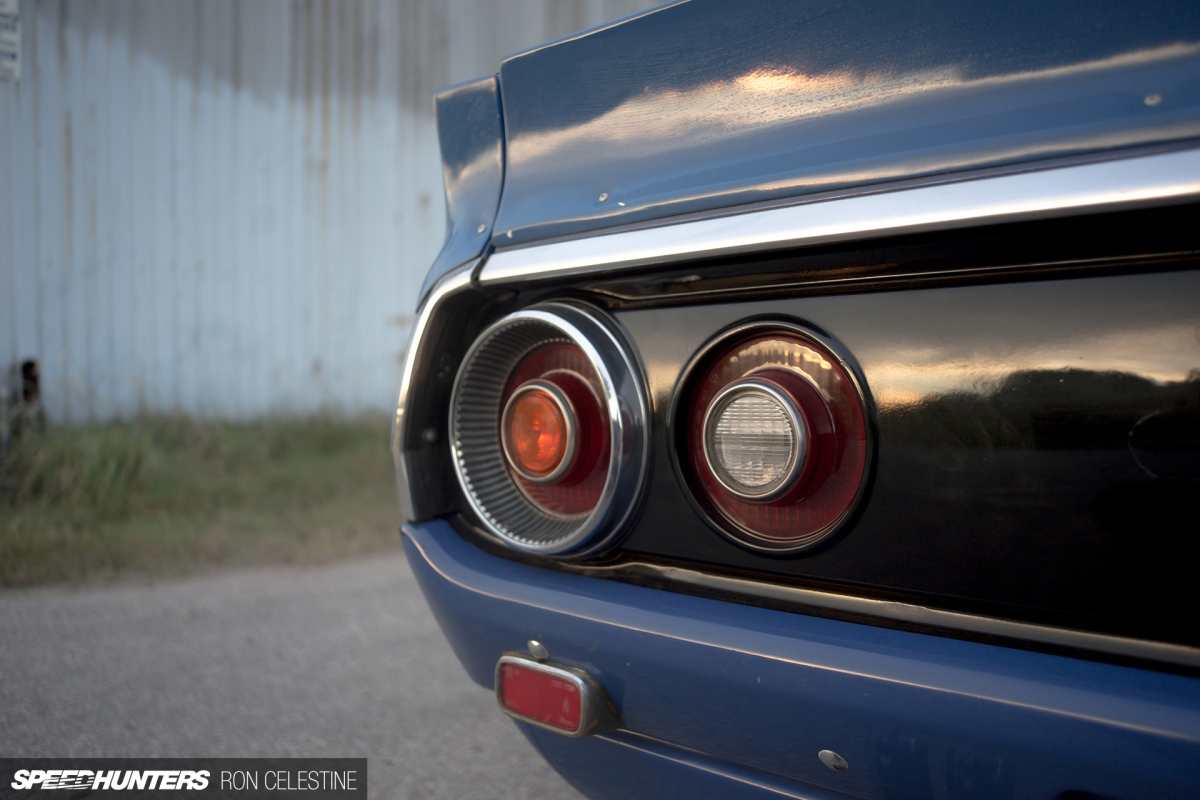 As an enthusiast, the Kenmeri Skyline with its iconic afterburner taillights, is a car I'm quite fond of. I really hope to have one occupying a space in my garage sometime too, but even in Japan they're getting quite difficult to find now.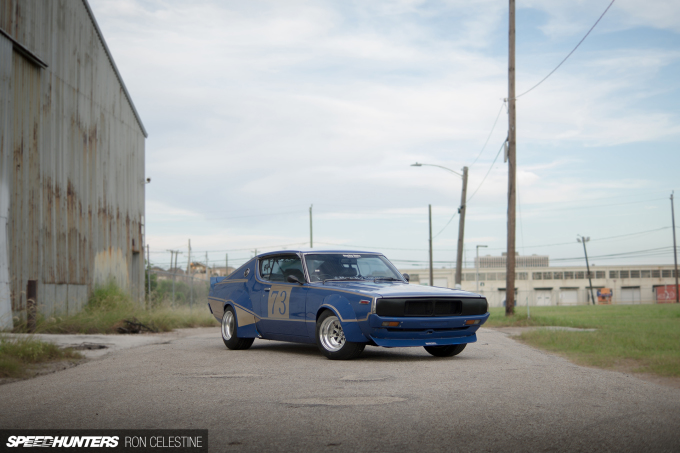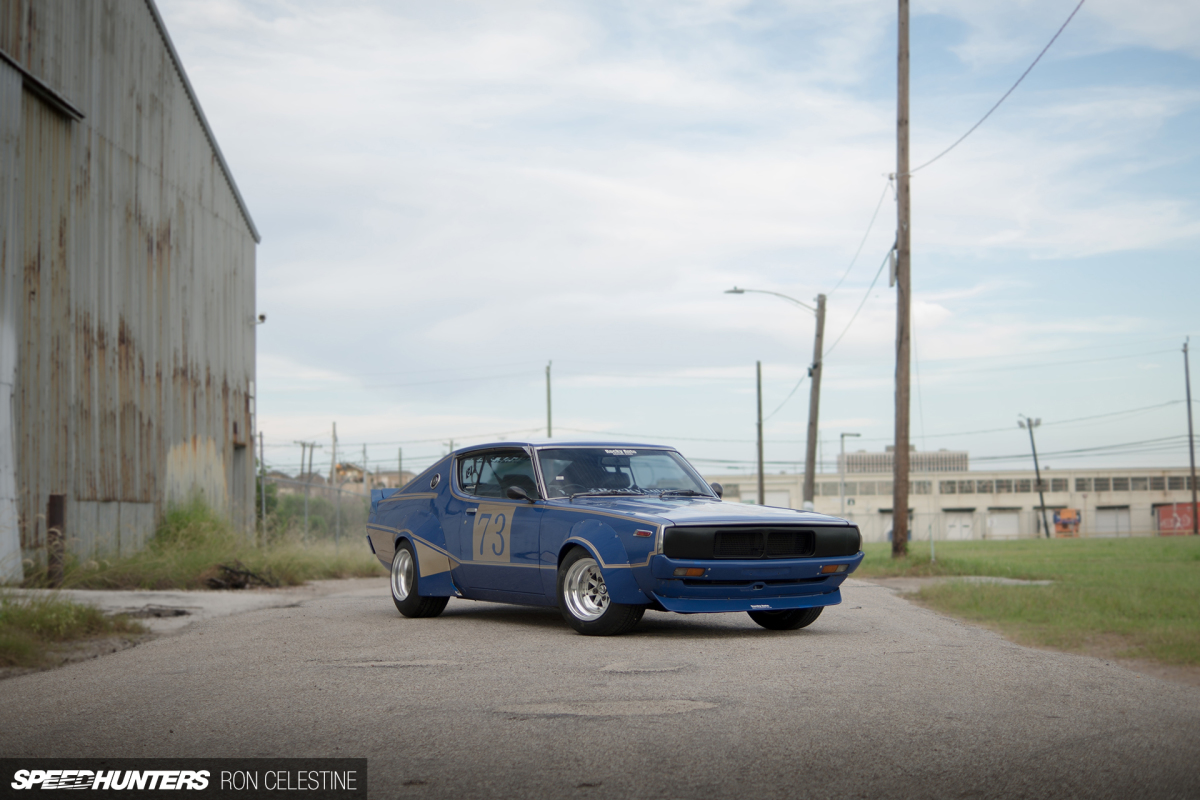 Those that are lucky enough to already own one are holding onto them, and even an average one in need of a lot of work will set you back a pretty yen. Basically, you have a better chance of finding a Mewtwo in Pokemon Go than you do a good condition Kenmeri with an affordable price tag.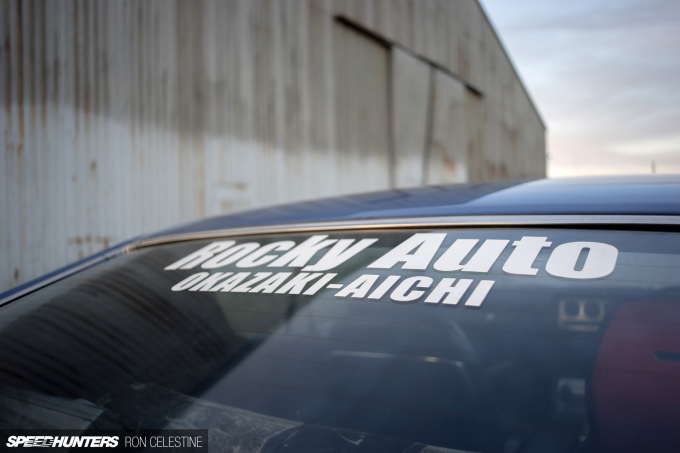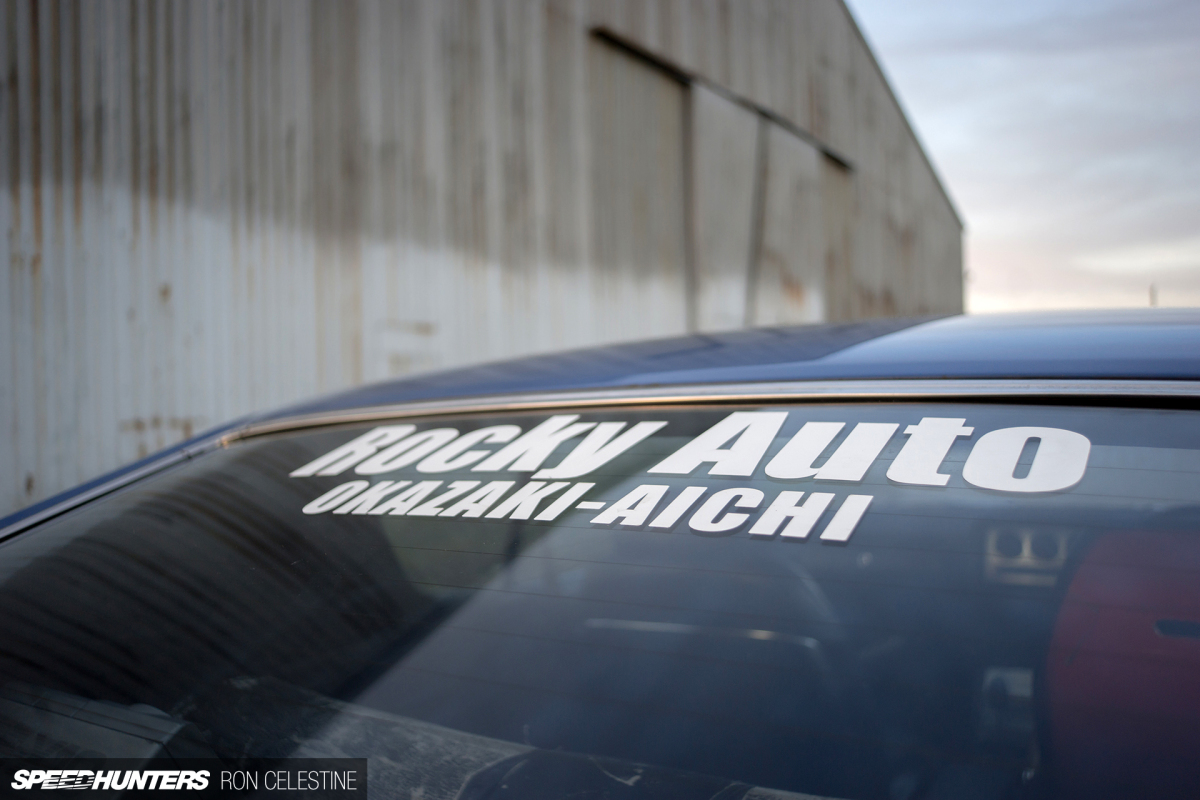 So, you can imagine my utter amazement when I found out that one of Rocky Auto's works replica Kenmeri Skylines was roaming the streets of Houston, Texas.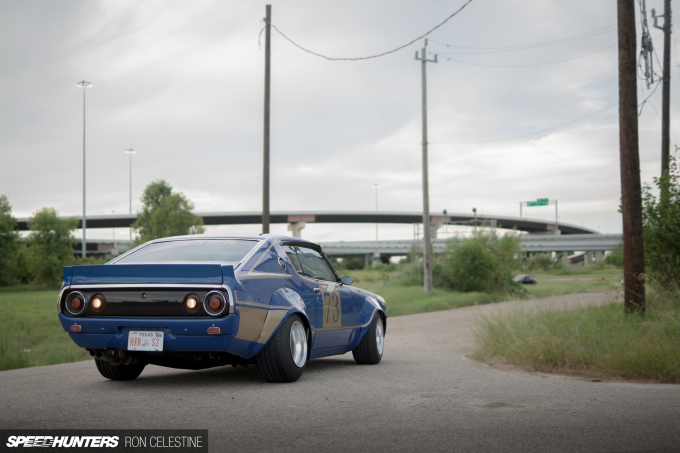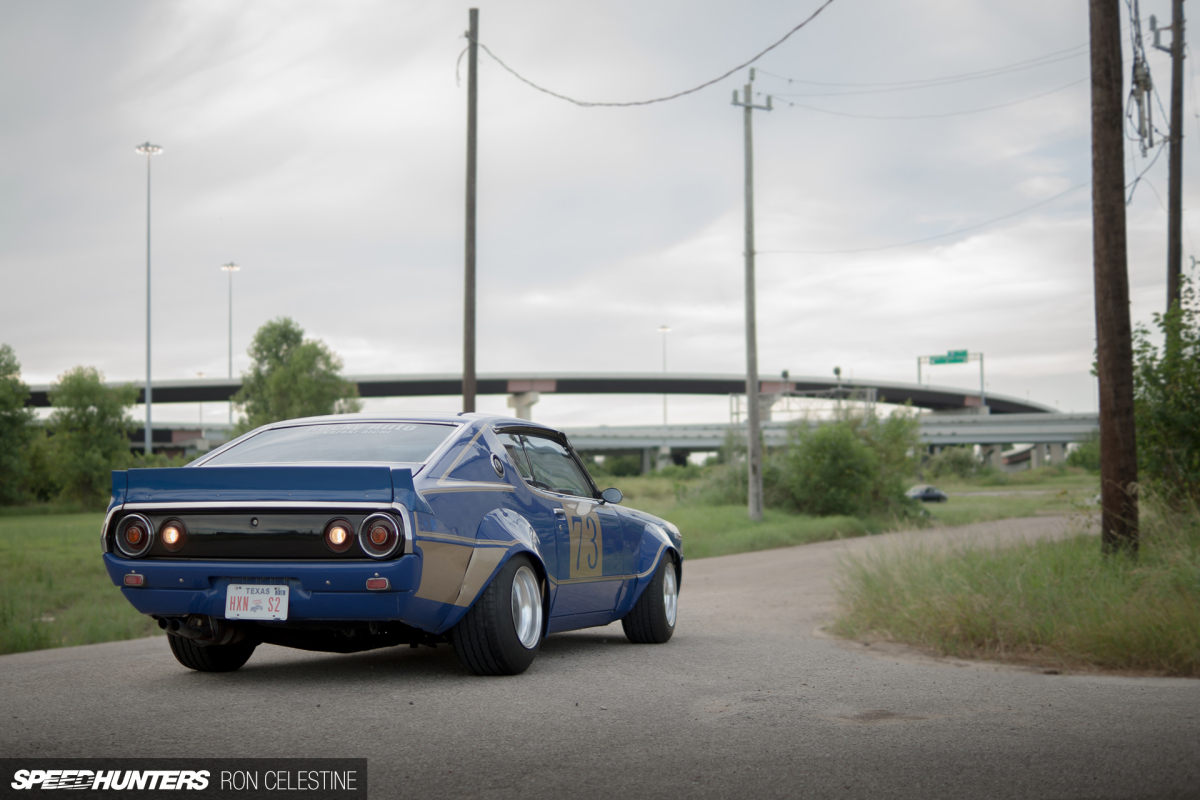 Thus, while shooting Princeton Wong's Porsche 993, I decided to take a look at this rare JDM beast that has found its way onto American soil, and interview the owner behind it.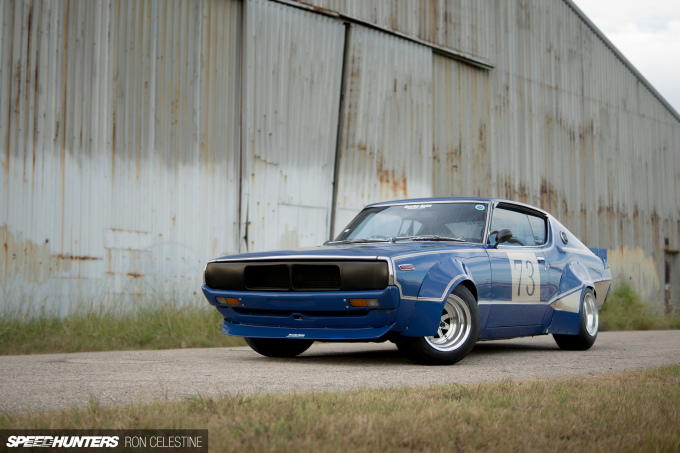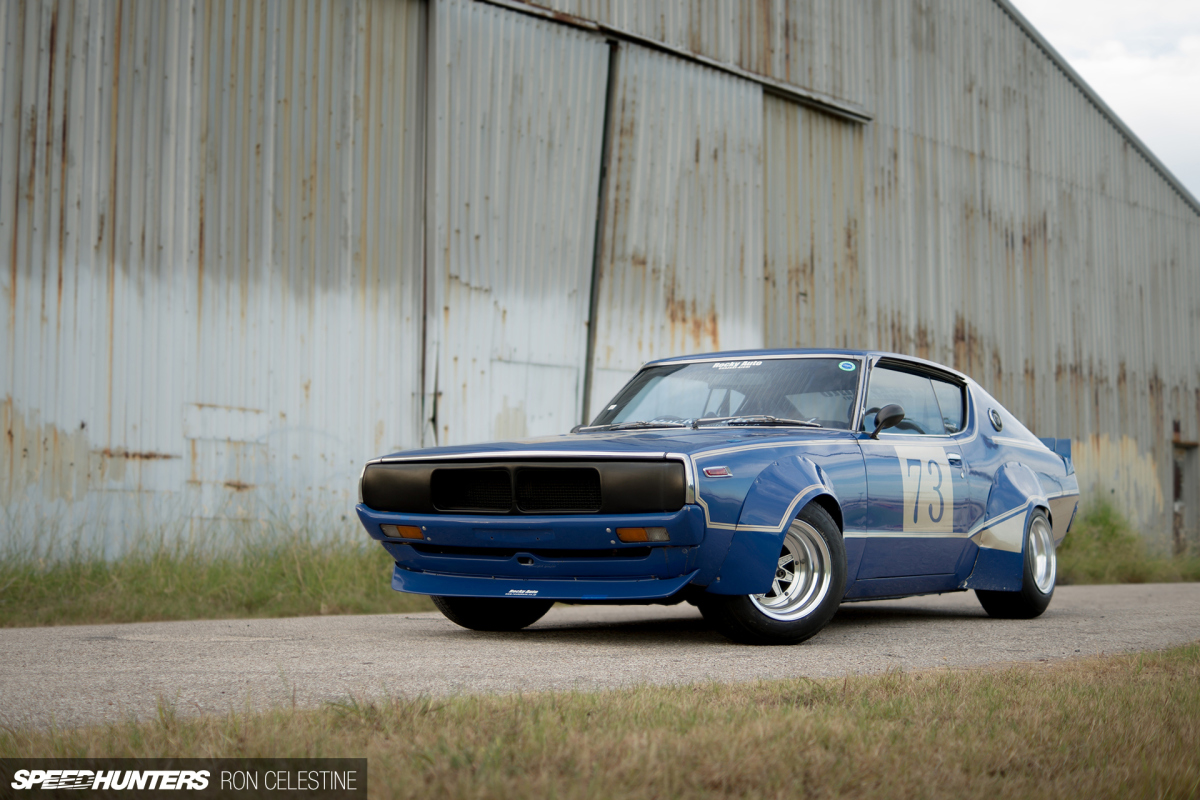 Peck is a Houstonian that moved to Thailand at a very young age and spent most of his time there until relocating back to the US in 2002. Since Thailand is relatively close to Japan, you can find many Japanese influences in the country, and this extends to car culture.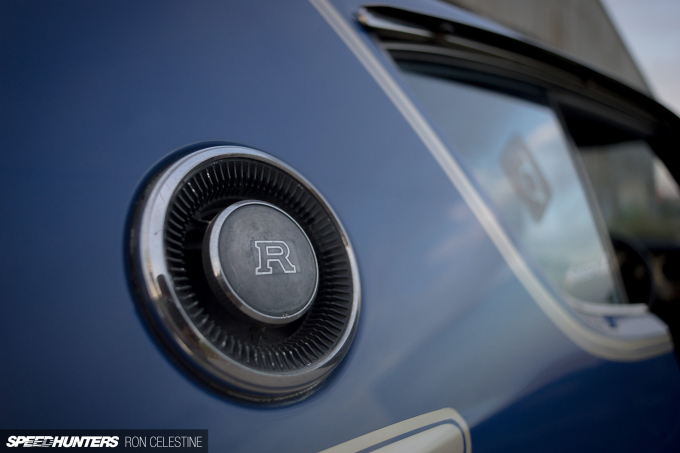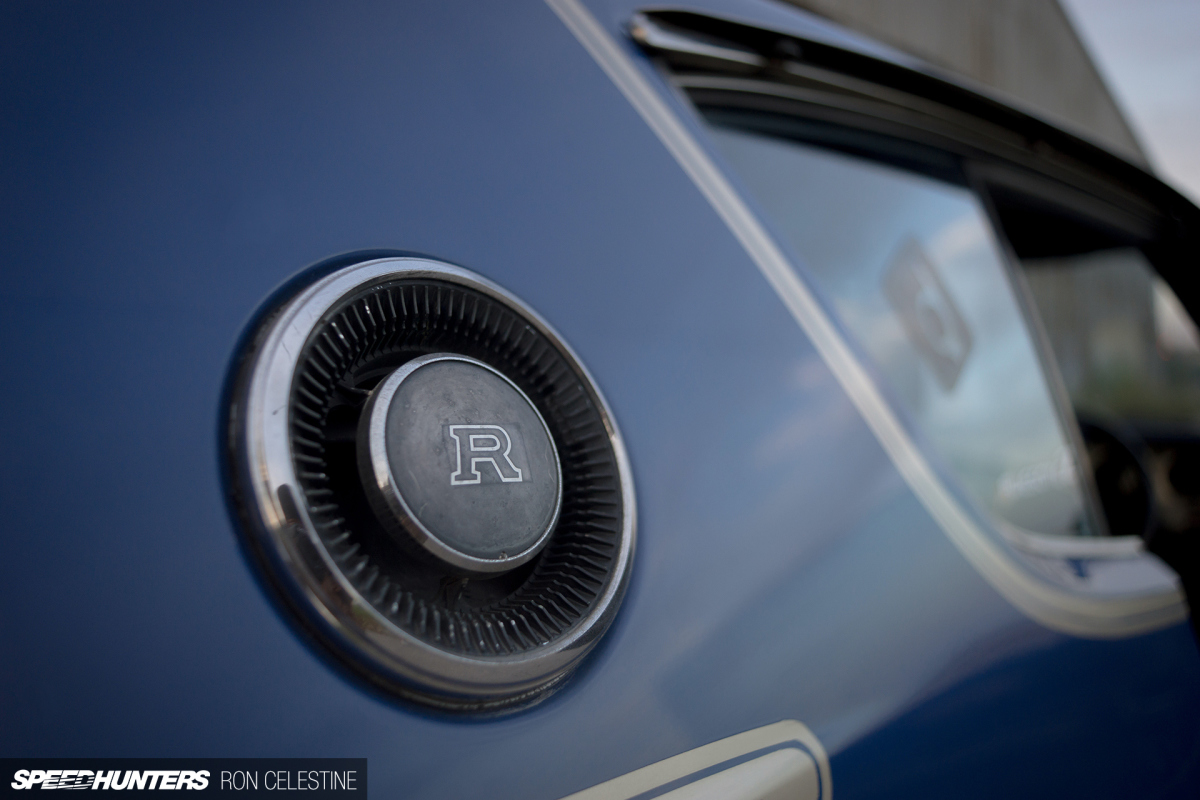 Japanese parts have always been easily accessed in Thailand, and that fact has led many to fall in love with the JDM scene. Peck falls into this category, although he got his start even earlier with Tamiya models and playing with slot cars.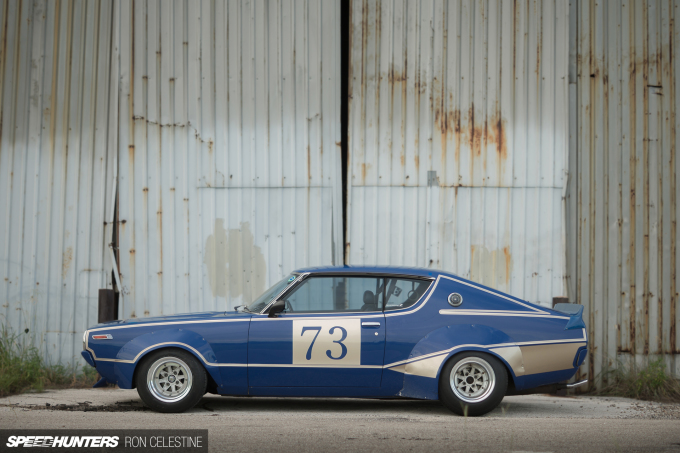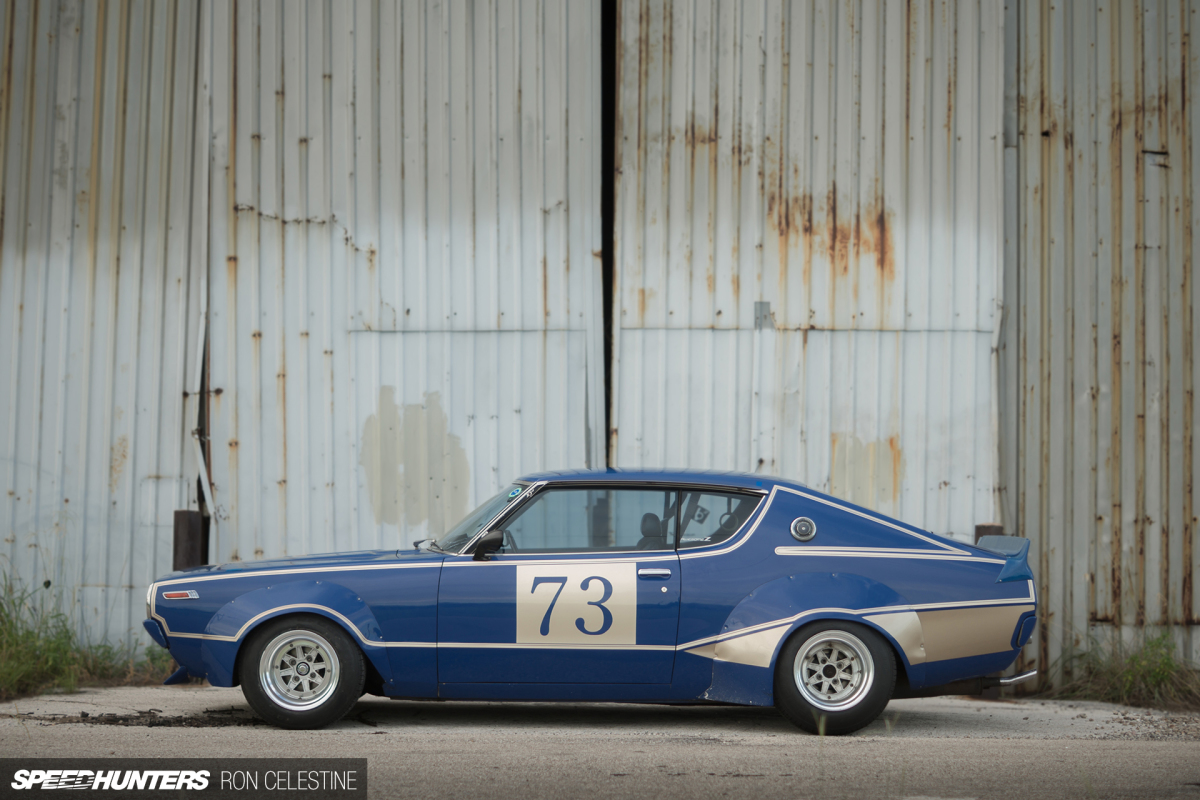 Fast forward 10 years and Peck's taste in cars had evolved from the scale world to actual Japanese classic cars. Enthralled with Nostalgic Hero magazine, it was only a matter of time till the desire to own a Hakosuka or Kenmeri of his own would take over. Aware of the rising prices and increasing difficulty to find one in decent condition, Peck knew that if he didn't pull the trigger soon, he might never get the chance.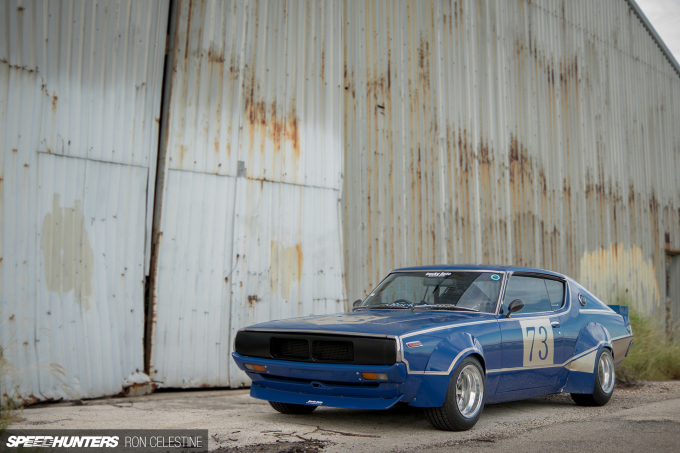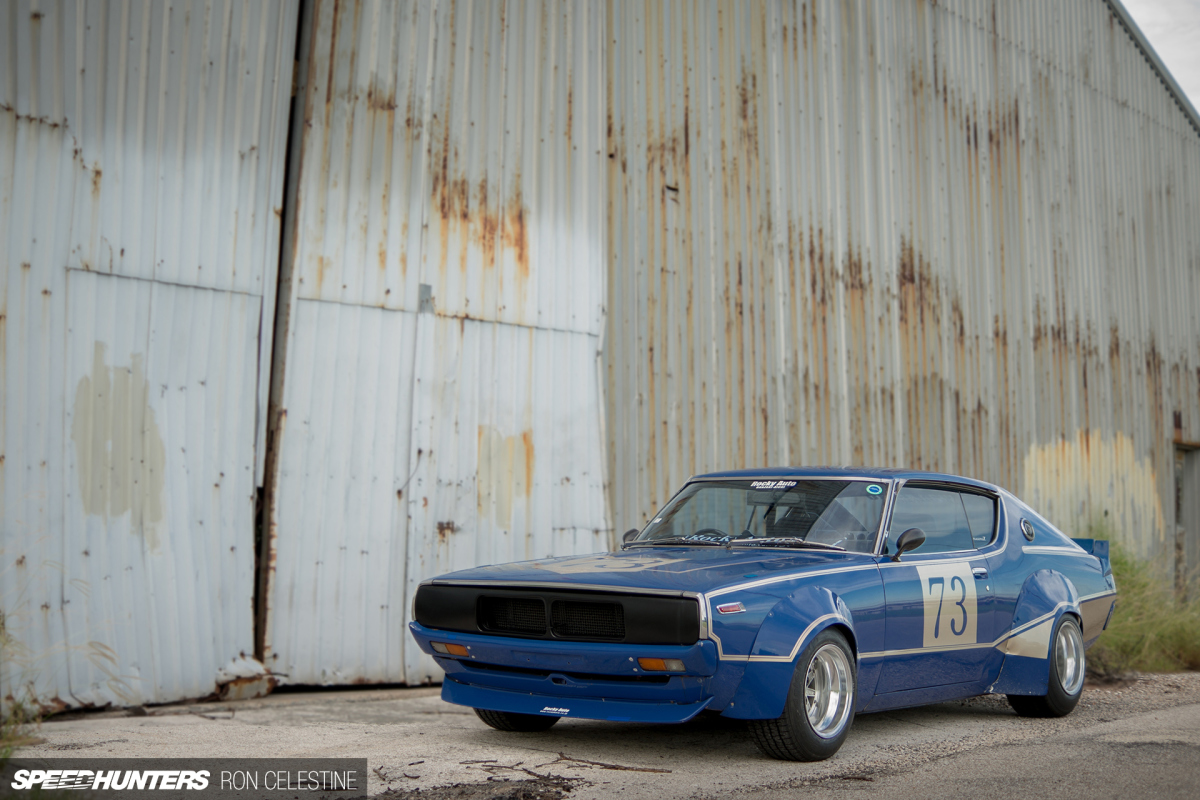 That's when he spotted this 1977 2000GTX for sale at Rocky Auto, the exact same one Dino photographed during a tour of Watanabe-san's private collection back in 2013.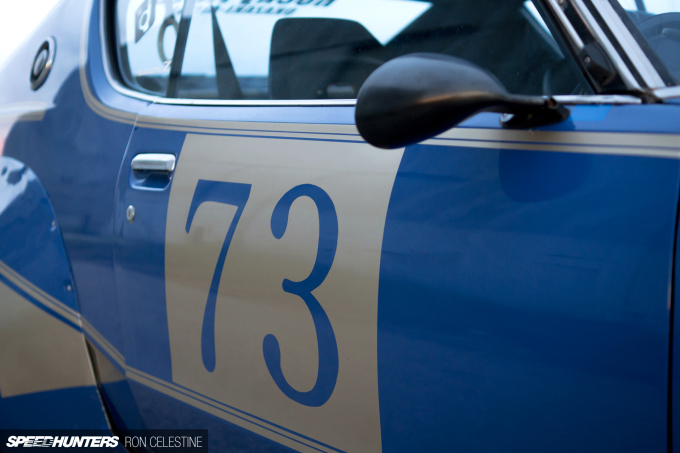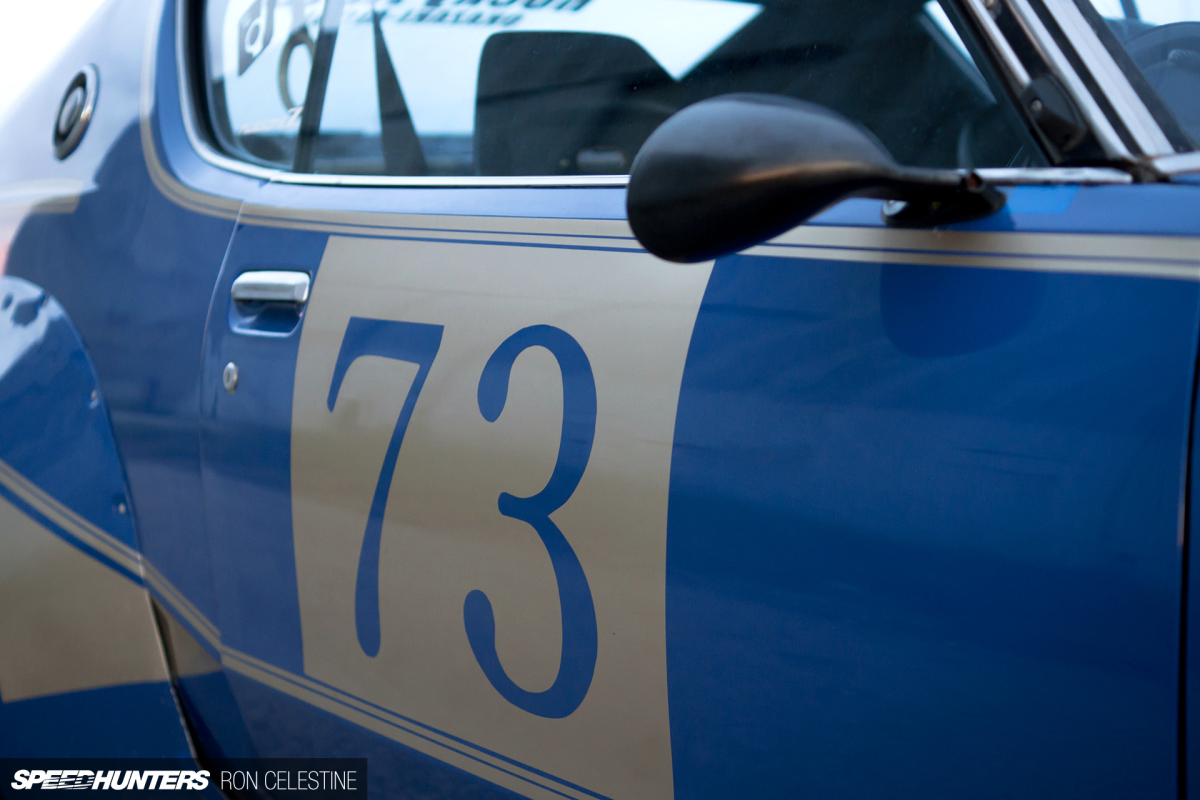 The works racing replica styling mixed with bosozoku aggressiveness stole Peck's heart; he just had to have it.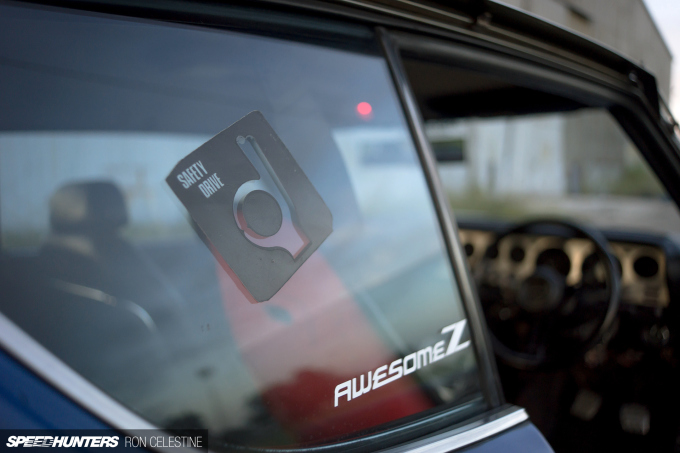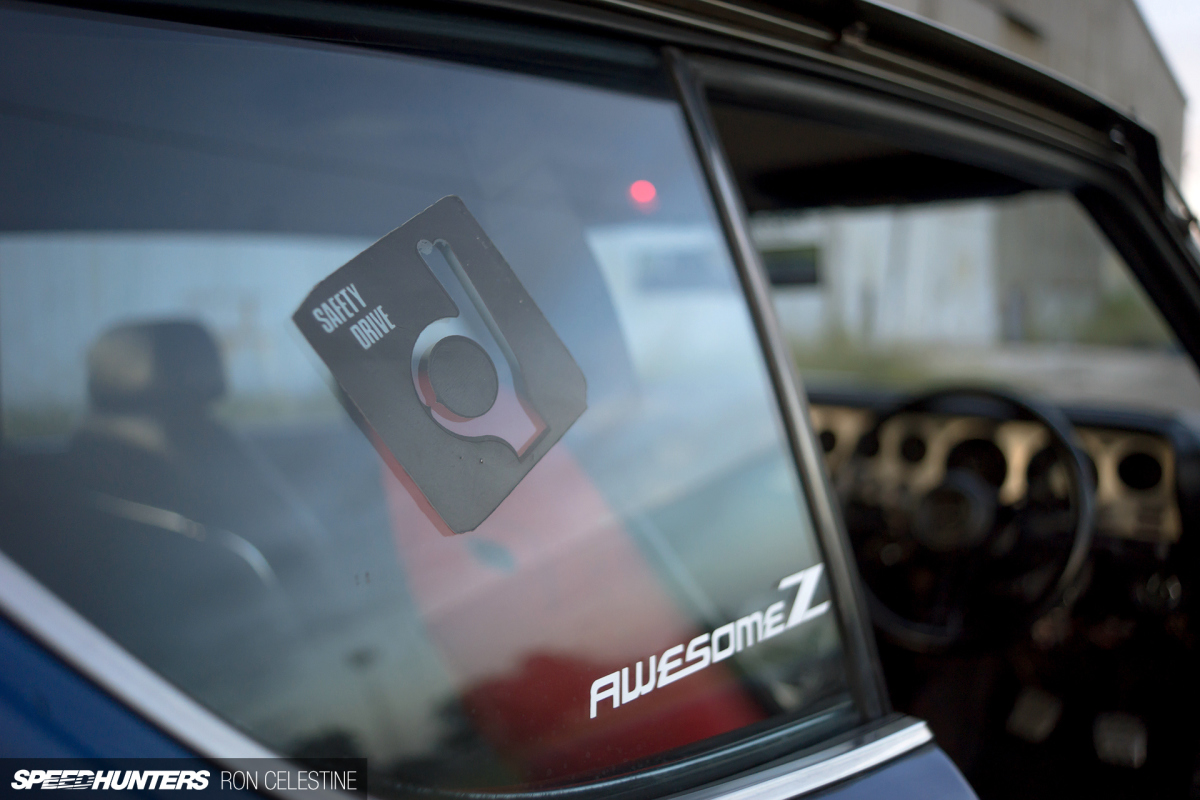 Thus, after working with his broker, Peck went all-in on the deal. That kicked off a five-week wait as the car made its long voyage from Kawasaki to Galveston, Texas.
Fine Tuning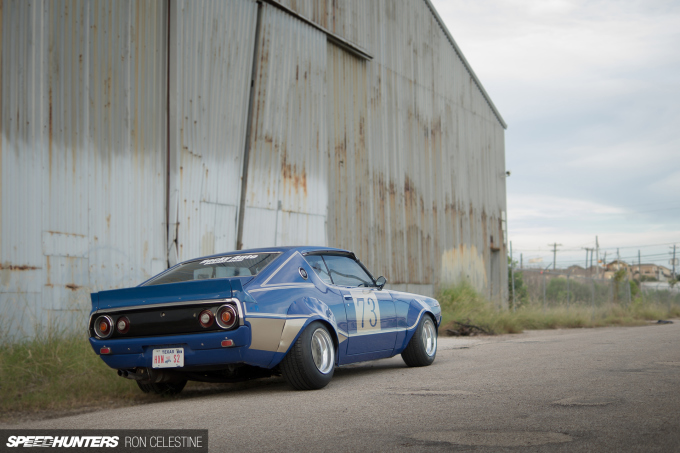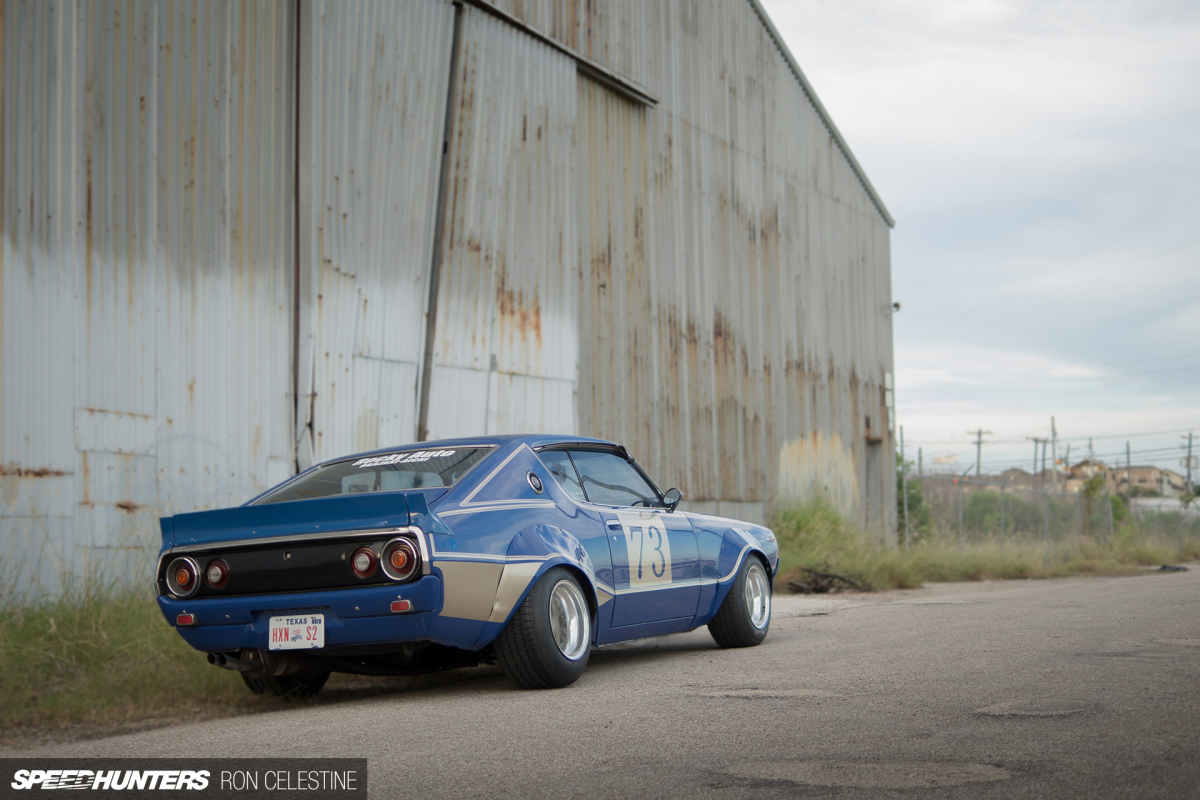 Peck had never seen the car in person, and although it arrived as described and in running condition, it soon became apparent that there was work to do to get it driving the way he wanted.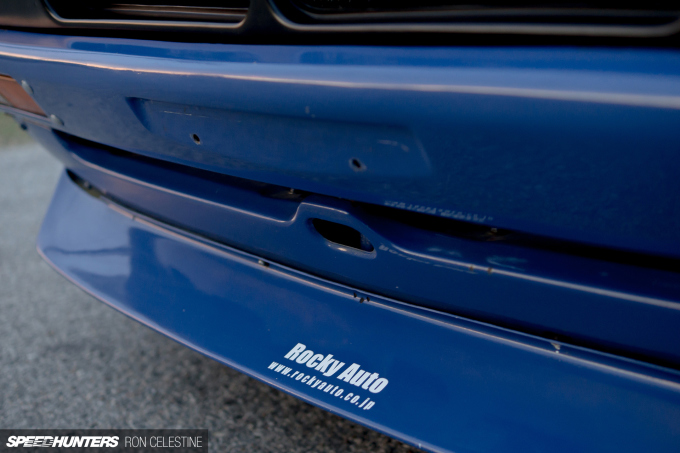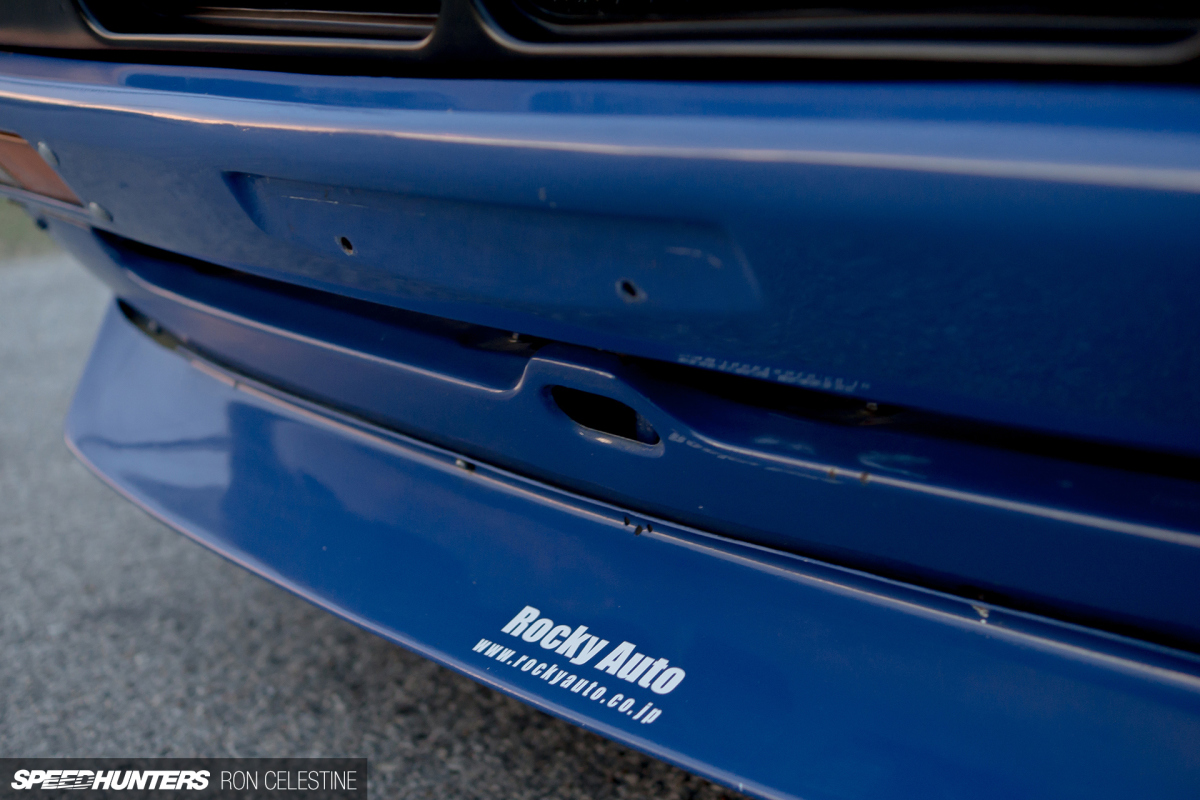 The first thing that needed an overhaul was the suspension. With the roads in Houston not being nearly as pristine as those in Japan, the ground clearance was going to be a huge problem, and the car didn't feel that comfortable traveling at highway speeds either. Peck decided to go with Star Road's coilover conversion at the front and a pair of adjustable shocks with Mspeed springs in the rear to rectify both the clearance and stability issues.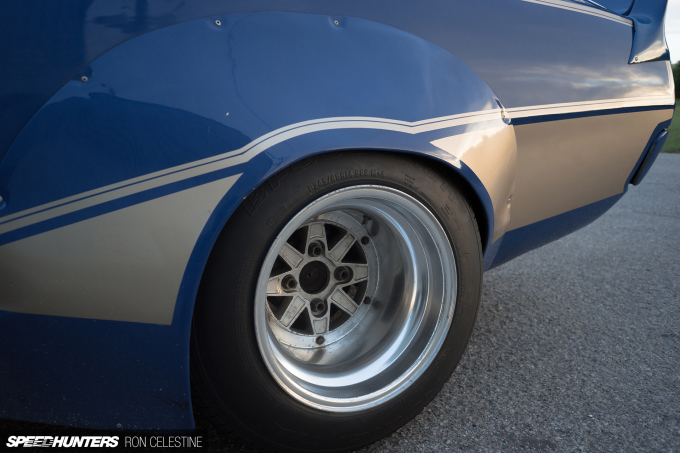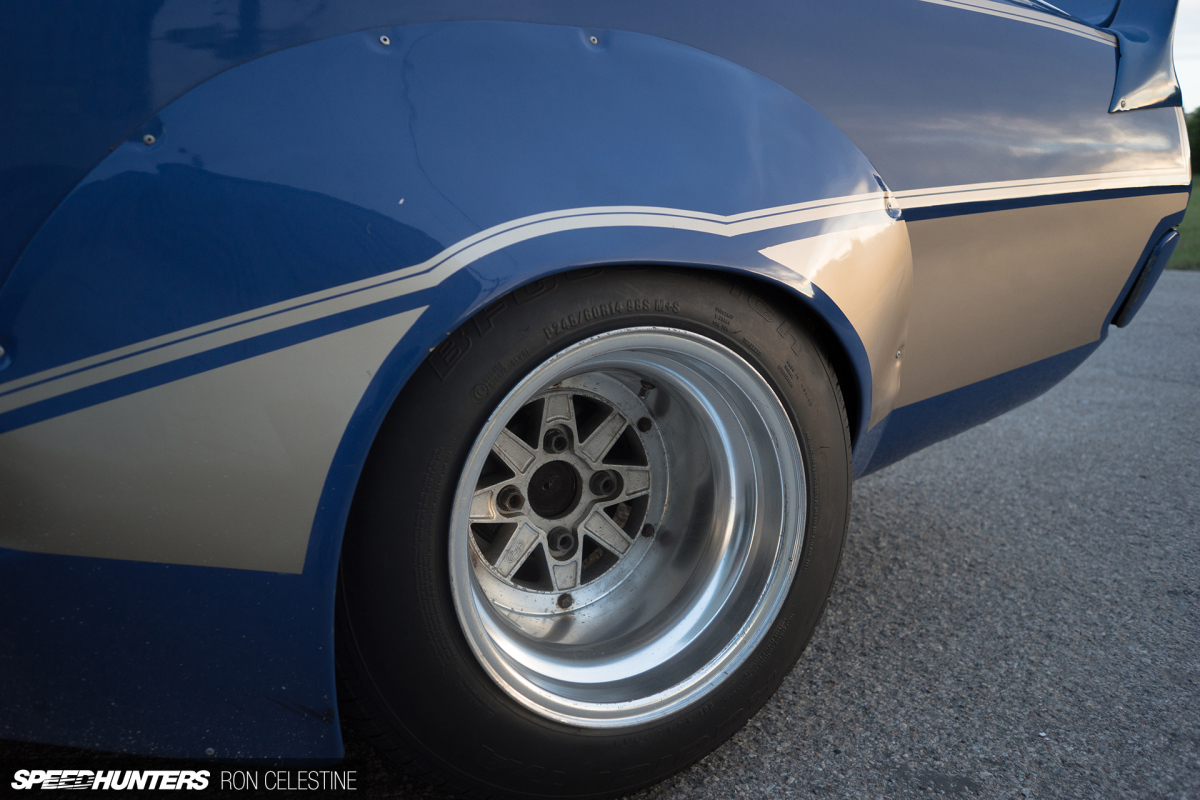 The 14-inch tall and ultra-wide SSR MK-3 wheels that came fitted to the Skyline work so perfectly with the fenders and overall old school aesthetic that replacing them was not even up for debate, but the brakes were a different story. To ensure the car could stop adequately, Peck changed the calipers, pads, rotors and all the brake hoses.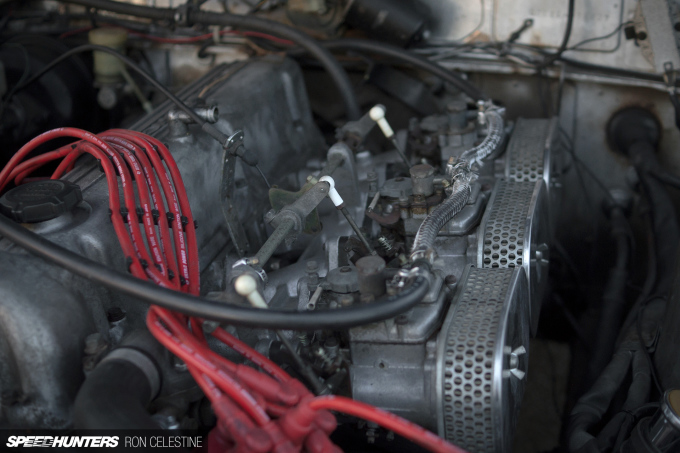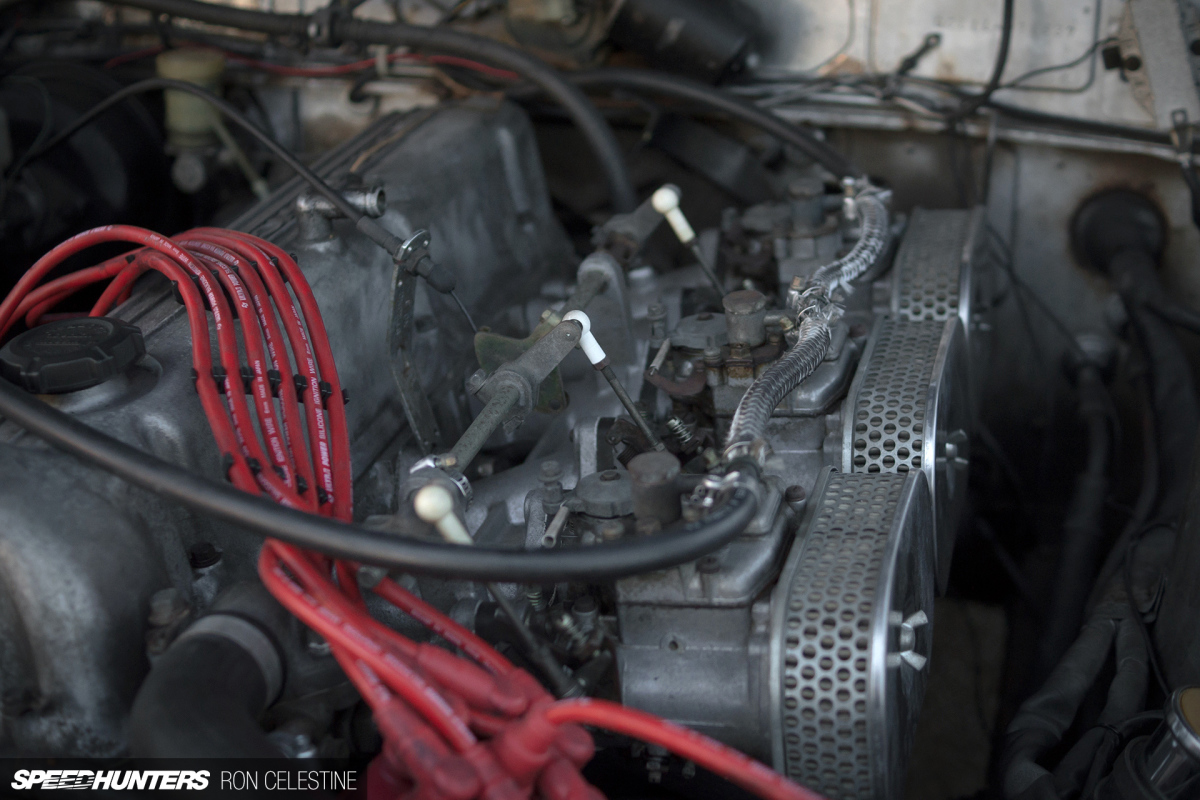 With the suspension and brakes sorted out, it was time to take a look in the engine bay where the 2000GTX's original 2.0-liter L20 had been replaced with a 2.8-liter L28.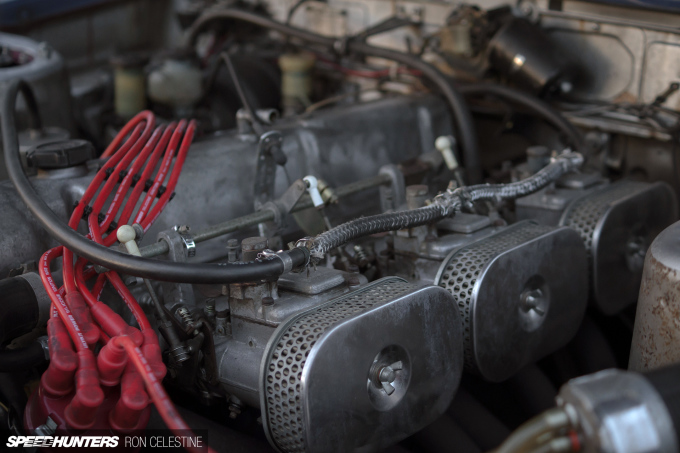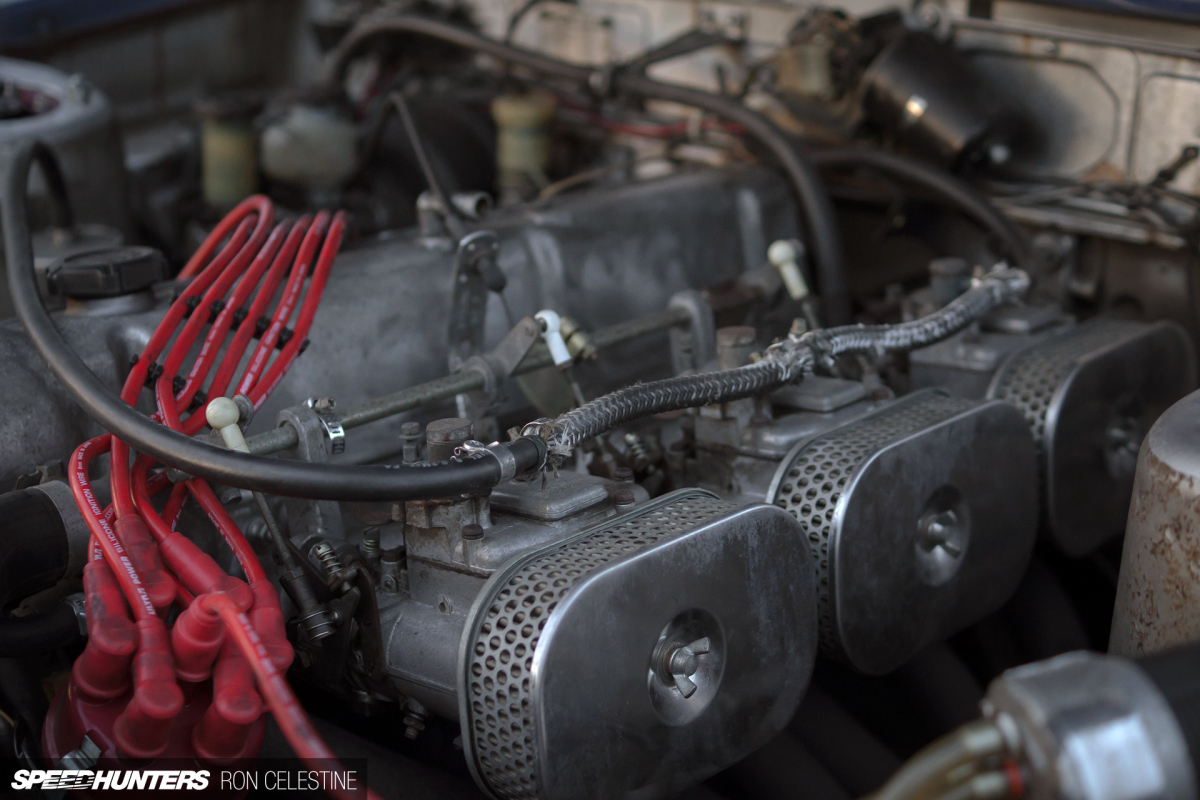 Triple Mikuni 44mm carbs helps the straight-six breathe a little better.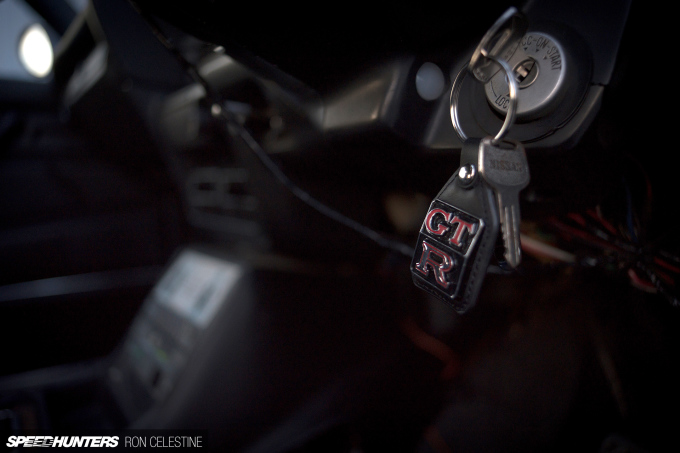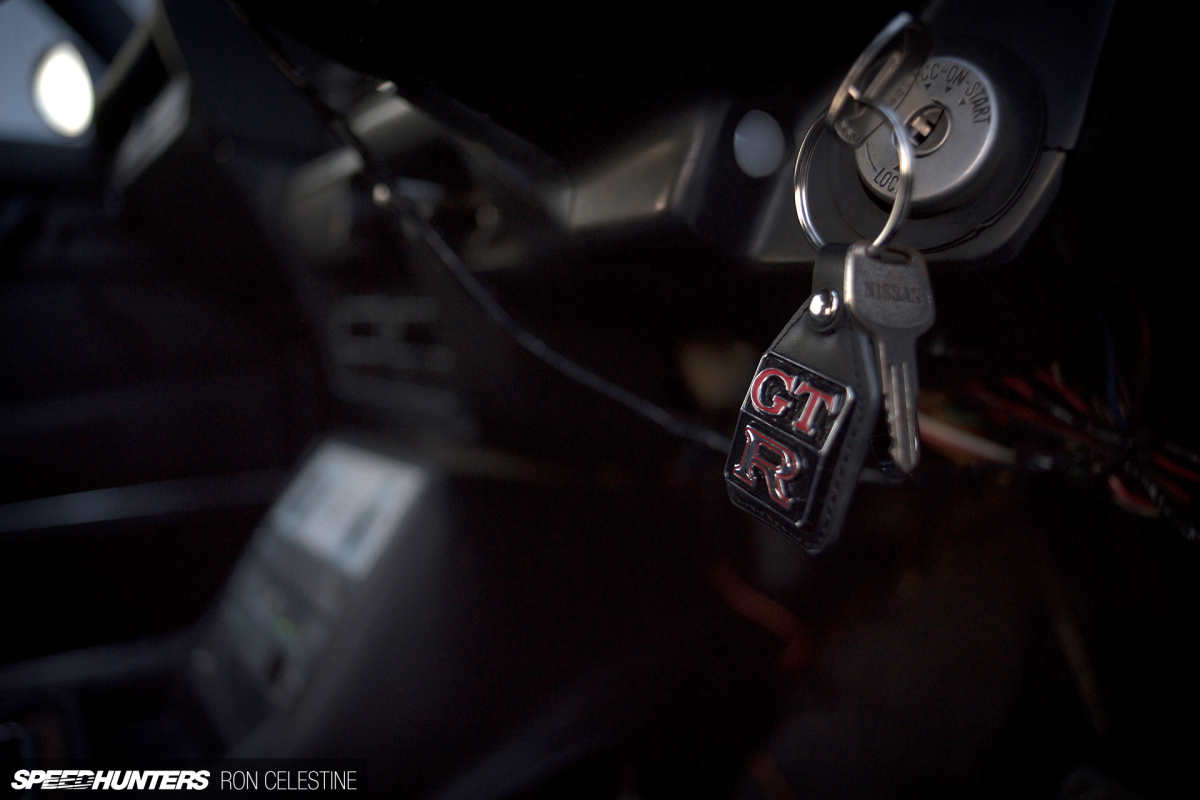 The engine itself was in good condition, so all Peck felt he needed to do was upgrade the ignition system with a Mallory optical distributor and coil system, and give it a tune.
Oh So '70s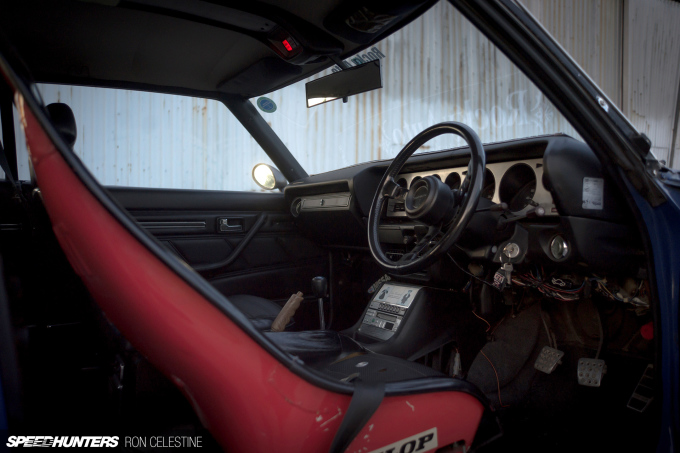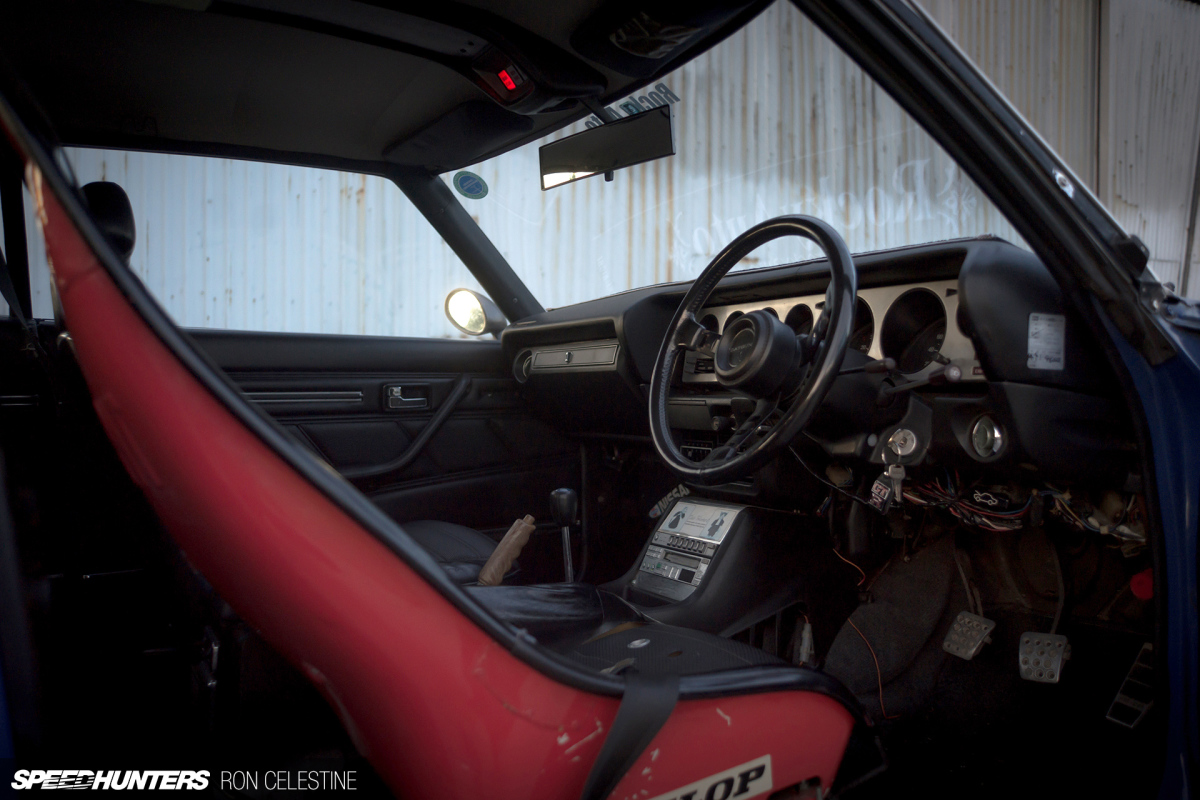 To my great delight, opening the Kenmeri's doors is like entering a time machine and punching '1977' into the time coordinate computer. With the exception of the bucket seat and Datsun Competition steering wheel – themselves both period correct additions – pretty much everything else is factory spec.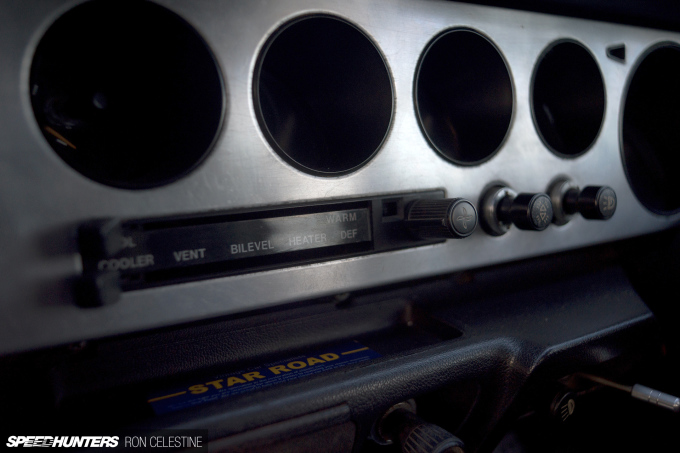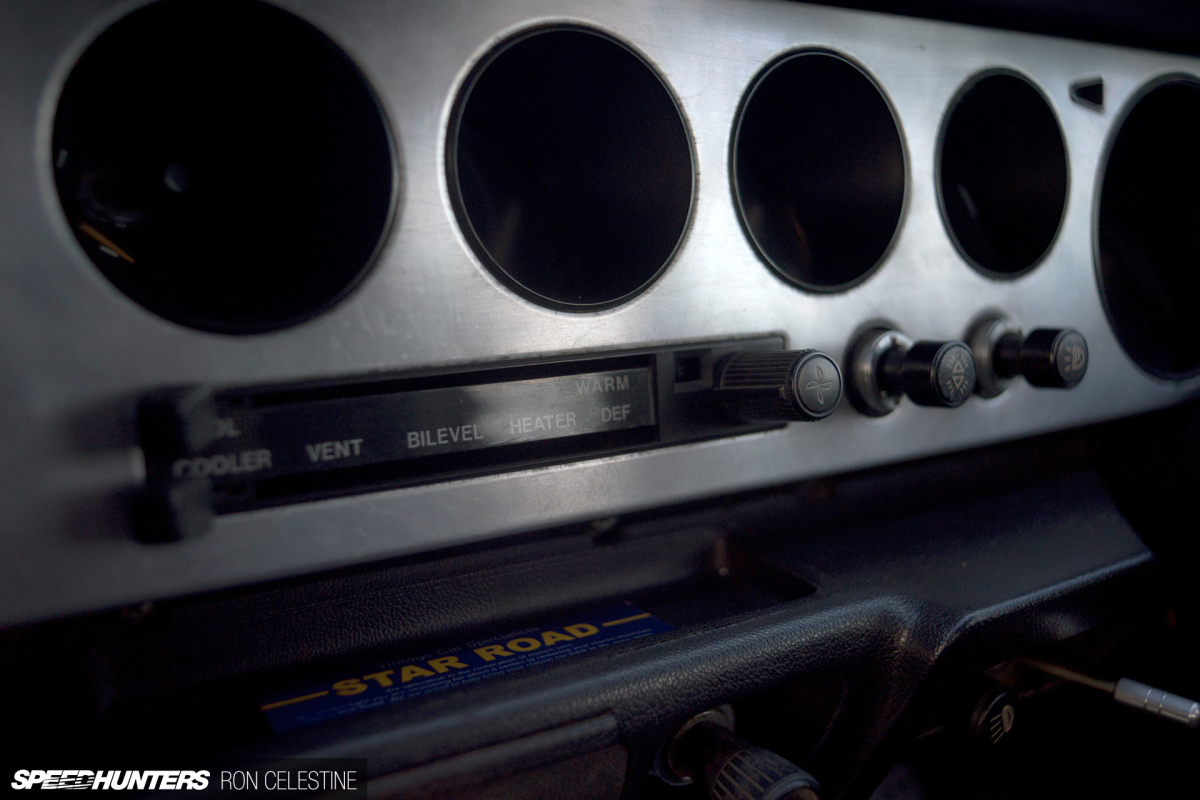 I love the classic and minimalist feeling that dashboards in Japanese sports cars had back in the '70s.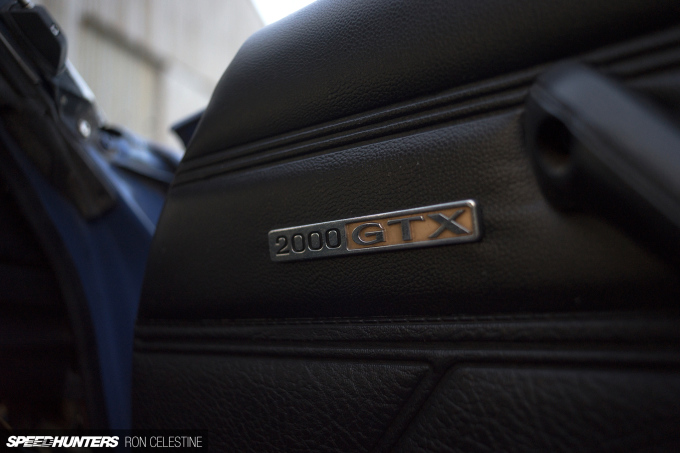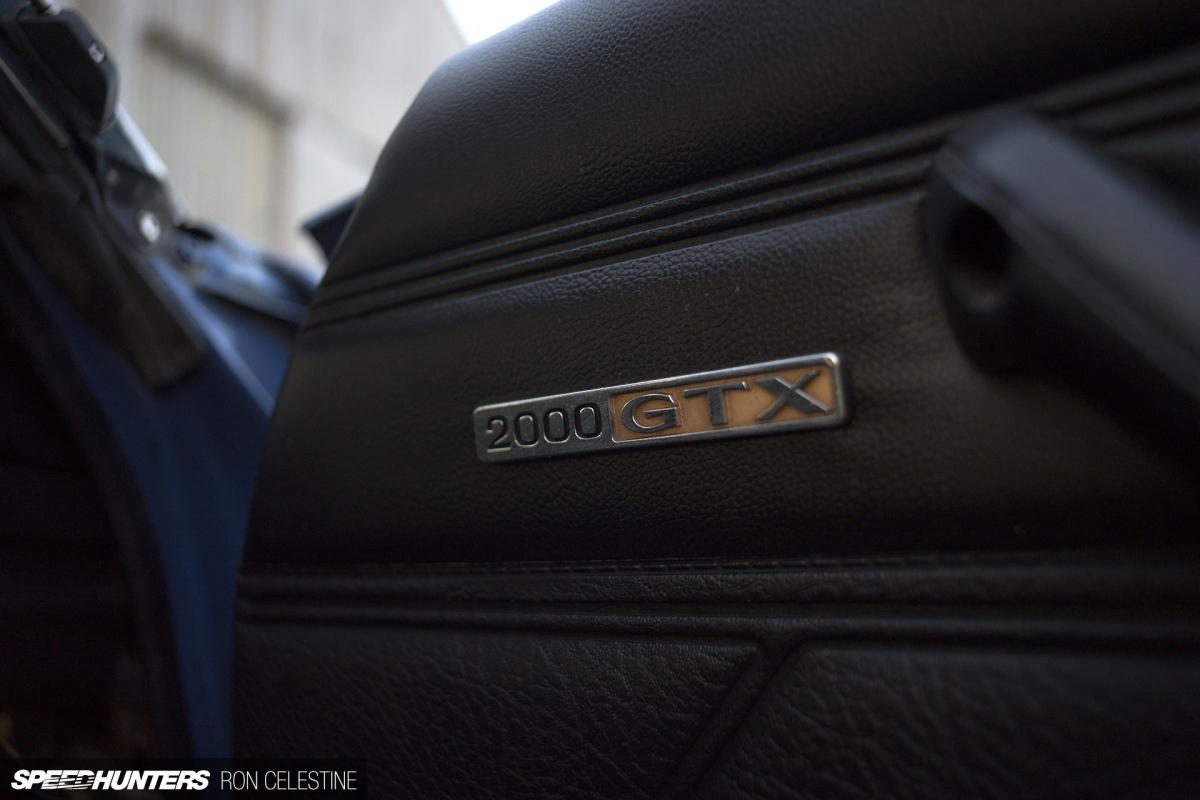 The upholstery, despite being well over 40 years old, remains in excellent condition throughout.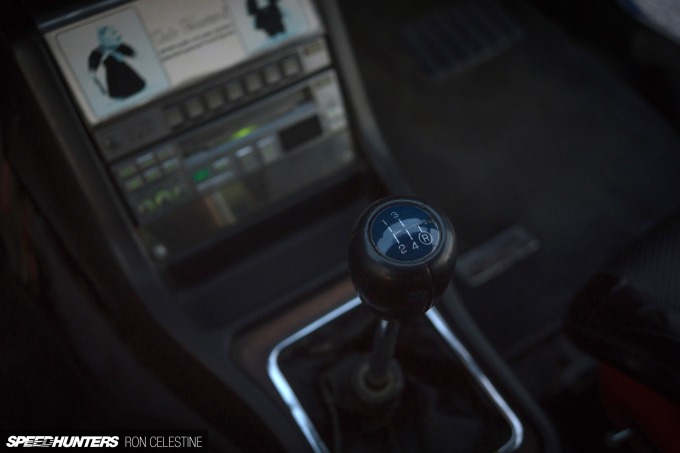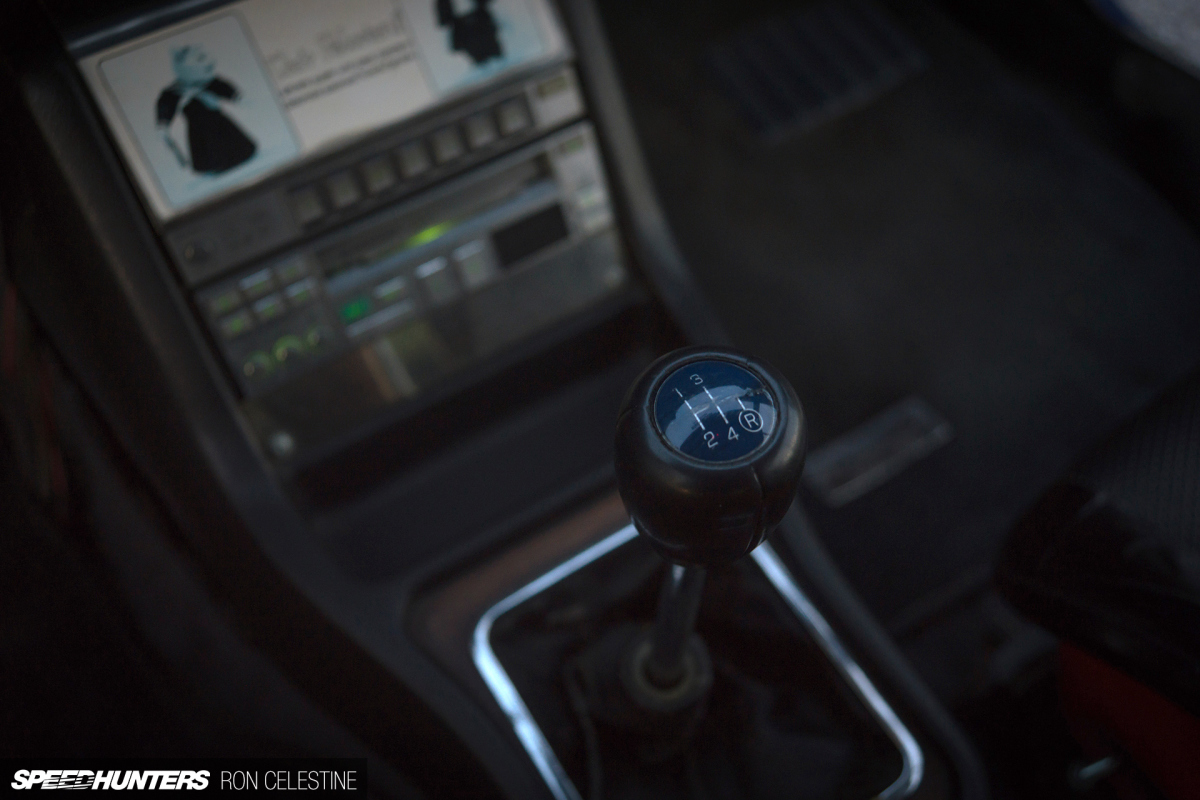 Peck has felt no need to make any changes to the interior so far, and it remains as it arrived from Japan.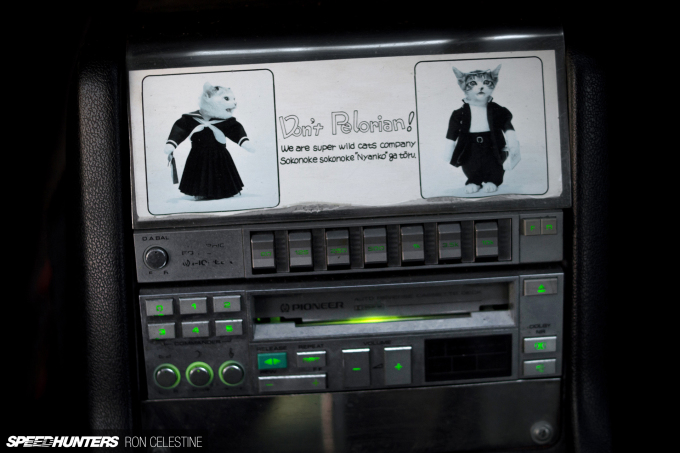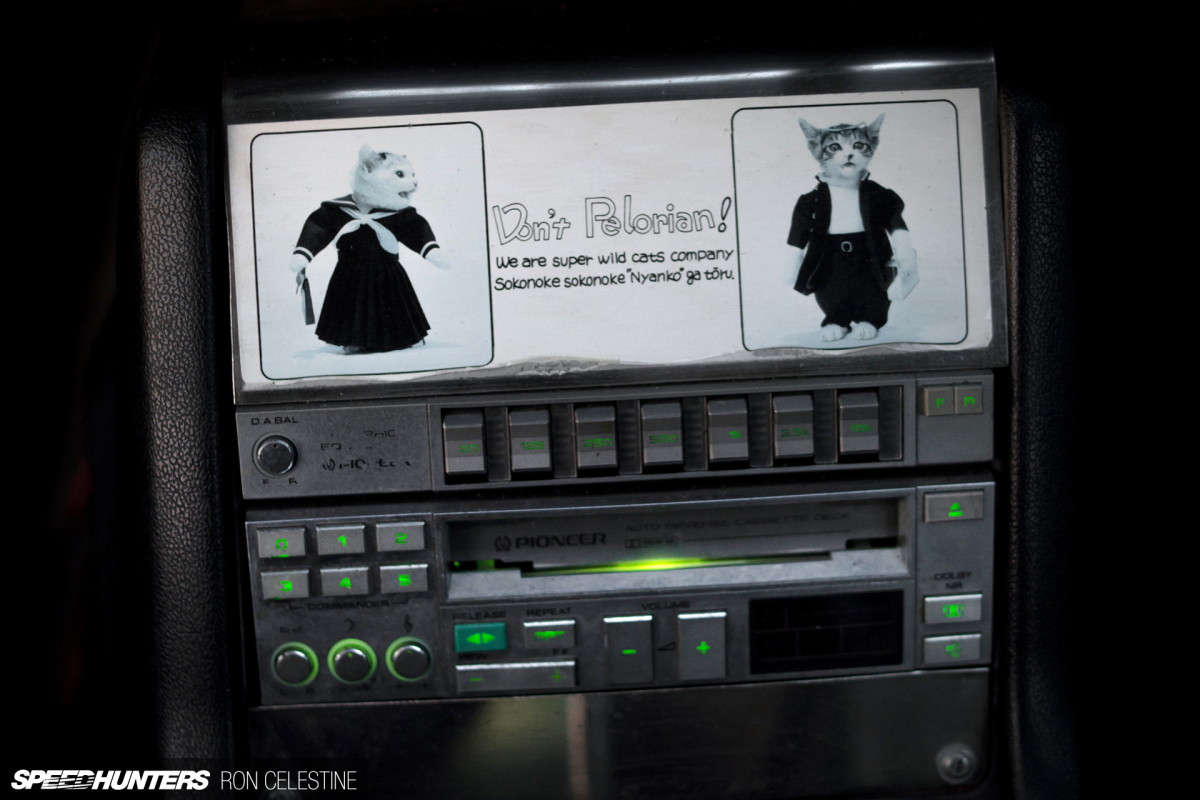 And that goes right down to some curious Don't Pelorian! artwork. A photographer by the name of Satoru Tsuda had the brilliant idea of take pictures of cats doing human-like activities, the images sparking a craze that eventually led to the cats showing up on hundreds of different items of novelty items and even a video game. You gotta love Japan!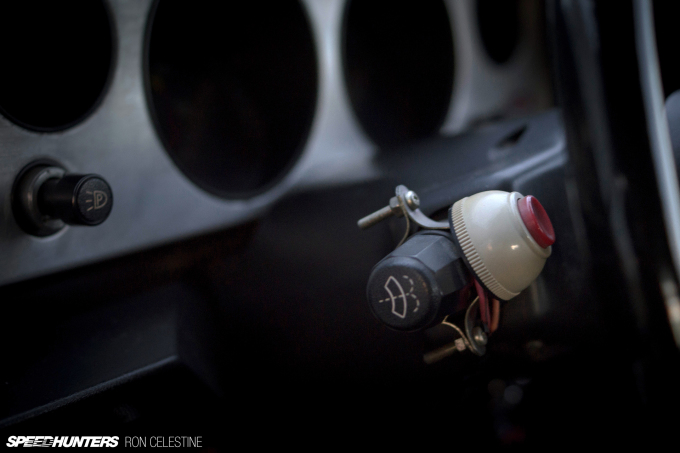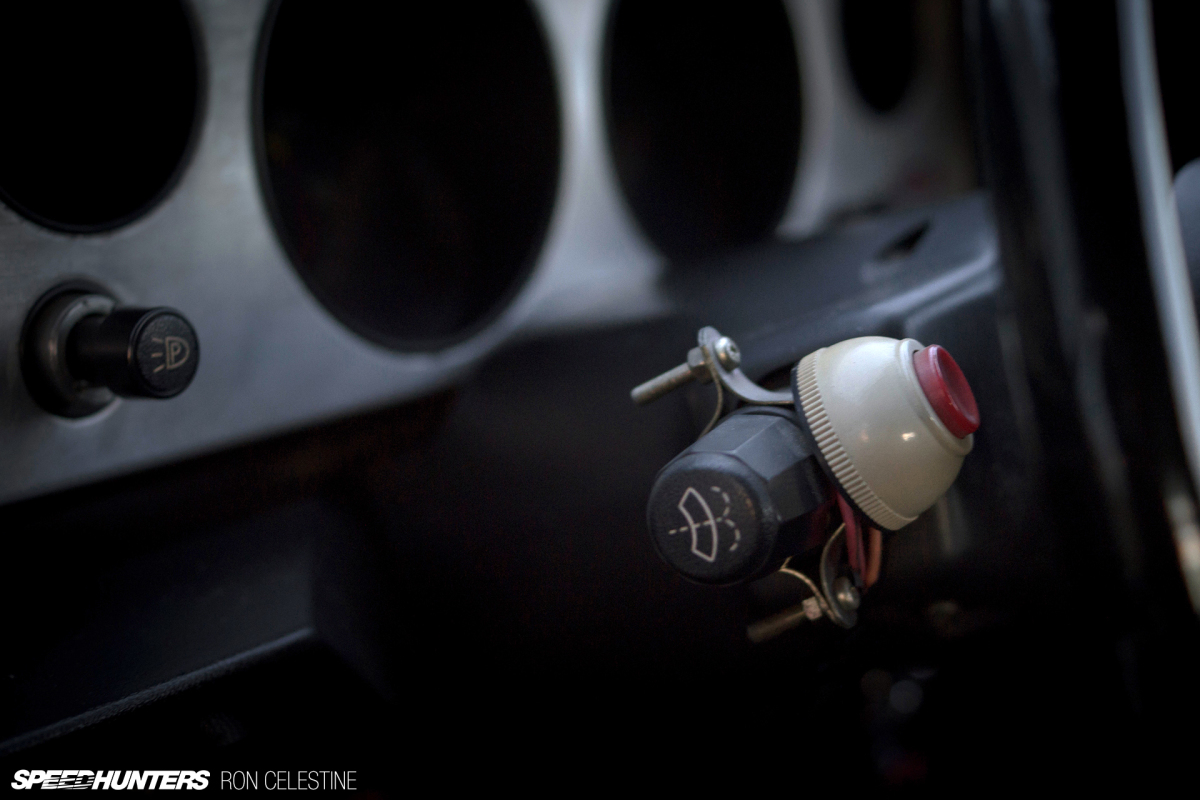 This mysterious red button hidden behind the steering wheel begged to be pushed, and Peck, having seen the desire in my eyes, gave me the okay to press it. However, he didn't tell me what would happen…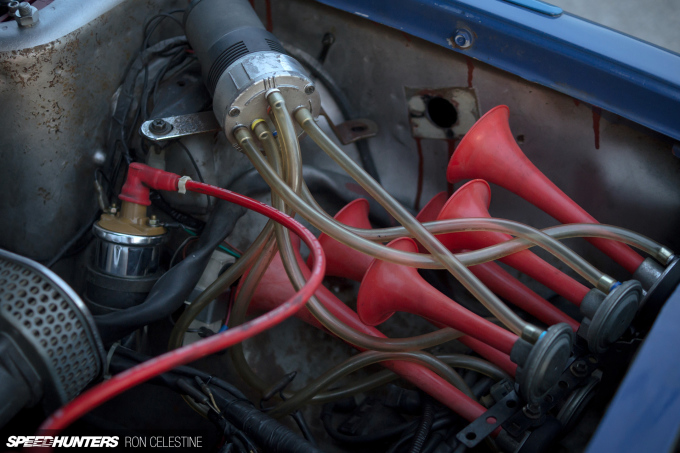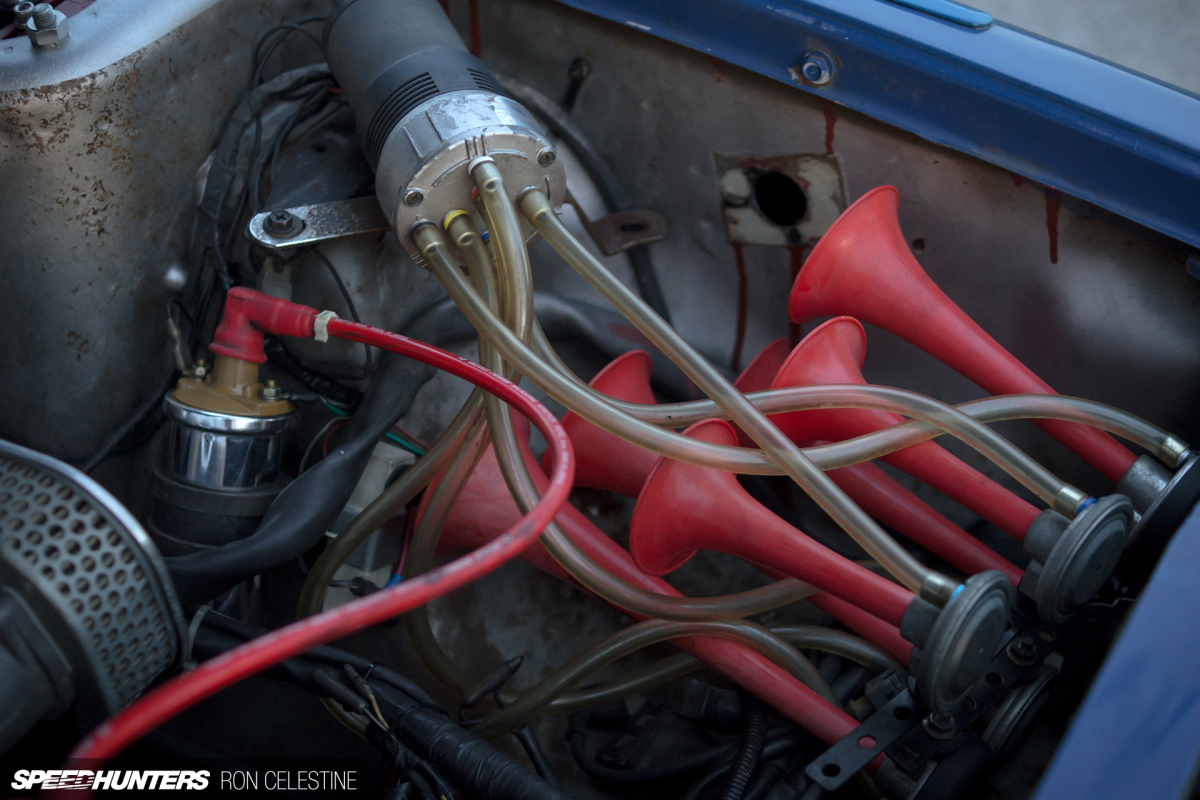 Out from a stack of air horns in the engine bay bellowed the The Godfather theme tune – a great way to get instant attention, or upset your neighbors and the police.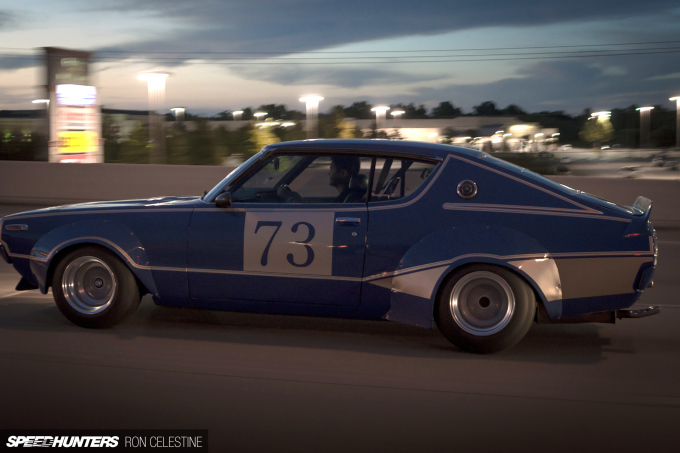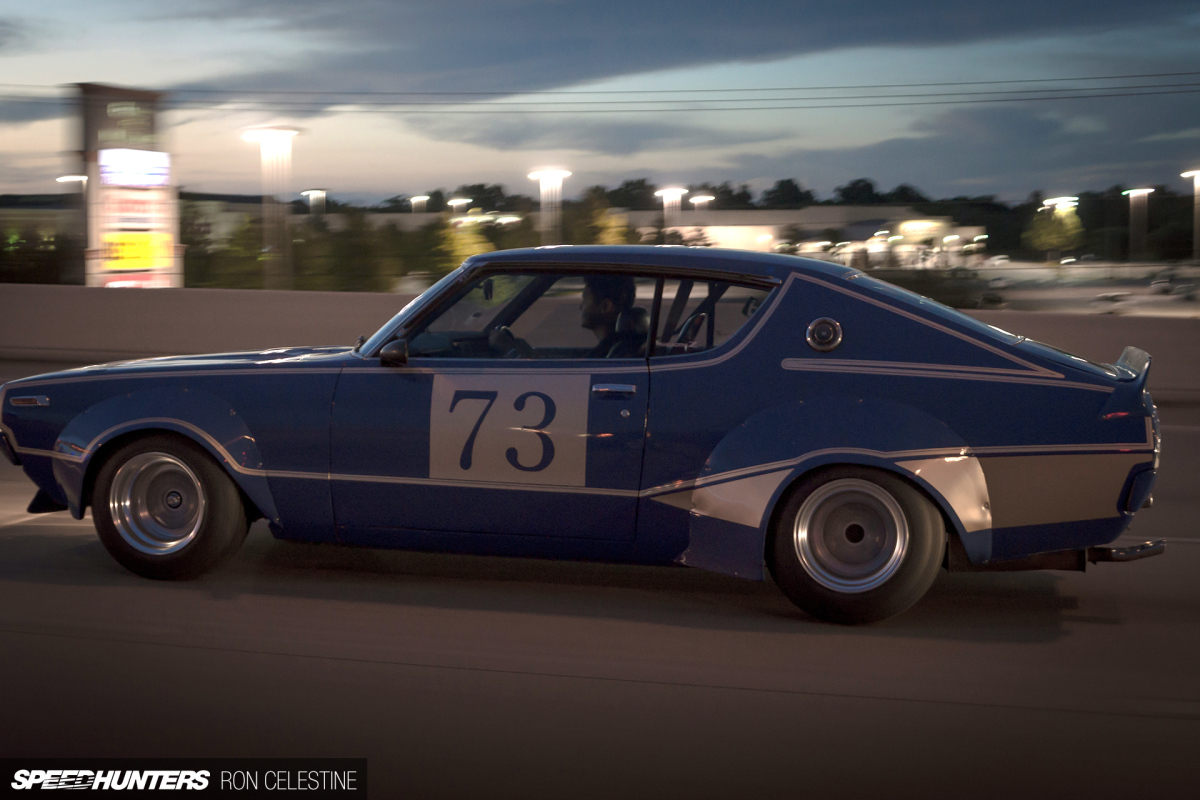 Not that it would be too difficult to garner any kind of attention driving this around the streets of Houston.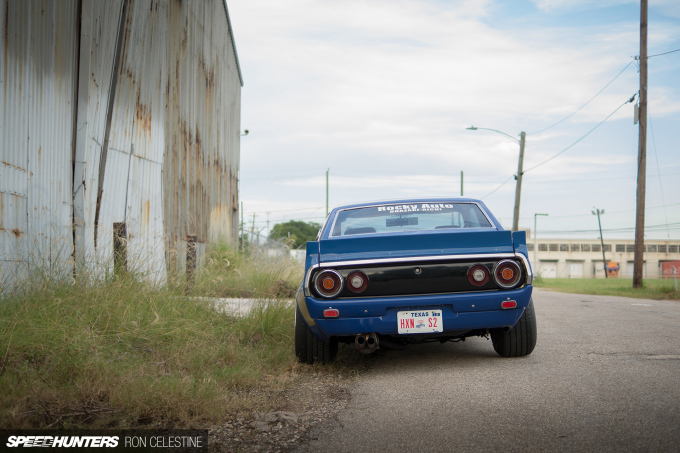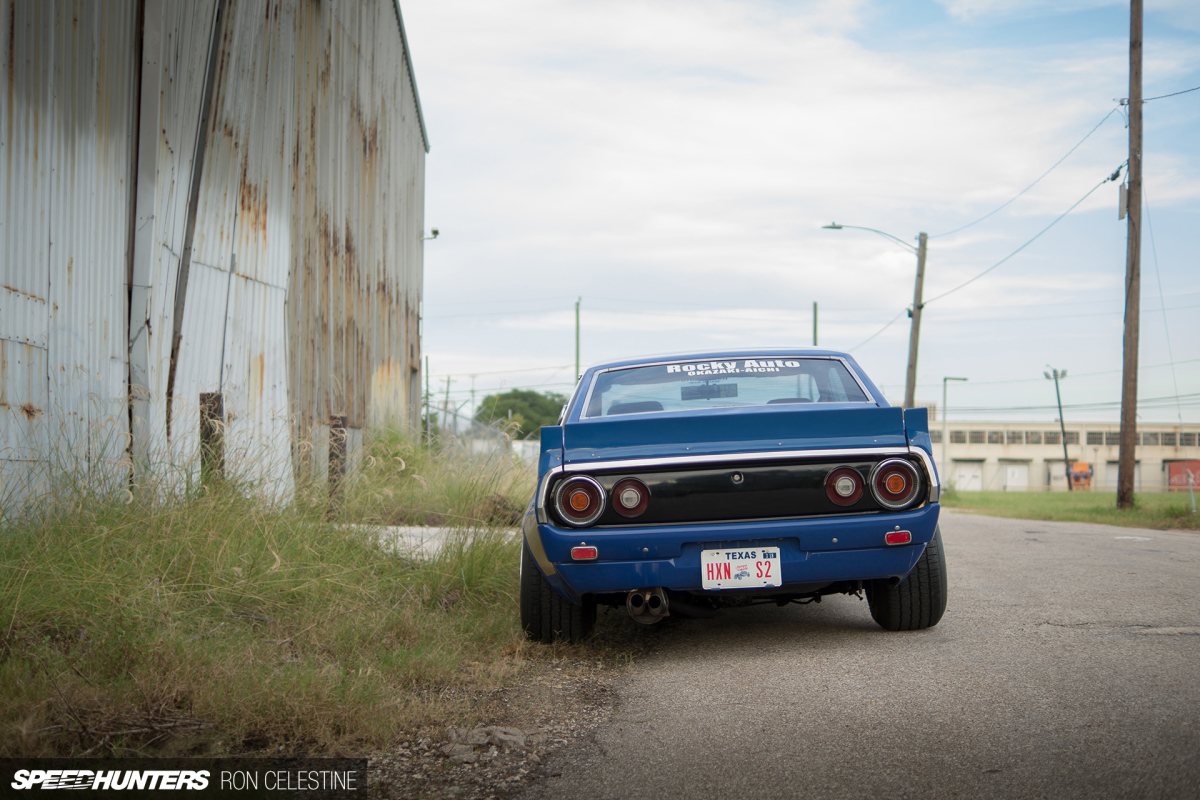 It's simply amazing and quite frankly wonderful to see people who work hard achieve their childhood dreams. Peck plans on keeping it simple and just enjoying his old school Skyline as it is for a while, but eventually he'll make a few changes to inject some of his own ideas into the build.
If anything, meeting Peck and shooting his car has motivated me to achieve one of my childhood dreams and get a Kenmeri in my garage. In the meantime, thank you H-town, you've been awesome!
Ron Celestine
Instagram: celestinephotography