RWB Family
The idlers 12 hour endurance race is an event I look forward to like no other. It's not just a race but a proper experience in the truest sense of the word; from the fact that I actually get to drive in it, to the overall feeling of belonging to a family.
Nakai-san and the RAUH-Welt Begriff crew are very good at this. They share a passion unlike I have ever seen, and their love for Porsches stretches across the globe and brings together people from various walks of life. I feel privileged to have been welcomed into it all. The idlers 12 hour race is a way for Nakai to emphasise his style, which has always been tightly linked to motorsport. It's also the same event where I first saw his wild 930 Stella Artois all those years ago. The fame, success, and all the new people Nakai's encountered since then have in no way diluted or skewed his unique approach to doing things. This is a guy that builds his cars in a way that he likes, for the sole joy of using them and seeing them used on track.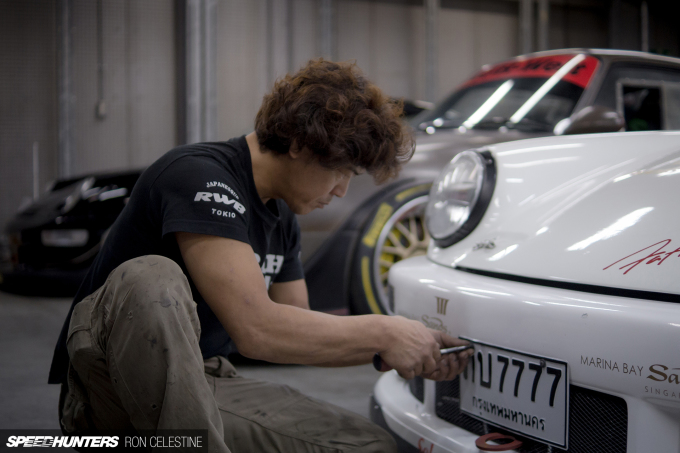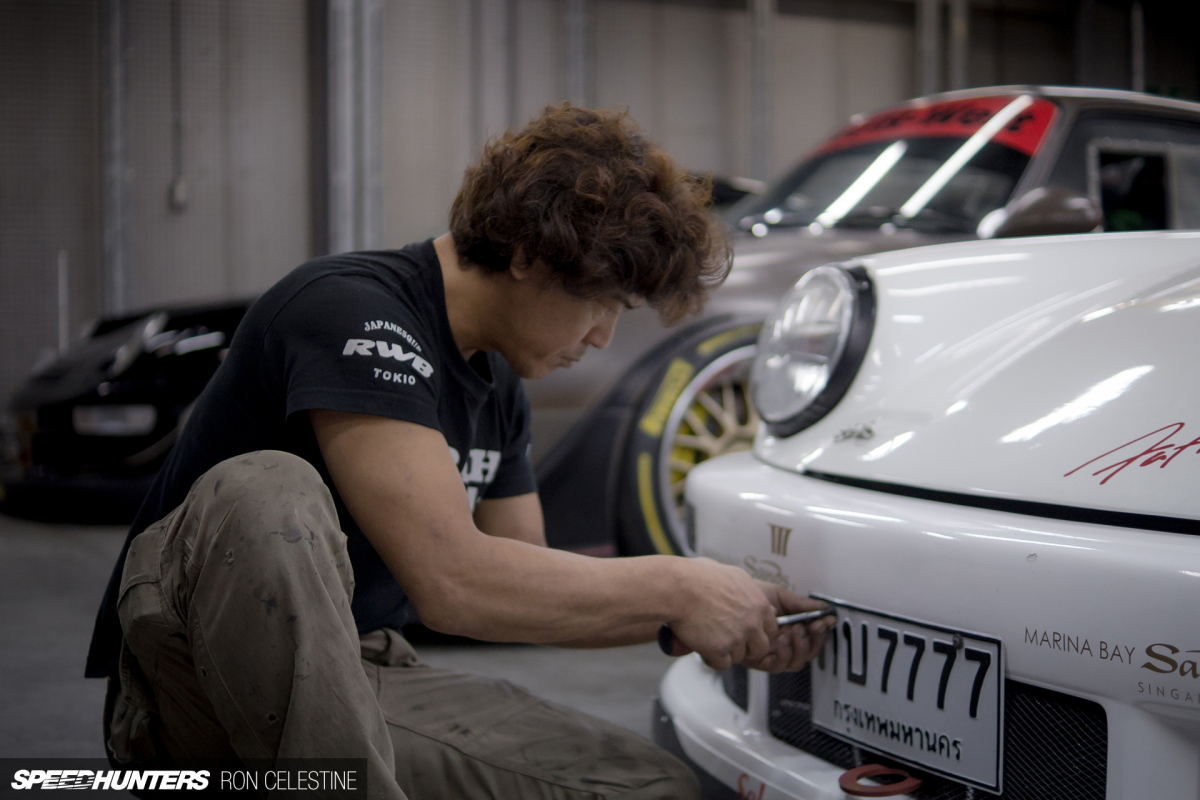 The 2016 idlers event started off the way it always does for the RWB team with a 7:00pm Saturday evening meeting time at Nakai's shop. This provides a few hours to mingle, grab a bite to eat and put the final touches on the cars before it's time to roll out.
Along with the seven Porsches Nakai had prepped for this year, we would all proceed to Moriya PA on the Jōban Expressway and meet up with others who were joining the convoy to Twin Ring Motegi. But yours truly screwed up royally. Just as we were about to leave RWB, a bad feeling came over me. After a few seconds of contemplation it hit me – I had forgotten to bring my race suit! Of all the things… With me being quite the generously proportioned fellow, there was no way in hell I would even be able to rent one at the track, so I was left with no other option but to head back home and meet everyone at the track. Time wasn't an issue as the gates to Motegi weren't being opened until 2:00am, but nevertheless I jumped back in the Cayenne S e-Hybrid that Porsche Japan had kindly provided for the weekend, and continued to swear in Italian for the next hour, much to the amusement of Blake and Ron who were along for the ride.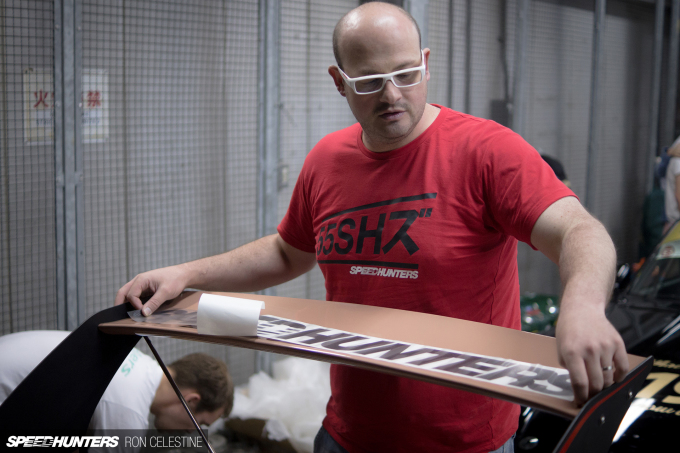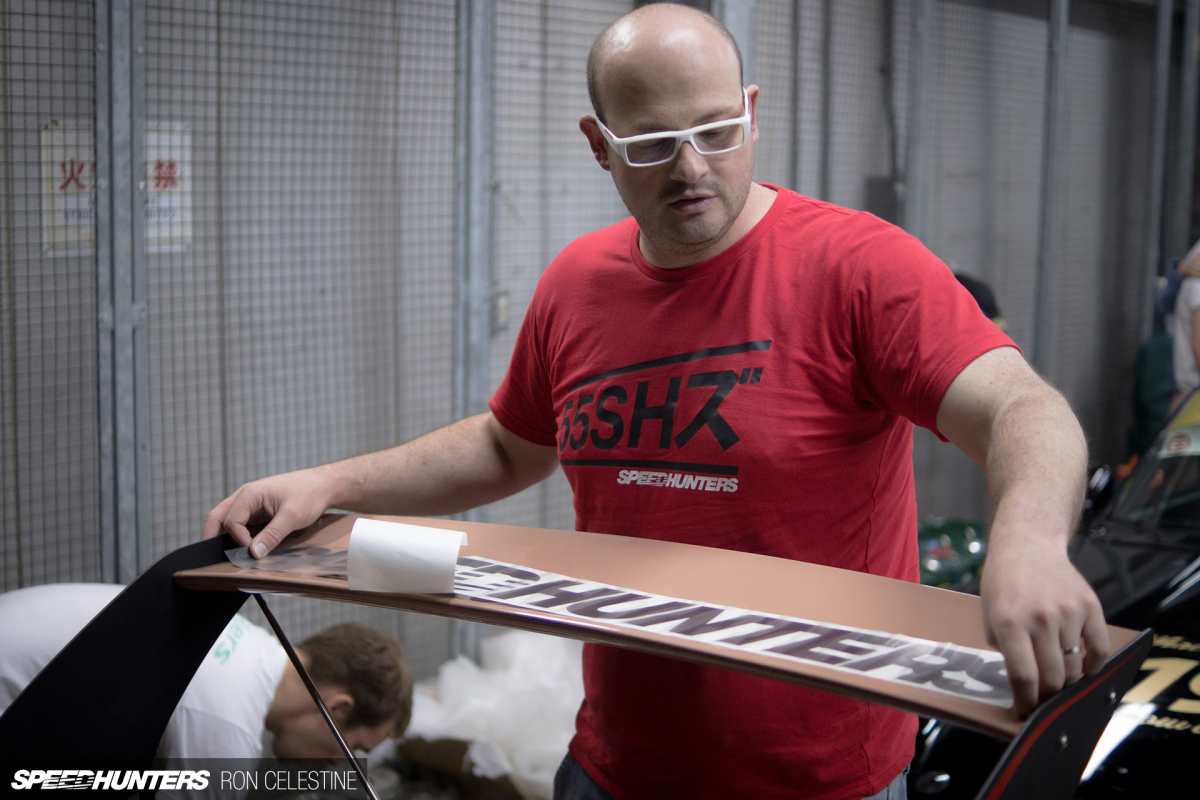 Luckily the roads going in and out of Tokyo were empty, and no more than 1-minute after the RWB convoy had departed at midnight, we had caught it up. Fast forward a few hours and we were in our pit garage and getting everything prepared. One of the first things I wanted to do before falling asleep was to sticker up Adriana, the car I'd be driving.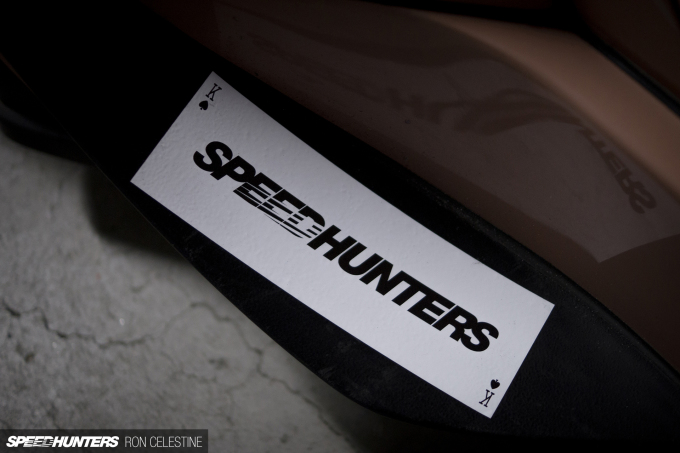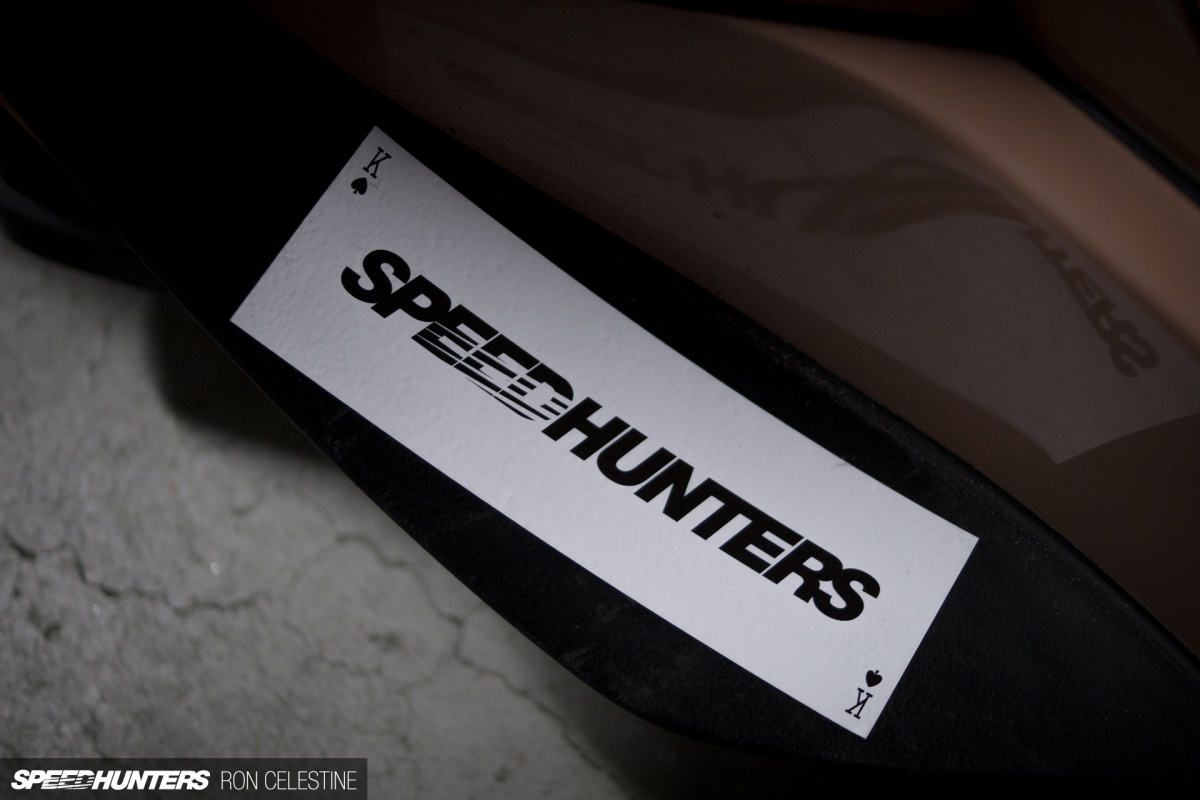 By this point it was after 3:00am, and with my brain no longer functioning, it was time to head over to the Cayenne and get some shut-eye. But that was never going to happen. We had a team meeting scheduled for 4:00am, followed by the main driver's meeting at 6:00am, and then the cars had to be moved onto the grid at 7:00am before the race start at 8:00am. Sleep's overrated anyway, right?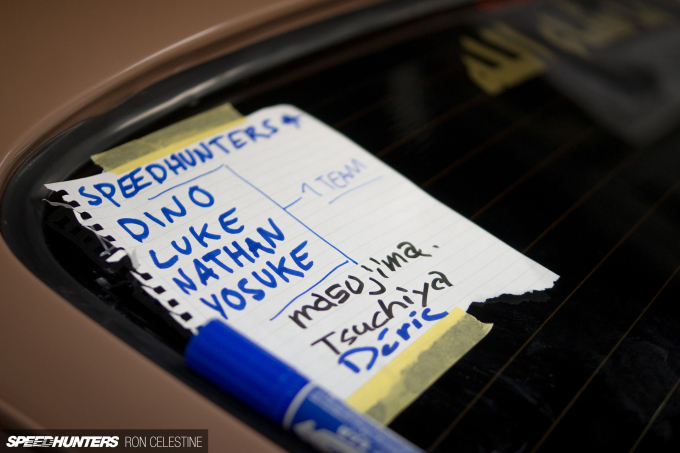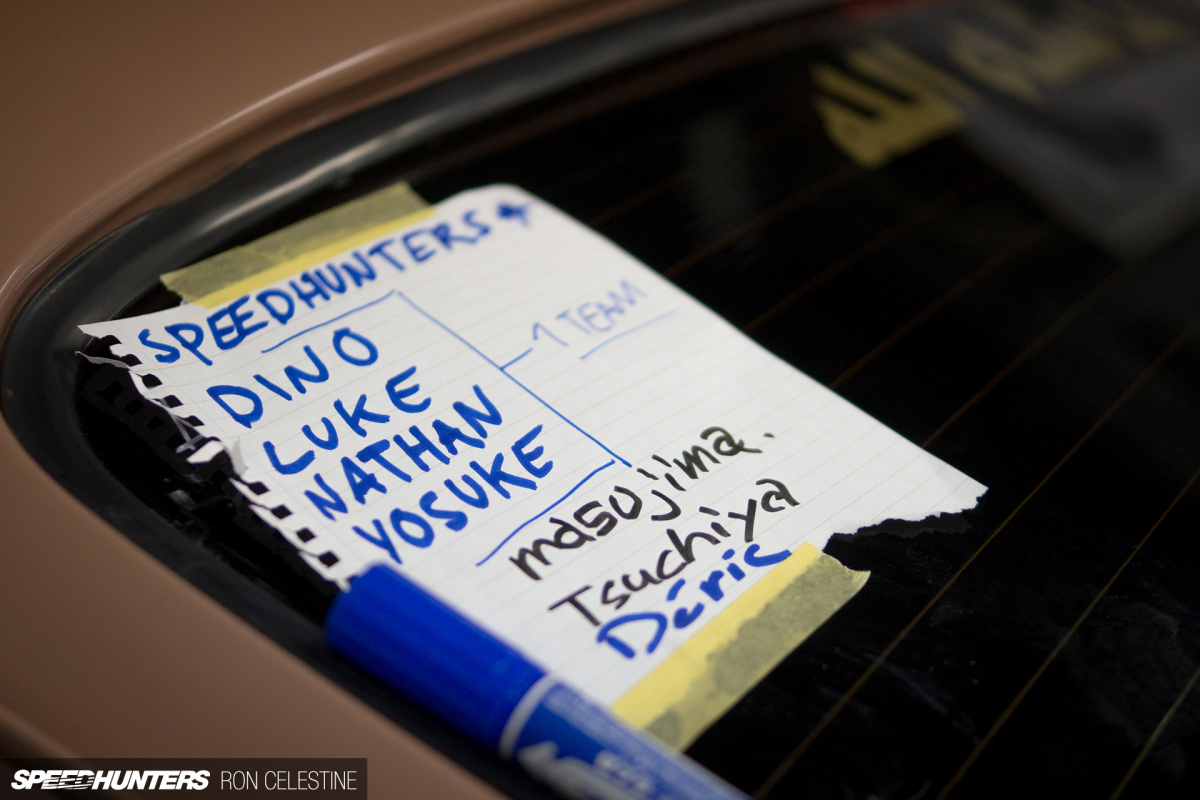 The teams were split up a little differently from previous years, and each car would effectively get two lots of drivers. The first team would drive for the initial four-hour stint, then the second team would take over for the next four hours, with the final four-hour dash to the finish line equally split among everyone.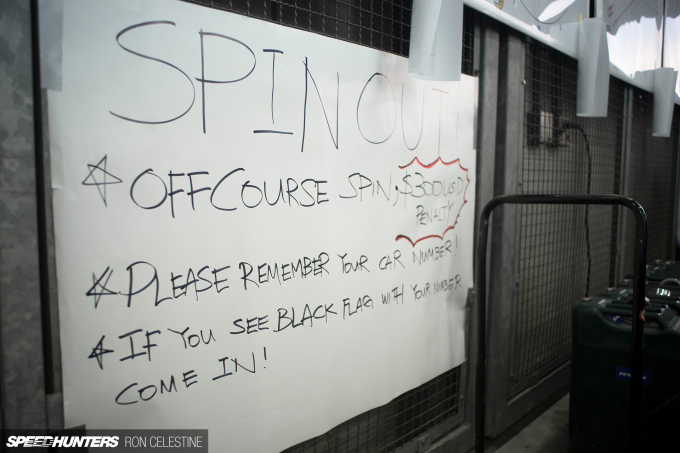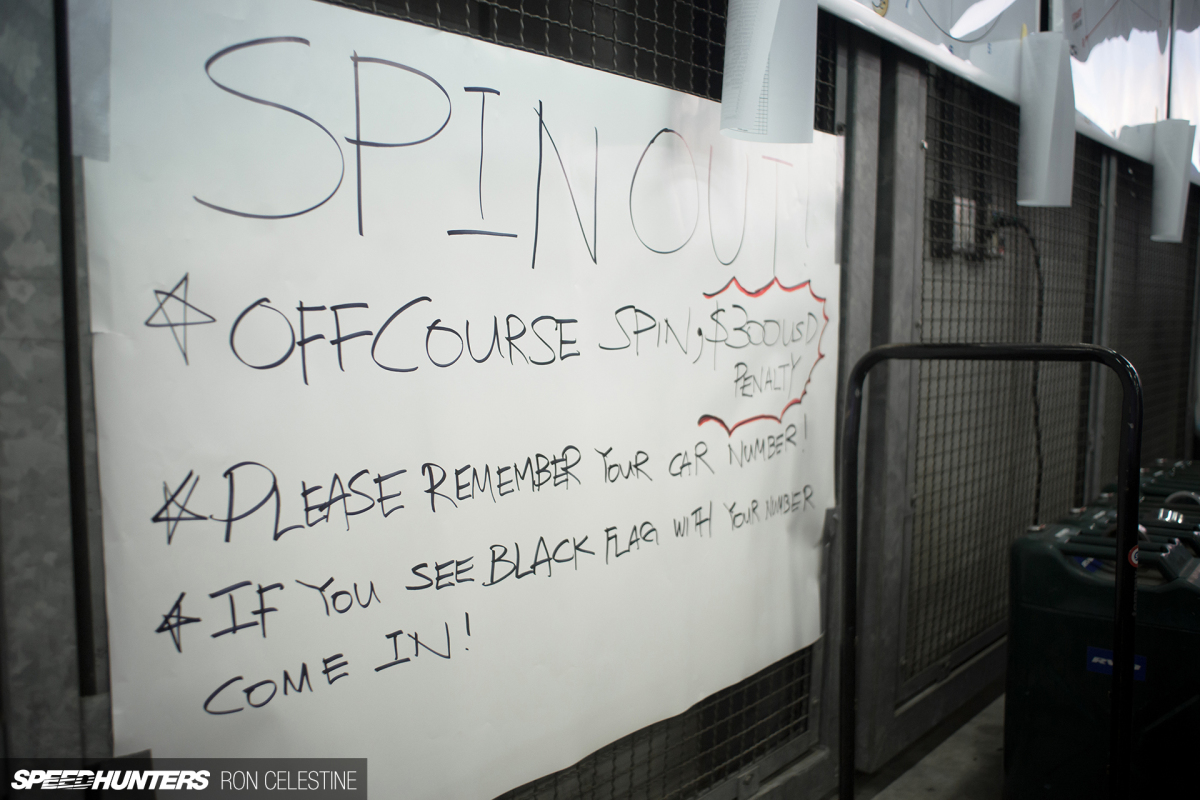 To ensure that novices and pros alike understood the rules, there were many signs like this one around the place to remind people to take it easy. When you know you'll have to fork out extra cash for an avoidable mistake, you consciously drive safer.
I was the guy that was supposed to begin the race in Adriana, and given that it was something I had never before done at this event, it was a great feeling. In 2013 I drove the last hour on destroyed tyres to bring the car back to the pits safe and sound, but this time around I was getting to start it. What an honour!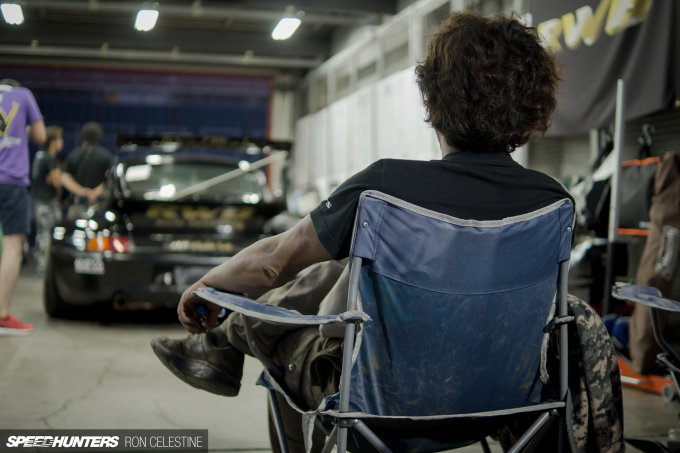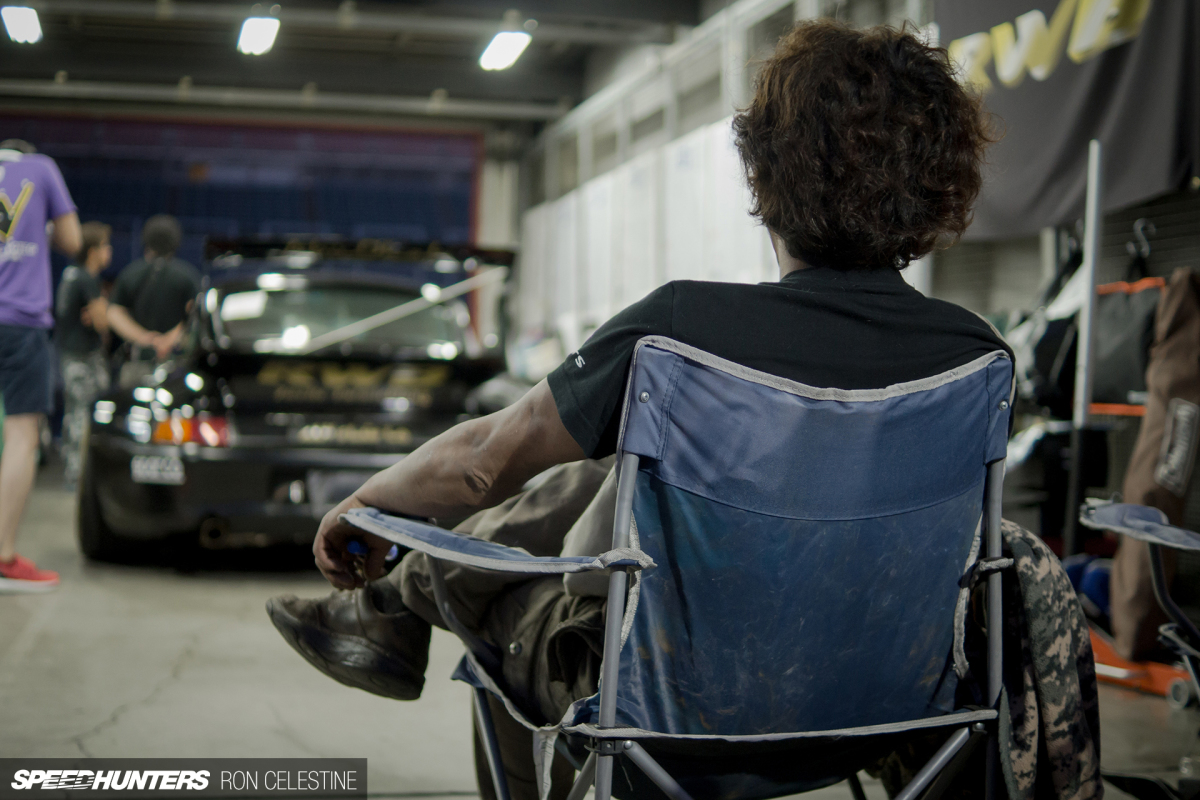 With nothing left to do but to wait, Nakai took a moment to sit down and reflect. Most people don't realise it, but by this point he's had little sleep for at least two weeks. In between travelling and building cars all around the world, he had to prepare all seven cars for this year's race. Thankfully, there are plenty of people that help him along the way, and if it wasn't for these guys, the cars wouldn't feel and look nearly as good, that's for sure. So thanks to everyone who lends a hand.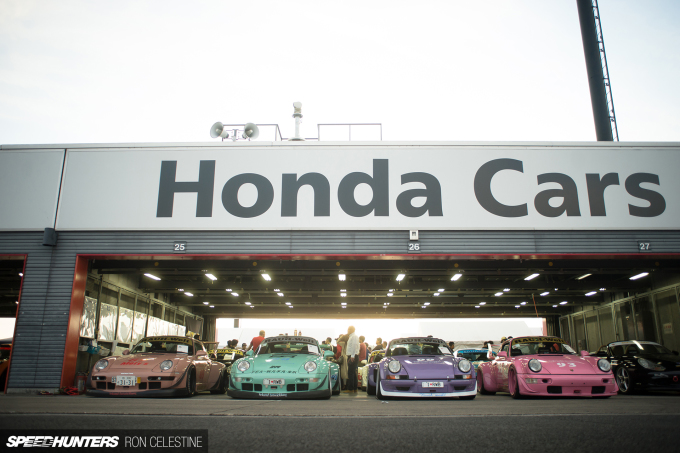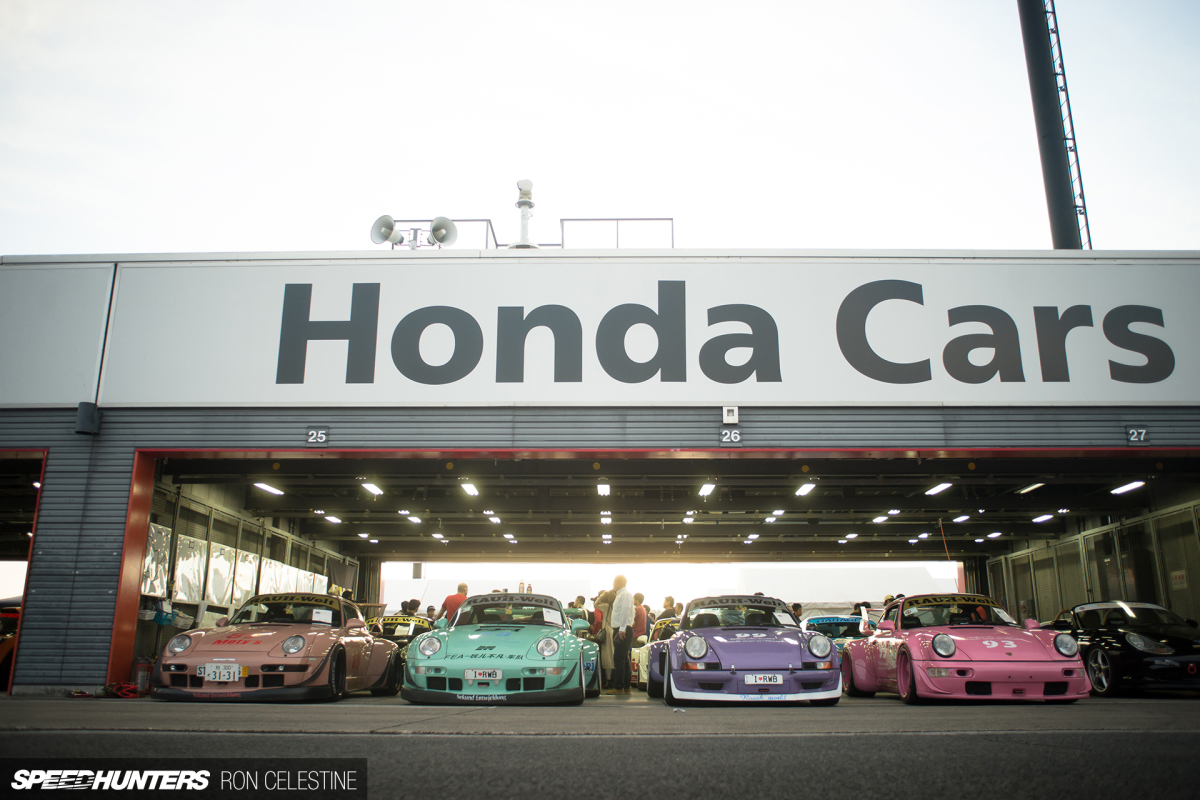 What a line-up!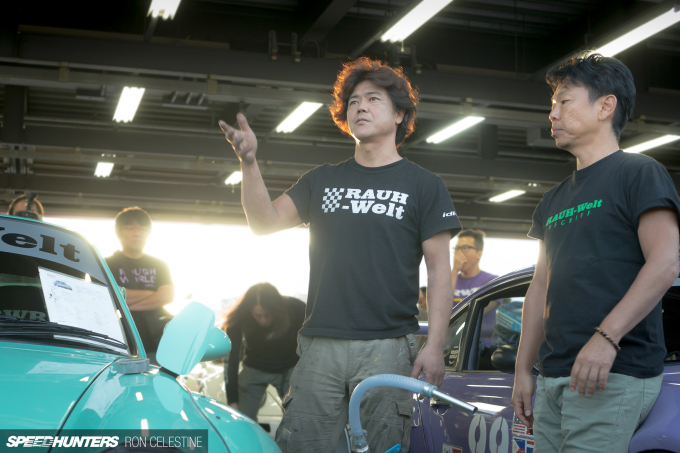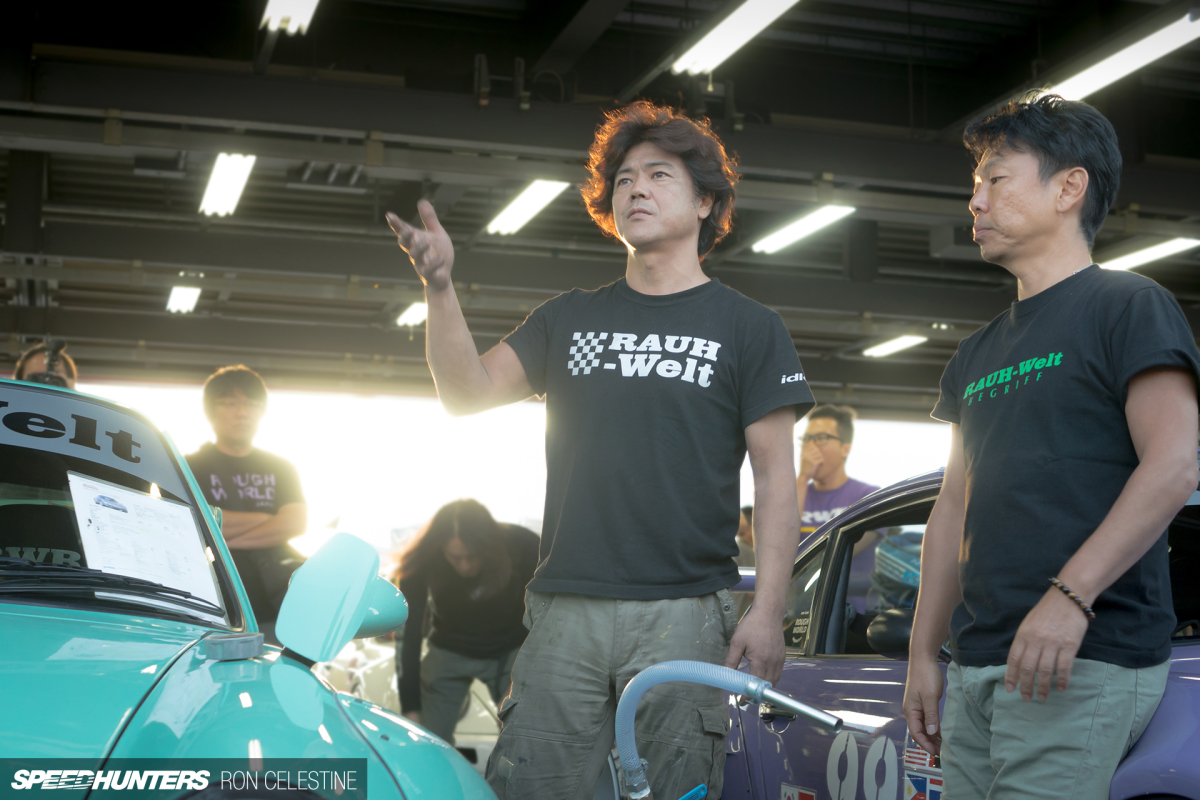 As light broke, Nakai and Toshi gave us a quick reminder of how the pit stops would work, the meaning of all the flags, and general stuff such as driving like gentlemen on track. The latter is one thing some find hard to do when the adrenaline starts pumping, but the main thing to do is stay focused and remember that you are part of a team; you have to do your part to help conserve the car as the main goal is to bring it home in one piece after 12 hours.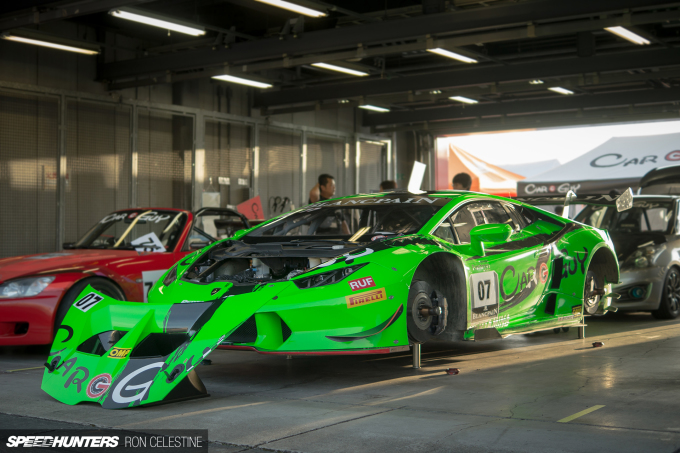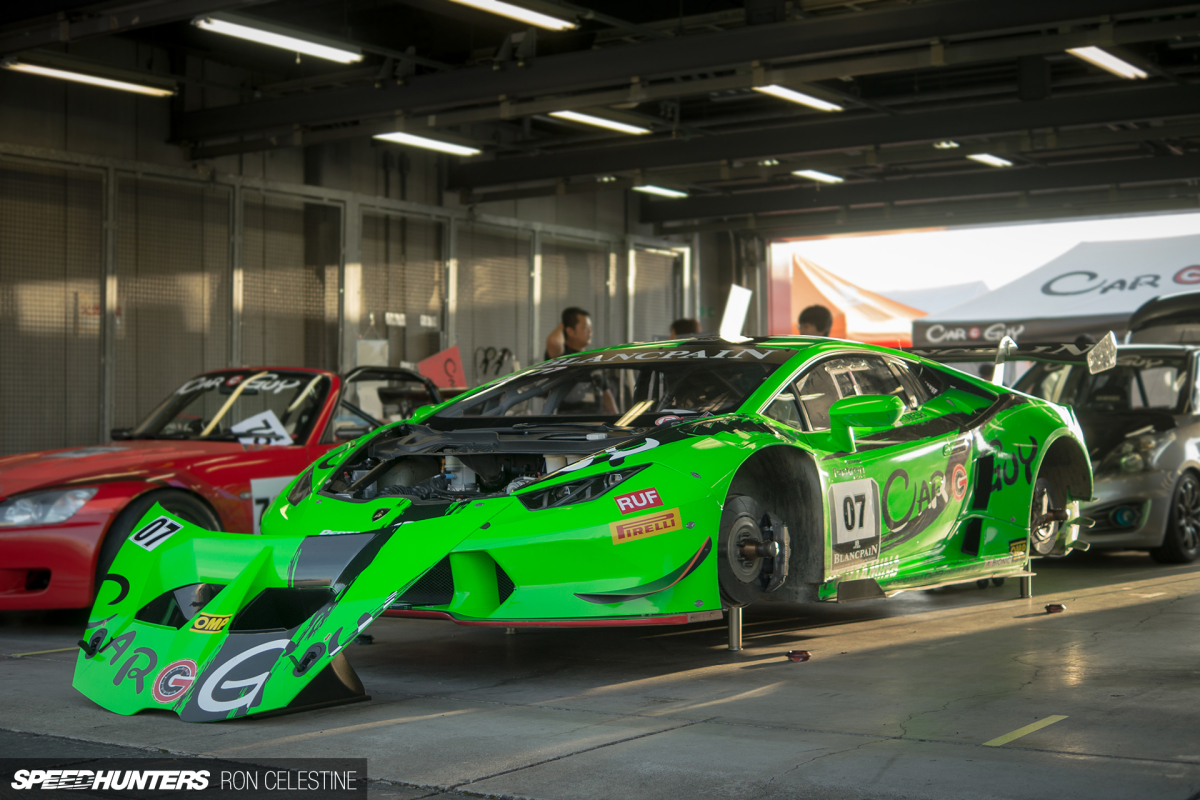 Before the race, I like to check out what other cars are participating, and there are always some surprises. When I spotted Car Guy's entry for this year, I couldn't believe it. Unfair advantage much? But Kimura-san is a real character who's always up for a bit of fun, and he saw the 12-hour endurance as a great event to shakedown his brand spanking new Lamborghini Huracán Trofeo race car.
Yep, as you can see, fun is the name of the game. The Club Alpha Plus 2CV continues to be the coolest entry in the whole event; the way in which the Citroën leans through the corners and its lack of speed always makes it a memorable car to lap.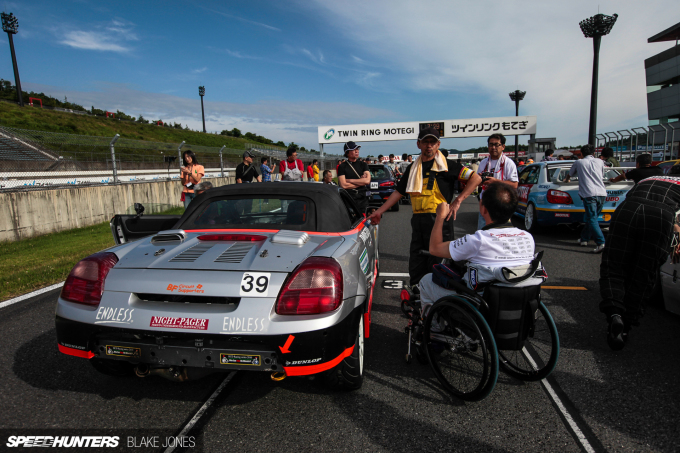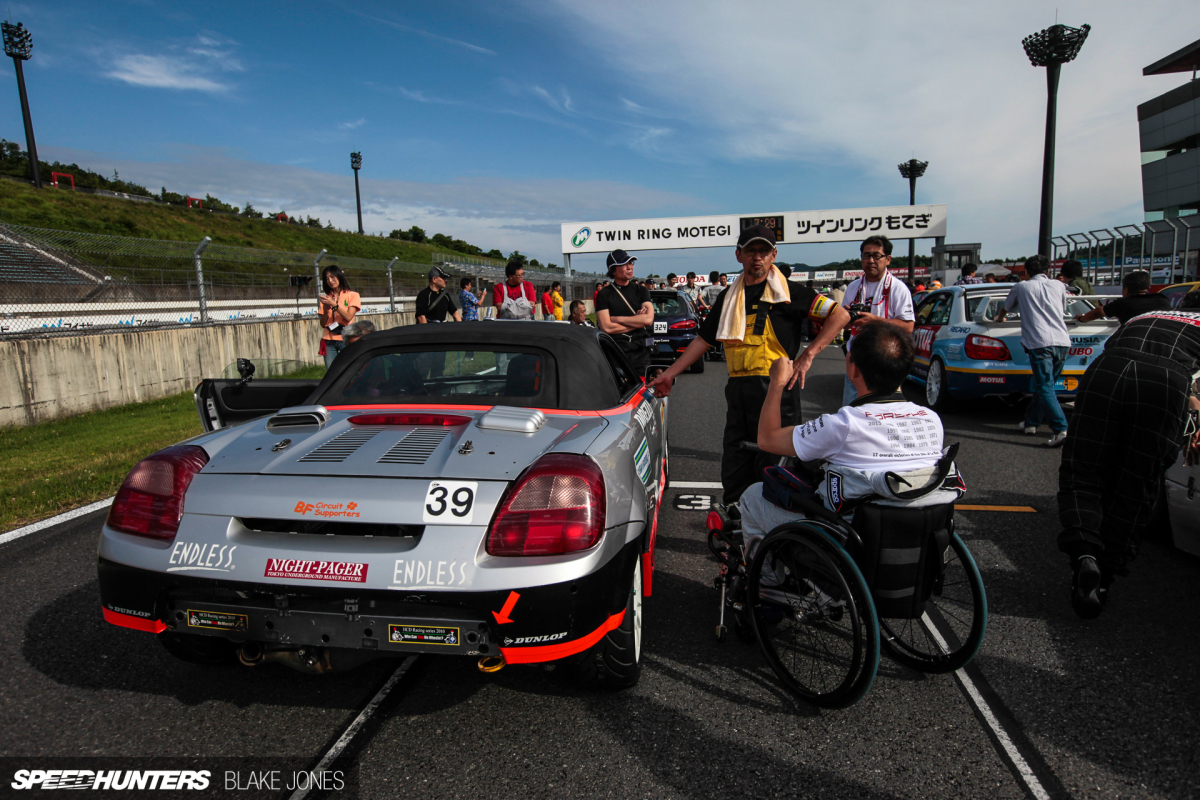 And a big thumbs up to this team, a group of awesome guys that don't let their disabilities get in the way of experiencing the idlers 12 hour to the fullest.
As always, the RWB team brought together a diverse group of people. This year they came from Australia, the Philippines, China, Korea, the UK, New Zealand, Dubai, the US, Thailand, Indonesia, Canada, Japan, and oh yeah – Italy.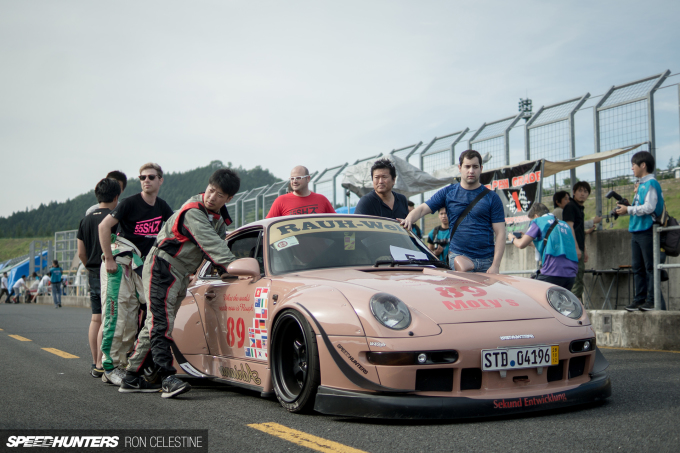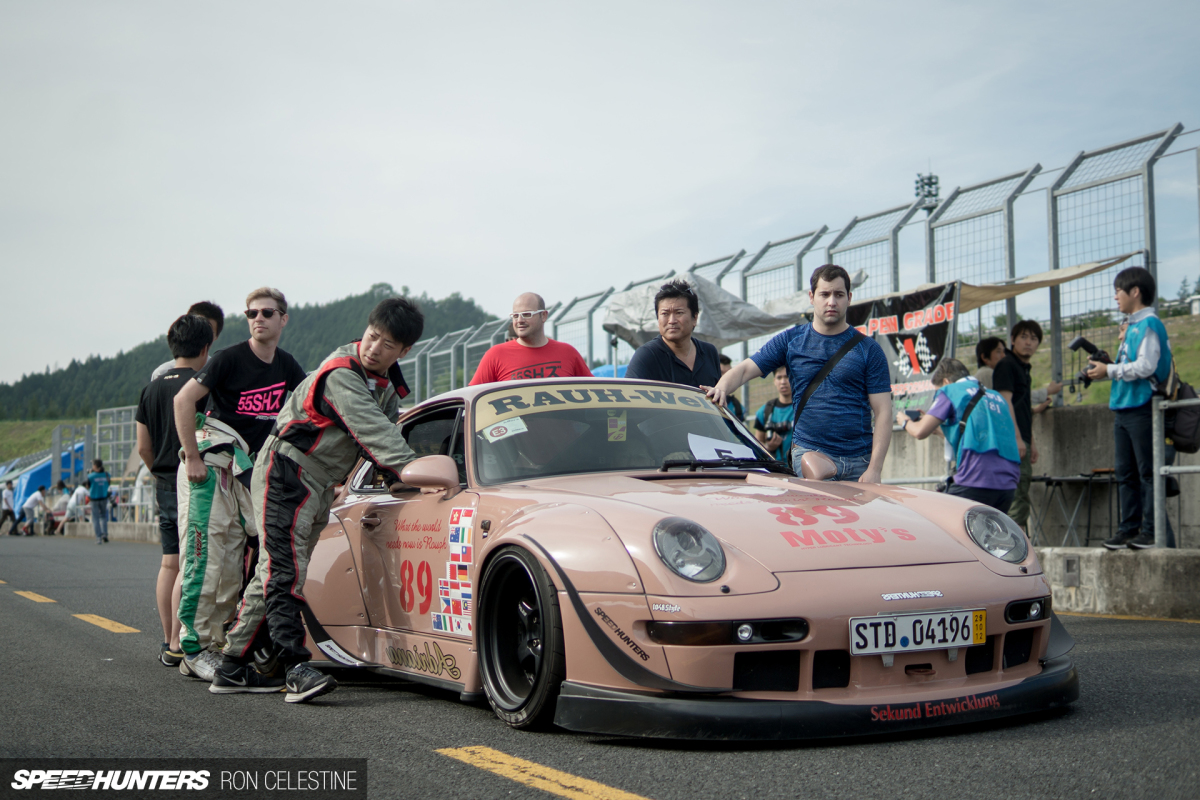 I would be starting the race from 5th position on the grid, so I didn't have much of a fight to try to gain positions from the get go. Or that's what I was telling myself anyway, forget the fact that 70 per cent of the cars behind would be able to overtake me on the first lap. But still, you've got to get into the zone somehow, right?!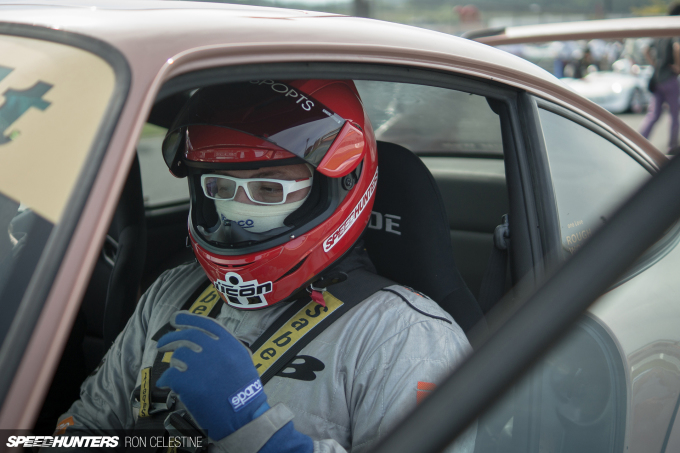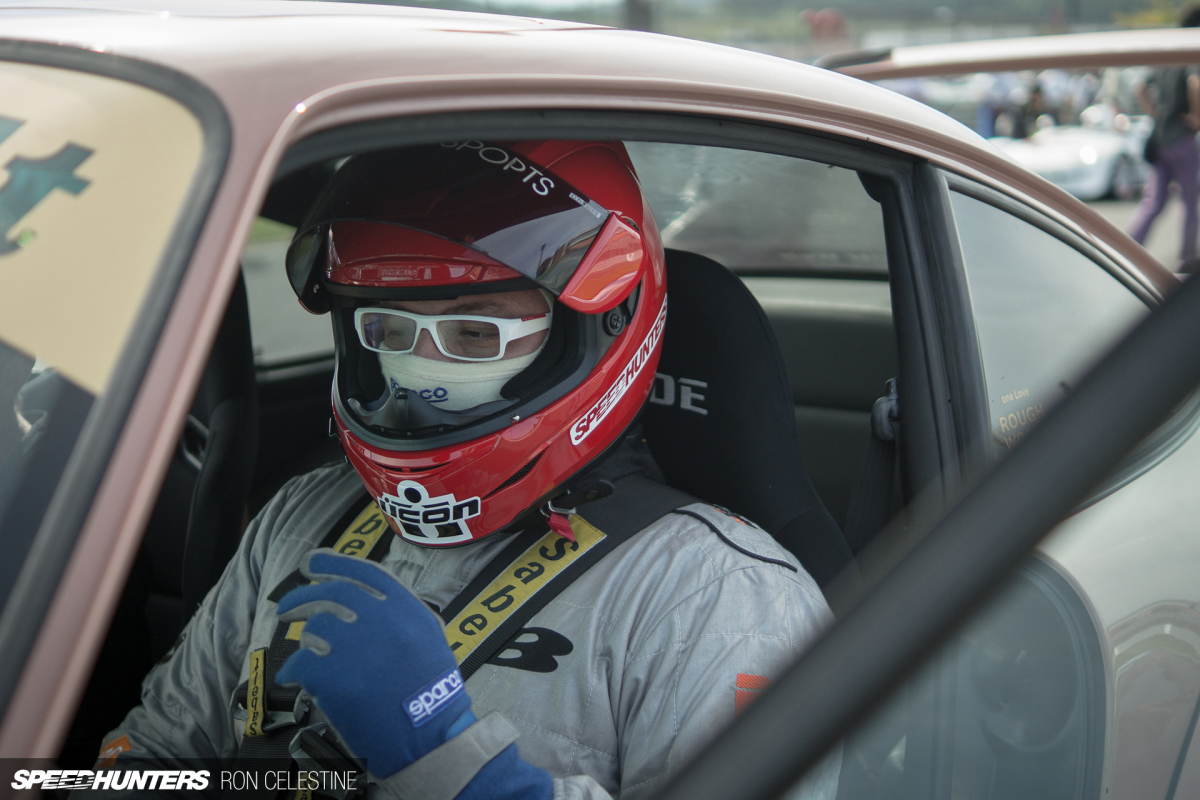 To tell you the truth, the only thing I was telling myself at this point was to not do anything stupid while the tyres and car warmed up.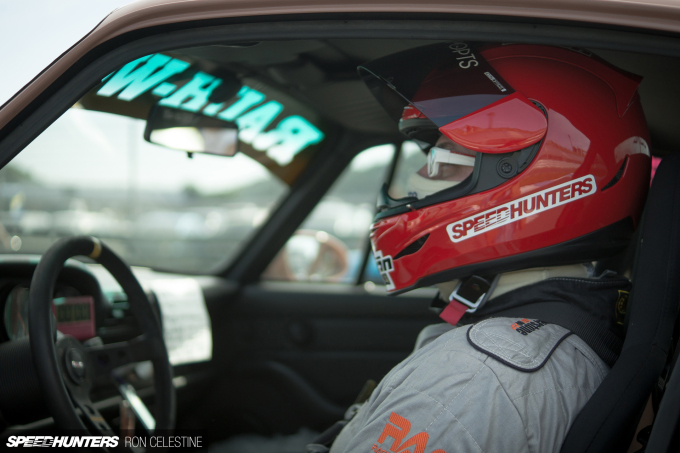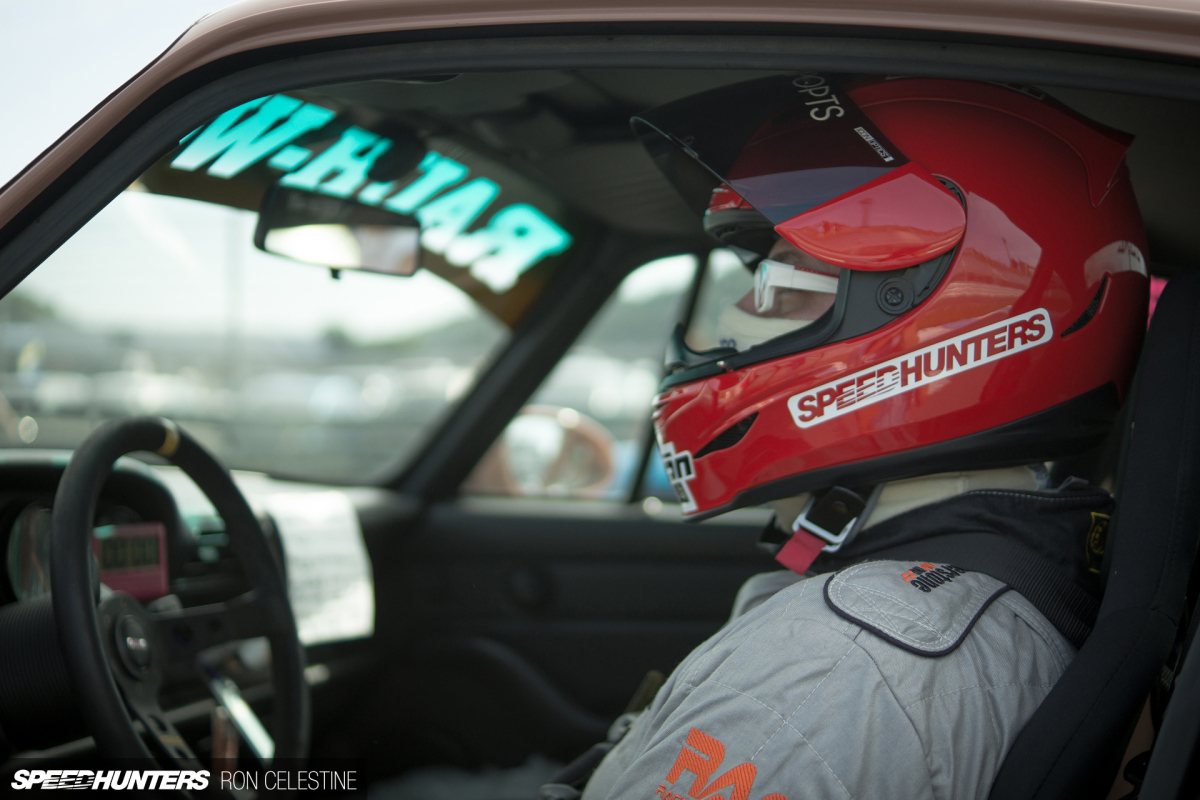 The idlers 12 hour race has a rolling start; you follow the Twin Ring Motegi pace car for one whole lap and once you hit the very last corner you floor it. I did my best to slalom the hell out of Adriana to put some heat into the meaty front rubber before the race started.
Go, Go, Go!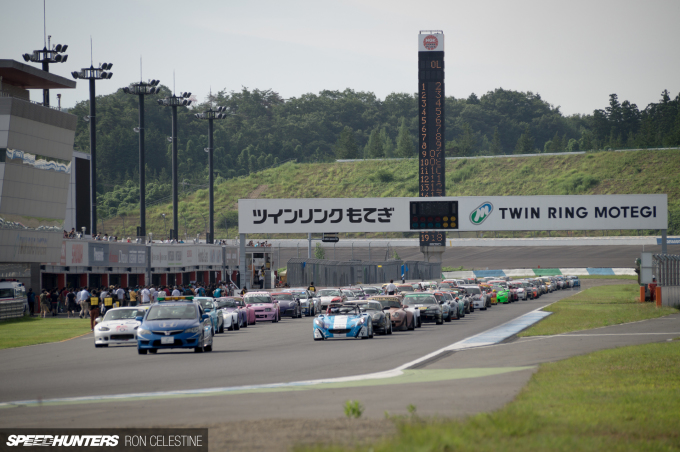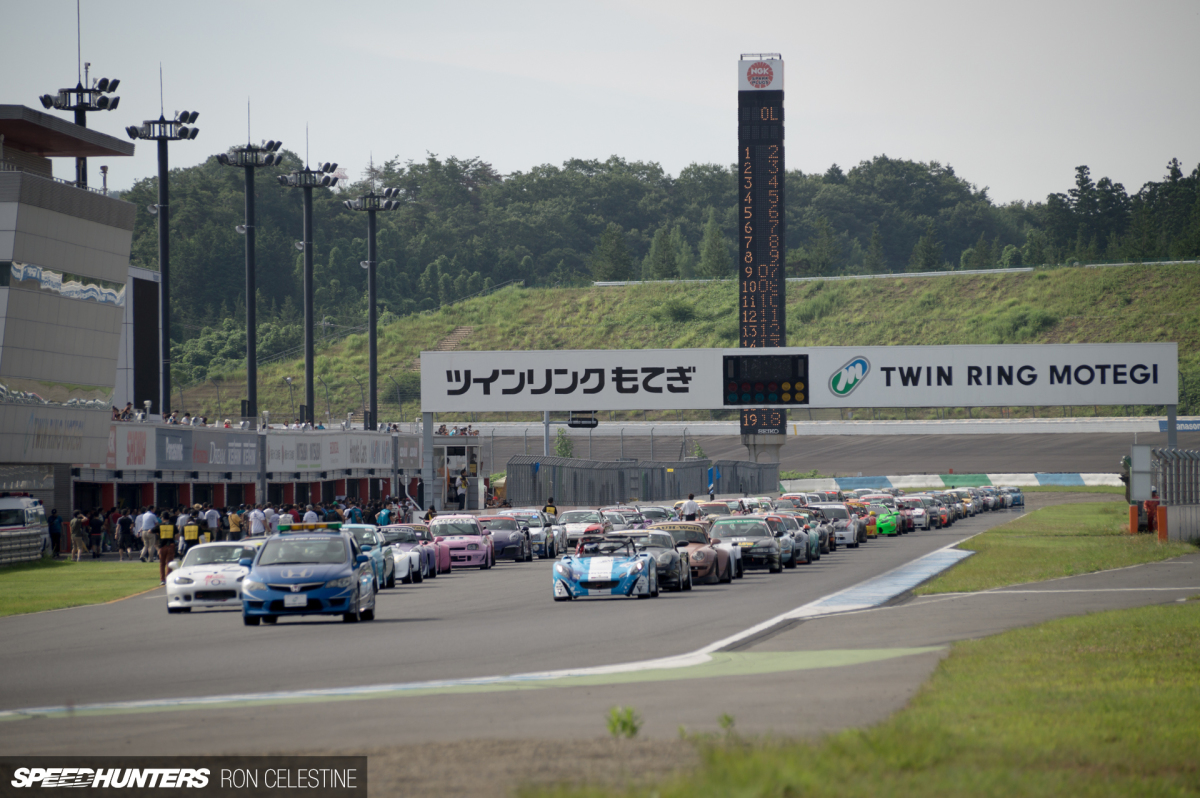 And just like that we were underway. All of sudden it became very real.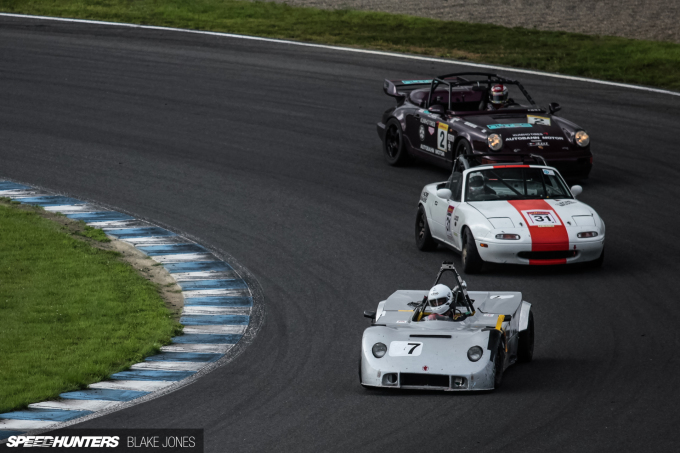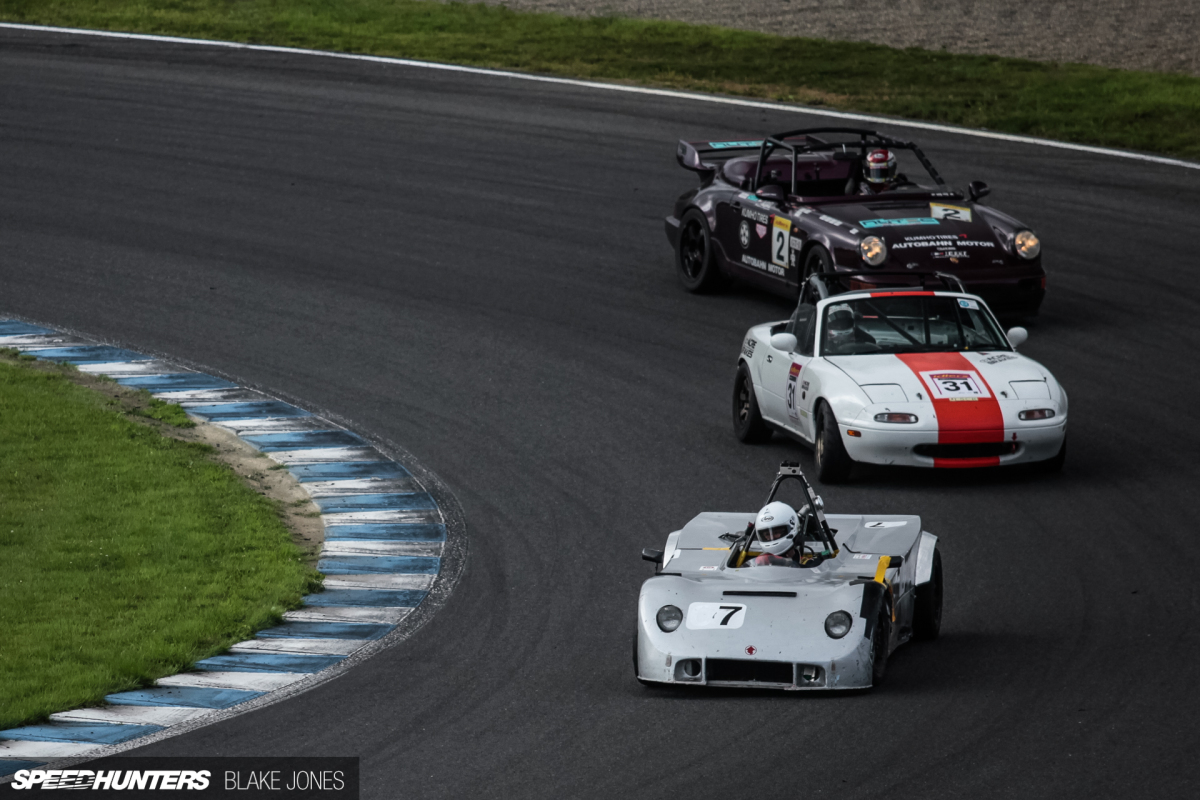 I was initially surprised at how hard some people were driving on the first few laps. I saw so many cars getting crossed up and sliding all over the place on cold tyres, for no apparent reason.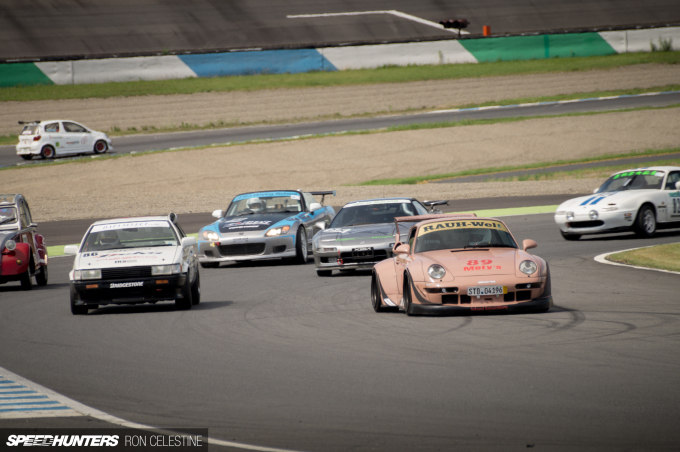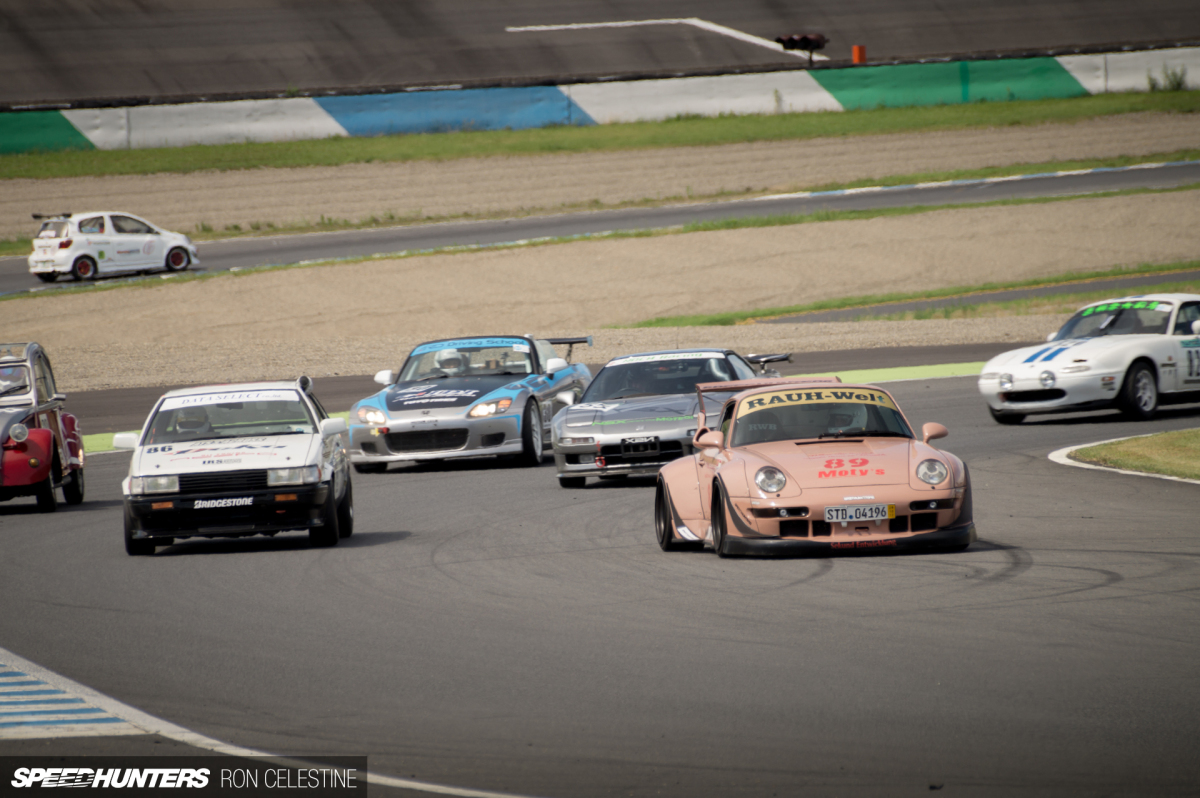 The idlers 12 hour field always has a lot of pros, but it quickly becomes obvious that just as many people have little to no experience. For the first three or four laps I was getting a ton of understeer, and it took so long to get some heat into the Advan Neovas. But I did my best to stay out of trouble and progressively pushed Adriana harder as I found my groove. The rear felt far more planted – just as you'd expect it to be in a 911 – but as I was getting more confident with the power delivery, I hit a little oil being dropped by an Alfa and ended up spinning on the final corner before the main straight. It's the worst place to spin at Motegi, but luckily I pointed the nose in the right direction and carried on without further incident.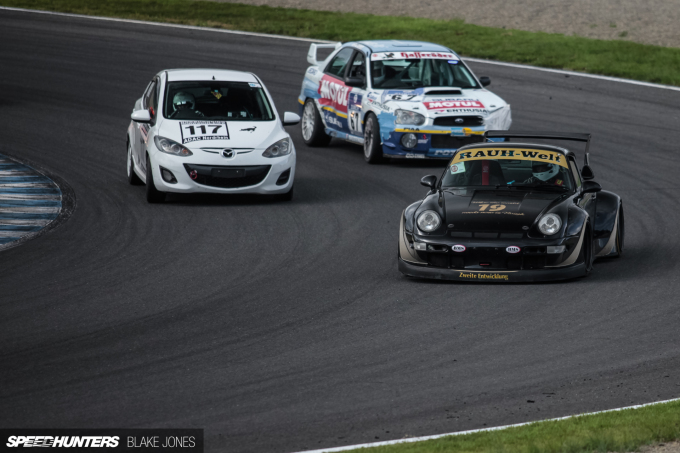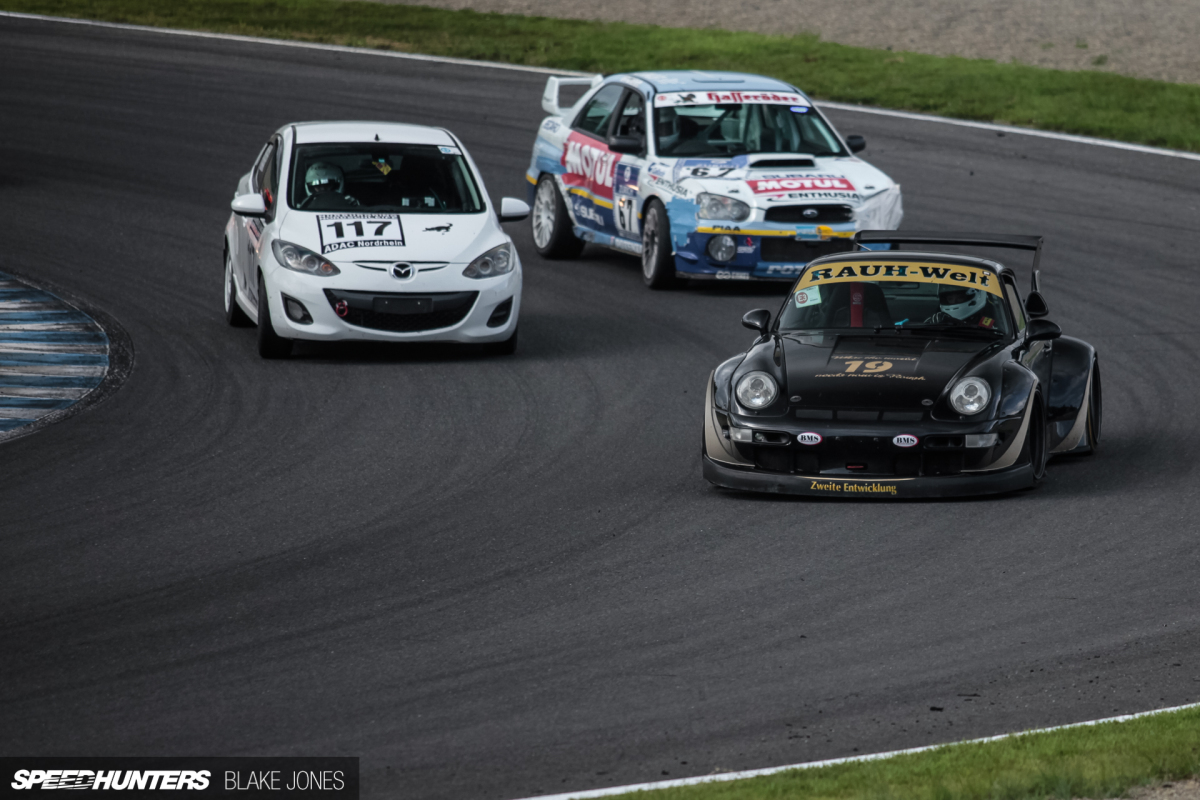 In the meantime, Blake and Ron had found vantage points and were snapping away.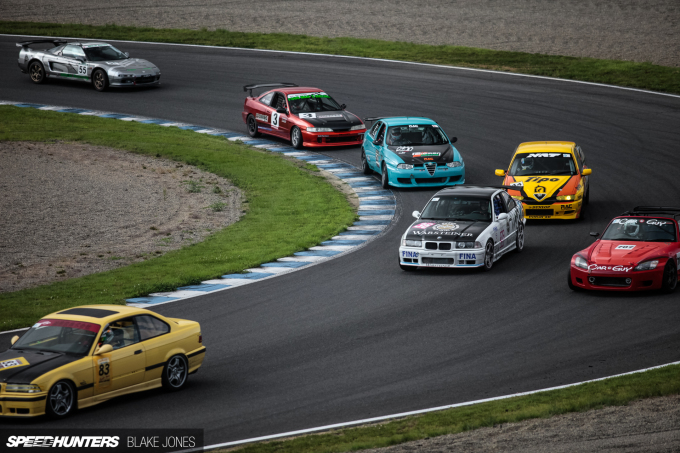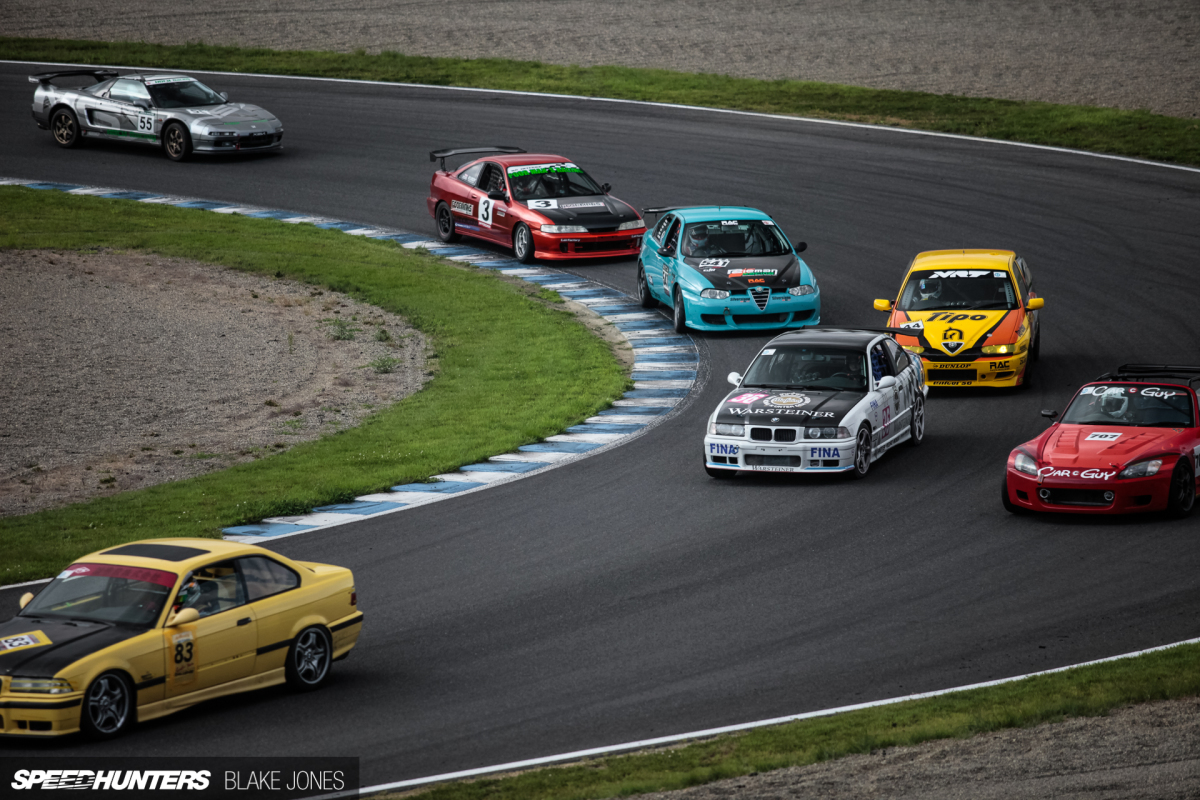 Given there are so many cars on track, there's a lot going on at the same time. Going four-deep into the corners is all part and parcel of the idlers 12 hour, so reliable brakes are an important aspect.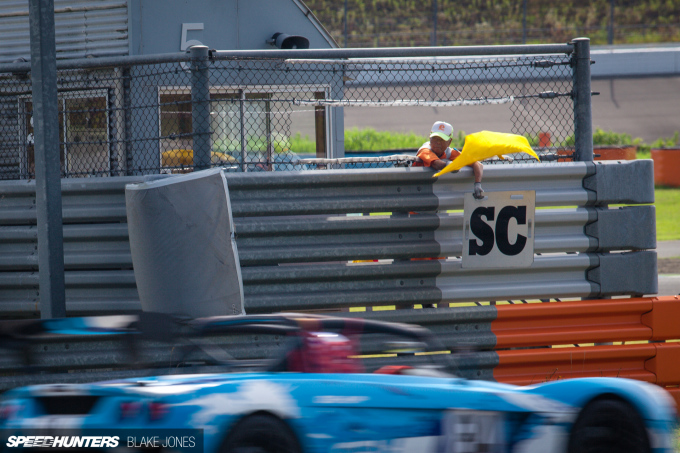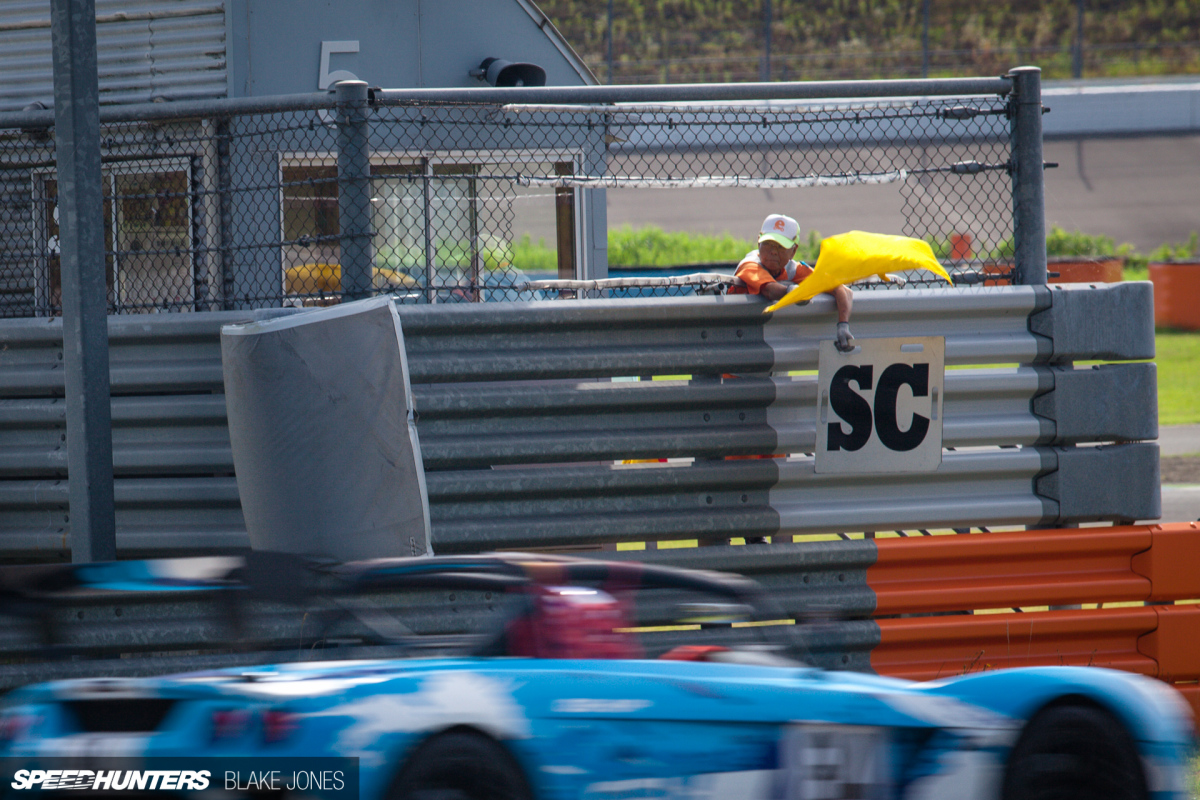 Just as I was loving the way Adriana was beginning to feel, a bunch of cars got caught up in an accident and the safety car came out.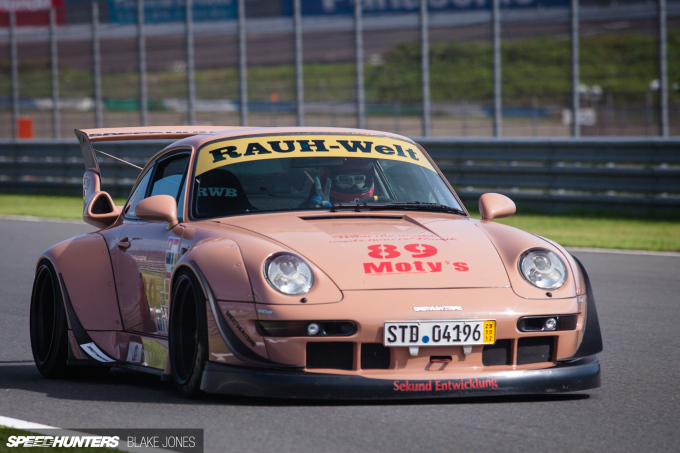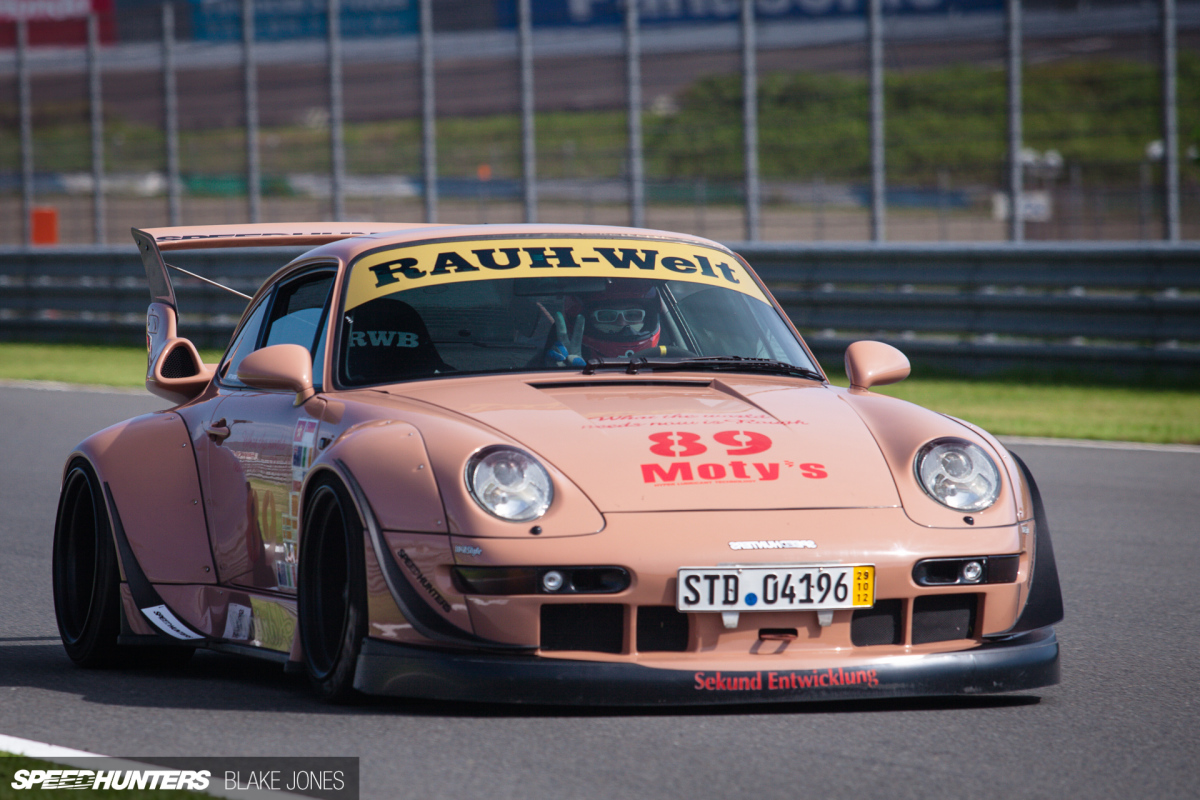 And it stayed out for the rest of my 30-minute stint, which meant crawling around the track at walking pace. I even had time to give Blake a JDM salute!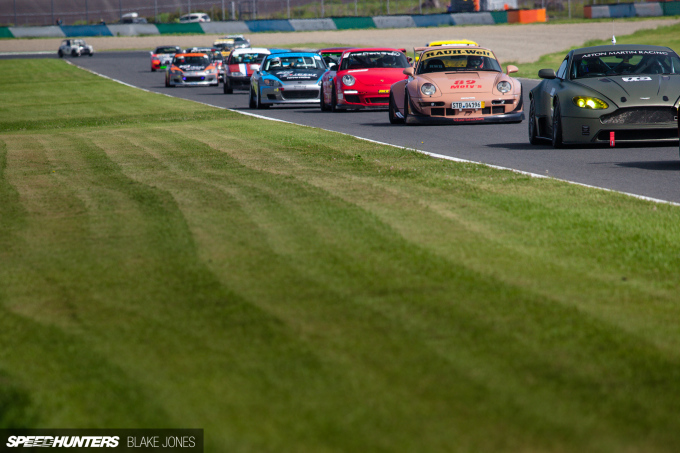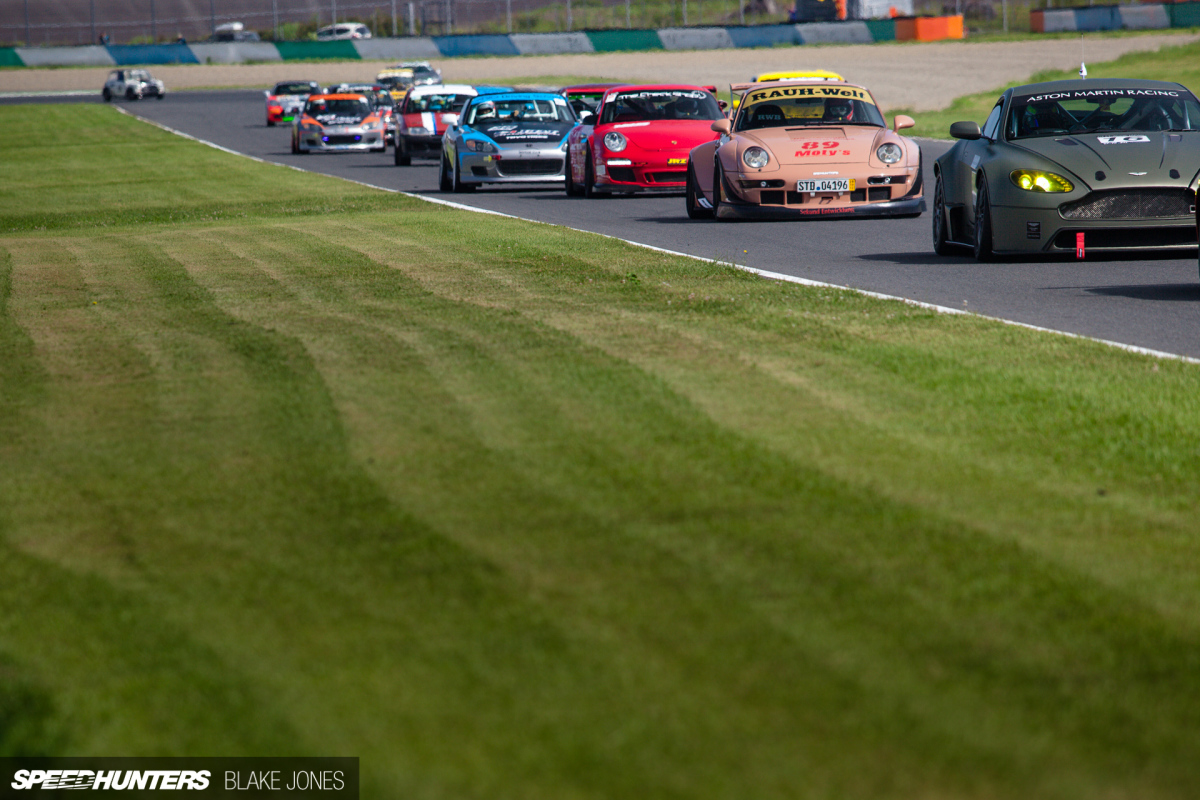 As frustrating as it was, I enjoyed listening to the pops and bangs coming from the Aston Martin V8 Vantage GT in front of me. Although, the guy hit the brakes so hard at one point, that I almost did very bad things to the lovely carbon fiber on the back of the car. That's one thing a lot of guys don't get; you could be travelling at 180km/h down the back straight ready to mash the brakes for the following corner when a GT car overtakes you at the last second and then jumps on its proper race brakes. All you can do when that happens is just move offline to avoid a potentially messy hit. This sort of mixed racing requires a lot of respect, but at times I think some people forget what they and the competitors around them are driving.
It's All About Teamwork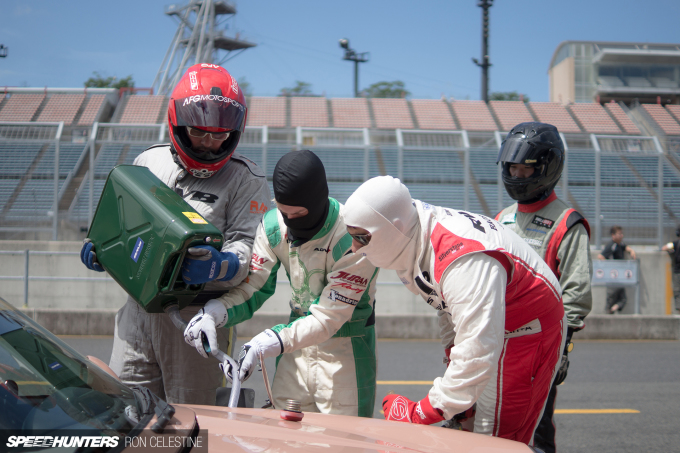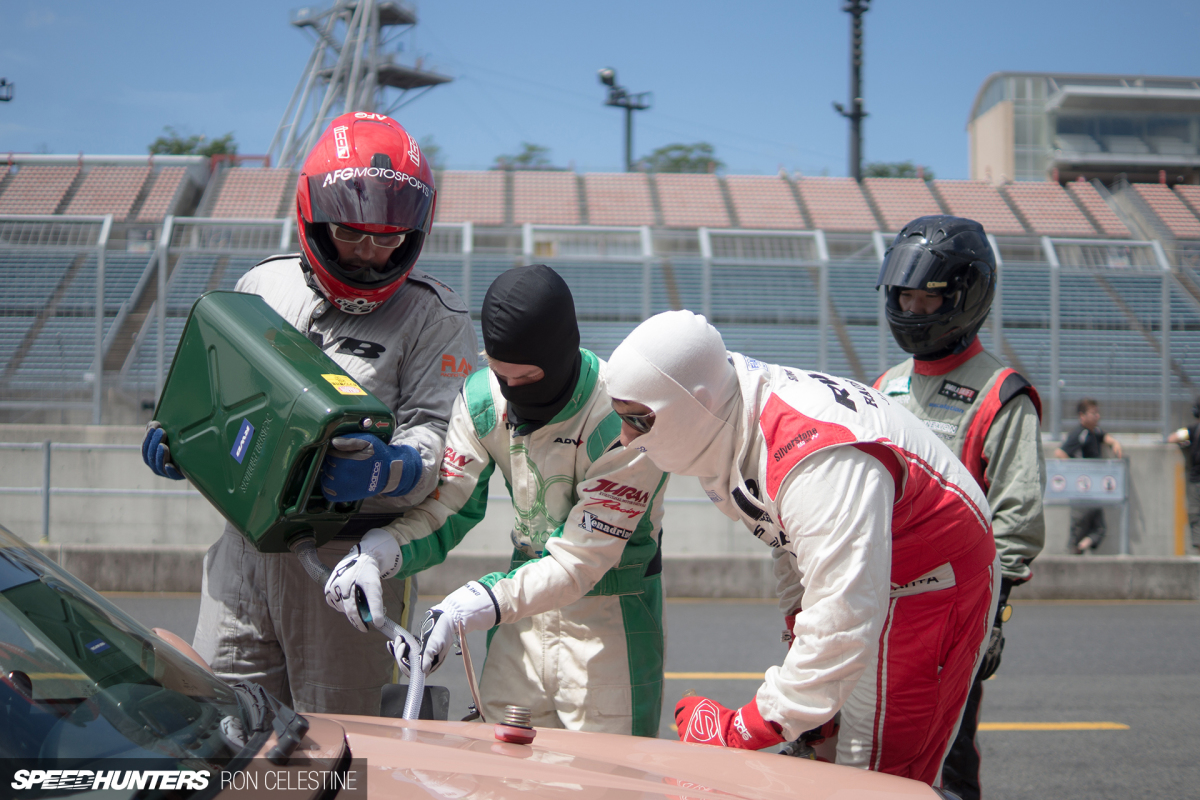 Part of the whole experience is also lending a helping hand during pit stops. So after finally arriving into the pits, I got out of the car, grabbed a fuel canister and held it up as Luke guided the hose and opened the tap. Nathan (the owner of this car) was ready with a fire extinguisher if things got hot all of a sudden.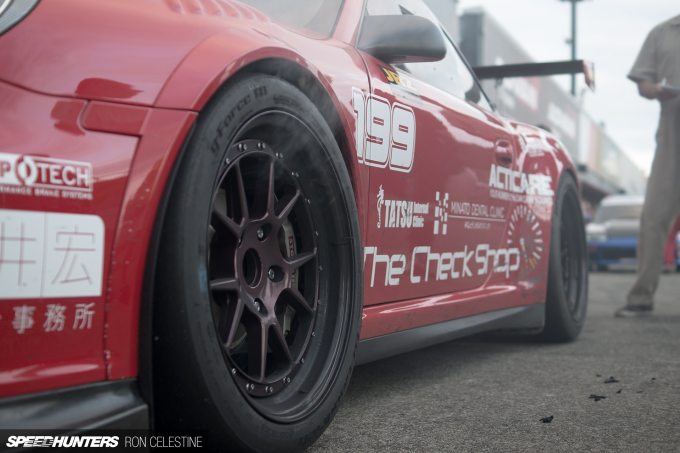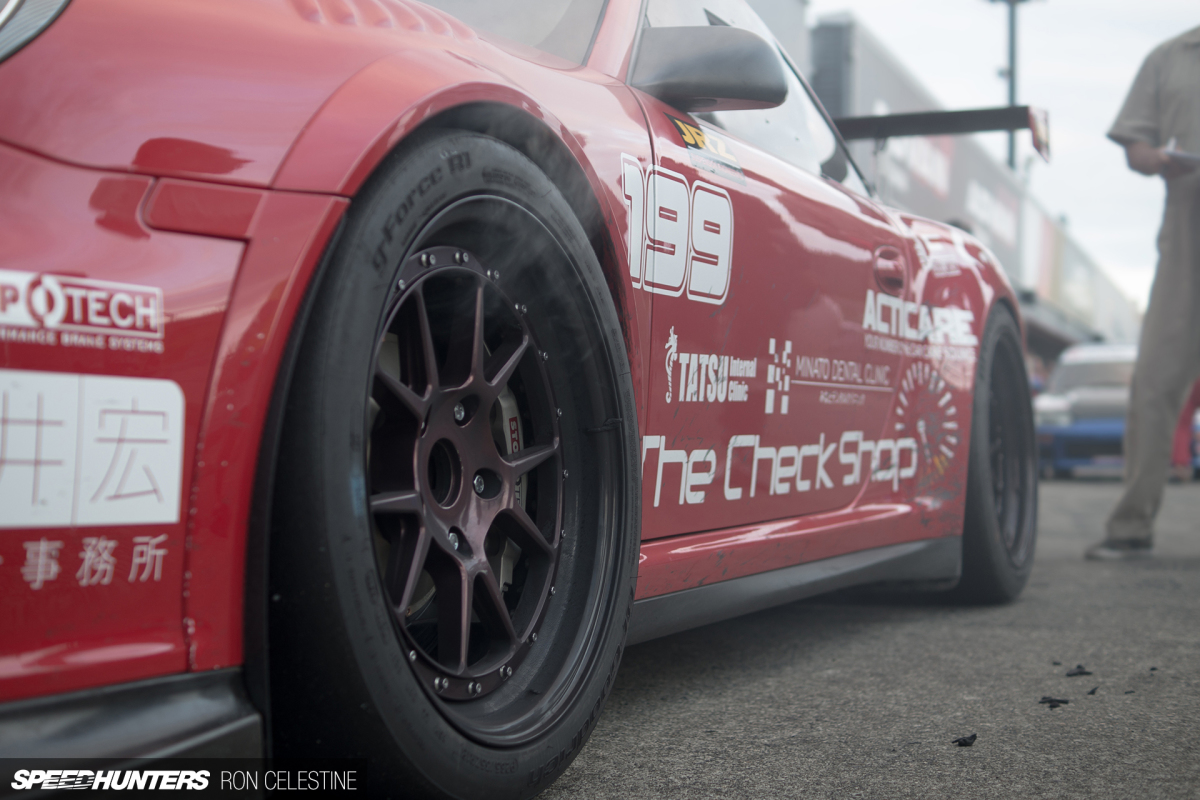 Next door to us were The Check Shop guys with their ridiculous selection of race cars, which included a 997 GT3 with Cup car underpinnings and massive StopTech brakes, a 991 GT3 RS, and a somewhat more humble VW Lupo GTI.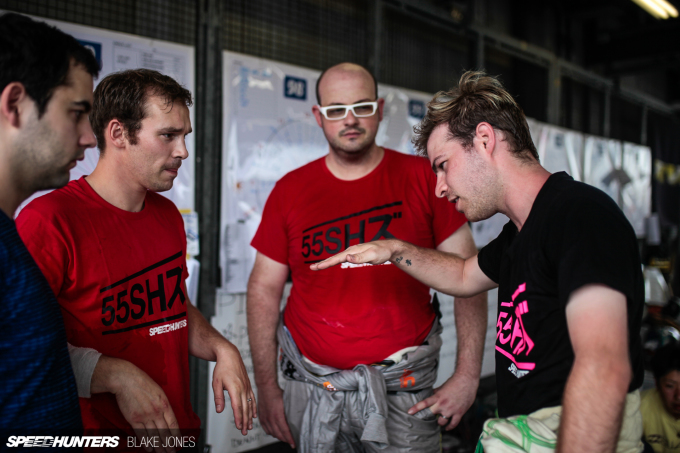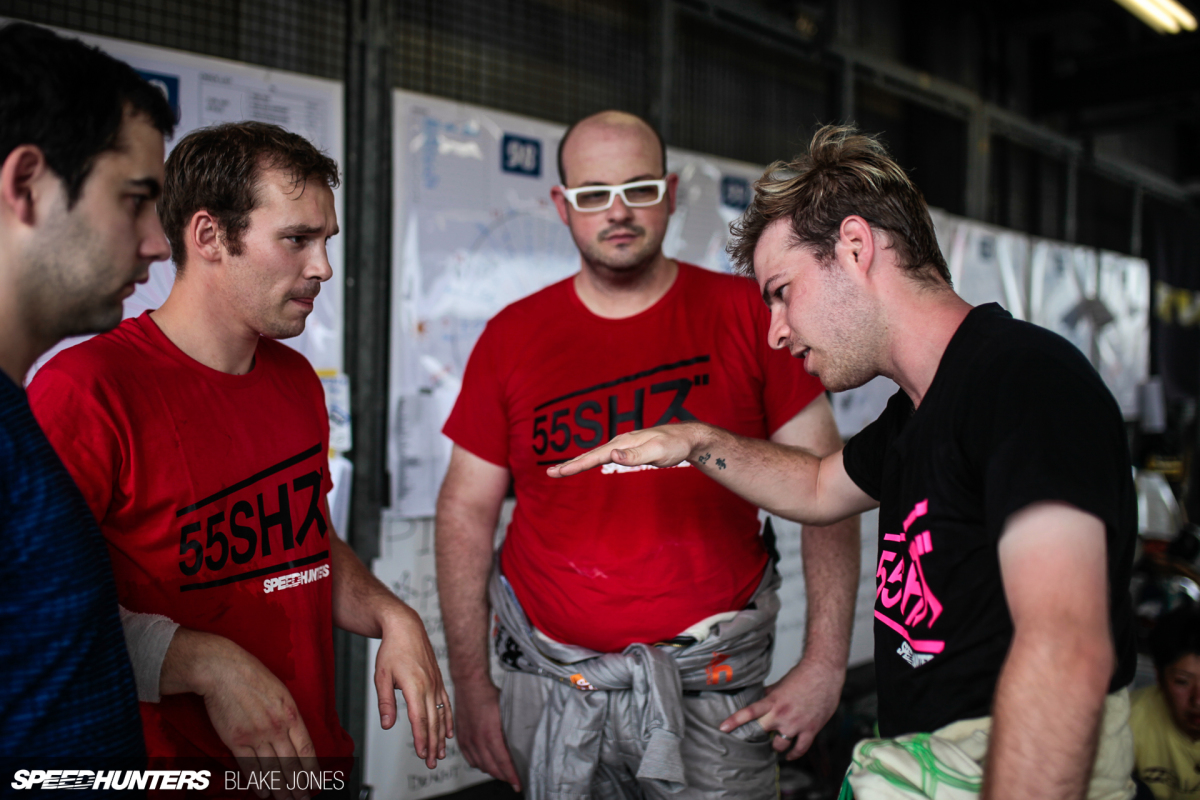 After his 30 minutes at the wheel, Luke was loving how the car felt, but at the same time he was quite surprised at some of the sketchy driving that was going on.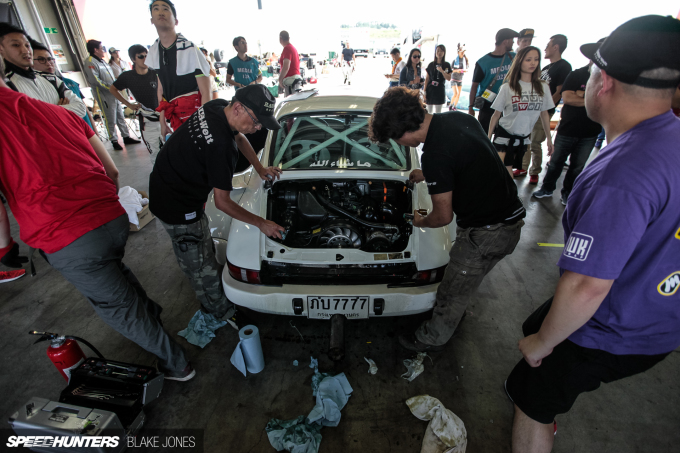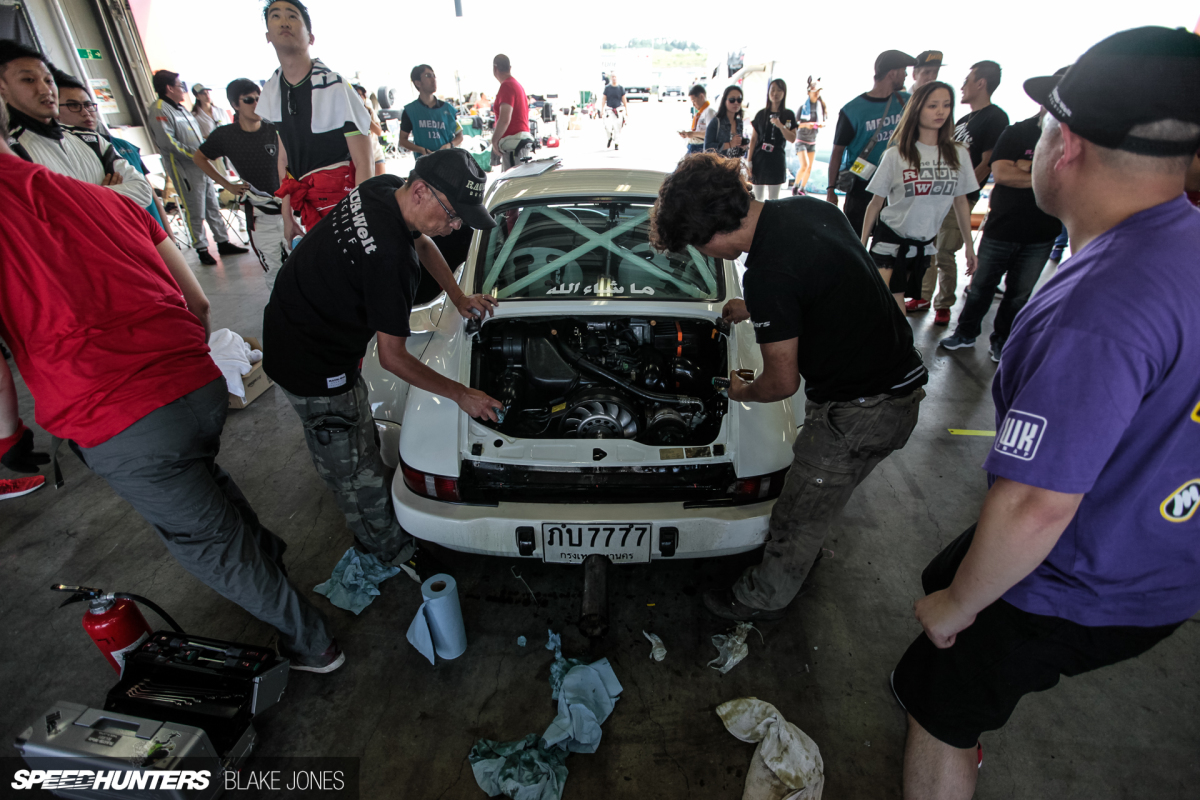 There's always going to be issues to deal with at an event like this, and for the RWB team it began when Natty Dread Jr. came in with a big oil leak. It was a quick fix though; the oil cap had come off which allowed oil to escape, so four liters were added and the car was sent back out.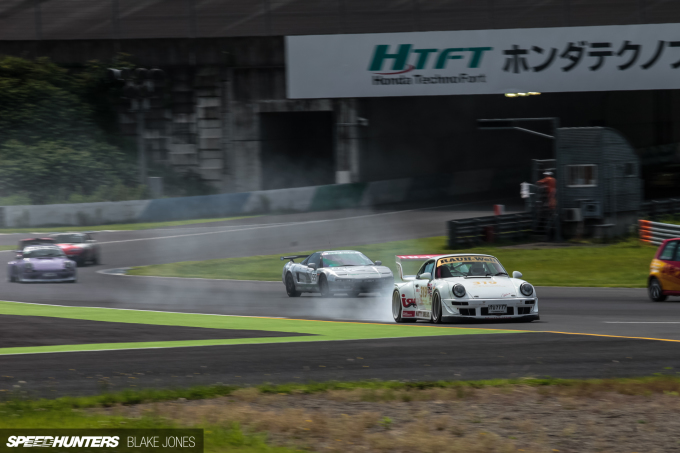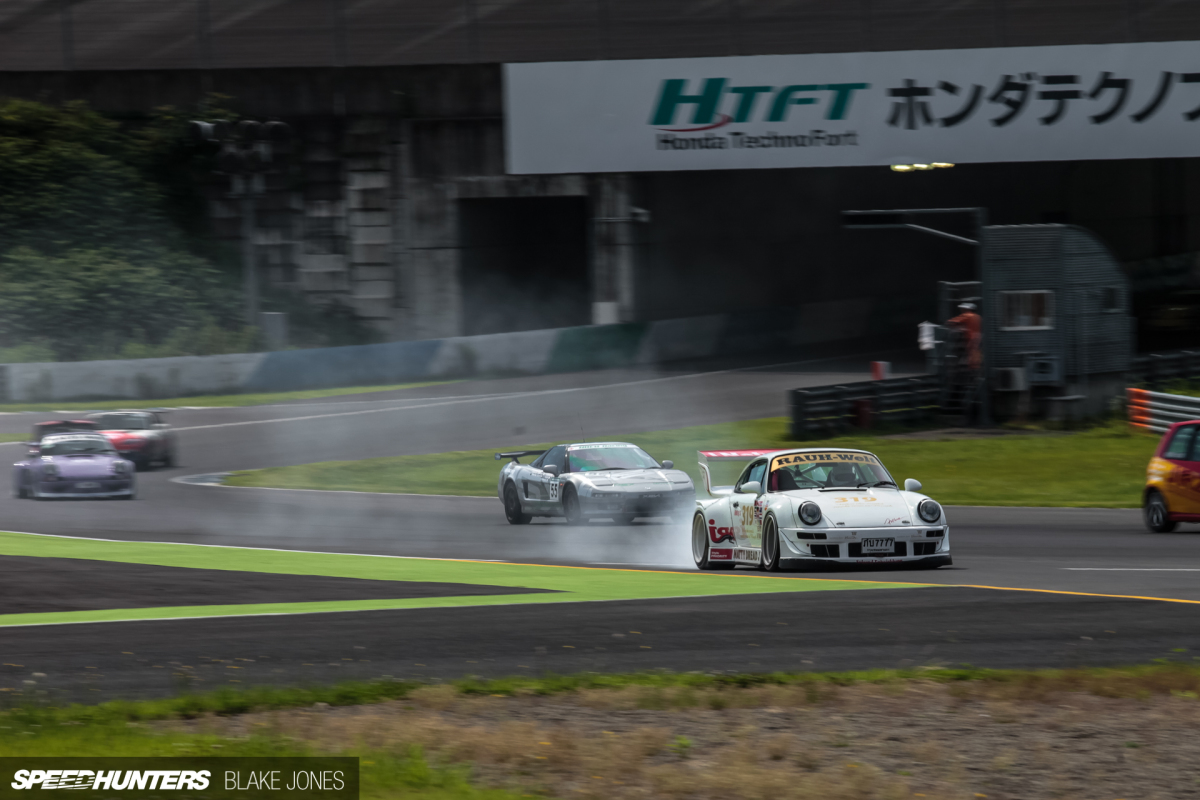 It wasn't a complete fix though, and the leak kept developing throughout the race. But that's what endurance racing is all about. Stuff breaks and you fix it.
Next in line for some remedial work was the pink 964 which had a close call with another car and ended up getting its driver's side rear flare damaged. Nakai and Alex, a Honda test engineer who had volunteered to help out the boss man over the course of the race, stitched the car back together and got it back out on track again. And big props to Alex too – he ended up becoming everyone's pit crew, mechanic, and pit manager!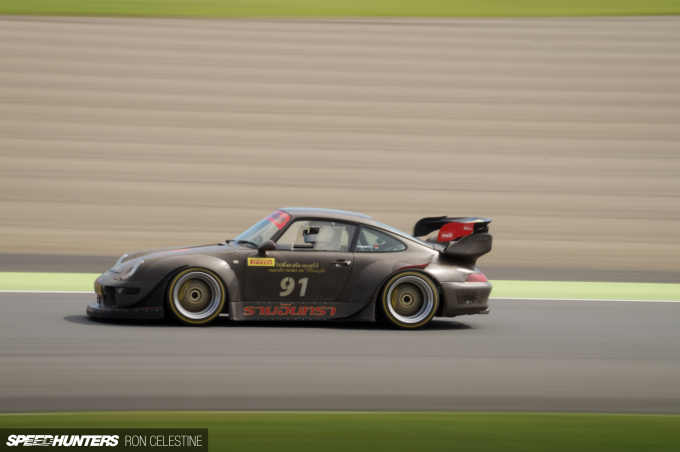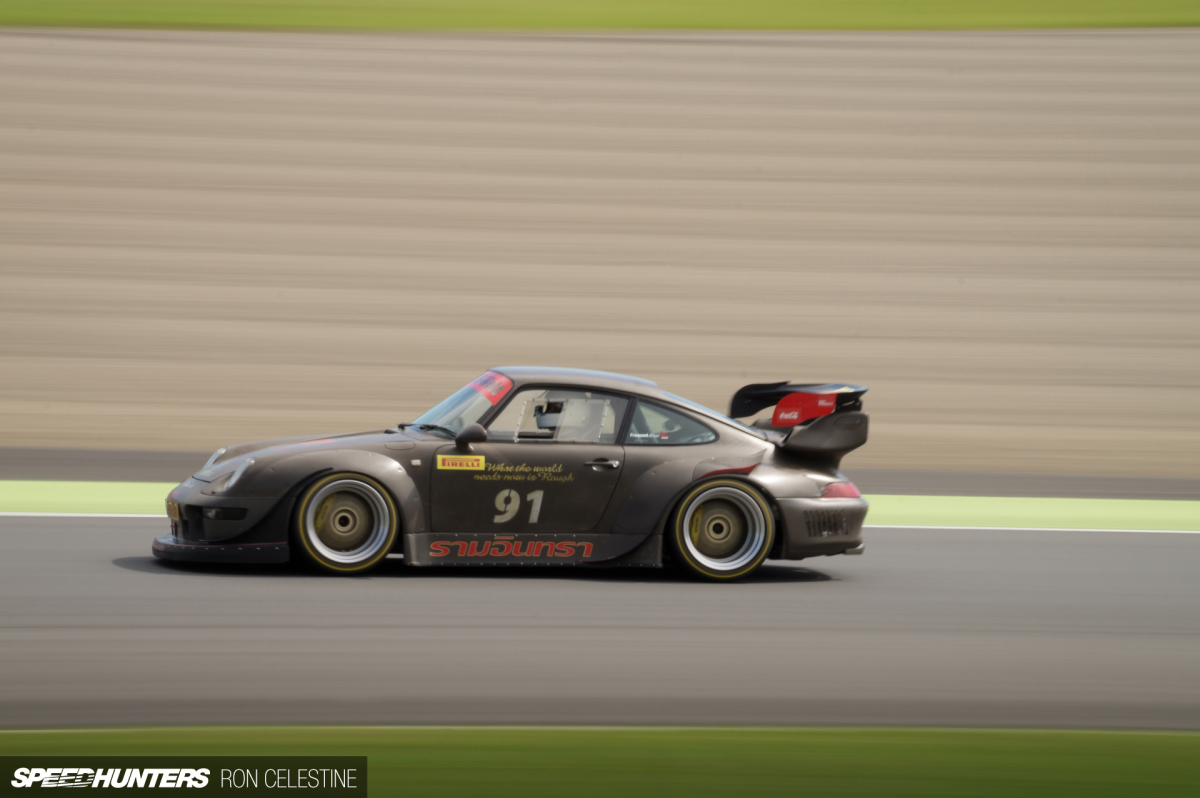 The race continued on and soon enough I was into my second stint. I'd waited to the end until Luke, Nate and Yousuke were all done, which meant we had four hours to relax as the second four-man team took over. During that time we grabbed a quick bite to eat and a much-needed siesta in the car using the Cayenne's plug-in hybrid battery system to power the A/C without the need to have the supercharged V6 running, something I thought was pretty cool.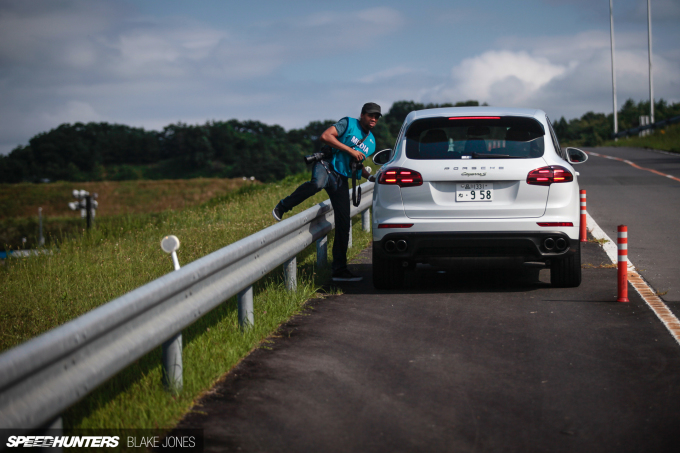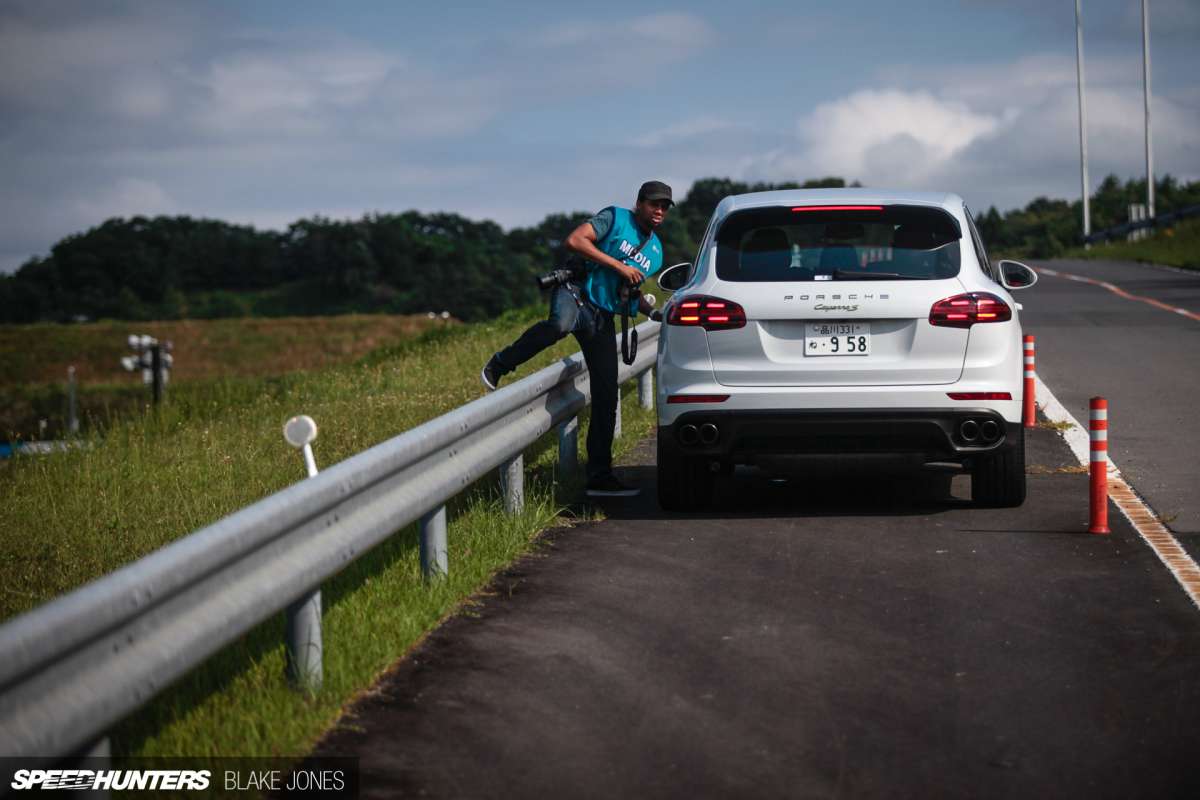 Blake, Ron and I then went out to try and hit up the harder to reach photo spots around Motegi.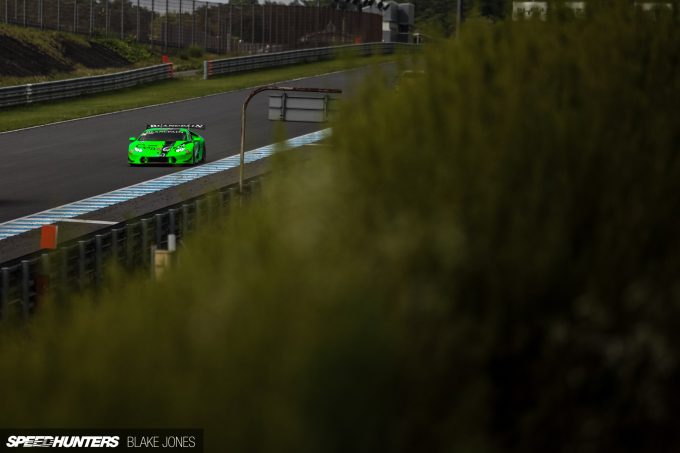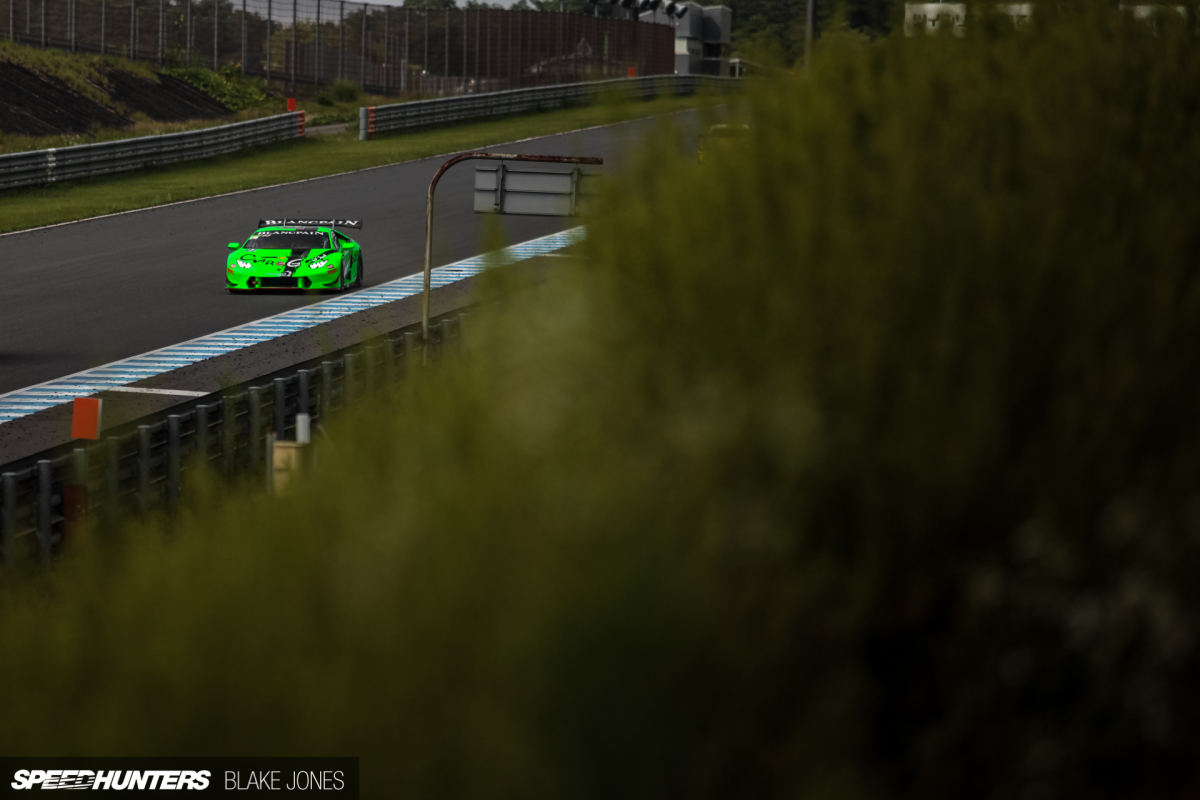 This was the first opportunity I'd had on the day to actually see and enjoy some racing, which included hearing the ridiculously evil-sounding downshifts of Kimura's Huracán.
The racing got pretty fierce, which made me wonder if anyone really knew whether the car they were overtaking was actually worth overtaking. I mean, would you risk getting into trouble or spinning for a car that might be 10 laps ahead of you, of even worse, 10 laps behind you? It definitely makes you think. However, what Ron, Blake and I were really starting to become concerned with was where the hell Adriana was! We had been out shooting for a good 20 minutes or so, and in that time we hadn't see our car once.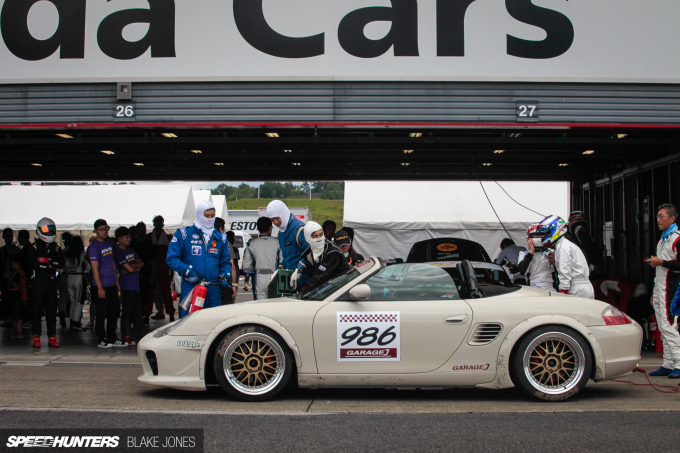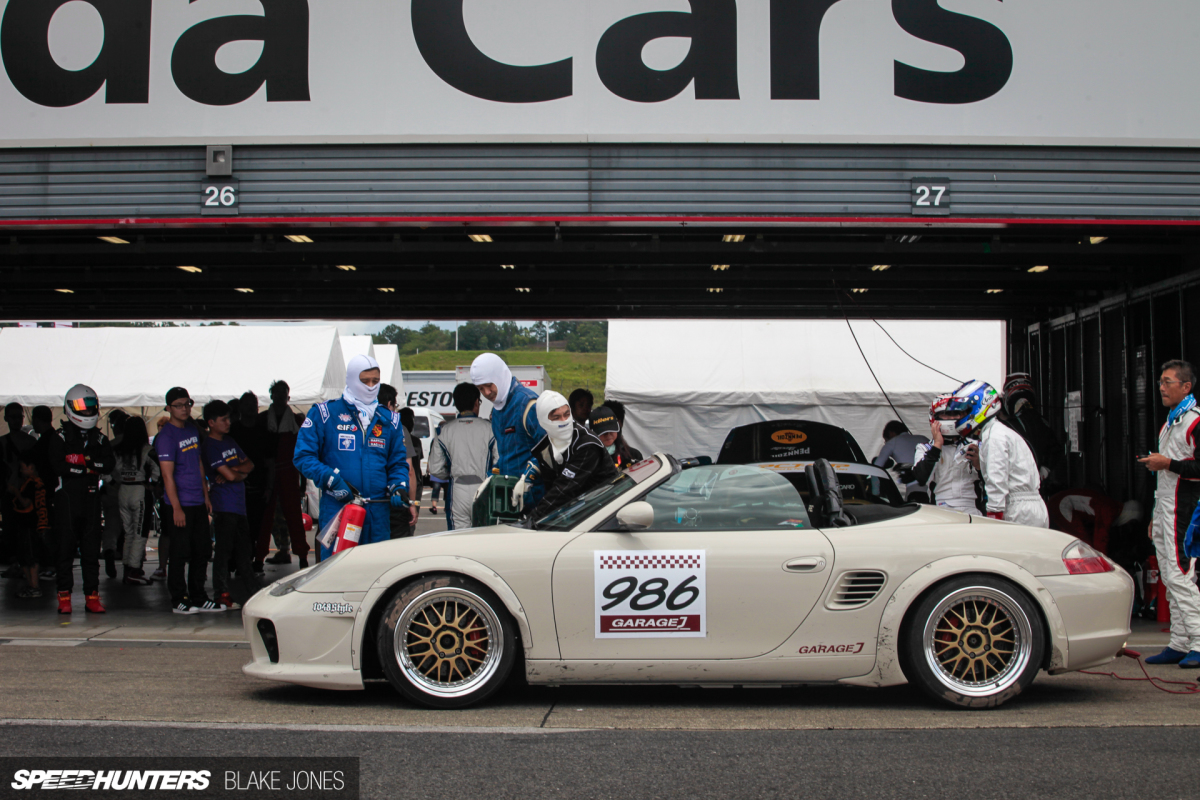 With every passing minute our worry grew, so we decided to head back to the pits to see what was up. I arrived to an expression on Alex's face that I had no desire to see, and before I even had the chance to open my mouth he uttered, "do you want me to take you to see it?" My heart sank.
All Over So Soon…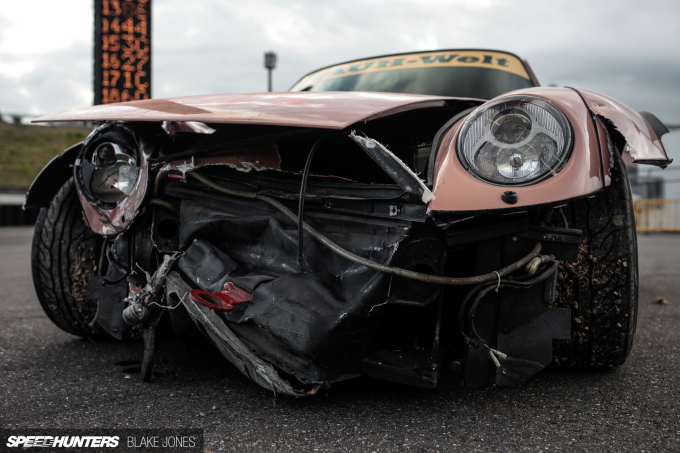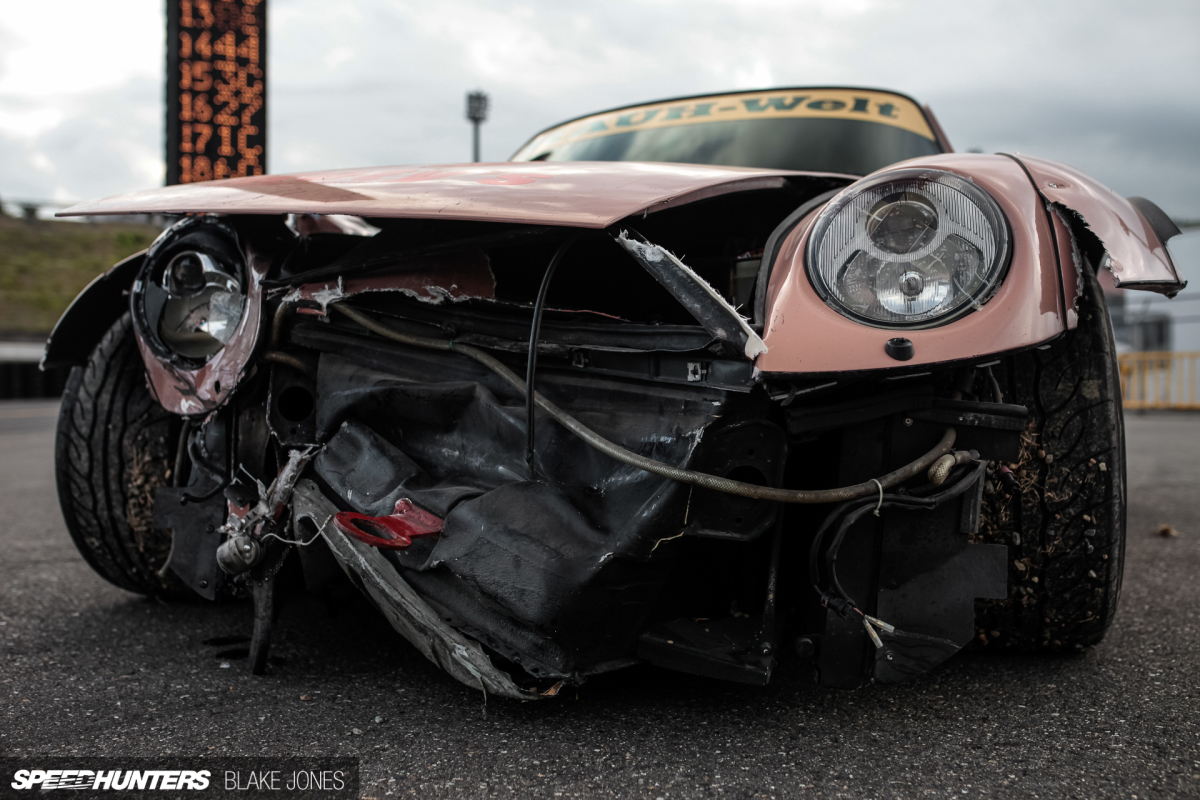 Yep, sh*t can go wrong in racing and it often does. It's just something you have to be ready to accept.
As it transpired, the final driver of the second team got hit from behind by a Lotus 211, which sent him spinning into the barriers right as he was setting up Adriana to enter the tricky in-field right-hander that takes you under the first bridge.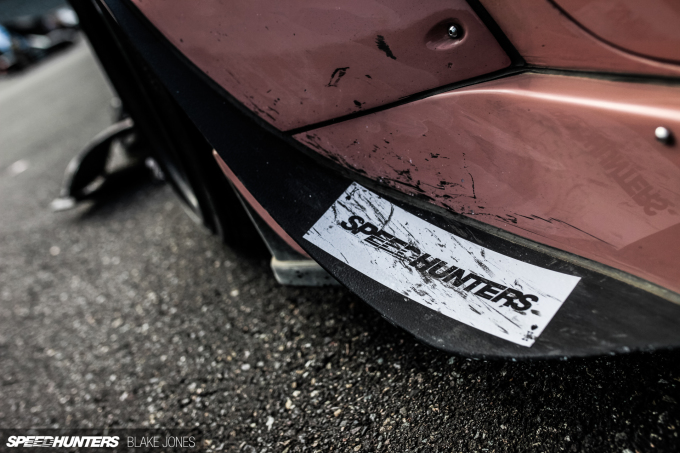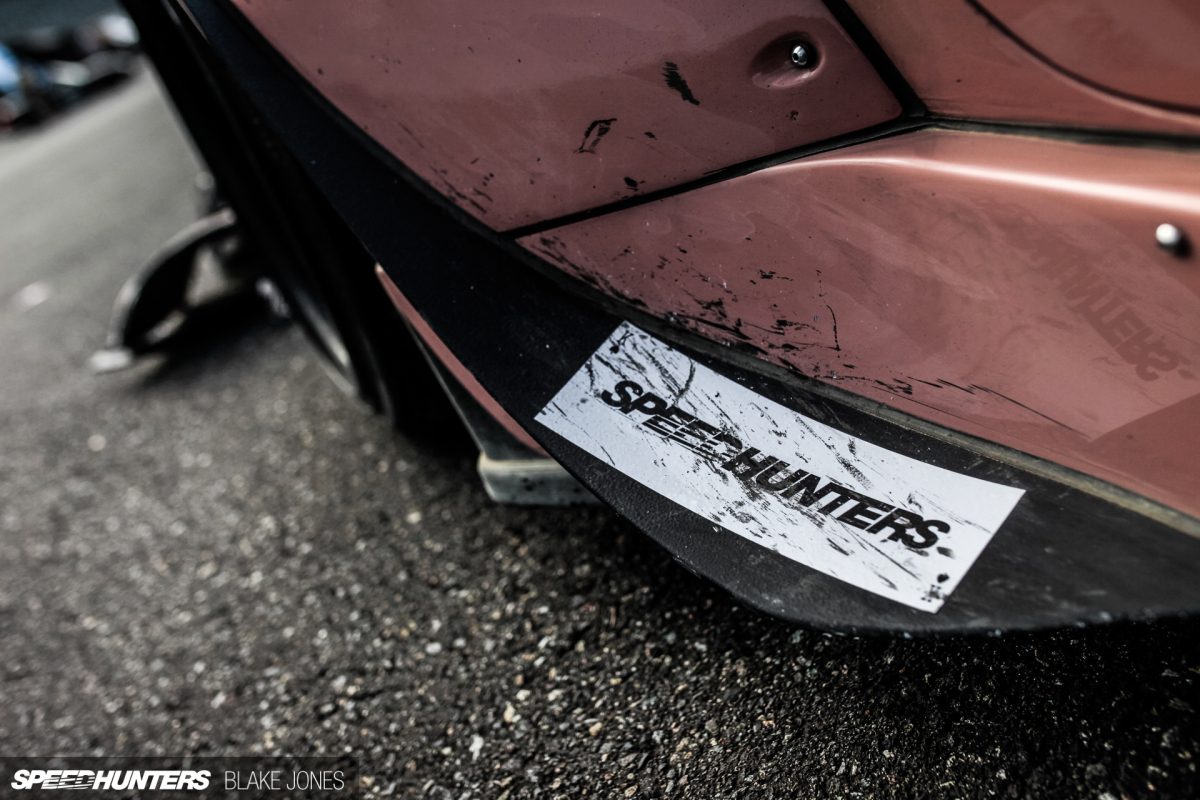 That was it for us. Over and out. I sat on the ground for a while looking at the mangled pile of metal and FRP. At the end of the day, the most important thing was that neither driver was hurt. I posted a quick update on our Instagram feed and decided I'd make the most of what was left of the race by seeing it through to the chequered flag.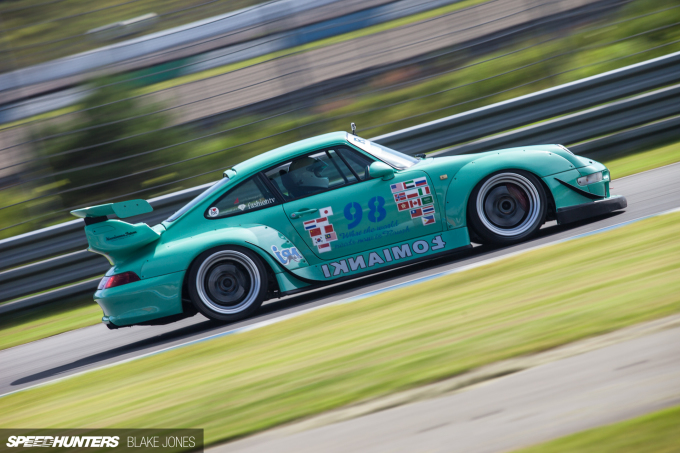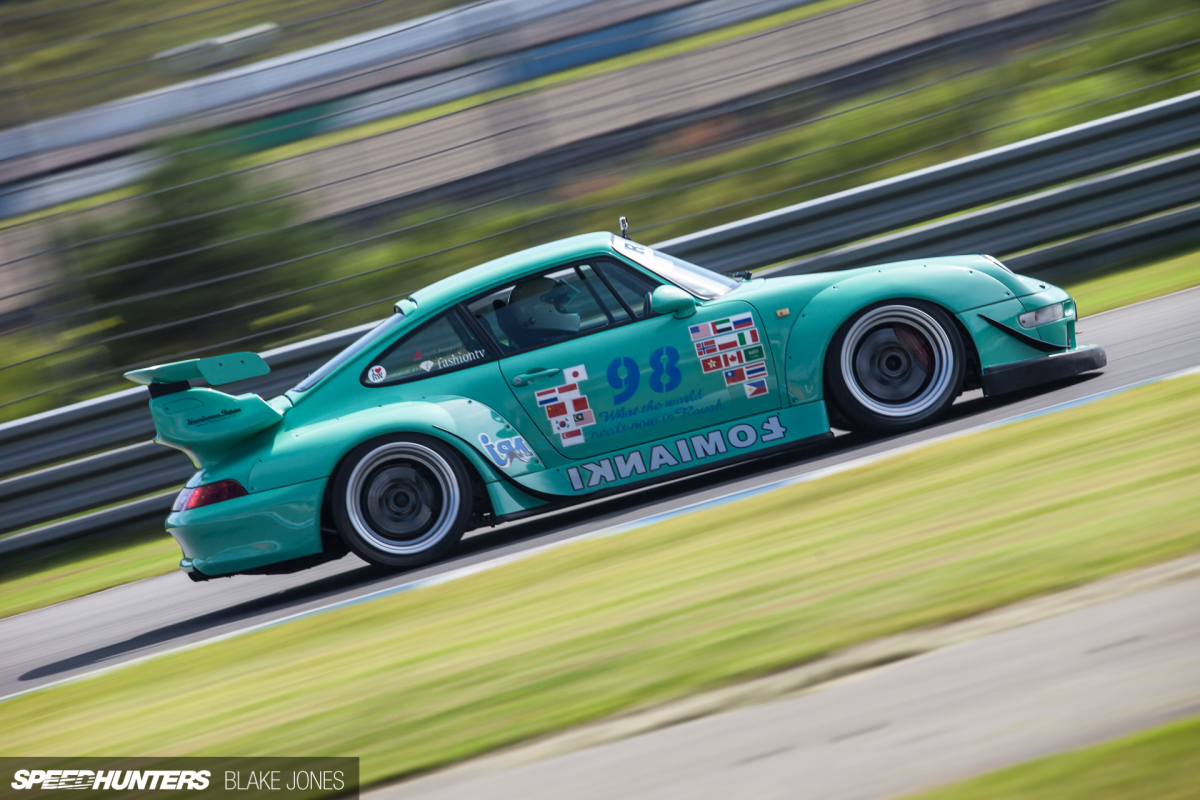 After all, we were all part of the RWB team.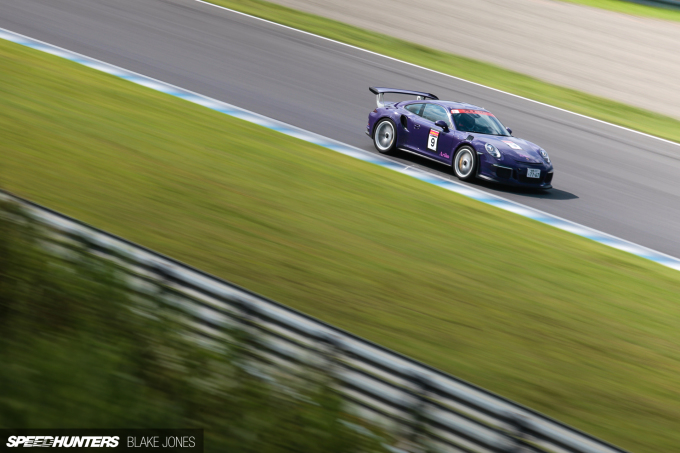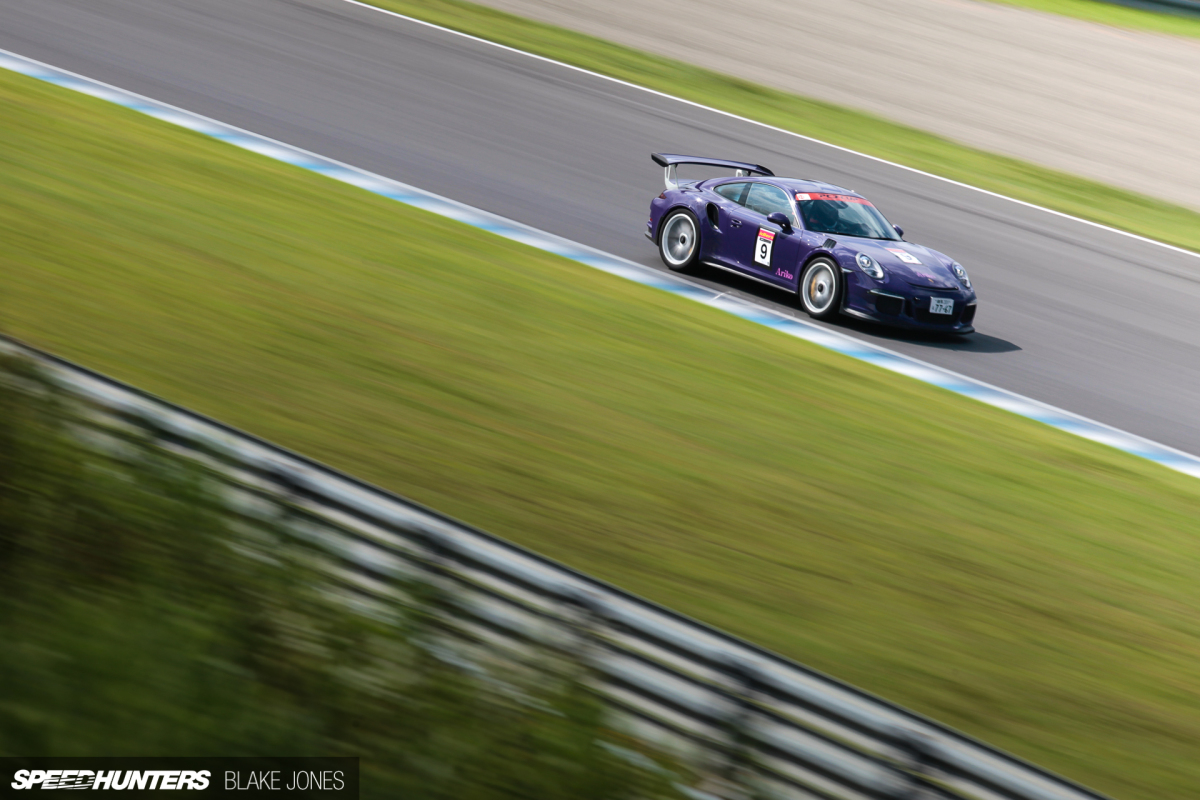 Knowing that we wouldn't have the chance to go out and do any more driving, I enjoyed things from an unexpectedly different perspective.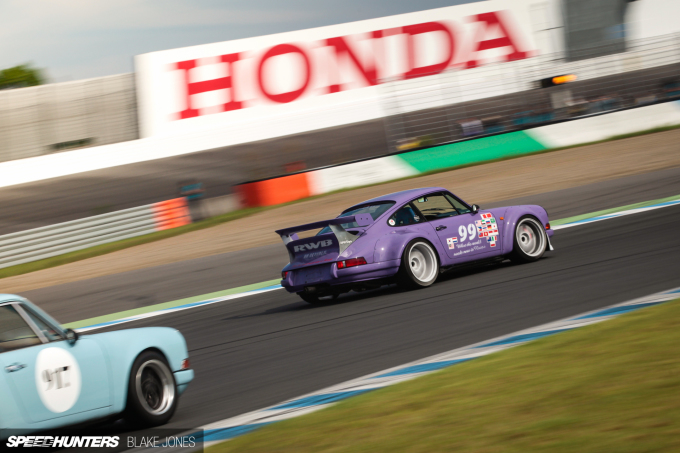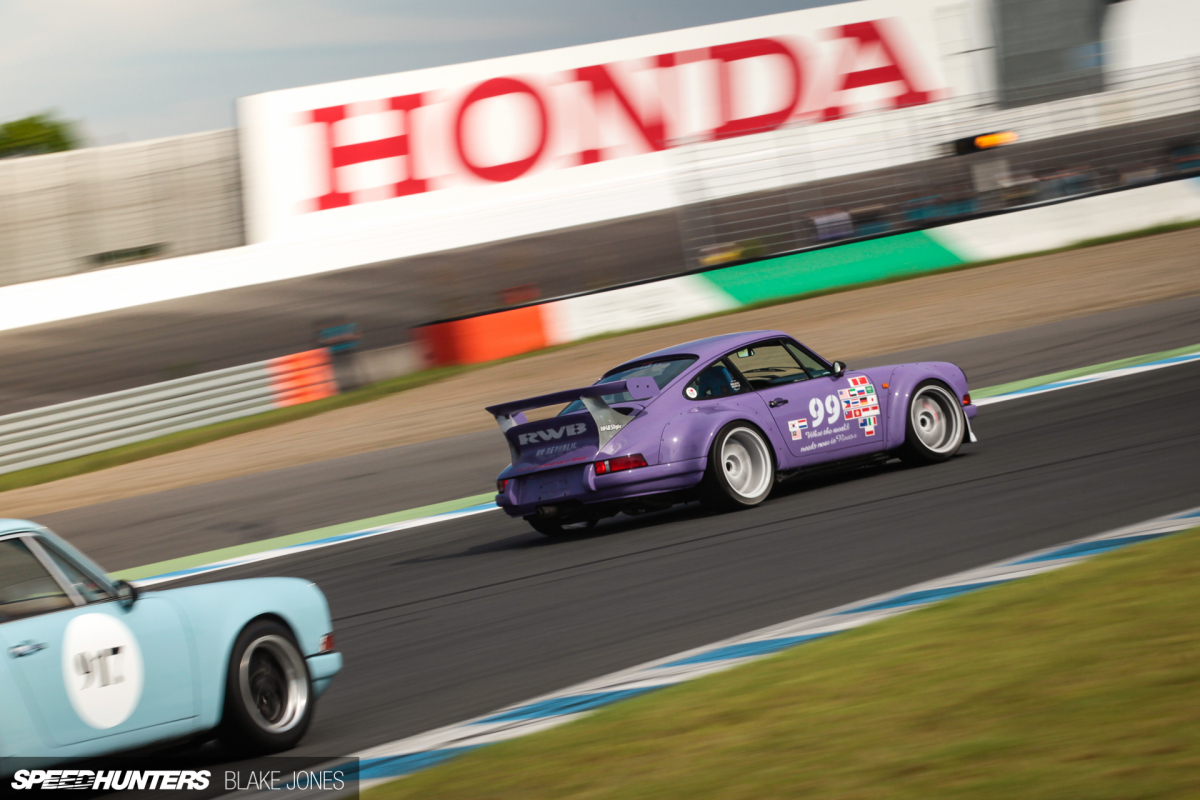 This purple backdate was one of my favourite RWB cars competing. I really like how Nakai has incorporated a GT wing on top of his signature homage to the much loved ducktail.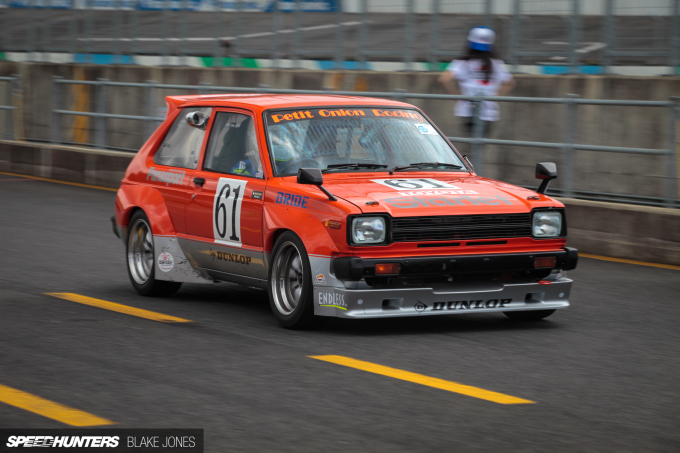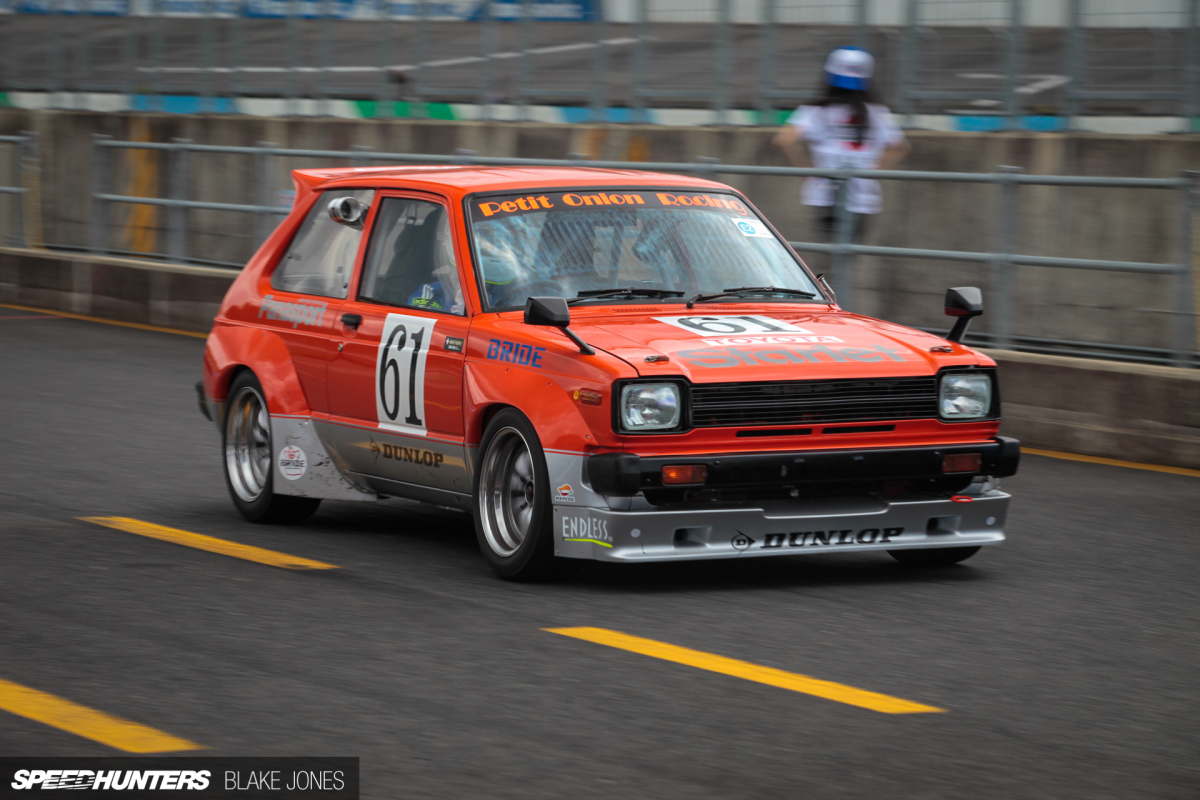 Blake on the other hand was enjoying the massive variety of machines on track.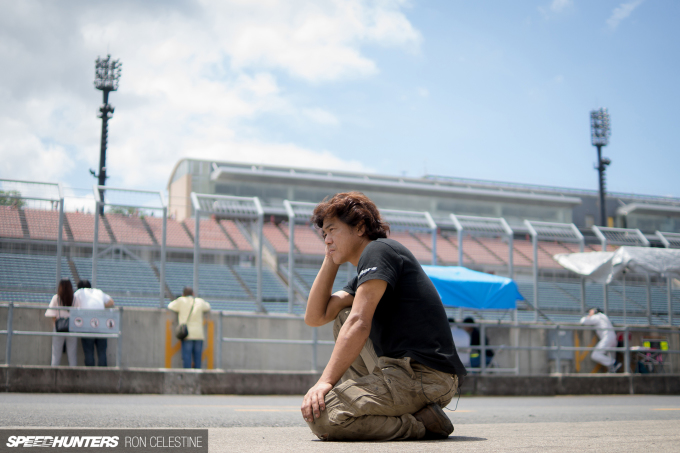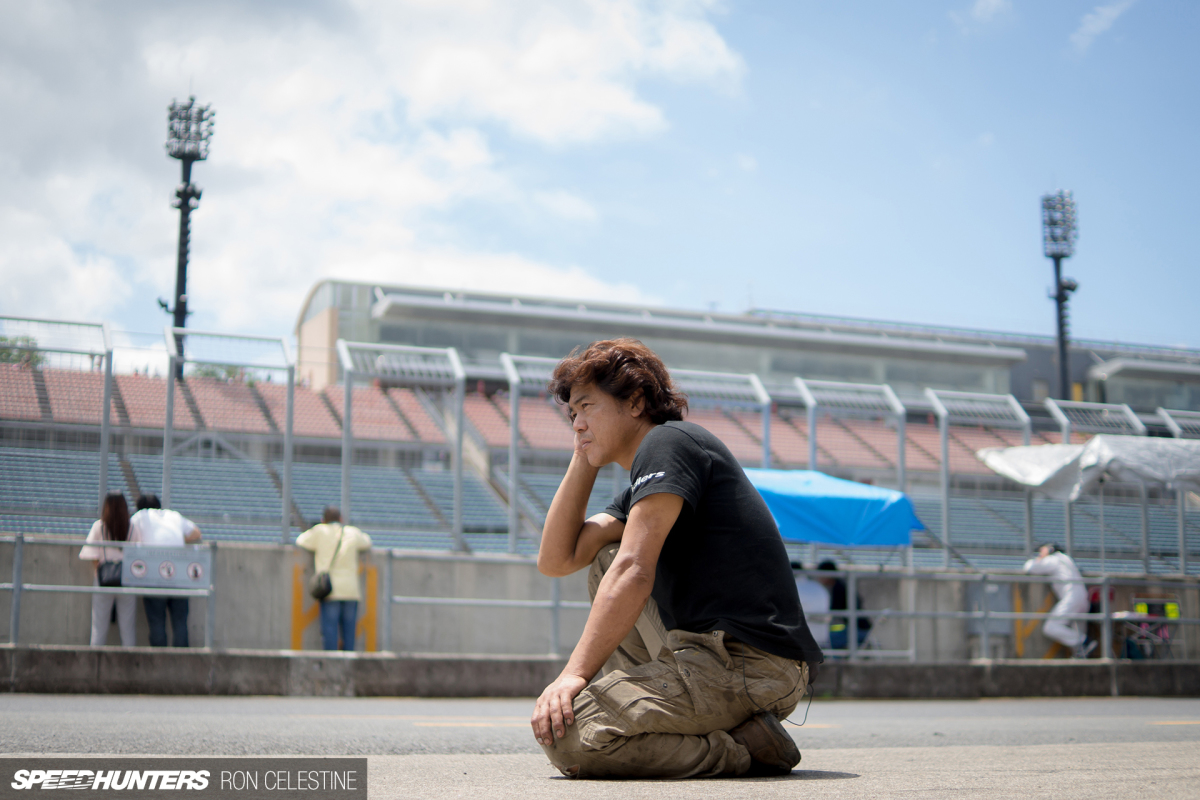 By mid-afternoon, Nakai was waiting for the cars to come in for refuelling and driver changes, and ready to address any potential issues that may have surfaced. All RWB team drivers were limited to 5,800rpm to help conserve the engines and lessen the risk of overheating, as well as ensuring the drive belt that spins the cooling fan didn't jump off the pulleys.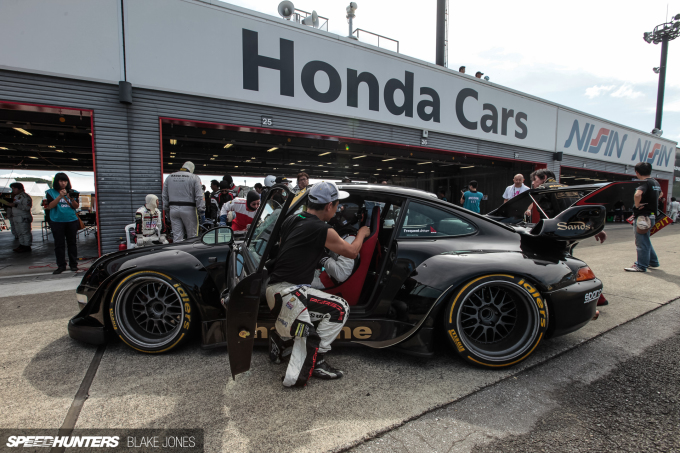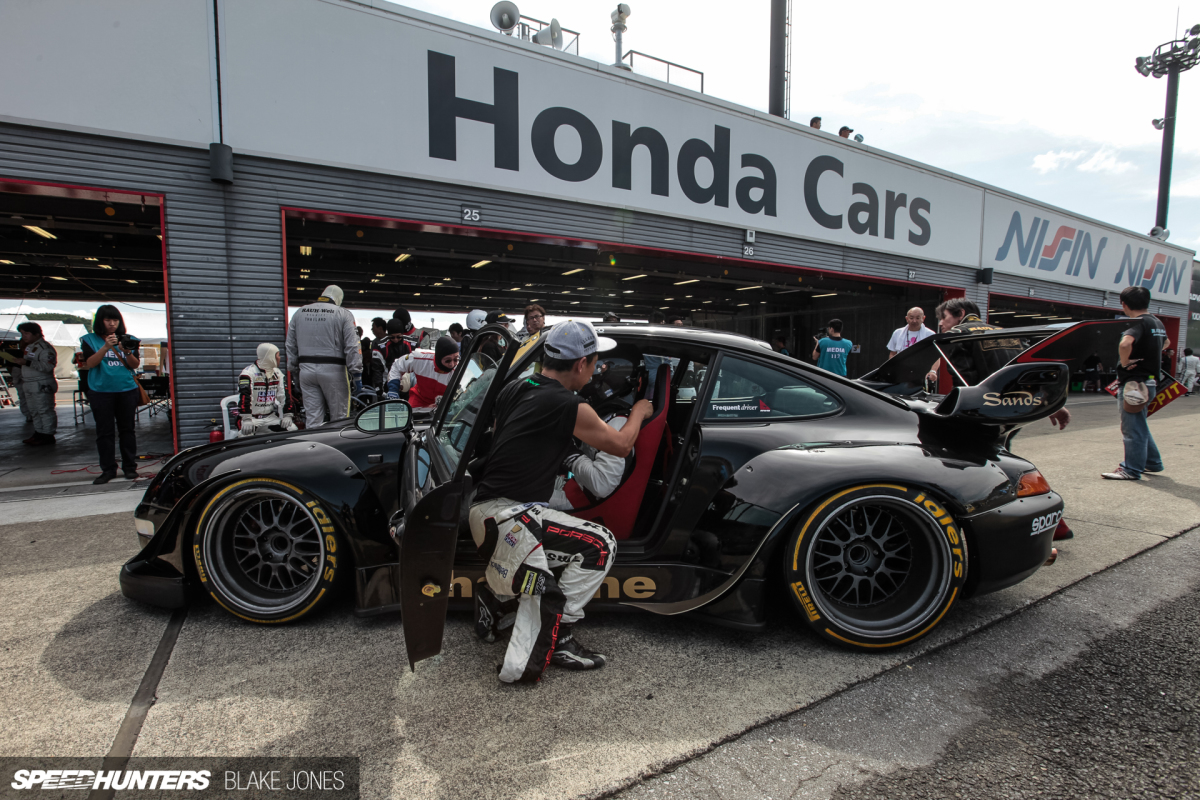 Revving is something that some were doing way too much of in the pits as they were taking off though, which resulted in fines from Twin Ring Motegi. It's always important to behave, RWB isn't a bosozoku crew!
Of all the funky and unique cars out at this year's race, it was the MotorHead magazine Toyota Probox that made me laugh the most. You can't get more JDM than this; these wagons are primarily used as company rep or fleet vehicles, so seeing one in race trim was pretty comical. Mind you, there's actually a race series for these things in Japan! I also know of a stripped-out and fully built Probox that regularly hits the touges of Mt. Tsukuba; it's become quite the legend and a car I've been trying to 'catch' for years.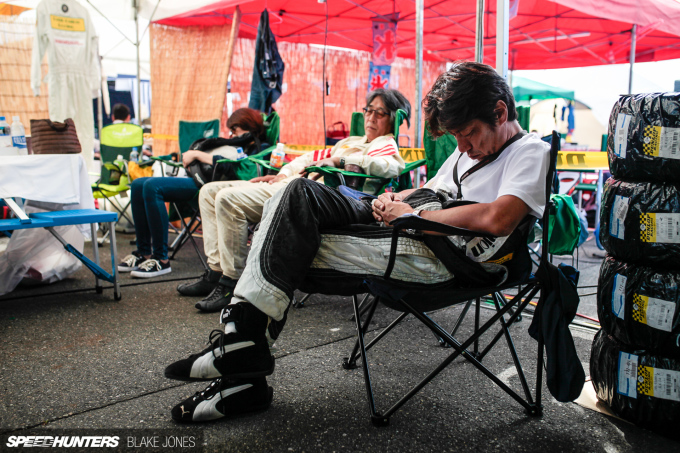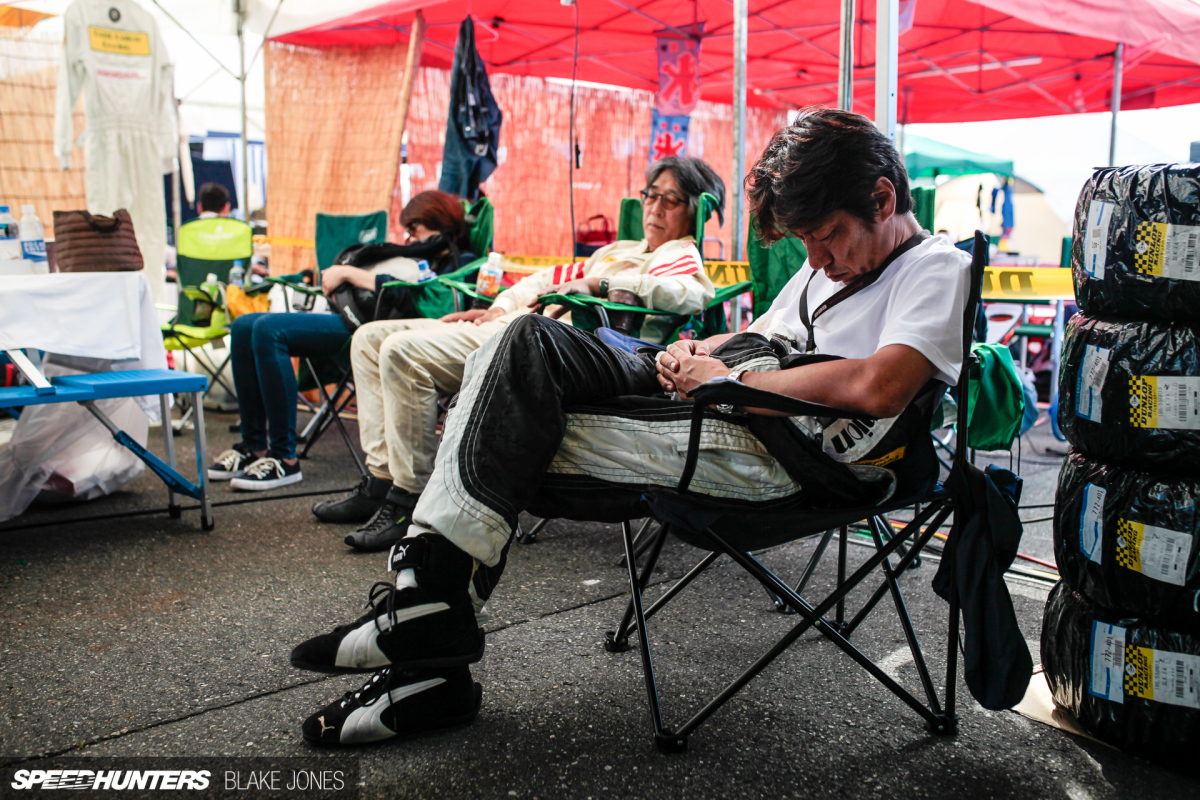 While most people were struggling with a severe lack of sleep and exhaustion, we Speedhunters were out, well, Speedhunting!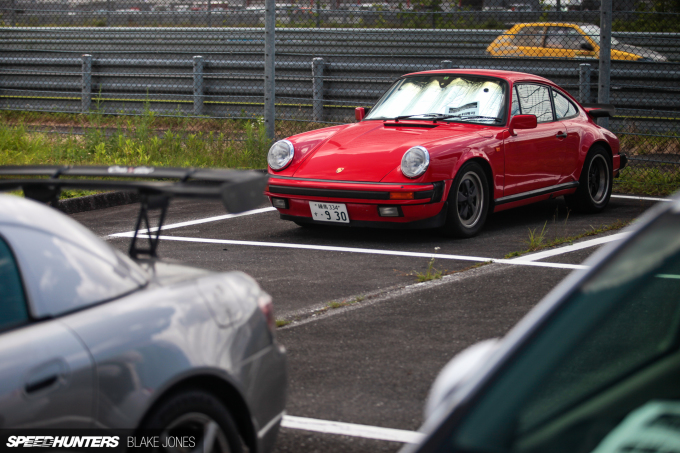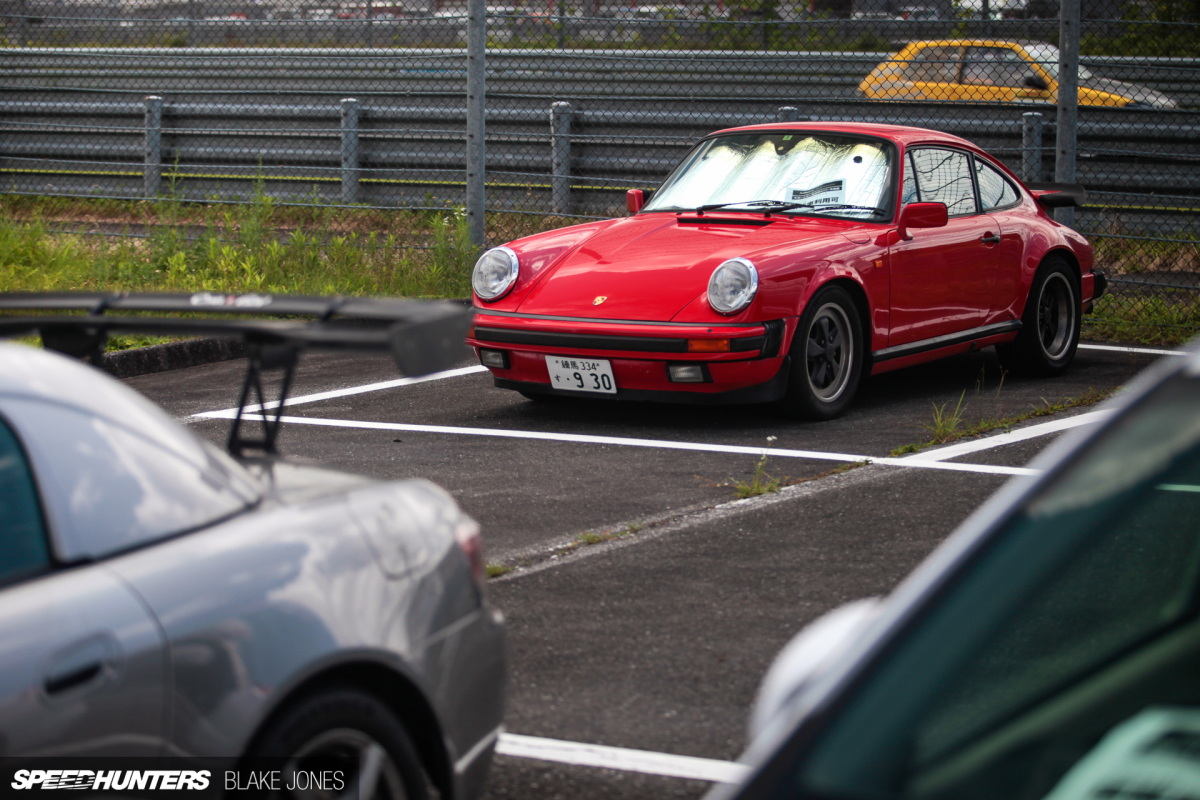 Blake ran across some pretty cool cars in the various paddocks and parking areas at Motegi, including this highly collectable 930 Turbo.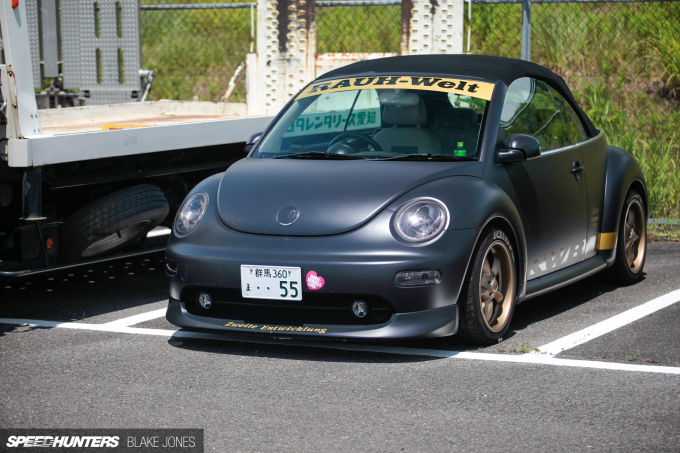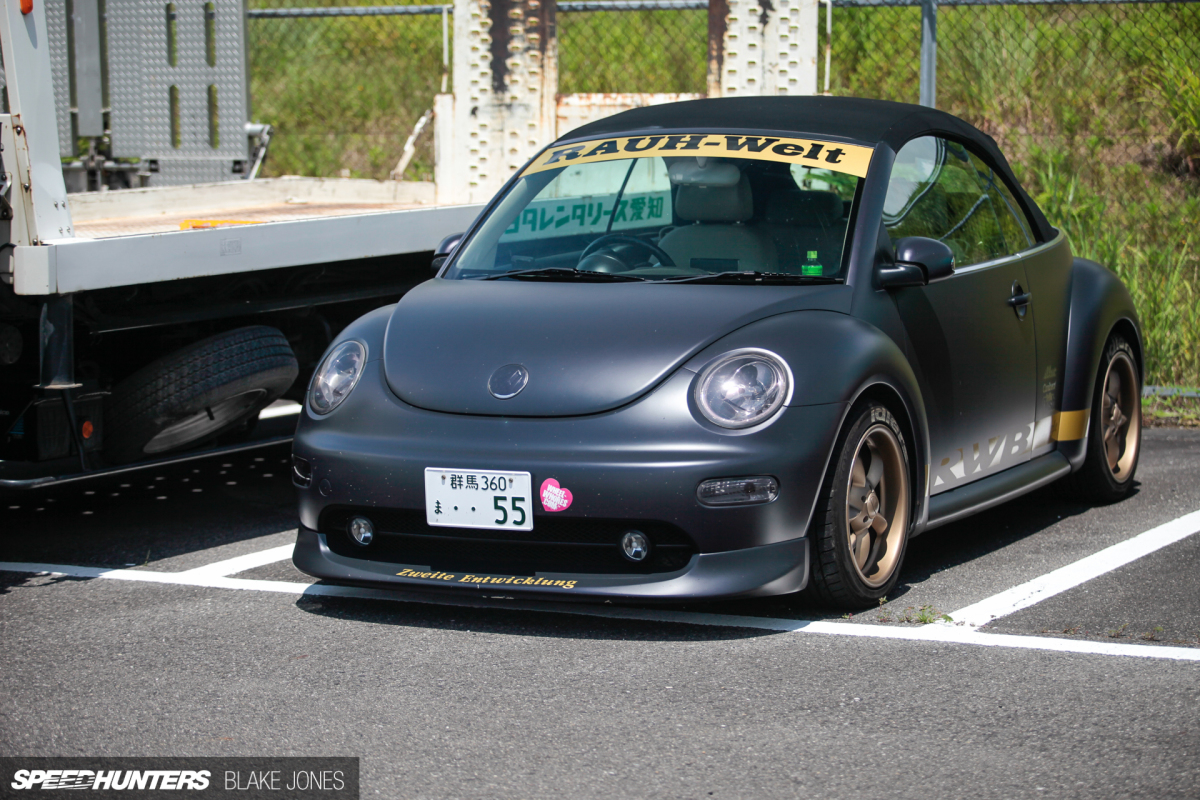 And who said Tanner Foust's RWB Beetle was the only one in existence? Take a look at this drop-top!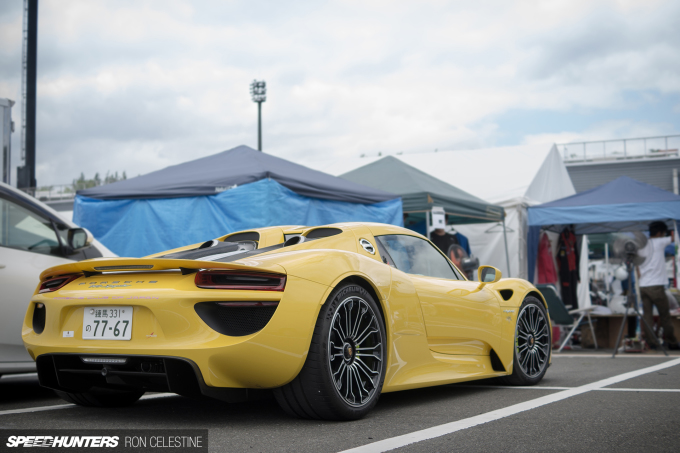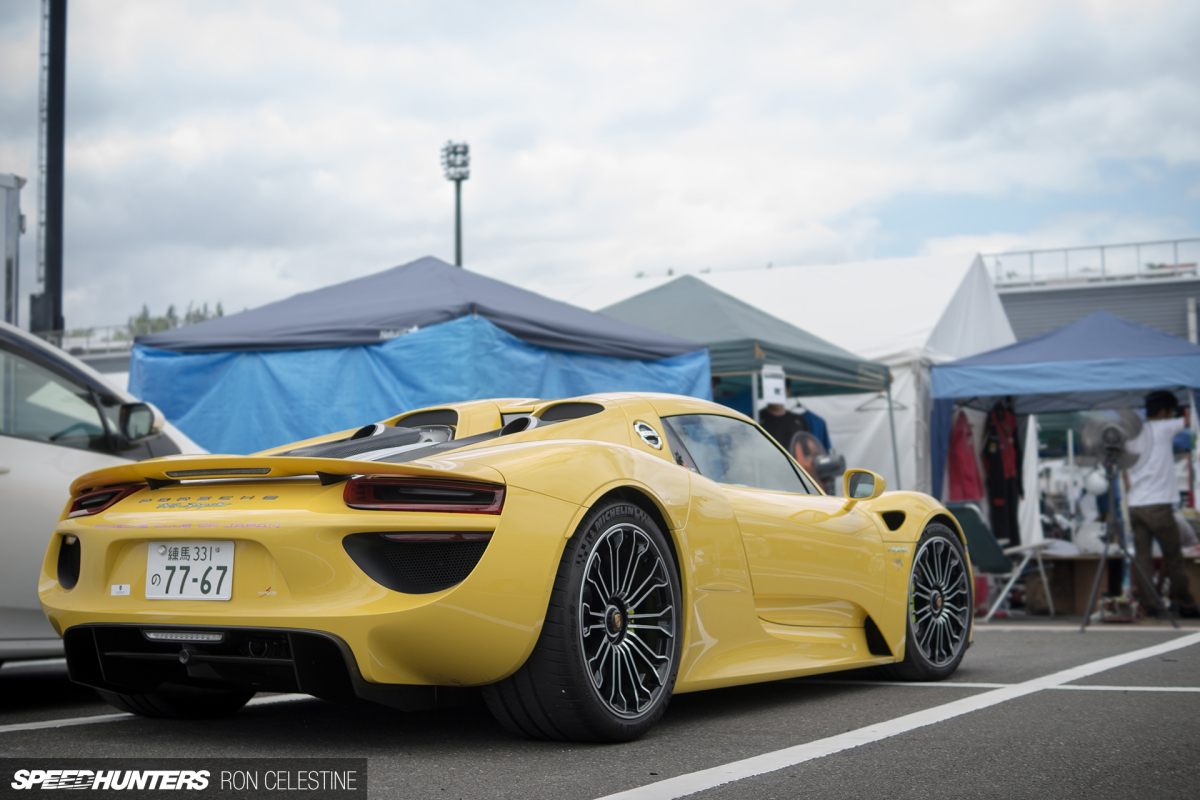 Ron even came across Porsche's very own hypercar, the 918 Spyder.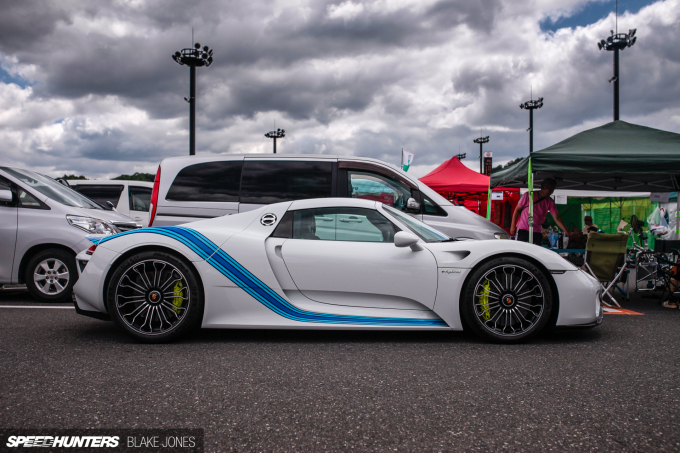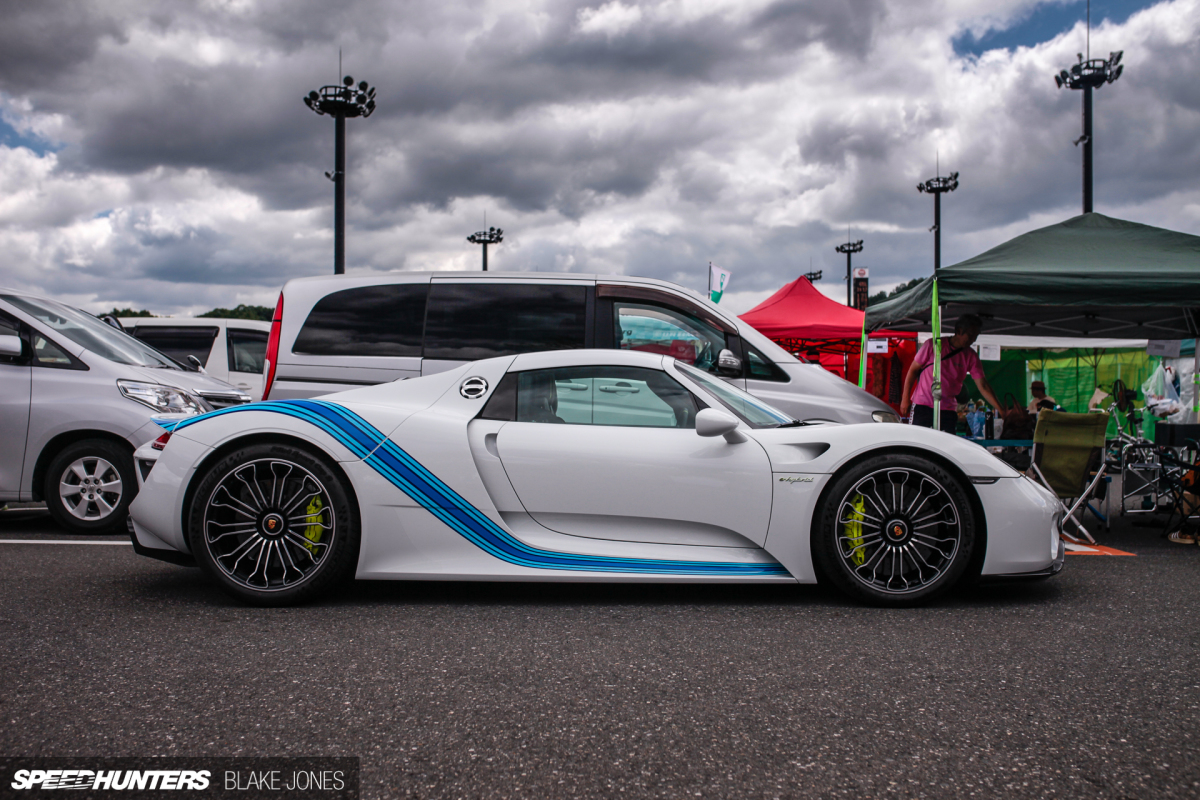 And so did Blake! This Martini Racing liveried example is one I sometimes see around Tokyo; it's just so cool when these type of cars are driven often and used properly.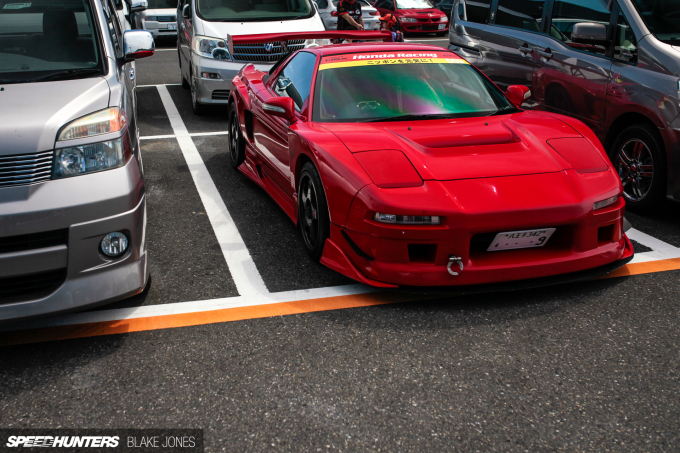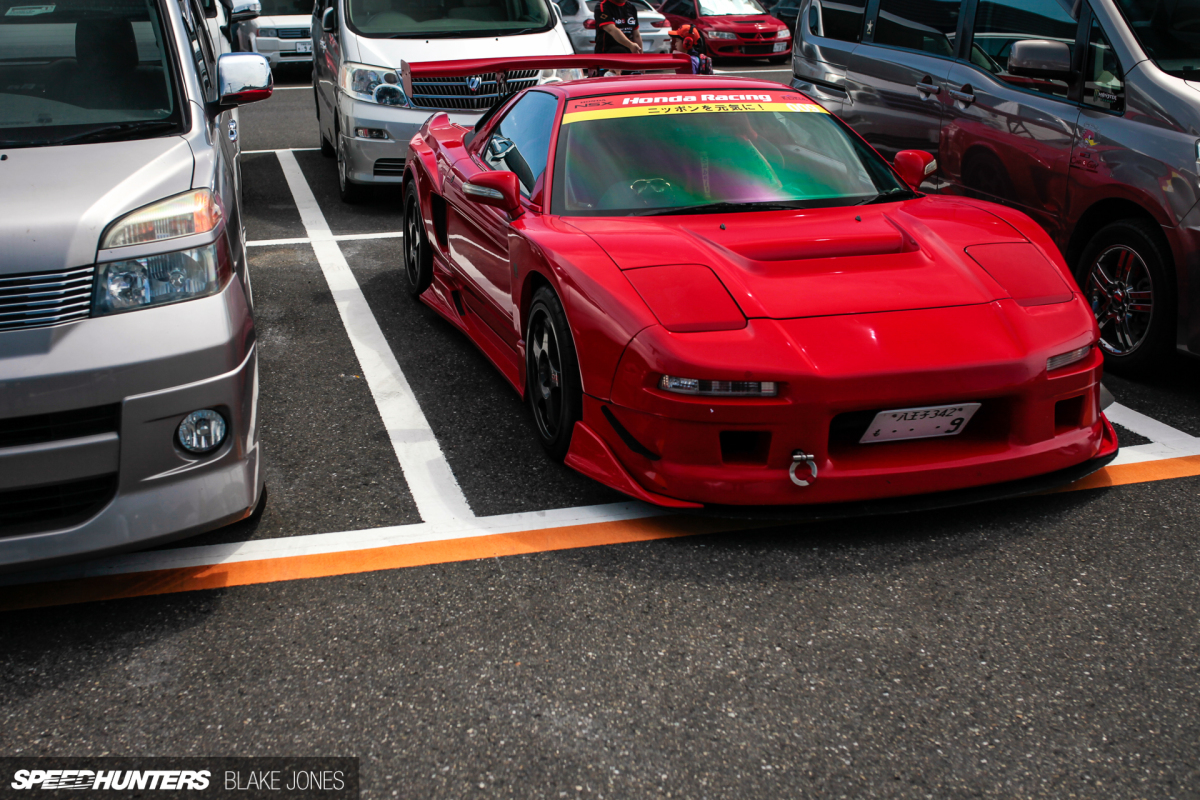 Do you like your NSX's extra wide? If so this might be just the thing for you!
Into The Night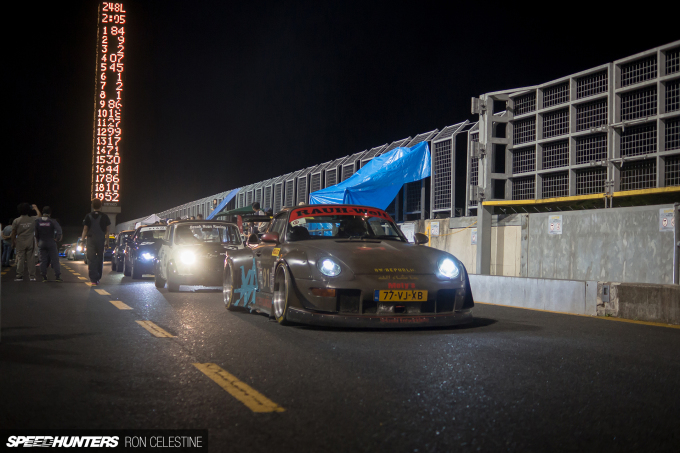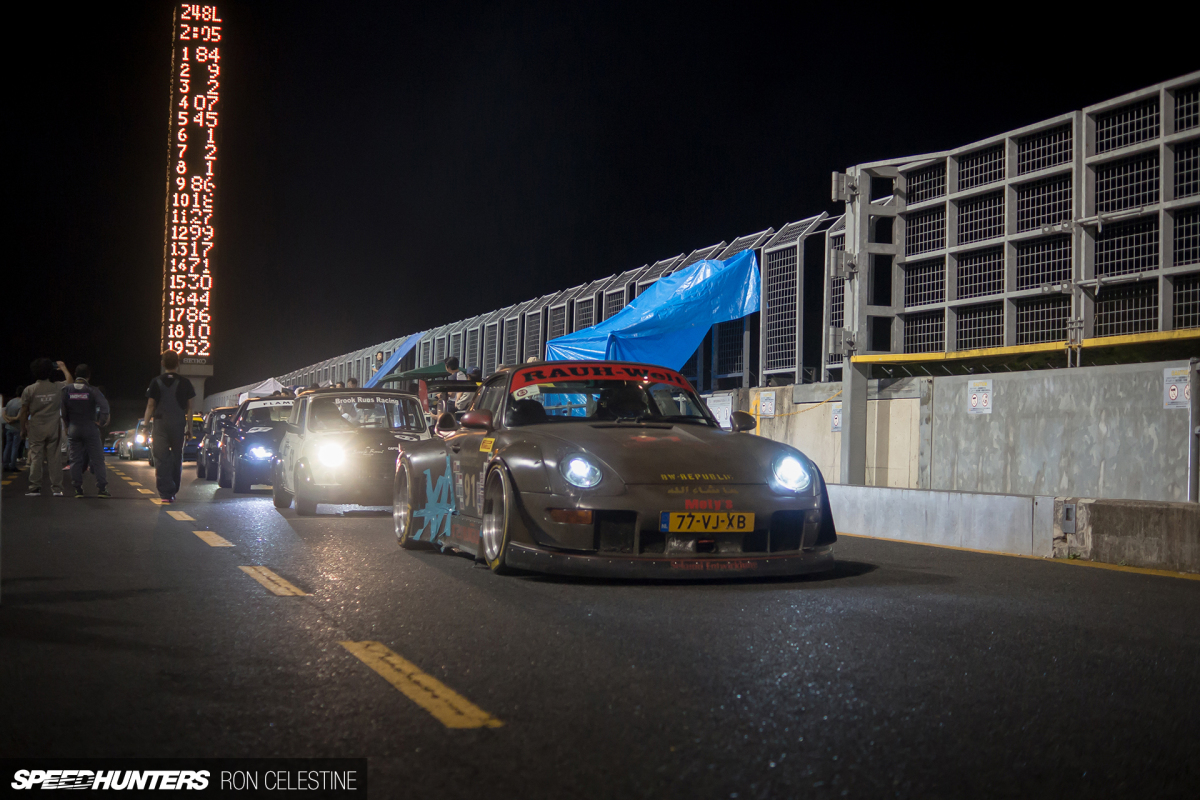 Fast forward a few more hours of pit stops, minor damage and the odd oil leak, and before we knew it the 12 hours were up.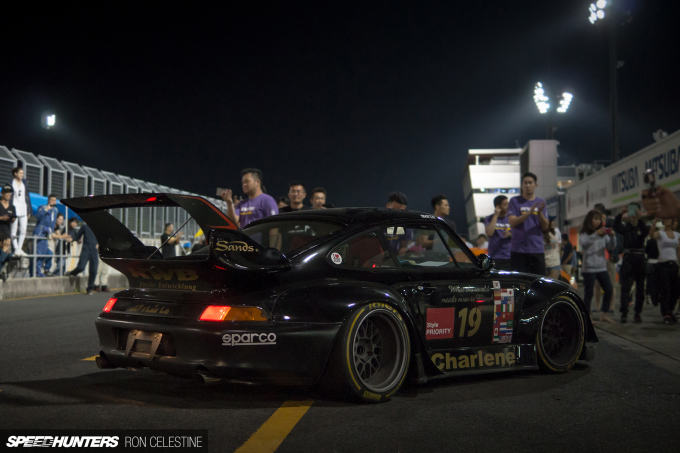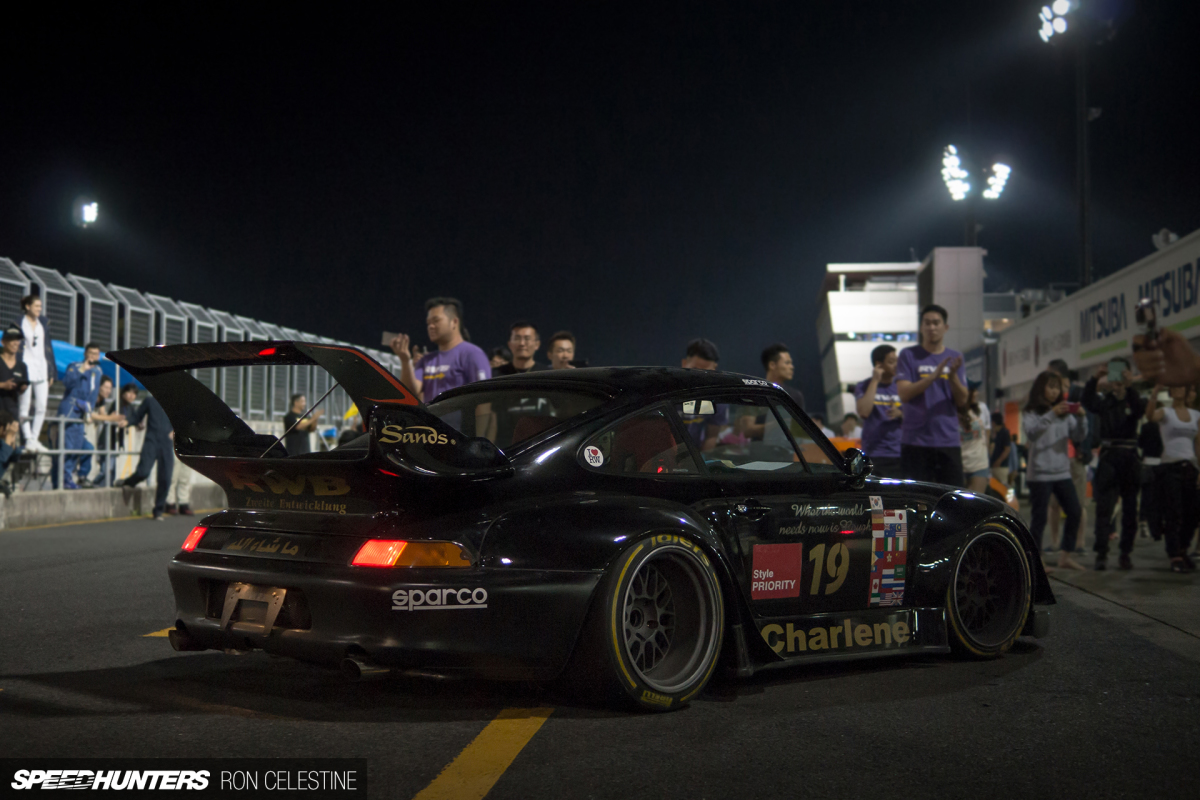 Out of six RWB cars entered four finished, which was not a bad result all things considered. In no way was I sour that one of our guys had an unfortunate incident and put Adriana to rest either. We all chatted and there was a lot of apologising, but at the end of the day that was unneeded. As much of an amateur event the idlers 12 hour is, it's still motorsport, and you always go into it knowing there is a chance that things will go wrong.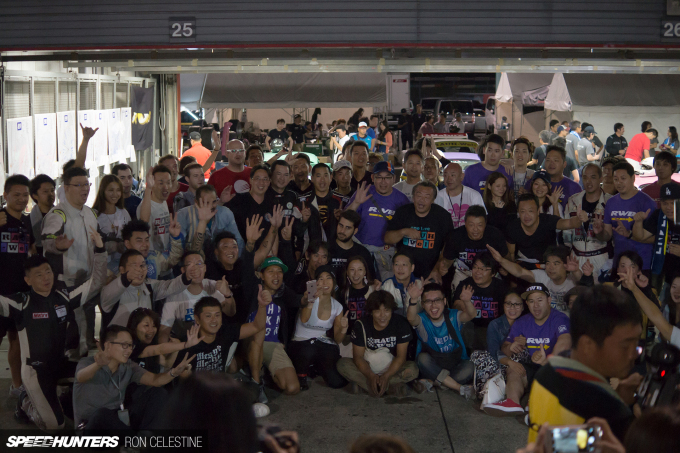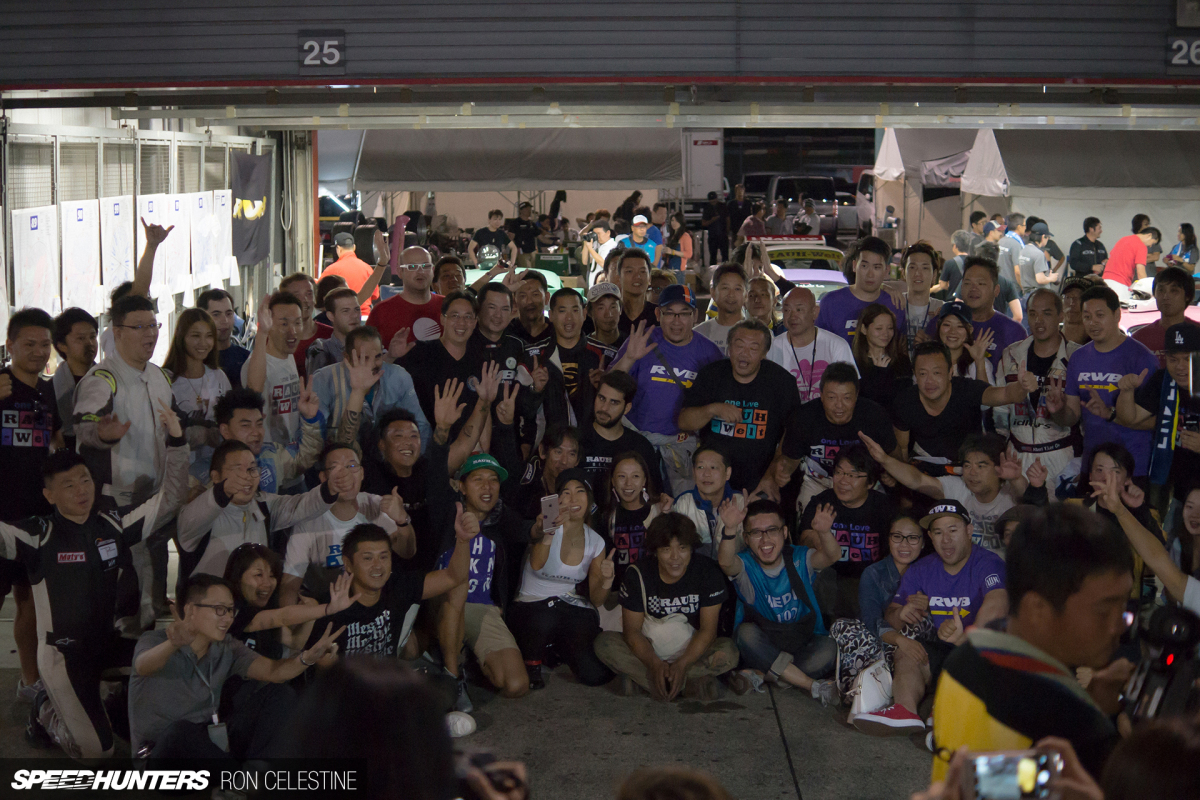 The most important thing is that nobody got hurt. Everyone drove, enjoyed it, met new people and worked together to create an even stronger bond.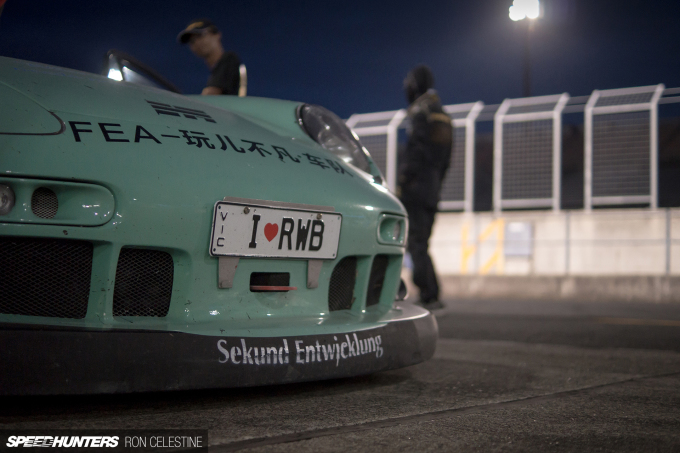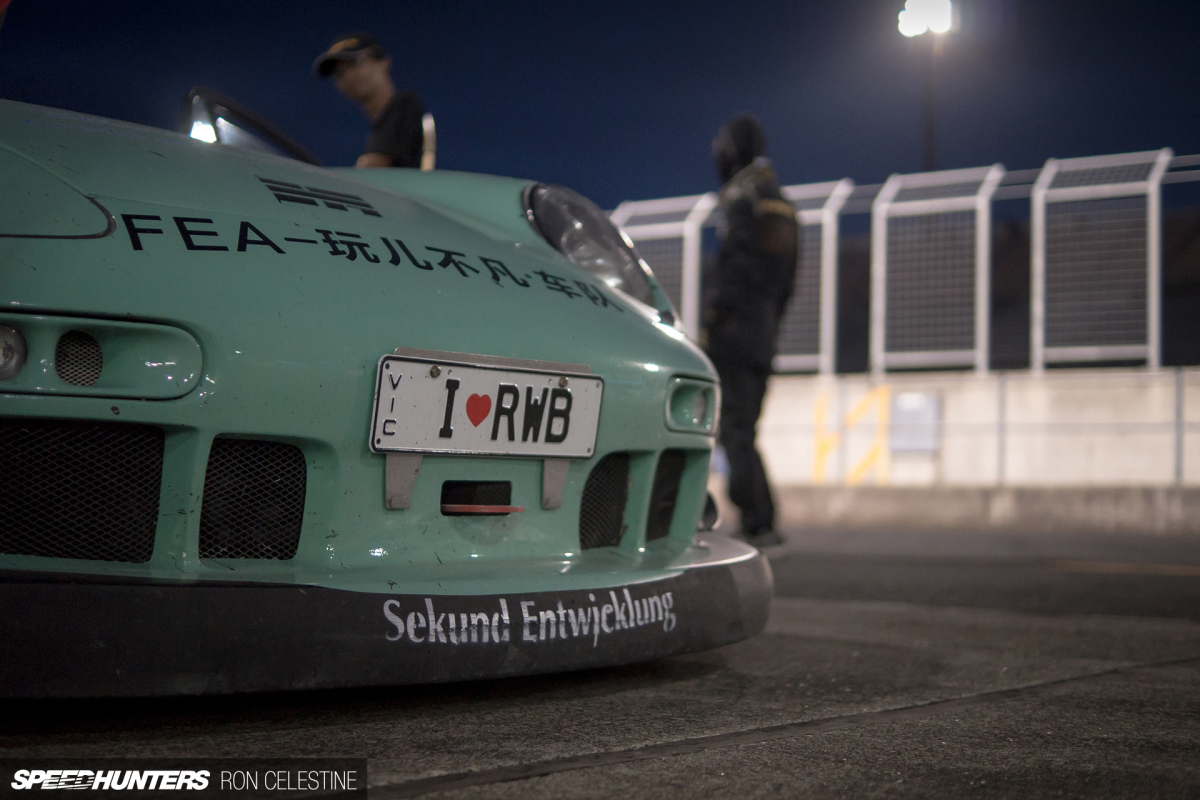 That's what makes Nakai and what he has created with RWB so special, and why we can't help but join in on the fun at every chance we get. Here's to next year's race!
Dino Dalle Carbonare
Instagram: speedhunters_dino
dino@speedhunters.com
Images by Blake Jones (Instagram: blaketjones) & Ron Celestine (Instagram: tokyotuner)
Cutting Room Floor