The Art Of Rallycross
Raise your hand if you love sports car racing. Now raise your hand if you like stage rally. Finally, raise your hand if you'd like to see both of those forms of racing collide. Well, what if I told you that the motorsport actually exists?
You guys probably already know that it exists, but rallycross might be one of the greatest forms of motorsport known to man. Obviously, this is kind of subjective, but when you take two great forms of racing and place them together, theoretically you get an even greater motorsport, right?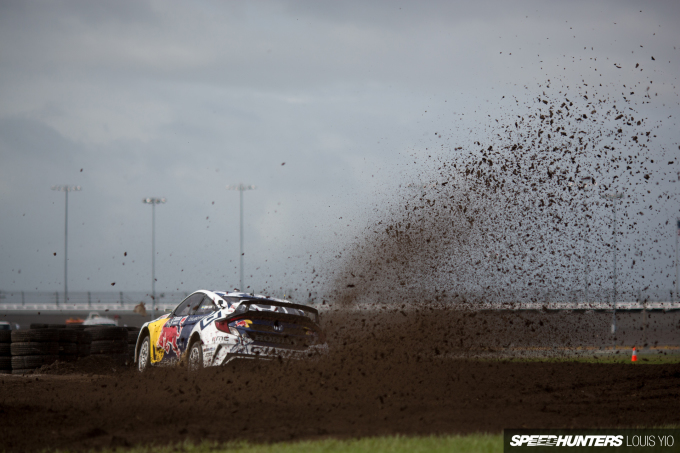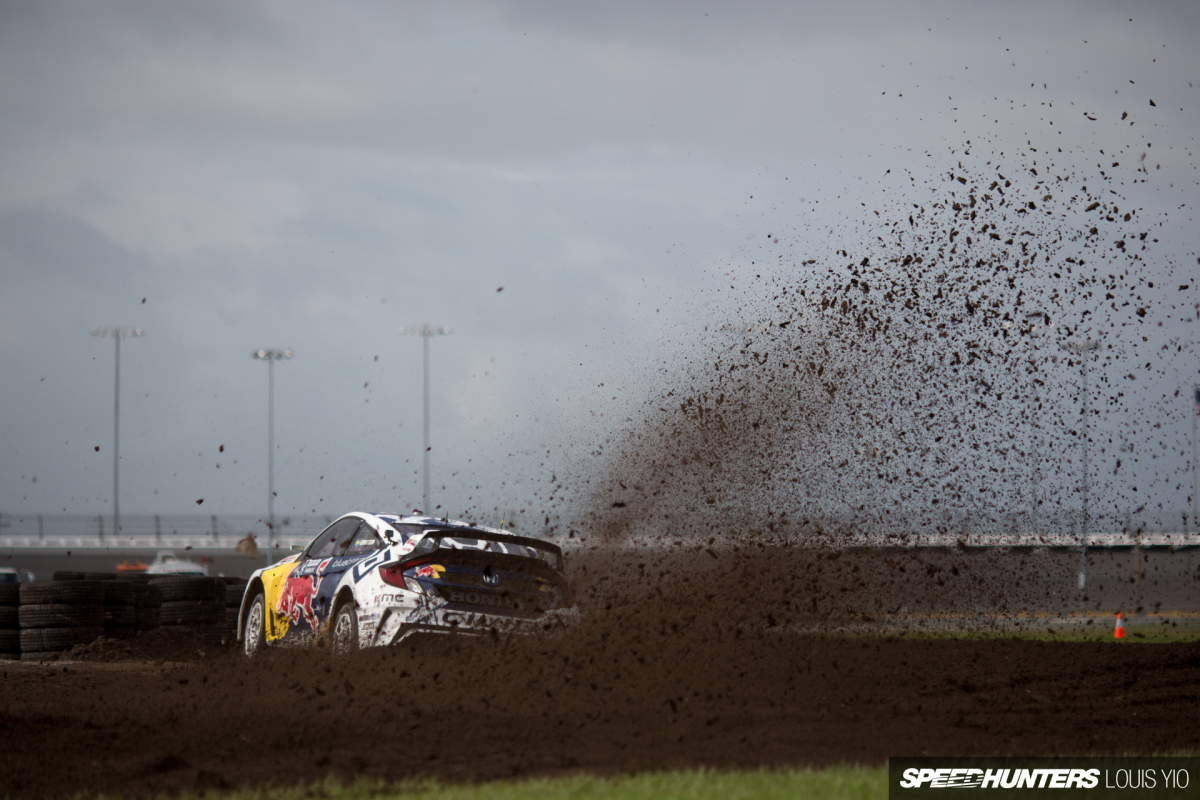 Rallycross is seriously the best of both worlds; it's (almost) everything that is awesome about motorsport. You get tight racing, dirt roosts, rubbing, tire smoke, big air jumps, screaming engines and rockstar drivers, just to name a few of its features.
I've been following Red Bull Global Rallycross (GRC) for the past two years now, and in that time I've captured some of my favorite shots, mostly due to the fact that the drivers do insane things on track. Of course, it helps that the top-tier Supercar class four-wheel drive machines have 600hp, are capable of going from 0-60mph in 1.8 seconds, and can hit 40-plus foot jumps with ease.
After looking over my shots from the first half of the 2016 GRC season, I thought I'd put my favorite images together in one post for you guys to check out. Enjoy!
Phoenix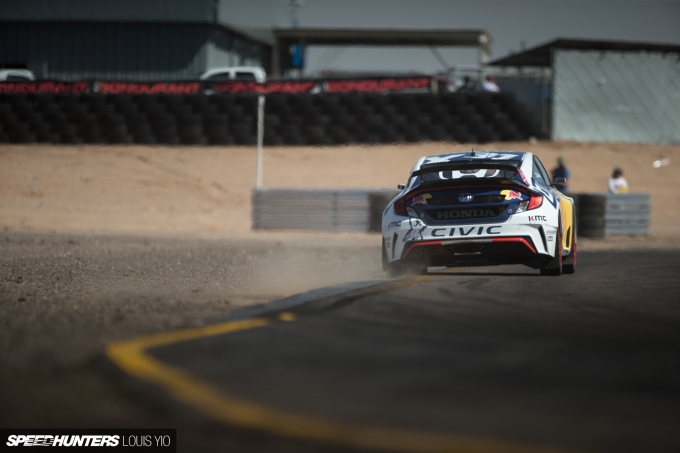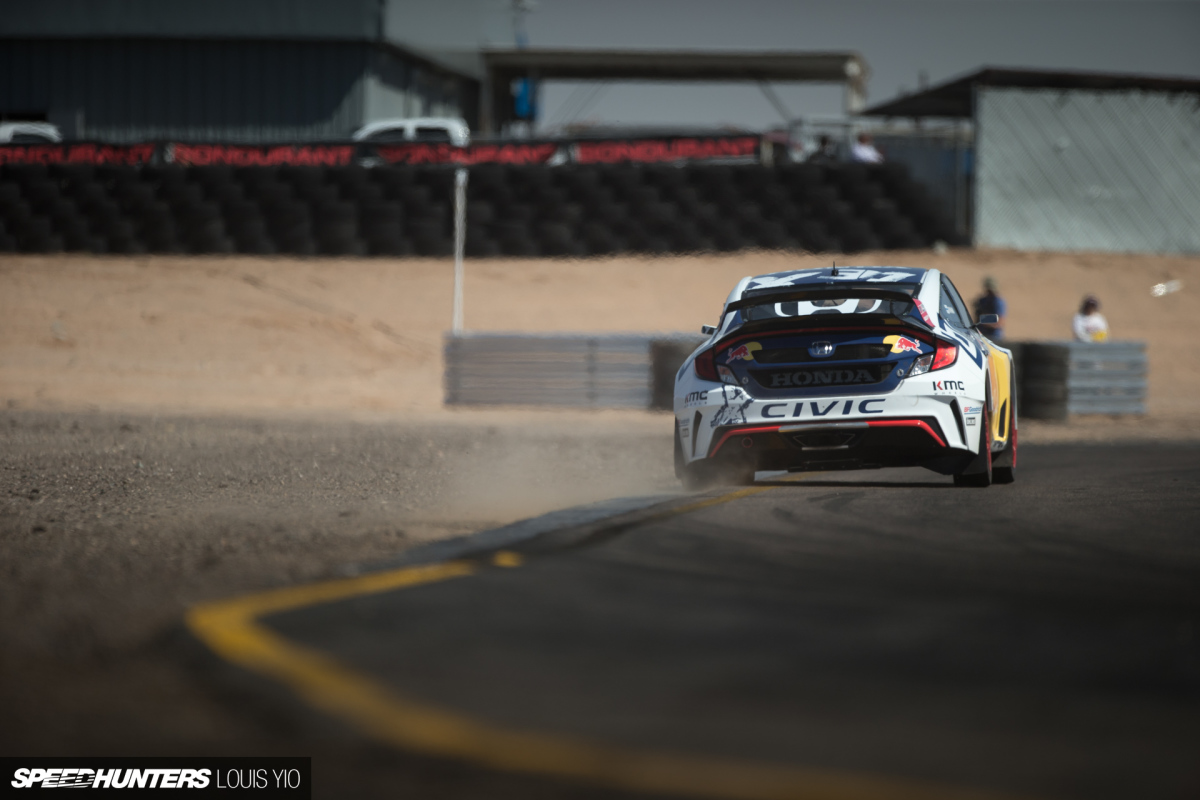 The season opener took place in Phoenix, Arizona, at Wild Horse Pass Motorsports Park, home of the famous Bondurant Racing School.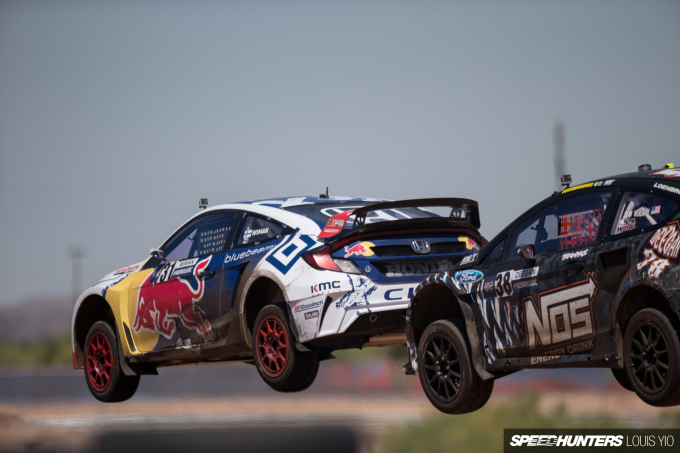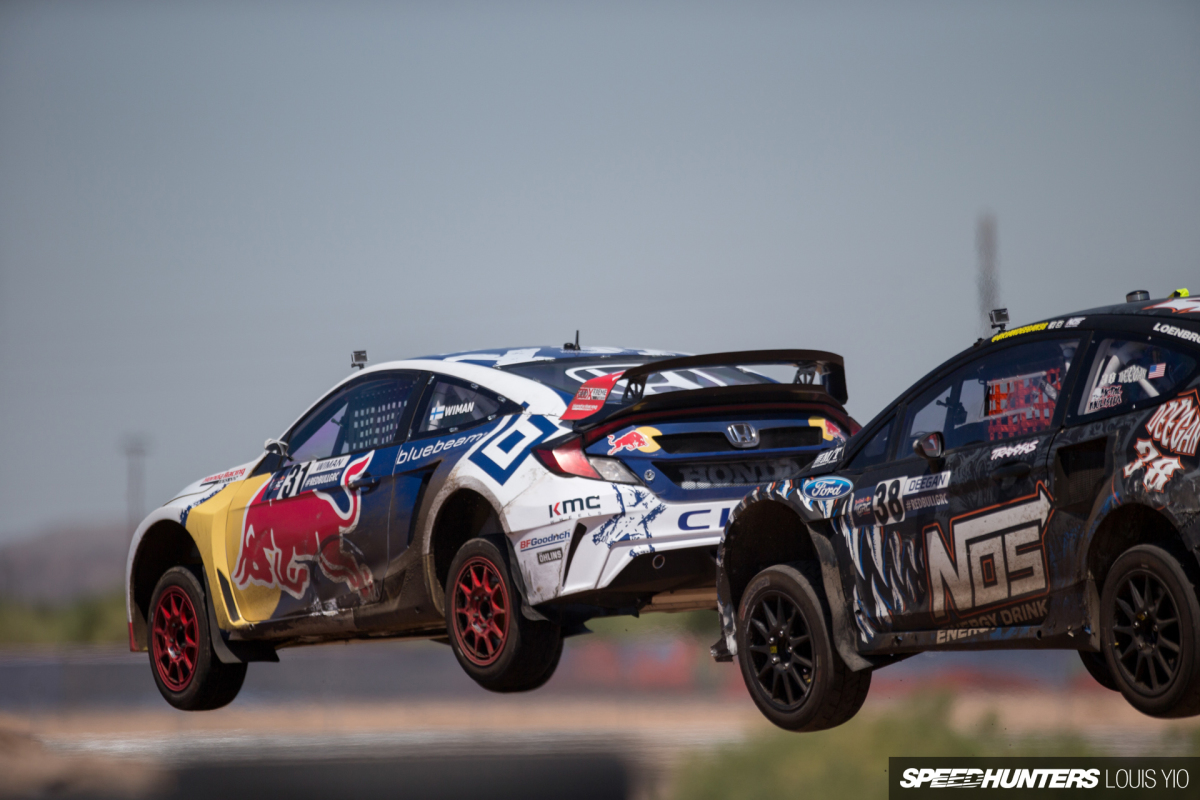 The biggest difference this year is the arrival of Honda in the hotly-contested manufacturer's championship.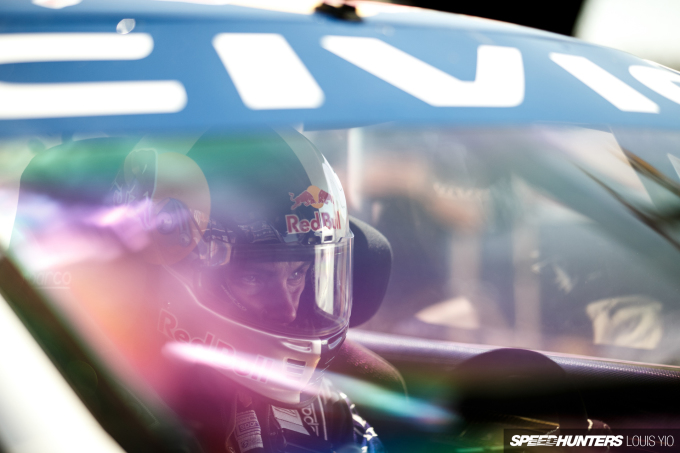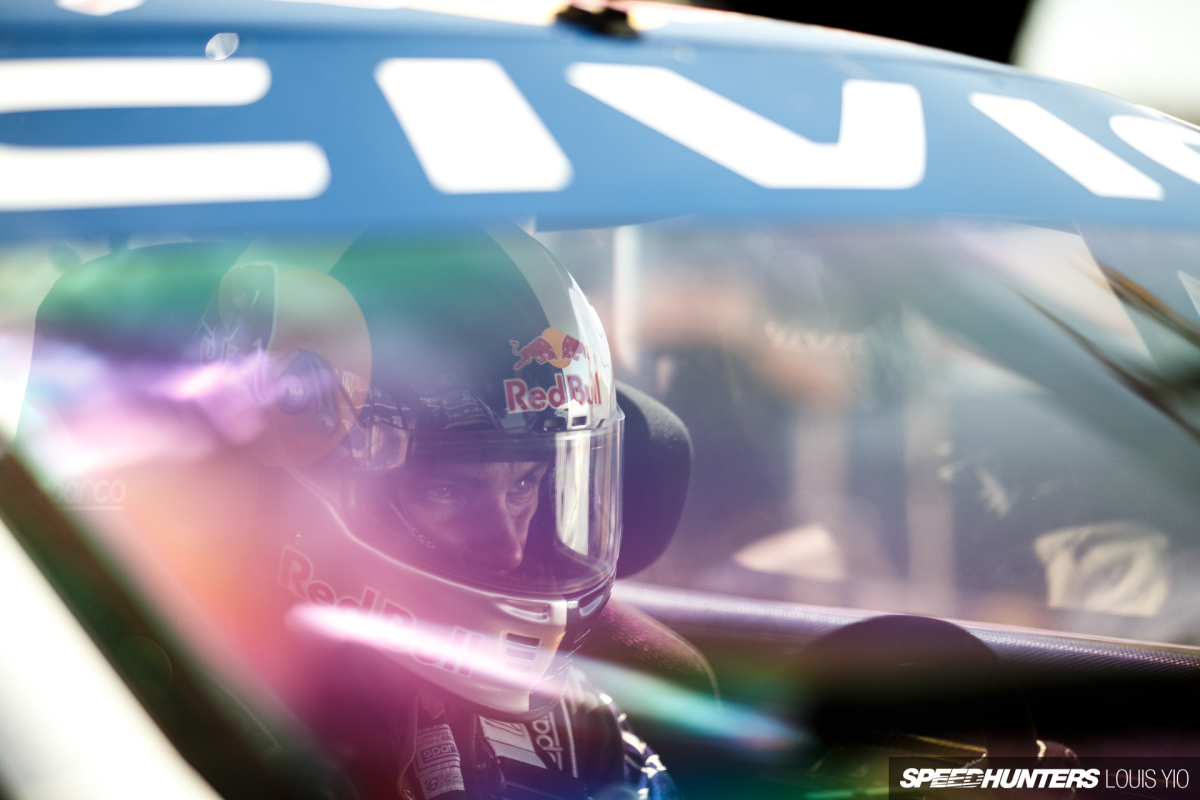 Backed by Honda is the Olsbergs MSE team, consisting of drivers Sebastian Eriksson and Joni Wiman, both of whom are only in their early 20s.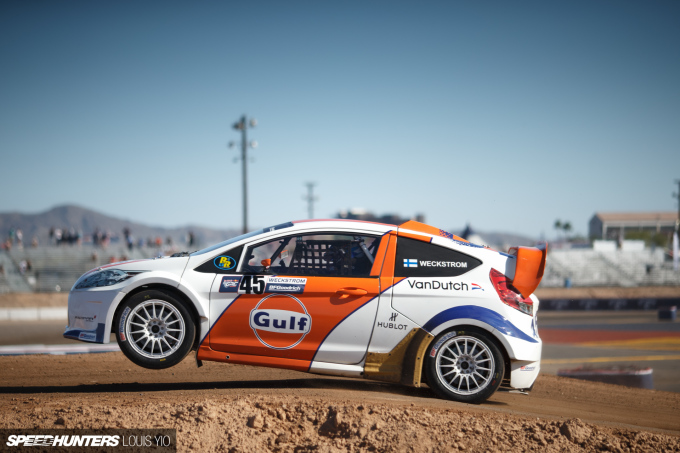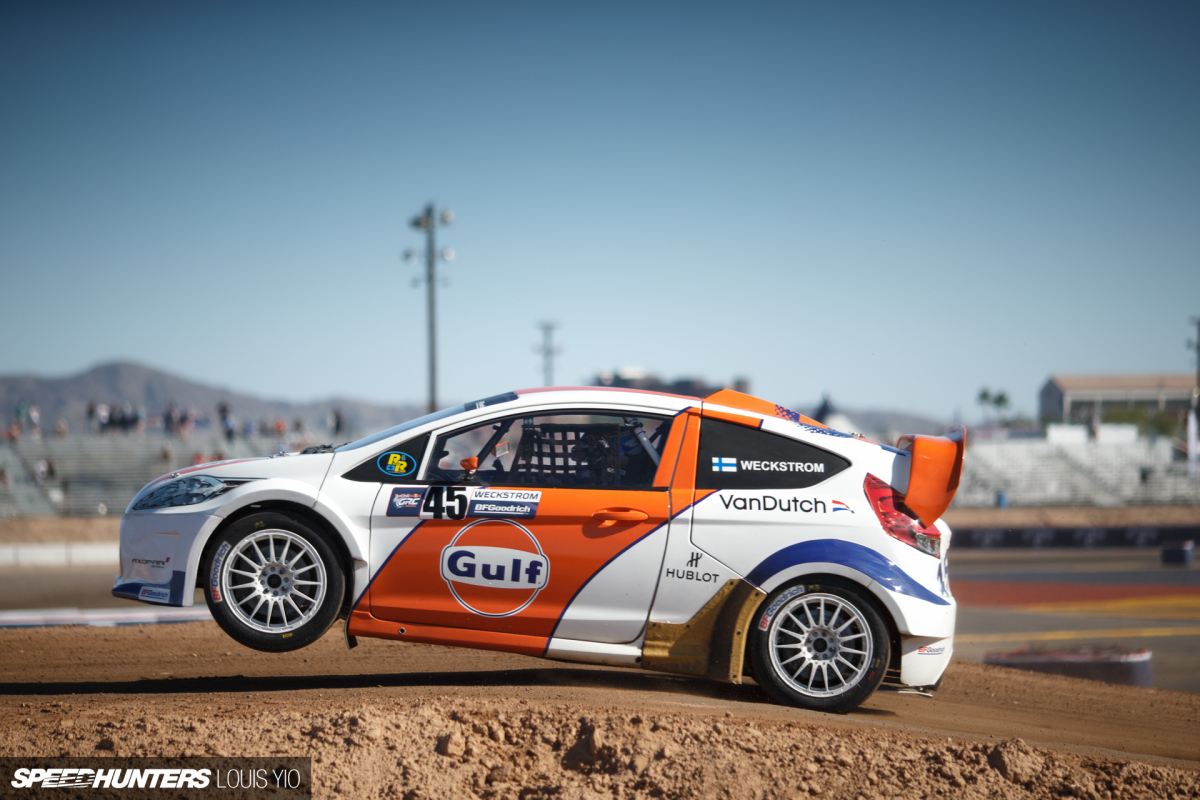 When I see high shutter speed images from racing, I sometimes wonder if the car is parked. I mean, 99 per cent of the time it's of a race car at speed, but what if? When I shoot rallycross, I often try to get abnormal images with a high shutter speed, just to throw the whole 'is that an image of a parked car?' question out the window. It would be possible to hang this car with a good amount of fishing wire though…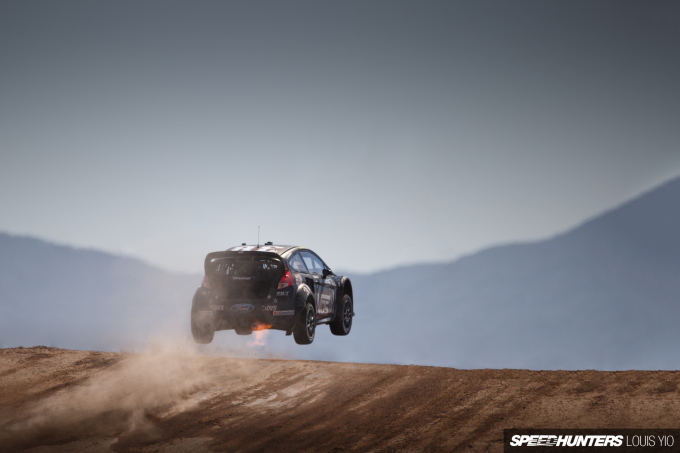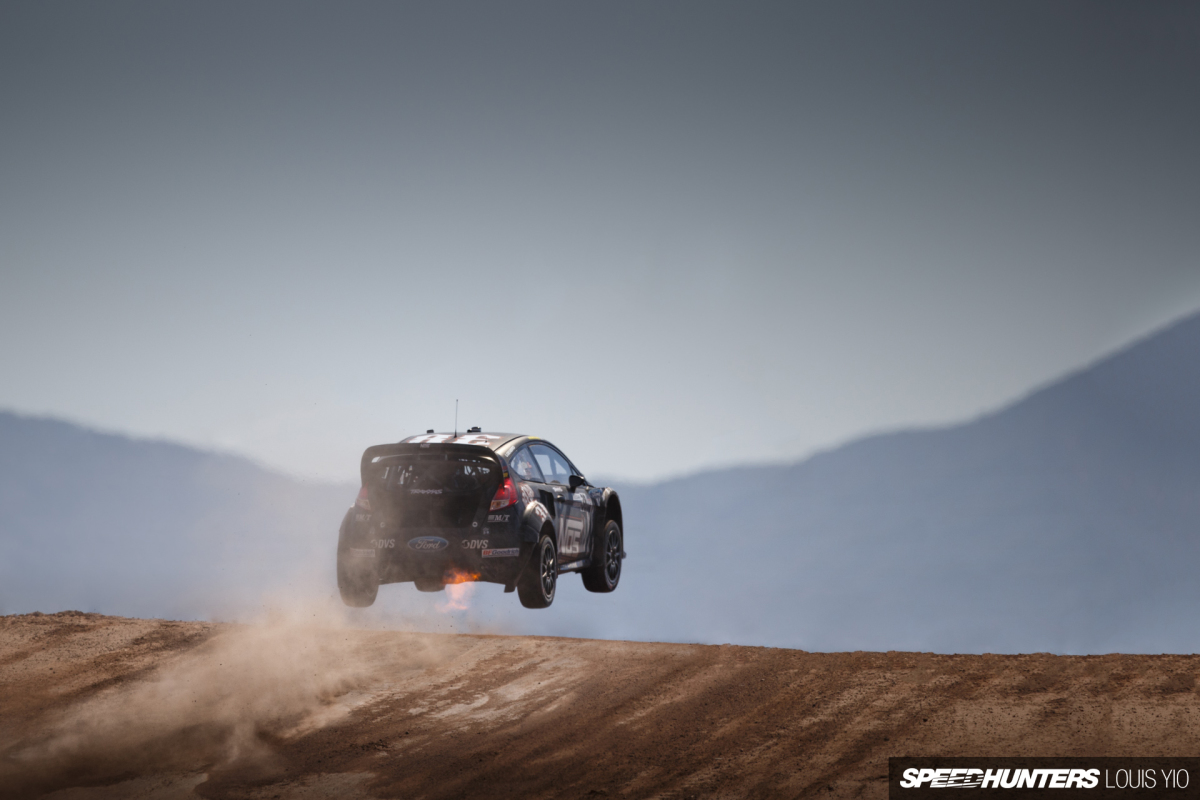 I took a step back and was helping out Larry at Phoenix and I didn't shoot too much there, so it's onto the next race.
Dallas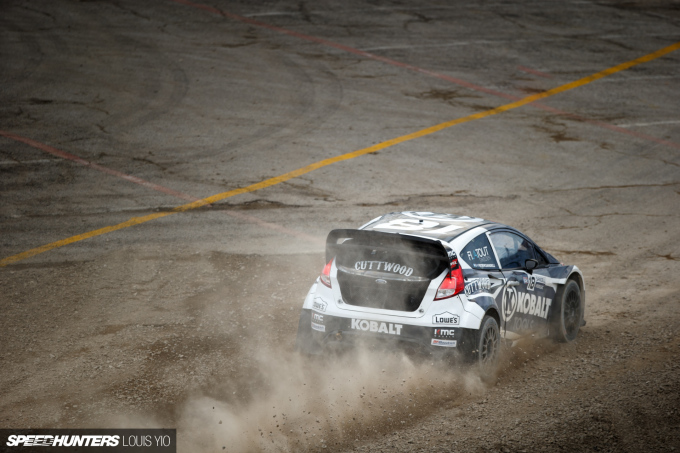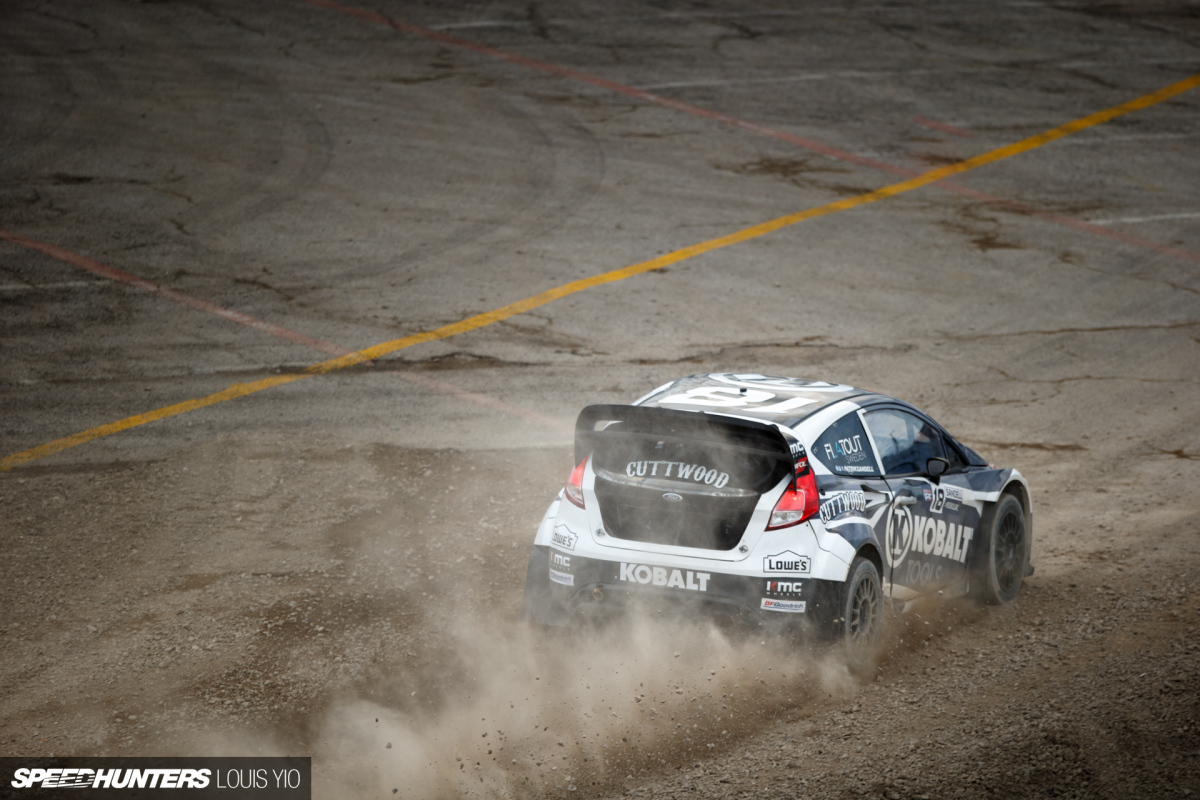 The next stop on the Red Bull GRC calendar was Dallas Fair Park.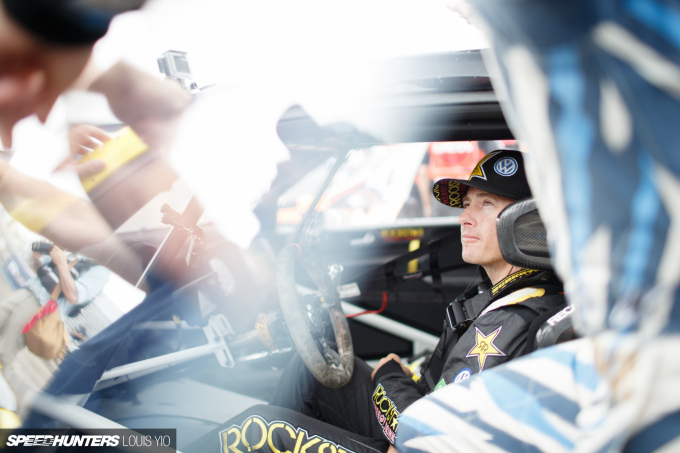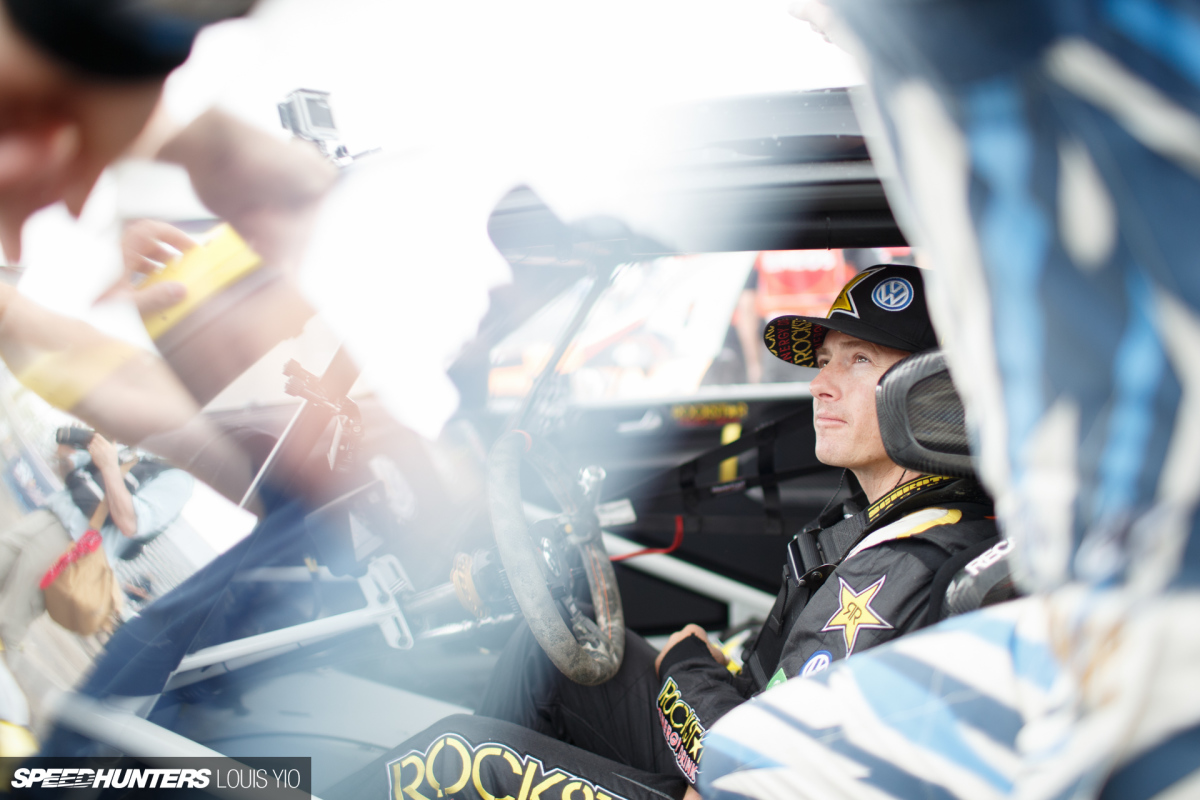 After winning back to back in Phoenix's double-header event, Tanner Foust was in everyone's crosshairs.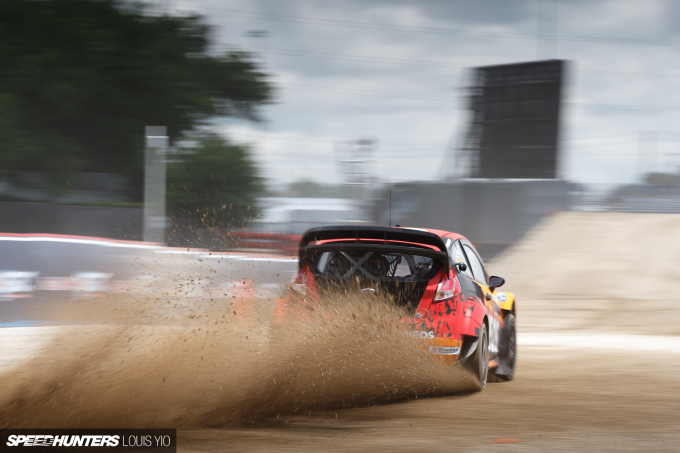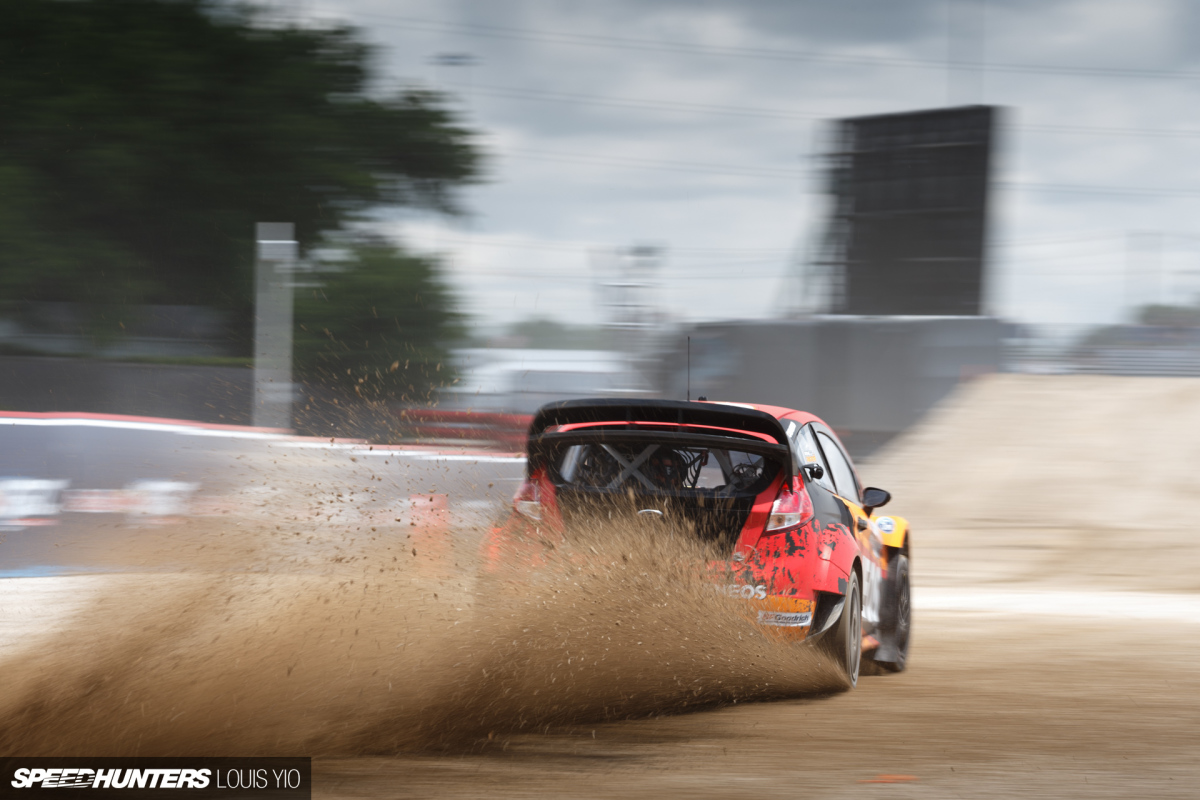 I don't know why, but some of my favorite shots from GRC are of Steve Arpin.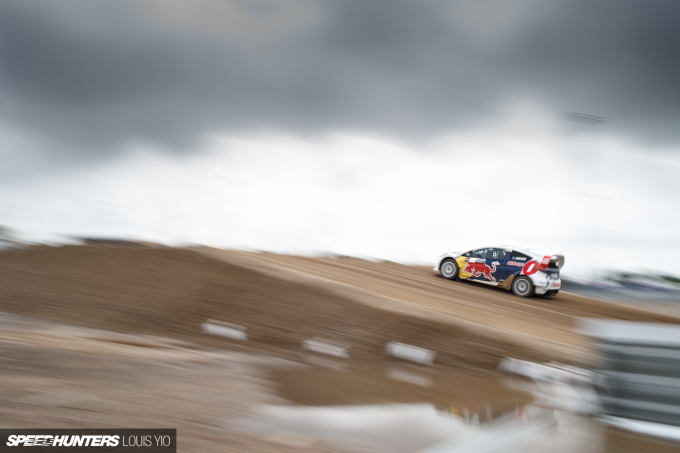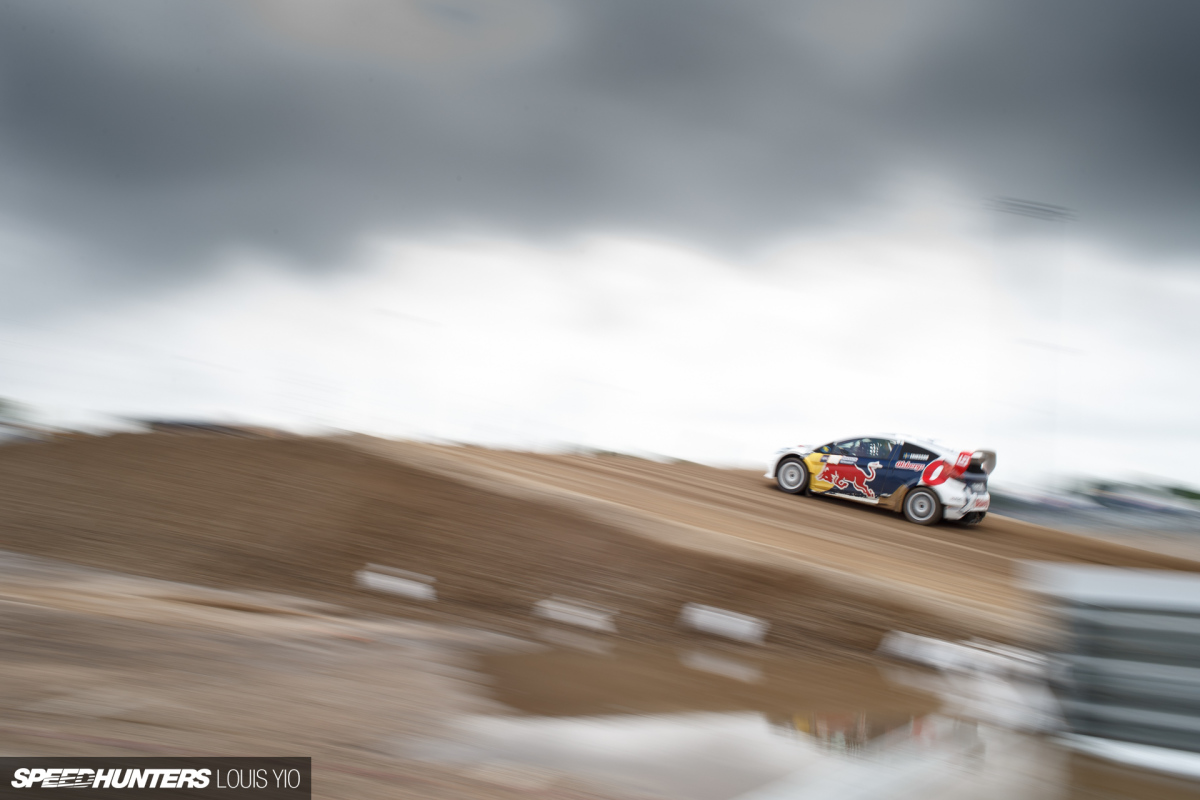 People always focus on the Supercar class in GRC and rarely take a look at the Lites class.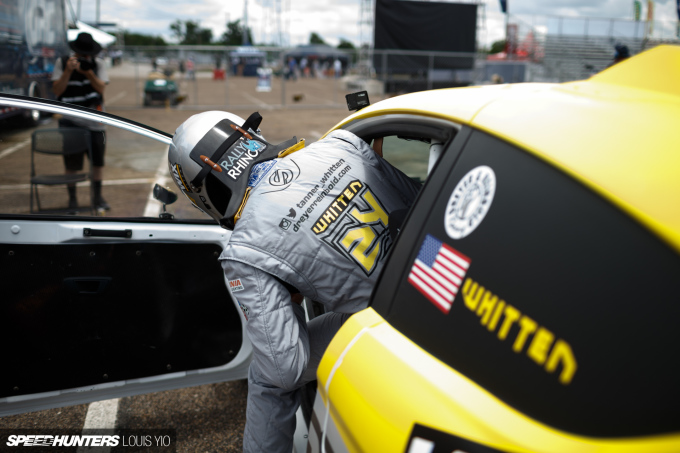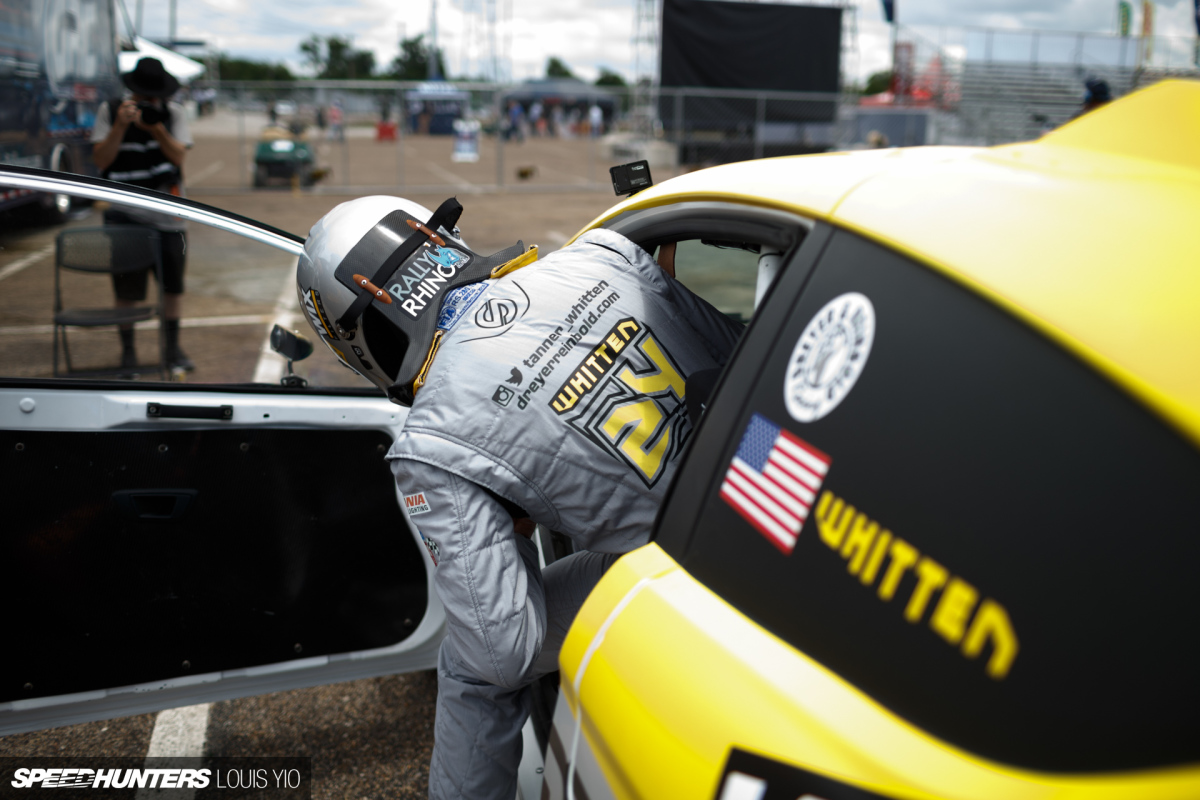 There are times when the (mostly) young drivers in GRC Lites have a better race than their Supercar counterparts.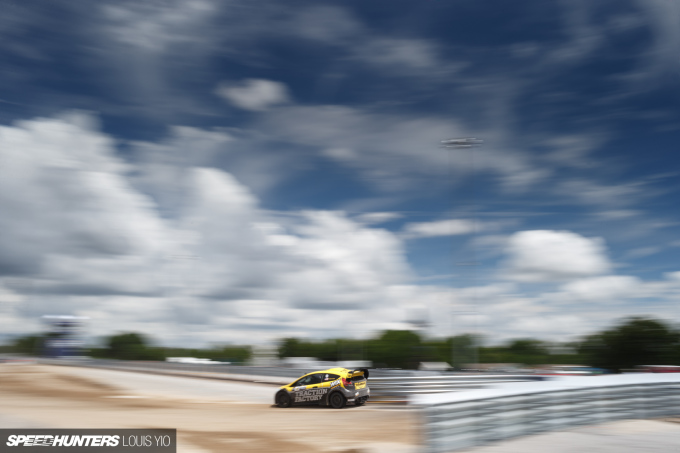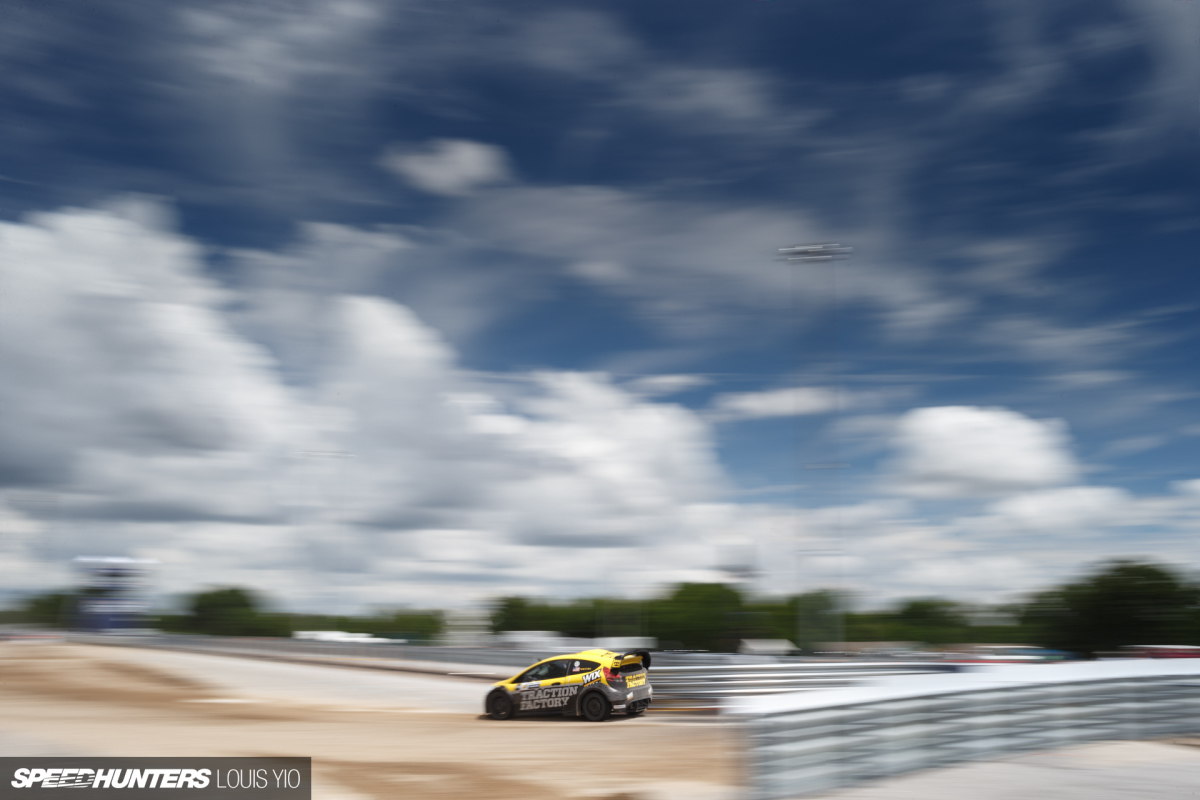 It's like watching the MX-5 Cup; the Lites cars are identical and the races all boil down to the driver for the most part.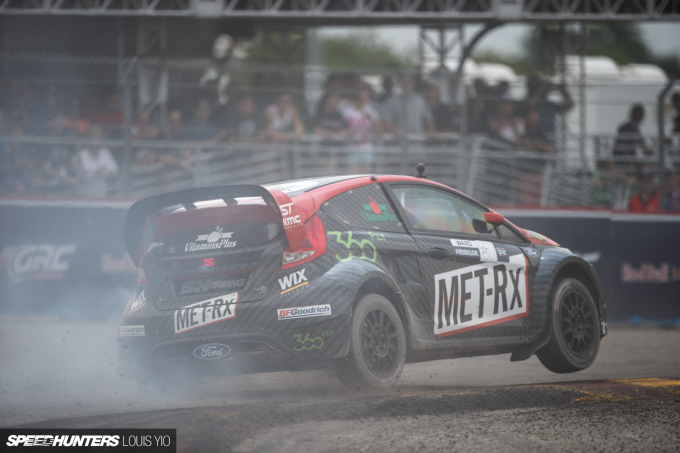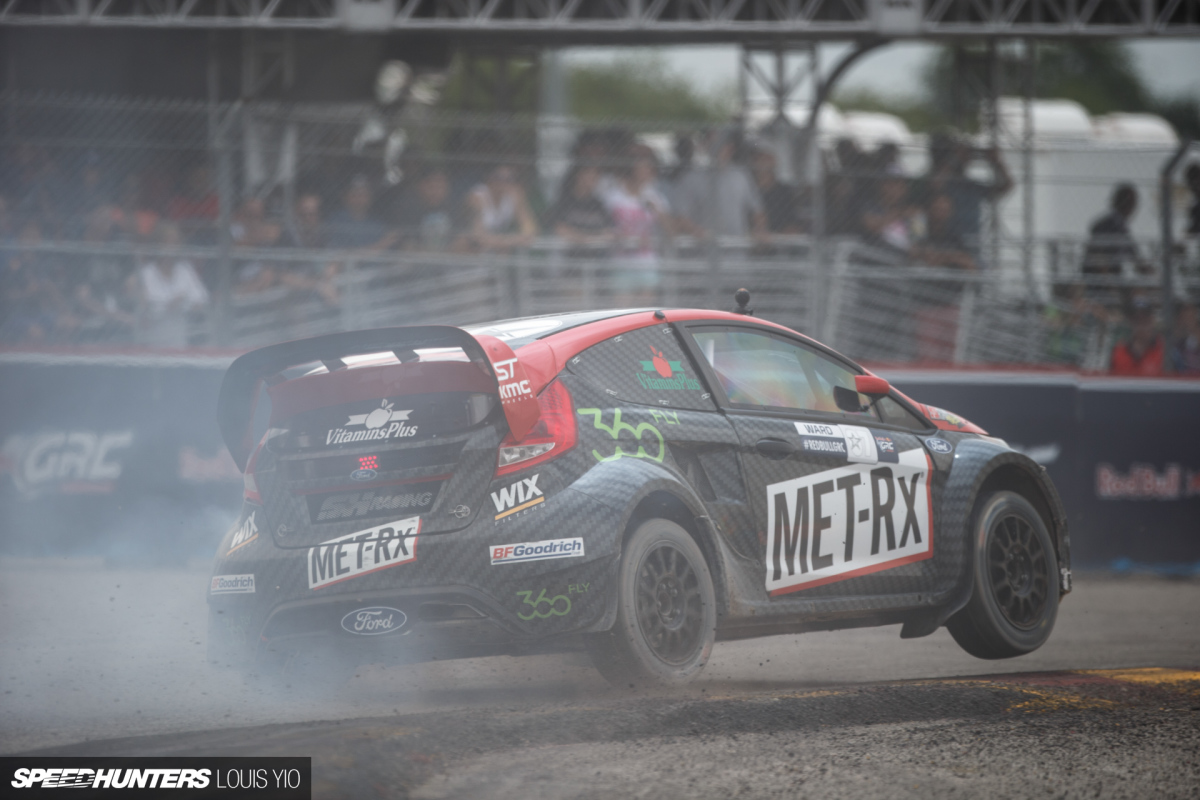 Motocross champion Jeff Ward is now campaigning a full season, replacing Nelson Piquet Jr. with SH Racing. The way he drives is just like the way he rides his motorcycles: super aggressive. It would be nice to see him on the podium soon; he's gotten close a few times.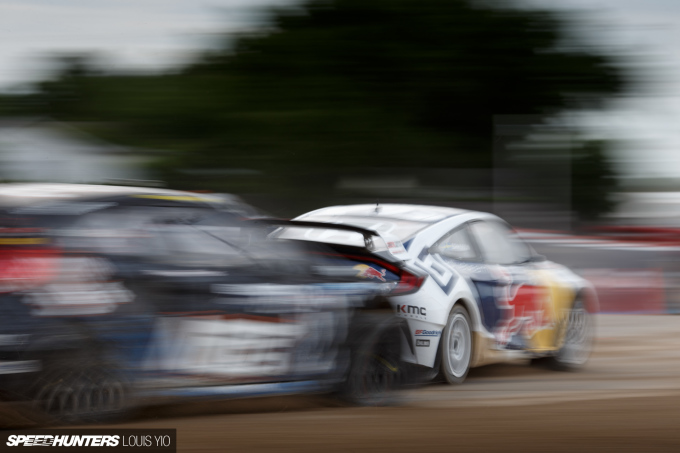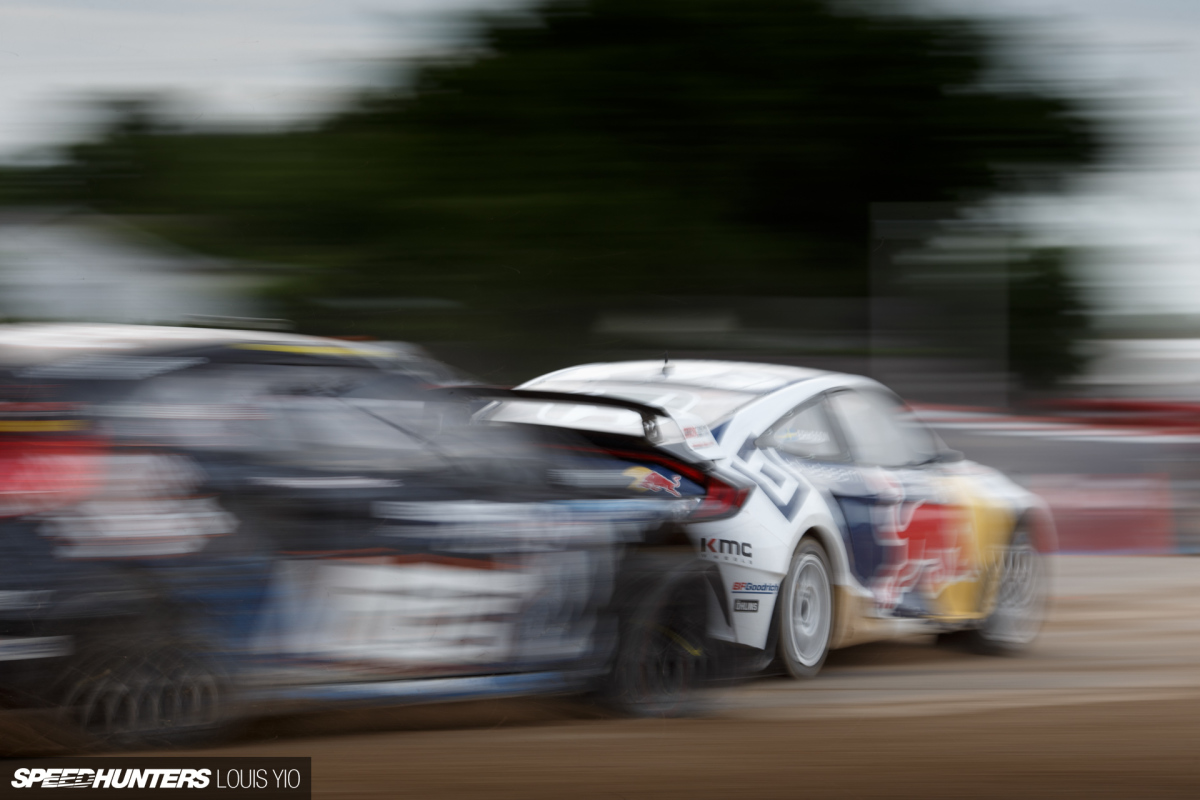 I really love unintended shots. In the image above, I was going for a traditional rear three quarter shot of Sebastian Eriksson and wasn't expecting Brian Deegan to come into frame. Although the image makes you think he's right on Eriksson's bumper, Deegan's actually a good few feet back and running wide to take the Joker Lap.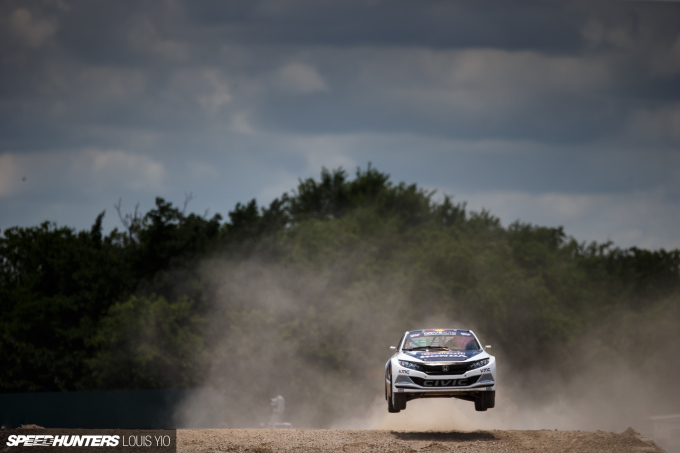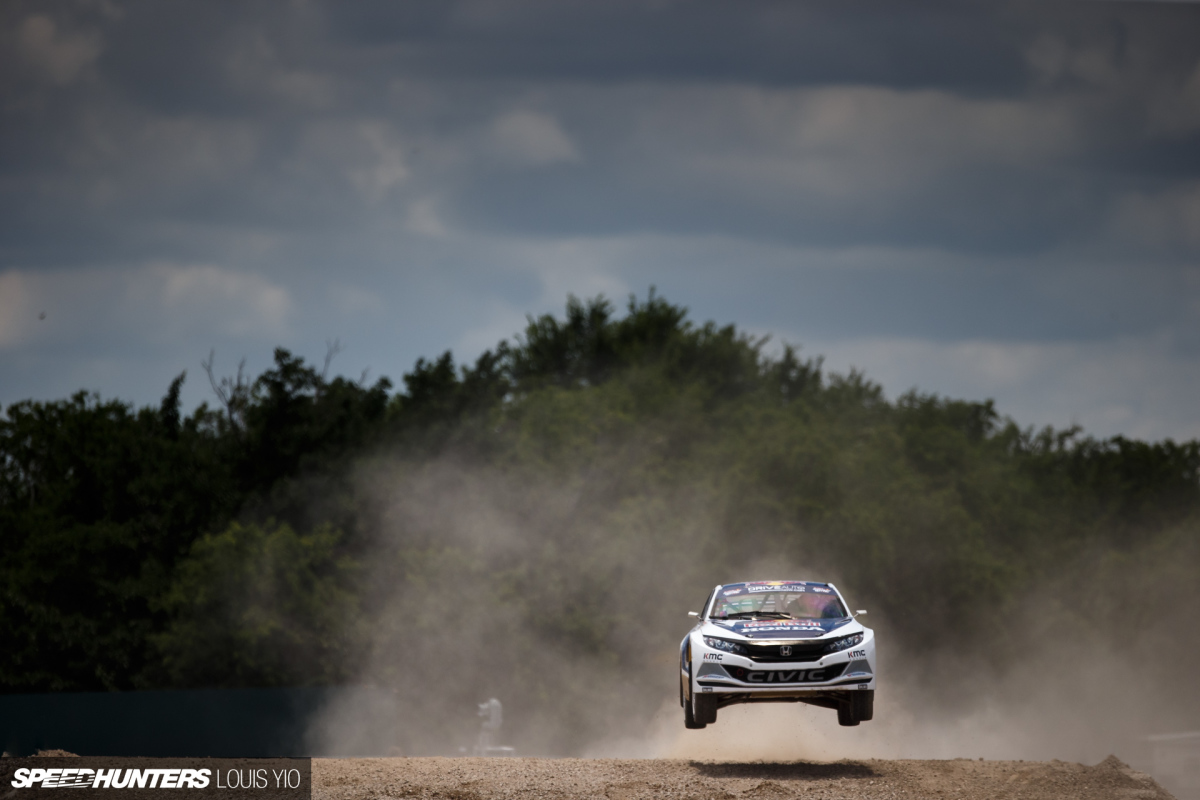 It's nice to see Honda doing quite well, especially since the Civics are brand new to the series. The Olsbergs MSE guys have managed three podiums so far, and with two very strong drivers it's only a matter of time before they're on the top step.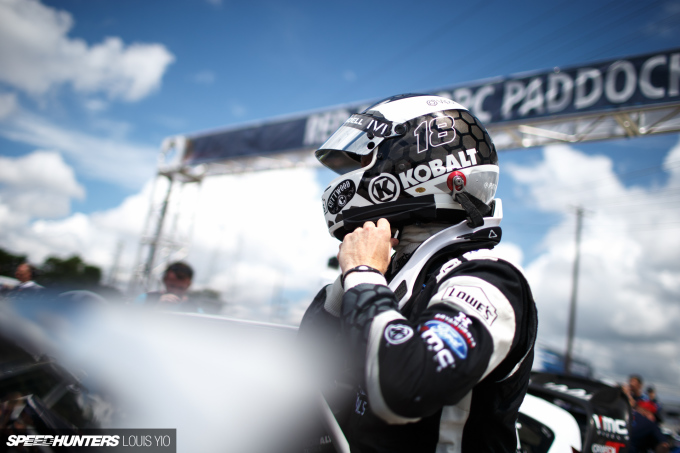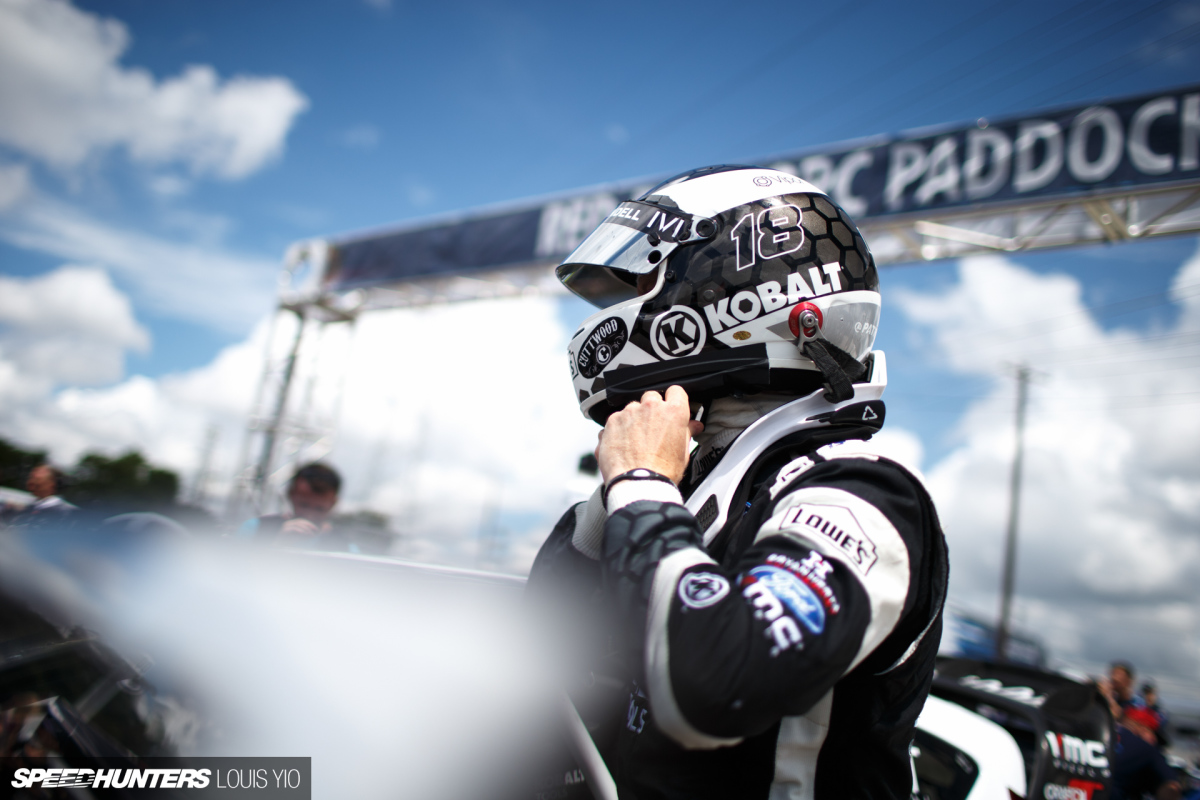 Patrick Sandell is a scary driver at times. In Dallas he decided to magically do well in the final race and went from 4th to 1st in the very first corner (correct me if I'm wrong), then just flew to the finish.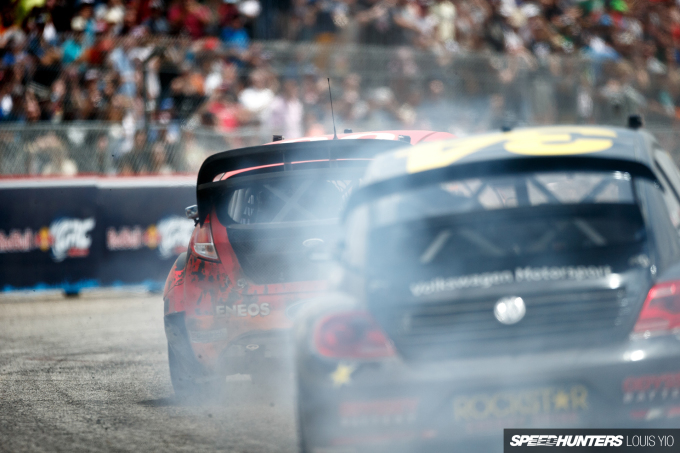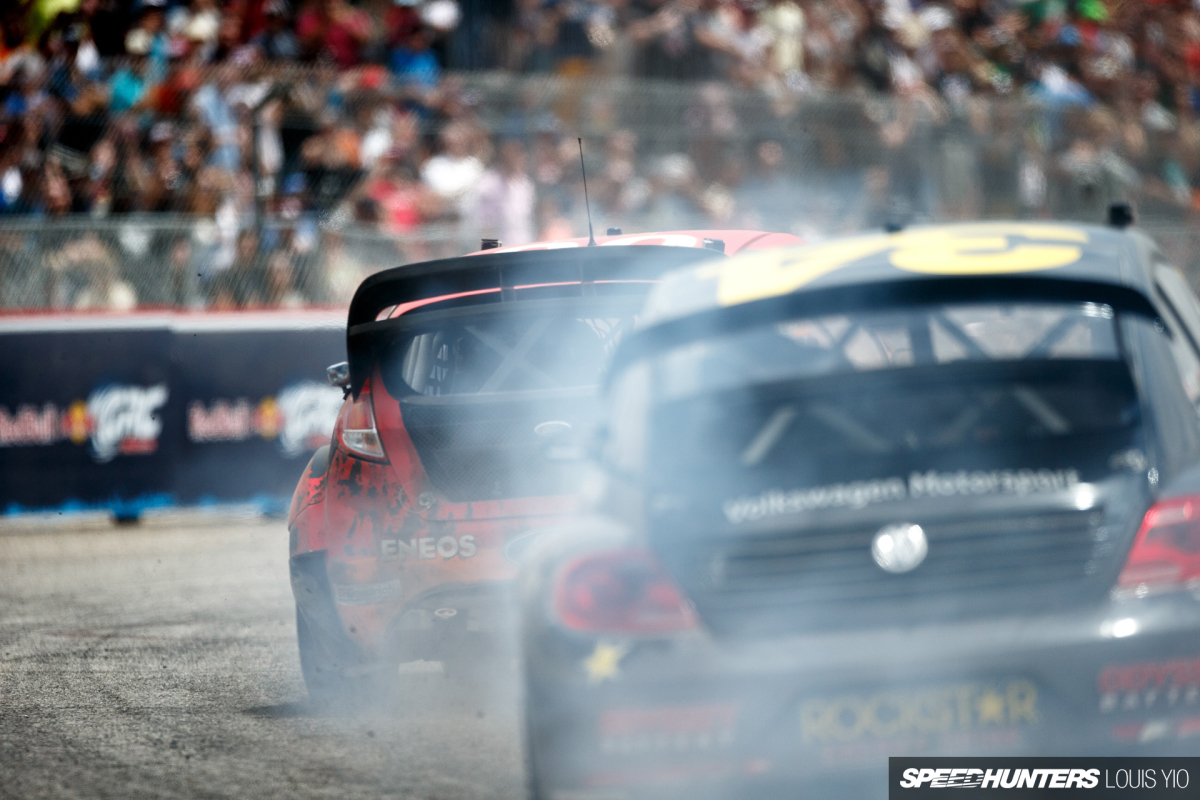 He was so far in front of the competition that the majority of the crowd was focusing on the tight battle between Steve Arpin and Tanner Foust. No one expected Arpin to hold up against the two-time GRC champion, but he was able to pull it off and hold onto 2nd place through the checkered flag. Post race, I was looking at Arpin's car and noticed that the whole rear bumper was smashed in by countless love-taps from Tanner and his Beetle. Exhaust pipe, bent in. Turbo, blown. Second place, acquired.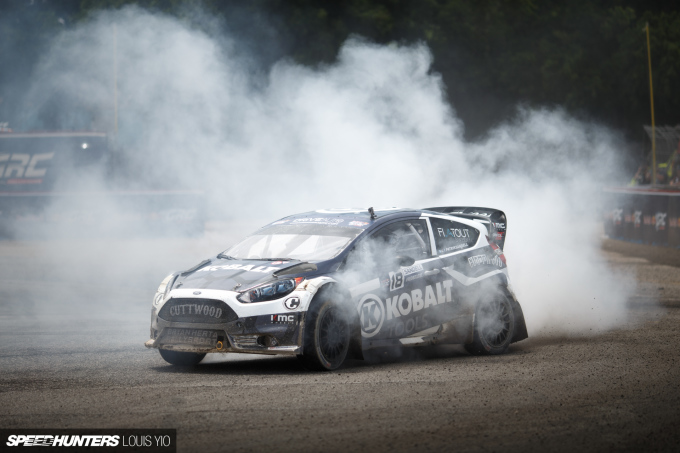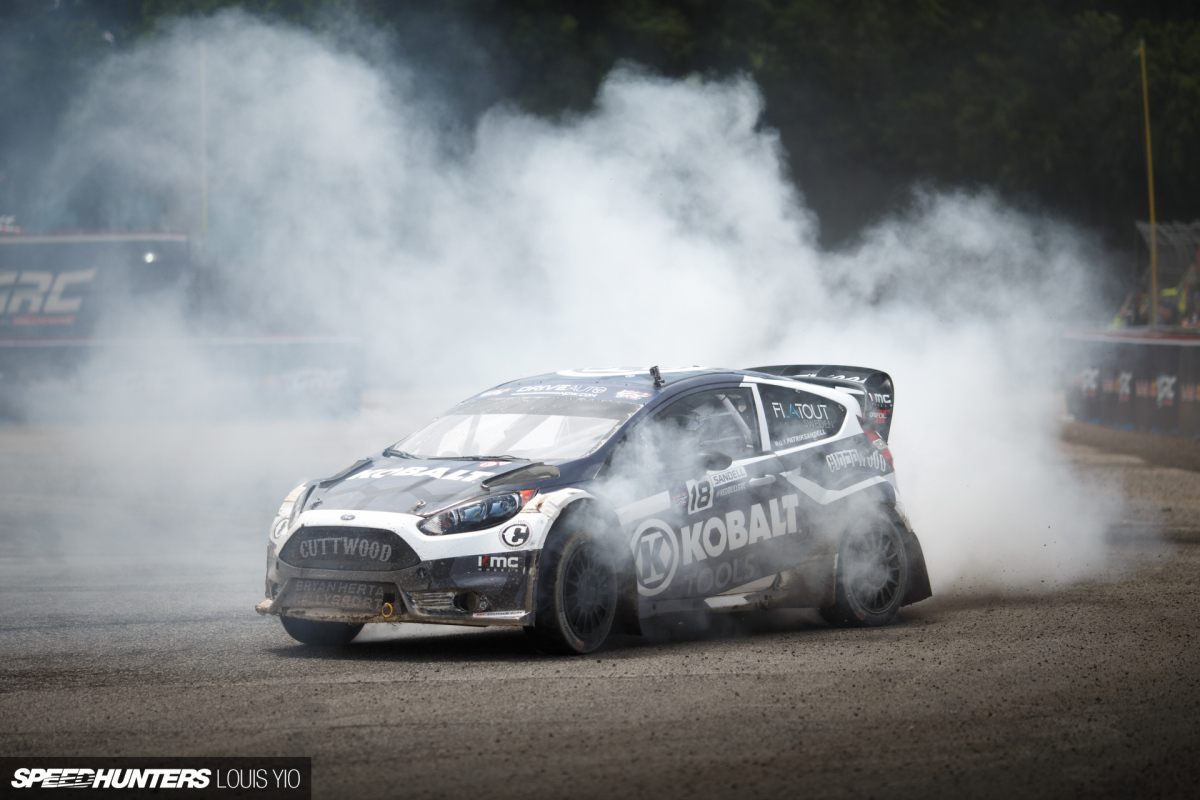 Donuts were on the menu for Patrick; he won by around eight seconds. Keep in mind that it only takes about 45 seconds to lap the track, so the winning margin after just 10 laps was pretty astonishing.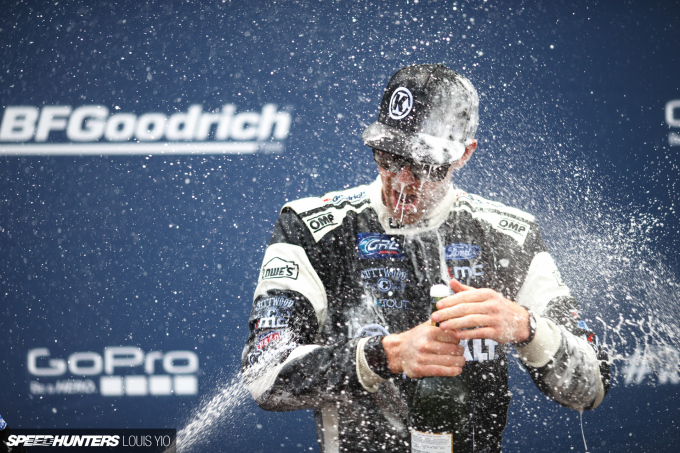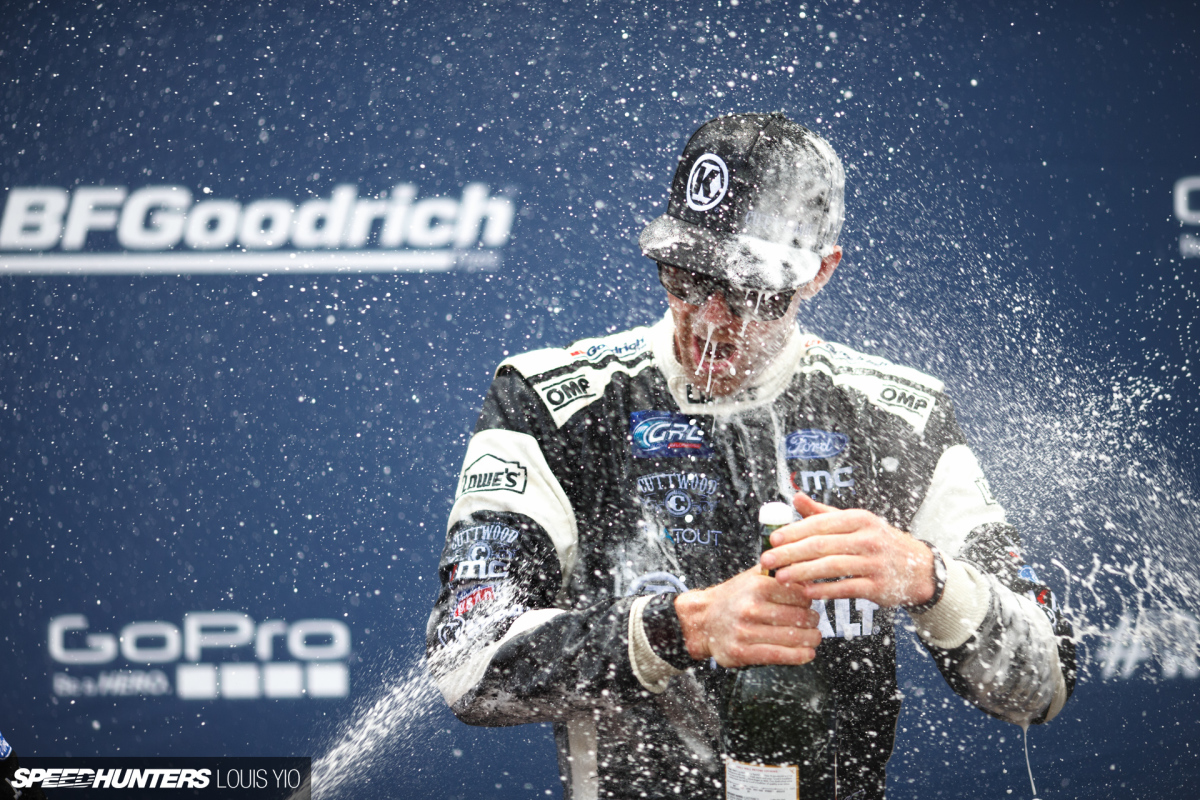 This is what happens when you can't open your champagne bottle. Your fellow competitors will be ready to help you.
Daytona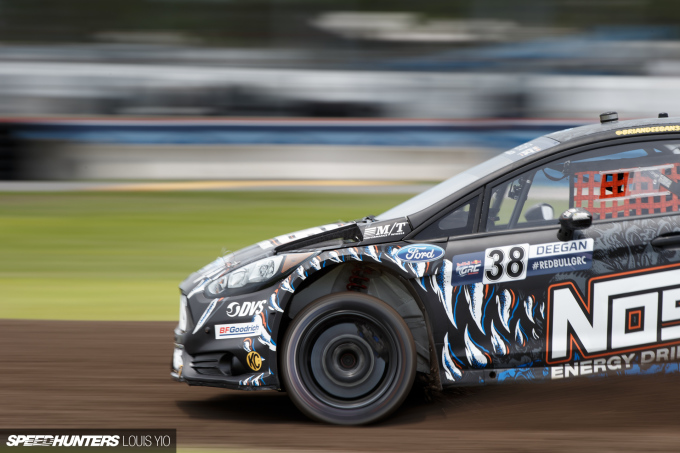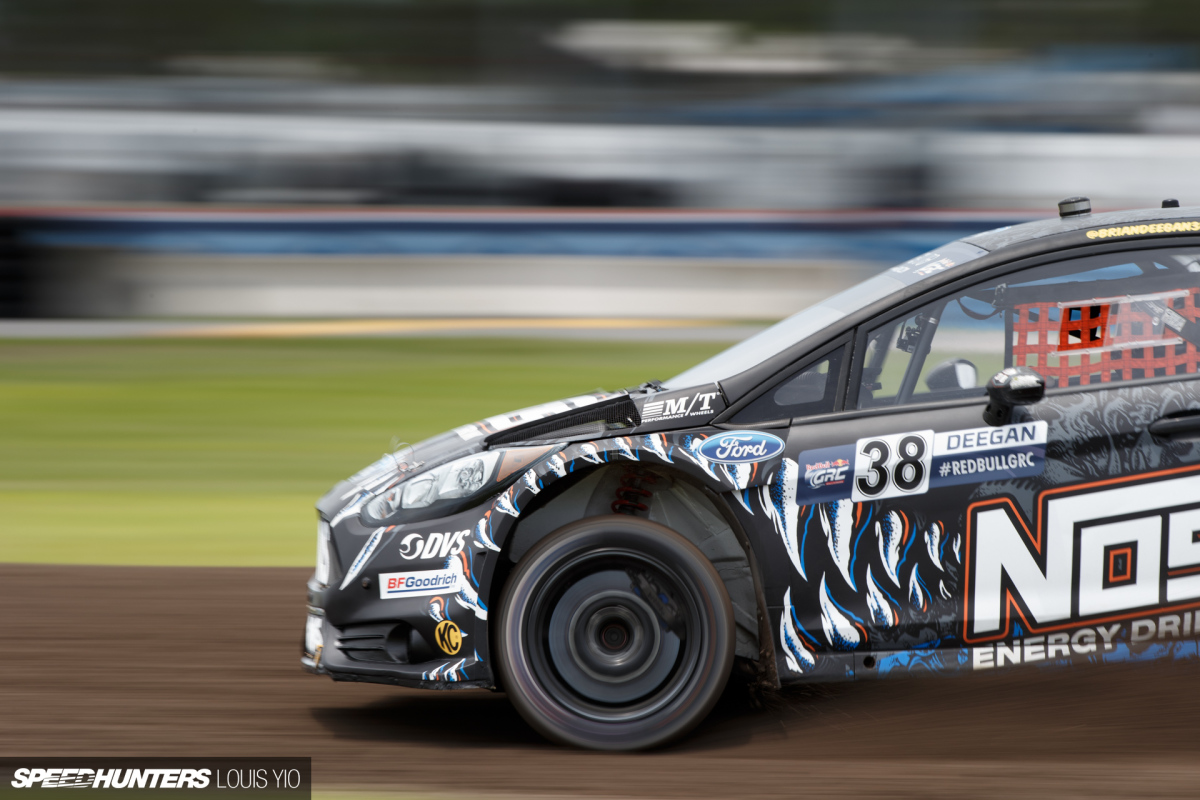 Two weeks after Dallas was GRC Daytona at Daytona International Speedway.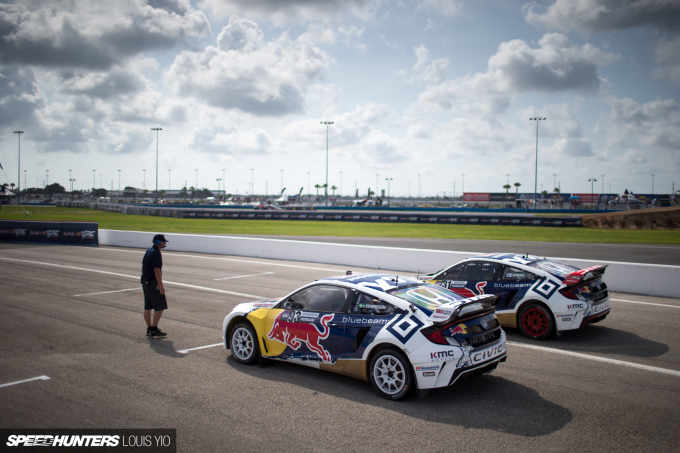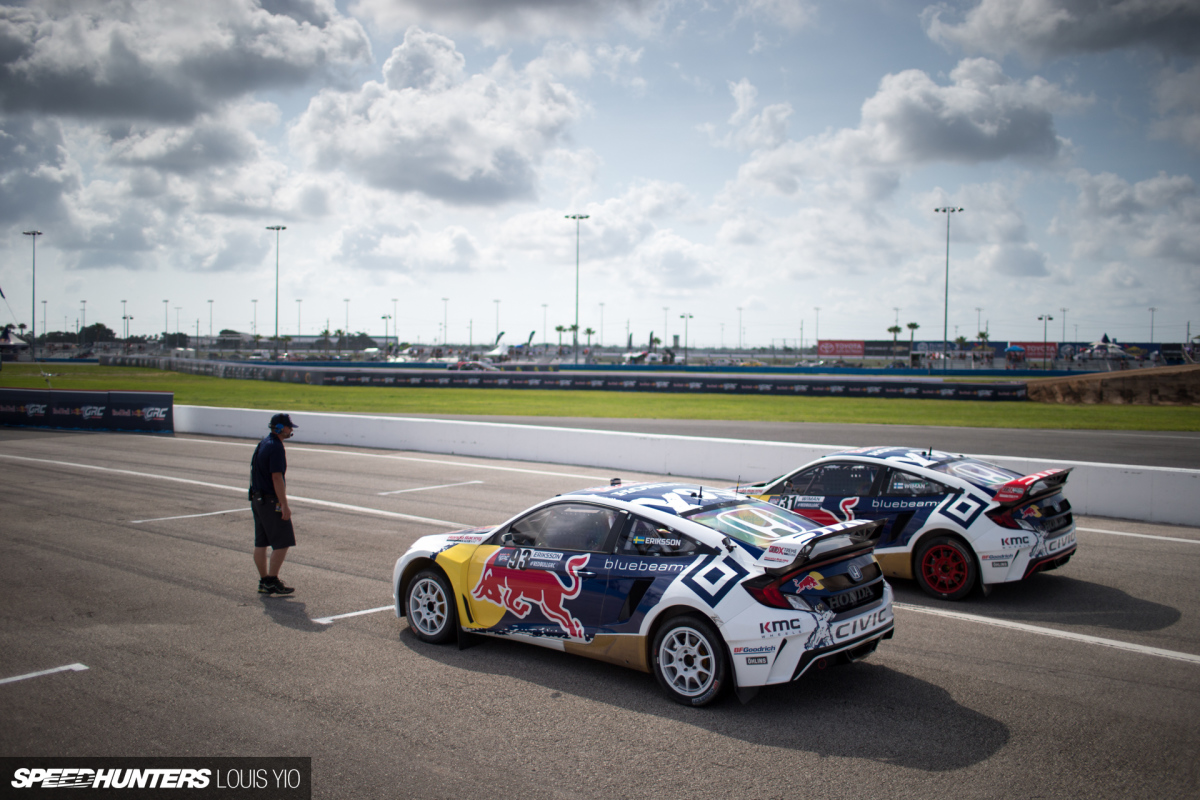 Sometimes, my favorite images are also the simplest ones.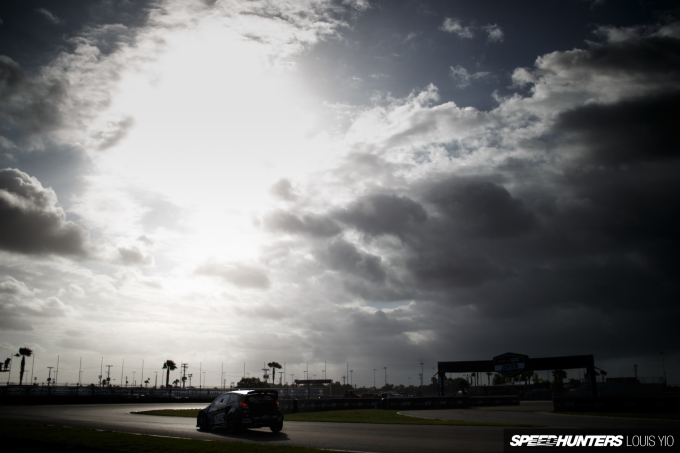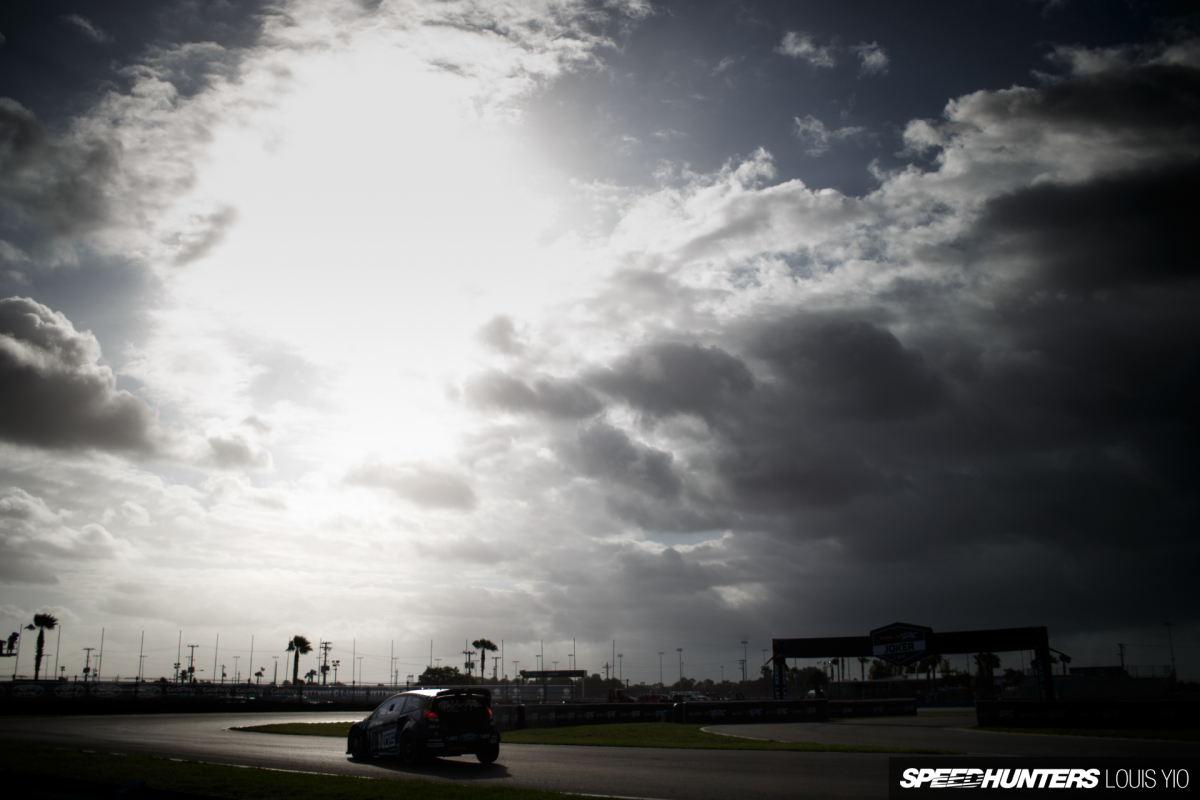 Rain was in the forecast for the entire Daytona event so things were looking pretty grim on my way there.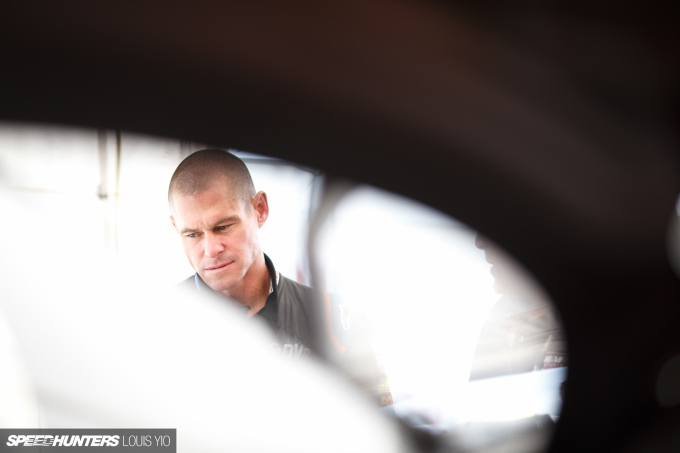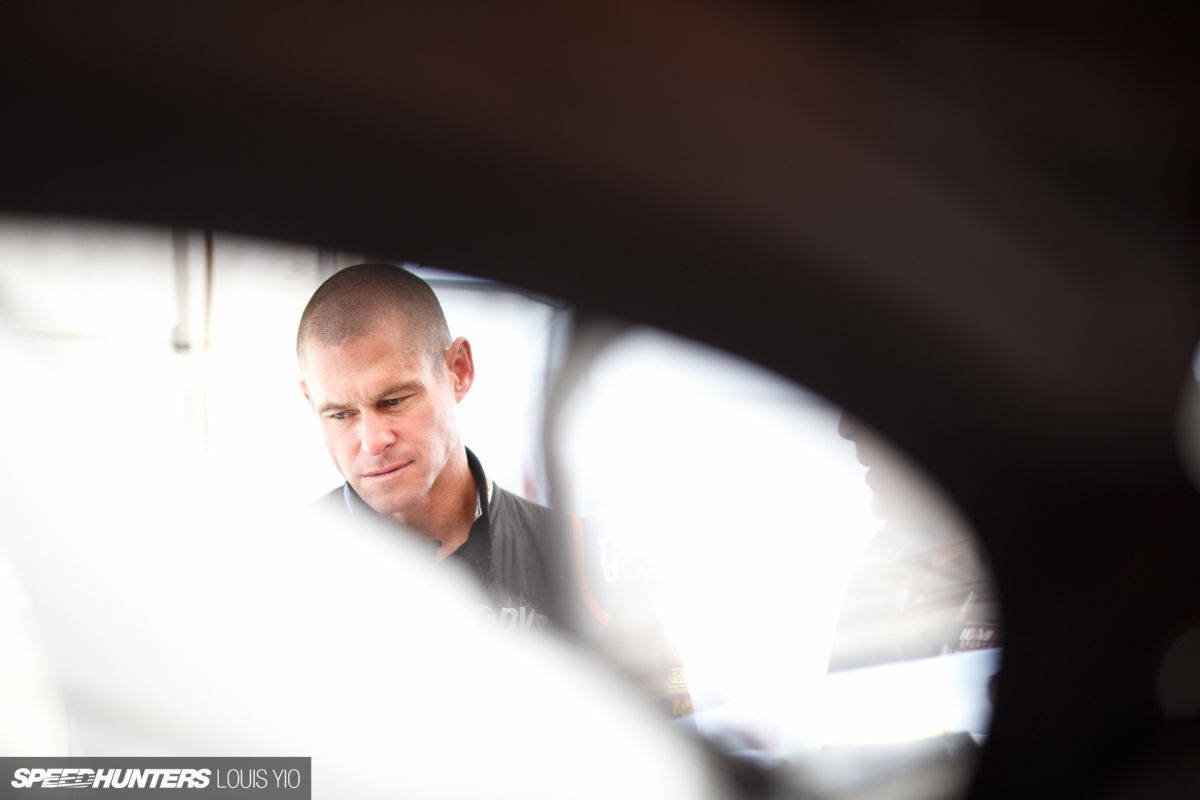 The drivers were probably thinking the same thing too.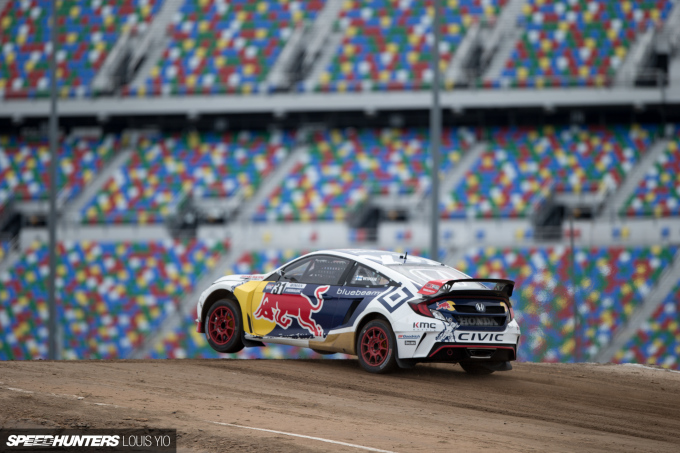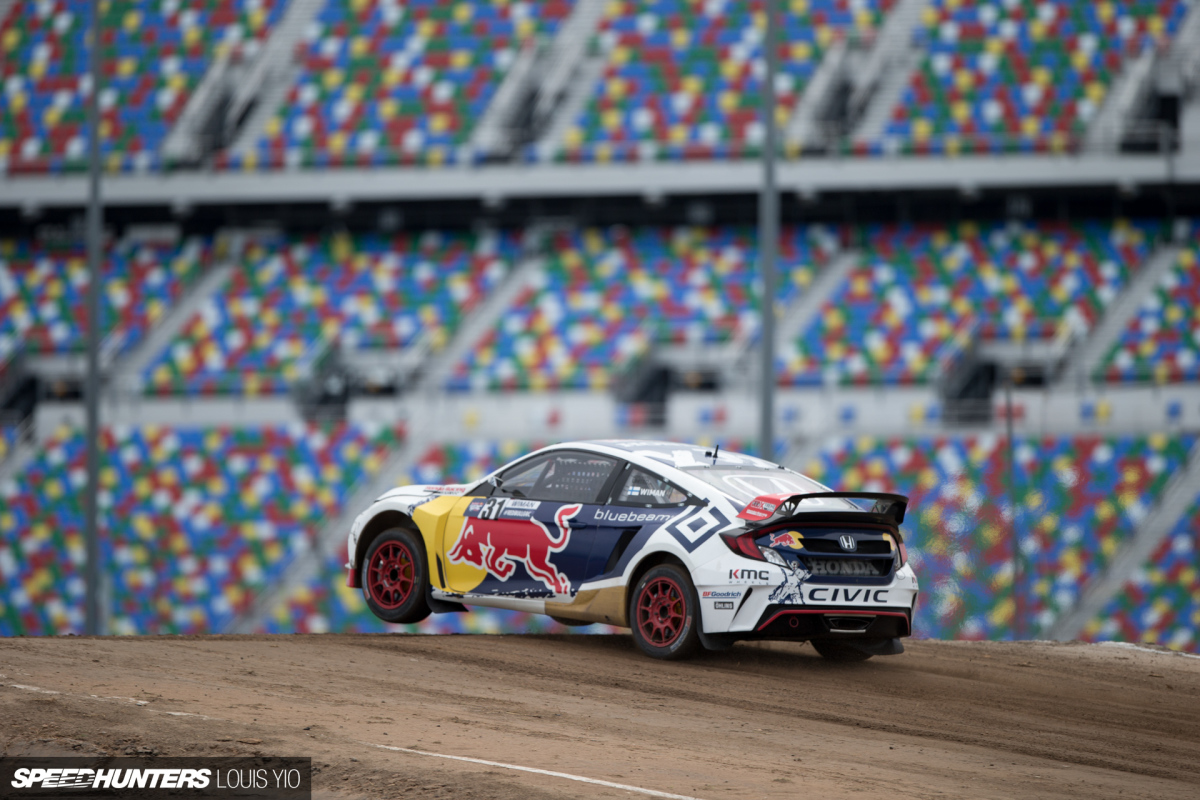 But in the end we only got rained out for an hour or so, so it wasn't terrible and things were just pushed back a tad.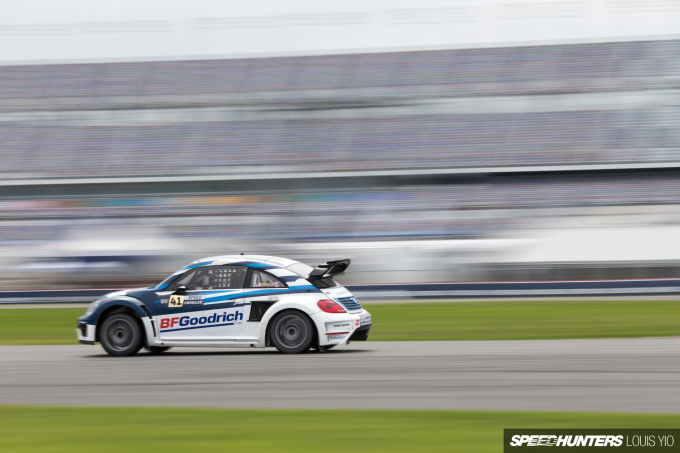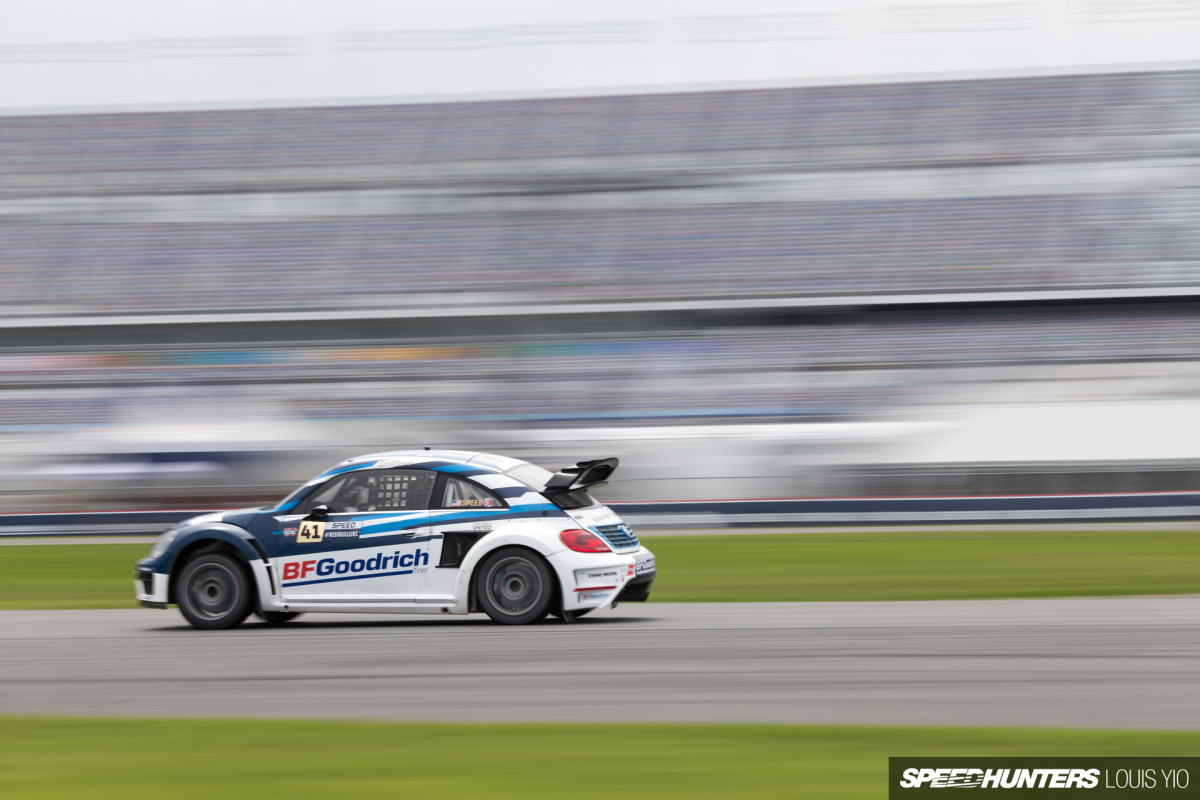 Sometimes, I feel like Scott Speed might be a robot; I'm about 80 per cent sure. He is seriously one of the most consistent drivers in the field along with his VW teammate, Dr. Foust. Both of them are consistently in the Top 5 unless they have a mechanical issue. I would expect nothing less from an ex-Formula 1 driver and a professional stunt driver.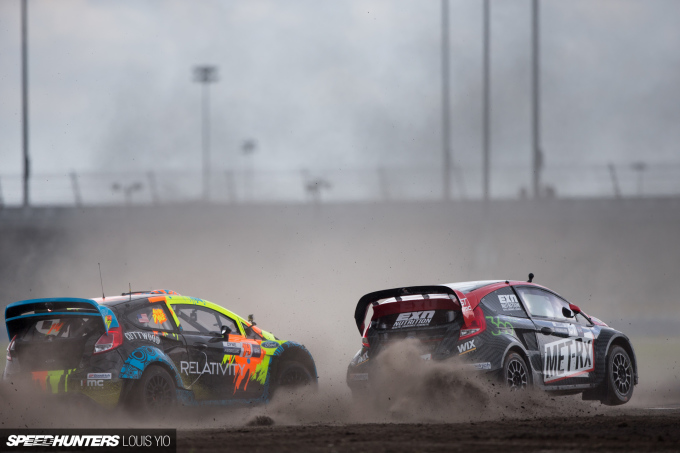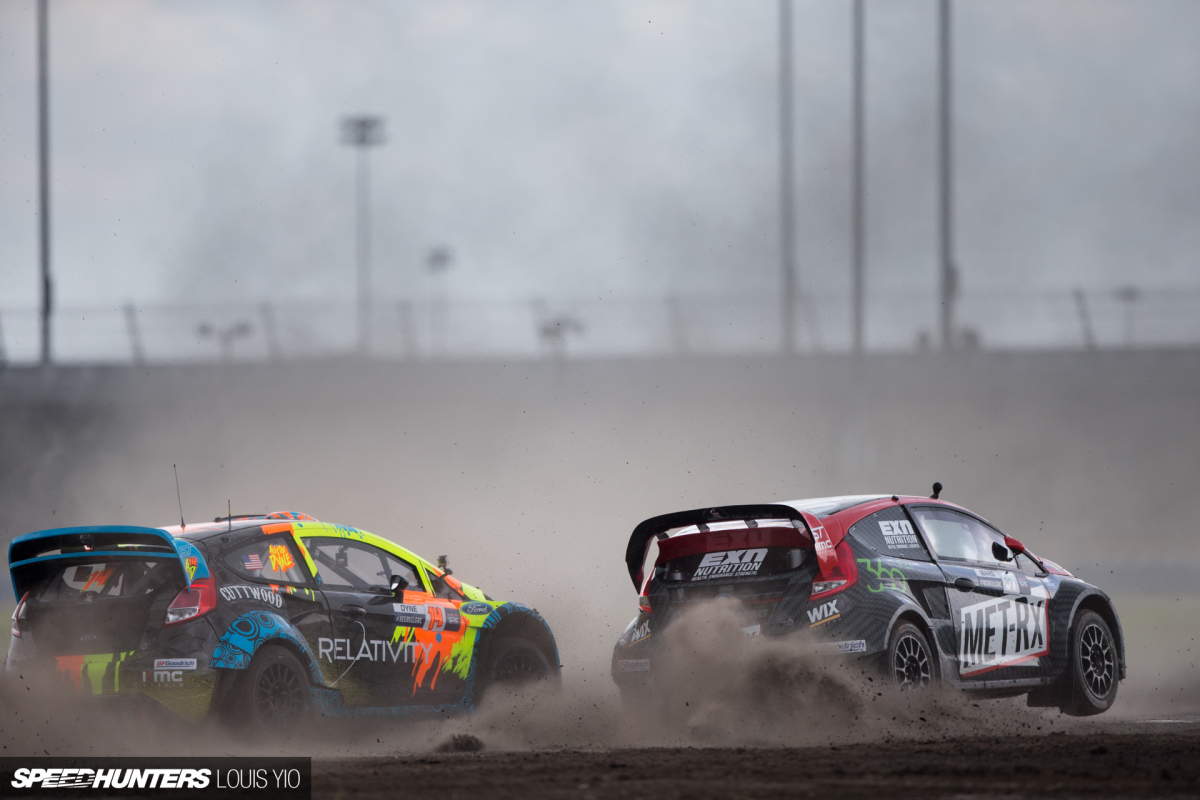 The layout of every GRC track is never the same, even if it's the same venue, therefore making it somewhat of a double-edged sword. I hate it and love it at the same time.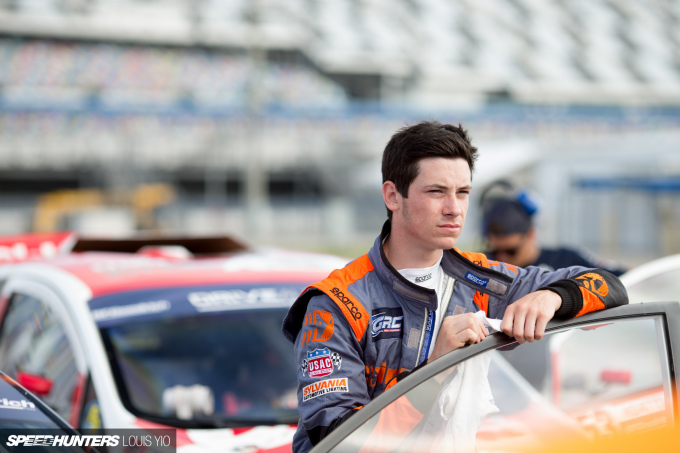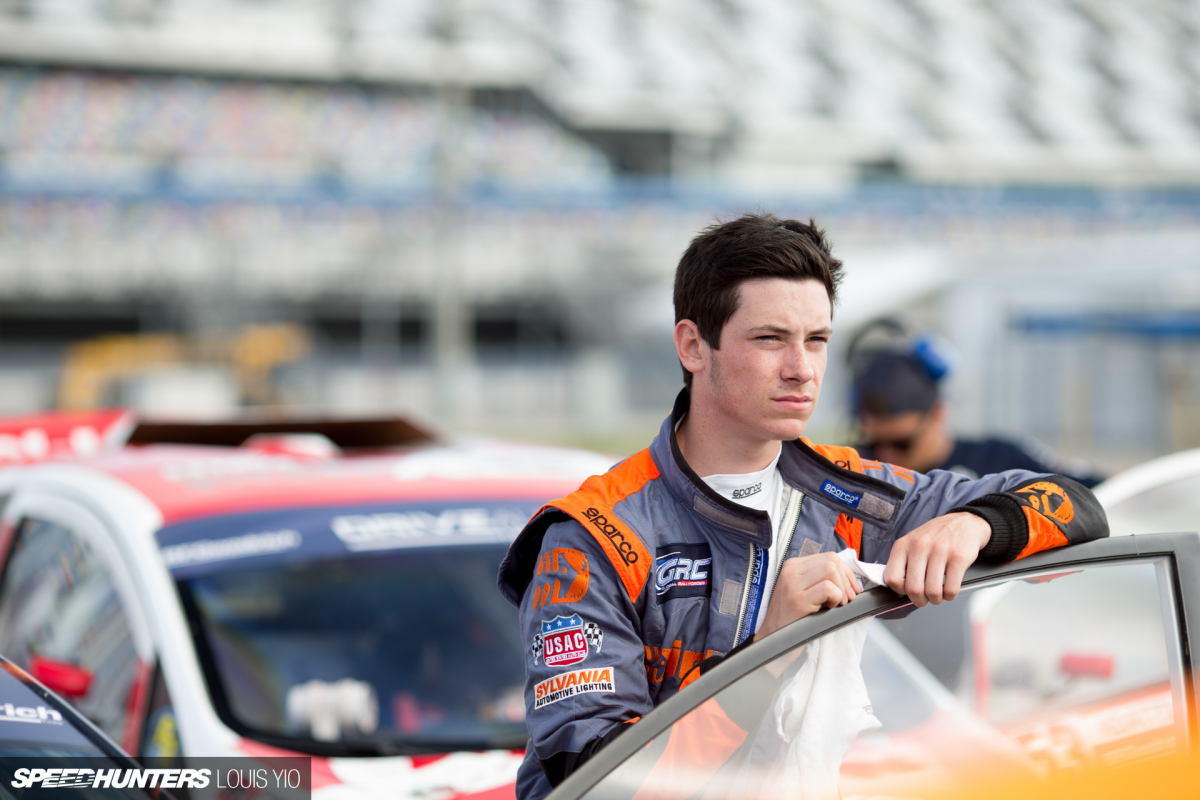 I hate it because there is a chance that I'll never get that 'perfect' shot.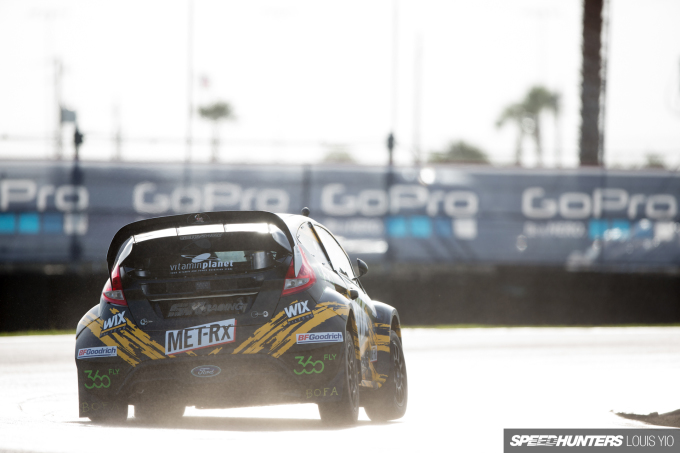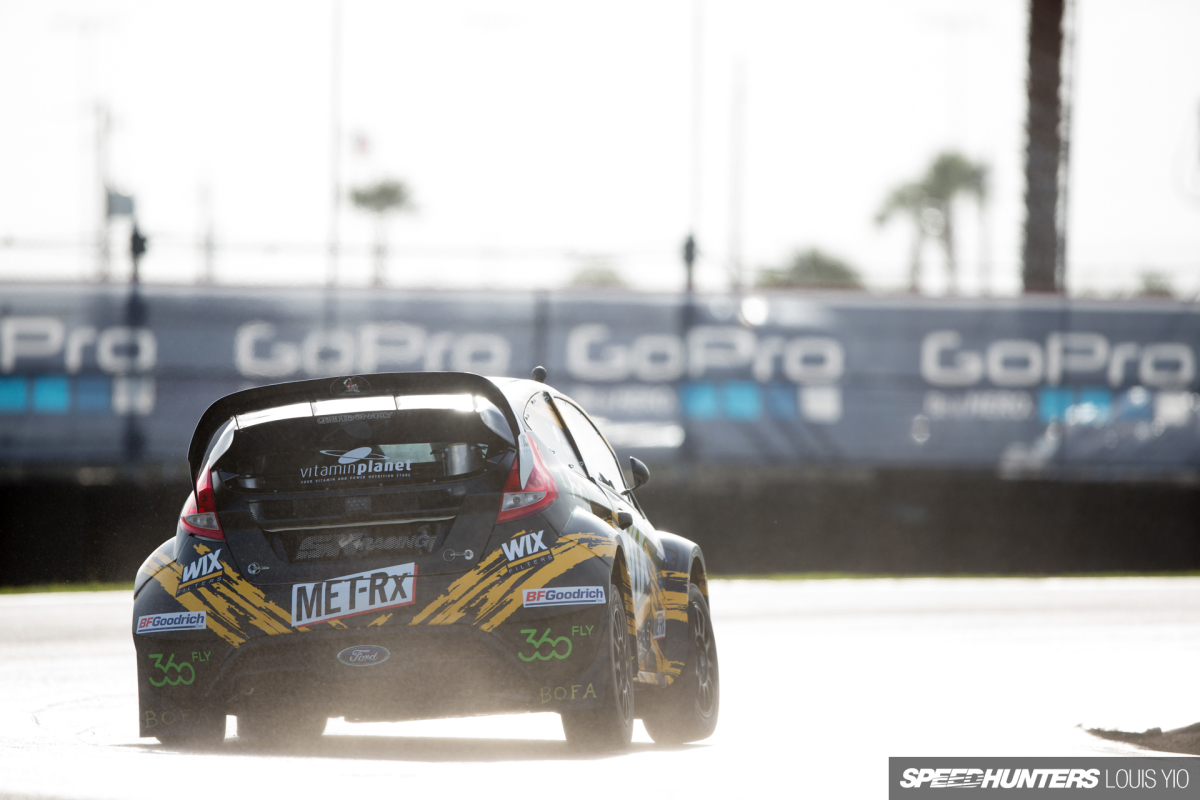 But I also love it because it's challenging and forces me to find a great shot each time. I can never go to a track and hit up my 'go-to' spot, because that spot never exists.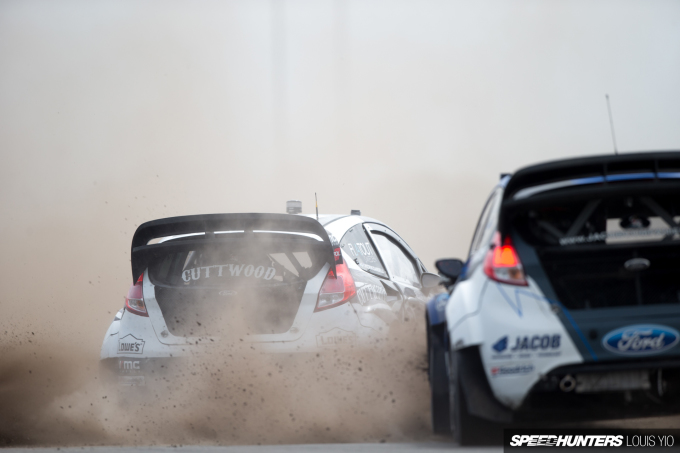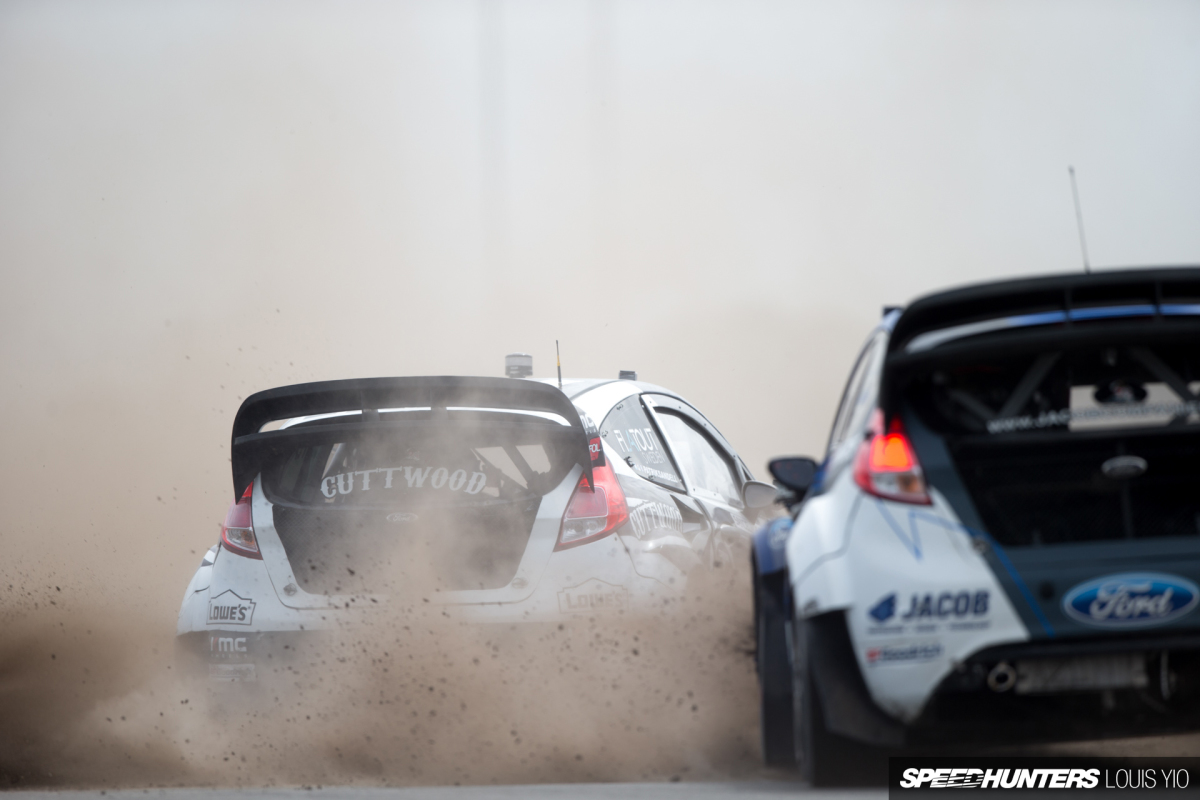 It's kind of fun in that I'll never have the perfect shot either, but I will have a great variety of shots that will never be identical. But this love/hate thing is still ongoing. When will it end? Hopefully, never. I like being kept on my toes.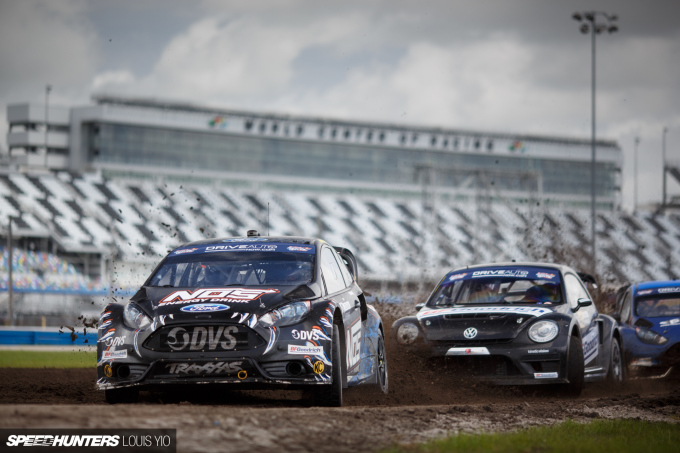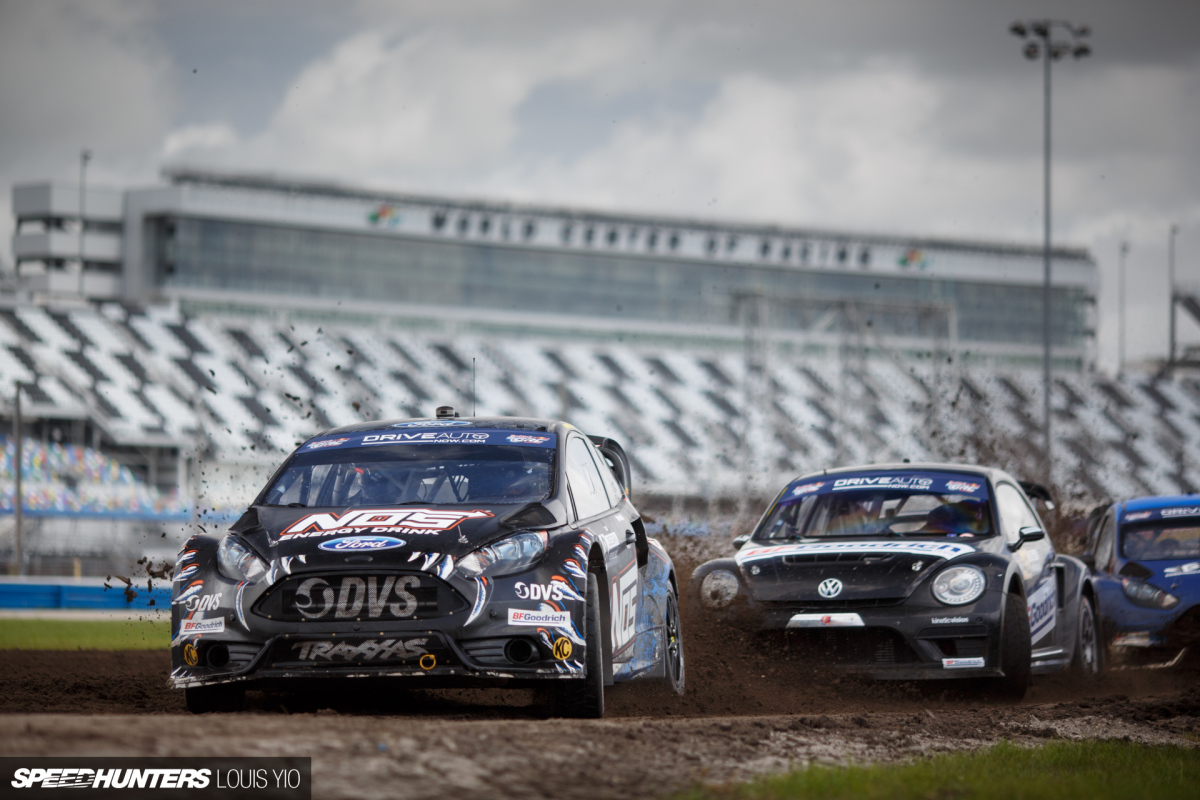 Deegan has made it to the podium a number of times this season and everyone can tell he wants the top step really badly. To give you an idea of just how capable he is, out of the 15 rounds of the 2014 Lucas Off-Road Racing season, Deegan made it onto the podium 14 times. Also he won the championship that year.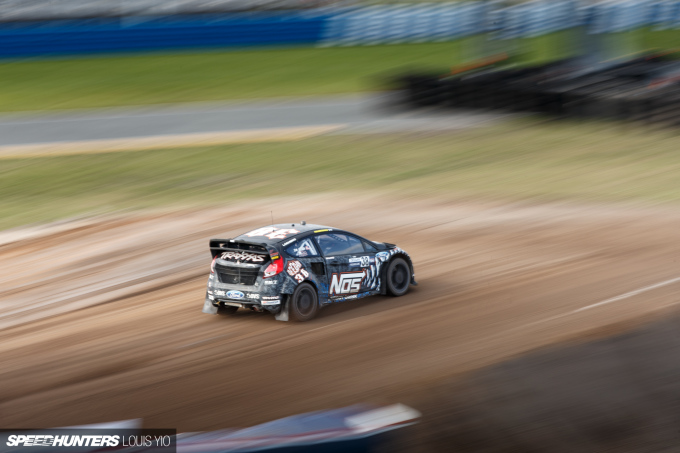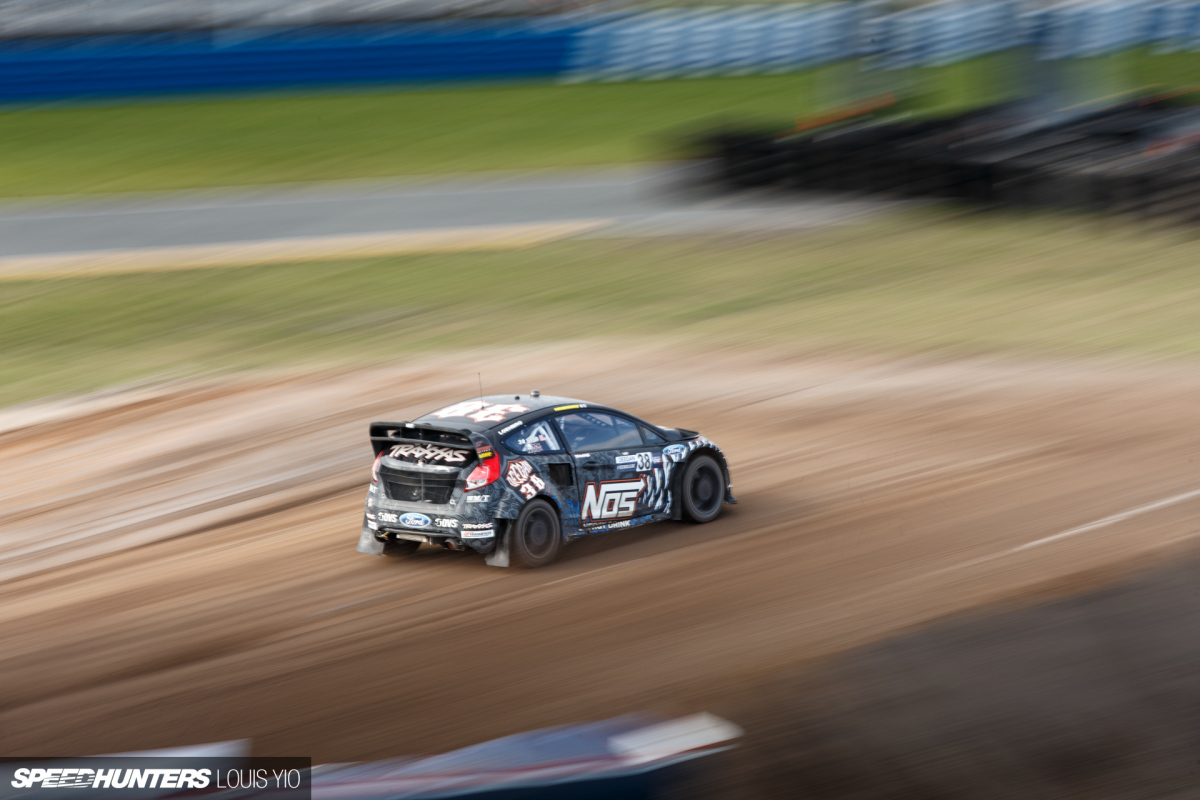 The style in which he drives, combined with the experience of the Chip Ganassi Team will only help him snag that first-place donut.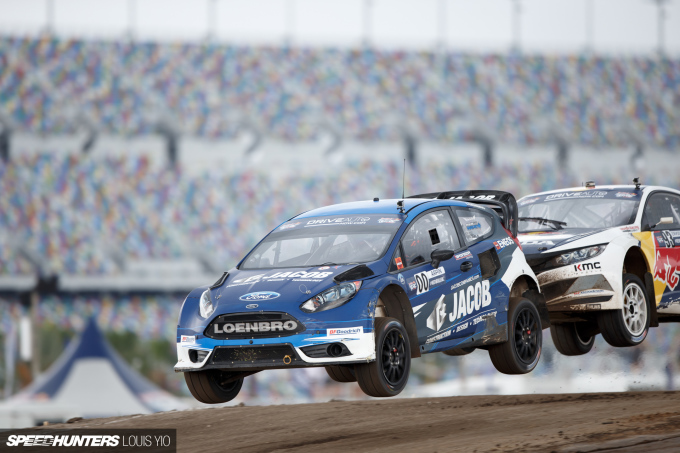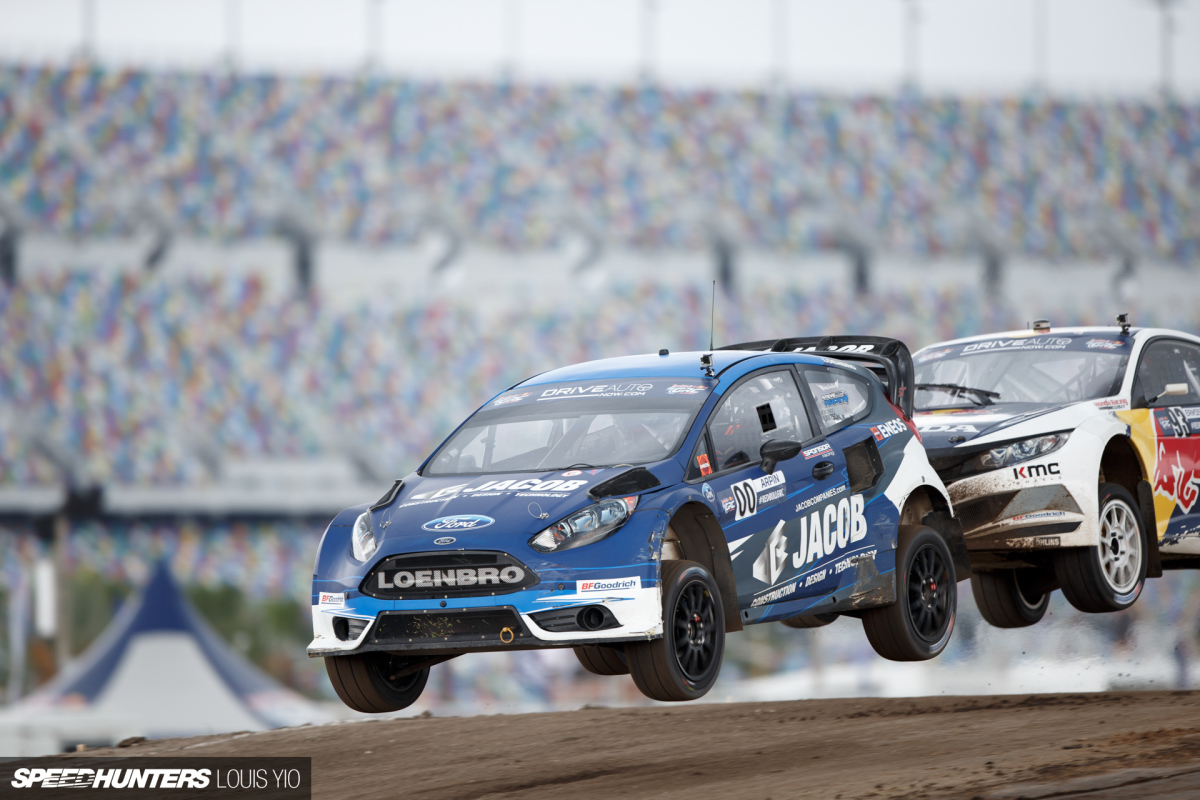 After he finished 2nd in Dallas, I started to watch Steve Arpin a little more in Daytona. I'm glad I did too, because he ended up finishing 1st in the first Daytona race.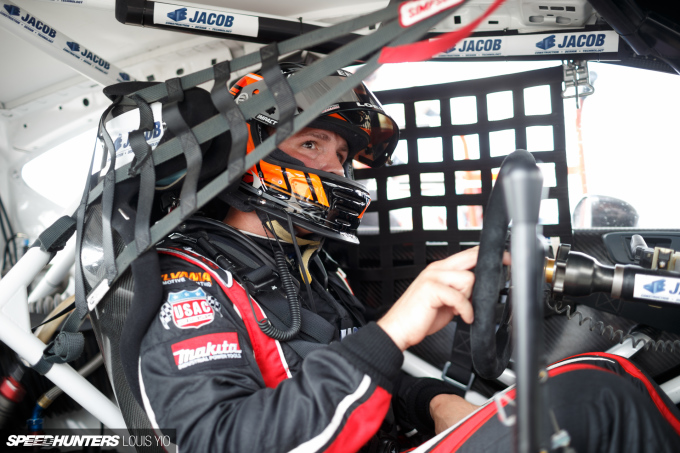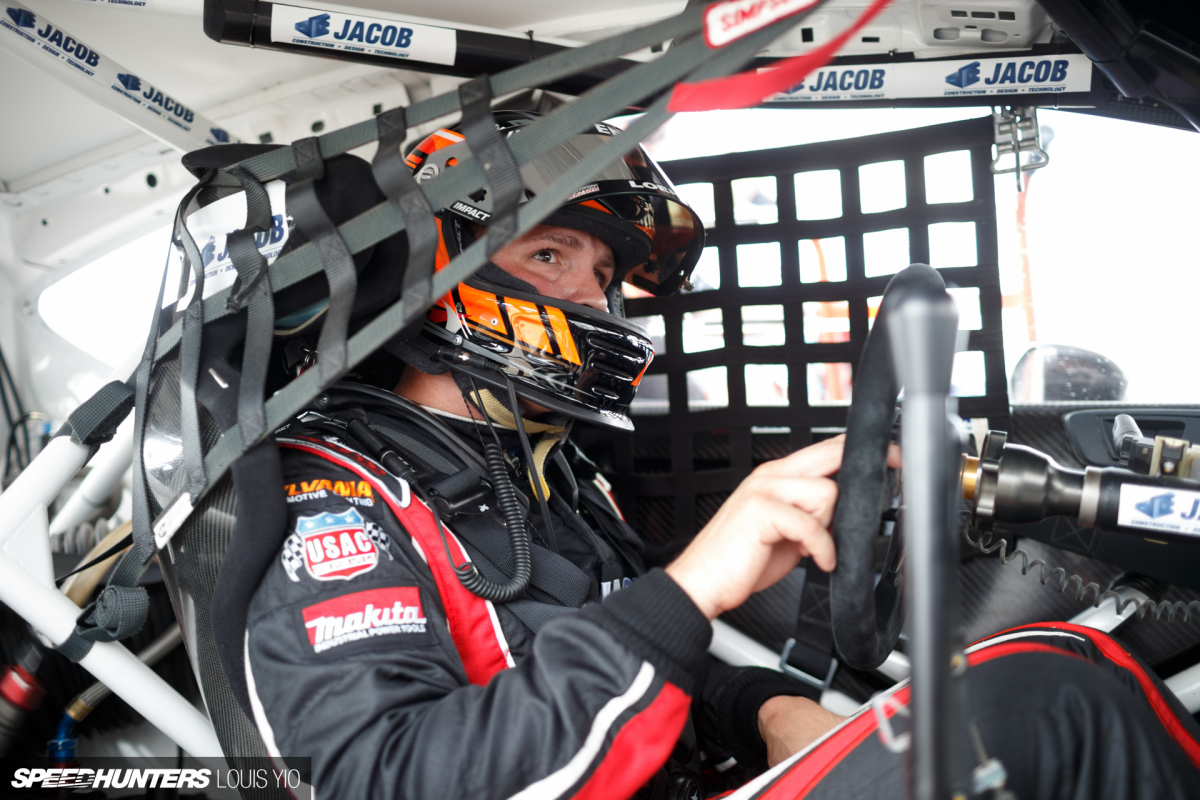 I sometimes wonder what drivers think about on the pre-grid right before a race. Maybe they're thinking about the optimal lines to take for the specific track temperatures, to aid them in passing the driver up front. Or maybe they're thinking about the ice cream bar they're going to inhale right after the race ends. Whichever one, I'll never know.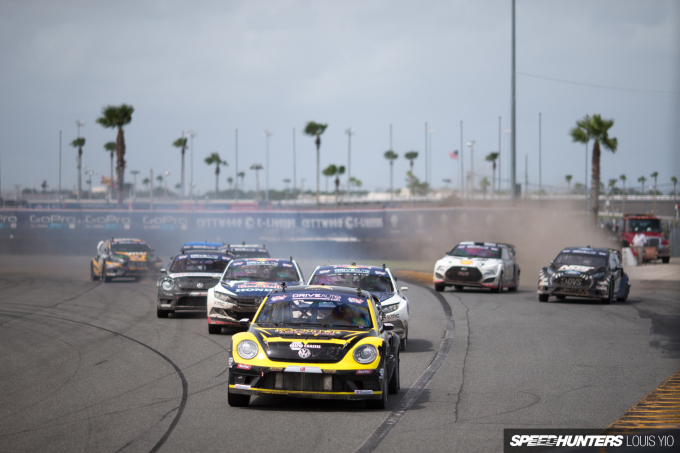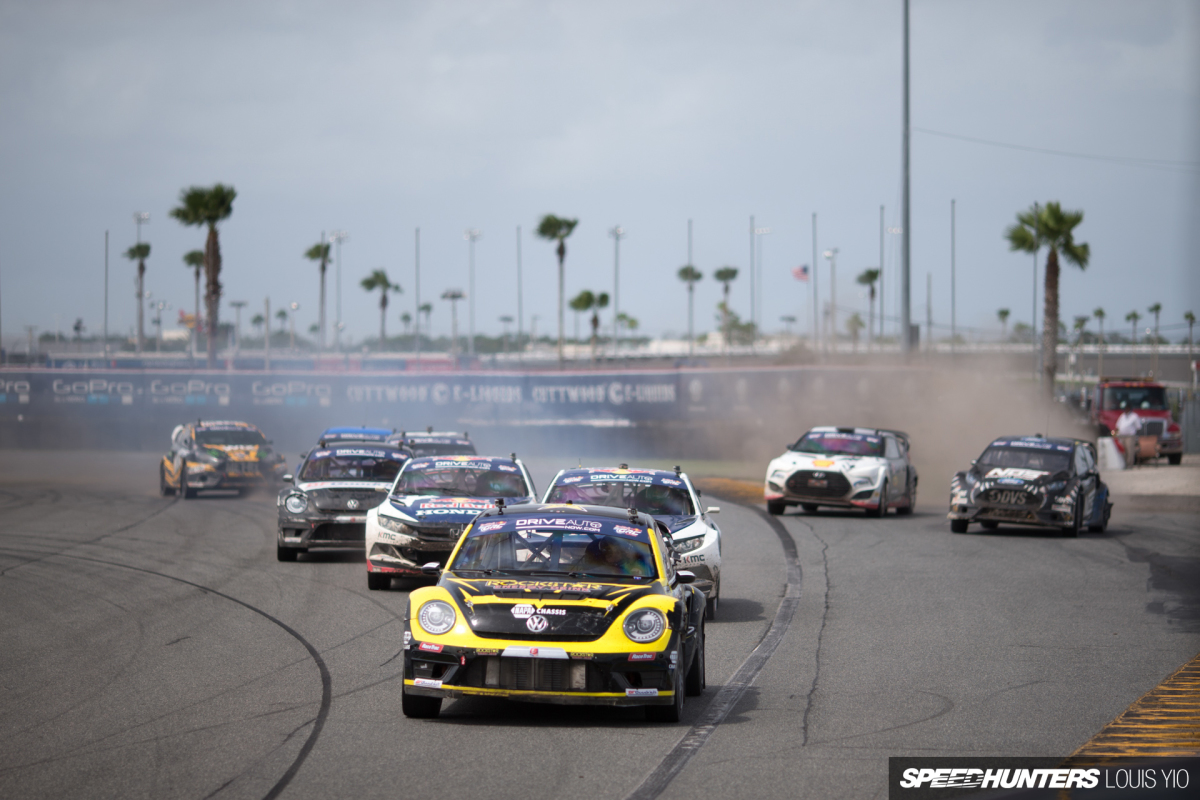 What I find interesting about rallycross is that because the heats and finals are so short, the drivers have to give close to 100 per cent at all times. They have to consistently do well or else they'll find themselves in the Last Chance Qualifier races. They also need a flawless start each time; take off the line 0.25 seconds slower than anyone else while sitting in pole position and you'll probably be in last place by the first corner.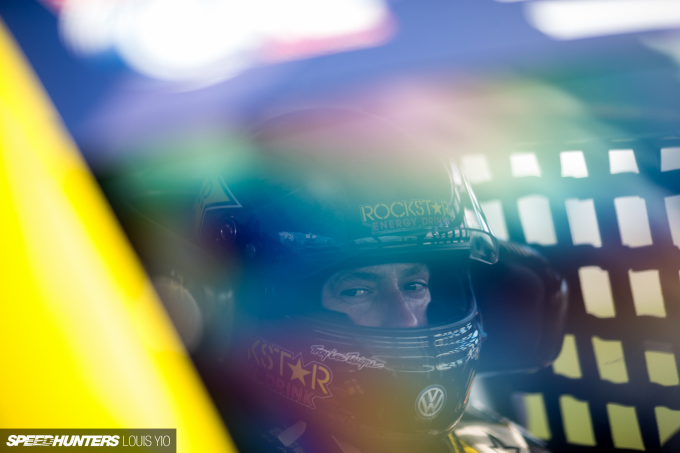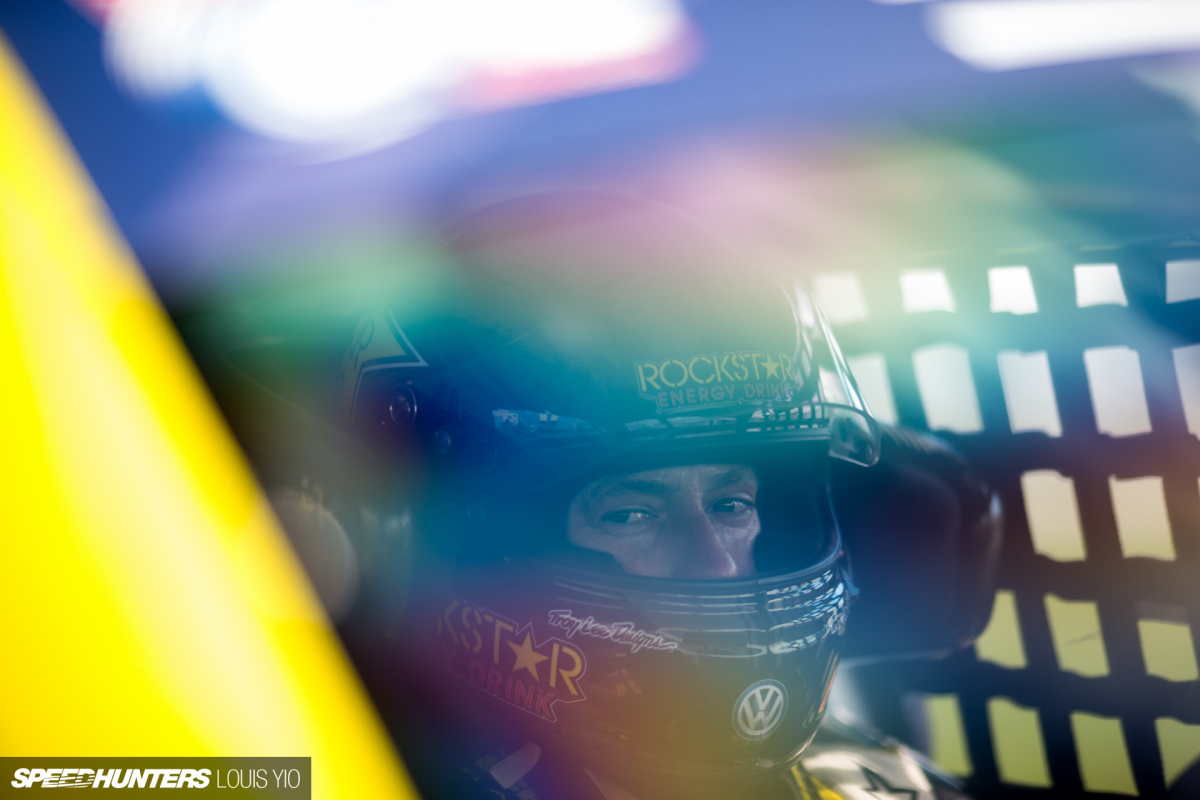 If you break it down, a GRC event is rather short. The drivers run practice twice, qualify, run two heat races, run the semi-final, run the LCQ if they don't do well in the heats, and then run the final.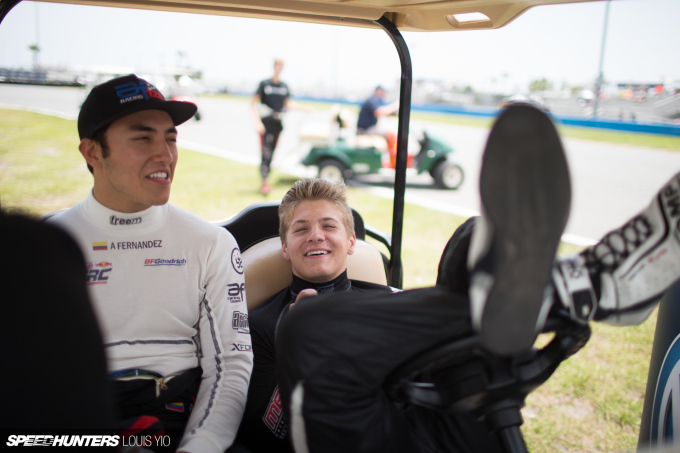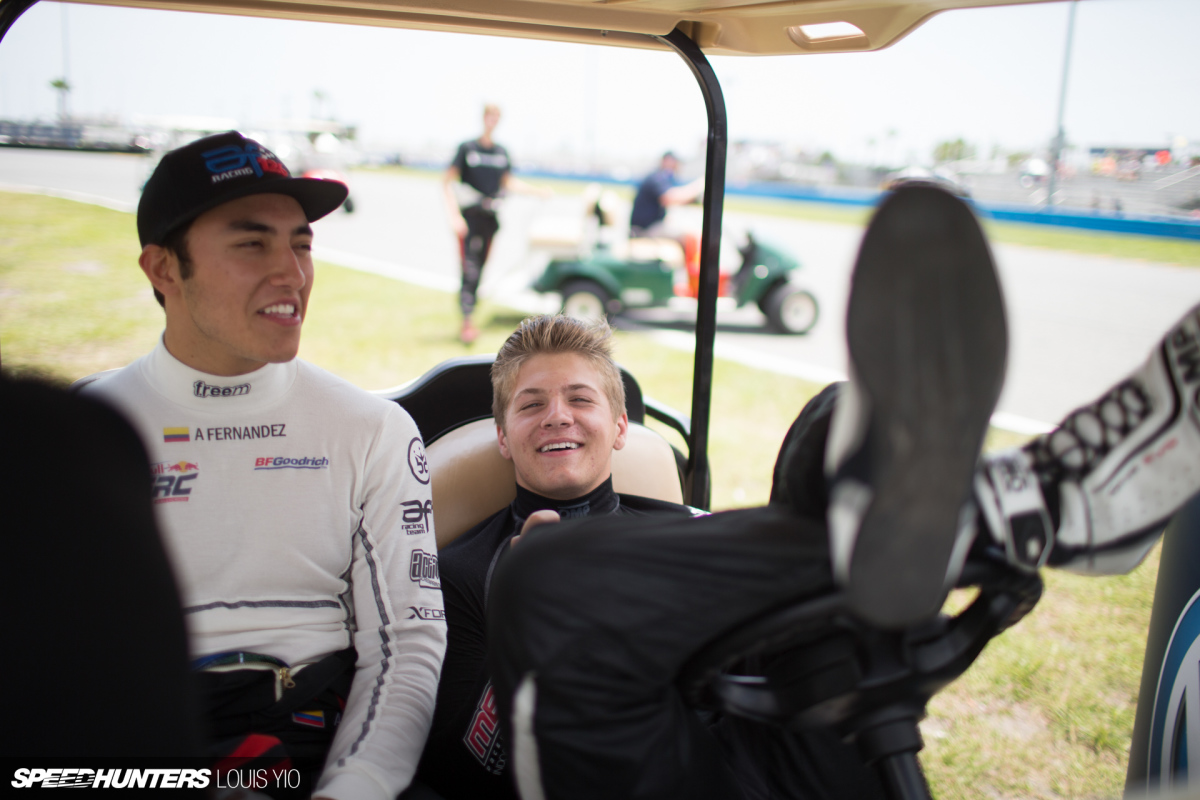 Whether or not rain is in the forecast, Daytona is always a hot one, so the driver's take advantage of any shade they can find.
MCAS New River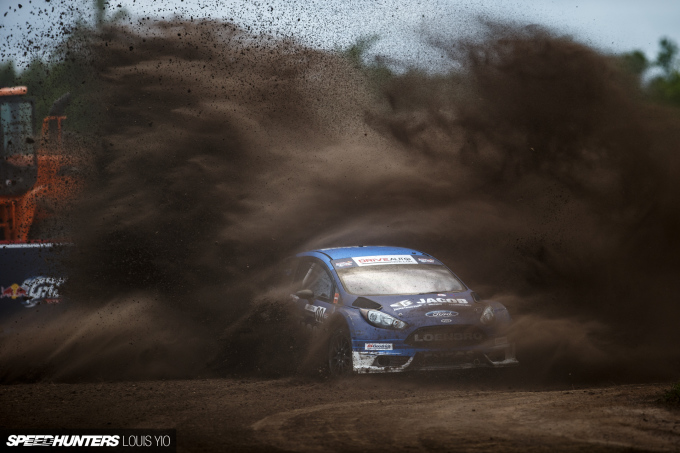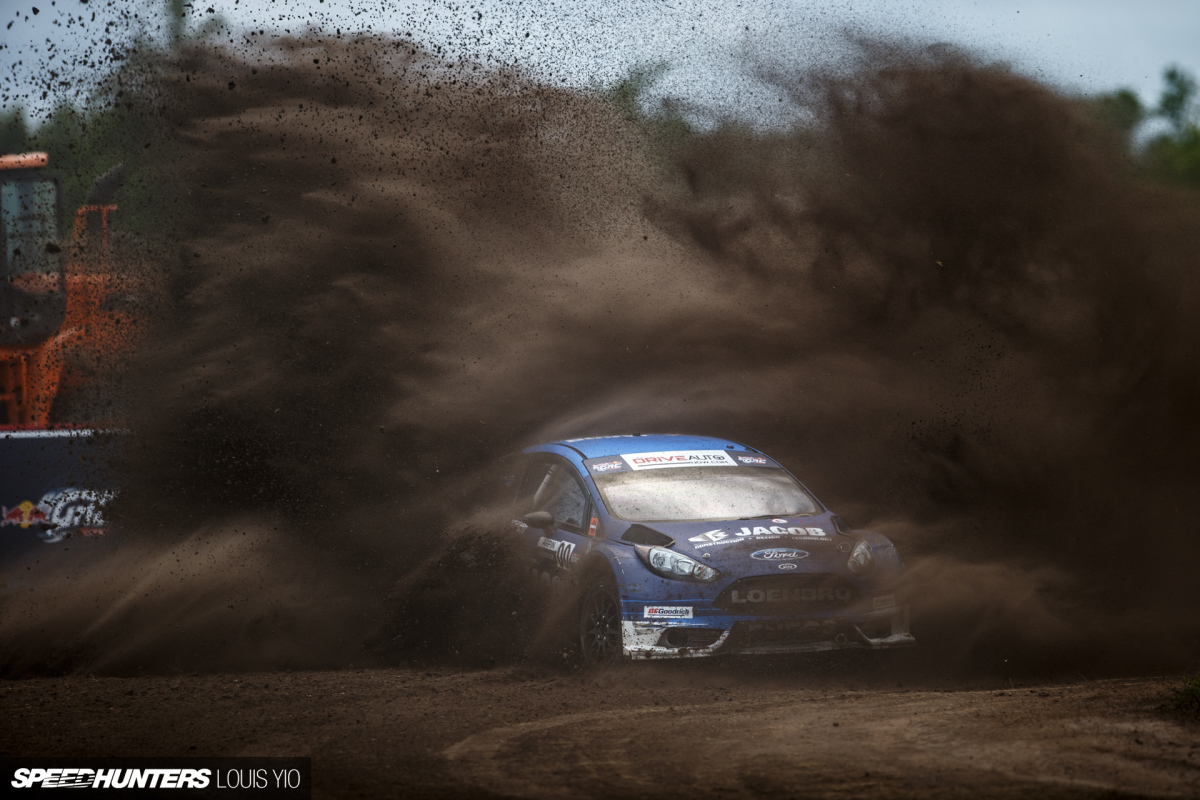 The next stop (and the most recent one right before I put this post together) was at Marine Corps Air Station New River in North Carolina. I wanted to take a second to talk about the opening shot, hence why I've included it again above. Sometimes, everything falls into place and you're in the right place at the right time. That was the case with this shot. During practice, Steve Arpin was entering this specific e-brake corner at what looked like a faster entry speed than any of the other drivers. Magic happened when, on one of the laps, he created a dirt cloud 20-feet high. I may or may not have screamed like a 5-year-old when I saw the resulting image.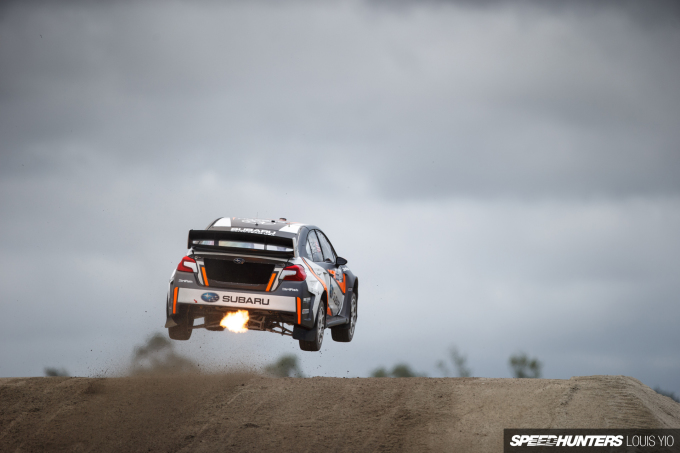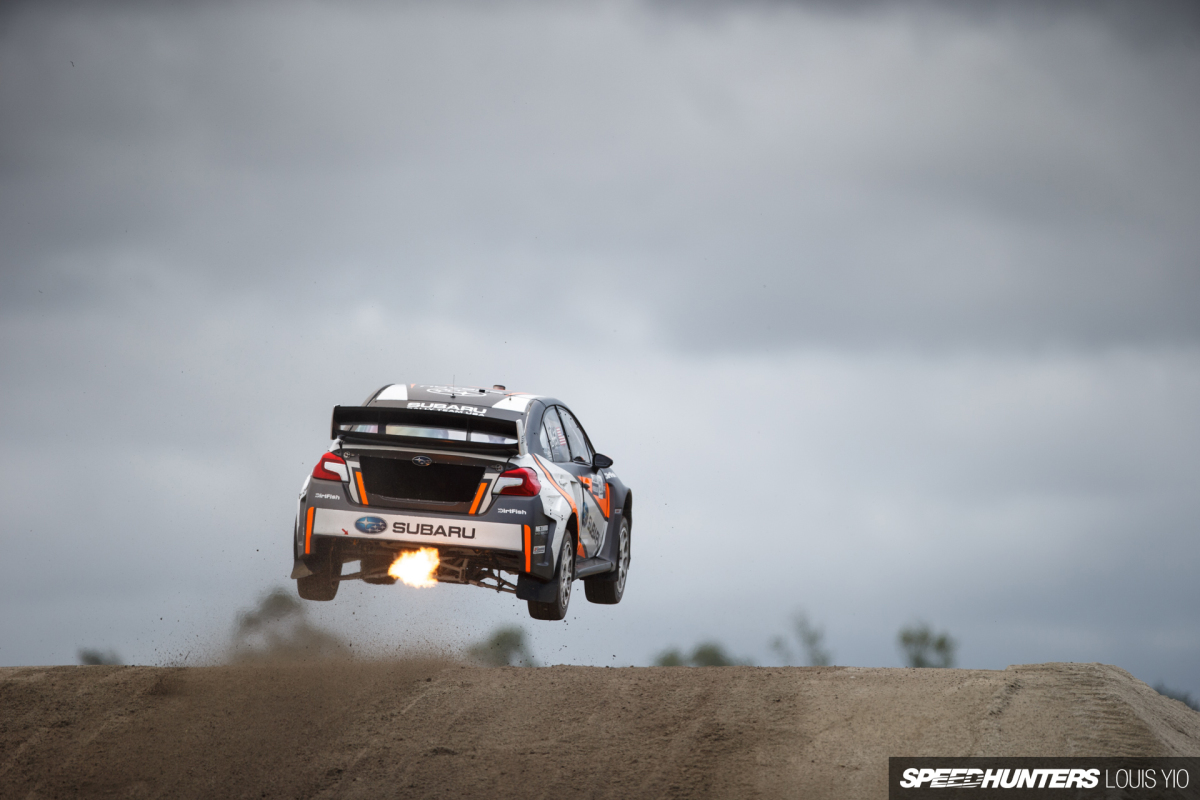 GRC New River also saw the return of Subaru to the series after the manufacturer sat out the first few rounds.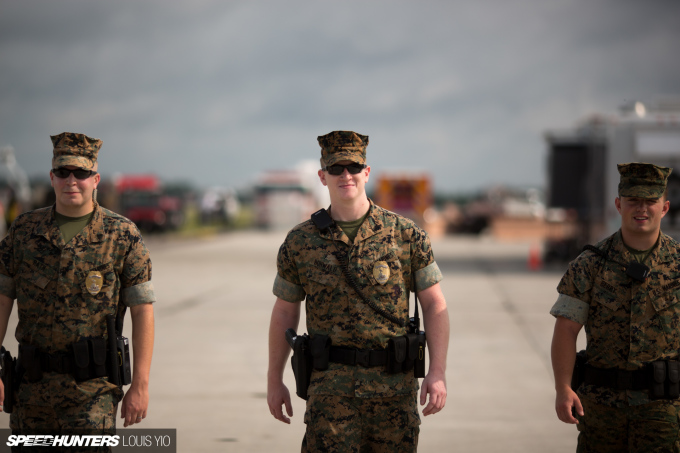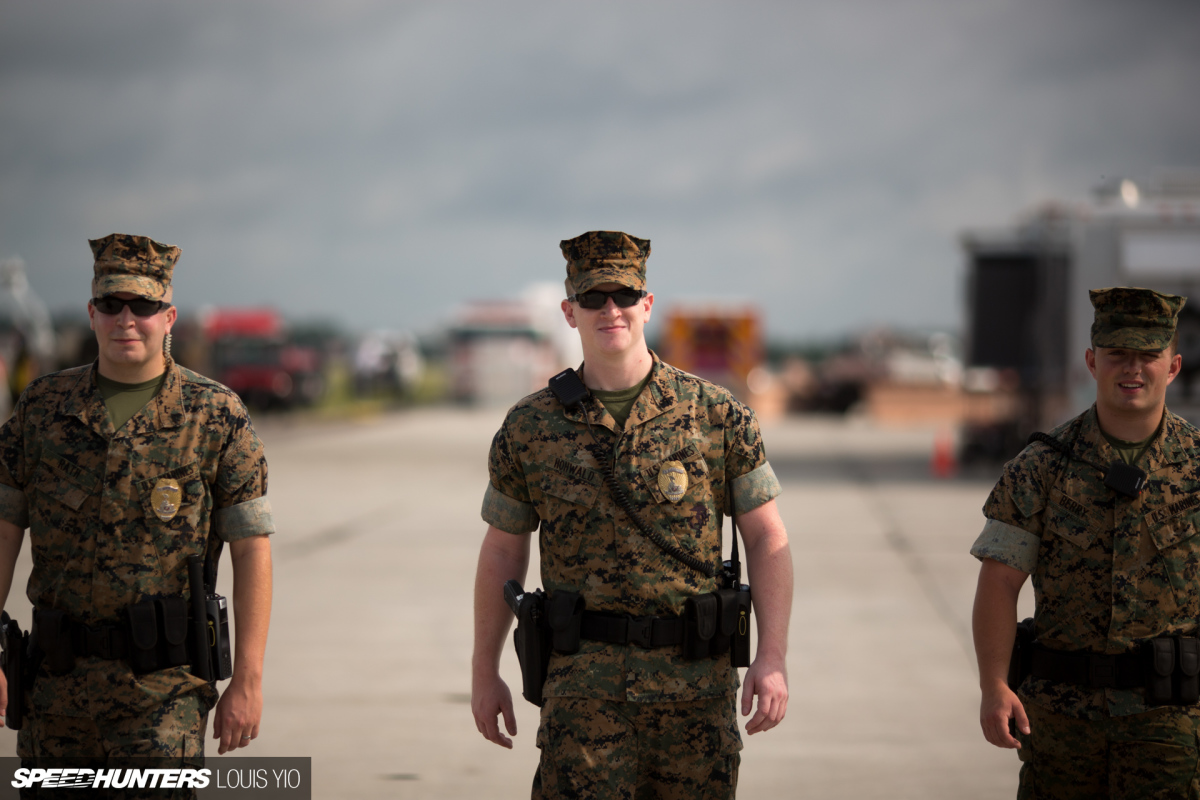 What was cool about racing on an active military base was that we were technically racing in one of the safest places in the world. Maximum security at all times from America's best on July 4th weekend. Cool factor times 1000.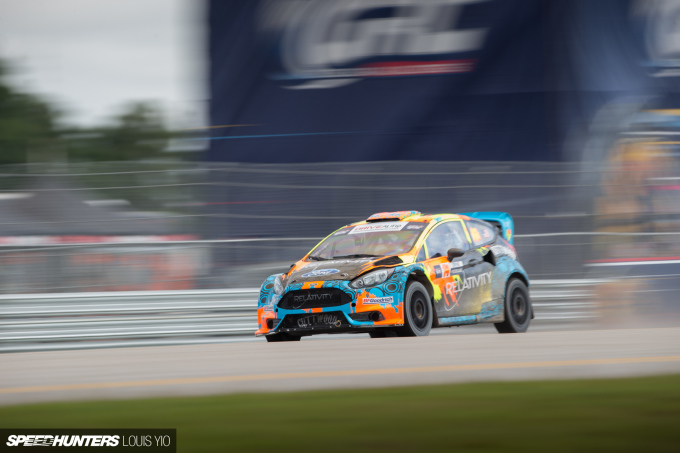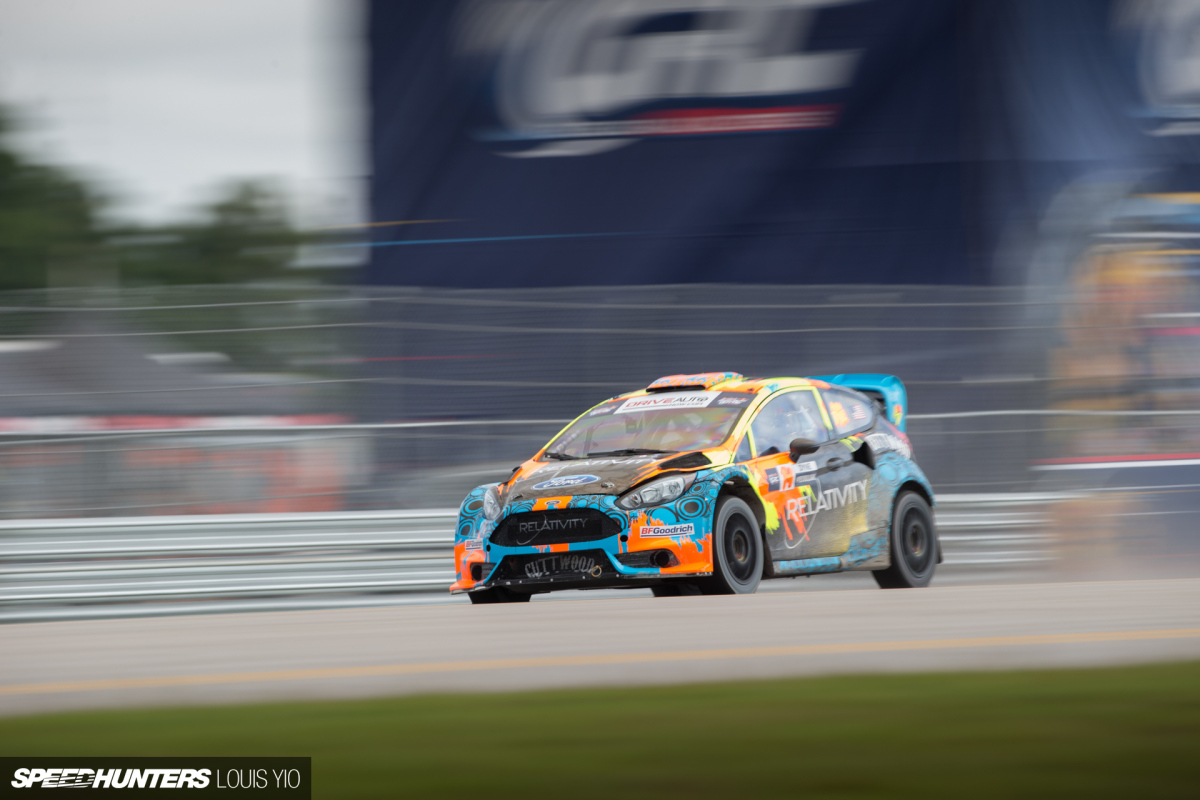 GRC raced in New River last year for the first time and it was my favorite track to shoot last season. New River has lived up to the accolade this year too, but we're only halfway through the season so the next few tracks might change my mind.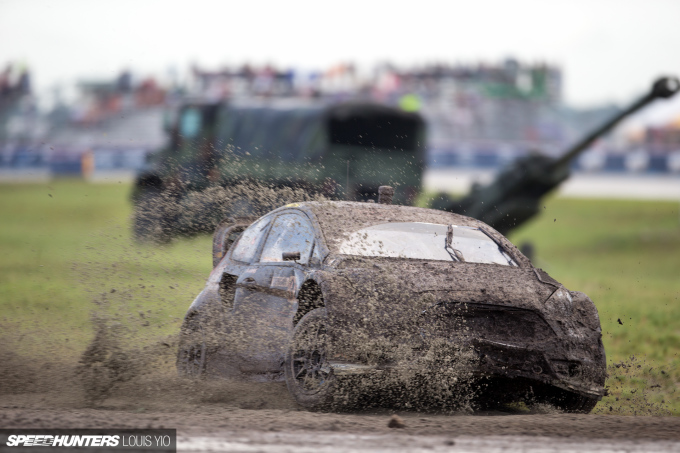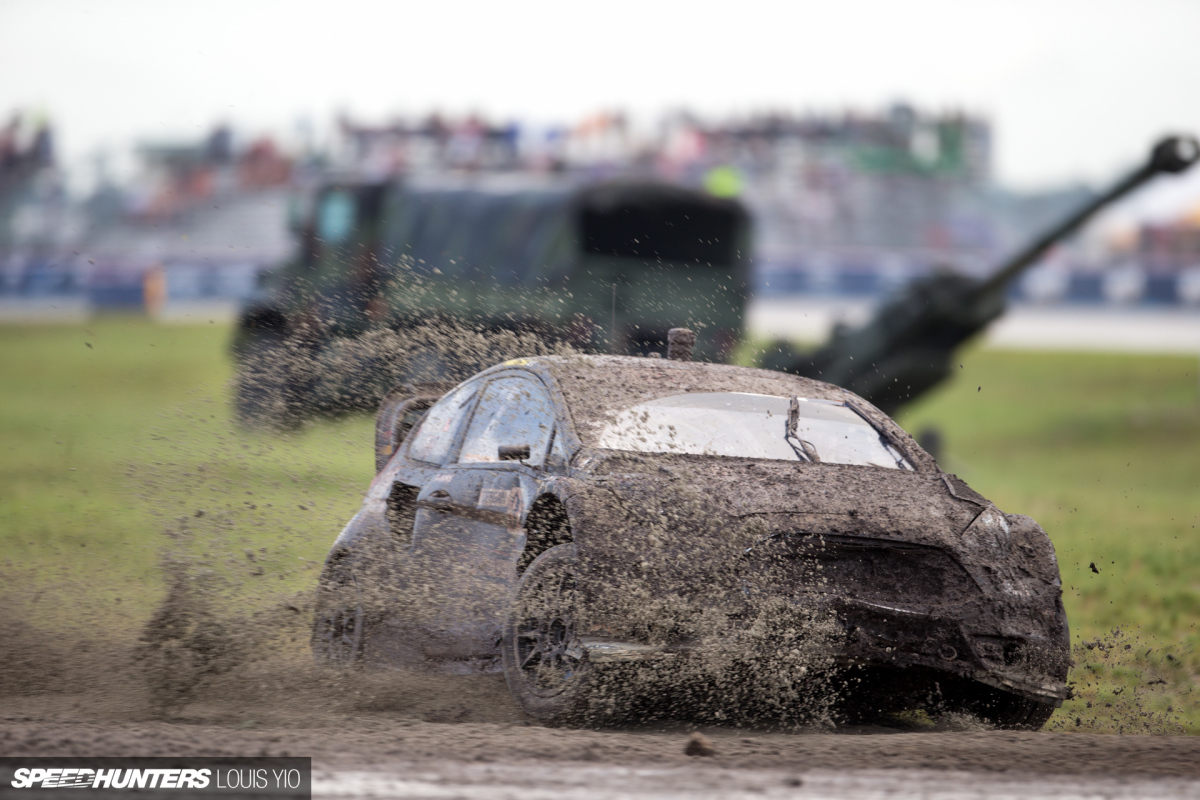 Probably not though. I mean, where else will we see cannons, tanks and airplanes on a race track?!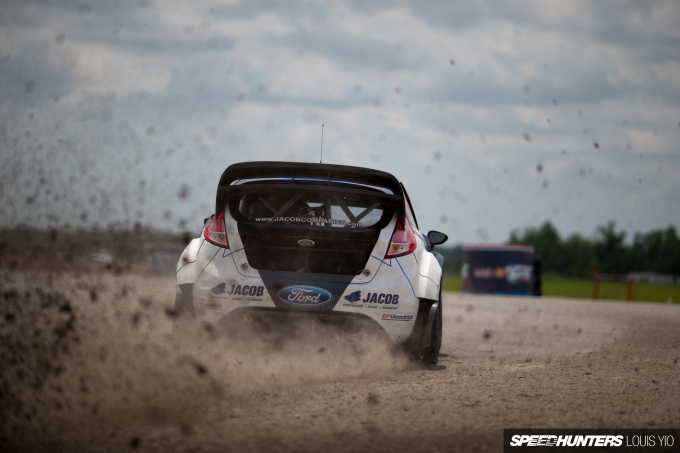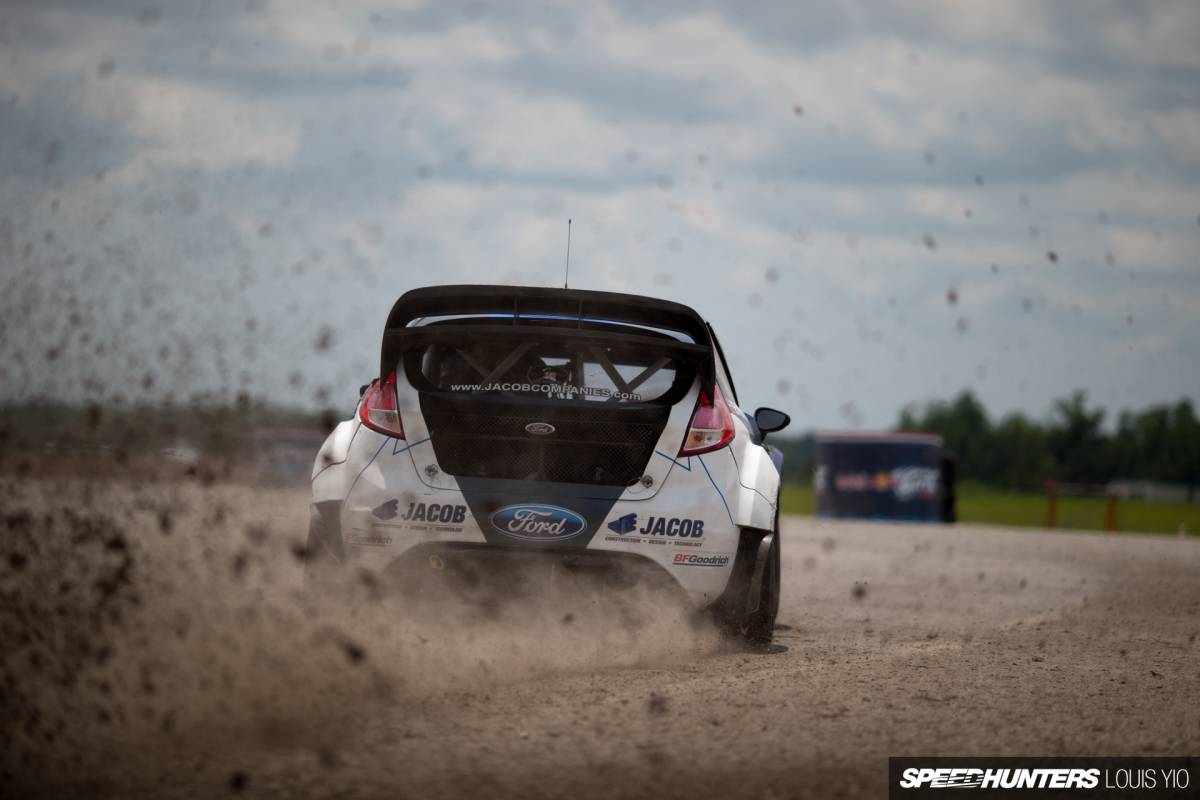 Stop helping me create cool shots, Steve. Just kidding, please don't stop.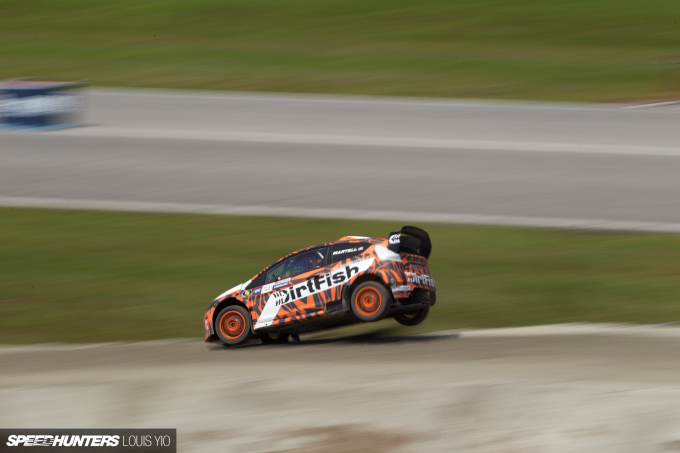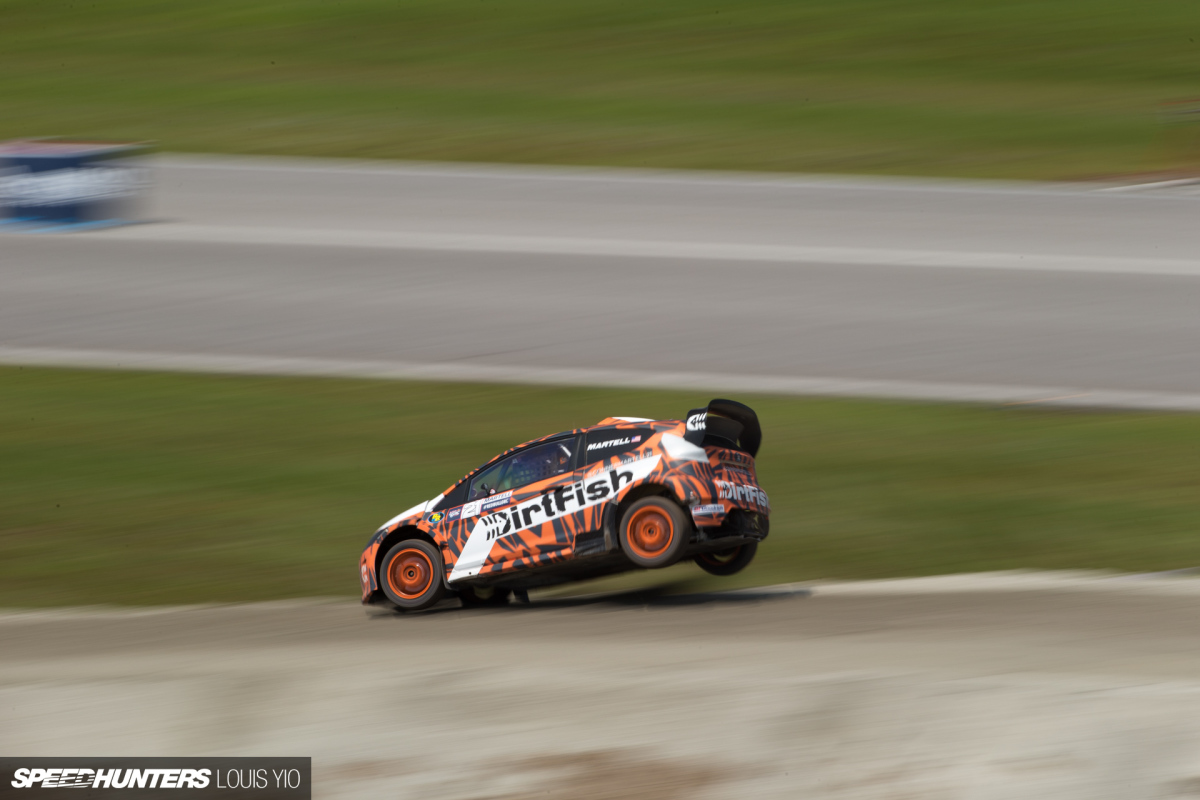 Connor Martell with Dirtfish had a strong start this season but has fallen back heading into the mid season point. It would be nice to see him dominate once again like he did in Phoenix.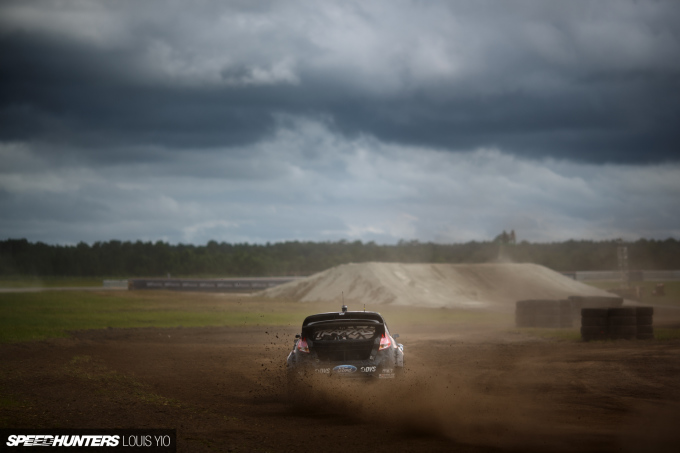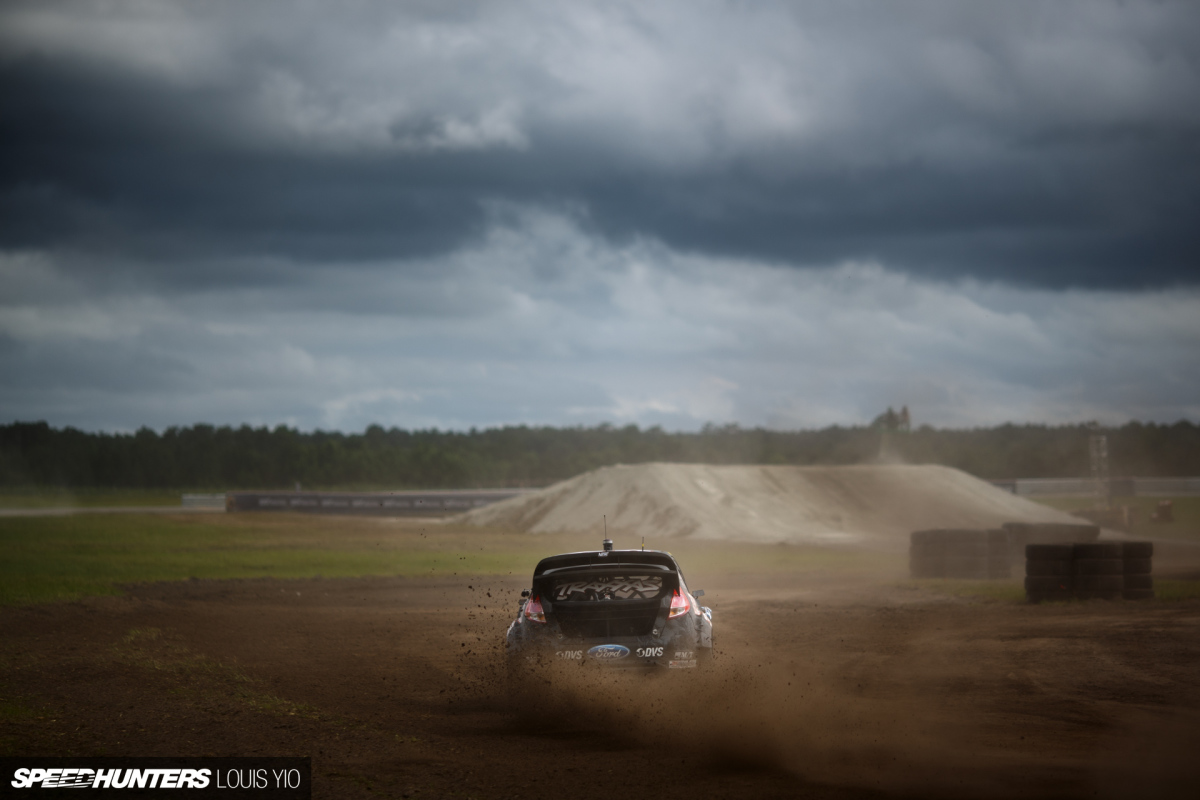 Like GRC Daytona, bad weather was in the forecast for the New River weekend.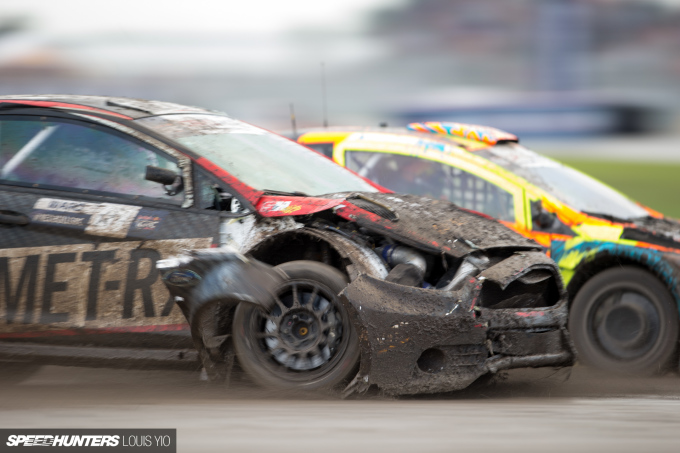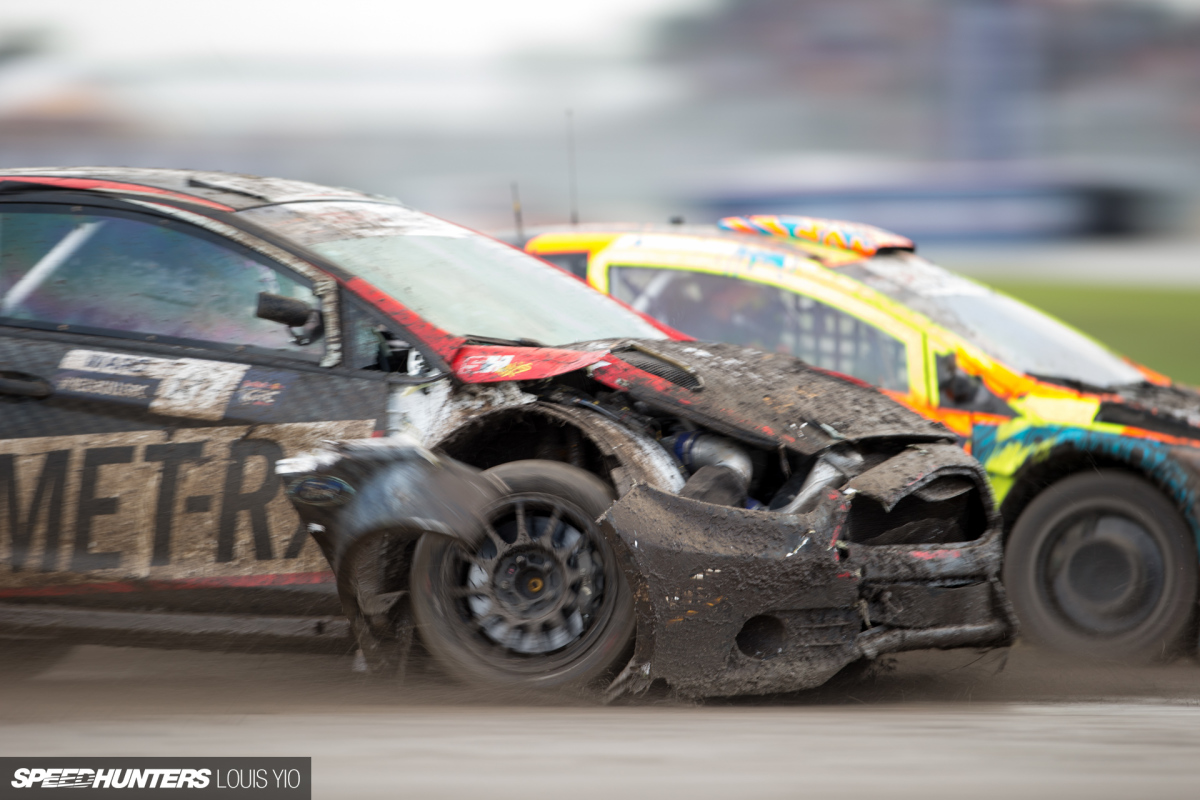 Unlike Daytona though, it rained hard in New River. But that didn't stop the drivers from charging as hard as they could, and it made for a really exciting spectacle. I hope there are a few more races in the rain. Just rain though, no lightning. I'd cry.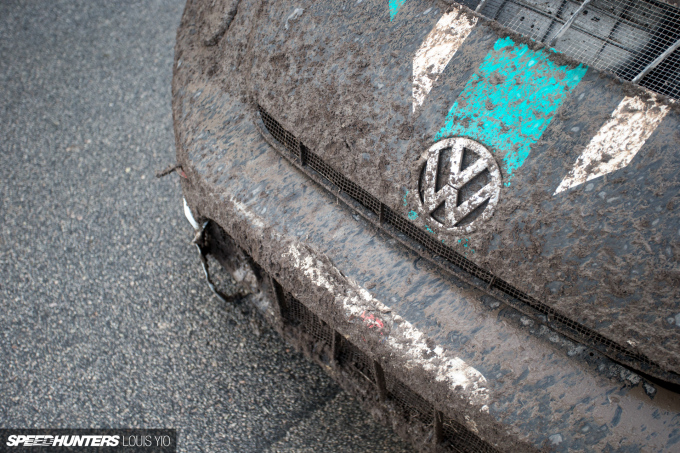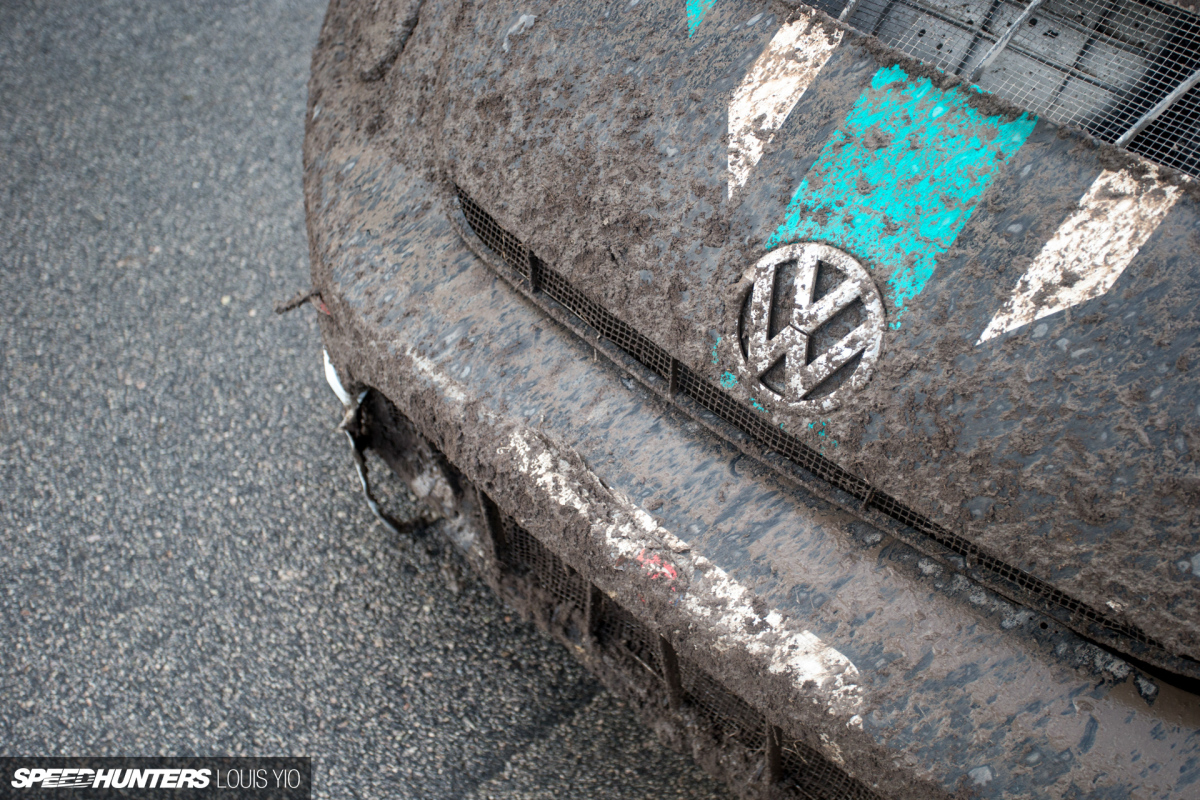 Post-race Volkswagen Beetle. Nice.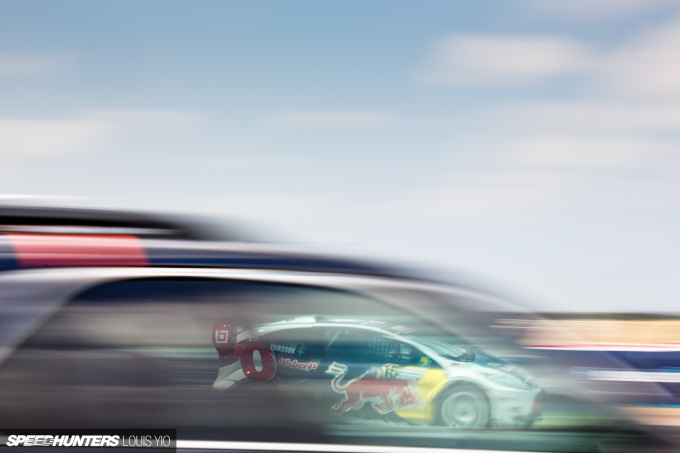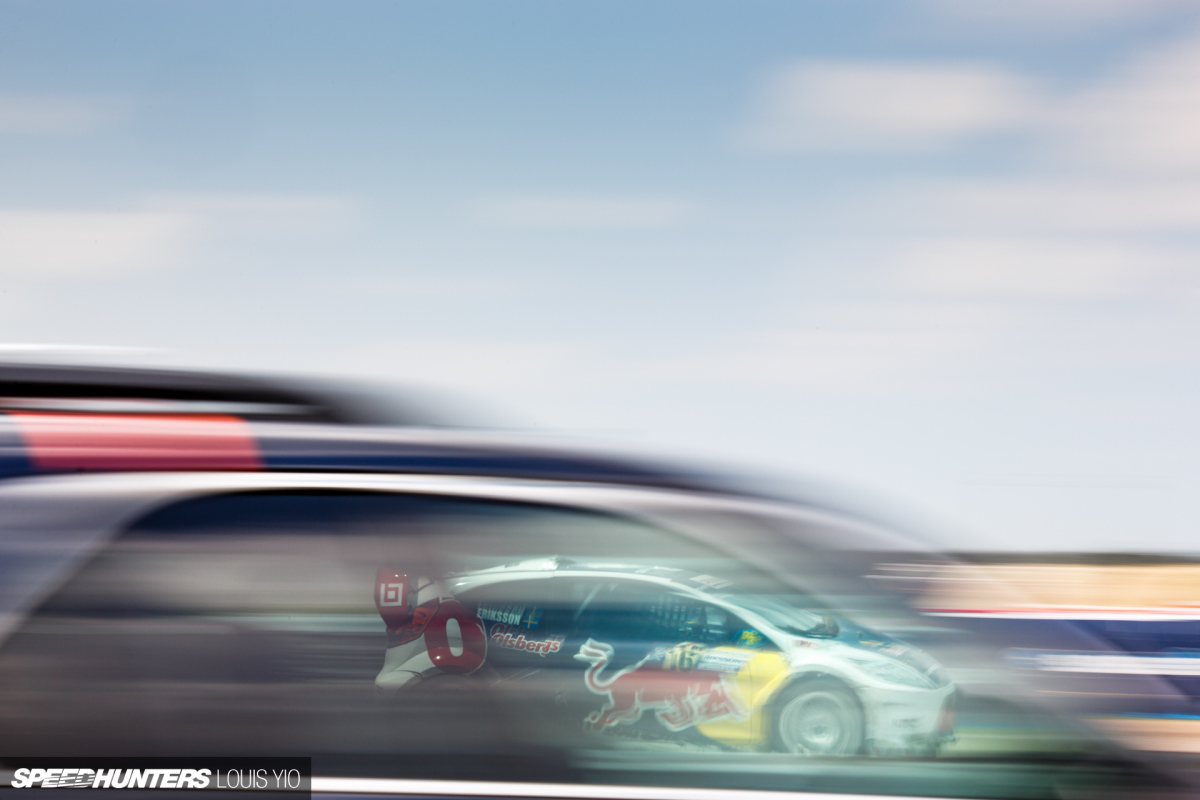 Defending GRC Lites champion Oliver Eriksson is fun to watch. Like the VW drivers, he's consistently near the top unless he has mechanical issues.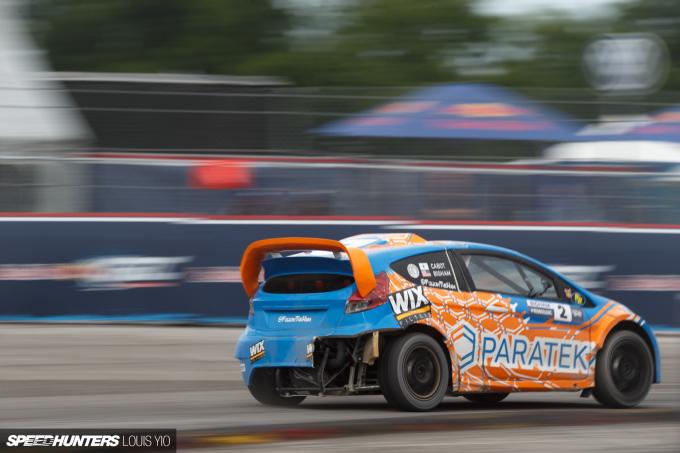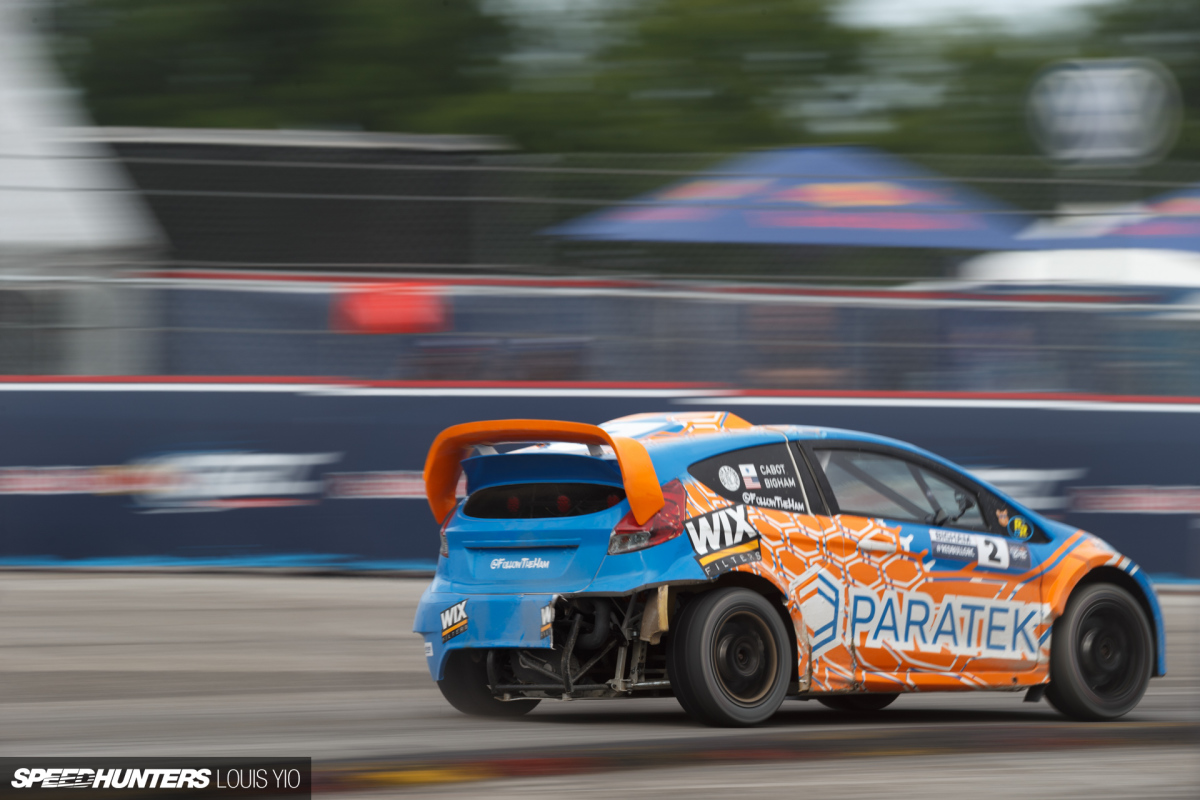 Cabot Bigham is one to look out for. Like Oliver, he's also consistently up there.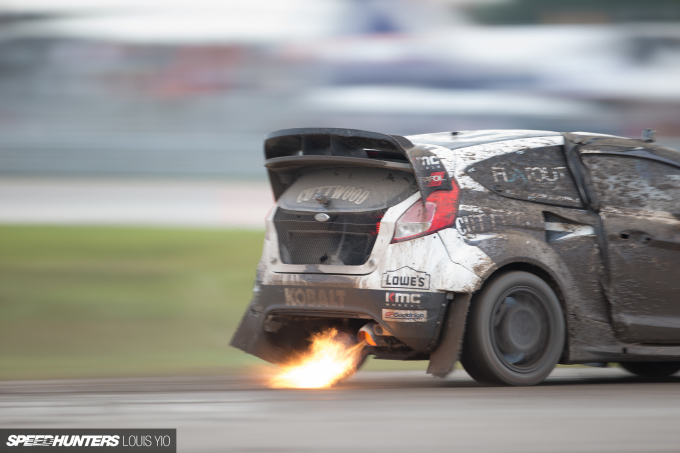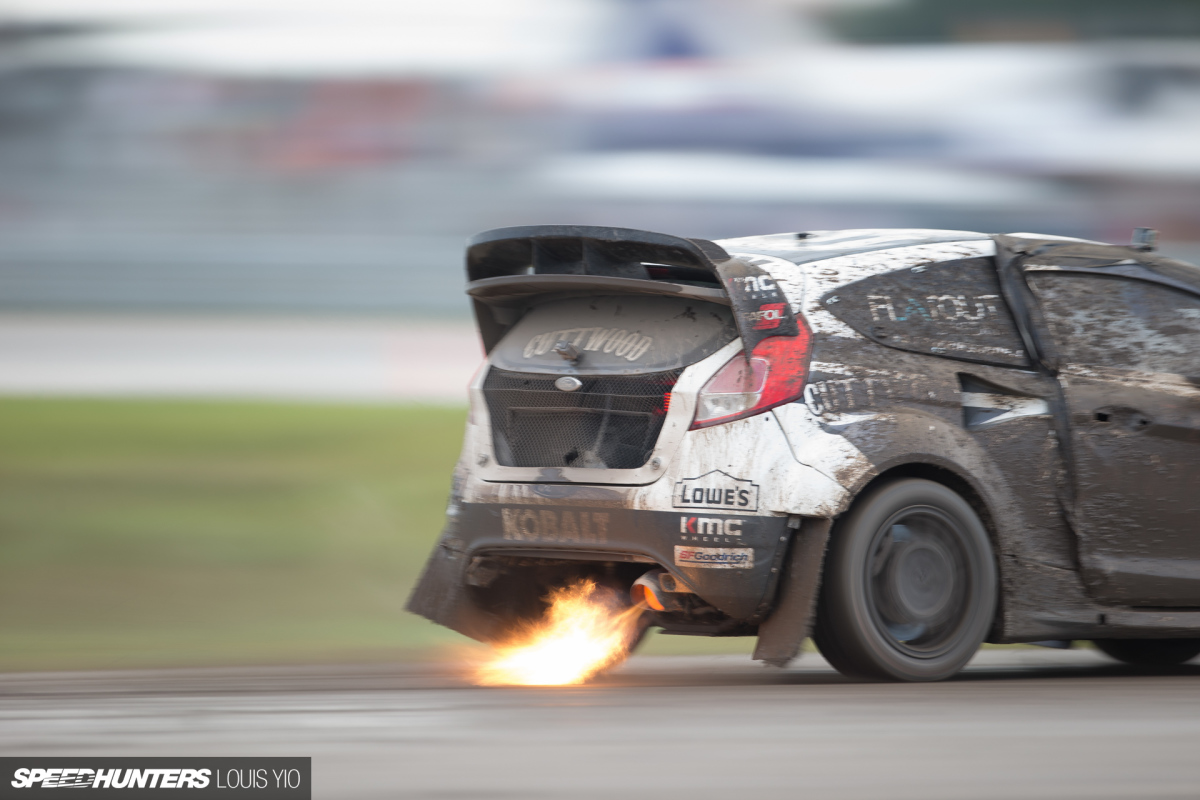 So what do you guys think – do you agree with me and believe rallycross is the best motorsport of all time?
Louis Yio
Instagram: @lusciousy
louis@speedhunters.com
Cutting Room Floor