Oh, What A feeling!
It was bound to happen eventually. Bitten by the off-road bug, I went out in search for an off-road vehicle of my own. Of course, my friends had plenty of suggestions. Get a Jeep they said; get an FJ80 Land Cruiser, or even a Land Rover Discovery. There were endless options, but for some reason or another none of them worked out.
While JK Jeeps are awesome, they are just way too expensive still. The '90s Land Cruiser is great too, but for the life of me I could not find one in good enough condition; most had over 250,000 miles. This would have to be a car that I could drive deep into the Mexican desert to follow racing, which is the reason why I didn't go with a Disco'. I love Land Rovers, but I was constantly told to stay away from them unless I wanted to find myself stranded while chasing the Baja 1000.
Enter the Toyota FJ Cruiser. Although they've been out of production for a while now, a well-equipped example in great condition with low miles still commands around $30,000. They can often be just as expensive as a brand new JK Jeep, but I got a little lucky…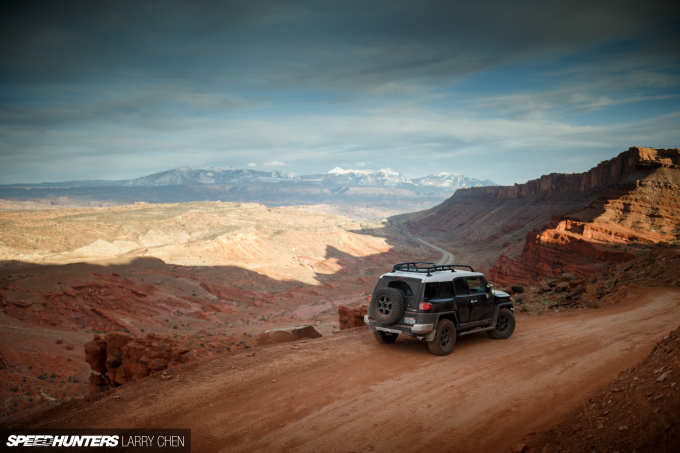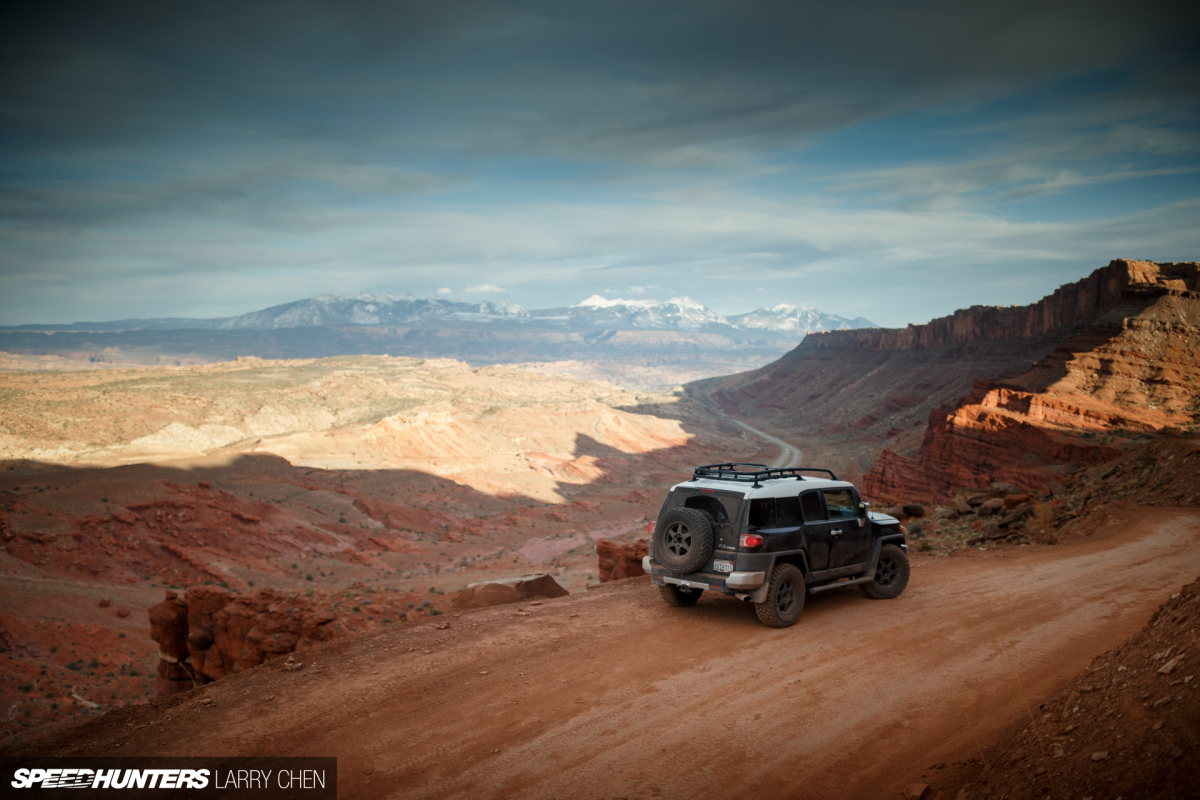 I found a 2007 (first year) model with 35,000 miles, which equates to only 4000 miles driven per year. It was originally from Seattle, but if I did not know any better I would have thought it was a California car given how clean it is underneath. I walked out the door with the keys to the truck for just $21,000.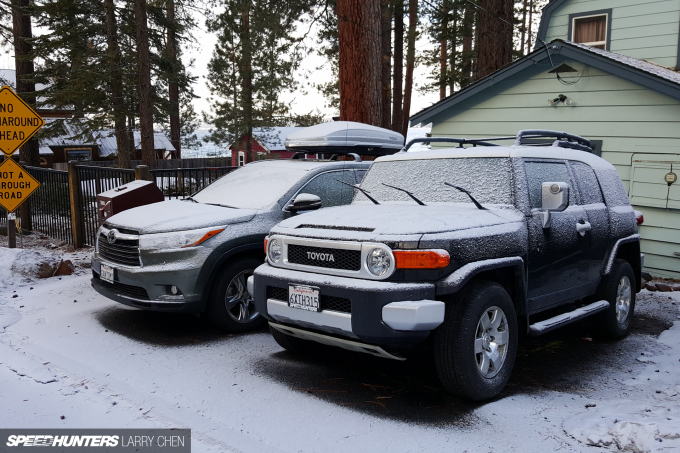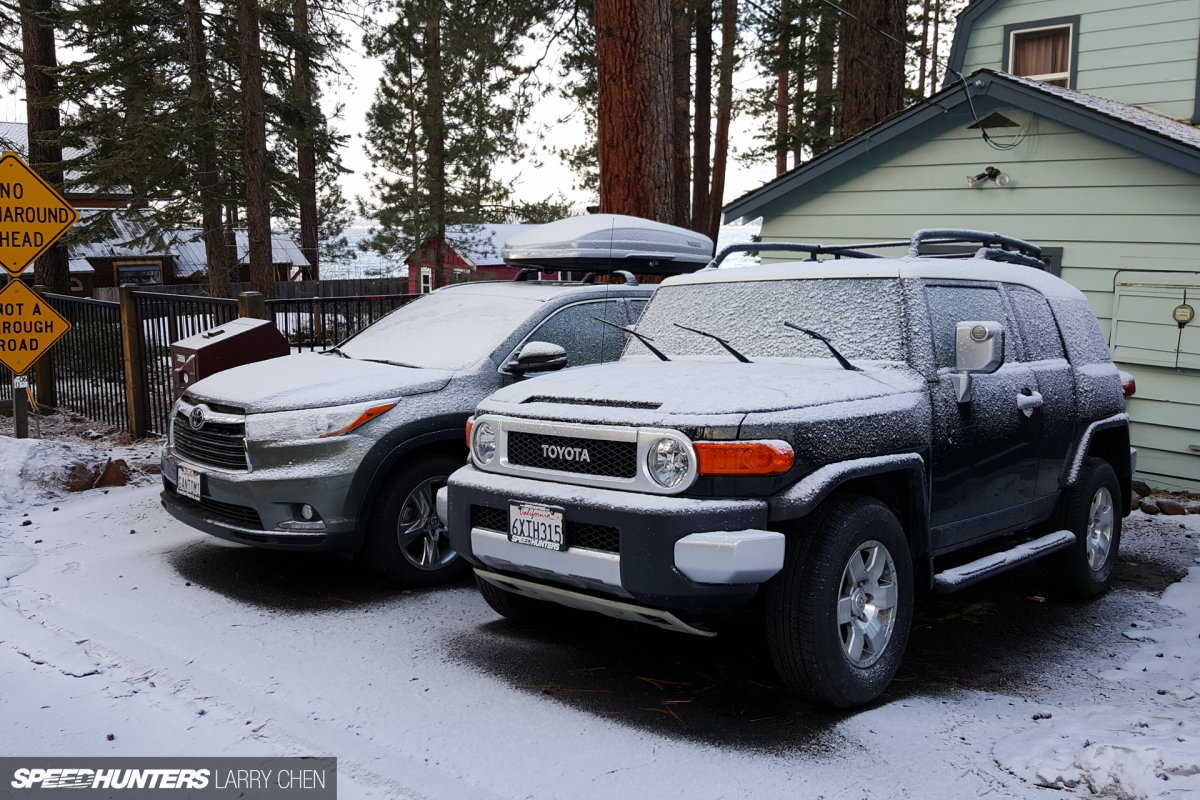 The best part? It has a 6-speed manual transmission with a rear e-locker. I know what you off-road-heads out there are thinking: I'm going to have a terrible time trying to crawl on rocks with a stick shift. You are correct, but I'd say I can get to 95 per cent of places an automatic would and also have much more fun doing so.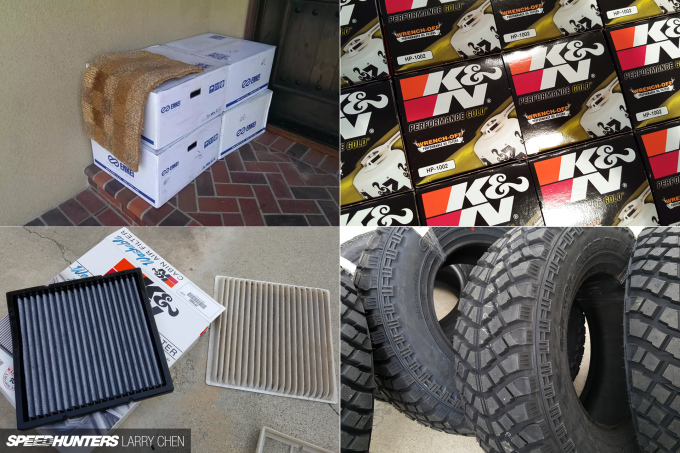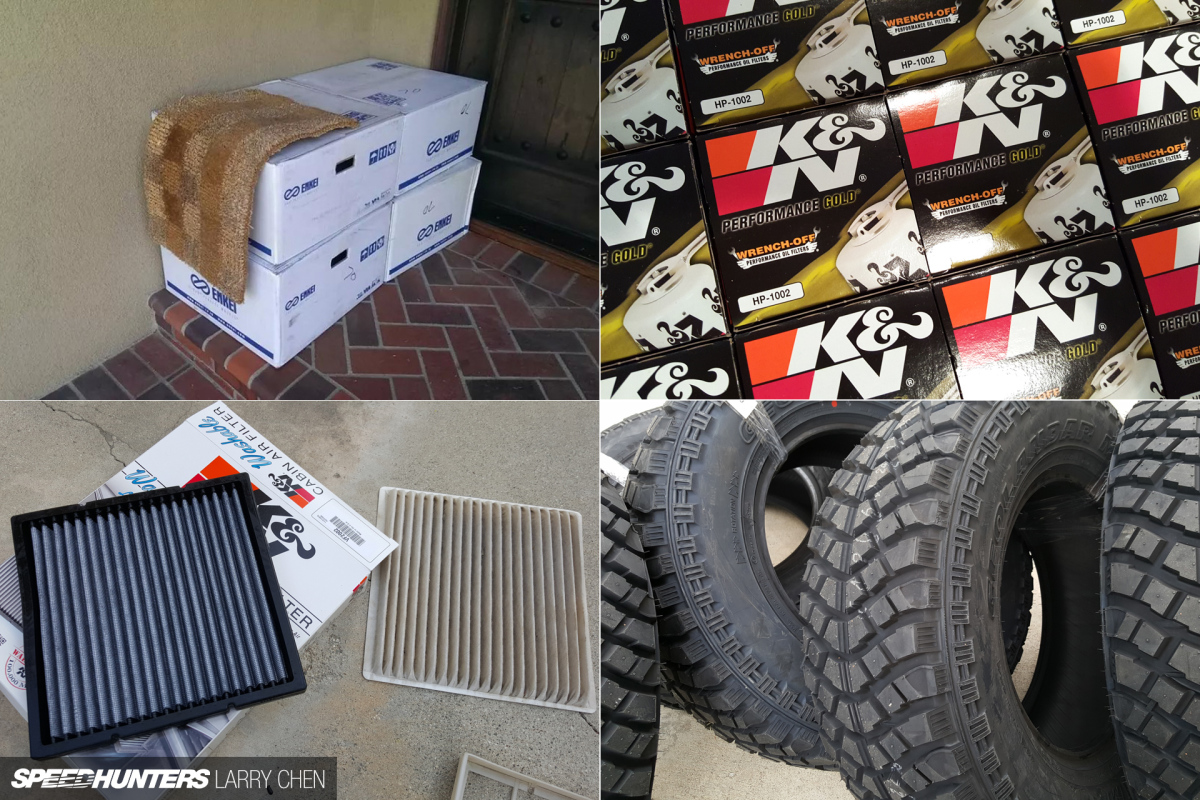 I didn't have the truck for more than one day before I started the personalizing process. I began with a set of Enkei ST6 wheels, and as you can see the delivery man graciously hid them so my neighbors wouldn't steal them. K&N hooked up some goodies in the form of oil and in-cabin filters, because I am going to need lots of those. Lastly, I got some nice tires to go with the wheels – namely 33-inch Yokohama Geolandar M/Ts.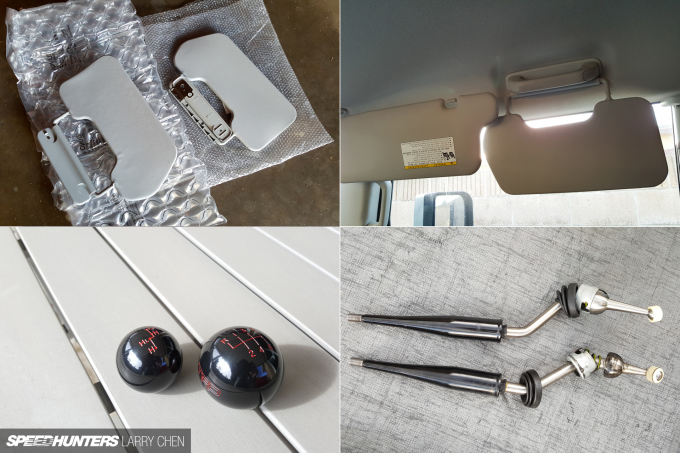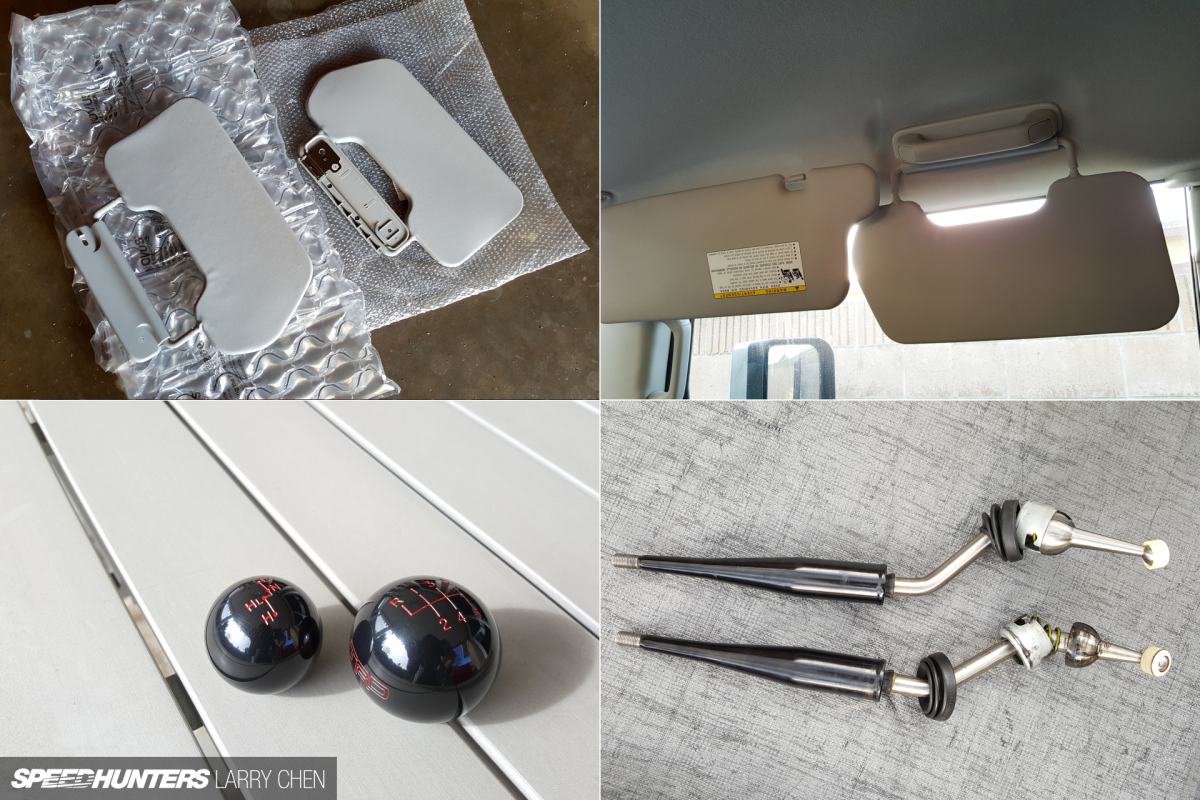 On top of actual performance and maintenance bits, I also grabbed a few personal touches just to make my life better. The FJ did not come with side window visors, and it was evident that this would be a big problem the first time I took the truck out for a spin. Lucky for me the 2010 models came with them stock, so I just ordered them off eBay. While the stock shifter setup was fun to drive, it felt like I was rowing a boat as I was going through the gears. That was never going to cut for daily driving, so I picked up a Toyota Racing Development short-throw kit and some nice shift knobs to go with it. I just love that the TRD set comes with a separate knob for the transfer case shifter.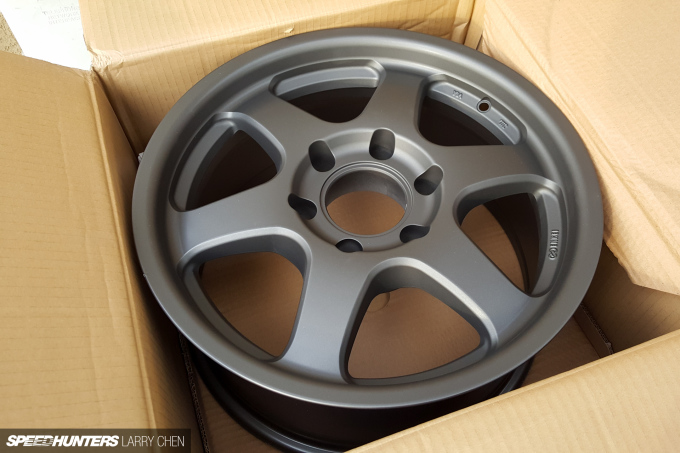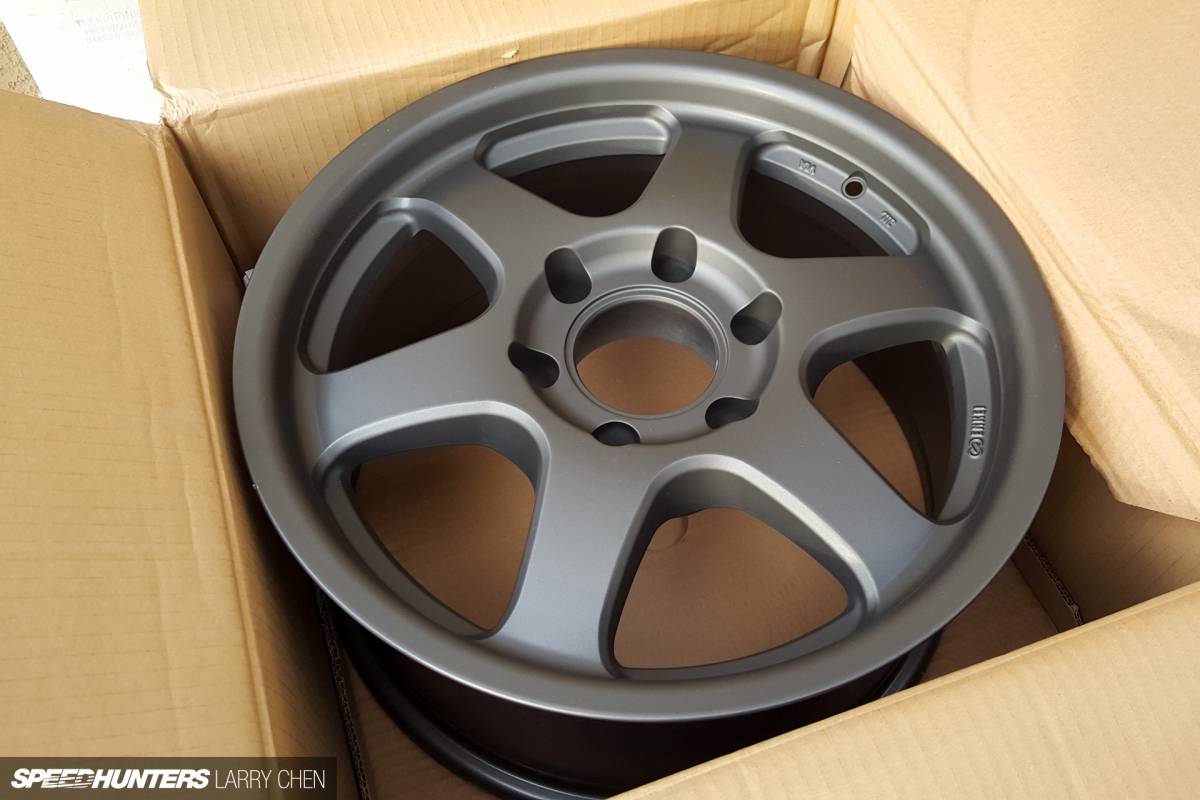 I run Enkei wheels on my 240Z and I love them to death, so I figured why not match my FJ with the same brand. The ST6 is very simple and strong – exactly what I need for off-road. They come in 17, 18 and 20-inch sizes.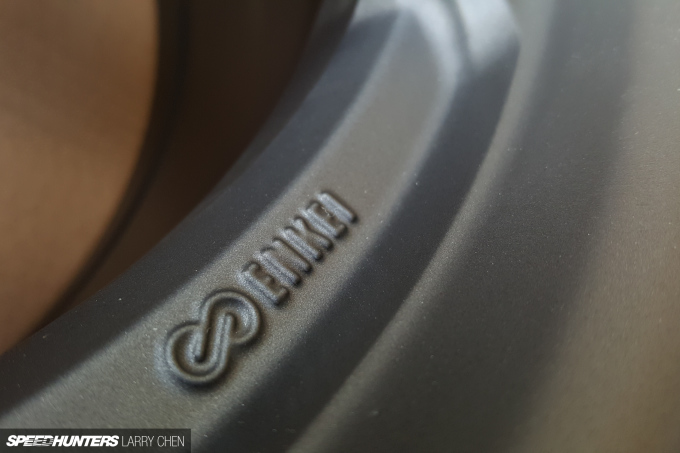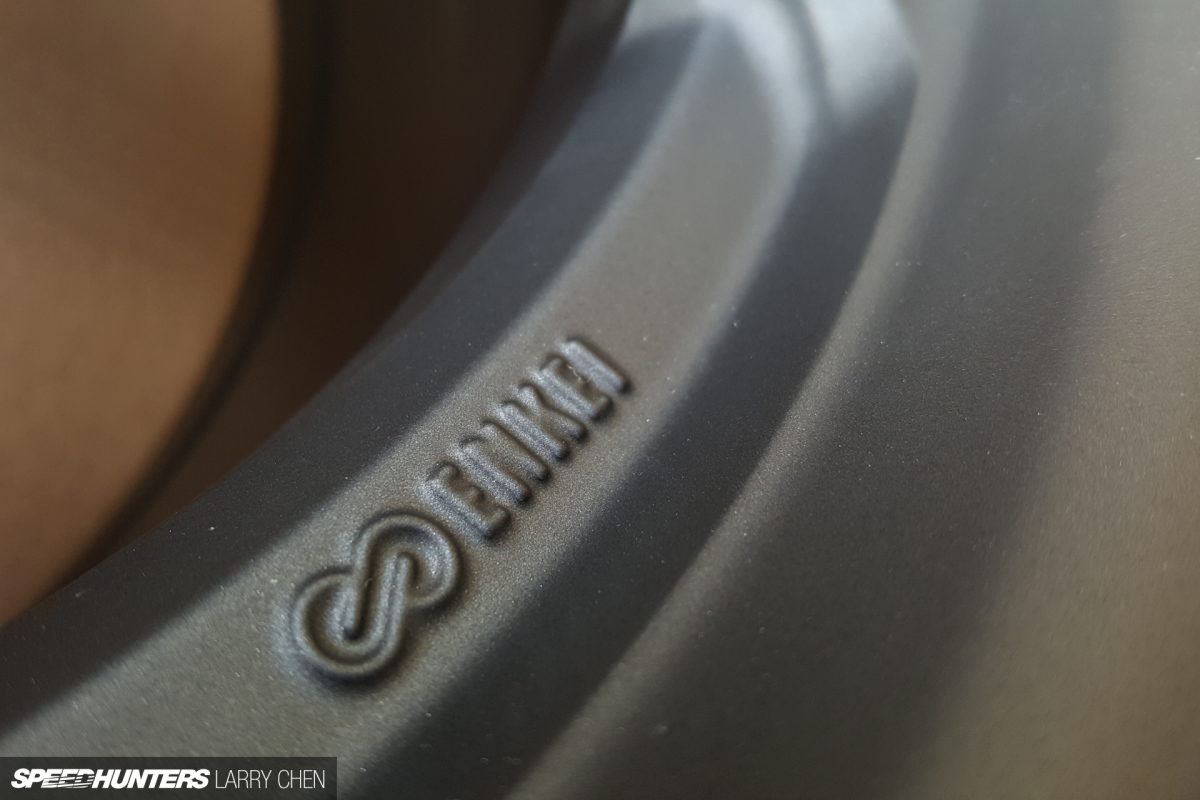 I got mine in 17-inches as that is what the FJ comes with stock, and at 8-inches wide they were perfect for the tires. For fitment, I went with a 10mm inset, and I think it sits really nicely without having to use spacers. For the color, I went with gunmetal to match what I have on the Z car.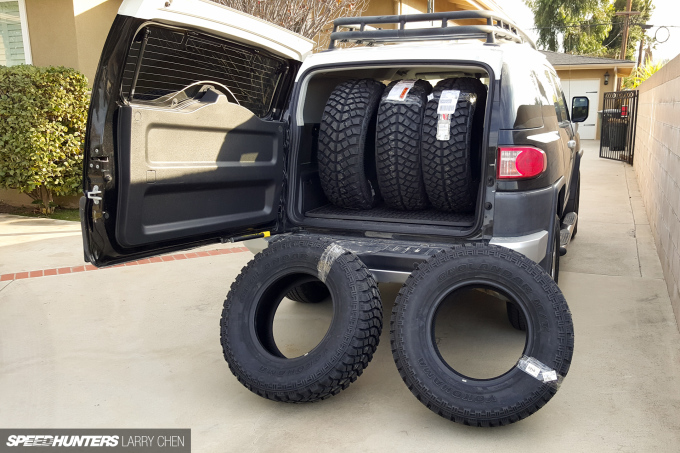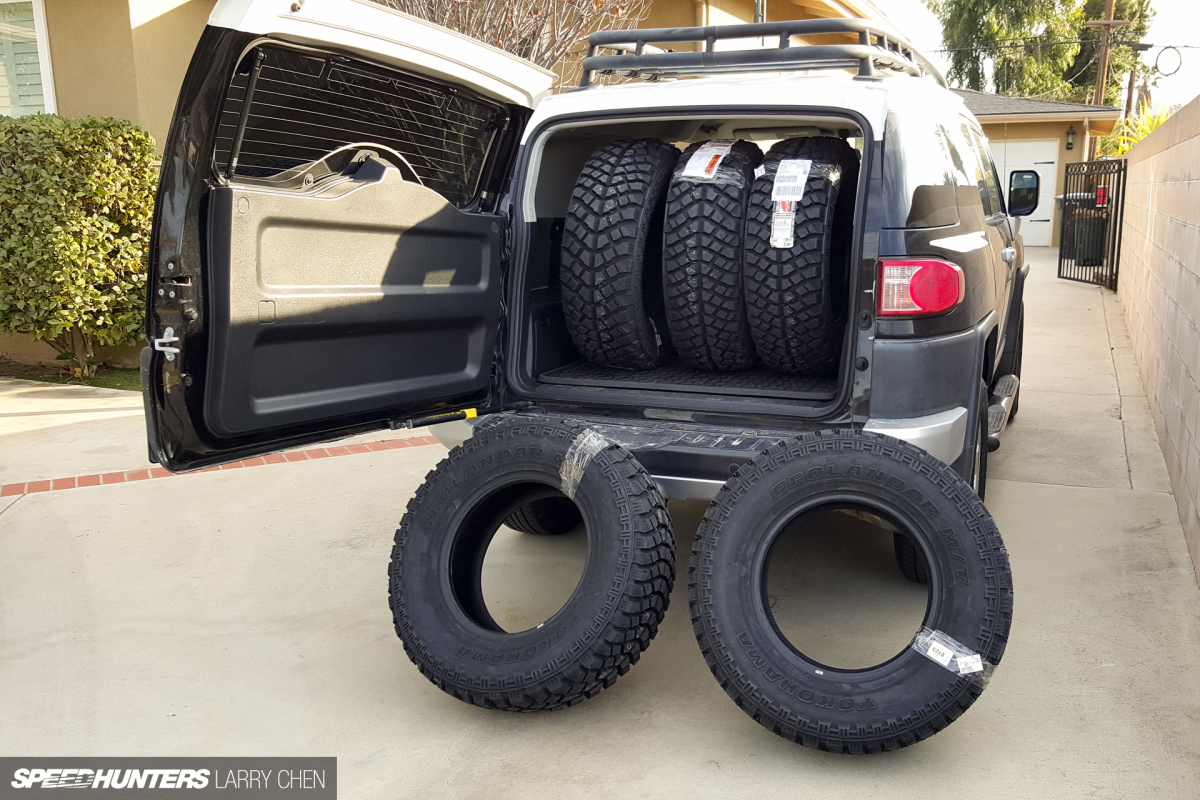 There is a lot of debate on what size tires can actually fit under the FJ in stock form; some say 33-inch tires fit and others say they rub. For perfect clearance I would have to do what is called a body mount chop; there is a point where the body actually mounts to the frame, and it can be trimmed for much more clearance.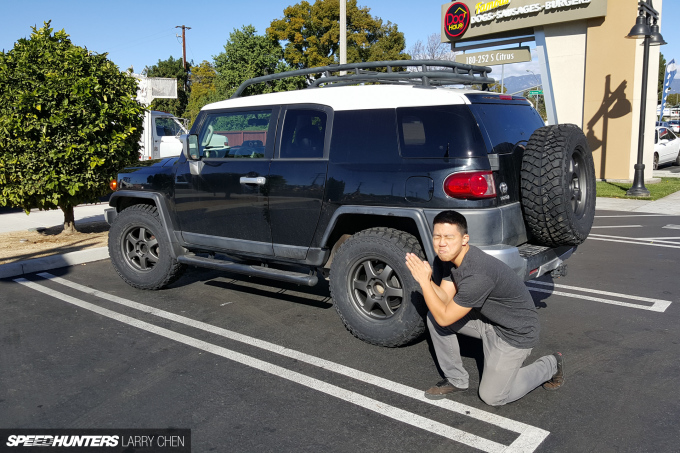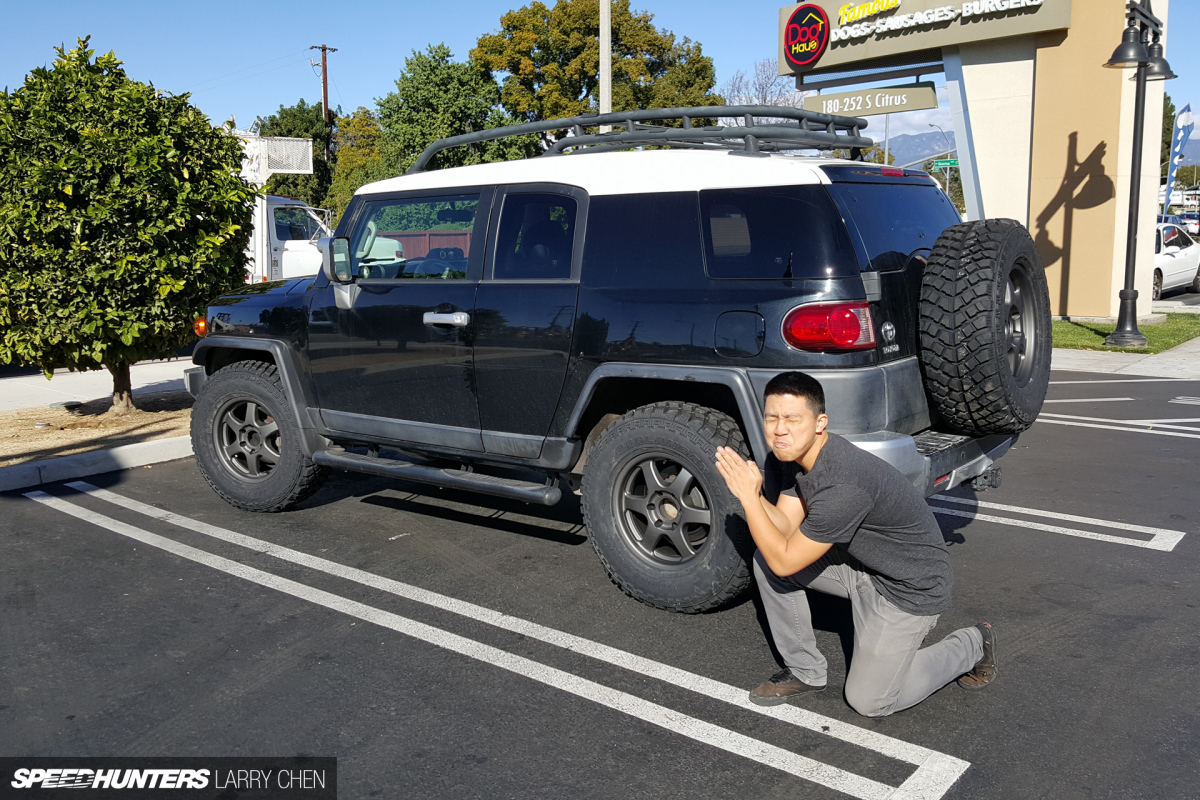 Here is the first picture of the truck with the tires and wheels mounted, but still running stock suspension. That is Speedhunters' Louis being dumb.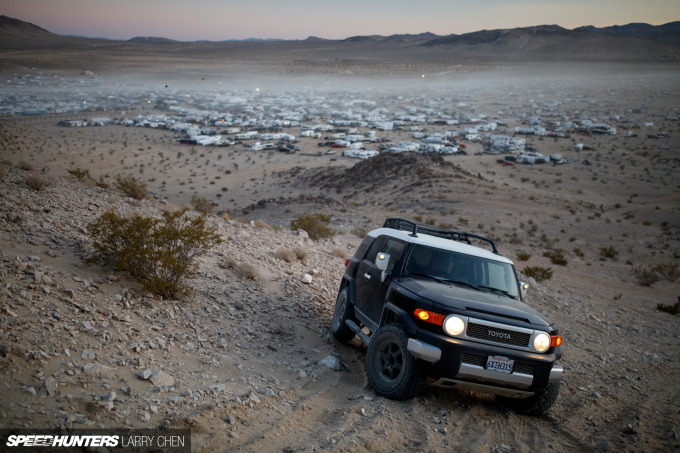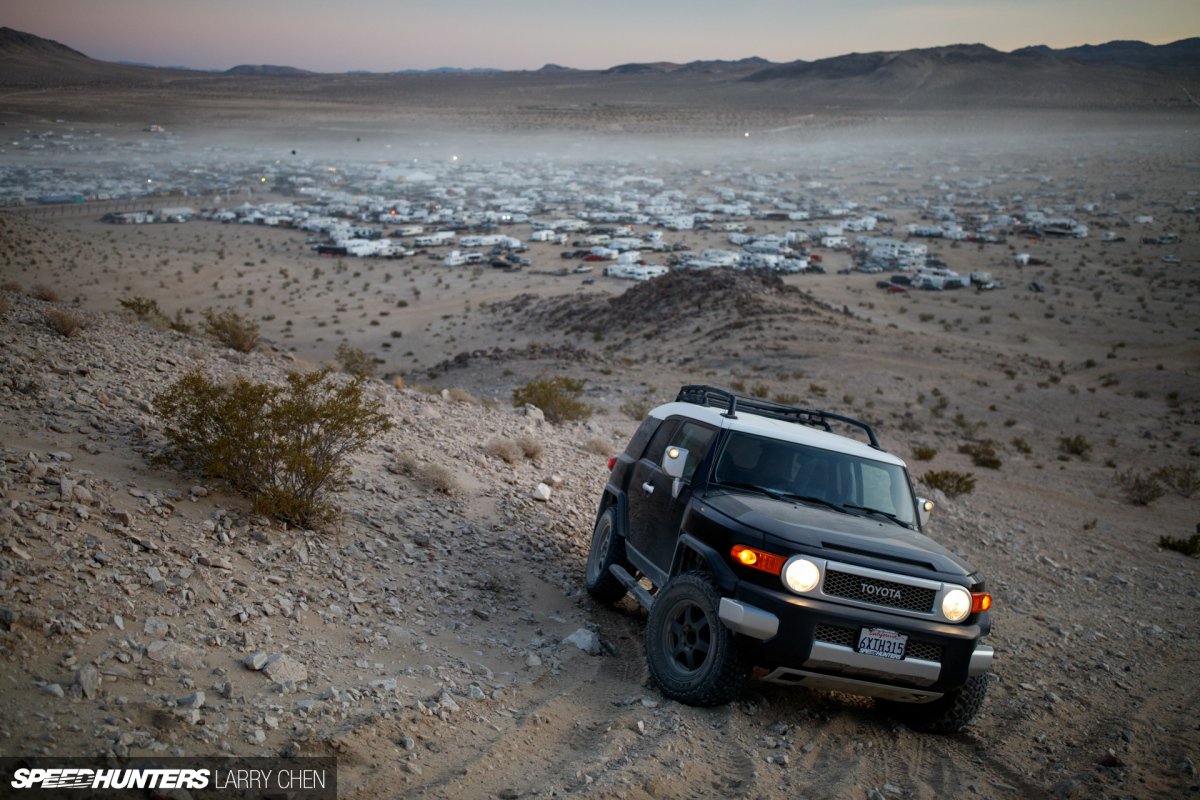 I mounted the wheels and tires the morning before heading out to Johnson Valley for the King Of The Hammers race, and I am glad I did because it's the only way I could hit all the obstacles I wanted to without getting stuck.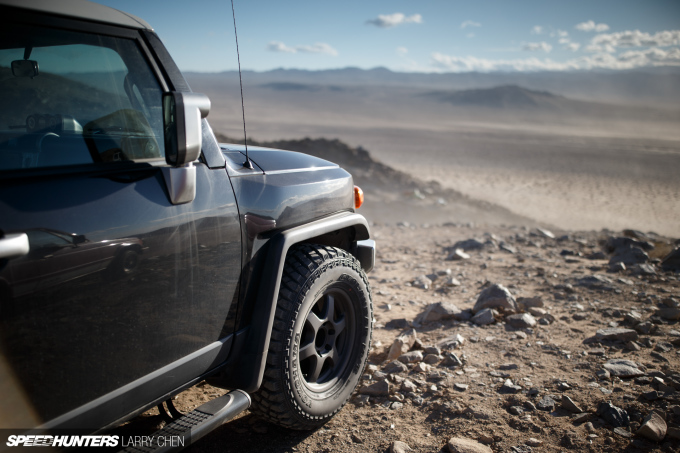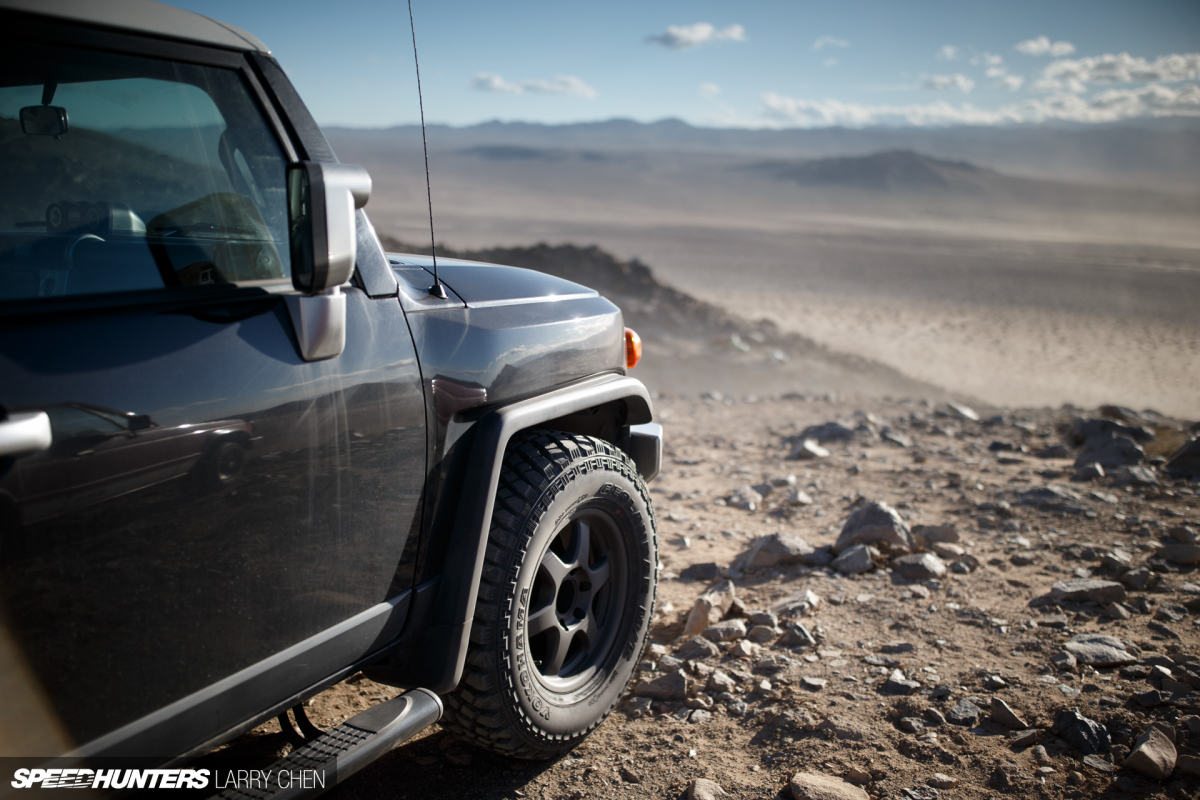 So does it rub? Yes it does, but only on the plastic trim near the body mount. It's not that bad actually, it just grazes at full lock.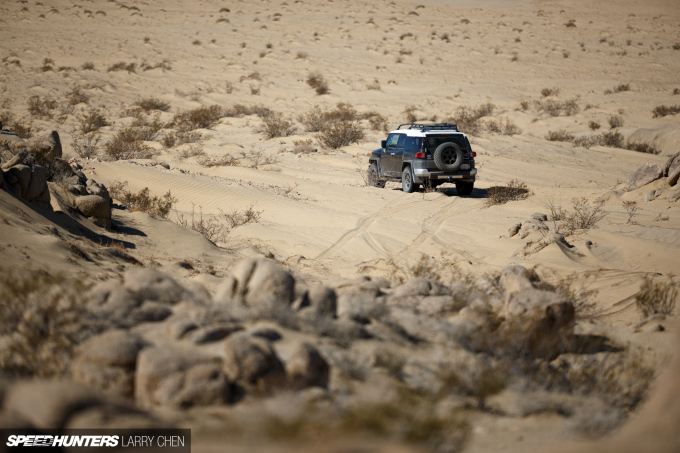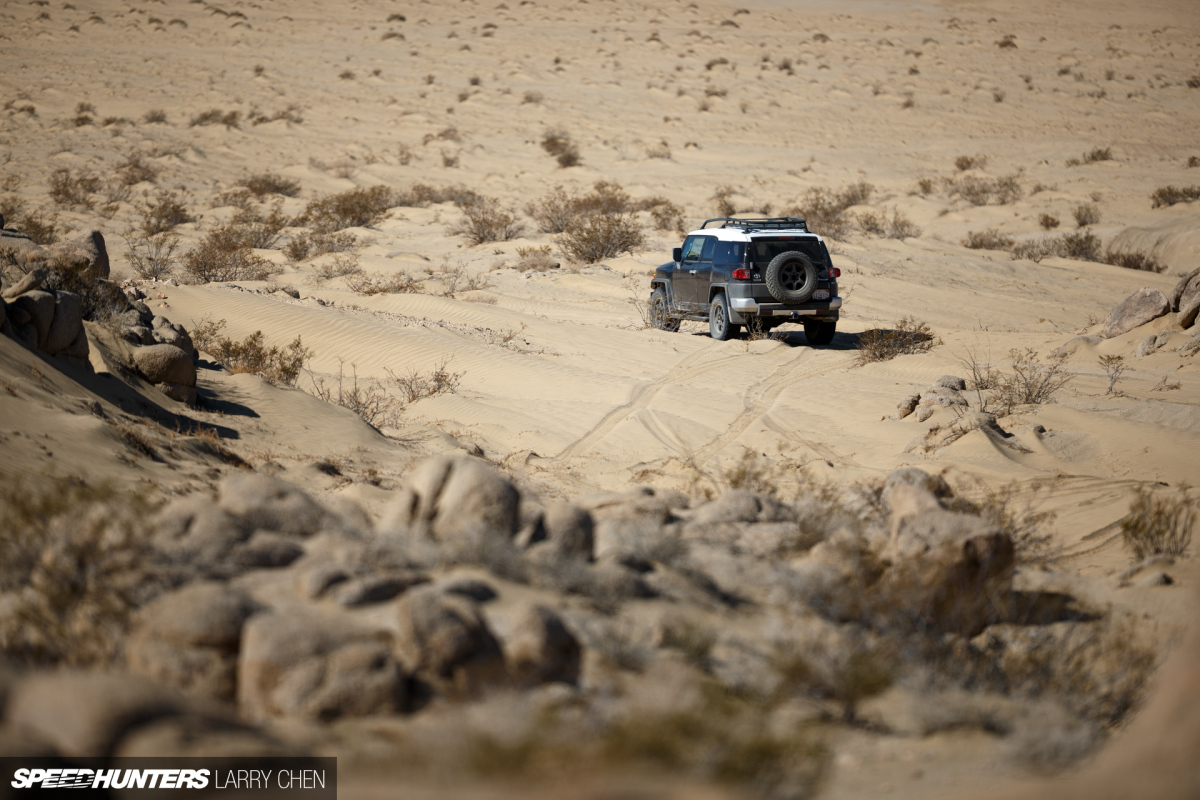 In years prior I've had to get a press vehicle or borrow someone else's rig in order to do any kind of shooting at an off-road race. That is not the case anymore, and it's making life so much easier. Now I can finally shoot a race on a whim.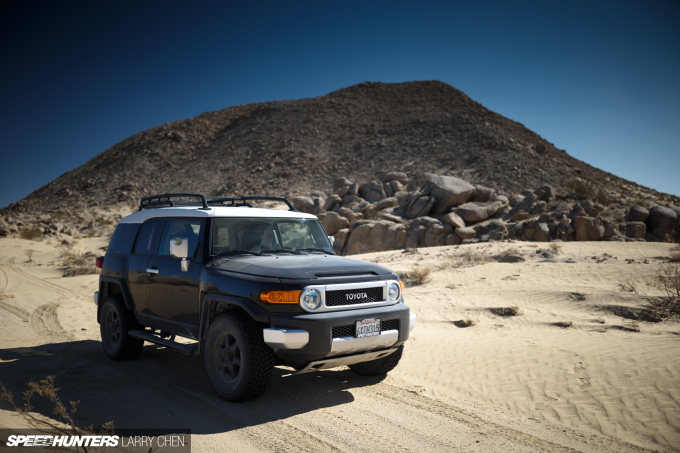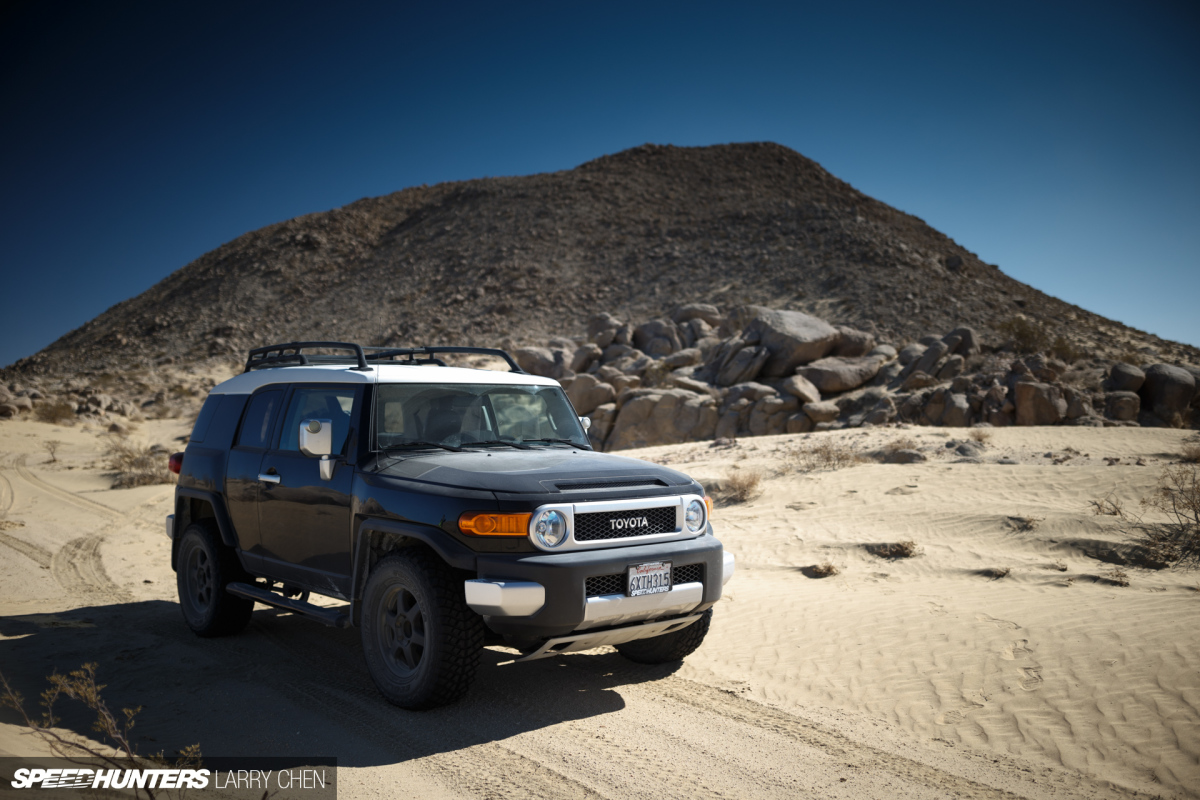 So what was it like to drive the FJ around Johnson Valley? One word: awesome. Most of all, I was amazed at what the truck could do in stock form. While the V6 doesn't have crazy amounts of horsepower and torque, there's more than enough to get me in trouble, especially with the power delivery the manual transmission offers.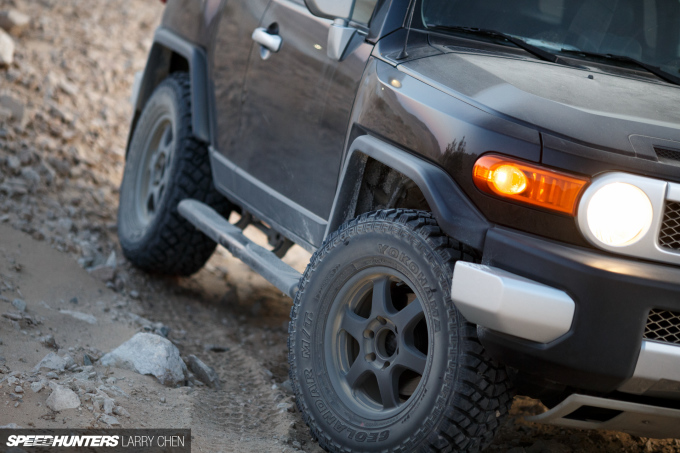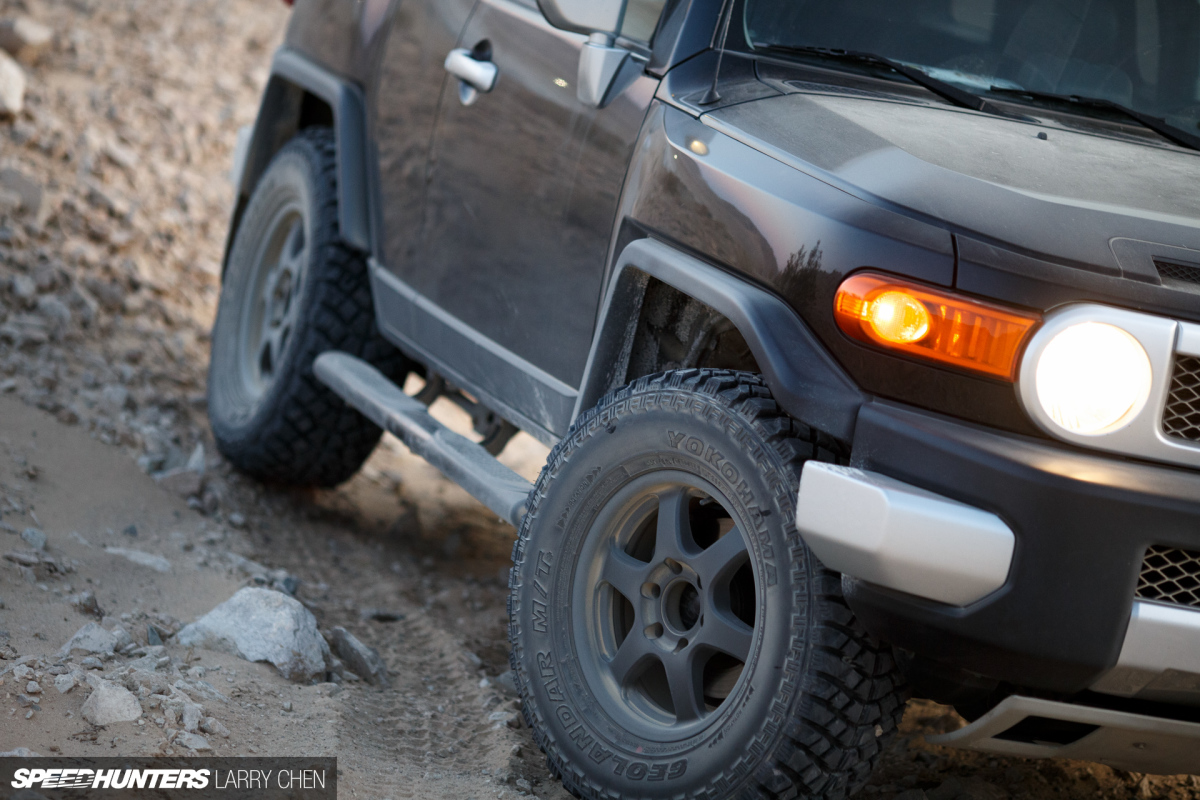 Pretty much the day I picked the FJ up I went into the mountains surrounding Las Vegas for some wheeling on the stock road tires. I struggled, especially because there was quite a bit of fresh snow, so I now definitely appreciate the amount of traction the Yokohamas provide. Tires are almost always the best mod you can do to your car from stock.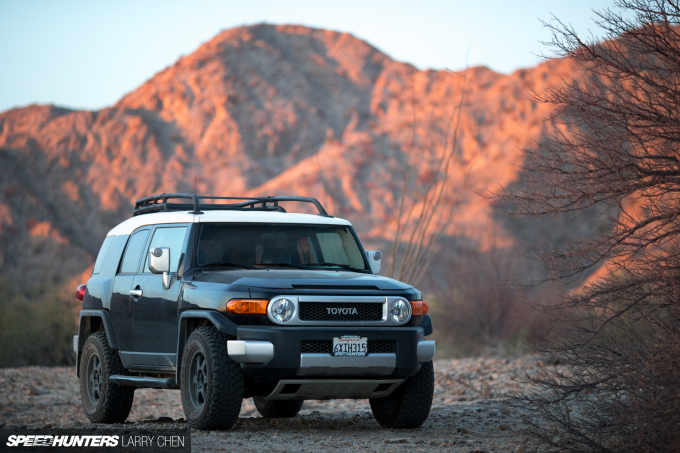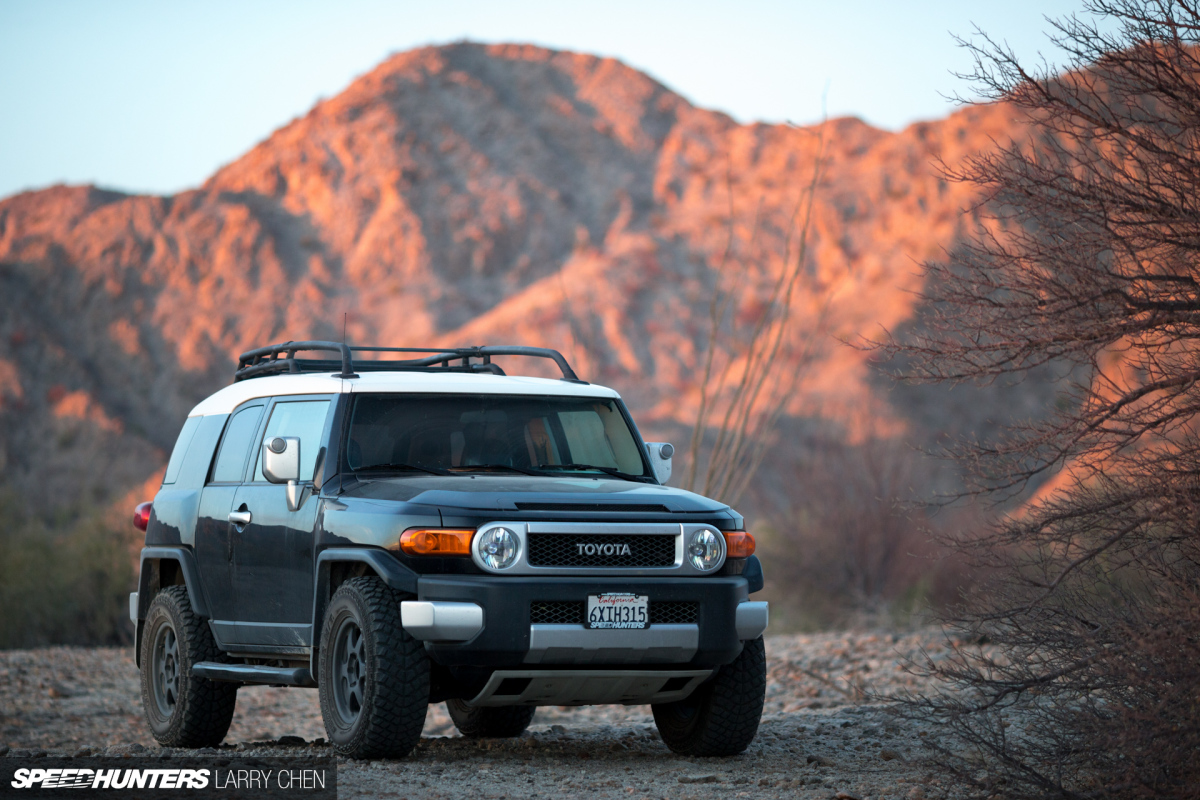 For my second trip, I took the FJ to Mexico for my first race in Baja California, and it performed flawlessly. You can check out the resulting pictures in our San Felipe 250 coverage.
I Love What You Do For Me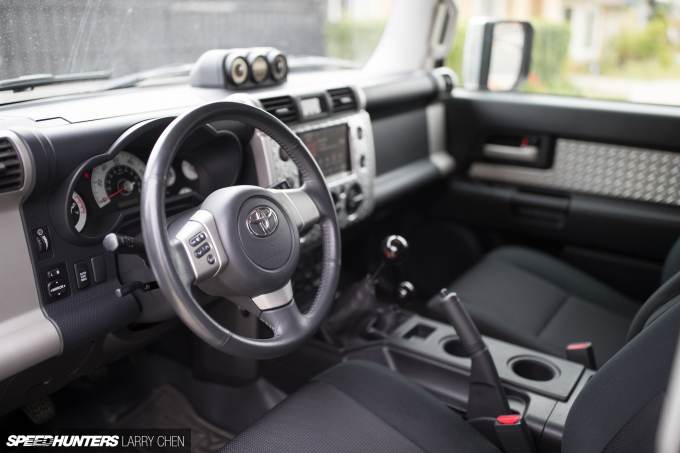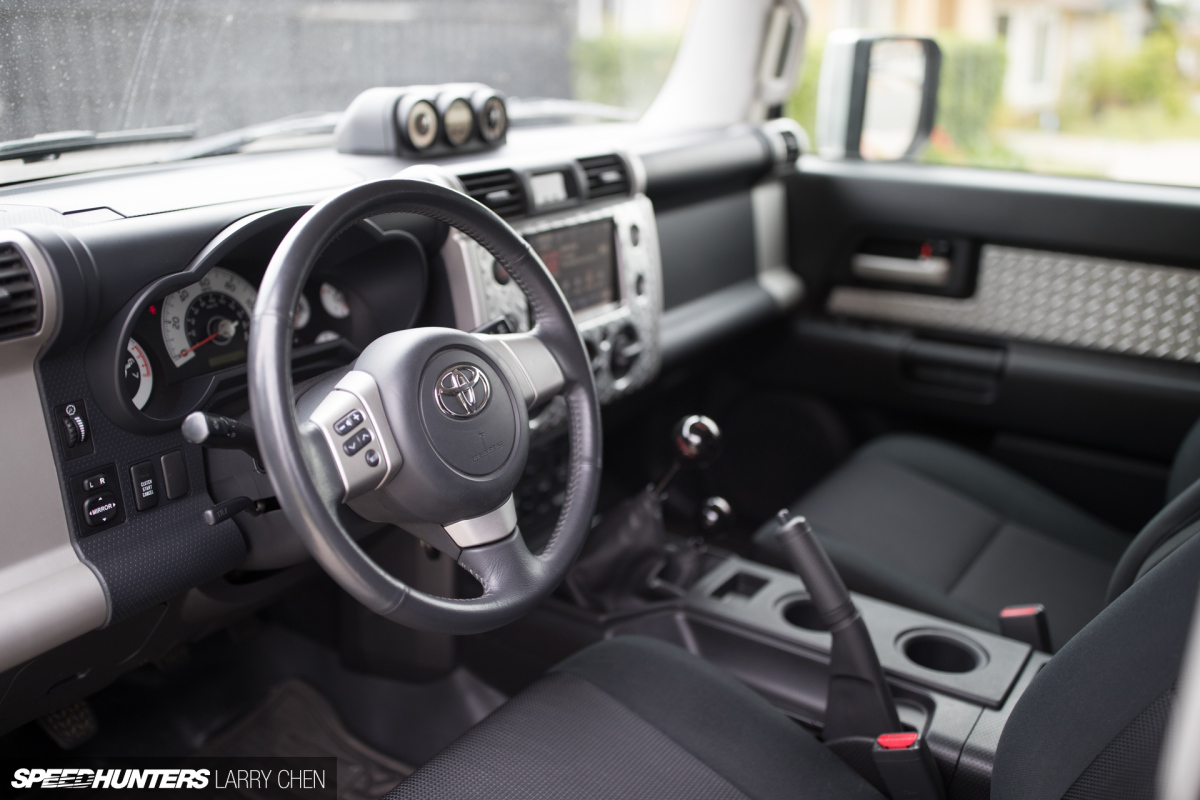 The FJ's interior is fairly simple and comfortable, with plenty of room for four people plus gear. This was one of the things I was worried about considering I travel with so much equipment, and why I was originally looking at much larger Land Cruisers.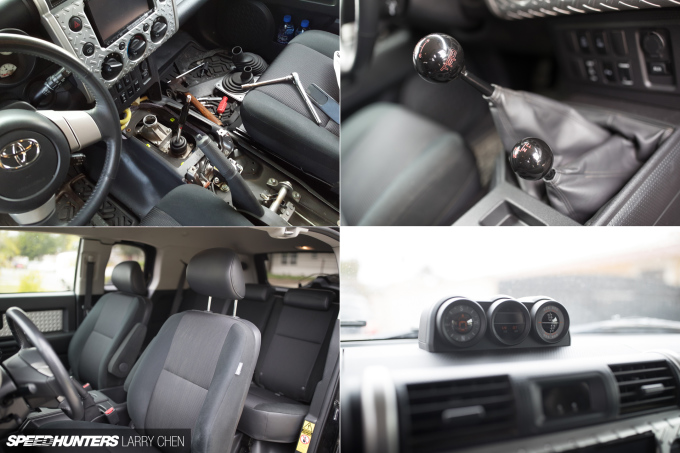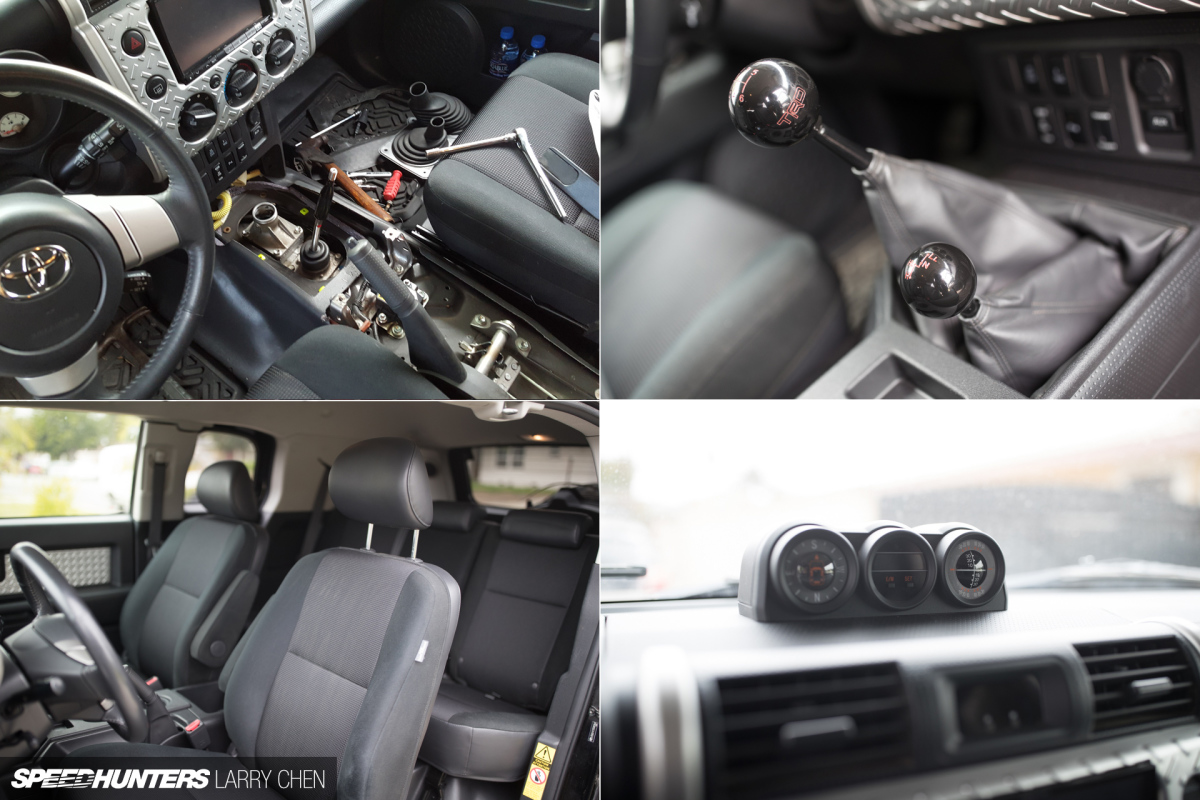 The installation of the short shifter was quick and easy; even I could do it, so any of you can as well. It's the little touches to the interior that I love, like the incline gauge.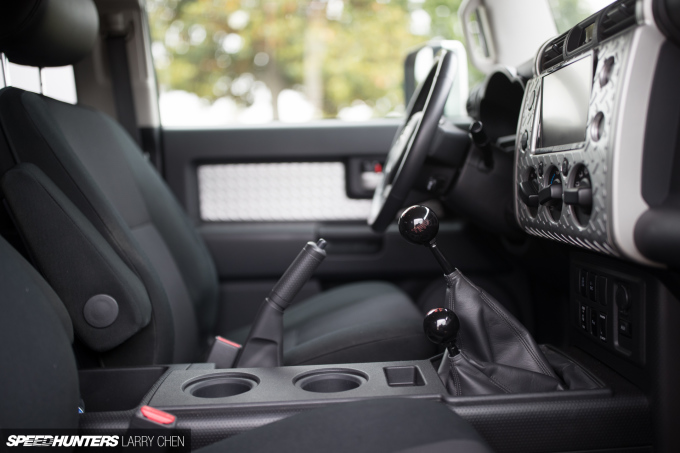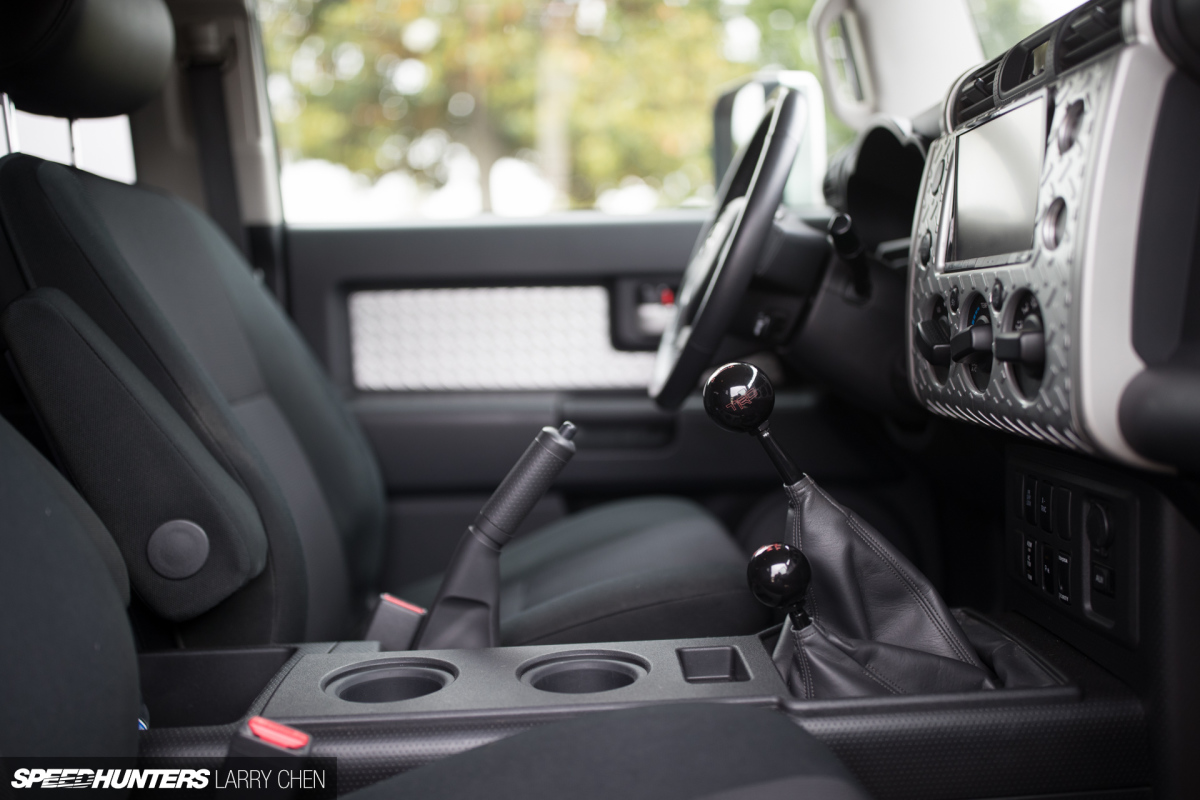 Every time someone sees that this truck is manual, they're amazed Toyota offered a stick option. Most people have no idea it even exists, which is exactly why I like it.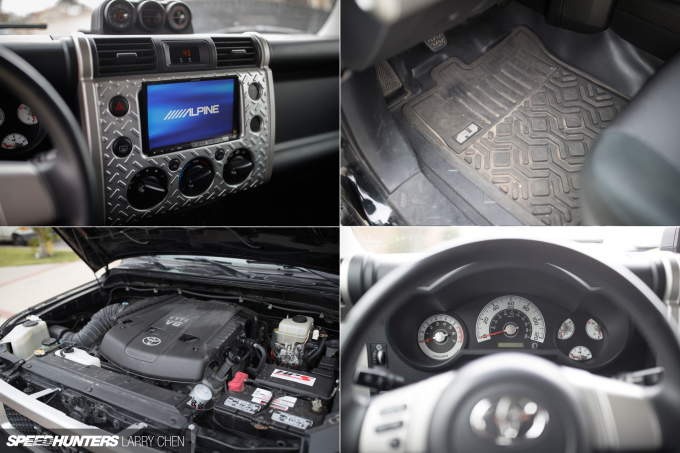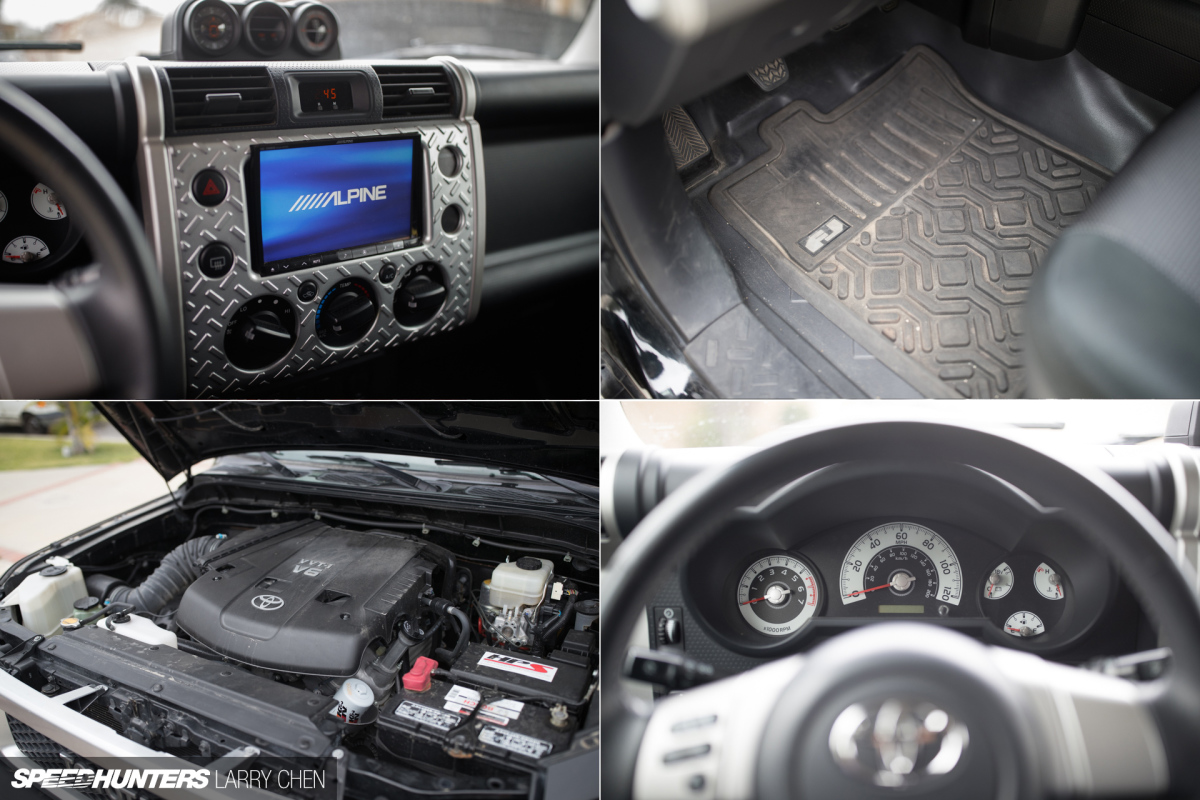 The worst part of the interior? The fake diamond-plate plastic. My friend drives a manual Discovery, and when she sat in my car for the first time she actually burst into laughter when she saw the cheesy trim. I definitely deserved that, but of course I will change it out soon enough. I also love that there is no carpet, which makes it so much easier to clean after every race.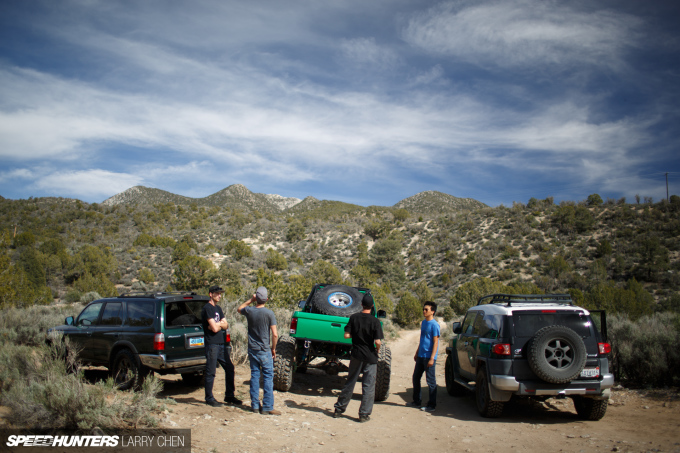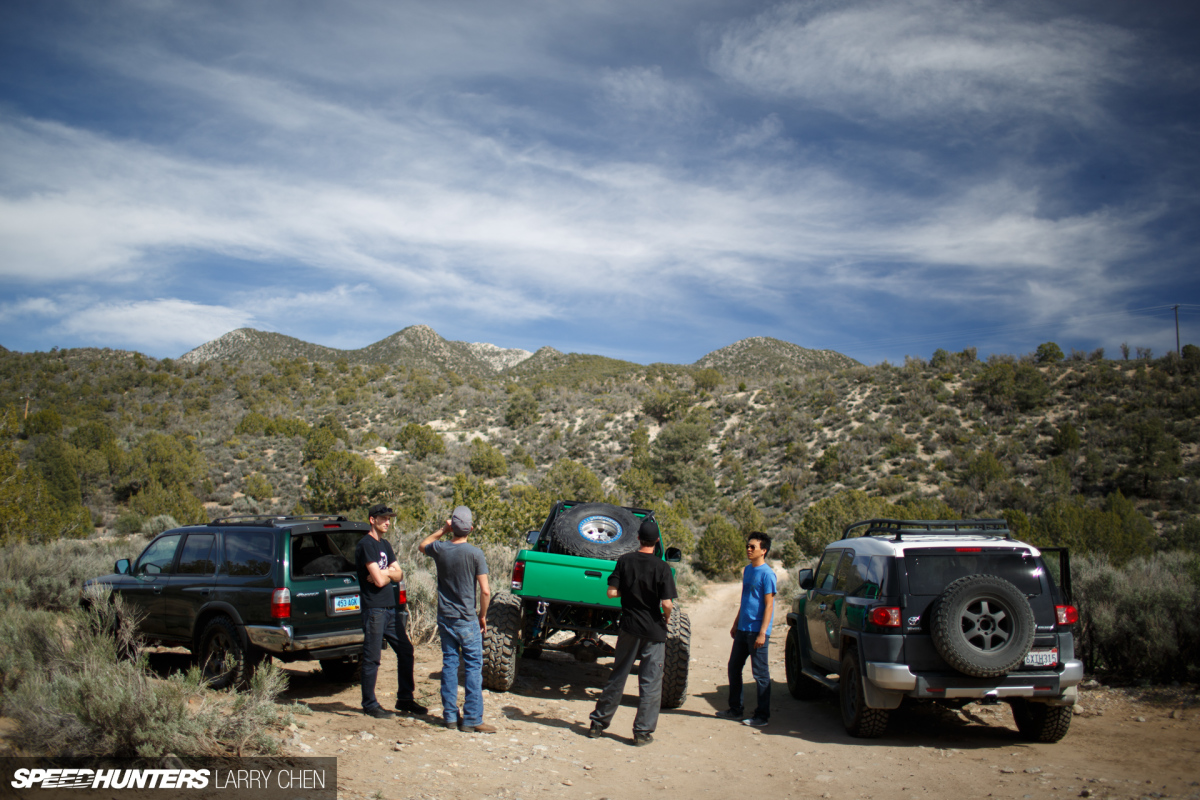 Casey Currie invited me to hang out with his family and friends at Moab this year, so I decided to take the FJ. Still in stock form – save for the upgraded wheels and tires – I headed out from Los Angeles to Utah via Las Vegas where I met up with a few friends.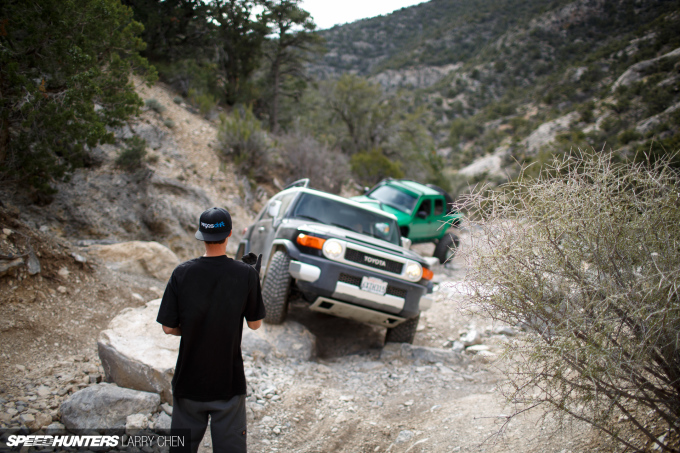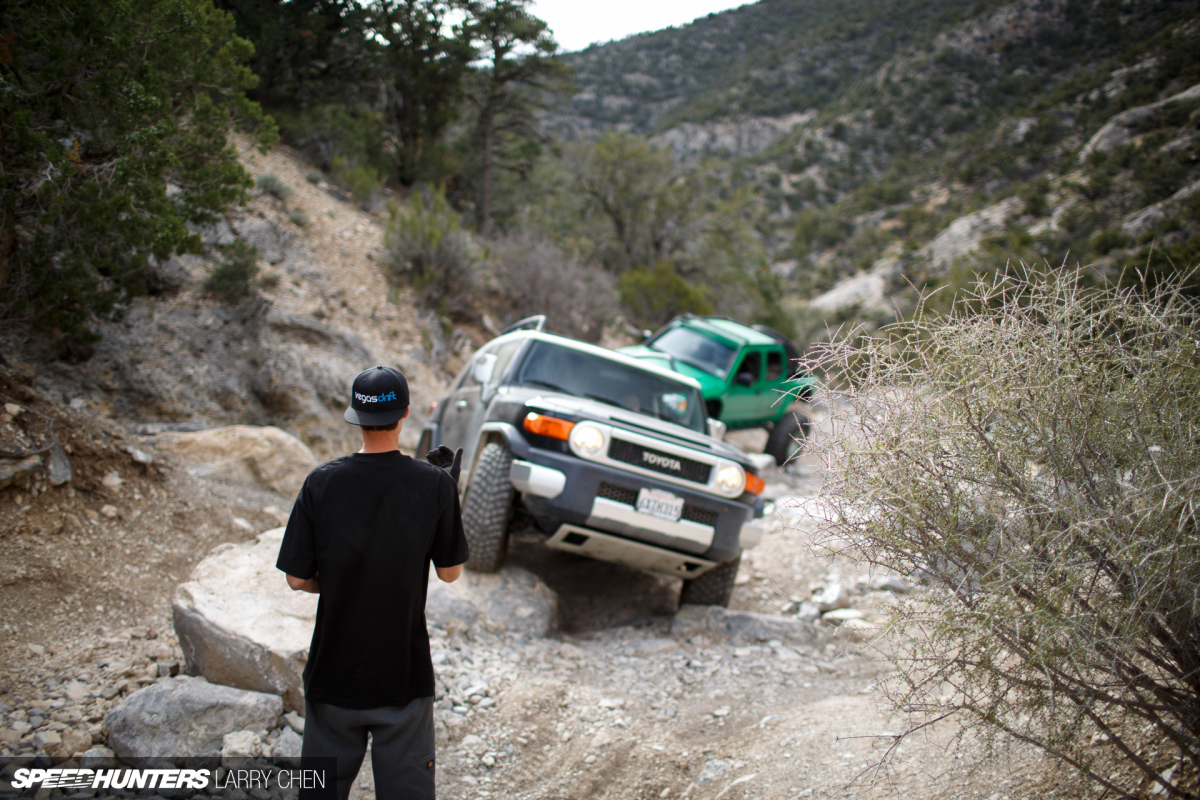 One of those people was Forrest Wang; I really wanted to go wheeling with him and the Get Nutz Lab crew, and also shoot his Tacoma. Up until this point I hadn't really taken the FJ over any rocks, but it was made much easier with Forrest spotting for me.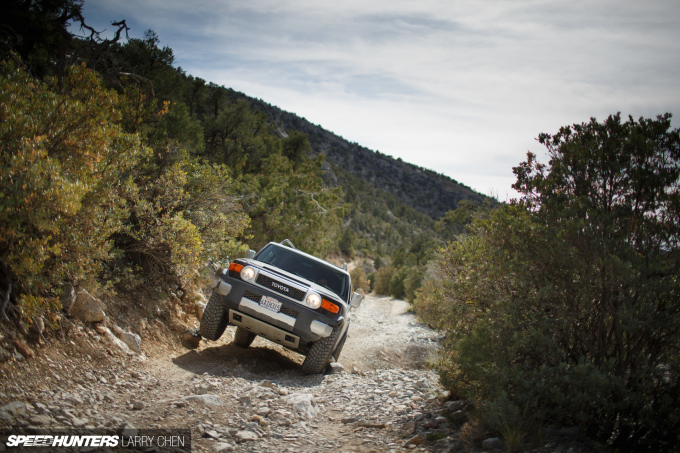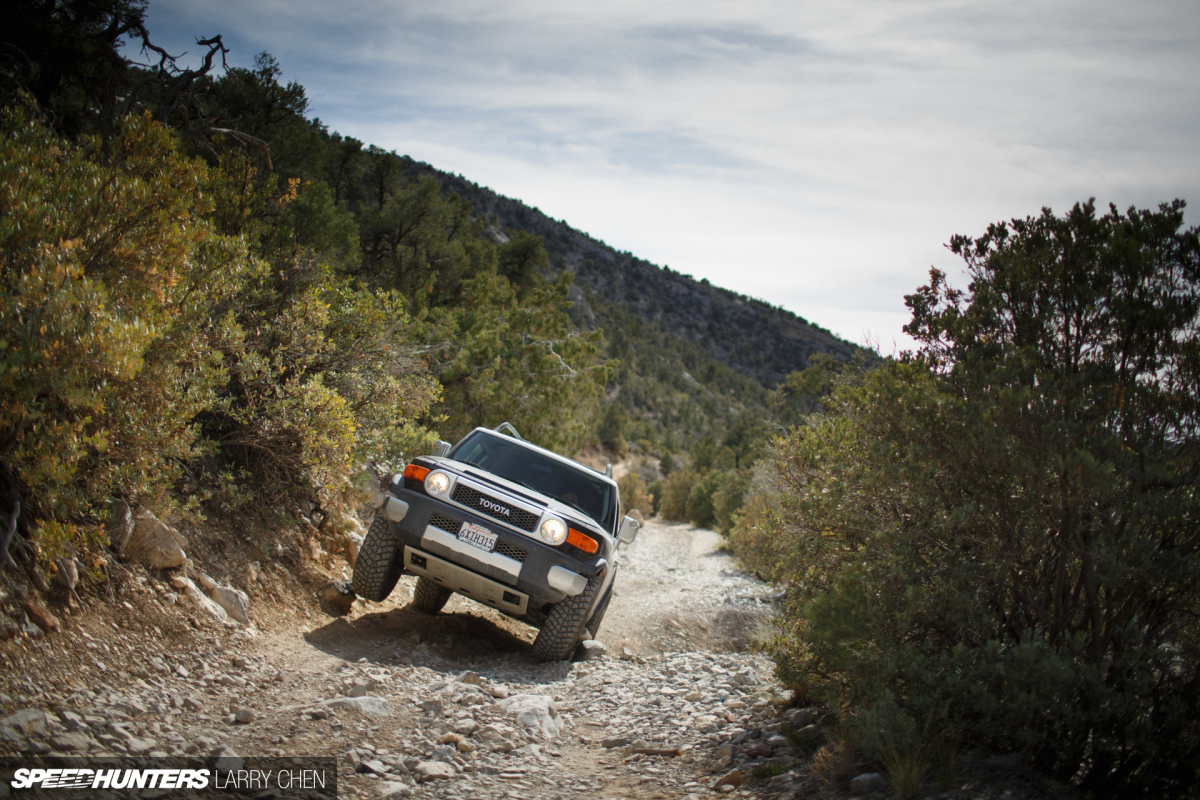 For a stock FJ it seemed like the only issue I was running into was the lack of ground clearance over the really rough terrain. In fact, I even crushed my side steps to the point of them almost touching the body. Time for rock sliders.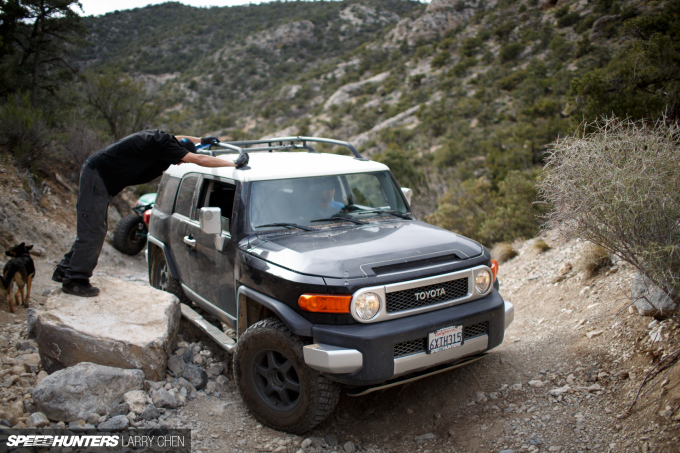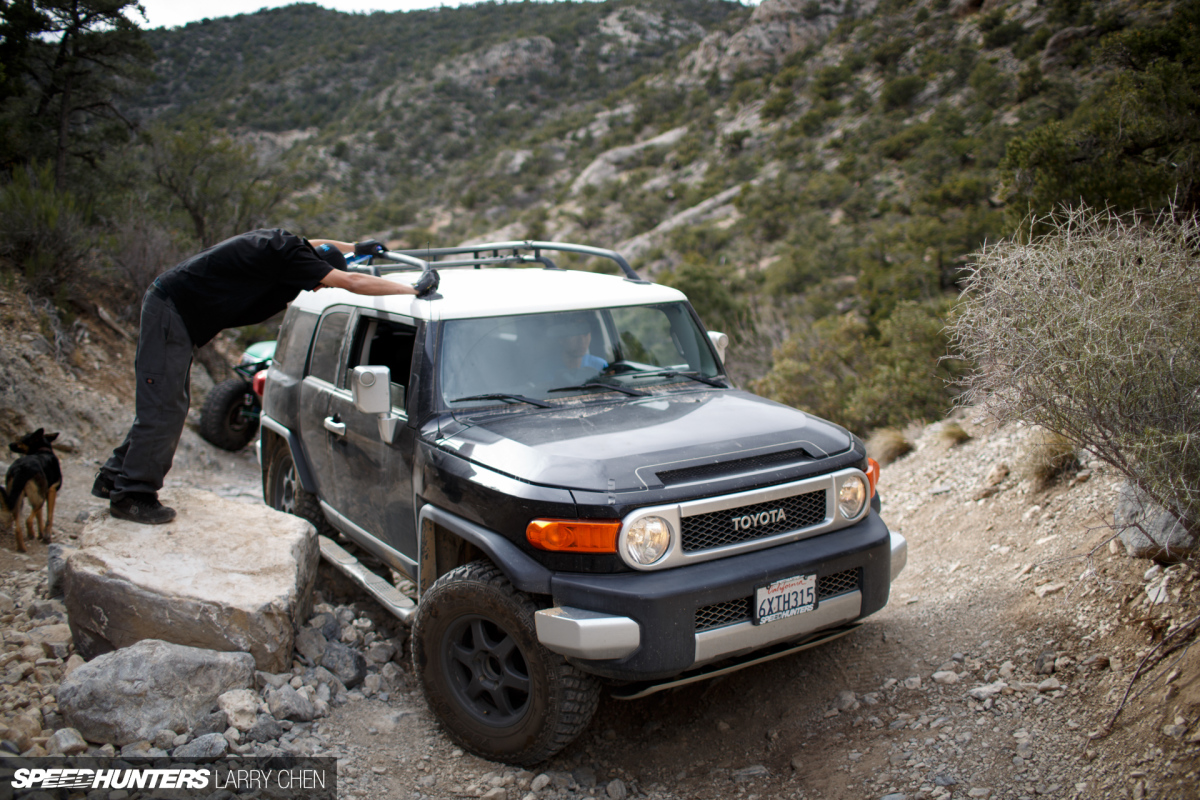 We had some close calls, but nothing as bad as what happened to Forrest. On a much harder obstacle he accidently snagged a brake line and the fluid leaked all the way out, leaving him on the trail with no stopping power. It's a good thing he has two transfer cases, because he was just able to ease it all the way back to camp.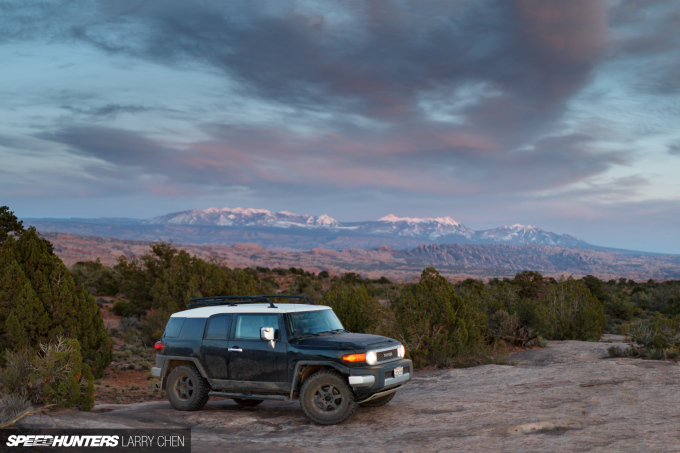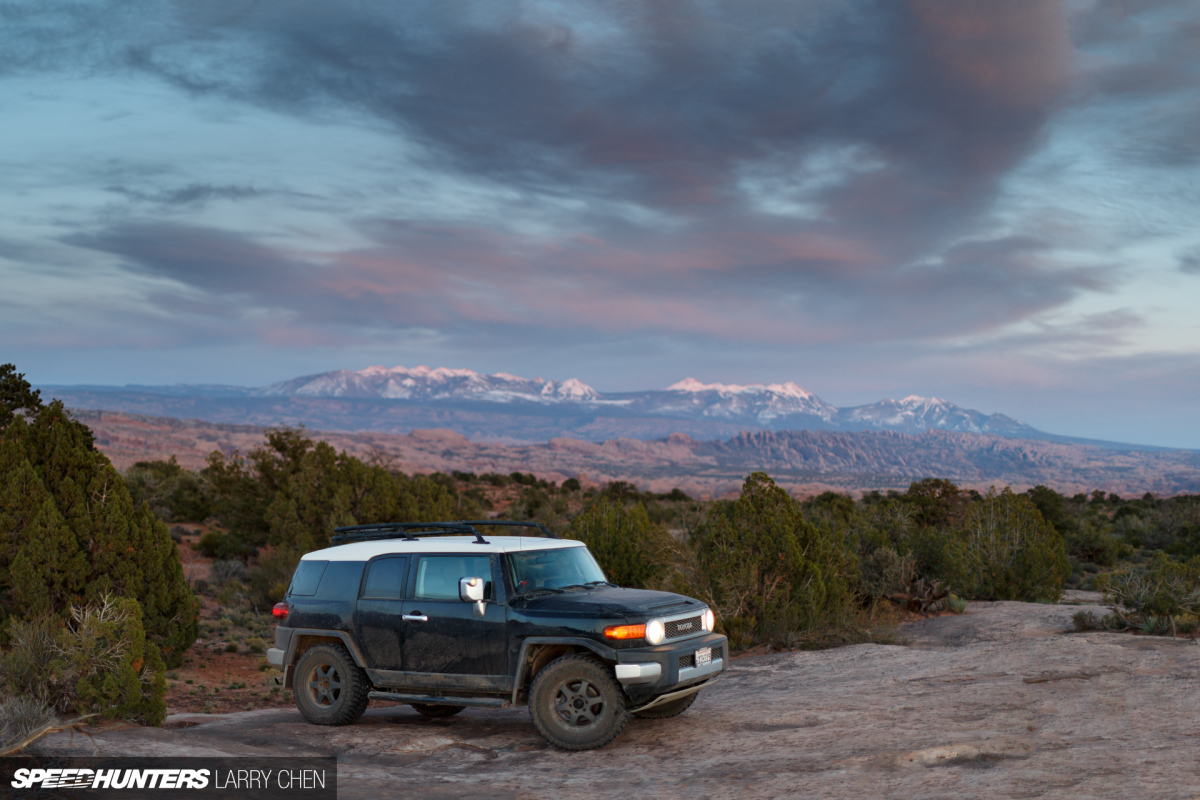 For what I am using the FJ for, which is getting me to shooting locations, it's perfect, but I'll be the first to admit that it's far less capable straight out of the box than the newer Jeeps. In fact, quite a few Jeep owners have told me that FJ actually stands for 'Fake Jeep.'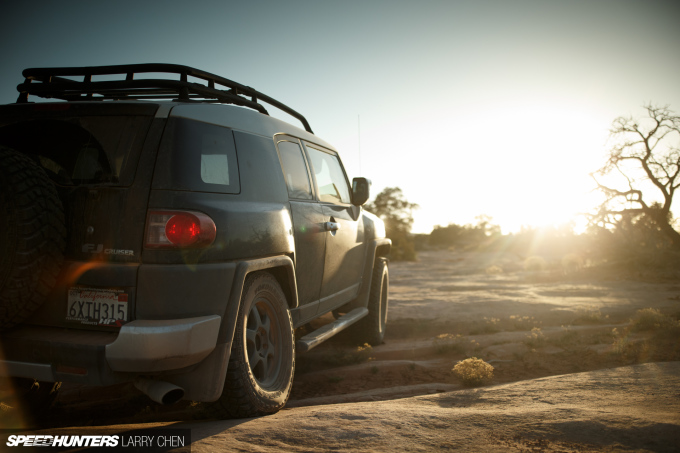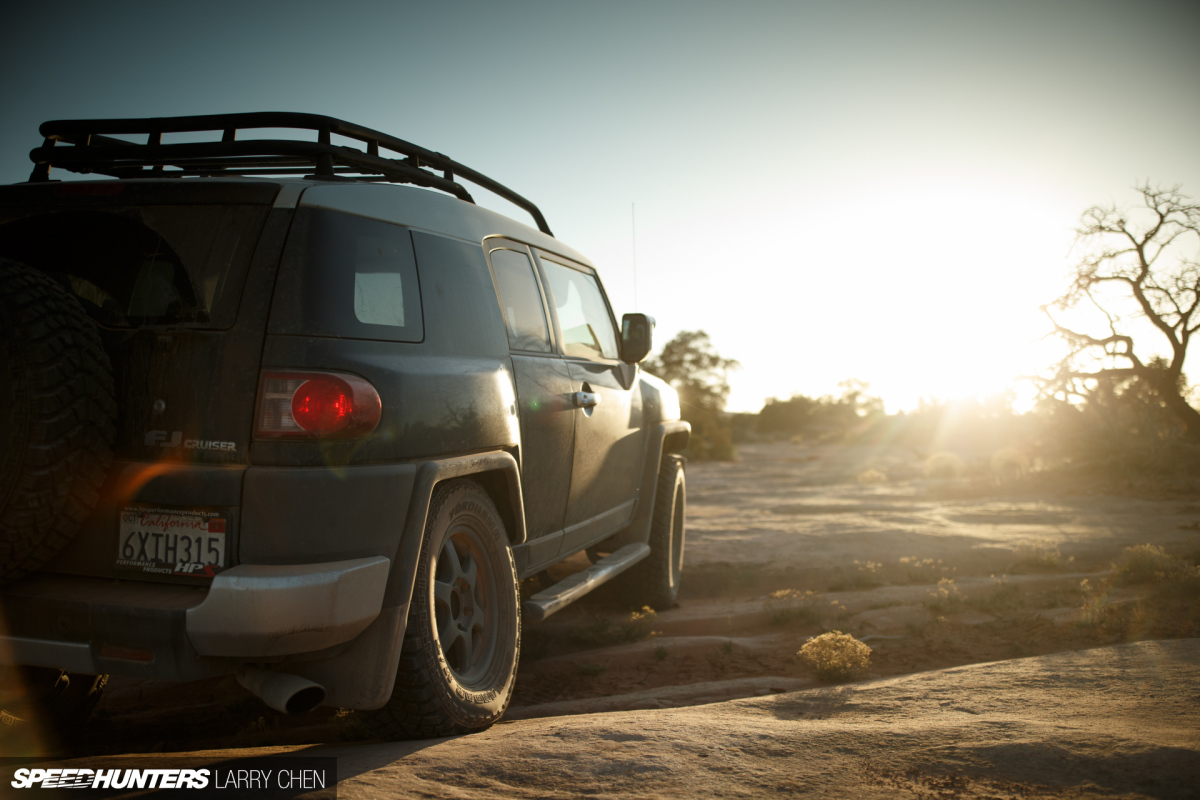 I didn't buy it to blend in on the trails with all the Jeeps and Ford Raptors though. I like being different, and you just can't go wrong with Toyota reliability.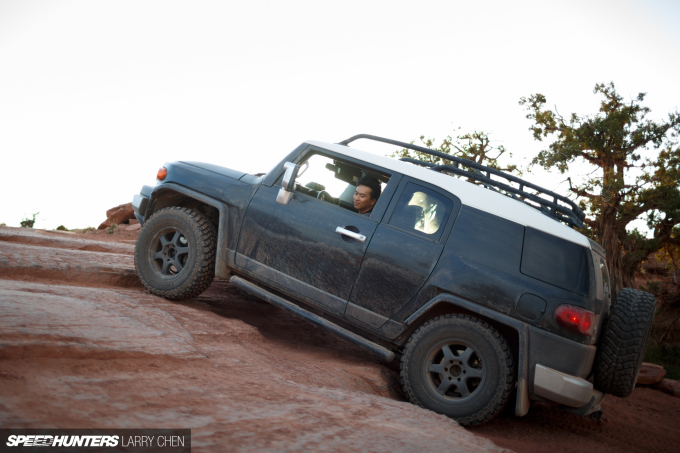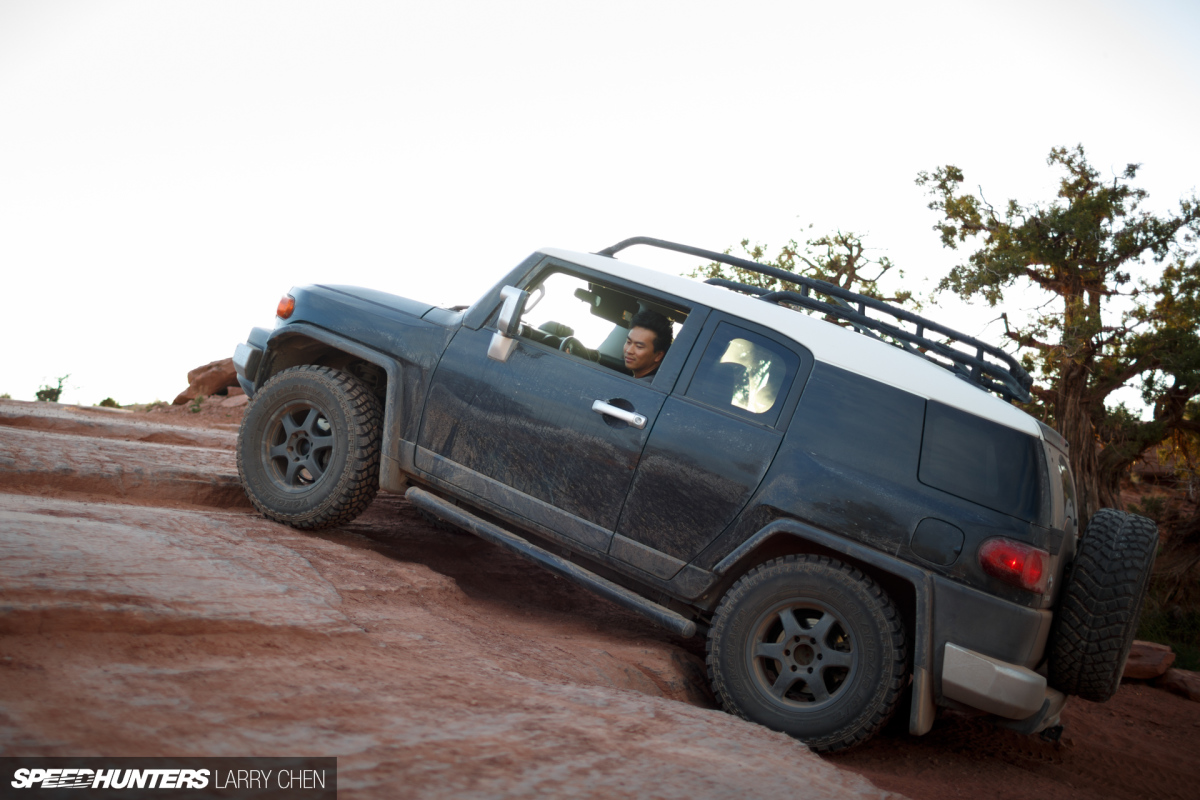 So how does it crawl in stock form? It's actually pretty neat for obstacles like this; I can just put it in first gear and leave it in four low, letting the clutch out without my foot on the gas and allowing it to crawl. If it stalls out then there is a button that cancels the 'clutch start'. All I have to do then is turn the key to do a 'starter walk'; the starter turns the motor to move the truck and fires it up at the same time. What a cool feature.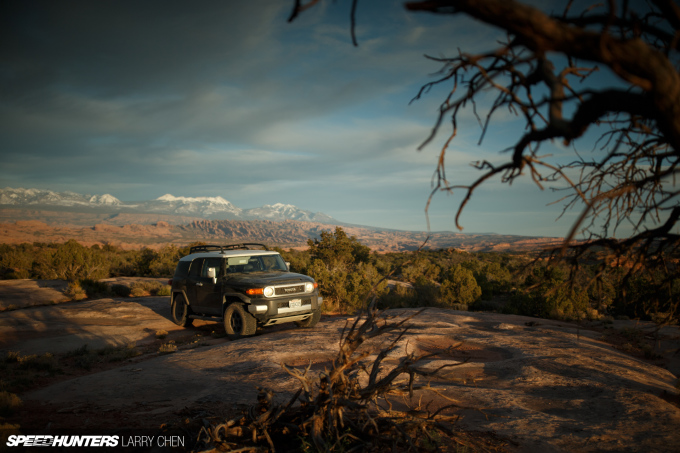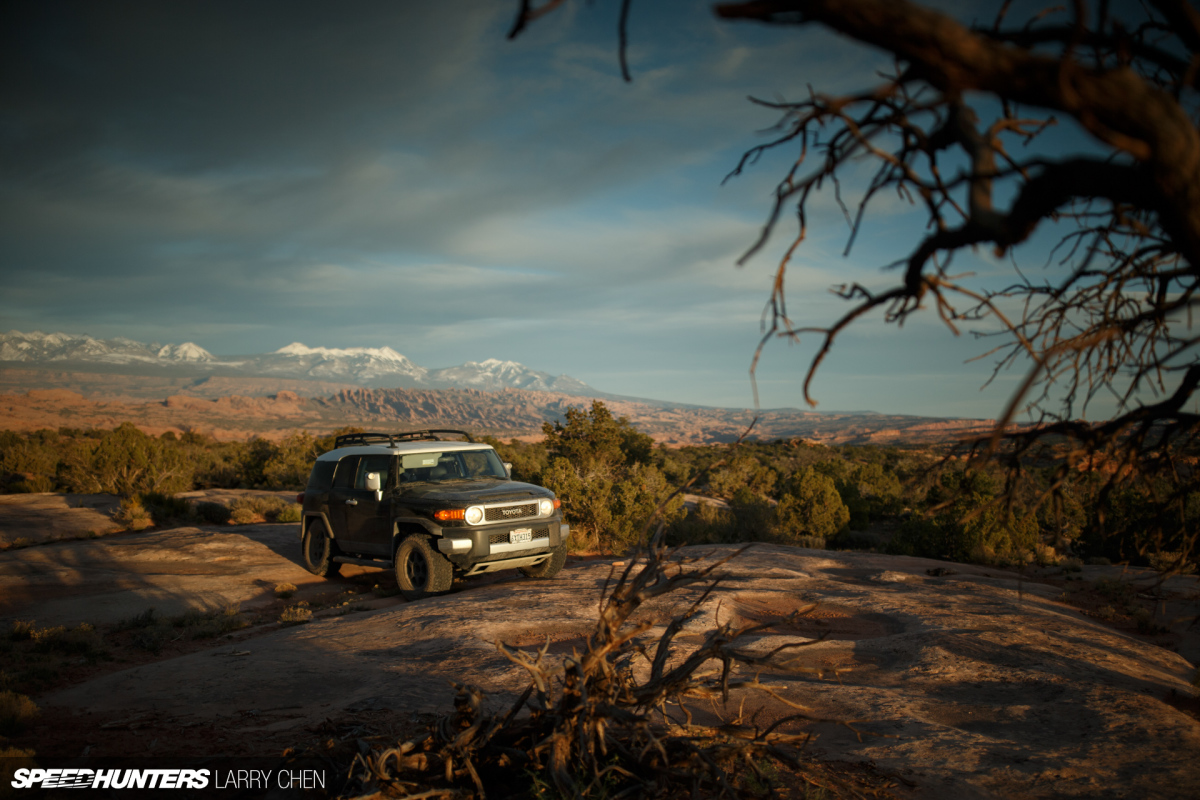 Every vehicle has its problems, and you really don't fully understand them until you actually own one. With the FJ, I have not had to do any major repairs yet, but I'm getting ready to do a few preventative mods.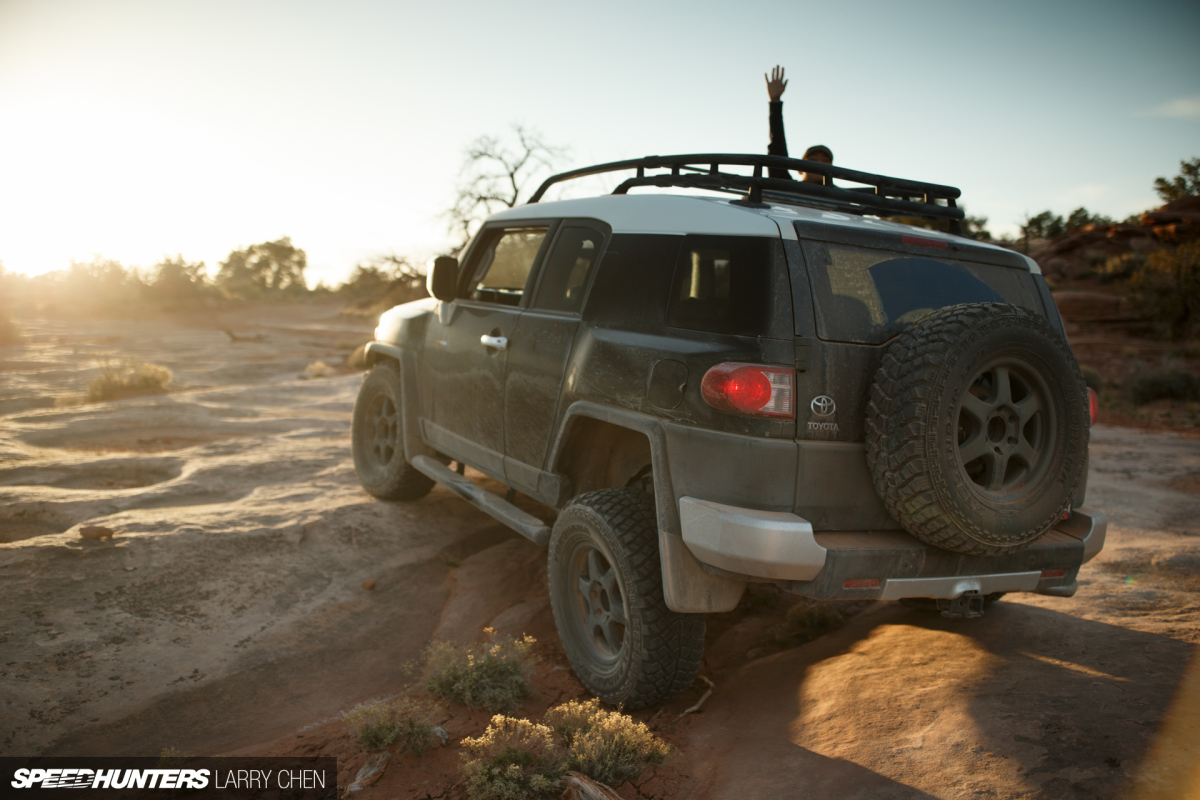 One issue I'm having is with the throwout bearing. The design is terrible and it causes quite a bit of wear on the aluminum shaft that it rides on, which eventually leads to noise and shaking. There are kits out there that fix this issue, and that's pretty much number one on my list of things to do.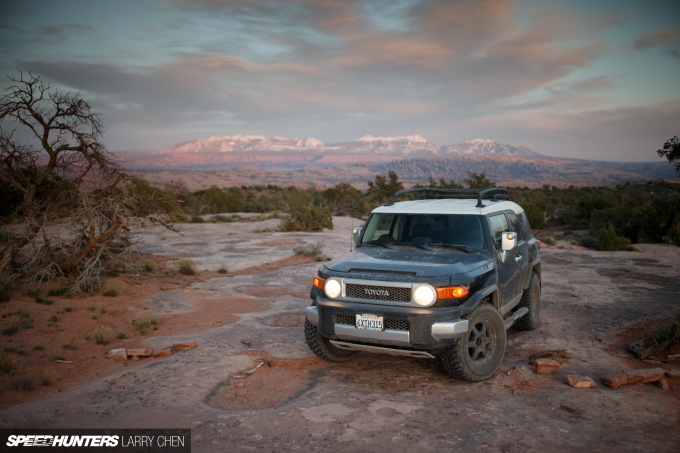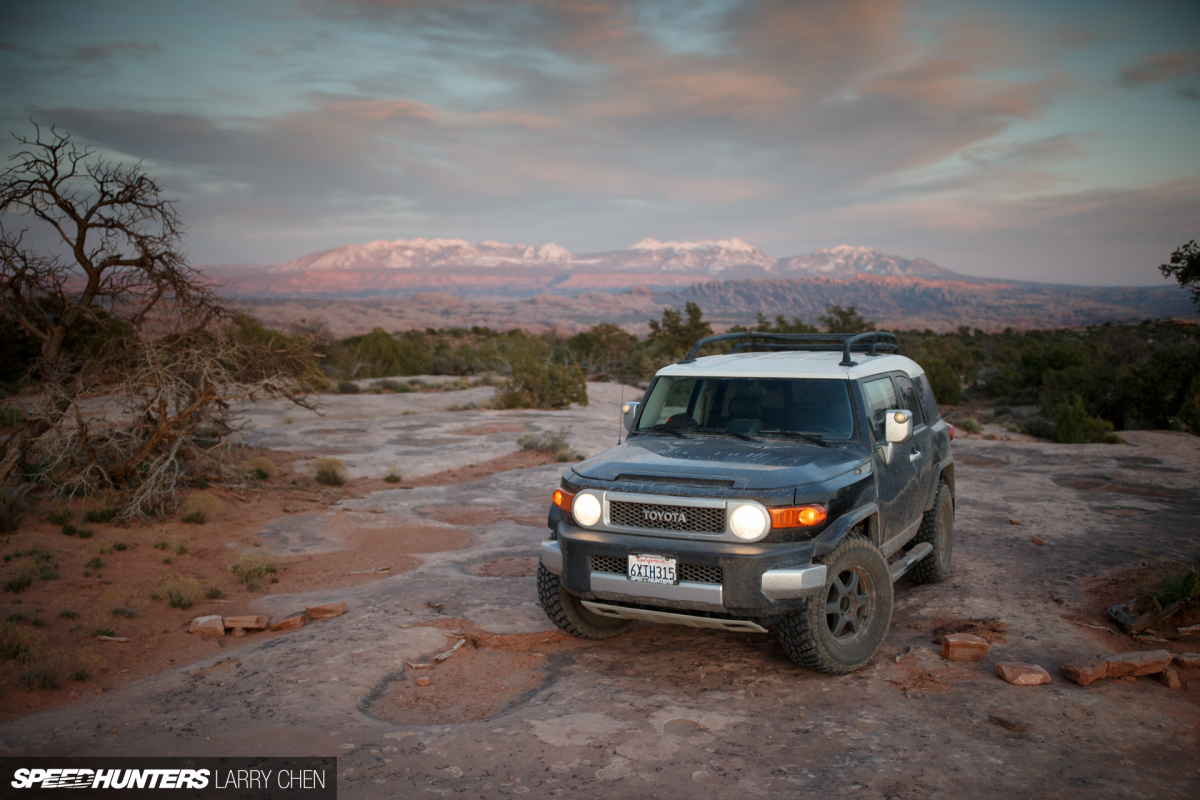 Other things include strengthening the motor mounts; they have been shown to actually crack on the frame side due to lack of bracing after heavy off-road use. Another one is the fuel filter; the design is pretty flawed as it is part of the fuel pump assembly, which means you have to replace the entire thing if you just want to do a service. Considering I will be filling up in Mexico and many other interesting places, I want to be able to change out the fuel filter often. Pretty much all of these issues were fixed in the later versions of the FJ, but they're expected with a first year model.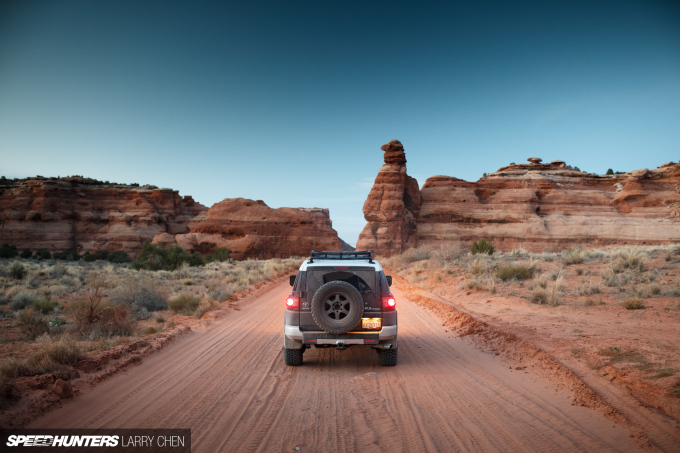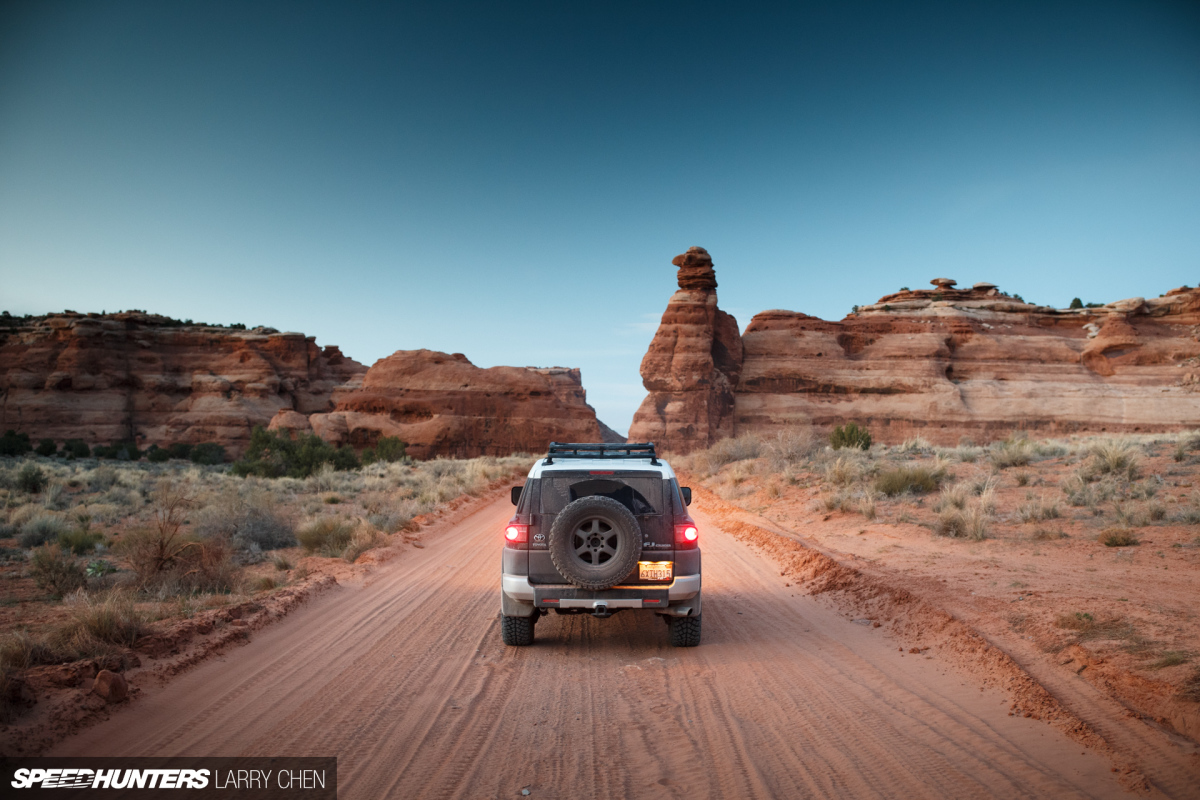 So what about the upgrade path? Well, I am definitely going to need a lift kit, some control arms and rock sliders.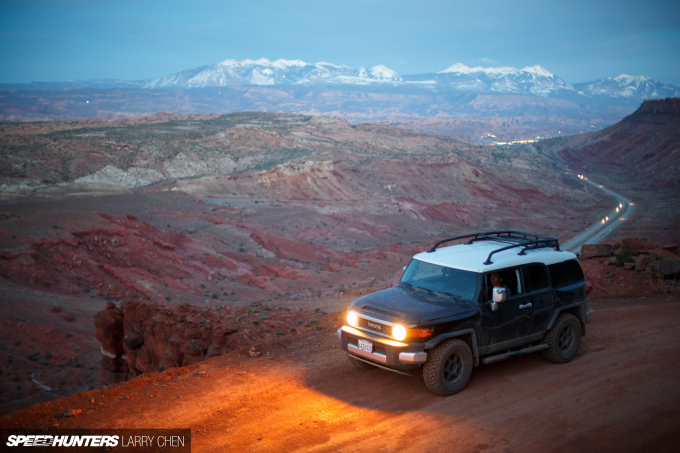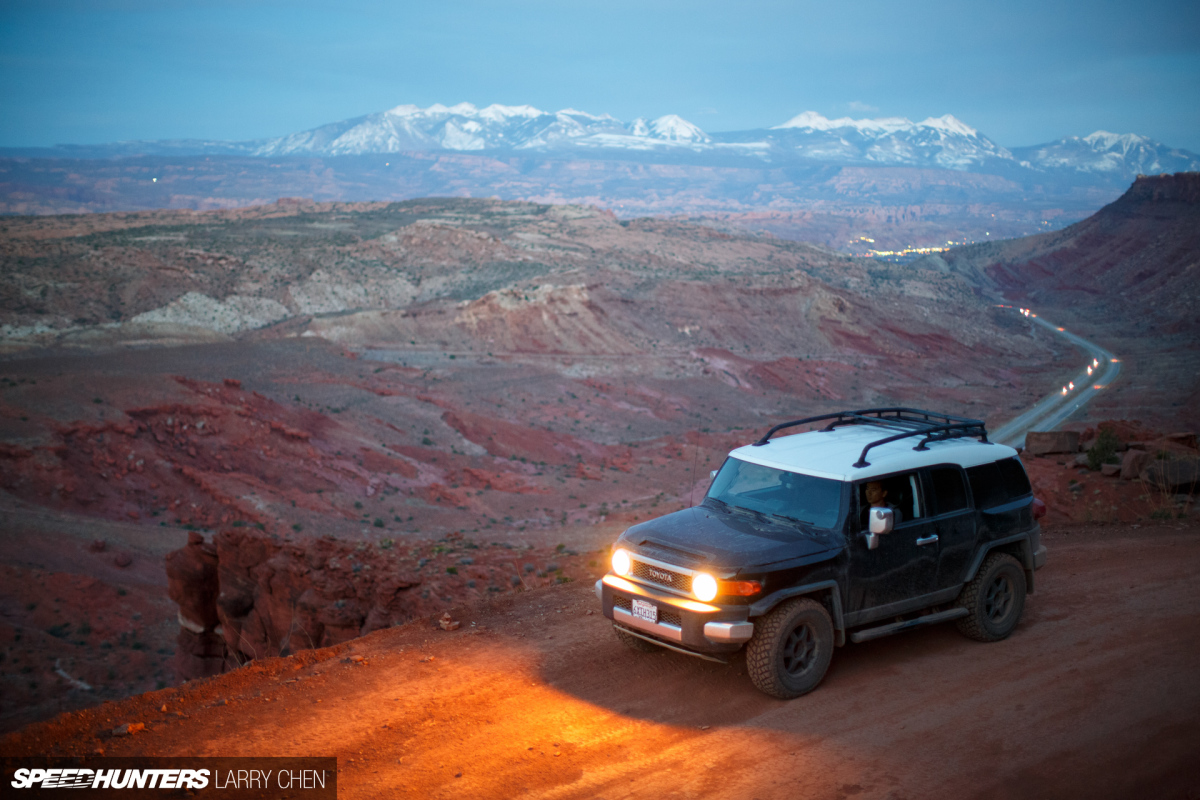 After that I will probably do bumpers and the whole nine yards in terms of an overland build. Because as much as I like crawling on rocks, this FJ is not meant for that duty. My goal is to use it to take pretty pictures, and to do so I have to actually get to locations that require a bit of off-road-ability.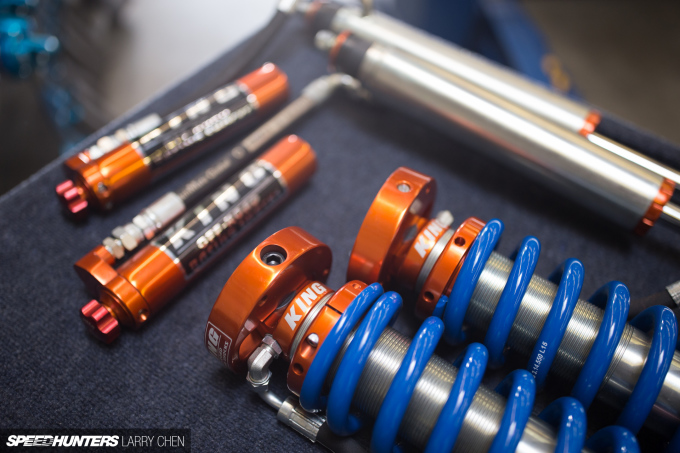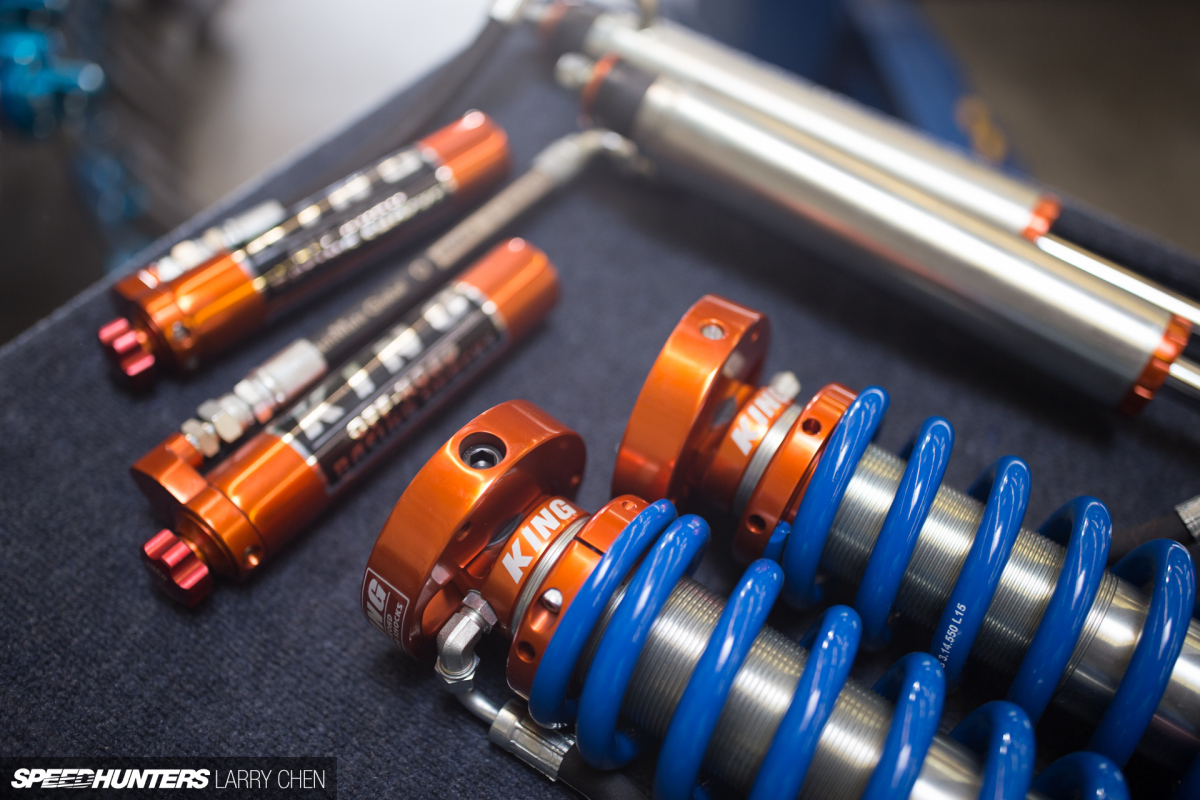 The FJ Cruiser community is quite active, so it's going to be cool to meet people into the same sort of thing. The truck is a blank canvas after all, and just like every Jeep owner out there, the goal is to personalize it and make it my own. This is just the beginning.
Larry Chen
Instagram: larry_chen_foto
larry@speedhunters.com