Thinking Outside The Box
After far too long seeing Khyzyl Saleem's CG images doing the rounds on social networks, I decided it was time to get in touch and ask whether he'd want to be the subject of an interview for Speedhunters. Khyzyl was ecstatic about the idea, and honestly, so was I. It doesn't really matter where your interest in cars lie – it's not hard to be impressed by his amazing skill at taking cool cars and injecting them with his very own distinct approach and recognisable style, all in the digital realm.
It's obvious that Khyzyl's passion transcends all cars and styles out there, and the results are always incredible.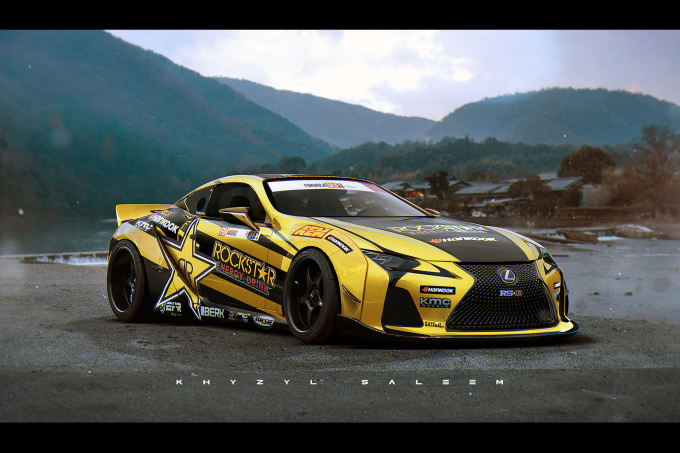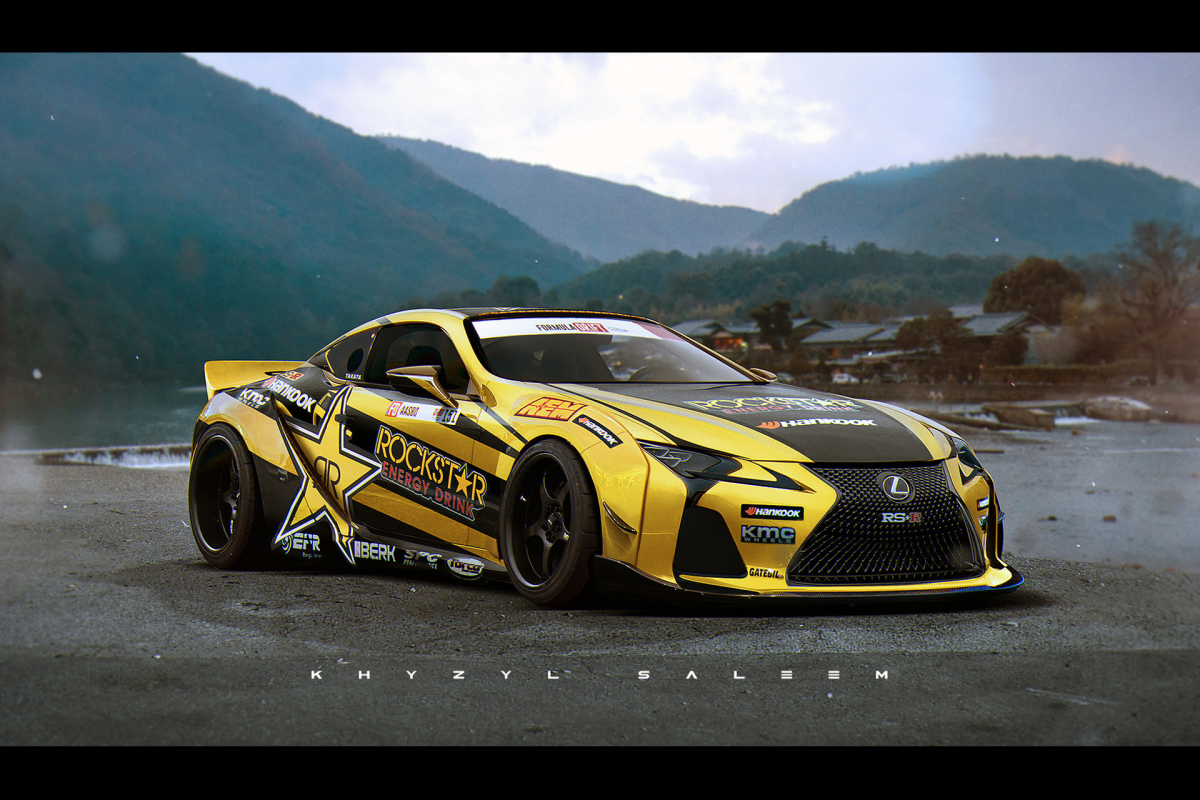 So sit back and scroll through the first set of images Khyzyl sent over, while I quiz him with some of the questions I've been itching to ask…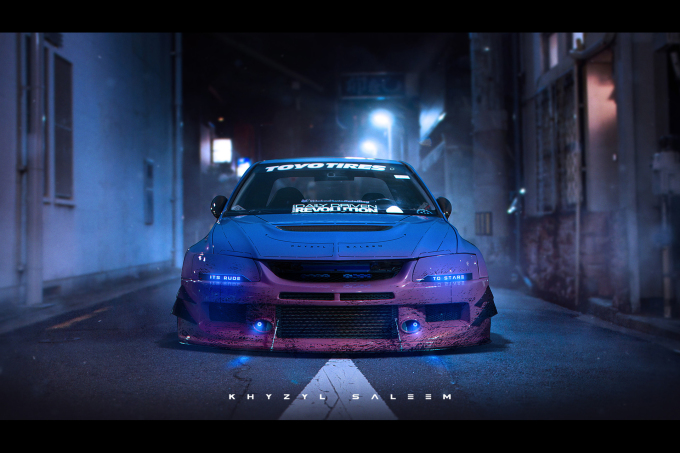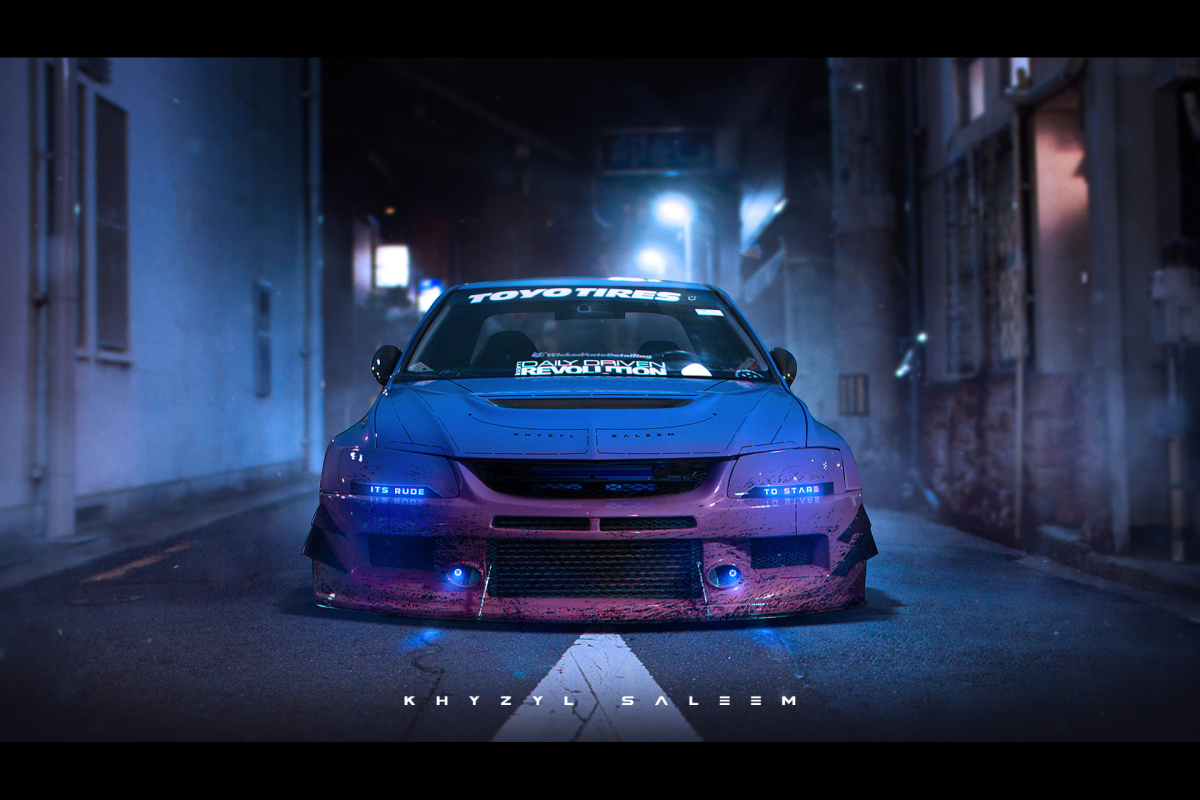 DDC: Thanks for jumping on board and sharing your awesome library of work. With our readers being a varied group of car enthusiasts, there is much that can be enjoyed even by those that aren't necessarily into CG.

KS: I've been following Speedhunters for as long as I can remember; it's my absolute pleasure to be here – thanks for having me.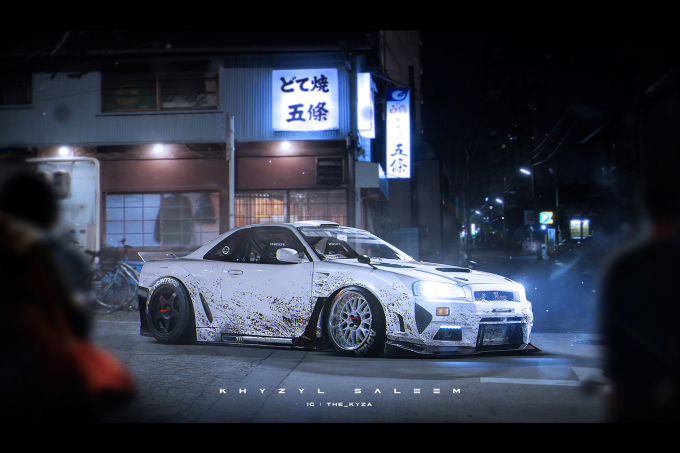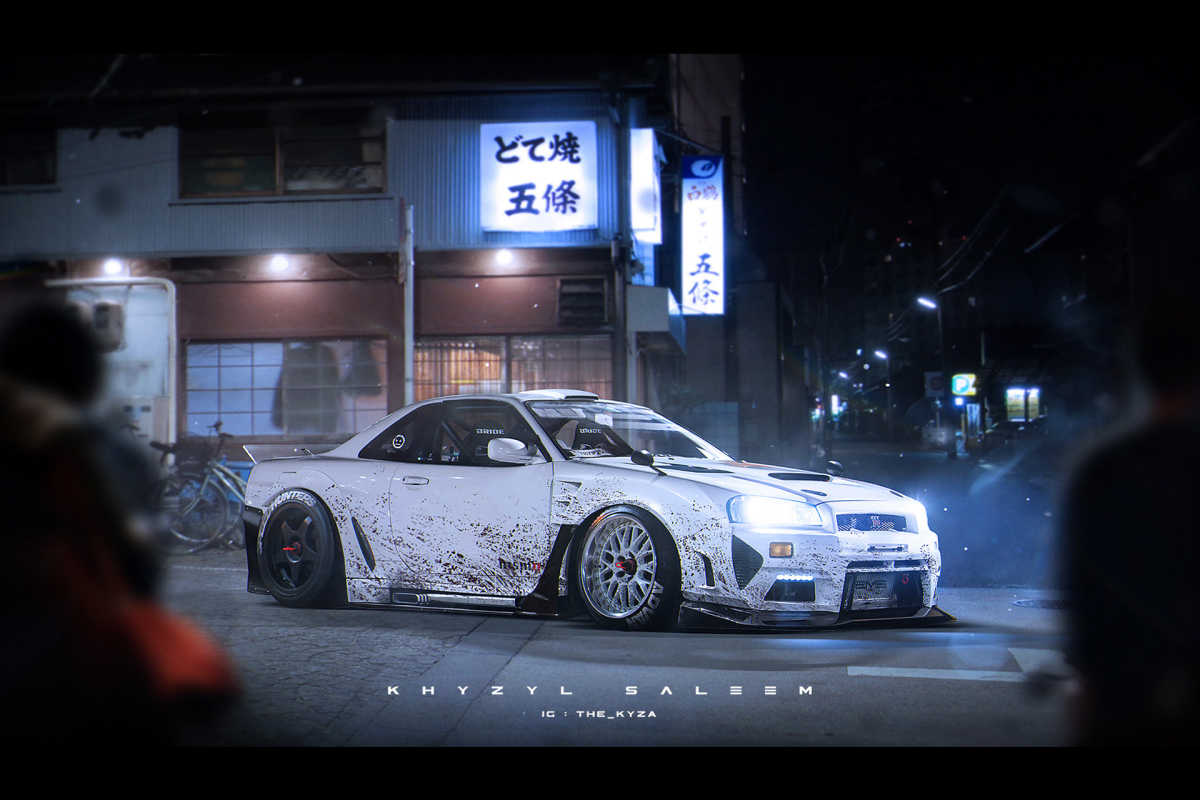 DDC: So, how did it all start for you?
KS: That's a hard one for me to answer. When I was around 17 years old I discovered Adobe Photoshop. At that time I had no idea what it was or what it could be used for, so I started doing some research. I was blown away by what I found: artists creating stunning masterpieces through the use of a piece of digital software. Seeing their work, and especially the designs of an artist known as Danny LuVisi, inspired me to learn the tool myself. I started with basic things like cutting out cars and lowering them using tutorials I had found online; that was pretty much my entry into the design world. I spent a lot of time just experimenting with all the different tools I had at my disposal within Photoshop, and began to build on what I had learnt. It got incredibly frustrating at times, but I knew I had to keep on going to get my work to the level I wanted, and I'm still not there yet!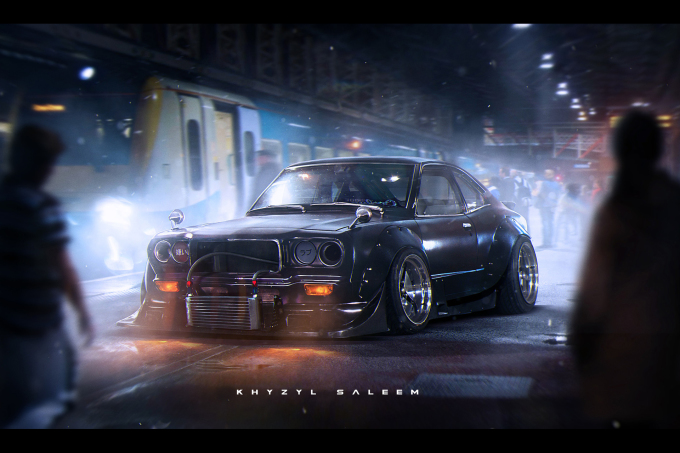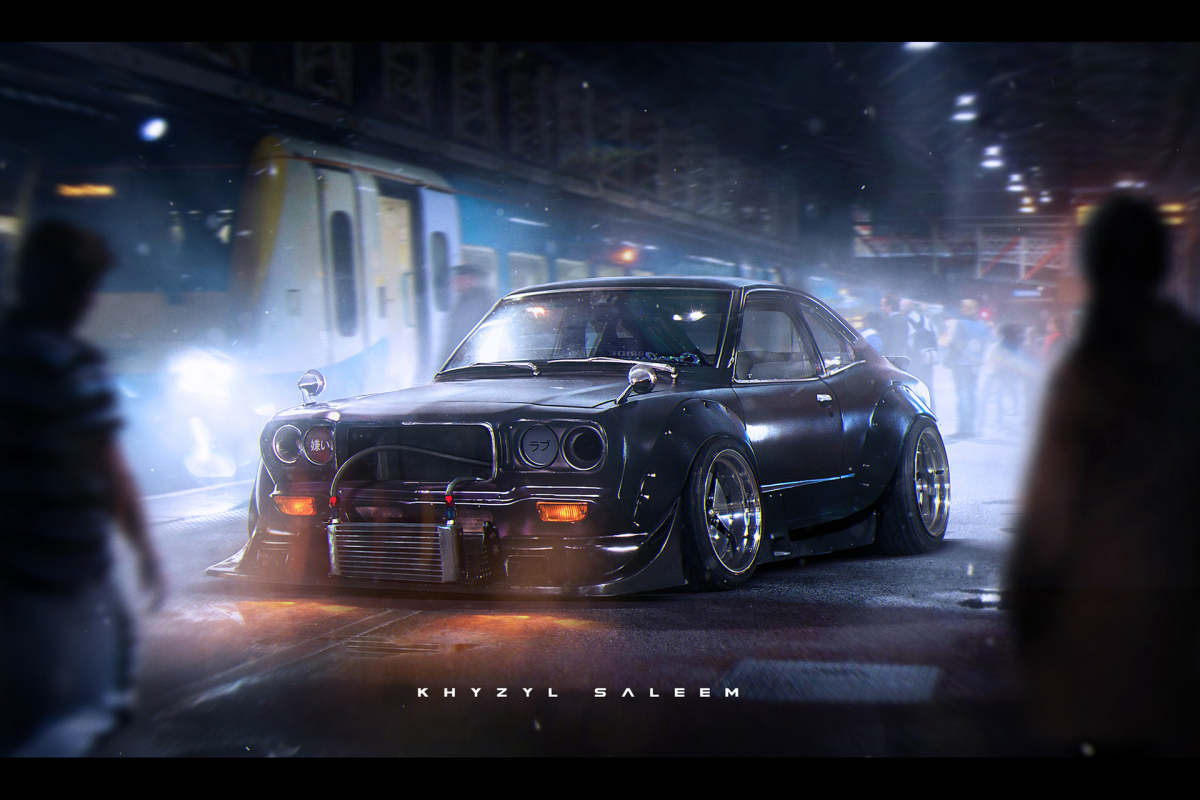 DDC: Were you into cars from early on or was it CG modelling that caught your interest first?
KS: I've always been into cars, as far back as I can remember. I always had a toy car in my hand, whether that was an RC car or a model, which I tended to end up breaking. Saying that, I still destroy cars even today! I always had an interest in trying to draw cars as well: huge spoilers, massive wheels, giant blowers…you know the kind!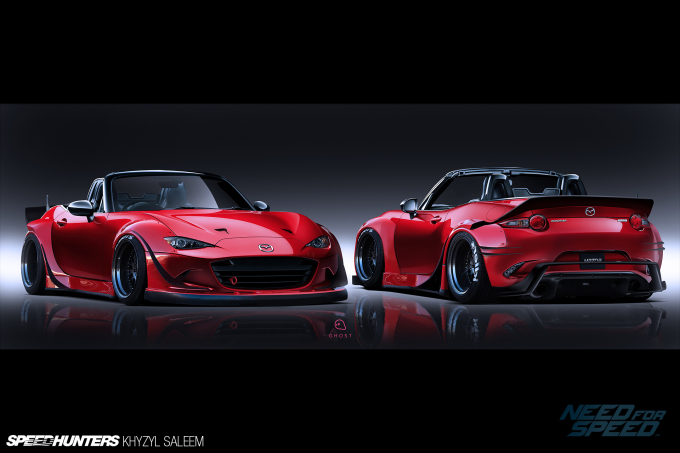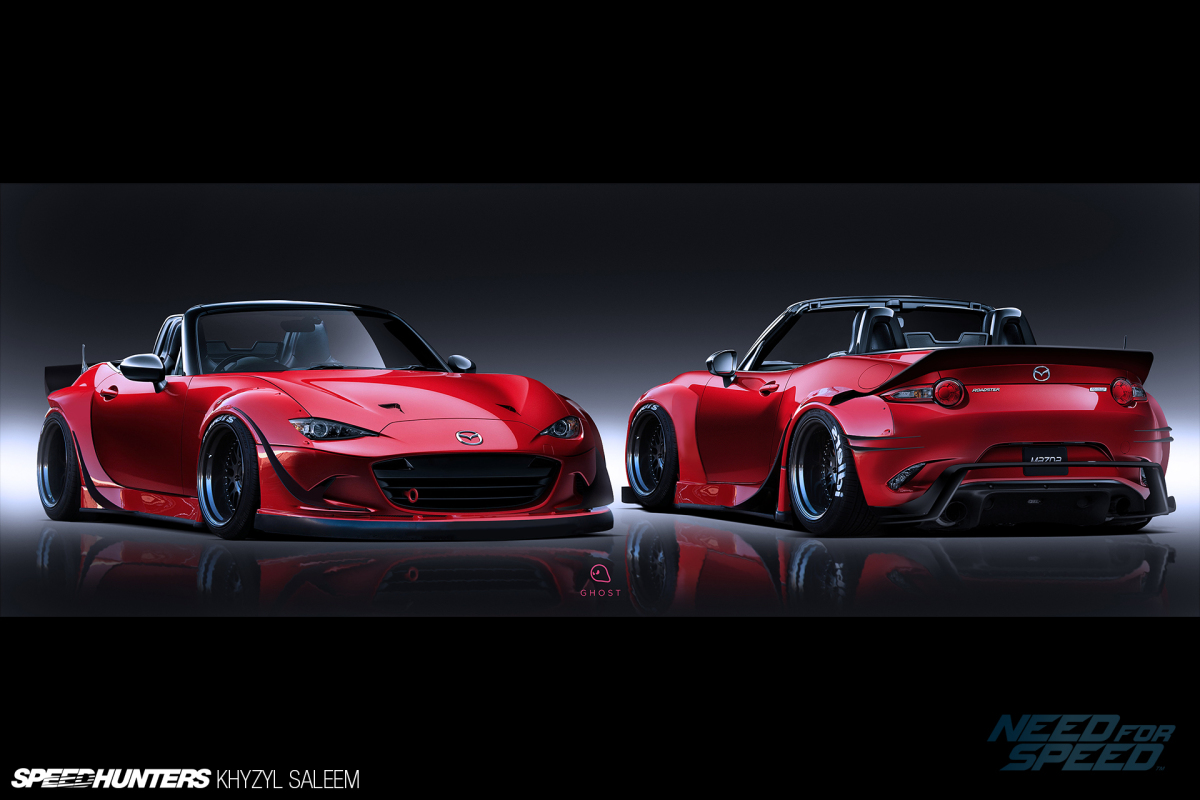 DDC: What's your day job?
KS: I'm a Concept Artist at two of EA's studios, Ghost Games and Criterion Games, and recently finished working on the latest Need for Speed title. My work on NFS mainly consisted of conceptualising how the world and environment could look. I also got the opportunity to work on two to three vehicles in the game, one of which was the latest Mazda MX5 (ND) with a RWB-inspired kit. That was incredibly fun.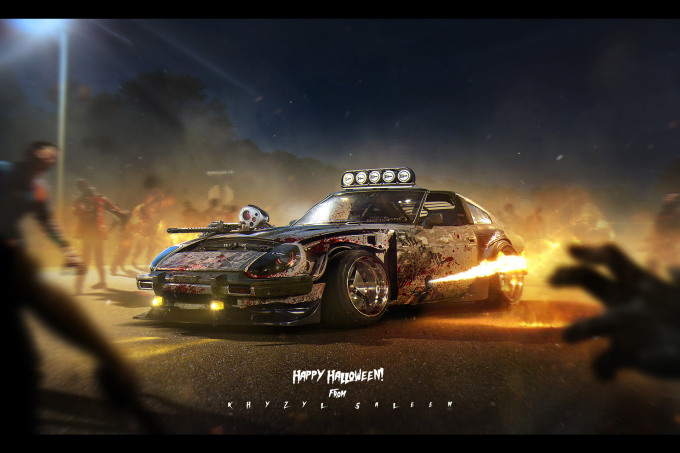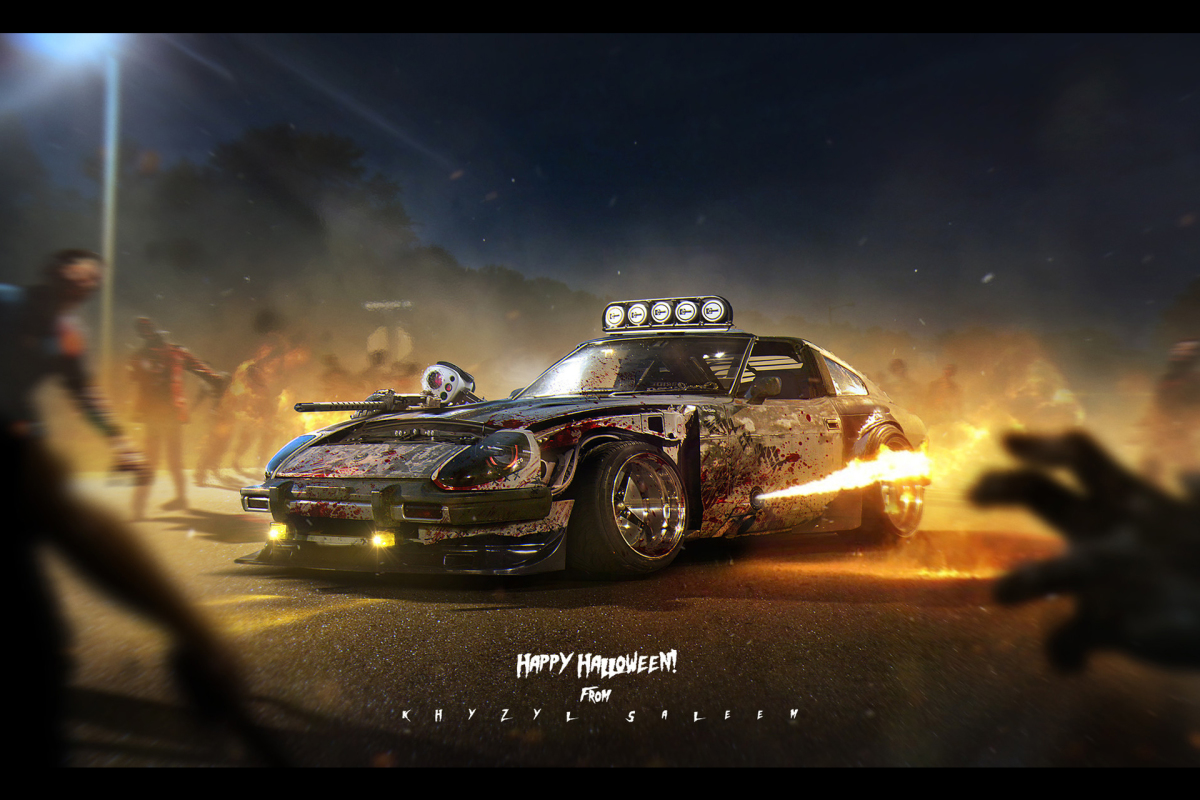 DDC: Is this something you thought would even be a possibility when you started? Were you working towards it?
KS: No, not at all. In college I was studying science; biology, chemistry etc. When I was younger, I wanted to be a mixture of things, ranging from an F1 driver (Now GT3 racer!), a pilot or a scientist. I left college very early to start working at a graphic design agency.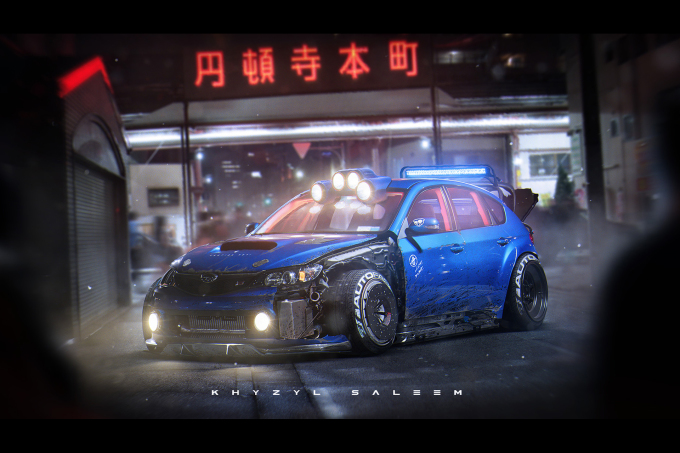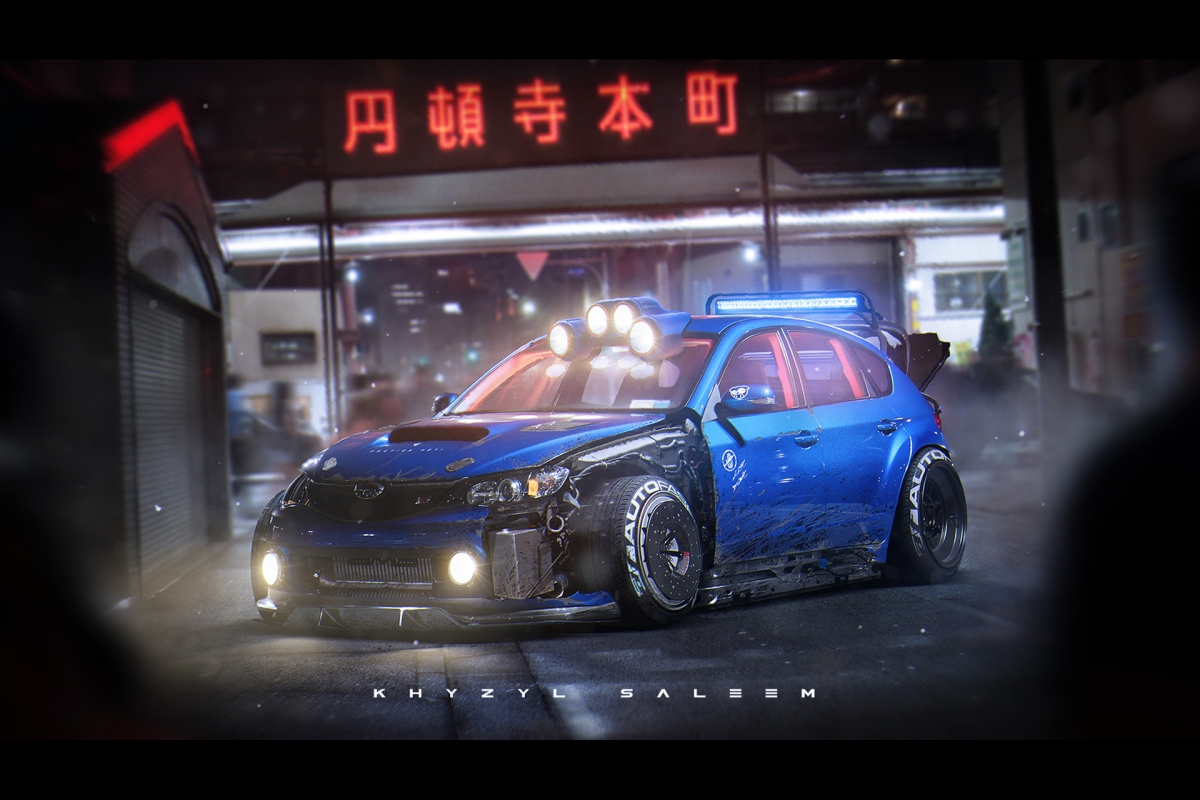 KS: In my own time I'd go home and try to work on my portfolio by teaching myself how to digital paint and draw all over again. This soon became very tedious and I lost interest, so I decided to shift my focus onto cars. I thought working on something I'm passionate about would challenge me and help me to learn new things. I started to quickly combine images of cars together in my lunch break and discovered how enjoyable I found it.
Turning An Idea Into Reality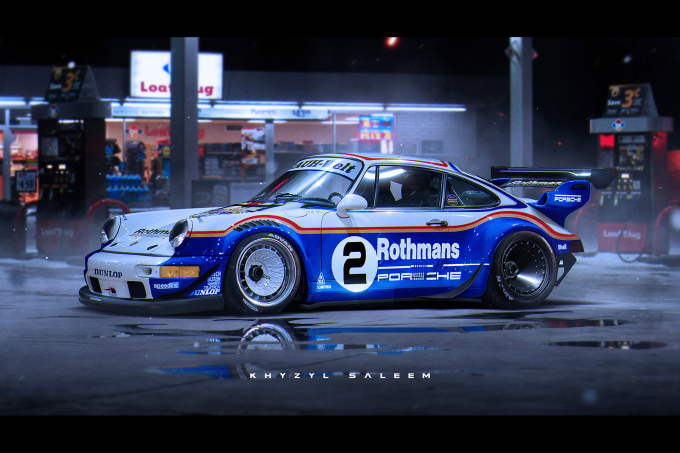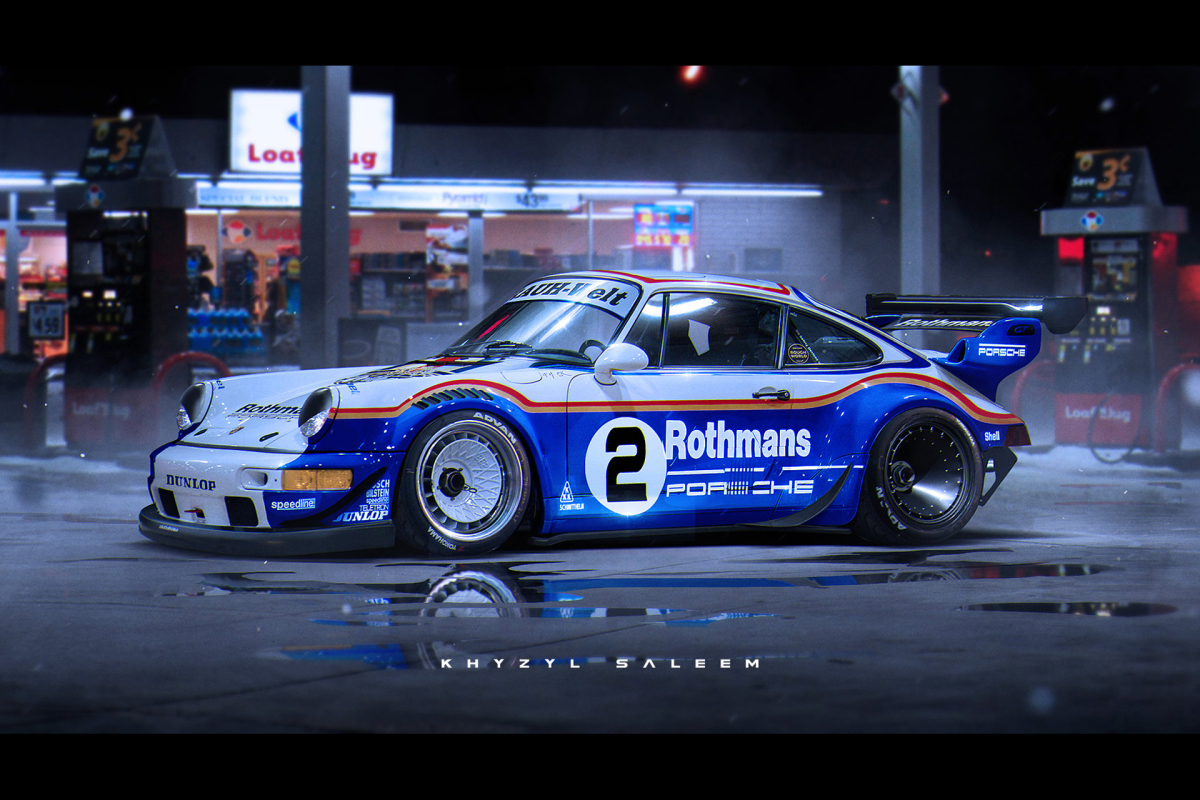 DDC: So how far do you think you can go with this?
KS: I'm currently trying to venture away from 2D work and delve into the 3D world so I can eventually combine the two together. Ultimately, I'd love to design my own bodykits for cars, but also create my own futuristic machines and environments.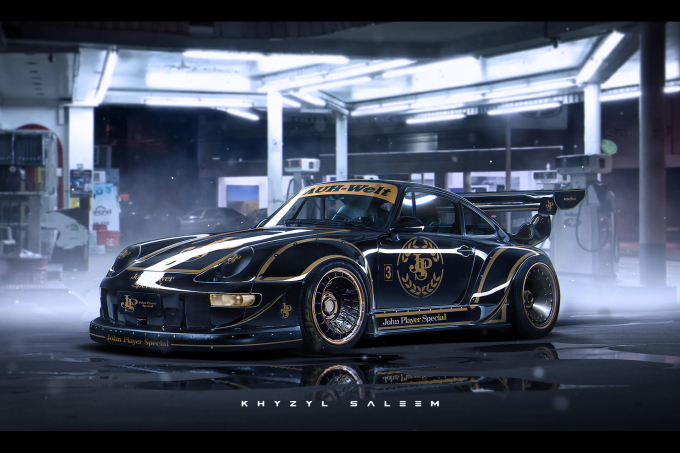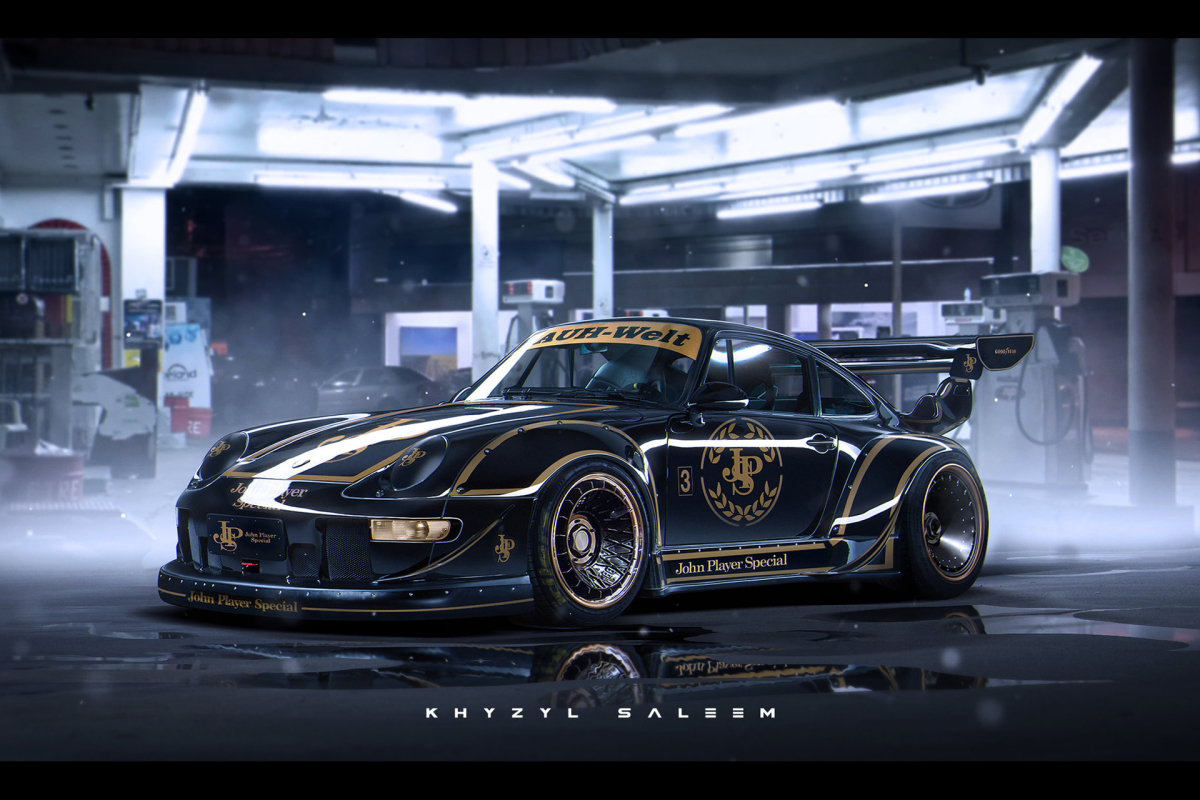 DDC: What's your process?
KS: That's a secret! No, I'm only messing… I don't really have a specific process so to speak; it could be something as simple as getting inspiration from someone's build on a Speedhunters article, to watching a film about space. Completely random I know, but I'll imagine an idea and then try gathering the materials necessary to bring it to fruition. That can range from a rough sketch to a full-blown illustration.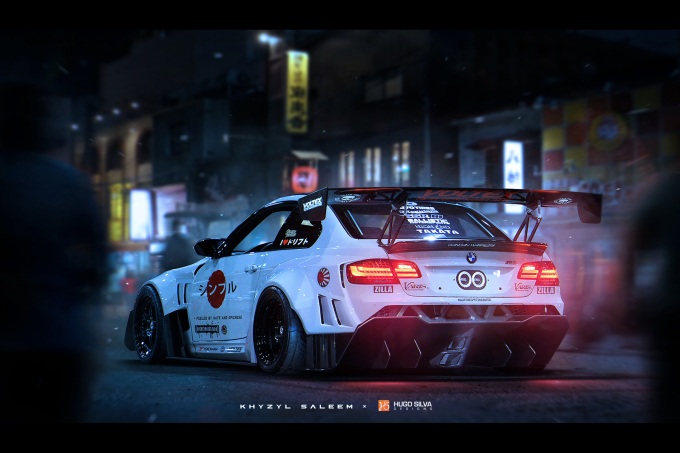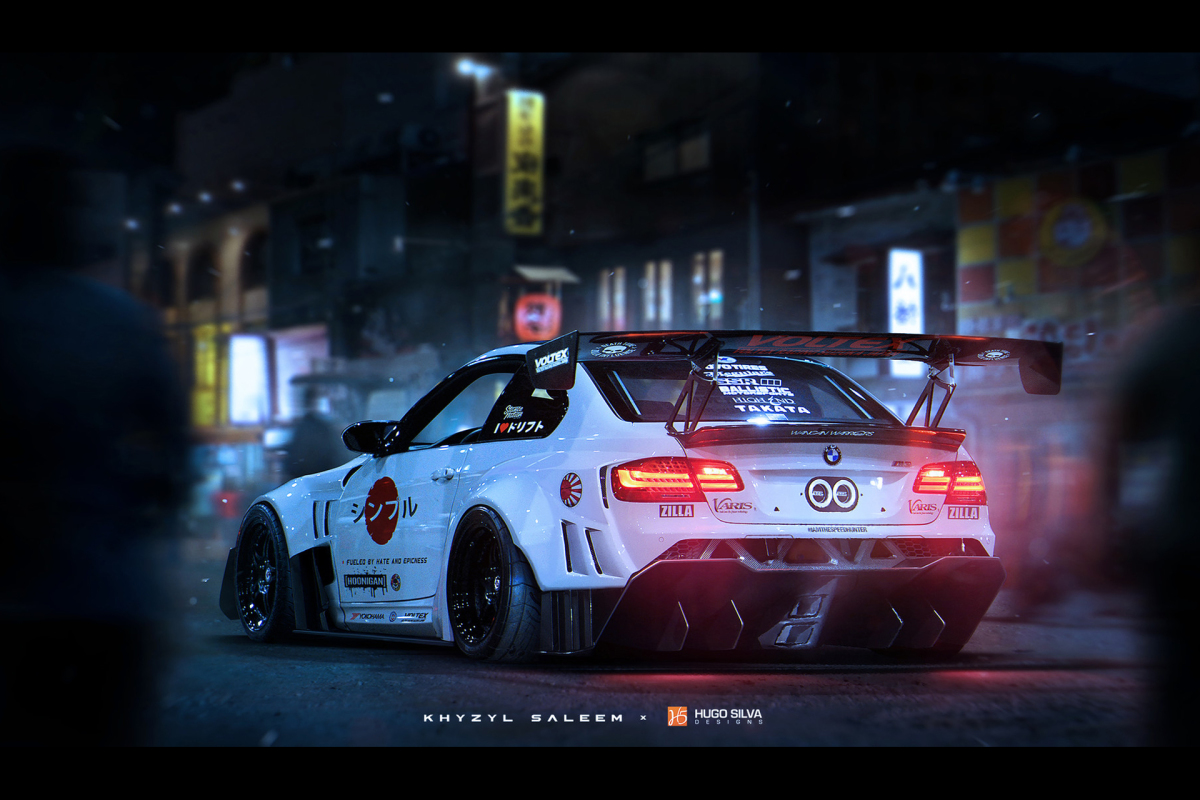 DDC: But what is it that sets that spark of inspiration off in the first place?
KS: It can be anything really. I'm heavily inspired by the automotive/motorsport world as a whole, but I find movies to be a great source of inspiration. Films like Elysium and Chappie for example; the art style Neil Blomkamp is incredibly inspiring to me too. Music also; sometimes it's a specific song, tune or tone that can ignite an idea. Another way is seeing what other artists put out there; people like Aaron Beck, Ash Thorp, Walter Kim and Damon Moran to name a few. Those guys are very inspiring to me.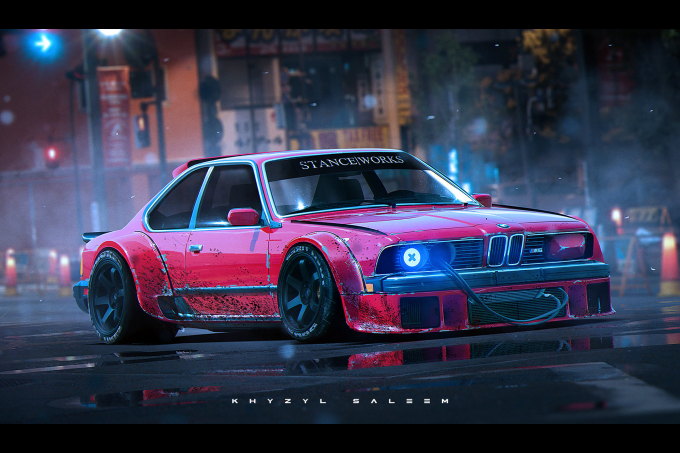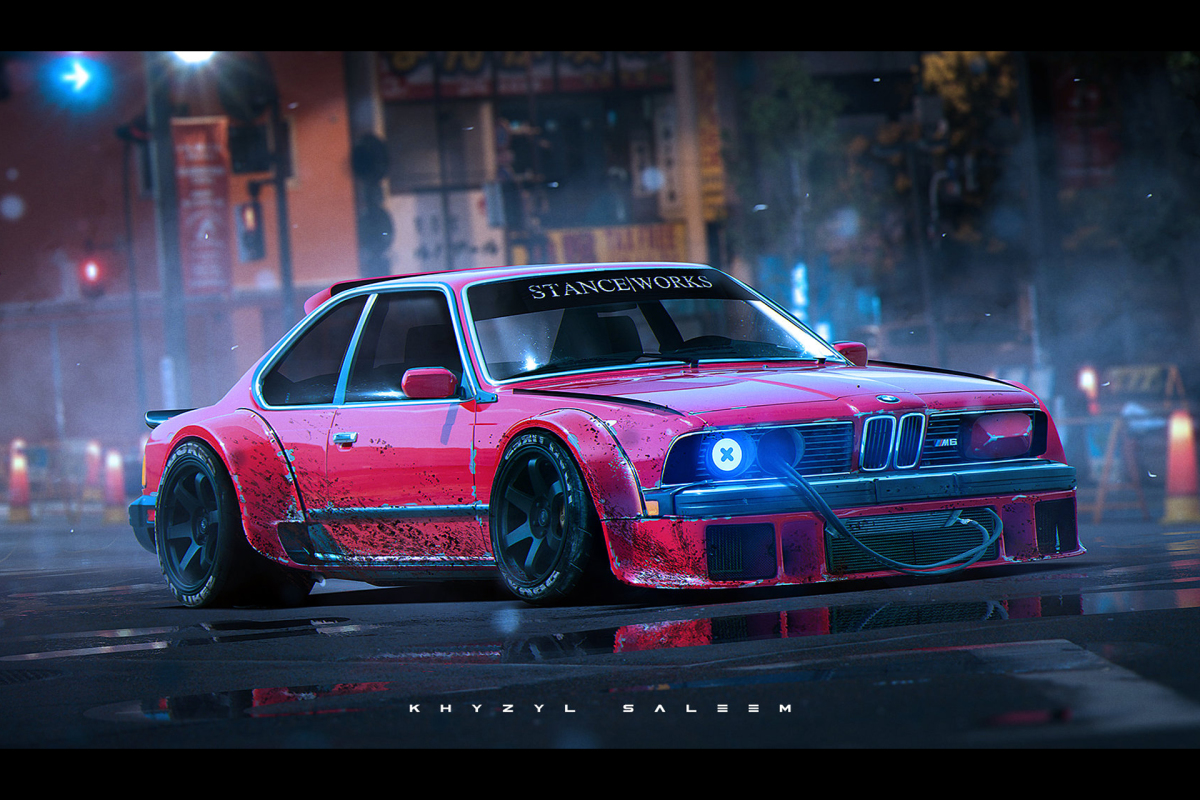 DDC: Do you see something and then you just have to start creating, or is it more of a gradual process?
KS: It can work both ways really. I can see something that influences an idea I'm already working on, and add it in later. I'll try to work on quick montages over my lunch to just experiment and try new things.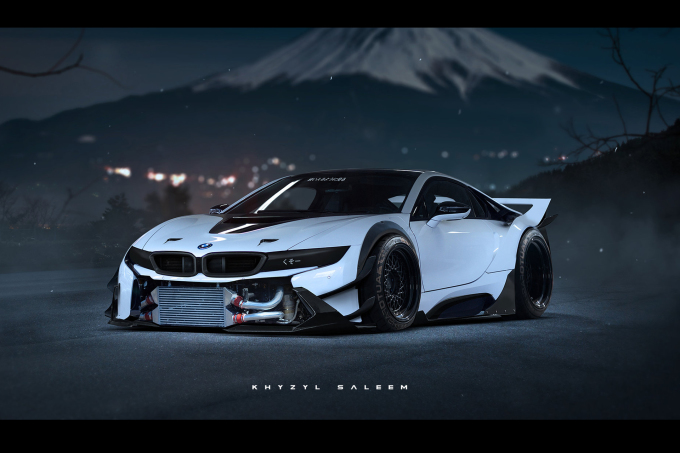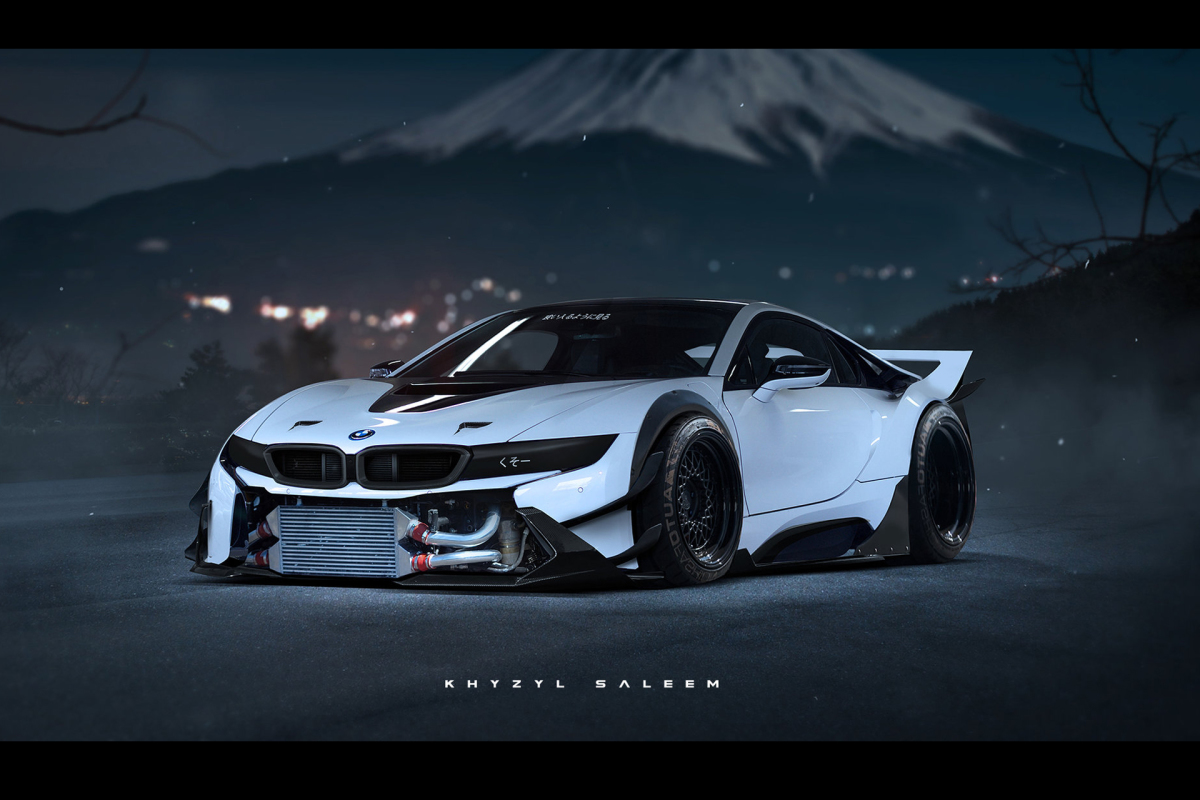 DDC: Do you build the cars from scratch, or do you base your work on existing photos or other images?
KS: In all honesty, it depends on how I'm feeling. With the cars I make only being concepts, I'll work on top of existing photos and images as it's generally a quicker workflow. Being in the film/game industry, you are required to create concepts quickly, so I try to exercise this with the use of images. For my more detailed pieces, I'll spend more time focusing on painting the cars and parts, making sure they all fit together and look like they exist in the same scene and space.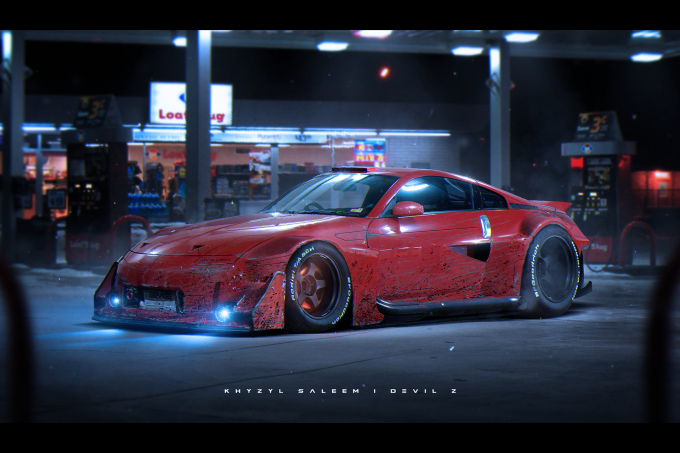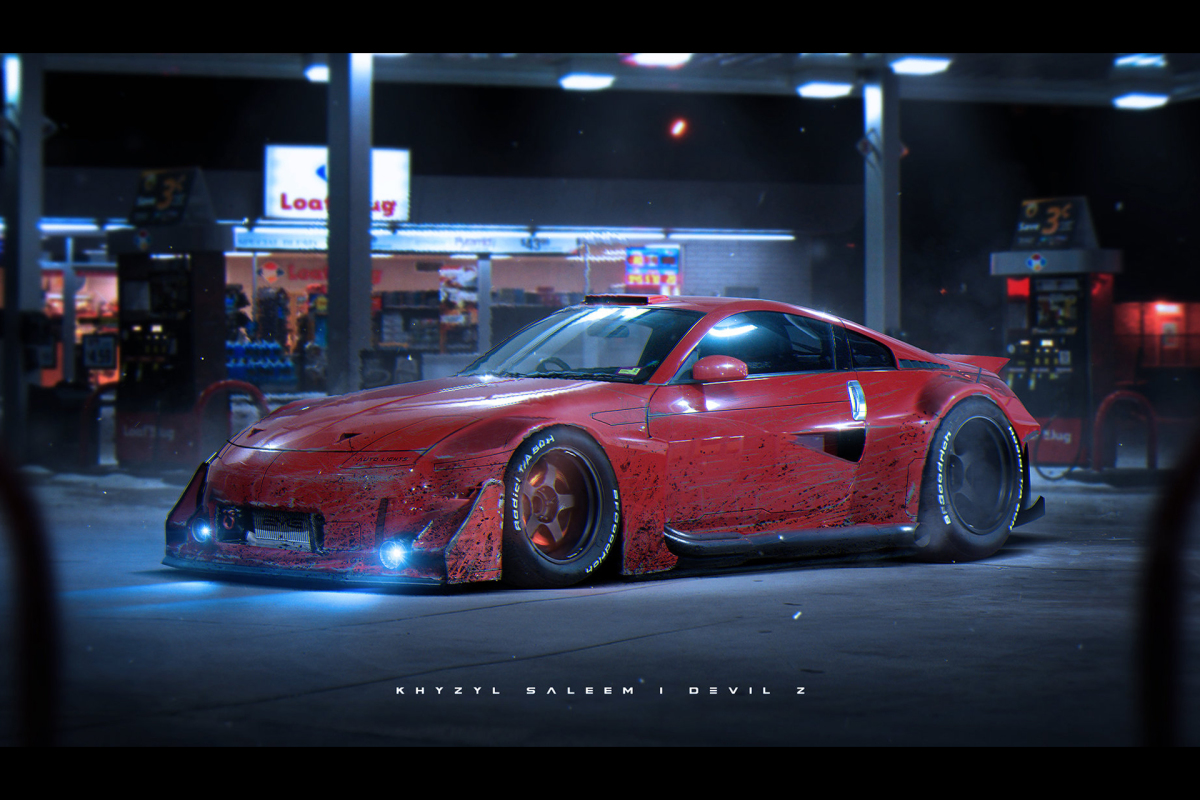 DDC: How about the backgrounds?
KS: The backgrounds are usually just as important as the cars (to me anyway). I usually build these by combining multiple images together to create a new environment, trying to make sure everything matches lighting-wise. I admit I don't always get this spot on though.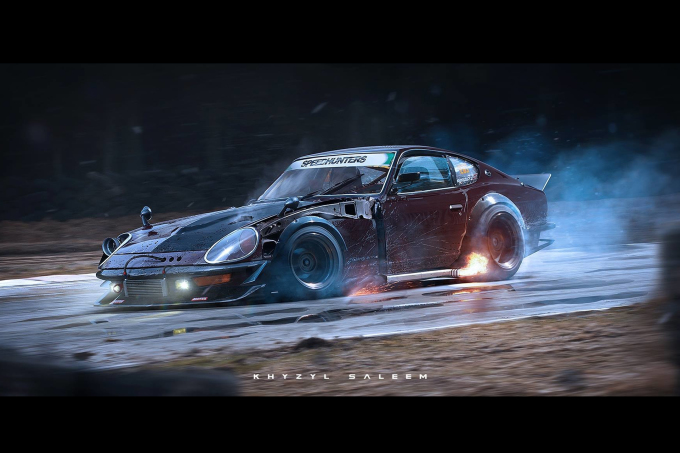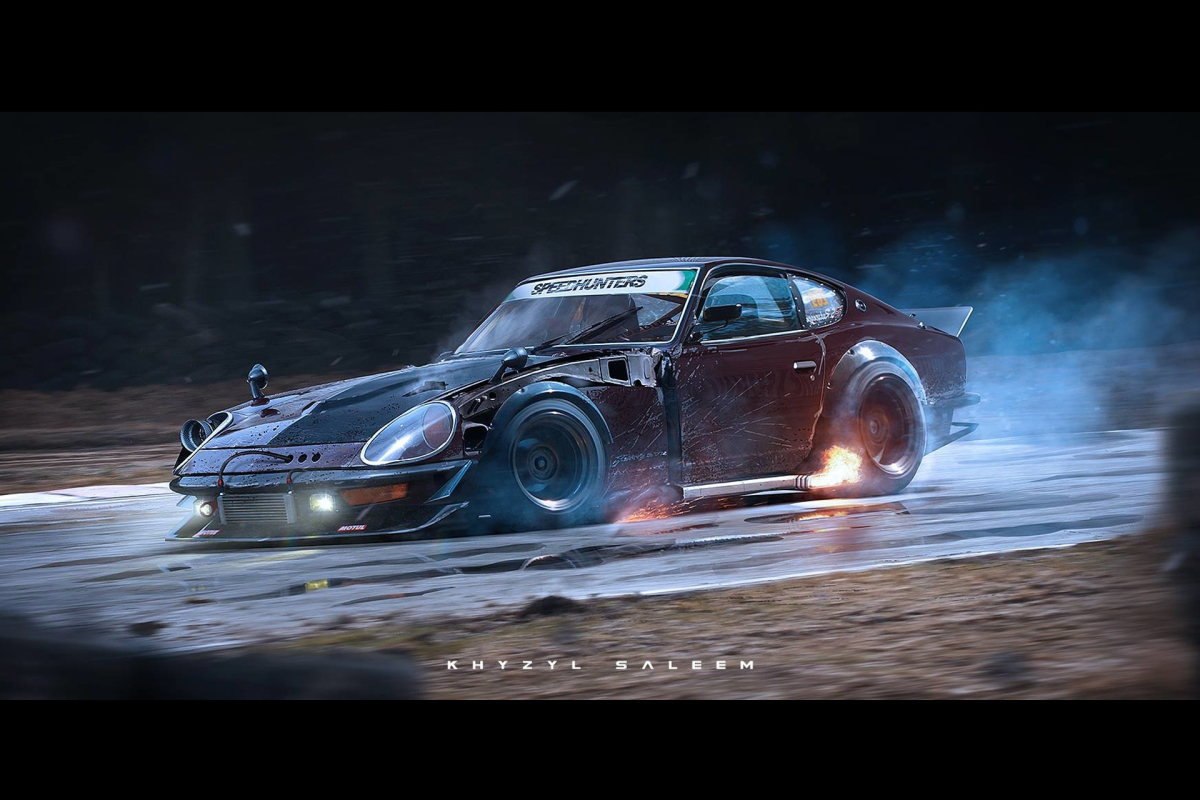 DDC: Is there a certain 'look' that inspires you when you're digitally restyling a car?
KS: I'd say one of my biggest influences is the Cyberpunk genre. Films like Blade Runner and comics like Akira; I find something fascinating about imagining a Cyberpunk world and trying to apply that rebel future-esque vibe to my vehicles. That being said, I'm a huge time attack fan, as builds of this nature provide a never-ending source of inspiration for me.
The JDM Twist Is Never Far Away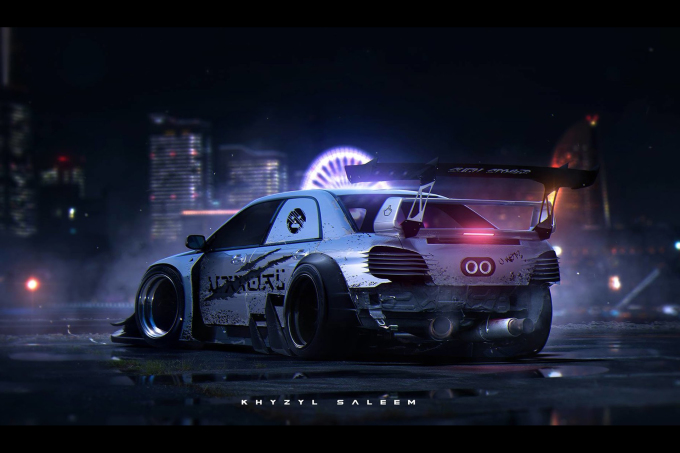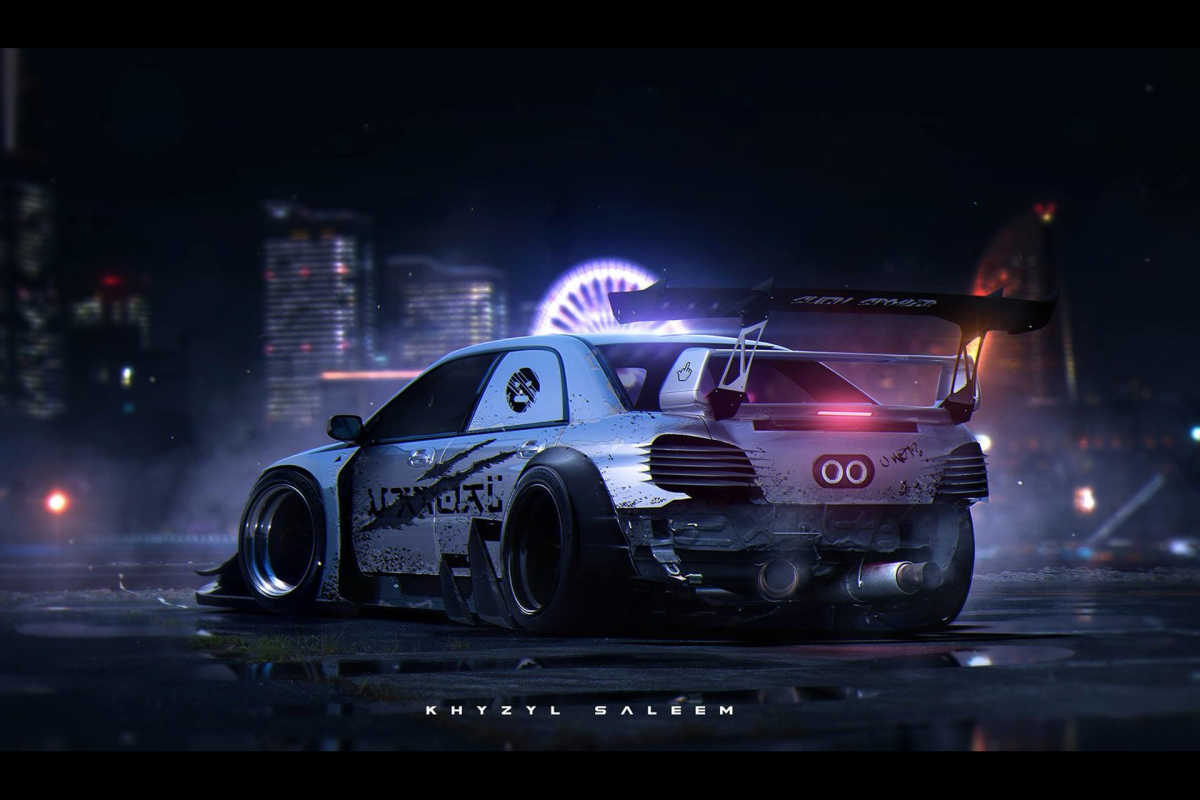 DDC: I see a lot of JDM details in your art; what inspires you the most from Japan?
KS: The Japanese have a very special thought process when it comes to making a car their own. The bosozoku style for example; it's completely bonkers and impractical, yet they still do it.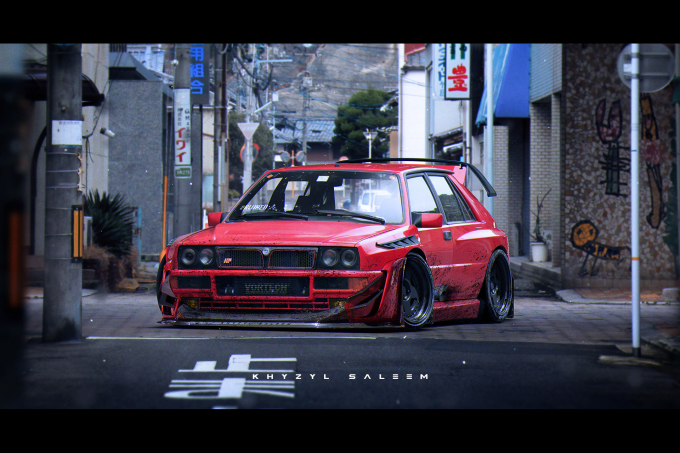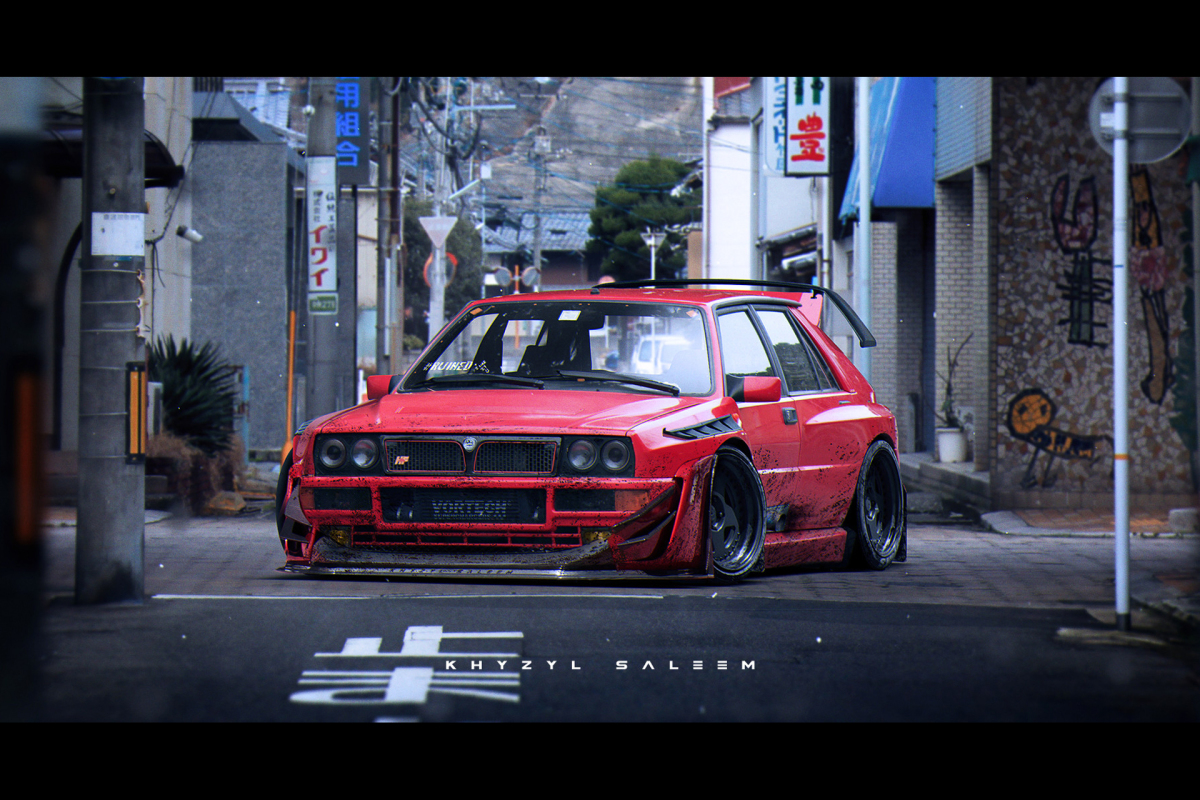 KS: They really bring the whole 'zero f**ks given' stance to the next level. I have a slight obsession with Japan in general however; that probably explains some of it also.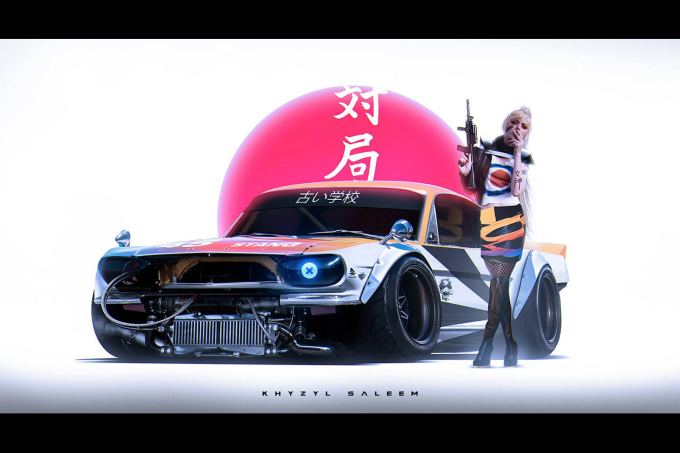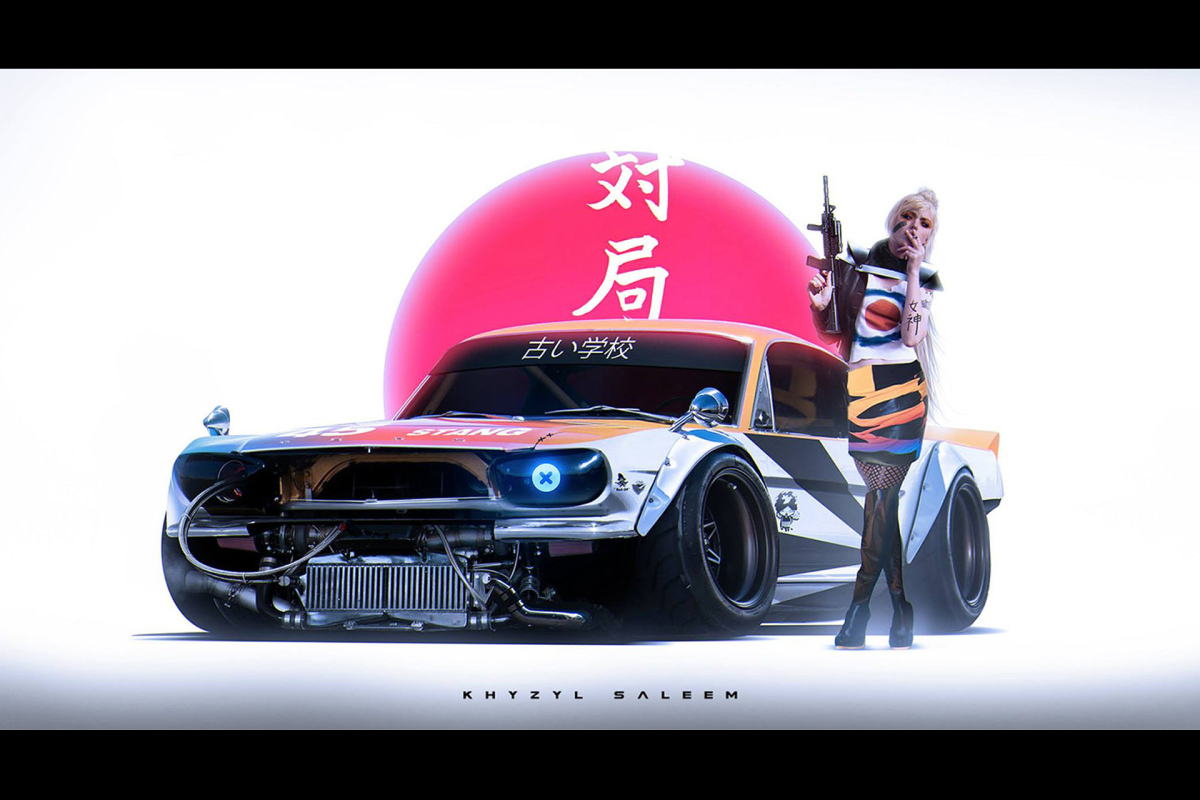 DDC: How about other countries and other scenes?
KS: Car culture is so diverse on a global scale; each country has something adapted from elsewhere, sort of mashed and blended to create something new. The Swedes for example, Gatebil, you probably won't find builds like those elsewhere in the world. I love the diversity that each country brings. From the UK with their front-wheel drive blitzed-out Corsas to the US's drag strip monsters.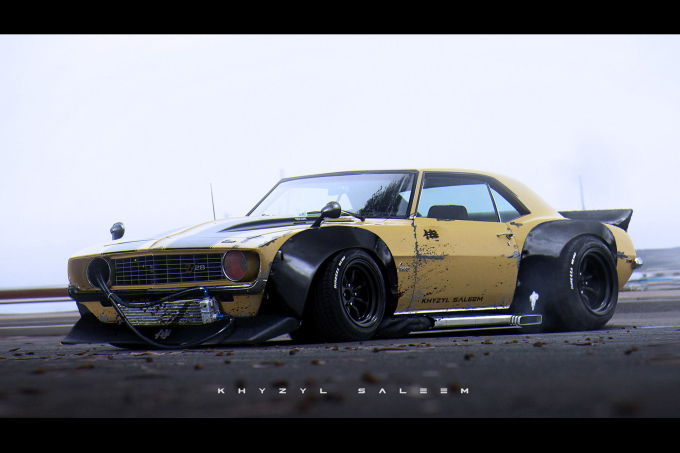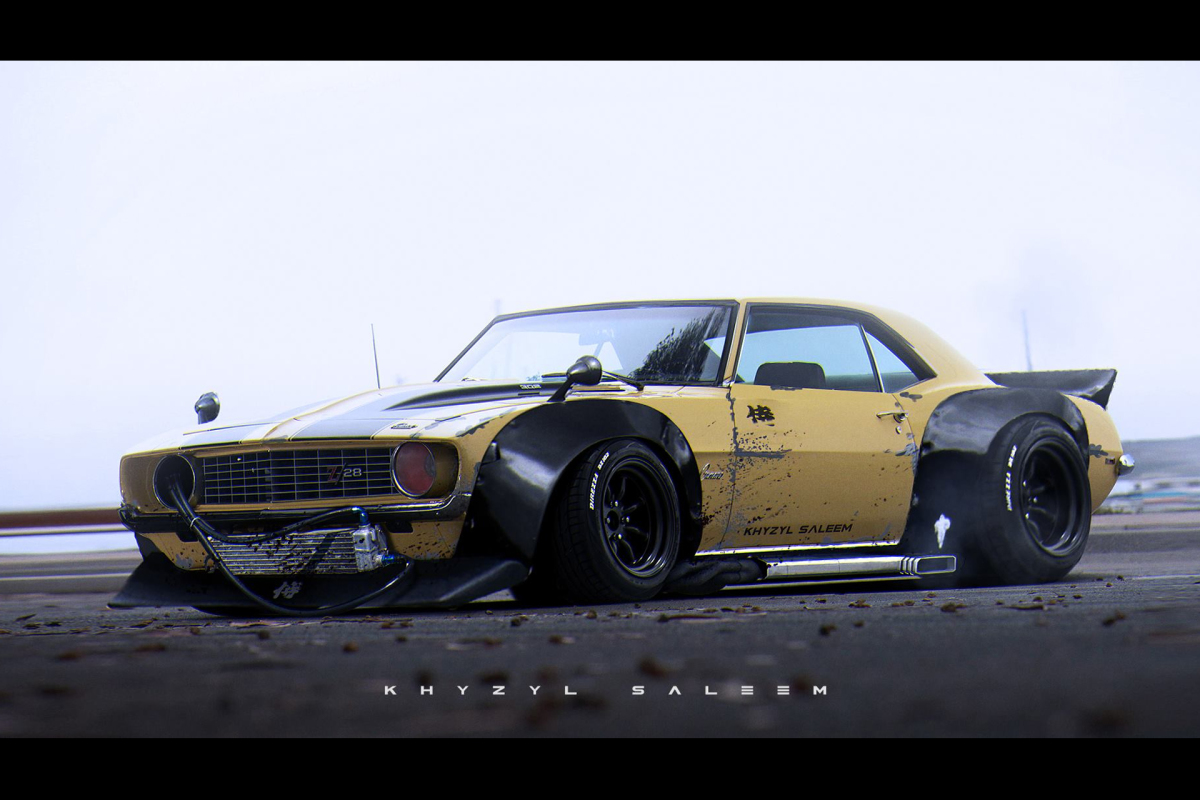 DDC: Is there is anything in particular that you love more than anything?
KS: Group C race cars – simple as. Mainly the Mazda 787B; the sounds, looks and engineering of these cars will always be fascinating to me. Not to mention, I find them incredibly inspiring to watch.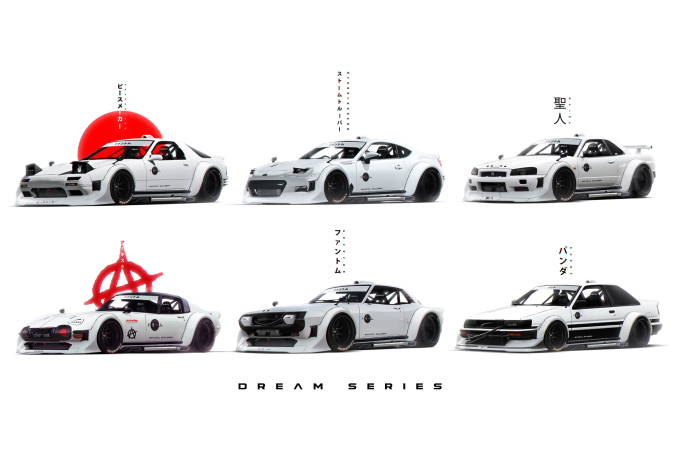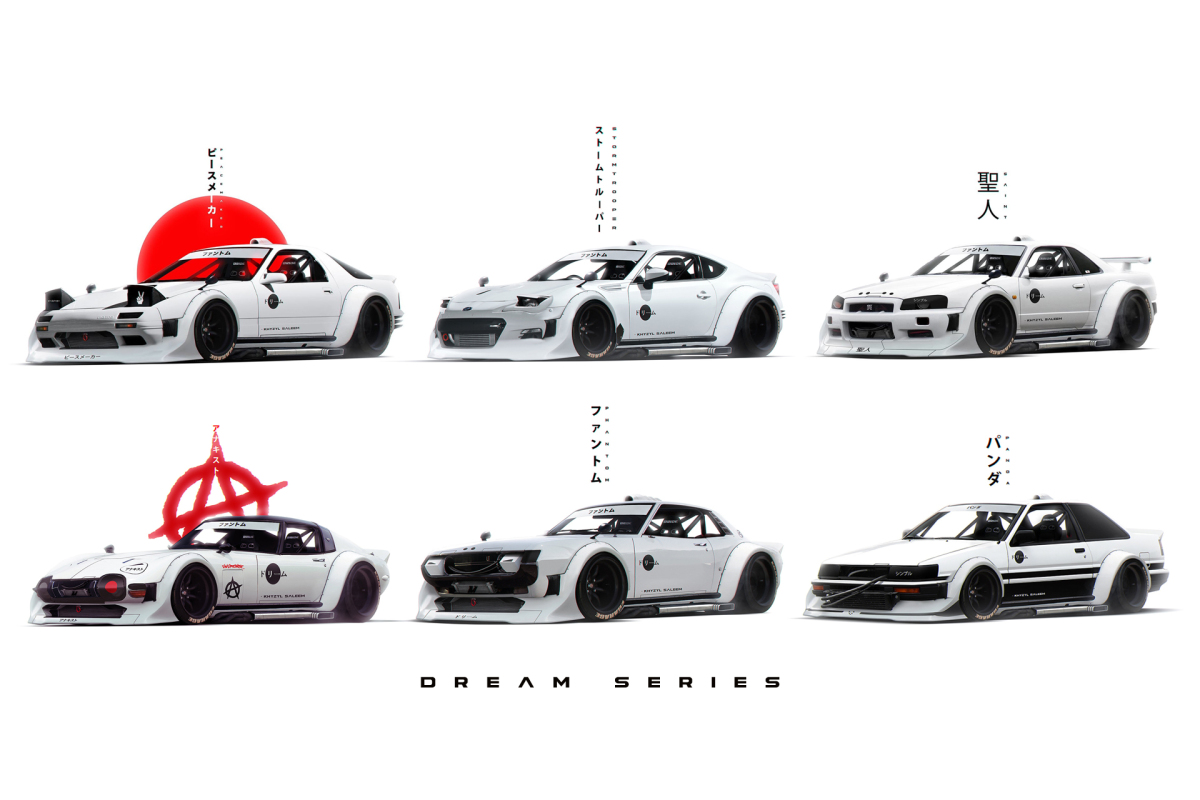 DDC: What car do you drive in the real world?
KS: I don't actually have anything at the moment; I've not really had much need for one as I live a five-minute walk away from work. I am currently looking for something decent though, which I'm going to need for a bunch of motorway driving. Something I can fit into… Any suggestions? I'm currently thinking of a Golf GTD (don't laugh!).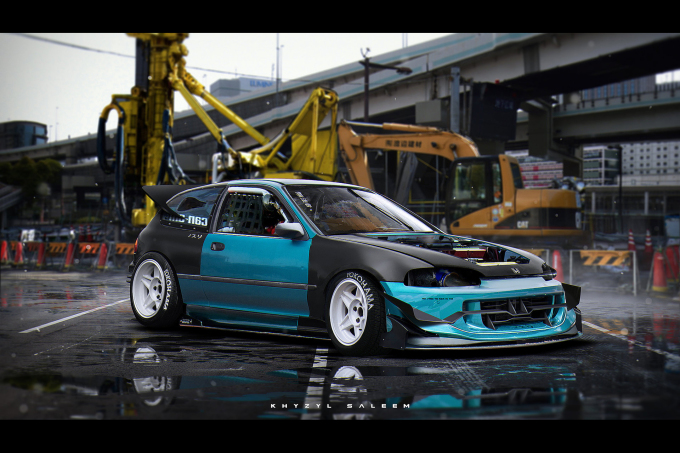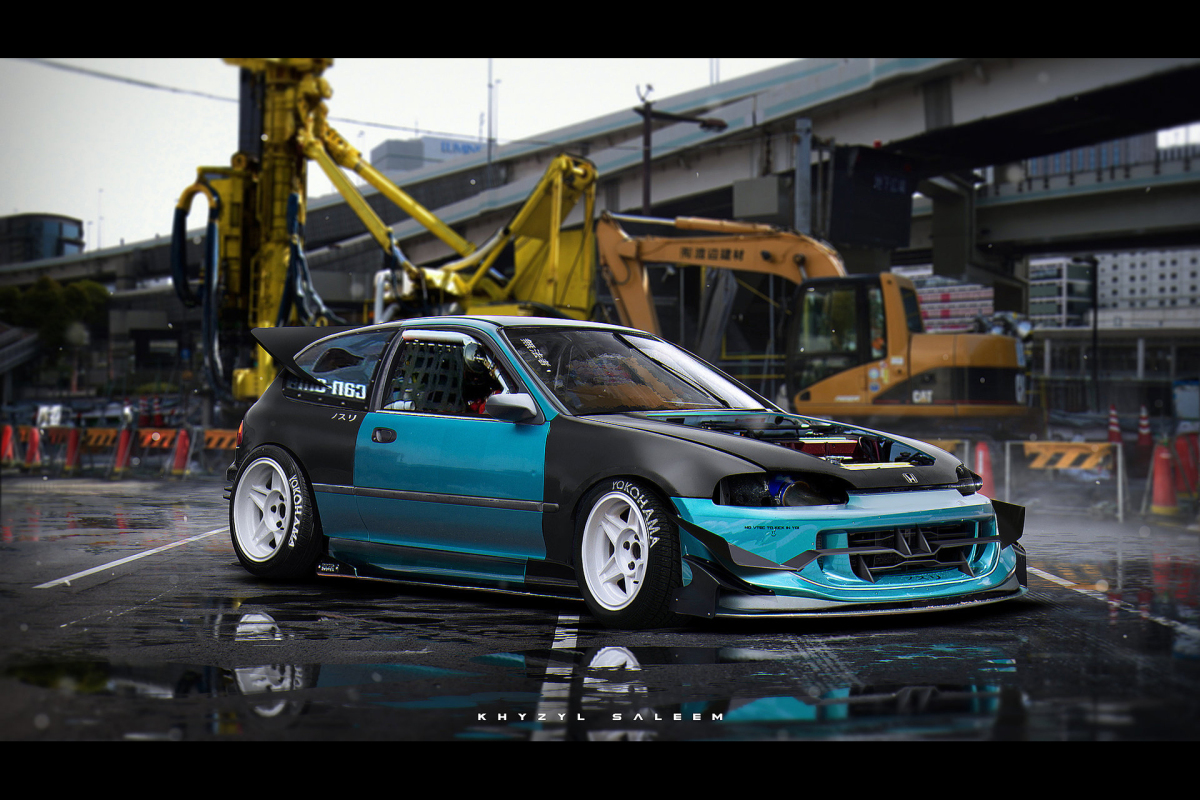 DDC: Okay, so what car do you aspire to drive?
KS: A 1993 Mazda RX7 FD3S – my dream car. In my eyes, it's a timeless looking machine.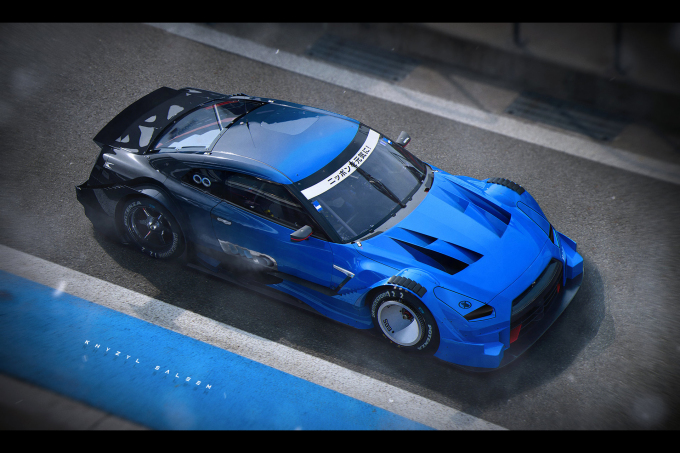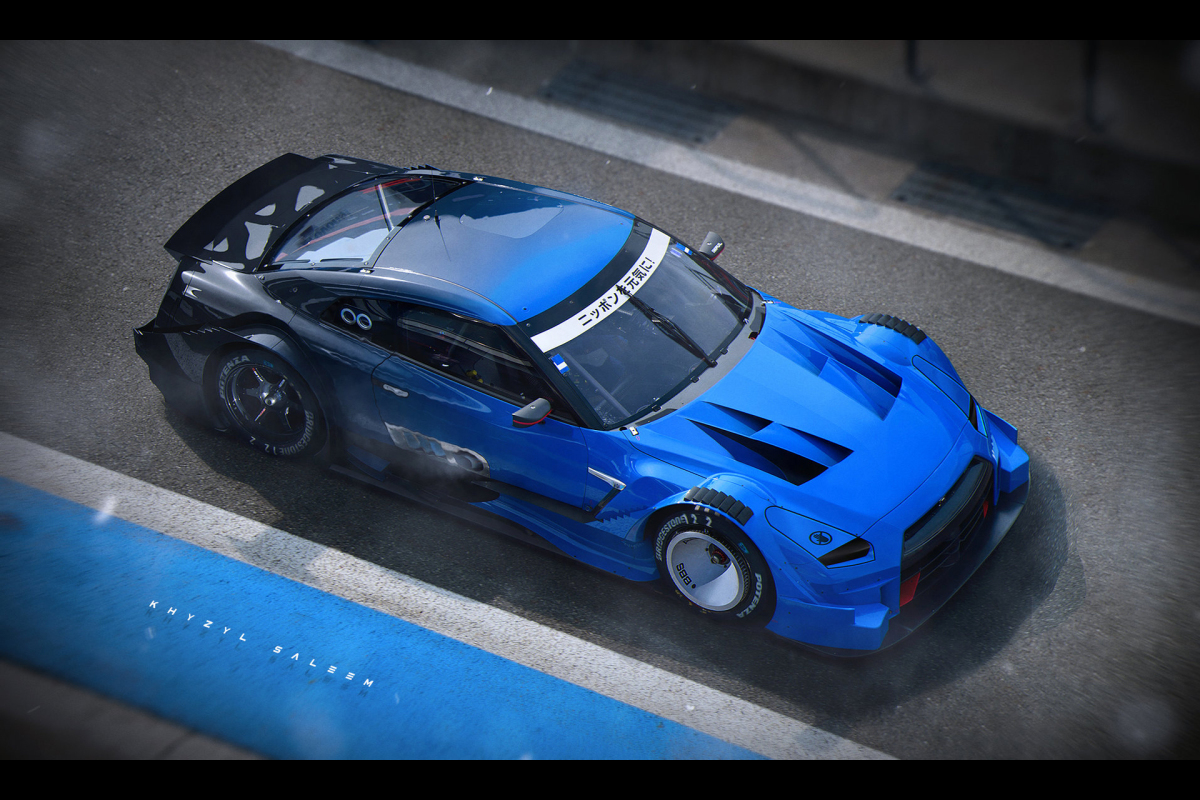 DDC: Would you customize it?
KS: I would; something subtle though. Or perhaps something of my own design, who knows. I do love a bit of RE Amemiya though, and have a very special idea in mind for one.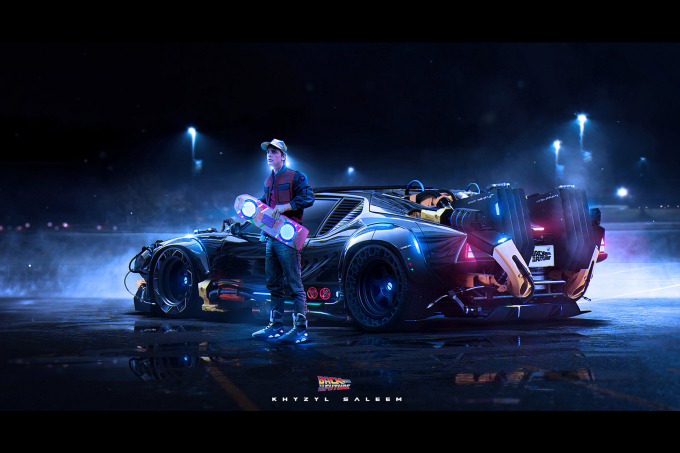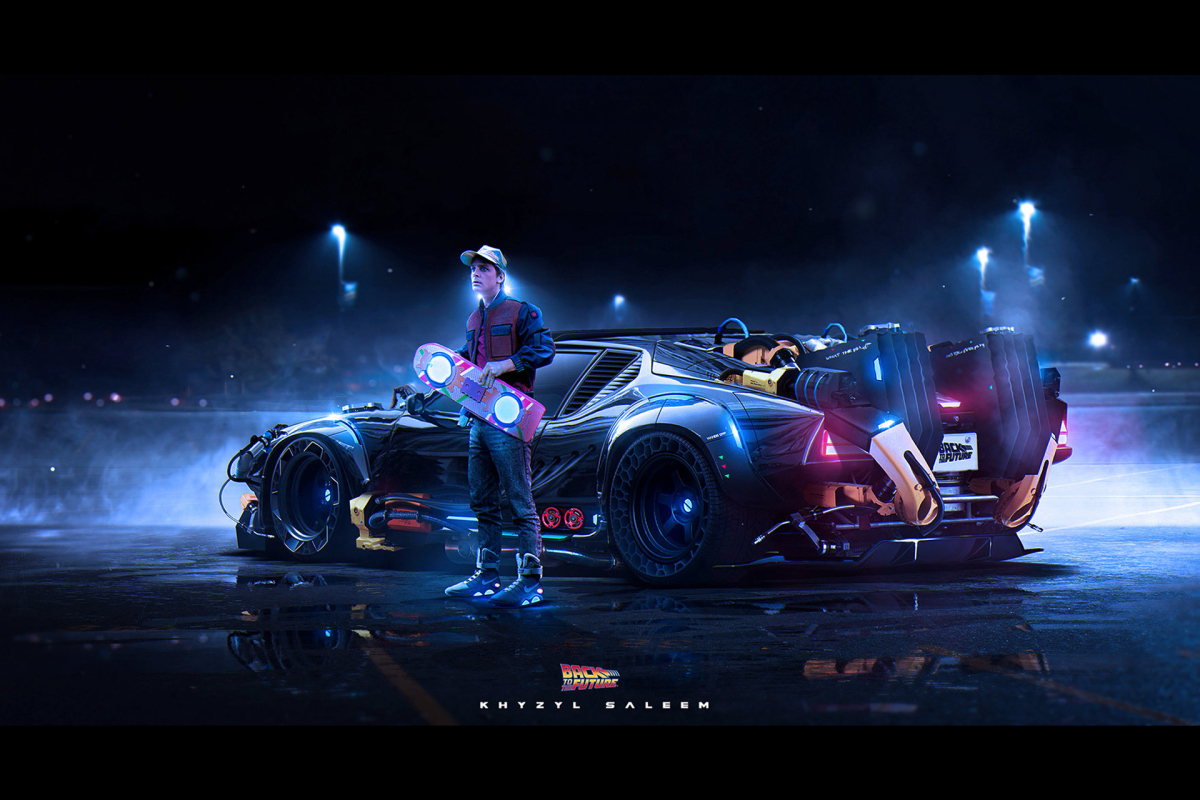 We'll stop here for now, but a big thanks to Khyzyl for taking the time to answer these questions and allowing us to share his amazing work. But we aren't quite done with him yet; I for one want to see more of his cool designs!
If you'd like to see a specific car given the Saleem-touch, or perhaps have some questions for Khyzyl, ask away in the comments section below.
Dino Dalle Carbonare
Instagram: speedhunters_dino
dino@speedhunters.com