Chasing The Pikes Peak EV Record
On June 26th, competitors from around the world will begin their ascent at the world famous Pikes Peak International Hill Climb.
The Colorado mountain will be no stranger to Speedhunters regular readers and the majority of motorsport fans around the world – it's the ultimate hill climb event. 2016 will see the 100th anniversary of the first event to run at Pikes Peak, so it's going to be that bit more special this year. Especially as Hankook is planning another record breaking run…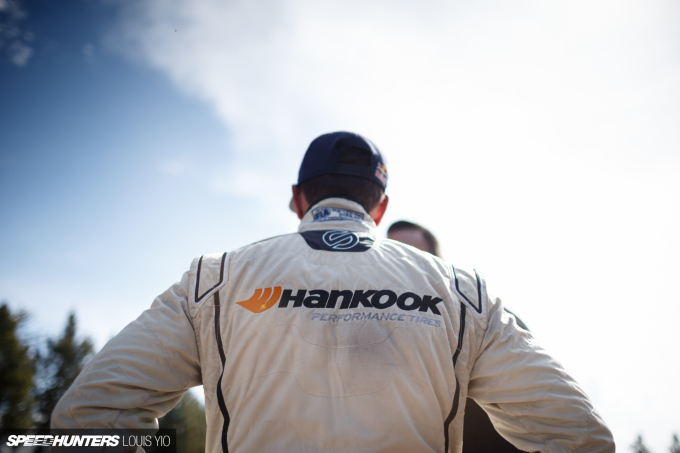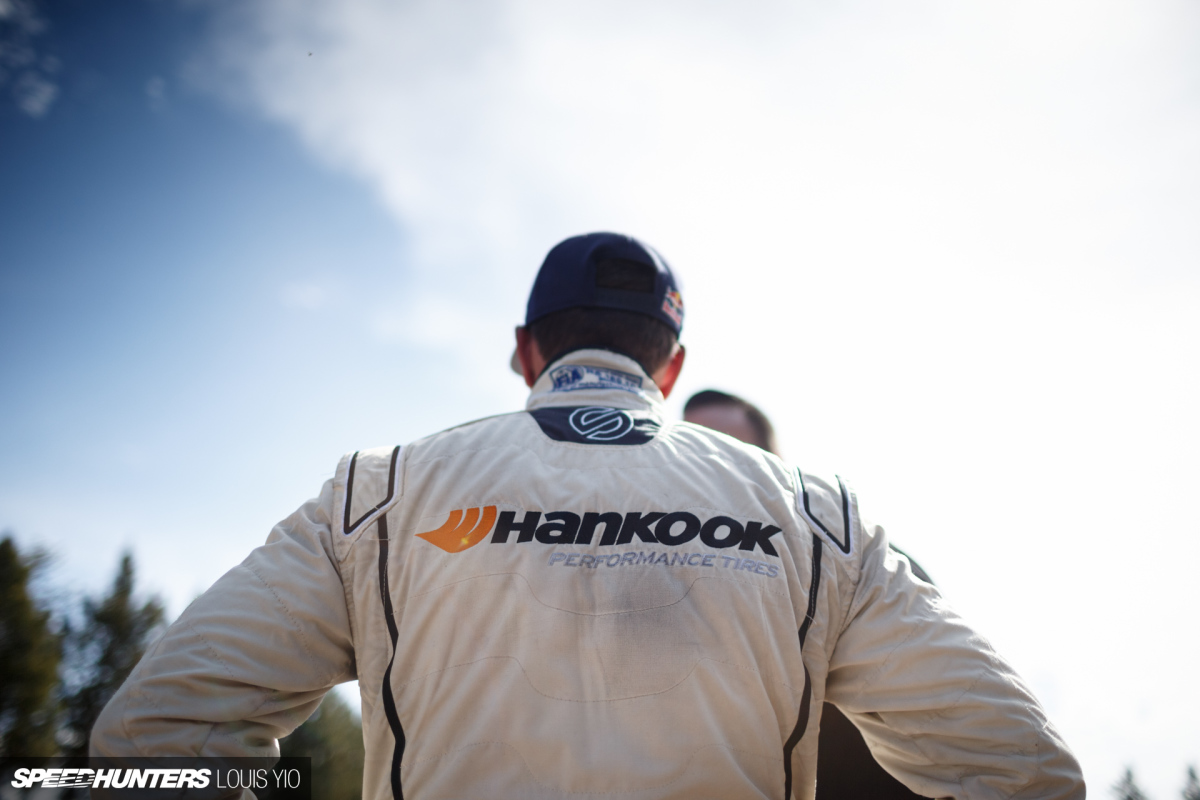 Of course, we'll be there again, but this year we're going to have a close eye on one Rhys Millen. You know Rhys, right? The Kiwi with an illustrious motorsport career path that includes rallying, drifting, rallycross and previous record breaking runs up Pikes Peak in the past. Why do we want to give Rhys close attention? After setting a new EV record in 2015 and winning the event outright, he's looking to improve upon last year's time with an eye to ultimately becoming the first driver to break the nine-minute barrier in an electric vehicle. Specifically, in the Drive eO PP100.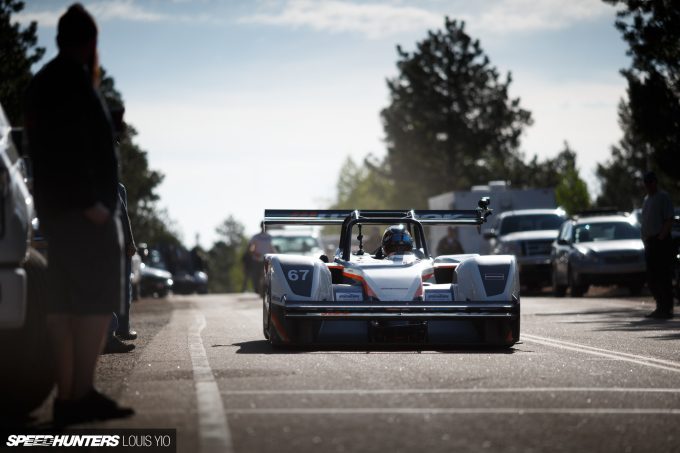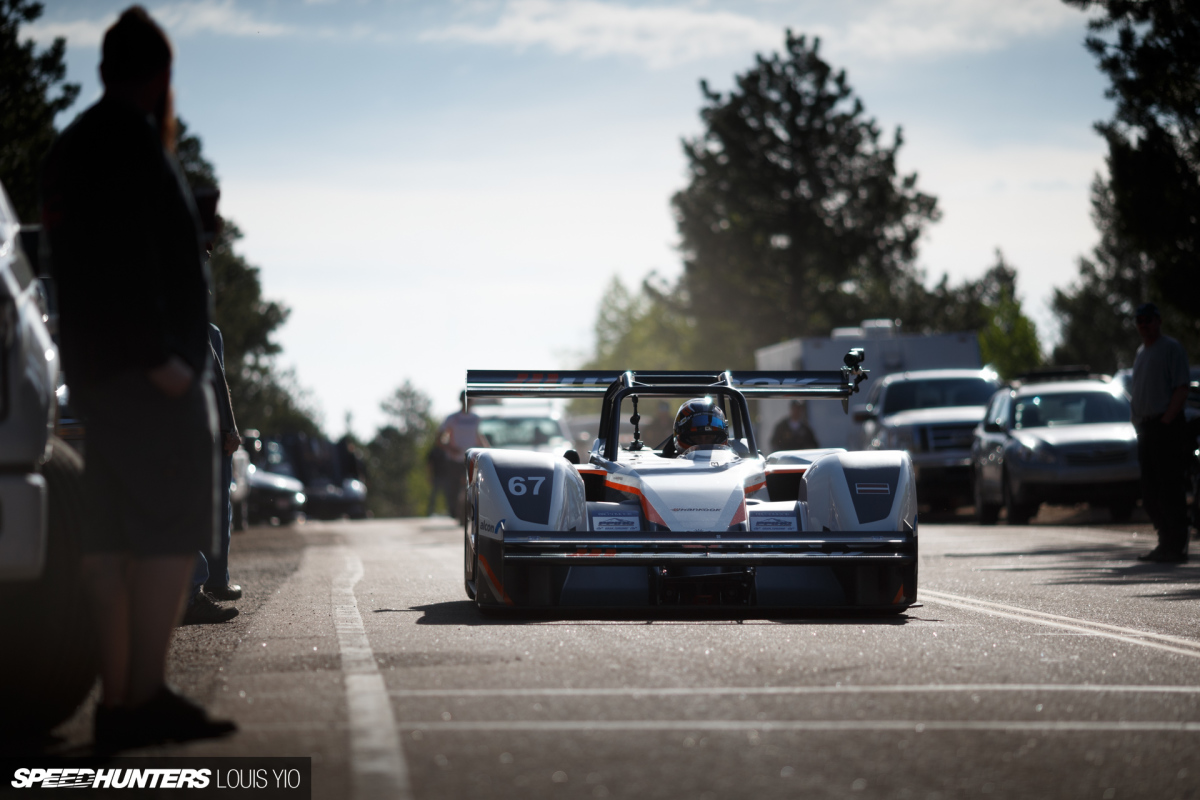 The last 12 months have seen electric vehicles grab more and more of my attention, and I'm sure I'm not alone. EV technology is advancing so rapidly now, that it's only a matter of time before hybrids and all-electric vehicles will rule the roost, so to speak. It's already evident in modern hypercars like the Porsche 918 and has even trickled down into more affordable machinery, like Volkswagen's Golf GTE. Electric power is clearly the way forward.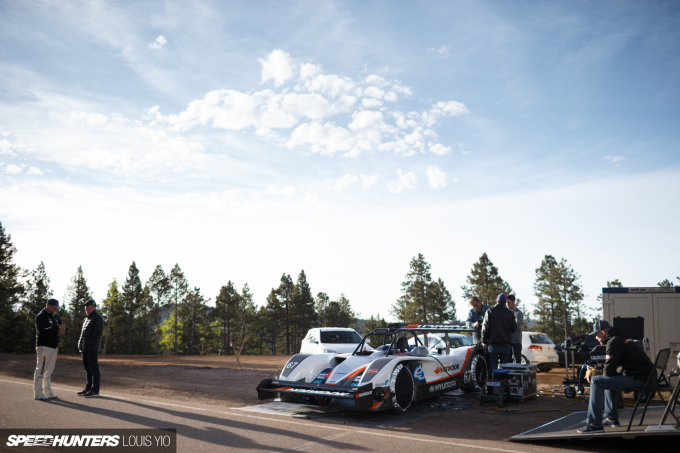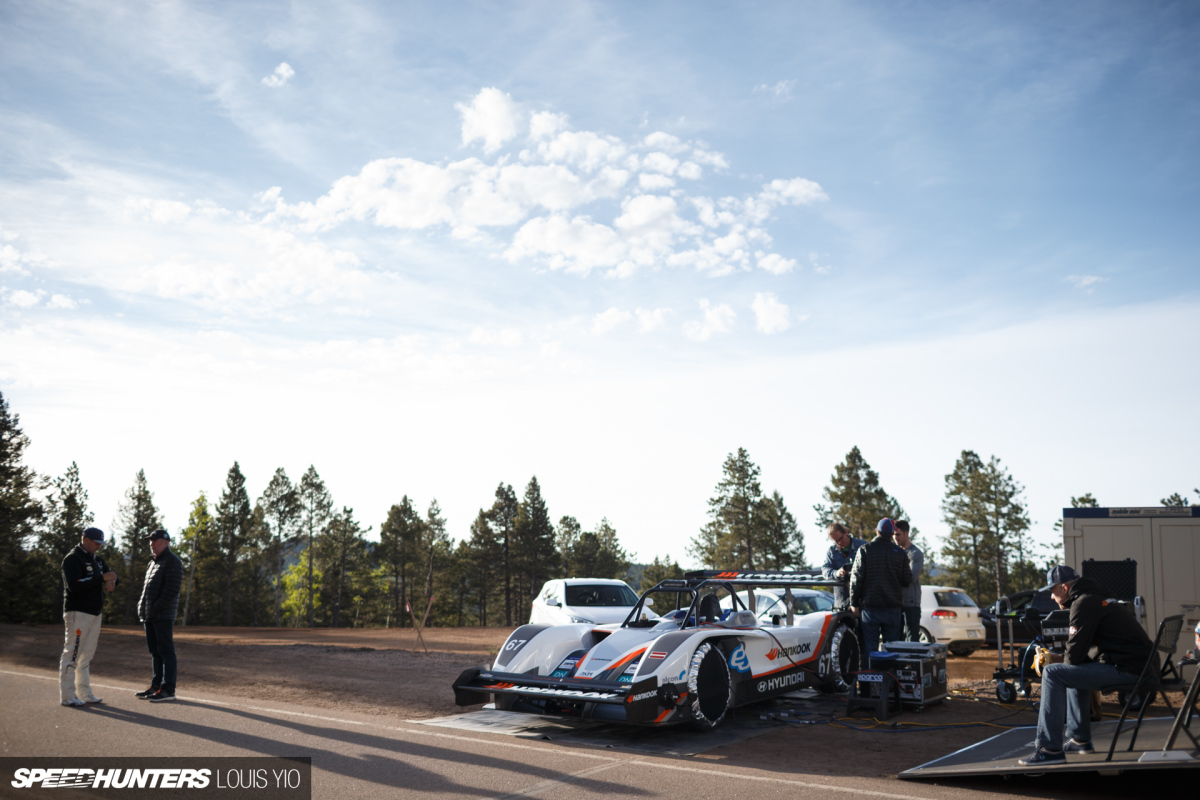 Being a dedicated race car with the sole task of conquering Pikes Peak, the PP100 is a fascinating piece of hardware.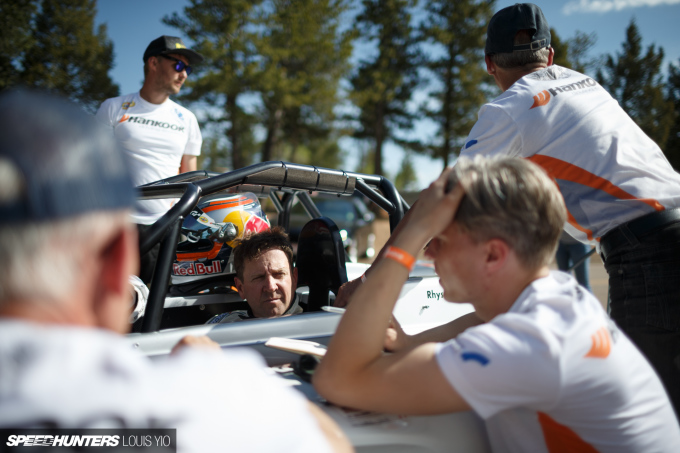 Because it's such new technology though, there's also quite a lot of consideration and thought that has to go into a project like this. There's not exactly a proven formula for success to follow when you're the one trying blaze that new trail. Even the simplest of things can throw up issues which require far more time and ingenuity to resolve than a team would probably like. In saying that though, I'm sure they very much welcome the challenge.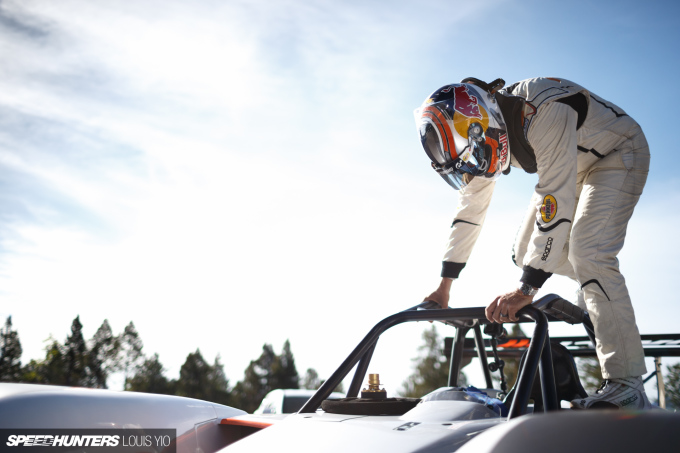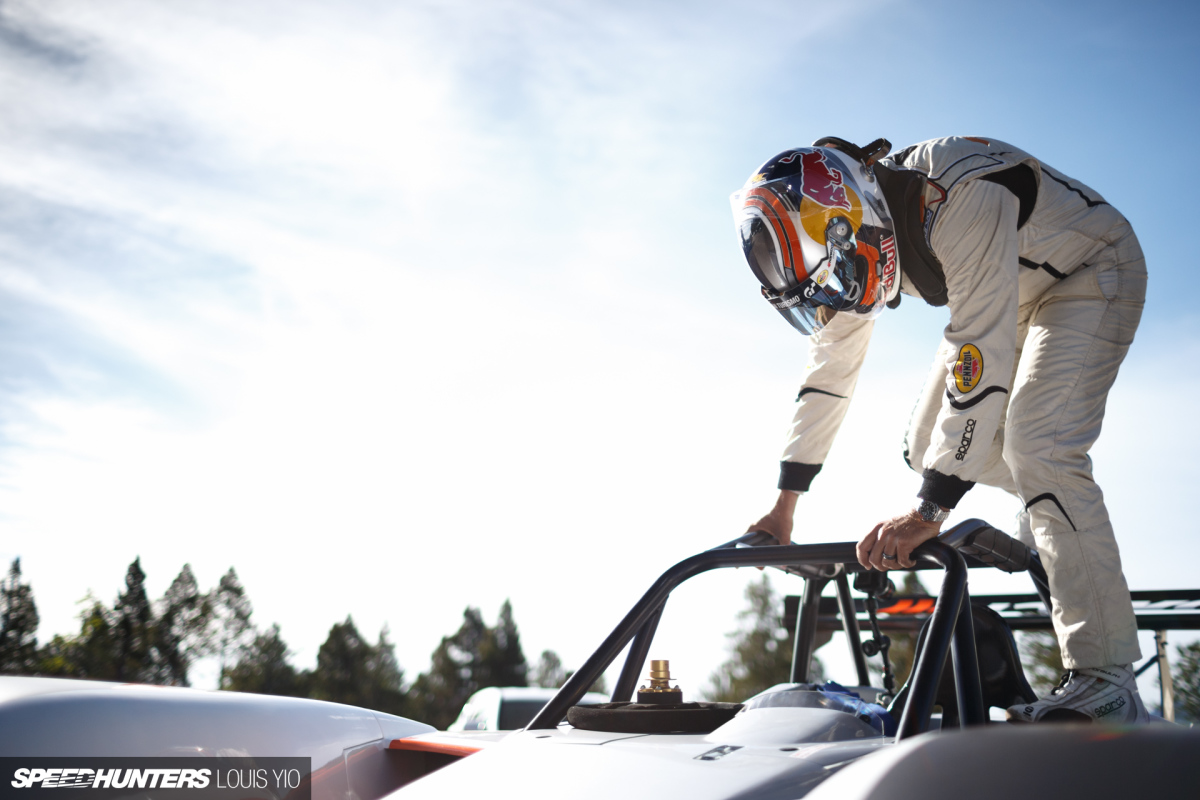 There are parts of the car that we all are likely familiar with, as at its core is a space-frame chassis with carbon bodywork that generates massive amounts of downforce. The car is all-wheel drive, with seven YASA-400 electric motors controlled by eO's own modules. Peak power is 1190kW (roughly the equivalent of a conventional 1595hp) with 1858ft/lbs (2520Nm) of torque, and there's a kerb weight of just 2645lb (1200kg).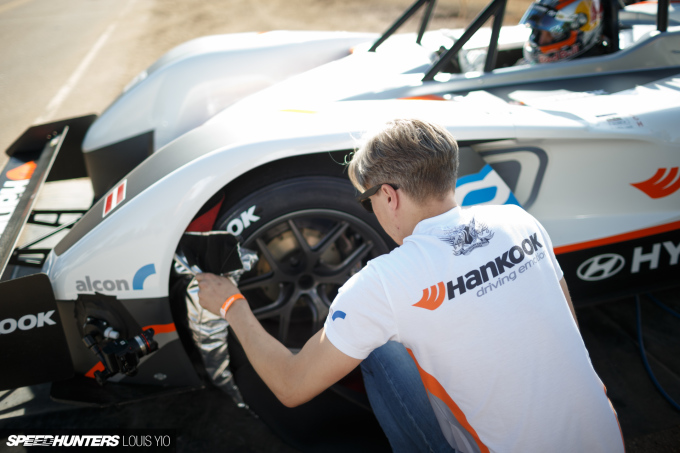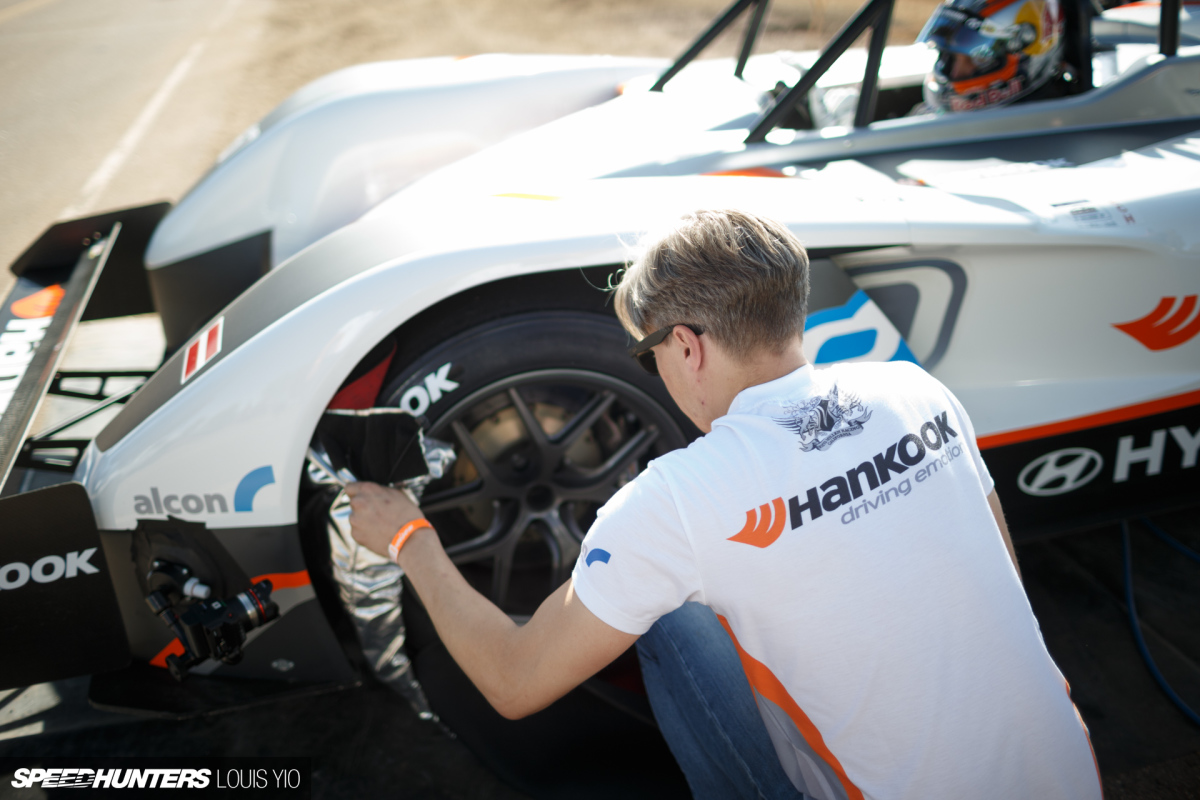 Power, weight and aerodynamic numbers are irrelevant though unless you can transfer the engine output to the ground. It's a trait shared by every single race car on earth; regardless of how much power, technology or aero you have, everyone ultimately has to rely upon the four small contact patches of rubber connecting the car to the ground.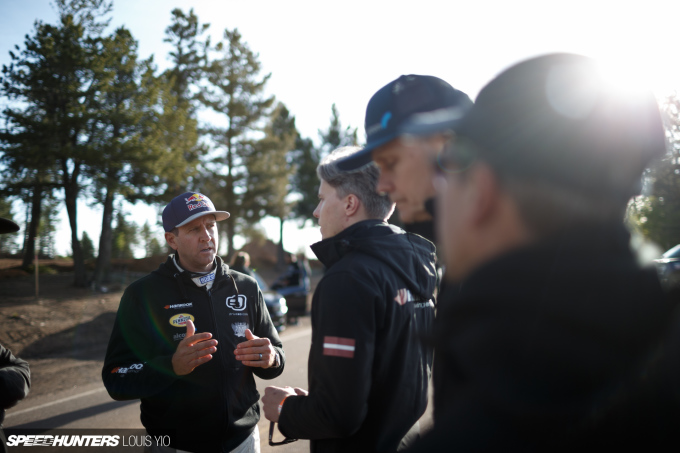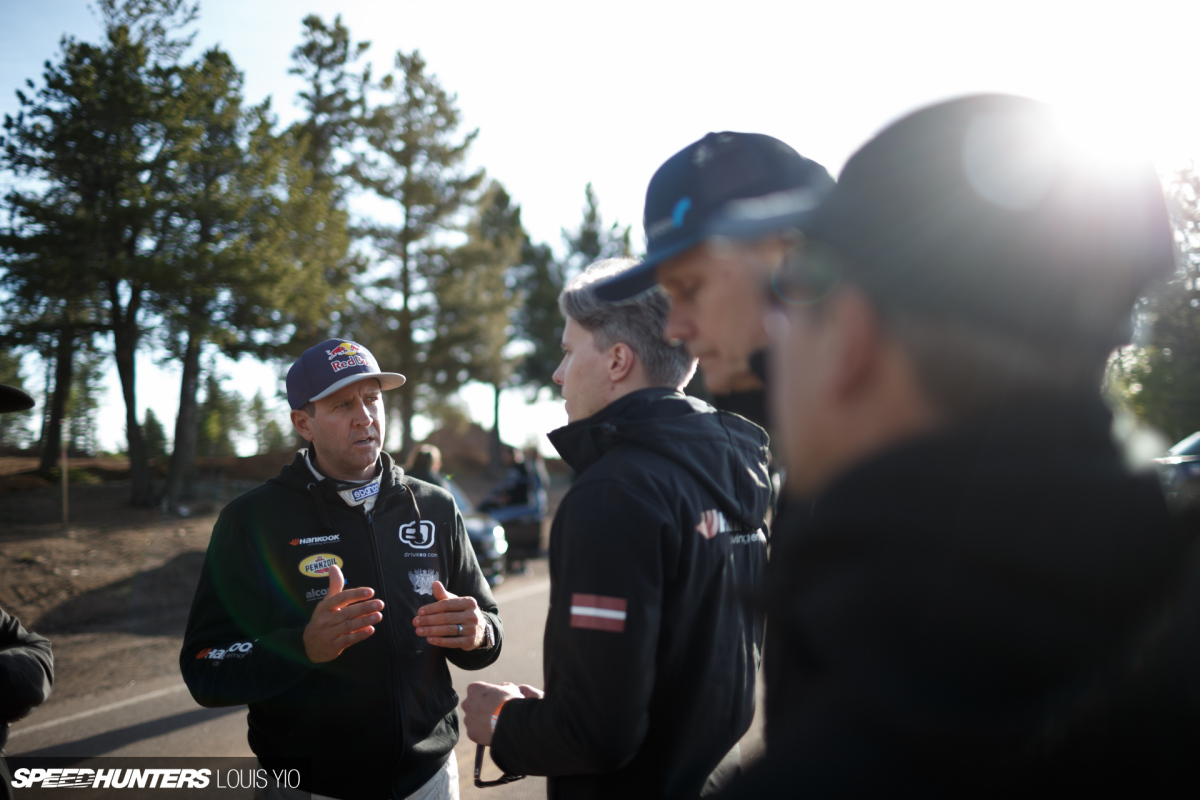 Developing a tire that was up to the task of propelling this unique car to – hopefully – a new record was put in the hands of Hankook.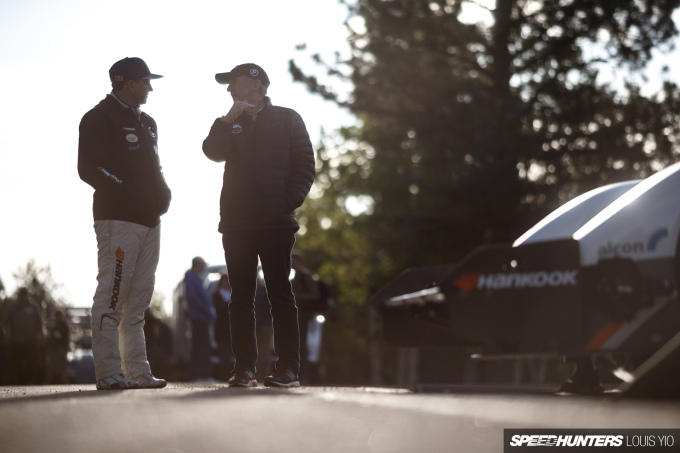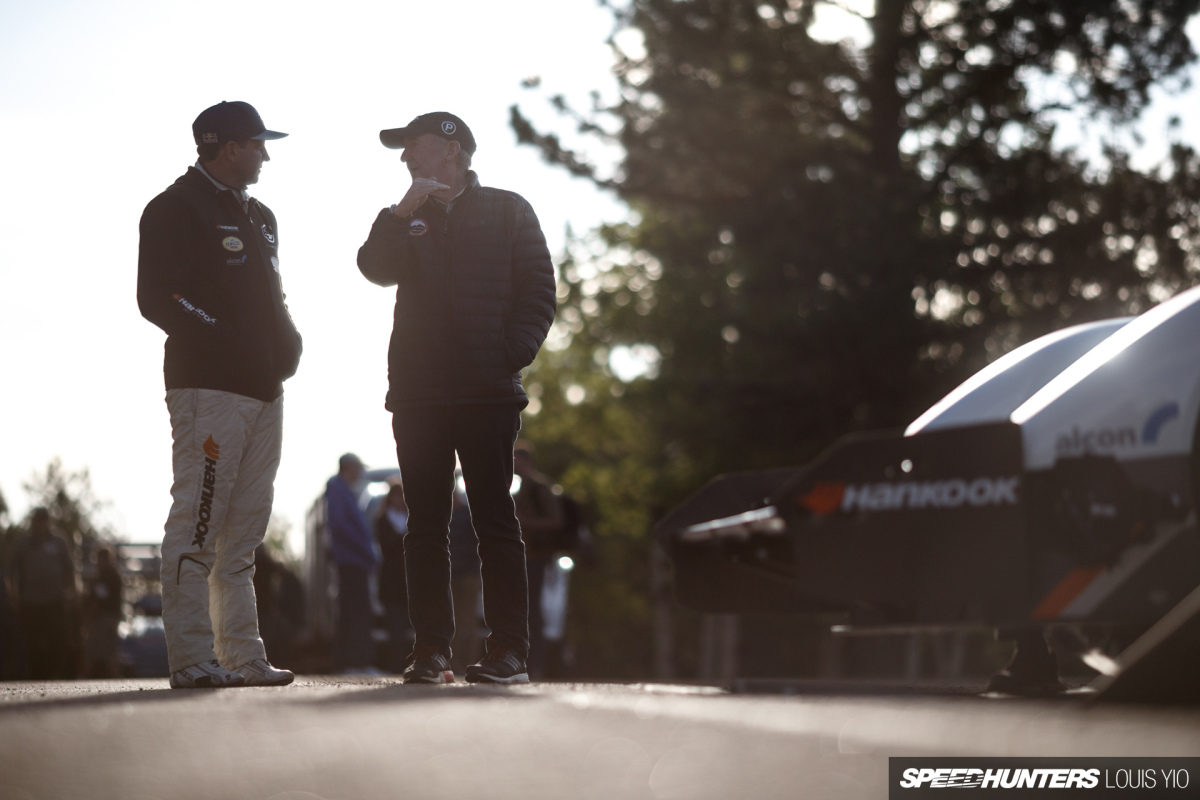 It's an intriguing subject and one that we often overlook when discussing the performance of any particular motor vehicle. In this case, Hankook had to design a tire to deal with the distinctive characteristics of an electric race vehicle. EVs are renowned for their huge levels of torque, which can be delivered virtually instantaneously at very low RPM.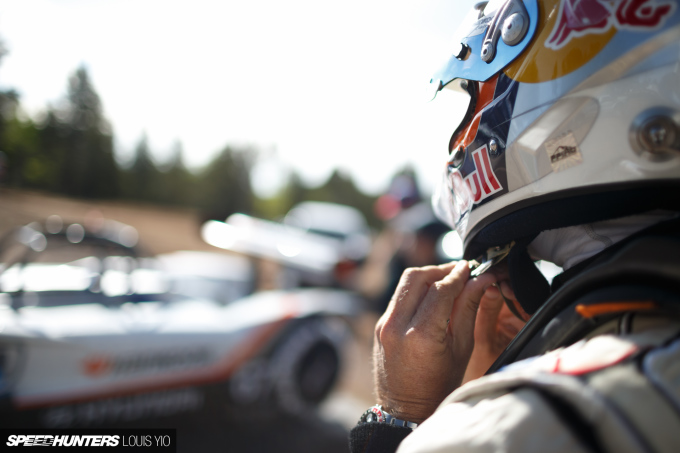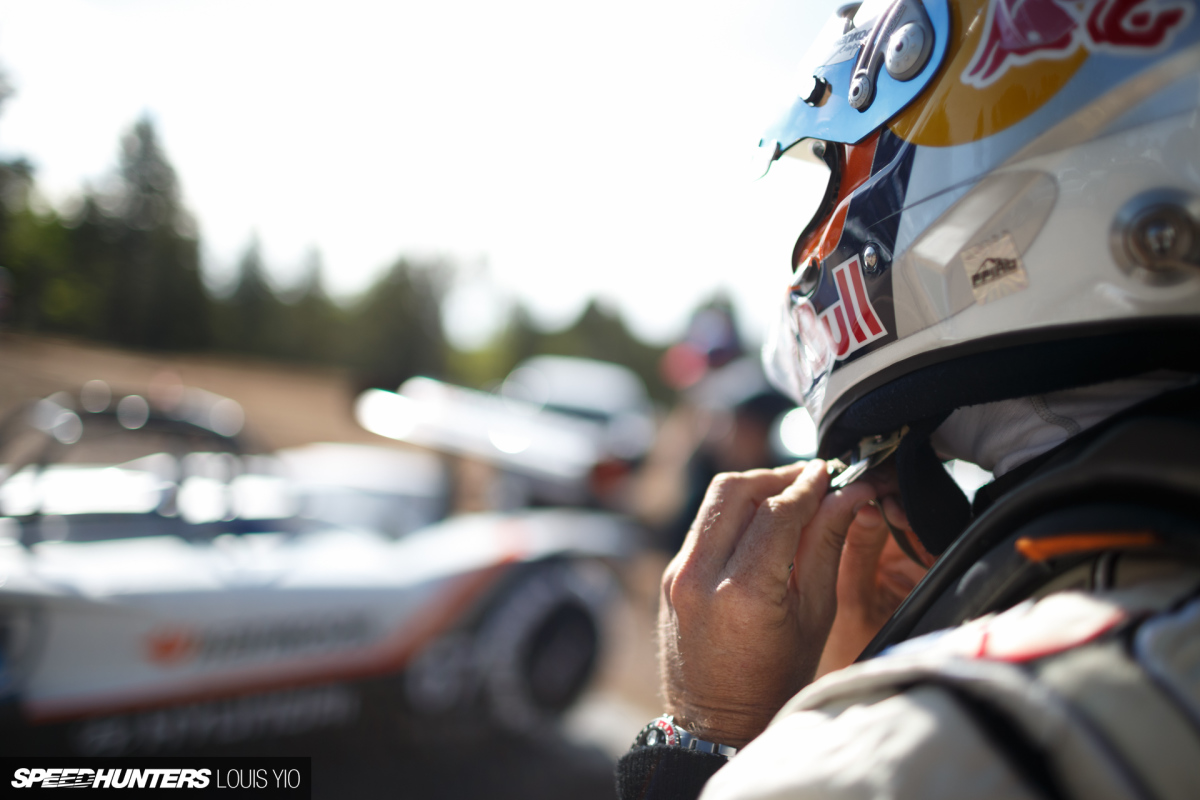 There are also other factors too, like how performance is not affected by atmospheric conditions. Electric vehicles do not consume air so do not lose power as altitude increases, unlike their internal combustion relatives. As such, the tires need to be able to deliver comparable performance at the end of the run as they do at the beginning. because they're still receiving the same power at all times throughout the climb.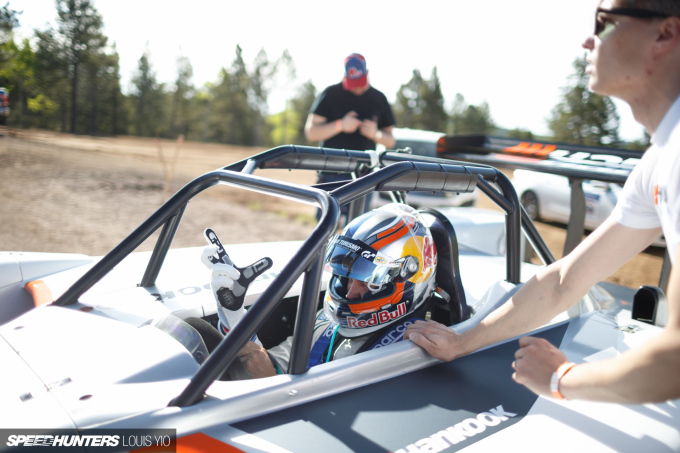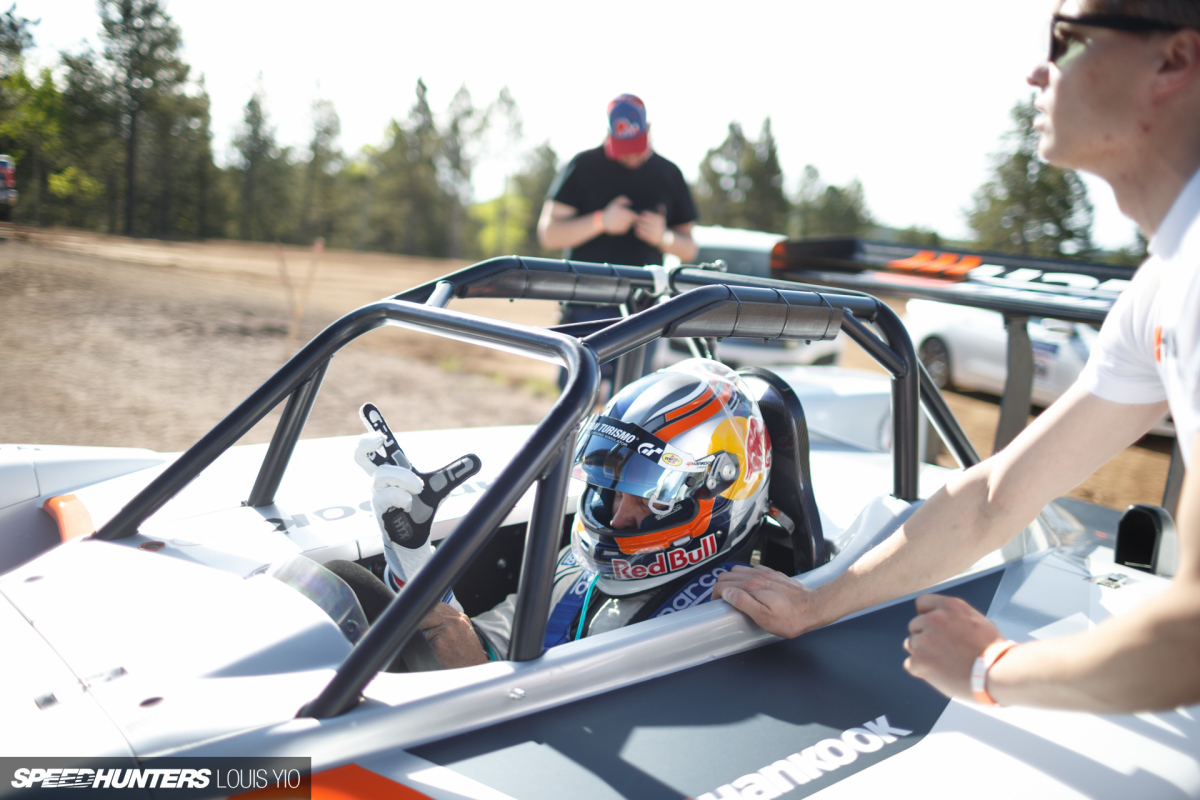 Preparation is undoubtedly key to success at Pikes Peak, with Rhys logging as much time behind the wheel of the Drive eO PP100 as possible in advance of the event. The first test at Willow Springs International Motorsports Park was a big step forward for the redeveloped car.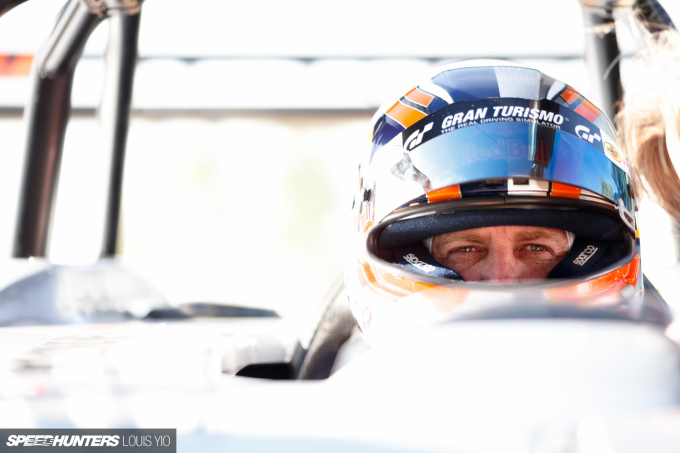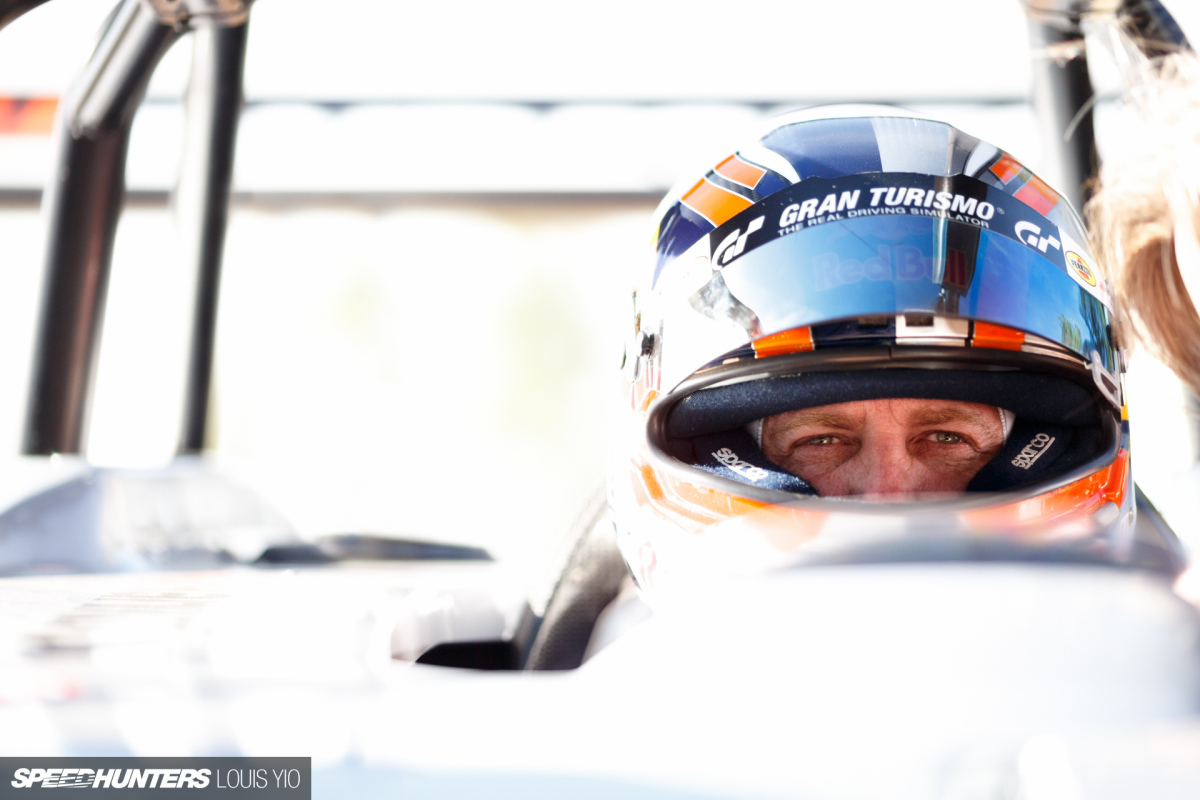 "It was a very positive test and I'm confident we can turn it up even more on race day. We're targeting a sub-nine-minute run," Rhys said. A more recent test at Pikes Peak itself displayed more positives for the team who have their sights firmly set on another new record.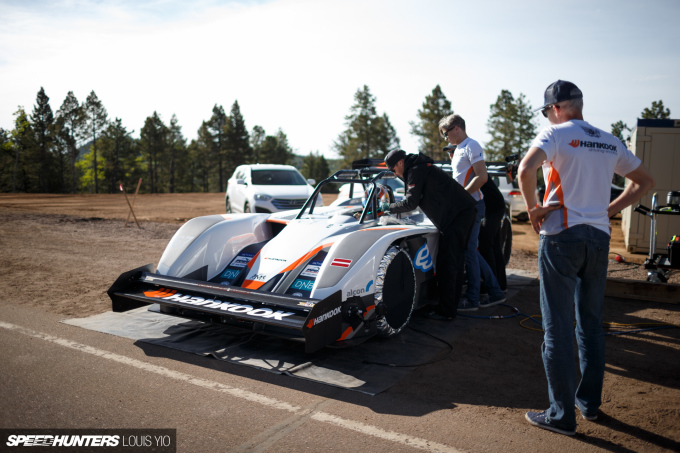 For quite some time, I viewed EV race categories as a token gesture to appease the environmentalists of this world, and to at least give the appearance that the motorsport community was seen to be doing something positive with regards to protecting the planet. I'm genuinely surprised by how fast the technology is progressing though; we're pretty much at the point where fossil fuel race cars are now beginning to look over their shoulders for the first time. Is it time to take EVs seriously?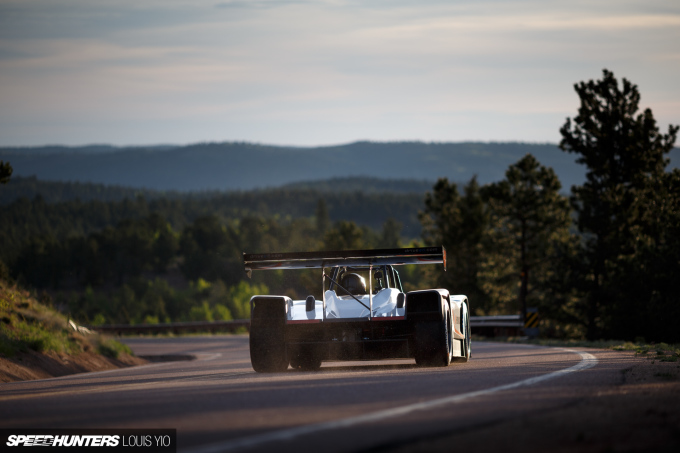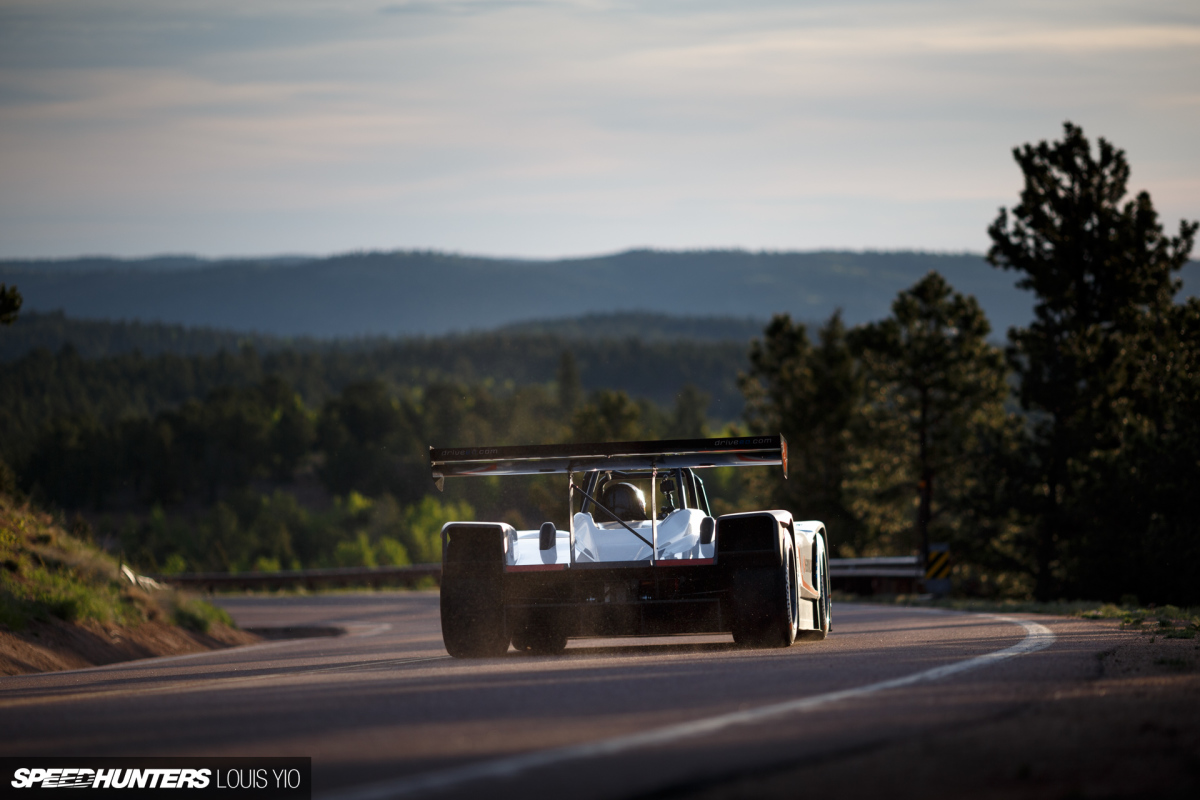 At an event where power loss as altitude increases is such a big issue, could EVs be the future of Pikes Peak? I'm sure the idea of electric cars tackling the mountain in relative silence will abhor some, but for those of us who are only concerned with going fast, it's beginning to make more and more sense. In fact, it's getting harder to argue against it. Just ask those who finished behind Rhys last year…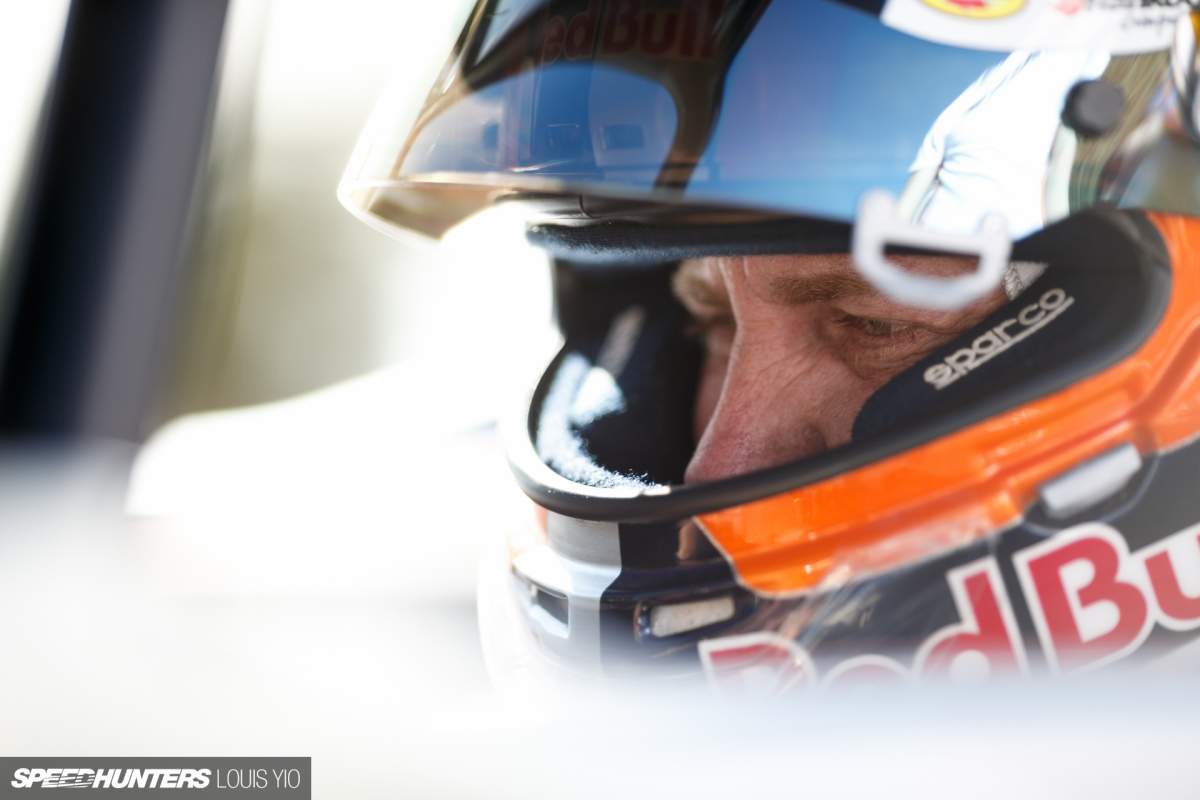 Writing a piece like this I find that I generally end up with more questions than I have answers for. Fortunately, there's a bonus to this story in that we've managed to get Rhys Millen himself to answer questions that you might have for an upcoming Q&A post. I'm trying to hide my inner-fanboy here, but it's a pretty amazing opportunity to speak directly to someone with such a distinguished racing career, particularly at Pikes Peak. I think this is also a good opportunity to have a discussion about the future of EVs in motorsport. Do they have a place or is their place on the road?
If you have any questions for Rhys, please post them in the comments section below and we'll get a response to the best ones.
Paddy McGrath
Instagram: pmcgphotos
Twitter: pmcgphotos
paddy@speedhunters.com
Photos by Louis Yio
Instagram: lusciousy
louis@speedhunters.com
Cutting Room Floor