The Best Of Both Worlds
Datsun pickup trucks began their legacy in 1934 with the Model 13; a vehicle that was later used as the basis of the Datsun DC-3 Roadster. These trucks went through many changes up until 1969, but what always remained was a very small pickup with horsepower ranging from 50 to 77hp.
If you are living in the States like I am, this truck was just something you never heard of. Japanese trucks did not become relevant until the late '70's and early '80s, when people started to realize just how bulletproof they were.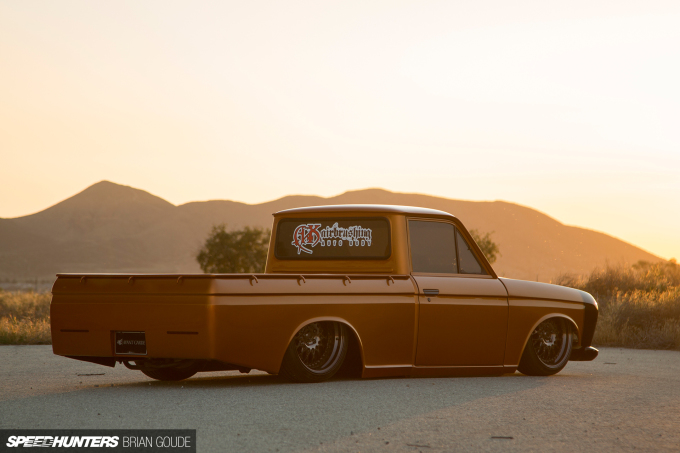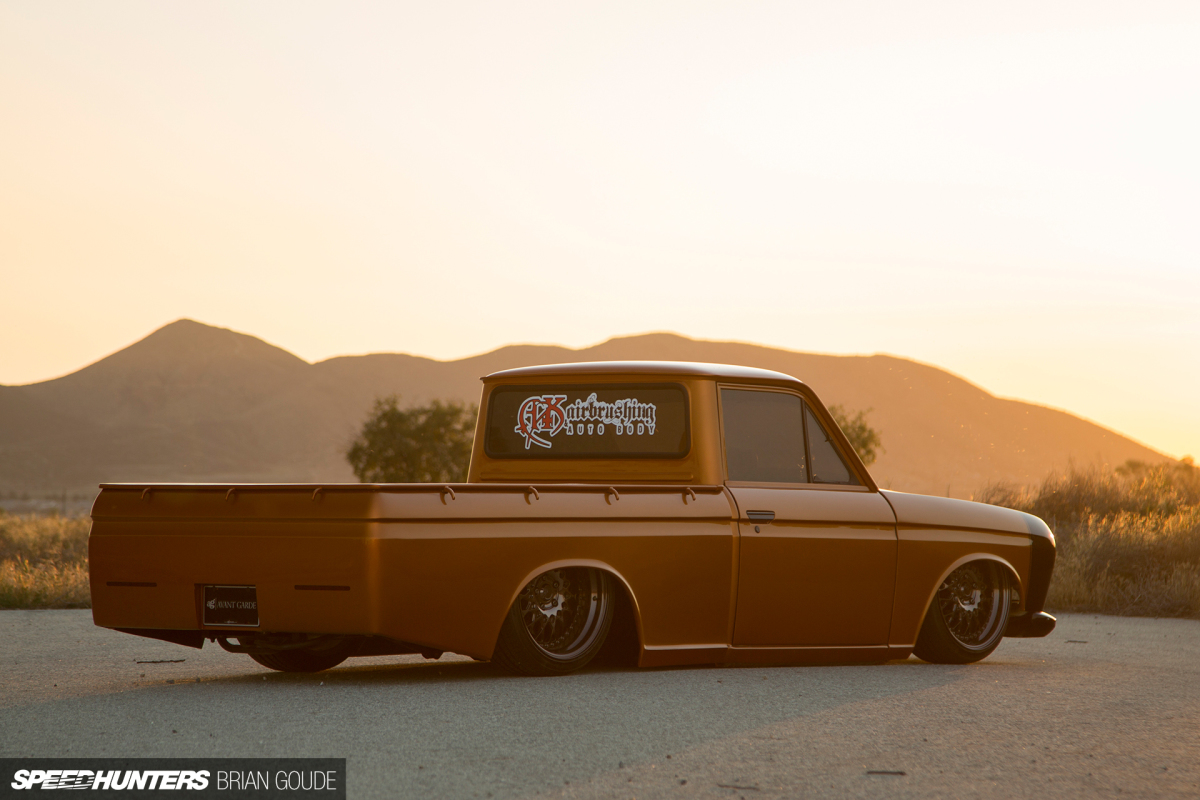 Fast-forward a few decades, and old Datsun trucks are now more sought after than they ever have been before. Sure, they're not quite on par with the C10 craze that is currently sweeping North America, but if you are looking for a rust-free, mid-century Japanese minitruck to base a build from, it's becoming a tough ask.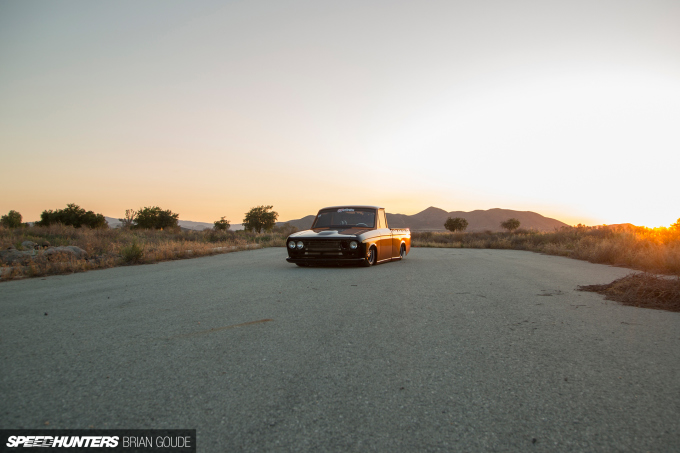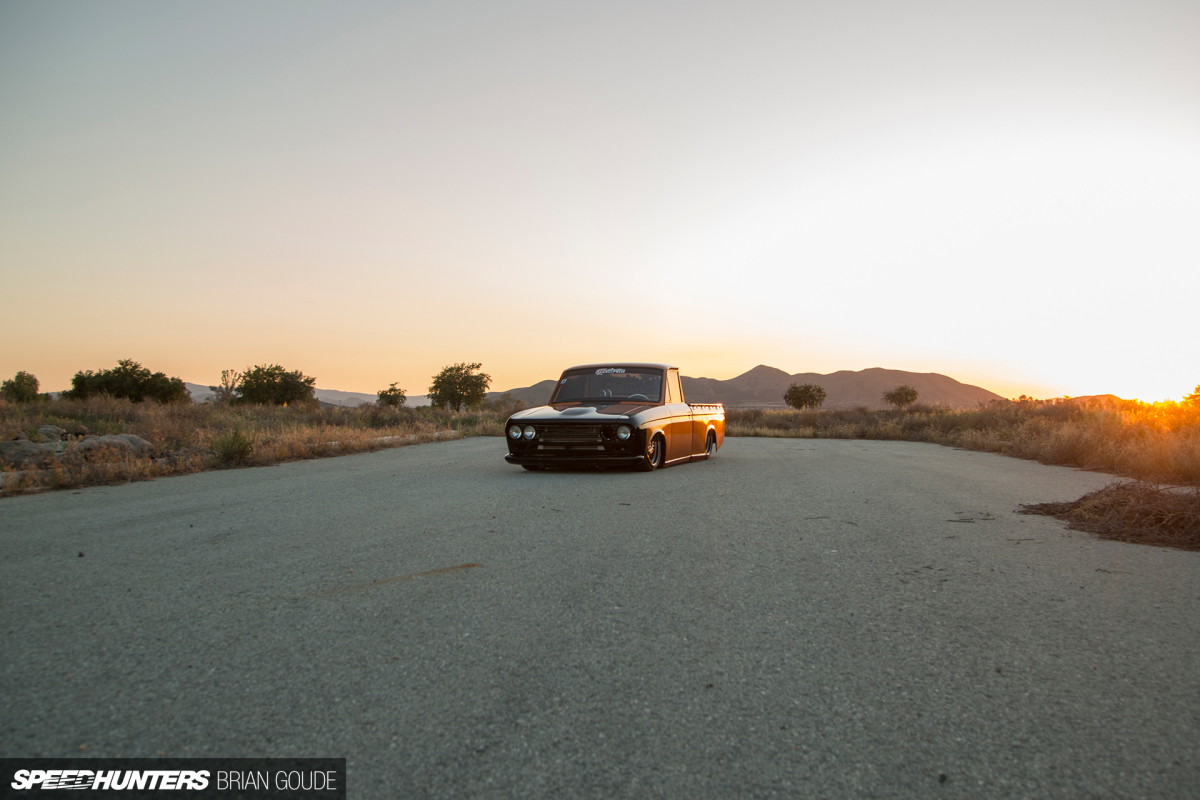 Raymond Moon grew up in the Inland Empire about 60 miles east of Los Angeles. Back in the '90s, this was the place to be on a Friday, Saturday, or even Wednesday evening, as some pretty serious street racing went down. There were several makeshift illegal racetracks to choose from, and all you had to do was meet up at the local gas station off the Van Buren exit and Highway 60 and follow the crowds. The racing went on for years until a few serious incidents occurred and the law moved in and shut them down.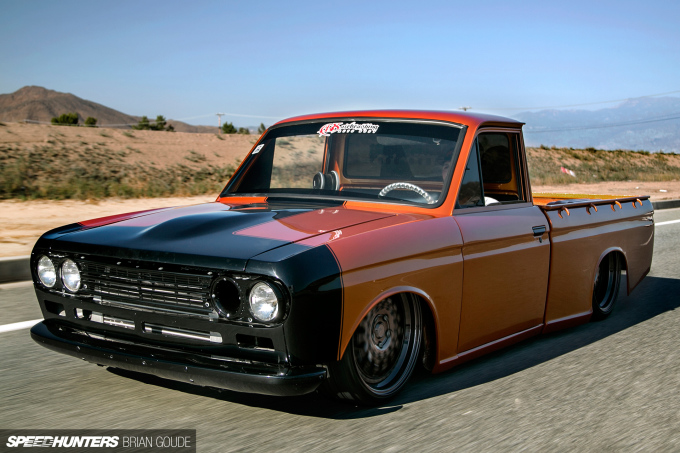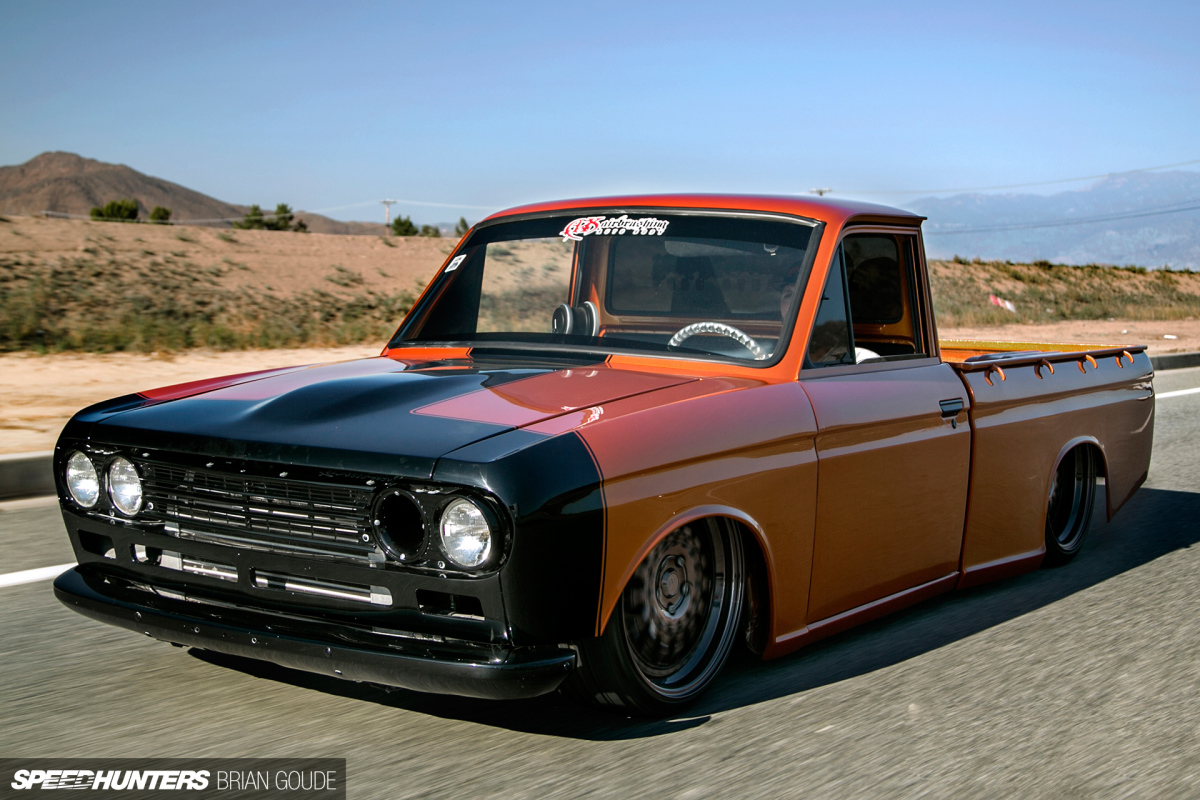 Being a bit younger, Ray caught the tail end of Inland Empire's late-night street racing scene, but he still ventured out in his Mitsubishi Lancer Evo finding side streets where owners of fast cars lined up to race under the cover of darkness.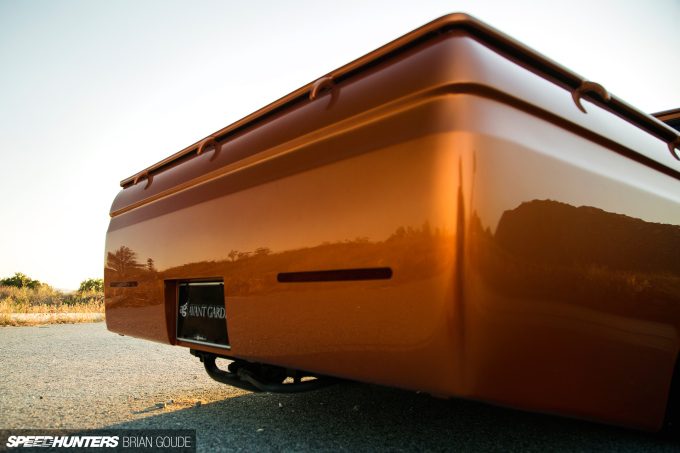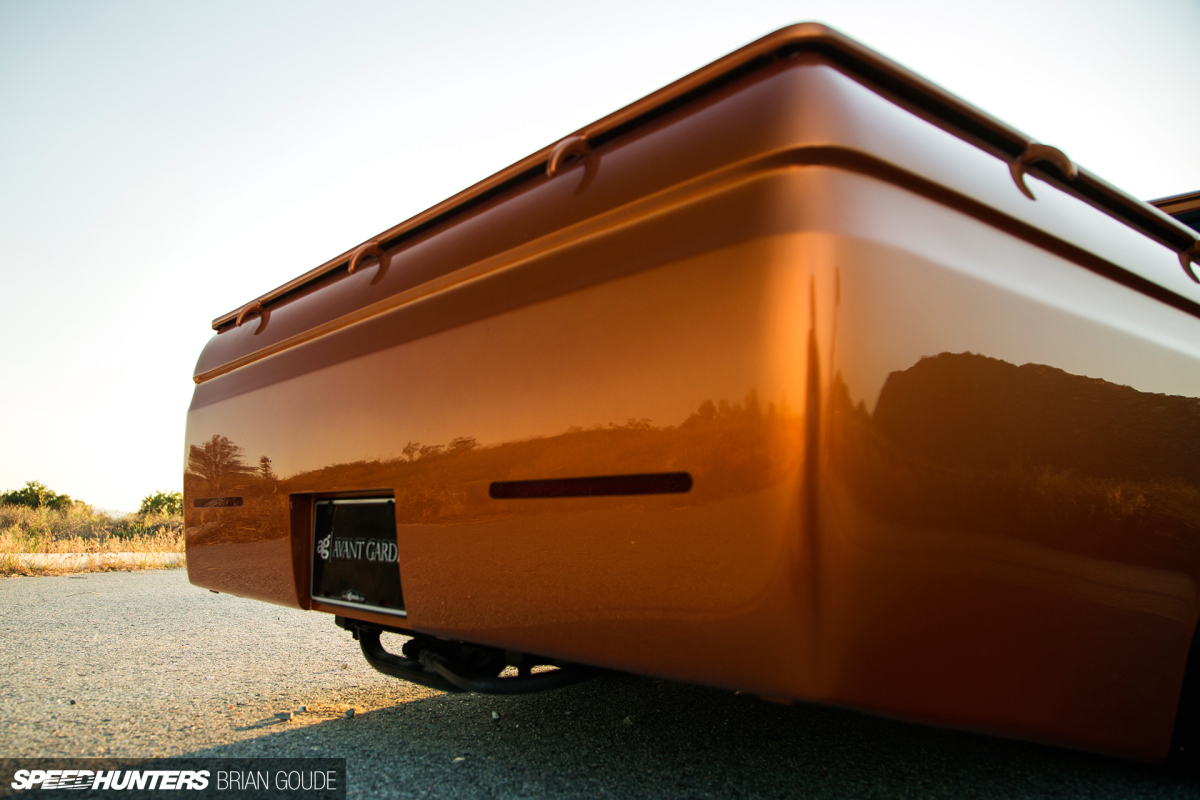 Around the same time, Ray started hanging out with a few buddies that were into the whole minitrucking scene, and it instantly caught his attention. He started seeing a different side to the custom world; one where it was wasn't about being the fastest, but who could go the lowest.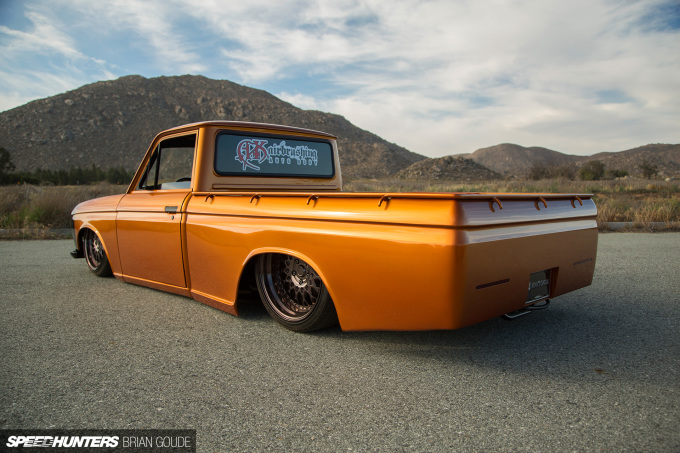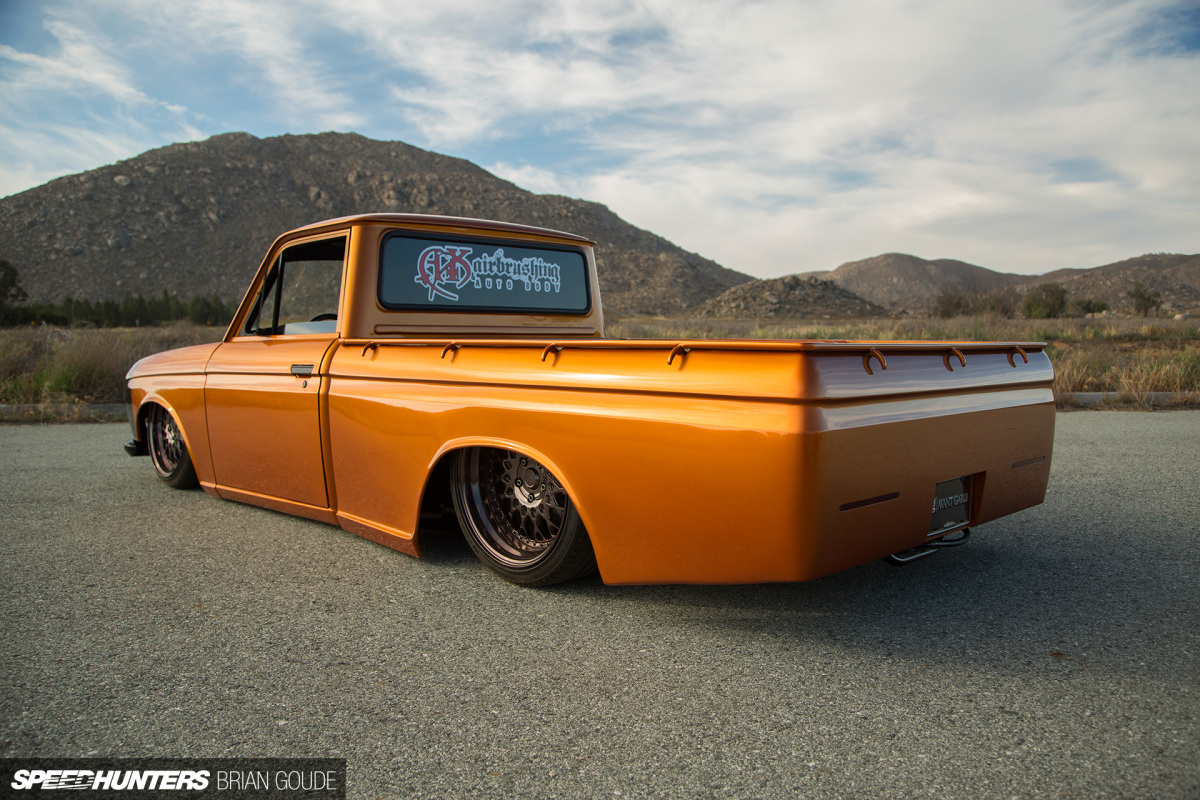 One of Ray's best friends, Alan Farias, who happened to be an up-and-coming airbrush artist, was also looking to get into minitrucking. Ray wanted to take his need for speed and his passion for being low and mix the two together.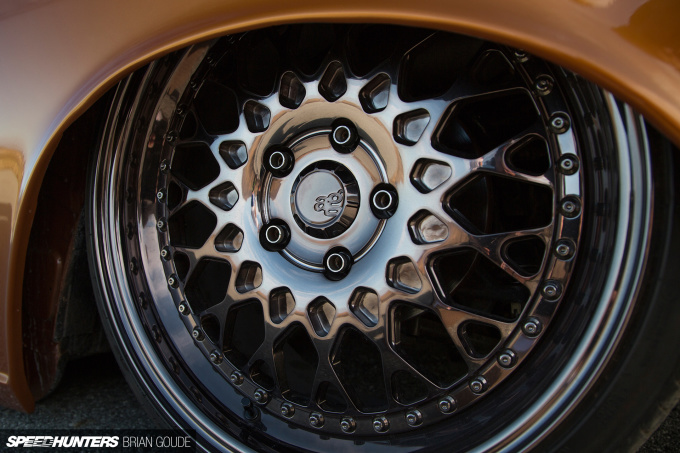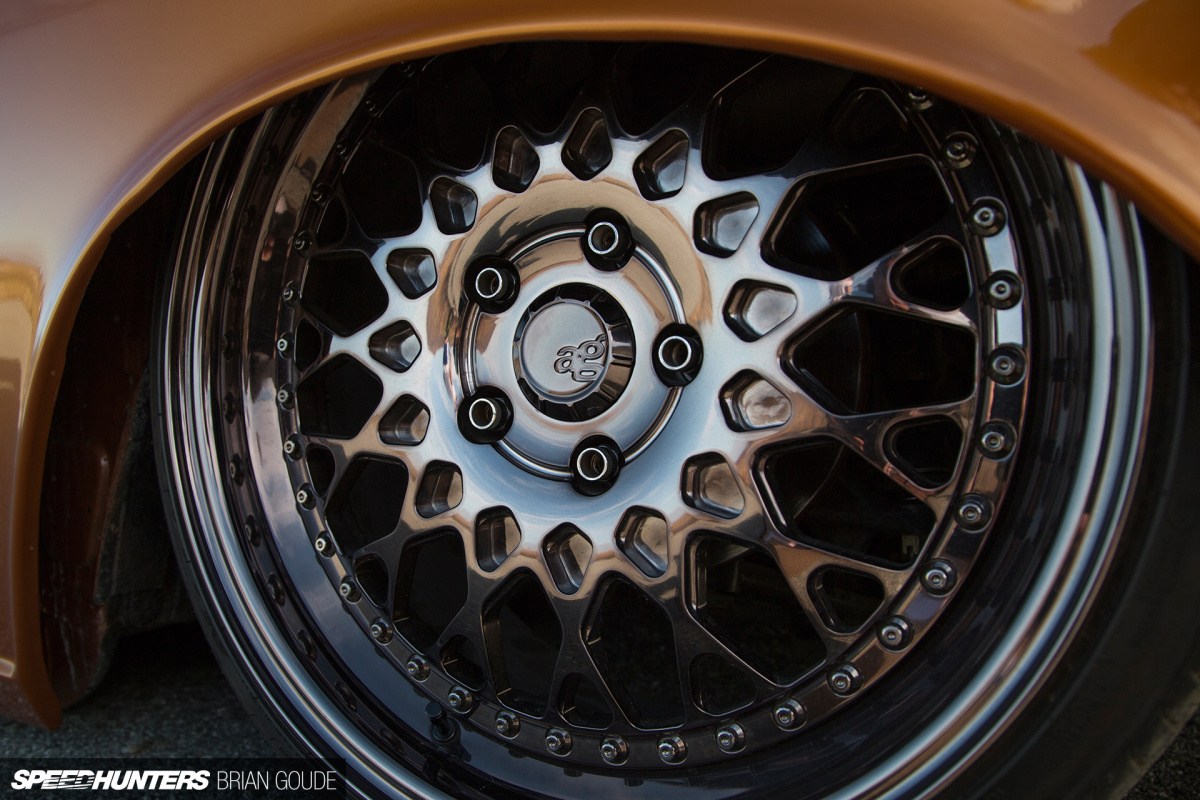 He eventually sold all of his projects – including both of his Evos – in order to save for a house, but he knew he would need at least one project to keep him sane.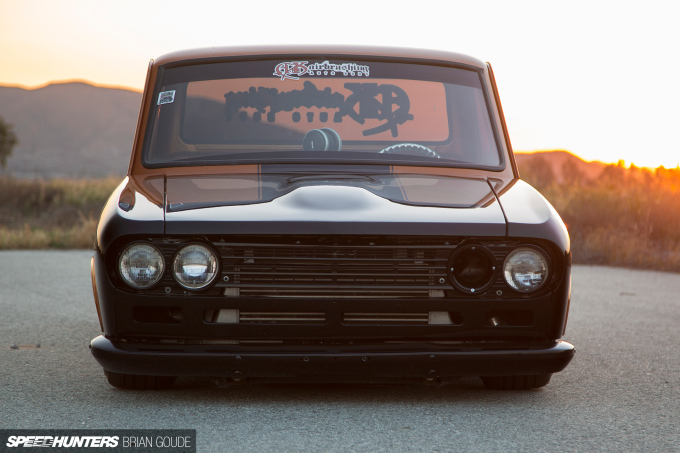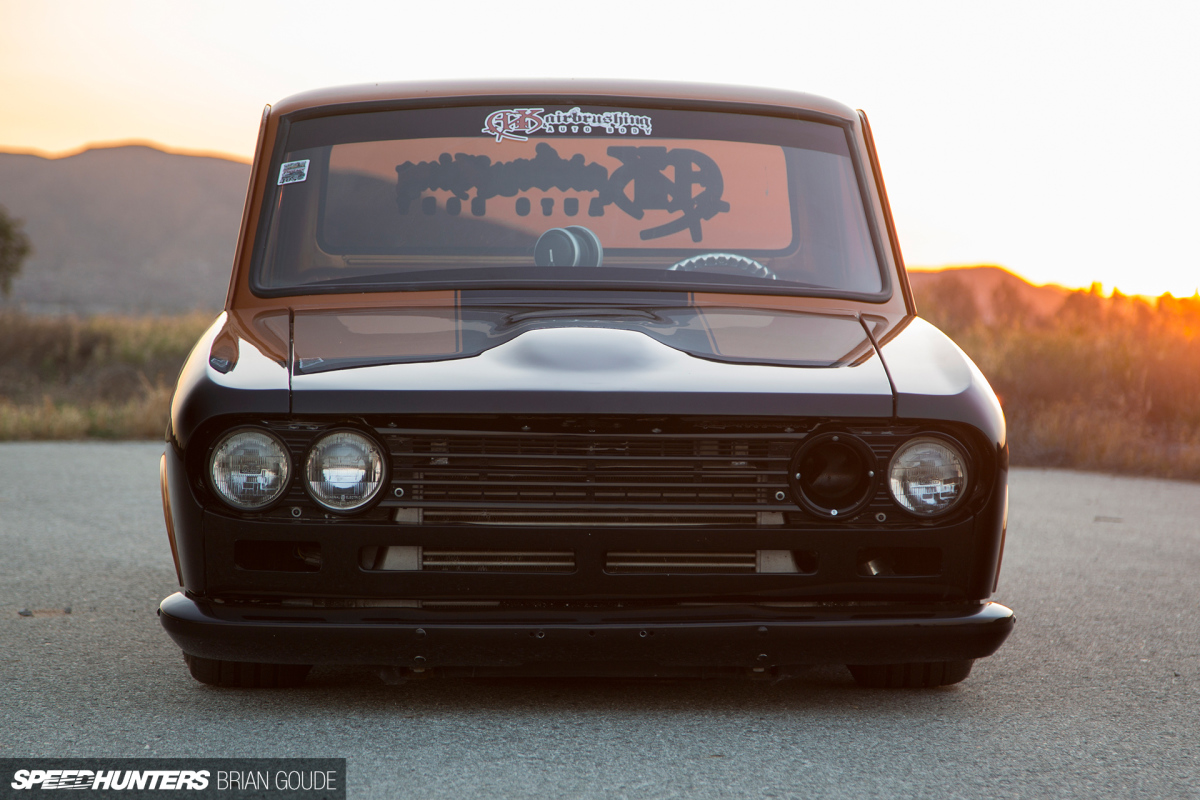 Enter the idea of colliding a old school truck with horsepower.
Dropped & Boosted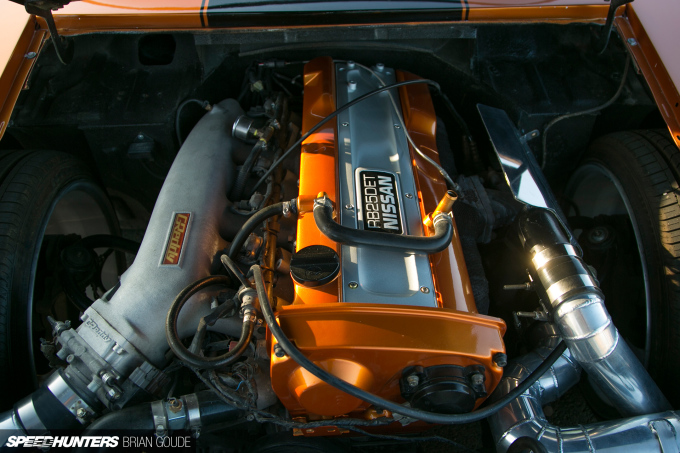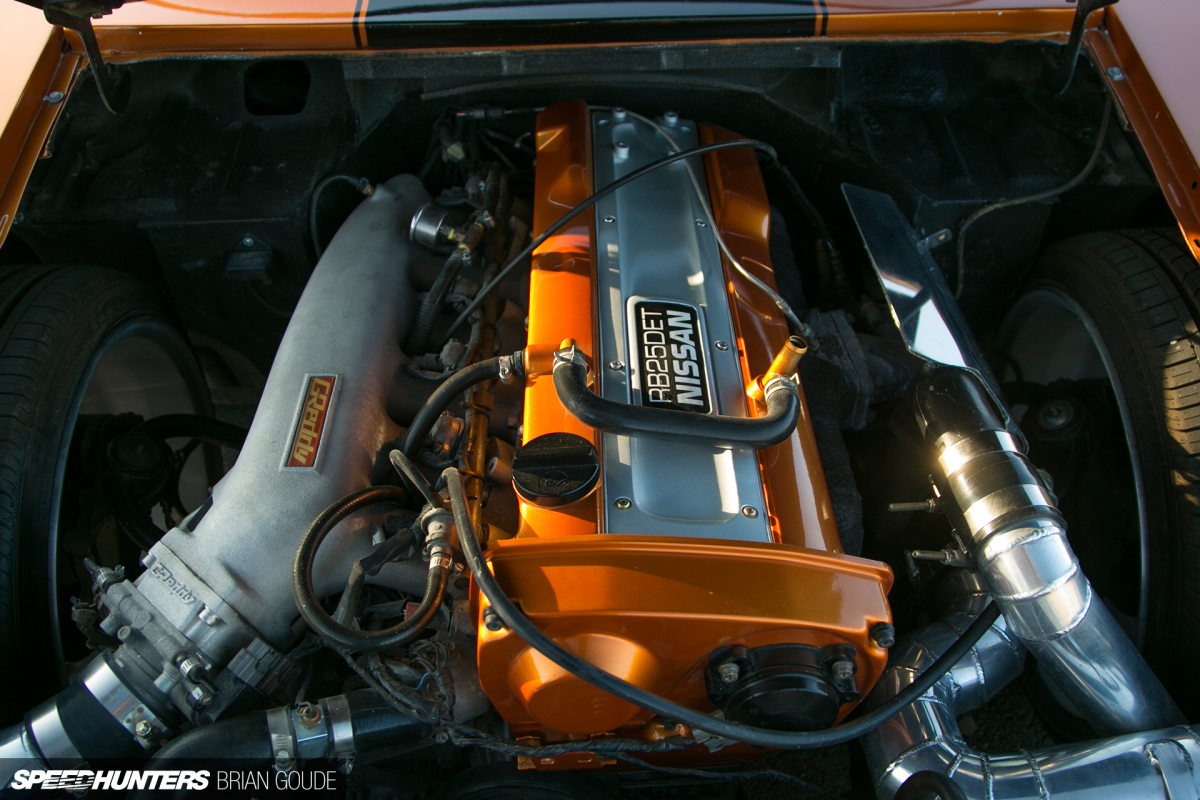 Ray had visions of building a bagged truck with the power of his sorely missed turbo cars. He started looking into the idea more seriously and found out that Von Chounlamany, owner of Laodies Kustomz out of Iowa, already had a Datsun ready to go with the engine Ray wanted: a Nissan RB25DET from a Skyline.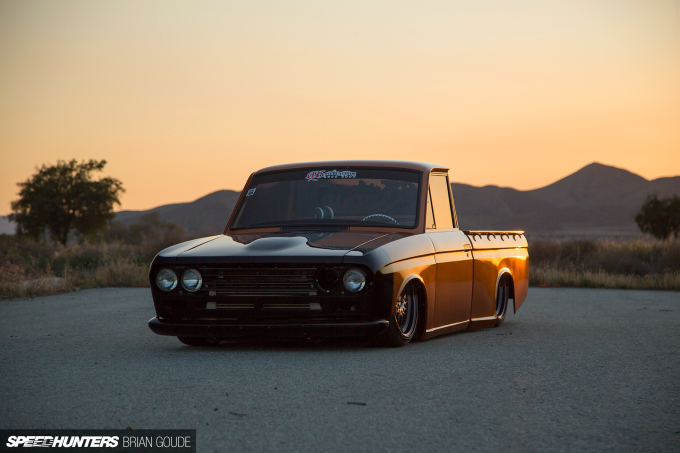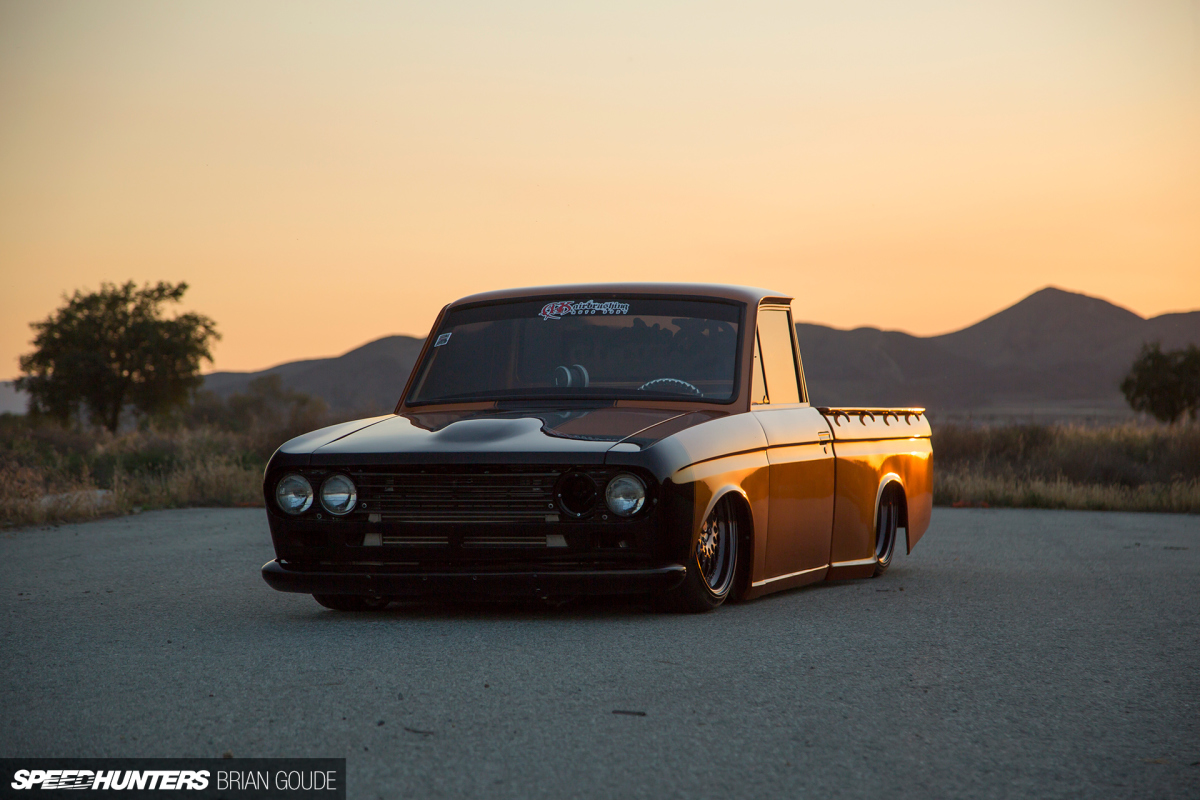 He quickly scooped up the truck and had it shipped to SoCal to finish out the project.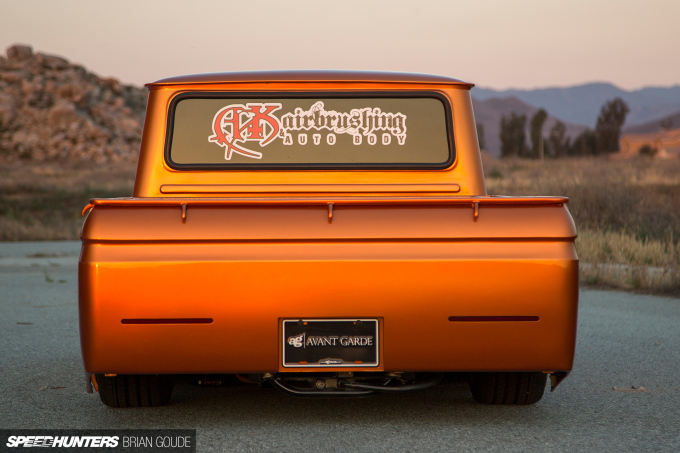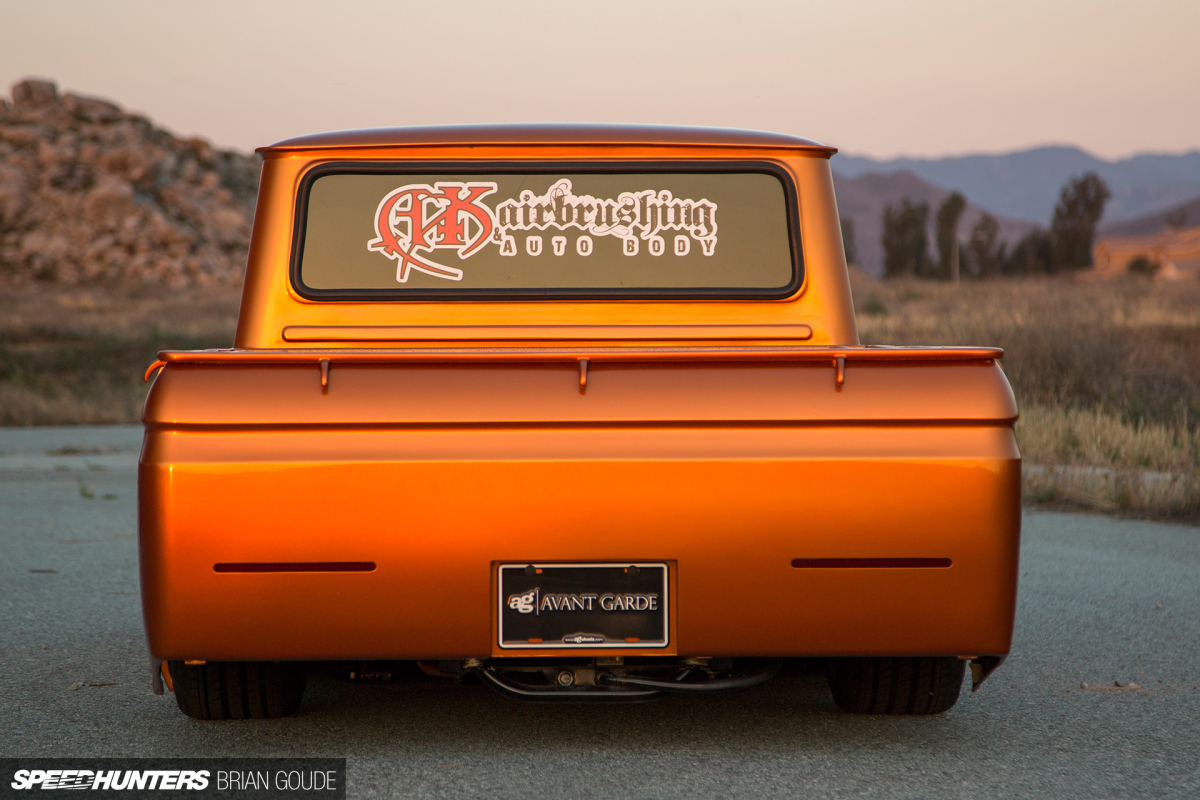 The truck was exactly what Ray wanted, but far from complete. He called on his buddy Alan's shop, AK Airbrushing & Auto Body, to do the finishing.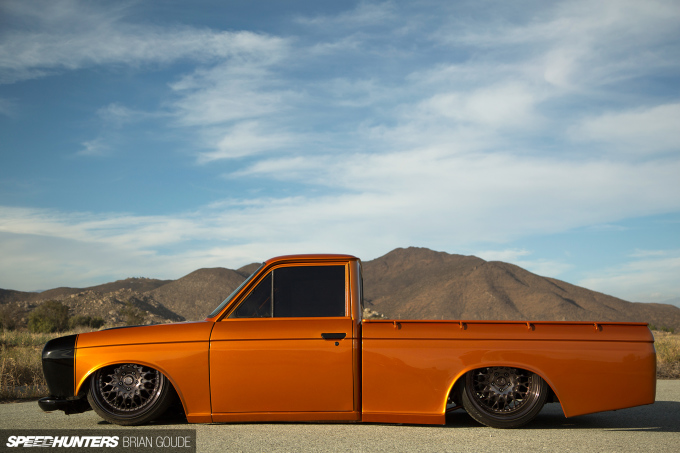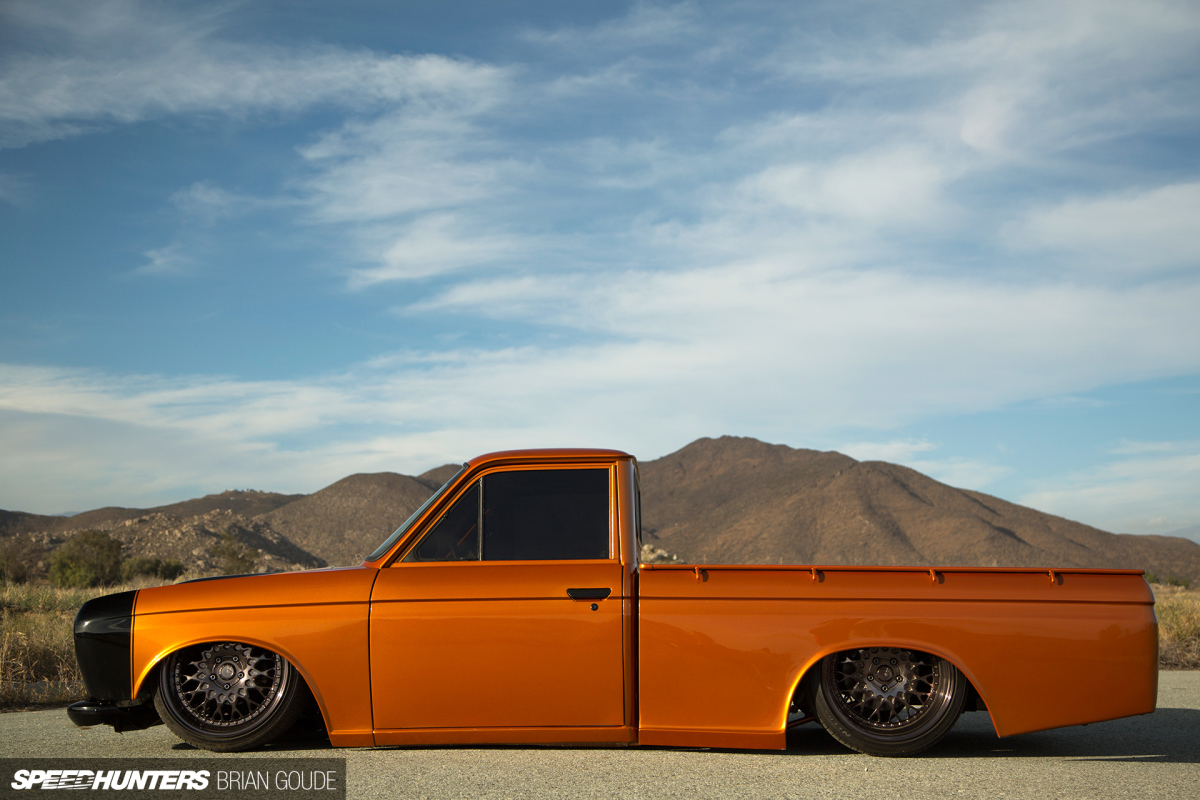 After a ton of wiring work, metal work, suspension work and House of Kolor Gamma Gold paint work, Ray and Alan thought the end was in sight. But unfortunately, that was not the case.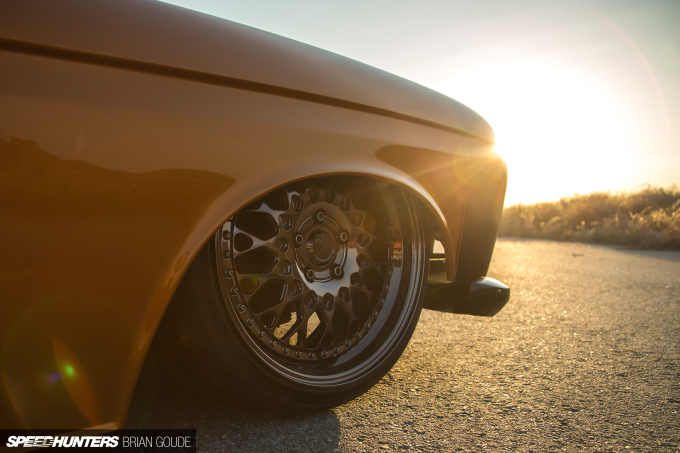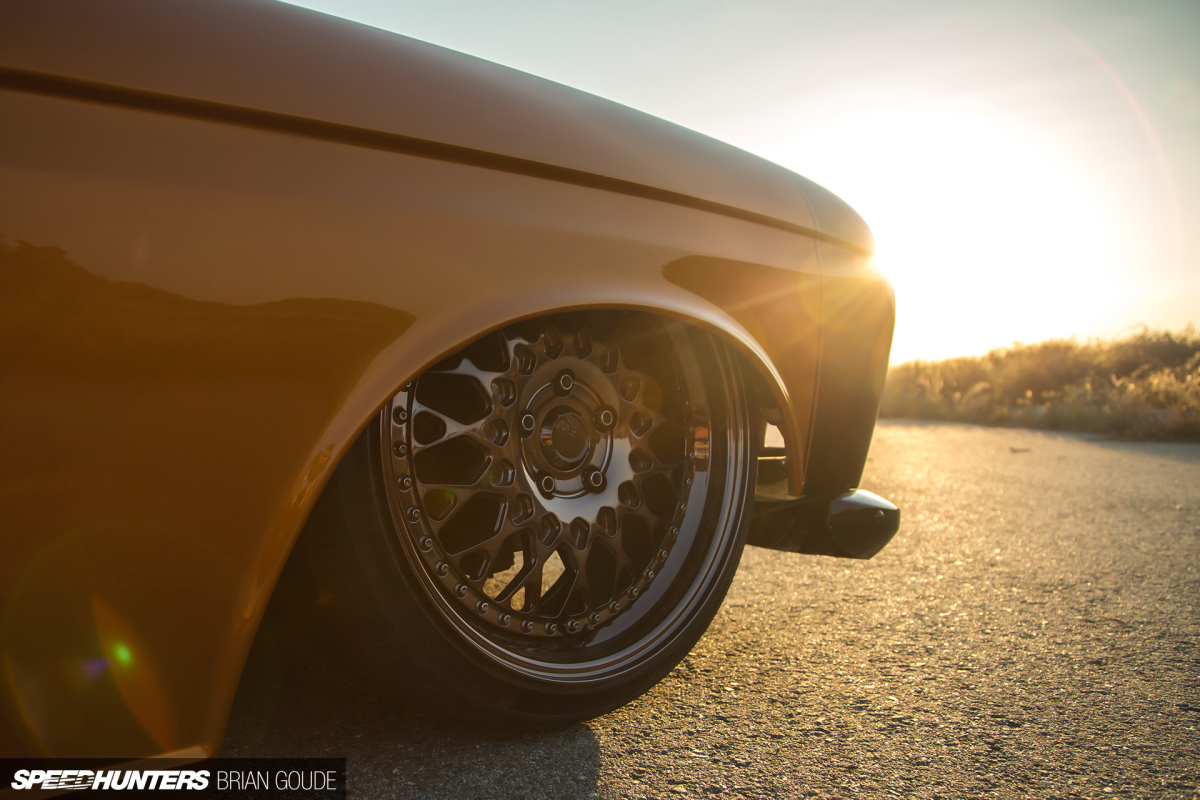 What Ray found out is that wheels are one of the most important choices you can make when building a vehicle; choose the wrong design and your vehicle just doesn't do it. He eventually went with a set of staggered 18-inch Avant Garde F240s, which really completed his truck.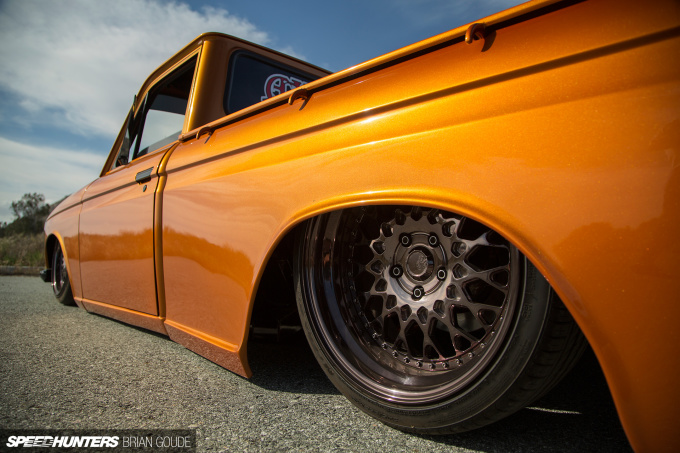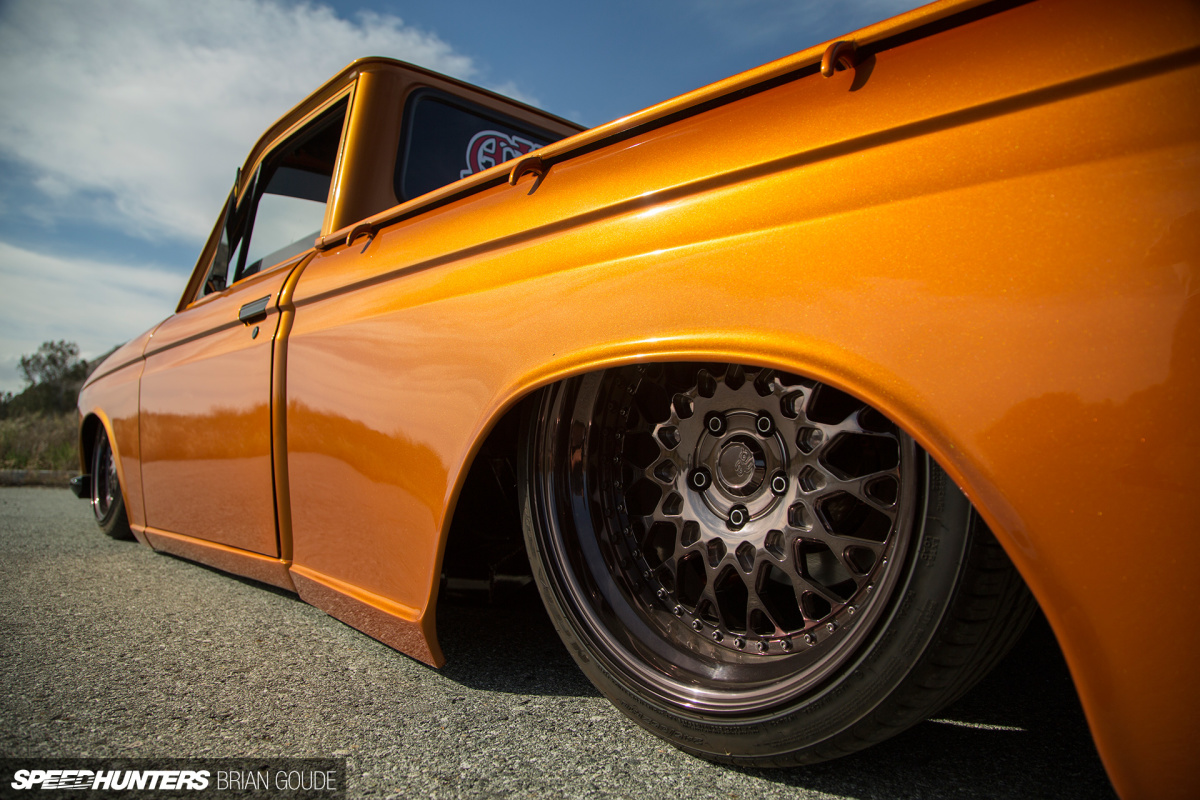 Fitting them wasn't so easy though, and before they were bolted up numerous modifications had to be made to the 521's body. Alan at AK came through again, and as you can see everything worked out for the better in the end.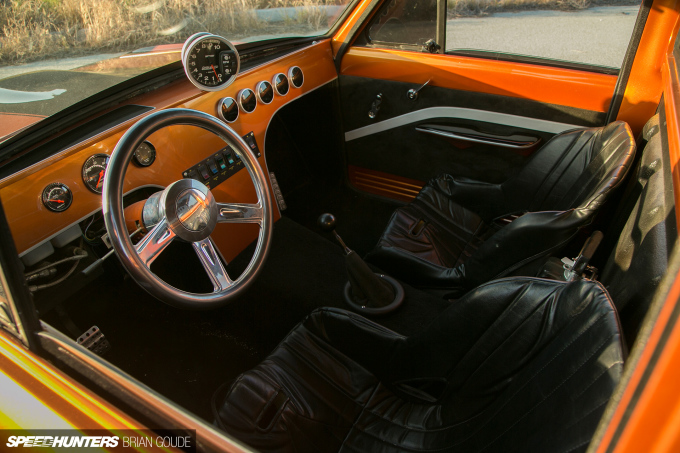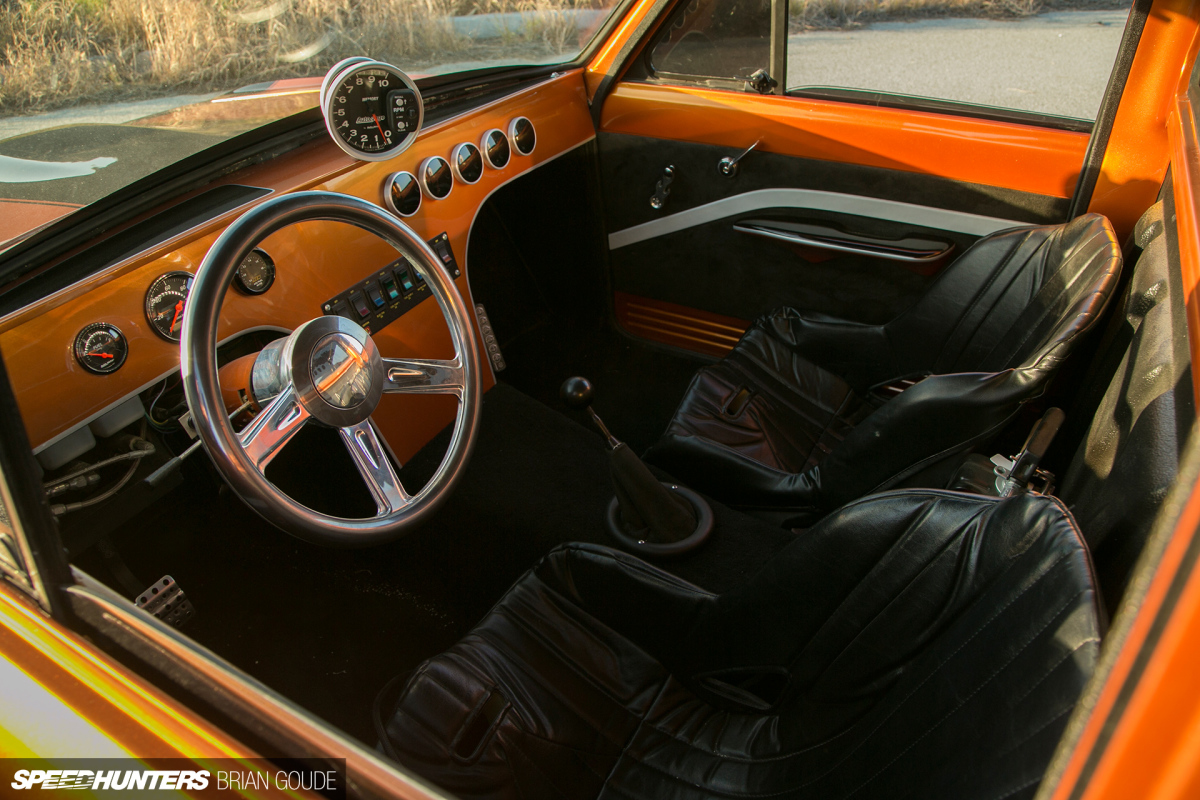 Without the guidance of friends and experience this truck would of never become something special. But because of all these choices, Ray can now look at it and be thankful for everyone that helped him out.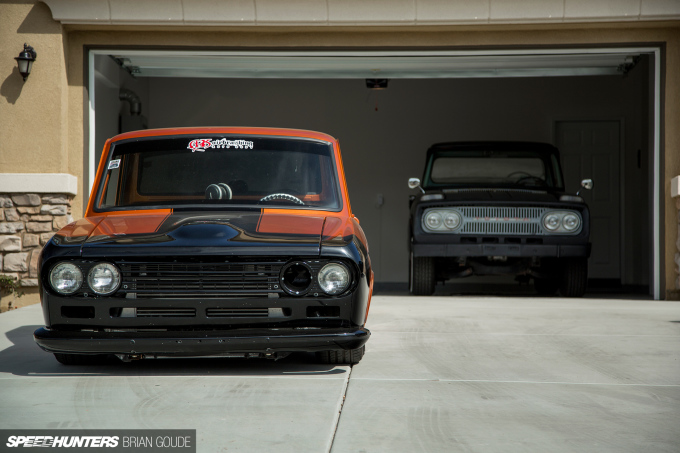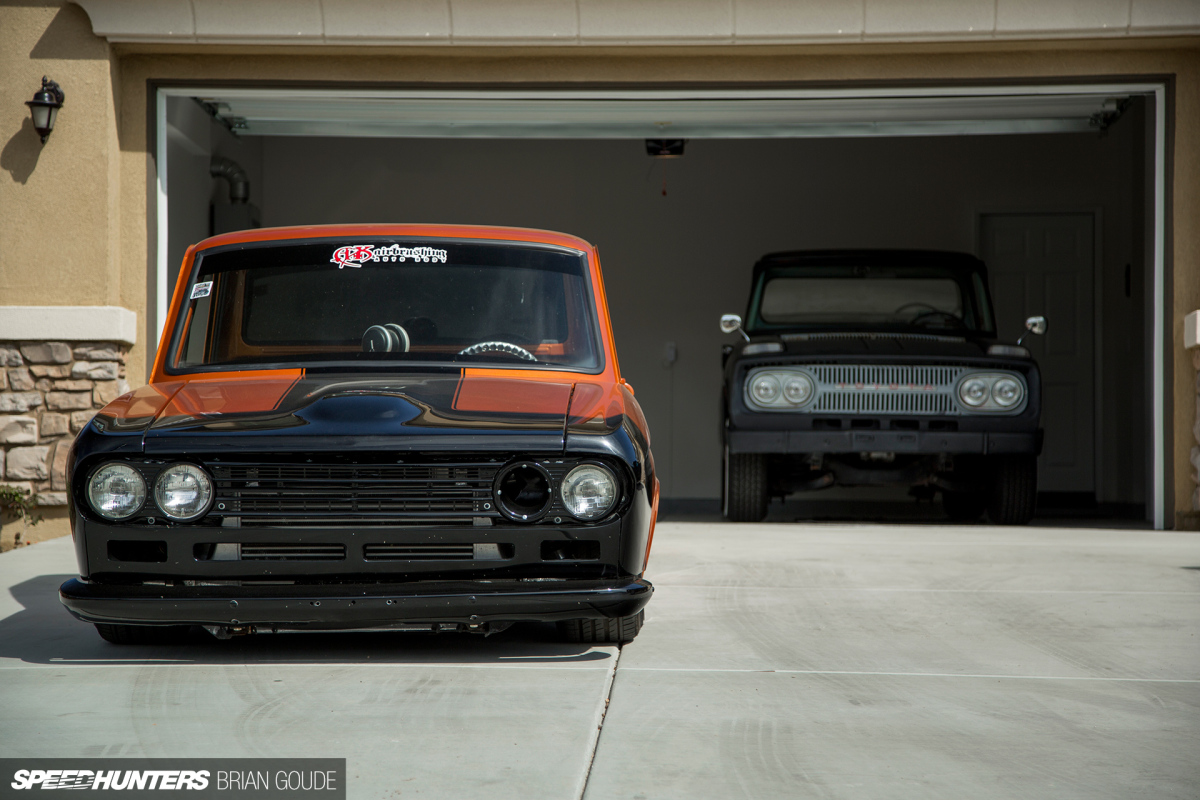 He also now owns a home, his dream truck, and has a Toyota Stout in his garage that's just begging for a 2JZ swap.
Ray cannot thank his friends enough for all the help in finding and building his dream truck. His advice for taking on a minitruck project like this? Be patient; get the proper wheels; and make sure your team is behind you 100 per cent.
Don't forget to check out the video above to see the 521 in motion.
Brian Goude
Instagram: grinder_tv
Cutting Room Floor