Culture Clash
When you think of the car scene in Japan, you think about the origins of drifting. You think about time attack cars hauling around Tsukuba Circuit. You think about stance and VIP cars.
But what about candy paint, scissor doors and substantially oversized wheels?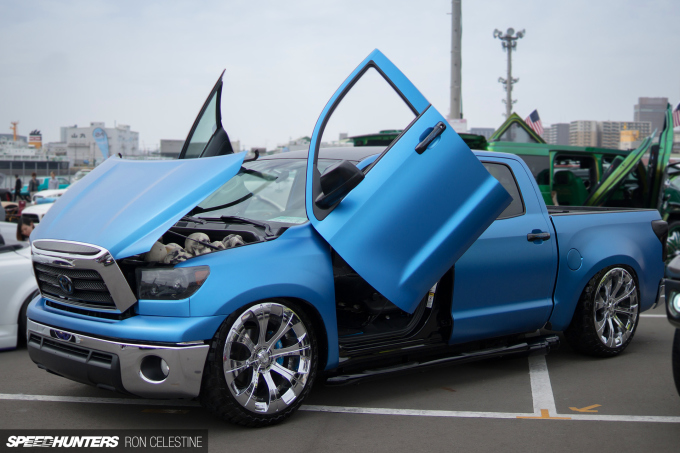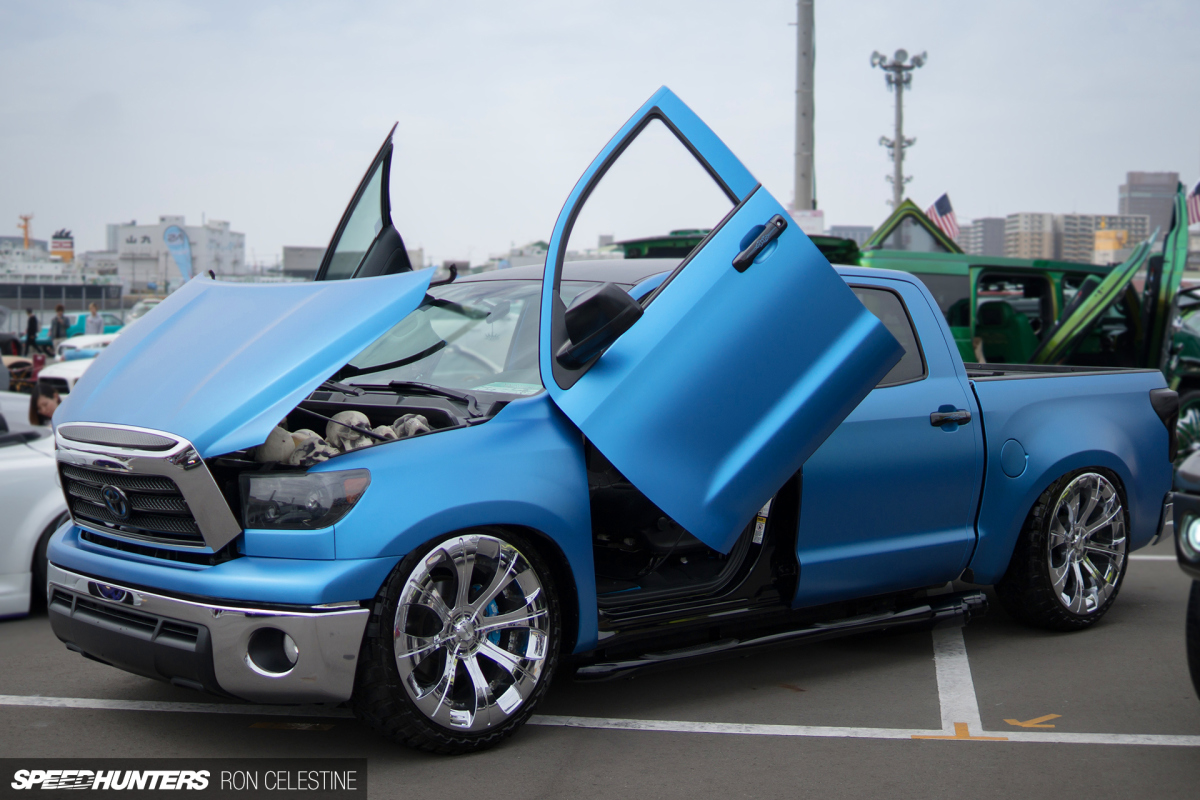 The New Style Car Show (aka NS Rounder Car Show), held recently at Harbor City Soga in the Chiba Prefecture north of Tokyo, is an event with a heavy emphasis on outrageous modifications, many of which take their cues from the USA. Owners use car customization to express themselves, and as a result you get some truly one-of-a-kind creations.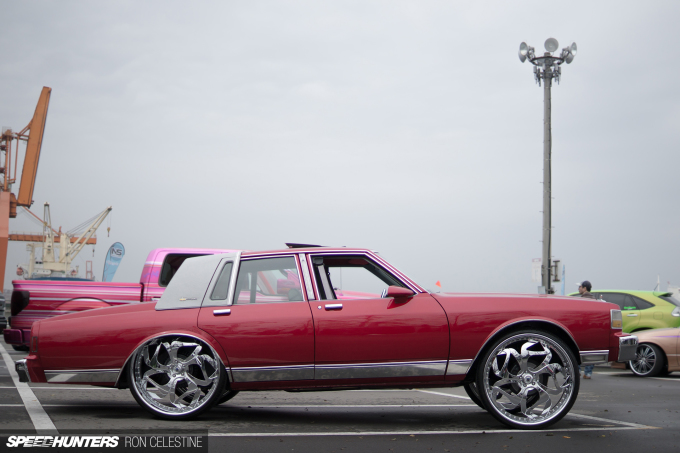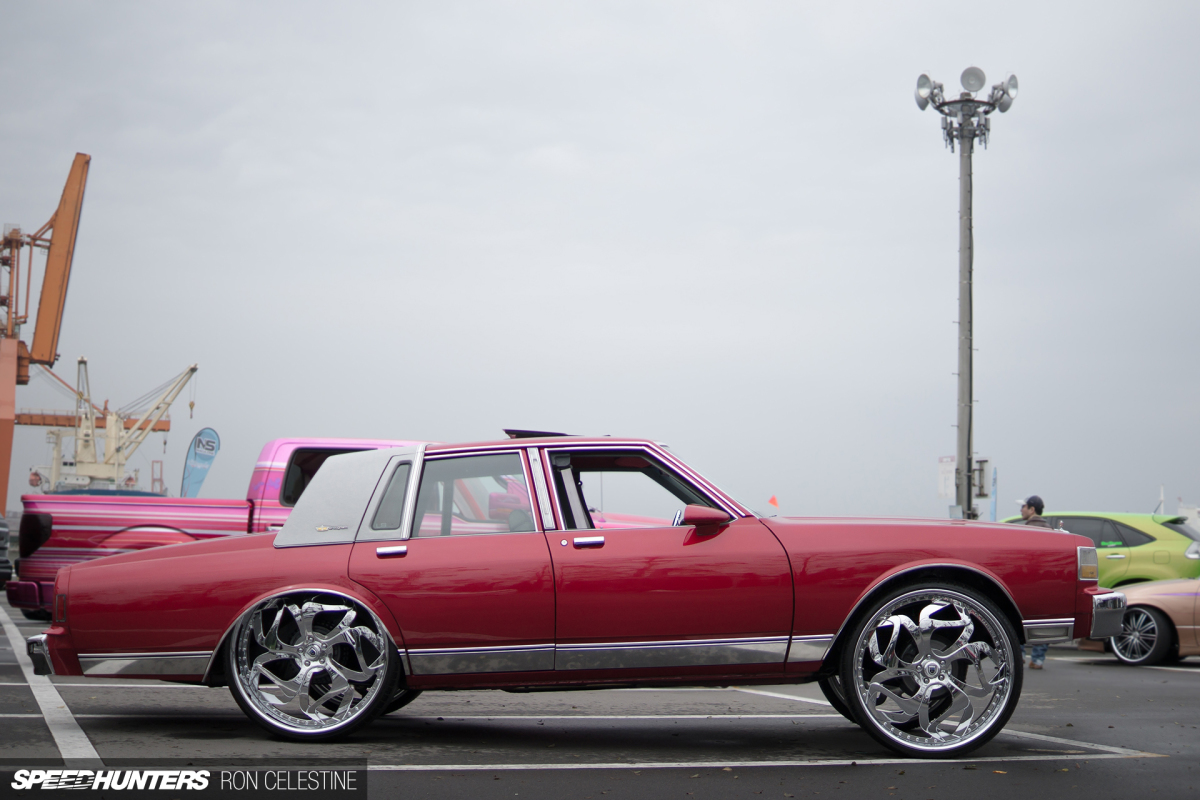 This Box Chevy on 28-inch Asanti 808 wheels reminded me of the days when I lived in Atlanta, GA.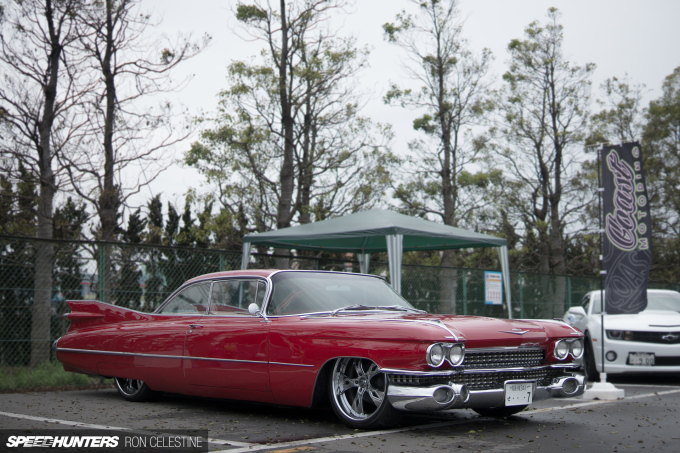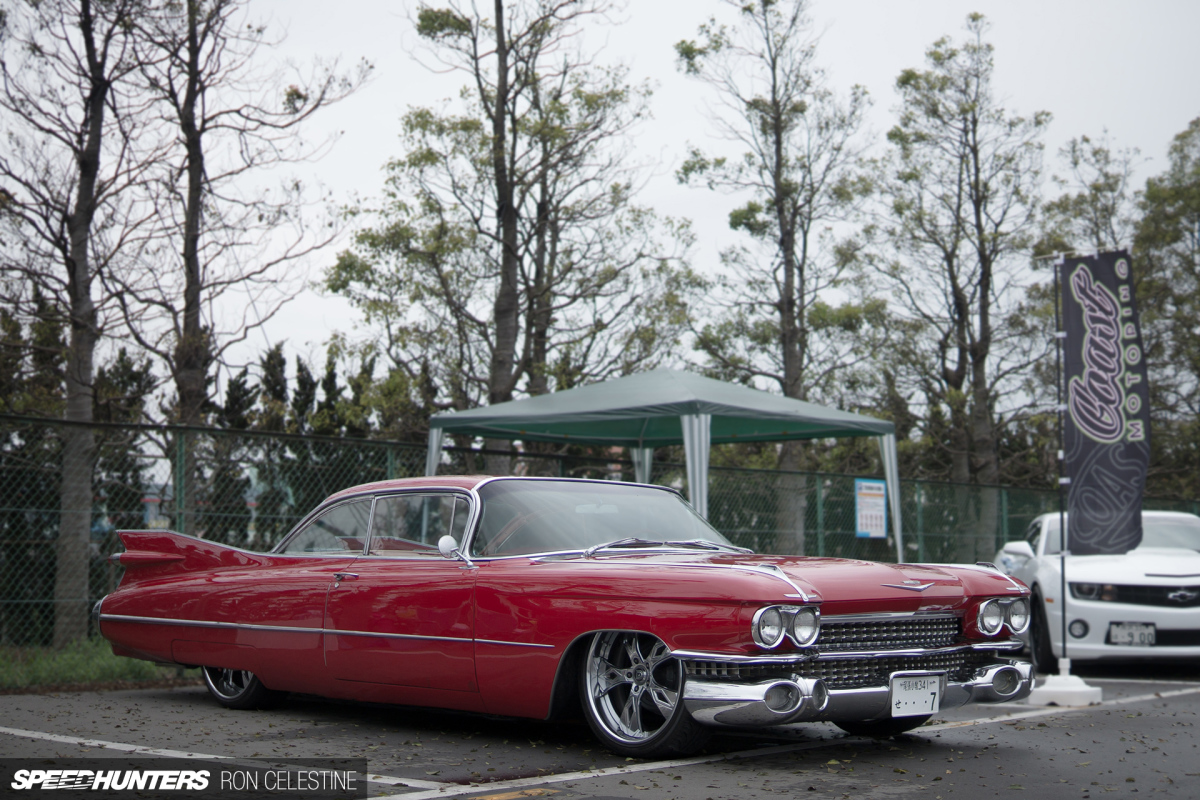 Imagine driving down the tight roads of Tokyo in this first generation Cadillac de Ville. Man, I absolutely love the taillight wings on these!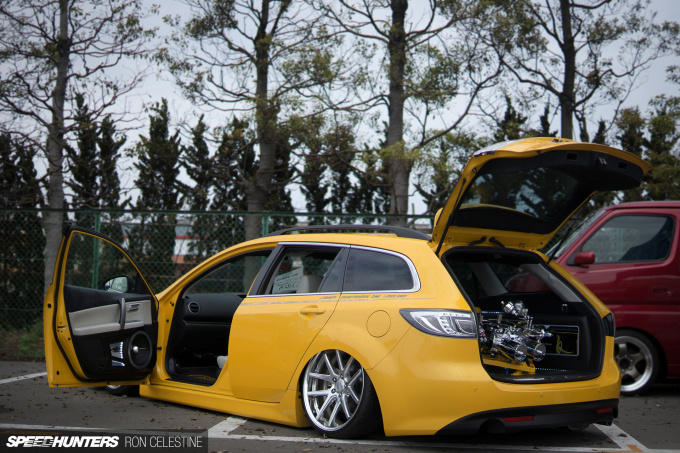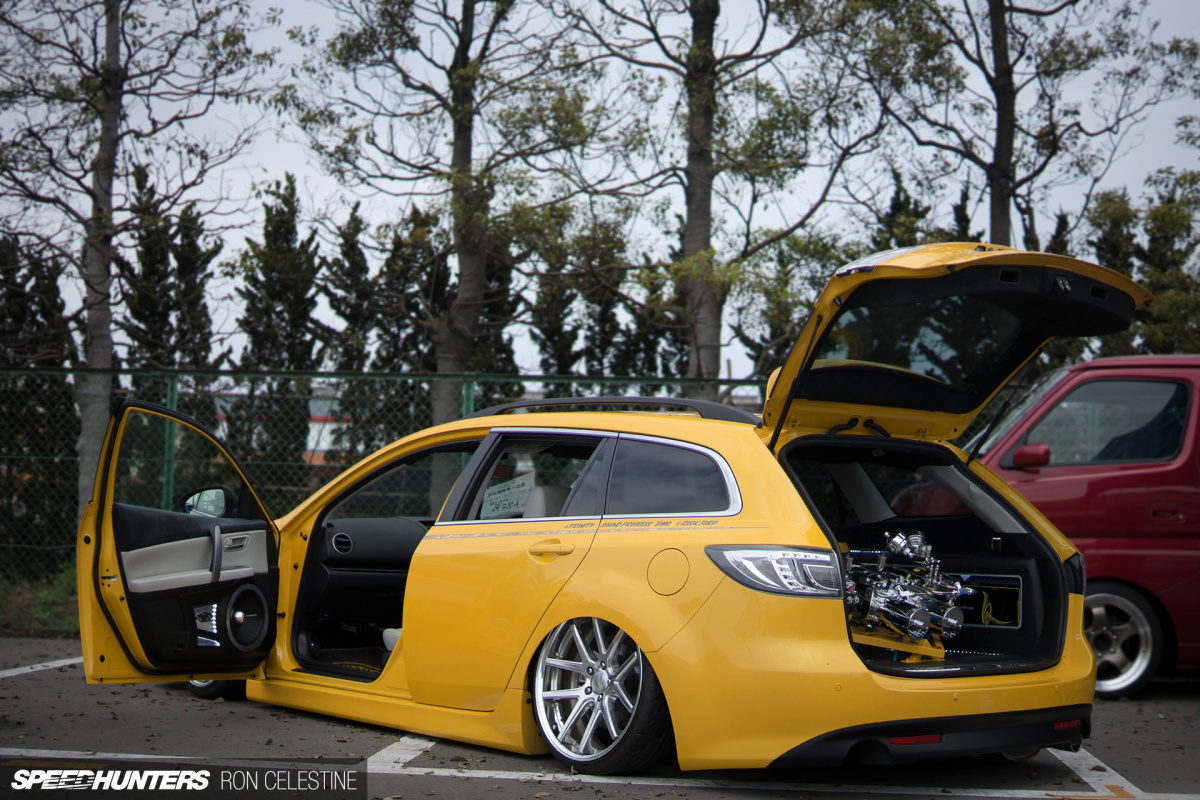 A huge component of a Japanese custom car show like New Style is the type of suspension selected for the build. Most owners will choose between running a hydraulic system or riding on bags.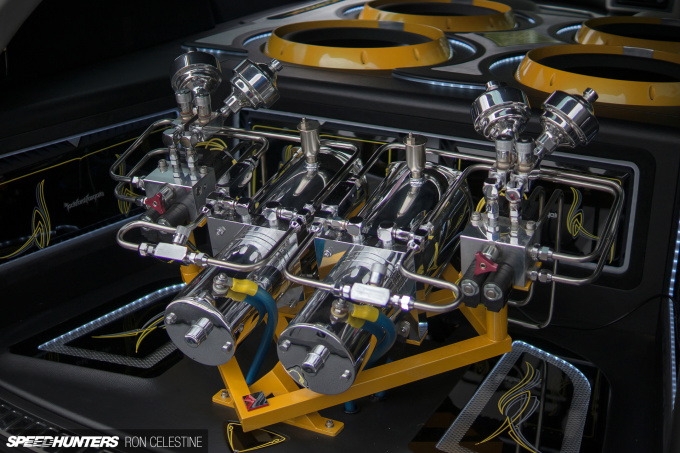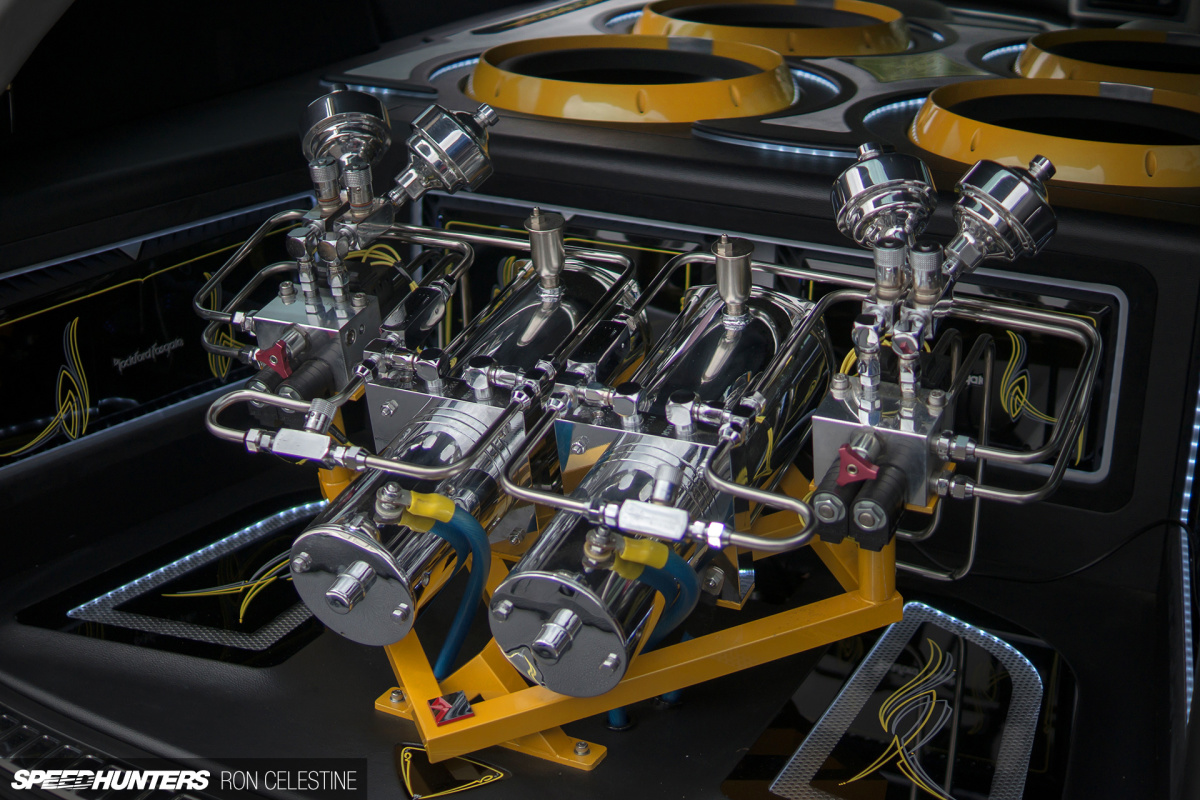 Inside this Mazda Atenza wagon was one of the most beautiful air suspension setups I've ever seen. Directly behind the immaculately presented pumps, valves and hard lines sat four large subwoofers taking up the entire rear seat space – and they hit hard.
Rules Don't Apply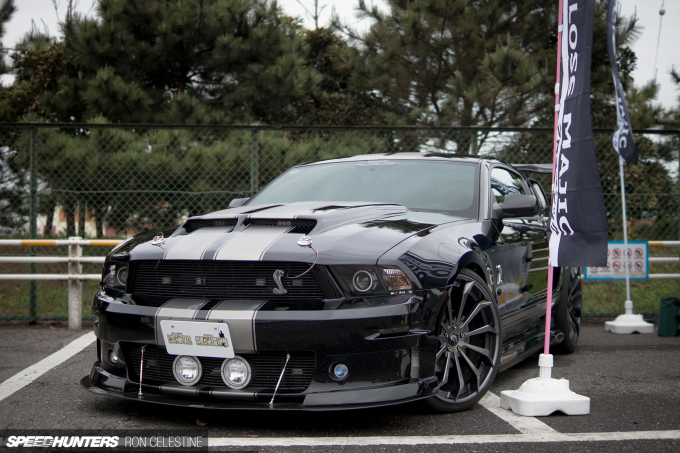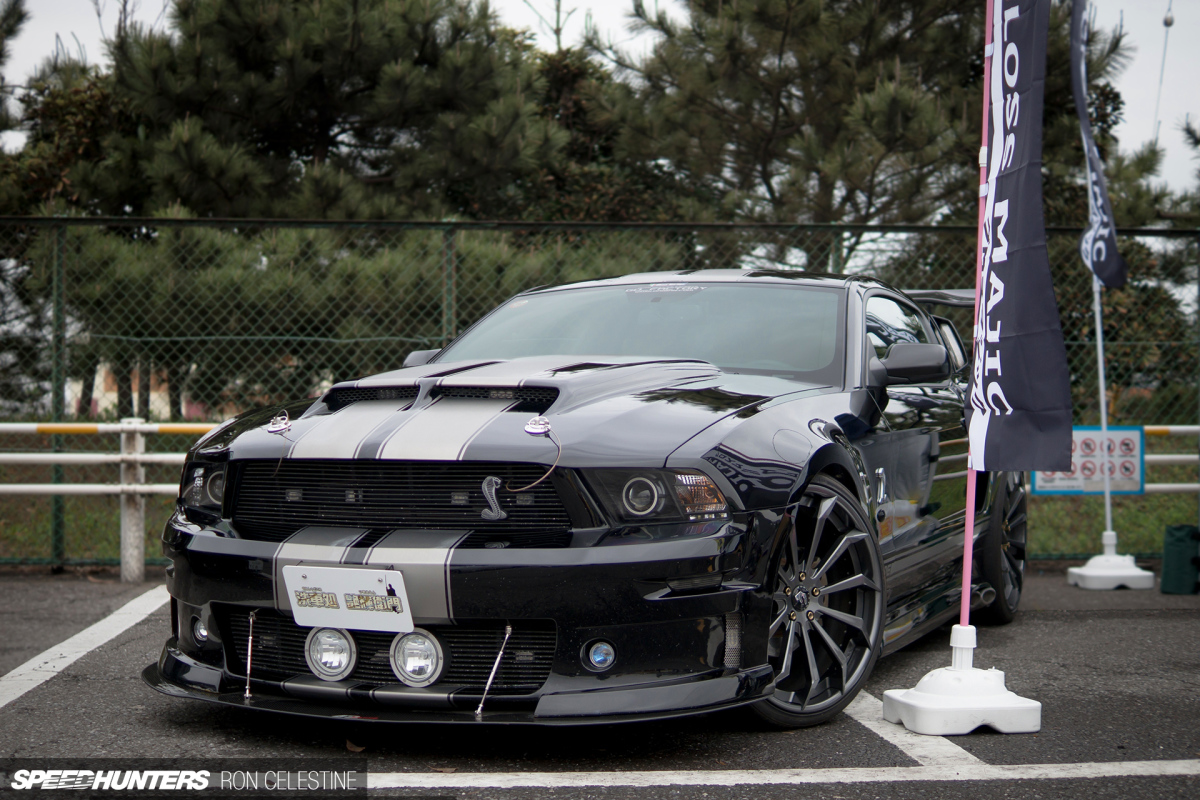 Such is the diversity in this small corner of Japanese car culture, the next second I was standing in front of a Shelby Super Snake modified with custom side-pipe exhaust.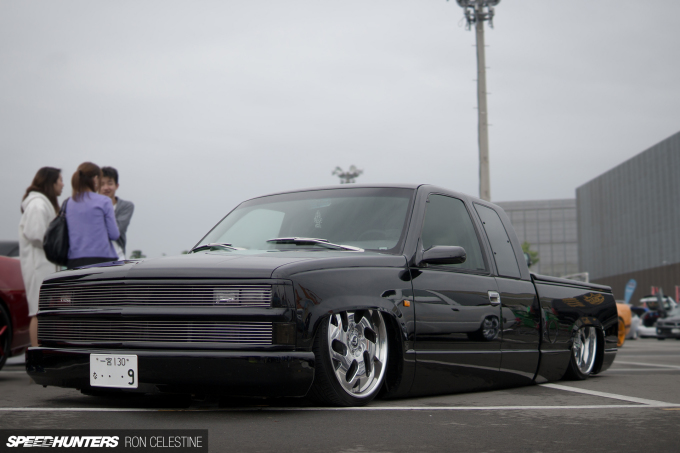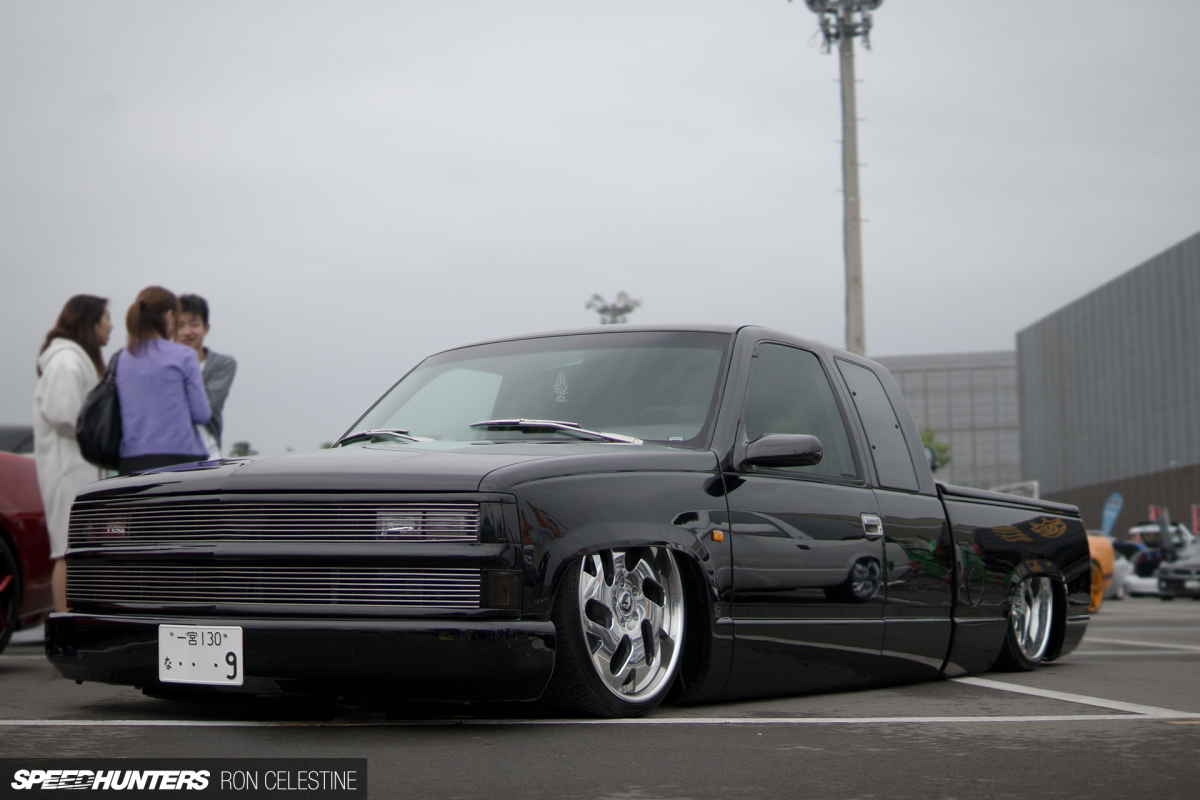 And not too far away was this bagged Chevy C/K pickup on 22-inch Forgiato Indierto wheels.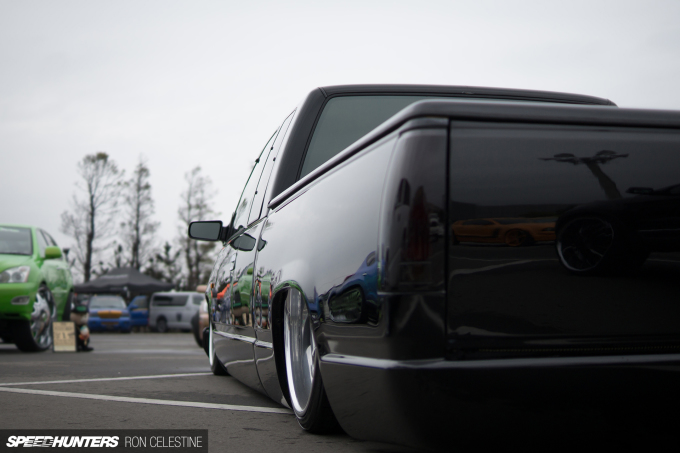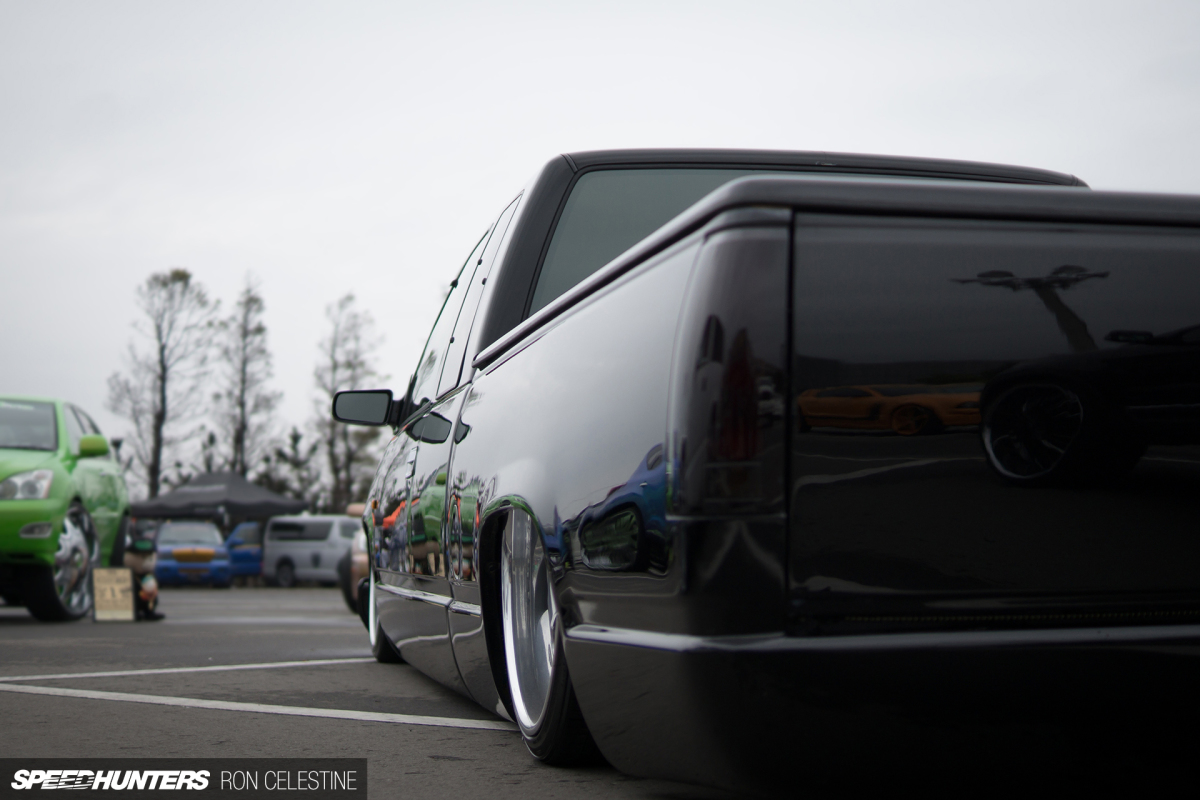 Getting your truck to lay frame is not as simple as just adding air ride, so I wish the owner had the cover off so I could get a better look at the fabrication work that went into this one.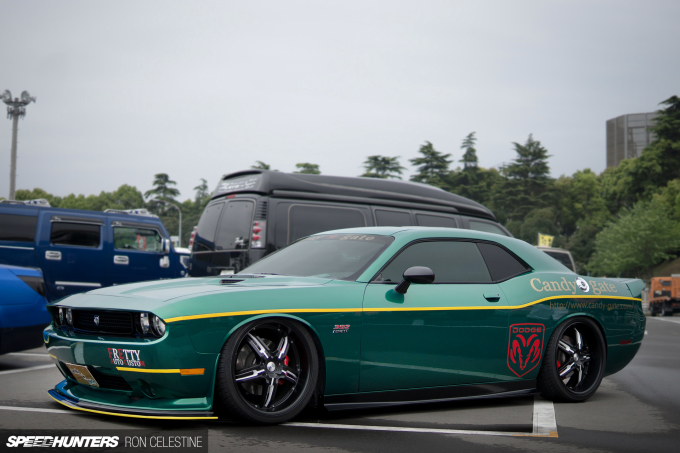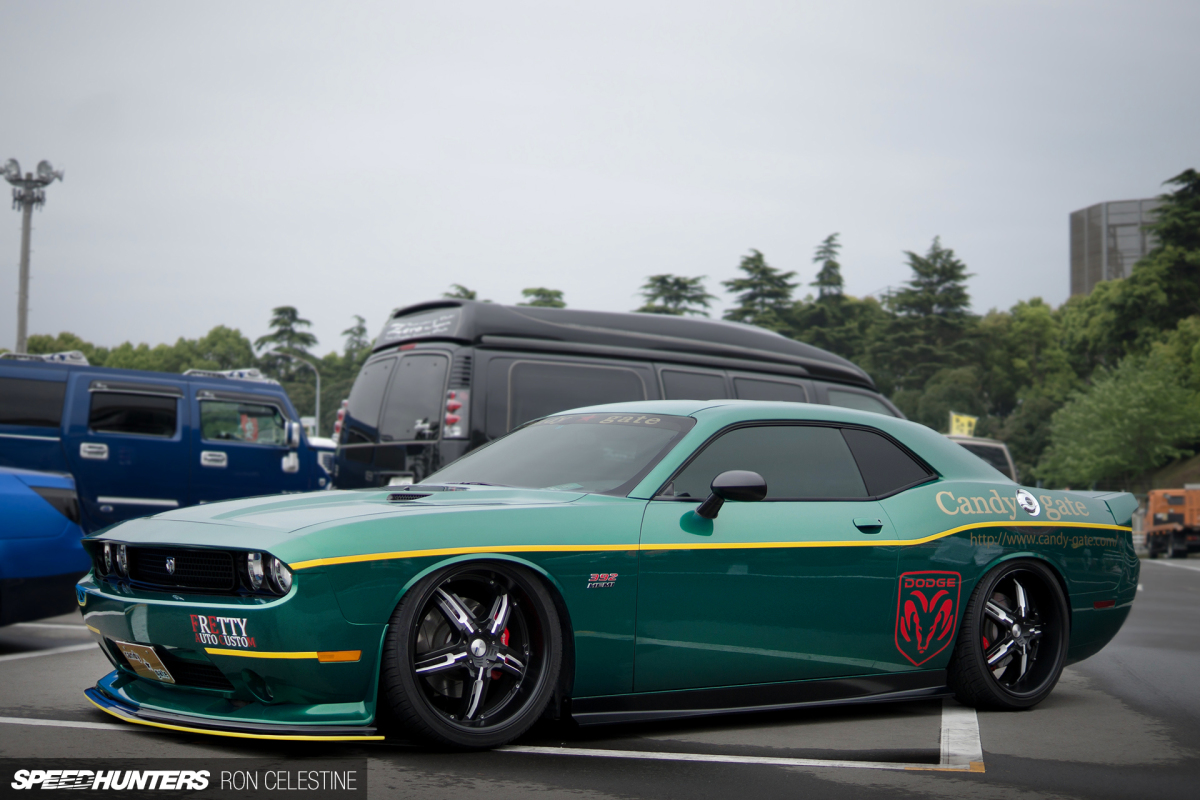 Candy Gate is a relatively new shop based out of Setagaya, and the guys were at New Style showing off their custom aero kit for the Dodge Challenger.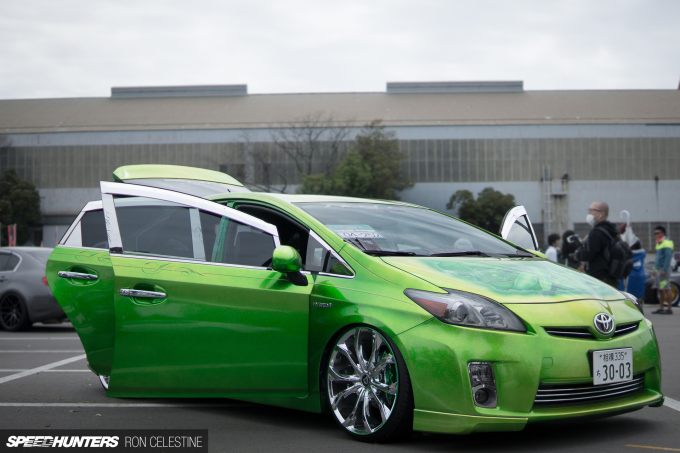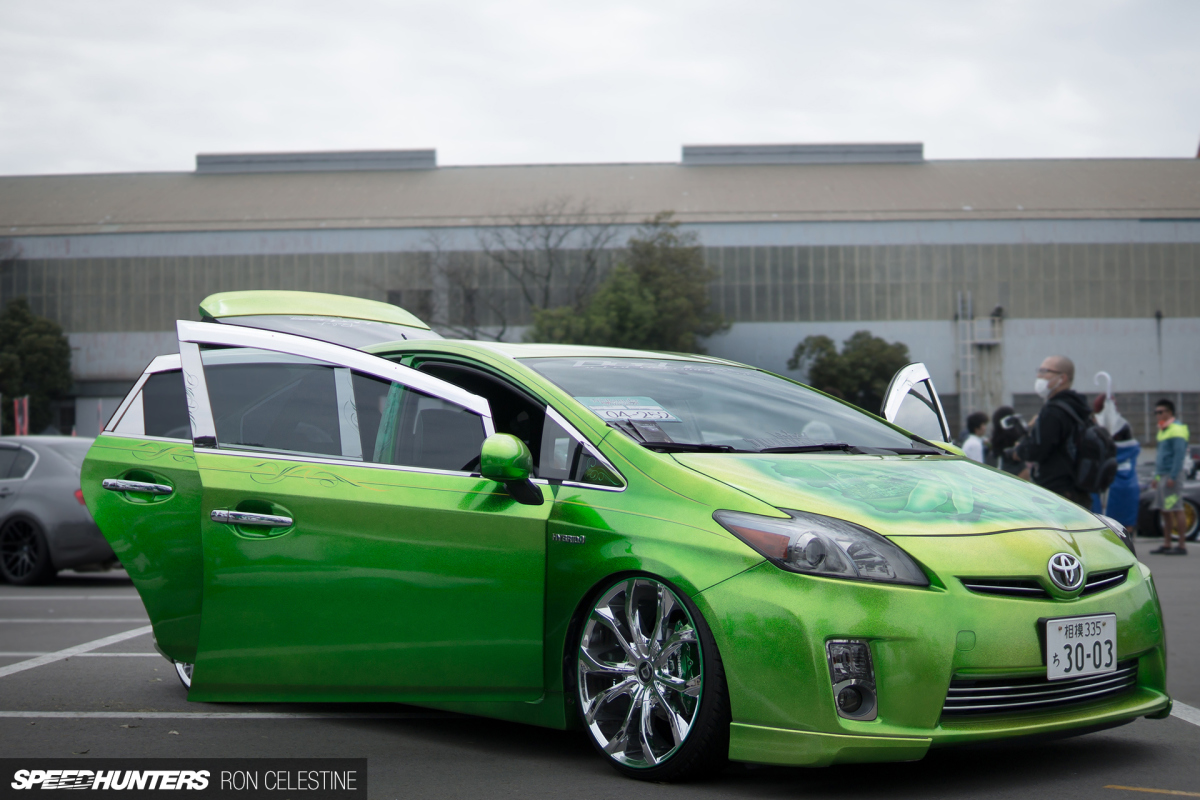 You might think of the Toyota Prius as a vanilla transportation device, but in Japan the hybrid hatchback is a popular base for customization. Tokyo is home to some of the worst traffic ever known to man; narrow roads and more stop lights than makes sense ensure that. So, it's somewhat understandable why more and more people are buying into fuel efficient hybrids and EVs in this mega city. However, just because you own a soulless Prius doesn't mean it has to be boring.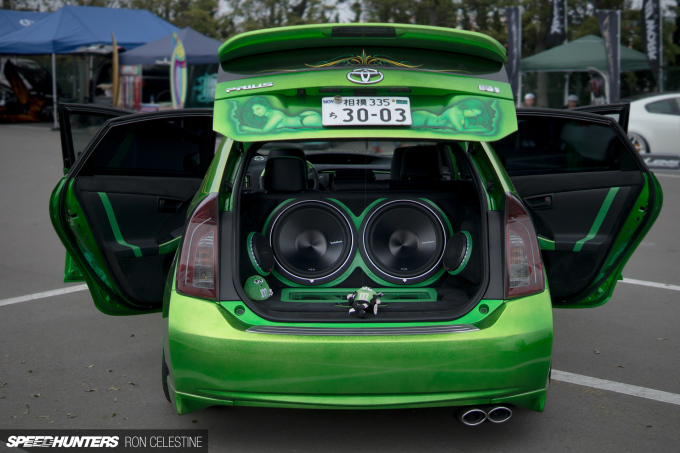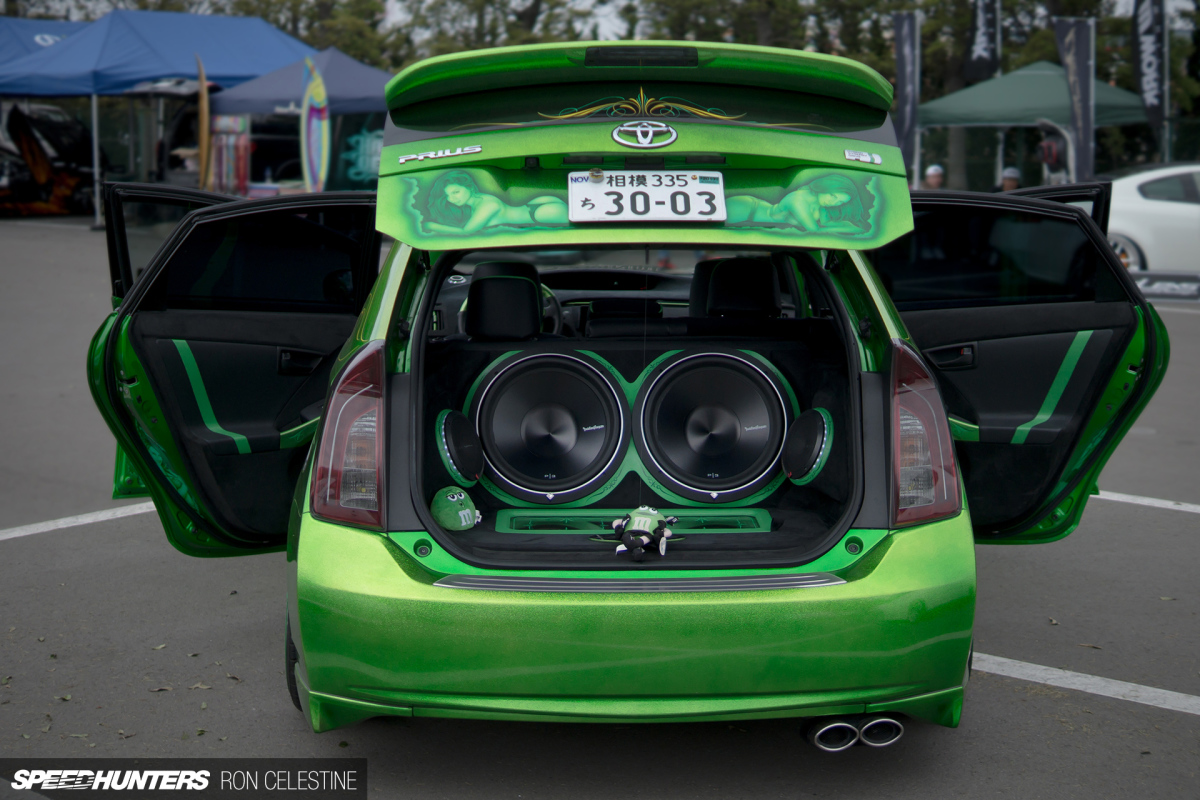 Lime green candy paint, custom pin-striping and air-brushing – there's an obvious lowrider theme at play here.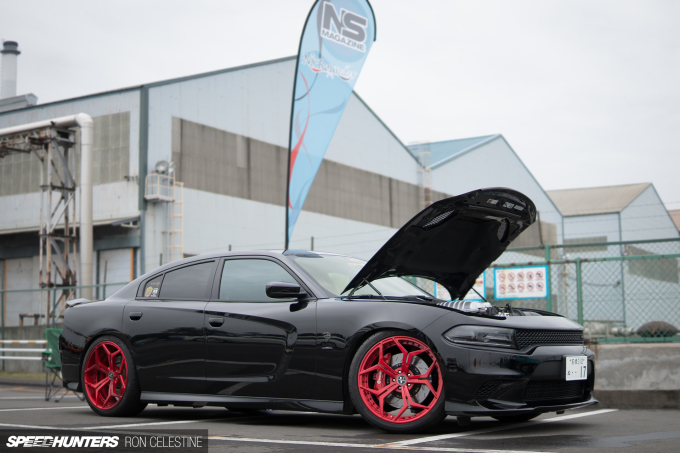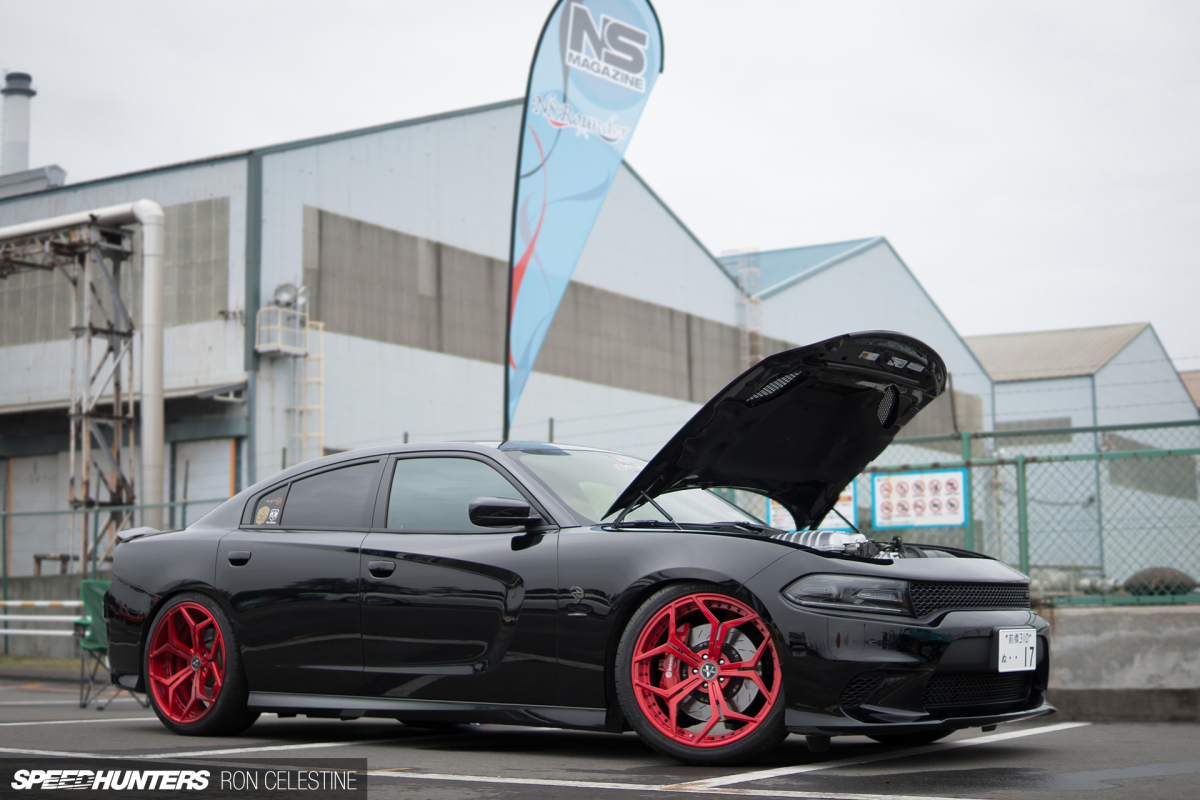 This Dodge Charger Hellcat was sitting on Vellano VCX forged wheels finished in candy paint – beautiful!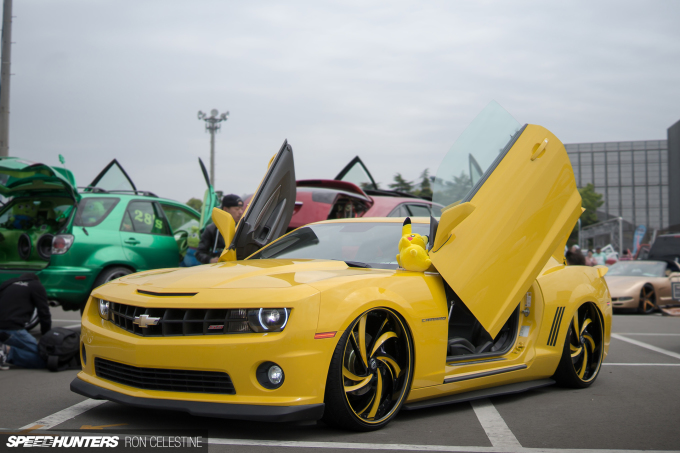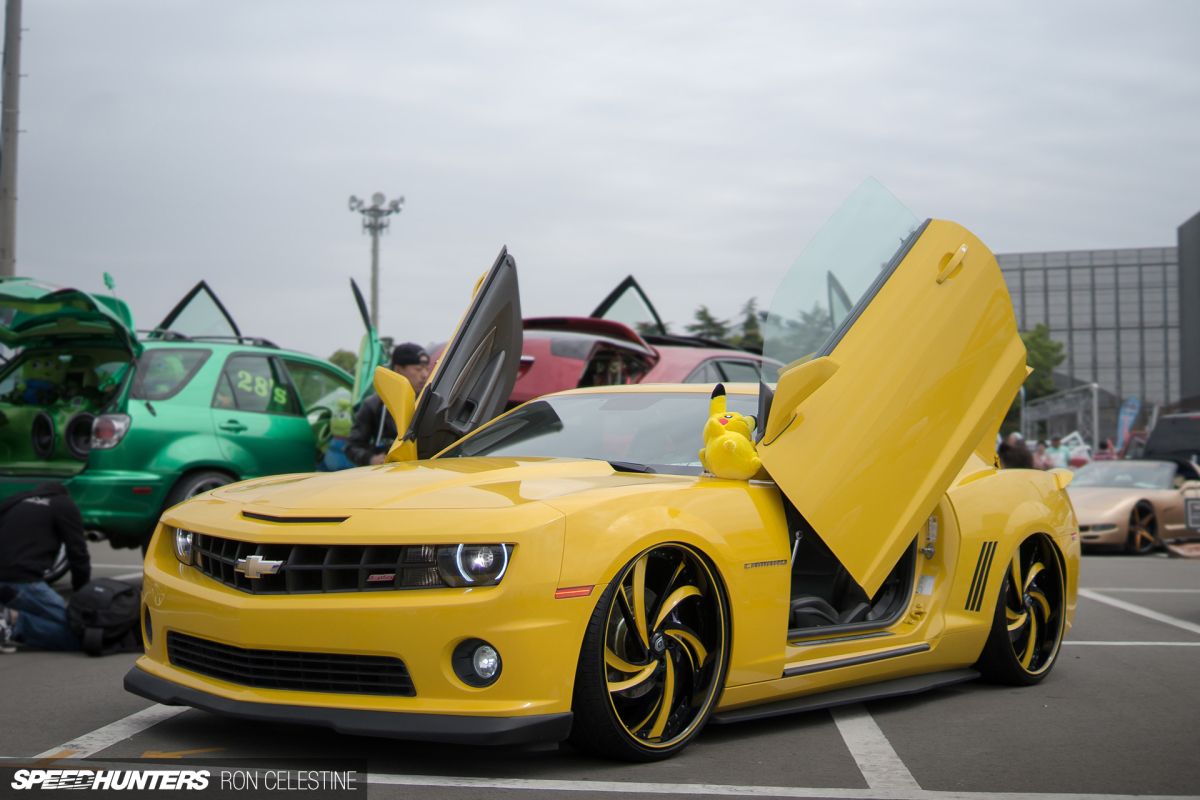 The fad of Lamborghini-style doors is still alive and kicking in the Japanese custom car scene, and there's seemingly no limit to what they can be applied to. I would call this Camaro SS 'Bumblebee', but since we are in Japan, 'Pikachu' seems more appropriate.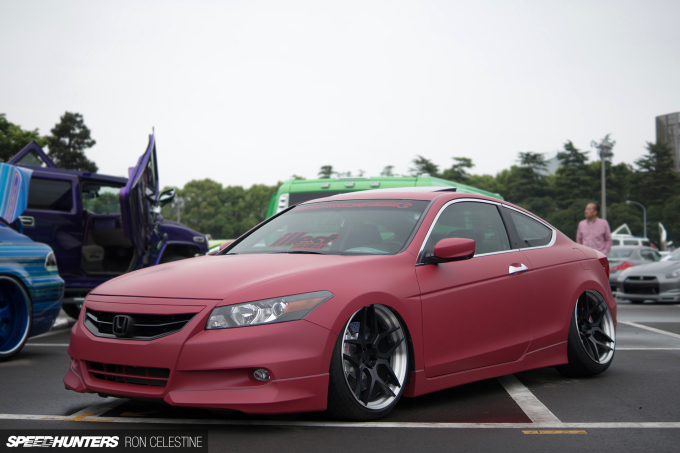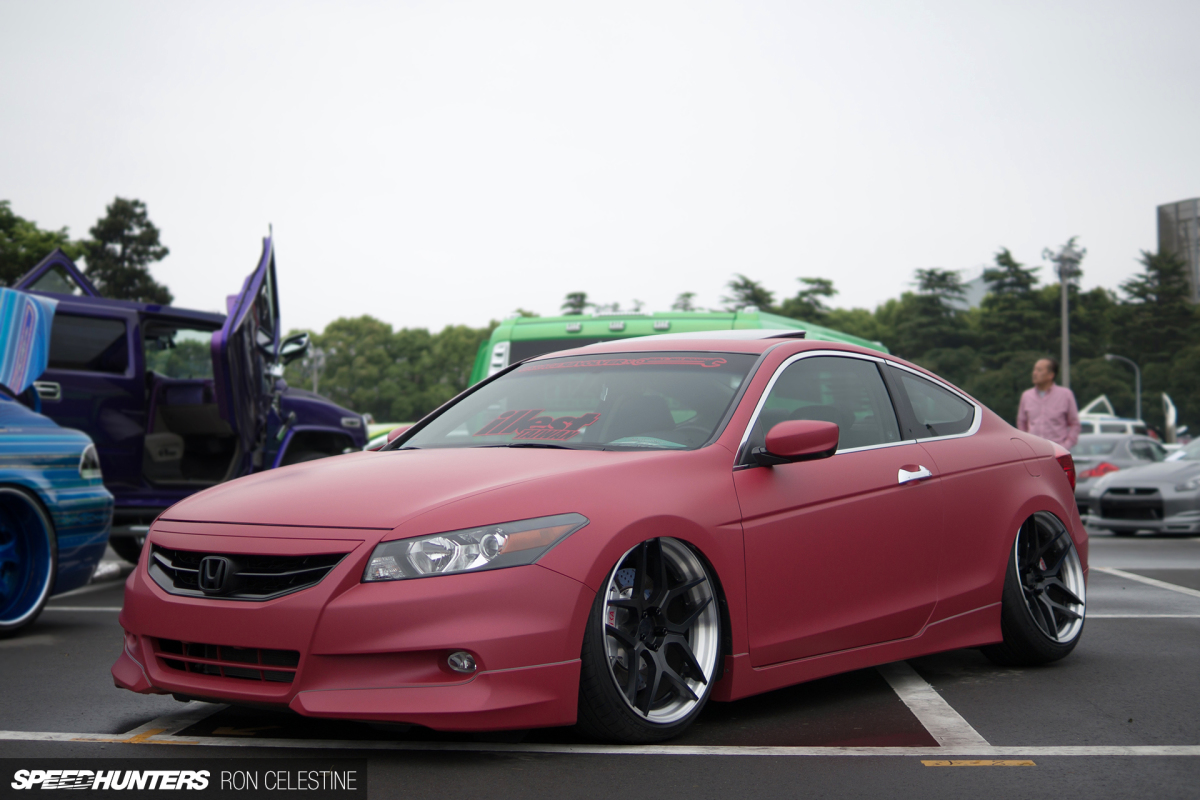 Just as there's a desire for right-hand drive cars in America, left-hand drive cars in Japan hold a certain allure to some. The owner of this Accord coupe picked it up in California.
To The Extreme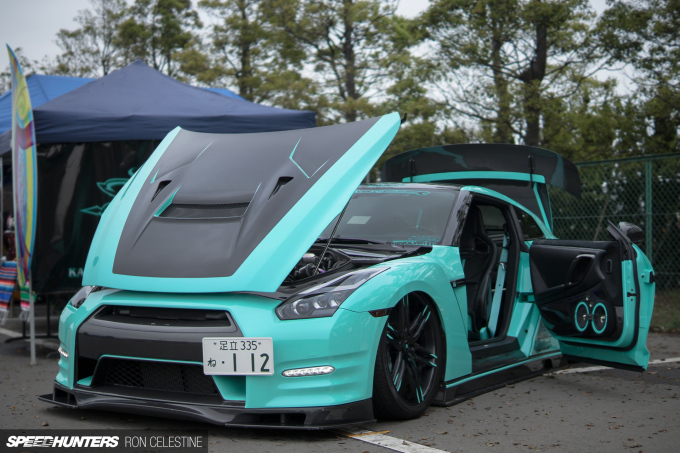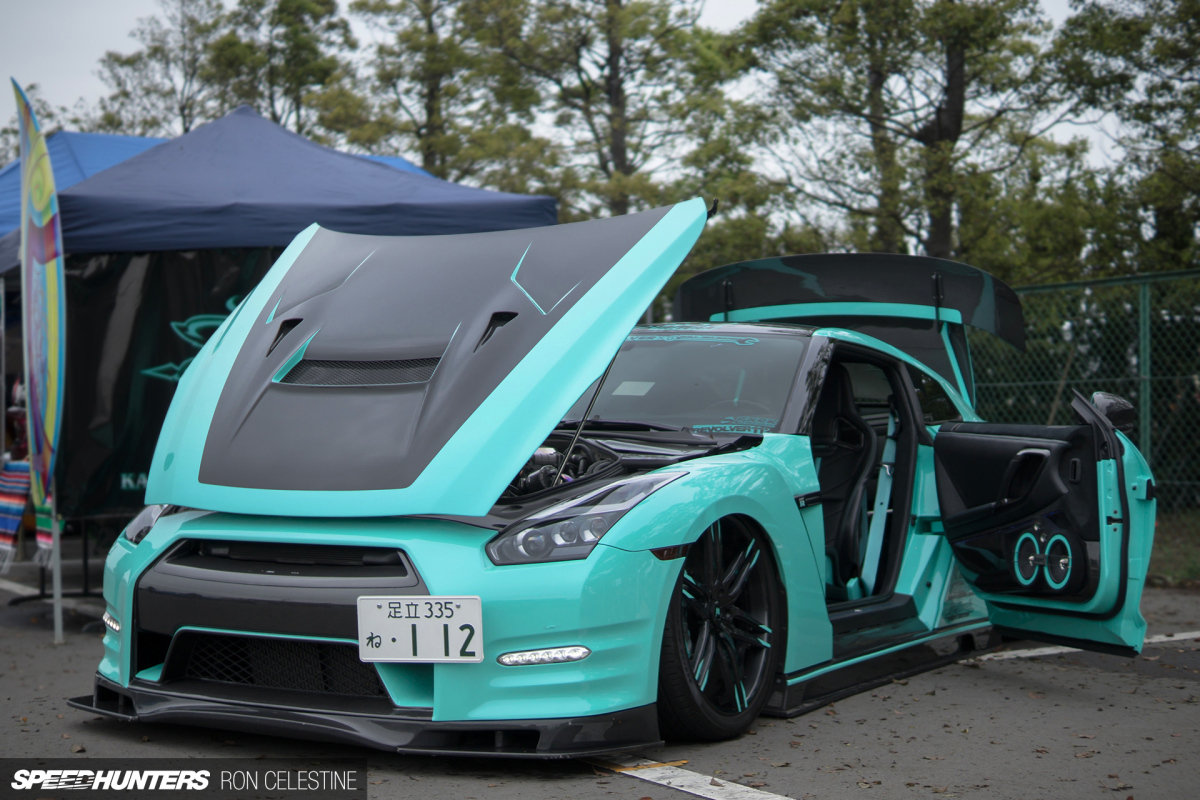 This R35 GT-R is a US import too, however there's a lot more going on than just its radical restyling. Under the reverse-opening hood, its VR38DETT has been tuned up to 700hp by Amuse.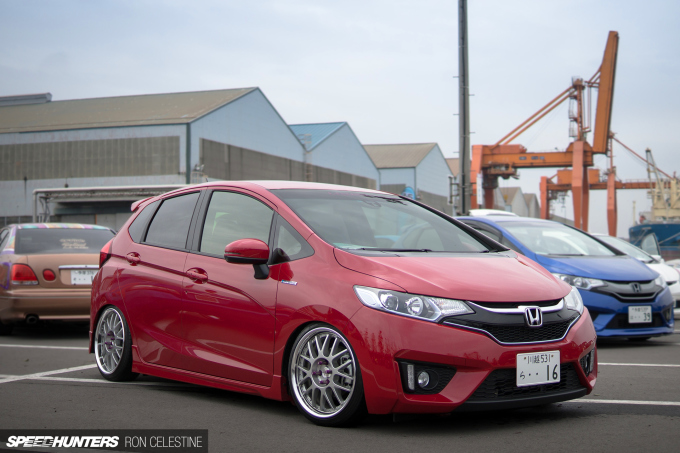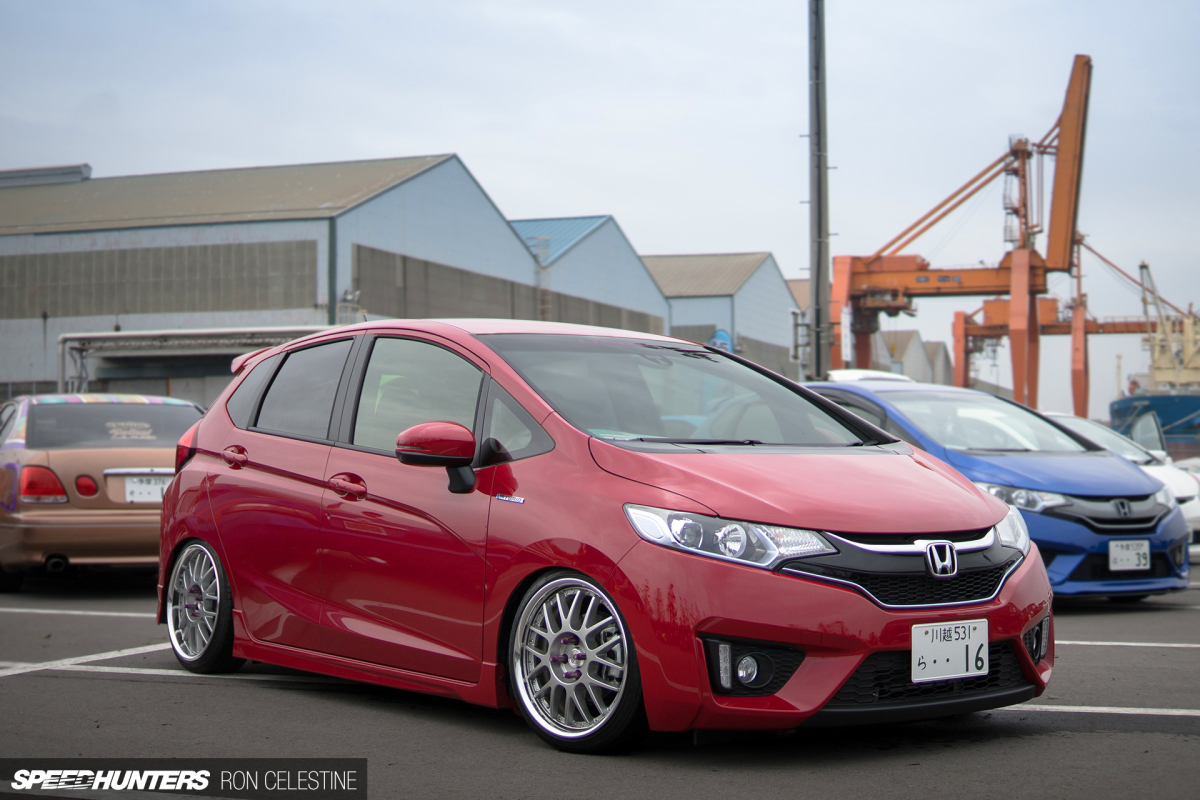 A group of Honda Fits also participated in the car show, including this GP-series Hybrid. Aftermarket wheels plus a low ride height put a new spin on this city car.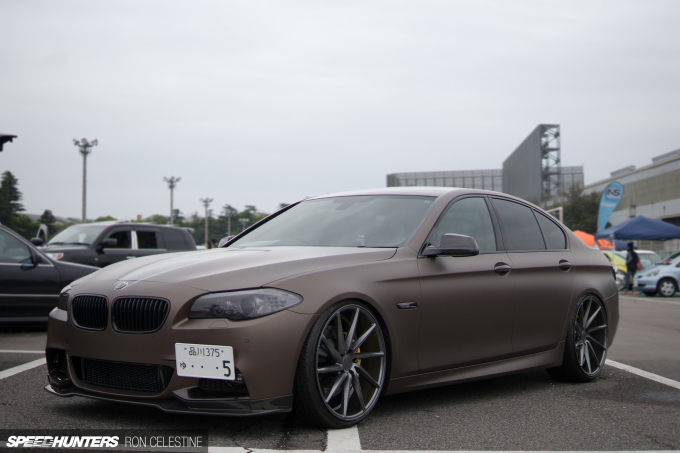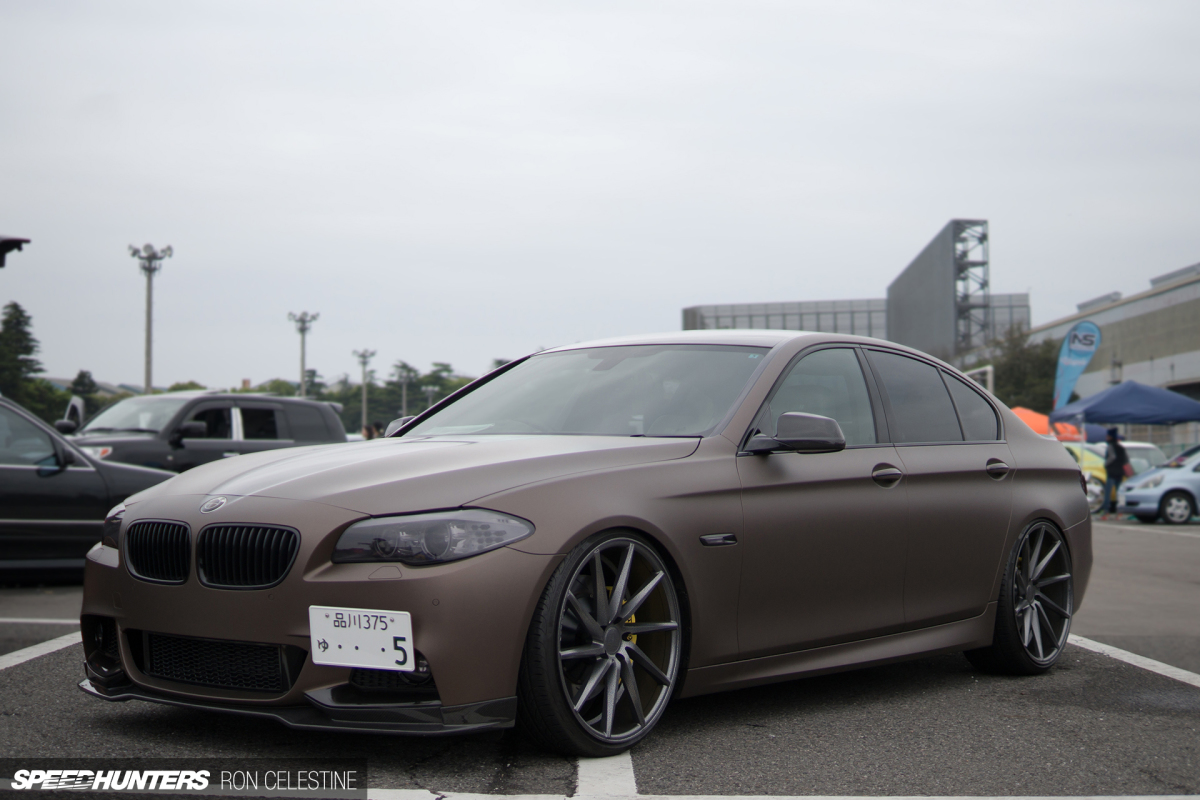 Having aggressive wheel fitment and parking lot presence is a must in the custom car scene.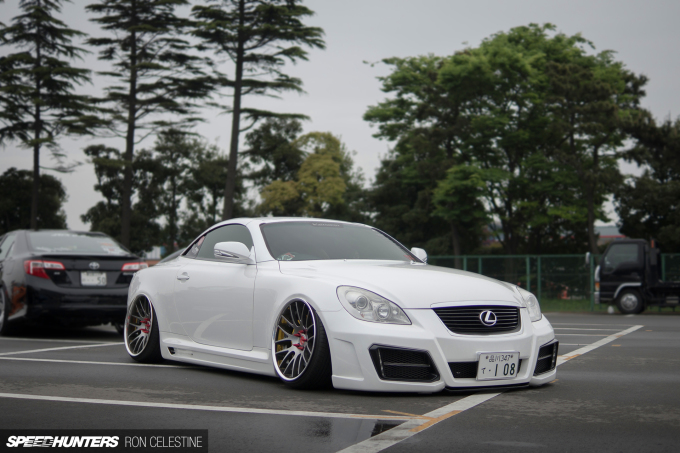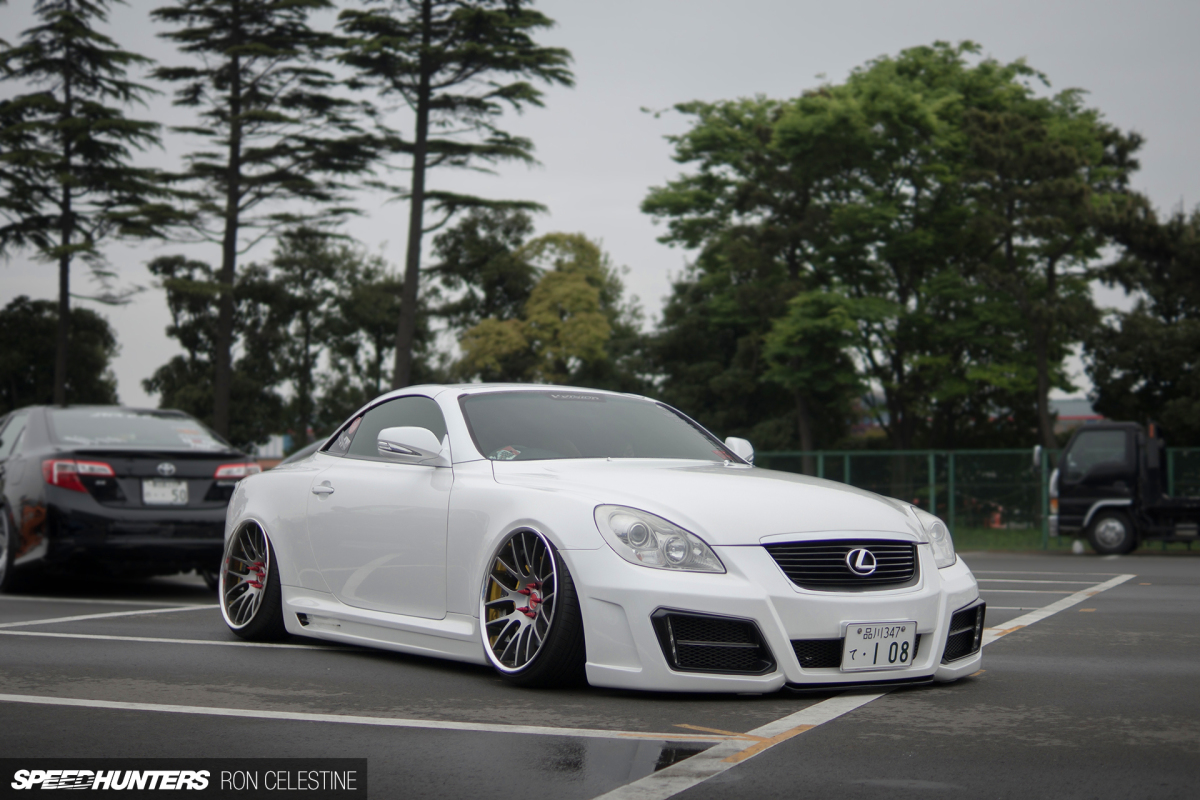 The Lexus SC430 is a bit of a rarity Japan, and even more so sitting like this.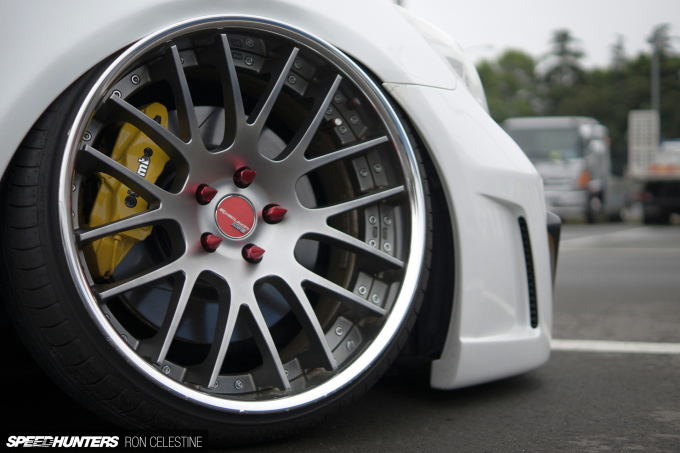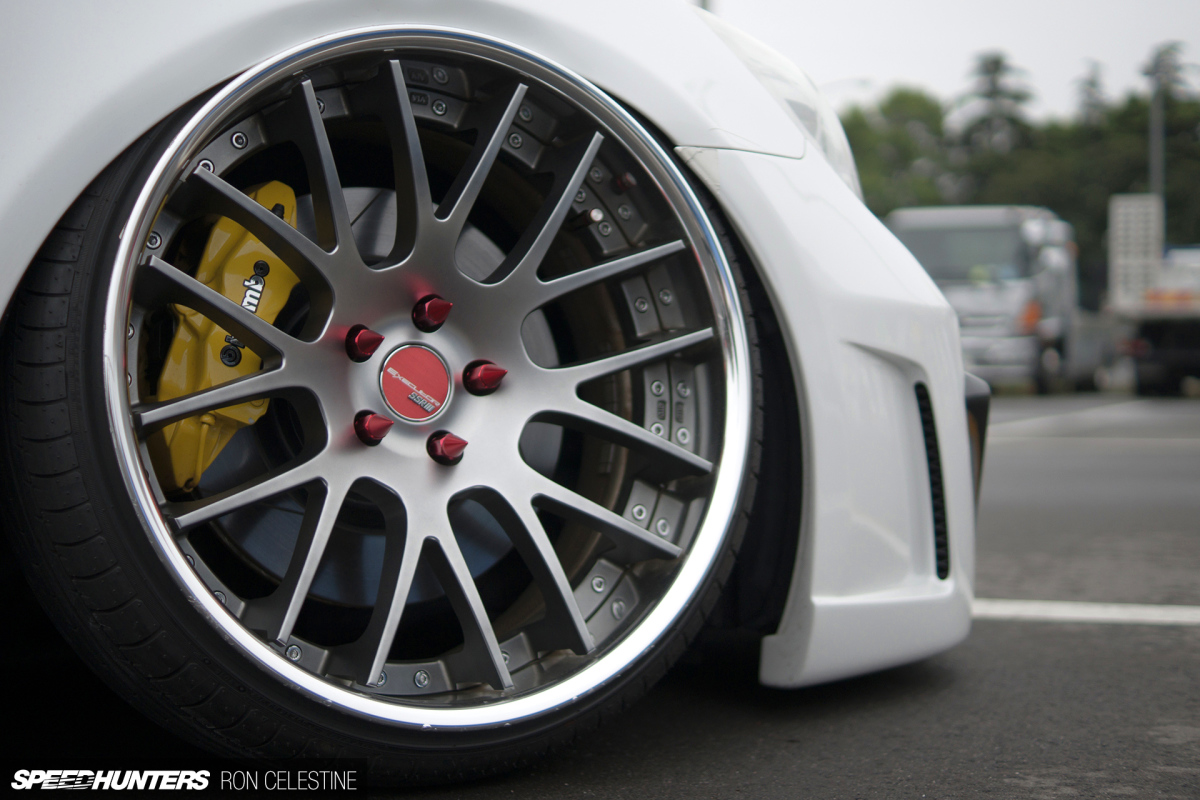 Thanks to stretched tires, the fenders rest right up against the SSR Executor CV03 wheels' lips. Now that's aggressive fitment!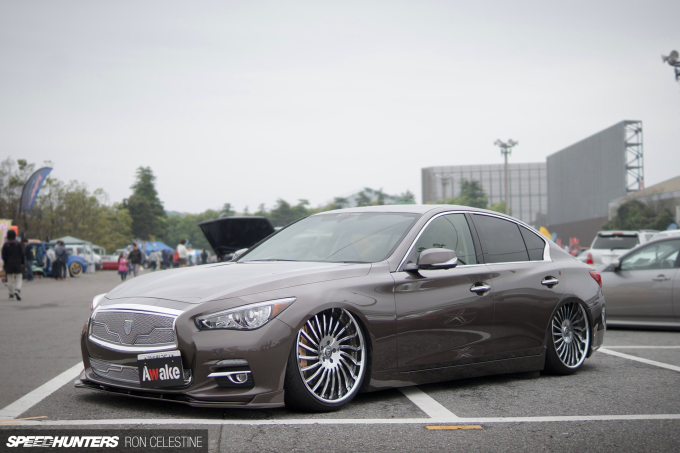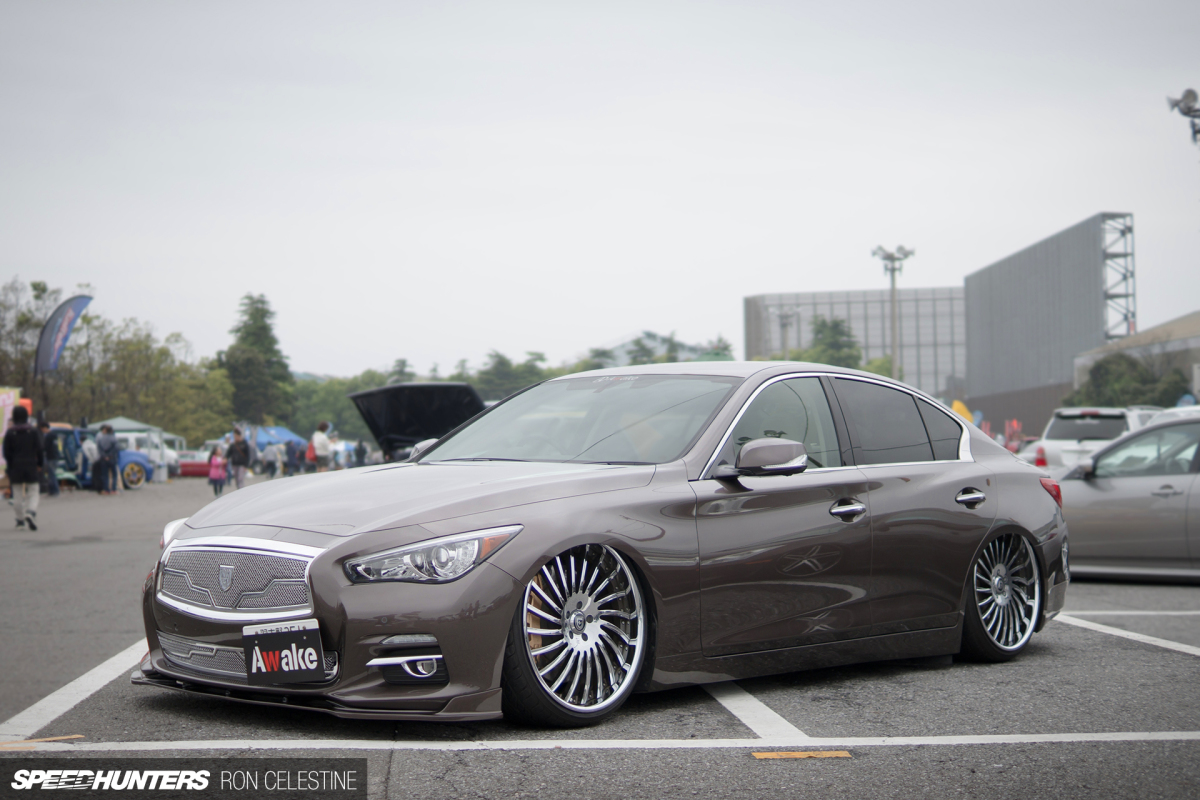 As the replacement for the G37, the Q50 has been popping up in a variety of different car scenes. I absolutely love the front end on these things, and this example was tucking its 22-inch Lexani forged wheels like they were nothing.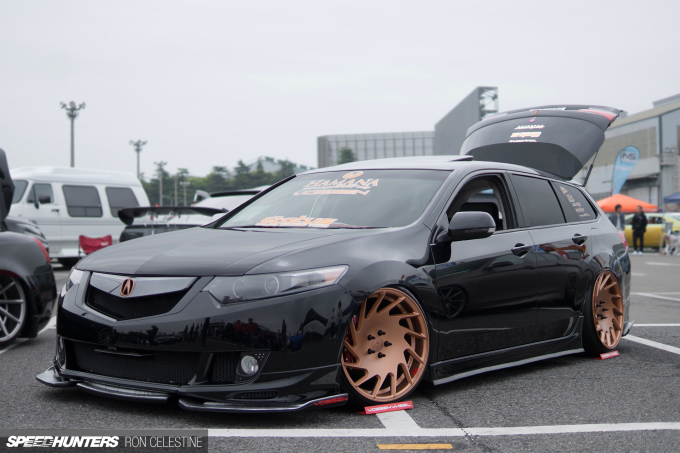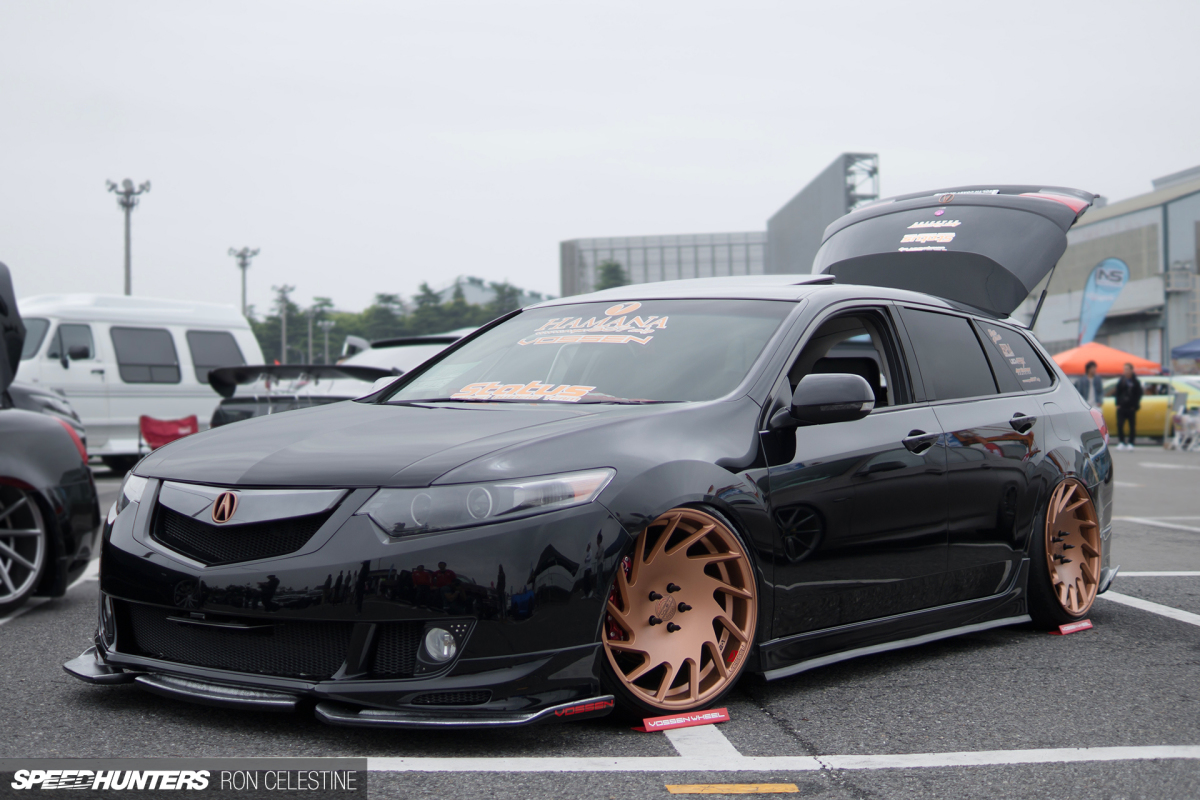 This has to be one of the most beautiful TSX wagons I've ever seen. The motorized license plate hider and Vossen VLE-1s are a nice touch.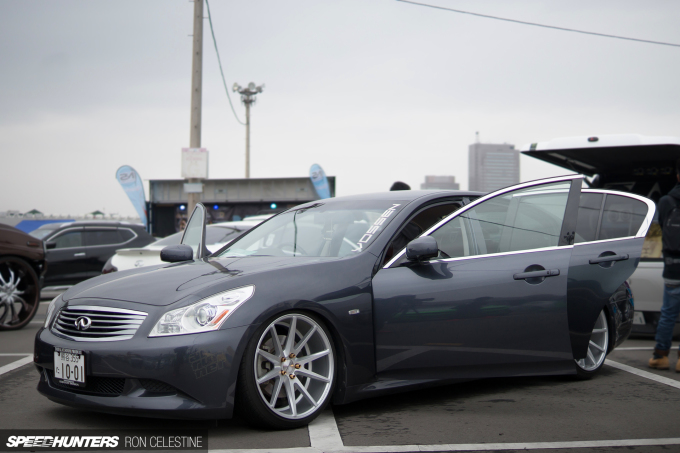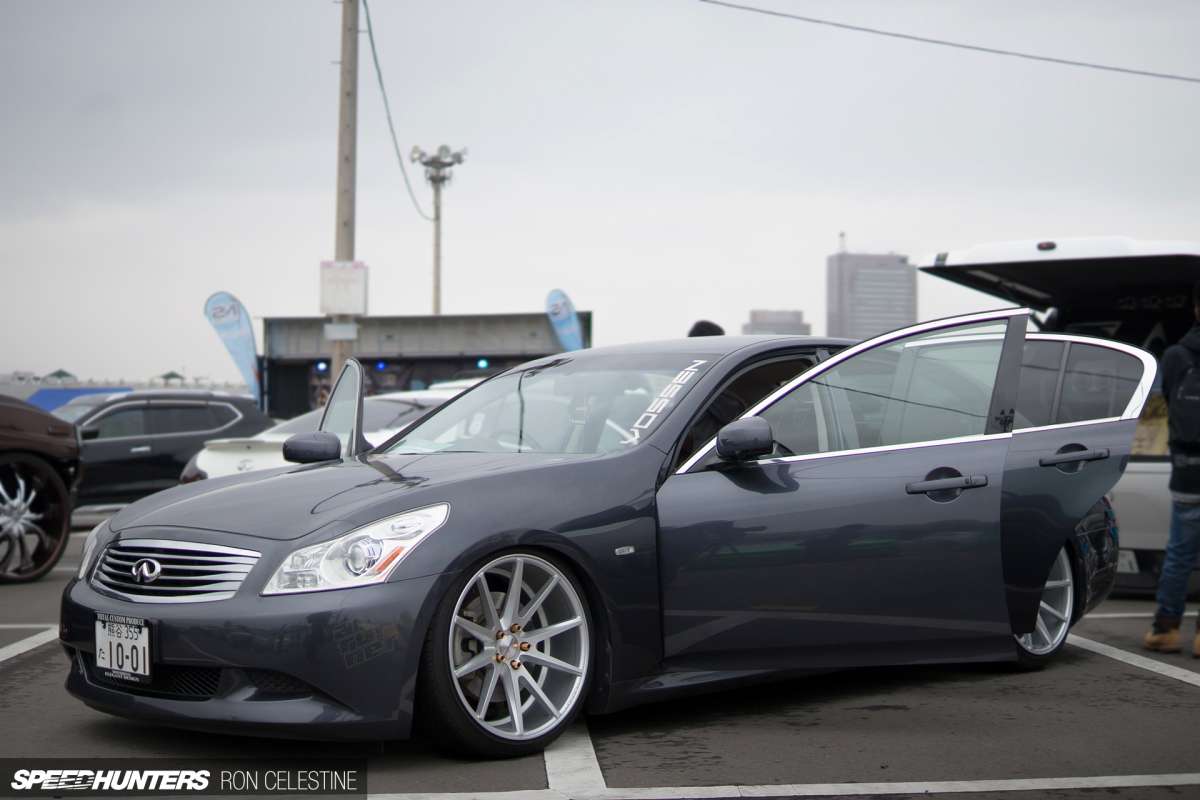 On the subject of Vossen wheels, the owner of this G37 takes brand loyalty to a higher level.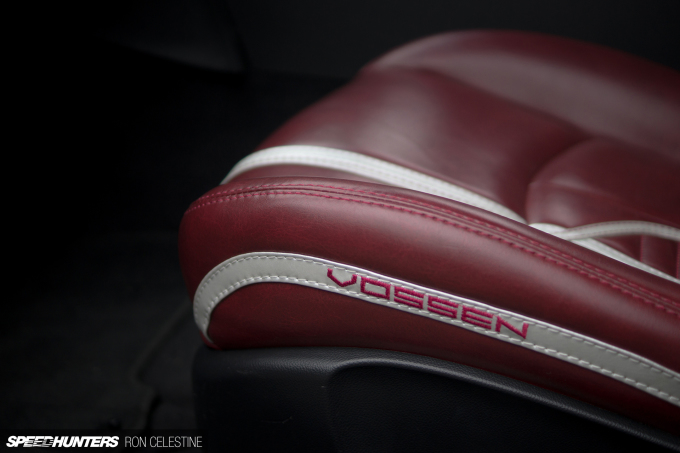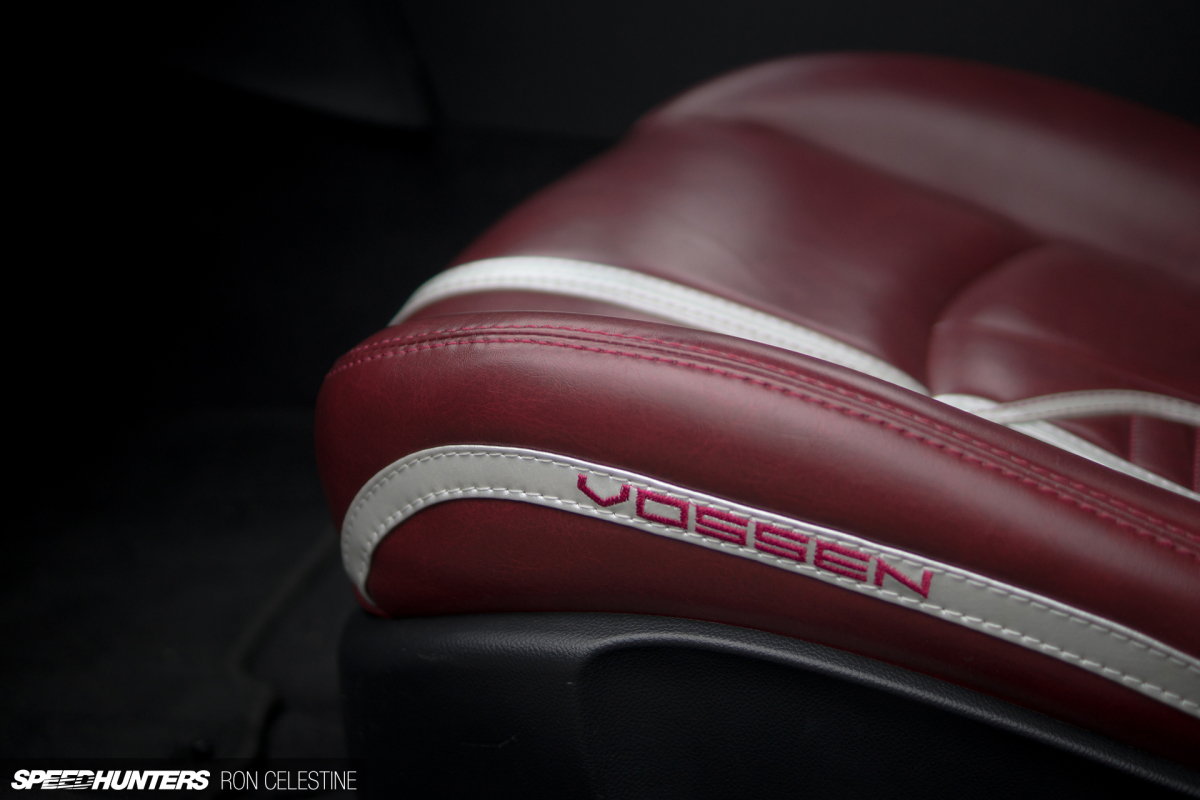 The entire interior has been customized in red leather with white accents, and 'Vossen' has been stitched into the upholstery in a variety of places.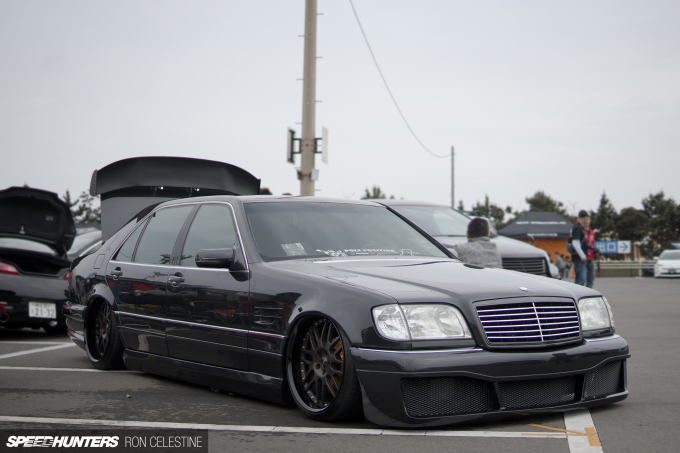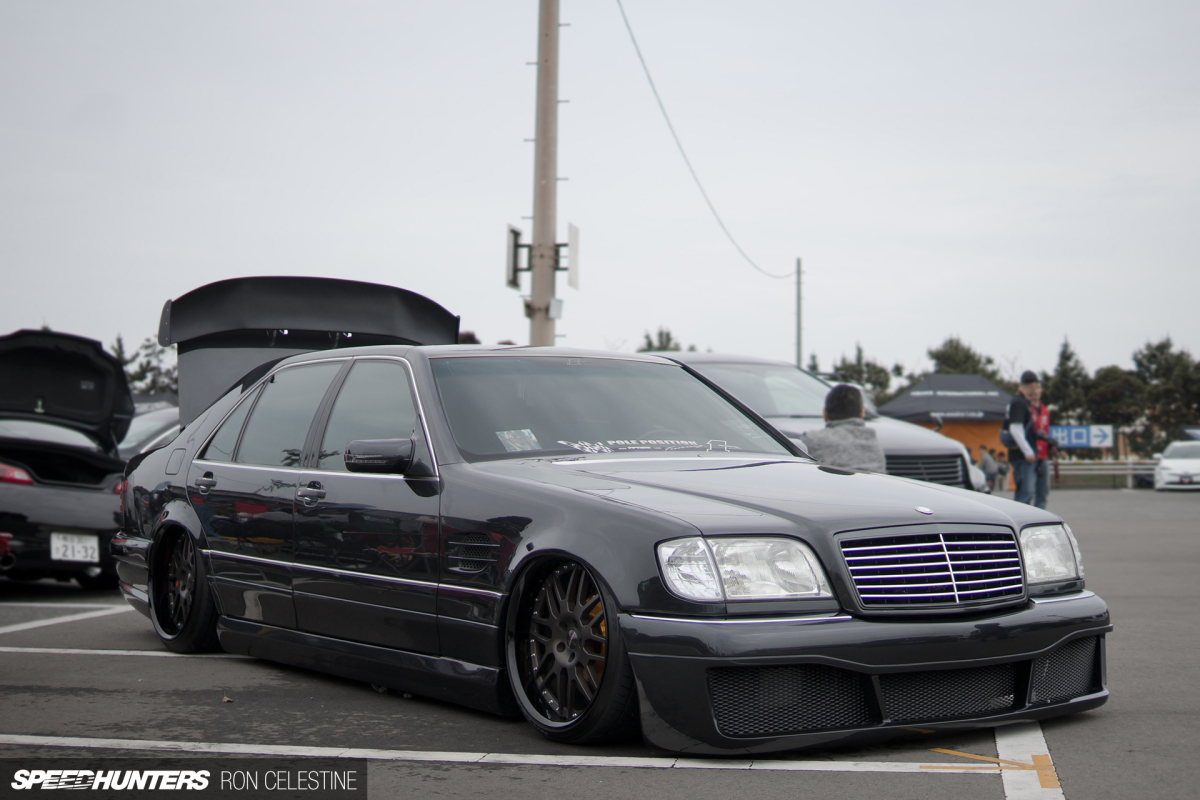 One of the most menacing looking cars at the show was this blacked-out Mercedes-Benz S600 with HyperForged wheels, widened fenders, and a custom aero kit. Even the owner looked the part, and he watched me with a sideways glance as I took pictures of his car.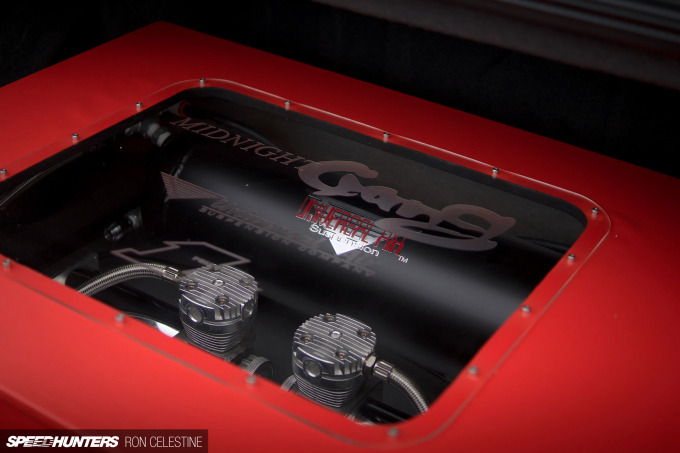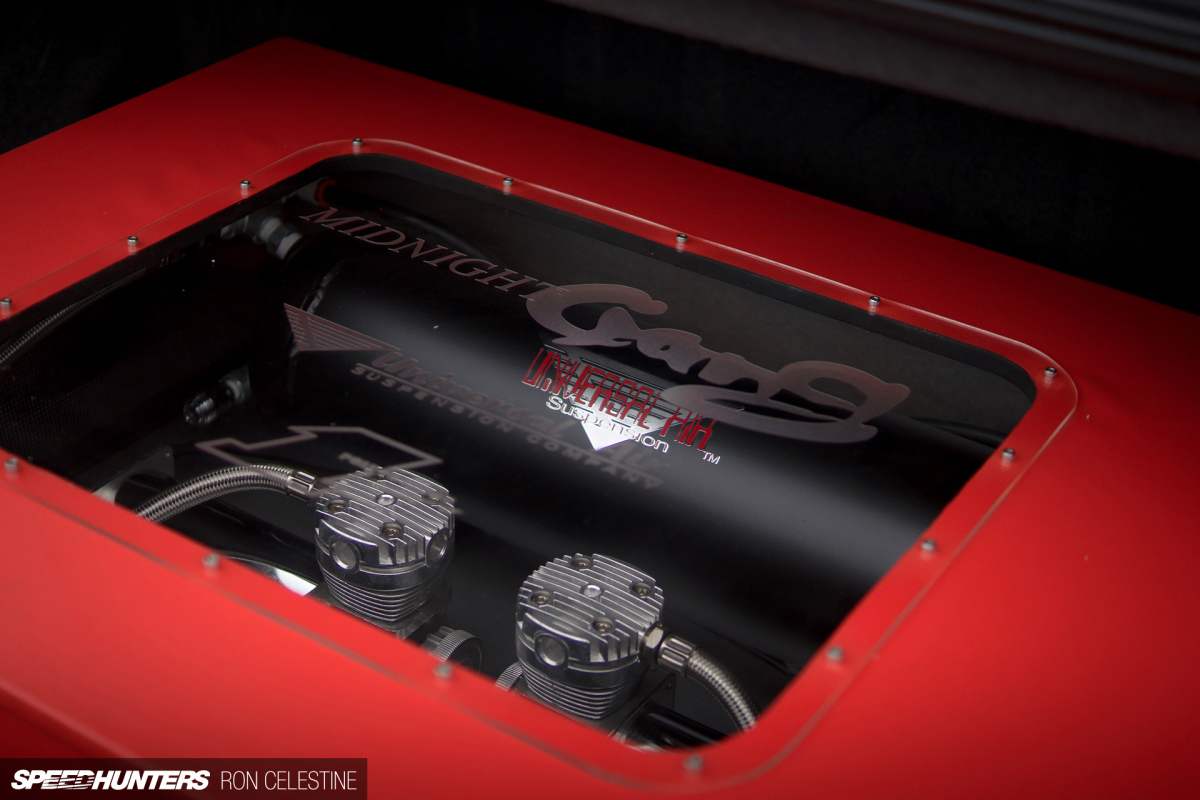 Sitting in the trunk is a Universal Air setup, with two VIAIR compressors, air tank and stainless steel braided hoses all mounted in a custom enclosure.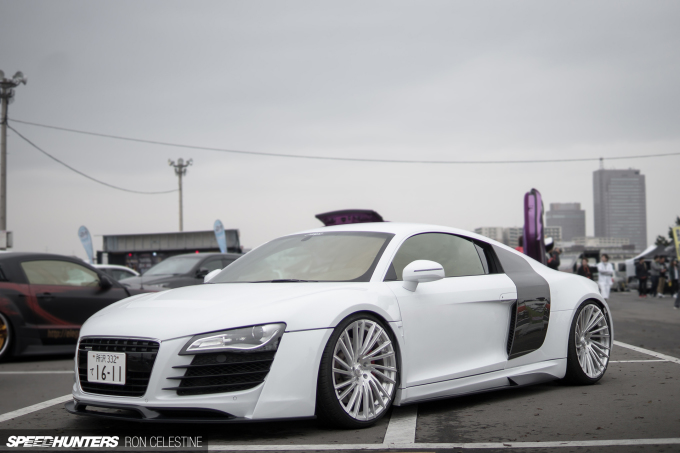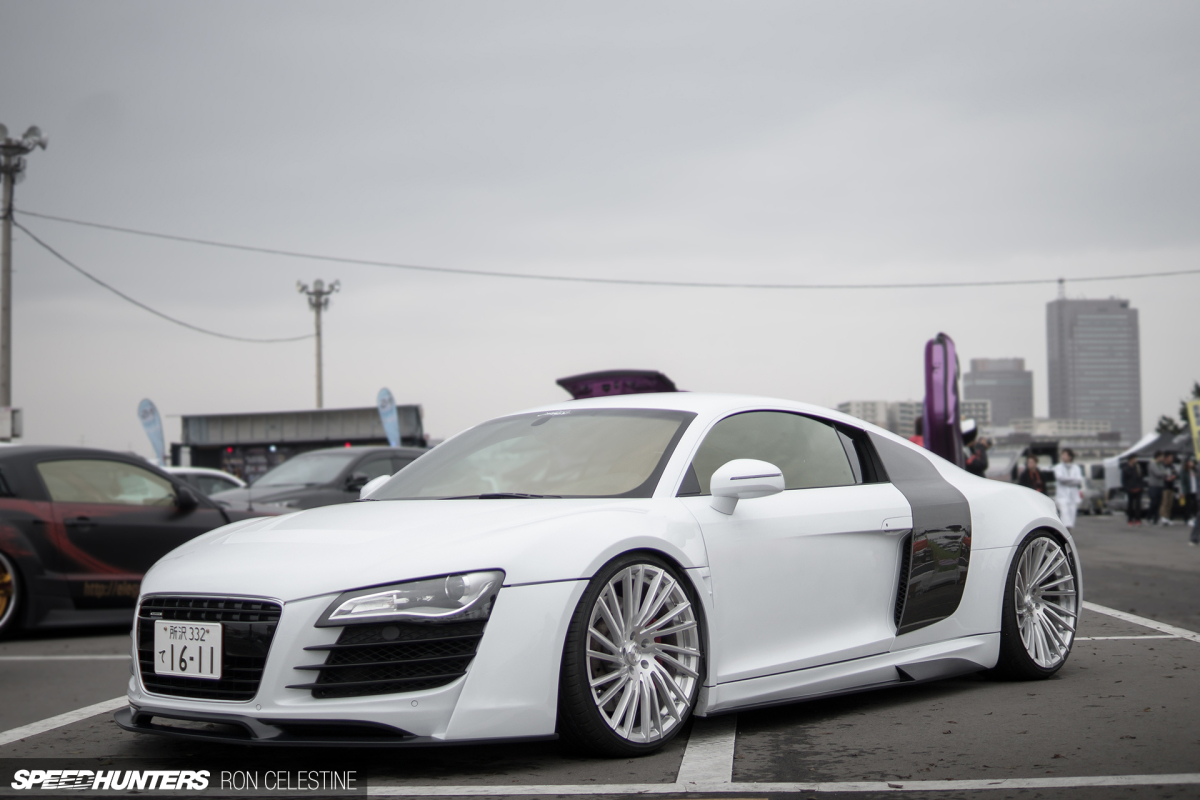 If anything, the New Style Car Show gave me a completely different look into the world of Japanese car culture. The big wheels, lifted trucks, candy paint jobs, and hip-hop music that blasted from the speakers – it took a car culture predominantly found back in the States and added a Japanese twist to it. It's this idea of being truly unique and breaking out of the social norms which made the event really interesting to me.
I've already shared one spotlight from this meet with you, but stay tuned for more.
Ron Celestine
Instagram: celestinephotography