Life In The KDM
For as much as we try to showcase car culture on a global scale, there will always be locations that don't pop up on Speedhunters' radar too often. Korea is one of those places.
And that's surprising, because the Korean auto industry has been improving by leaps and bounds in recent years. But for whatever reason, we just don't hear a lot about car culture in the KDM.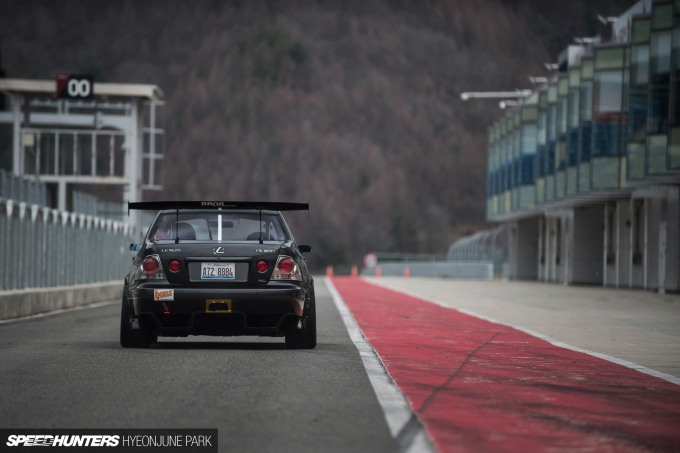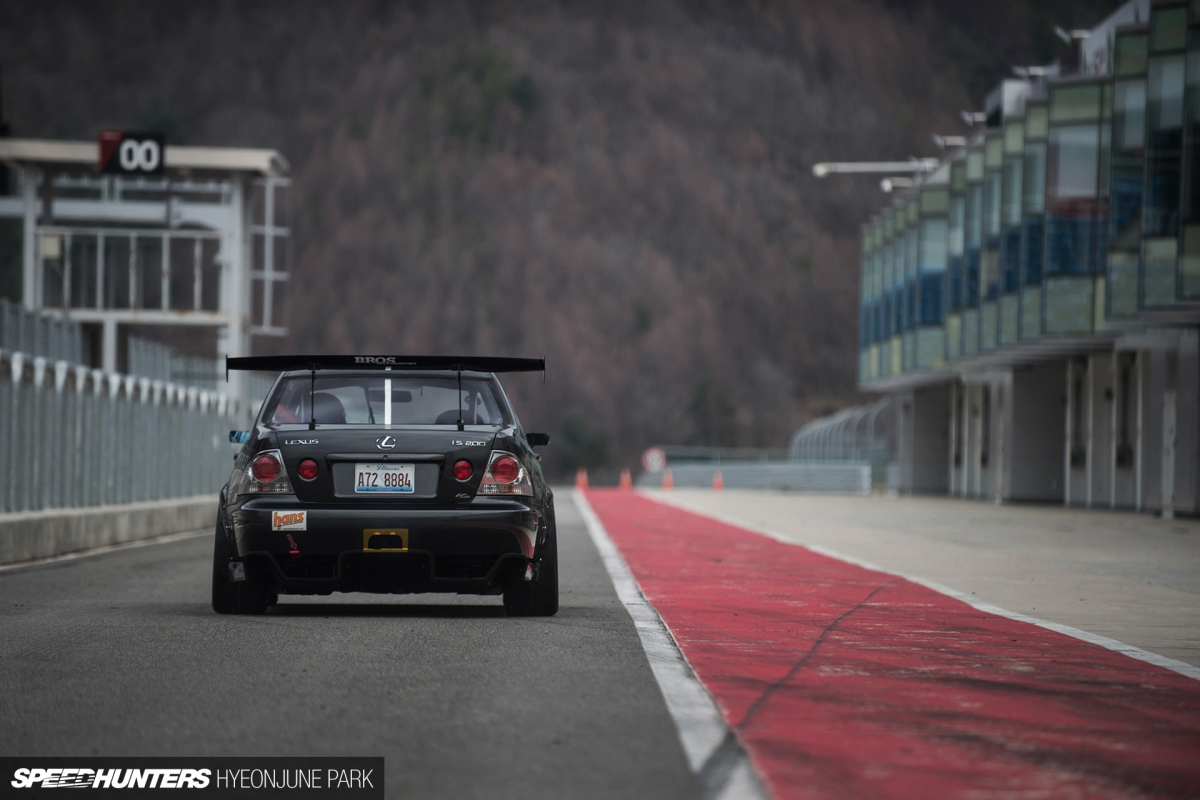 That's why we were excited to hear about a special machine owned by Jaewoo Kim of Korea-based MotorKlasse Corp. Jaewoo tells us that despite the advancements of the domestic auto industry, the motorsport and modification side of Korean car culture still has some way to go.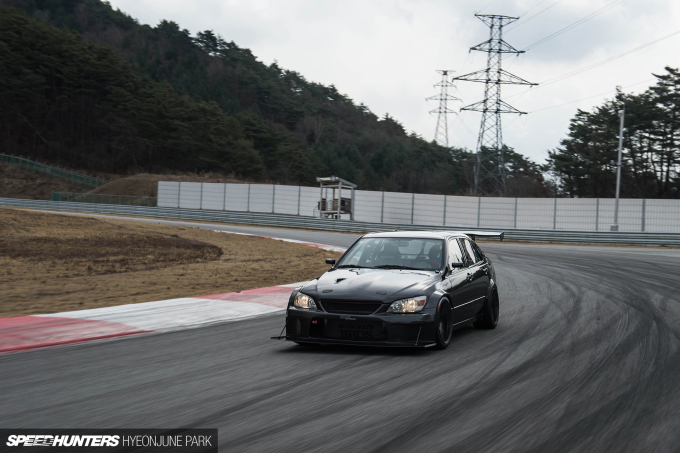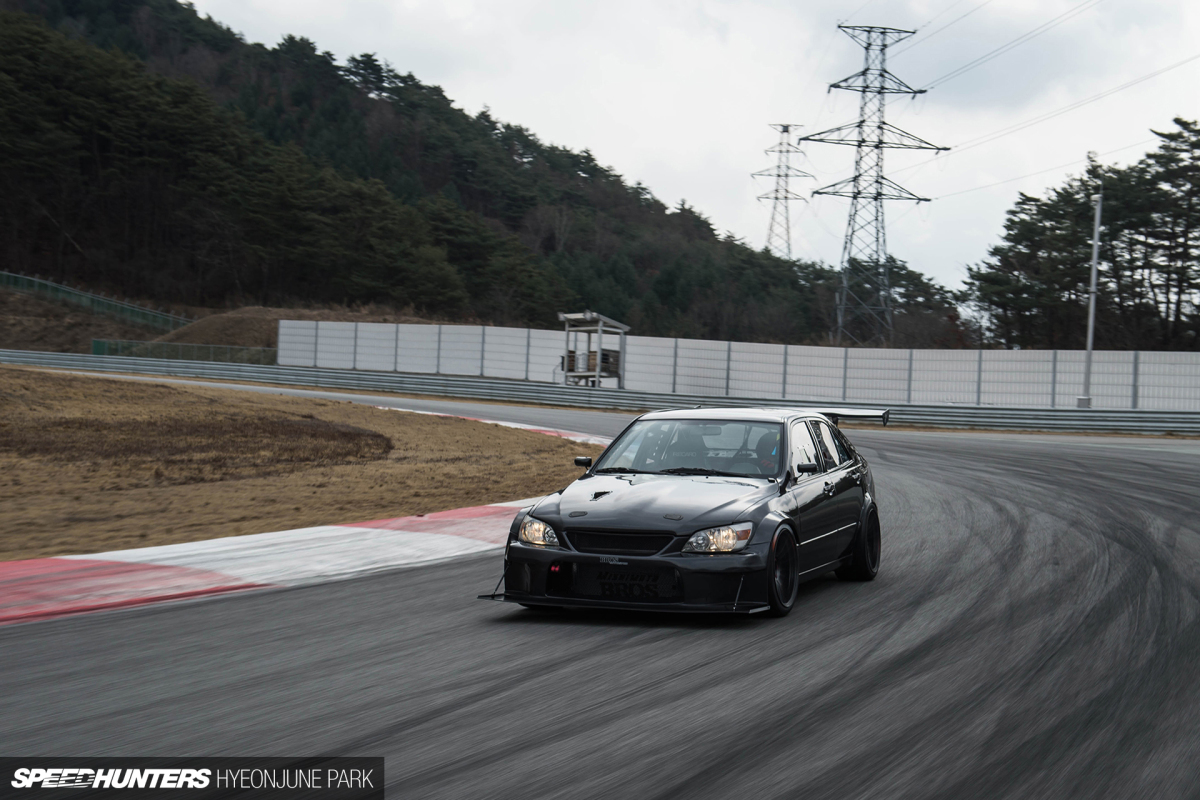 He also tells us that in a typical year, some 80 per cent of vehicles sold in Korea are from domestic brands, meaning there aren't a lot of choices for cars other than those with a Hyundai or Kia badge on them. And as far as imported cars go, most of them have diesel engines and automatic transmissions.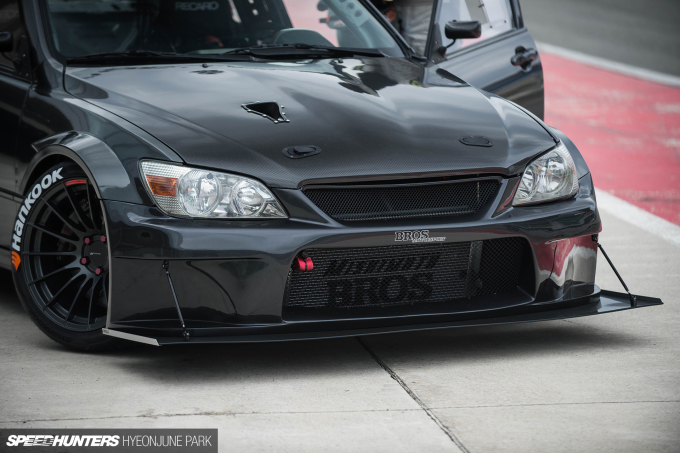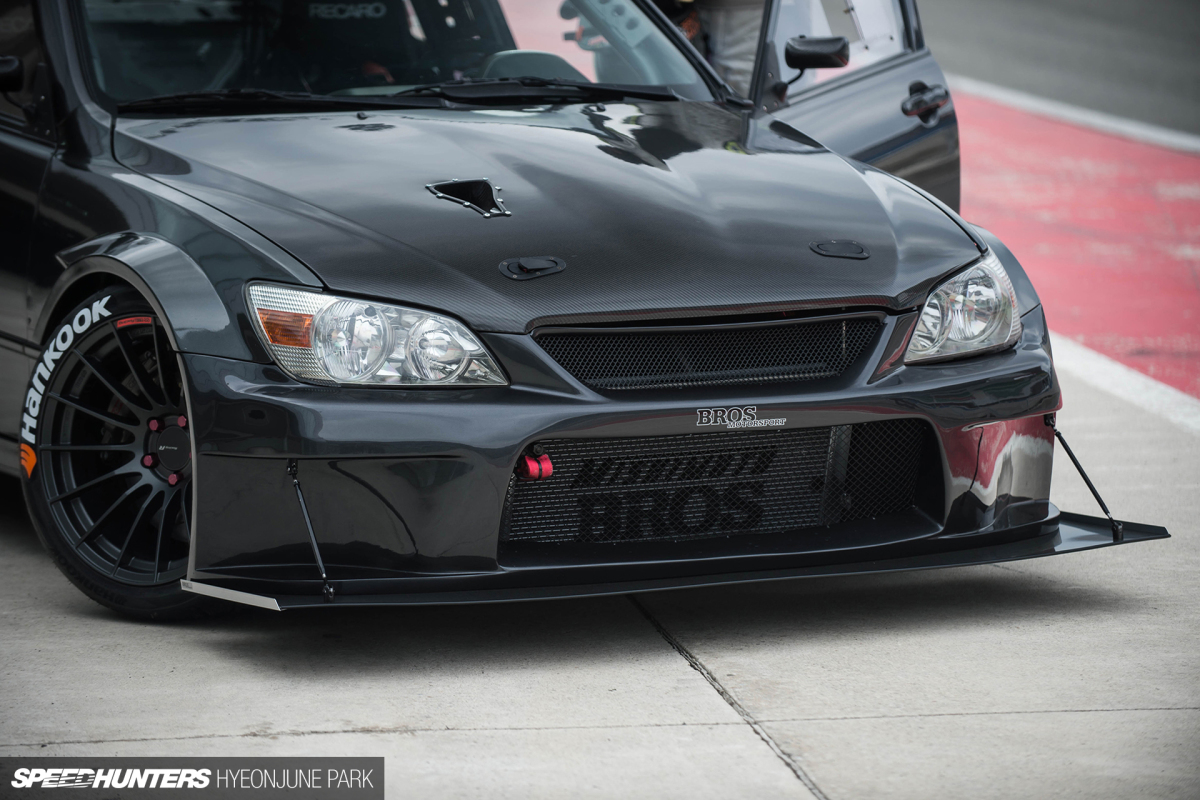 Wanting to buck this trend, Jaewoo decided to build a time attack car using a Japanese platform as a base. More specifically, he chose the compact rear-drive Toyota Altezza, which was imported to Korea as the Lexus IS200. Five years ago he picked up this example and began having some fun with it.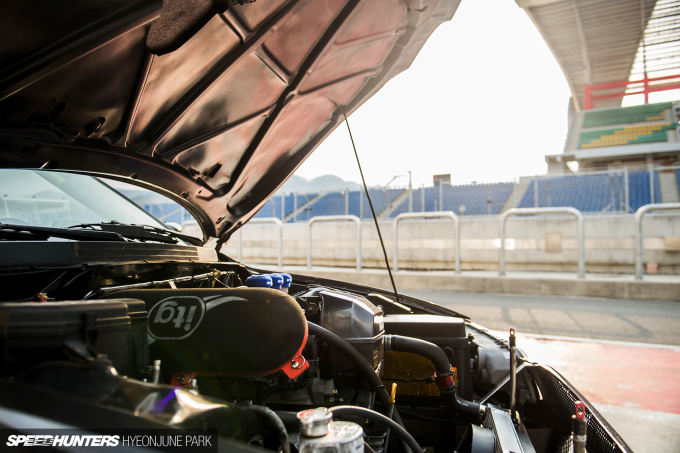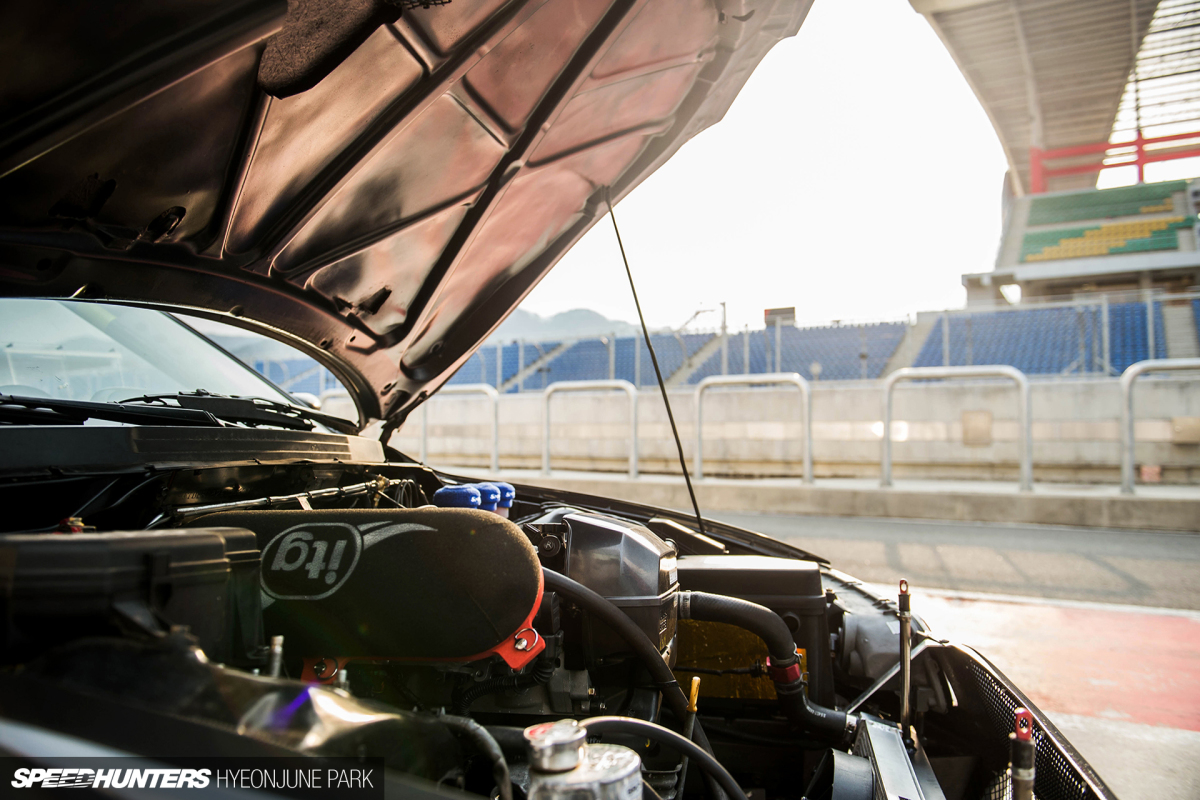 Unfortunately, the specs of the IS200s imported to Korea weren't ideal for circuit racing. It was only offered with the underpowered 1G-FE straight-six with a lazy-shifting 4-speed automatic transmission.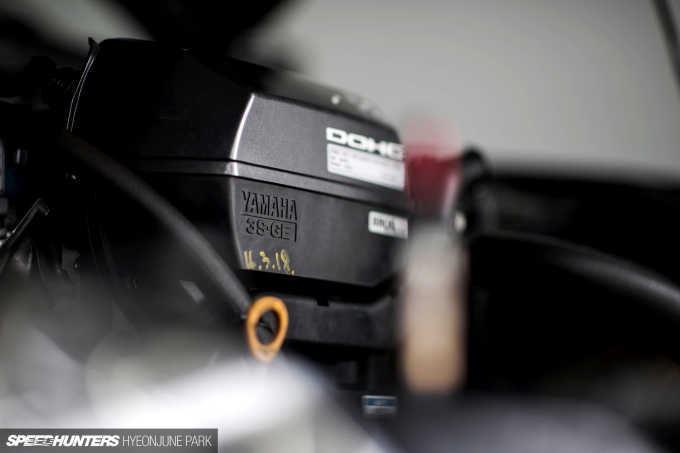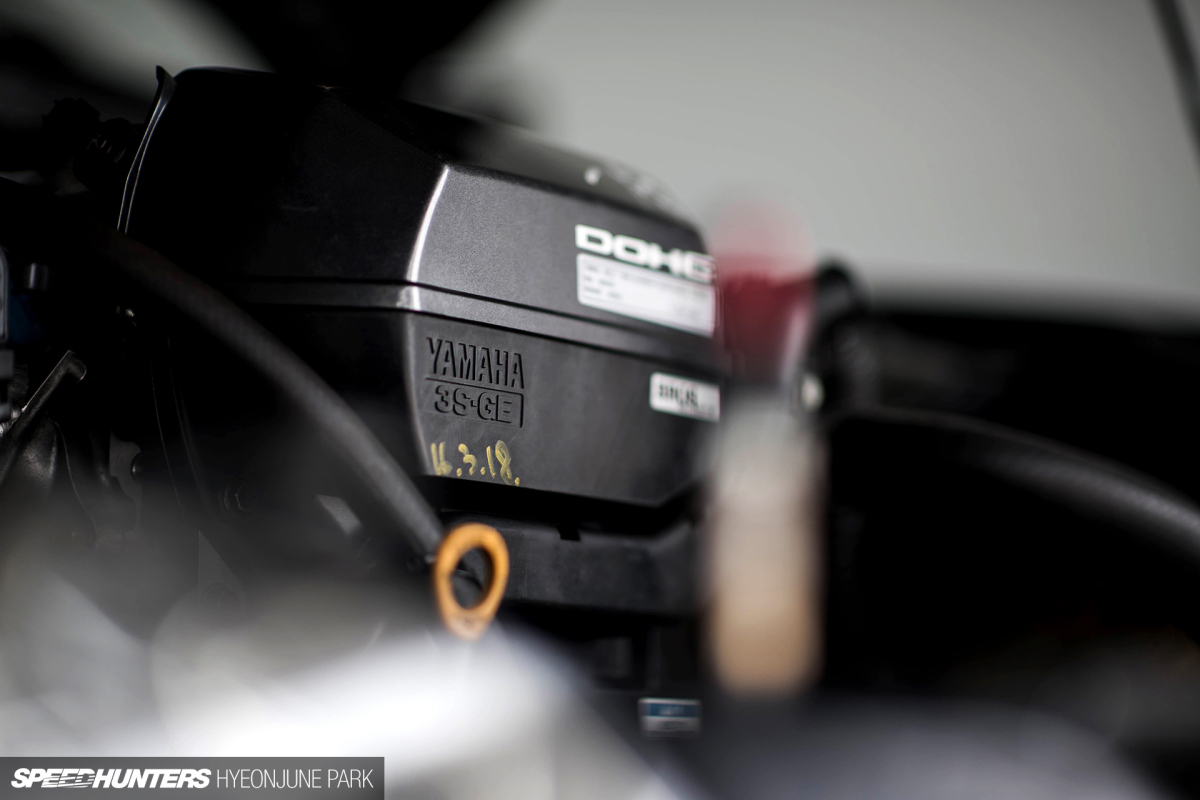 We've seen all sorts of motors fitted beneath the hoods of these cars, including those with big servings of boost, but Jaewoo wanted to stick with natural aspiration. That meant swapping out the stock 1G-FE/automatic package for the much more exciting JDM Beams 3S-GE/6-speed manual combo. Given that this setup came stock in Altezza RS200s it might sound like a big deal, but it wasn't quite as simple as slotting the engine and trans into place and calling it a day.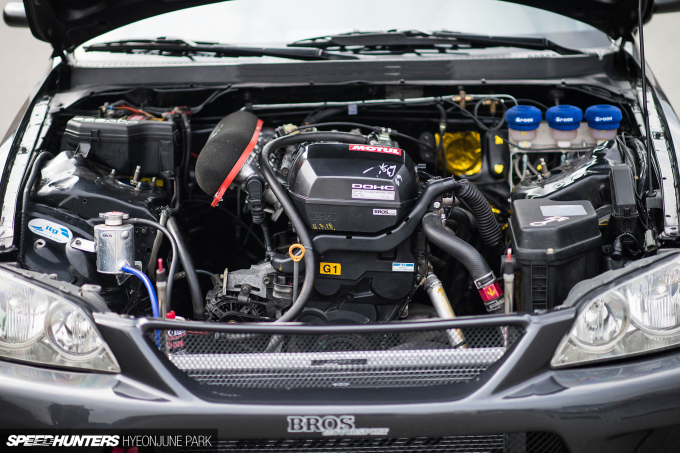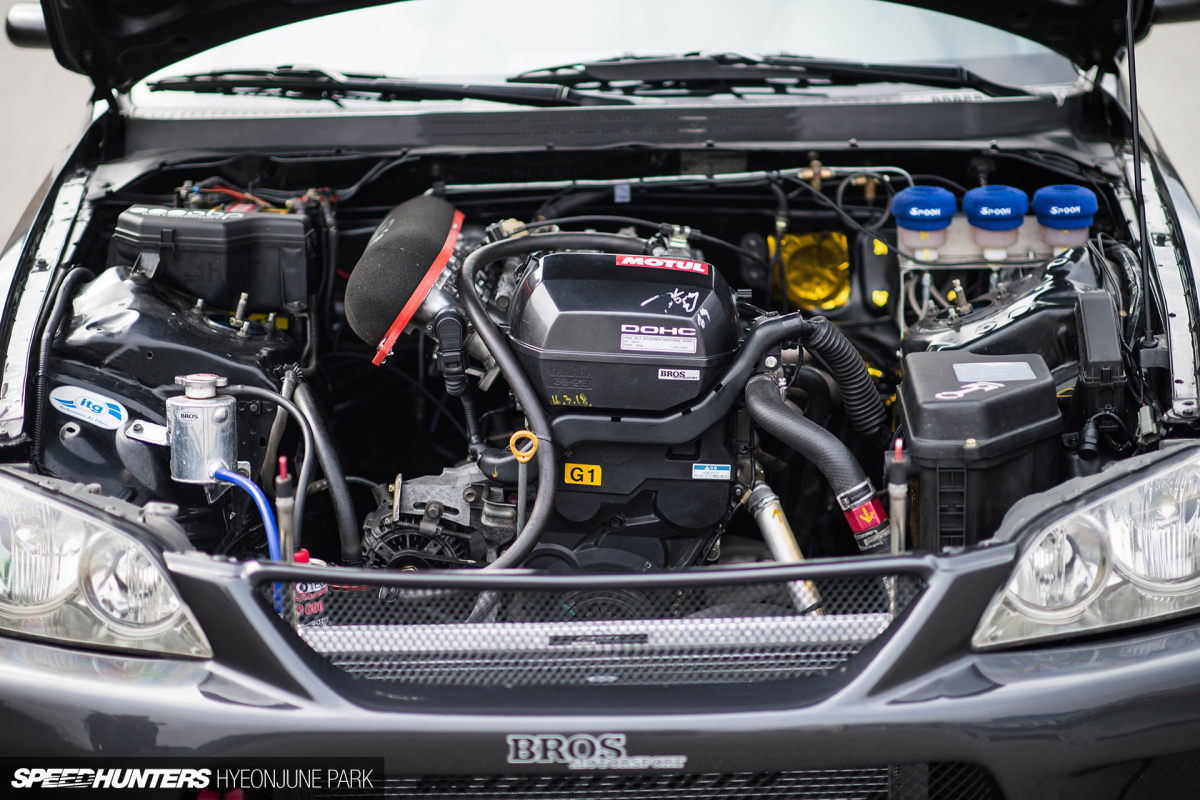 That's because the Beams 3S-GE wasn't designed for use in left-hand drive cars like Jaewoo's, so modification of the exhaust manifold as well as a switch from hydraulic to electric power steering was required. But eventually the new motor and gearbox combo was in and running.
NA Is Best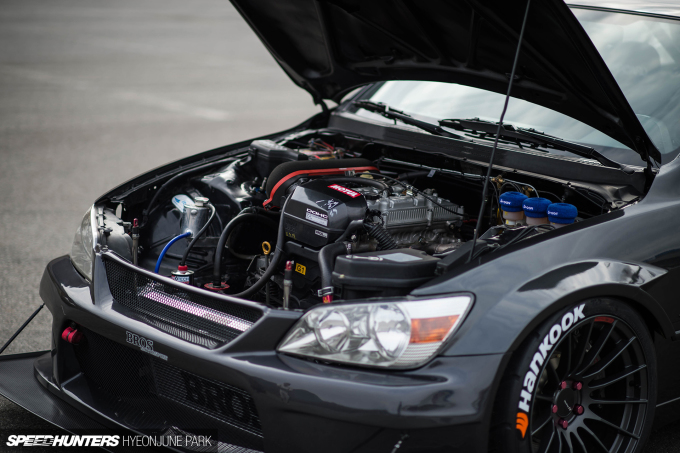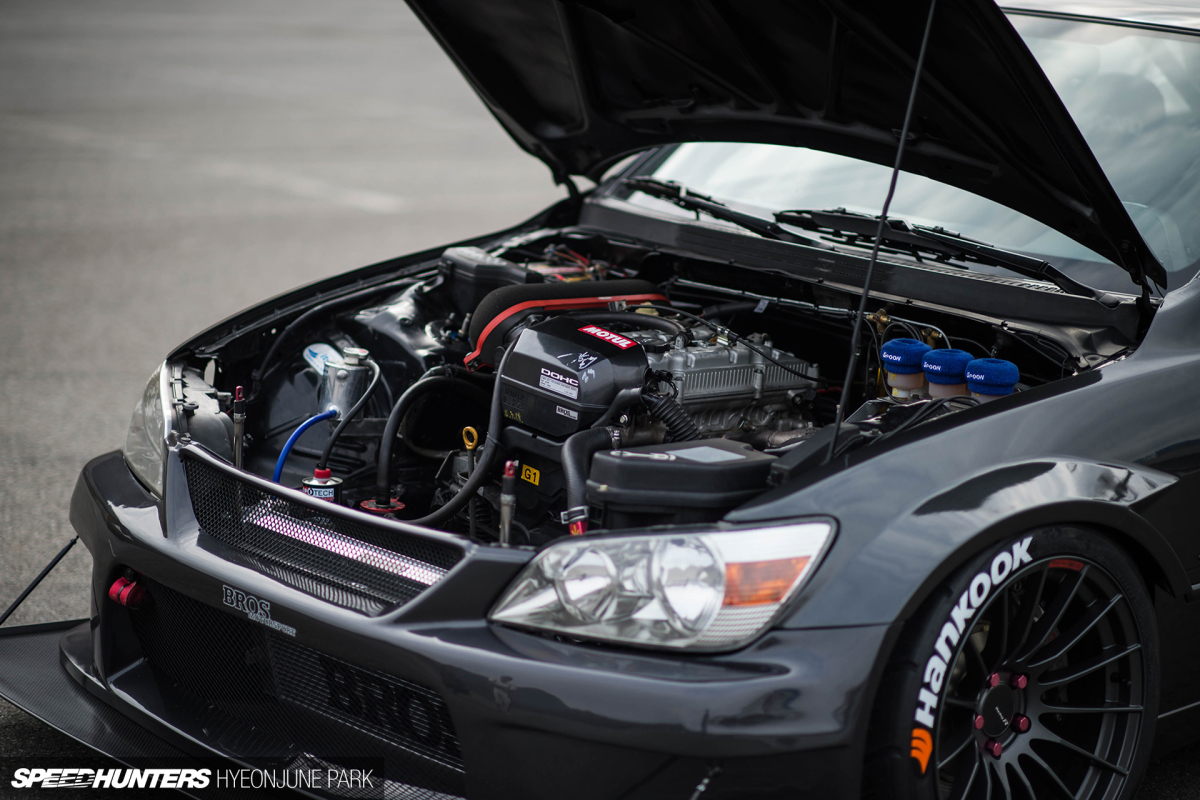 Initially the IS200 did double-duty as a track and street car, but as the years went on the car shifted more and more towards a full-on time attack machine.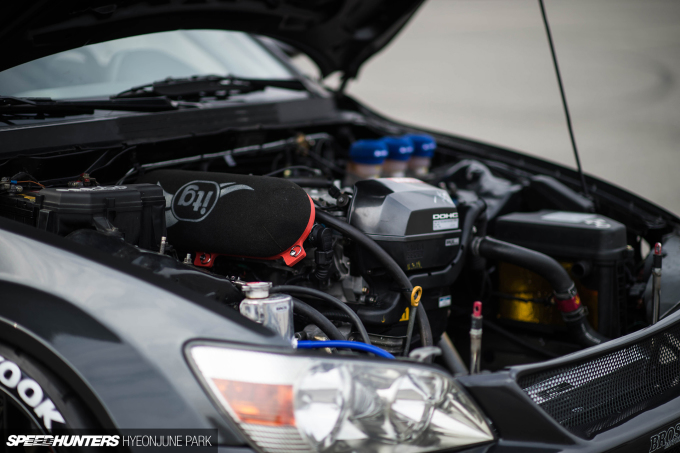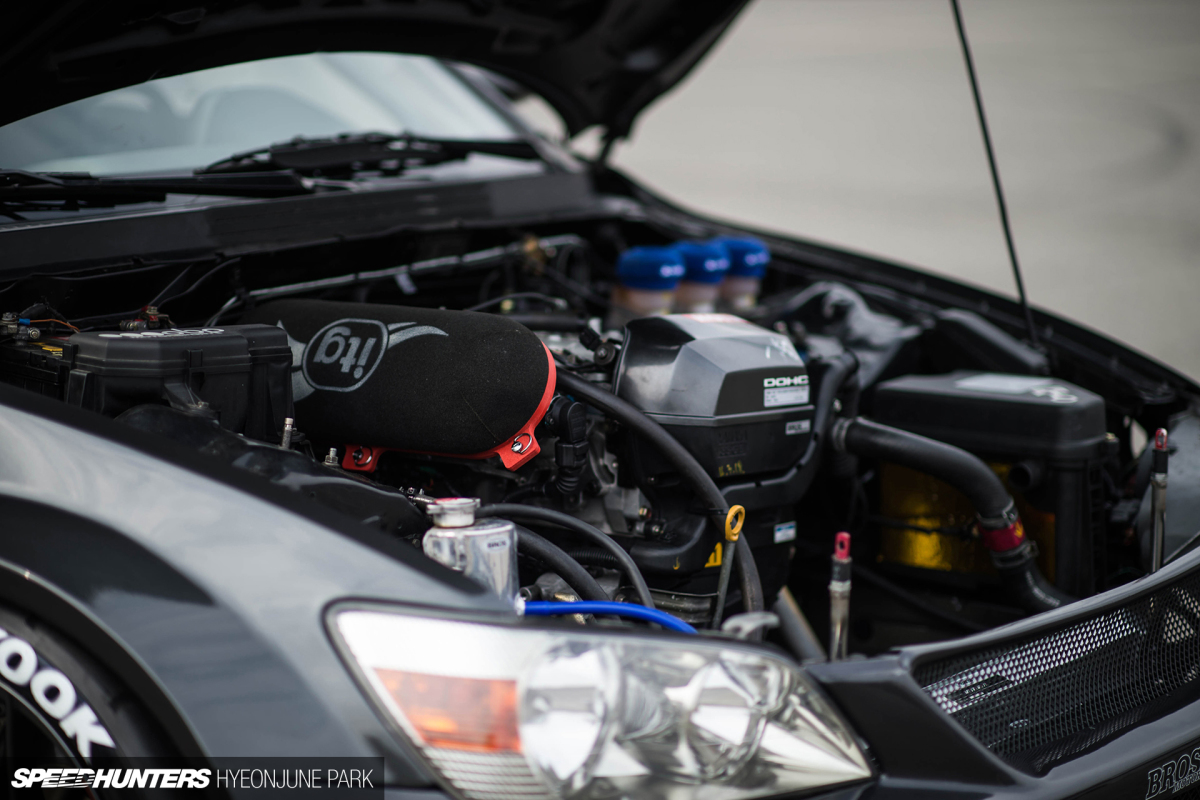 Naturally, the 3S-GE received plenty of upgrades along the way, but nothing that detracted from the purity of a high-winding NA motor. It now displaces 2,211cc thanks to a Toda stroker kit, and has been fitted with other Toda upgrades including high-lift camshafts, larger valve springs, adjustable cam pullies and more. It also breathes through a set of AE111 individual throttle bodies and a custom center-exit exhaust system.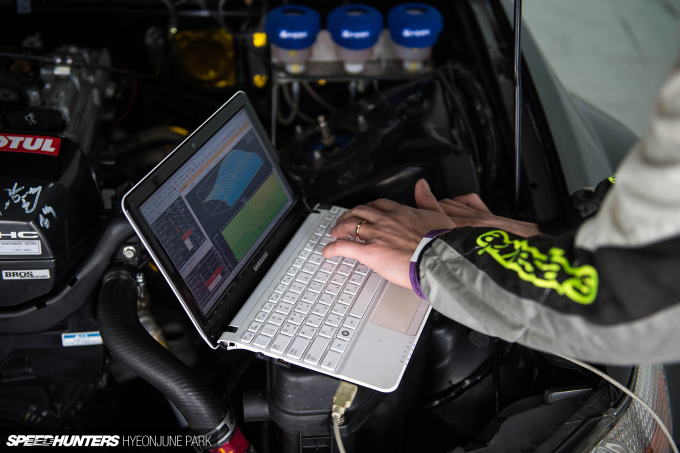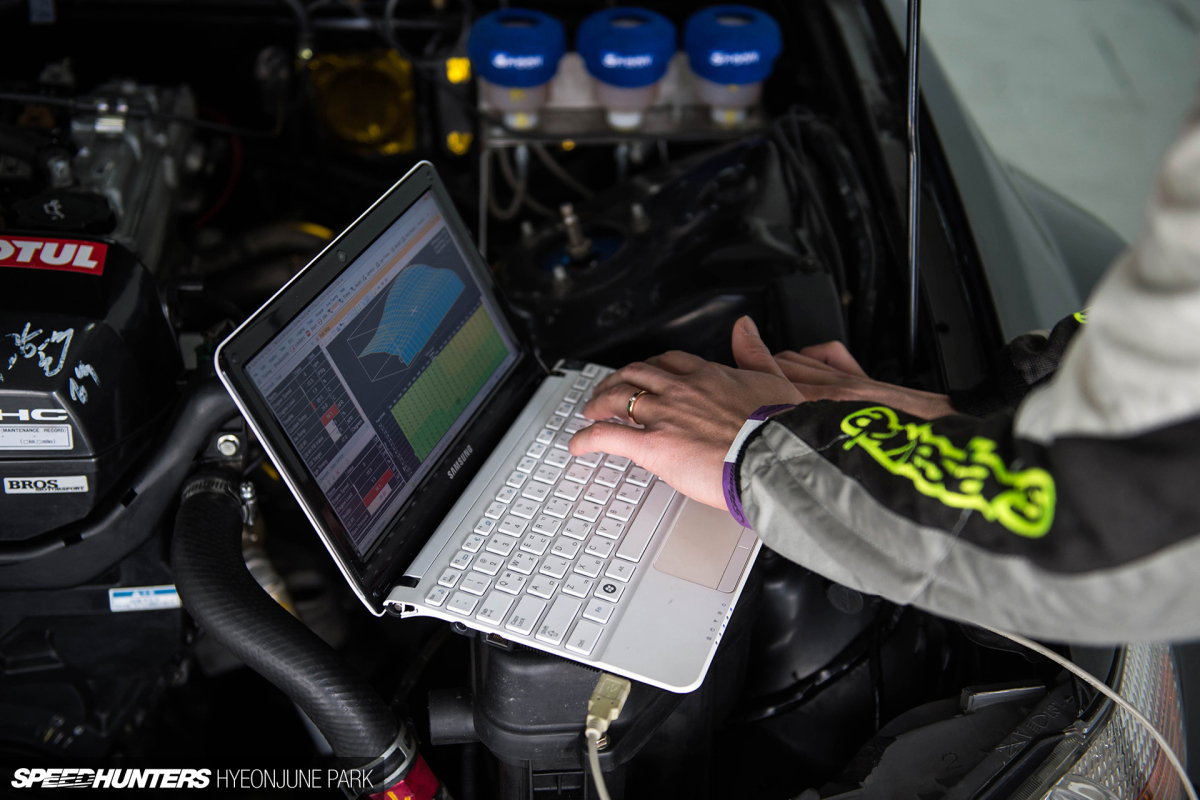 And keeping the Beams motor in perfect running order is an AEM EMS-4 engine management system.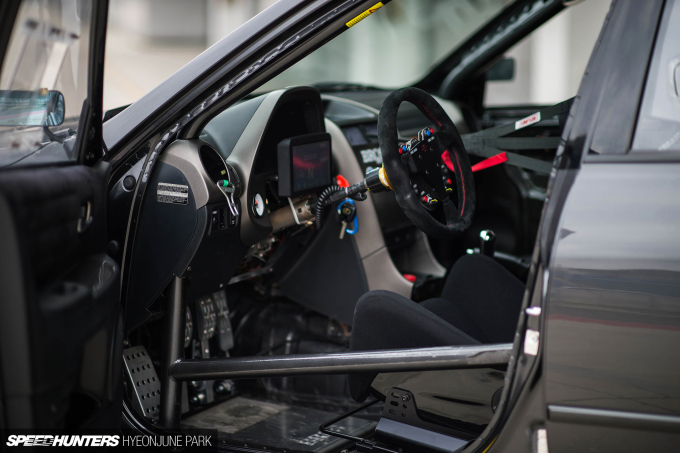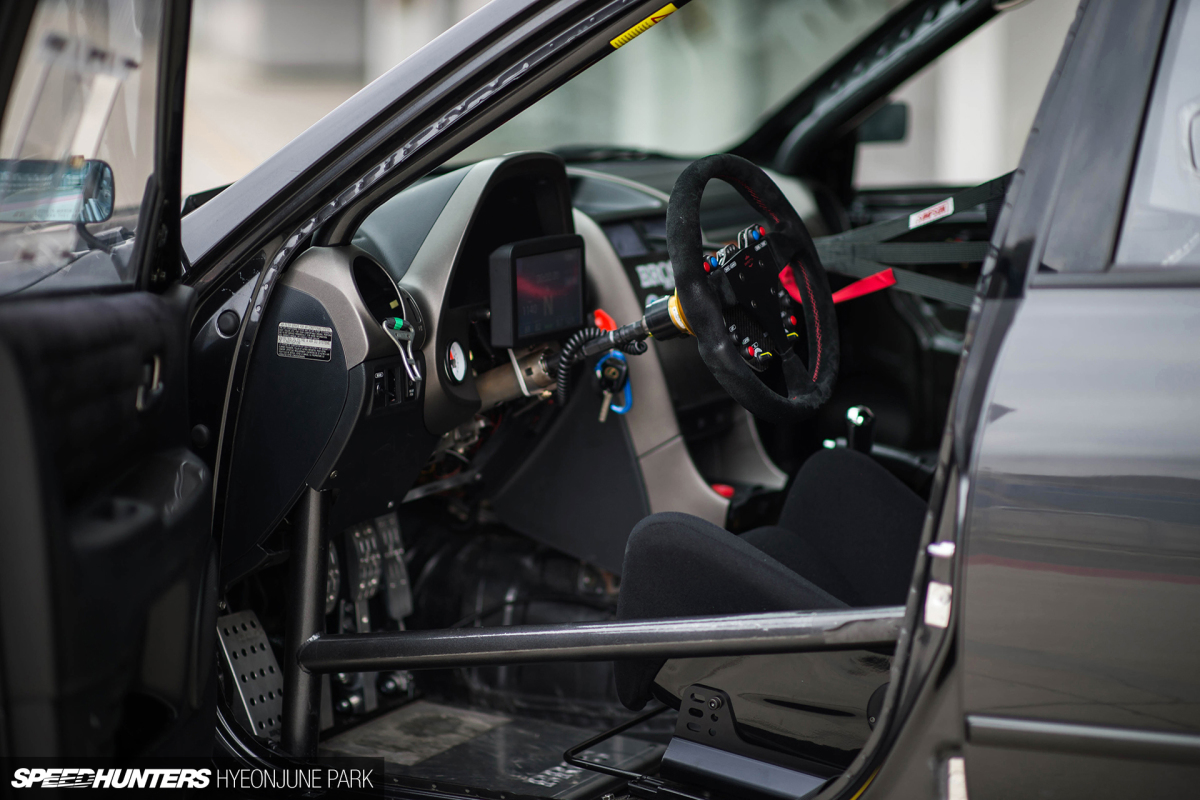 As for the drivetrain, Jaewoo has specced the Lexus with a Toda flywheel and clutch for the 6-speed gearbox, and the rear end houses a 4.3 ratio limited slip setup from an Altezza.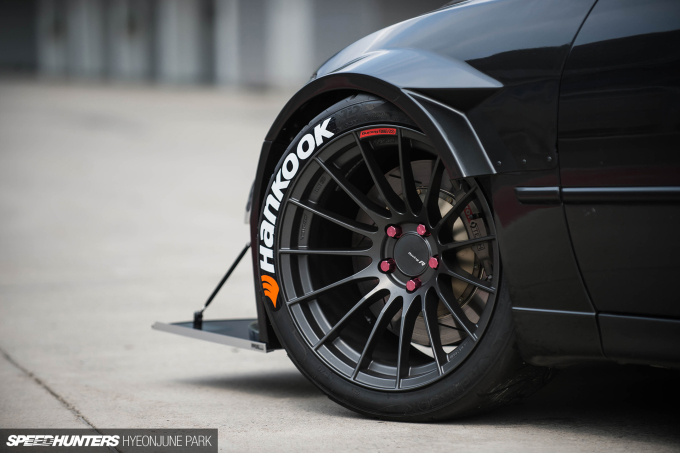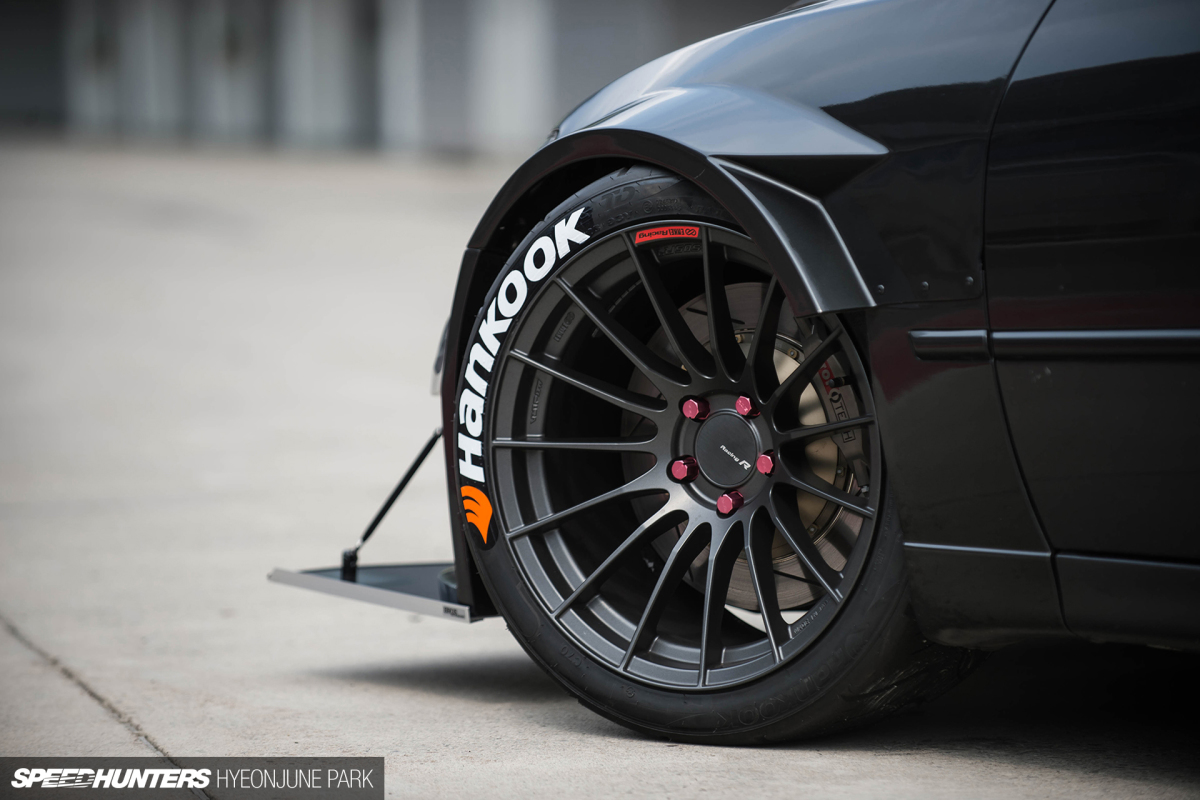 The suspension is well suited to circuit racing with full aluminum coilovers running Hyperco 900lb/1100lb springs, upgraded bushings, reinforced subframe mounts and Spoon Sports rigid collars.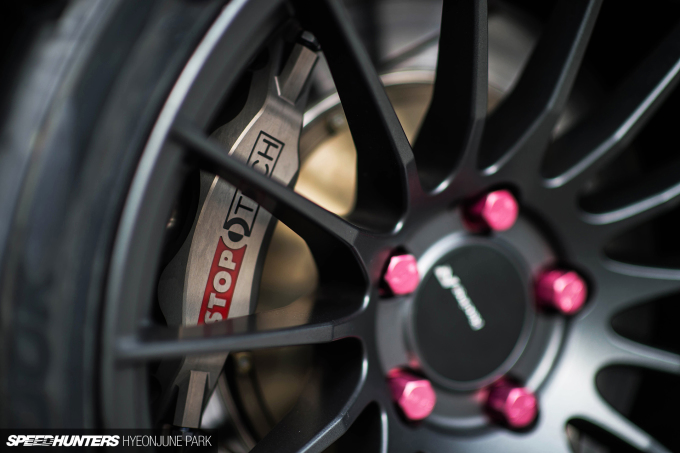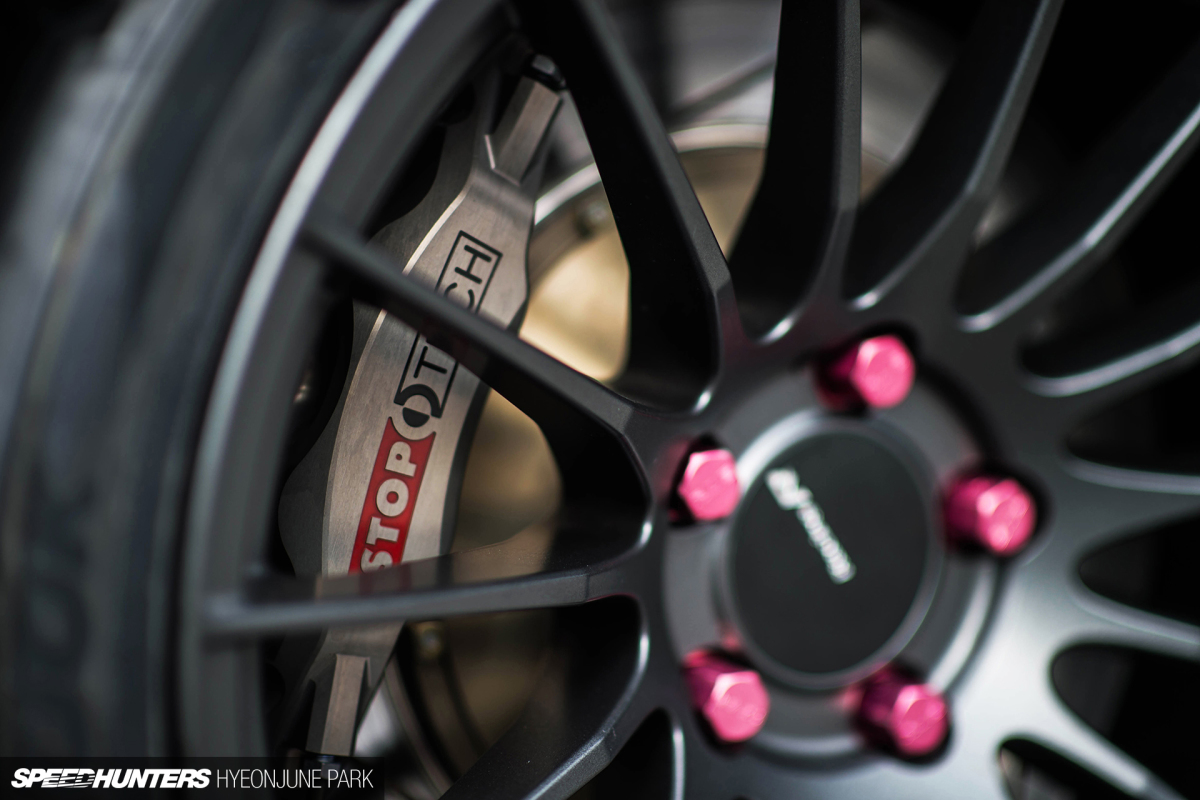 Helping to slow the IS200 down are StopTech STR40 Trophy calipers with big 355mm rotors all around.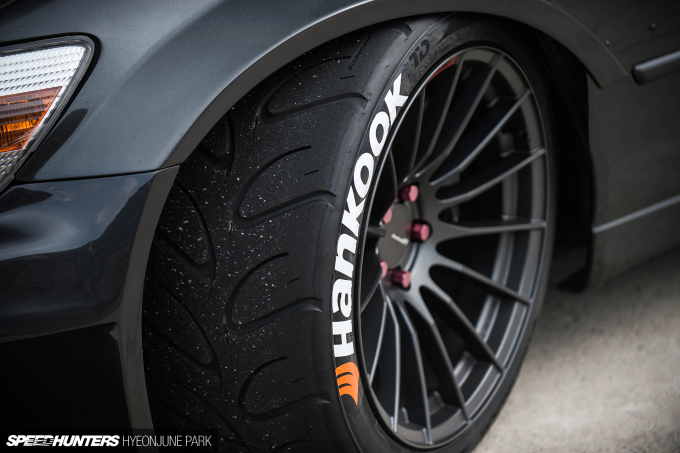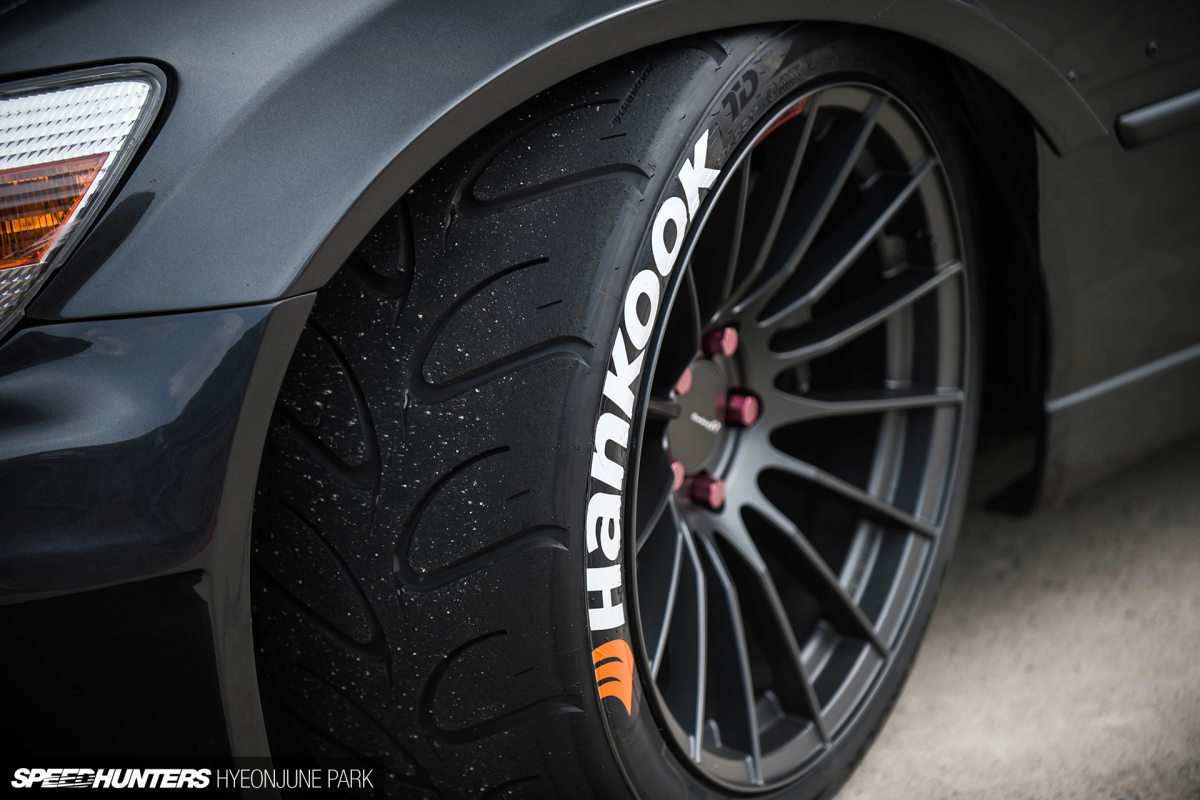 The wheels meanwhile are Enkei RS05RRs measuring 18×10-inch with +22 offset on each corner. The tires are also the same size in both the front and rear – 265/35R18 Hankook TDs to be precise.
All Function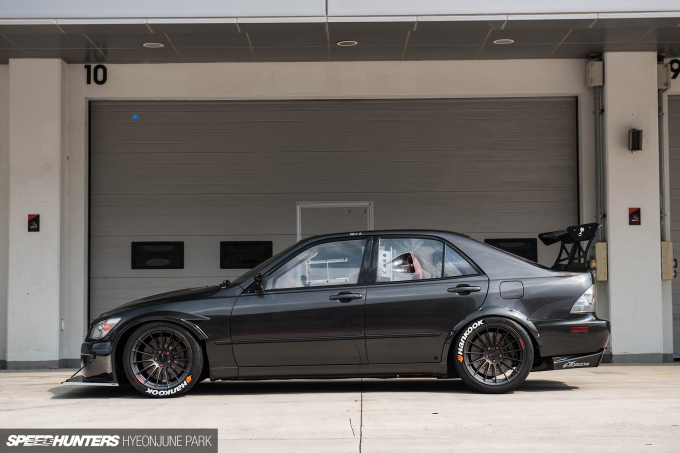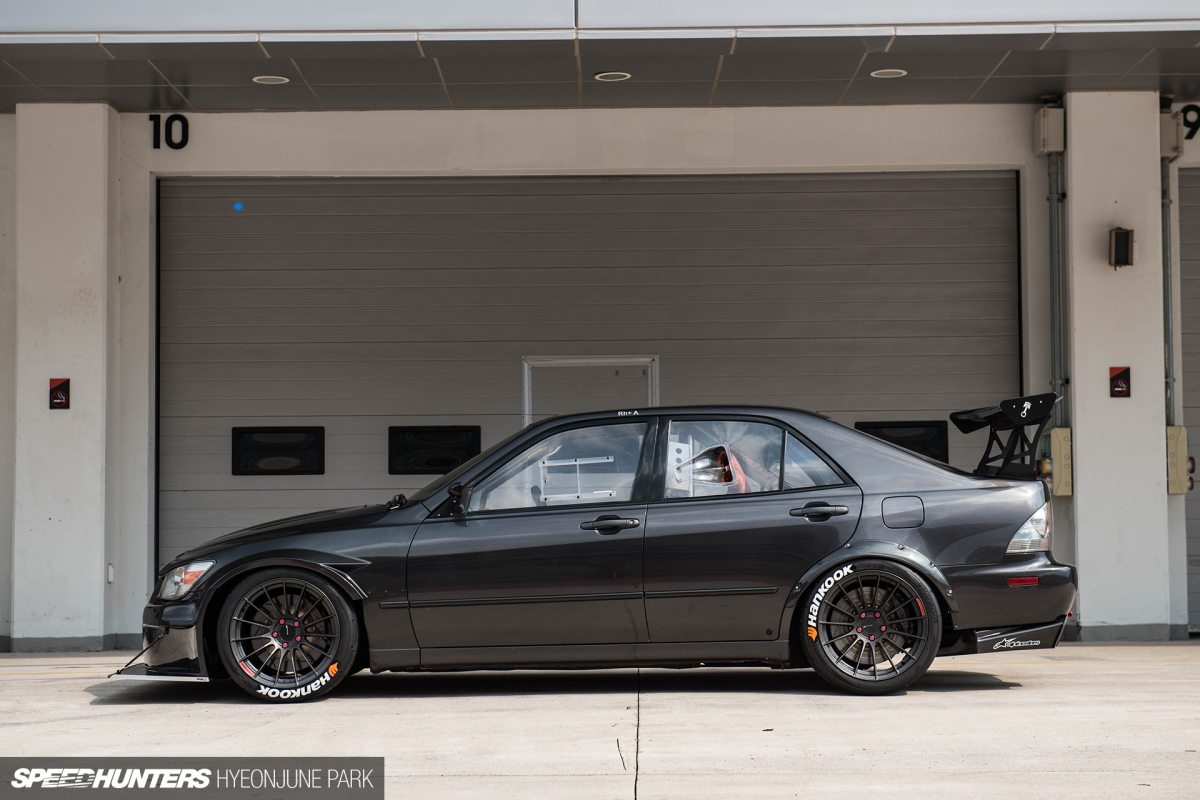 The exterior is all function and includes a custom widened front bumper and one-off flared fenders to properly accommodate the meaty Hankooks.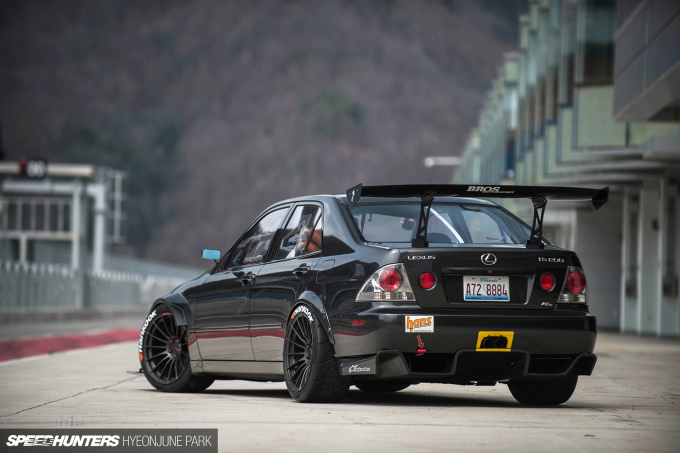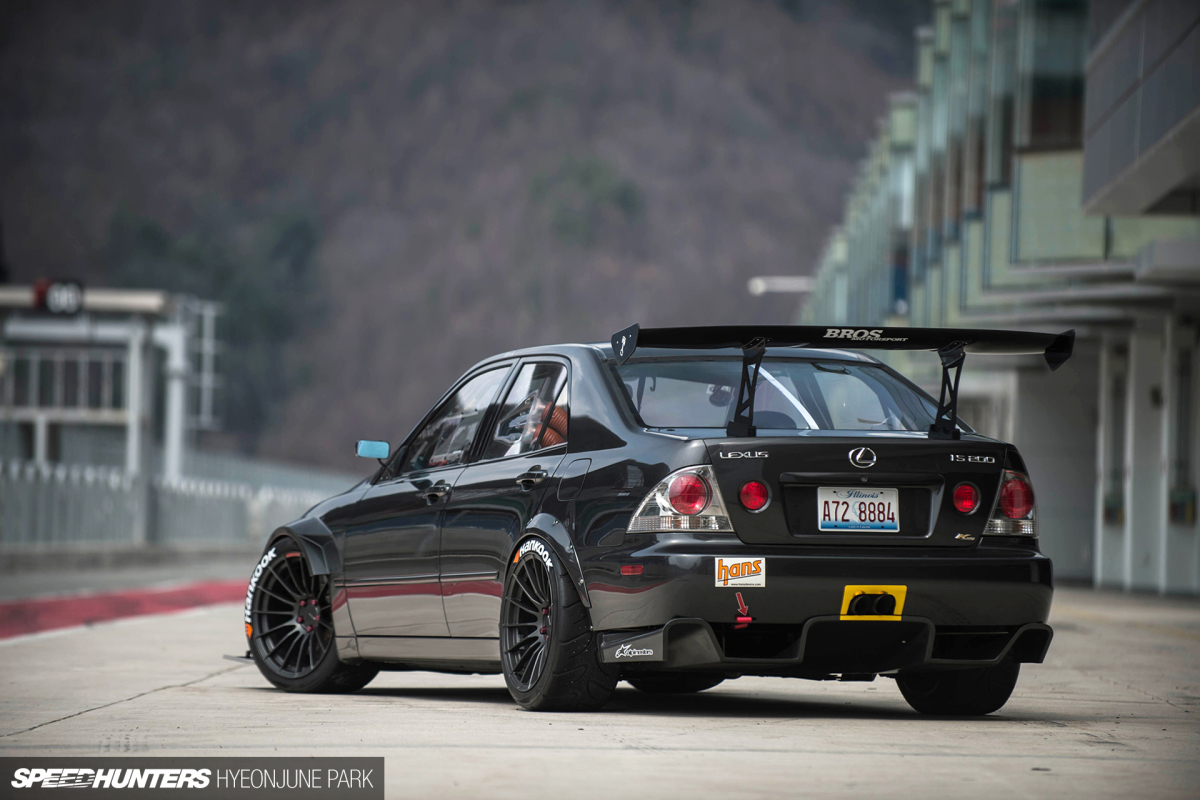 Aero needs are also addressed with a custom front splitter, a Spoon Sports rear diffuser and a high-mount Bros GT wing.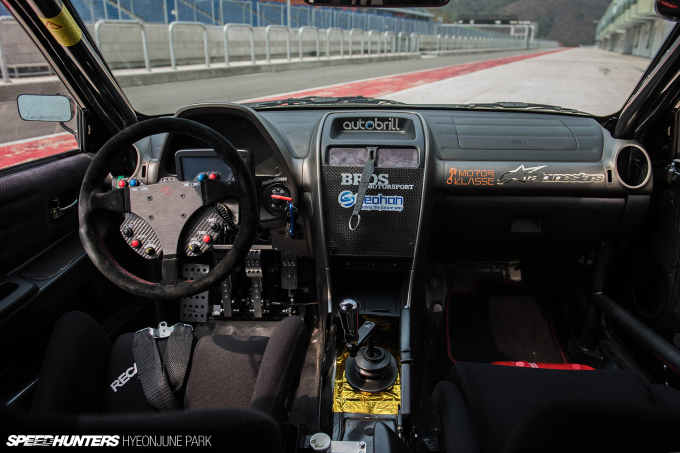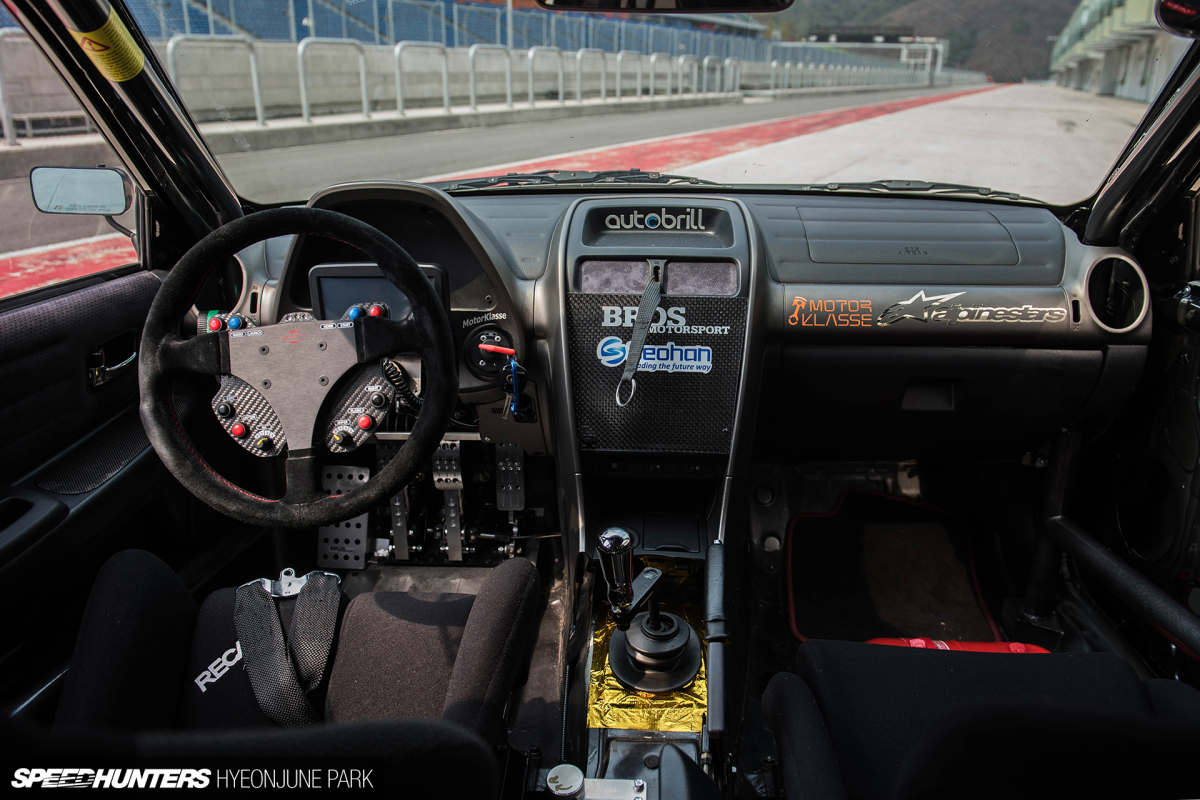 Looking through the polycarbonate windows into the cabin you'll find a custom 6-point rollcage and a pair of Recaro SP GT-II racing seats with Willans harnesses.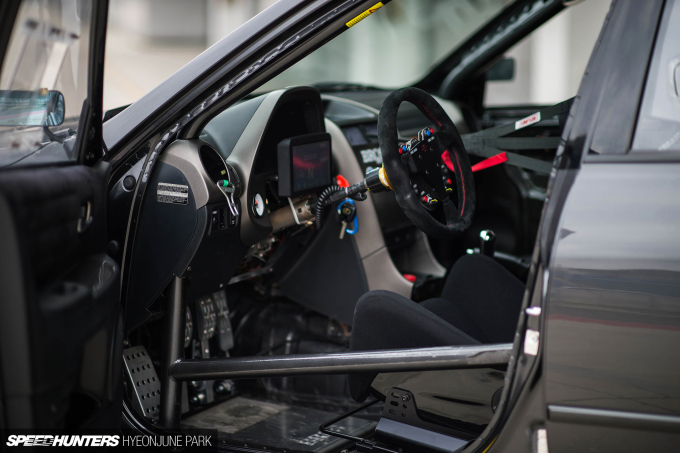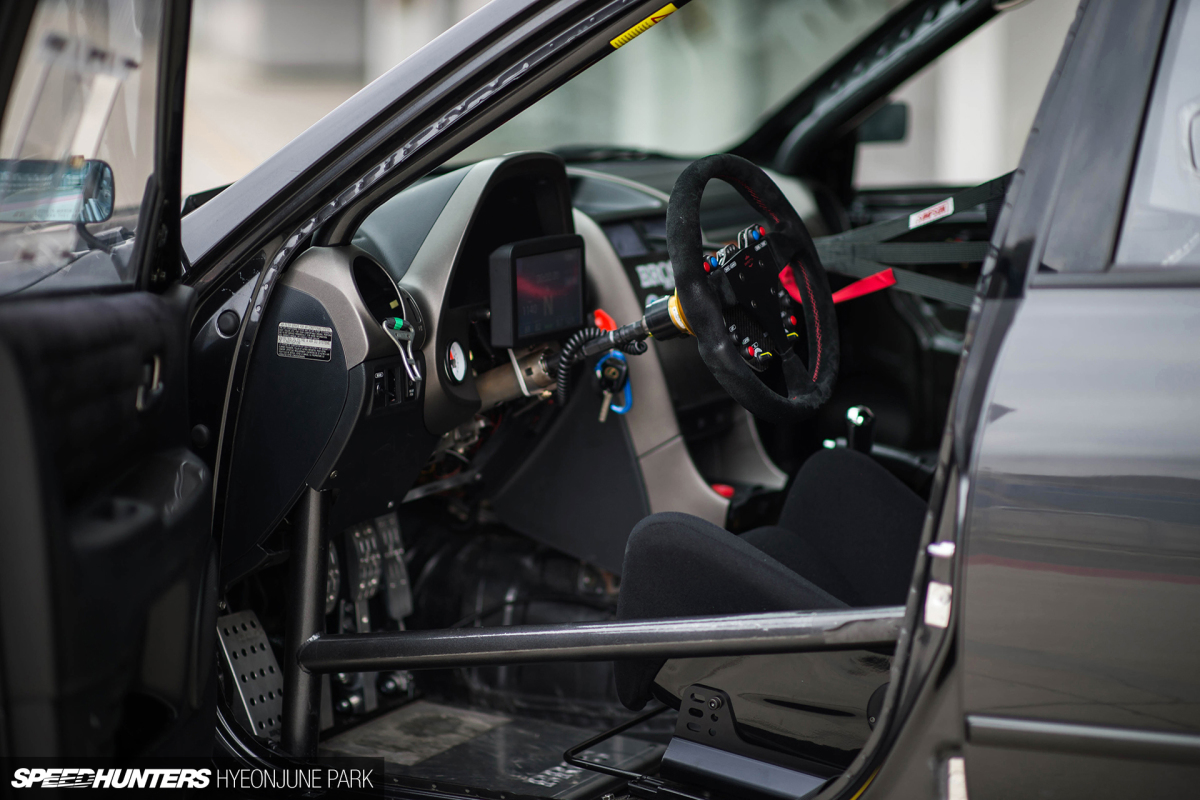 In true race car form there's also an onboard Bros Laptor R2 GPS data-logger, and the steering wheel is a Personal Fitti Racing item attached via a Works Bell quick-release hub.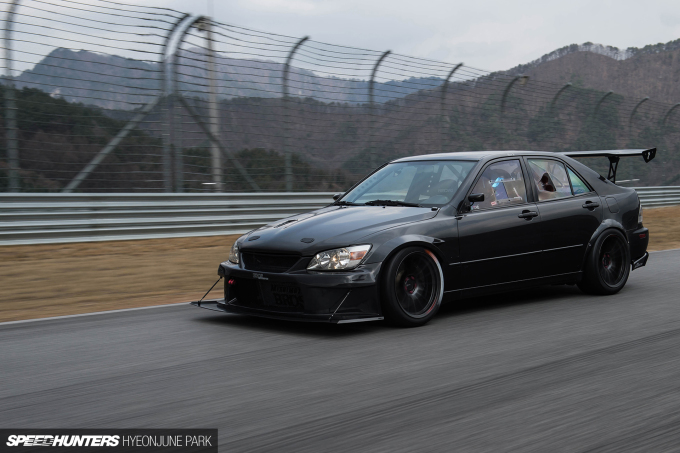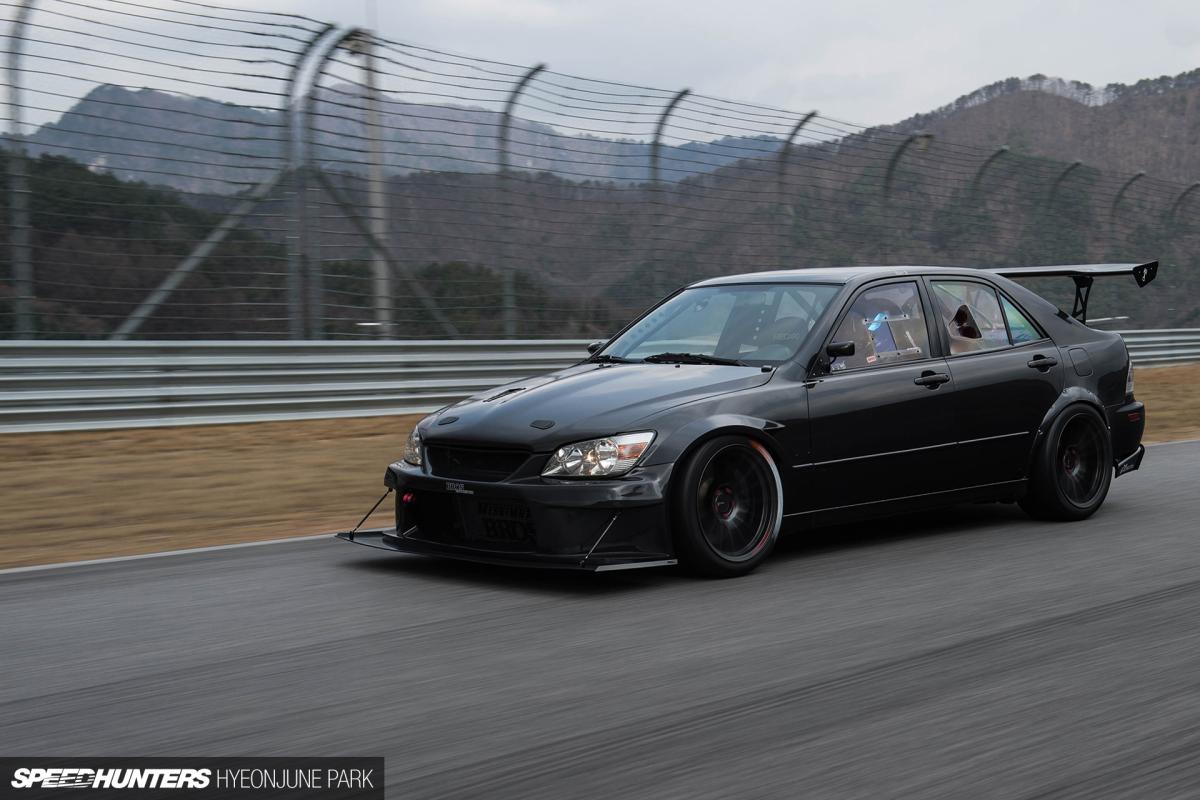 Jaewoo's IS200 would be a feature-worthy build anywhere in the world, but the fact that it's in Korea just makes it that much more interesting. We are told there's a lot more in store for this project, so we're looking forward to Jaewoo's future updates.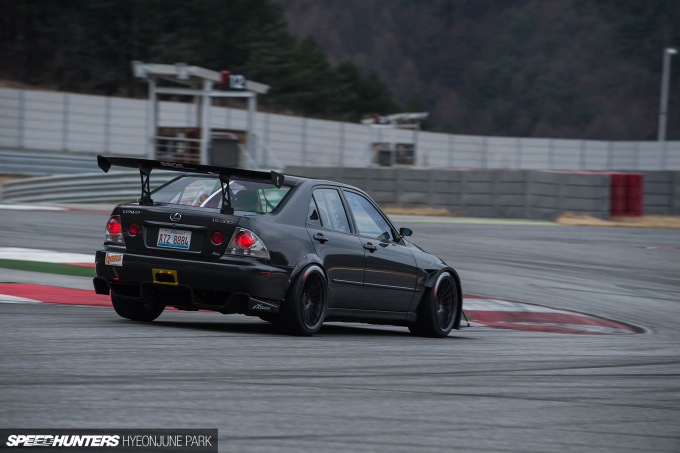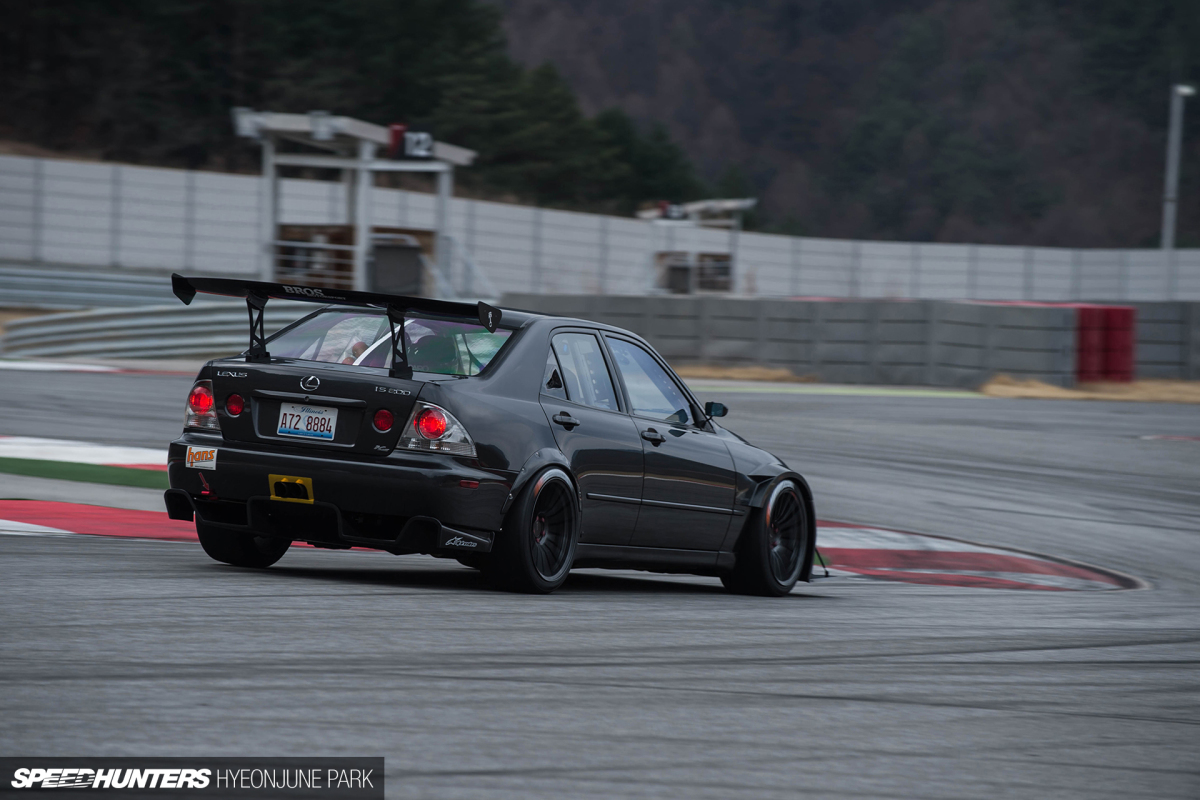 Korea's car culture might still be small in scope, but if there are others who can show the same passion as Jaewoo, I'd say its future is looking bright.
Mike Garrett
Instagram: japanifornia
mike@speedhunters.com
Photos by Hyeonjune Park
MotorKlasse Lexus IS200
Engine
Toyota 3S-GE Beams, Toda 2211cc stroker kit (87mm x 93mm), Toda camshafts, Toda uprated valve springs, Toda adjustable cam pullies, Toda headgasket, Toyota AE111 ITBs, Toda exhaust manifold, Toda timing belt, AEM EMS-4 engine management system, custom Mishimoto radiator, Sard thermostat, ITG intake filter, custom center-exhaust exhaust
Driveline
Toyota 6-speed J160 gearbox, Toda lightweight flywheel/clutch, Altezza LSD, 4.3 final drive, Figs reinforced differential mounts
Suspension & Brakes
Custom full aluminum coilovers with Hyperco 900lb/1100lb springs, Figs adjustable sway bar links, SuperPro reinforced bushings, Hyundai MDPS (Motor Driven Power Steering) retrofit, Spoon Sports rigid collar, custom reinforced rear subframe mounts, StopTech STR-40 Trophy brake kit (355mm) front & rear, ABS delete
Wheels/Tires
Enkei Racing RS05RR 18×10-inch +22, Hankook Tire TD 265/35R18
Exterior
Custom wide front bumper, fenders & splitter, Seibon carbon fiber hood, APR carbon fiber duct, APR Formula side mirrors, Bros GT wing, Spoon Sports rear diffuser, polycarbonate side/rear windows
Interior
Recaro SP GT-II seats, Bros Laptor R2 GPS data logger, Willans 6-point harnesses, custom welded 6-point rollcage, Simpson window nets, Personal Fitti Racing 320mm steering wheel, Bros SSD, Works Bell Rapfix quick-release hub, OBP Pro-Race V2 pedal box
More Toyota Altezza related stories on Speedhunters
Cutting Room Floor