From The Drift Course To The Trails
If you were to do a survey about the most exciting drivers in Formula Drift, there's a good chance Forrest Wang would be near the top of the list.
While Forrest hasn't piled up the championships and event wins the way other drivers have, that hasn't made him any less of a fan favorite.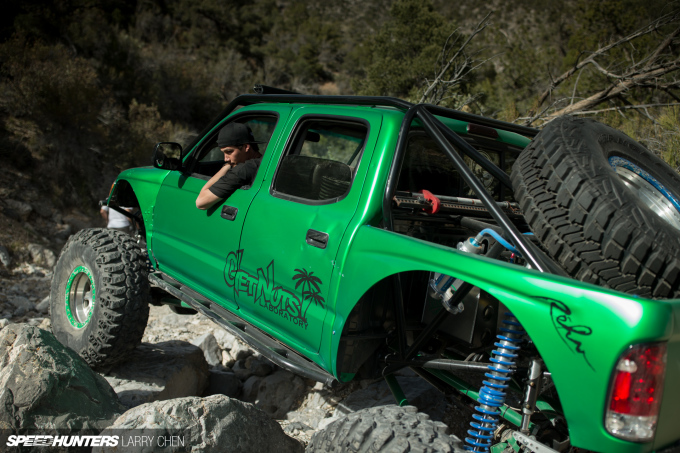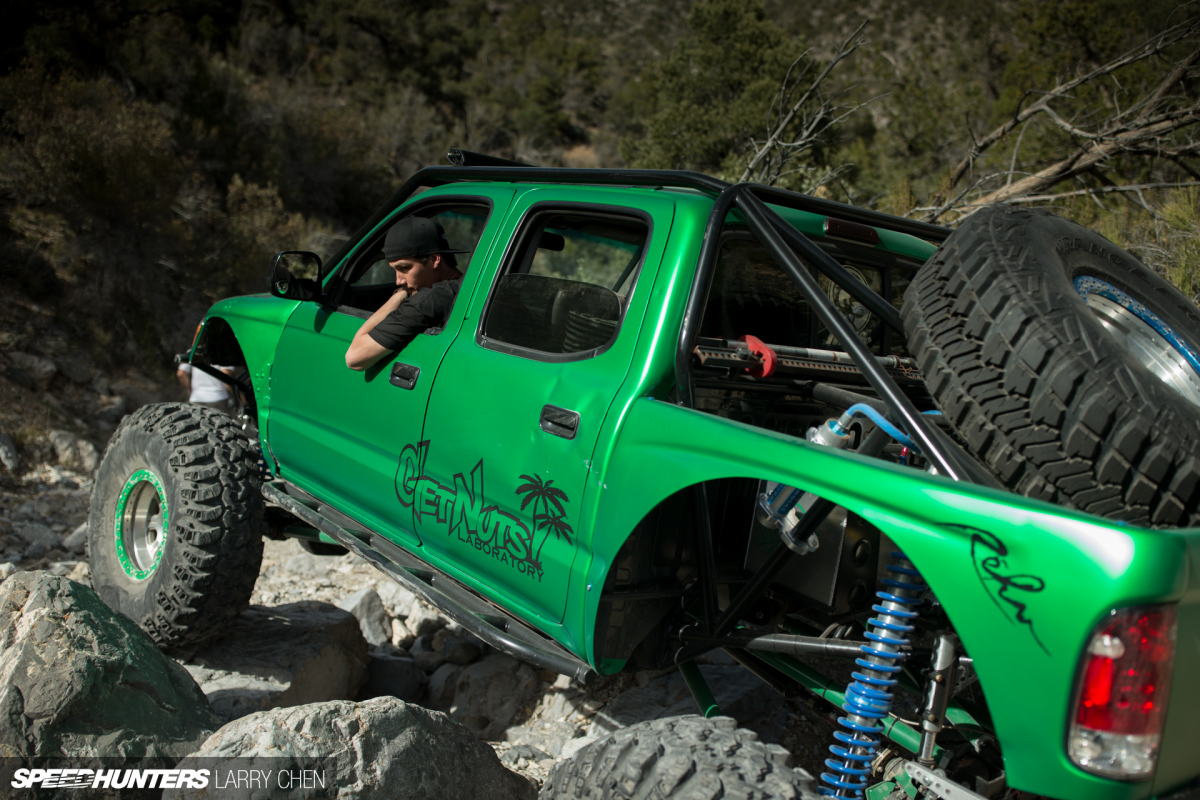 For about a decade now, Forrest has been building some of the coolest cars in the American drift scene and driving them in a way that puts spectators on the edge of their seats. He keeps it real in a big way.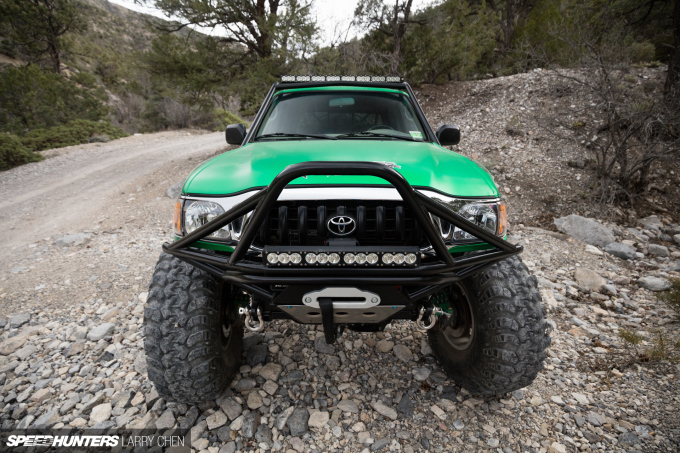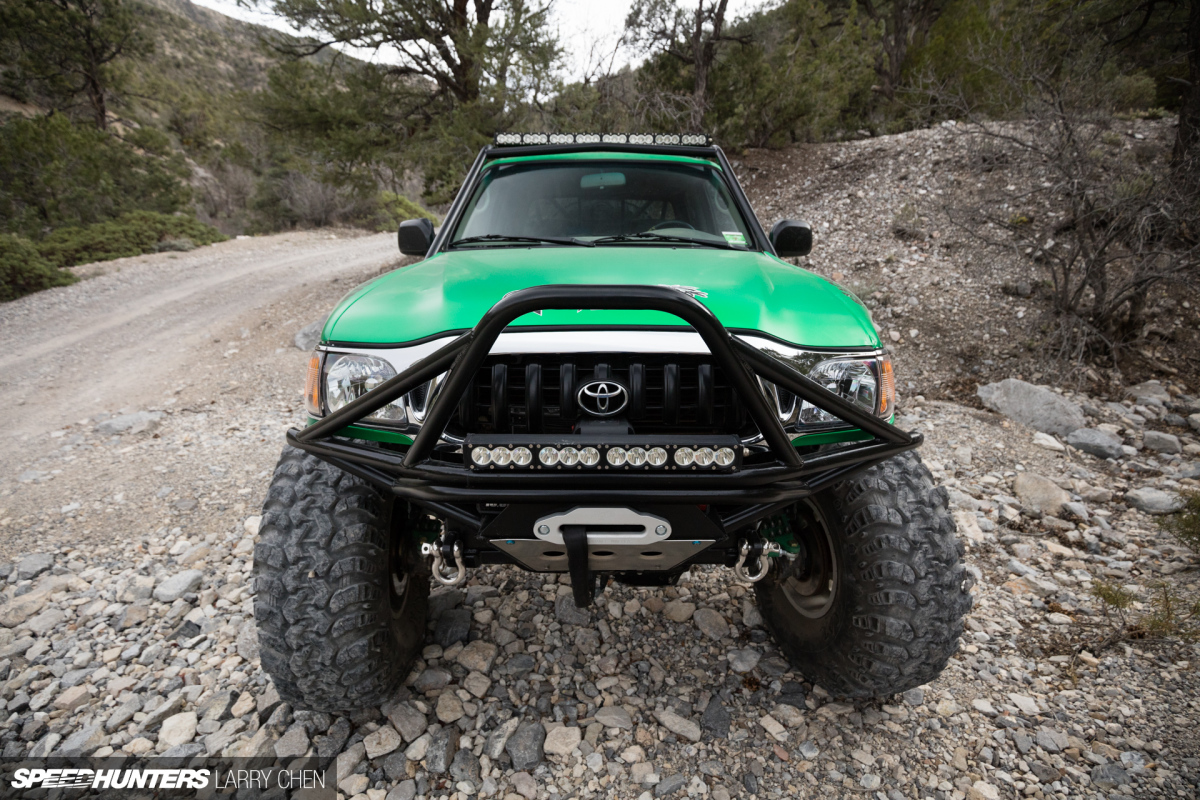 But did you know that drift cars aren't the only type of vehicle that he likes to play with? Like many of the drivers competing in Formula Drift, Forrest does a lot more than just slide around drift courses. He also likes to get dirty.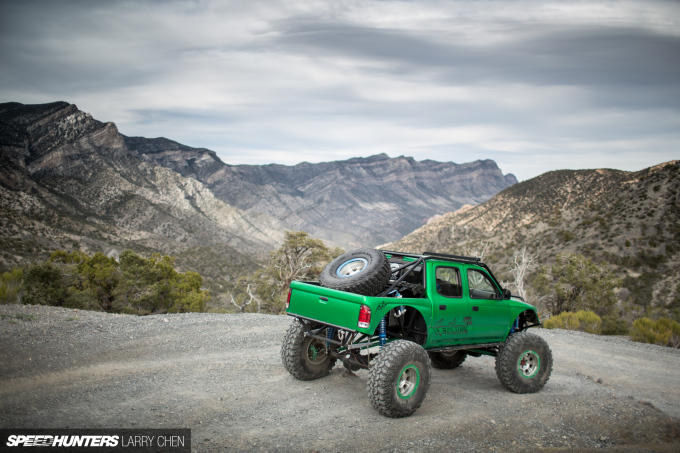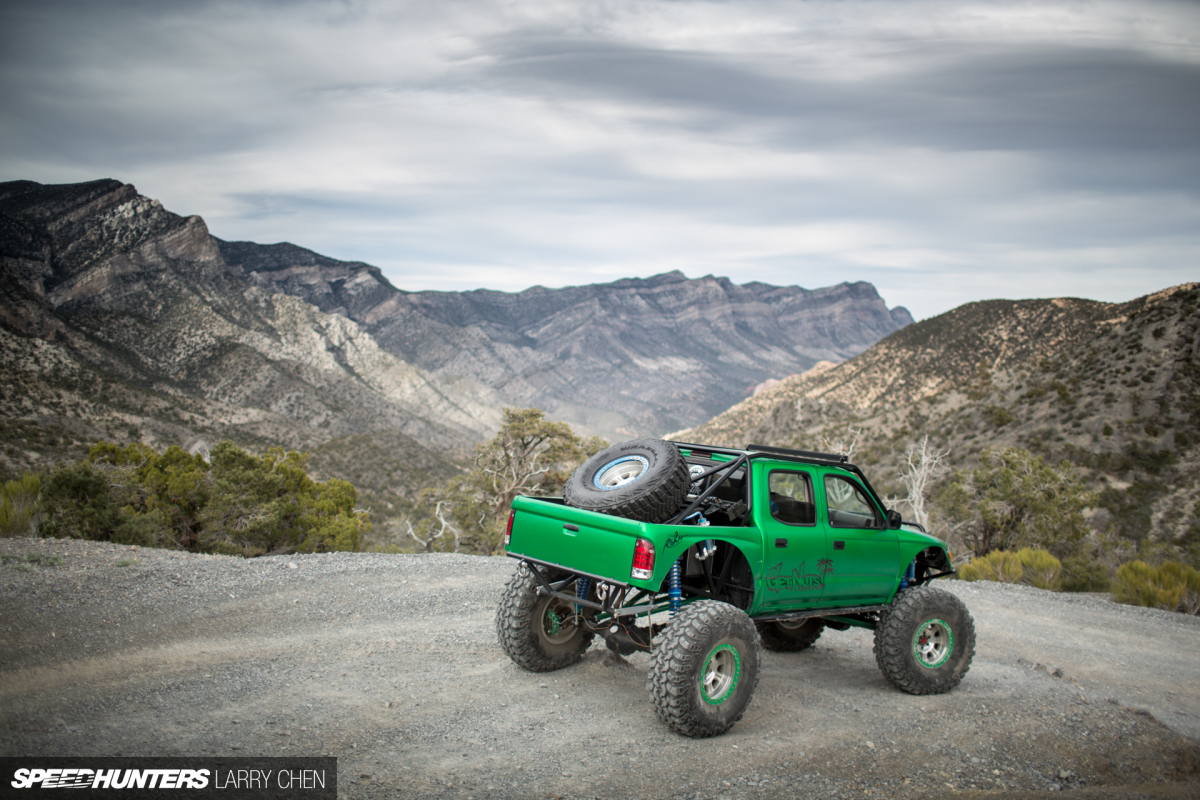 When he's not throwing his S14 sideways in a cloud of tire smoke, Forrest can be found tearing up the trails in a heavily modified 2003 Toyota Tacoma 4×4 – a vehicle that we recently had a chance to check out in detail.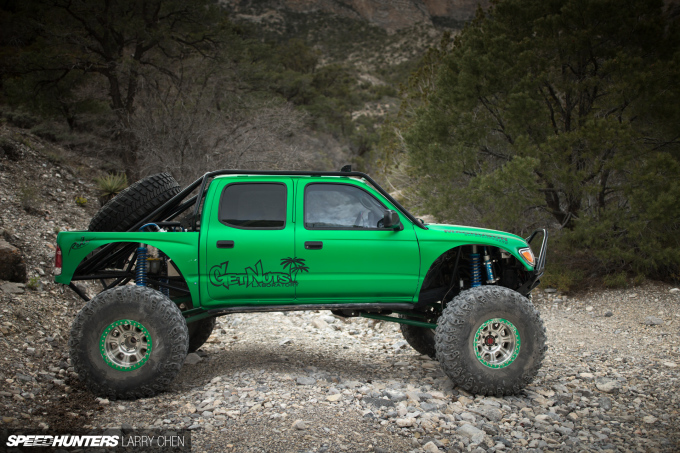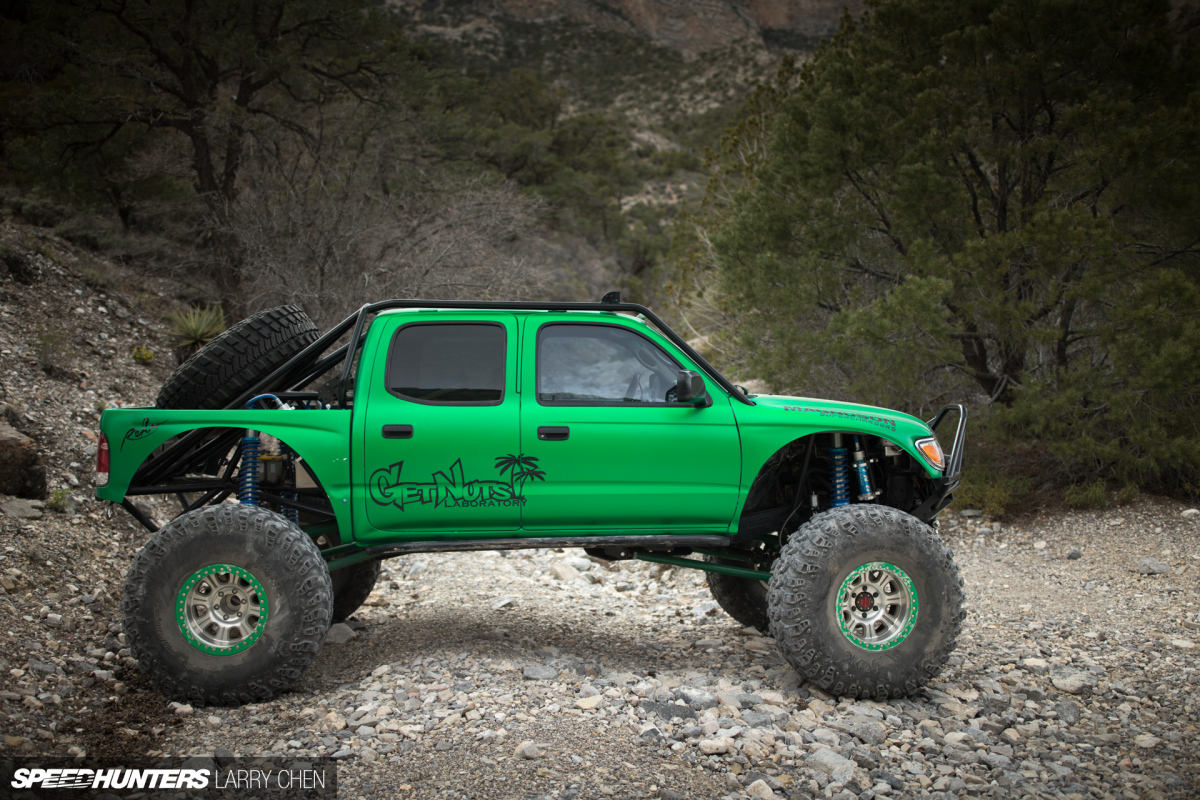 Standing tall and rugged, the lifted Tacoma exists in perfect contrast to the low, wide and super clean Silvias that Forrest is known for in the drifting community. But it's also just as cool.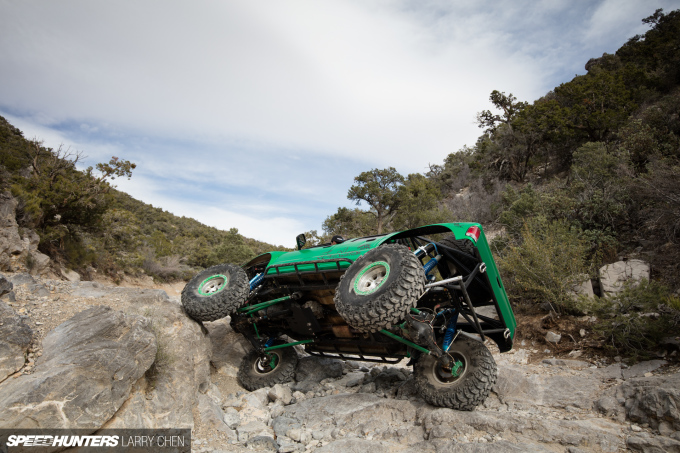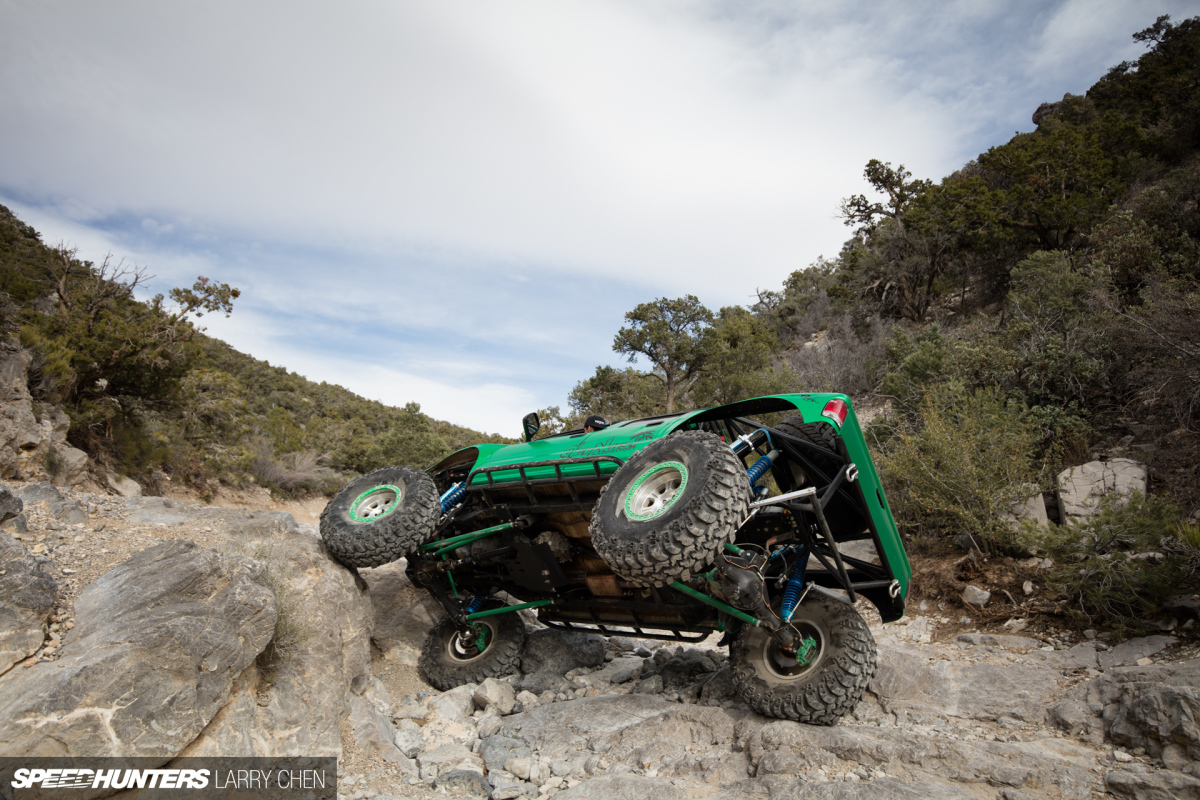 And just like Forrest's drift cars, the Tacoma is built to perform. Only instead being drifted, this one uses all four pieces of massive rubber to conquer any obstacle it might encounter.
From Top To Bottom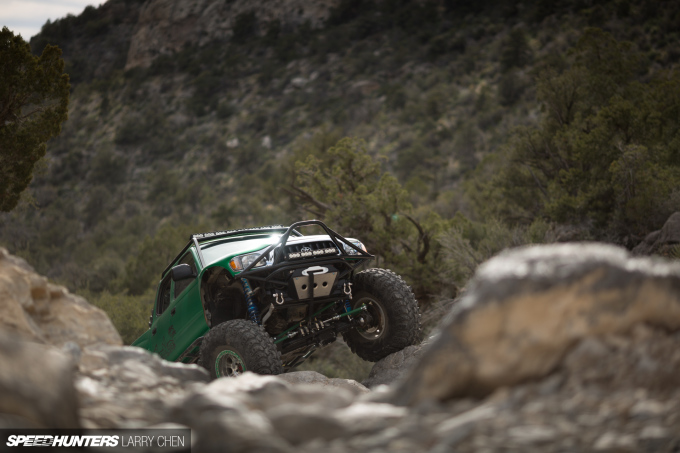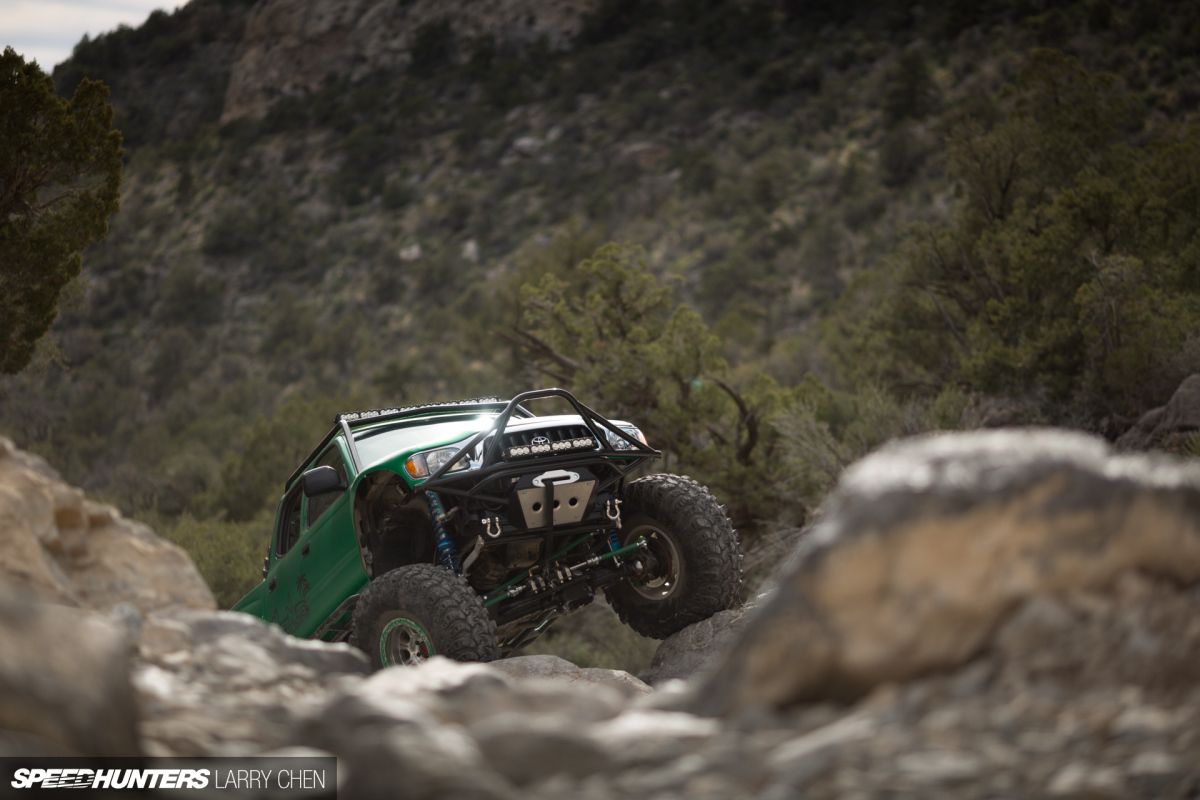 Like many serious off-road machines, Forrest's Tacoma doesn't have too many of the original 2003 Toyota components left on it. Instead, he's used the truck's robust underpinnings to go in a quite radical direction.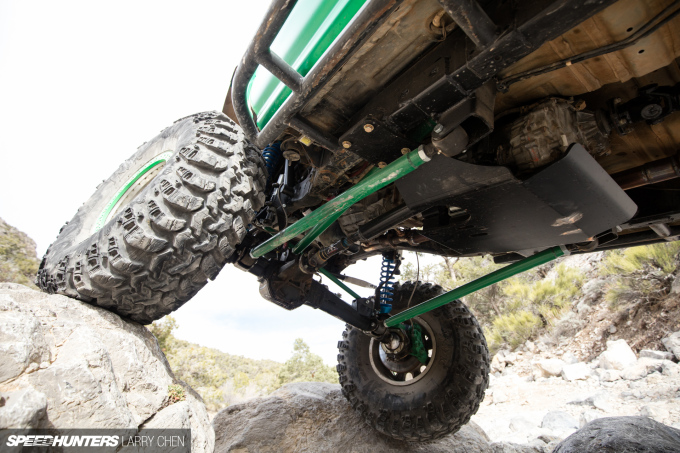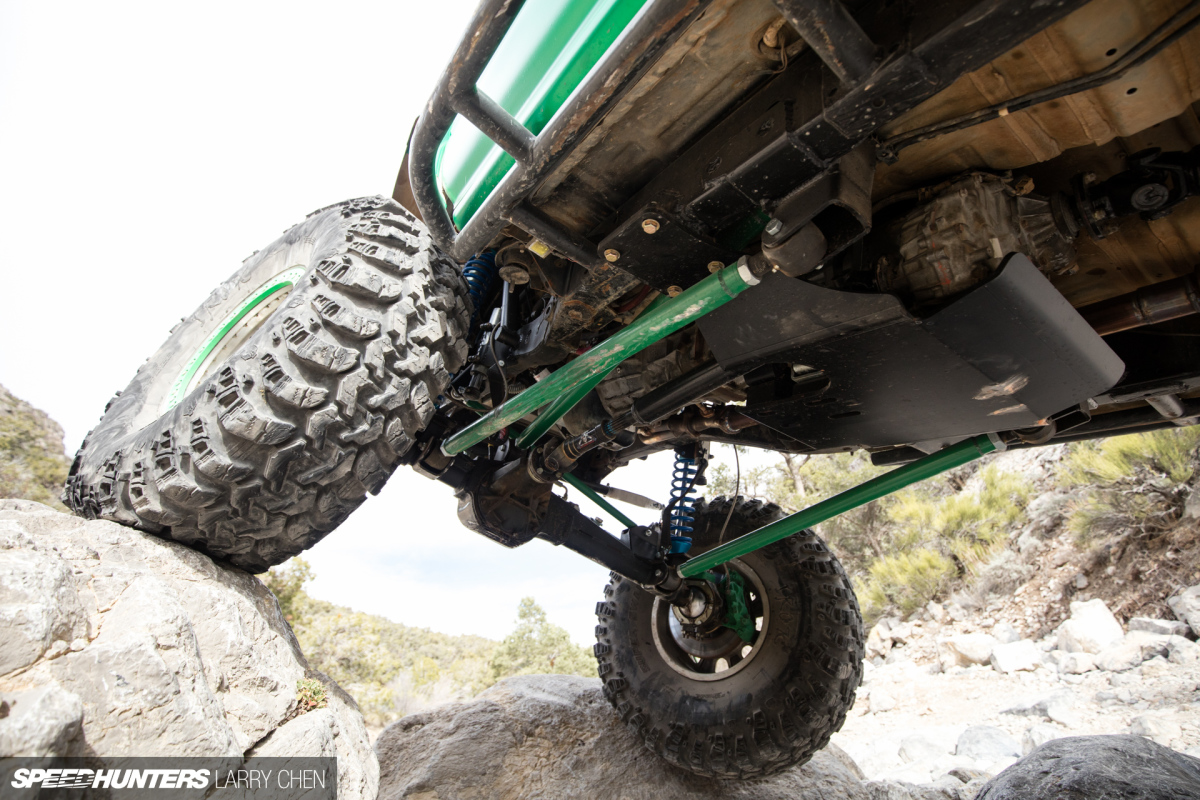 Underneath you'll find a Rock Assault solid front axle, and fully strengthened front and rear differentials with lockers and 5.29 Yukon gears. Forrest also swapped out the original automatic gearbox for a R151 5-speed manual setup.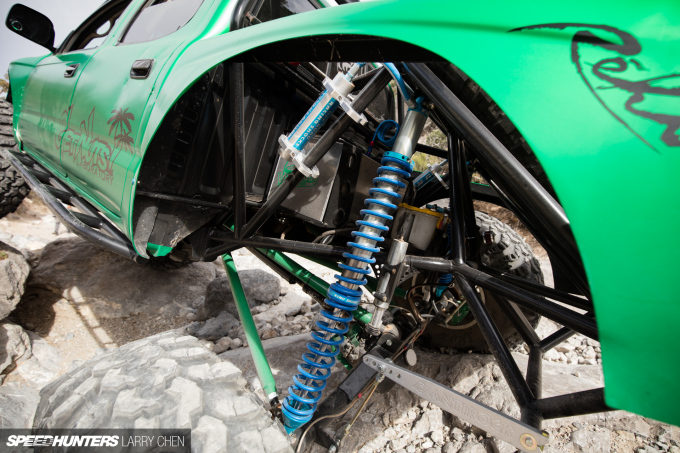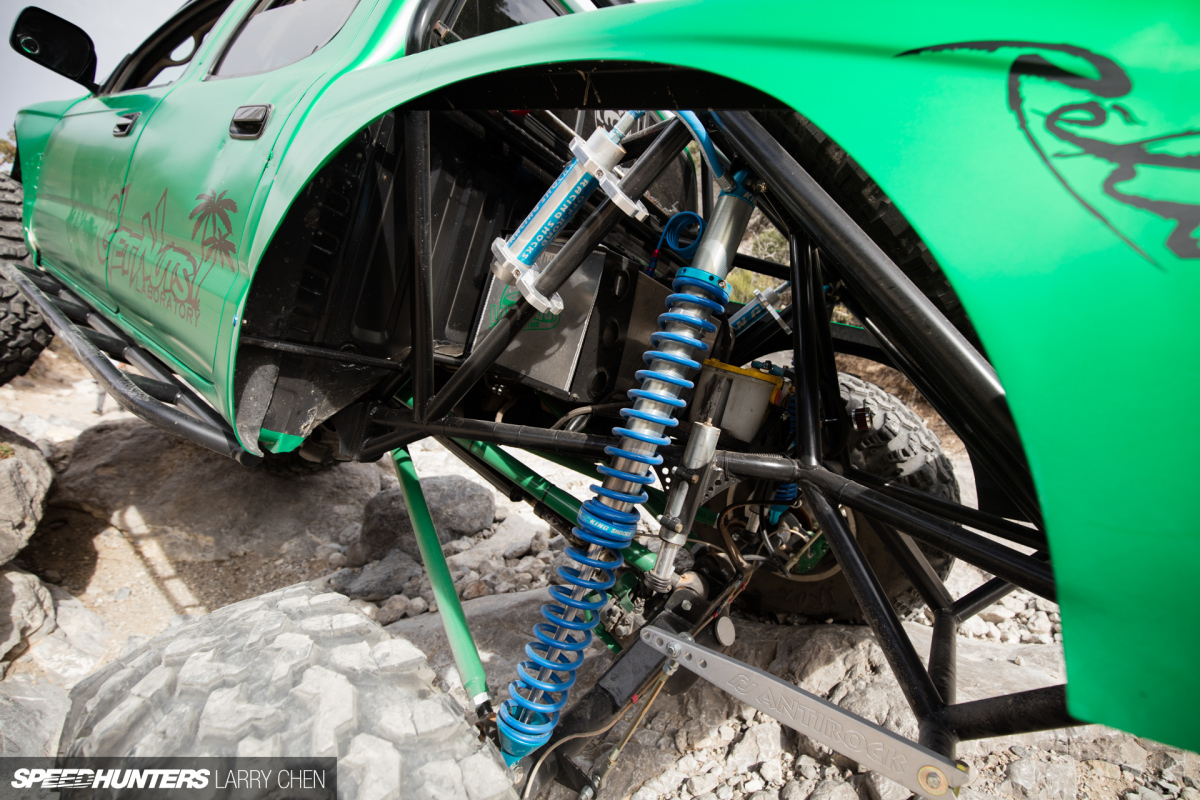 The Tacoma rides on custom 3-link front and 4-link rear suspension with King remote reservoir shocks – 16-inch and 18-inch in the front and rear respectively.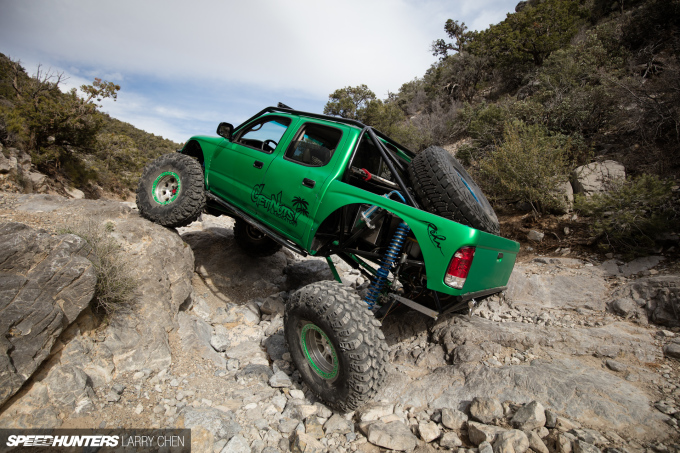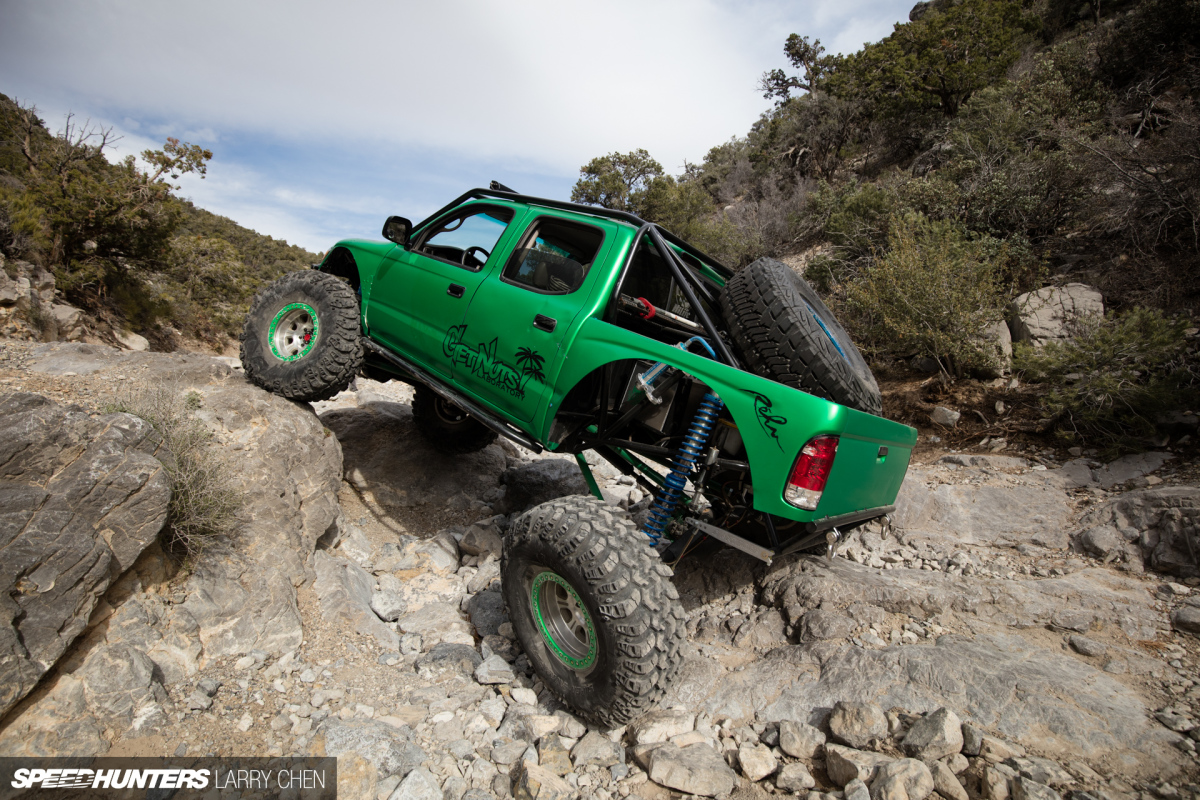 The result is all the ground clearance you could hope for and enough travel to climb or descend damn near any type of terrain.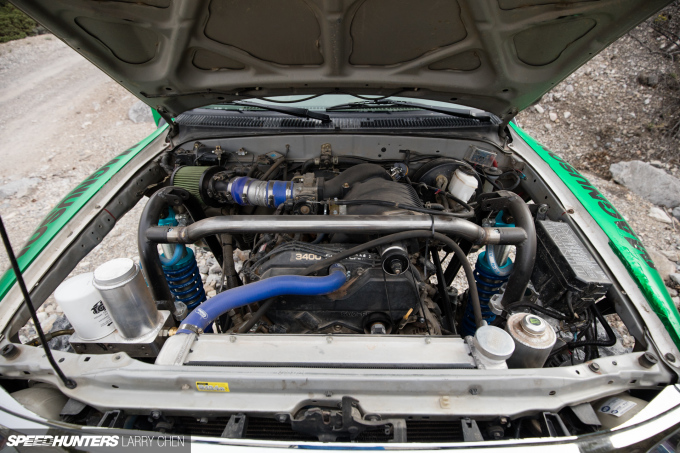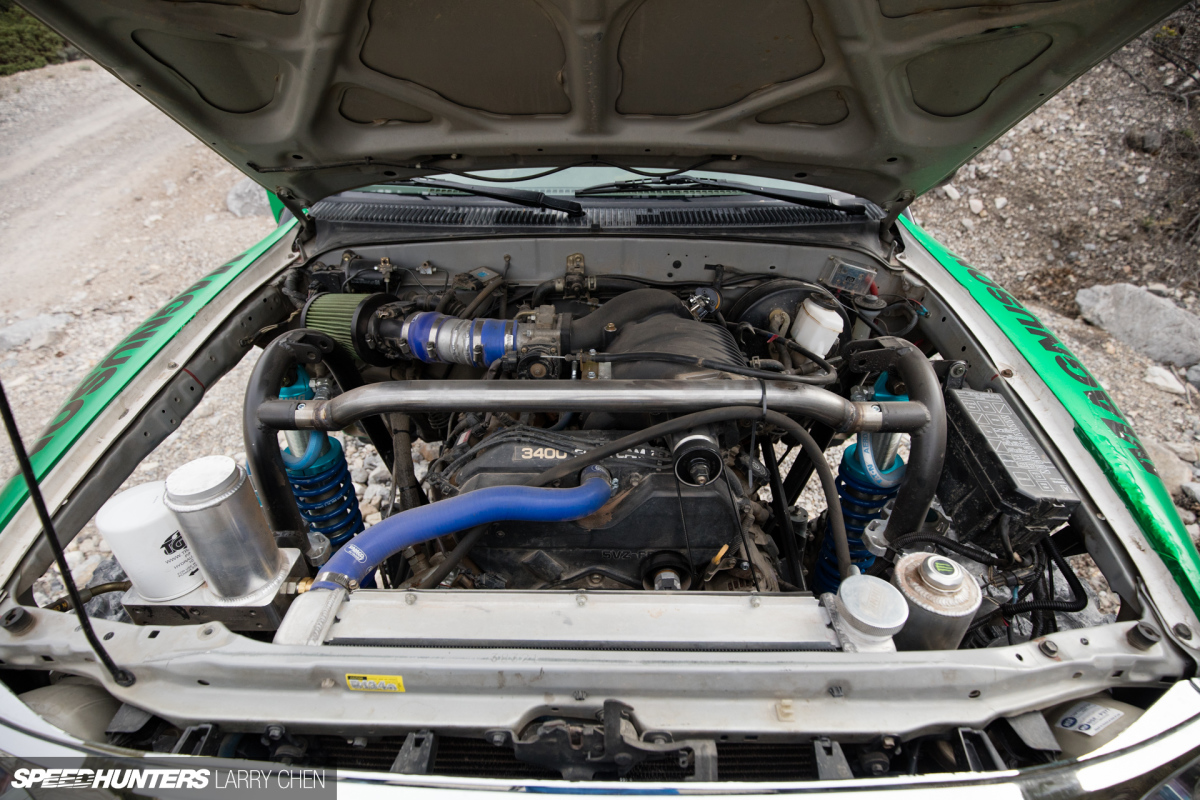 Beneath the hood of the Tacoma you'll find Toyota's bulletproof 5VZ-FE V6 engine. While the motor isn't as crazy as the ones in the Forrest's drift cars, it has seen its fair share of upgrades.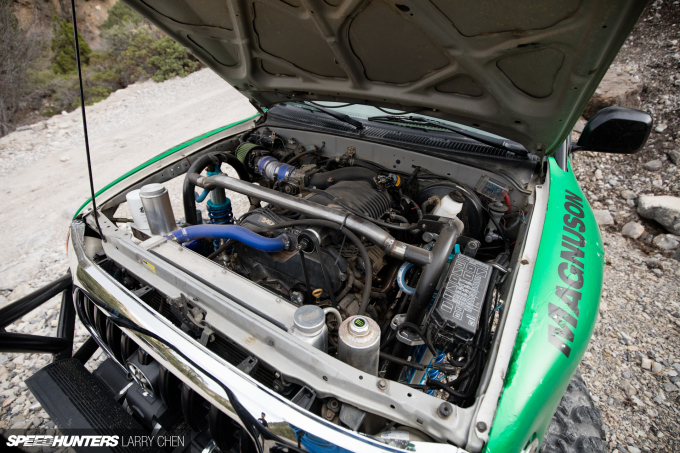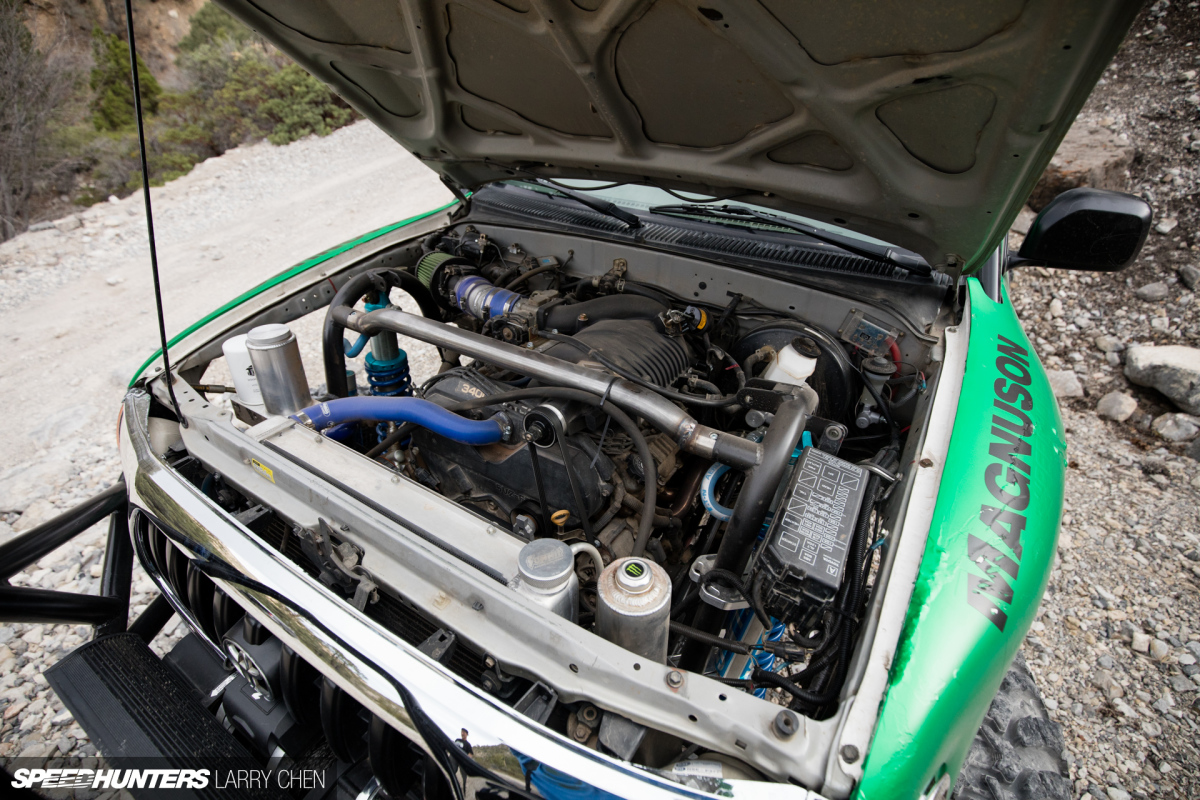 Namely, there's the addition of a Magnuson supercharger, a set of TRD headers, and a custom stainless steel exhaust system with a Magnaflow muffler. The result is a more than adequate amount of grunt for off-road adventuring.
Inside & Out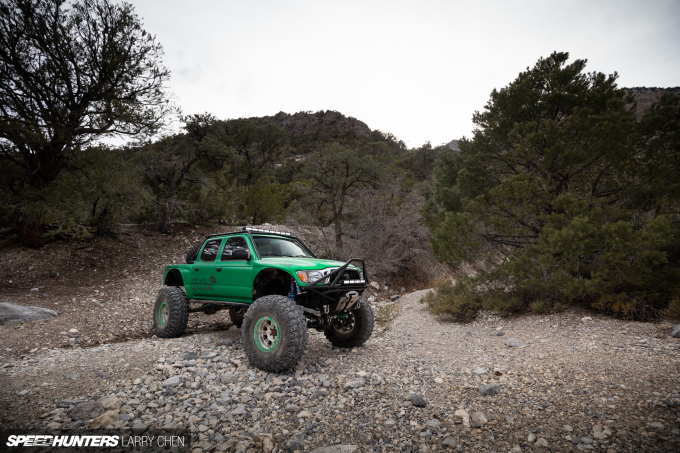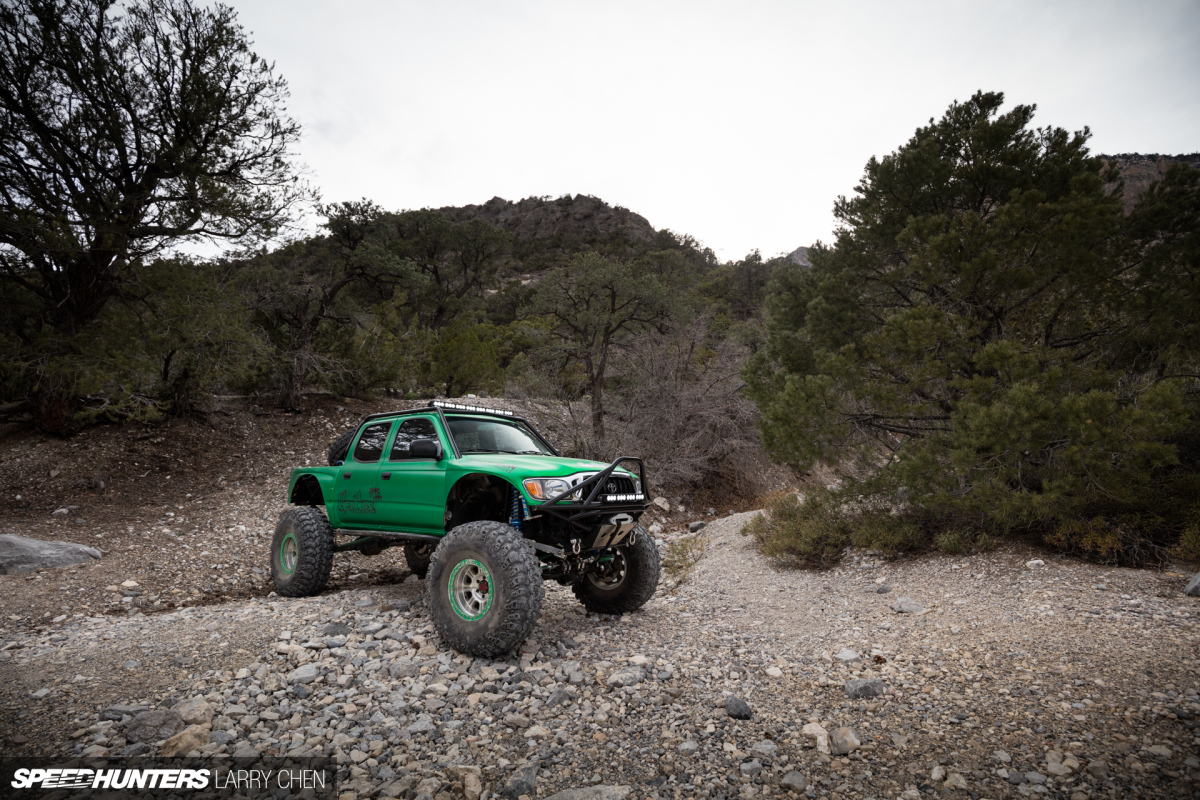 Outside, you'll find the Tacoma is running massively radiused fender wells along with a custom exo cage and rear chassis tubing that Forrest fabricated in his shop.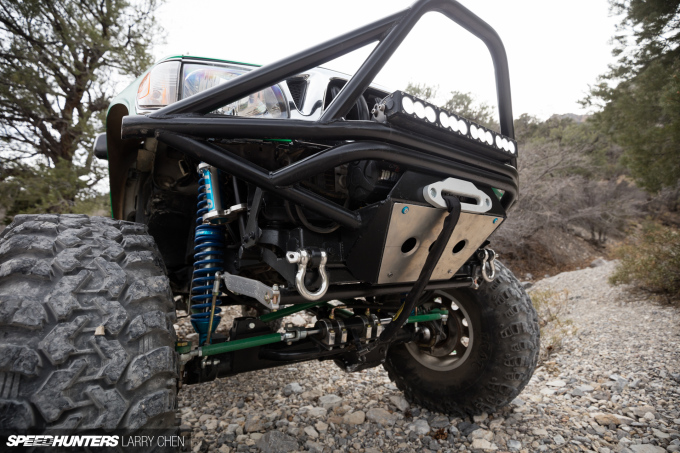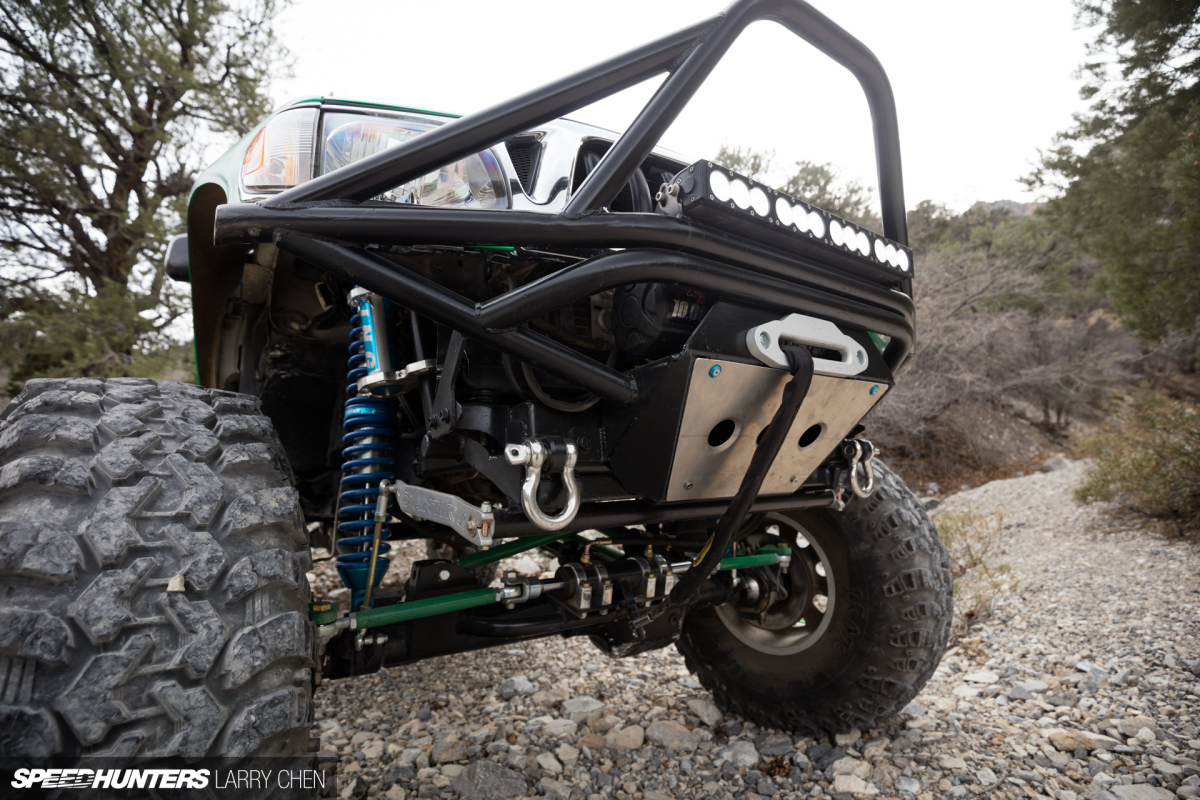 There's a giant skid plate up front of course, along with an X20 synthetic rope winch that's good for pulling up to 10,000 pounds.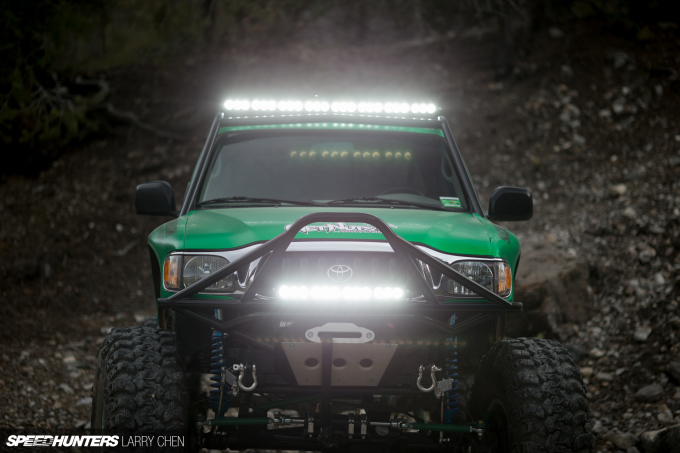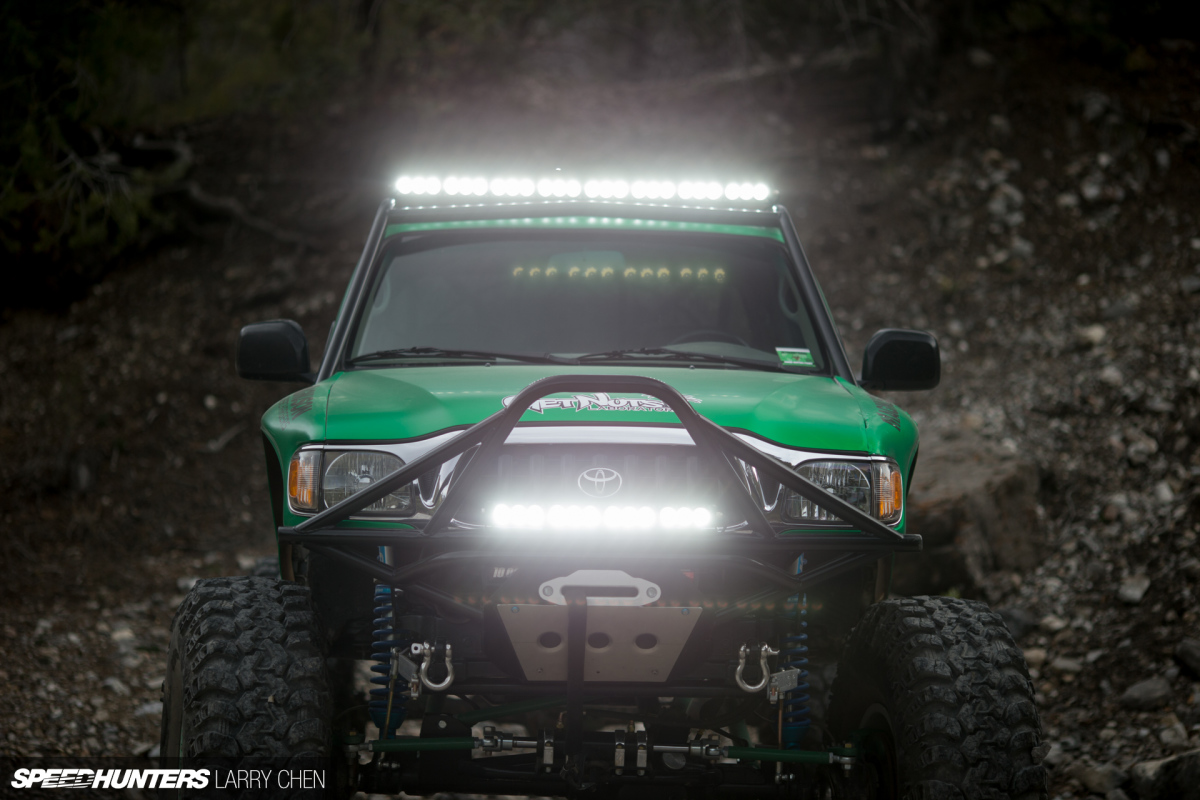 Forrest also added a pair of LED light bars that are capable of illuminating just about anything in his path.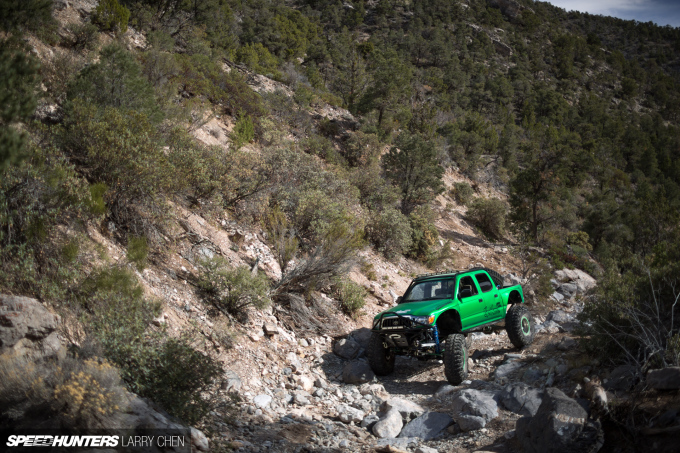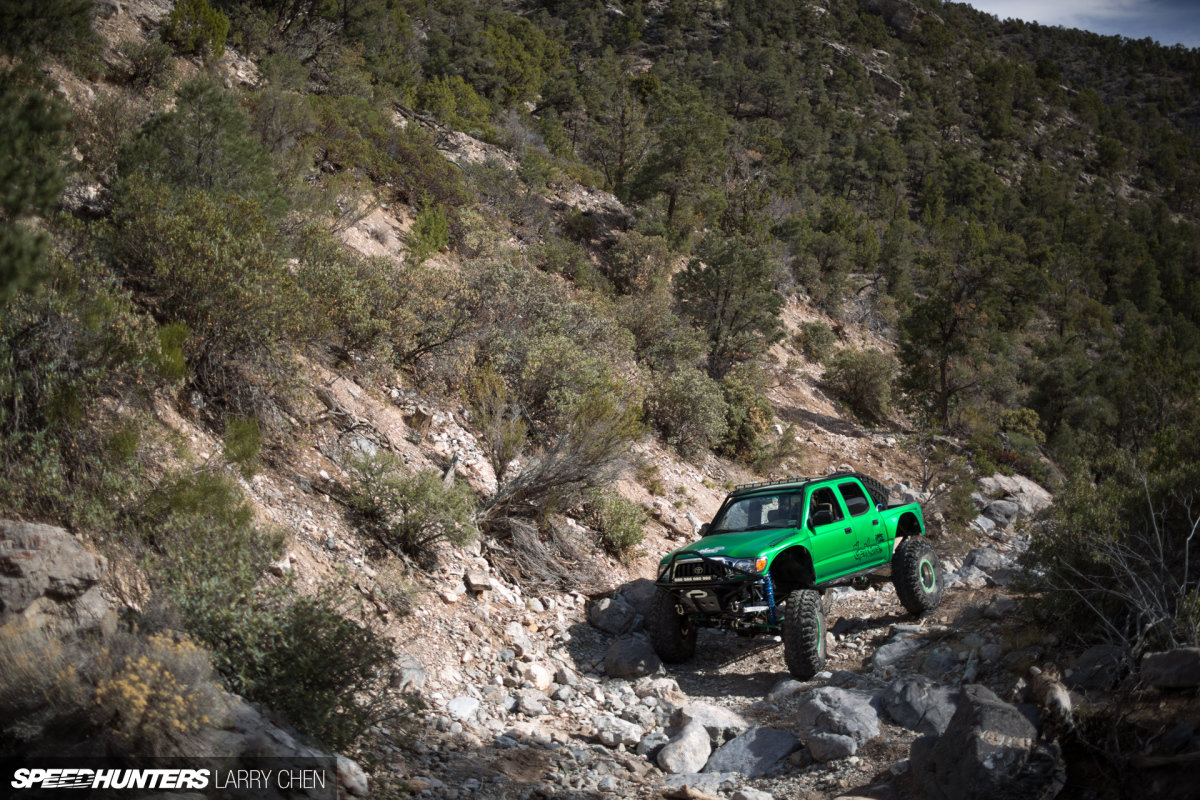 And to finish it all off he had the truck wrapped in his signature shade of green by the folks at Las Vegas Car Wraps.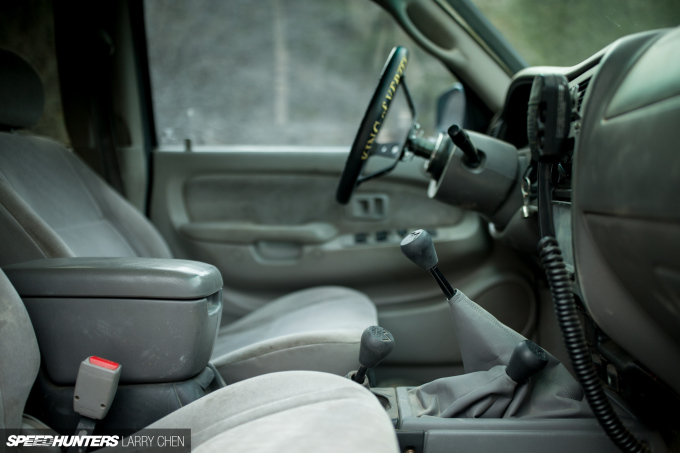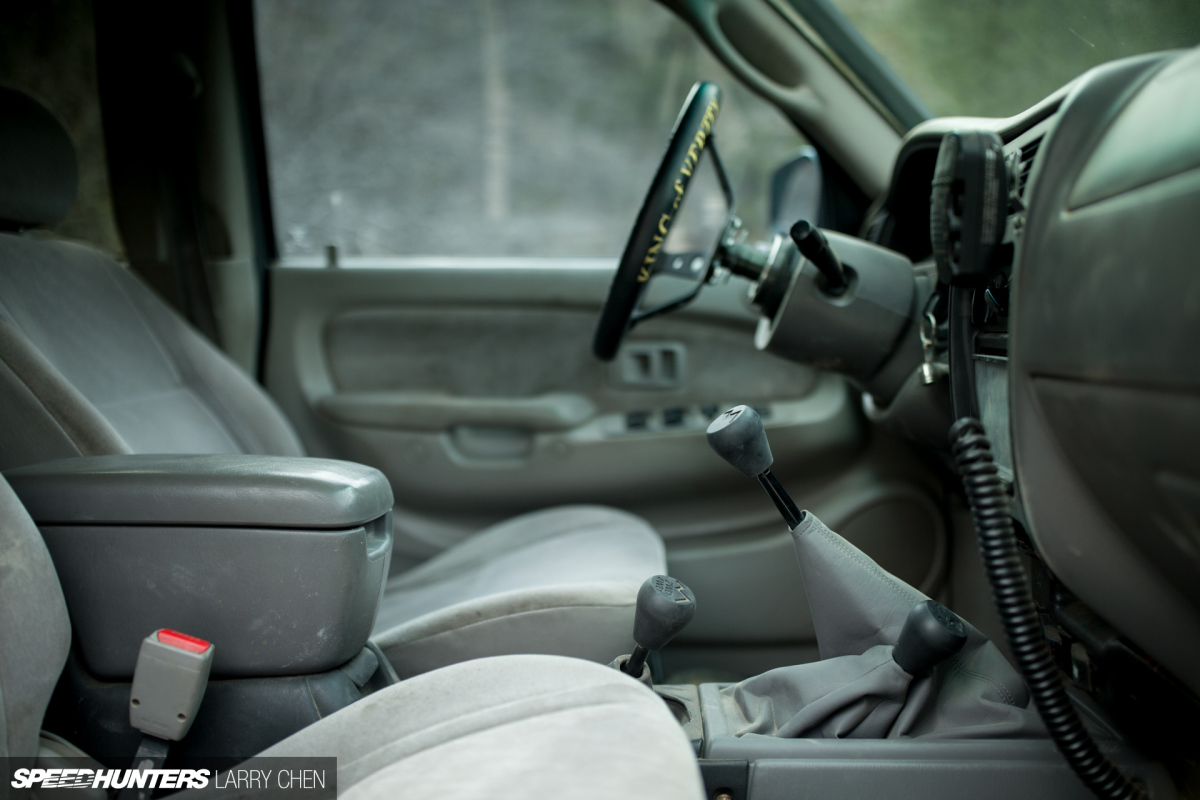 For as radical as the body and undercarriage of the truck are though, the interior is surprisingly stock and original.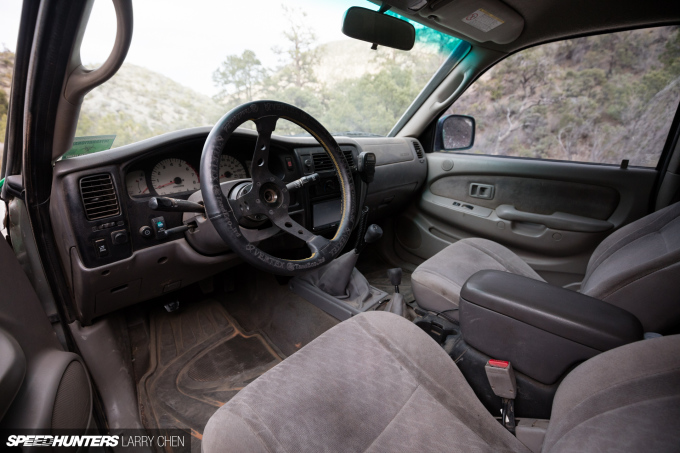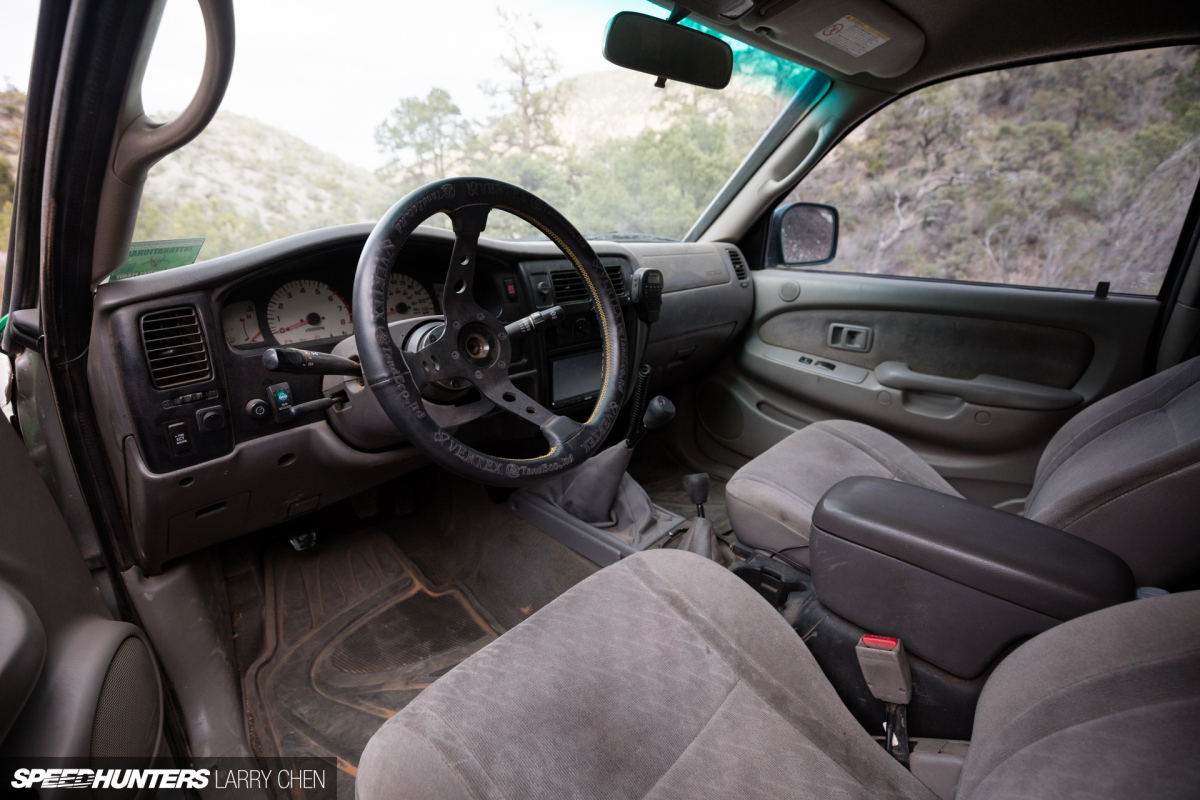 Aside from custom shifters, an upgarded stereo and a Vertex steering wheel, the interior is all about comfort; the original air conditioning and heater are put to use often.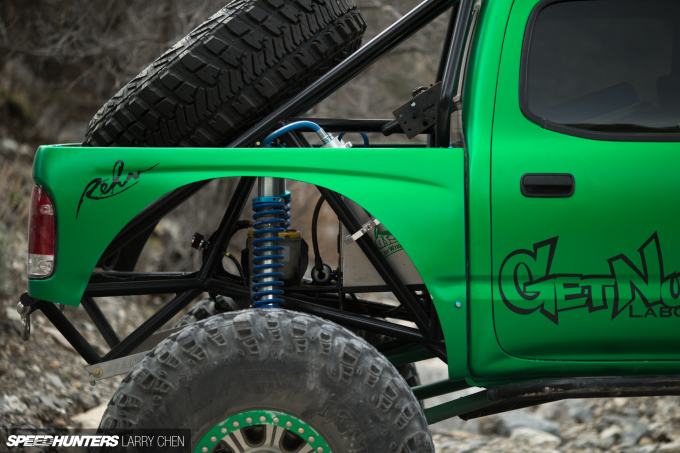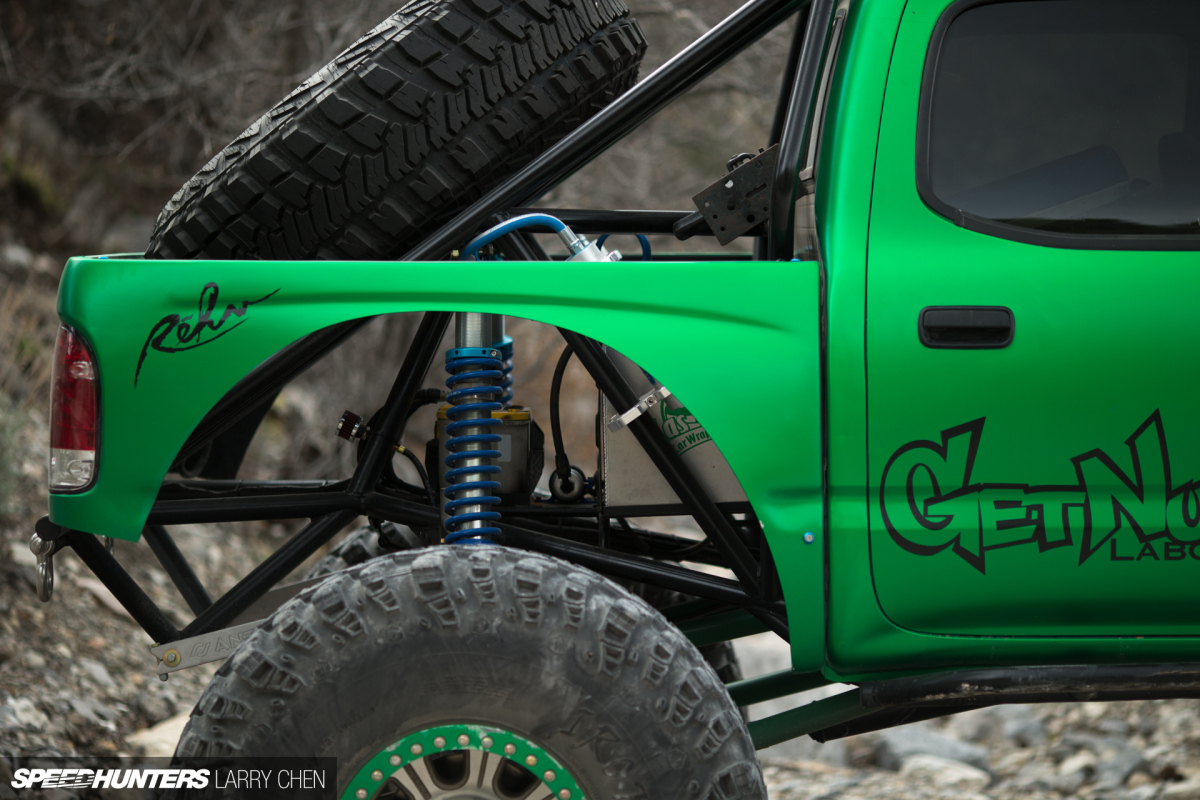 Whether they ride super low or super high, Forrest Wang continues to distinguish himself as a master of building vehicles with the right mix of form and function.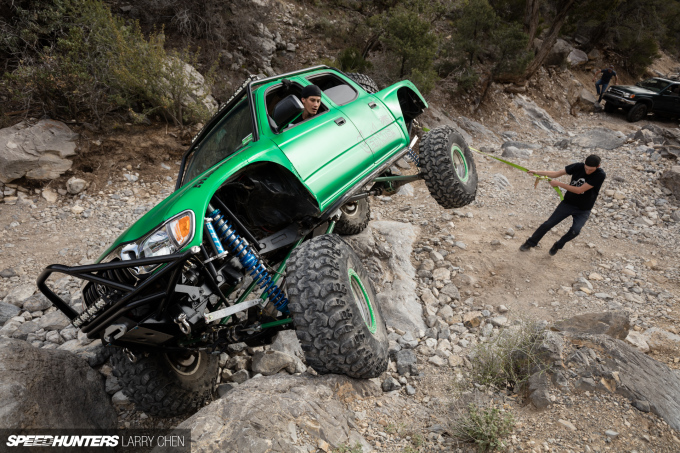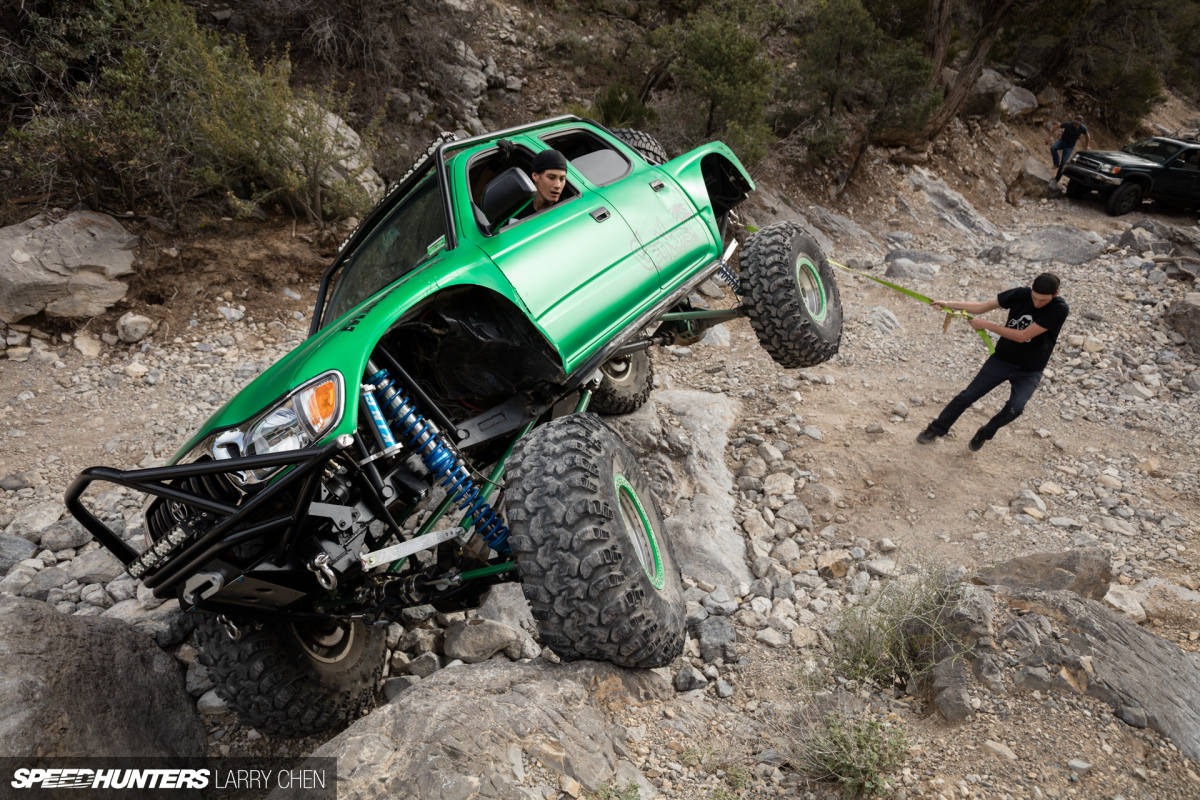 And for a vehicle that's basically been a fun side project for when Forrest isn't busy working on his drift program, the Tacoma is a damn impressive machine.
But then again, why would we expect anything less from one of the most distinctive drivers and builders in the American drift scene?
Mike Garrett
Instagram: japanifornia
mike@speedhunters.com
Photos by Larry Chen
Instagram: larry_chen_foto
larry@speedhunters.com

Forrest Wang's 2003 Toyota Tacoma 4×4

Engine
Toyota 5VZ-FE V6, Magnuson supercharger kit, TRD stainless headers, stainless exhaust system to Magnaflow muffler, RCI 19-gal fuel cell, Bosch fuel pump with AN lines & filter, Summit radiator with electric fan & aluminum shroud, power steering cooler, Trail Gear power steering pump & reservoir system
Driveline
R151 5-speed manual trans swap, Exedy clutch kit, dual transfer cases with 23-spline coupler, Trail Gear motor & transmission/T-case mounts, Rock Assault solid front axle, lengthened chromoly shafts, chromoly hub gears, high pinion front diff housing with Detroit Locker, Yukon 5.29 gears, Adams driveline, Toyota E locker rear diff
Suspension & Brakes
(Front) 3-link suspension with panhard setup using 2″ .250 wall dom links with 1.25″ ends, King 16″ remote reservoir shocks with 200/250 springs, Fox hydraulic bump stops, Currie anti-rock sway bar, custom shock hoops and strut bar, .6 stud knuckles, ARP knuckle studs, solid Kingpin bearings, full hydraulic steering, 3/4 hiems, (Rear) Double trianglulated 4-link suspension with 2″ .250 wall dom links with 1.25″ ends, Currie anti-rock swaybar, King 18″ remote reservoir shocks with 150/150 springs, Fox hydraulic bumpstops,  3/8″ thick skidplate, Toyota Tundra front brakes, rear disc brake conversion
Wheels/Tires
Raceline Competition Monster BeadLock wheels 17×9.5-inch, Interco Super Swamper tires 42x14R17
Exterior
Las Vegas Car Wraps Sheer Luck Green vinyl wrap, new headlights & chrome grill, X2o 10,000lb winch with synthetic rope, dual LED light bars, custom bumper, rockers & pass thru exo cage & rear tube clip
Interior
Full interior with air conditioning & heater, Double DIN stereo head unit, under-seat subwoofer, Alpine co-axials, Vertex steering wheel, Sparco quick-release hub, custom shifters to fit dual cases and 5-speed swap
More Off-road related stories on Speedhunters
Cutting Room Floor