Hello Speedhunters, my name is Les from Roughsmoke and I'm here to bring you a guest post on some of the action from a soukoukai grassroots drift event that took place over the weekend at Meihan Sportsland in Nara, Japan.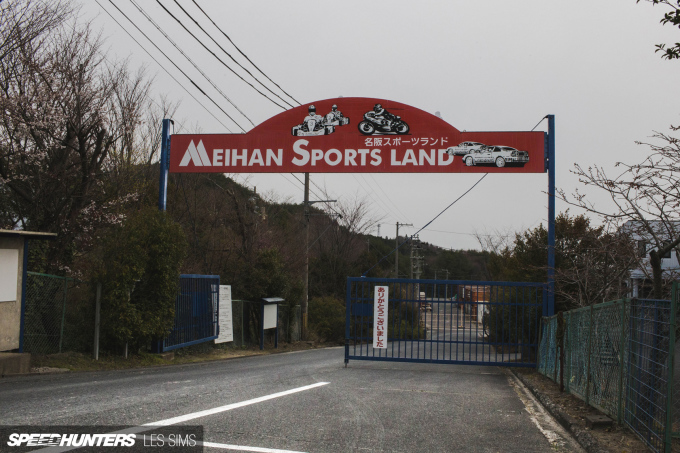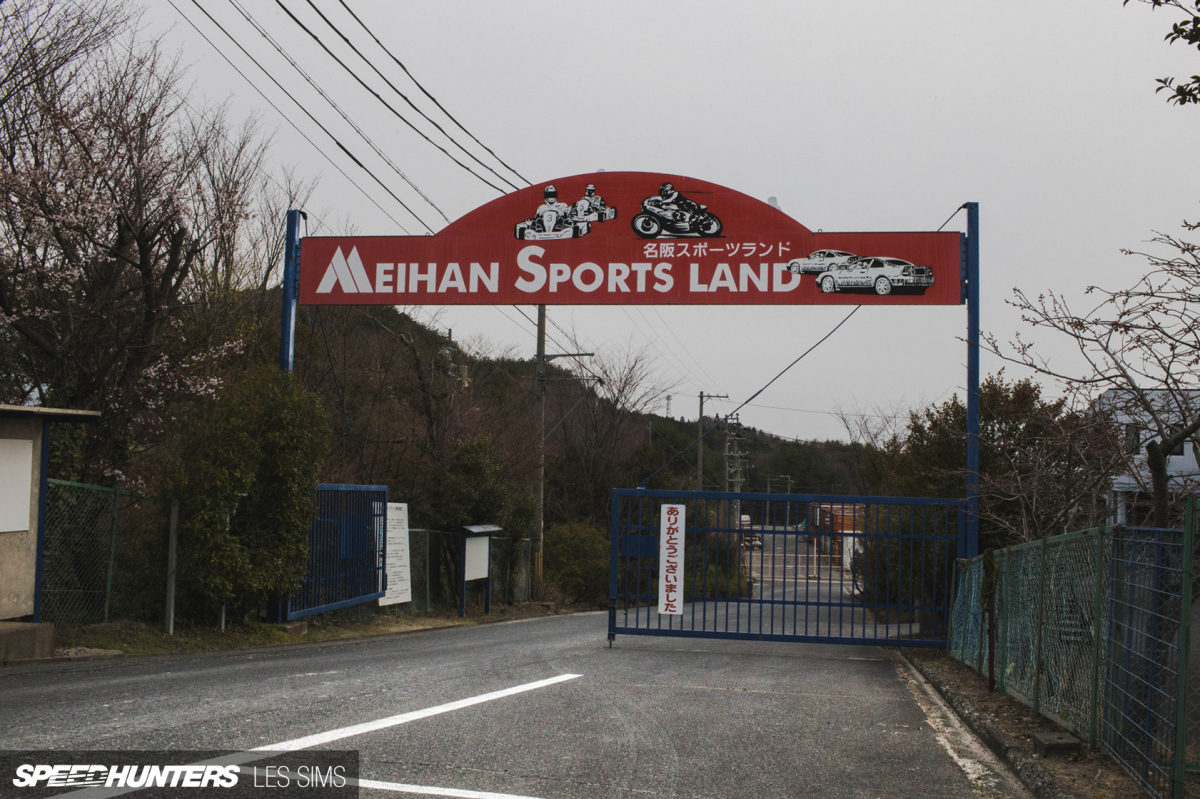 At the entrance to the circuit are the famous gates that lead you into this motorsports park, or more specifically for this event, uphill to the 'C' circuit.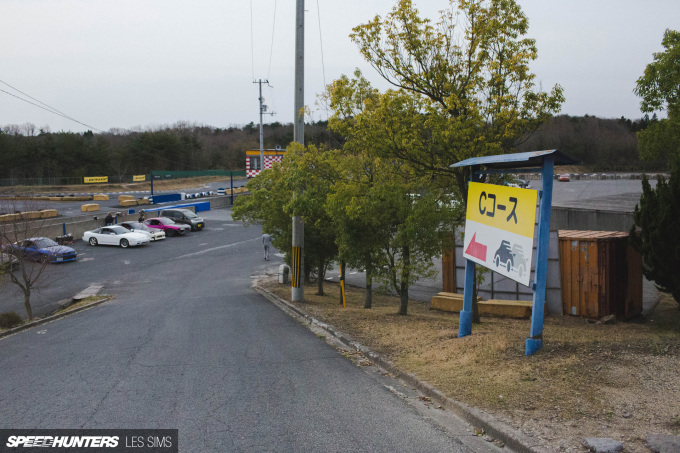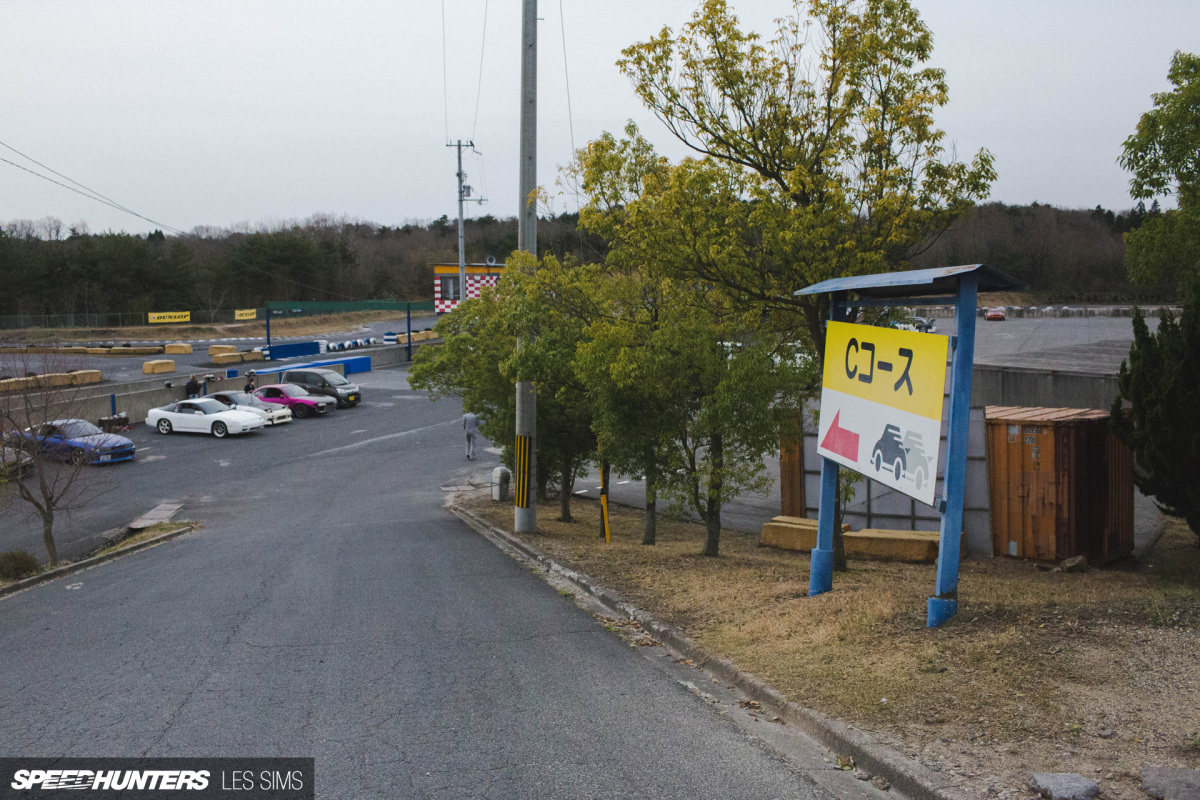 It's at this moment, as you descend down to the pit area, that the excitement really starts to build and you find out who has made the trip out to this iconic drift playground.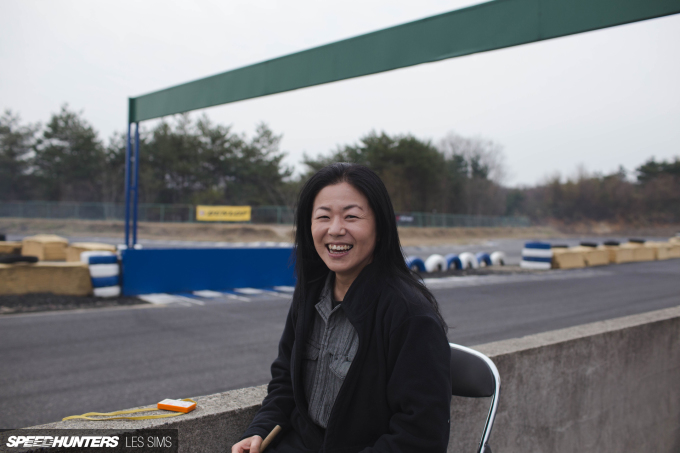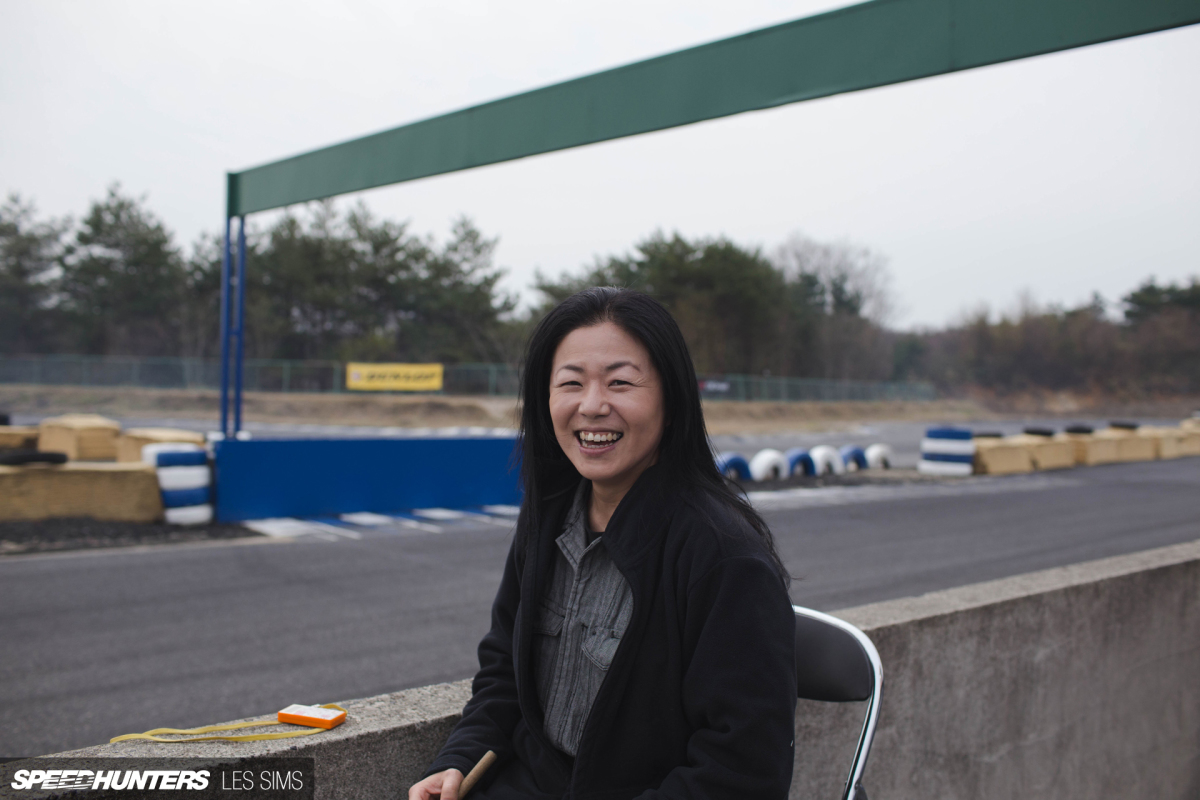 After parking and the unloading of the required tools for the day, I went in search of the go-to person for this 'Hitomi-Go' event, as it's named on Meihan's calender. And the person in question is none other than the event's namesake, Hitomi Okada, a resident of Osaka and someone who has been organising events here for the last 15 years, which is half of Meihan Sportland's lifetime. Many fans of the Japanese drift scene may be familiar with Okada-chan as she is part of Looking, an Osaka-based shop whose cars are always immaculate and well executed.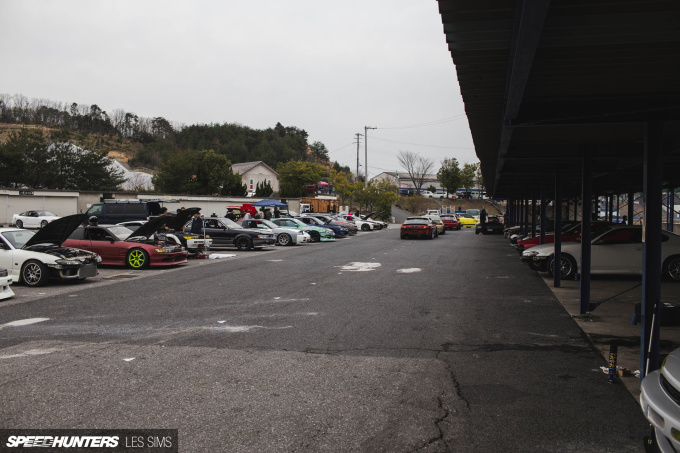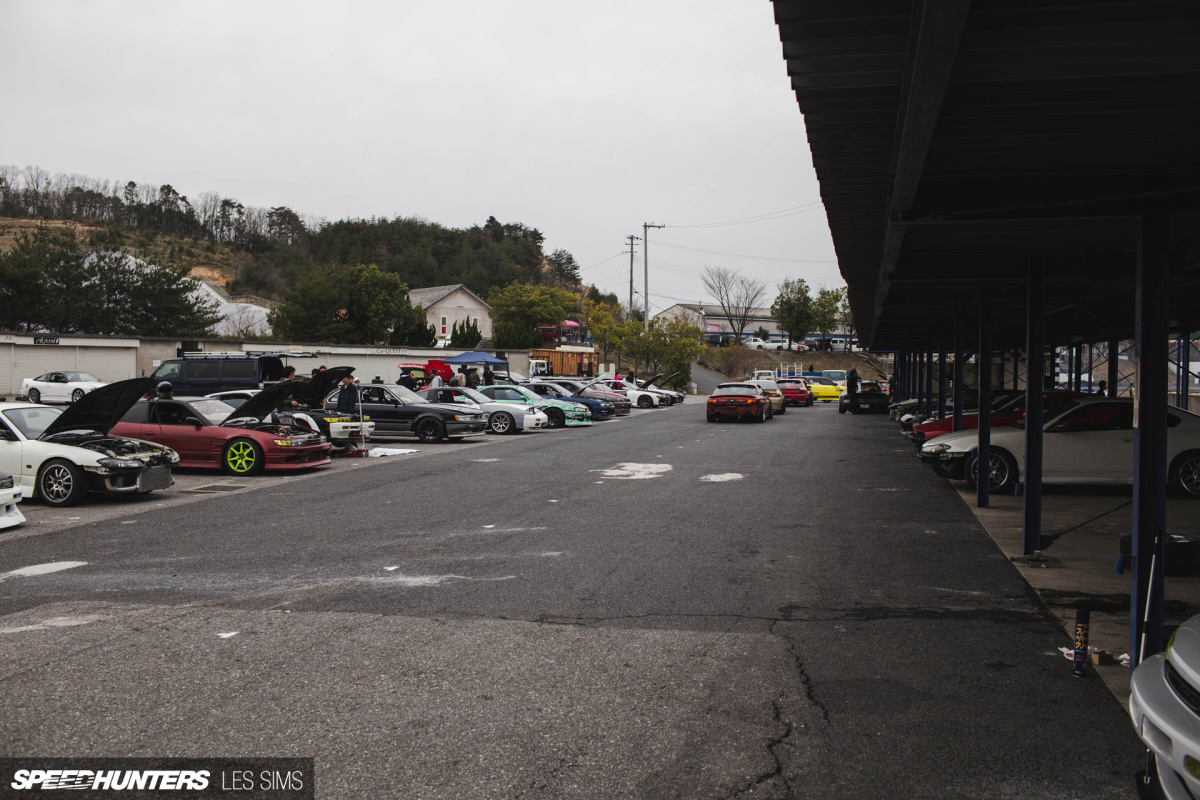 As we chatted, it was great to see people arrive early and prepare themselves for the day's action. With limited numbers, places at this event sell-out fast, and there were some who'd unfortunately missed out this time around. It just goes to show how popular this event is for Kansai-based drifters, something I'm sure has to do with being a hassle-free and fun day.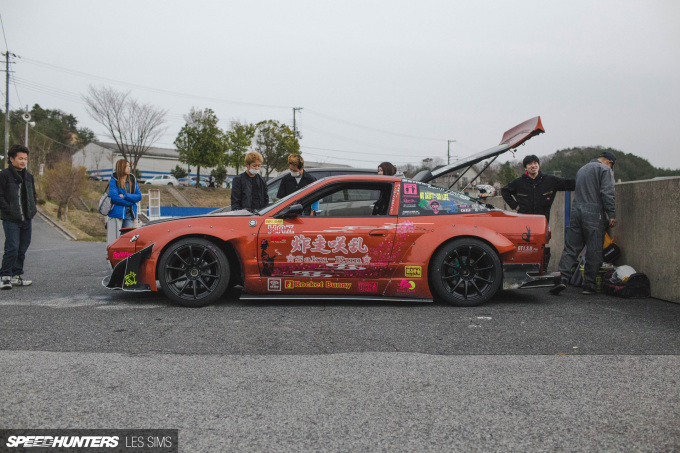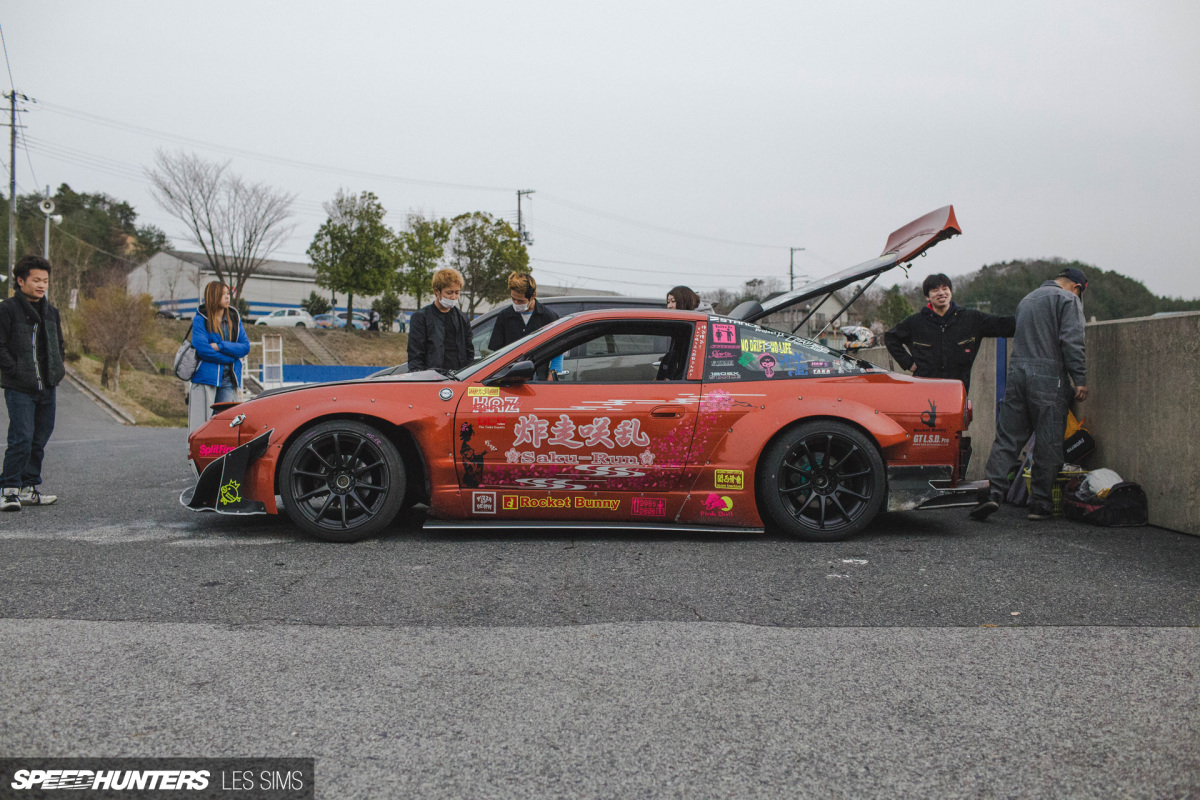 Hitomi was busy of course, so I left her to continue preparations and decided to take a snoop around the place and see who was about and what they'd brought out. My first stop was Masa-kun's Rocket Bunny-kitted Nissan 180SX.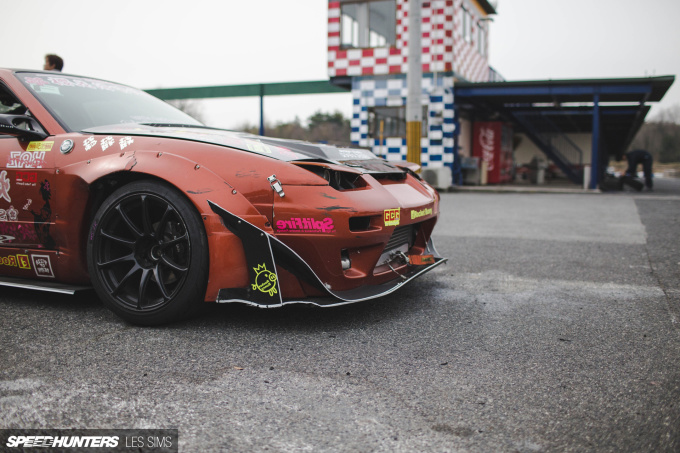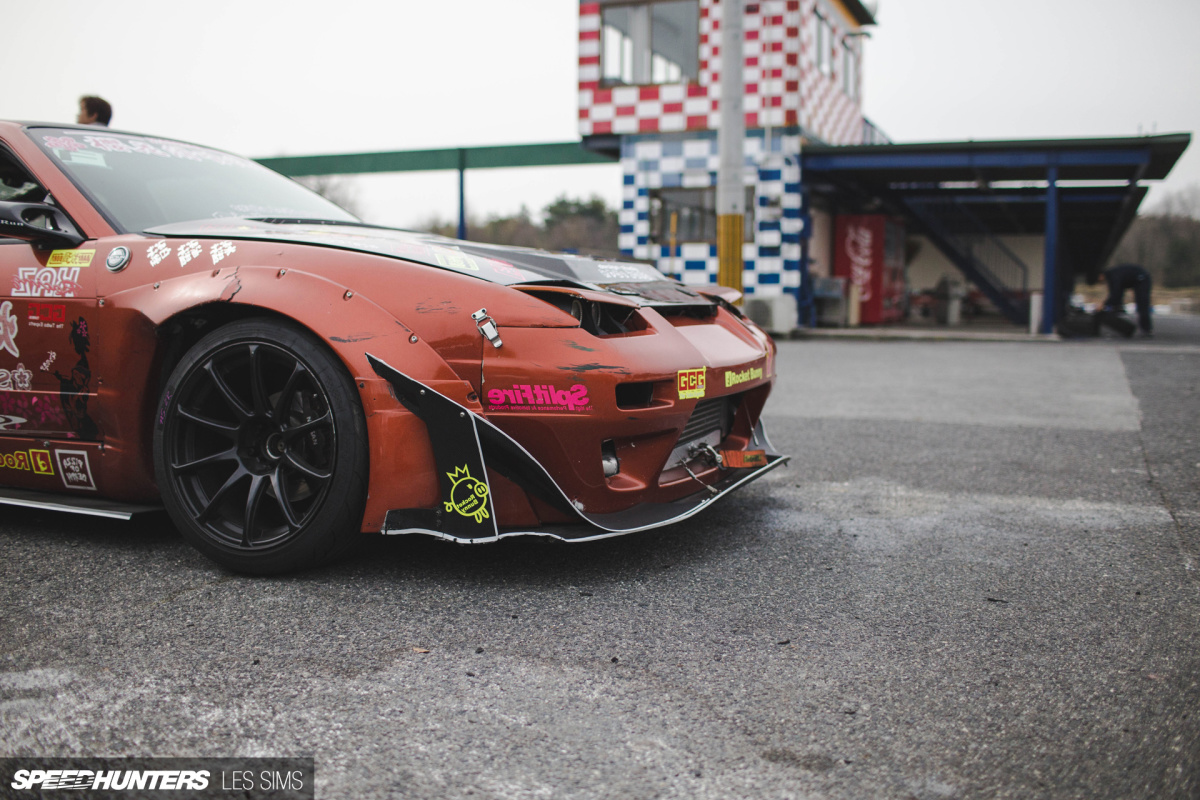 The RPS13 is one of only two cars I've seen with this particular front-end setup, the other being the Bad Quality 180SX owned by Nakagawa-san, as previosuly featured on Speedhunters. The front aero treatment is menacing, and certainly sits in tune with the rest of the kit.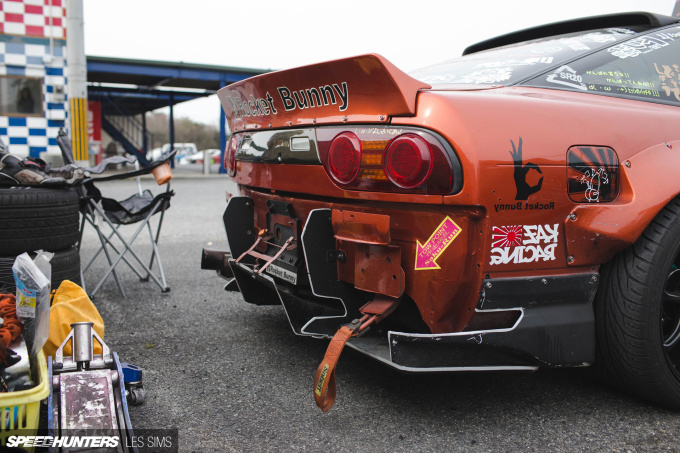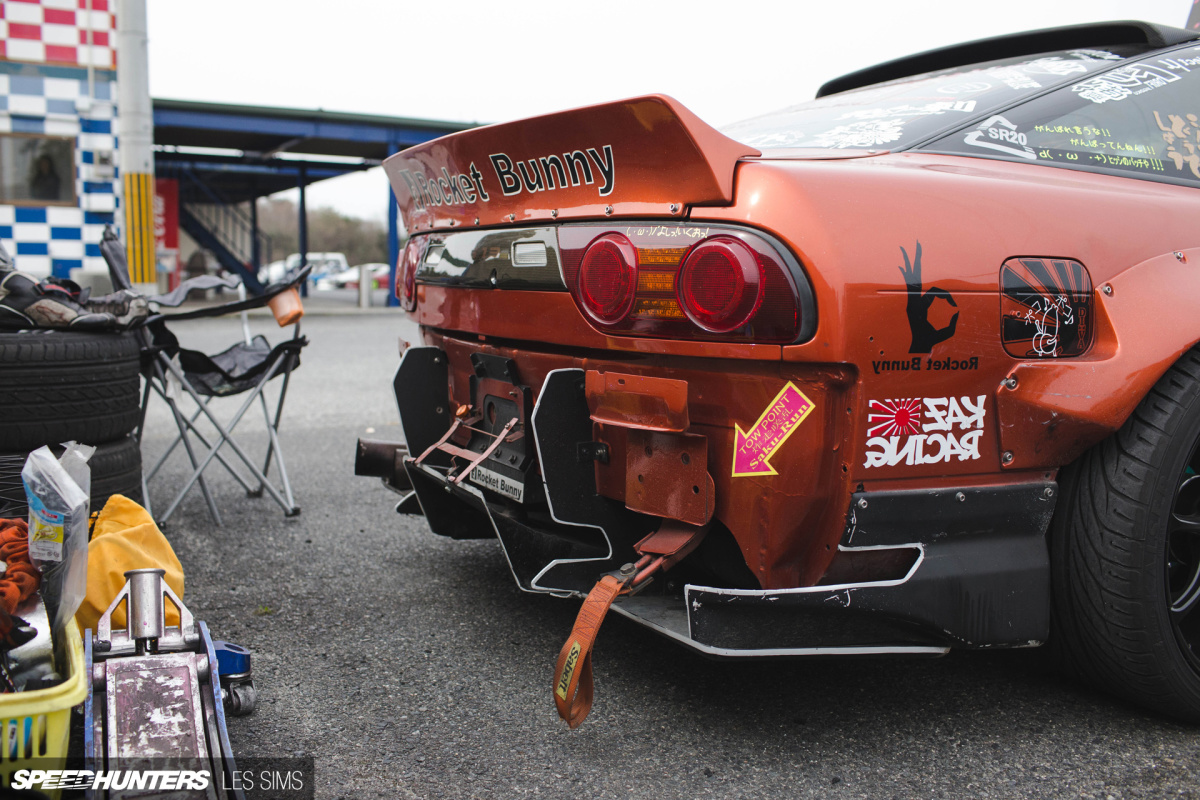 At the rear things are just as good; the ducktail spoiler and low-hanging tow strap put the finishing touches to what is easily recognisable as a Kansai car. Drifters in this part of Japan are passionate about style, and this example really does tick all the boxes in that respect.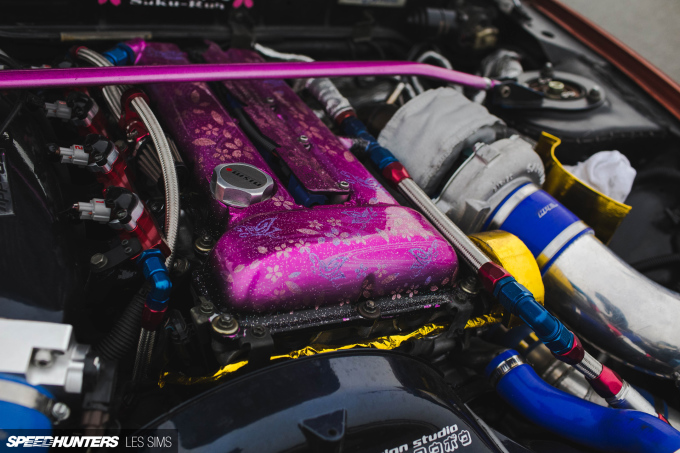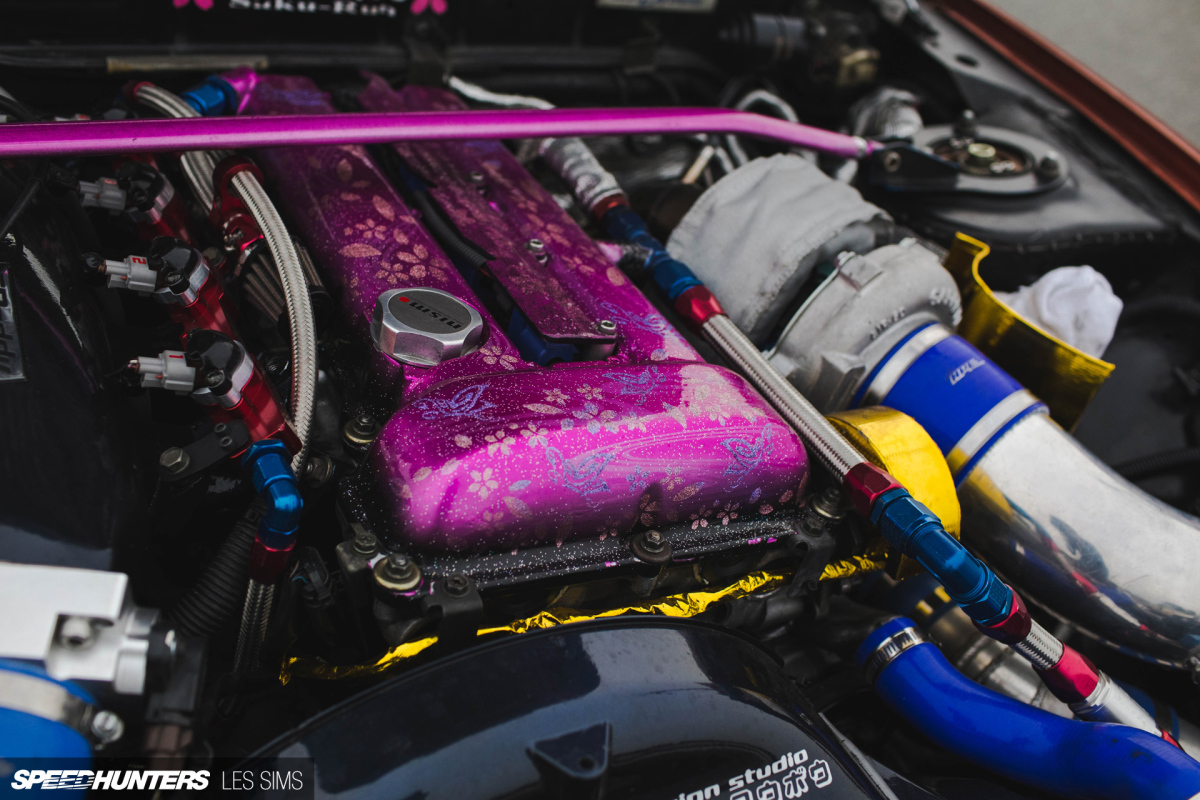 It's the complete package too, and under the hood some artistic touches adorn the 450PS SR20DET engine.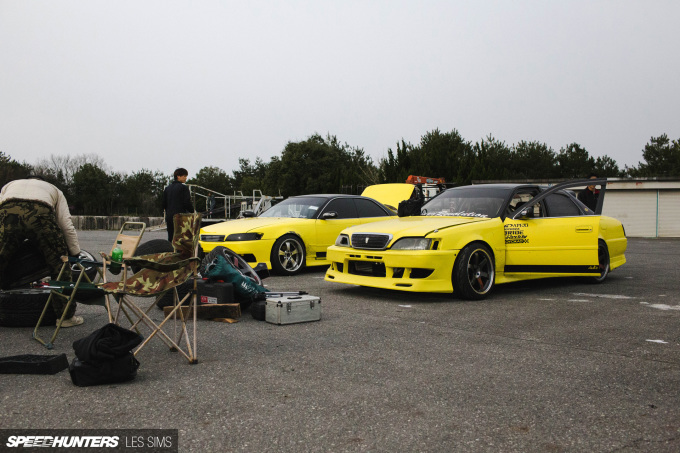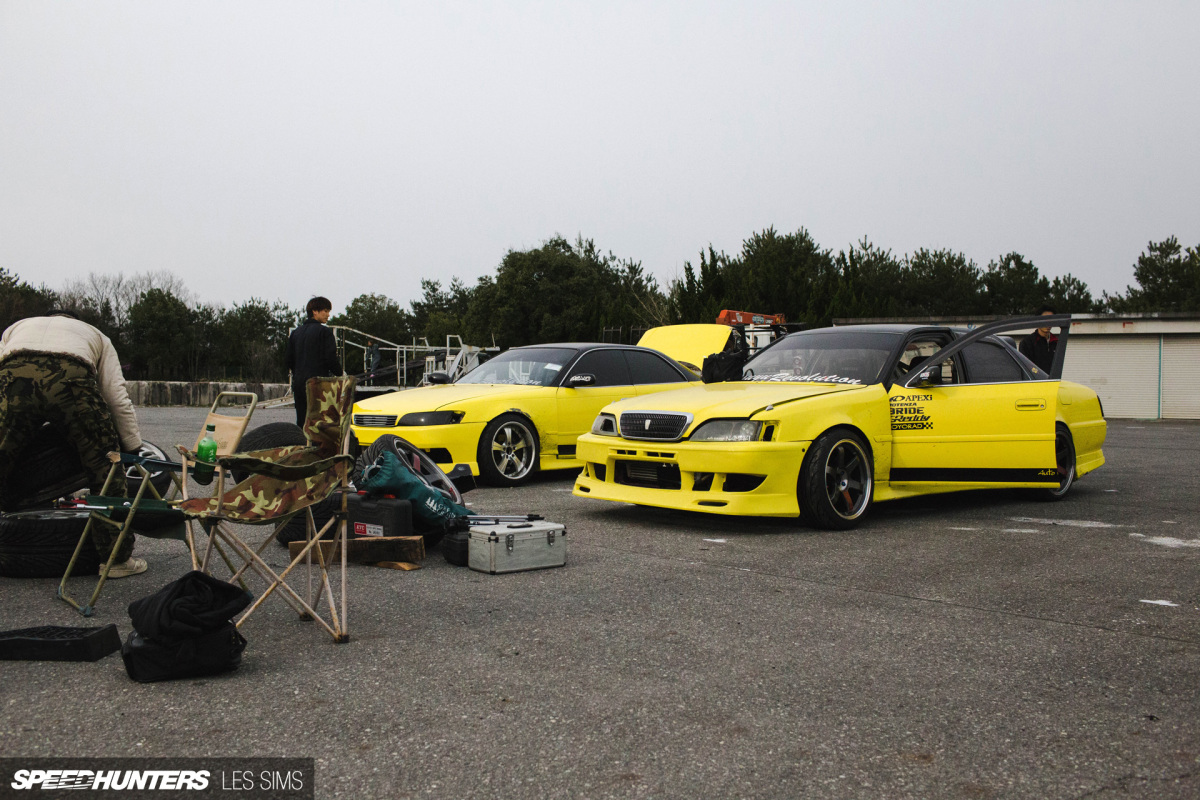 By this time more drivers had arrived and claimed their spots in the pit area, followed by the unloading of tires, tools, petrol, and anything else needed to survive the day. The great thing about these sort of events is that if anything goes wrong with your car, there's bound to be someone with a spare part to help you get back on track. The camaraderie is as high as it has ever been, and long may it continue.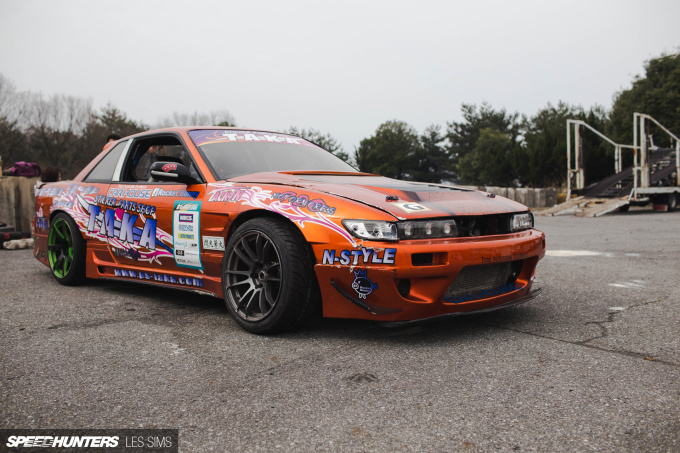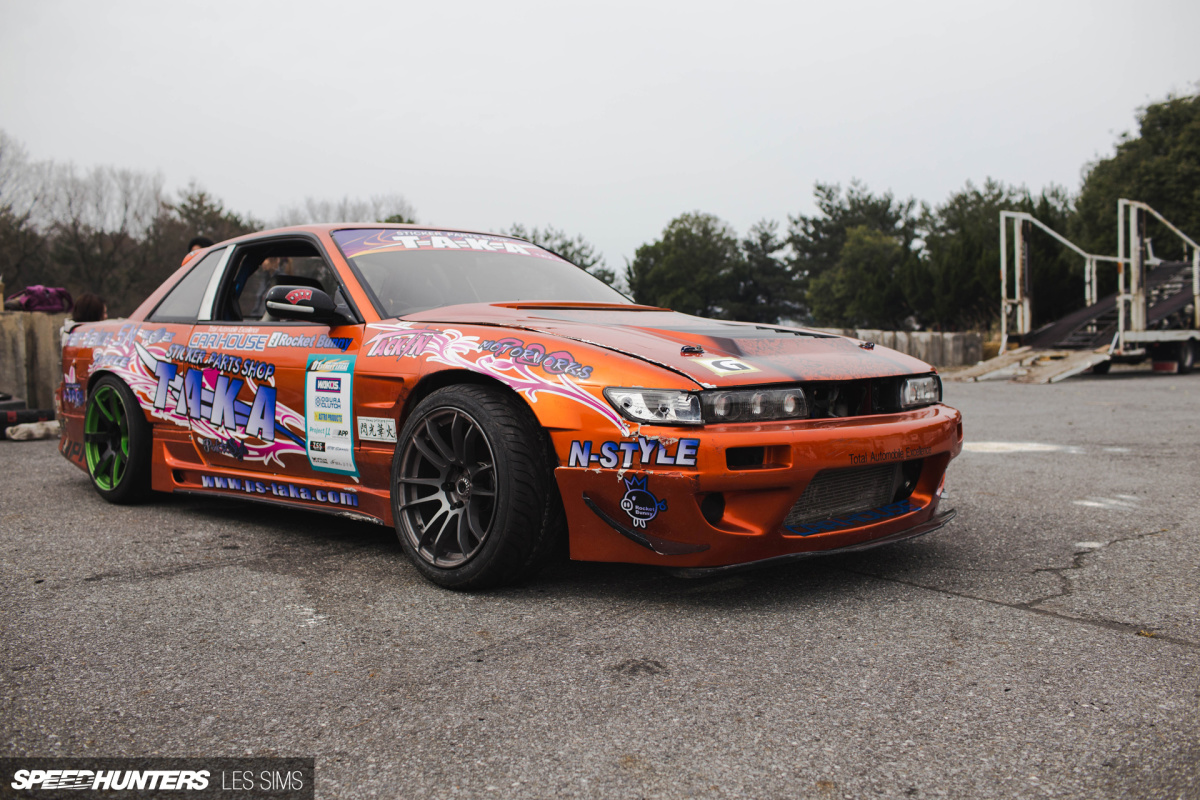 The rumble of an engine came into earshot, and I turned to see that Kyoto Prefecture-based drifter Nagai-san had set up camp with this 350hp Silvia. This S13 is actually Nagai's practice car; his main car is reserved for bigger events, such as the Kansai All Stars, which is held annually here at Meihan Sportsland. Many of you may recognise the livery, which was produced by Mie-based design shop PS-Taka. Whilst Takahiro-san, the manager of PS-Taka, doesn't always get out to Meihan, his vinyls are definitely well represented and have become a mainstay of Kansai-style drift cars over the last few years.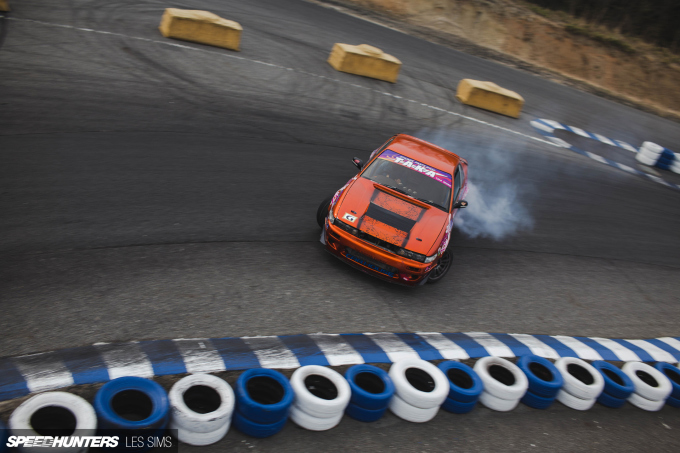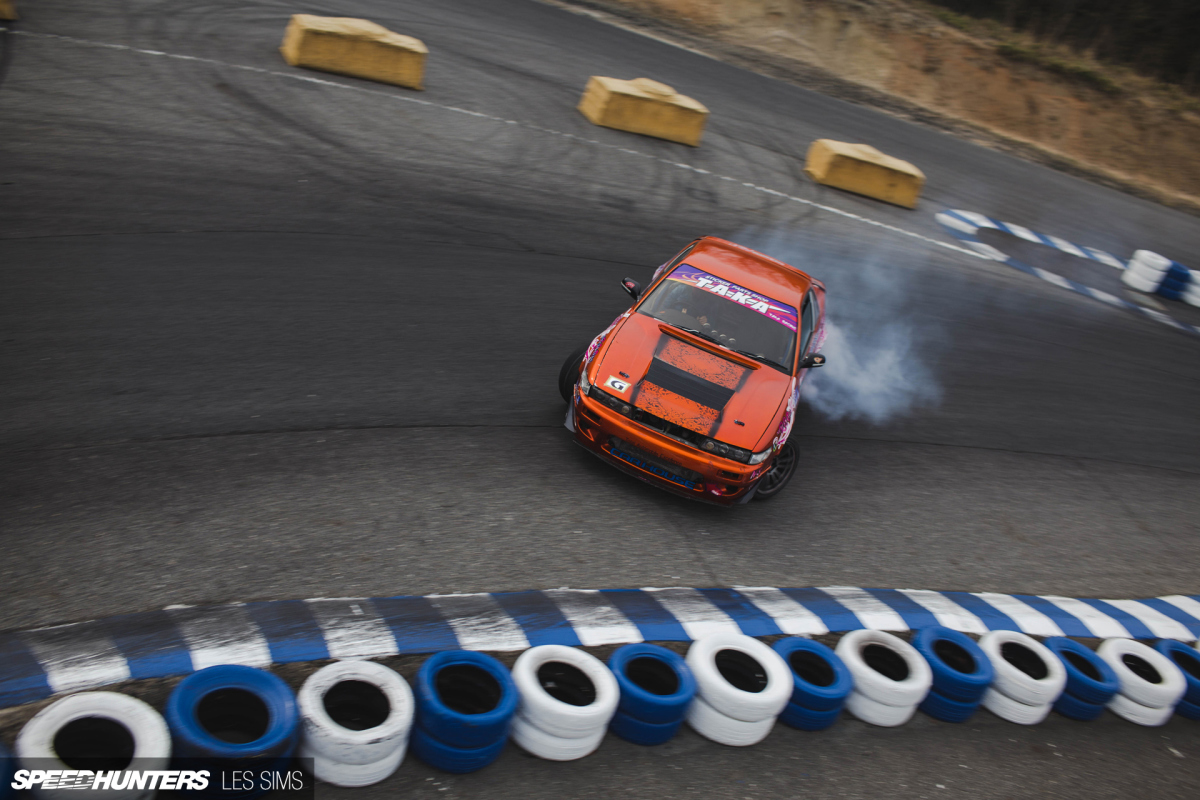 Nagai-san advised me that it was time for his first run, so I found a spot to shoot from. This is the second corner of the run, and for many even more important than the famous wall ride. Warming up, he was staying wide of the strip, but when 'on it' most technical drifters will clip here with their front left wheel to upset the balance of the car, enabling a much easier transition and flick to higher angles at the far end of the straight.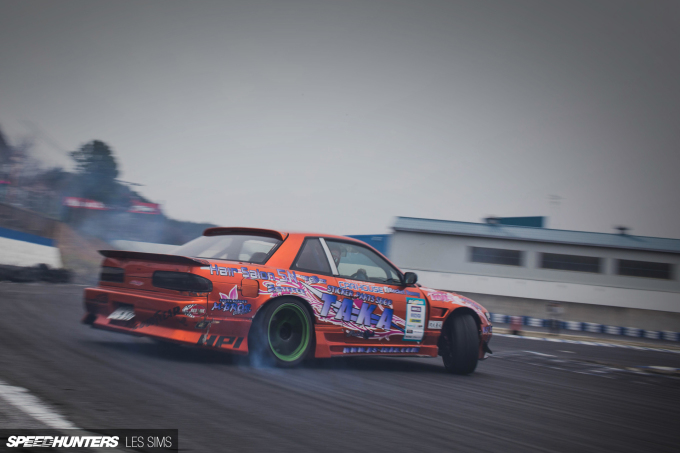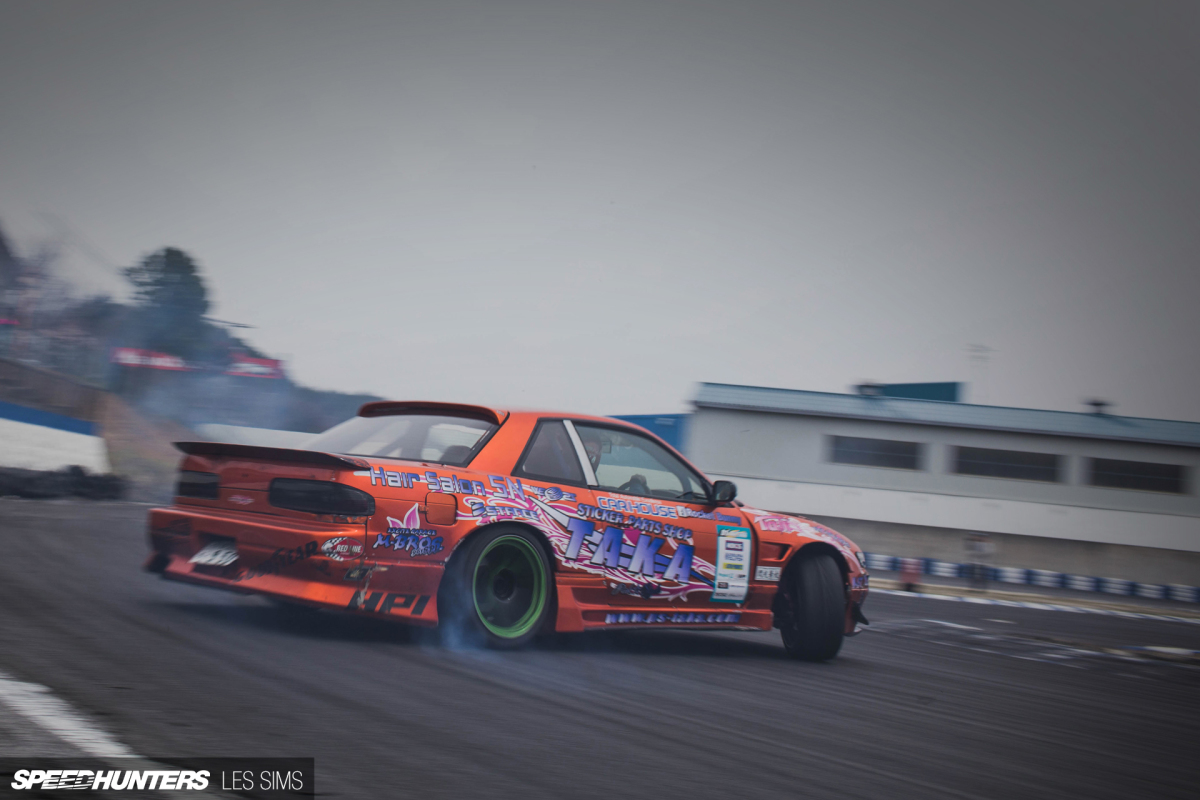 Get it right and you'll be sure to impress the judges.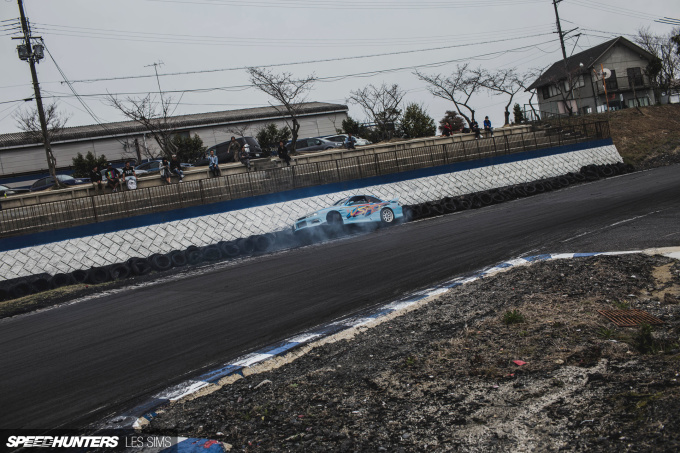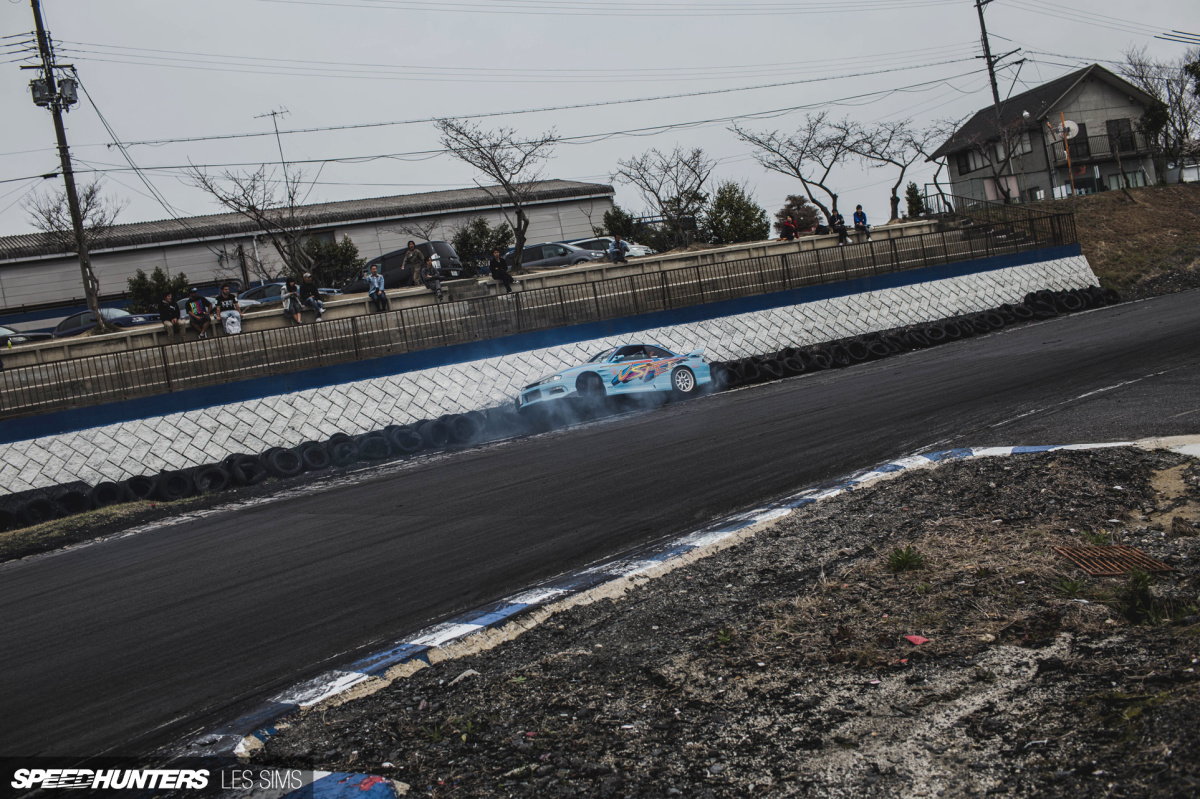 Get it wrong and you could be this guy.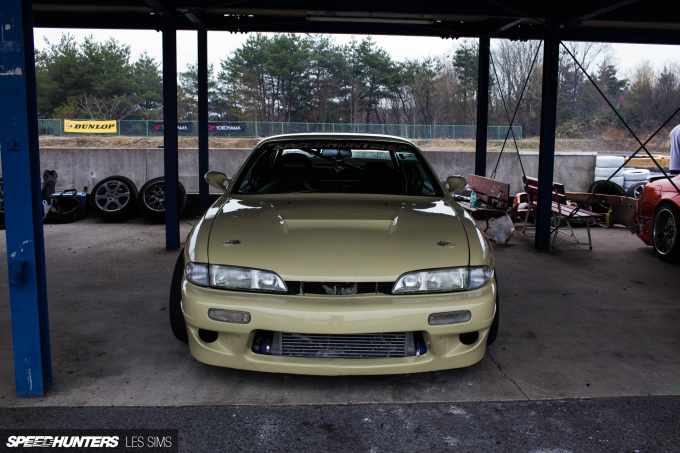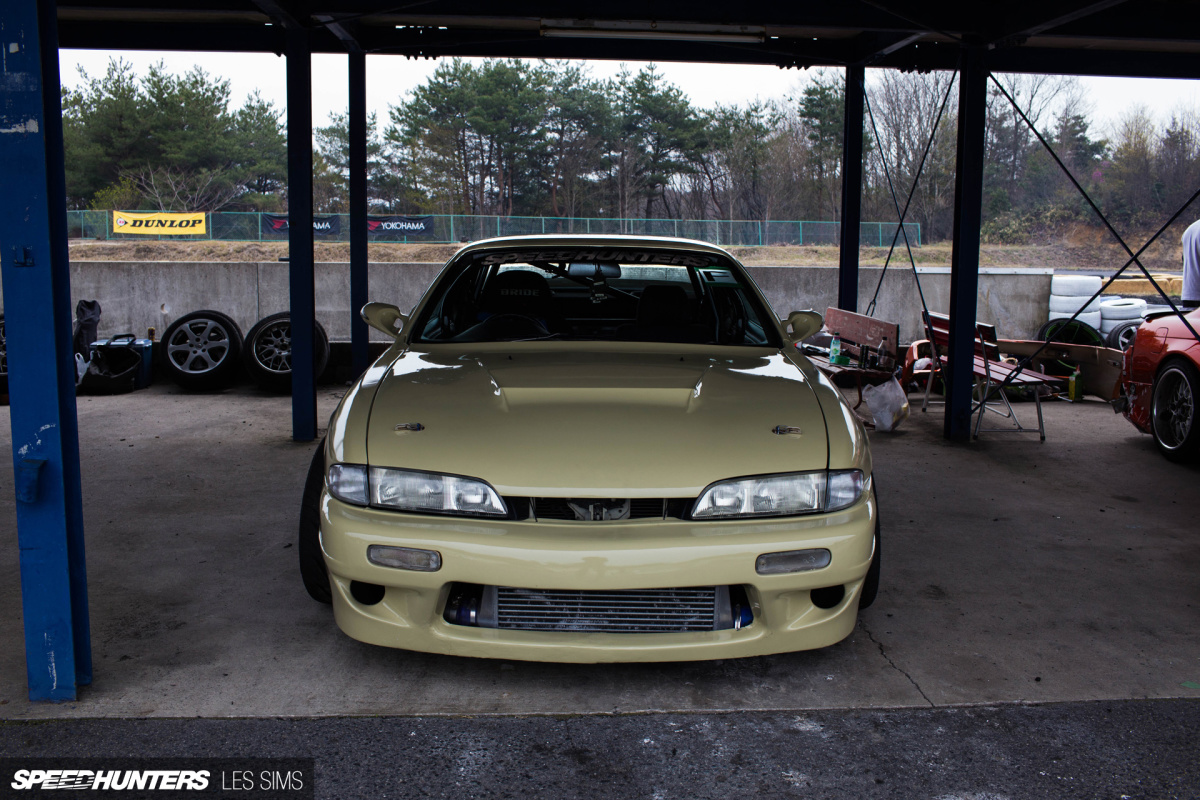 Nagai-san is a car painter by trade, and a number of the cars running at Hitomi-Go were painted by him, including this rather clean S14 complete with a Speedhunters windshield banner.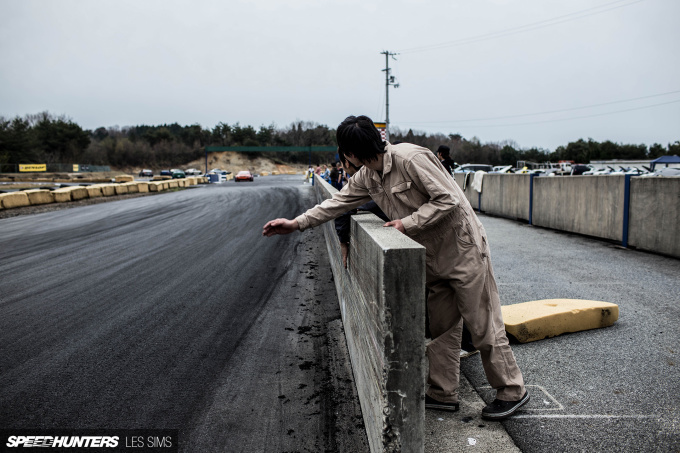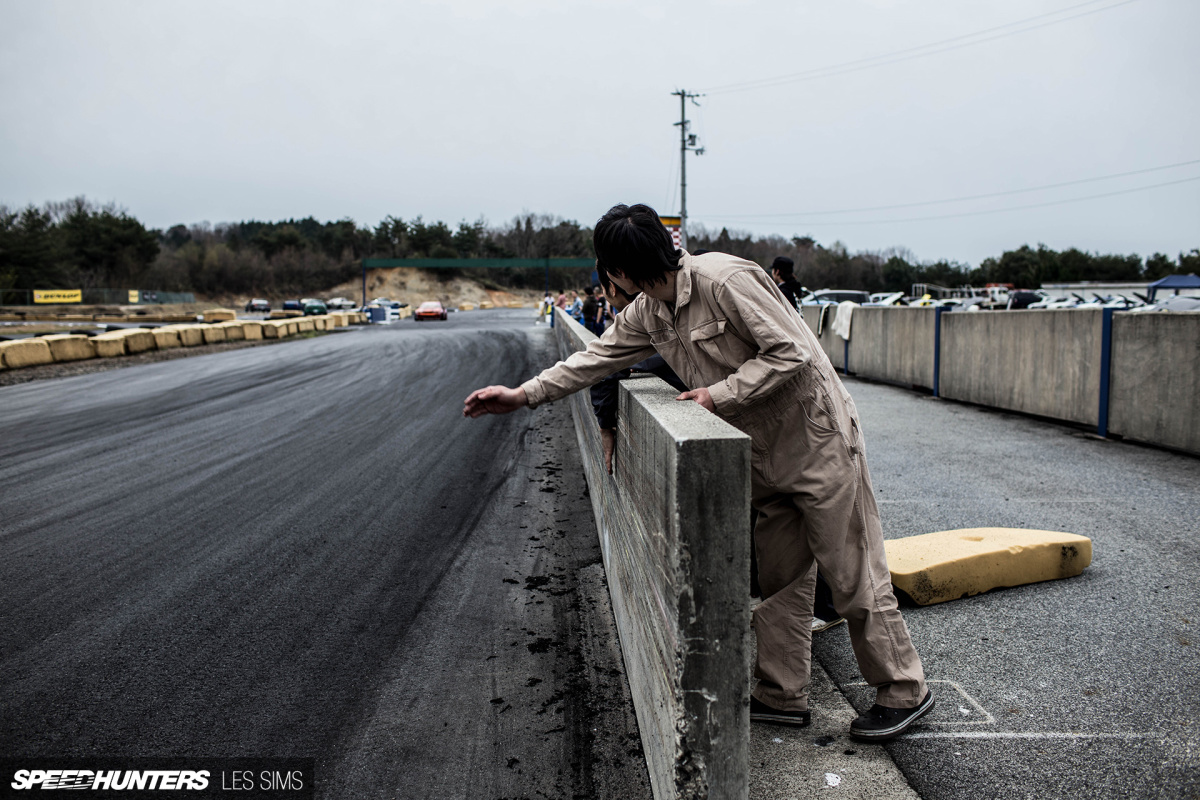 Drifting is all about pushing the boundaries of car control, and at an event like this one you can bet others will be egging you on. In this case it was a couple of younger drifters leaning over an outside wall, slapping the concrete face in the hopes of enticing their friends to get as close as possible.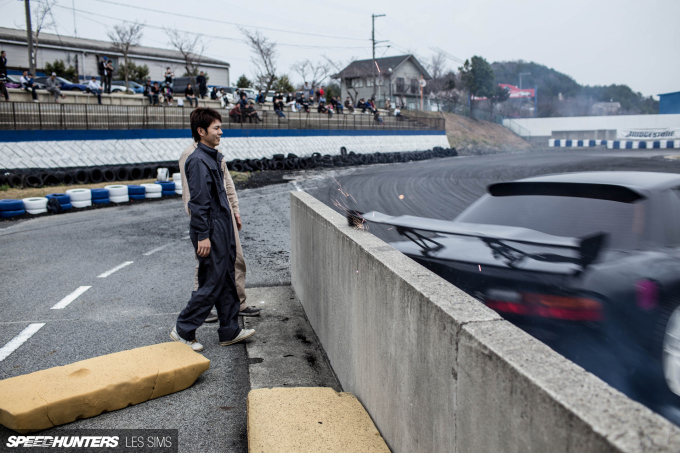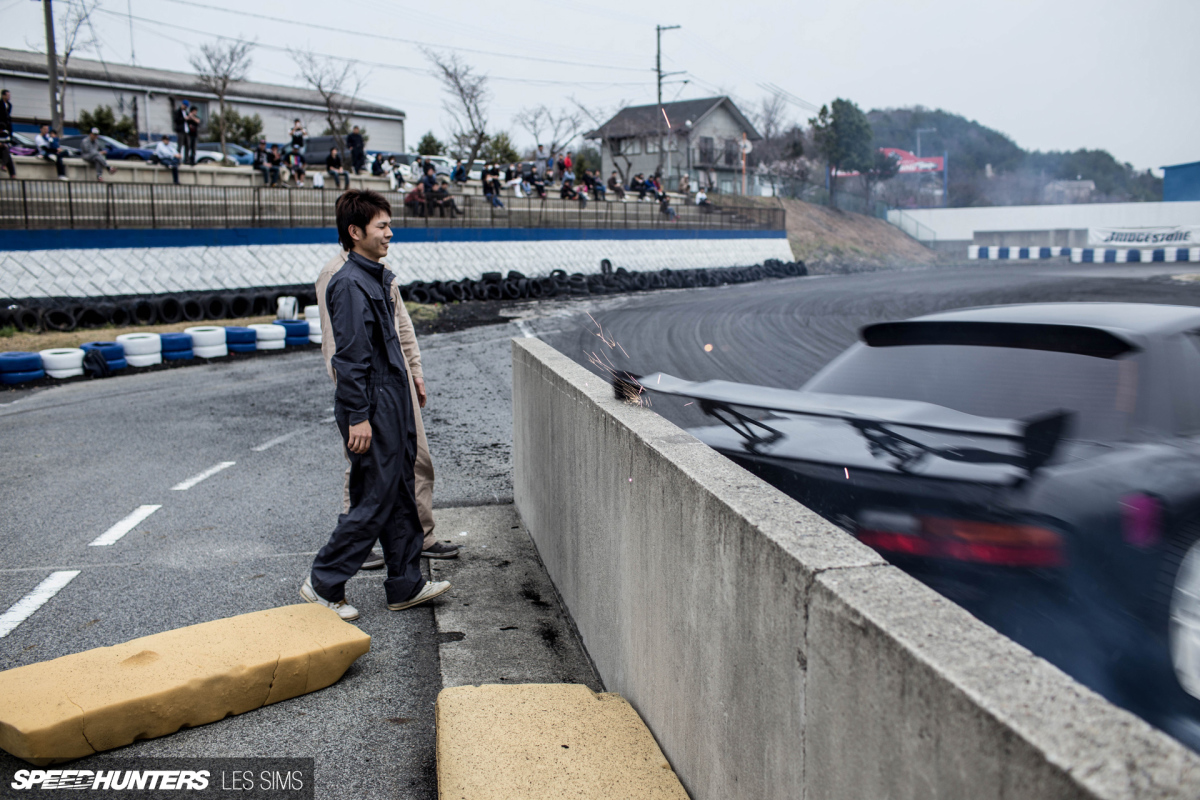 Ask, and you shall receive! One driver whom we can't name due to reasons we can't say, obliged by sending some sparks their way.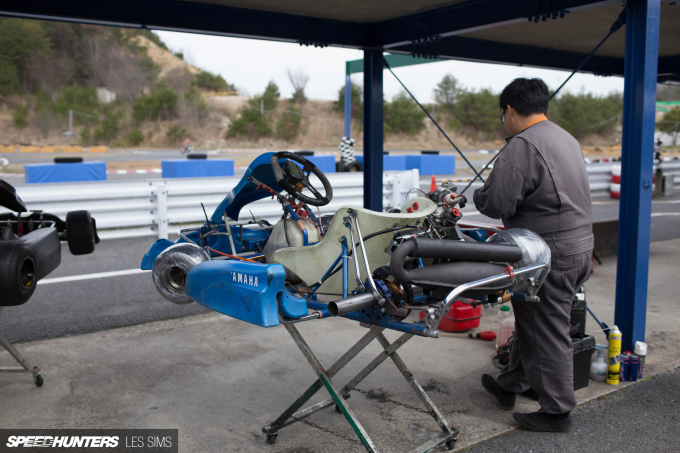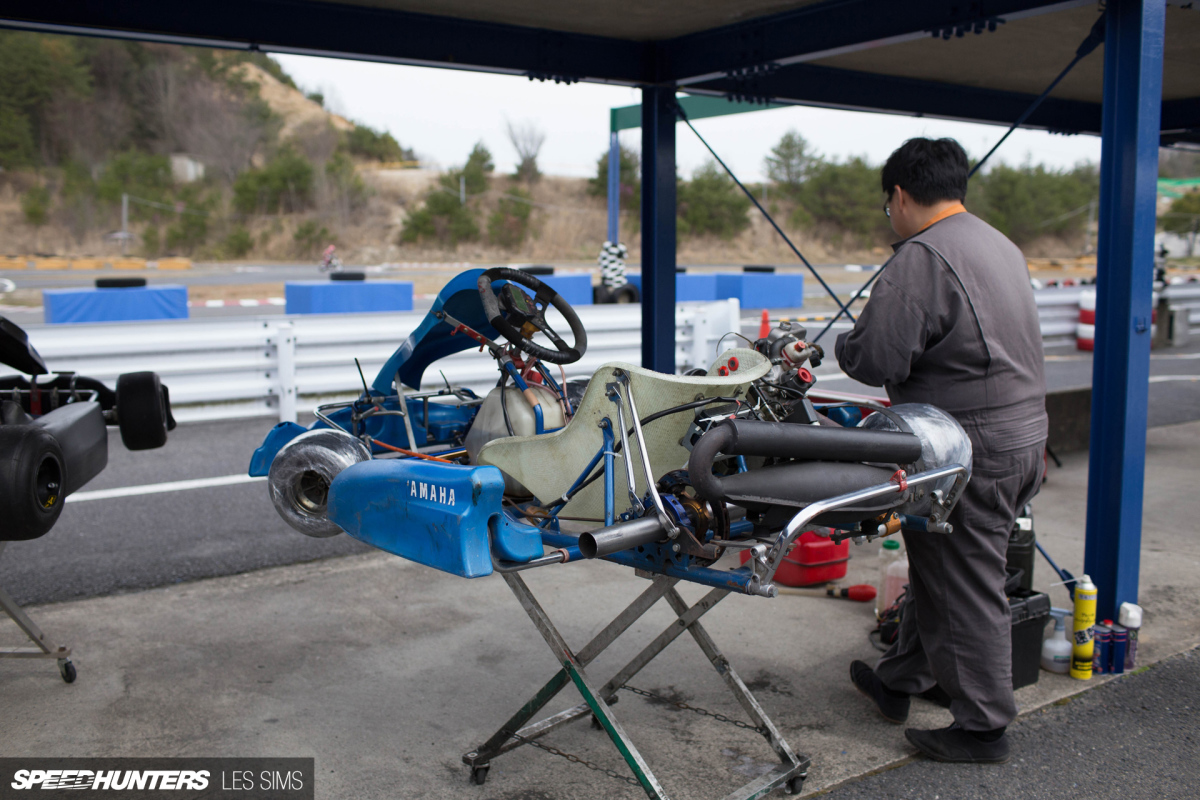 It isn't all drifting at Meihan though, and many people don't realise until they arrive that the facility has a small track for karts and minibikes, not to mention a motocross course. There's something for everyone here, so if you find yourself in Nara at any time, then go ahead and see for yourself.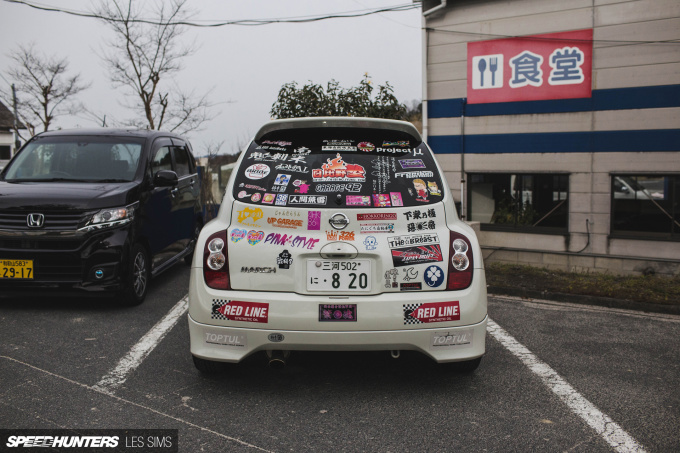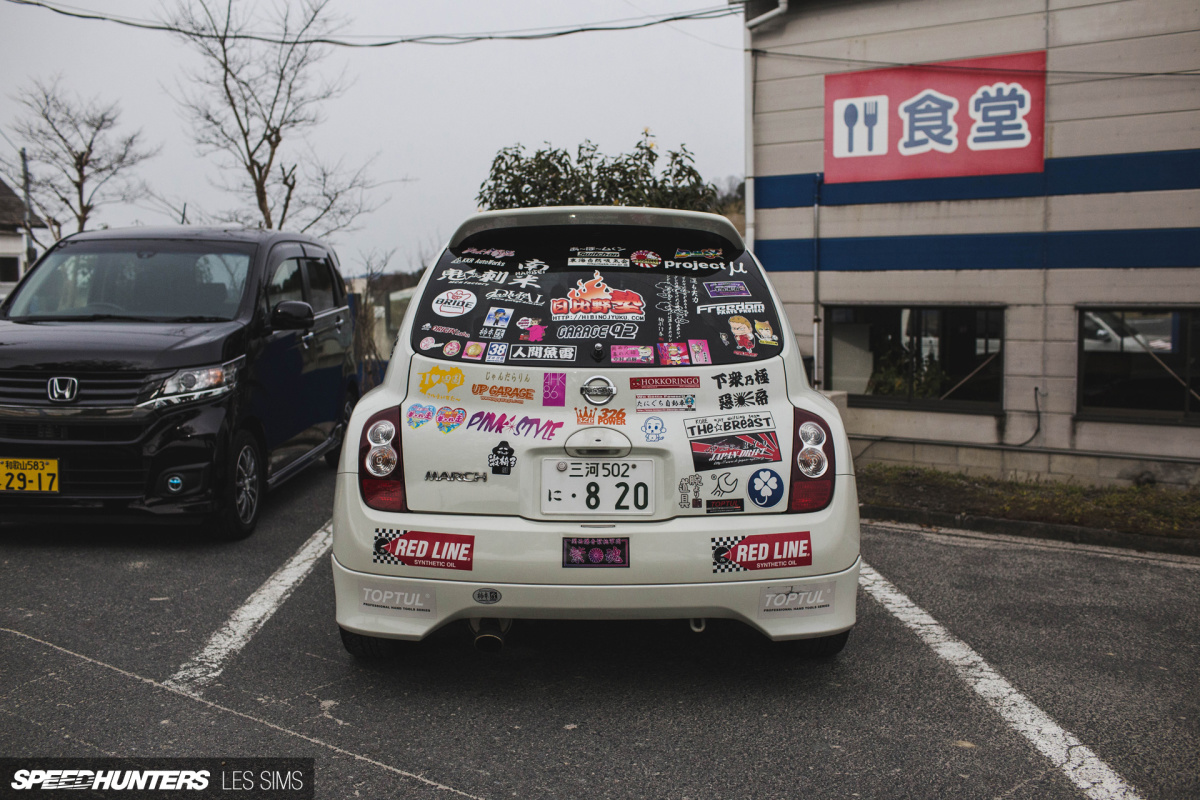 I'm guessing that this particular Nissan March owner is a drift fan!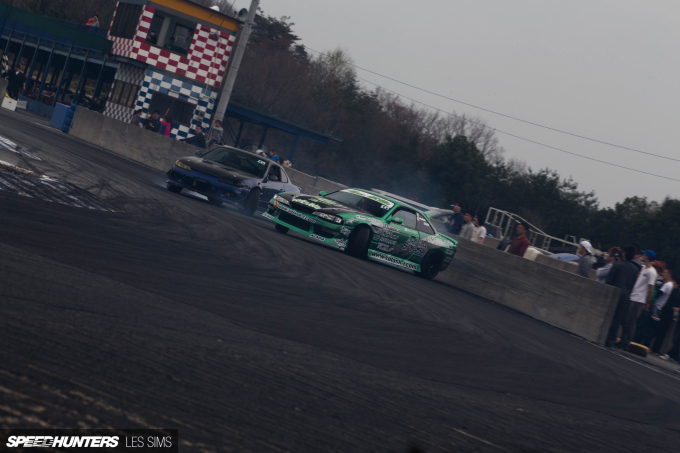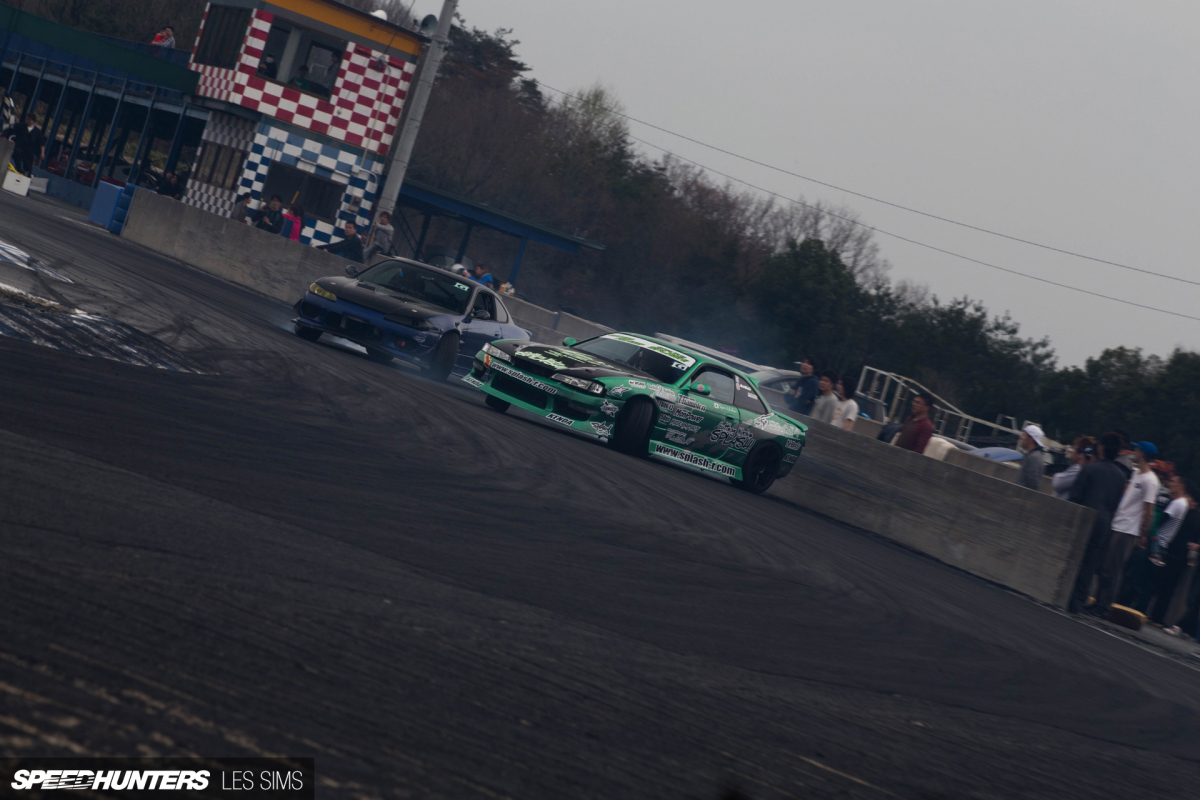 Whilst grassroots days like this are not competition based, it can be quite easy to want to push a little harder to chase the driver in front. It is all done with a certain respect though; if the driver in front is a friend or fellow team member, then unwritten rules dictate that the gap between cars will decrease. It works the other too, of course.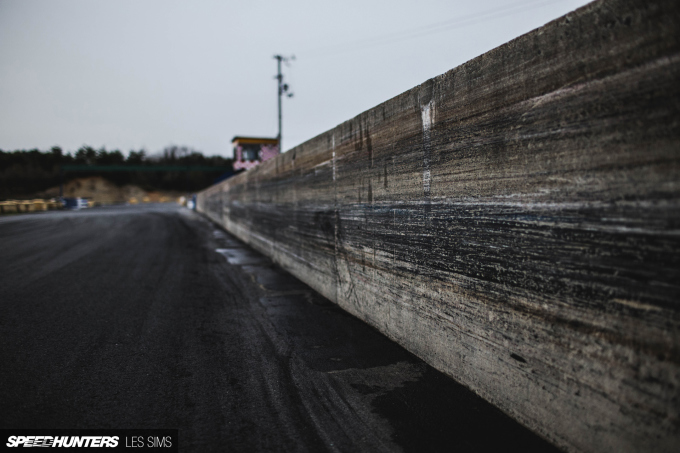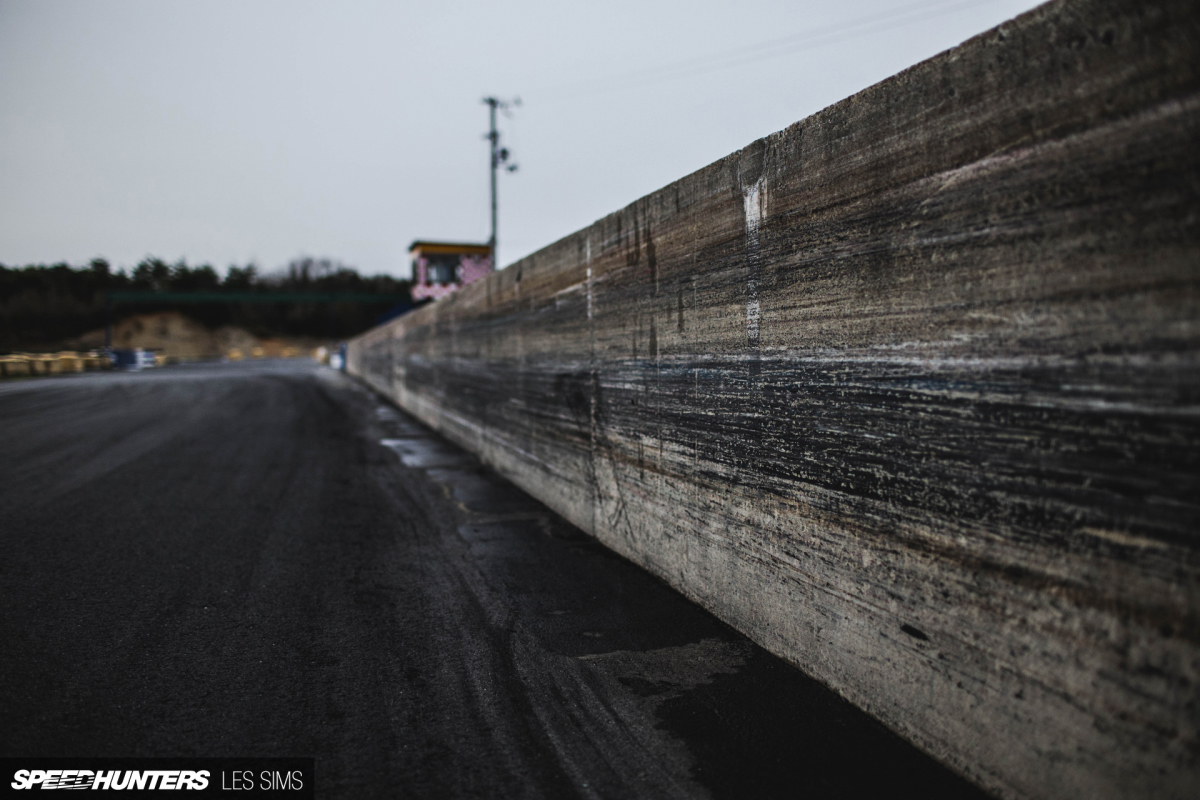 I really wish this wall could speak, as the multiple scrapings and paint transfers drawn out by bumpers, exhausts, wings and the rest, could tell so many tales of the battles that have been fought here over the years. My story on this particular Hitomi-Go event has come to an end, but long may those of Meihan Sportsland continue.
Thank you to the Speedhunters team for allowing me to jump on board with this coverage. Keep Speedhunting everyone!
Les Sims
Instagram: roughsmoke
Cutting Room Floor