Desert Drift
While Larry was on the other side of the world getting his feet wet at Long Beach for Formula D, Round 1 of the Drift Allstars GP Series kicked off at Abu Dhabi's Yas Marina Circuit here in the United Arab Emirates.
Bryn was in town, but he had swapped his camera for a mic to do show commentary, and DJ Dany Neville had dropped the mic and slithered into his Mustang to compete. That left it up to me to go ringside and grab some smokey shots…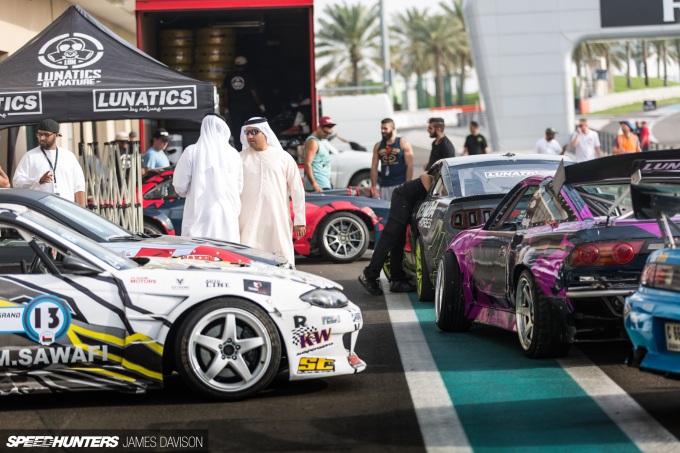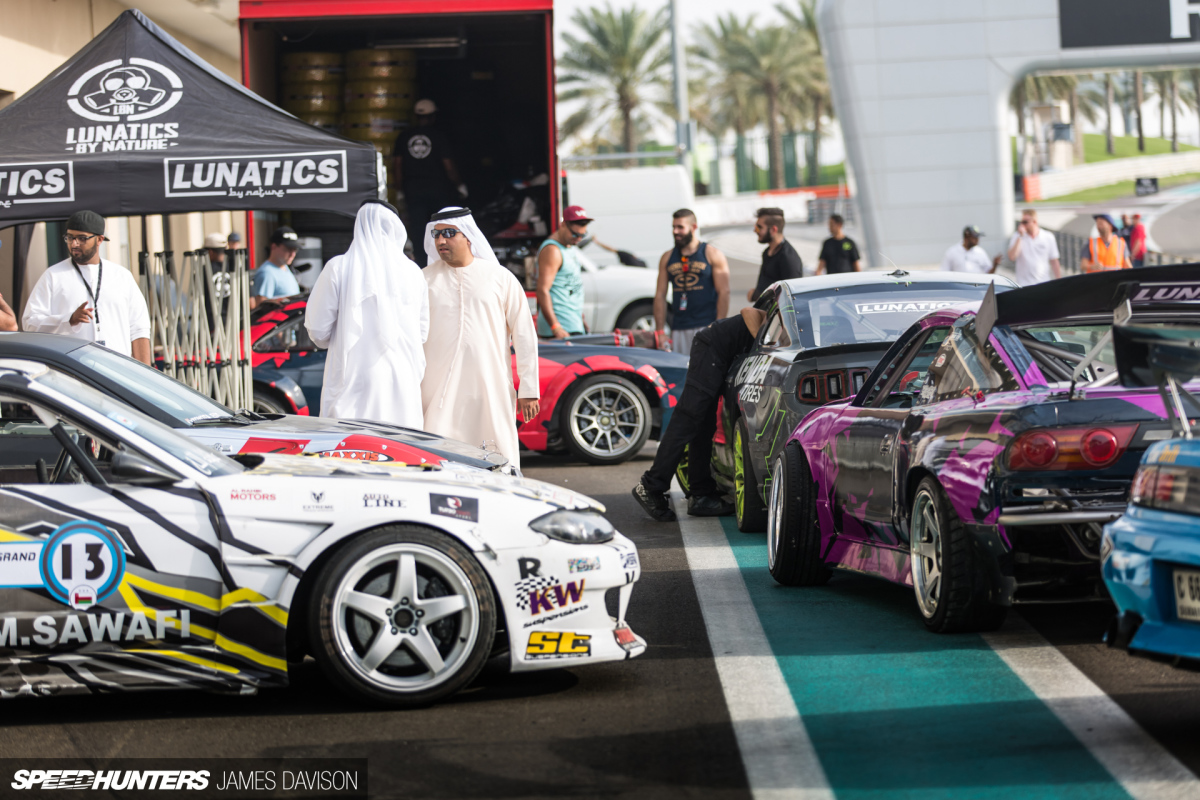 With 10 international drifters, their teams and machines shipped in to compete against the best drifters from the Middle East, organising such an event must be a logistical and bureaucratic nightmare. That said, it's also probably the highest level drift competition to ever take place in the region and, its setting – at one of the world's most prestigious Formula 1 tracks – couldn't have been more appropriate.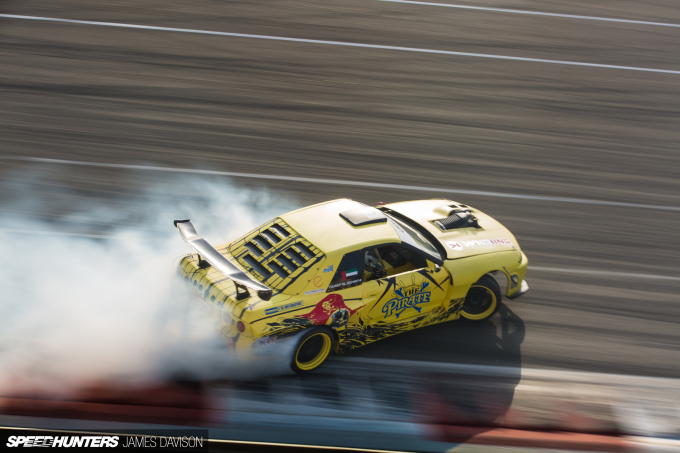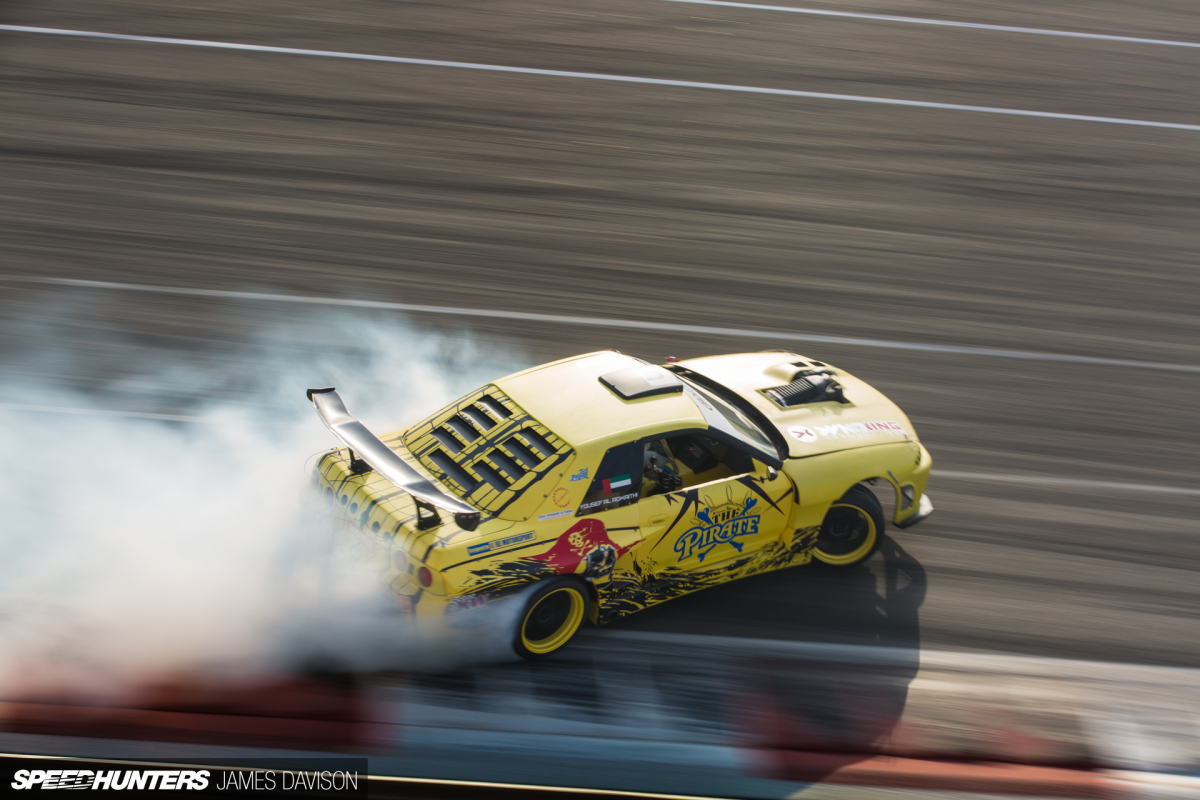 Like most of us, I've a bit of nostalgia for the old grungy drift days sliding jalopies around for the pure fun of it. However, the sport has exploded in recent years to a ridiculously insane level of talent and horsepower. When you are sitting in on the briefing and the drivers of 1000+hp cars are being told that they will be docked a shed-load of points if they even think of lifting on the long straight running parallel to the pits (the fastest bit of the North Circuit) you start to comprehend what 'fast and technical course' means. One hundred per cent commitment. Maximum attack. Never lift.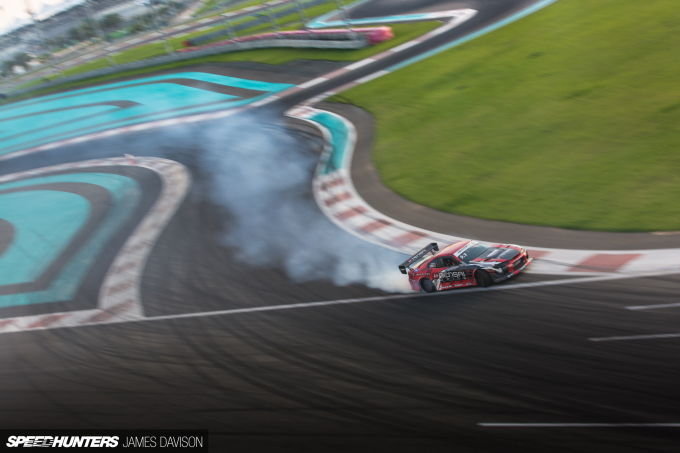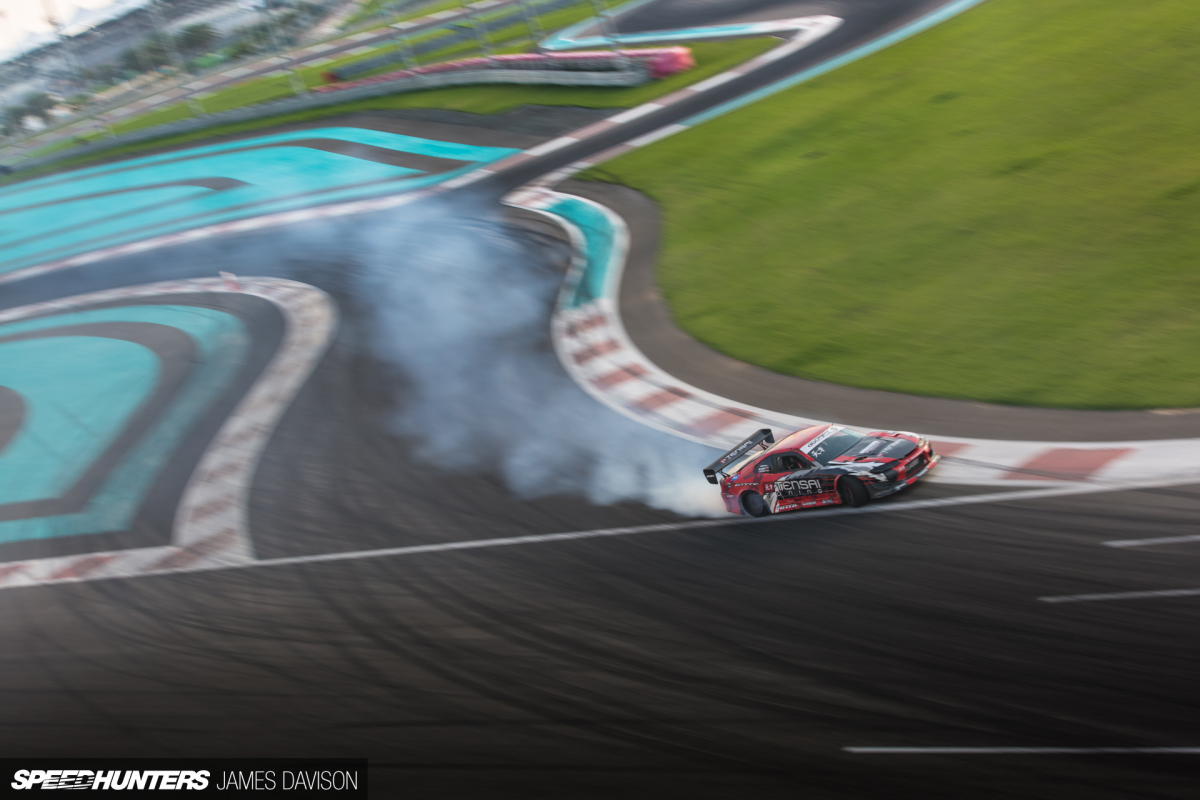 During practice and qualifying, that long fast straight – traversed sideways for its full length obviously – was problematic for several of the drivers, mainly due to gearing rather than outright horsepower. But, surprisingly, the lead-up to the Final 16 almost went as smooth as butter. Well, almost…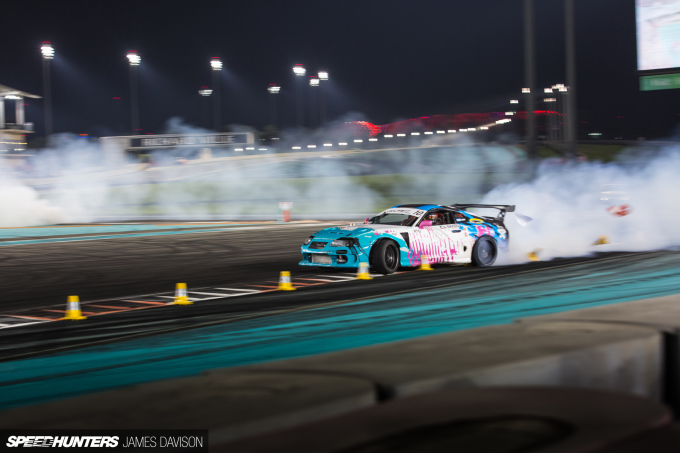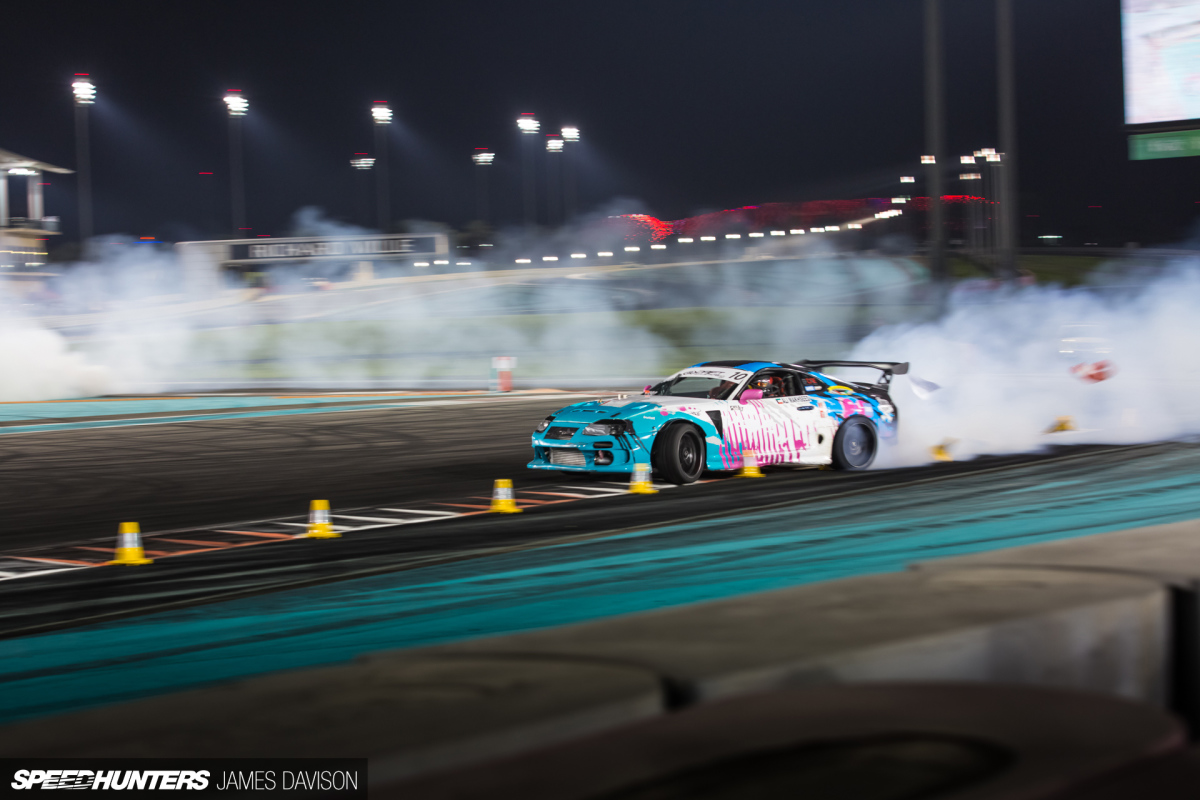 Naturally, many cones were sacrificed to the drift gods.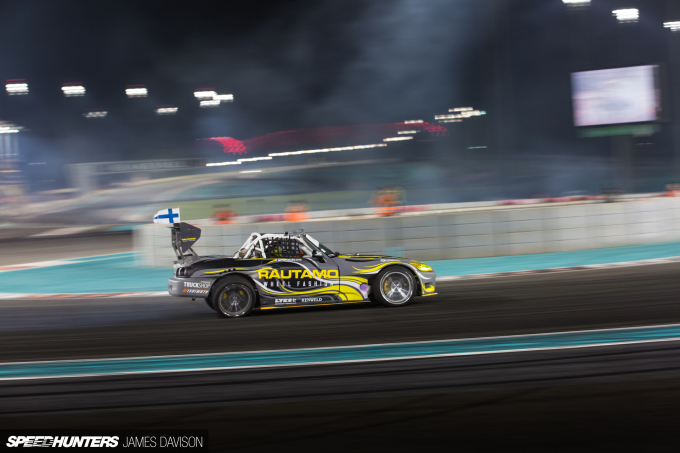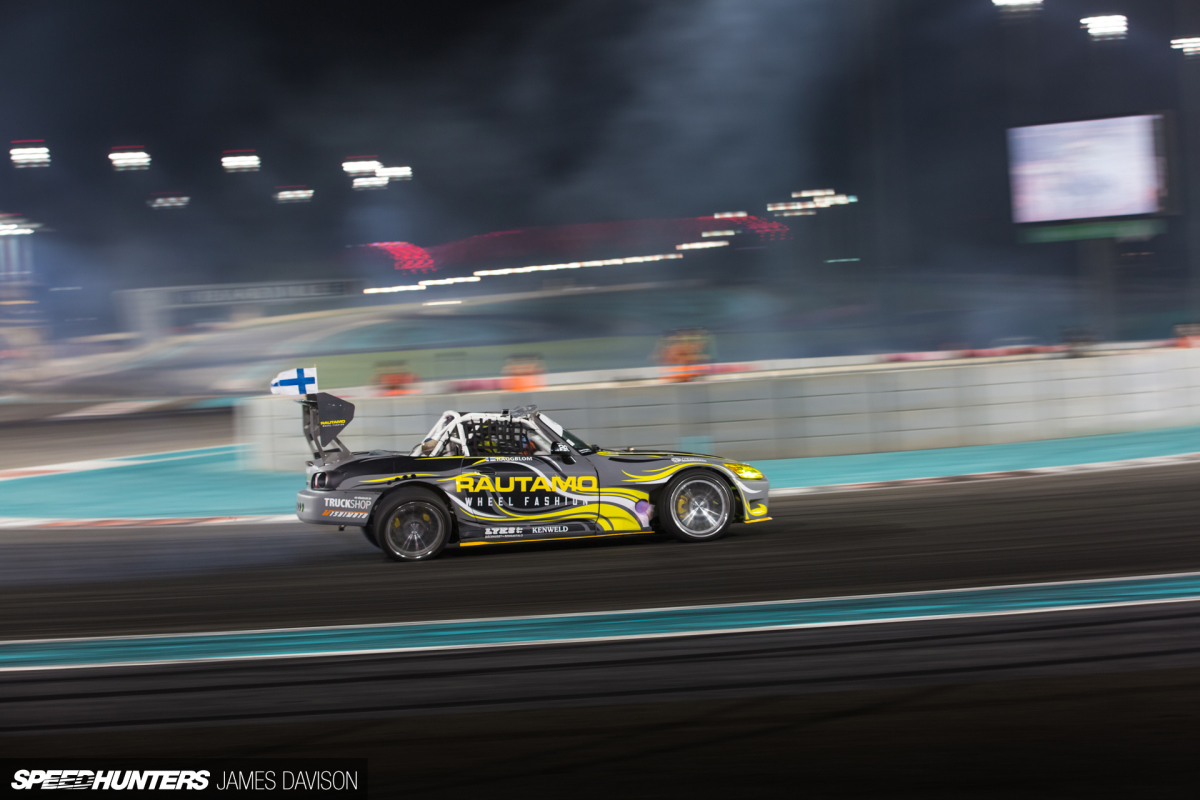 However, Dennis Haggblom from Finland had an altogether different issue on the bottom hairpin in his 2JZ-powered Honda S2000. He lost his bearings – one of which rolled over and hit my foot. I dutifully returned it to his mechanics. Fortunately, they had some in reserve and worked like men possessed to get the car out (just) in time for the Final 16.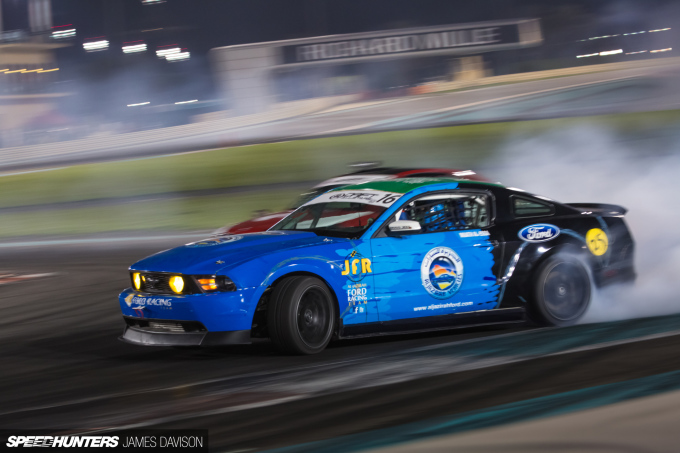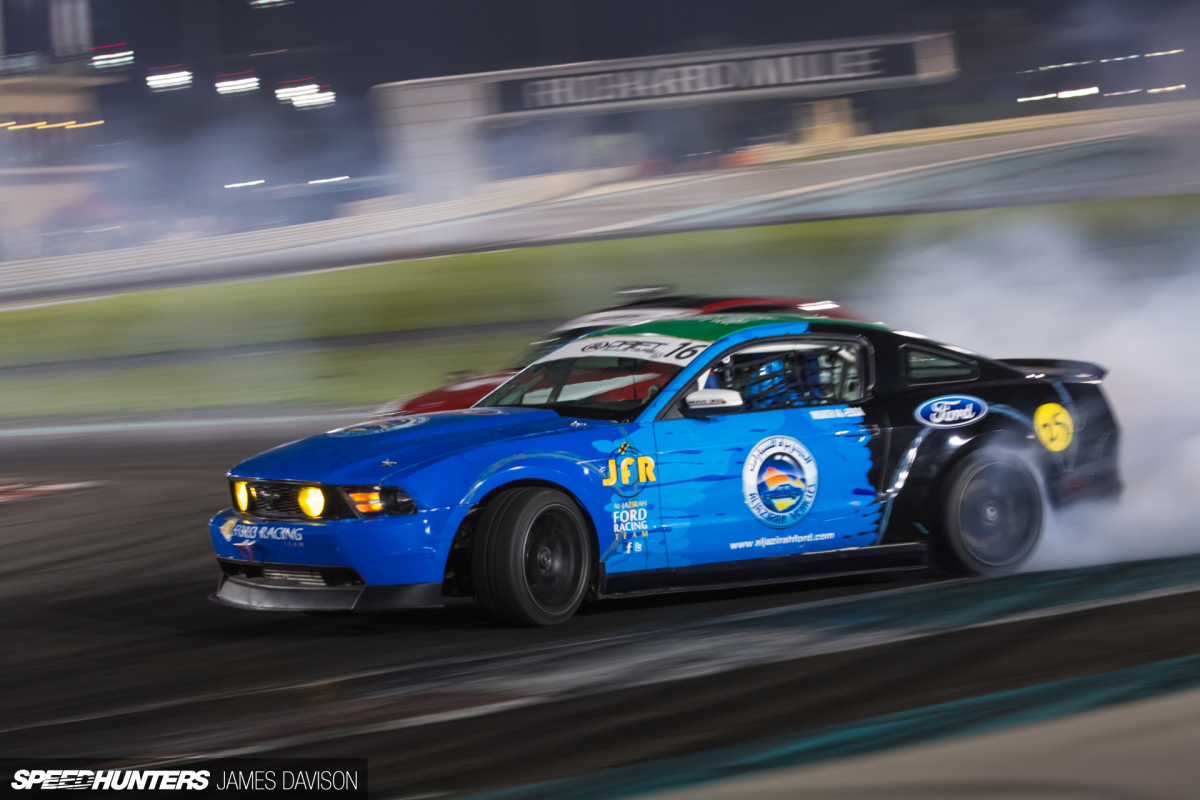 Any illusion that the Drift Allstars drivers would have it easy against the local talent was dispelled right from the get-go. Drift in the Middle East has rocketed in popularity over the last few years and several drivers now even have manufacturer support propelling the sport even further in the region. But now, time for an intermission…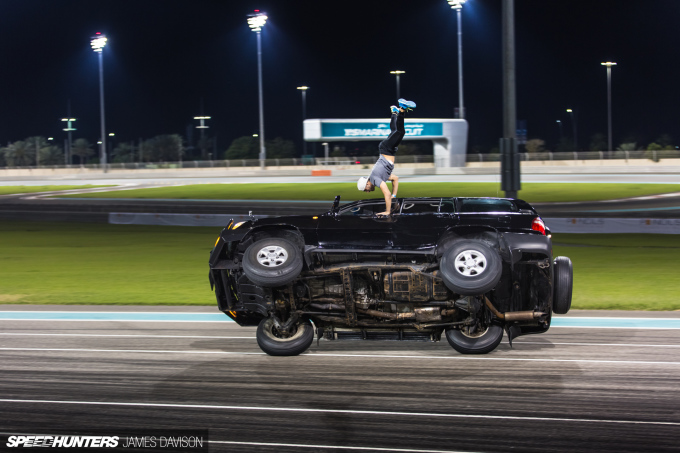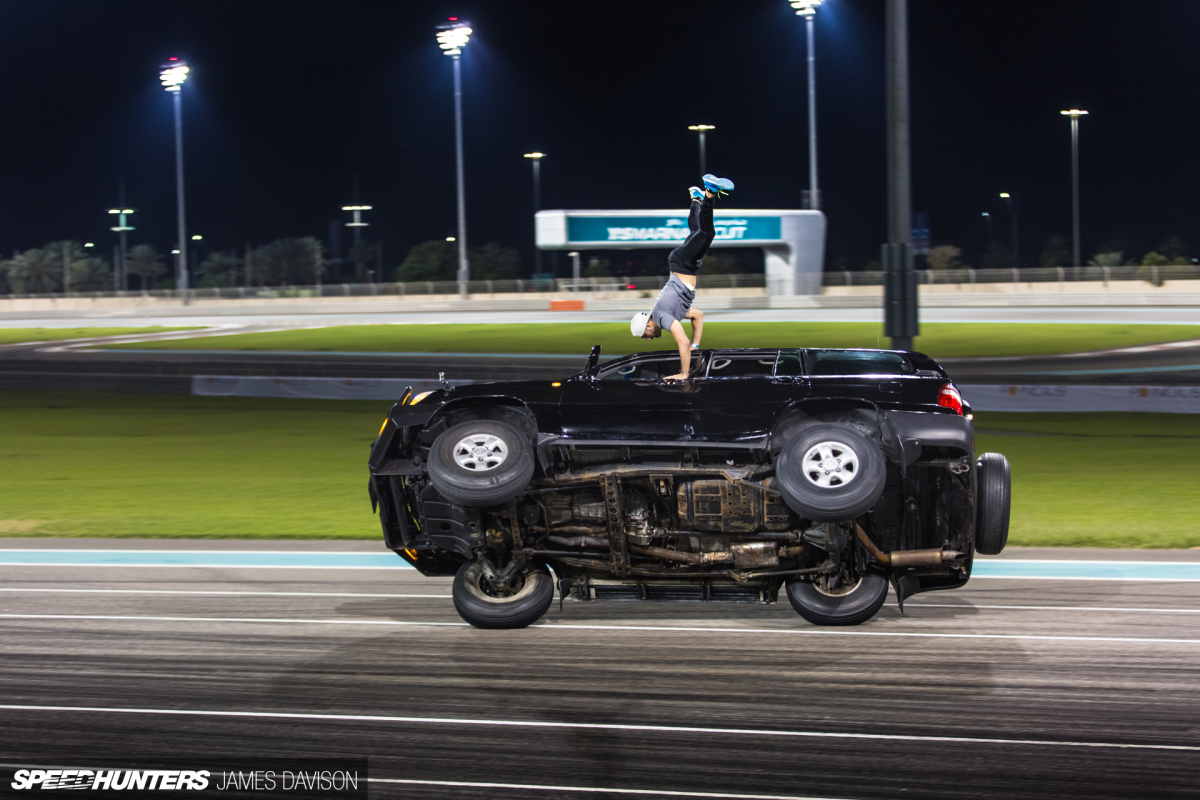 Well, it's still the Middle East and a 4×4 on two wheels with a dude doing a handstand is a prerequisite.
Battle Zone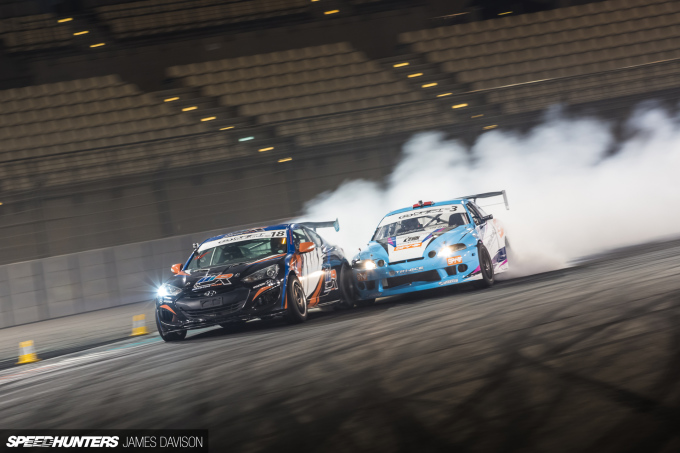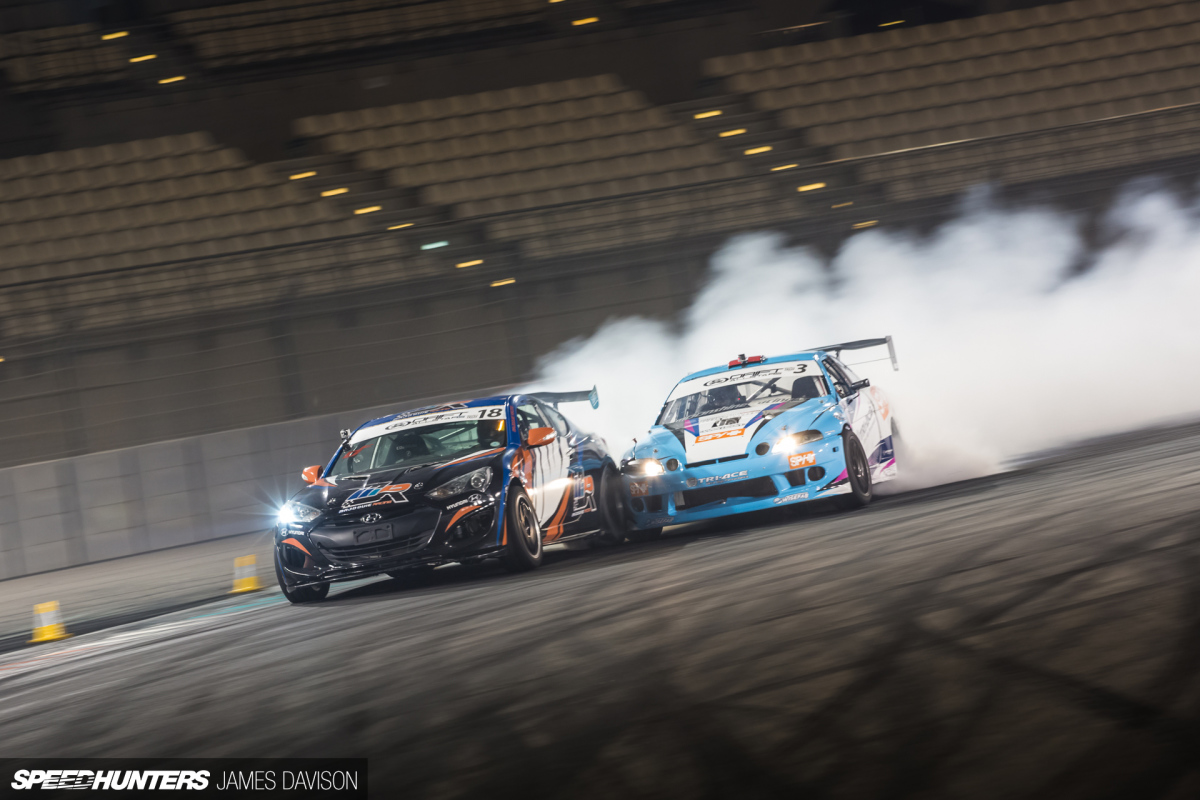 It always amazes me just how much competitors step up their game when they get on track for tandem time. Sultan Keyto (KSA) and Fredrik Oksnevad (Norway) were practically glued to each other. But it is this drama that gets the crowd rocking. And the Final 16 certainly didn't lack drama.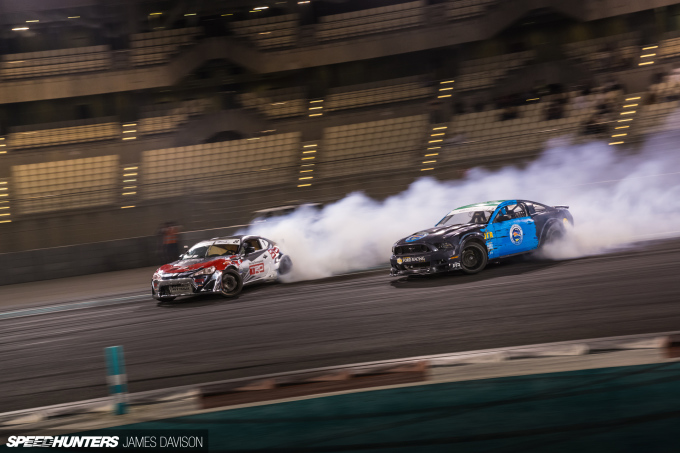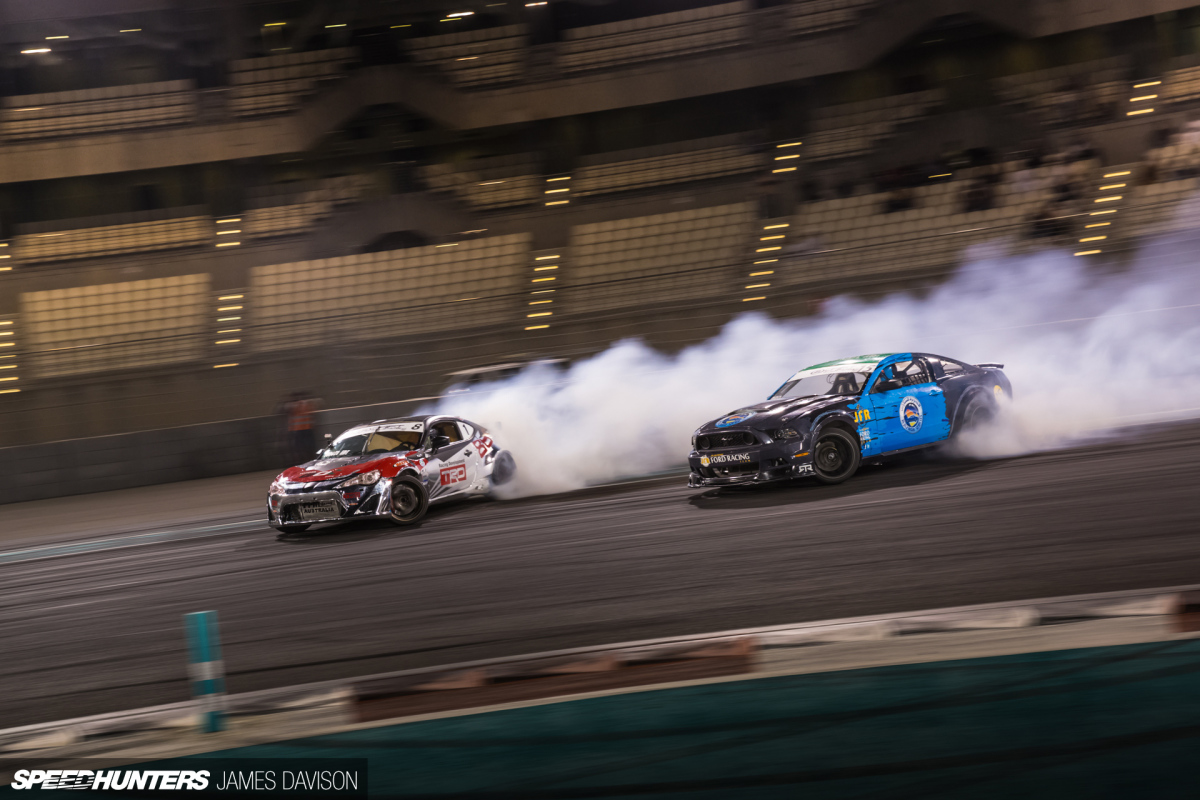 Two of the most successful drifters in the region are Ahmad Alameri (UAE) and Abdulhadi Alqahtani (KSA), with both having manufacturer support from Toyota and Ford respectively. Being from the UAE, Alameri was obviously a crowd favourite, but the previous day's practice in his new 1000+hp Toyota 86 hadn't gone at all smoothly and he was forced into hastily preparing his old (600+hp) car for competition. Despite this, and with Alameri leading on the first run, the old rivalry was as tight as ever.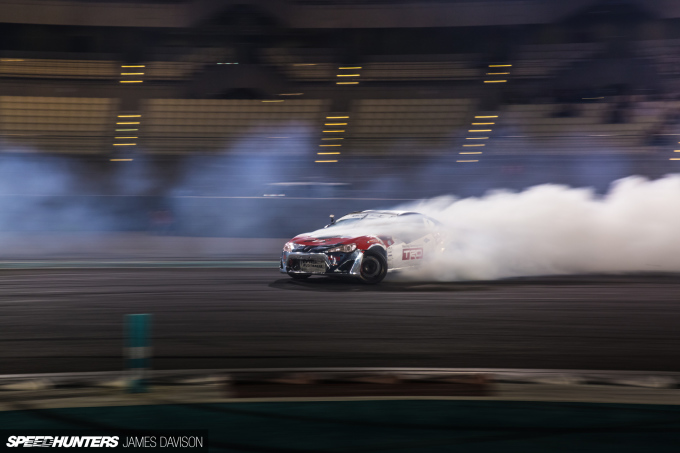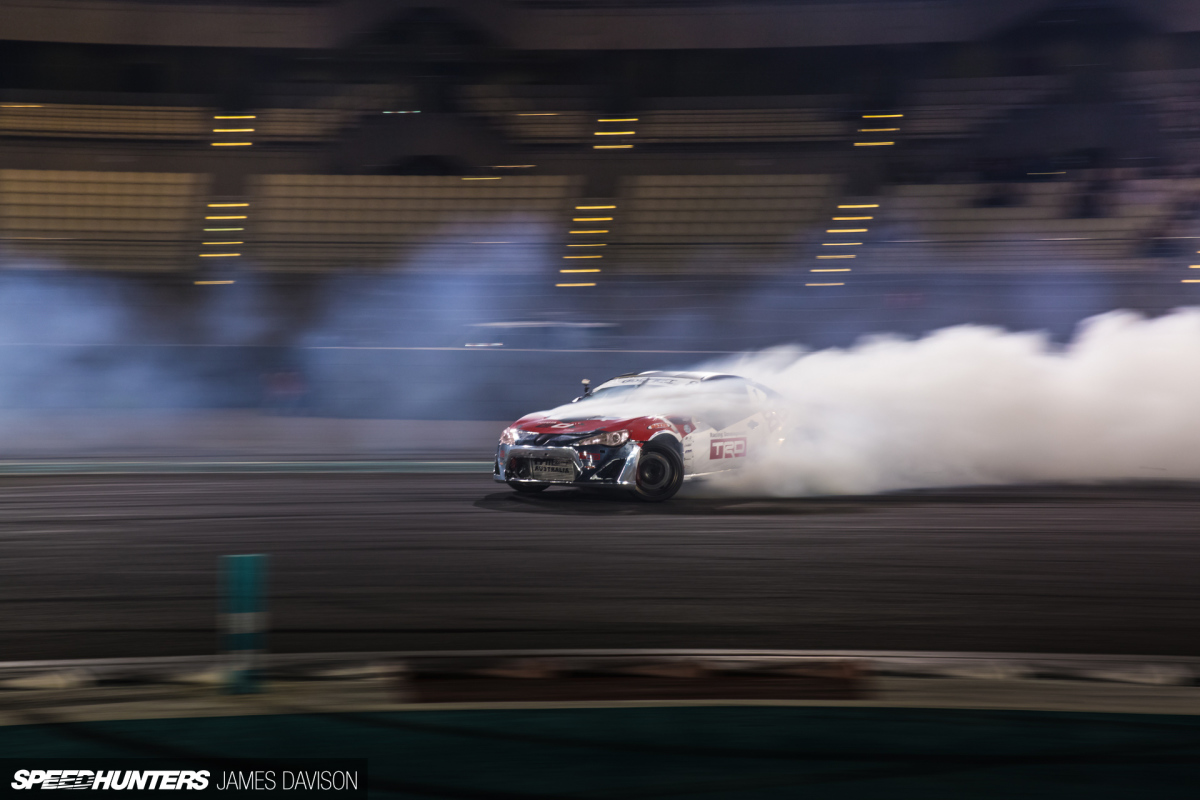 With roles reversed however, Alqahtani pulled a few car lengths on Alameri in the Mustang. As Alameri entered the final hairpin it was clear that his rear tyres weren't the only thing smoking.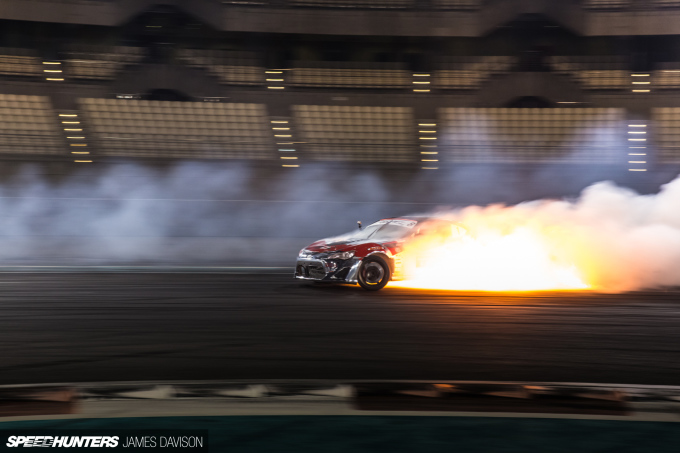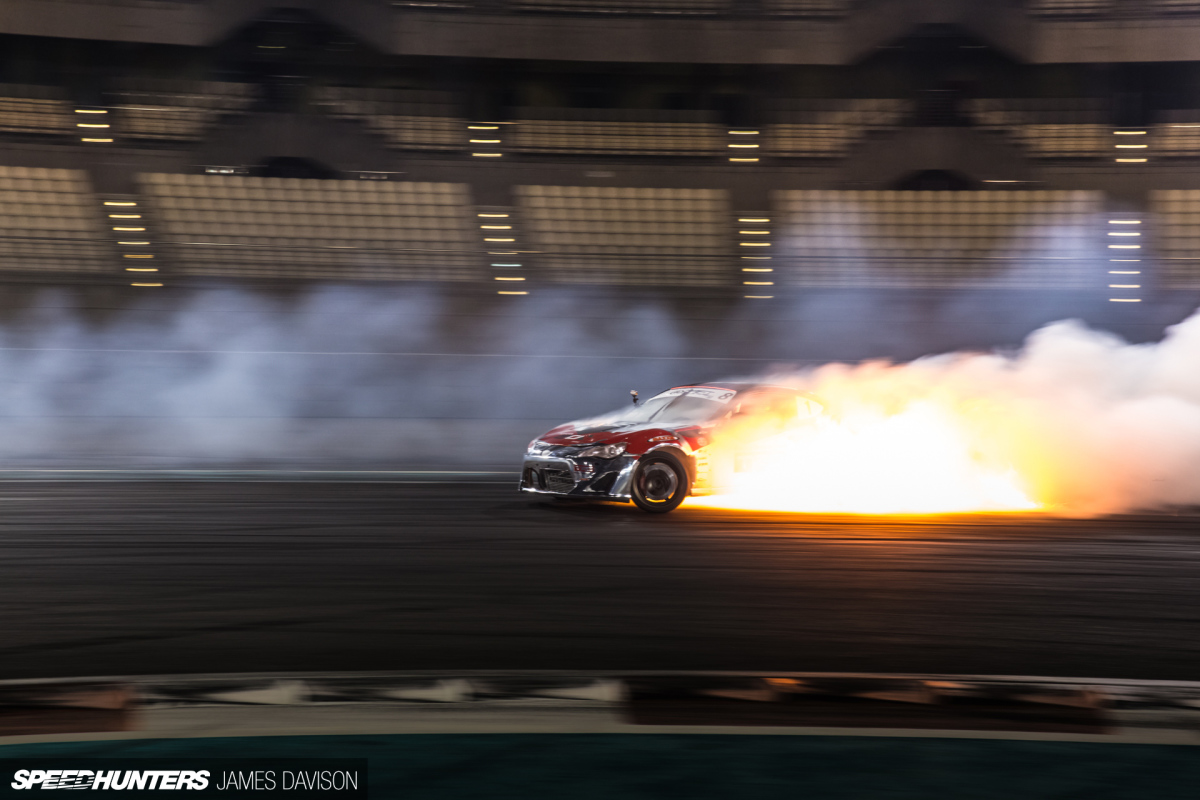 A suspected oil leak onto a hot 2JZ temporarily turned Ahmad and his Toyota into flaming fireball. The fire was quickly extinguished and Alameri unhurt. But it's worth pointing out that the first man on the scene was Alqahtani who, seeing the fireball in his rear view, quickly executed a 180-degree turn and came back to help. Rivals? Yes. Friends? Most definitely.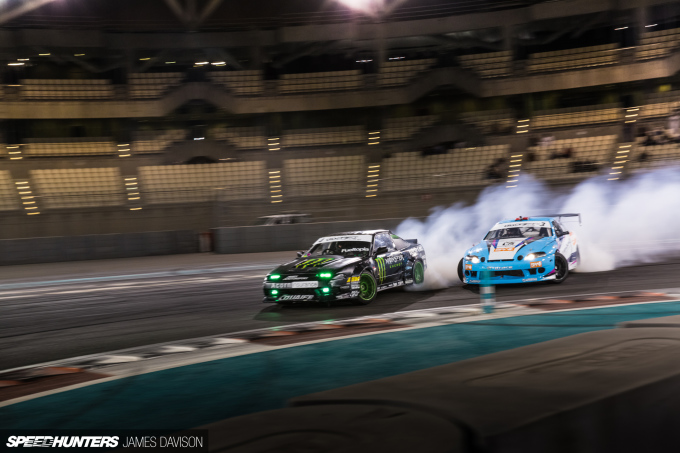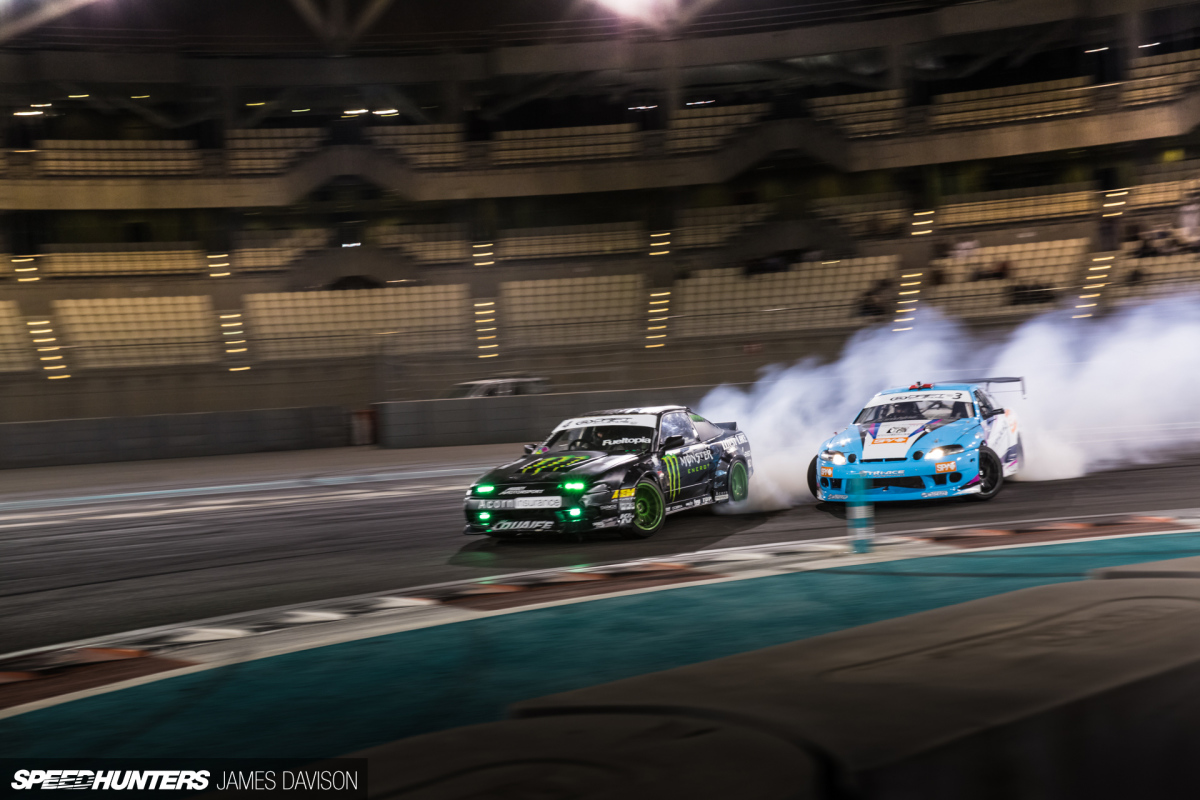 The Final 4 boiled down to Stephen 'Baggsy' Biagoni (UK) vs. Fredrik 'Fredox' Osknevad (Norway) and Nigel Colfer (Ireland) vs. Ahmed Daham (Jordan). Baggsy hadn't put a foot wrong all day in his newly LS-powered S13, but his entry into the final still required a 'One More Time' before the judges were happy.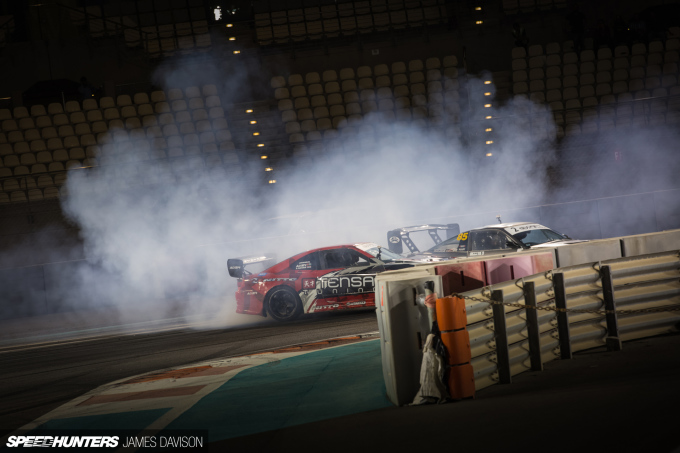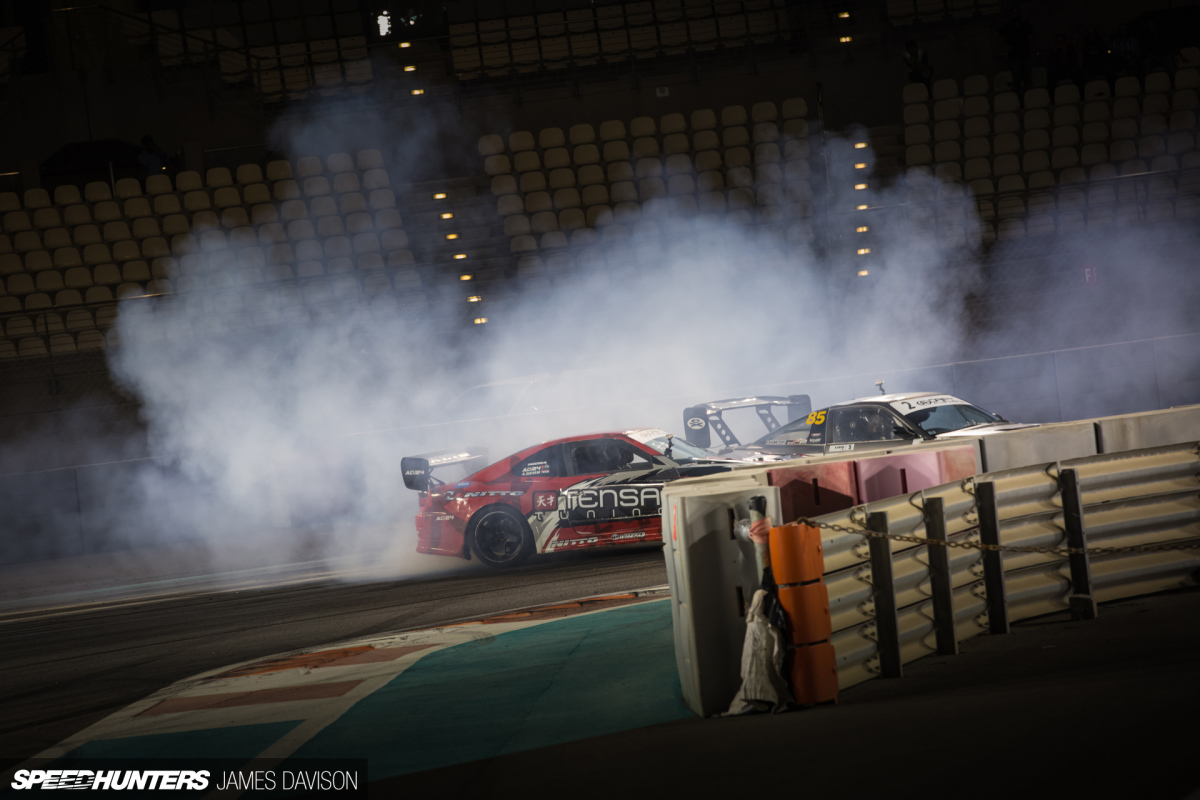 Things were even tighter in the other semi-final between Colfer and the last remaining Middle Eastern driver, Ahmed Daham. The S13 vs. S13 shootout (Daham's car is an S13 fitted with an S15 kit) resulted in a collision in the hairpin and numerous OMT calls before the judges could separate them.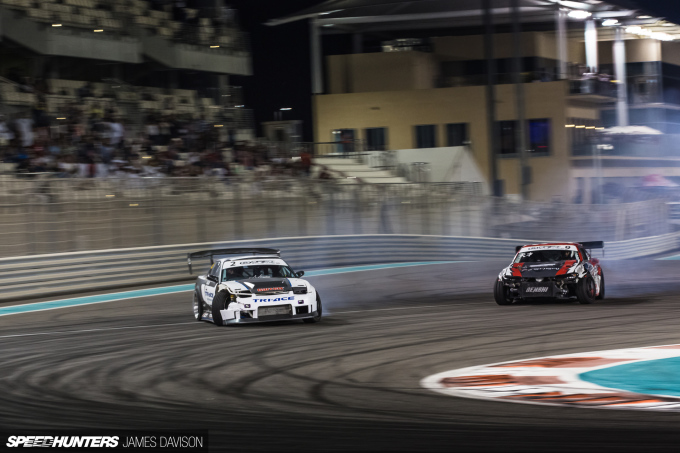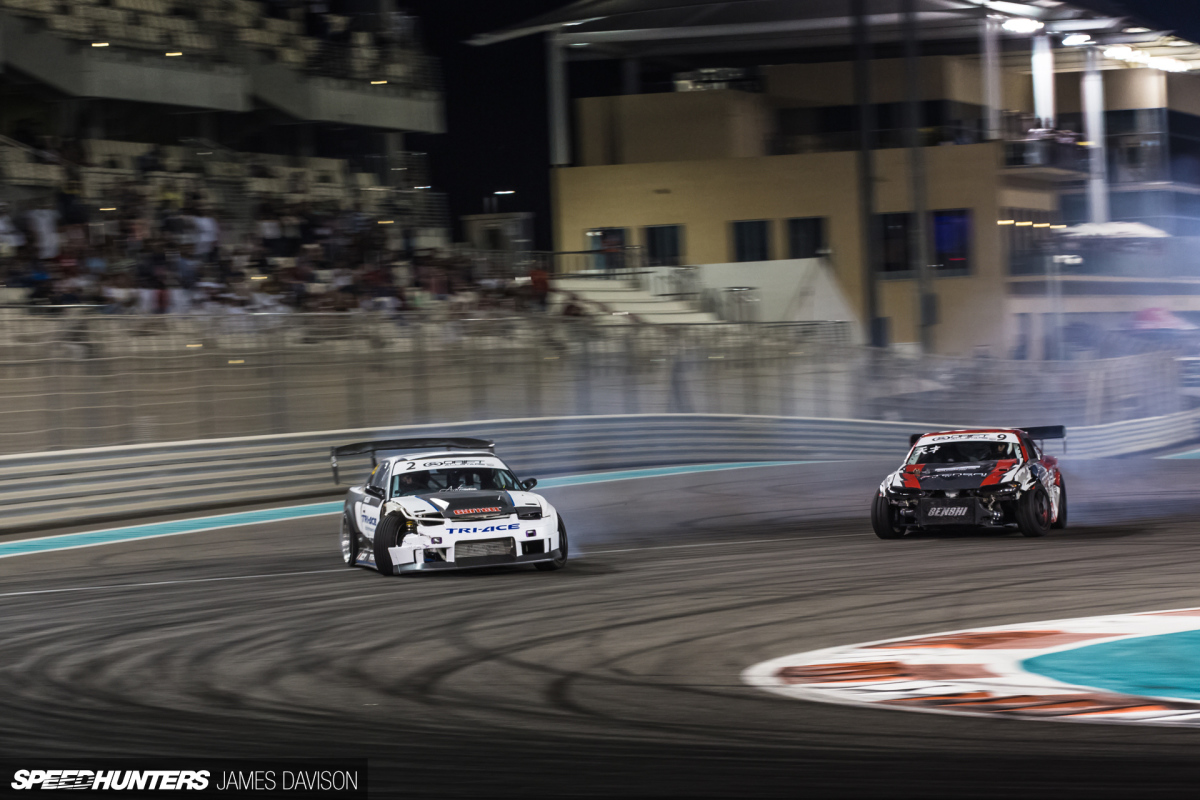 It was Daham who clinched it by what must have been the narrowest of margins to progress to the final. The Jordanian drifter also carried the full support of the crowd as the last remaining Middle Eastern driver remaining in the competition. But his Nissan was now a cylinder down…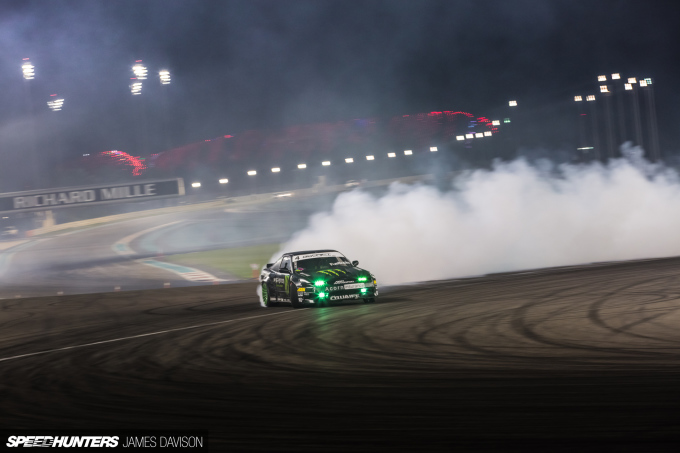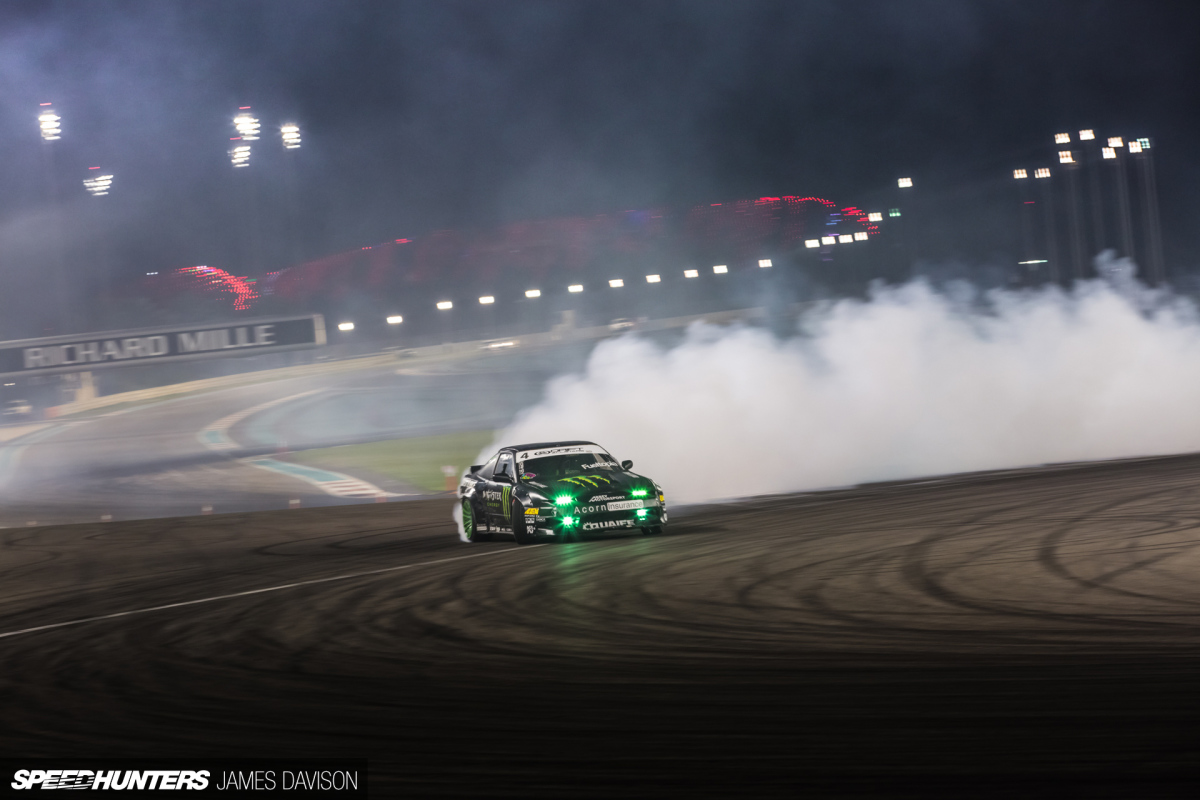 Ultimately, there was only one driver who hadn't put a foot wrong throughout the entire event.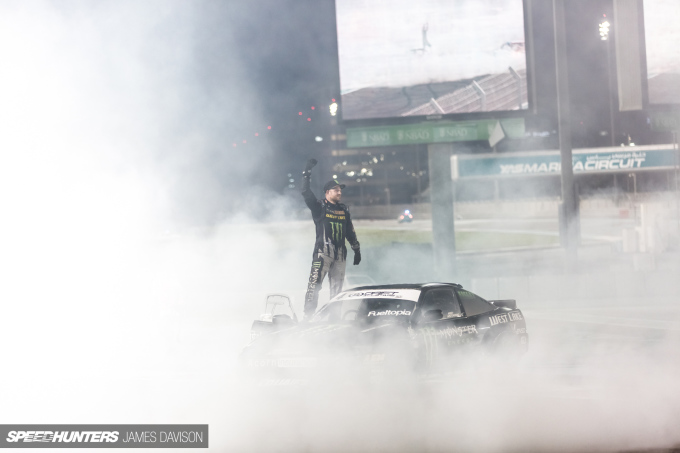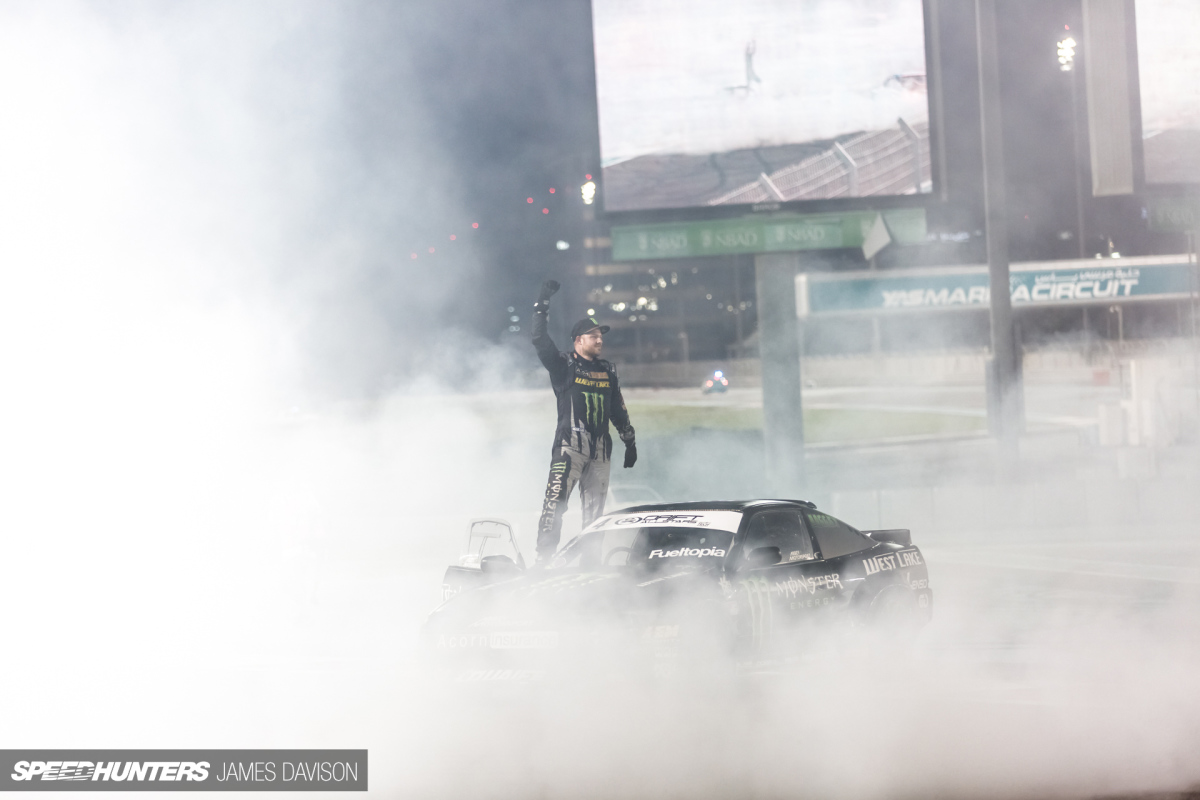 It takes a lot of celebrating to fill Yas Marina Circuit full of smoke but there is a Baggsy in there somewhere.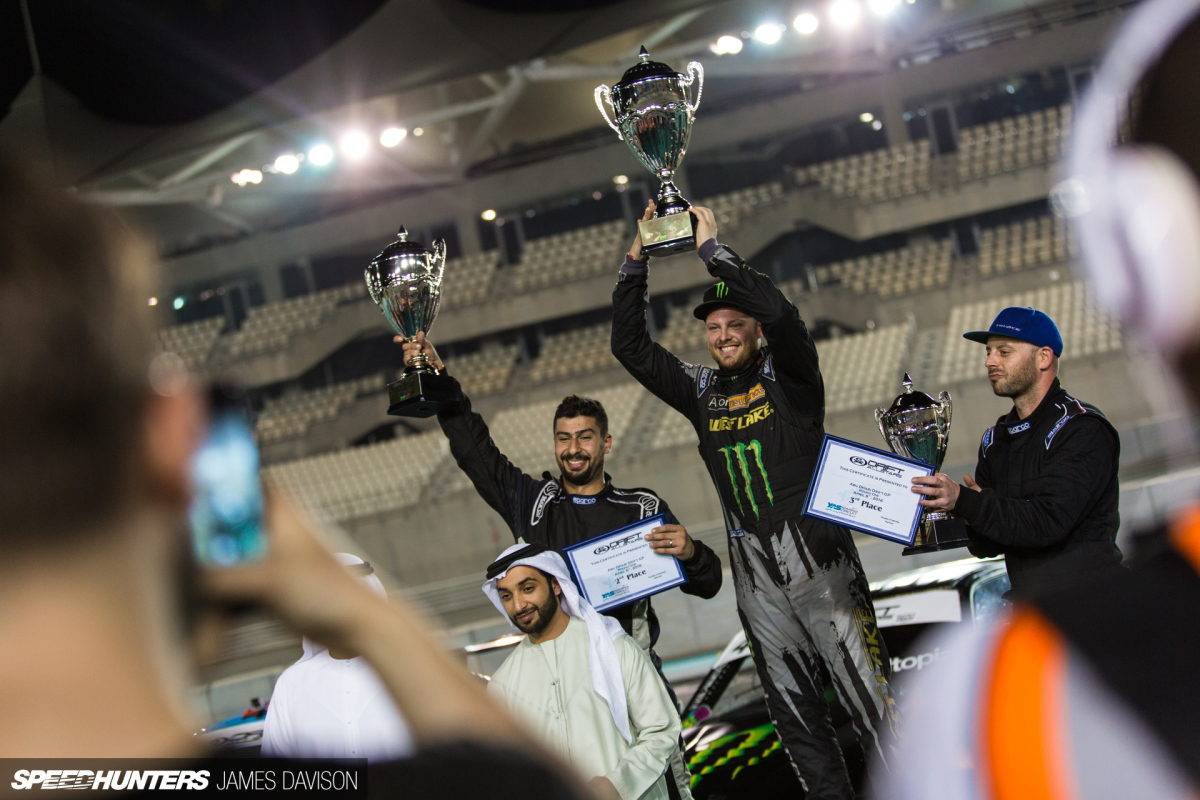 With Baggsy first, Daham second and Colfer in third, the first round of Drift Allstars in Abu Dhabi sets the bar for the rest of the series which travels to three different continents this season.
Next stop, Lydden Hill in the UK on May 1st and 2nd. In the meantime however, you can check the official highlights video above and a chapter full of bonus images below.
James Davison
Facebook: JCDavison Automotive
Cutting Room Floor