Welcome To Long Beach
What can be said about Long Beach that hasn't already been mentioned before? Whether it's because it's one of the busiest port cities in the world, or because it's almost always 70 degrees (21C) year round, or even because of Snoop Dogg and Tupac's origins – people from all around the world know about this famous city. We, as automotive and racing enthusiasts, know Long Beach for its famous Grand Prix.
And seriously, what is more exciting than palm trees, perfect weather, and more than five different racing series zooming around a track that only exists for a week or so out of the entire year?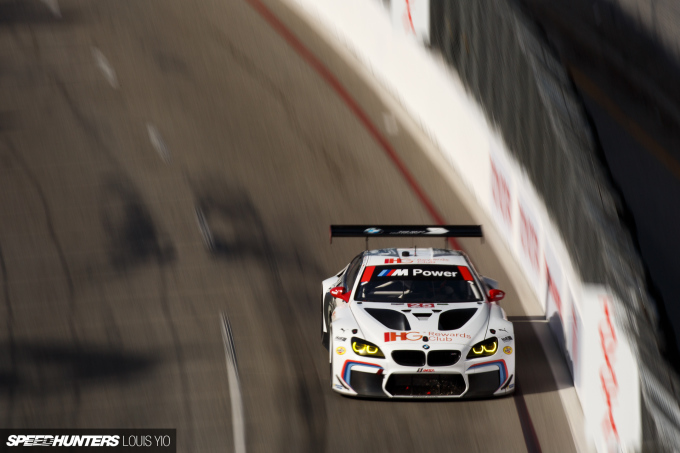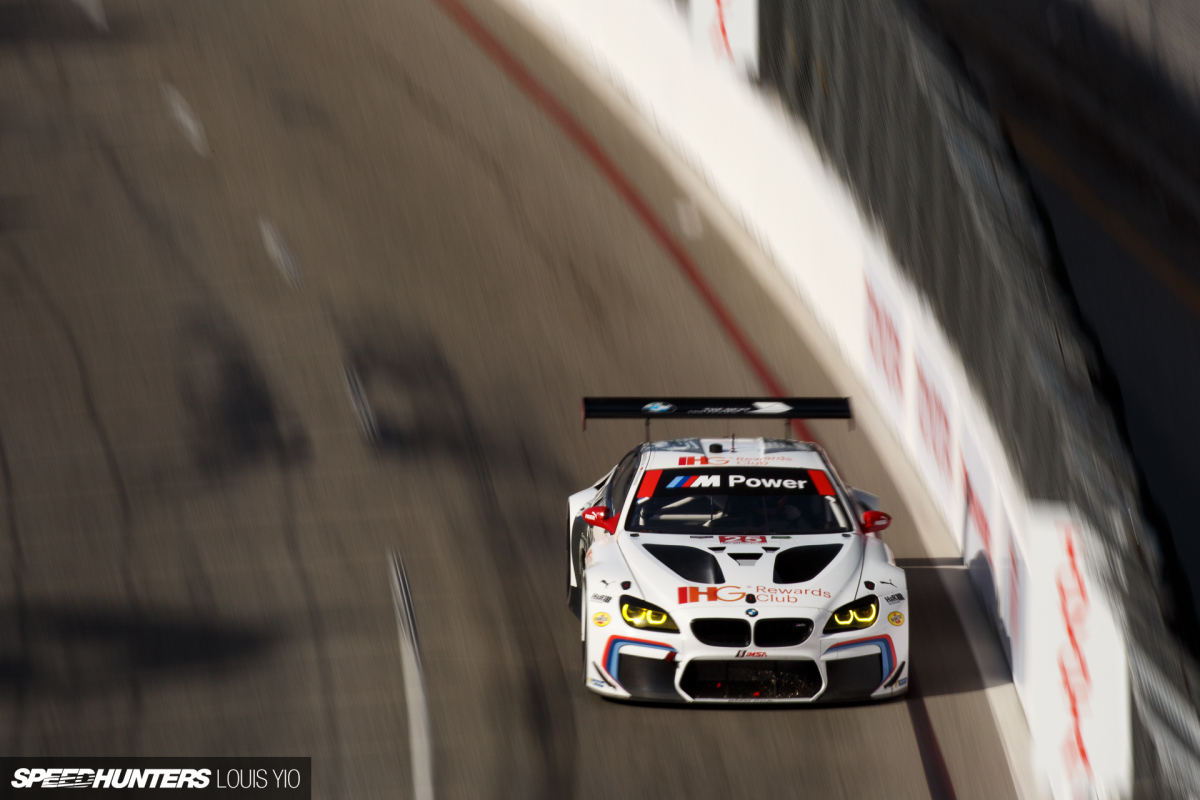 I haven't been shooting the LBGP for too long. In fact, this is only my second year. I'd never even attended the race as a kid growing up either. Instead, I was taking piano and karate lessons like all the other young Asian Americans growing up in Los Angeles.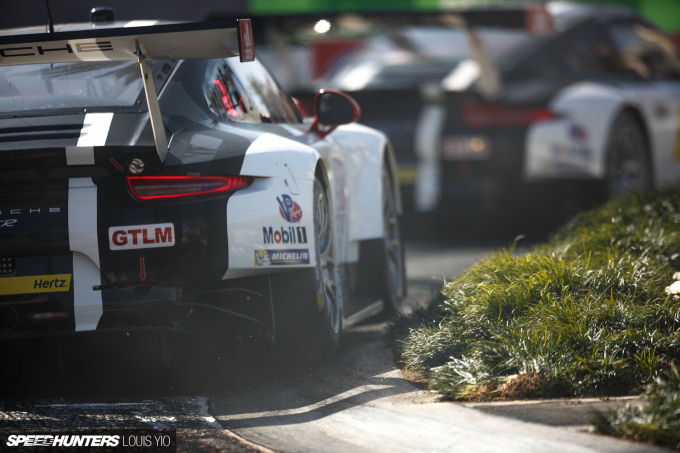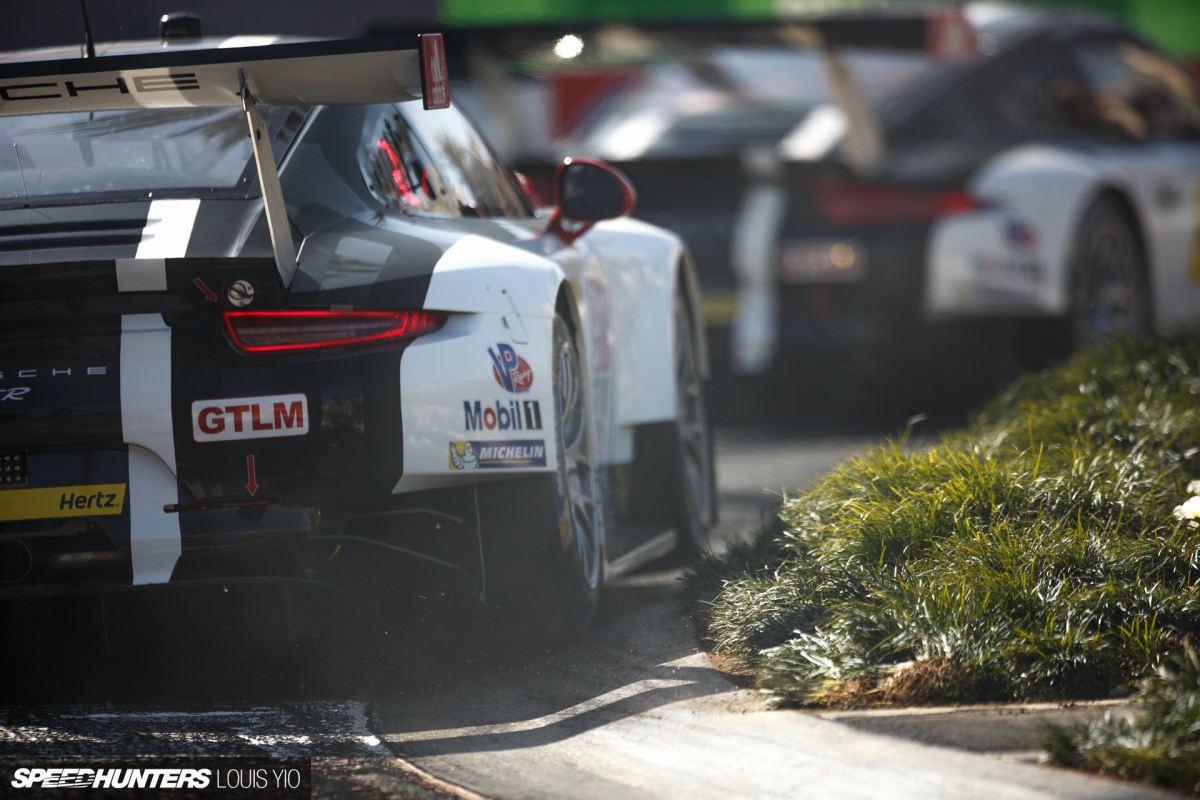 It's sad knowing that I've lived my entire life a mere 26.3 miles away from one the greatest street racing courses in the world.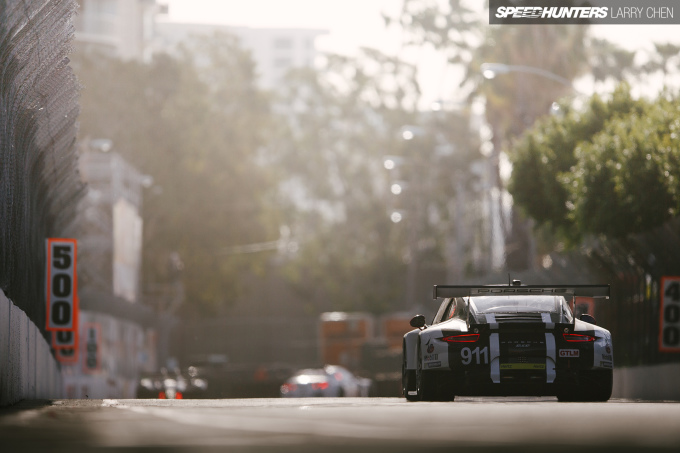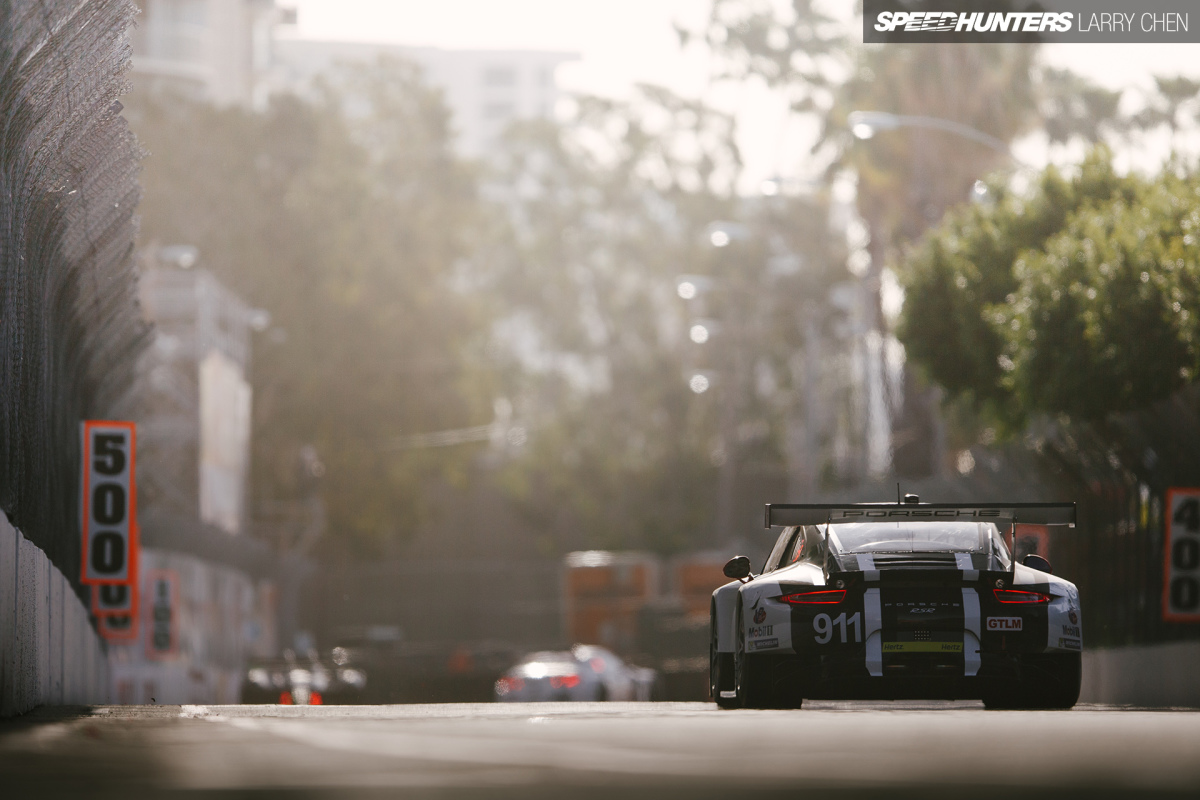 Luckily, as I got older, my true calling came to me in the form of the sliding motorsport known as drifting. As you guys know, Formula Drift's season opener is held a week before the GP, using turns 9 through 11. Because I attend FDLB, shooting the GP was bound to happen.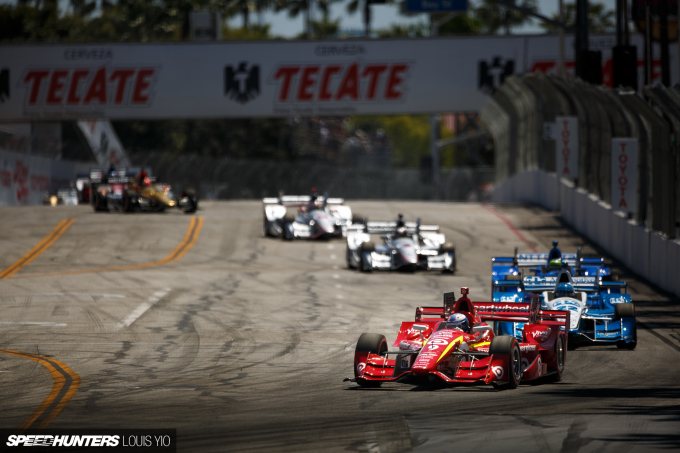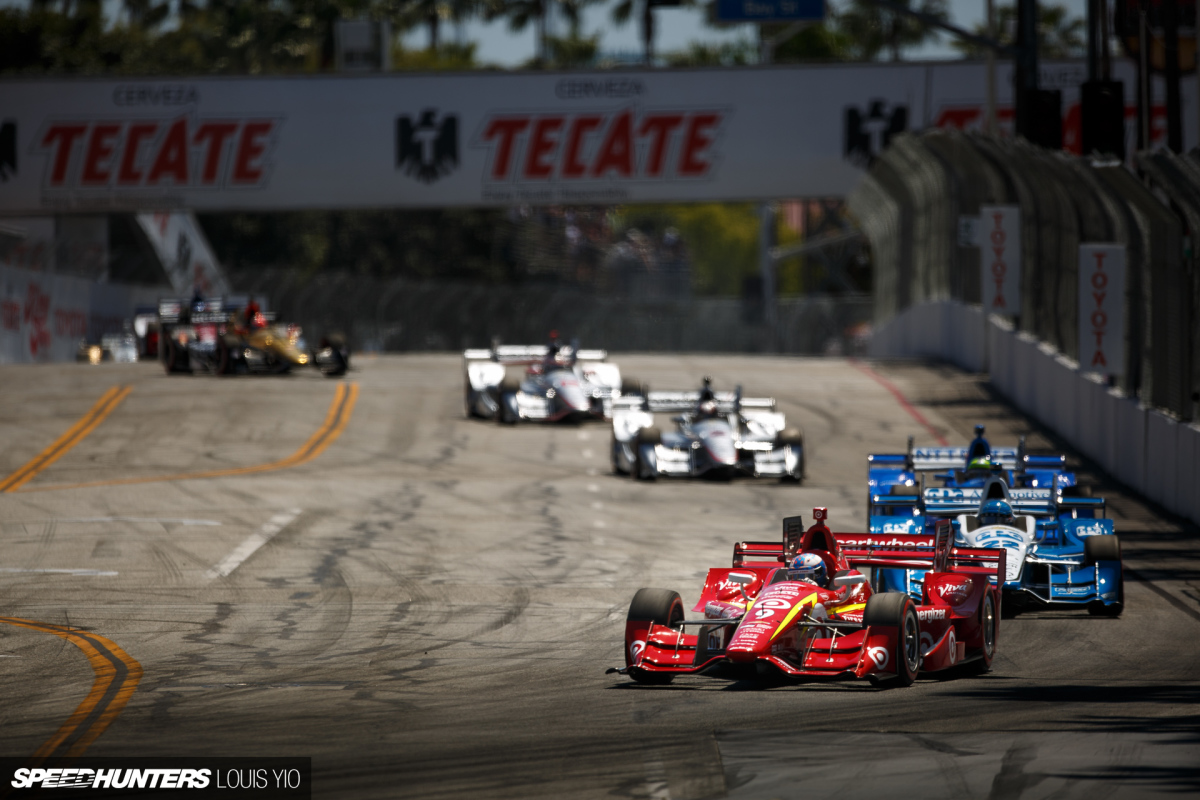 Better late than never, right?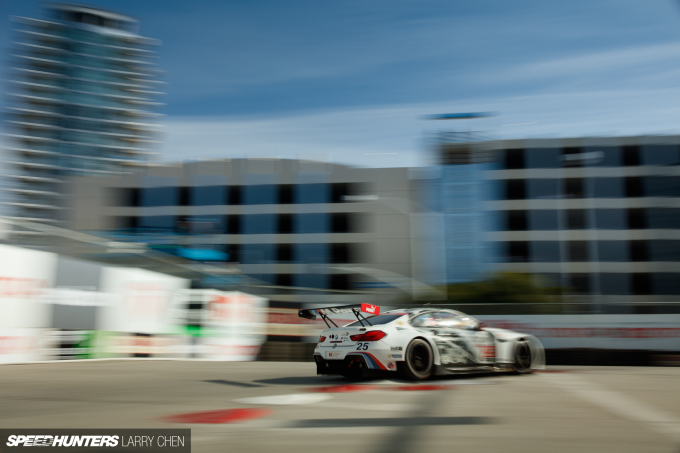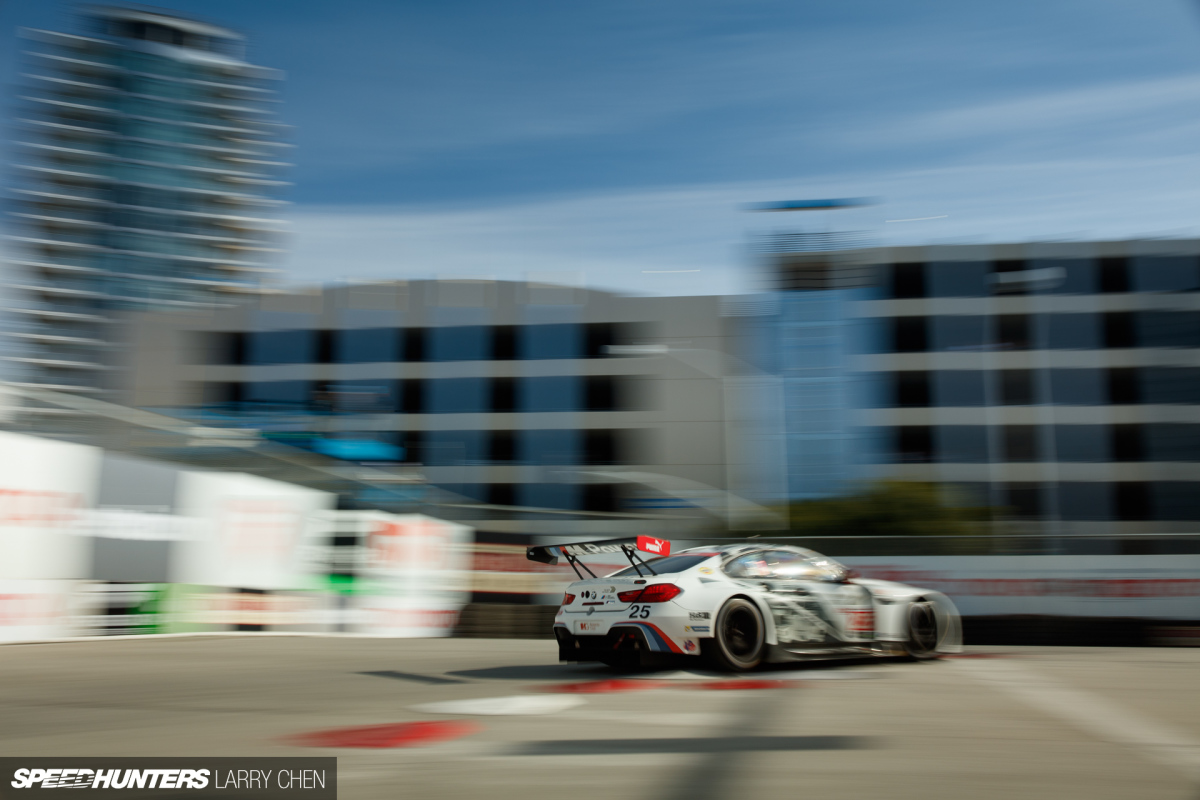 After shooting last year as a LBGP virgin and learning from my mistakes, I took that knowledge and applied it to this year's race.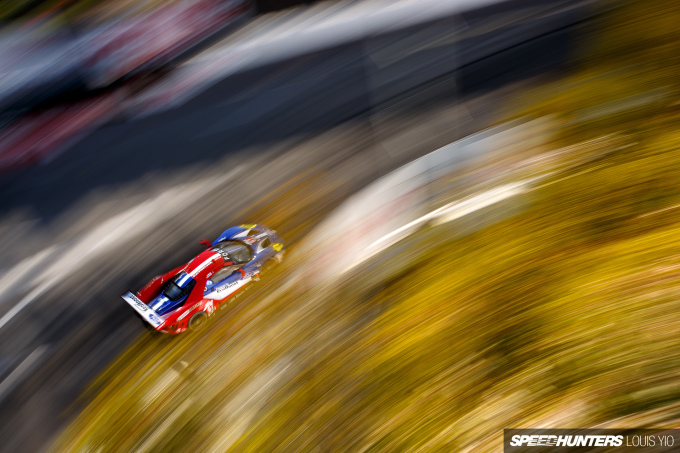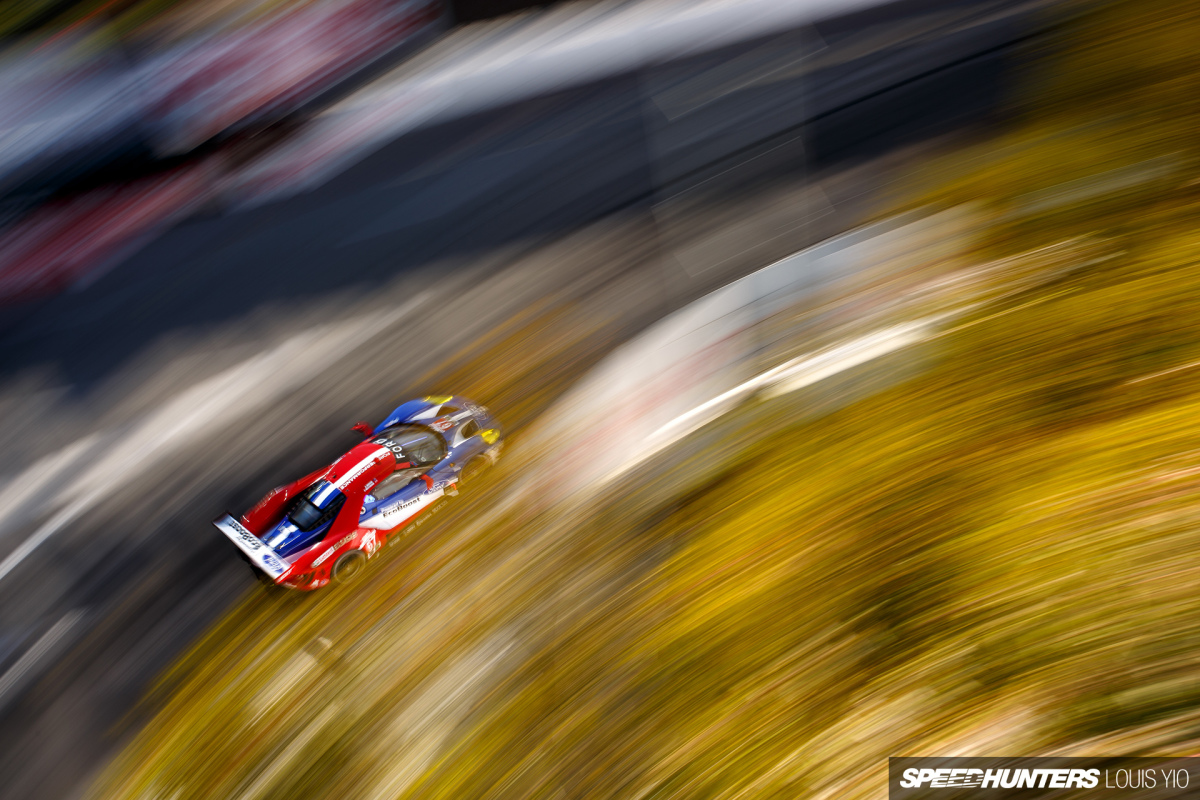 So in no particular order, here is a collection of my (and Larry's) favorite shots from the race weekend.
GT Racing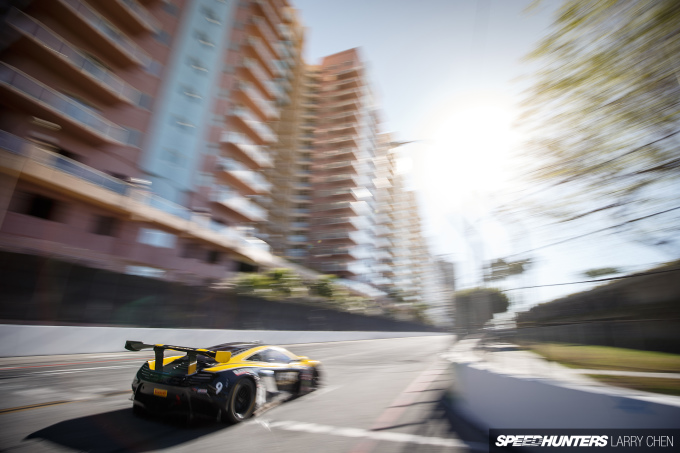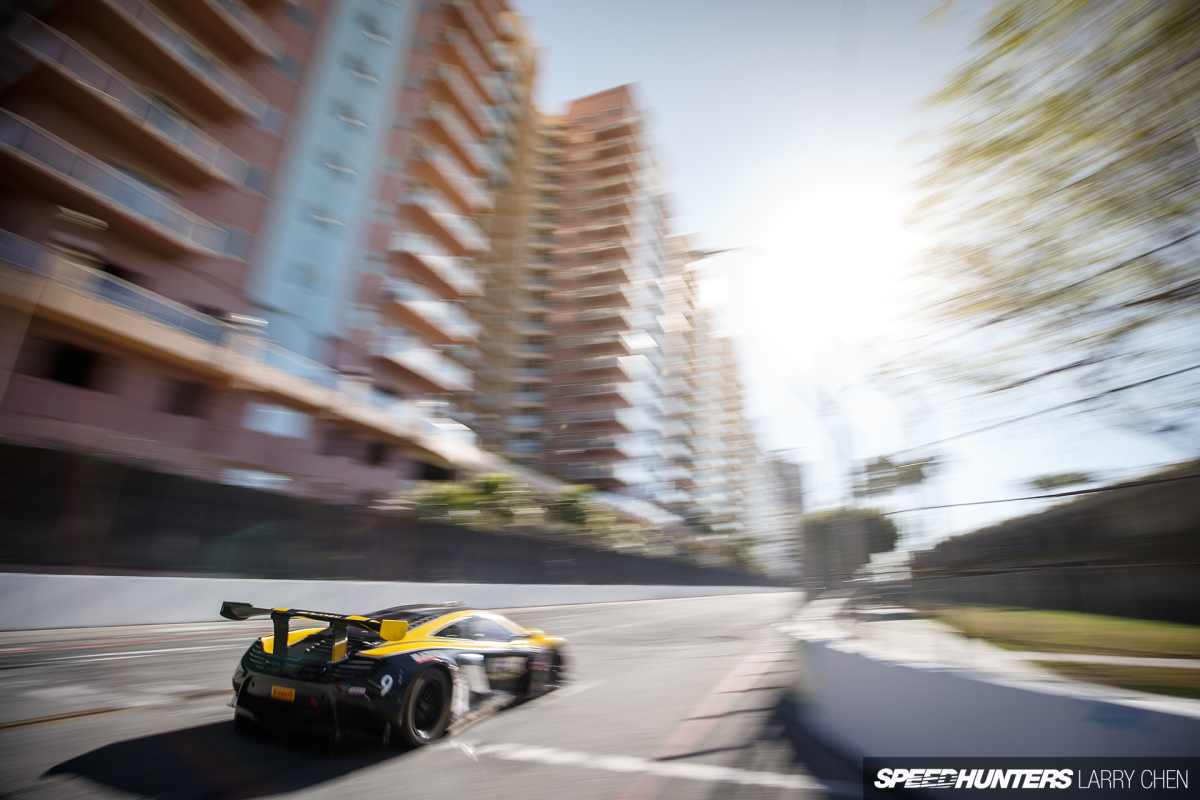 Going into the weekend, I was most interested in seeing the IMSA WeatherTech SportsCar Championship and the Pirelli World Challenge cars battle it out. GT racing is, and will always be, one of my favorite forms of motorsport to watch. The cars are just so cool! I'd like to envision the future me driving a 911 and pretending that I'm capable of doing what these drivers are able to achieve on track. I guess they're just easier to relate to than open-wheel race cars.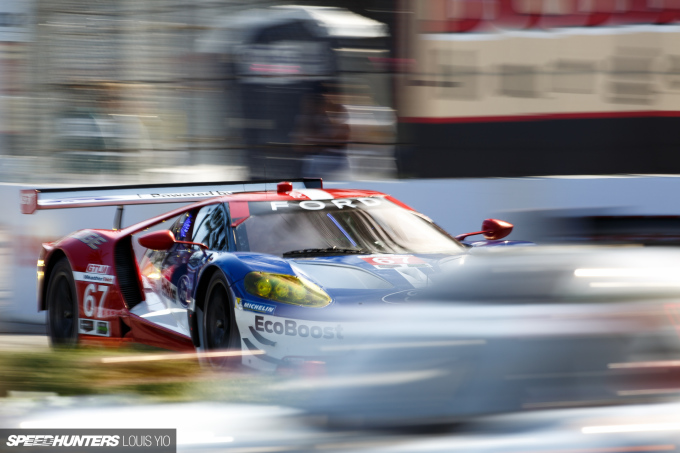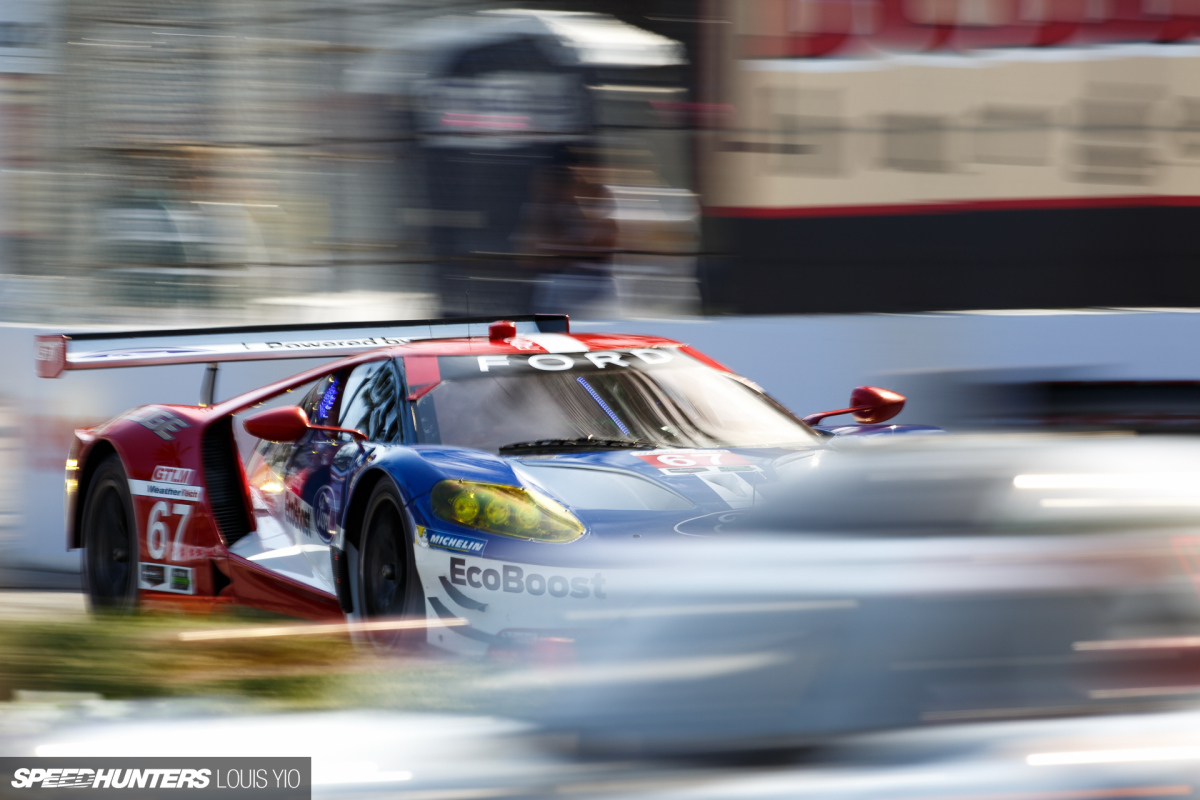 The latest addition to the GTLM class that literally everyone was excited about was the brand new Ferrari Ford GT. I really want to see how the Ford team will progress on their way to Le Mans. As with all new teams and cars, there were issues that had to be sorted out, and the EcoBoost machines were not exempt of them during the weekend.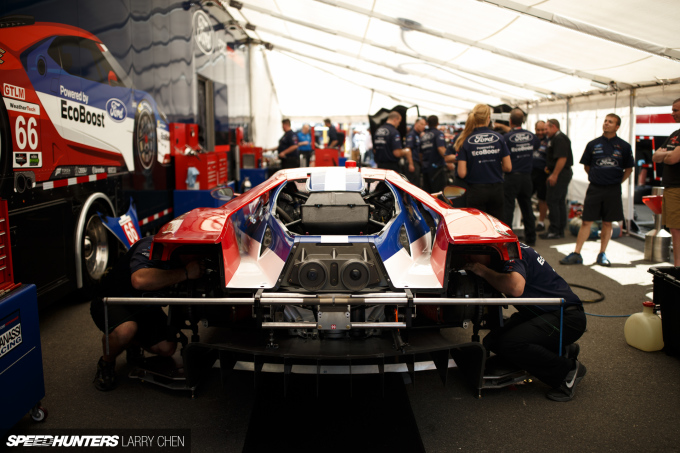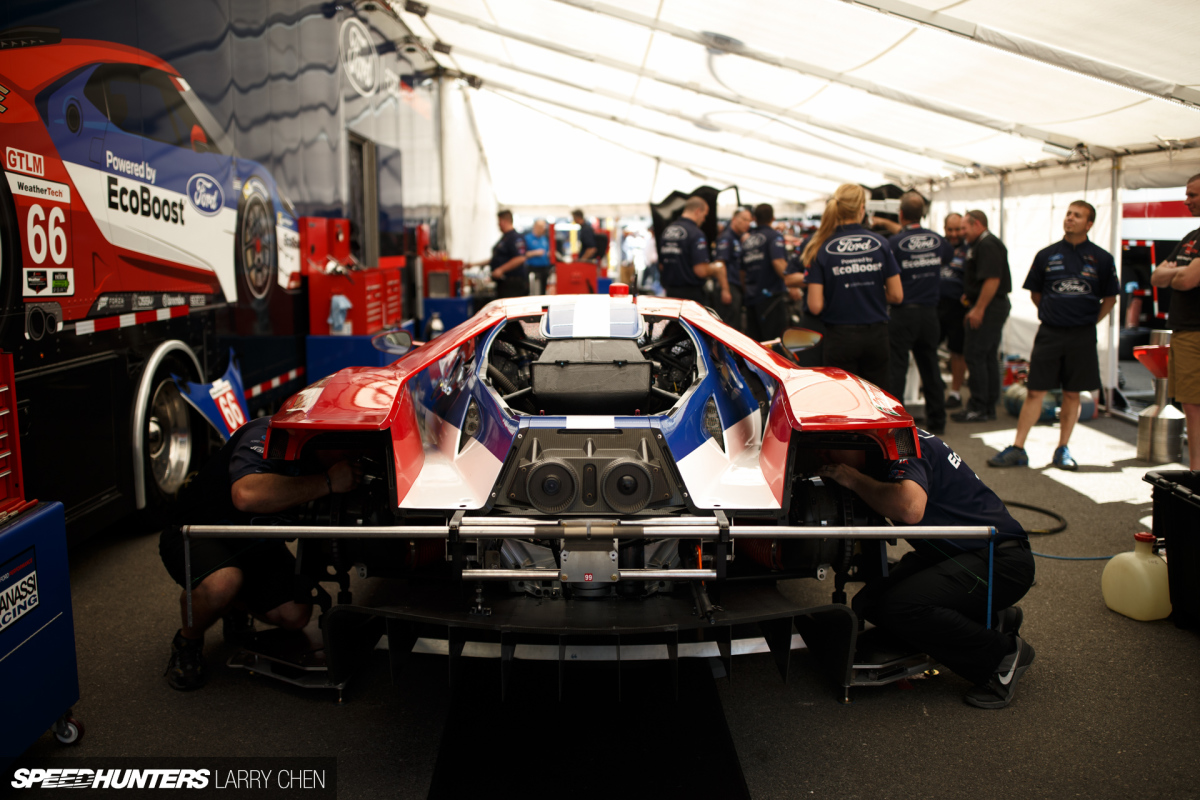 That said, the #67 car finished 4th in the GTLM class, so I don't think it'll be too long before we start seeing these guys on the podium.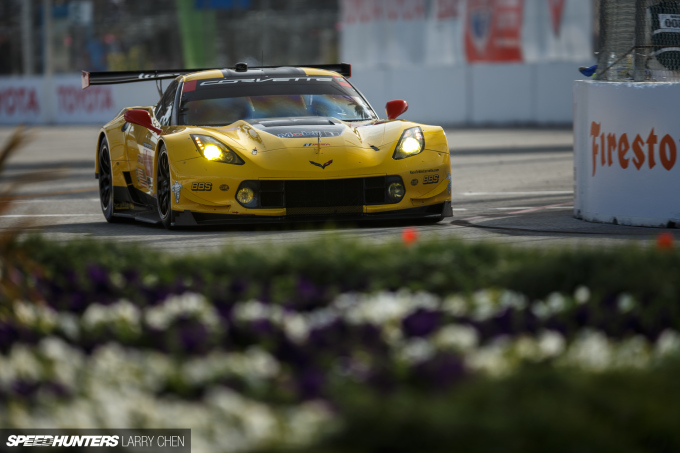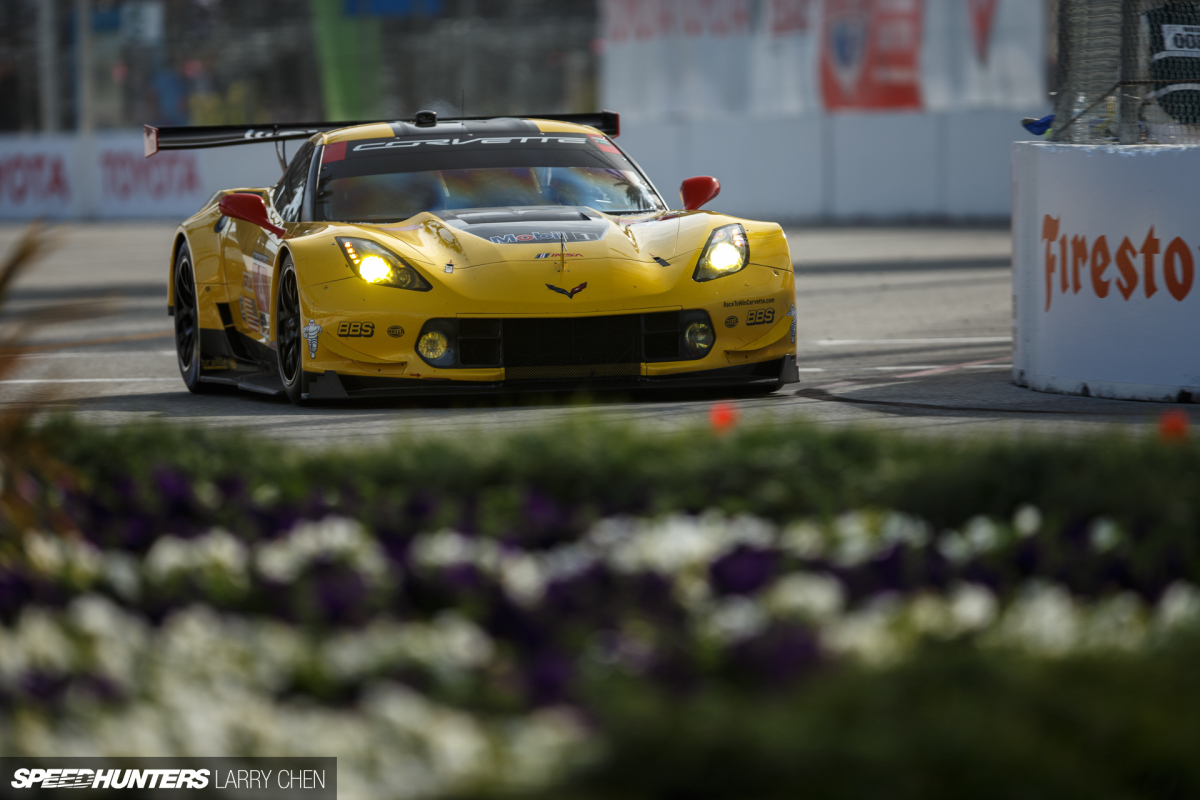 I could spend an entire post writing about the Ford GT so let's move on. That post will be for another day.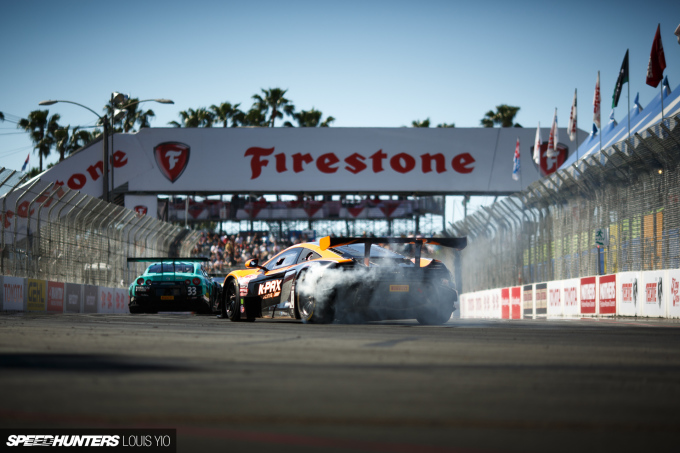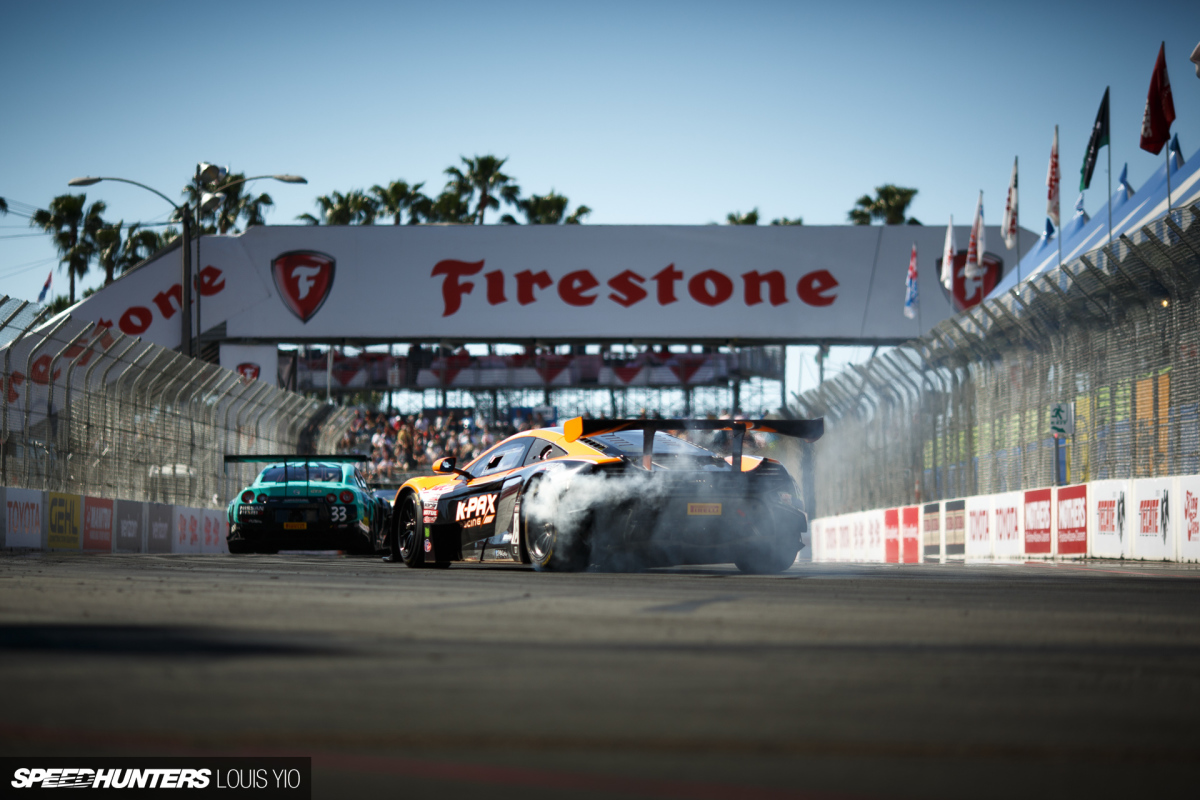 Jumping from the SportsCar Championship to the World Challenge is a real change in pace. The Pirelli World Challenge is dominated by Audi, Cadillac, Acura, Nissan, and a few others, whereas the SportsCar Championship is dominated by Chevrolet, Porsche, BMW, and now Ford.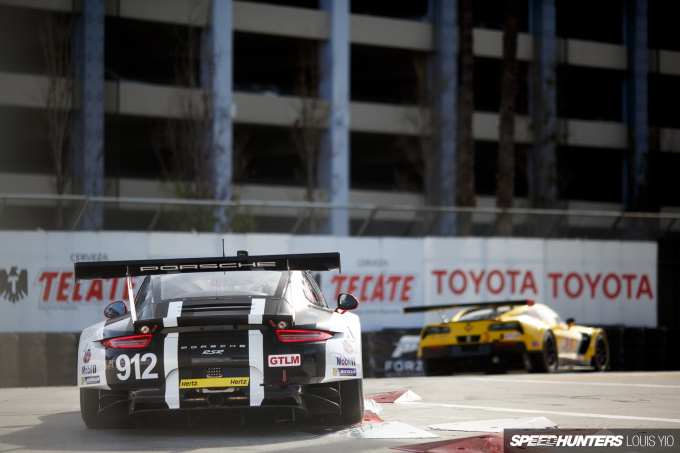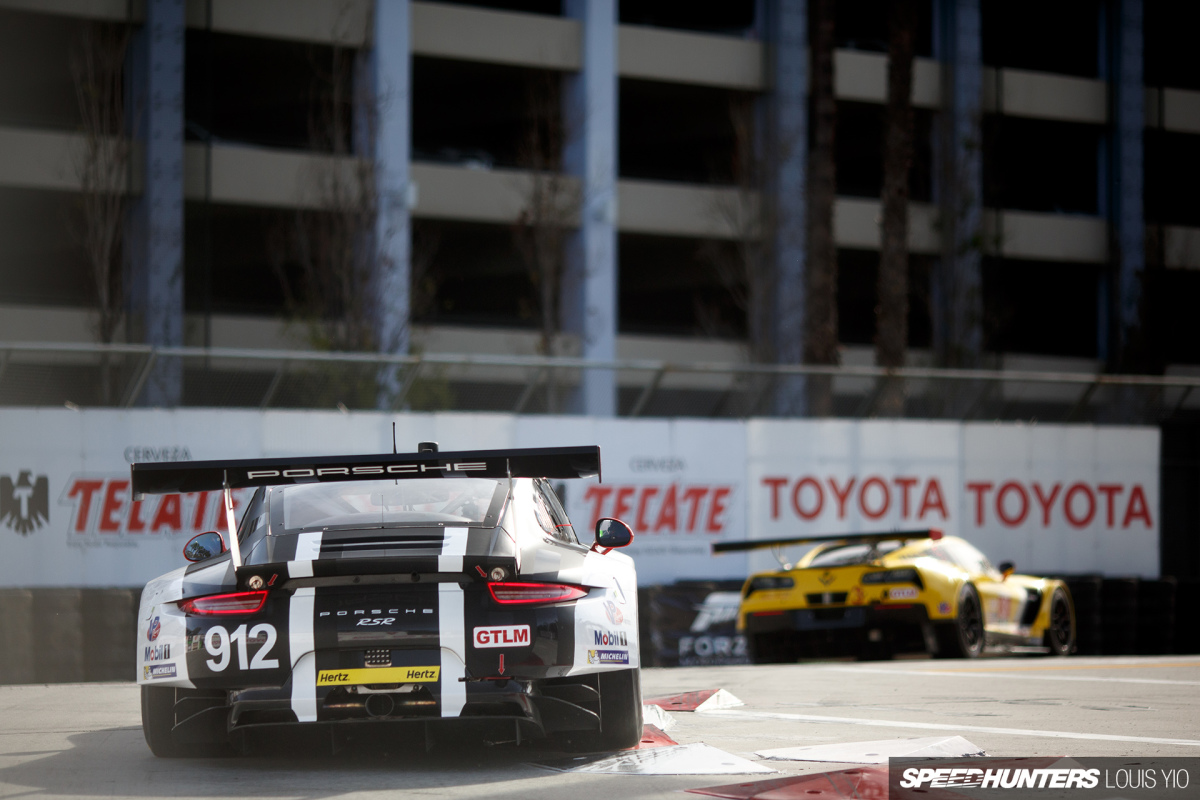 Aside from a few regulations here and there, the two series aren't too different from each other. In fact, there are some teams like Flying Lizard that will run races in both championships.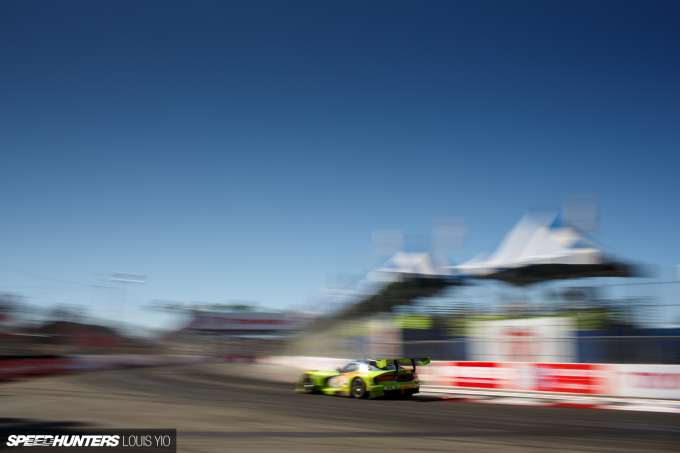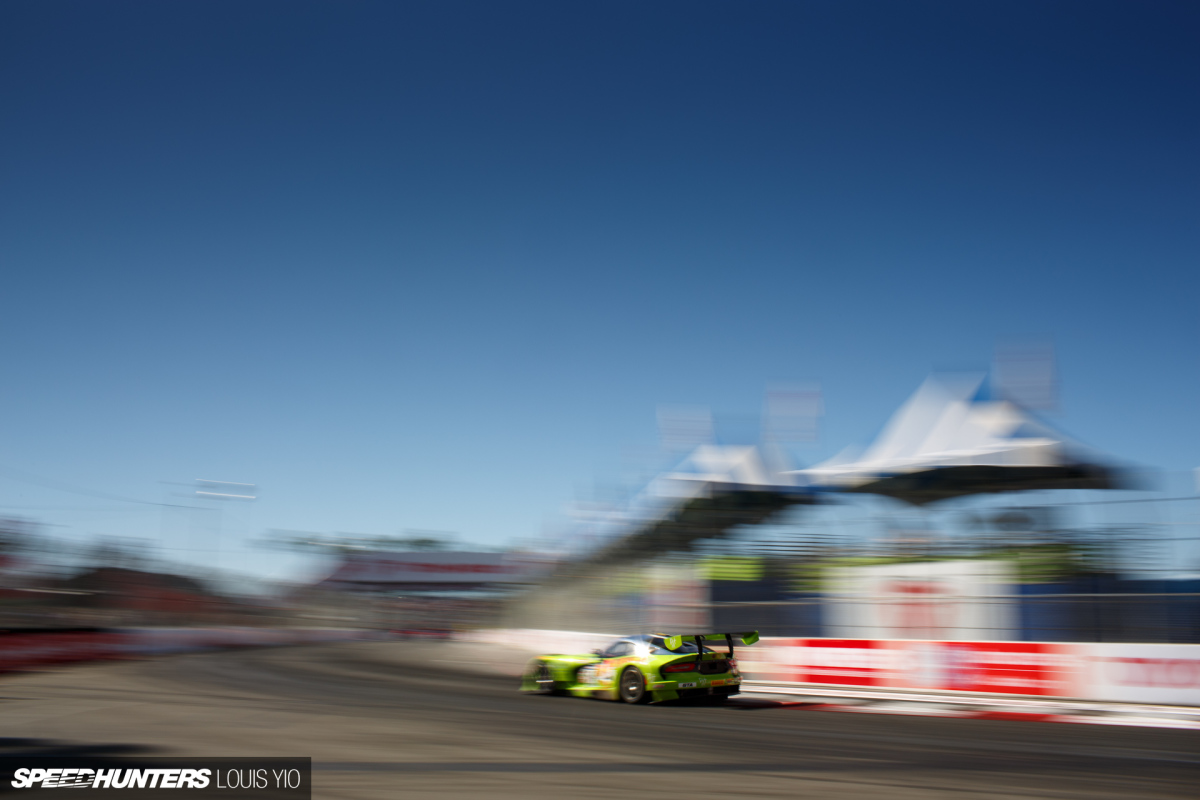 Last year's PWC race might have been one of the worst I've witnessed in person. It lasted just under an hour, and in that time the track was green for a mere three laps. This year's race proved to be way more exciting and clean.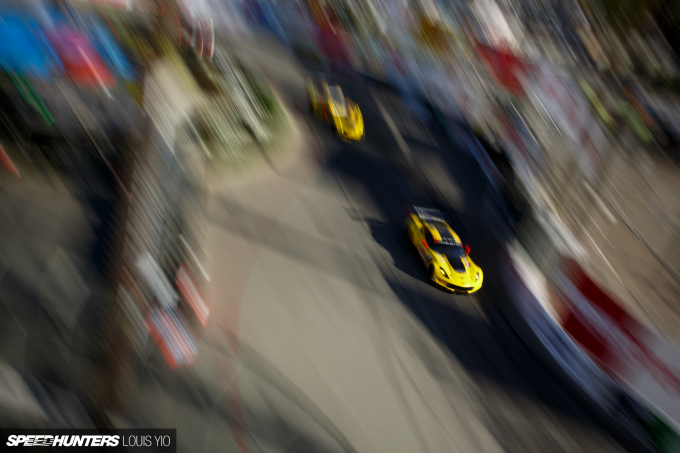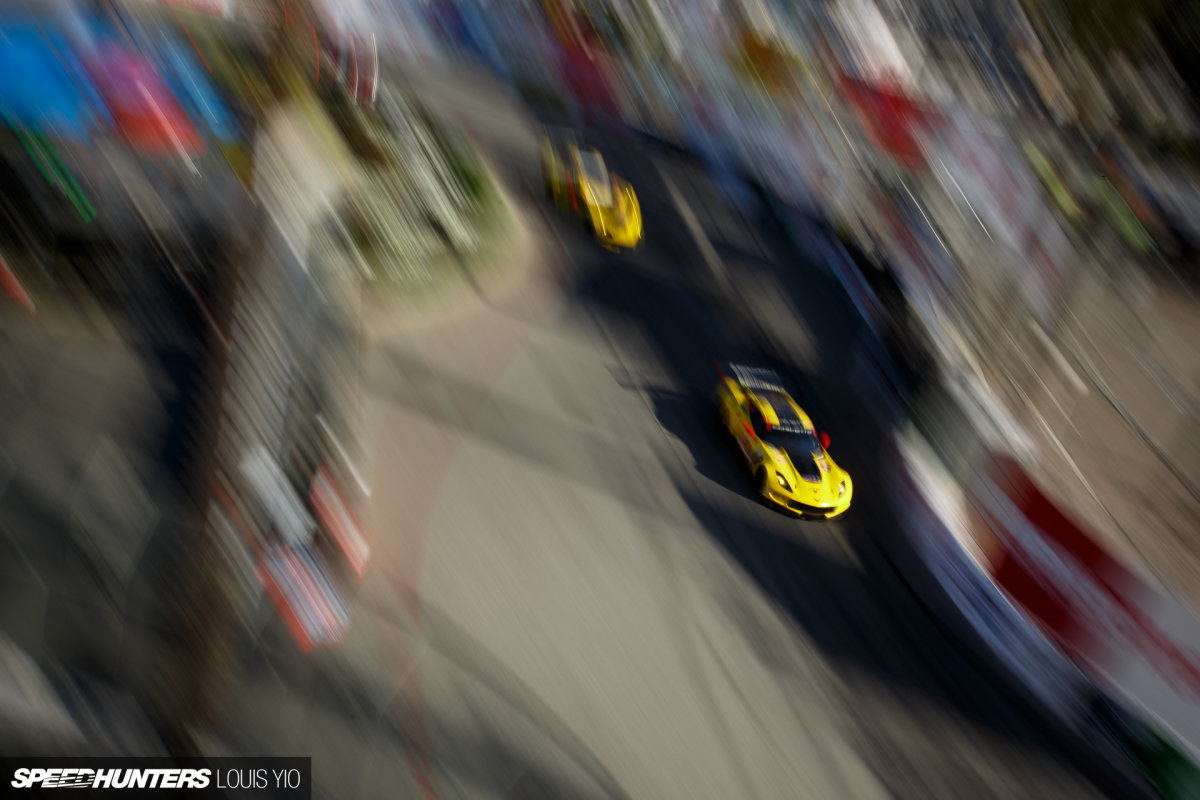 The big drama during the weekend was how the SportsCar Championship race ended for the GTLM class. To get you guys caught up, Tommy Milner, driving the #4 Corvette, was leading in class with two 911s directly behind him. Milner was in line to take the win with only a handful of laps remaining when the #912 911 took an abnormally shallow line into the extremely tight turn 11 and punted Milner, causing him to spin.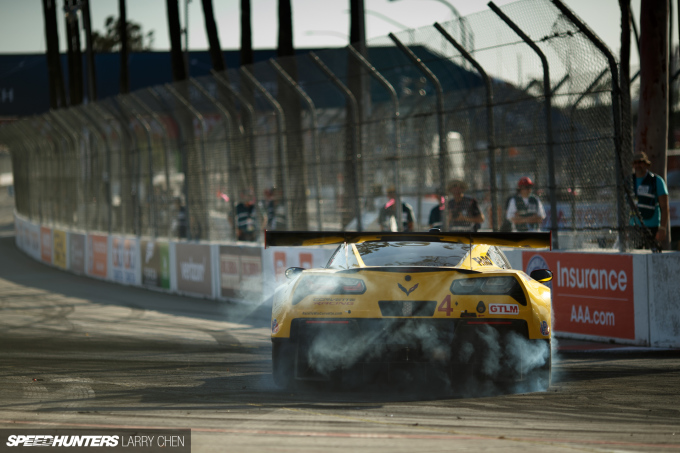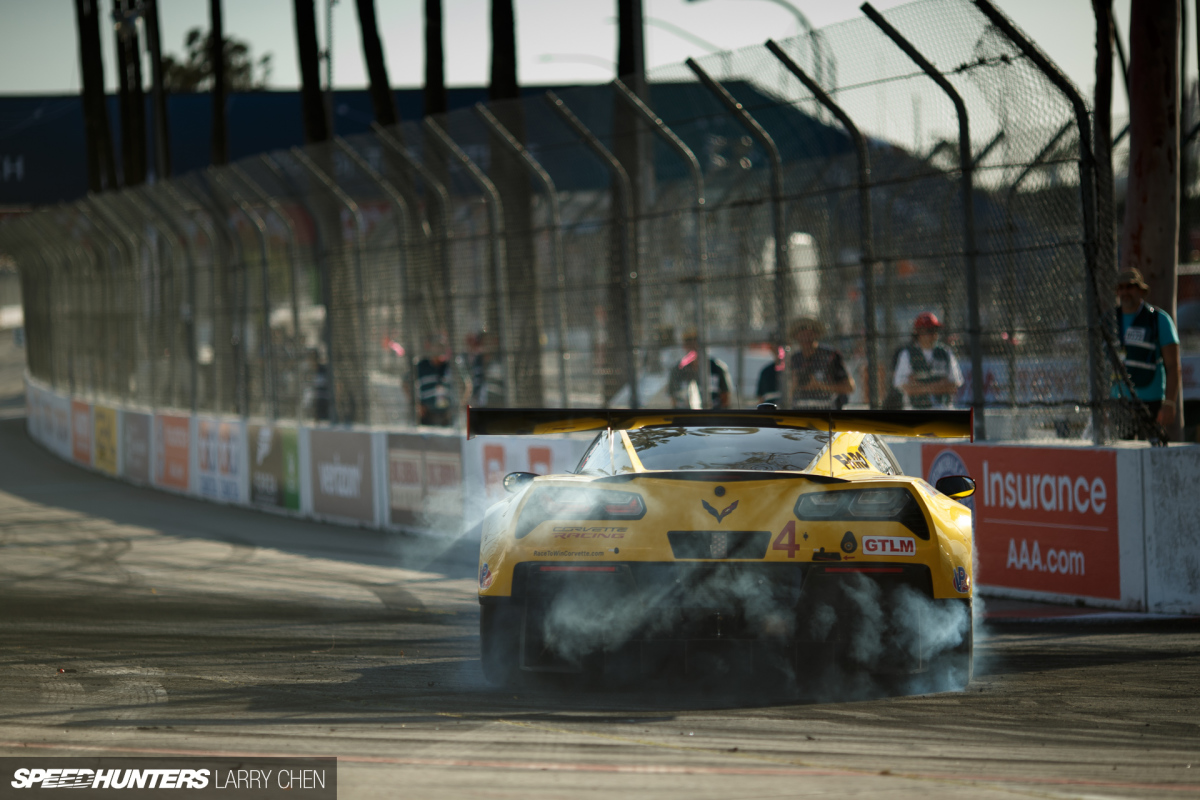 This allowed the #911 911 to pass and take the lead and eventually win the class. Larry was able to get this cool little burnout shot as Milner booked it while trying to catch up with only a lap left. He finished 2nd in class behind the 911.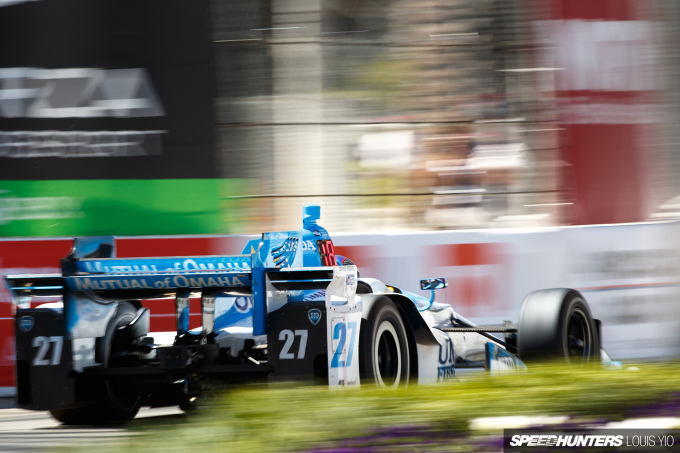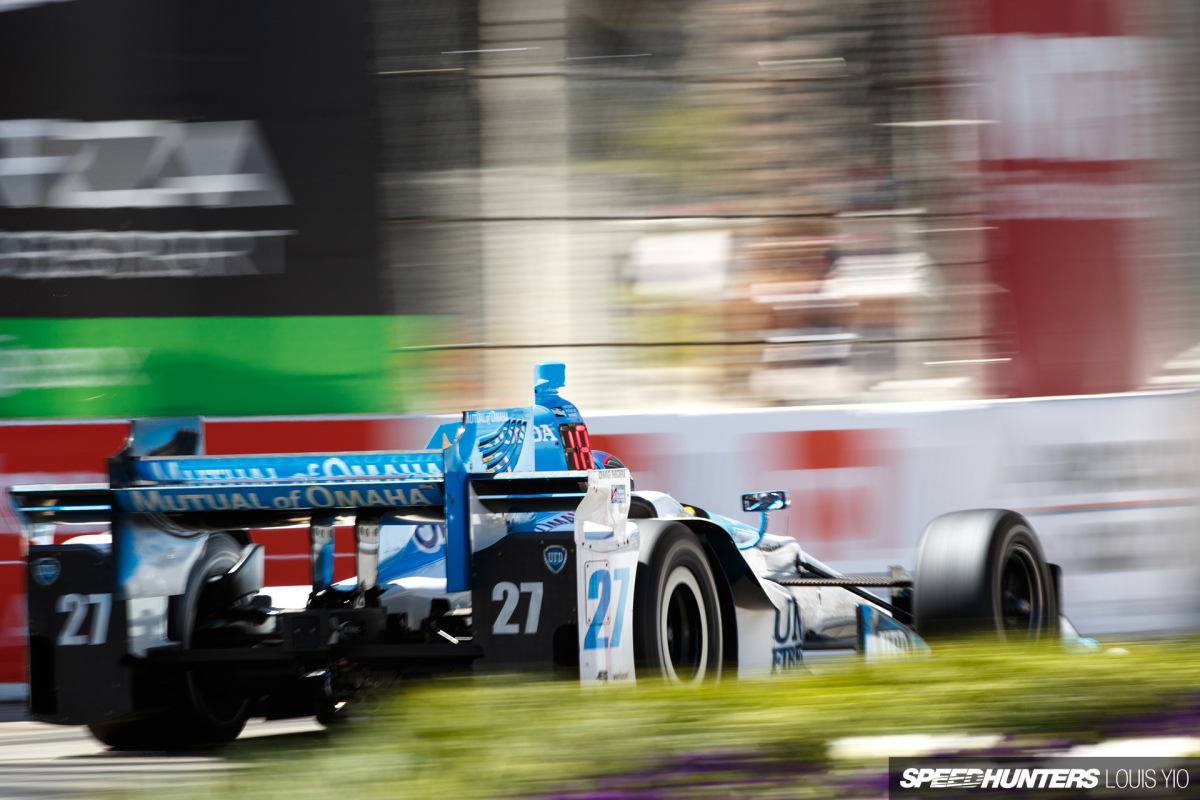 IndyCar seems to always excite the fans. Although these race cars will shatter eardrums, it's cool seeing them zoom by at over 150mph.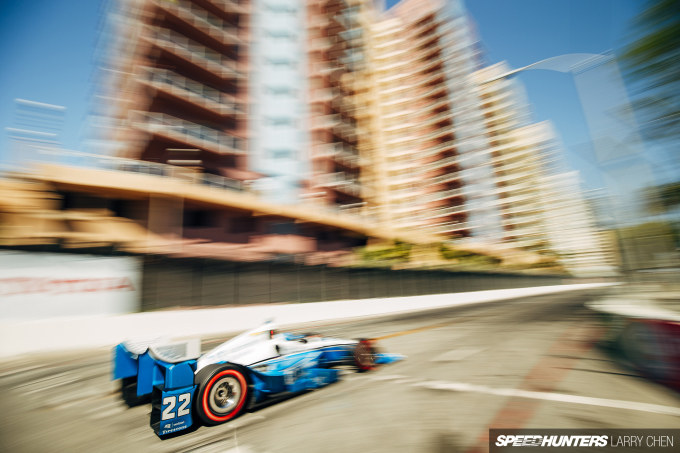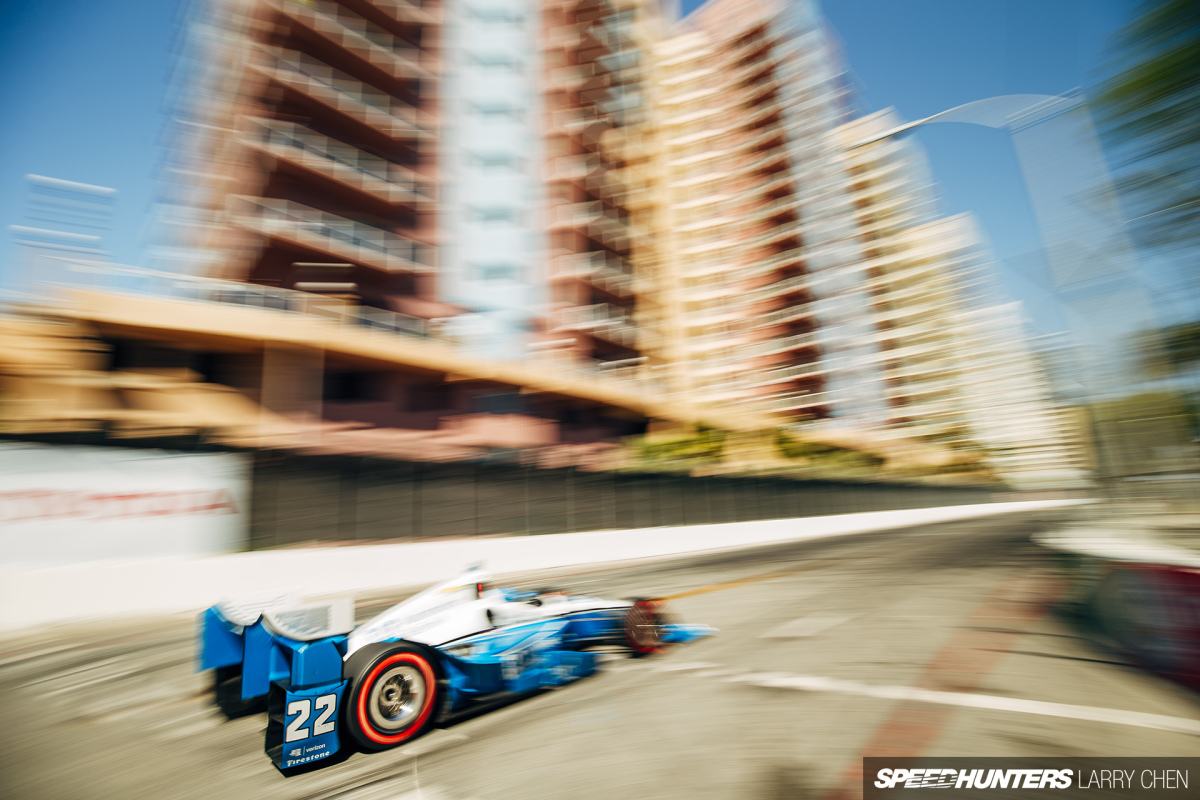 Although it might look like Larry shot this at 1/30th of a second, the photo was actually captured at 1/160th. It definitely goes to show just how fast these machines are – especially on the back straight between turns 8 and 9. The driver of the above car, Simon Pagenaud, actually ended up with the win.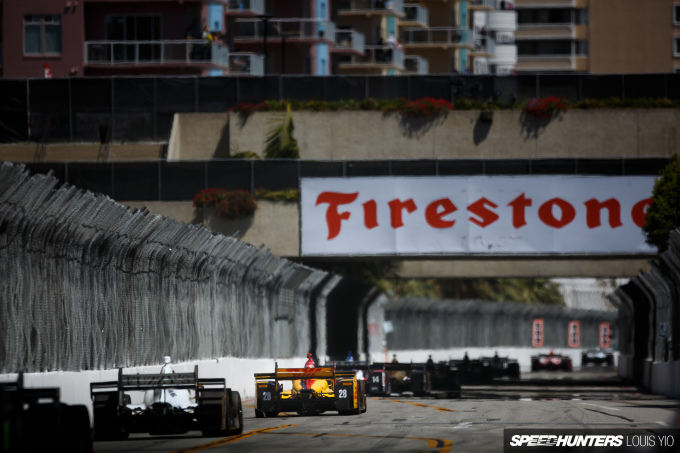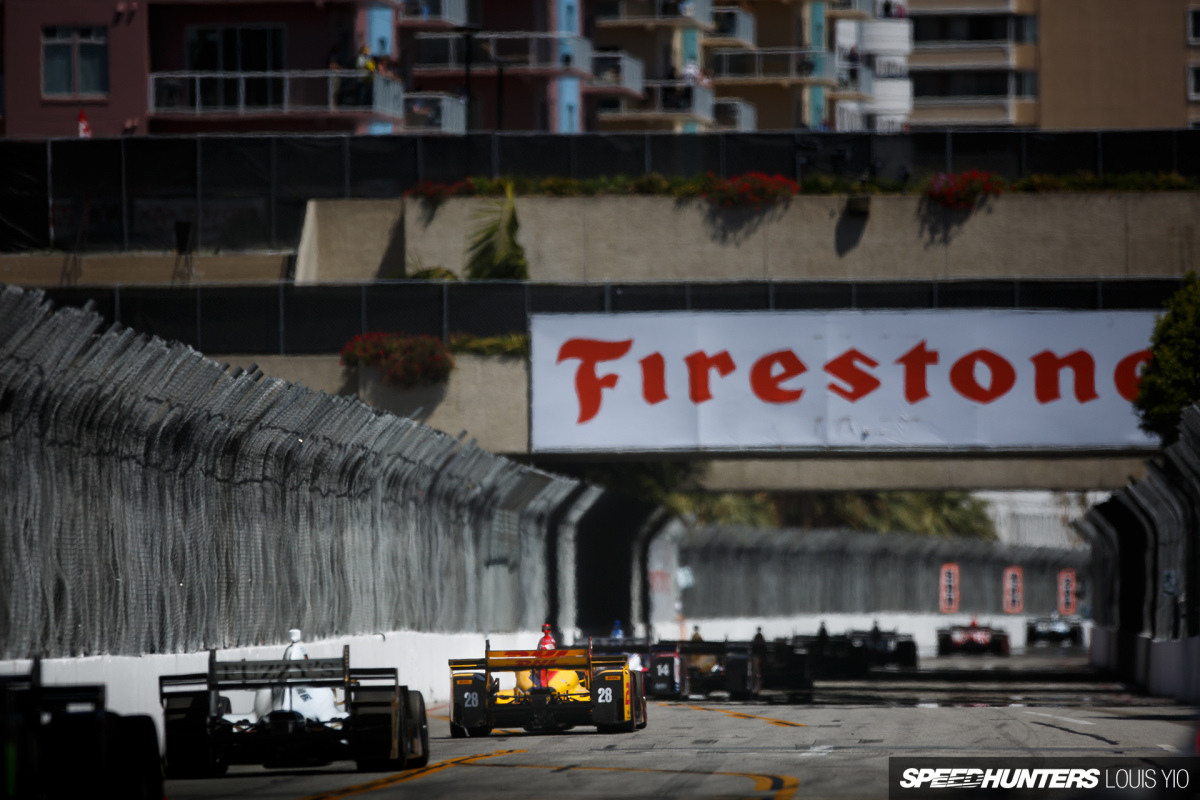 On race day, I got goosebumps hearing the twin-turbocharged V6 weapons take to the streets.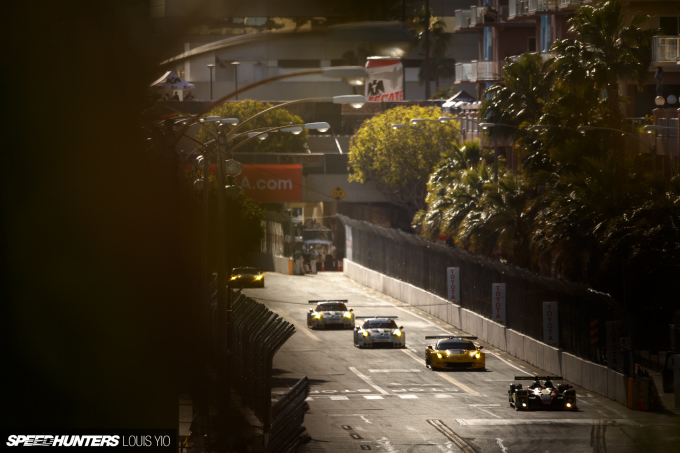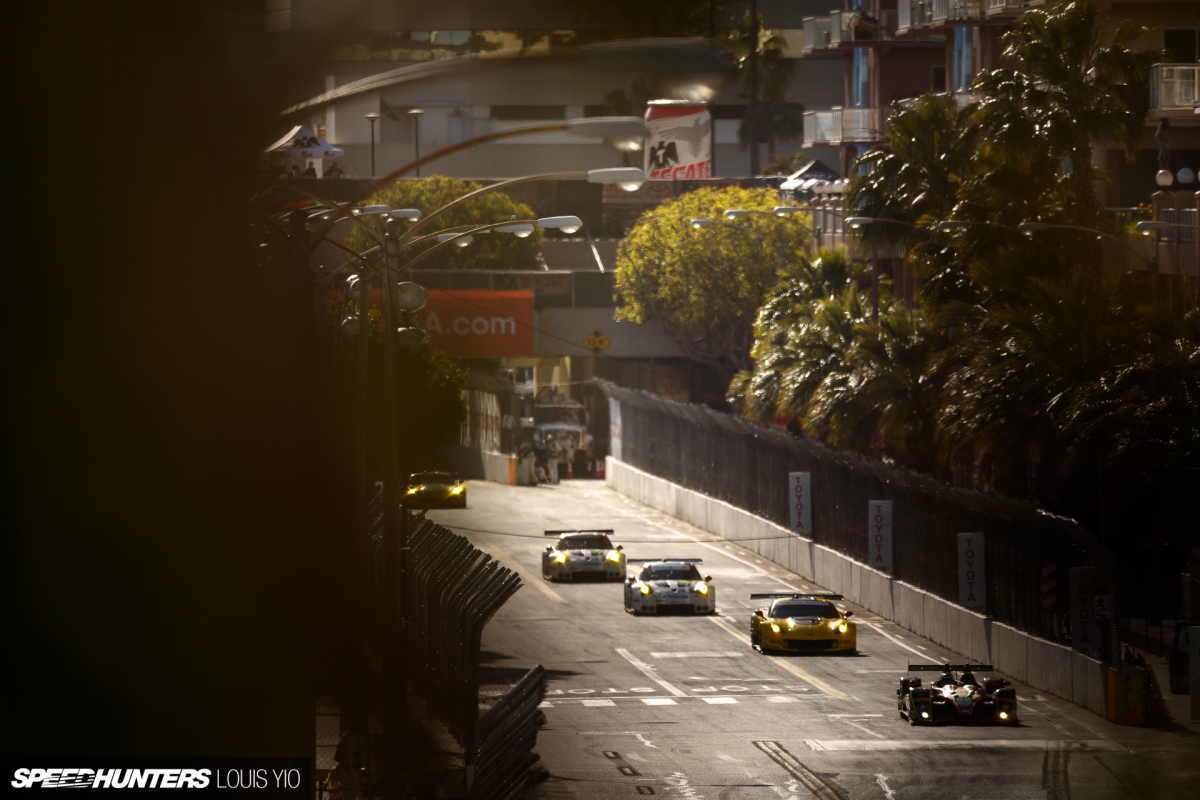 Long Beach is known to be one of the more dangerous circuits on the schedule for all the series that use the track, and for good reason. Walls to the left and walls to the right. Fun.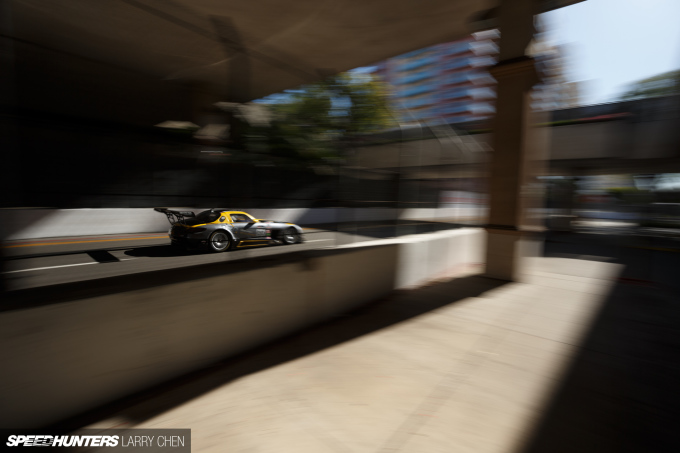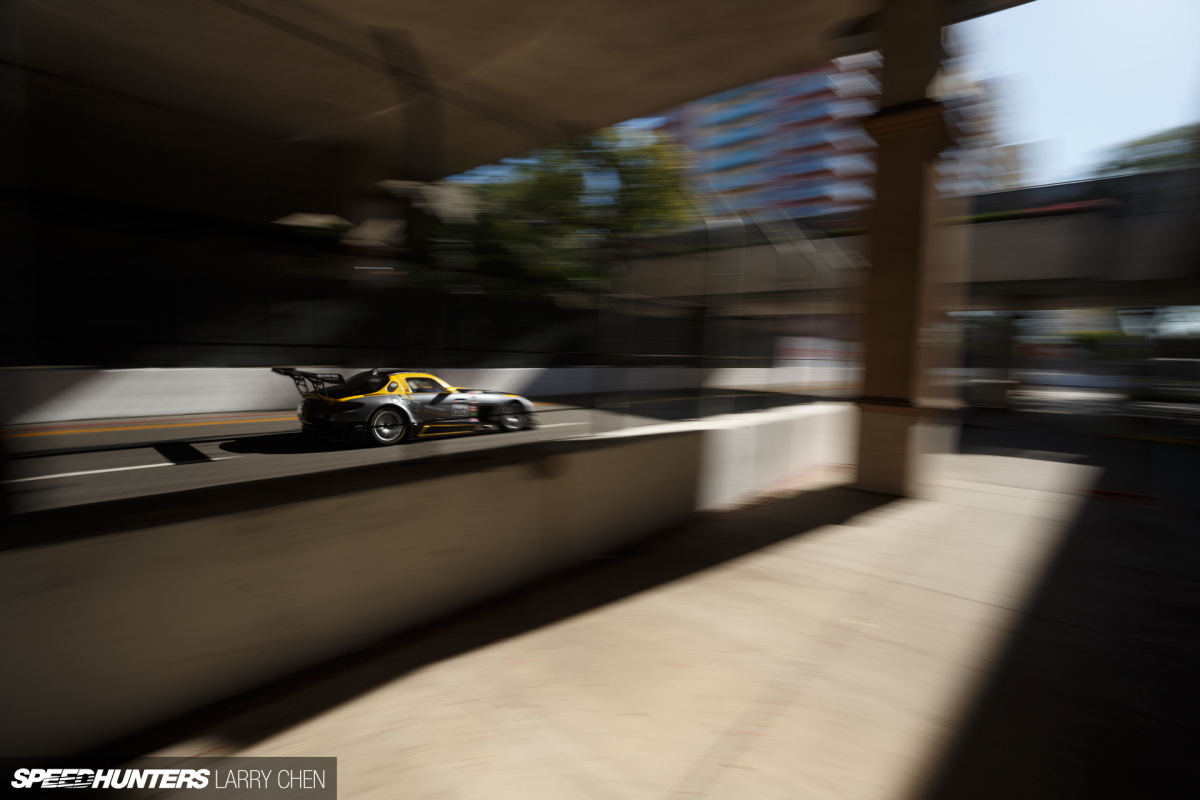 The uneven and cracked track surface doesn't help one bit either. These are regularly used public roads after all.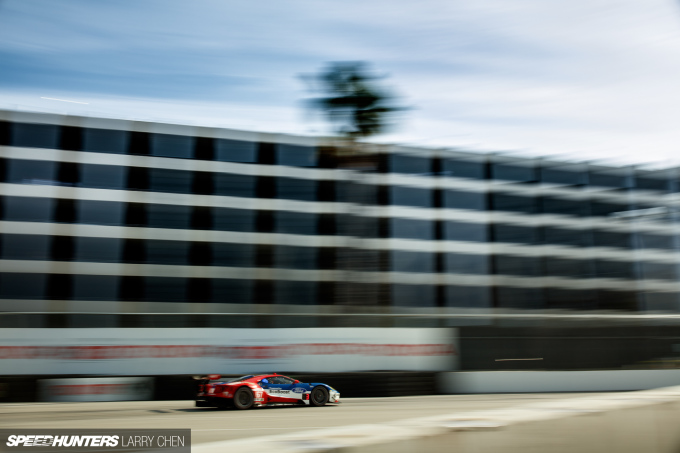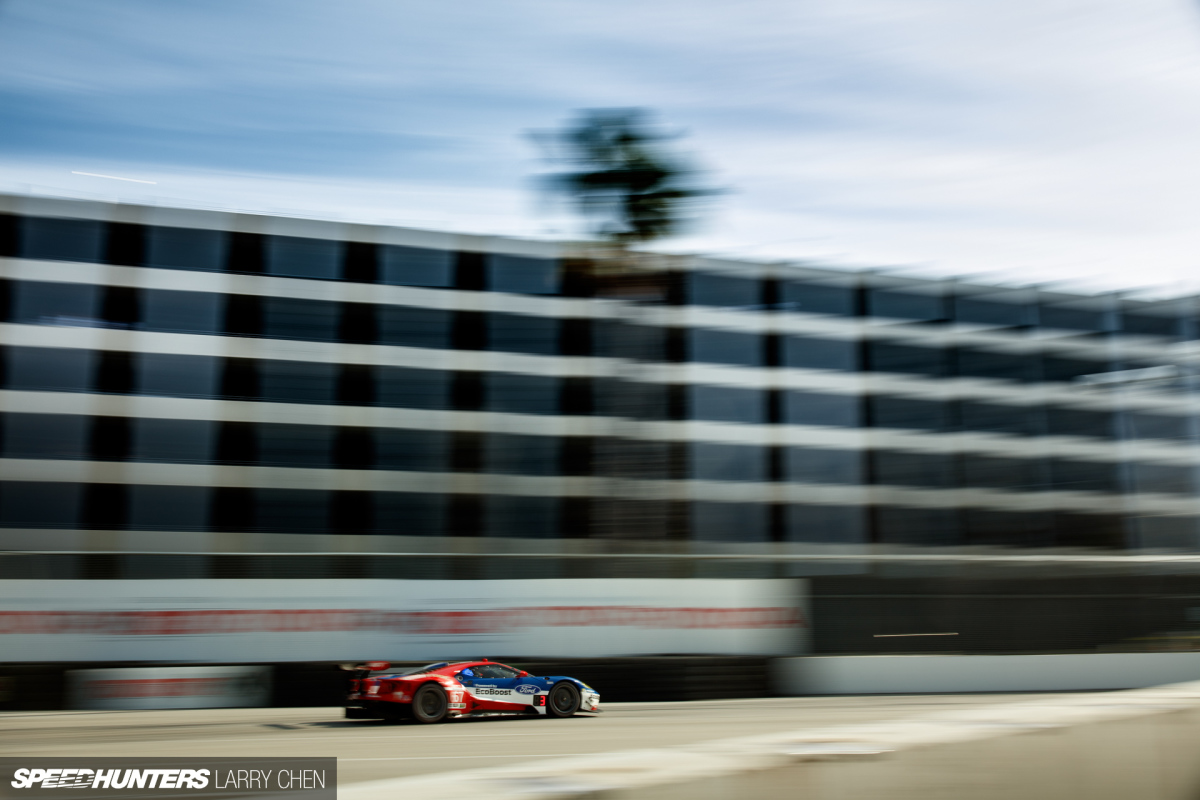 Because of that though, it makes the driving way more exciting to watch, especially when the drivers get their cars mere millimeters away from the walls at ultra high speeds.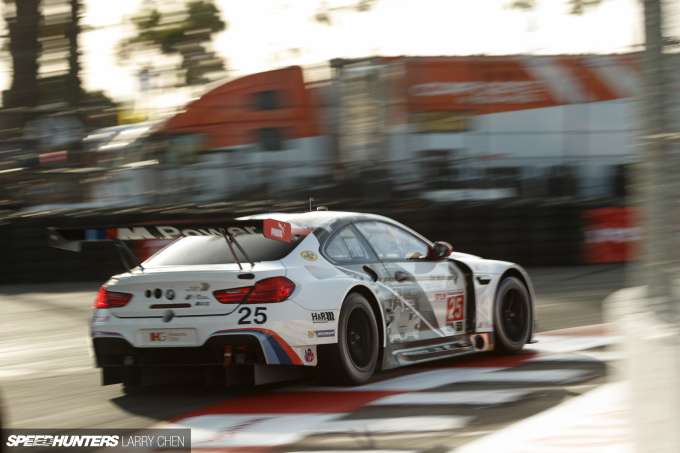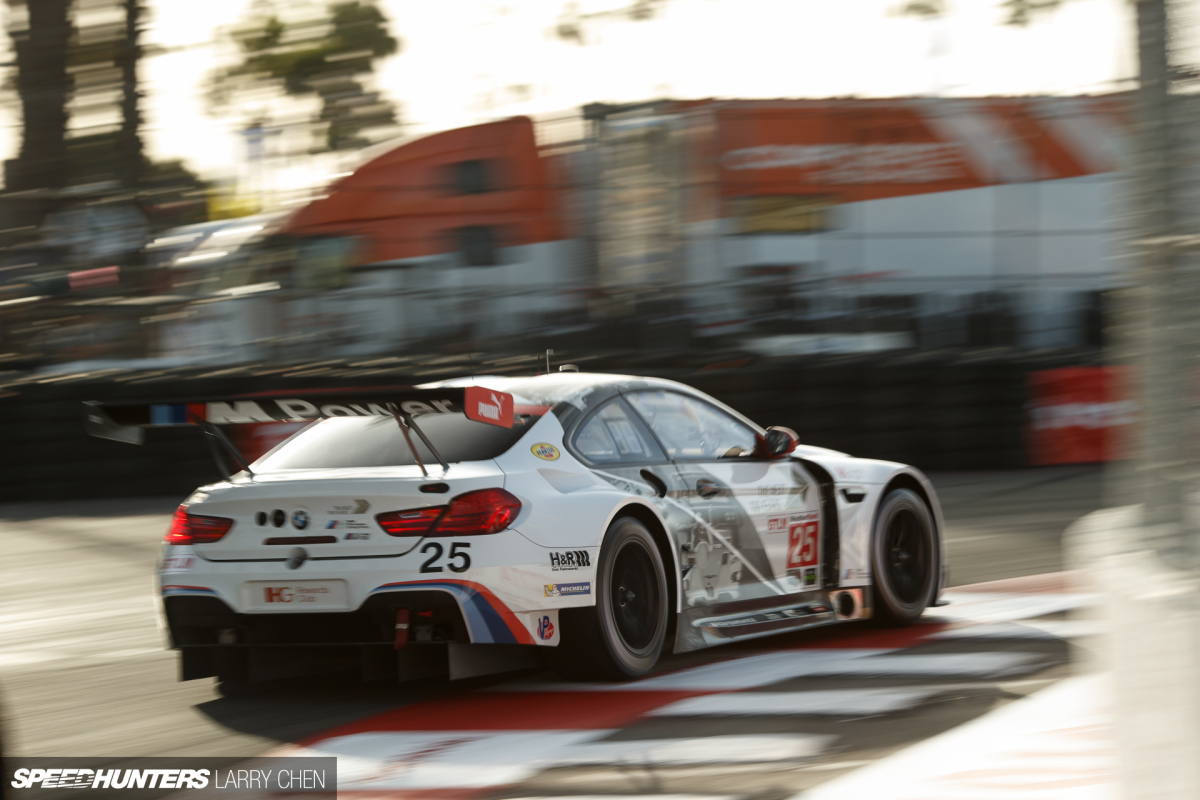 How they're are able to do this lap after lap is beyond me.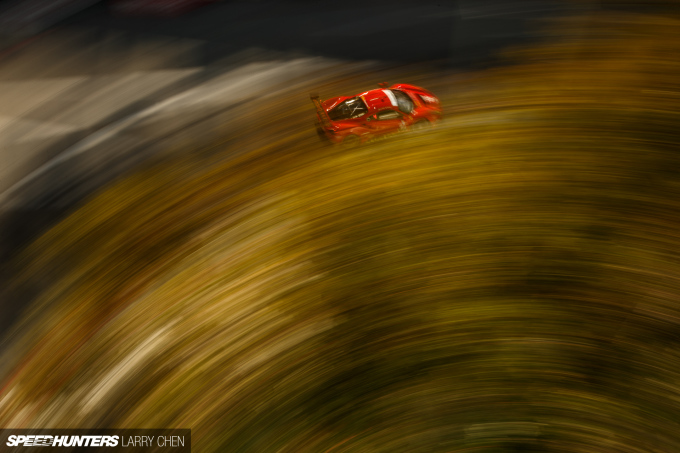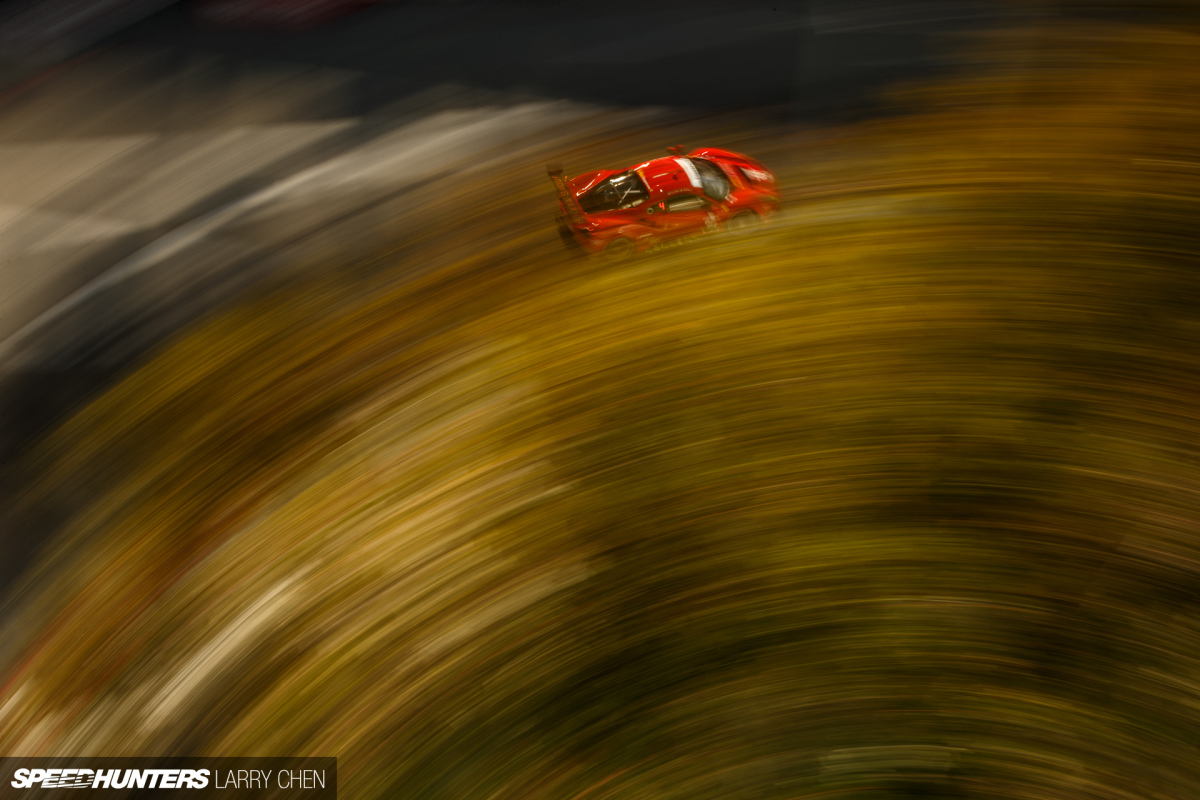 What's great about the track is that, because it's a street course, it wraps itself around buildings left and right, which provides some amazing vantage points to shoot from. Just take a look at this Chen-pan.
Fun & More Fun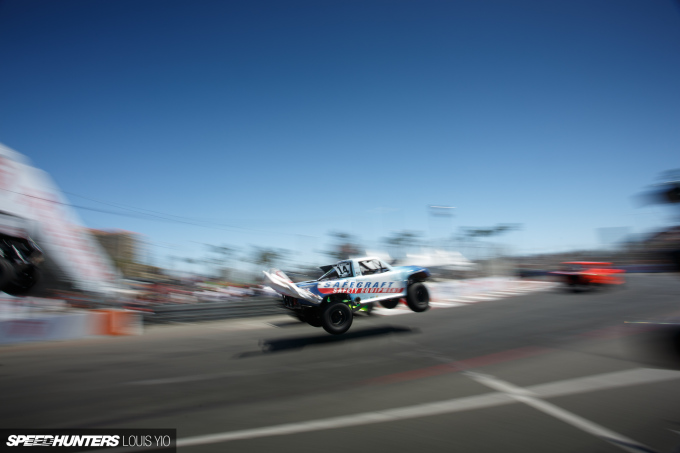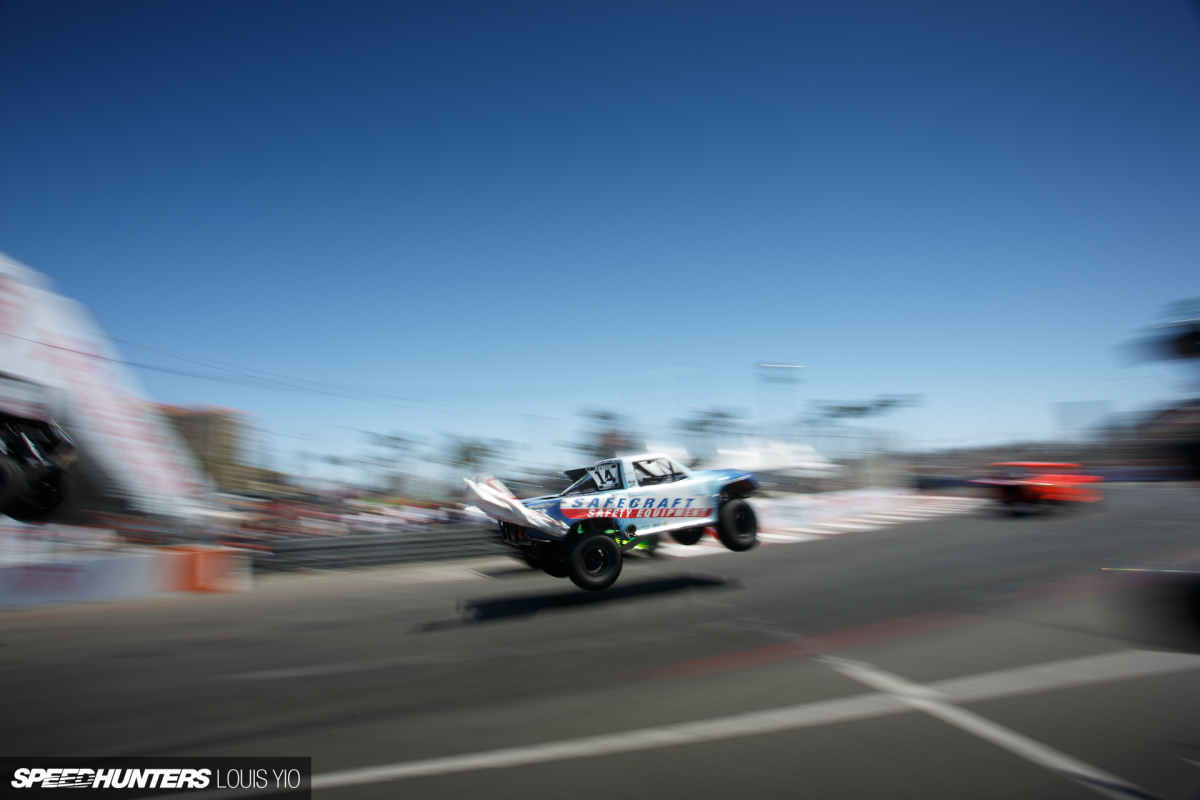 So what happens when you have trucks that are made to resemble RC trucks that are made to resemble real trucks? You get Stadium Super Trucks. SST might be the coolest form of racing I've ever seen. These machines are pushing 600hp, are rear-wheel drive, and they jump. I mean, what more do you want?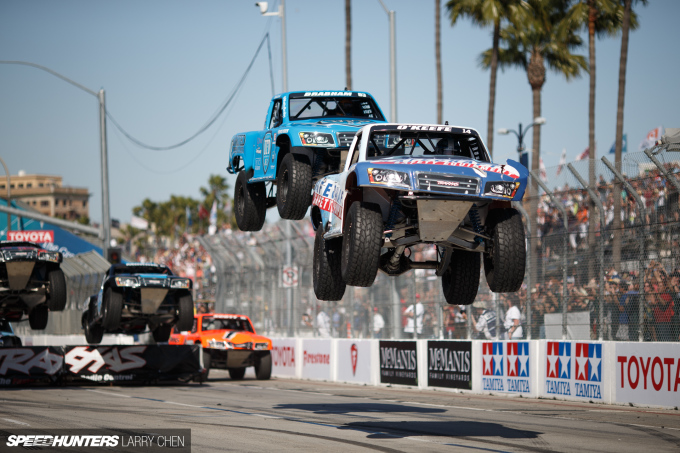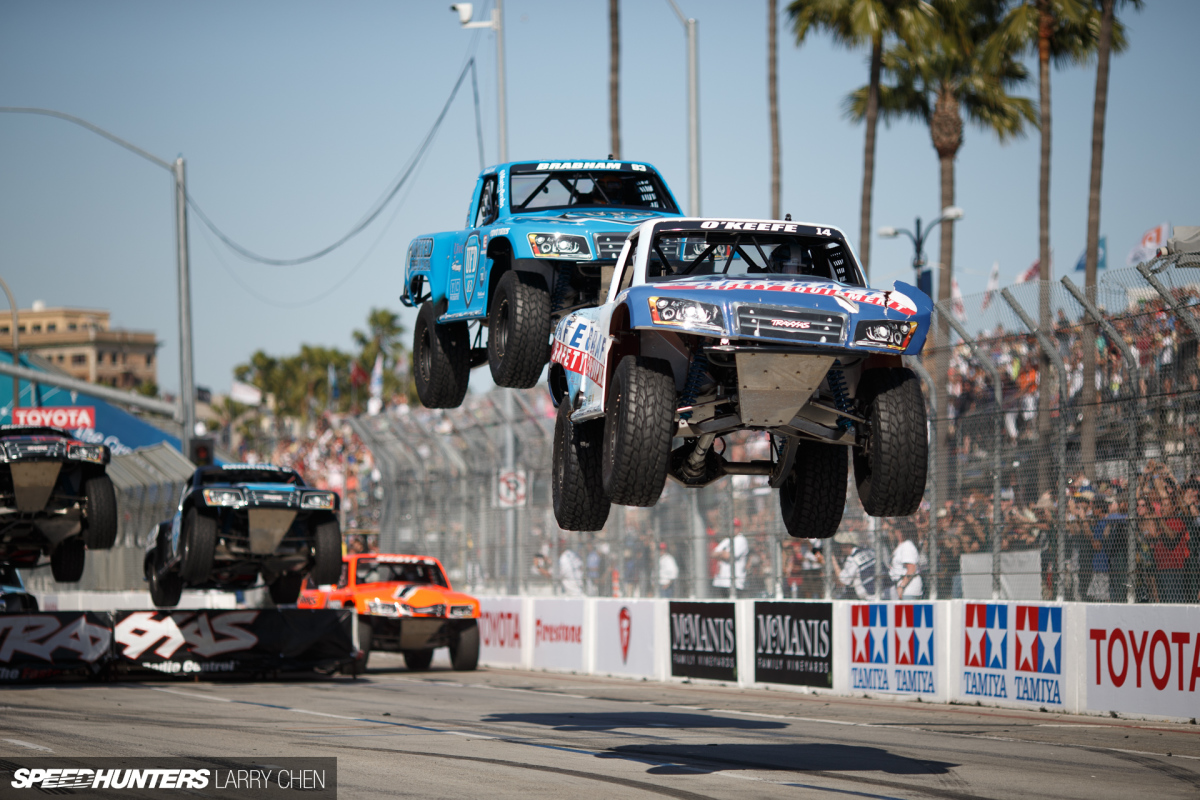 The crowd went insane for these guys going at it on the street course. They're pretty much in the air as much as they're on the ground, sliding through turns on three wheels. I chose not to shoot the SST race last year and now deeply regret that decision. Cool factor: 11/10.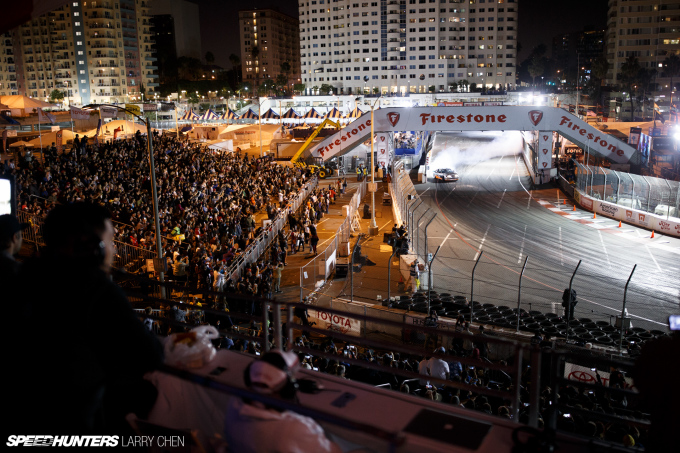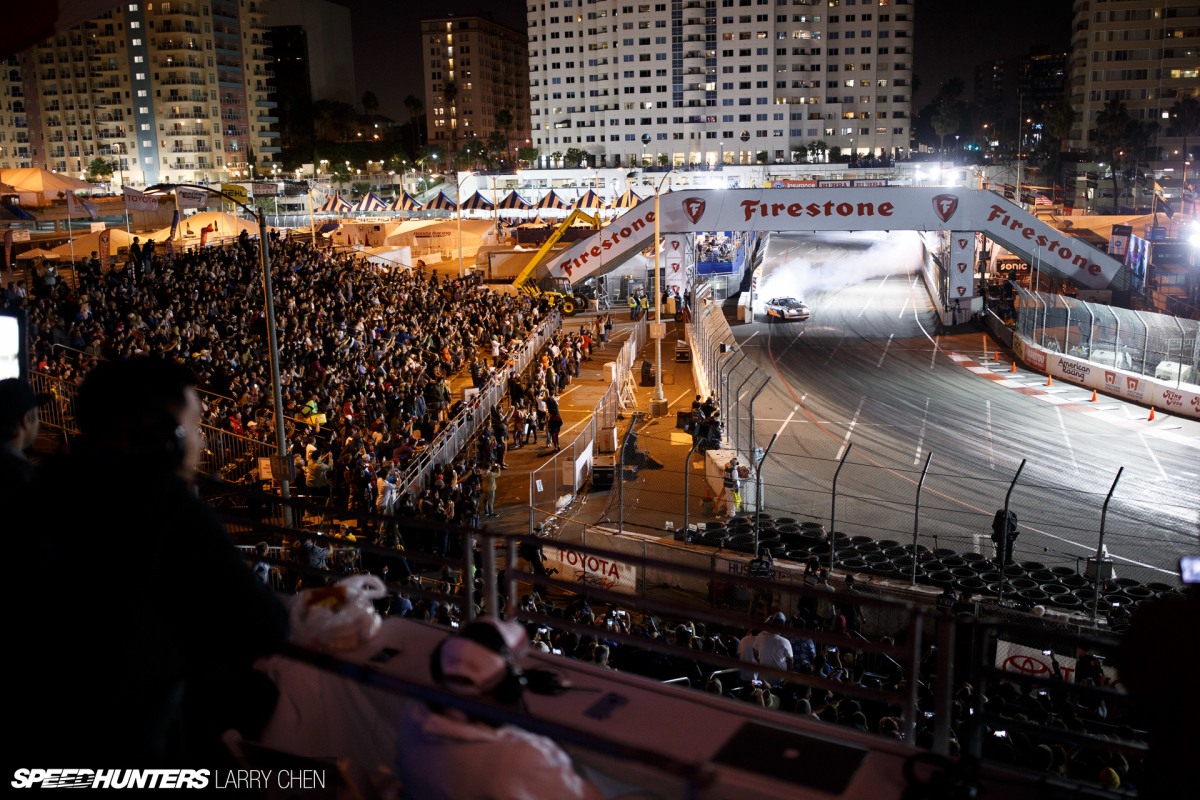 In recent years, drifting has been a part of the Grand Prix in the form of Motegi Racing Super Drift. It's brought in crowds who would never have come to a Formula Drift event before, and in doing so has definitely helped drifting grow. I also feel like the crowd at Super Drift was a bit more rowdy than the crowd at FD Round 1 the weekend before too. Beach balls, beer, the night sky, and non-stop tire smoke is all it takes.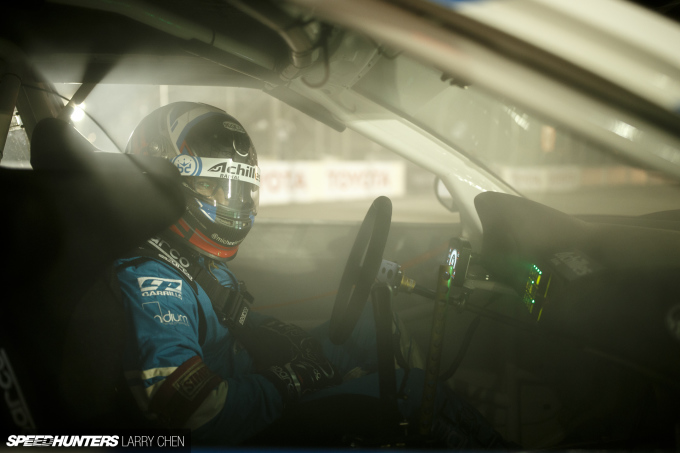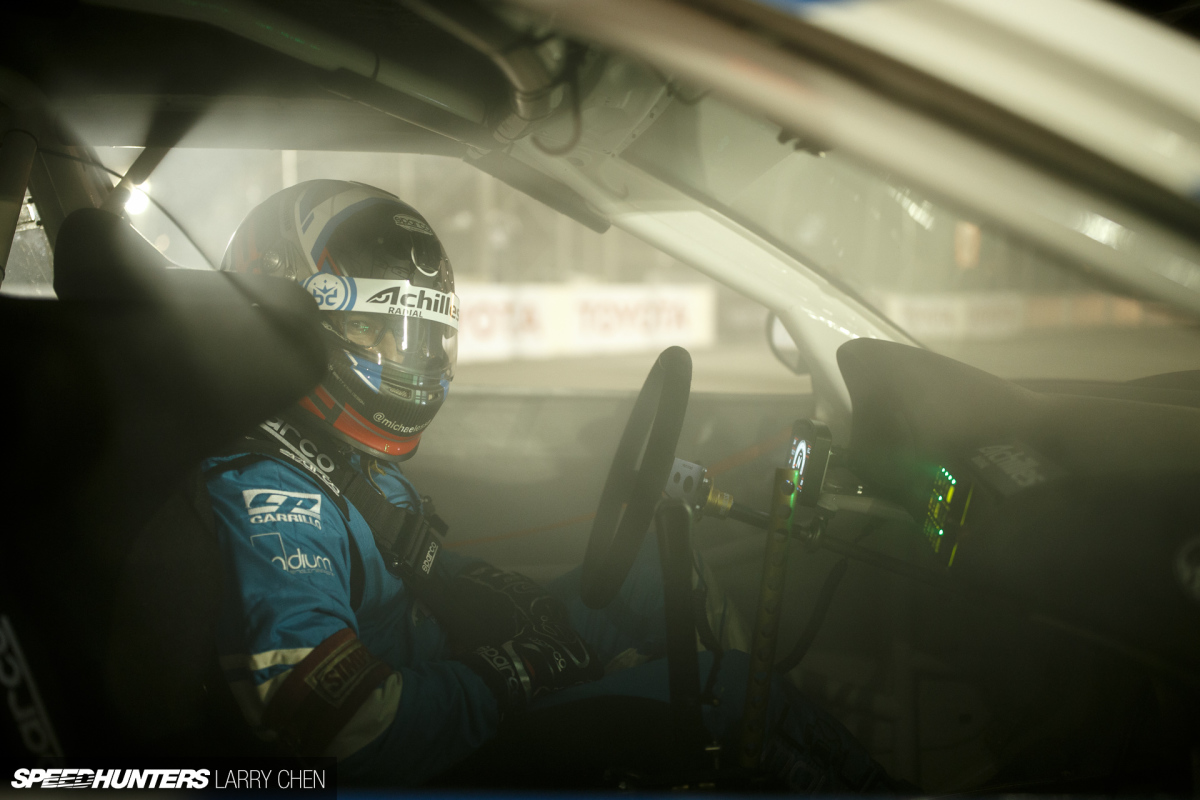 As much as I love FD Long Beach during the day, a little part of me wants to see what would happen if the round was run at night.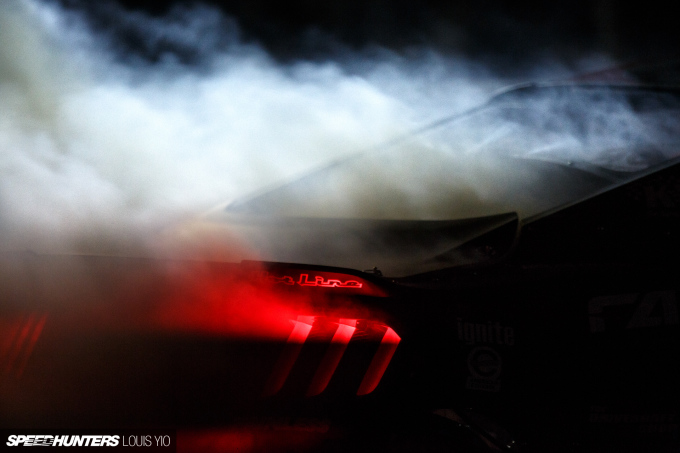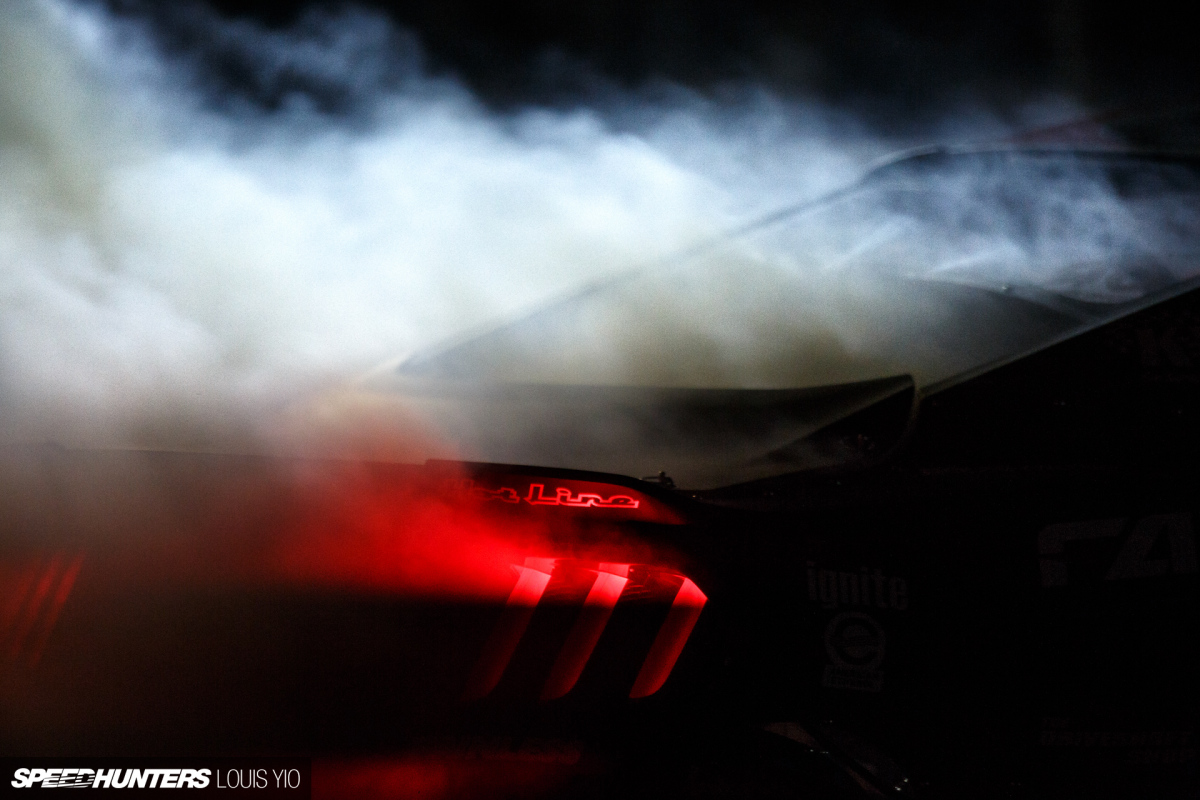 Shooting in the evening definitely changes things and makes otherwise normal shots look cooler than jumping stadium trucks.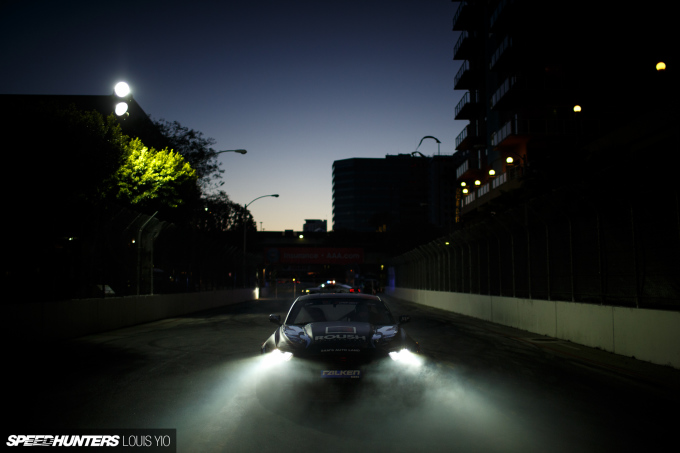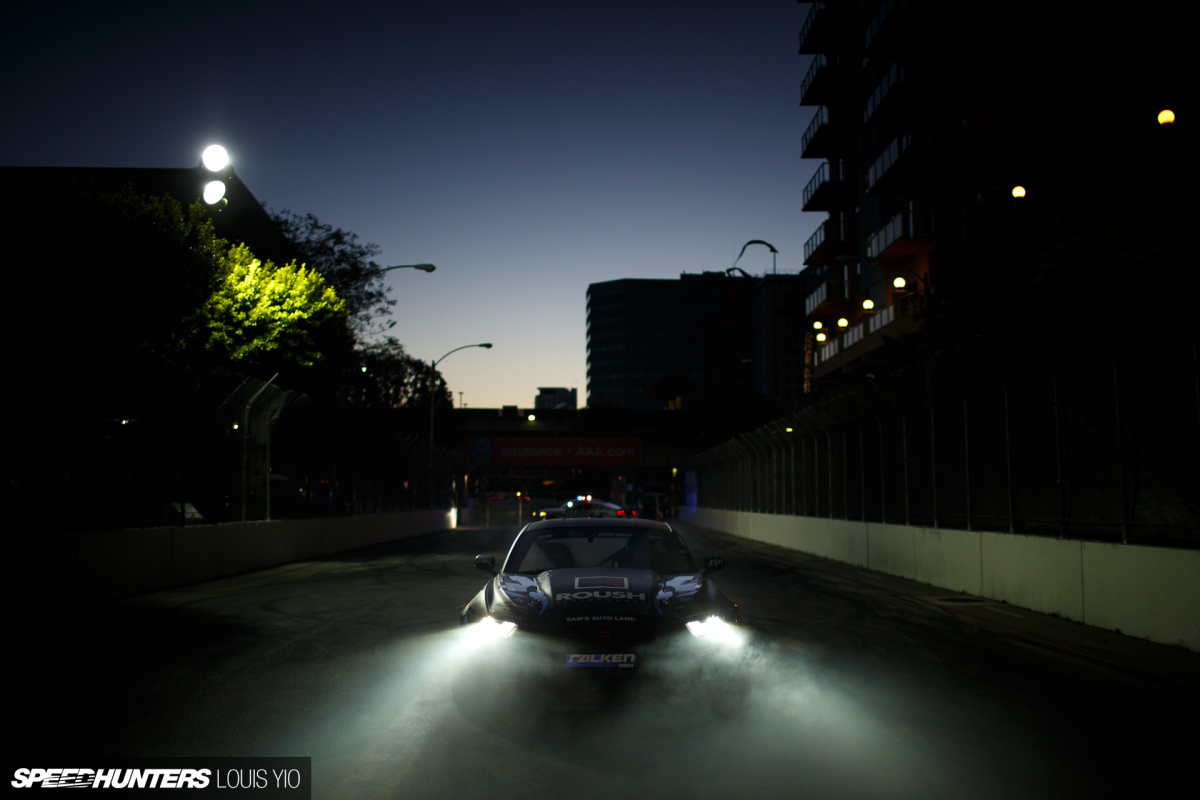 I also imagine that the track itself is a little harder to navigate through in the darkness for the drivers.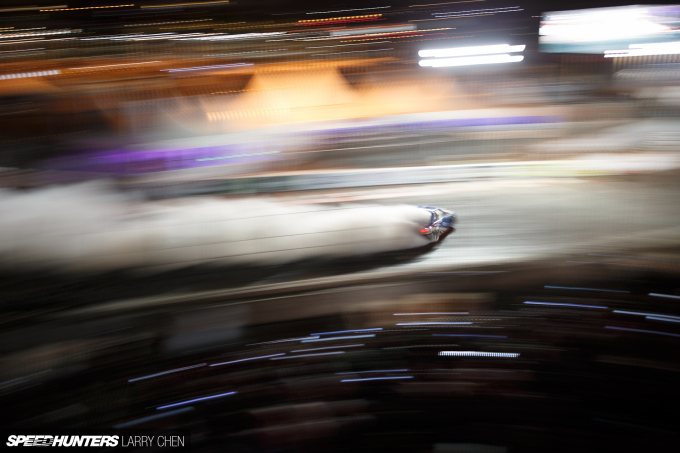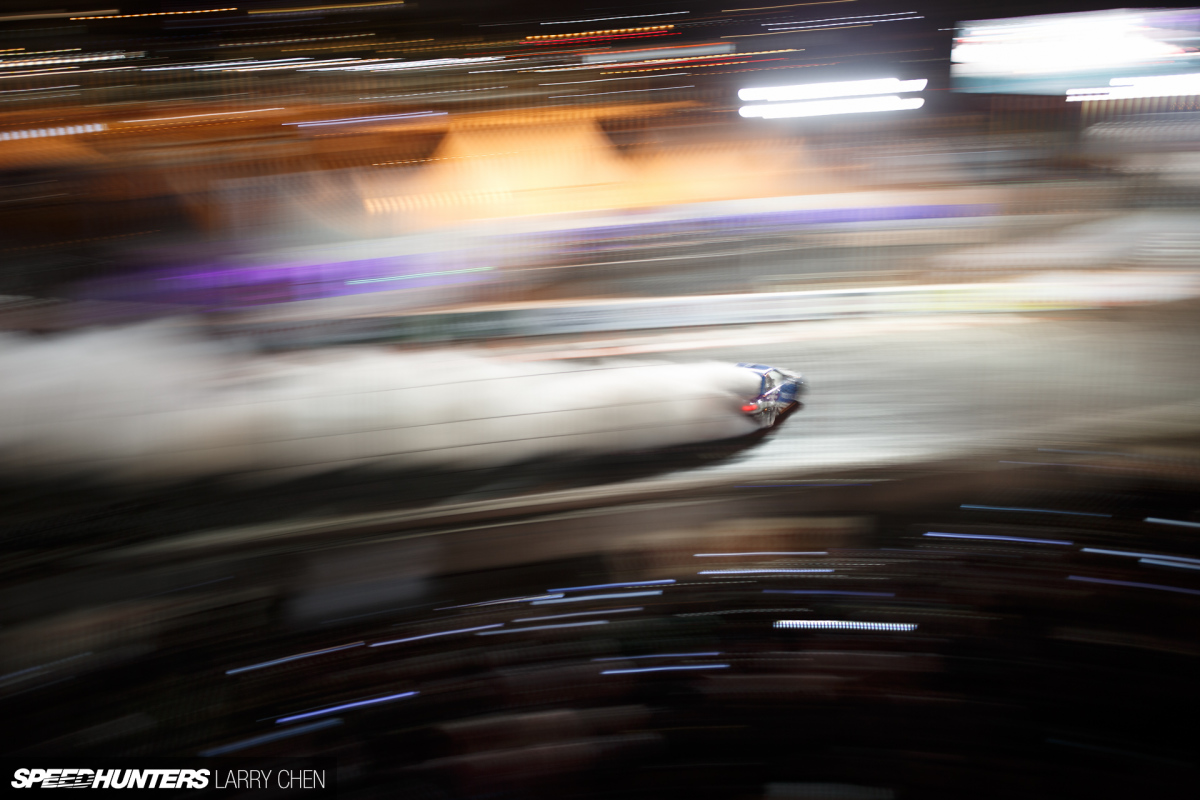 The panned-out phones in the foreground of this image really add to the whole warp-speed thing Larry was going for.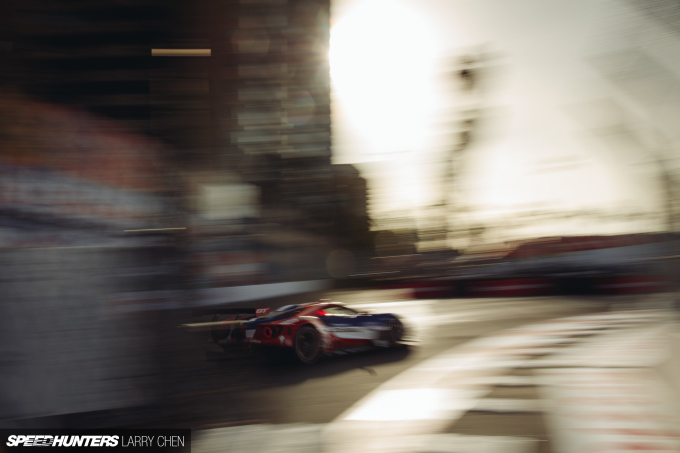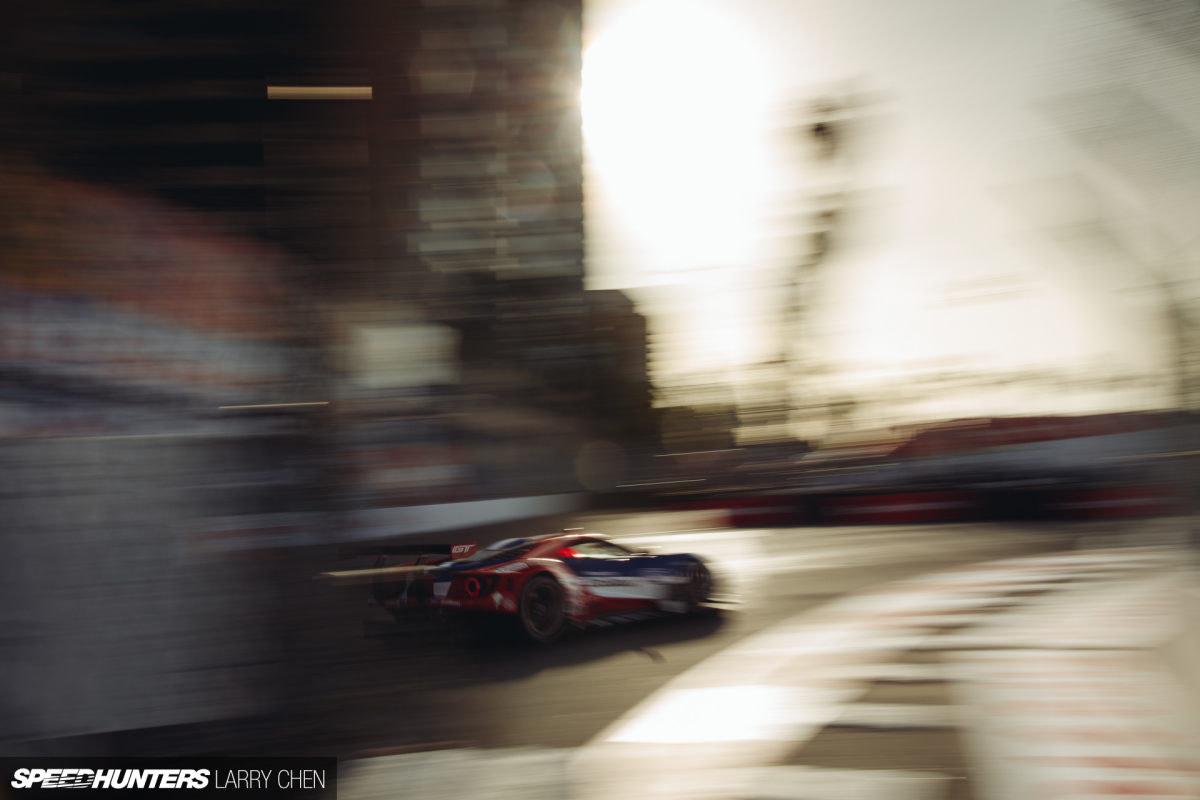 Well, that's it from Long Beach. We have a bunch of bonus images that you guys should check out in the chapter below. Excuse the number of panning shots – both Larry and I are going through a panning phase at the moment. Till next time!
Louis Yio
louis@speedhunters.com
Instagram: lusciousy
Larry Chen
Instagram: larry_chen_foto
larry@speedhunters.com
Cutting Room Floor