Polar Opposites
Despite being one of the geographically closest championships to me, I can't recall ever attending a single British Drift Championship event before.
For me, the BDC was always a series with so much potential that for some reason or another, was never realised. I mean, here is a championship based in the home of motorsport and it always seemed to fail to capture the imagination.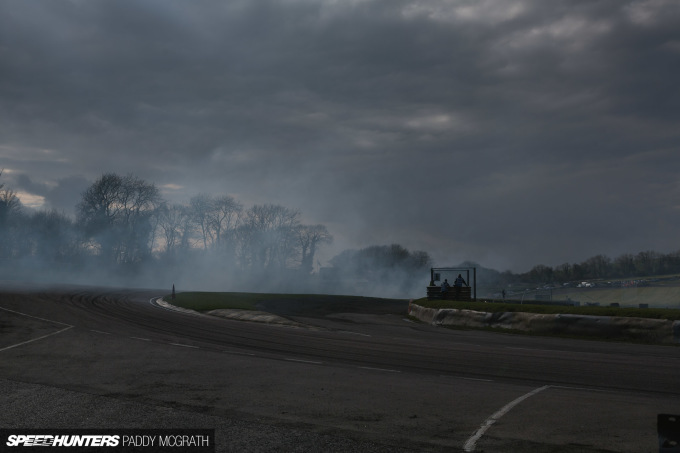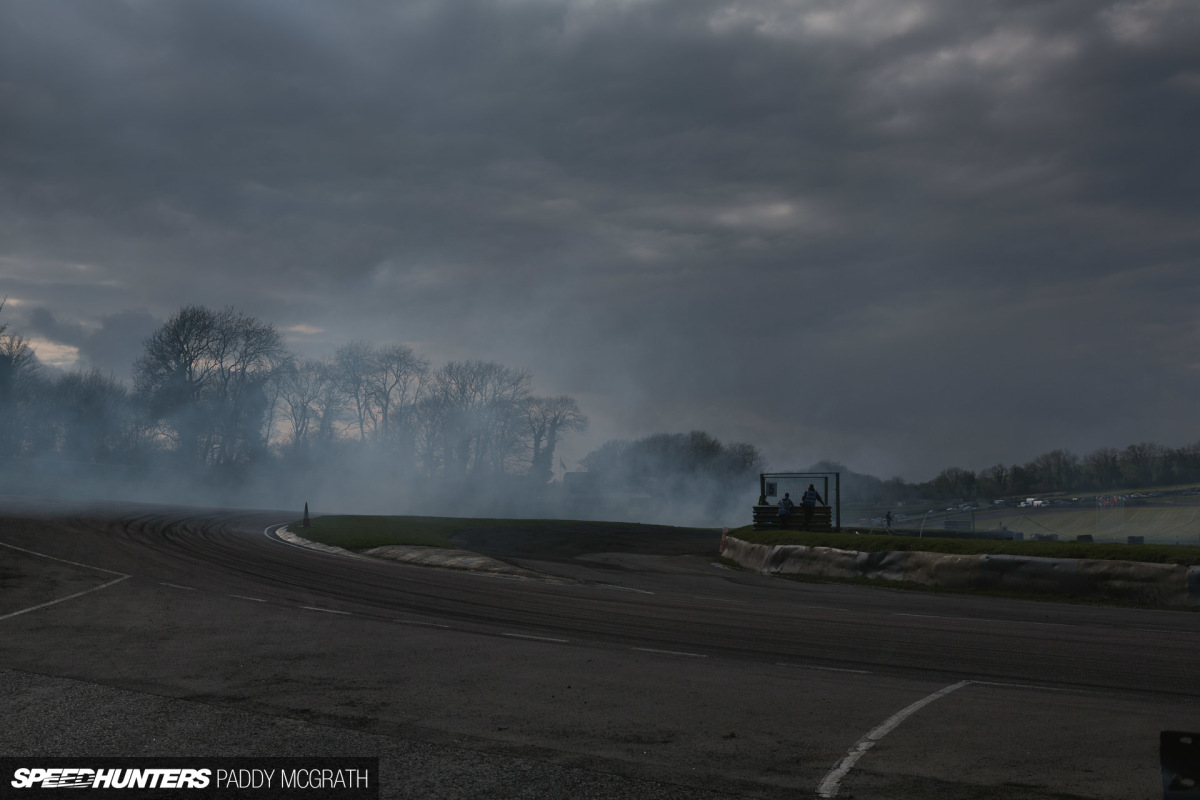 I'm not in this to lay blame at anyone's door, it's just something that always occurred to me. In many ways, it's almost the complete opposite of the Irish Drifting Championship. It has access to a huge array of venues and a massive motorsport-loving population on its doorstep, but it just never seemed to come together.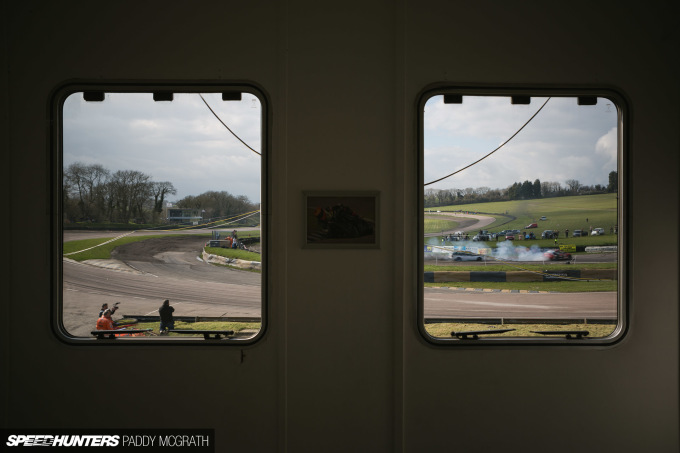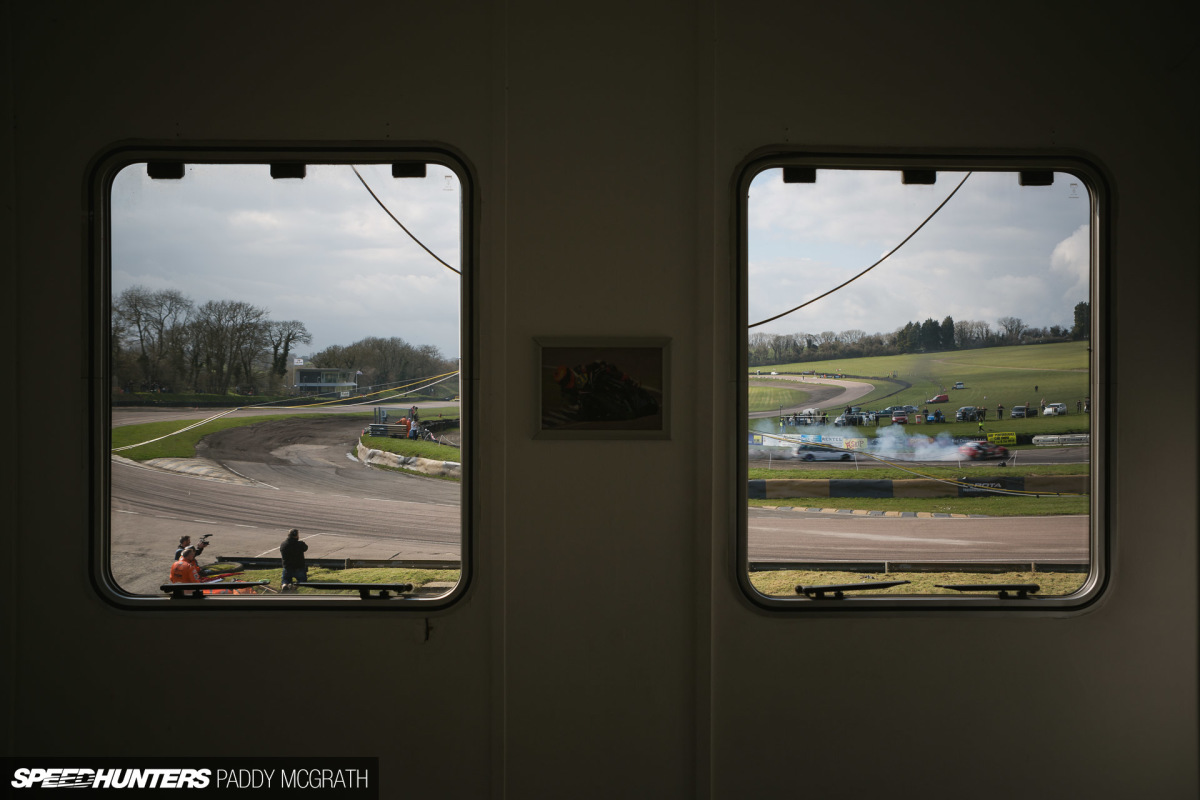 It wasn't through a lack of passion from the competitors or organisers either; there was and remains a huge group of really good people involved in the BDC who are absolutely committed to drifting.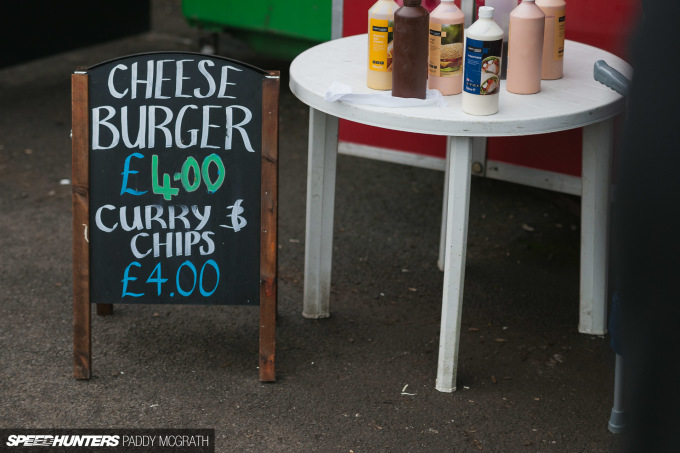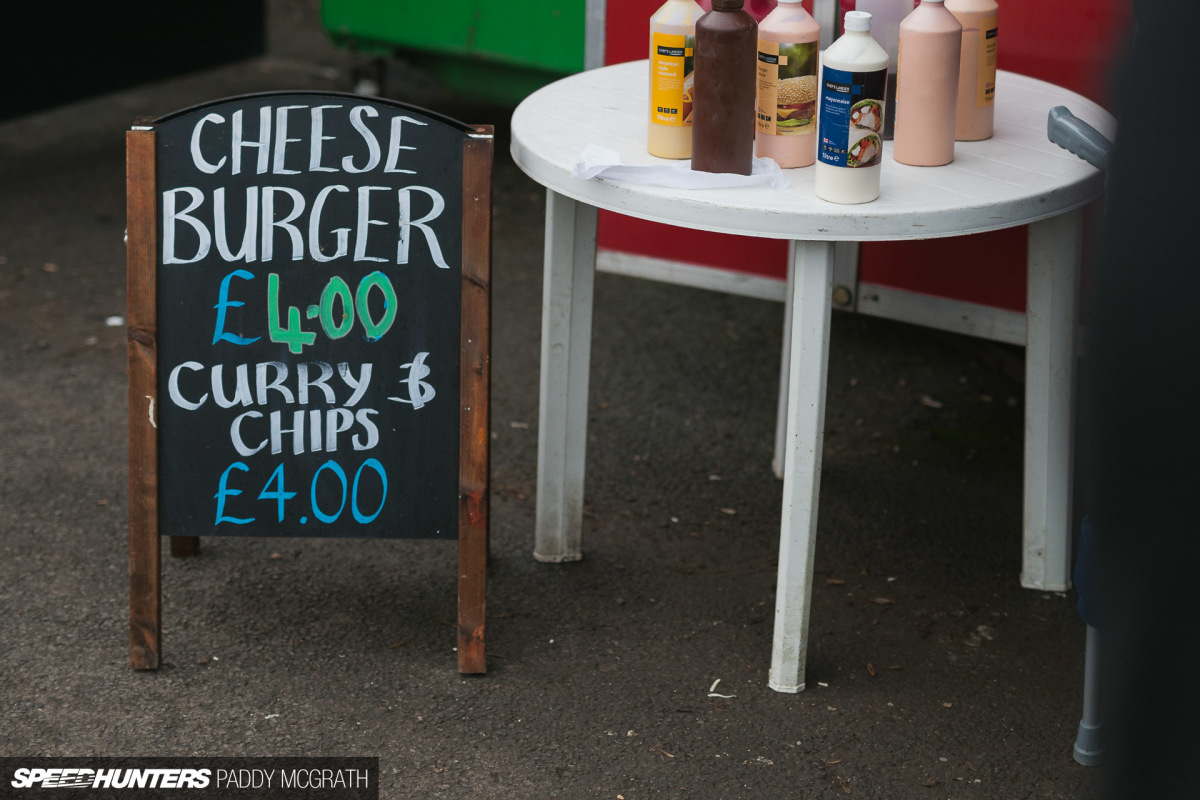 I've often thought that it maybe failing in its approach by trying to treat drifting as a traditional motorsport, something that we know that it very much isn't.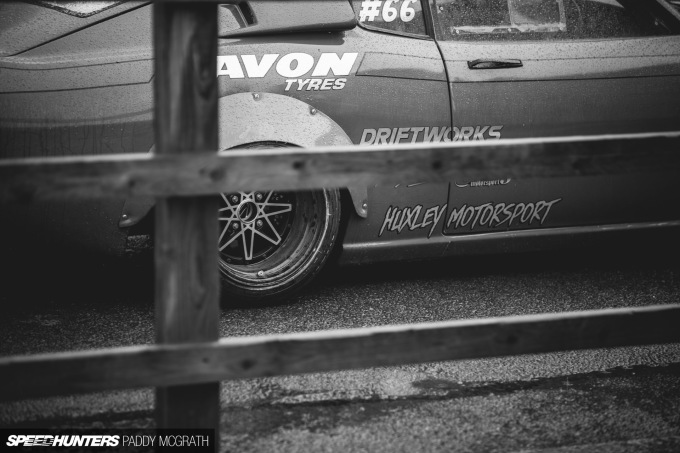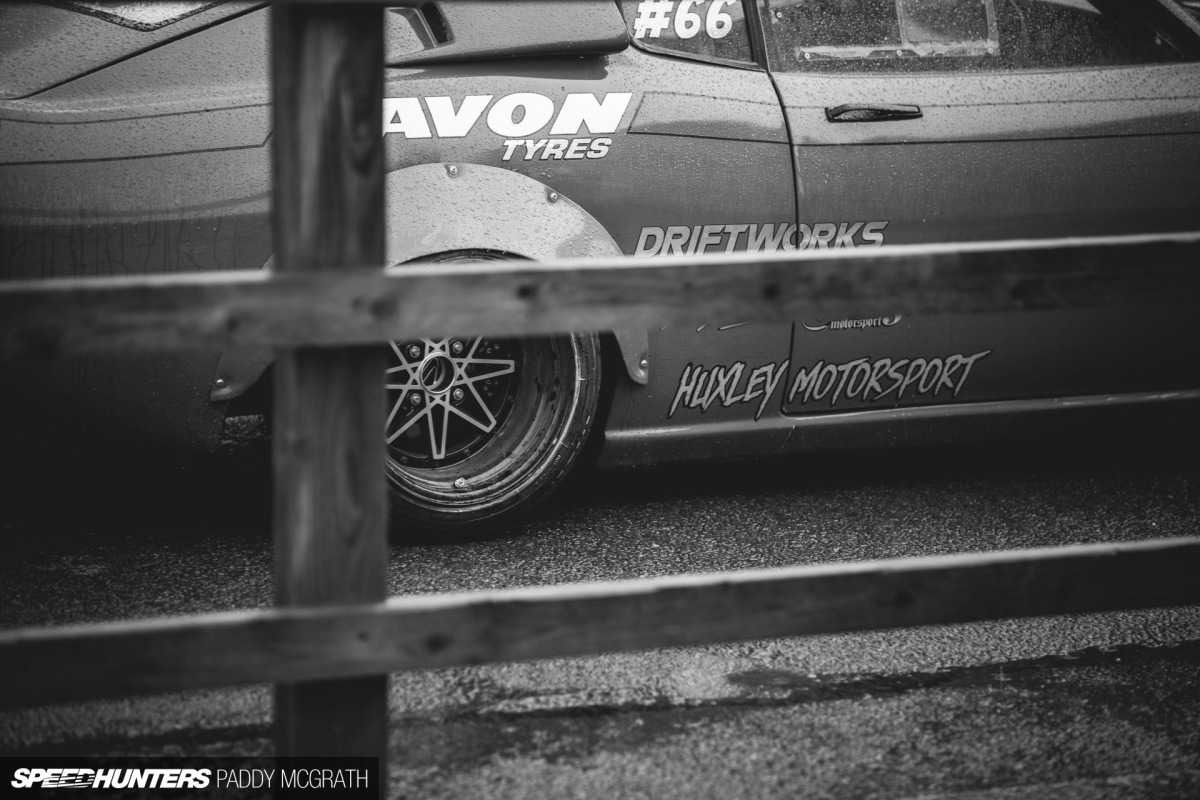 For 2016 however, big changes are afoot in the British Drift Championship. I'm not sure how it came about, but somehow Dave Egan, CEO of IDC, has now taken the reigns of the BDC too. Dave, himself a former BDC competitor, faces a pretty big challenge in overhauling the British series, but I get the feeling that he's more than up to the fight.
The Awkward First Event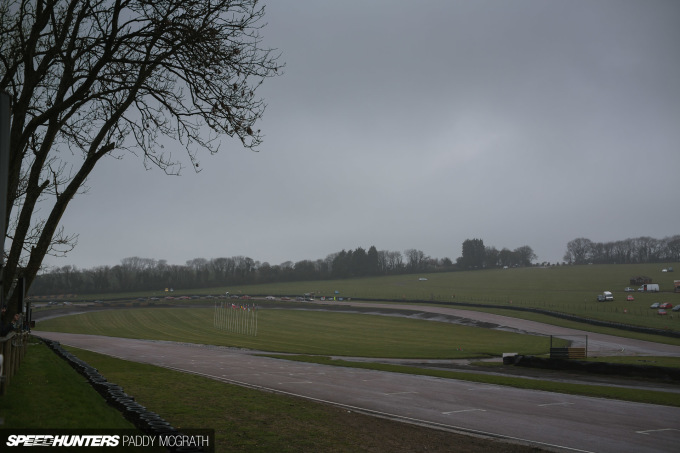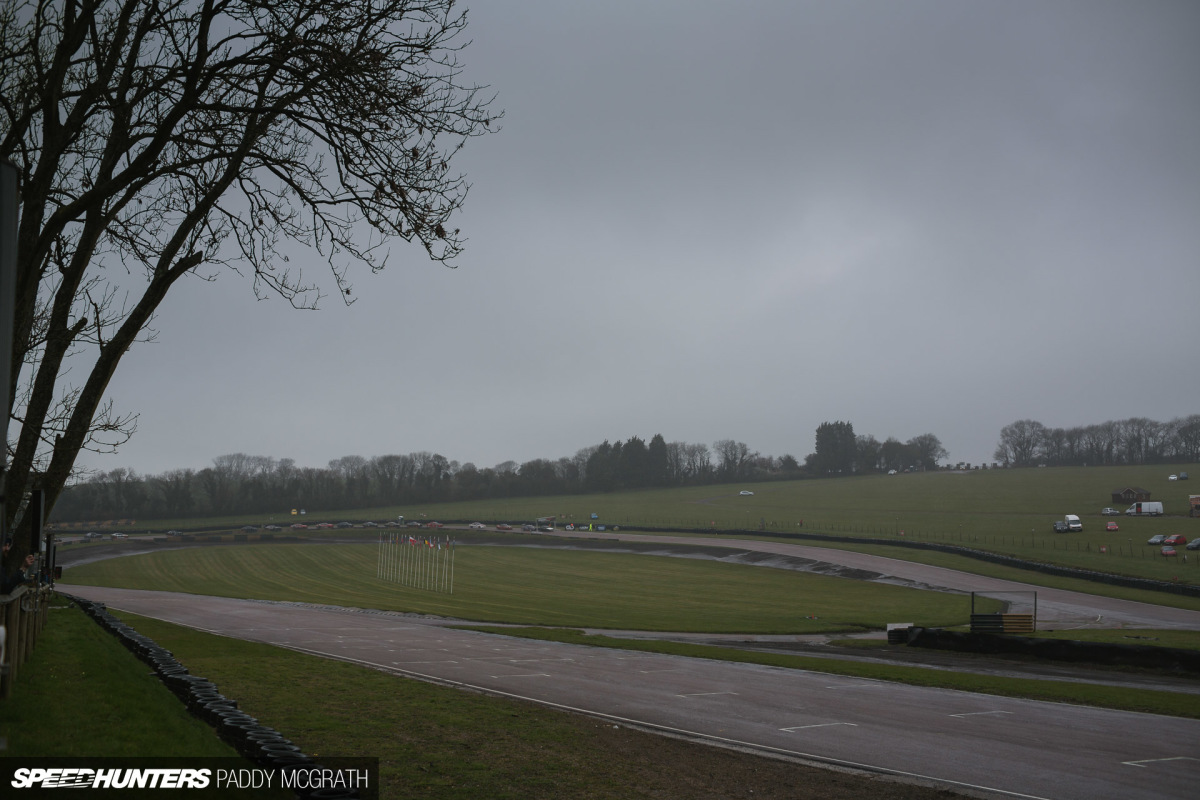 It might not be renowned in drift circles like Irwindale or Ebisu are, but Lydden Hill in the very south east of England (it's practically in France) has been a great friend of drifting for many years now. Although it's probably better known for its rallycross events, Lydden Hill has been one of those venues that I've been aching to cover for several years now. It might sound ridiculous, but I turned down the chance to shoot at Yas Marina in Abu Dhabi for the first time to be here on this particularly moist weekend.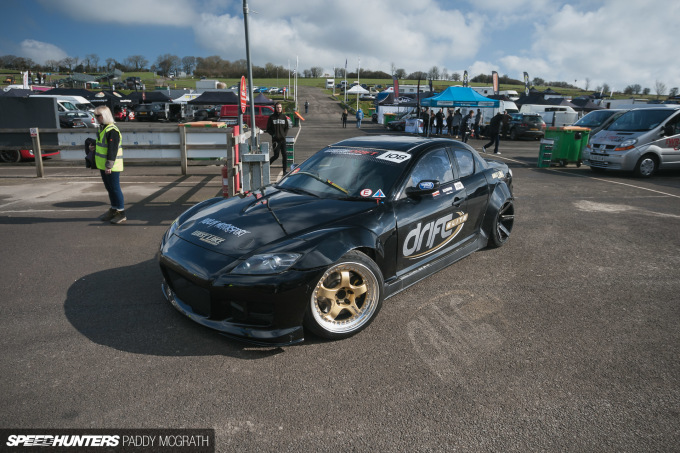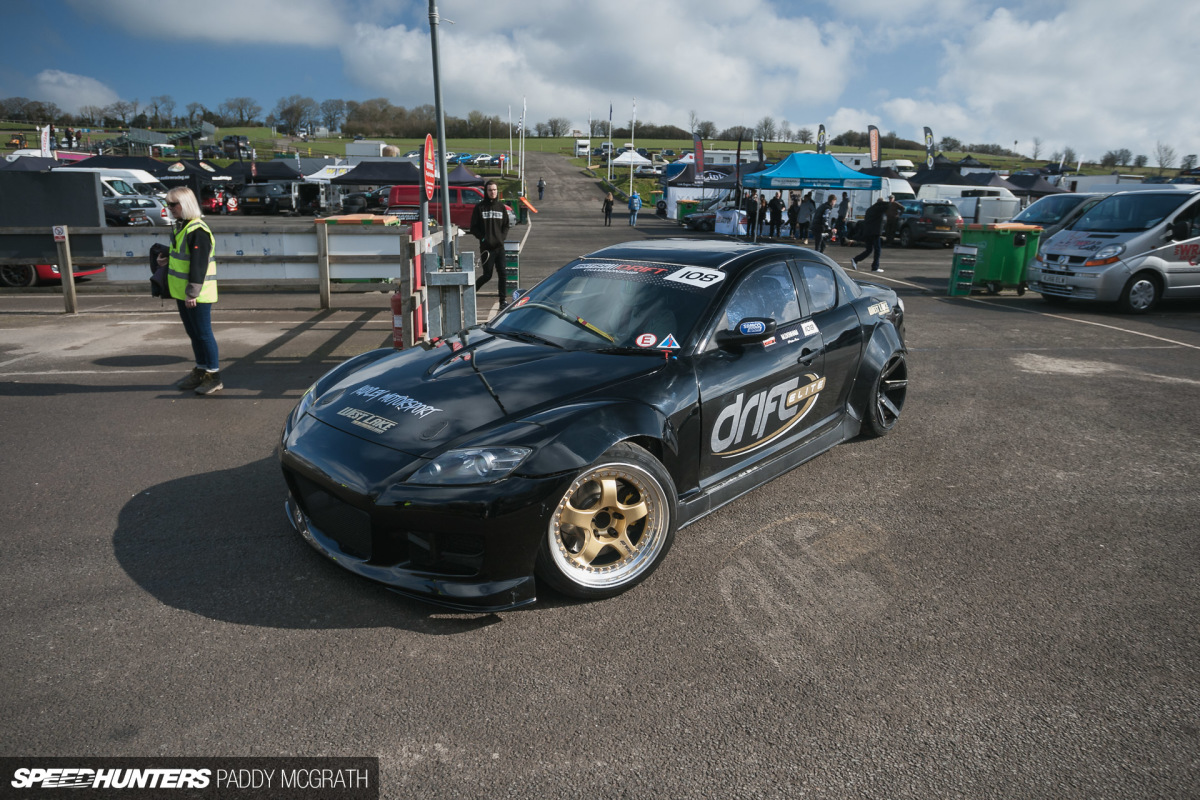 Before we continue, you need to know that I don't do drift coverage in the traditional sense. If you want to know who beat who in the Top 8, you won't find that information here. What I'm far more interested in – at any drift event – is the feeling of an event. That might sound pretentious (it is) but for me it's a far more important aspect of drifting.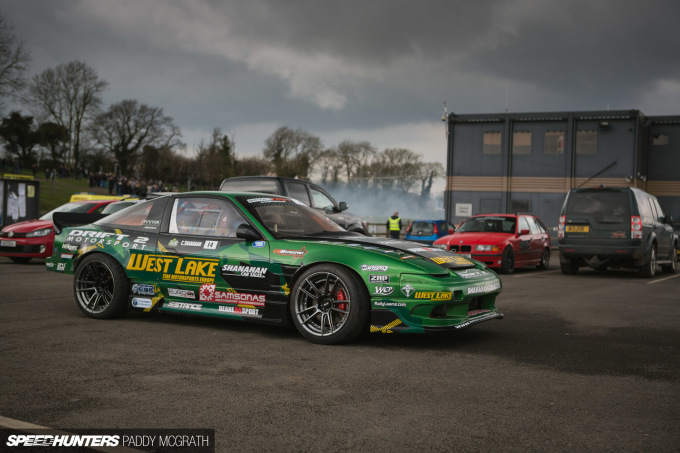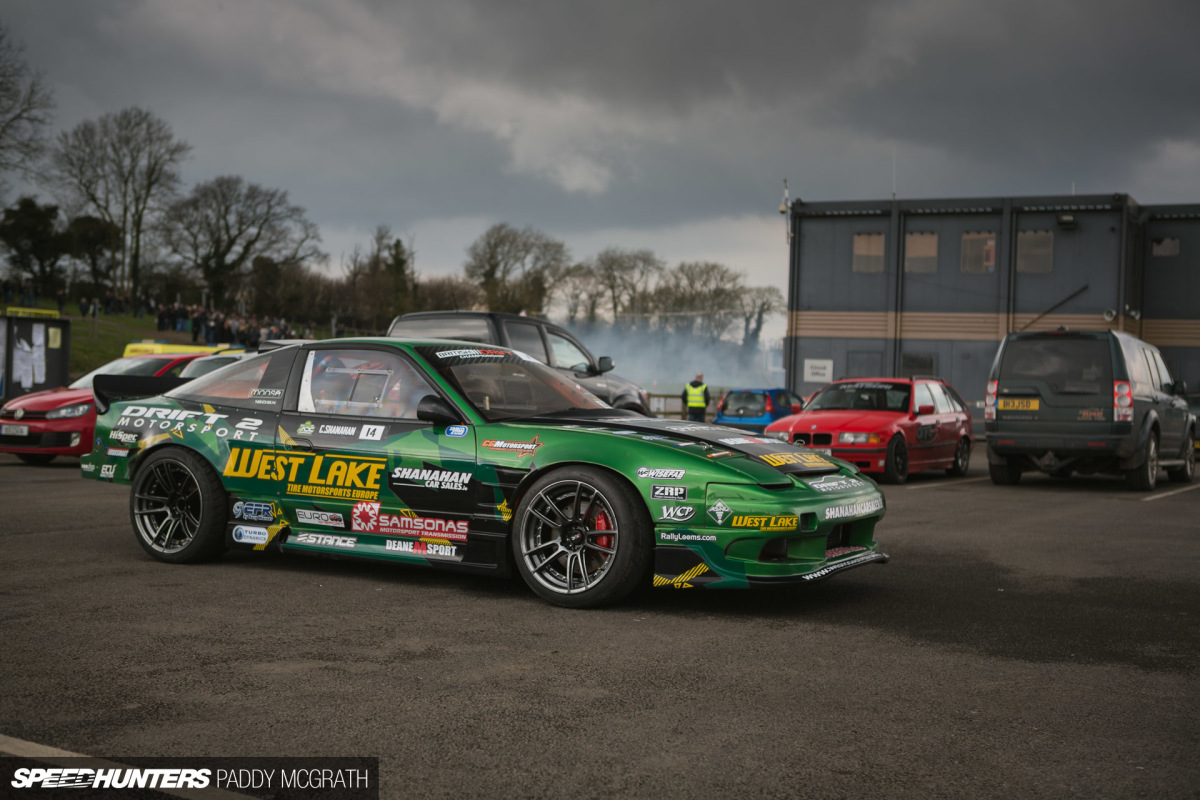 It's also an intangible quality, so it can be difficult to put into words sometimes. Don't worry, that's my problem. I will give you some background though and fill you in on who the key players are. The green 180SX above is a borrowed car which would be driven by defending champion, 16-year-old Jack Shanahan. Yes, the reigning British Drift Champion is 16 and can't legally drive on the road here. What's more impressive is that he borrowed the car from his 13-year-old brother, Conor. Now, that's a family dynasty.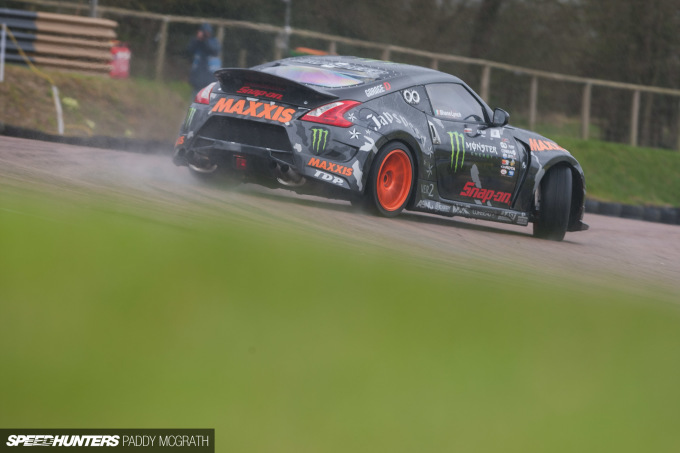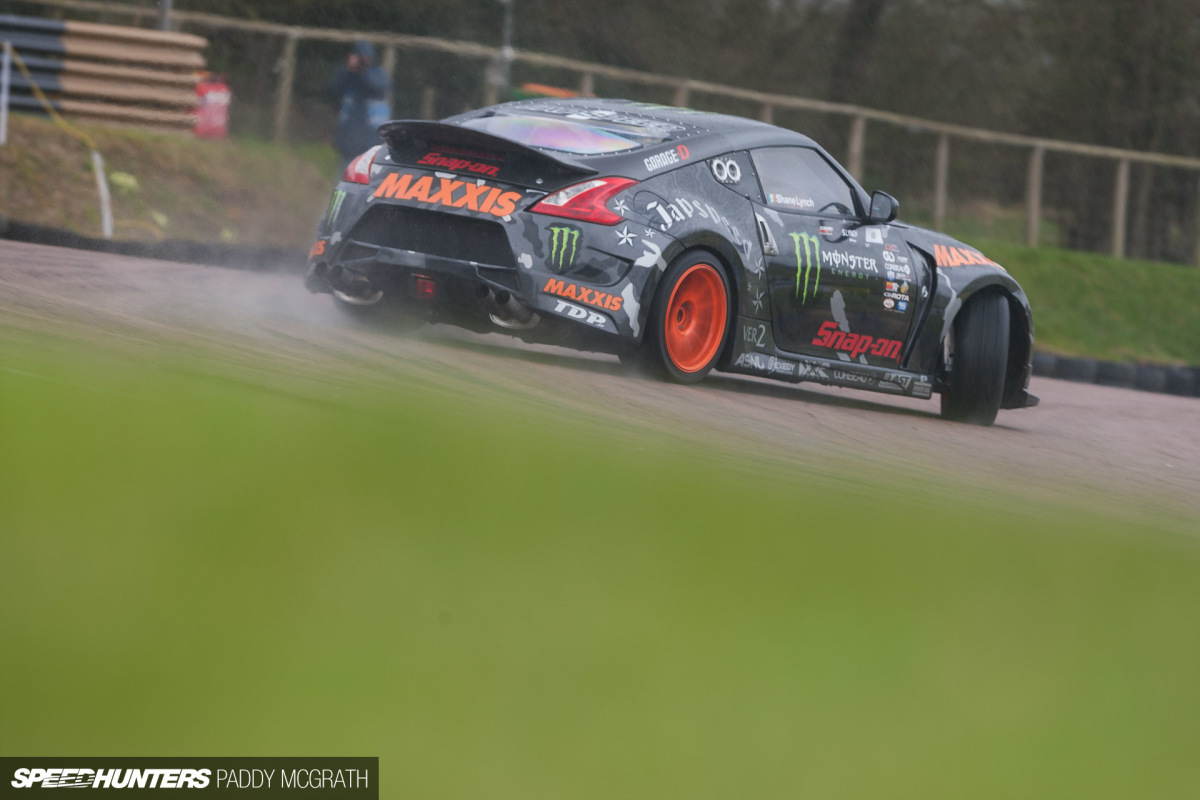 Team Japspeed's supercharged 370Z driven by long-time competitor Shane Lynch was nearly two years in development. Lydden Hill would be its competitive debut.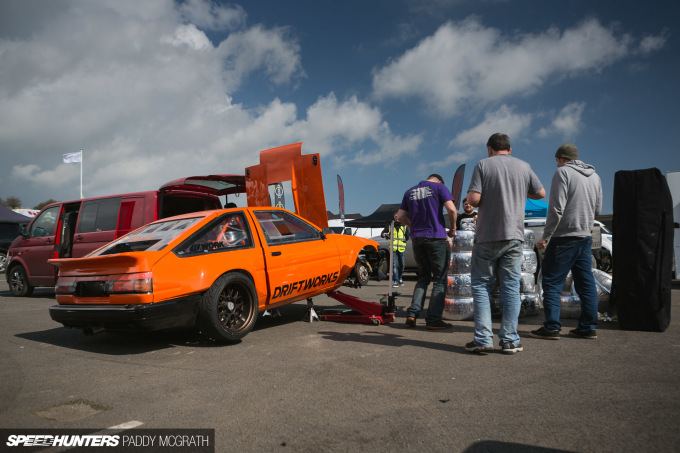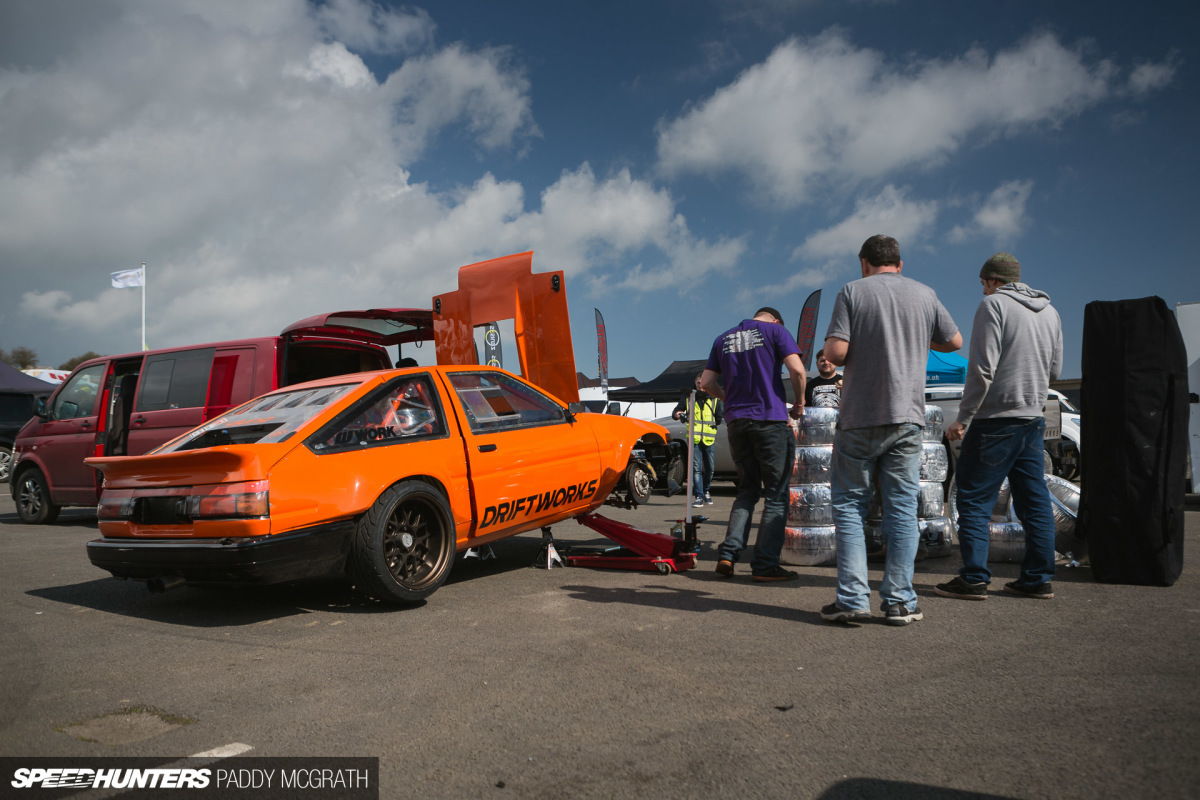 Team Driftworks would make a last minute decision to compete at Round 1. It might look like the same DW86 that we've all come to love, but this is a very different car for 2016. It's undergone some serious surgery to remove a considerable amount of weight and features a new RHS V8. If you thought it was an angry car before, wait until you see and hear it in anger now.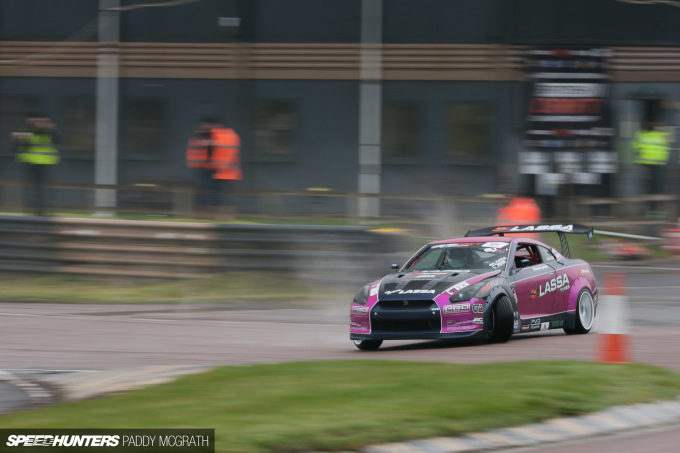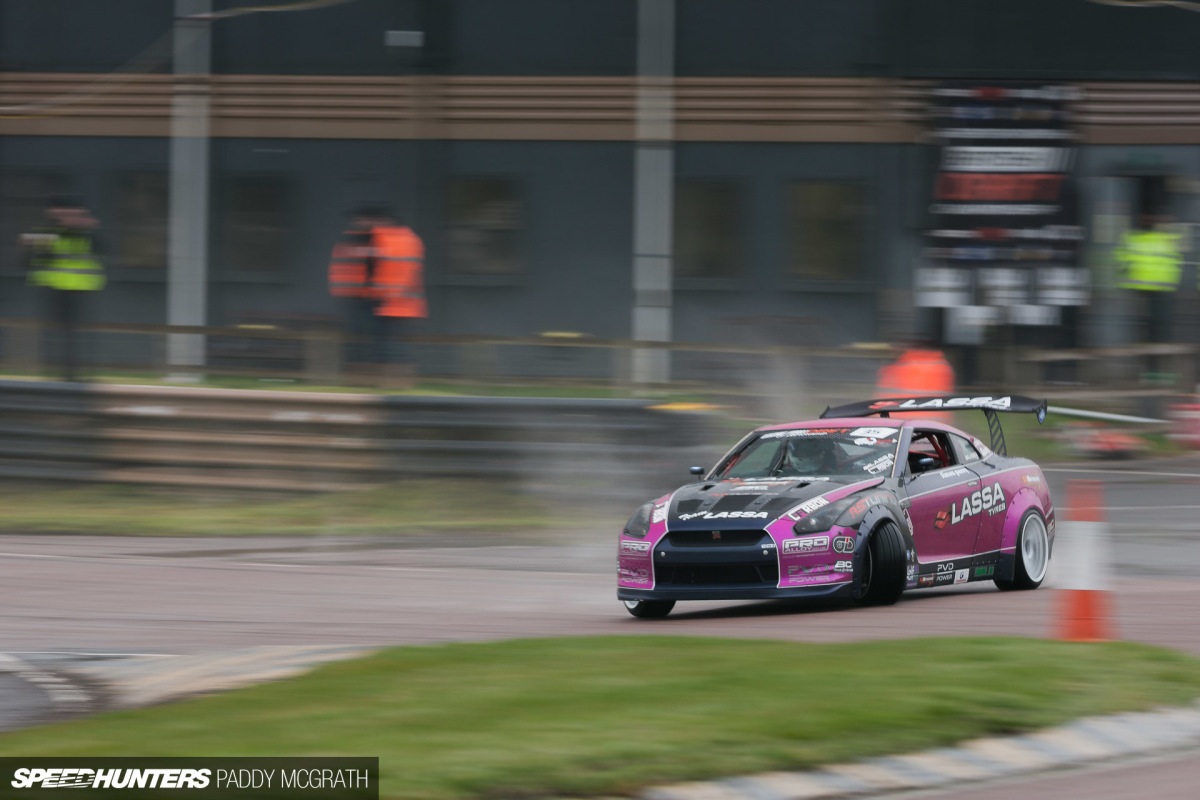 Simon Perry's Lassa Tyres-sponsored R35 GT-R was (and still is?) the first and only R35 drift car in Europe. Simon would have been forgiven for protecting his car in previous seasons, but it seems that he has thrown caution to the wind for this year. All of a sudden, things have gotten a little more interesting.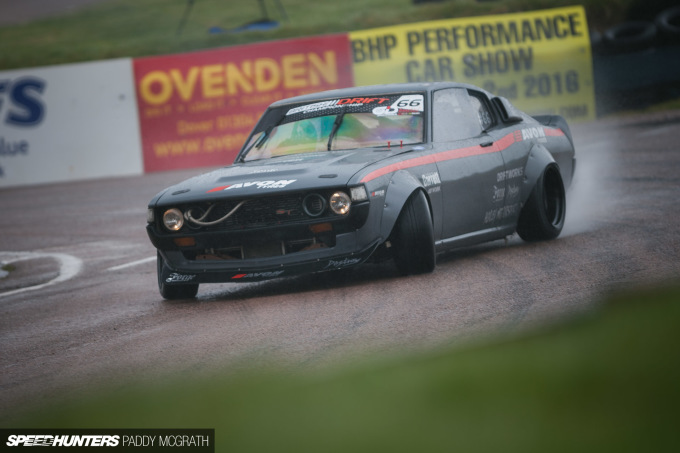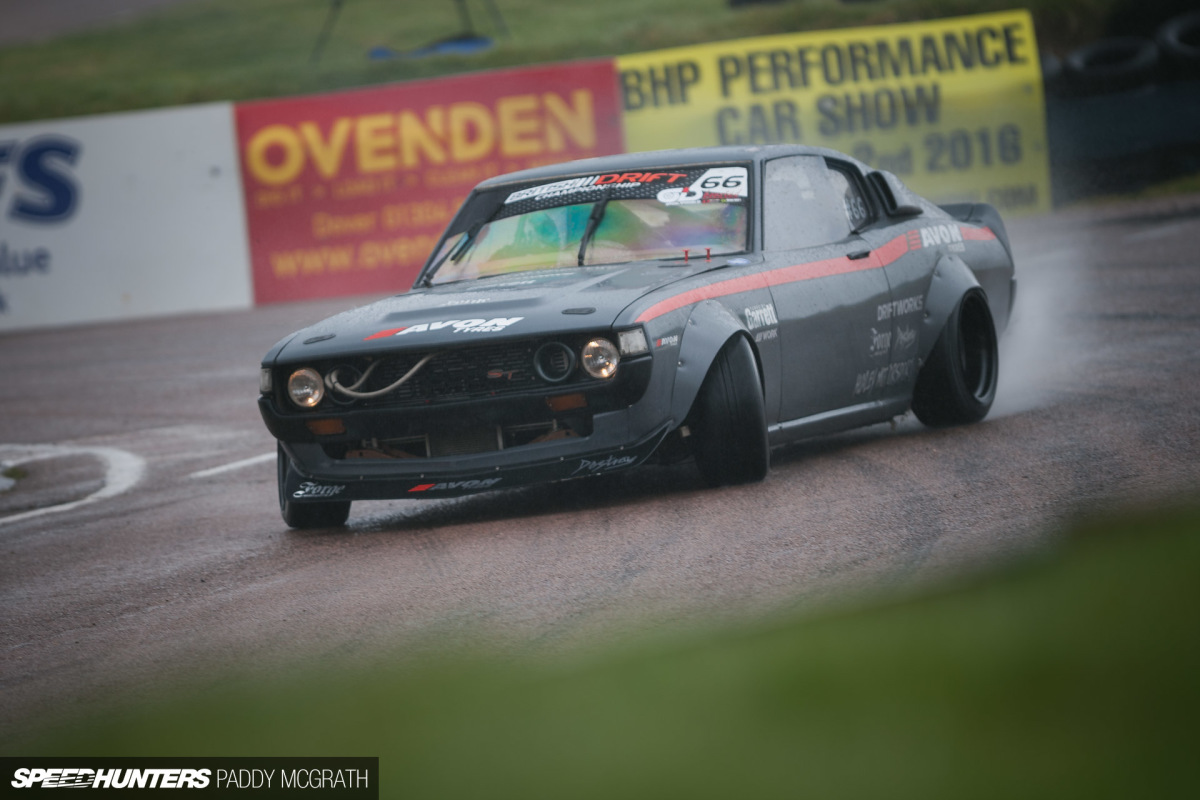 There were also some familiar faces and BDC veterans, but we'll get around to those in a bit.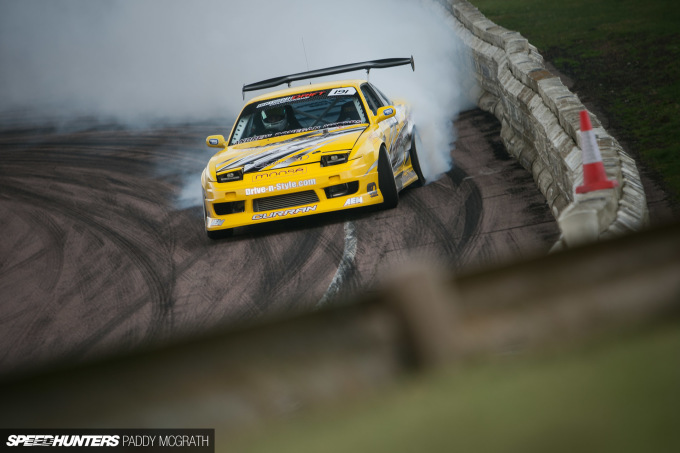 With the action spread over two days, it would give a decent opportunity to get a grasp of how things currently stand in the BDC. Although, it would be two very contrasting days as it would turn out.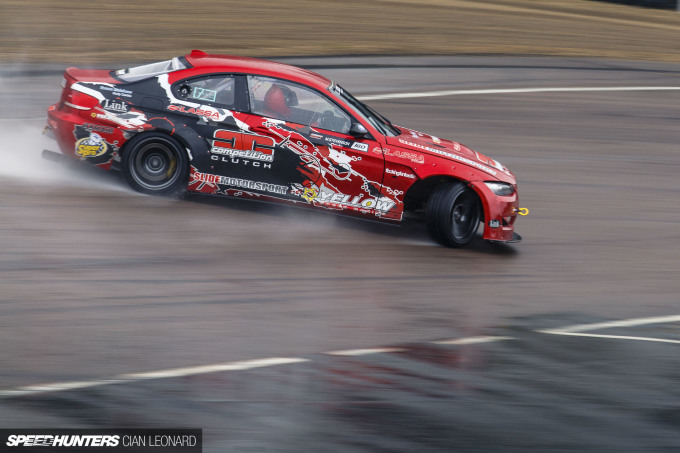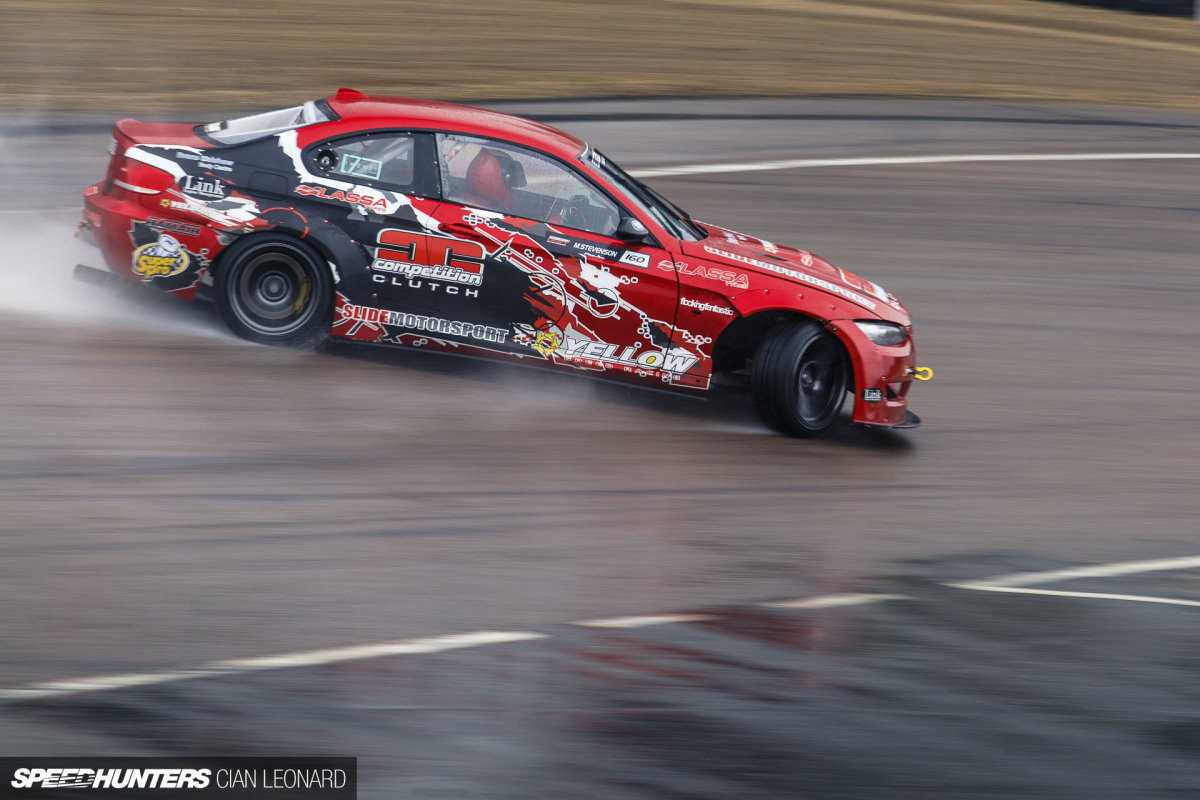 Whilst the ProAm class enjoyed the sunshine on Friday, the weather wasn't exactly welcoming for the main event on the Saturday. It's nothing that we're not used to on this side of the planet, and I'll admit there was a little bit of a giggle in the paddock when we heard that FD had to cancel its Long Beach qualifying because of the rain, but it did put a dampener on things. All pun intended.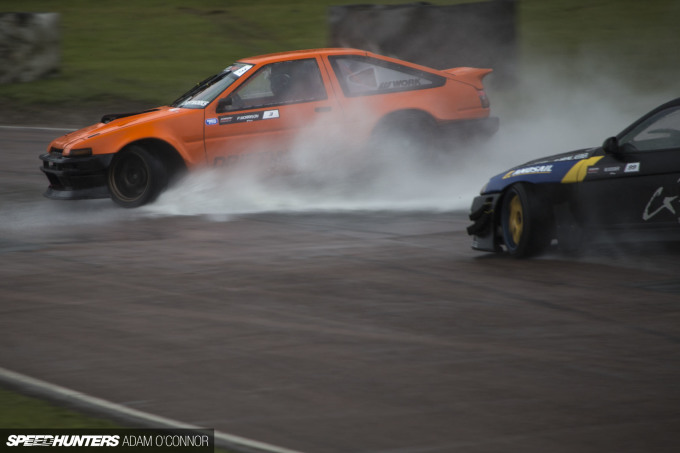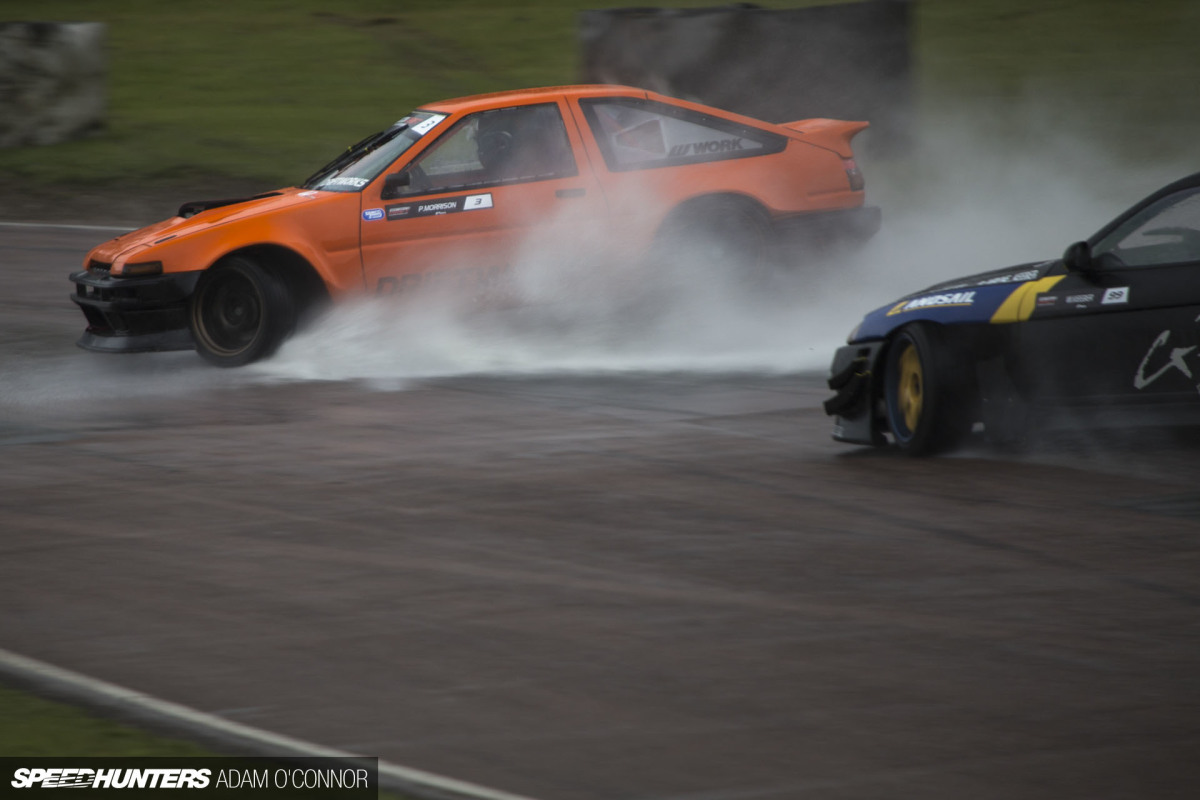 The issue with drifting in the rain is that you must continue to use the same rubbered-in drift line, as specified by the judges. In traditional racing you typically seek grip off line, but drift competitors can't avail of this option. This is both a good and bad thing.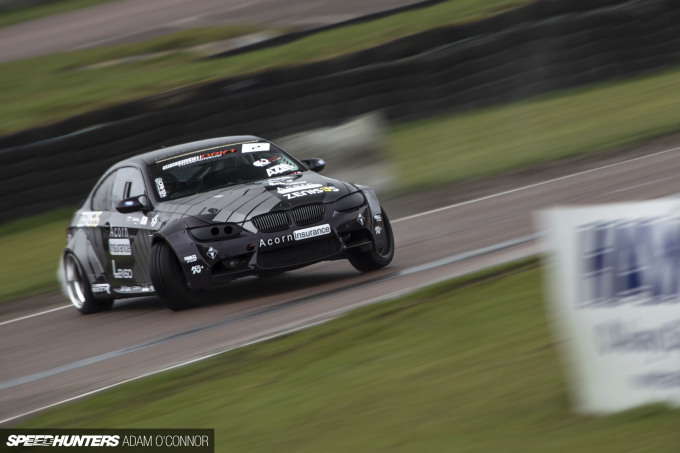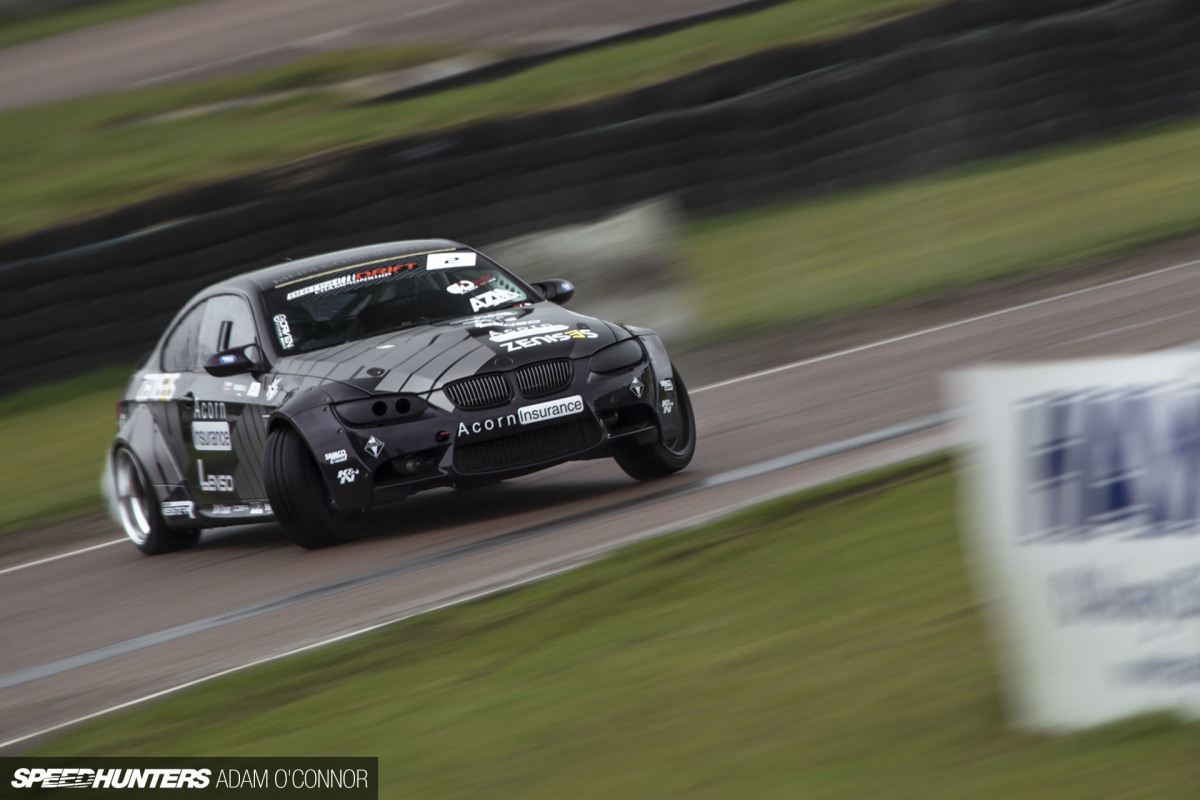 The bad? It reduces speed and eliminates smoke completely, which removes a lot of the excitement.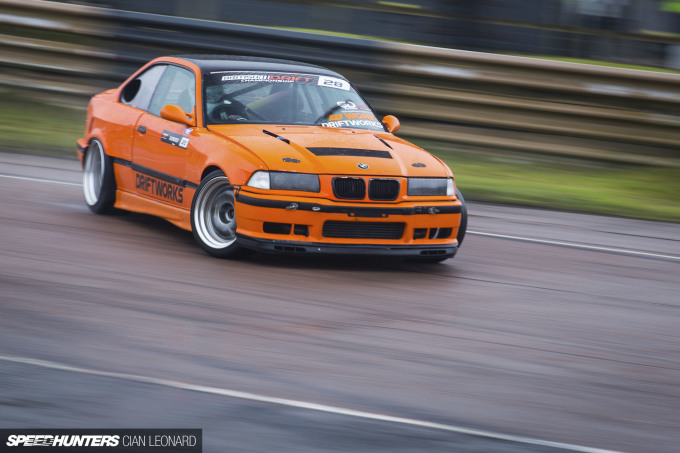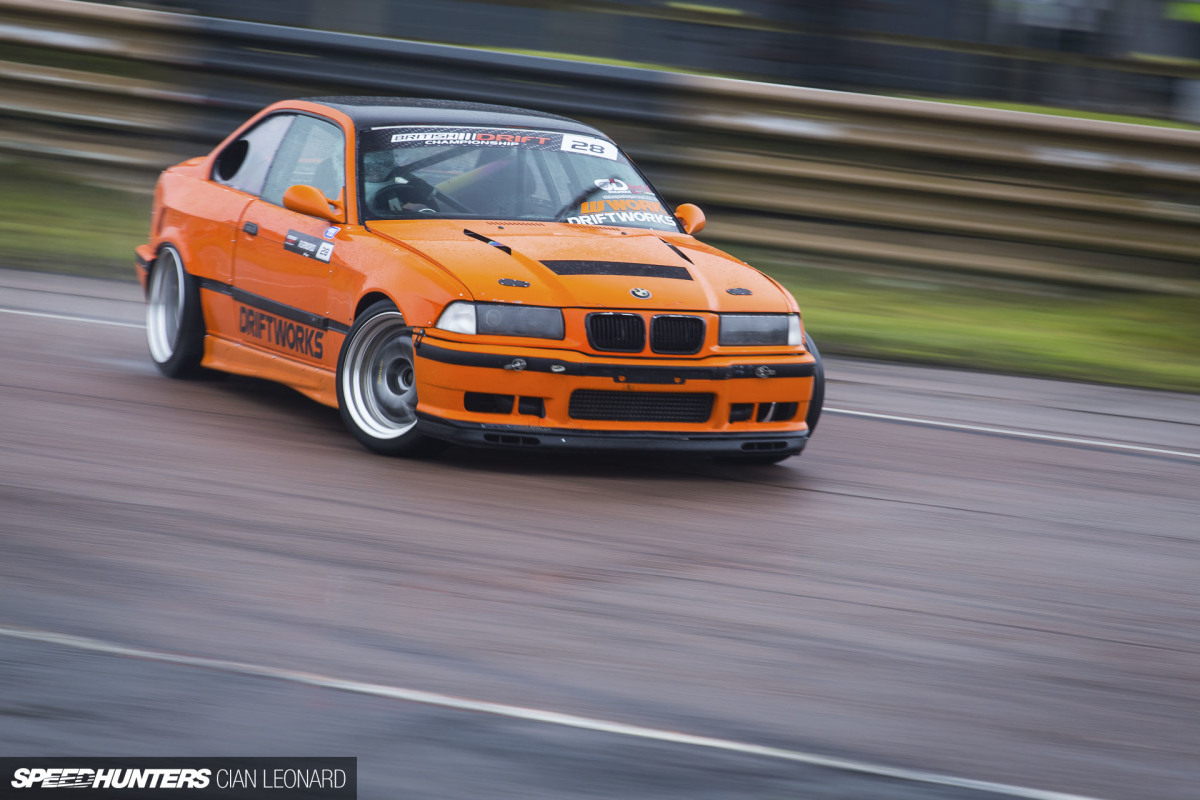 The good? It creates a perfectly level playing field where anyone can win. Rain negates any horsepower or tyre advantages typically associated with über drift builds and puts everyone on level pegging. The potential for an upset is massive, but only if you can out-drive your opponent.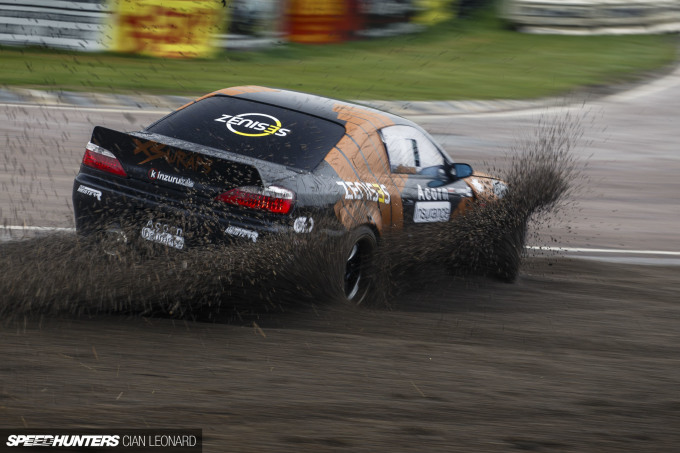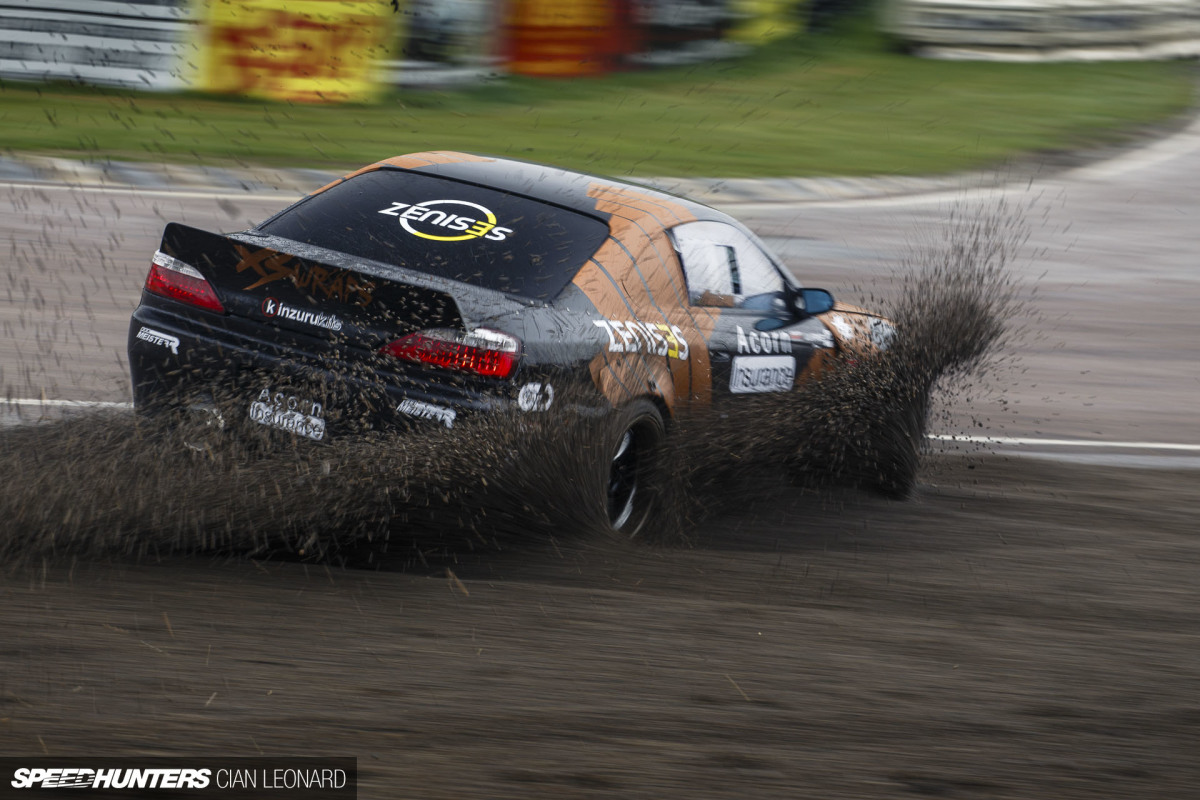 The inclement weather also added an extraordinary risk and reward situation. Even the slightest hesitation here would see you taking a detour into the gravel.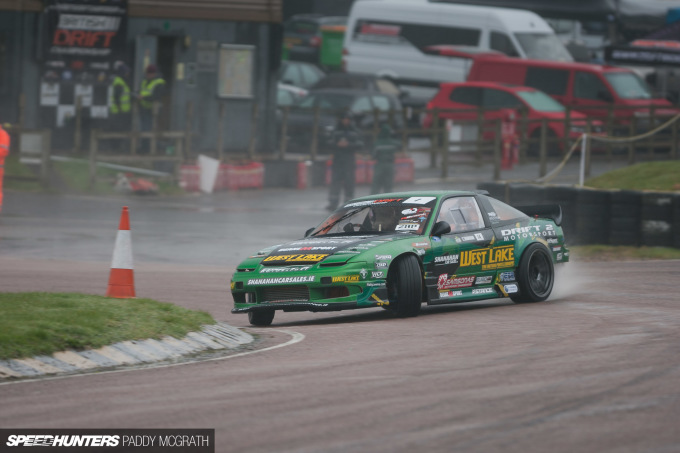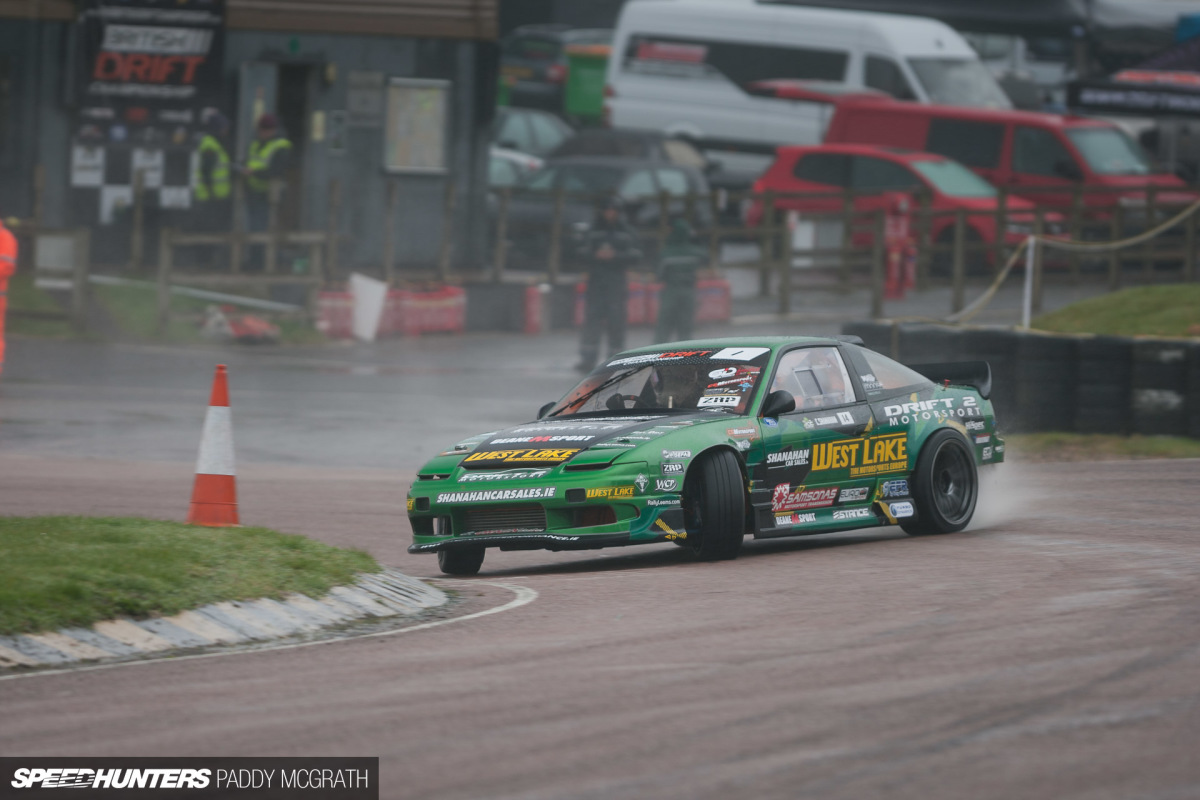 If you got it right, the rewards were there to be reaped.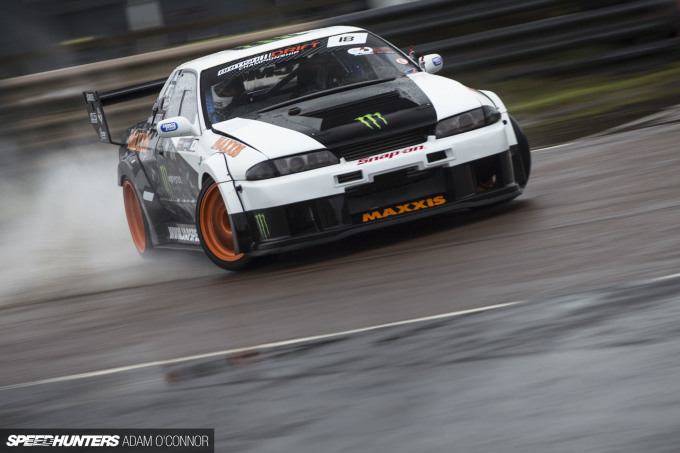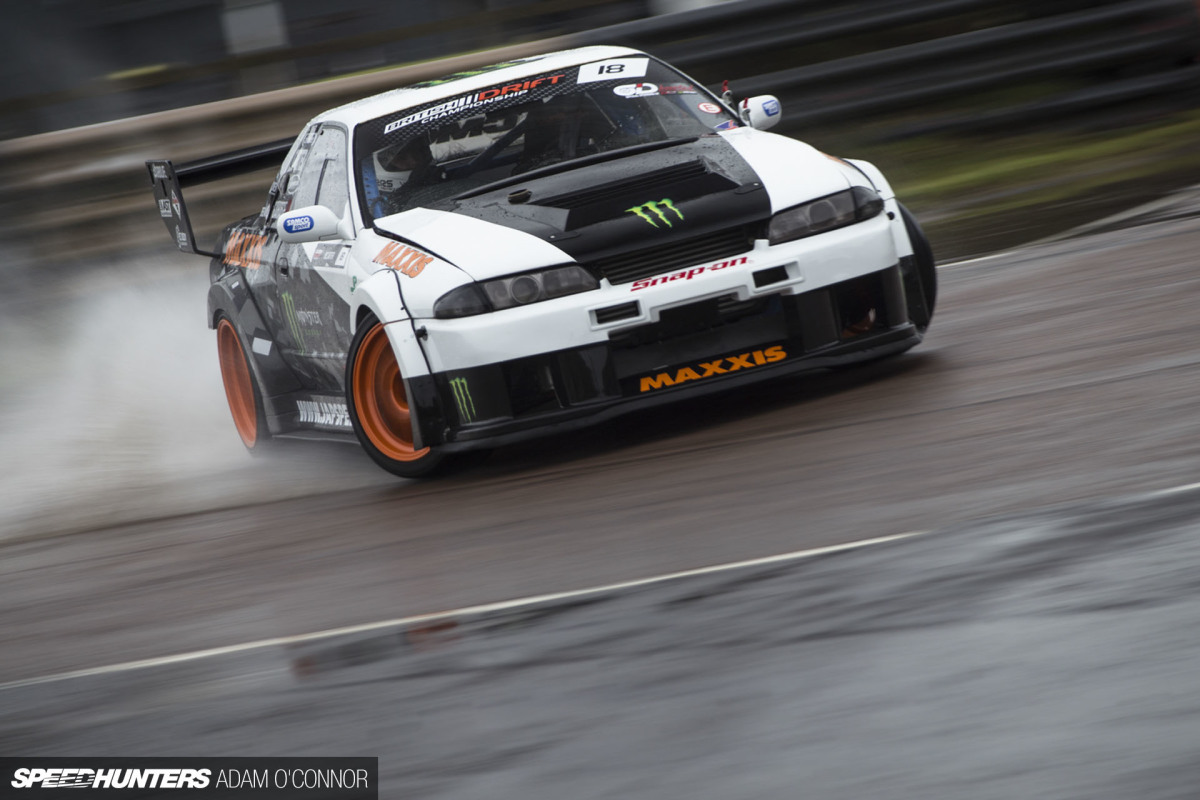 It was just a question of who would step up?
The Dark Horse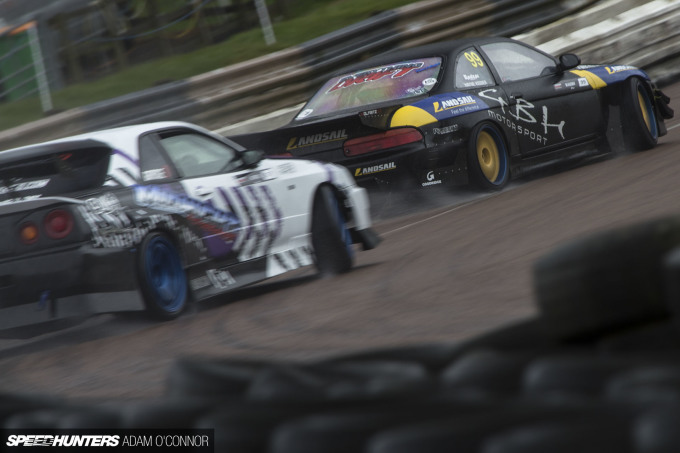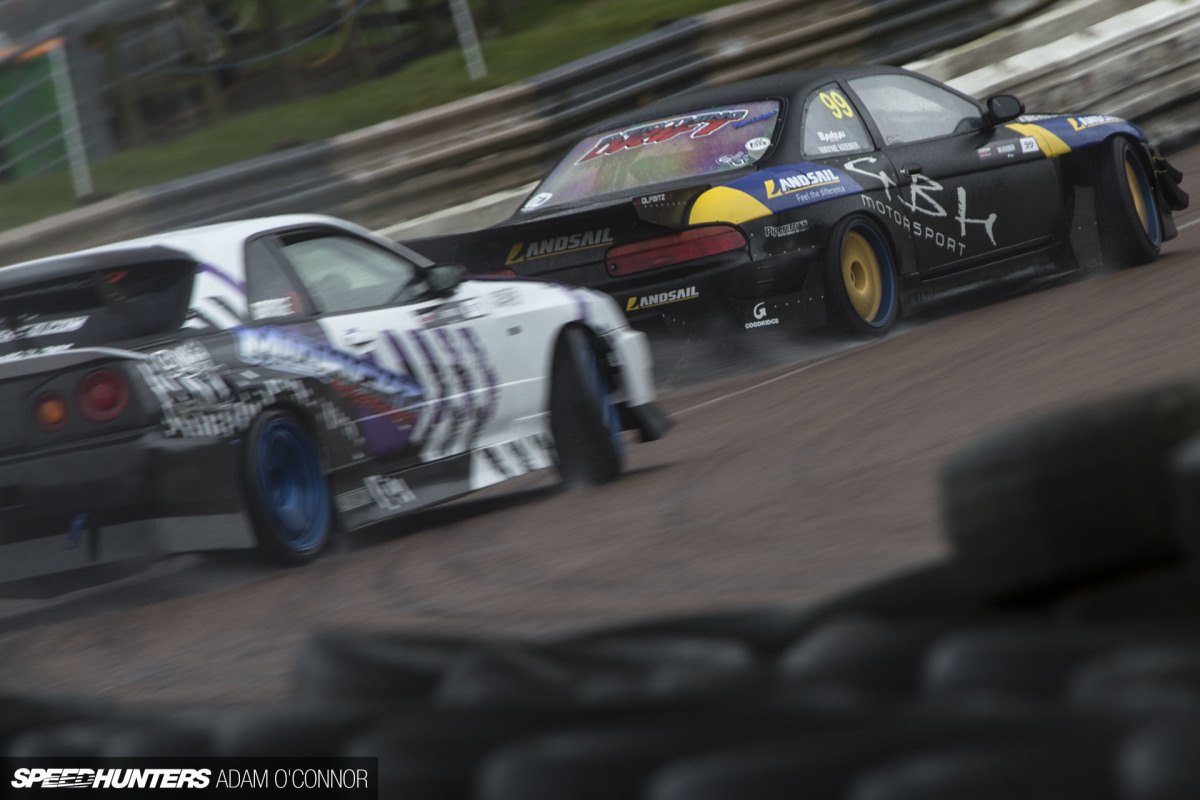 Ultimately, I felt disappointed leaving Lydden Hill. The weather completely eroded any atmosphere that could have been built and the organisers were left with little chance to add any flair to proceedings. I don't believe it's anyones fault, it was likely the best possible show that could have been put on considering the conditions, but I still don't feel like I got a proper look at what the BDC is all about.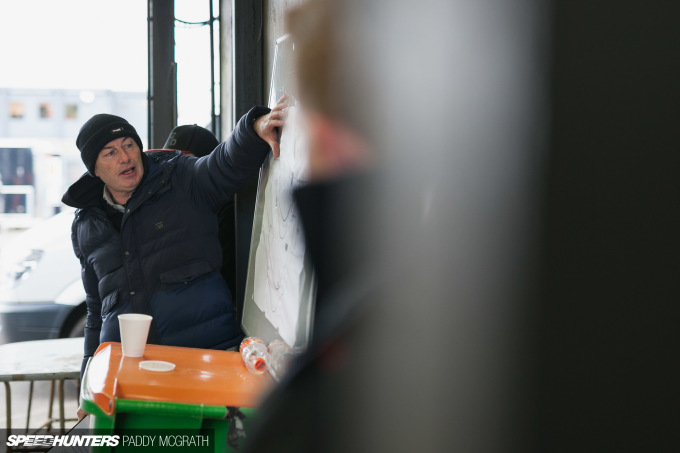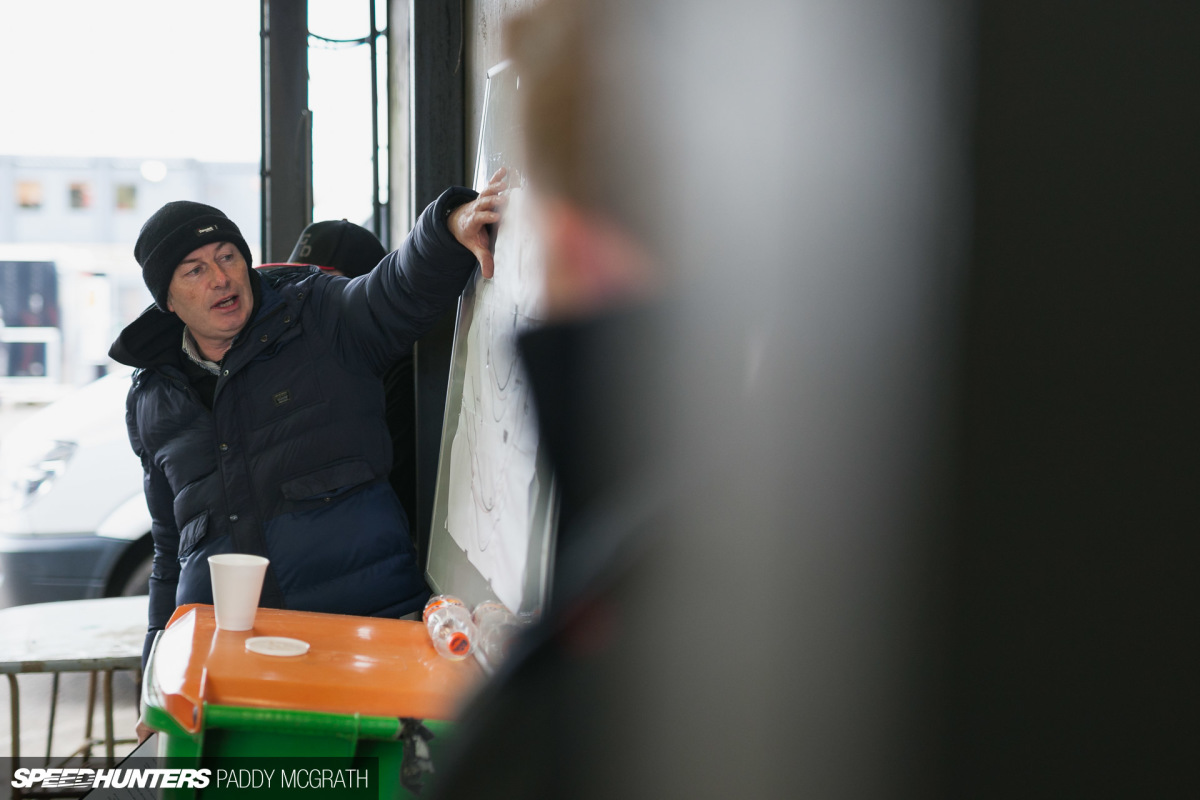 I thought that a surprising amount of drivers, particularly in ProAm, need to pay more attention to this man and what he lays down in the drivers briefing. I consider Kieran Hynes to be one of, if not the best drift judge around. What he says should be taken as gospel; if you choose to invent your own line or method, you're going home early. Simple as.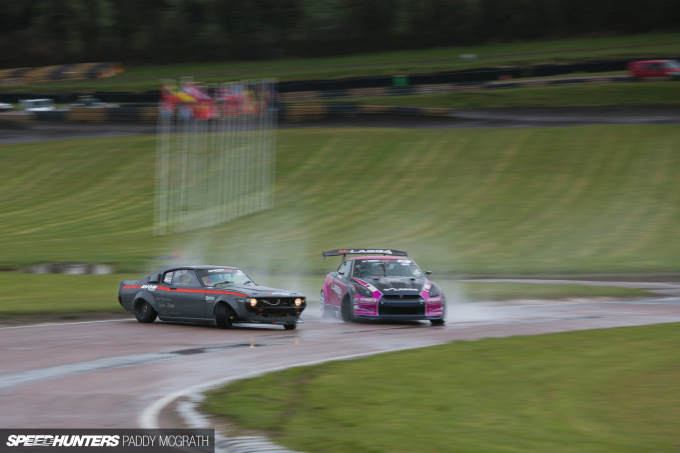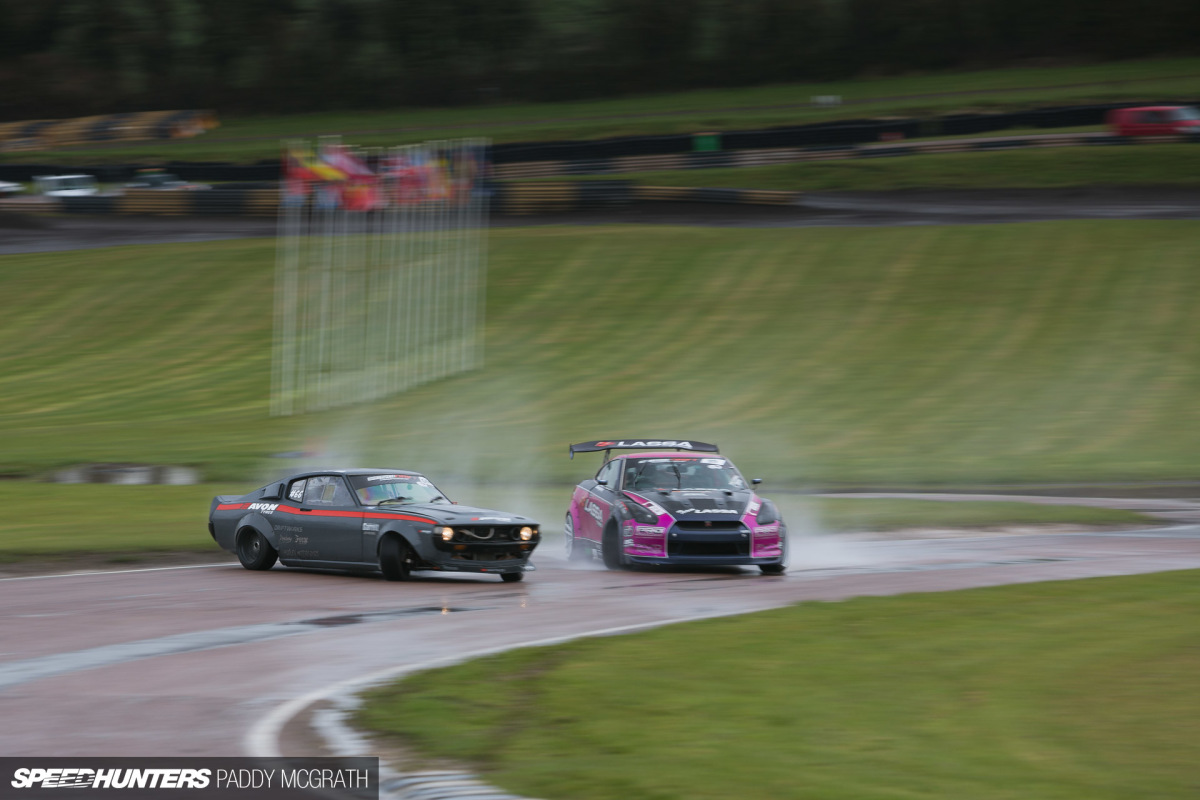 Those who listened and applied themselves as best they could, ended up putting on a pretty damn good show through the battles in both Pro and ProAm. It was the one big positive from the event.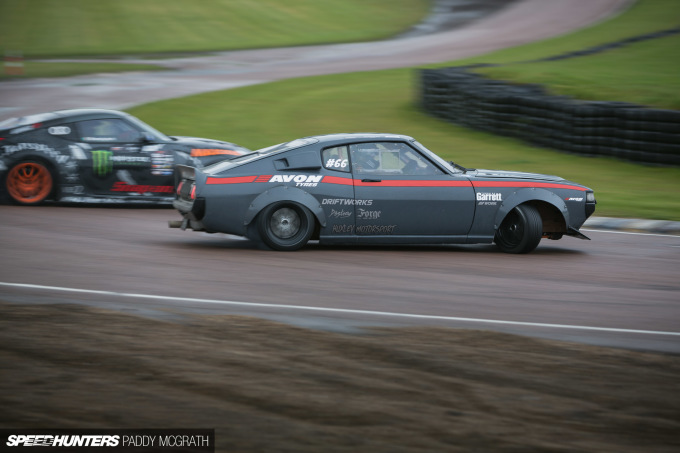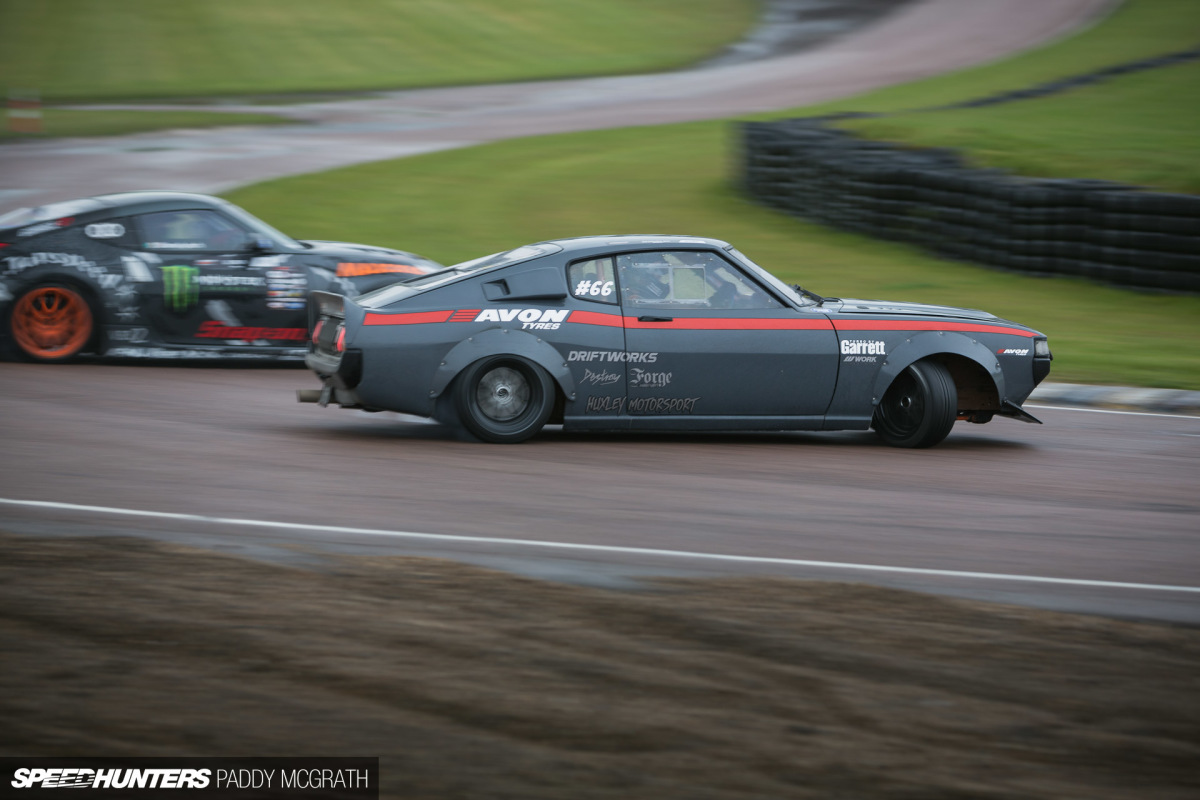 But the biggest positive was the success of the underdog. It's something that I had missed and previously presumed dead in drifting.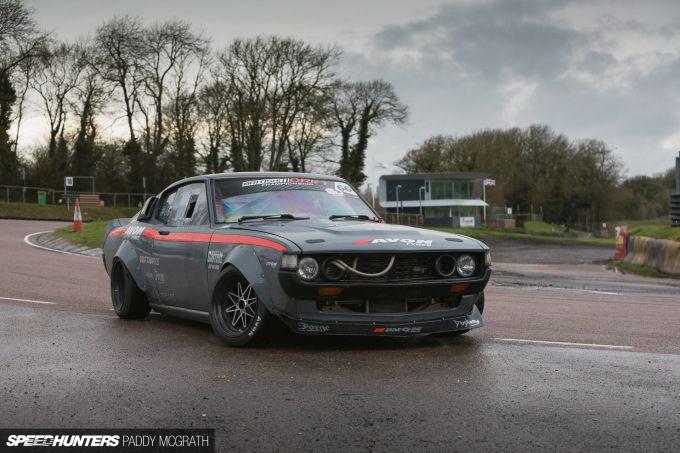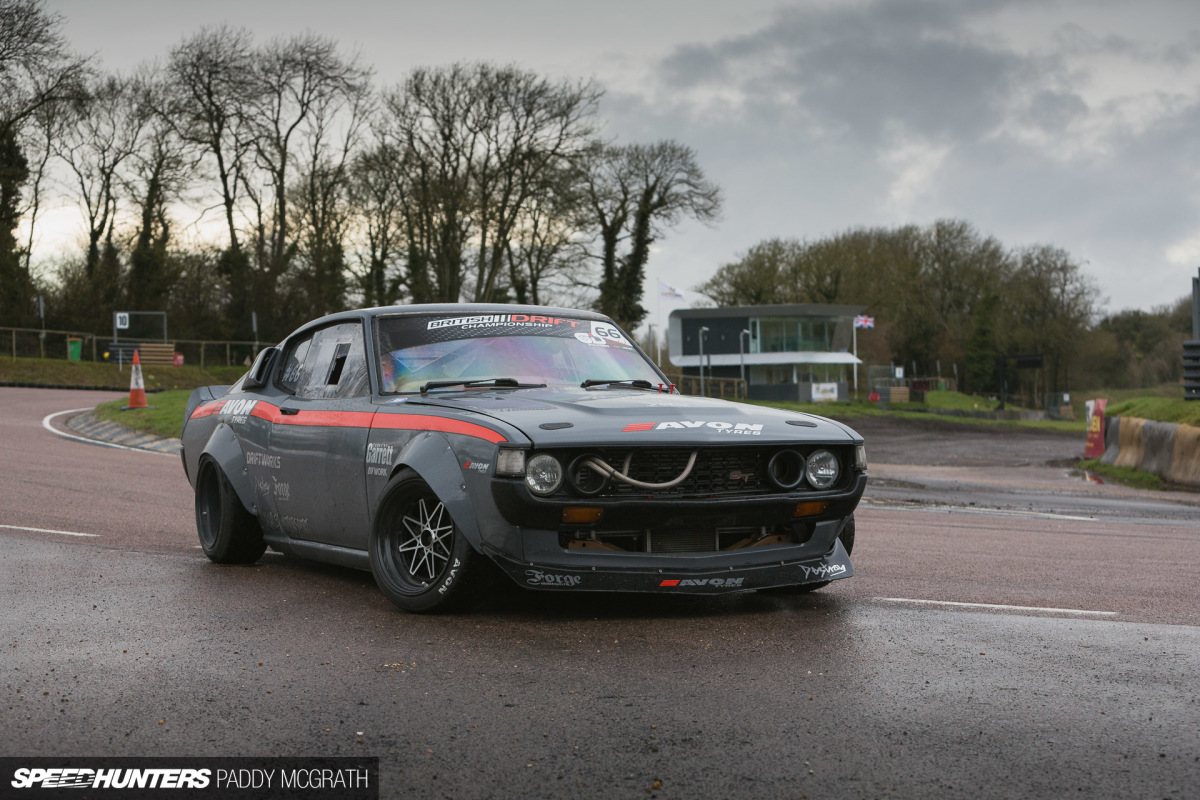 As he took to the top step of the podium for his first BDC win, you could honestly see what it meant to Marc Huxley. "Fifteens and fitment works" was his battle cry. You get the sense from him that this was about more than just a win. It was about proving a point.
And it's exactly this fight that the BDC needs should it want to finally realise its potential. The future of the BDC is solely in the hands of the drivers now, so who else will step up to the plate in 2016?
Paddy McGrath
Instagram: pmcgphotos
Twitter: pmcgphotos
paddy@speedhunters.com
Additional Photography by Adam O'Connor & Cian Leonard
Cutting Room Floor