Vintage Luxury
As part of our daily work here at Speedhunters, we are exposed to all sorts of modified vehicles. From mild restomods, to brand new performance cars loaded up with the latest high-end parts, to racing vehicles that bear no resemblance to any street car.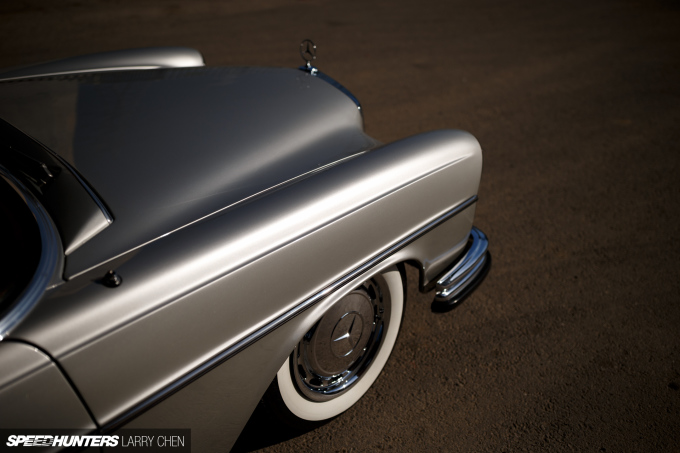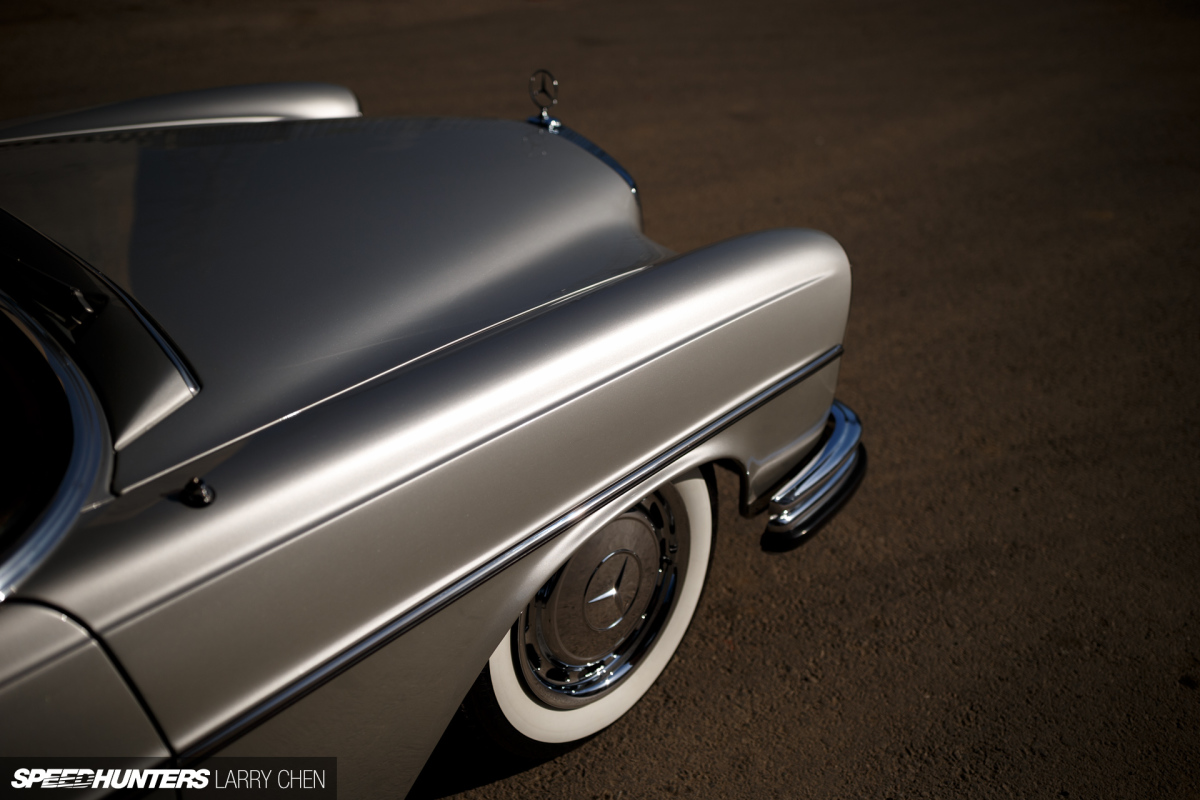 And while we've looked at cars built to suit every type of budget and every kind of taste, the great thing is there really are no rules to completing an effective build. Yes, we've featured plenty of cars that have modification lists that are pages long, but there's no correlation between the amount of work done and the overall appeal of a car.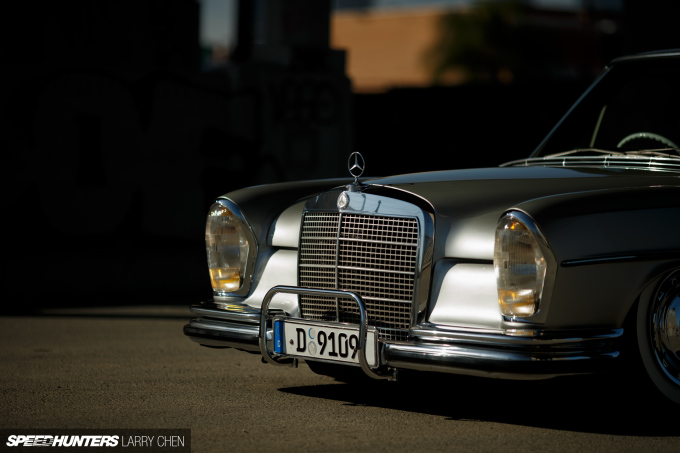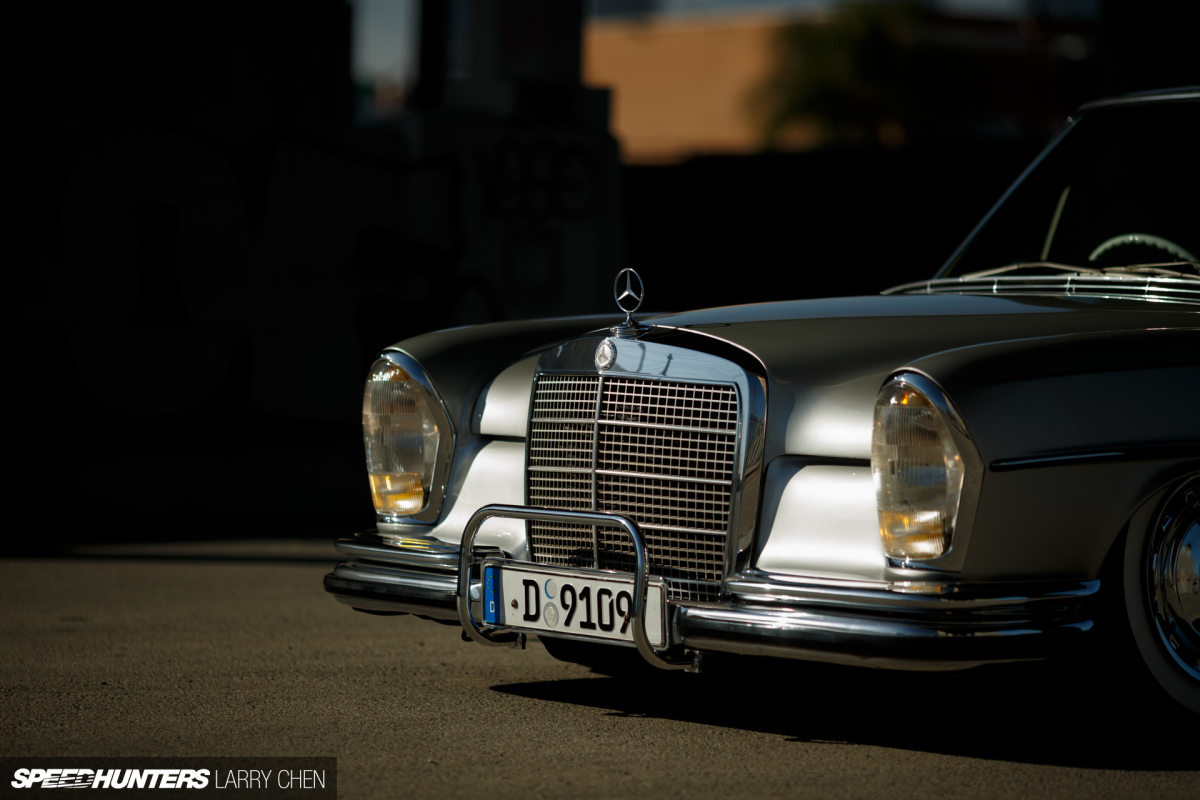 In fact, sometimes it's the cars with the more subtle and understated approaches that can impress the most. As they often say, less is more.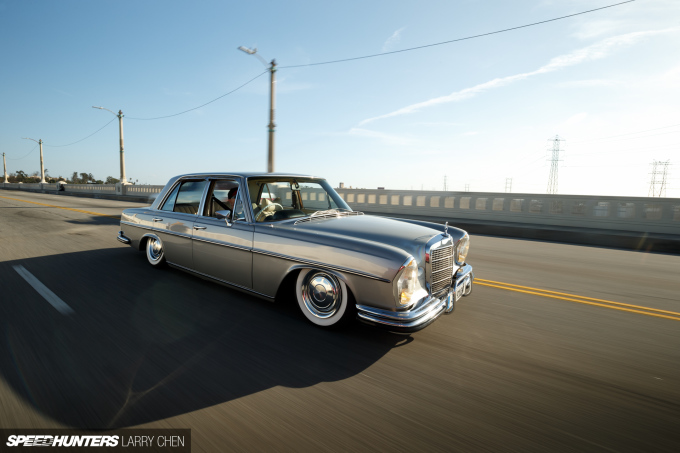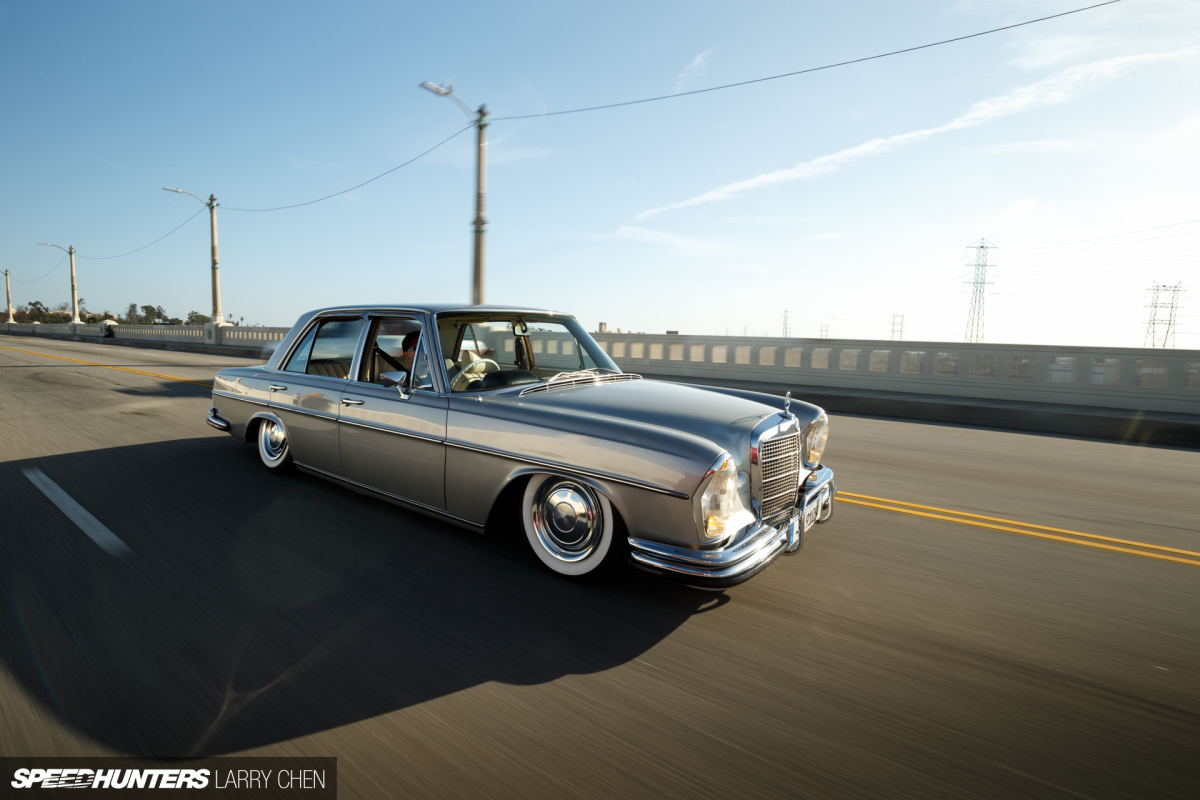 And that brings us to a vintage Mercedes-Benz that can be found cruising the streets of Southern California and just drips with 1970s luxury car coolness.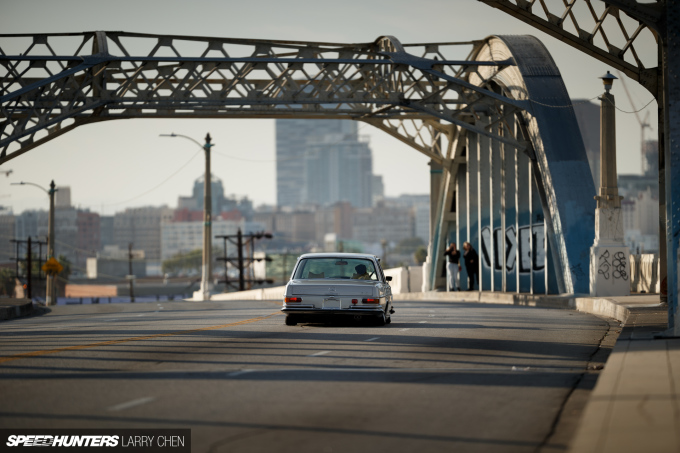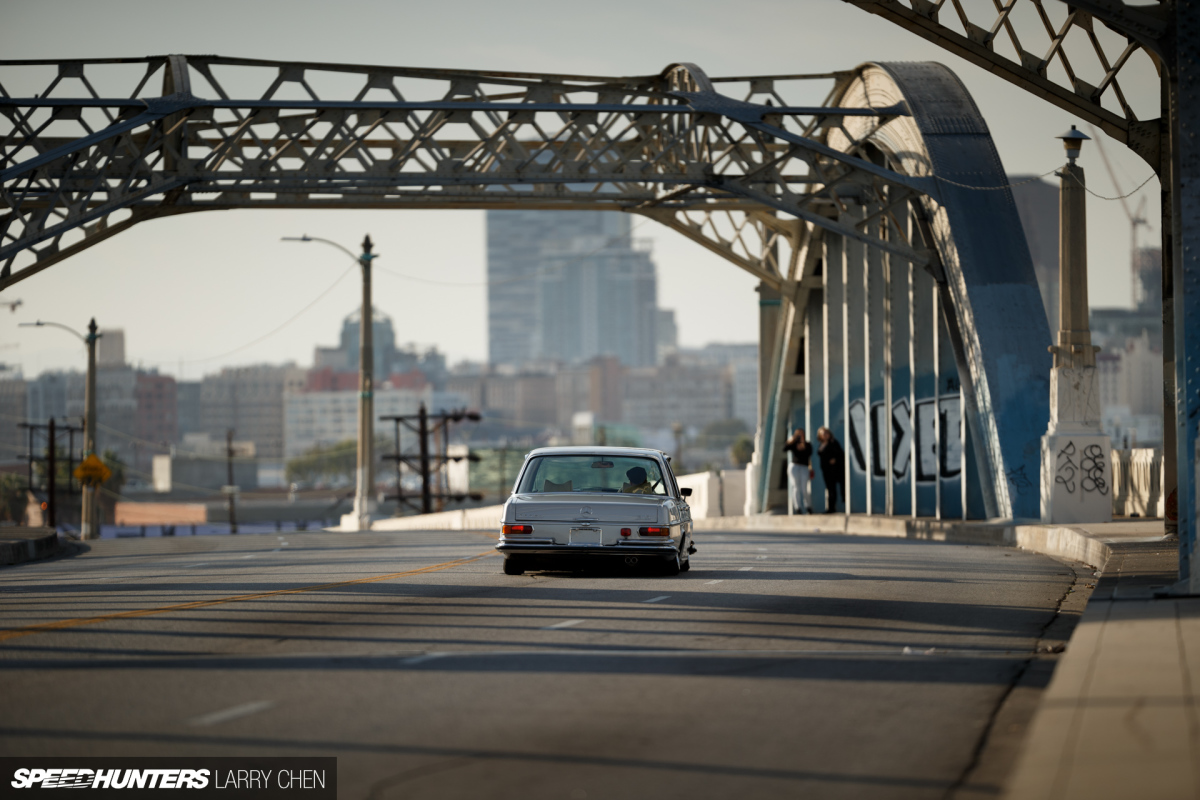 While this Benz might be simple in its approach, the car's actually a vision that has been perfectly realized by its owner Jimmy Uria.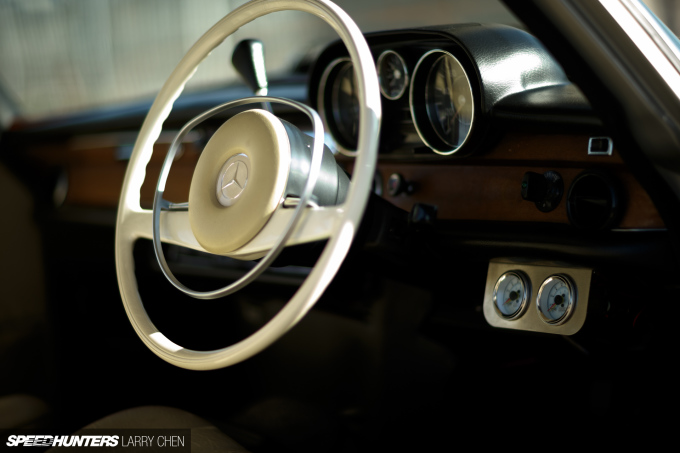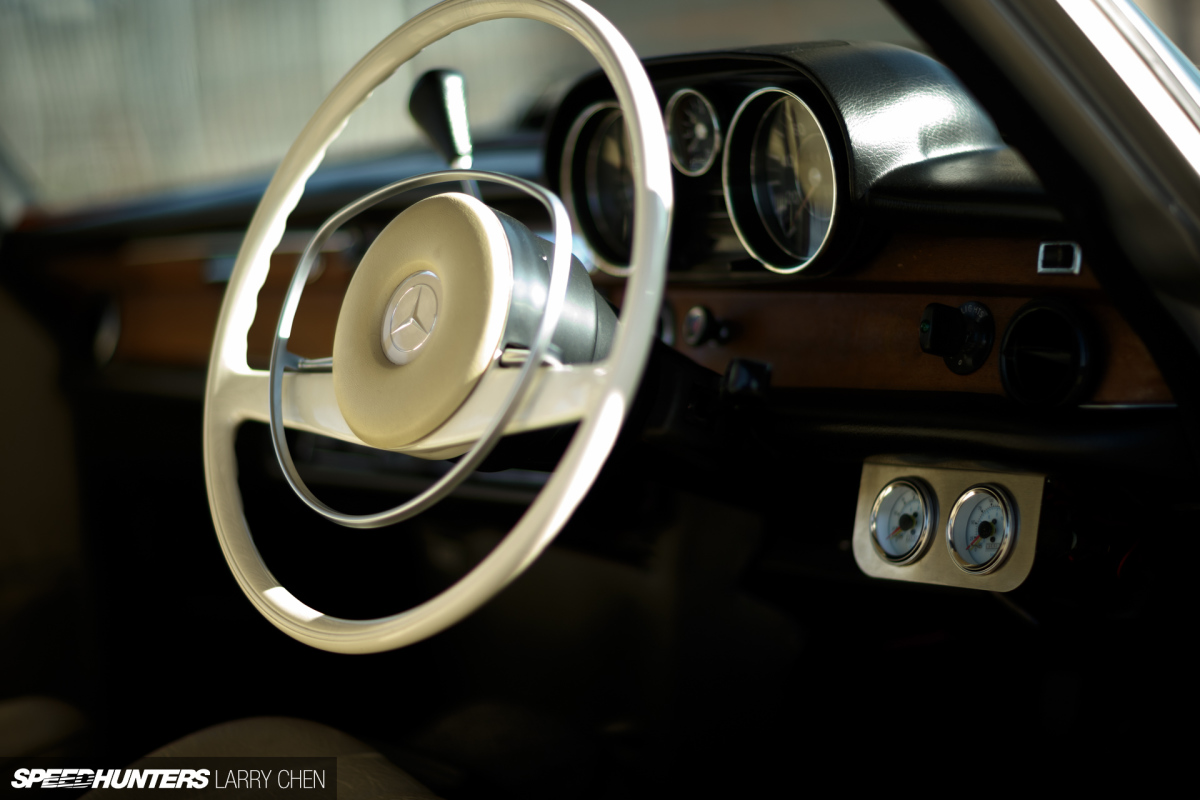 Jimmy grew up modifying Japanese imports and one of his other vehicles is actually a heavily modified Honda Del Sol. But back in 2009 he decided to change things up a bit; he wanted a car that was big, old and low.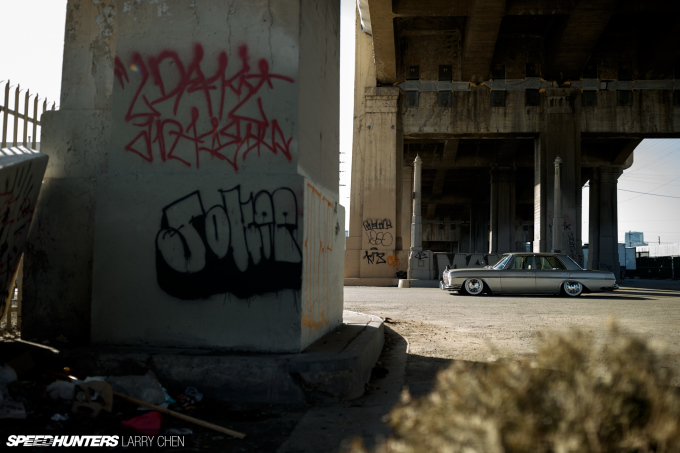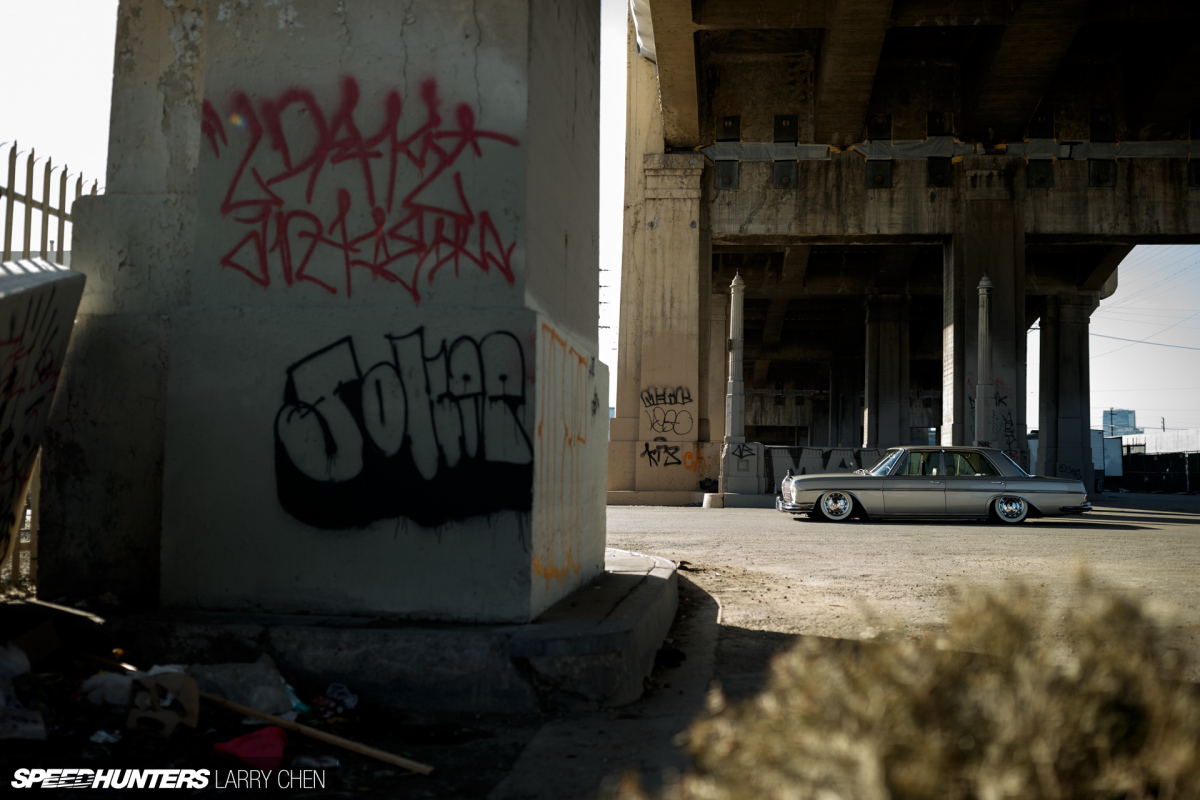 He had two cars on his mind. One was an old Cadillac and the other was an old Mercedes, and his ideas for both included air bags for a slammed ride height.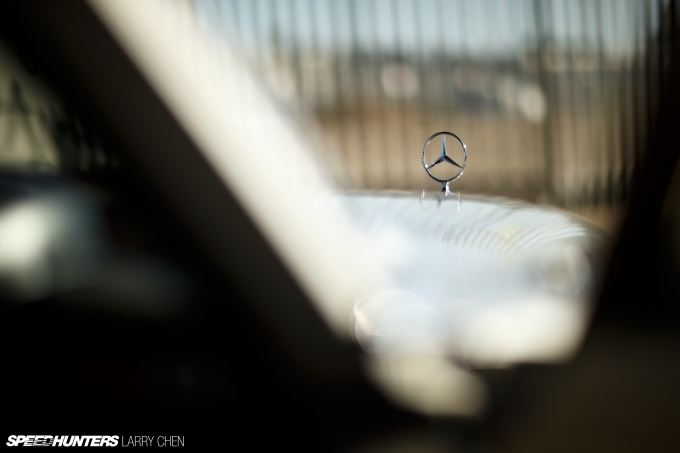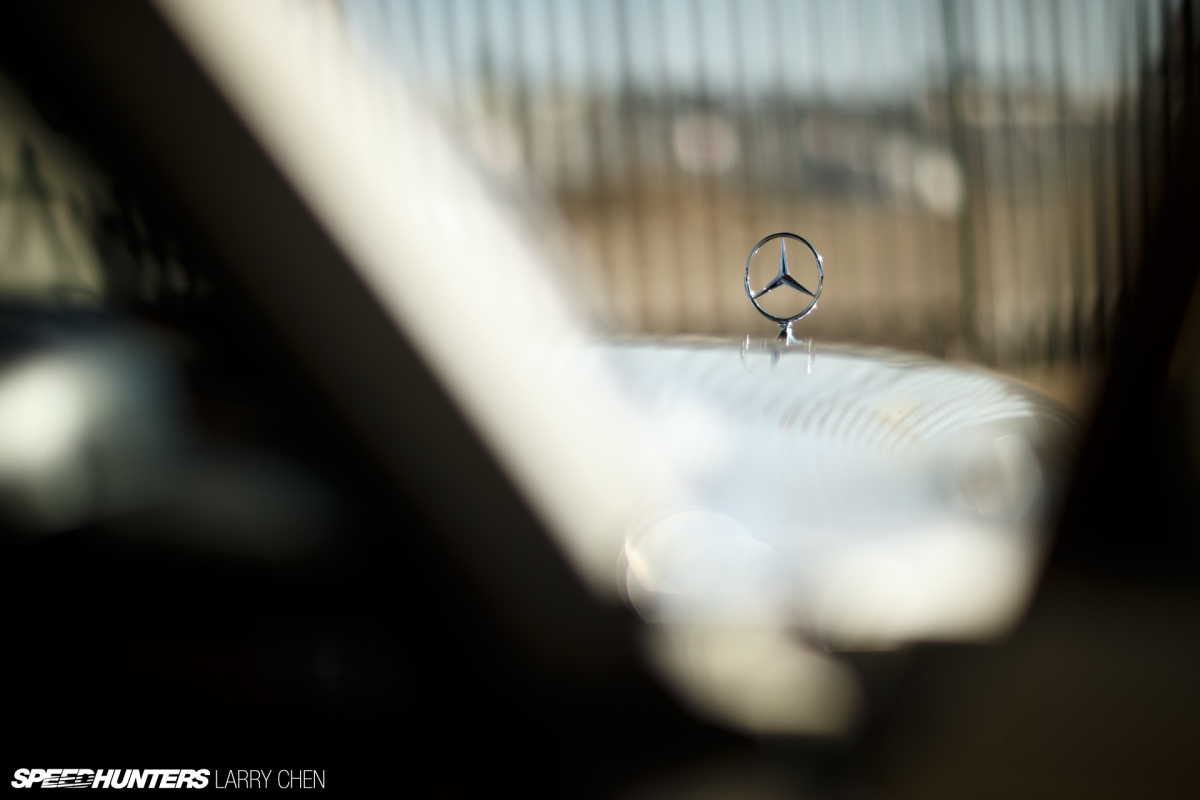 First he bought the Cadillac and then around one year later he found the Mercedes-Benz – a 1972 280SE four-door with the factory V6 engine. The car was all stock, and after a new set of tires the old Benz became Jimmy's daily driver for his 90-mile commute.
Built To Cruise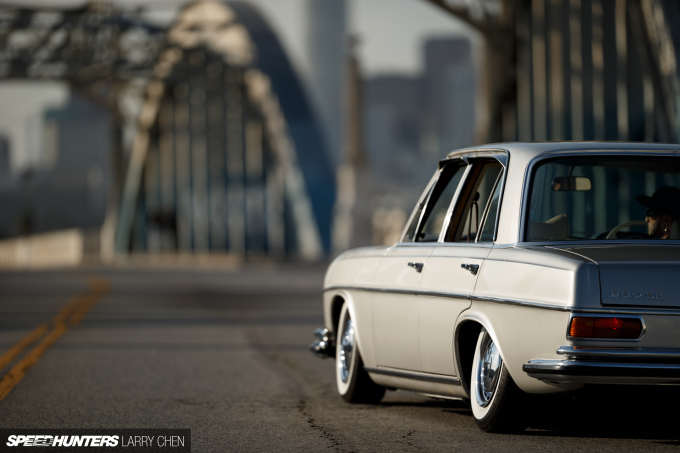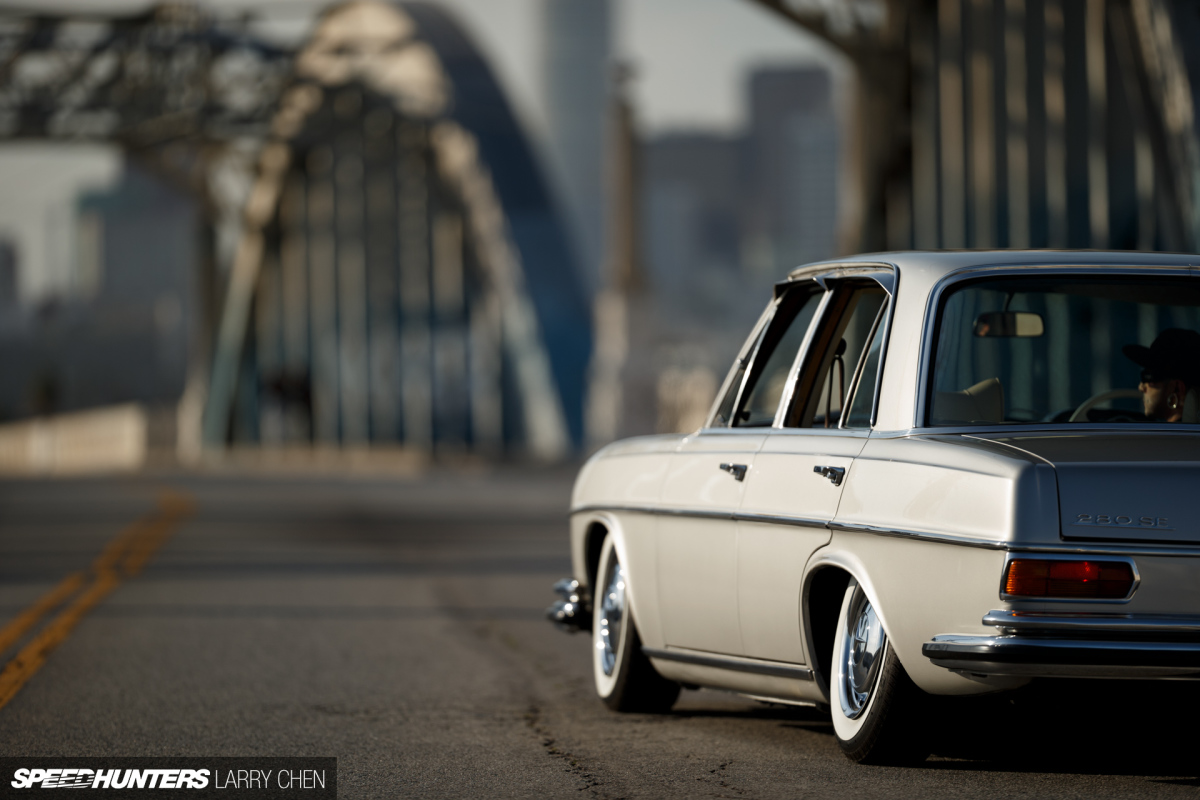 As he was daily driving the car, Jimmy started gathering parts and planning out the rest of the modifications for the Benz. But after suffering some engine problems the project got sidelined a bit. Not long after that Jimmy was searching online for parts he came across another '72 280SE that was for sale.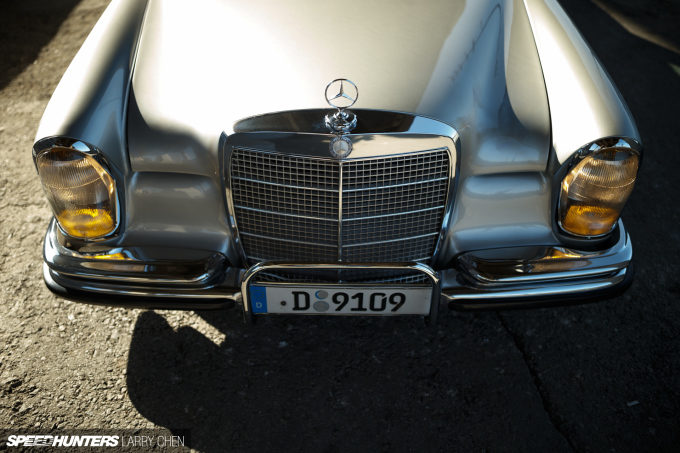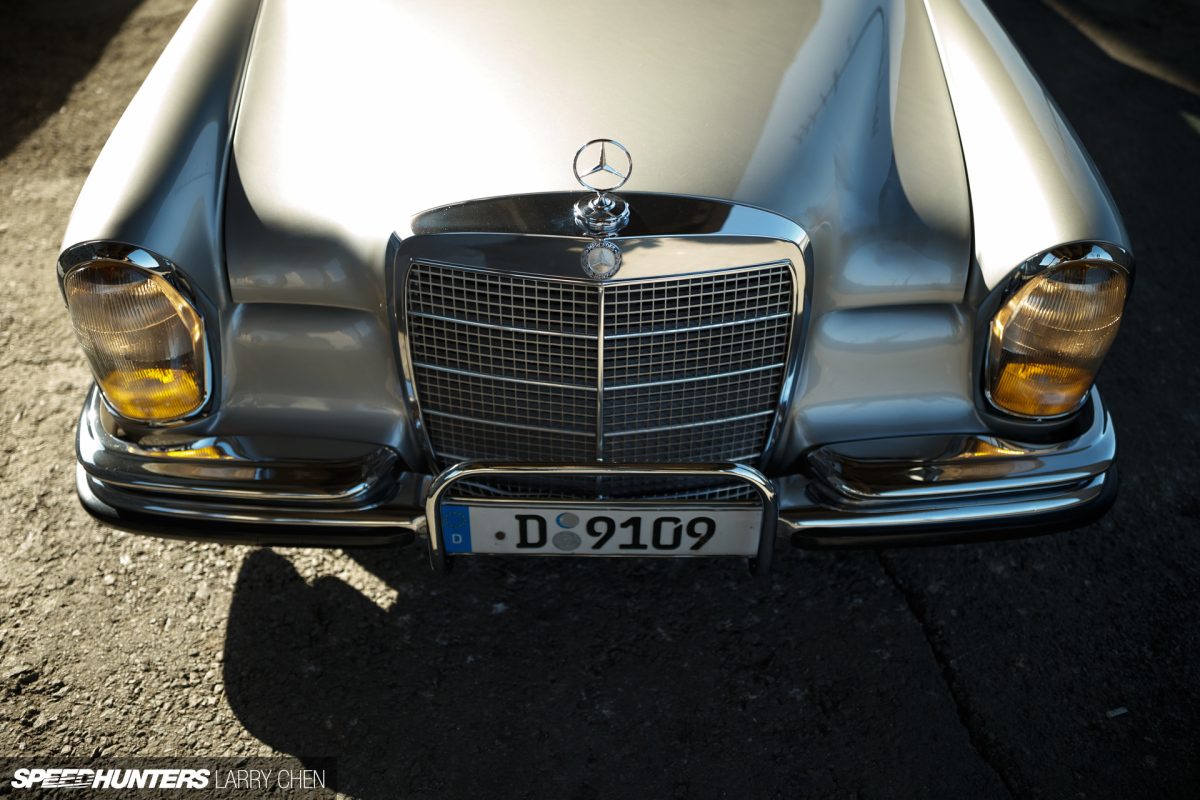 While he already had an old Benz, there was something special about this new one, namely the fact that it was a right-hand drive European model that had been fully legalized for the US and was also powered by the rare 3.5-liter V8 engine.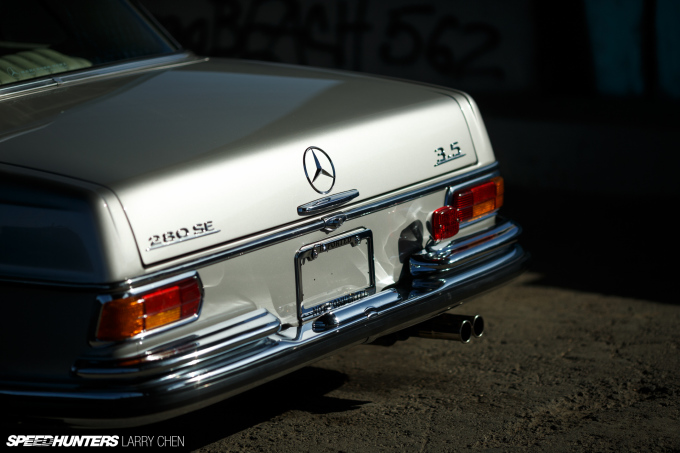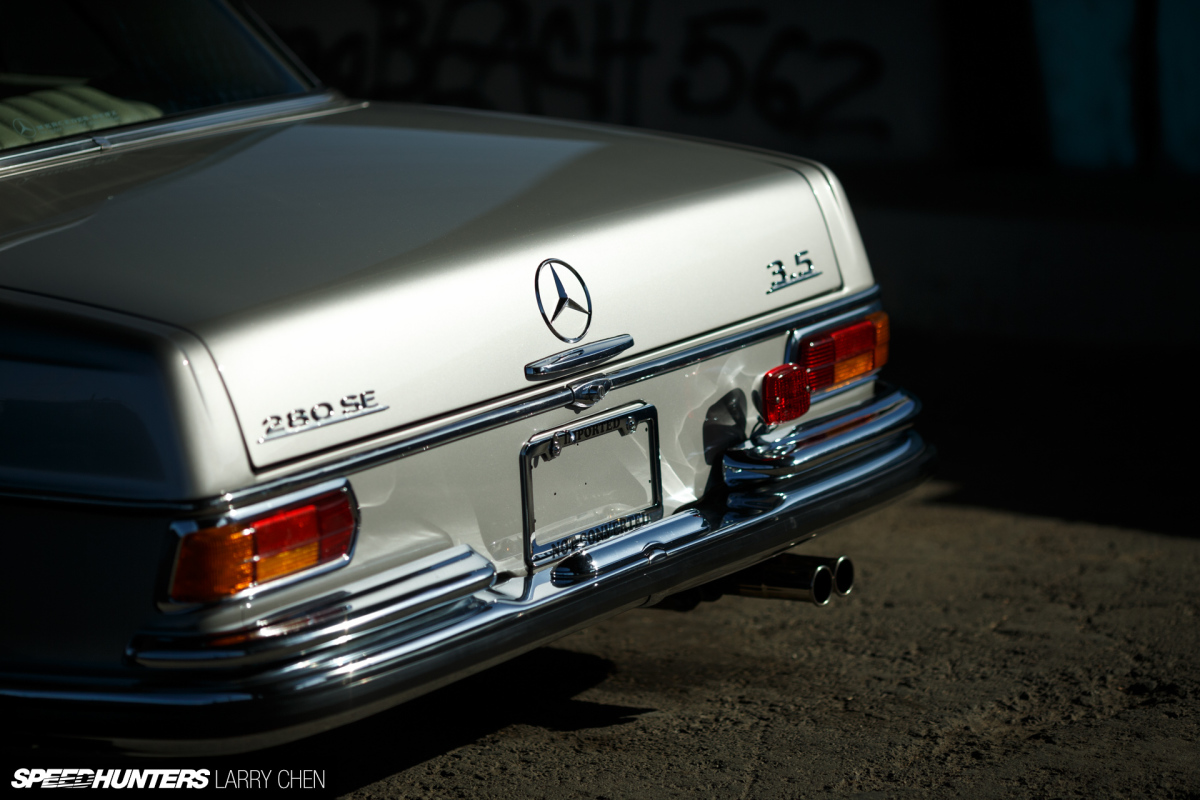 Jimmy test drove the car and fell in love with it. Sure, he already had a 280SE, but the right-hand drive, V8 engine and overall uniqueness of this one were too cool to pass up. A deal was made and Jimmy was now the owner of another 1972 280SE.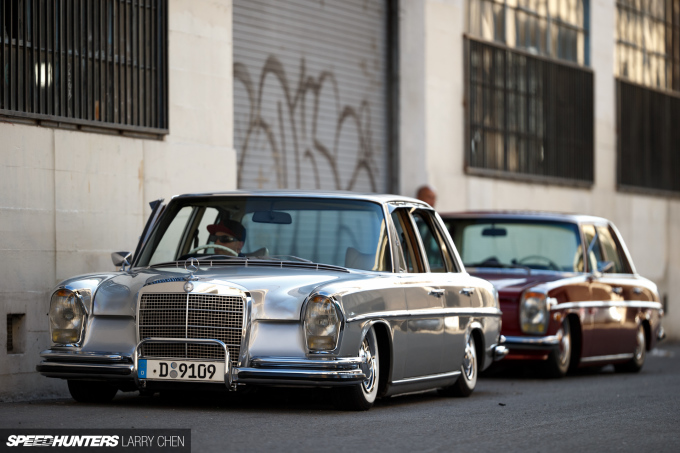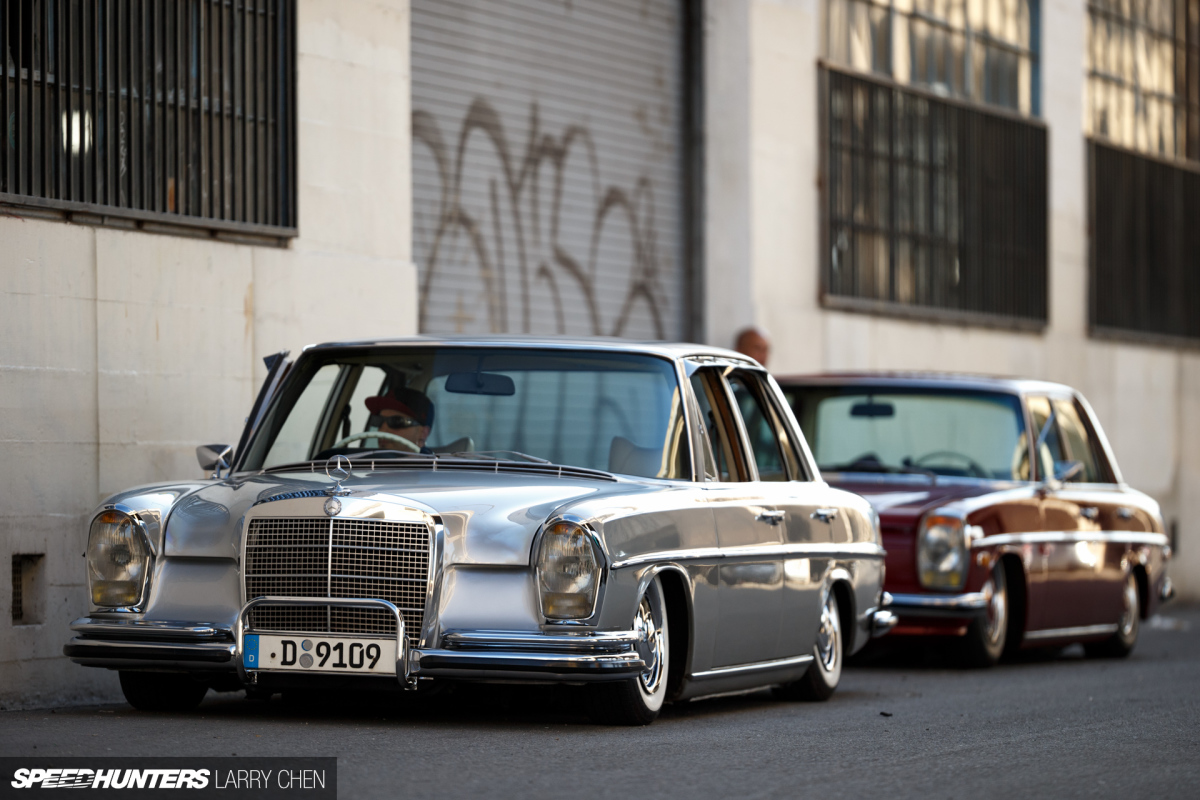 After taking ownership of this car Jimmy had a newfound inspiration to proceed with his vision of a vintage Benz that was slammed to the ground. Just a month after acquiring the RHD car, plans were made for an air ride suspension.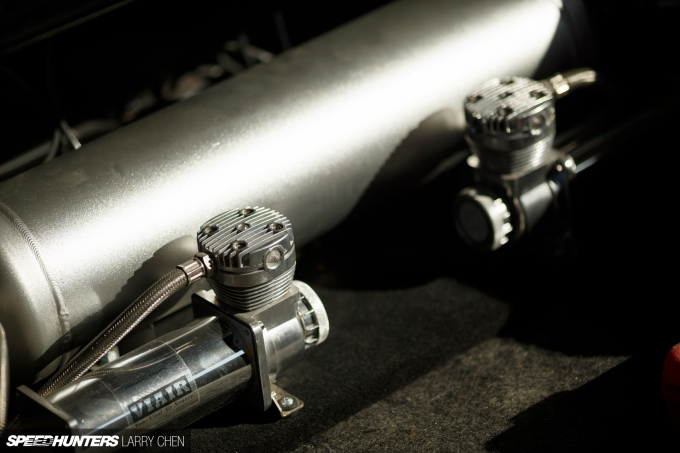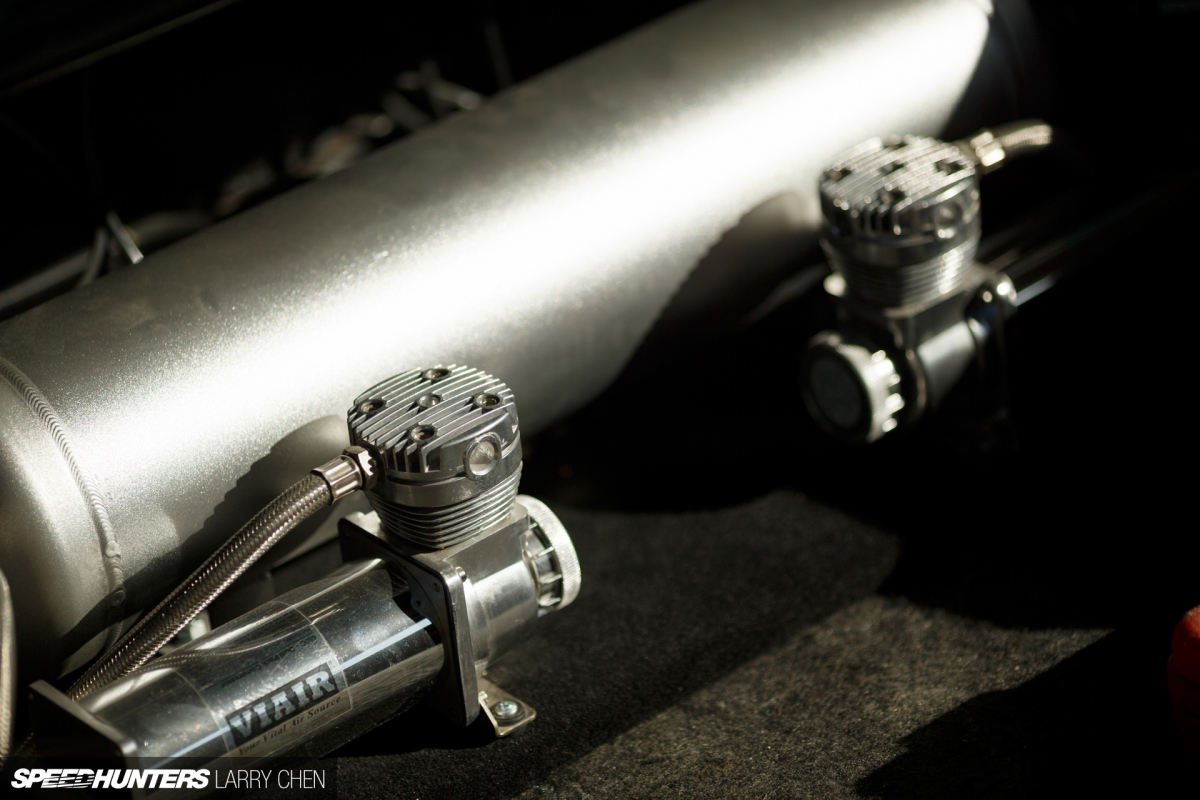 Universal Air Suspension of San Bernardino, California, was called upon to redo the 280SE's footwork. The airbag setup includes a 5-gallon air tank and a pair of Viair 480C compressors, with the height naturally adjusted from the comfort of the driver's seat.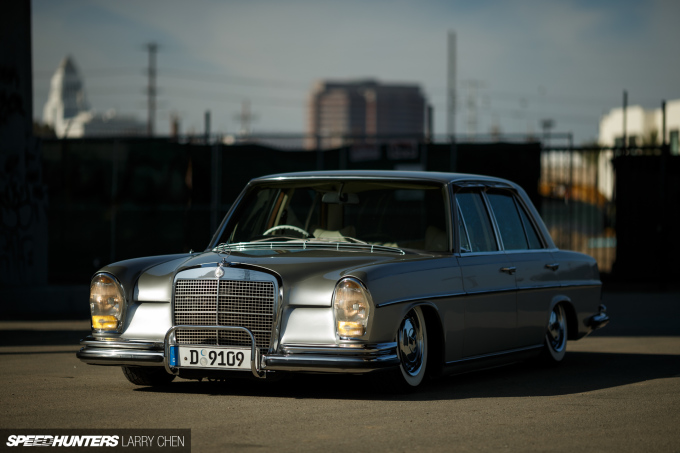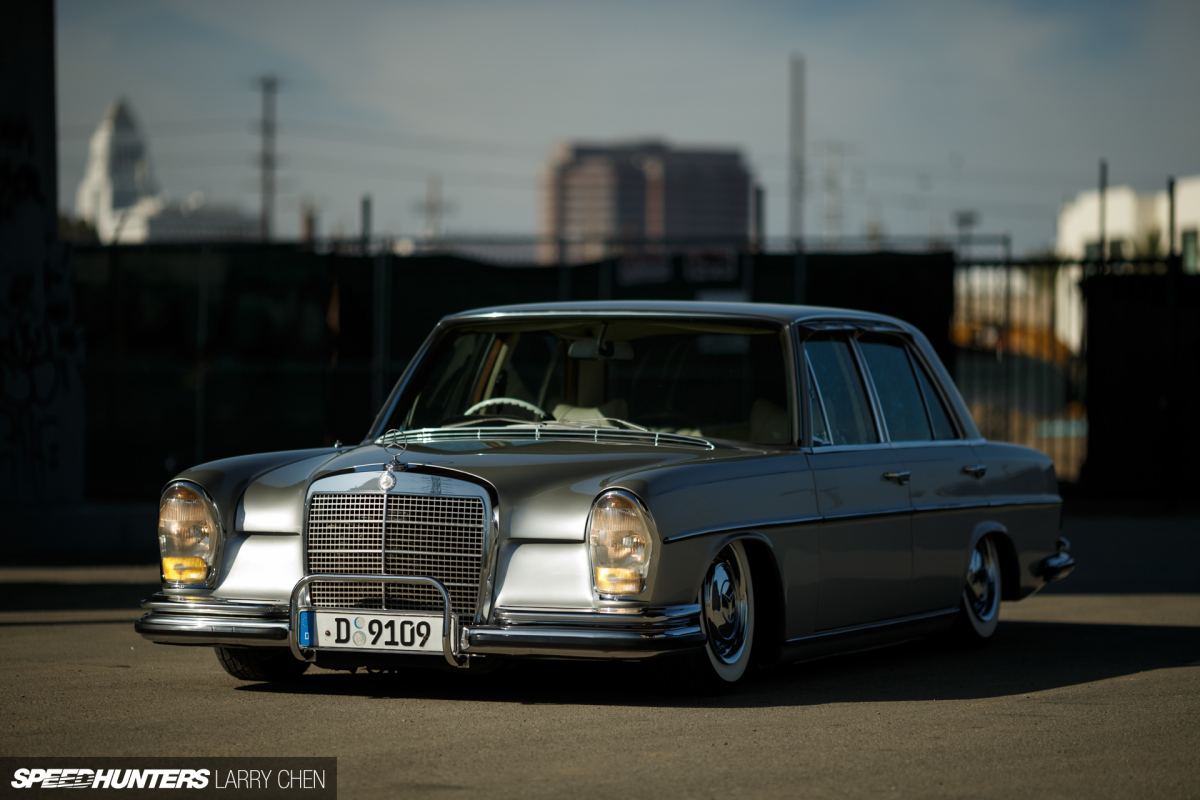 With the ride height set at its maximum low there's significant negative camber in both the front and and the rear, and this was all part of Jimmy's vision. It adds just the right amount of change to what's otherwise a very stock car.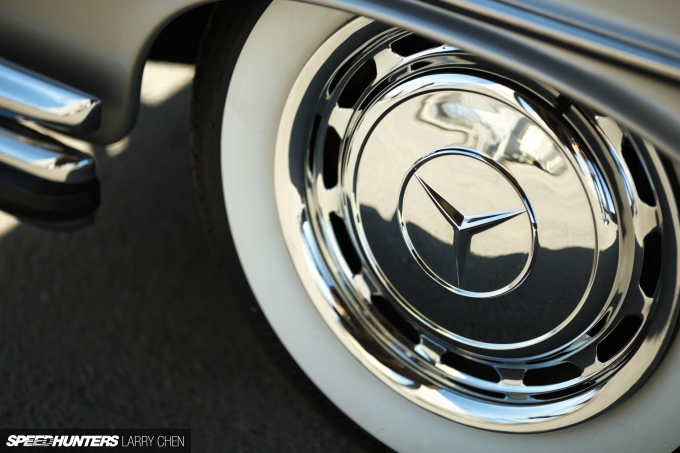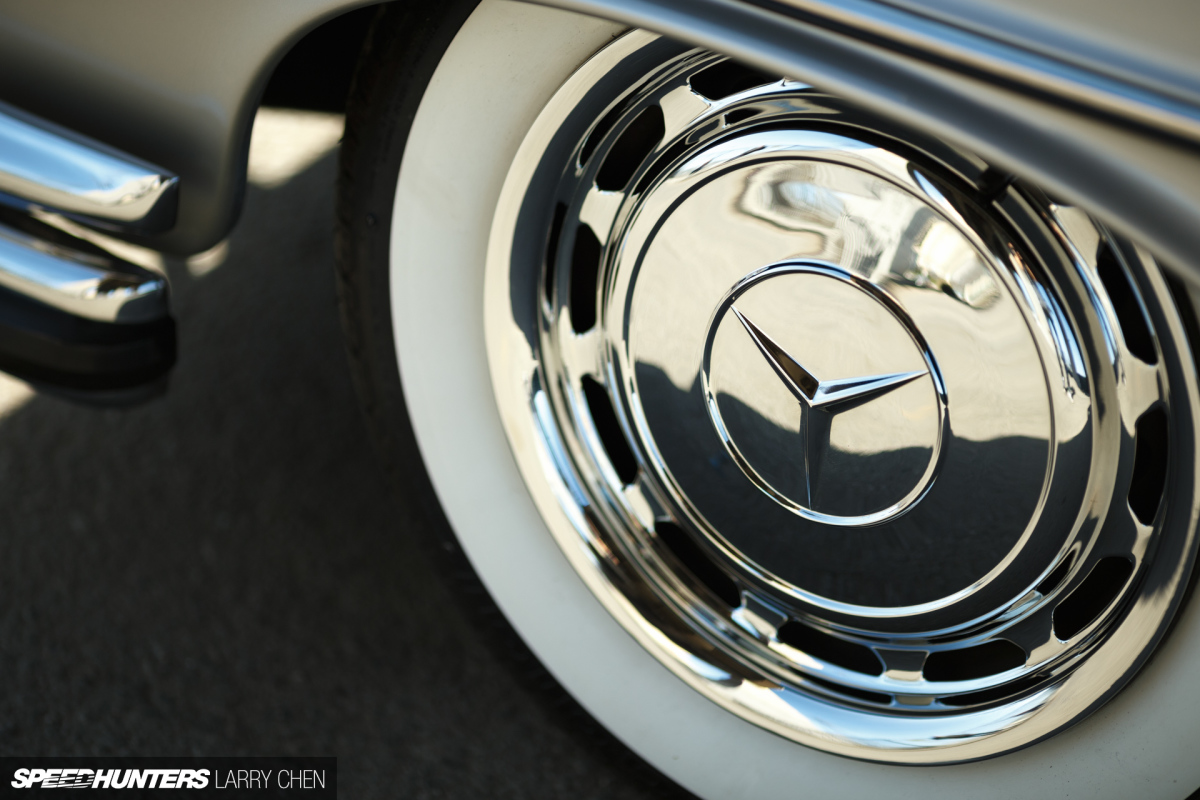 Rather than going with a set of aftermarket wheels, Jimmy wanted to stick with a very original look for the Benz, thus the factory 14-inch wheels with OEM hub caps.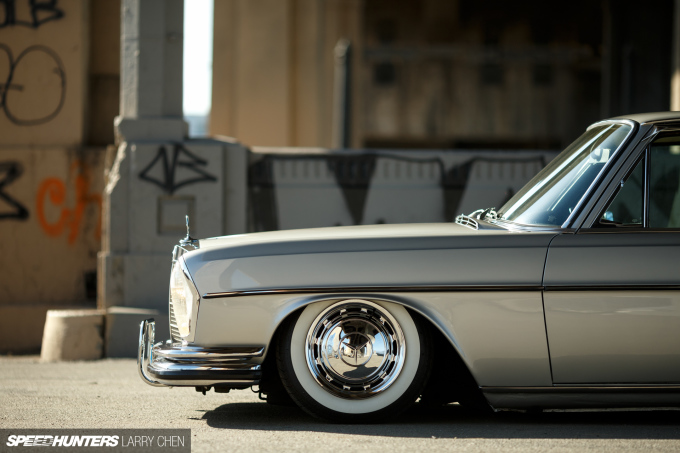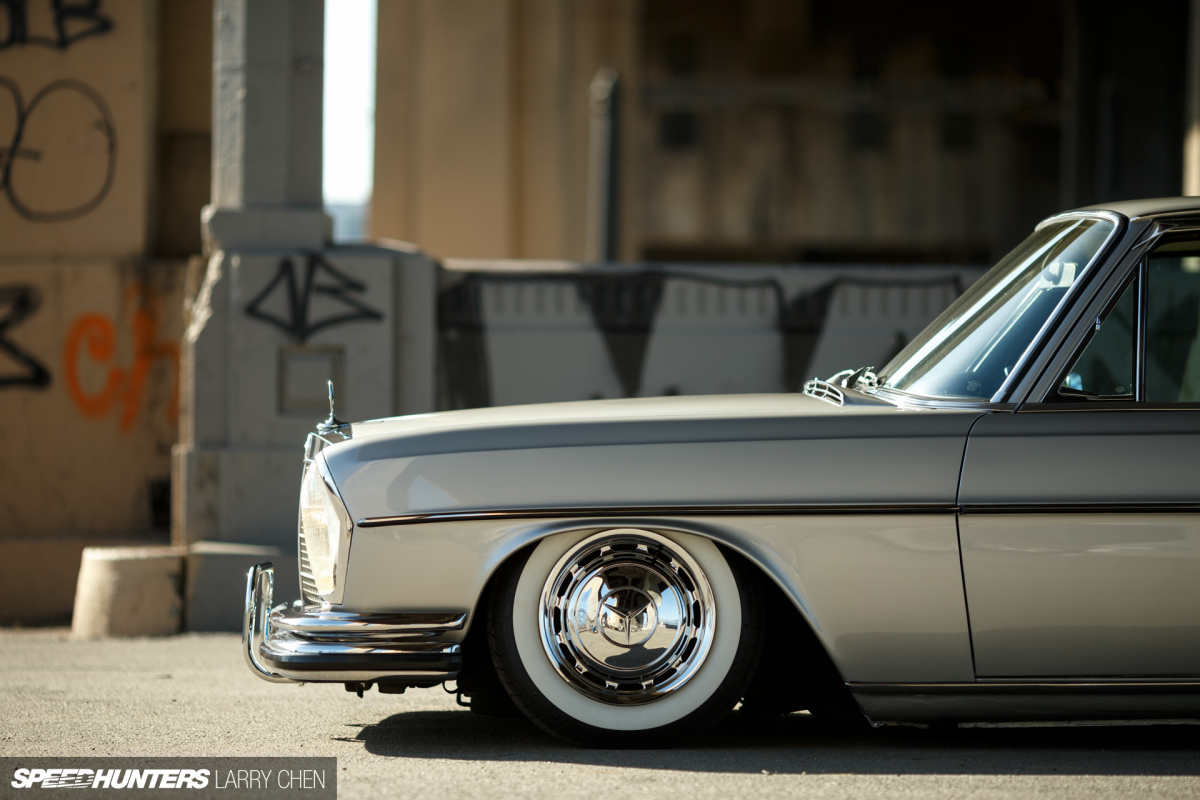 Wide white-walls were another important part of Jimmy's plan, and the tires are BF Goodrich Silvertown radials with 2-1/4-inch white bands.
Going The Simple Route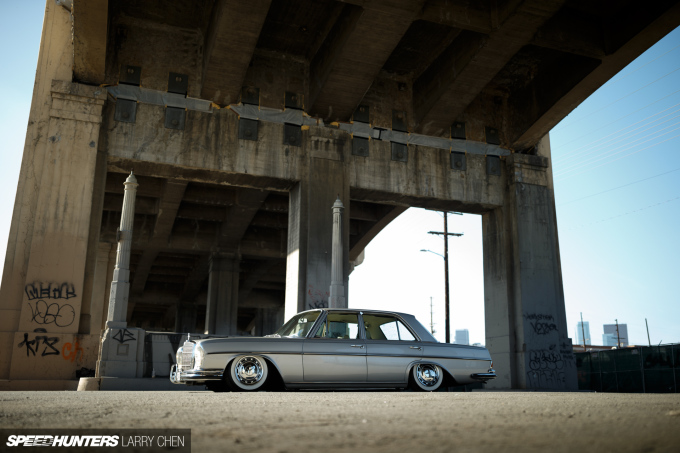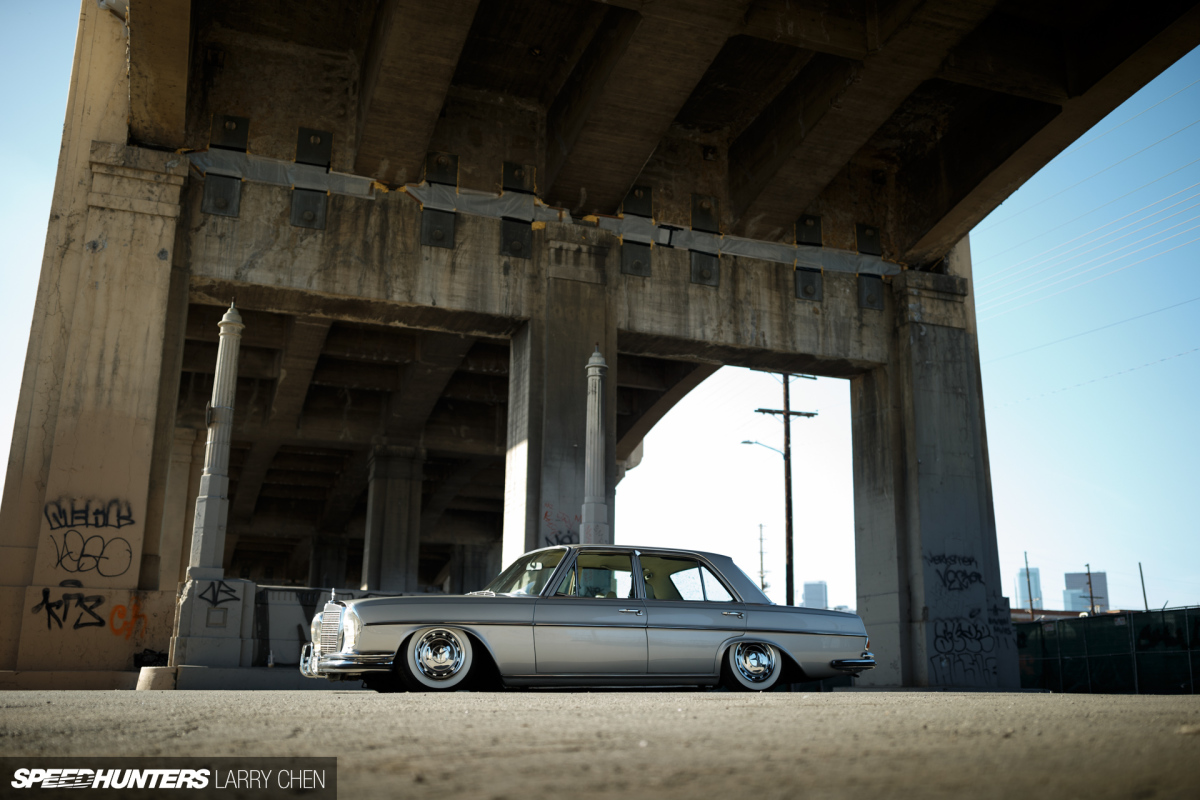 The air suspension is actually the only significant aftermarket modification made to the car. Aside from that, most of the work Jimmy has done involves restoring the Benz cosmetically and also adding a few of the European market parts he had gathered for his first 280SE.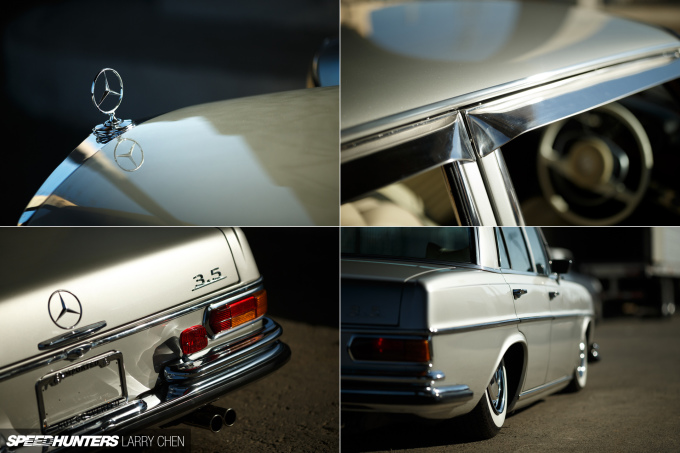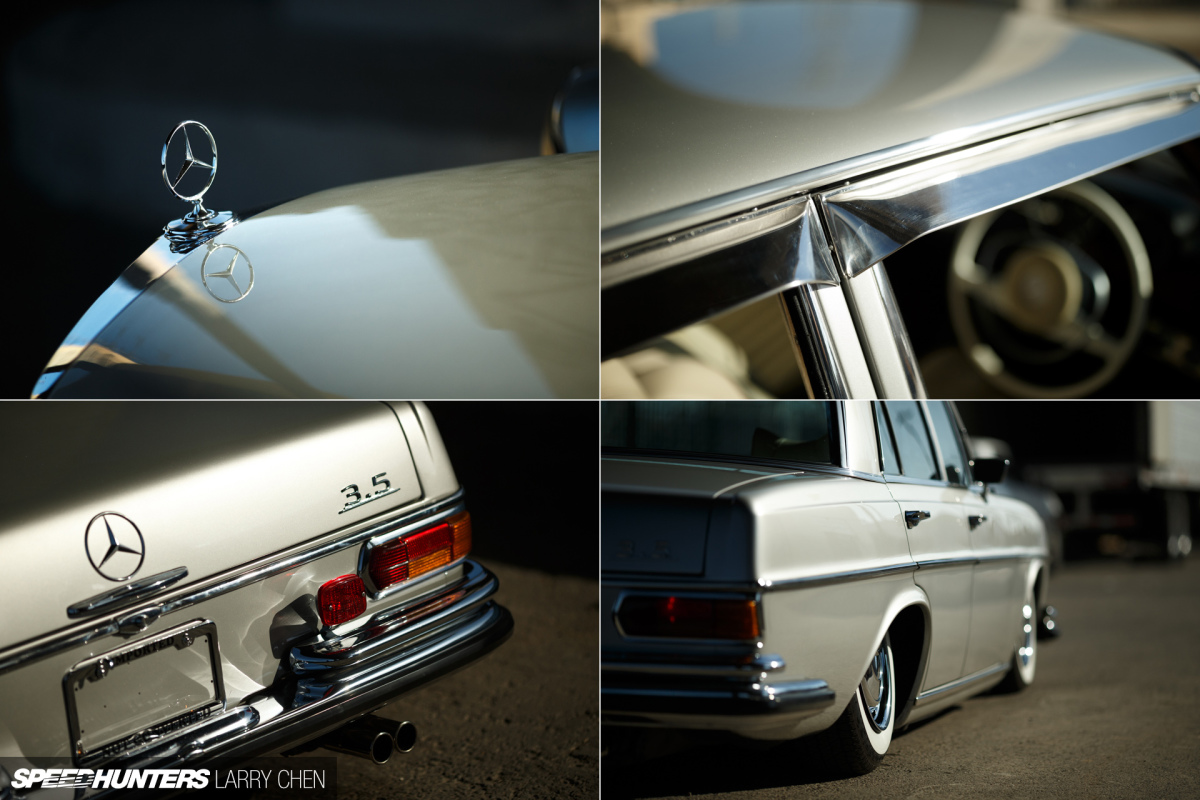 The body, for example, was repainted in its original shade of silver but with a House of Kolor clear-coat. All of the chrome trim around the car was re-plated too.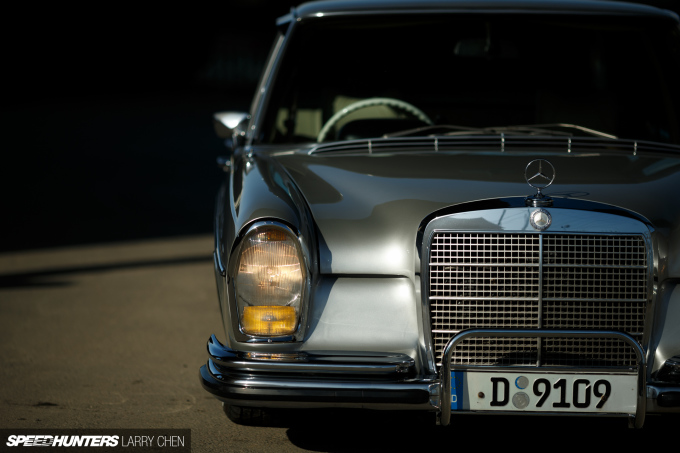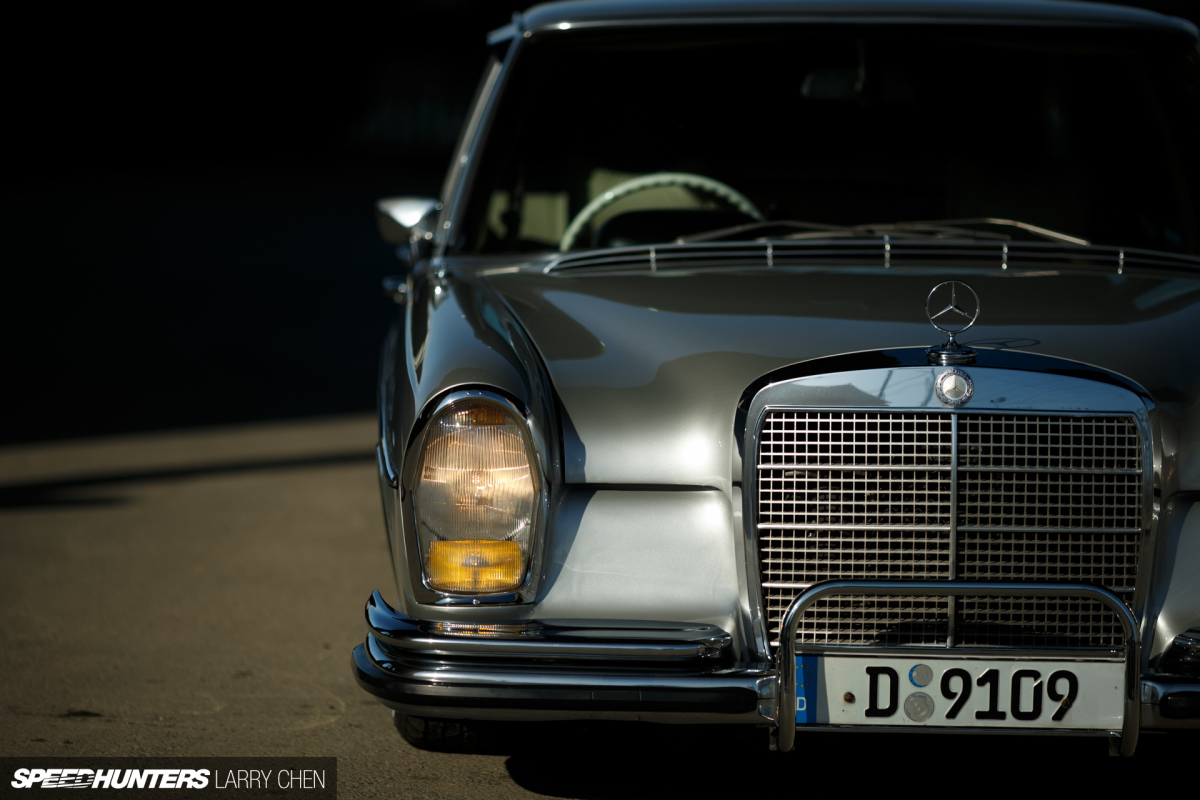 Other exterior changes include European headlights with H4 bulbs and foglights, French market tailights, a rare grille guard and a European front license plate.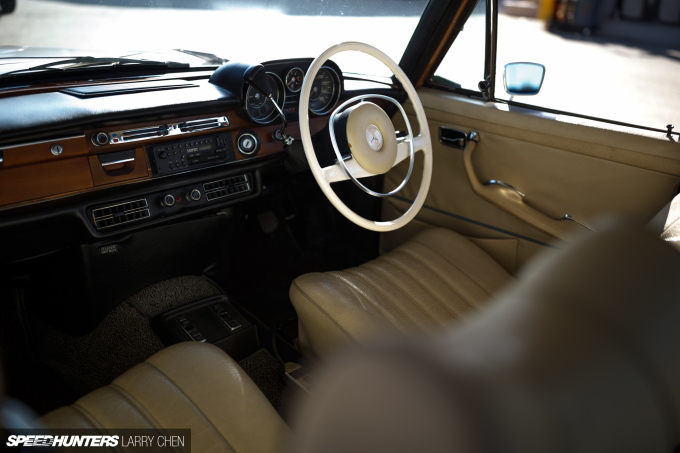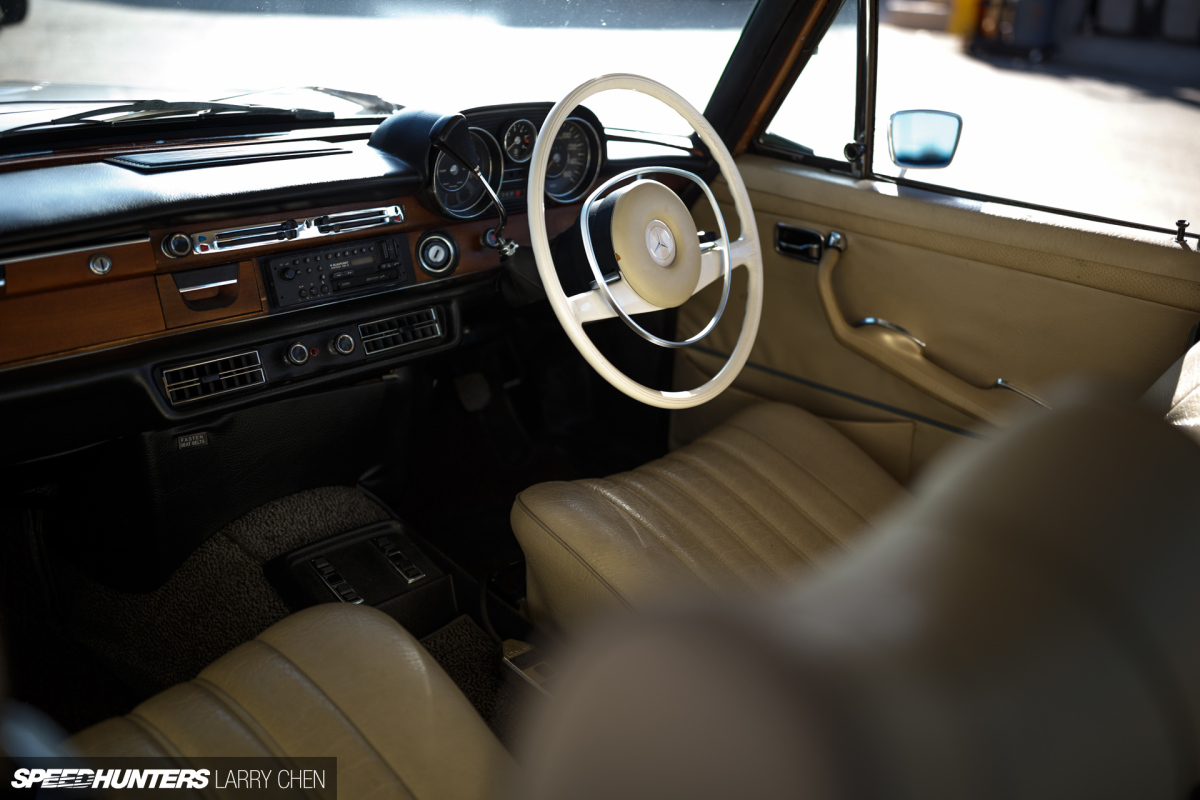 Inside, the cabin is equally original with the factory upholstery and that classic steering wheel still in place. The only non-factory items are gauges for the air suspension and a recently upgraded stereo system.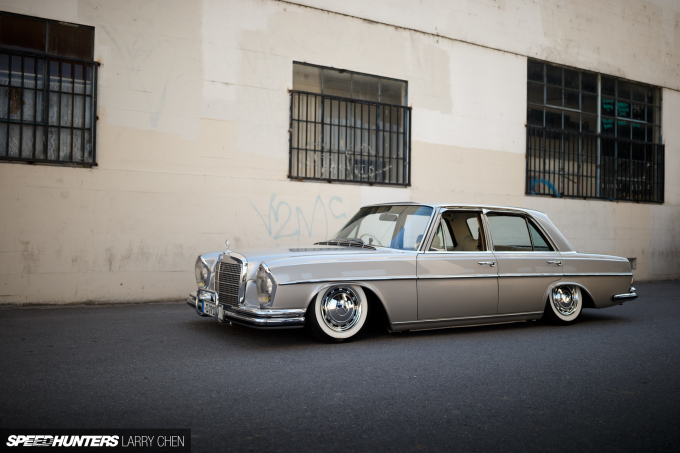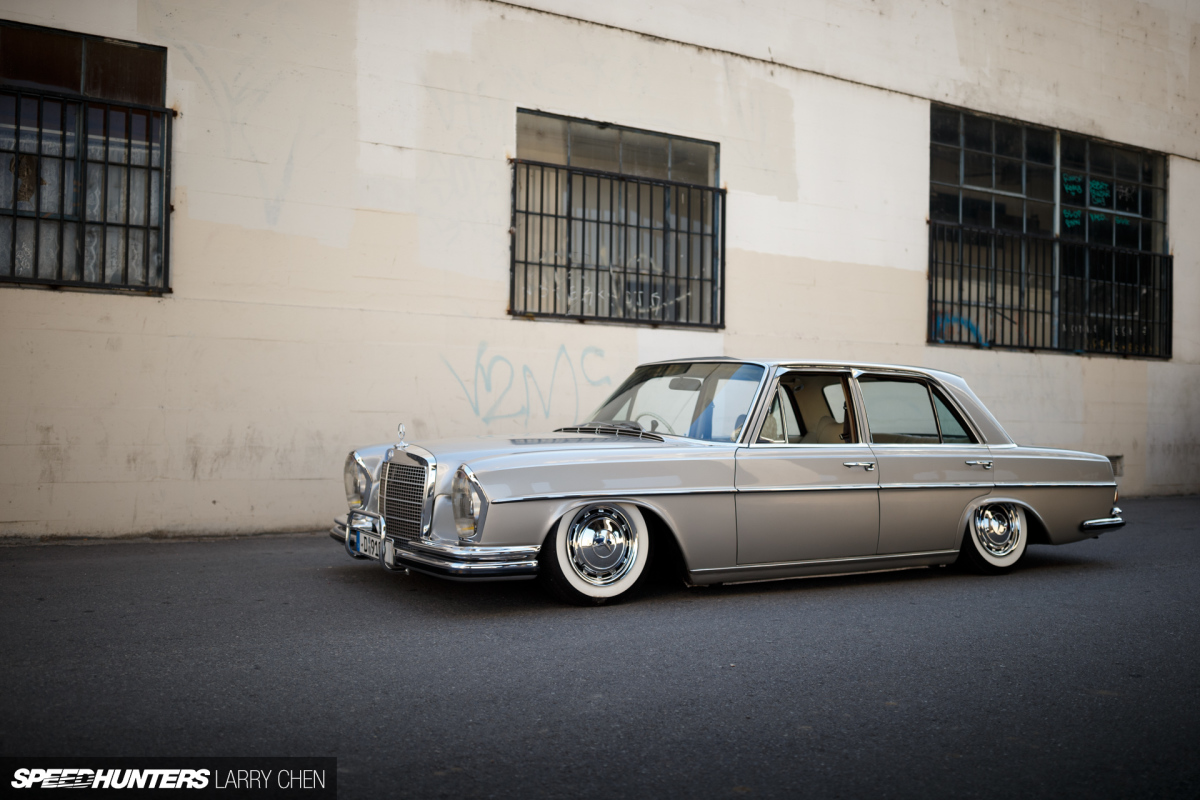 Jimmy knows that Mercedes-Benz purists might look down on him for slamming what's otherwise an elegant and rare luxury car from the 1970s, but that doesn't bother him one bit.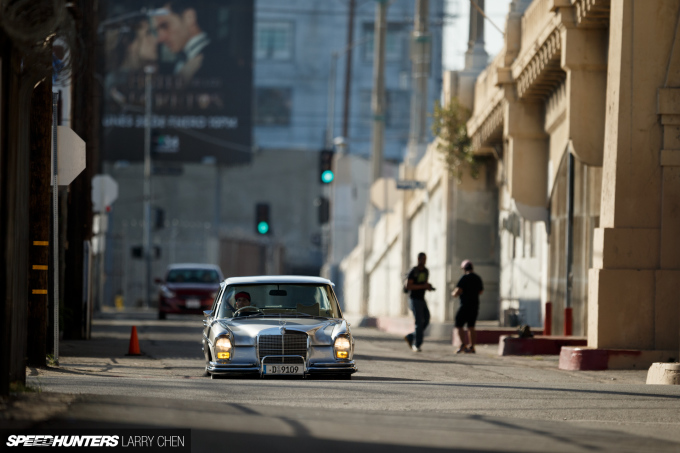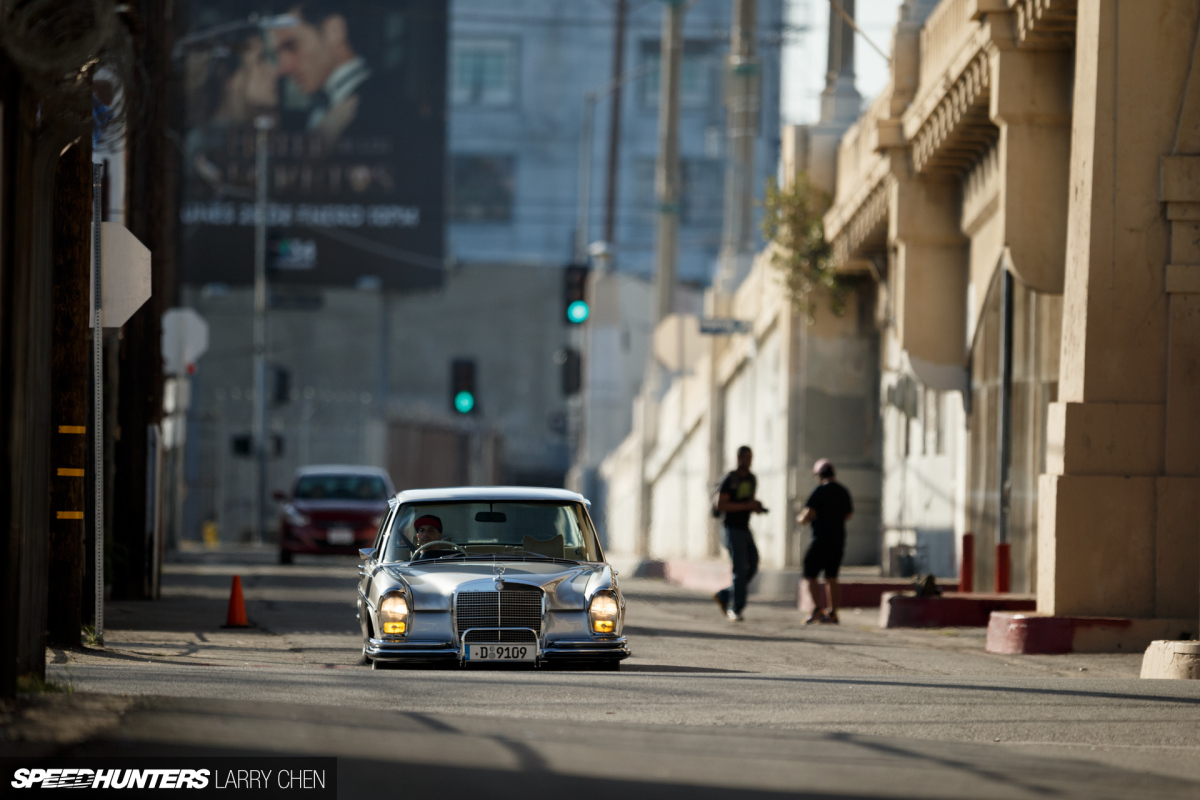 And who's to say a car that's slammed to the deck can't be elegant? Not only does this old school Mercedes look downright cool, but Jimmy has done everything he set out to do with the project, and for that we love it.
Mike Garrett
Instagram: japanifornia_media
mike@speedhunters.com
Photos by Larry Chen
Instagram: larry_chen_foto
larry@speedhunters.com
Cutting Room Floor