Expensive Headache
I've had my 911 for a year and a half now, which of course means that I am long overdue for an update. Since my last story, the Porsche has been 'lightly modified' to my liking, I've broken it, and I've had quite a bit of time to enjoy it as well.
I'm going to be straight with you guys. Going into this project, I knew exactly what I was getting myself into. According to the window sticker that came with my 2003 Porsche 911 Turbo X50, it had a MSRP of US$168,000 when new. Since then it's obviously depreciated quite a bit, which is why I could afford it. However, all too often these days you see blog posts to the effect of: 'Why get a Toyota Camry when you can get a Porsche 911 for the same price?' It's a valid question of course, but as I'm sure you guys know, just because something has the same initial price, doesn't mean that's all it's going to end up costing you…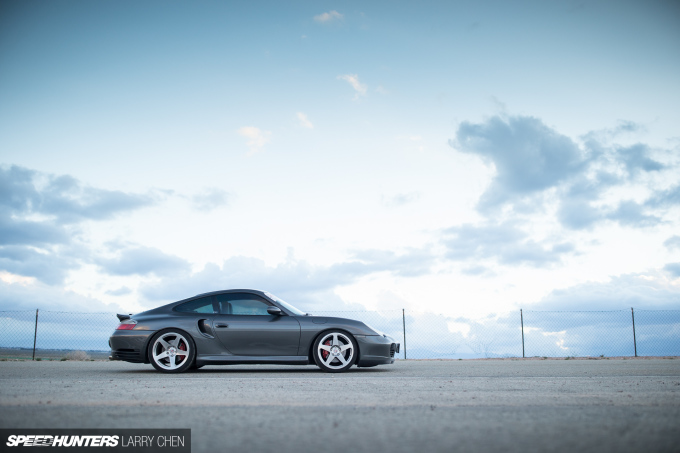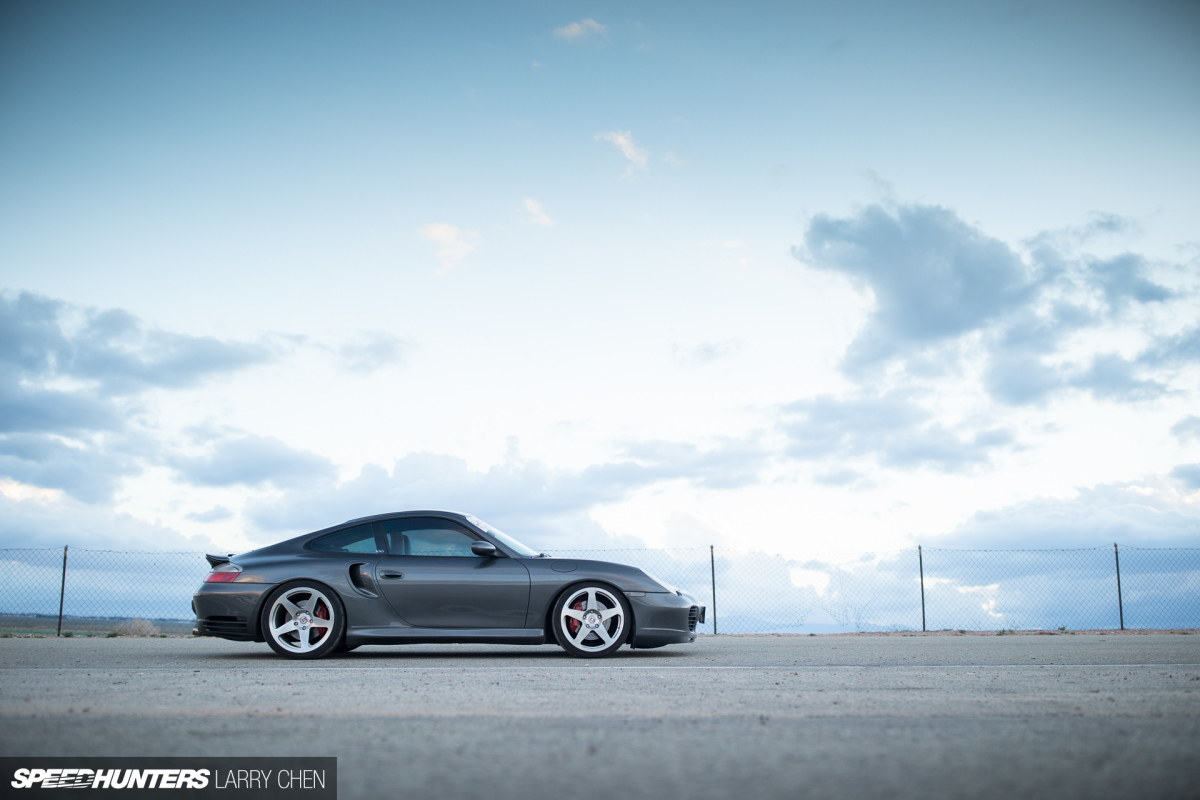 As I touched on a little in my first post, I had to fix three things right away. The transmission needed a rebuild, as basically every gear felt like it had enough play to be mistaken for neutral; the hydraulic clutch accumulator was bad, which made the clutch super hard to push; and then there was the computer yelling at me about the ABS not working due to a faulty left-front wheel speed sensor. Factoring in the purchase price of the 996, by this point I had gone way past Toyota Camry money.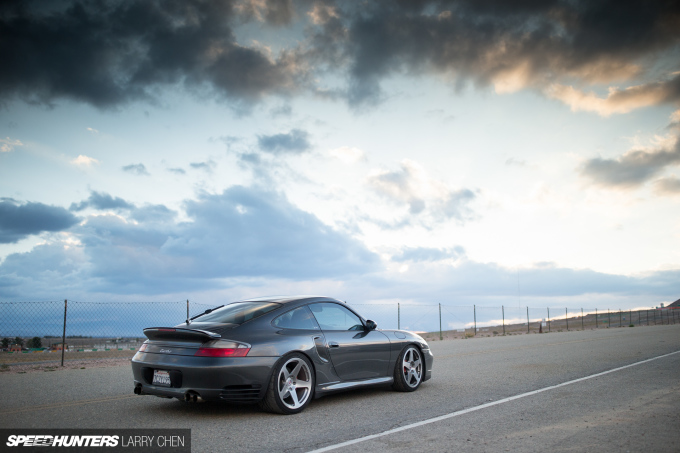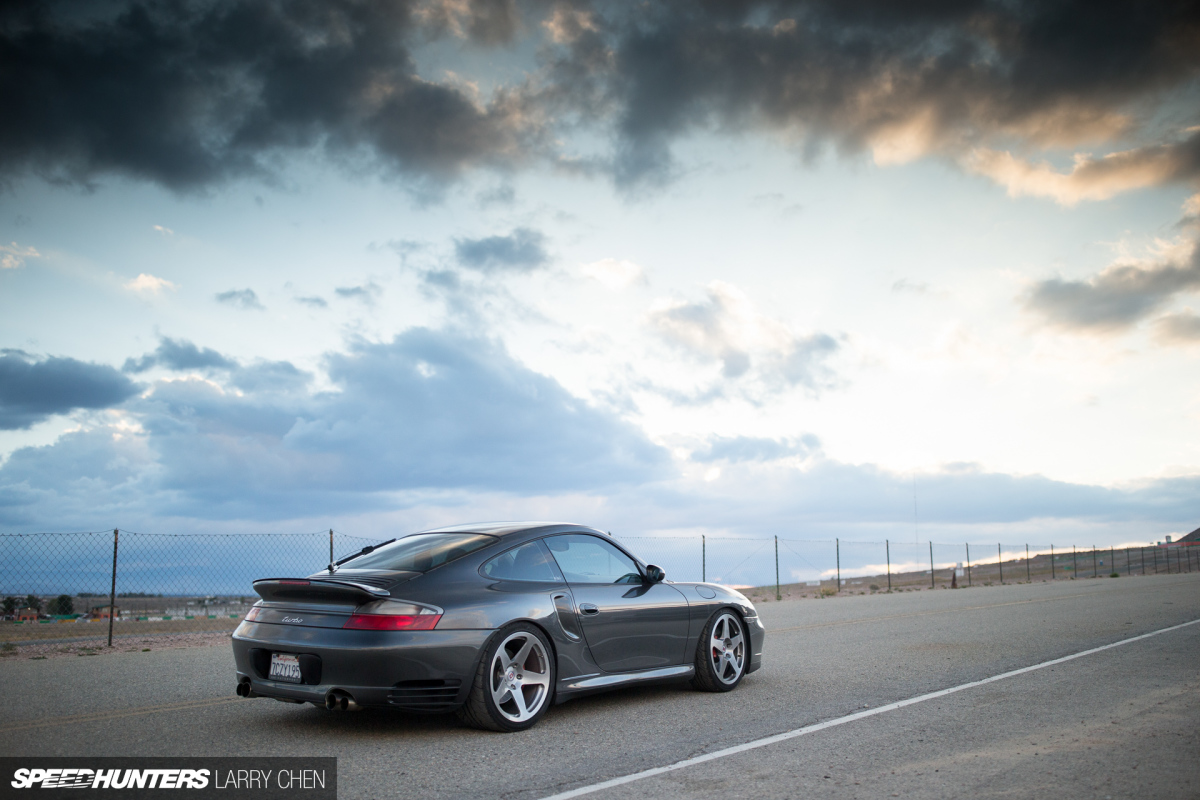 Since then a few other things have decided to stop working too. It's nothing against Porsche – they build an awesome car, and mine's lasted 70,000 hard-driven miles. The ignition switch needed replacing and I've had a coolant hose crack, but that's not been the worst of it.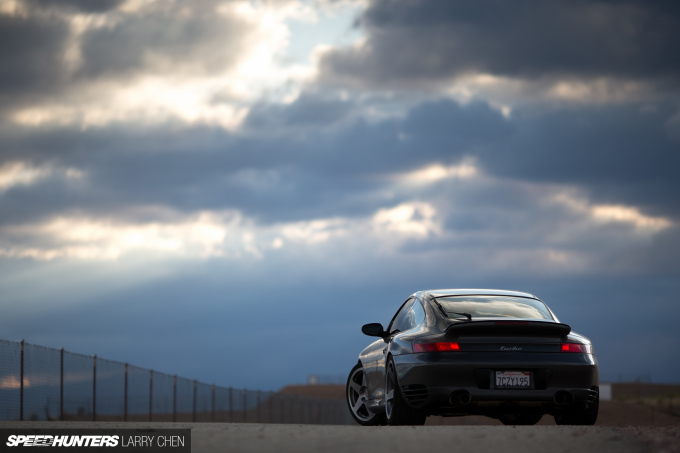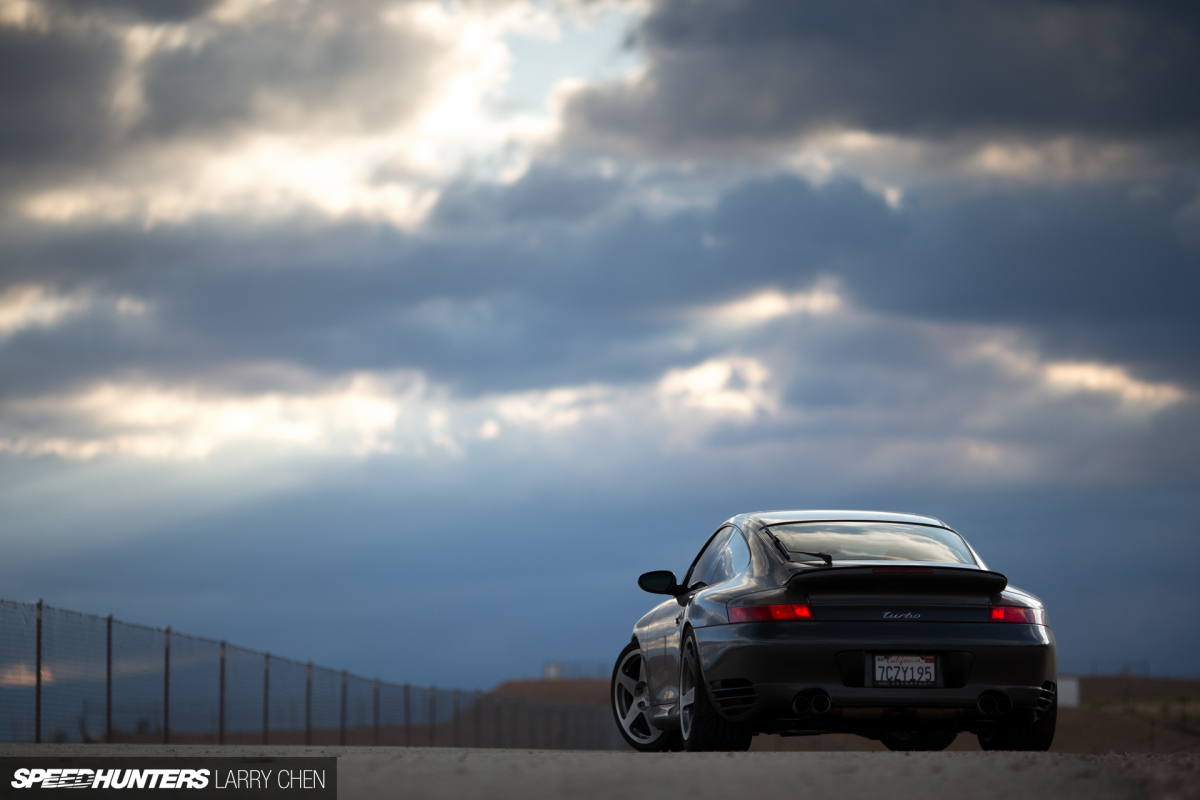 Some were simply 'wear and tear' items that I had to replace quickly, like the brakes and the clutch, which were both upgraded as you'll read shortly. I will also touch on pretty much everything else that I've done up until this point.
KW Suspension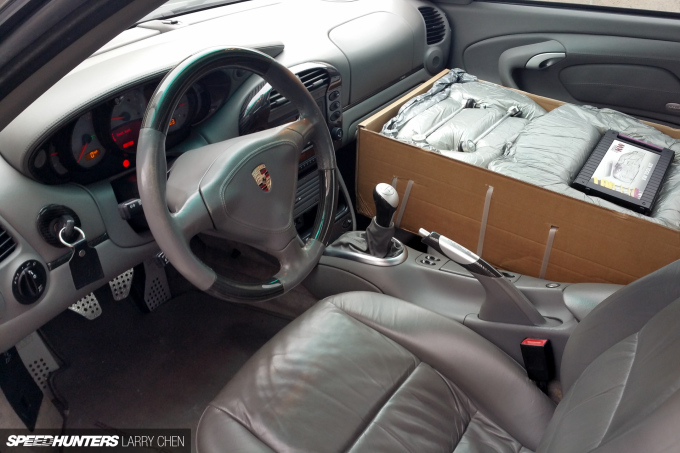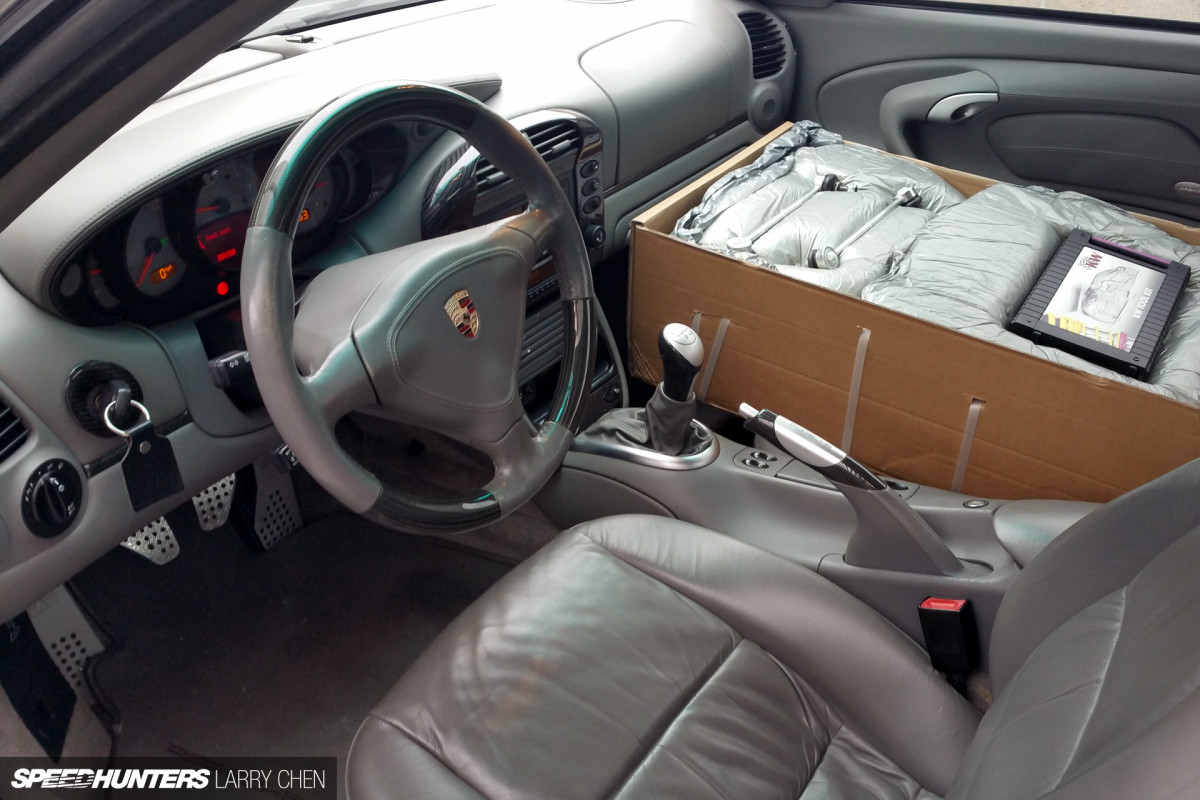 I am a firm believer in getting handling dialed in before looking at any sort of power modifications, so I started out with a set of KW Clubsport coilovers. I am not as mechanically minded as others on the Speedhunters team, and while I've done a lot myself on my Z car, I know for a fact that I'd be in way over my head working on the 911 Turbo. So for suspension and pretty much everything else, I've taken the Porsche to BBI Autosport in Huntington Beach, California.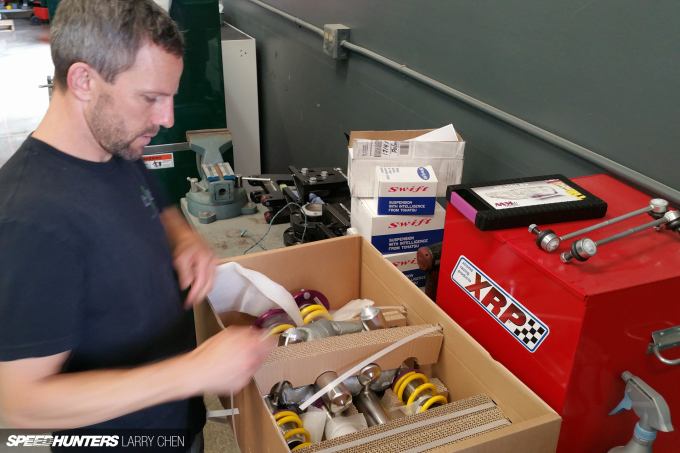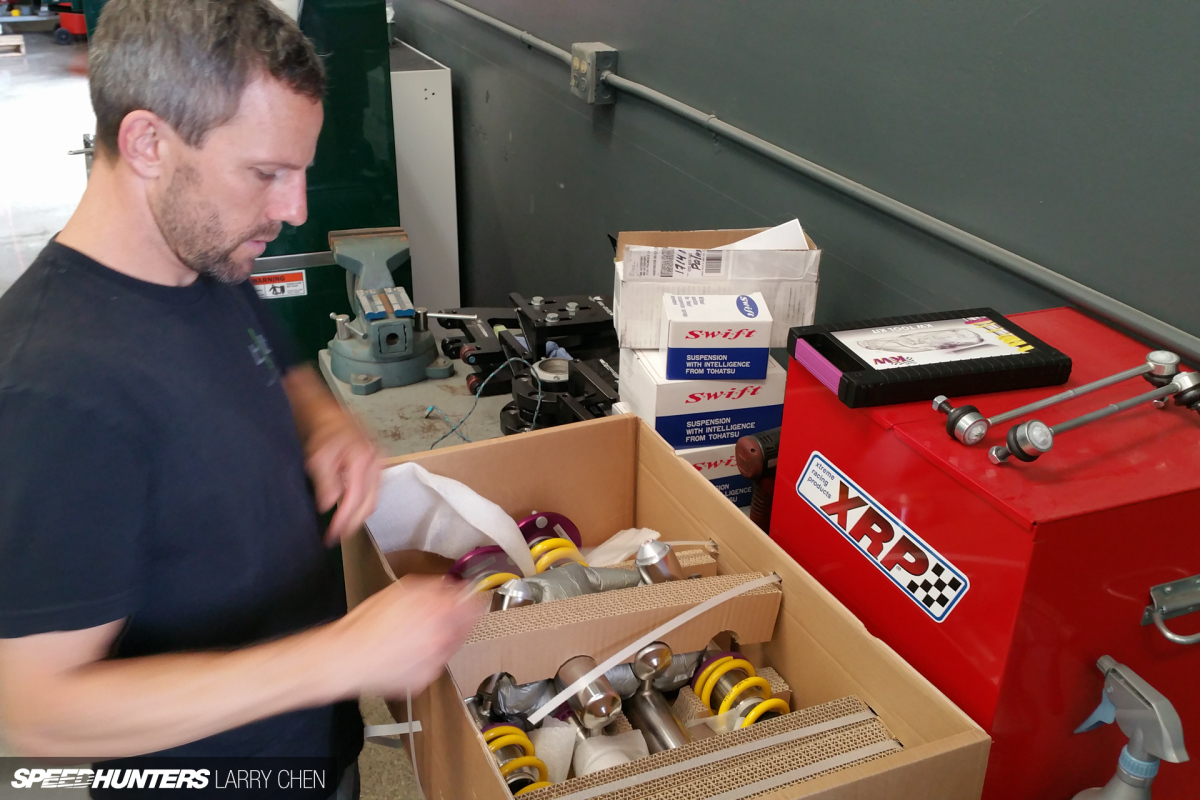 My goal with the KWs was not to make the ride stiffer than stock, but to improve the feel and handling, and of course the look. Because as much as I hate to admit it, when the car does not sit right the whole look is ruined. Of course, I don't mean slammed to the ground either – this is still a sports car built for driving first and foremost.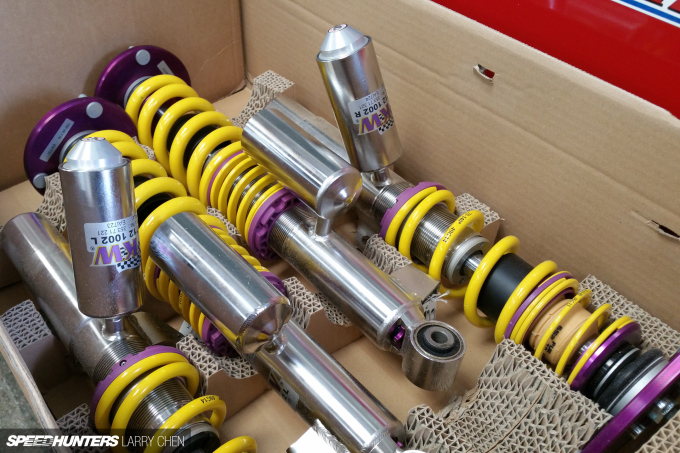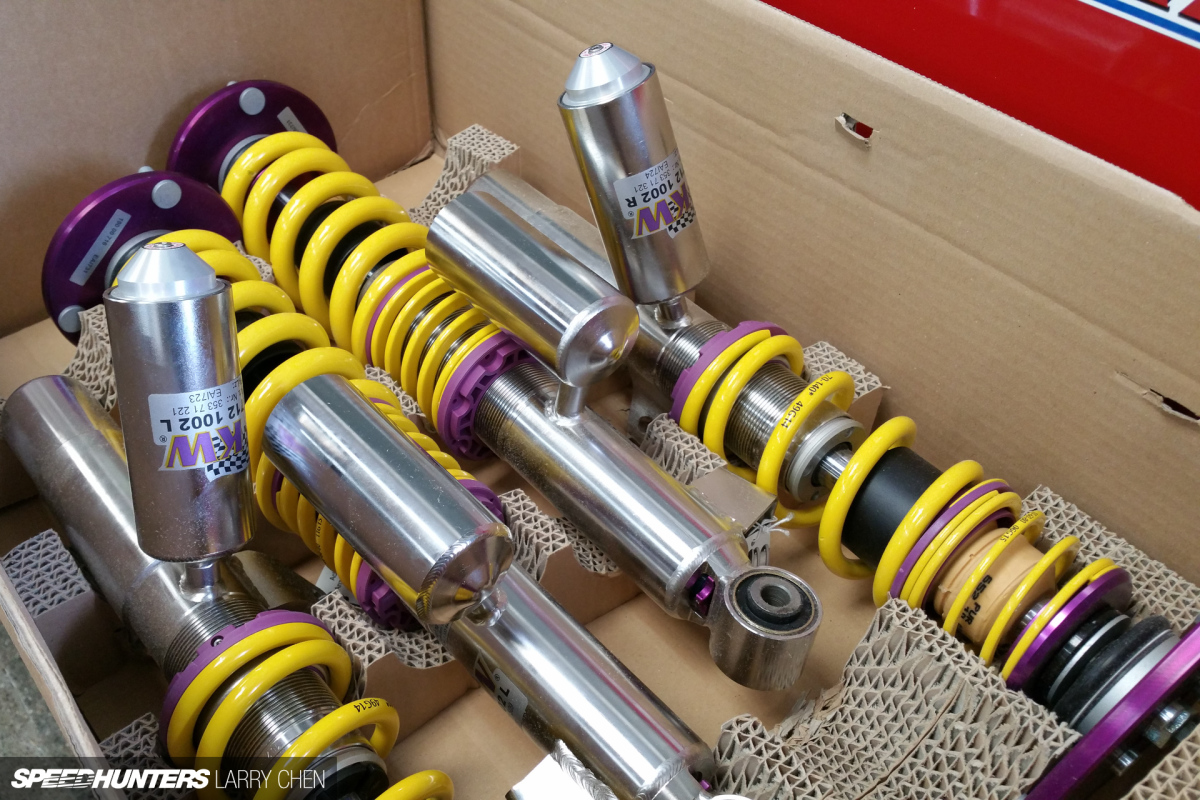 Lucky for me, Formula Drift and rallycross champion Tanner Foust also had his 996 Turbo serviced at BBI. He recently got rid of his car, and in doing so sold off some of his parts – a set of springs included. Tanner also had Clubsports fitted, and when he brought his car to BBI he initially asked for the most comfortable setup possible without sacrificing handling, as it was going to be his daily driver. Long story short, BBI reused Tanner's springs in my car.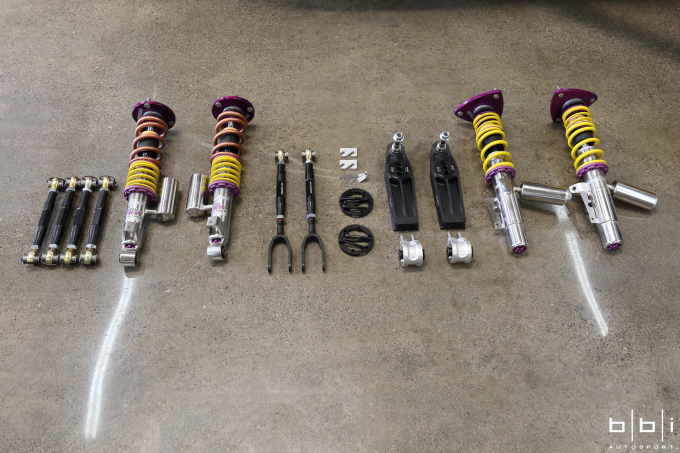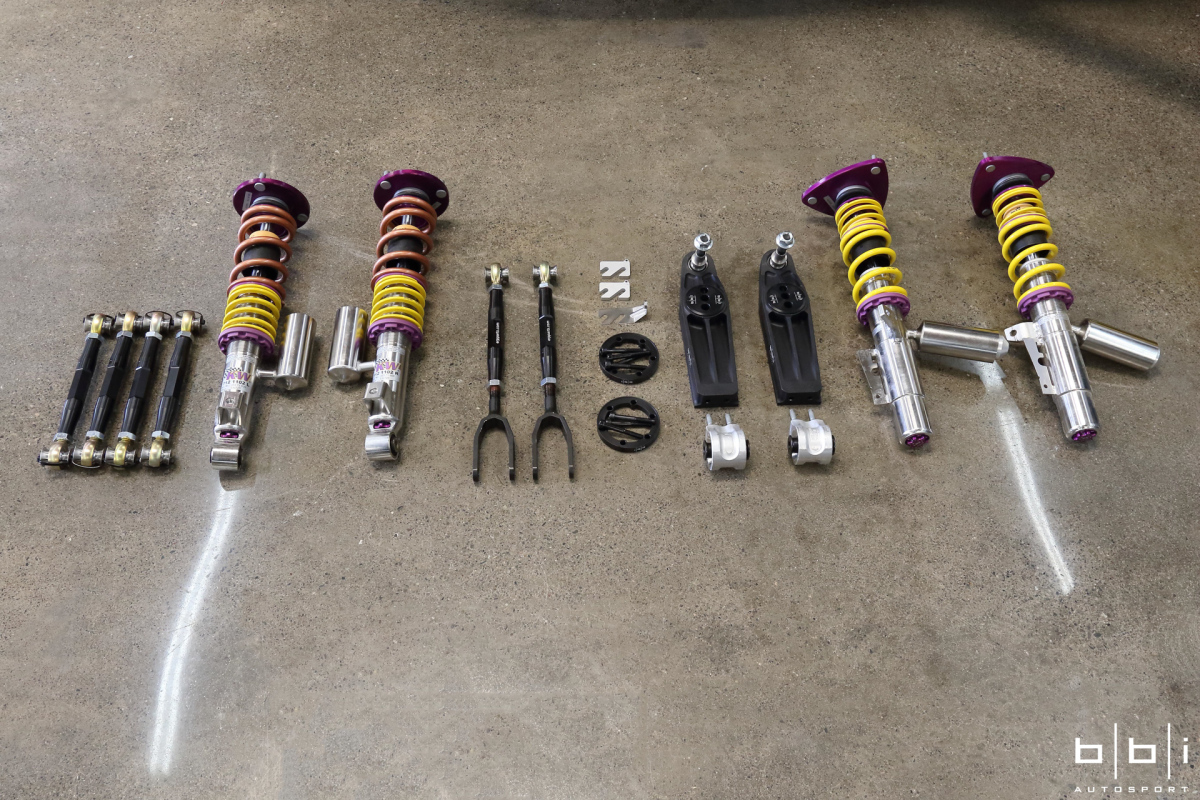 What you see here are KW Clubsport coilovers with BBI's M-track kit which widens the front by 20mm and the rear by 4mm. The kit also gets rid of all the rubber bushings and replaces them with heim joints. With this kit, the shock tops are stood up a bit, and from there to increase the camber they lengthen the lower control arms. In order to prevent wear and tear, spacers are added to the axle to compensate for the wider track.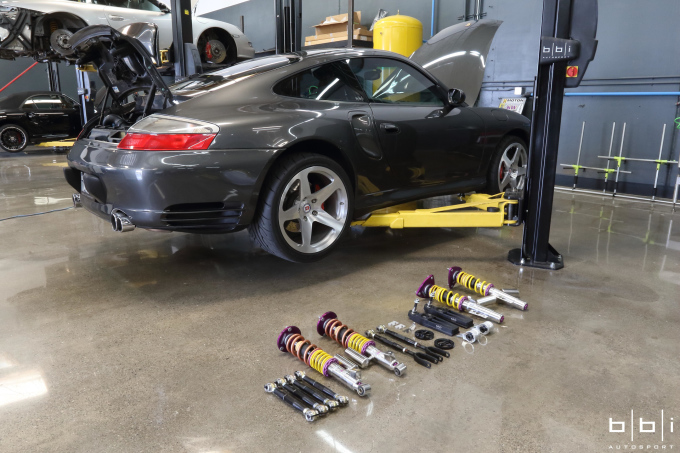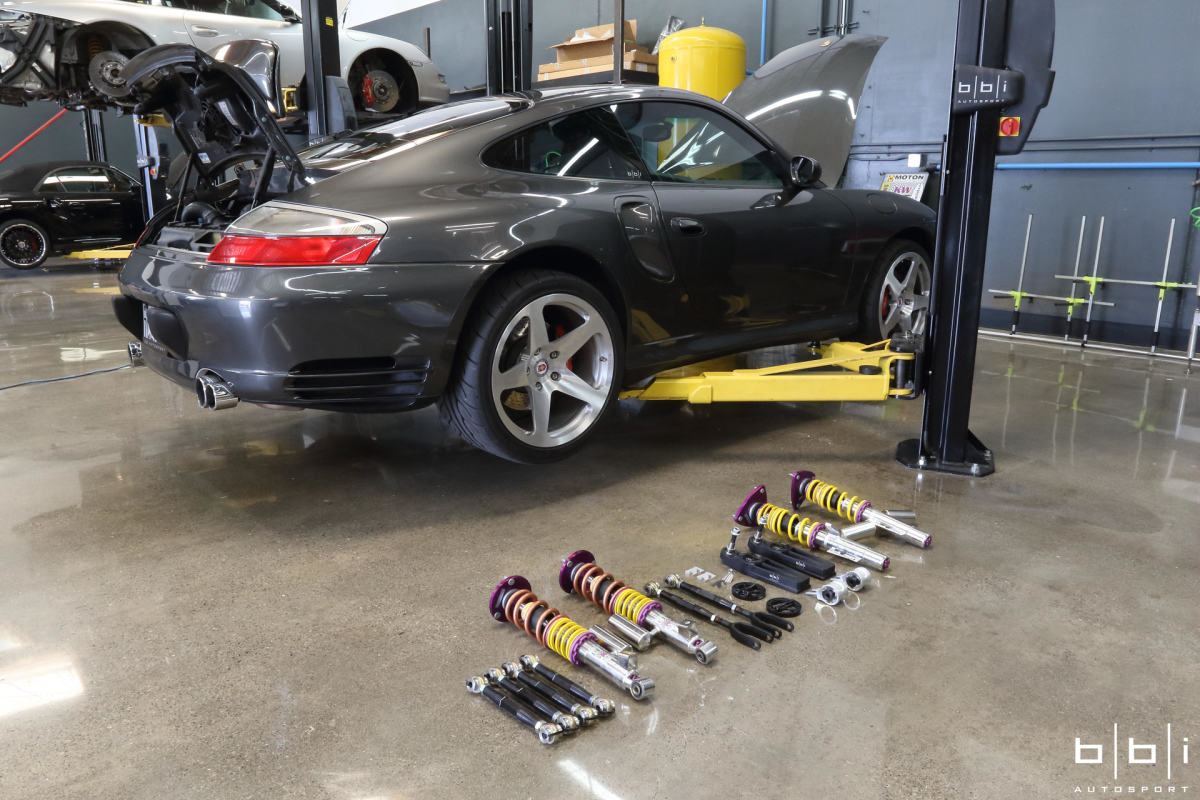 For the rears, BBI just changed out the upper control arms, because the 4mm of adjustment was more than enough to get the wheels to sit perfectly. If I were running even wider rear wheels or had different offsets, then I would have to change out the lower rear control arms as well.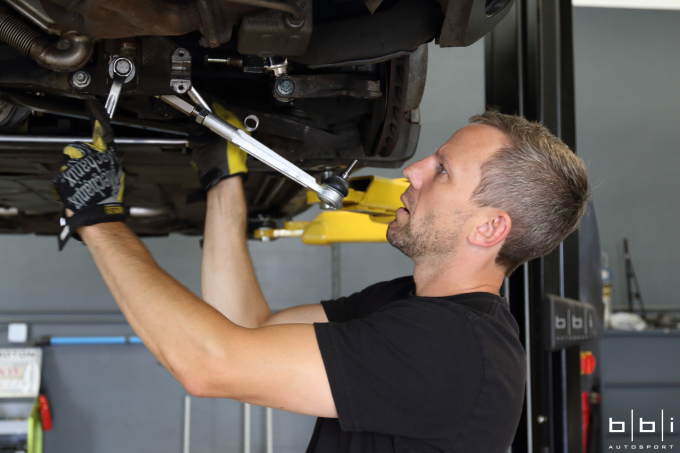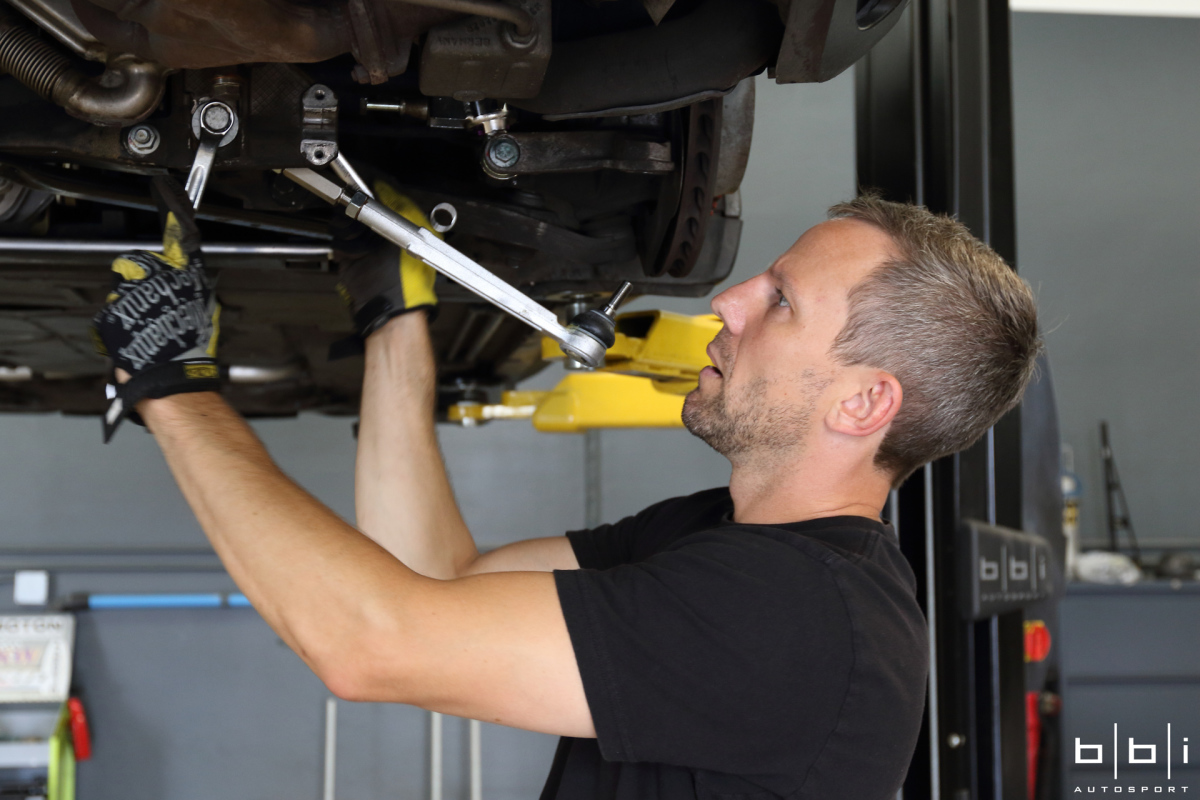 Also fitted was a rear toe link, which adds just another level of adjustability. With the widening of the front and rear tracks, the car sits perfectly without any sign of rubbing at full lock.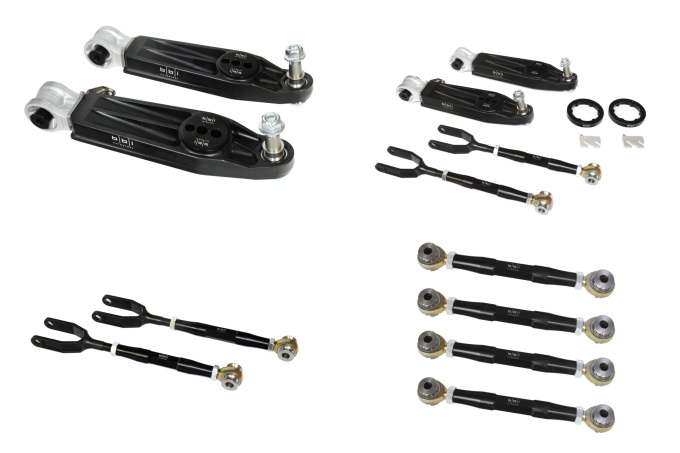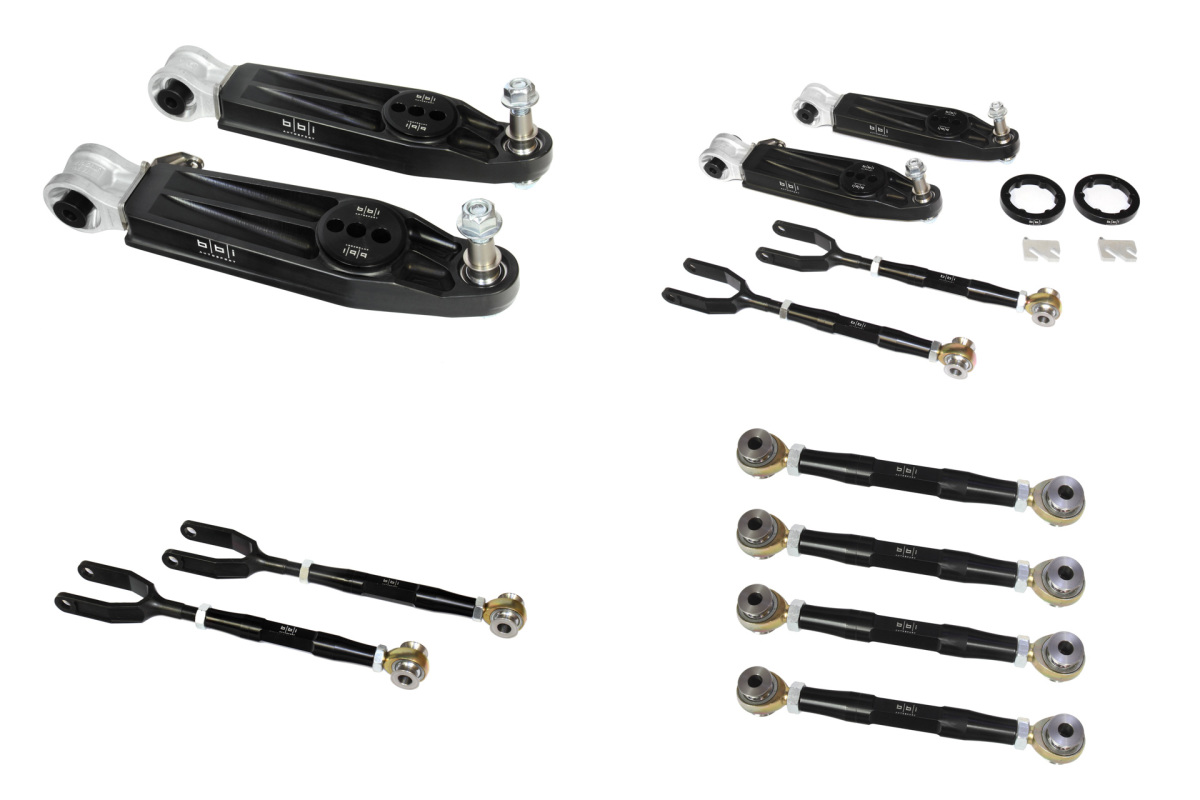 Everything in this kit made by BBI is designed to be much more rigid that stock, and it's fully serviceable too. In a way, it's better because you can replace individual components and wear items. On top of that you can adjust for bump-steer. When most cars are lowered the original geometry is ruined, but with the correct components you can bring it back to the way it was.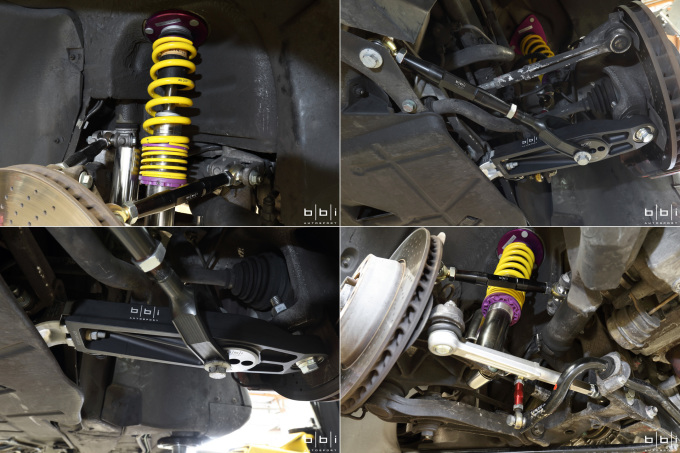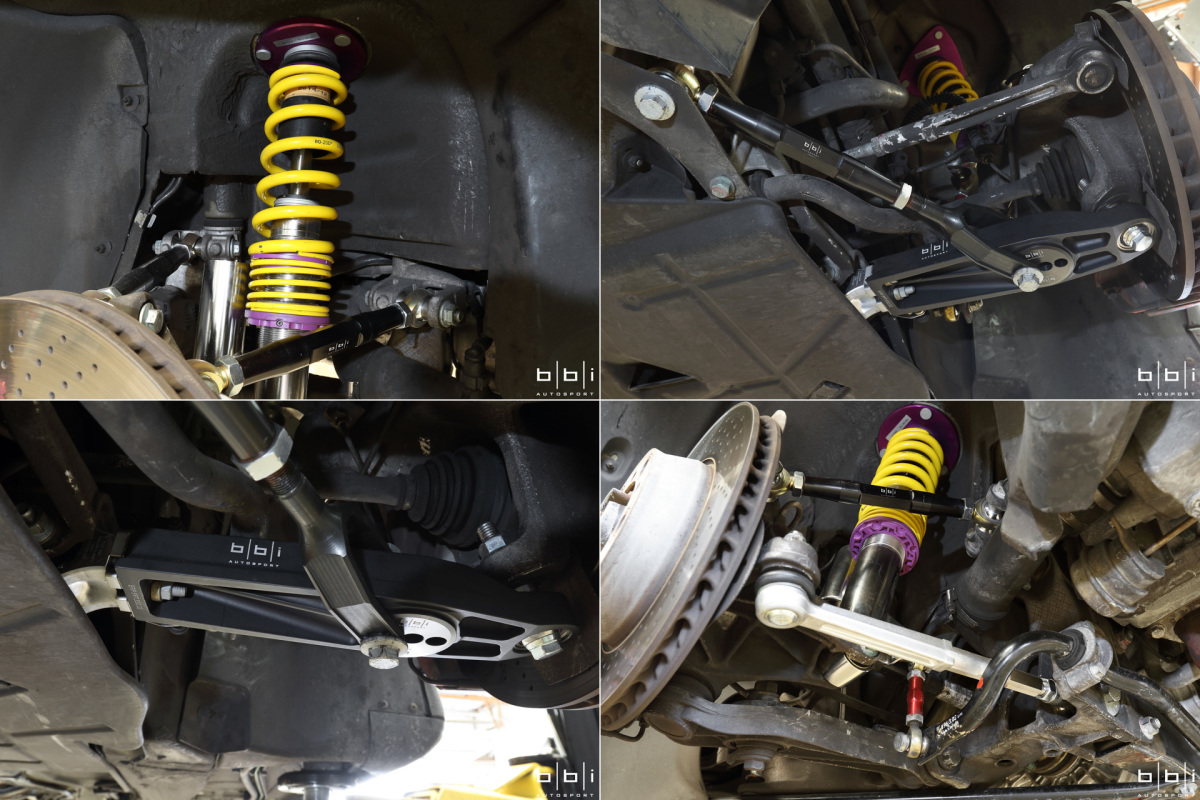 Altogether, what I've ended up with is BBI's Street Cup Stage 3 package. From here the car was aligned and corner balanced for road and occasional track use.
BBI Autosport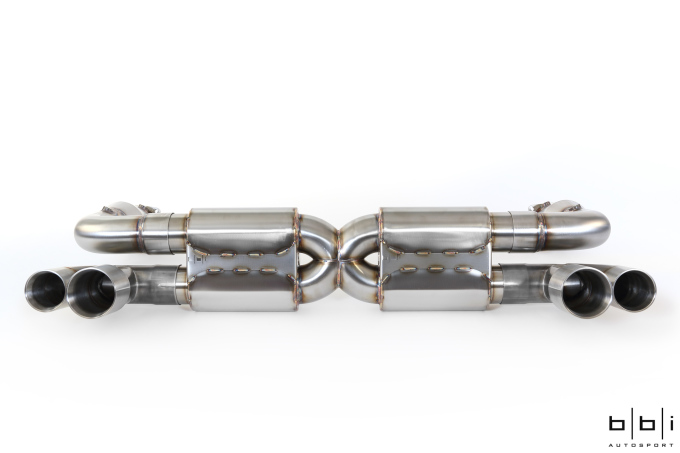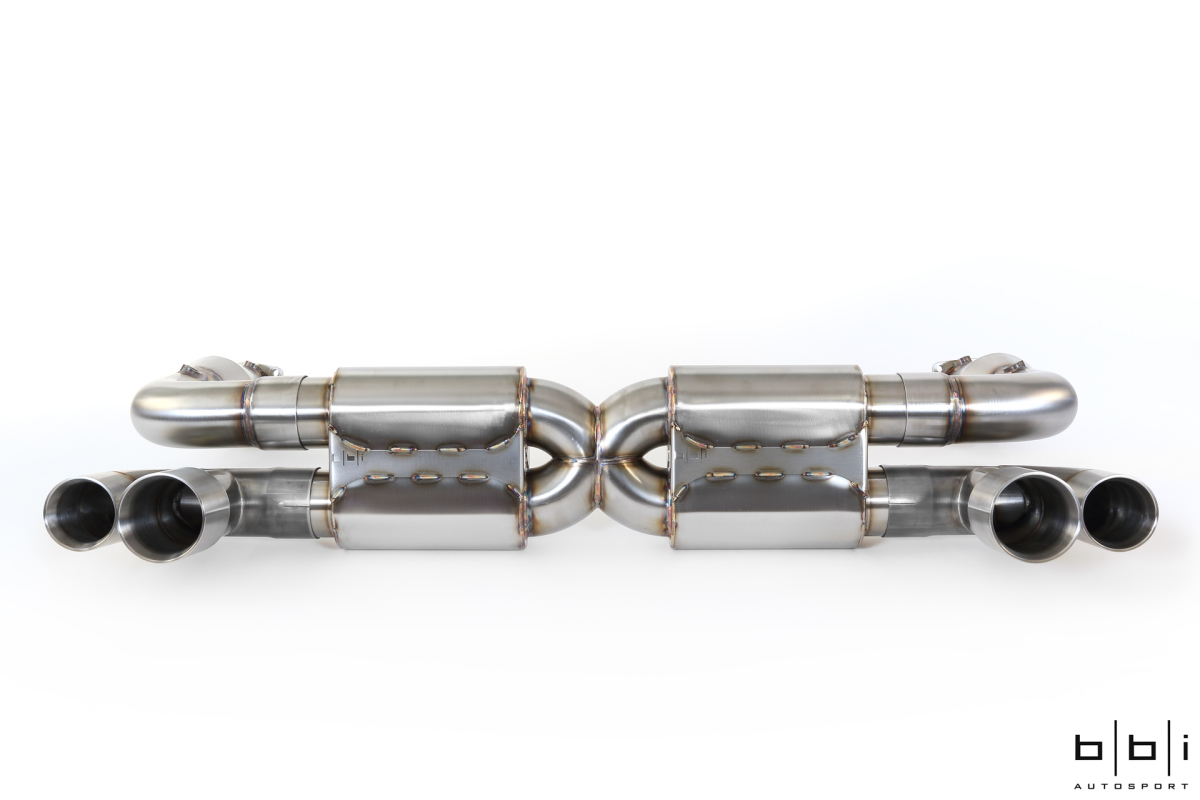 While the 996 Turbo X50 is no slouch at all from the factory with 450hp to the crank, I wanted some extra oomph as well as that raspy flat-six Porsche sound that I've grown to love. I've heard so many exhausts for water-cooled 911s, and I just love the absolute rawness of the BBI Barcode system, which also weighs half as much as the factory equivalent. On top of that, it frees up around 35hp to the wheels on a stock car with no tune, and it helps boost kick in about 500rpm earlier.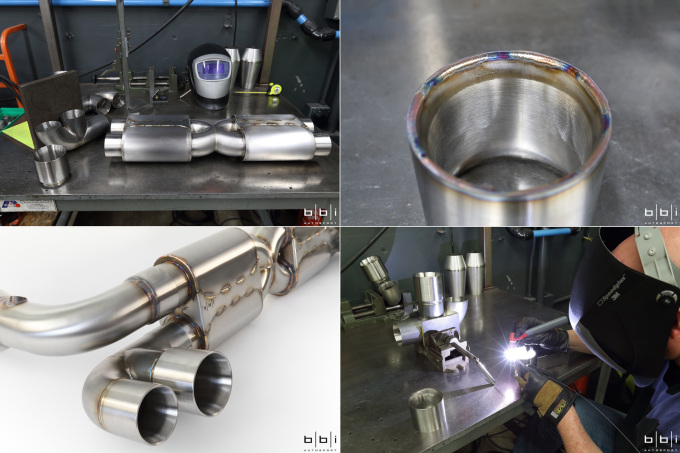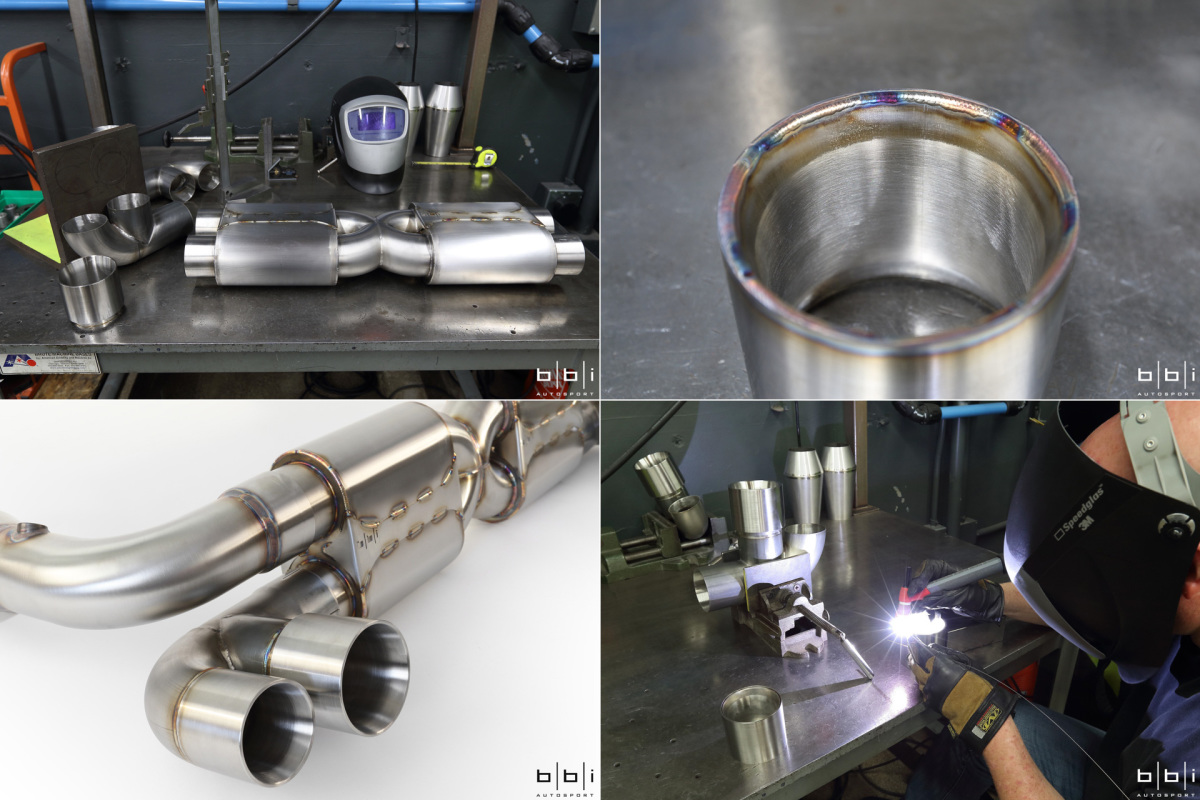 Developed over four years with untold hours of research and flow testing, these exhausts are 100 per cent hand-built in Huntington Beach at the BBI facility.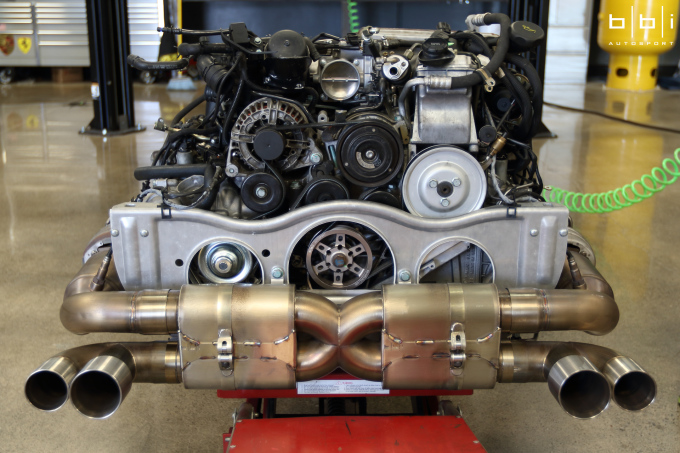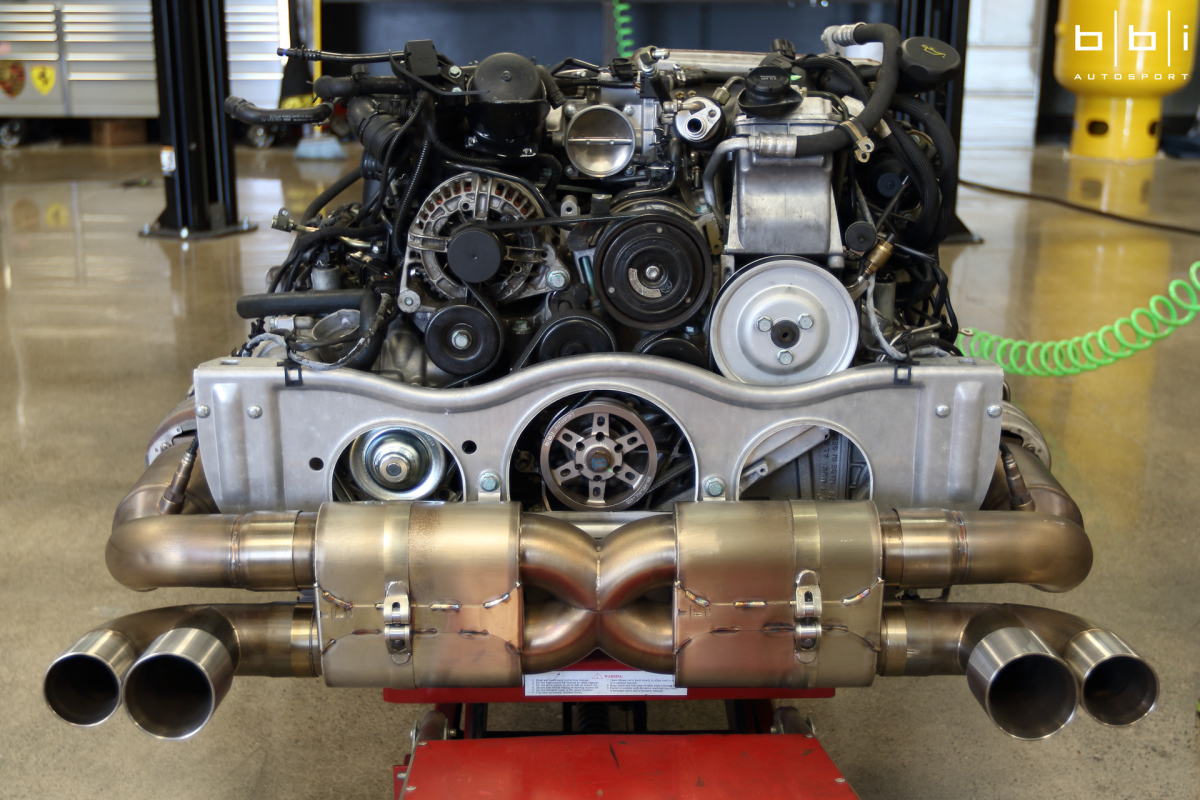 The system makes just as much power as having a straight pipe, but it cuts noise by half thanks to something called Helmholtz resonance. The metal used in its construction is a combination of 304 and 321 stainless.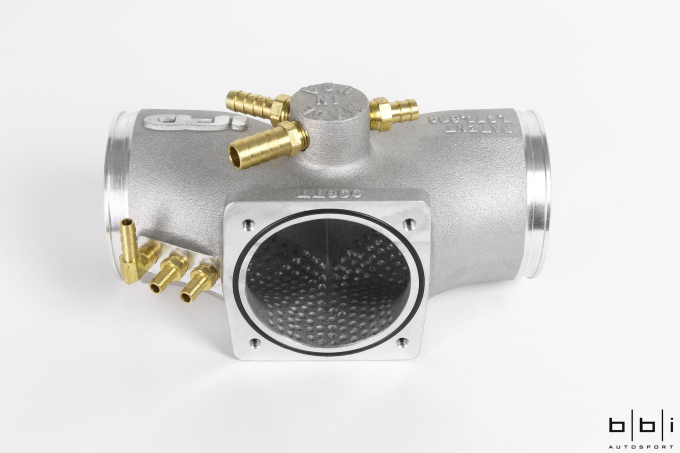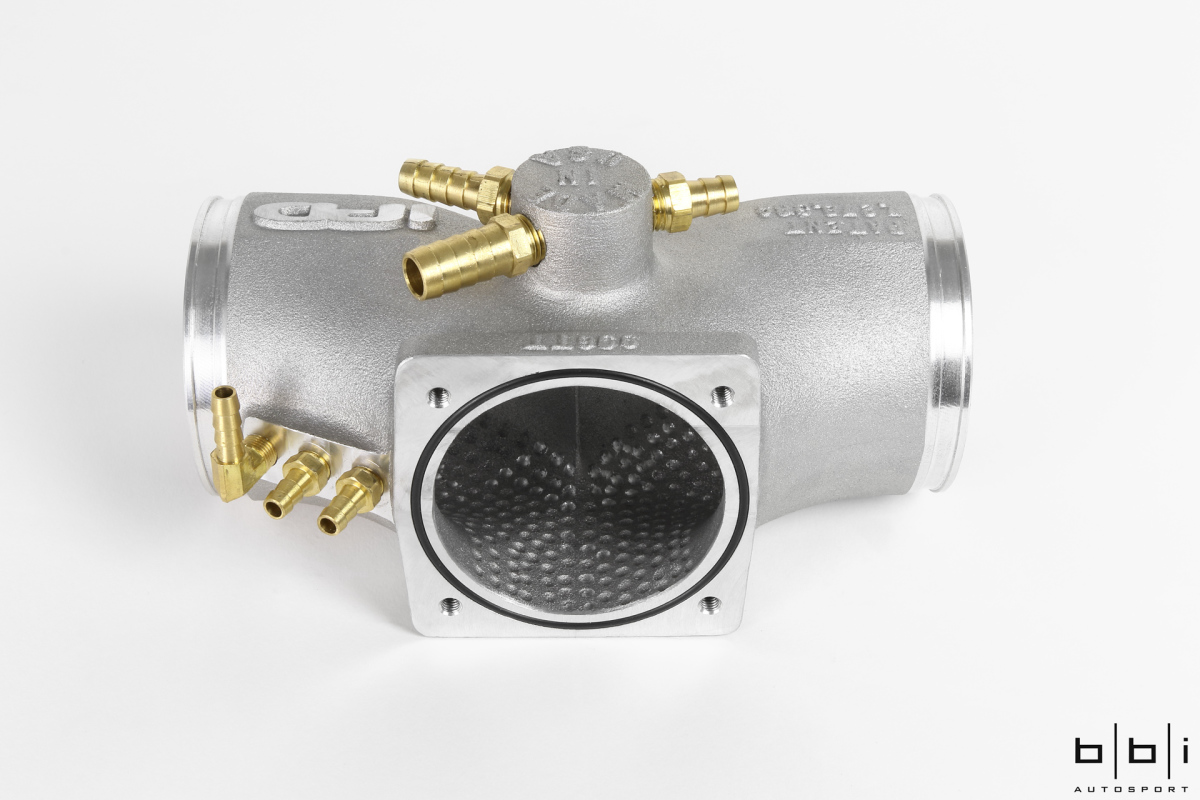 While the upgraded exhaust system gives the burnt mixture an easy exit from the engine, IPD supplied an intake plenum to get the air into the flat-six in a more efficient manner.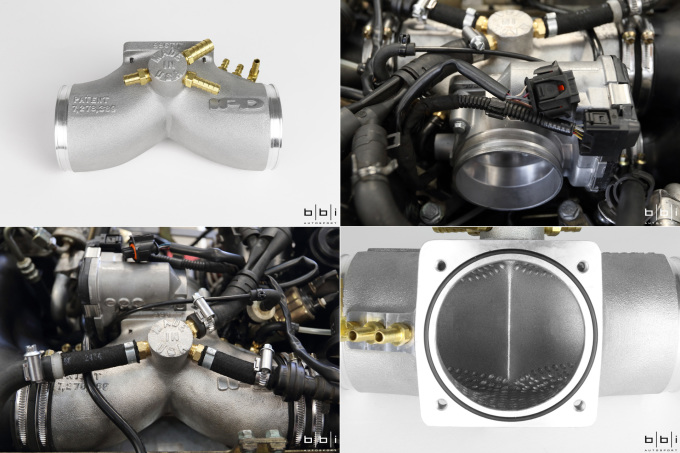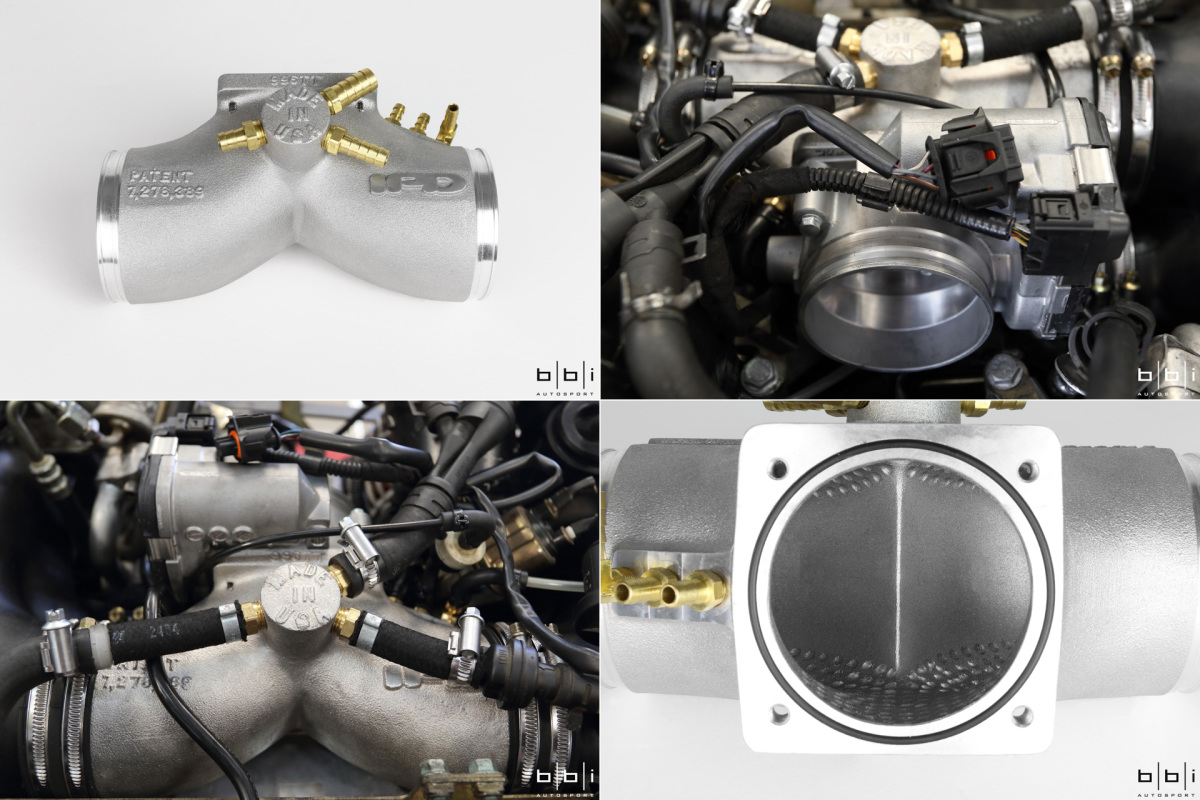 The plenum's V-shape design helps with throttle response and reduces turbo lag, and dimples (think golf balls) are added to decrease drag – something proven by IPD in flow bench testing. The throttle body is also increased from a 68mm opening to 74mm, which drastically helps mid- to top-end power.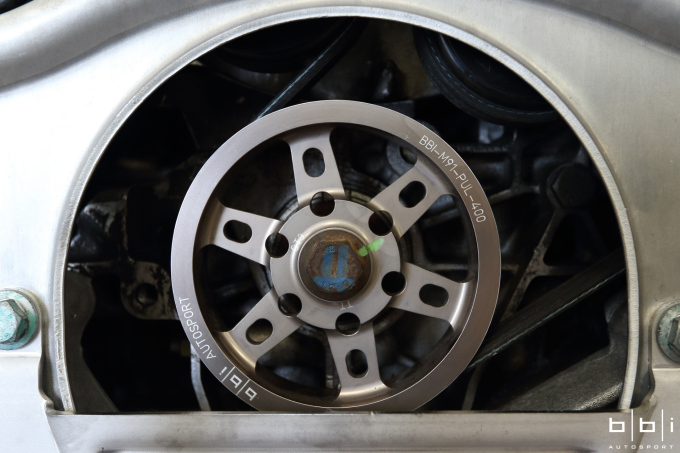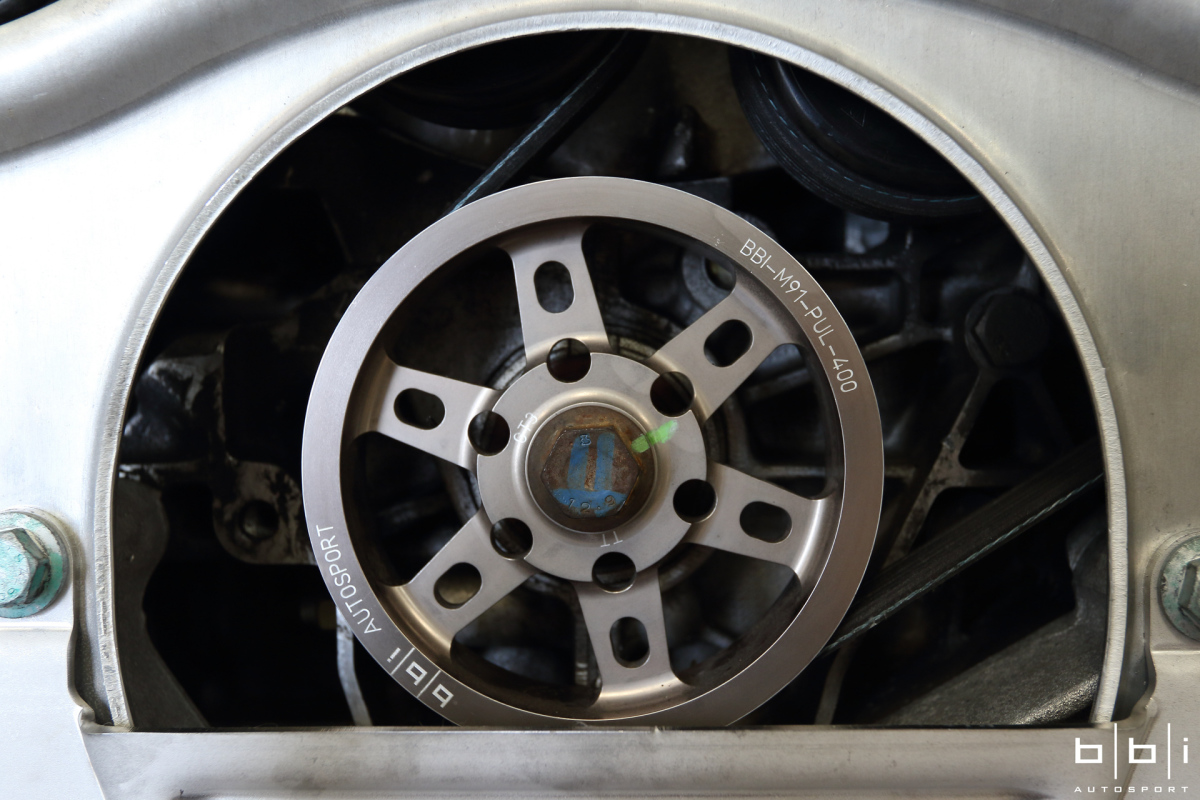 For reliability's sake, BBI has produced its own underdrive pulley – the factory pulley being so heavy that it can loosen the nut and ruin the nose of the crank over time. The BBI pulley has 200 per cent more contact area with the snout of the crank versus stock, and of course it's also smaller in diameter which prevents the power steering from boiling over – a big fire hazard on these cars.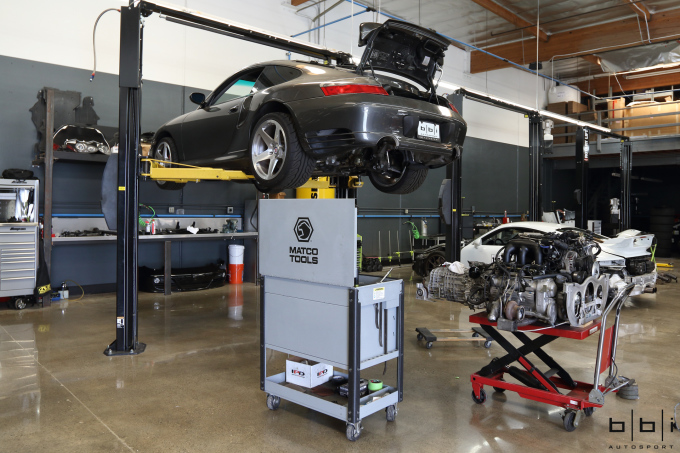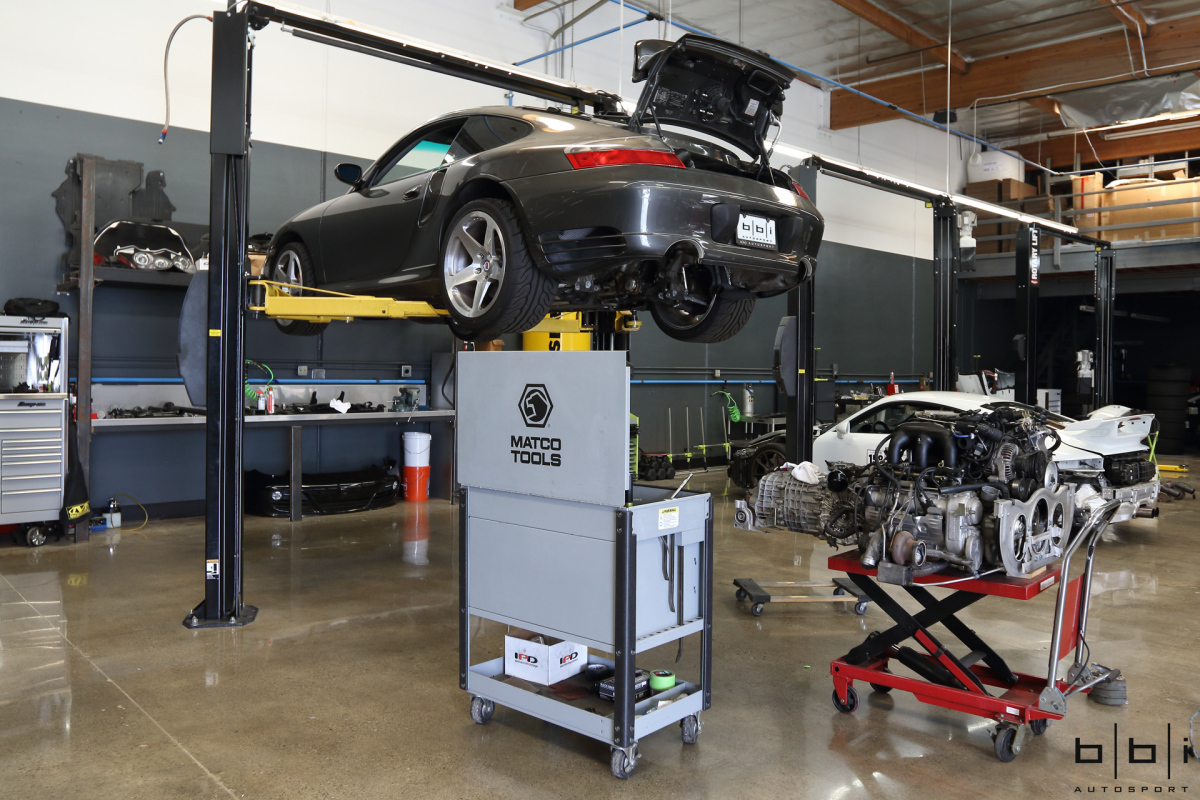 In order to handle the additional power that the Porsche 3.6-liter Mezger engine was going to put out, I needed to switch to a twin-plate clutch anyways, so that was done in addition to GT3 Cup car brake pads and rotors.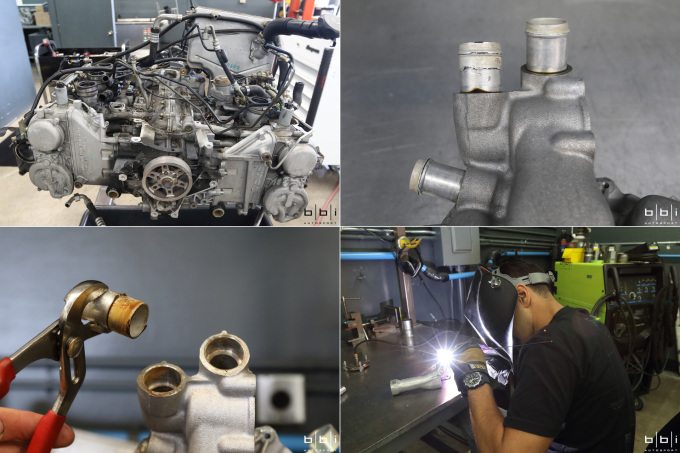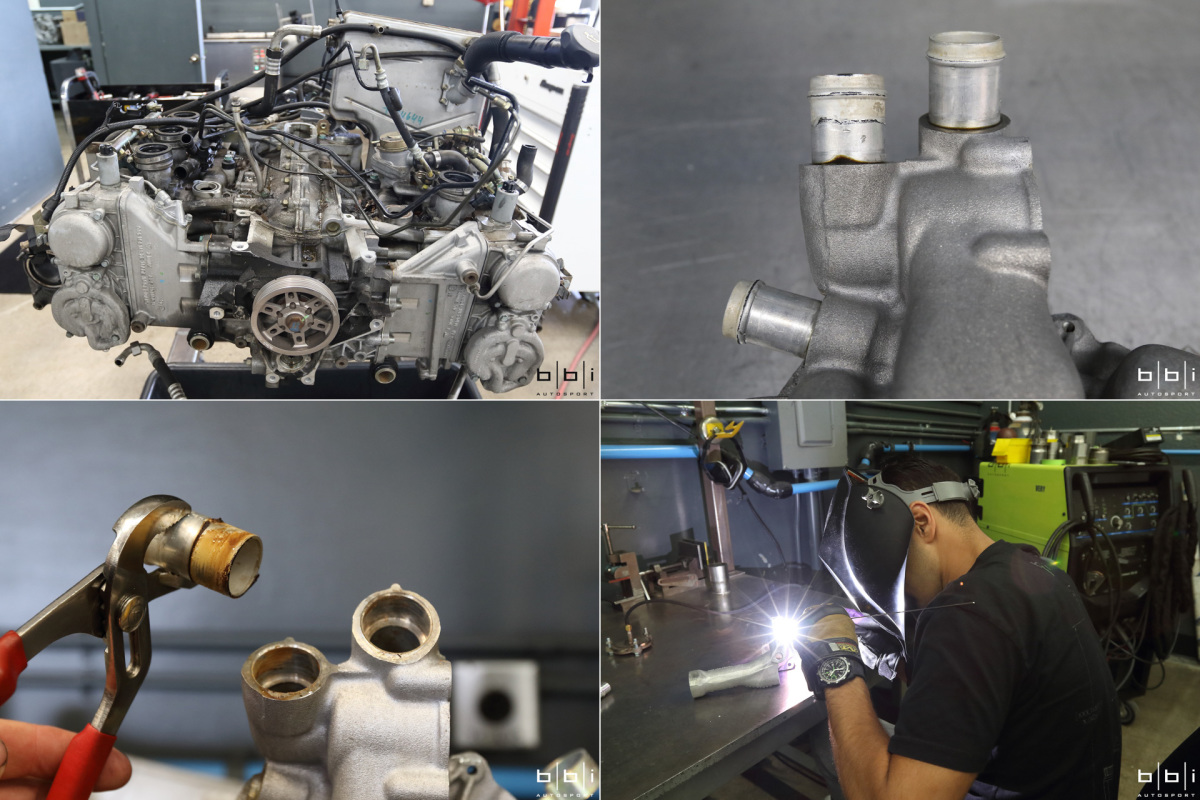 While these engines are mostly bulletproof, I soon found out that there are some inherent flaws, the biggest being that epoxy is used to plumb the water lines in. After tens of thousands of miles of water pressure, vibration and heat, the epoxy loosens up and fails – usually at the worst time. For me, it was under full boost on the dyno, which meant the car had to go back to BBI to get its water lines repaired. At least it didn't happen on the track, which is actually where I've witnessed it happening before.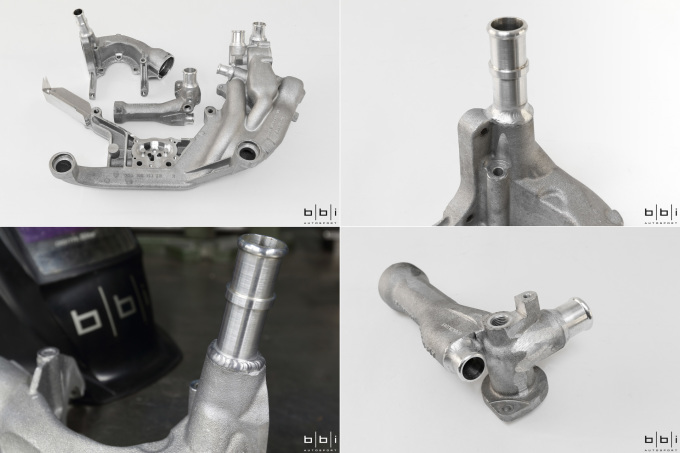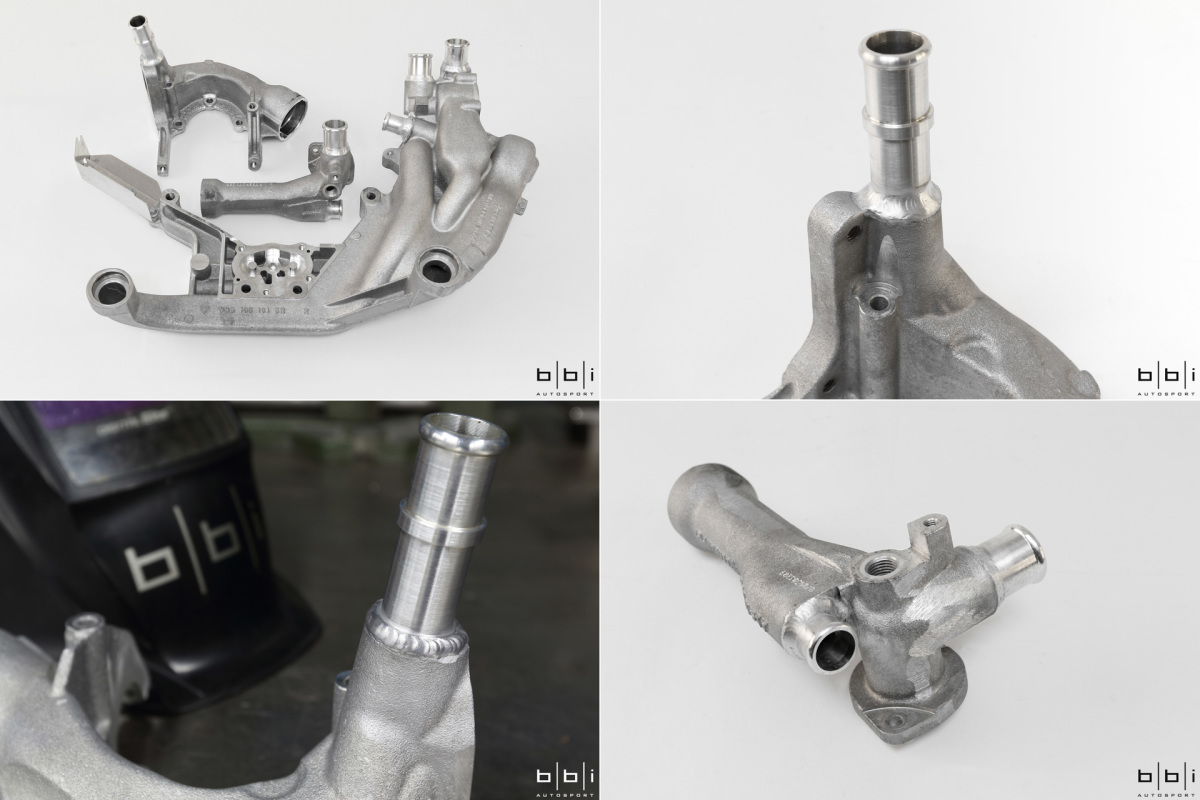 I've heard of some mechanics pinning the stock ones back in by drilling a hole in them, while others try to weld the factory fittings in. The boys at BBI take it a step further. They make billet inserts that they weld in, and on top of that they ultrasonically clean and pressure test every single part before final assembly. With the age of the 996 and the 997, they are doing about two or three a month now. If you are building a car with one of these motors, I highly suggest you learn from my mistake and do this before it's too late. It's a safety thing for you and everyone around you – especially if you are going full-tilt on a track. After the motor is out it takes about three and a half hours to clean, prep and weld. The interesting thing is, Porsche figured out that it was a problem and attempted to fix it in the 997.2 3.8-liter unit by making the tolerances as tight as possible, but you eventually still have the same problem.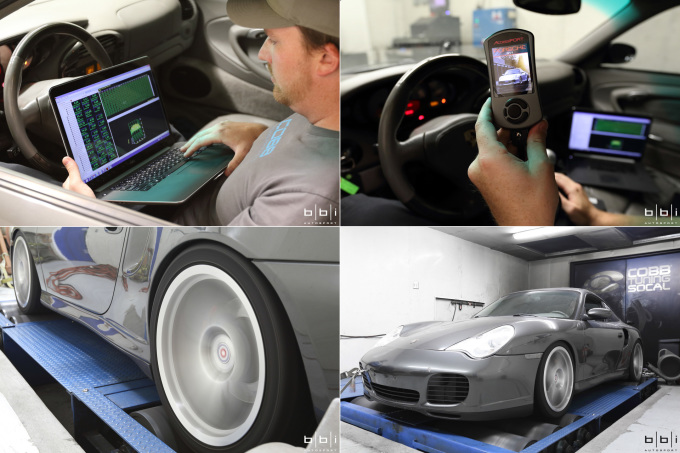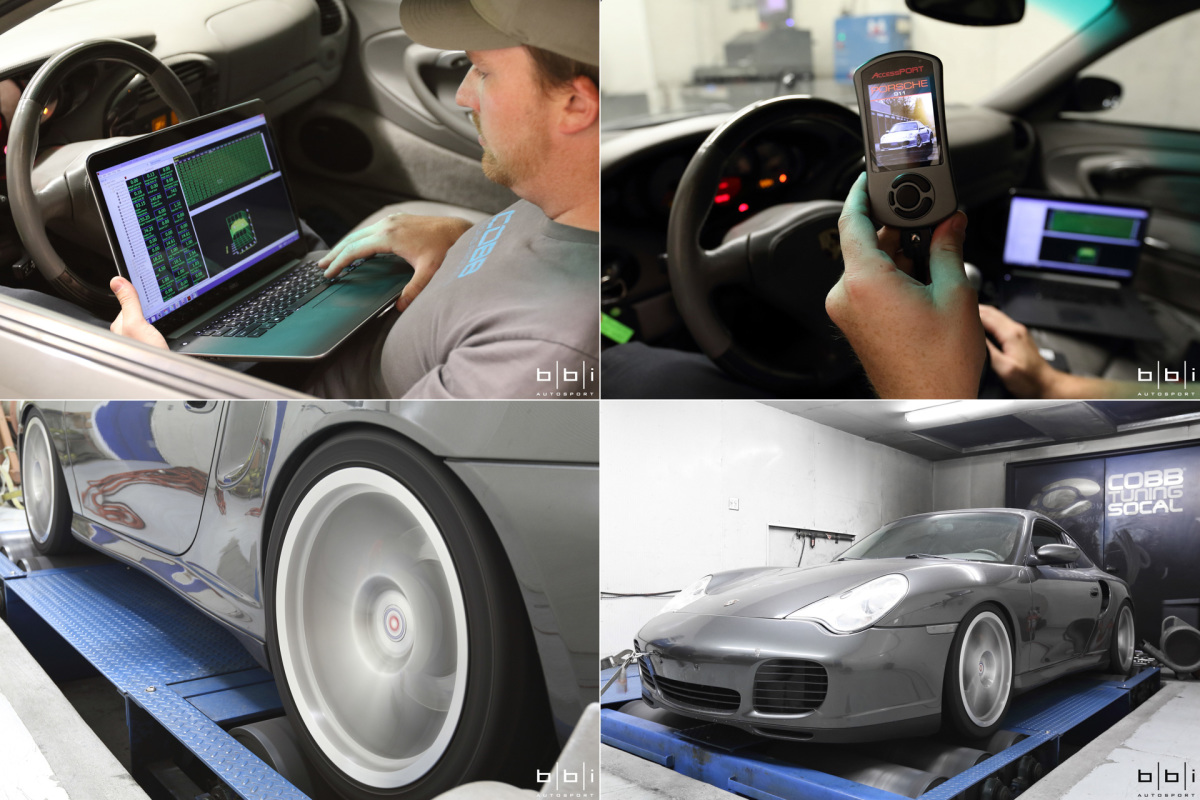 According to BBI, the hardware is the easy part – making it work together is where it gets hard. The only way to get the most out of a performance turbo engine is with a good ECU tune, so for that I took the car to COBB Tuning in Fountain Valley, California. COBB is synonymous with all things performance, from time attack, to drifting, to drag racing.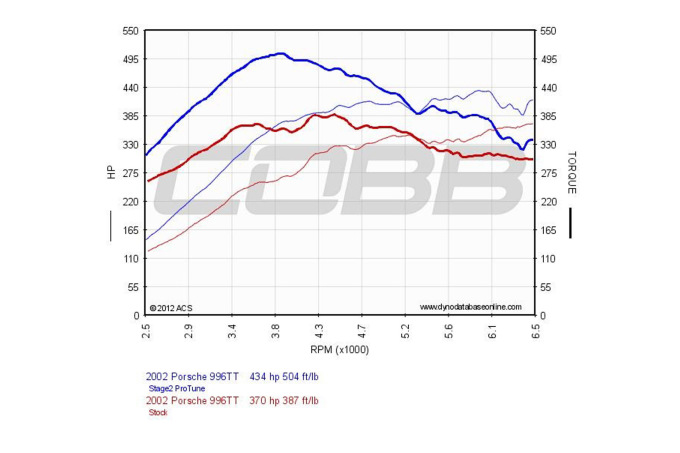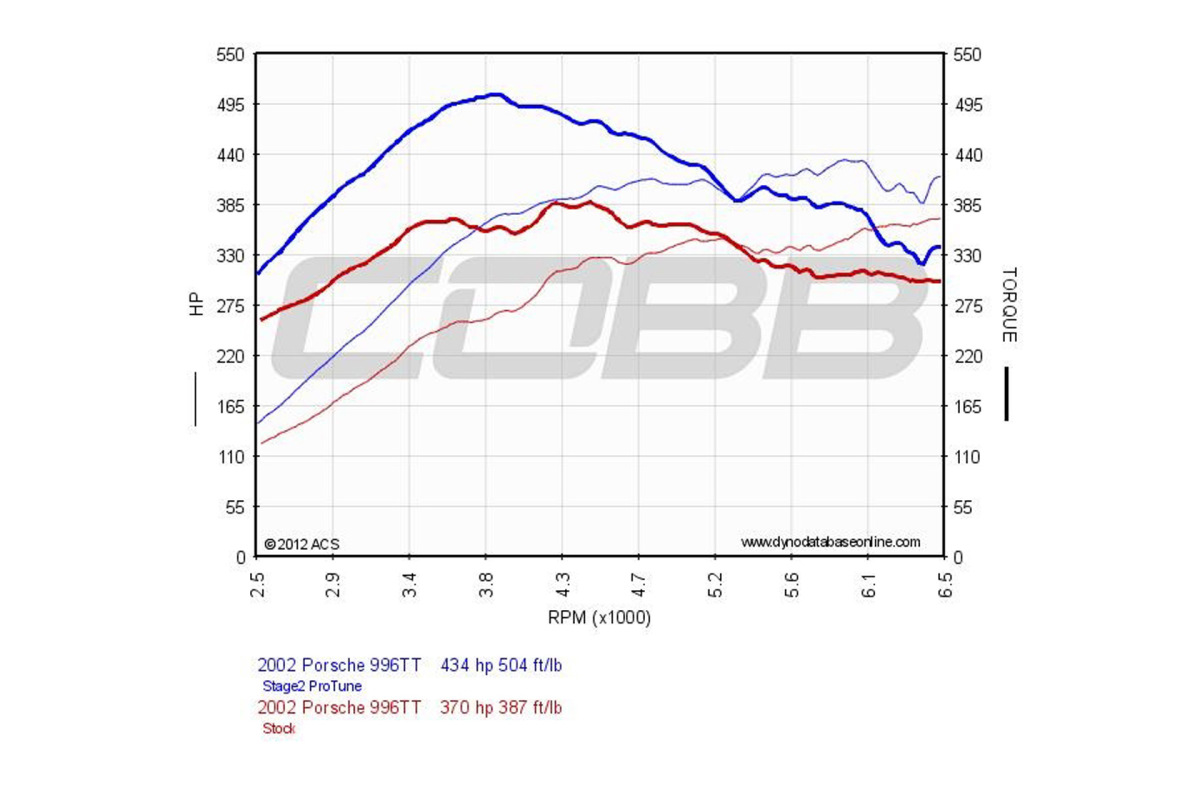 After a baseline run the car was making 370hp and 387ft-lb to the wheels in stock form, which is an 80hp loss through the drivetrain. That is crazy! Using the COBB Tuning Accessport, Mitch McKee and Jon Hebbeln, who are the head Porsche tuners at COBB, took full advantage of the IPD intake plenum, BBI Barcode exhaust, and under-drive pulley. This was all done on pump gas, so that way I never have to worry about being stuck without the correct fuel. With two bolt-on mods I gained 64hp and 117ft-lb over stock.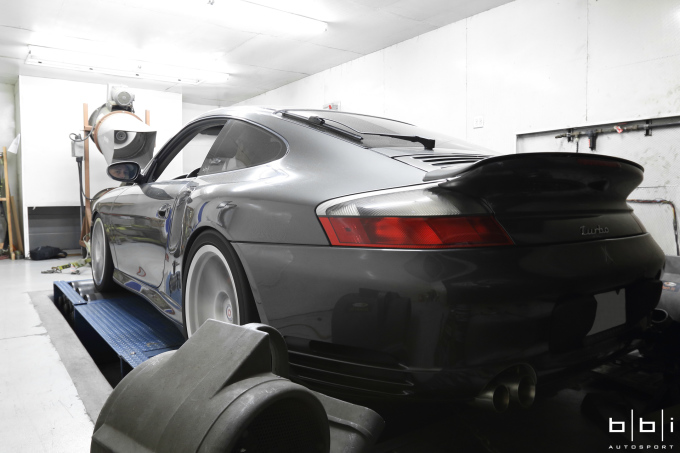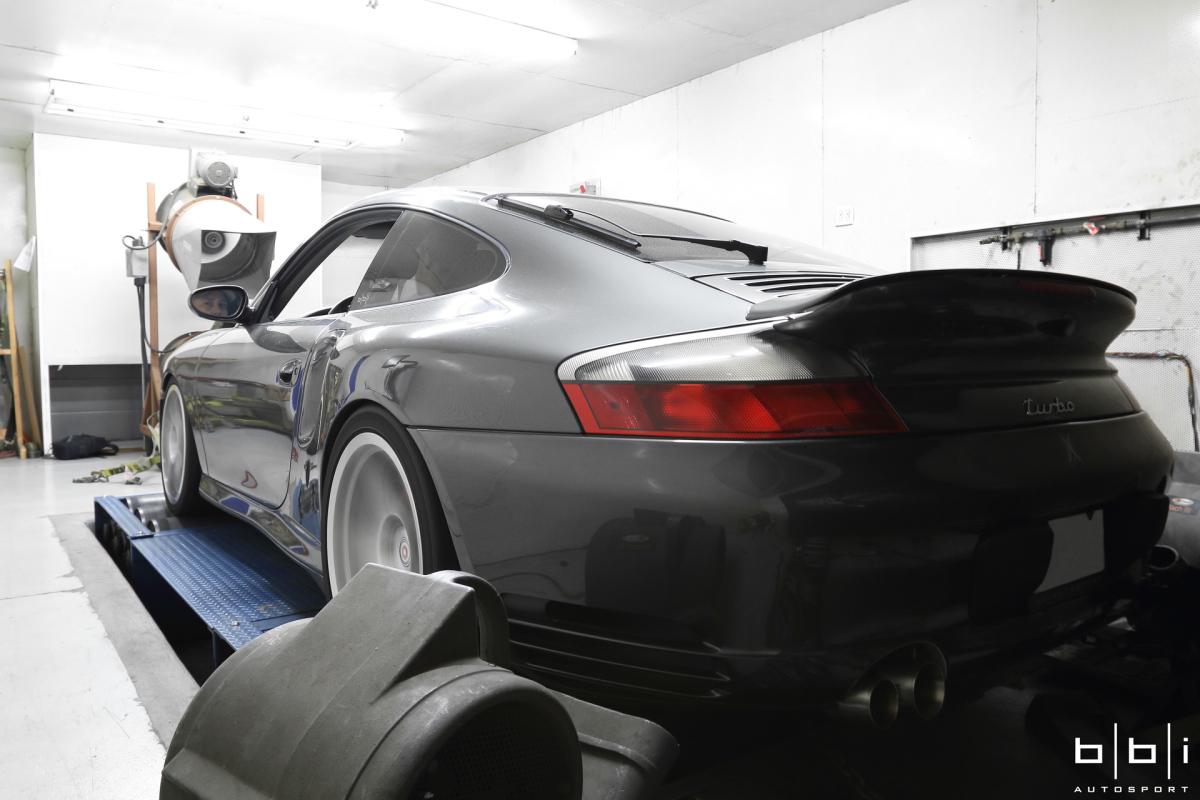 The data-logging capabilities of the COBB Tuning Accessport are awesome. You can change tuning maps on the fly depending on the fuel you are running and the conditions. In addition, it can read and clear error codes. If that is not enough, you can even email the tune files back and forth between tuners all across the world. BBI works exclusively with COBB for factory ECU tuning, and it was actually them that helped COBB get into the Porsche market in the first place.
Look Ma!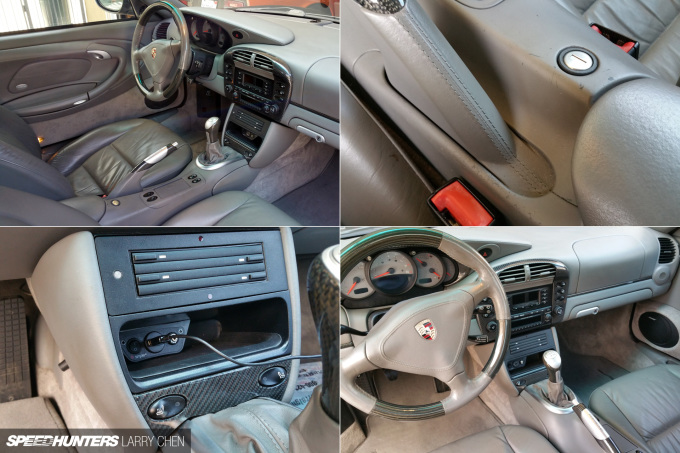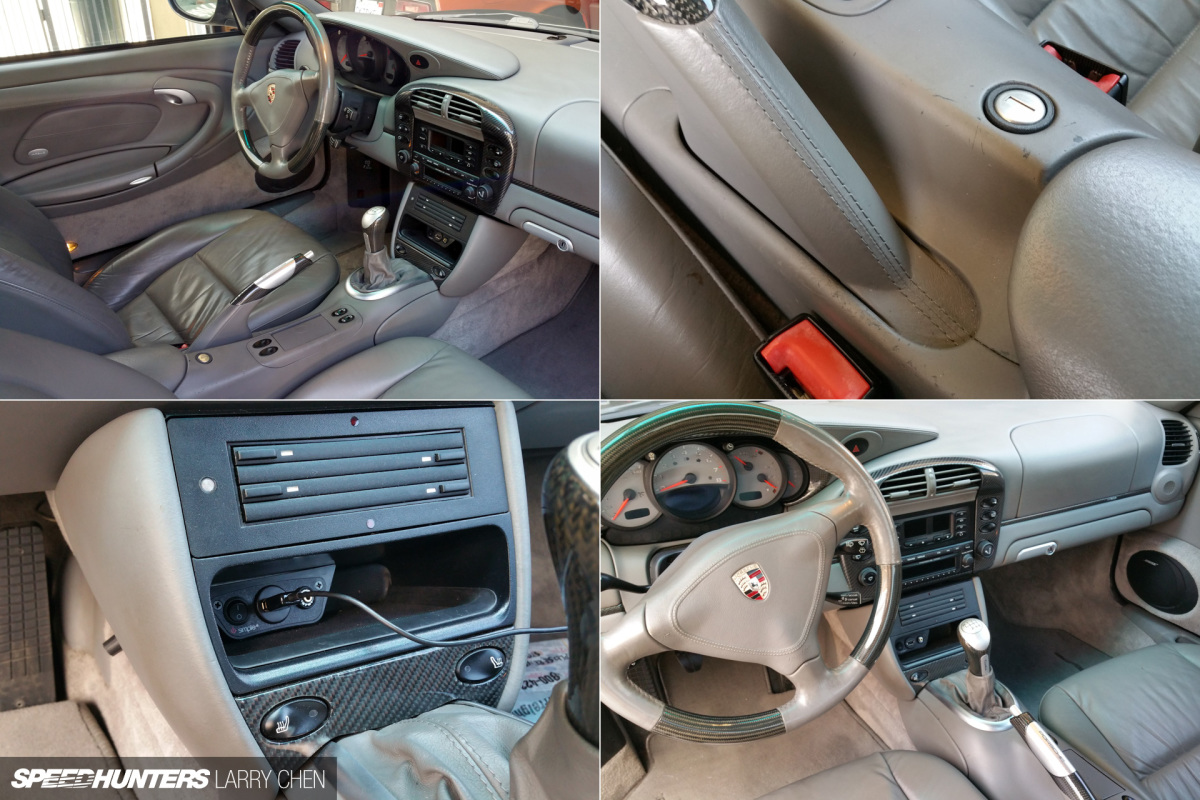 As I mentioned earlier, I just don't hold a candle to some of other members of the Speedhunters team when it comes to building cars. But that doesn't mean I don't like to do a few things here and there on my own. I guess I would call myself a 'weekend mechanic', or 'bolt-on master'? One of the things that bothered me the most about the interior was the upper center console. I am not super tall, but at 5'11 my knee always hit it, so I wanted to delete it and replace it with carpet like in the 996 GT3. Plus, the lower center console was considerably damaged from years of abuse from the previous owner, so I decided to replace that as well.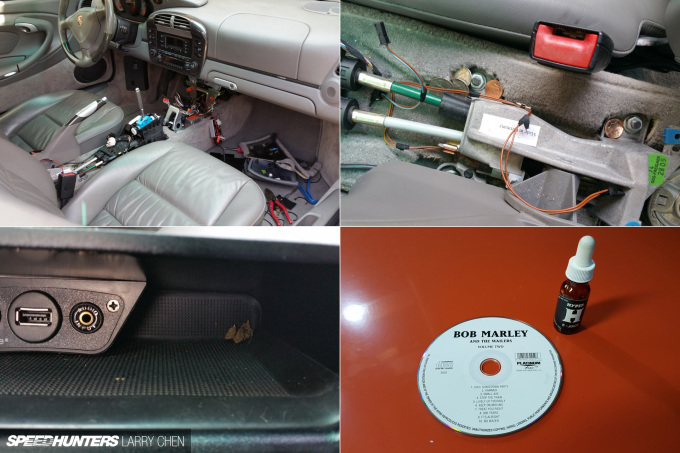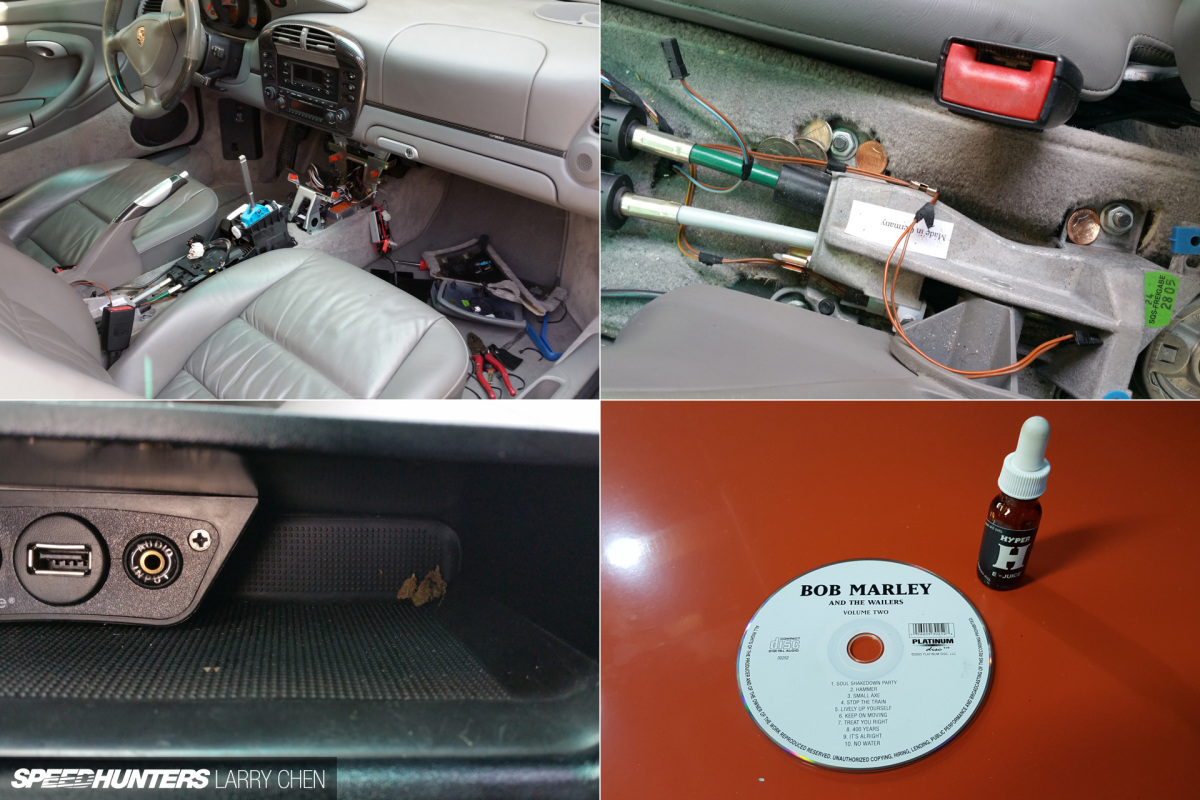 I started to remove bits and pieces of the interior, when I found a few interesting things. First of all was some loose change, which is good since it means I paid less for the car than I thought I did. Then I found something interesting in the center console: herbs? This kind of makes sense as I also found a Bob Marley disc in CD player and a bottle of vape juice in the glove compartment… I'm thinking the car needs an official Speedhunters name, like Project Yankee or Leroy the Civic. I have Ole Orange Bang already, so what do you guys think about Tommy Chong for the Porsche?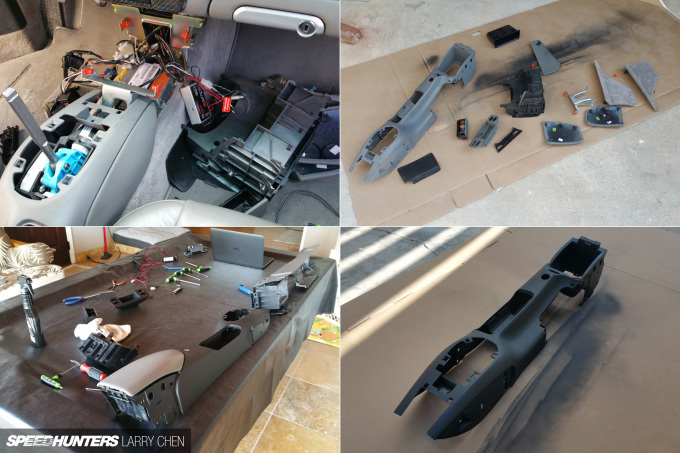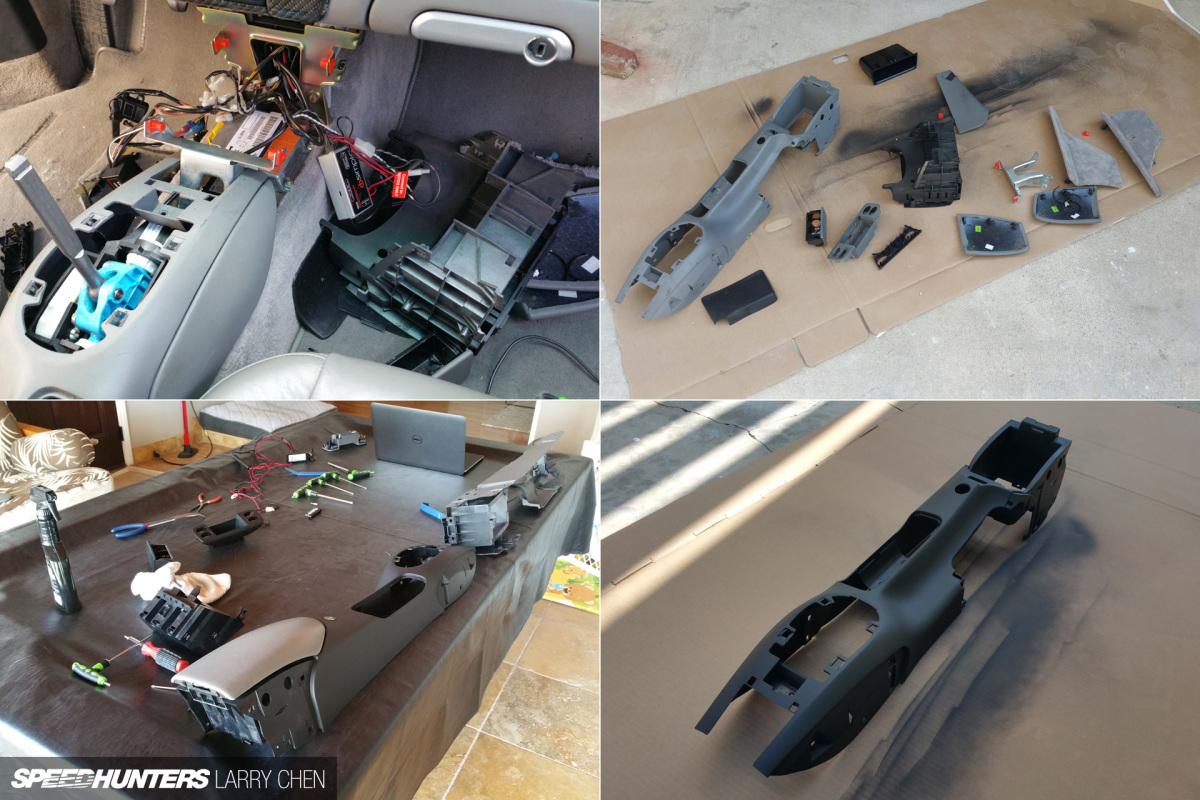 I threw away what I did not need and actually bought a brand new center console as the stock one had some very deep scratches in it.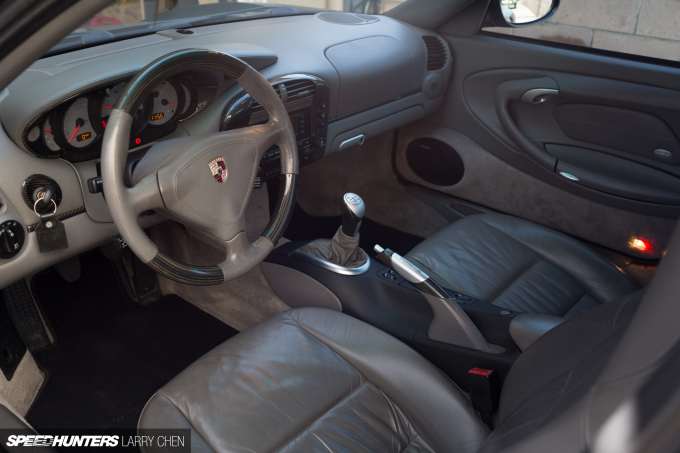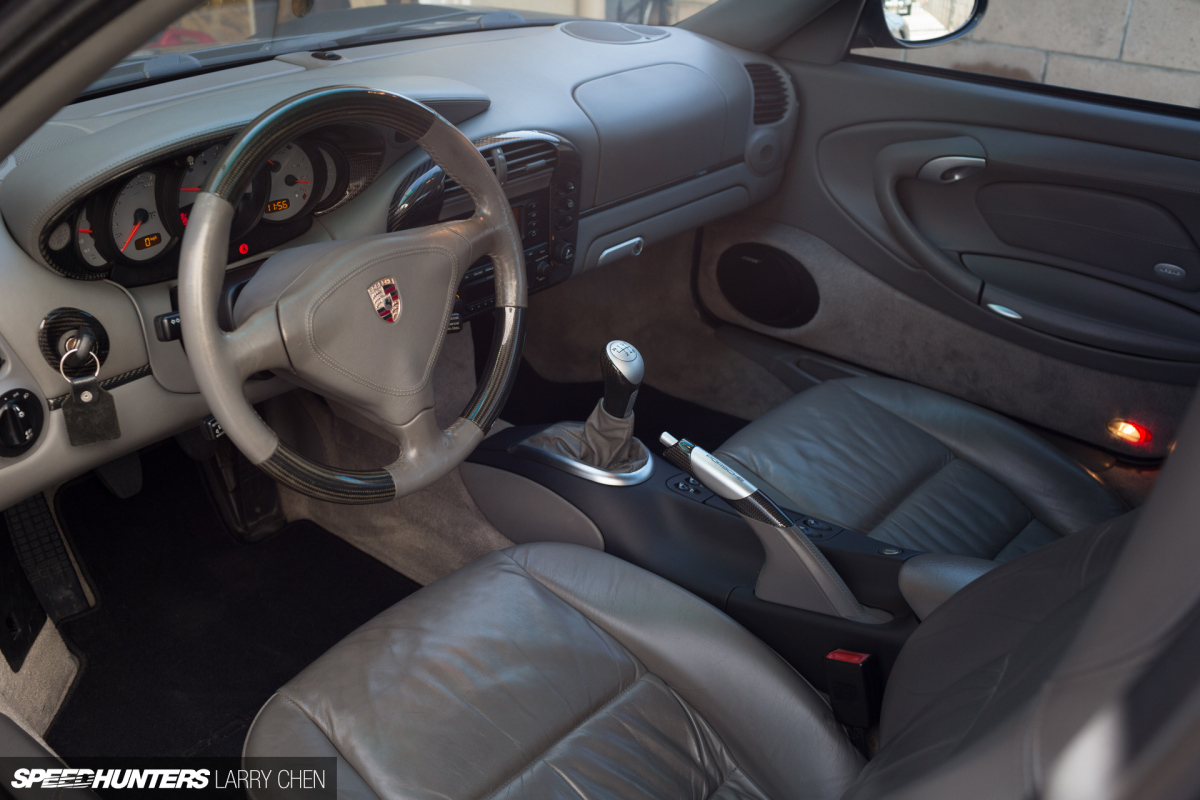 It came in raw plastic form, which meant I had to dye it. I wanted to change it to black, as of course everything goes well with black, and I think it's cleaned up the look of the interior considerably.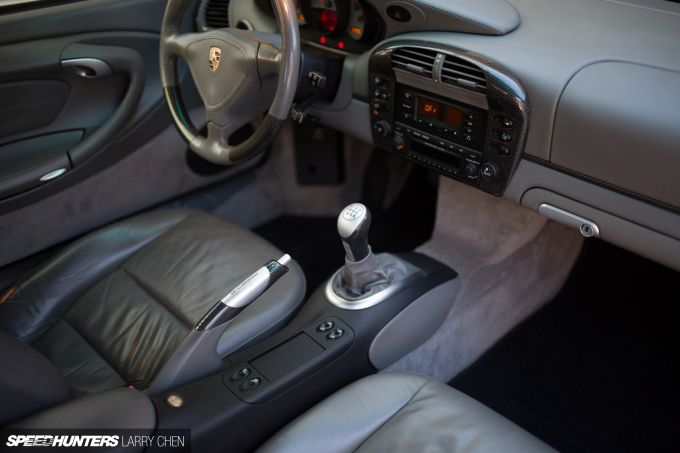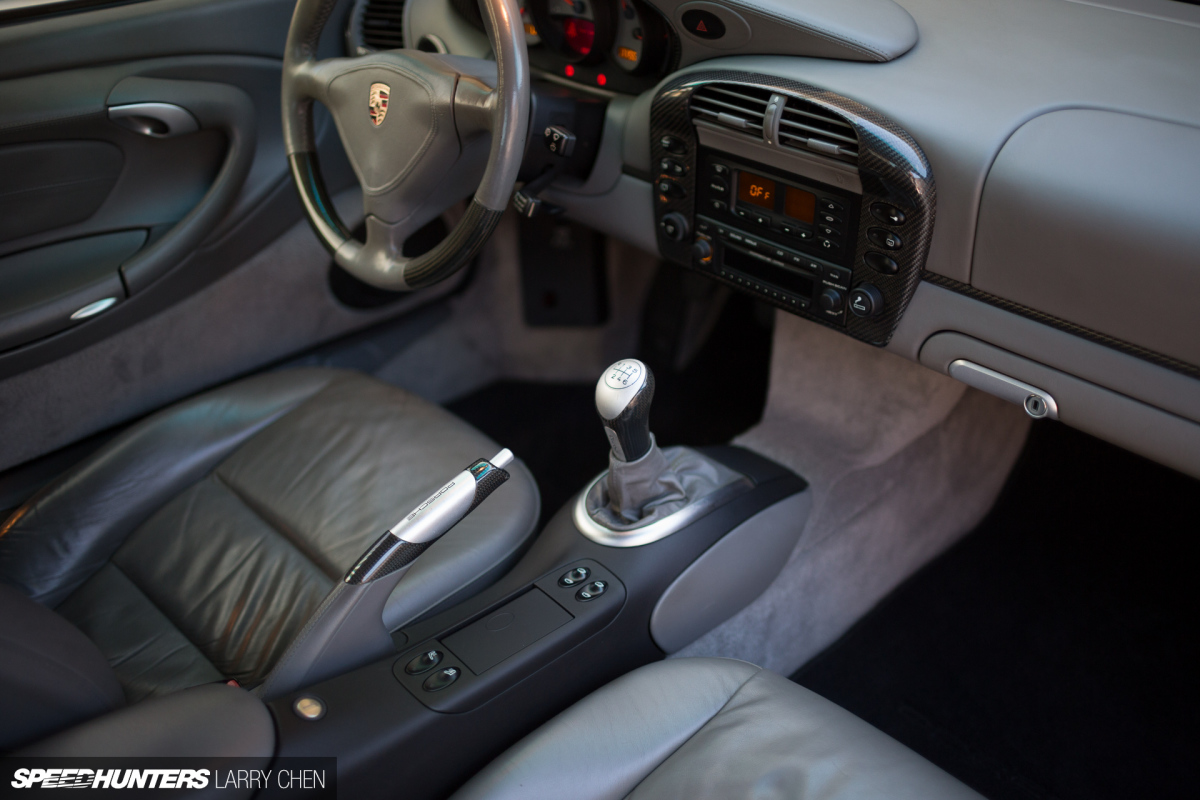 On top of that, I love that the dash is one-piece again, just like on the older 911s. Plus, I have so much more room for my right leg now.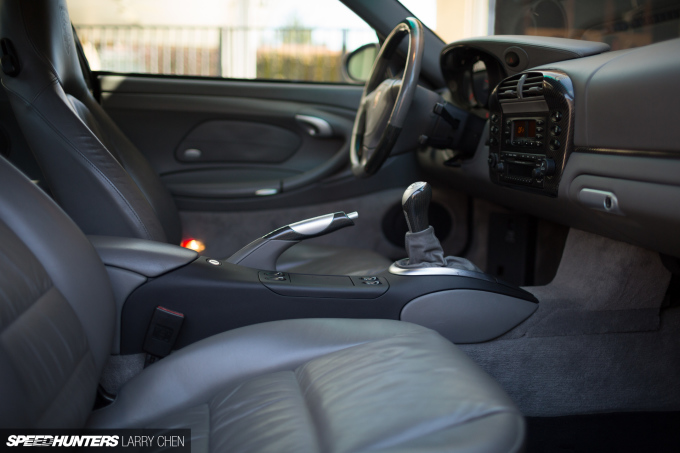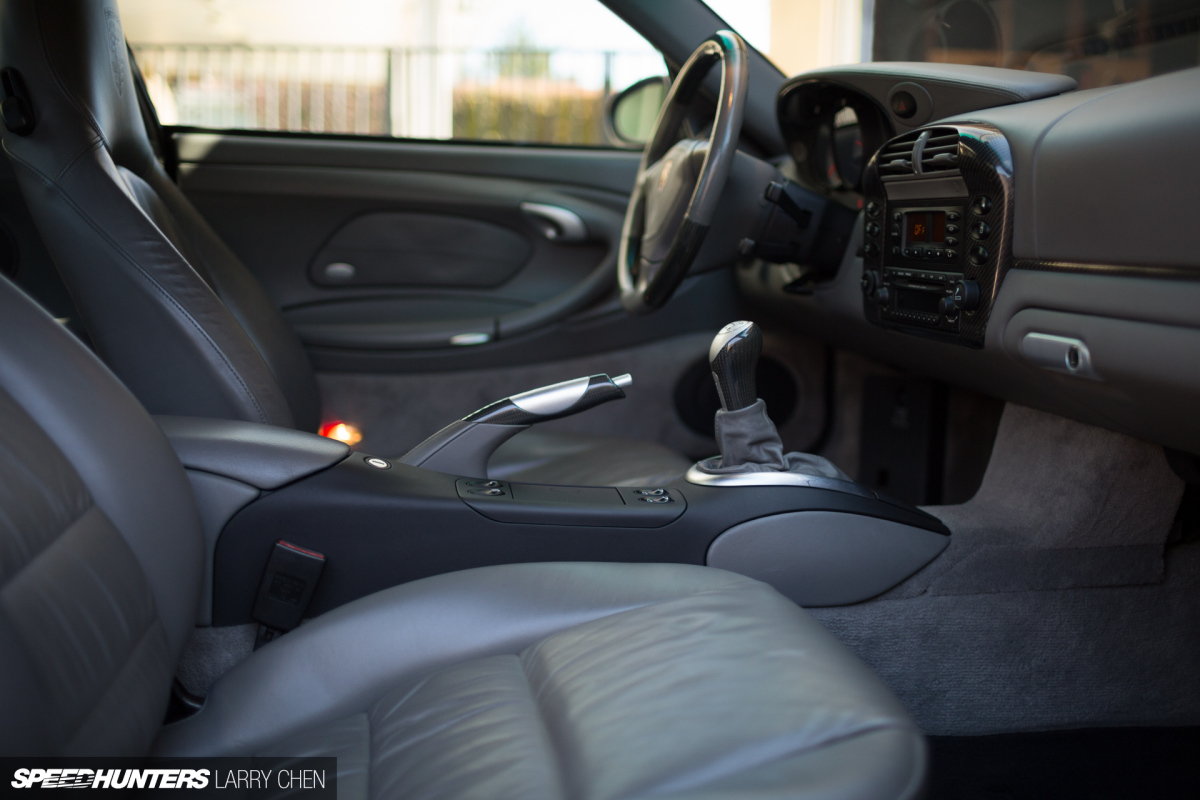 While I can't do my own engine-out service on this car, just doing the little things makes me happy. I've also changed the floor mats to black, which I think has also helped clean up the interior.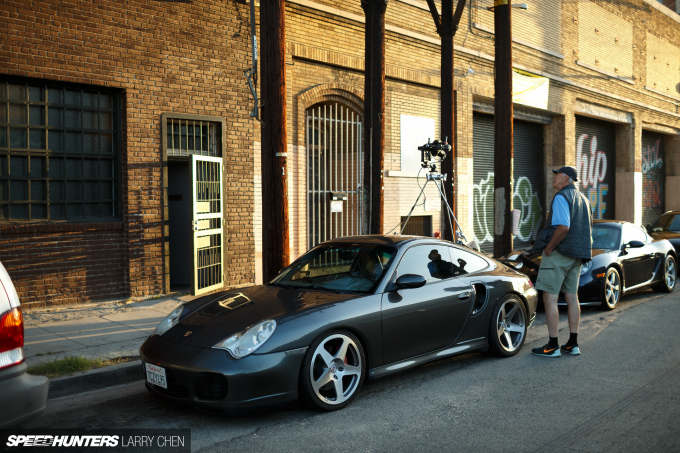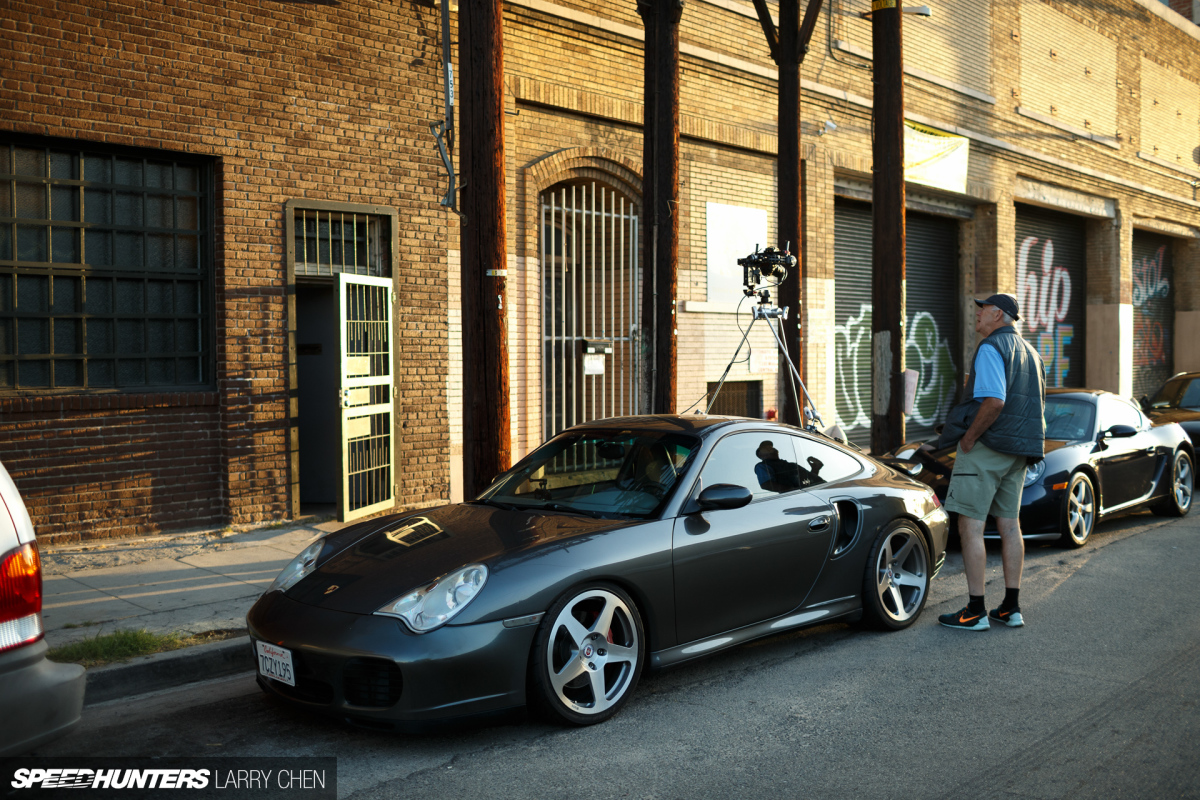 Since the dyno, I've put about 2000 miles on the car. I've been using it quite a bit as a camera car too, and for shooting stills as well as video. For example, I used it on the drive to Rennsport Reunion V, and I also put it through its paces at the Just Drift All Star Bash this year.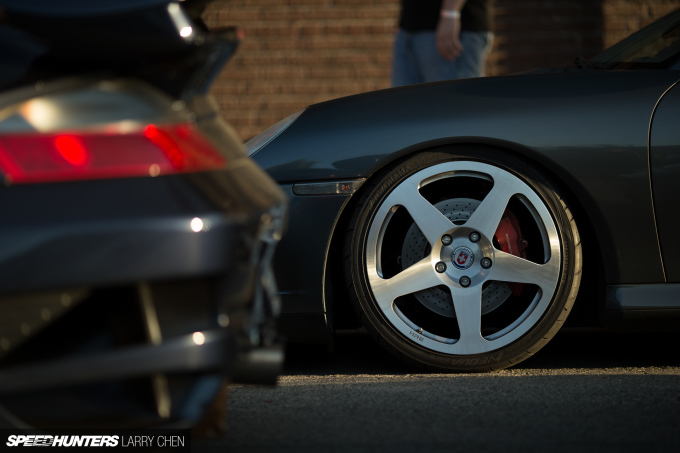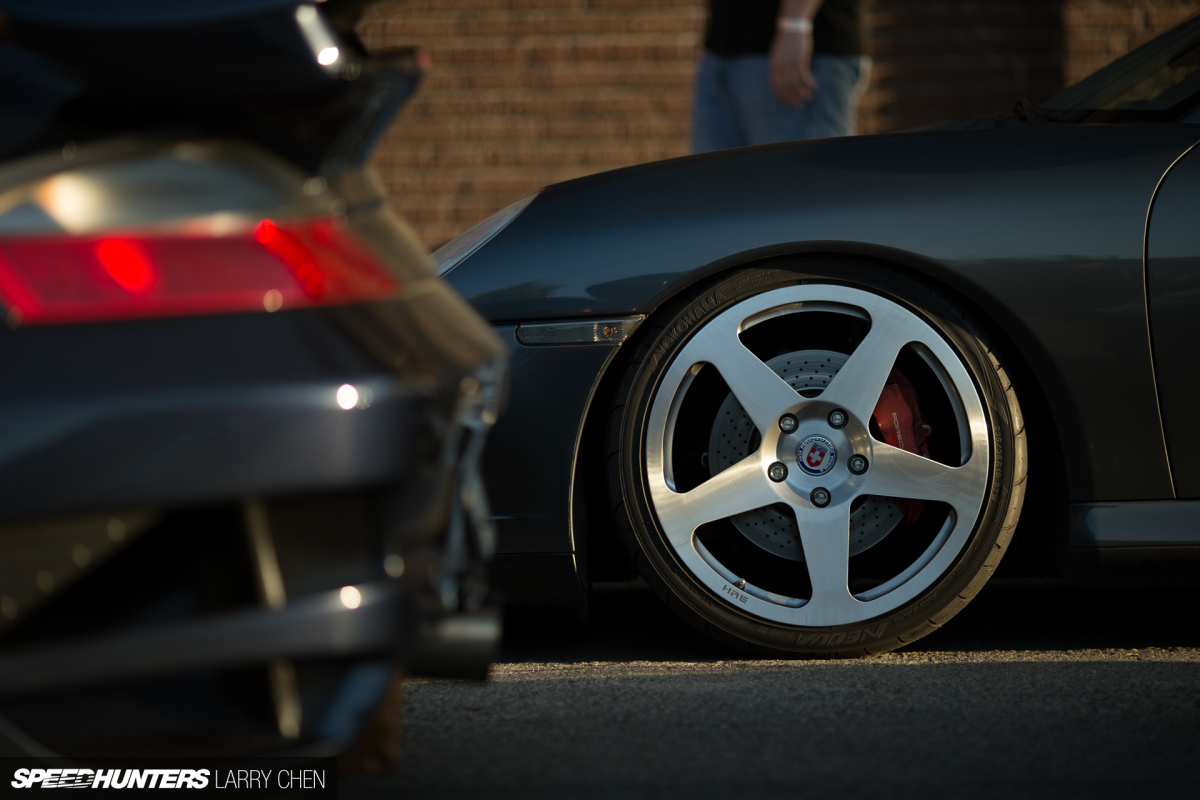 Since then the only thing that has broken was a bracket that holds in the shift linkage, which is a very easy fix. It was a scary experience though, because you just can't get into any gear when it happens.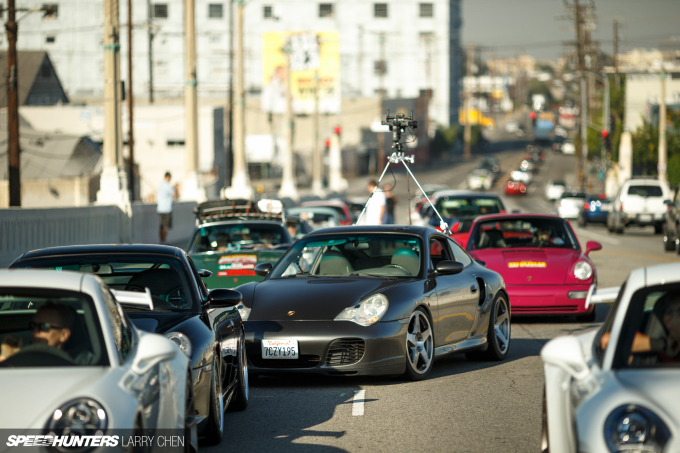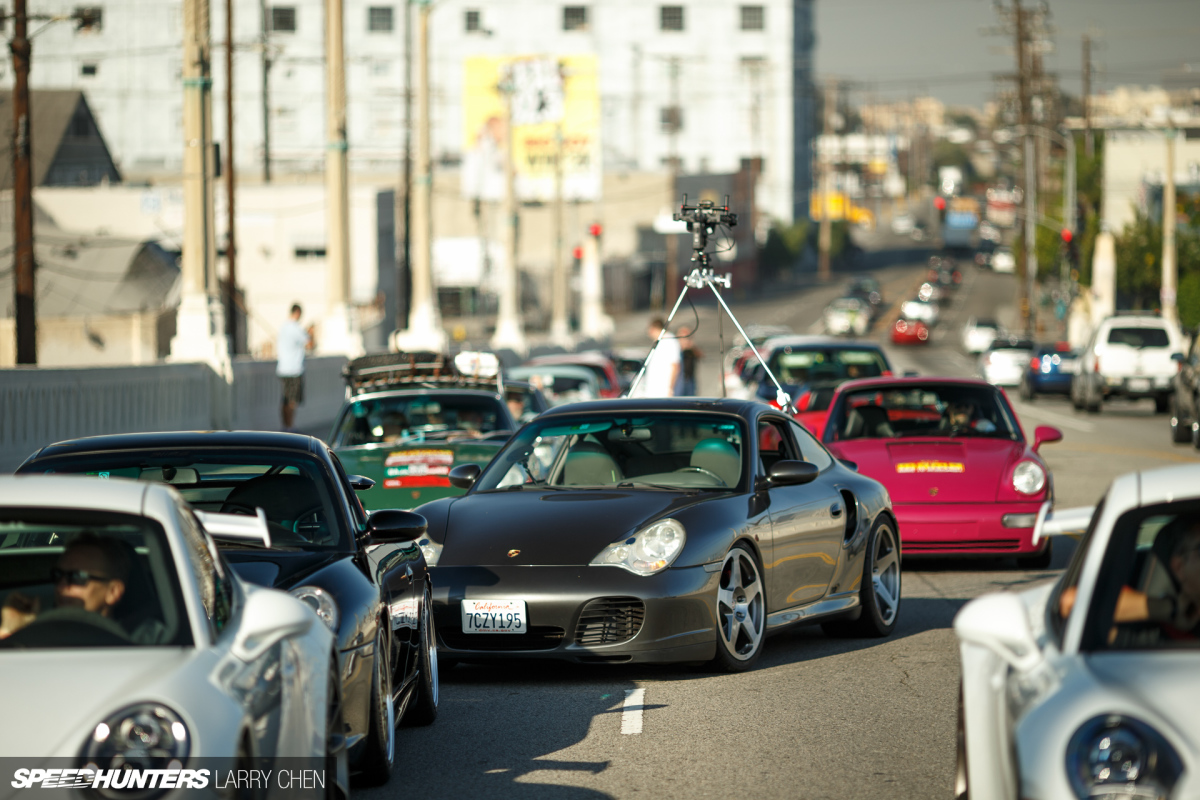 It's pretty much the most powerful and stable camera car I could ever ask for, which of course is total overkill for what I need it for.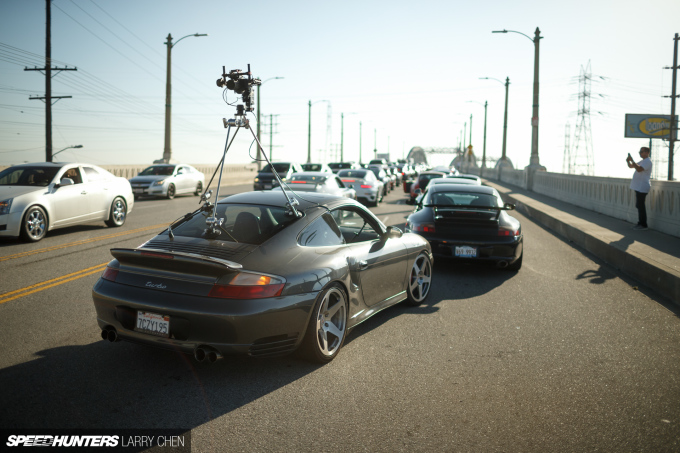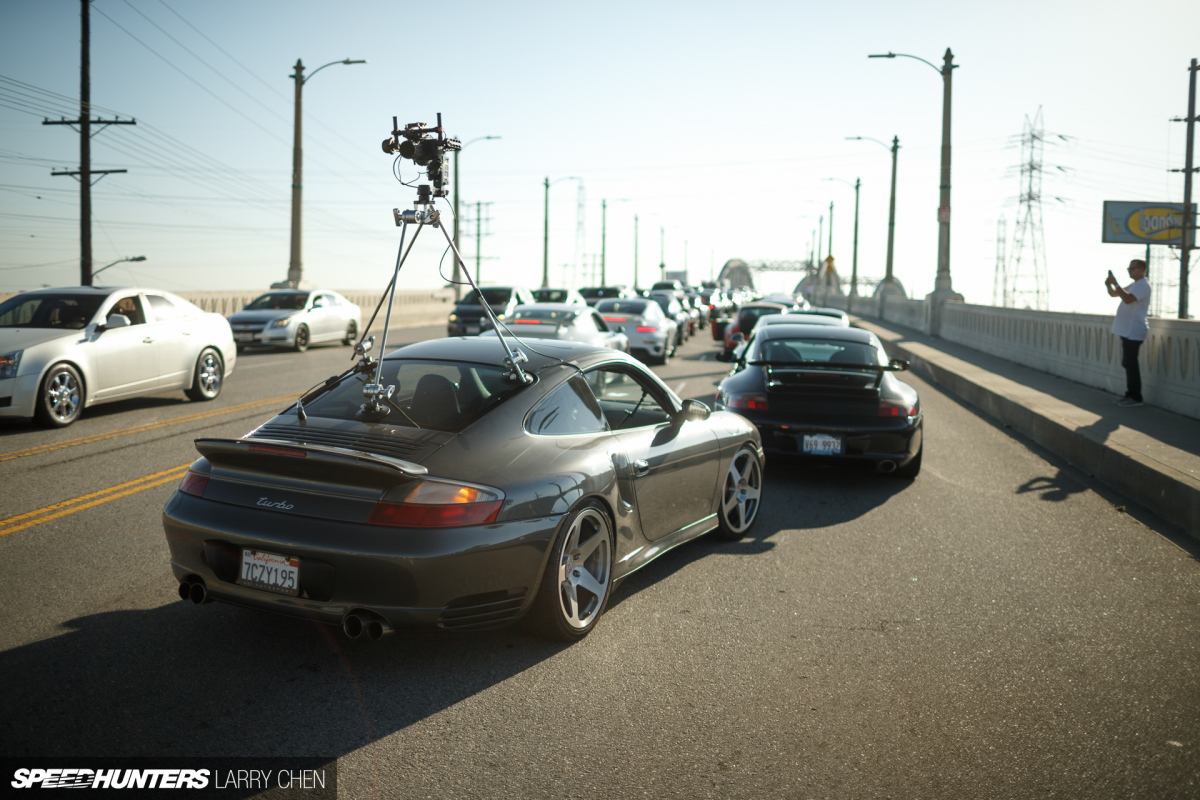 The next event I am planning on taking it to is Shift Sector Airstrip Attack, a standing 1/2-mile event held at Coalinga Airport in central California. Mike and I have actually covered the event before, so it will be interesting to drive in it for the first time.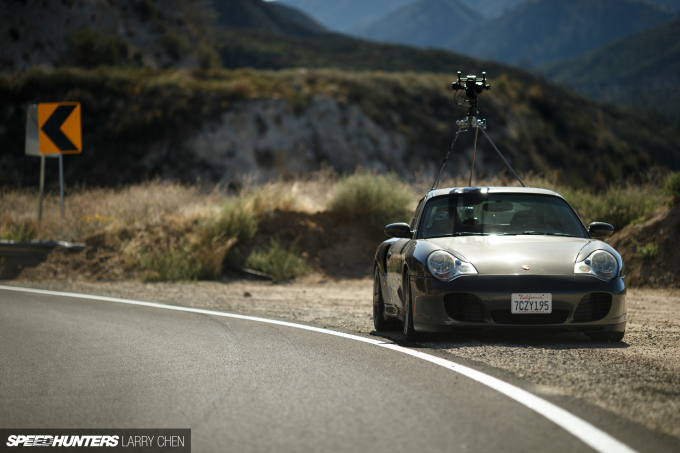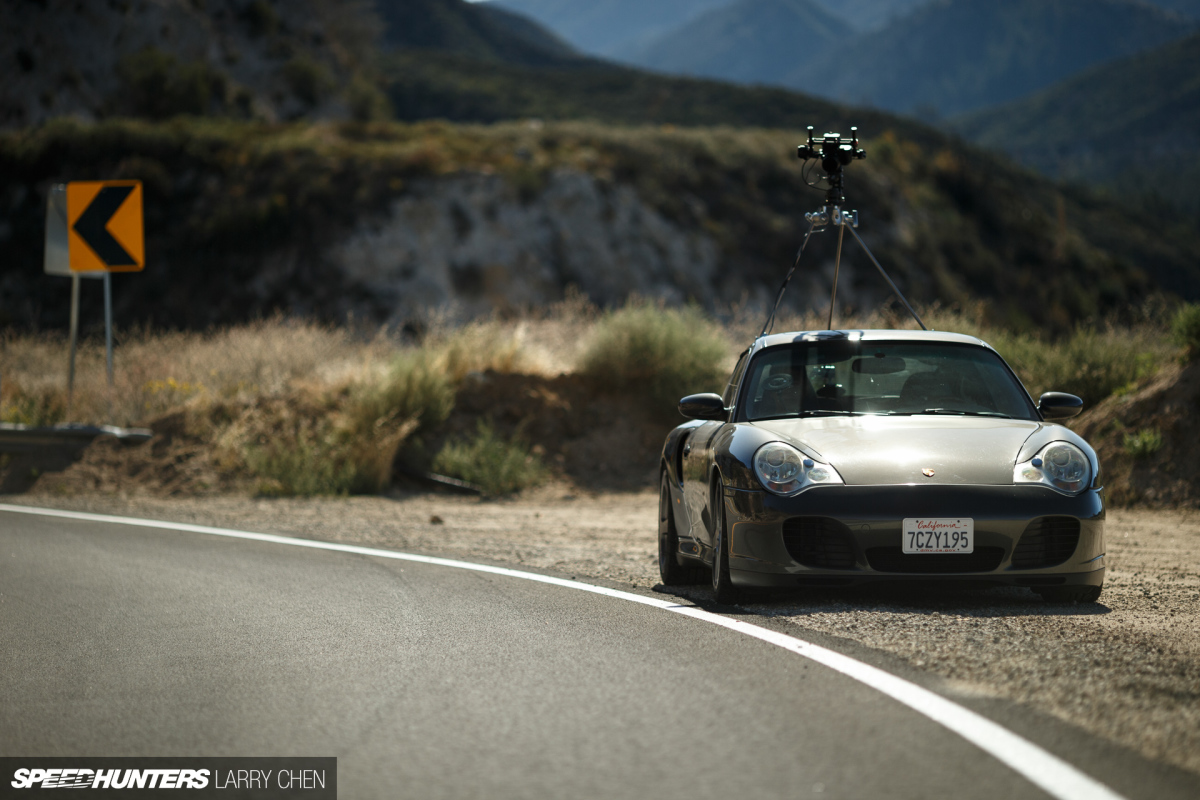 After looking at my expenses for the year, I've spent more money on this car than I did on camera equipment, which of course is really hard to do considering I'm a full-time photographer. In fact, just fixing it up alone was the single largest expense for me in the last 18 months since I bought the car. Was it all worth it? Hell yes!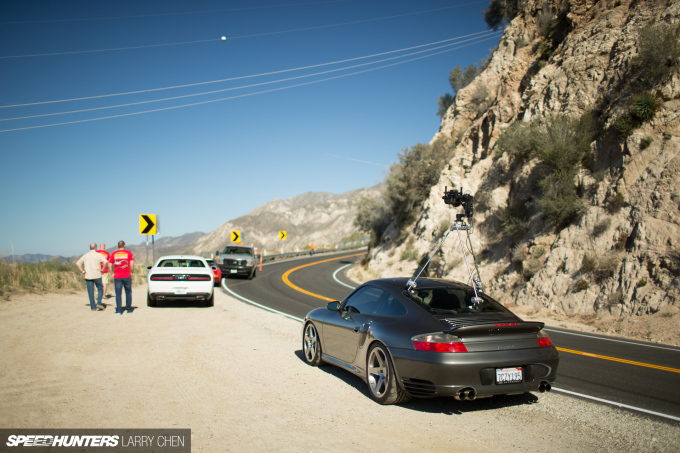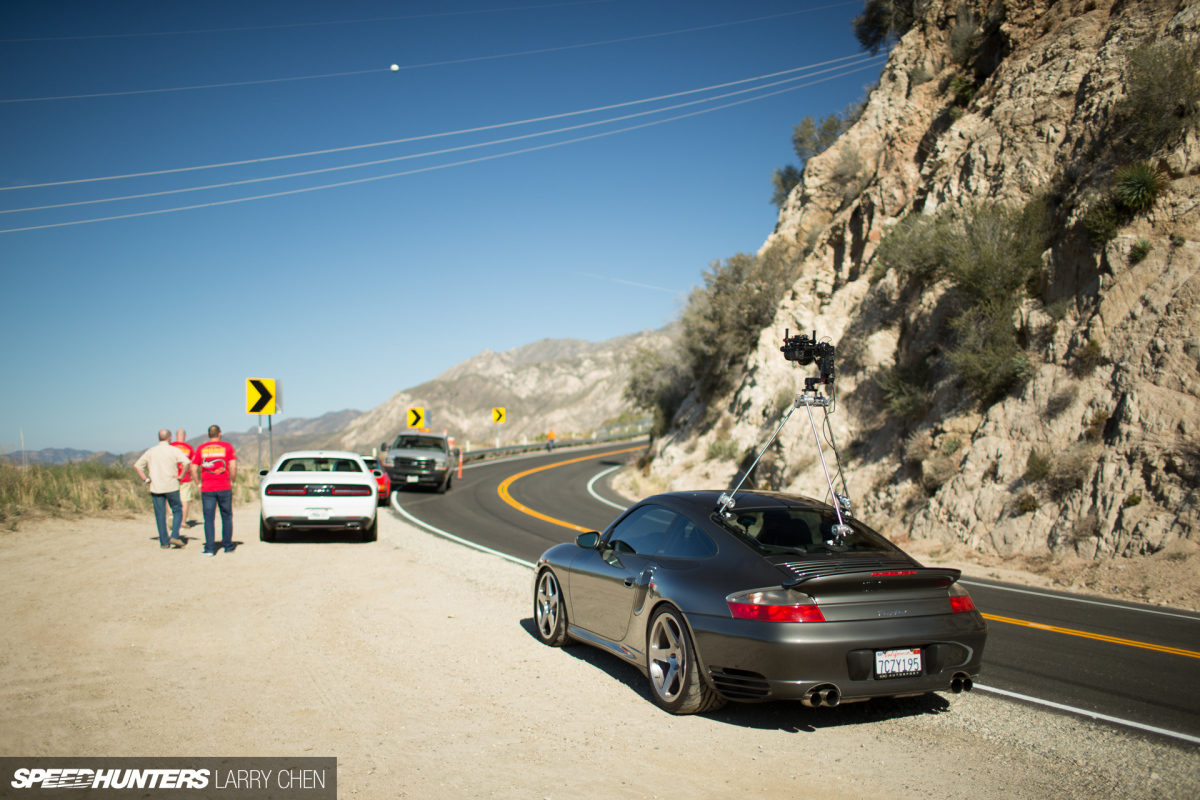 I am a car guy after all, and my love affair with cars got me to this point in the first place. While I am justifying it that way, it's completely true. If I didn't have this monster of a German muscle car, I would have something else. But seeing as Dino already has my dream car, and it's pretty much going to take forever for the R34 to come into the States, I feel like this is the perfect German counterpart in every way shape and form.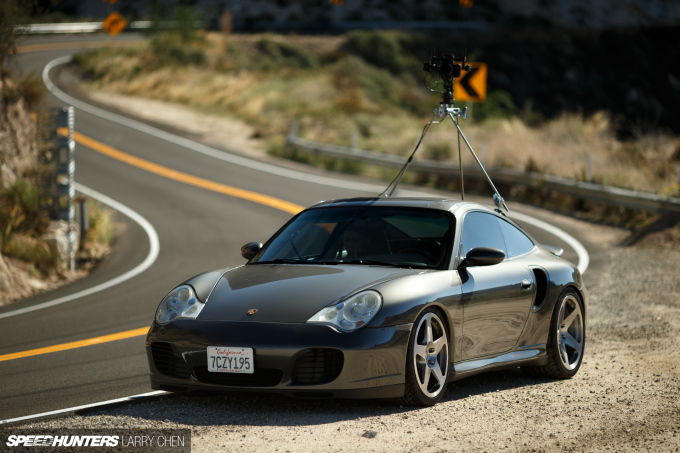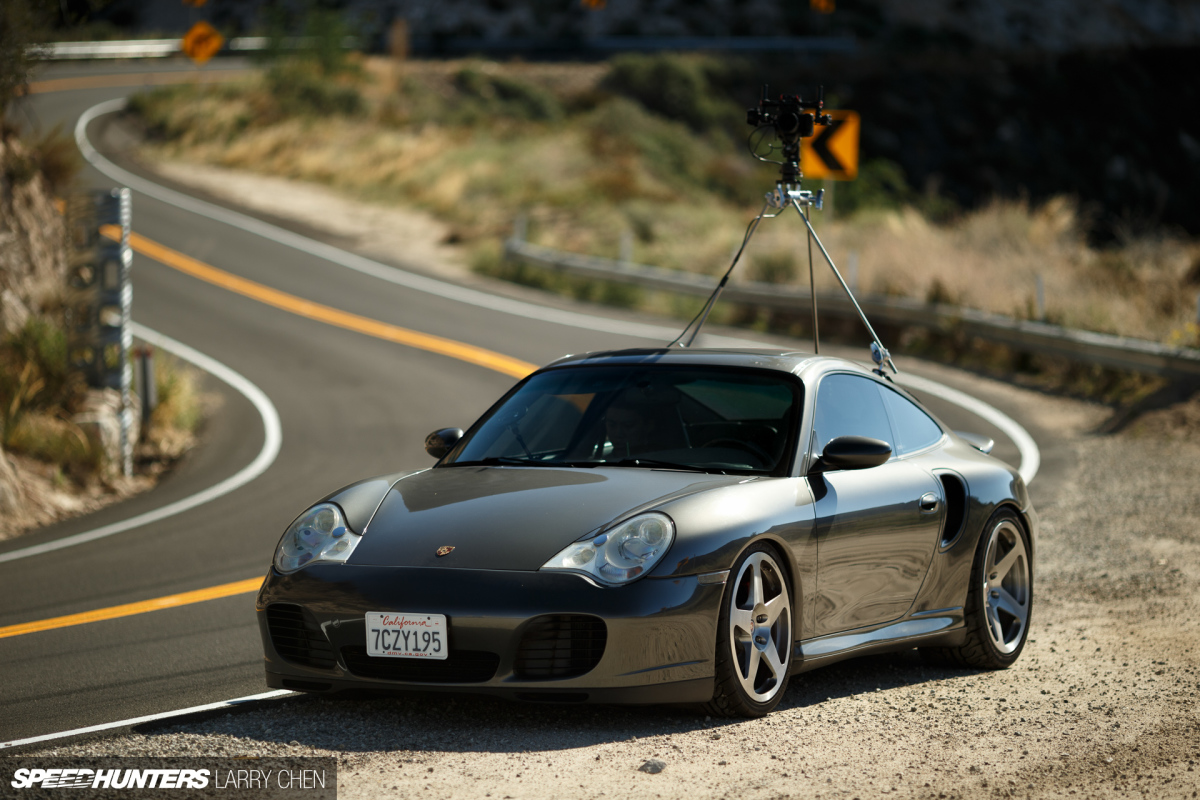 So what's next? I already bought and painted the 'Aero package' lip, so that is going on the car soon. After that? The sky's the limit. That is the cool thing about having a 996 Turbo, there is so much to modify, and there's an endless amount of things that I could tinker with. Upgraded turbos, intercoolers, radiators, maybe some bucket seats or bigger brakes. The list goes on, and the fun has just begun.
Next up I plan on doing a Dream Drive as well as shooting a video for you guys so you can hear how it sounds and see how it moves.
Larry Chen
Instagram: larry_chen_foto
larry@speedhunters.com