Classics In Action
Stoneleigh Park in Warwickshire, UK, isn't the typical place you'd look when hunting speed. The huge 1,000-acre site is a hub of agricultural research and rural industry, so for most of the year you're more likely to be greeted by tractors, cattle and farmers than race cars. However, for one weekend in February the historic racing calendar splutters to life as Race Retro, Europe's premier winter classic motorsport show, rolls into town.
Spread over several halls, Race Retro offers something for anyone with a modicum of interest in racing. From old F1 cars to American muscle racers. If it ticks both boxes – race and retro– it's eligible.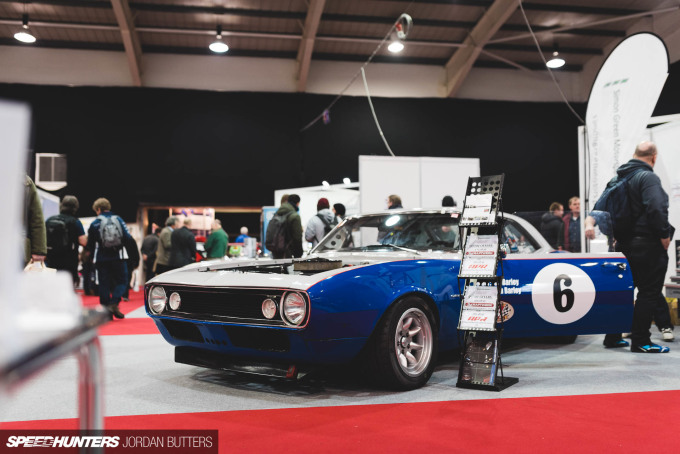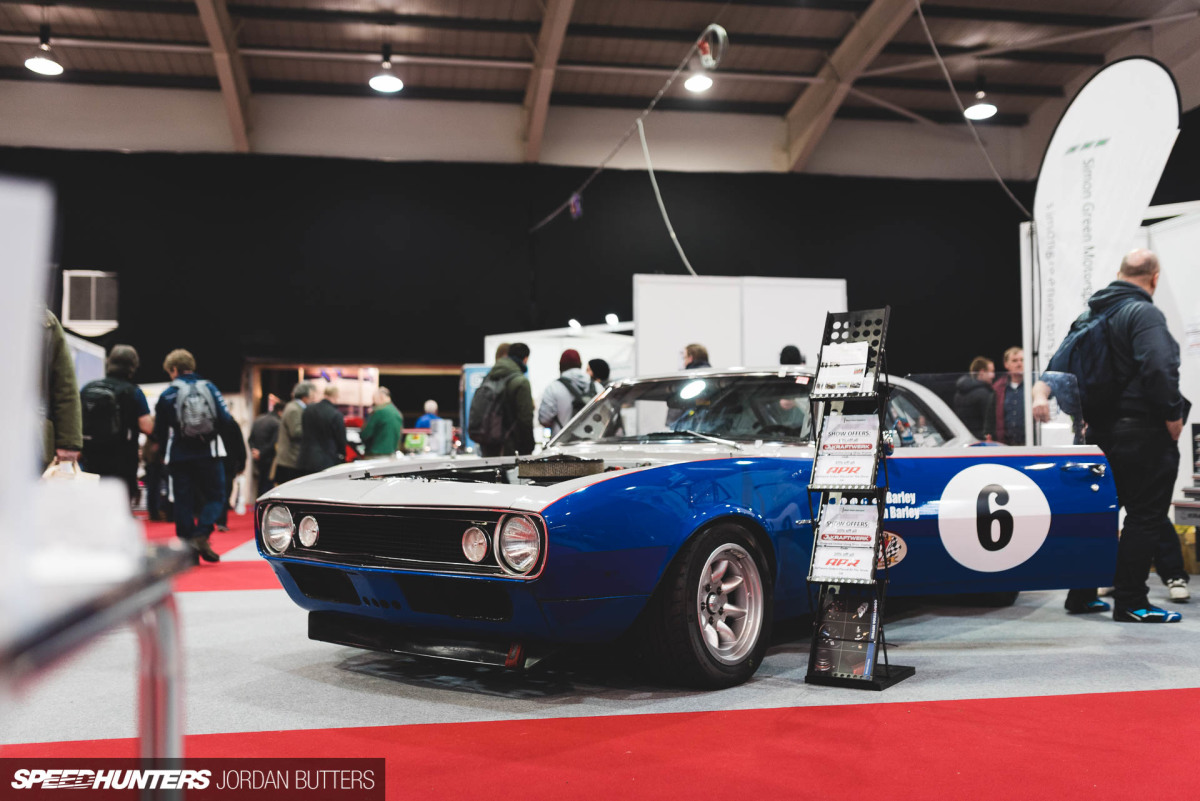 It's the perfect chance to spend a chilled-out weekend leisurely checking out some cool old race cars, chatting to their owners, taking in new products to hit the market and meeting builders and tuners to find out what they've got to offer.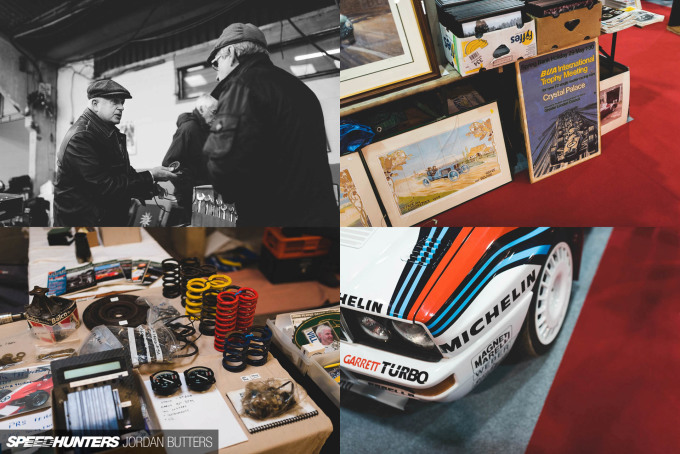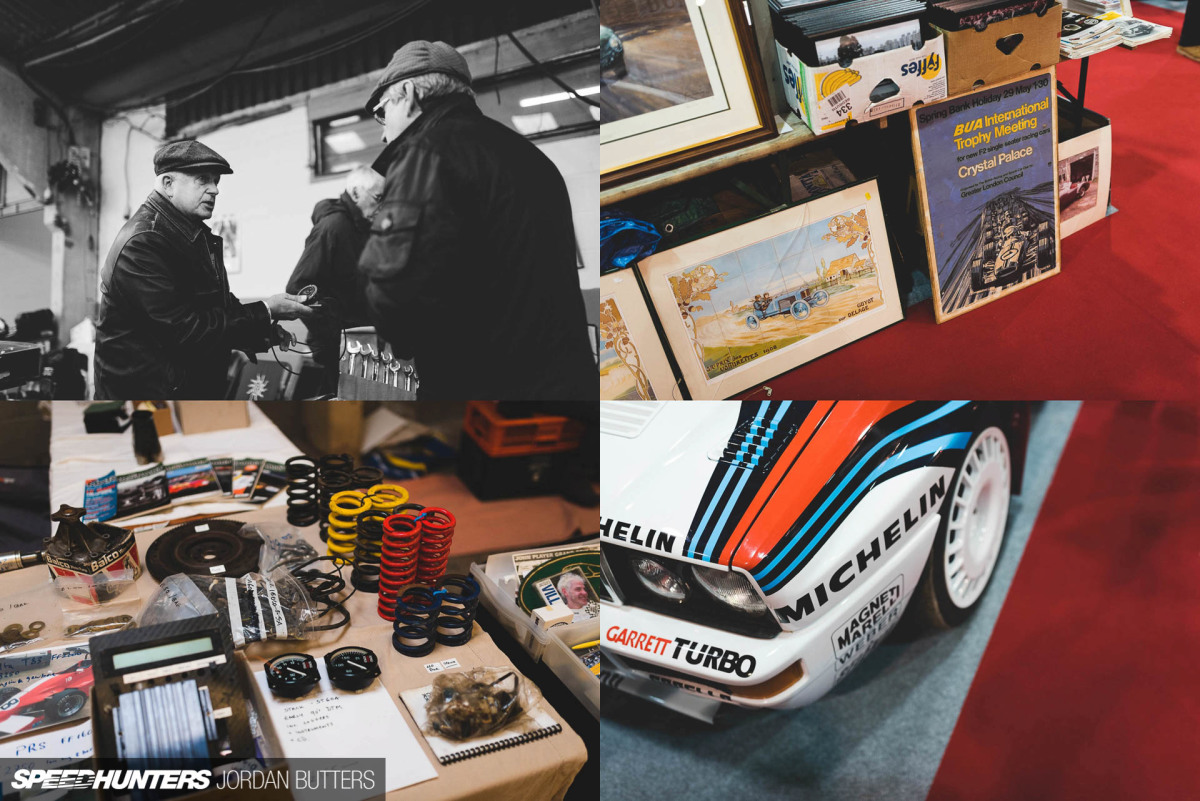 It's also a very good place to spend some of your hard-earned. You can pick up a spot of automotive art for the man-cave, peruse for deals on the last few essential parts for your retro build, or bargain with the venders in the vast auto-jumble that forms part of the show. Maybe I should've left my wallet in the car?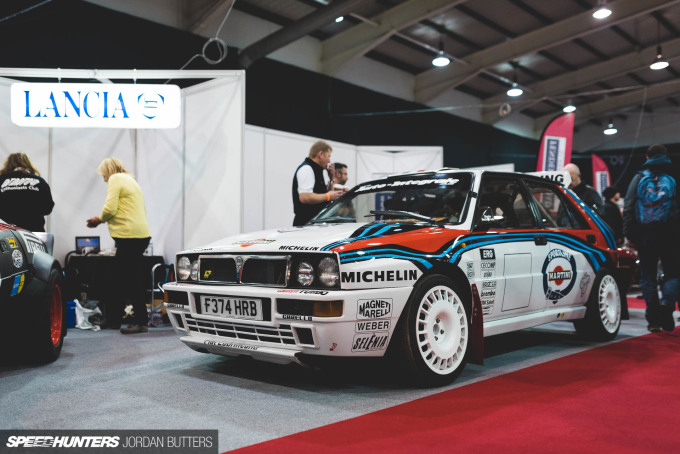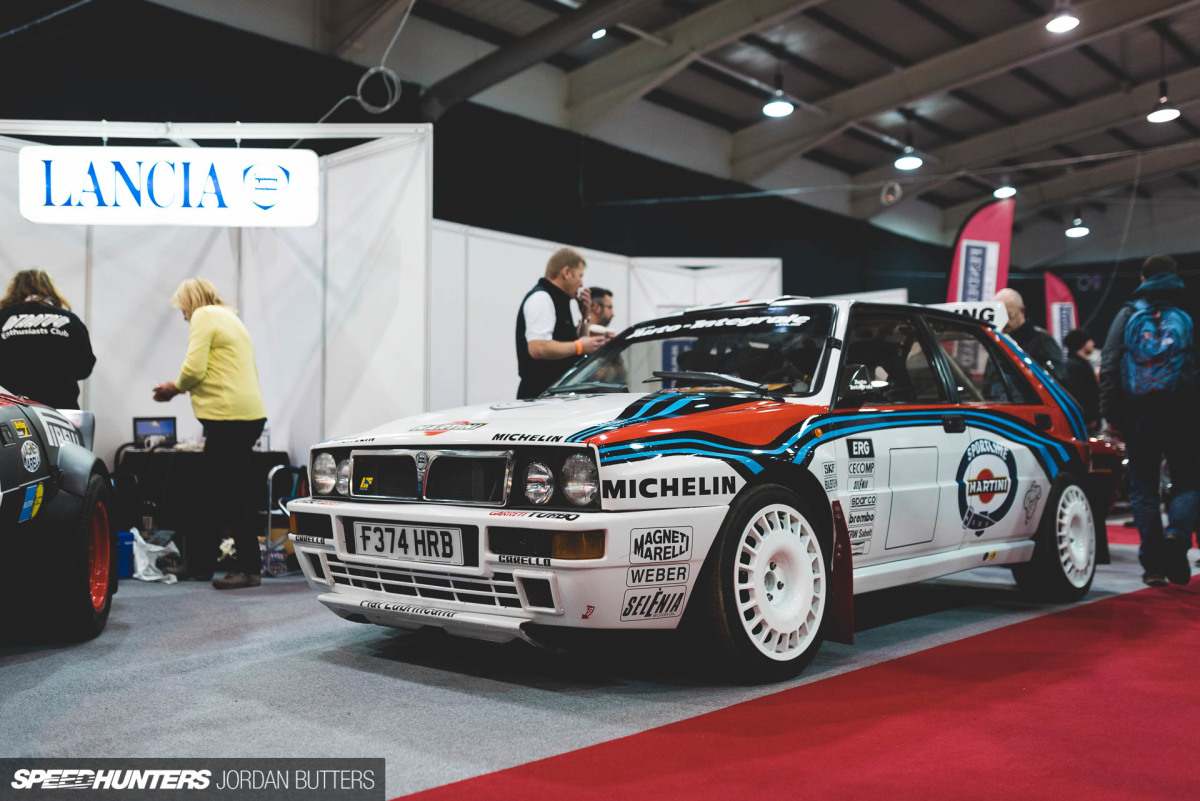 For the first time ever, Race Retro aligned with an empty weekend for me, so I thought it rude not to pop along and see what the fuss was all about. Walking the halls in the morning gave me a taste for the retro racing vibe, and while I enjoyed taking in the fantastic cars and products on display, I was longing to see some of these machines used in anger. As it turns out, I wouldn't have to look far.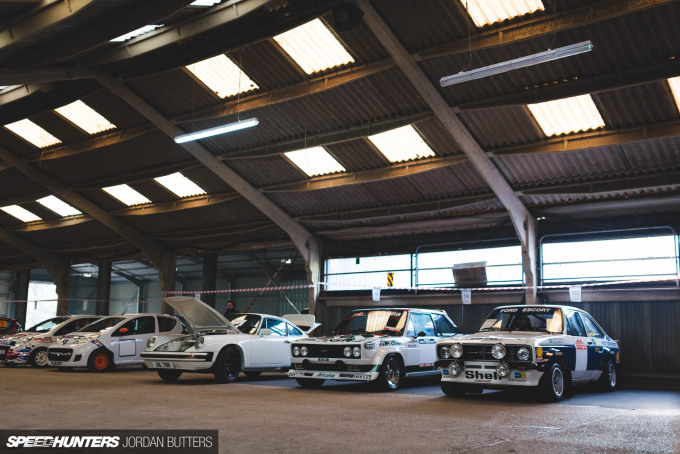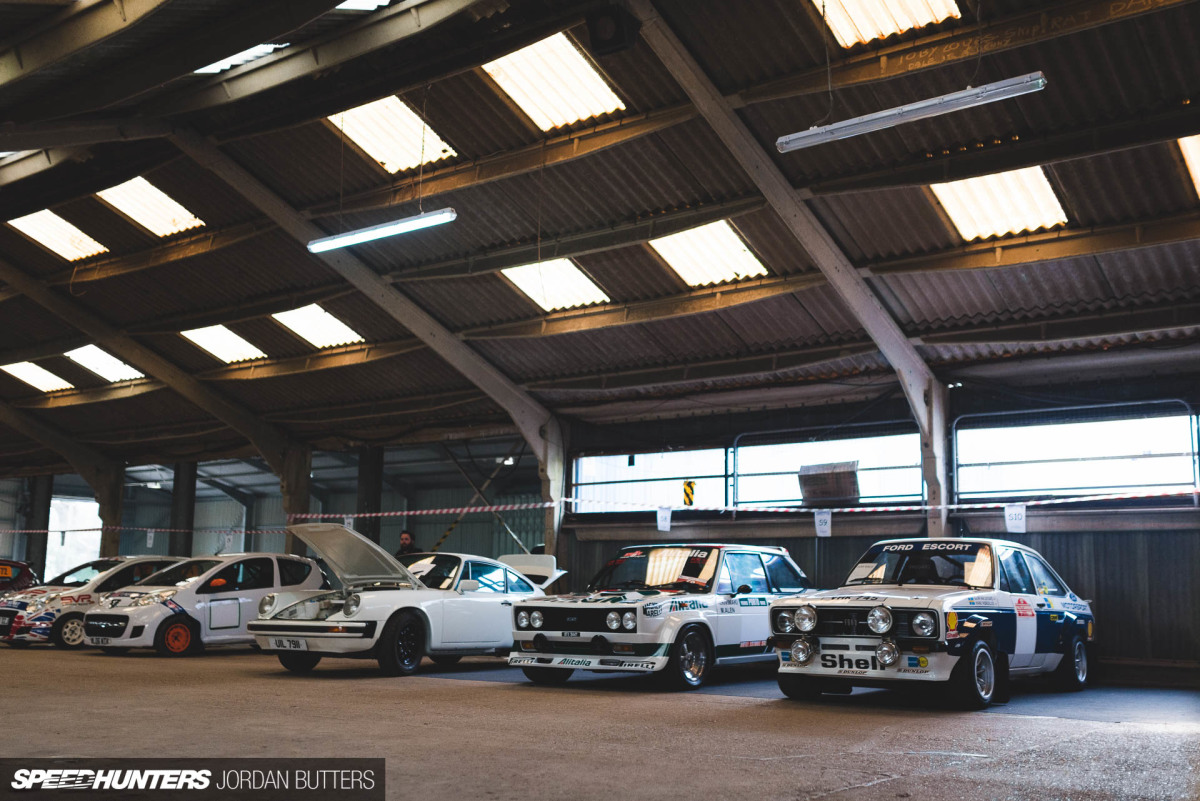 Step into the temporary cattle shed parc ferme and Race Retro comes to life. Outside, in the crisp February air, a small paddock is filled with classic rally machines. Some sit peacefully awaiting the turn of a key, while others splutter to life and rumble gently as they reach optimum temperature.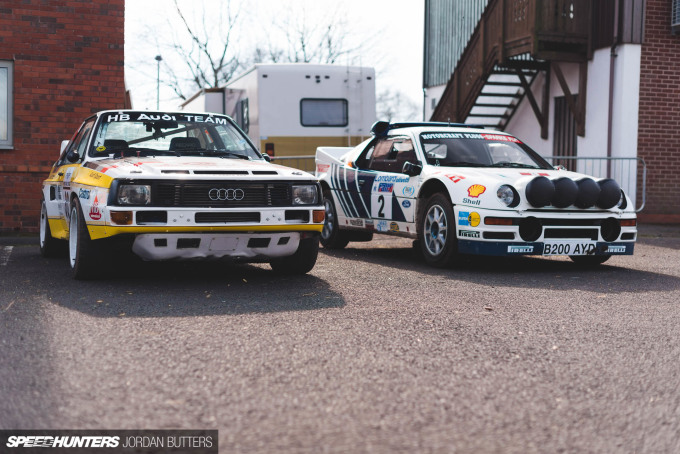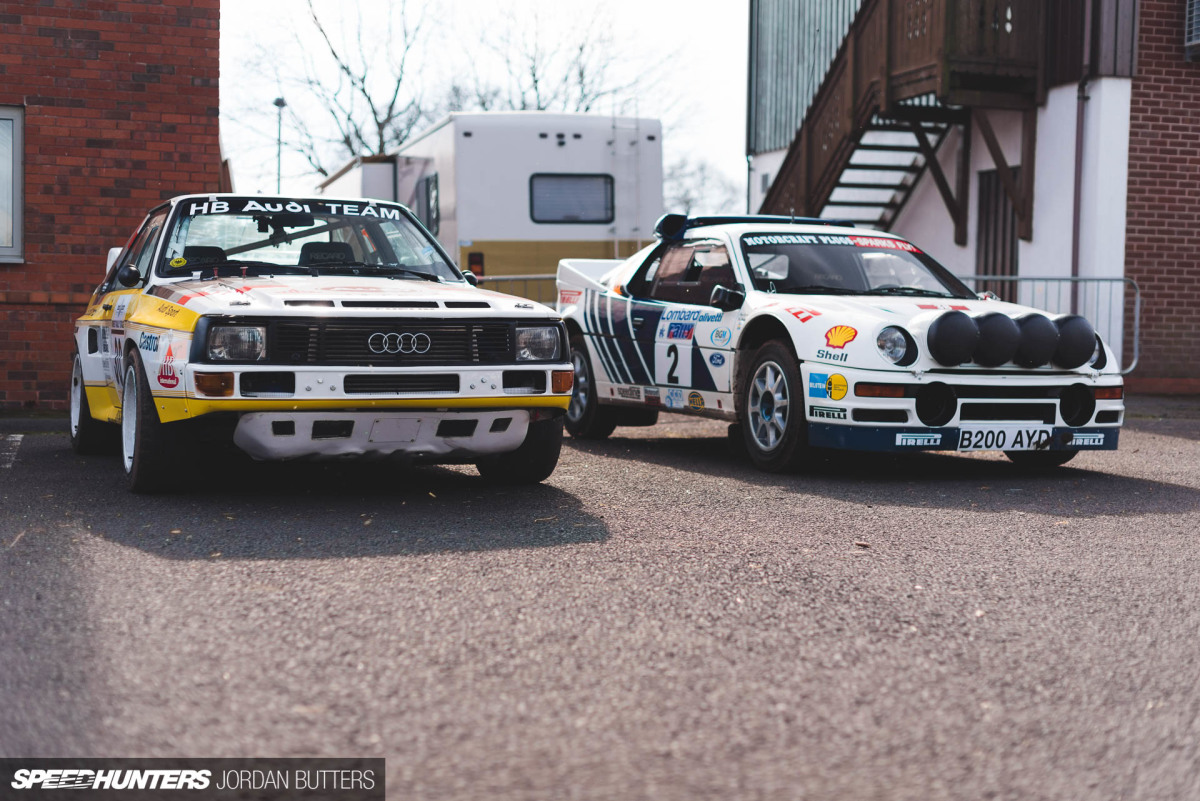 They're warming up for a very good reason – for a couple of hours at a time at various points over the weekend, these rally legends take to the grounds of Stoneleigh Park to entertain the crowds. This would have been the perfect time to explore the halls, free from the hustle and bustle as more and more people pour outside, however I was too entranced by the machinery around me. As the stage is prepared, a cacophony of different sounds fight for your attention. My mildly educated ear picked out V8s, rotaries, flat-fours and the unmistakable whistles, whines and crackles of forced induction engines.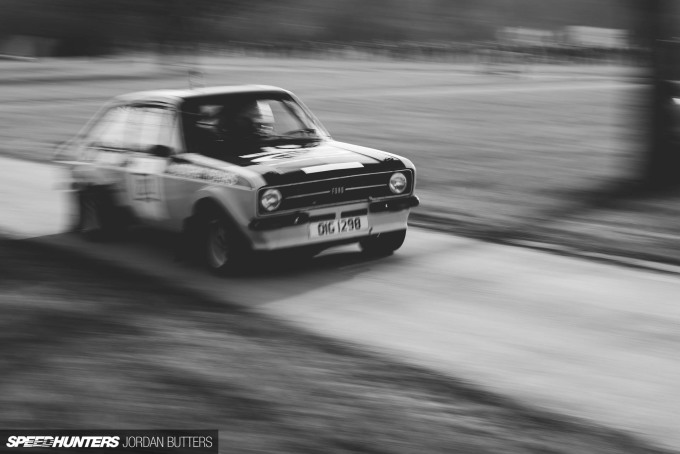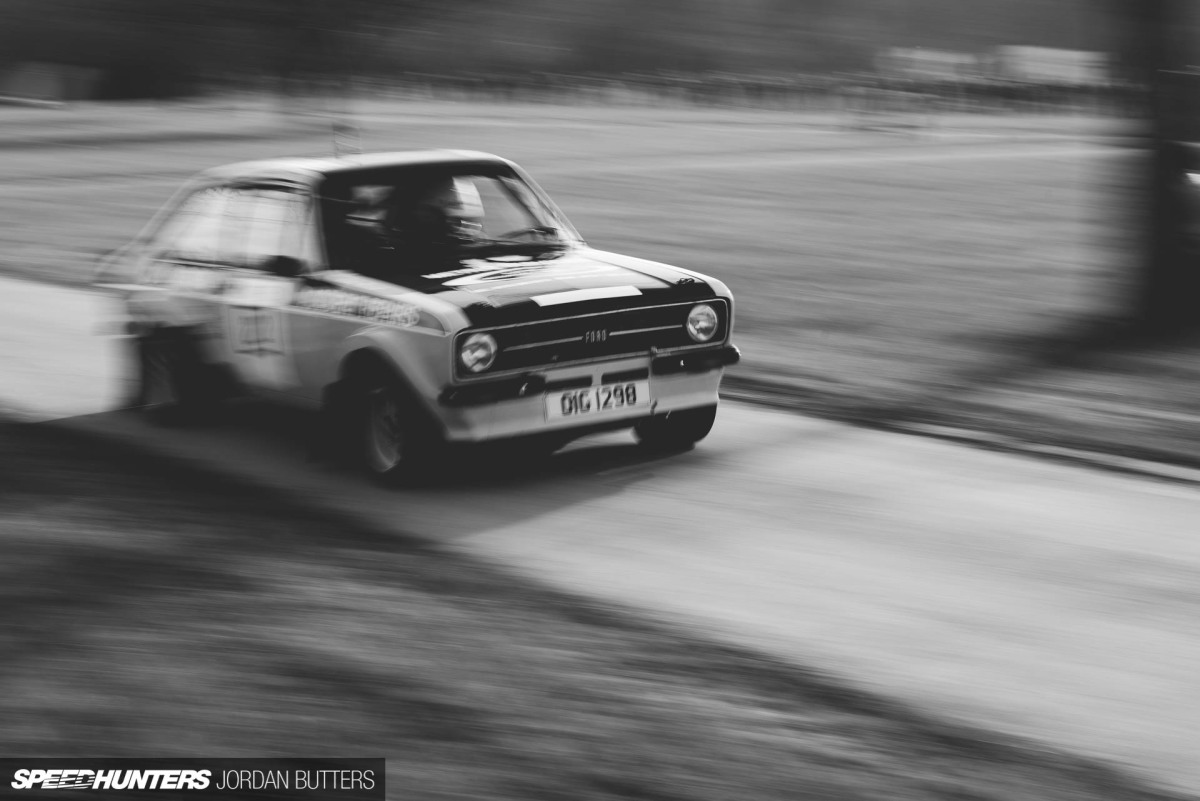 Donning my photographers' armour (the high-vis vest) and entering the stage for the first demonstration of the weekend, I hunkered down behind the nearest tree (it's really the best way to avoid being skittled by a wayward rally car) just in time to see the first few contenders tentatively take to the course. I soon learned that their cautious approach wouldn't last very long at all.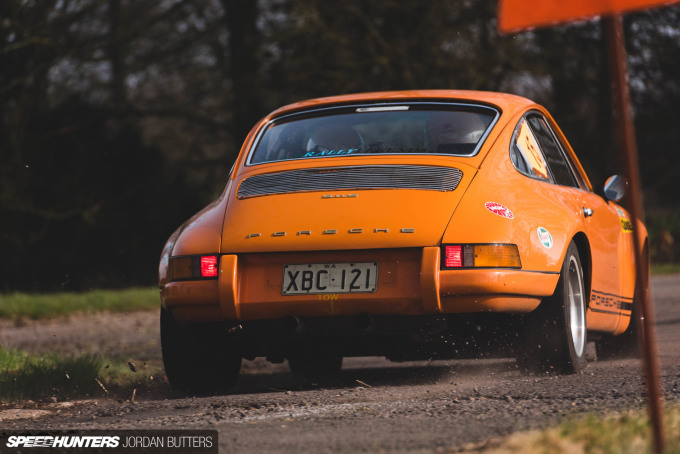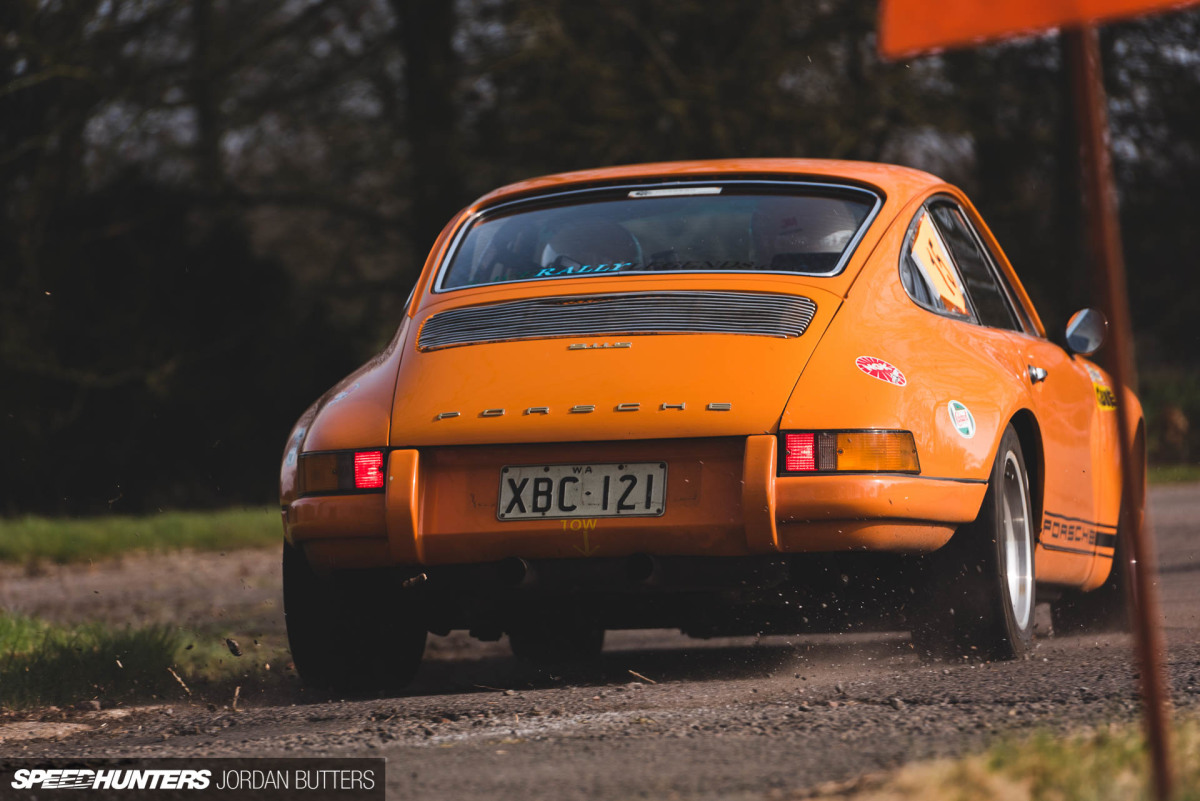 Rather than a full-on competitive event, the Race Retro live rally stage is more akin to a moving motor museum. It's a chance to get up close and personal with the sorts of cars that you might have previously only seen pictures of in books or on the Internet, or watched in grainy old footage on YouTube.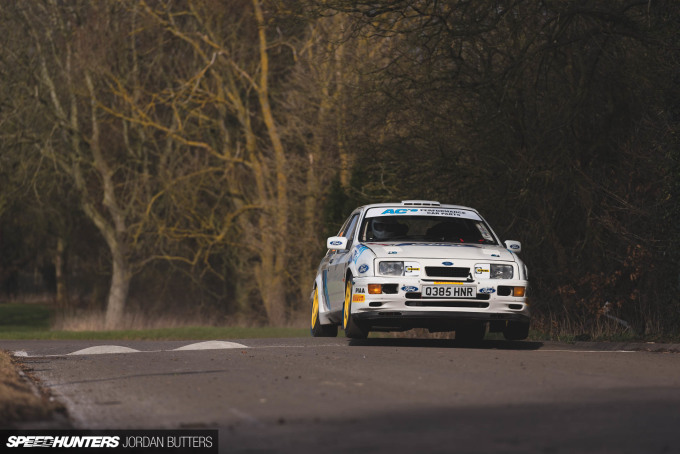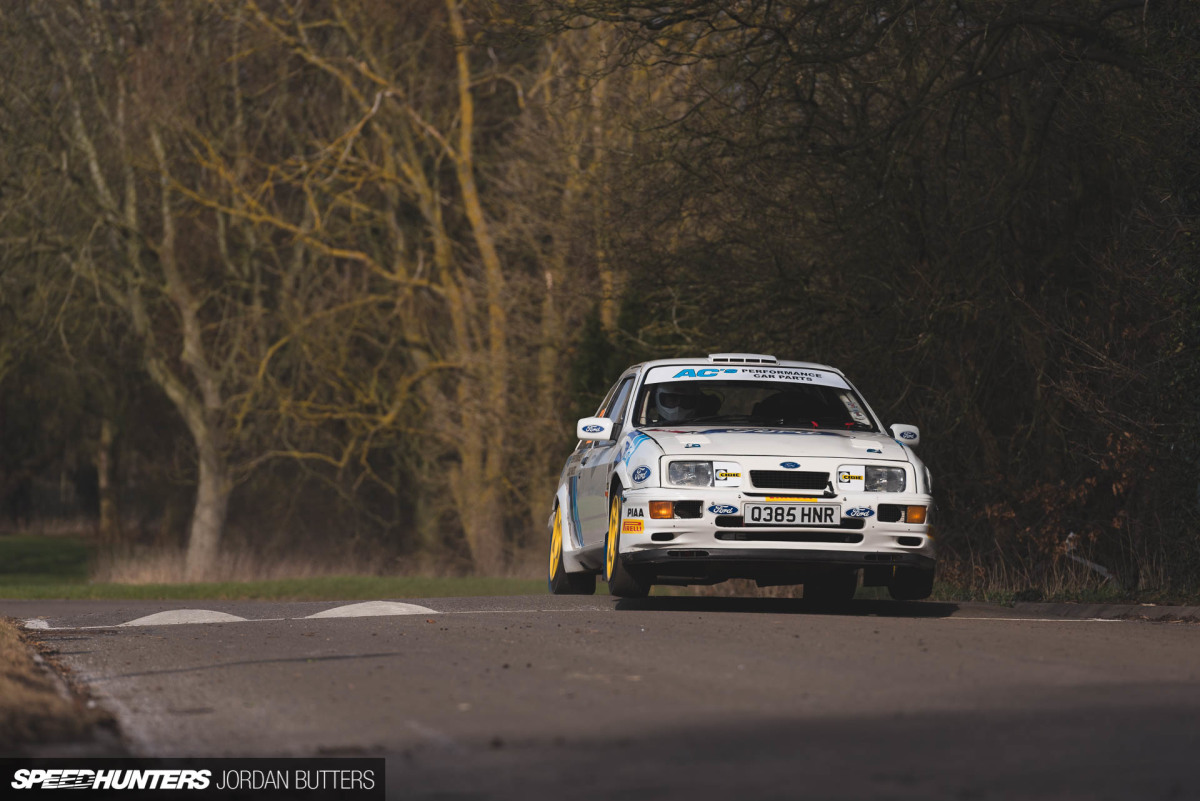 What's better than discovering these cars lovingly tucked away and preserved in a museum somewhere? Well, seeing and hearing them fly past you at full chat, popping, banging, sliding and slinging mud as they go, of course.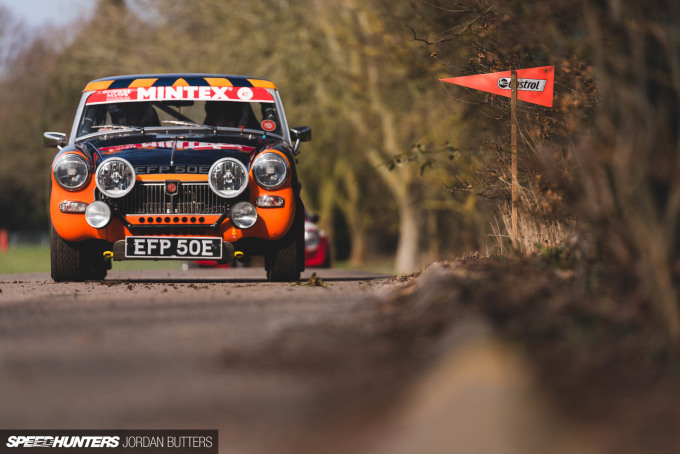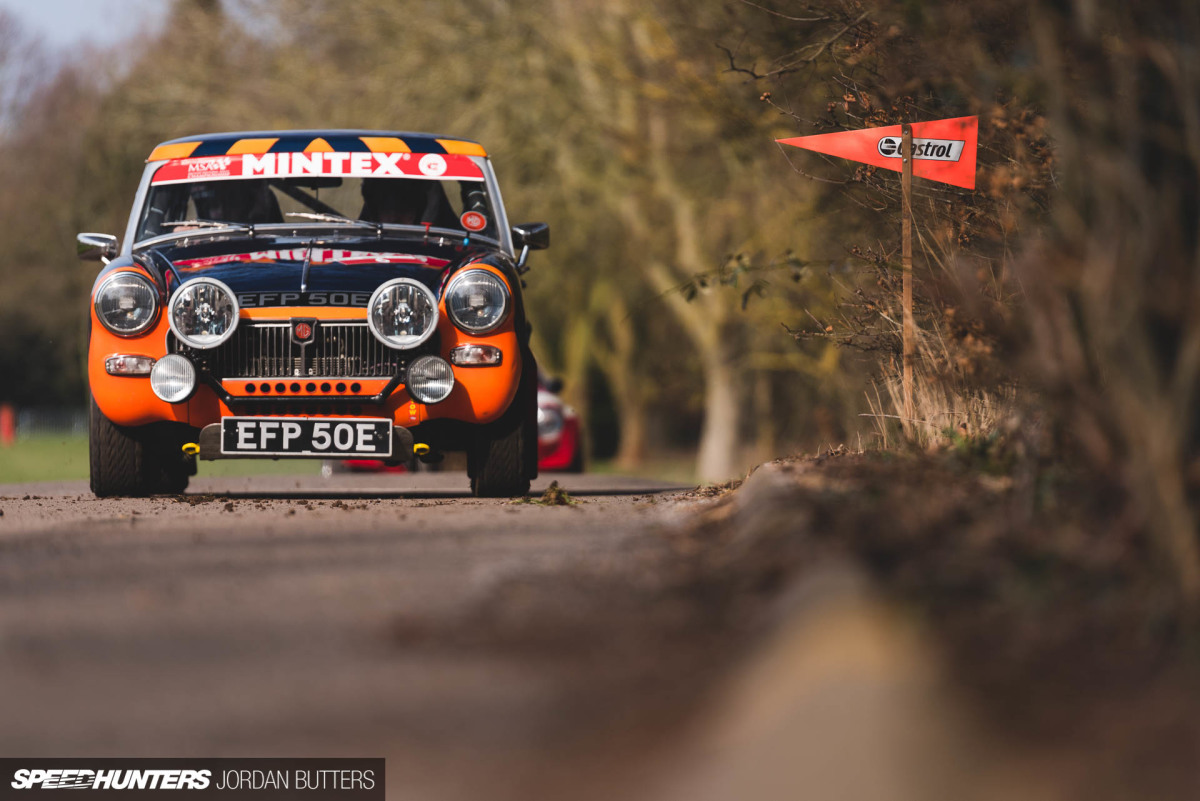 There was a huge variety of machinery on demonstration this year, with every era well represented. From the tiny MGs and Minis of the '60s…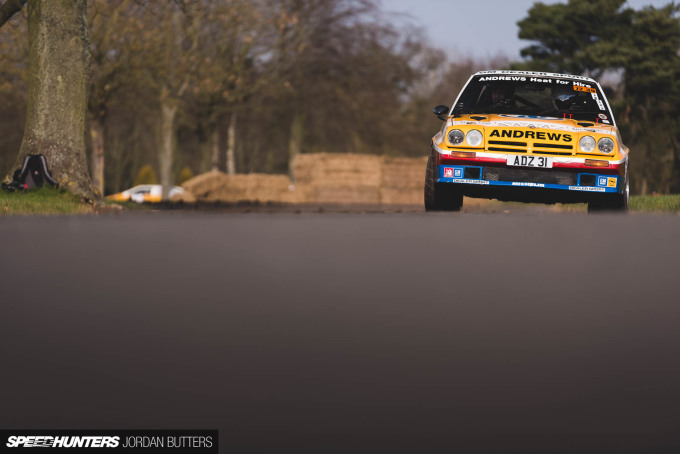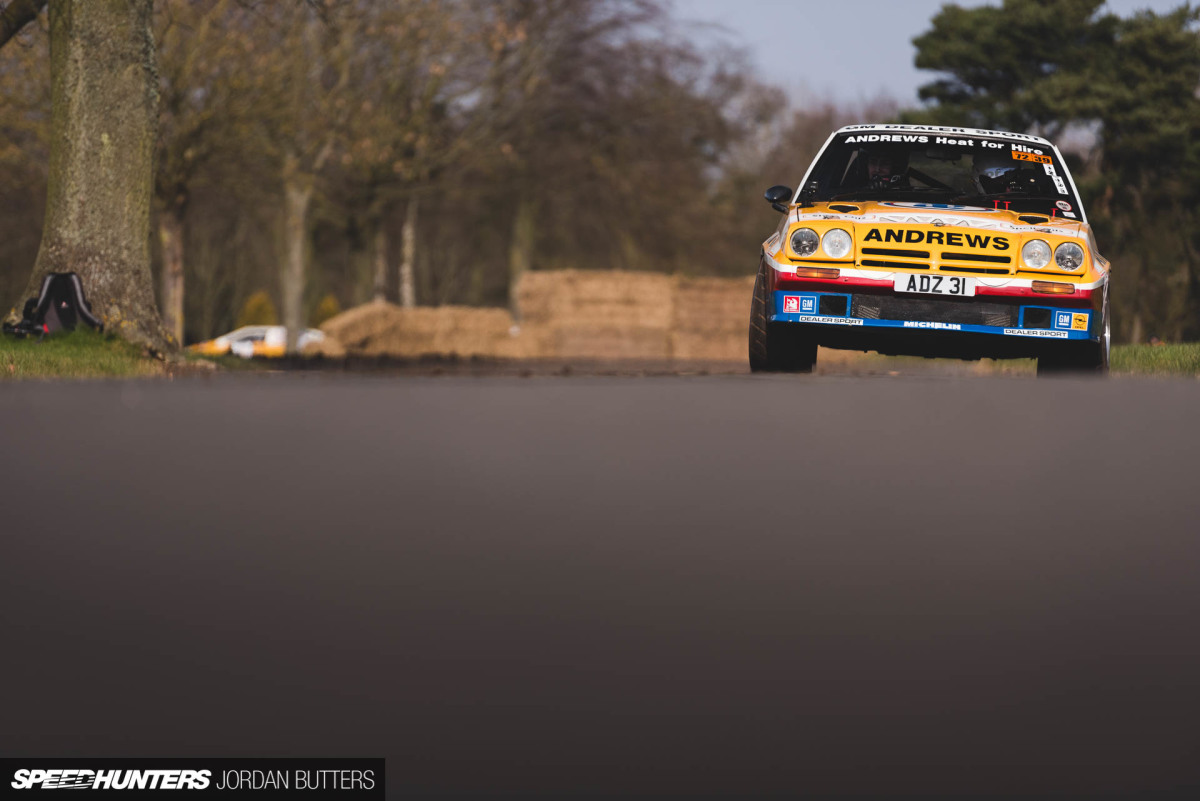 Through to the golden age of rallying for many – the '80s – and the Group B beasts that perfectly sum up an era where living dangerously, excess and indulgence reigned supreme.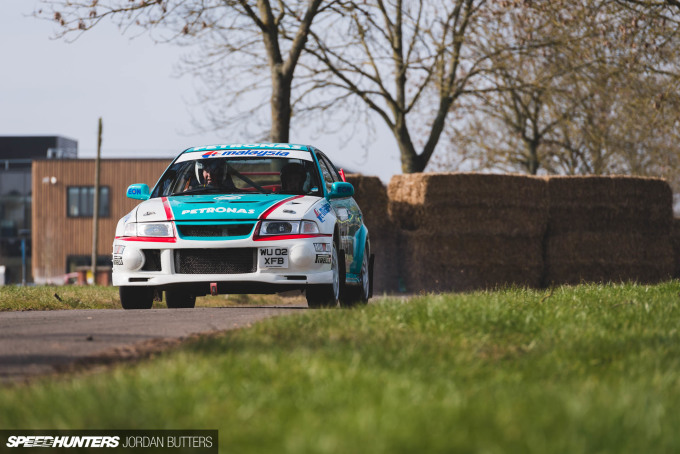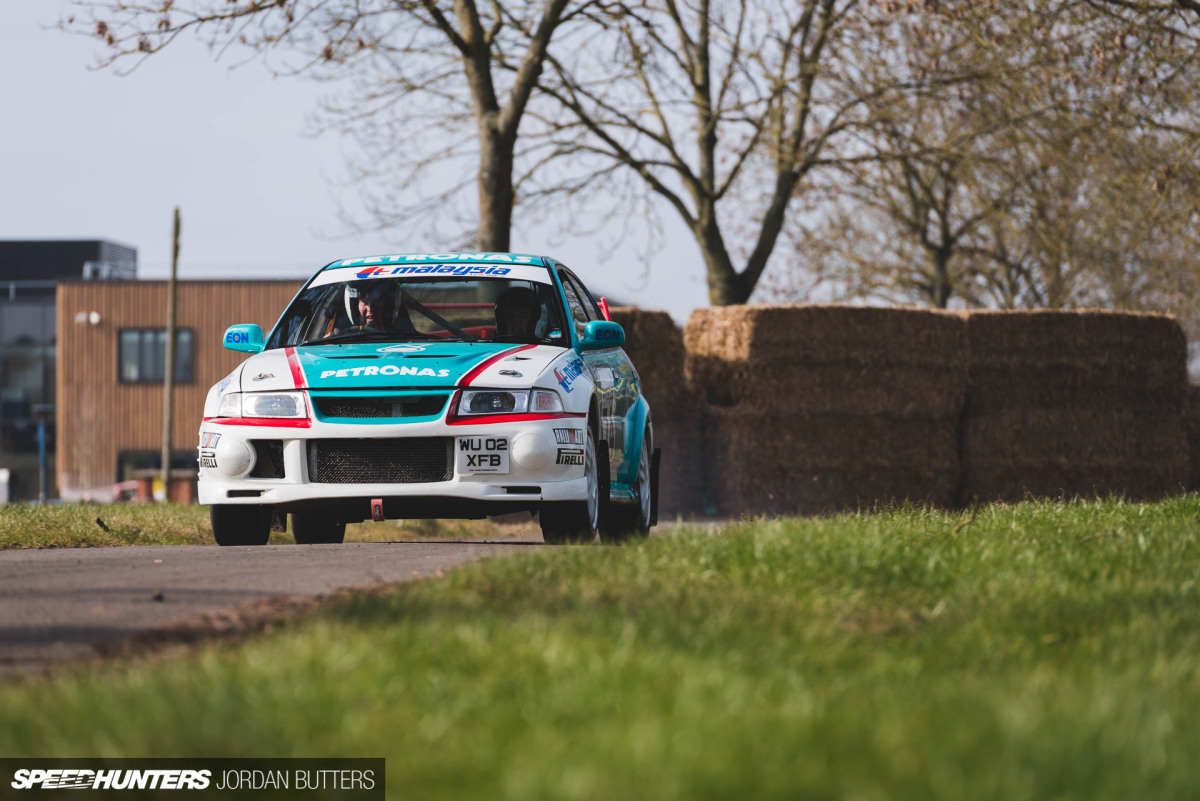 There were even a couple of notable entries from the '90s and '00s, a time when two manufacturers, or more specifically two models, dominated the world of rallying.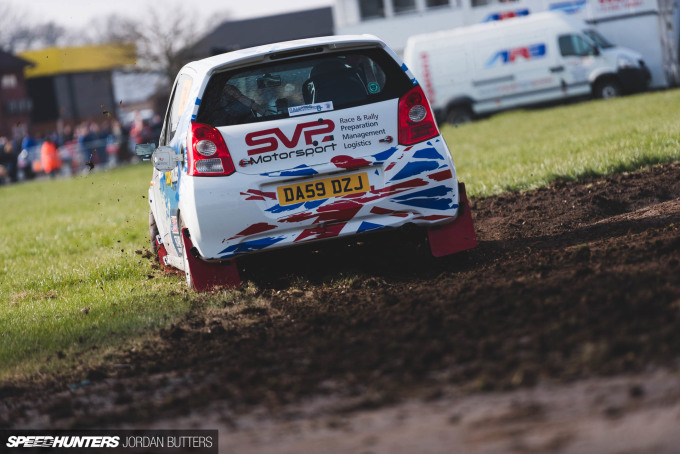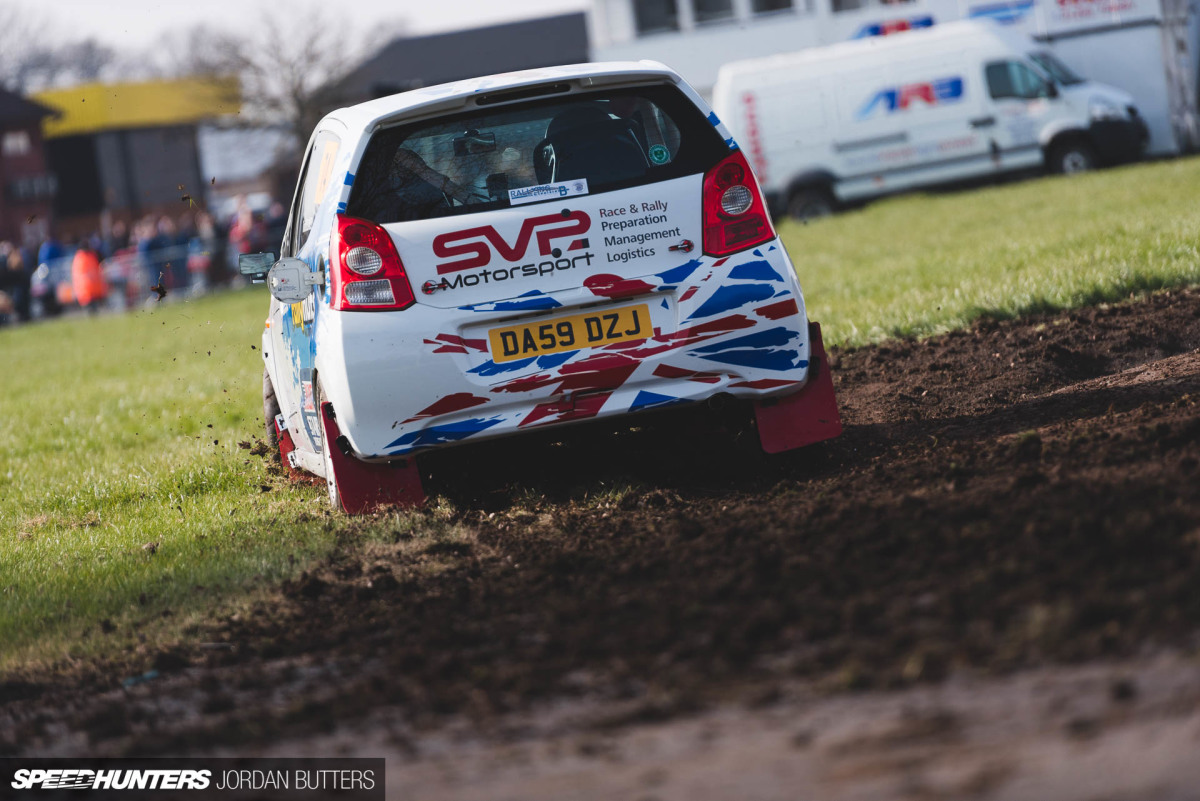 Most of the more modern machines doing laps were of the small front-wheel drive hatchback variety. Granted they don't provide quite the same entertainment factor as the fire-breathing five-cylinder '80s Quattros, but they looked to be fantastic fun as they were chucked into the bends, fighting off chronic understeer as they hit the muddy corners.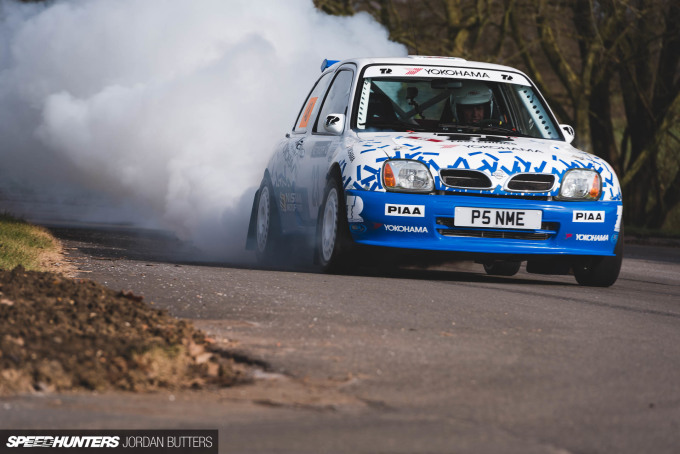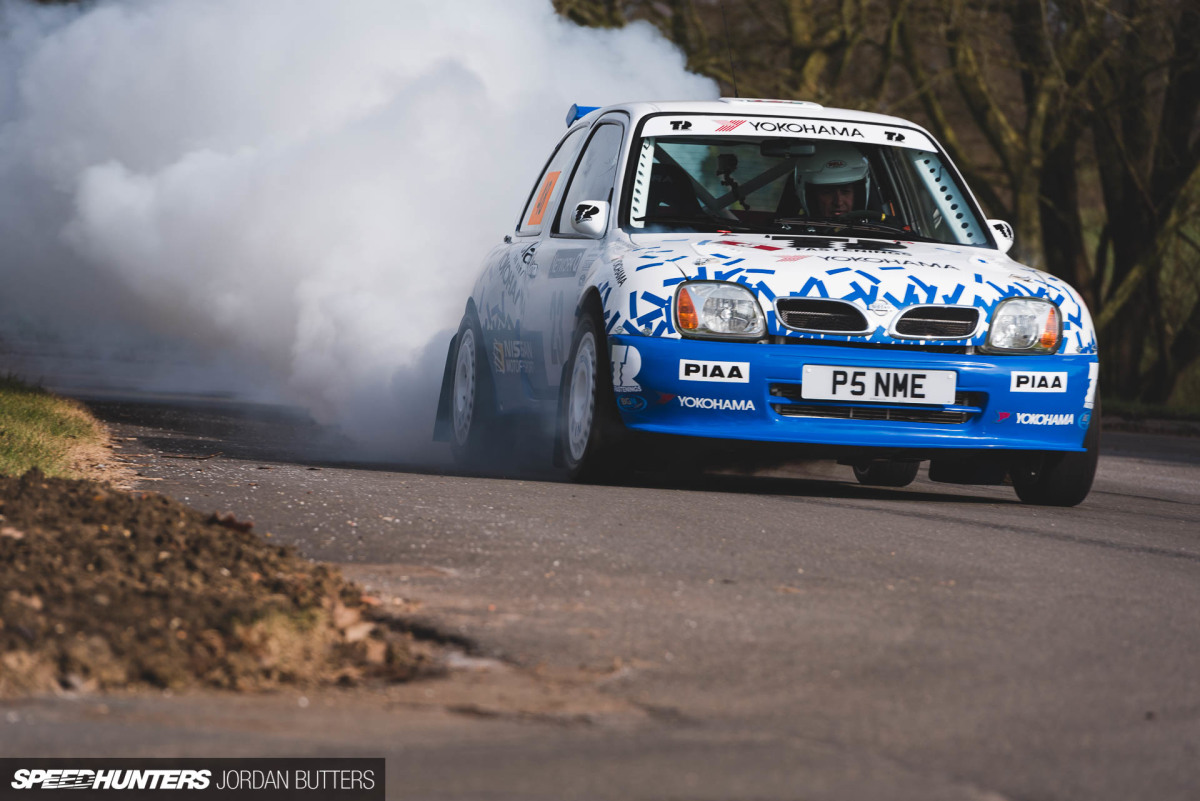 You don't see many wide-arched Nissan Micras down the local supermarket, so I was looking forward to seeing this unsuspected hatchback used in anger. Sadly it didn't last long past its first lap. The key with engines is to keep all of the smoke inside them; once the smoke escapes, they stop working, or so I'm told.
Monsters Lurk In The Park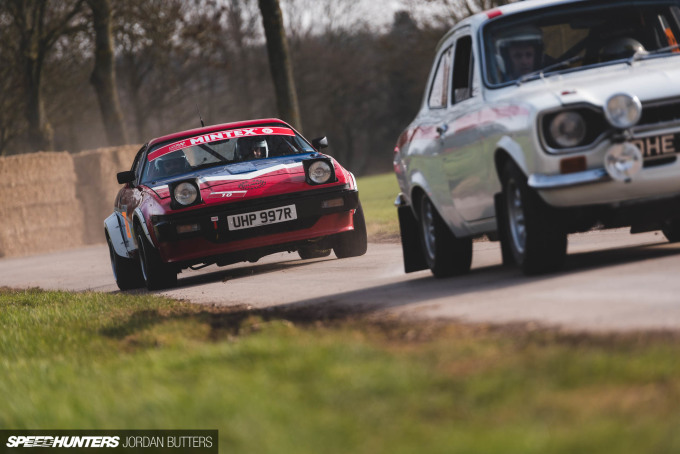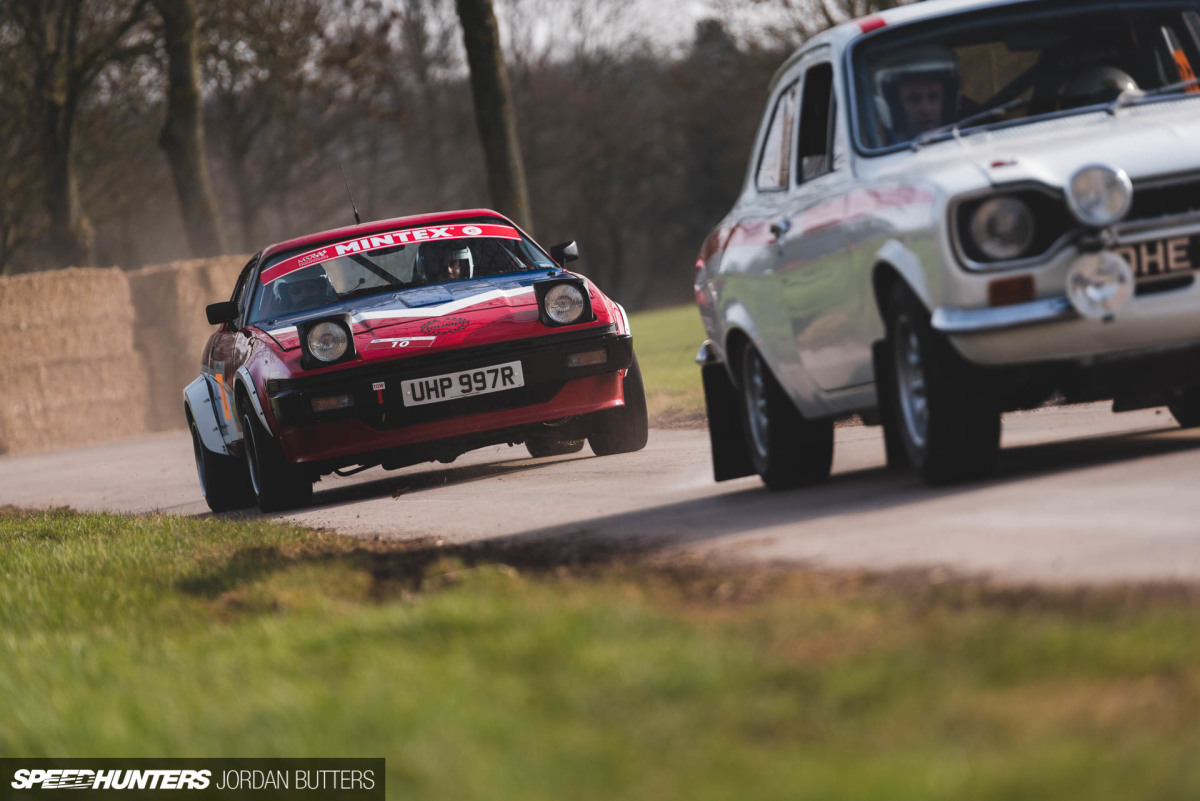 What I loved most about the variety of cars whizzing down the tree-lined avenues was that while things appeared to begin with some kind of regimented order, before long there were all manner of unusual and unexpected games of cat and mouse going on, such as this Triumph TR7 eagerly chasing down a Mk1 Ford Escort Mexico.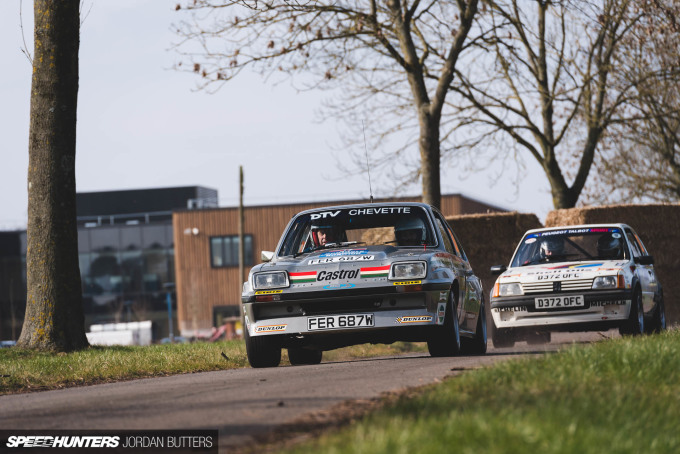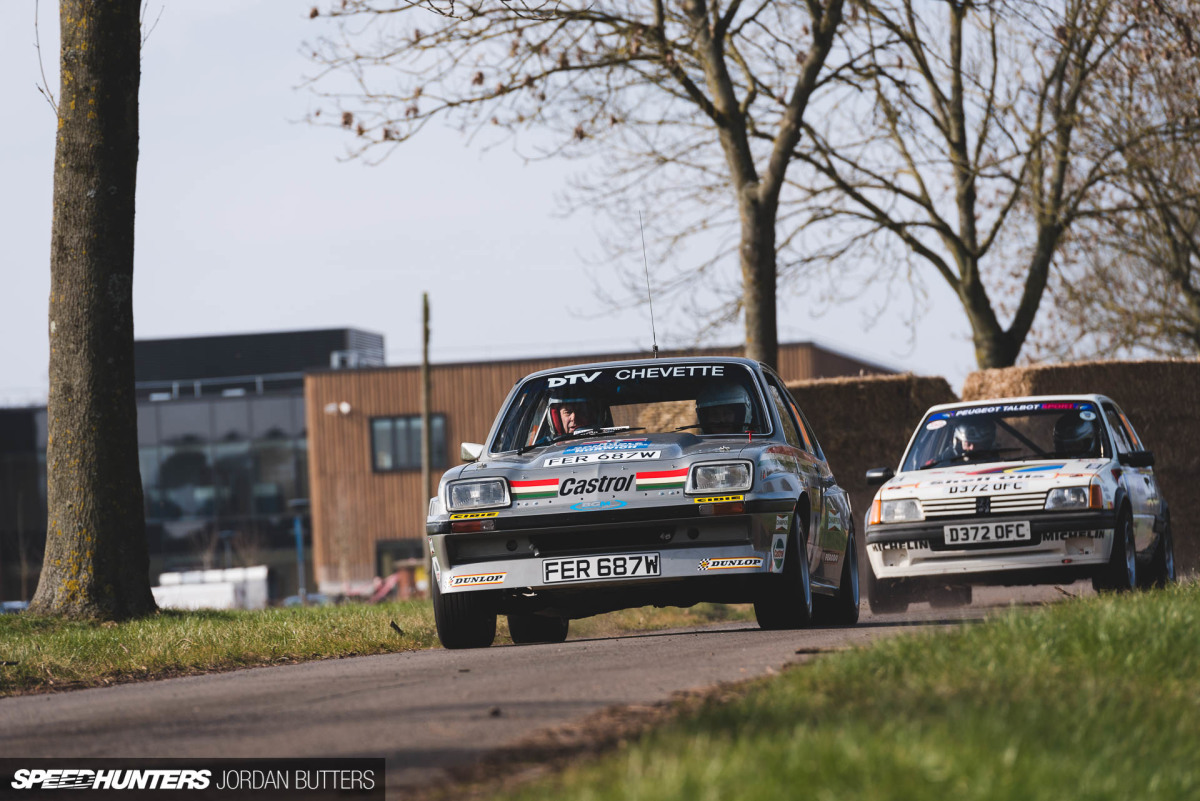 Or a lesser spotted wide-arched Vauxhall Chevette being pursued by a Peugeot 205 GTI. There was no clock, no-one keeping count or record of lap times, but put two drivers on a stage in close proximity in these capable machines and of course they're going to engage in a spot of friendly competition. You would, wouldn't you?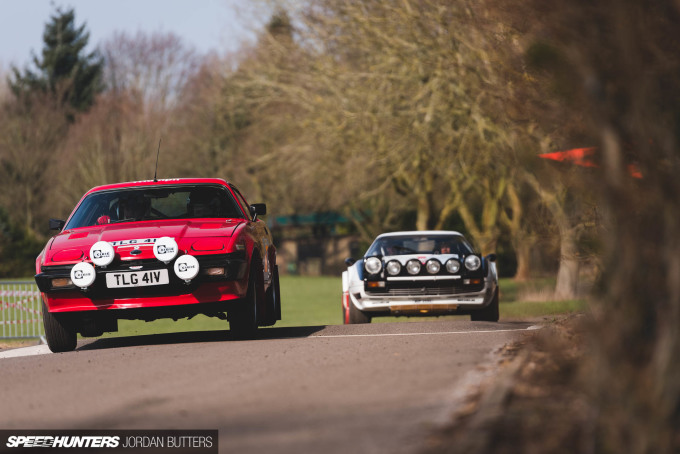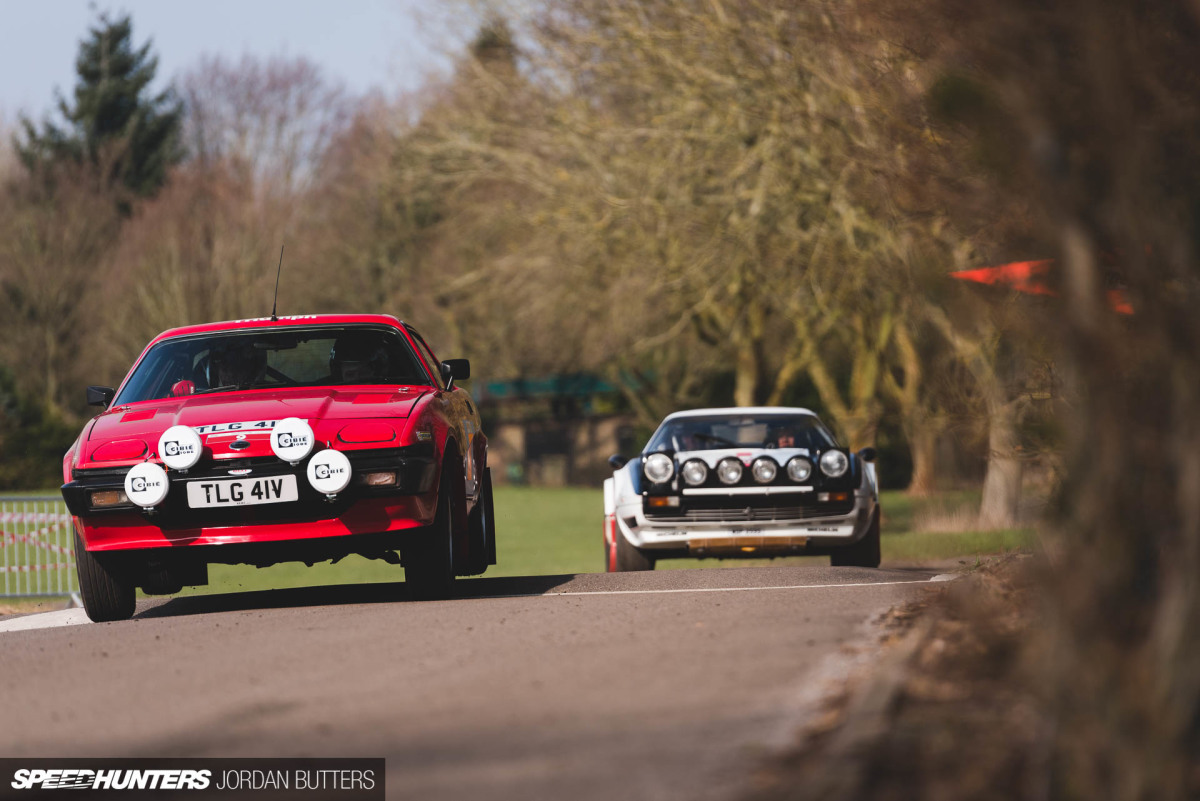 With most of the course barely being wide enough for one car let alone two, there were only a few choice places where a slower car could concede position to anyone hogging their rear-view mirror. Luckily, for the photographers, one of them was over a small speed bump, which made for some interesting moments as the cars crashed and bumped into the ground.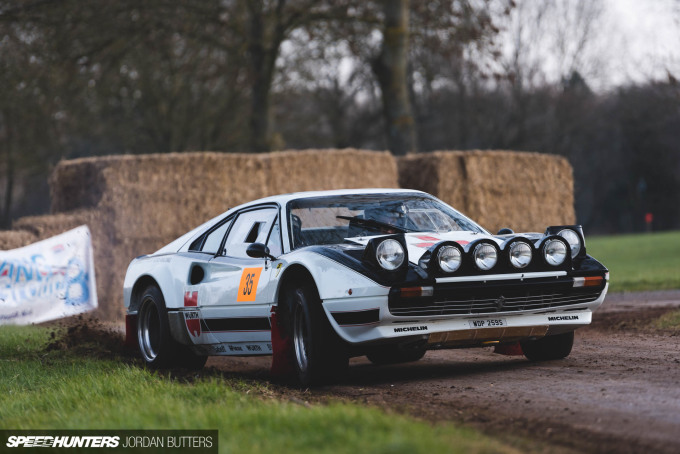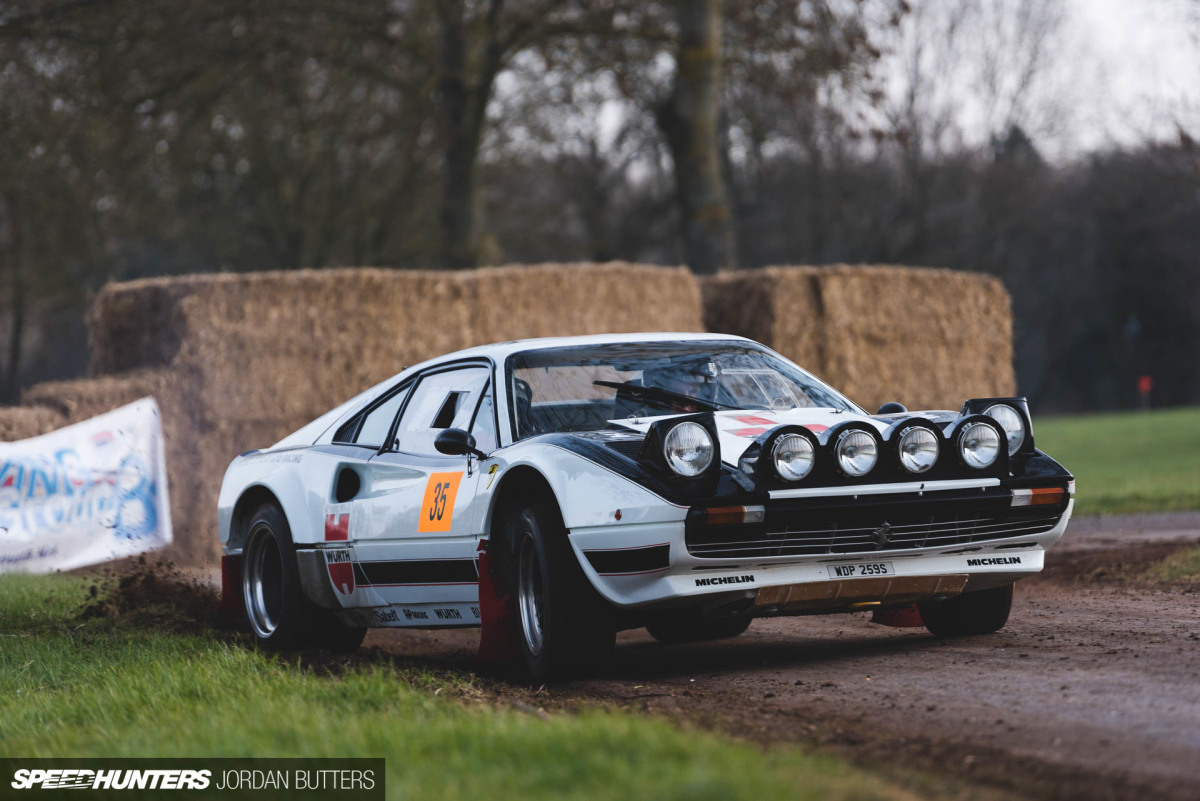 Before you ask, yes, that is a Ferrari 308 GTB Group IV rally car, built by Michelotto of Padova, Italy. And no, the driver was not afraid to pedal it properly. Seeing and hearing a high-value classic Ferrari being slid around corners, kicking up mud, V8 roaring, was something I wasn't expecting at all from Race Retro. What an experience!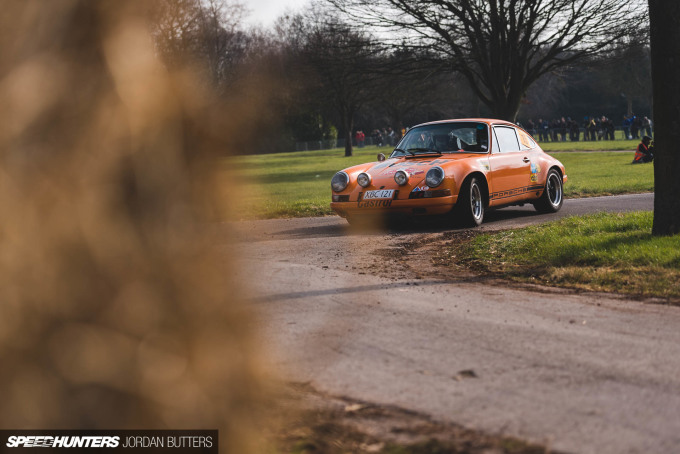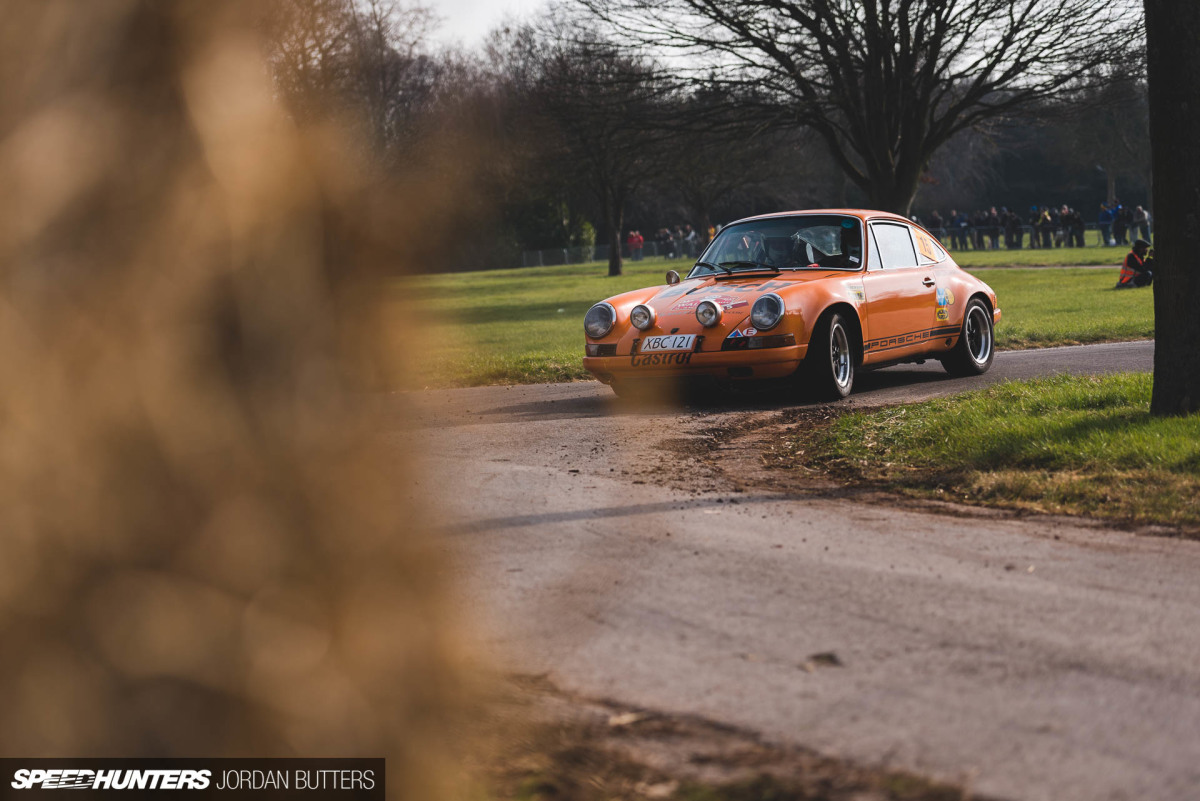 A couple of 911s showed up to play too. Porsches were popular in rallying at one stage and it's easy to see why – they produce good power and their rear-engine configuration helps massively in gaining traction. Although, this orange 1970 911ST looked to be a bit of a handful when it touched the mud.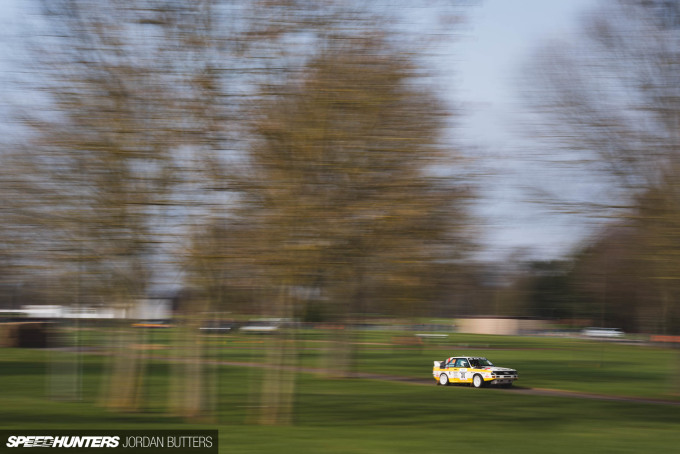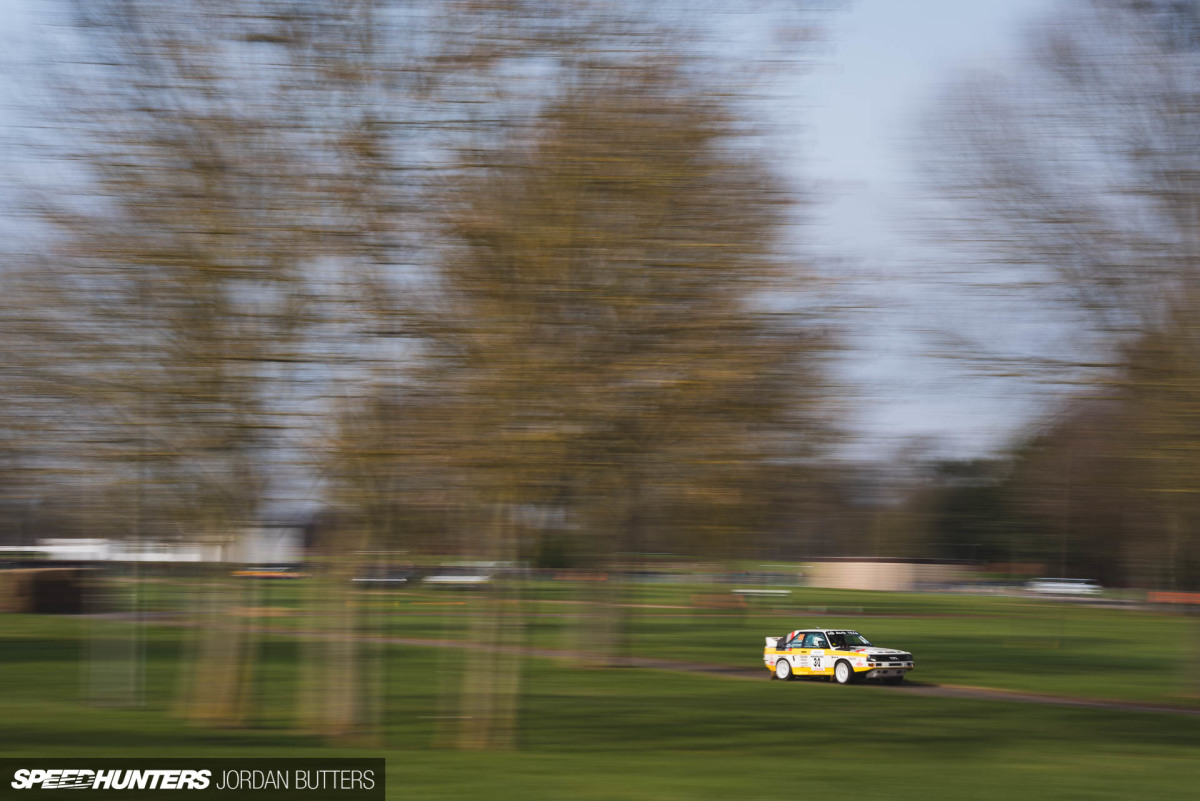 A personal highlight was the handful of Group B monsters on stage. These cars represent what '80s rallying was all about. The unmistakable sound of a turbocharged Quattro briefly at full chat meant that I knew they were approaching long before they drifted into sight.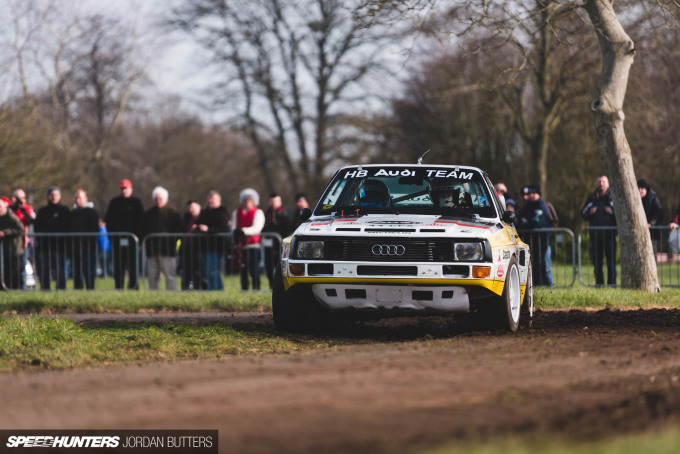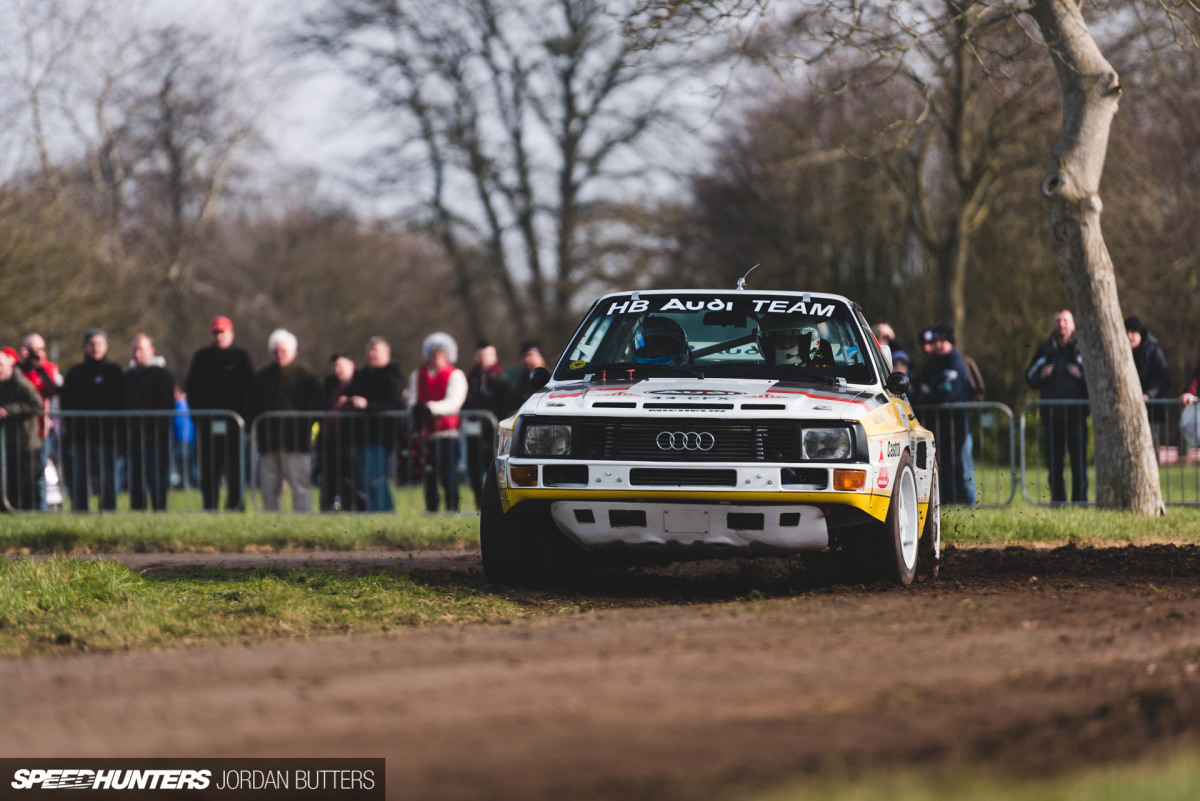 This particular example is an full carbon-Kevlar S1 replica built using many genuine parts. It's running around 420bhp.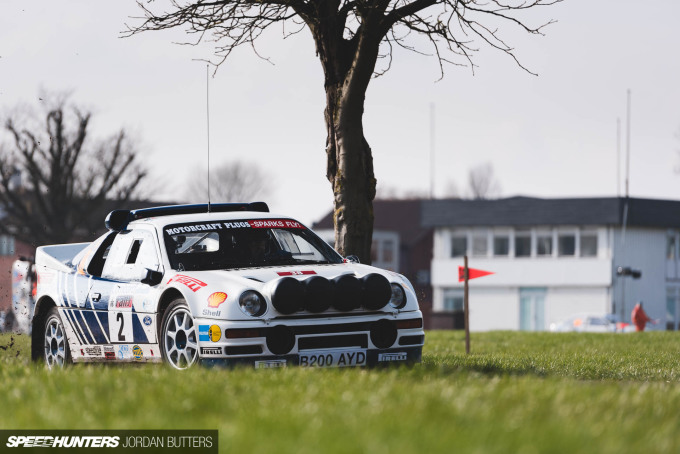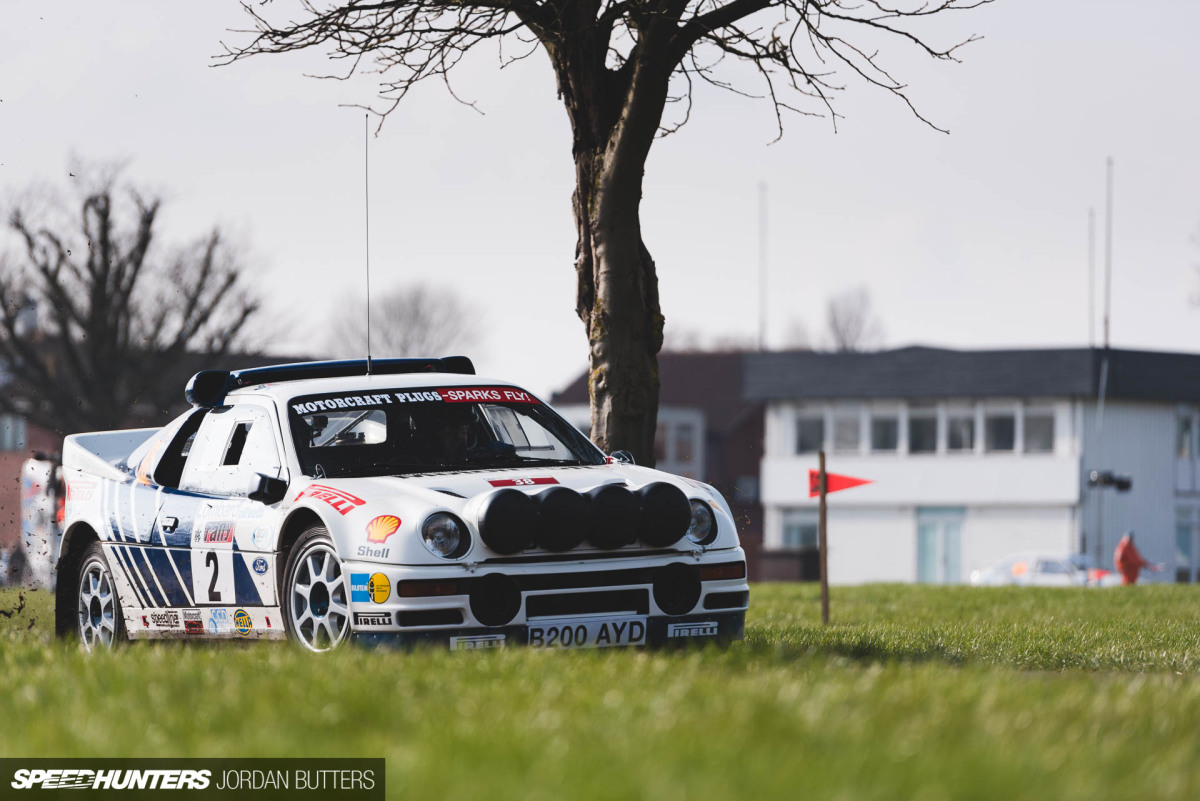 Towards the end of the session the driver of this rather special Ford RS200 appeared to be getting braver and braver entering the bends. The unmistakable four-cylinder turbocharged Cosworth roar and unique aesthetics couldn't help but demand your attention.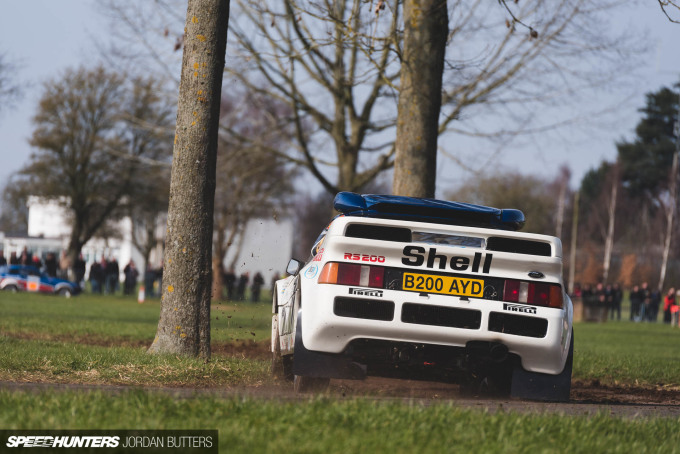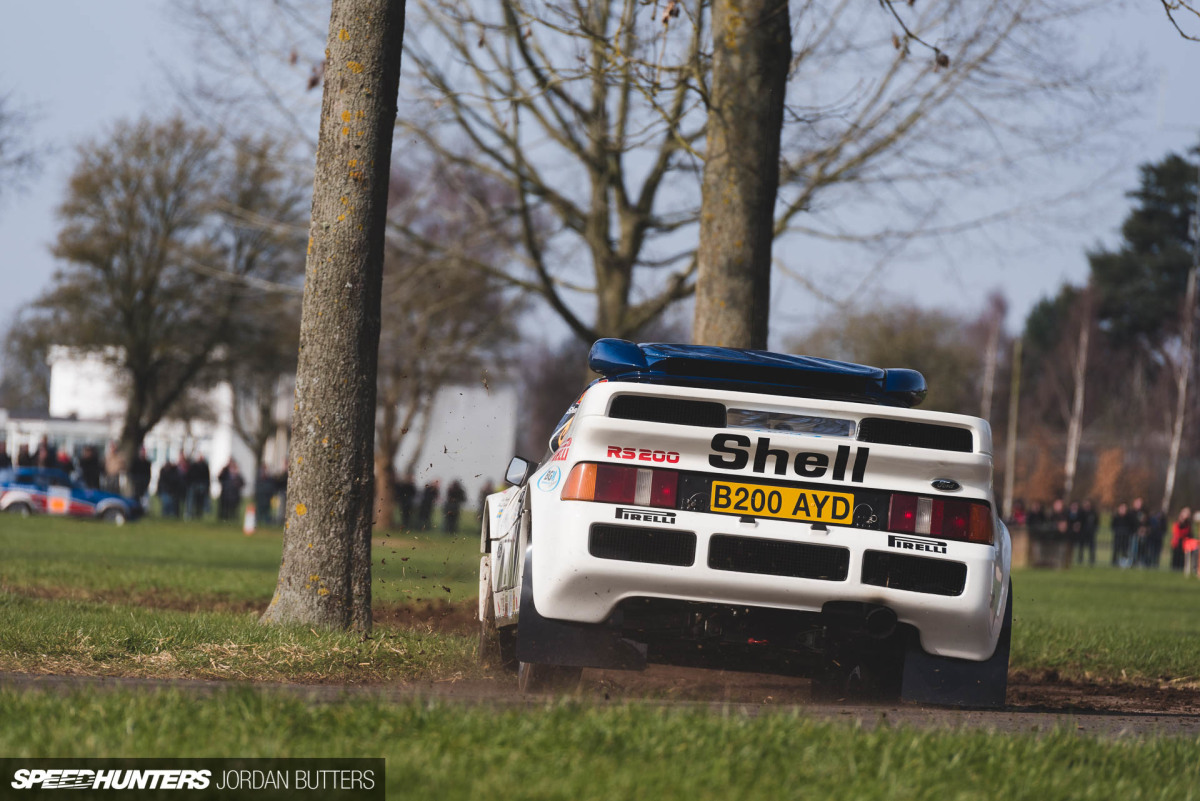 From my understanding, this particular car was driven by Stig Blomqvist during Group B's penultimate season in 1985 and owned by the very same driver personally following the demise of Group B in 1986. The RS200 is a truly unique car, built specifically for rallying. Its tiny production run and short-lived spell makes seeing one in action all the more sweet.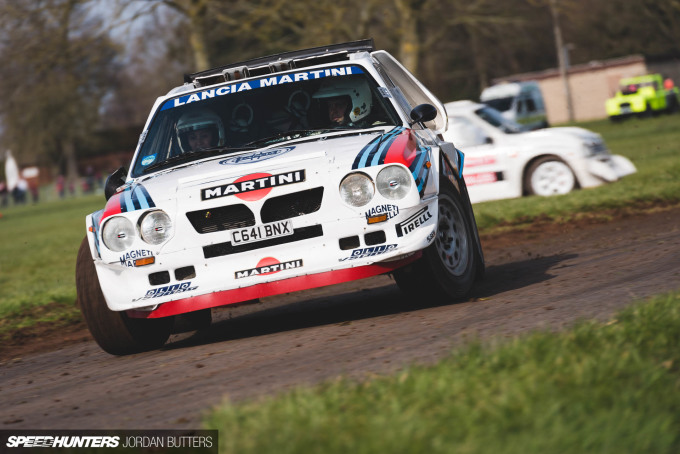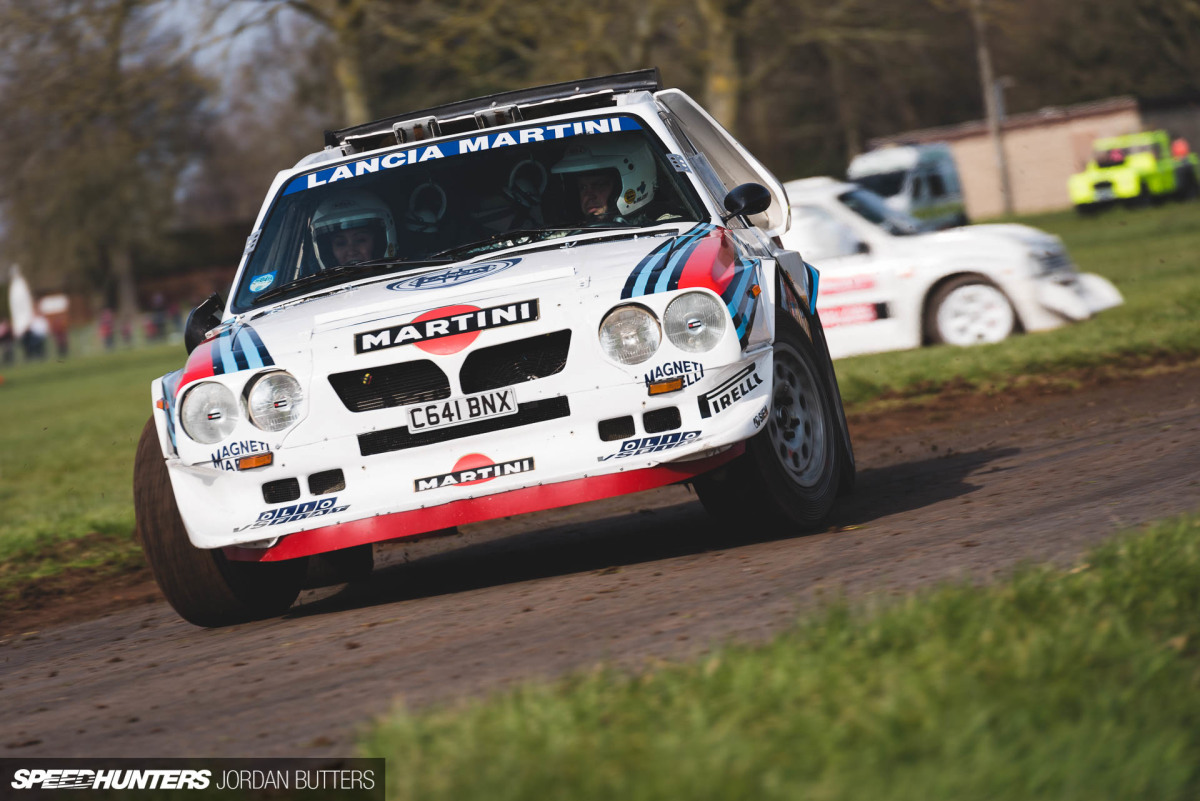 This Group B Lancia Delta S4 made the briefest of appearances too, and I only managed to catch it on a couple of laps. It definitely has a face only a mother could love, but that classic Martini livery grabs your attention. I wonder if the race car liveries of today will be admired in the same way in many years to come? Somehow, I doubt it.
A Mud-Slinging Contest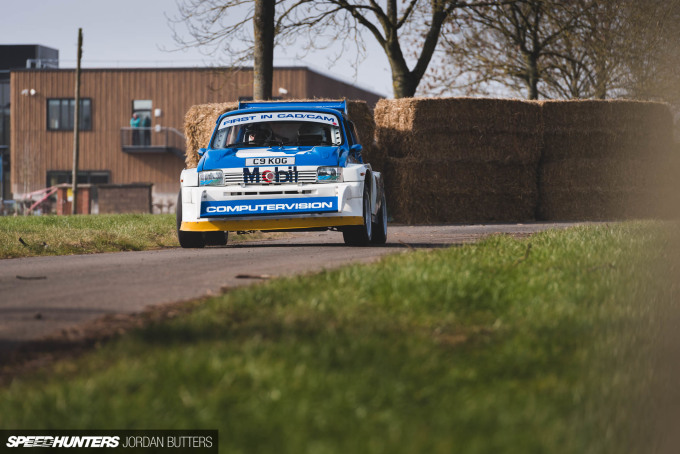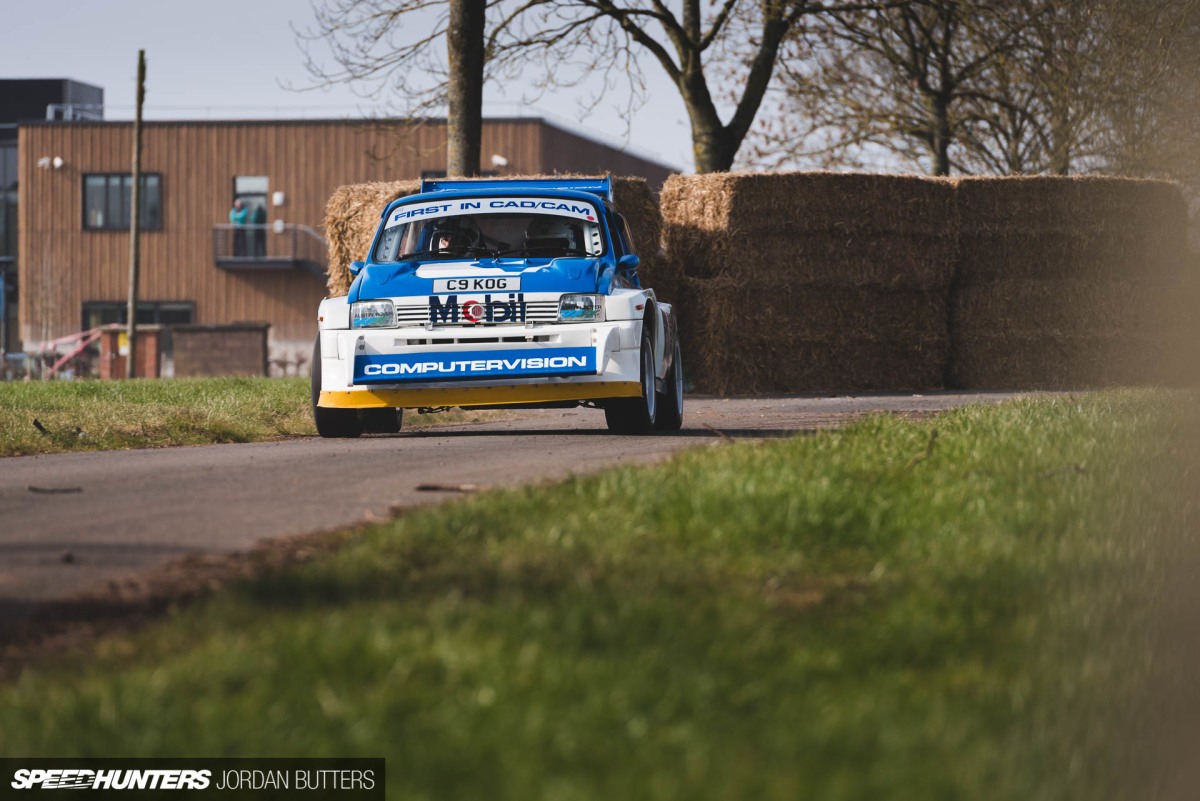 Not all of the cars taking part in the live rally stage were genuine items, and, refreshingly, Race Retro puts aside snobbery with regards to whether the cars taking part were the real deal, or, as many were, replicas. While I truly appreciate seeing a rare genuine classic being used as was intended, I get just as much enjoyment from seeing homebuilt hero replicas flying by.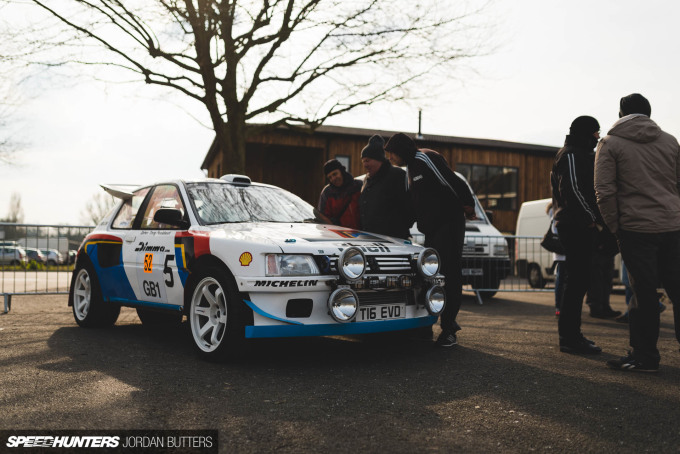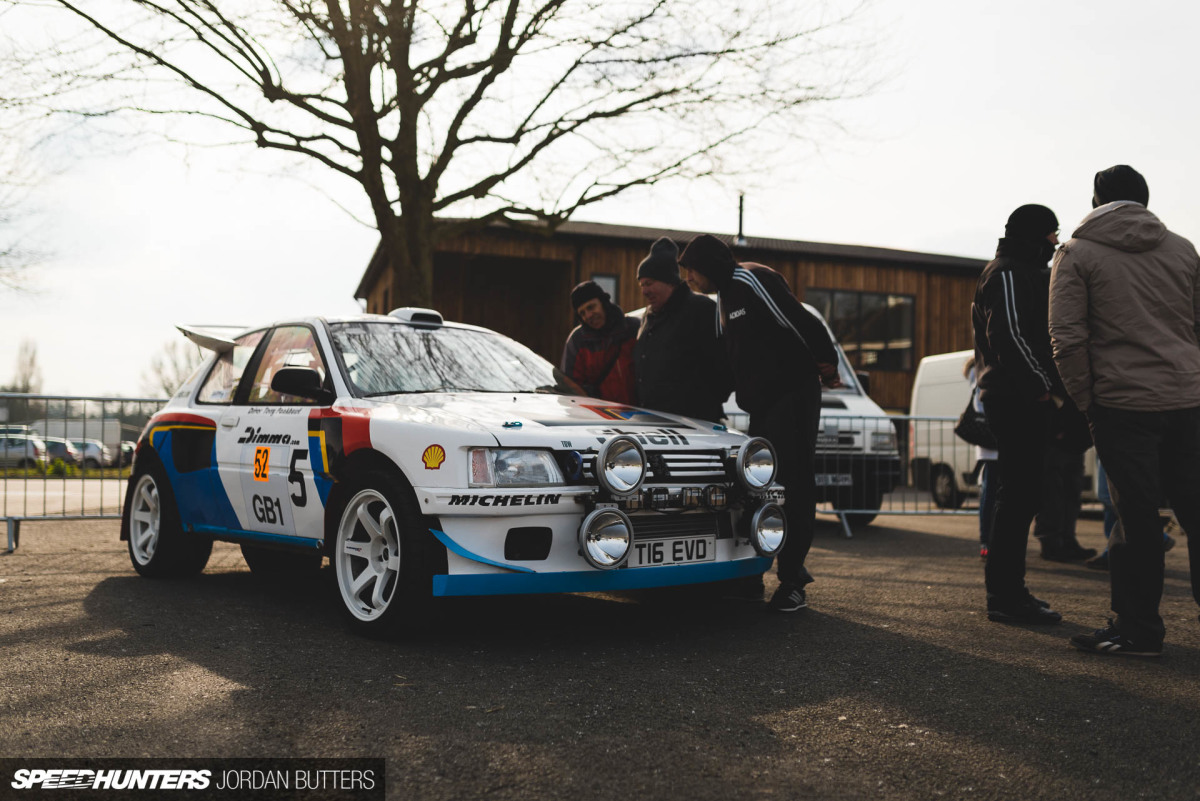 They often get shunned at many classic shows, but I find the replicas intriguing. The best part about building and racing a replica surely has to be the freedom that you're offered when it comes to choosing parts and making the car the best it can be? This is the perfect example – what looks like a Peugeot 205 T16 is actually a Group A Mitsubishi Evo VI underneath with a 205 T16-style body skilfully grafted on. Always expect the unexpected.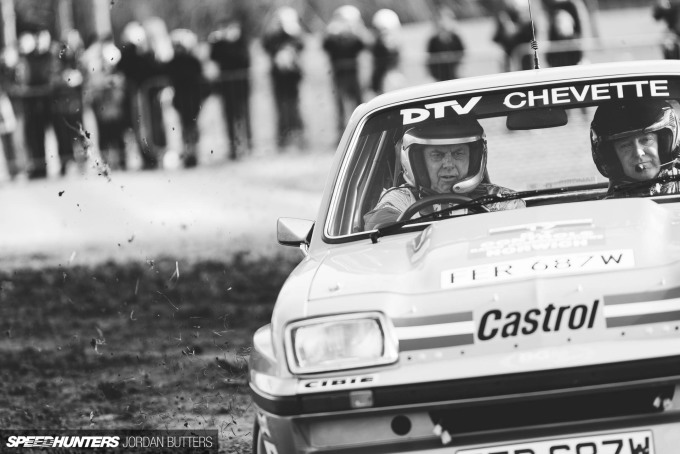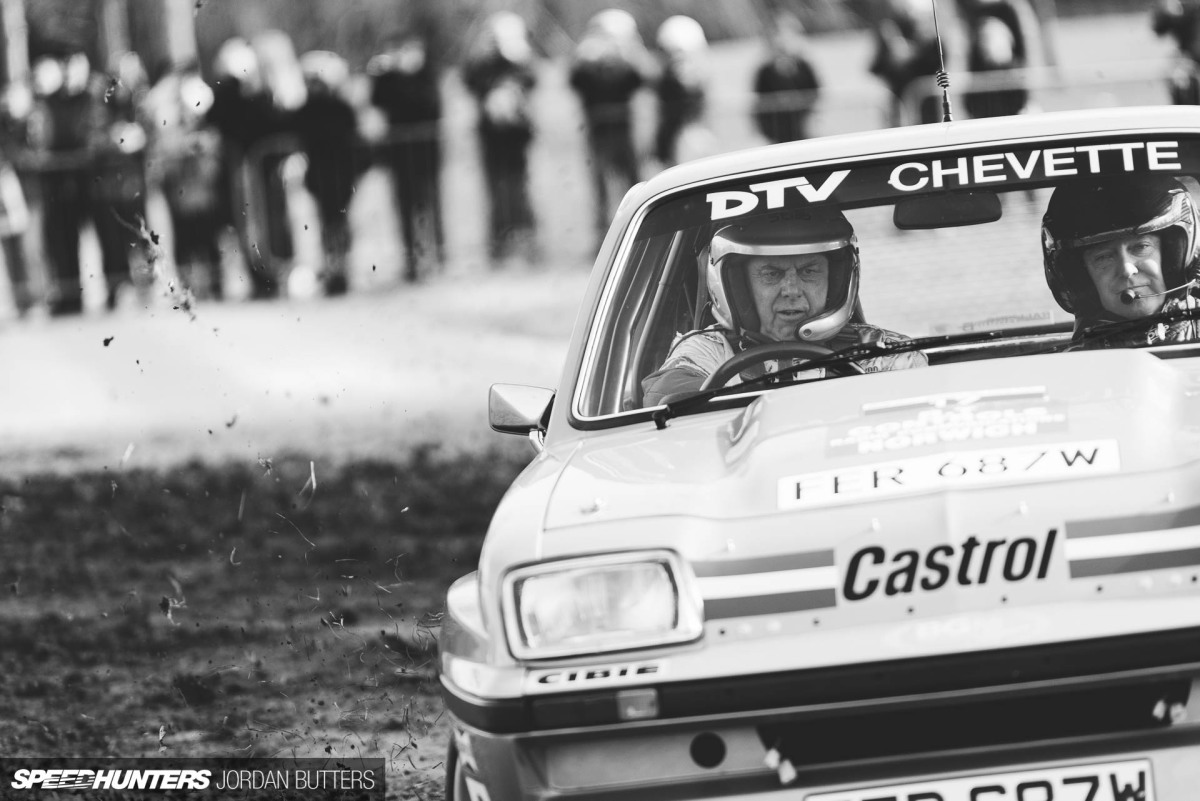 It's worth pointing out that many of the drivers piloting the cars on stage aren't professionals either. Often they'll be owners, builders, collectors, or simply enthusiasts who enjoy taking part in demonstrations and historic rallies. There were a few exceptions – a handful of both upcoming and well-established drivers were on hand to show everyone how it's really done.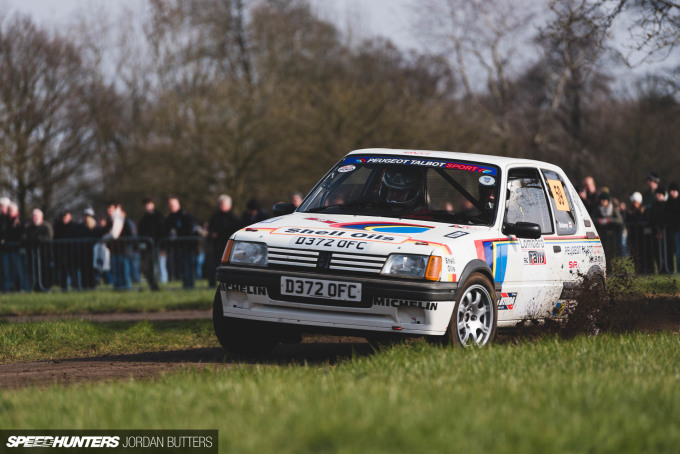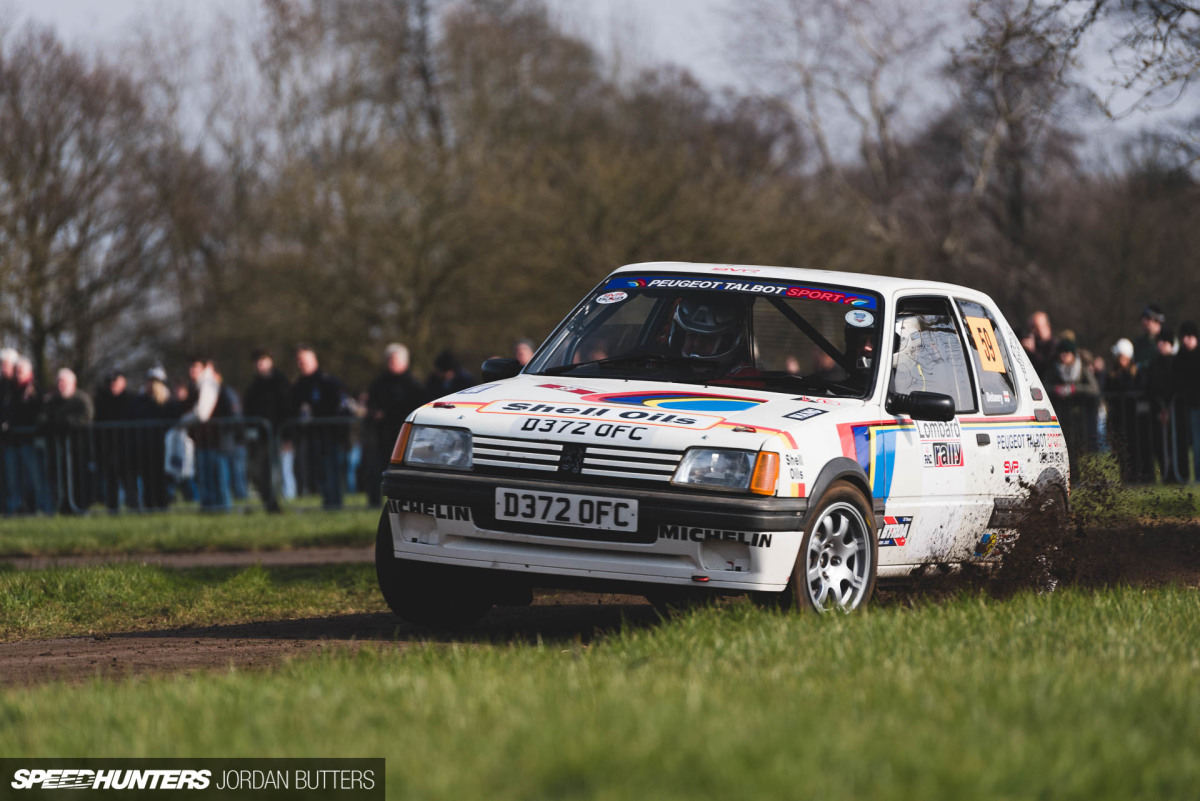 What started out as a rather civilised, but moderately spirited demonstration of cars turning sensibly, accelerating hard before braking and turning sensibly again, soon descended into a mud-flinging spectacle.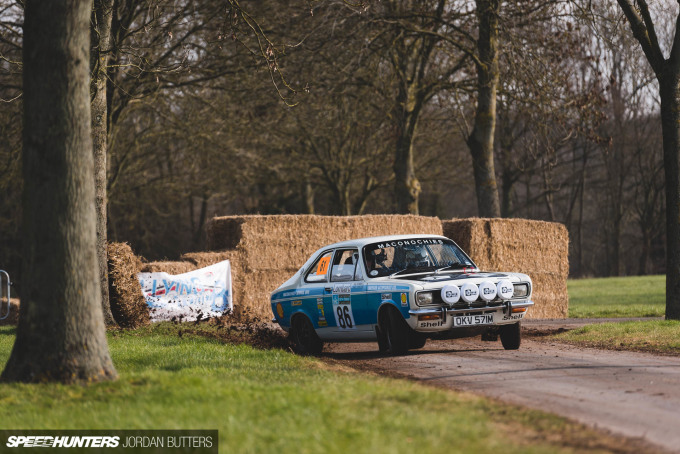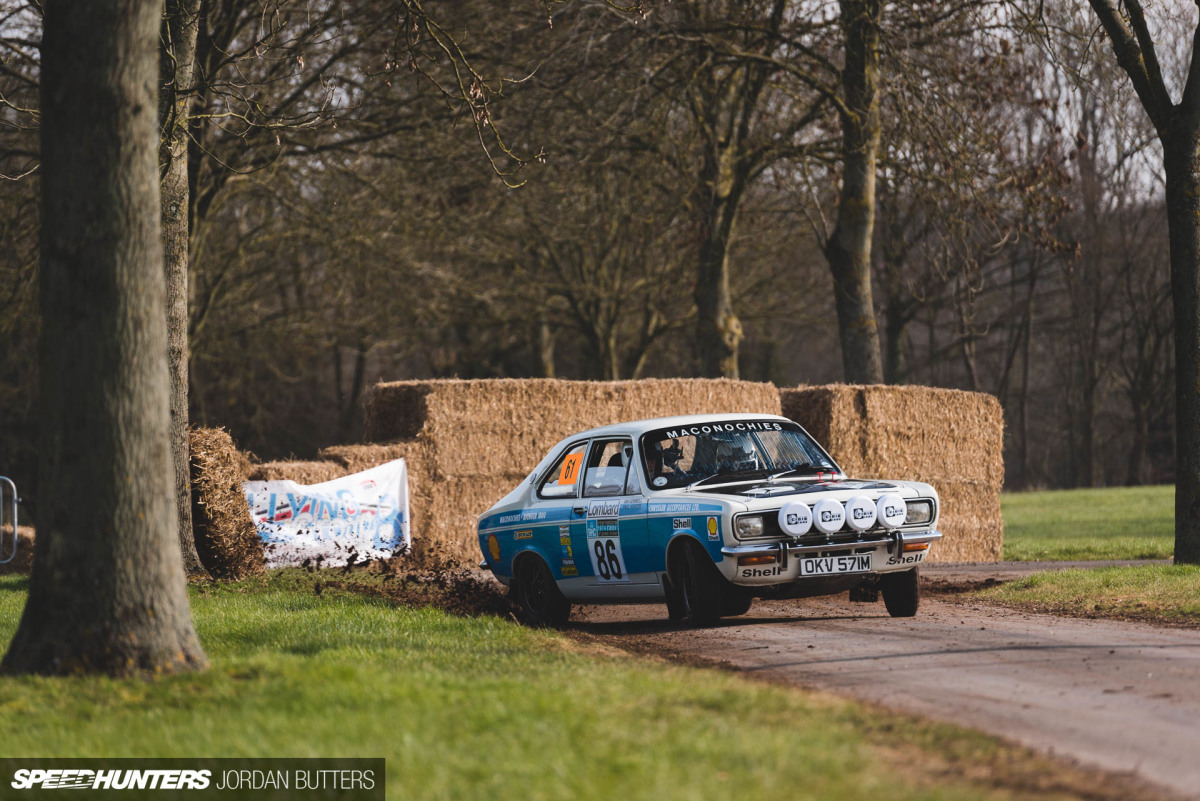 Corners that were once 90-degree bends had been gradually rounded off during the session. Inside boundaries were cut and outsides extended out by spinning tyres. Clean, pristine tarmac went from being briefly tyremark-scorched to completely covered in mud and upturned turf. I'm imagining Stoneleigh Park's groundskeeper is sent away on a nice vacation while Race Retro is on so they don't bear witness to the carnage being unleashed.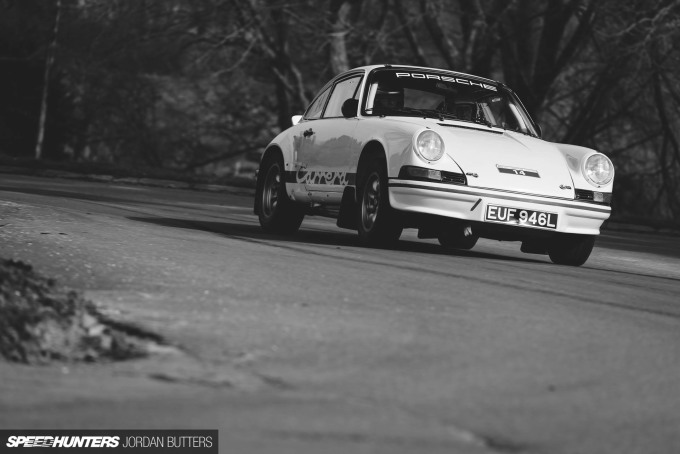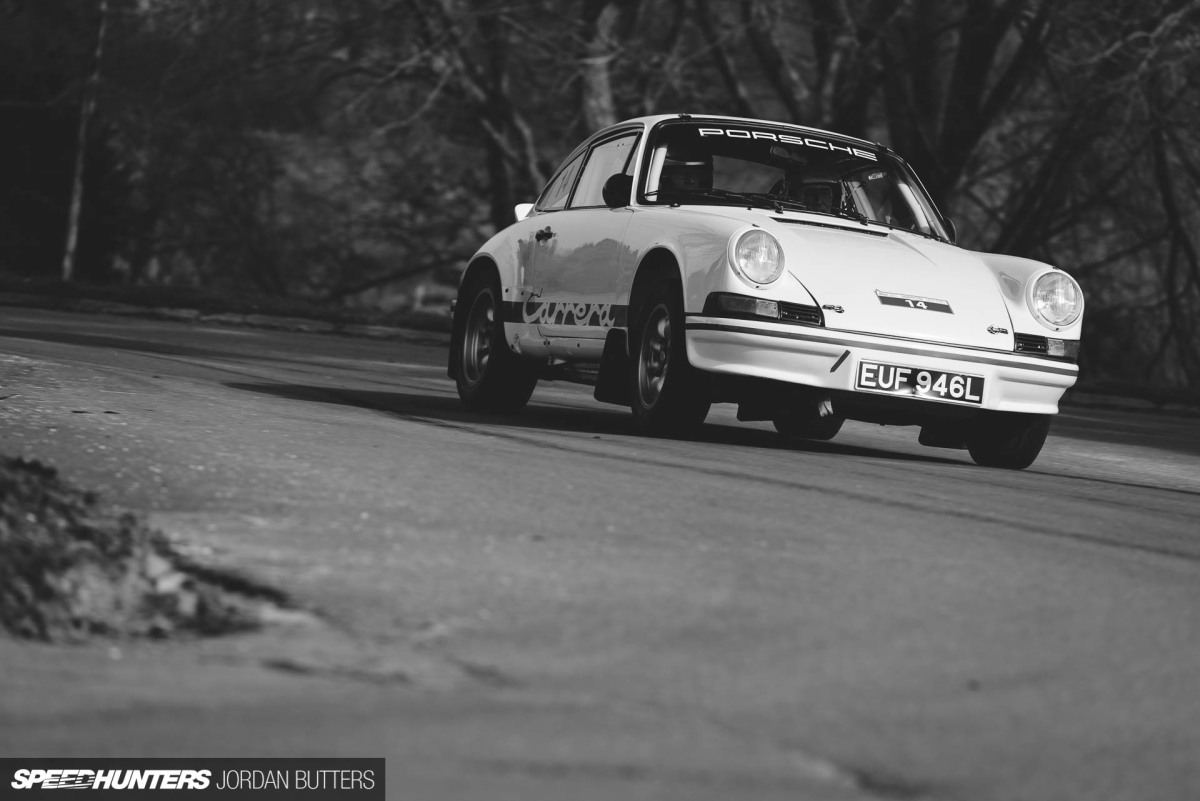 The one or two wider tarmac bends were taken full advantage of, that bit of extra space allowing for some impressive controlled slides at speed. Brave moves considering the confined boundaries, lack of run-off and scattering of trees surrounding the stage.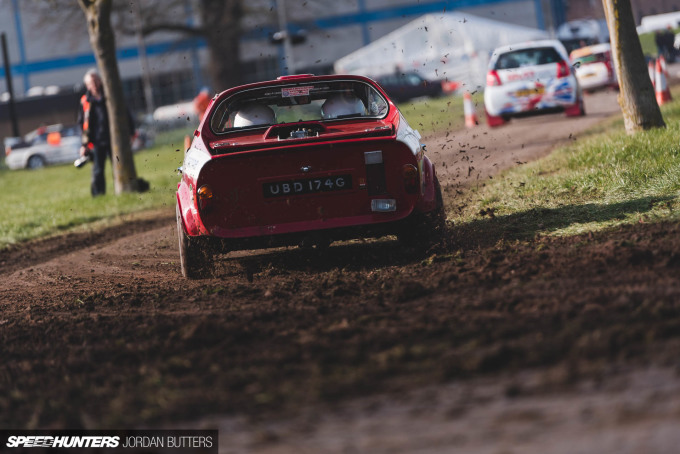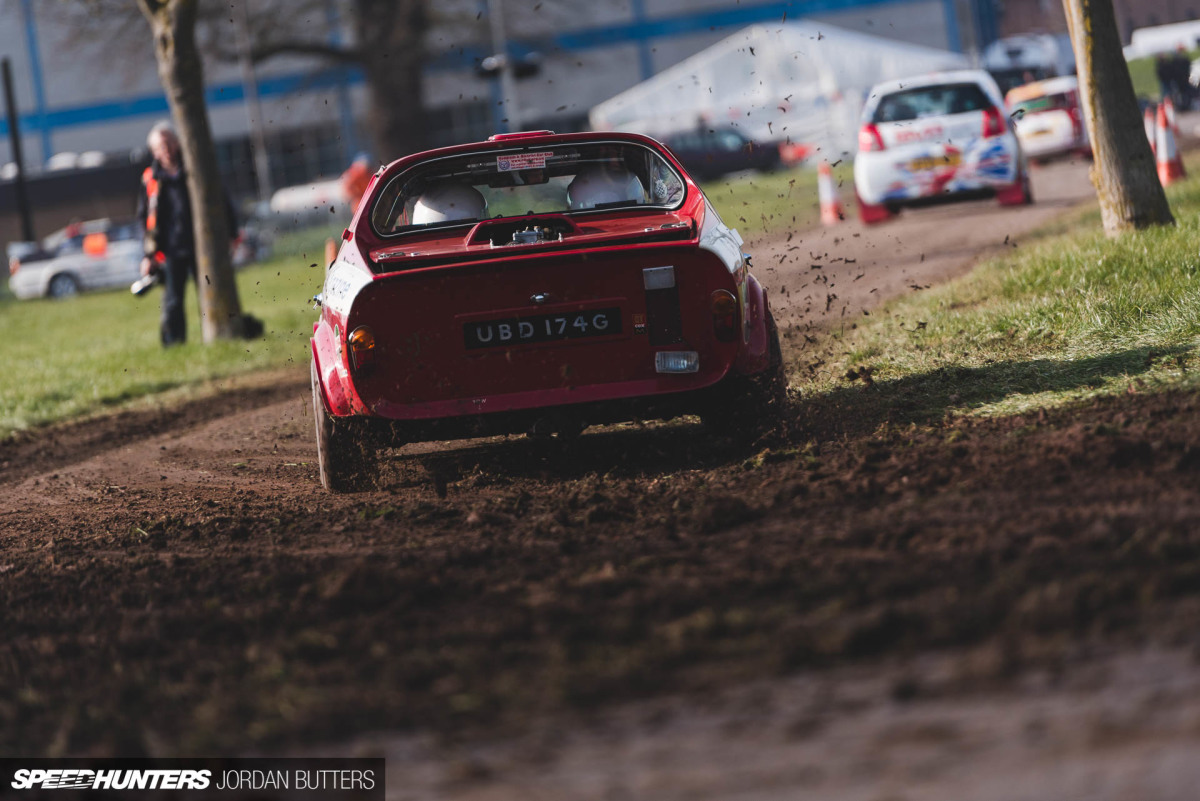 The driver of this Cox GTM had to be commended – the little British-built kit car is based on a Mini and, thanks to its short wheelbase, appeared quite skittish. However, it was being flung across the mud with great vigour, much to the approval of the audience.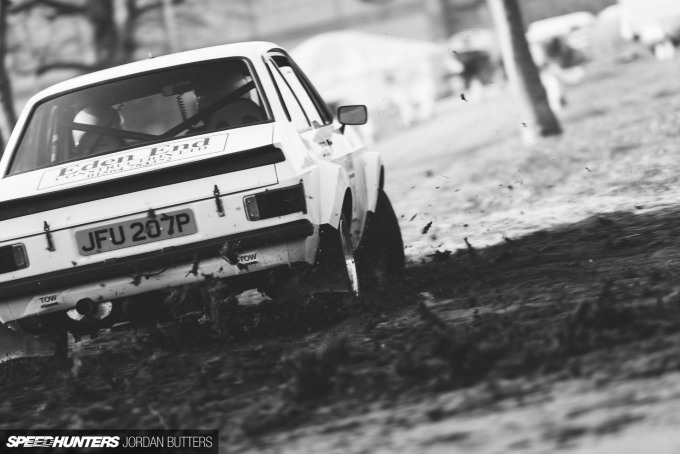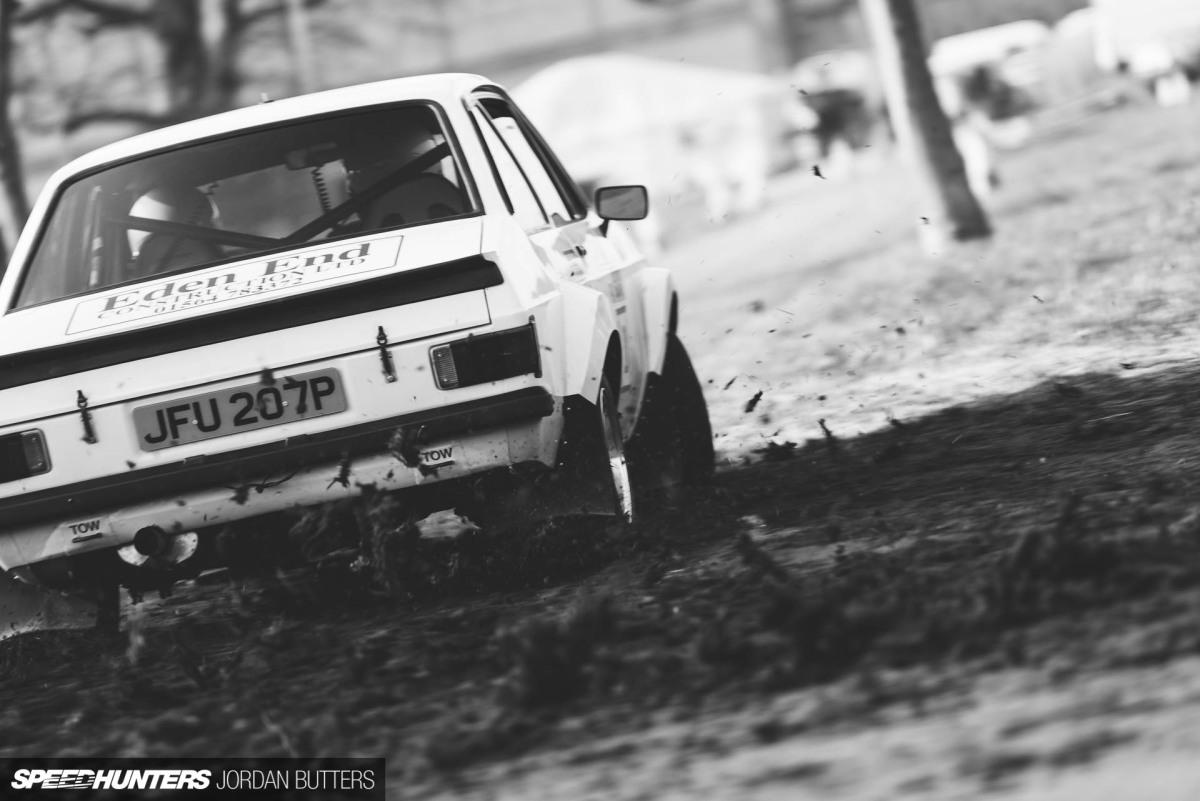 A tactical approach was required when deciding where to stand, so as not to receive a lens-full of earth. After a few laps you soon identified the drivers that were aiming to cake you in mud against those taking it a bit easier. As a rule of thumb, any rear-wheel Escort always arrived and departed sideways.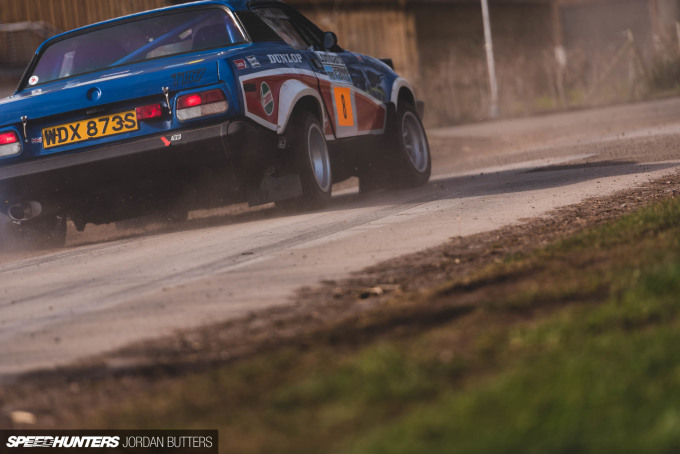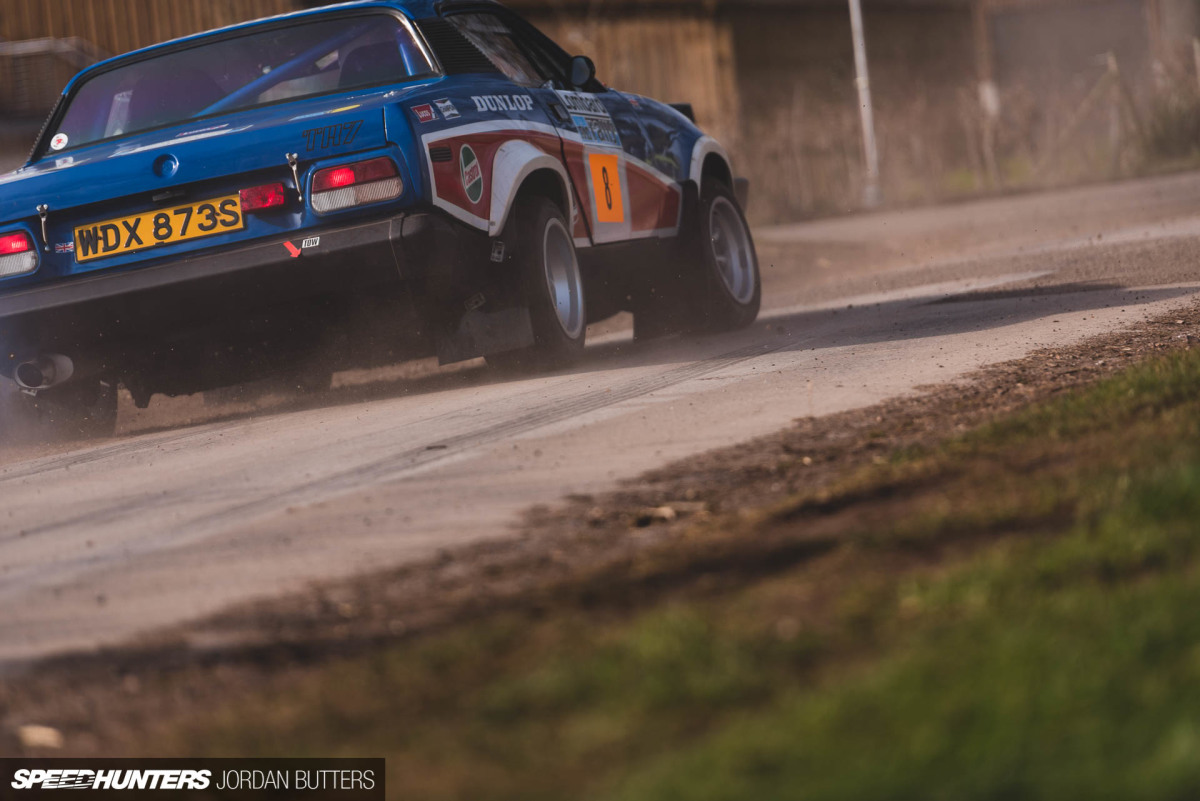 Memory cards brimming with images, I shook the mud from my ears and camera and called it a day just as the stage was coming to a close, ready to head back inside and enjoy the rest of the show. It may have just been a demonstration event, but it's given me a taster of historic rallying and now I need more.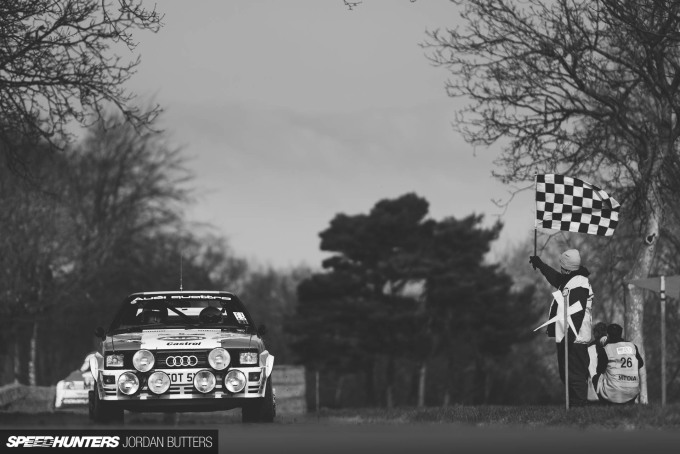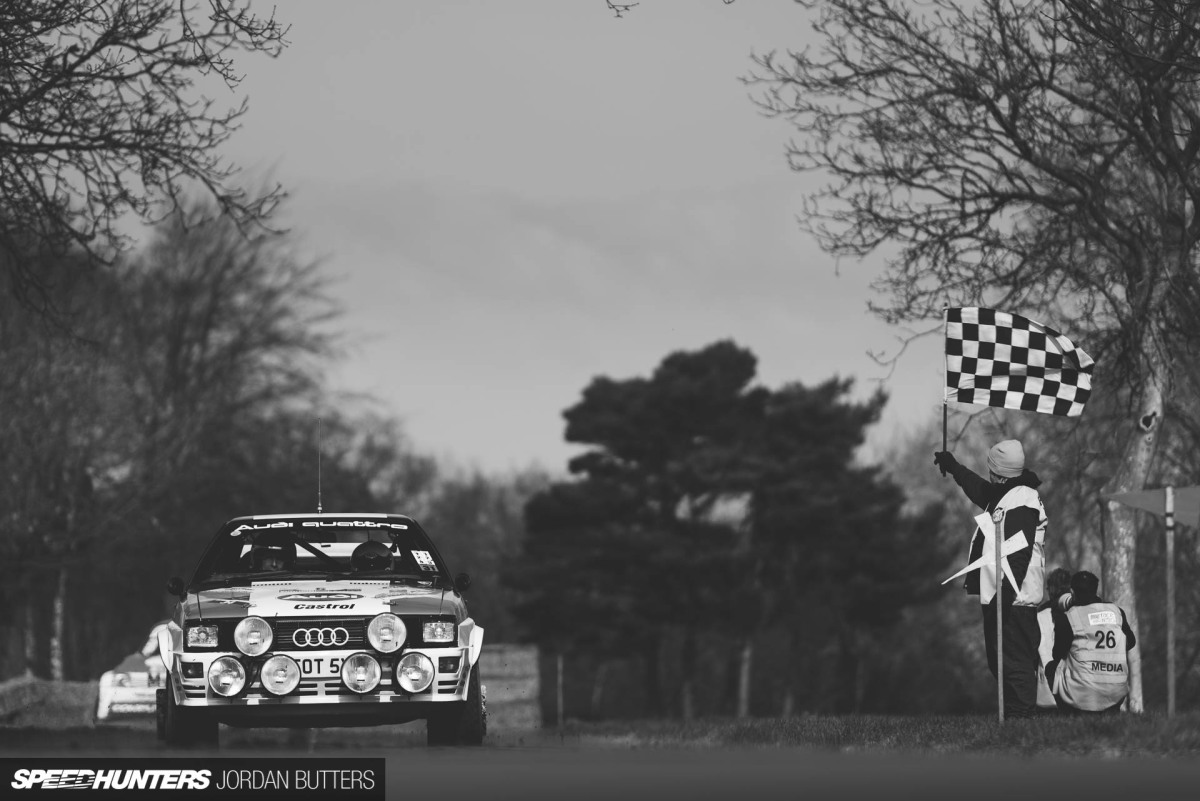 If you get the chance I strongly recommended getting yourself to a historic rally at some point. From the approachable nature of the drivers to the unique machines and engineering on offer, there are far worse ways to spend a weekend. I can only imagine what it must be like seeing these legendary machines let loose on a competitive stage.
Jordan Butters
Instagram: jordanbutters
jordan@speedhunters.com