Analog Church
With the abundance of technology that surrounds every part of our lives these days, it's not hard to imagine a much different future for cars. One where automobiles as we know them will eventually fade out as being objects of desire or even necessity; replaced instead by driver-less vehicles, ride sharing and other more 'convenient' means of getting around.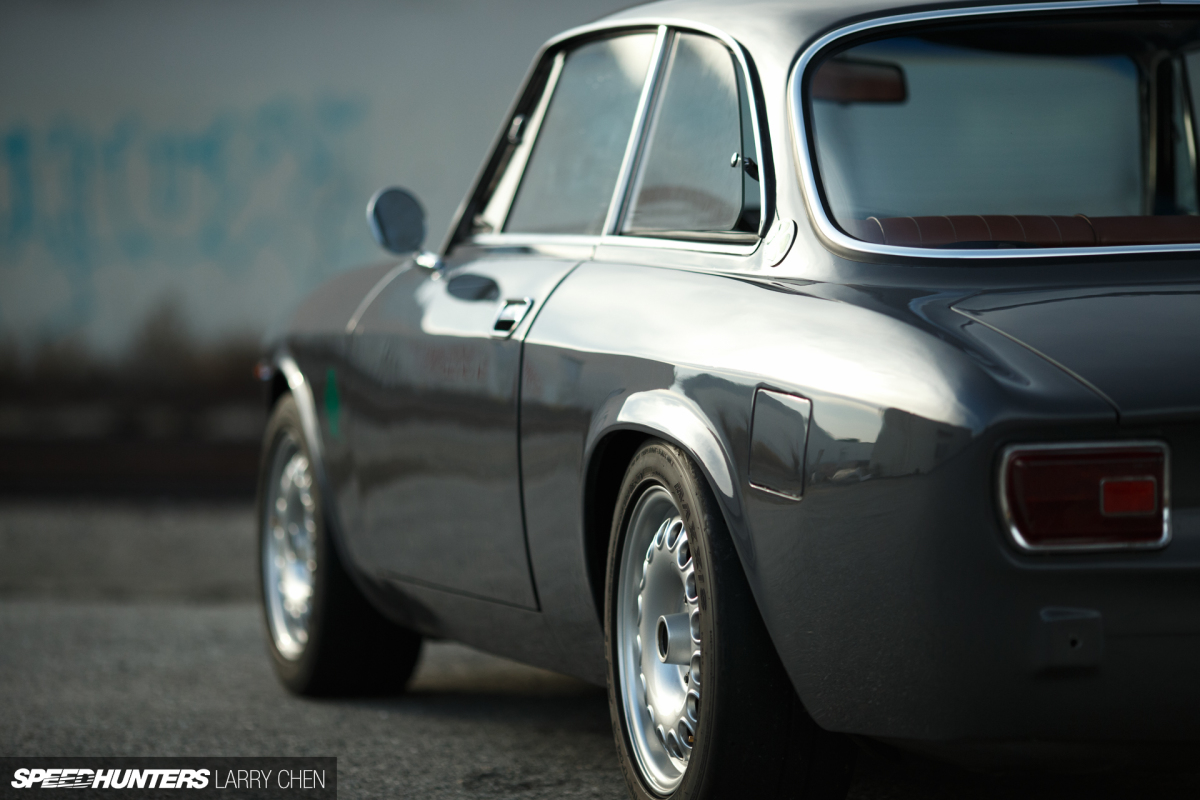 I actually touched a little on this during my recent editorial about the current state of high performance cars. More specifically, I talked about how hard it is to keep up with the pace of technology that makes each new model faster and more advanced than the one that came before it.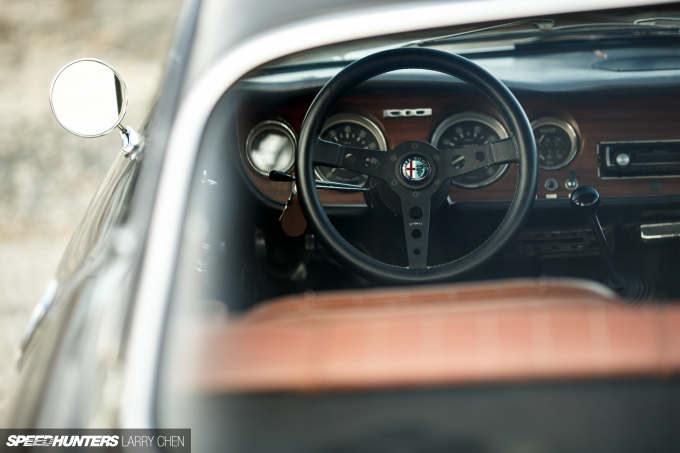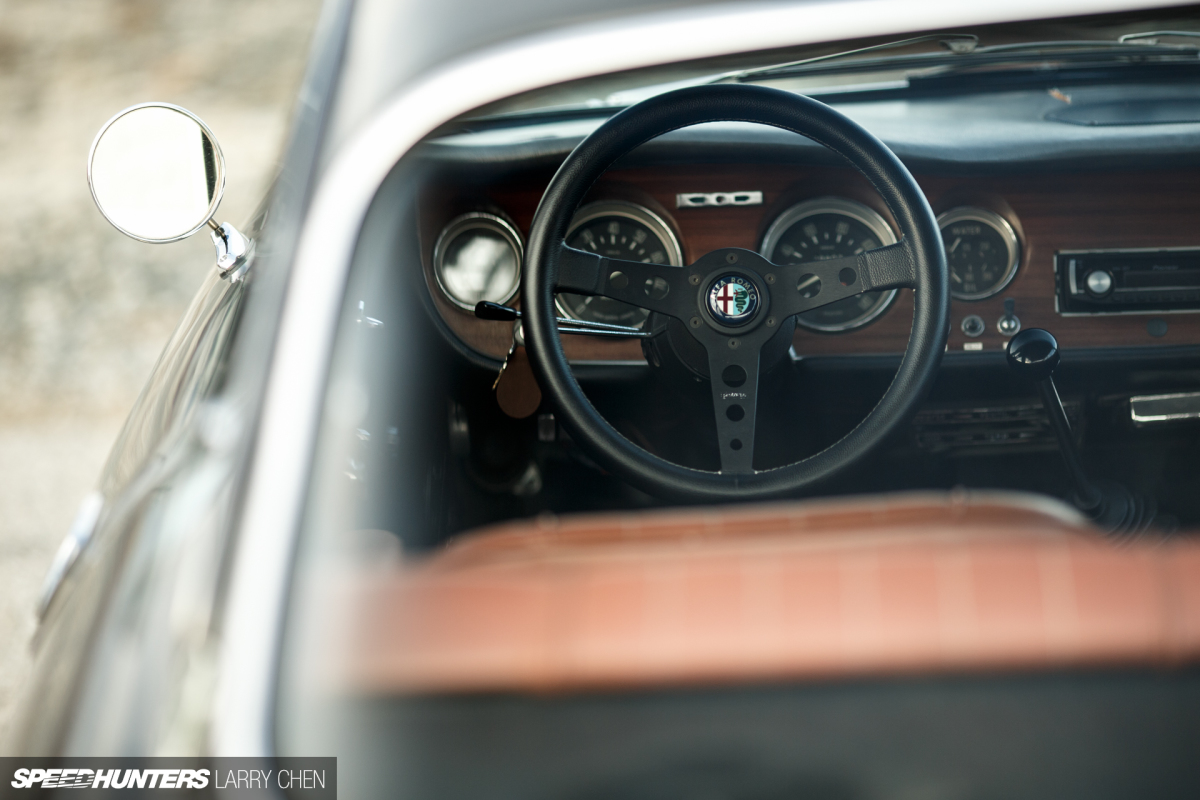 While there's no escaping the feeling that modern cars are becoming like computers in the ways they can be made to feel obsolete, it's not all bad news. In contrast to the rapid pace of modern automobile technology, it also feels like the passion for classic cars is higher than ever.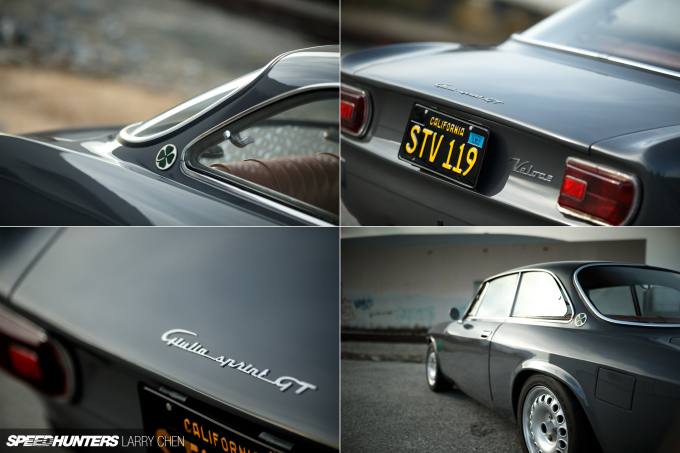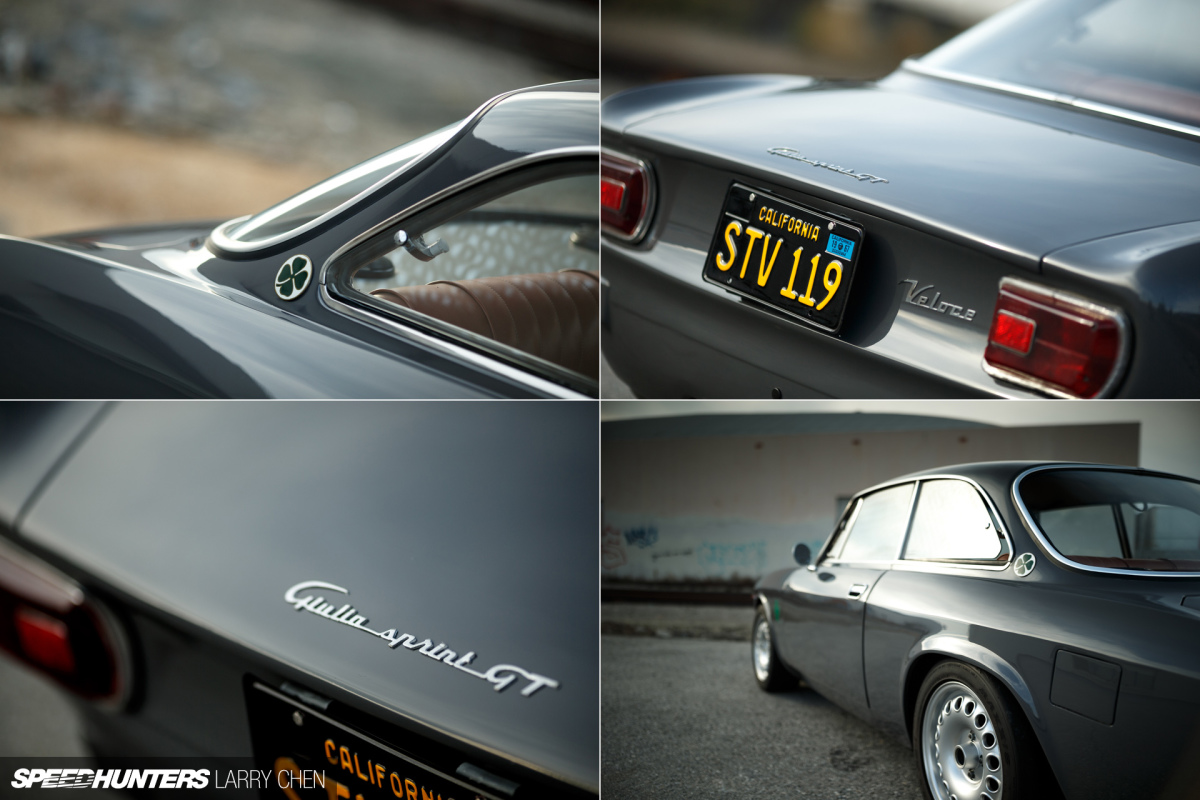 And it's not just the older generation that is out there keeping the old school alive. There are plenty of younger enthusiasts and builders who have fallen in love with the simplicity, style and satisfaction you get from cars of the '60s and '70s.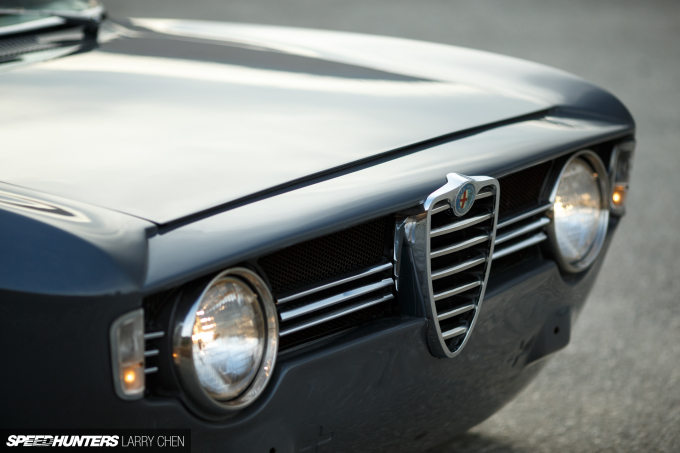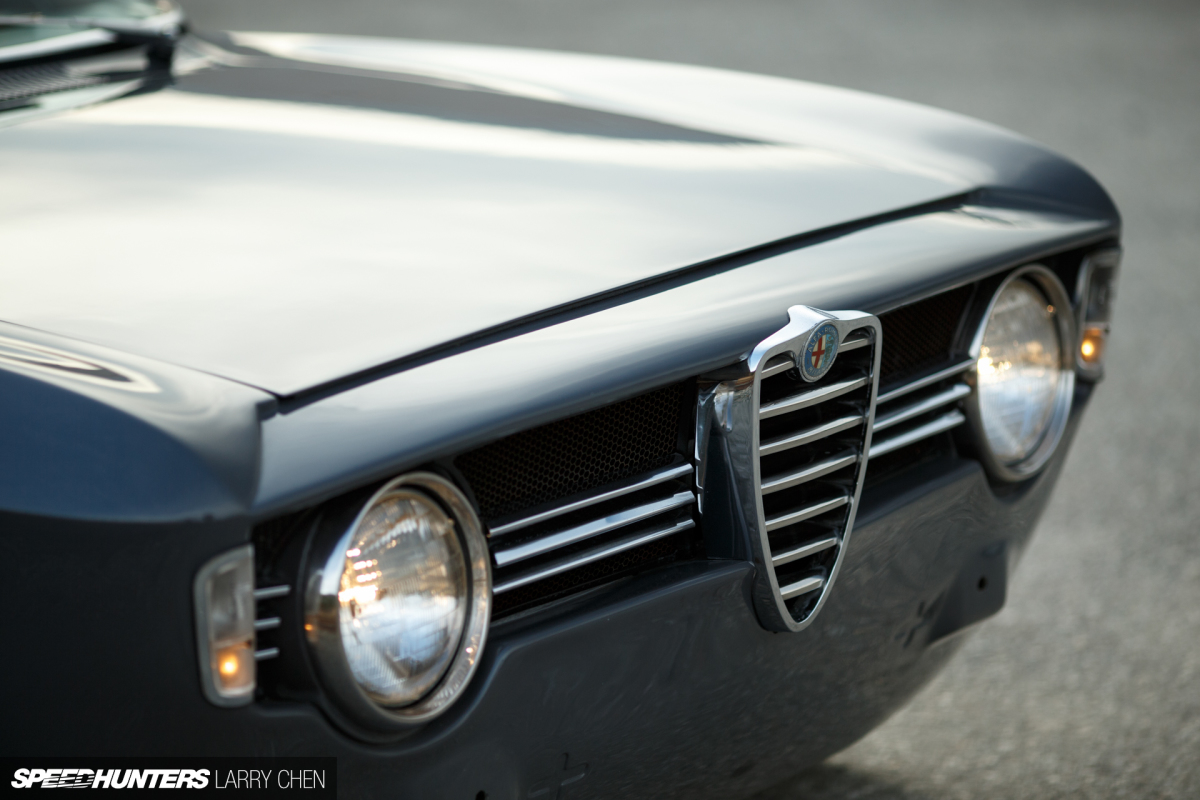 One of these people is Dorian Valenzuela, a former aerospace engineer who has made a name for himself working on vintage European iron at his small DV Mechanics workshop in Los Angeles.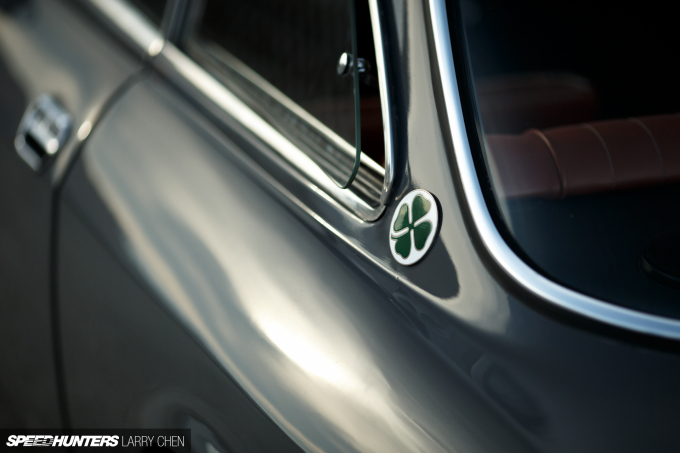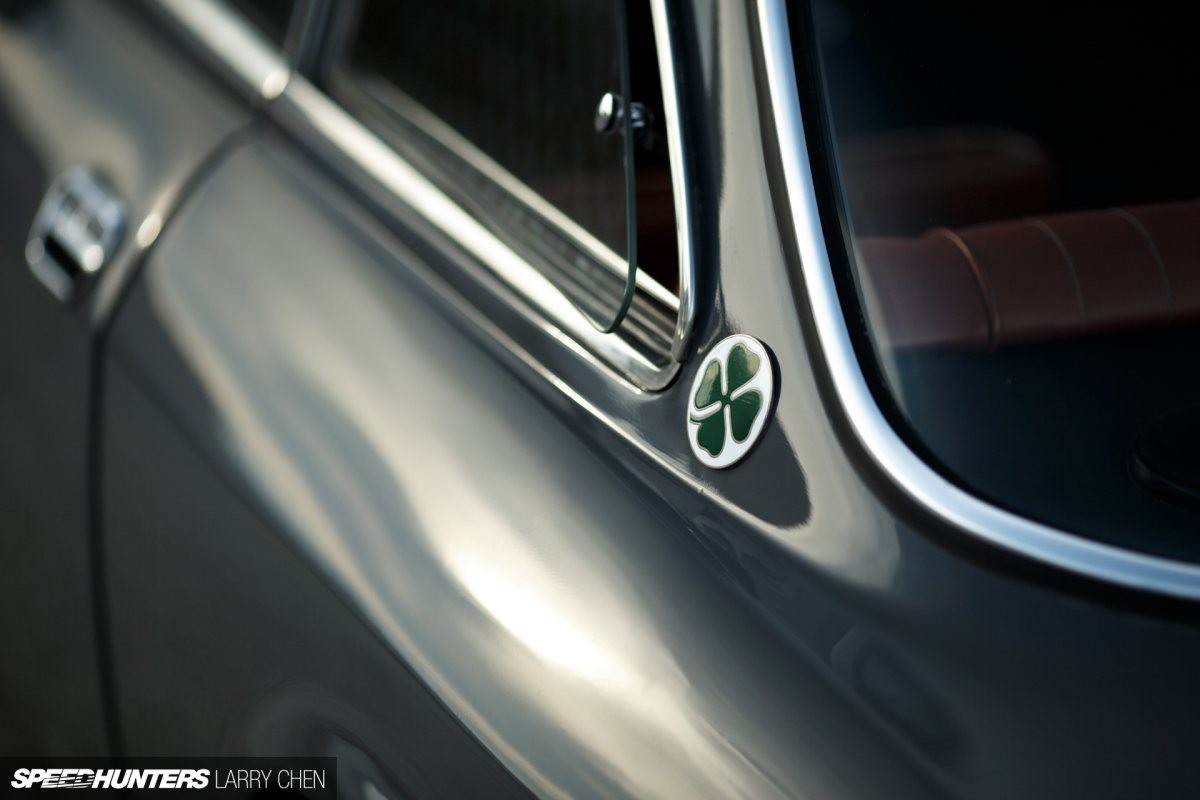 Last month we got a taste of Dorian's style when we looked at his 1970 Alfa Romeo Giulia 1300TI built for carving the canyons of Southern California. But the 1300TI isn't the only vintage Alfa in his stable.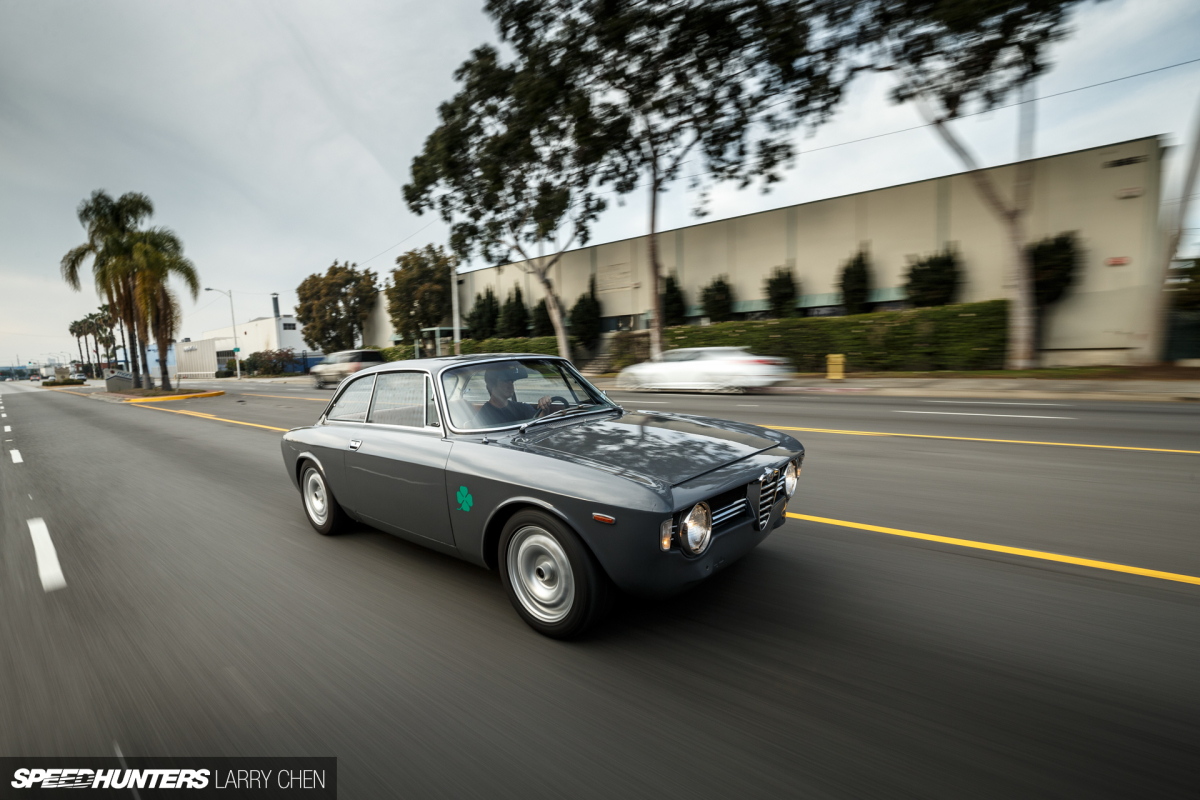 In addition to the beige sedan, Dorian can also be found wrenching on and driving his '67 Giulia Sprint GT Veloce – a car that's been treated with the same love and attention to detail as the 1300TI.
From Italia With Love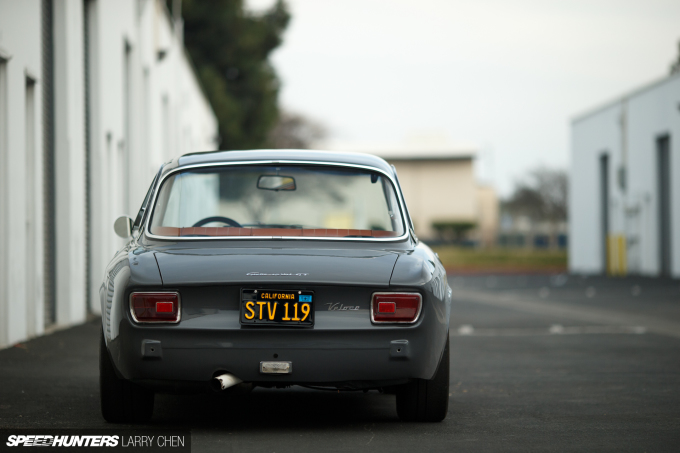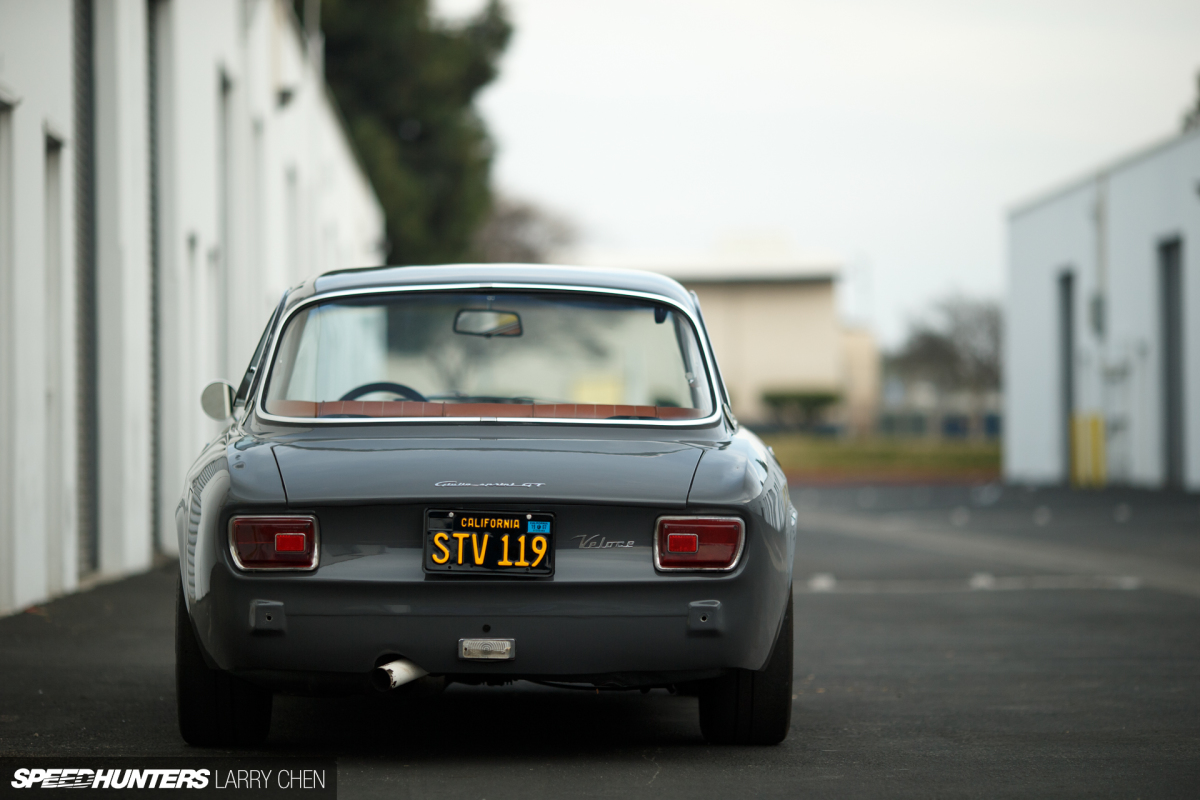 There's just something magical about an Alfa Romeo from the 1960s – even in 100 per cent factory stock form. It's not surprising then to hear that Dorian hasn't gone crazy with the modifications and upgrades on the Giulia. Because why mess with something that's so good in the first place?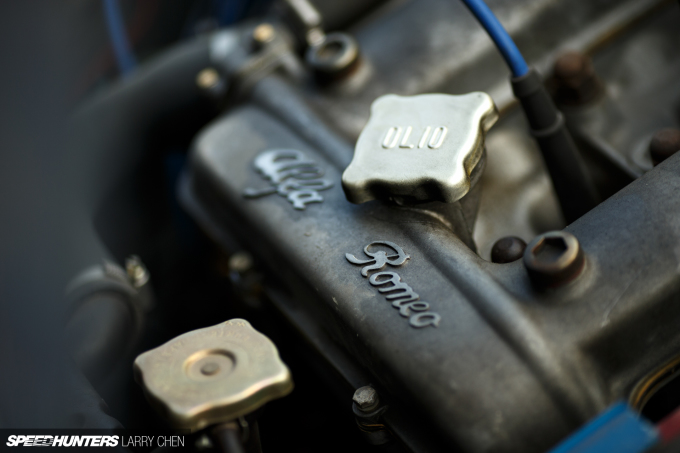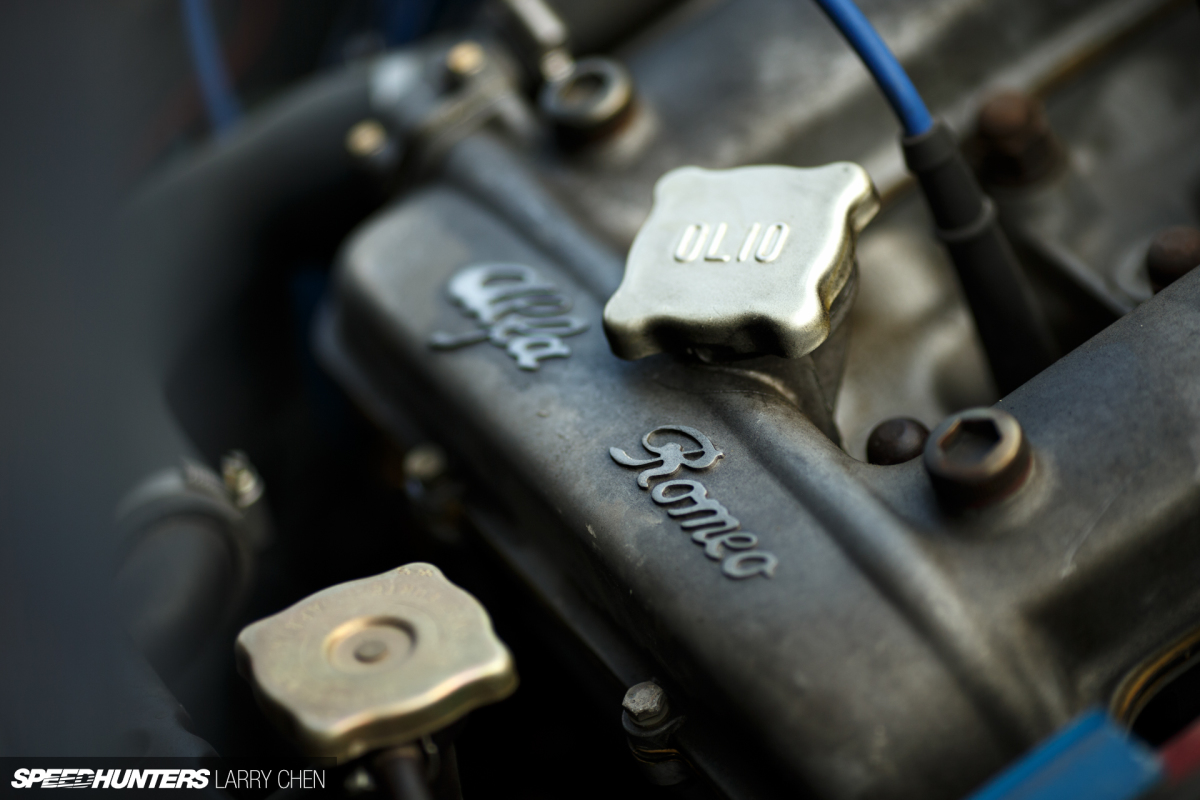 But that's not to say he's gone the concours restoration route either. This car is a driver, and there are reasonable changes throughout to improve performance and drivability but not detract from the character and feel that drew Dorian toward old Alfa Romeos in the first place.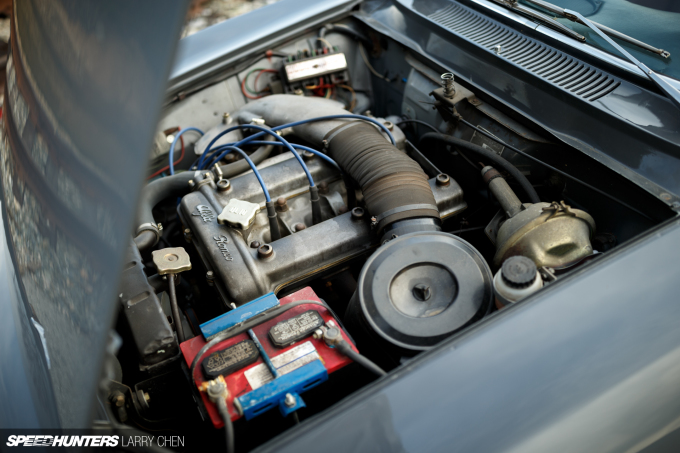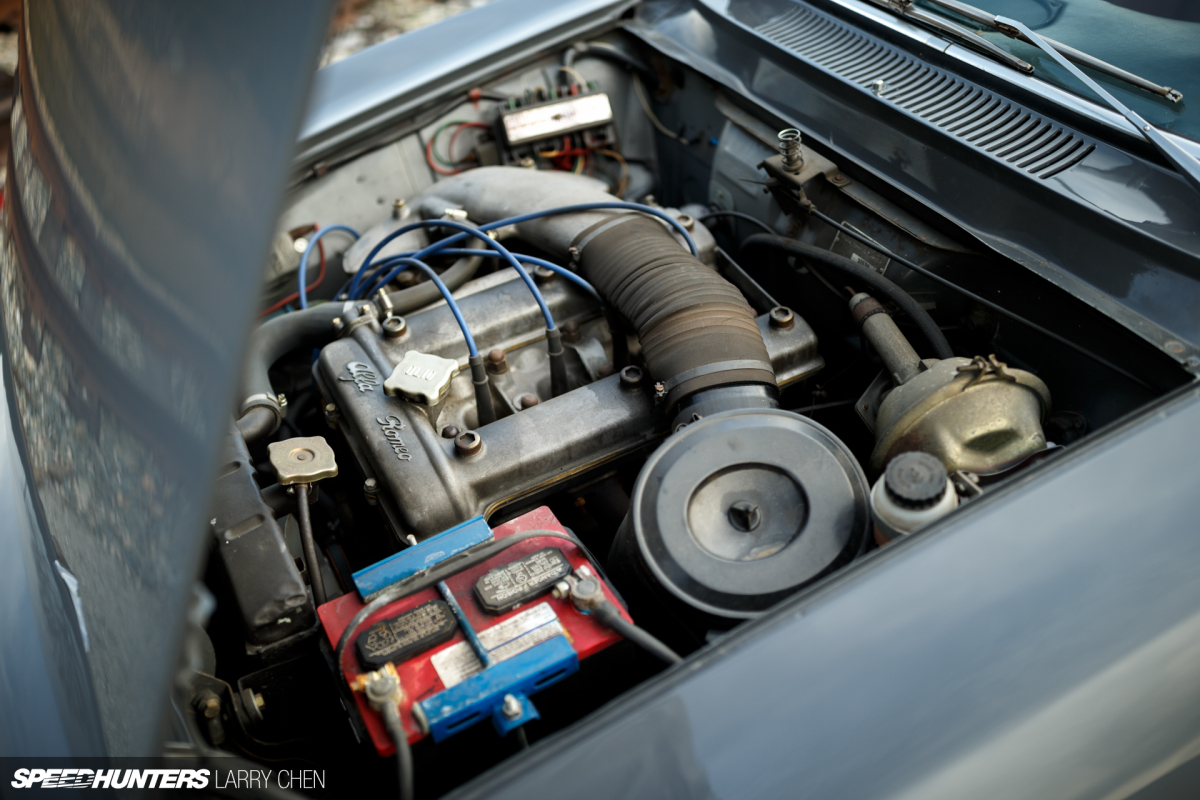 It begins beneath the hood where he pulled out the original 1600cc engine and replaced it with a European-spec 1750cc twin cam with some modest power upgrades.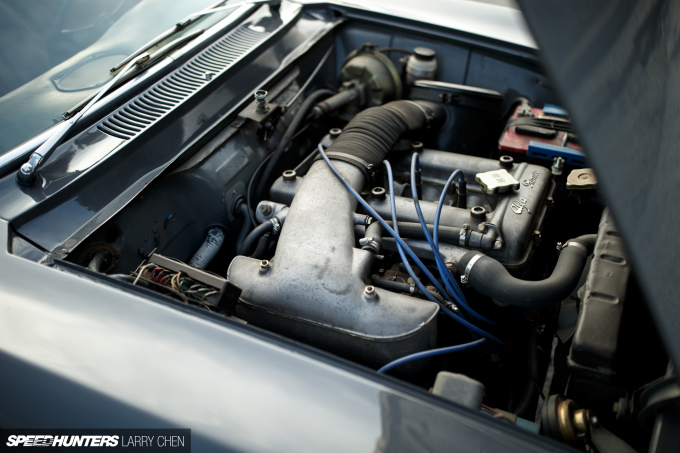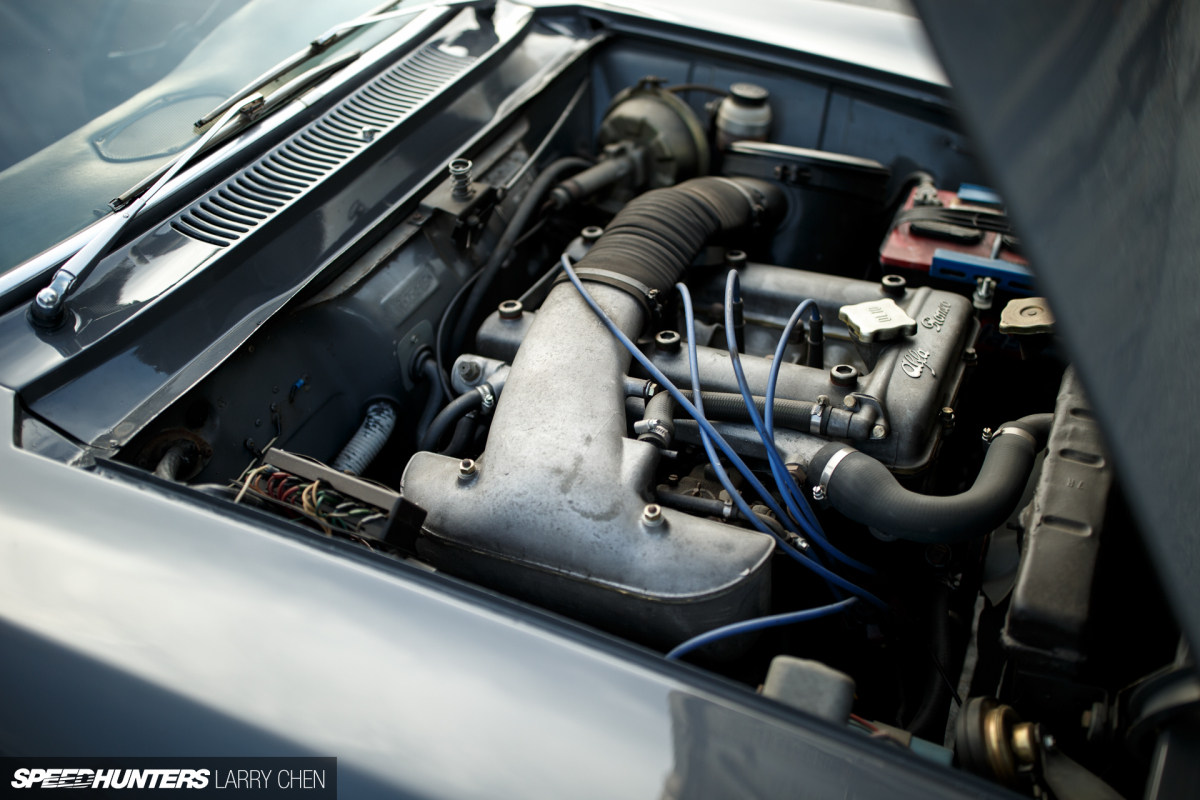 Among the hot-rodded bits on the engine are a pair of 40mm Weber 40DCOE side draft carburetors and more aggressive 11mm camshafts for a little more high-RPM fun.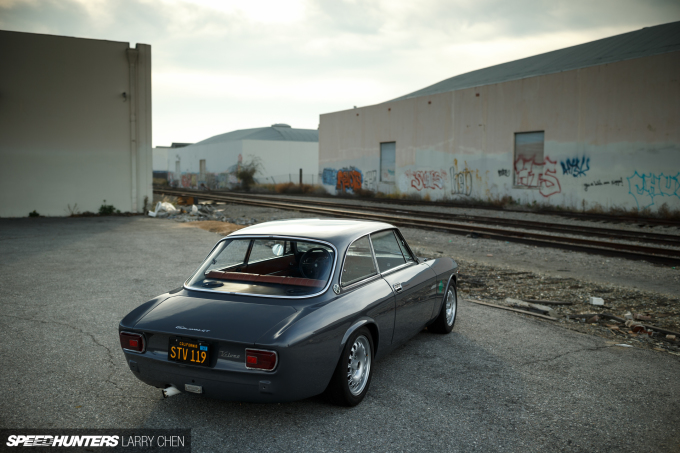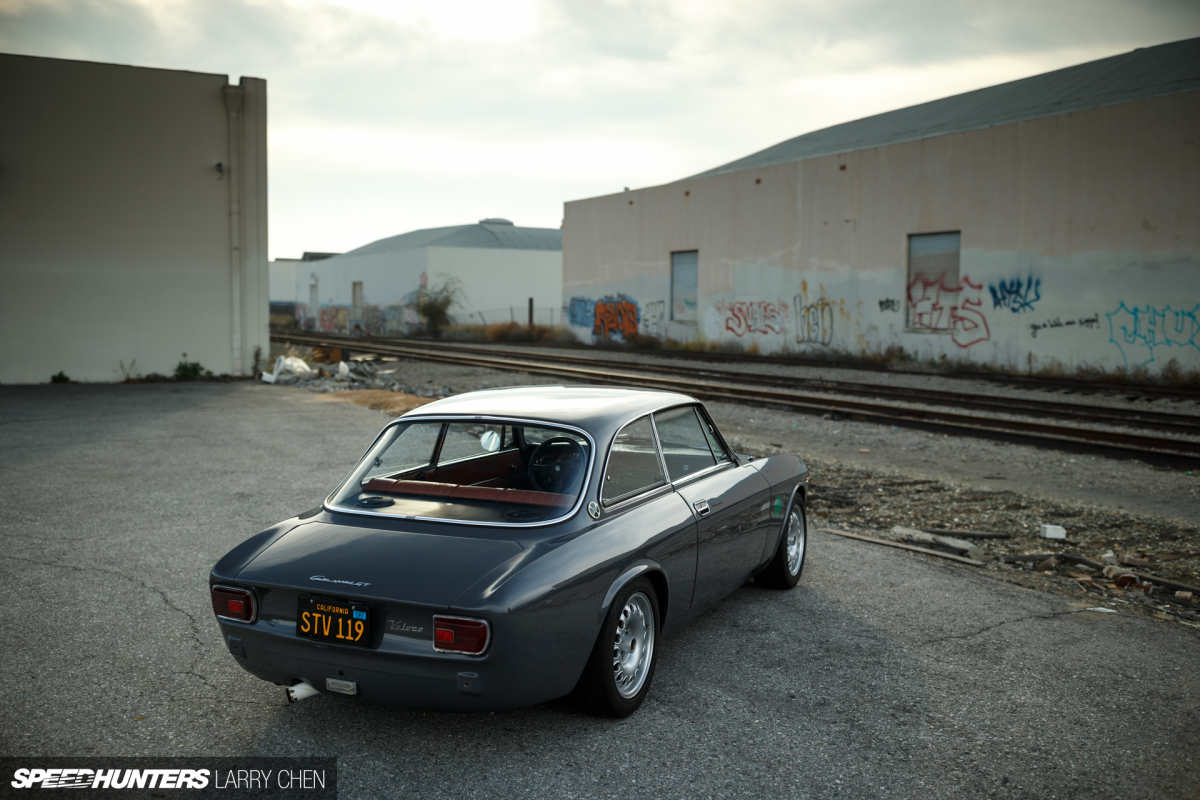 And that classic double overhead cam growl can be heard through a custom stainless steel exhaust system that finishes with a subtle and functional single tailpipe.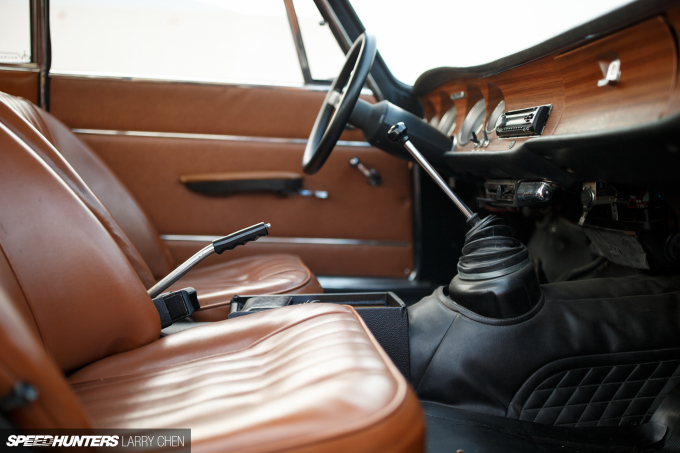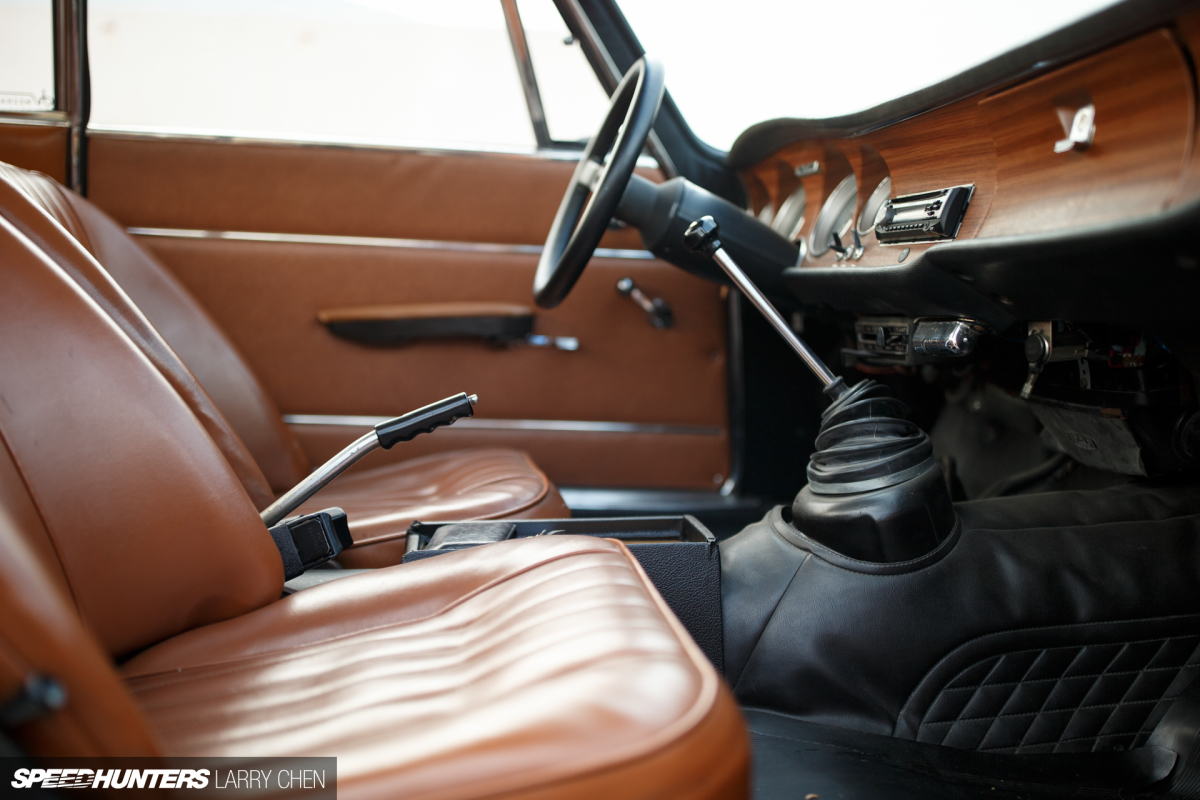 In keeping with the simple approach, Dorian has left the driveline unmodified, with gear changes naturally made through an original 5-speed manual transmission.
Old Cars, Young Heart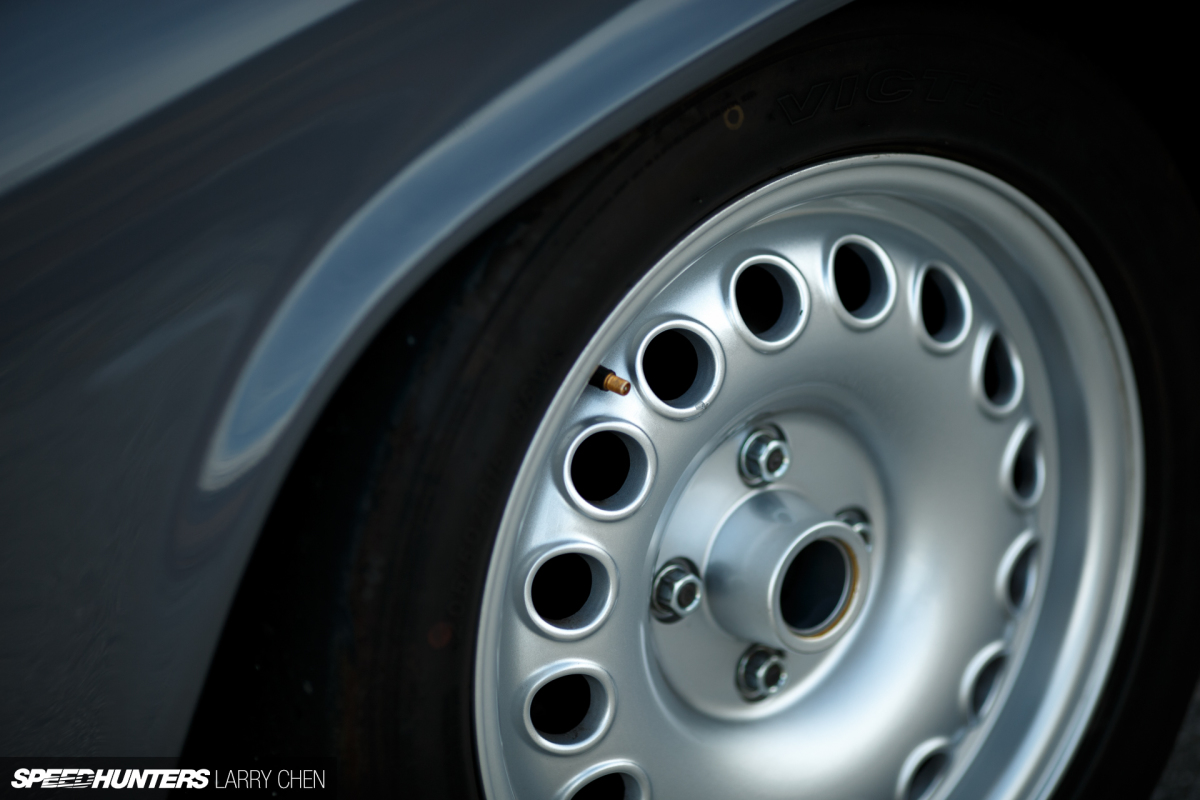 The suspension on the other hand has seen some important upgrades to improve handling and weed out the sloppiness of the 50-year-old equipment. Just as he did on the 1300TI, Dorian called on the guys at Alfaholics for a race suspension kit with stiffer springs, lightened trailing arms, a beefier front sway bar and Koni Race dampers all around.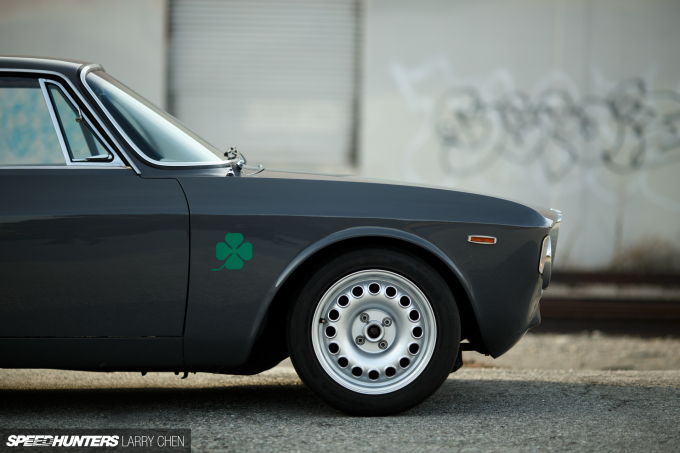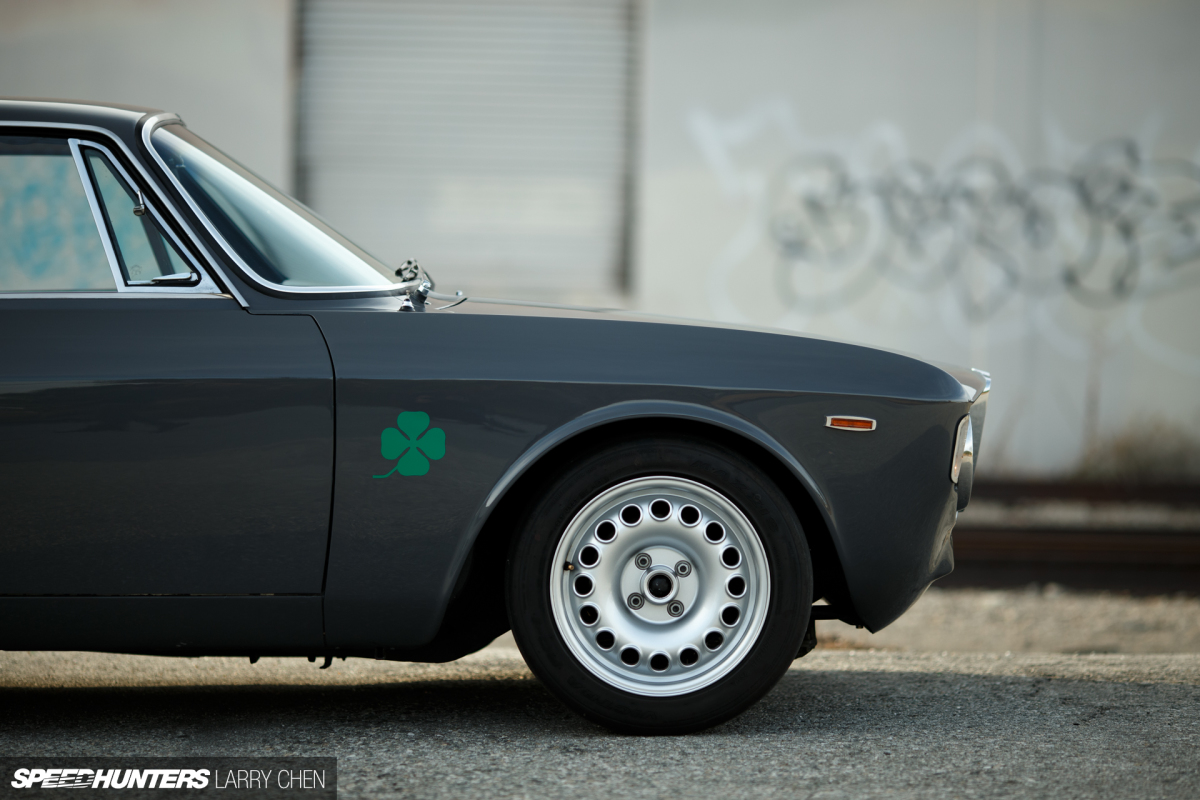 When it came to fitting wheels, the choice was easy – Alfaholics factory-appearing alloys measuring 15×7-inch at each corner and finished in traditional silver.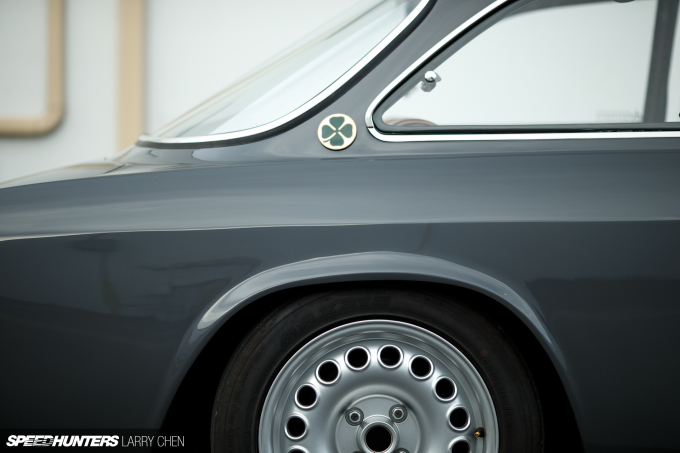 The wheels are wrapped in grippy 205/50R15 Maxxis RC1 tires, chosen for both their stickiness and their period-correct look inside the Giulia's wheel wells.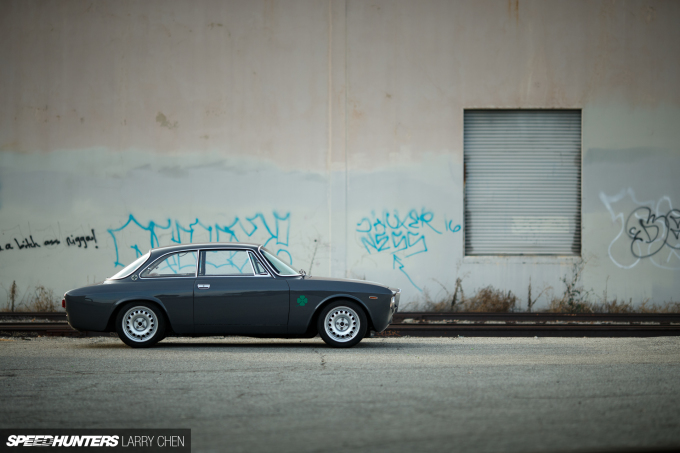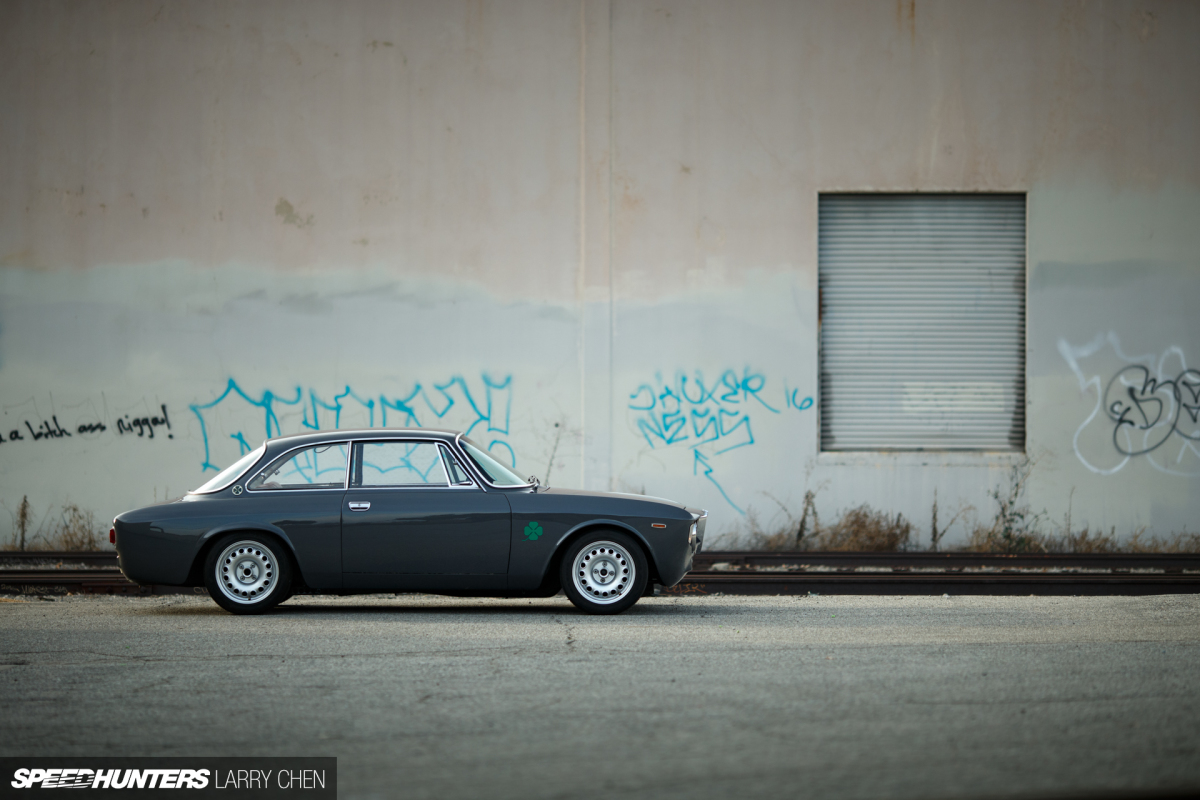 As you've likely gathered by now, Dorian isn't one for over-the-top exterior modifications. The Alfa's outward appearance is almost entirely original, with the exception of removed bumpers for the quintessential race car look.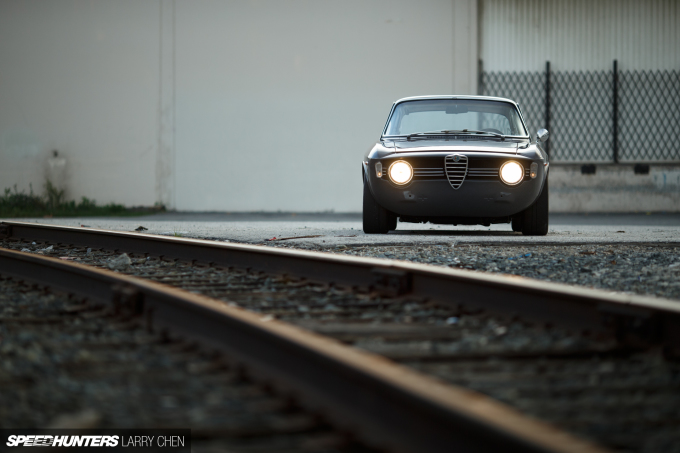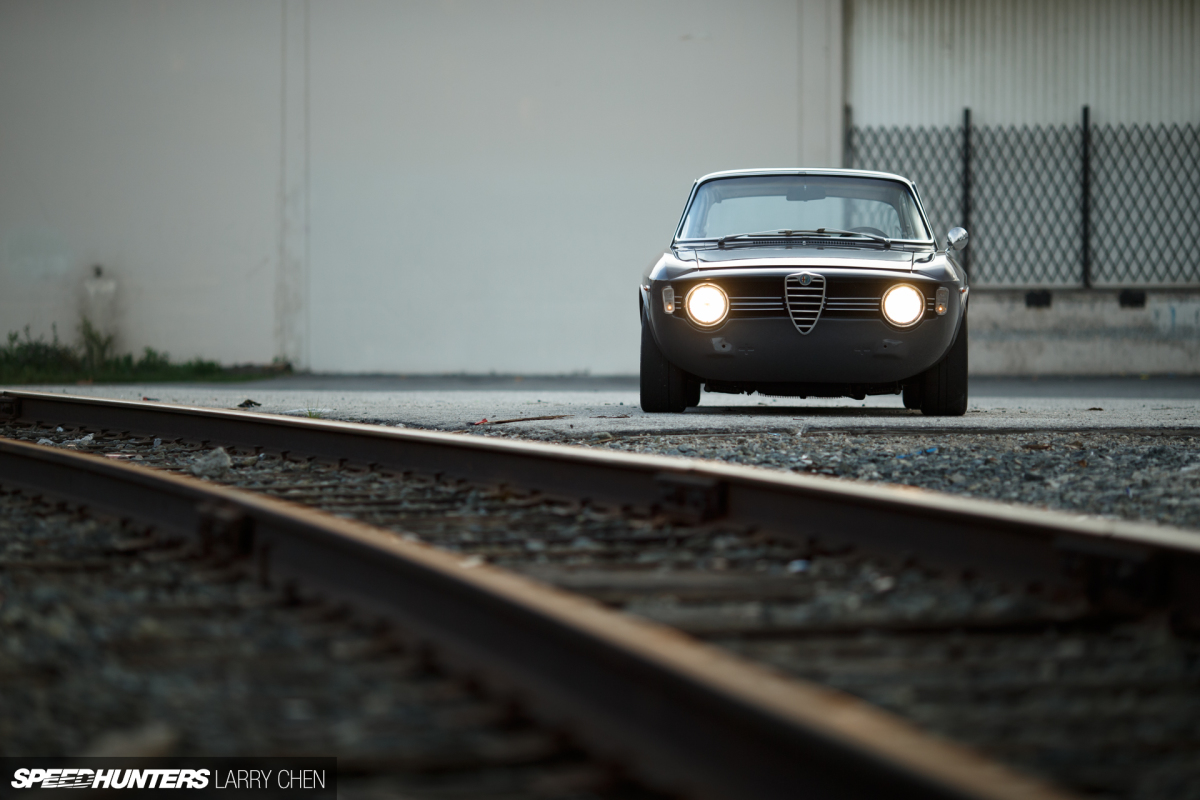 When you picture a 1960s Alfa Romeo, red is likely the first color that will come to mind. But Dorian has gone a much different route here with a very understated custom gray paint job that complements the vintage bodywork perfectly.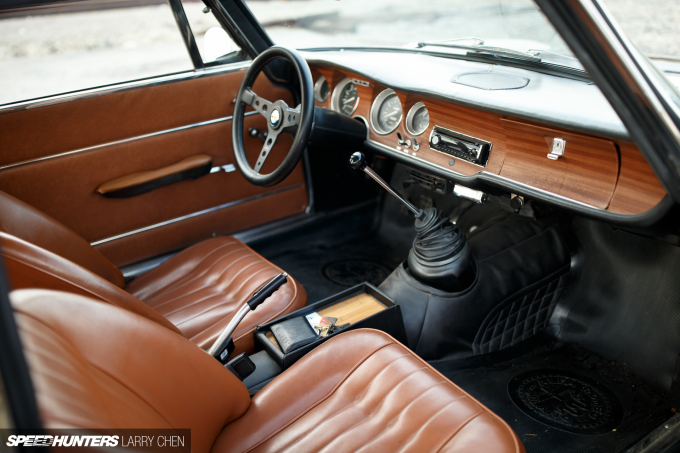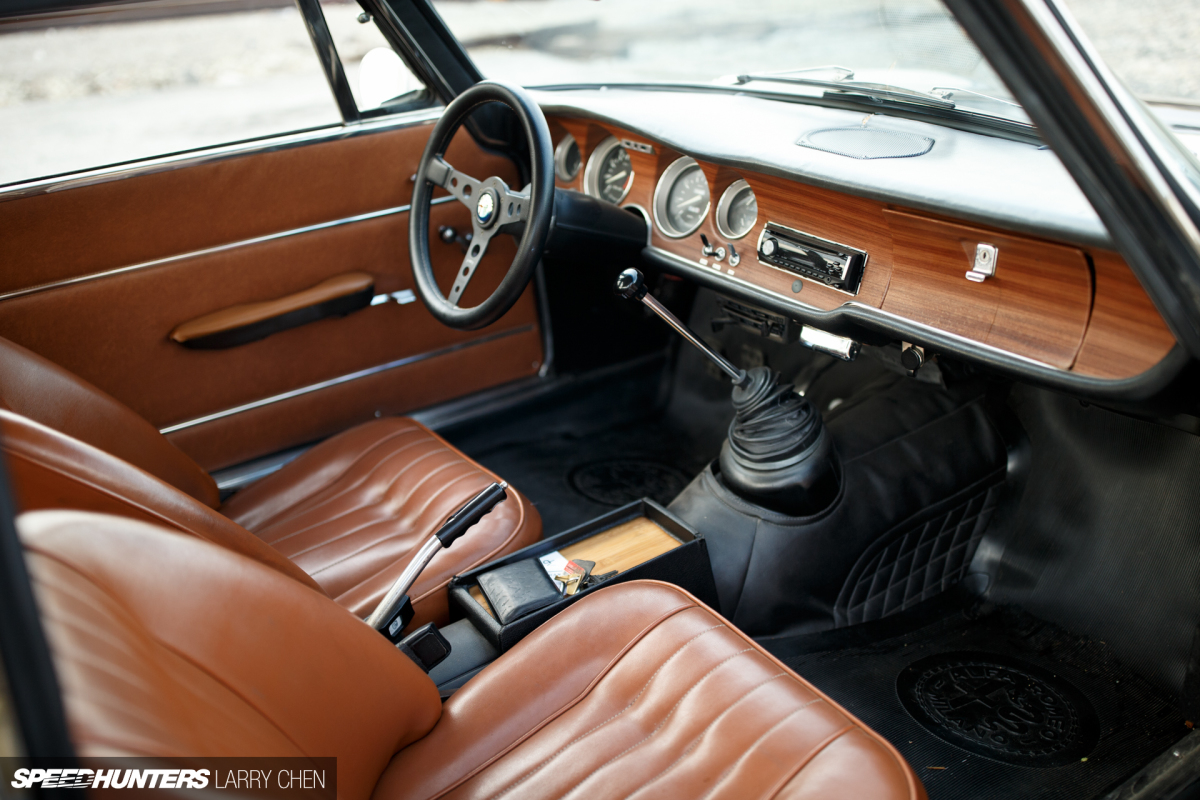 The gray body color also contrasts beautifully with the light brown upholstery and woodgrain trim inside the original cockpit. Sure, you could change the seats, add a roll-cage or do other modifications, but why mess with something that looks this great to start?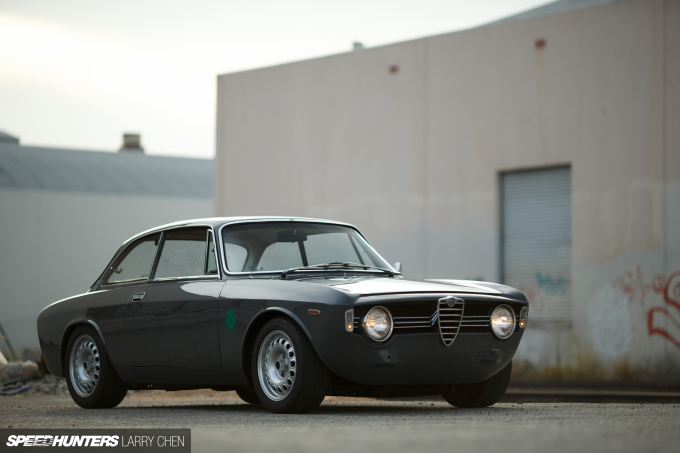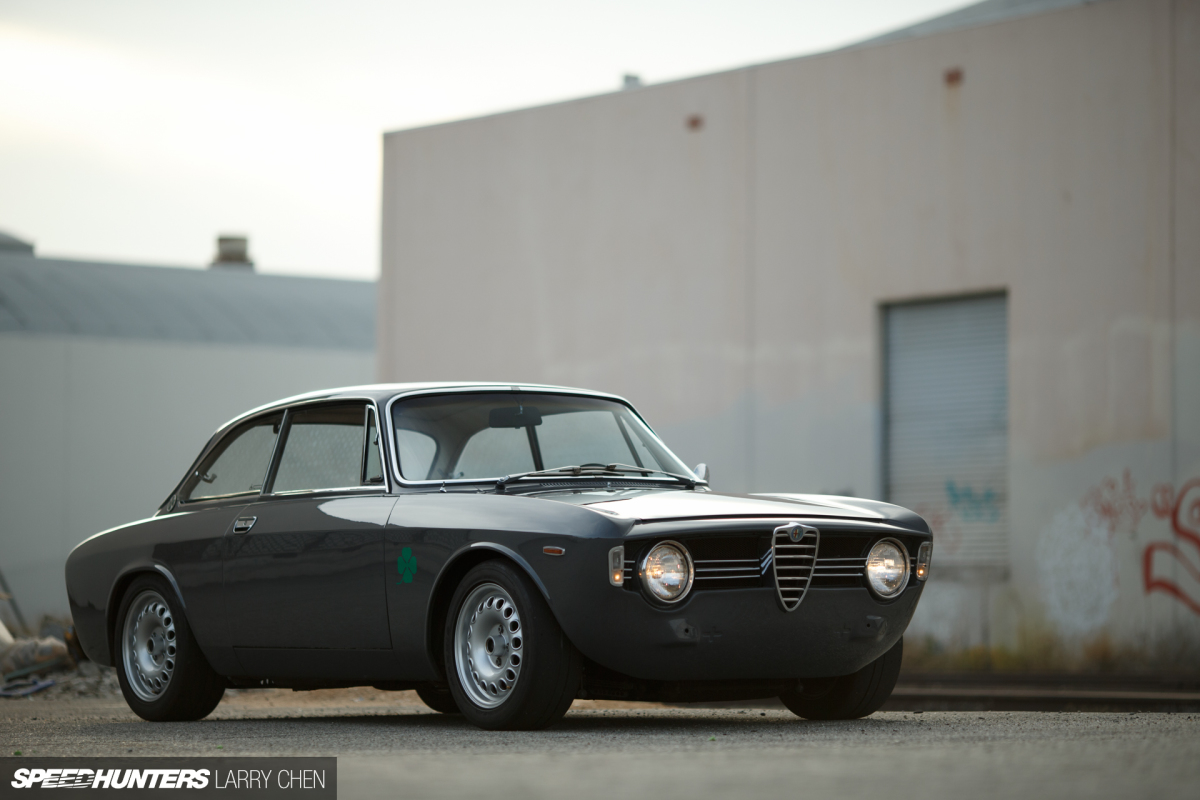 When compared to many of the cars we feature, Dorian's Giulia is very mild in its specs; but it's hard to imagine wanting anything more. These cars were never about being the fastest or most extravagant things on the road anyway.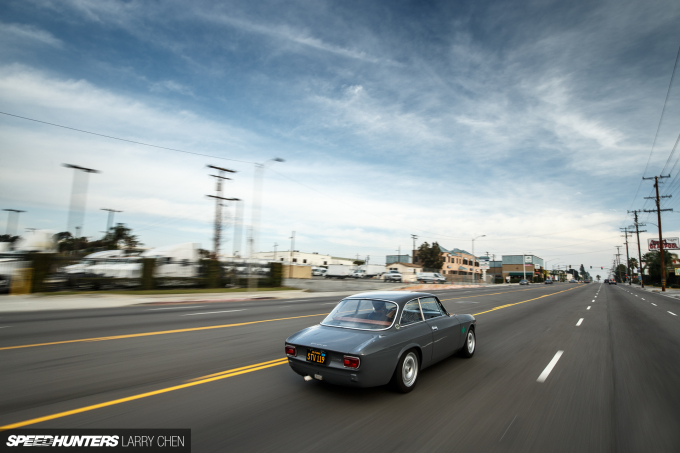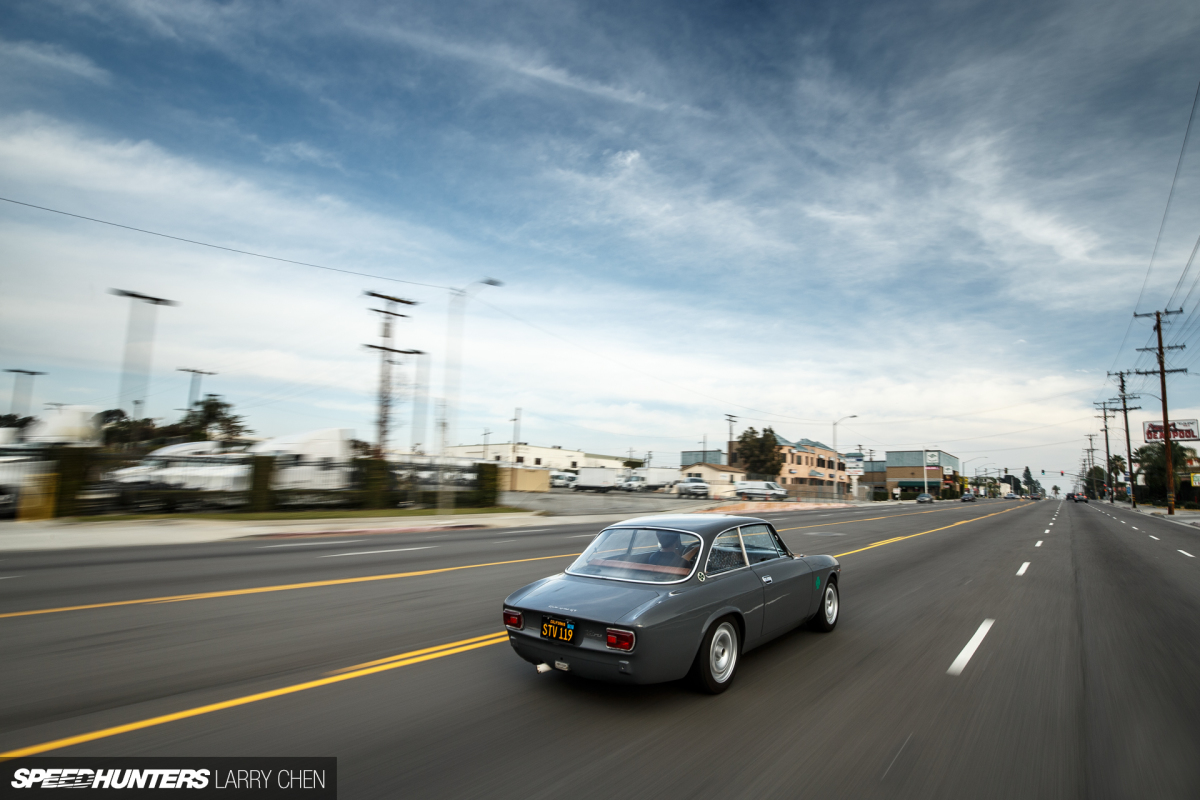 And even more importantly, Dorian is one of those guys who has fully embraced the greatness of building and driving a proper vintage automobile in a world that's increasingly dominated with disposable technology.
Keep up the good work, sir.
Mike Garrett
Instagram: japanifornia_media
mike@speedhunters.com
Photos by Larry Chen
Instagram: larry_chen_foto
larry@speedhunters.com
DV Mechanics 1967 Alfa Romeo Giulia Sprint GT Veloce
Engine
Euro-spec 1750cc DOHC inline-4, dual Weber 40DCOE carburetors, 11mm cams, custom mandrel-bent stainless steel exhaust system
Driveline
Original 5-speed manual transmisison
Suspension
Alfaholics Race suspension kit with 2.25 spring conversion, alloy rear trunnion, lightened trailing arms, 25mm front sway bar, Koni Race dampers
Wheels/Tires
Alfaholics 15×7-inch alloy wheels, Maxxis RC1 205/50R15 tires
Exterior
Custom gray paint, bumpers removed
Interior
Original factory tan interior
More Alfa Romeo related stories on Speedhunters
Cutting Room Floor