For as iconic as they are, the classic American convertible is a type of car that often gets passed over when it comes to performance-oriented projects. When you think of an old convertible from the '60s, you likely picture a stylish boulevard cruiser rather than a hardcore street machine, but this drop-top clearly fits into that second category.
It's a 1964 Ford Falcon Sprint Convertible owned by Carl Foster of Bakersfield that I spotted at the 2016 March Meet last weekend, and it absolutely deserves a closer look.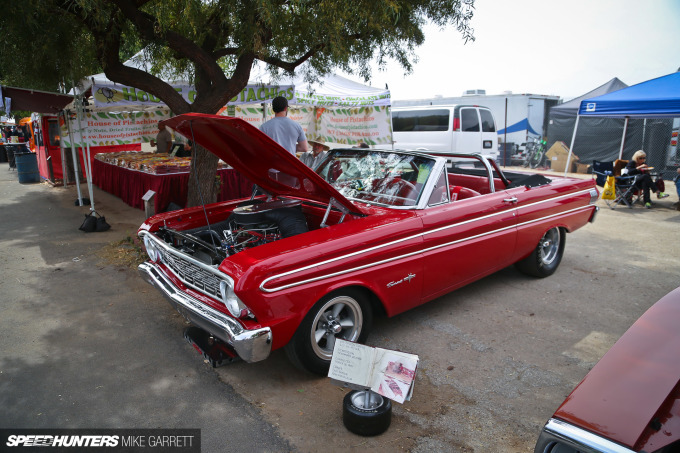 Carl completely rebuilt the Falcon over a 10-year period during the late 1980s and most of the '90s, and the car appears every bit as fresh today as it did when it was finished.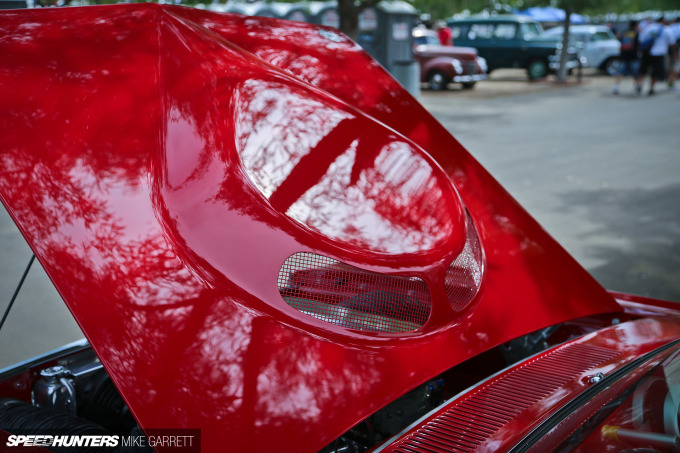 At a glance, the Falcon looks like your typical fixed up cruiser, likely powered by a variation of the Ford small-block V8. But then you notice unusual details, like the Ford Thunderbolt-style hood scoop.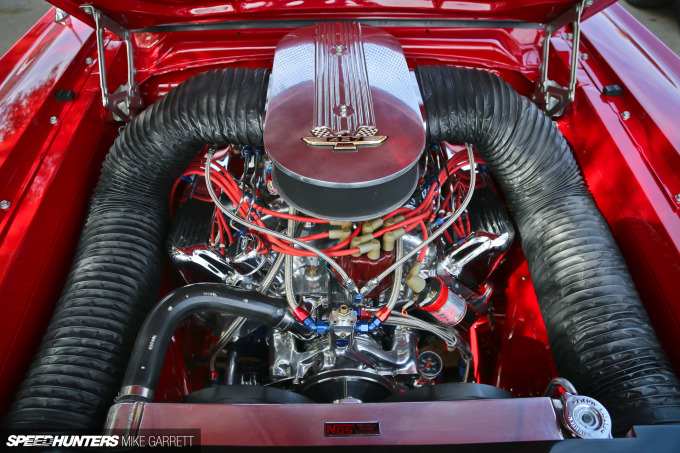 As it turns out, the scoop is needed to accommodate the 427 cubic inch high-riser big-block complete with dual snorkels. It's an engine not unlike the ones that powered so many Ford race cars to victory on drag strips and stock car tracks during the 1960s.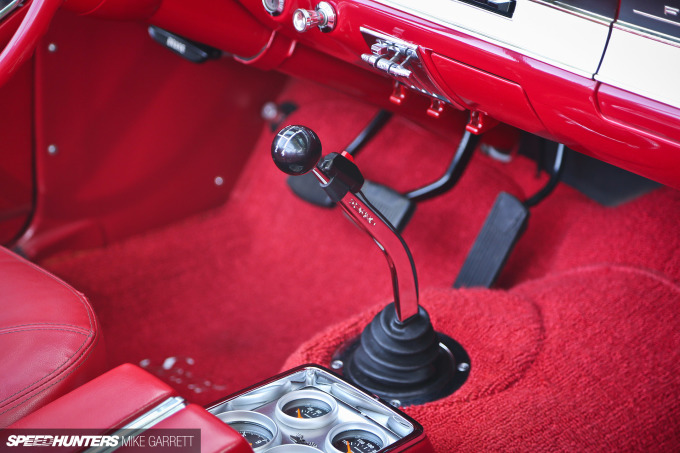 And while the automatic trans might be the choice for most vintage convertibles, the 427 is rightfully mated to a 4-speed manual gearbox.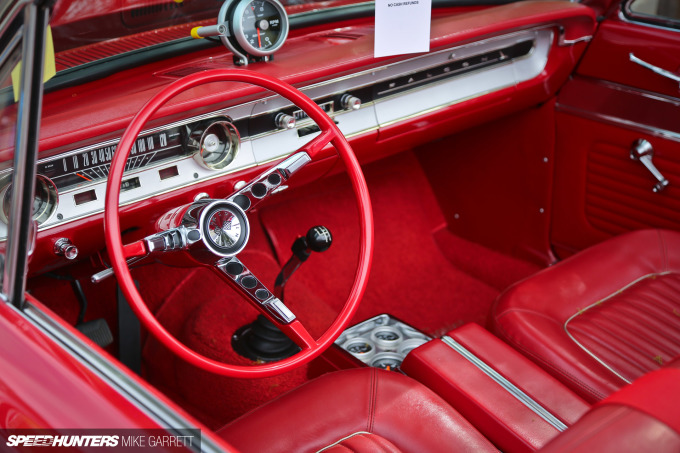 What I really like is that despite the exotic engine setup, the bright red interior of the Falcon is extremely original, with only a few subtle aftermarket upgrades.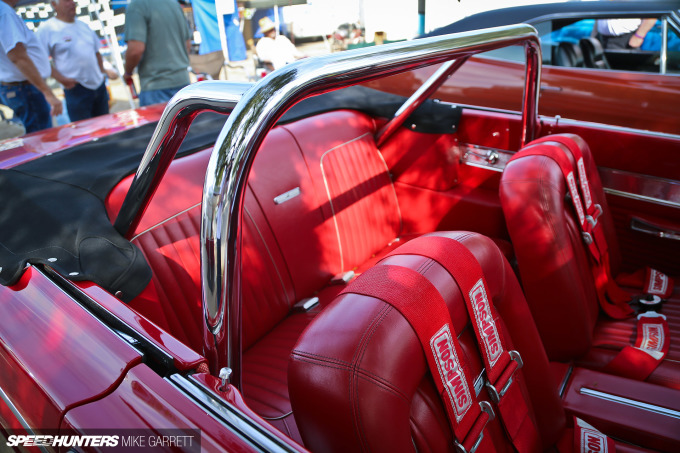 The chrome-finished roll-bar is a necessary addition for example, as are the Simpson racing harnesses mounted over the factory low-back bucket seats.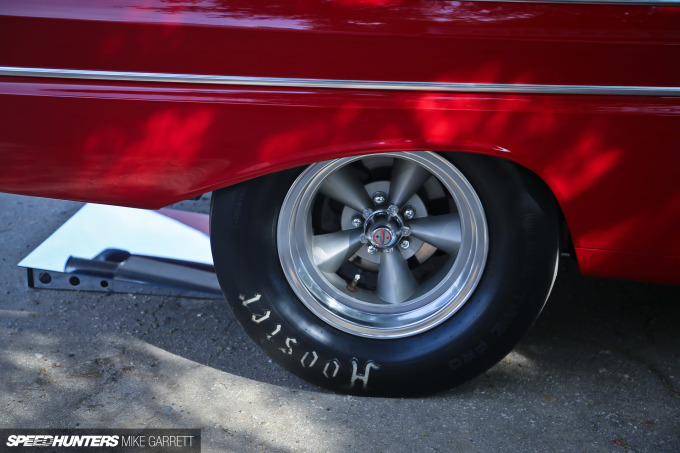 And you won't find a better wheel choice for this car than a set of American Racing Torq Thrusts, wrapped with meaty Hoosier slicks out back. Also note the rear disc brakes.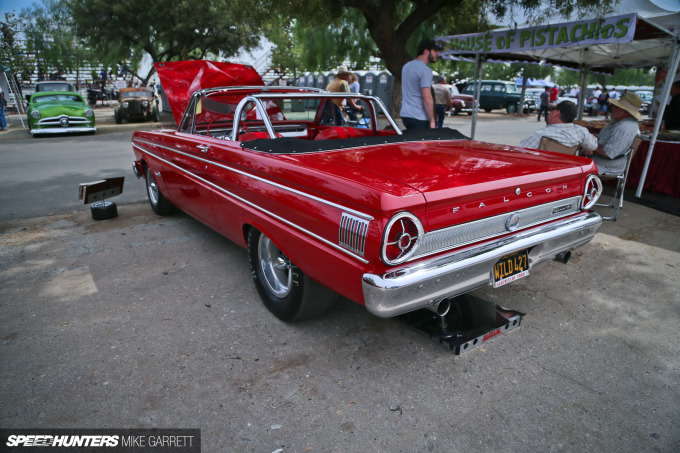 It's fast, it's beautiful, and you can enjoy it all with the wind in your hair. What's not to like about this very high performance take on the American drop-top?
Mike Garrett
Instagram: japanifornia_media
mike@speedhunters.com