Need For Speed
Hey fellow Speedhunters!
I've written a few guest posts here on Speedhunters in the past, and this month I've been invited back to share some of my latest car happenings. So without further ado, here's the biggest news: my F132 concept has been added to Need for Speed! This is a crazy dream come true, and I'm truly honoured by the opportunity to share my design with the world in such a glorious and deliriously fun way as in the epic virtual world of Ventura Bay.
When I was contacted by Ghost Games to see if I was interested in having the F132 in the game, I couldn't say yes quickly enough. I'd dreamed of seeing my concept in a video game, as it would be a great way to see how it looked moving out in the world. It was a pleasure working with the team to develop my rough 3D model into the beautiful CAD model that appears in game. I think it turned out incredible!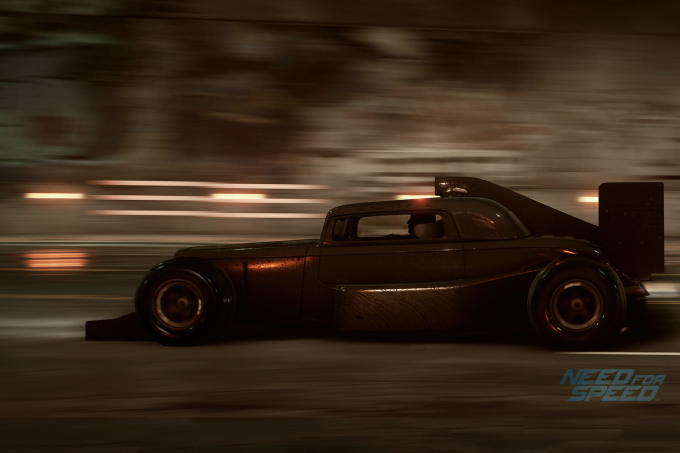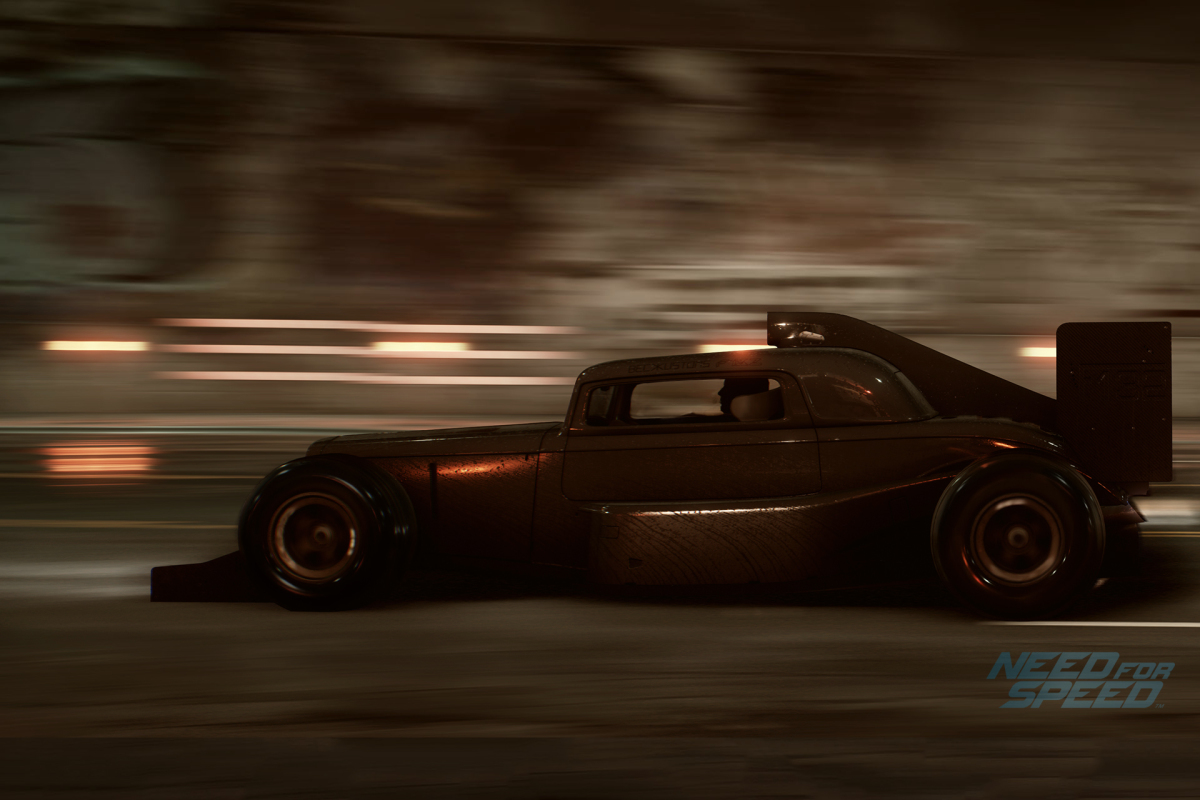 I supplied as much information as I could to go along with my renders and 3D model. Figures such as power and torque curves, weight balance, gear ratios, curb weight etc… It was fun to figure out what these would be, based on the construction and hardware of my conceptual design.
When I started receiving the first test renders of the new model in the game engine I was overjoyed. It looks so badass in the garage and out in the rain with the light reflecting off the body. Once I saw it moving in video clips I was floored. The team at Ghost nailed it; it's just like I imagined – low, wide, and crazy. And really fast!
I can't wait to play the car in the game, but I'm maybe even more looking forward to playing with the wrap editor and seeing if I can recreate some favourite F1 liveries from the past. I'd love to see what other players come up with as well, and the awesome new Snapshot Pro feature should let people share some epic shots. This really is a dream come true for me. To see a concept brought to life in such high quality is a really amazing thing. And it does mean-as burnouts!
F132 Concepts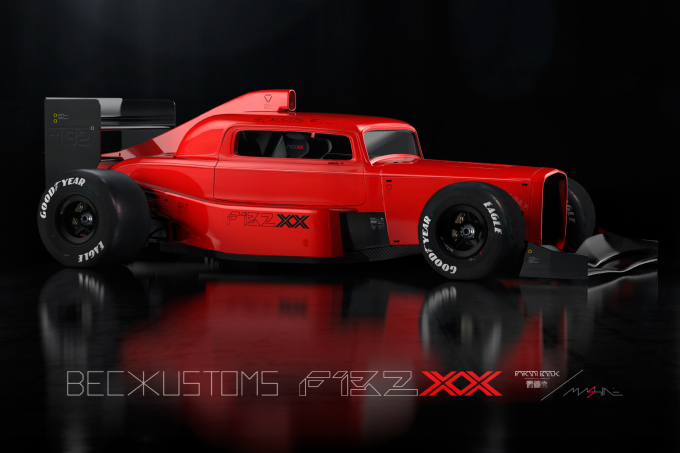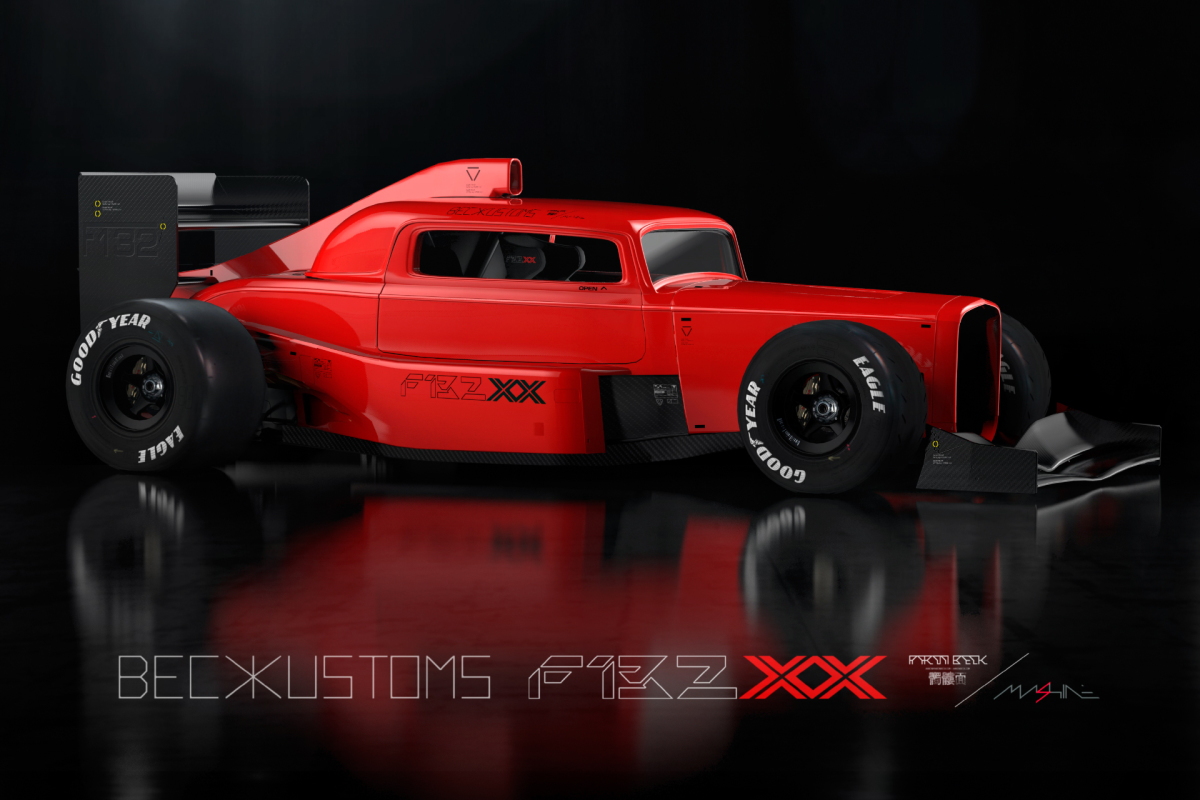 I've also been having some fun lately with a couple of variants of my original F132 concept. This one is called the F132 XX, and it's inspired by a selection of Ferrari machines like the F40, '90s-era F1 cars, and the recent XX program.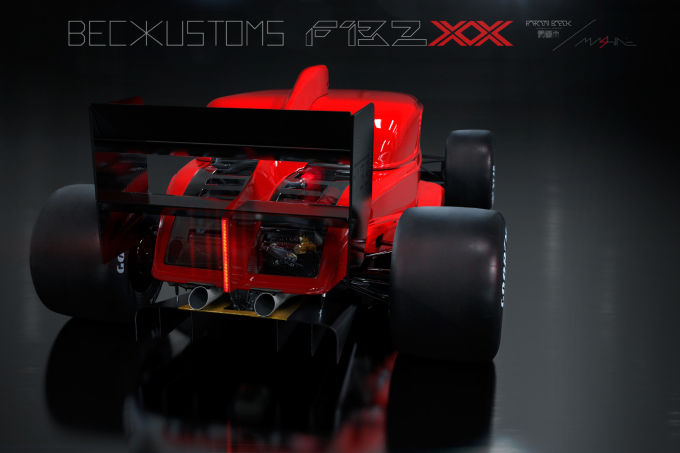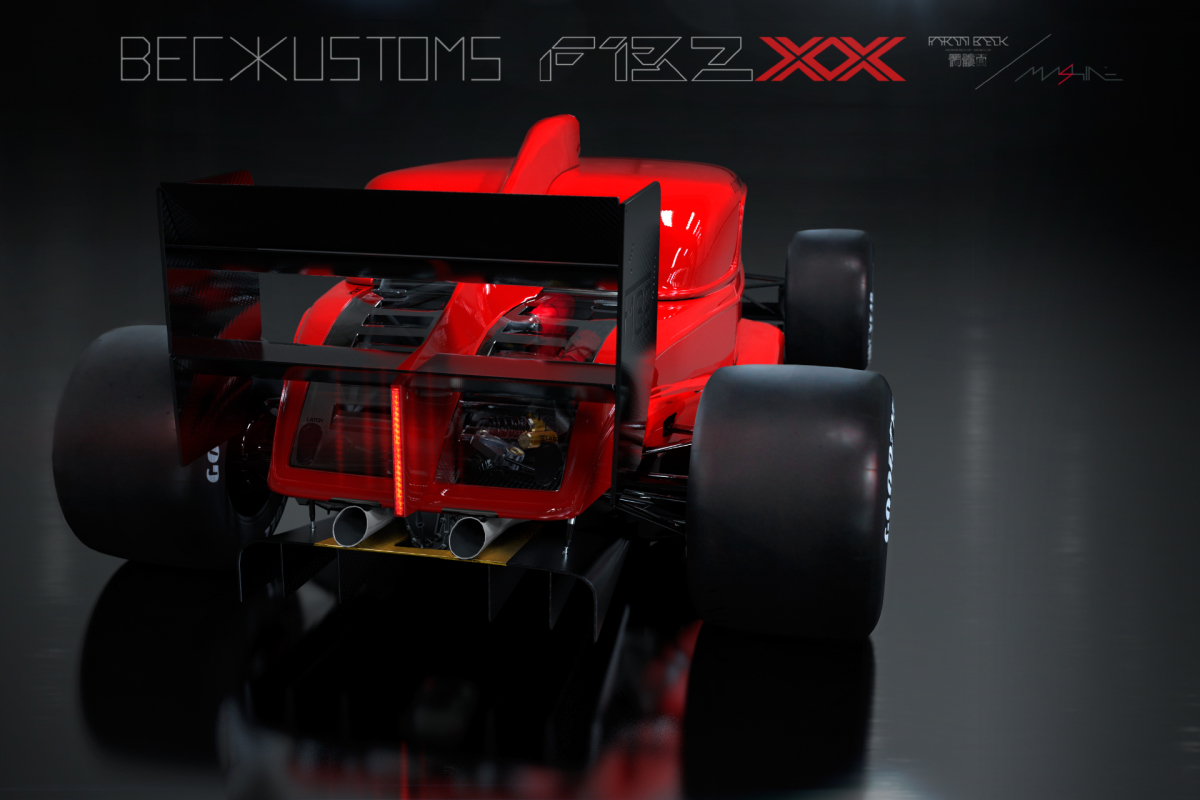 It's got the mid-engine drivetrain from a 458 Speciale, the last of the hardcore naturally aspirated Ferrari V8s. A ventilated clear tail panel inspired by the legendary F40 (my dream car is an F40 LM) shows off the engine, transmission, and push rod suspension.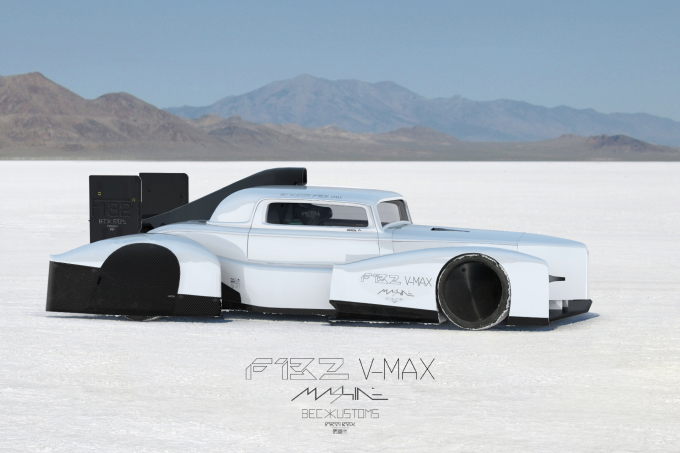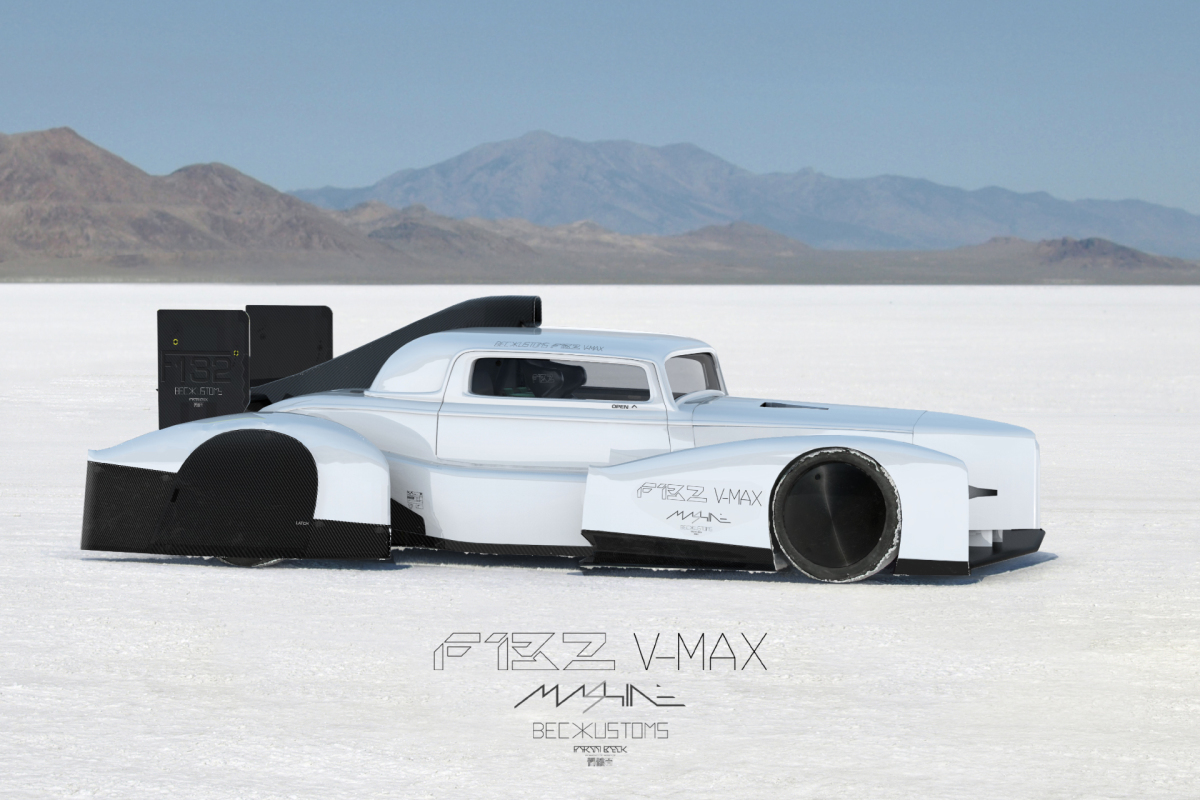 This is the F132 V-Max, a variant designed for salt lake racing. I love the different look the full fenders and nose cone give the car.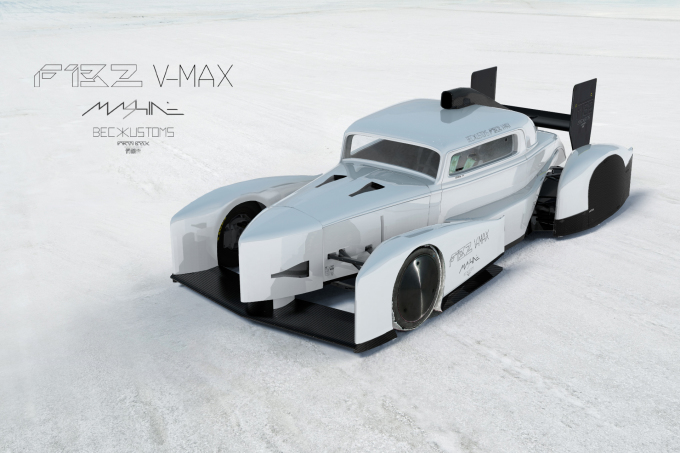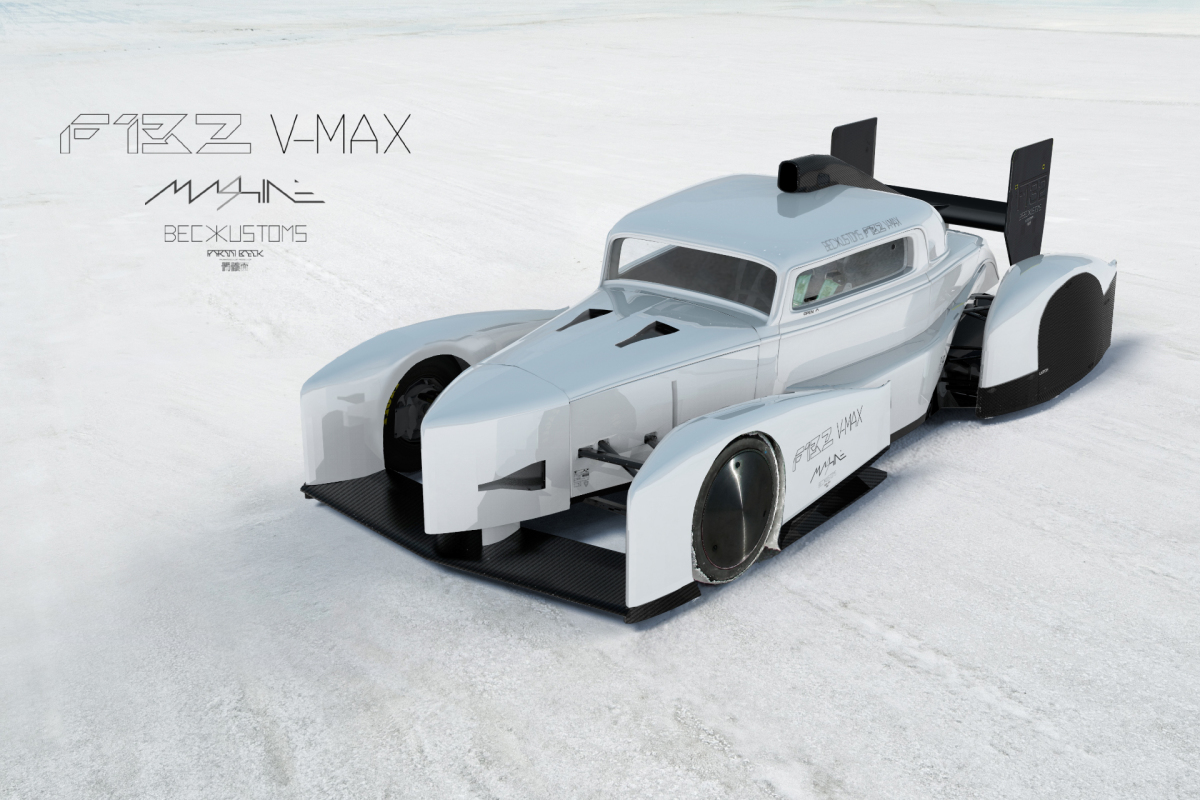 There's skinny wheels and low drag wings to go with a new set of gears in the transaxle in pursuit of some high speeds.
The F132 has been a very fun and rewarding little side project, and is one of the most viral designs I've done. I see my images reposted everywhere and have had countless people get in touch to say they love it, to ask if they can build it, or for the plans so they can build scale RC replicas and the like. One kid in Arizona even built a homage out of a '30 Ford shell and the drivetrain from a Honda S2000. Not quite the carbon body, mid-mounted 850hp NASCAR motor and hardcore performance I designed in my concept, but good on him for doing the best he could with what he had. It certainly captured some of the look of my design: low, wide, and mean. I had half hoped that after posting my initial images on Speedhunters that a billionaire car fanatic would get in touch and say he had to have one for his garage, and I could tell him, 'Come to Weta Workshop with a million bucks and we can make it a reality'. We really could make the F132 a fully-fledged high performance reality at Weta, so if anyone wants one please get in touch!
The Barracuda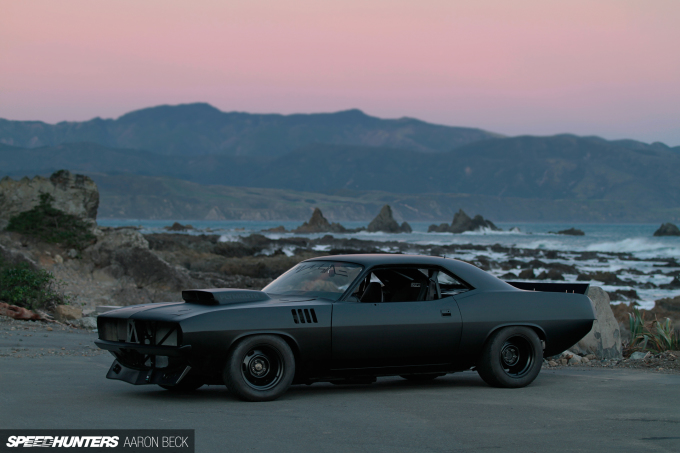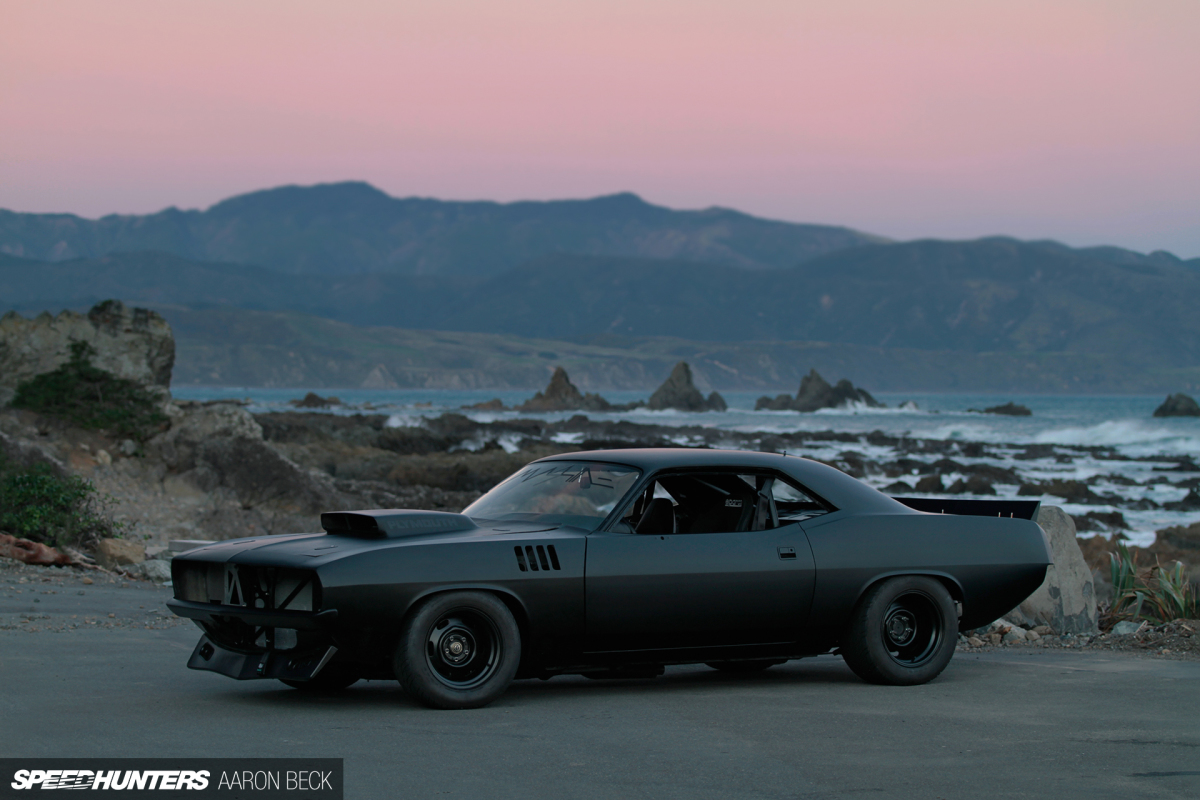 In other news, my Plymouth Barracuda project is going well and has been amazing fun lately. Although, I spent half of last year overseas in Japan and the US so I haven't quite had enough time to work on it as much as I'd like.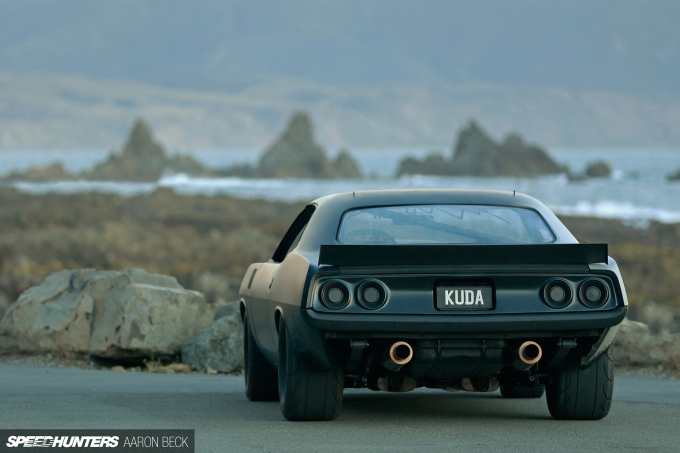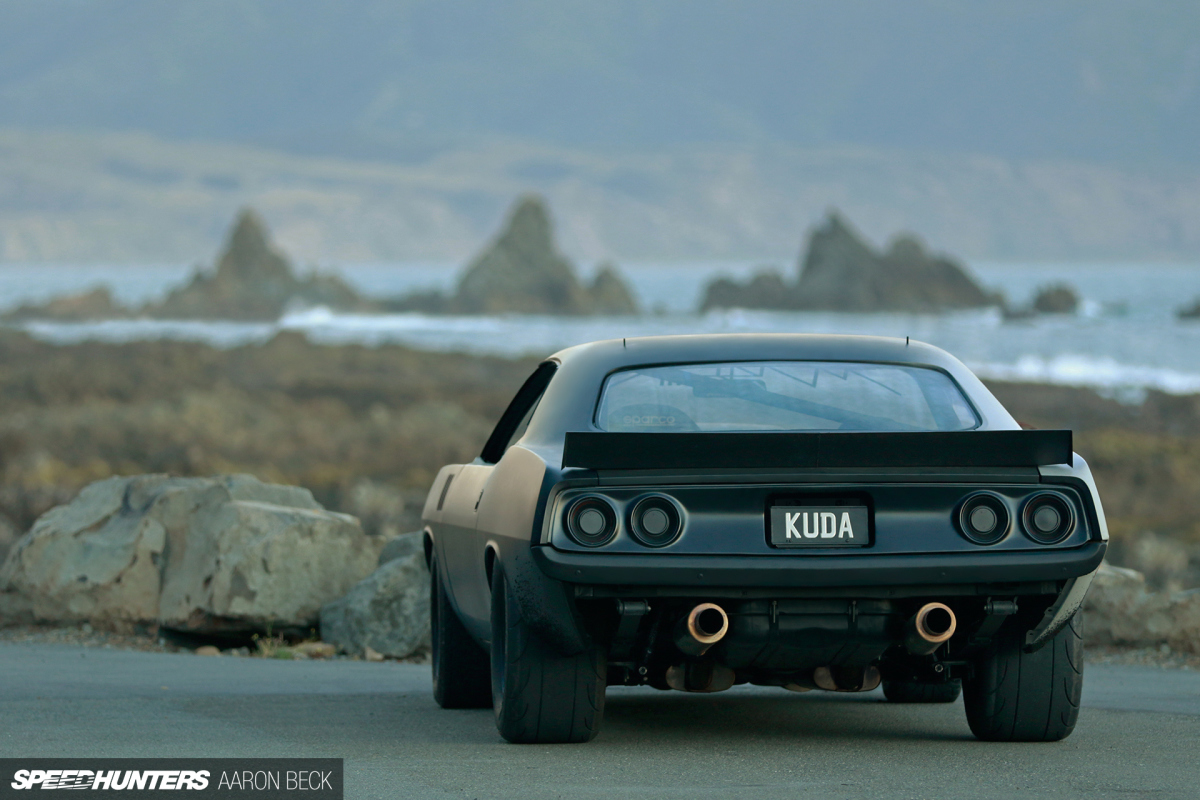 I love the raw look of the car and want to retain it as much as possible, while still making it liveable and legal. I added the extra set of mufflers you see poking out the back here, in an effort to quieten it down a bit. It's still quite rowdy though!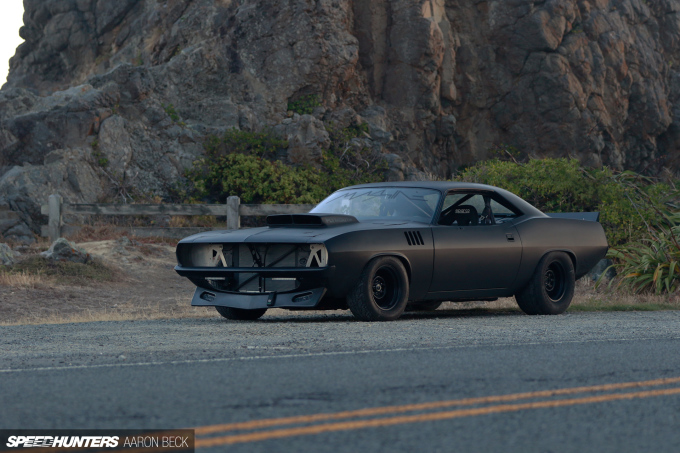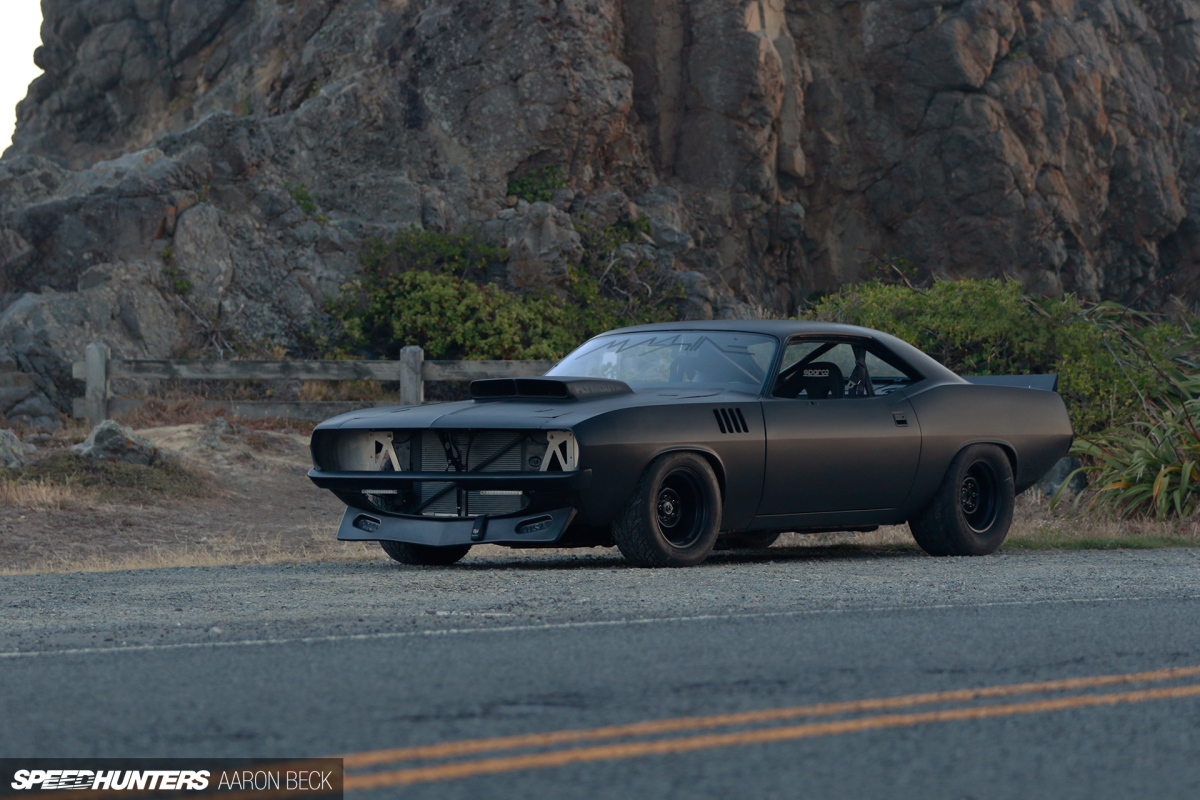 The matte black just looks awesome in evening light. I was very lucky to have easy access to some epic backdrops just down the road from where I lived in Wellington, New Zealand. The beautiful road around the stunning South Coast was the car's natural habitat.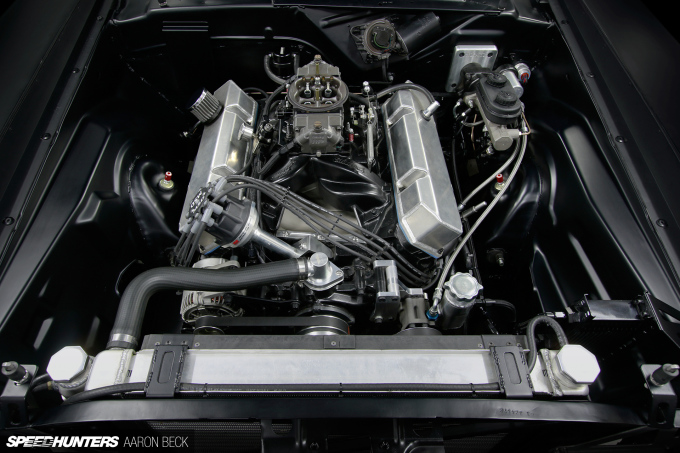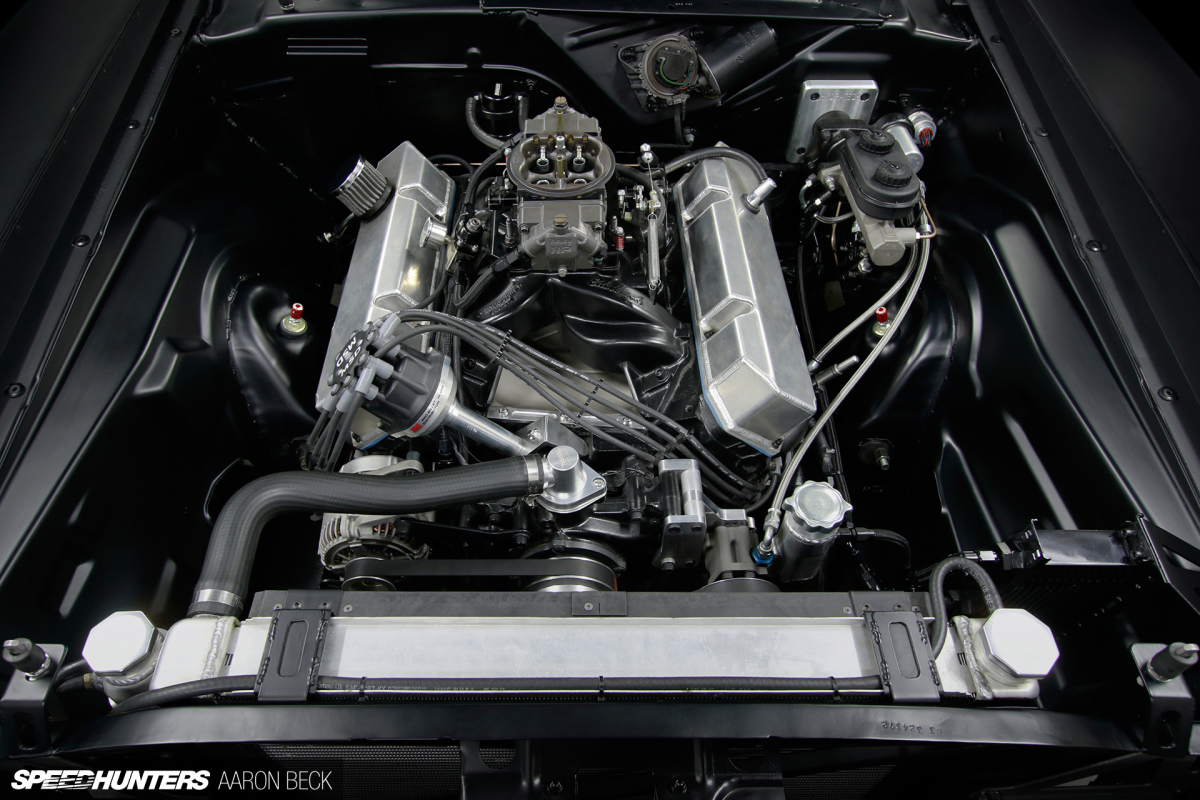 The finished engine bay turned out wonderfully; all functional bare alloys and smooth matte black, race inspired and bare bones.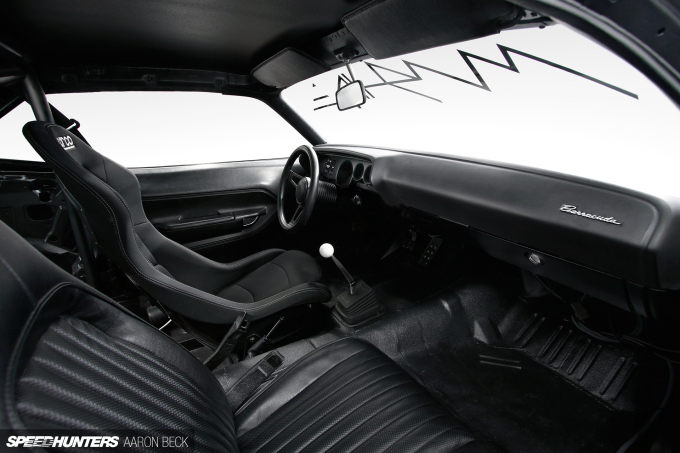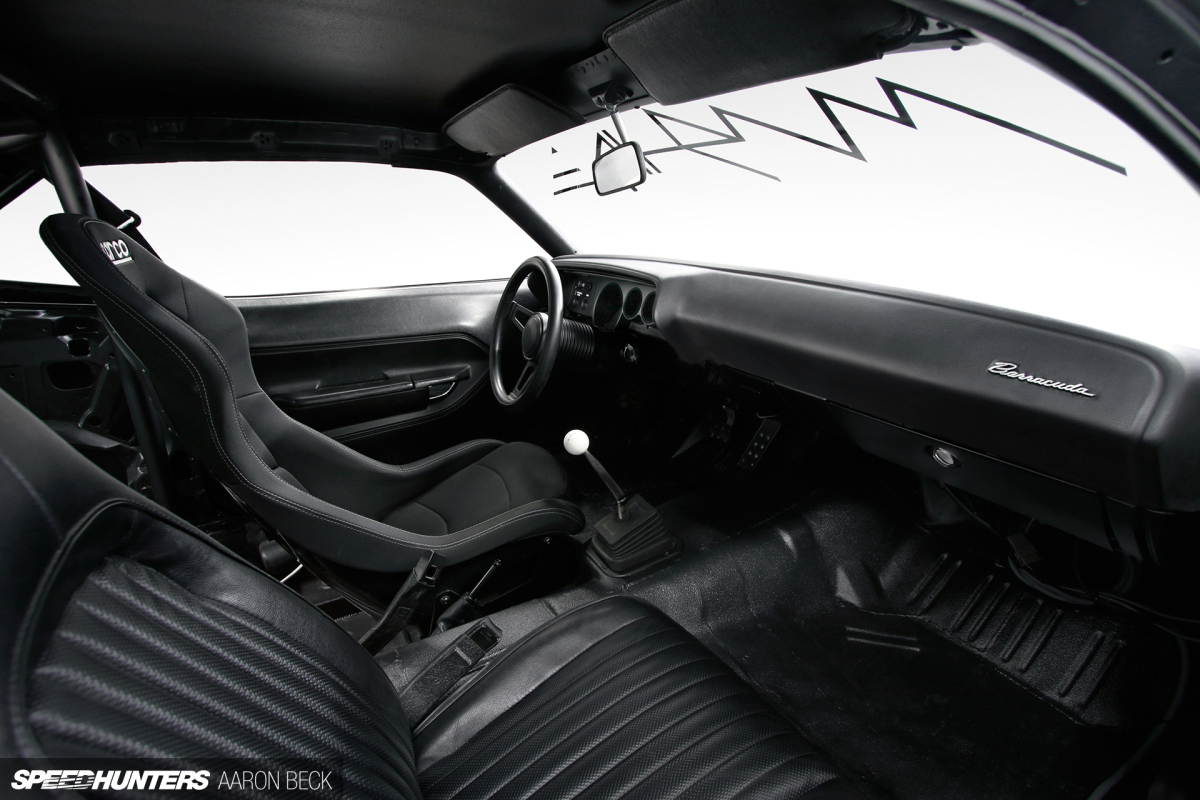 The interior is a mix of new factory components like the dash and passenger seat, set in a bare chassis coated with a durable and slick looking textured urethane coating, along with custom touches like the Sparco seat, fabricated brackets, and roll bar. The 'all black everything' look ties it together nicely.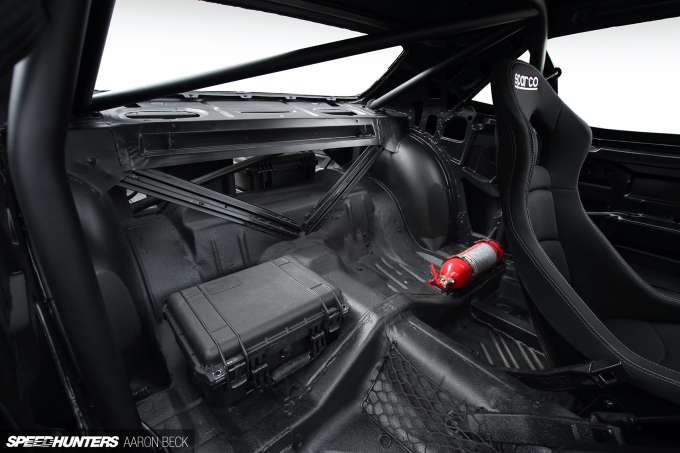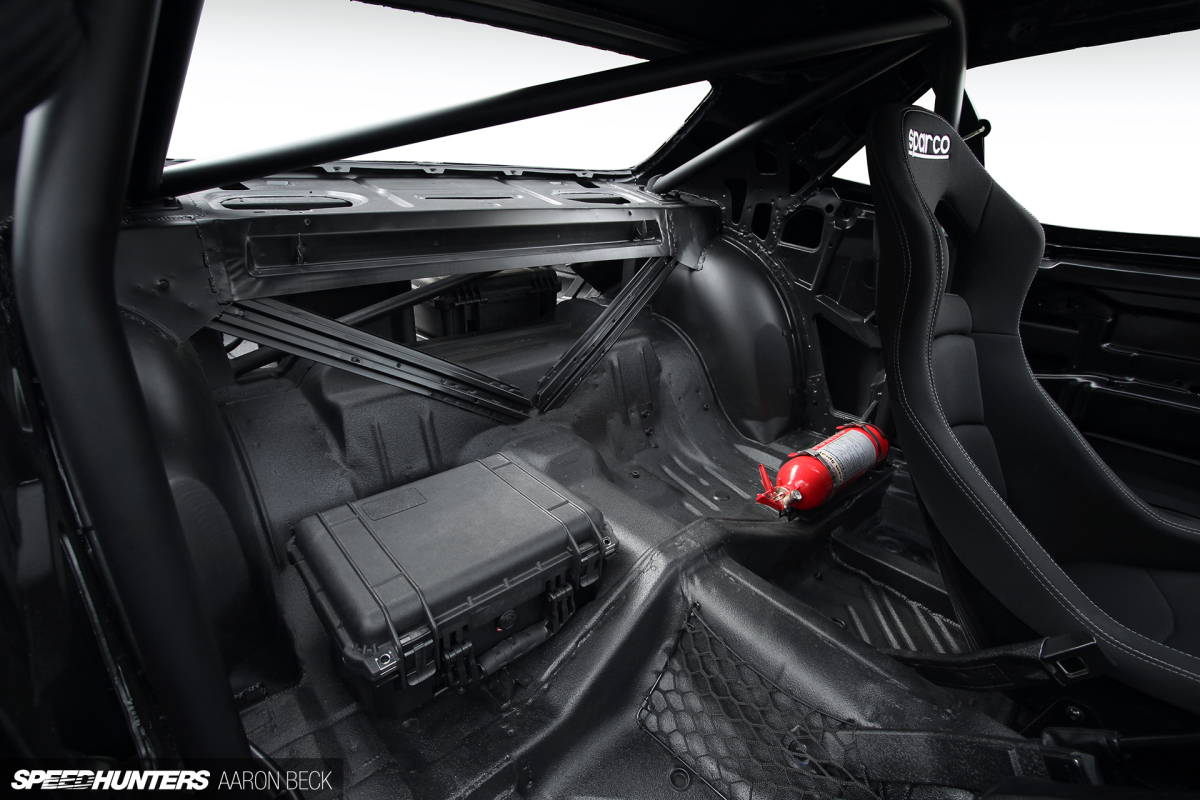 The Pelican cases and fire extinguisher are held in place with fabricated brackets, the cases in the trunk housing the battery and tools, and the one behind the passenger seat filled with camera gear.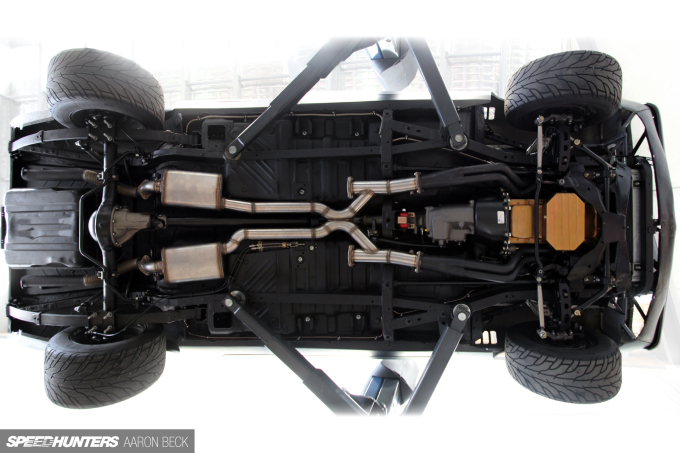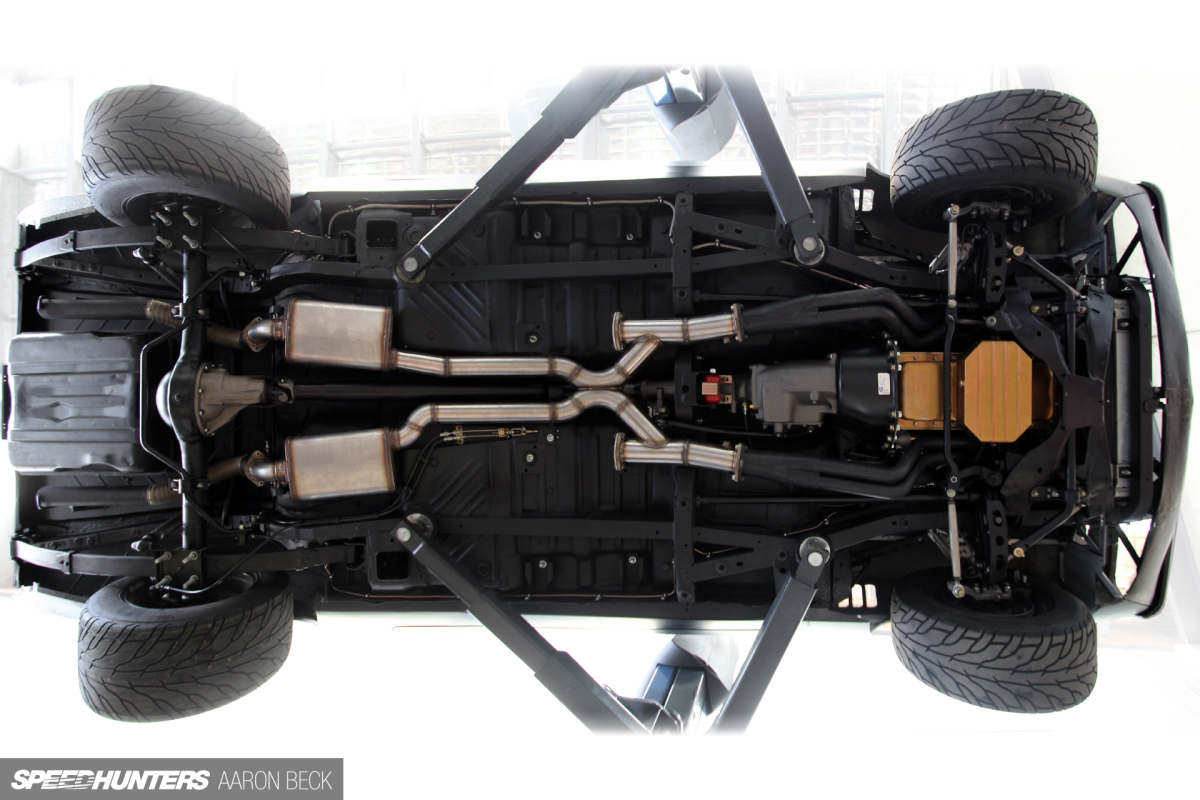 This shot shows the finished exhaust system and the clean underside coated with the same tough and durable urethane topcoat as the interior. It's ready for some abuse!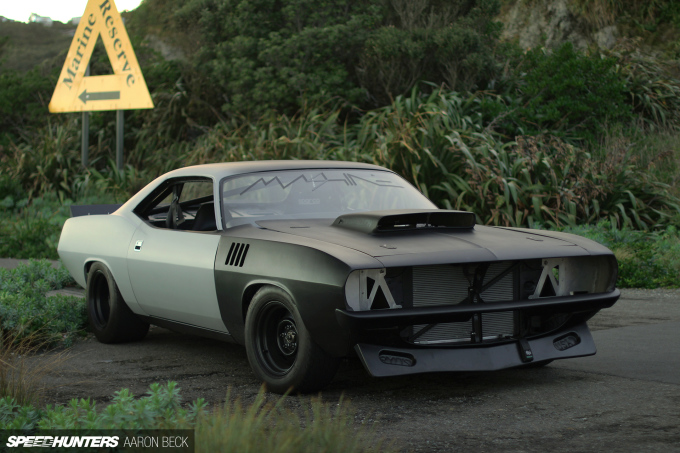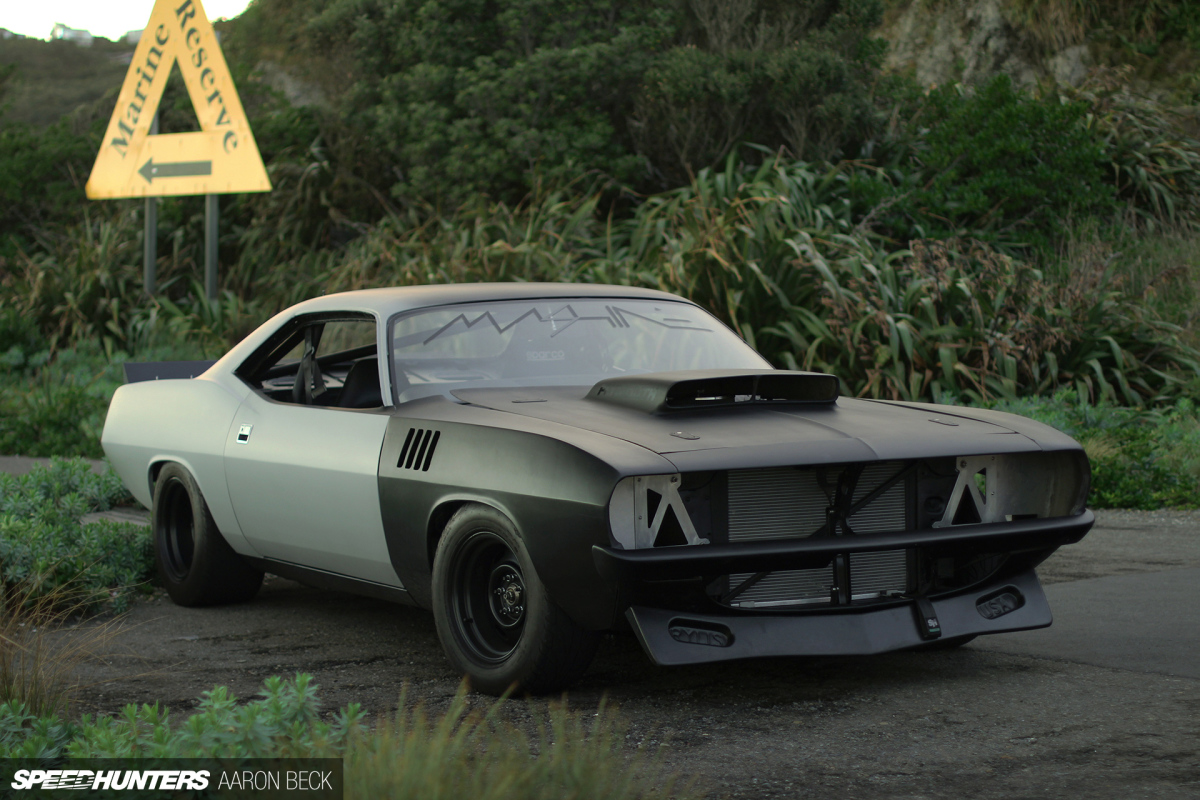 For the paint, I decided to go with a different look for each side of the car. I was originally planning to go with the grey body and black nose as a homage to the badass factory Mopar drag cars of the late '60s, which had primer grey bodies and black gel-coat fiberglass front panels – a look I really love. But you just can't beat the all matte black look, so I chose to have both. It's something I've been doing to my 1:18 scale cars for years. You can't really see both sides at the same time, and for photography I love having the two looks in one car.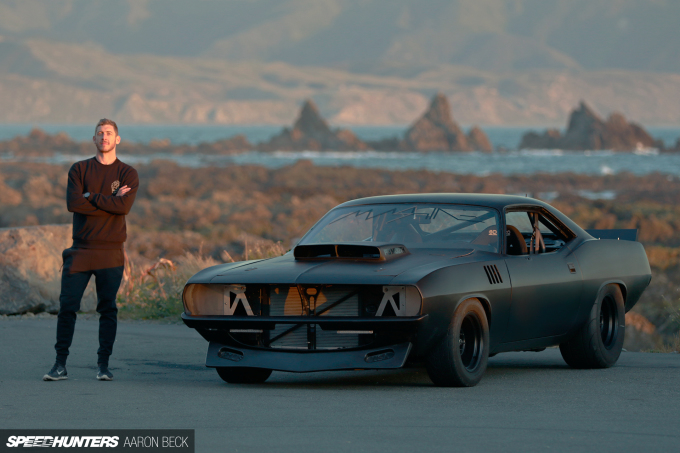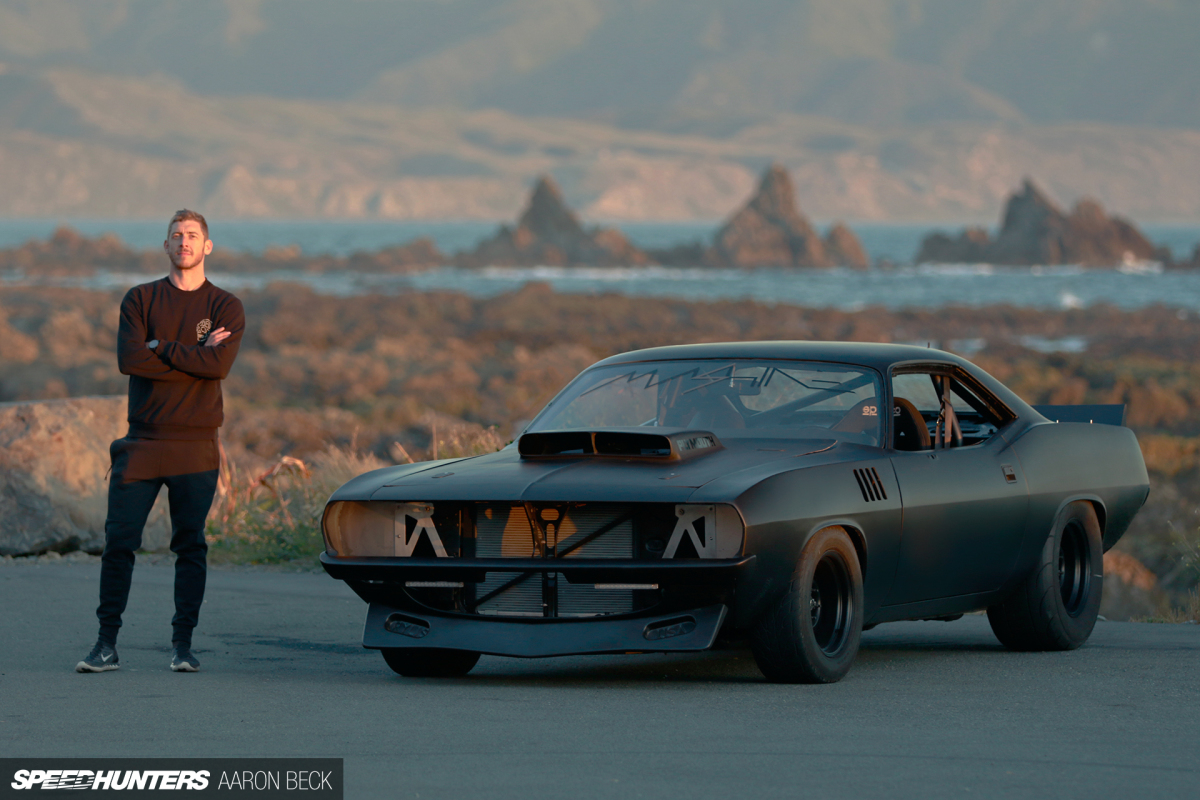 I have some quick release headlights for night driving, and slim-line LED indicators and park lights so I can keep the skull face look I fell in love with during the build.
As much as I love taking the car out on evening drives along Wellington's beautiful South Coast, my work has seen me recently relocate to Los Angeles, so the car will be joining me there at some point in the near future. I love LA, it's a car lover's heaven, and the opportunities here are endless. I can't wait to take the 'Cuda out in the Malibu canyons and on photoshoots with new friends over here. I think it will fit in nicely.
Once again, thanks for reading, and huge thanks to EA, Ghost Games, and Speedhunters for helping dreams come true!
Aaron Beck
Instagram: _aaron_beck
www.aaronbeck.com
www.beckkustoms.com