While on a recent shop tour of blue oval specialists Retro Ford in Northamptonshire, I stumbled upon a bit of a hidden gem that I thought the readers of Speedhunters would appreciate. It's a sight that many classic Ford enthusiasts might recognise right away, and something of a legend in Ford circles.
Tucked away at the back of an unsuspecting storage unit is Retro Ford's retirement home, current residence of a certain green Mk2 Escort estate. Not professing to be any kind of authority on Ford tuning or history, I was curious as to its particulars. Underneath the layers of dust that had gathered I could spot the lightweight Lexan windscreen and chunky radial drag tyres on the back, so suspected it was a bit handy. It turns out, I was right.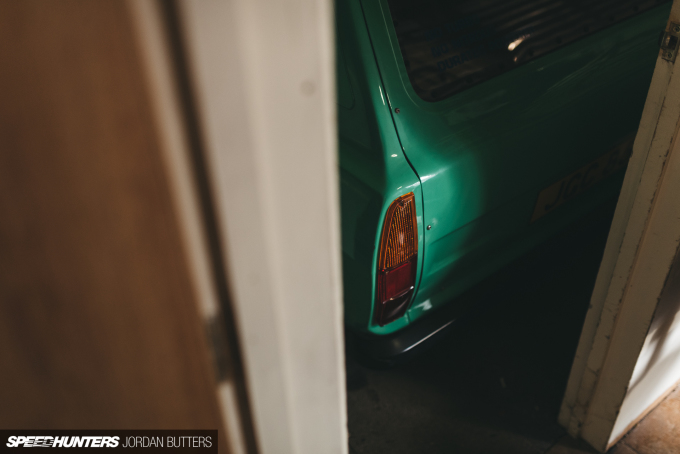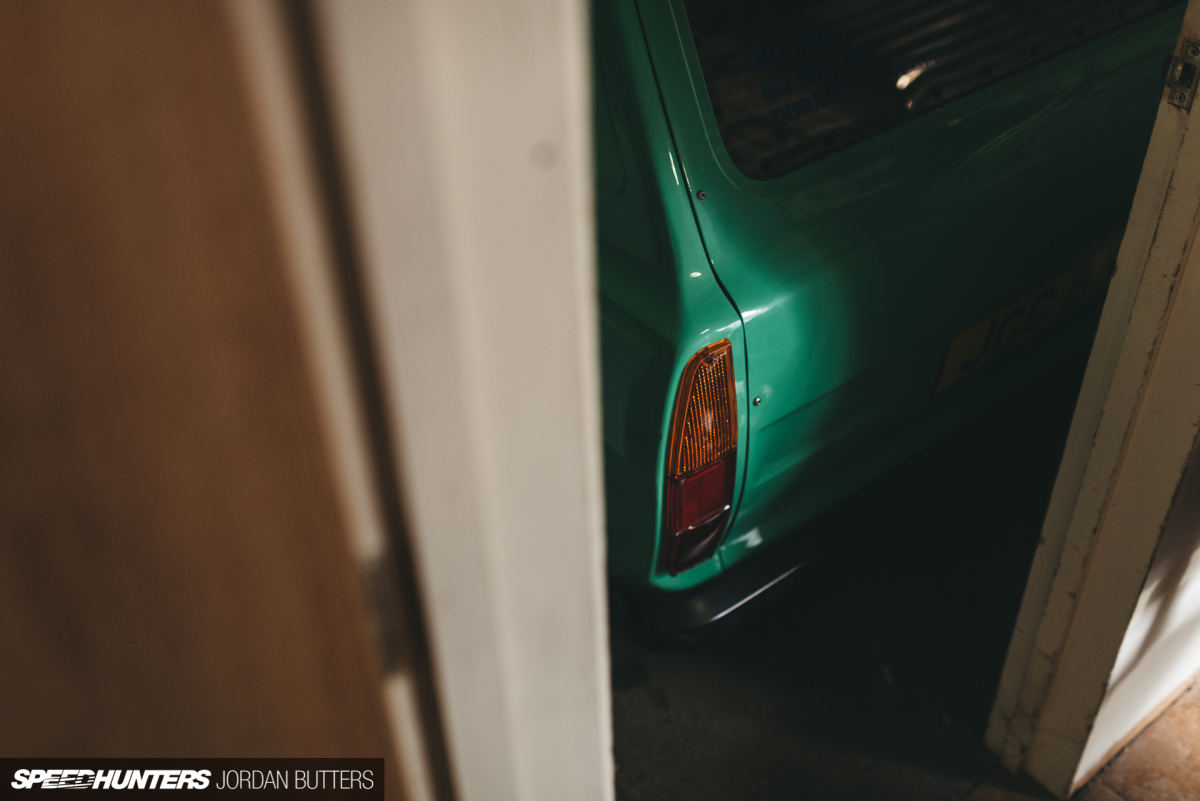 Dave Colledge, owner and founder of Retro Ford, built the car back in 2008 in just four and a half months. The goal was to build a no-frills Mk2 Escort that would surprise a few people on the drag strip. He wanted the car to be unfeasibly light – 600kg was the target. Yet he wanted to retain most of the semblance of an original road-going incarnation so as not to show his hand when he pulled up at the staging lights. At this point in time the engine of choice in the classic Ford drag circles was the 2.0-litre Pinto block, but the nature of Retro Ford's business being Zetec and Duratec conversions, Dave decided to use the car as a working example of the potency of the Duratec lump.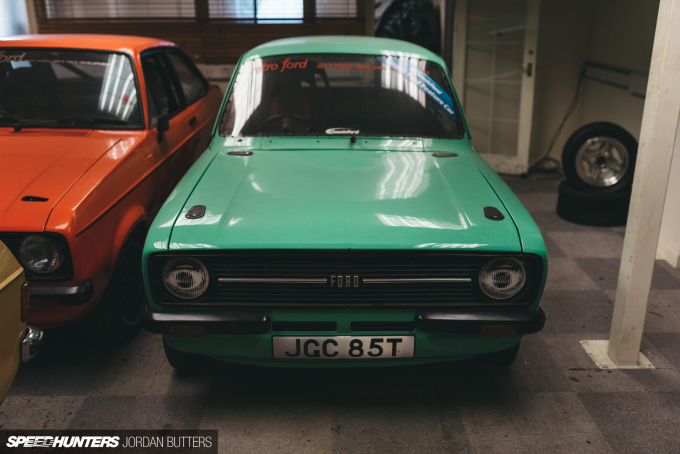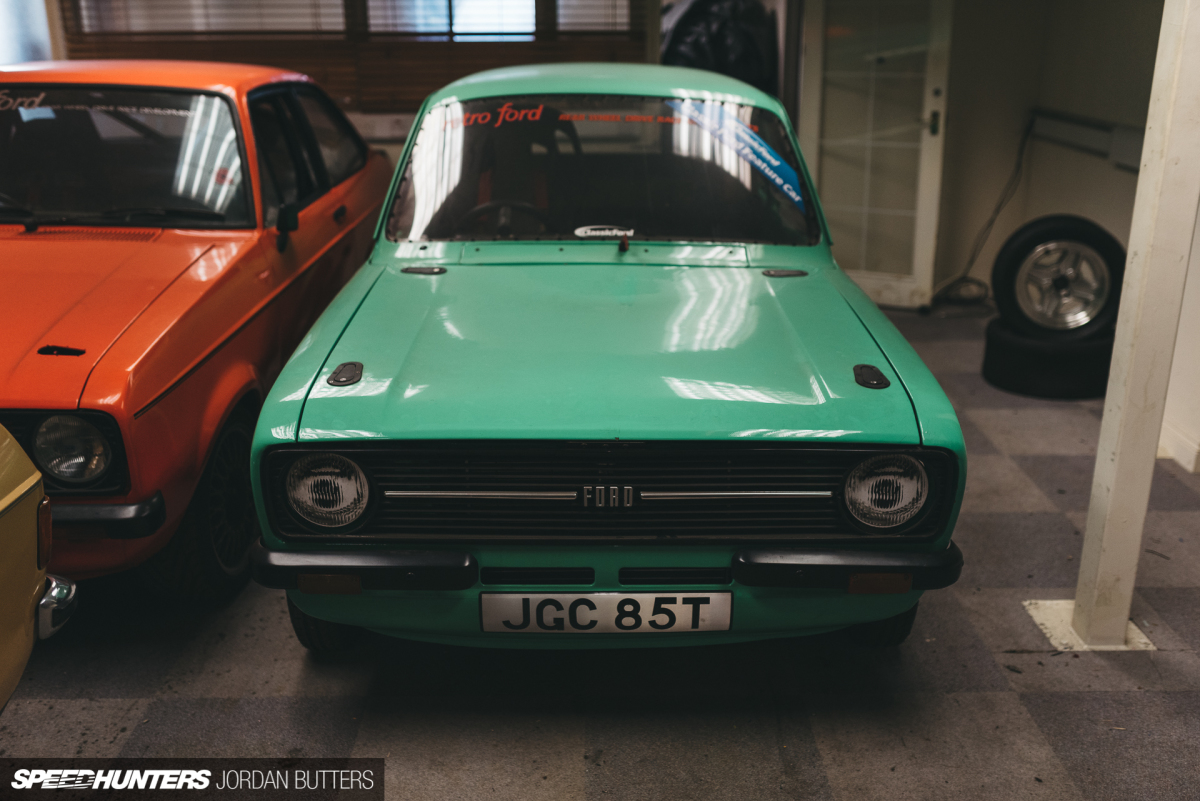 The quest for lightness started at the chassis; a 2-door estate Mk2 Escort chosen as the ideal subject. An unlikely decision you might think, however the estate was less desirable and therefore cheaper than the saloon version, it weighs less once you take all the glass and interior out, and there's a greater overhang over the rear wheels, aiding traction. Weighing in at just over 1000kg in standard form, the green example before you was sourced (yes, that's the original colour) and everything and anything that could be removed and shaved back was. Dave weighed every single piece that he took off the car so that he had a good idea in his mind of what the Escort would tip the scales at once it was finished.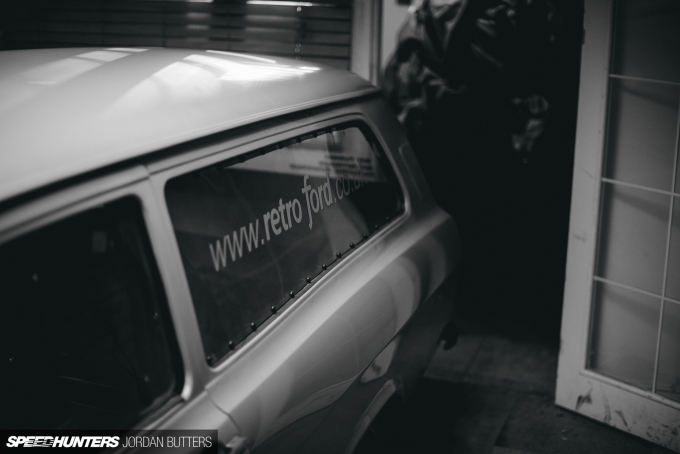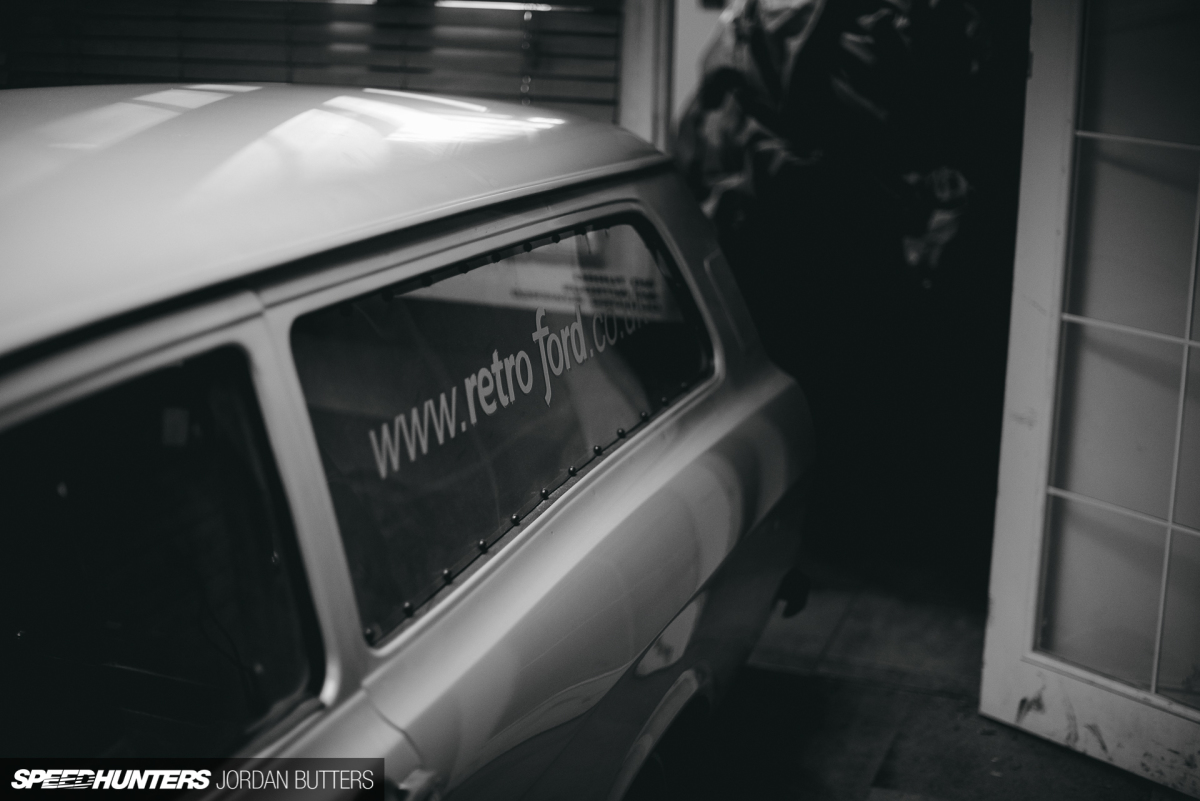 The original bonnet, doors and bootlid were discarded in favour of carbon fibre items. Out went all of the glass too, to be replaced by plastic. The wipers and most of the external trims are also long gone. Curiously, the Escort still retains its original steel front wings and front panel – it's not had holes drilled it left right and centre to remove more weight – essentially it's still a full-bodied car, in appearance anyway.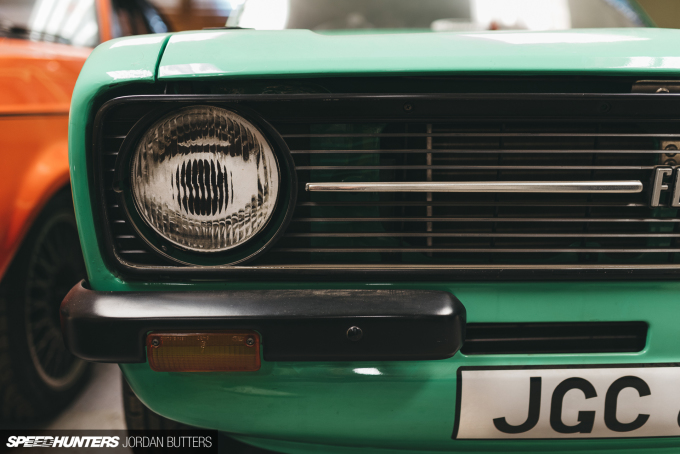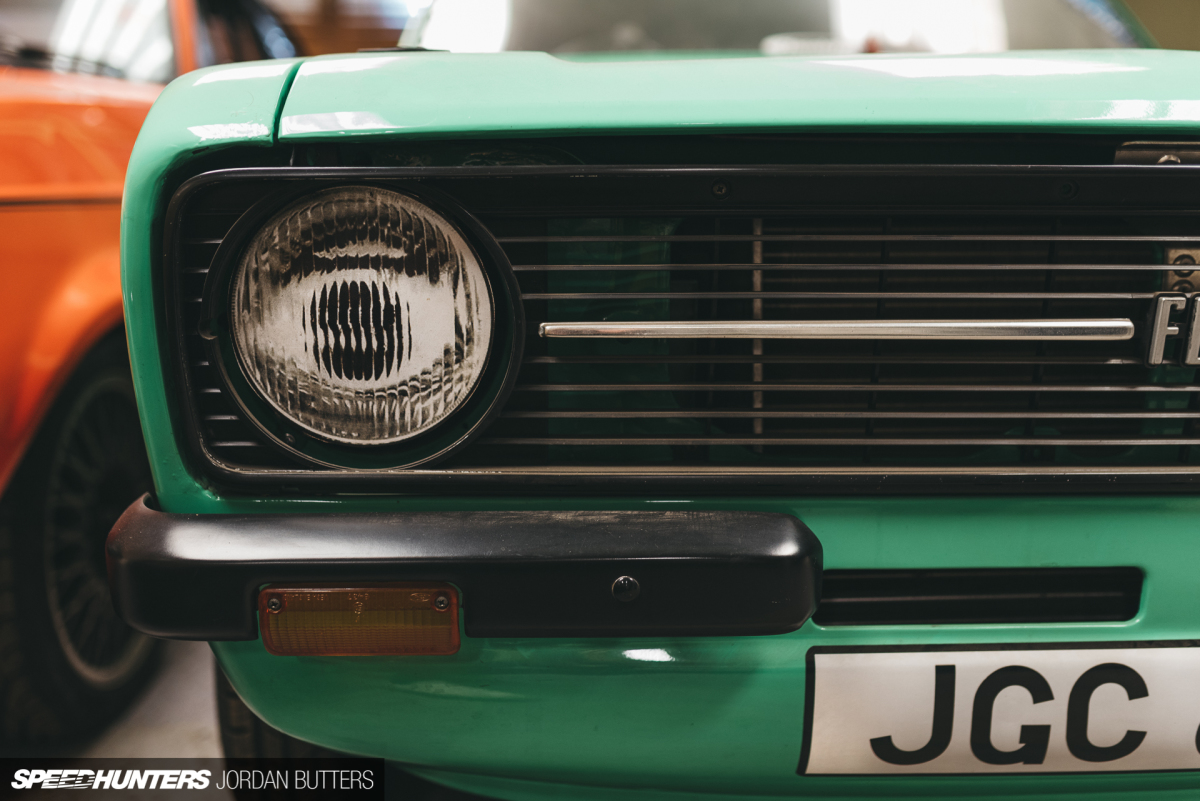 In order to keep the car looking like a car, lightweight carbon fibre front and rear quarter bumpers were added in place of the original full metal bumpers. Dave even went as far as to retain the front indicators and rear lamps, although admittedly they are for aesthetics only, as there's nothing actually behind the lenses. For night racing he's been known to strap a torch in front of the rear taillight lenses. You might have noticed that the 'headlamps' are printed stickers and not actual lamps too.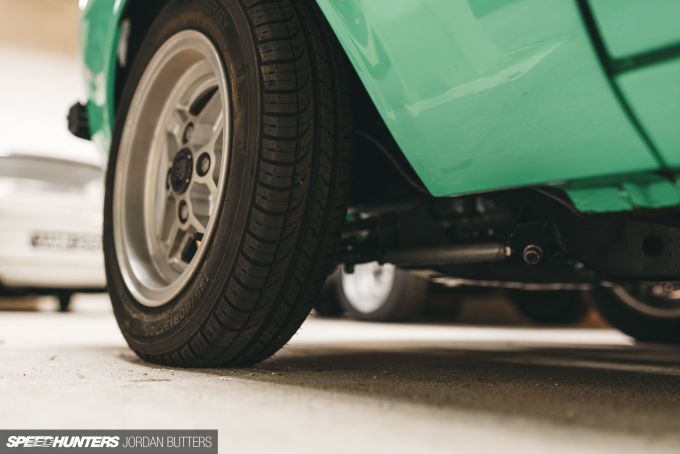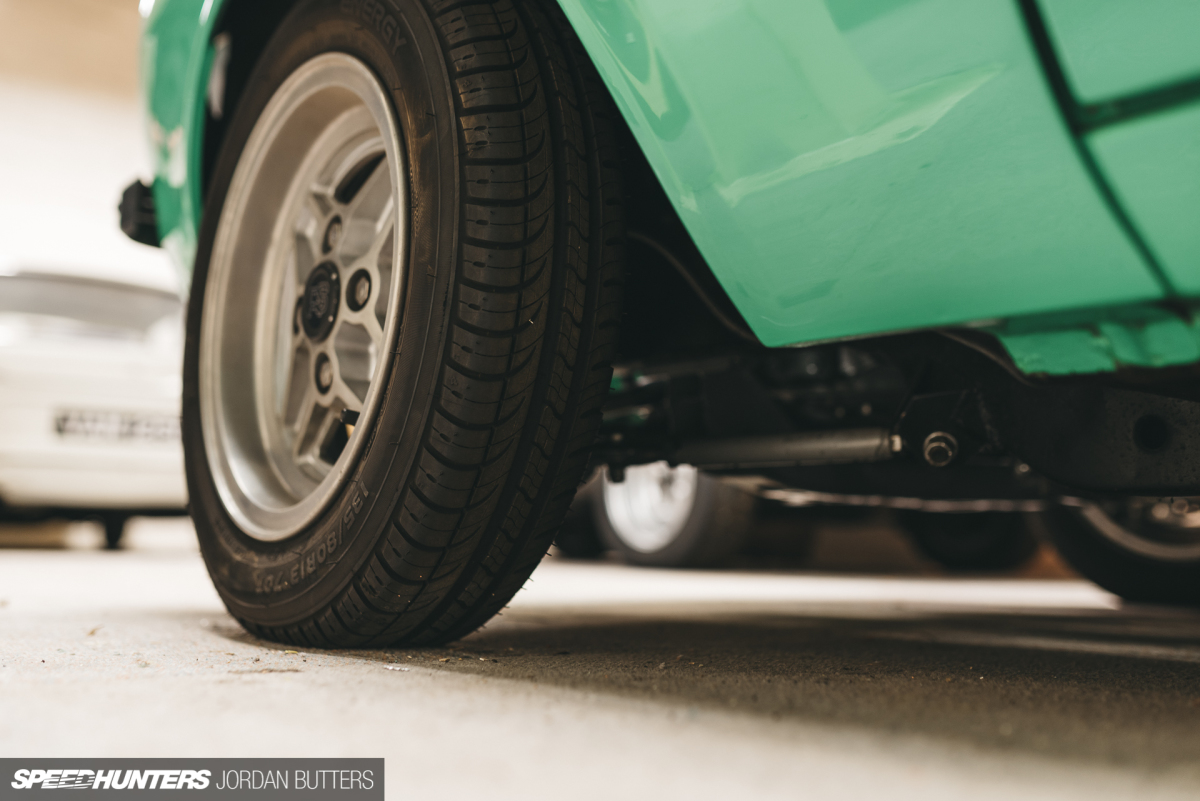 Seeing as most of the important grippy stuff happens at the back, the RS2000 front wheels have been slimmed down – literally. With 2-inches removed from the wheels' width they now run a super-skinny 135-profile tyre. The 7-inch wide rear wheels that the car ran the quarter mile on are fitted with sticky Mickey Thompson drag radials.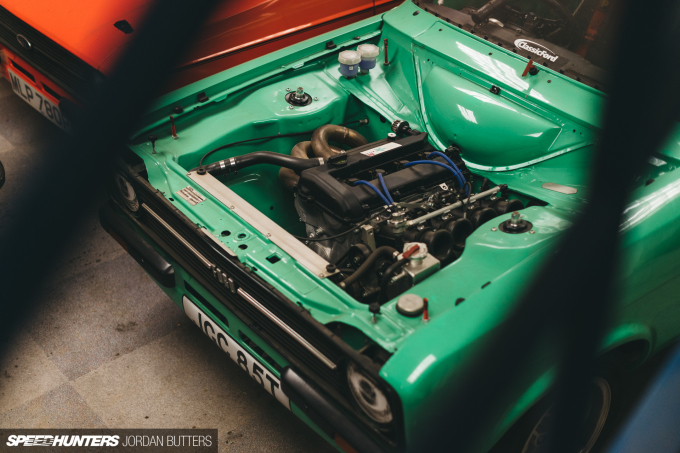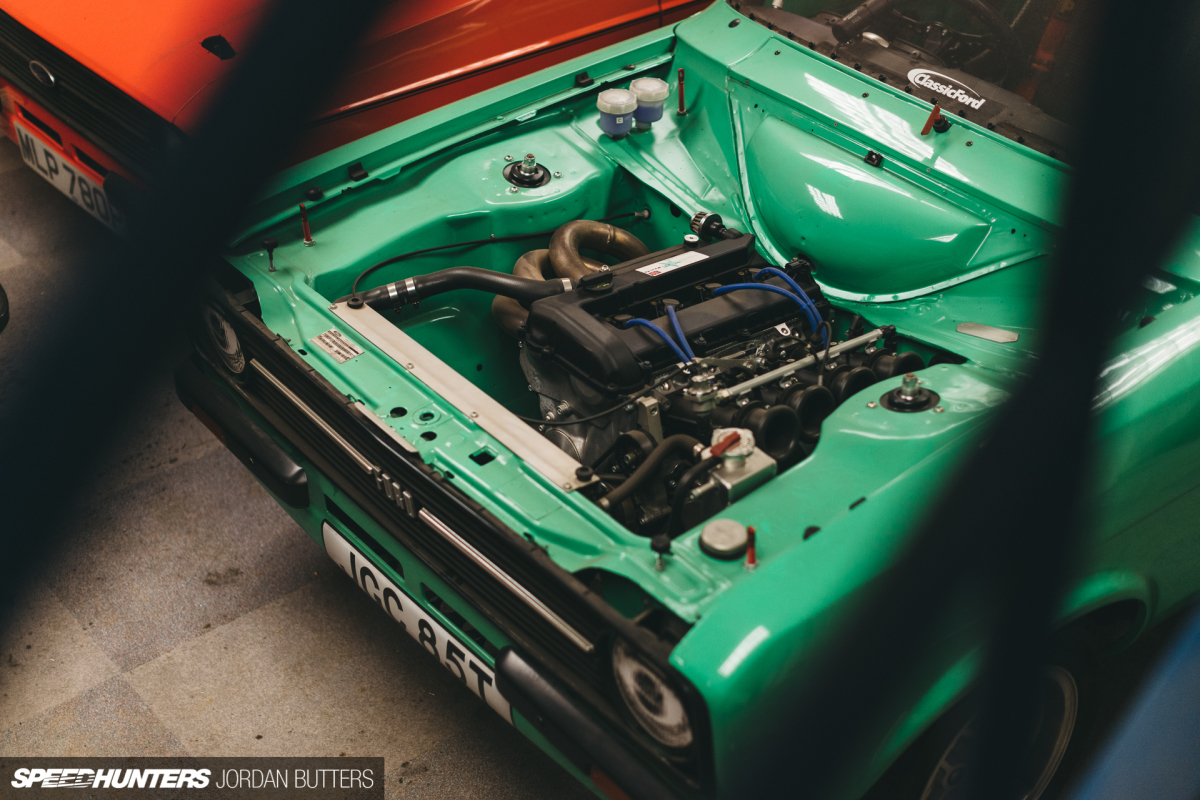 The original motor that Dave dropped in was a 2.0-litre Duratec, however it didn't offer the torque he was after. Remove the carbon bonnet now and you're greeted by a stroked 2.3-litre Duratec running Jenvey throttle bodies and a plethora of Retro Ford goodies, built by esteemed Ford engine builder Toby Kent. Running on E85, it now puts out a healthy 304hp and 235lb/ft torque.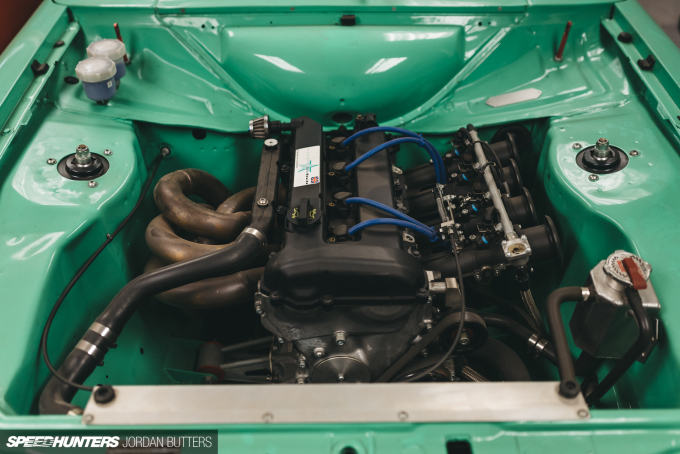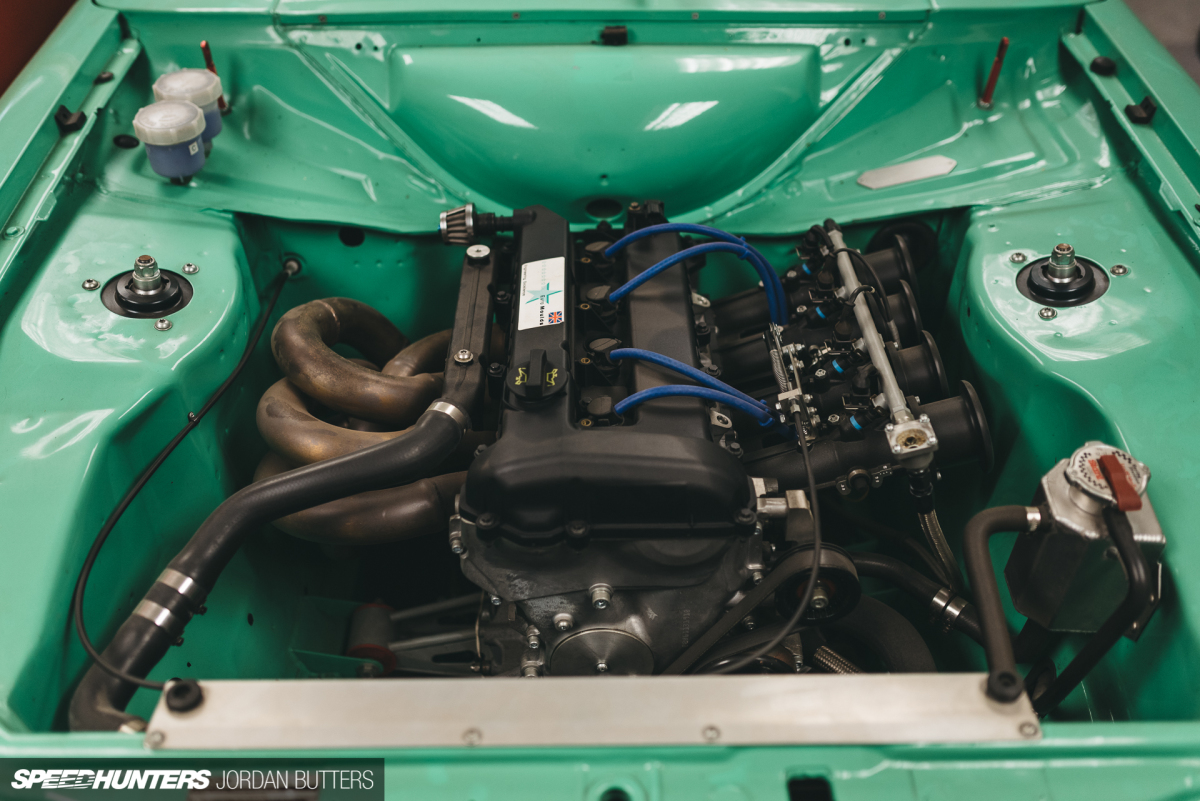 The engine is mated to a Mazda MX-5 5-speed box. Dave has converted this into a crude dog box – the synchro has been removed to help quicker shifts and there's a lock-out on 5th gear to stop any unfortunate mis-shifts. Further down the drivetrain the prop and half shafts have been further lightened, with any unnecessary material removed.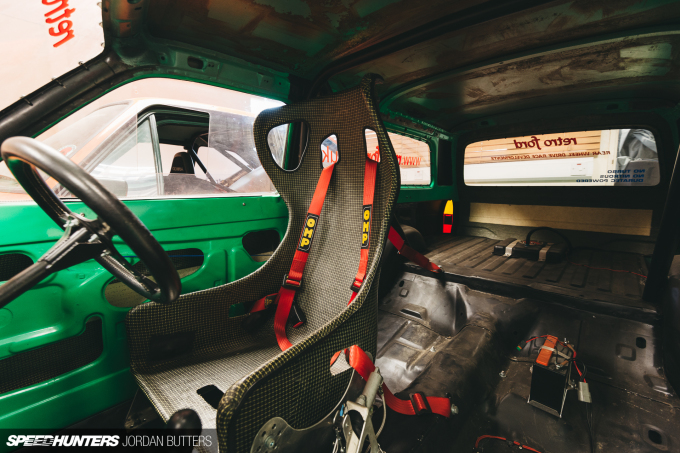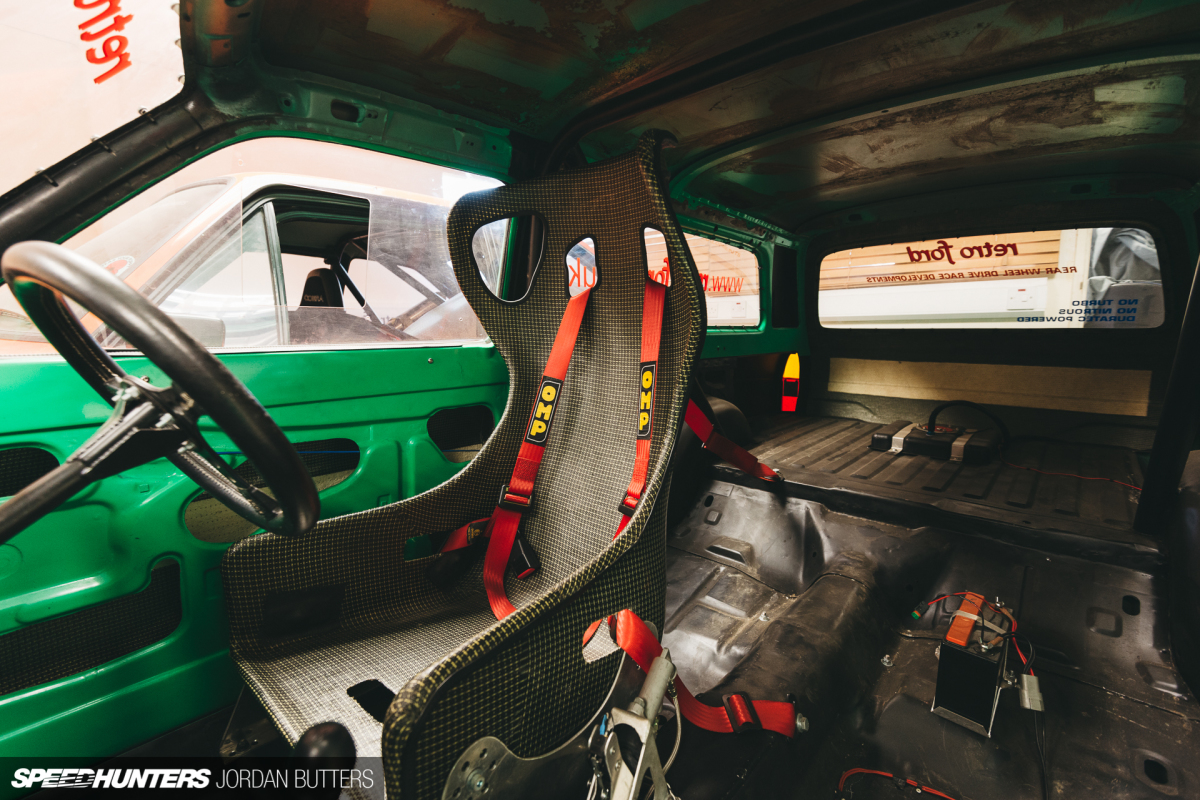 While the exterior retains most of its original charm and characteristics, the interior is notably sparse. A single Kevlar seat is the most prominent feature. As well as the removal of any interior features that weren't absolutely necessary, further weight saving has taken place by way of a smaller race fuel cell, located just behind the rear wheels to aid in traction. A small battery in place of the rear seat provides just enough juice.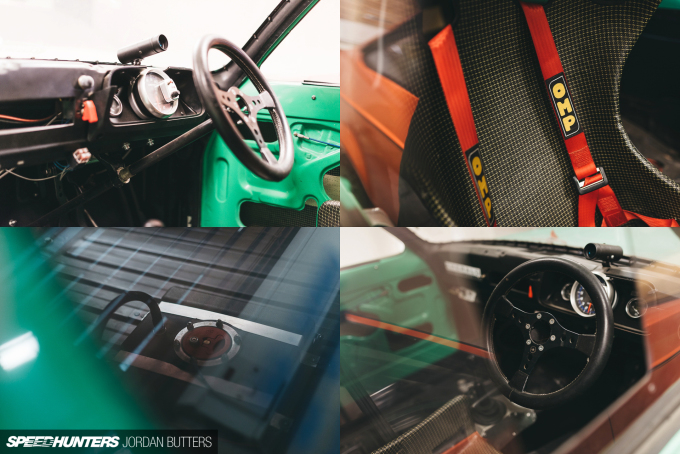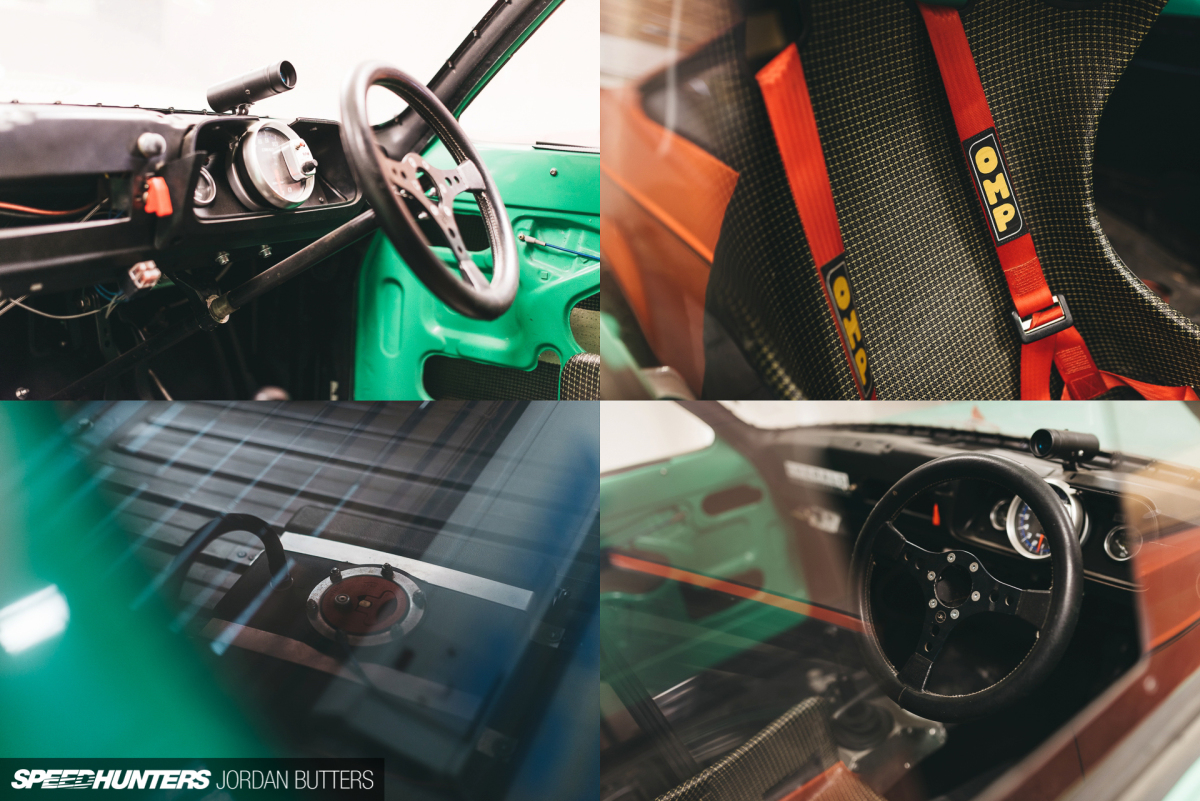 The steering column has been replaced with a custom item, and you'll notice that there's no sleeve to the column either, nor a boss. You guessed it – more weight saving. The stock column weighed in at around 9.5kg – it now weighs just over 2kg. Dave fabricated a custom mount for the wheel and a bracket to hold the column in position. Furthermore, any unnecessary interior trims and excess metal was removed, even down to the door catches. Four bolts hold the original metal latches in place, but these were cut down and are now just held on by two bolts. The Escort's total weight? Just 561kg with a full tank of fuel.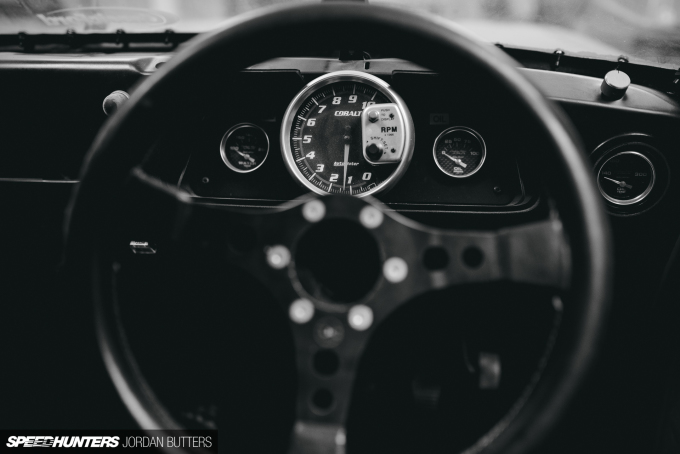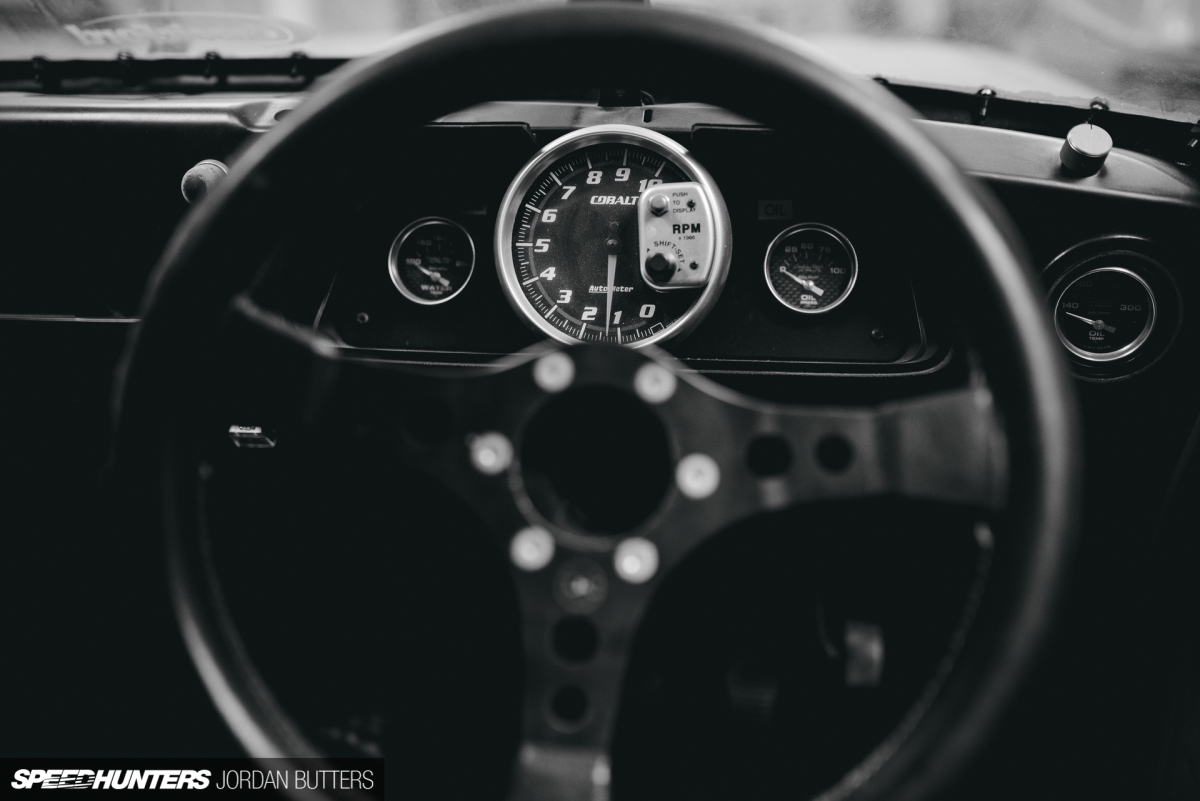 Sitting in the driver's seat you get a feel for just how minimalist the interior of the Escort is, and just how vulnerable you can imagine feeling opening it up on the strip. This is one of the reasons that Dave hasn't run the car for a good few years; he's recently become a father, which has adjusted his appetite for risk-taking. The Escort's current rollcage comprises of a main hoop with rear stays… and that's it. Dave fully admits that it doesn't offer much reassurance and the weight sacrifice of building a full cage would take priority if he ever decided to point the Escort down the quarter mile again.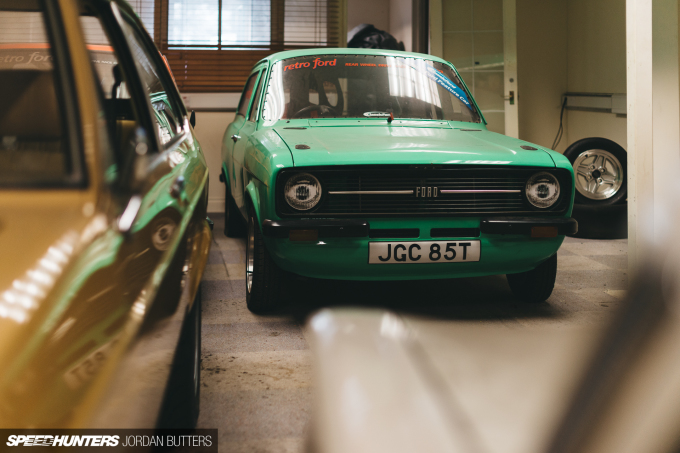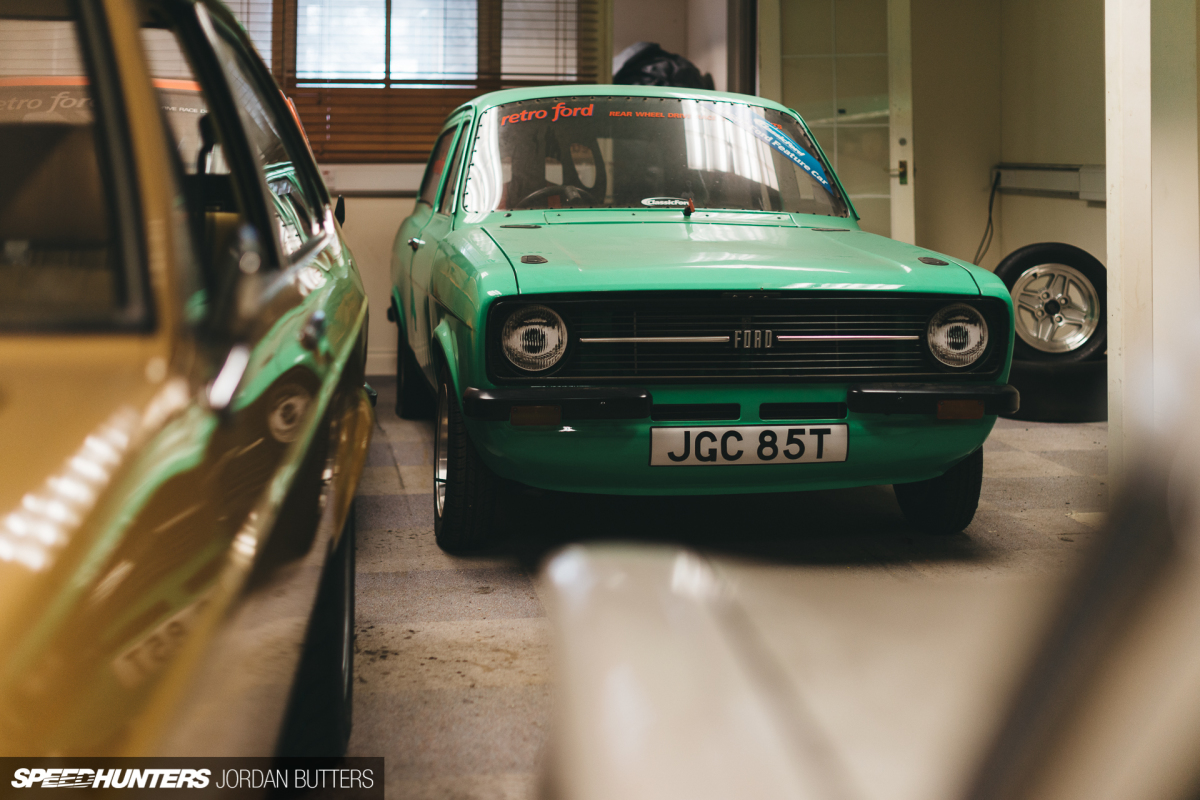 Couple this featherweight chassis with the 304hp output of the four-cylinder Duratec motor and you're looking at around 542hp per tonne. That's supercar-shaming territory. The Escort reaches 60mph in just 2.6 seconds and goes on to hit 100mph at around the 6-second mark. On the car's very last outing, it ran its fastest time ever – a 10.42-second standing quarter mile at 127mph.
The crazy thing is that there's more to be eked out of the car, should Dave choose to bring it out of retirement, however he fully admits that it's a frightening thing to drive. For now, it remains tucked in at the back of the Retro Ford unit, away from the temptation of 'just one more run'.
Jordan Butters
Instagram: jordanbutters
jordan@speedhunters.com