It's A Jeep Thing
If you guys have been following Speedhunters for the past few years, then you'd have seen that I've been getting more and more into off-road racing, as well as attempting to do a bit of four-wheeling myself. Besides Keith, Mike and myself, the rest of the team doesn't have much access to off-road racing, so I am trying my hardest to get as much related content onto the site as I can, as I really believe that it is a major part of car culture that Speedhunters is missing out on.
With that said, I am a complete newbie when it comes to driving off-road, so I've been taking full advantage of any opportunities to get behind the wheel.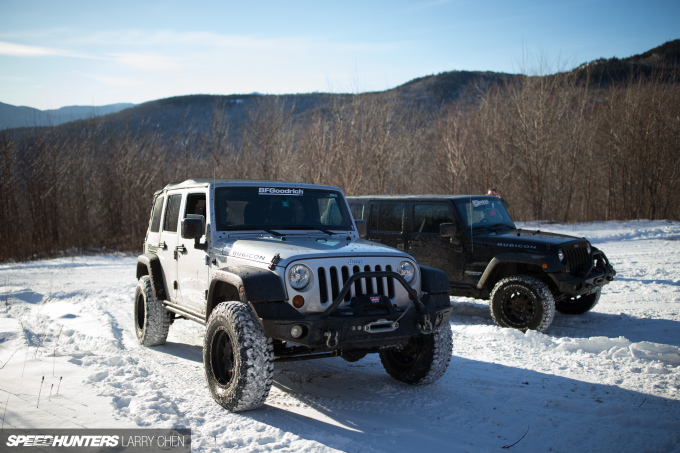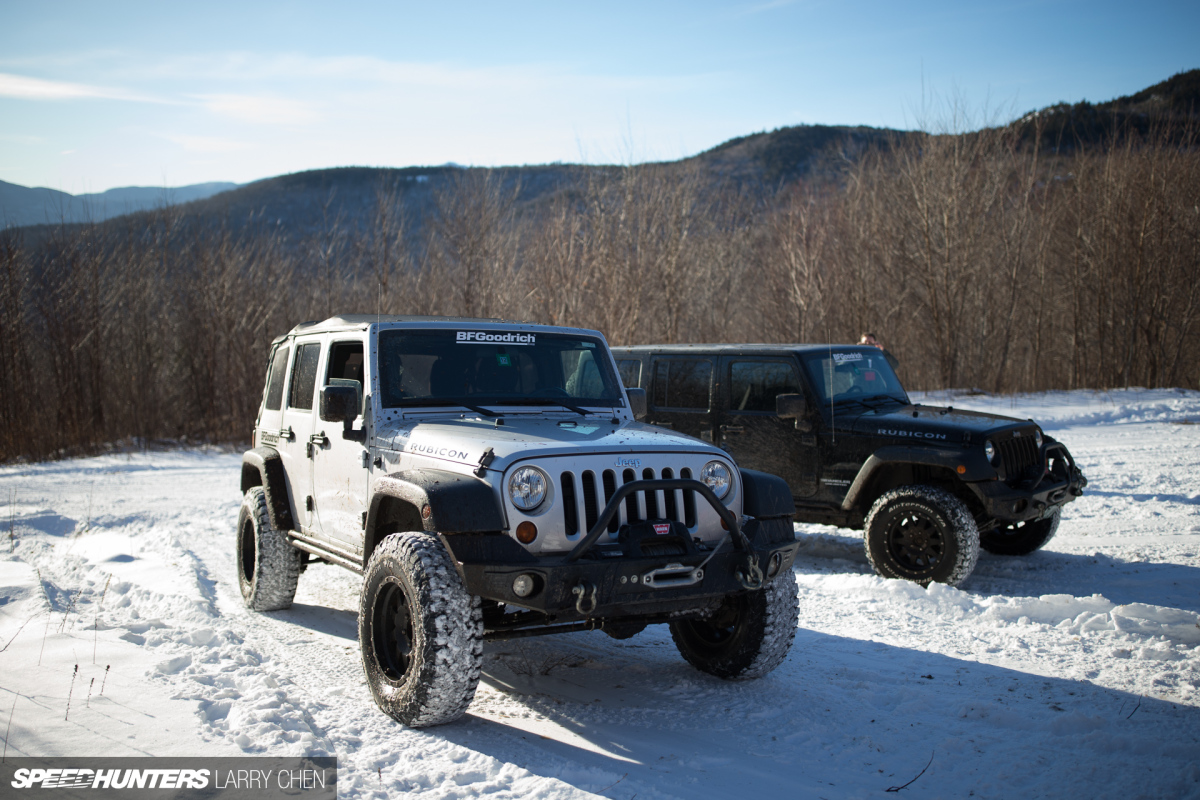 BFGoodrich invited me to this year's Red Bull Frozen Rush; it's a major part of the unique event and all the race cars actually use modified BFG race tires with carbide studs.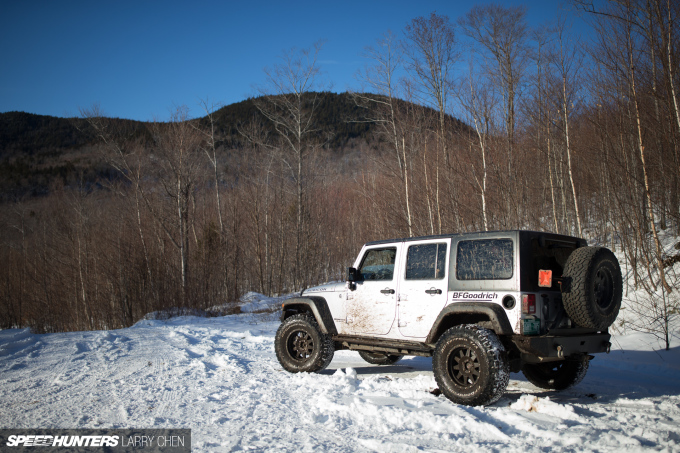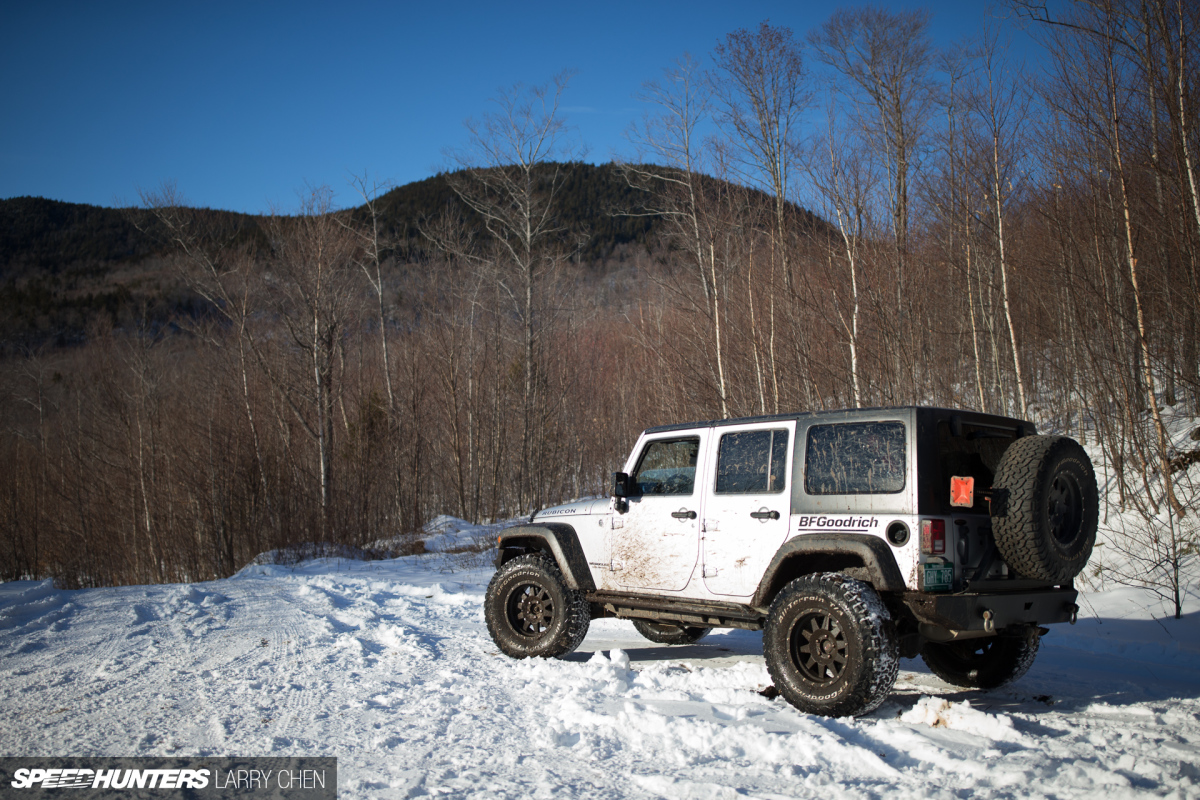 At the same time they invited dealers from all over North America as well as a few other journalists to play around with some Jeep Rubicons on the backroads of Northern Maine before the actual race. How could I say no to that?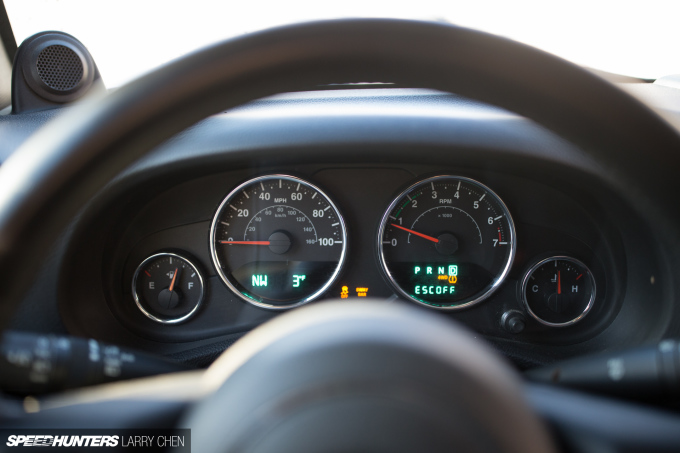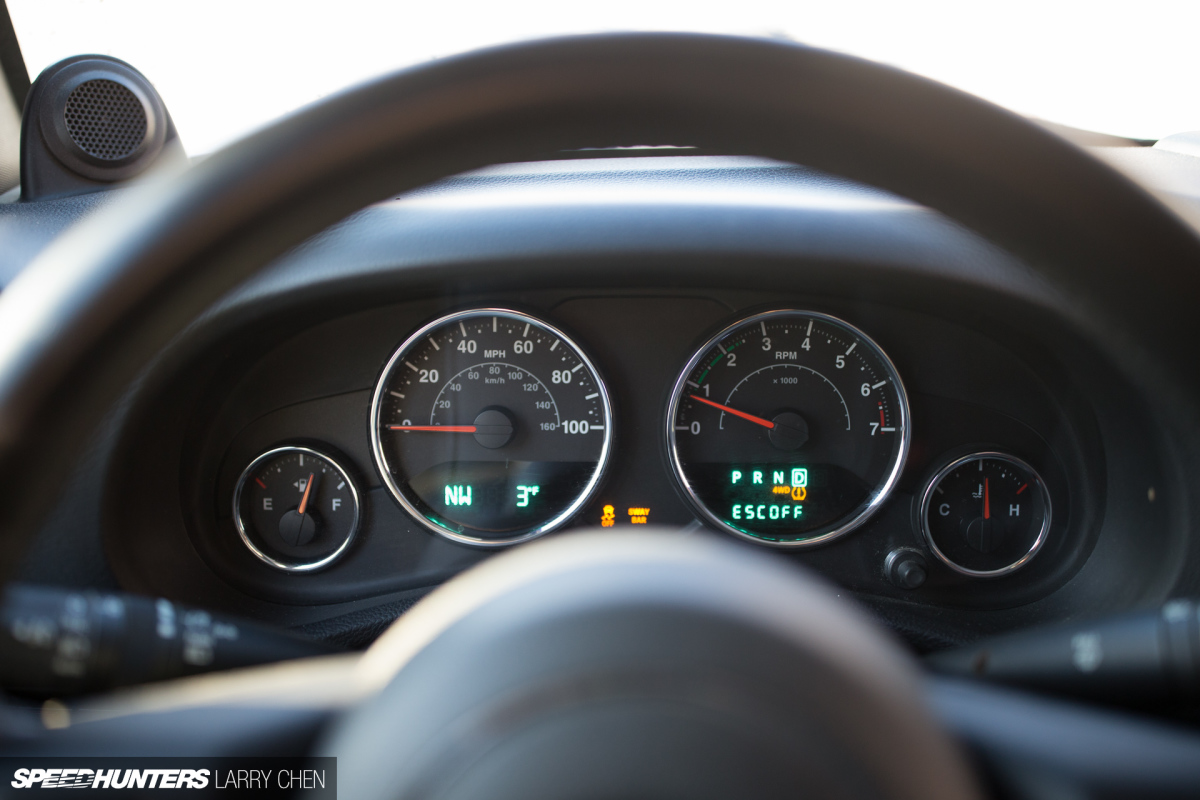 As you guys probably already know, the Rubicons come very capable from the factory with front and rear lockers as well as electronic disconnecting sway bars etc.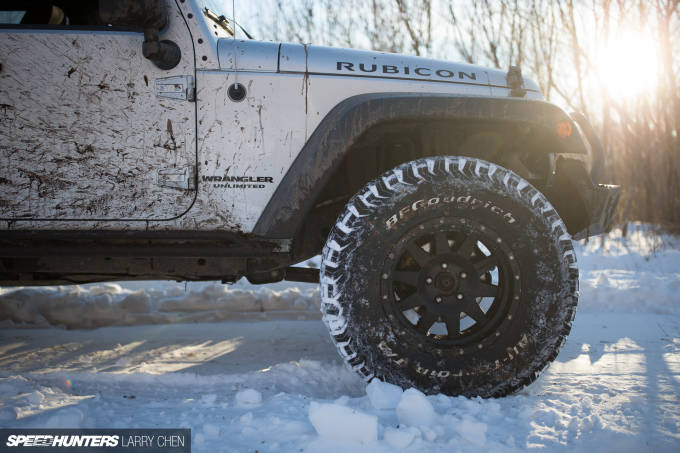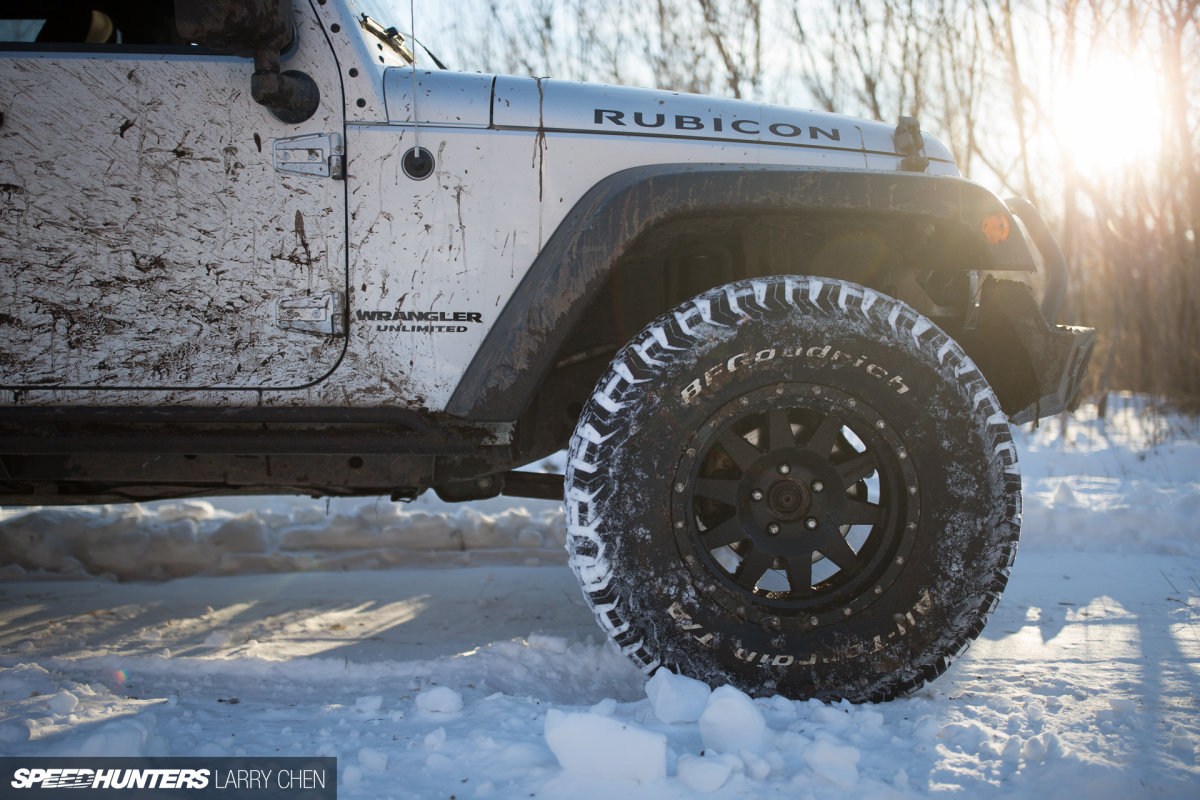 In terms of performance modifications, each Jeep was given a mild 2.5-inch lift as well as armored front and rear bumpers.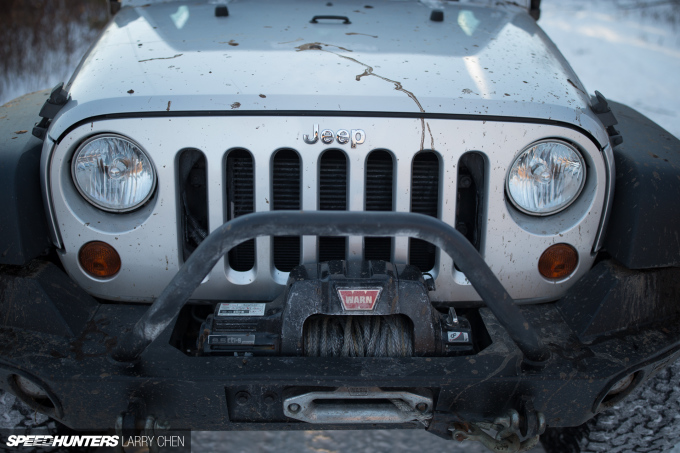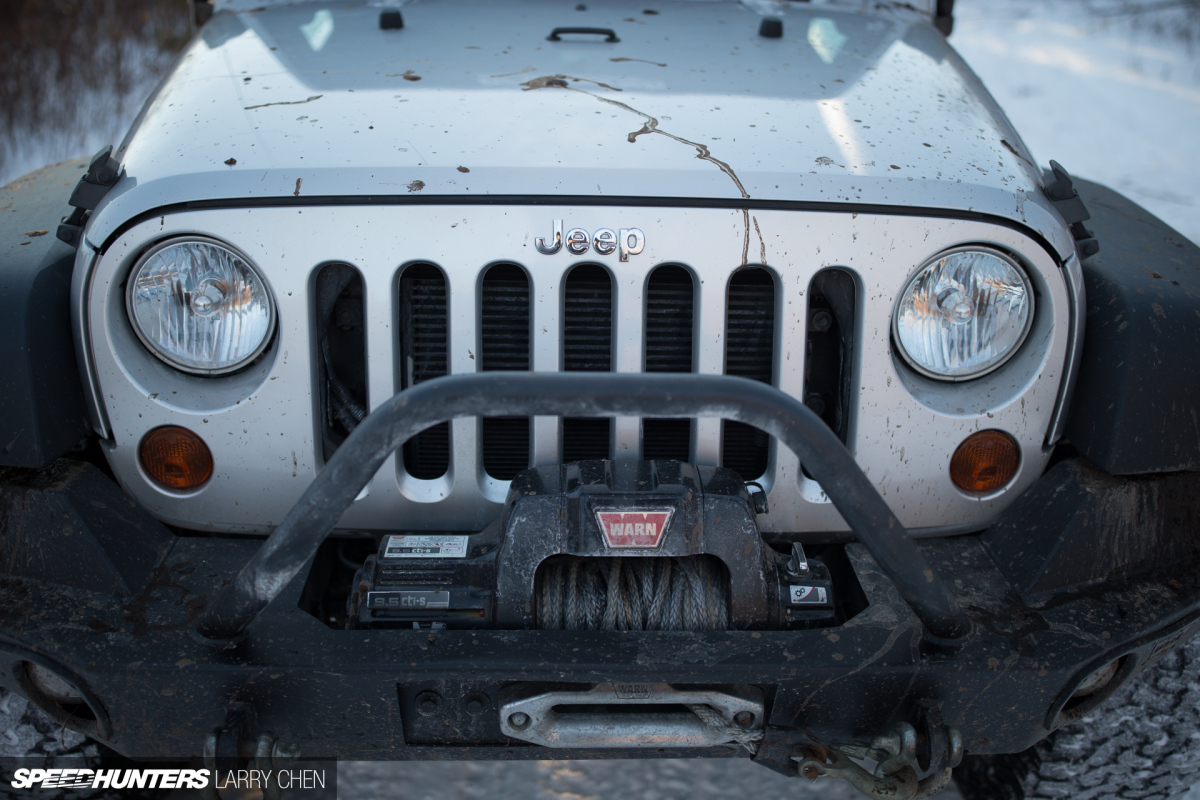 Each one also was equipped with a winch, because as capable as these Jeeps are, they were mostly in the hands of complete novices.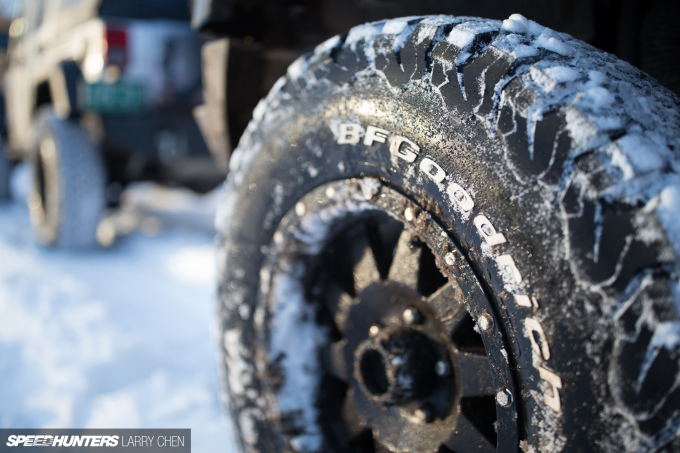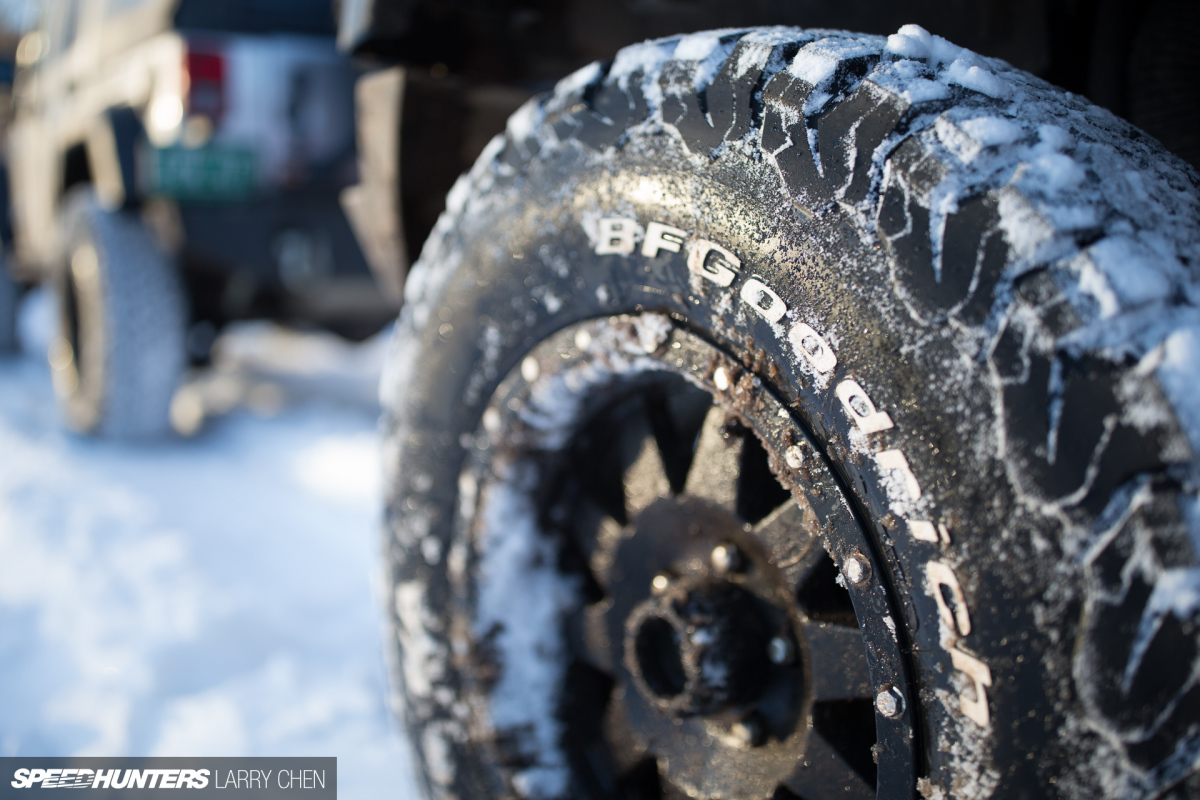 The rubber on the ground? Every Jeep was equipped with 35-inch KO2 All Terrain tires – great for the street, but perfect for off-road, as we'd soon find out.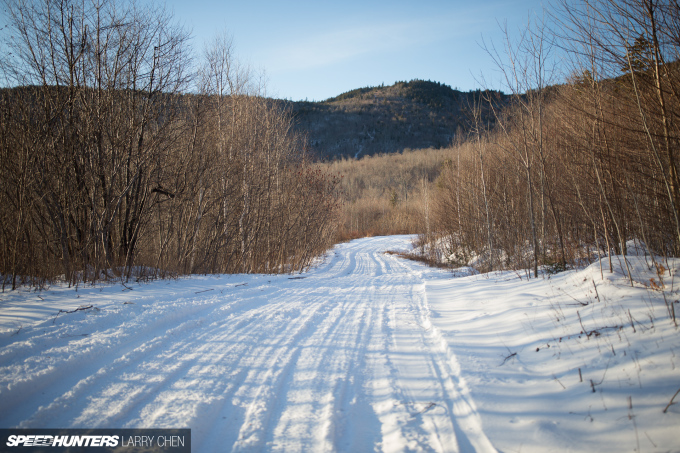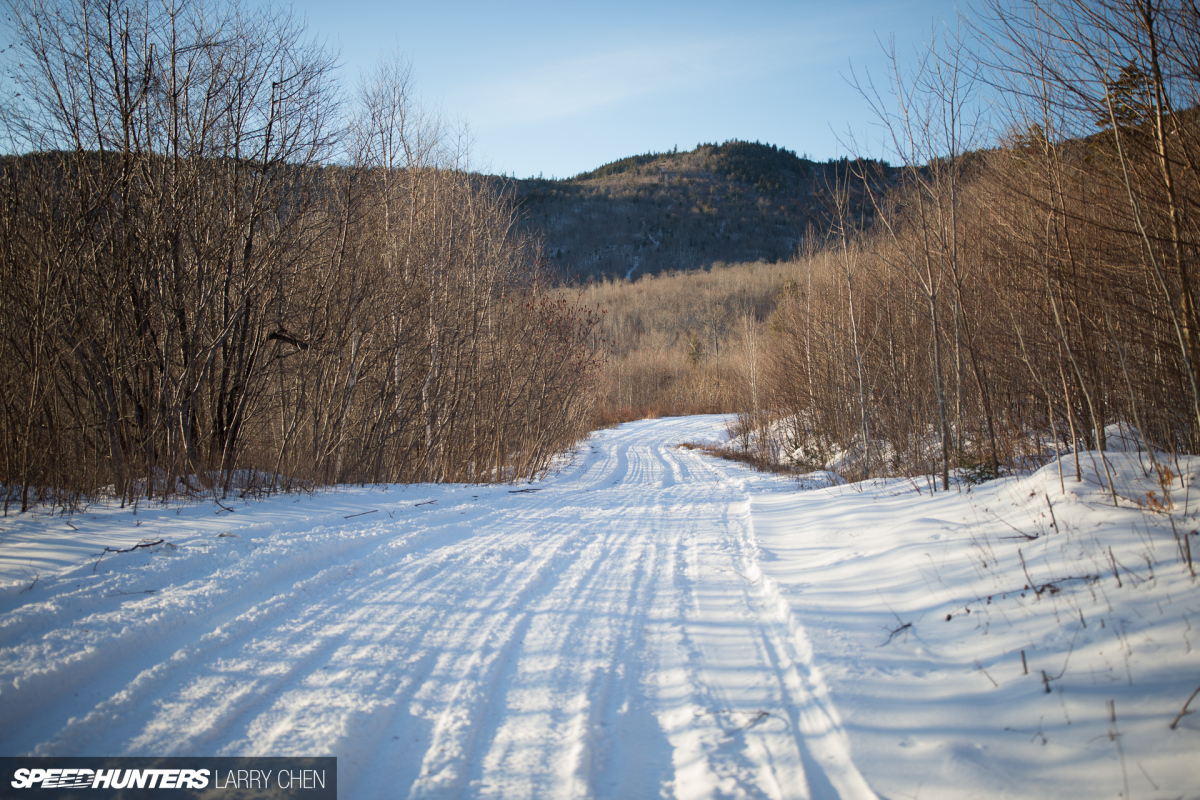 Our course was actually a network of privately owned logging roads.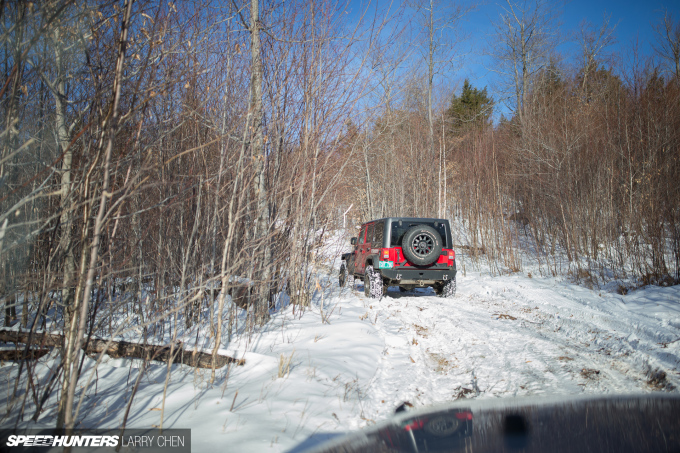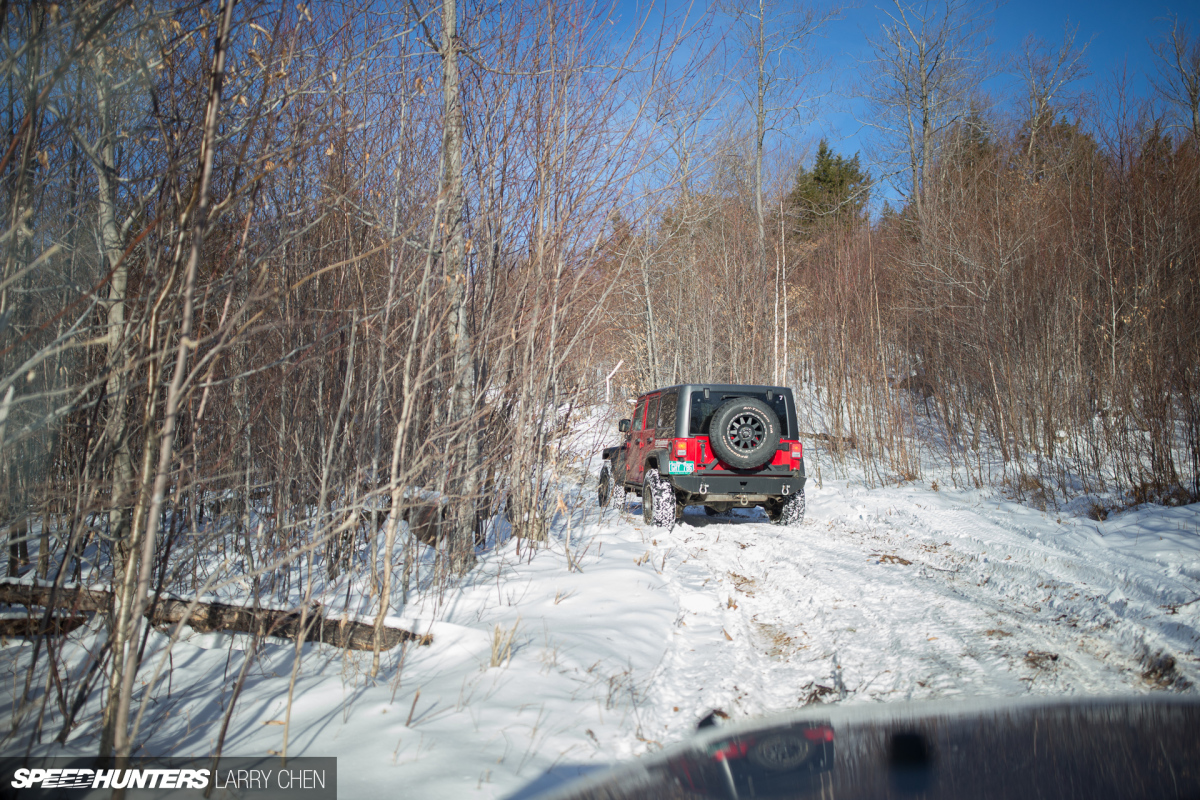 There was a recent snowfall of a few feet, but the base was not terribly deep, so there were still rocks and dirt poking through in different parts of the terrain.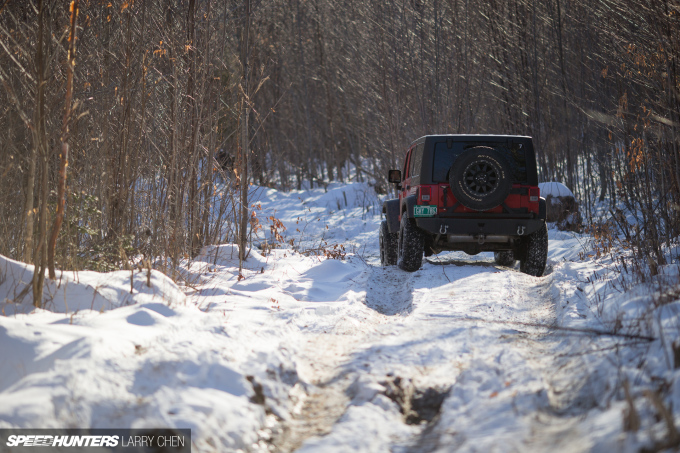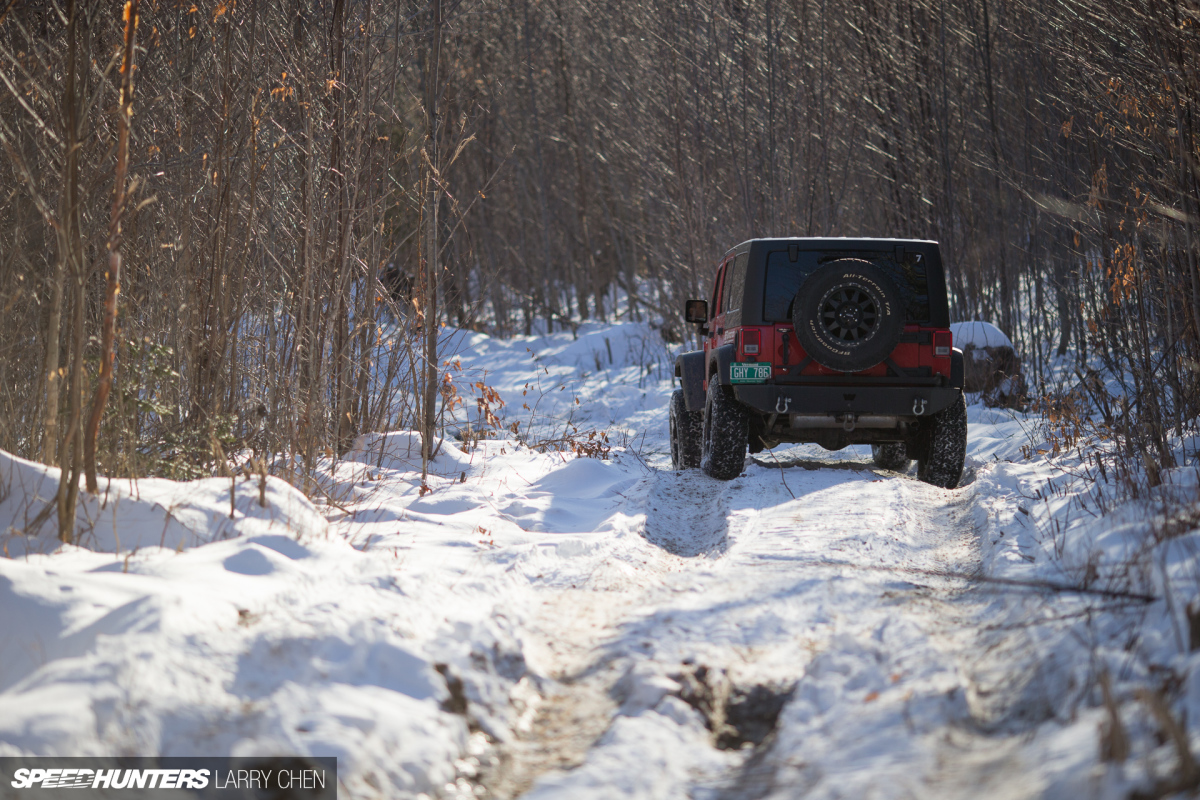 The first bit was fairly easy as we just played follow-the-leader in the soft snow. Each vehicle had an off-road instructor to help guide us through the tough bits.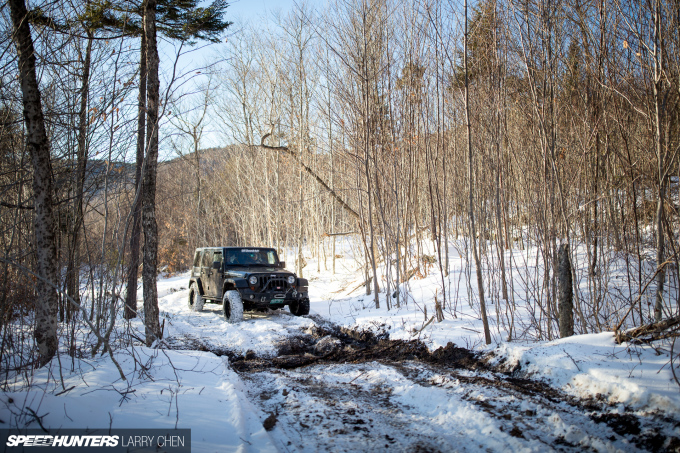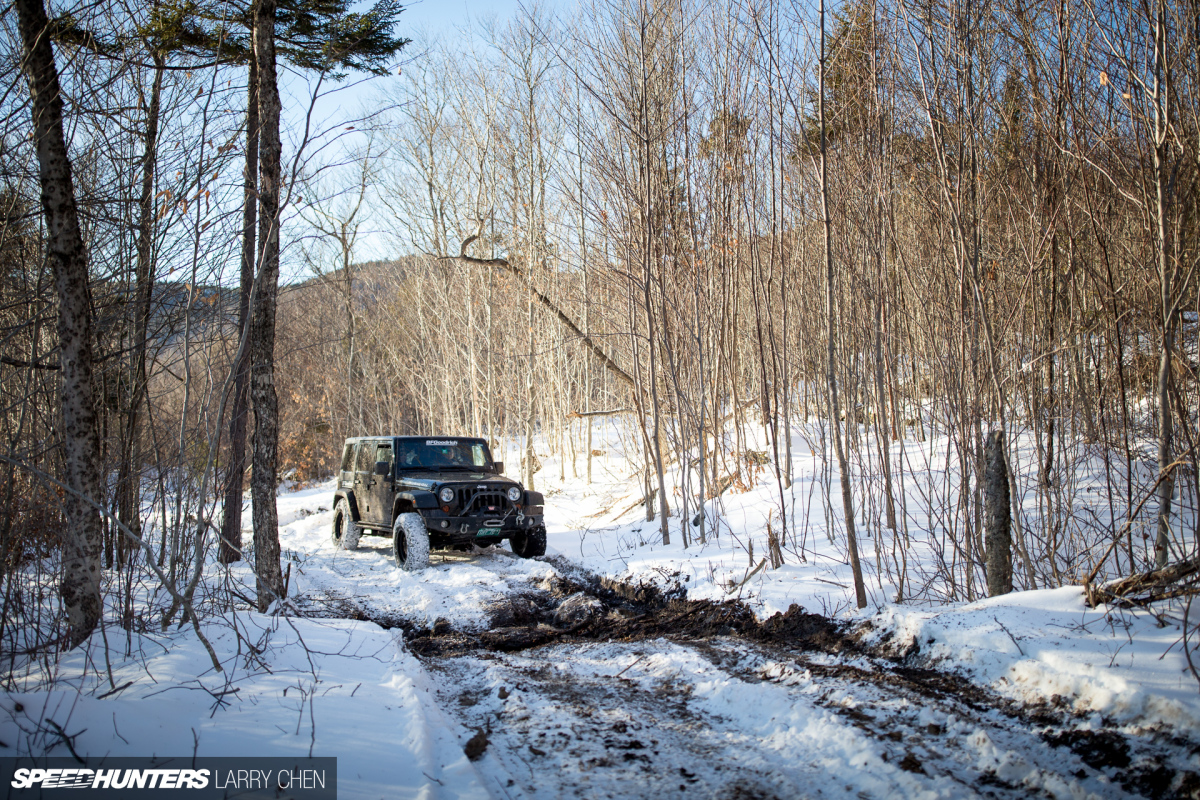 As we climbed to the top of the hill it got harder and harder as the road was pretty rough from previous expeditions. It didn't help that it was a warm day either, which of course meant lots of mud.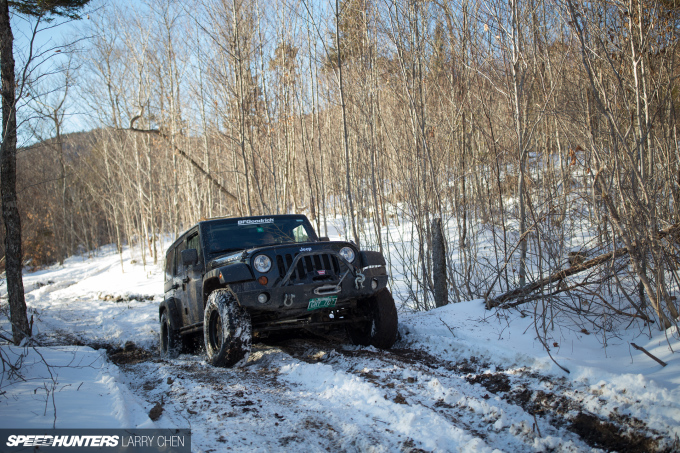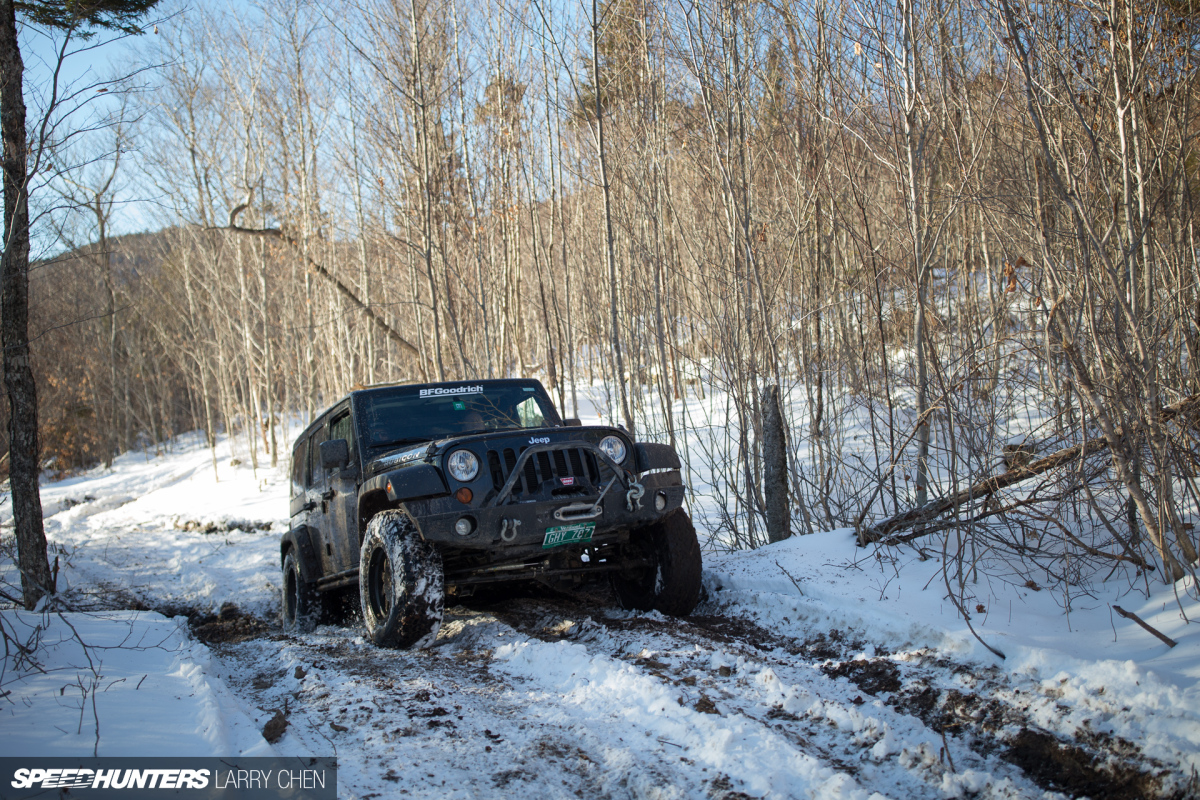 It was hard for me to snap photos while I was driving, so I always made a point to stop and shoot the guys either behind us or in front of us.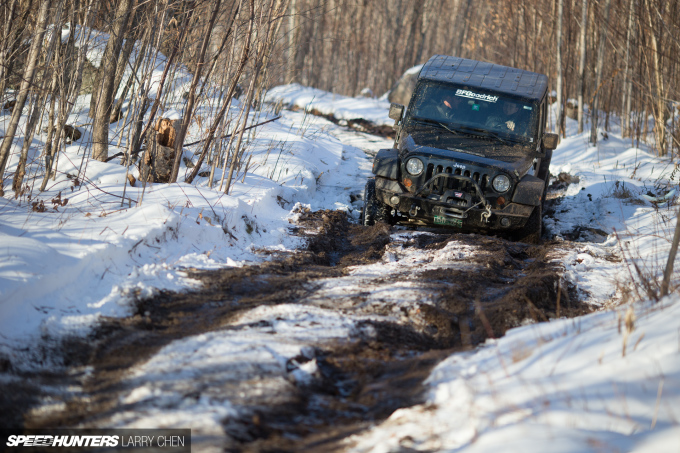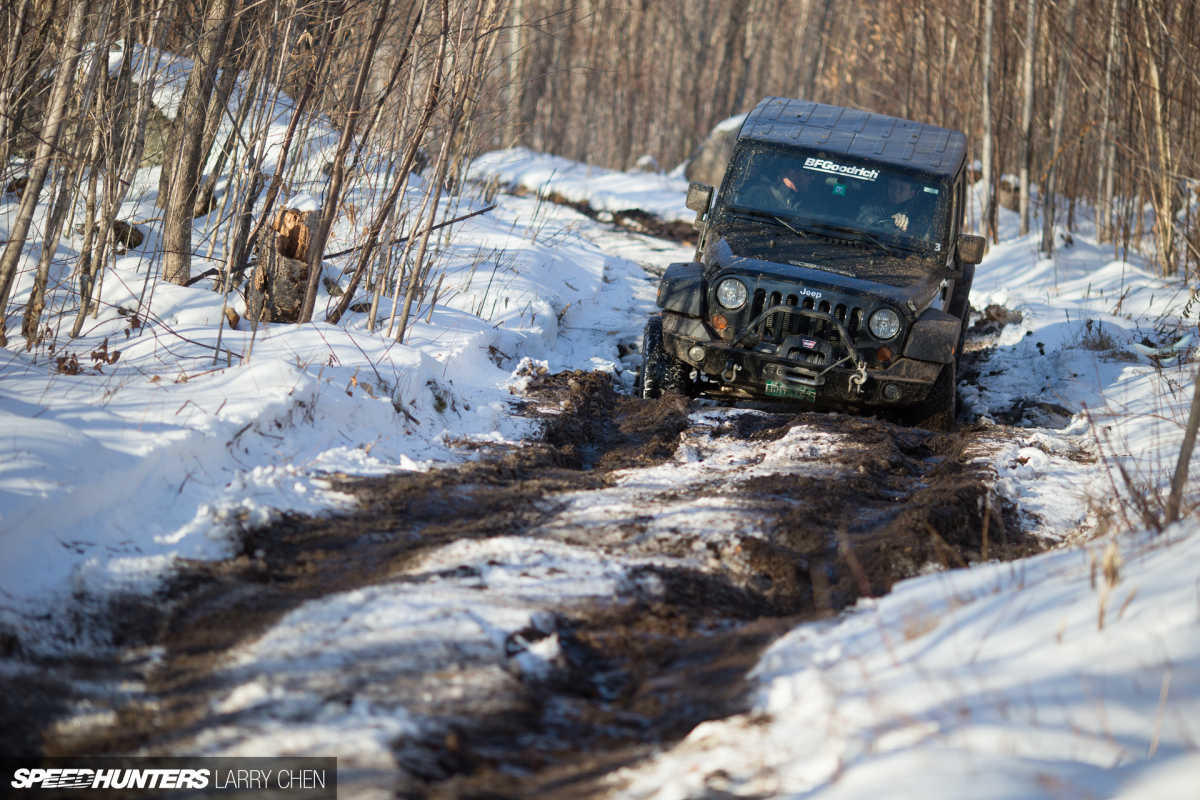 After some major inclines and lots of back and forth sawing of the steering wheel, we made it to a very muddy and rutted-out section of the trail…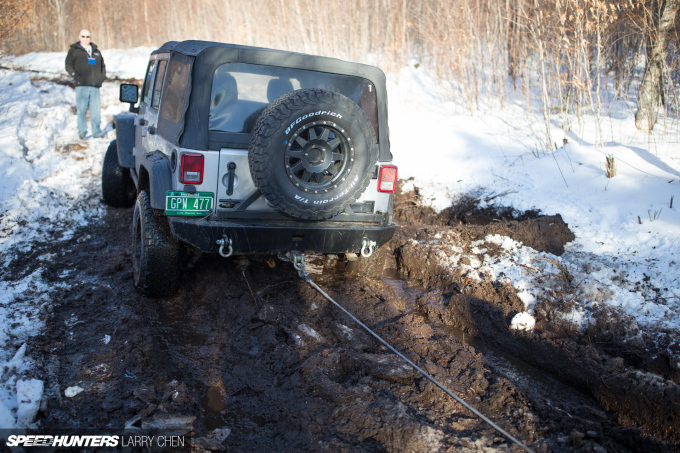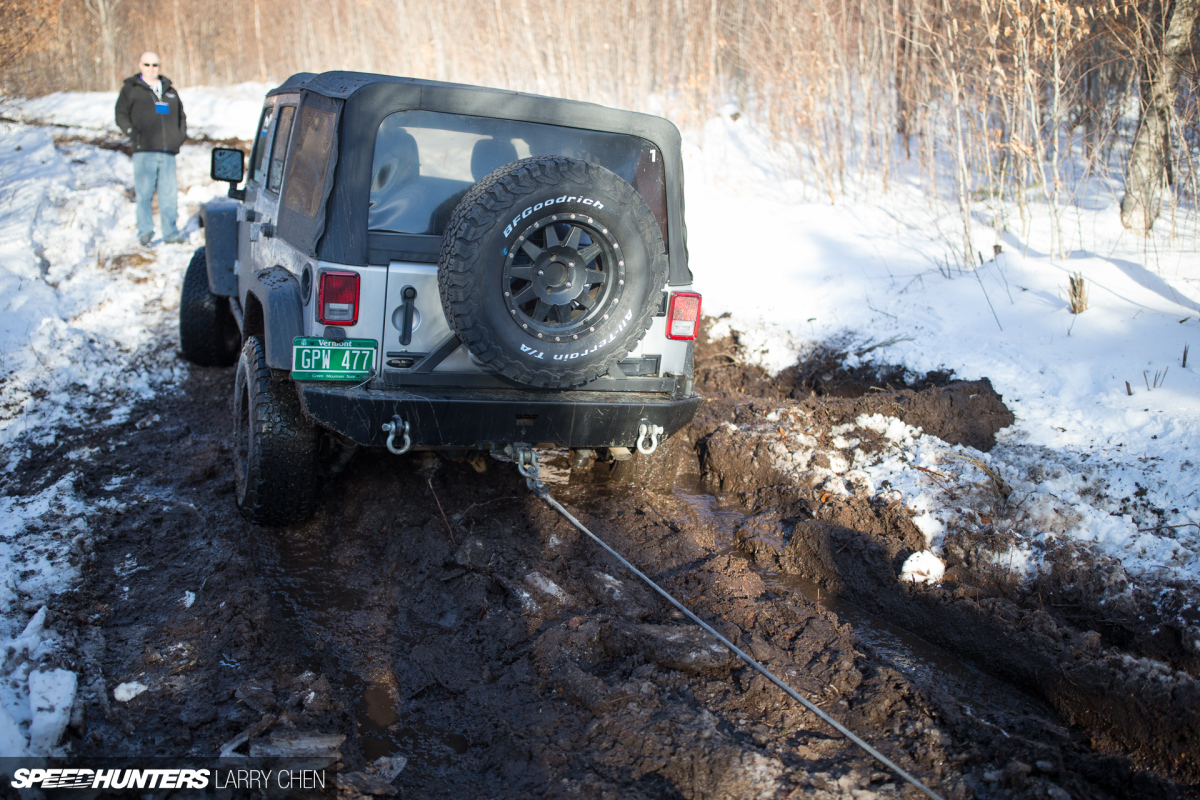 Where I proceeded to get immediately stuck. Front and rear lockers were on and I was mashing it in 4-Low, but it just would not budge.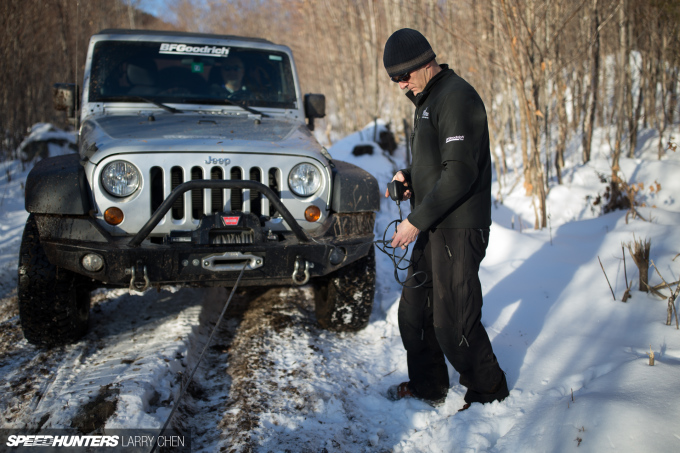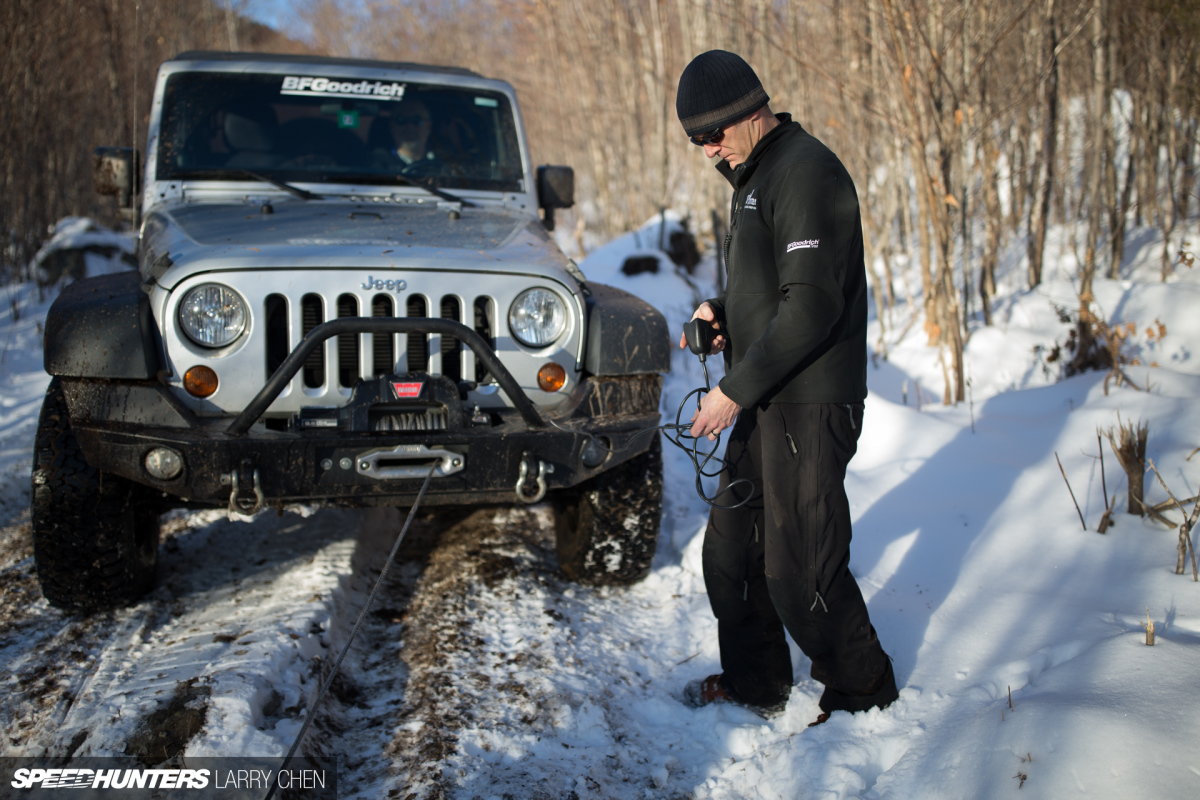 So the friendly guys behind had to winch me out, which is fine because we would return the favor a few times down the line too.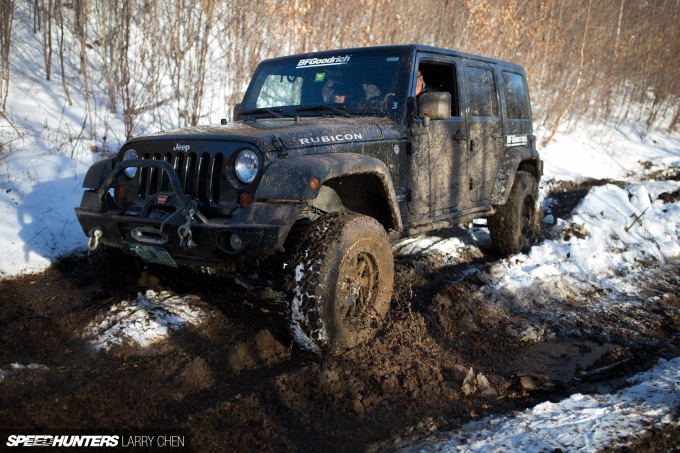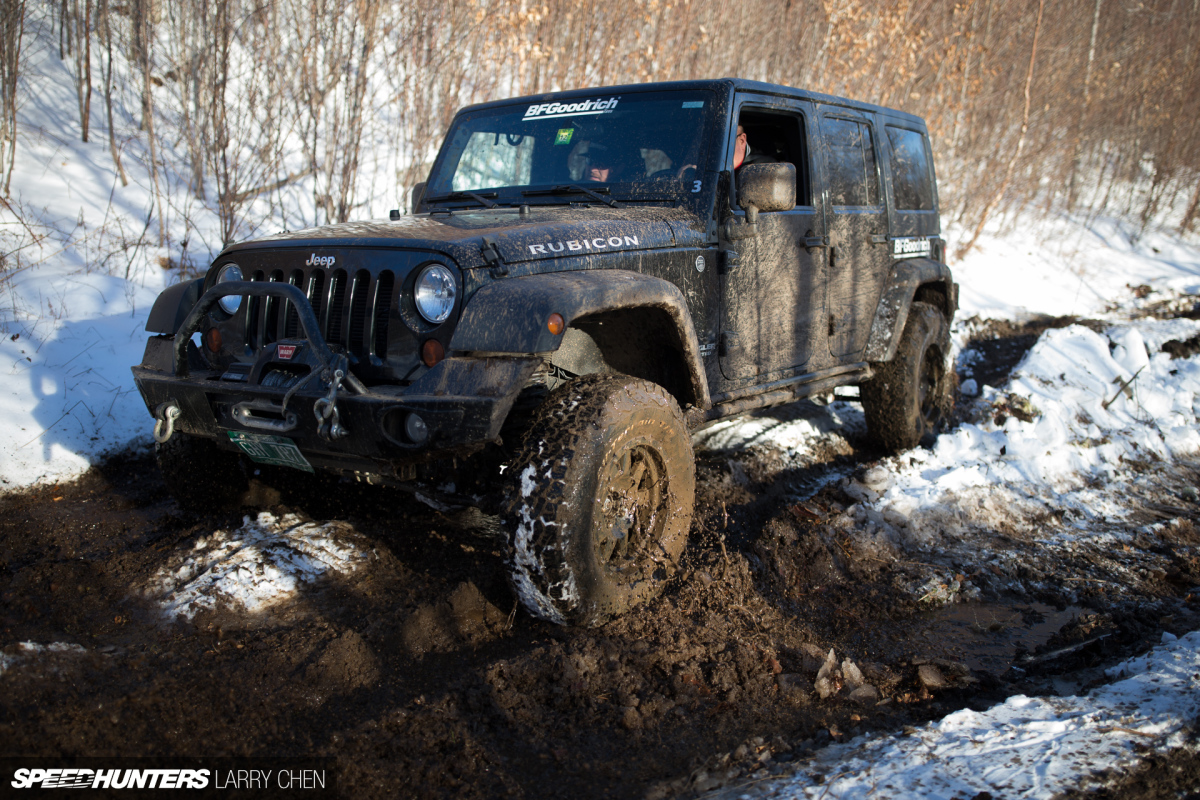 There were many things that I started to learn while four-wheeling through this sort of terrain.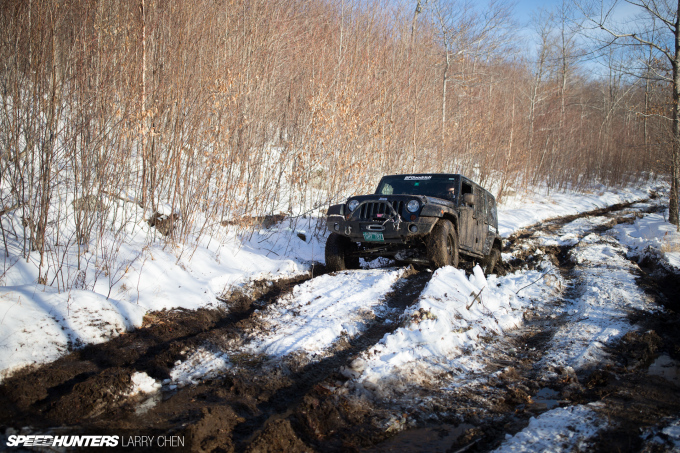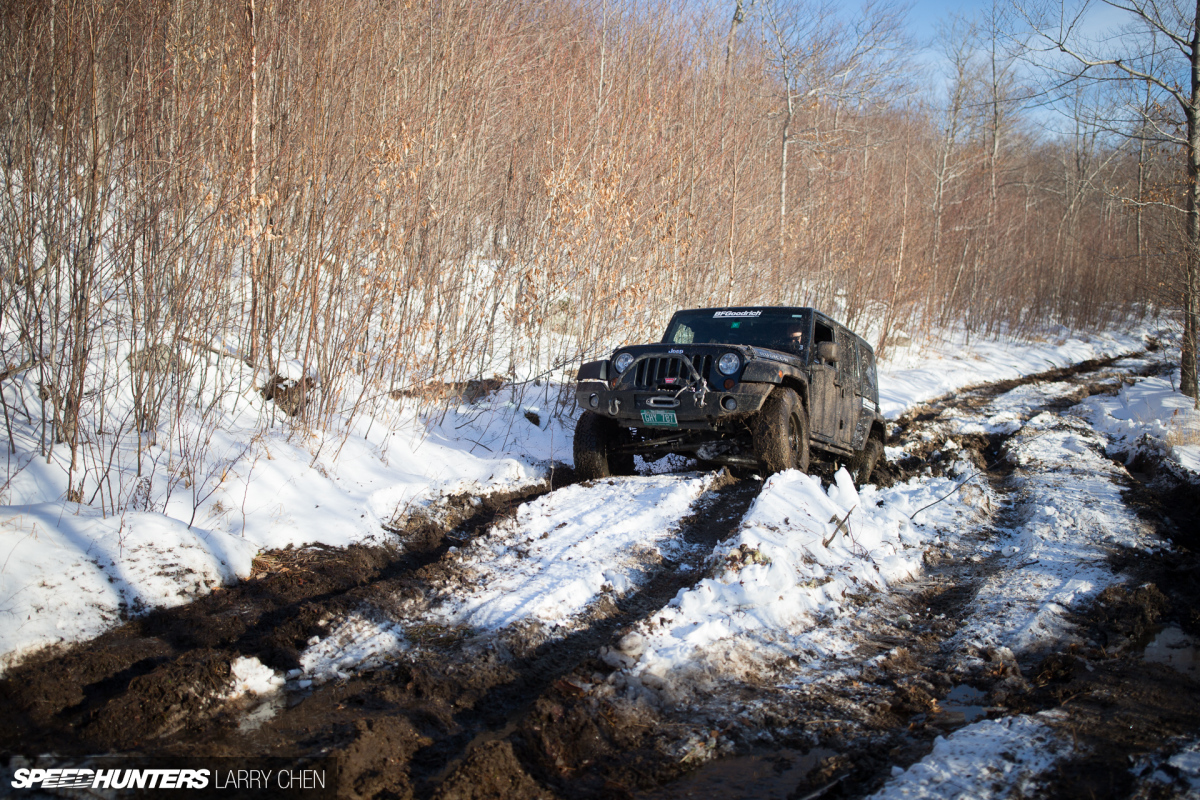 For example, the use of left-foot braking is invaluable to lessen the bouncing motion, which effectively increases your ride height.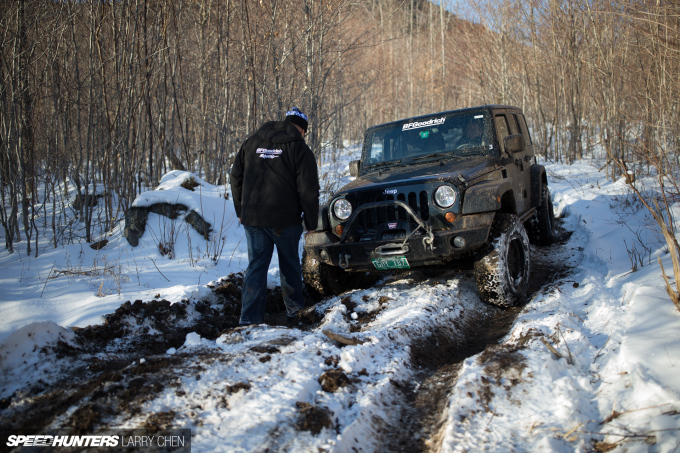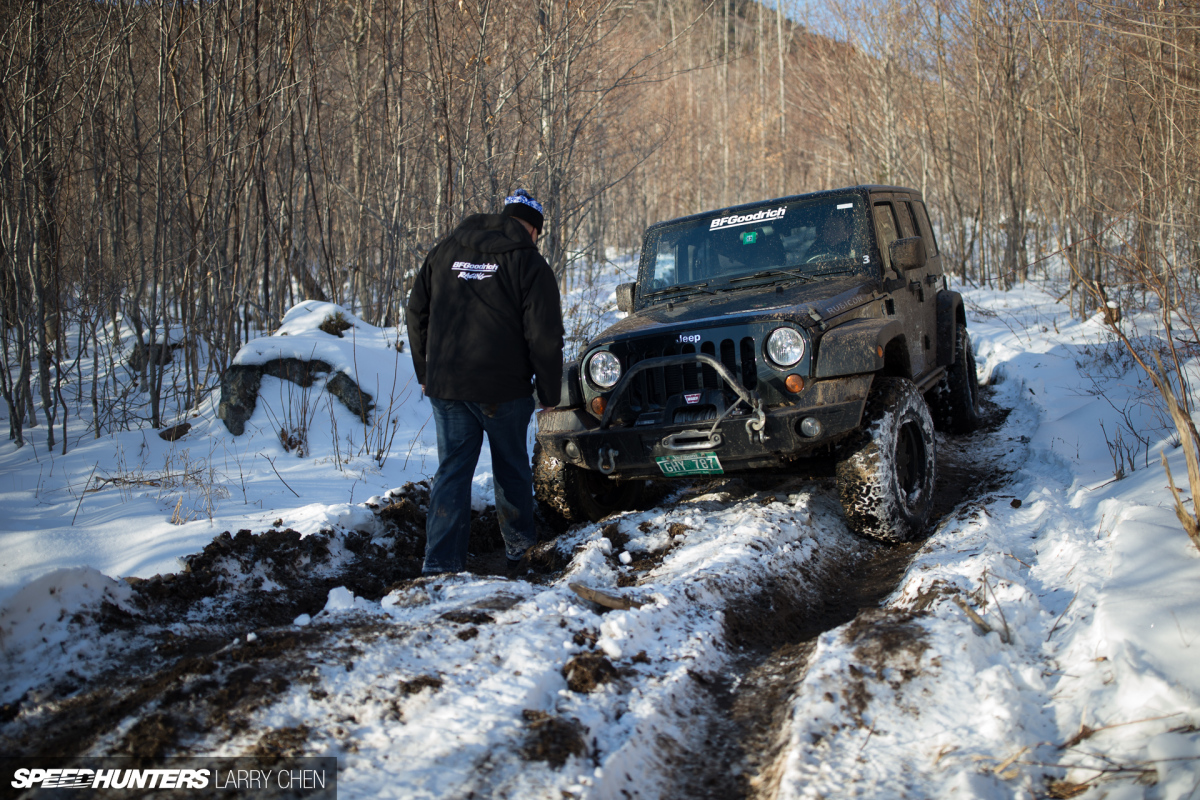 Even if we were being as careful as possible, it was still very easy to get stuck; there was very limited traction even with tires that were aired down quite a bit.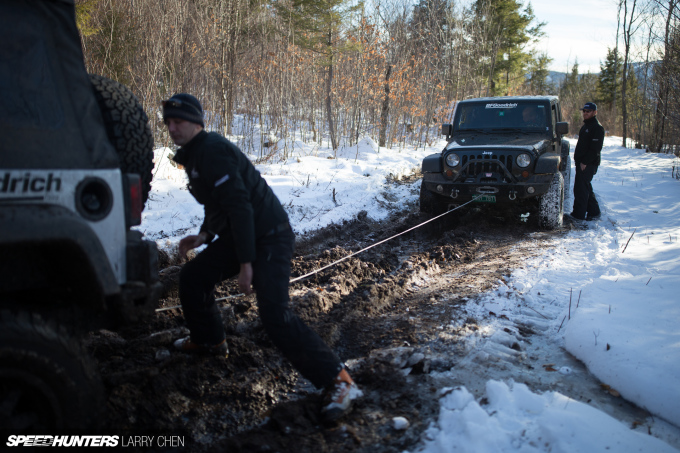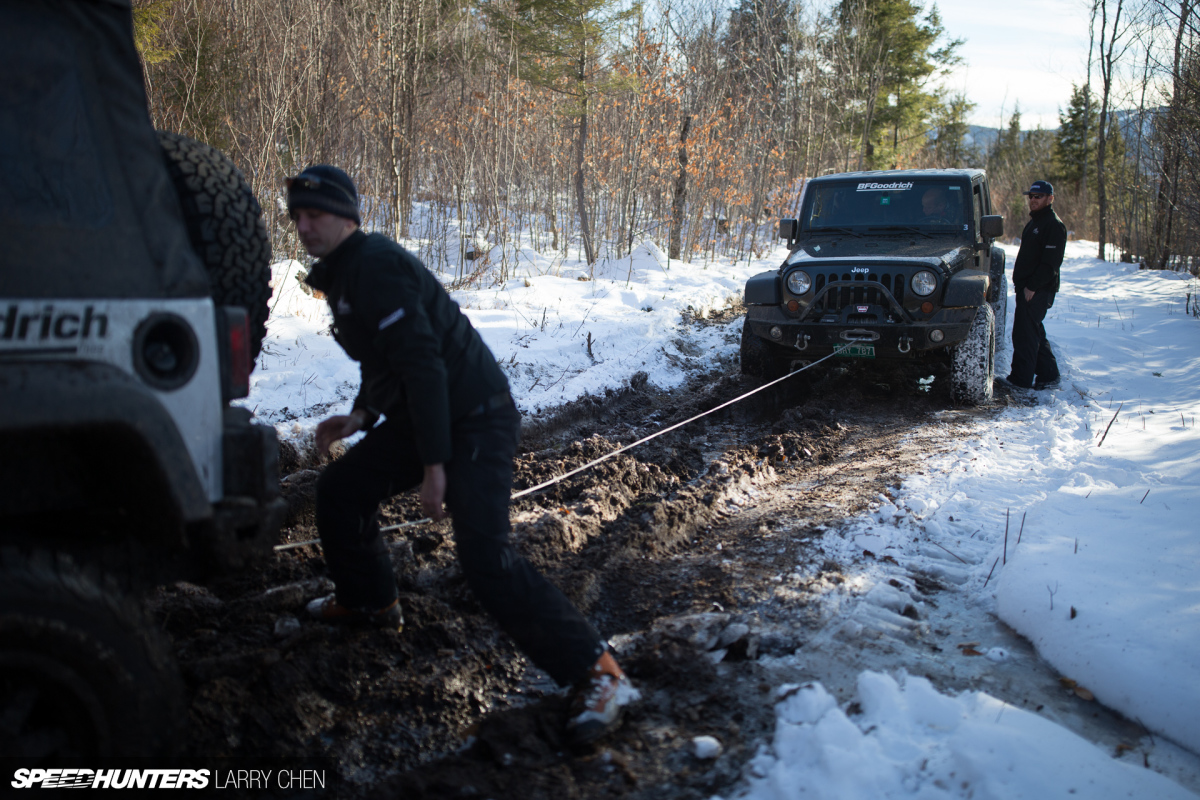 Remember I said that we would return the favor? That is what teamwork is for!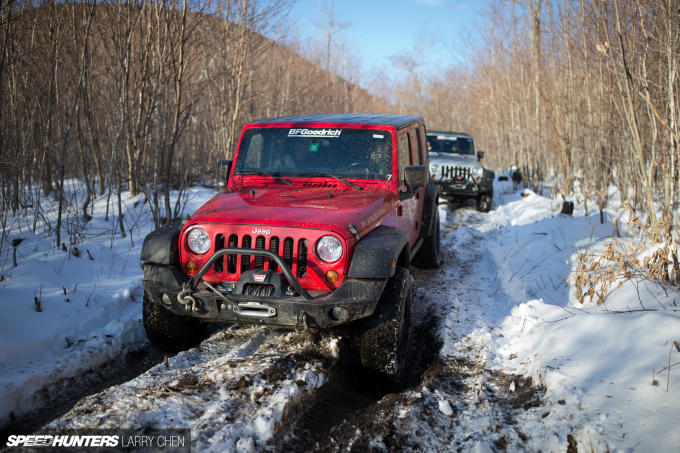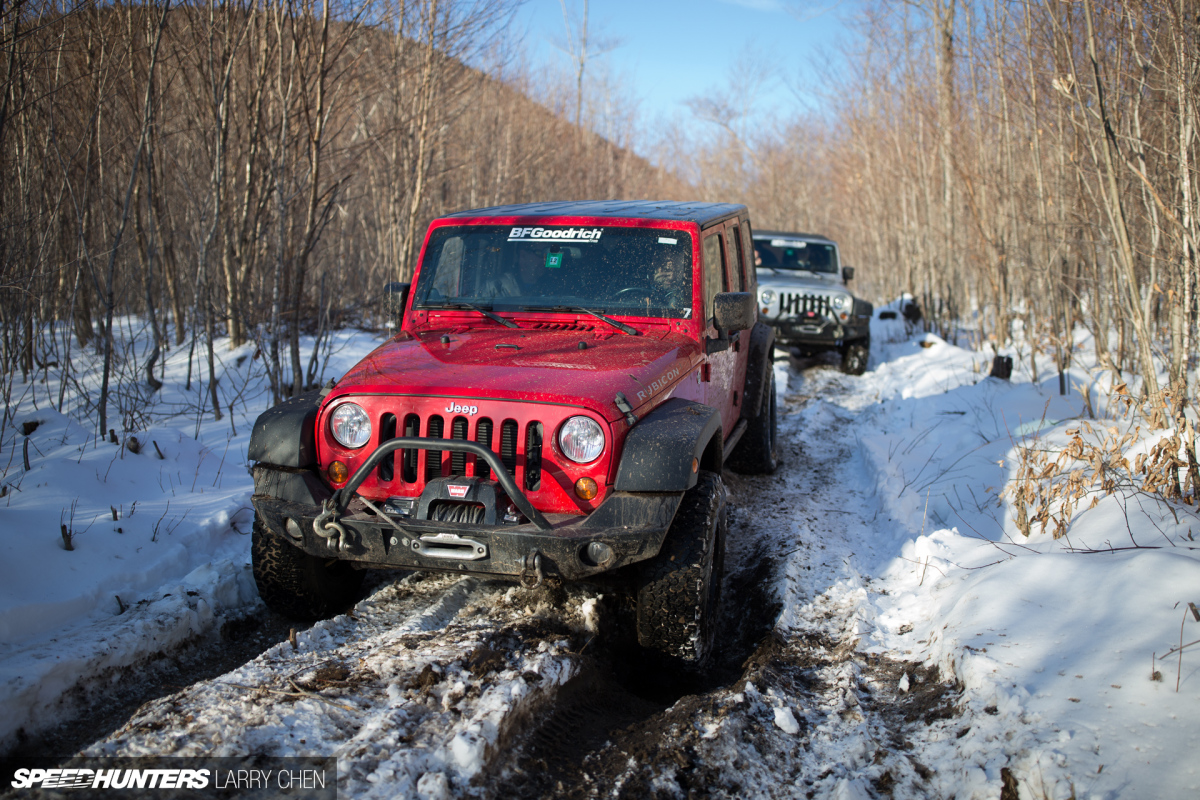 In fact, I really enjoyed this part of our adventure. Because what is the fun in plowing through the trail without getting stuck at least once, right?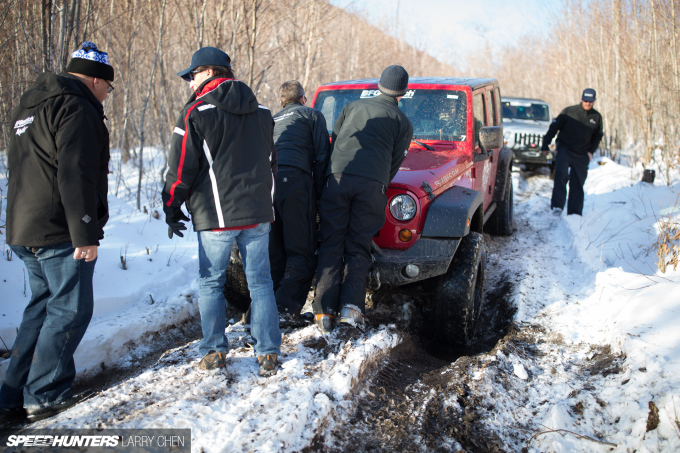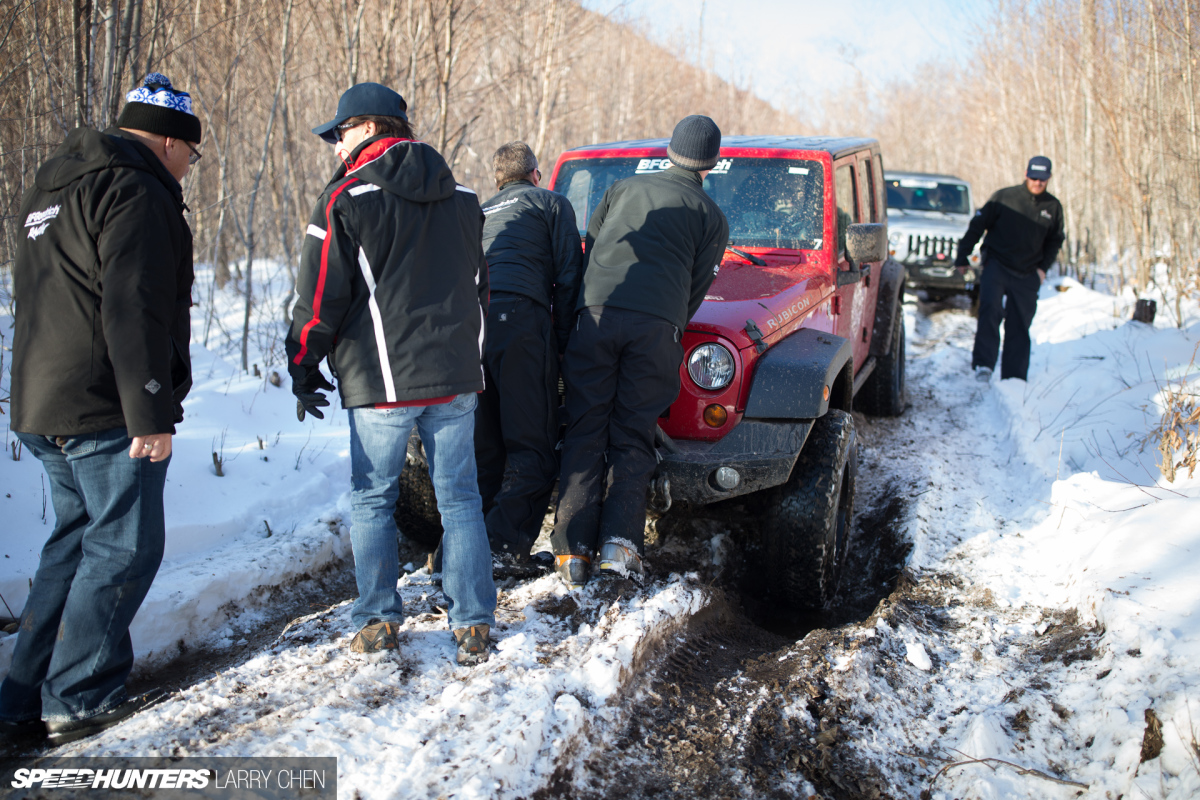 This Jeep had it pretty bad, and at first we thought we could push it back as the diff was stuck on a rock.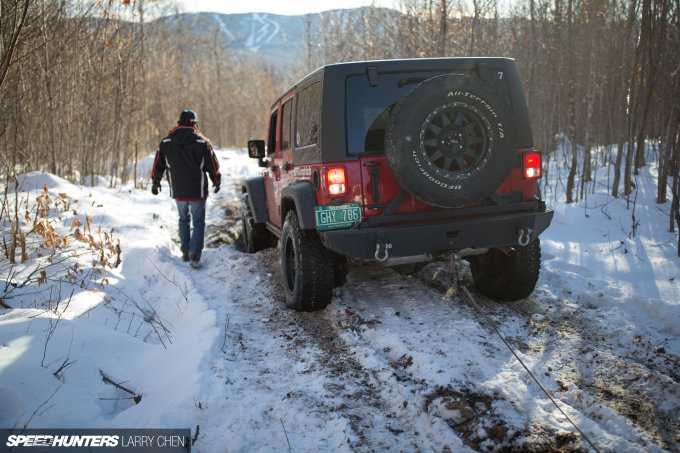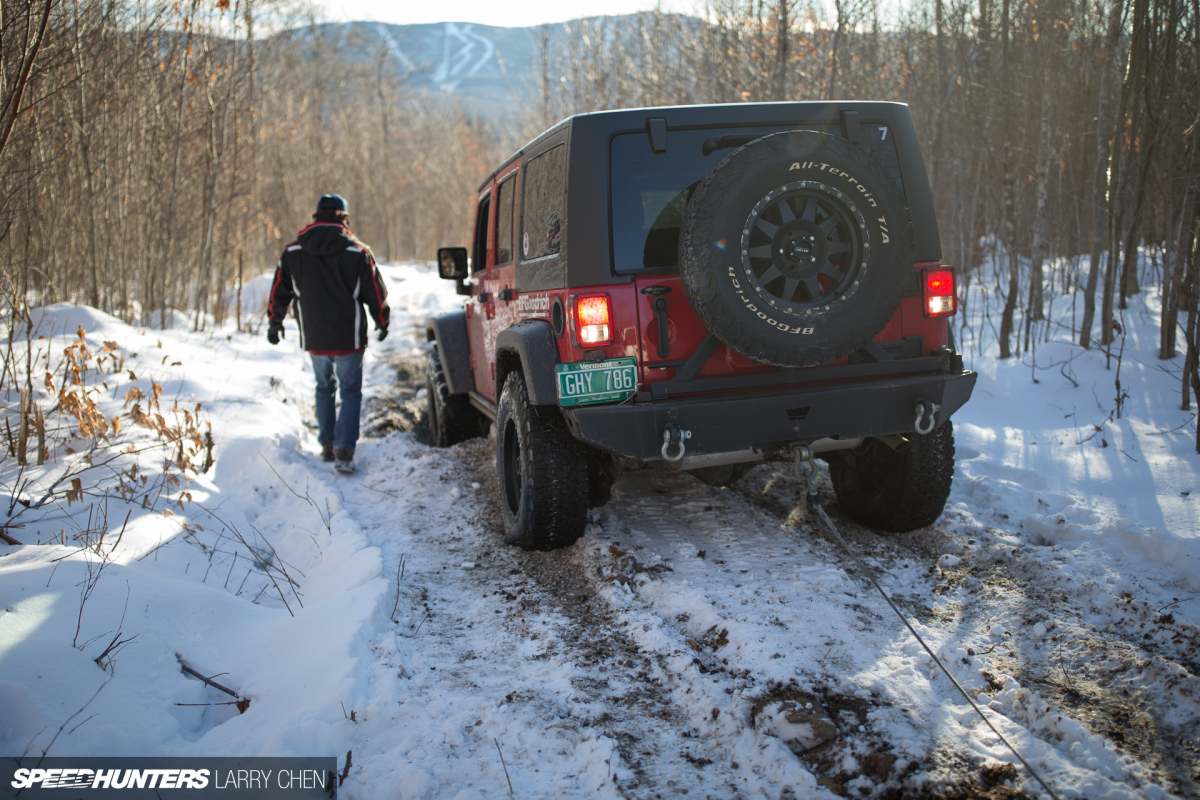 That didn't work so well; it was not going to budge.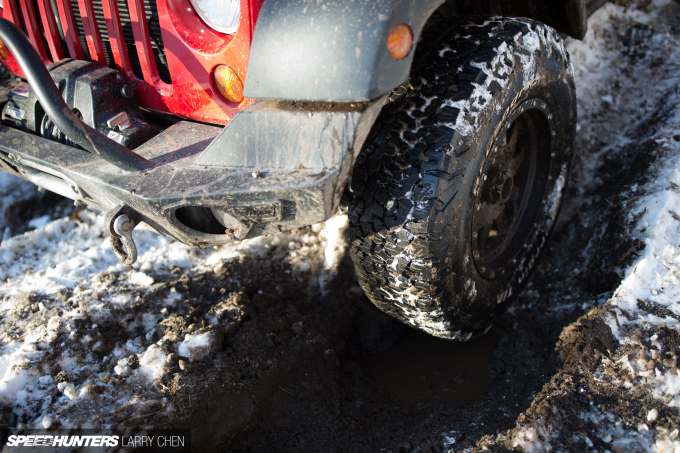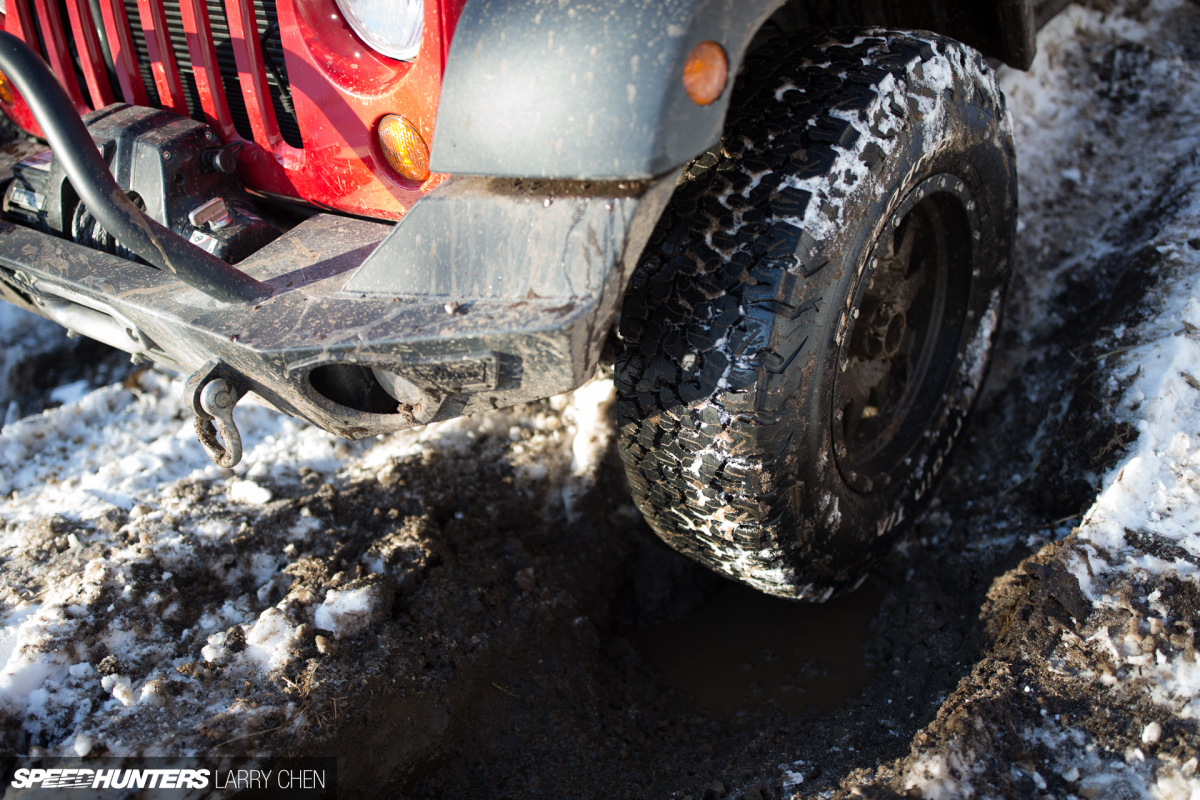 Upon closer inspection, the Jeep seemed to have turned into a hovercraft – the front tire was about four inches from any sort of ground.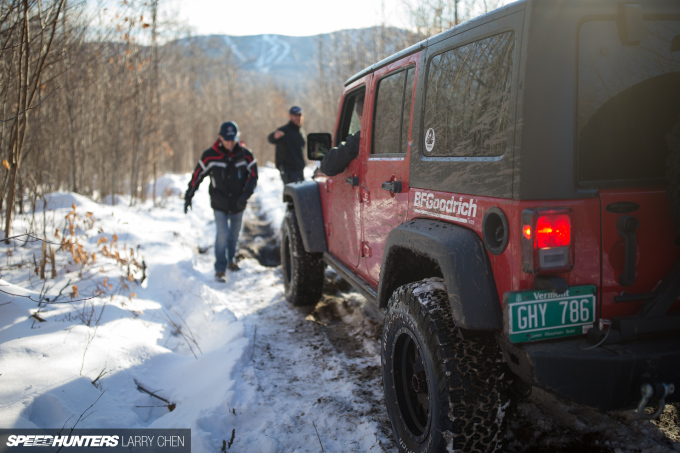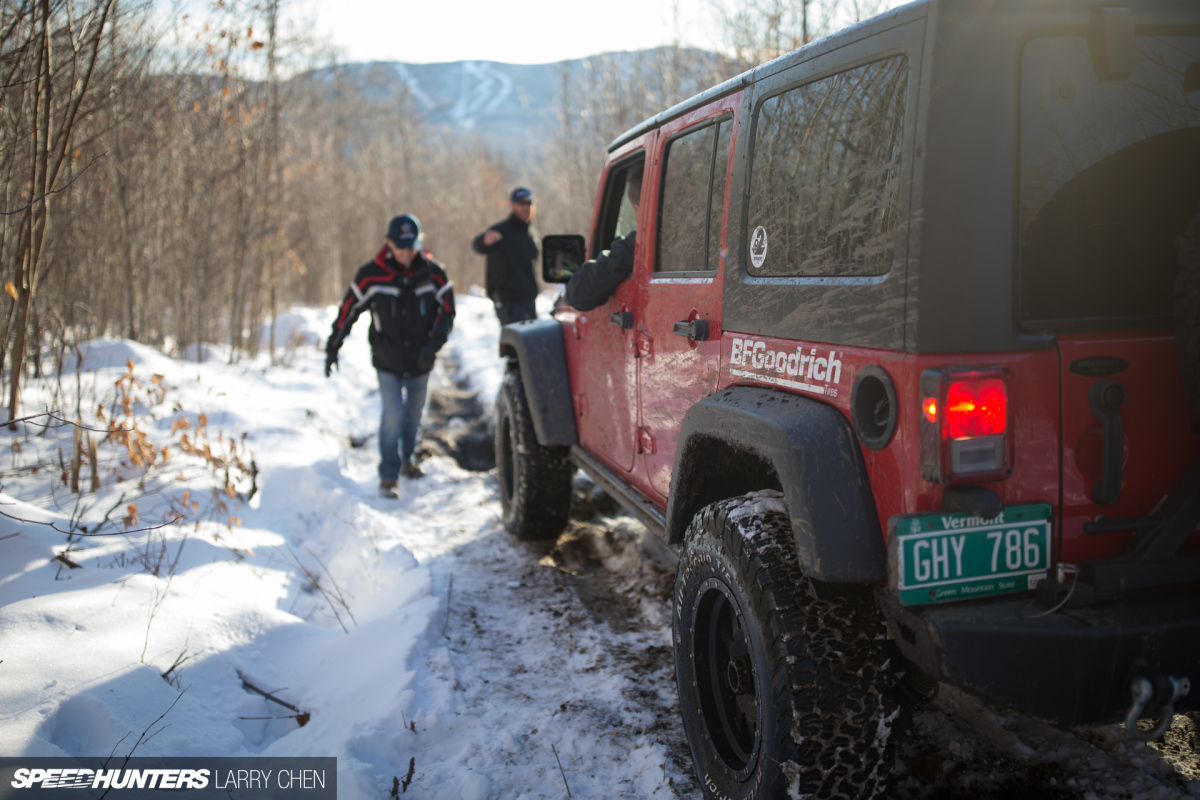 Of course, it was nothing a bit of winch action could not fix. These Jeeps took a beating, and I think it's awesome that BFGoodrich really wanted us to get the full off-road experience.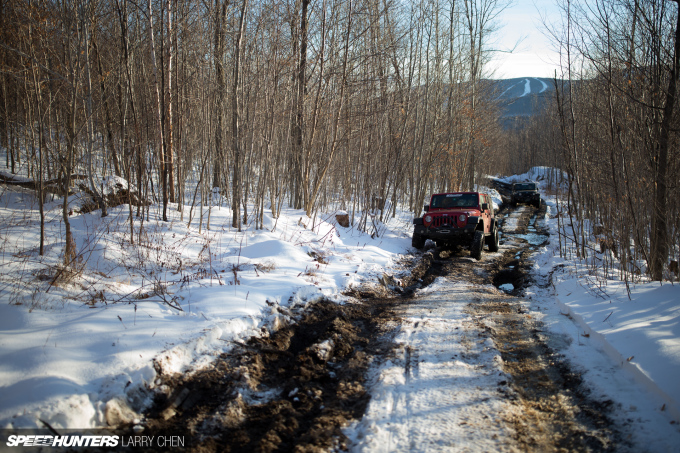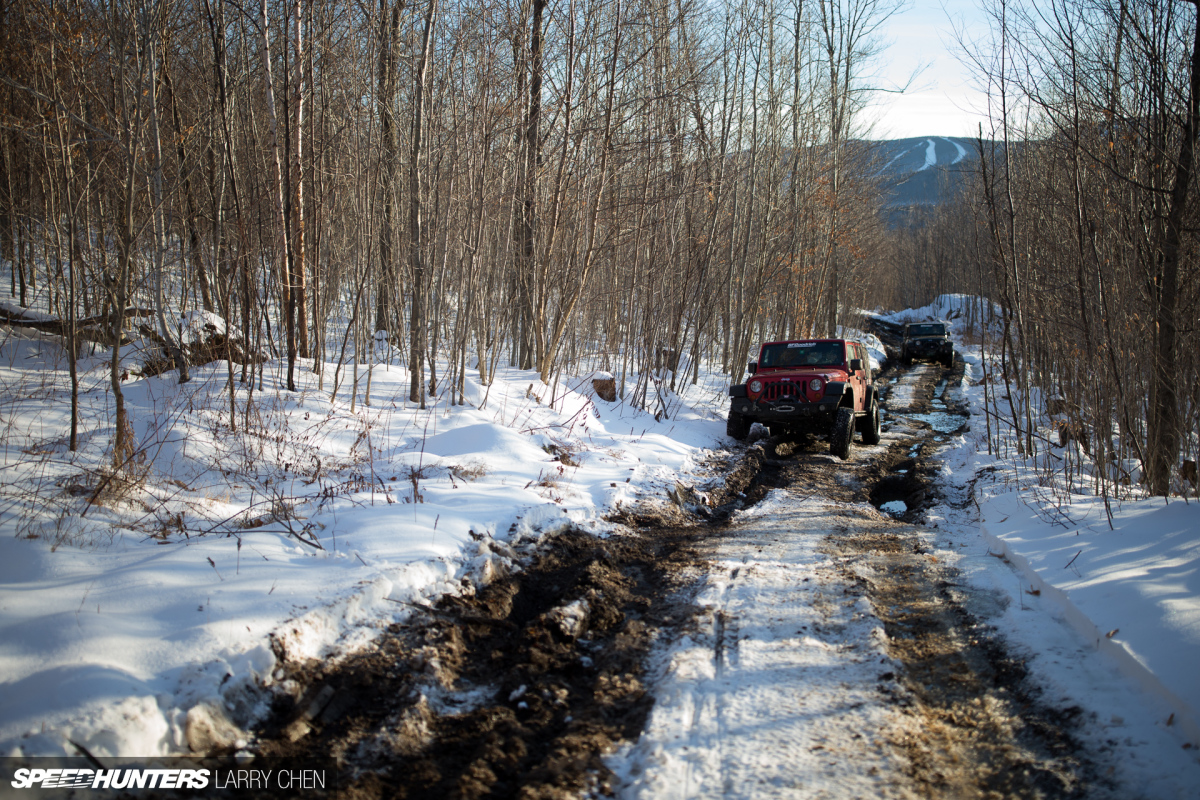 Back on the trail we went, and this time I was really focusing on my line. I didn't want to get stuck again, and if at all possible I didn't want to bottom-out the rig either.
Off-Roading 101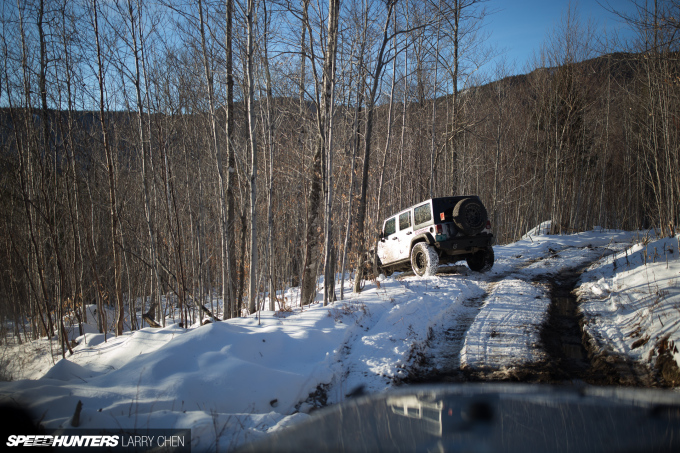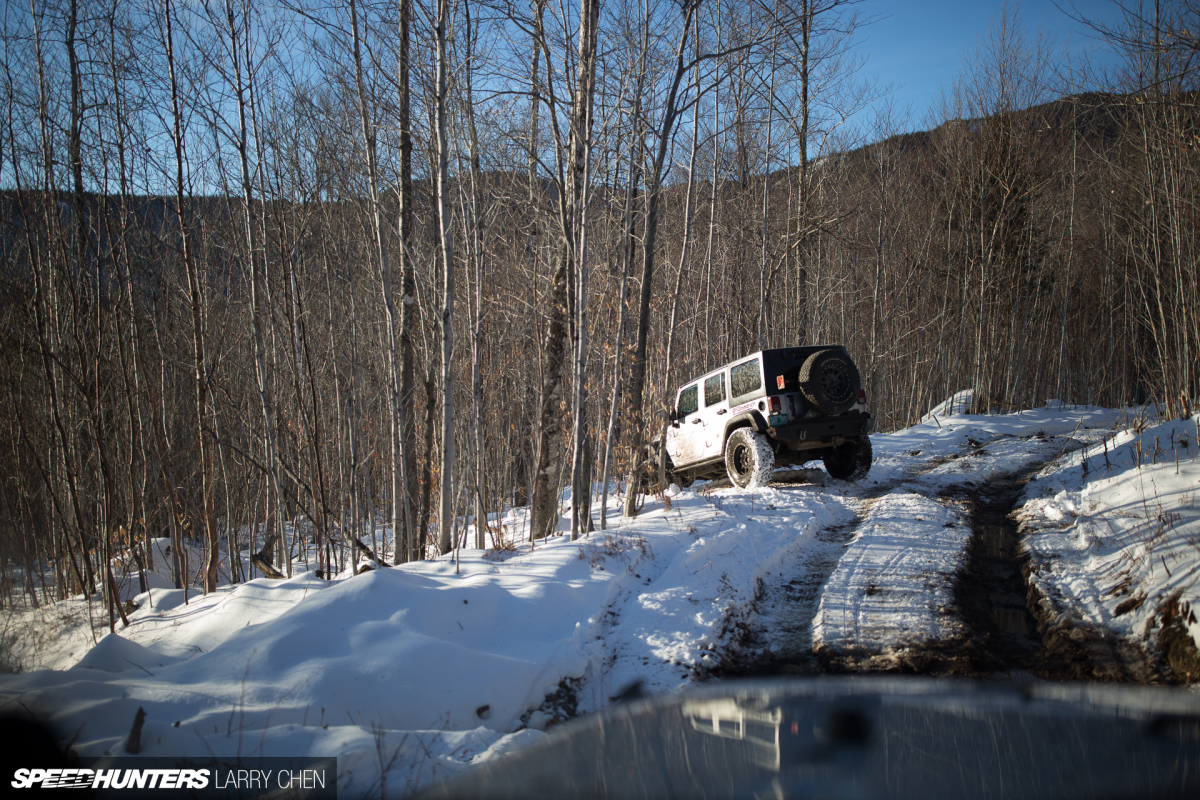 Then we went down 'The Slide' which was a very icy and slippery section of the trail. If it's cold enough, you could be on the brakes with all four wheels locked here, meaning the rig would just slide down the hill by itself.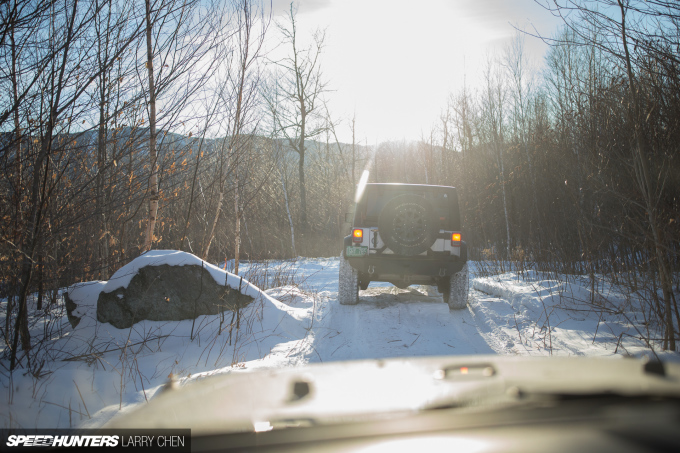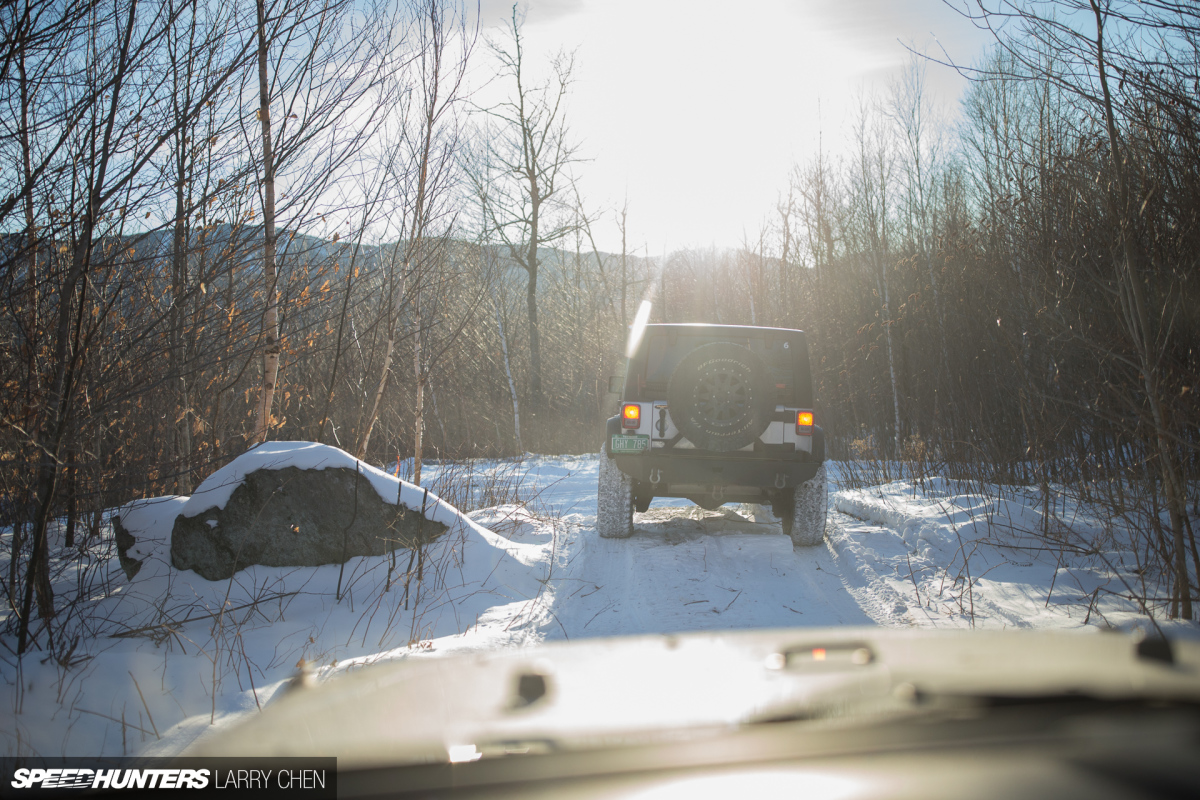 Luckily for us the snow had quite a bit of traction and we made it down without incident.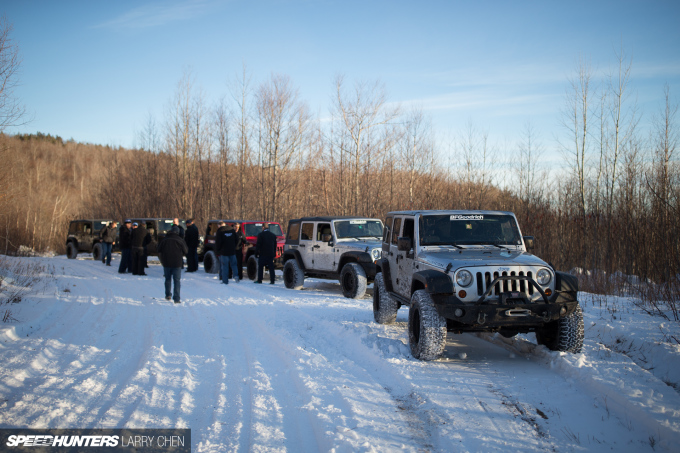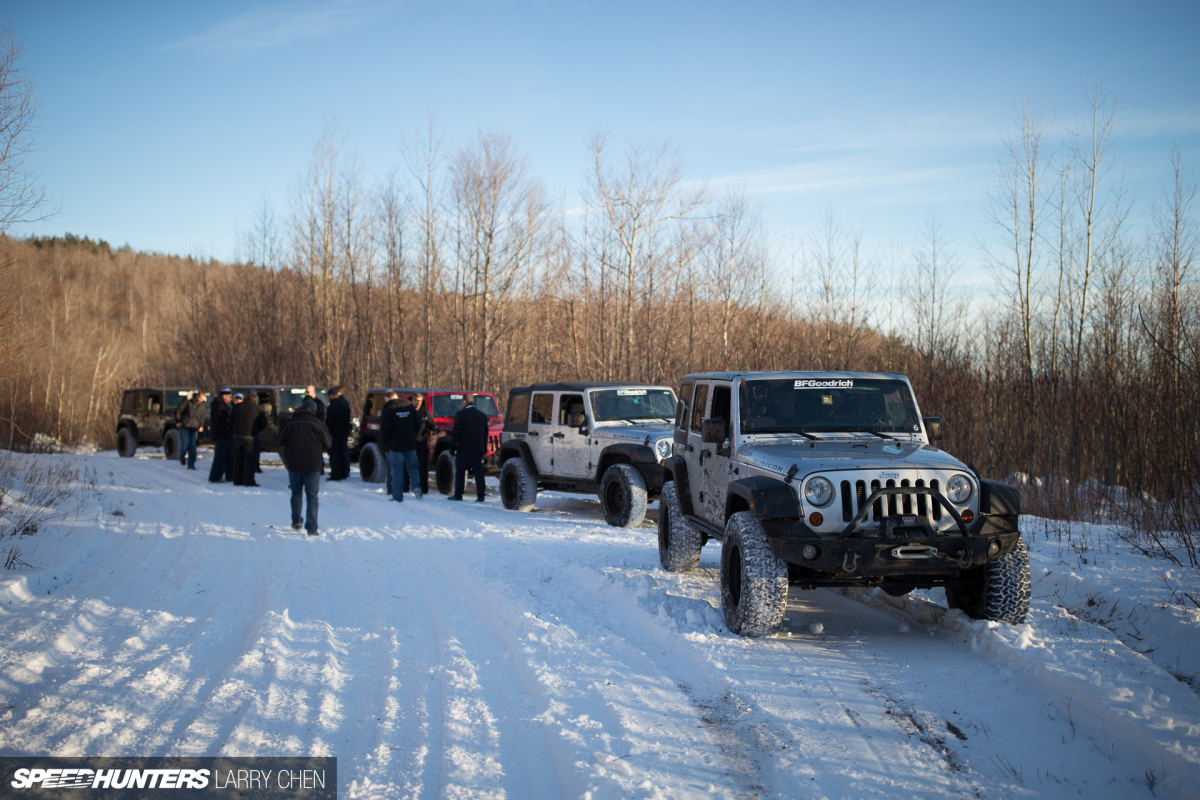 While I was on the trail I kept in mind the saying, 'slow as possible, fast as necessary.' I completely understand it now, having experienced it first-hand behind the wheel.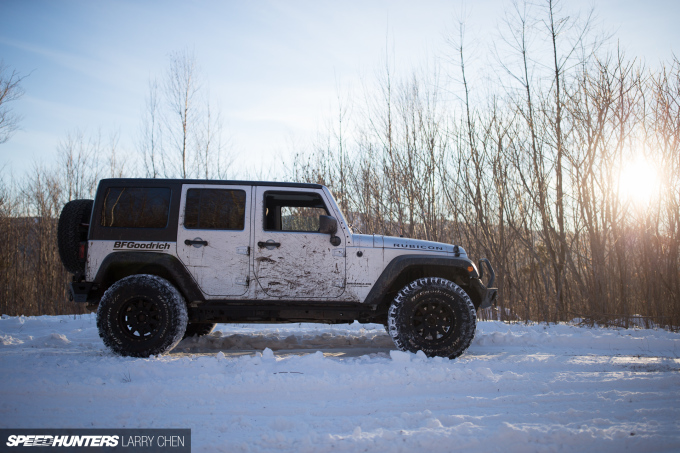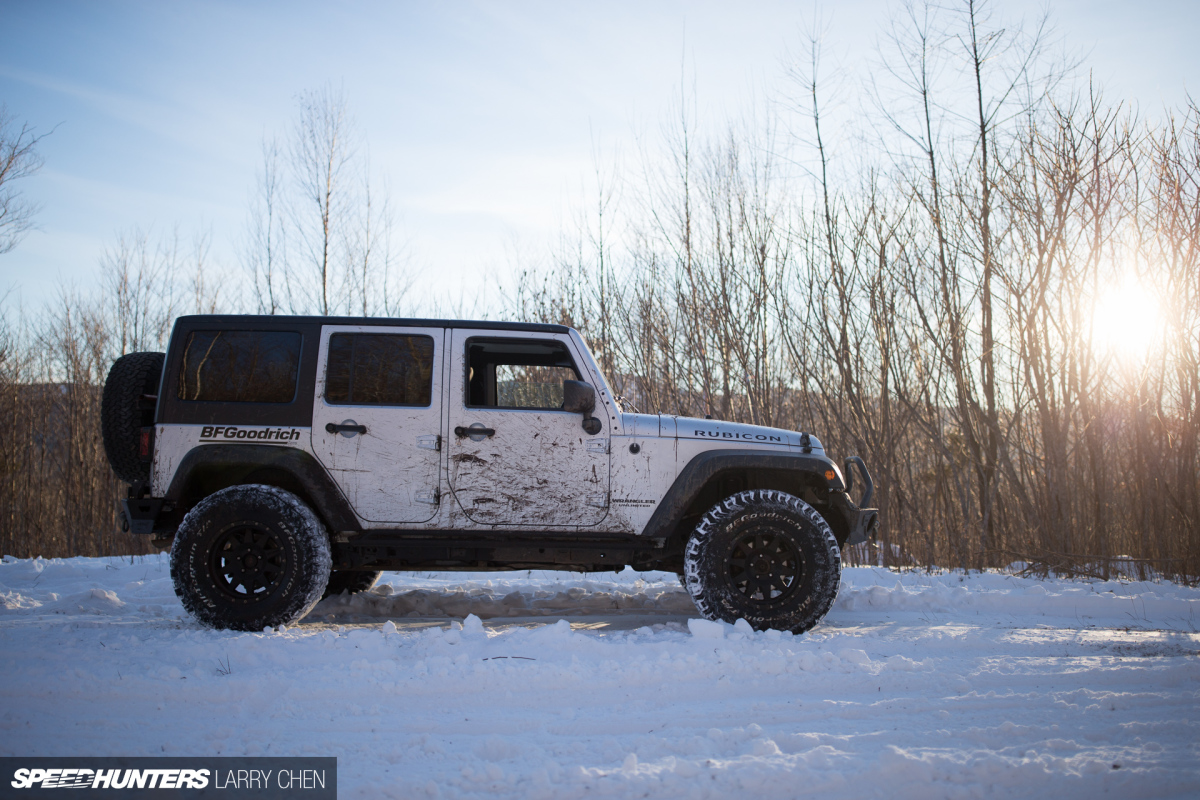 There were so many things I learned that day. Most of all, it was awesome to be able to experience another 'surface' to drive on.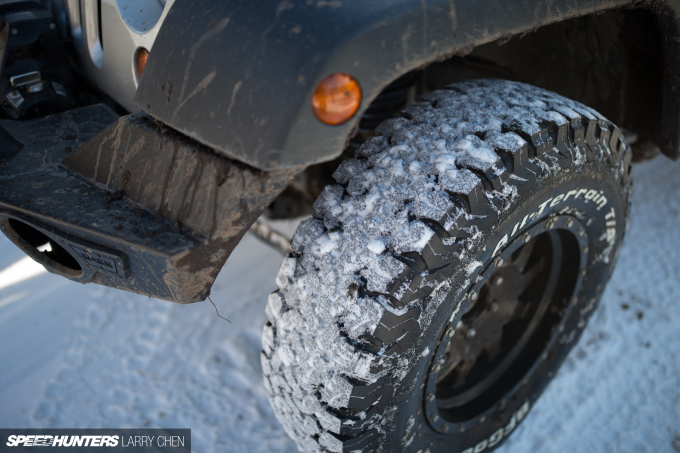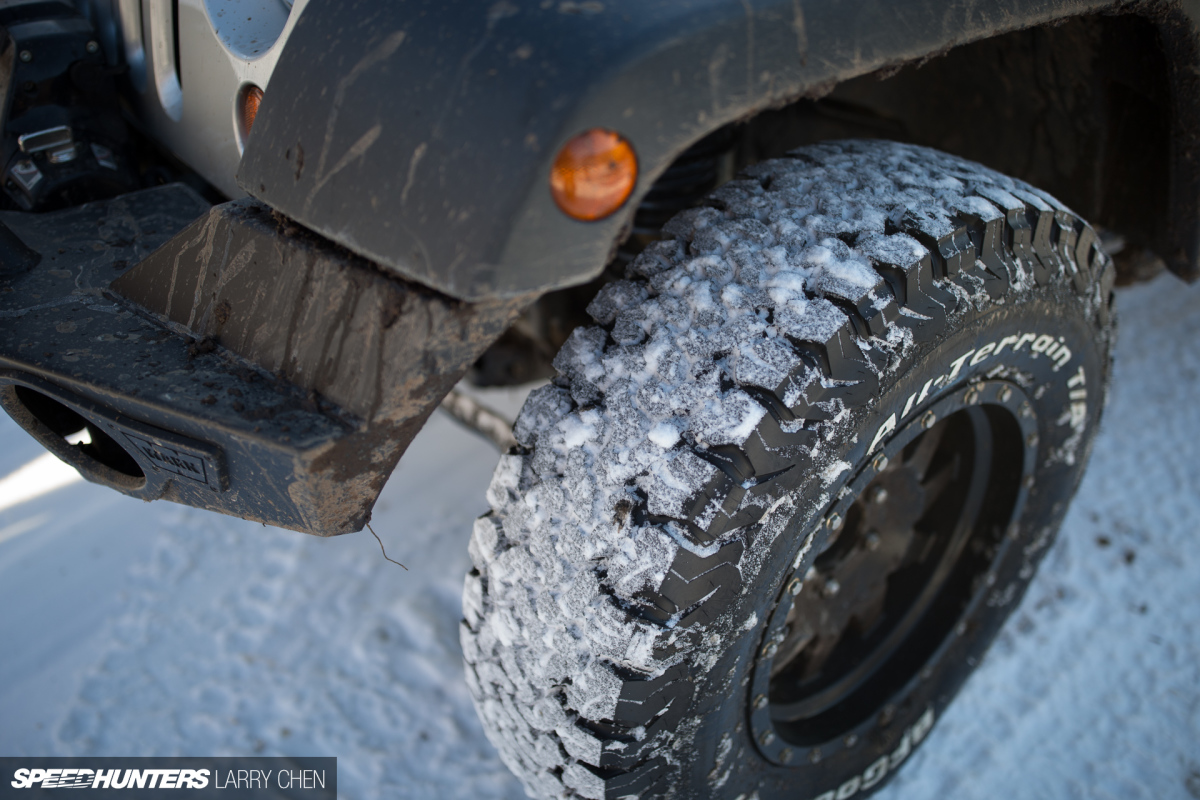 Living in Southern California, I never actually get to drive on the snow, let alone go four-wheeling on it.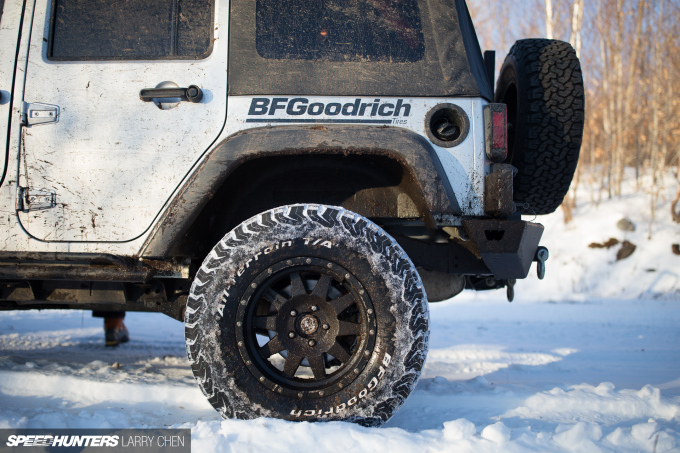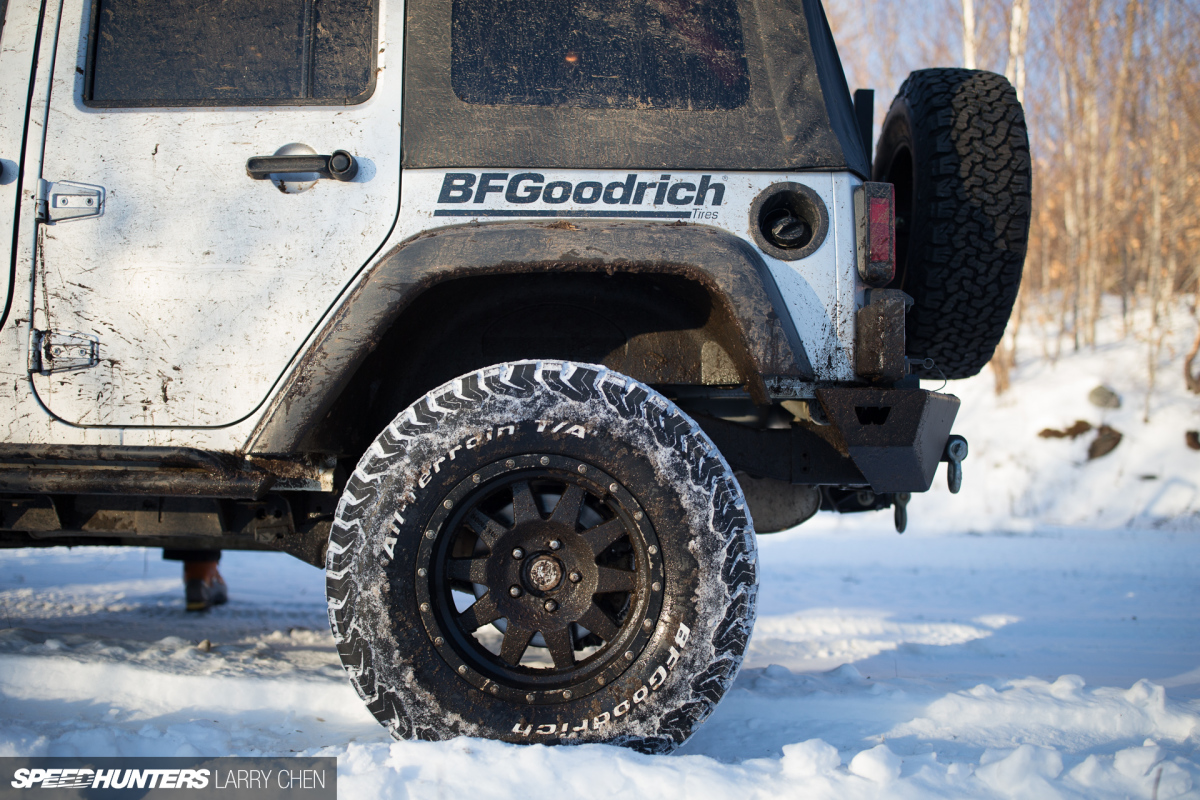 So it was interesting to be able to test out how much traction I actually had in a mix of snow and mud with the K02 tires. These are actually not as aggressive as the KM2s, but then again, these are still perfect for the street.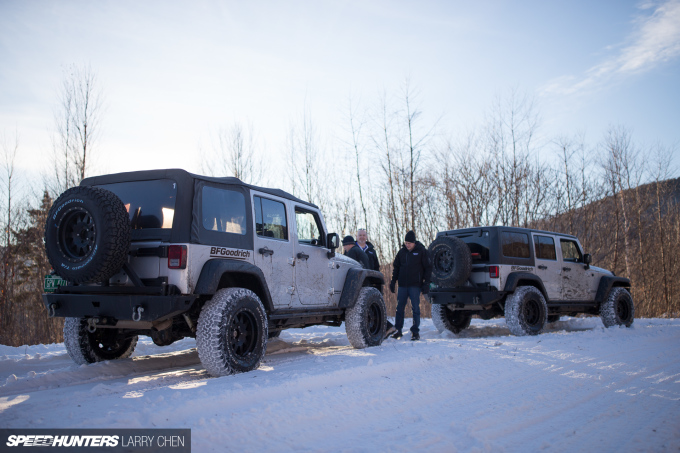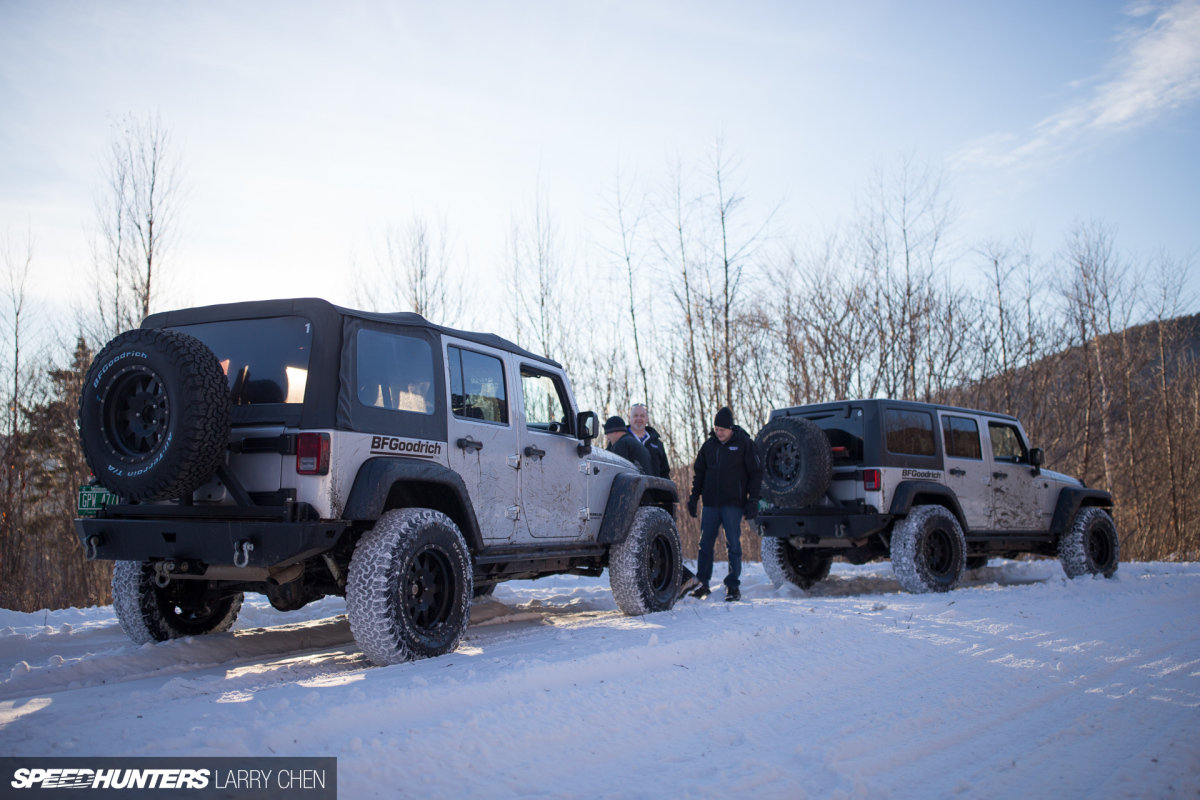 What was also nice for me, was to be able to practice taking the right line over an obstacle. There were points on the trail where it was very narrow, but there was still the 'right line' as opposed to the 'back-breaking, bottoming-the-chassis-out' line.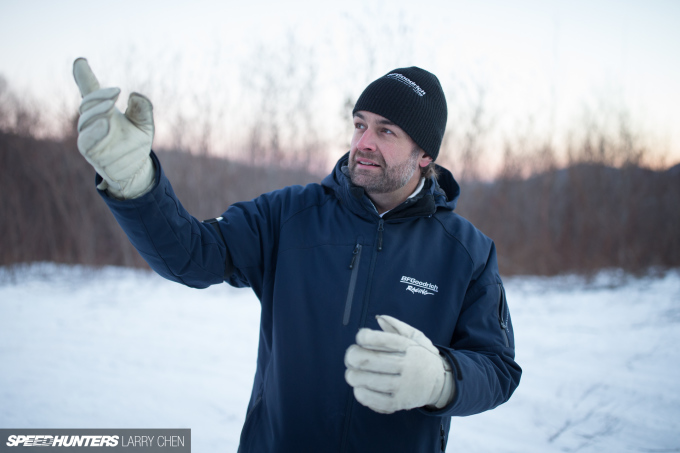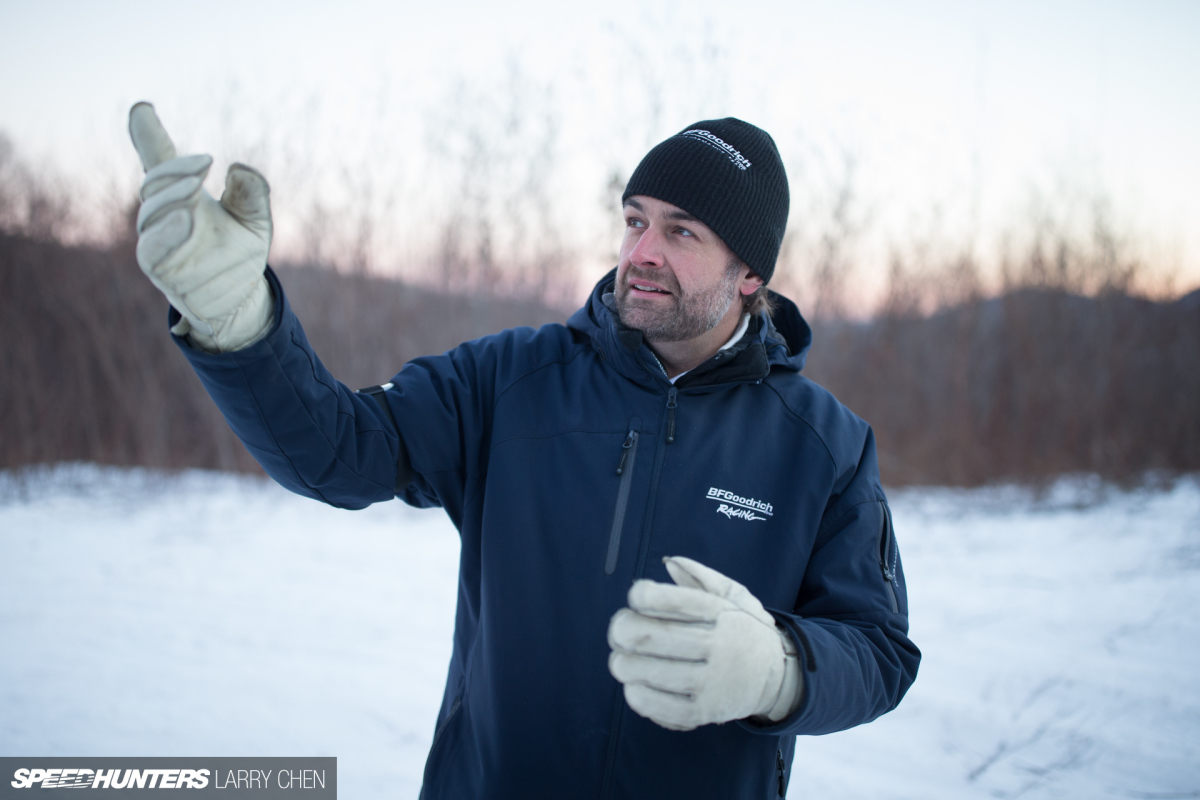 Afterwards, the guys at BFGoodrich wanted to give us a bit of a demo, specifically to show the difference between driving on all-season tires in the snow and winter passenger tires. It was hosted by a friend of Speedhunters, Andrew Comrie Picard.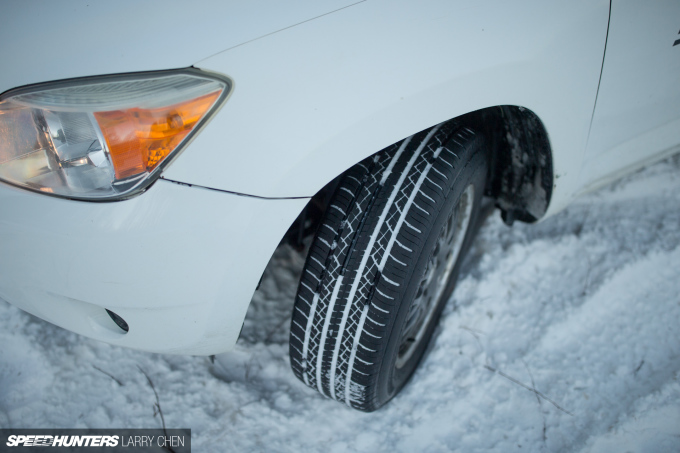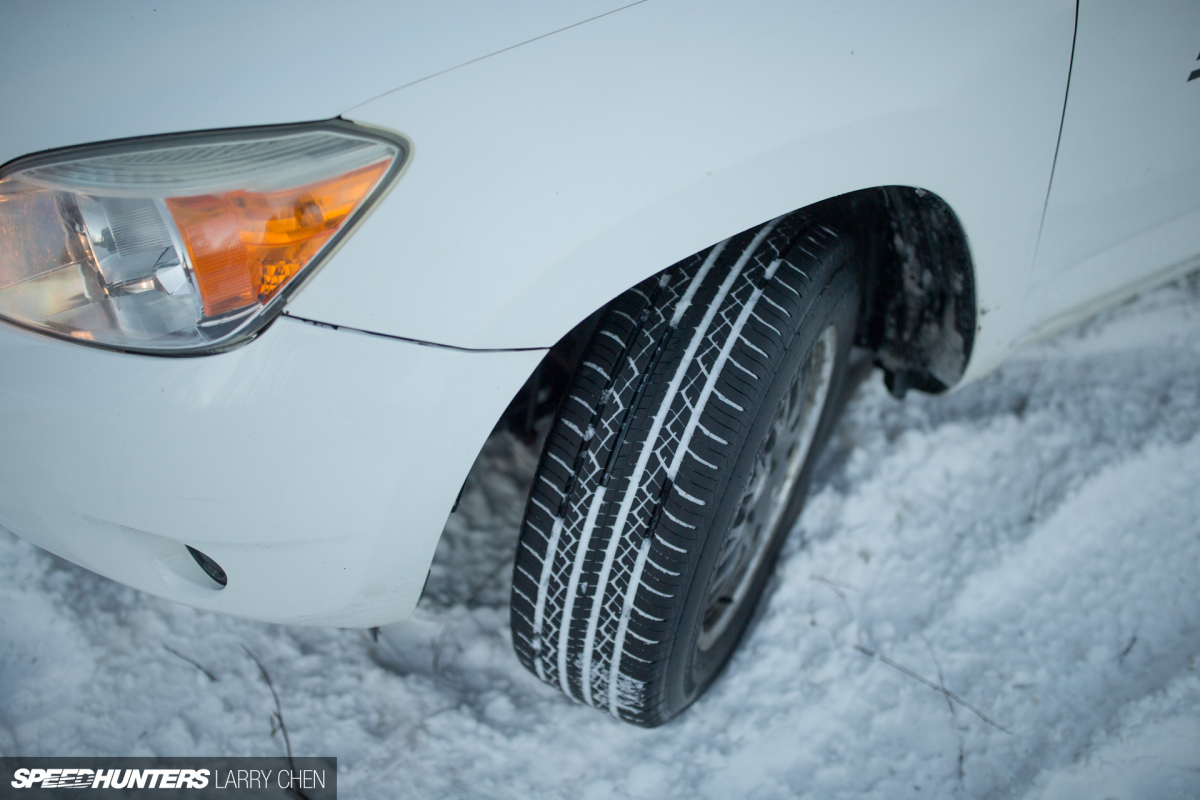 The test vehicles were a couple of all-wheel drive Toyota RAV4s. One was equipped with BFG all-season tires…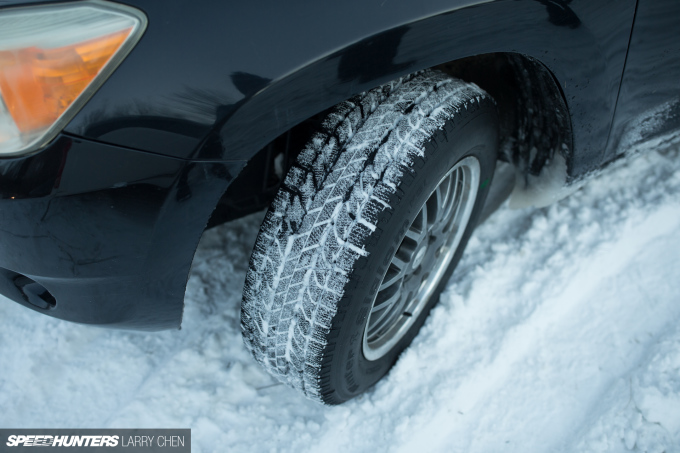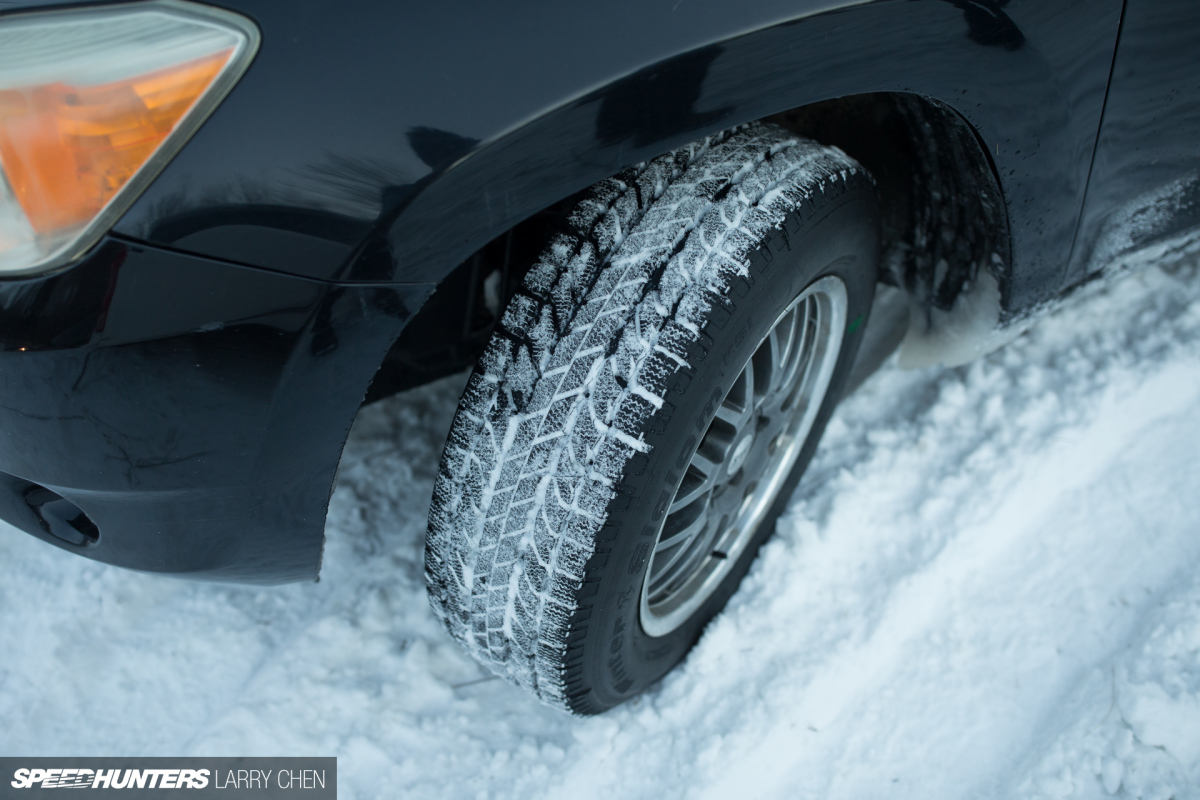 And the other was equipped with winter tires. The test was meant to highlight stopping differences as well as driving on a less rough part of the trail that we were on earlier.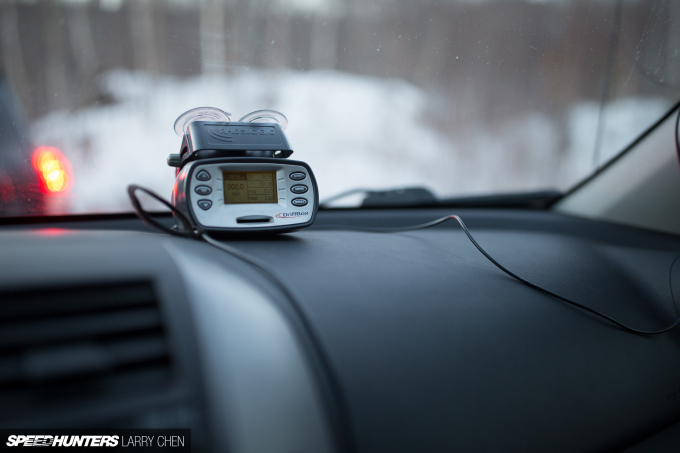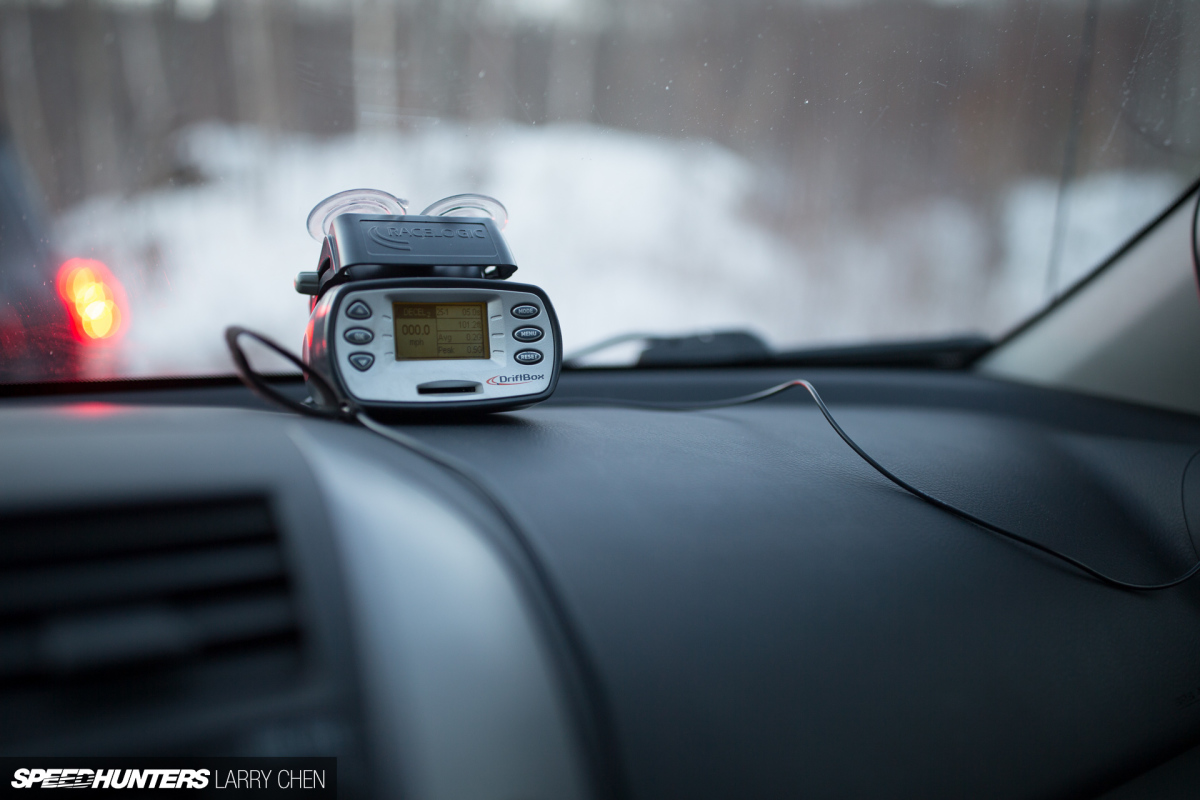 As we went through the braking tests, the instructor timed us using a GPS-based Racelogic Drift Box.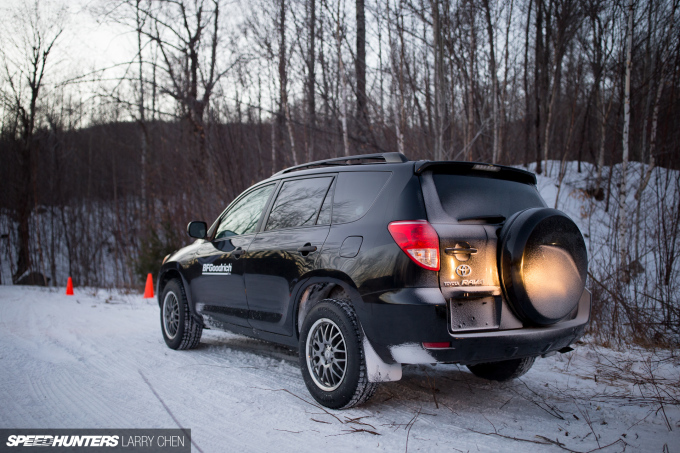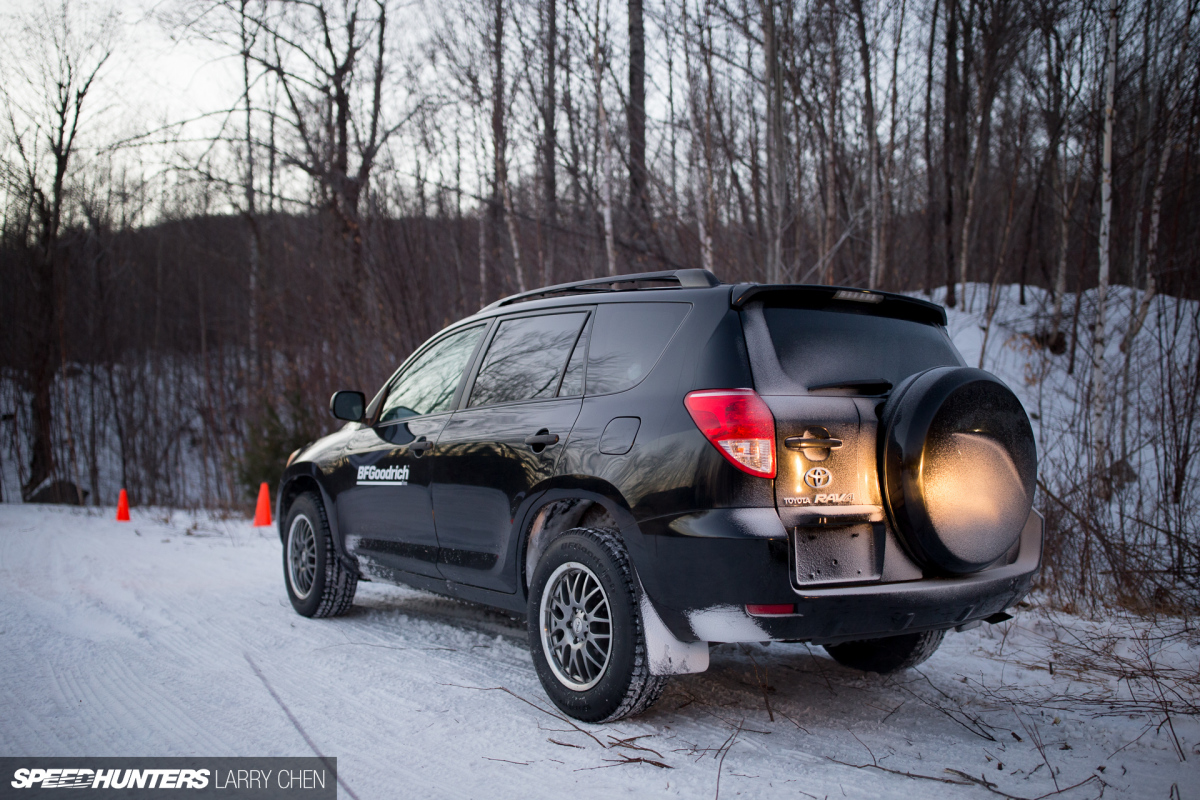 I was able to stop about two car lengths better with the winter tires, which goes to show you that those two car lengths could mean the difference between you stopping or you driving over a cliff.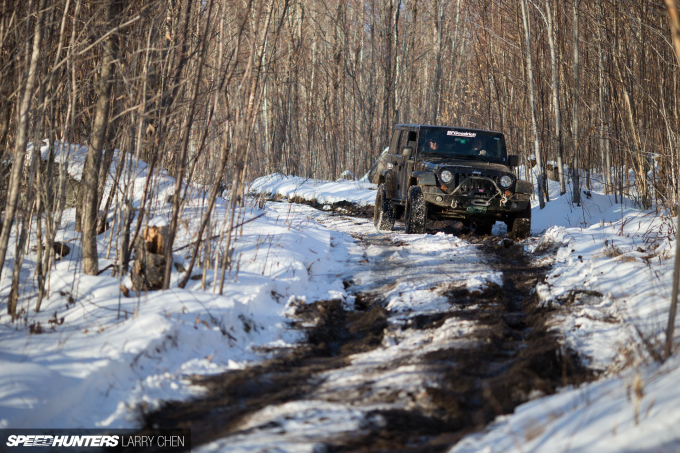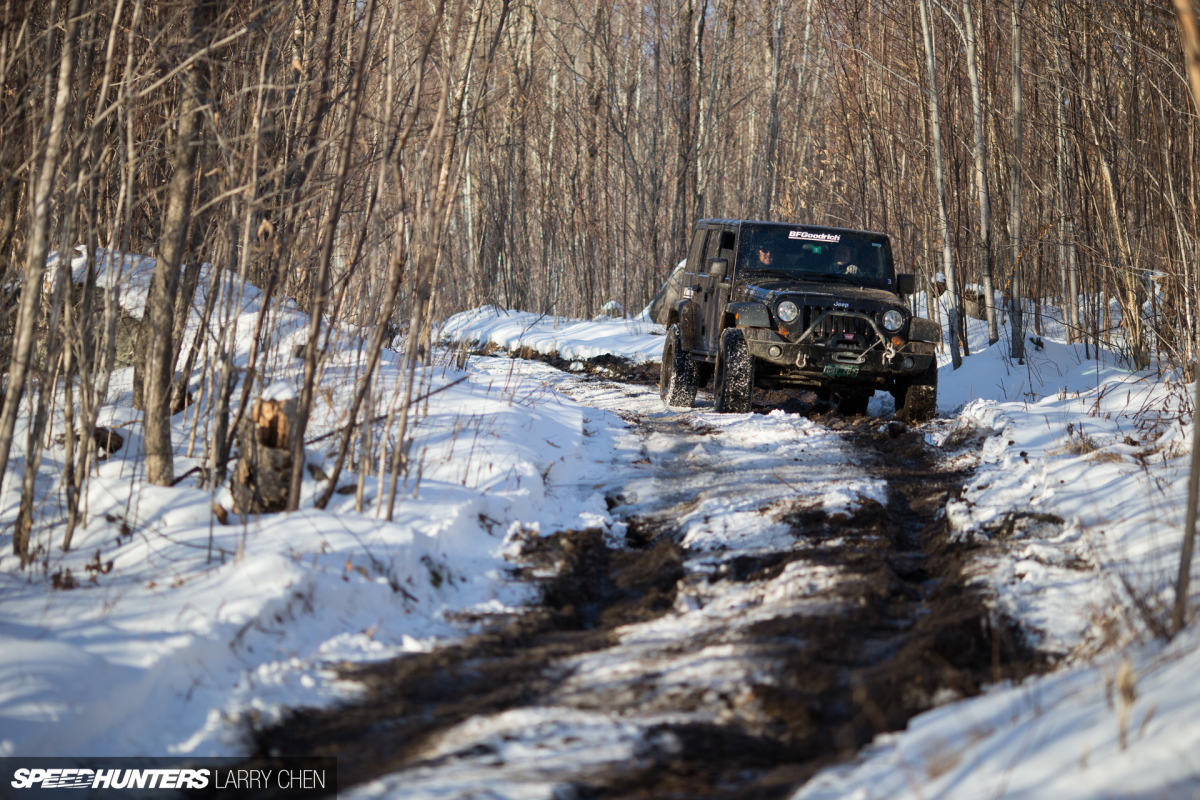 Overall, it was a great experience, and I want to thank BFGoodrich for the good times. I am definitely looking forward to learning more about off-road driving in general. I recently picked up an off-road rig myself, and will be building it up in the next year, so stay tuned for that.
Larry Chen
Instagram: larry_chen_foto
larry@speedhunters.com