Relatability
I'm not going to lie, this is an intimidating car.
Before I travelled to Qatar for the third round of ADRL, I spent as much time as I could trying to learn as much as possible about drag racing. I've never seen it as simple as two cars driving in a straight line, but I still don't think I was prepared to learn just how fascinating a sport it is.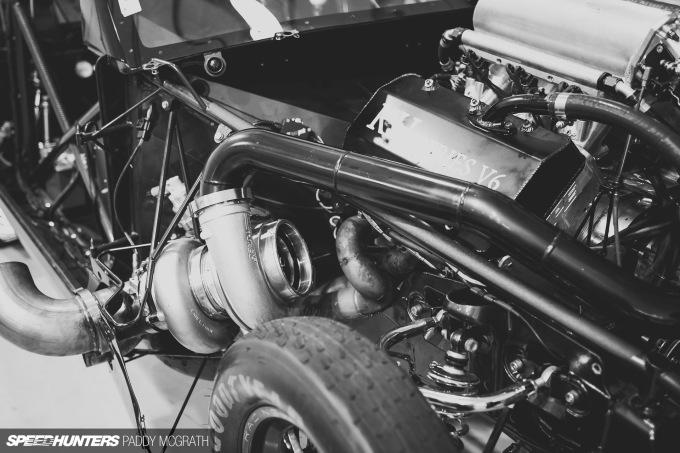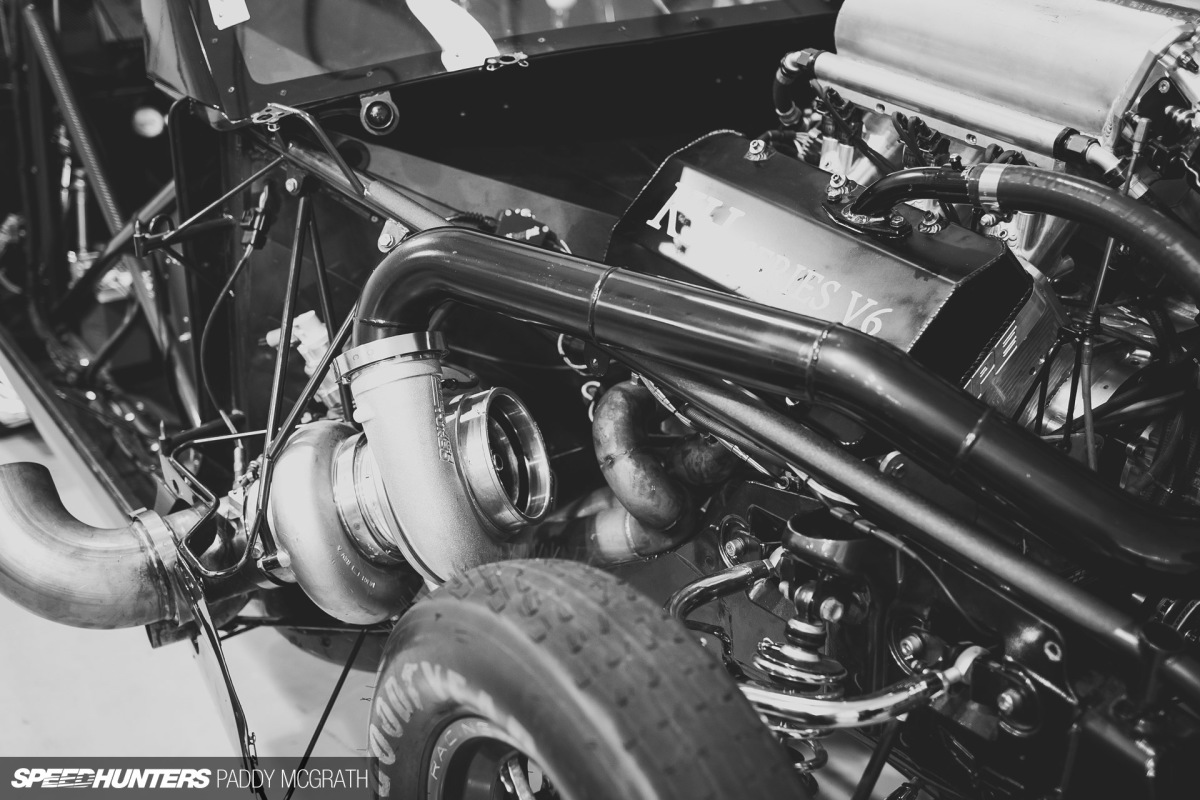 Trying to figure out the subtle – and sometimes not so subtle – differences between the varying classes only dragged me deeper down the proverbial rabbit hole. Before I had even seen a car run in anger, I was hooked.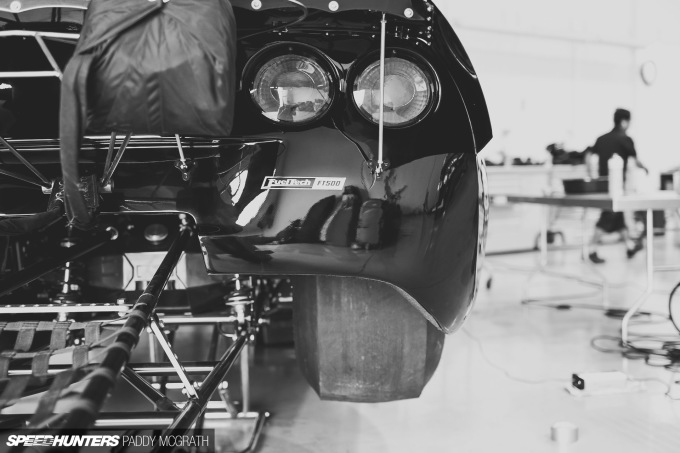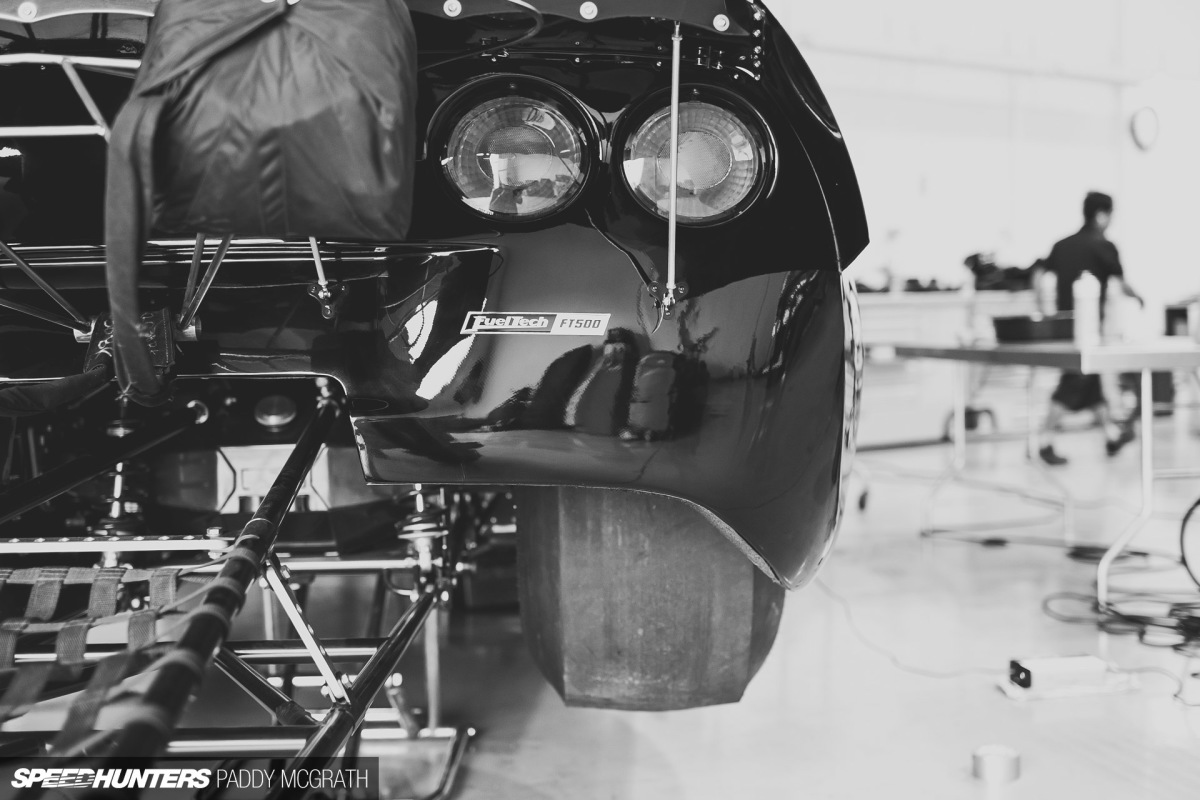 What likely appealed to me most was that the top ADRL classes featured 'doorslammer' cars. It's something so simple, but for me made all the difference in allowing a car to become relatable. These aren't 'funny cars' where a single-piece composite body is just dropped over a chassis; doorslammers bear a lot of resemblance to street cars, and actual doors are a defining aspect.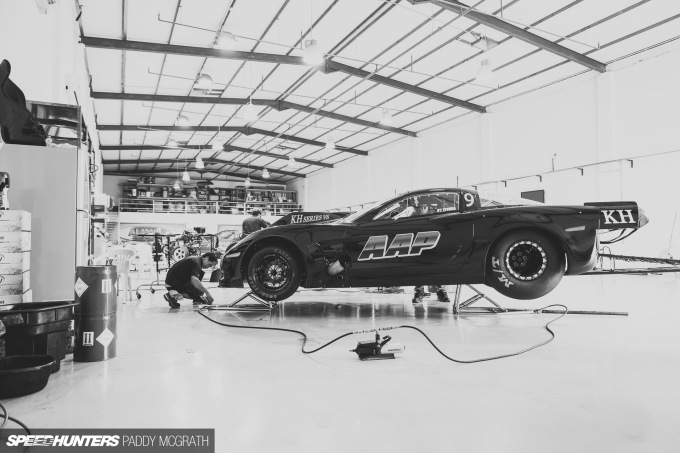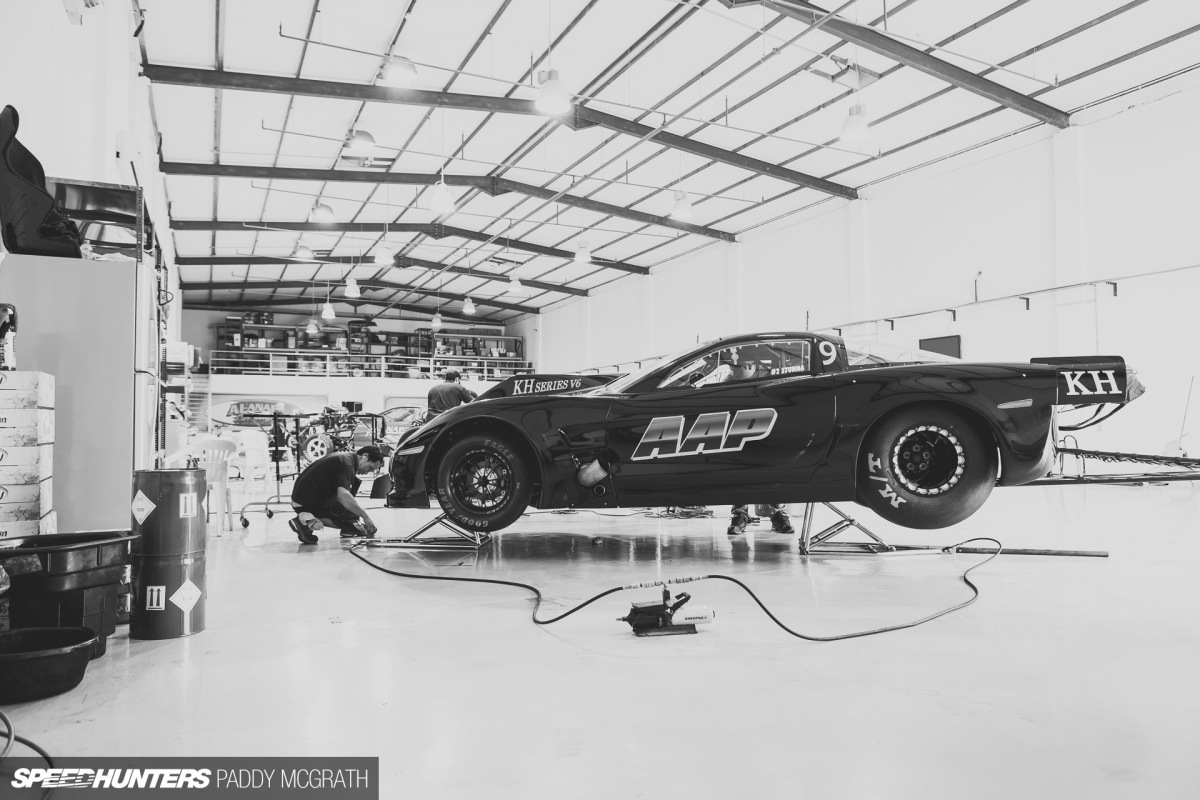 One of the cars that I was most excited to see had a lot of people talking online. I'm not sure if it was because I was specifically looking in its direction at the time, but my social feeds were full of this V6 Corvette that was breaking records at each event.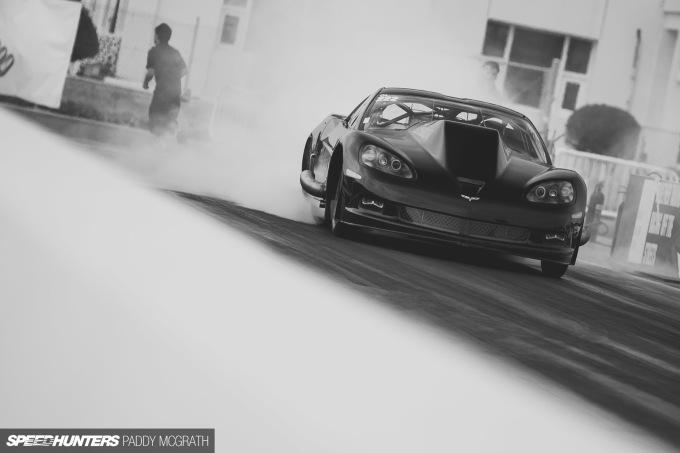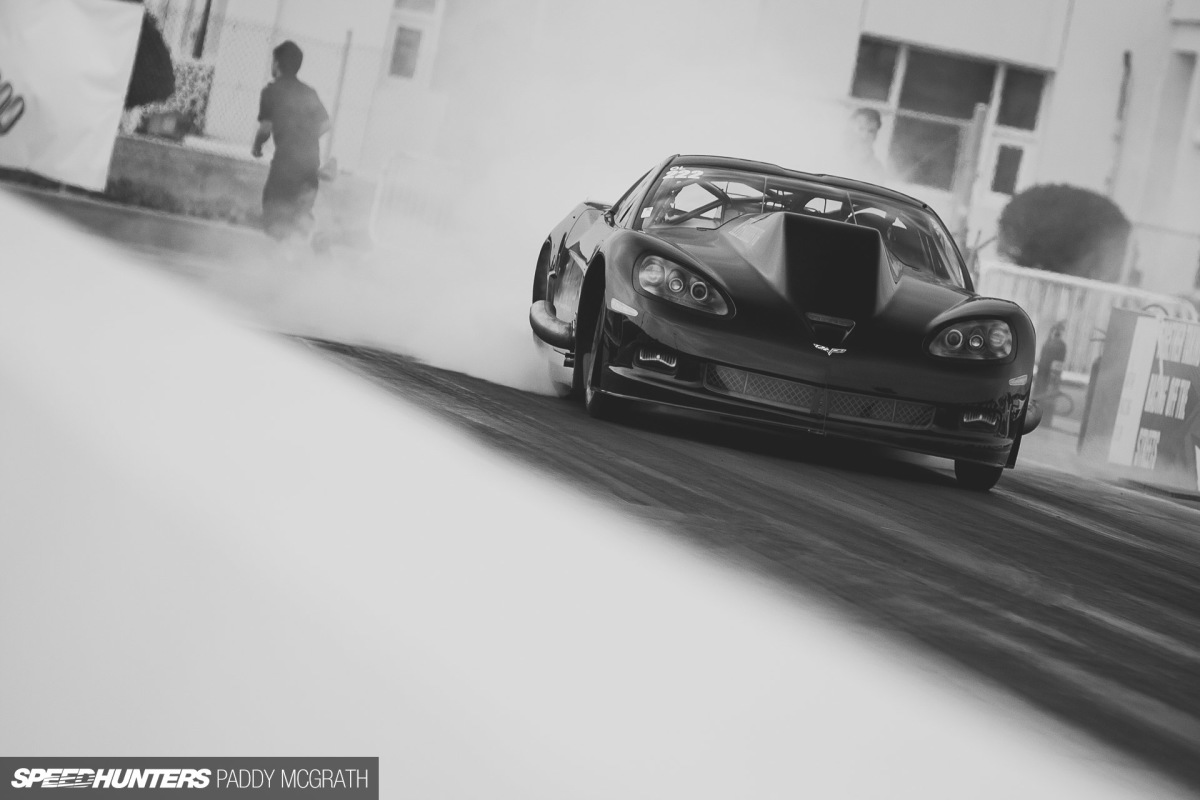 Wait? A V6 in a Chevrolet? That's got to be some sort of misprint, right? Well, I've got some news for you…
Talk Quietly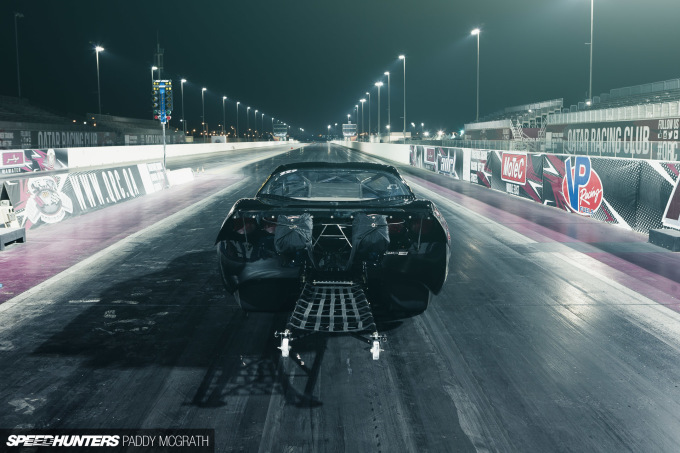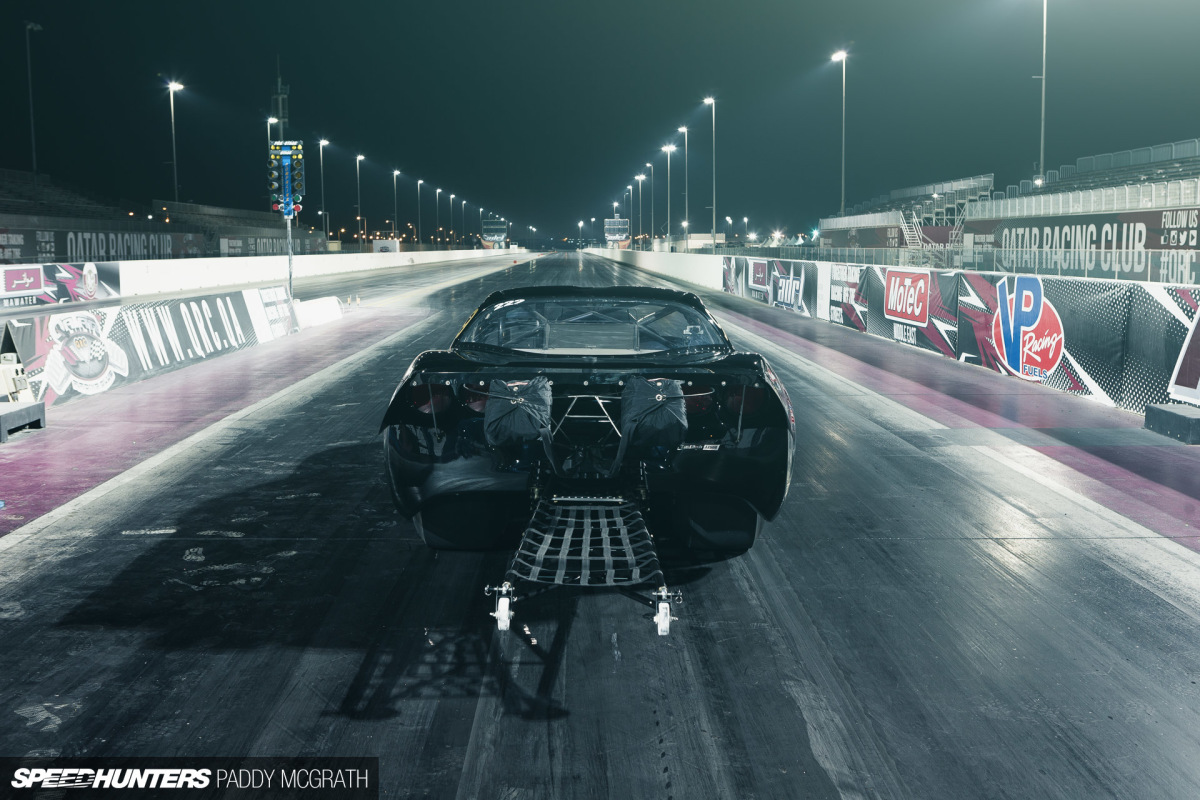 I want to start this feature with a short aside. This is a car that pretty much nobody knew anything about until it smashed the Outlaw 10.5 record at the start of January. Do you know how refreshing that is? Working within the industry, you typically always know about a car or project months before it even turns a wheel. Every piece of non-news has become newsworthy, and as such there's rarely anything to be surprised or excited about anymore.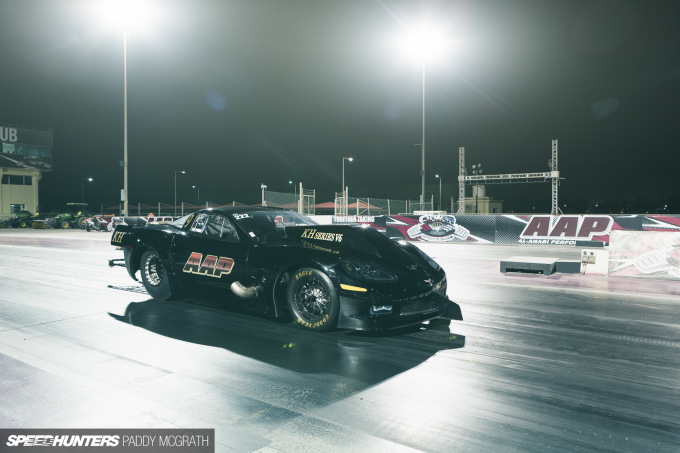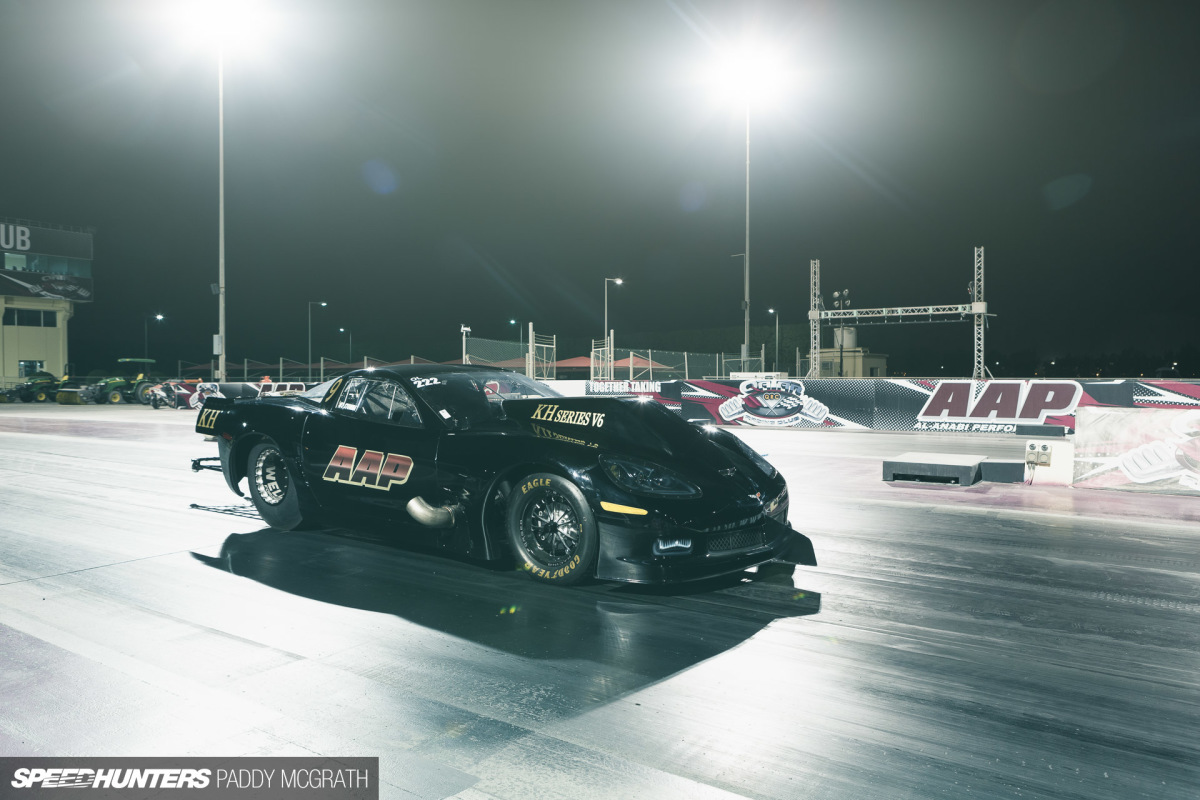 This is an Al Anabi Performance project which was created with the assistance of some of the very best people in the drag racing world. AAP itself is a new business, created off the back of the successful Al Anabi Racing team. At this point, you might be thinking that AAP is just the play thing of some oil rich prince, but I can assure you that business is taken very, very seriously.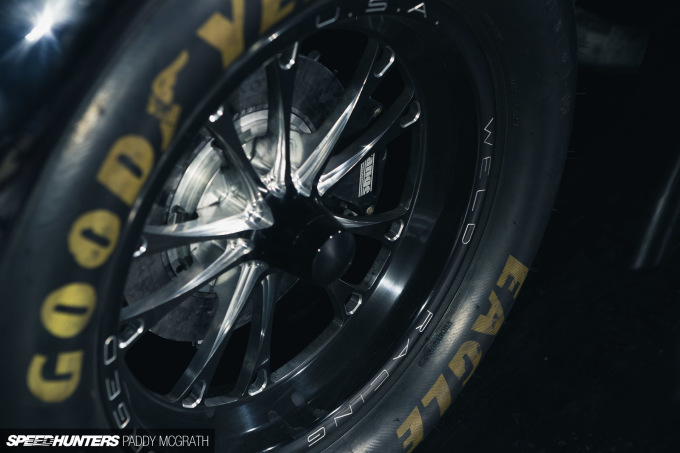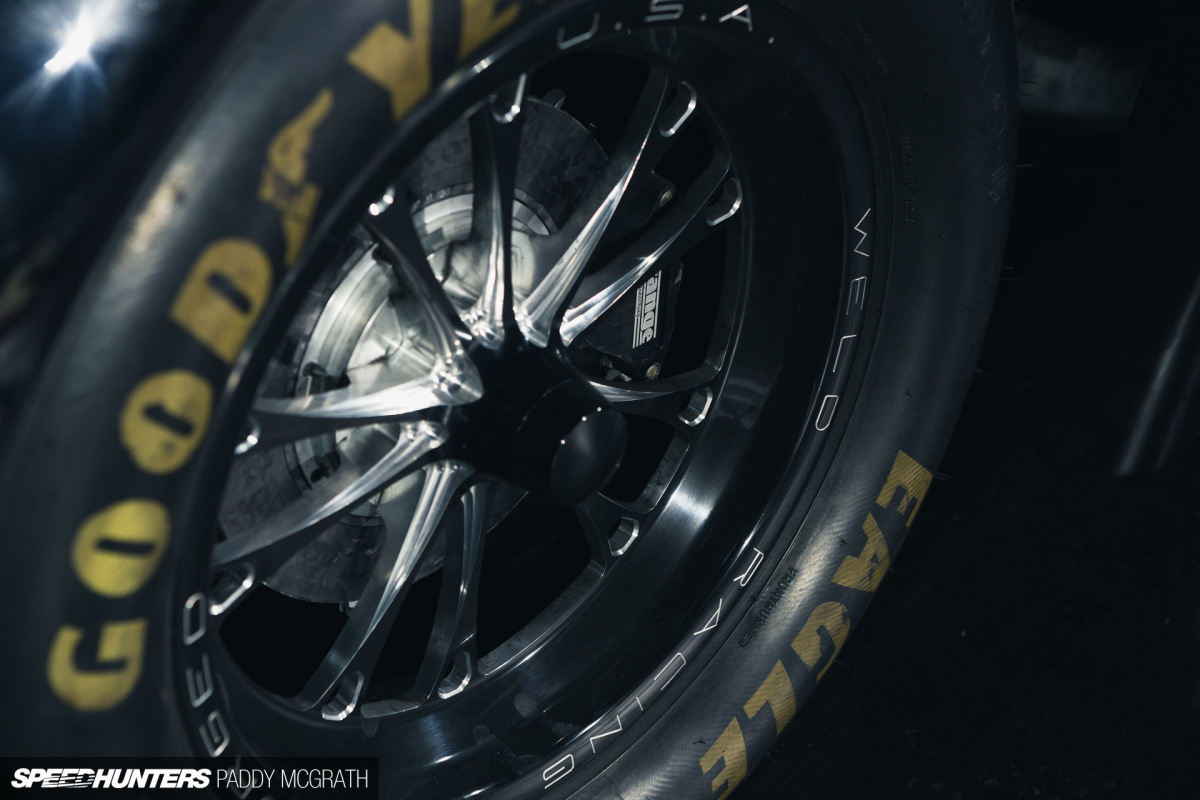 What struck me most when speaking to anyone involved with this C6 project, is how reserved and quite humble they were about things. There was no outlandish claims, no smack talk of their rivals, or anything along those lines. They were just very much focused on what they were doing and how they could improve upon it.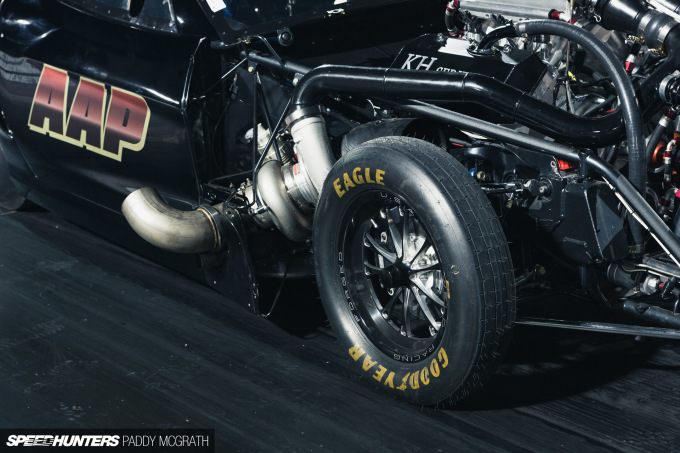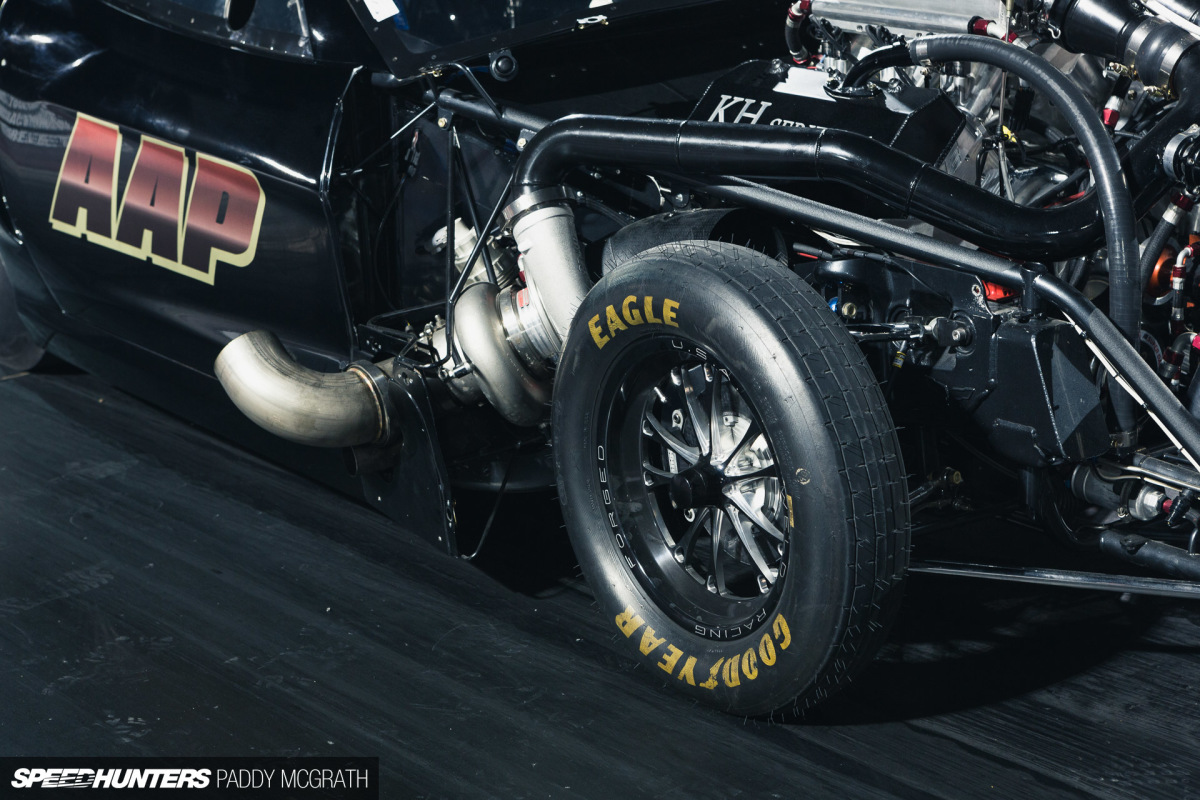 Motorsport can be quite macho-aggressive at the best of times, so I found AAP's approach to be a breath of fresh air. The team personifies that age-old adage of talking quietly…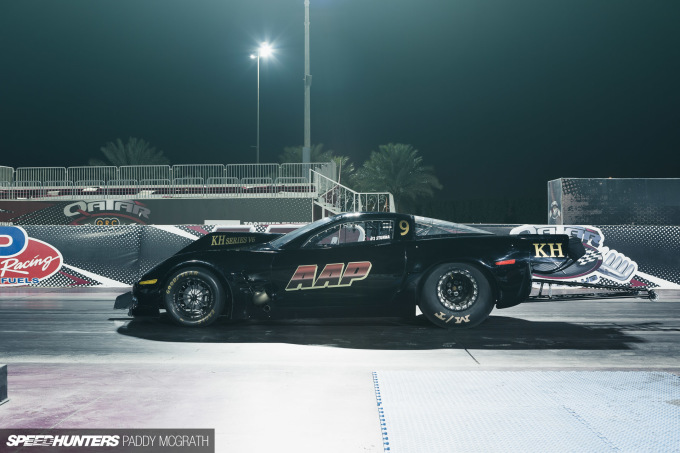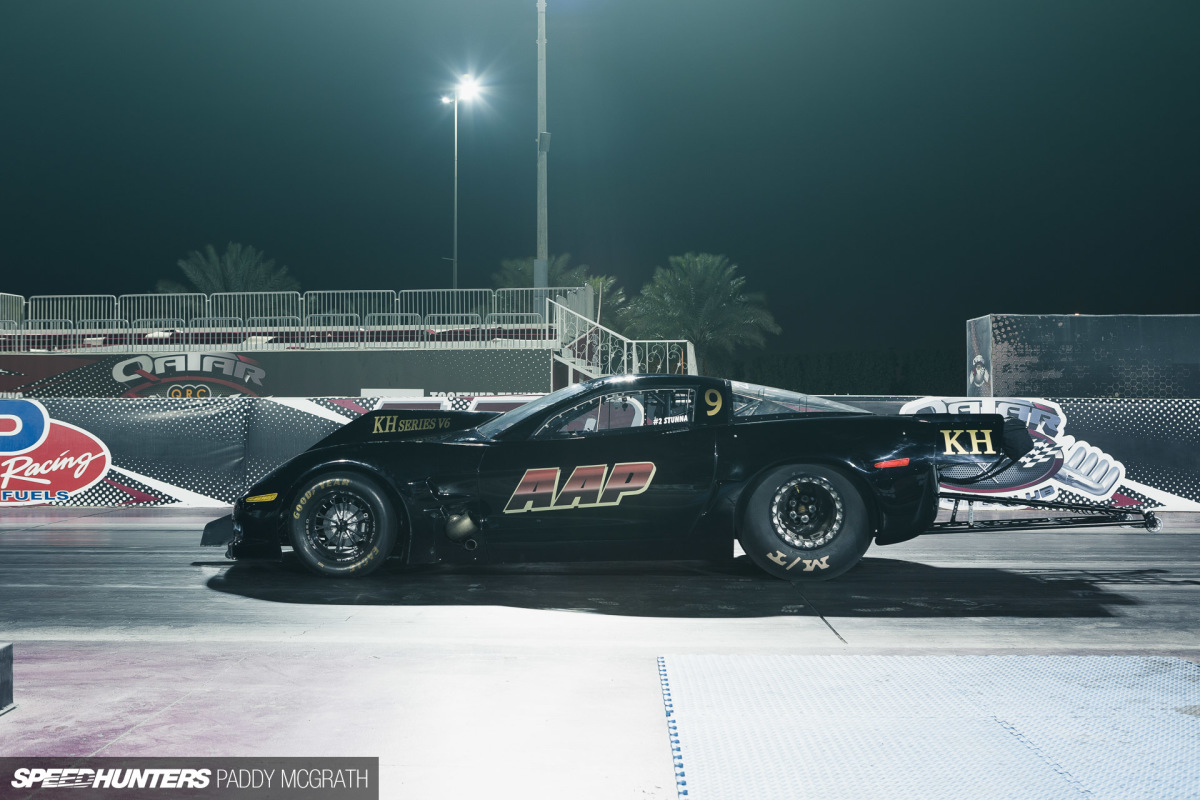 So, just what exactly is this that we're looking at?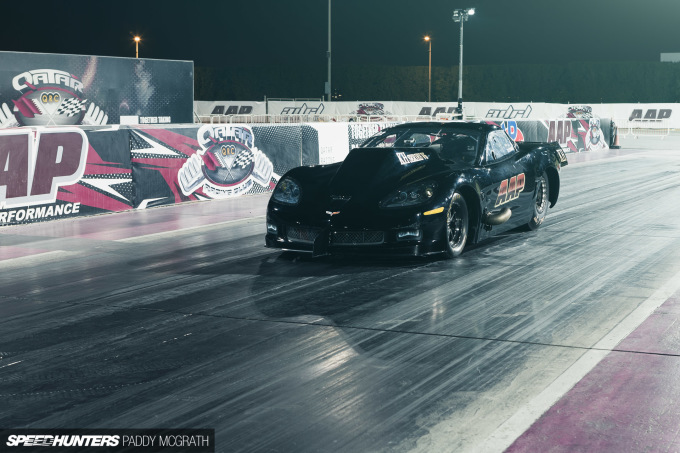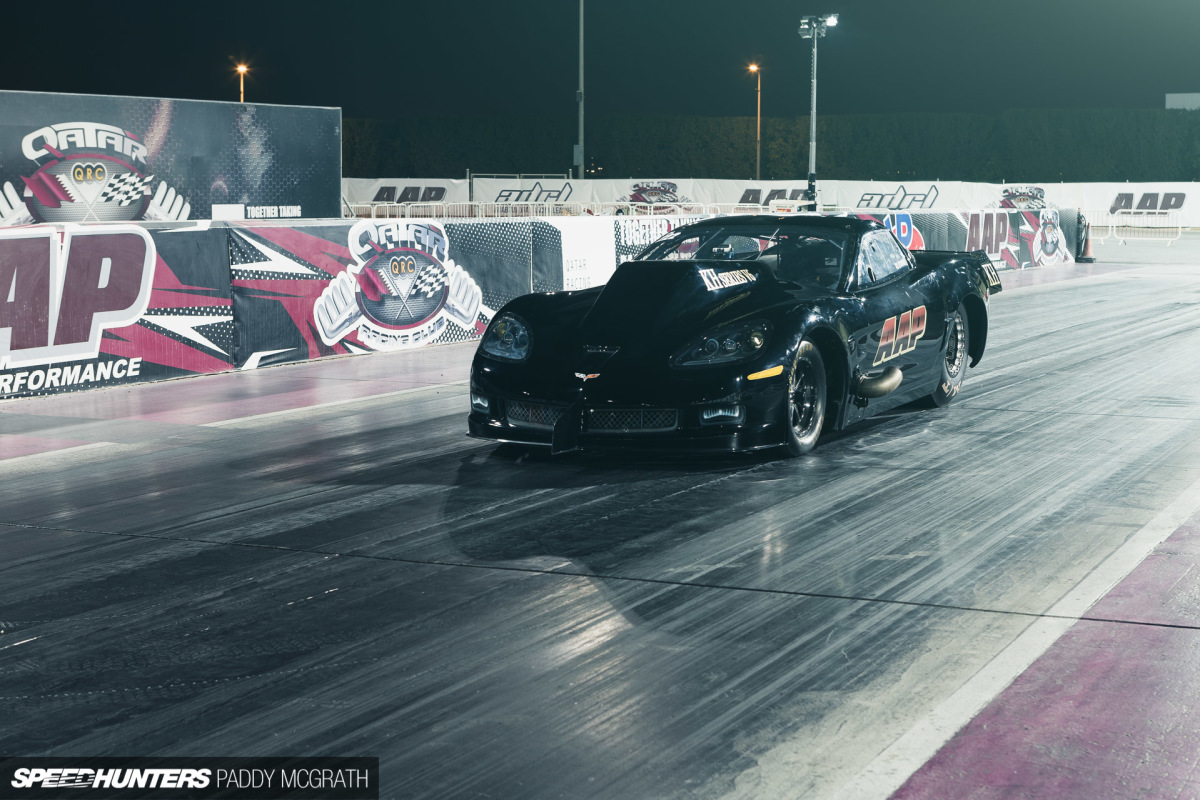 It'll probably come as little surprise, but there's very little C6 Corvette left within this car. At the same time, it still retains the essence – at the very least – of the production car it's based upon. This is what they call an 'Outlaw 10.5′ car in the drag racing world, and as such it must adhere to a very strict set of guidelines and regulations. The wheelbase, for example, must remain the same as the stock production car, although there is a slight allowance of an inch or two either way.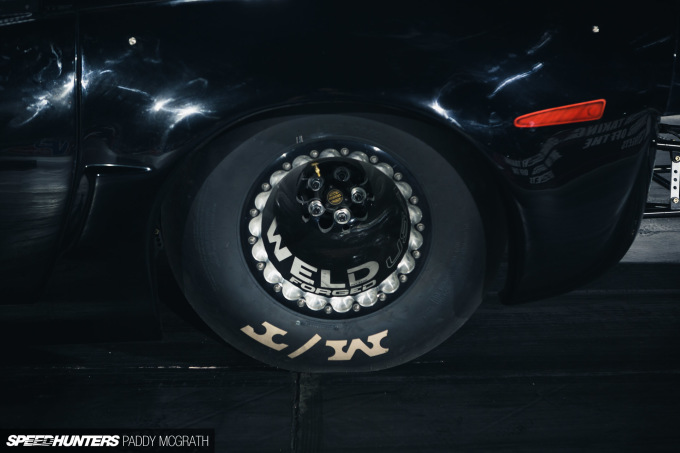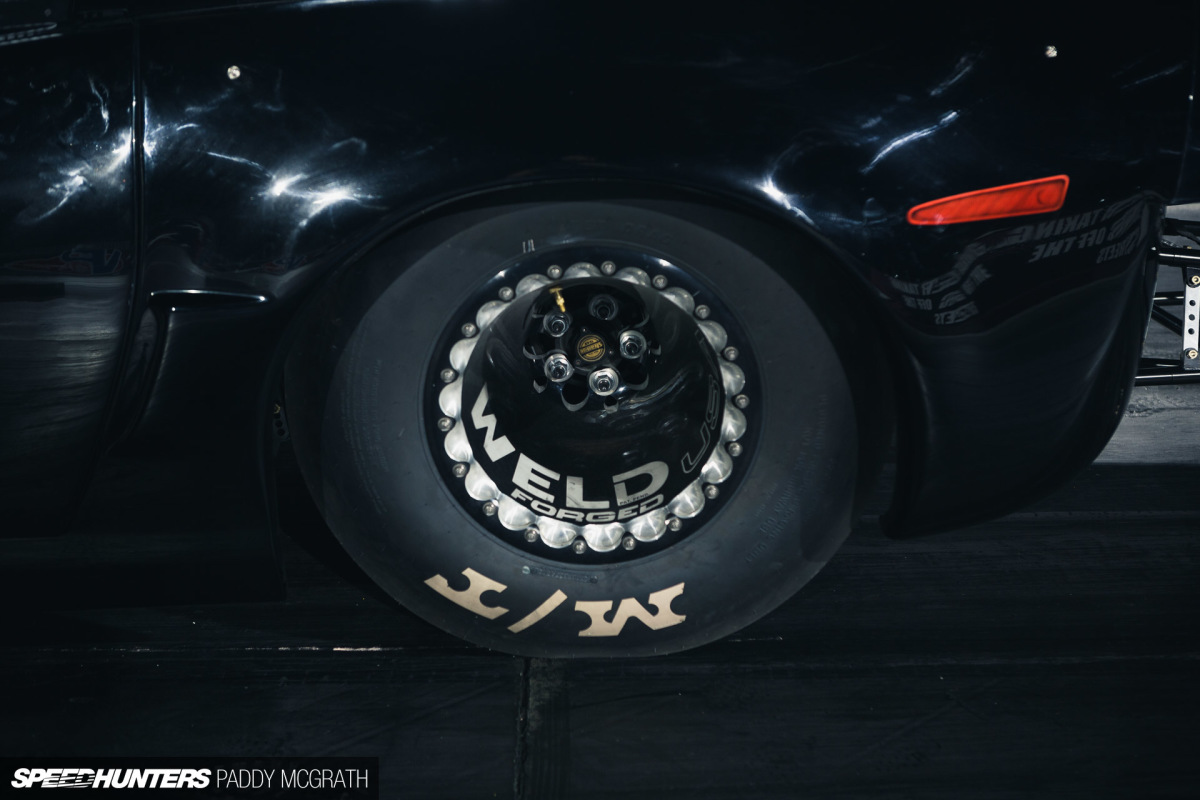 The '10.5' bit of the car's designation is reference to the rear tyre size. An Outlaw 10.5 car may only run a 10.5-inch section rear tyre, compared to a Pro Mod (aka Pro Modified) car which can run a 16-inch wheel with typically a 17-inch tread section rear.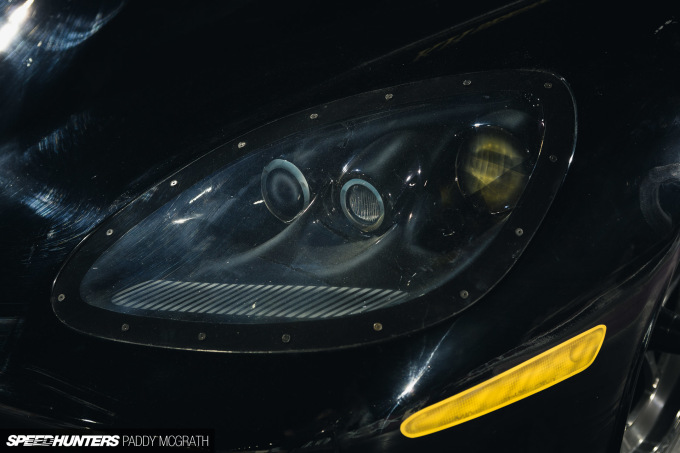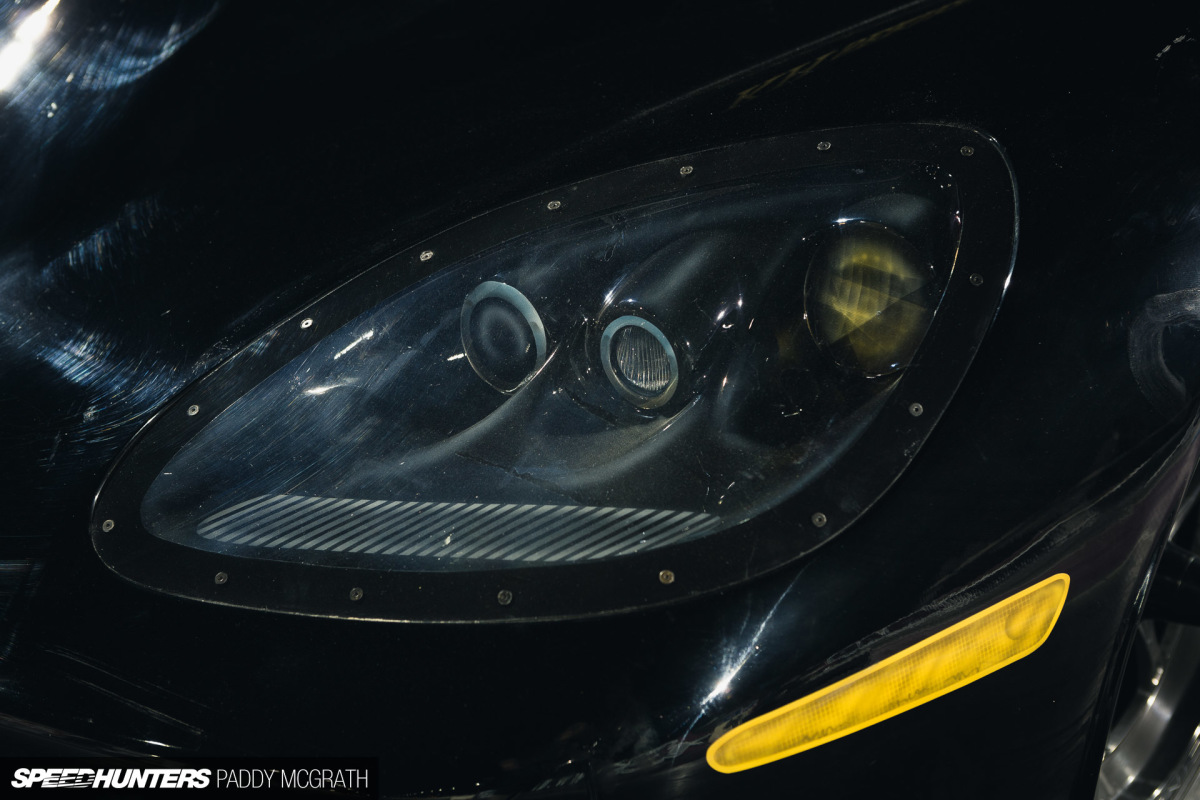 The Outlaw cars have a lower weight limit compared to Pro Mod, in some cases an unlimited lower weight depending on your specific setup, but must run with full lights front and rear.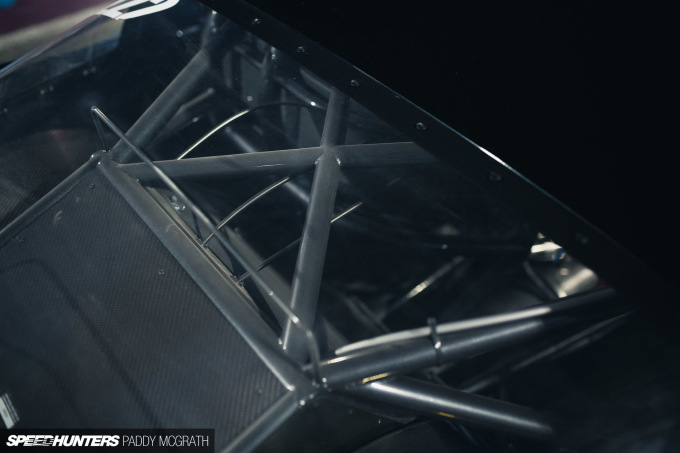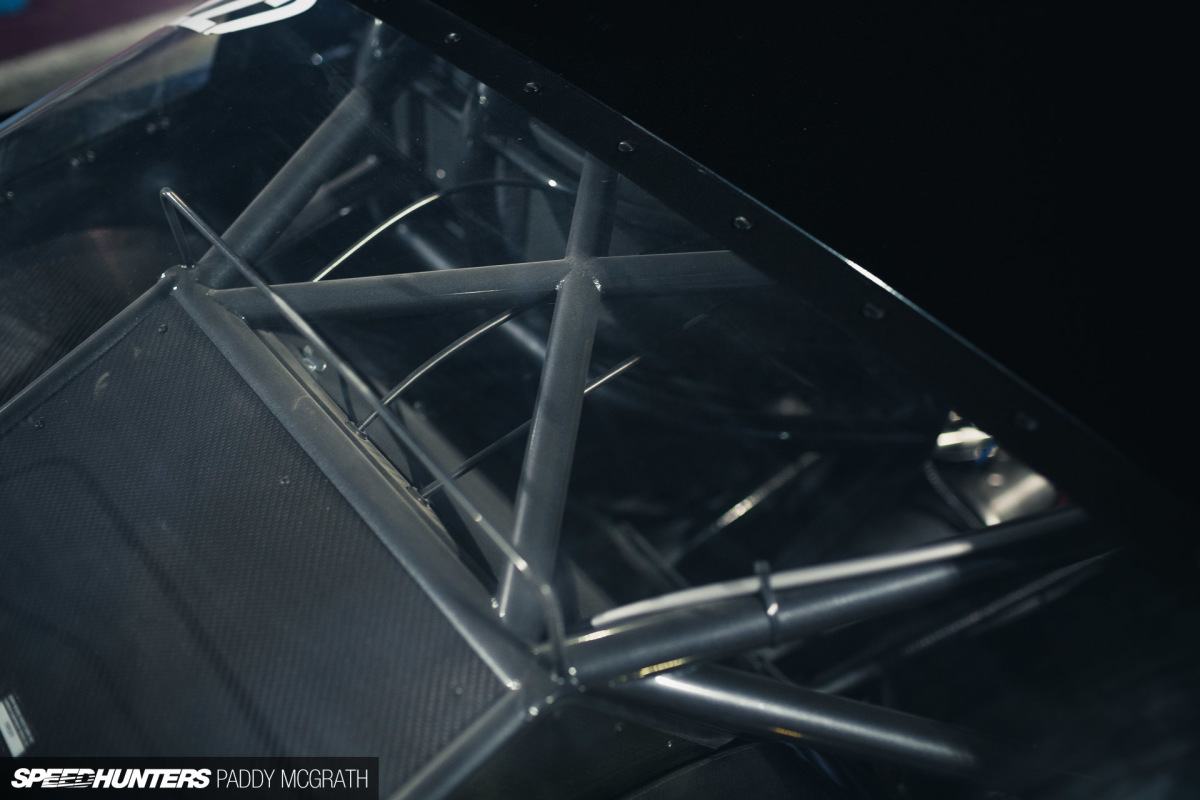 AAP's C6 is based on a Jerry Bickel Race Cars Pro chassis, with composite bodywork added to give it its C6 shape. Another stipulation of the rules is that the car must retain the OEM-type front frame rails and the firewall must remain in its original position, although it can be modified for engine fitment.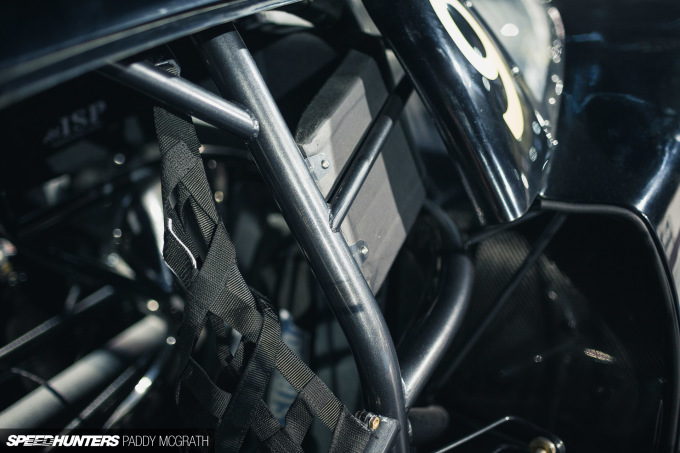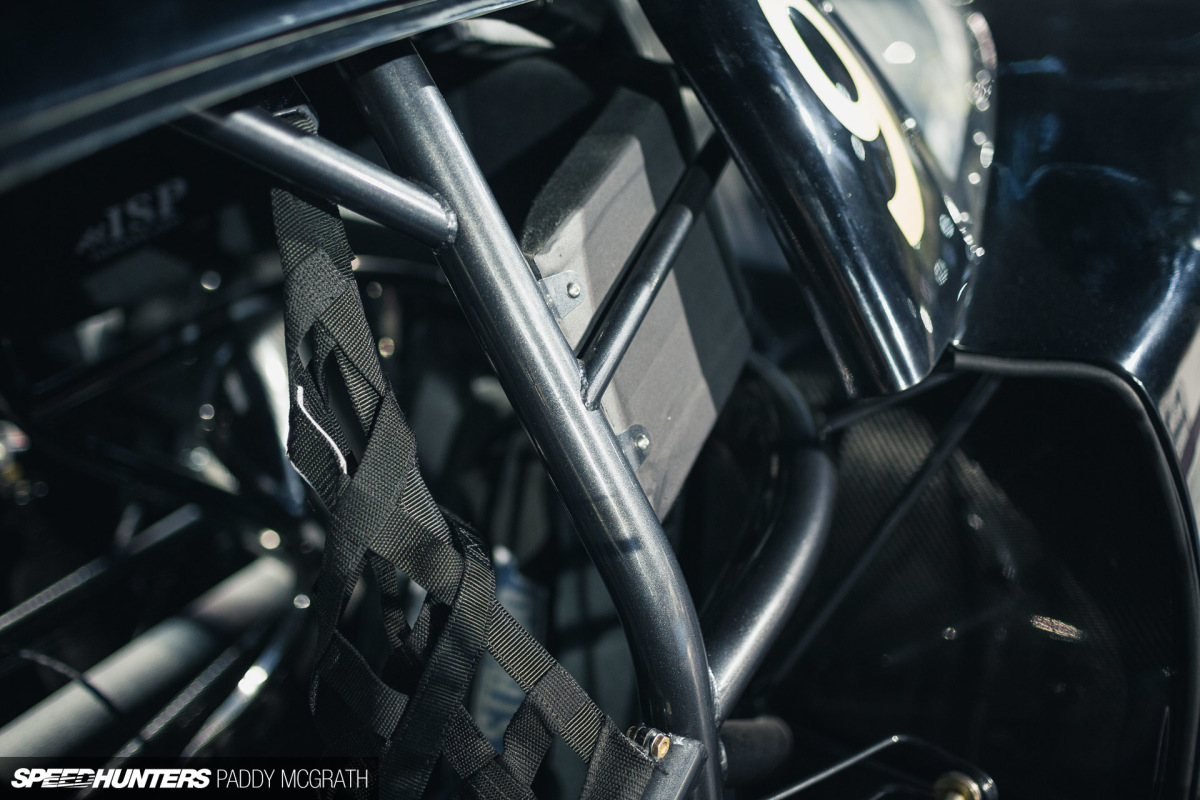 Safety is paramount here, for reasons which will become apparent, if they are not so already.
Eight Minus Two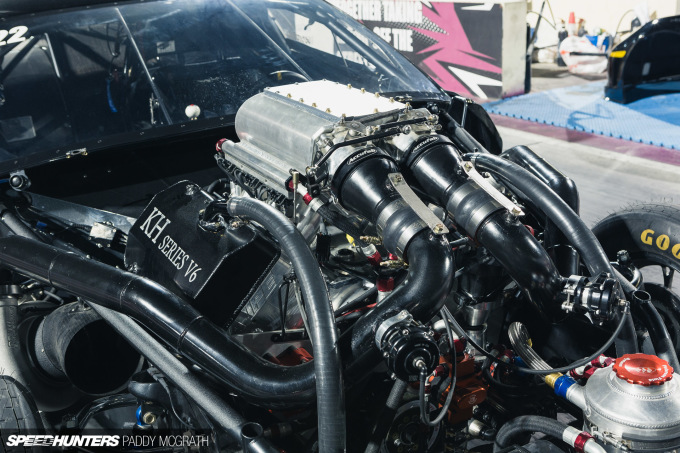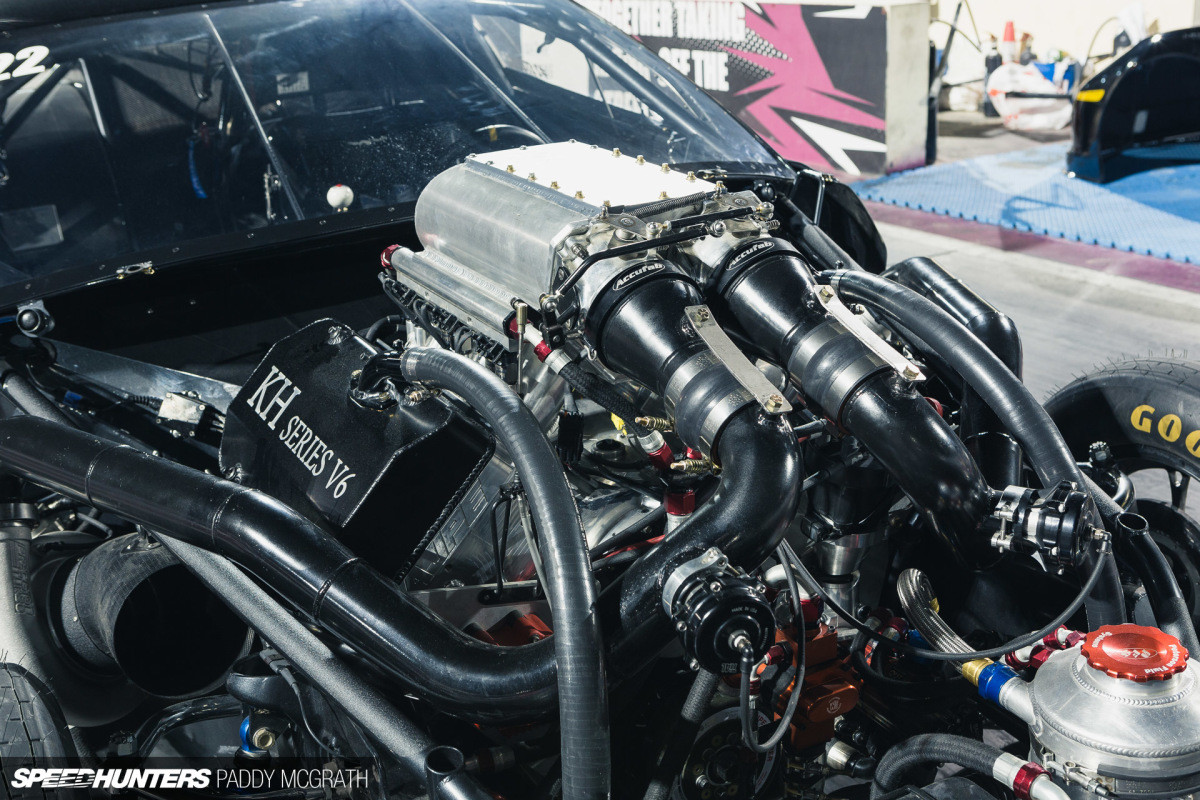 I'm told that the idea for using a V6 came from Sheikh Khalid bin Hamad Al-Thani back in 2009, but the concept was shelved for a few years whilst it was figured out. The engine would become a collaboration between AAP and Alan Johnson Performance Engines in the United States. What started life as an AJPE 5300 Hemi Billet Block V8 was transformed into a 559ci (around 9.0 litres) V6 by removing the front two cylinders.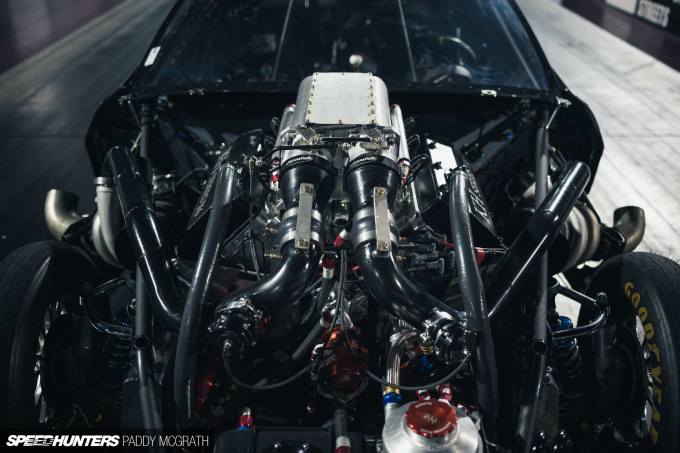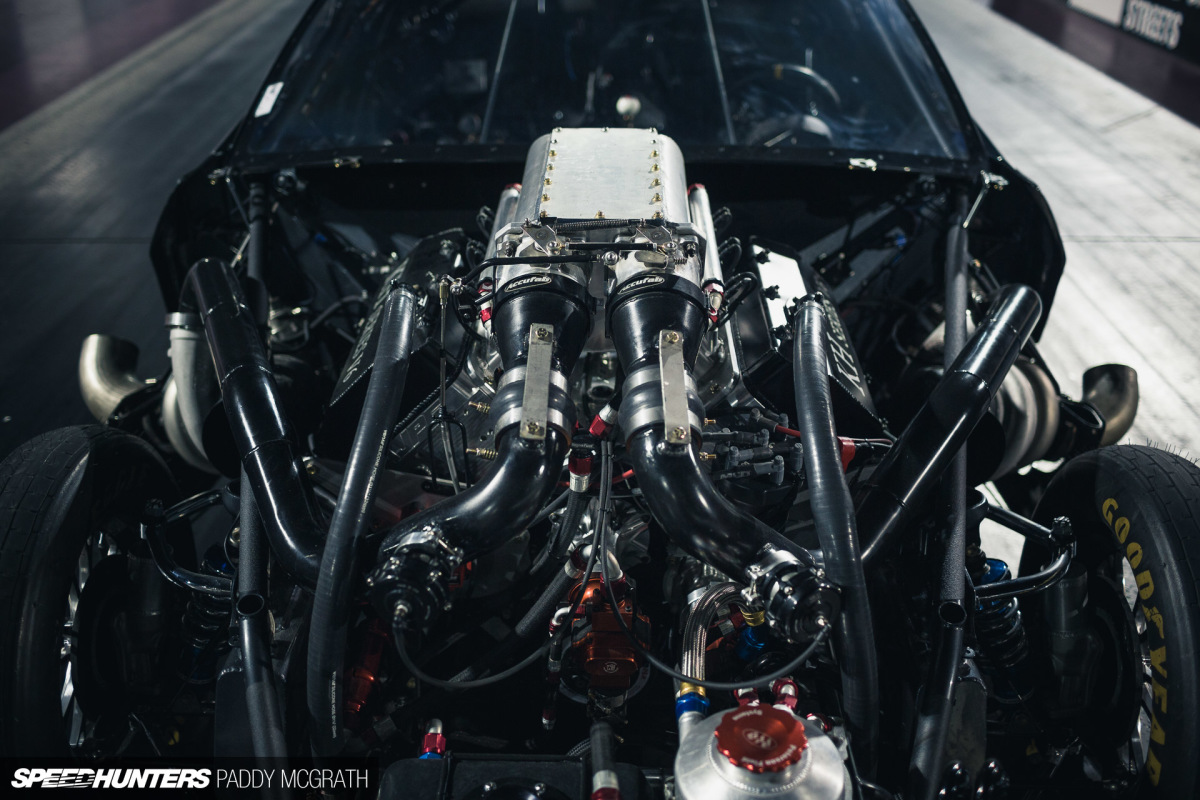 The now six-cylinder block was mated to a custom 5.3 bore space cylinder head and a Speedtech intake. I believe the reason behind running a six cylinder in the first place is to take advantage of a rule which allows non-intercooled six cylinder 'alcohol' cars to have no minimum weight limit.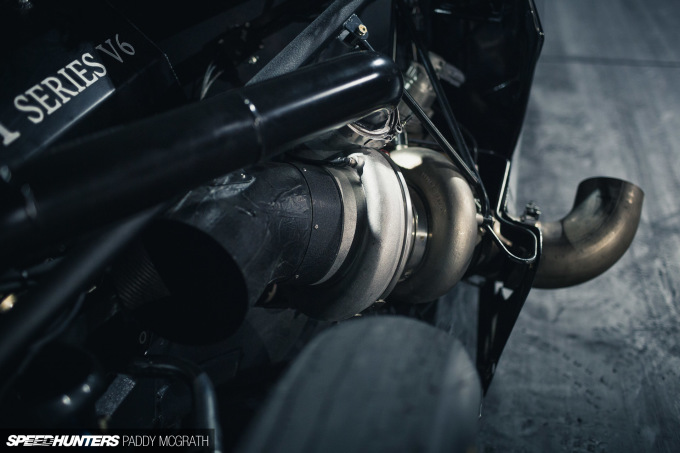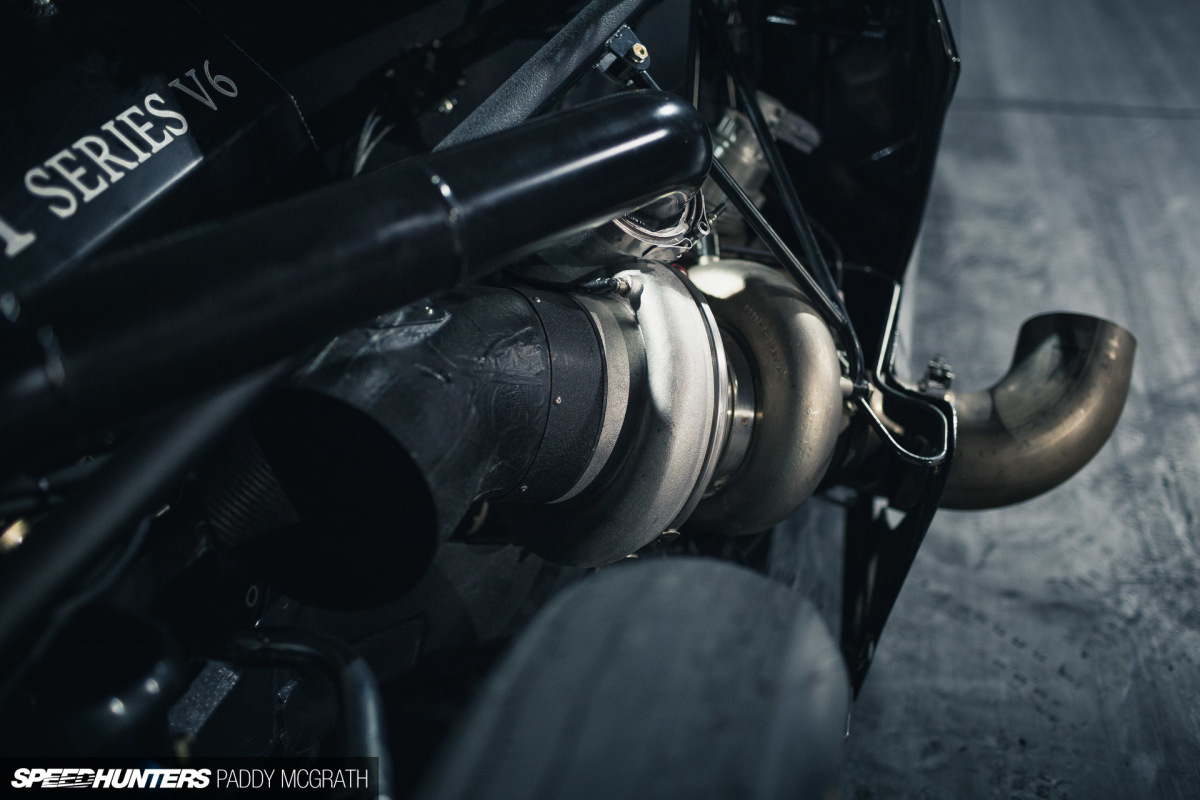 A pair of regulation-size 94mm Precision Turbo turbochargers were added to the mix, which allow the V6 to create, wait for it, a mesmerising estimated 3,500hp.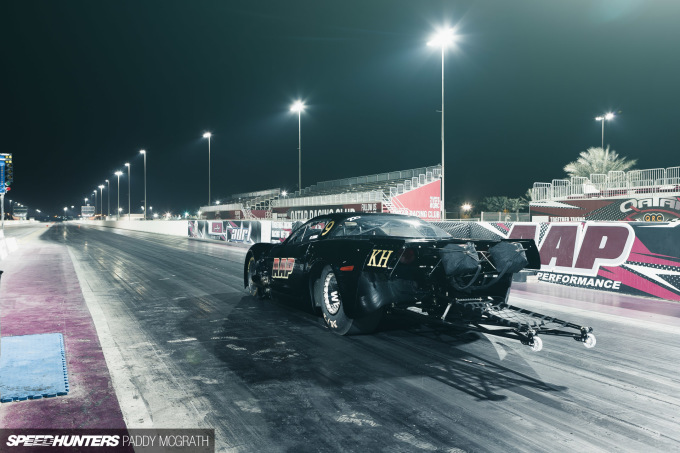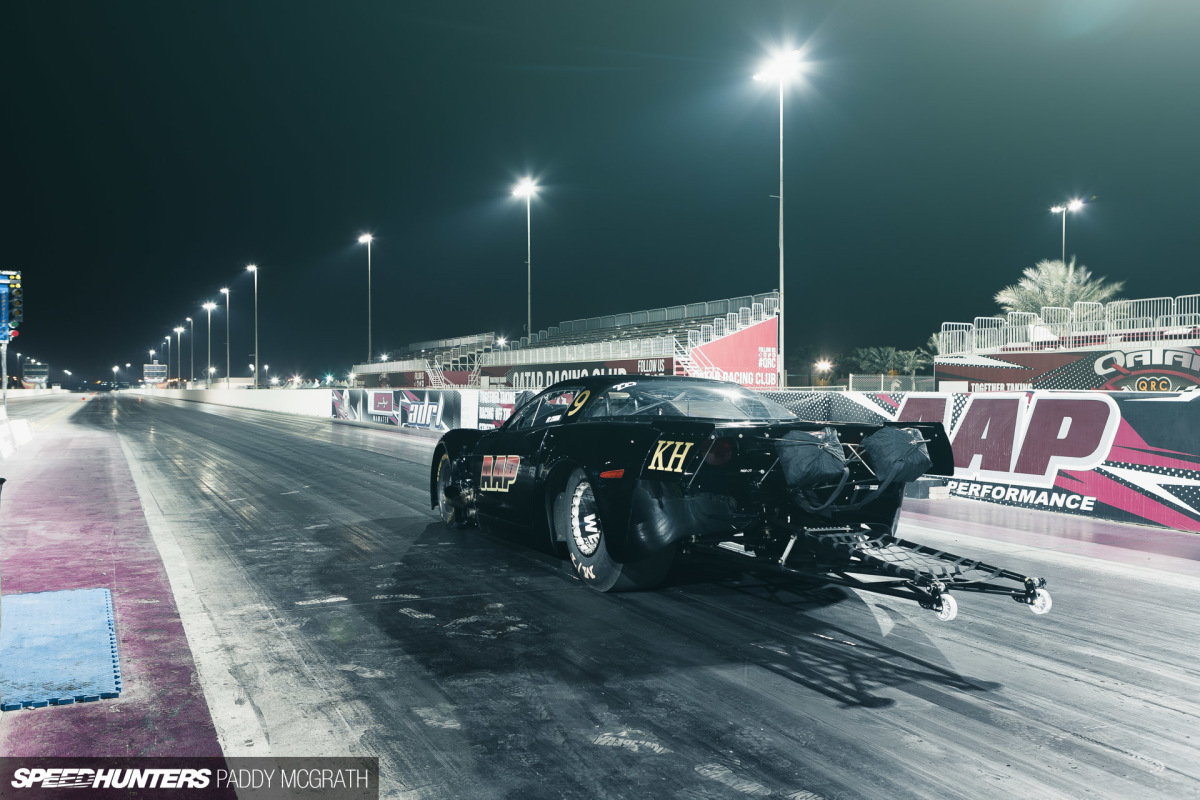 The result is a car which officially covered the 1/8th mile in 3.87 seconds at 198.26mph (319km/h) with driver Moe Atat behind the wheel.
I want you to think about that for a second. From a standstill to the guts of 200mph in less than four seconds. My GTI can't reach 60mph in that time, and a Bugatti Veyron Super Sport would take nearly 2.5 seconds longer and have only reached around 121mph in the same distance. It's insanity. It's brilliant.
The reason behind running the Outlaw cars over 1/8th mile as opposed to the traditional 1/4 mile is down to safety. The lightweight cars with a shorter wheelbase compared to their Pro Modified siblings would become more unstable over the longer distance. It might seem like a whole lot of fuss for ~200m worth of racing, but damn is it an impressive sight to behold.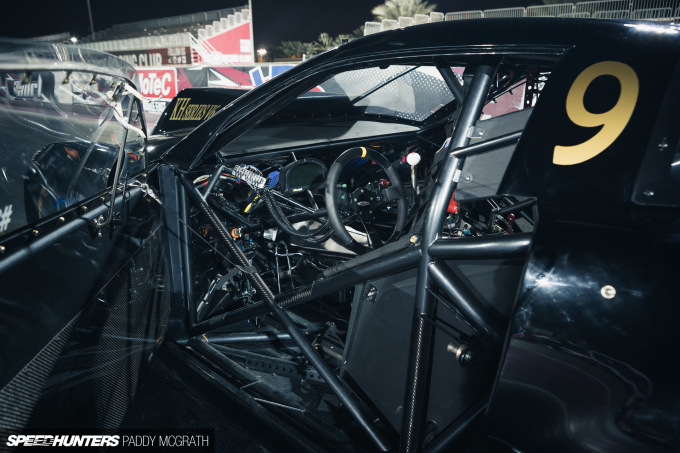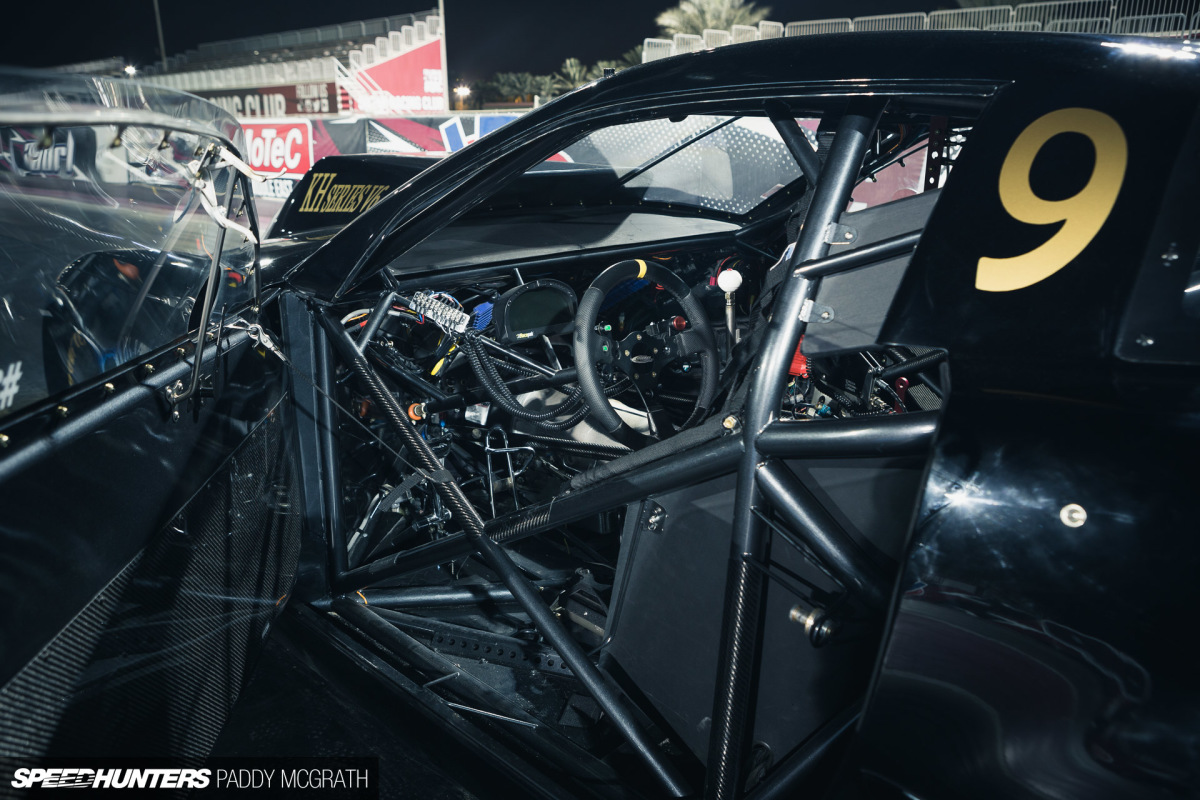 The technology packed into these cars is something else too, and maybe not something you would have previously thought about. Not even just from a safety aspect, but also the tech behind getting the car down the strip as quickly and efficiently as possible. From the likes of the ACD RPM Shift Controller which can auto shift at a specific pre-set RPM, to the advanced data logging and the trick fuel management which can individually adjust fuelling and ignition mid-run to extract every single last ounce of performance from the car.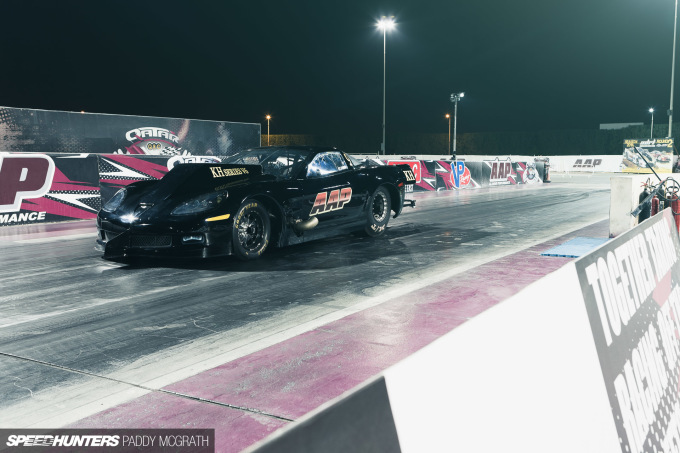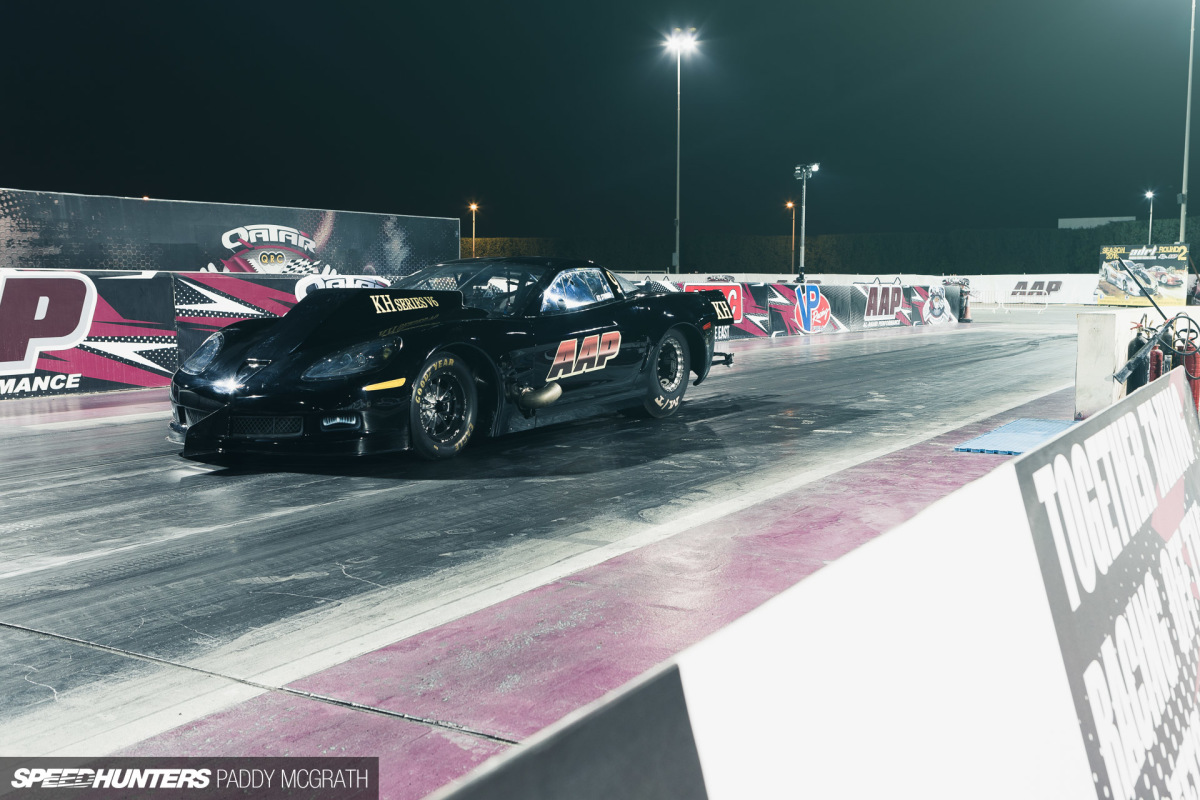 I'll be the first to throw my hands up and say that I'm far from an expert when it comes to drag racing or race cars of this stature, but I can't help but smile and be enthusiastic about cars like this. They just quite simply excite me in ways that I'm not used to. I could have spent hours and hours just poring over the details and asking questions about the C6.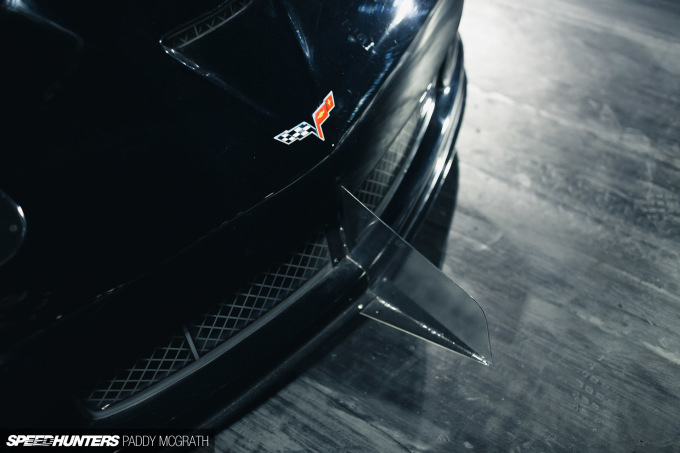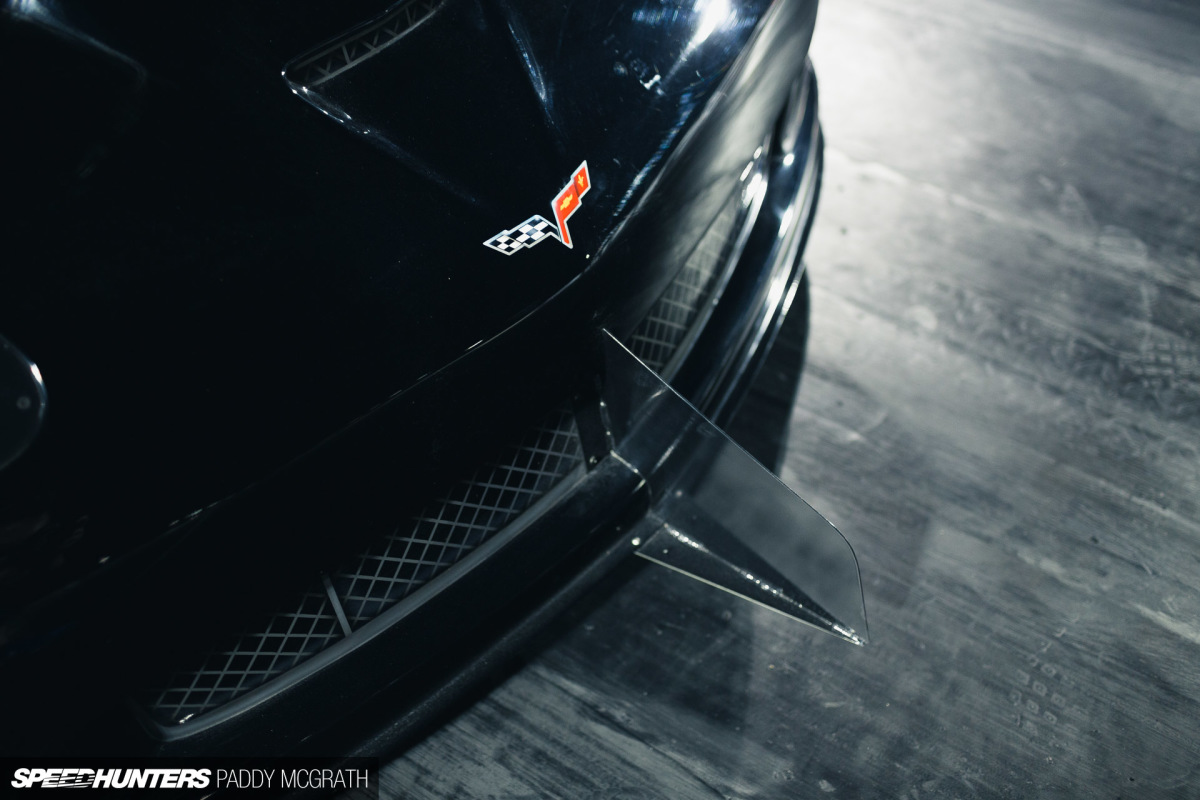 Even things like this beam breaker, which I discovered afterwards was in place purely to take full advantage of the regulations for the Outlaw cars. An Outlaw car is permitted 45-inch of body overhang from the centre of the front wheels. If the overhang is shorter than 45-inch, one can use a beam breaker to get to the permitted allowance. It's only maybe a 6- or 8-inch piece, but it's just about not allowing your competitor even the slightest advantage. It's the sort of detail that makes these cars so interesting.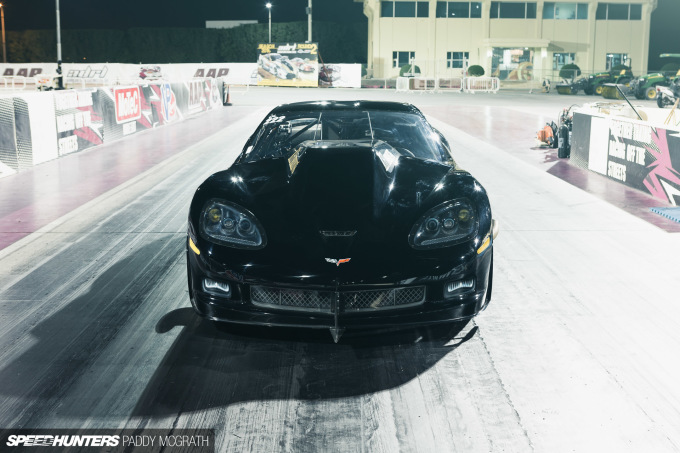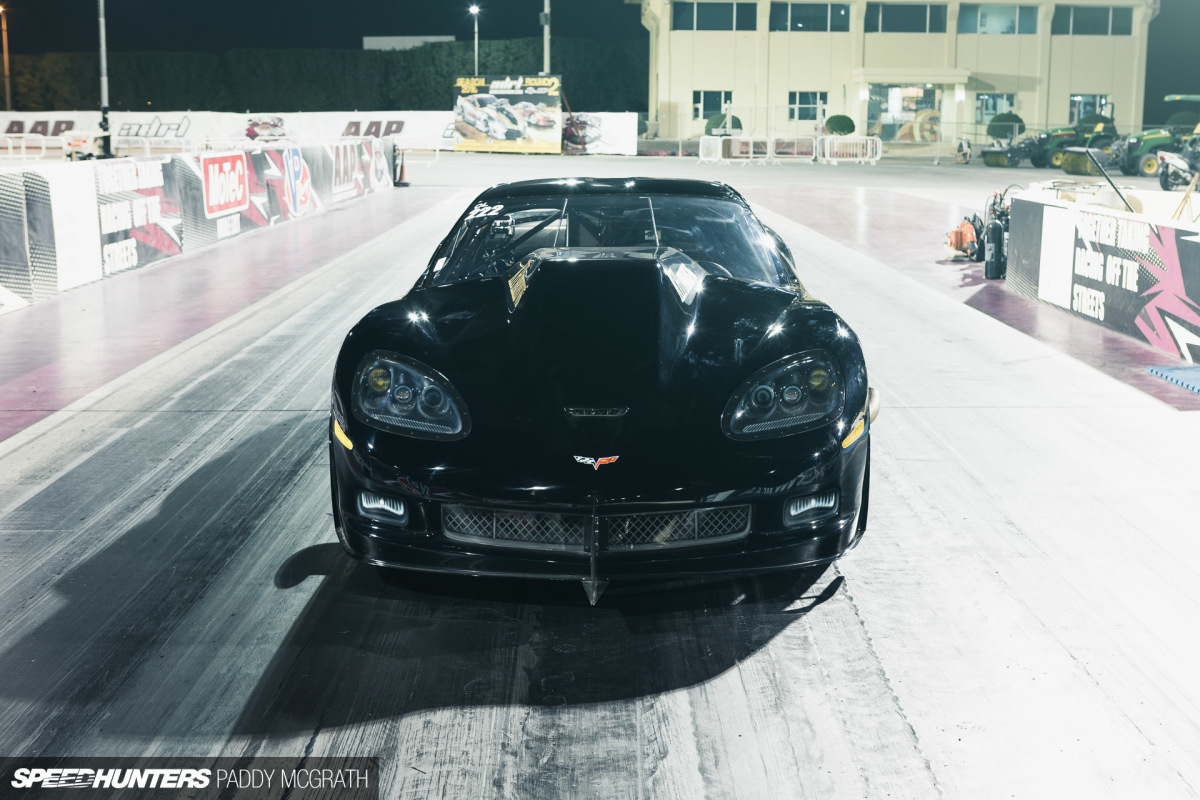 What's most impressive is that the team behind this car believe there's still more to come from this setup. With Qatar's drag racing season over for another year, AAP can spend the off-season further developing the car, whilst their main rivals in other parts of the world can take a crack at the record they've set.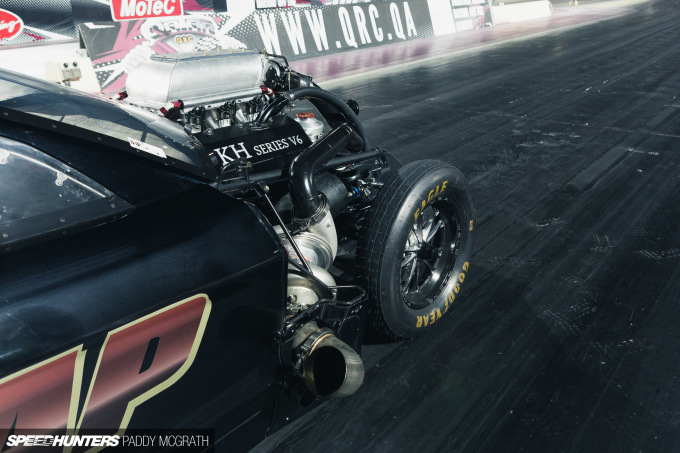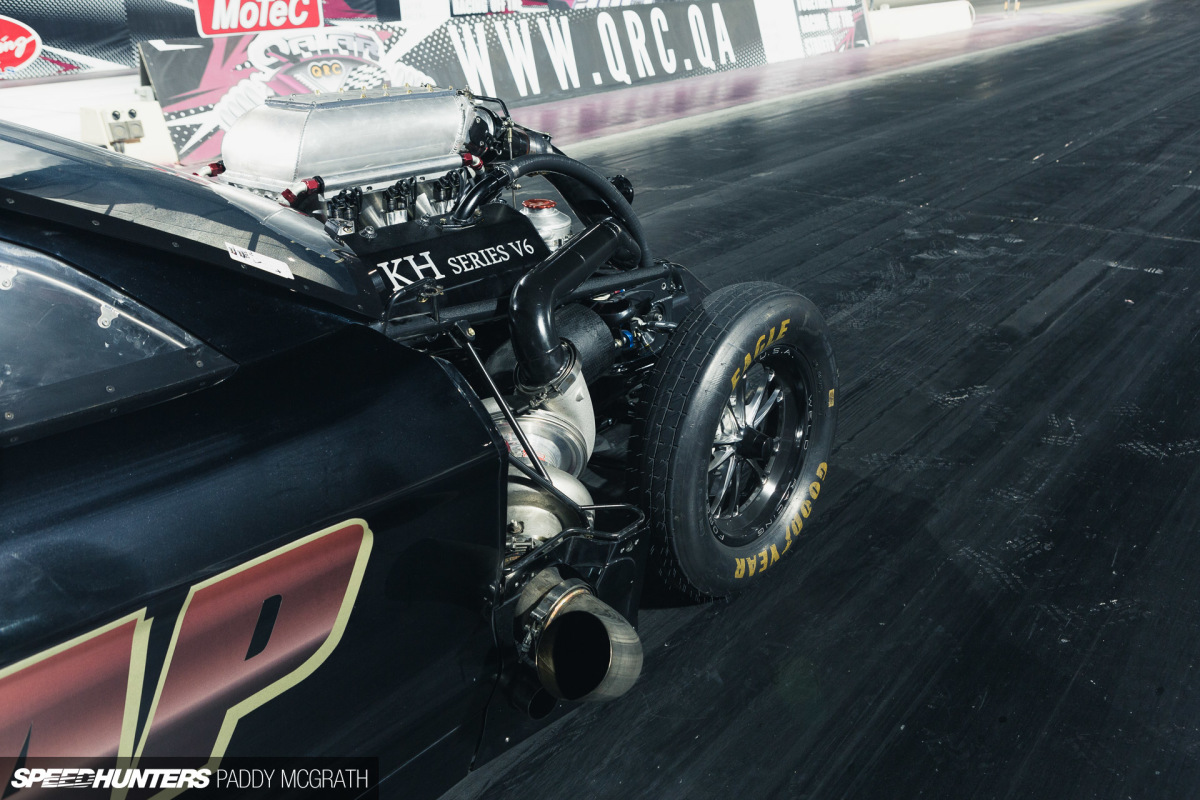 Not a whole lot of people were aware of this car two months ago, but today it's the one to beat. There's a lot to be said about how all of this has come about. A simple but outside-the-box idea kicked it all off, but the meticulous nature of how that was implemented and seen right through to the end has created a car that has already earned its place in drag racing history. It's pretty damn impressive.
So, the question now is who's going to step up and take a swing at the new record holder?
Paddy McGrath
Instagram: pmcgphotos
Twitter: pmcgphotos
paddy@speedhunters.com
Al Anabi Performance's Corvette KH Series V6 10.5 Outlaw
Numbers
Max Power: 3,500hp (estimated), 1/8th Mile: 3.87 @ 198.26mph (319km/h)
Engine
559ci KH Series V6 based upon AJPE 5300 Hemi Billet Block, front two cylinders removed, 5.3 Bore Space cylinder head, Pro Line Racing fuel injection, twin Precision Turbo 94mm turbochargers, TiAL external wastegates, Billet Atomizer 3 700 injectors, Fuel Tech FT500 fuel management, Speedtech intake, Peterson Fluid Systems dry sump, Waterman Racing fuel pump, Magnafuel AN Y-fittings, MSD Ignition Power Grid System, tuned by Steve Petty
Driveline
Rossler Turbo 400 transmission, Precision Performance Products shifter
Suspension/Brakes
AFCO Racing Shocks, Strange Engineering brakes, twin Simpson Parachutes
Wheels/Tyres
Weld Racing forged wheels, Mickey Thompson 33.0/10.5-16W ET Drag slicks
Exterior
Custom composite Corvette C6 bodywork, wheelie bars
Interior
Jerry Bickel Race Cars Pro chassis, NHRA-certified chassis & rollcage, ACD RPM shift controller, Racepak digital dash, ISP seat & head surround, Stroud harness
More Drag Racing related stories on Speedhunters
Cutting Room Floor