Smells Like… Old Cars
Festival. When you're the promoter of an event, the use of that particular f-word surely comes with some pretty lofty expectations. By definition, a festival is a period of celebration; an occasion of revelling in the mutual appreciation of whatever the subject material may be.
Down here at the bottom of the planet, we Kiwi motorsport fanatics take pride in our motorsport history. While we're a country small in population, we do boast a fairly rich (although not as enduring as some nations) history of pushing cars to their limits on a variety of surfaces.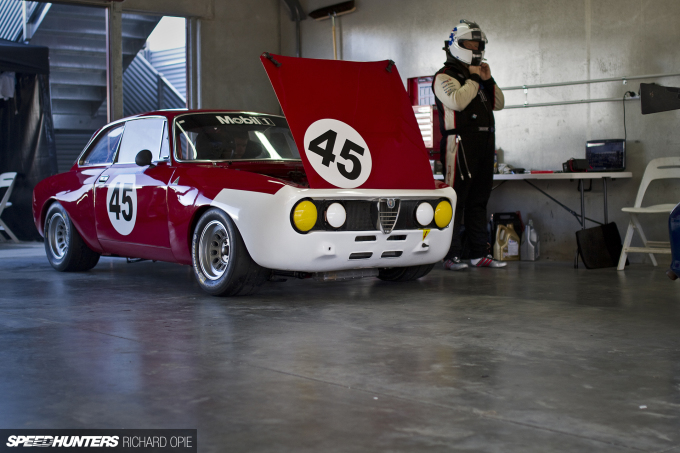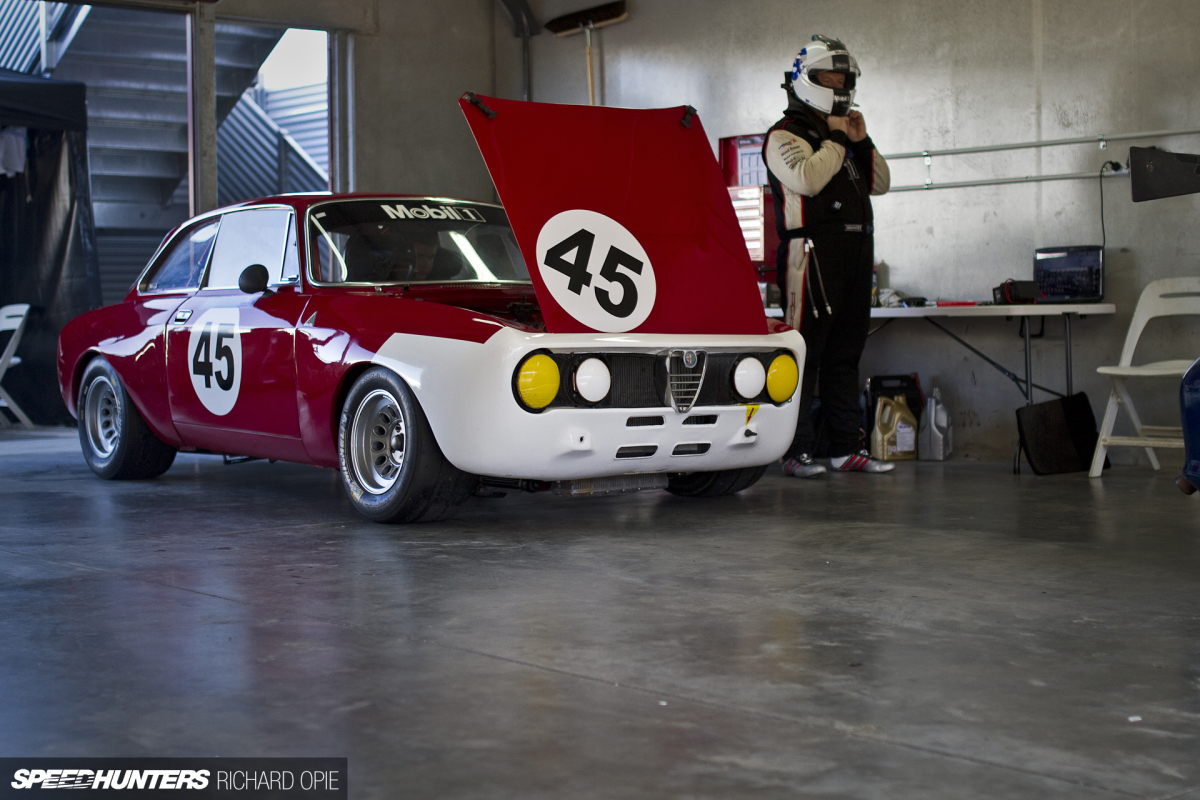 McLaren, Hulme, Amon, Ganley – all names of Kiwi motorsport heroes who reached the pinnacle of their game in the past, and this trend continues with the torch being held by contemporary NZ motor racing champions such as Scott Dixon, Brendan Hartley and Earl Bamber. My point? New Zealand has, and continues to punch above both its financial and population weight in the international motorsport sphere (and this goes for the hordes of extremely talented engineers NZ has exported over the years too).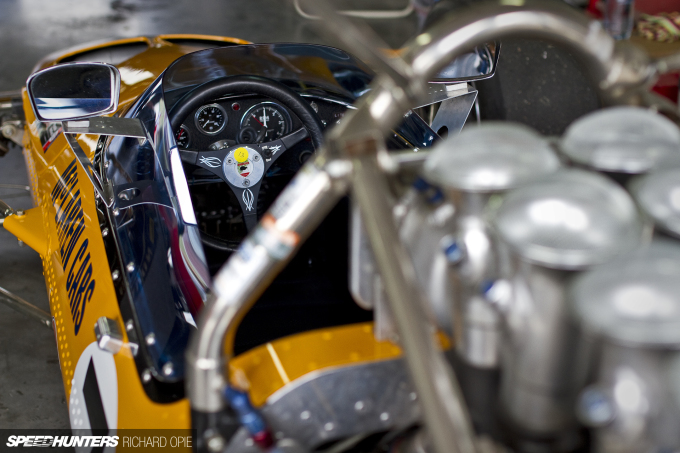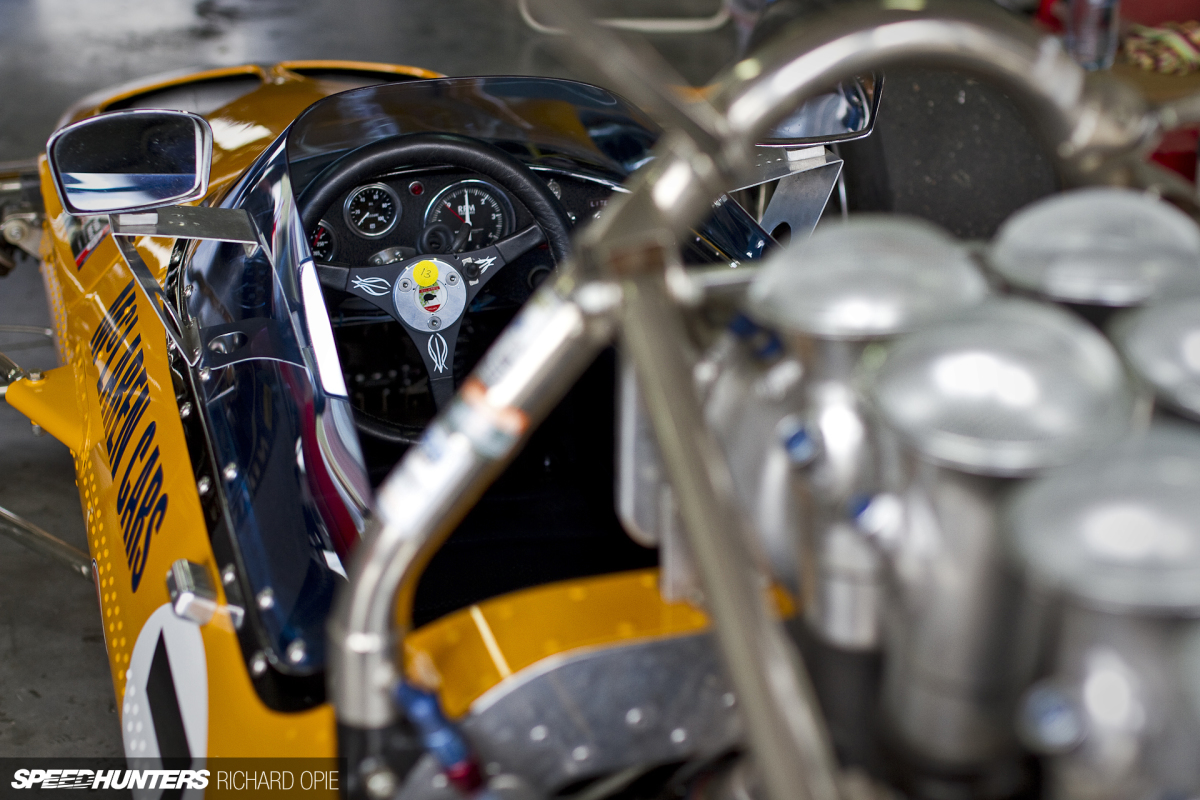 The New Zealand Festival of Motor Racing, to give the dual-weekend event its full name, is a celebration of the country's ongoing love affair and successes within motorsport, both nationally and internationally. Held annually in the height of January's summer heat, the festival attracts a multitude of quality race hardware and personalities hailing from bygone eras.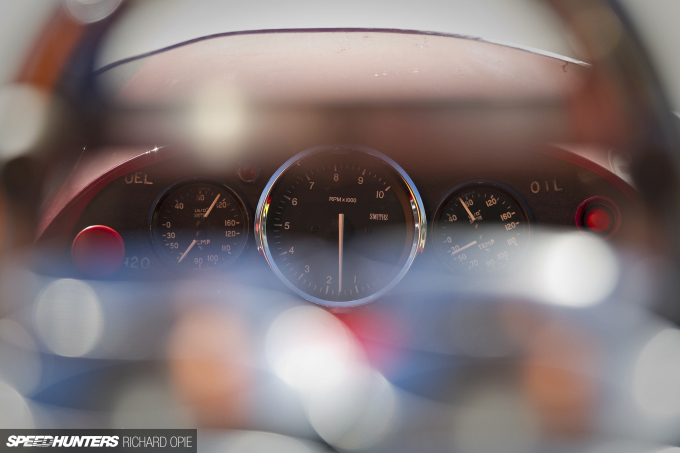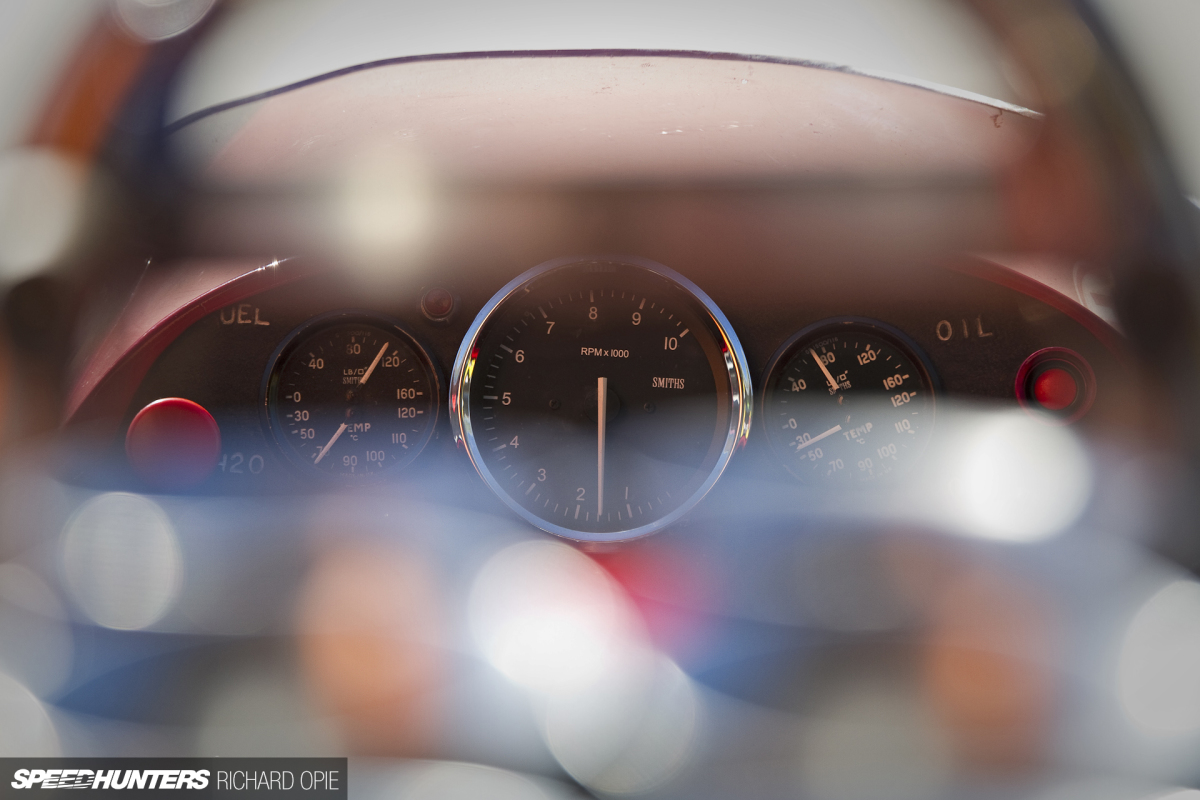 More than just a normal historic race meet, the NZFMR takes the definition of 'festival' and runs like hell with it. With each running the event takes on a different theme, alternating between the celebration of an acclaimed motorsport personality one year, with the accolades shifting to an automotive manufacturer rich in motorsport history the next. This year, Porsche became the center of attention, but more on that shortly.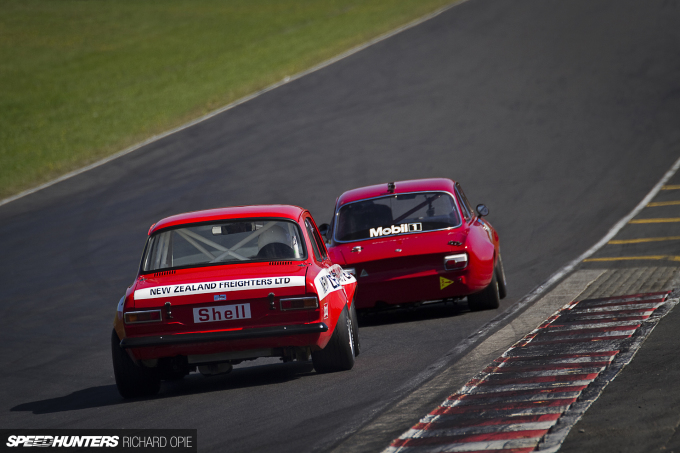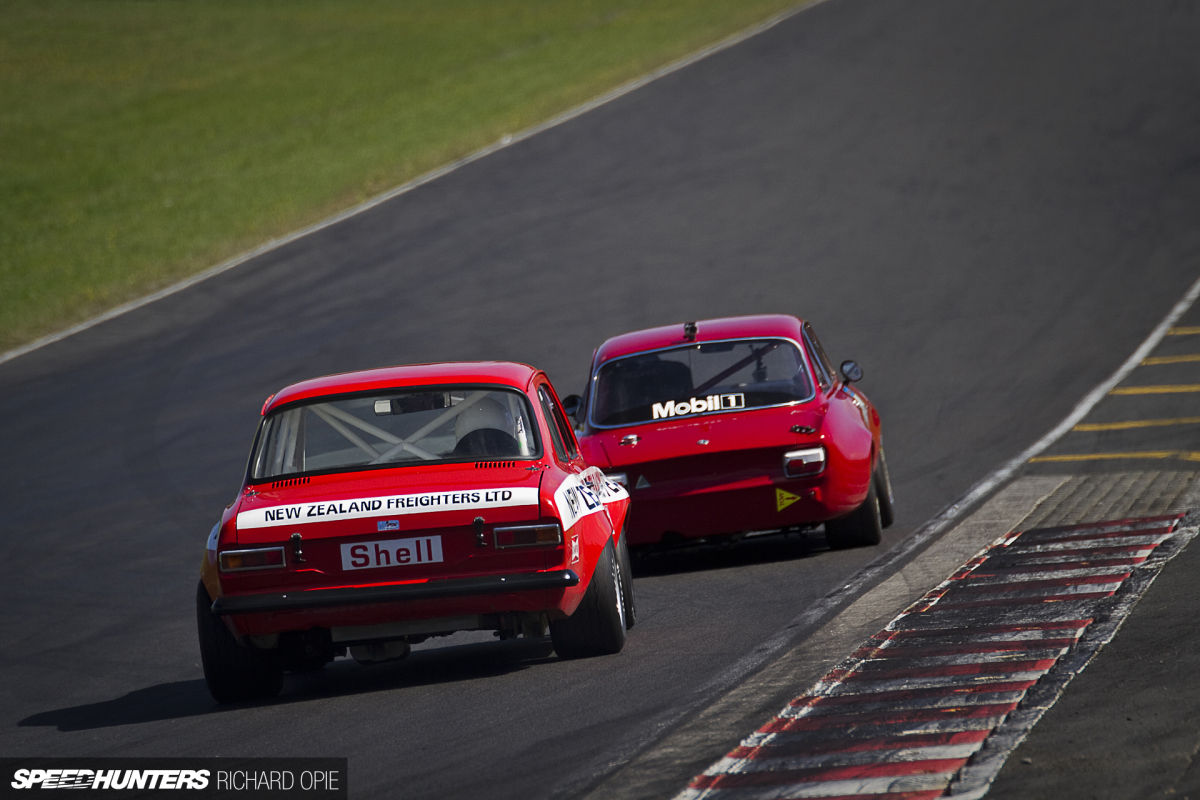 Besides the classes and racing relevant to the annual theme, the NZFMR offers a throwback to almost every decade in New Zealand motorsport. Be it the always close-fought battles of 1970s saloon car racing epitomised by the Ford versus Alfa Romeo battle for small capacity superiority; here a Cosworth BDG Escort mustering all it could in an attempt to overcome the mighty 2-litre twin cam GTAm 2000…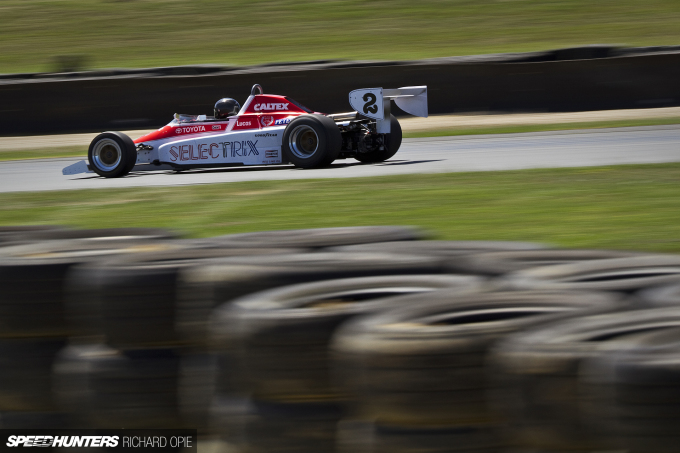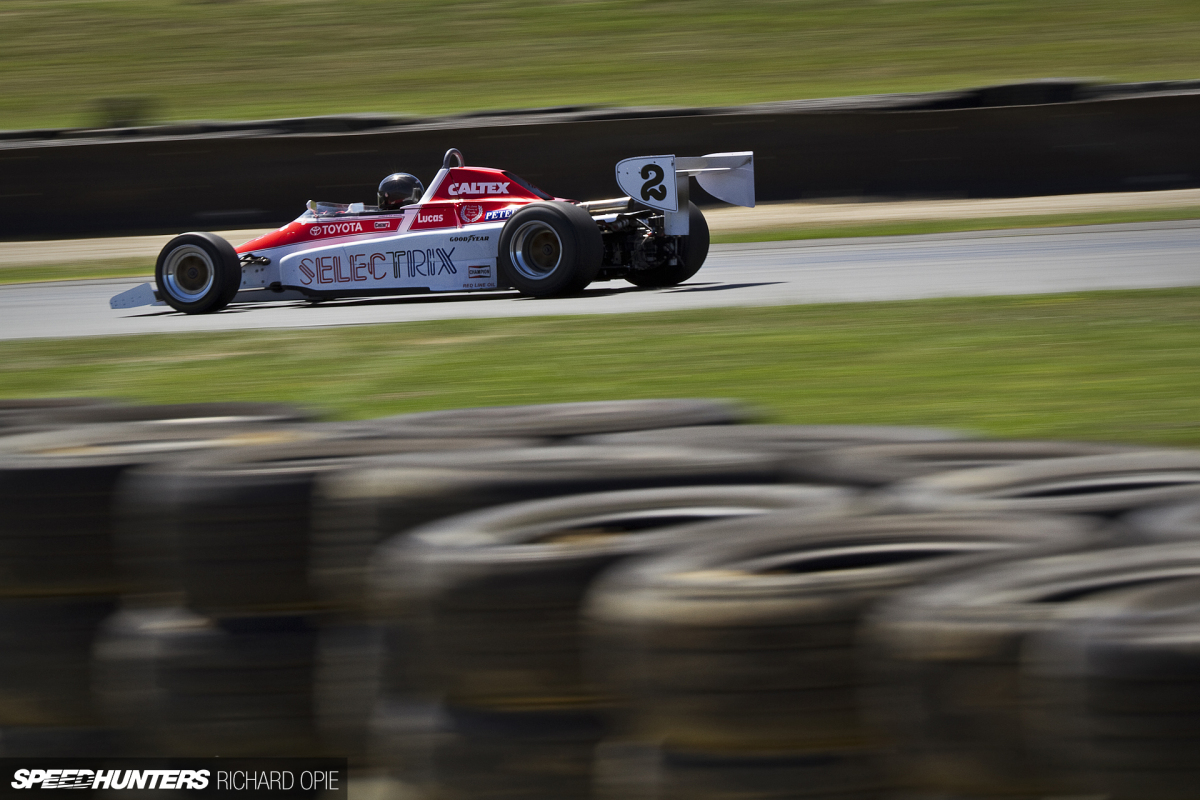 Or a nod towards New Zealand's premier open-wheel formula which spanned the late 1970s through to the early 1990s – Formula Pacific. For all intents and purposes, a renamed series utilising cars built to Formula Atlantic rules and powered by 1.6-litre inline fours, in the above case a Swift DB4 motivated by a high-strung, injected Toyota 4A-GE.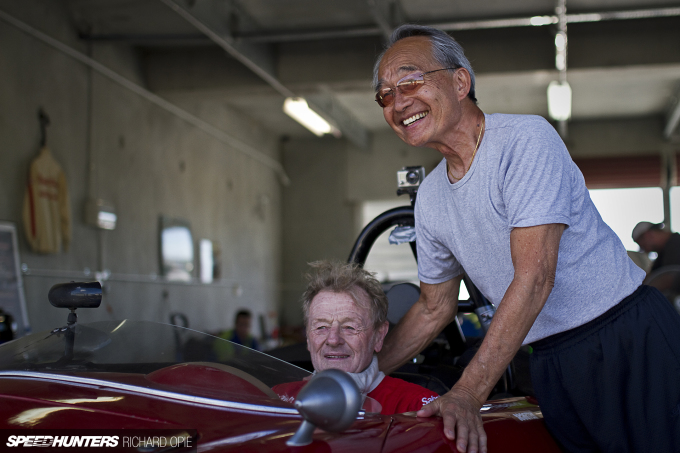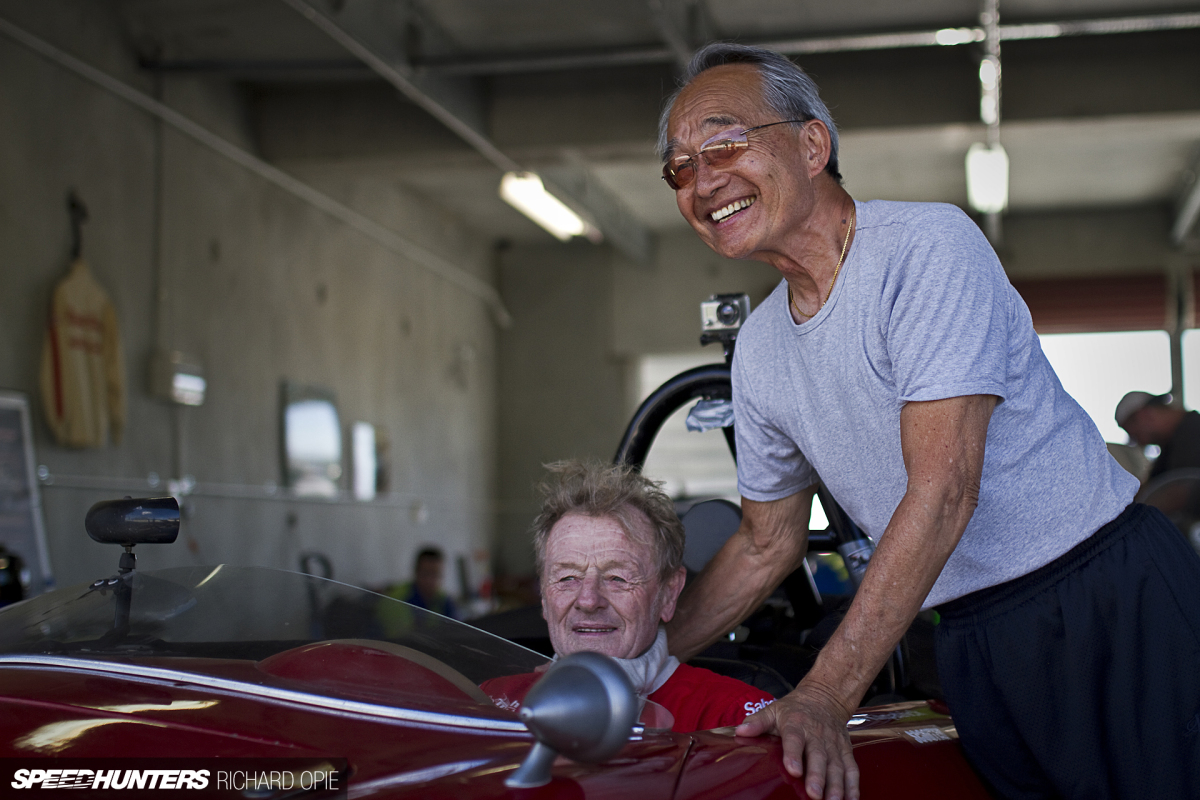 The NZFMR can also be characterised by the camaraderie enjoyed by racers and fans alike. Here, NZ single-seater stalwart Ken Smith tries out the cockpit of Ernie Nagamatsu's 1958 Porsche 356 Speedster for size; a car possessing as much significance as the personalities surrounding it.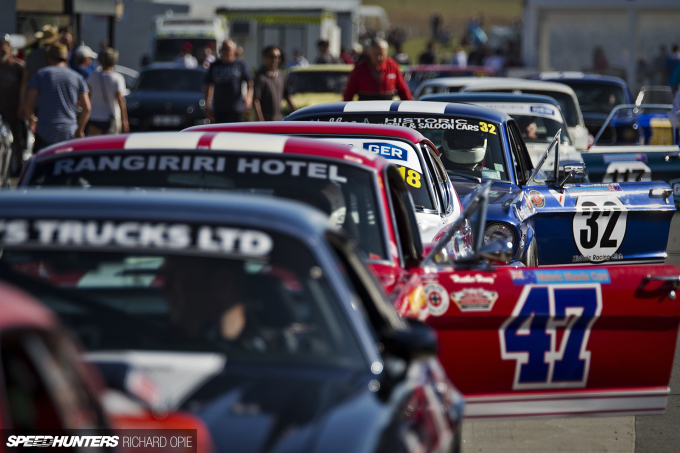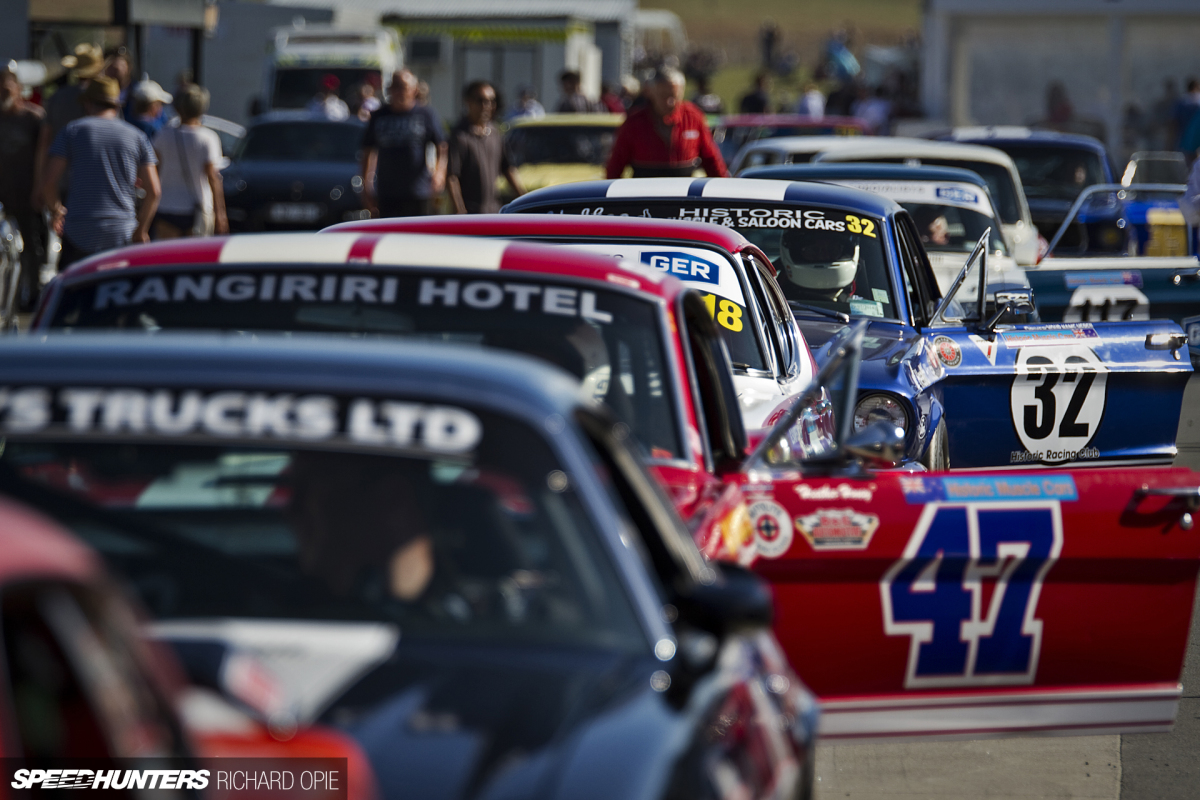 Then there's the colour, the fanfare and of course the aural delight associated with this kind of racing. A full field of muscle cars from the 1960s and 1970s grumbling away on the dummy grid resplendent in bold colours and timelessly straightforward liveries? Don't mind if I do!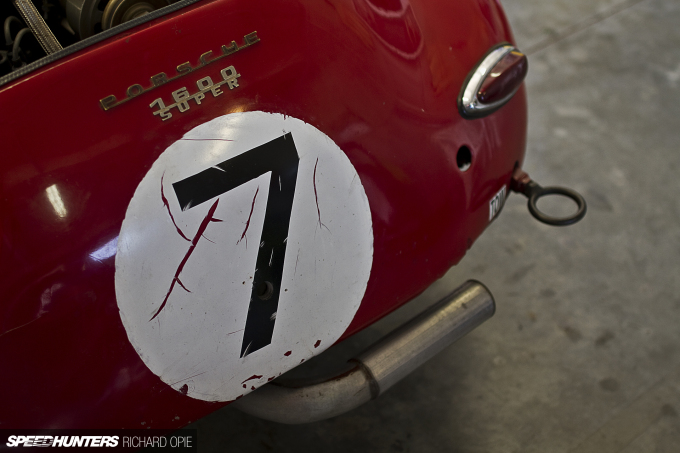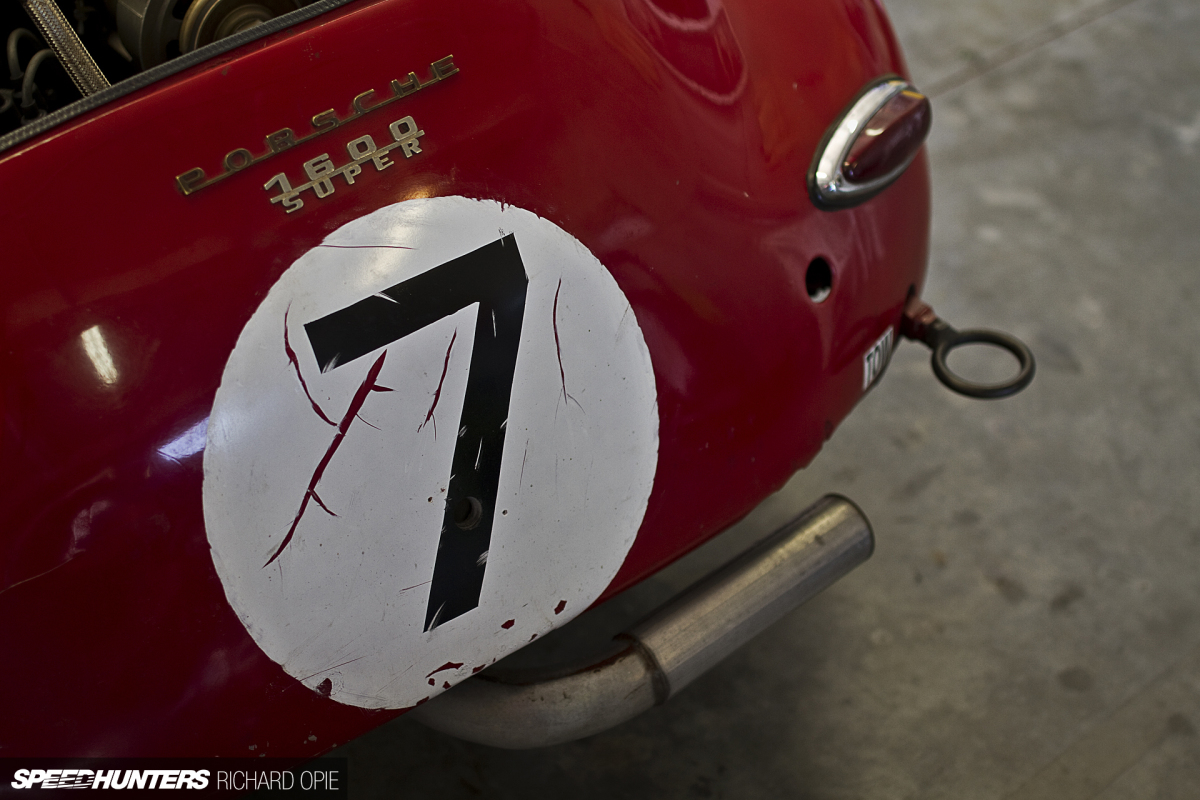 Beauty? The classic entrants littering the pit area have it in spades, ranging from the spit and polish appearance of freshly-built or restored speed machines, to the rich tales of battle contained within decade-weary liveries adorning those cars privileged enough to have lived a full and plentiful life circulating tarmac ribbons.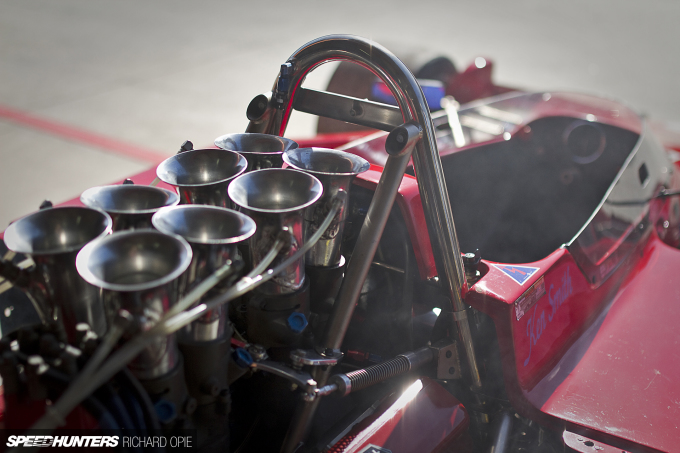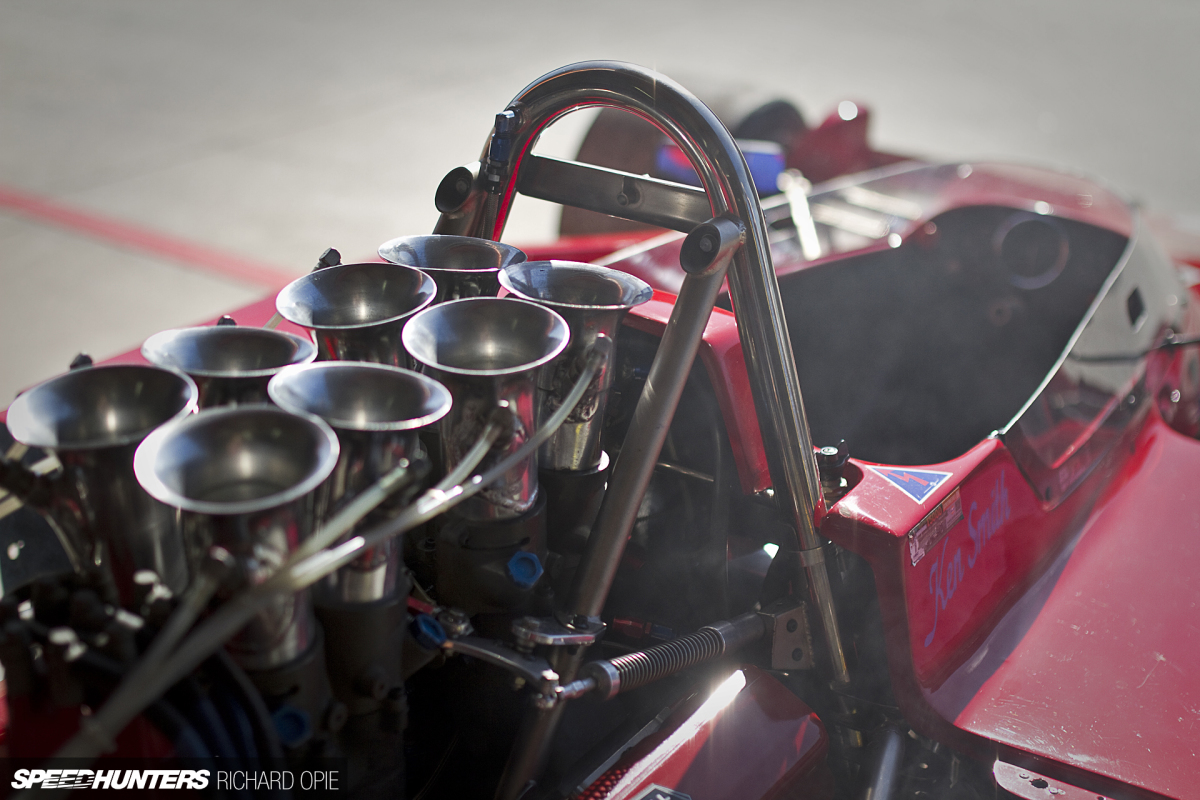 The event is an ode to a glorious mechanical past. No matter what era these high performance creations hail from, the consistency of form borne of function bears out across decades and into the contemporary.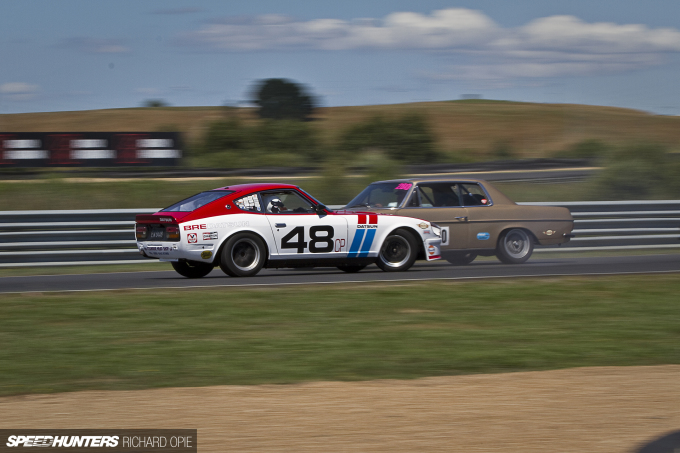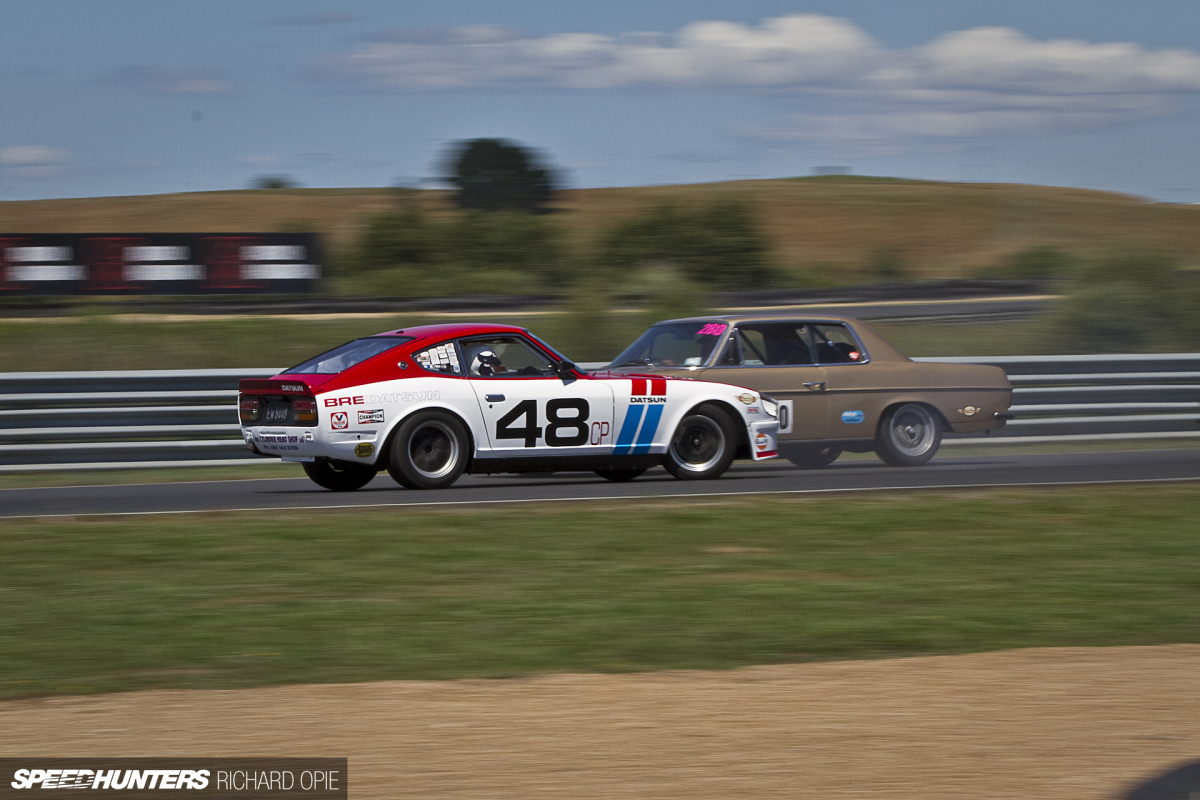 But while the static can be amazing, the on-track show is an unmissable spectacle. These guys generally drive their valuable artifacts of New Zealand motoring history hard, as evidenced by this 'moment' involving an immaculately prepared 240Z and a mishap under brakes on entry to Hampton Downs' final sweeping turn. The Datsun driver actually avoided oncoming traffic (of which there was an awful lot), turned the car back around the right way, plucked another gear and carried on like nothing had even happened…
Stuttgart Celebration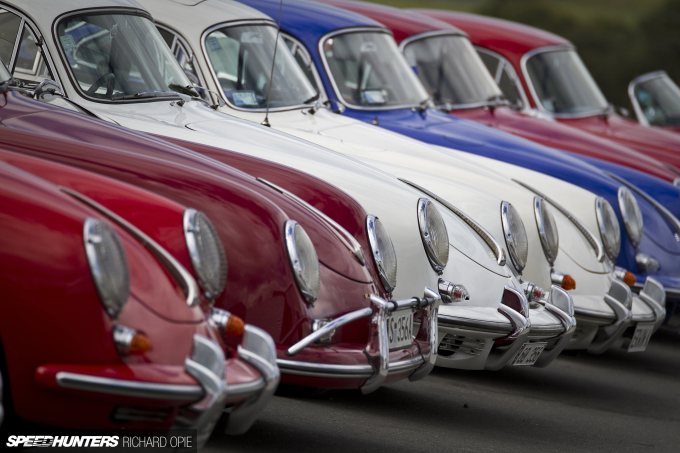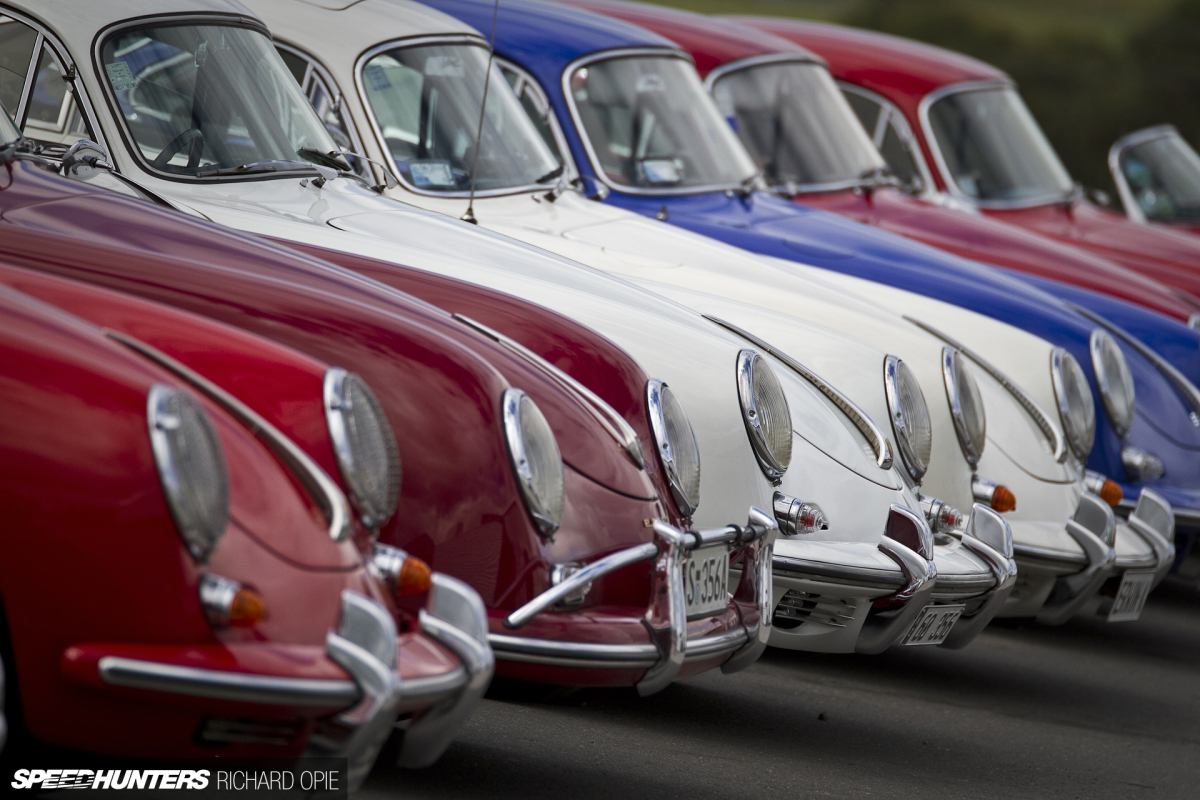 But there was a star of the show this year: Porsche. As mentioned earlier, the Festival 'theme' revolves around a chosen marque or personality, and for 2016 it was time for Stuttgart's finest to take the stage. Of course, no celebration of Porsche would be complete with New Zealand's chapter of the owners club coming to the fore with a range of stunning models, beginning with a display of spotless 356 variants.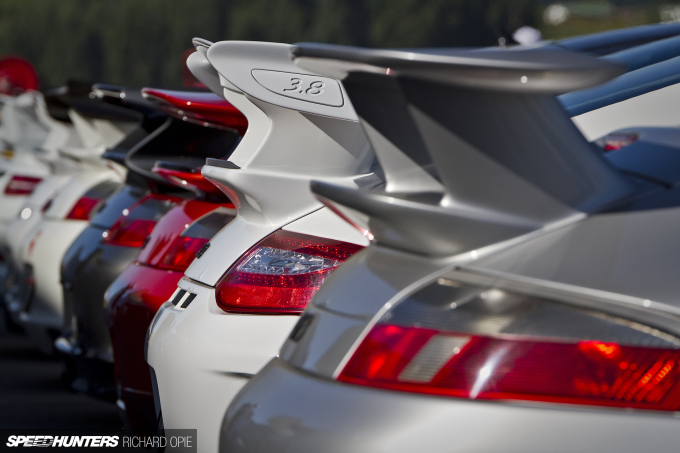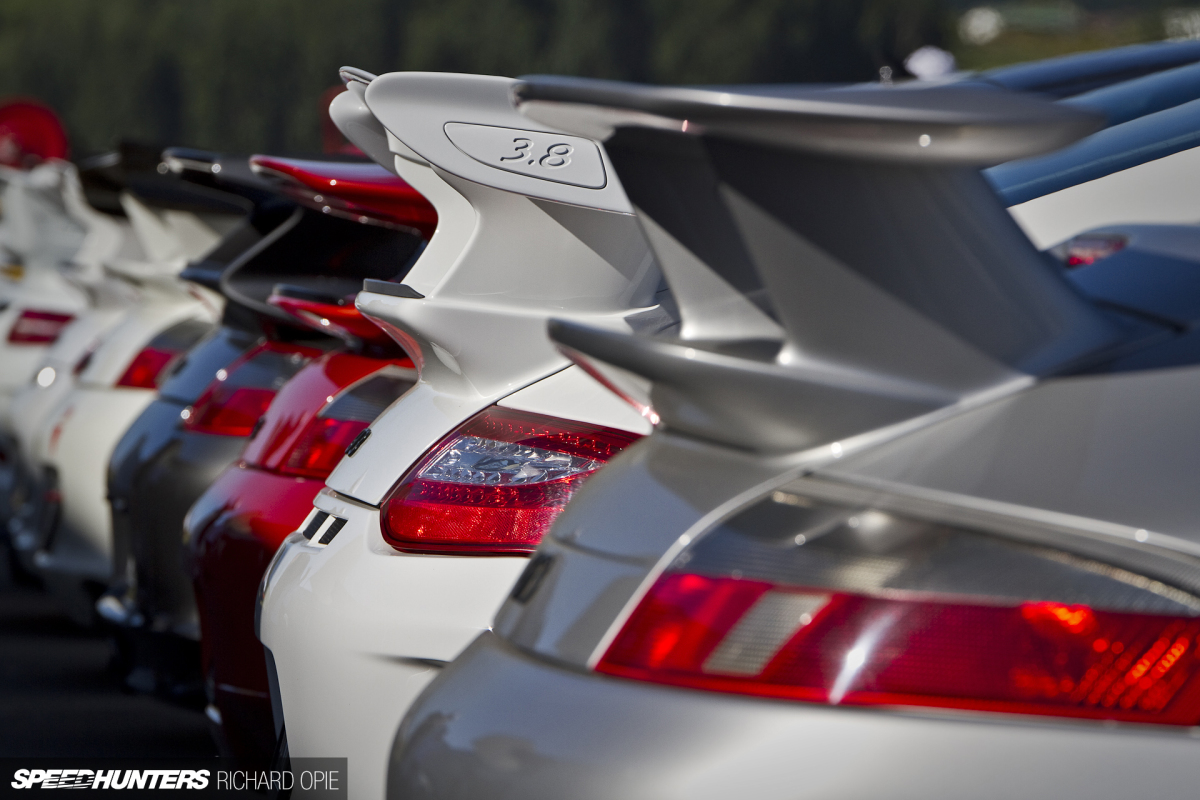 Upholding the modern end of the spectrum, a file of 996, 997 and 991 GT3 models – the recent history of Porsche aero perhaps?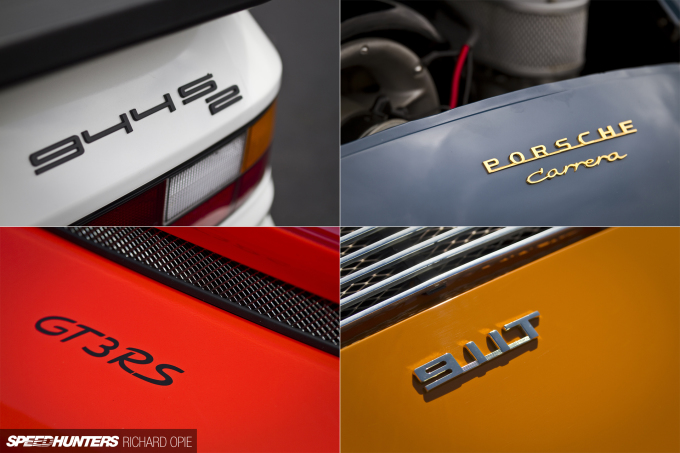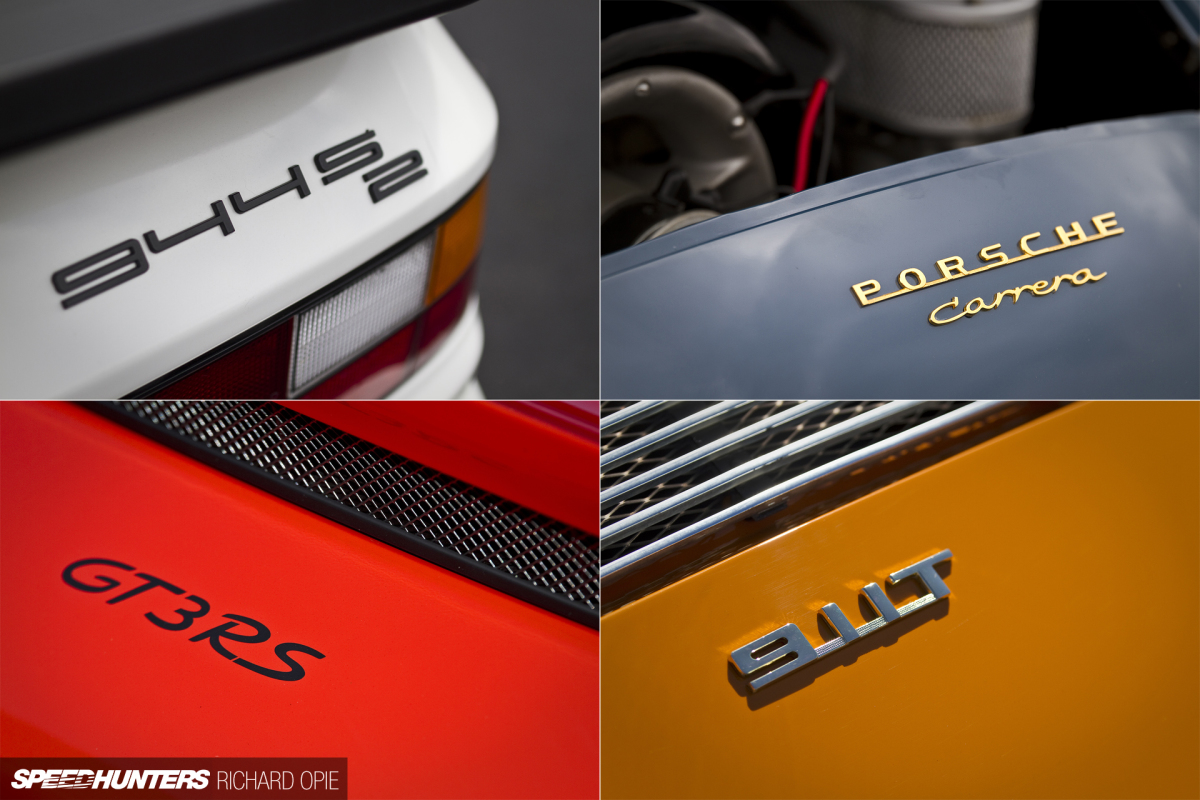 The diversity and colour of the Porsche brand proliferated the pit area. 944S2? Check. Rare, valuable 356 Carrera 4-Cam? Yeah, we've got one of those. And a complete selection of 911s from the early long-bonnet cars through to the technological marvels of latter day water-cooled machines.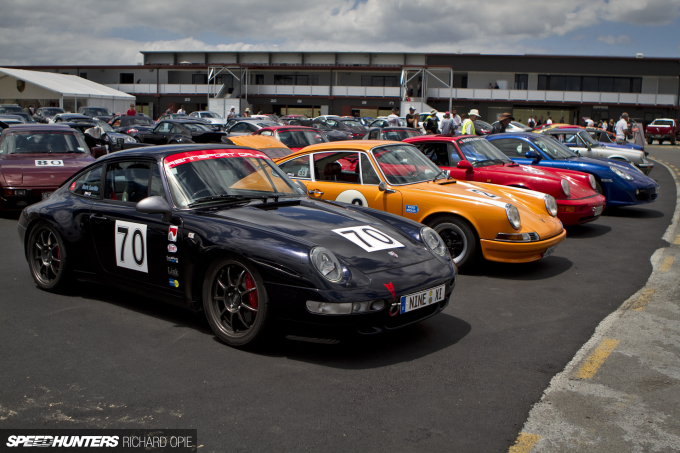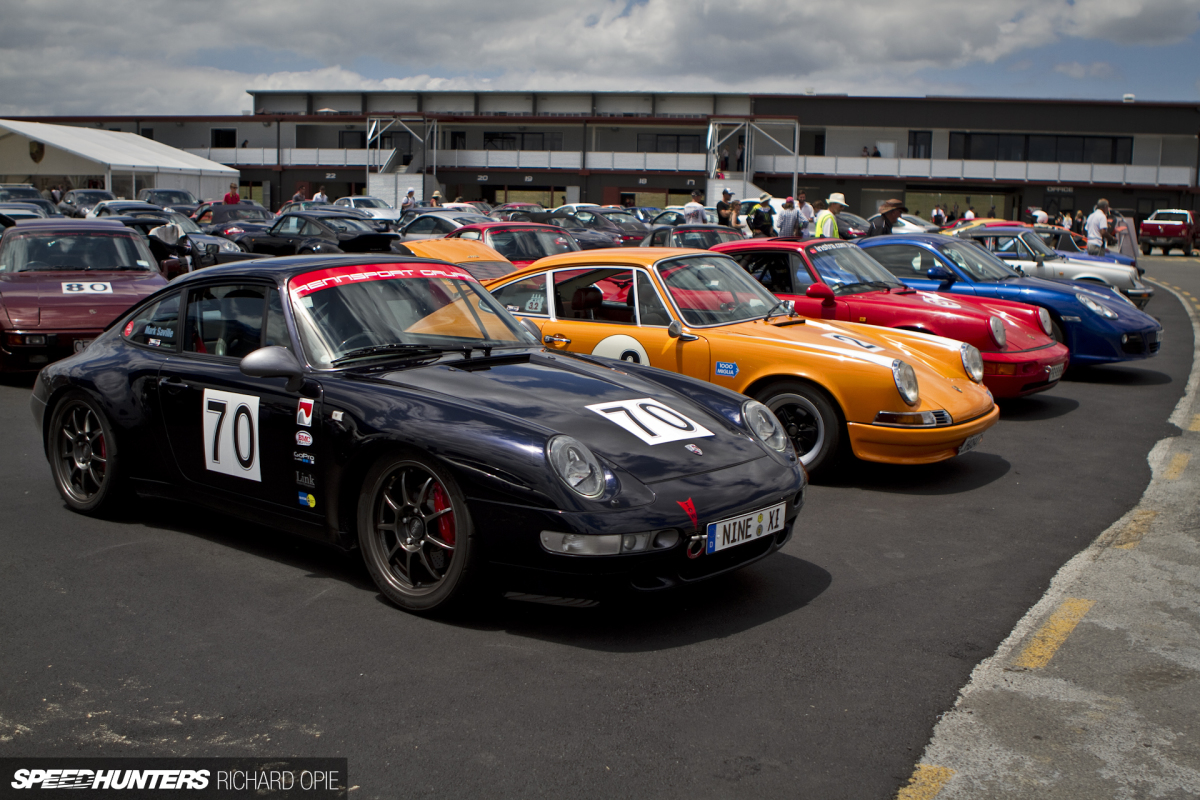 As the manufacturer of honour, the weekend included a variety of on-track treats exclusively for the Porsche faithful. Porsche Club of NZ track day addicts had the opportunity to compete in a regularity trial – an event centered around consistency, based on nominated lap times. Showcased in this arena were cars like this 993; an example of the last of the air-cooled breed that was absolutely dripping with quality upgrades.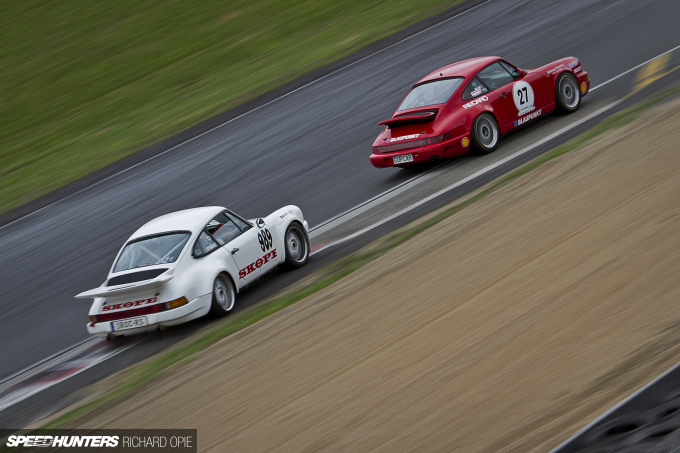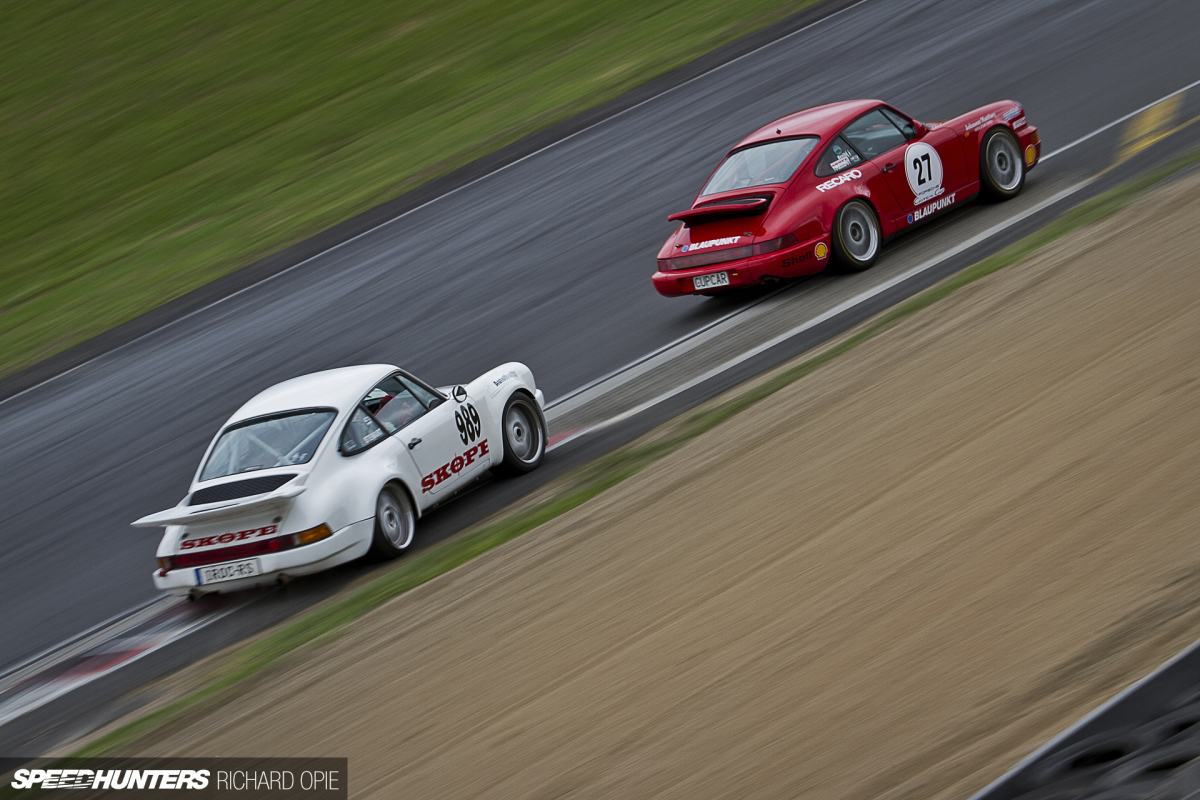 Classic Porsche racing had its chance to shine too, exemplified here by the long-campaigned 911 RSR IROC replica of Guy Stewart skirting the rumble-strip in search of corner-exit grip as he chases Michael Neville's bonafide, and very quick 964 Carrera Cup car.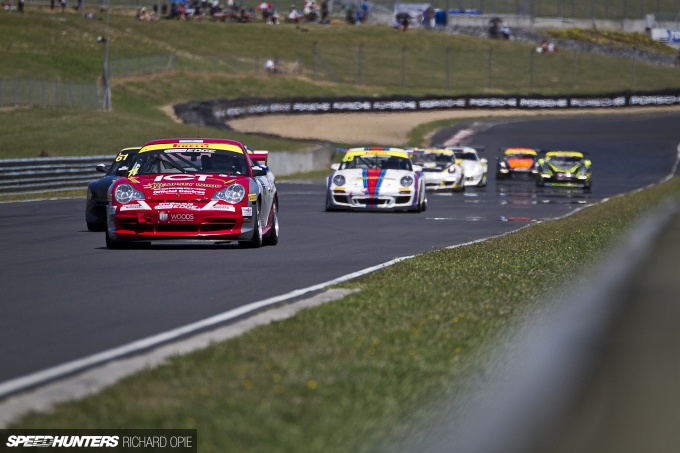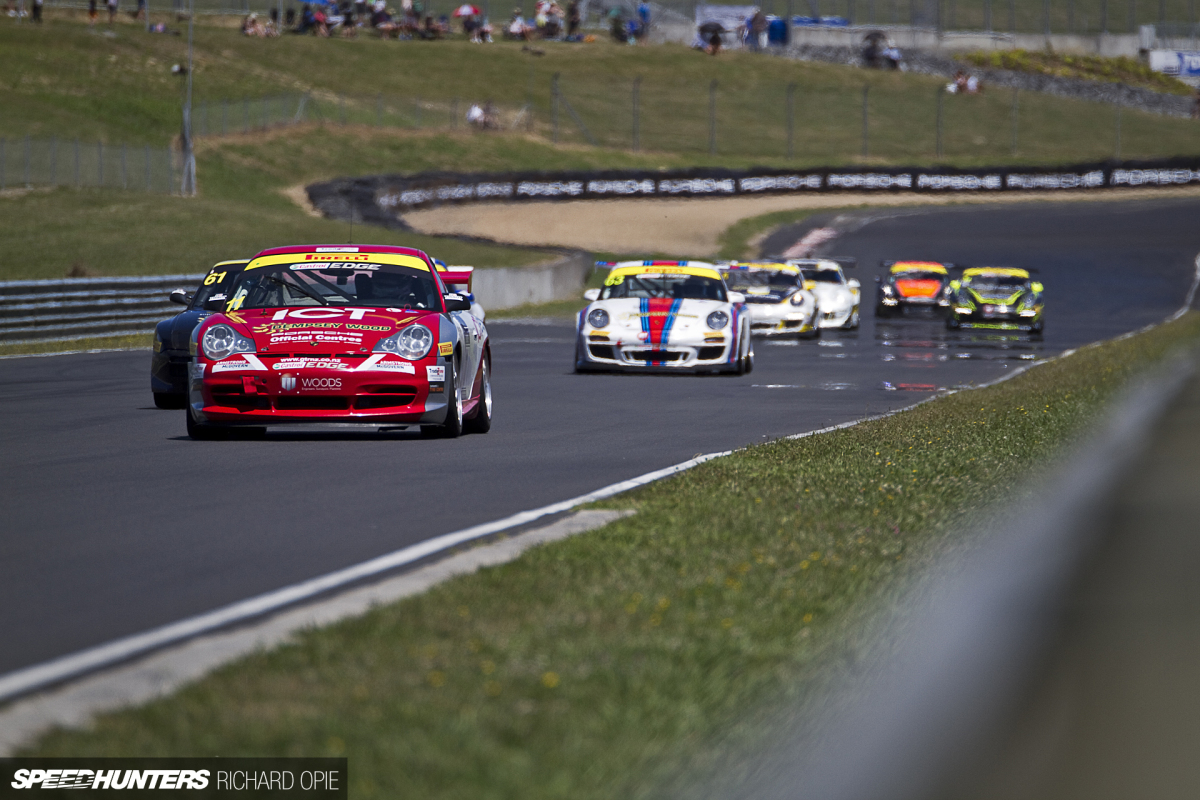 The limelight wasn't strictly cast upon the classics however. The Pirelli Porsche racing series, a current and very serious national championship, brought their race weekend to the NZFMR with a full field of cars. Included in the ranks were a myriad of 996, 997 and even 991 GT3 Cup cars screaming from apex to apex, interspersed with the track-popular 944 front-engined platform, all in the quest for a national title.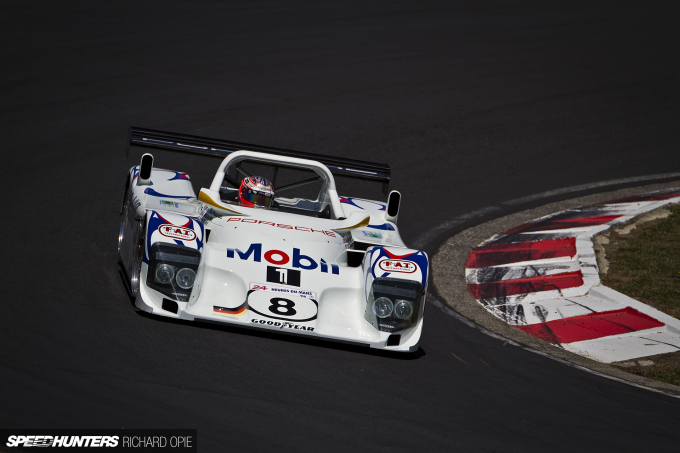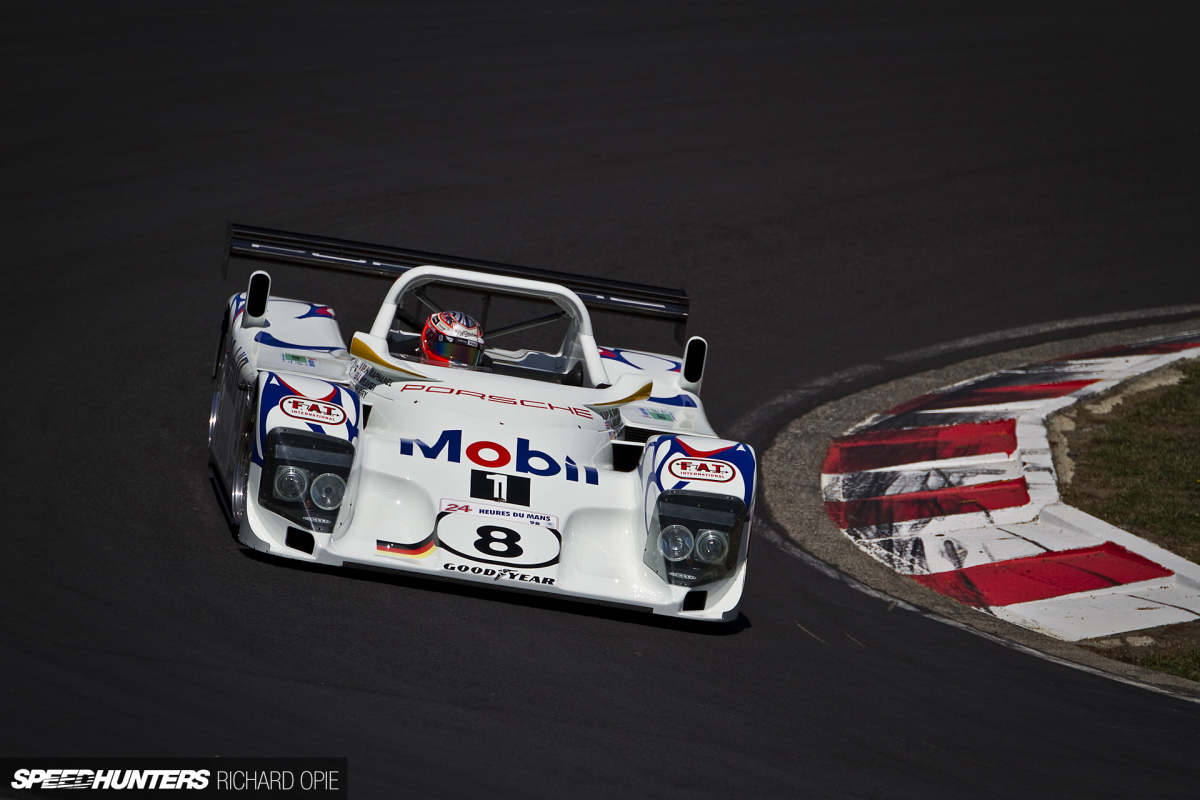 Year on year, one of the more anticipated aspects of this event revolves around the addition of a handful of very special cars, more often reserved for demonstration sessions. Following the announcement of Porsche and confirmation the Porsche Museum was sending cars across for 2015, the air was thick with speculation. The first of two very special German attendees was the 1998 LMP 1-98. Essentially a development of a 1991 TWR Jaguar XJR-14 Group C car, in 1995 Porsche acquired the chassis, lopped off the roof and fitted a 964 turbo flat-six, and took Le Mans victories in both 1996 and 1997 in a collaborative effort with Joest Racing.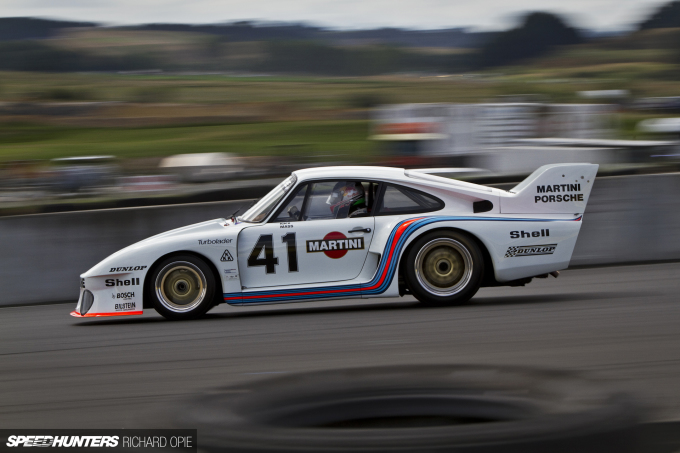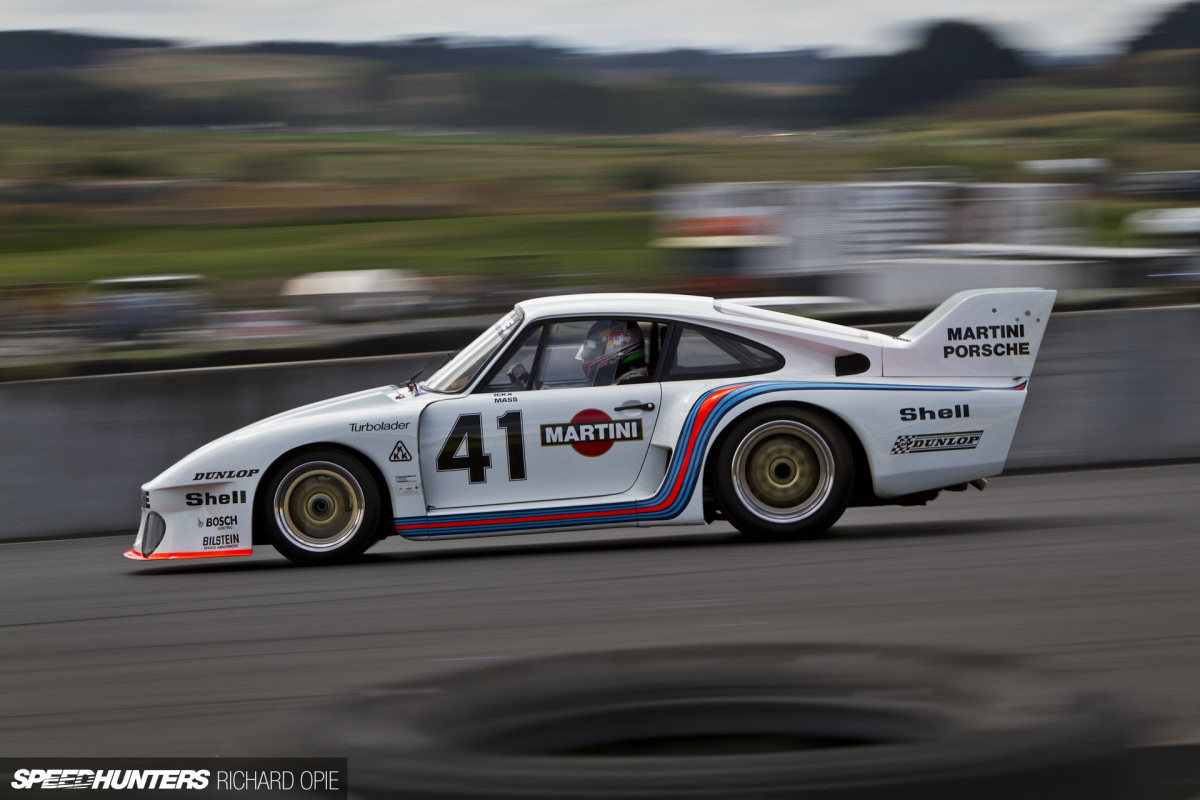 The second, and a car I was amping to witness in motion, was the 1977 935-77 Group 5 machine. Beautifully turned out in factory Martini colours, the 935 showed the assembled crowds 1970s turbo style in flamboyant fashion. Wide blistered guards, a striking staggered wheel arrangement and a barking flat-six with accompanying unmuffled turbo whistle ensured those with a thirst for the '70s were left satisfied. Like with the LMP1-98, Porsche factory drivers, WEC winner Brendan Hartley and Le Mans 24 Hour winner Earl Bamber, were on hand to put it through its paces.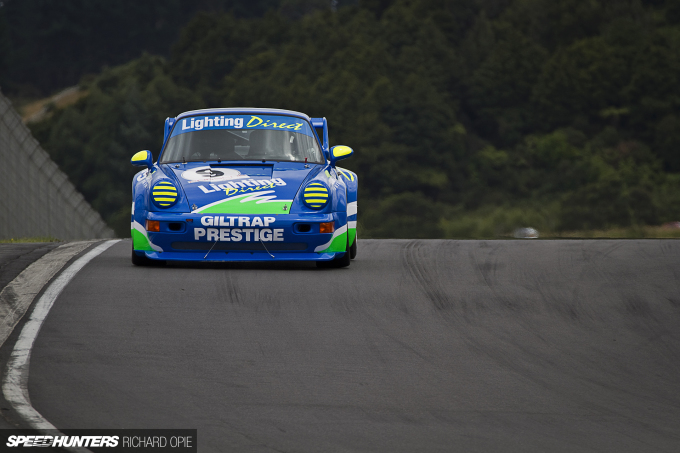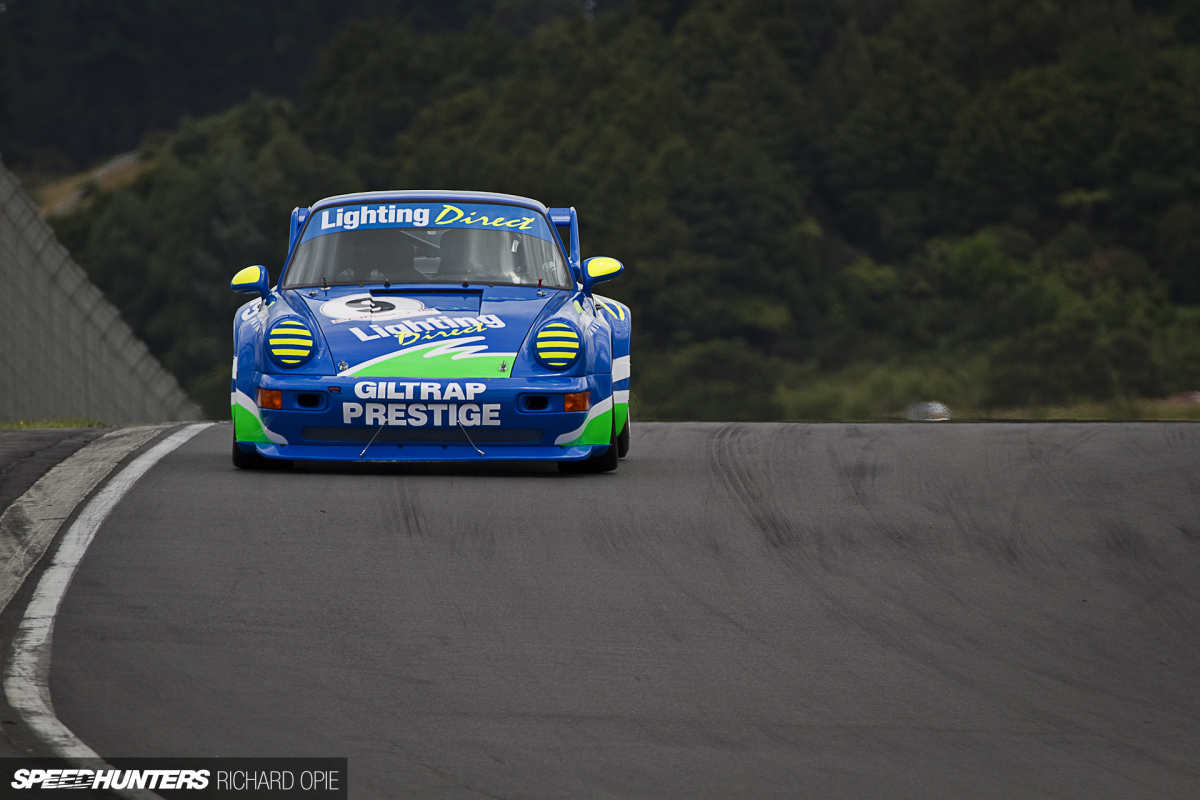 Excuse me for going on a self-indulgent nostalgia trip (so typical of my generation, I know), but one notable Porsche on hand topped them all. Throughout the early 1990s, Porsche competition in New Zealand was dominated by the oh-so-'90s blue and fluoro green of the Lighting Direct Porsche team. Following the campaign of an early 911 2.7RS and a 964 Cup car, the team acquired this 964 'Le Mans turbo' in 1997.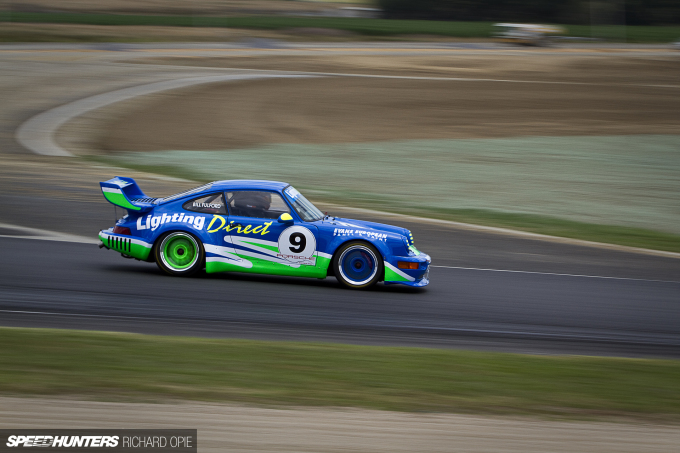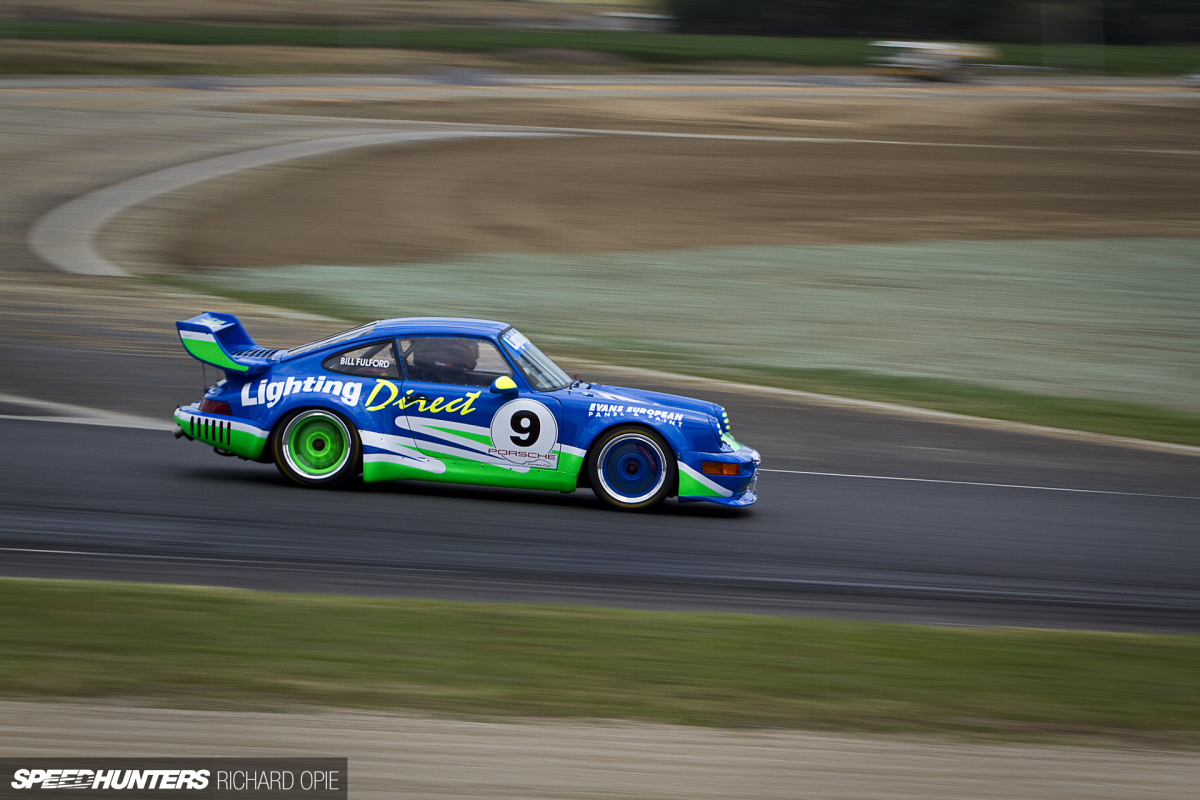 Built in 1992 by an outfit called Freisinfer Racing in Germany, prior to arriving in New Zealand the car amassed a string of race entries and wins, notably taking out the 1996 French Sports Car championship in the hands of Cyril Chateau. Featuring a rare 'flat fan' engine designed for the express purpose of endurance racing and a thick intercooler situated beneath the giant rear wing, the car always ran at the pointy end of the New Zealand Super GT championship. Following a very recent and thorough refresh, the 964 is again on track, unashamedly rocking the '90s colours and bringing back fond memories for us 30-somethings.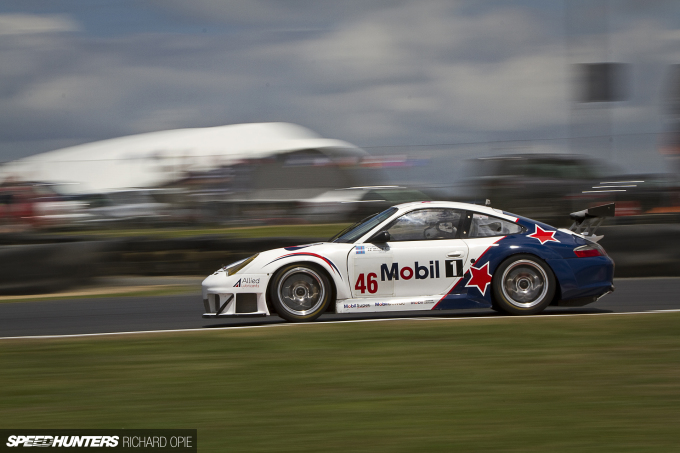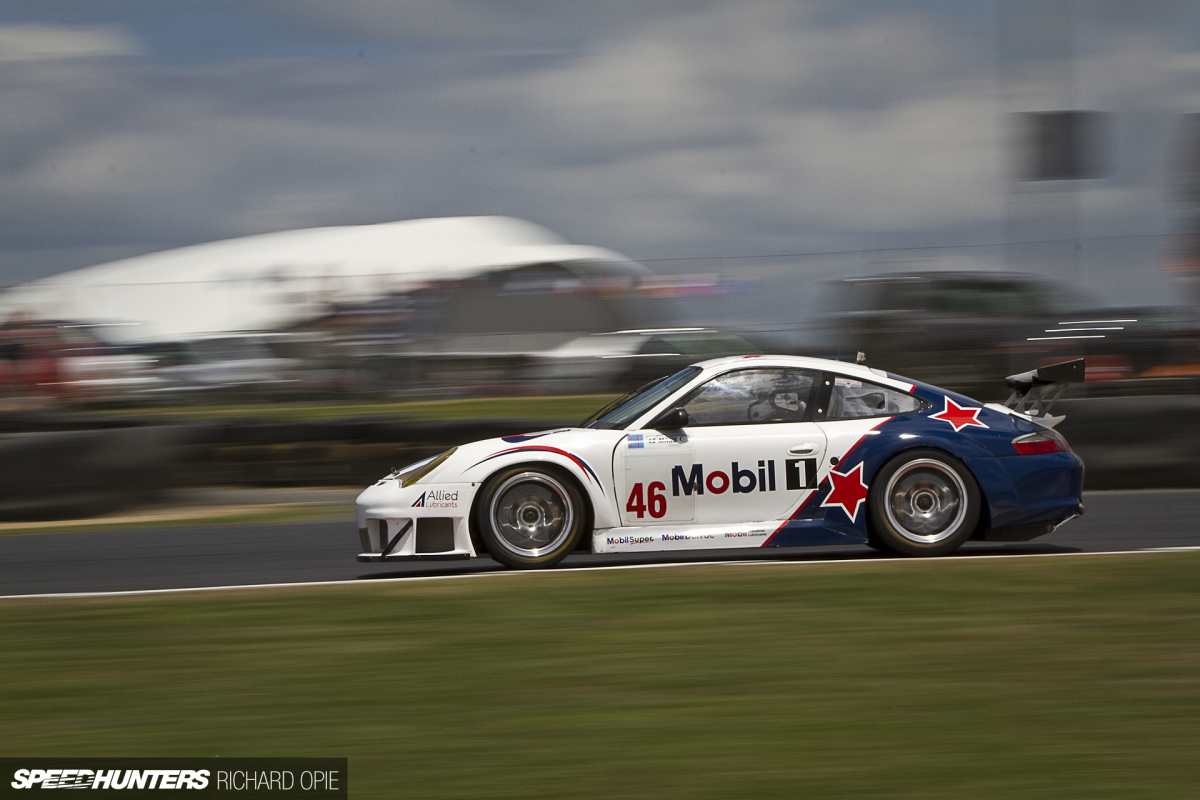 Not listed as one of the 'cars of interest' but no less interesting was this 996 GT3 RSR. Amongst the usual GT3 Cup cars, the ex-Flying Lizard motorsport RSR stood out with its more advanced aero package, howling flat-six and generally more purposeful, aggressive stance on track.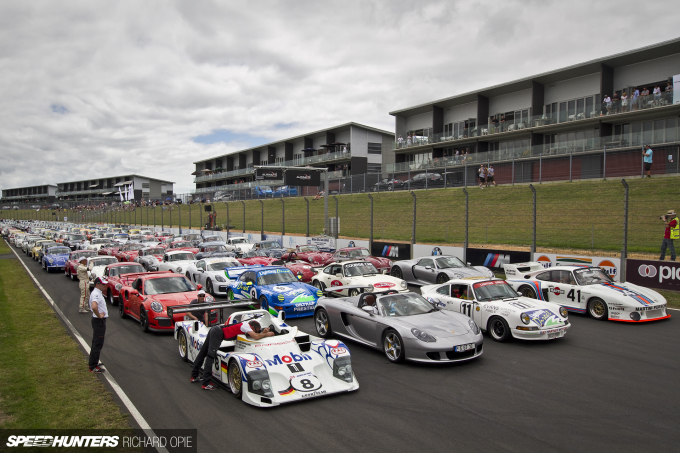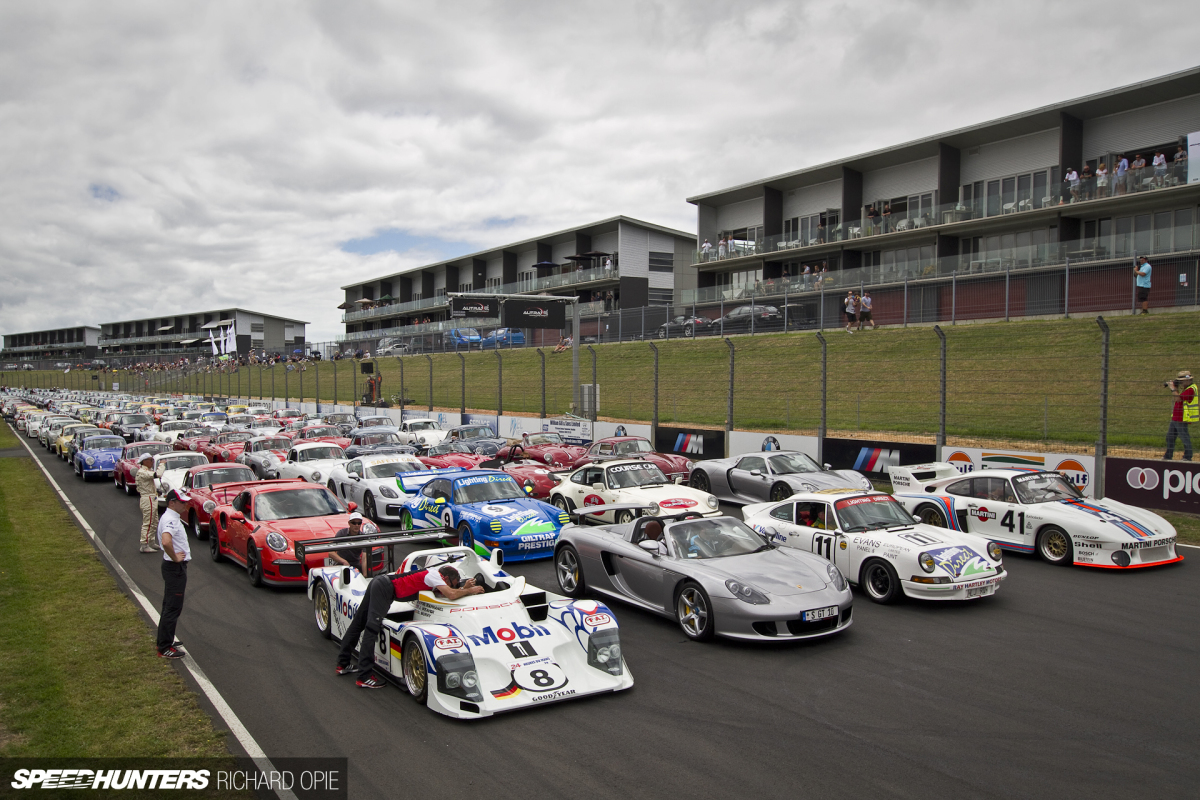 A celebration simply isn't a celebration without some kind of mass congregation, right? Of course not, so the NZFMR's organisers decided the time was nigh to reset the Kiwi record for the most Porsches on track. Spearheaded by a few rows of the very best, the end result reached the early 400s – an impressive number for a country small of population, but clearly huge on enthusiasm for Germany's iconic sports car brand.
Kiwi Institutions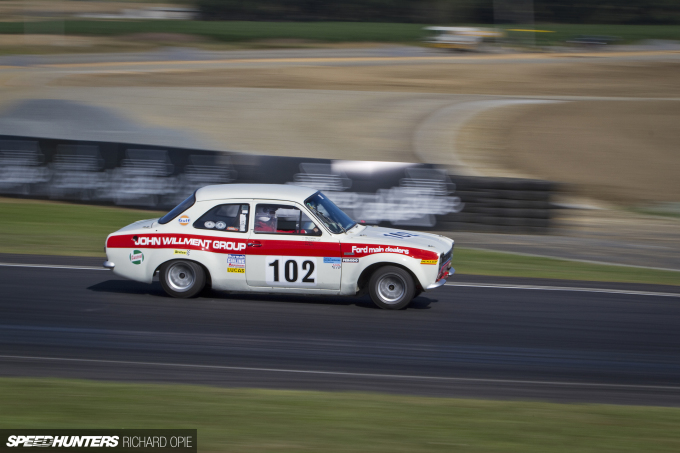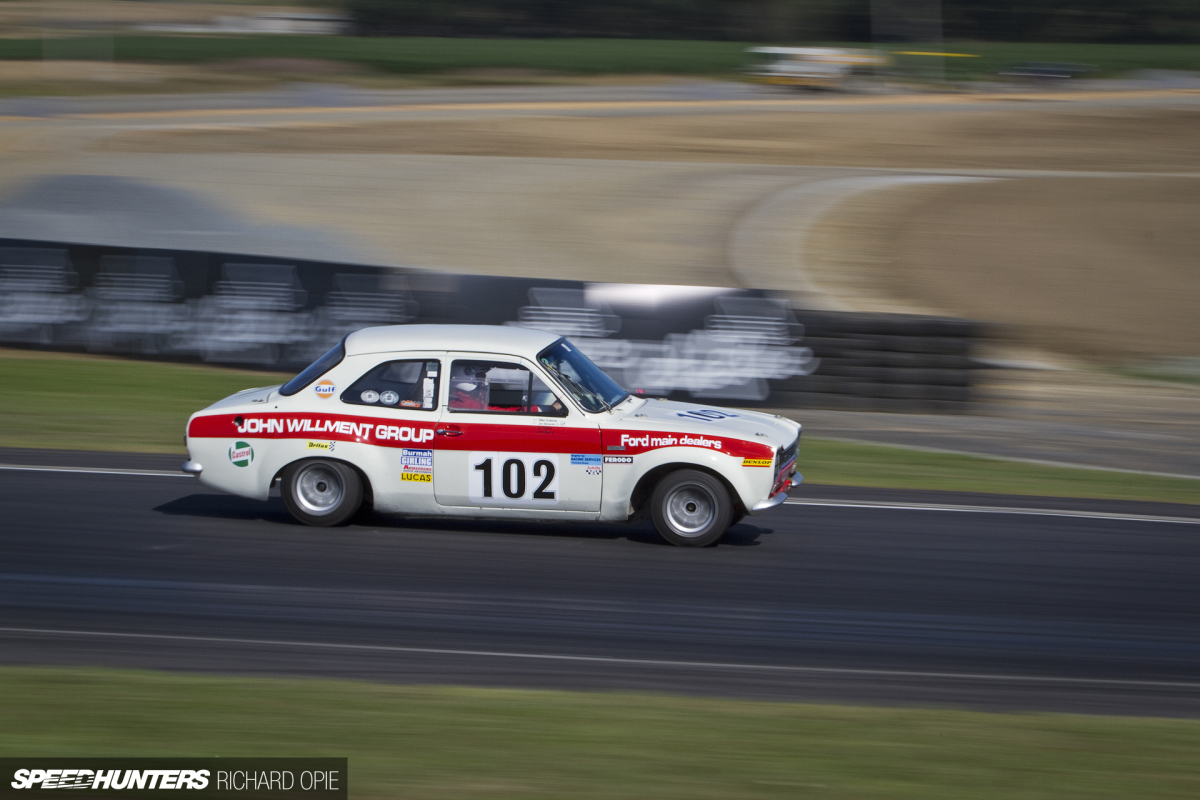 Besides Porsche, there's a few other things that Kiwis simply love when it comes to their historic motor racing. Like much of the world, Ford's diminutive Escort is revered as a historic racing platform. Using all of the rev range afforded by its twin cam four-pot, this particular car is a survivor of the New Zealand saloon championship of the 1970s, still running very much as it was in period, and being driven with no less compromise.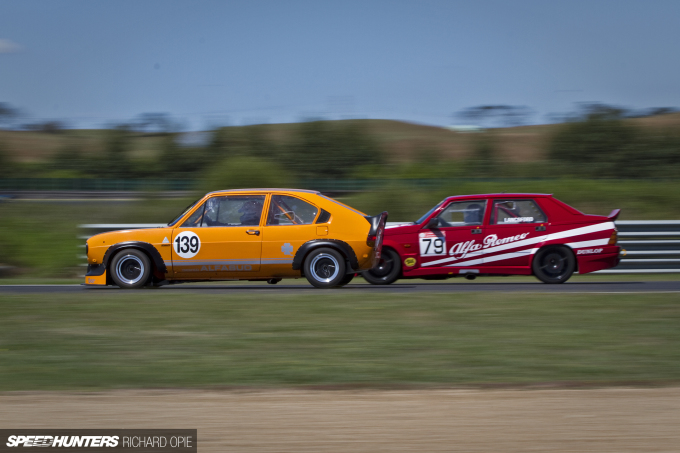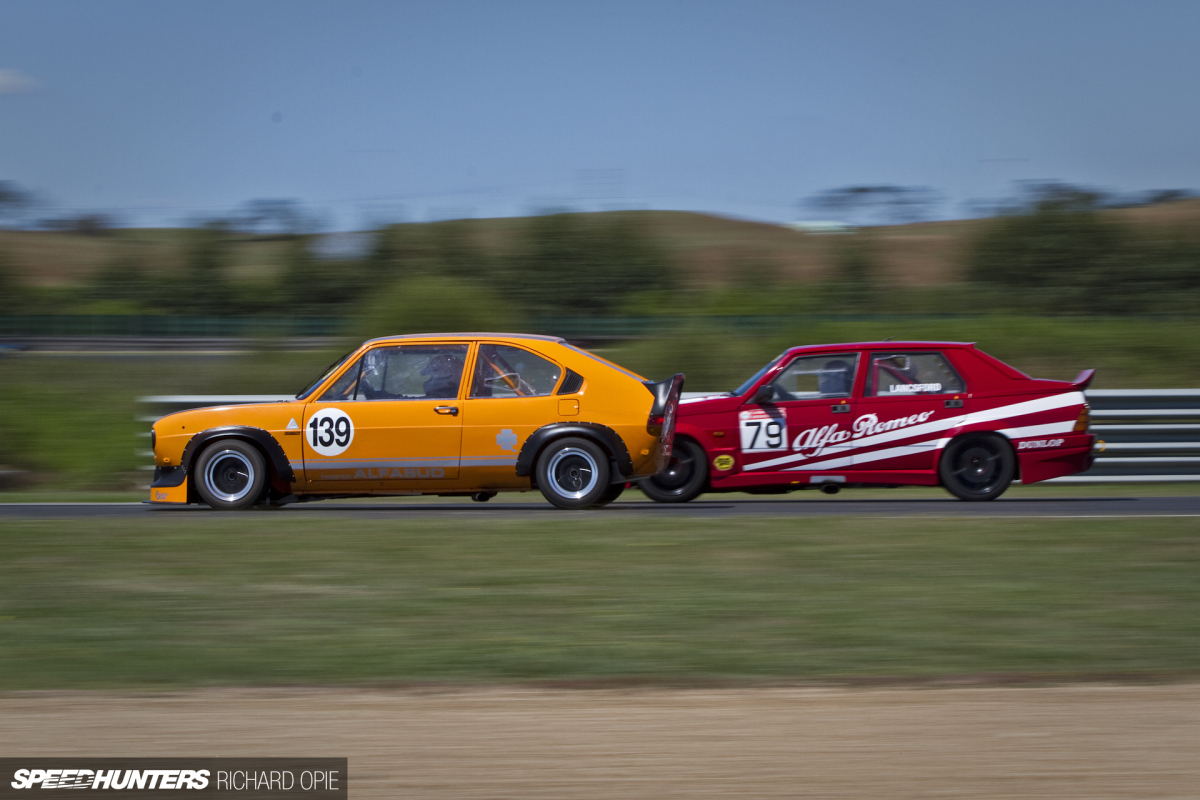 Alfa Romeo race cars pose a subject very close to my heart. These two cars, a very convincing replica of a late 1970s Alfasud Trofeo race car and a facsimile of Alfa's 1980s Group A prospect, the boxy 75, run alongside each other in the Alfa Romeo Trofeo series. This long-running championship offers the best Alfa Romeo racers the country has to offer, and growing up among family members who campaigned the temperamental Italian vehicles in this series led to me purchasing an Alfasud of my own, as my first 'proper' car.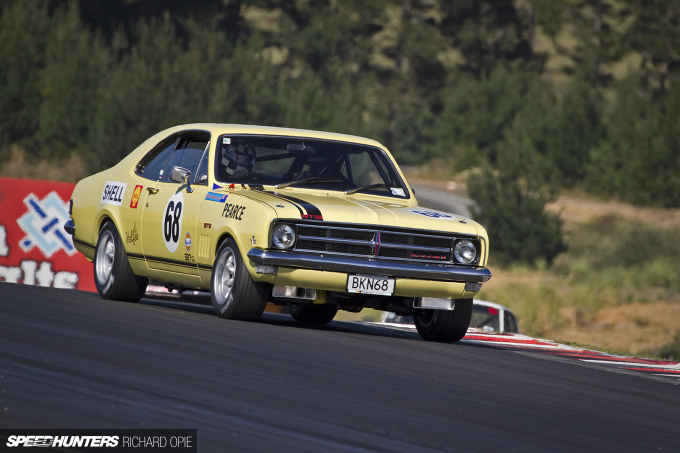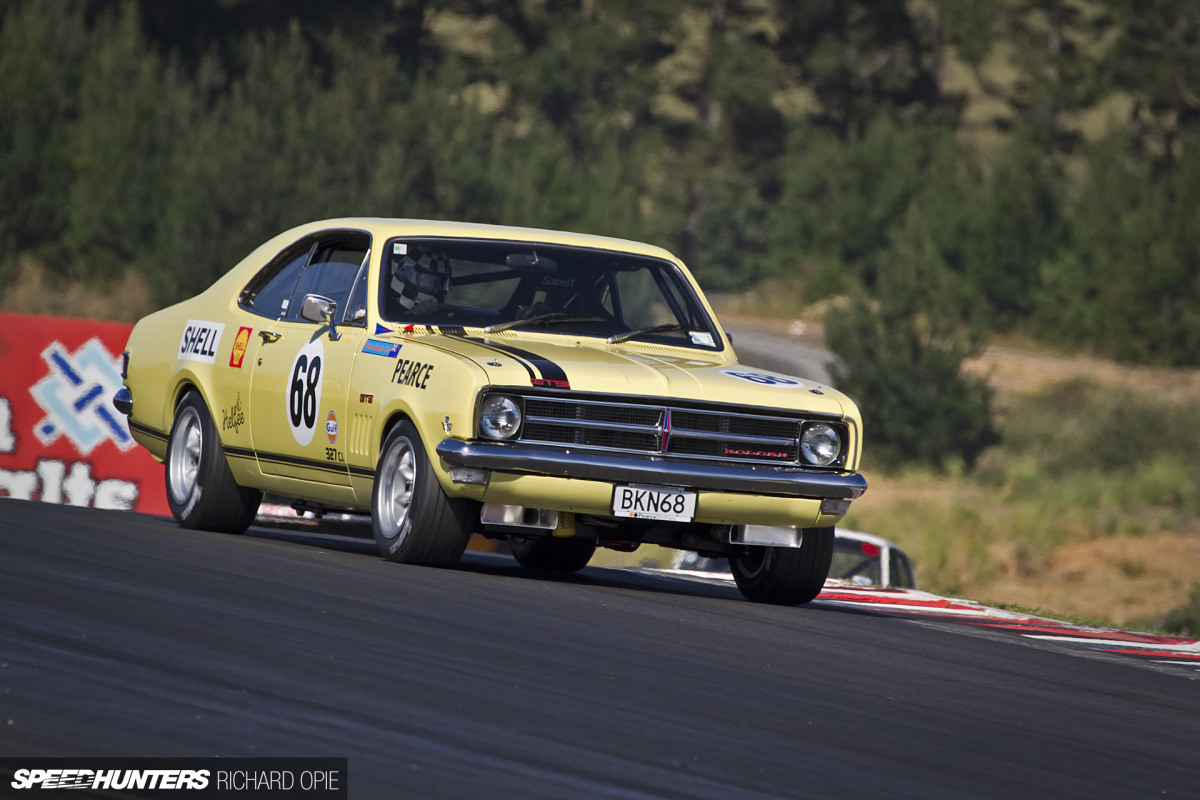 Like our Australian cousins across the ditch, New Zealand has a penchant for the V8. Ever since I can remember, classic race meetings have paid homage to this long-term infatuation, but we can expect even more now thanks to the recent formation of a Historic Muscle Car group. Their goal is to acknowledge the muscle car pilots of old with 'period only' class restrictions, including limited scope for brake and suspension alteration and a maximum wheel size of 15-inches shod in bias-ply vintage race tyres.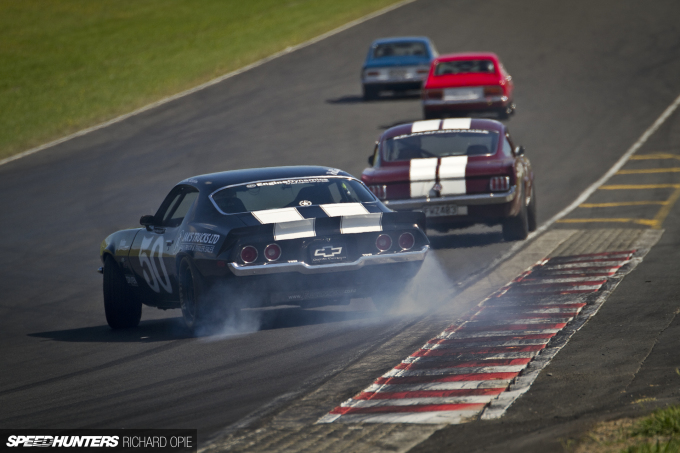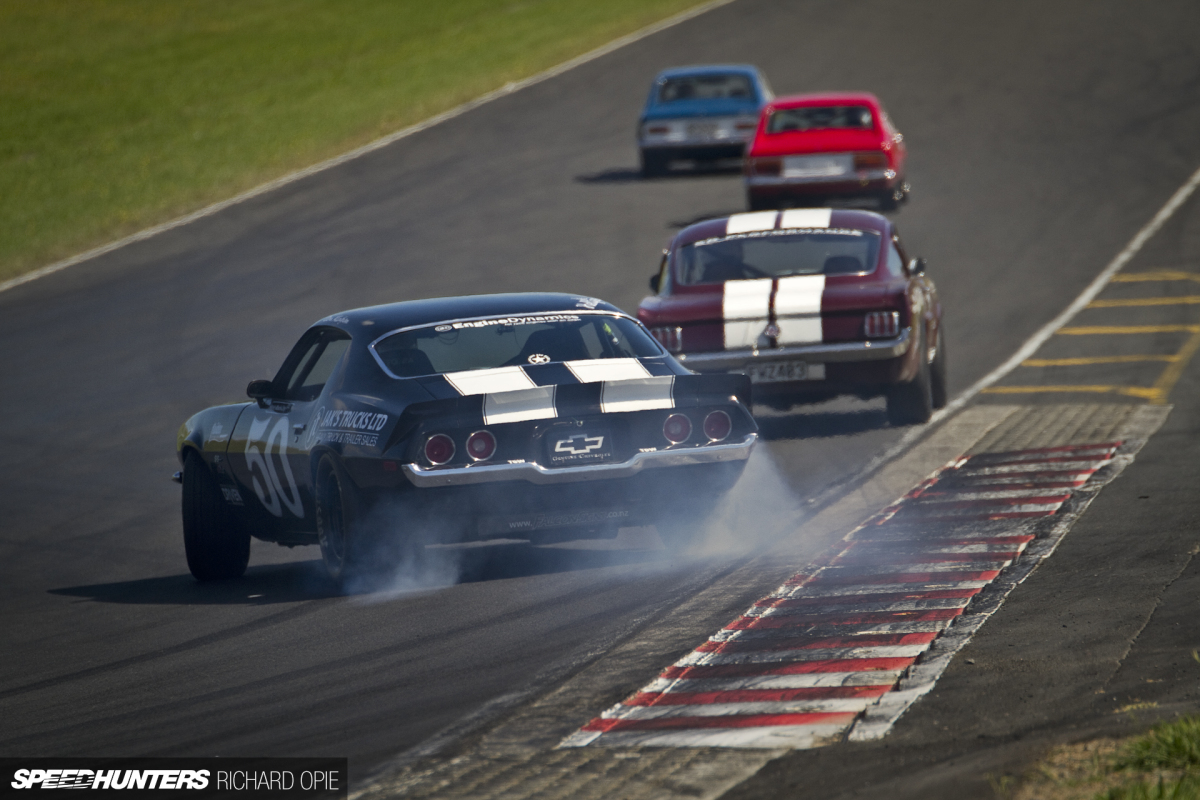 While engines are restricted to OEM-type cast iron units that must have been found within that range, internal modifications are somewhat less restricted compared to the chassis setups. Combine 500hp large-capacity V8s with the limited adhesion afforded by the tyre restrictions, and it's easy to see why the HMC field is such a crowd pleaser. Case in point, this smoking, sideways second-gen Camaro putting on a show for the spectators exiting the Dipper.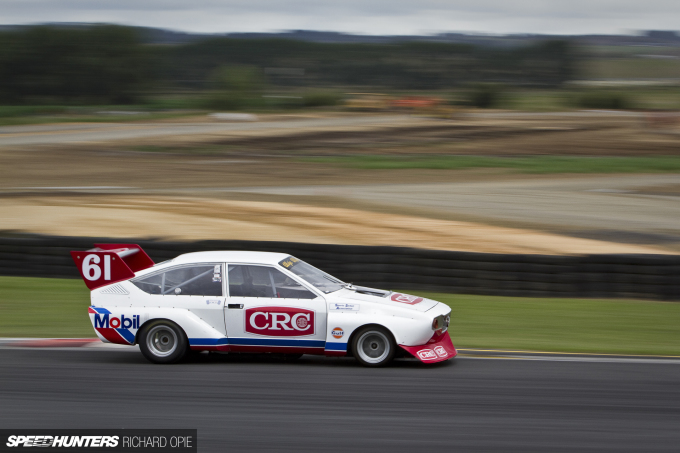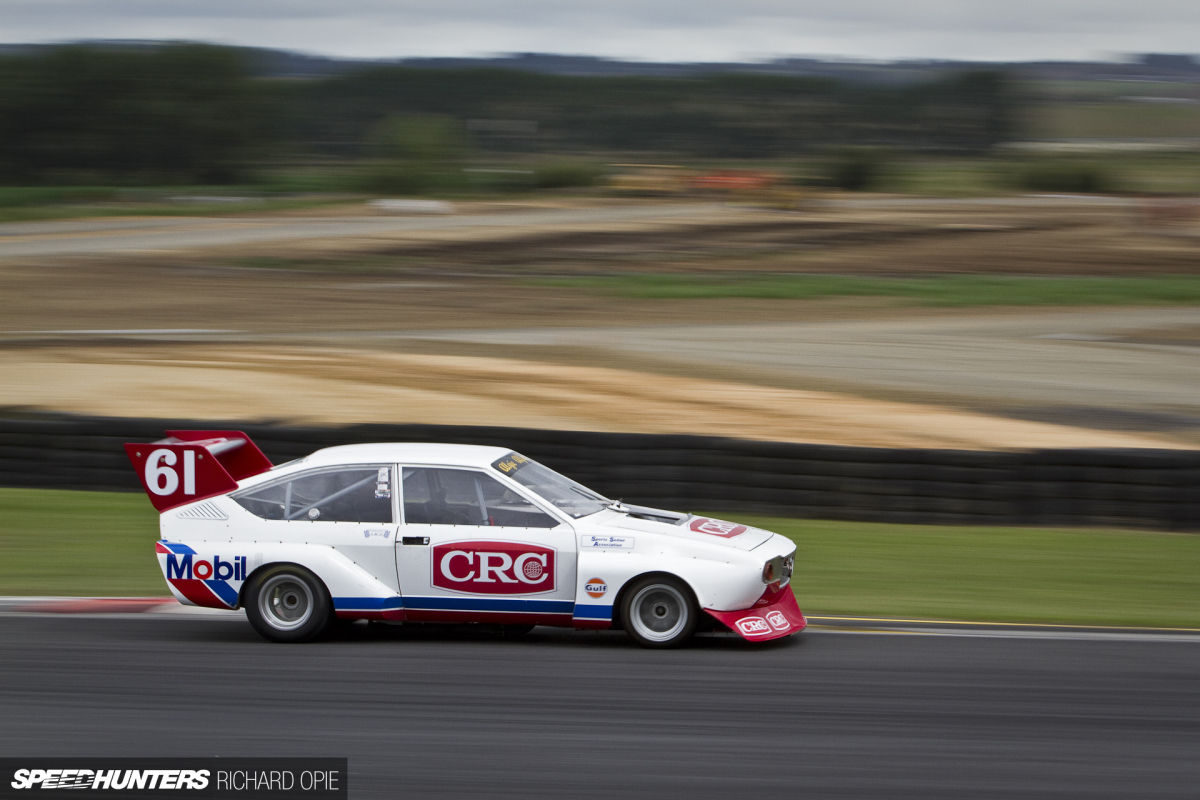 Perhaps the ultimate in historic Kiwi V8 fascination is the now-defunct Sports Sedan race class. Known lovingly among aficionados as the 'big bangers', the Sports Sedans we're for something of an all-comers class. With rules essentially dictating the car had to be of closed-saloon style, everything else was free reign, resulting in some wild expressions of the good ol' Kiwi ingenuity. Recently, the Historic Sports Sedan group formed to ensure these old cars had a place to race, and first on the grid was the Algie Alfetta, home to 5-litres of injected V8 and a driver's seat mounted somewhere over the rear axle!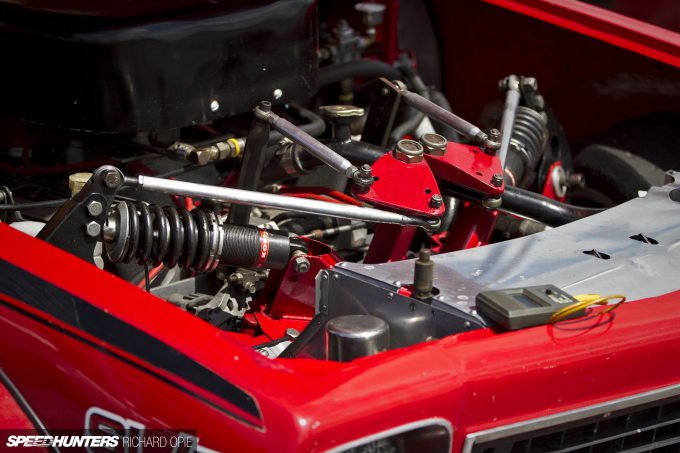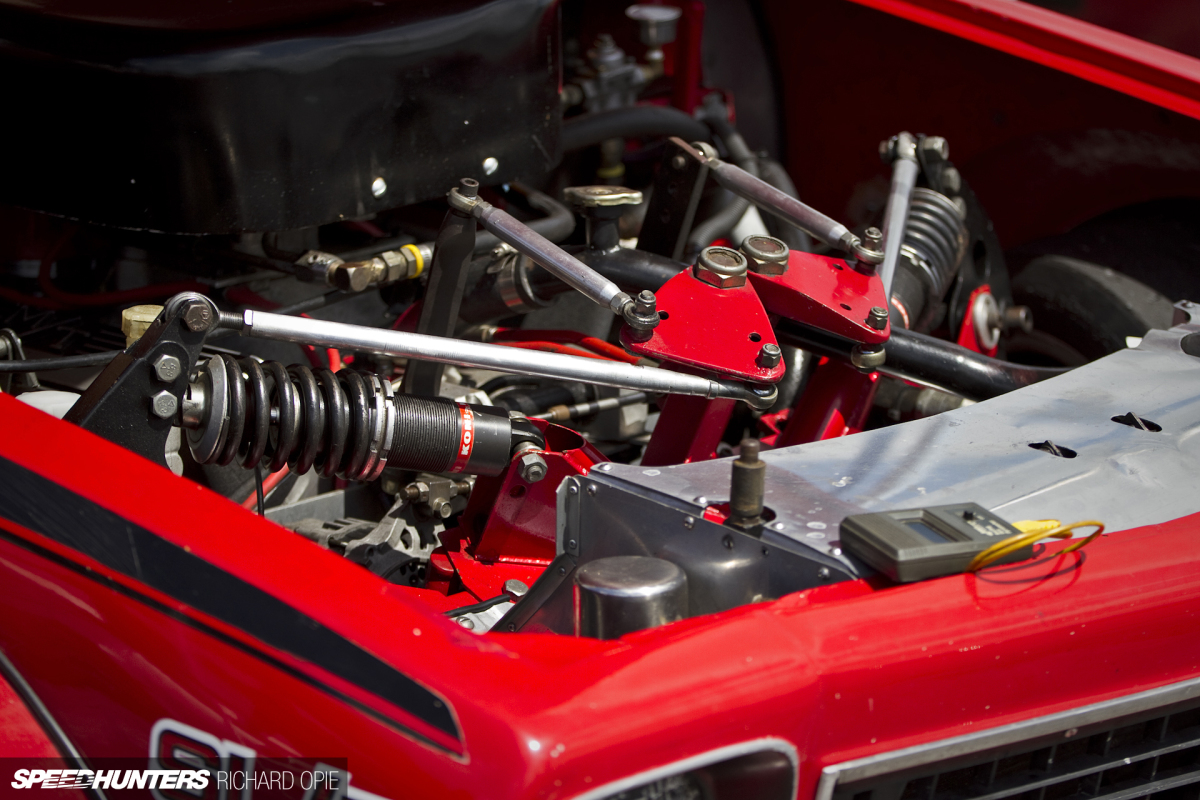 Another example is this serious LX Holden Torana, sporting an elaborate pushrod suspension arrangement in front of a set-back 6-litre V8. Pretty extreme stuff for the early 1980s!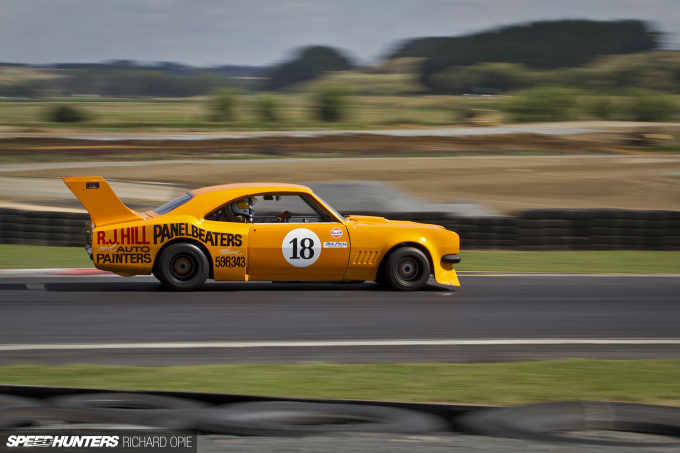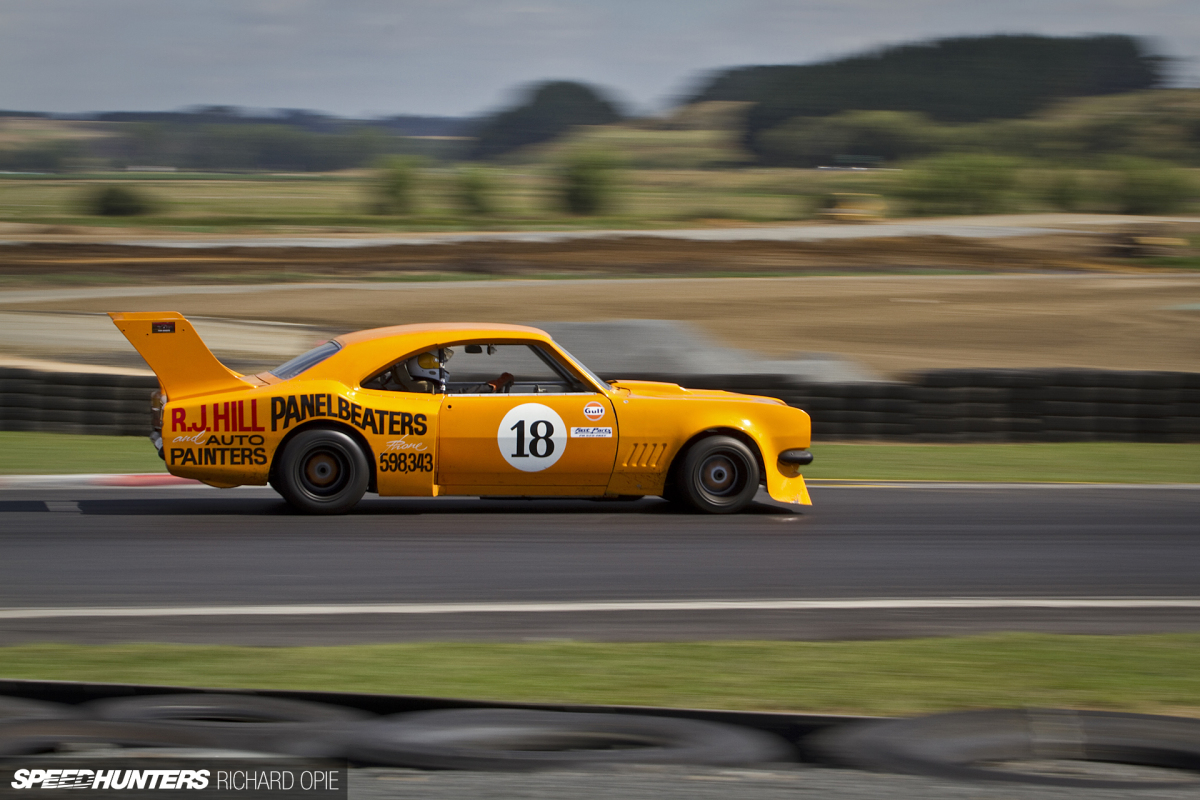 Resurrected from storage and unrestored, this wild Holden Monaro joined the Historic Sports Sedan ranks a couple of years ago. In its fully original guise the car was circulating well, and cooped up right back where the rear seat would have initially been in the road car was the original driver, builder and still-owner of the car, Barry Algie. Barry's a bit of a local hero, if not for his unhinged track creation but the equally crazy tall stories that accompany his recollections of the era.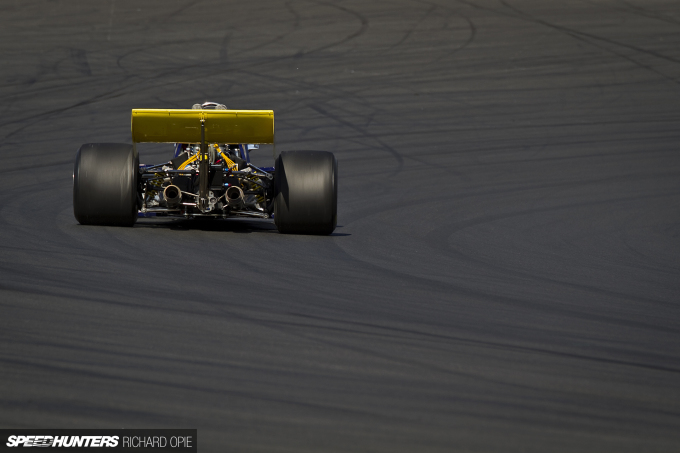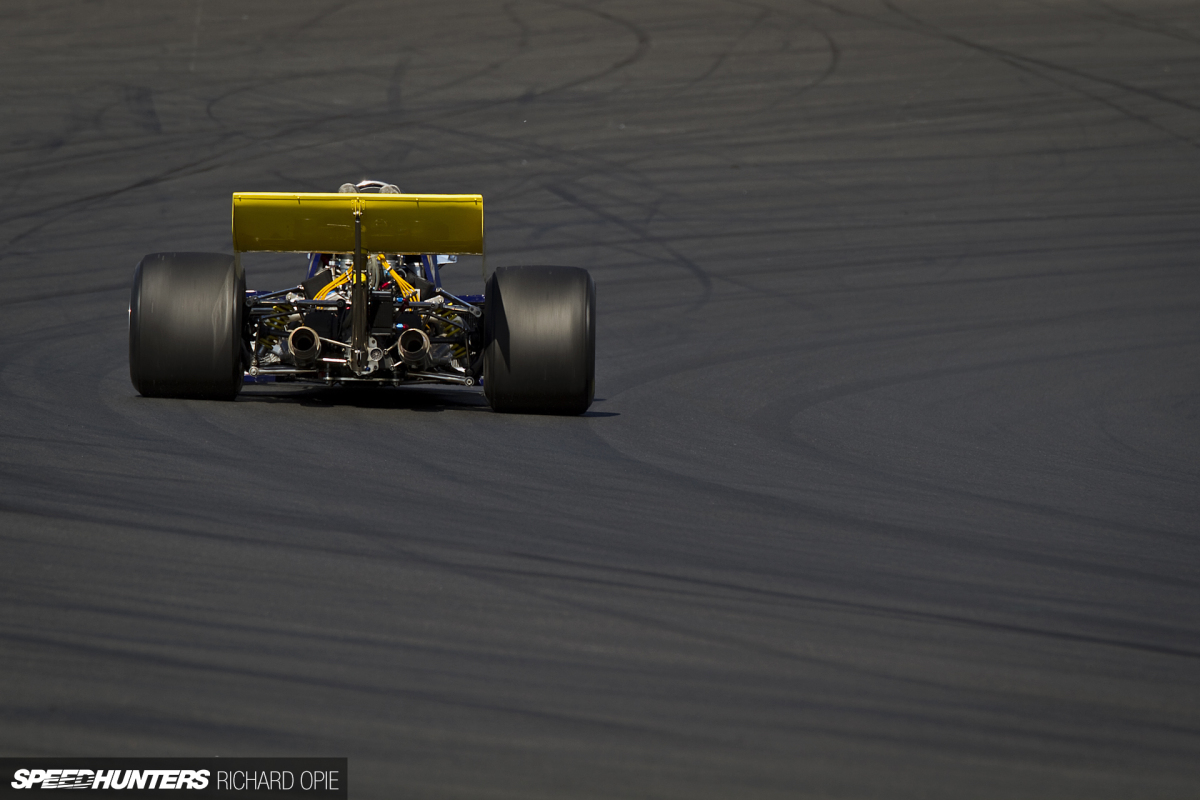 Sticking to the theme of roaring bent-eights, I can't not touch on the ever-present Formula 5000s. Conceived in the late 1960s as a relatively cost effective, yet fast open-wheel formula, their name is derived from the maximum permitted engine size: 5000cc. They're an imposing class to experience, easily the quickest chassis present at the event with giant slicks glued to the track by way of lairy front and rear wings.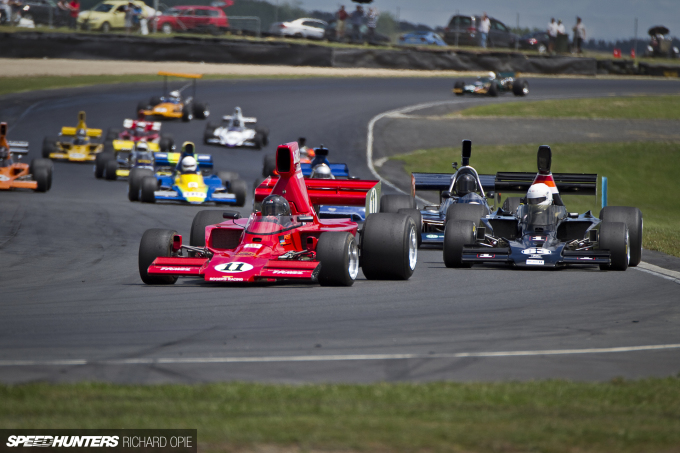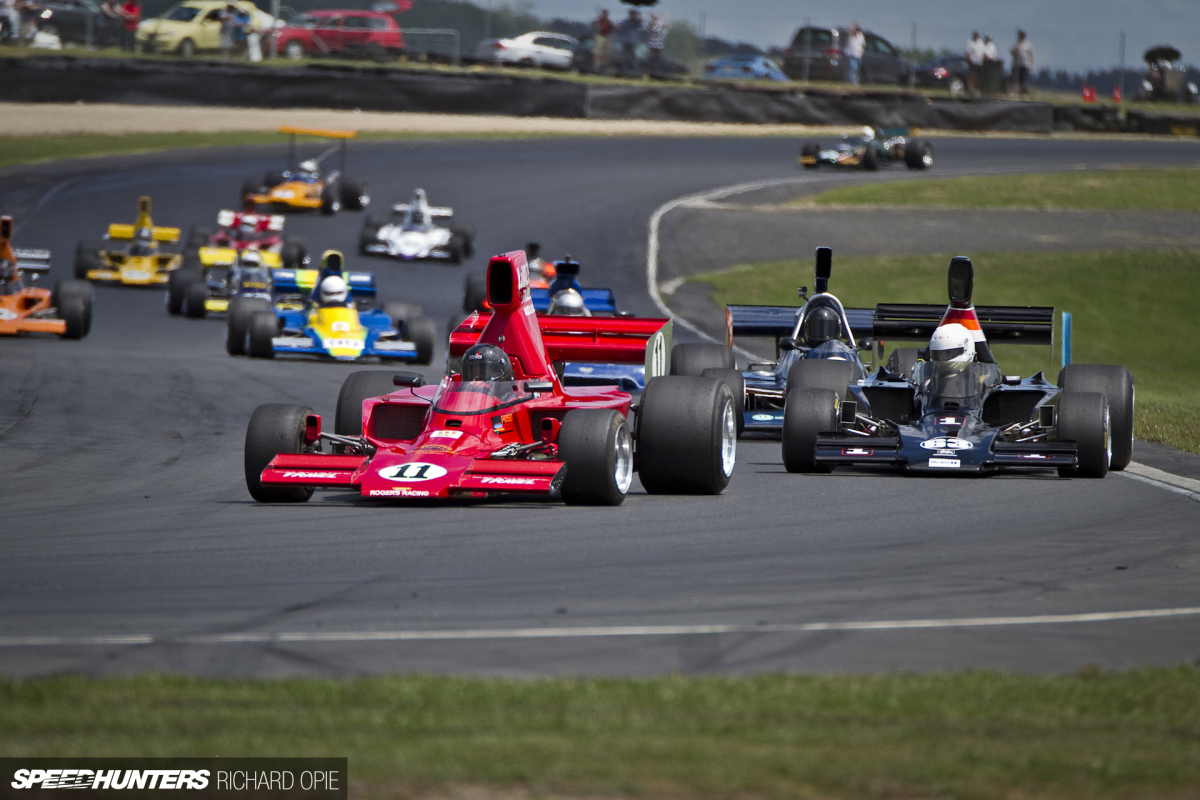 When 20 or more of these things put the pedal to the metal on their rolling start you know about it; a chorus of 5-litre smallblock V8s all pulling 8,000rpm isn't easily forgotten. A staple of the New Zealand motor racing scene circa the early-to-mid-1970s and now enjoying a resurgence in popularity, not only are these cars more plentiful than they were in period, they're also going faster. Current king of the crop is Ken Smith piloting his Lola T332, one of the final iterations of the 5-litre open wheel monsters.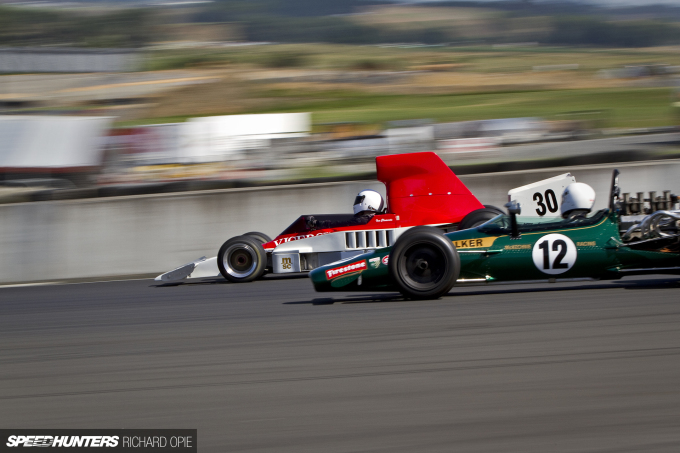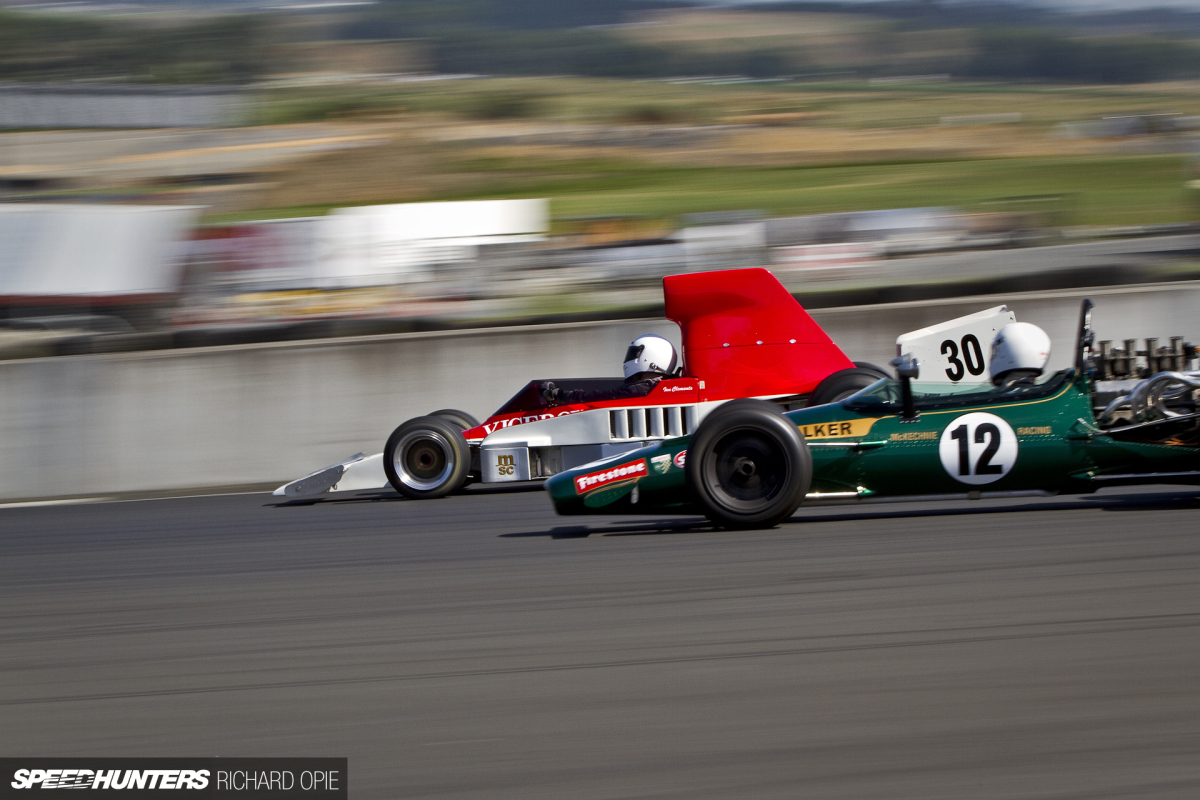 It's a class with competition no less serious than when it left off; these guys aren't afraid to make use of a gap, as shown by this Lola T332 scooting up the inside of a very notable McLaren M10B.
It's always with some reluctance that I finally bundle away my gear and slink out the gates after finishing up the second weekend. The New Zealand Festival of Motor Racing, like any festival atmosphere, leaves you feeling like you just don't want to leave. However, there's always next year, and with the celebration crosshairs aimed at the illustrious career of Ken Smith for 2017, you can bet I'll be there trackside, lens in hand, marvelling at the sound, the visual and the variety of our country's finest classic race weapons.
Richard Opie
richy@speedhunters.com
Instagram: snoozinrichy
Cutting Room Floor