We've kept you hanging on for this one, but we're pleased to announce that we've now got our final installation of our Automotive Art showcase all ready to share with you. From intricate paintings and cool sketches to hand-made sculptures and mind-blowing digital renders – there's something in here to inspire everyone. Perhaps you'll even feel motivated to create something artistic of your own after seeing some of these.
We're still completely in awe of the level of talent out there, and we'd like to extend a huge thank-you to everyone who submitted their incredible artwork for this special theme. Right, now let's get started…
Nam Dang – Melbourne, Australia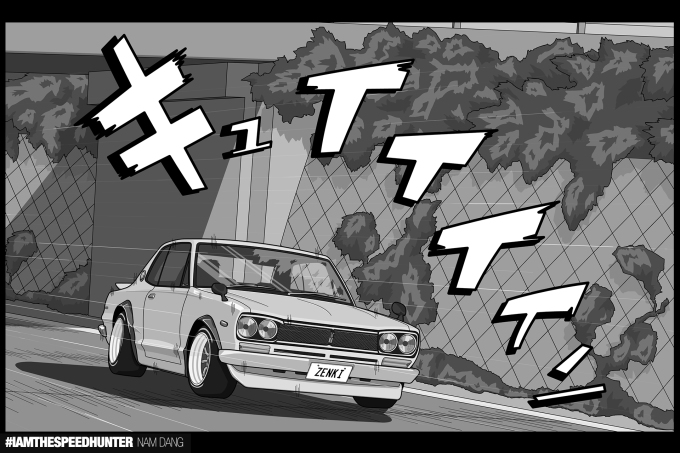 Nam from Melbourne joined creative forces with friend Warren Nguyen two years ago, and together they've been creating awesome Japanese-influenced art ever since. A passionate Initial D enthusiast and AE86 owner, Nam has found that these passions have influenced his work a lot, as shown in the neat comic book-style Hakosuka illustration he's shared with us here. Nam and Warren have even started their own clothing brand dedicated to their love of Japanese cars; check out their Facebook and Instagram for more.
Alex Gabrian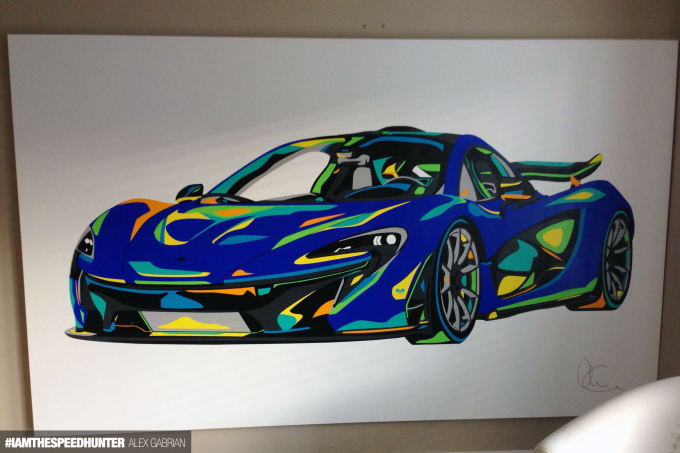 This epic McLaren P1 painting was created by Alex Gabrian, whose style involves painting in acrylic generally on large canvas. This piece took over 200 hours to complete, which thankfully was worth it for Alex as it was purchased by deadmau5! Make sure to check out his website which includes some YouTube videos where Alex shares some of his painting methods and techniques.
Chris Piscitelli – Metro Detroit, Michigan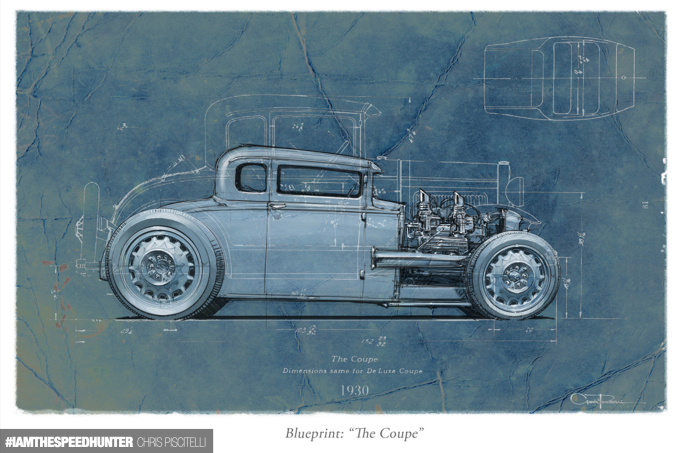 A senior designer for Jeep, Chris Piscitelli has shared with us this beautiful and intricate drawing of a Ford Model A hot rod, named 'Blue Print: The Coupe'. Chris writes, "I studied industrial design in school, so I've always had a healthy appreciation for the technical end of the art world. The inspiration for this piece came from finding an old print of a Ford Model A technical drawing and wanting to show how far we go as enthusiasts to make cars our own." You can view more of Chris' work on his website here or his Instagram here.
Ренат Ахметшин aka. Kemer  – Ufa, Russia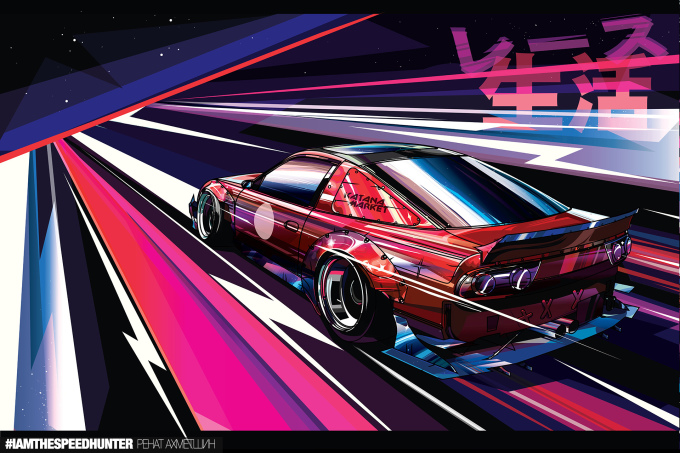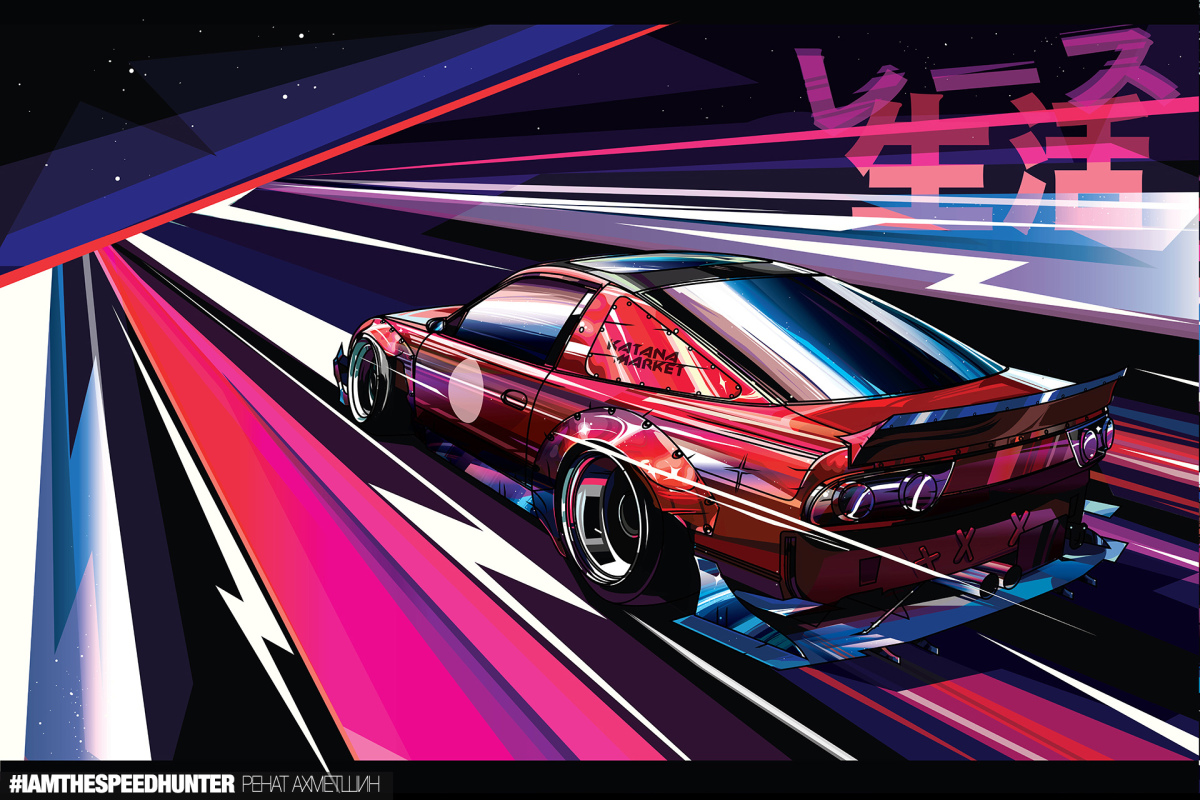 Kemer from Russia sent us this awesome digital illustration of a Rocket Bunny 180SX; possibly inspired by the wild Bad Quality Silvia as previously featured on Speedhunters. Kemer apologised for not speaking much English (which is okay because we can't speak any Russian either!), but we still love the colour choices and style he's used here. Check out more cool designs and prints on the Katana Market page here.
Gary Ragle - Cincinnati, Ohio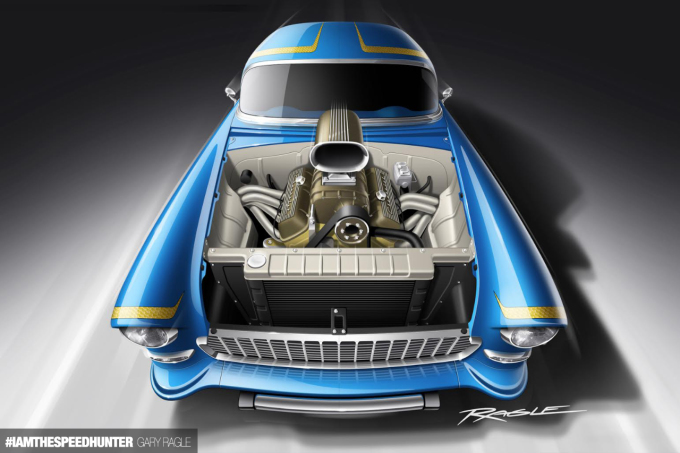 Gary Ragle has an impressive background in automotive design and currently works as a professional freelance automotive designer in Cincinnati, Ohio. Gary tells us, "Most of my clients are hot rod and custom shops, but I'll basically design anything with wheels." This engine bay study was actually for Gary's own build – a '55 gasser project. If this design is anything to go by, perhaps we need to see more of the real thing on here too! You can check out more of Gary's work on his website here.
Jerome Chao – Taipei, Taiwan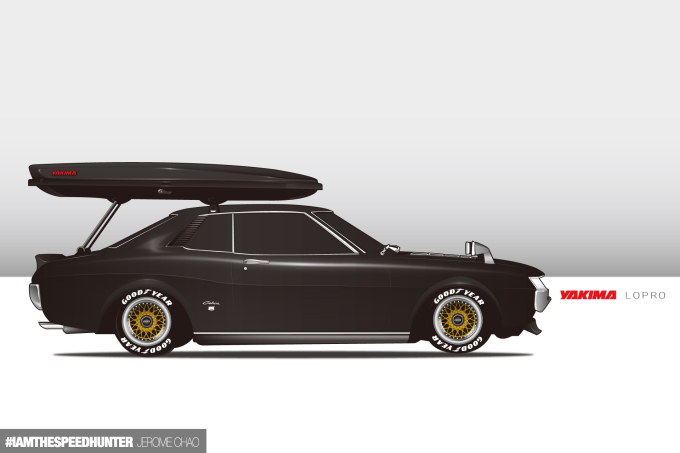 Jerome Chao from Taiwan is another artist who's been inspired to create a vision of his own project car, which is his case is a TA22 Toyota Celica. Jerome was curious to see what his car would look like if he set up a roof/rear-mounted travel box on it, so he simulated the idea in Adobe Illustrator. We have to say that it does look very cool!
Luke Shaw – Adelaide, Australia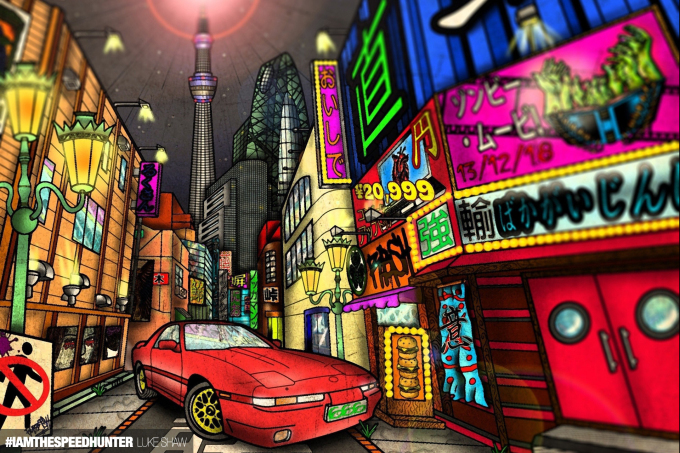 Luke Shaw's art submission really stood out to us as something different, and it has a cool story behind it too. Luke shares with us, "This is an animated short I made over a year ago when I was still an amateur, featuring my beat-up old Mk3 Toyota Supra. I became involved with the company I now work for after the director saw it. I still currently own the Supra, but have added an R32 GTS-t and AE86 to my driveway!"
We definitely recommend checking out the video above, but be prepared for the dark twist at the end. Great stuff, Luke!
Ewan Kingsbury – Melbourne, Australia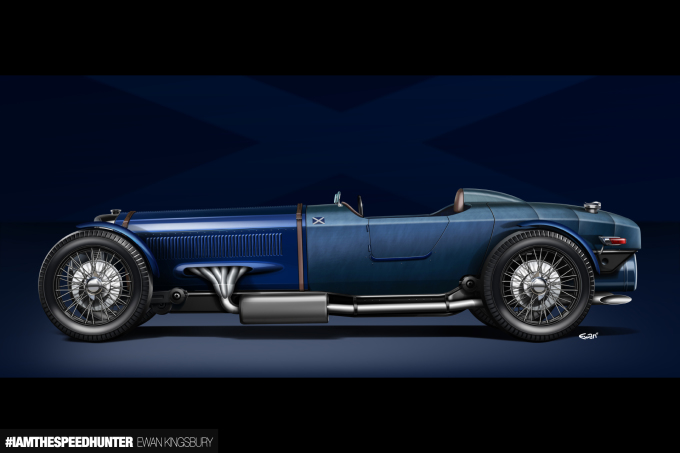 Ewan Kingsbury from Melbourne writes, "I'm actually a car designer during the day, but it's nice to sometimes squeeze in some personal work at home, and these sketches are part of that! I created this earlier in the year for a personal project on a fictitious Scottish automotive brand called Rare that I'm playing about with." We're loving where Ewan is going with this.
Vlad Bocharov – Russia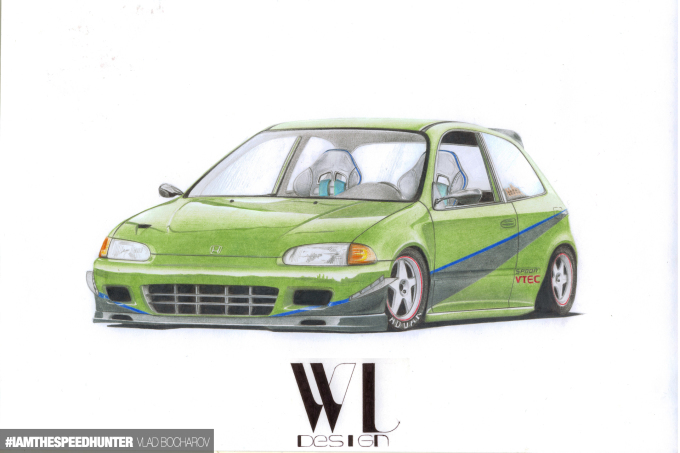 Next up, we've got a neat little sketch sent in to us by Vlad Bocharov from Russia. Vlad is an avid fan of Japanese Kanjo style and obviously the Honda marque too. This cool Civic street racer features a low stance with some cool retro graphics and racing slicks – a must for attacking the infamous Kanjo Loop. We love it!
Chris Lee – Huntington Beach, California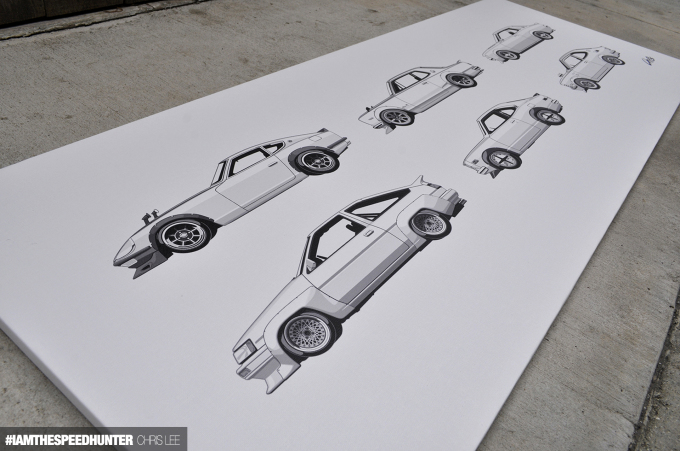 Chris Lee currently works at Five Axis Design as a designer, so his usual artwork involves future concepts and show cars. However, Chris has also found the time to create these canvas renderings of some of his favourite cars as a personal side project. Chris writes, "Originally, I started creating these for myself to decorate my wall at home. I drew and rendered them on the computer drawing program called the 'Alias', which is usually known as a 3D program used in the automotive industry, but they also have 2D features for the drawing and rendering." As it turned out, people liked them so much that he eventually started producing them for purchase in limited quantities. We can see why too!
Martin Aveyard – Victoria, BC, Canada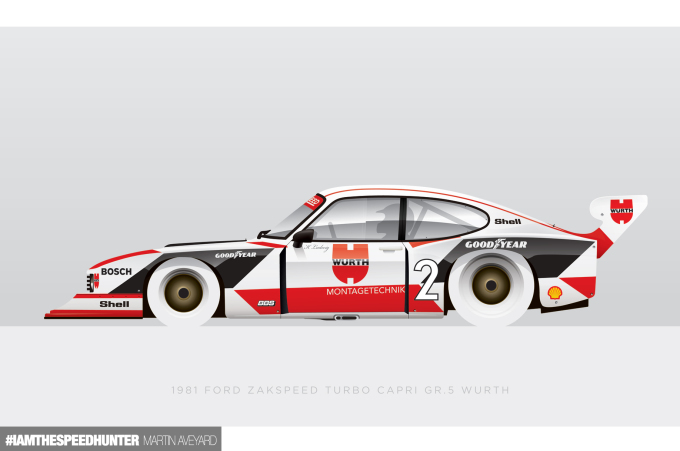 We're loving this digital drawing by Martin Aveyard. Martin explains that this is just one of about a dozen of these illustrations he's done of vintage race cars in this style. He writes, "These are heavily influenced by Ricardo Santos who is an amazing illustrator – I just wanted to do some of my favourite liveries to print out and hang in my garage!"
Kayla Giles – Issaquah, WA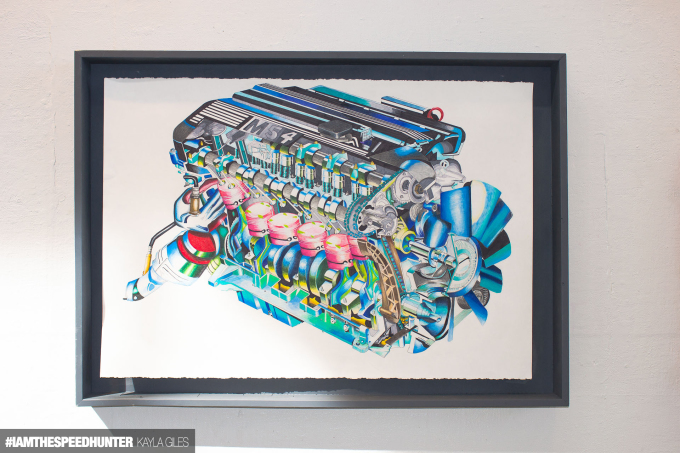 How cool is this detailed sketch of a BMW M54 engine by Kayla Giles? Kayla focused on designing automotive art throughout college, and her involvement with her local BMW club inspired her fine art studies. We're loving her use of bright colours and shading to highlight each internal component – seriously cool stuff!
Tom Whalley – York, UK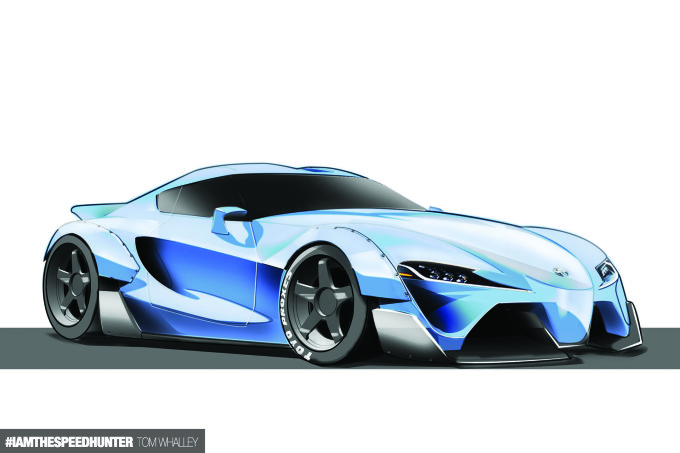 We know that you're all fans of the Toyota FT-1 concept,  but what about a wide-body version? Tom Whalley was curious to know what one of these Supra-inspired machines would look like dressed in signature TRA Kyoto clothing. He describes the kit as having a combination of the styling of the current Rocket Bunny kits, and his favourite tuning company, Liberty Walk.
John McBride – Easton, PA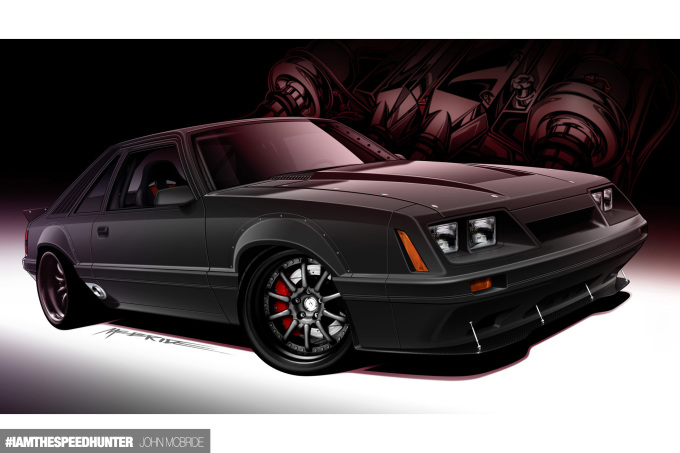 We've always had a bit of a soft spot for Fox Body Mustangs, and it looks like we have something in common with John McBride, the creator of this 'X-Box' 1986 Ford Mustang Concept. John writes, "I've always had a thing for 4-eye Fox Body Mustangs and their boxy looks. I decided to draw up a no-holds-barred twin turbo nightmare with a hardcore streetfighter edge. A real hoon machine! Satin black paint, wide bolt-on flares, minimalist interior, full cage, super-wide staggered 18-inch 3-piece wheels and tires. Aside from huge disk brakes at all four corners, if it doesn't make it go faster it's removed. Ultimate in form follows function!"
Tyler Bame – Detroit, Michigan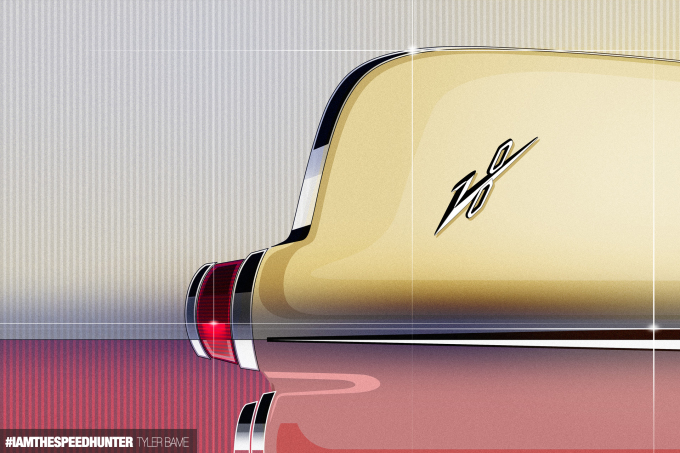 Next up, Detroit-based designer Tyler Bame shared with us this abstract art piece which is actually based on an image of 1955 Pontiac tail-fin that he took at a local car show. Tyler explains, "It also combines elements of graphic vectoring with the digital painting style of automotive design." We can't help but feel like this would make an awesome wall art piece! Check out more of Tyler's work here.
Jeremy Rivera – Springfield, Massachusetts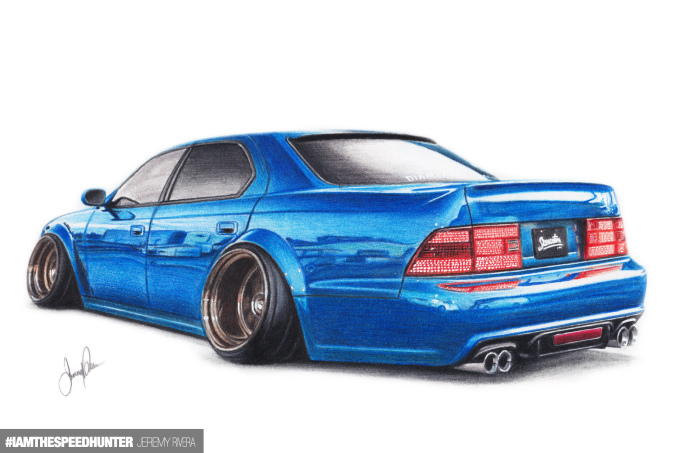 Does this car look familiar? Some might recognise it as StanceNation founder Elvis Skender's Lexus, and we think that Massachusetts-based artist Jeremy Rivera has done a wicked job with recreating the LS400 using only colored pencils and white ink. Jeremy spends hours getting every single detail of his hand-drawn sketches as perfect as he possibly can – make sure to check out more of his work on his Instagram here.
Josh Welton – Detroit, Michigan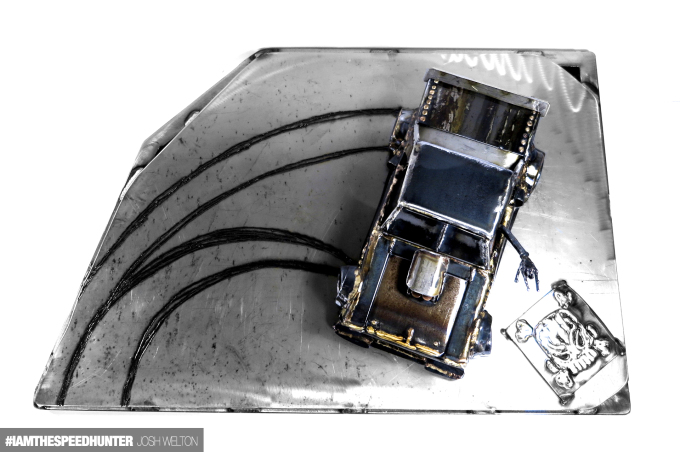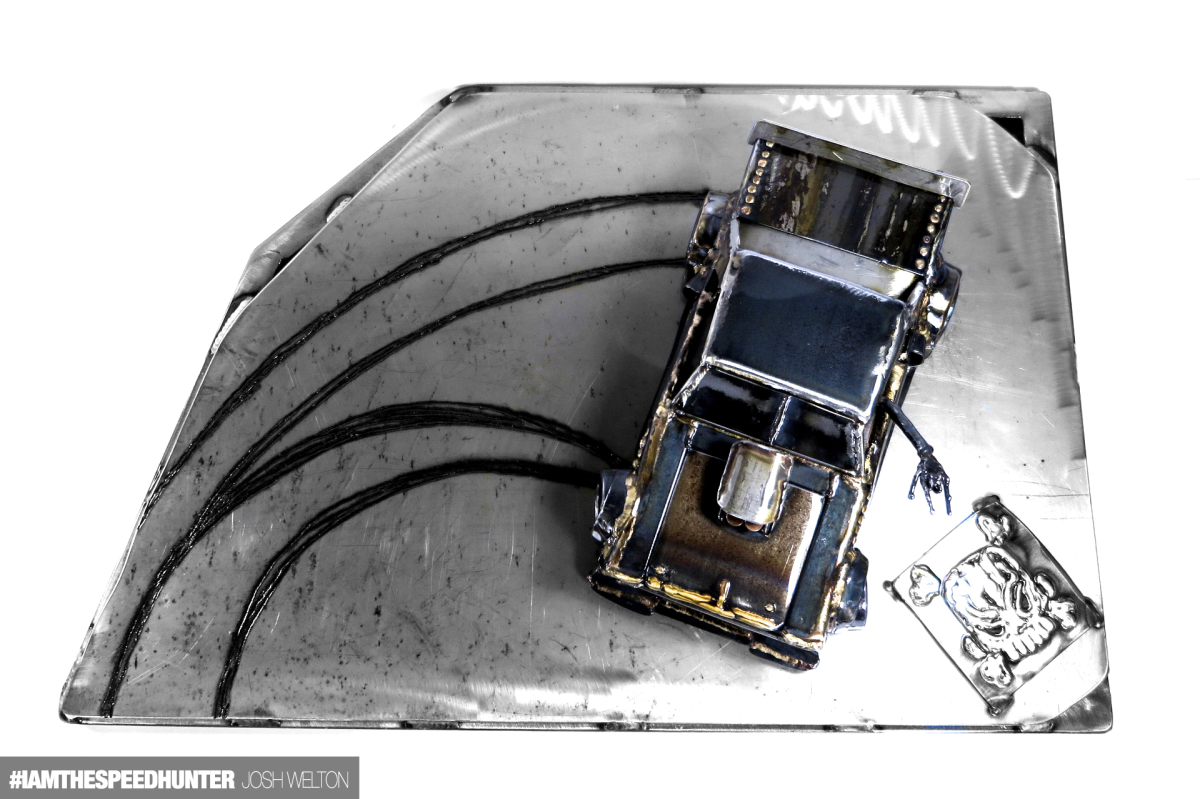 Another Detroit-based artist Josh Welton is into quite a different form of automotive art, namely sculpture using metal. Josh writes about his work, "I'm a millwright by trade, formerly for Chrysler, but I'm currently working in a DoD prototype shop. I started sculpting in 2008, and from very humble beginnings the pieces have evolved considerably since. Despite having four major arm surgeries over the last two years, I've been able to show my work at SEMA for four years in a row now!" Josh has created hundreds of hot rod and motorcycle sculptures, but this Hoonicorn-inspired piece really stood out to us. Make sure to check out his website and Instagram.
Marco Fernandez – Canada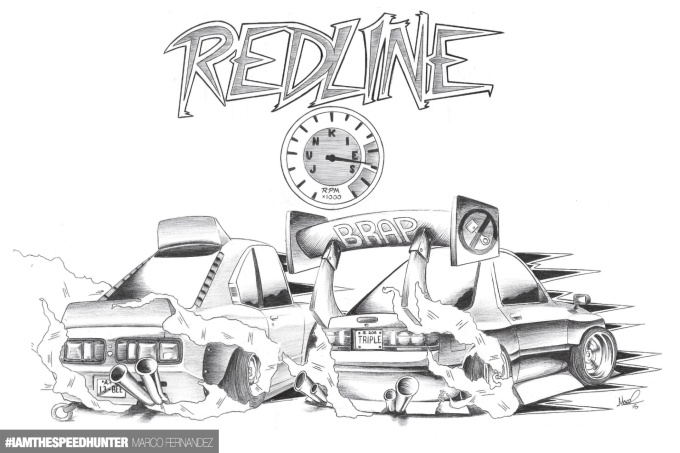 Don't worry rotary lovers, there's something in here for you too. How cool is this Wankel-inspired sketch by Marco Fernandez? Although Marco was born in Miami, Florida, he's currently studying Industrial Design in Canada. He writes, "I enjoy exaggerating the cars in my drawings; emphasising on some of my favorite details. This is actually three different sketches done on print paper combined together to make one big piece. I love odd engines and nothing is more odd than a rotary engine revving to 9000rpm! I also love how drastic modifications can be from one car to another that are only decade or so apart. With the RX-3, I decided to give it a more shakotan feel that classic JDM cars are getting these days, while with the FC3S RX7 I tend to see race car builds with flares and wings being the key components."
Adam Hubers – Detroit, Michigan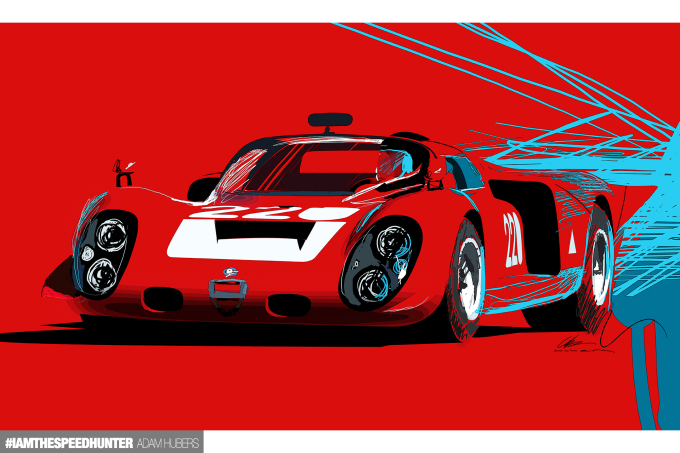 Onto something completely different again, here we have a really neat illustration by Adam Hubers, a graduate of The College for Creative Studies in Detroit. Adam specialises in exterior design and works full-time for a big automotive manufacturer, but like many of the other artists featured here, he enjoys making automotive art for himself too. Created using Adobe Photoshop and a Wacom tablet, this race Alfa was more of an experiment; Adam has used tighter Illustrator-style techniques mixed with aggressive scribbles as a means to change things up. We're loving the bold use of red and contrasting cool blue accents.
Walter Kim – Los Angeles, California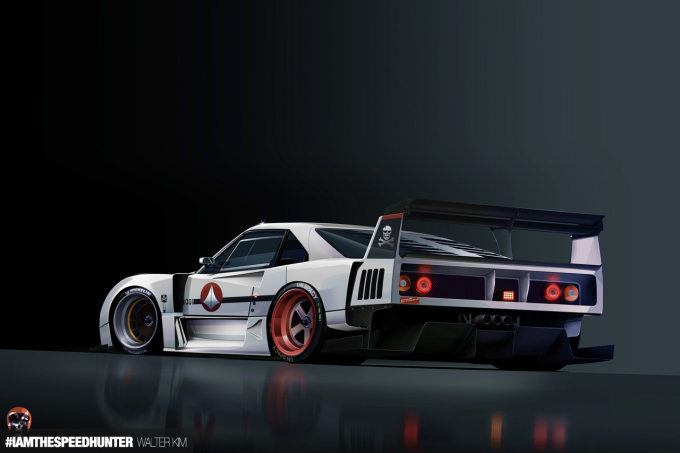 Last but most definitely not least, perhaps one of our favourite artworks submitted to us was from Walter Kim, a Los Angeles-based artist who works at Activision. Walter tells us, "I love cars and I wanted to create a Ferrari using a livery inspired by the Japanese Macross (Robotech) anime. I wanted to combine modern race cars such as DTM and Super GT with the old body lines of an F40." As you can see, the result is one seriously badass-looking F40! Walter has plenty more cool drawings on his Instagram here.
We're sad to say that this brings our Automotive Art theme to an end. A huge thank-you once again to everyone who submitted their work, and if we didn't feature yours, please don't be put off – we simply received too many submissions to feature all of them! As an alternative, please feel free to post your work in the comments section below!
Story curated by Taryn Croucher
Instagram: taryncroucher
Twitter: @taryncroucher
taryn@speedhunters.com
About #IAMTHESPEEDHUNTER
We created #IAMTHESPEEDHUNTER to allow you the opportunity to share your skills and car culture experiences from around the globe with the rest of the Speedhunters audience. How do you get involved? It's simple…
Speedhunters.com – Watch out for our monthly announcements on how you can take part and submit your content to feature in one of our monthly themes!
Instagram – Follow us on Instagram at @TheSpeedhunters and tag your own car culture images with #IAMTHESPEEDHUNTER
Twitter – Follow us on Twitter at @SPEEDHUNTERS and share your tweets with the #IAMTHESPEEDHUNTER hashtag