Legendary Looks From A Legendary Time
If the great Colin McRae was still around and came face to face with Naoki Takigashira's GC8 Subaru Impreza WRX, I bet he'd give it a nod of approval.
I've previously voiced my disappointment in the way Subaru has gone with the latest Lancer Evol… oh apologies, the latest Impreza WRX STI. It's still a great performance car for the money and it's a safe and easy evolution (there's that word again, sorry) of a tried and tested all-wheel drive turbo platform, but am I the only one that's getting a bit tired of it all? Surely after 20 or so years of development Subaru could have done something a little more daring with the new model? Bump the power to about 400hp, perhaps? Maybe throw a dual-clutch transmission into the mix to prove they're not stuck in 2001? I don't know, I'm just thinking out loud here. What I do know however, is that nothing really looks as bad-ass as a pumped and tuned GC8 Impreza WRX. It's the daddy that started it all; the model that took Subaru to three consecutive WRC manufacturer titles between 1995 and 1997.
Given the GC8's pedigree, I can fully understand why Naoki has stuck with it, perfected it over time and given it the looks to match.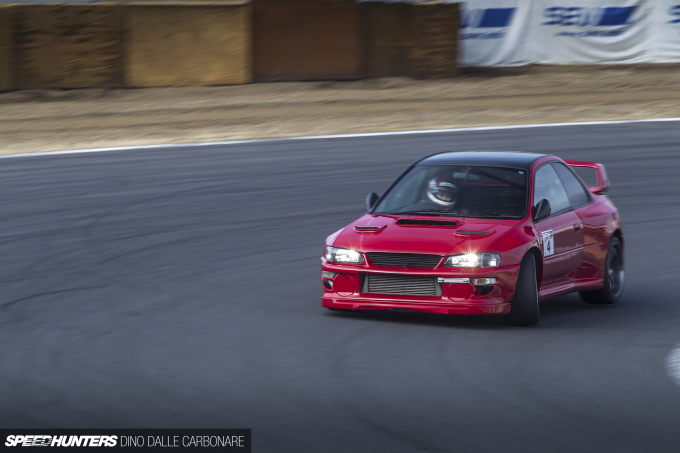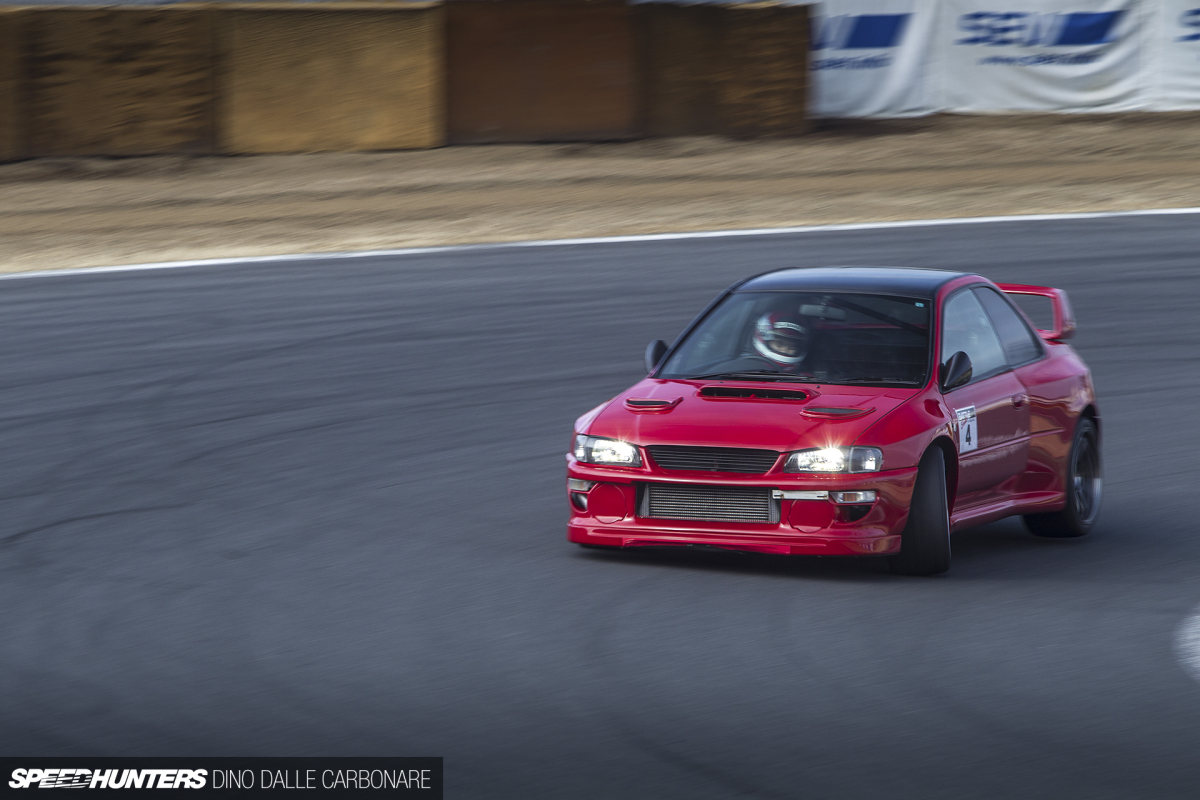 When I first saw this car at Battle Evome last weekend, it fooled me. I thought a crazy man had taken a rare 22B (the road car version of Subaru's World Rally Car) and turned it into a time attacker. In reality though, Naoki's Impreza is a normal 1997 WRX STI coupe, which has been pumped and massaged to mimic the aggressive lines of Subaru's WRC machines between '97 and '00.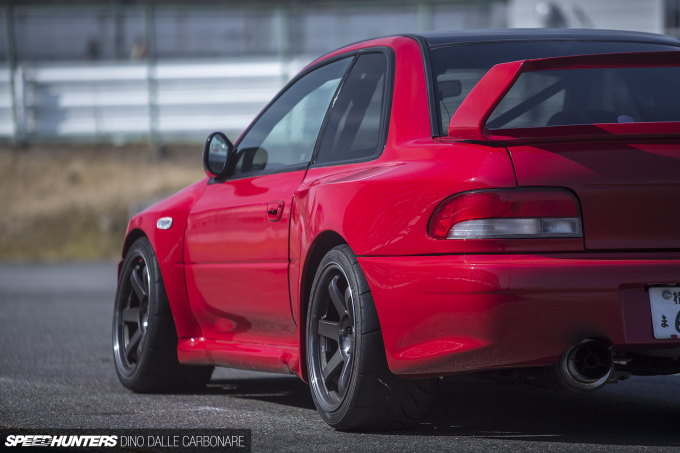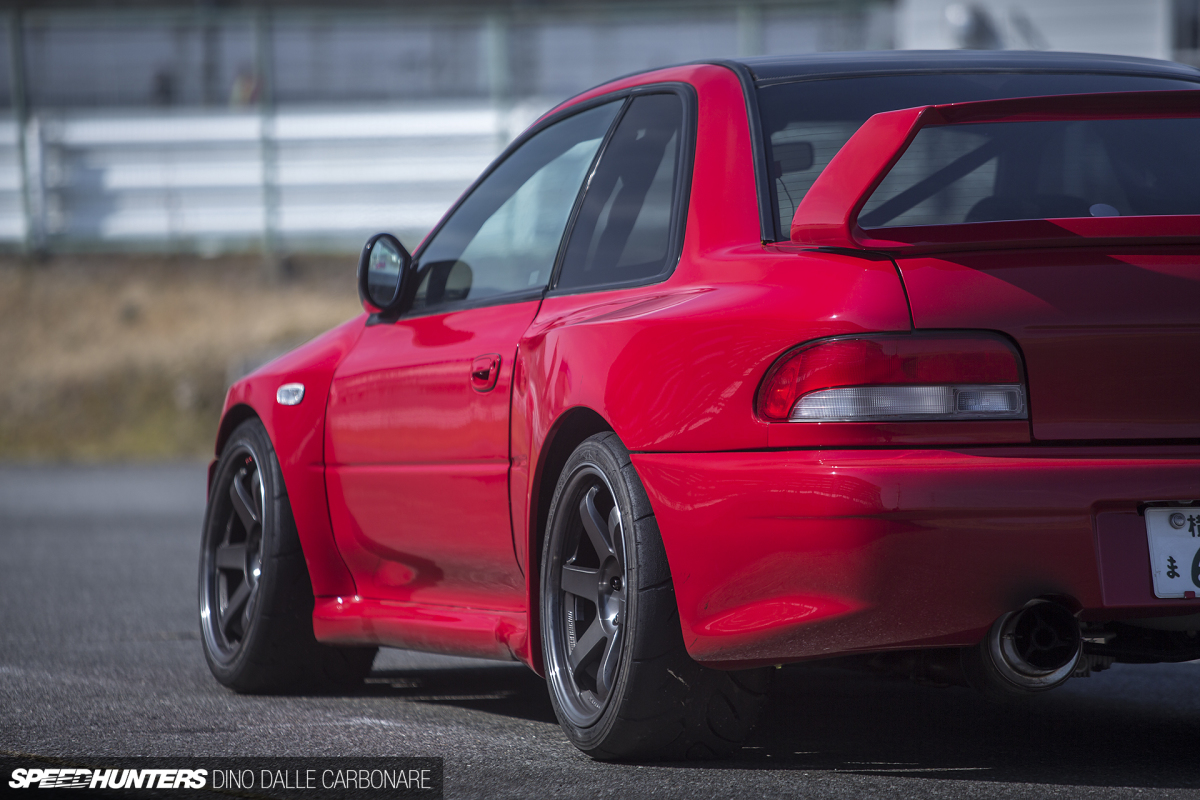 And when I mean pumped, I really do mean it. Both the front and rear fenders have been custom blistered like those on the WRC machines, adding 50.5mm of extra width to each side.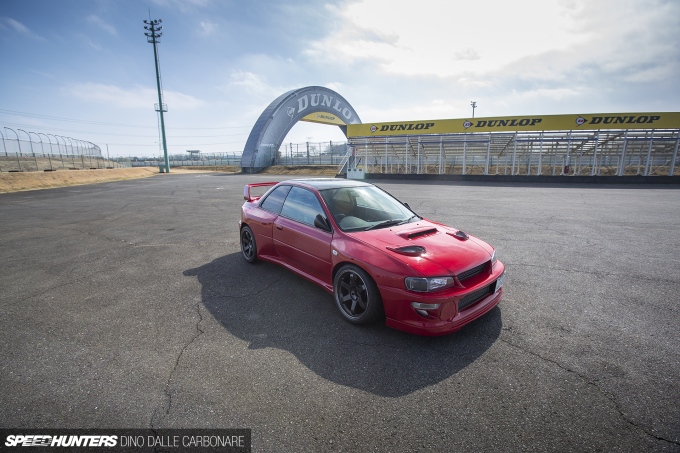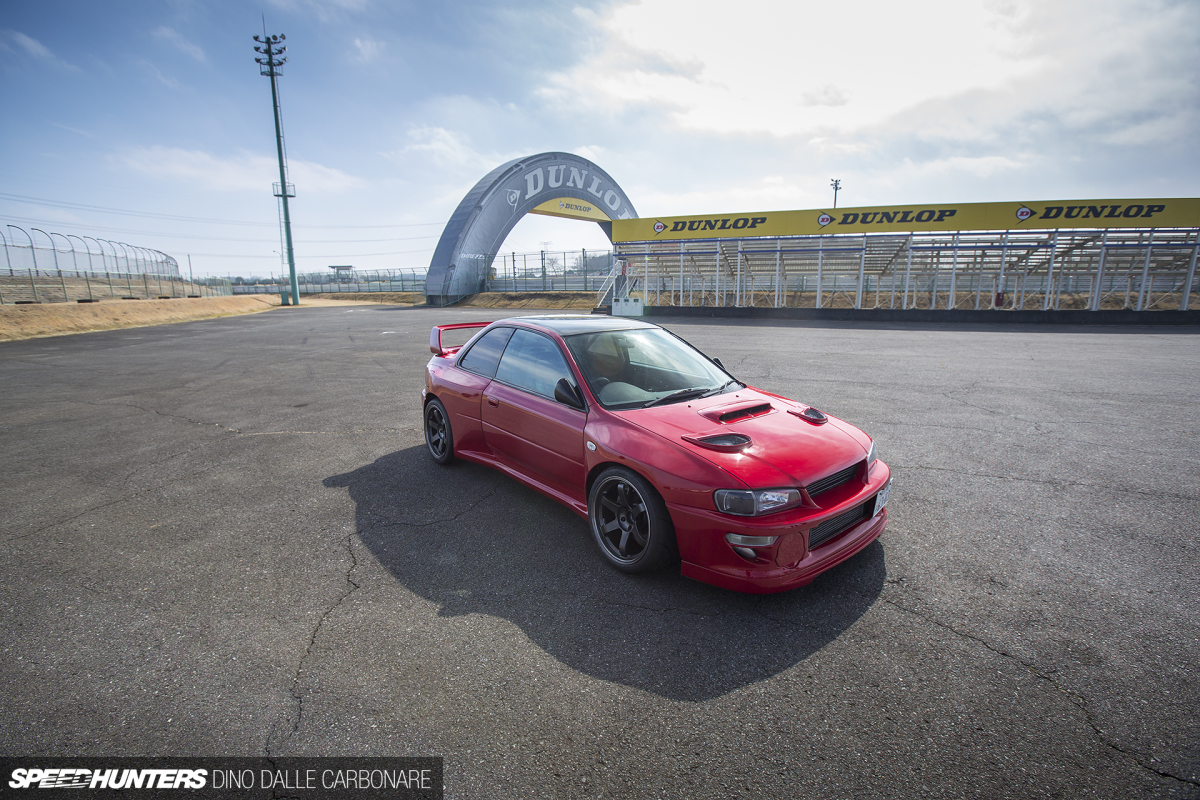 It's amazing what some good old fashioned widening can achieve, right? I mean look at this thing; it looks evil just parked, and so refreshing to see without a single screw or rivet in sight.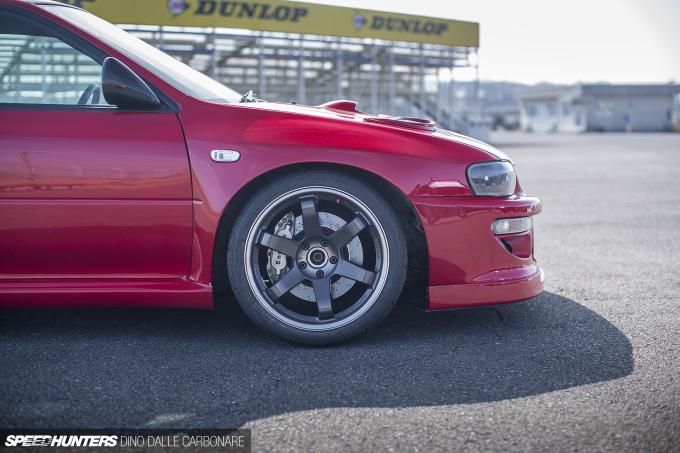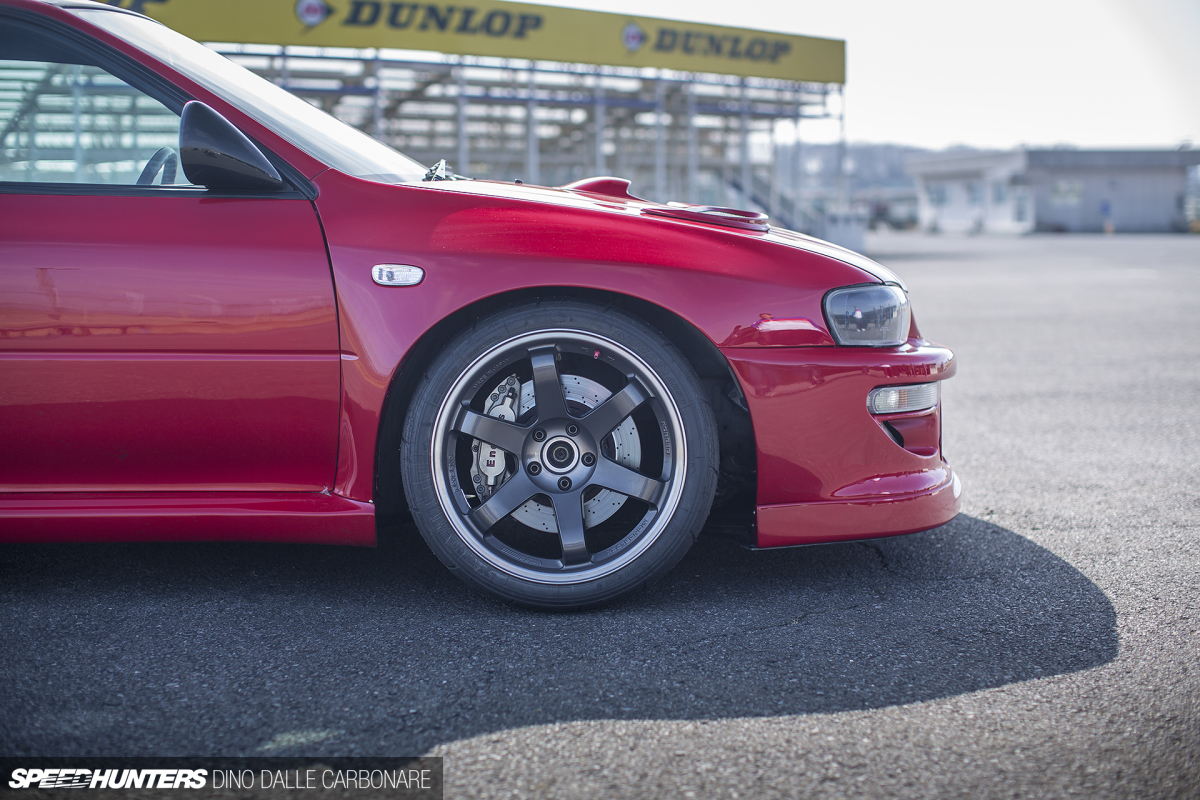 Seeing a car built in this way, with a proper artisan having tediously hand-sculpted the fenders in FRP and fitting and aligning them with a factory-like approach, is worthy of so much more admiration.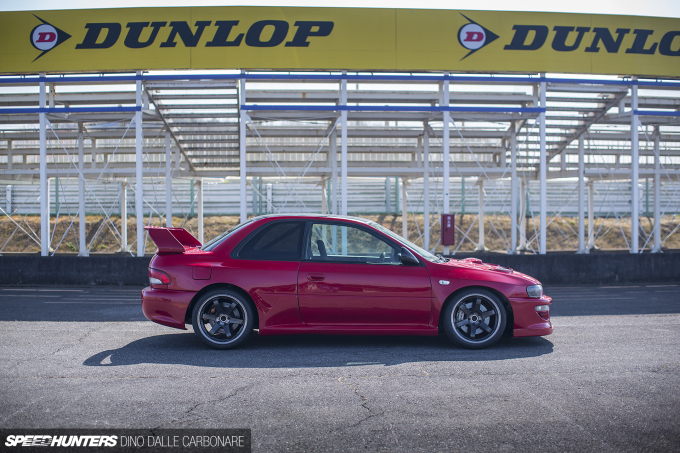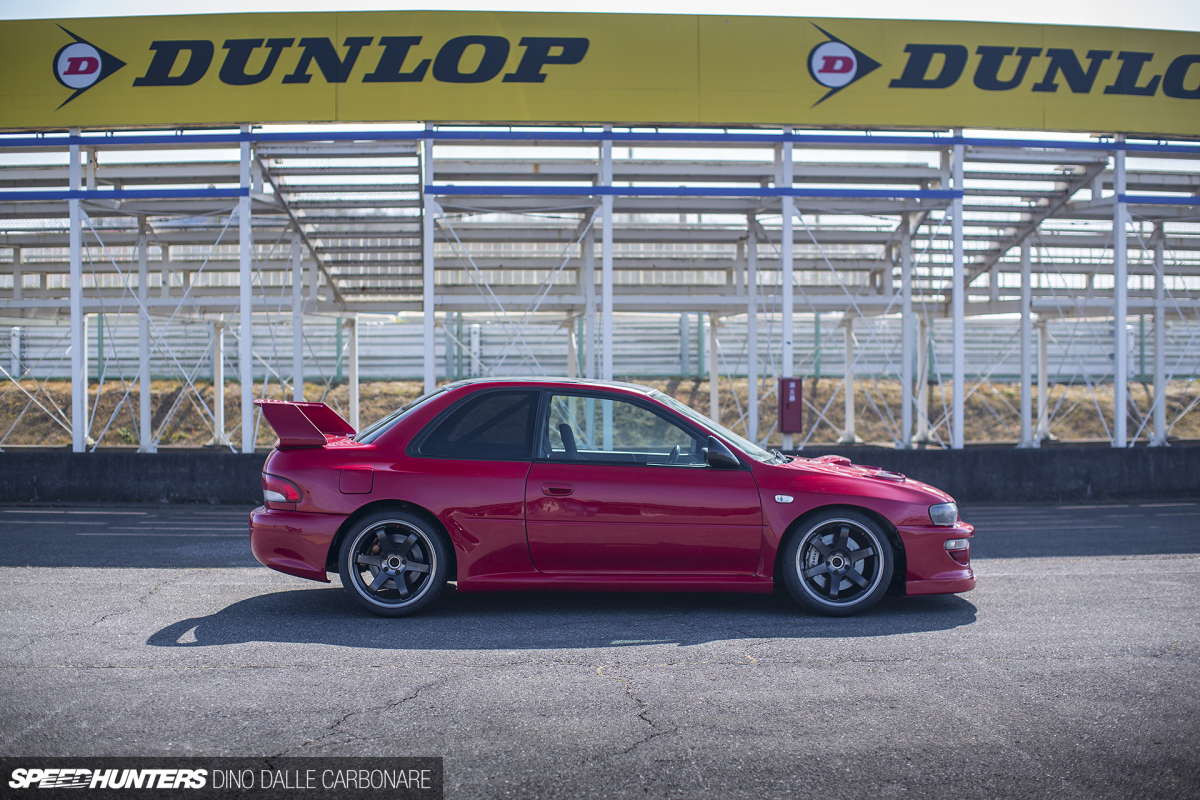 I'm a guy that appreciates attention to detail, so I really like it when things are done in a performance-oriented way, as they have been here. Plus, the fenders are so well integrated into the overall shape of the Impreza, that they don't stick out like ill-conceived additions.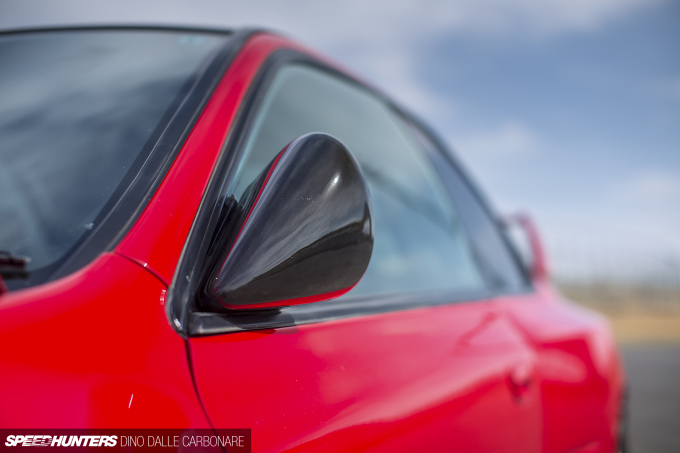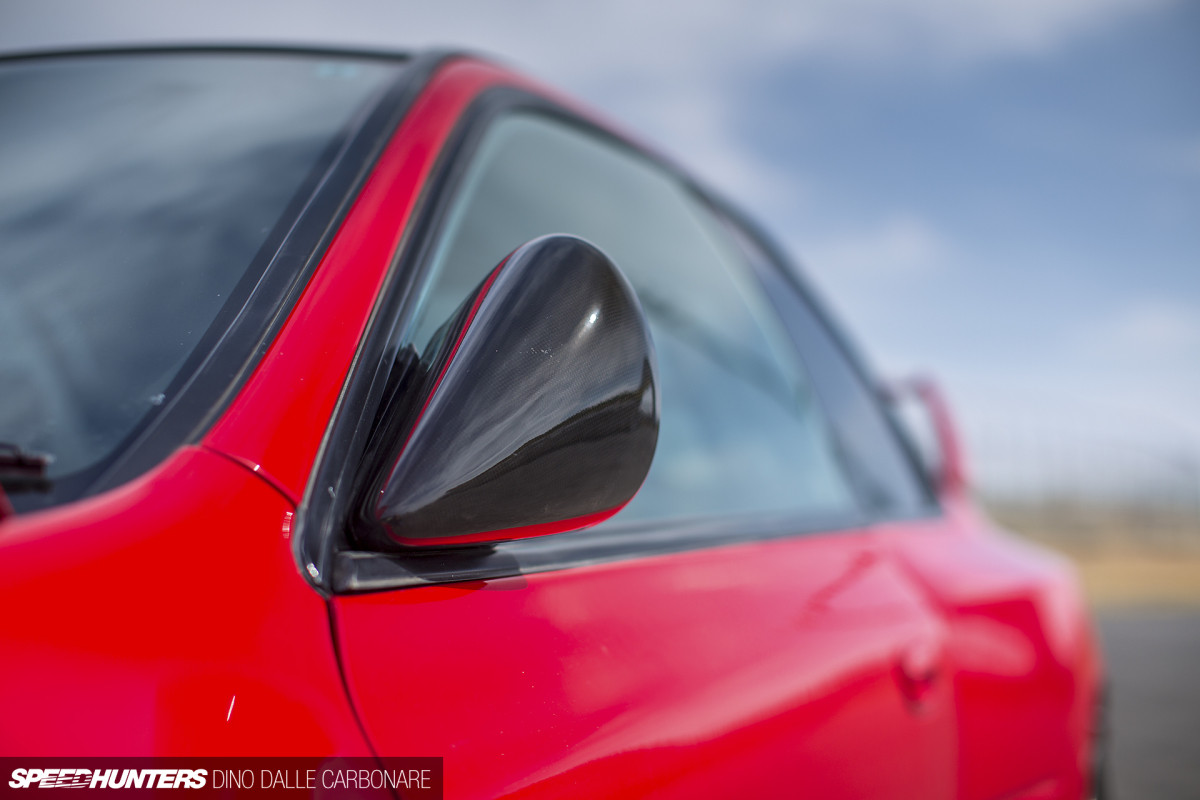 The WRC style provides a menacing look, but in this case it's applied to a car that has not been built for carving up rally special stages. It works beautifully though, and the details like the WRC carbon mirrors are appreciated additions.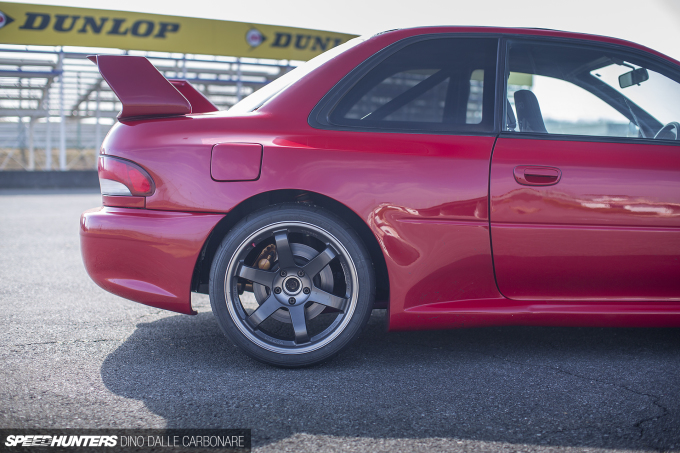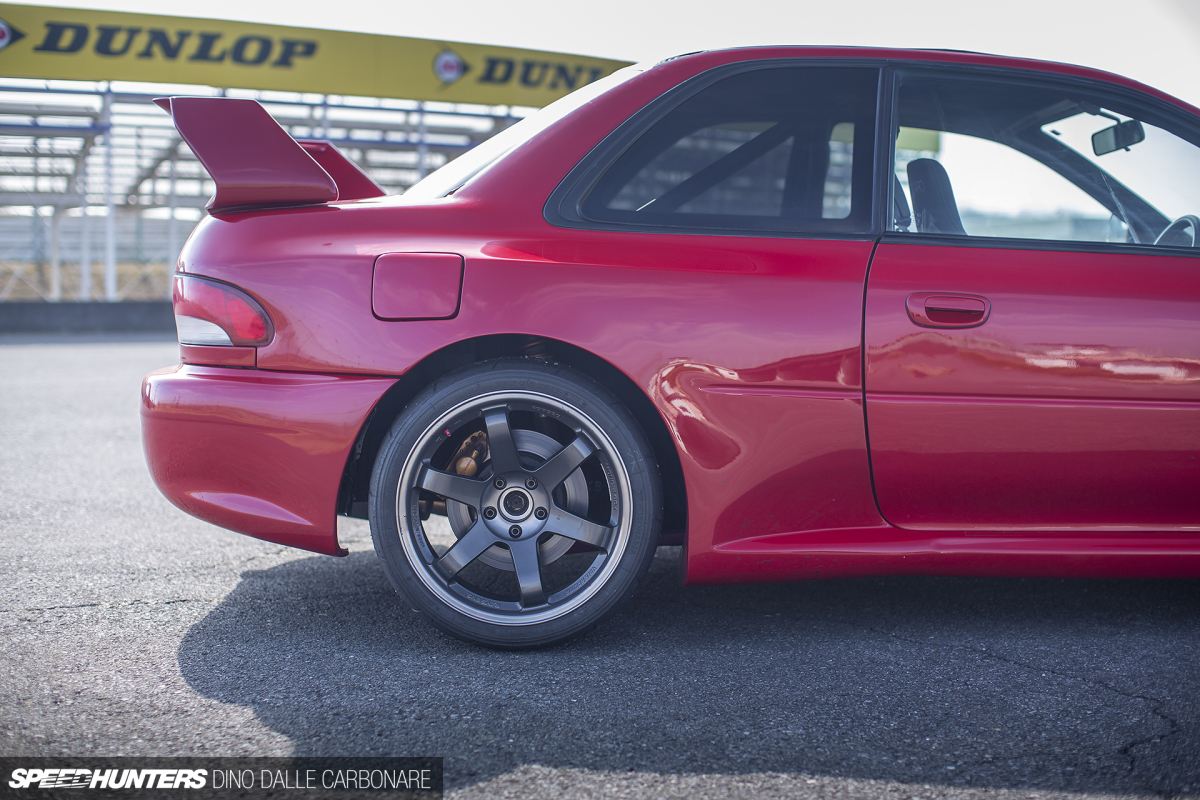 To get it all looking right, the rearward section of the side skirts had to be integrated into the rear fenders, which mean that the skirts had to be custom made as well.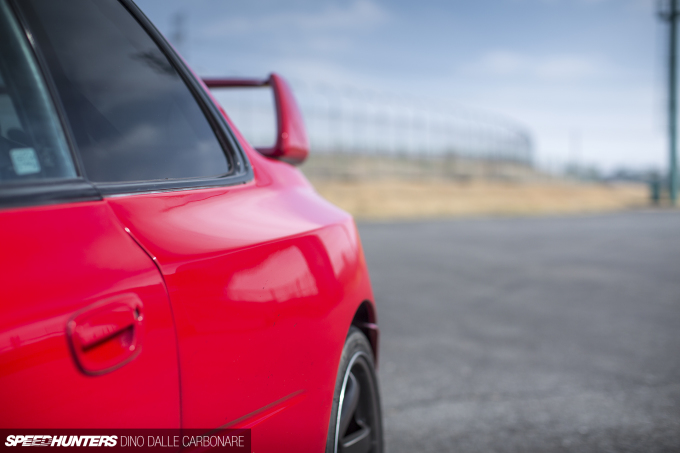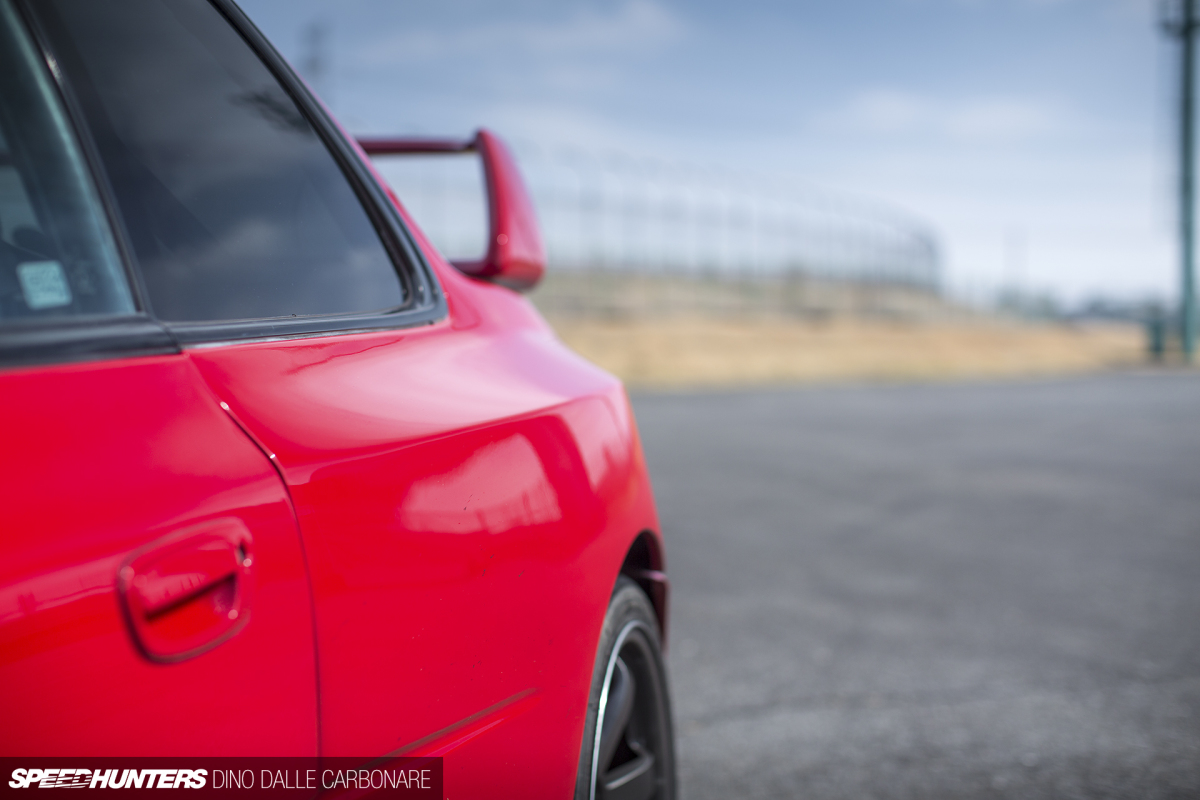 The blistering takes the factory hip-line and extends it outward, and from this angle you really get an idea what an extra 50.5mm per side equates to.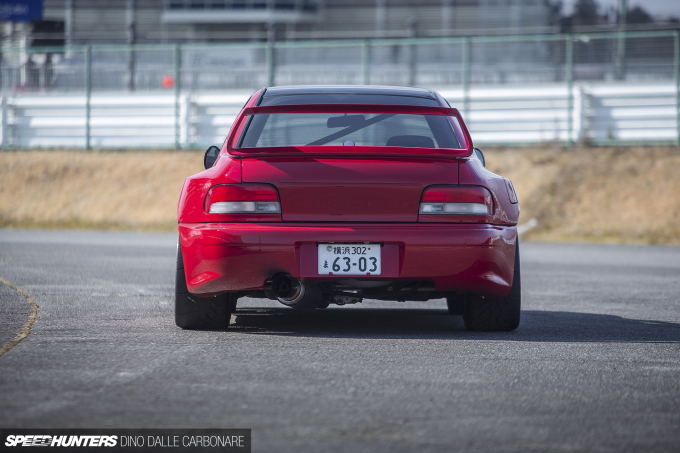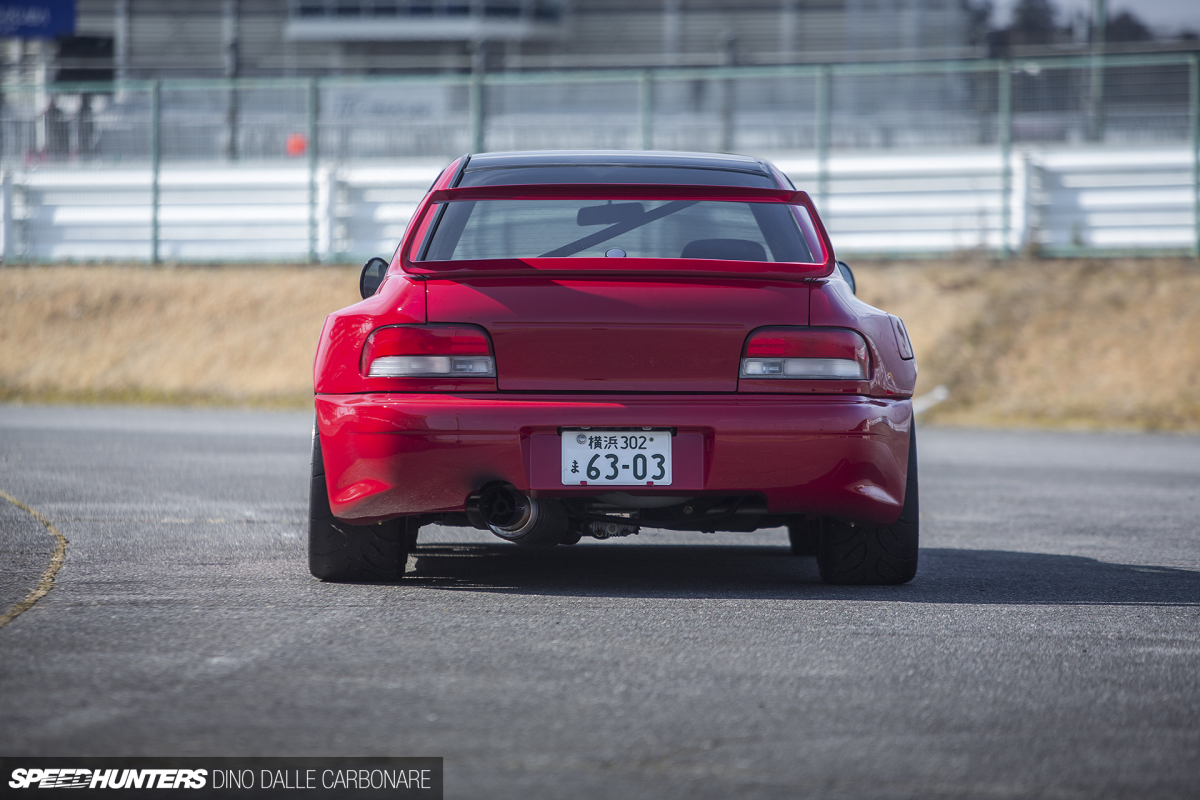 The rear end is finished off with an Avis bumper and a 22B/WRC-style spoiler mounted on a lightweight FRP trunk lid.
Every Little Bit Counts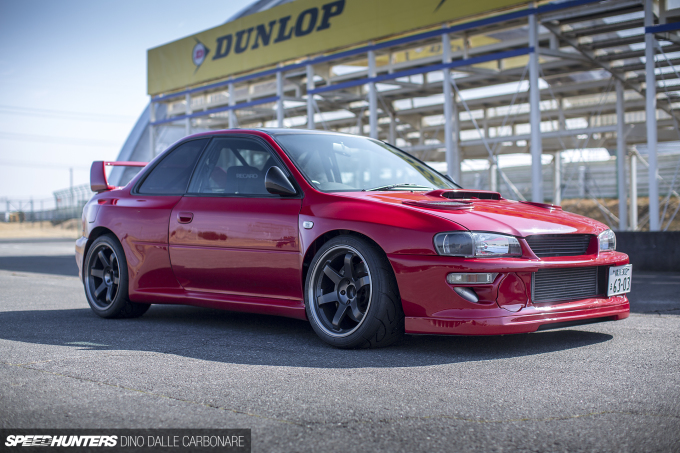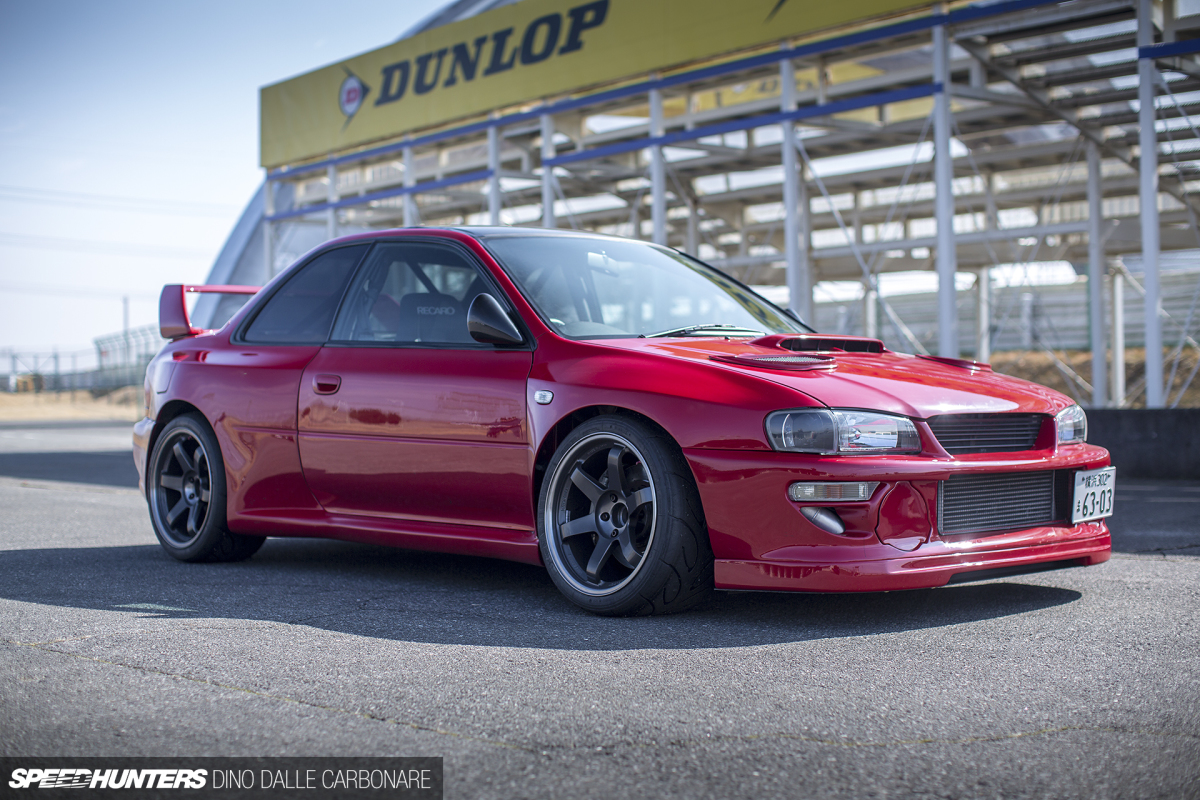 There's an Avis bumper at the front too, but aside from that the rest of the body appears stock. But looks can be deceiving, because the bonnet is FRP and the doors are carbon fiber; the latter being extremely light and saving the most weight around the chassis.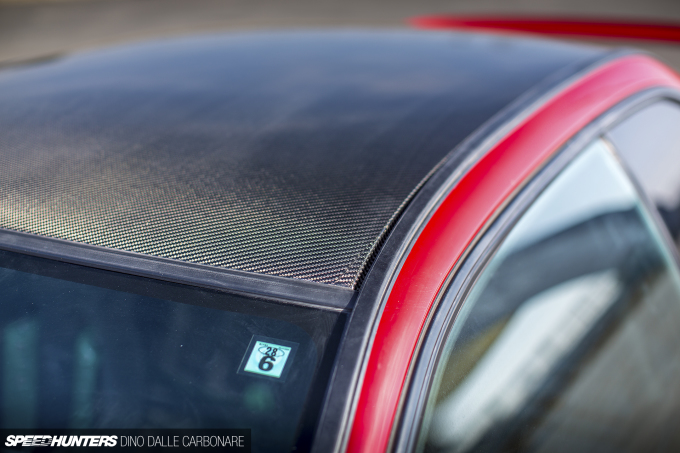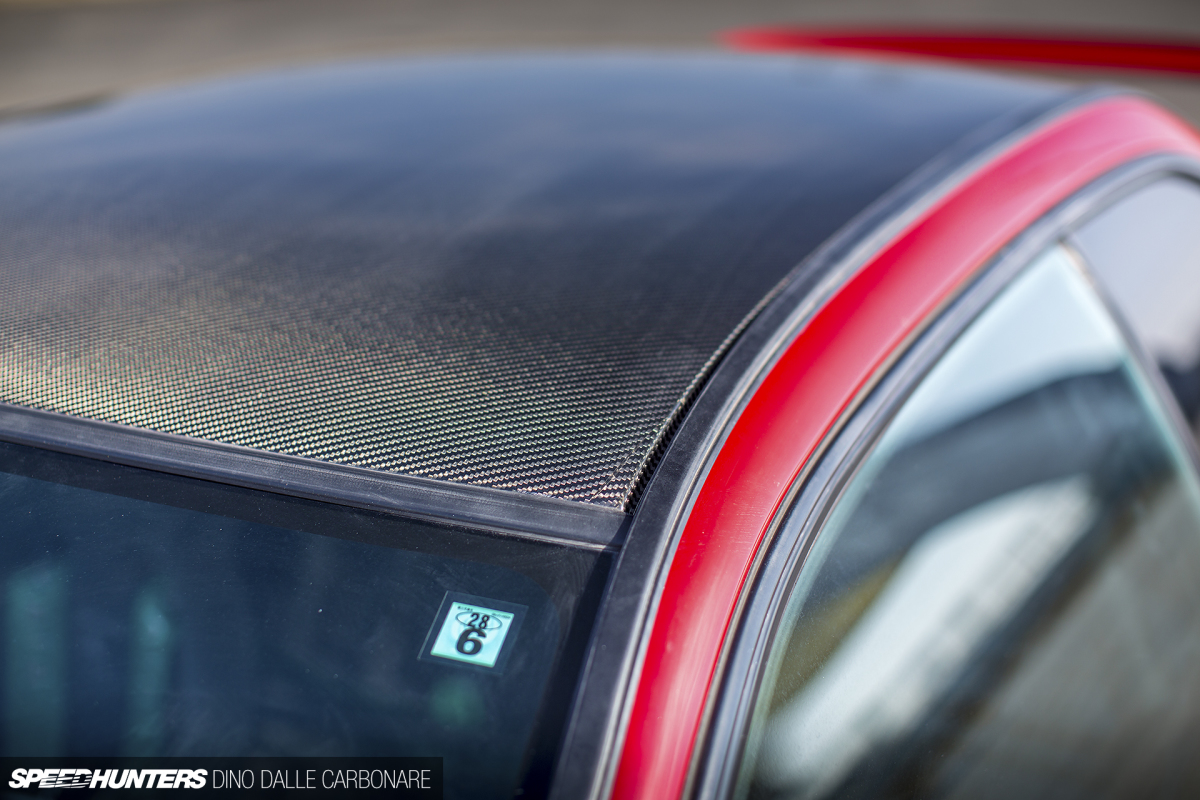 The roof is carbon fiber too, in this case a catalog item from T&E that completely replaces the factory steel panel. Around Tsukuba, you really feel little changes like these.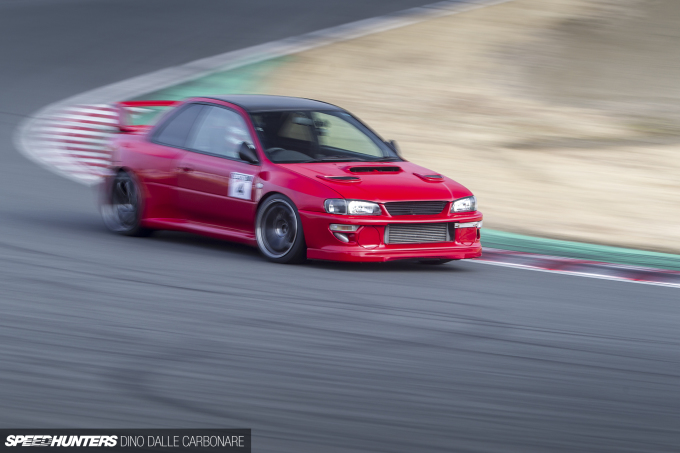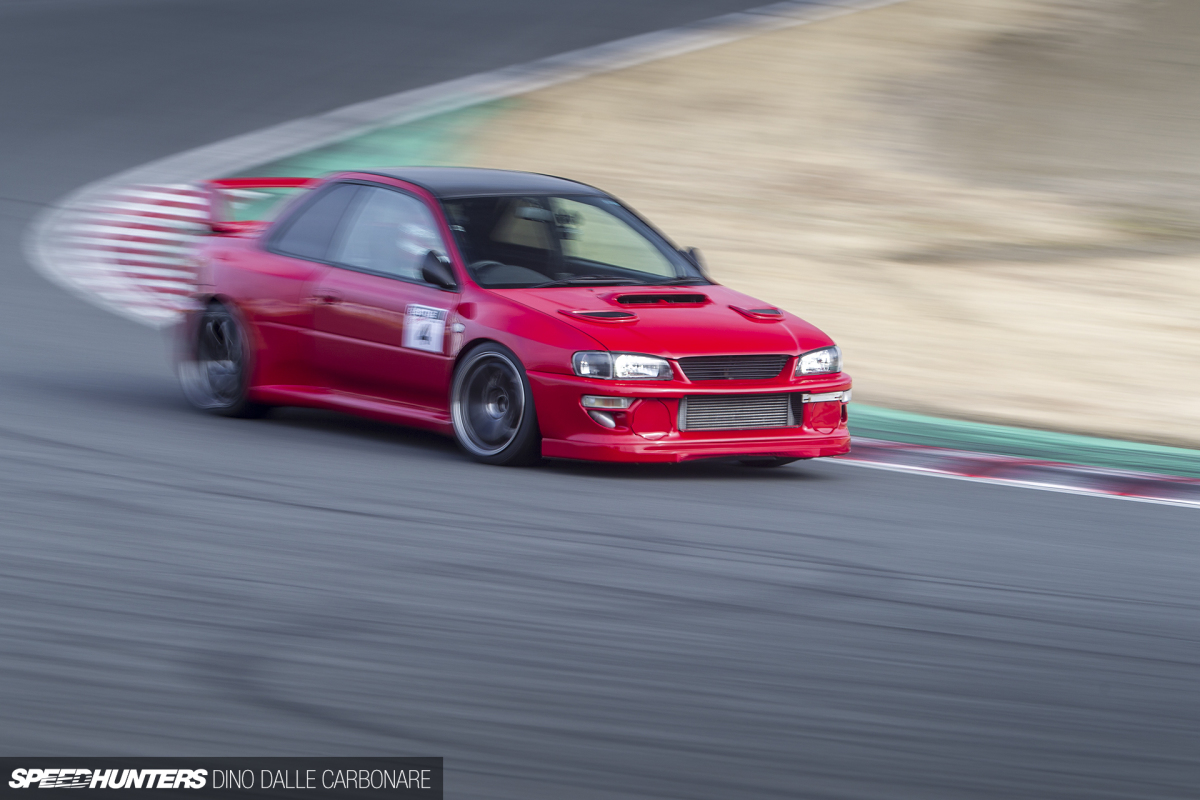 It all make the car feel more reactive, less prone to understeer and far more chuckable through the corners with more accurate steering. Little things really do count, especially when you add them all up.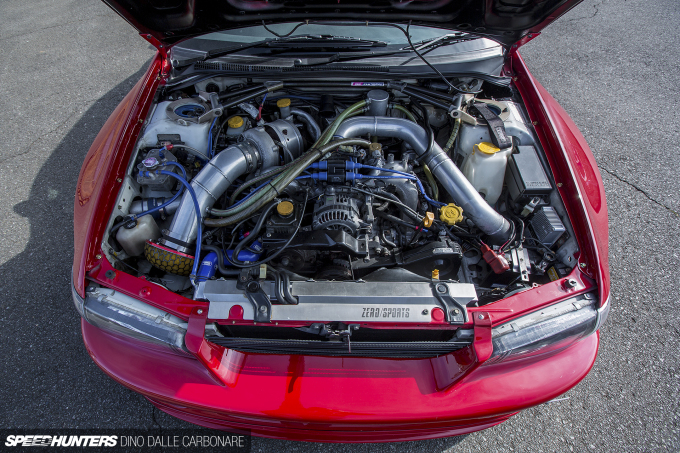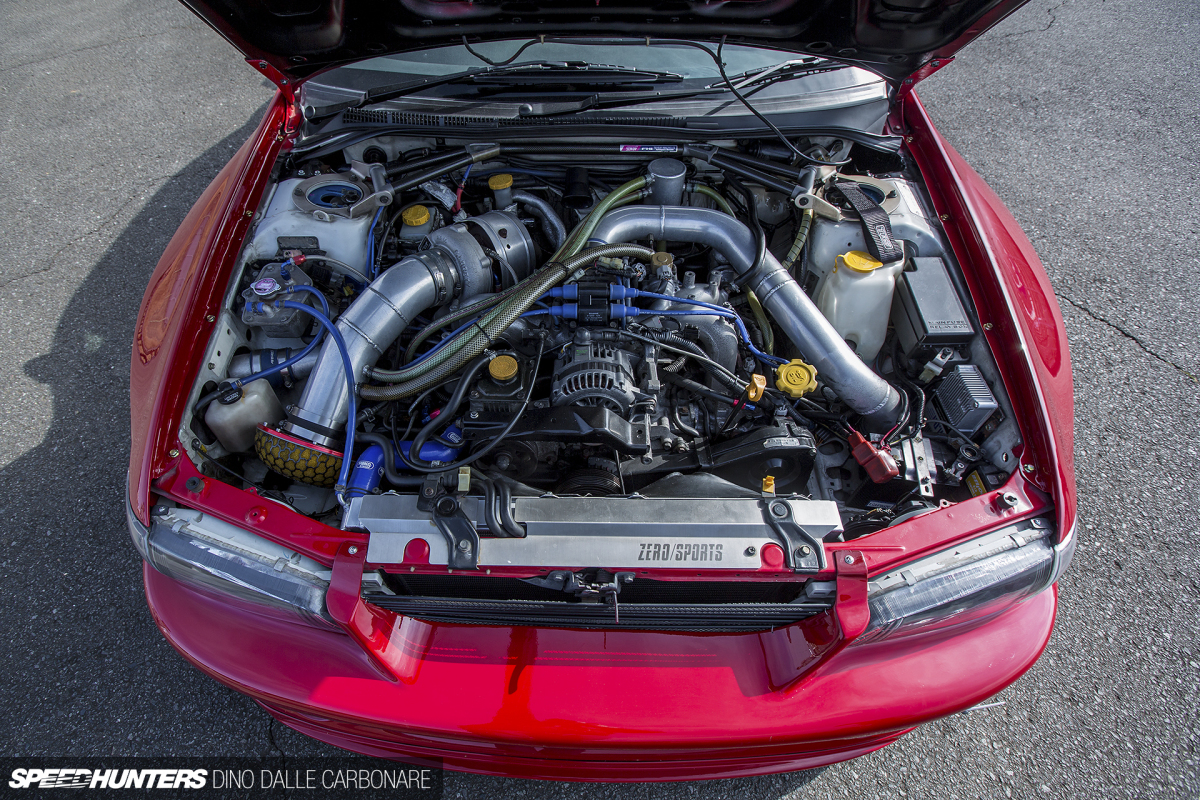 At the GC8's heart is completely rebuilt motor. No, it's not the prettiest thing to look at, but boxer engines have never won any beauty awards. It gets the required job done though, supplying a fierce amount of power with optimal mid-range response.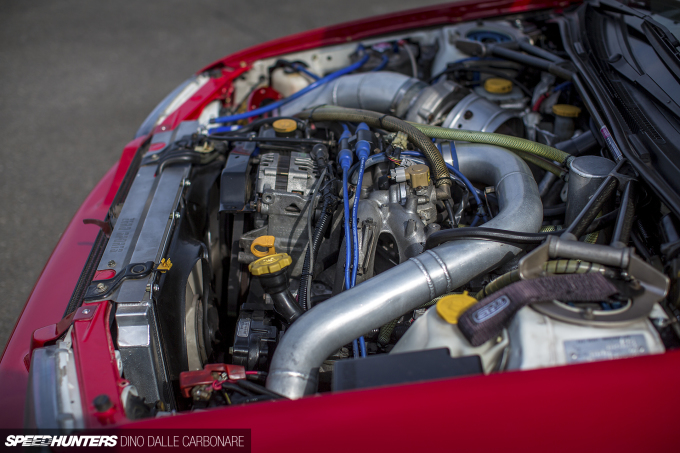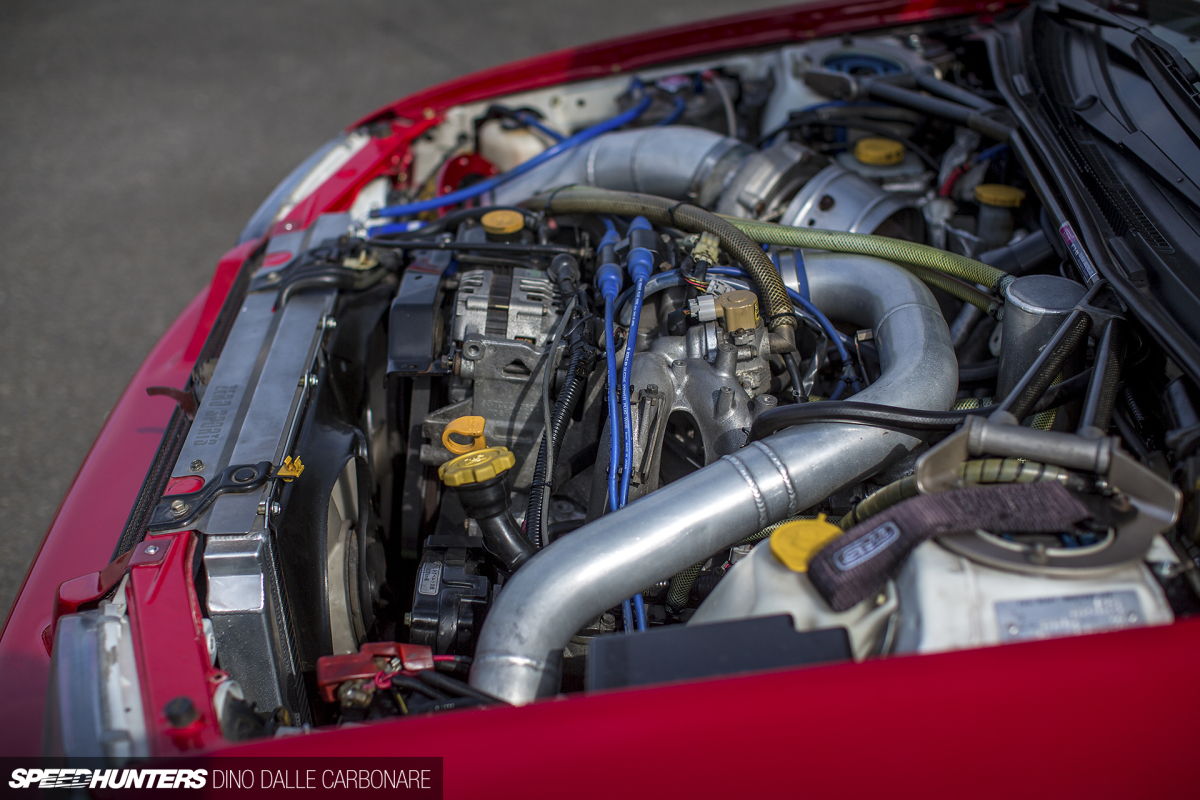 To achieve this, the motor was taken apart, bored out and fitted with oversized Wossner forged pistons mated to JUN I-section connecting rods. The factory crank has been replaced with a Tomei Powered forged billet item, which with a stroke of 83mm increases capacity to 2,230cc. The extra 200-odd cc are a welcome addition of course, but what these components really do is prepare the quad-cam engine for a serious dose of boost.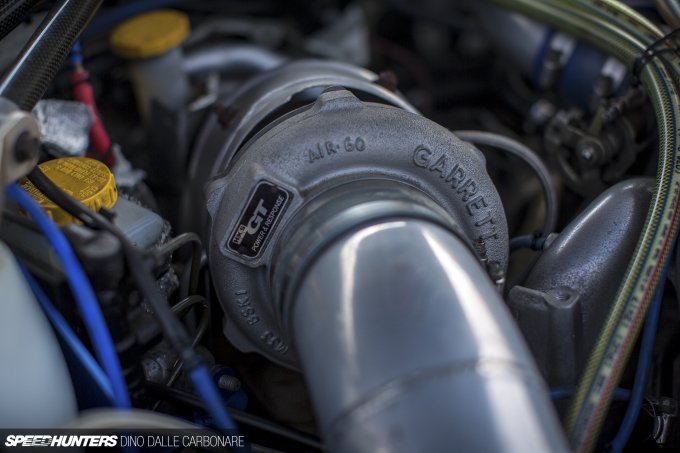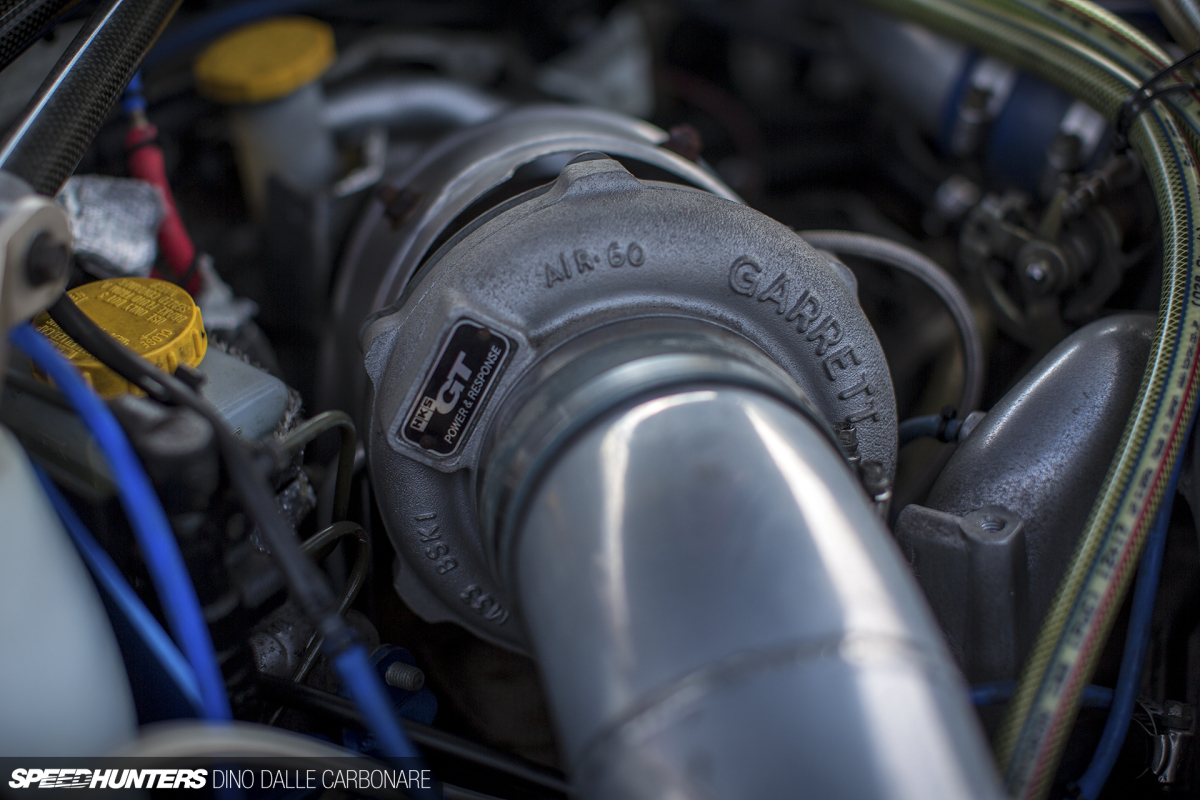 Specifically, 1.7kg/cm2 (25psi) worth, developed via a top-mounted HKS GT3037S turbocharger.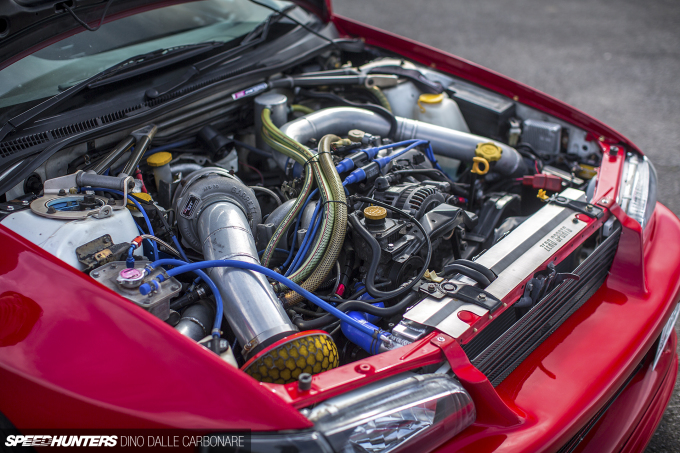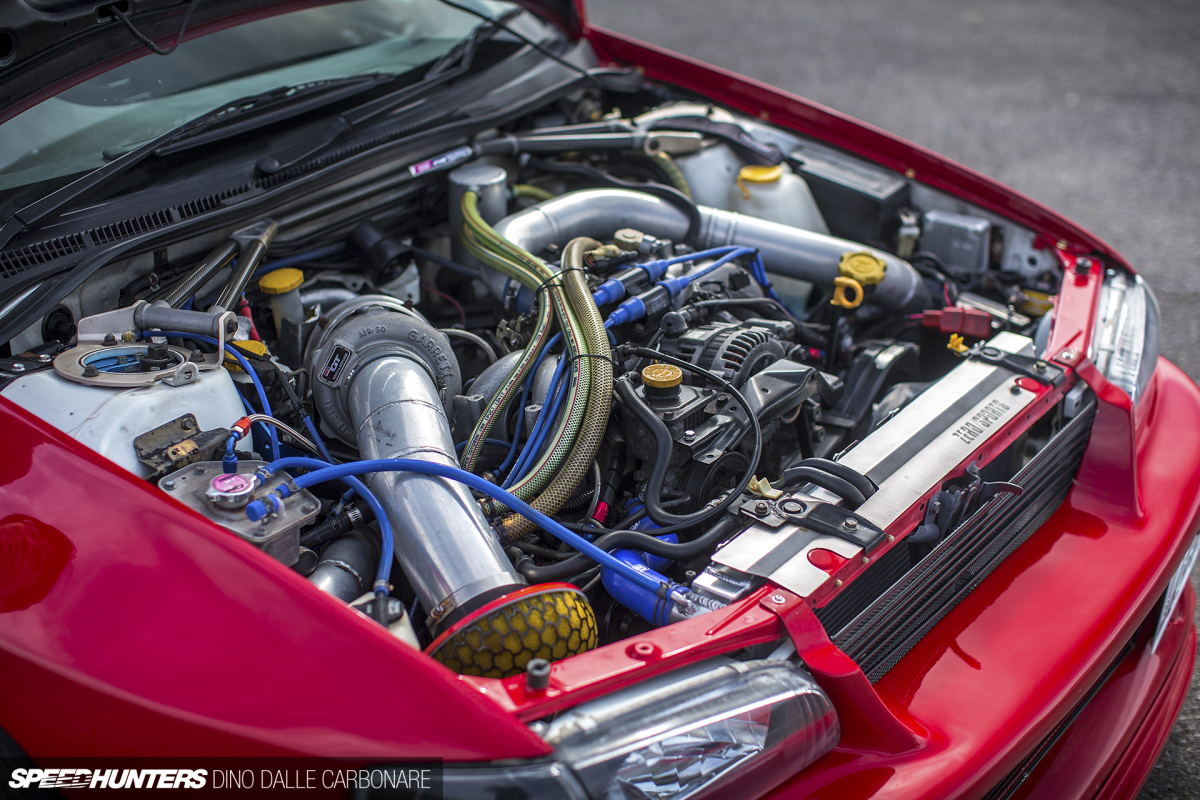 The heads are fitted with aggressively-specced JUN camshafts running 272-degree duration and 10.3mm lift on both the intake and exhaust sides. This gets the most out of the engine, which gulps in copious amounts of air cooled by a large HKS front-mounted intercooler, and then mixes it with high octane fuel delivered by 850cc/min injectors.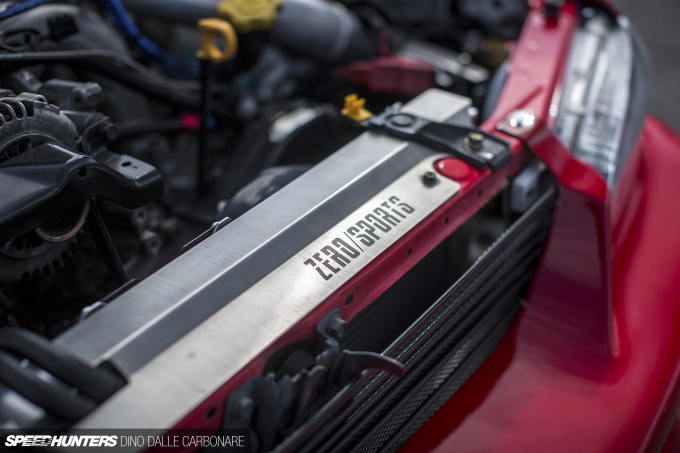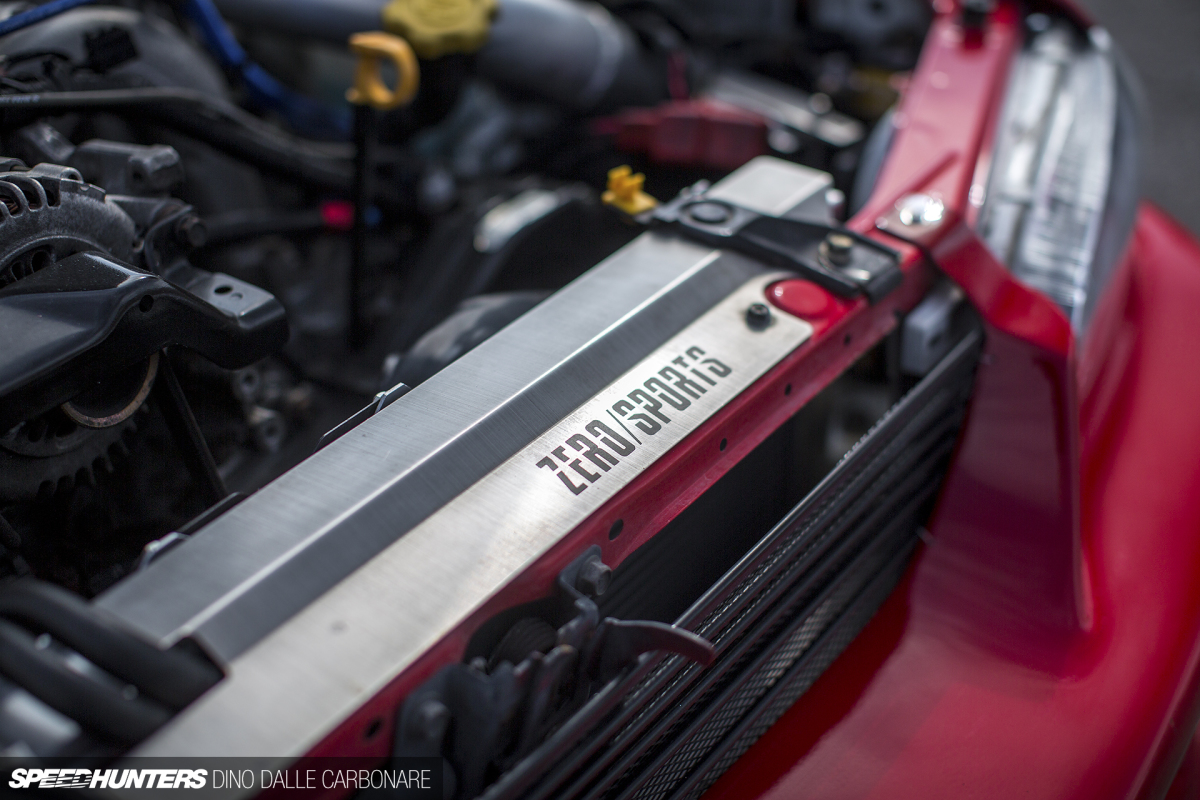 The result is 555ps (Subaru rally fans will appreciate that number!) of power and a healthy spread of torque in the mid-range that tops out at a whisker under 600Nm. To get all this performance to the ground, Naoki has beefed up the AWD driveline with an Exedy twin-plate clutch mated to a 6-speed transmission borrowed from a GDB, and a pair of Cusco 1-way LSDs front and rear.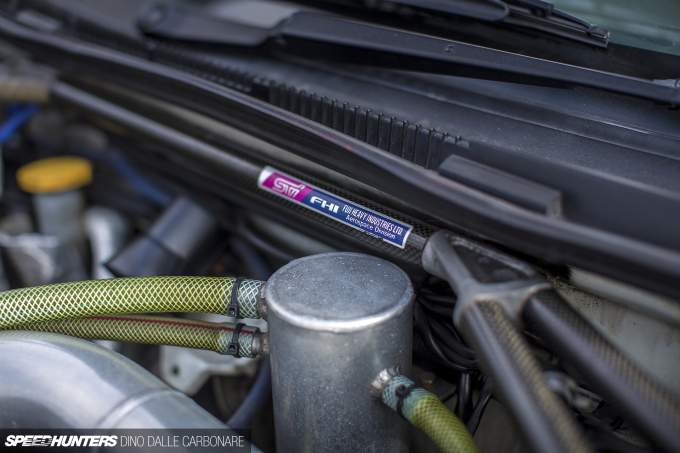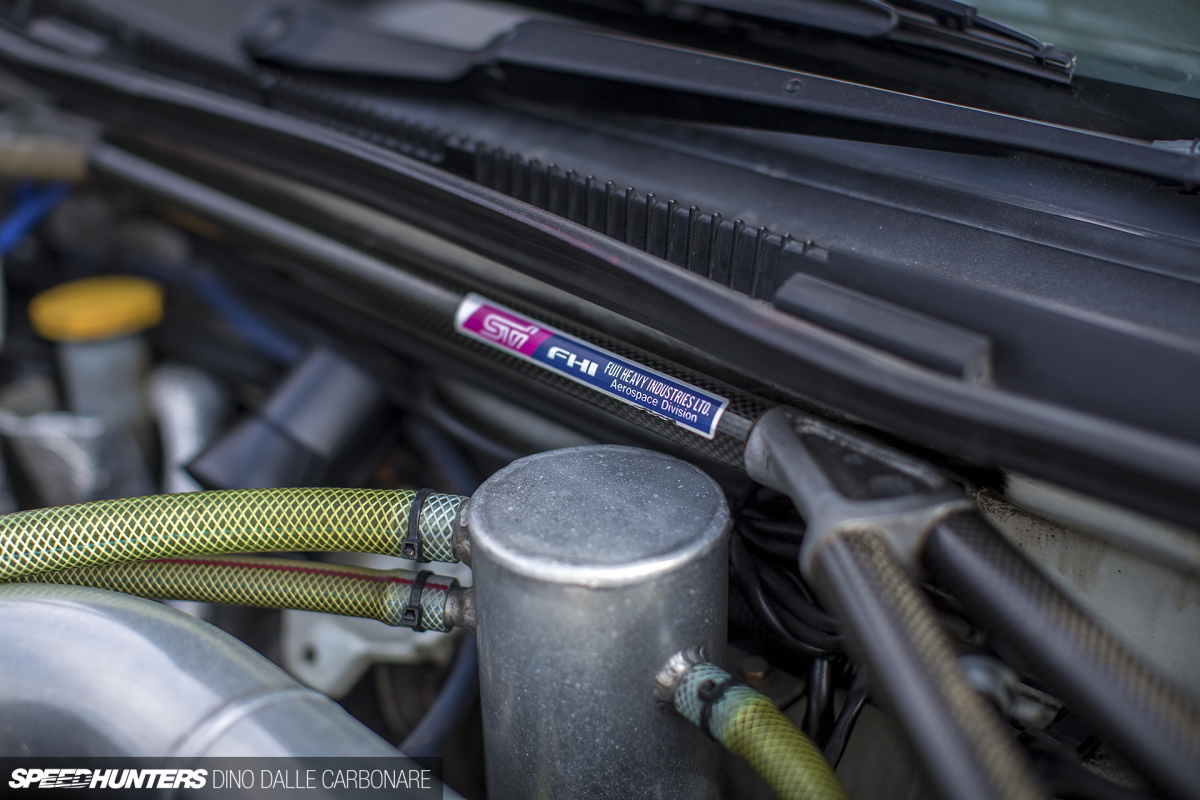 While poking my nose into every corner of the engine bay, I spotted a cool old STI carbon strut bar that was offered on these cars. I have a similar item on my Legacy 30R and it works wonders for steering feel and turn in.
On the day, Naoki managed to nail a 57″963 lap – a perfect testament to the work that has gone into his project. Check out the in-car by hitting play above.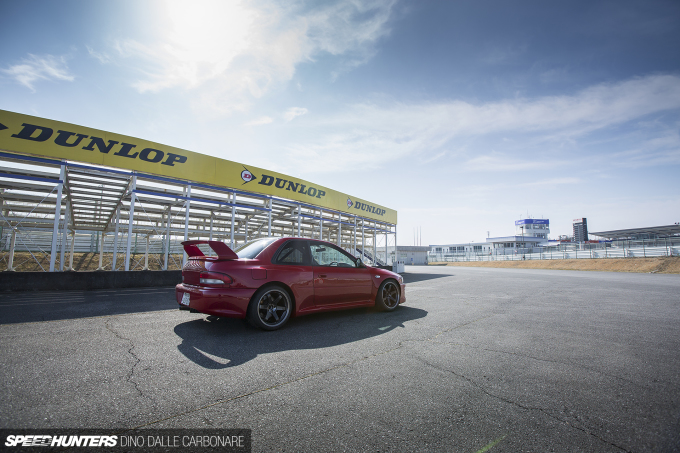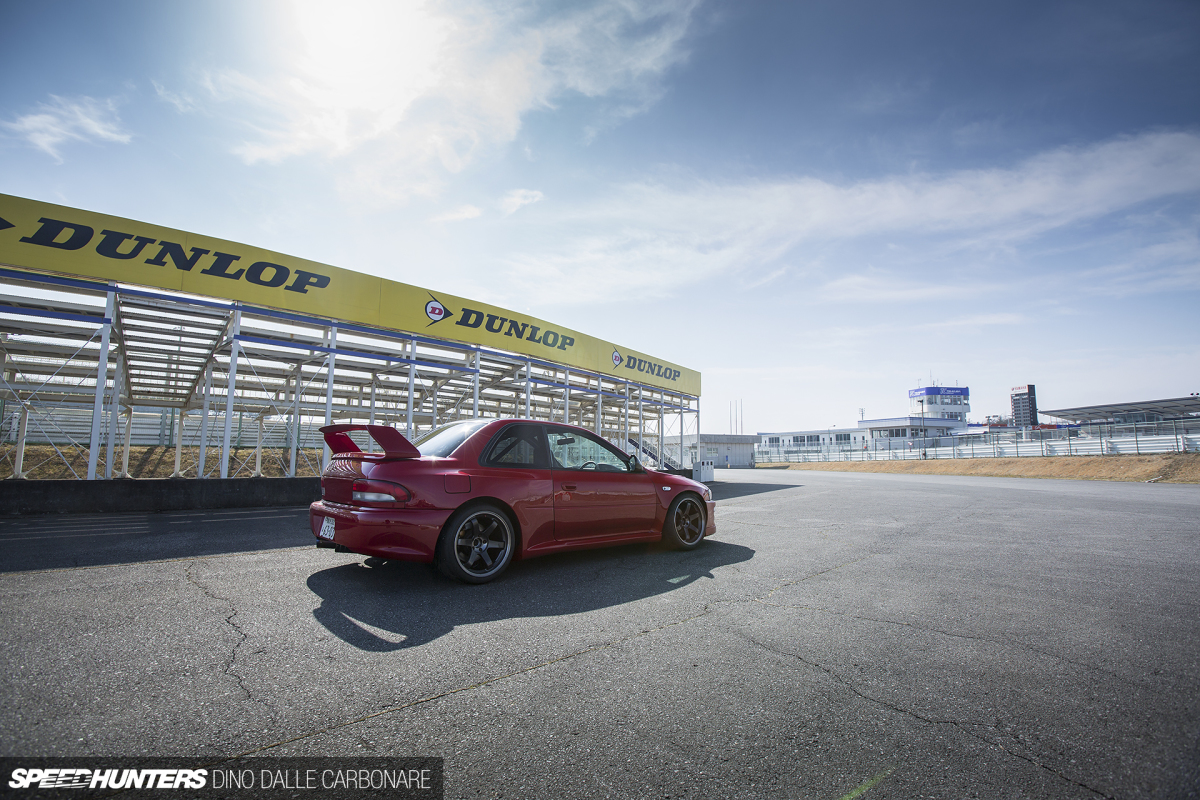 What's better than a WRC-style WRX that can lap Tsukuba in 57-seconds though? A WRC-style WRX that is also street legal. To me, that only makes the car's track ability even more impressive. Time attack cars certainly have come a long way since I started covering the scene back in the early 2000s.
Stripped Out Just Right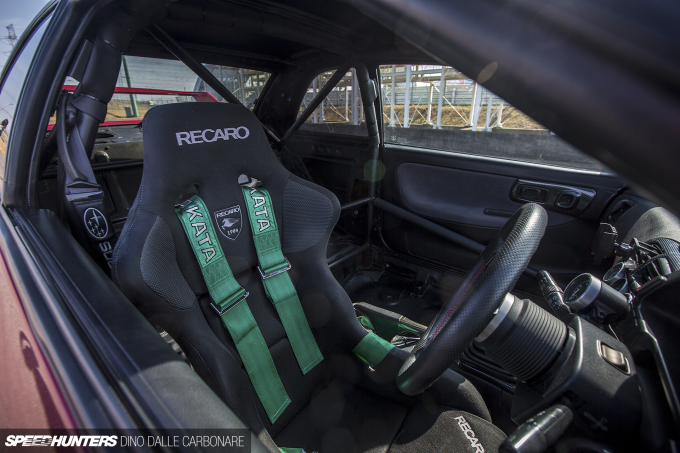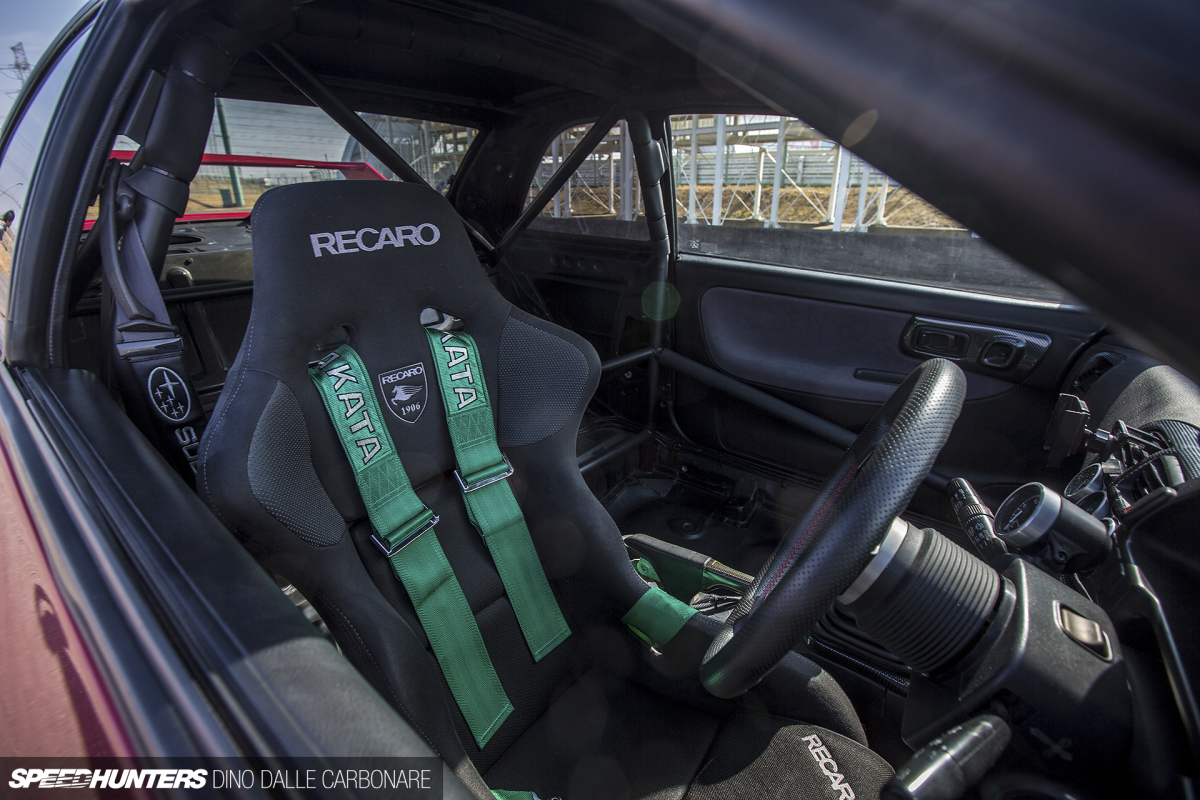 With so much attention focussed on dropping weight from Impreza's body, you probably won't be too surprised to learn that the cabin was also put on a strict diet. There's a single Recaro bucket with a Takata 4-point harnesses, but when Naoki drives around on the street he uses the regular retractable belt.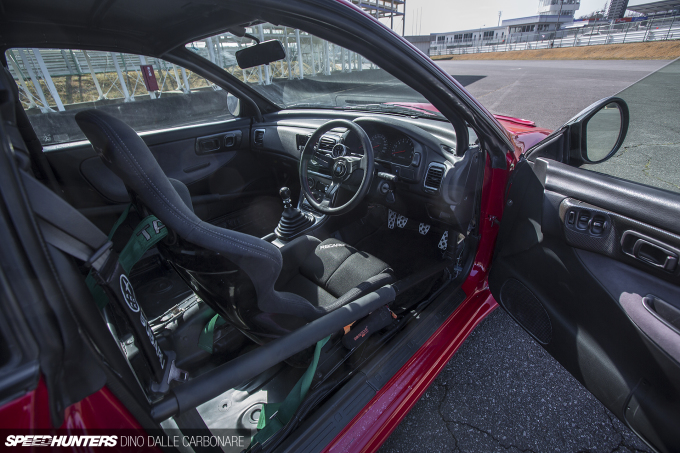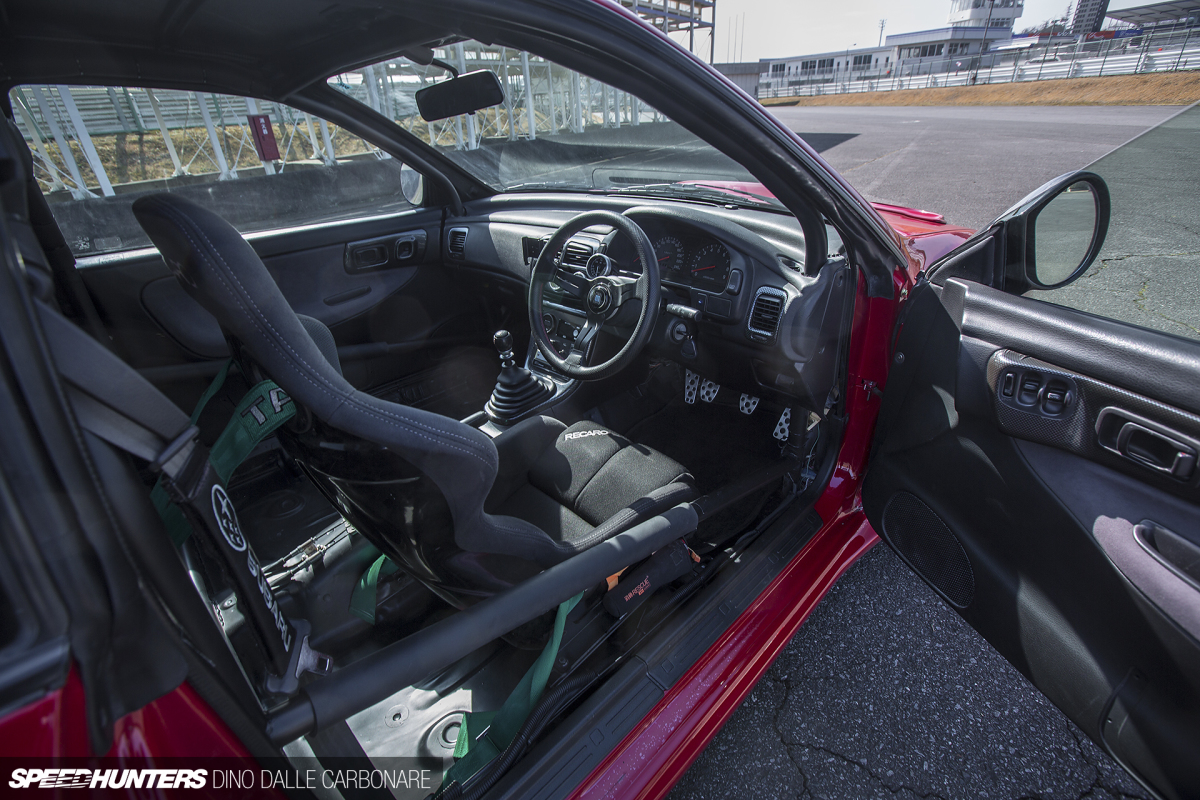 Although the passenger seat and rear bench have been removed, most of the trim around the cabin has been kept in place, which actually gives a nice ambience to it all. It's definitely all performance-oriented, but you never feel like you're sitting inside a tin can.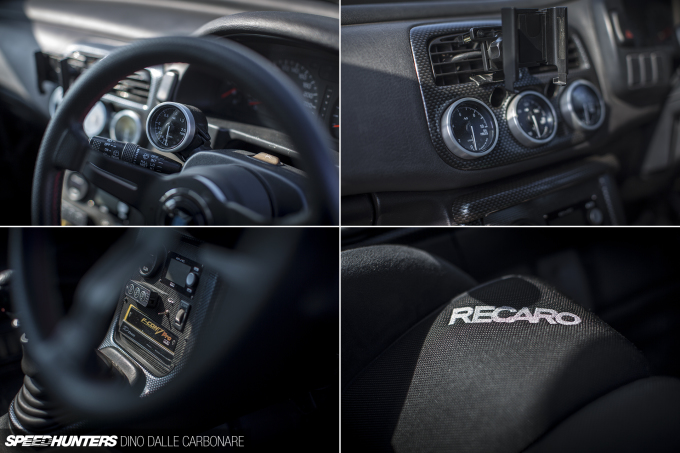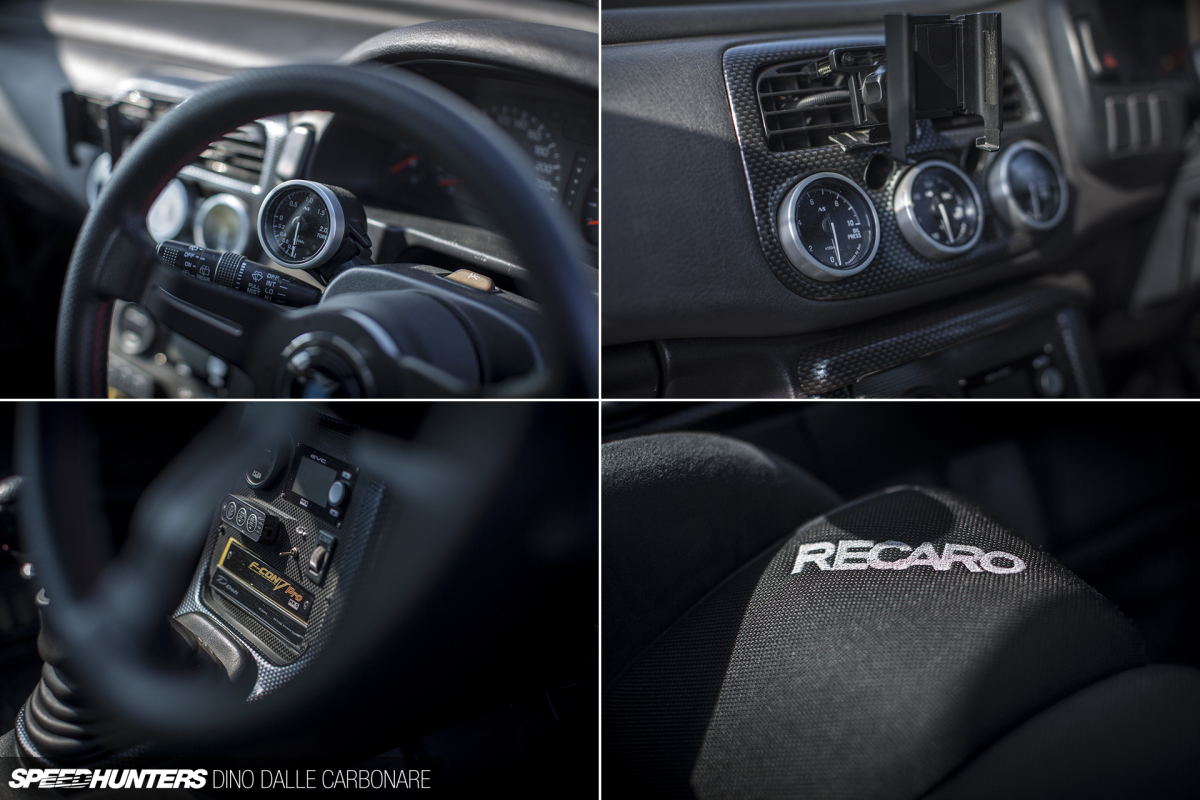 Additional Defi gauges have been added to keep an eye on all the engine's vitals; three of them neatly arranged beneath the center air vents. The Subaru has been stripped of its air conditioning unit though, so things get a tad toasty in here on a hot Japanese summer's day. But with the HVAC controls gone too, it's freed up space for Naoki to neatly mount the HKS F-Con V PRO engine management system box, HKS EVC EZ boost controller, the center diff controller, and the Defi Link control unit for the aforementioned gauges.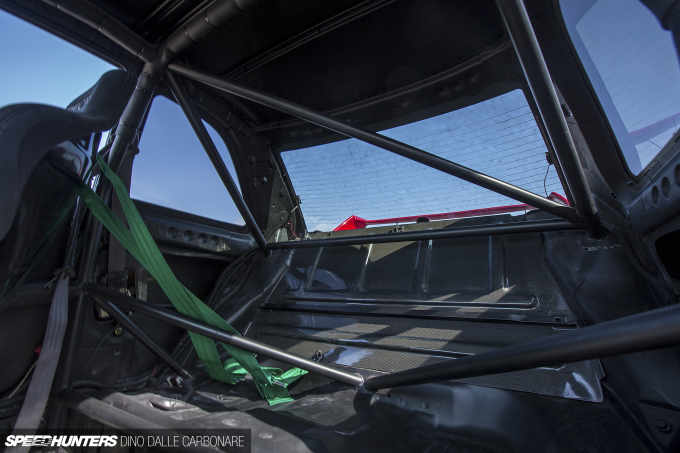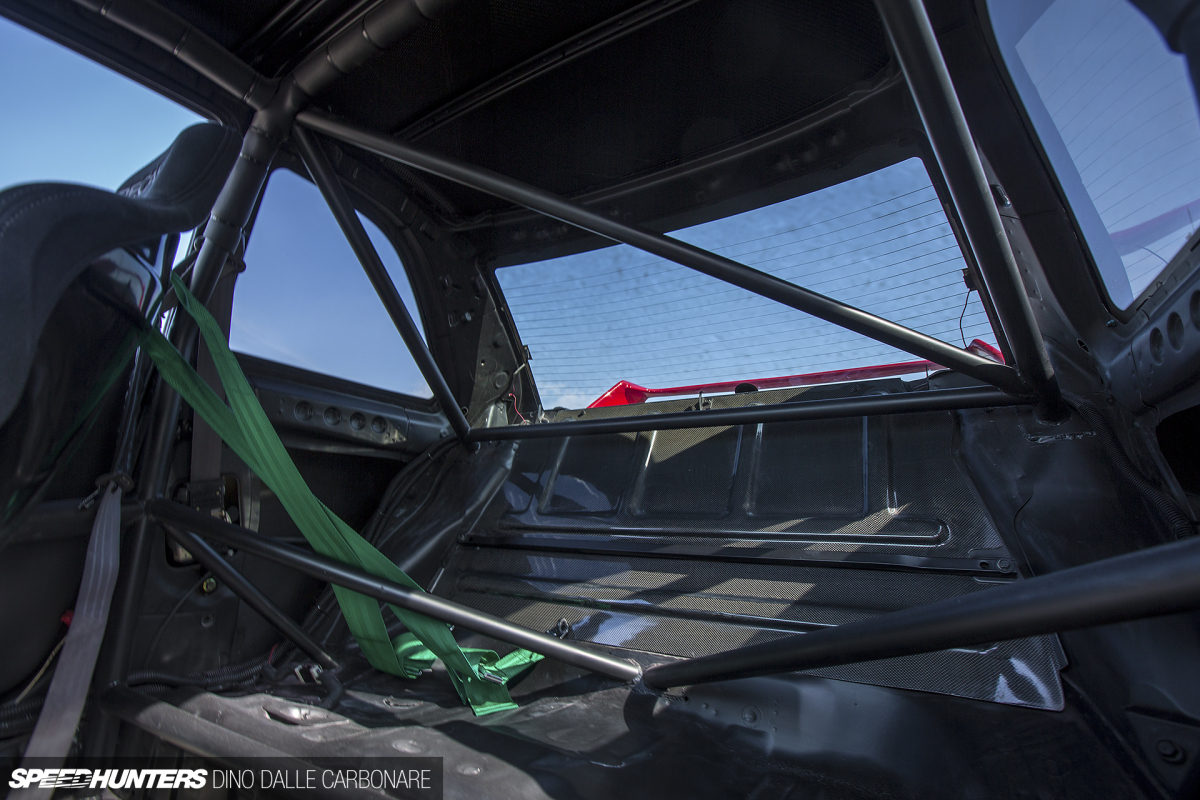 Being 19 years old, this GC8 couldn't possibly compete on structural rigidity compared with more modern cars, so the addition of a welded in rollcage is a welcome one, both from performance and safety perspectives.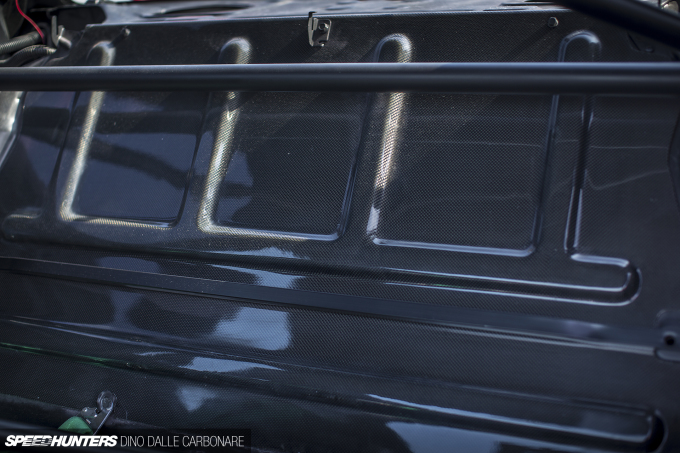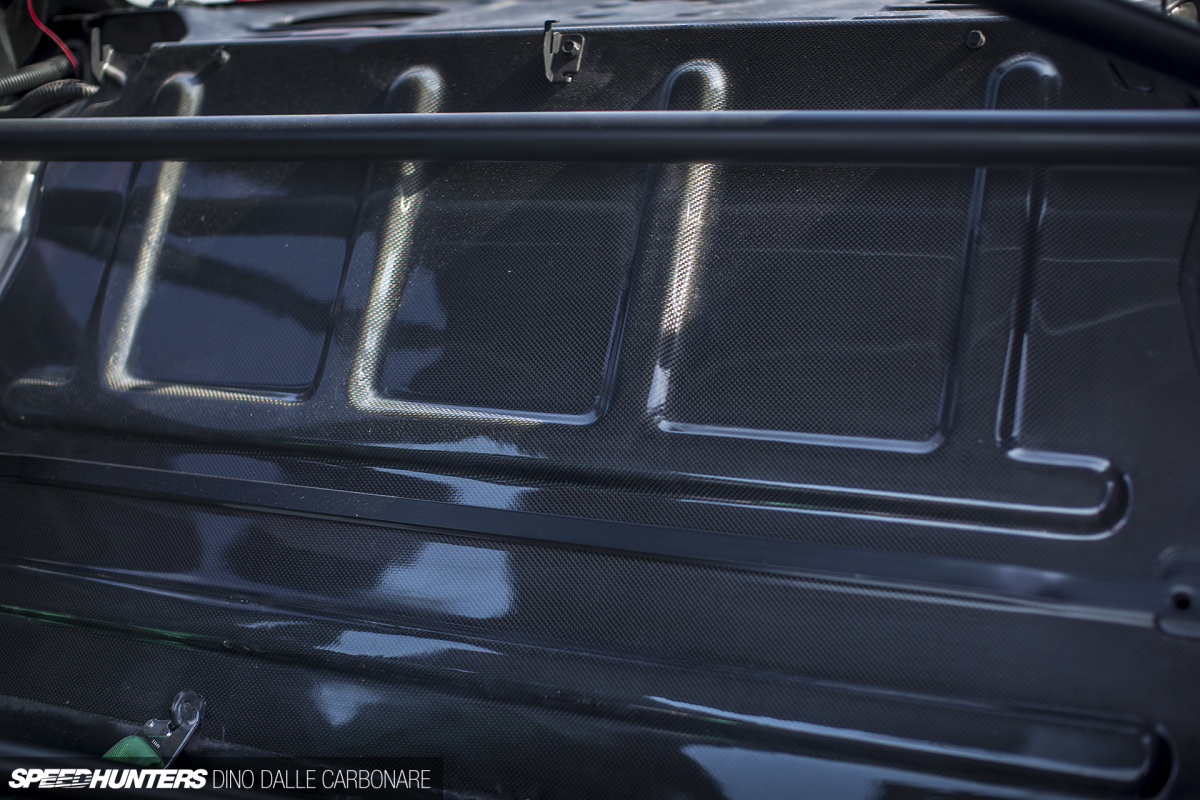 Naoki even moulded some carbon fiber to clean up the rear of the interior.
Here's a quick little walk-around video that shows you the car and its simple interior.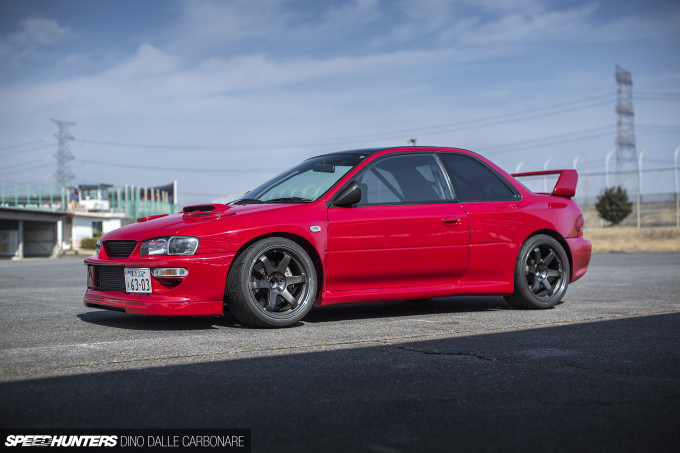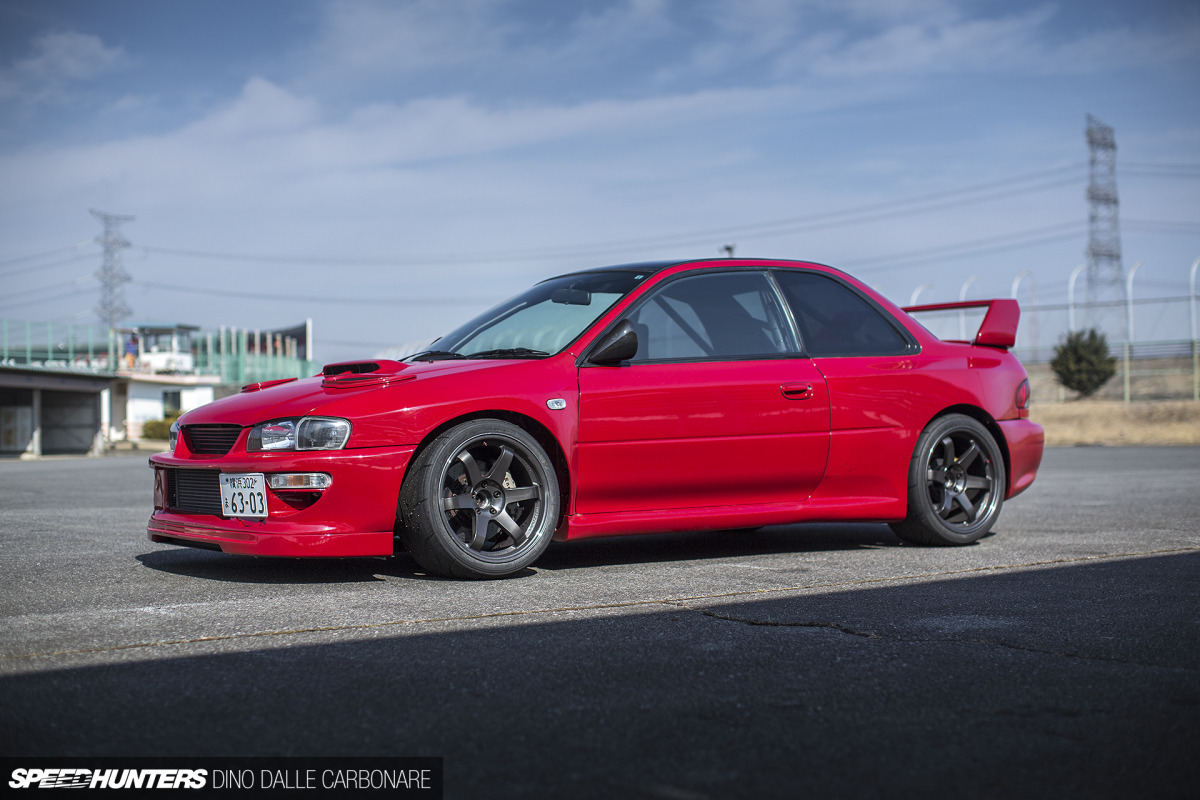 As we've seen, sheer mechanical grip is definitely not an issue, but to ensure that the Impreza handles properly around the track, a set of adjustable Bilstein coilovers are also fitted. It may sit a little high if we were judging it on stance, but we are not, so it actually looks perfect and very function-oriented. In the wheel and tyre department, the 18-inch RAYS Volk Racing TE37SLs measure 11-inches across and are shod at each corner with gumball-sized 295/30R18 Yokohama Advan A050 semi-slicks. With that kind of rubber footprint, getting all the power and torque down to the ground is no issue at all.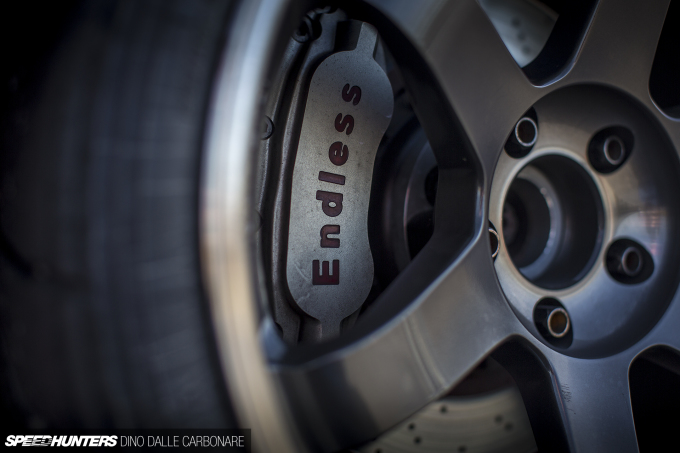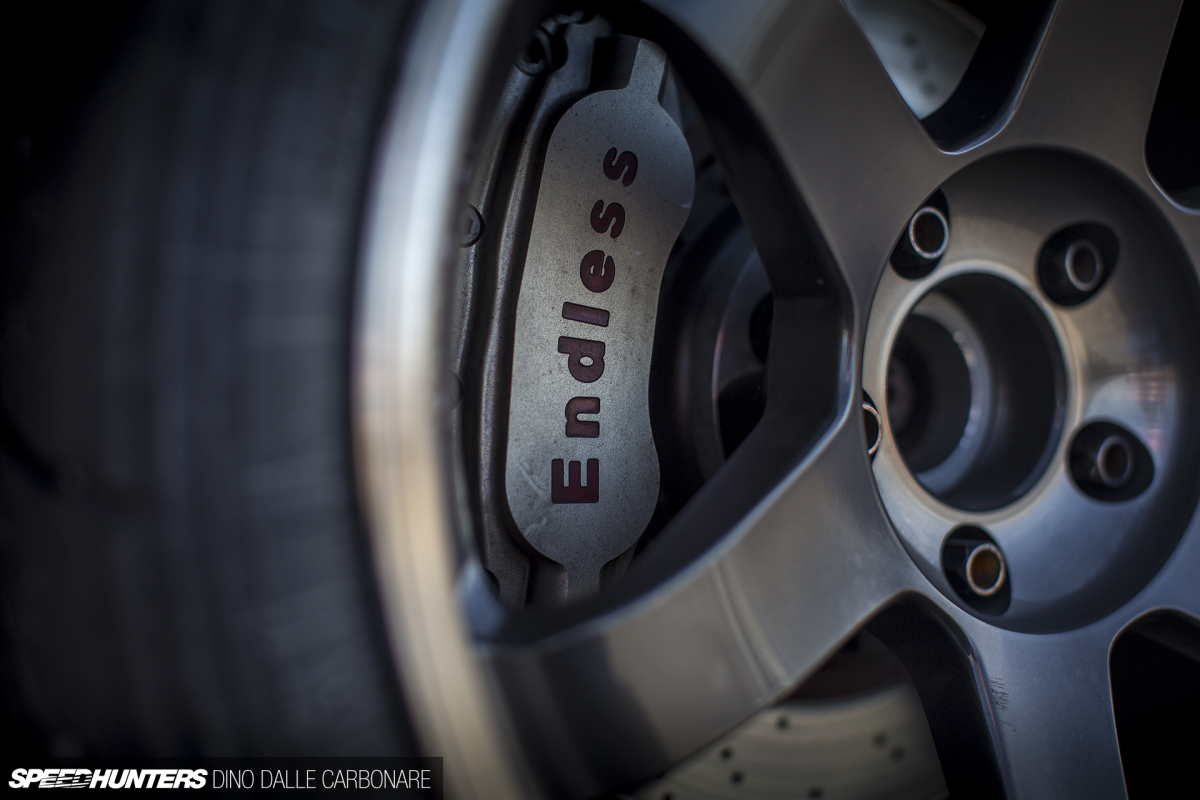 While the stock rear brakes were deemed up to task for the hard track duty the GC8 is put through on a regular basis, the fronts had to go. In their place are far more capable Endless 6-pot calipers, and along with PFC drilled discs the package does an awesome job of pulling up the WRX from speed.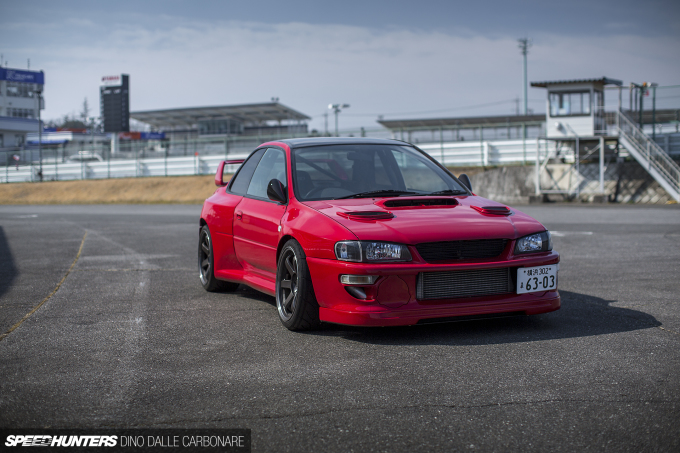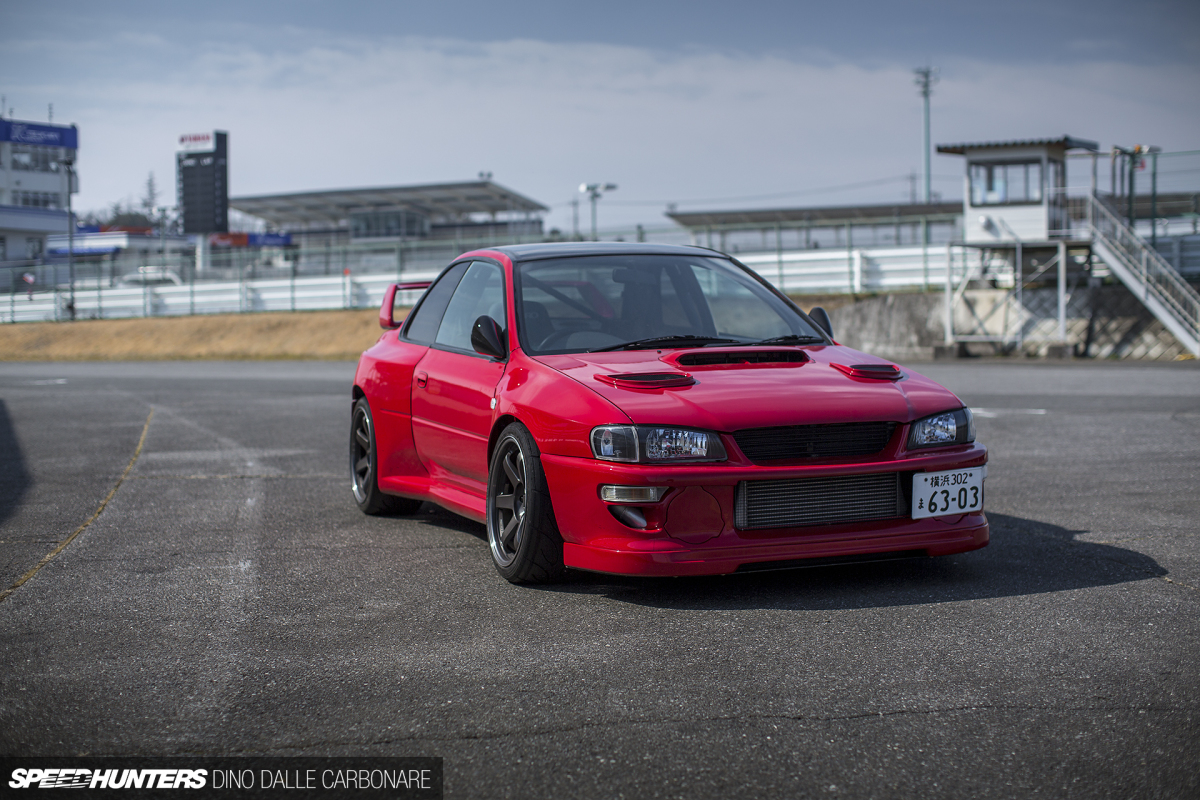 We see a lot of wild cars with wild aero added in pure experimental fashion, and that's all good; it's what adds to the whole spectacle of seeing these mad men attempting to shatter their own records. But seeing a clean and well put together car like this Impreza is equally pleasing.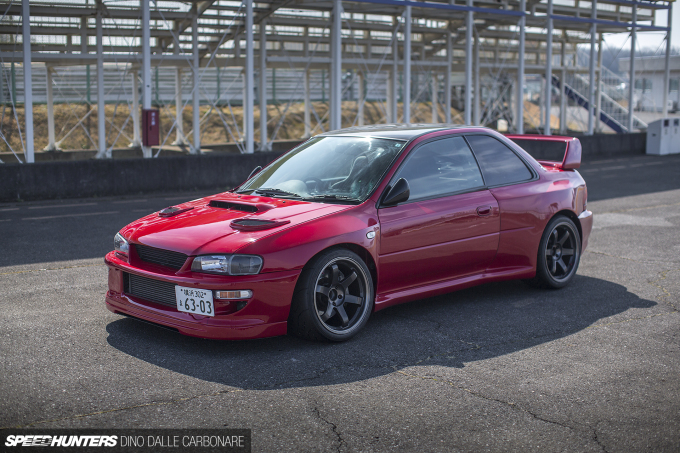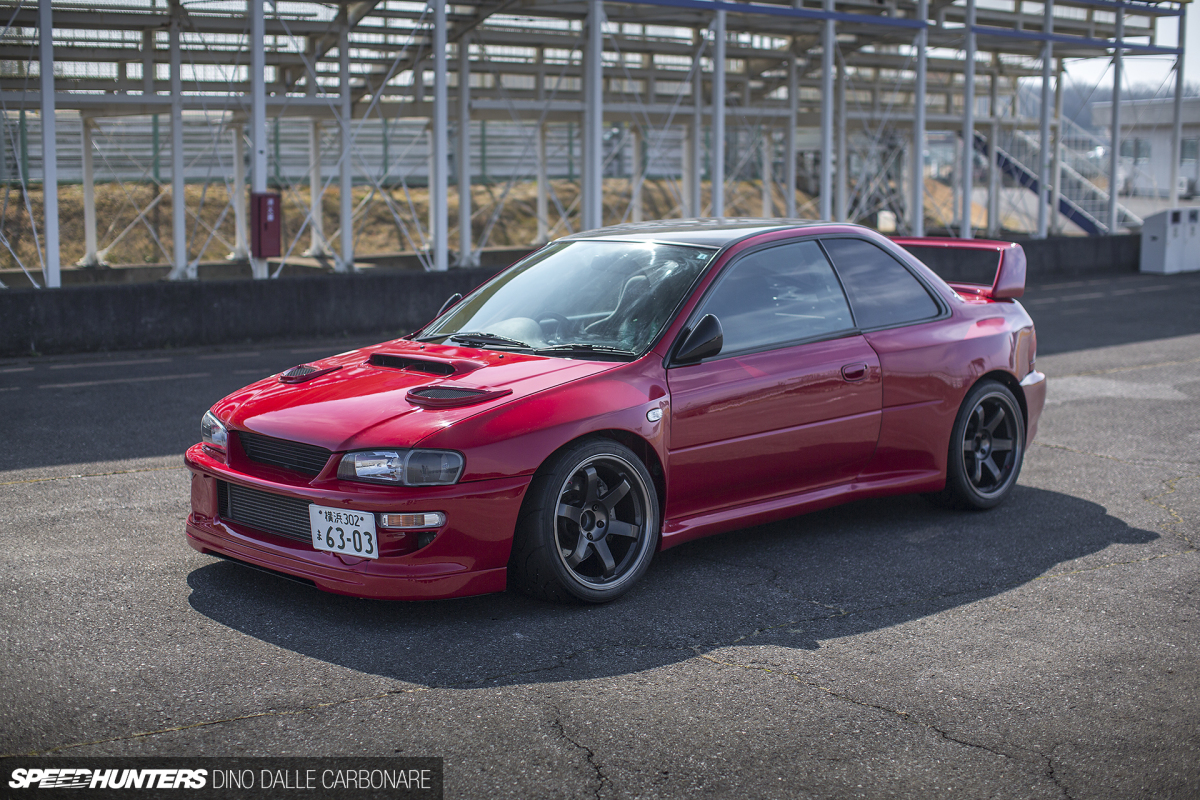 As I stood there looking at Naoki's creation, I couldn't help but wonder if the GC8 will be the next JDM car to explode in popularity. From a looks and potential standpoint, the model certainly has a lot going for it.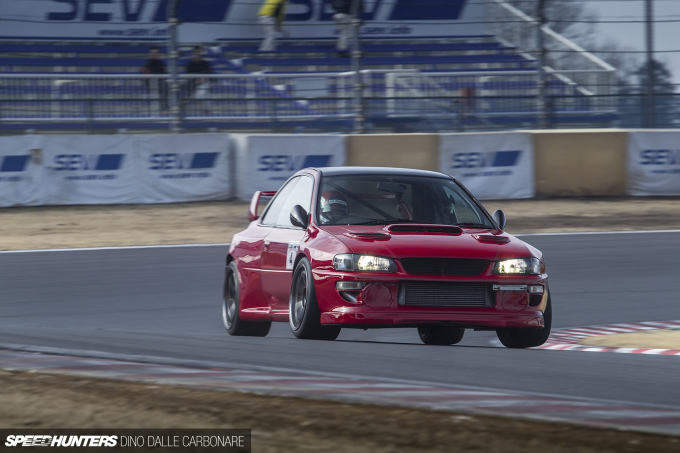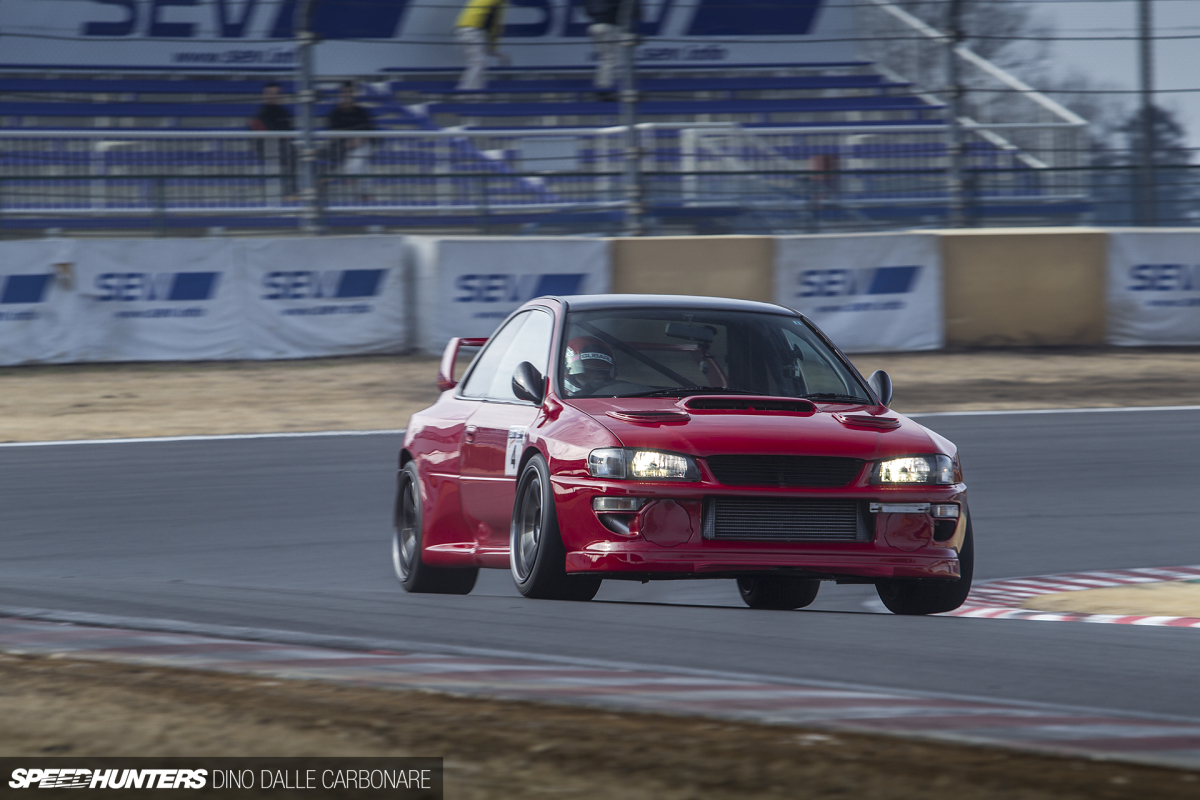 It almost makes me want to go out and get one myself. Perhaps a new Speedhunters project car? Oh wait, I still have that blue thing to finish off first!
Dino Dalle Carbonare
Instagram: speedhunters_dino
dino@speedhunters.com