A Final Look
It's been a little over a week, but I'm still mentally frazzled from what was the biggest Tokyo Auto Salon ever. TAS is an event that does so much to you; it hits you from every angle; you're subjected to so much at the same time that it sends you into a car culture-fuelled frenzy. But slow your pace, take a step back and take it all in, and you realise that behind that chaotic surface, TAS presents you with an unparalleled look into what is the most diverse and unique tuning culture there is. And that's precisely why I've been far more selective with what I've shown you this year. Rather than bombarding you with a ton of stuff, I selected what stood out the most during the few days I spent circling and criss-crossing the expansive halls of the Makuhari Messe.
This final post connects all of my 2016 Tokyo Auto Salon spotlights with a collection of awesomeness that I just have to share with you.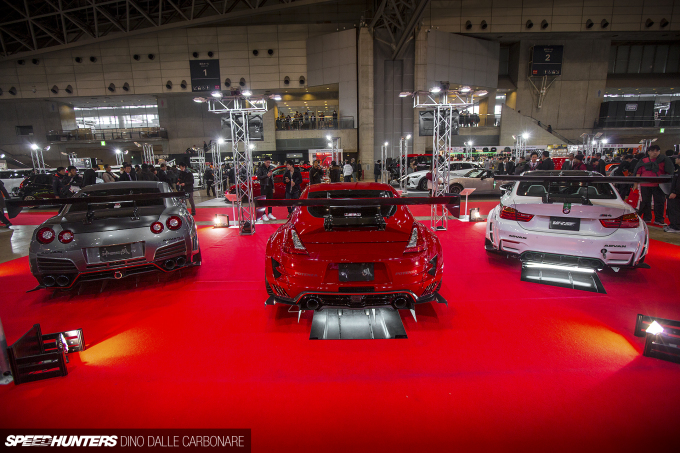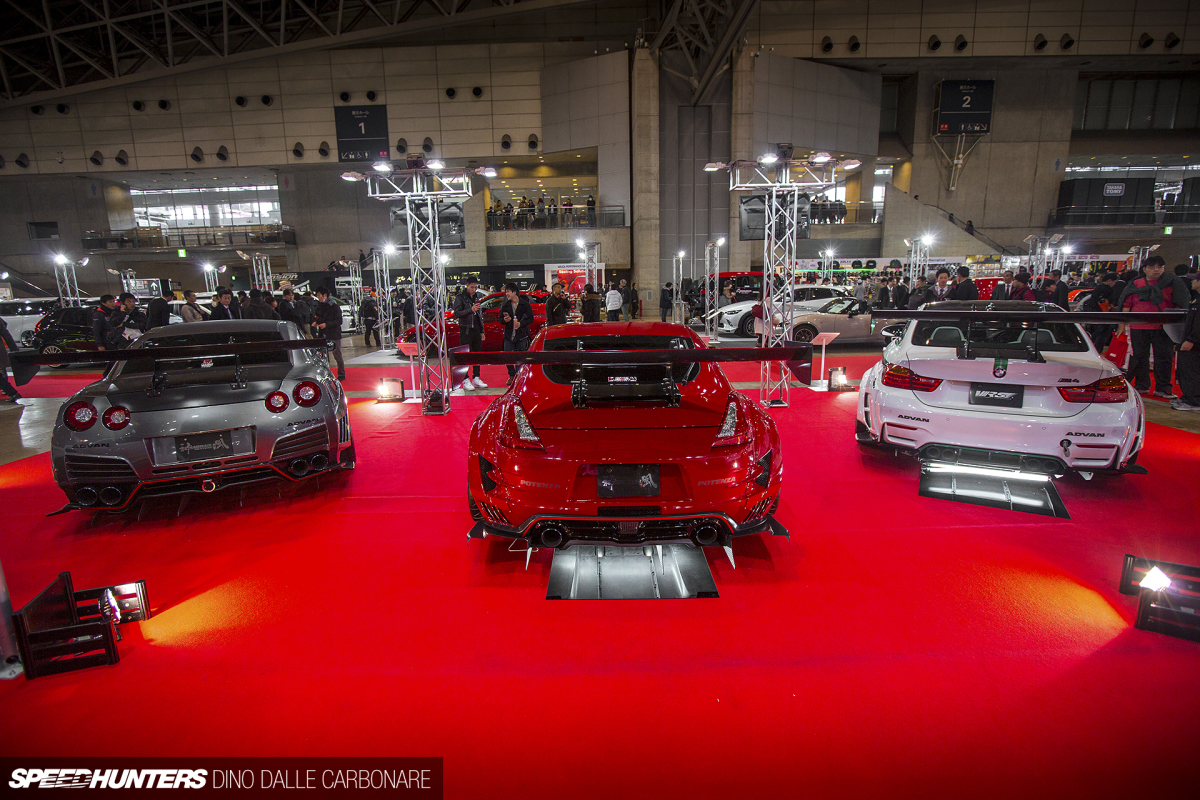 Let's start things off at the Varis stand. This was the biggest space the bodykit maker has ever had at the show, and it needed it, because the stand was jam-packed full of cars wearing the company's unmistakeable aero parts. I found it interesting that Varis has created something new for the now aged Z34; a look that transforms it for a proper breath of fresh air.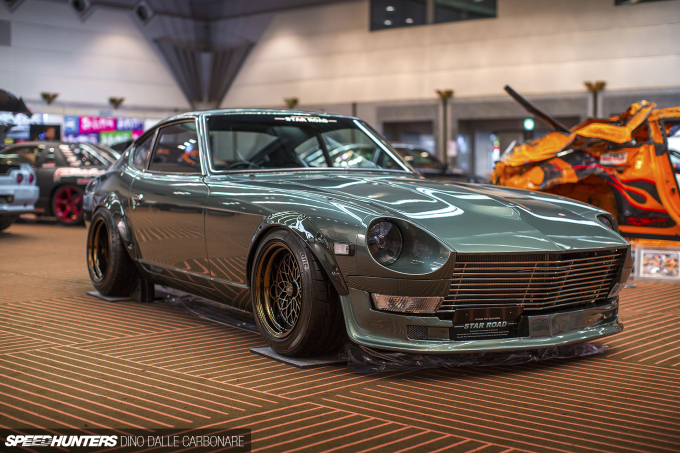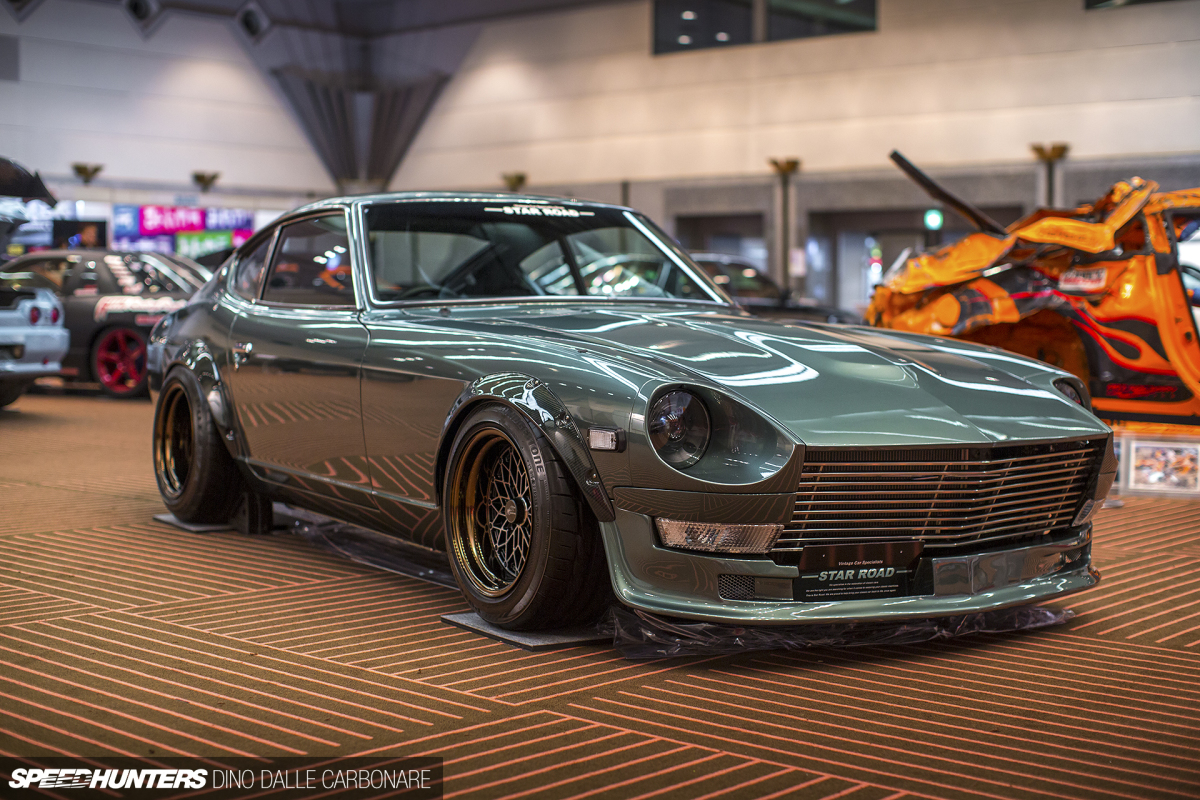 When it comes to resto-modding old Zs, Star Road wins hands down. The guys haven't yet managed to complete the wide-body orange S30 that we saw last year, but in the meantime they've come up with this beautiful and very smooth interpretation of the S30; of course sitting on Star Road's very own Glow Star wheels by Work.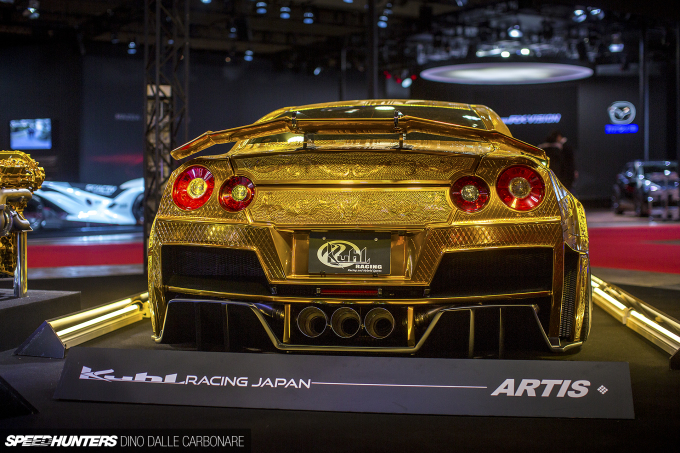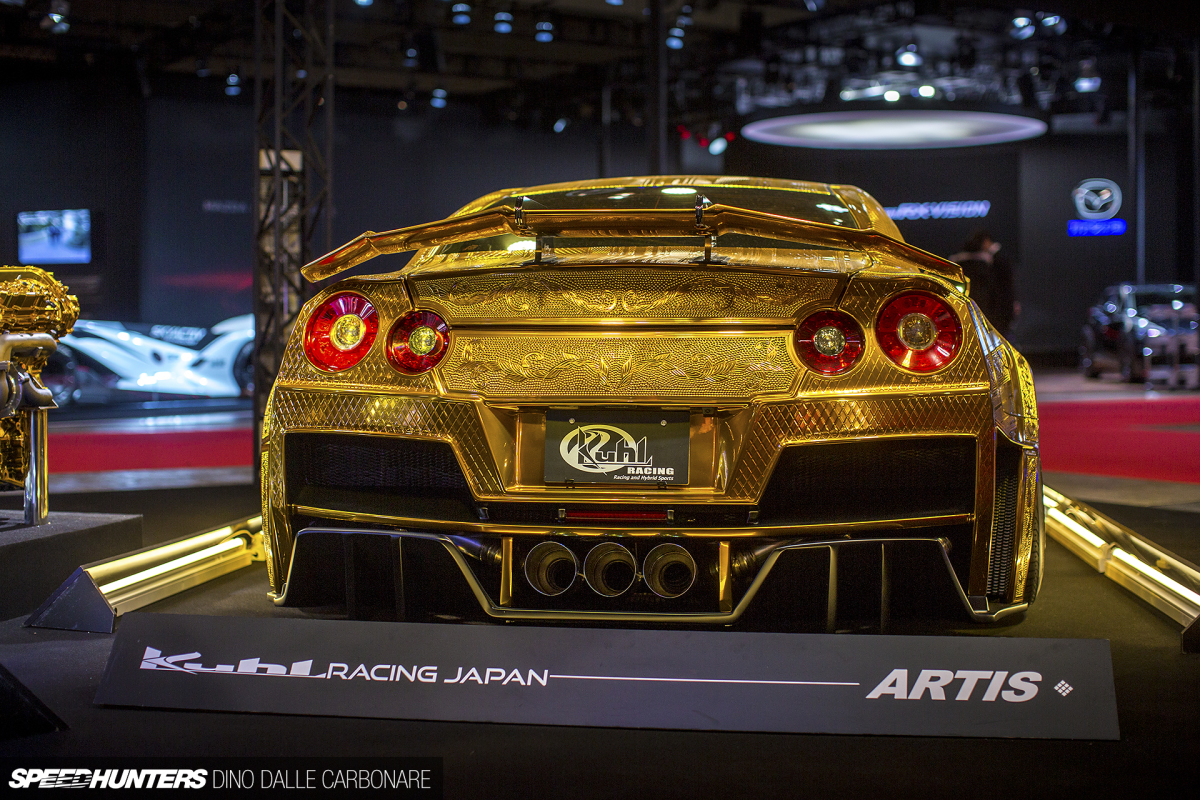 Ah yes, that gold GT-R. It was hard to ignore this creation; everyone was talking about it, even if opinions were divided. Like the silver car that came before it, Kuhl embarked on this project to show what it's capable of when it comes to painting. Yes, all that intricate body detailing is done with paint!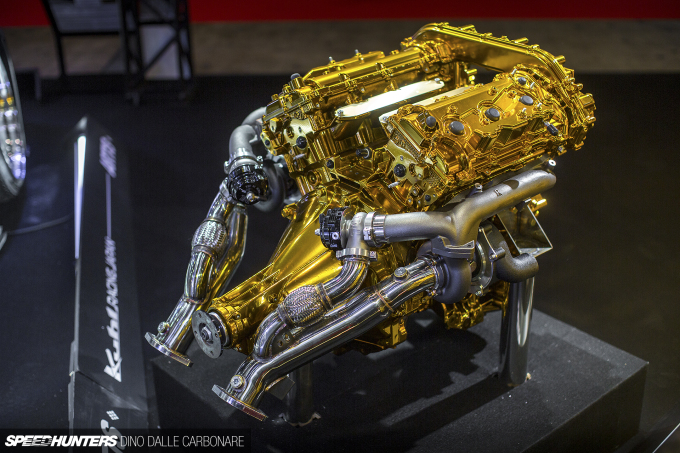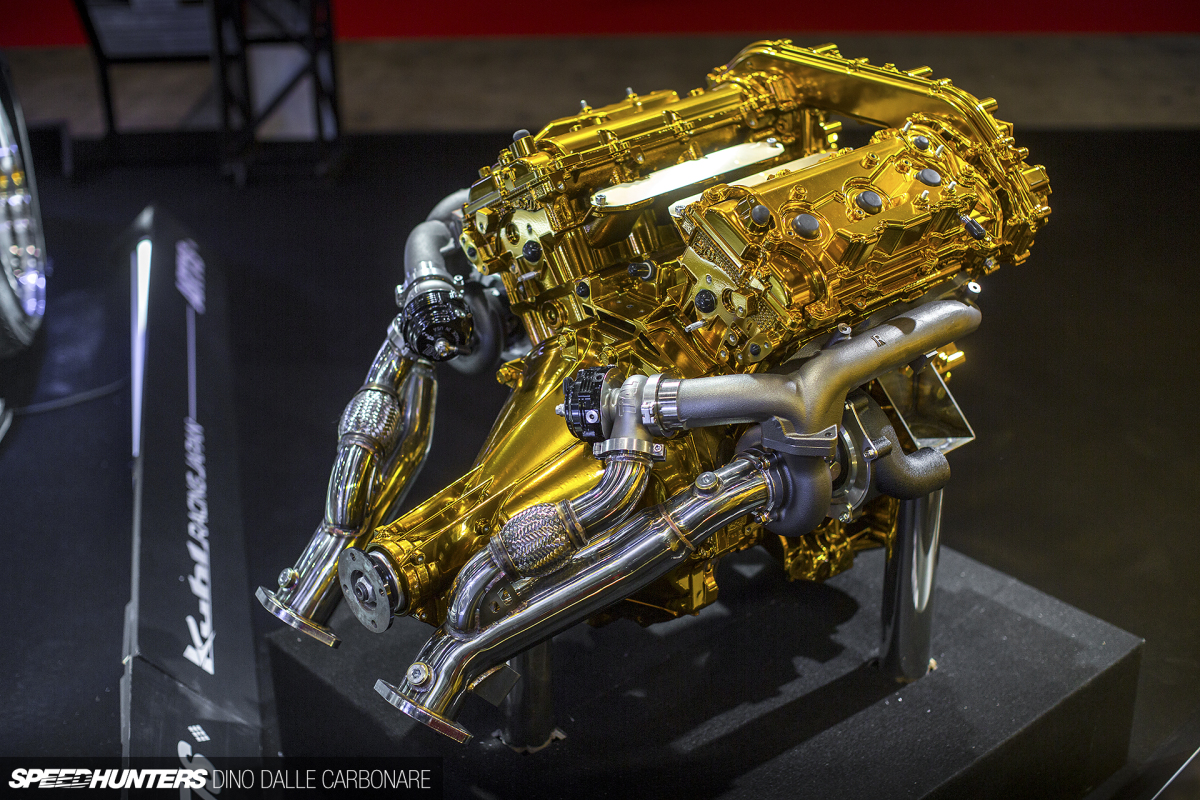 It's also a good thing that Kuhl hasn't forgotten that the GT-R was designed with the sole intention of going fast, hence this display engine, finished in the same gold paint as the demo machine, showcasing the company's own turbocharger upgrade kit. I also noticed that the turbos' impellers had been anodized gold too, but would you expect anything less?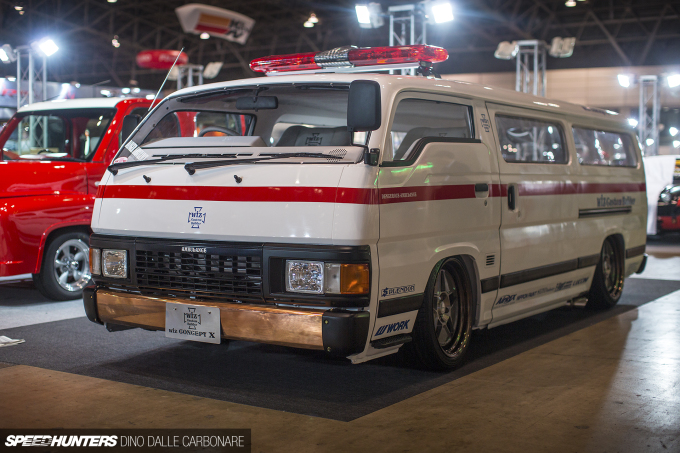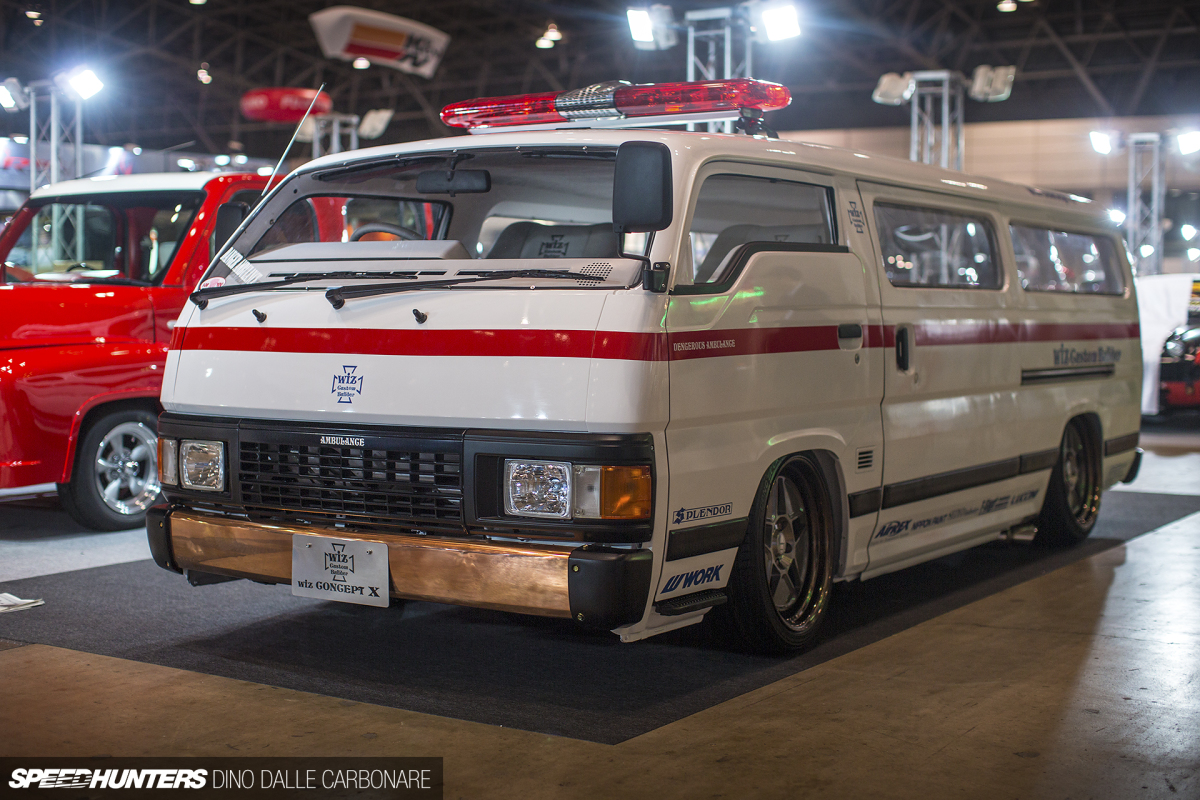 The Tokyo Auto Salon is all about cool style and the latest in performance tuning, but it also provides a continuous stream of 'WTF' moments. Like this: a roof-chopped Nissan Caravan ambulance slammed on a set of Work wheels.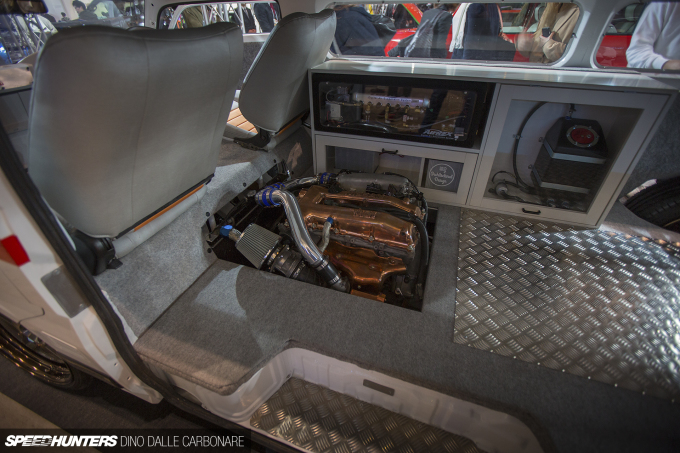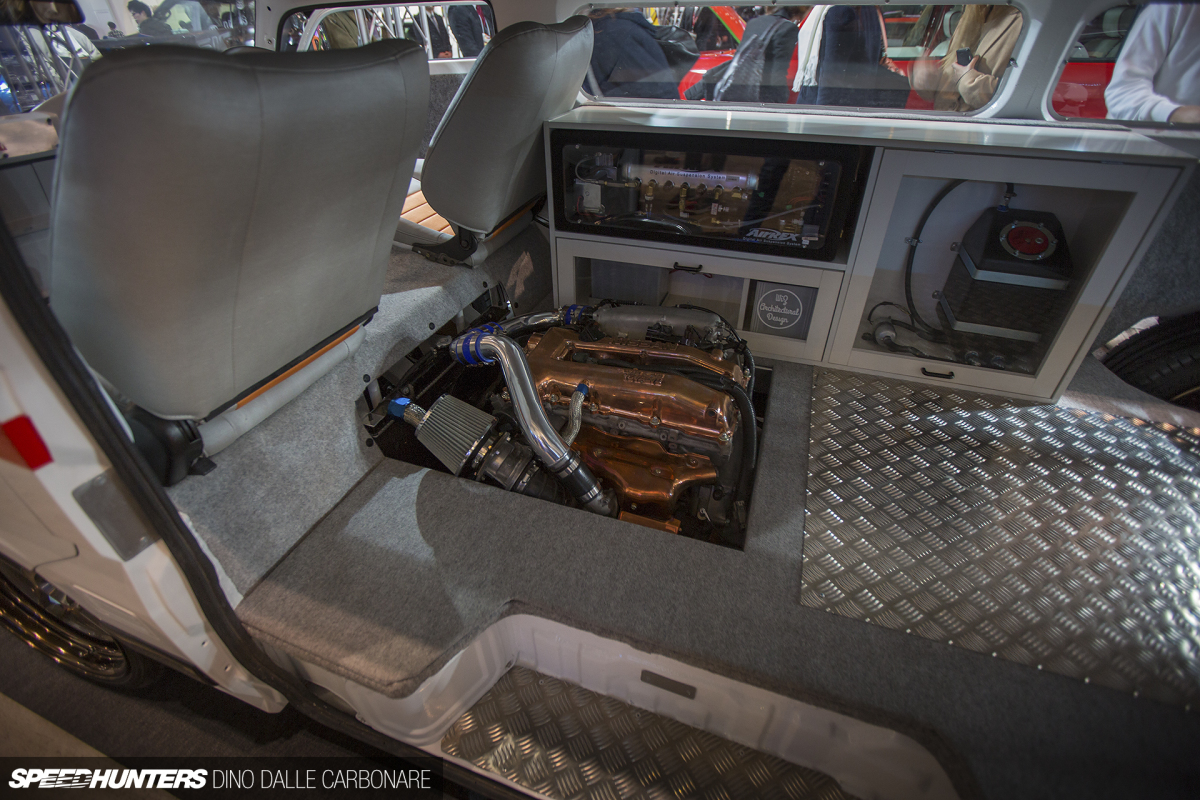 Driving the rear wheels is a modified SR20 that's been centrally-mounted a little further back from where a stock Caravan's engine normally sits. I thought it was so cool that it was left exposed too. Look to the side and you'll notice a little cabinet that houses the batteries, air suspension pumps and tank, and a little racing fuel cell.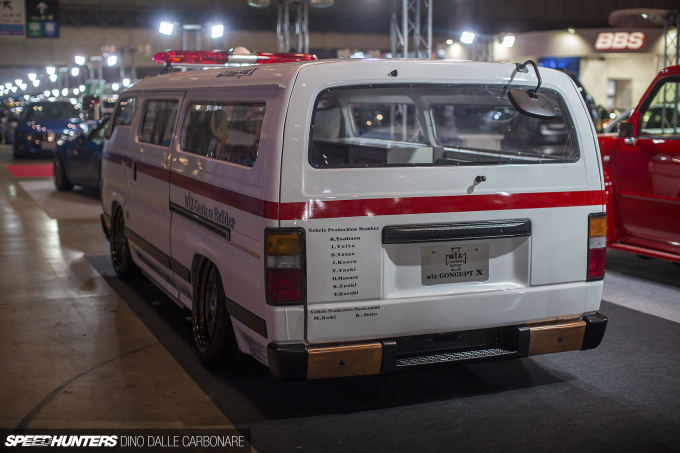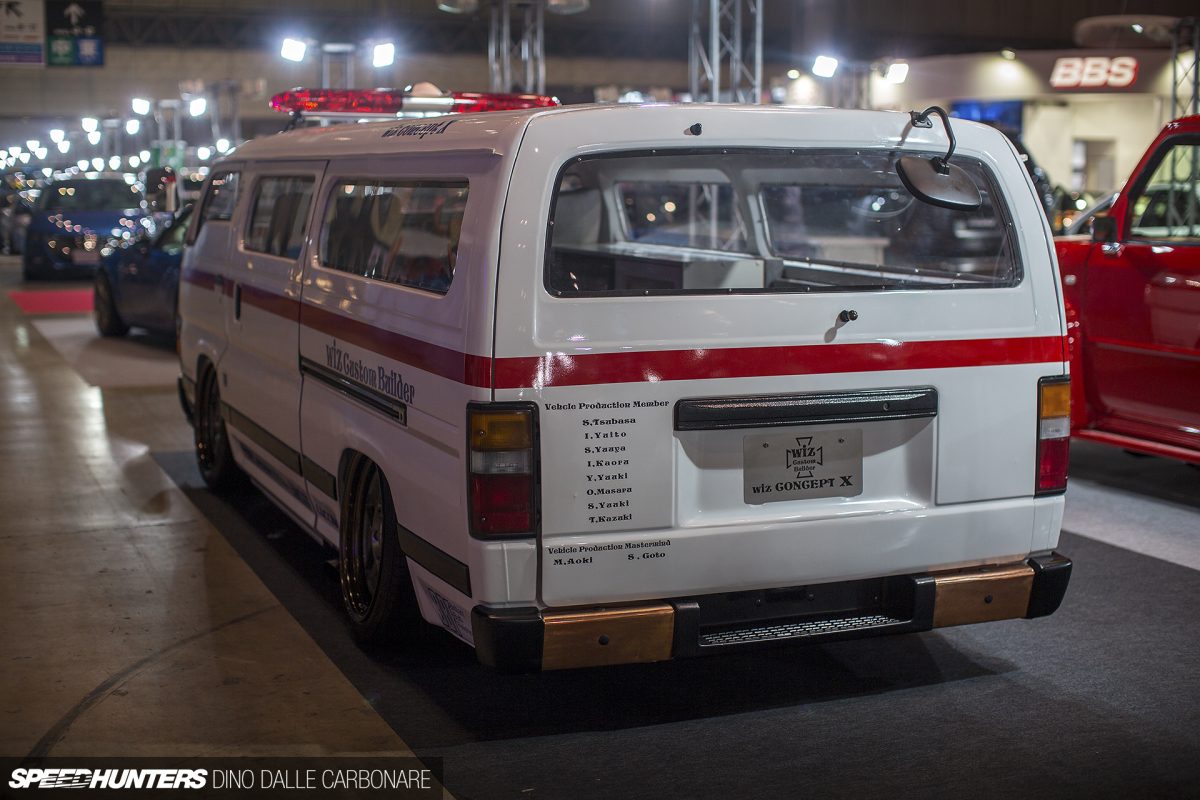 One of the coolest vans ever? Absolutely!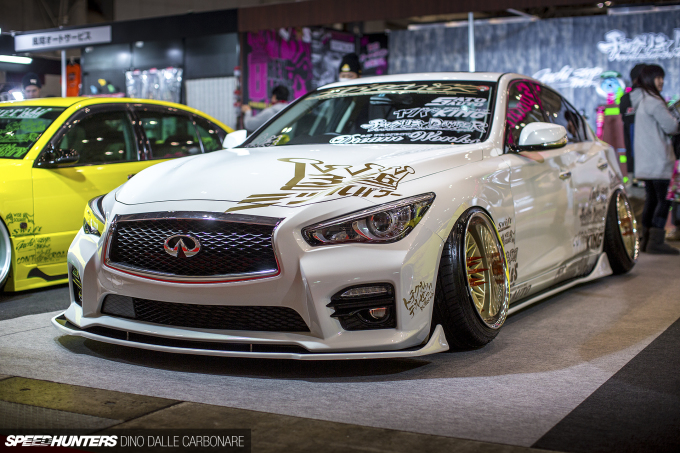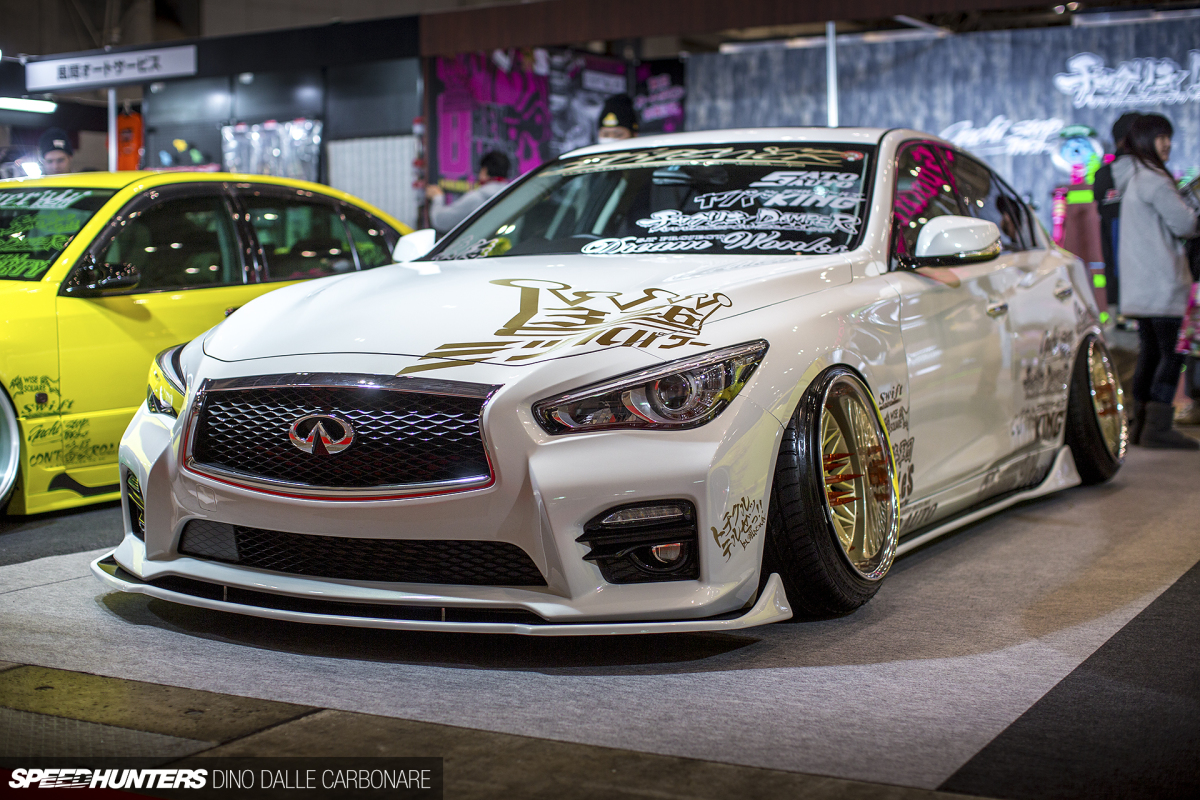 In the stance scene where getting reactions is always the main goal in building a car, 326 Power really knows how to do it properly. Aside from its yellow Aristo and ZN6, not to mention the onikyan new-gen Prius I showed you in my TAS preview post, 326 Power also had this Nissan Infiniti Q50 Skyline (or whatever the hell they call these things these days) which was slammed. I really like it.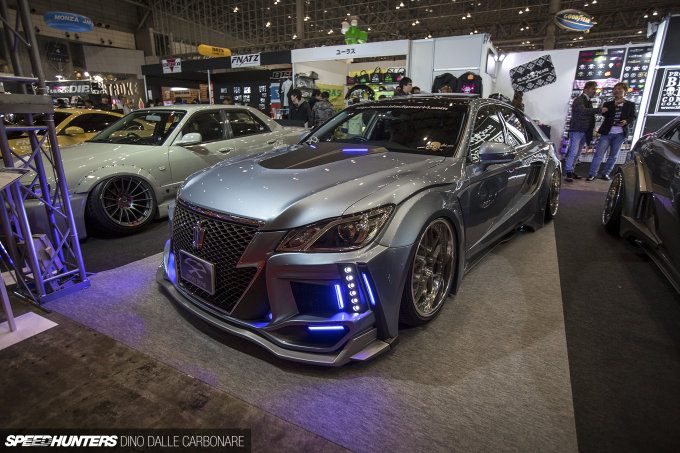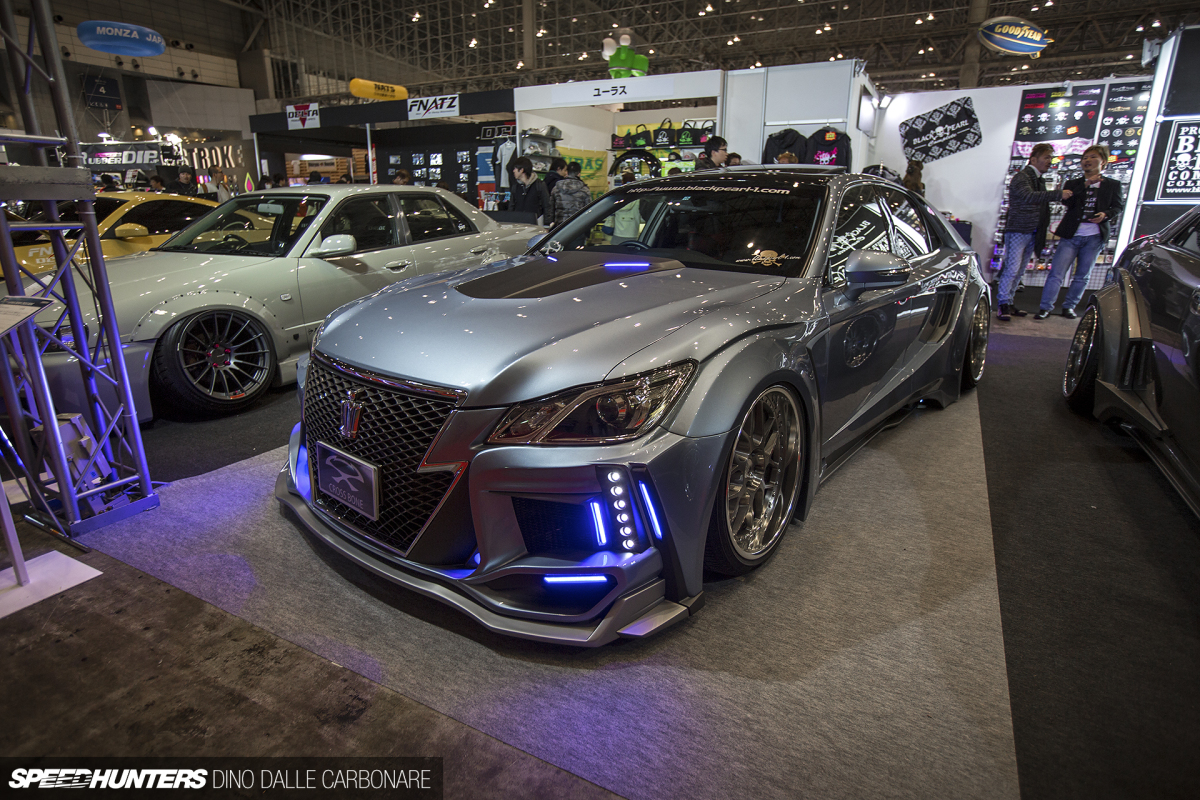 A few cars down was this new-gen Crown, reminding us that VIP can be taken to some pretty wild extremes these days. It might need to be renamed Gundam style!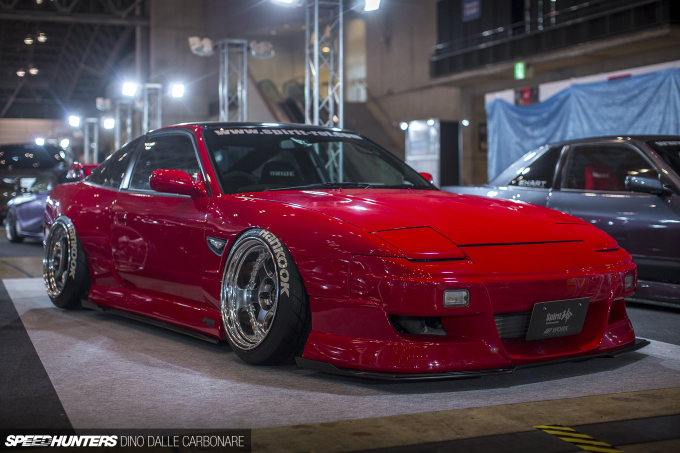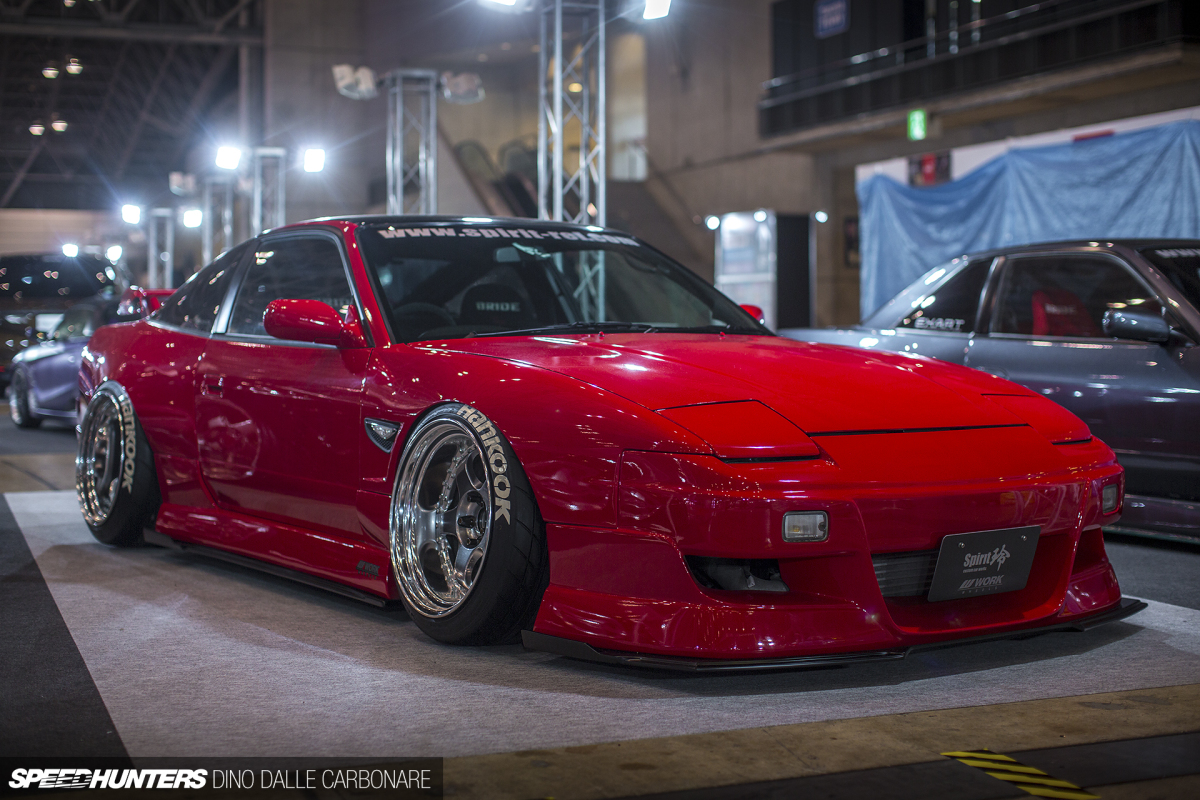 Ah, now we're taking; pure and utter simplicity. Spirit Rei is a true master of clean styling, and this RPS13 180SX is a nice follow-up to the S13 Silvia I spotlighted at Offset Kings Fuji last year.
Style Meets Performance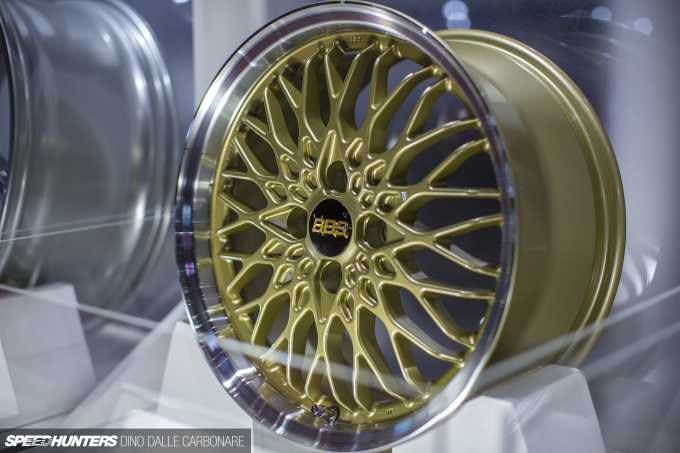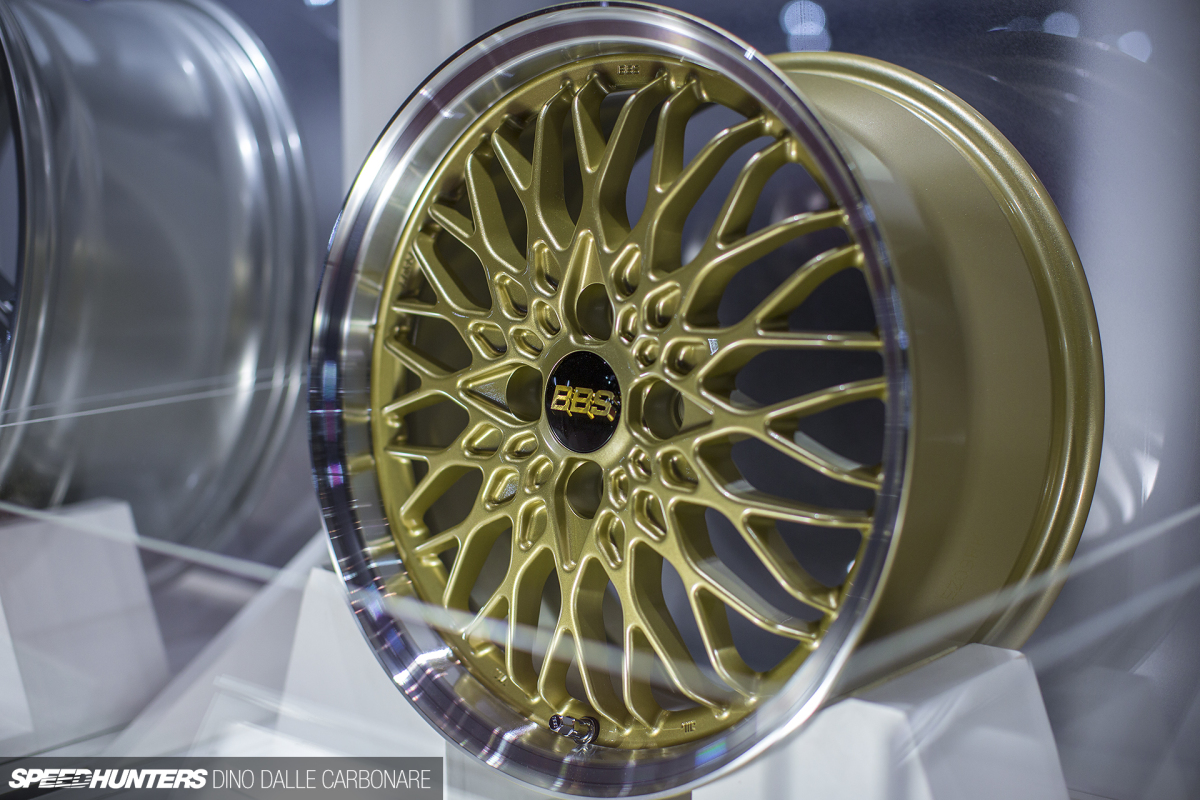 BBS Japan seems to be on a campaign of rejuvenation at the moment, and the byproduct of that is a huge line-up of new wheels that are to be released throughout the year. Since BBS pretty much invented the mesh wheel design back in the day, it was nice to see that capitalised on with this particular model.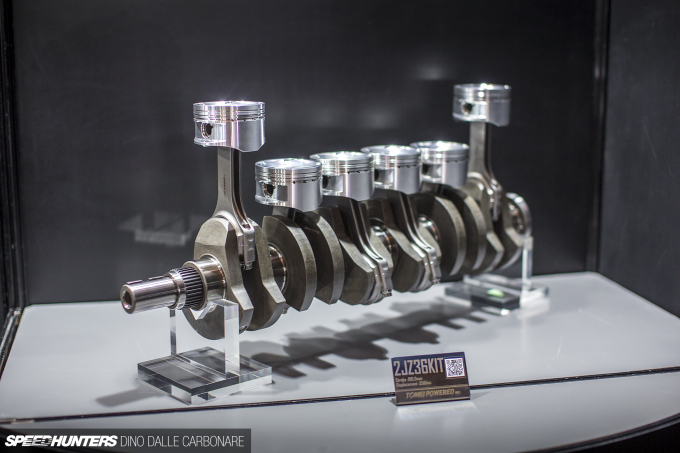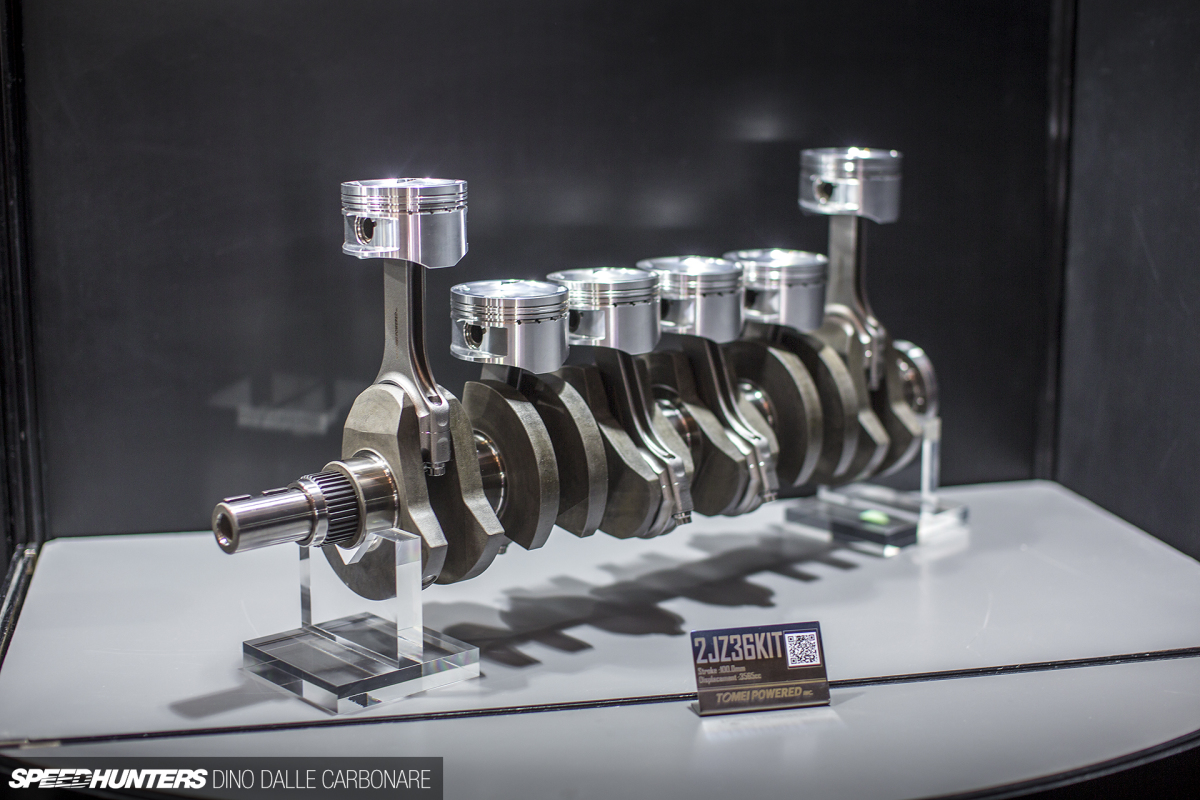 It's been some years since we've seen Tomei Powered at TAS, but it has so much new stuff to show off that it obviously couldn't pass up the opportunity in 2016. Along with all sorts of engine components and turbos, Tomei's stroker kits seemed to be the most drooled-over pieces, and of all those this 3.6-liter package for the 2JZ was receiving the most attention. This kit has been developed and perfected over the last year on Kenji Yamanaka's Formula D car, so you know it's good for some serious abuse!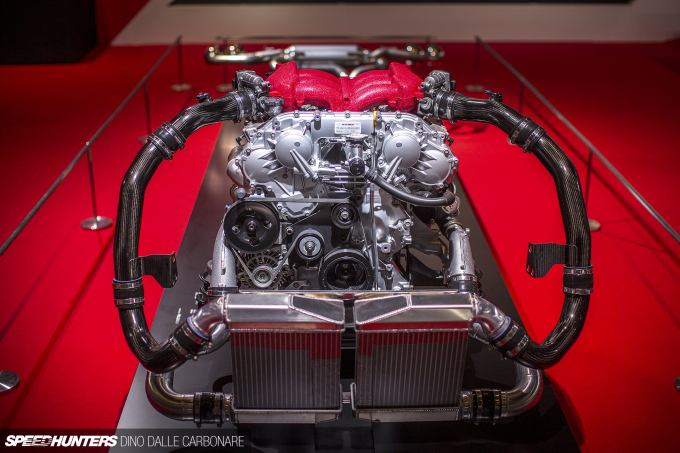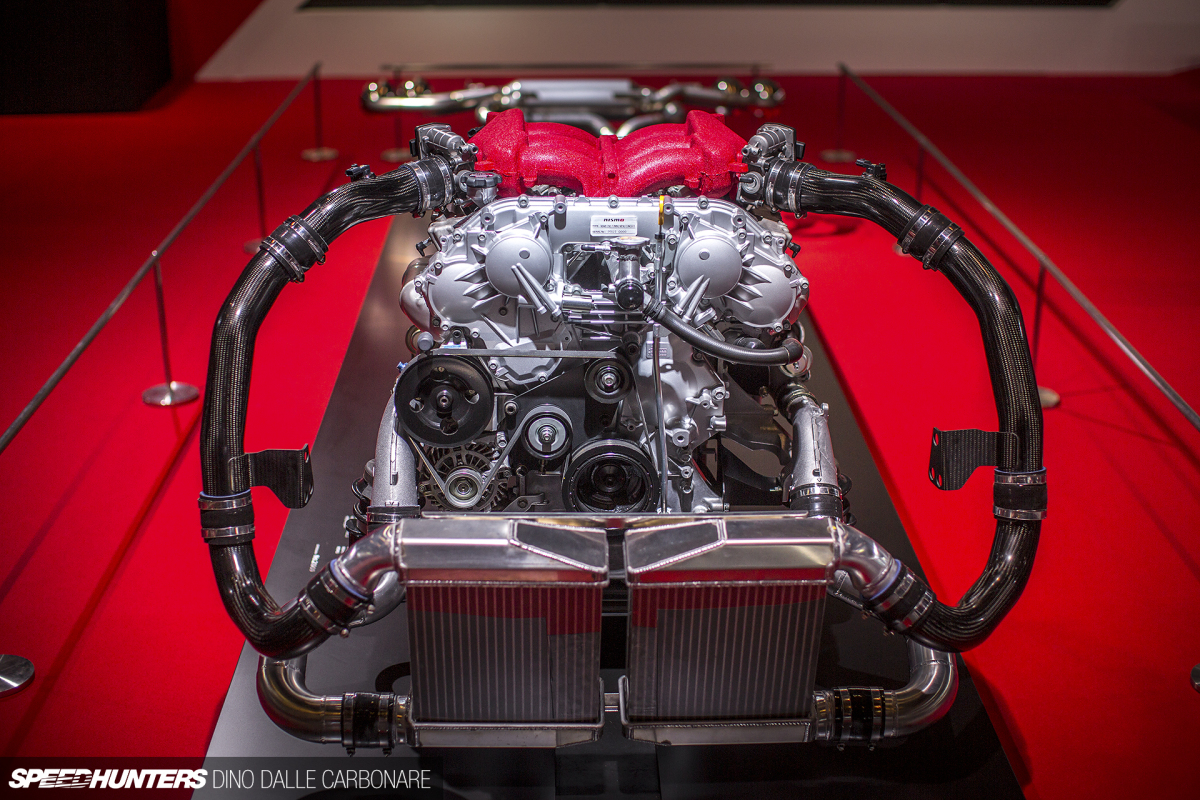 Nissan's booth was a tad lacking this year; the automaker really didn't have much to show, aside from some curious production cars with vinyl roofs that conjured up thoughts of old Lincolns. Nismo continues to try and convince people that an exhaust and a panel filter warrants a model to be branded with its name, but it's hard to buy that when you have Mercedes-AMG dropping massive turbocharged engines into pretty much every model in its line up. Maybe Nissan should start sharing those engines rather than the 2.0-litre that's used in the new Skyline! Aside from that, Nismo has developed a carbon piping kit for the VR38. It's beautifully constructed but yet to be released and priced. Expect it to cost as much as an R32 Skyline GT-R though…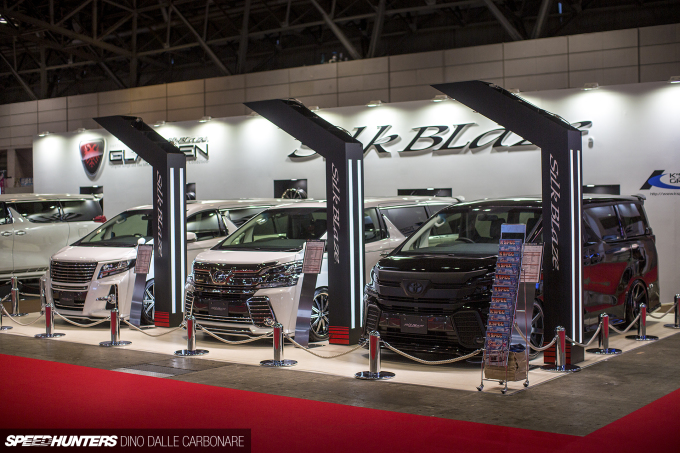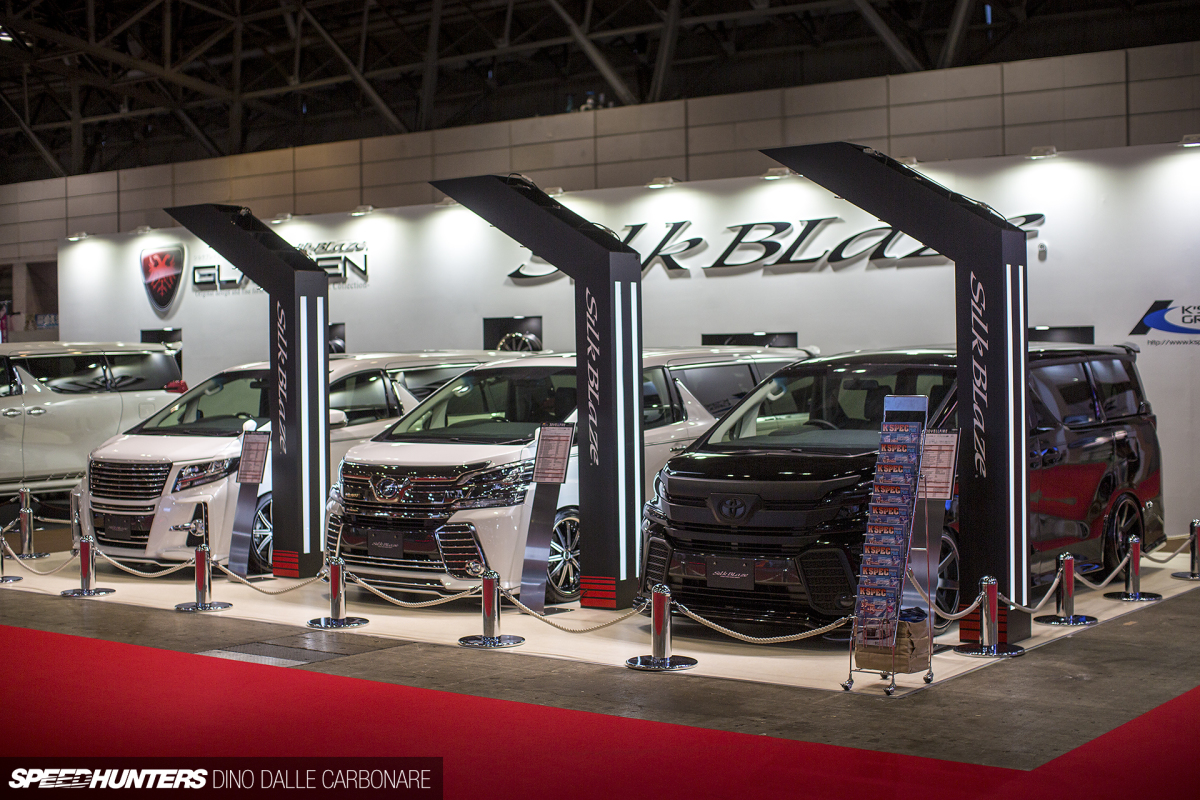 The 'vanning' movement in Japan continues to grow and evolve as much as any other slice of car culture. It just blew my mind how many new Vellfires and Alphards there were on show, let alone the sheer number of upgrade parts that are already available for these things.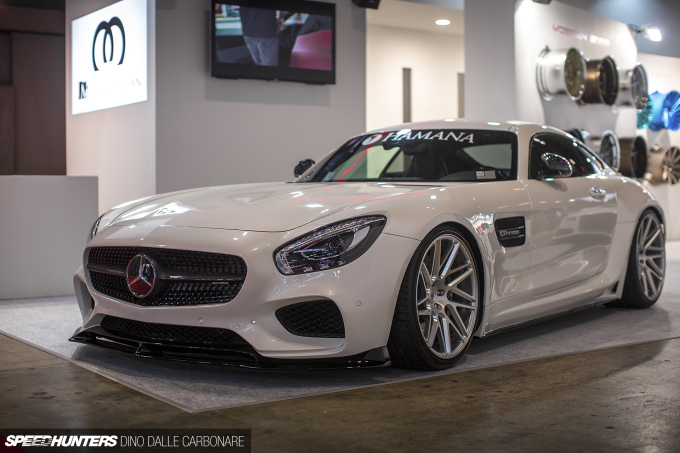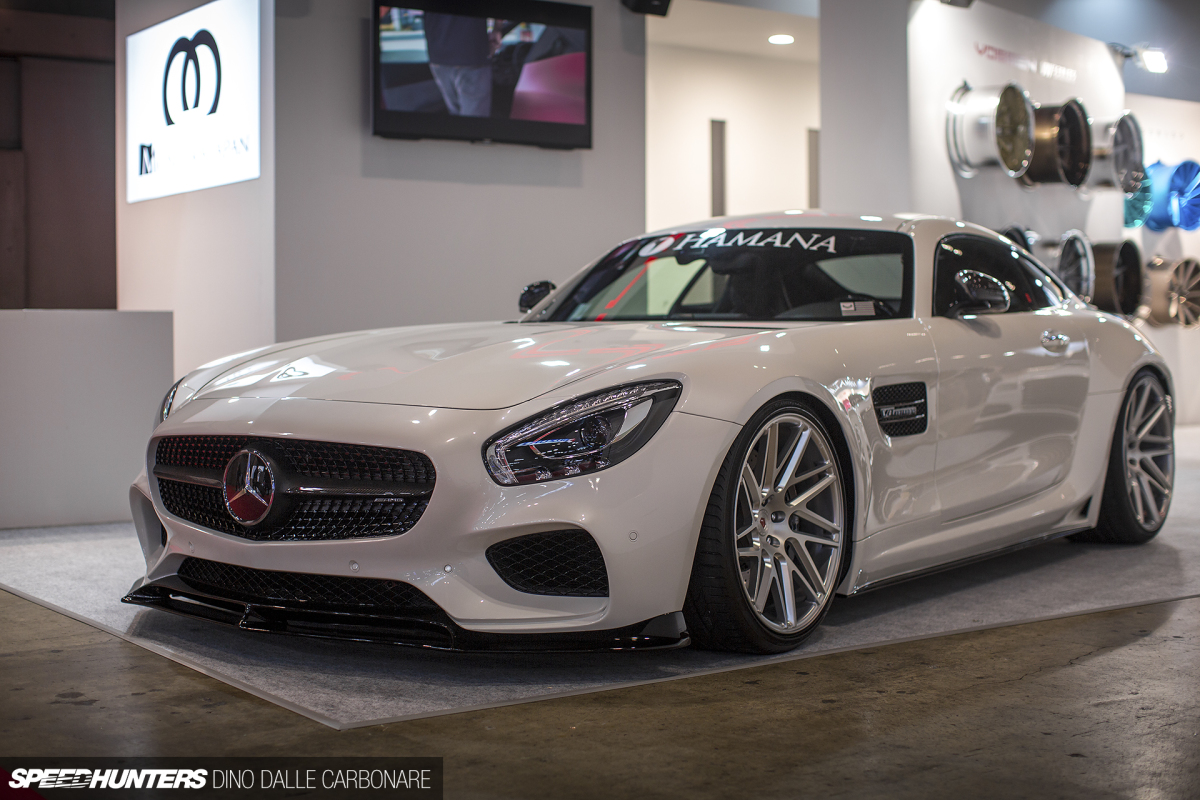 One other name that I have come to expect big things from is Hamana. This body shop has redefined how I judge paint and bodywork, and its staff are undeniable masters of their own craft – this AMG GT is testament to that. It looks pretty normal, right? Just a nicely lowered and stanced supercar? That actually couldn't be further from the truth…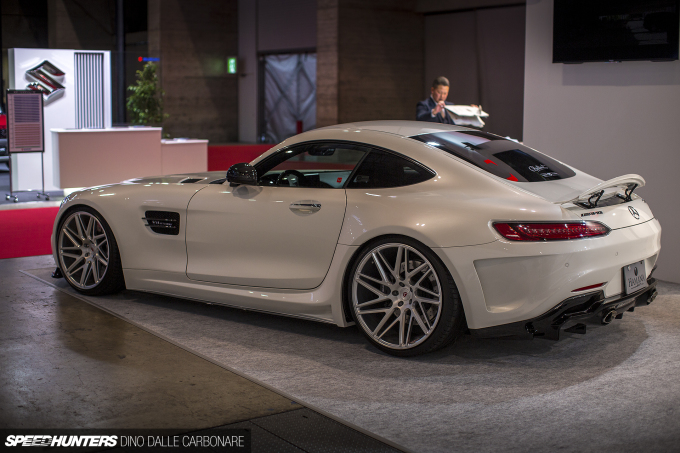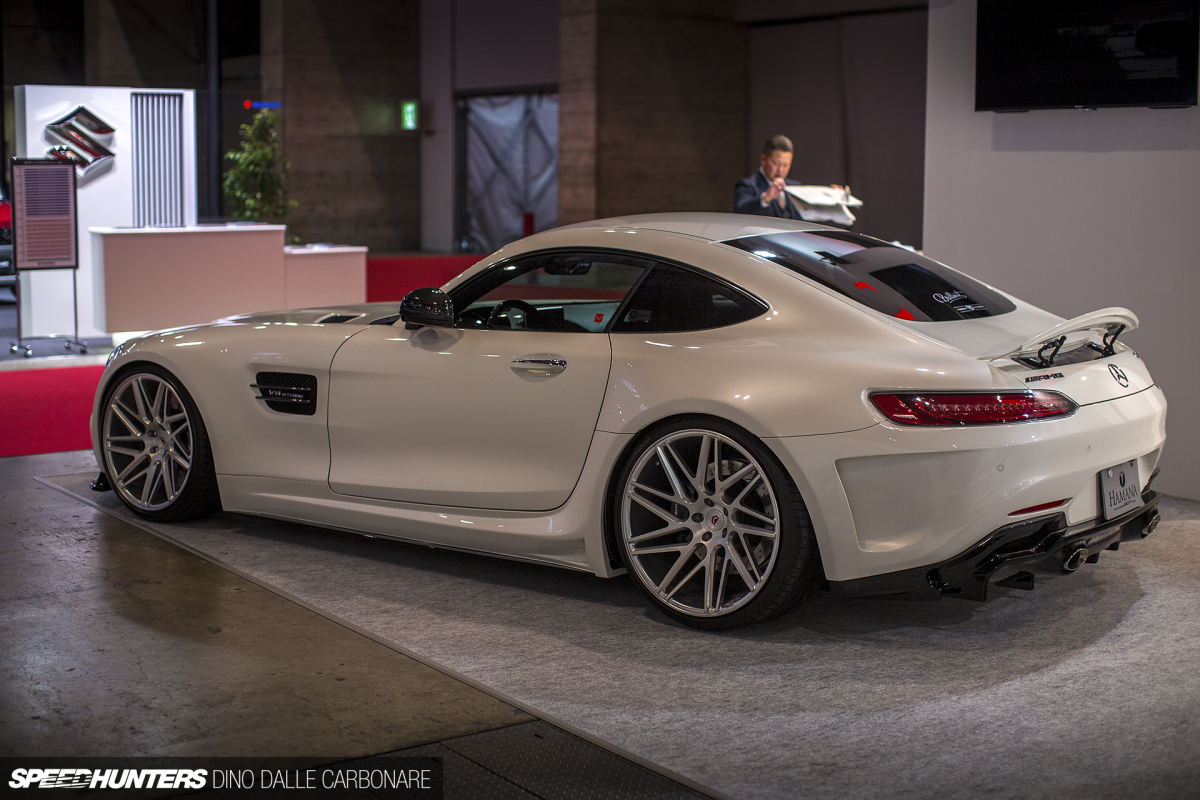 Look closely and you'll notice that both the front and rear fenders have been gently flared; widened from their stock dimensions and pumped full of aggression. Of course, everything is executed in metal and meticulously painted too. Add Vossen's latest wheels and you have one of the most memorable cars of this year's show.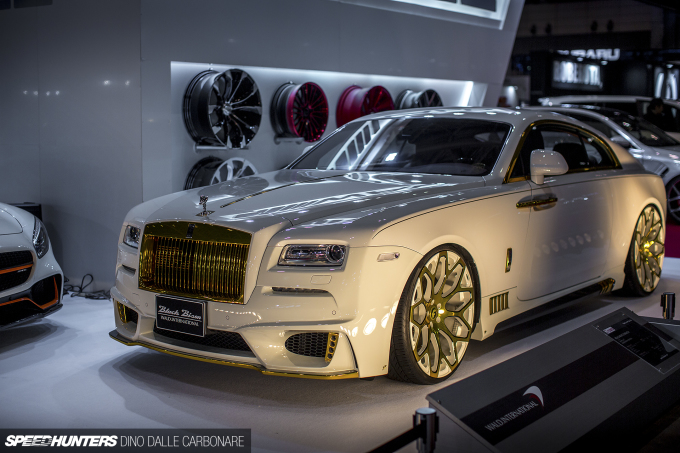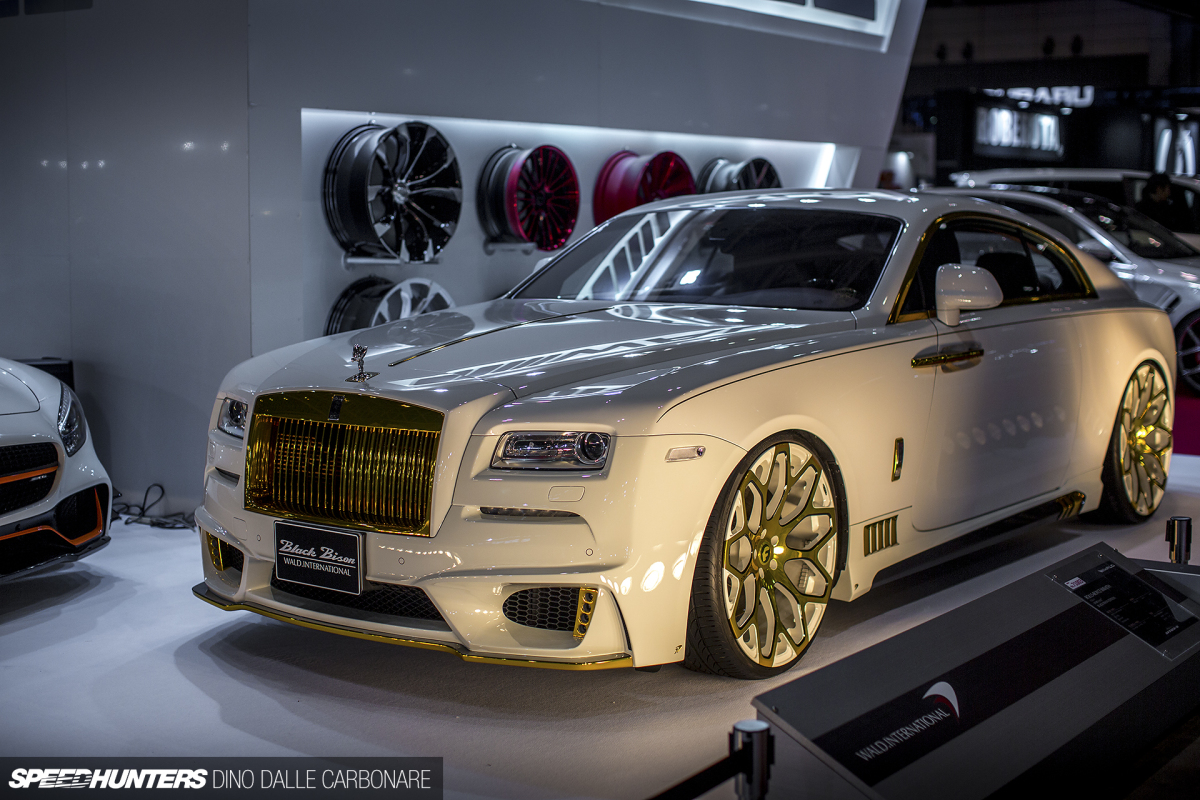 Which brings us to a part of a hall I always like to call 'excess'. Yes, this is where things are taken beyond the limit; where opulence prevails and where money is no object.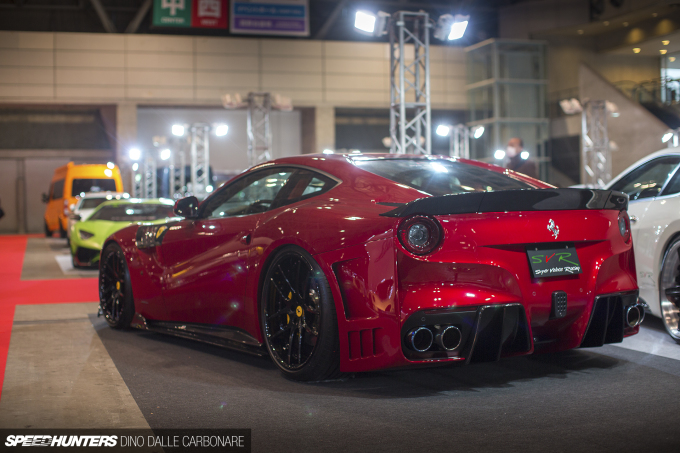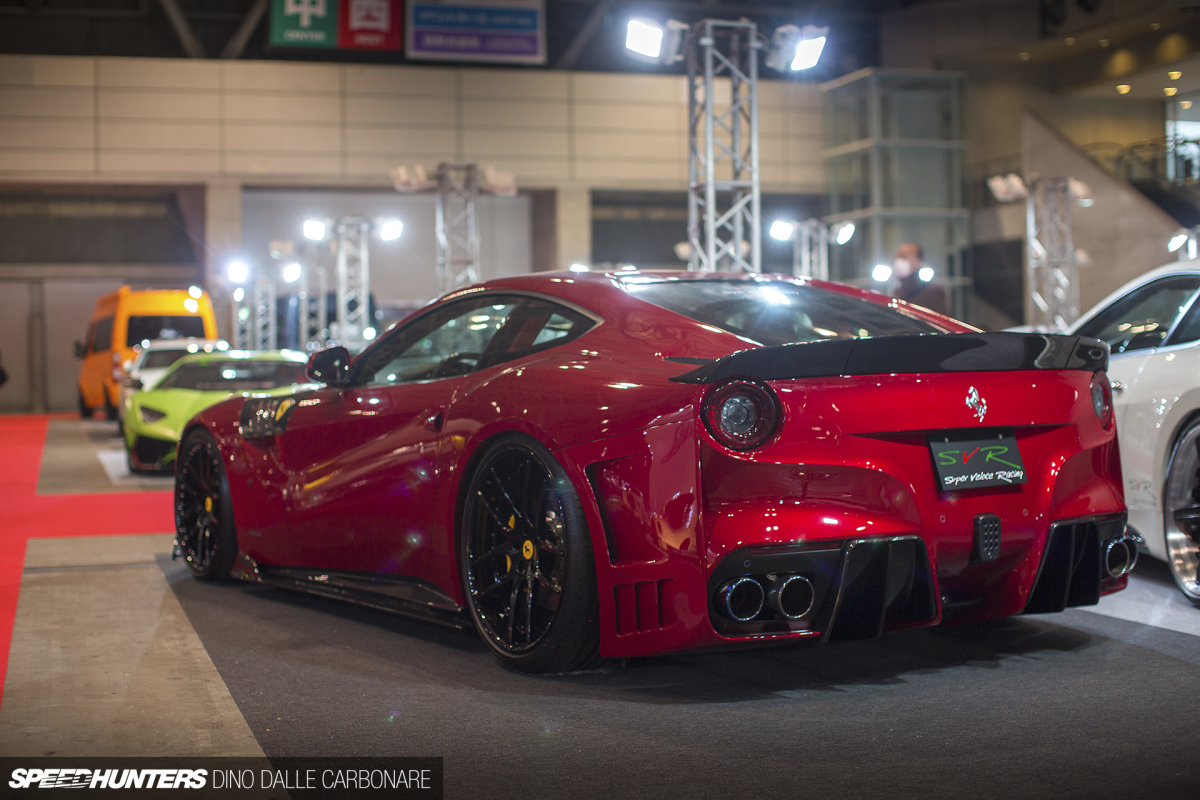 From luxurious cars, to huge SUVs, all the way down to supercars of every brand – this is one area that Japan does well in too. It's mostly because of an inner need to be different and stand out; even if you have the means to get yourself an F12, for example, knowing that other people can get the same car too is unacceptable. That's where shops like SVR come into play; offering kits and conversion so that even the pickiest out there can create a unique car.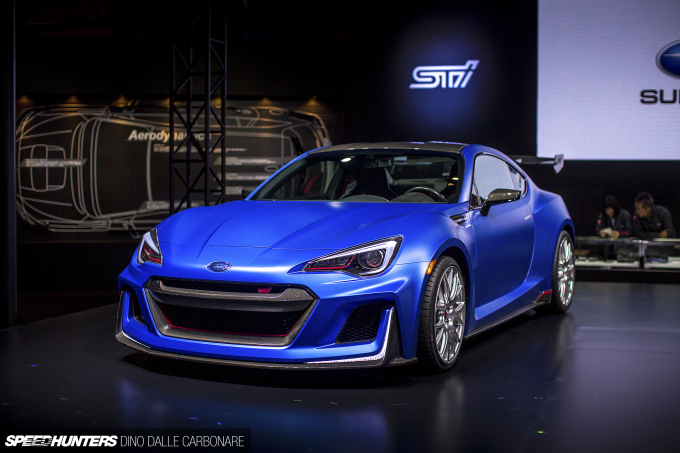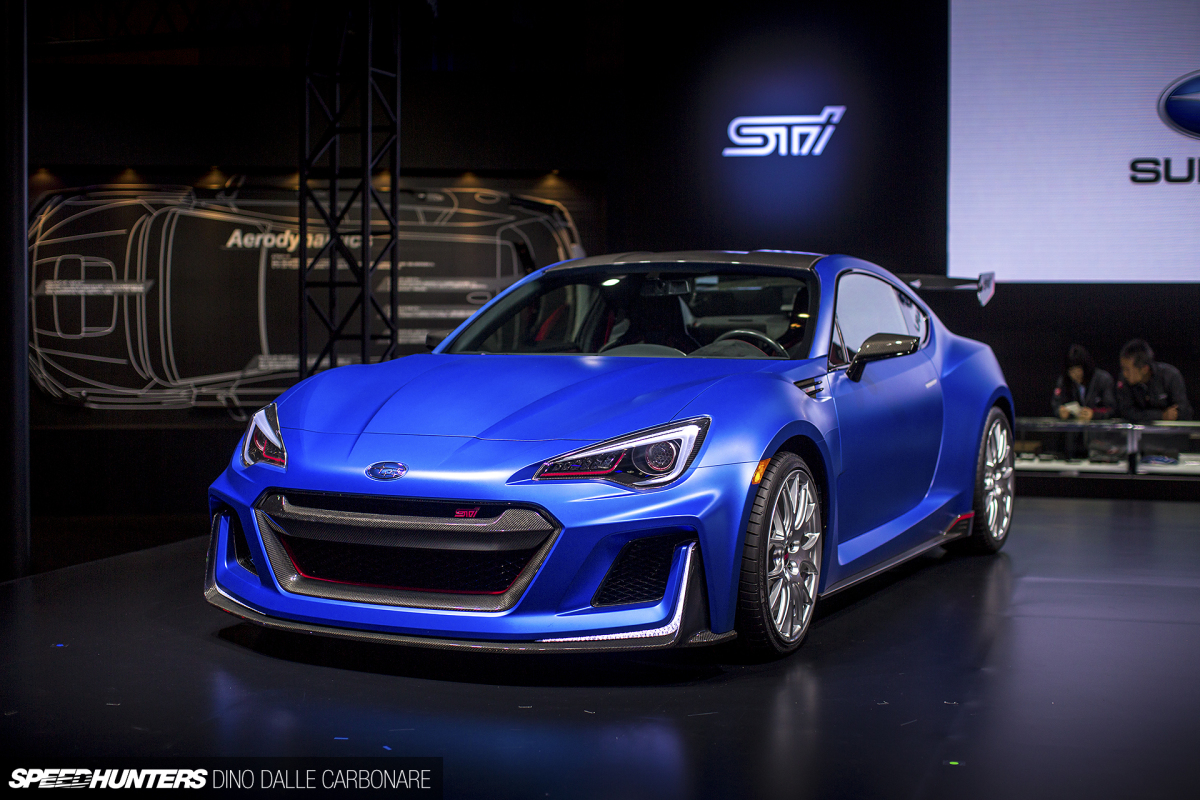 The STI Performance Concept could well be the car we've all been dreaming about since the 86 and its variants came to market. Yes it's wide, yes it's badass, and most importantly, there's a good chance it's the turbocharged interpretation that we've been begging Subaru to make.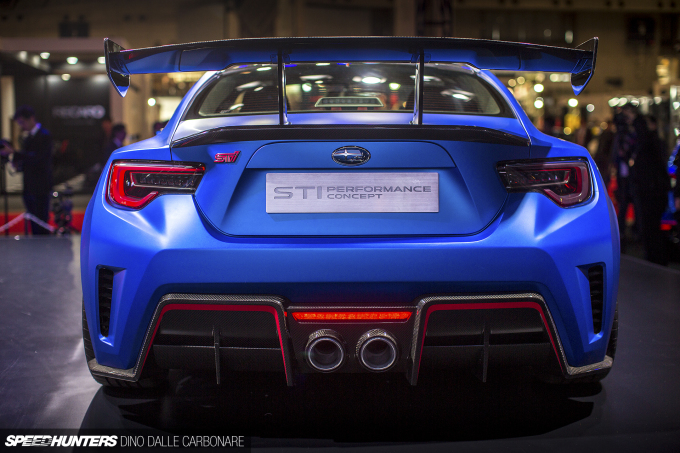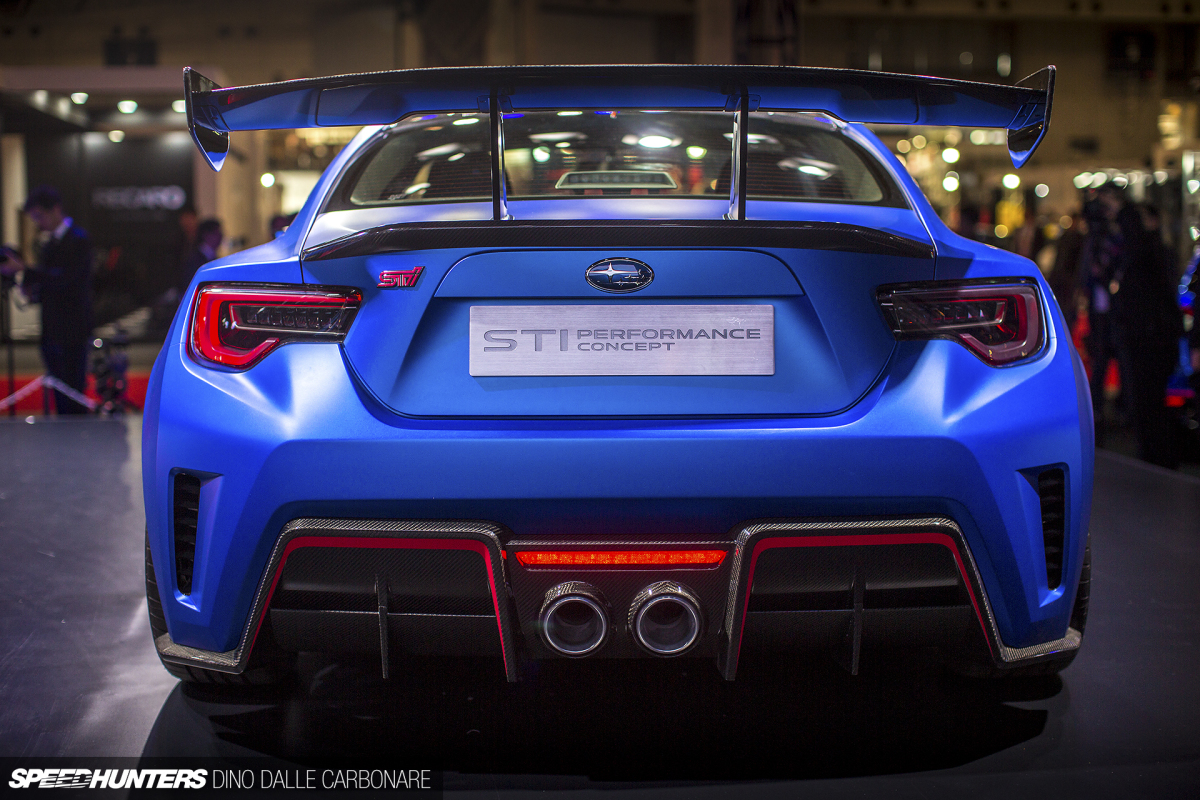 When will it happen? "Eventually," I was told, but it will be a limited production model and probably only for the Japan market, as most of STI's cooler cars usually are. One thing's for sure though, Subaru is going to get inundated by requests to bring this thing into every country possible, so it should probably listen to its fans for once.
The Future Of Time Attack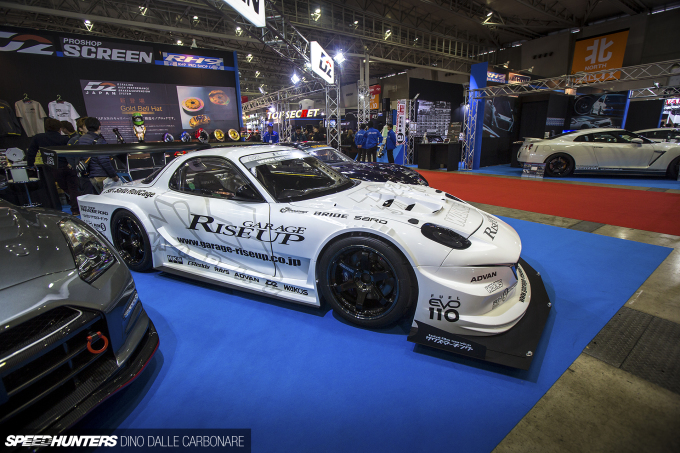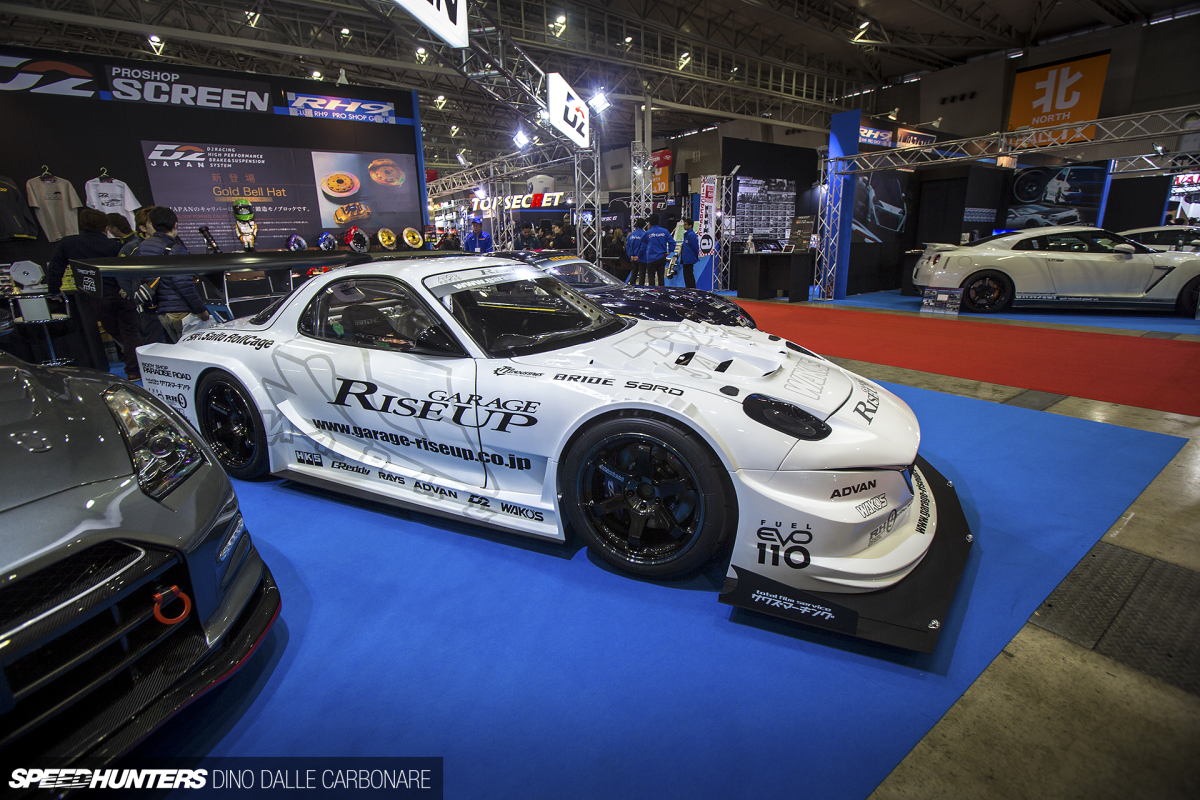 Pro Shop Screen and Garage Rise Up teamed to create one of the most talked about cars of TAS 2016. Featuring an elongated nose design punctuated with Mazda's current family grille, this FD3S RX-7 has been built for serious speed, and I can't wait to see it flex its muscles at a Tsukuba time attack event.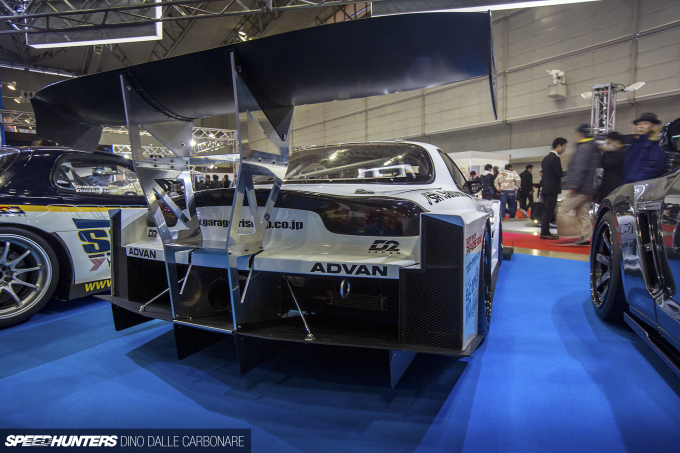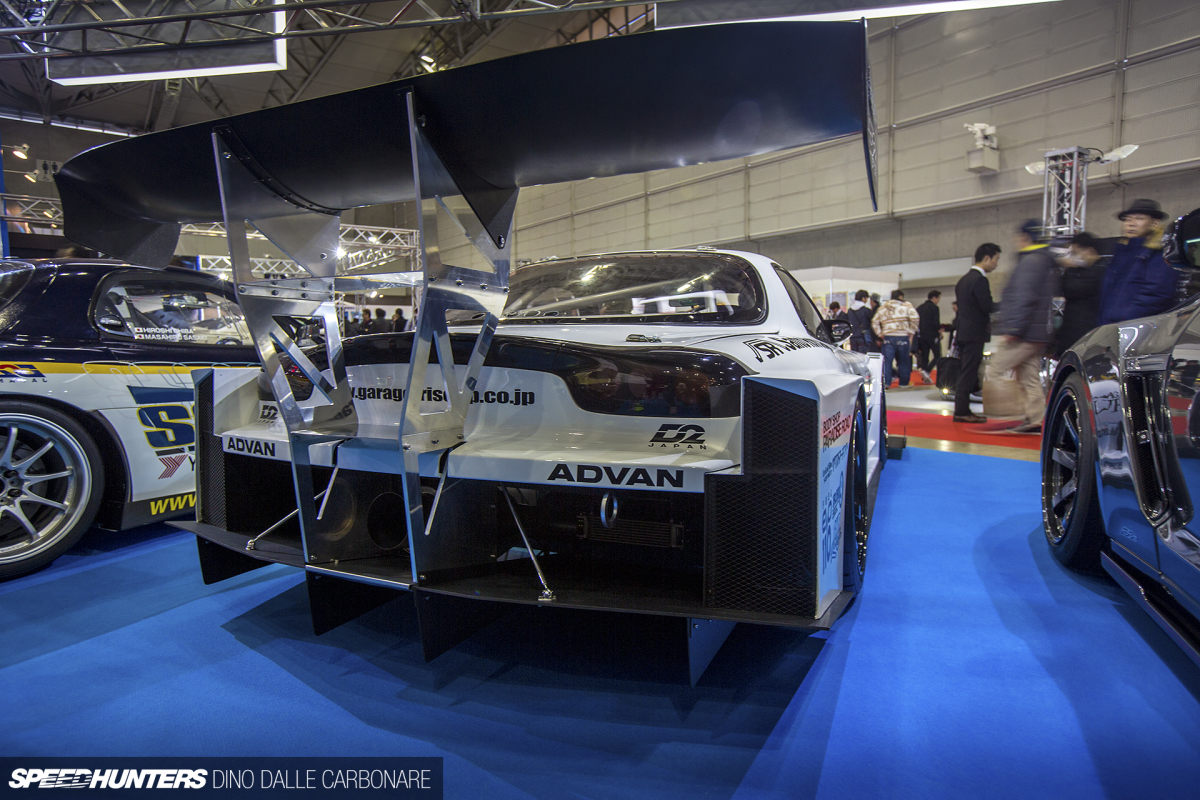 There is not shortage of power being developed up front, and outside every area of the car has been sculpted so that it generates silly amounts of downforce. This is definitely going to be a car worth looking out for!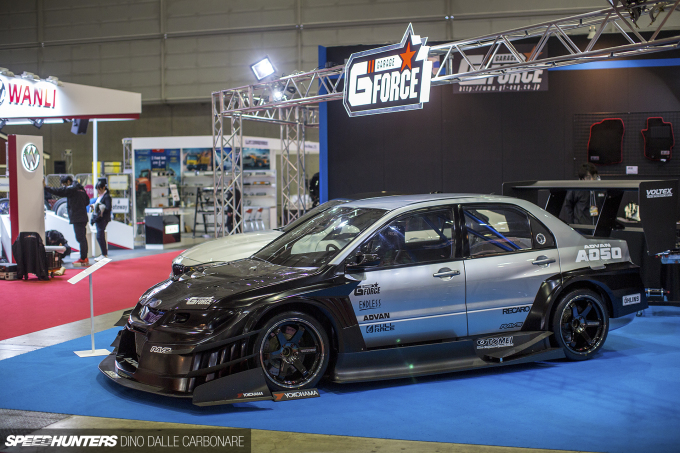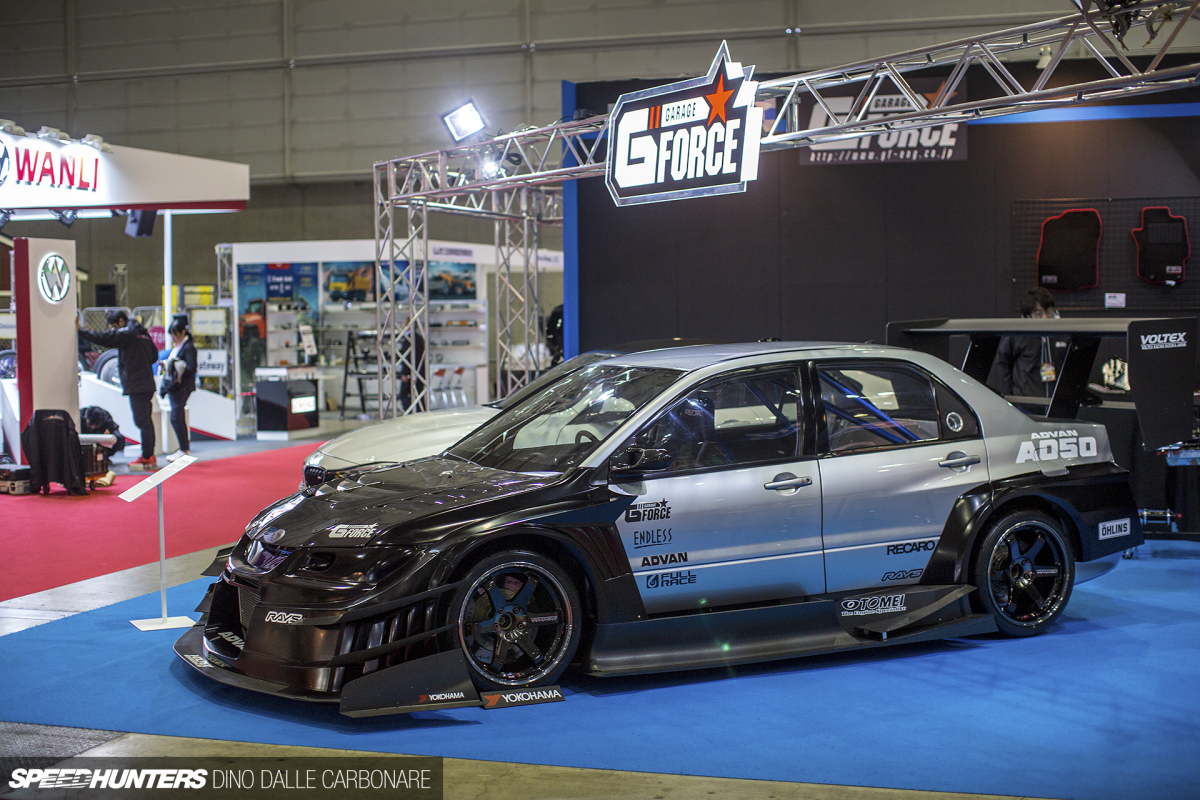 As will Garage G Force's time attack Evo, which has really evolved since it was featured last year. The next time it hits Tsukuba in anger Taniguchi will be behind the wheel trying to extract the very best out of the new aero and engine packages.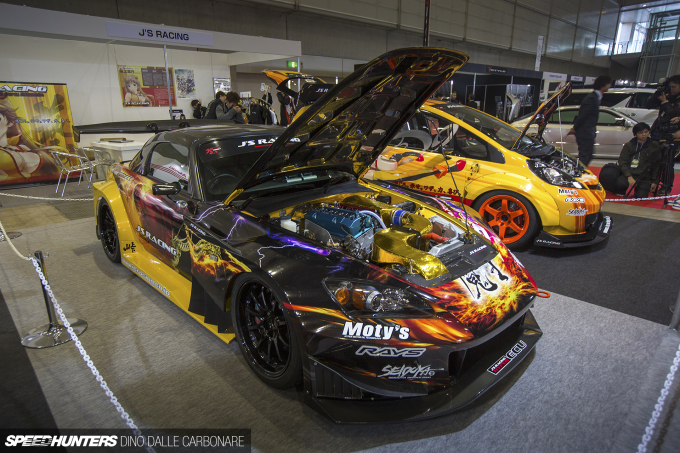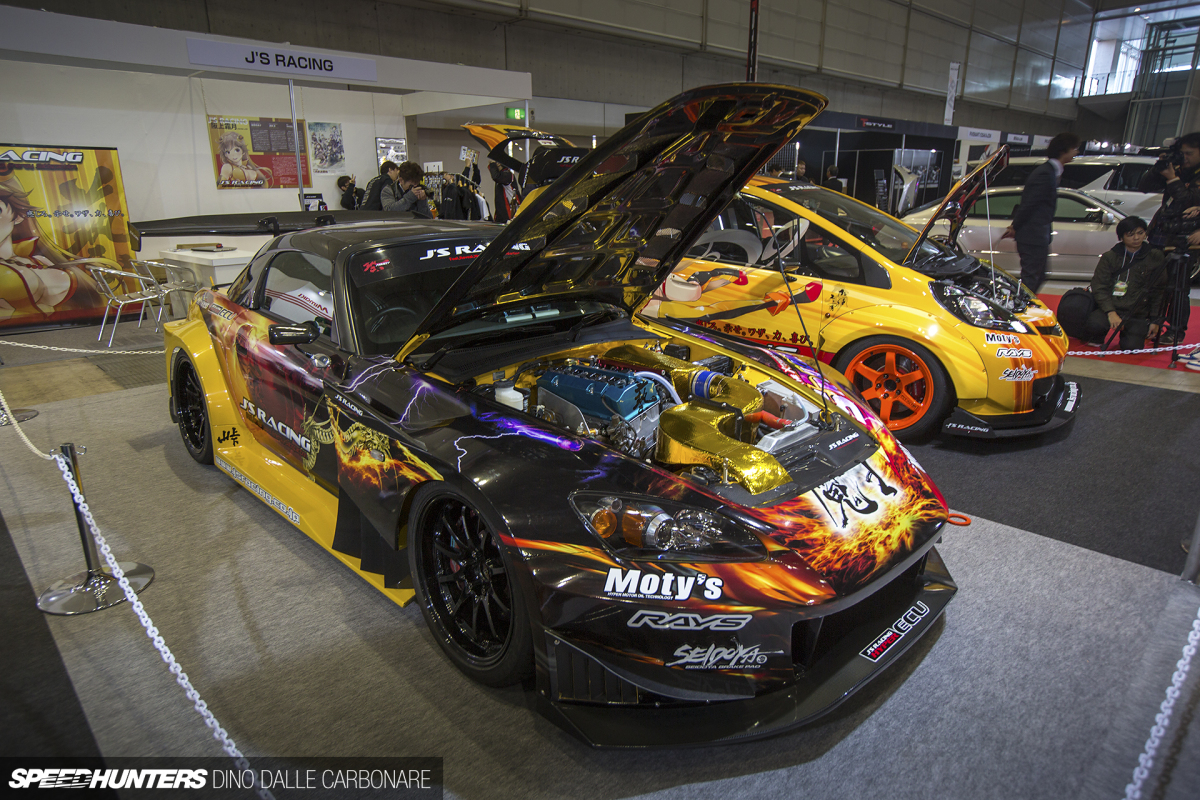 It was very cool to see J's Racing at the show and to check out what it's been up to of late. The Honda tuning master hasn't stopped fettling with its own demo cars; managing to extract even more power from its Fit, and extra torque from its S2000 through a 2.6L stroker motor. Total respect for sticking with natural aspiration, but the way things are going in time attack, I do wonder how long the J's Racing crew can hold-off before slapping a big ol' turbo in there!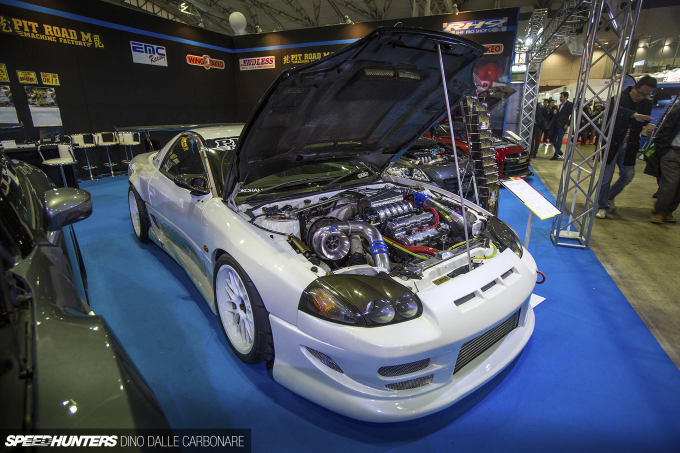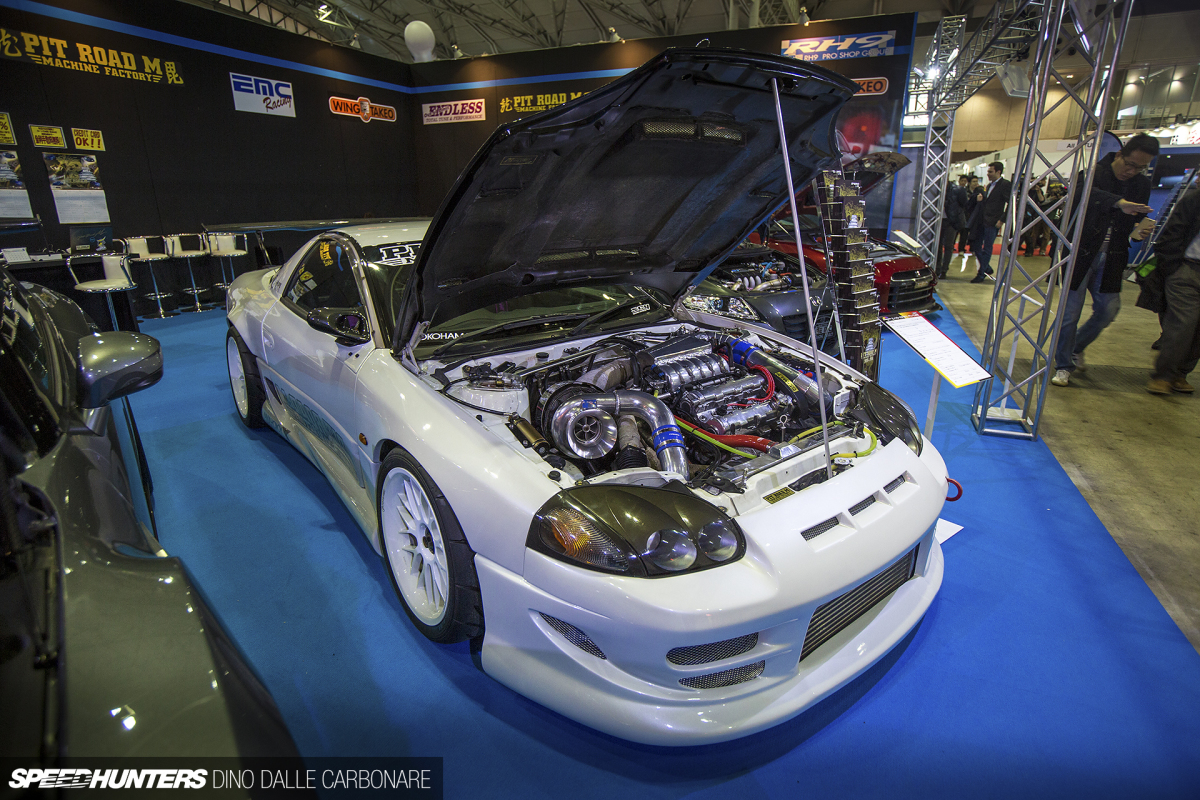 On the subject of big turbos… Pit Road M tune all sorts of cars, but it's best known for hard-tuned Mitsubishi GTOs. This is the shop's latest build, and it punches out a solid 900hp!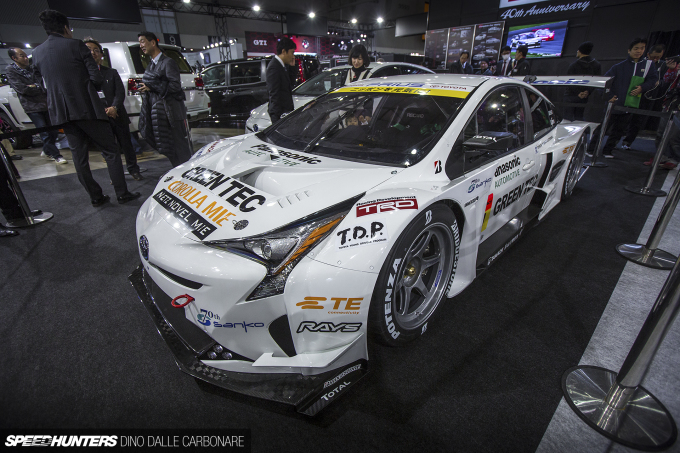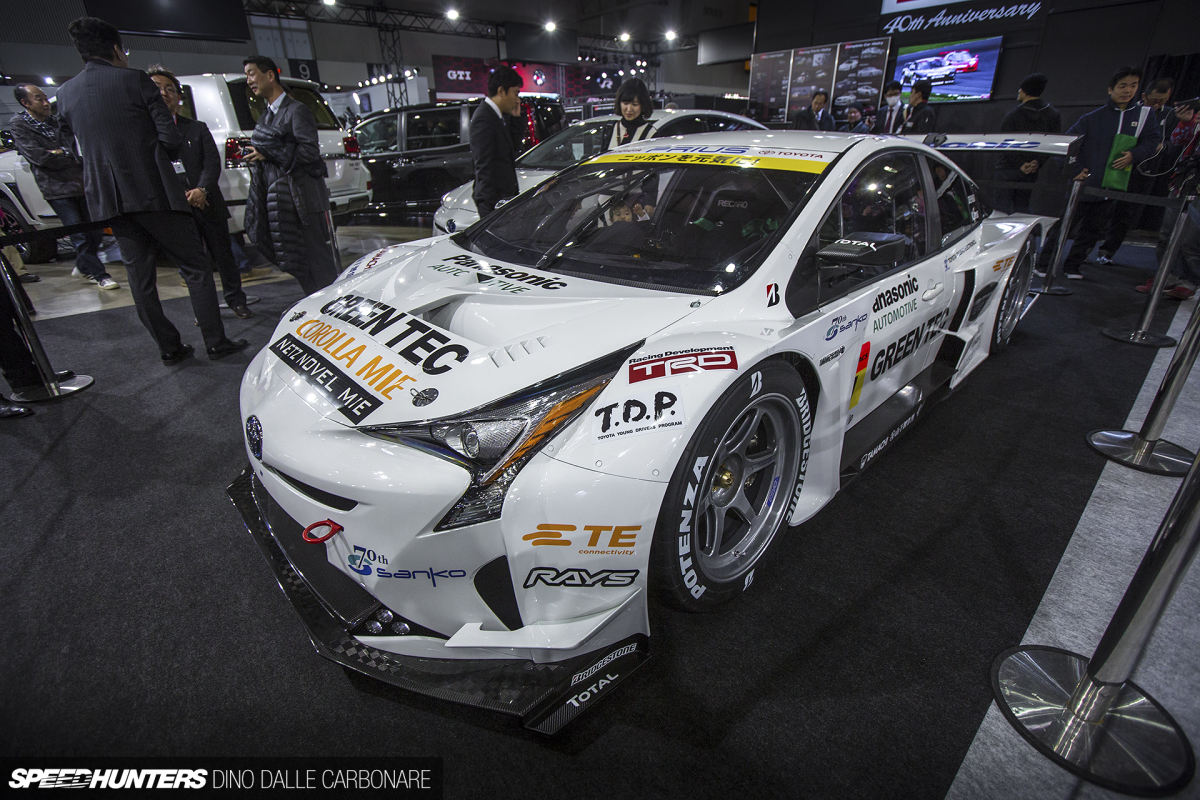 While Nissan struggles to come up with interesting things to do with its current line-up of cars, Toyota continues to ride an upward spiral of awesomeness. Here's proof – the GT300 version of the new GreenTec Prius!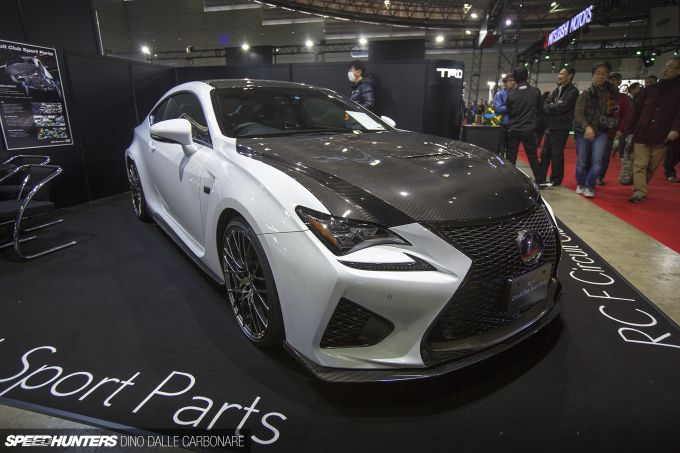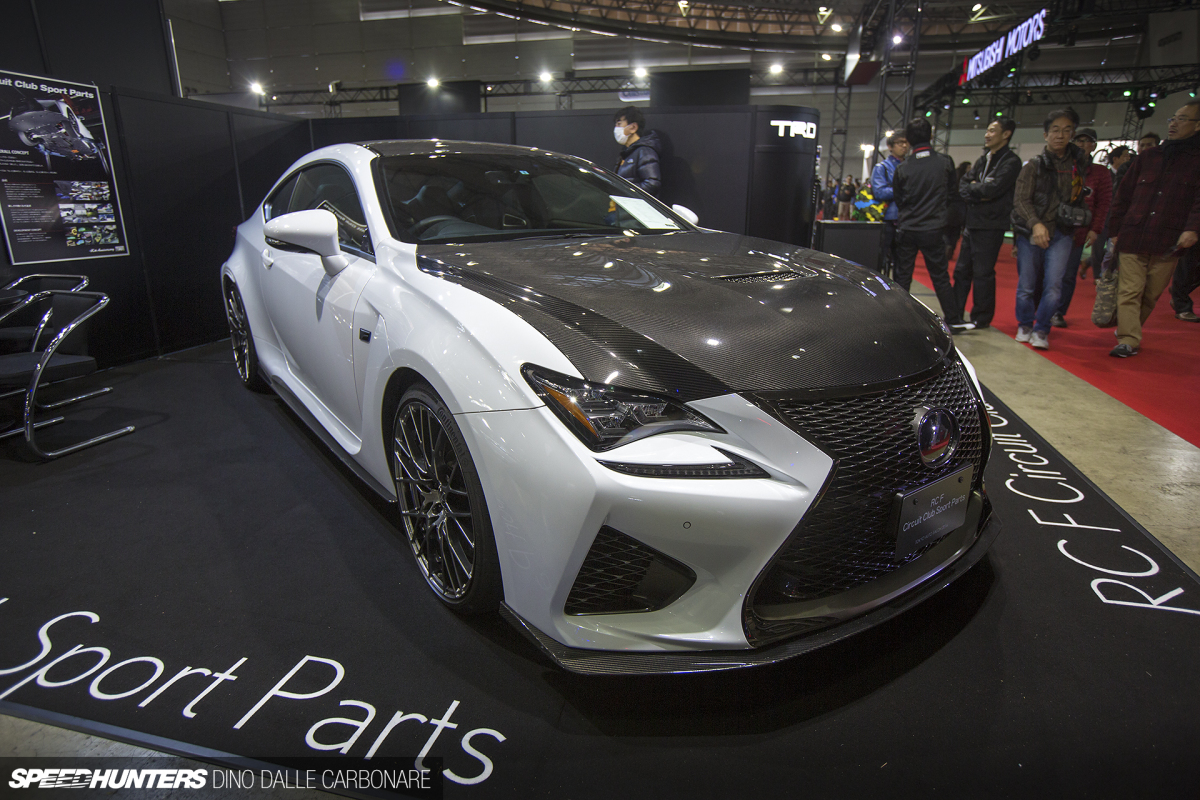 Even the Lexus arm isn't taking things easy. The underlying sporty note that Akio Toyota wants his cars to have is very present in the premium brand too, and you can see that in the RC F and GS F models launched in the last year alone. But it doesn't stop there. Personalisation is the next step, and Lexus has a host of cool things coming, like the carbon fiber aero parts fitted to this RC F demo car.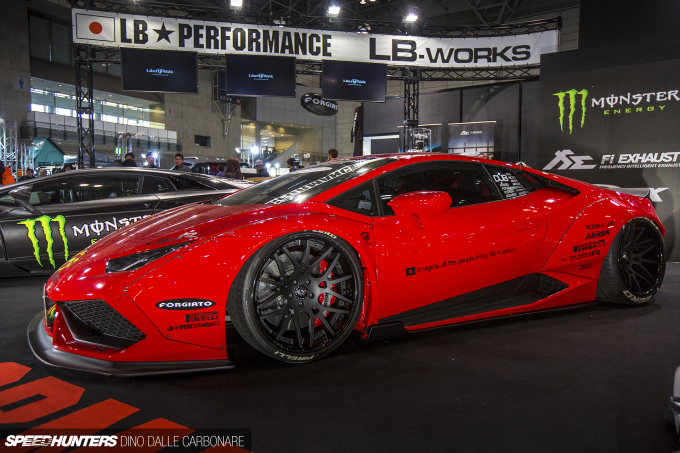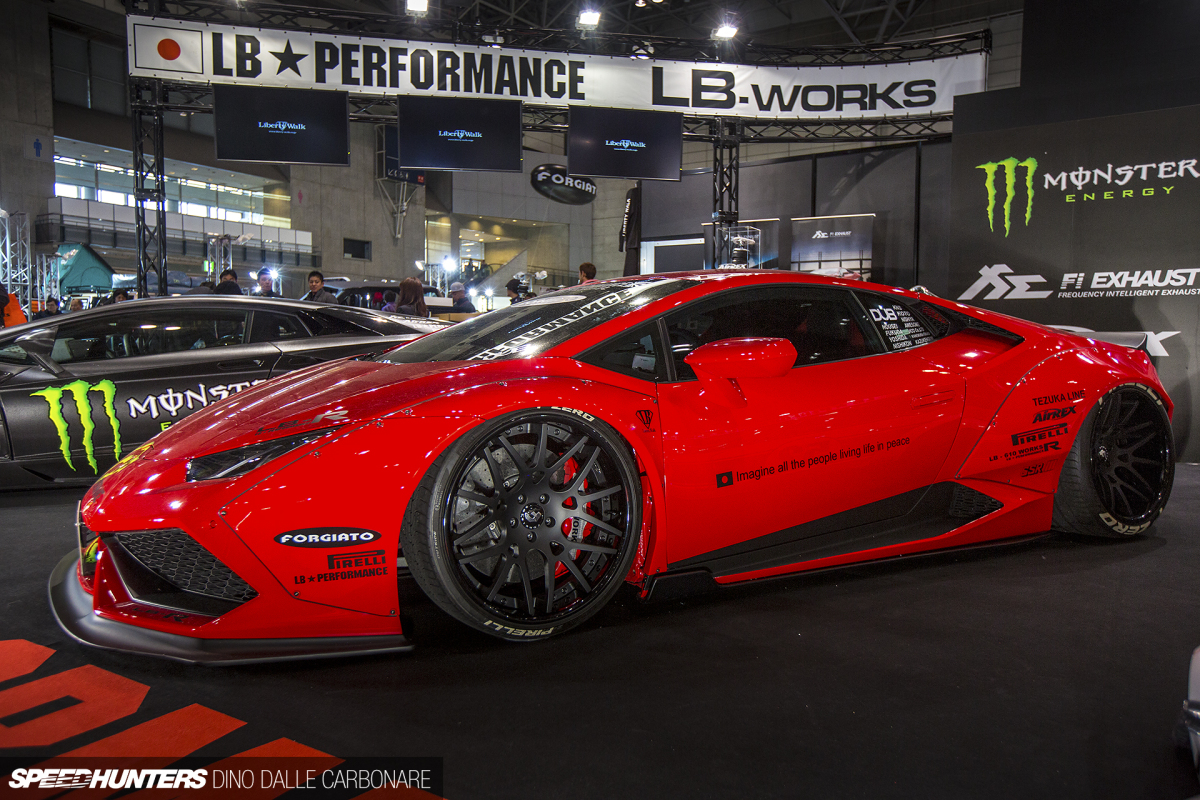 And how could I possibly not show you more from Liberty Walk? This is a company that likes to shock, to upset, and to do what most would never do with the sort of cars we all dream about. It has become known the world over for it, and there seems to be no intention of stopping. As I was looking at this freshly restyled Lamborghini Huracan, Kato-san showed me a rendering of his next project – a McLaren. He's since announced it on his social feeds and is very excited to get started!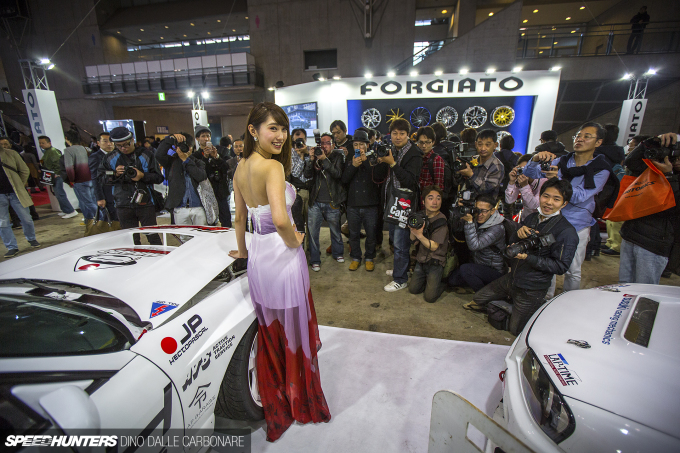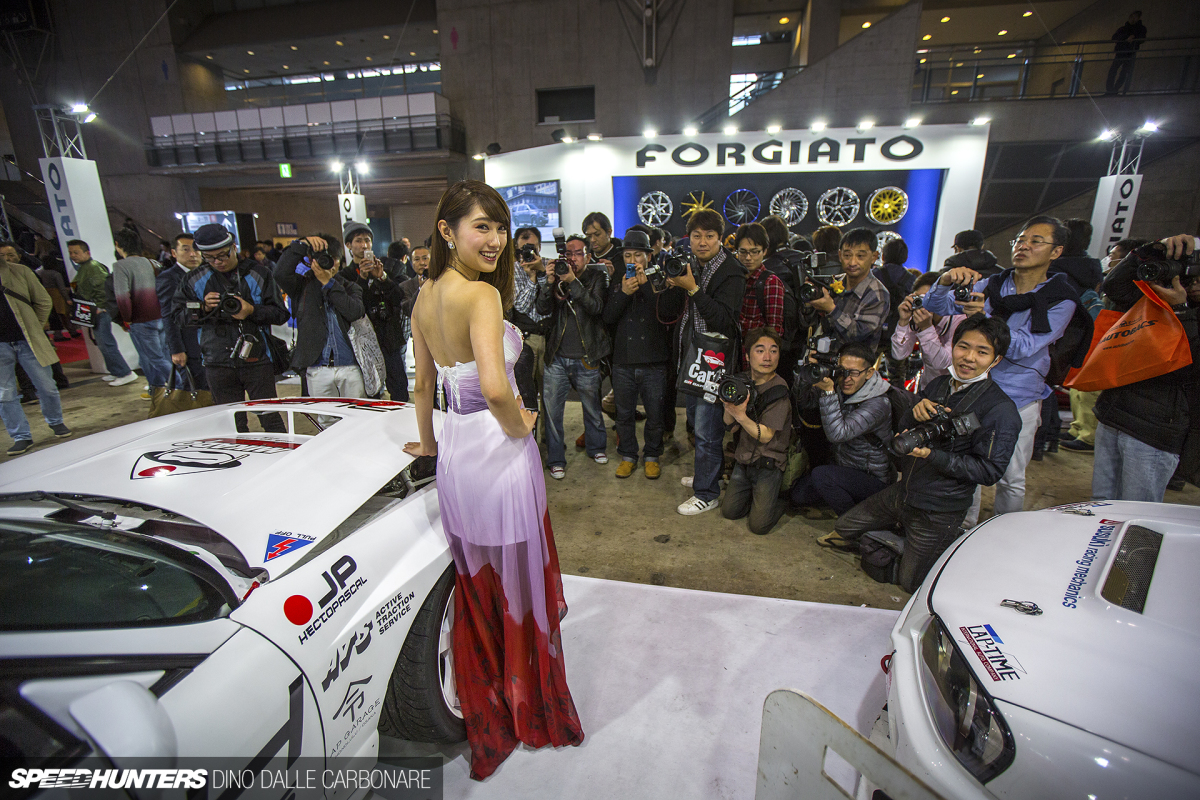 For a lot of show attendees, the Tokyo Auto Salon isn't about the cars. Not even 20 seconds after arriving on the stand, this model had attracted an ensemble of camera-toting girl-spotters. She had a good laugh that I was taking a photo of it all!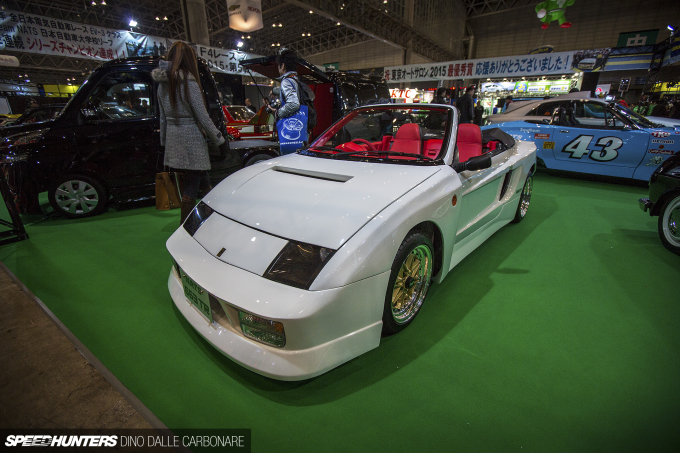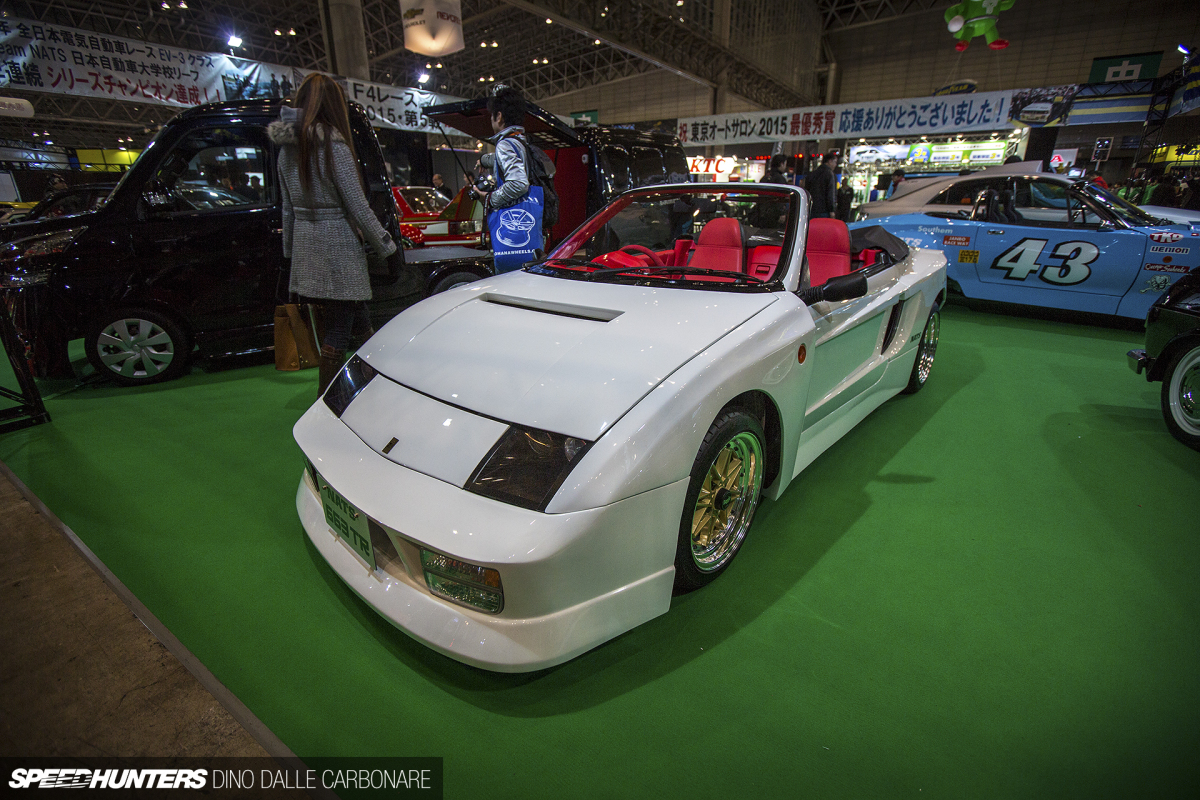 What you see here is the future of the Japanese tuning world. No, not the Honda Beat transformed to look like the Ferrari Testarossa out of Miami Vice, but the people behind it. At every TAS there's an area full of the most bizarre creations; the wildest cars done up in the craziest ways. This area belongs to NATS, a university in Chiba Prefecture dedicated to training up mechanics, painters and engineers who will one day be at the center of the whole scene. For each show they split up into teams and create 10 or so projects with the sole purpose of making an impression.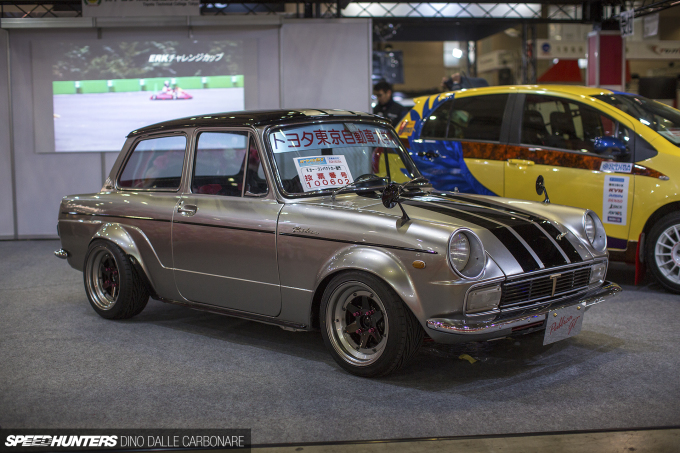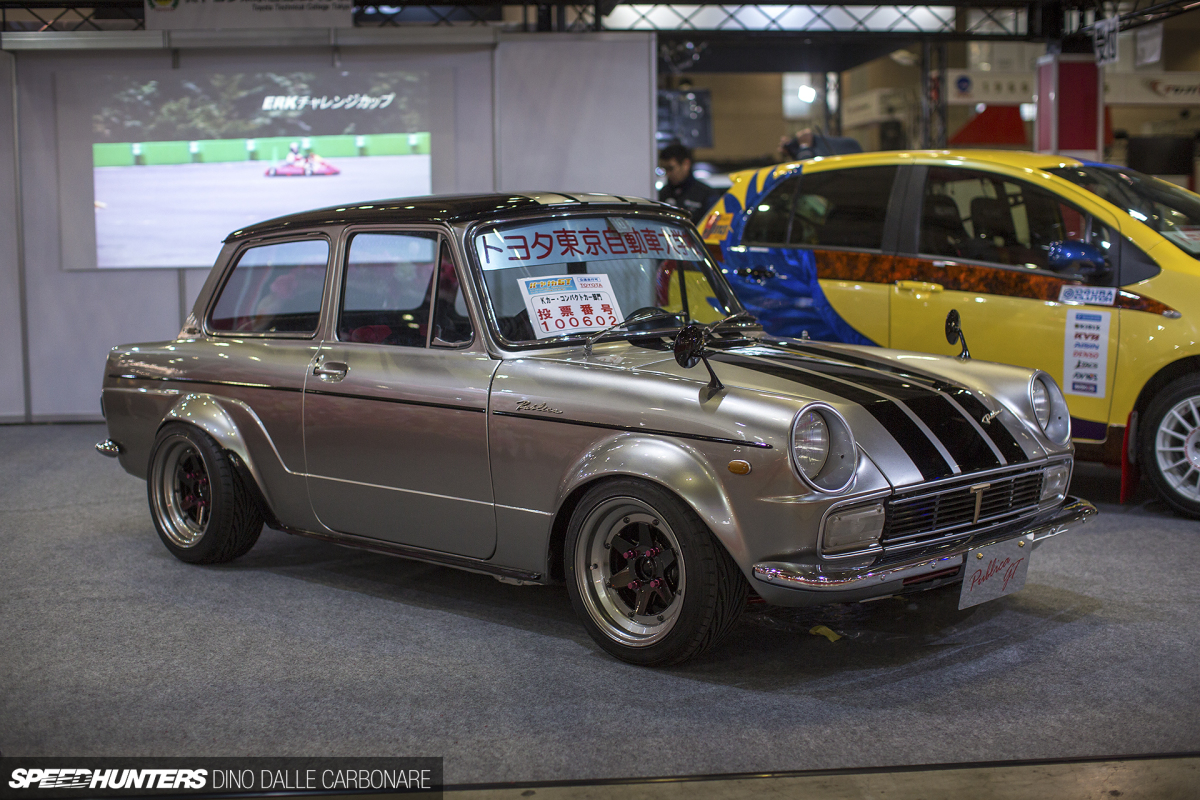 And in a totally separate hall there was another university, this time owned by Toyota, where students do pretty much the same thing. My favourite car from their booth was this Toyota Publica sporting beautifully flared fenders, a stout stance, and a superb paint job.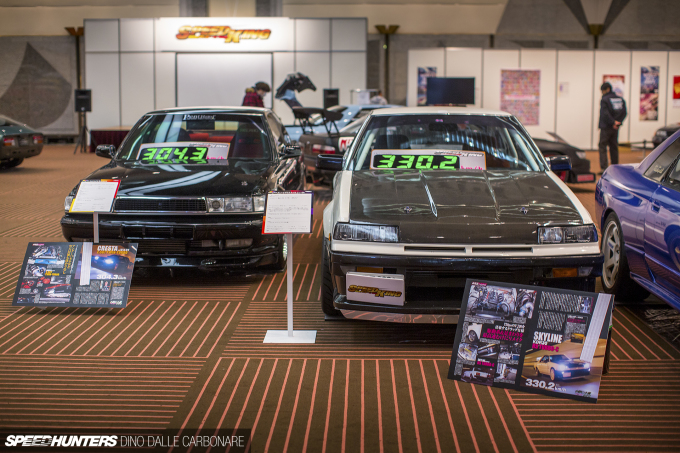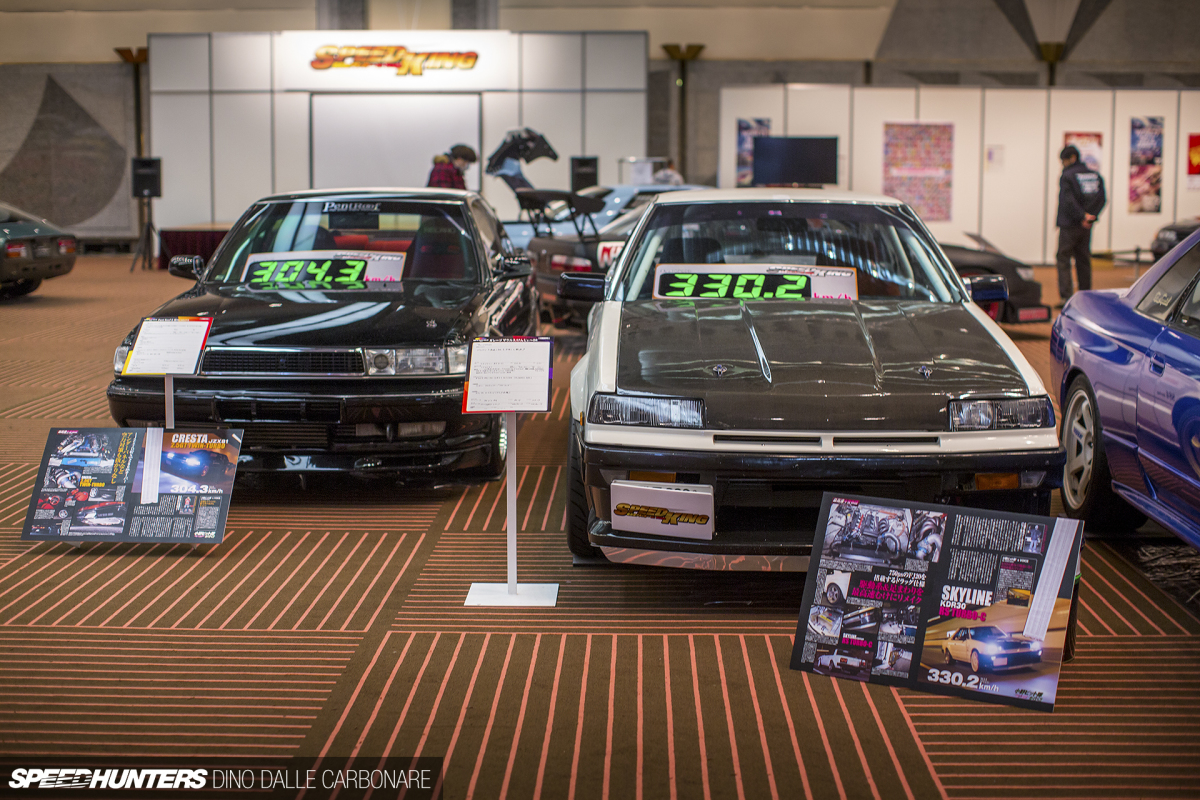 Option magazine's little carpeted room was like an oasis of sanity after the massive main halls; a selection of cars built with performance and speed in mind. All had their top speeds displayed on their respective windscreens, and I have to say, I found a lot of potential feature cars in here.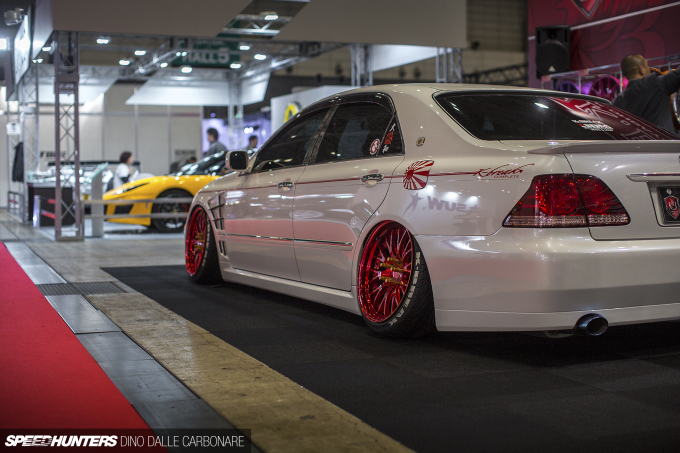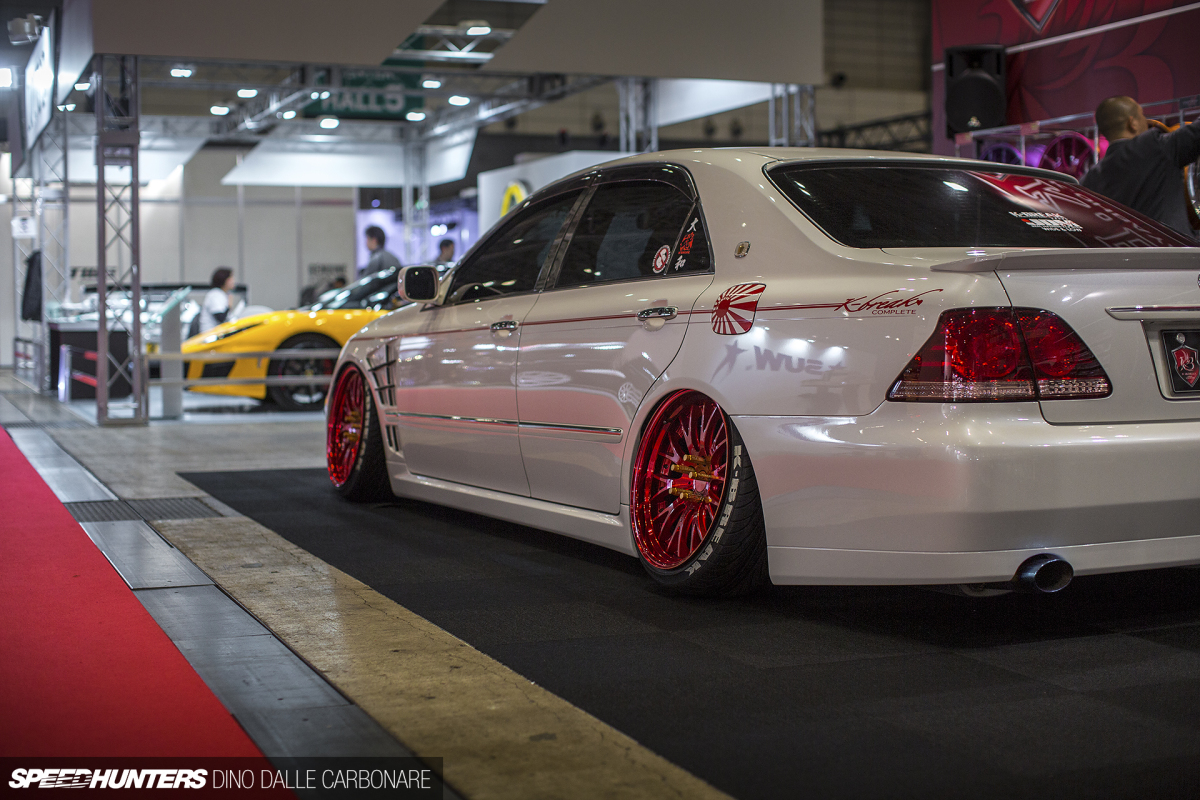 So that's the 2016 Tokyo Auto Salon – a blender full of styles, trends, cars and products, all peppered with a selection of scantly-clad girls. Without any doubt, Japan still does it best.
Dino Dalle Carbonare
Instagram: speedhunters_dino
dino@speedhunters.com