Cultured, In Its Own Way
Have you ever you caught yourself wondering what aliens – were they ever to happen upon our little blue planet – might think of humanity? Not just our fleshy forms, but the countless rituals, celebrations and leisure pursuits that make up 'culture' as we know it. What would the ultimate impartial observer make of us?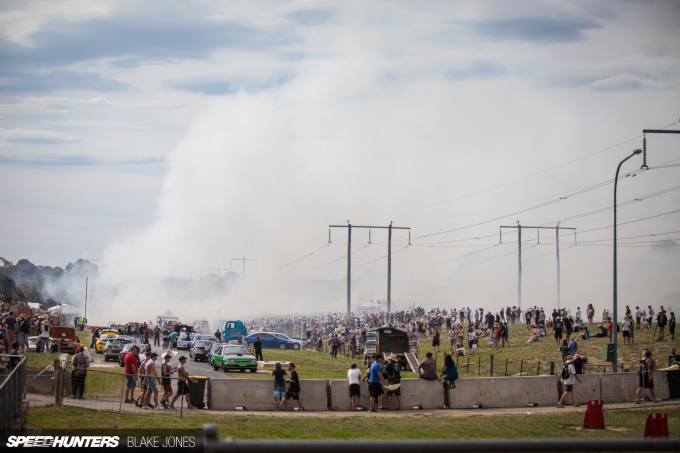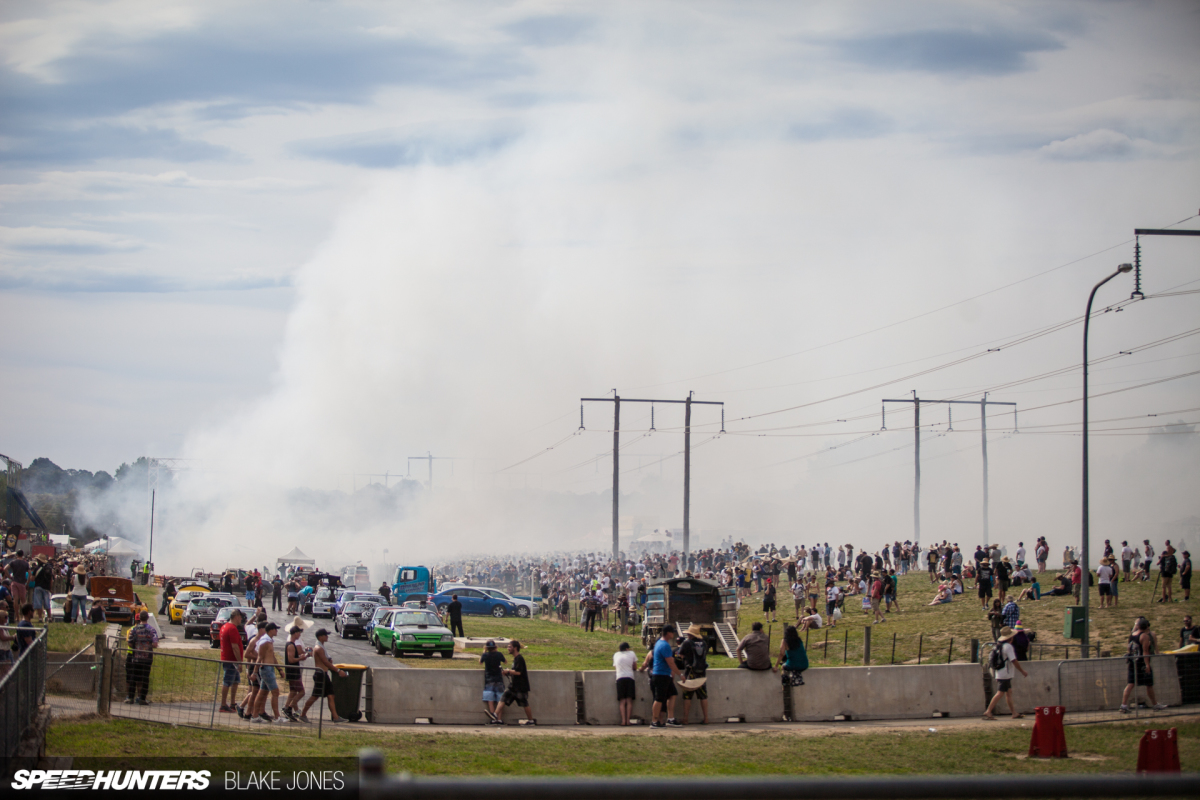 The automotive world has plenty of examples that might raise a martian eyebrow: the insane speeds of The Isle of Man TT, the illogical onikyan cars of Japan and this – the Summernats Car Festival, held annually in Australia's capital city, Canberra.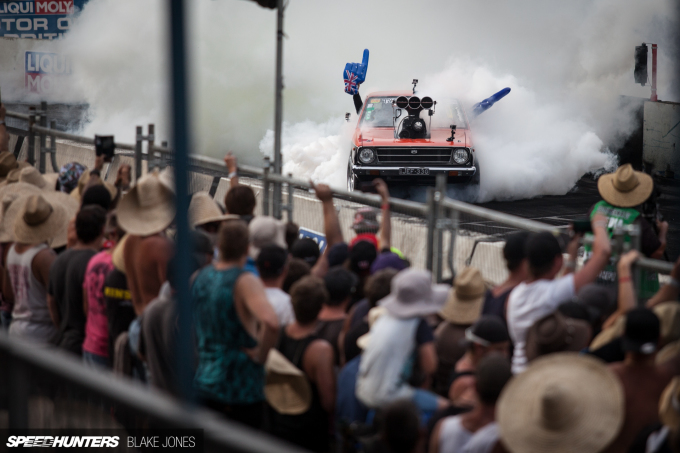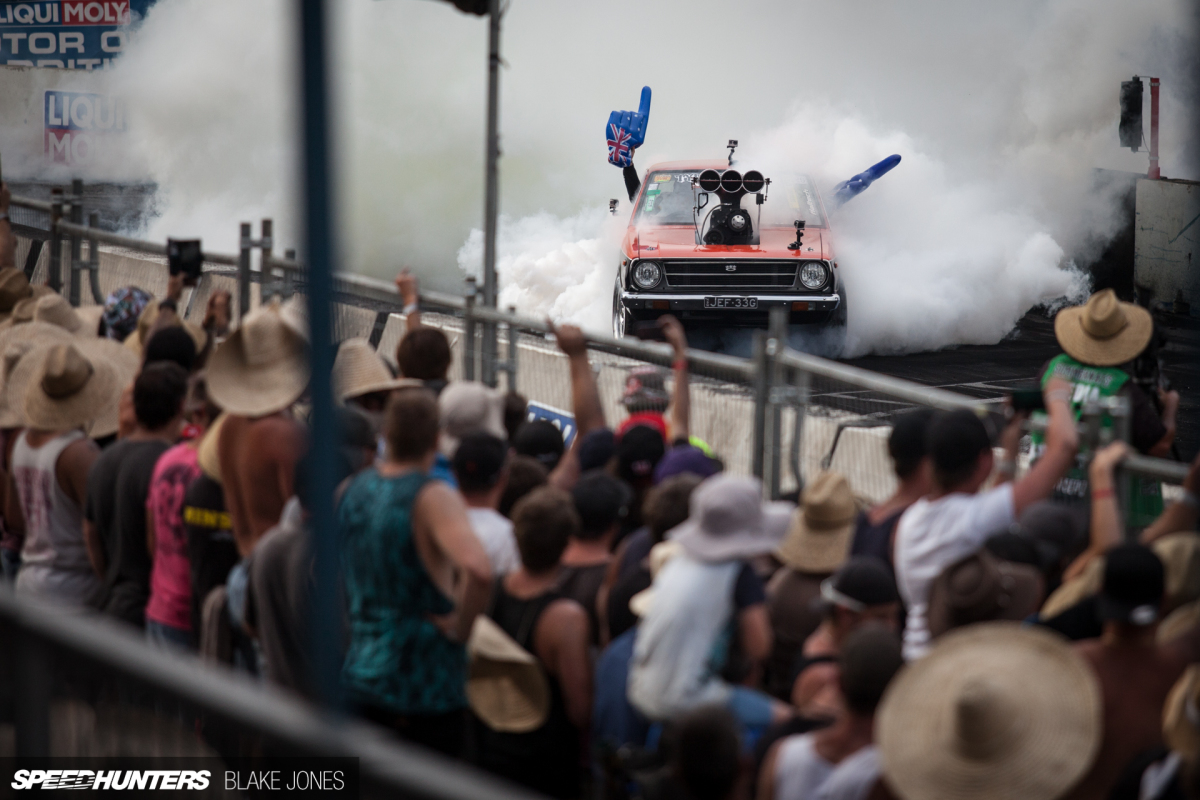 For four days in January, punters from every corner of this vast country gather to celebrate in an orgy of alcohol, methanol and tyre smoke that when analysed objectively quite frankly doesn't make any sense. I wonder if our alien friends would watch on in confused fascination as their David Attenborough equivalent tries to rationalise how this is related to some sort of mating ritual or an expression of social status…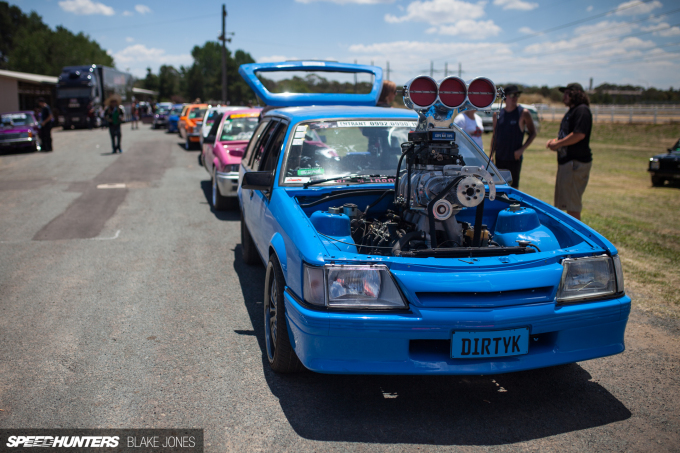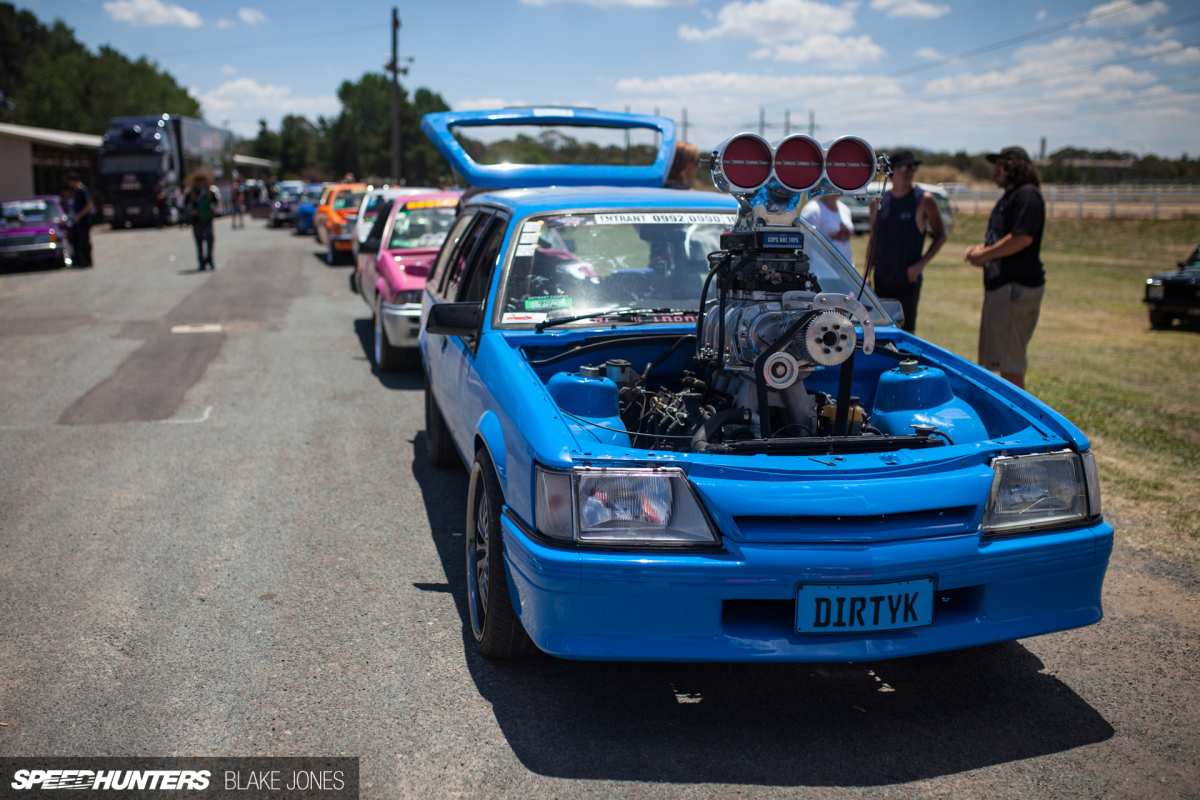 I mean, where's the logic in spending countless hours and mountains of money to build a car that's sole purpose is to demolish the rear tyres in a swift and spectacular fashion?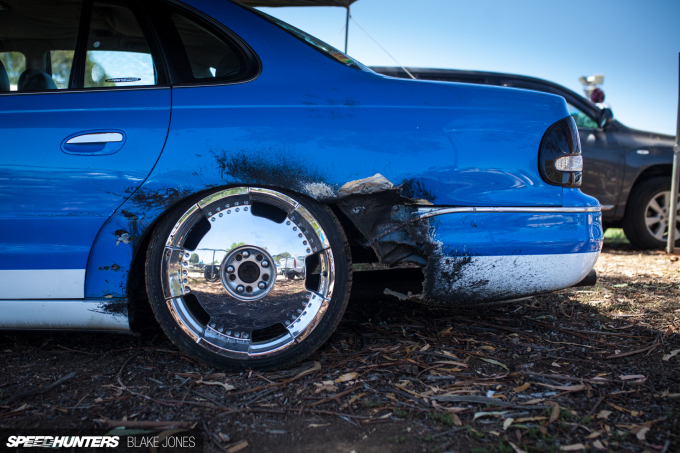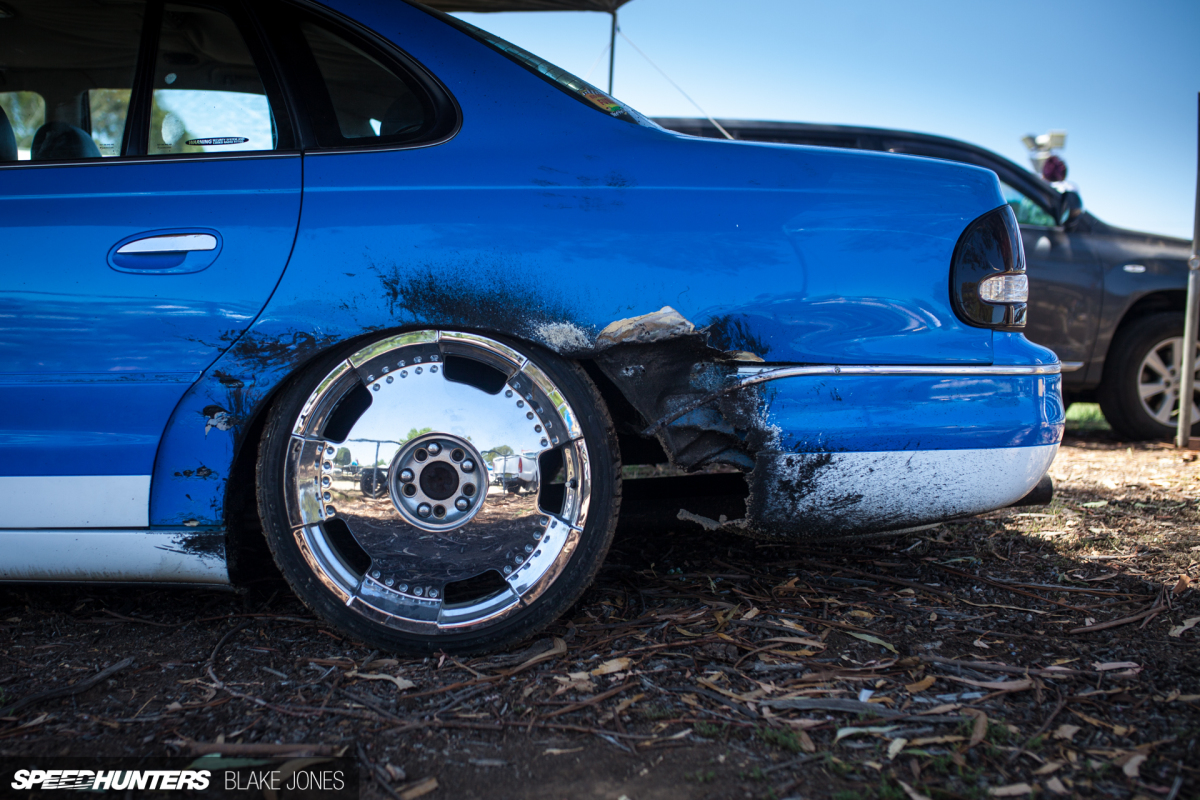 The cars often destroy themselves in the process, and not only is that tolerated, but celebrated by the pumped-up crowds.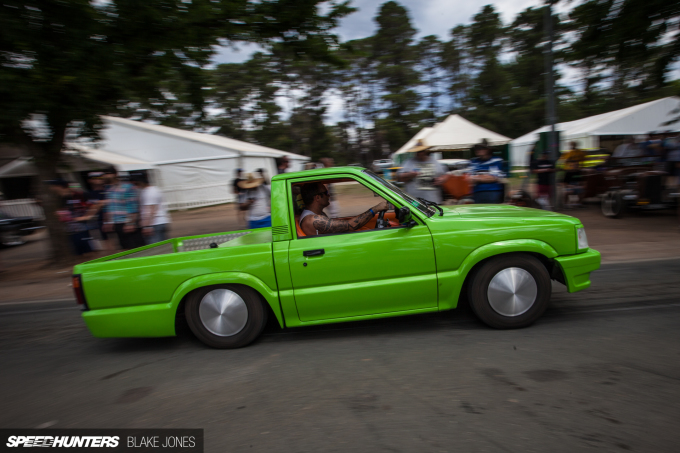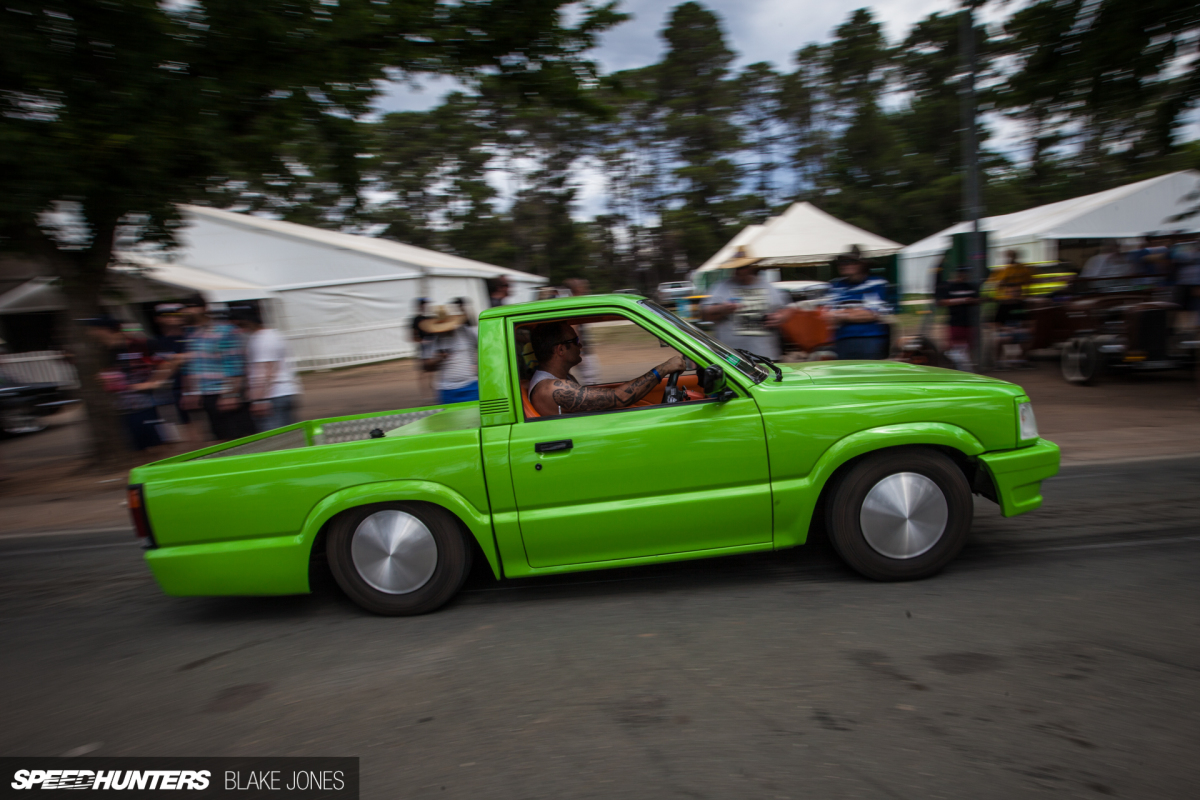 But clearly this love we have for our cars across the world isn't just a rational thing, or we'd all be driving beige 1.2L hatchbacks. The culture that surrounds our four-wheeled creations is as rich, vibrant and diverse as any subculture, and that's something to be celebrated.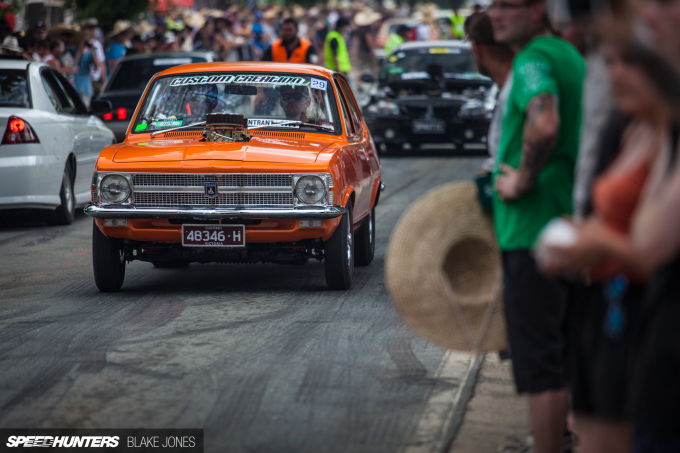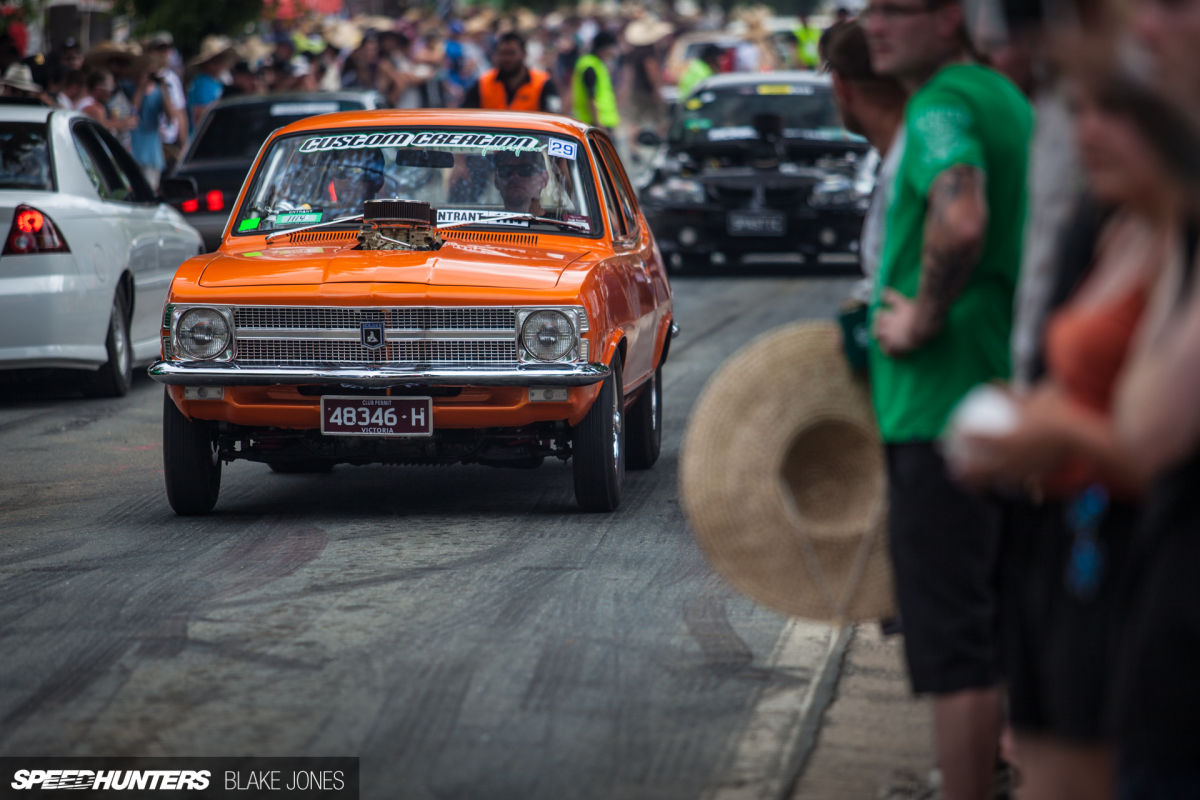 Summernats is the halo event for Australia's street machine scene, formed mainly around Australian-built cars that have been modified by their owners for drag racing, burnouts or, most commonly, simply cruising the streets with a carload of mates.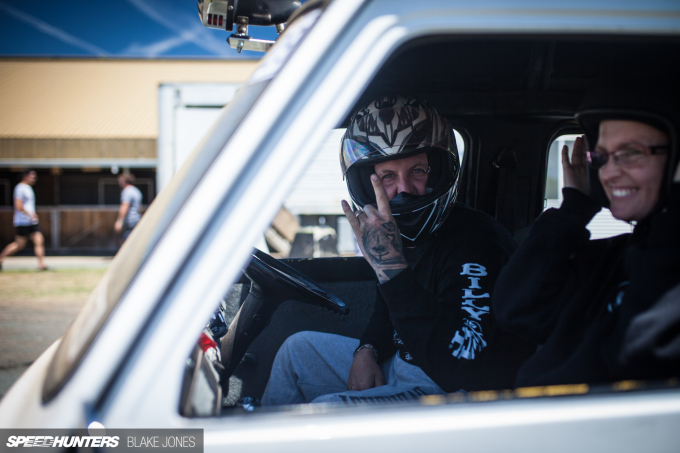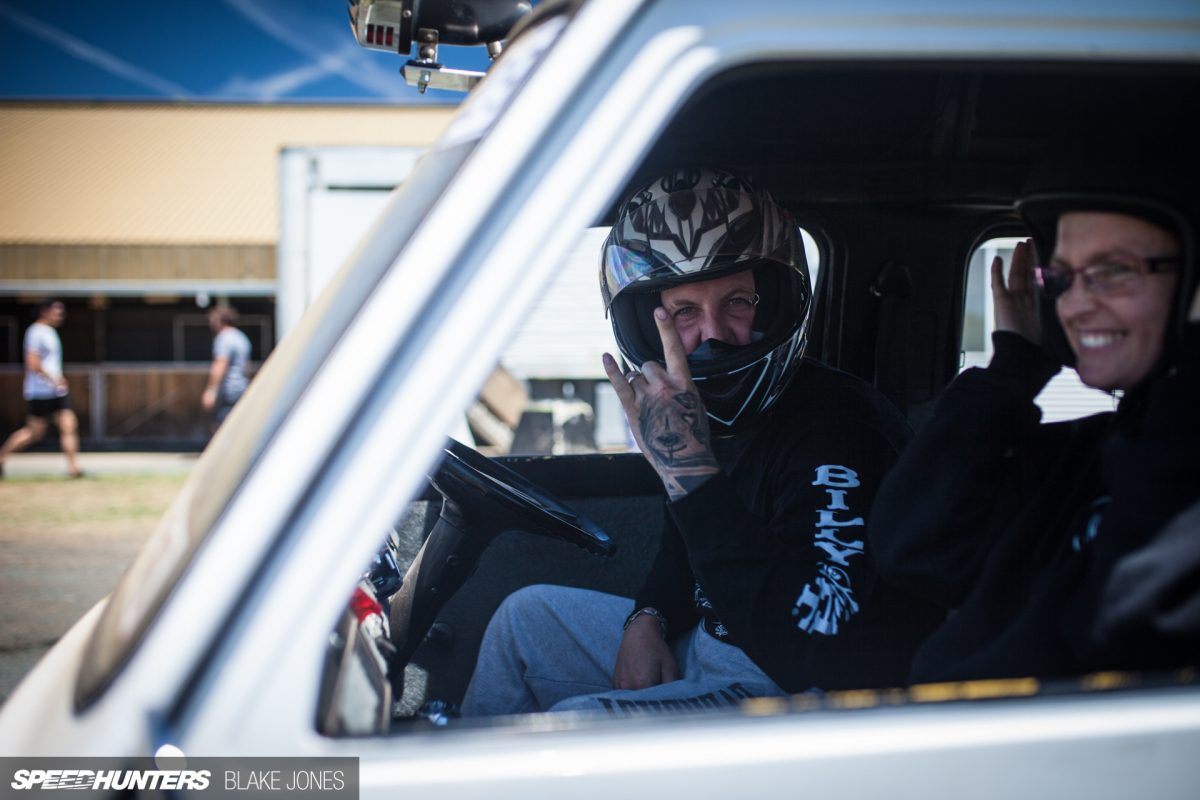 This particular sub-culture is one of the oldest and most established in Australia, and the influence isn't diminishing; 200,000 people came through the gates at the 29th annual event.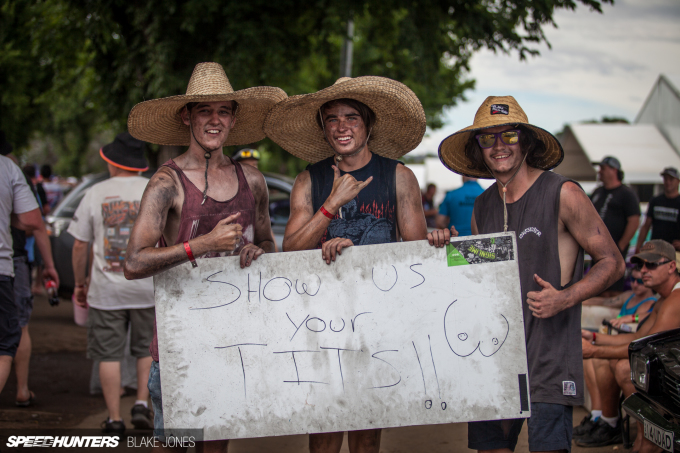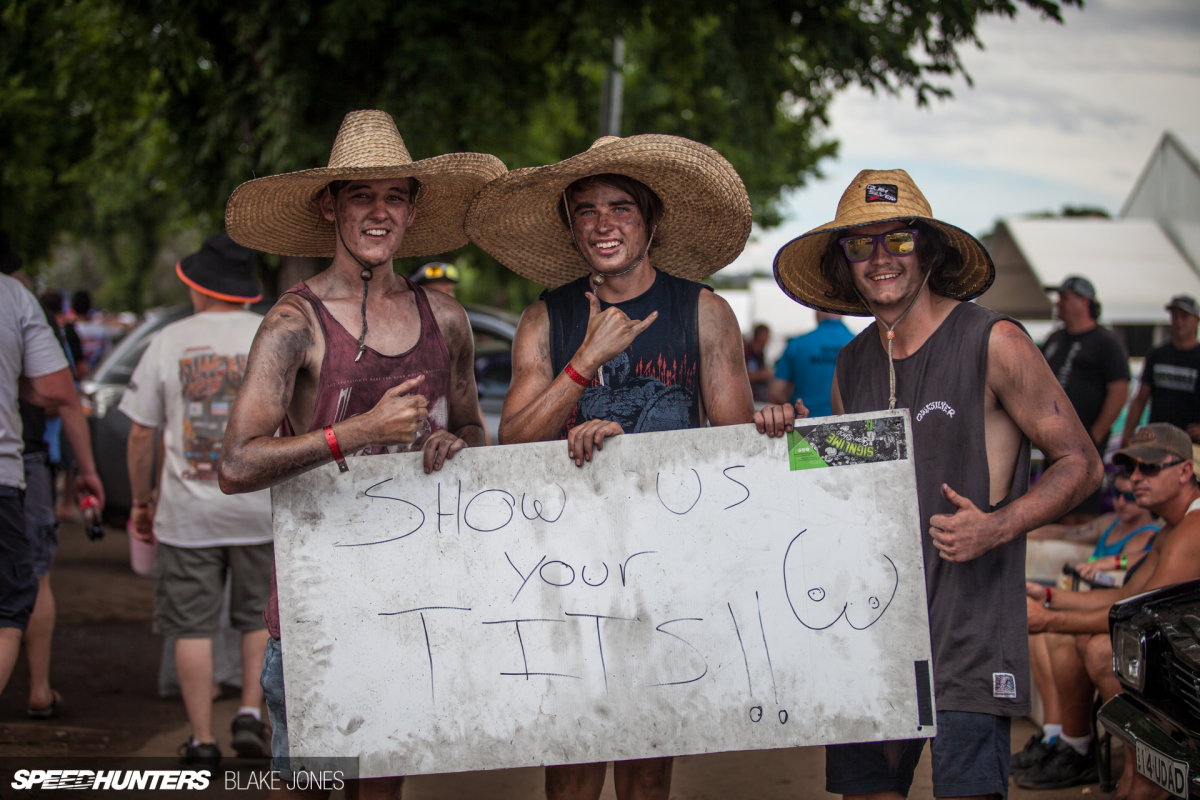 Despite the attempts of the event's management to make Summernats into a family environment, there's still a strong nostalgic attachment to the lawless events of years past. I can't imagine what it would've been like 10 or so years ago.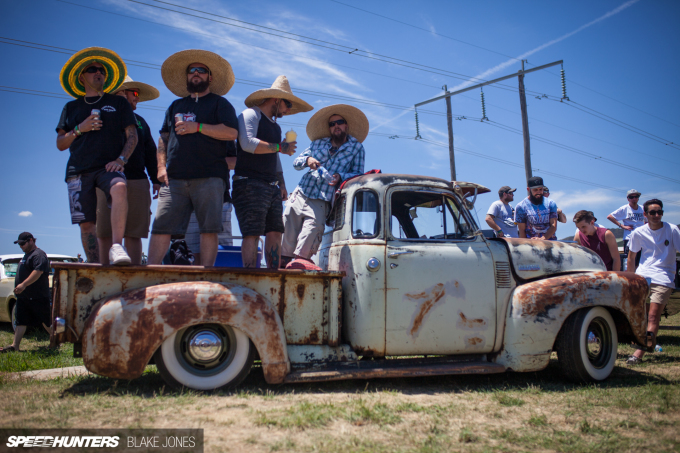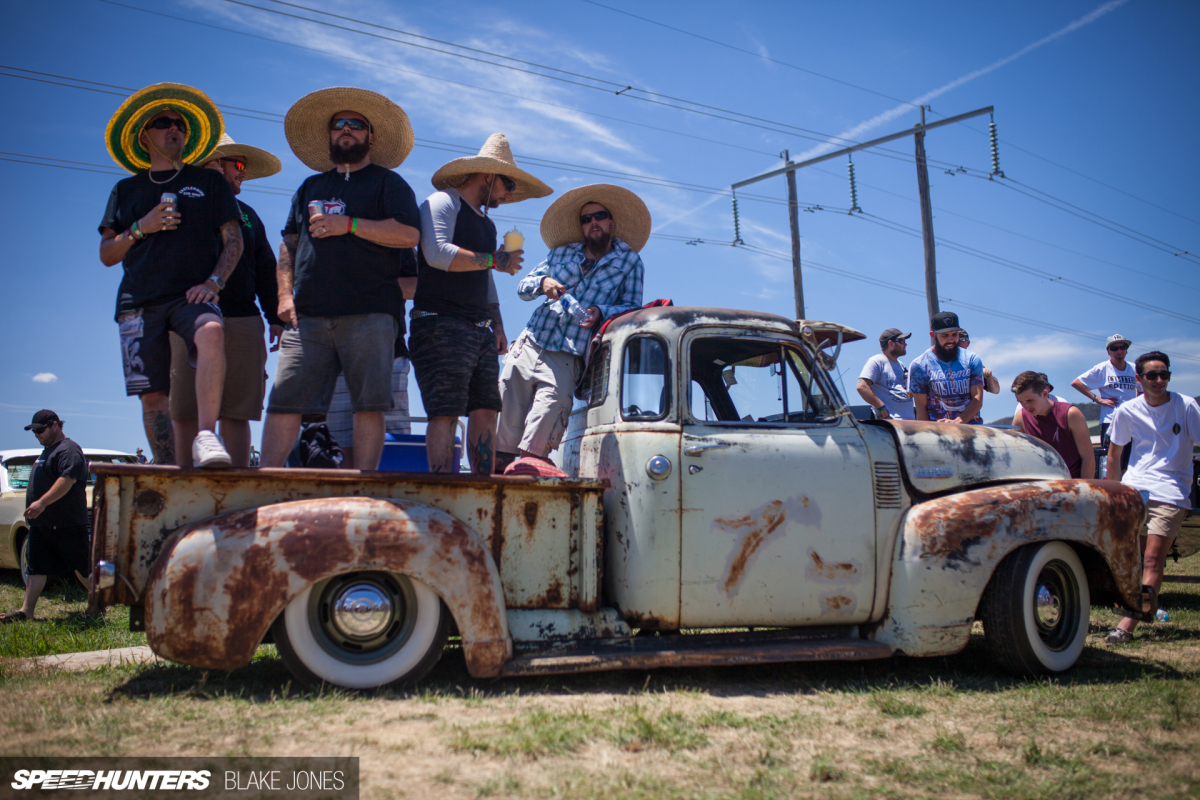 So it would be easy to write the event off as some sort of bogan-fest (bogan being the Australian equivalent of a redneck), but looking back, one of the defining parts of the Summernats experience was the complete openness and lack of pretentiousness from everyone in attendance. I challenge any doubting car-nut to actually head along to one of these events and not end up laughing and cheering at the sheer madness of some of the cars and behaviour on display.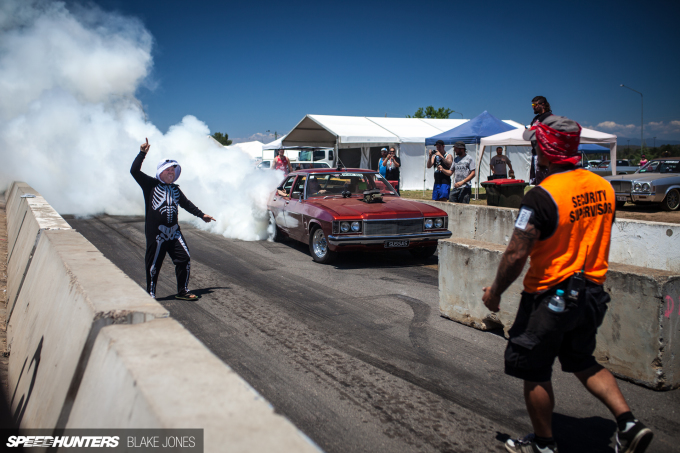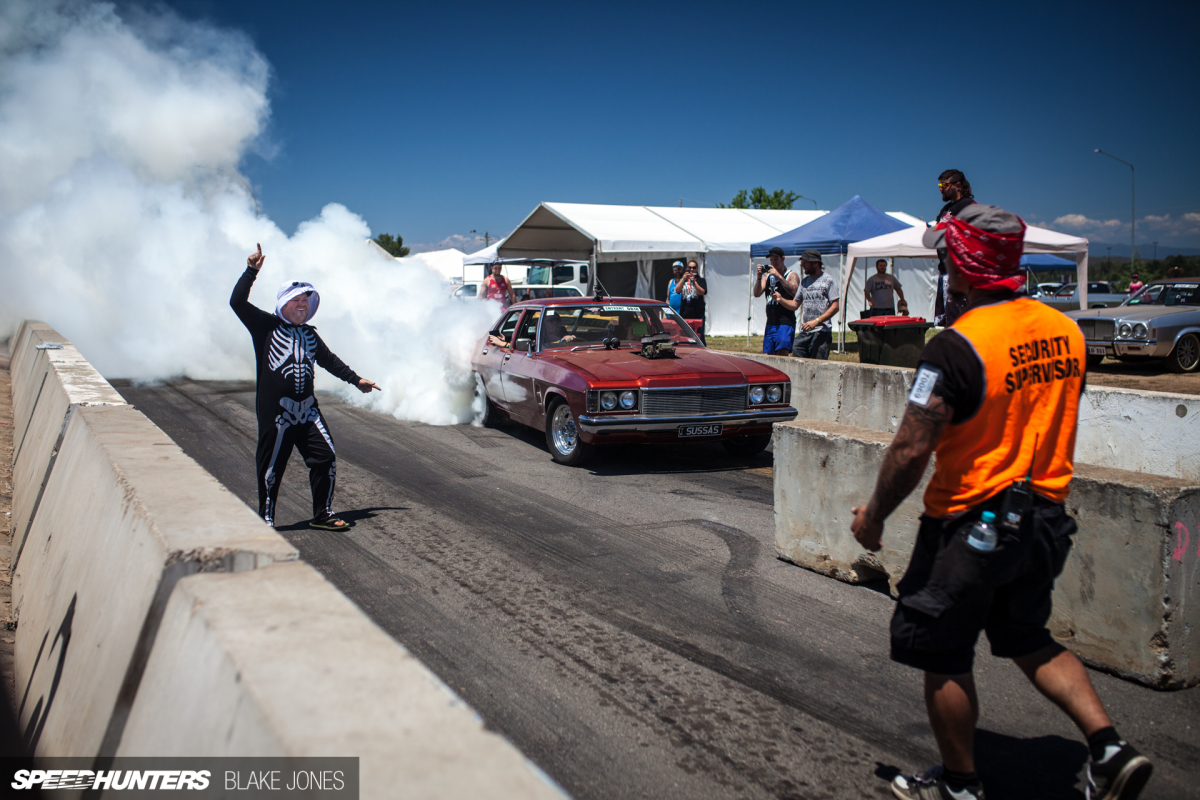 The disdain for authority, personified by the event's fluoro-clad security guards, is still strong in 2016; entrants pride themselves on flouting the rules in displays of horsepower that the crowd goes absolutely mad for. Pictured above is a rolling burnout in 'Tuff St', which despite appearances is a 'no burnout' zone.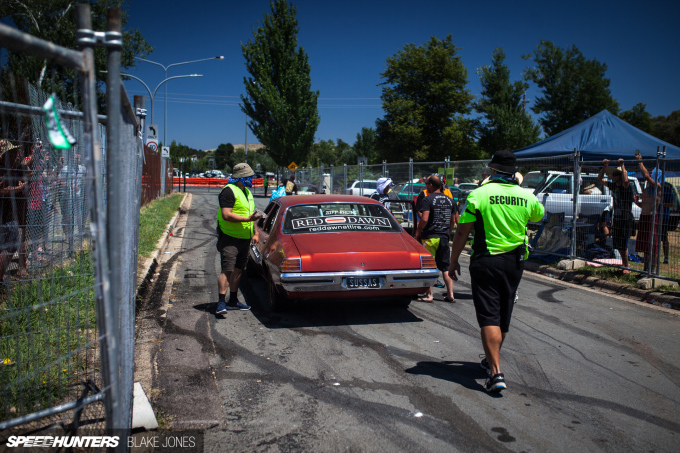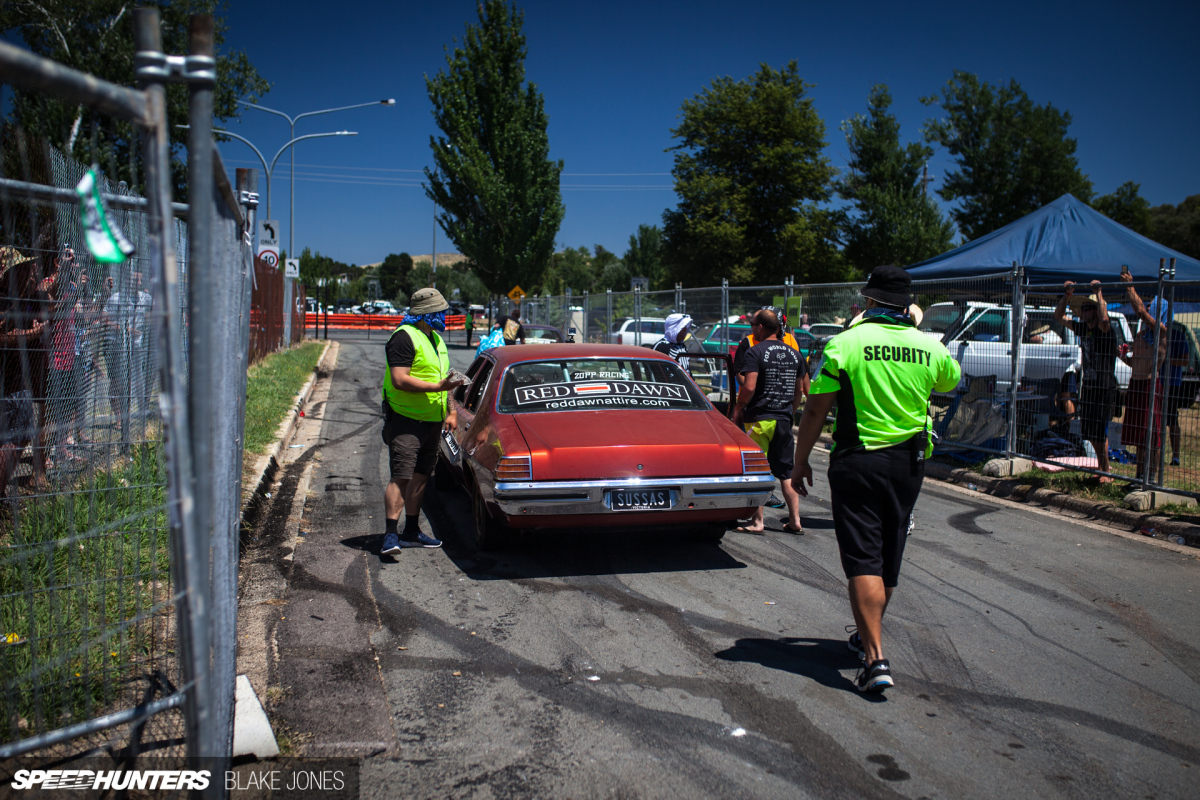 The result of such showmanship is generally a de-stickering; the car's entry is revoked and the owner has to remove it from the event. If you've got somewhere to be, it's not a bad way to end your time at Summernats!
Burning Rubber & Everything Else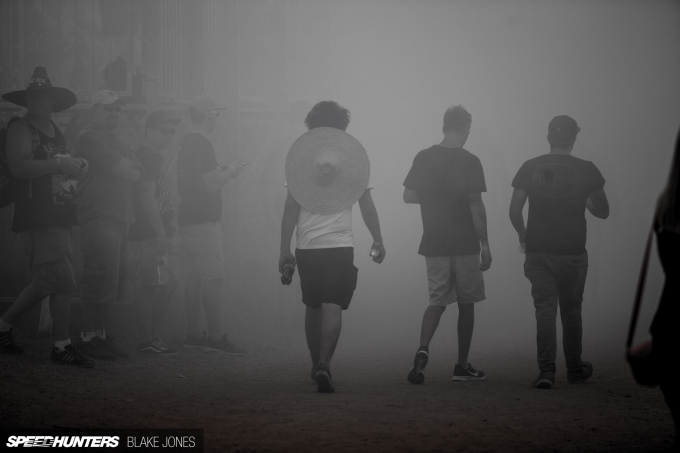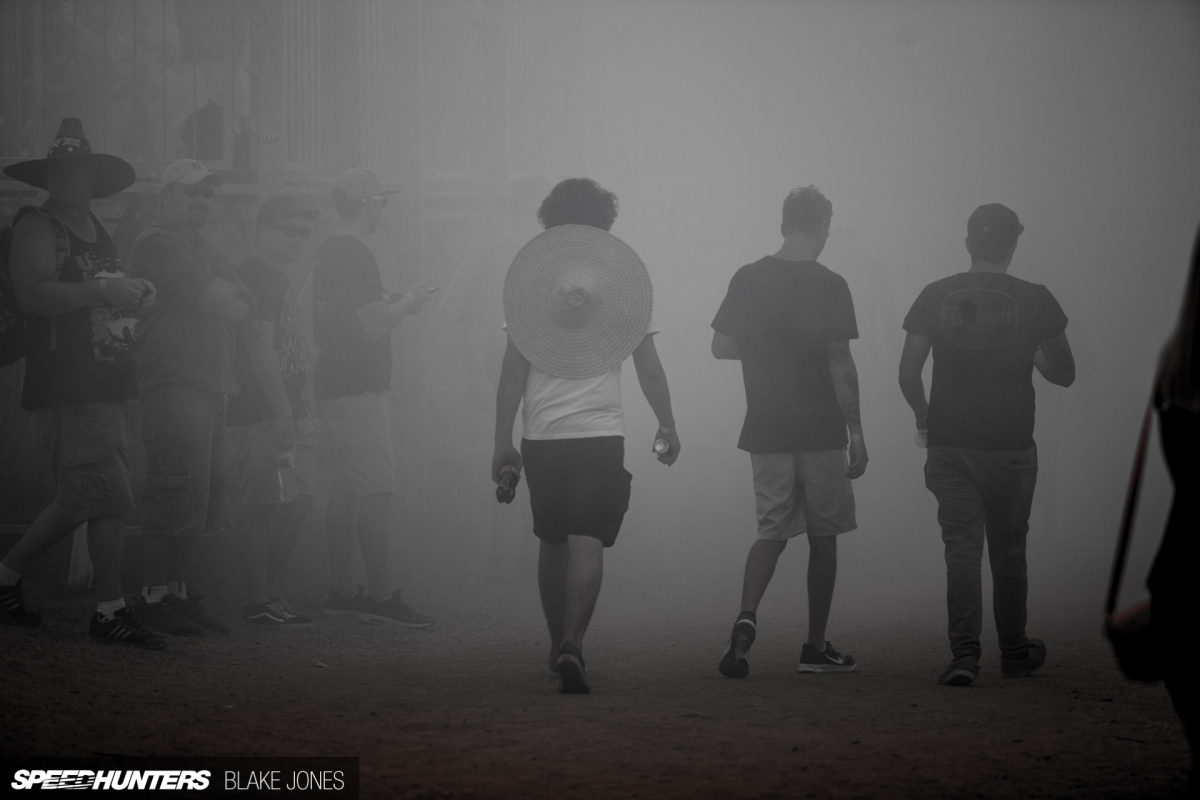 Burnouts are what Summernats is famous for, but if the event management had their way most would be confined to the Liqui-Moly Burnout Track – a temporary amphitheatre that for these four days in January are home to the Summernats round of the national Burnout Masters competition.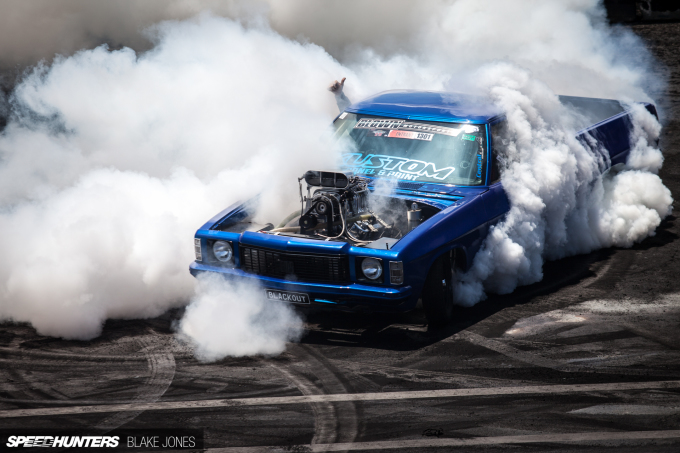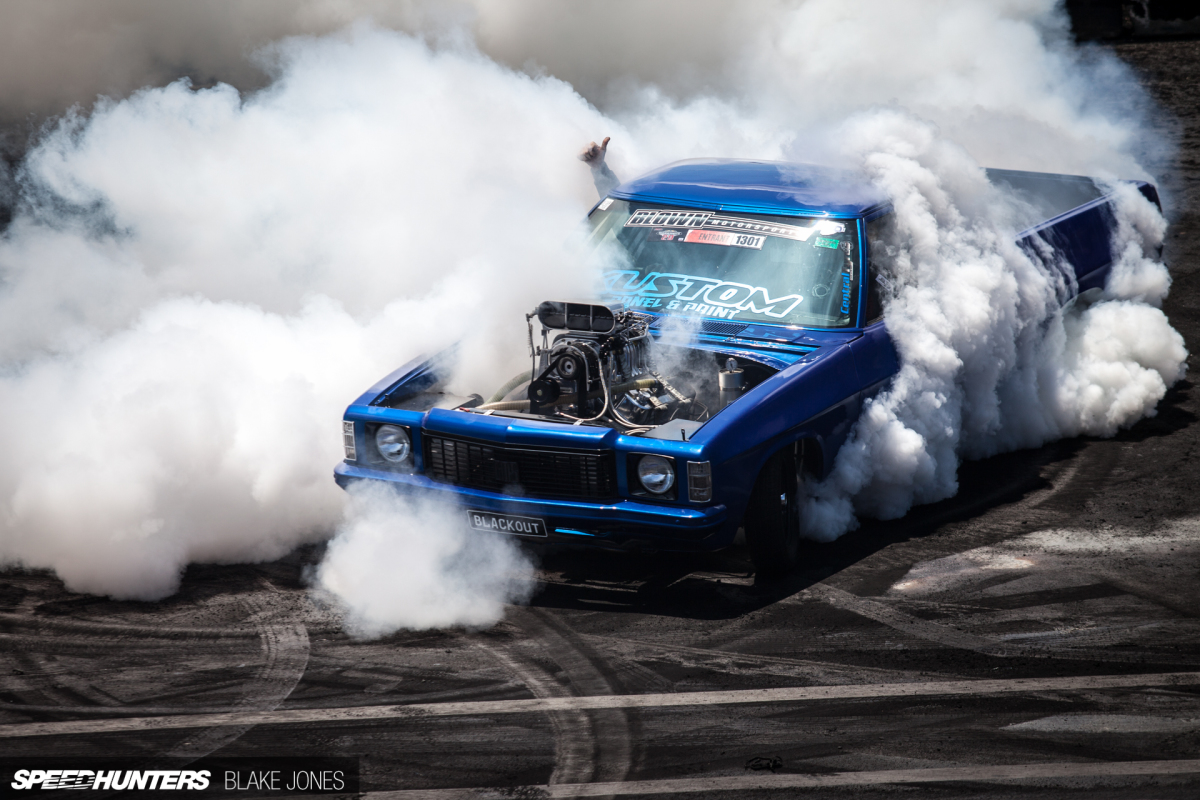 It goes without saying that these aren't the sort of burnouts that your cousin did in the industrial area around the corner. To be competitive at Burnout Masters there is a level of preparation and skill involved similar to any top-level sporting competition. To our American readers, take note: this is how you do a burnout.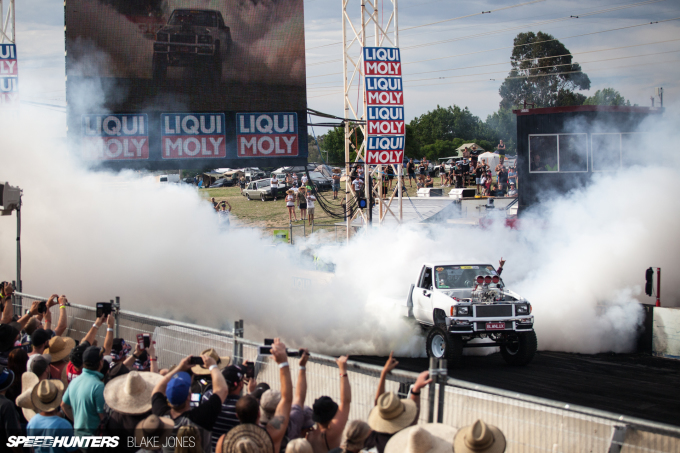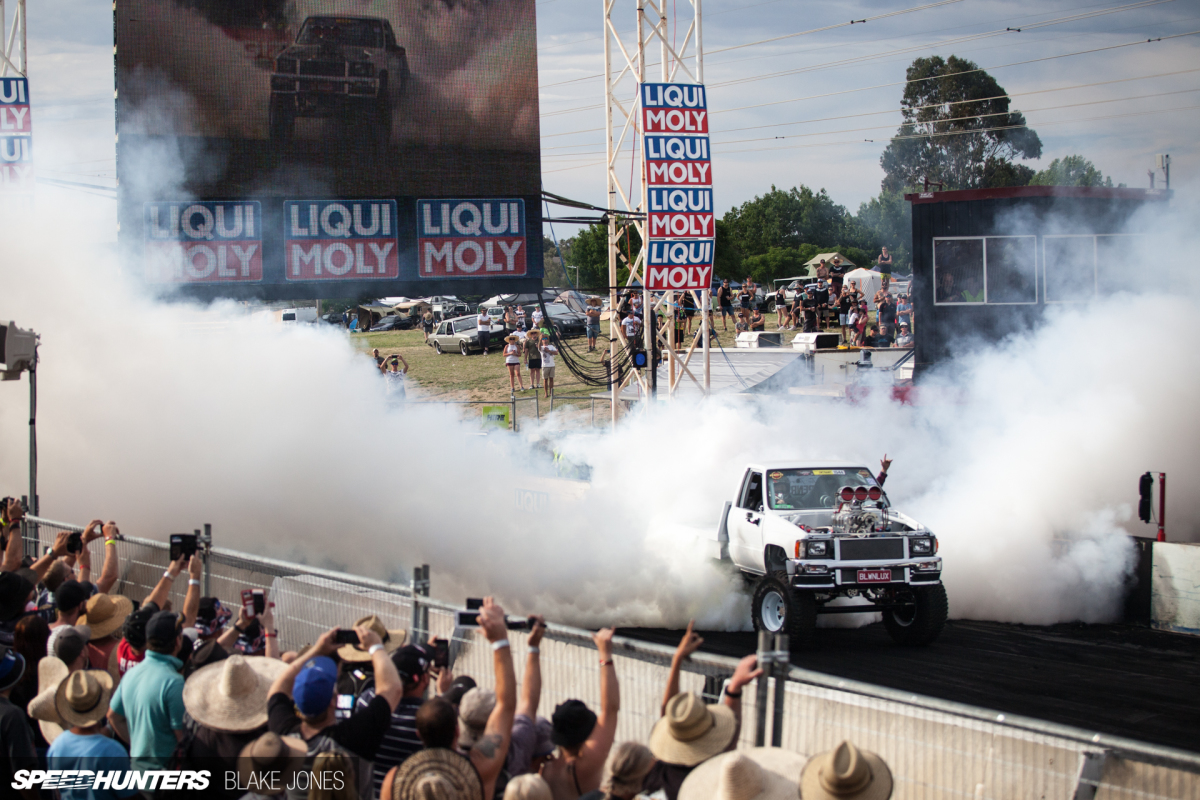 The process is pretty simple: wait for the flag to drop and start frying tyres! Contestants make their way down a narrow lane before tipping into a larger skid pad where they can move the car around and obliterate the tryes for the next two minutes.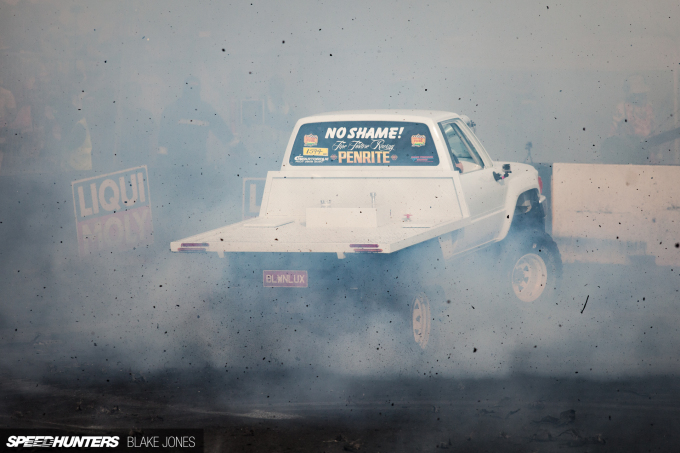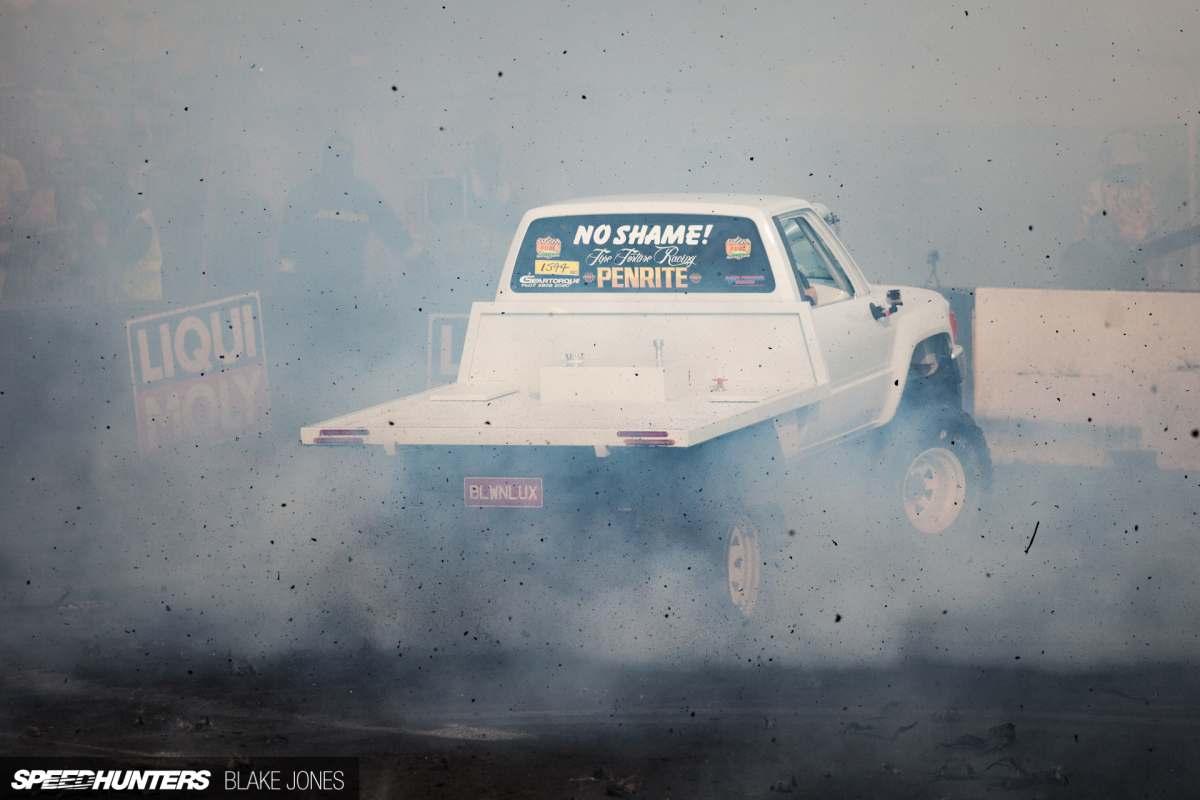 Contestants are judged on criteria such as quantity and quality of smoke, usage of the available area, bursting tyres and overall showmanship, which my personal favourite, BLWNLUX, delivered by the bucketload.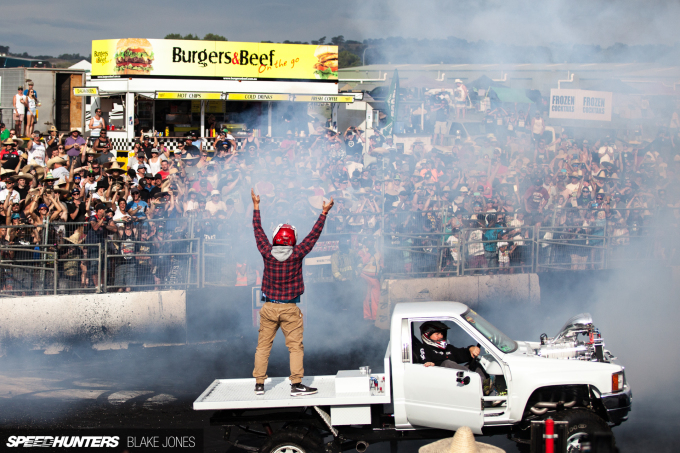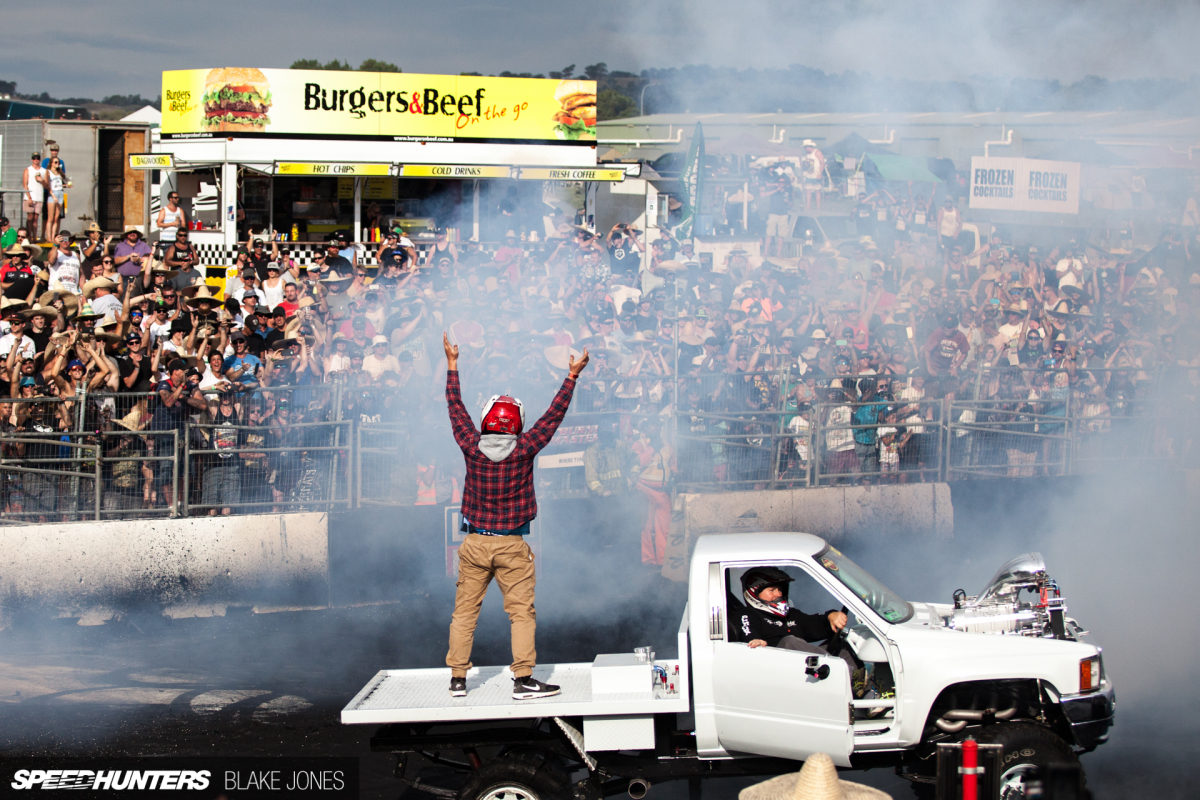 This might seem a bit un-Australian, but Summernats was actually my first time at a proper burnout comp. Coming into the event I knew it would be a chance to grab some great photos, but I really didn't expect it to be such an intense experience, and on top of that really enthralling as a spectator. Every car and contestant brings a different style to the skid pan, and seeing how the different approaches pay off or don't is super engaging. There's an element of finesse and flair involved, but it's definitely no figure skating competition.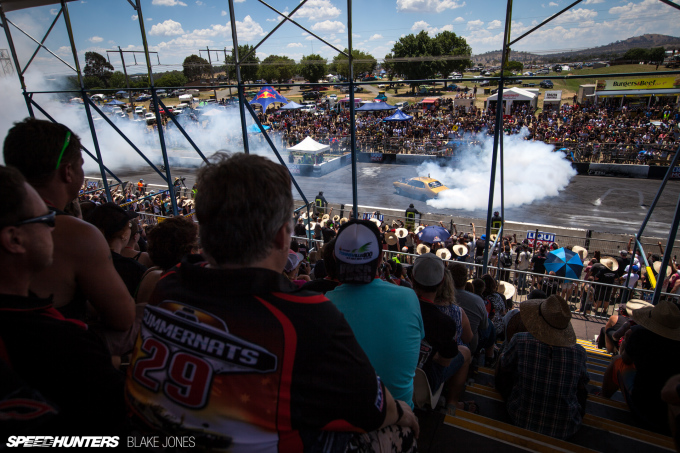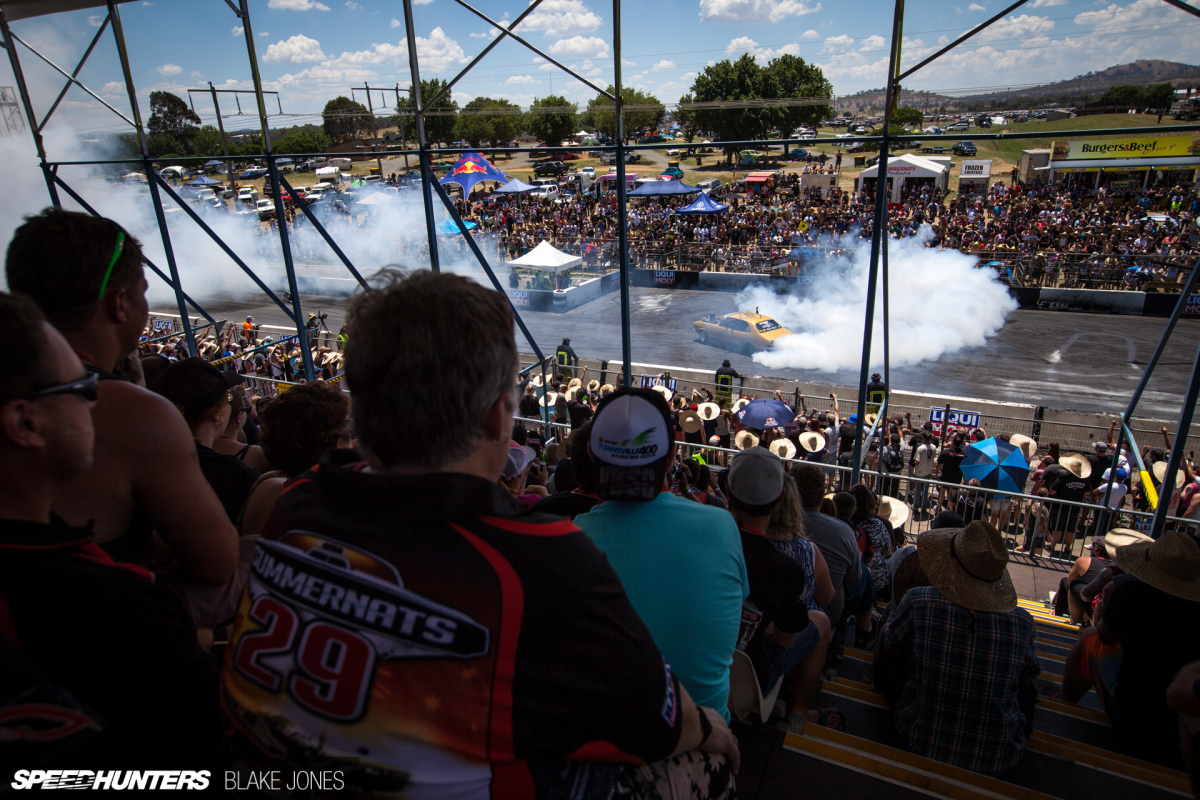 Even from high up in the grandstands the noise is thunderous, and in some cases required an abandonment of the camera for the sake of my eardrums.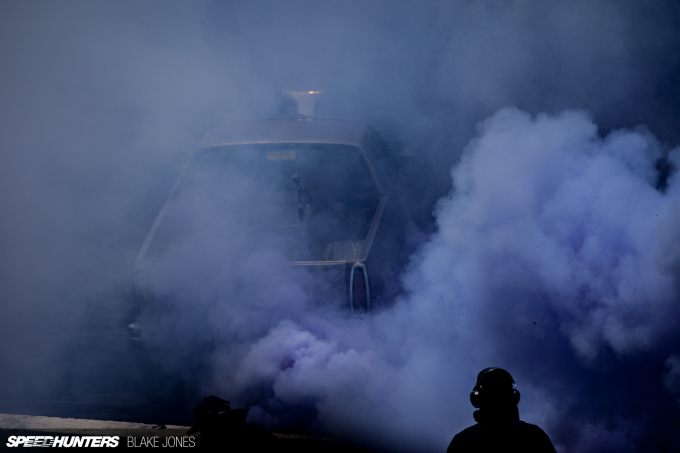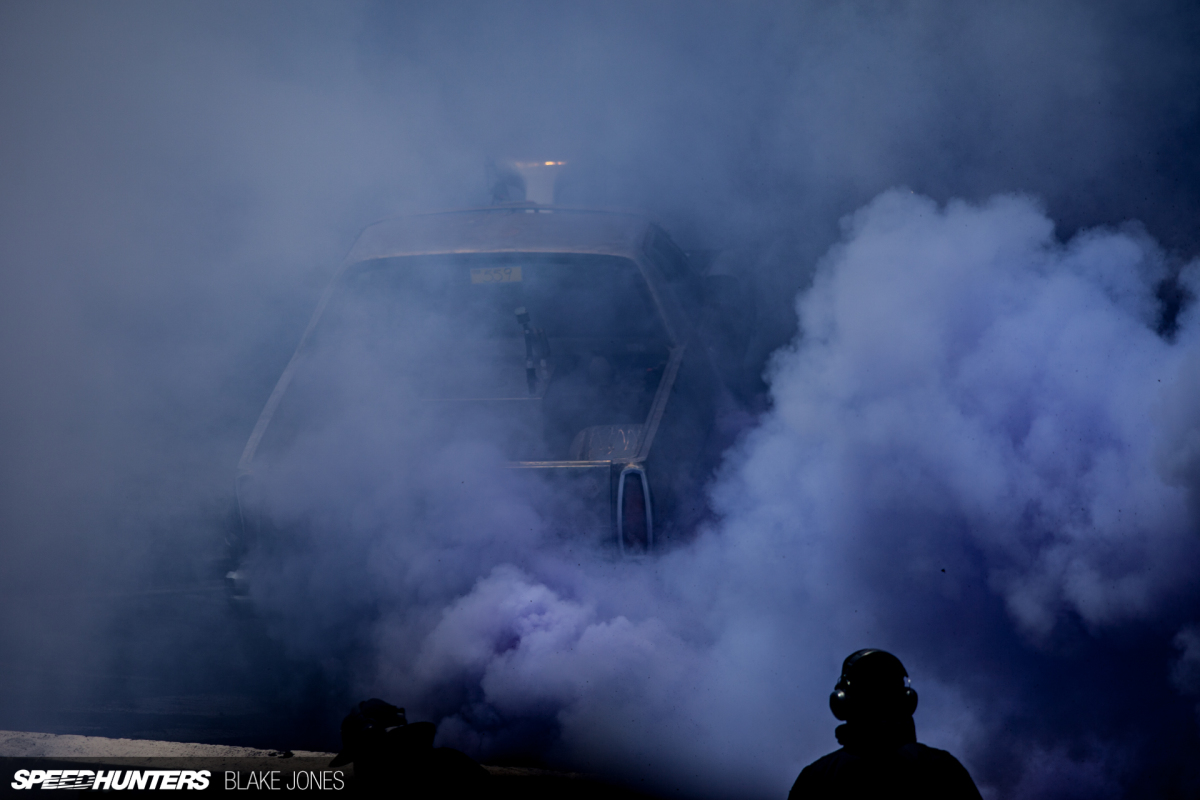 As a photographer you have to be on your toes, because it's only a matter of seconds after the burnout starts that the car disappears completely into the smoke cloud, making any attempts at photography completely futile.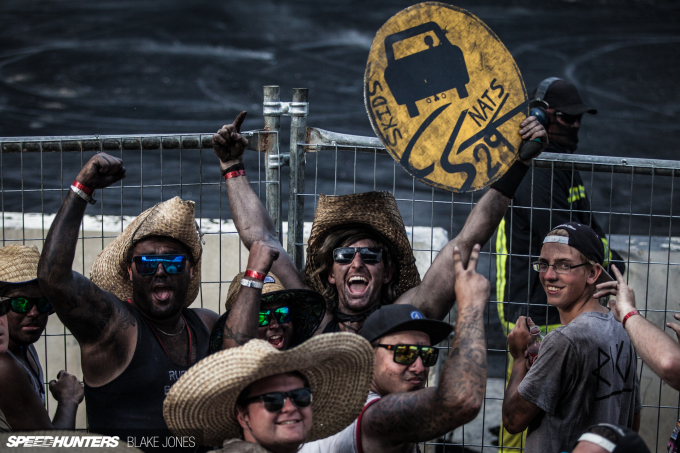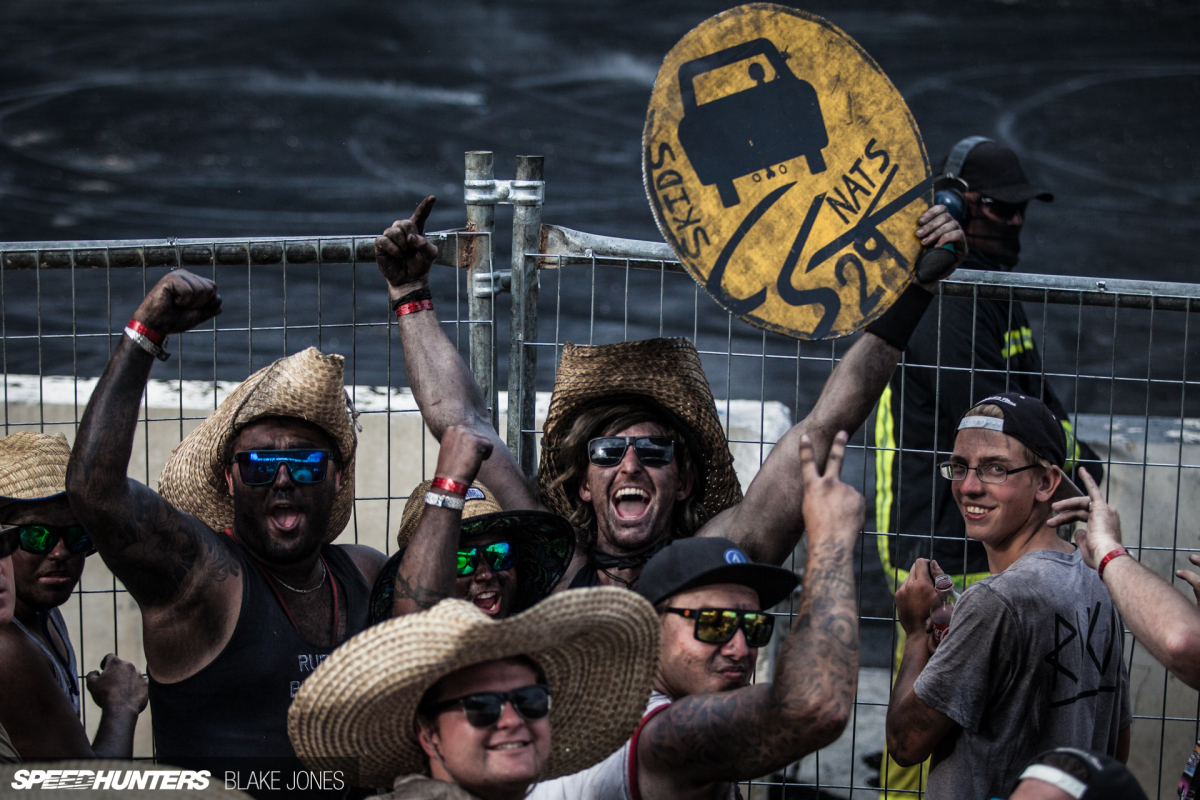 The real hardcore burnout fans pack hard against the temporary fencing to get as close to the action as possible and literally breathe in the experience. The rubber refuse covers their faces as some sort of war paint, although smoking a pack of cigarettes would no doubt be healthier! It's hard not to have an odd respect for these guys though, and I tried my best to not to do a Derek Zoolander impression, "I think I'm getting the black lung, pop" in their vicinity…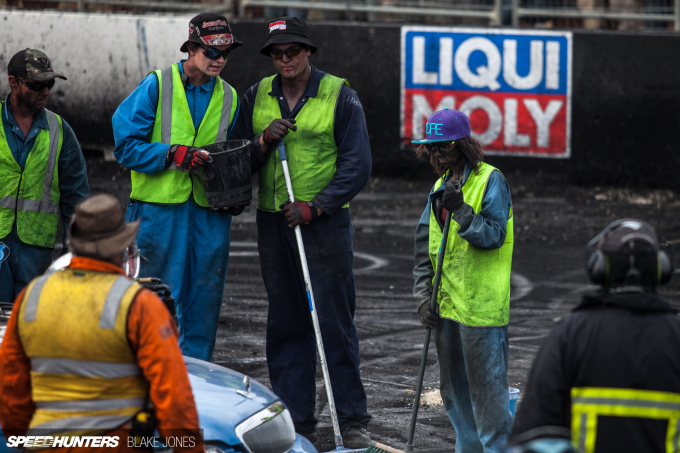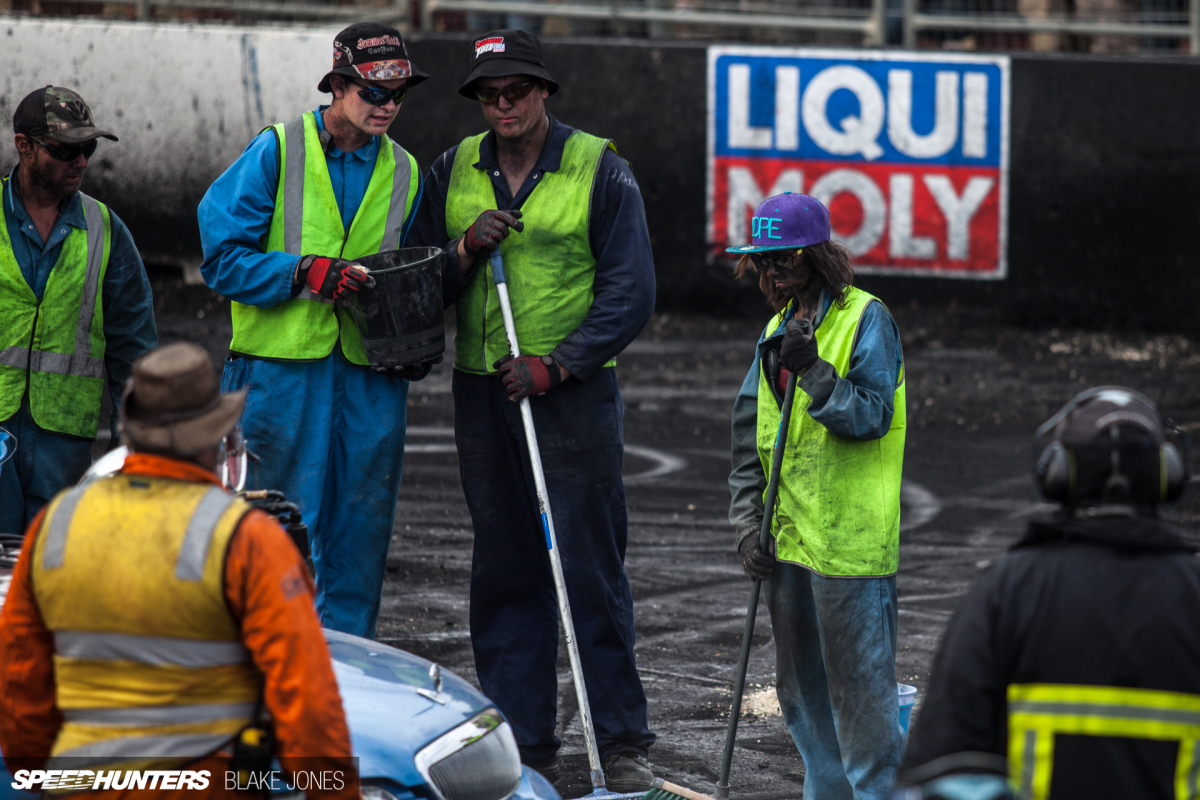 Requiring a special mention are the crew on hand to extinguish any fires and clean up the skid pan after a particularly messy run. Take a closer look at the face beneath that purple hat – that would take at least four showers to clean off.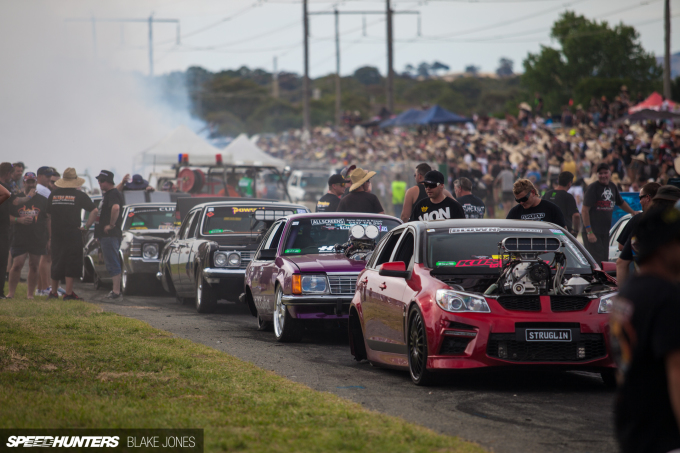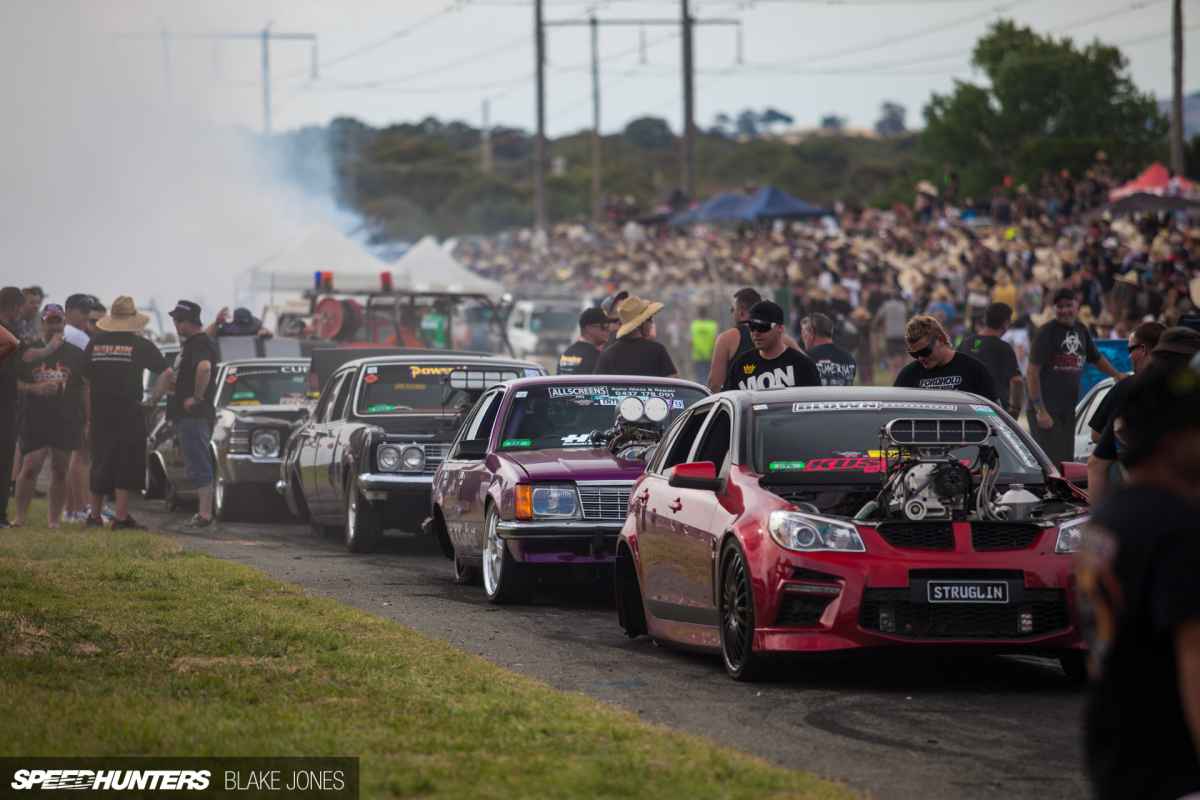 At the far end of the skid pad the cars gather after their burnouts, tilted back onto the bare rear rims and looking like wounded warriors while awaiting the results from judging.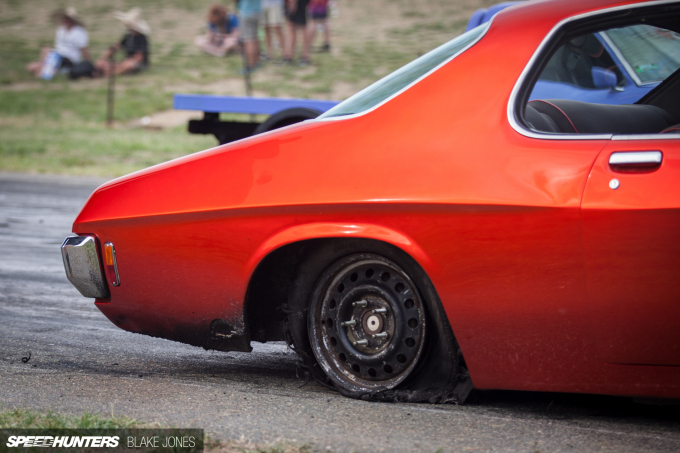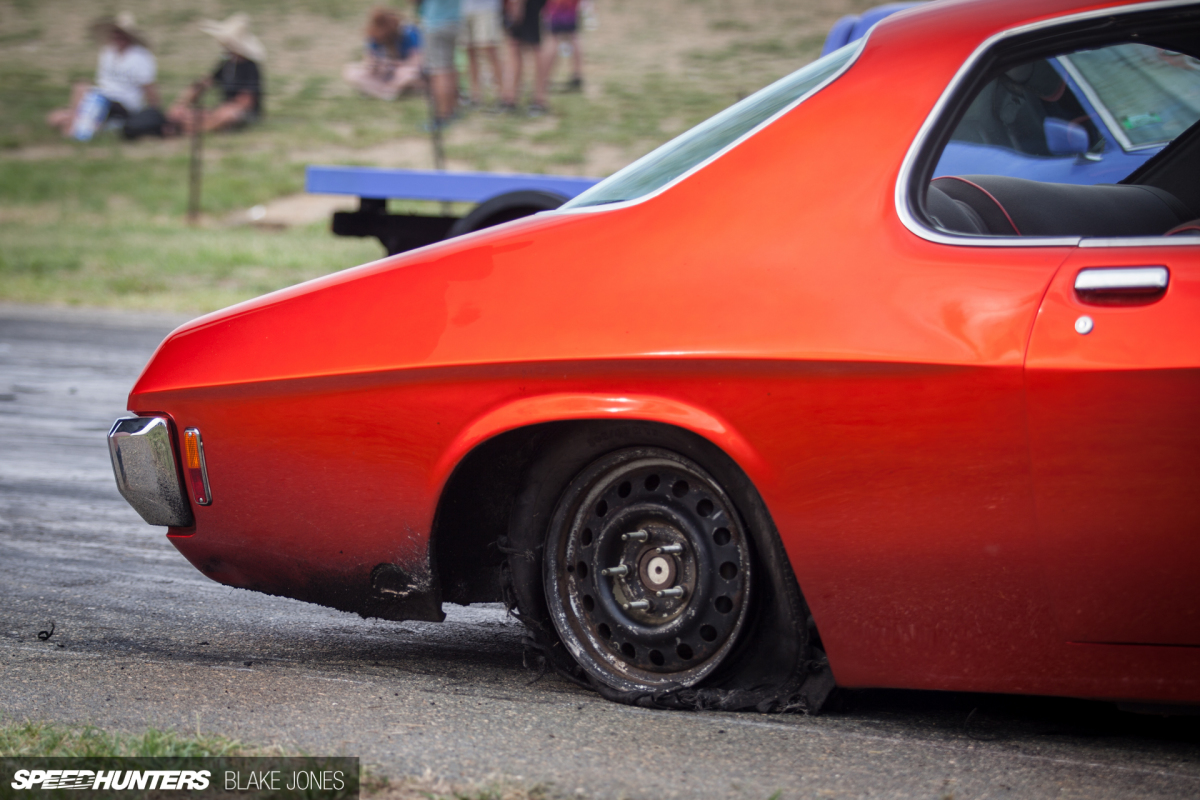 Understandably, most competitors run cheap and plentiful 'steelies' for the competition, and I imagine they're thrown out with the tyres. If the tyres aren't completely and utterly shredded there's no chance of going home with the win, so the drivers don't leave anything to chance.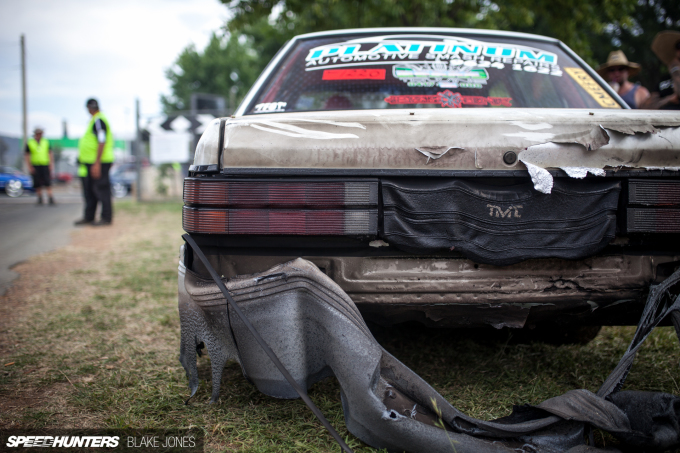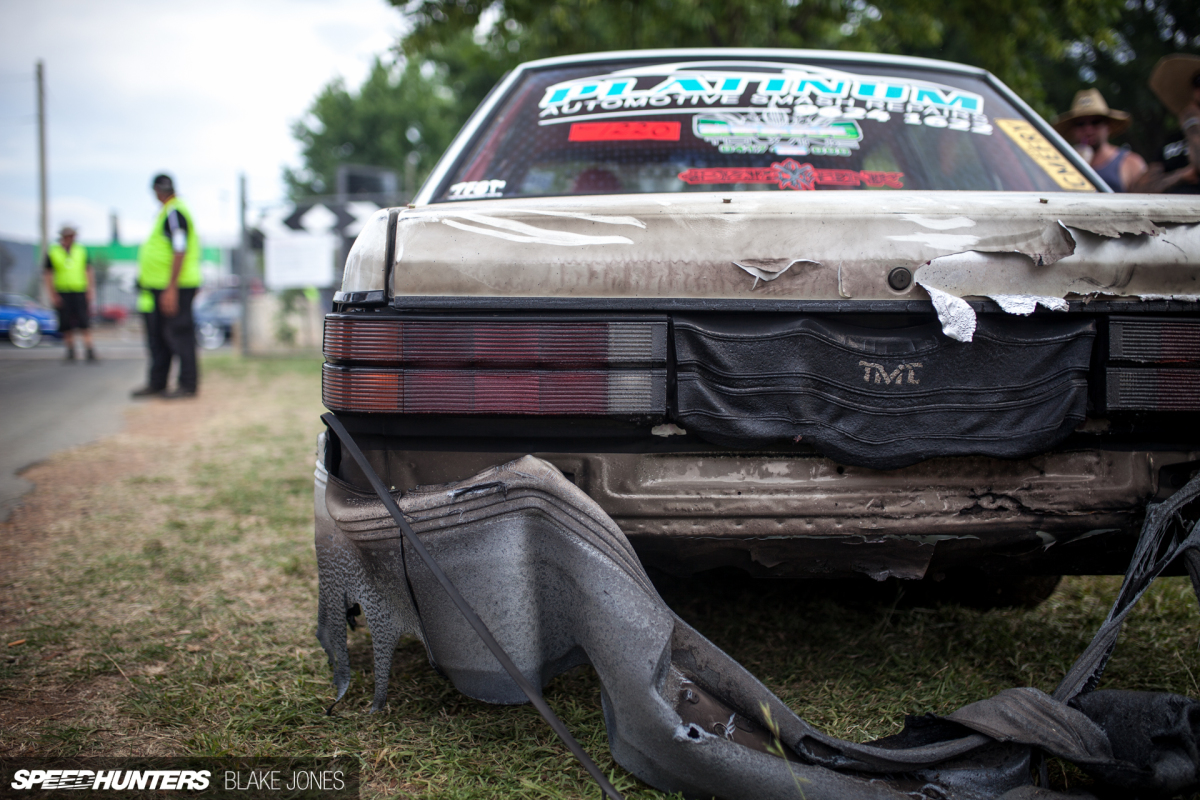 But nothing pleases the crowd like a display of pyrotechnics. Go hard enough and the intense heat generated will simply set the tyres alight, the results of which you can see above.
Check out this Street Machine video to see the madness that led to CUTSIK ending up in such a sorry state.
And There's More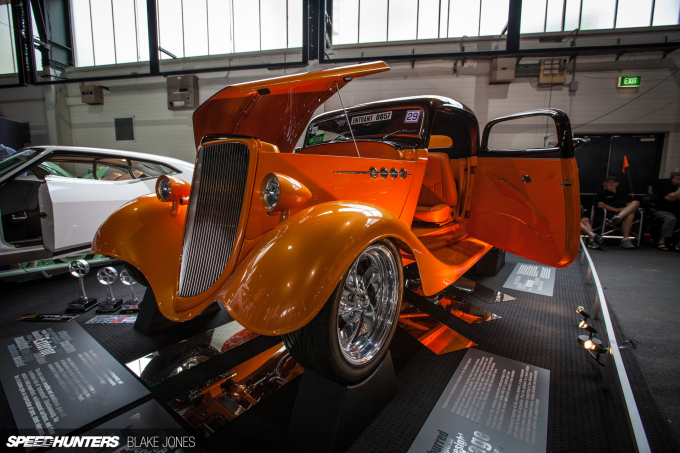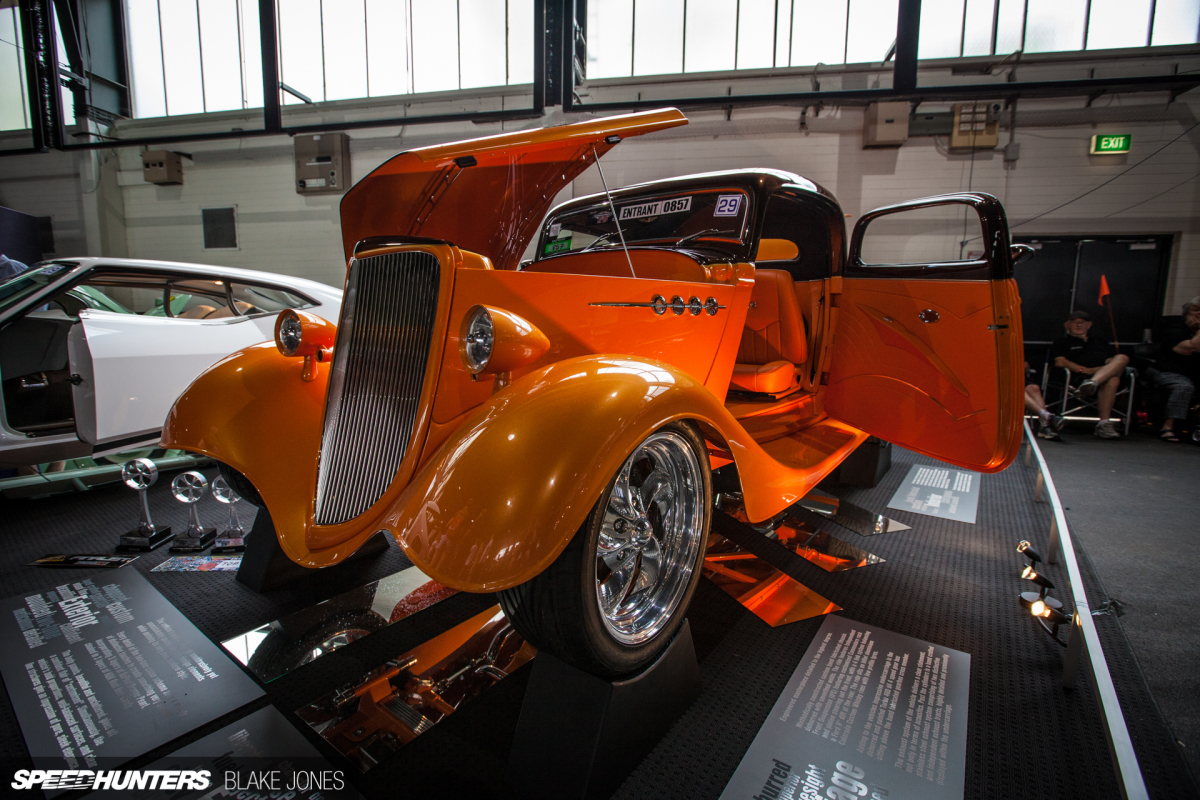 Even after escaping the smoke cloud at Burnout Masters, wandering amongst the 2000-plus rides at Canberra Exhibition Park is pretty overwhelming for a first timer. The sheer volume of cars, displays and events-within-events is mind bending, and it's a feeling returning to me as I write this article. There was so much happening that at times it could be disorientating, and fitting all the good bits into one story is not an easy task!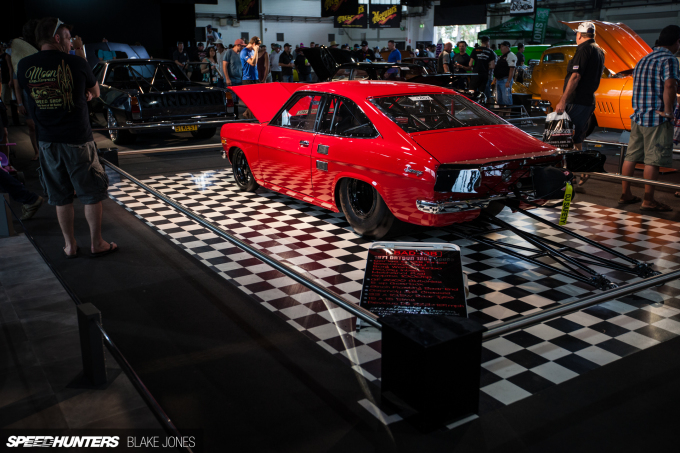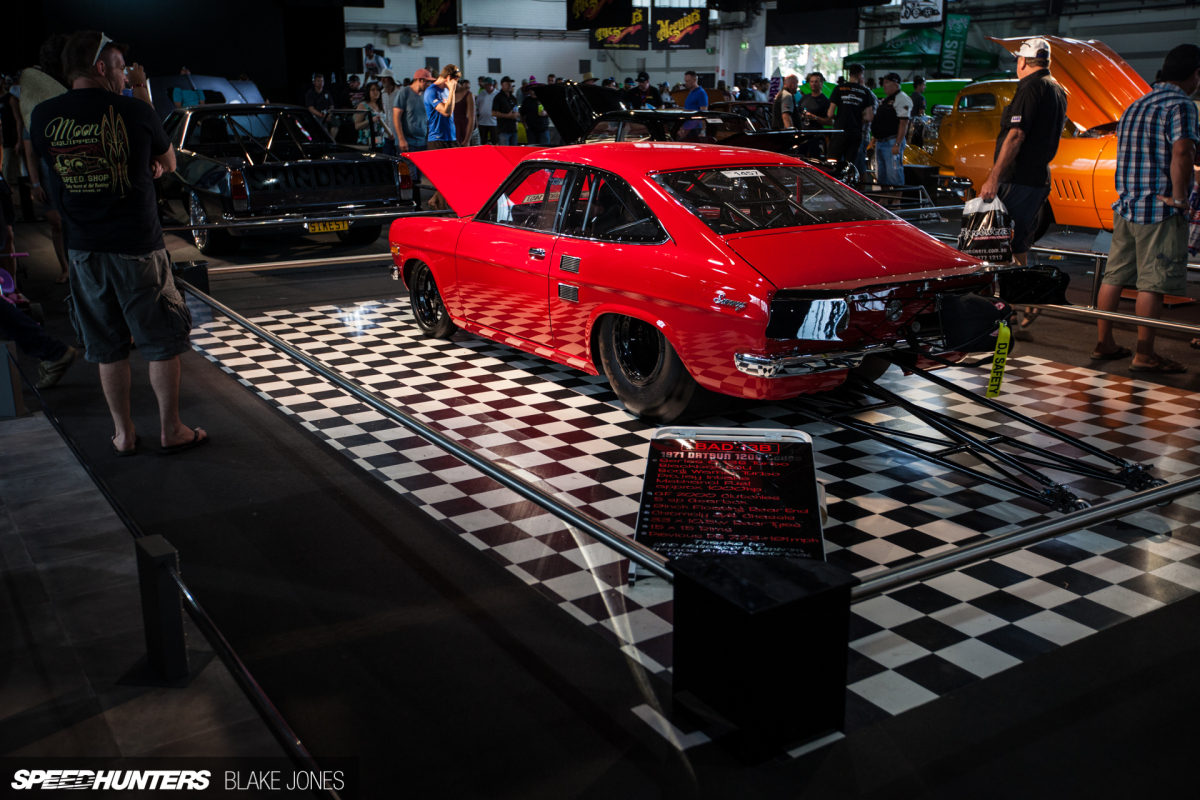 Having said that, one area definitely worthy of a visit is the Meguiar's Judging Hall, where the absolute cream of the crop are gathered and displayed in anticipation of judging for award purposes. This Datsun 1200 coupé was unique for a number of reasons, not limited to holding the title for 'World's Fastest Datsun" (7.34-second ET), a circa-1000hp 13B turbo, and a recently completed ground-up rebuild by some of Australia's best workshops.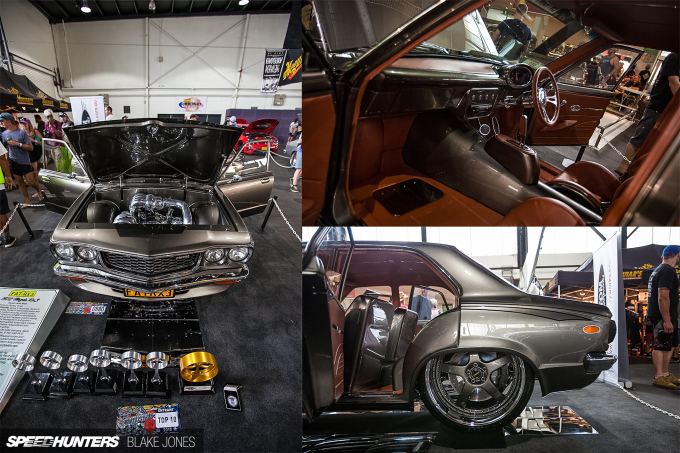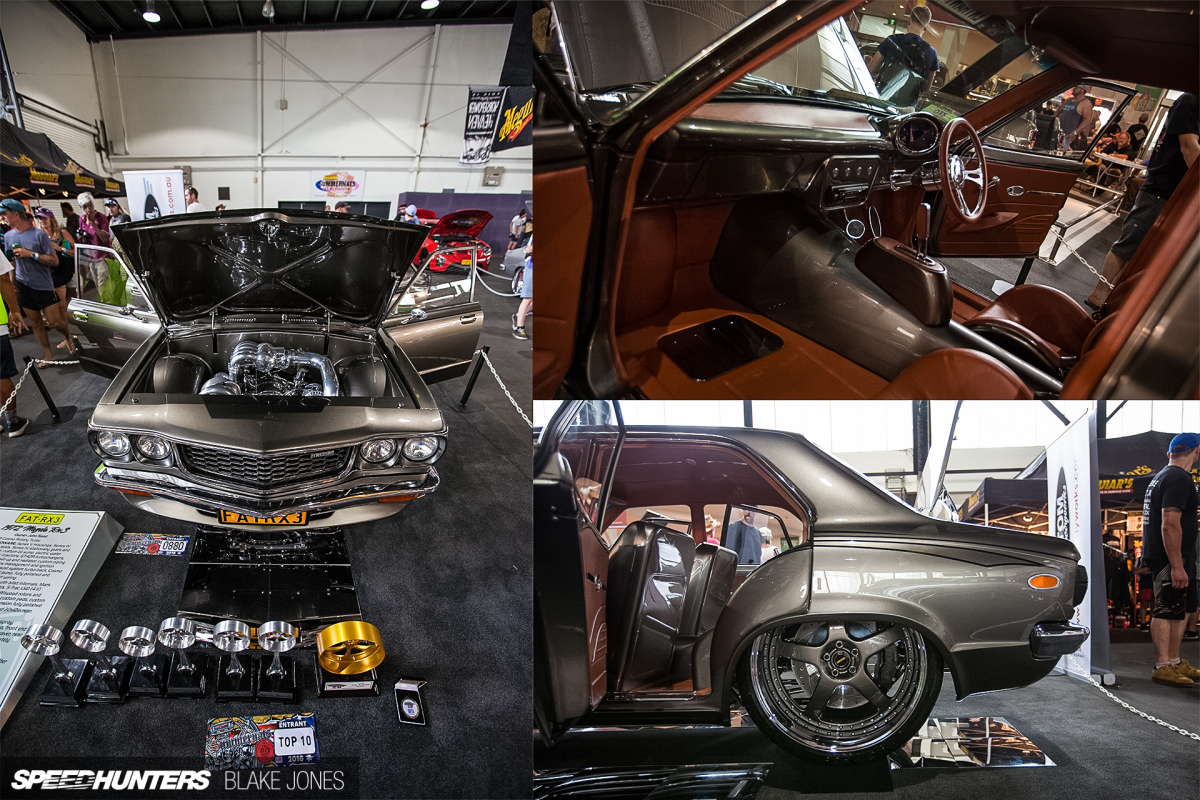 Saving the best for last in the display hall brings us to John Saad's Mazda RX-3. The car is not only a great example of Australian show car style and workmanship, but a bonafide performance car too; John managed to take out 2nd place at the Summernats slalom (off-road motorkhana) event. The RX-3 has been taking out top honours at every show it appears, including MotorEx last year, and it's easy to see why.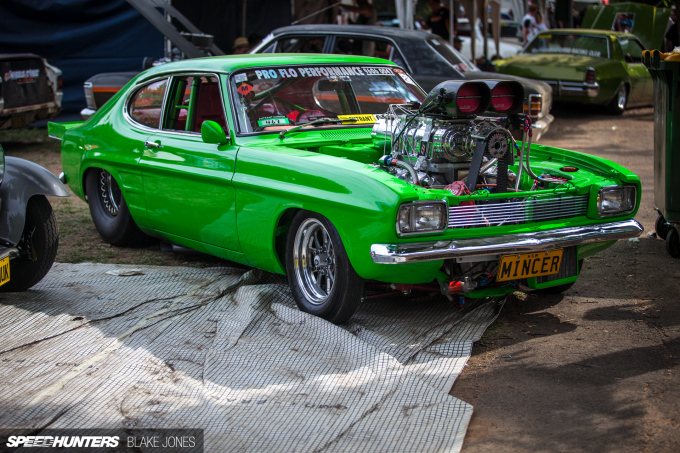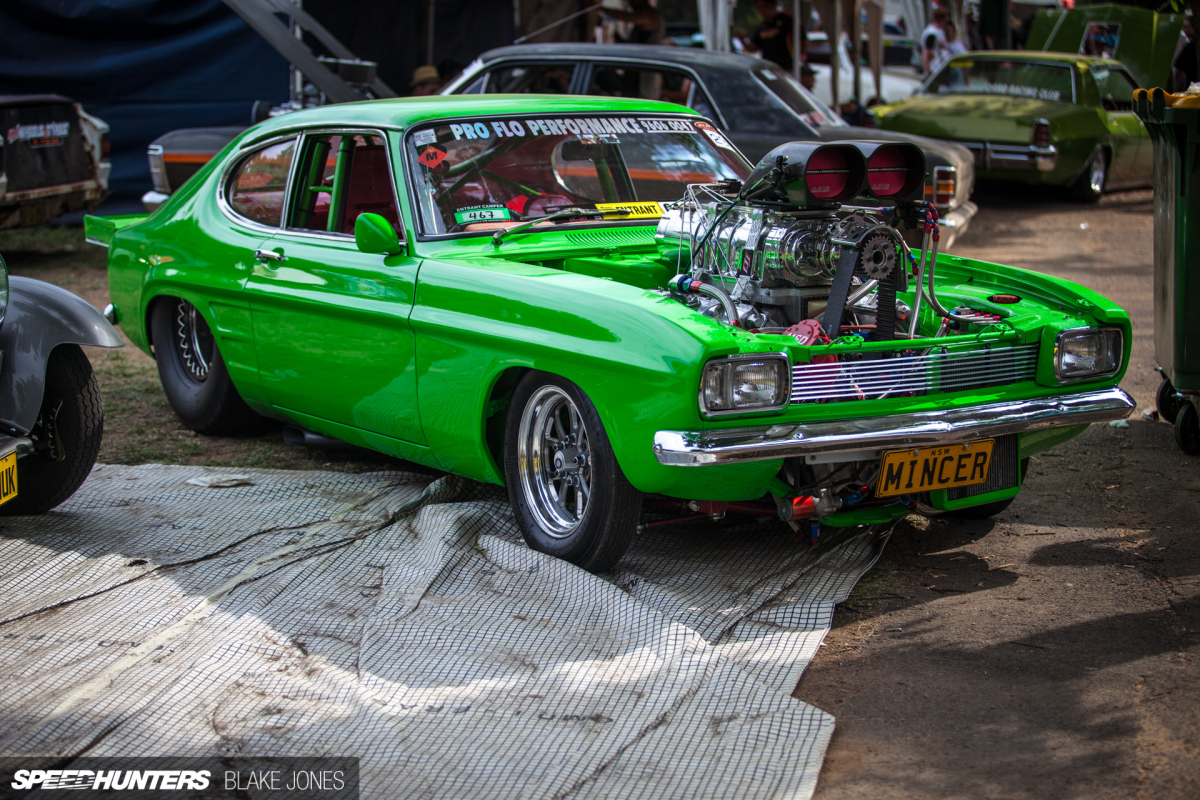 The quality of cars on display outside the show halls is admittedly varied, but it's not hard to find serious builds like this Ford Capri with what is probably the biggest blower I've ever seen, just parked on the side of the road…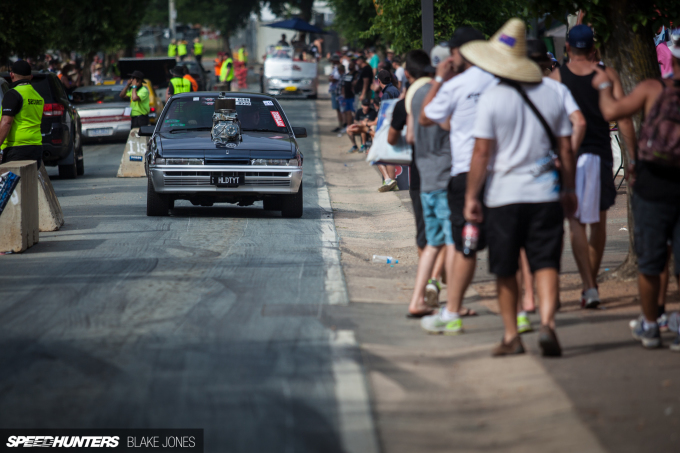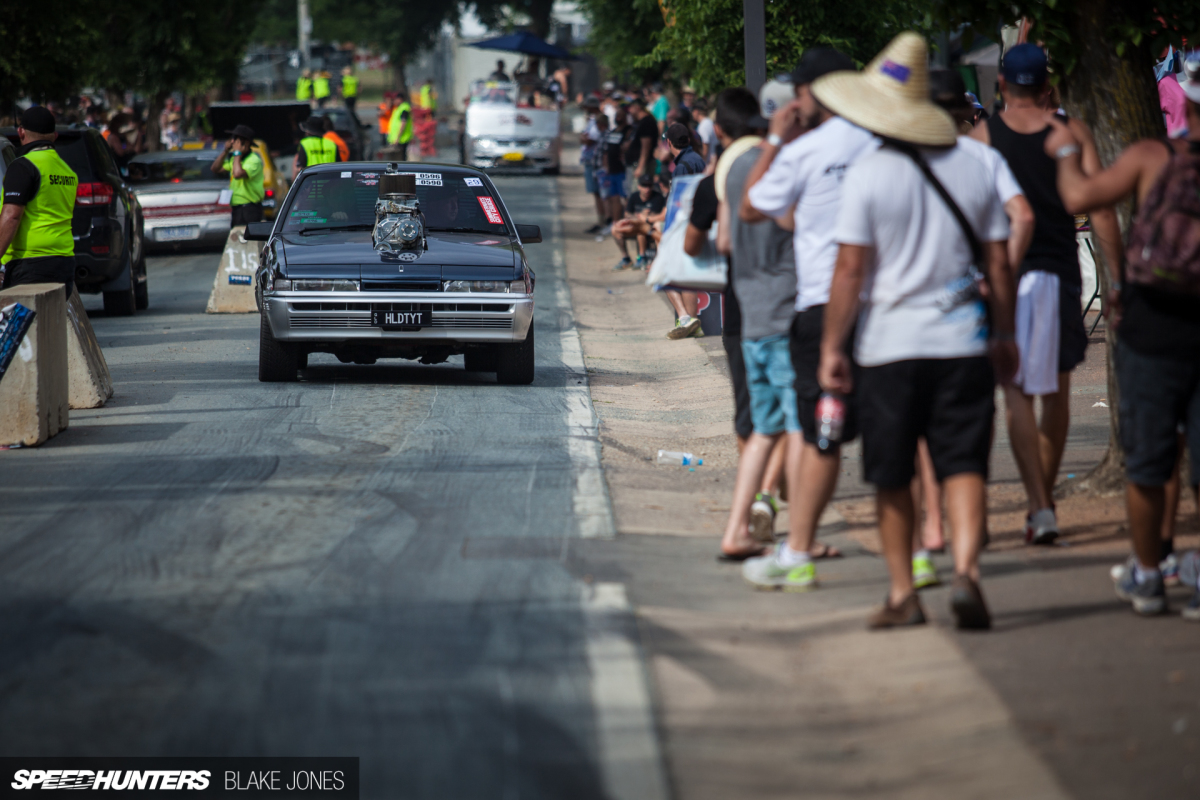 Or cruising the route around the exhibition park, giving the punters a chance to see and hear the cars up close.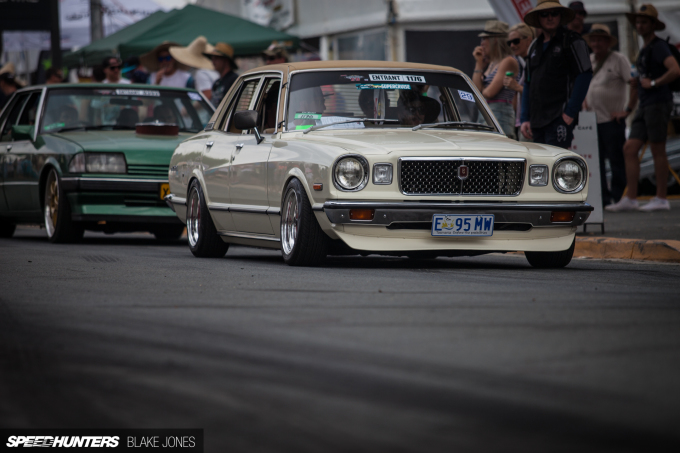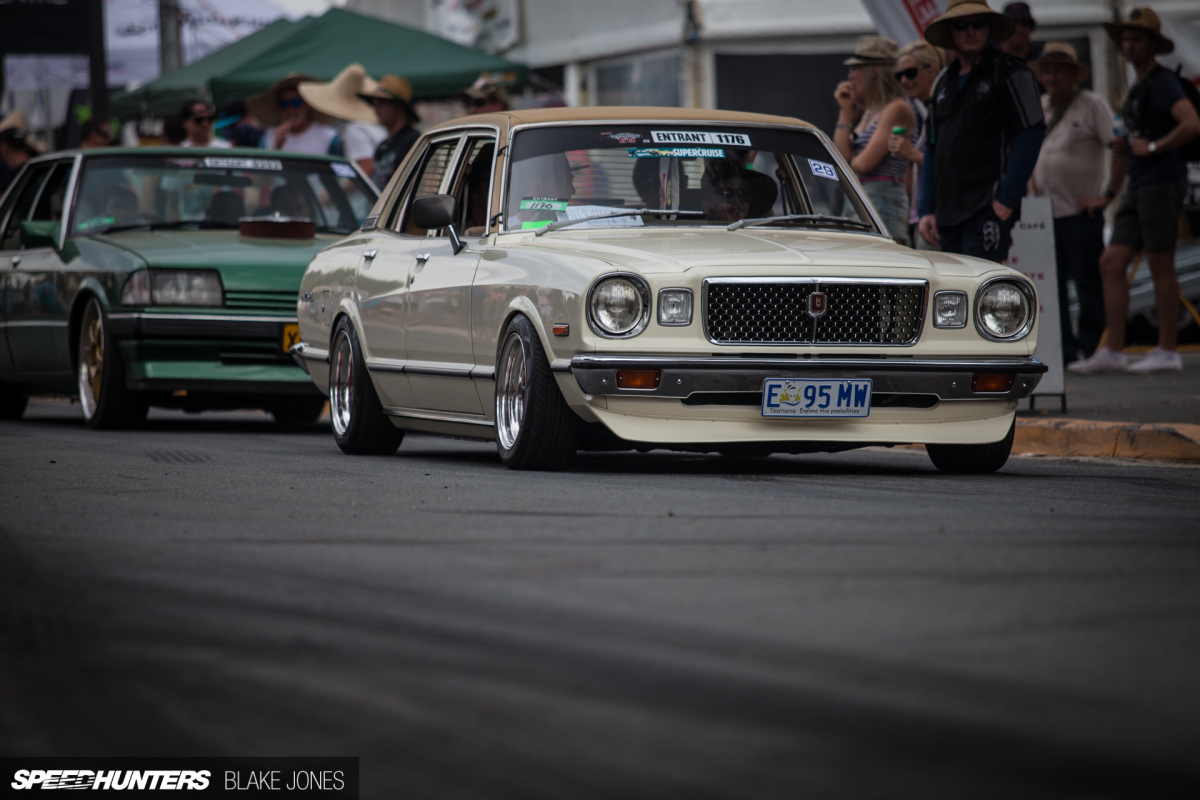 One of the most unexpected (but welcome) finds was this third generation Mark II dropped down onto some period Japanese wheels. Upon closer inspection at Sunday's Classic & Vintage display I struggled to find a single flaw or sign of wear – even the engine bay plastics looked brand spanking new. It was funny to hear one passerby comment about how odd it was that someone had chosen an "old Cressida" to modify, although as we all know, it's a great base for a cruiser build.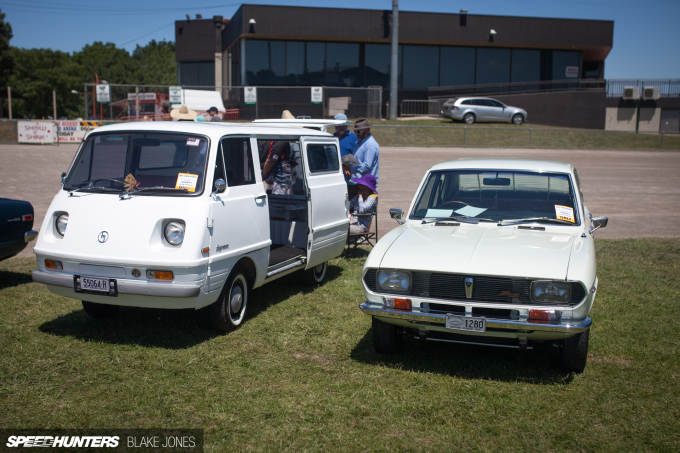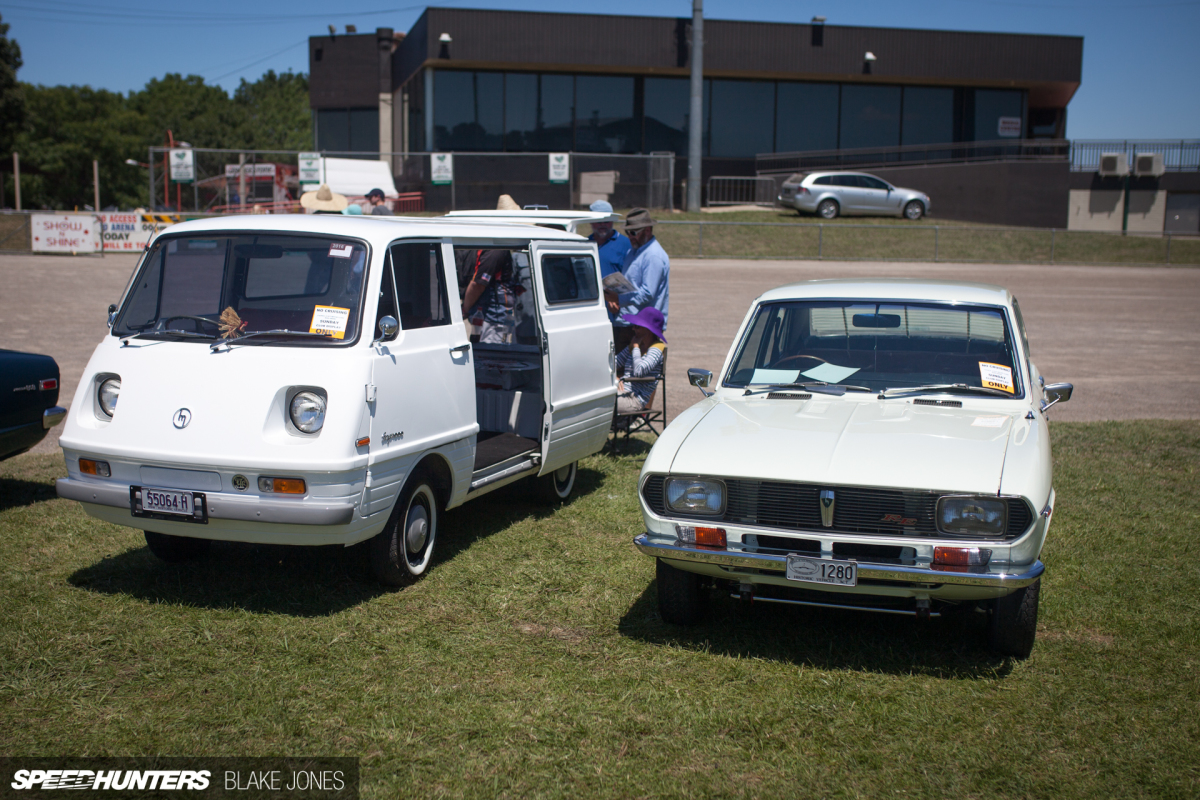 Equally unexpected, a Mazda Bongo van and a matching Capella, both restored to an exacting original specification and on display in Sunday's Show 'N' Shine display.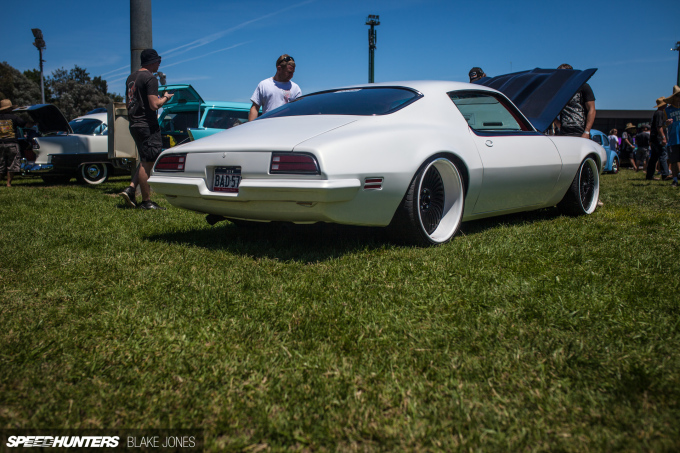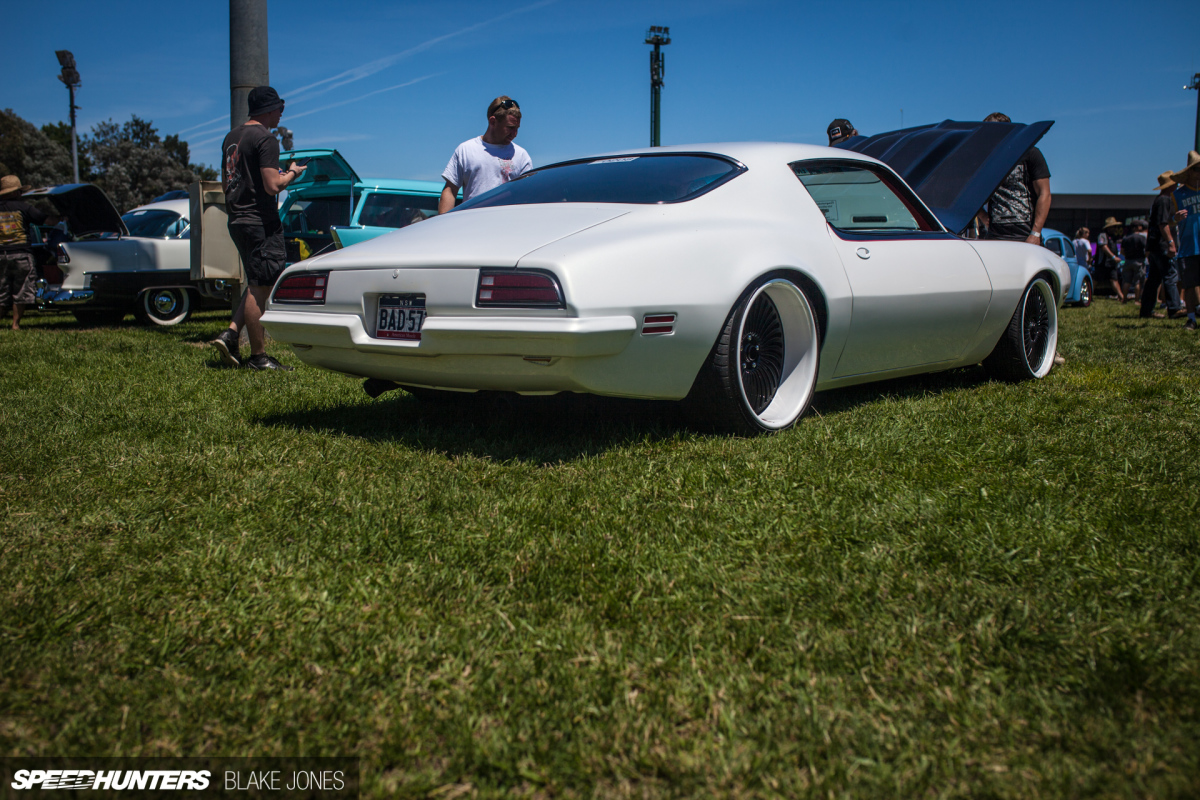 Don't get confused though, the Japanese metal is still the exception to the rule at Summernats. Although it was great to see a rotary take out Grand Champion, the V8 continues to rule the roost, and I can't see that changing any time soon.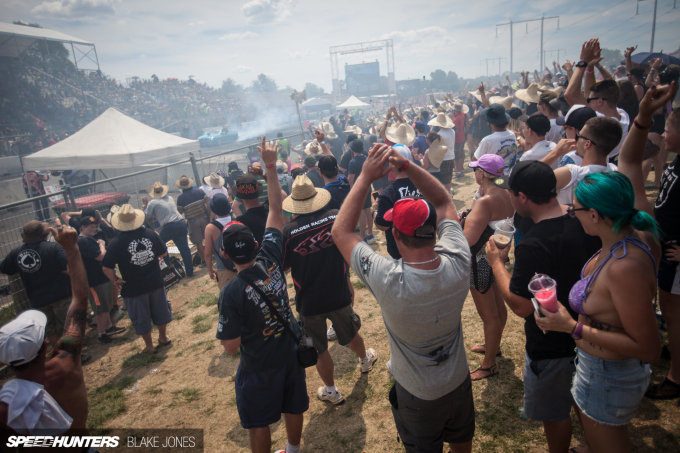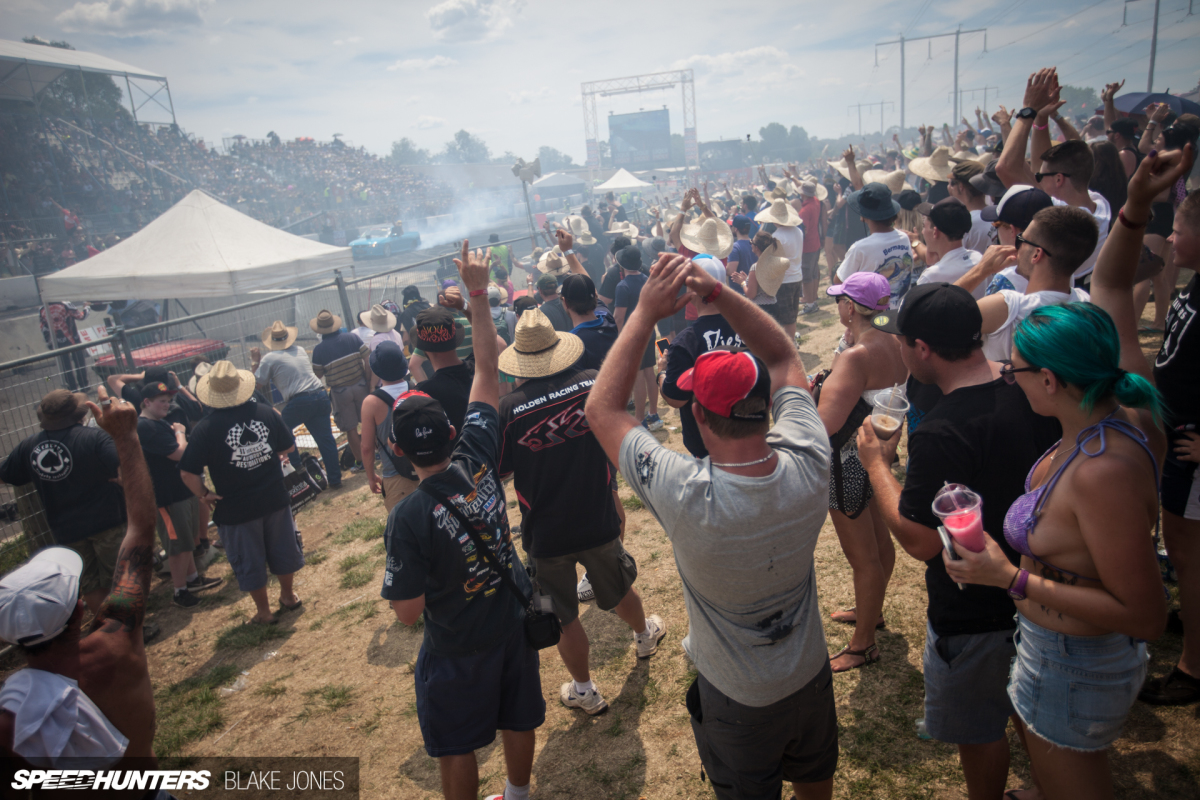 There are some aspects of Summernats that will need to change whether the fans like it or not: health and safety, political concerns and even environmental woes continue to creep in from every angle. Honestly, it's kind of amazing that the current format can still exist in 2016, but that comes down to the level of passion and loyalty the paying public has for the event.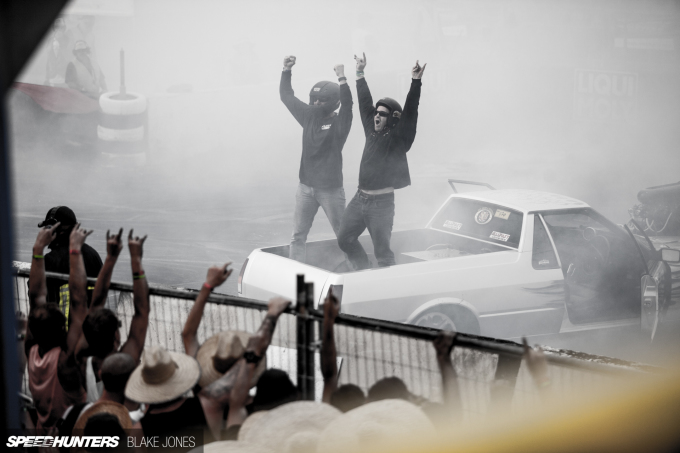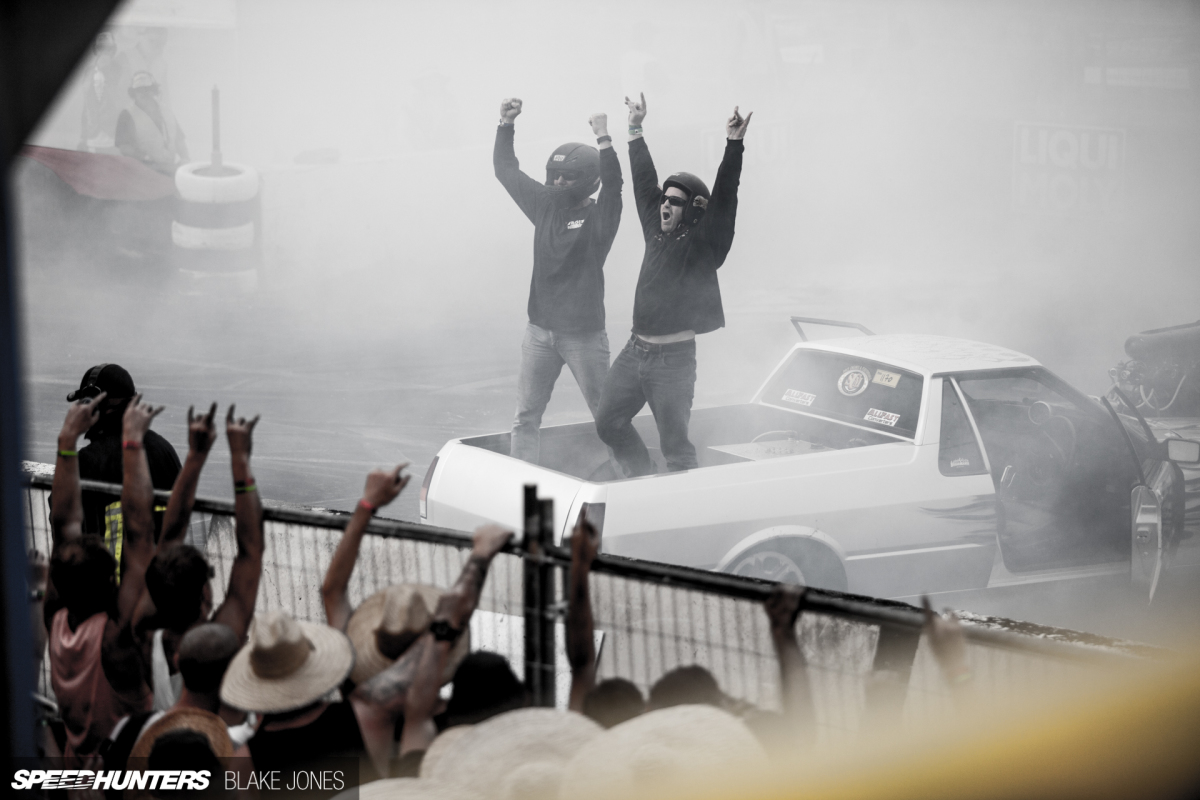 But as long as there's rubber tyres, you can be sure that Australia's revheads will be turning up to Summernats in droves to see them get shredded.
Blake Jones
Instagram: blaketjones
blake@speedhunters.com
Cutting Room Floor