Fast Fords To Fast Anything
It started with a couple of images on a car and the single comment of 'Any interest?'. The photos were of a stunning white Ford RS200, which even from a brief glance was obviously anything but standard. A video and spec sheet followed: 704hp, sequential shift, composite bodywork, a weapon of a car. 'Interested?'. Are you kidding?
That introduction turned into a journey of discovery, finding out that although the team behind the RS200, MDV Specialist Engineering, might be relatively unknown and prefer to remain outside the spotlight, what they work on and how they work is an object lesson in engineering excellence.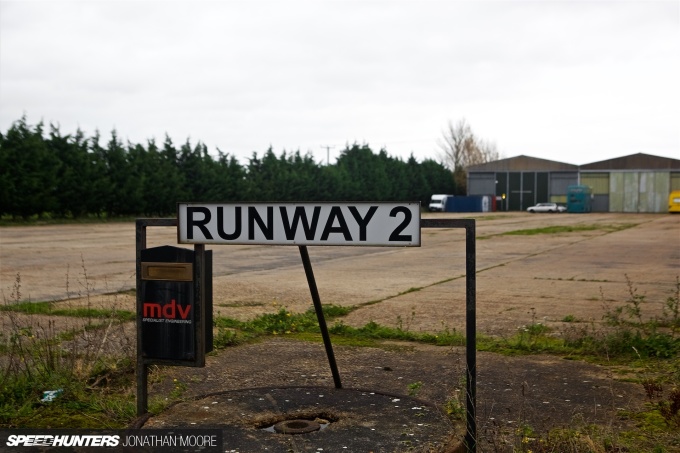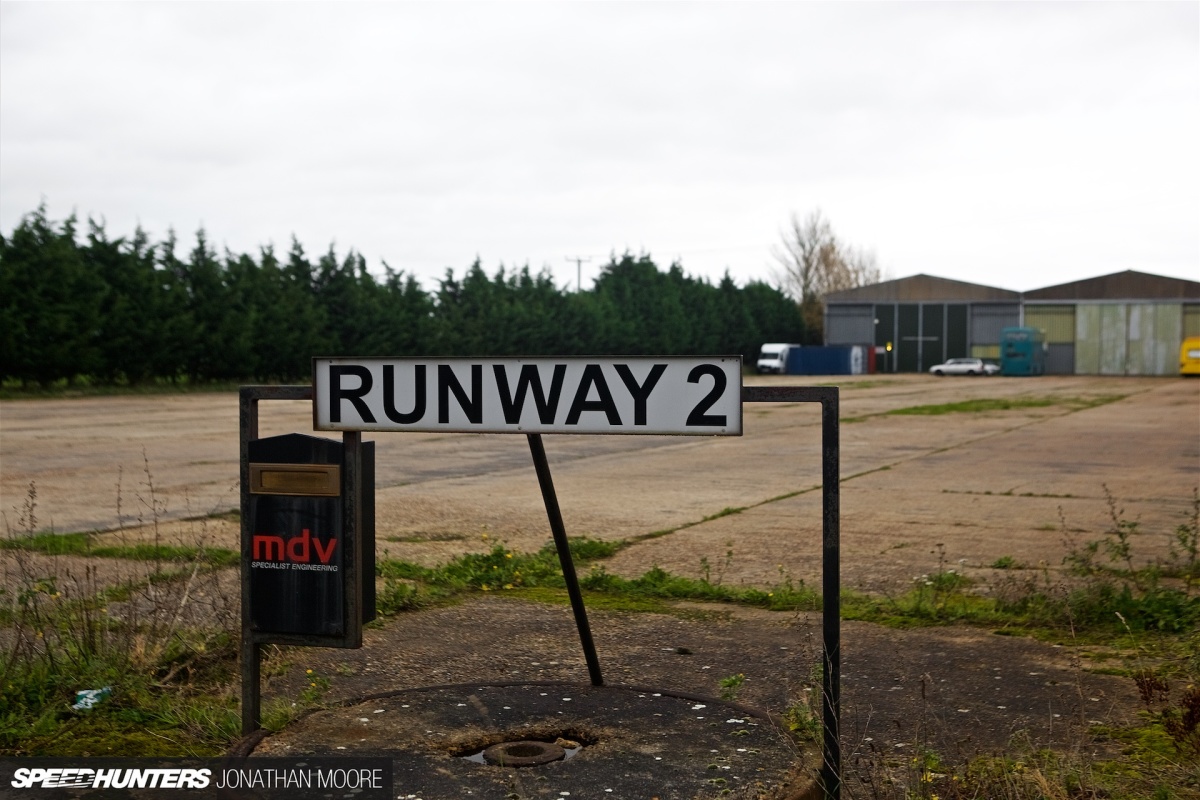 Tucked away on an old World War 2 airfield in Essex, MDV is run by Peter Bennett, ably backed up by his sons Adam and Sam along with Chris Flint. They are a lean, compact unit; a proud family business where 'good as it can be' can only mean striving for perfection. They breath engineering; if it can be developed or made themselves, they want to be doing it. The results are without exception stunning, but also insanely eclectic.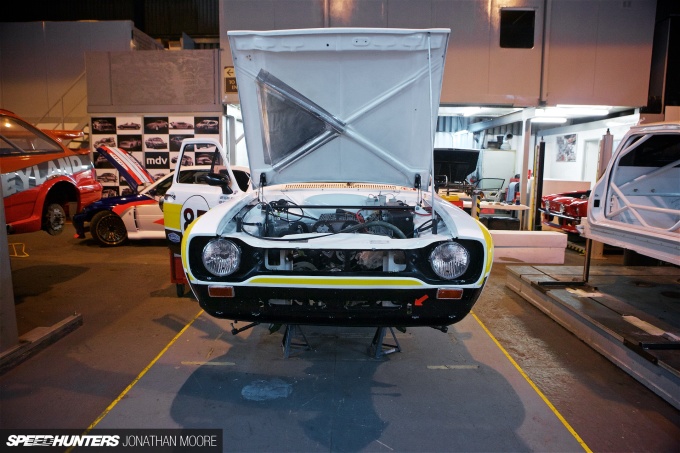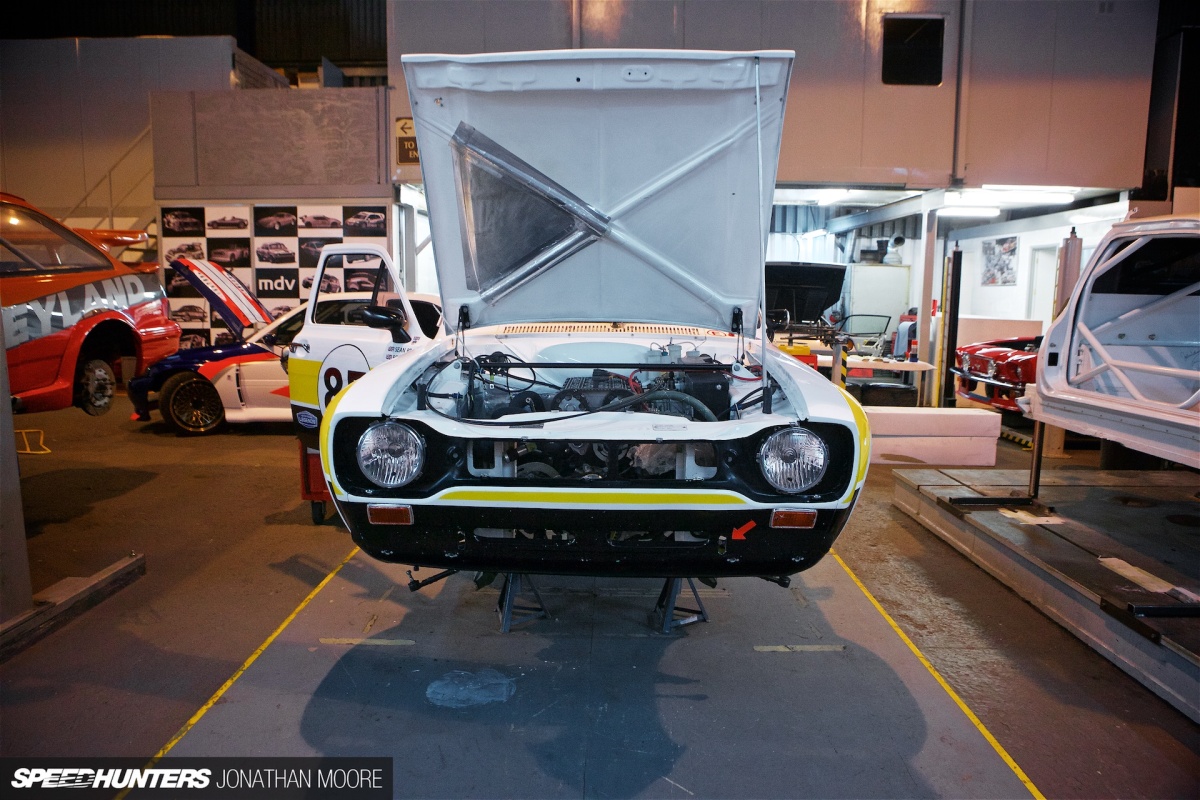 What Peter doesn't know – and almost as importantly who he doesn't know – isn't worth talking about. Starting off as an apprentice draftsman back in the '70s, a grounding in serious engineering that took in all forms of non-automotive, hands-on projects led to a position at the famous Boreham facility in Essex, Ford's motorsports skunkworks that for four decades from 1963 was the epicentre of competition innovation.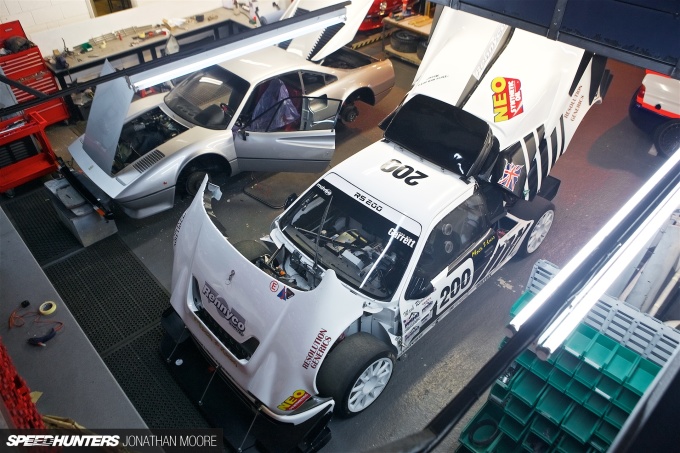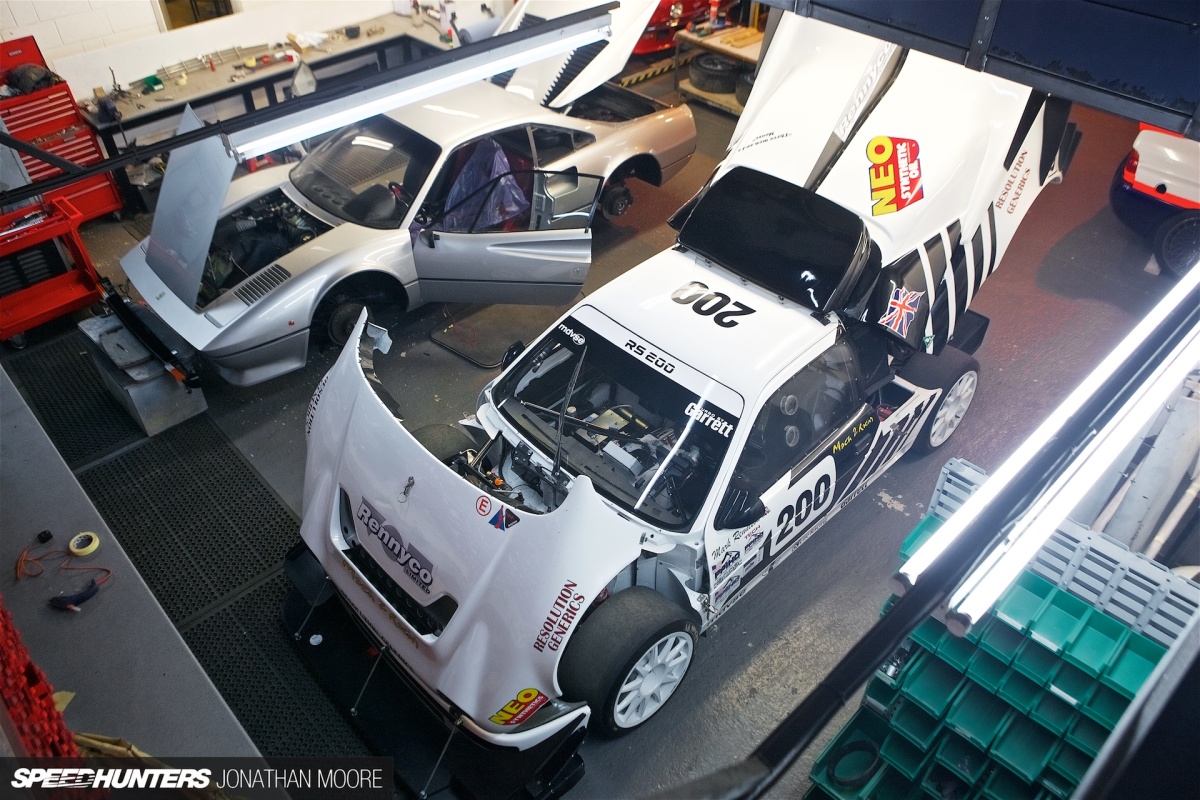 It's only in talking to Peter and the team that you begin to understand just how much they've done. They'd never really tell you directly; it would be like showing off. Instead, you gradually find out that they've been involved in this or that famous project, or that they are behind some well-known car that you'd think was run by another team. Even more often, it's something they can't even talk about publicly.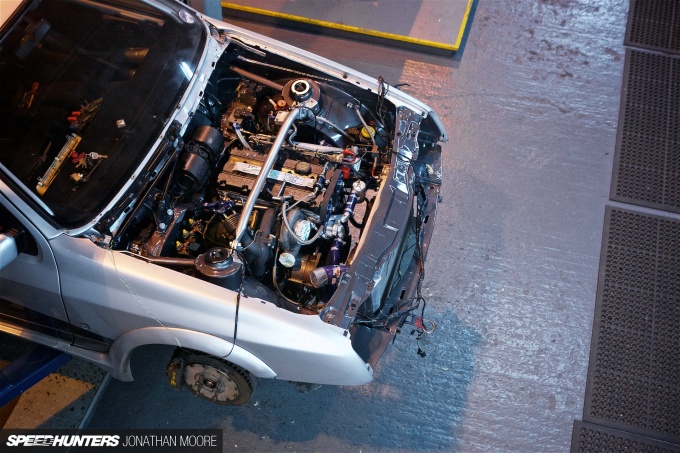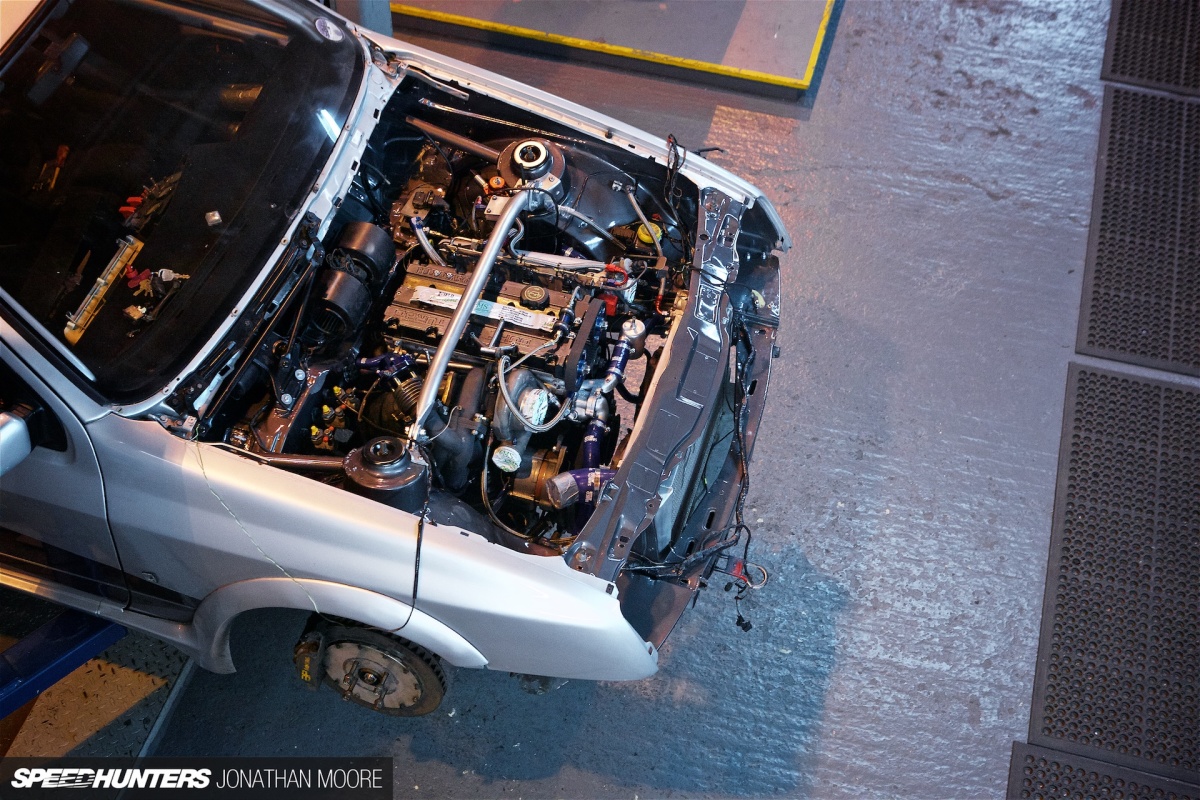 At Boreham, Peter worked on the Escort Cosworth, the Sierra RS500 and 4×4, the Fiesta Super 1600 rally programme and the Puma Racing project. His experience bridged the gap from physically drawing out suspension geometries on massive sheets of graph paper laid out around a car to the introduction of CAD and high-end computer design.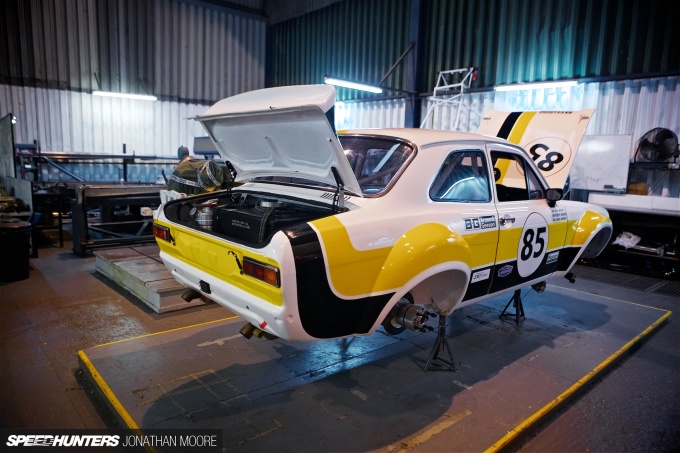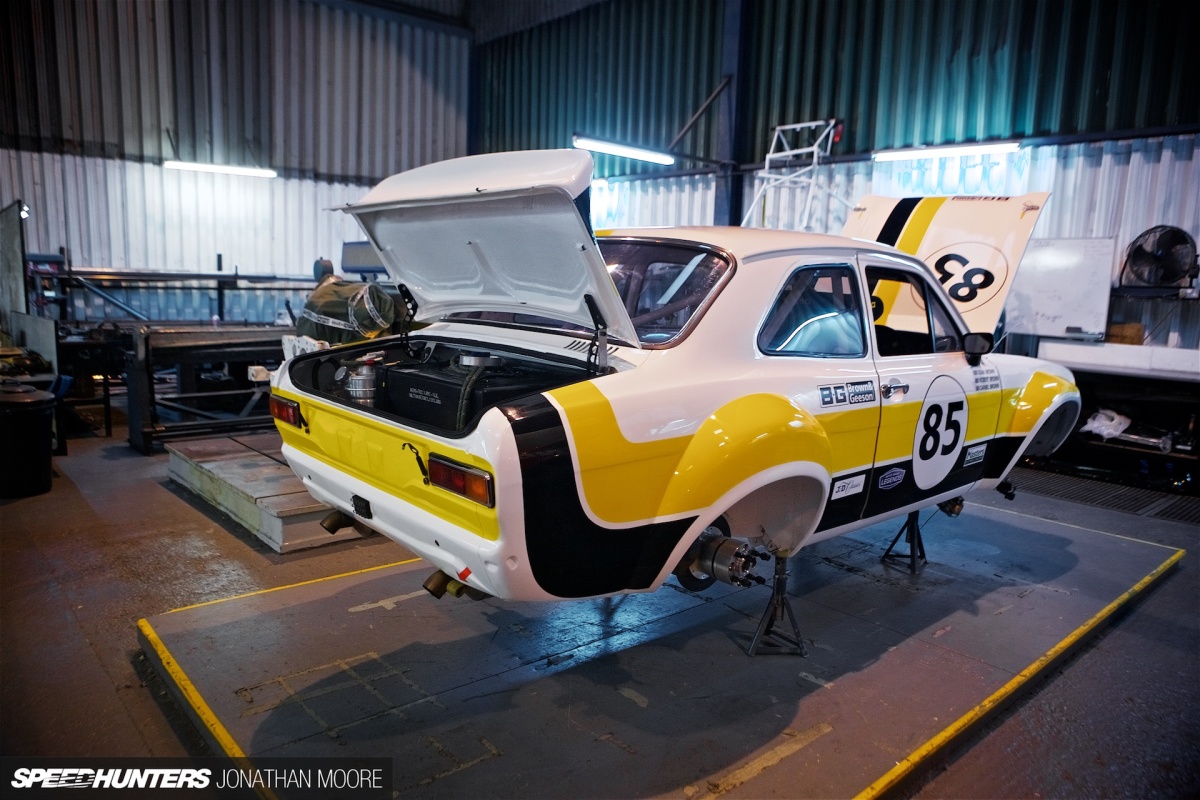 After a difficult decade when the rally work switched to M-Sport and Ford's taste for competition ebbed away, Boreham closed in 2004 and Peter formed MDV alongside his sons. But those Boreham contacts are still writ large across MDV's work; the one positive of Boreham's break-up was the distribution of vast expertise across the UK industry, with a significant amount ending up not far from the Essex nest.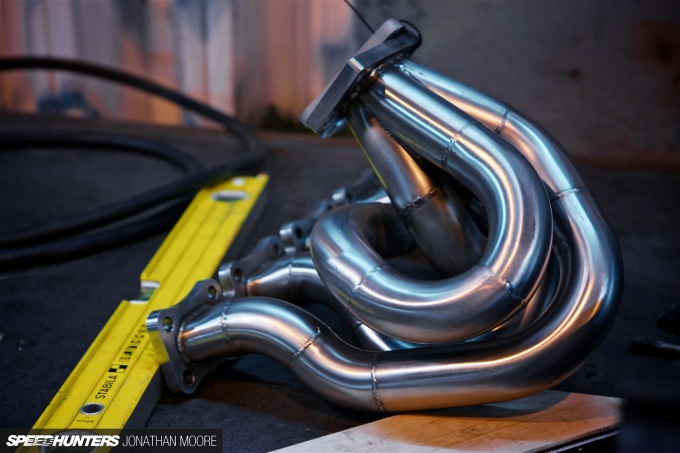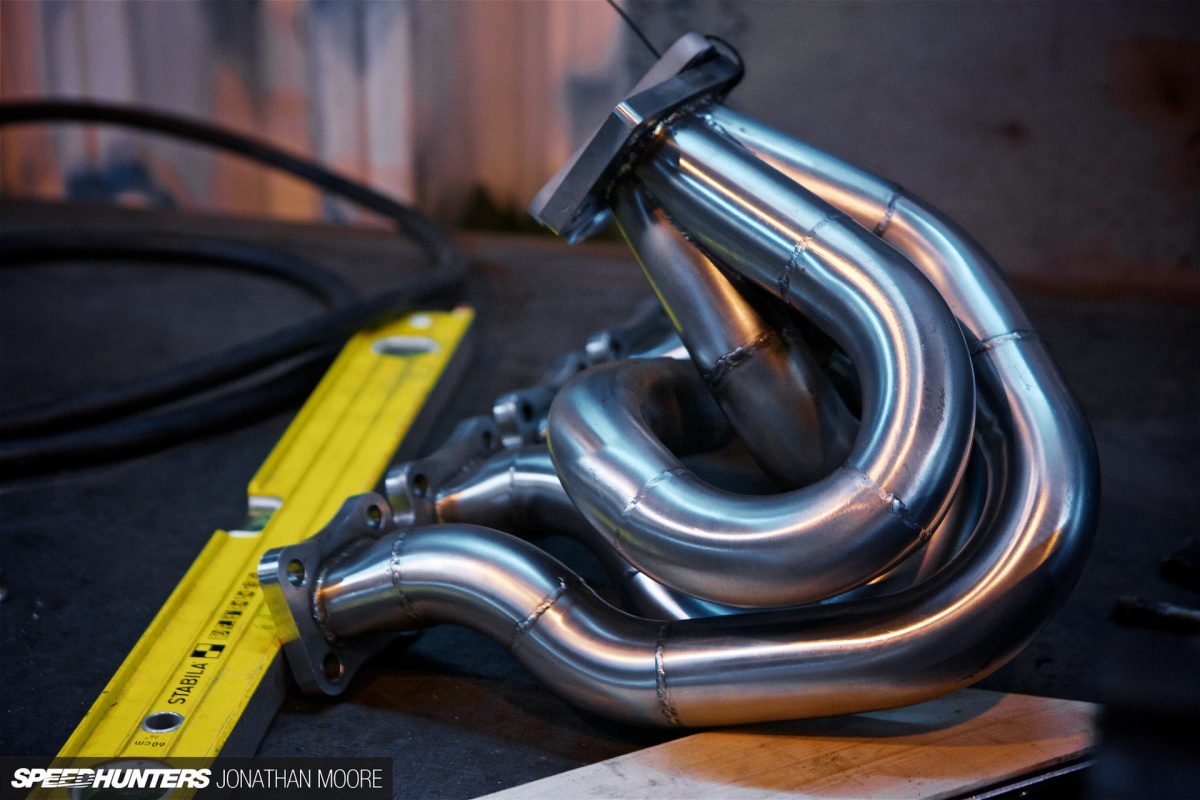 That local talent provides not just commissions but more importantly back-up for things like engines, paint or electronics. The Silverstone area might be known as the carbon fibre triangle, but this little corner of Essex could give it a run for its money in terms of available expertise.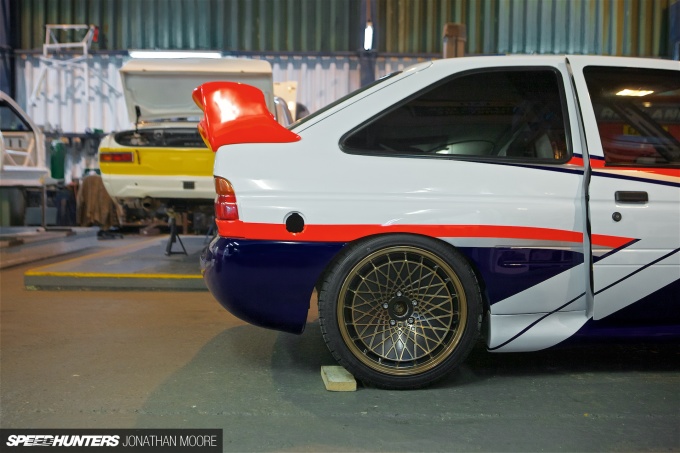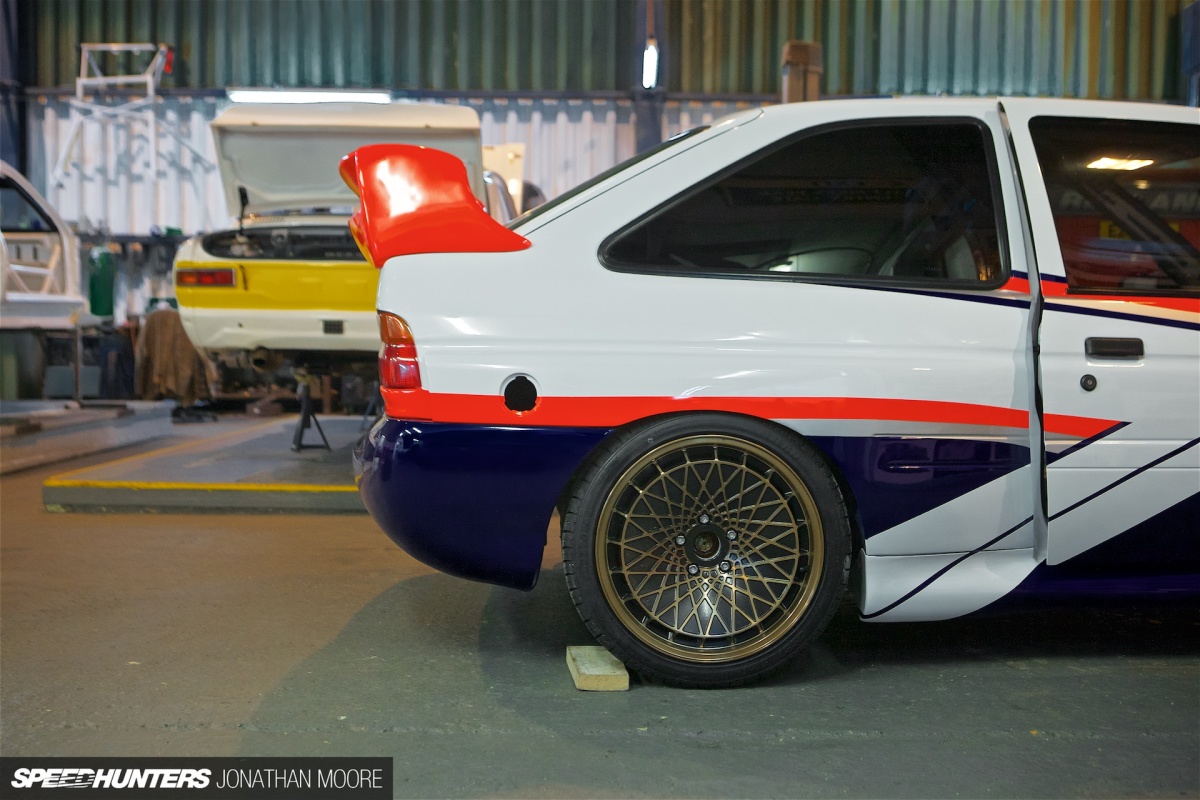 Peter is one of those guys you could speak to all day; gems of stories are teased out as names are mentioned (never dropped), and you feel like you're learning all the time. That's appropriate; it's the ethos they operate to. They'd see working on only one sort of car as falling into a trap. MDV might naturally be known for Fords, but realistically that's just one part of a far larger whole.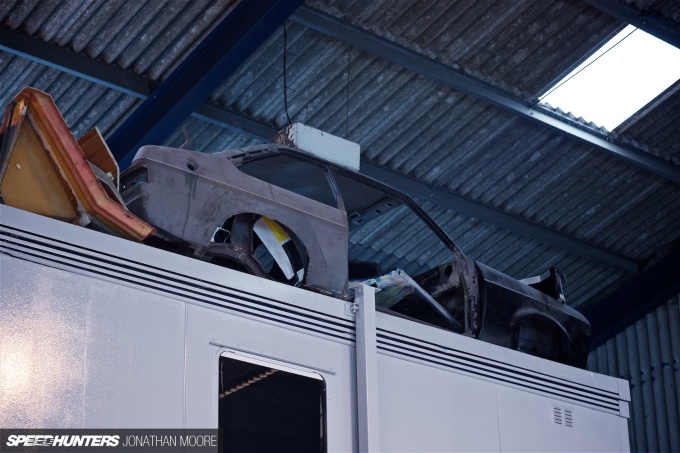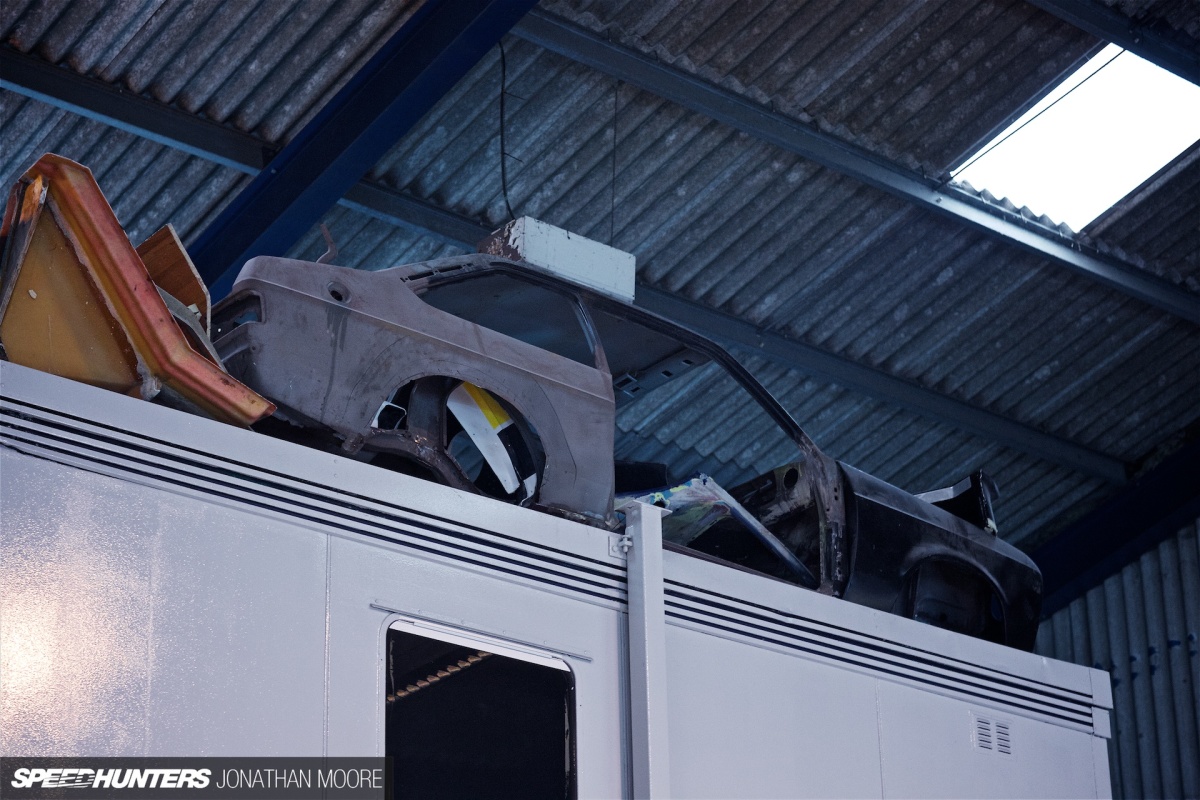 Pat Doran's all-wheel drive rallycross Fiesta Supercar was one of MDV's first projects; it won the British championship in '05 and set the template for today's RX grid. They designed a fleet of unique buggies for the rally school at the then new Bahrain circuit, and worked on the McRae Enduro and Buggy projects.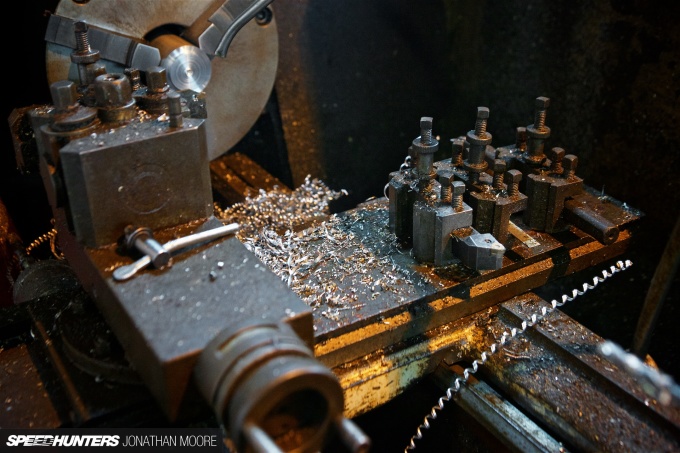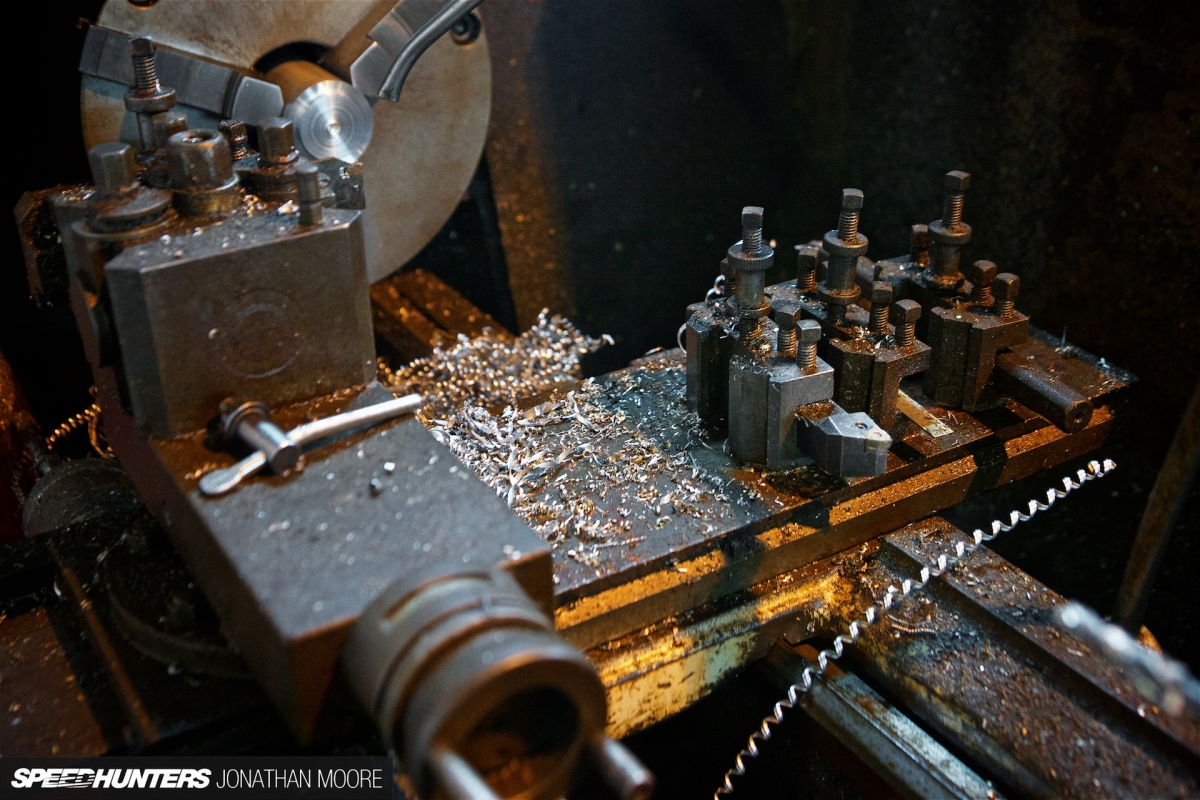 Almost every car MDV work on is effectively a prototype. They almost proudly say that you can never take a part of a car they're built and put it on another. It's all bespoke, automotive tailoring of the highest order; fitted suits of horsepower for individual drivers. Every car that comes through the doors is dissected and analysed, what it needs to perform investigated and crafted from scratch. What you see on the outside of a car is never a true reflection of what's gone on underneath; no component goes on a car without one of the team first taking it apart, improving it, developing it to fit the project.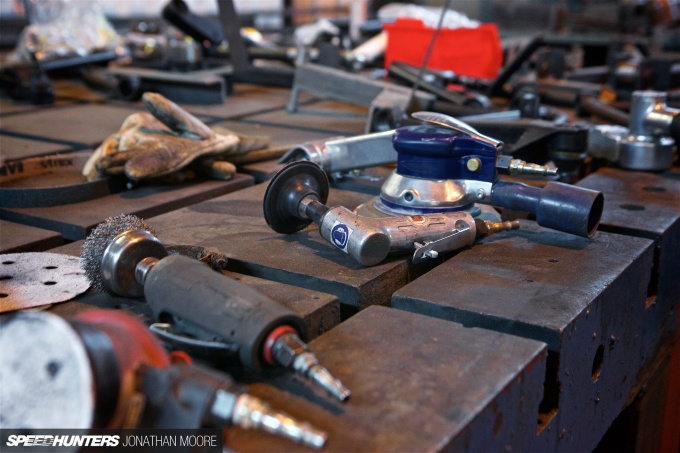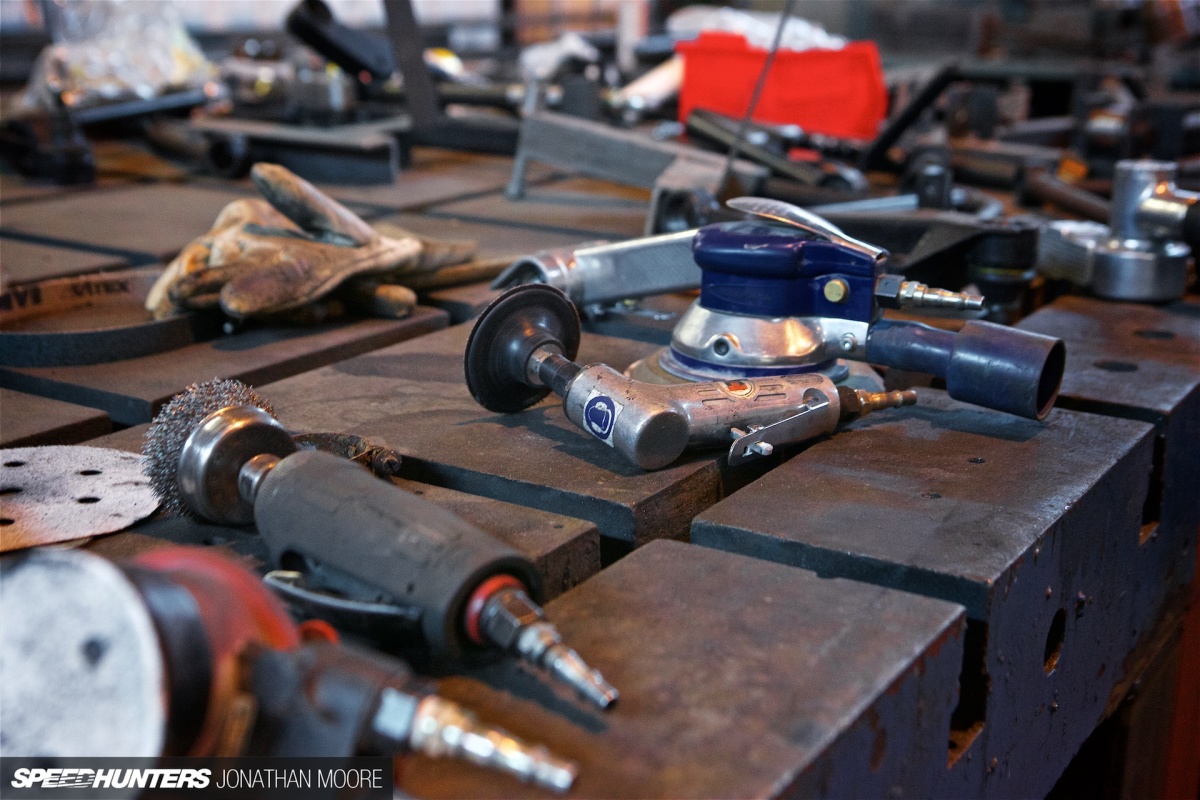 They understand what real-world limits are, and they know how to work with them. It's that engineering addiction that drives the team; the challenge of finding new problems to solve. Tolerances aren't there to leave on the table, they're there to be exploited where other people can't. Nothing is treated as simple because so few things really are – not if you really want to win. Cars are seen as a holistic entity. MDV will rarely take on a build they can't control themselves from beginning to end, working with their set of just-as-expert local partners for specific areas outside their focussed remit.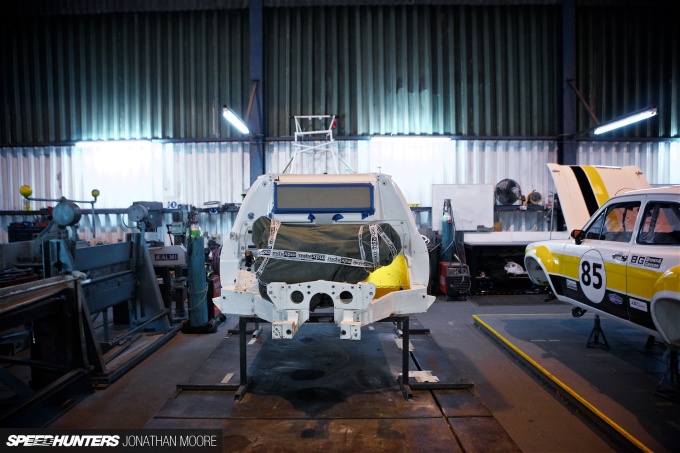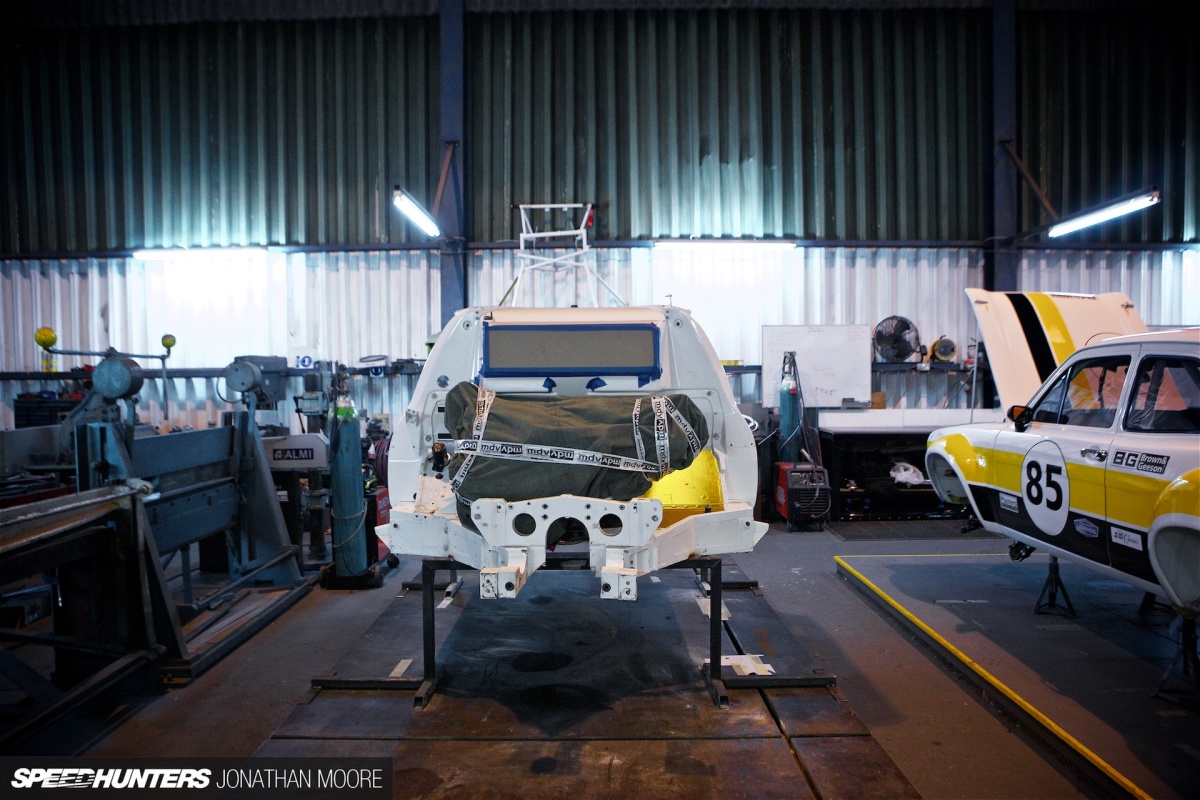 Every project is ordered and precise; things like suspension wouldn't even be considered until every element of weight distribution and loads were taken into account. No car has serious chassis or body work carried out until it's been aligned to with a fraction of a millimetre, XYZ coordinates recorded, and been welded solid to a marked-out plate. It can take days even to get a single car set in place. But that's what's required. MDV have a system; the system works and the results speak for themselves. From the conversation, perhaps it comes from that period of working with manufacturer tolerances that could be outrageously lax, and seeing the subsequent effects.
For MDV there's no such thing as a shortcut, and the people who come to them understand that.
If It's A Challenge, They're Interested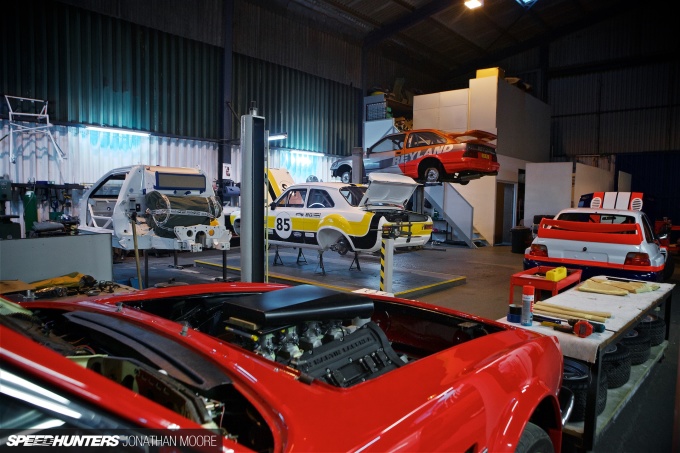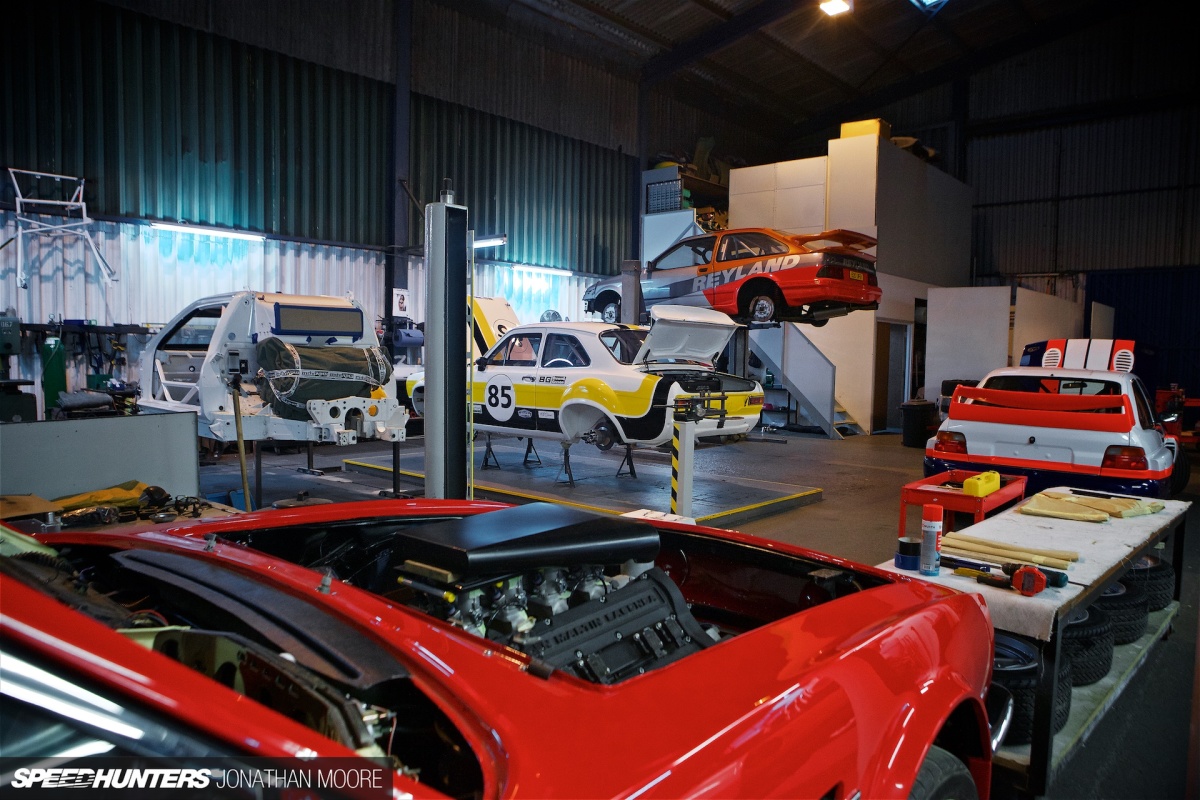 Having spent an illuminating hour chatting to Peter and Chris, I was then walked around the workshop and the various builds. Like any builder, MDV's workshop can contain different machinery on every visit, like a revolving set of aces. On my visit, the cars in the bays, welded to plates or up on lifts provided a visual index of what defined their interpretation of 'specialist'. It was a pack dominated by Fords, sure, but also a pack that perfectly illustrated both how eclectic and genre agnostic their chosen projects are.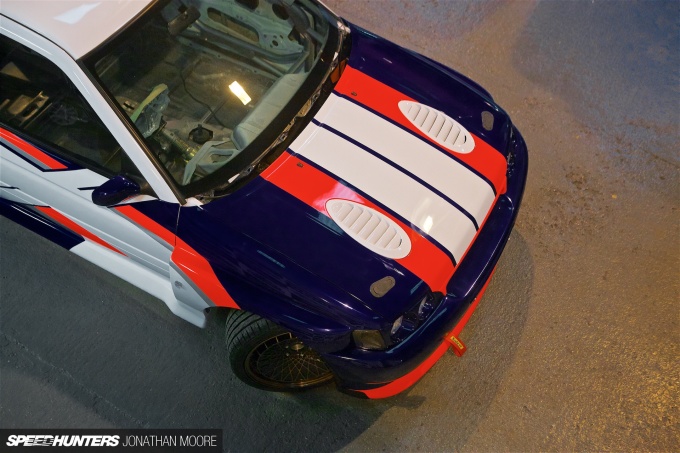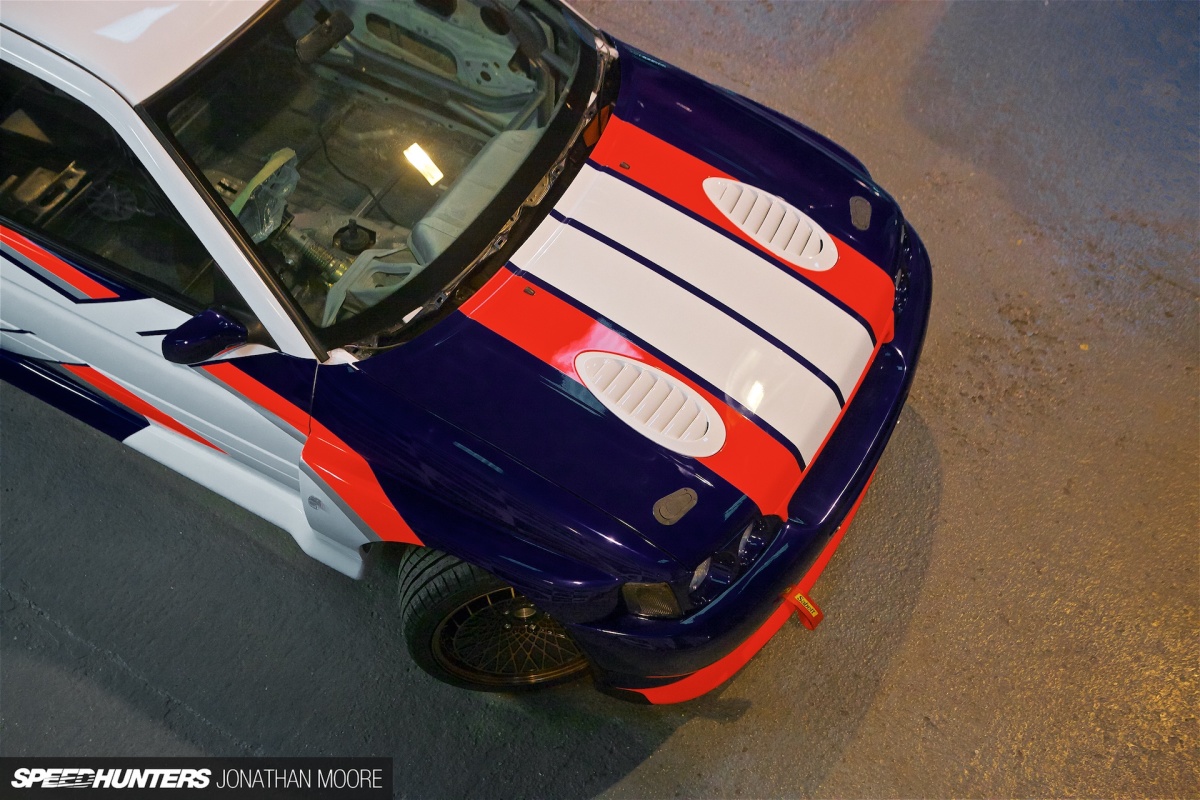 Each one was so different, obviously requiring a different approach and varied skills to be employed to get the car to the maximum potential of its specific task. It's just what MDV want, what they love – what they seem to need.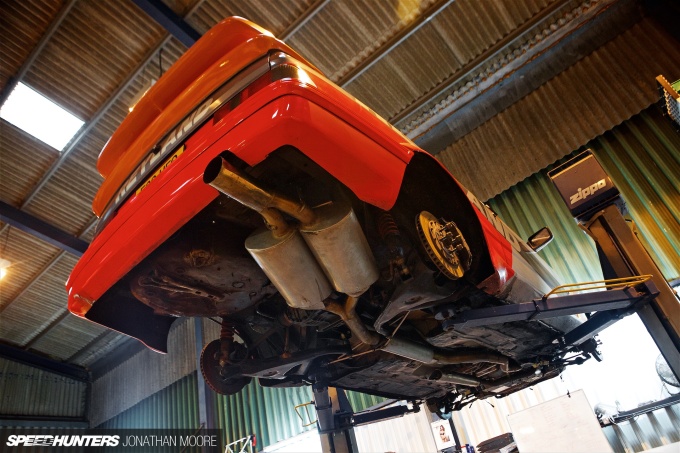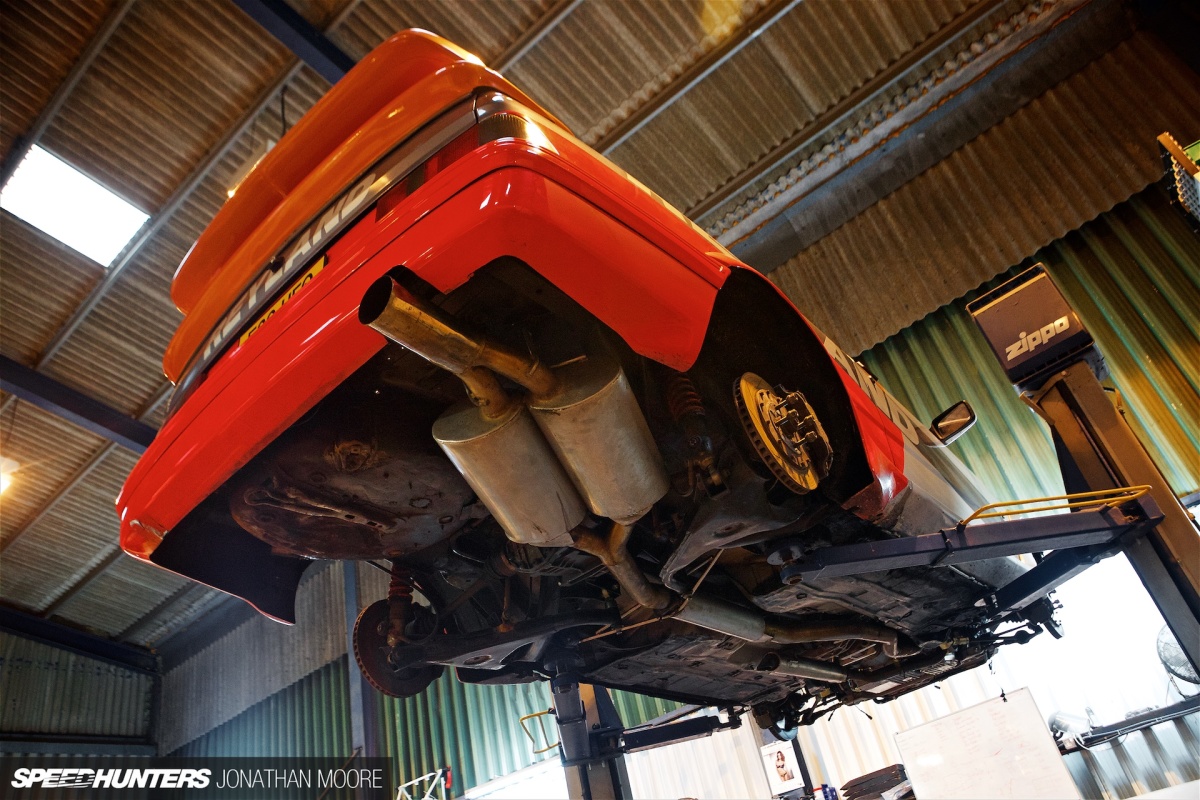 After all, working round the space you had a Pikes Peak hill-climber capable of blasting up through the Colorado clouds in less than 10 minutes; there was the classic Ferrari 308 undergoing a careful restoration; a classic wide-body Escort MkI racer with a full FIA historic passport sat on jacks undergoing its winter maintenance; a sparkling muscle car Aston V8 looked like was about to roll off a production line; a Time Attack-spec Sierra RS500 was having an engine rebuild; a MkV Escort Cosworth had been mutated into a snarling drift monster; and then of course there was the stripped core of their epic bespoke RS200 street evolution build.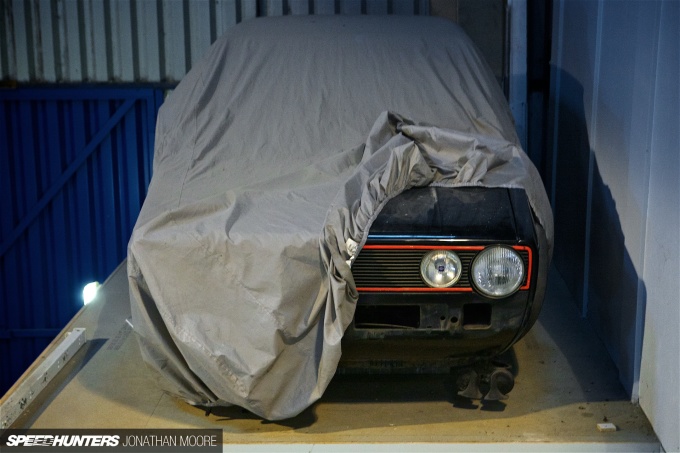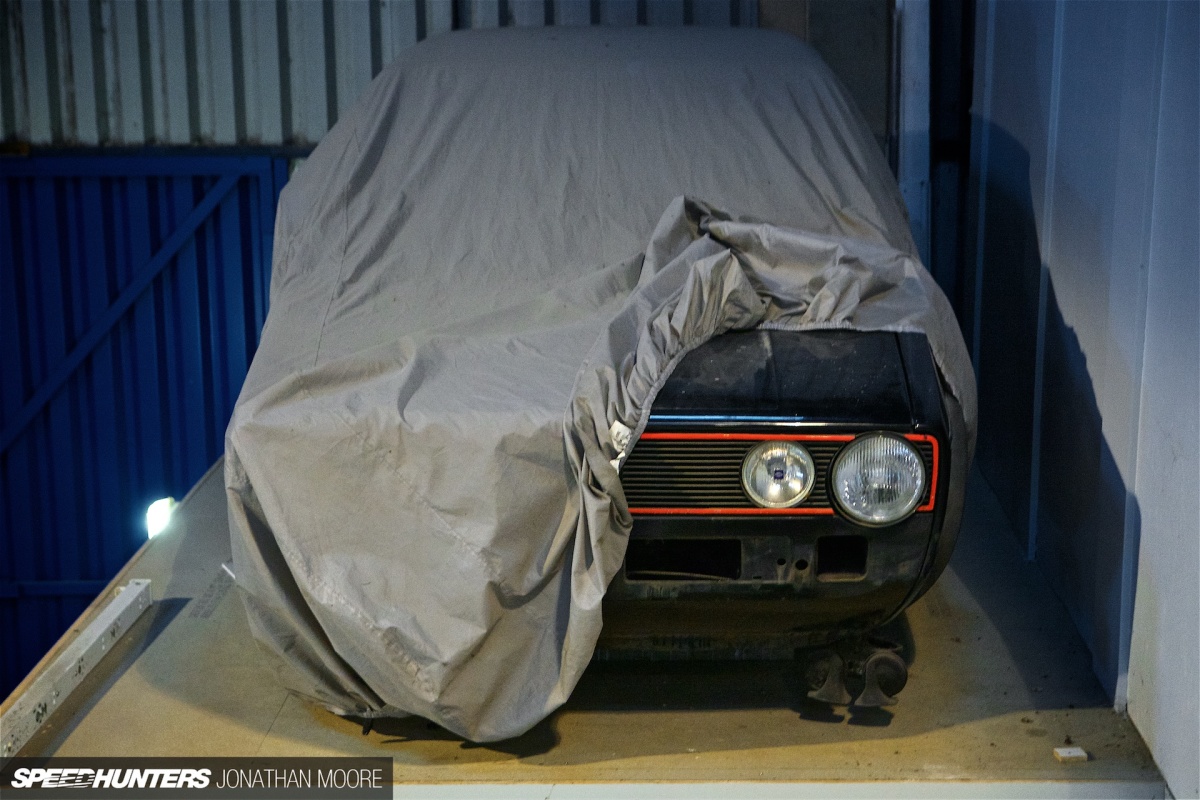 That was even before I looked up beyond eye level. It was like a dozen artisan automotive shops in one, but that's the point. The 'Specialist' bit of MDV Specialist Engineering refers to the latter part of their title, not any one kind of car or genre. They've got a lust for a challenge.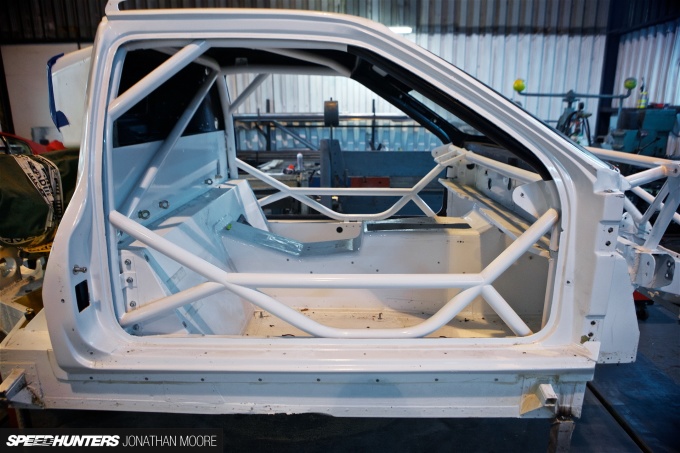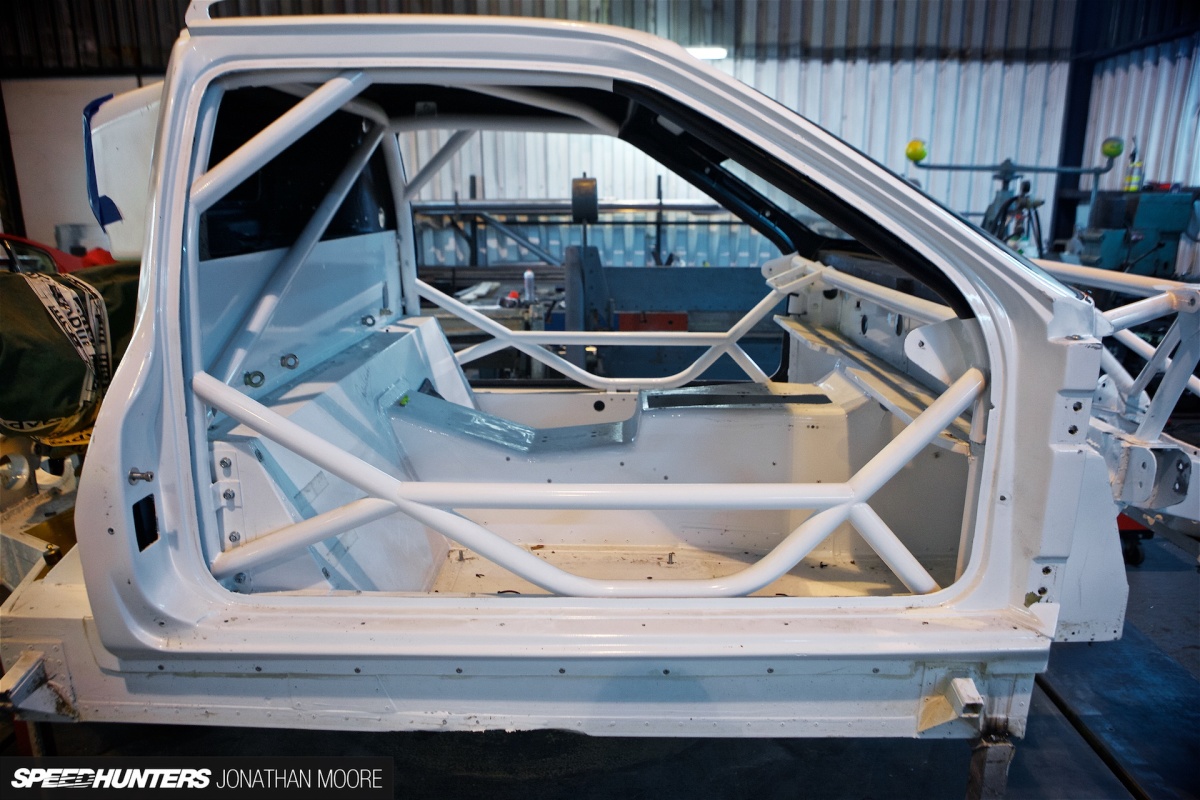 Although I can't wait to see their stunning Ford RS200 back in one piece, it was still interesting to see the chassis literally stripped down to its most basic form. The reason wasn't good: a serious hit sustained during a rally last year had caused substantial damage, ripping off one side and stoving in the front. However, it proved the strength of MDV's build; the main cell was unaffected, the doors still opened once the car was retrieved from the tree it had mated with. Chris was particularly relieved at the chassis' rigidity – he'd been in the passenger seat at the time…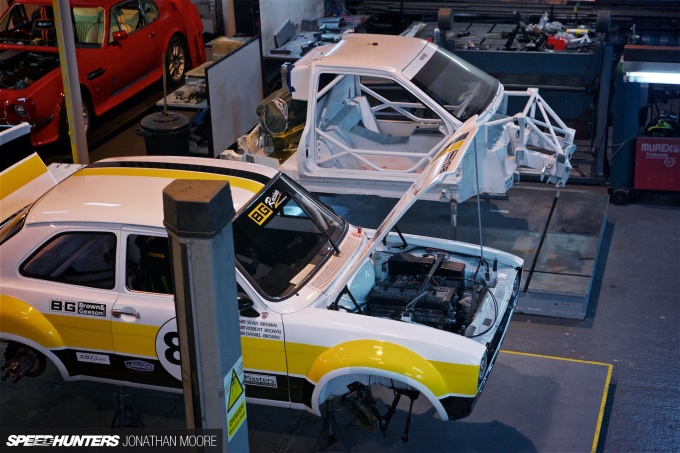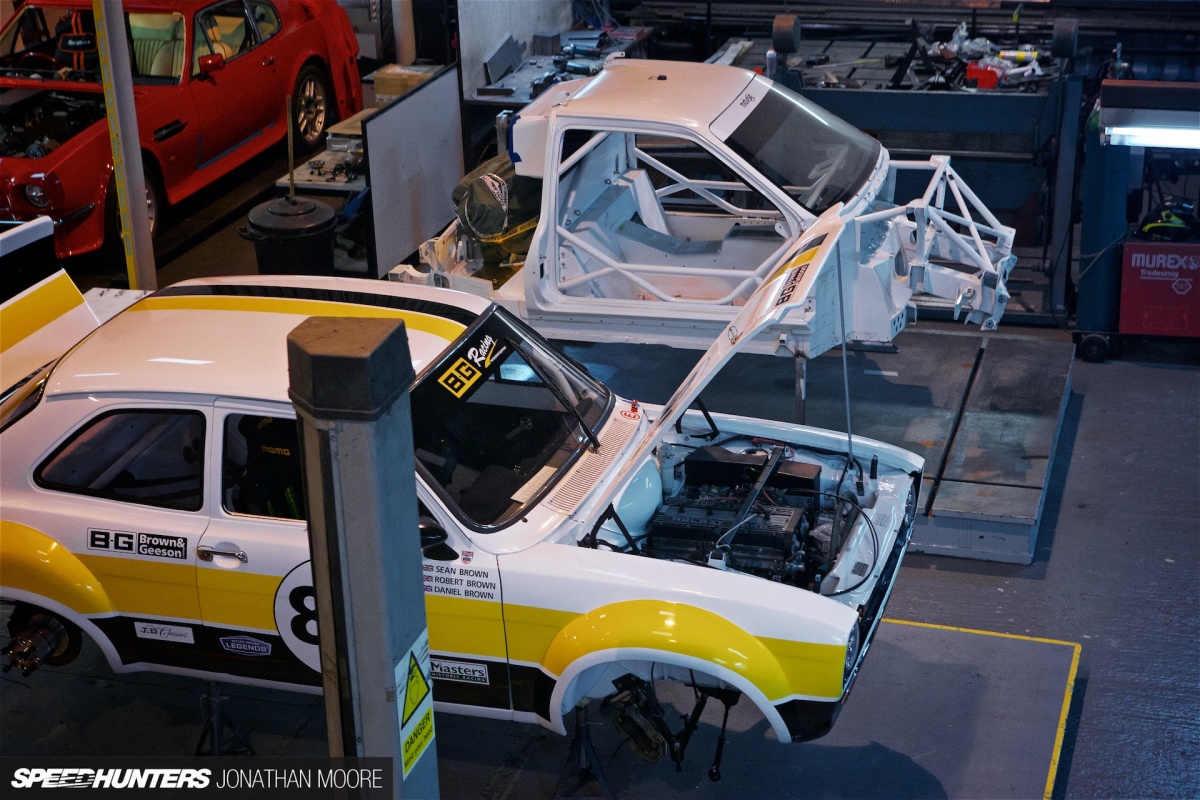 Its owner also drives a genuine Evo rally car, and wanted to use this 'spare' as a platform to show see just what you can do with an RS200 if you introduced modern concepts. MDV were pretty much allowed off the leash with this project – it's the epitome of what they can achieve. No surprise that after the accident, rather than thinking of what else could be done, the car is being rebuilt to exactly the same spec as before.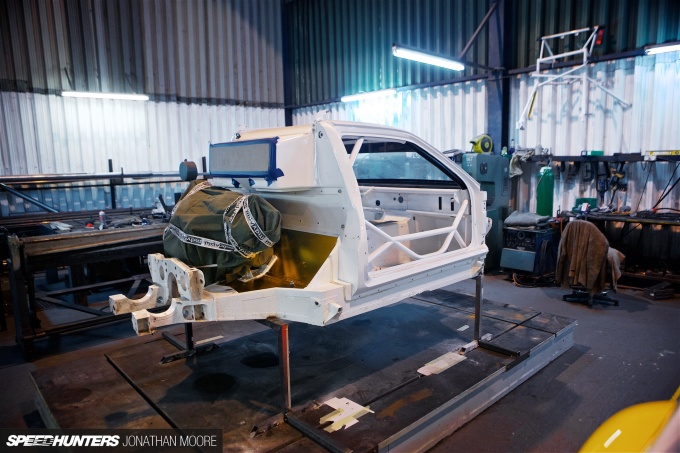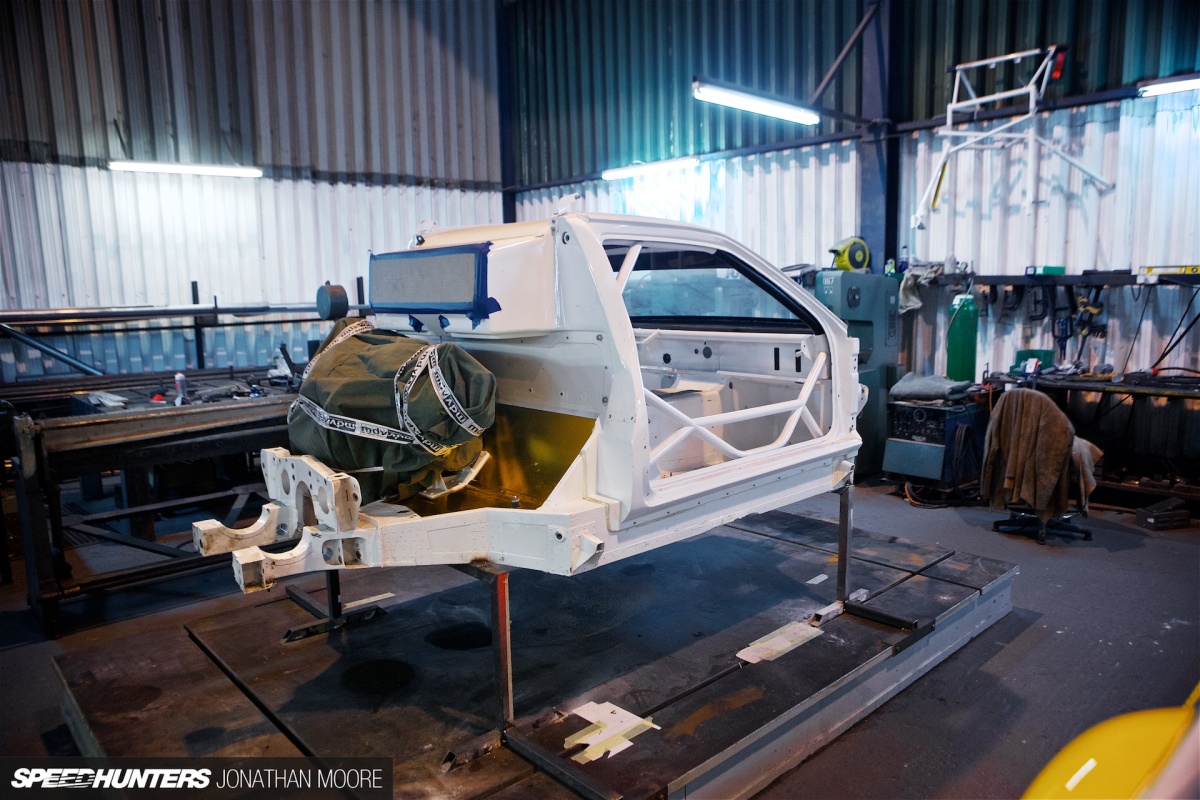 I saw the car just as it had been securely fixed to the plate, fully aligned and measured, ready for the serious work of cutting and repairing to start. It's not an original registered RS200, but it is factory blessed in a way – RS200 development chief John Wheeler has signed the interior. I'll be featuring this once it's back together, so I won't spend too much time on it now. Suffice to say, it's an absolutely glorious thing.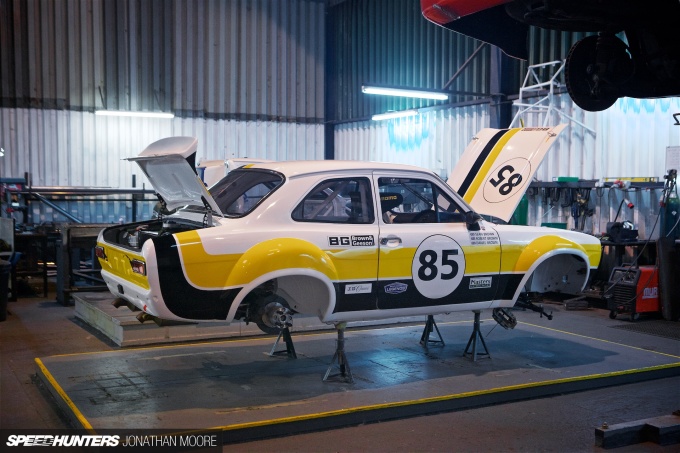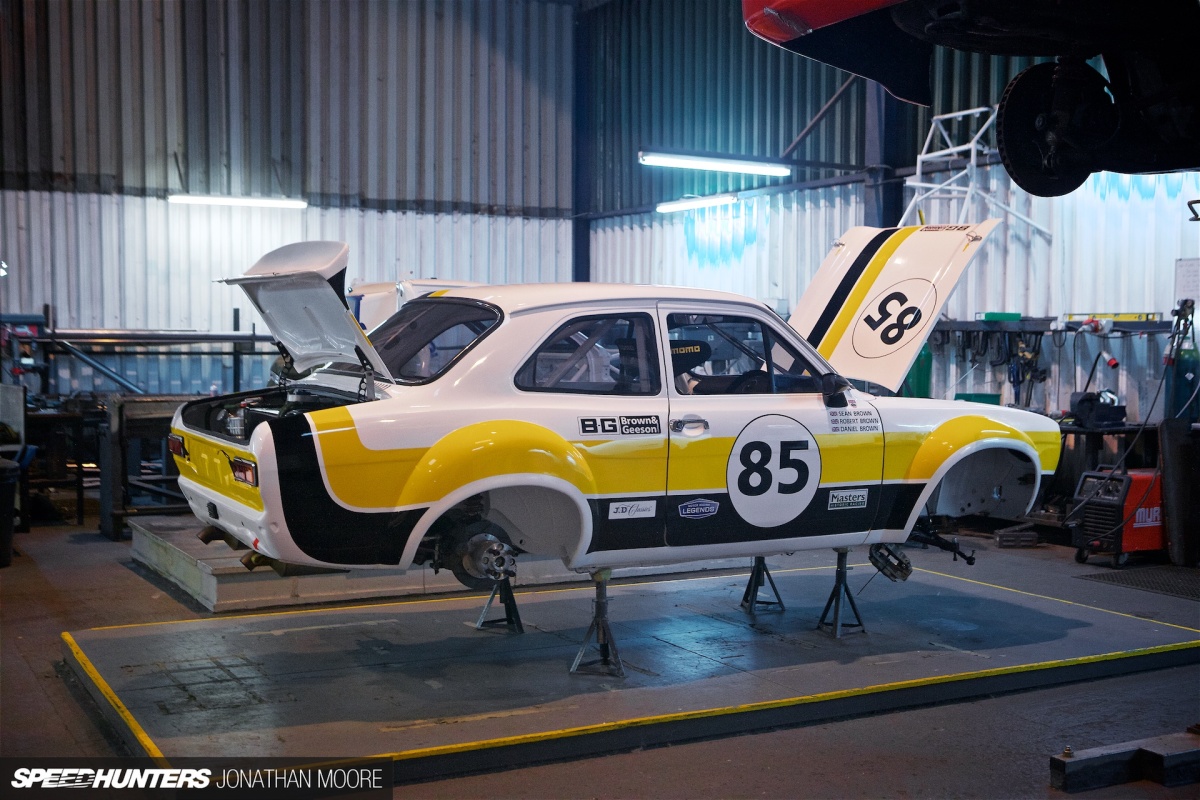 I was stunned by the MkII Escort that MDV have developed when I saw it last year at the Autosport International show, and this MkI was its big brother – one of several cars campaigned by Sean Brown. In fact, it's got an evil twin, a BDG-powered sibling that lives out in the US, delivering a winning smackdown to domestic rivals over there.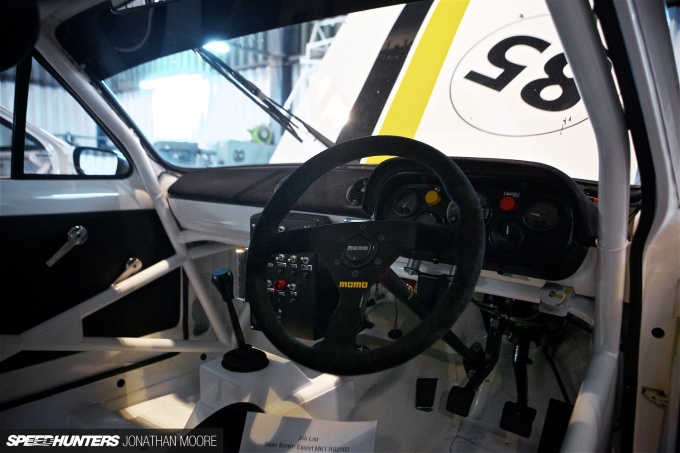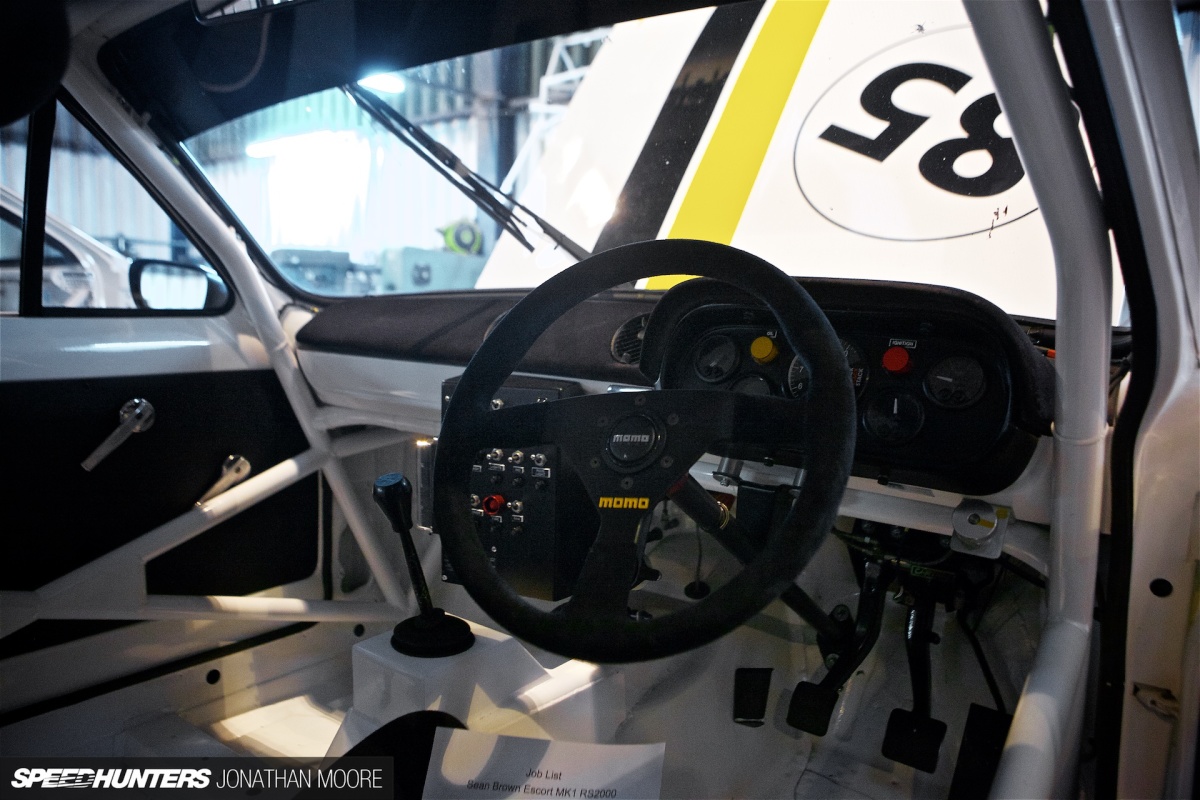 This MkI is Sean's 'home' Escort, raced around the UK and increasingly in Europe, with both his sons also getting behind the wheel. Dan Brown is a semi-pro driver, who's more commonly seen in modern GT machinery. The Escort carries a full FIA technical passport and Appendix J homologation, so it conforms to period regs.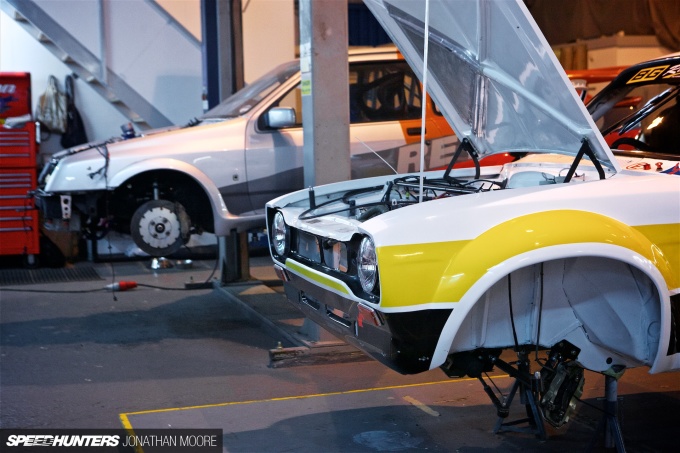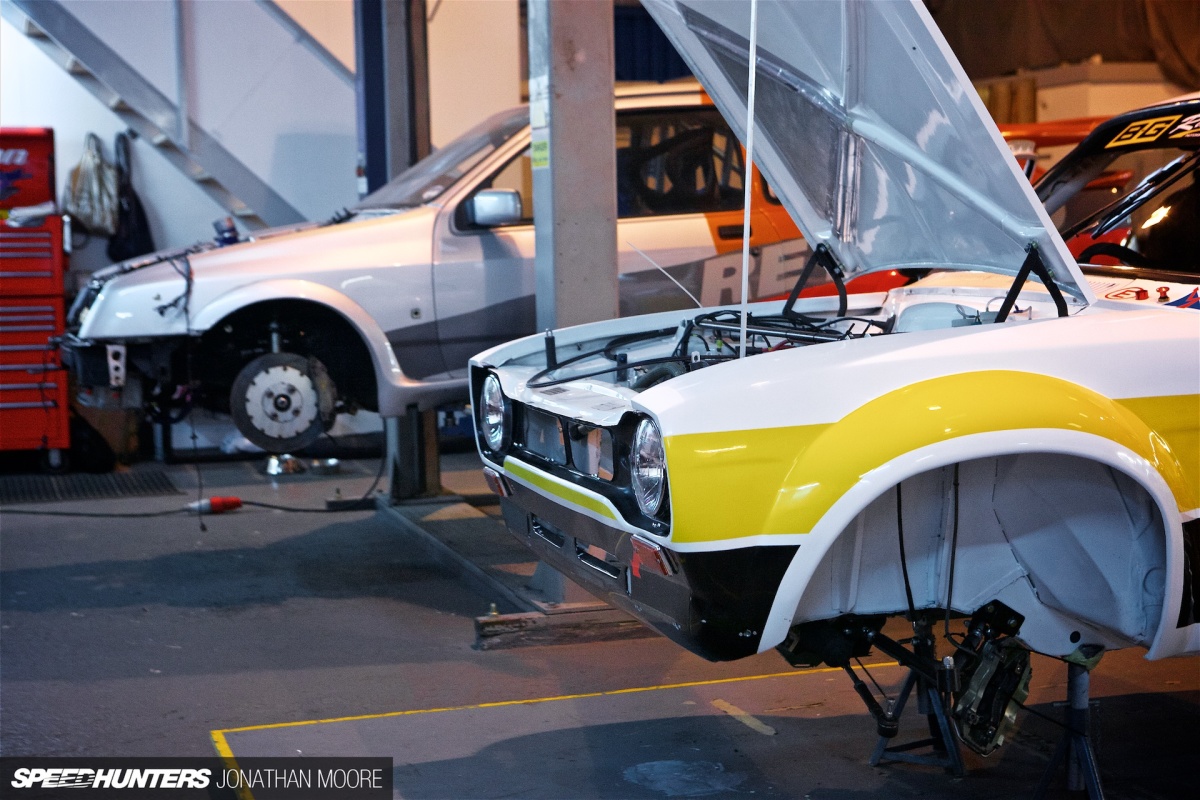 Although it might seem like classic racers are limited by what is deemed 'period authentic', in some cases it's actually the reverse. There's almost a Wild West side to the '60s and '70s in particular, where even manufacturers were up to various tricks. The ducktail spoiler on this MkI was modelled on an official Cologne part that was tracked down – complete with part number. However, that's not the norm, as parts could be modified from session to session and never recorded (sometimes for good reason of course!). There are stories of even glass rubbers being enlarged and glass made thinner in period, in the effort to shave weight off without alerting the rule-makers…
So, basically if you can find some evidence that it was done at the time, you can try and do it yourself – plus modern materials are allowed in certain areas. It's why this car could qualify near the front of even a modern BTCC grid… Engineering challenge? Tick that box!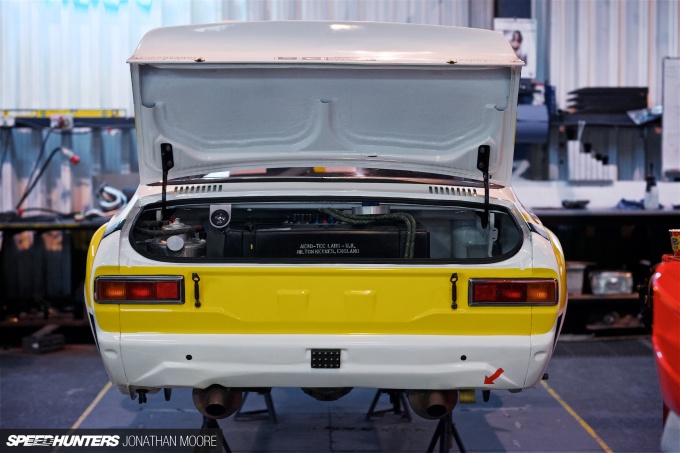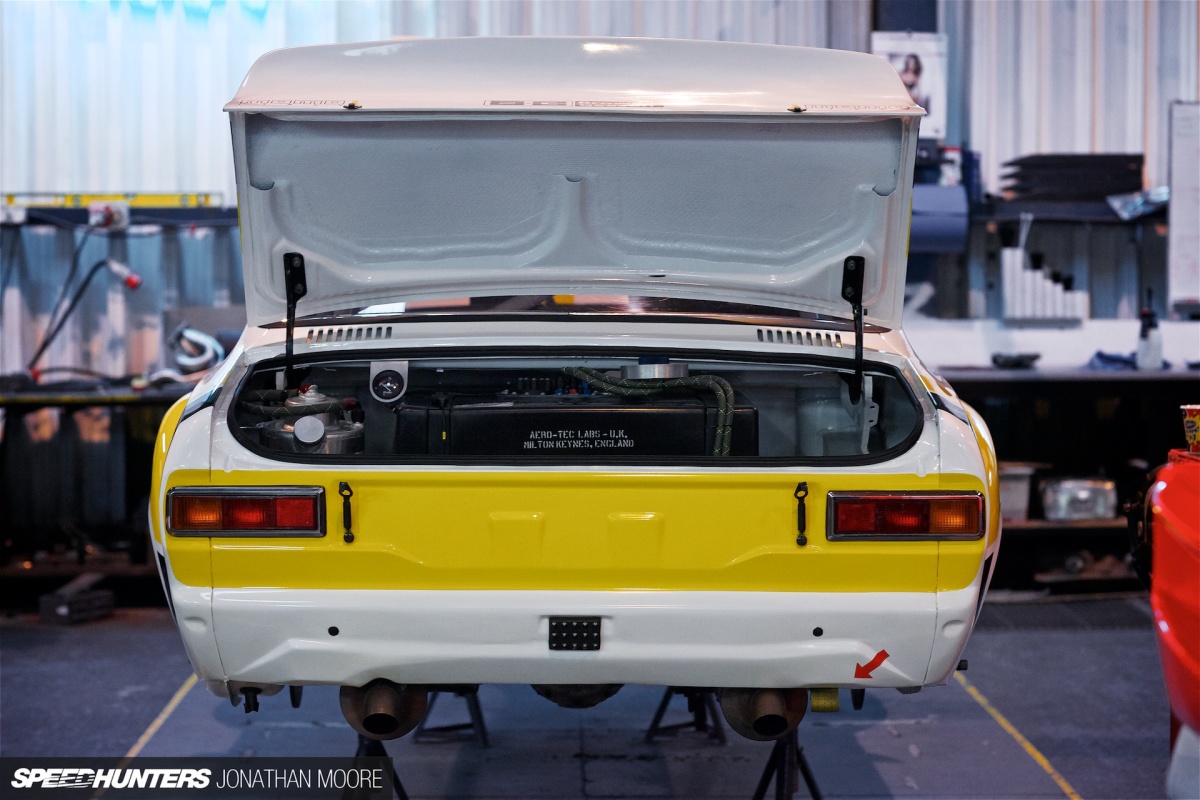 MDV have teased the bodywork out to the absolute maximum, down to tolerances of half millimetres. They can do that because of the aforementioned dedication to accuracy. Nothing major is done to any car without it being aligned and measured, then welded and bolted in place.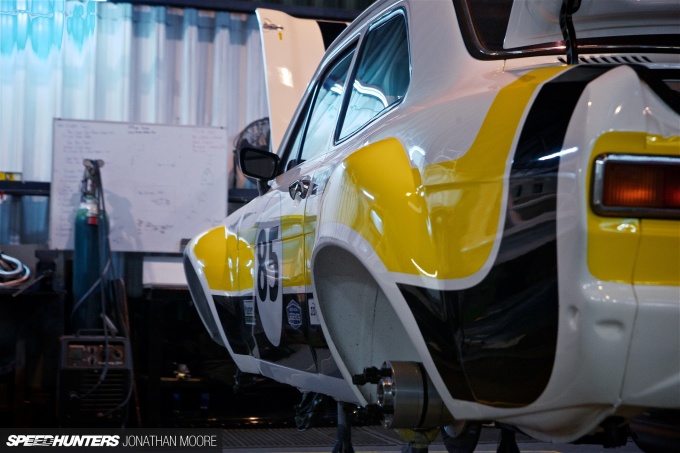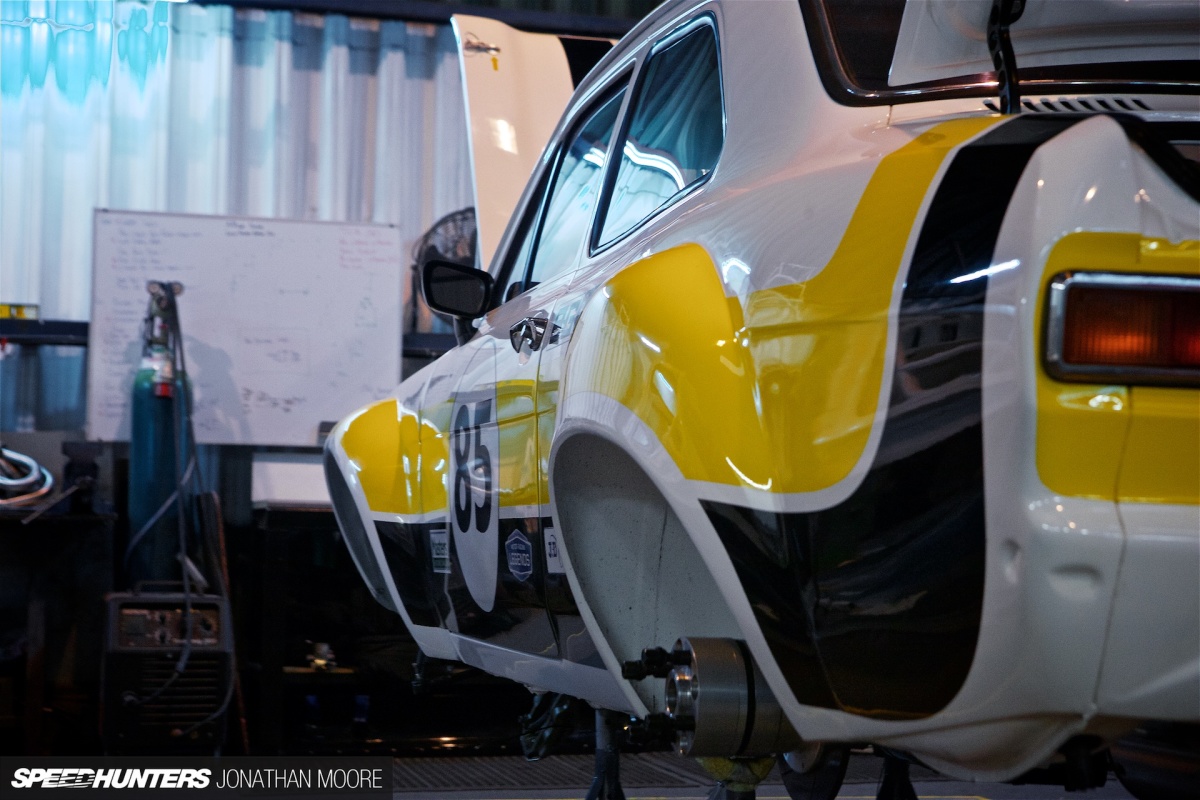 Although it looks like a standard flared Escort racing kit, every arch and flick on the Escort has been custom made at MDV, measured around the centreline to achieve the extremes allowed. The new bubble arches were hand-crafted, and are actually slightly asymmetrical to compensate for the liberal tolerances used when the chassis was originally laid down.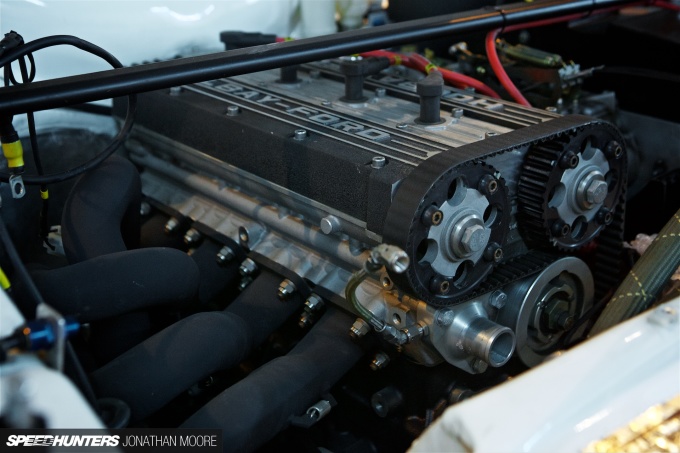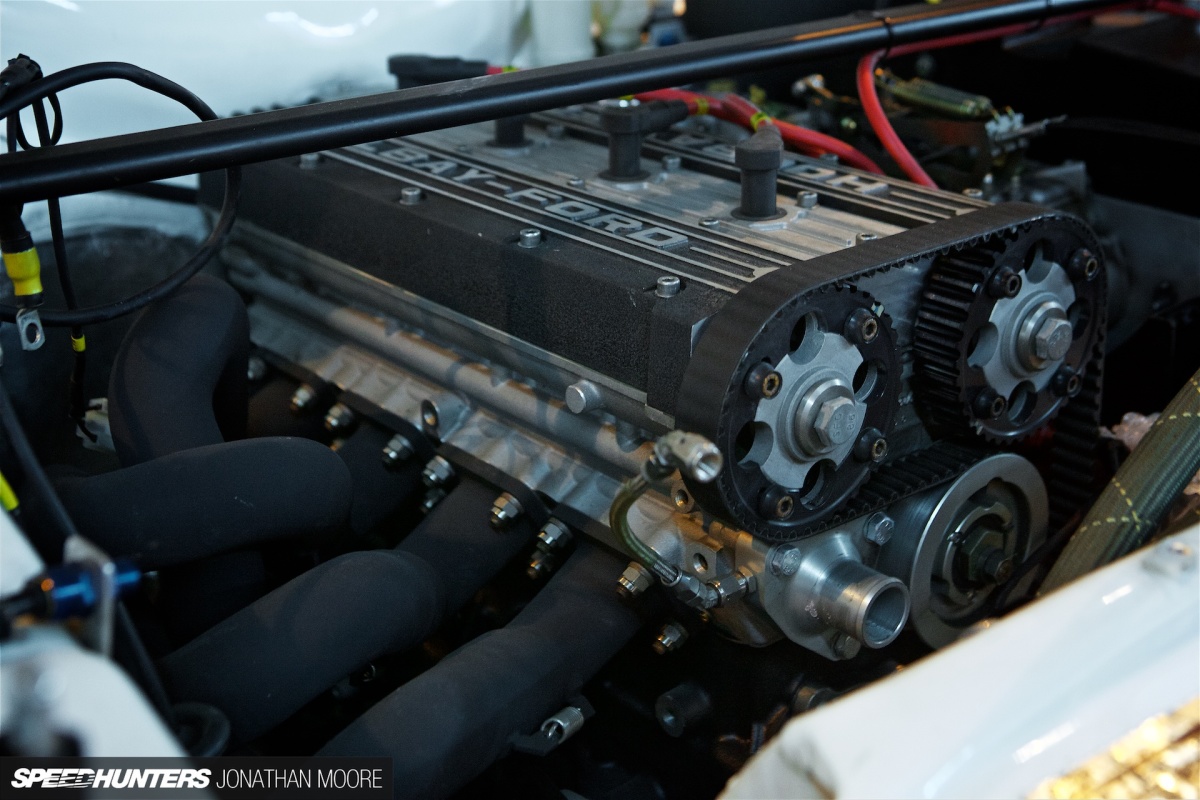 Ford specialists Smith & Jones oversee the engines for the fleet of MDV Escorts. This one mounts a 2.5-litre aluminium block YB with twin 50 carbs – it's essentially a Pinto lookalike, but has some serious modifications, all allowed under the rules. MDV have created a bespoke airbox with a big plenum chamber that's made a huge difference to feeding clean air to the YB. It's so efficient that there's hardly a difference on the dyno even with the box fitted.
They worked with Simpson and Primary Designs (the latter more commonly known for their F1 dealings) on developing the exhaust system. A ceramic coating helps keep under-bonnet temps down; braided but modern hoses continue the period look.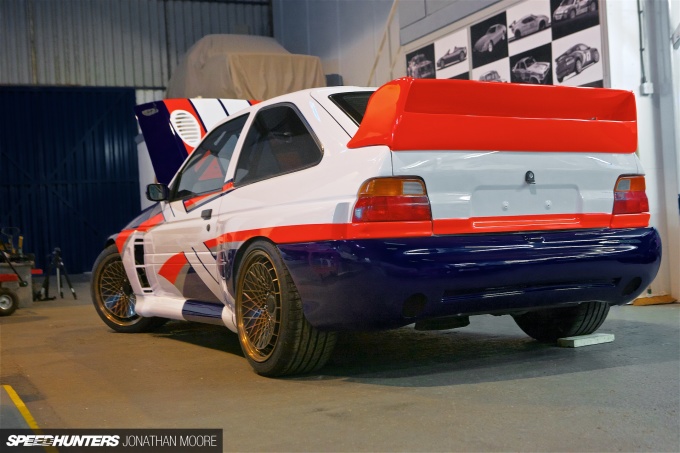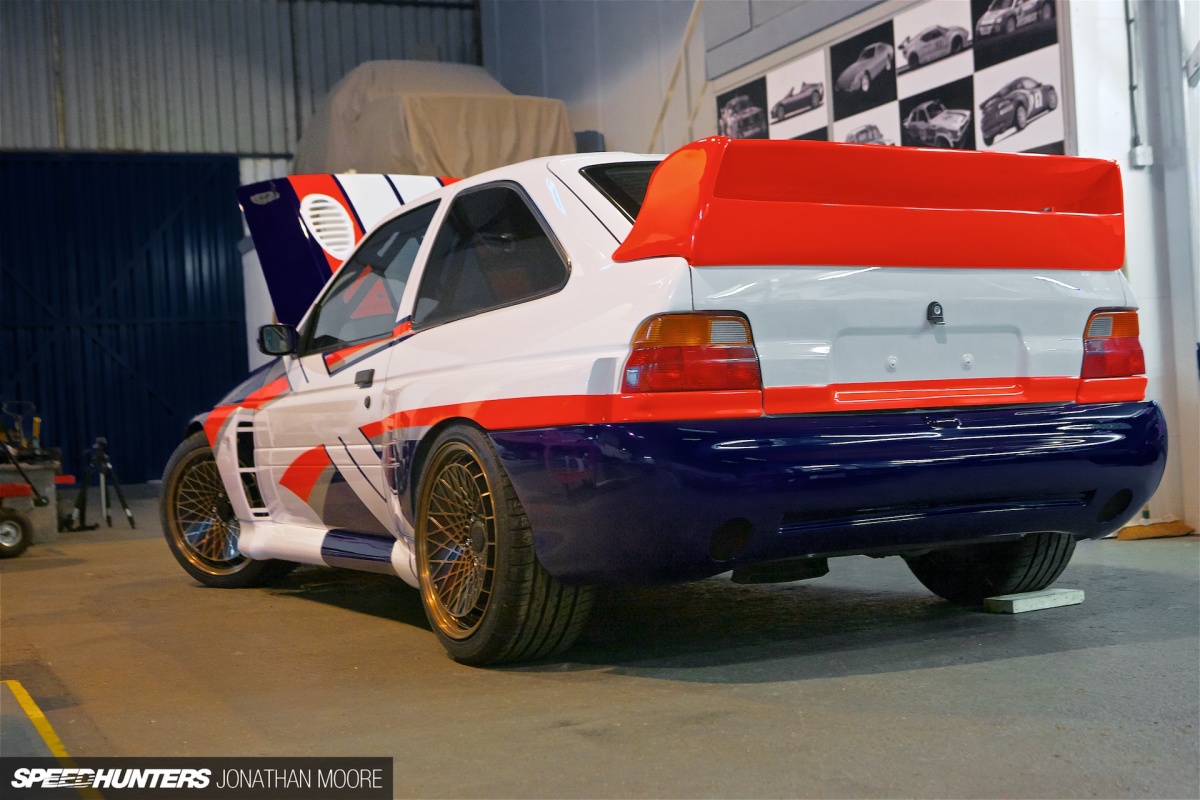 Then there's this MkV, something at the complete other end of the spectrum. The owner of this car wanted an extreme drift machine that would stand out from the stereotypically Japanese crowd, but still look relatively stock. As with so many MDV builds, from a distance it looks good, but close up is where the greatness emerges. It's always about attention to detail and yet not drawing too much attention – a bit like the company itself.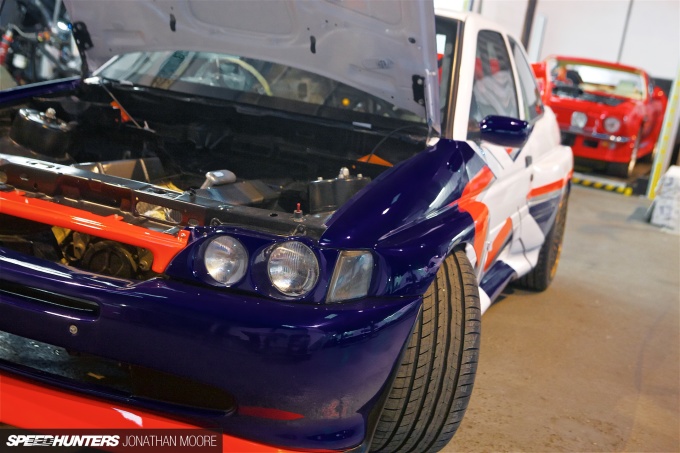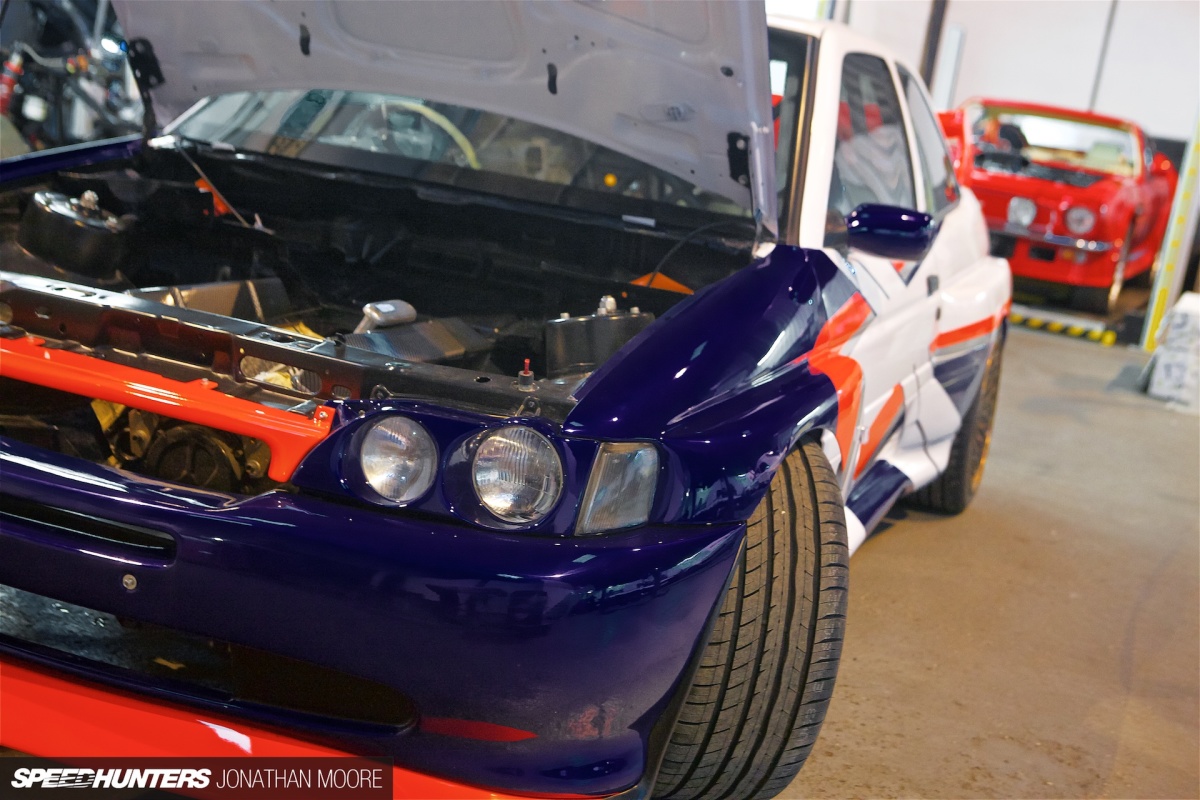 The stock Escort Cosworth look is deceiving; it was built up from a Group N competition shell, but then reimagined by MDV. The arches have been subtly cut and extended, bumpers cut and reshaped and the bodywork crafted to contain the new drift-centric setup but present a standard look at first glance. However, even before it went through a corner belching smoke, the sound would tell you this was anything but normal.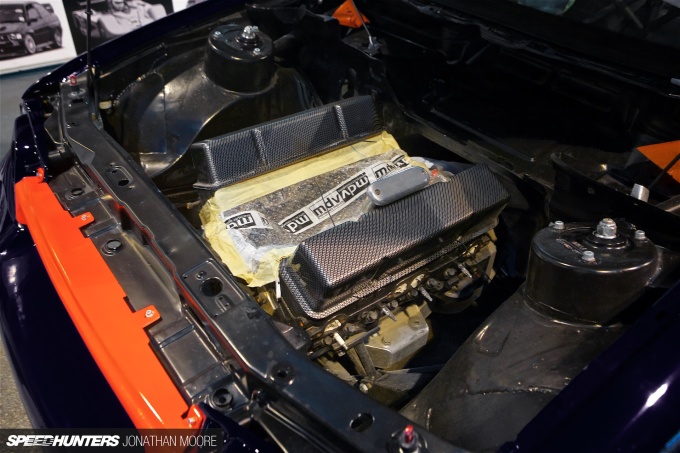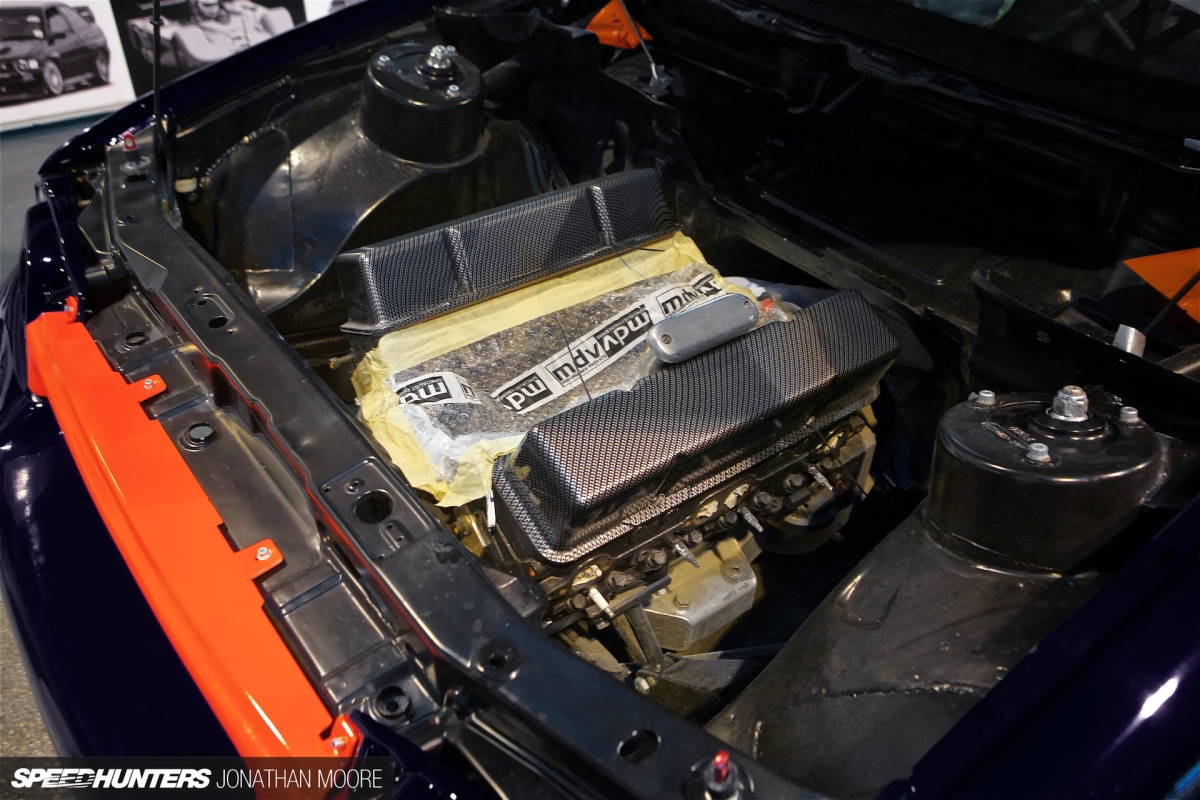 Up front, mounted so low down it's practically scraping the floor but allowing the standard bonnet line to be retained, is a Chevy small block V8 out of an old NASCAR. Although not over-powered in relative terms, it will sound like a wailing banshee and provide more than enough power to get this thing to obscene angles.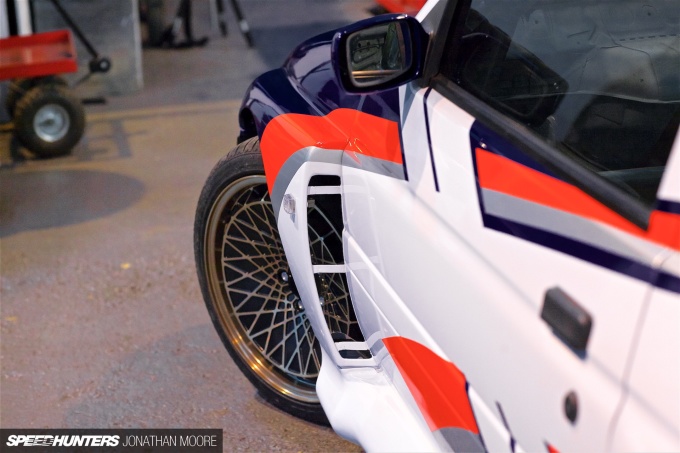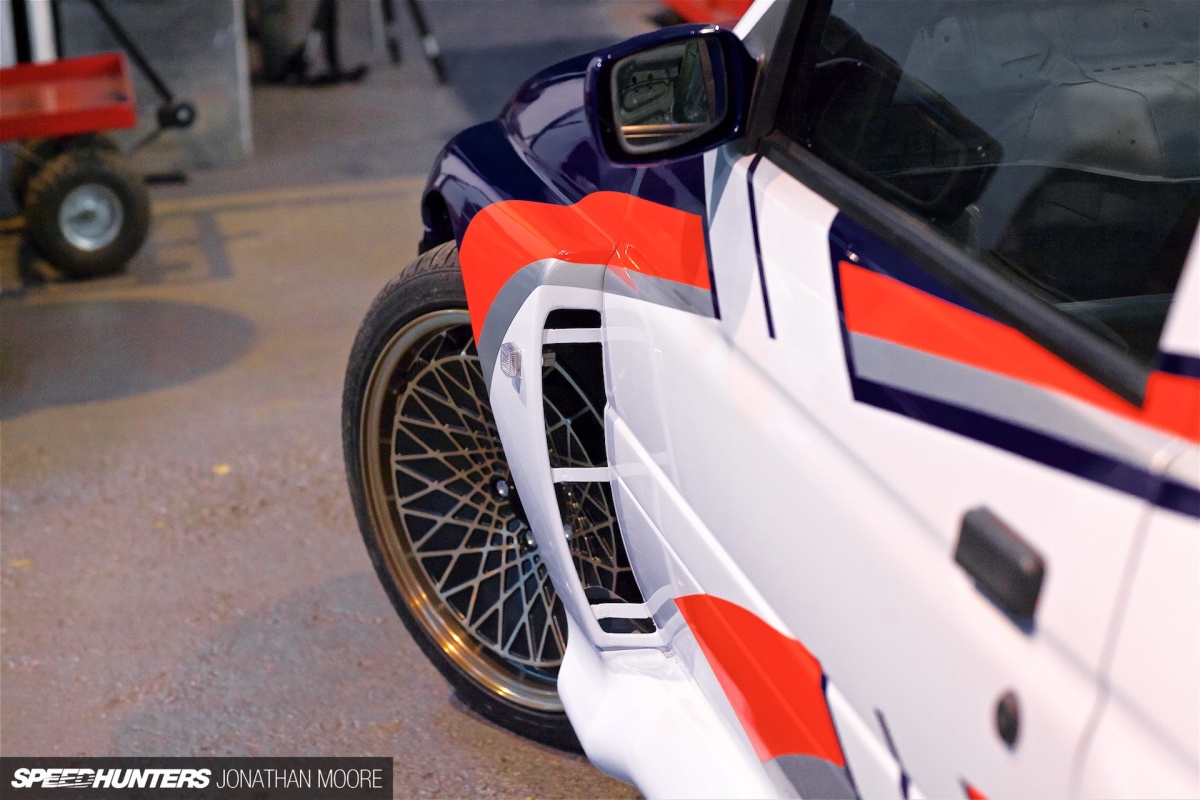 That's where the work on the front wheels comes in. The massive lock is allowed by a modified front cradle taken from an E46 – that's actually just the first part of the BMW connection.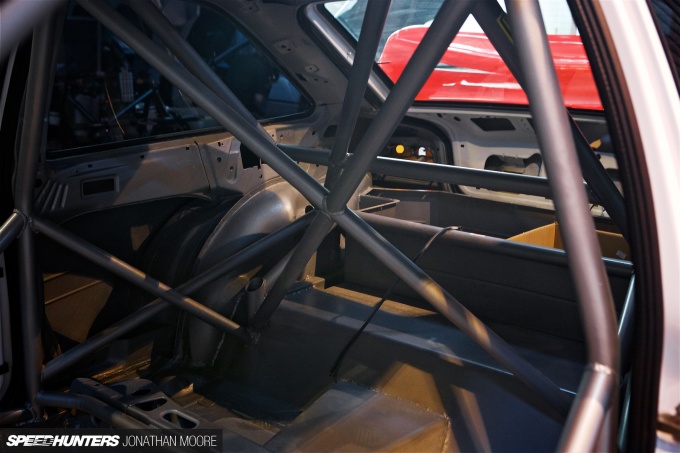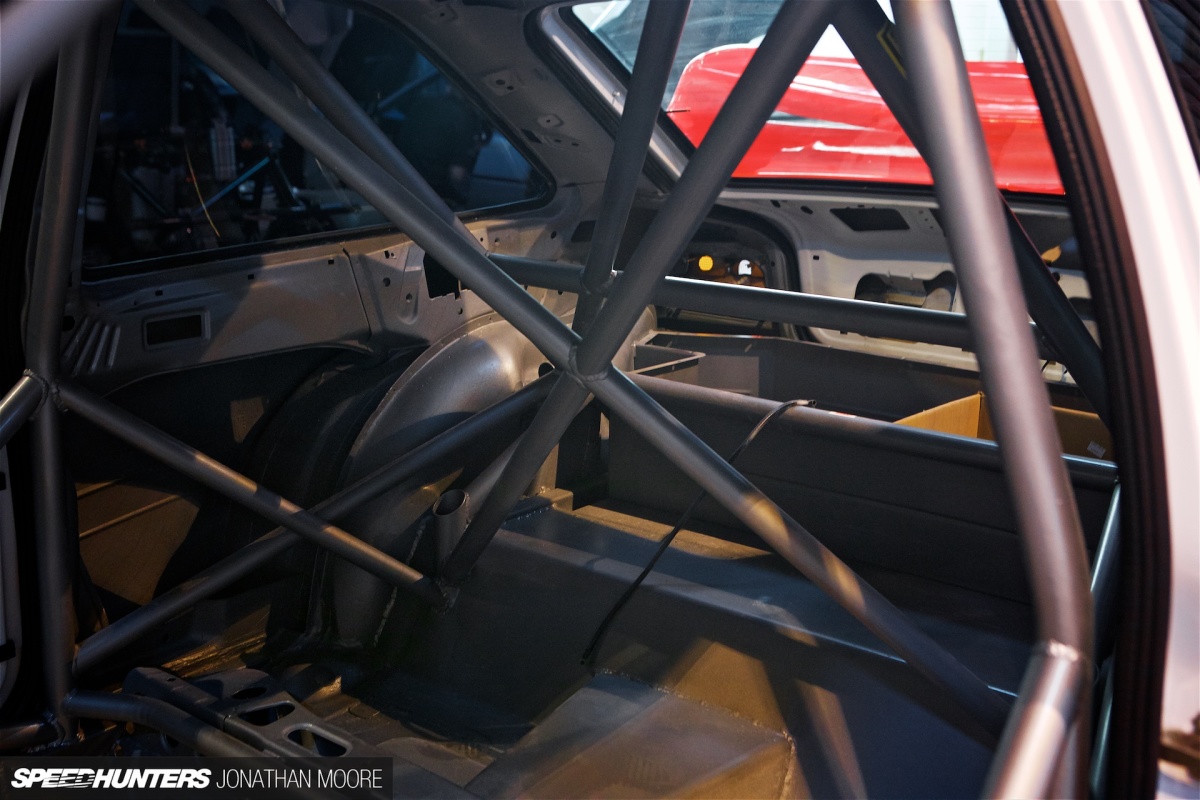 The rear end is aluminium M5/M6 E60 spec, with an immediately recognisable M5 diff hanging down low. It's been bolted up through custom mounts, meeting the full cage coming down from above to create an incredibly stiff construction.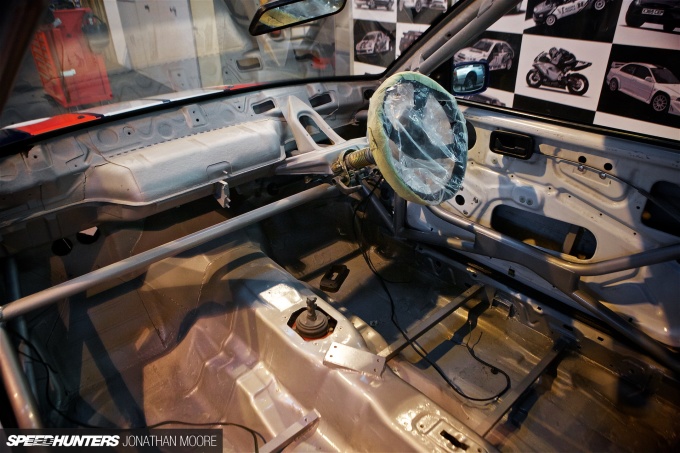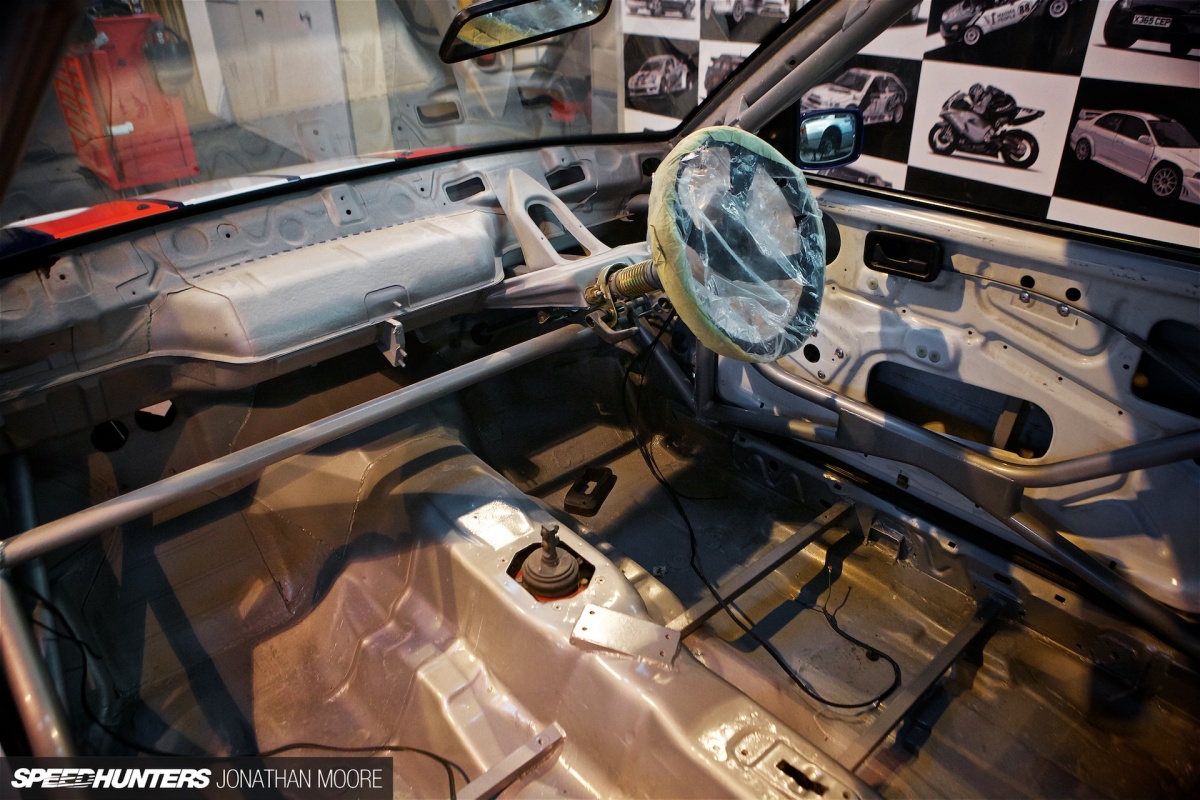 A manual Tremec gearbox and hydraulic e-brake form the transmission; all the arms, uprights and steering have been developed in-house. A bespoke MDV exhaust was about to be fitted, the wiring completed and the cockpit installed, and then this thing will be ready to roar.
Never Take The Easy Option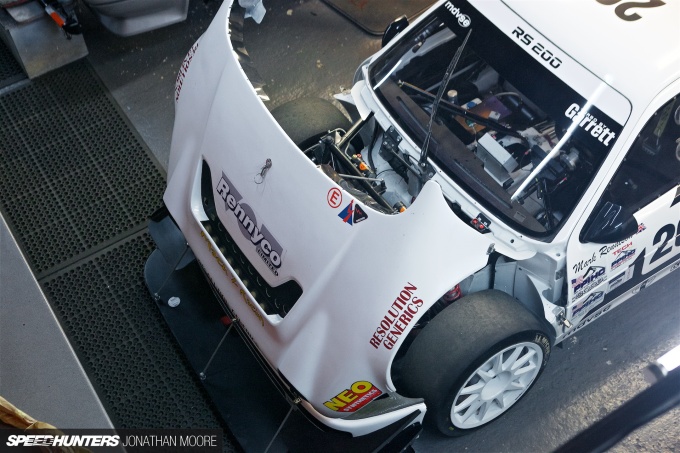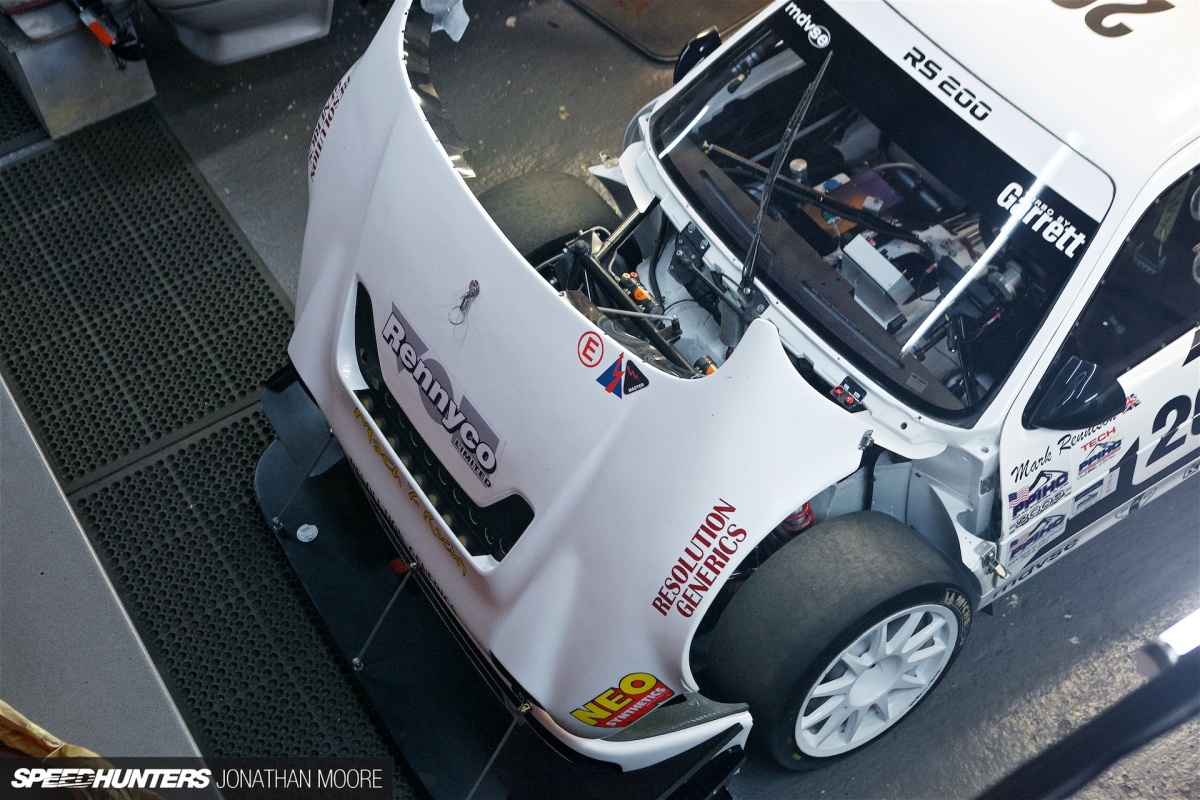 This extreme hillclimb RS200 had been slightly tucked around a corner when I first walked into the workshop, so it was a bit of a shock to stumble across its opened rear. This wasn't any old RS200, but the iconic Mach 2 Pikes Peak RS200 driven by rallycross legend Mark Rennison; the car that was the first British machine to go sub 10 minutes.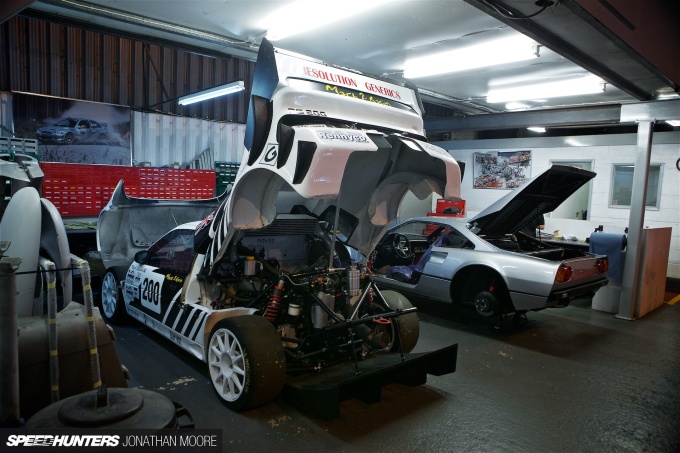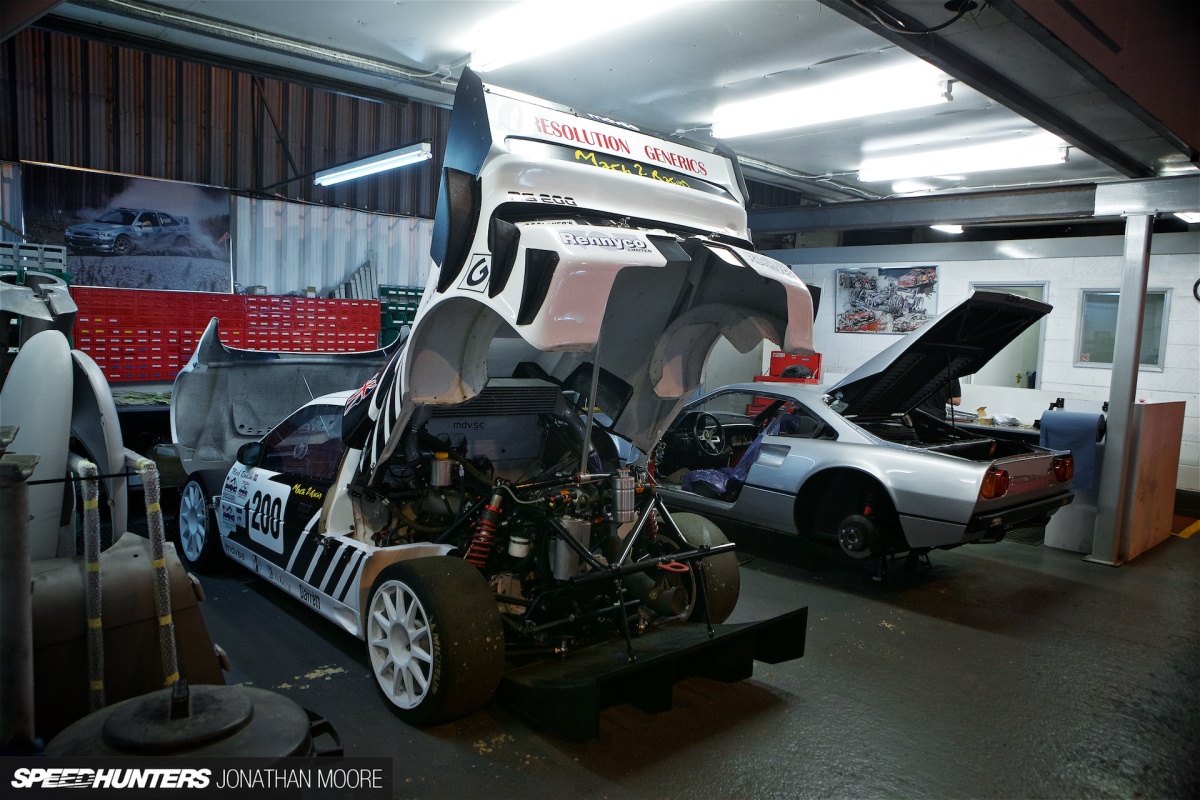 The RS200 has seriously evolved over its lifetime, starting out with an ex-rallycross chassis built up from parts. As is generally the case with Pikes Peak cars, the aerodynamics have brutally evolved over time, to the current shovel nose splitter and vast rear wing. The car is run under the Mach 2 Racing banner started by Alan Greenwood, who sadly passed away recently – he was a pure petrolhead and very close to the MDV family.
Since 2007 the project has seen MDV taking care of the chassis. Originally, Stig Blomqvist drove the car (setting fastest time overall in 2004), before 1987/88 British Rallycross champ Rennison took the wheel for the 2009 attempt on the Unlimited class.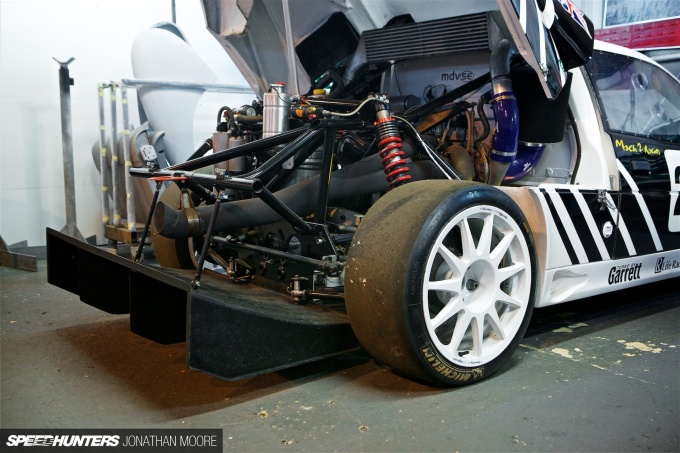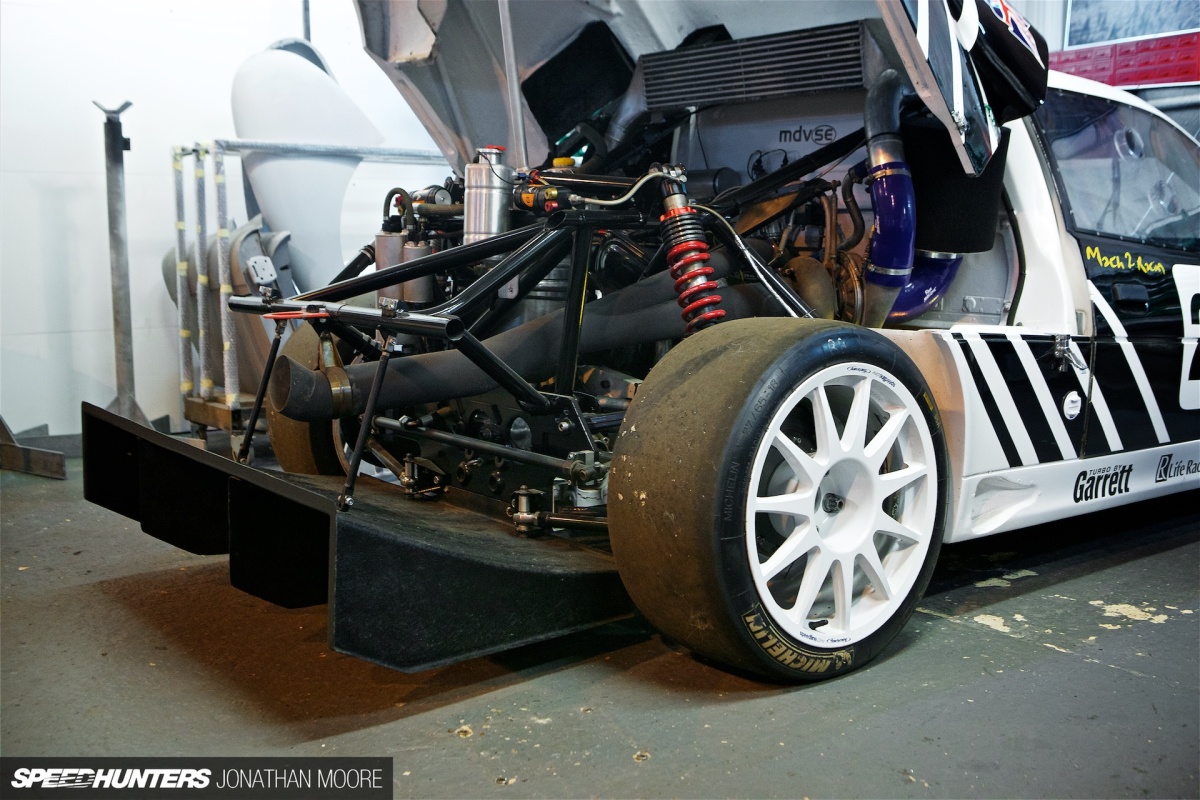 The RS200 was stripped right back, MDV taking the car down to near-on 1000kg, whilst power has been pushed to astronomical levels. Its original-spec 2.4-litre BDT-E has a Garrett prototype turbo strapped on, matched to a Life Racing ECU. In conjunction with high octane race fuel the RS200 makes 950hp as standard.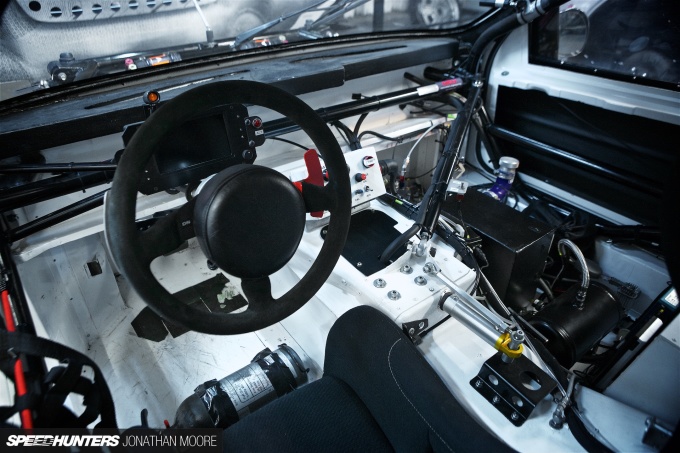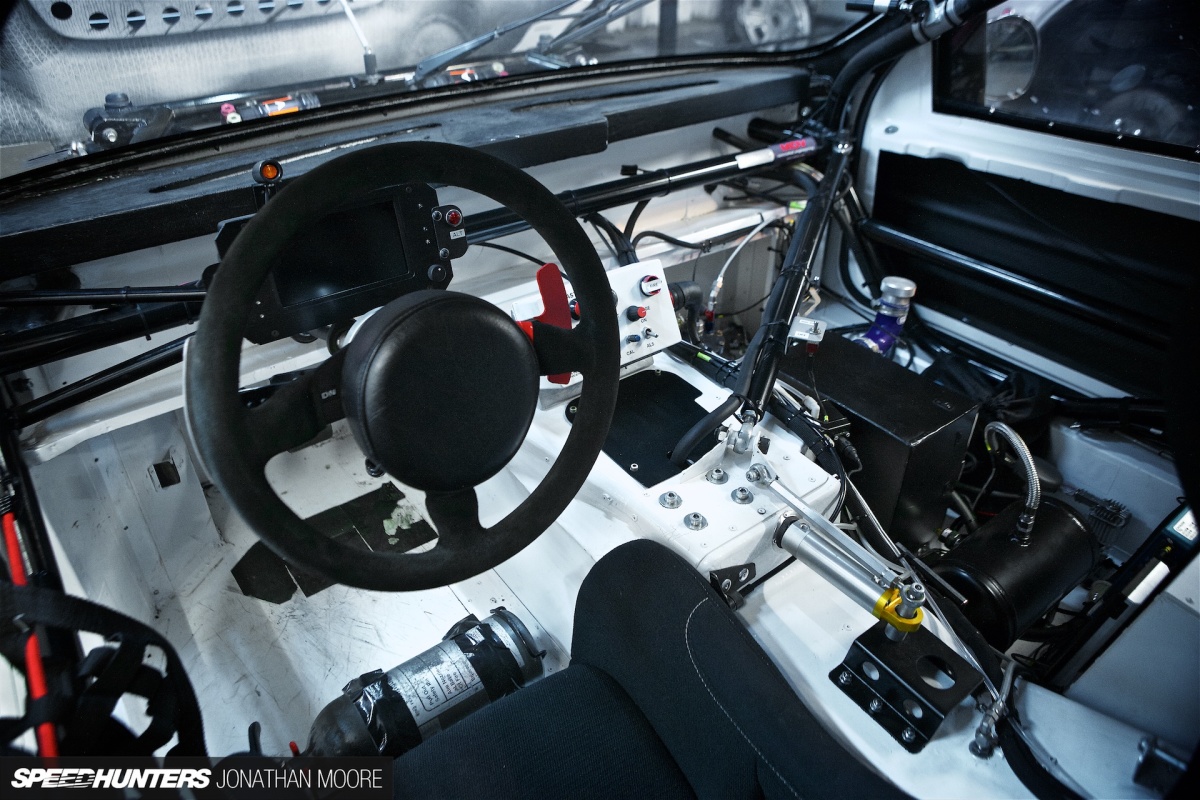 It was the first RS200 to be fitted with a sequential gearbox, a Sadev unit, well before the current Quaife product became available. It required a lot of work in the tunnel area, but has been rock solid in reliability – always the core requirement for a run at Pikes Peak where time is so limited.
It was the same with the differentials – a surprise was in store there as the R200 actually features Skyline diffs. The team were mashing through casings, crown wheels and pinions, and apart from anything else running out of original parts to fall back on. Adam found R32/33 parts with the correct ratio that have been absolutely bulletproof.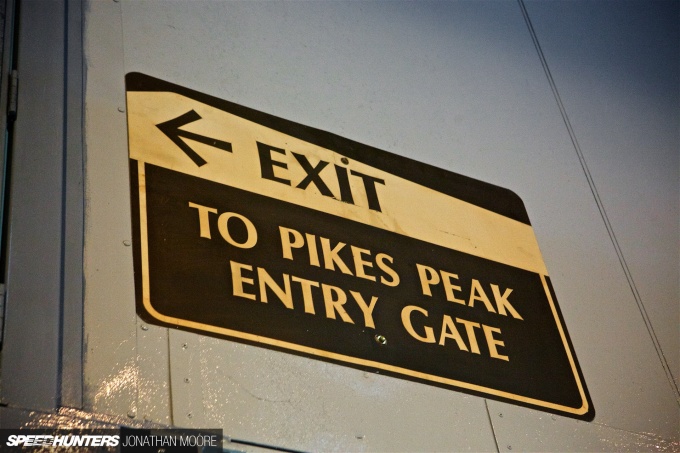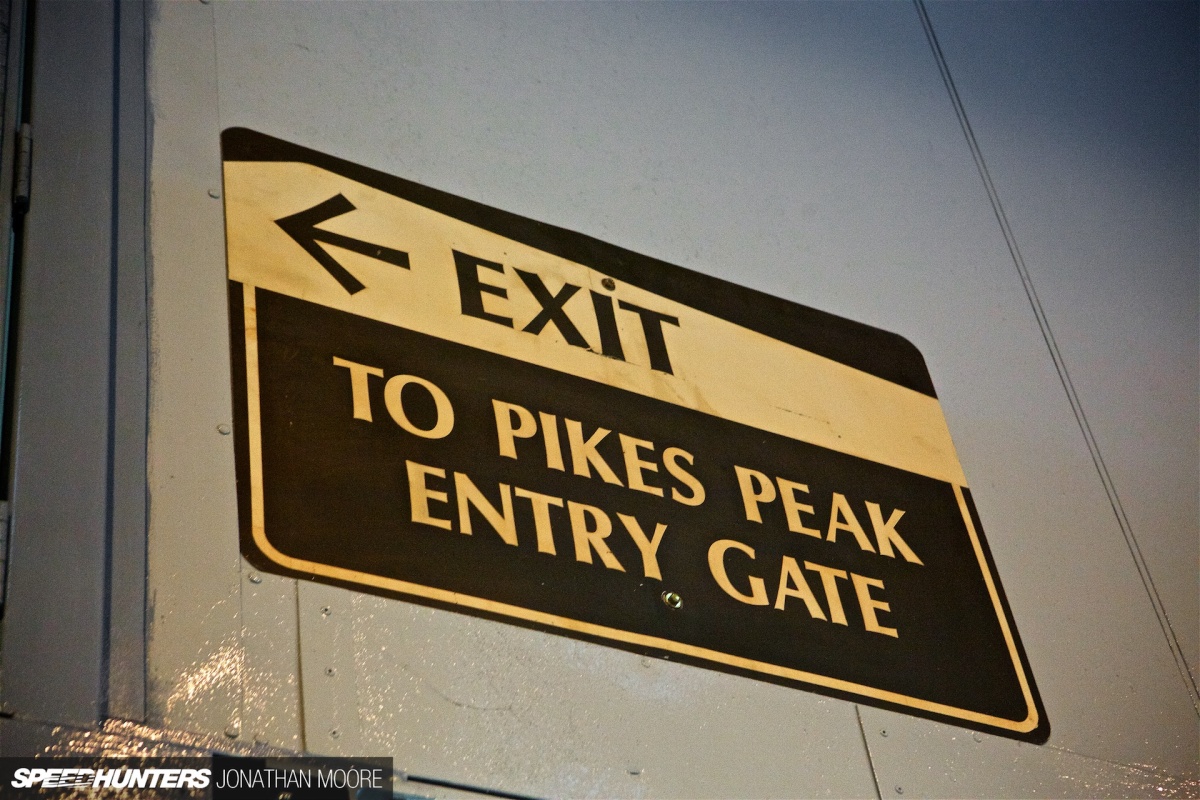 MDV would love to take the car back to Pikes Peak – Adam and Sam help run the car there and are now PPIHC regulars – but a more realistic aim for this year is to showcase the car at Goodwood, in tribute to Alan.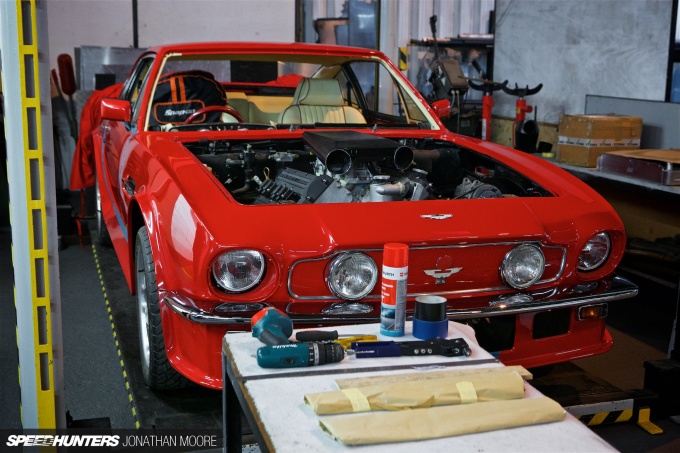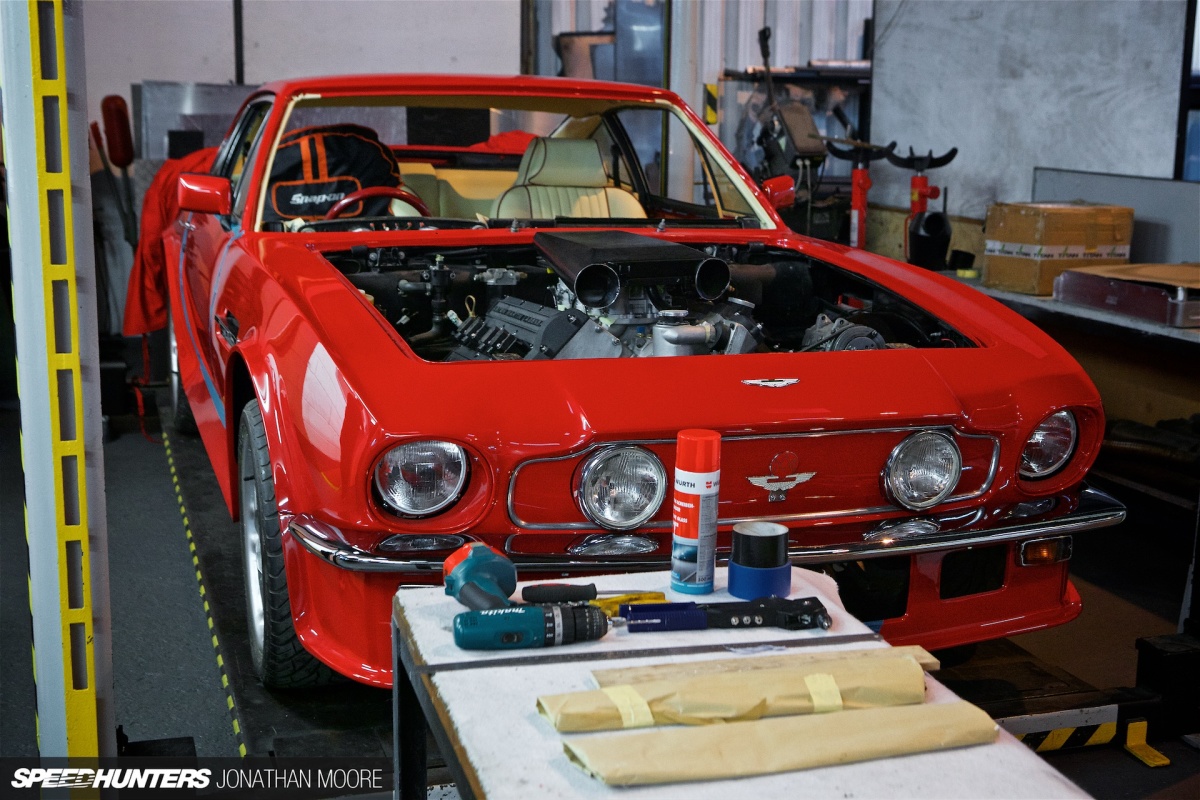 Lurking under a sheet nearby was a car linked to the Pikes Peak RS200 through a shared owner. This was Alan Greenwood's daily driver, a monstrous Aston Martin Vantage V8. Bought new with his first bonus at work, the Aston was one of several overpowered machines he ragged from week to week.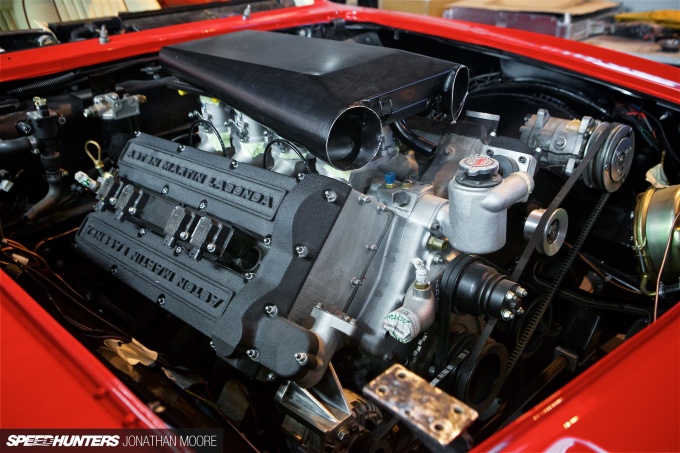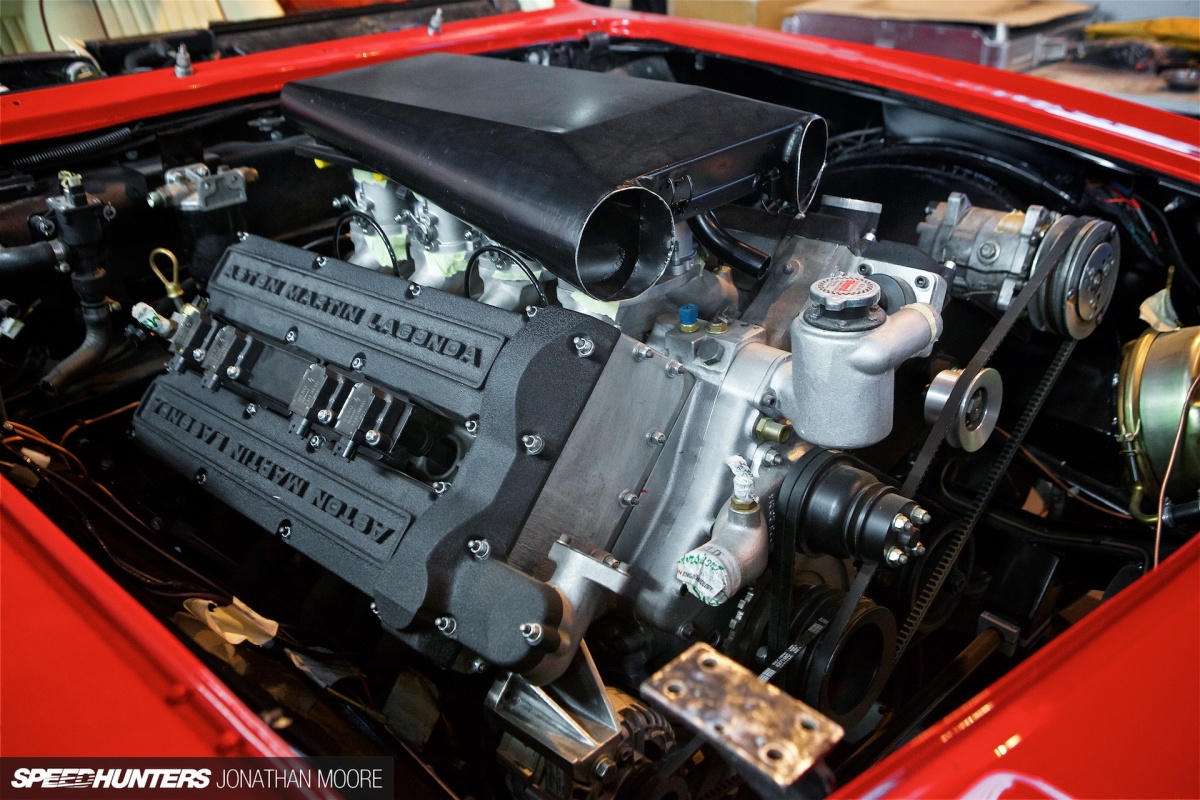 Power was always the priority, and this one has had its vast V8 up-gunned to produce over 600hp via stroking and modern electronics. The engine is ludicrously big, surely one of the biggest production V8s ever made; it's actually a pain to work on, as moving it around takes takes so much effort.
The shame is that that Alan never got to drive it in this guise. Along with a full restoration at Hilton & Moss (yet another business local to MDV), the car is being fettled in memory of their colleague.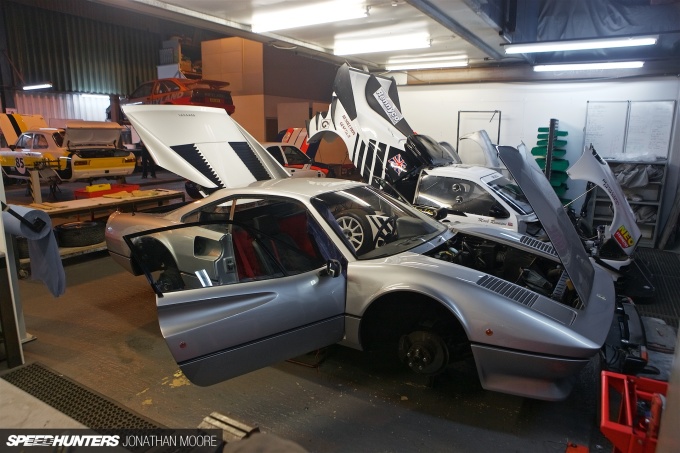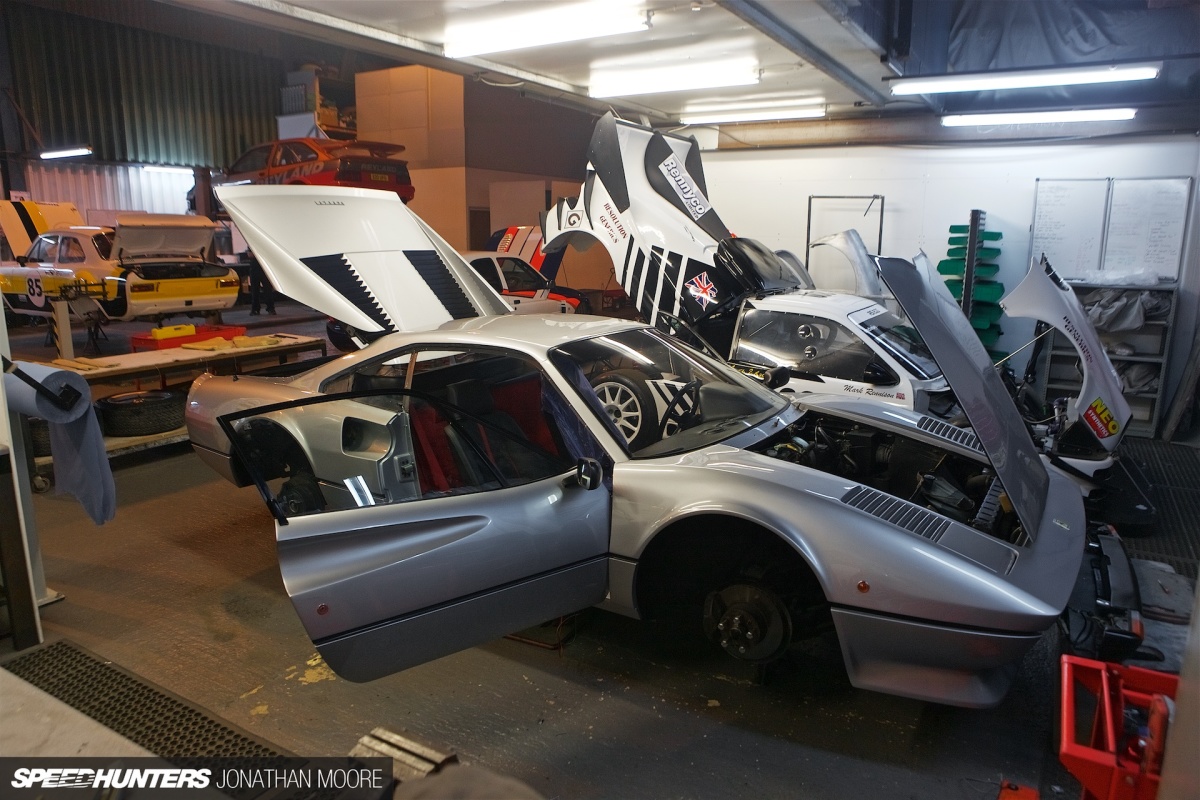 The 308 GTB is evidence of MDV's latest new challenge, moving into the restoration business. They'd been frequently asked if they could help out with older cars, and eventually the team's curiosity got the better of them. It just means more metal to play with, more things to learn.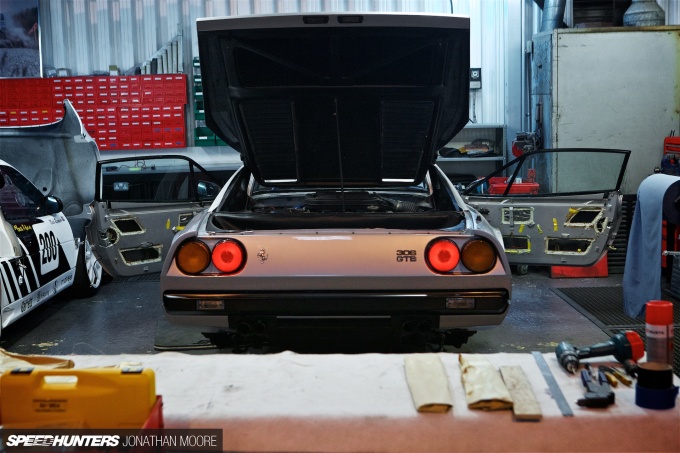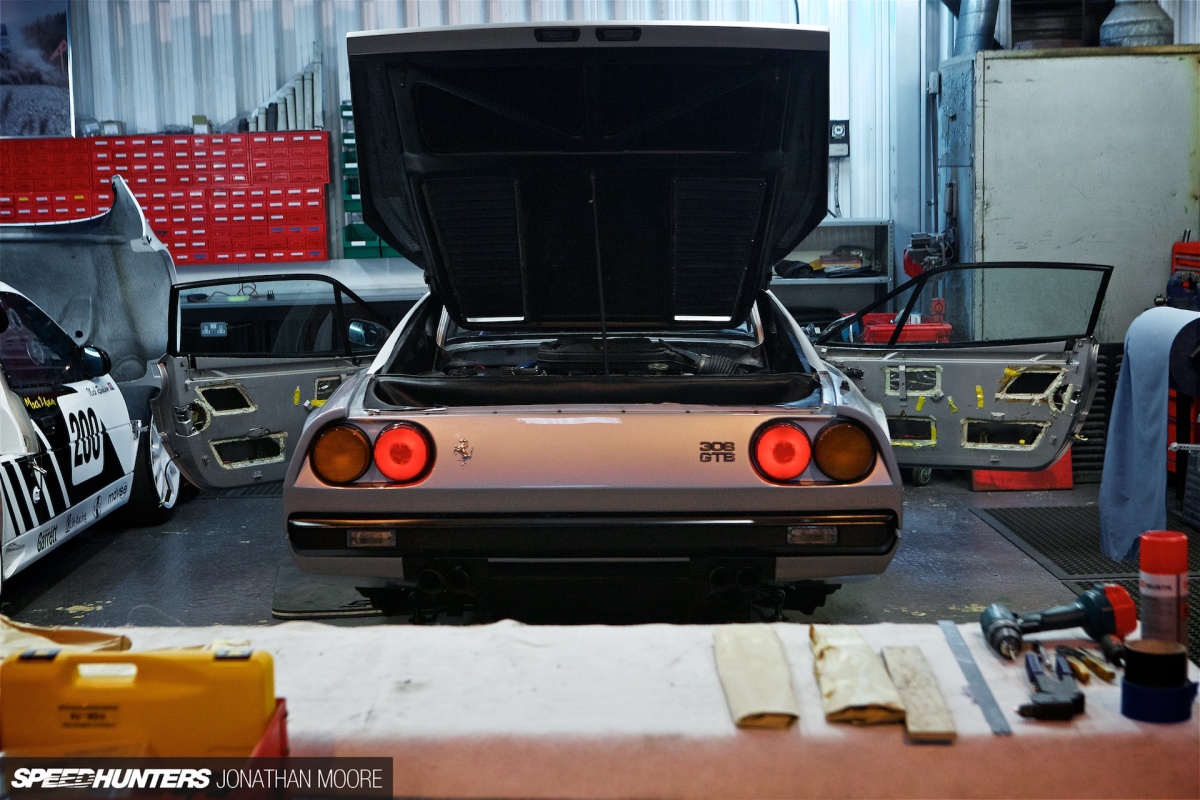 The approach never changes though. MDV just don't do half measures. You don't go to them if you want a new tail-light fitted… Even though a Ferrari might be new territory as far as the marque itself is concerned, their engineering-led approach and built-up expertise means they've found the 308 relatively easy to deal with, with the mechanical layout of the car being pretty straightforward.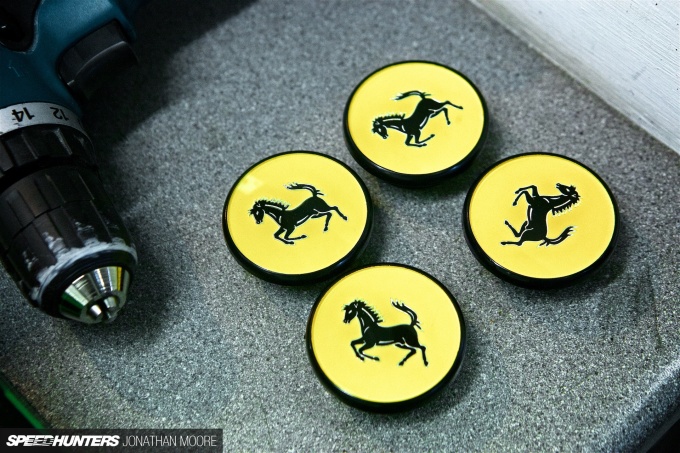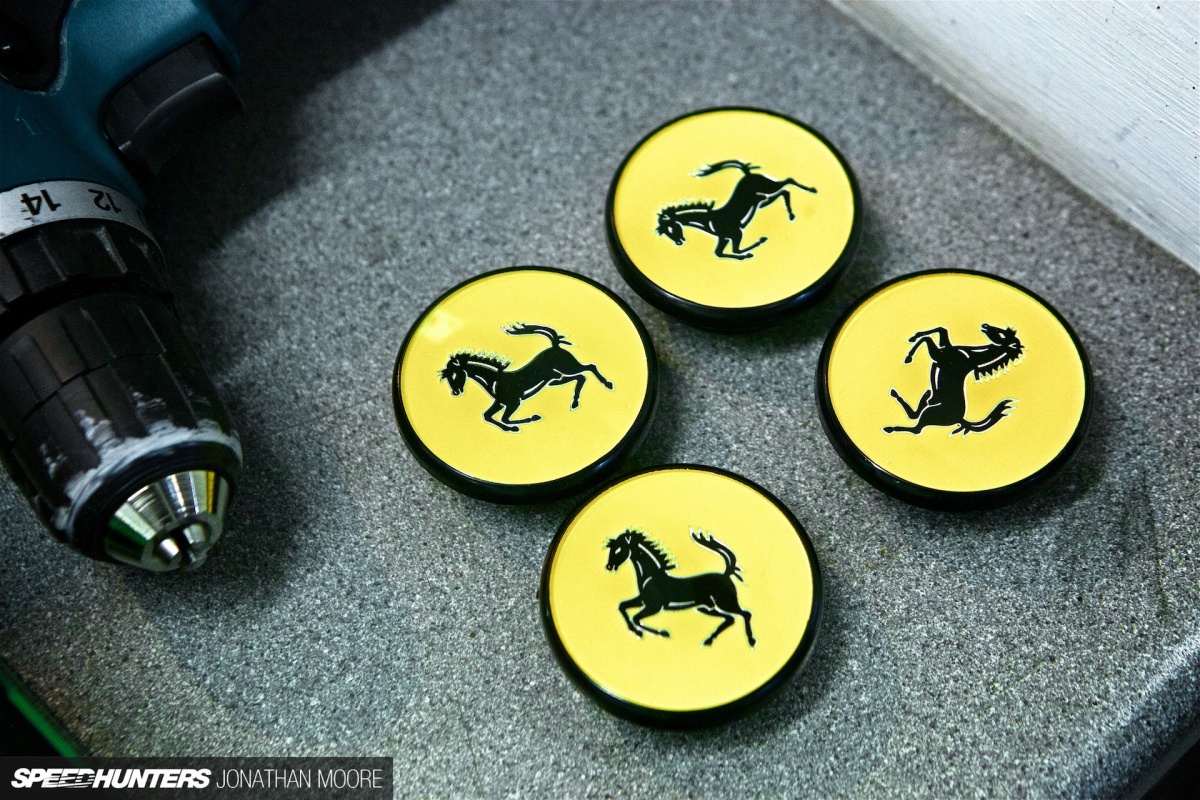 Funnily enough, web searches have filled in any gaps in knowledge, coming in handy when they're trying to find the right screws to take things apart. This 308 had actually seen competition use as well, evident from the air-horn buttons on the steering wheel, in regulation road rallies. I'm not one to have a pop at electronics on Italian cars, but the occasional deafening blast from the horns showed that the wiring was proving to be 'interesting'…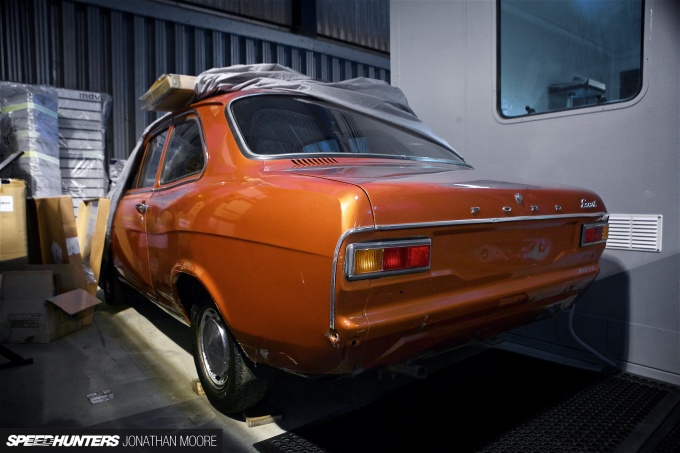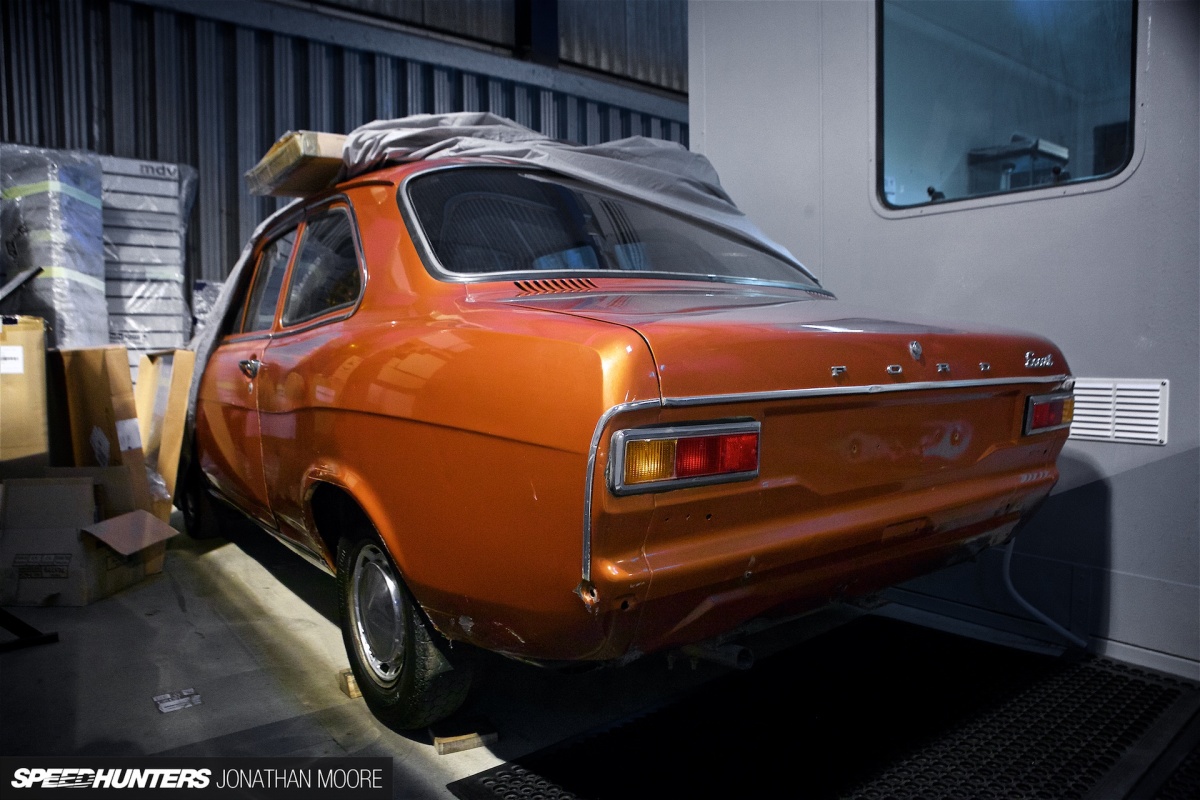 What next for MDV? The answer is simple: anything interesting. There are projects to finish – particularly the RS200 – but as for new things the totally unexpected answer from Peter is that he'd like to build a gymkhana car. I suppose I shouldn't have been surprised – of course it would have to be something different.
I'd finished my conversation with Peter on the worrying subject of automotive crafts dying out, of knowledge seeping away as generations moved on. MDV have done their own little bit, with the family continuity backed up by a recent successful apprenticeship project (who was subsequently employed by M-Sport, but is now back at MDV full time), but Peter is still fearful of what will happen in 10 or 20 years time. Engineering is often people's last choice of profession, particularly in the UK, but companies like MDV showcase what enthusiasm and passion can achieve. If you want people to get their hands dirty and get stuck in, then inspiration doesn't come much higher.
Jonathan Moore
Instagram: speedhunters_jonathan
jonathan@speedhunters.com