Before the Focus, before the Escort, before the Capri, the hot Ford to have was the Anglia 105E. The fourth-generation model from the 1960s was in a different league from the staid designs that had come before: this was a squat, two door coupé designed and built in the UK, and it's a car that has always been ripe for modifying. That said, in modern times the Anglia has always been rather in the shadow of the Escort that succeeded it. But this example of an extreme Anglia is the sort of build that should make people sit up and take notice, and remember just how awesome they can be. What makes it even more special is that it's the work of one man's vision and hard work over nine years.
This is Ray Gimbert's carbonised Anglia 105E GT, a 570hp giant-killing trackday special.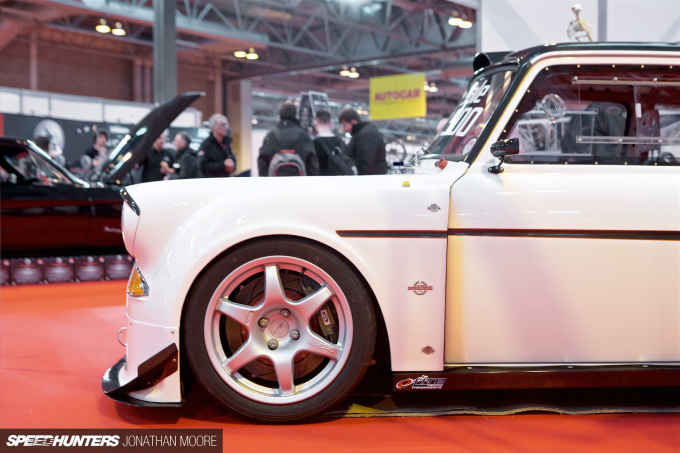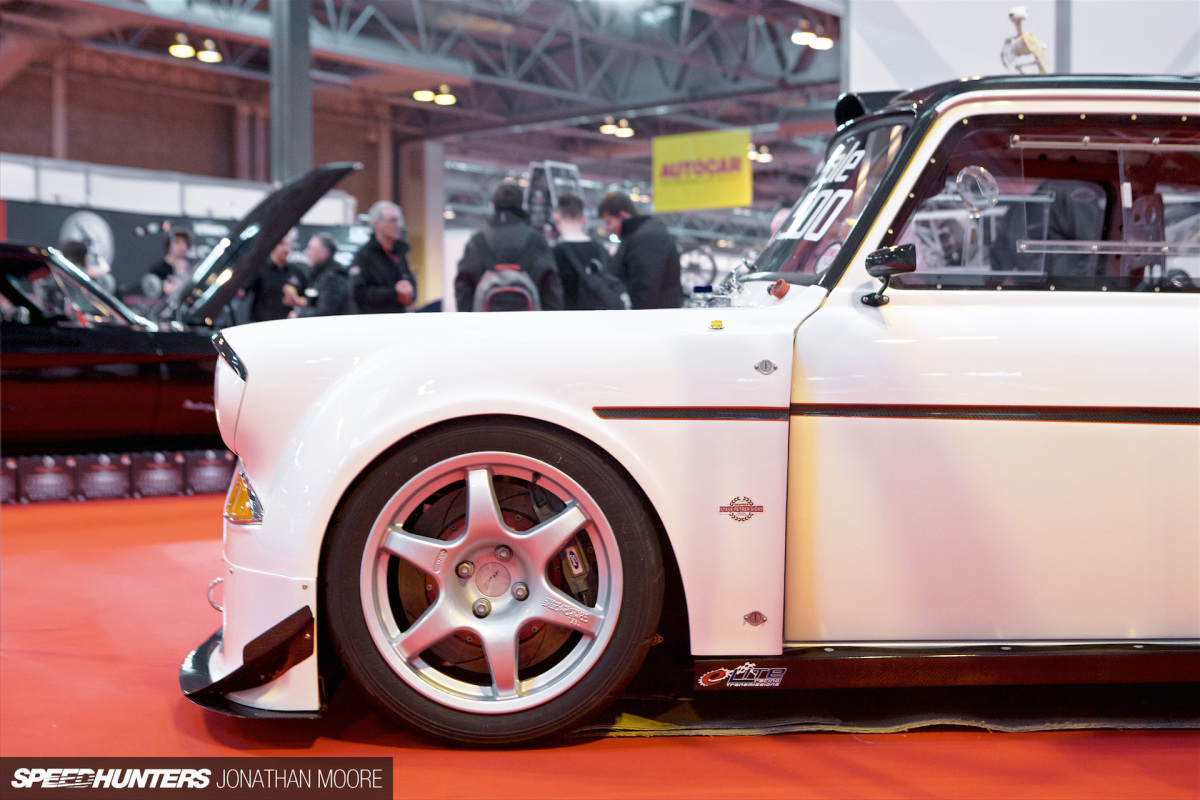 A year or so back, our man Bryn took a look at a wild Ford Anglia racer based out of Sweden; this is like its evil techno twin. Less raw but with just as much roar, the build quality is simply astonishing. The idea that one person could think this machine up, let alone go and engineer it to this level, is just a fantastic achievement. It's almost ridiculous when Ray modestly describes the effort put into as a 'hobby', as it puts some modern race cars to shame.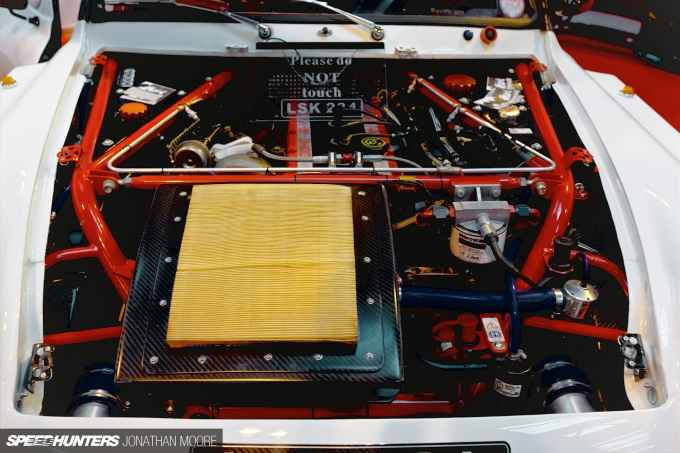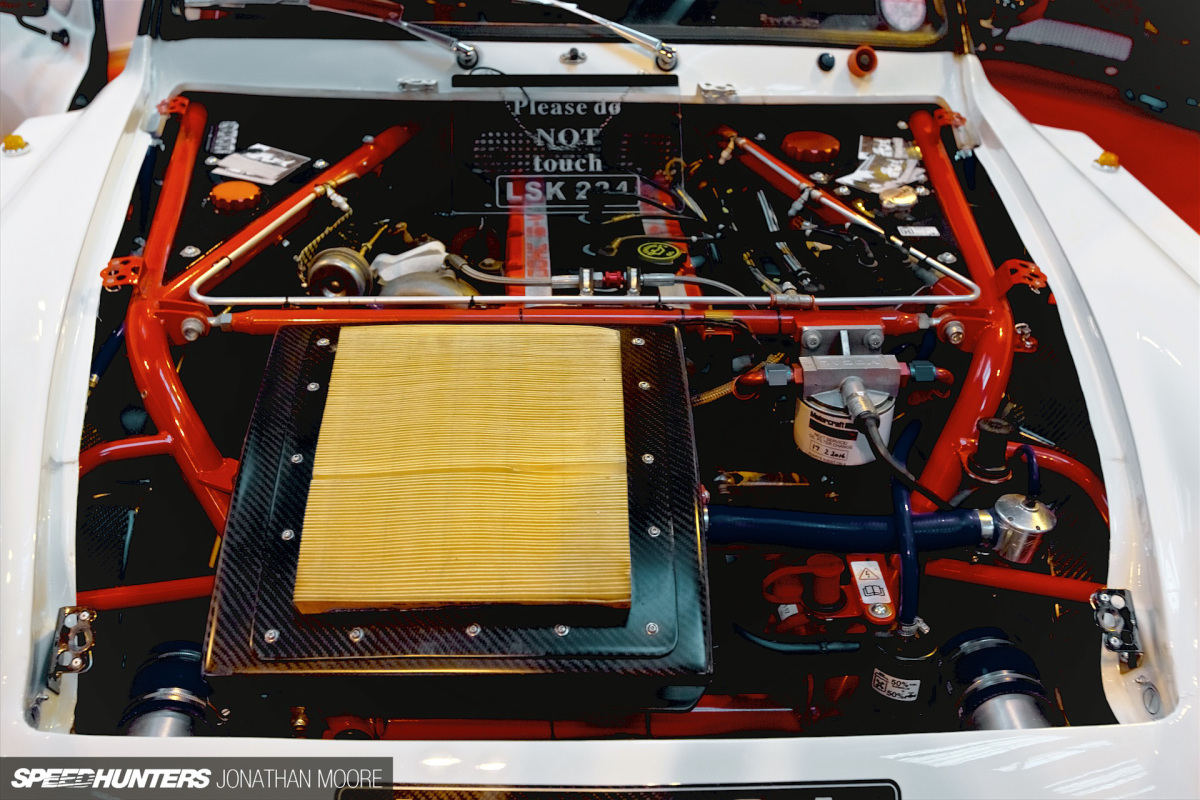 Even from a distance it was obvious this was one special machine. I'd been coincidentally hanging out with Bryn on the next door stand talking through the Porsche 912 build he's involved in (more on that in the next story), when I saw the bluff nose of the Anglia and its inviting engine bay. It puts me in mind of Jason Shalder's vicious MG GT3: a modern take on a classic, updating the shape whilst working with it. I can't say 'subtly', as it's anything but that.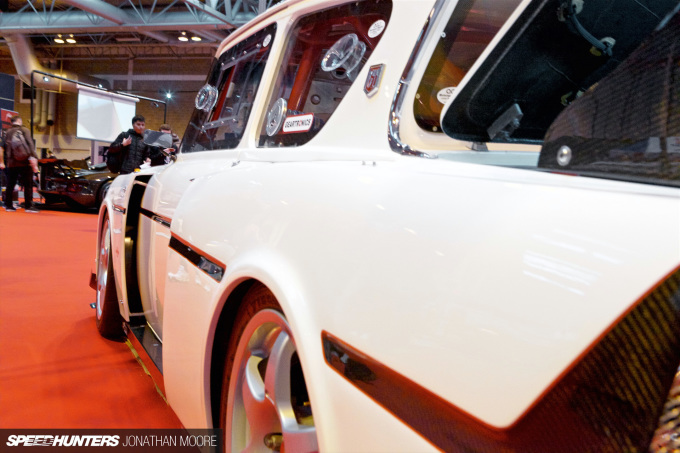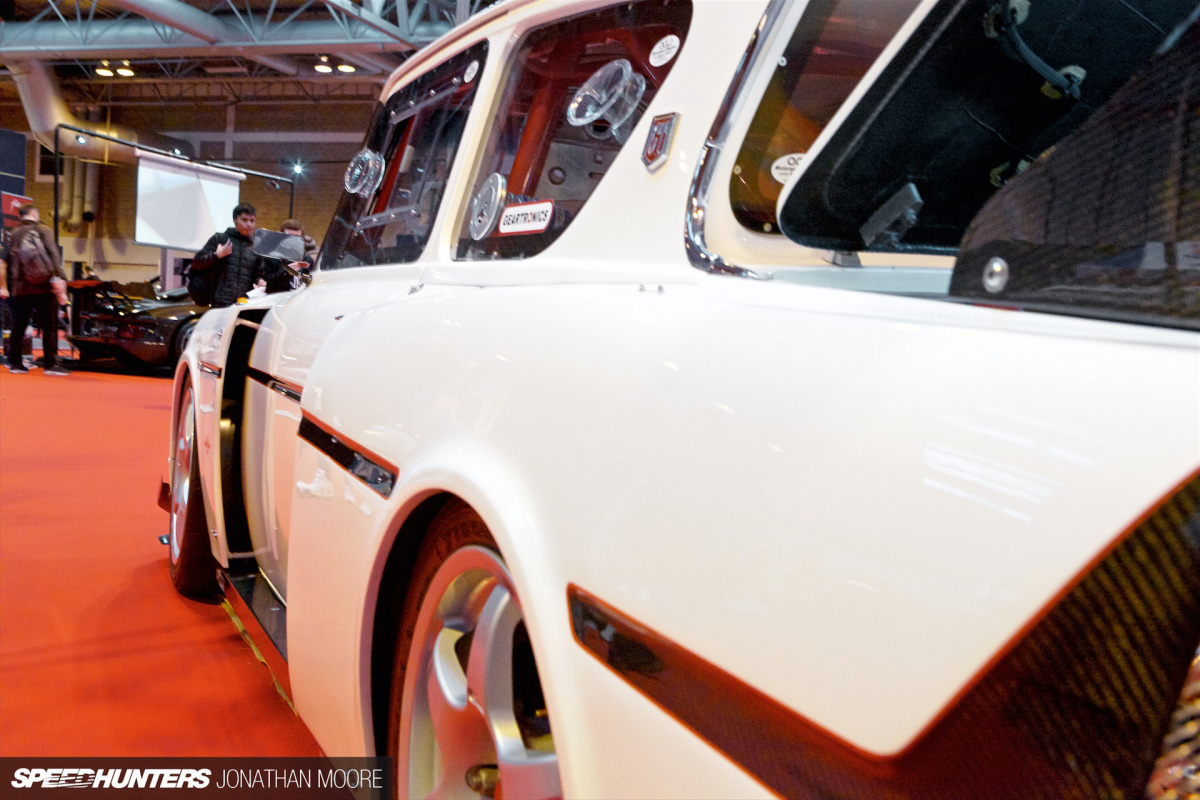 Back in 2006 Ray started off with a handy Anglia that had already had serious modifications carried out – it was fitted with a turbocharged Cosworth engine for instance – but the gallery of images on the wall behind the car showed how far it had come. Although Anglias naturally handle well even with minor tweaking, the amount of power Ray had in mind would require a complete skeletal rebuild. The poor Anglia's chassis was already struggling with 400hp, so adding another 50 per cent or so would likely end up with two half Anglias.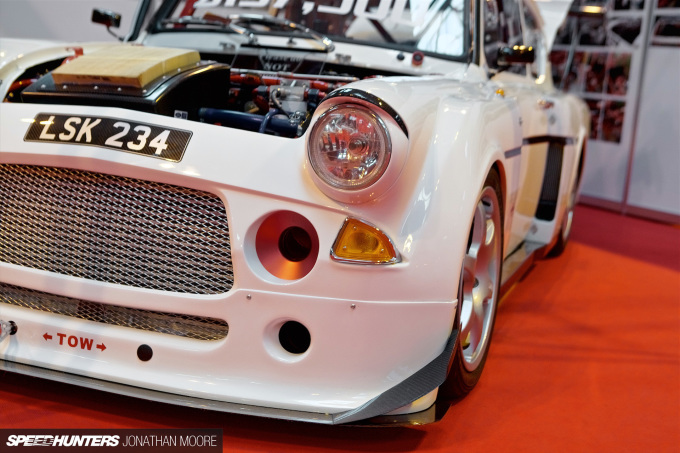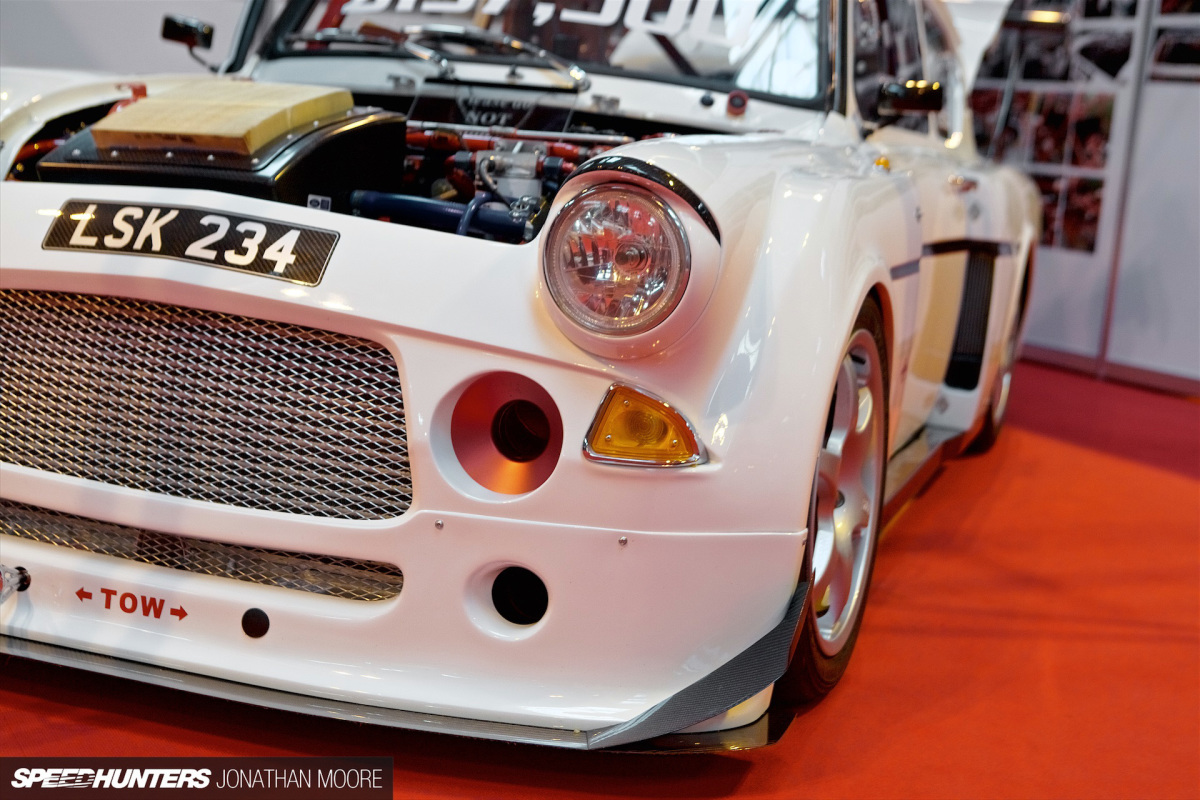 The design details evolved as the build progressed, and by Ray's own admission it was easy for ideas to get out of hand as he strived to avoid compromises. Four years in, and with the car running, he'd decided on a complete rethink of the engineering setup and new engine, and another two years went past before he was back on track. Fortunately, he's normally kept in check by his appropriately-named friend Duncan Tune. When you're tackling something like this, it's massively important to have both a sounding board and a second pair of hands when needed.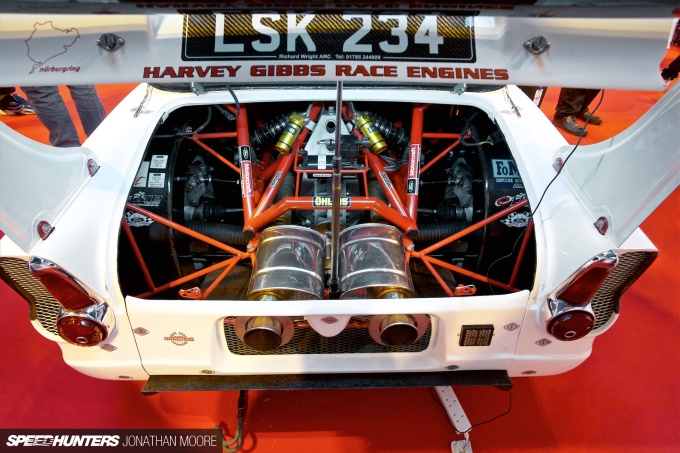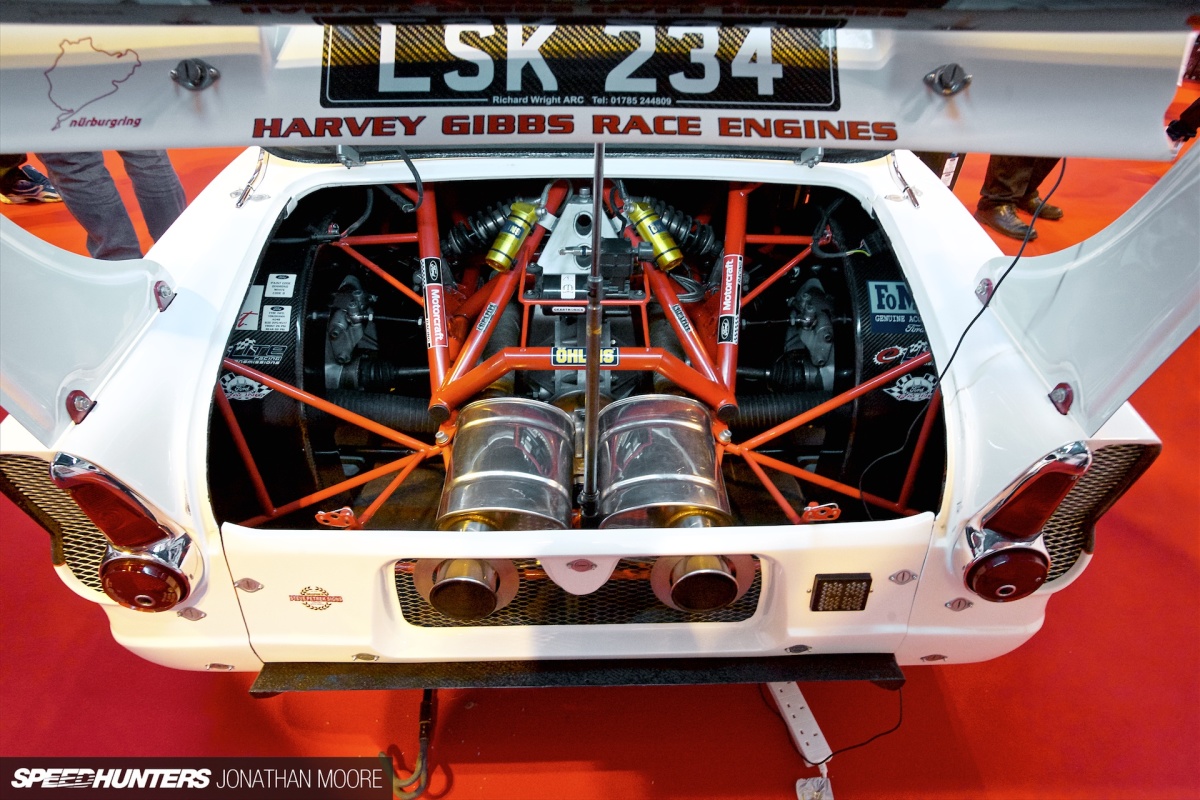 At the Anglia's heart would be a fresh alloy YB with turbocharging and nitrous; all the ancillaries that would be required just couldn't be packaged in the existing layout, so he completely stripped the car back and started again around a bespoke space-frame. Ray also elongated the wheelbase by two inches to increase stability and help with optimising weight distribution.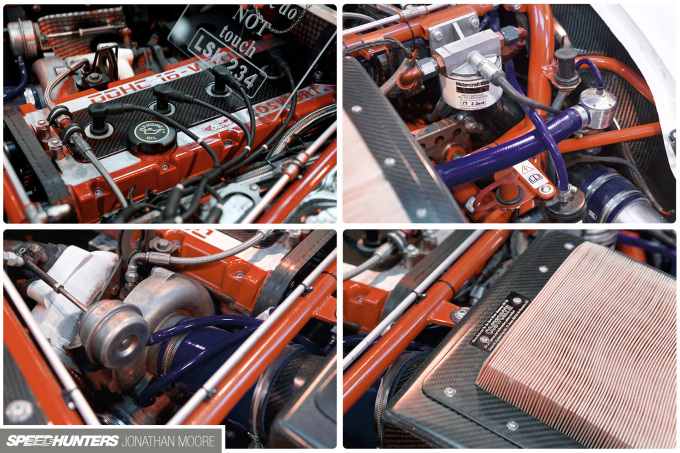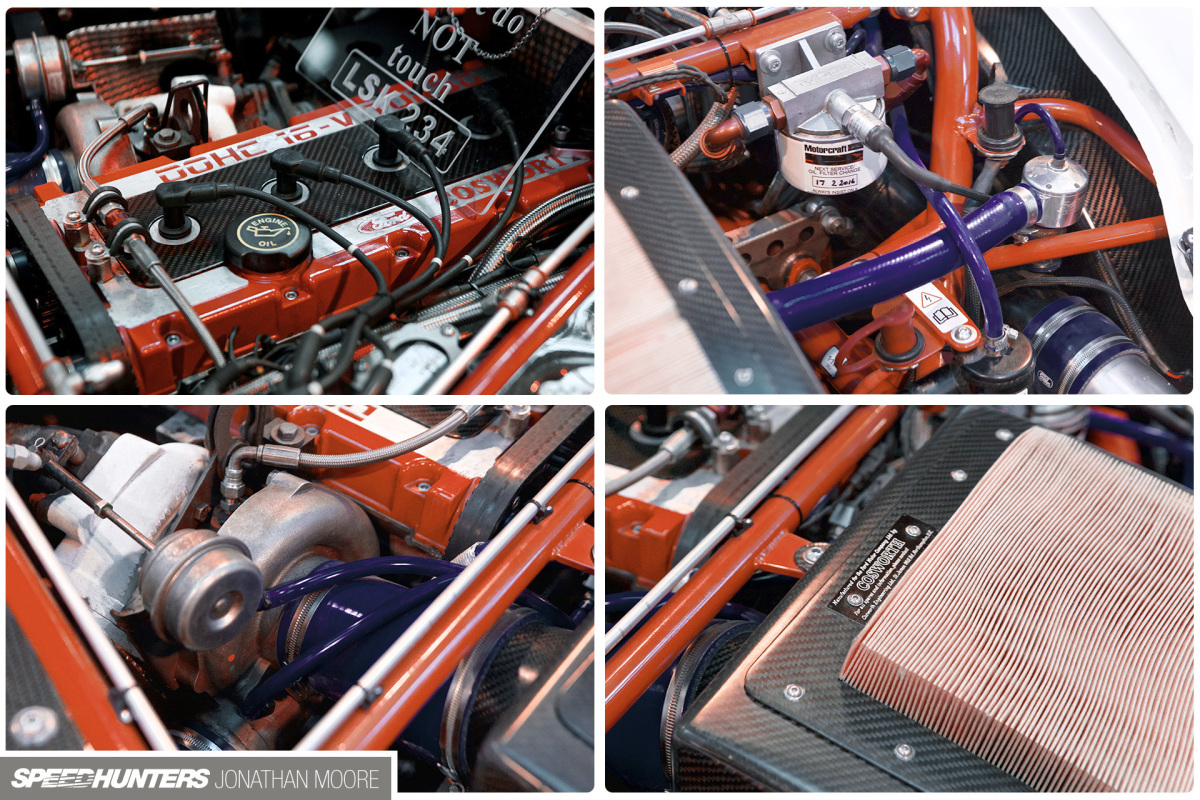 Starting up front, there's the packed engine bay. There's not a lot of room to work with, so the optimum layout had to be created from scratch to fit everything in, starting with the 2.2-litre alloy block Cosworth YB with an RS500 eight injector setup prepared by Harvey Gibbs. It's on Pectel P6 management, with an anti-lag system and NOS tank, and sits low and to the rear of the bay, plus it's offset to the right so the roller-bearing T4 turbo can sit snugly. A massive filter sits under the bonnet scoop to feed the engine's appetite for air. The 570hp is matched by an almost equal number of foot-pounds of torque.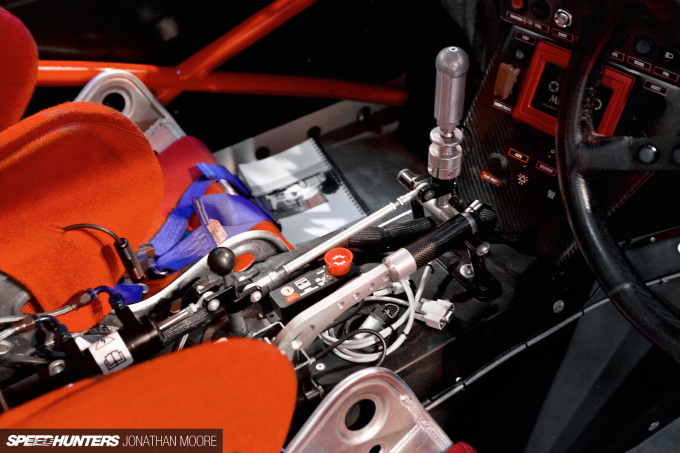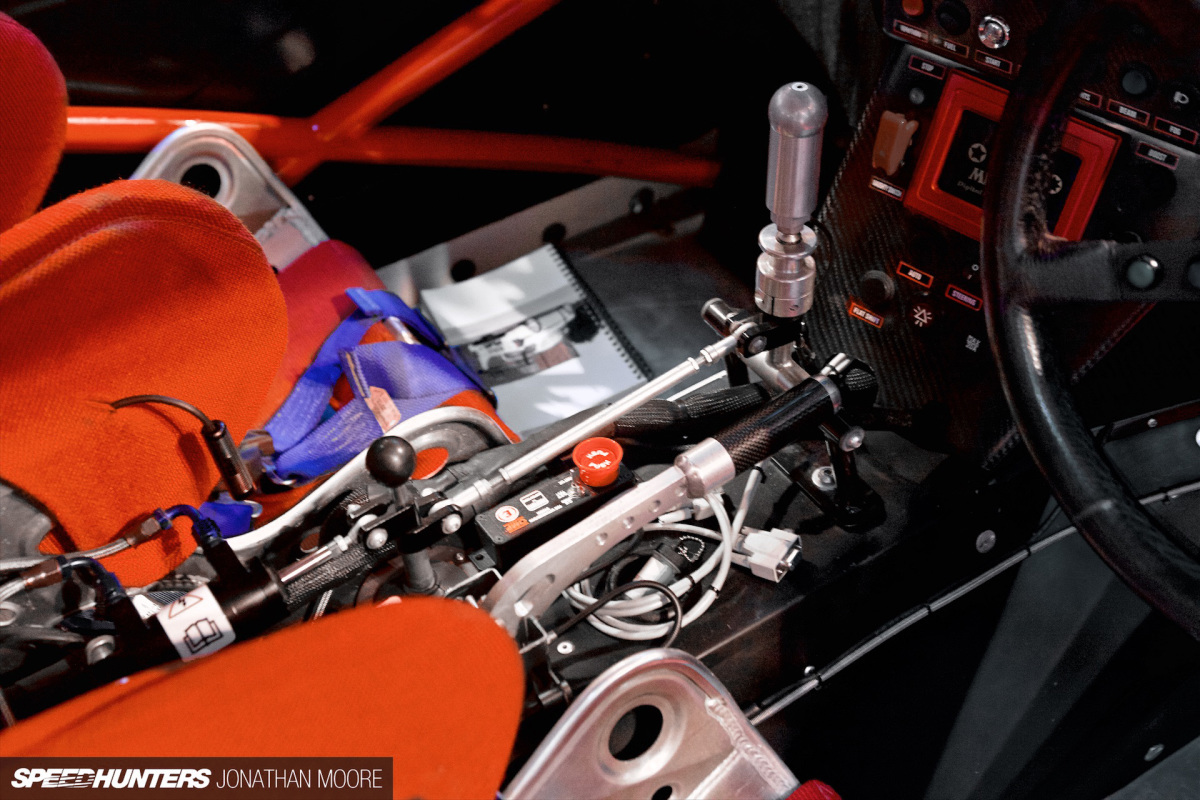 The Anglia's gearbox is an upgraded Elite Evo 2 6-speed sequential with Geartronics flat shift, controlled via a Geartronics paddle-shift through an AP Racing twin-plate clutch, Quarter Master 10-inch quick-change ratio limited slip diff and Elite driveshafts with GKN couplings.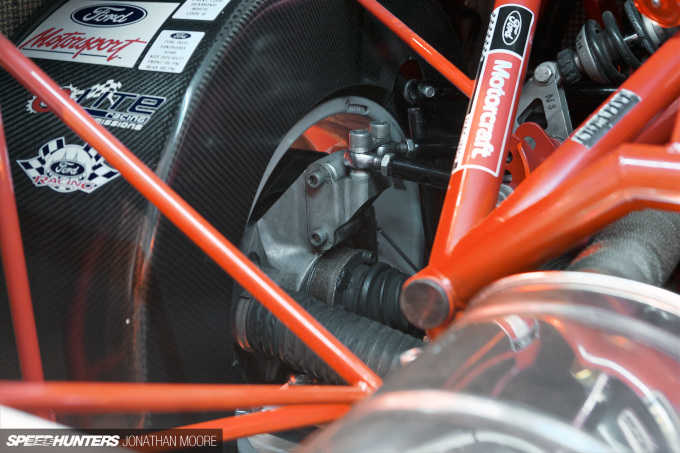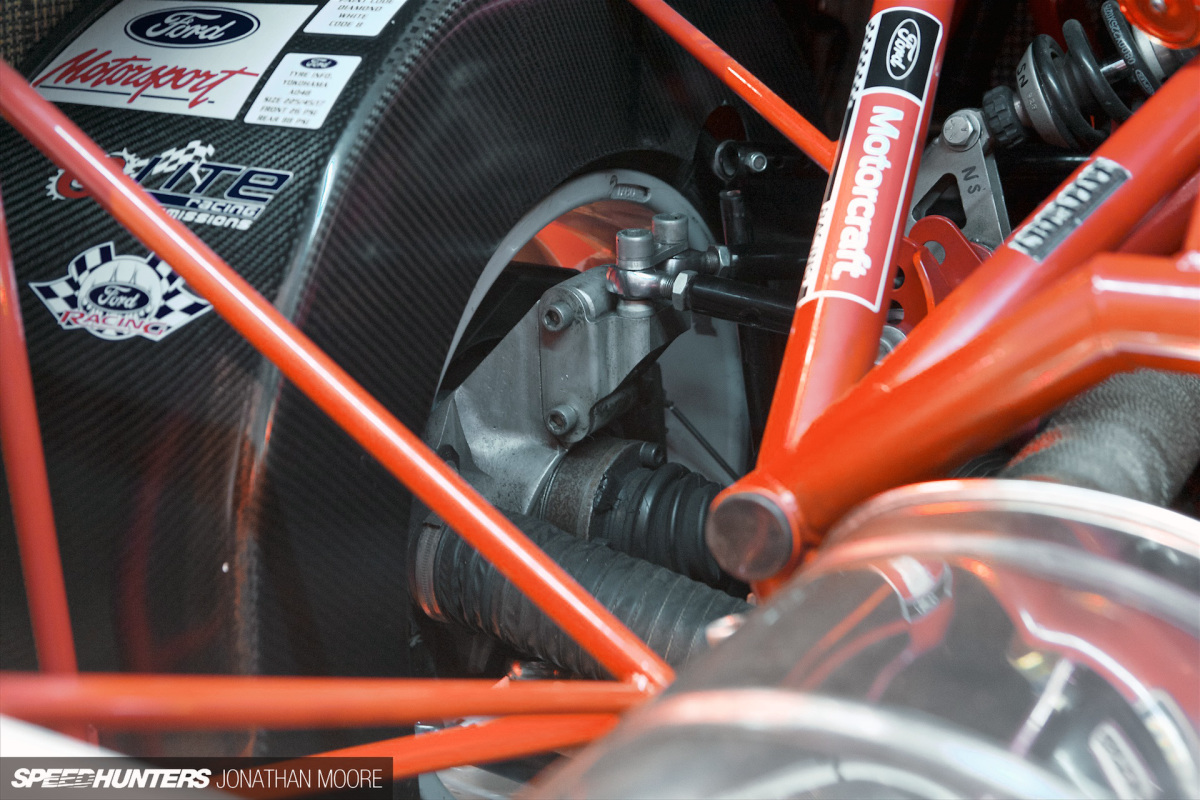 The braking and suspension is all race-spec: Group A rear uprights with 300mm AP Racing floating discs and 4-pot callipers at the rear, bespoke uprights with Group A 365mm floating discs and 6-pots at the front. Öhlins adjustable shocks (from within the car) with remote reservoirs are mounted inboard all around, utilising custom-built pushrod cantilevers and twin wishbones.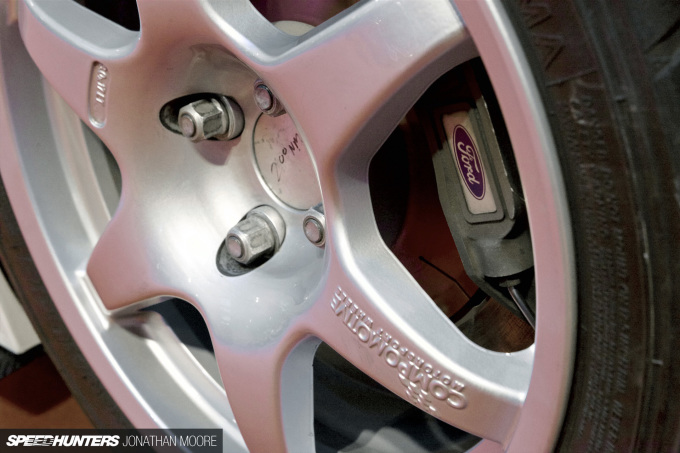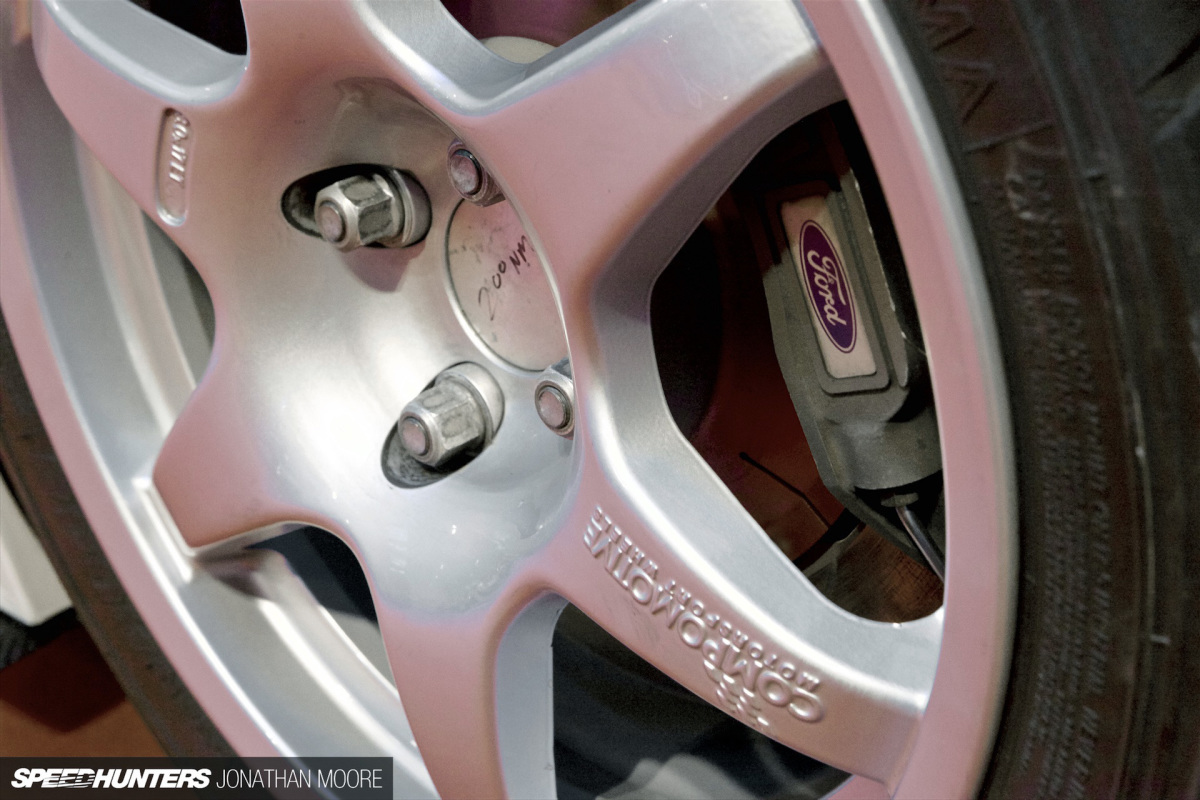 There's more than one nod to WRC-spec Escorts, from the Pectel system to the 17×8-inch Compomotive MO rims.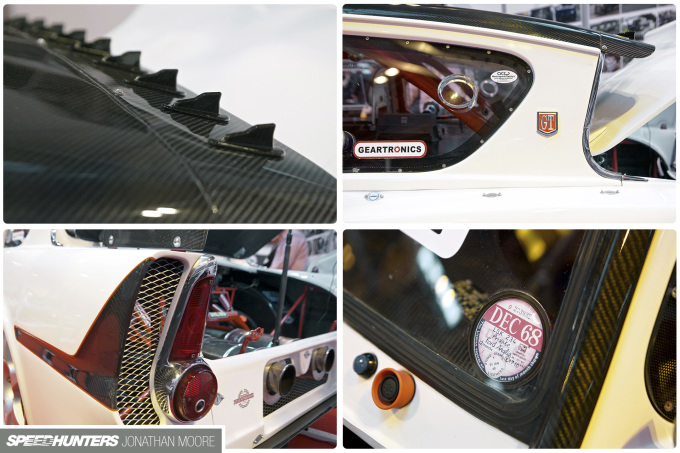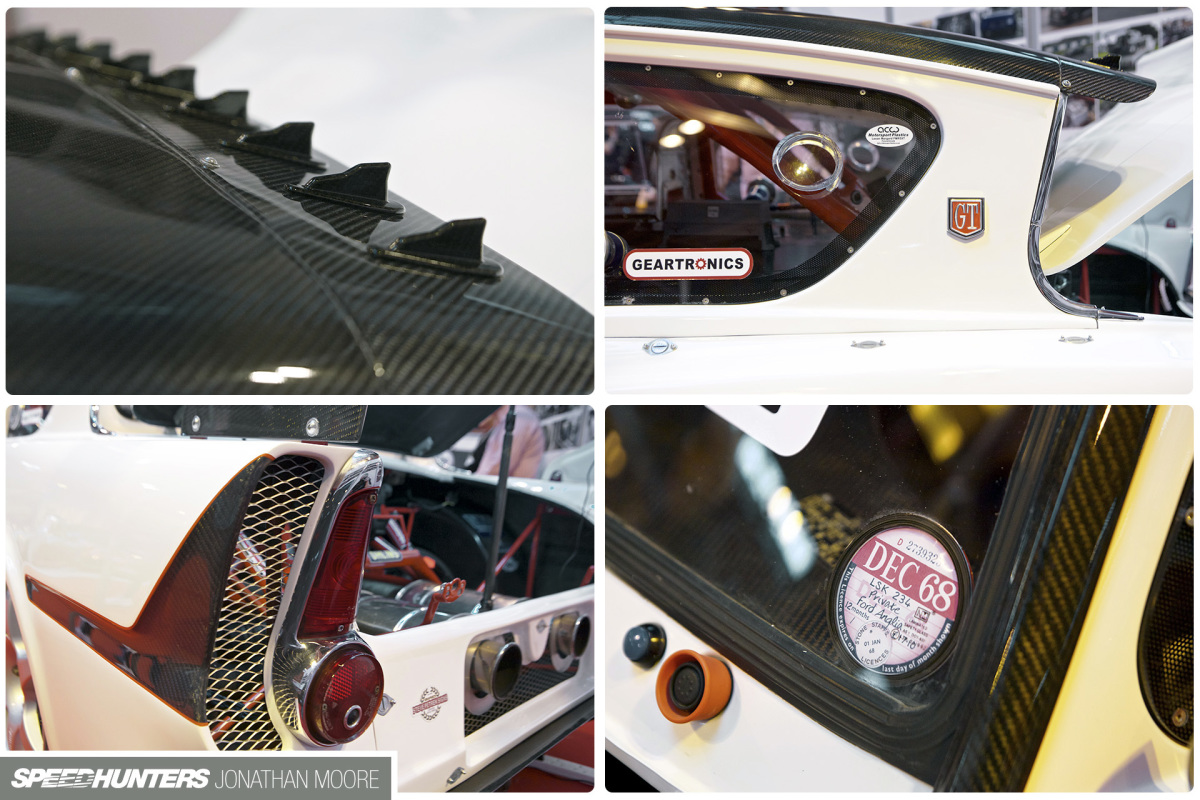 The arches were widened out in an X-Pack style, designed and fabricated from scratch. The entire body is composite, along with the splitter, spoiler and diffuser, all supplied by DRE Composites; the windows are lightweight Lexan. All up the Anglia weighs in around the 700kg mark.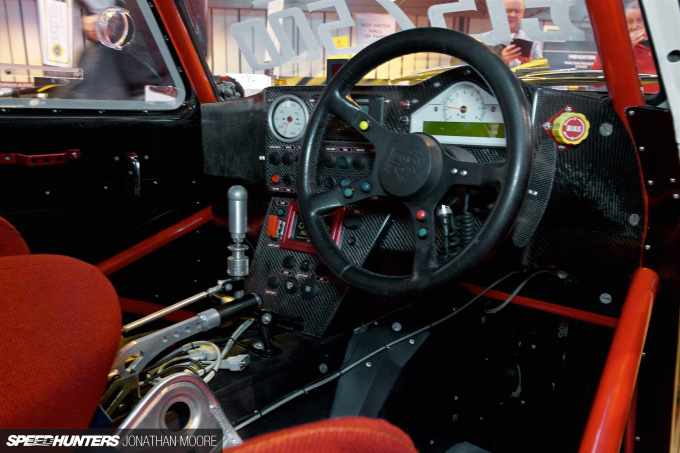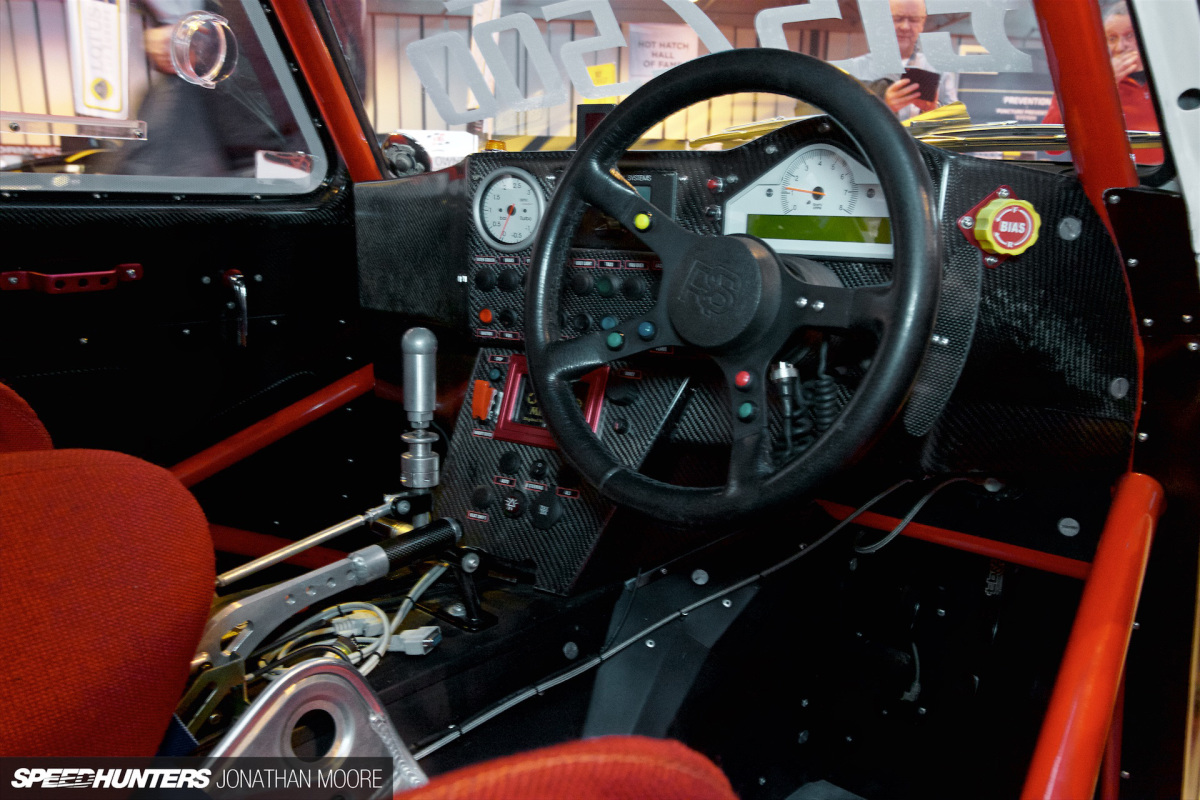 The cockpit is spartan and purposeful: fuel cells fill the rear, tucked in behind modified Kirkey aluminium race seats, and the oil cooler is mounted in the passenger footwell. The driver gets to grasp an iconic RS wheel as he fires this missile at whatever target track it's aimed at.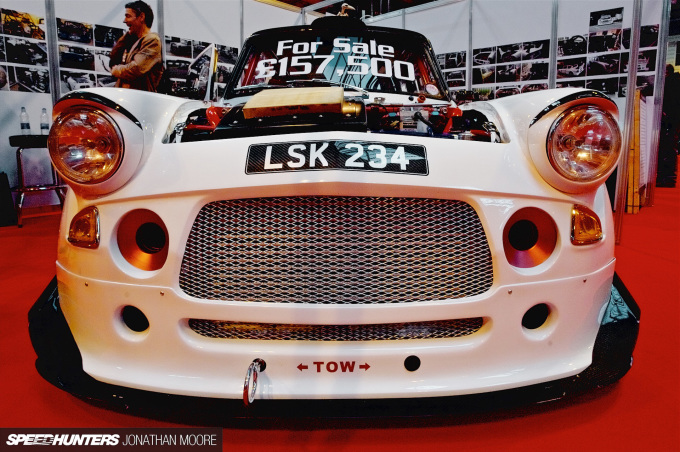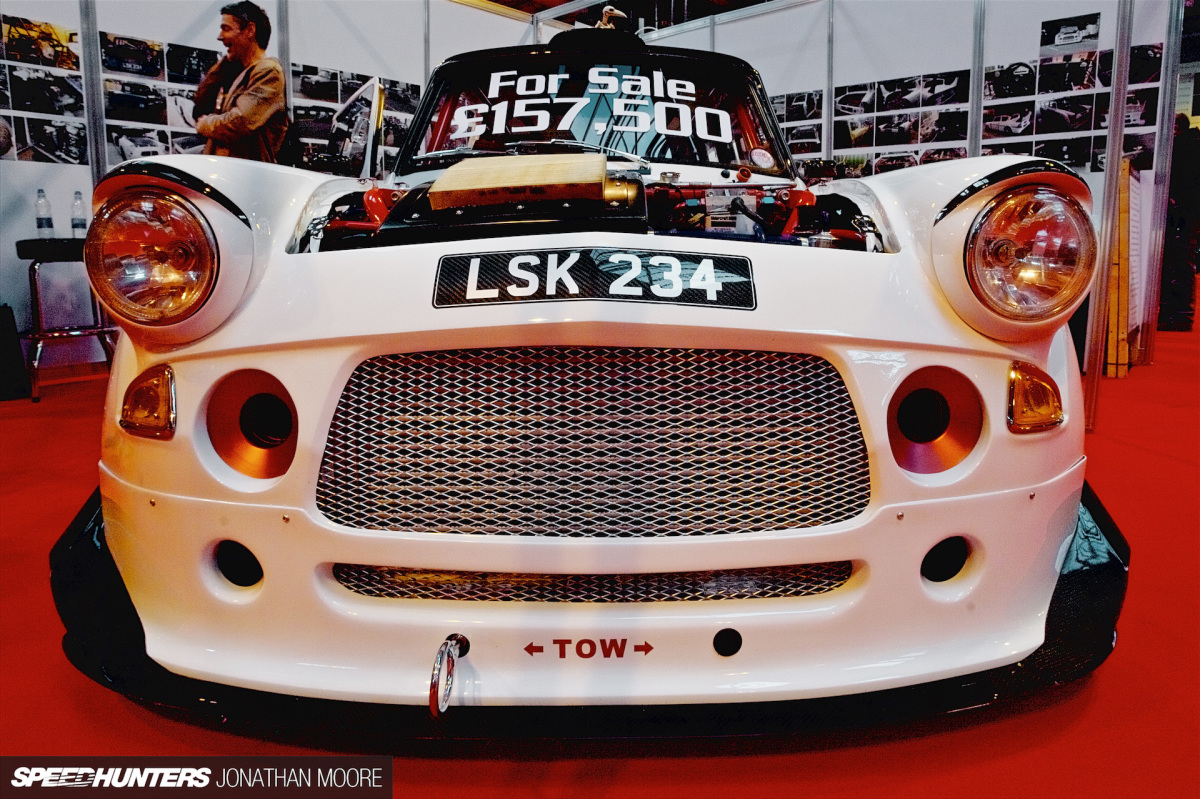 The sad thing is that after all this work, circumstances have forced the sale of this amazing Anglia. Thankfully Ray has got to enjoy it in this epic form, as it holds an MSA hillclimb logbook and has been seen careering around the Nürburgring, seriously upsetting the regulars. The next owner has a lot to live up to.
Jonathan Moore
Instagram: speedhunters_jonathan
jonathan@speedhunters.com