Automotive Obsession
When do you know car culture has become an addiction? Well, for me at least it's that never-ending need to get out there and see what's going on.
My wife thinks I'm obsessed; she says that I'm not normal as I work around cars, take pictures of cars and write about them, and yet every time I get a spare second I look at more cars via magazines, the web and TV. So it's not surprising that the first thing that I couldn't wait for as soon as 2016 rolled around was the New Year Meeting that happens at Daikoku Parking Area on the first Sunday of January.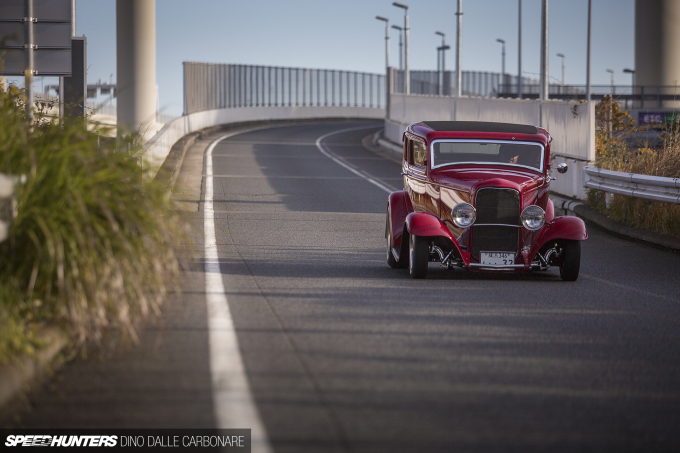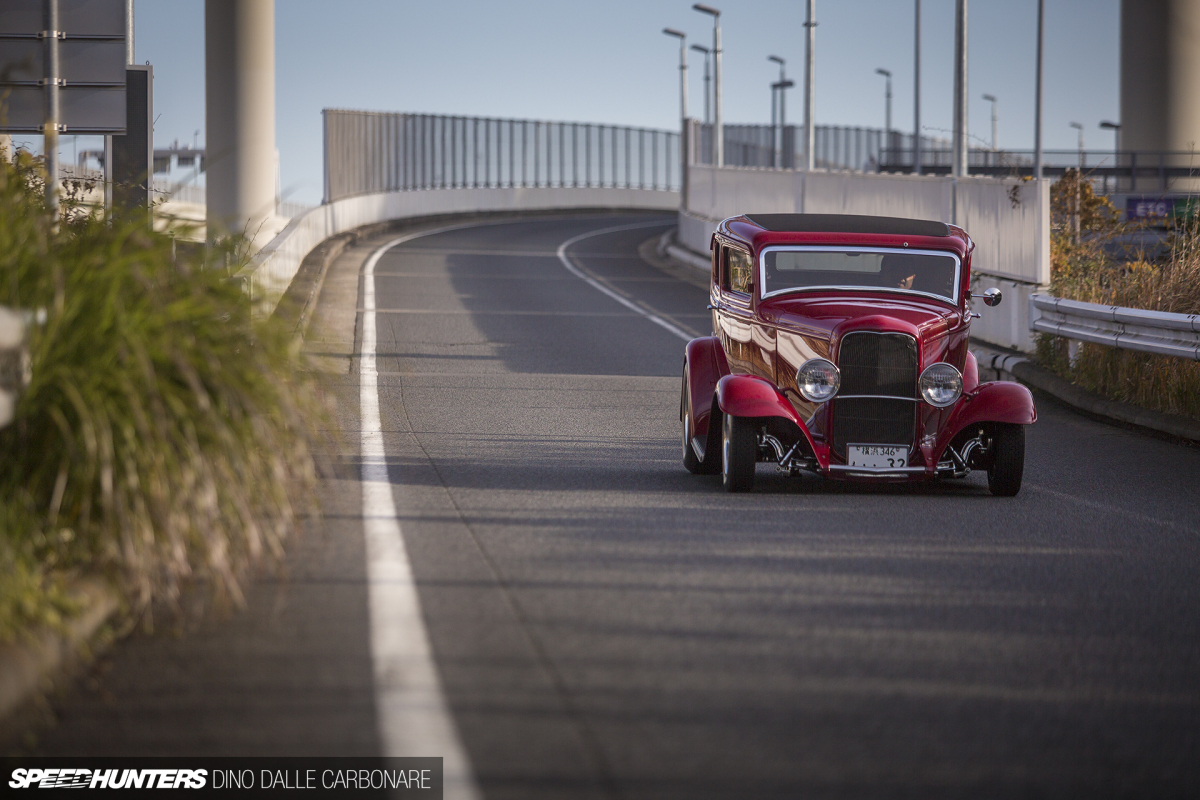 It's become quite an event too, even though it's more of a spontaneous meeting. There's no real start time or an ending to it; people simply know it happens and try to get there as early as they can. And this year, it seemed that even arriving before 9:00am was not early enough! By that time there were no more parking spots left, and even the truck parking areas had been snapped up. Yet more cars just kept rolling in…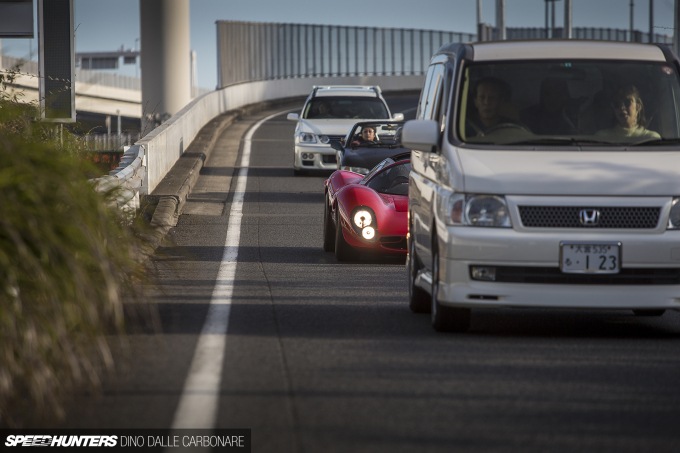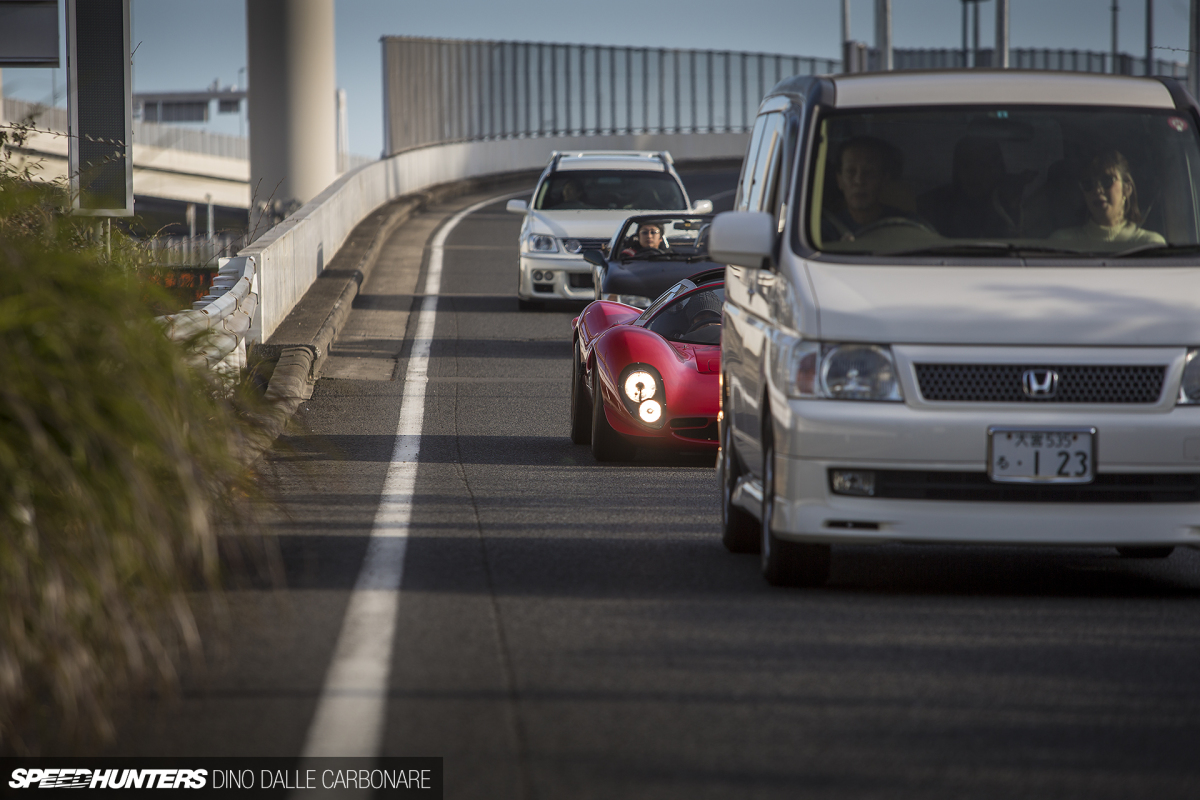 I sat by the ramp that brings you into Daikoku PA, as it's always cool to see cars and car clubs/teams arrive in convoy. So much variety passed by me in those first few minutes, but then all of a sudden I spotted a somewhat familiar shape tucked behind the line of cars that was slowly descending into the carpark.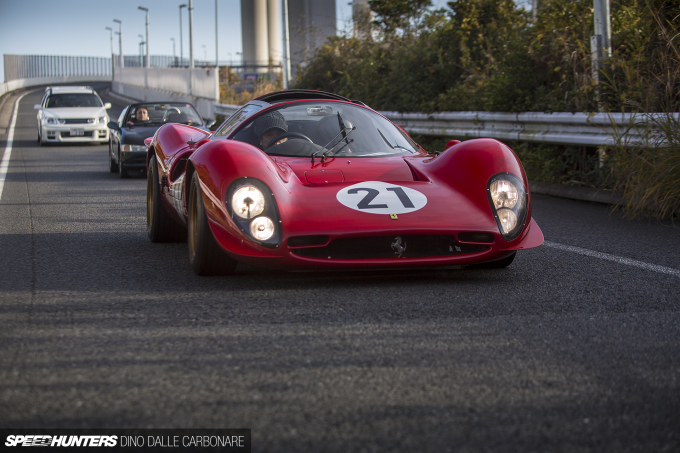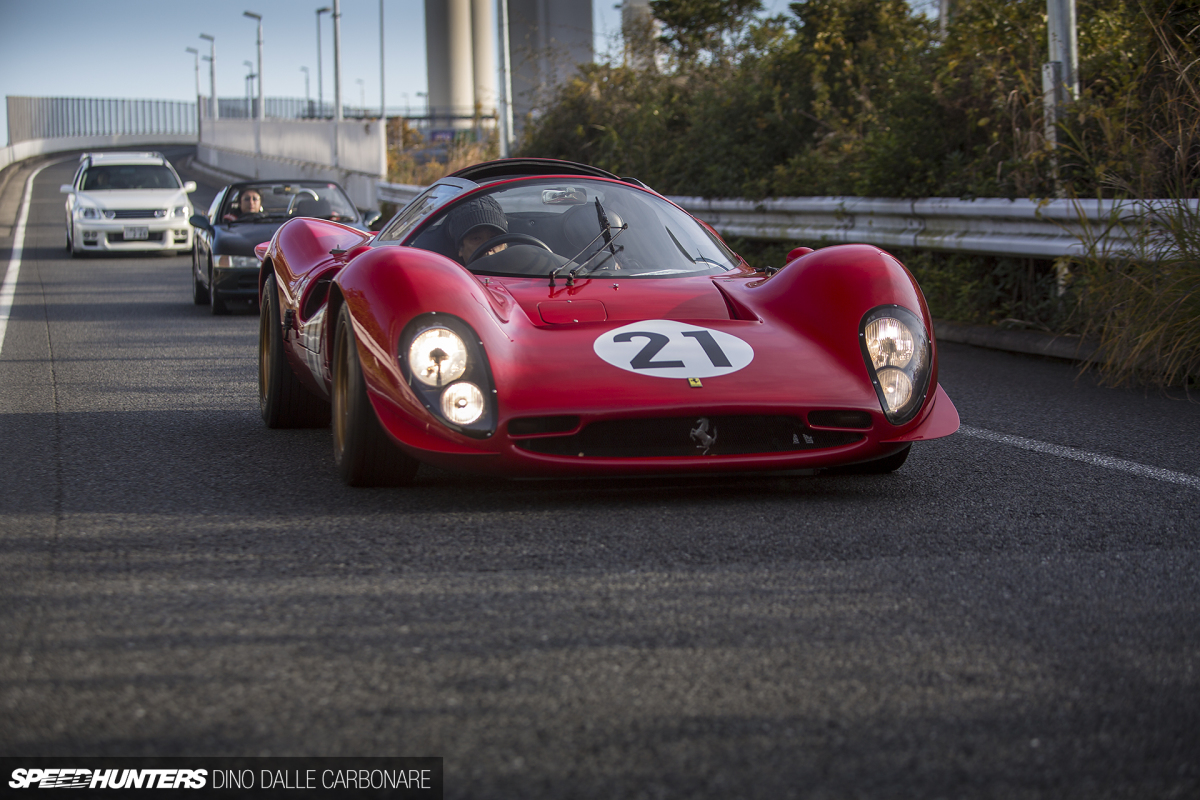 My eyes had not let me down; the elegant yet aggressive lines were indeed those of a Ferrari 330 P3/4, a car that up until this point I had only seen a few times in person – in a museum!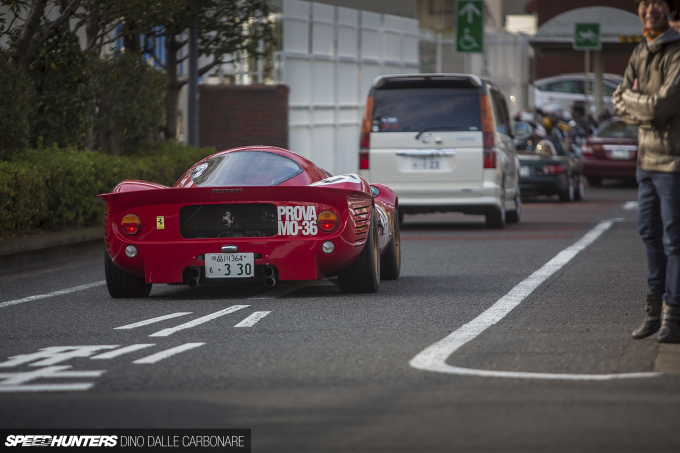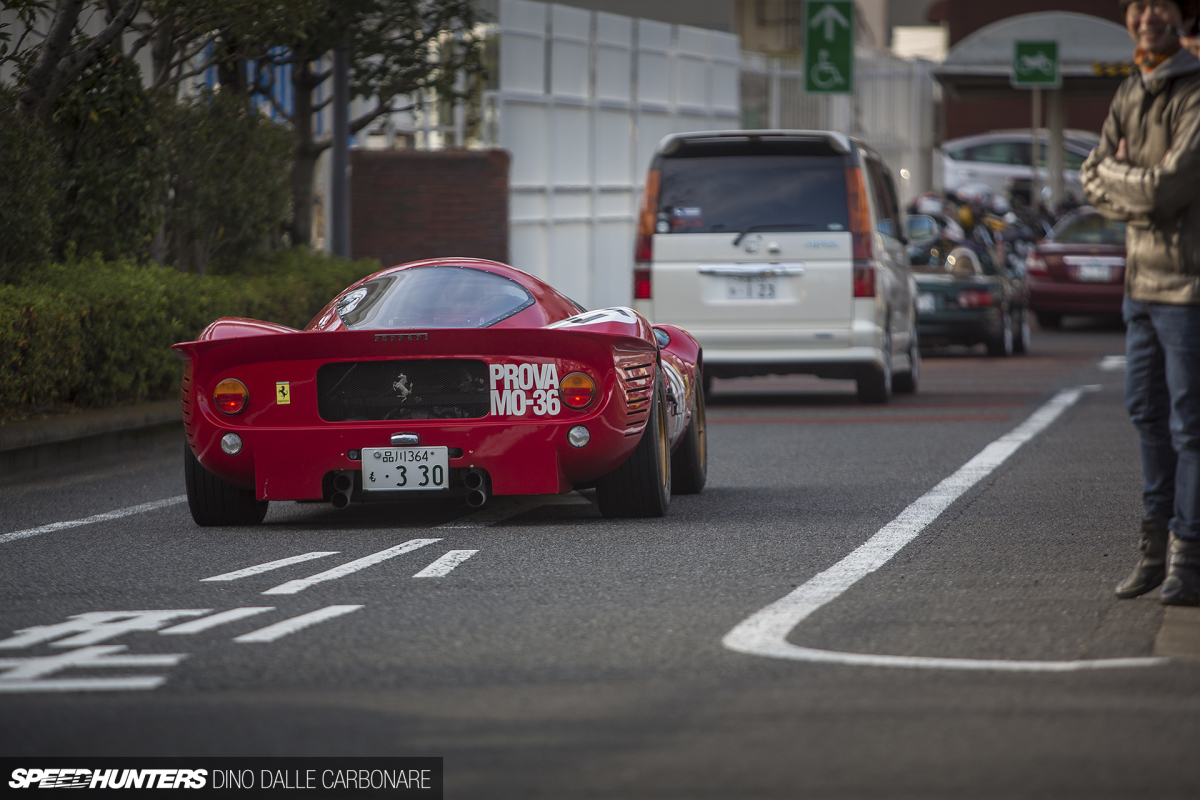 Obviously, you just aren't cool enough these days if you don't manage to slap a number plate on the back of a race car and drive it on normal roads. Of course, I have nothing against this; I think it's both exceptionally cool and equally crazy. This is one thing that Japan really rules over, as I've lost count of how many road registered race cars I've seen and shot thus far.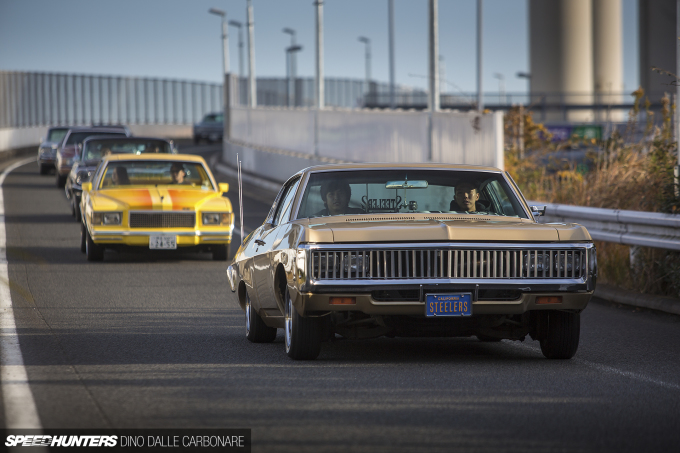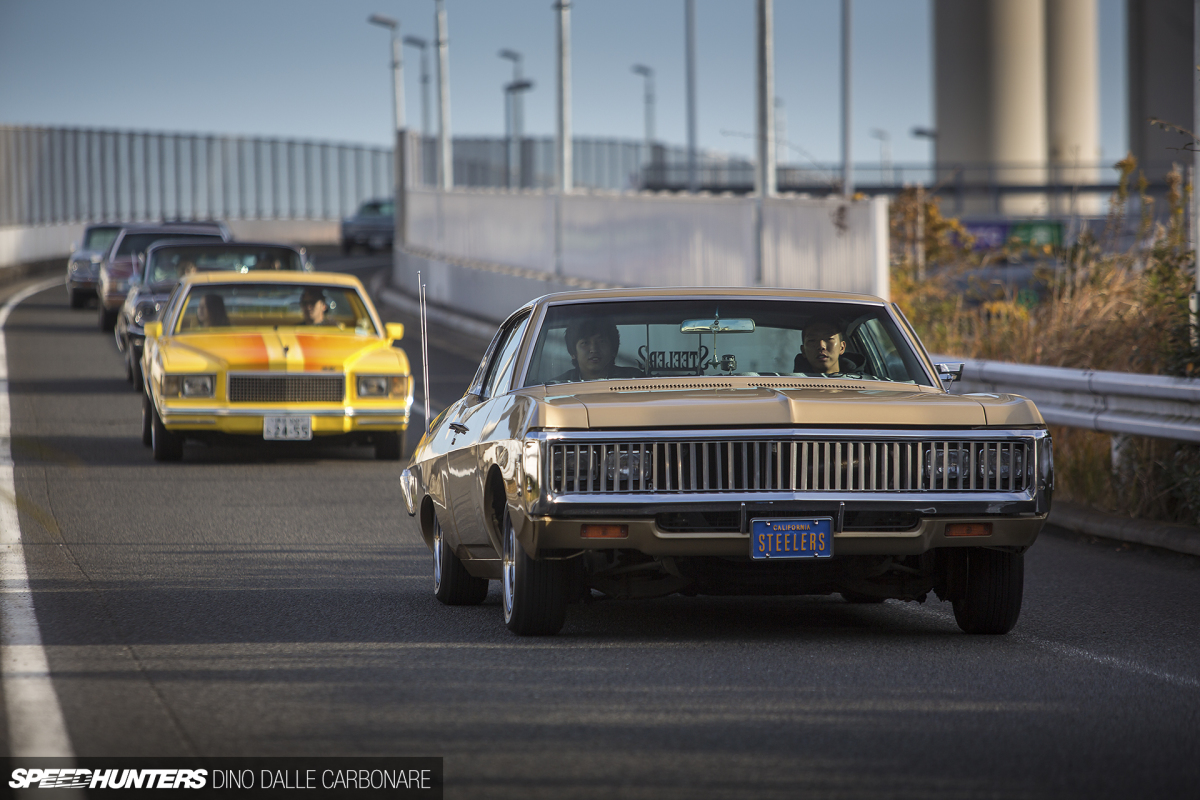 As the parking area clogged up even more and line to enter got longer and longer, it just added to the whole spectacle of seeing so much varied metal making its way to this very special gathering.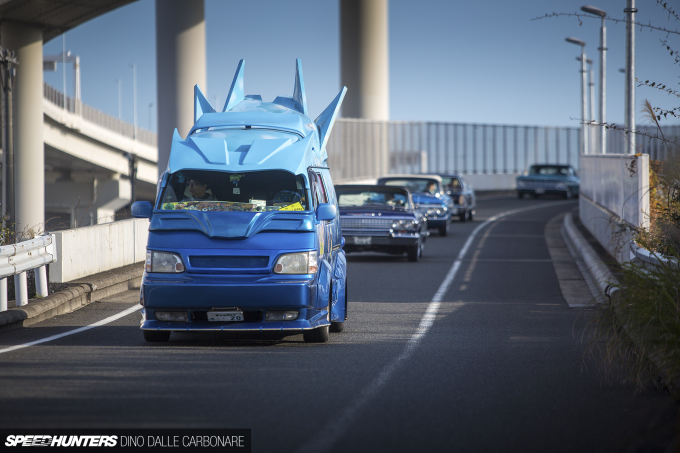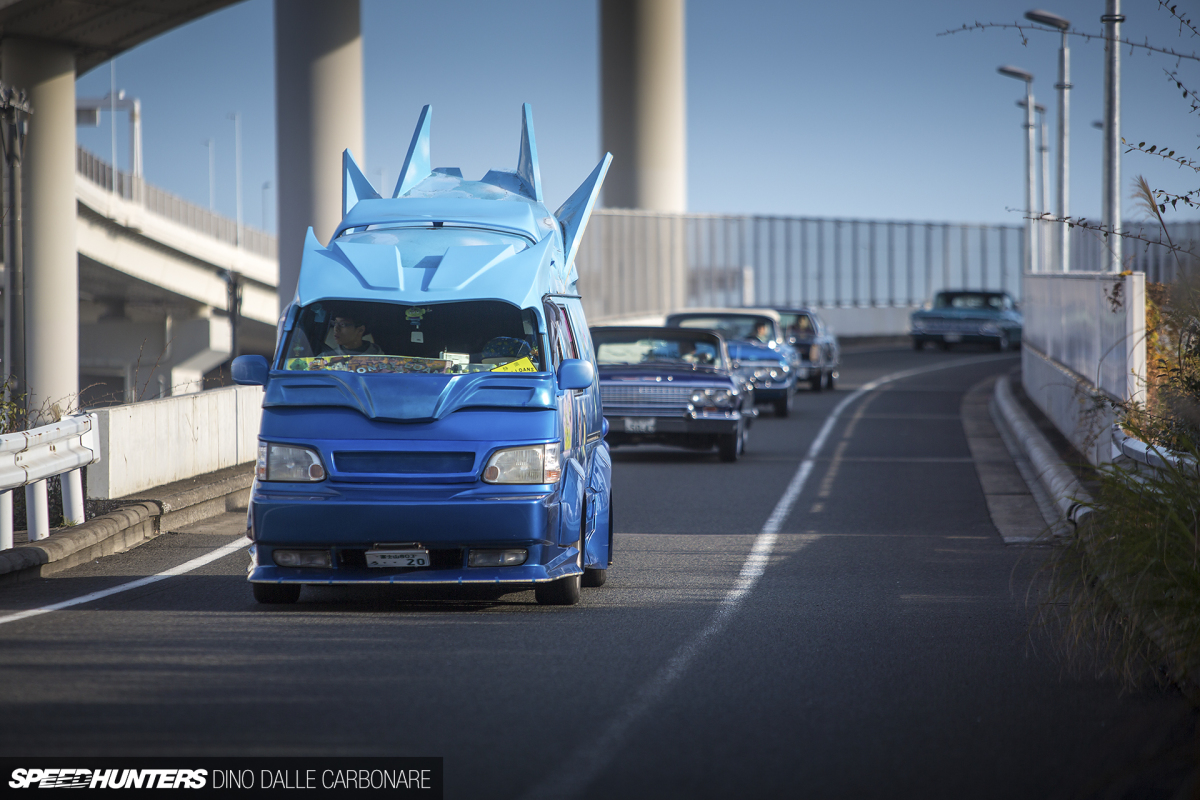 It's also been a while since I've seen one of these wildly styled vans; they are becoming a much rarer sight as it becomes harder to get them through registration. There is, however, nothing more Japanese than a bewinged Hiace or Caravan, and this is one of the milder ones I've come across!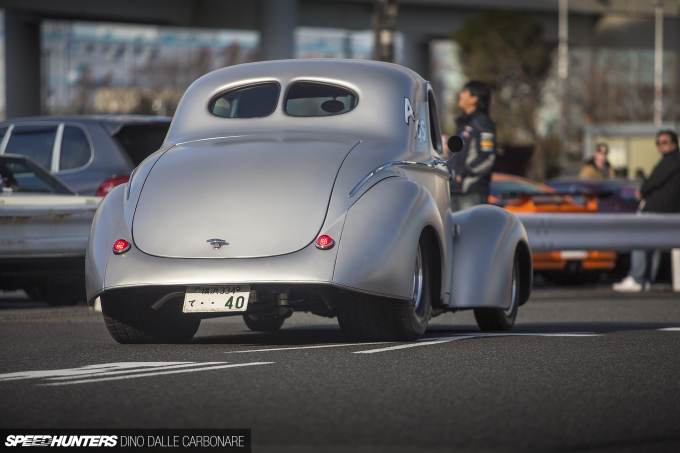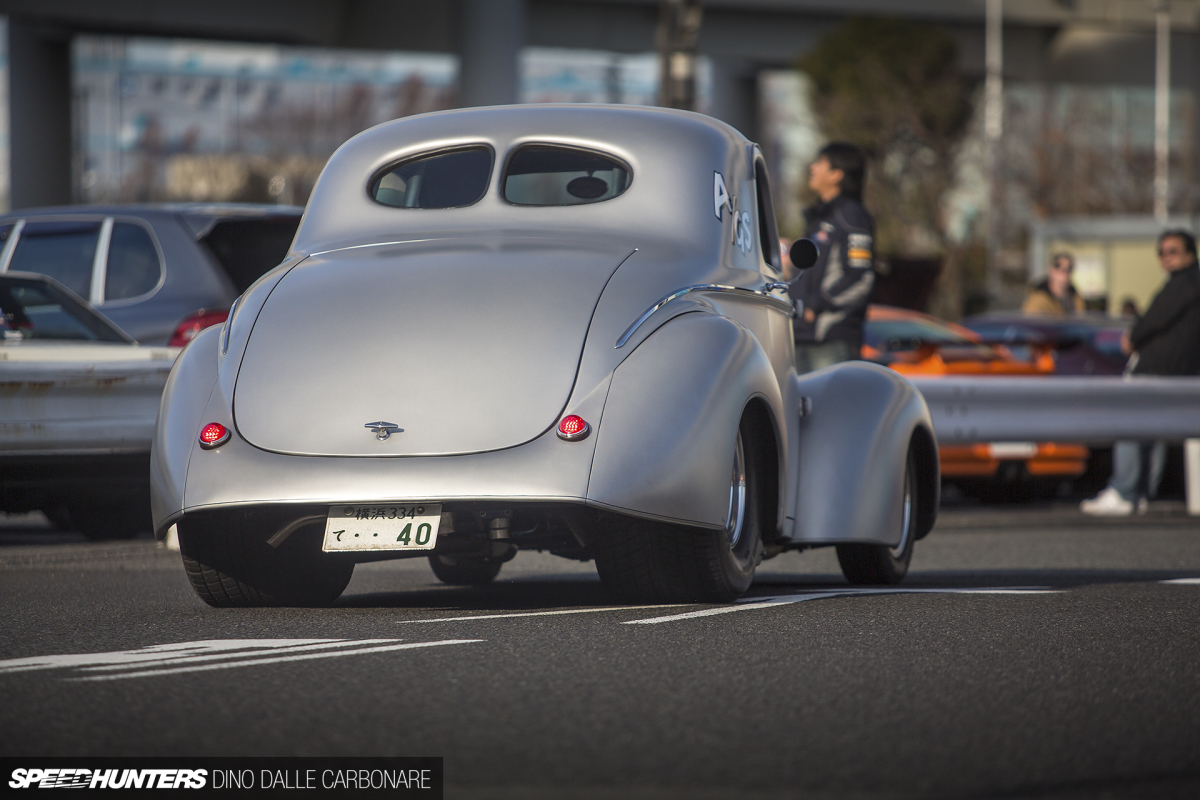 The New Year Meeting always coincides with quite a few cruises that various car clubs organize, and I was lucky enough to get there nice and early to catch some of the hot rods that rolled in, like this 1940 Willys Coupe drag beast.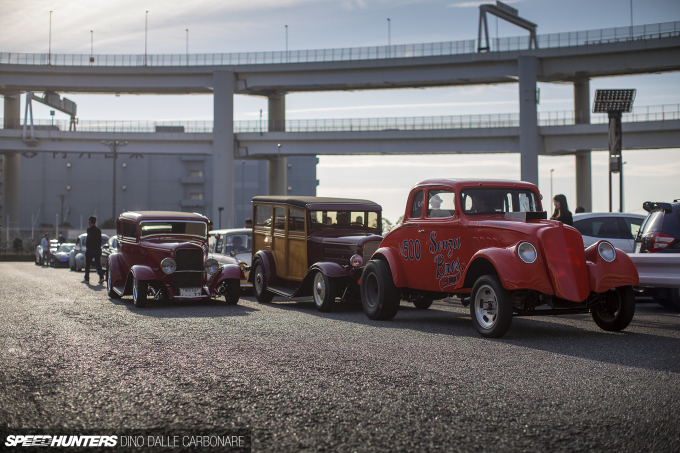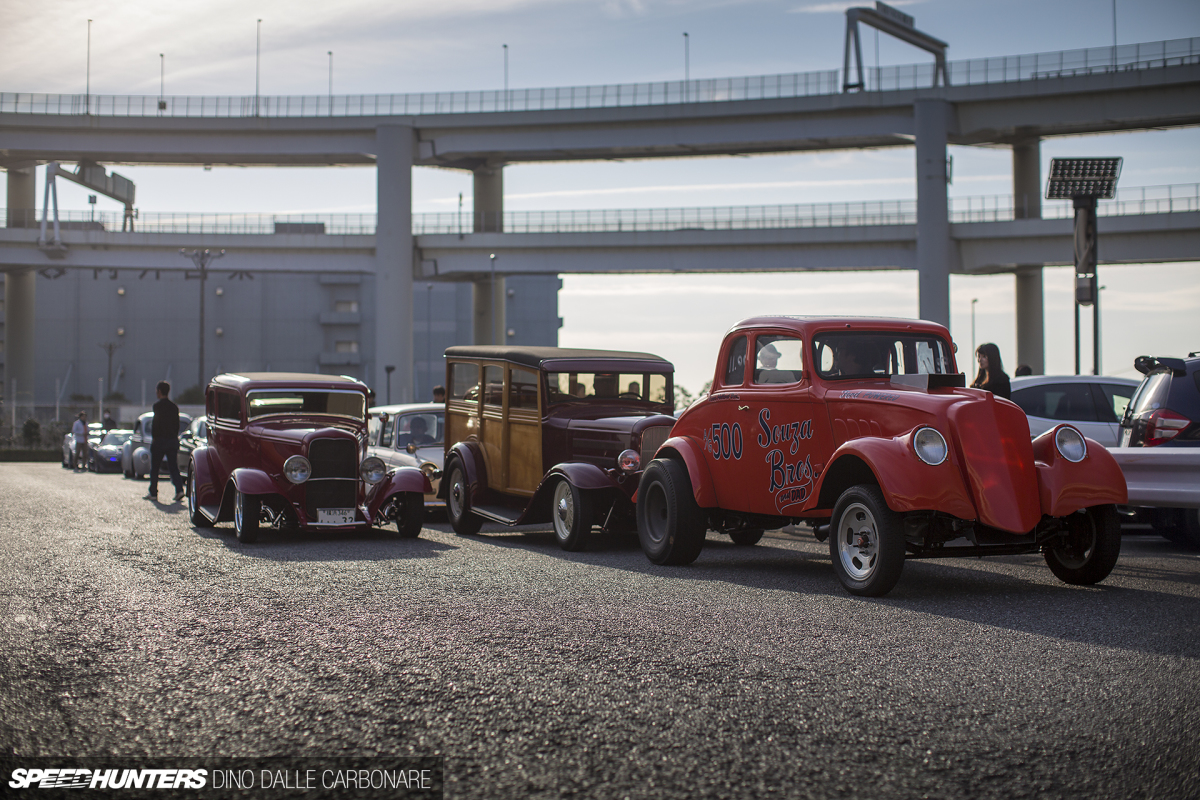 The Willys had come to meet up with some more guys from Andy's Rod Works. If you recall my recent coverage from the Mooneyes Hot Rod Custom Show, you should recognize this orange drag machine too!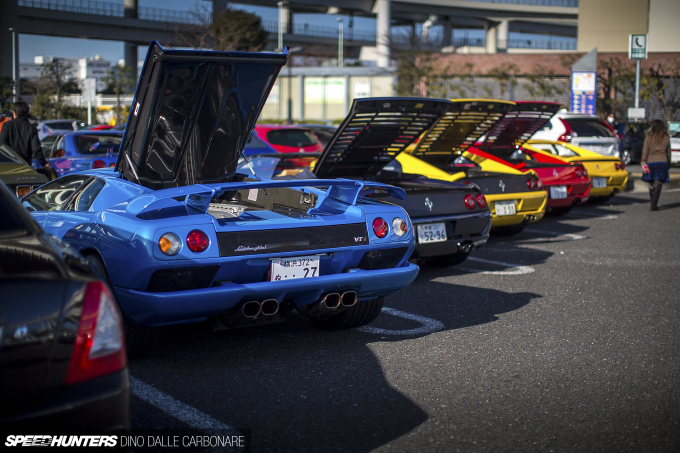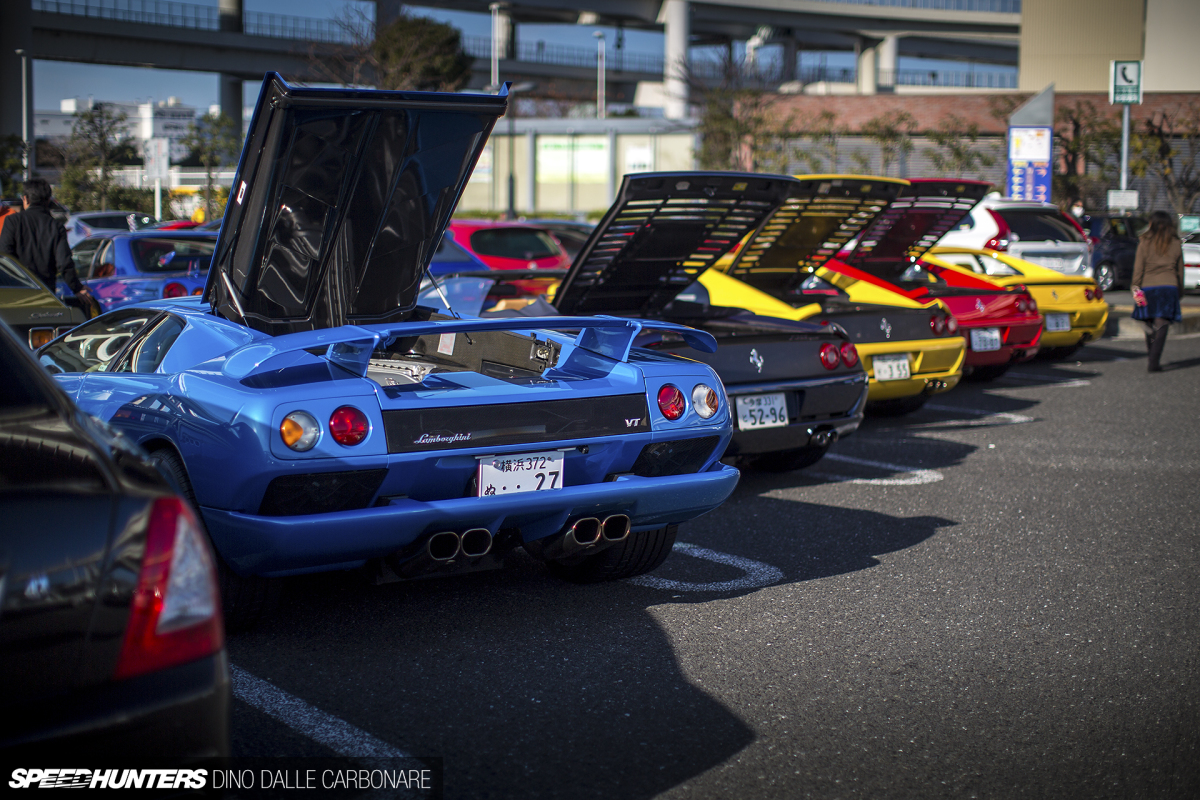 As always, supercars were plentiful; name your favourite Italian exotic and it was most likely present. I couldn't help but smile seeing this line of 355s and a Diablo VT parked up with their engine covers opened. Usually the Japanese make a point of reverse parking into a spot, but I guess if you drive a mid-engine exotic you are the exception. It's far easier to show off your engine bay in this orientation!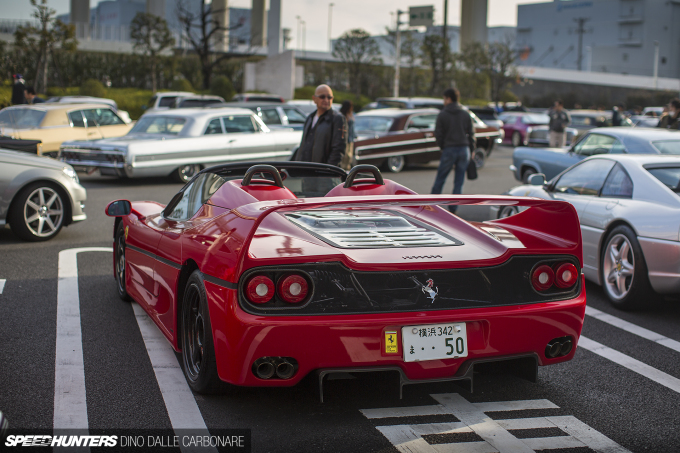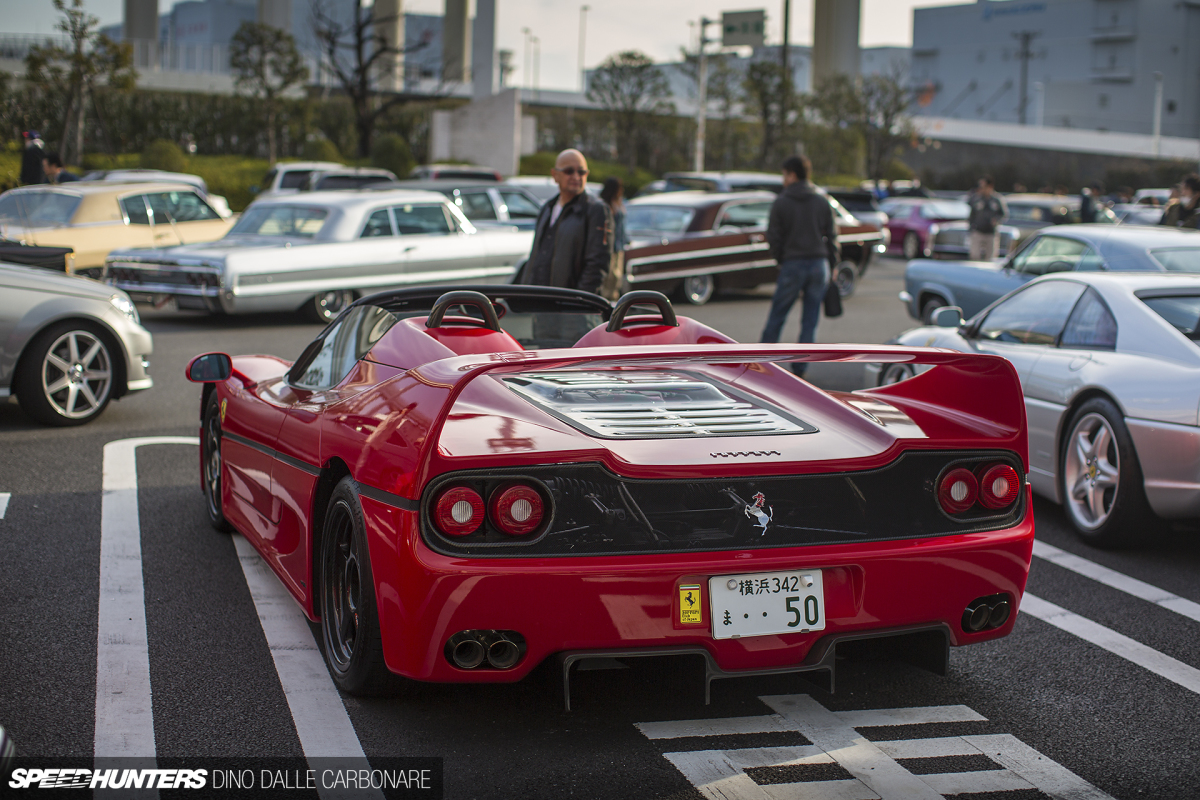 I was really hoping to see one of the few LaFerraris that are roaming the streets of Tokyo, but this F50 was the only one of Ferrari's five 'holy grail' cars. Better luck at the next meet, I guess.
It's All In The Mix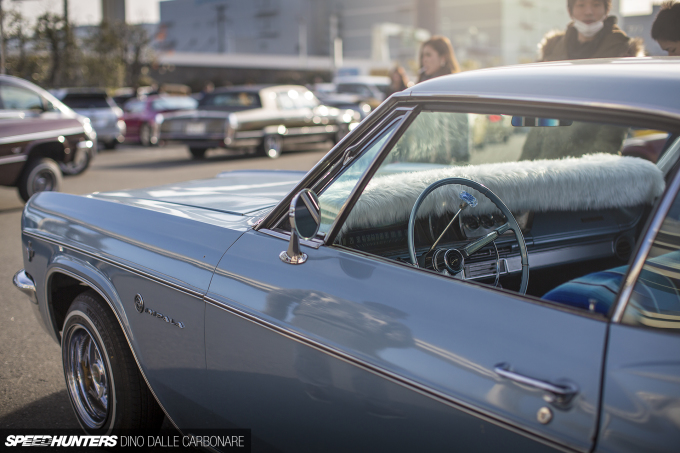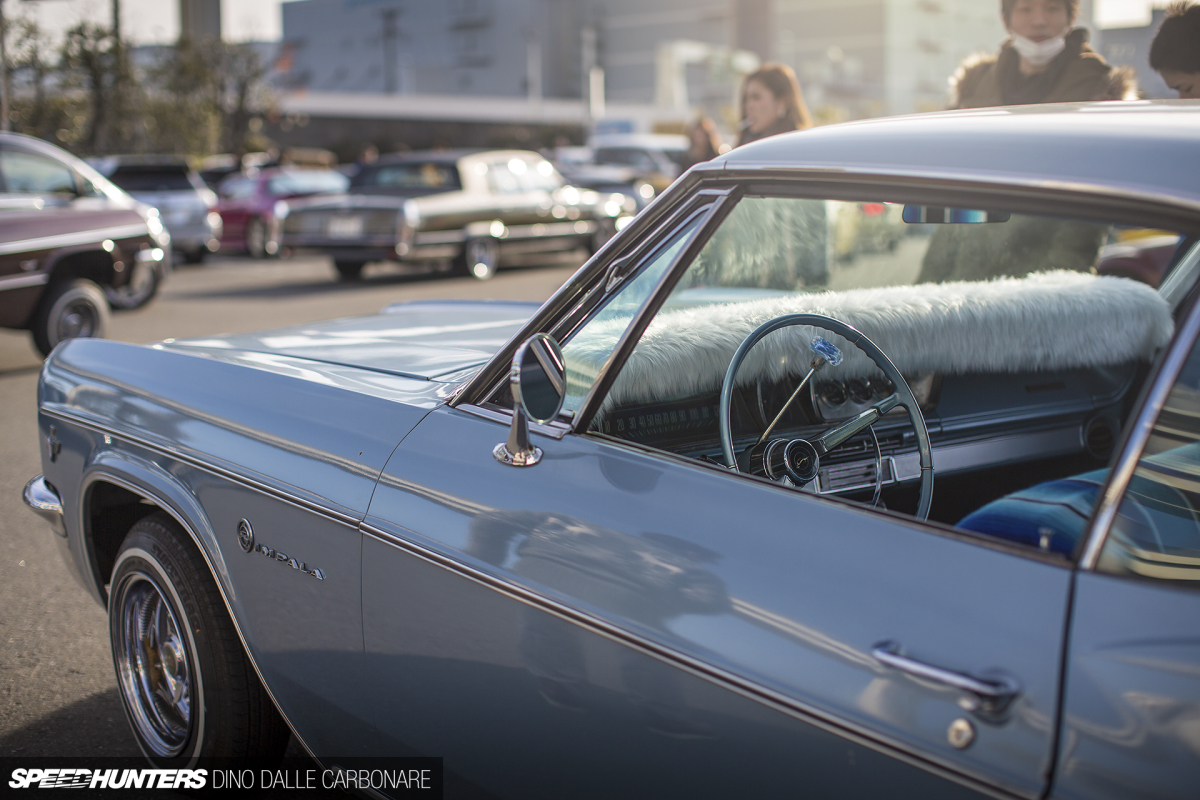 As I mentioned a moment ago, the truck parking area of Daikoku was completely filled to the brim too – mostly with lowriders. Like the hot rodders, these guys were out on a big cruise and waiting on other members to arrive before all heading off to their next destination in convoy.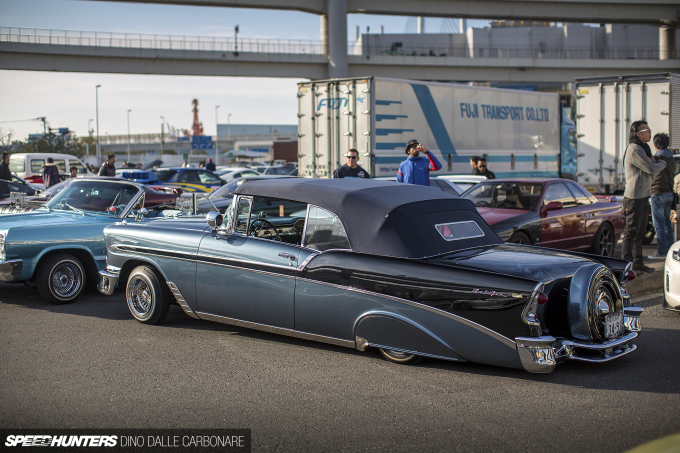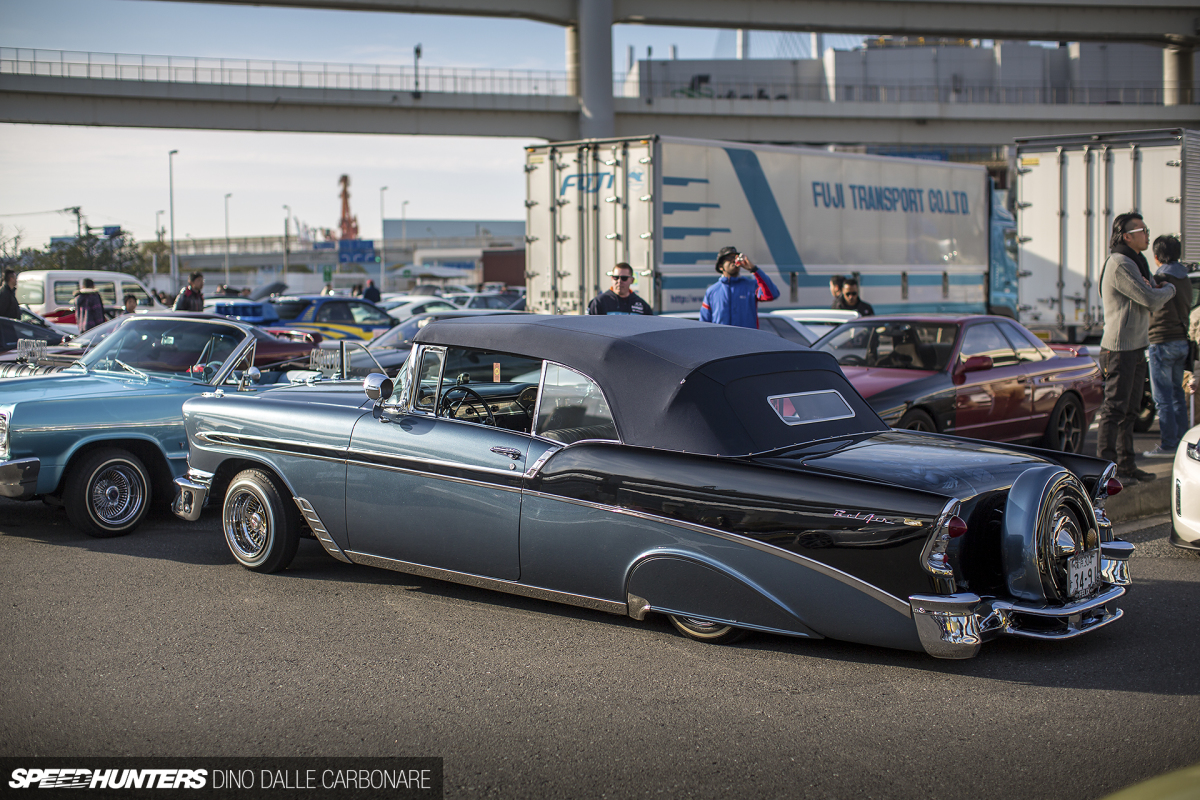 It certainly added some extra color to a meet that usually has a supercar-oriented feel to it.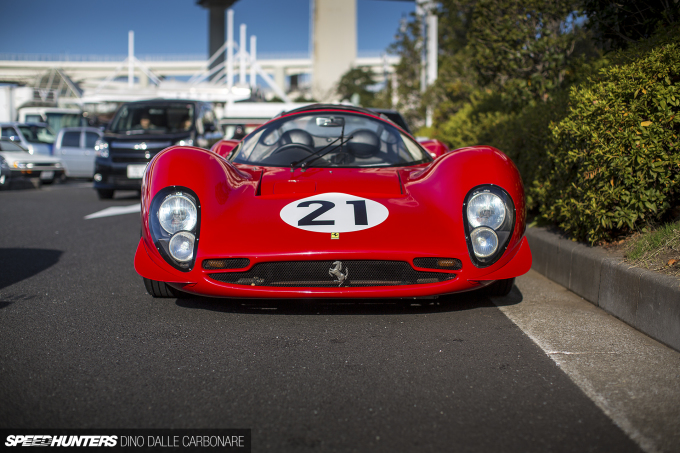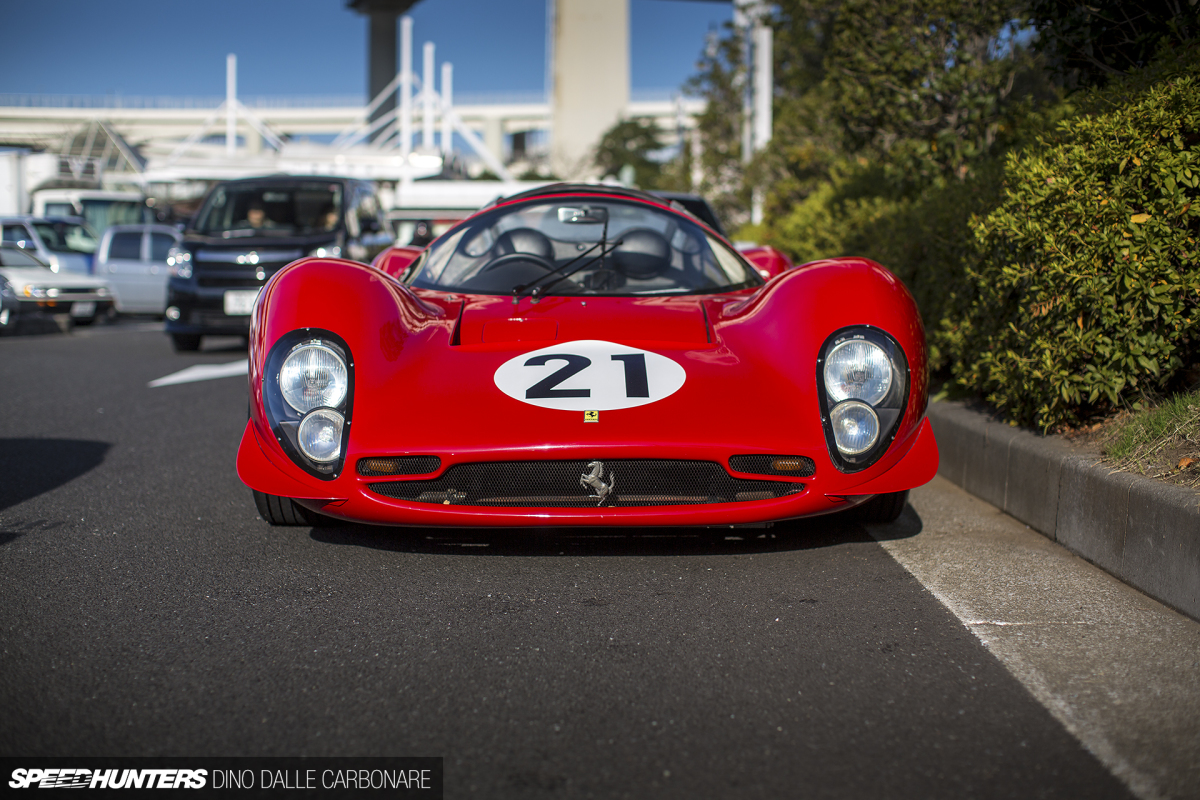 Eventually, I managed to find out where the 330 P3/4 had parked up; the thing sits so low it's pretty much invisible when you are trying to look for it through hundreds of parked cars.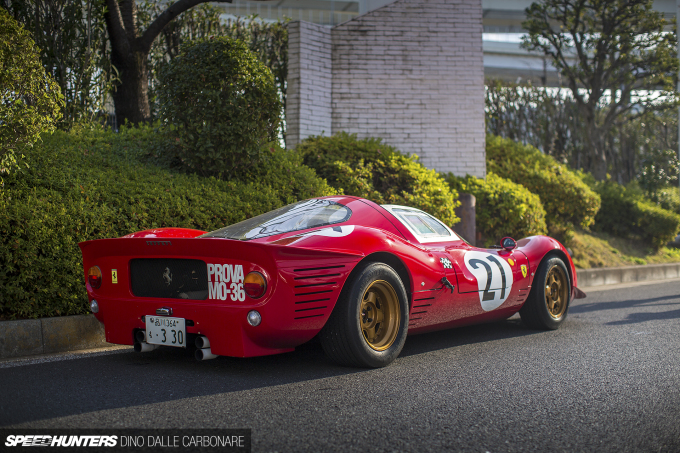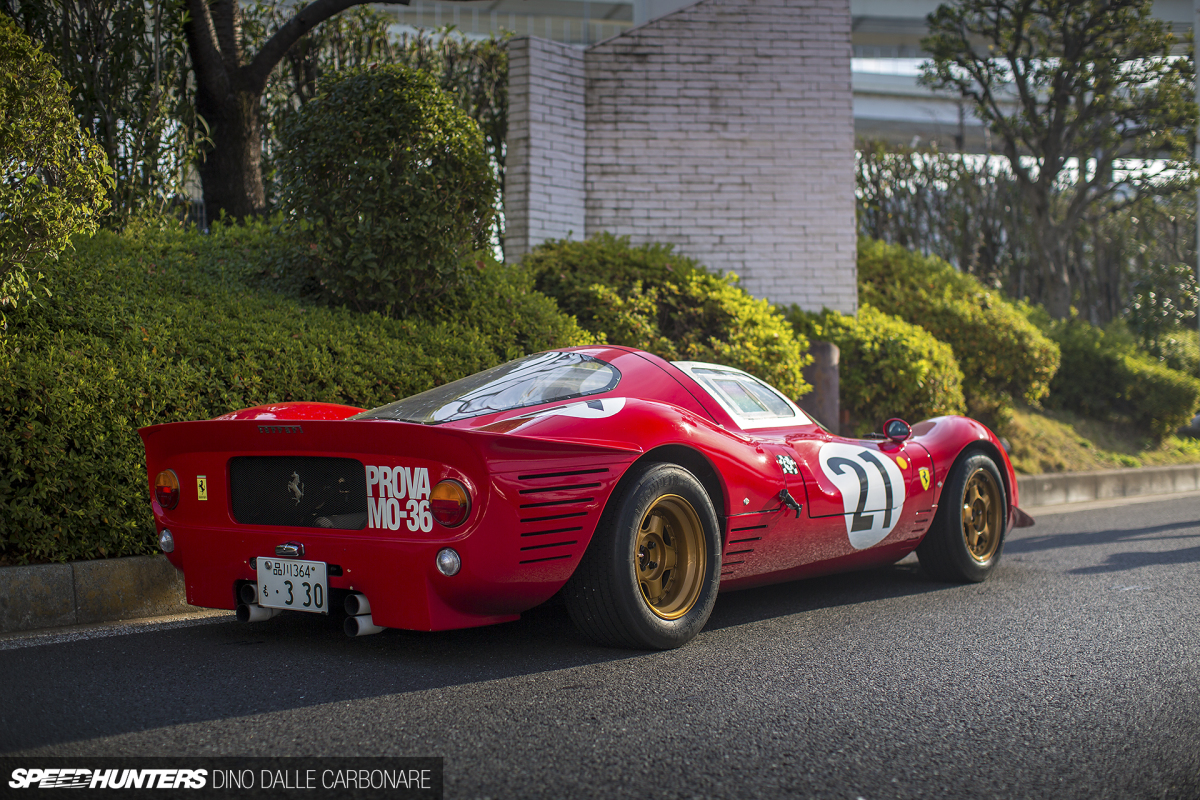 Like most people that came in for a closer inspection, I was left speechless due to its beauty and compact dimensions, but noticed that this was most probably a replica due to the very modern looking V8 sitting at the back.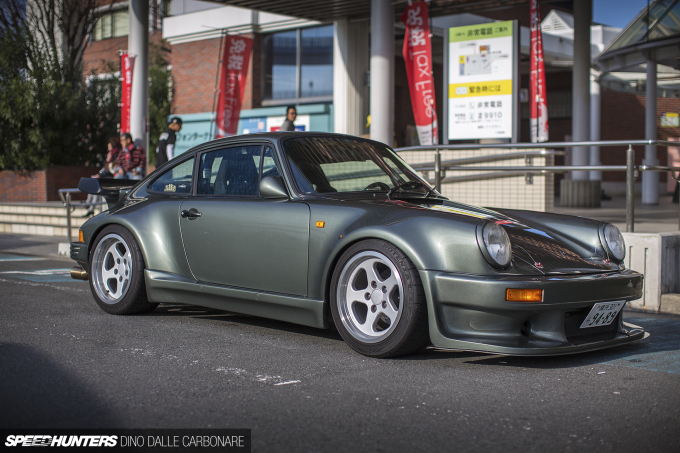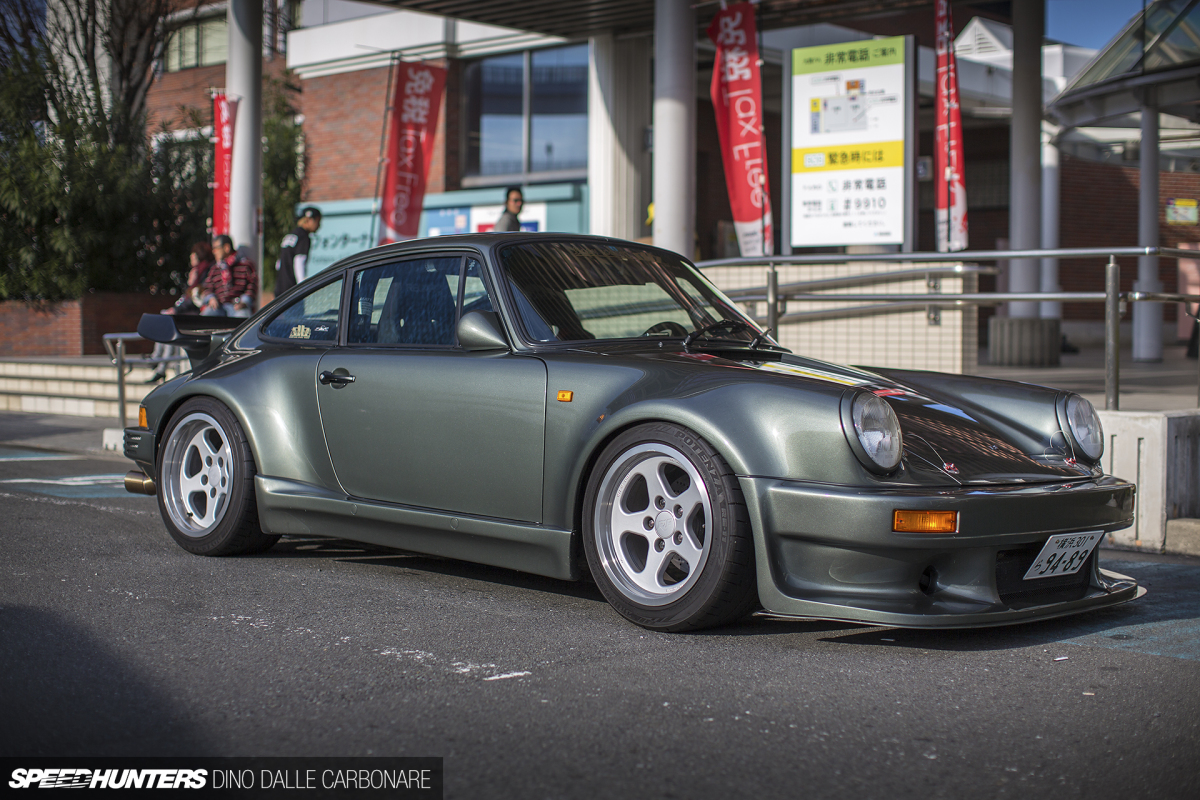 From the mid '60s, we jump straight into the mid '80s with this spotless RUF 911. Is there anything that you would fault here? I certainly can't! This thing was so clean it looked like it had been hermetically sealed in a time capsule for the past 30 years.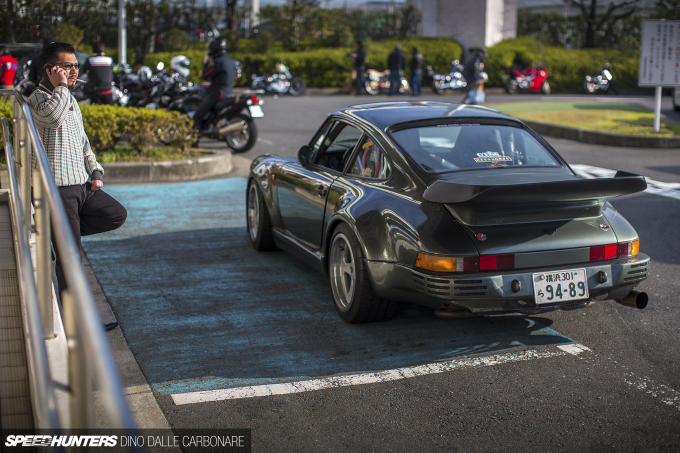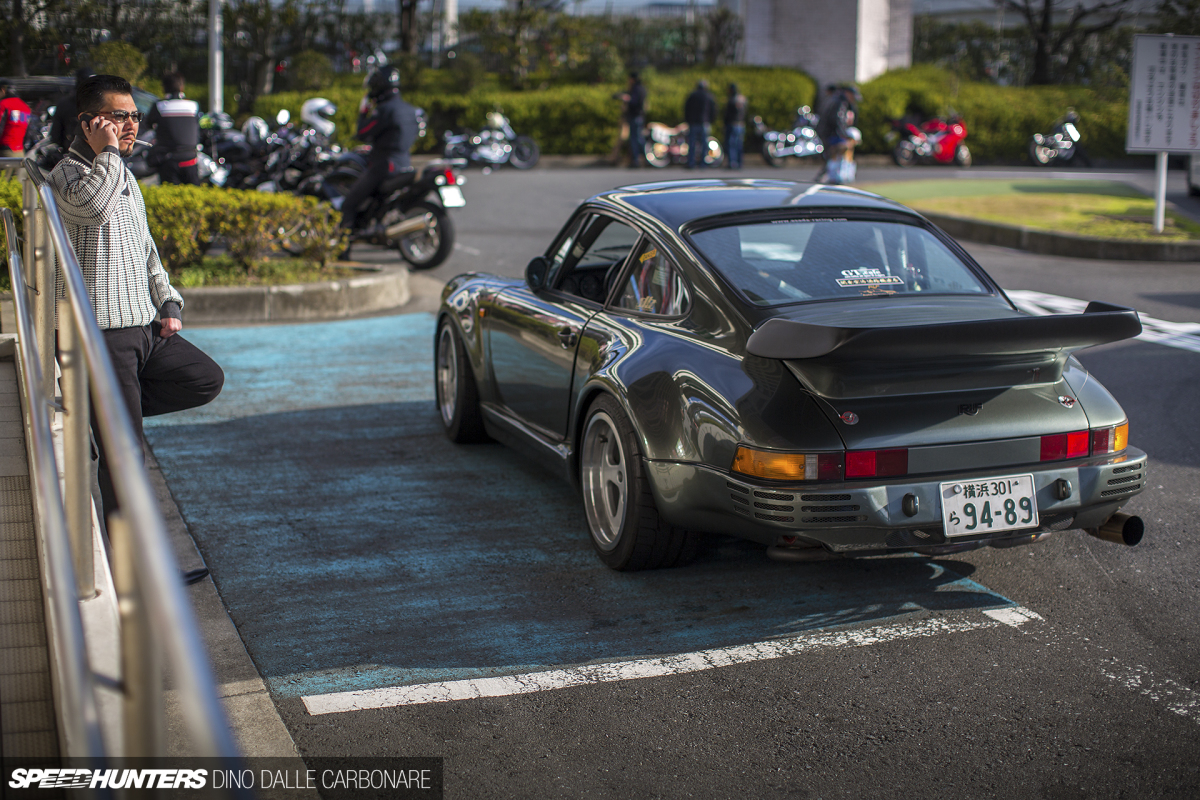 Its owner was rocking impossibly cool, period-correct attire, and after taking this shot I slowly moved away as I didn't feel like getting shot or have one of my fingers involuntarily amputated, if you know what I mean…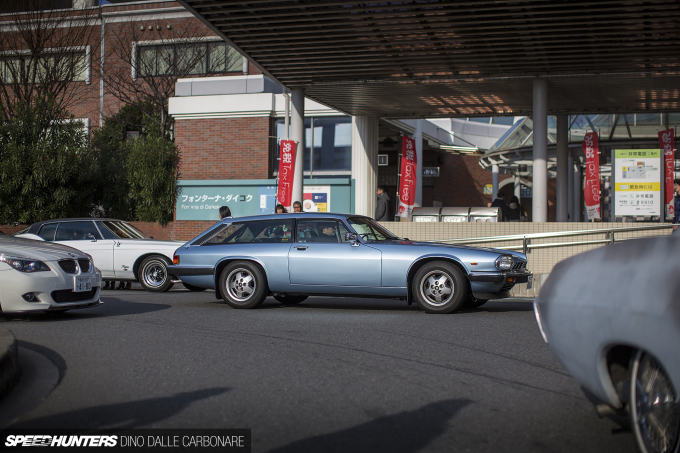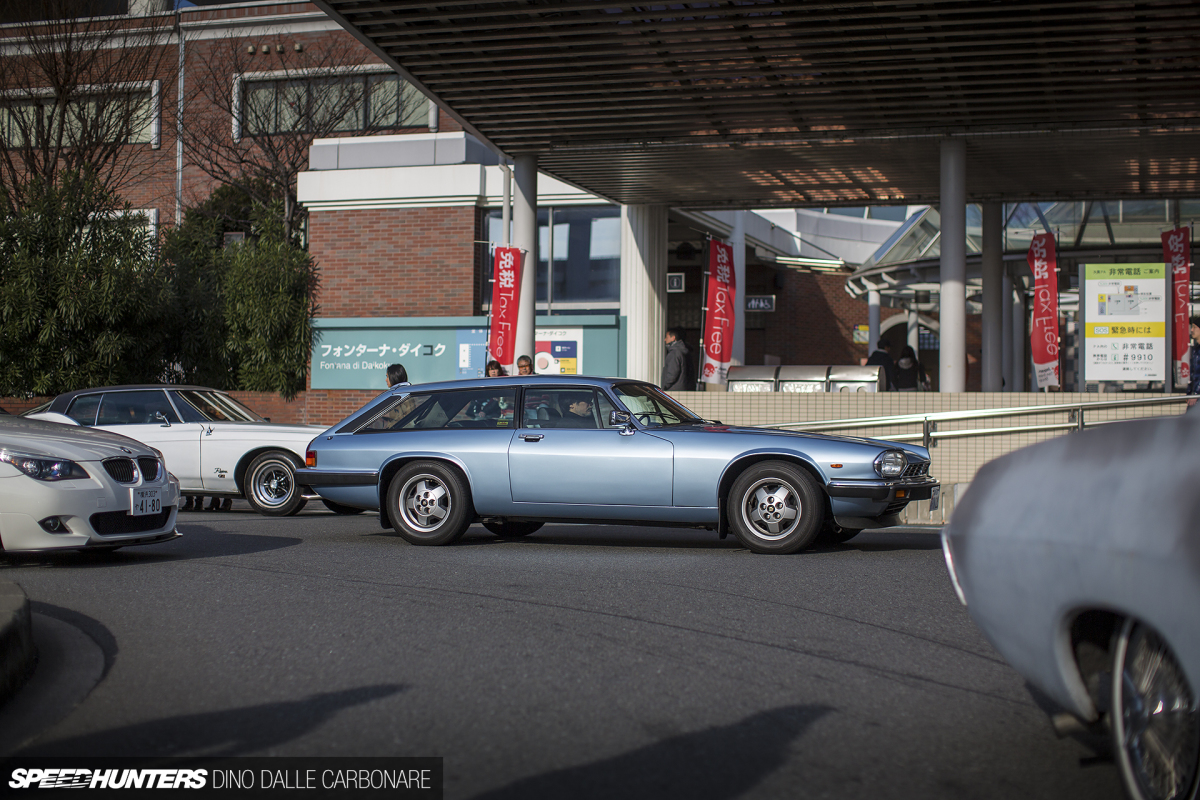 I've seen this Lynx Engineering-built XJS V12 Shooting Brake a few times before at Cars & Coffee meets held at the T-Site in Daikanyama, but it's always a pleasure to see such rarities around. In this case it's one of only 68 ever made.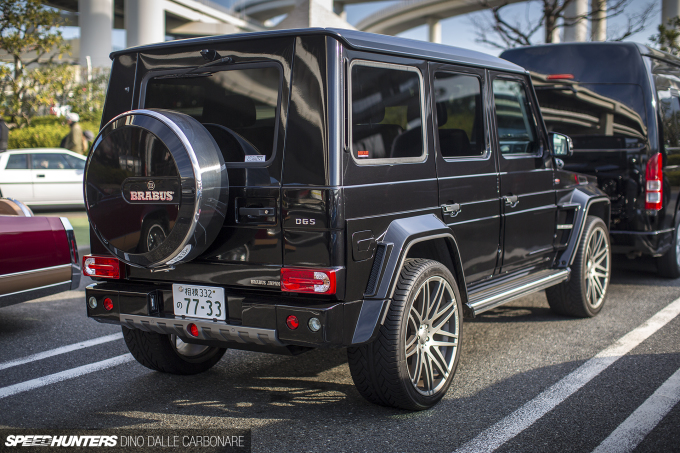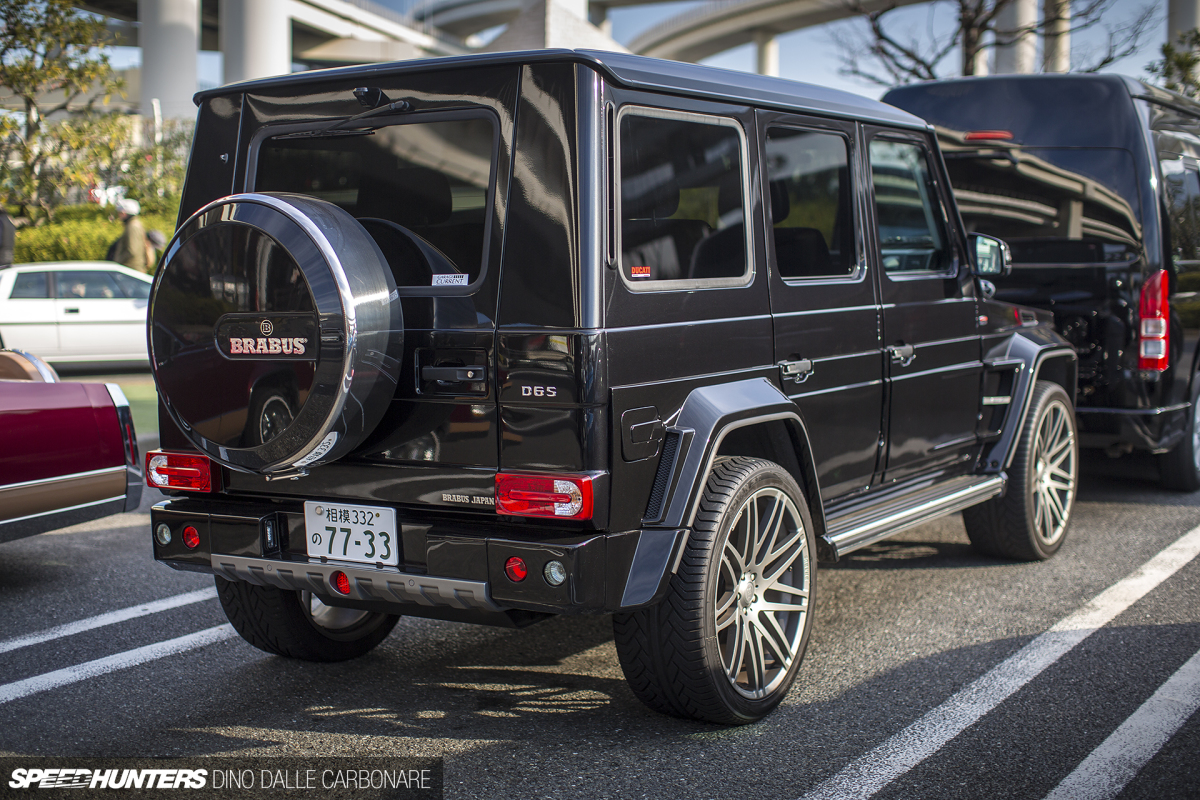 Japan really loves its low-production, special cars; anything to be different and stand out, and I found the perfect example of this. When an economical and environmentally-conscious G350 BlueTEC won't do, you just have to spend double the money and get yourself a Brabus D6S wide-body beast.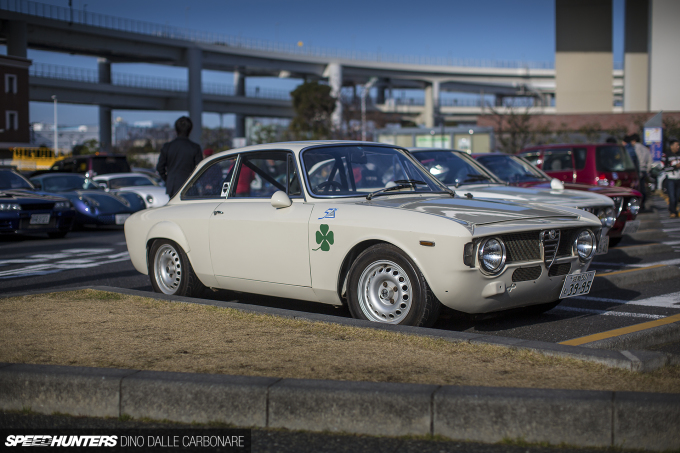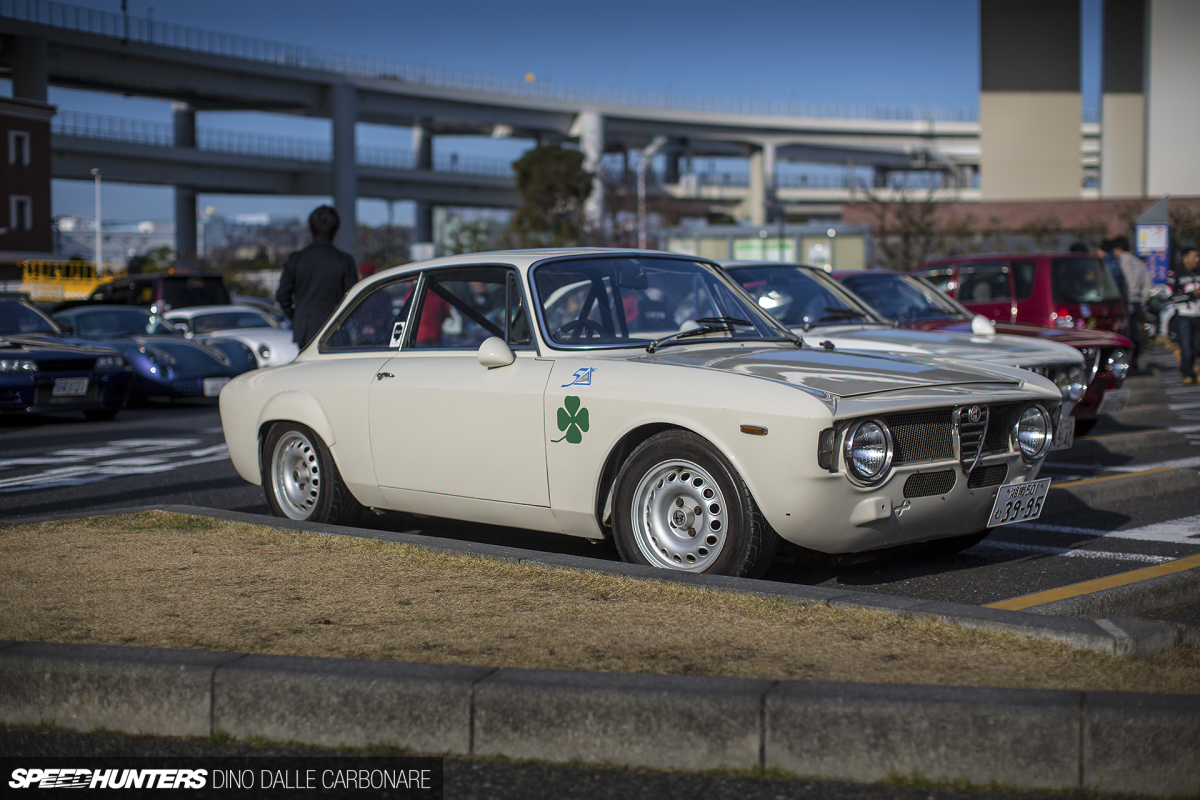 Much like older 911s, vintage Alfa Giulias maintain a strong following in Japan. Most are bought and restored to be driven – sometimes raced – which is always good to see.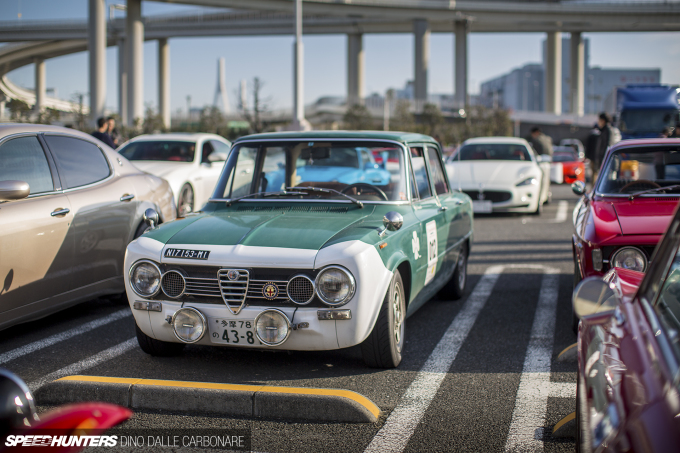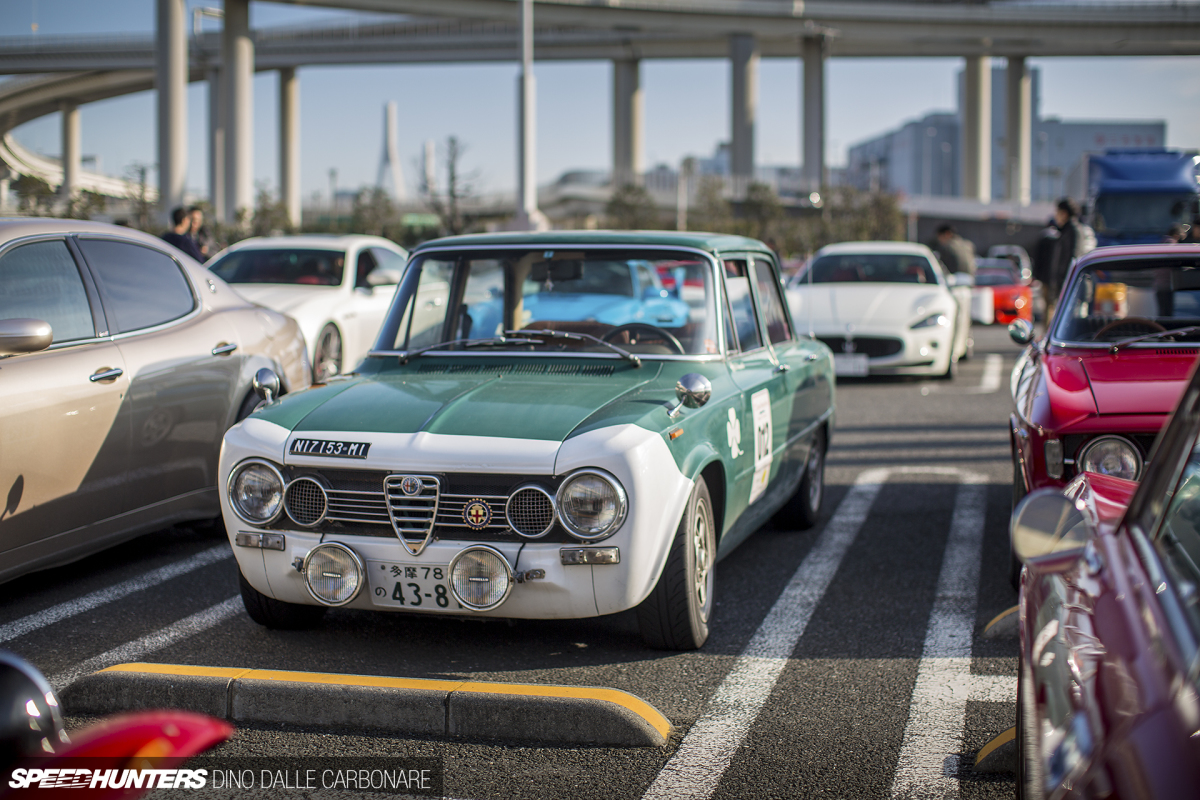 There is something very alluring about the more angular four-door Berlina version of the Giulia too; a proper driver's car and the forefather of the Giulia we'll be seeing hit dealerships this year. Will the Quadrifoglio Verde really be a match for the mighty M3?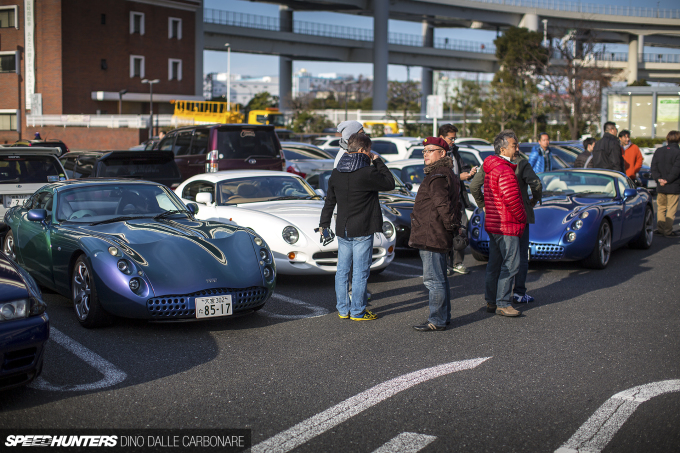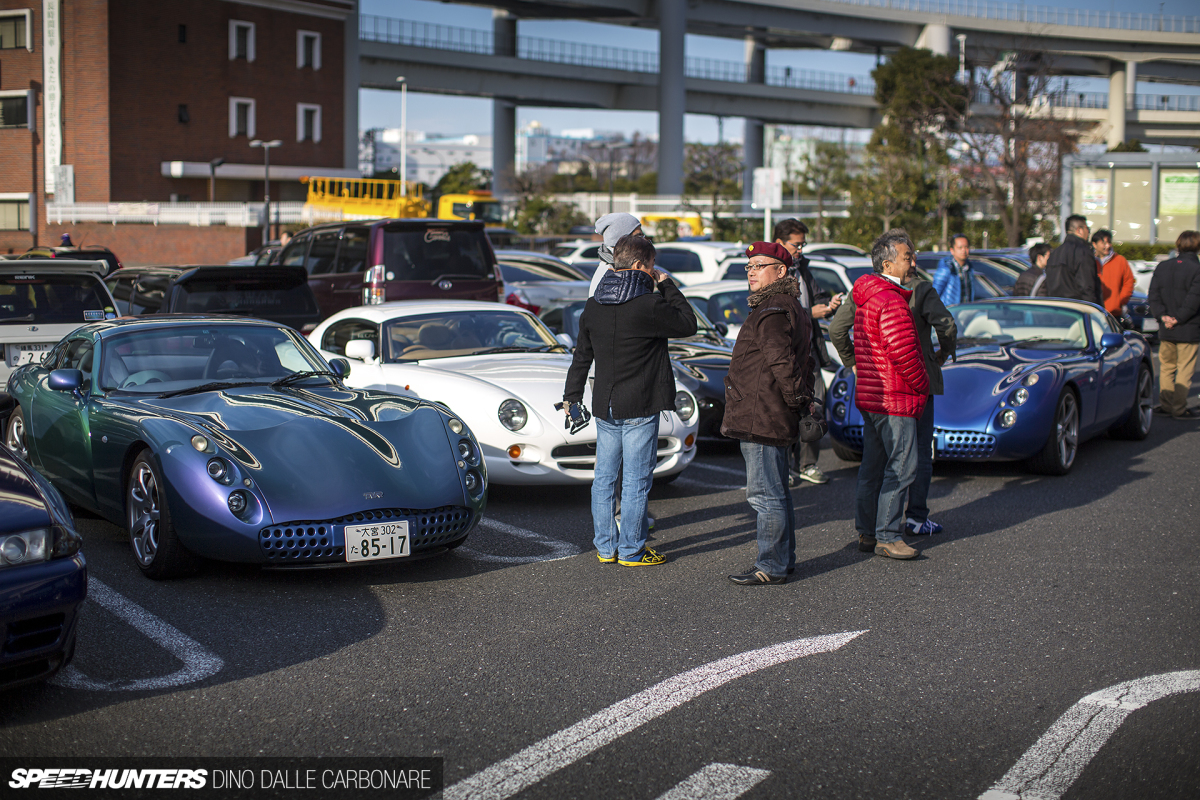 With TVR being recently resurrected and announcing that it will be back with a V8 Supercar in the near future, I found it especially pertinent that a small section of the parking area was occupied by a few loyal owners of these low-volume British cars.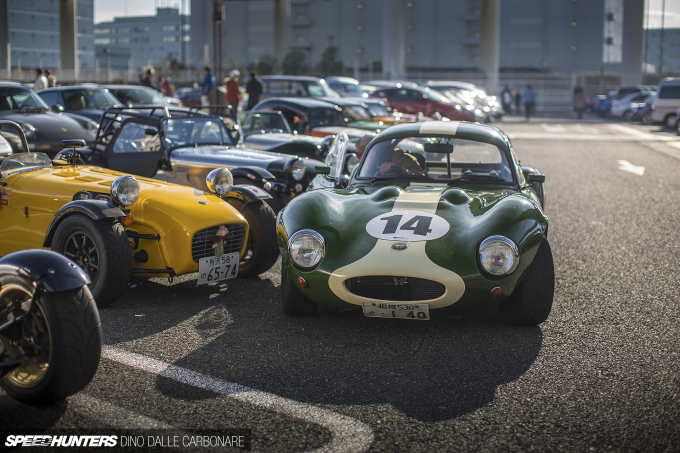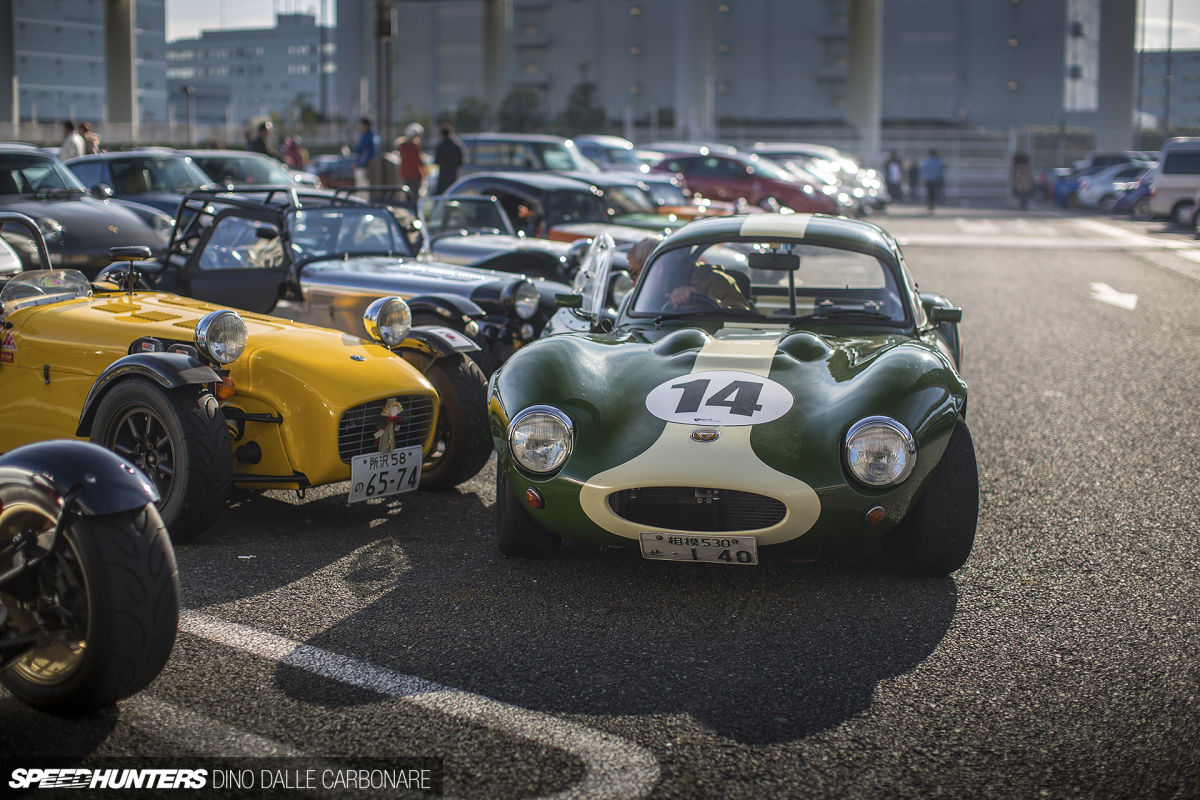 And the Japanese can't get enough of anything from the UK. Just look at this line up of 7s, topped off by a lonely Ginetta attempting to find a parking spot.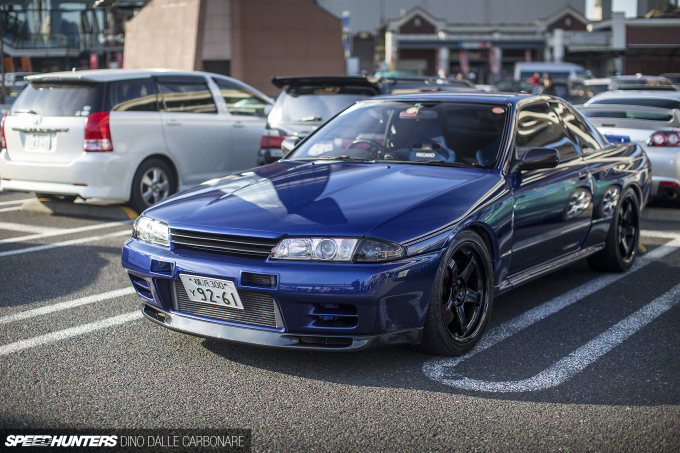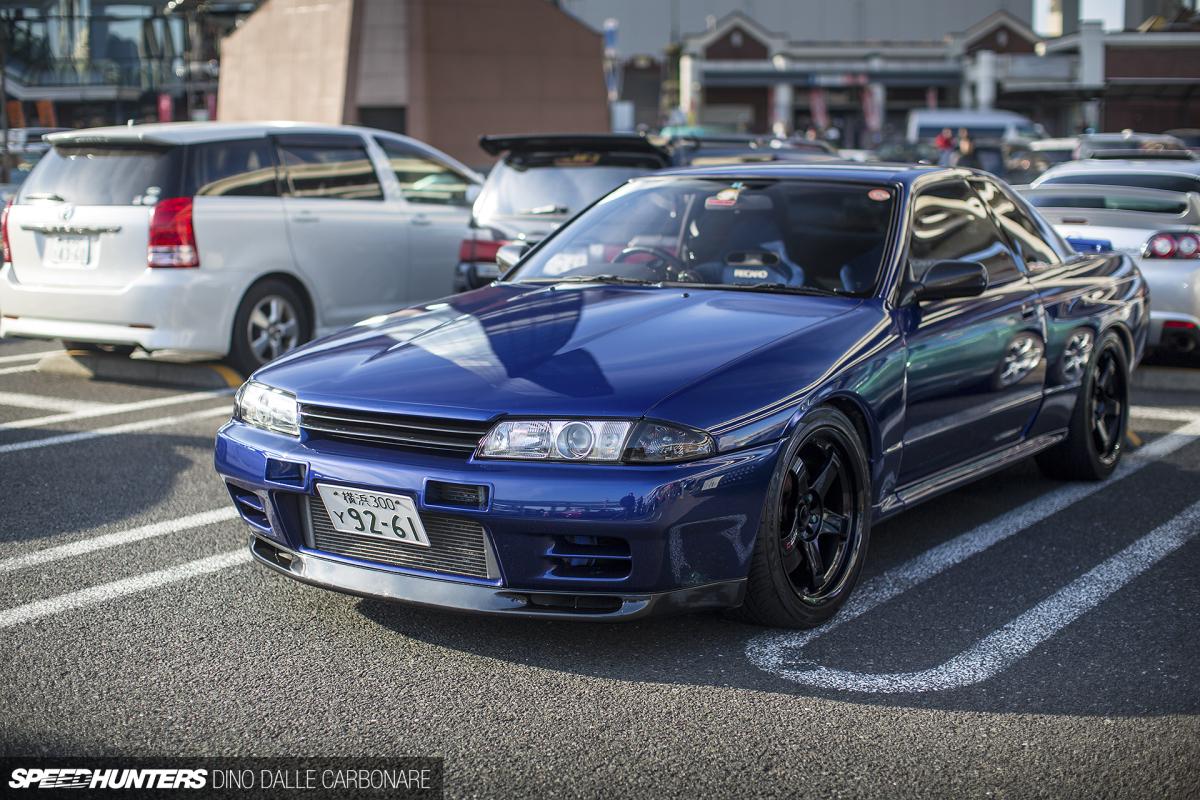 Of course, you can't have a Daikoku meet and not see about 100 different GT-Rs. There were tons of them around, and of all generations – even the newest one which runs the farty V6 (sorry R35 owners, you know I can't help go for the occasional dig!). I did, however, take quite a liking to this beautifully repainted BNR32 running on Nismo LM-GT4 wheels. Seriously, how damn clean is that?!
A Great Way To Start 2016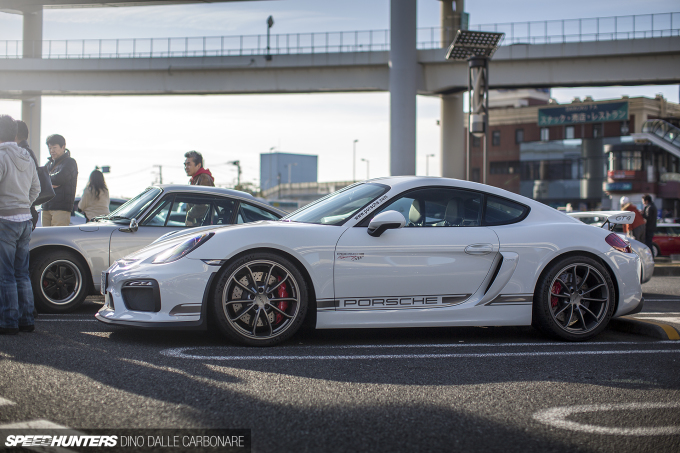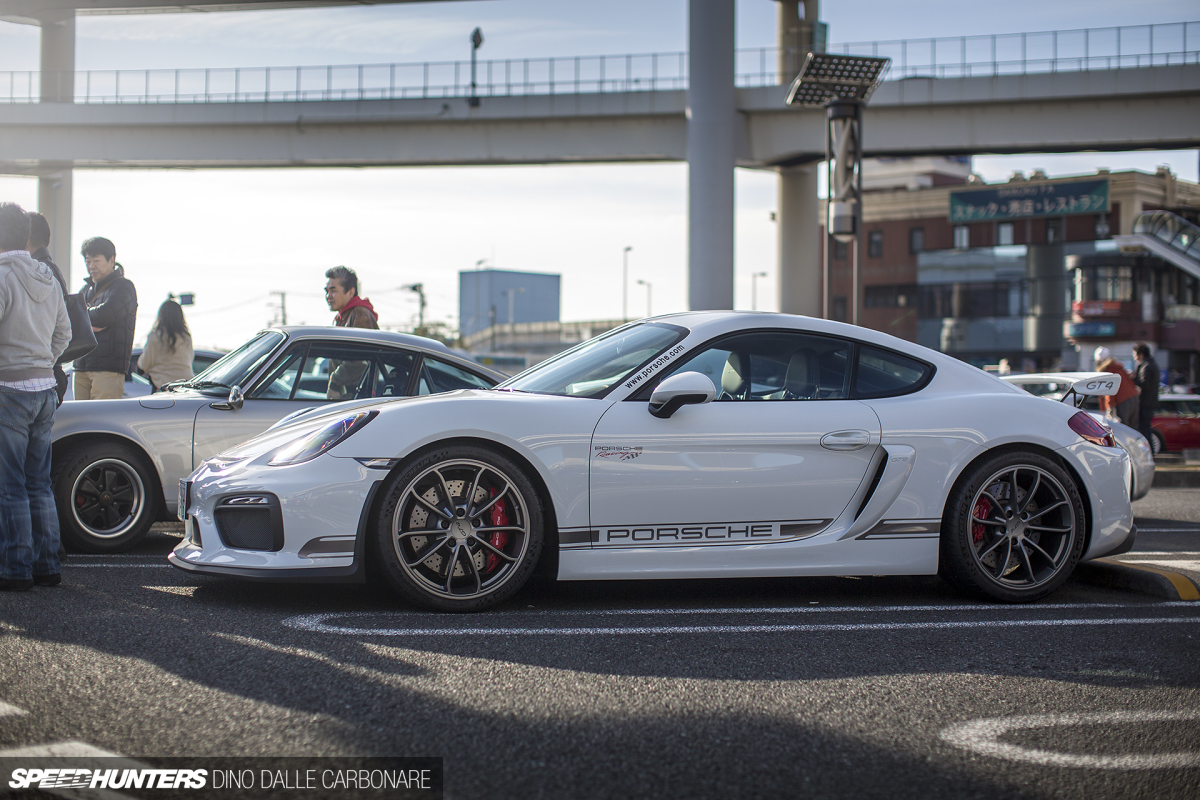 Although the entire global motoring press has waxed lyrical about Porsche's new GT3 RS, I still reckon I'd pick the GT4. Power isn't everything, feel is, and I cannot wait to get behind the wheel of this car during the course of 2016!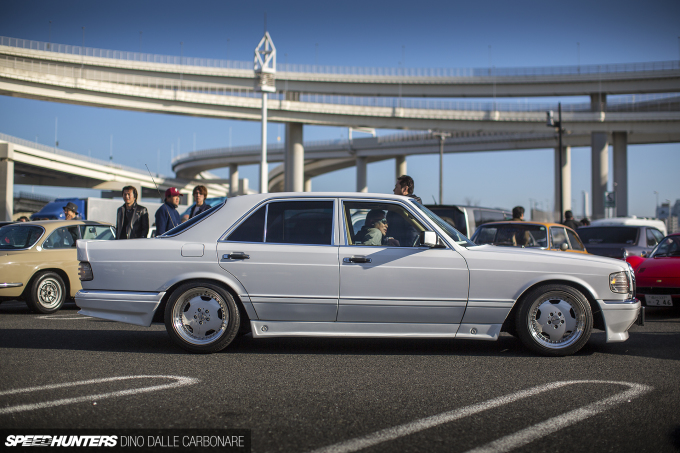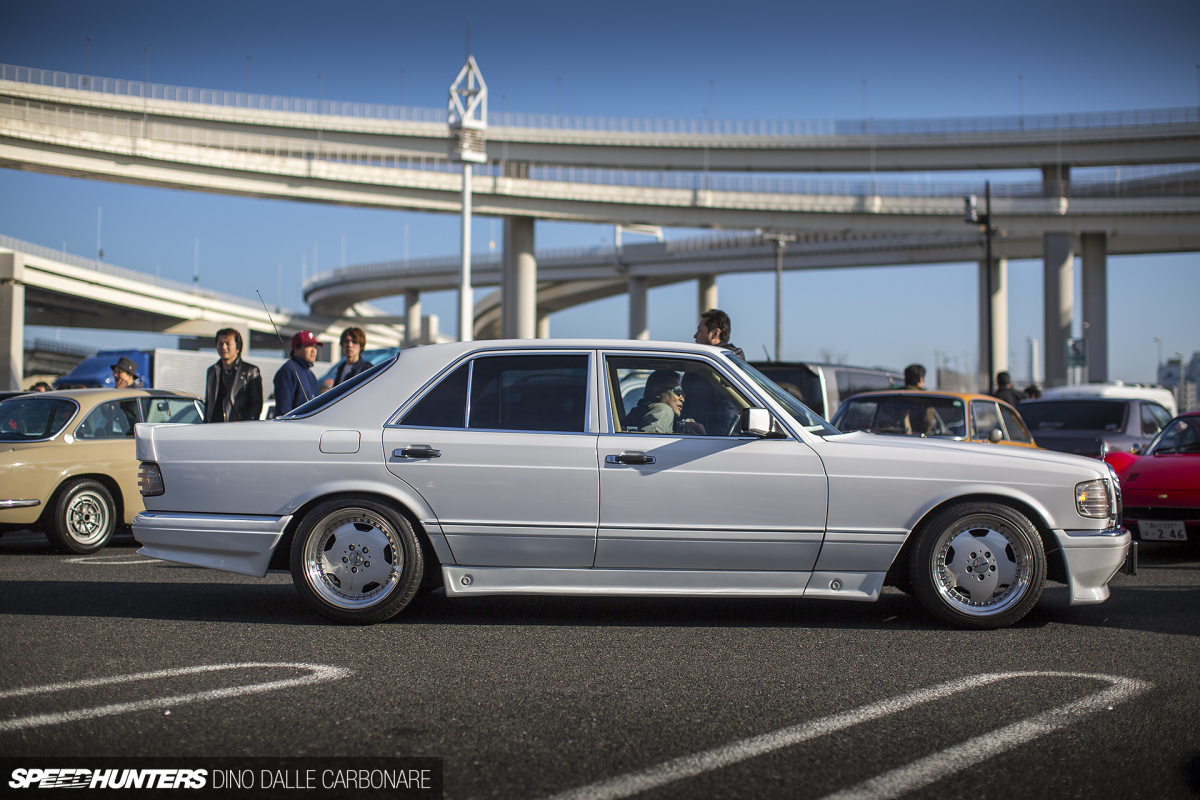 I keep seeing more and more of these older Mercedes-Benz W126s popping up here and there, perhaps due to people realising that these tanks are pretty much impossible to break and are still rather comfortable and efficient cars to drive around.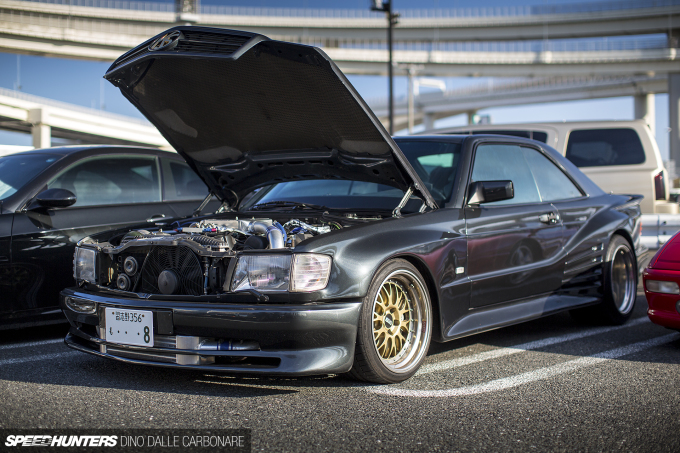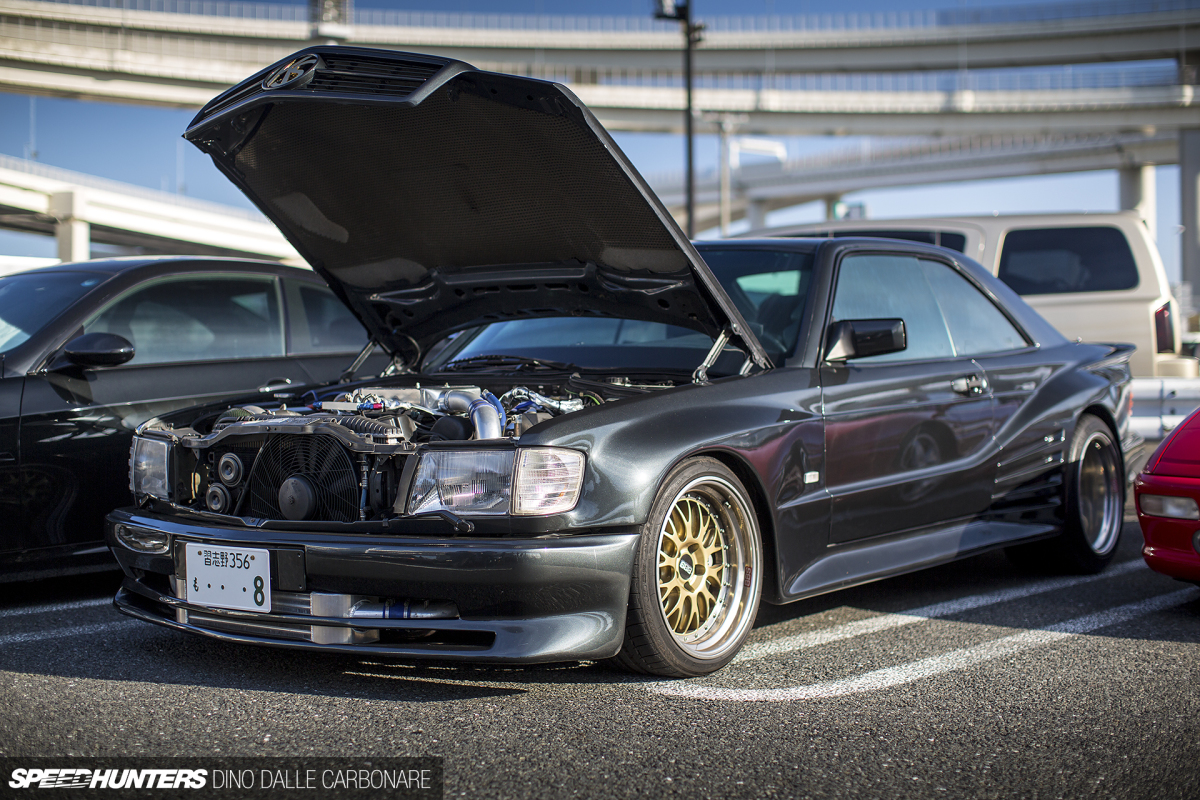 While the big sedan has its undeniable cool factor, the 500SEC coupé just screams 'Russian mafia; move away; lots of weapons in the trunk!' During the bubble era in Japan, the streets were filled with 500SEC and 600SECs, most ending up being customized in a similar wide-body fashion to this. And this was one of four widened examples that were present on the New Year Meeting morning.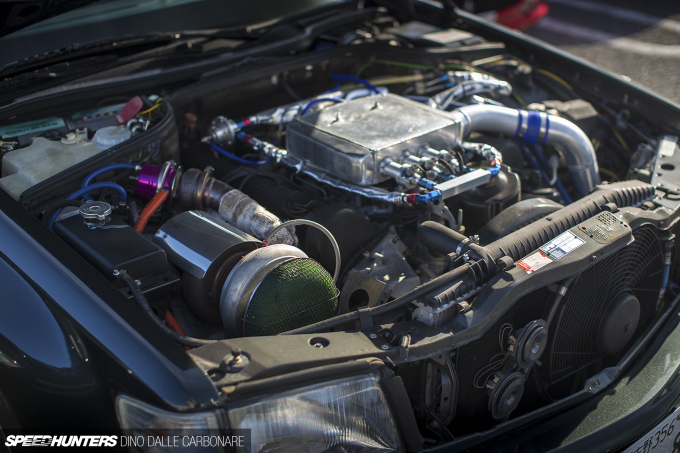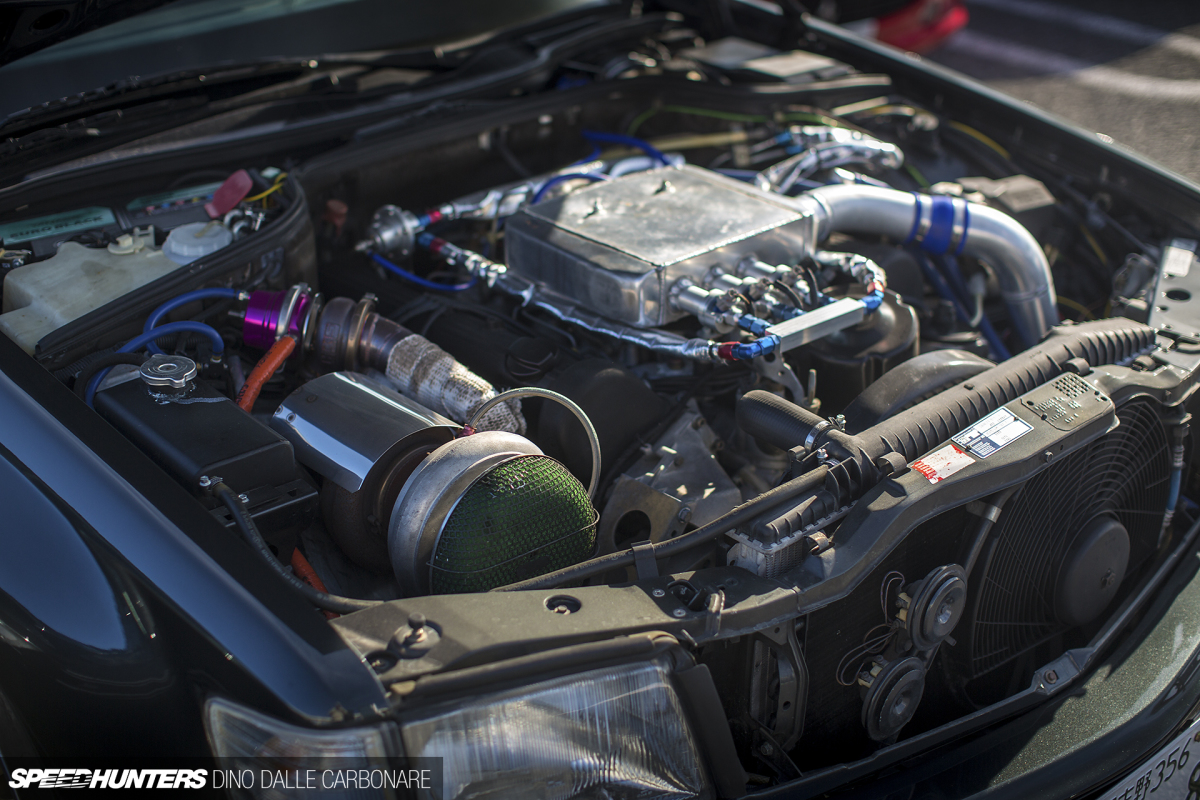 One quick peep under the bonnet and I decided right then and there that this particular car needs a full feature. Look at that turbo!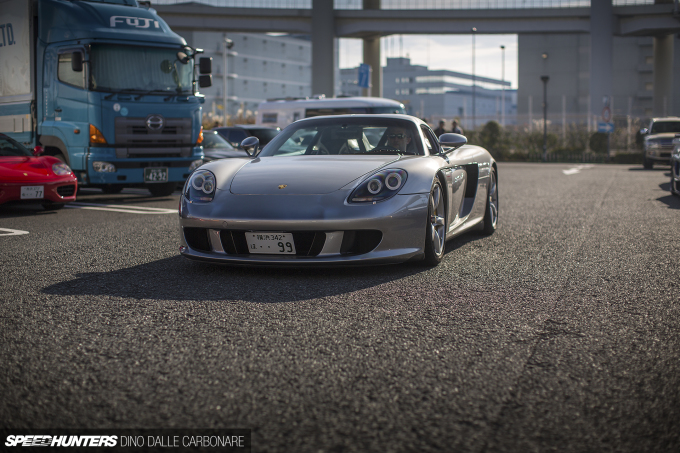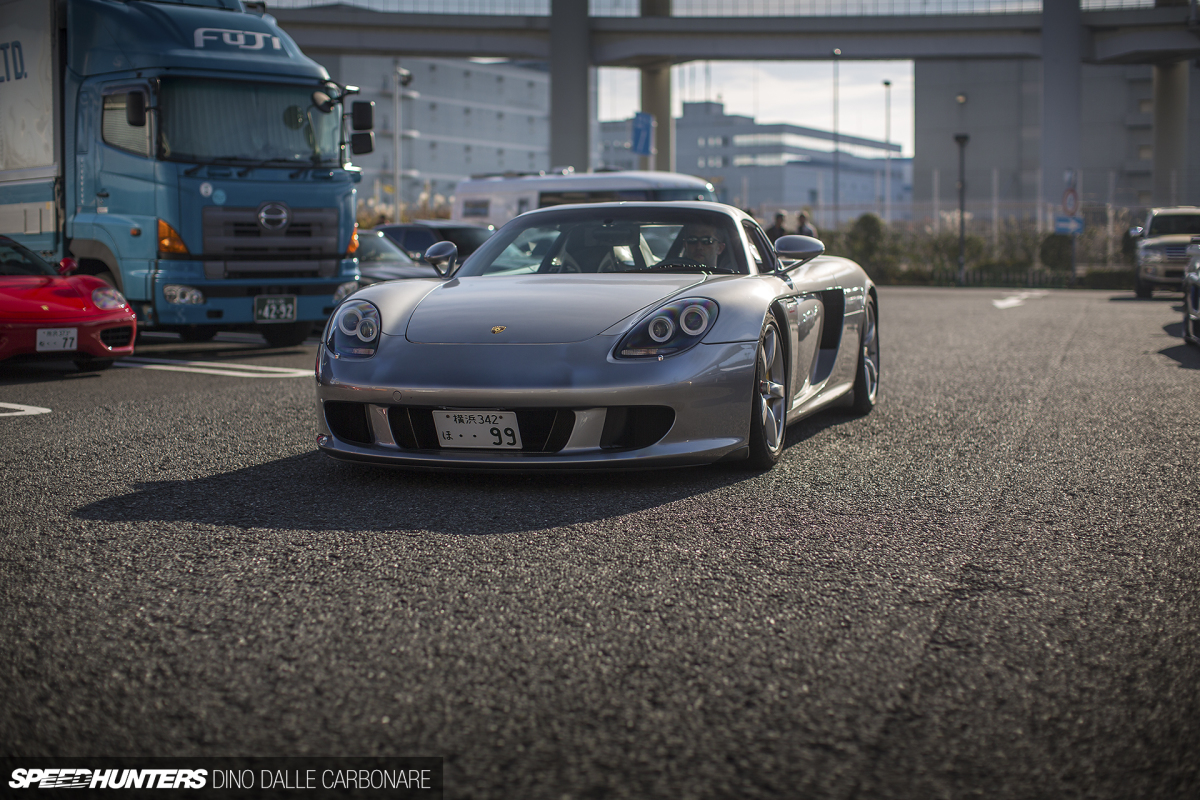 It almost makes a Carrera GT seem normal, don't you think? Okay, maybe not, the Porsche is still one of the most incredible hypercars ever built, and this example was yet another awesome addition to the morning's selection.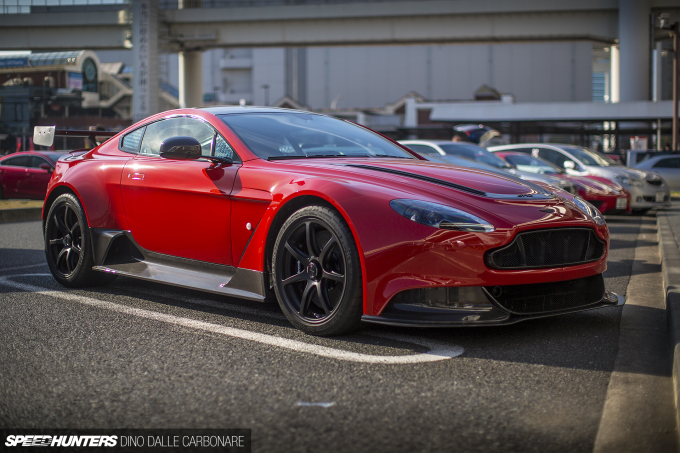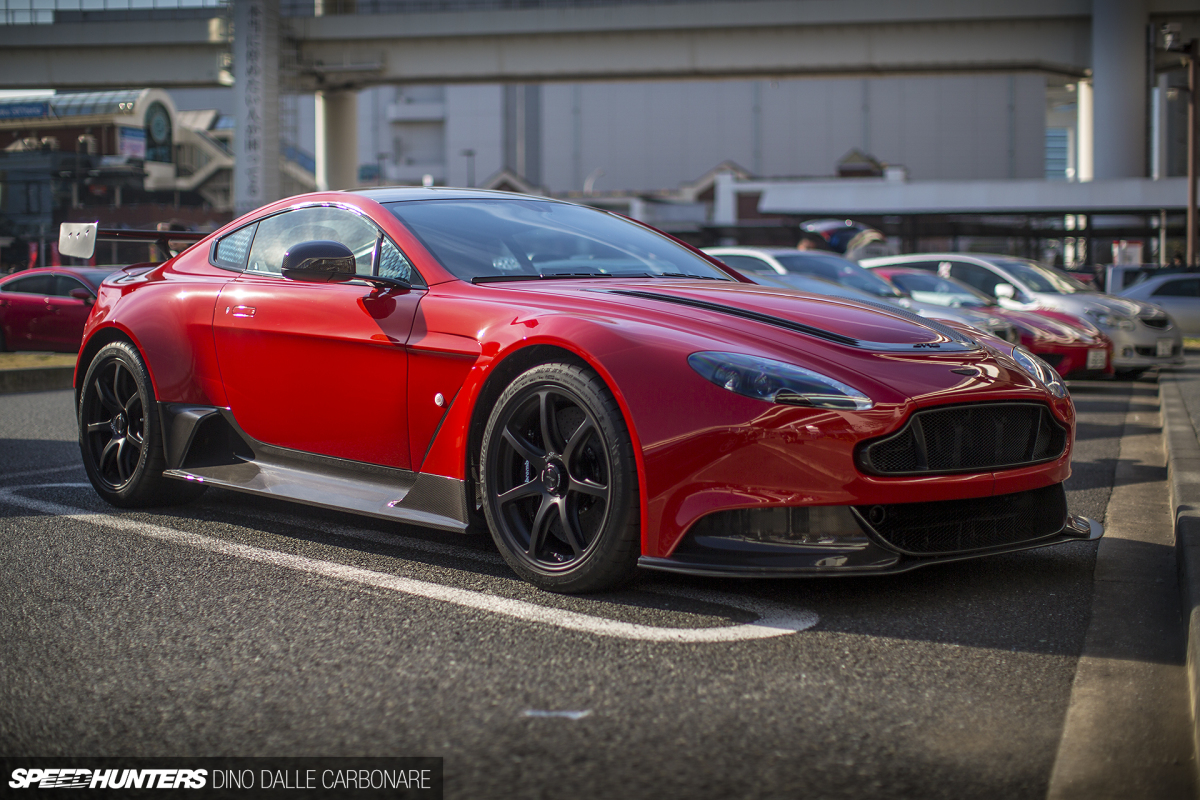 Then I saw this. For some reason, the color that Aston Martin chose for the unveil and promotion of the GT3 version of the V12 Vantage just didn't make the car look quite as great as I thought it could. And that sentiment was perfectly summed up by this orange example; the first I've seen on the streets of Japan. The simple two-tone, without unnecessary highlights in different colours or race stripes, just gives it the right balance; you have the body color and then all the glossy carbon fiber additions. Aston certainly knows how to design a car; I just wish it would get rid of the 1988 steering wheel that all of its cars seem to be fitted with.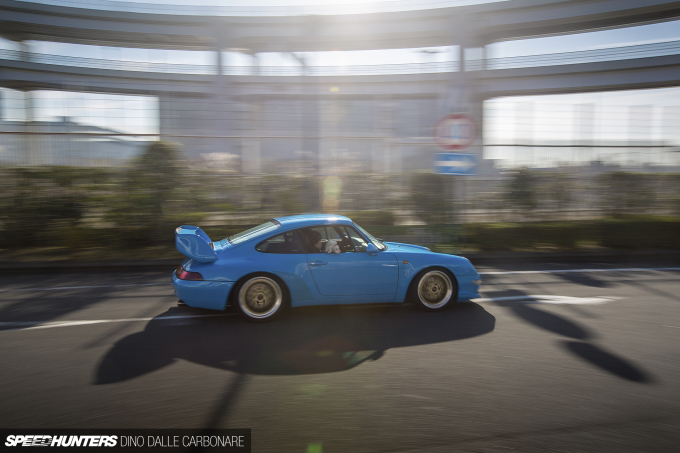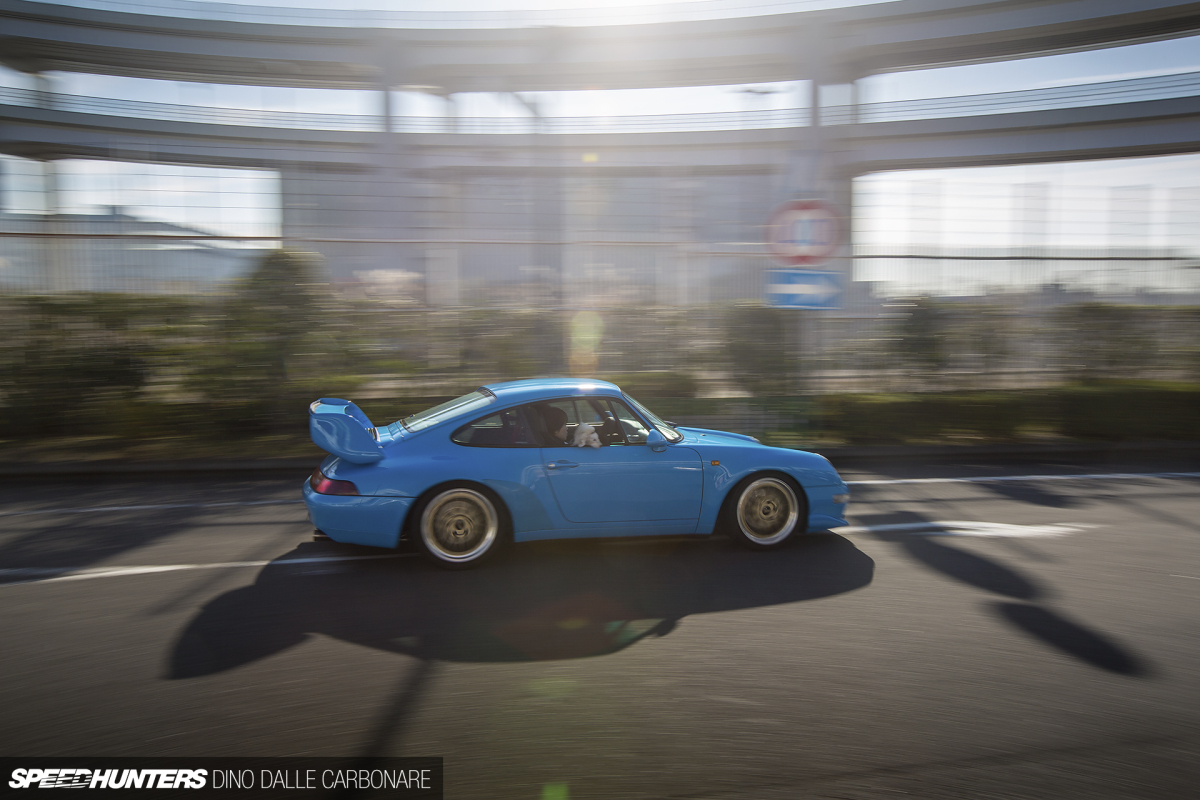 Porsche 993 RS – the fastest chariot to take your puppy out for a drive in!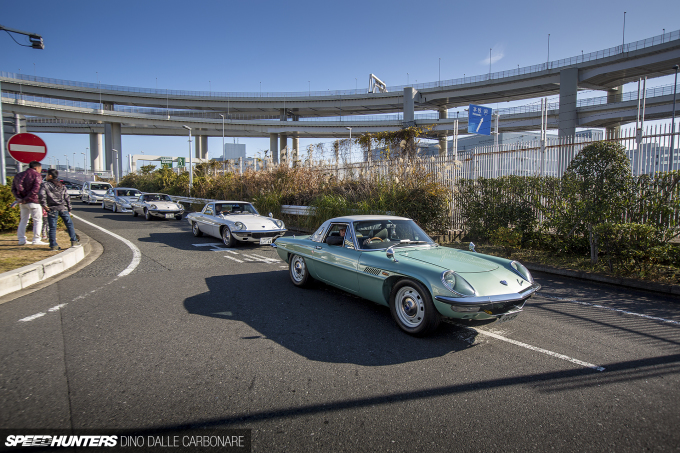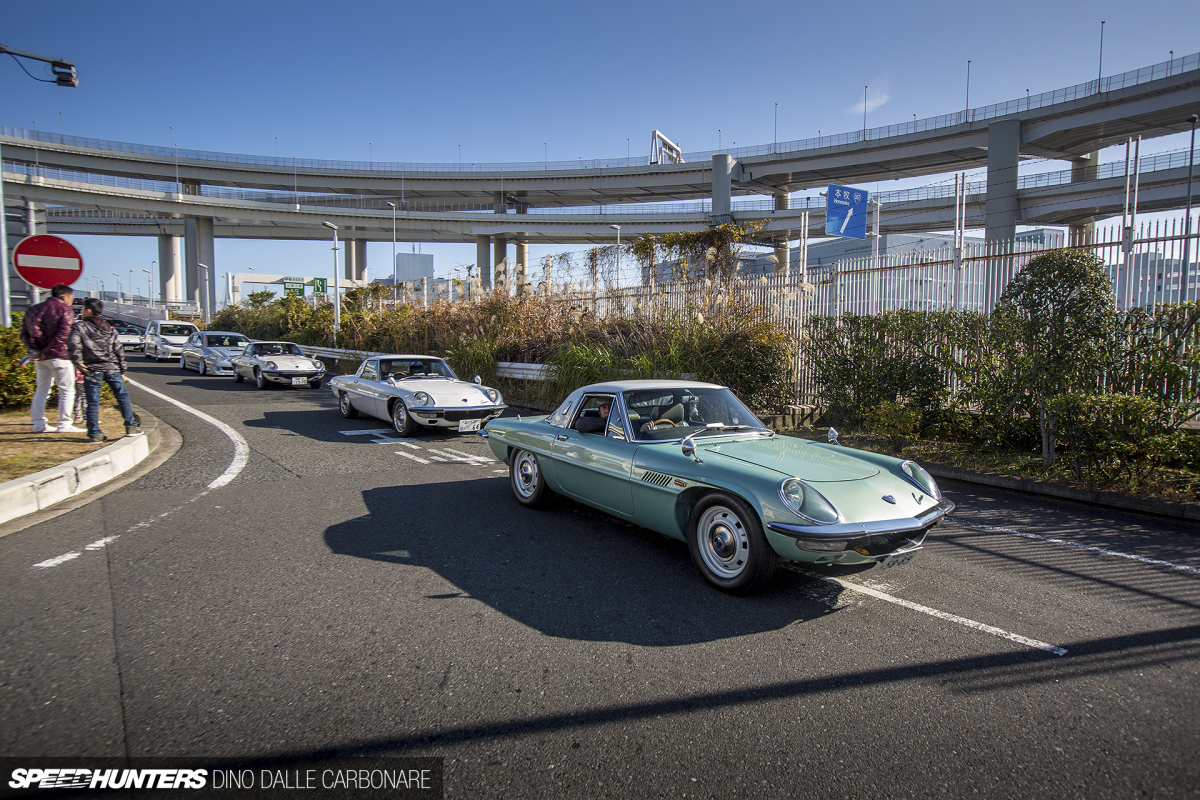 If those that had flocked to Daikoku that morning hadn't already been treated to automotive nirvana, this happened. Yes, that's three Mazda Cosmo Sports! In fact, there was a fourth one a few cars in front of the metallic green example, making for a lot of rotary awesome.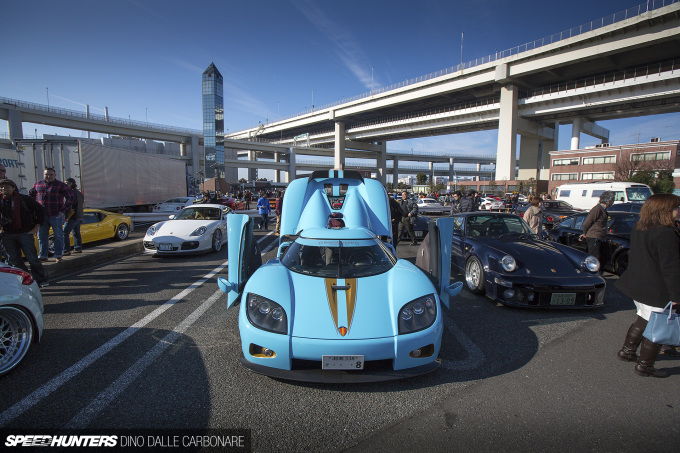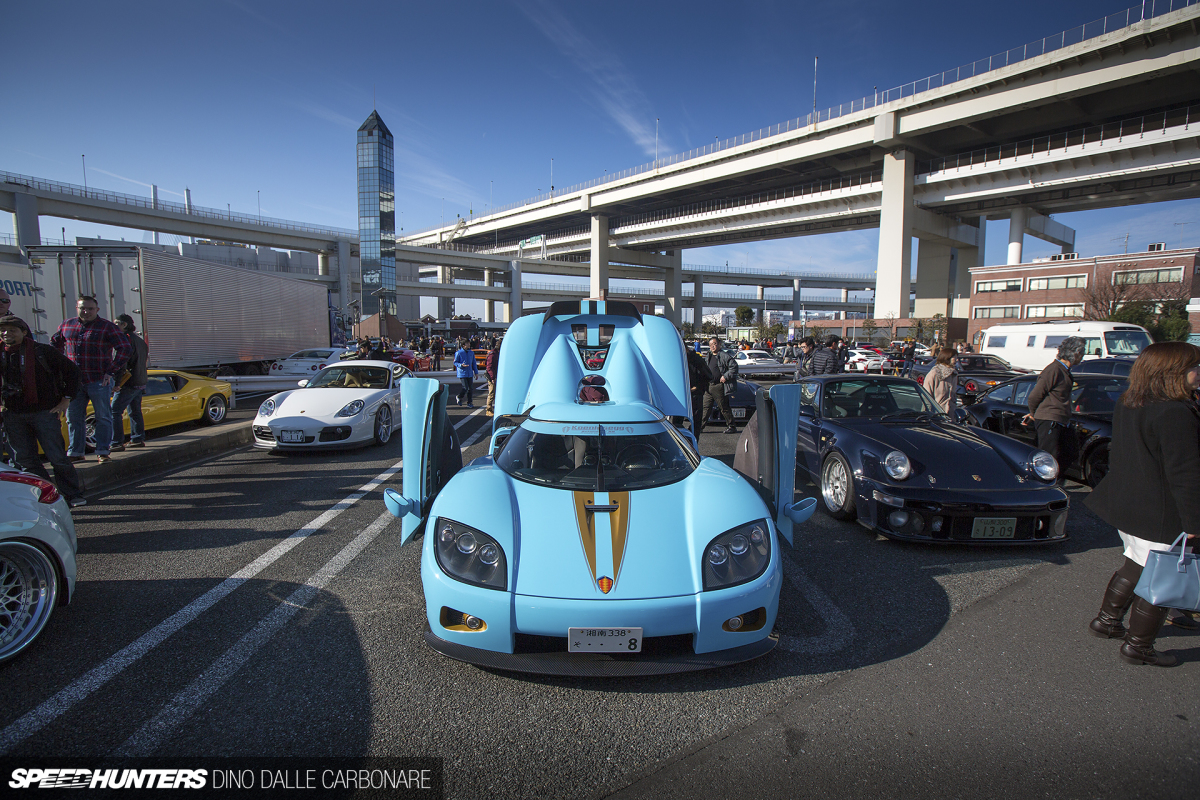 A little later on yet another treat arrived… This time it was a Koenigsegg, one of the rarest cars you can hope to see – even in Japan!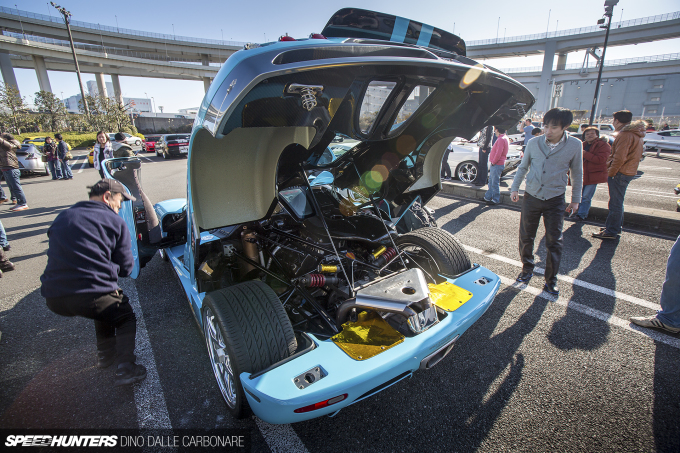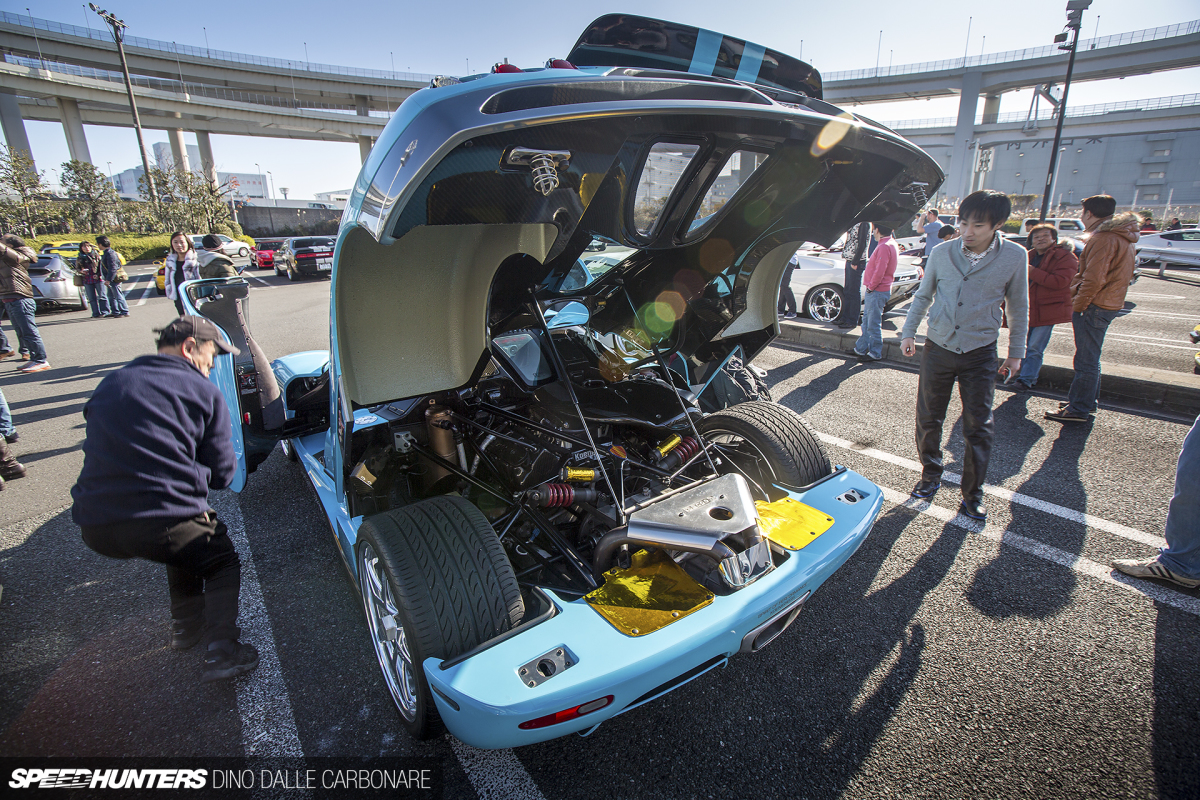 But what made this one extra special was that it had been modified by Scoot; Koseki-san having fabricated a straight-through exhaust for the blown V8. Yes, it was loud!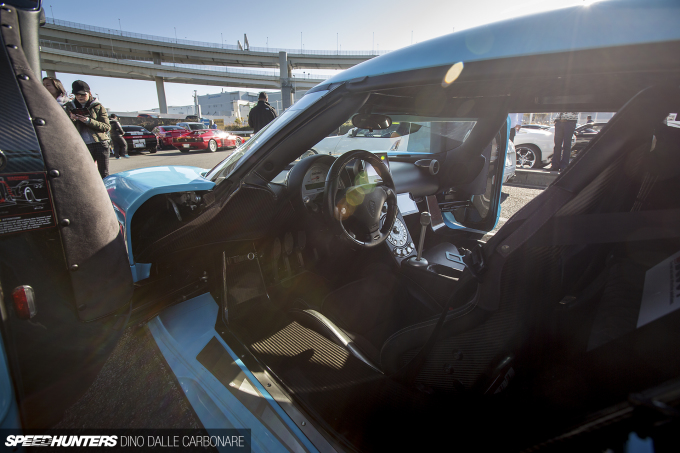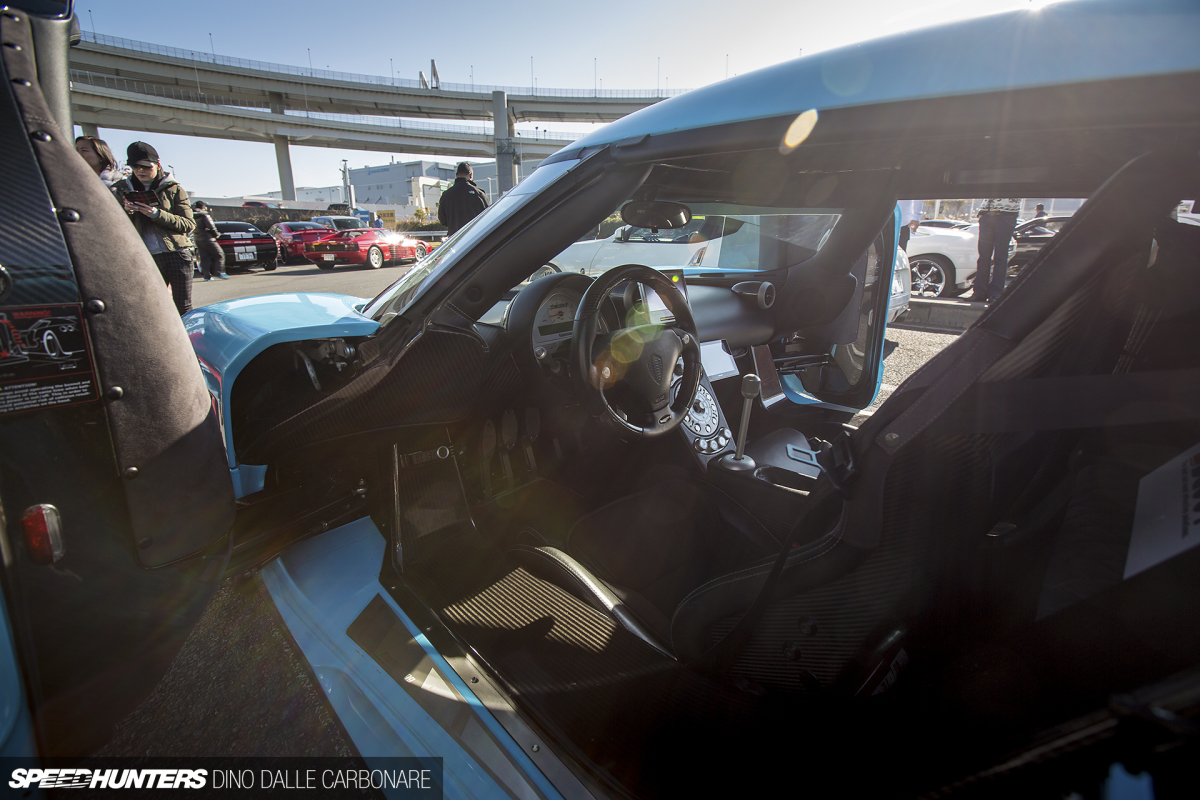 I was surprised to see just how cramped the cockpit is once you swing open those curiously-hinged doors. It would be quite a tight driving experience for someone with my non-Japanese-like build!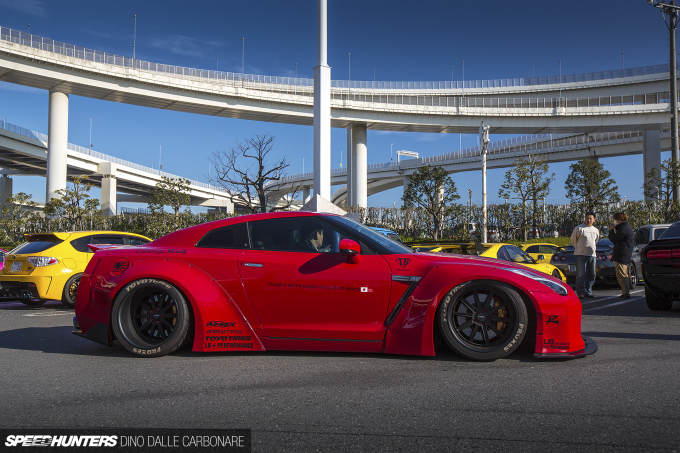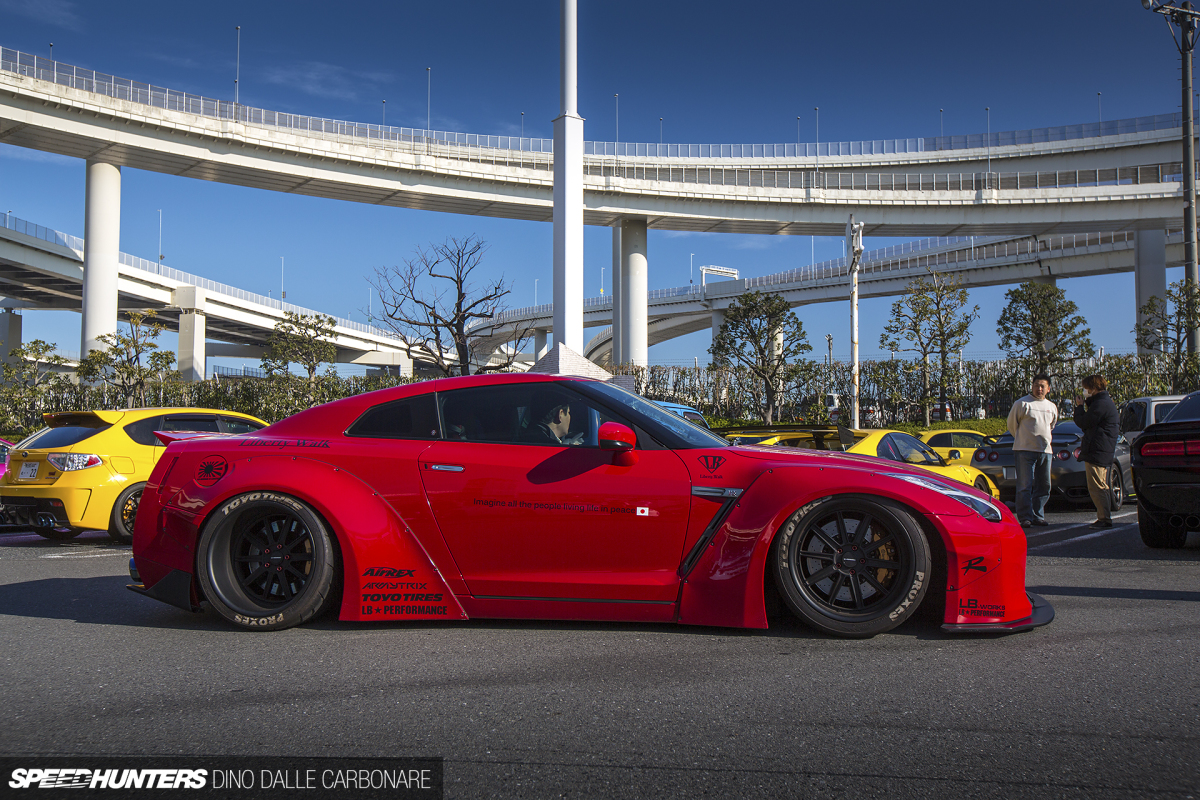 I left Daikoku PA a few hours later, beyond satisfied with the mouthwatering selection of cars that I had been treated to. This continues to be the event that sets the mood for the year ahead, and is yet another reminder of just how awesome, varied, and loved Japanese car culture is.
Japan, you continue to rock our world!
Dino Dalle Carbonare
Instagram: speedhunters_dino
dino@speedhunters.com