Lows Are Always Highs
There's not really such a thing as a winter break any more. Racing seasons now push deeper and deeper into the year and start ever earlier; January has barely got going and we've already had another epic Dakar rally and brutal Dubai 24 Hours. Blink and it'll be time for the Daytona 24. Teams don't stop, and even as a fan there's barely time to take a breath before all input channels become rammed with news of the latest cars, driver changes or confirmed dates for your favourite series.
The Autosport International Racing Car Show at the National Exhibition Centre in Birmingham, UK, used to be a more gentle introduction to the new year, with the business and media days a chance for the industry to press the flesh and get back up to speed. Now it's like everything is happening in fast forward. But this faster pace has made it a better show, and 2016 was the best for some time.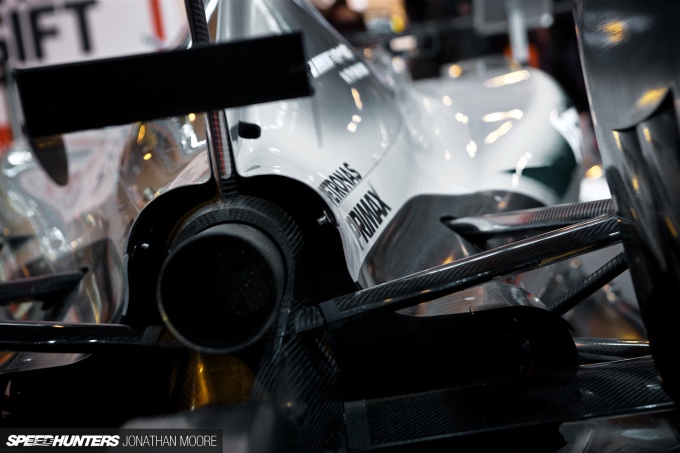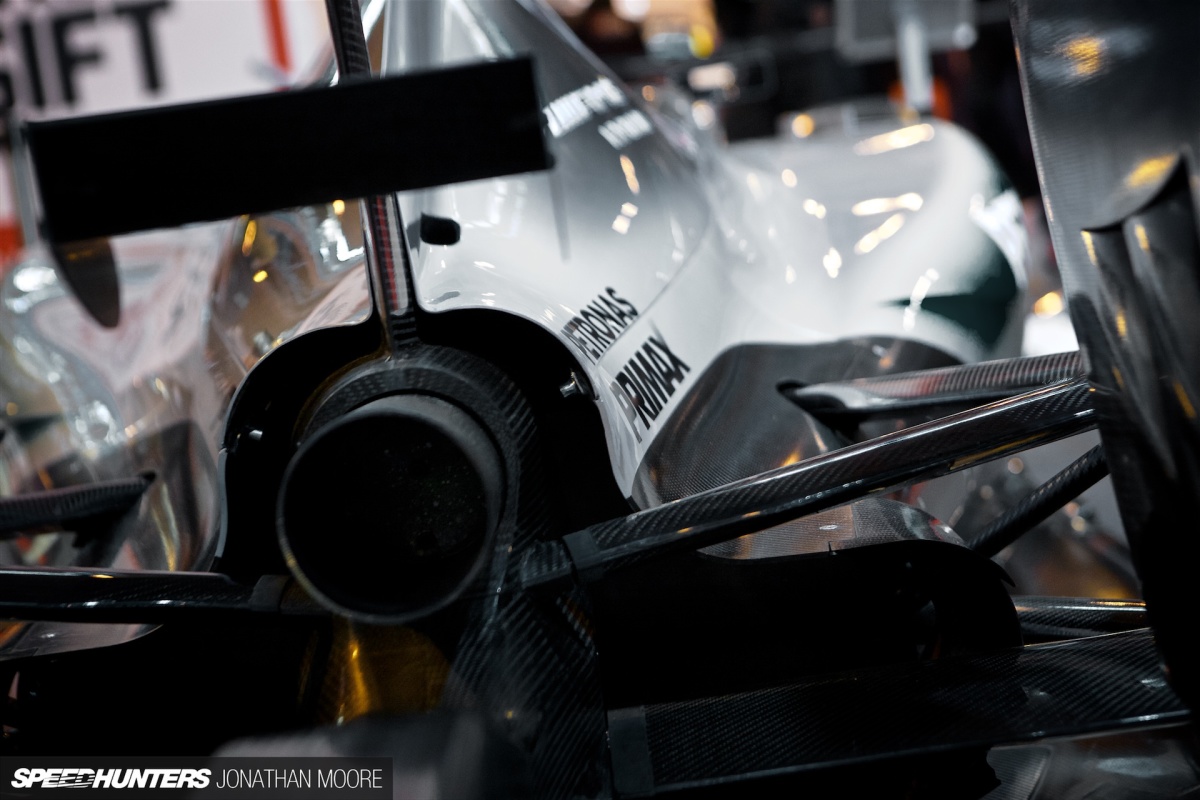 At the centre of the show's publicity driver might be the display of 'current' Formula 1 cars, but they're really just interesting eye candy. Year on year, the show has reflected that the boundaries of what is traditionally classed as motorsport are becoming increasingly blurred.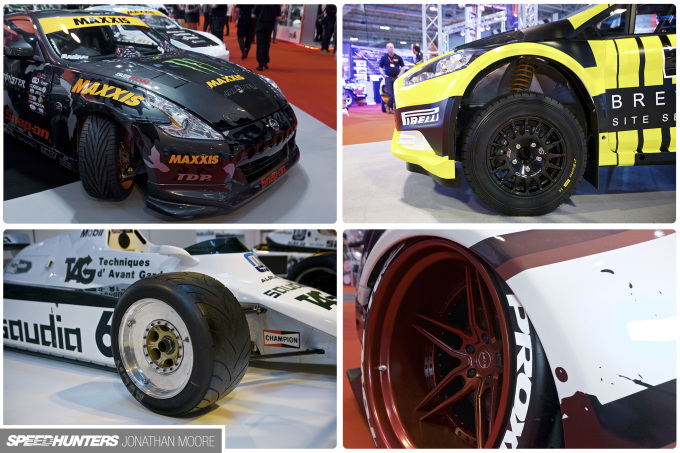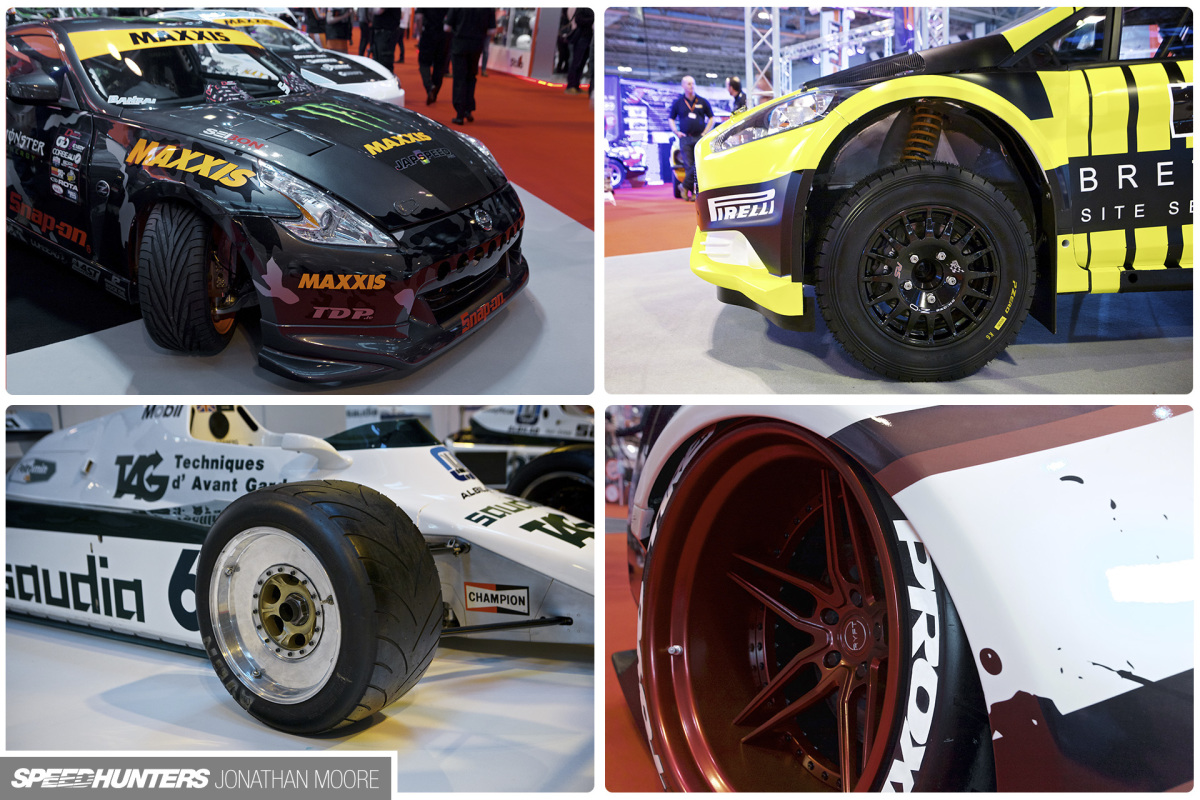 Walking around, you could find the lowest, widest and most tucked of wheels, or the highest, most extreme set-ups; the fractional turning arc of vintage F1 or the most acute racks of modern drift machines.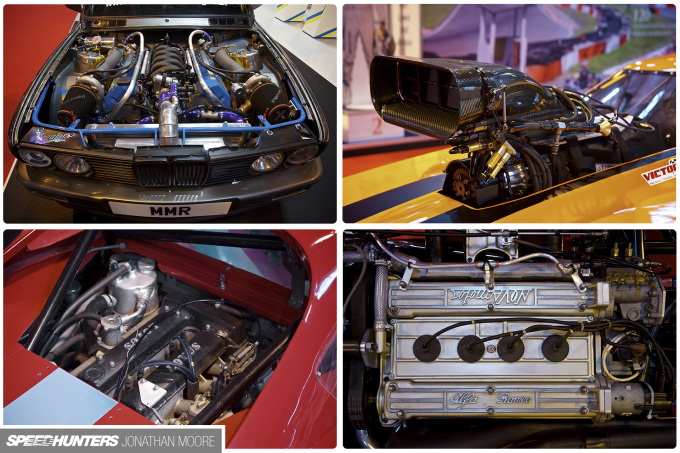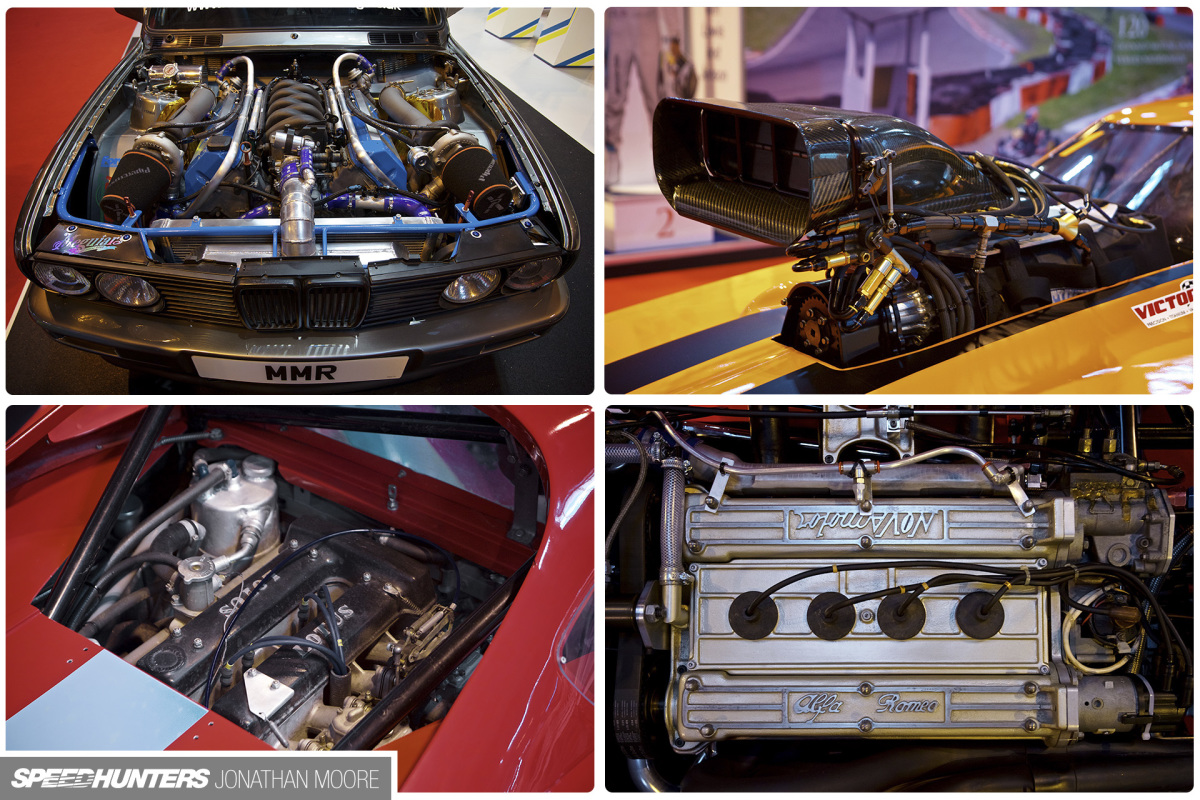 It was the same with engines: starting with small capacity legends like an old Lotus, through classic Alfa single-seater motors, 600hp twin-turbo BMW V8s or a 3,000hp Koebelco blown V8 Hemi power plant capable of 239mph. A little bit of everything for everyone.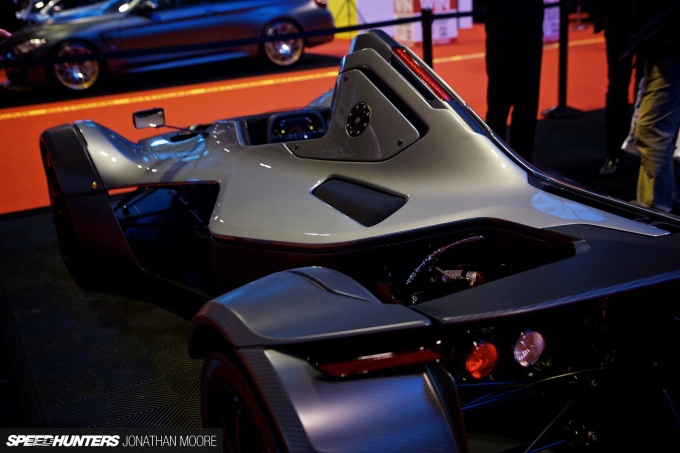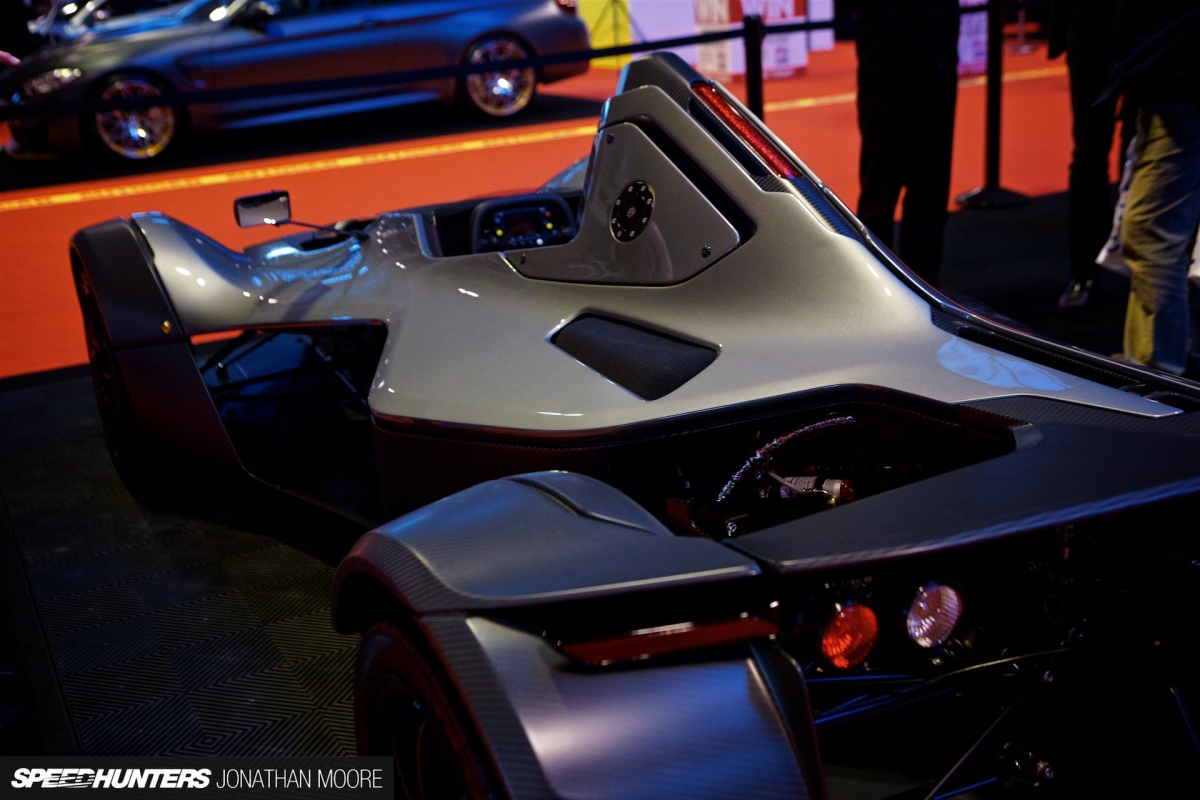 The Performance Car area doesn't really have a defined limit any more and leaches through into the main hall, bridged by the auction corral to create even more fuzzy lines between genres and styles and road- and track-focussed machinery. There's an ever increasing visual crossover of performance technology as well, and the cars on show reflected just what can be achieved, even by smaller manufacturers.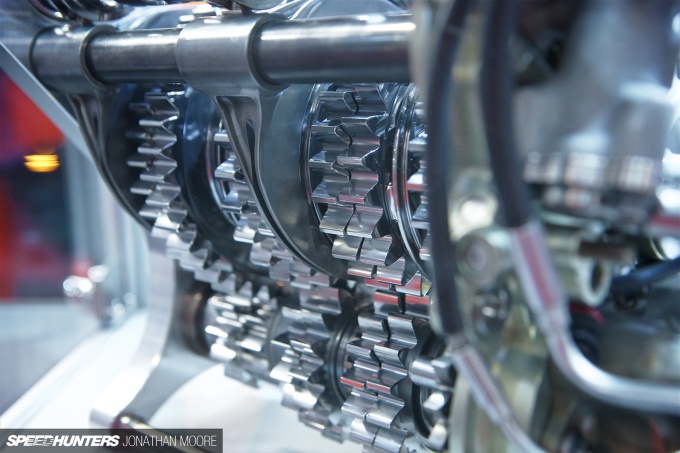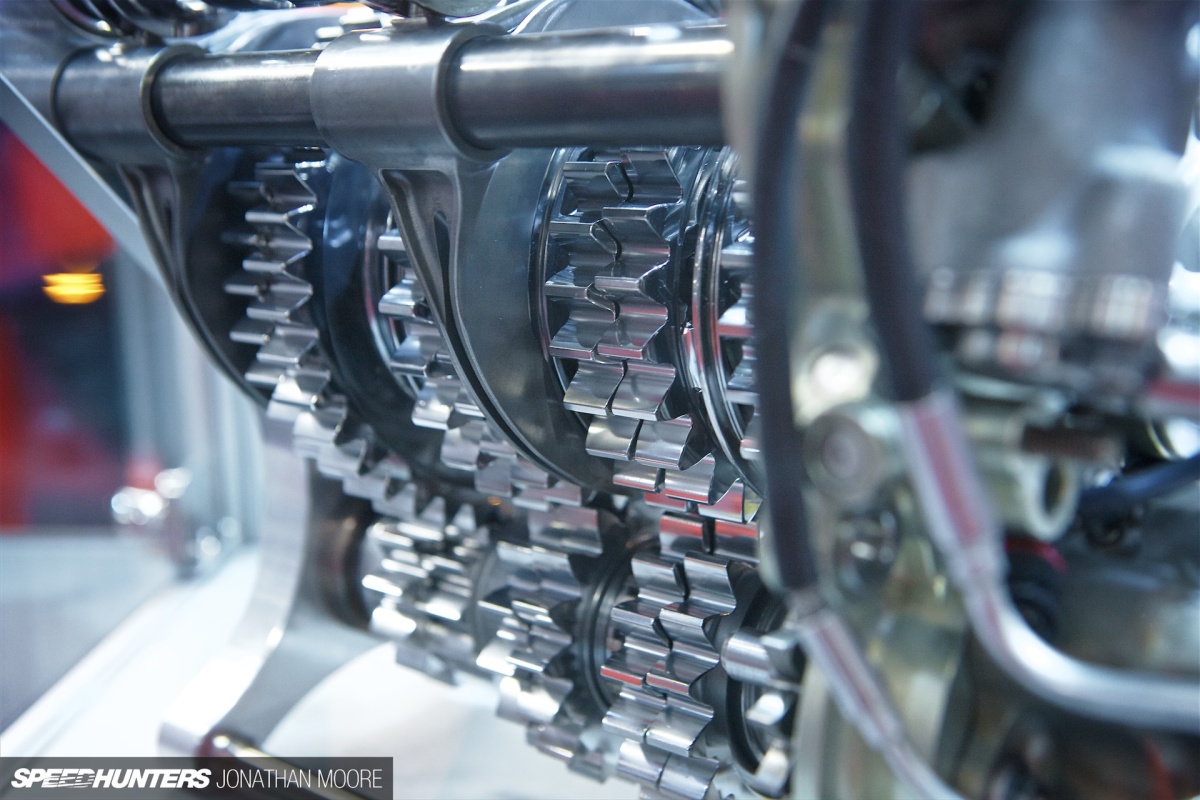 The Engineering section of the show gets more impressive with every year, showcasing the precision tooling and materials that are available on the open market. There's always a strong educational establishment element to Autosport, with universities showing off what their students are capable of to both prospective new intakes and also the companies who are scouting for new talent.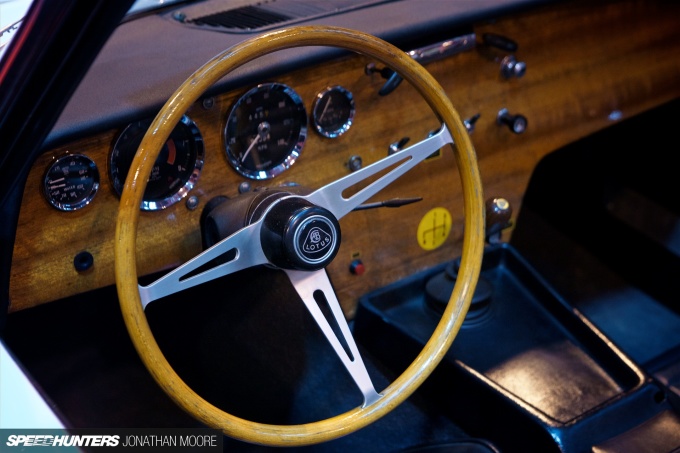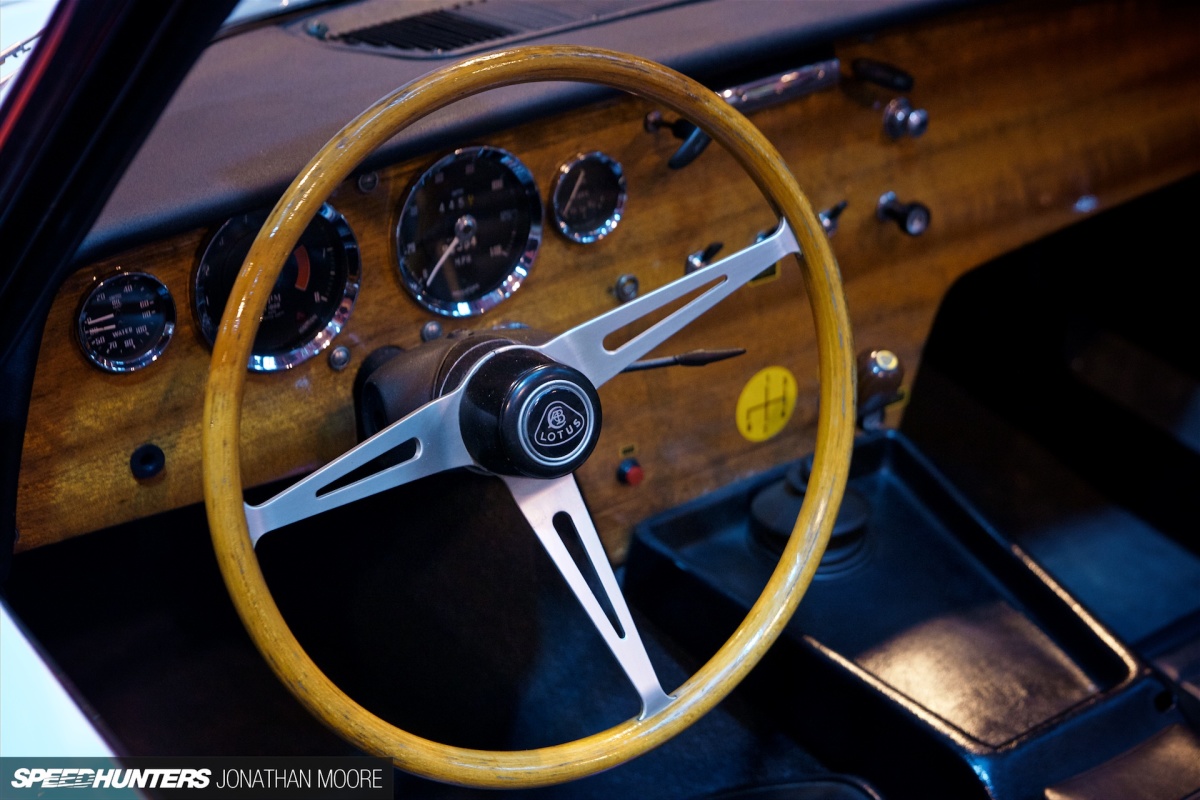 Basically, if you've got the drive, you can make it happen. You can be a driver. You can be an engineer. You can be a mechanic or team boss. That's the thing I always walk away from Autosport with: the breathtaking number of possibilities for people who want to get involved.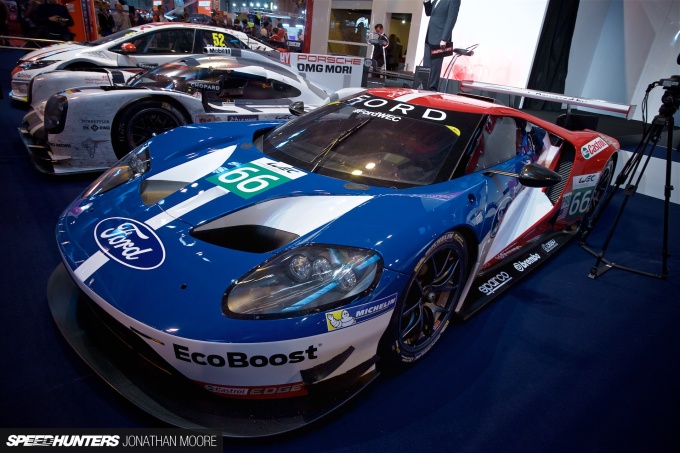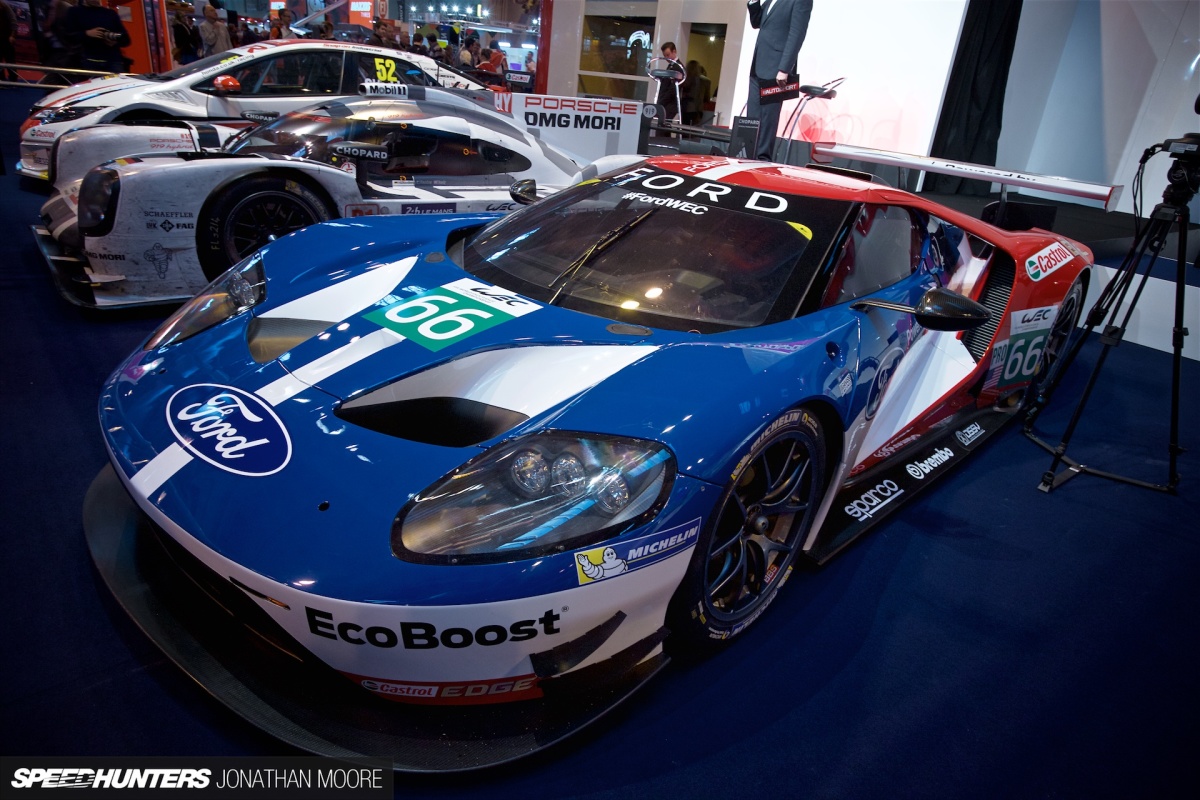 The title of the core show isn't forgotten though. The main stage always has a fine line-up of racing cars presented as a foreground distraction to the dozens of stars from F1, WRC, sportscars and touring cars that take the interviewers questions over the weekend.
Typically there's a combination of winning cars of the present and cars that in all likelihood will be winning in the near future. That was certainly the case this year, with the UK debut of the simply incredible Ford GT GTE racer next to the Le Mans-winning Porsche 919 and Honda Civic Type R from the BTCC. When I saw the road car GT back in March of last year at Geneva it was impressive enough, but now in a race livery and with even more extreme aero it just looks in a different league to other GTEs.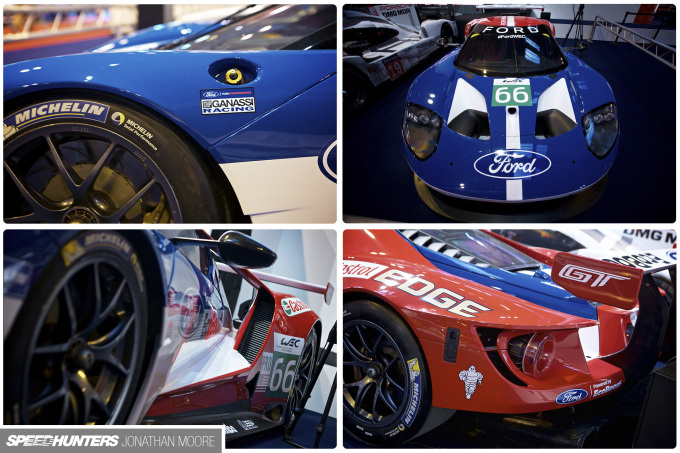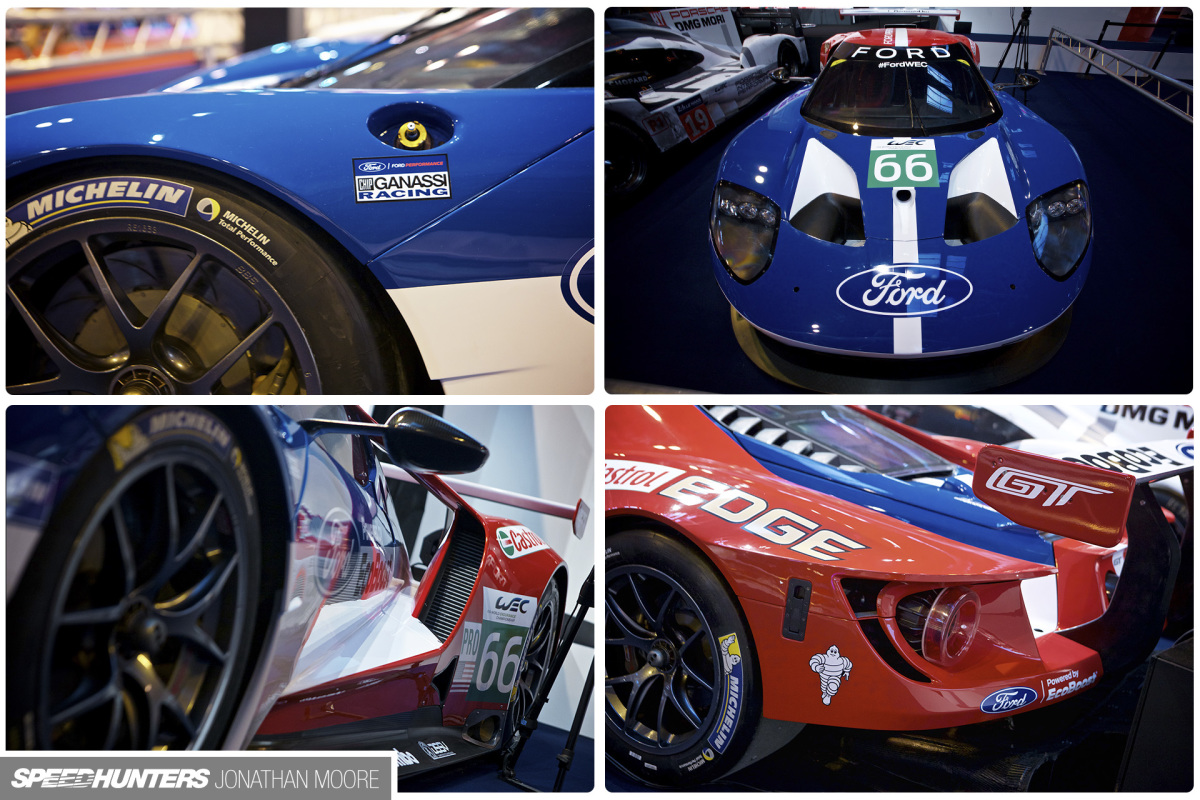 The outrageous teardrop styling means the central cockpit section tapers sharply towards the rear, leaving a gaping space for air to thunder down on each side. The front is a massive air ram and the rear is awash with trick aero detailing. Ganassi will be running a pair of twin-turbo, V6 EcoBoost-powered GTs at Daytona at the end of this month. In testing they weren't super fast, but then every team seemed to have a truck full of sandbags out the back of the pits…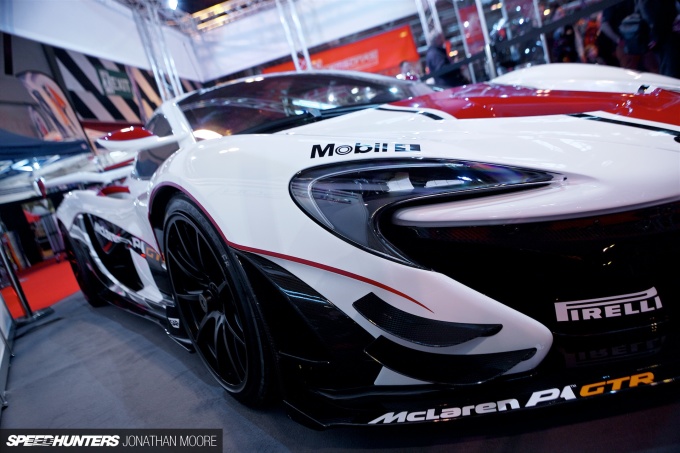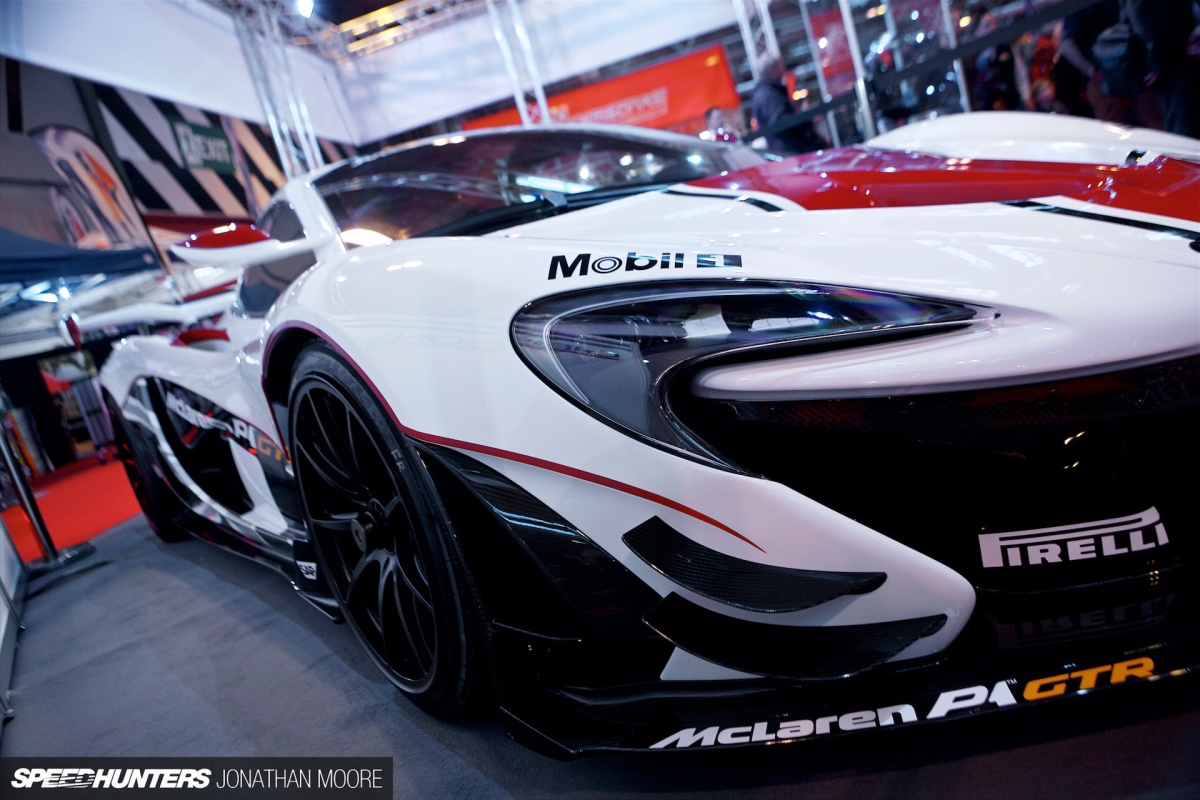 The unexpected thing was the seemingly muted reaction to some of the other extreme cars around the NEC. There were two McLaren P1 GTRs, but neither seemed to ever have a particularly big crowd around them! That said, the P1 is no longer the new kid on the block – also, the fact that the 650S GT3 looks just as menacing and will actually be raced in public probably didn't help.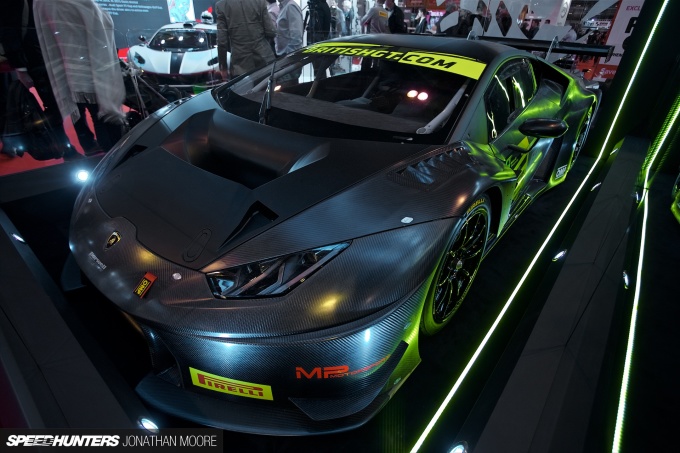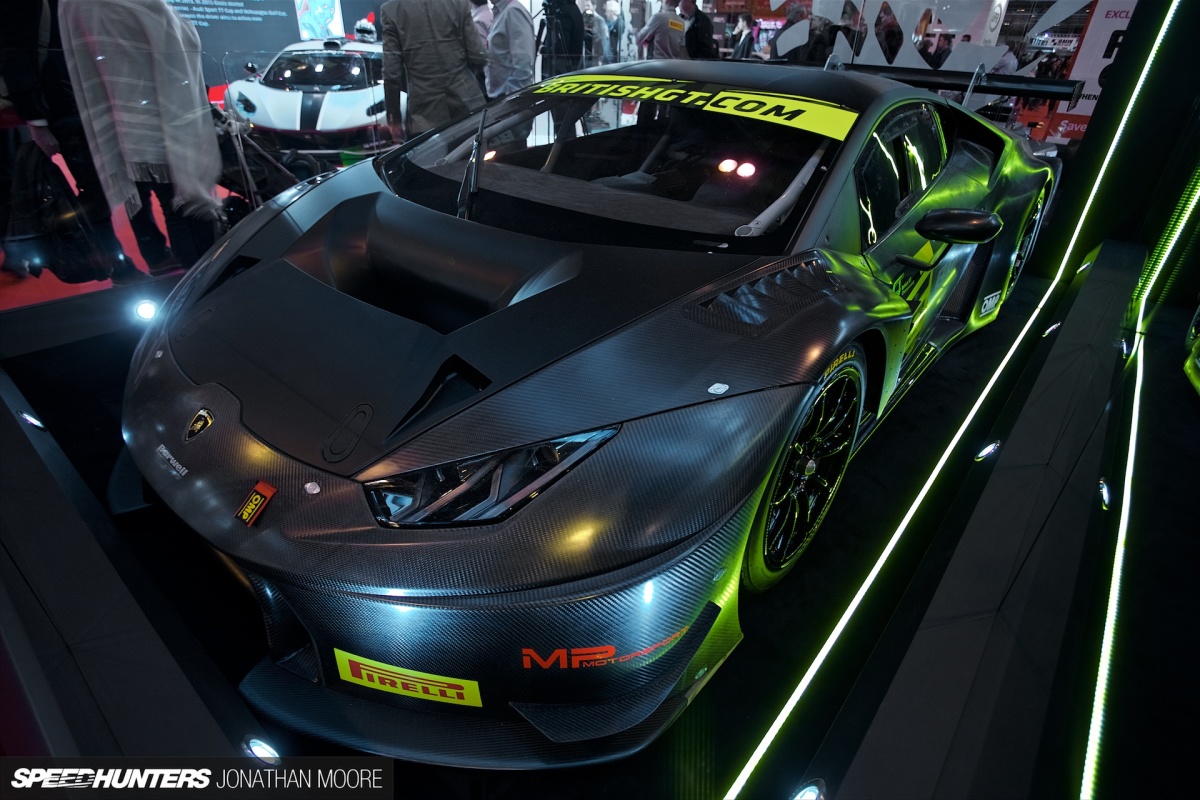 Talking of menacing… Another extreme racer being shown off Autosport was the latest Lamborghini Huracan GT3. A pair of these ferocious looking V10-powered machines will be run in British GT by Barwell Motorsport this year.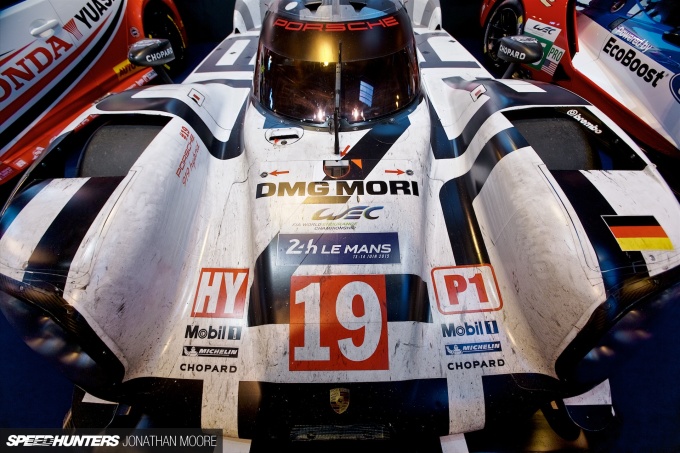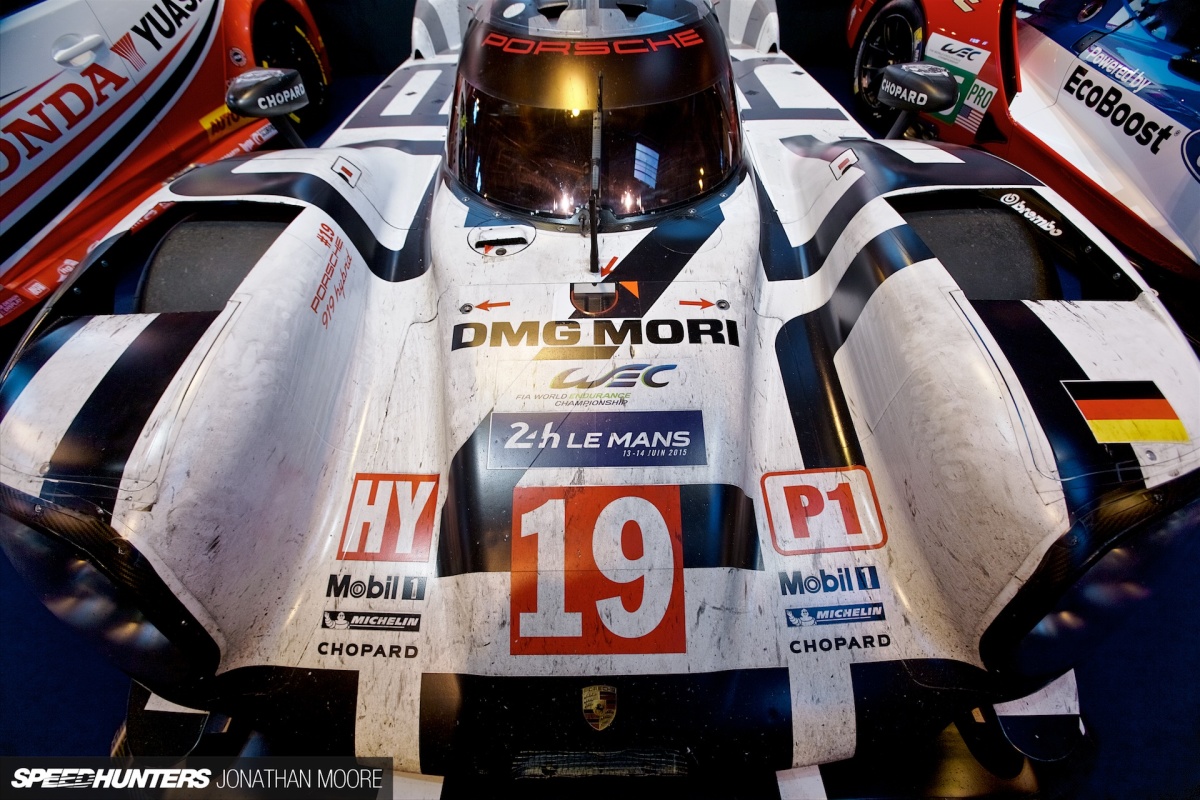 Porsche's 919 Hybrid that won last year's Le Mans took prime location in front of the main stage, demonstrating the exulted reaches of manufacturer hybrid technology. The Le Mans 24 Hours is still seen by many as the ultimate race – and one that the most hardcore of amateur racers can still aspire to, in complete contrast to the unachievable realms of F1.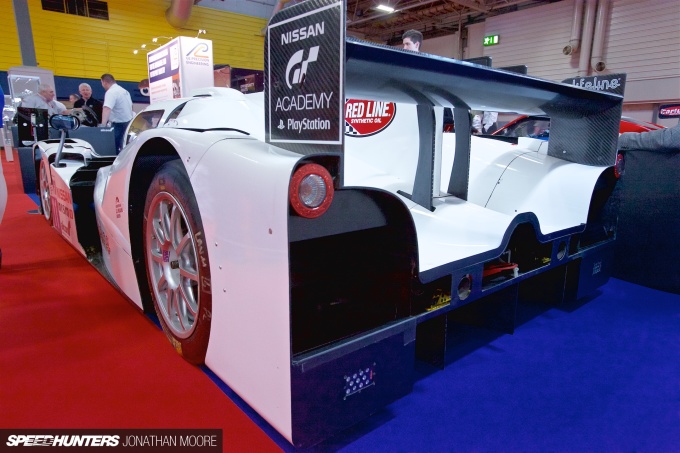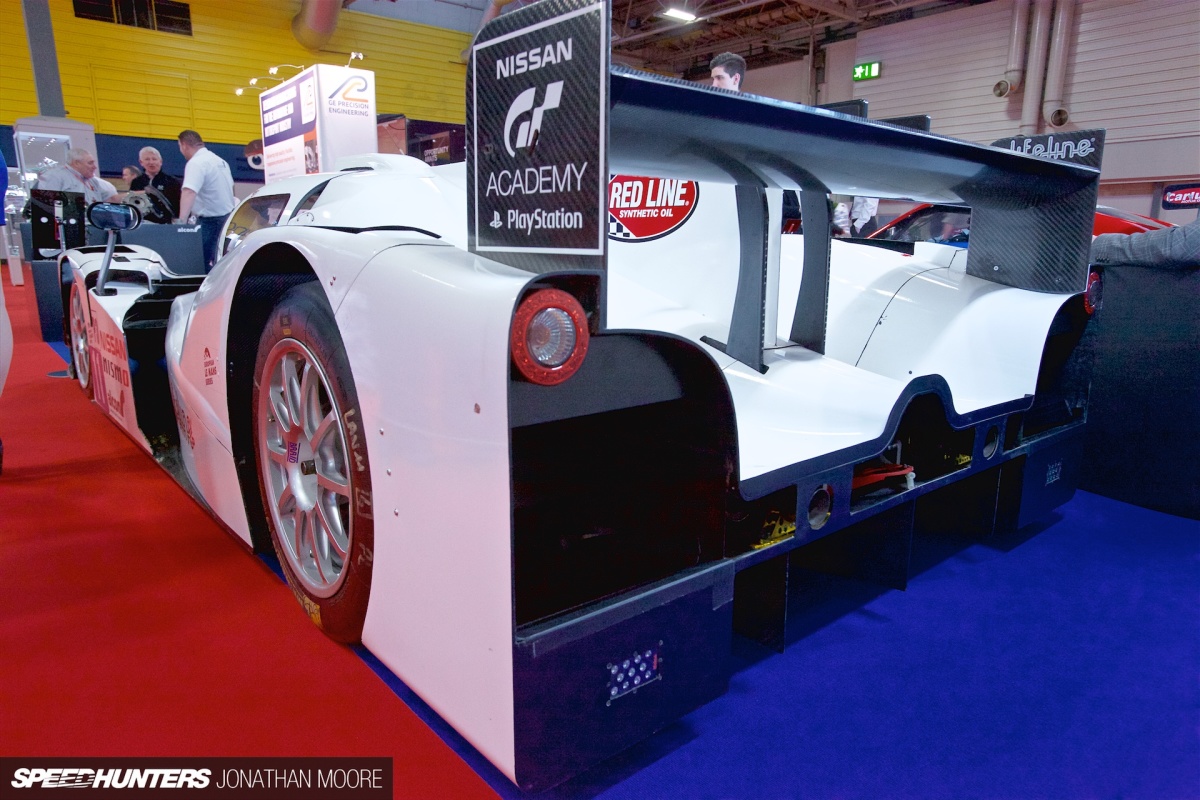 So sure, you're not going to win Le Mans as anything but a pro driver in a factory-backed machine loaded down with electro-tech, but there is a clearly defined ladder of prototypes now that can act as stepping stones if your dream is to at least enter the big race during your lifetime.
CN 'baby' prototypes have been growing in strength over the last decade, with things like Radicals incredibly popular and relatively affordable, but there had been a big gap up to the levels of LMP2. The new LMP3 rules were an immediate success last year, and Ginetta has been at the forefront of that movement.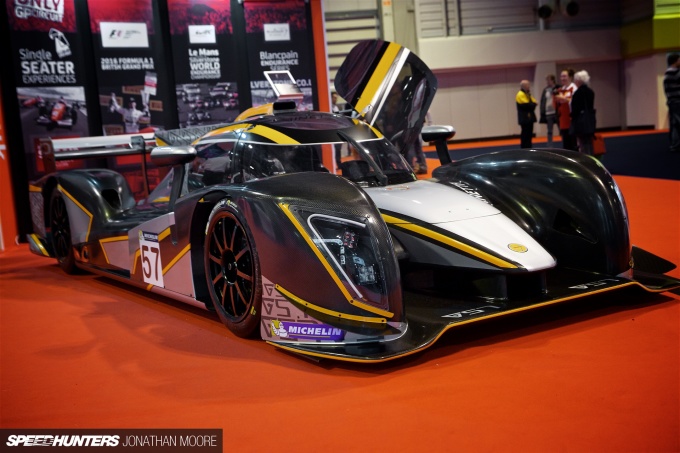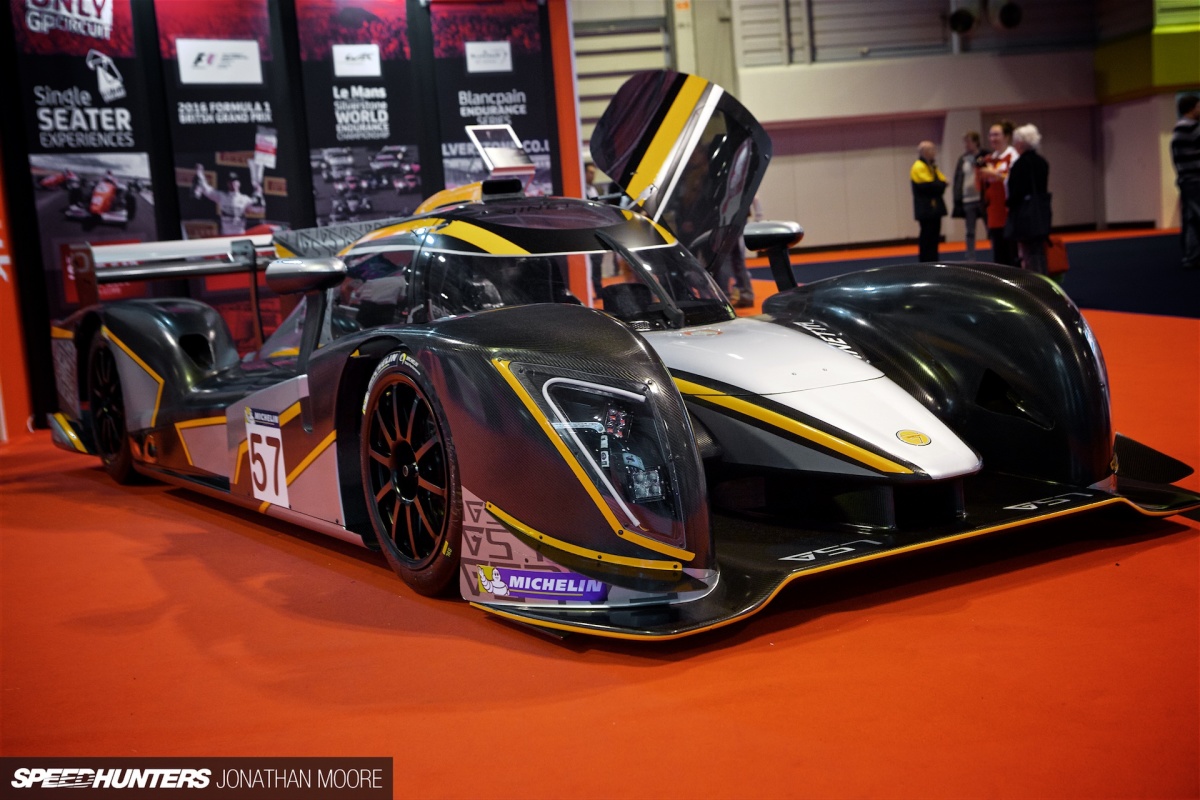 There were at least three of Ginettas sprinkled around the NEC, in a kind of LMP3 'Where's Wally?' I've been in a regular Radical sports prototype and it was one of the most frighteningly quick things I've ever sat in; this kind of prototype would ratchet that experience up to bowel-loosening levels. They're even available as trackday cars, the G57, with various engine options, one of which makes it as fast as an LMP2…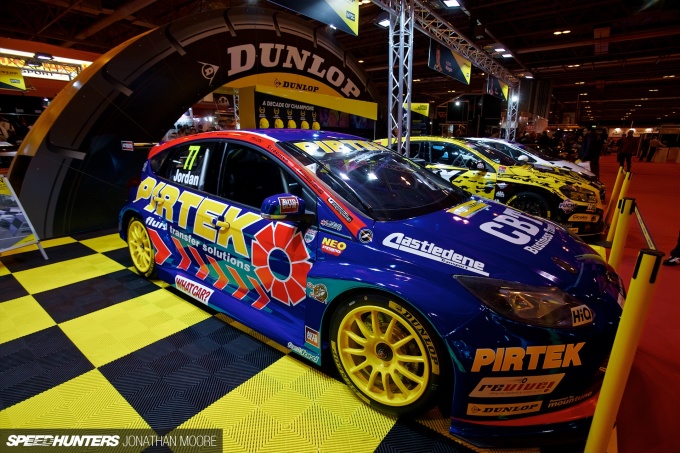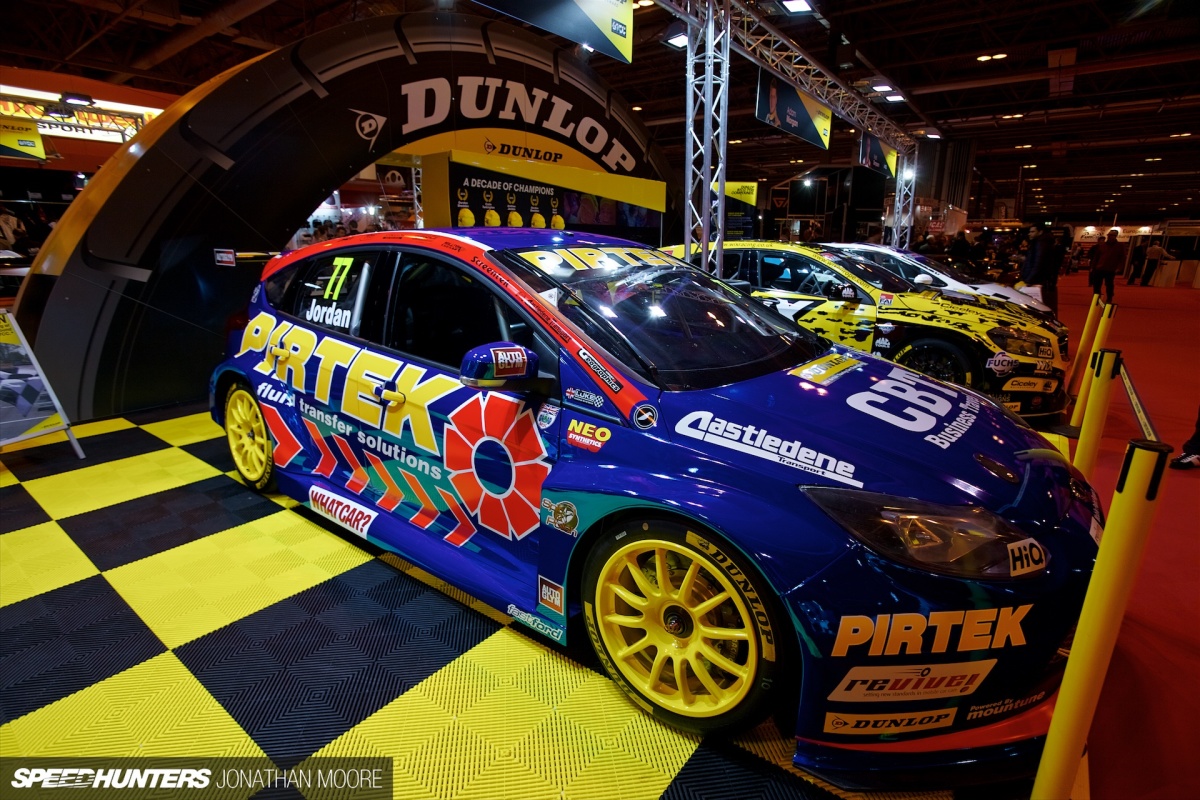 The British Touring Car Championship display always shines like a beacon in the midst of the eye-withering red carpet and sickly sodium lighting of the NEC. It seemed like almost every car that will be entered in the 2016 series was in Birmingham too, with many of the drivers to be seen strolling round the show. I can't wait for the season to start.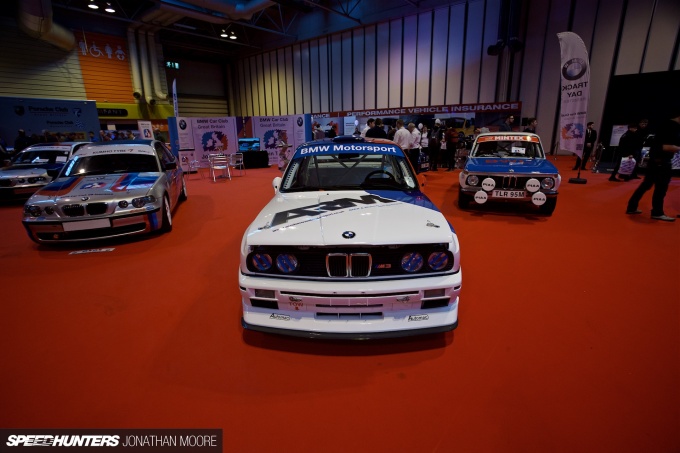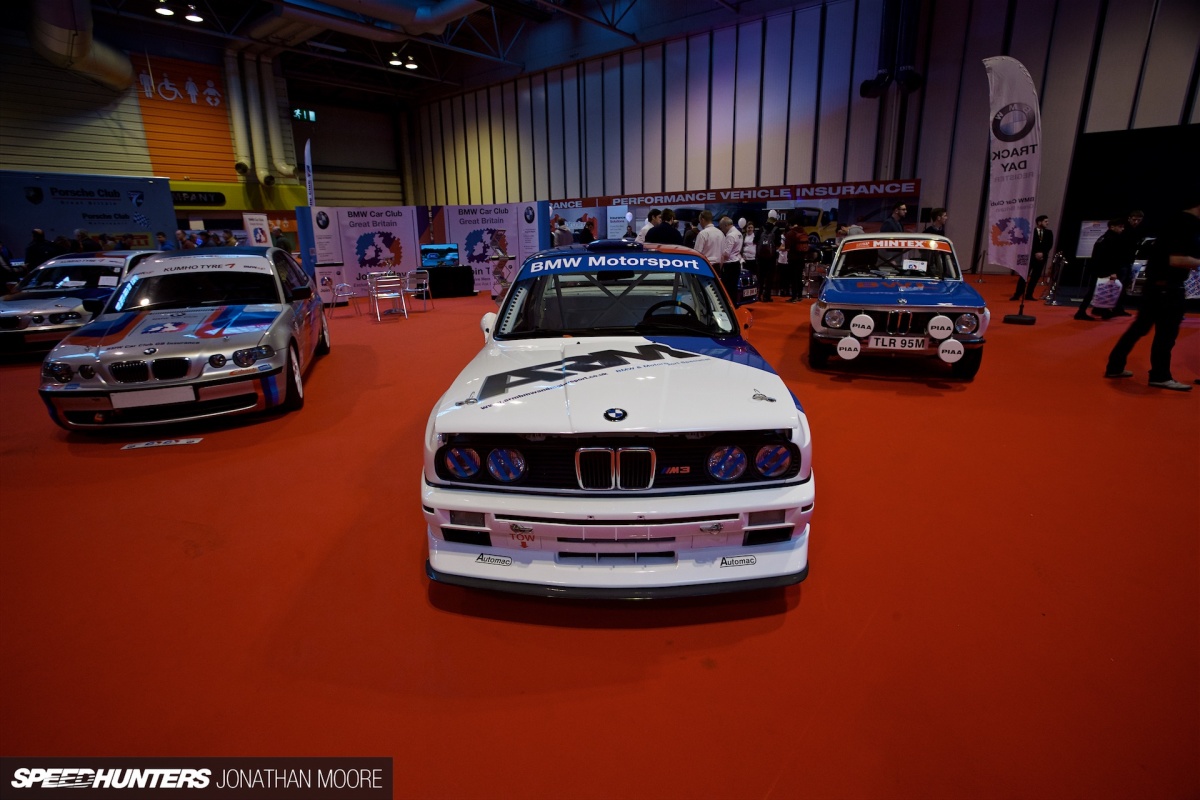 But to believe that Autosport is all about the international and high-level racing teams is to do the show a disservice. The whole centre hall was dedicated to national motorsport, with entry points to suit every budget. Grab yourself a classic M3 or bargain basement 318 Compact for a go in the BMW Championship; an old Alfa 156, MX5 – you name it, there's a championship for it. As ever, it was incredibly motivating to see.
Revving Up For The Road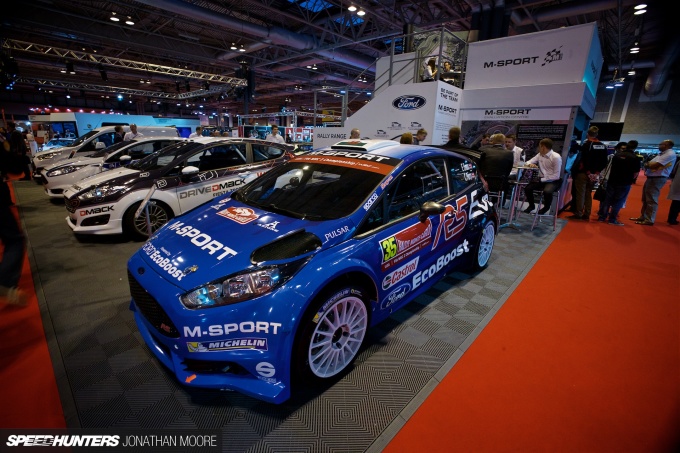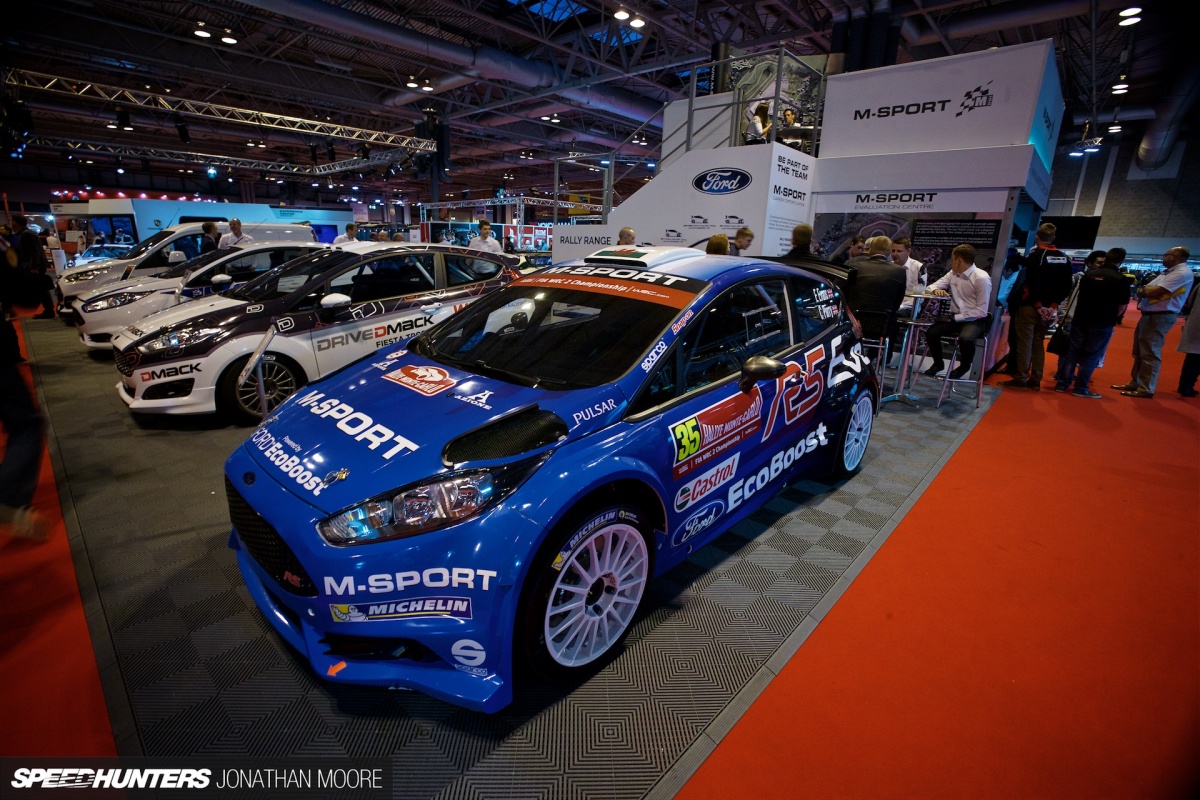 Every sensible team leverages the link between racing and the road; the biggest surprise is that up until now legendary Ford rally team M-Sport haven't put their name to something for the street. Well, alongside their brand new 2016 WRC Fiesta, M-Sport also showed off a complete ladder of tuned Fiestas to take you from the road and off into the forest.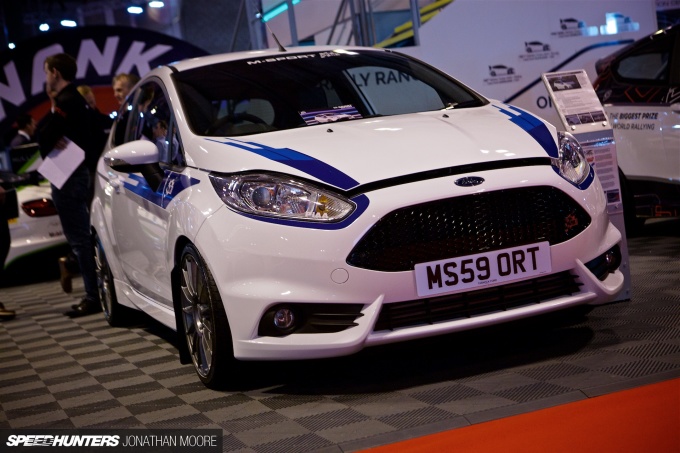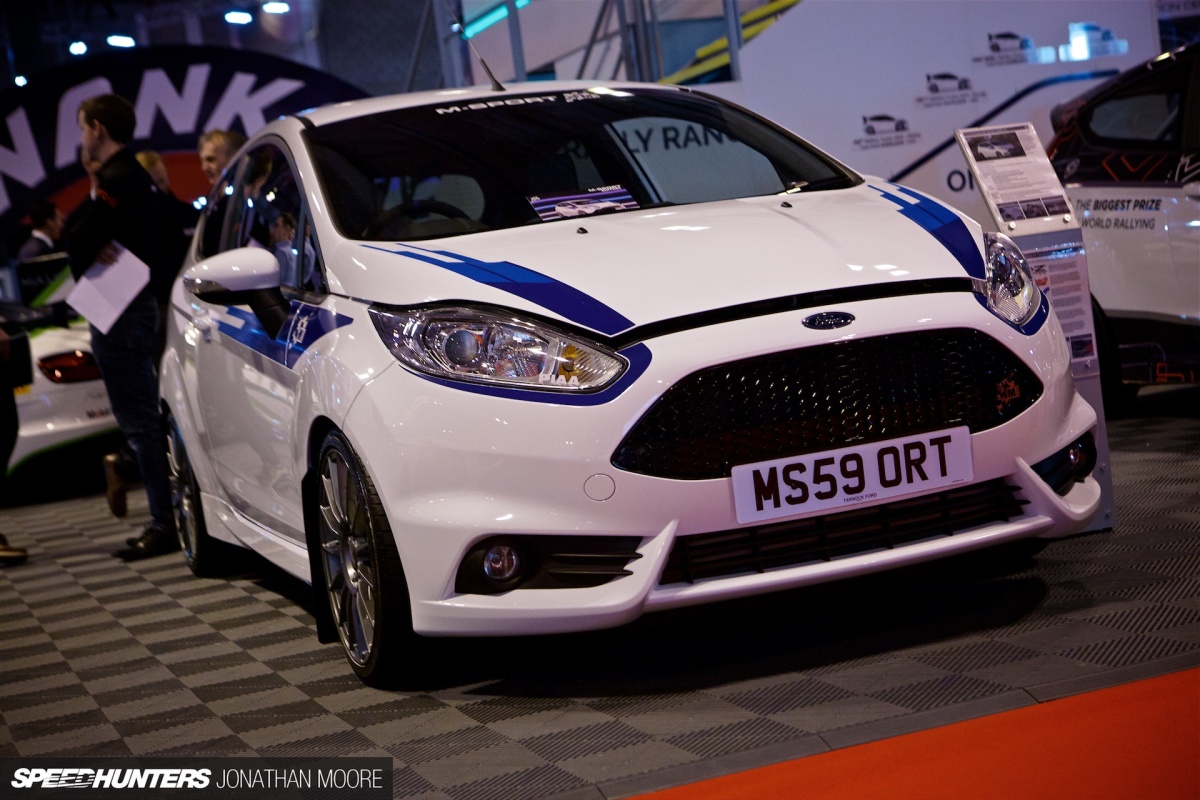 On the wall of the M-Sport hospitality area was a graph showing the range they're promoting. If you're good for a cool half million pounds, then you can grab yourself all-wheel drive 600hp rallycross weapons or top-spec WRC machines. The mid-range R5 cars are equally for those of bulging wallets, but now M-Sport have moved into territory that teams like Prodrive have been pushing for years: tuned road cars.
This is the Fiesta M-Sport edition, developed to provide a distilled version of their WRC cars for a surprisingly affordable price. You get over 200hp and 320Nm of torque at 3,000rpm from a 1.6-litre EcoBoost engine breathed on by Mountune; a Quaife limited slip diff and IB6 gearbox channel the power; a new body kit gives the car more presence. Optional extras include a WRC-style custom silencer from Chris Tullet Exhausts, an M-Sport cold-induction kit with Pipercross high-flow filter, a handling pack consisting of Bilstein struts and Eibach Pro springs, and an Alcon brake upgrade. This should be one giant-killer of a hot hatch…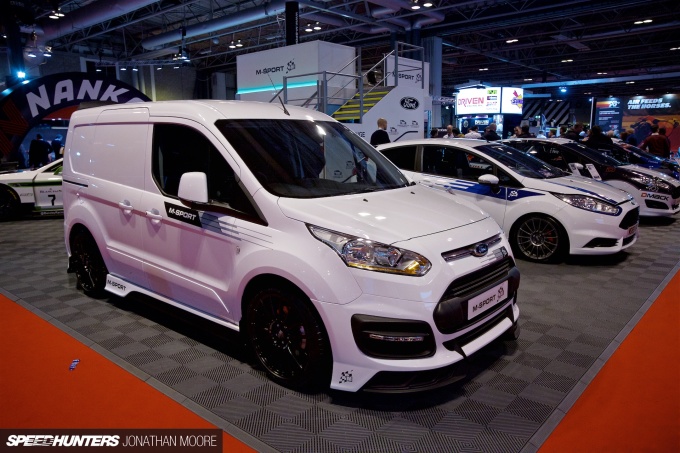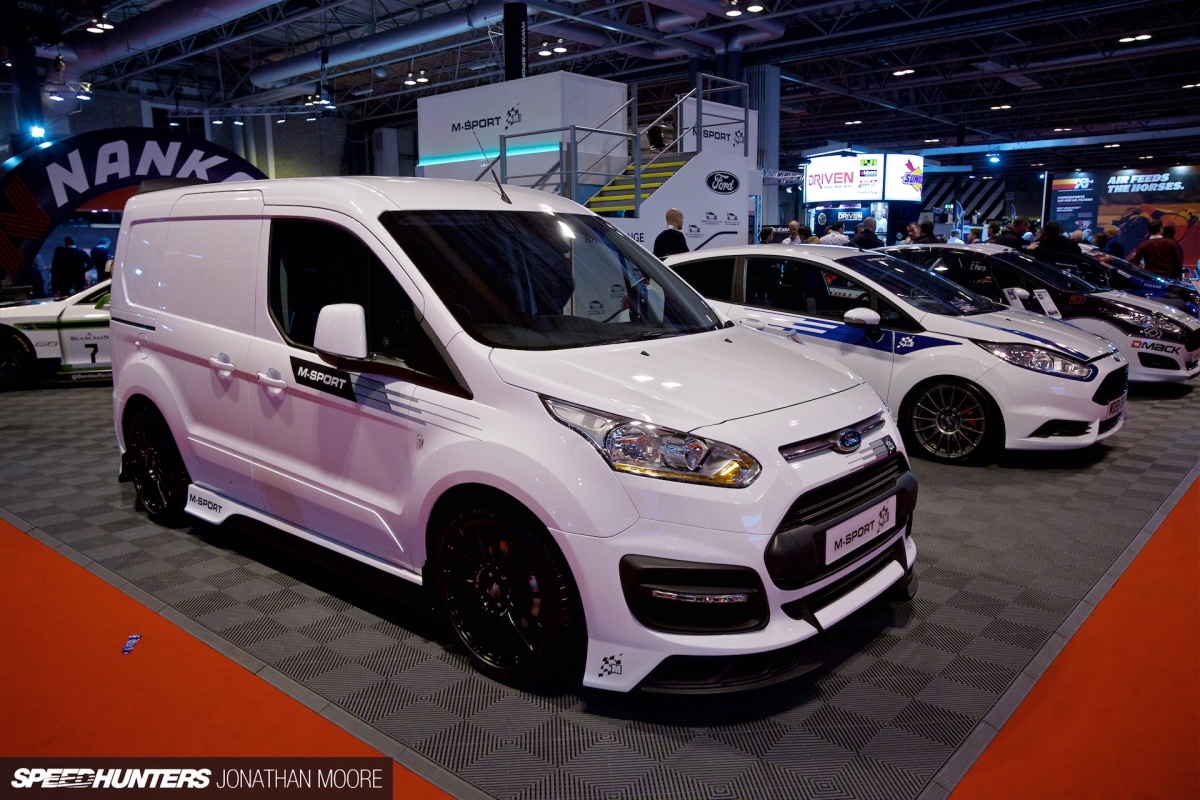 At first I hadn't even seen the Fiesta, as it was obscured by this M-Sport Transit Connect. It's not actually the first van with vroom M-Sport have worked on, as they produced a limited edition larger Transit last year, but this Connect reflects that even humble vans can have some get up and go!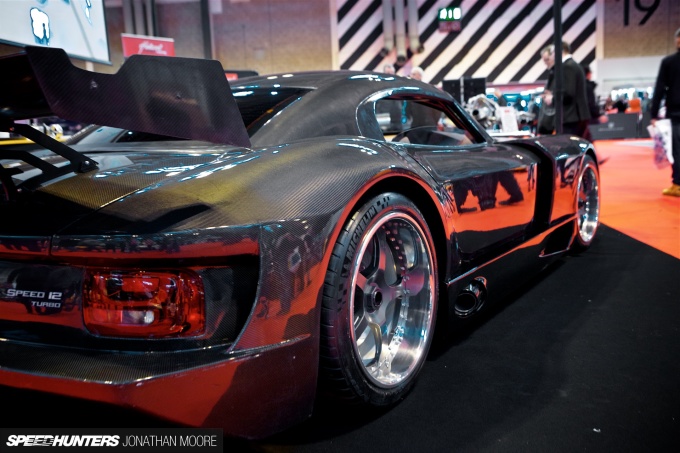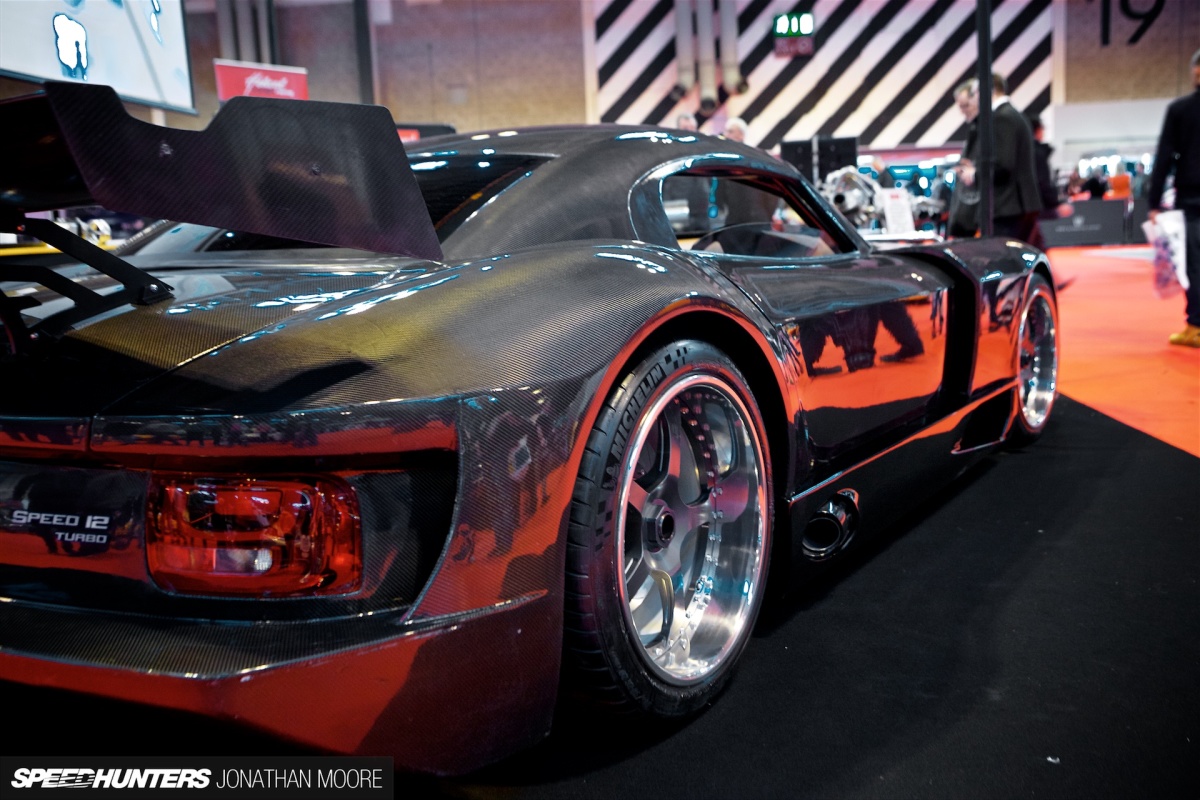 If you don't need the space of a Connect and want something with more power – a lot more power – then maybe Helical Racing's latest evolution of its Speed 12 will be more up your street. Last year the car was still very much a straight-up TVR Cerebra Speed 12-alike (not like that's a bad thing), but there's been a massive change for 2016. Although the bodywork is still very recognisable, it's now much more in the style of, rather than directly taken from a Speed 12, and was presented in raw carbon.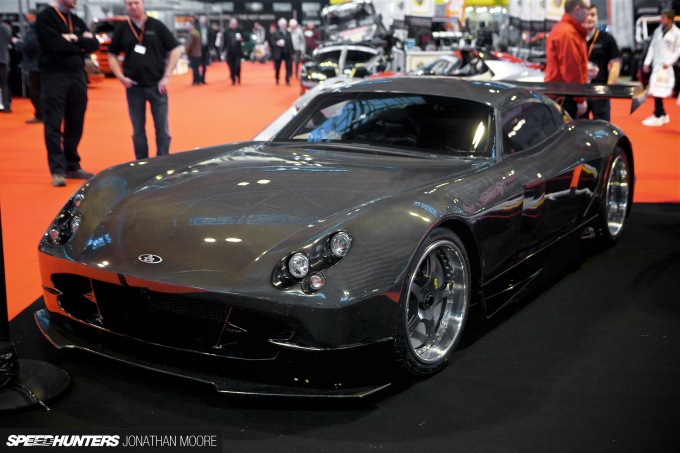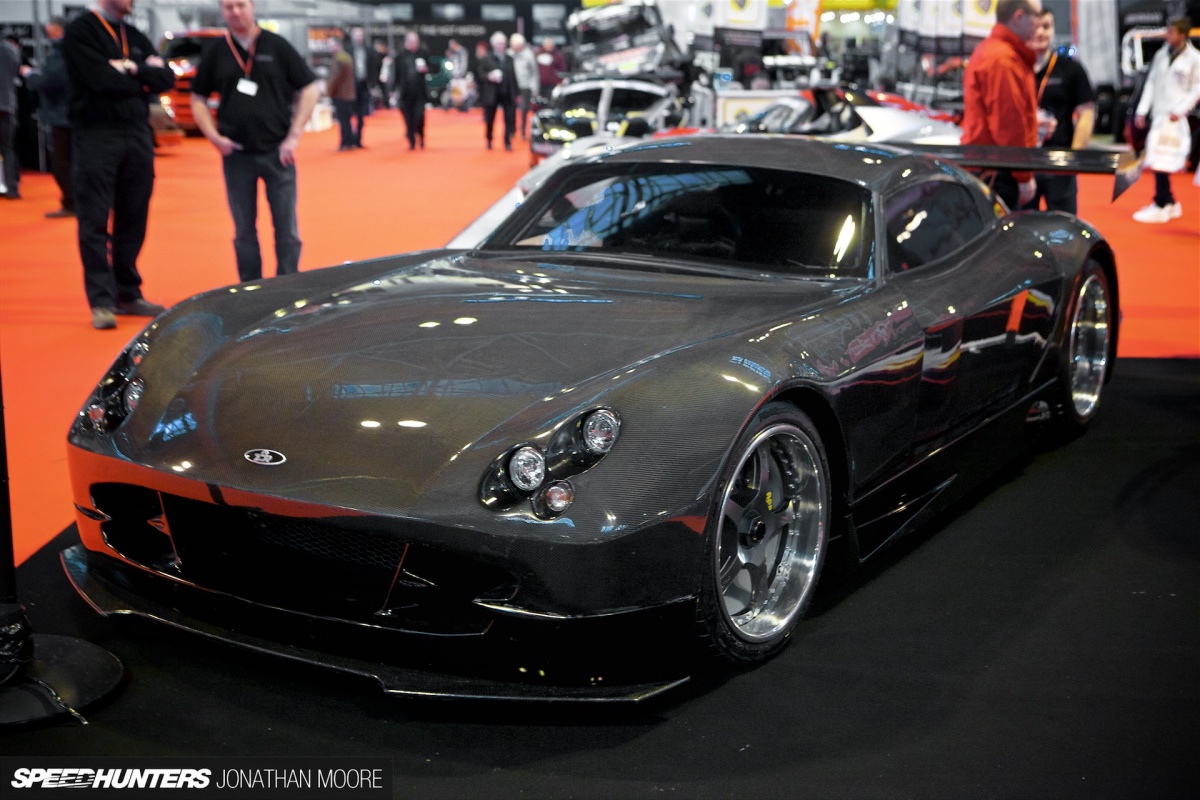 The concept behind it is still that of a technology demonstrator for the company, which specialises in engine and exhaust systems: a number of ex-TVR Engineering craftsmen are among its number. Now, the car is a TBR SPEED 12 (not a typo), and instead of being a one-off is now being developed with the idea of taking it into low-volume production. Under the long bonnet is a beautiful and sonorous Aston Martin V12 producing 600hp – a turbocharged version will kick out nearer to 1,000hp!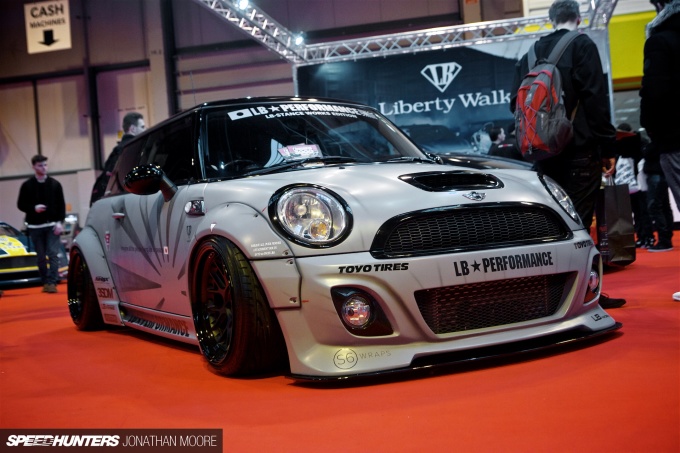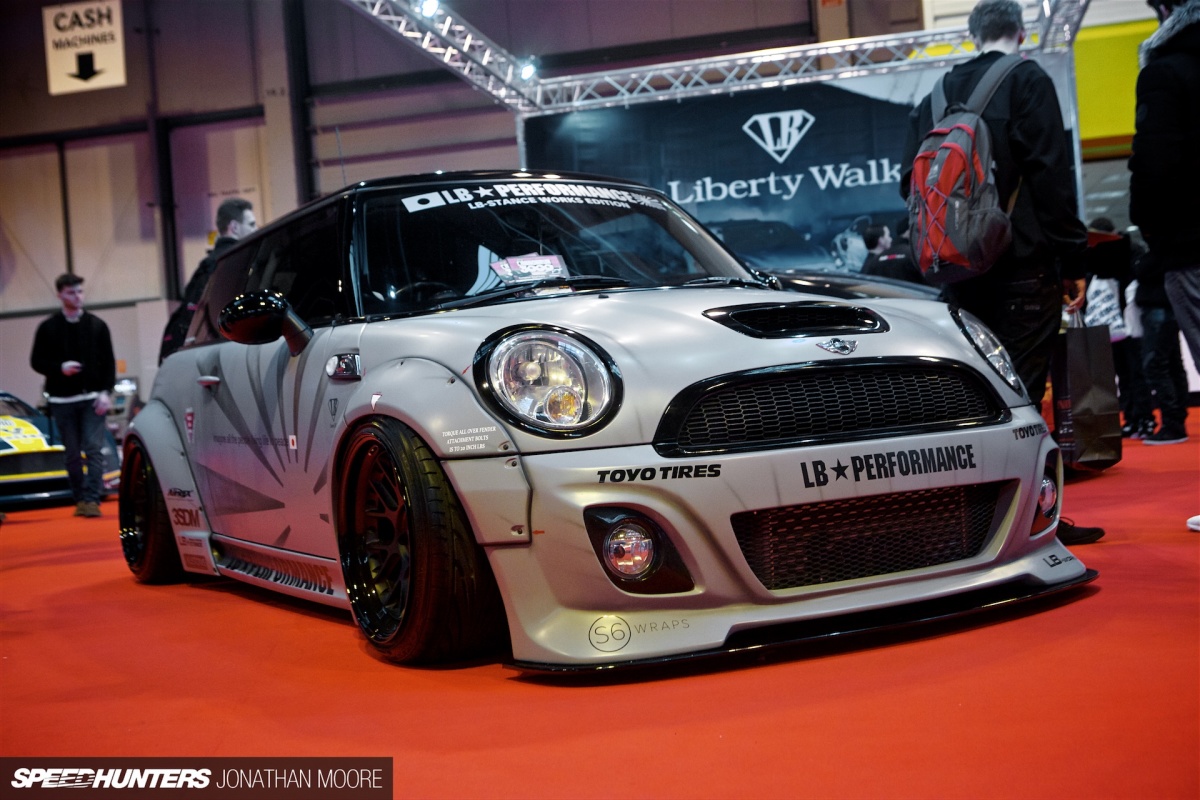 A stand that was attracting massive attention all weekend was Liberty Walk. The Japanese auto stylist showcased two cars, the R35 GT-R shown in the opening shot and then this MINI Cooper S – the only LB MINI in Europe. This presaged the great news that LB now has an official presence in the UK.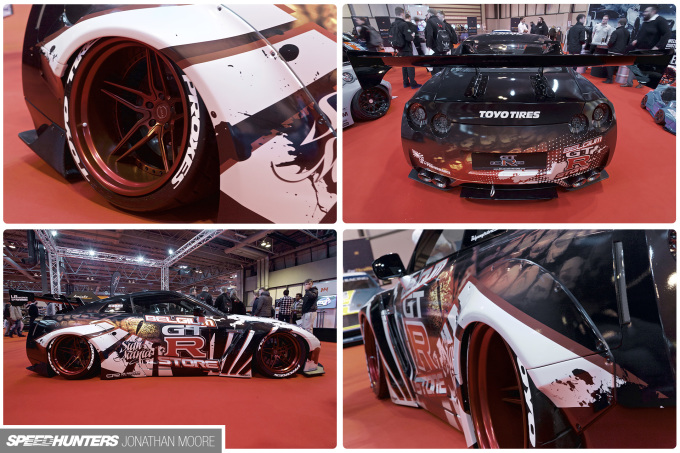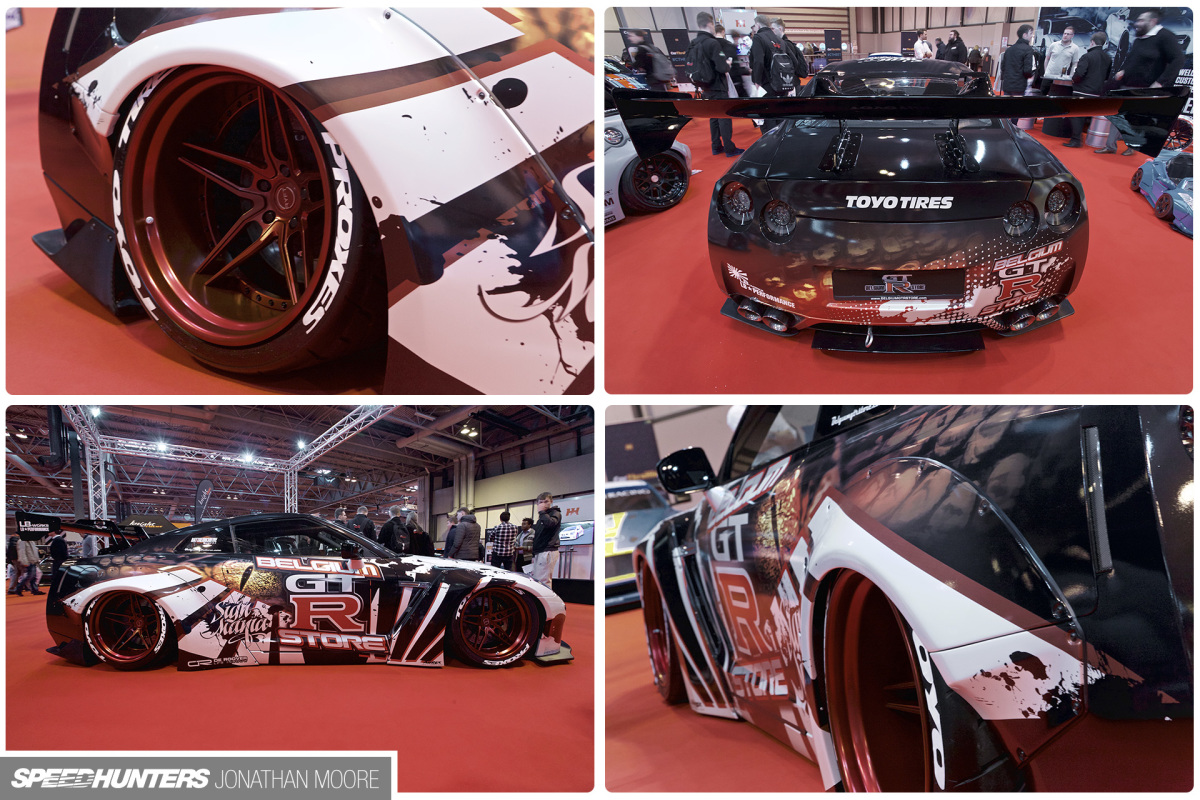 Set up in conjunction with The Performance Company, next to the MINI was the even more outrageous Belgian GT-R Store Liberty Walk R35.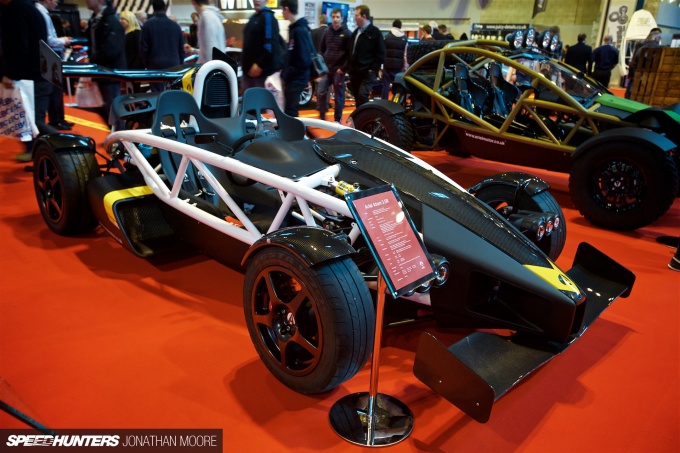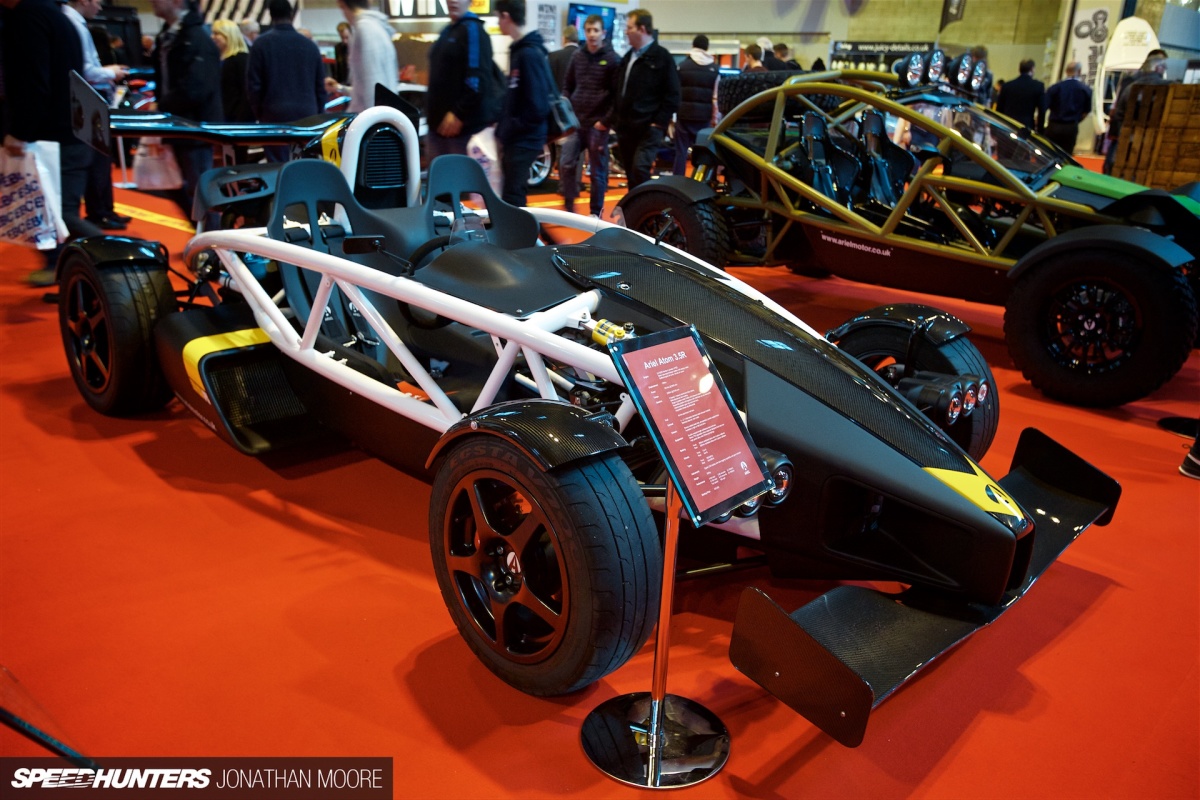 Specialist British marques were well represented at Autosport. It would be wrong to say they were tamer than the LB cars – let's face it, in performance terms an Ariel Atom will beat up pretty much anything else on the road. The familiar Atom was presented in its new 3.5R guise: 350hp for 550kg means a crazy power to weight ratio in a chassis that is up there with the best. Next door was its new sister, the Nomad: a Mad Max-style buggy to take the Ariel ethos off-road.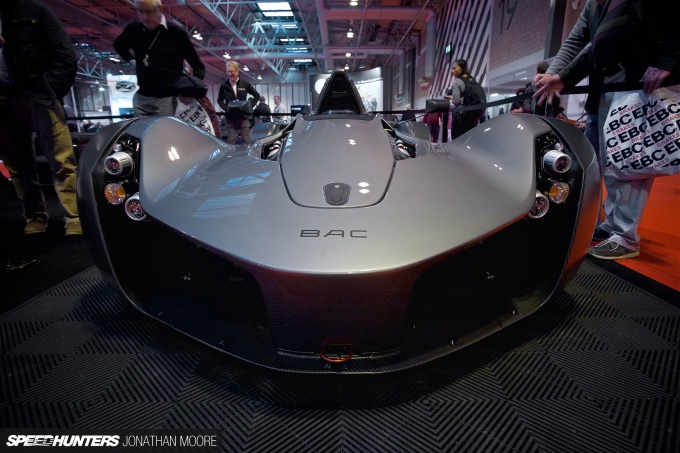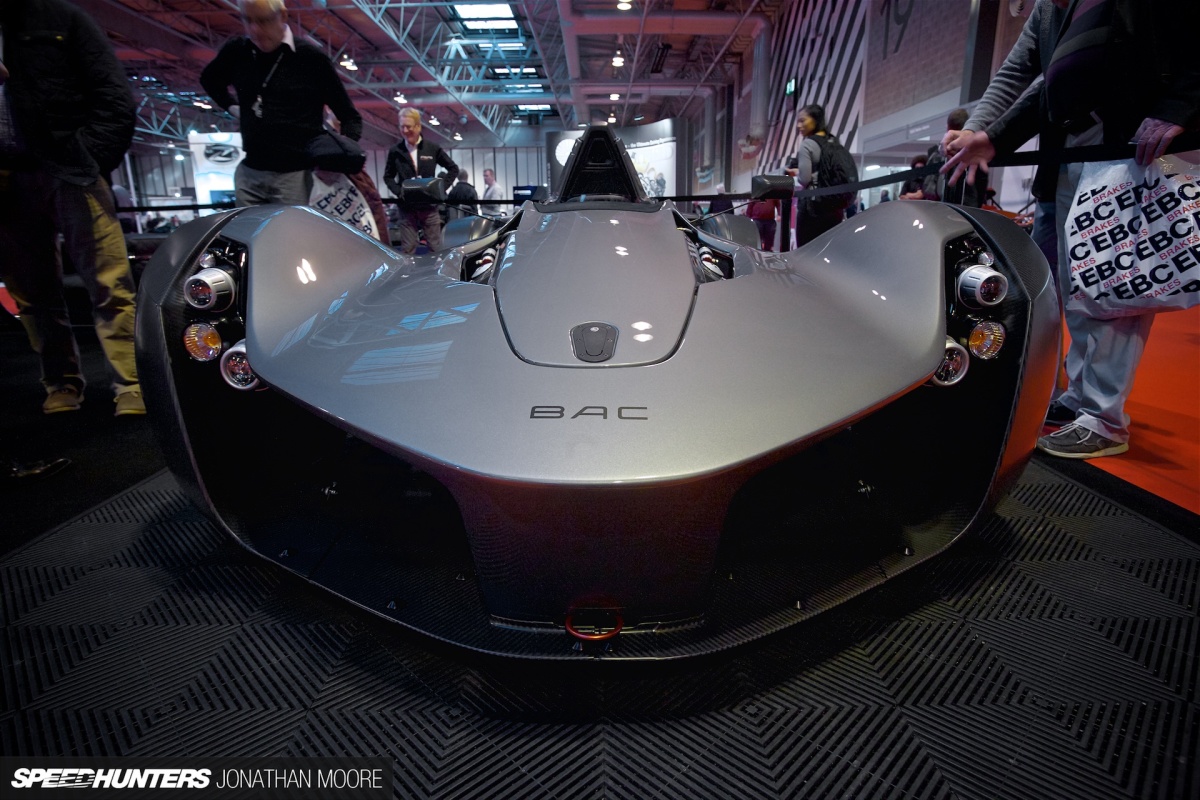 BAC's Mono still stops people in their tracks; like the Ariel, it's such an uncompromising entry into the supercar-smashing world. The latest model has an uprated Mountune engine, drive-by-wire throttle and custom seat moulded specifically for the owner. Although BAC didn't have the system at Autosport, it has just made a roll-hoop mounted winch system so you can store your Mono on your yacht. You do have a yacht, right?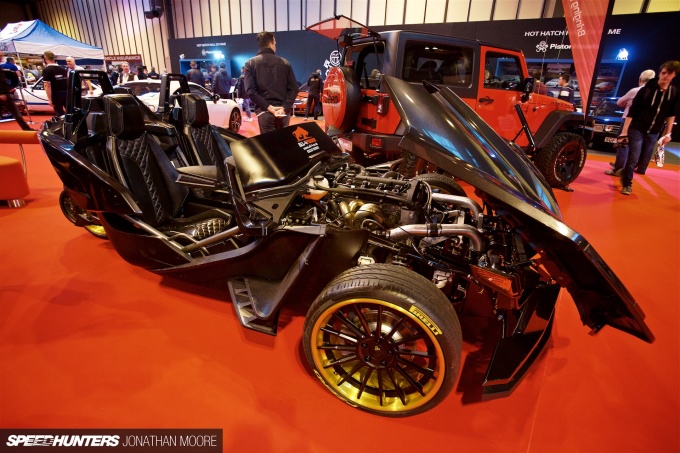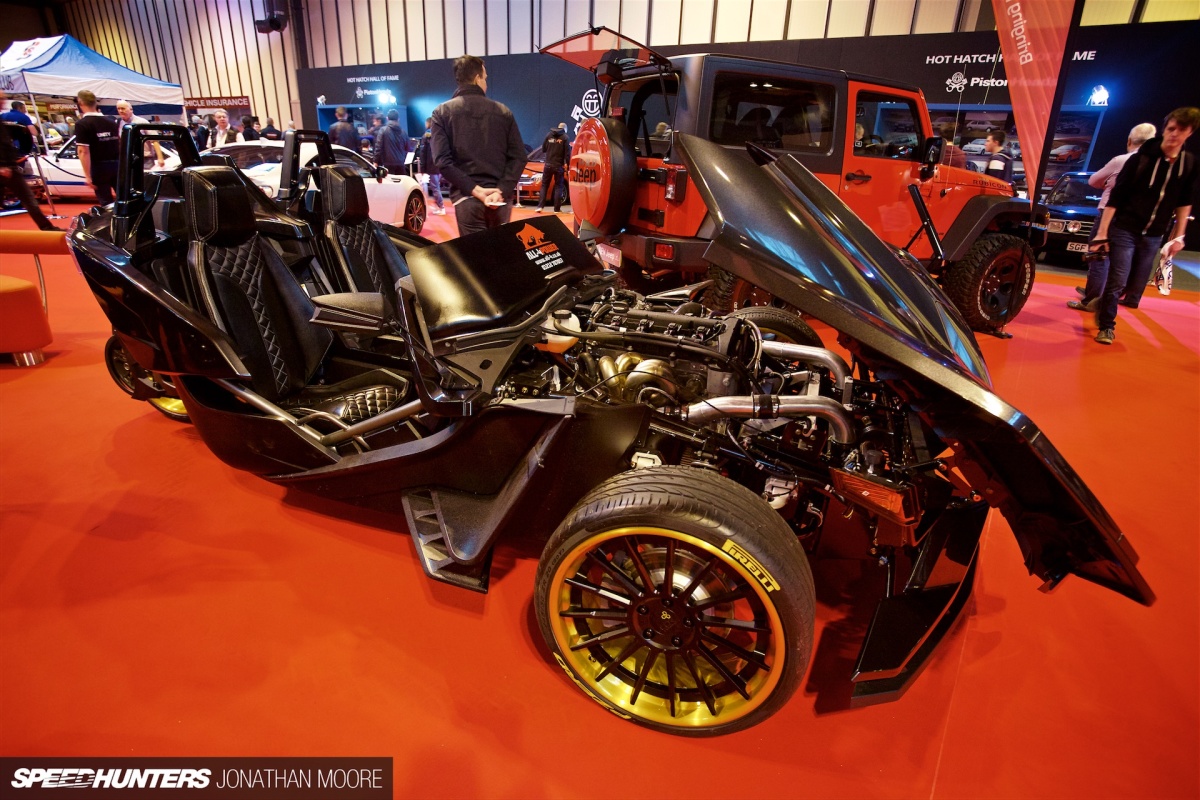 I'm sure you will have heard of Polaris. The company is well known for its ATVs, but this was a completely different beast: a three-wheeled bundle of reverse-trike lunacy. It's got 18-inch forged fronts and a 20-inch rear, with a 2.4-litre engine mounted in a spaceframe chassis. It looks like it would be crazy fun, like an oversize Morgan Three-Wheeler on steroids.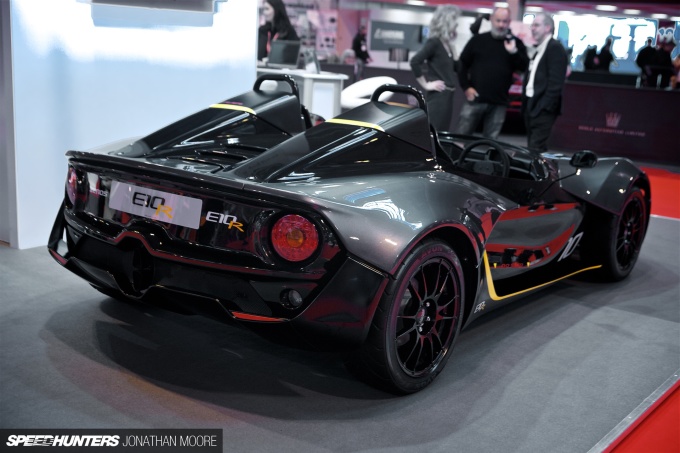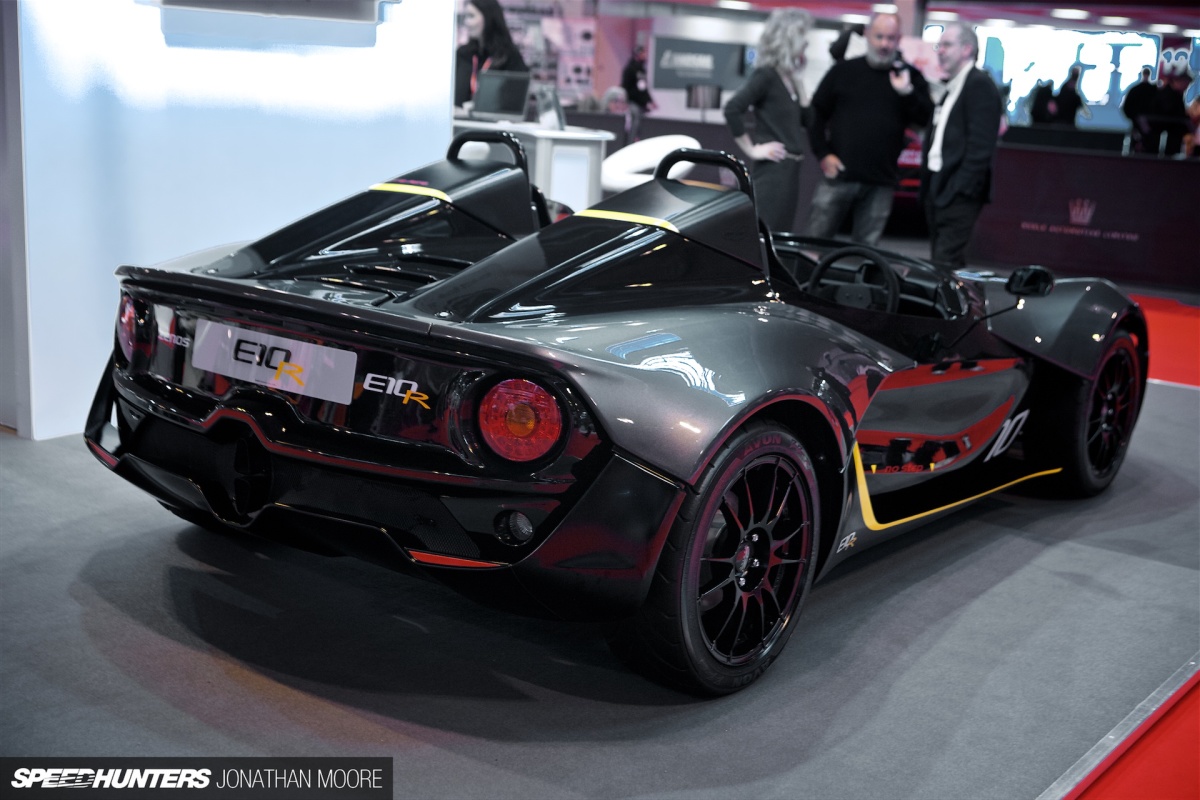 Zenos featured its new E10S – another car where Ford's increasingly popular EcoBoost engine has turned up. The 2.3-litre unit is matched with the super light chassis of this carbon-fibre go-kart to give a sub 3-second 0-60mph and a power to weight ratio of 500hp per ton. Styling-wise, it makes me think of an affordable version of the Aston Martin CC100.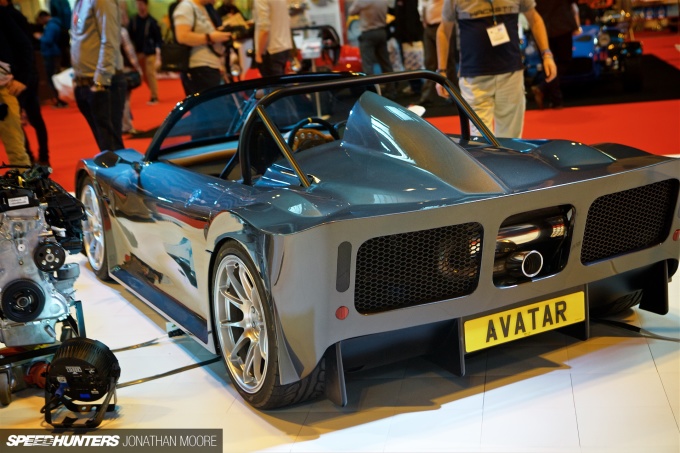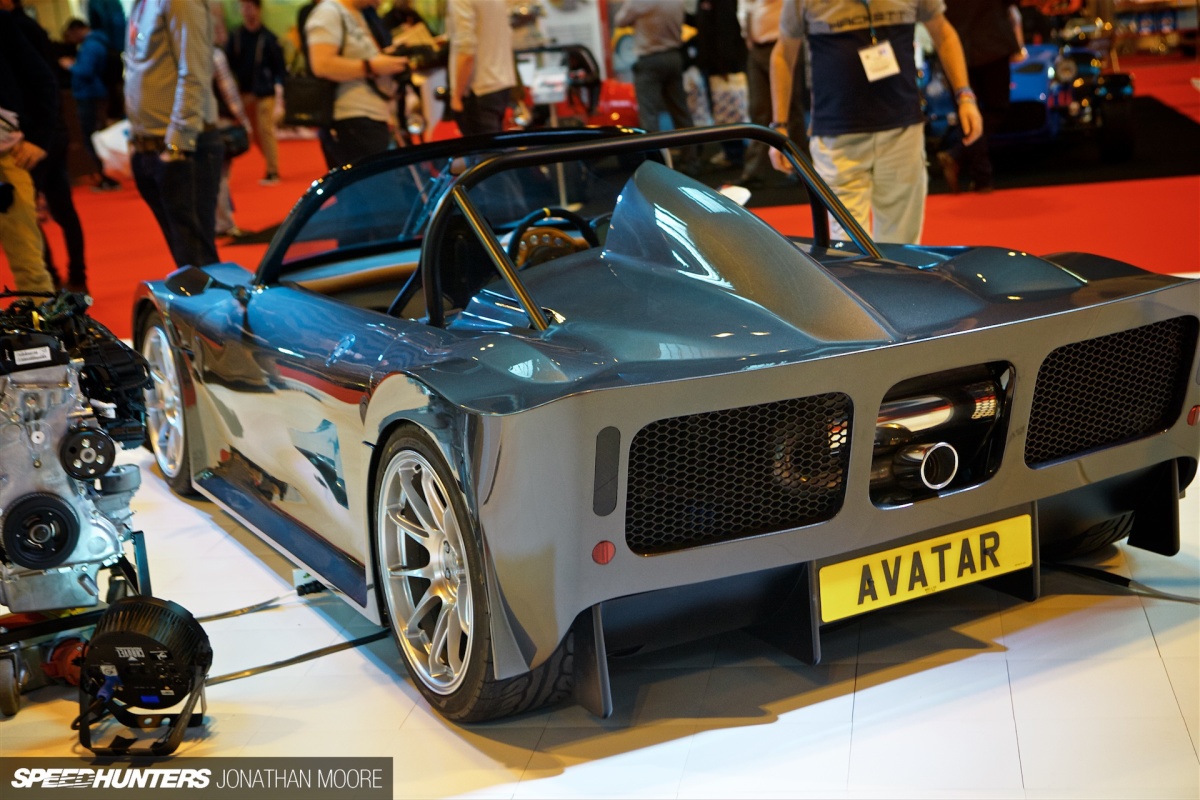 The brand new Avatar Roadster also mounted that same EcoBoost engine. The sub-700kg car is the latest British entry into the focussed track day market, and was developed out in the wild, competing on track to fine-tune the car's performance.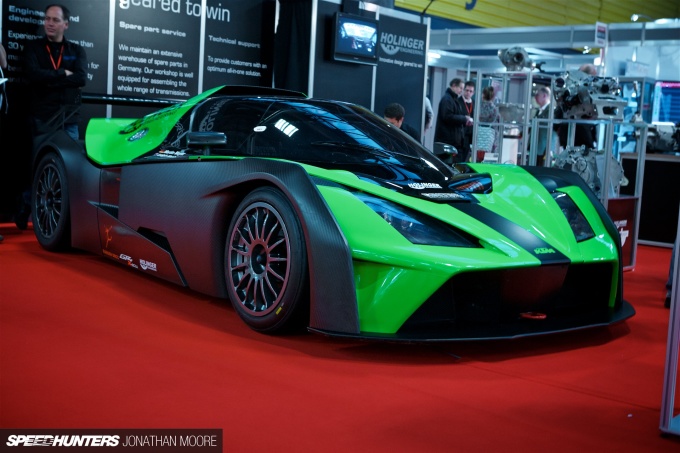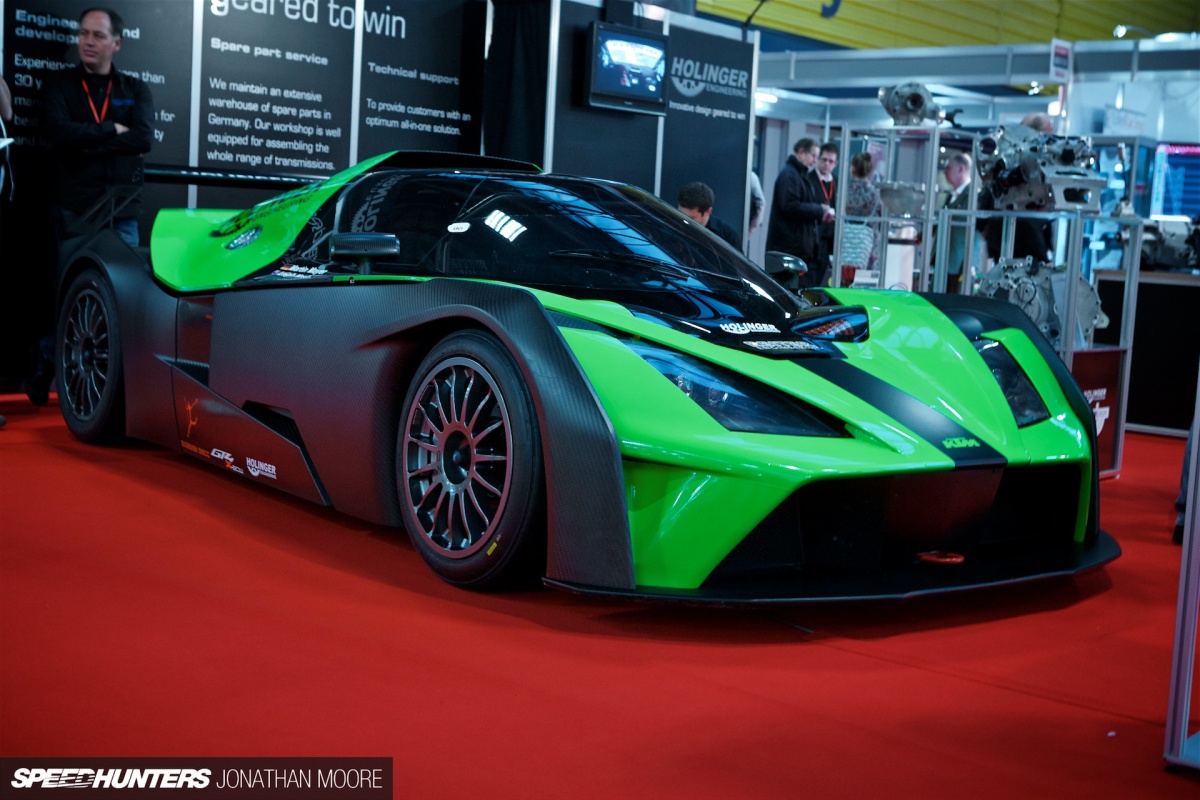 The nose of this KTM seemed rather Lamborghini-esque, but perhaps that's no surprise as the X-Bow GT4 has been co-developed with Reiter Engineering. Compared to most racers, the most obvious changes are those that have been added rather than taken away: the stripped-back look of the original X-Bow has been built up into this baby prototype aimed at the FIA GT4 series.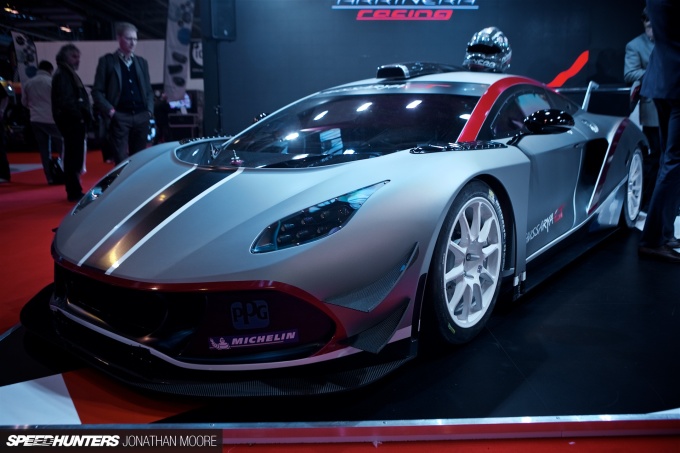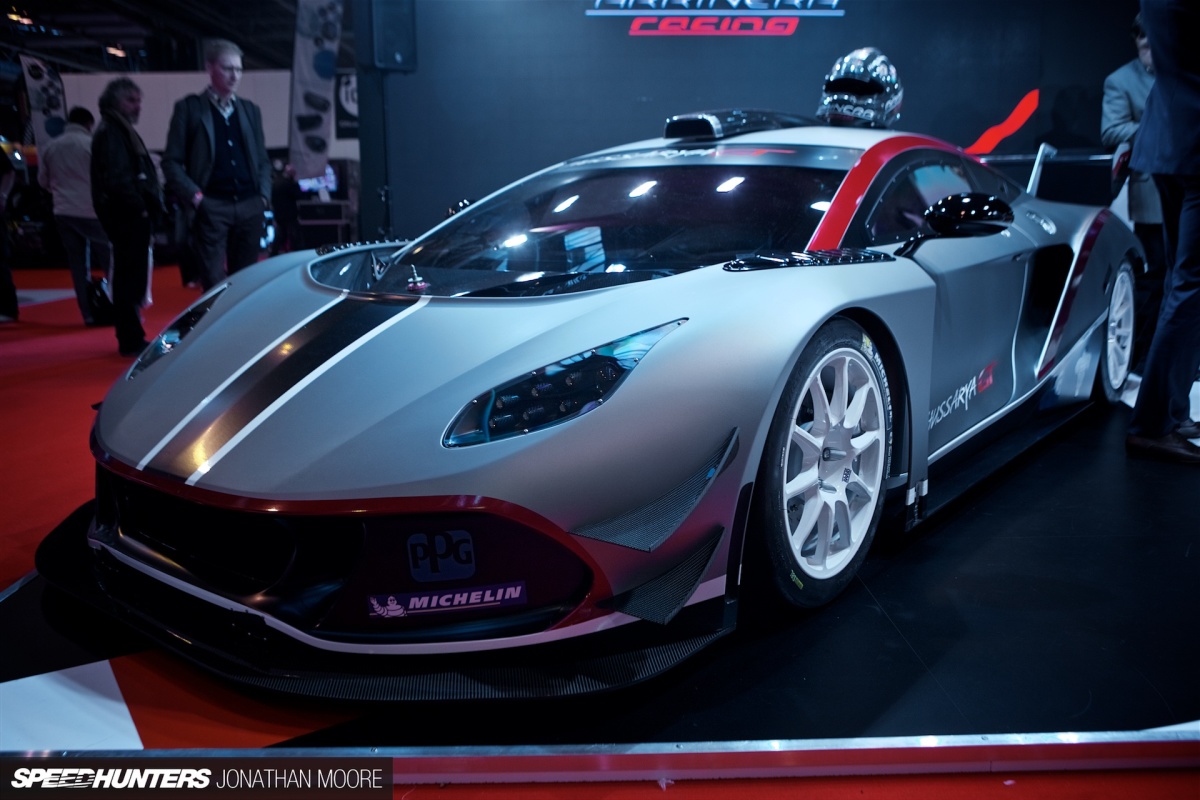 There's been a lot of exciting stuff coming out of eastern Europe recently, with Sin, Praga and Rimac now joined by Arrinera, a Polish operation. The campsite-bodied Hussarya has been been developed by a team whose CEO worked at Mosler and Lotus, and has a 640hp, 6.2-litre V8 at its heart. It's another new entry into GT4, so will be bringing even more diversity to the class.
Breaking Out The Big Guns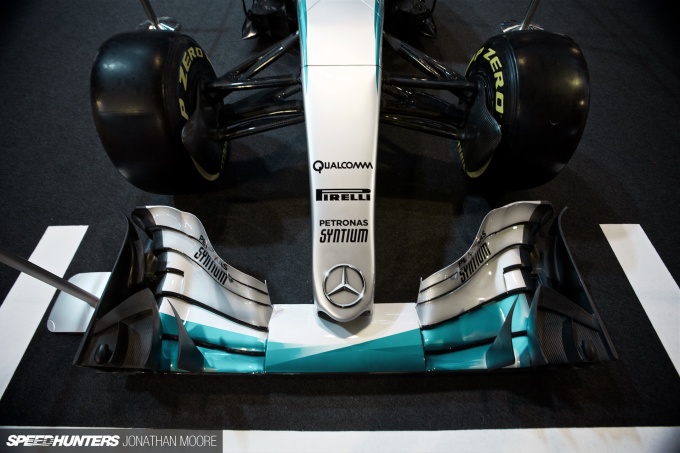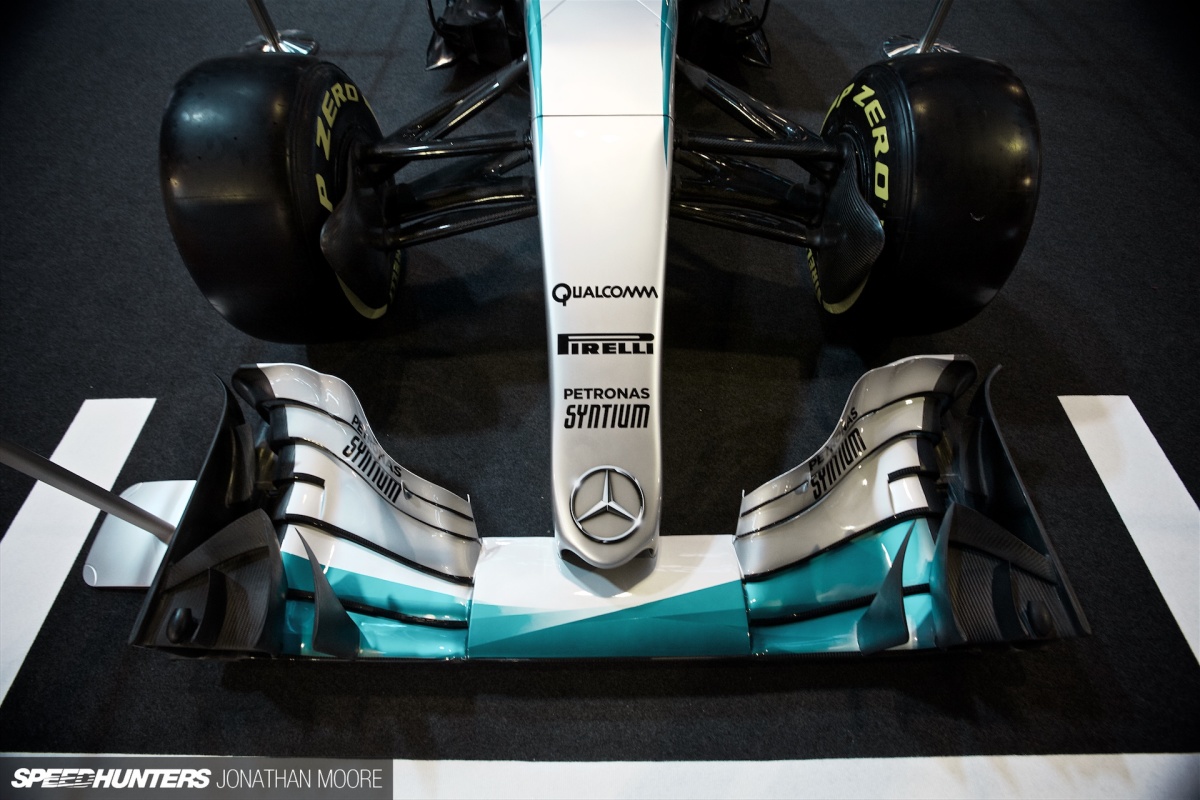 Old or new? With Formula 1 in the midst of a myriad of image problems, sometimes it's heritage that can keep the fires of passion burning when times are tough.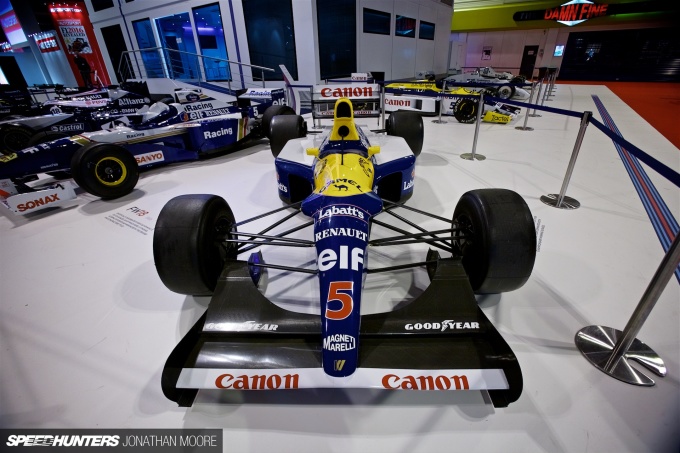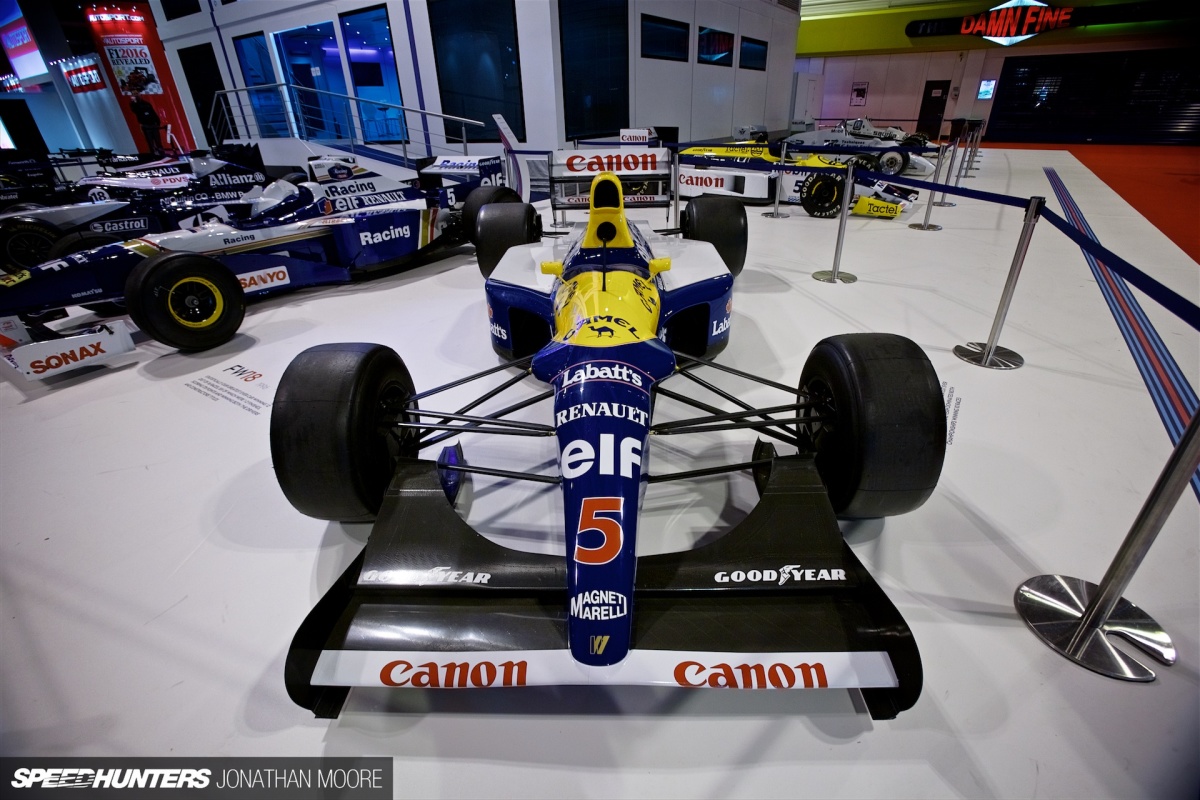 Williams were the F1 stars of Autosport, bringing a whole fleet of old F1 cars along with their impressive F1 motorhome. Nine cars were on display, covering 37 years of racing history. Red Five will always get the pulses racing of British fans: it's the FW14B that brought Nigel Mansell his emotional driver's title in 1992, Williams crushing all opposition on the way.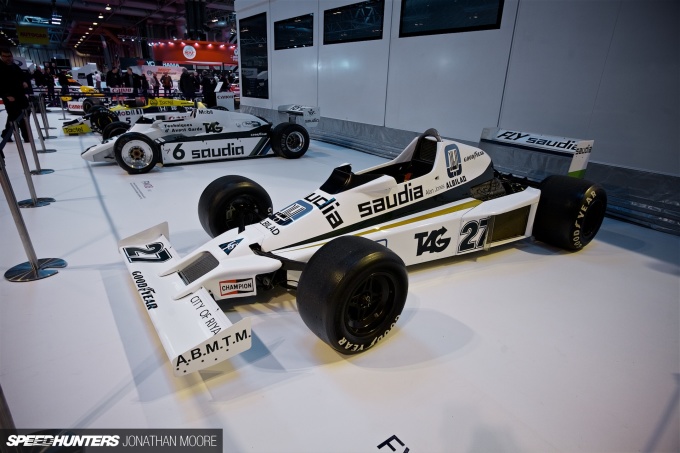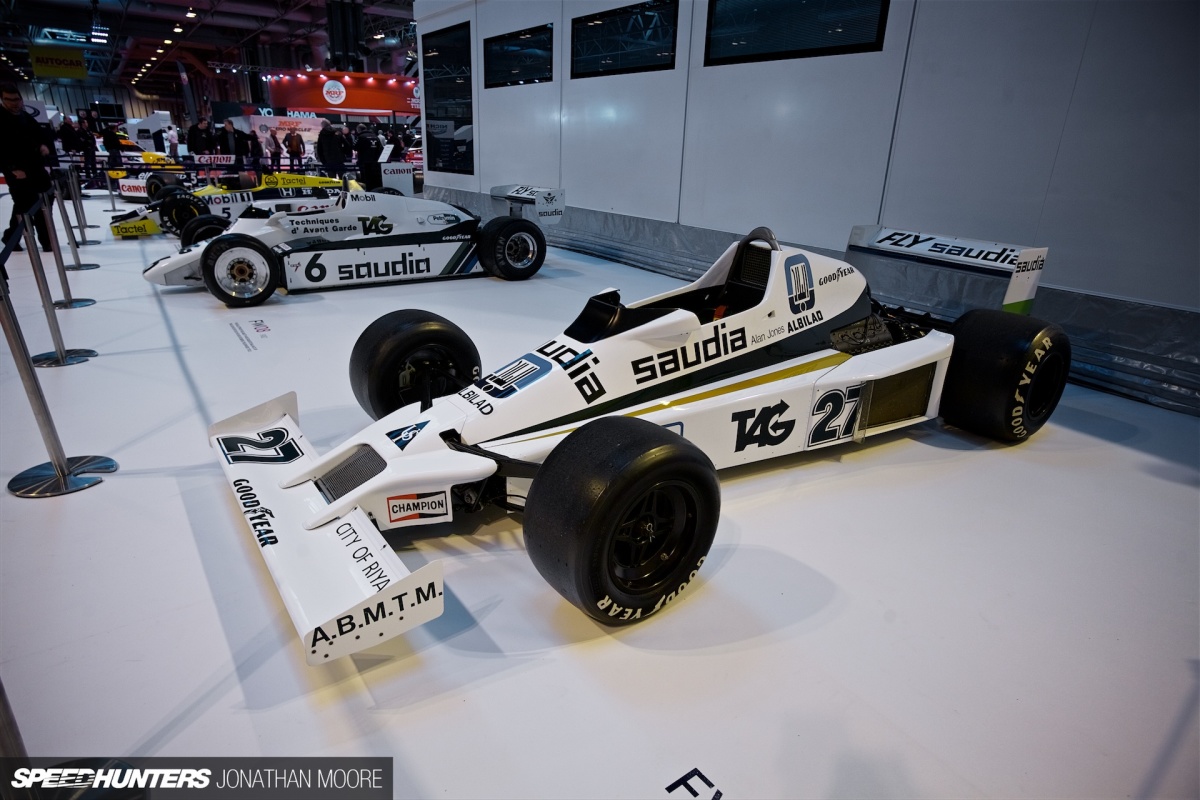 The oldest cars were this FW06, the Williams Grand Prix Engineering's first F1 car, and an iconic FW08. The 06 was a Cosworth-powered minnow taking on the established giants of Ferrari, Lotus and Brabham, but still managed grab a podium during the 1978 season.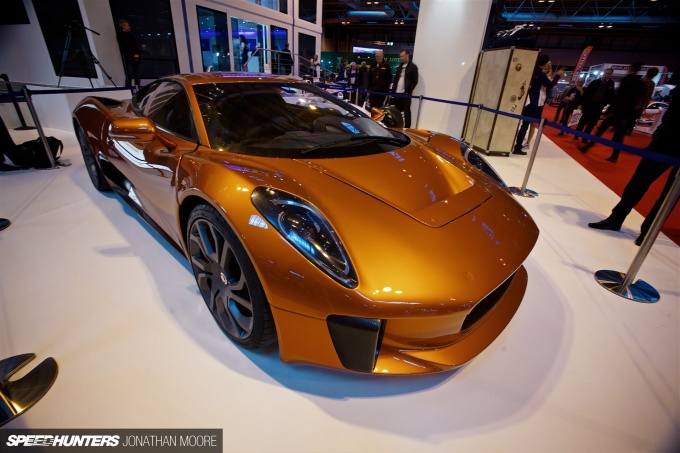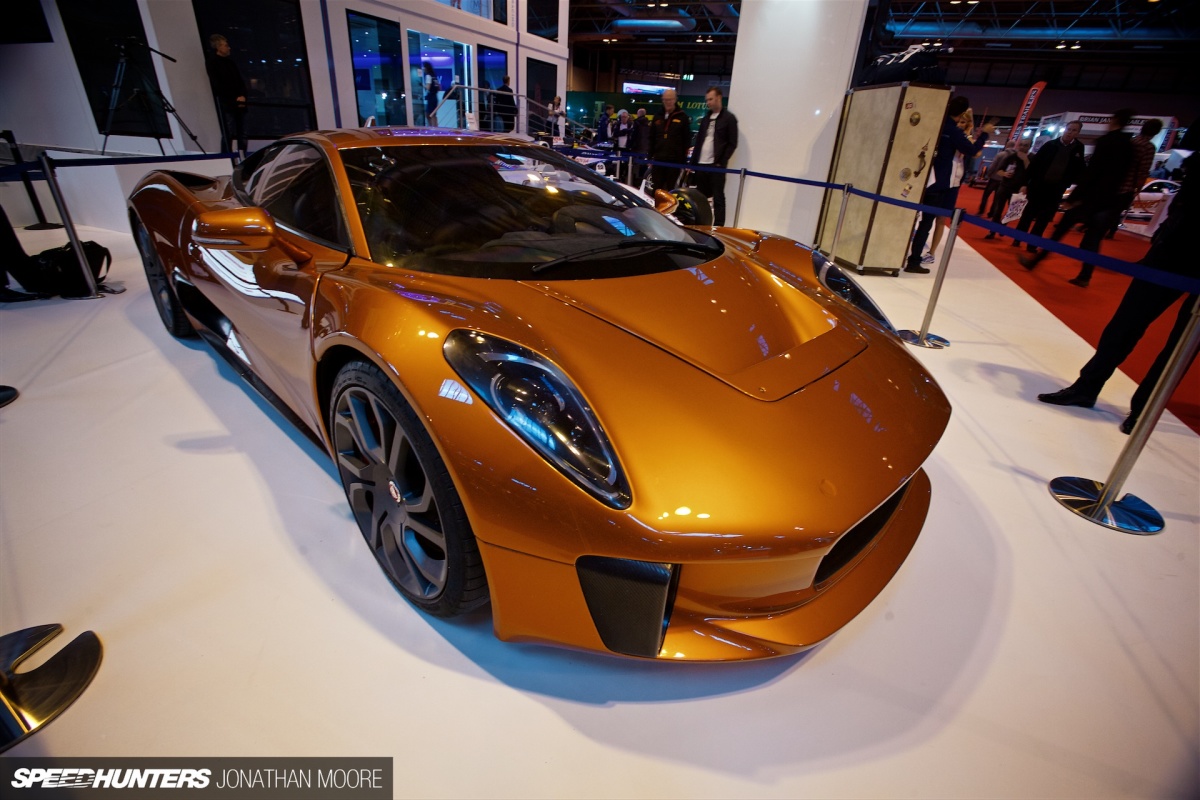 Williams have been involved with a myriad of other projects over the years, with everything from the hot hatch Clio 1993 to the Le Mans-winning BMW V12 LMR of 1999 and current Formula E battery technology. They also had a hand in the Jaguar C-X75 hybrid supercar: two were present at Autosport, one in the Live Action Arena and a second on show alongside Williams' F1 cars. You really do get the feeling that the develop team are just trying to eke out the prototypes lives long enough for Jaguar's management to turn around the cancellation of the production run…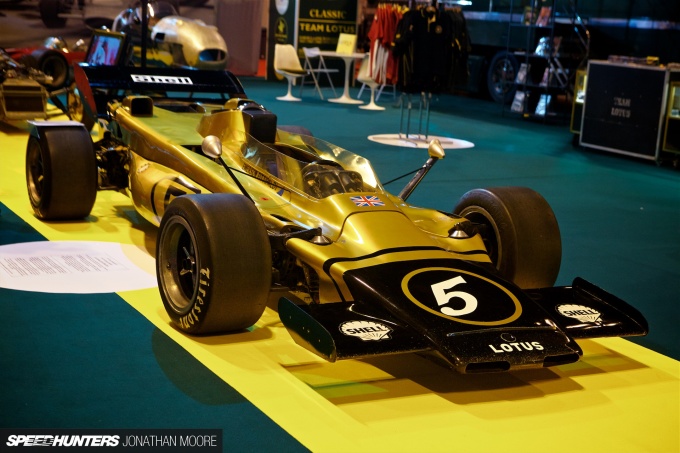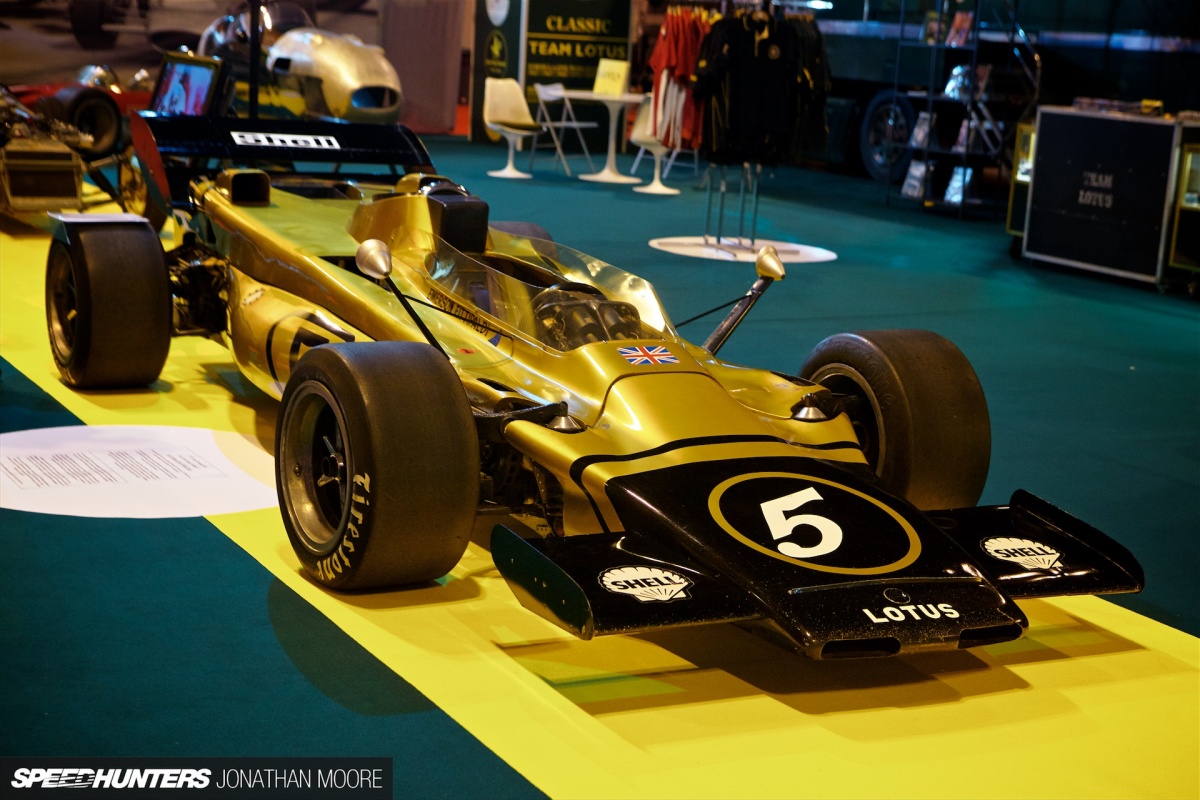 It's become traditional for Classic Team Lotus to unveil a new project at Autosport. This year, it was something particularly special: the Type 56B gas turbine, four-wheel drive special from 1971. Based on the IndyCar chassis, the dramatic racer was super fast when driven by legend Emerson Fittipaldi on its Brands Hatch debut, but suffered from having large capacity fuel tanks with 350 litres of kerosene sloshing about at the start, needed to feed the thirsty turbine.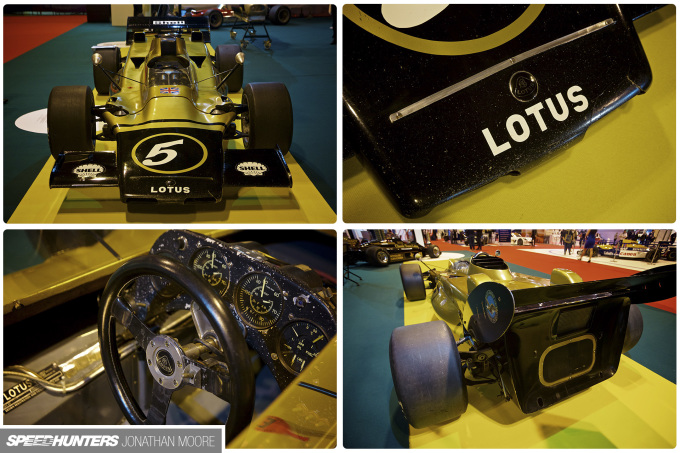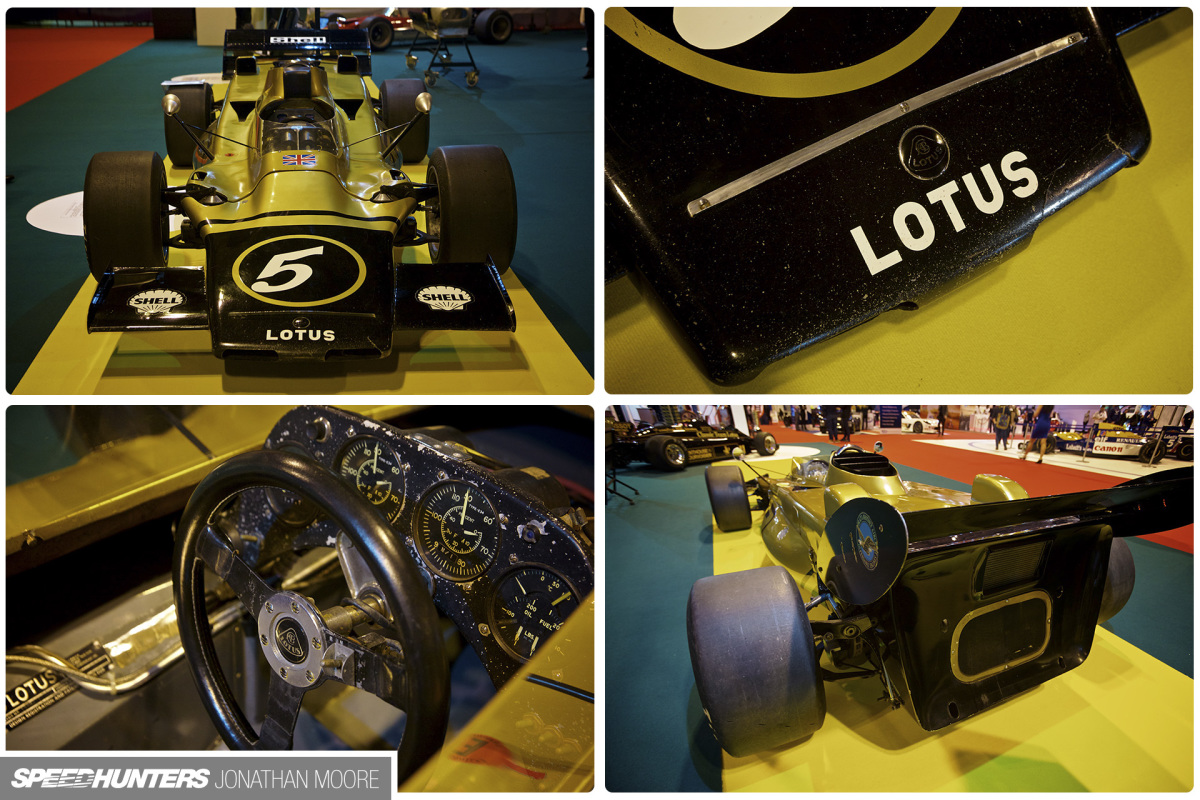 The awesome car is in the gold and black colour scheme it sported at Monza in '71, when Fittipaldi drove it for a second time. It's in exactly the condition it finished in, blistered paint showing the extreme temperatures the turbine created and nose covered in stone chips from a Monza battering.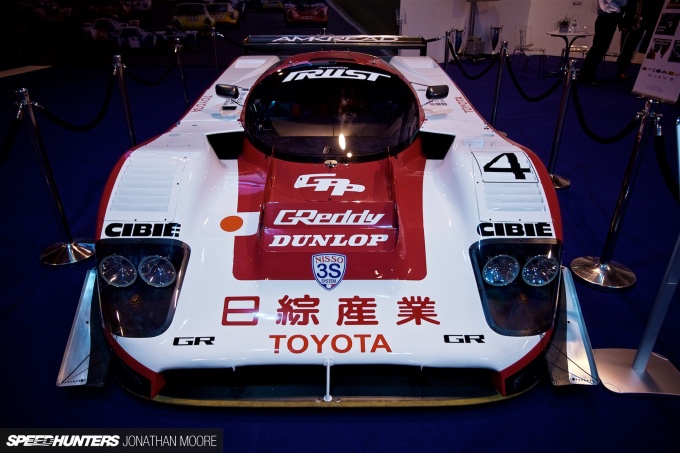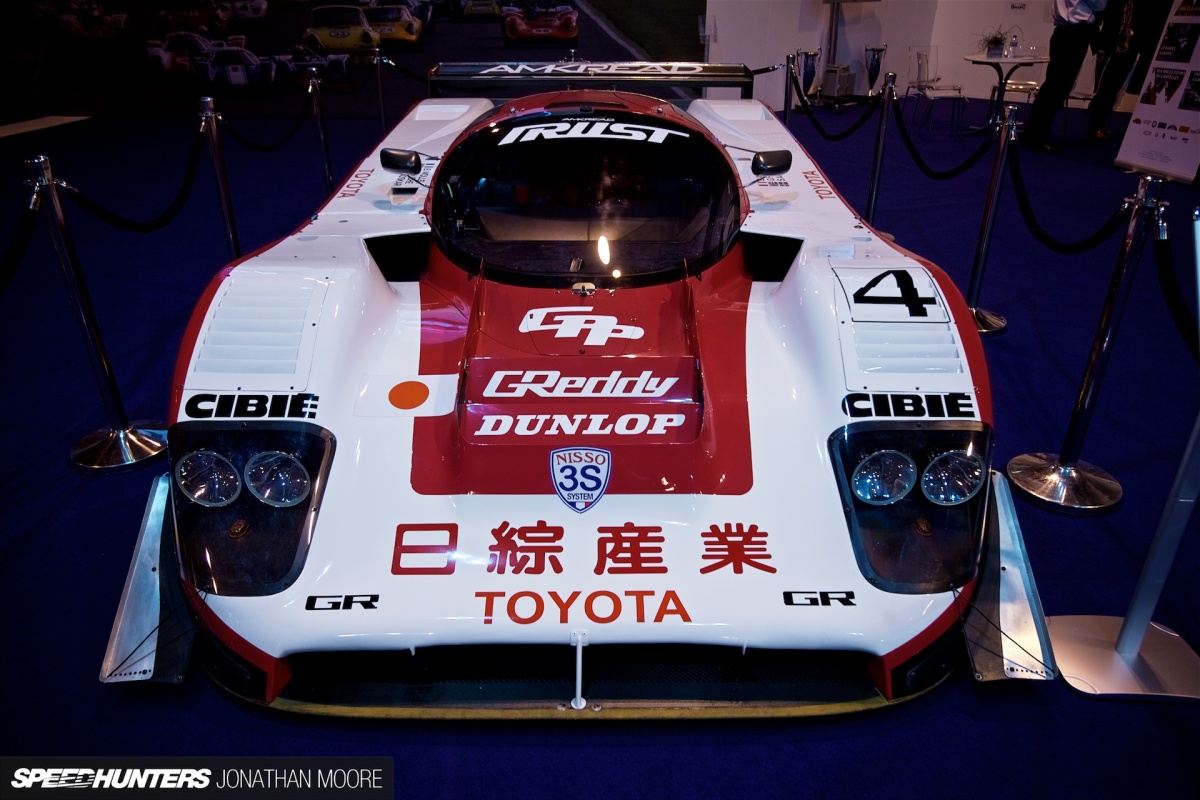 A highlight of every recent Autosport show has been the large Silverstone Classic display, previewing a taste of what's to come at that massive celebration of all things big, brutal and retro. This time the cars were grouped under the banner of 'When We Were Kings', which seemed more than appropriate.
Two Group C cars were present: one very familiar, the other far more rare. The Canon-sponsored Porsche 956 was one of the first customer cars, and was famously run by Richard Lloyd of GTI Engineering. You have to pinch yourself when you think of this 640hp car firing down to Mulsanne at a frightening 240mph.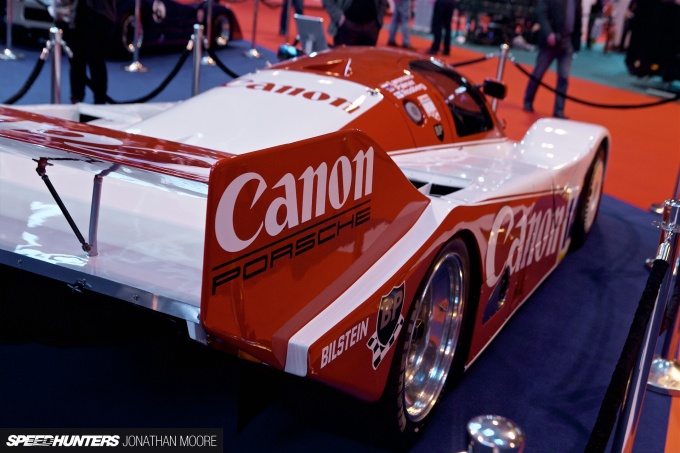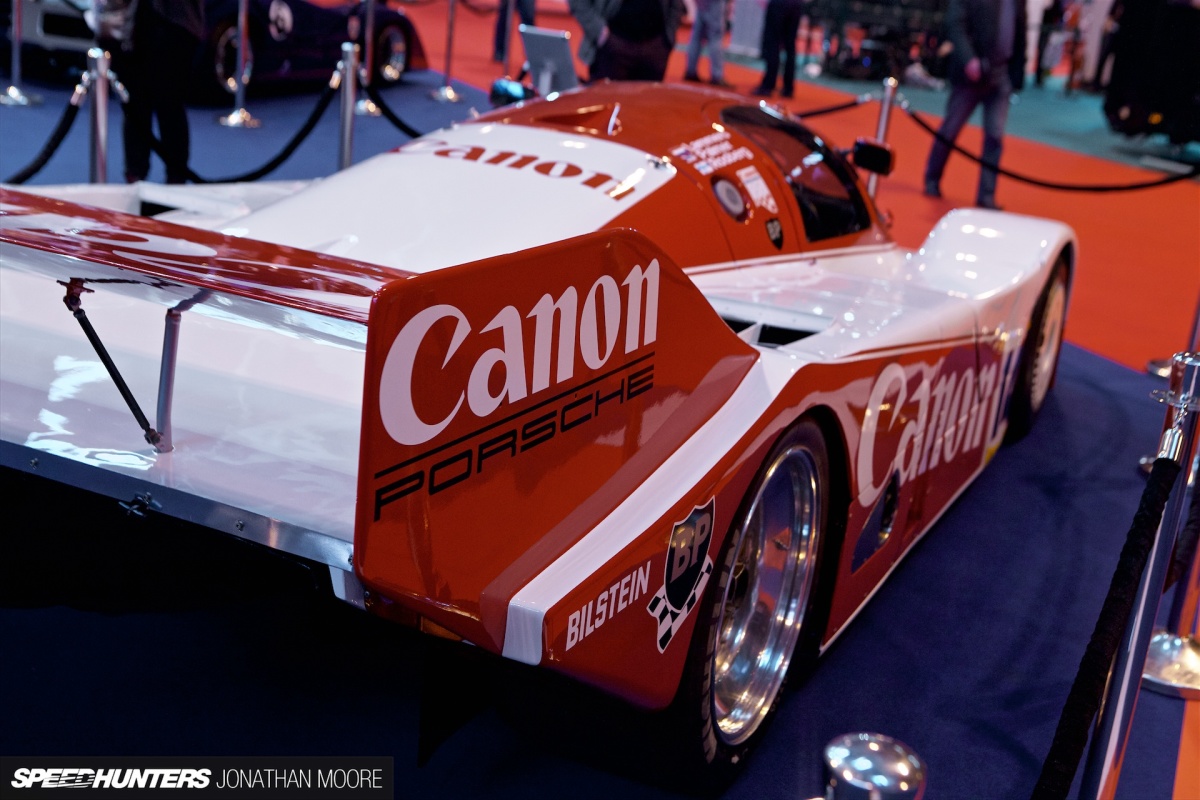 The second car was completely unexpected: a Toyota 94 C-V that ran at the 1994 Le Mans 24 Hours. This flat-six turbo car finished fourth overall that year, its sister car (run by SARD) taking second in this transition year between the epic 3.5-litre rules and incoming GT1 regs. It's due to be running around Europe in the Group C series this year.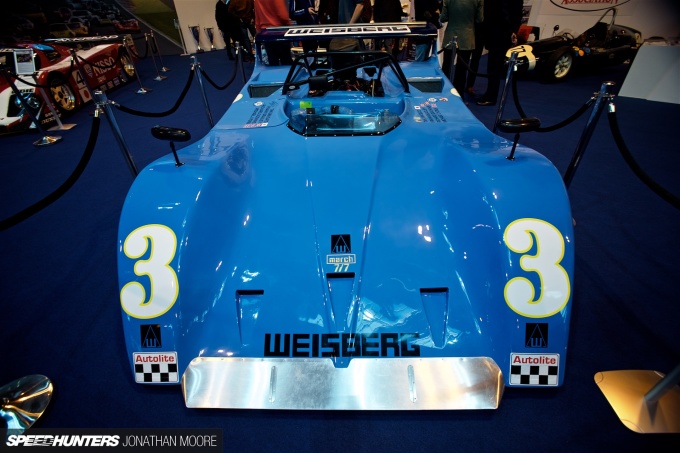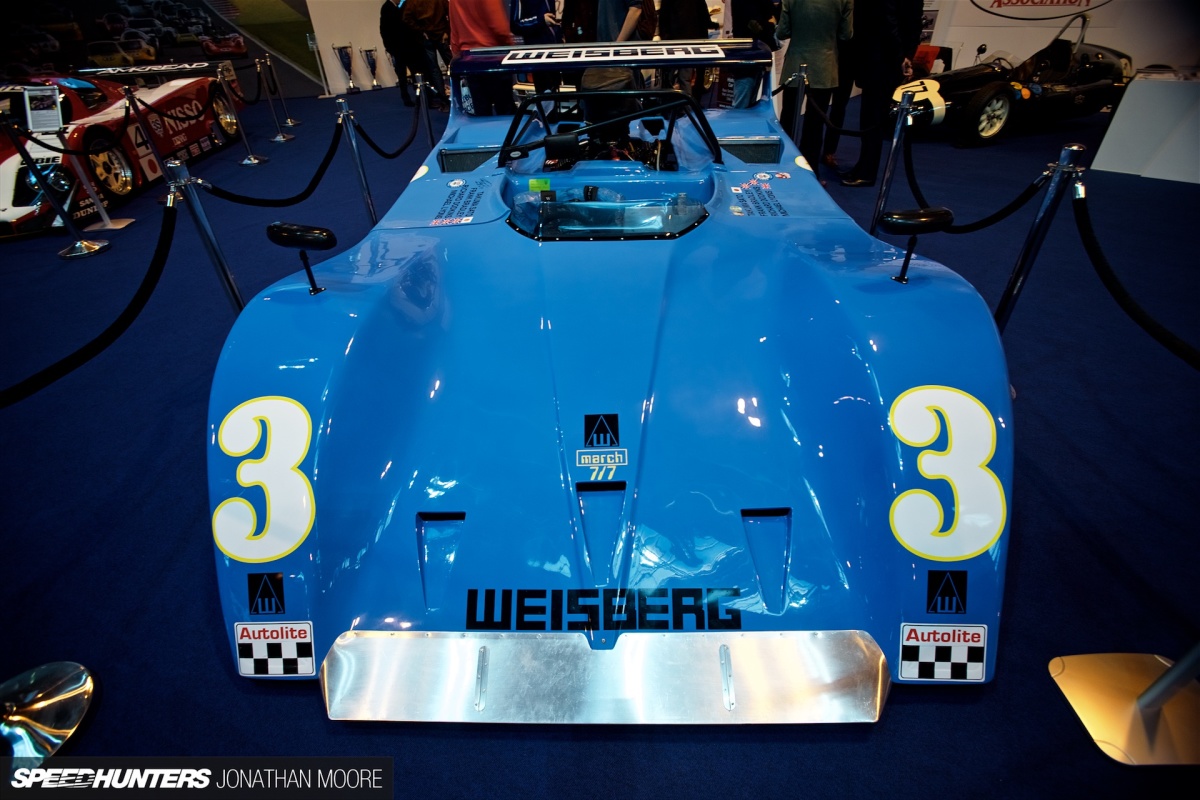 But you just can't beat big horses in big cars. Although a Porsche 917 or McLaren M8 might be more recognisable, March's 717 Interseries entry from 1971 (Europe's version of CanAm) was just as epic. With an 8.8-litre Chevy V8 mounted somewhere in the middle of that aircraft carrier-size deck, it fired up 820hp. What really put things in context was that this car holds the lap record around the Nürburgring's now abandoned southern loop, the Südschleife.
Along with a McLaren M8C/D, the March announced the best possible news, that the Silverstone Classic will hold a CanAm race this year, with a 50-car grid on the cards. It's enough reason to block out July and make travel plans right now.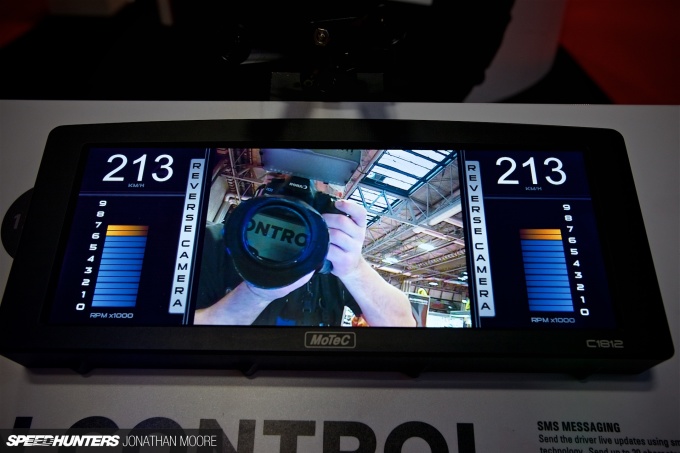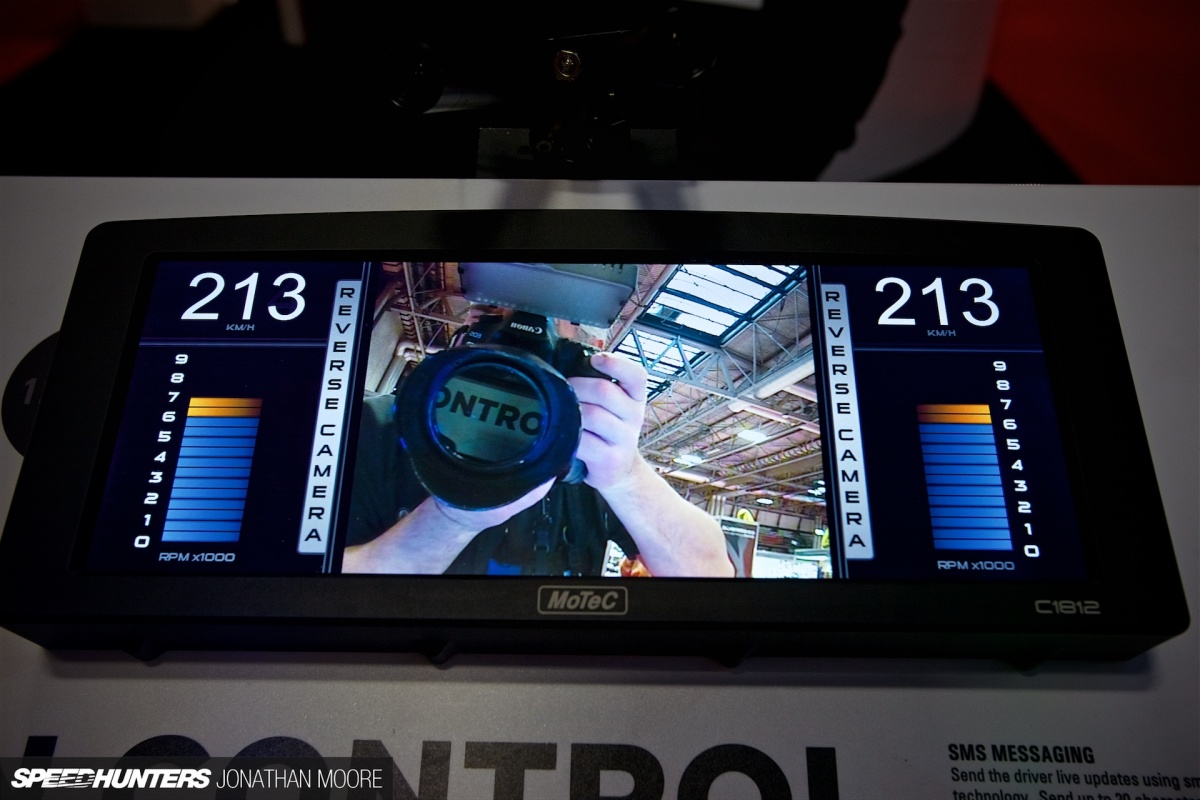 As ever, there was so much to look back on at Autosport: the technology and engineering sections could take up a day on their own. You always bump into people you know, get updates on various projects and find out about new ones for the year ahead. You can also see kit that you'd really, really like in your own car…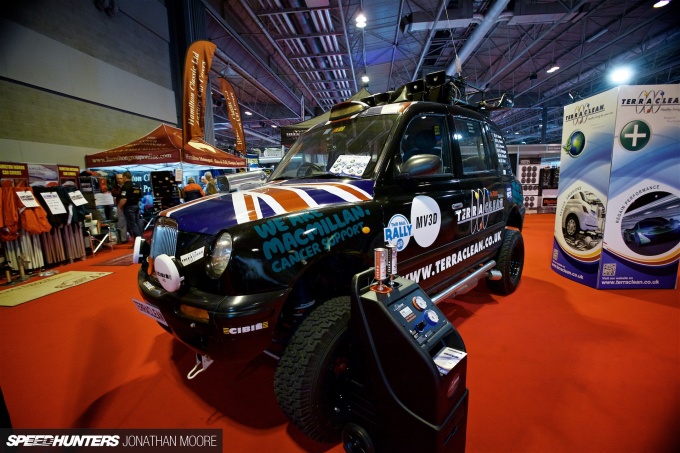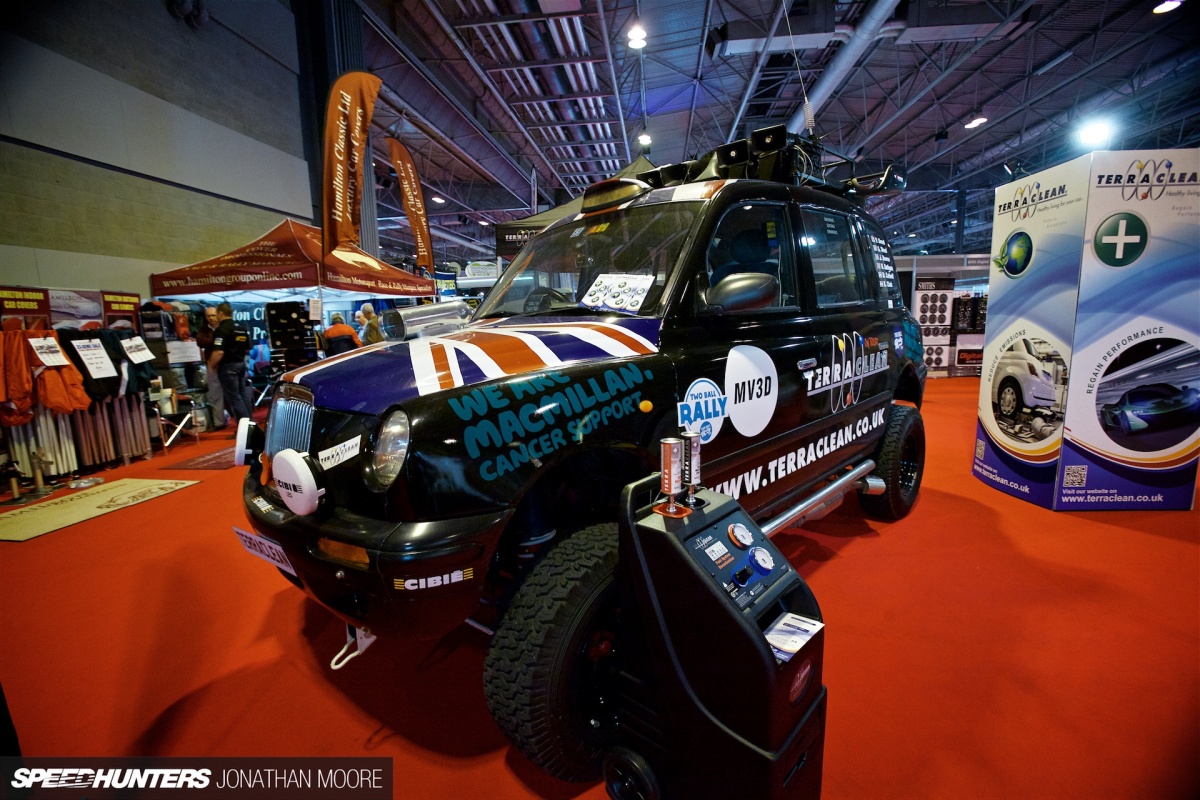 When the show eventually winds down at the end of the evening and it's time to leave, there's always the option of a cab home. Now, if only this taxi was on the streets on London, I'd get home a lot quicker…
Jonathan Moore
Instagram: speedhunters_jonathan
jonathan@speedhunters.com
Cutting Room Floor