Once you've seen a Gene Winfield kustom you'll forever be able to spot another.
Such was the case when I rounded a corner near the Eastwood booth at the 2015 SEMA Show to find a chopped '52 Chevy with all the traditional touches.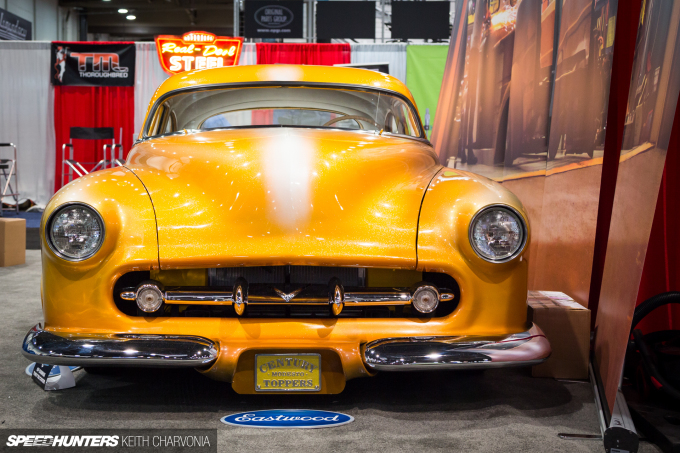 I knew exactly what I was looking at, and it instantly brought a smile to my face. There was Gene's signature blended paint job, with the skunk stripe running right up the middle.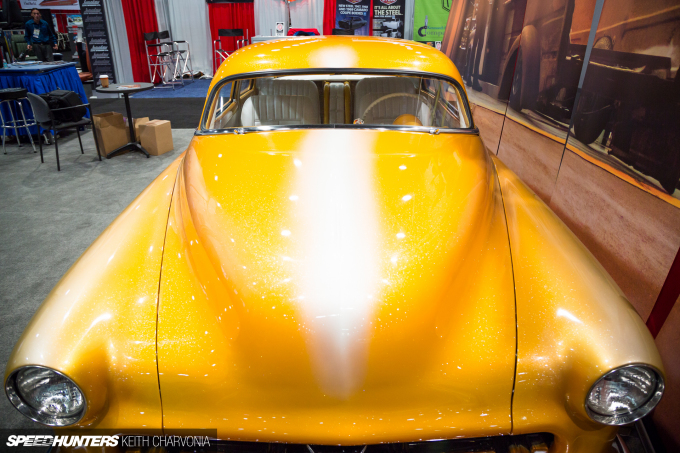 Using House Of Kolor candies and pearls, Winfield spends hours, sometimes days, in the paint booth laying down the sort of custom paint jobs that only he can create. This '52 Chevy is no different.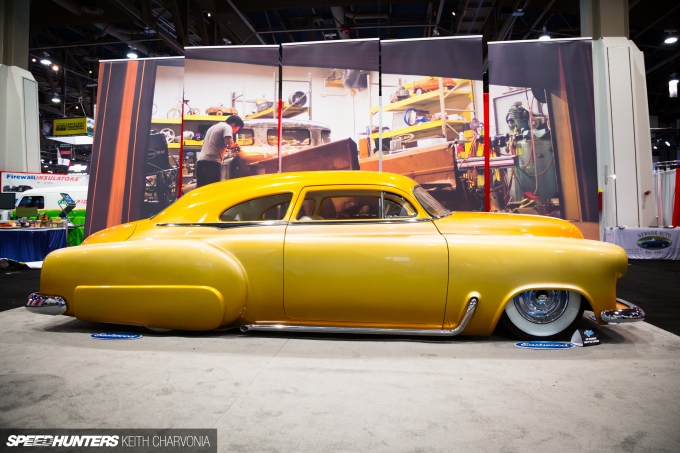 Eastwood, maker and seller of all sorts of automotive tools, has been partnering with Gene Winfield in recent years, and its SEMA booth reflected this perfectly with a backdrop of Gene working on a project, and then this masterpiece sitting front and center.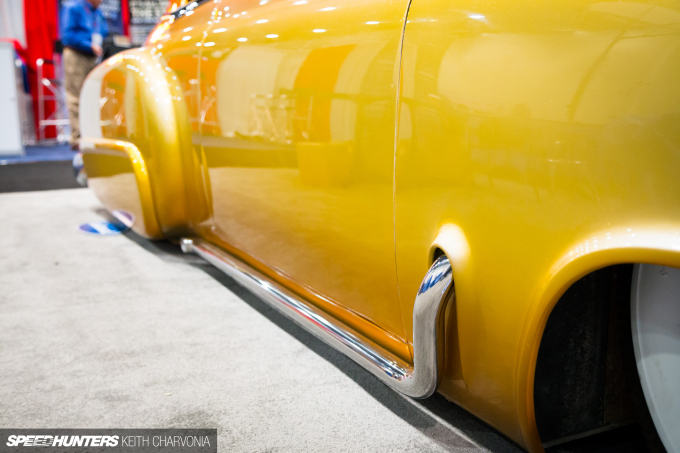 One of the old school touches was a set of stainless side pipes, which I heard can actually still be purchased from Winfield Rod & Custom.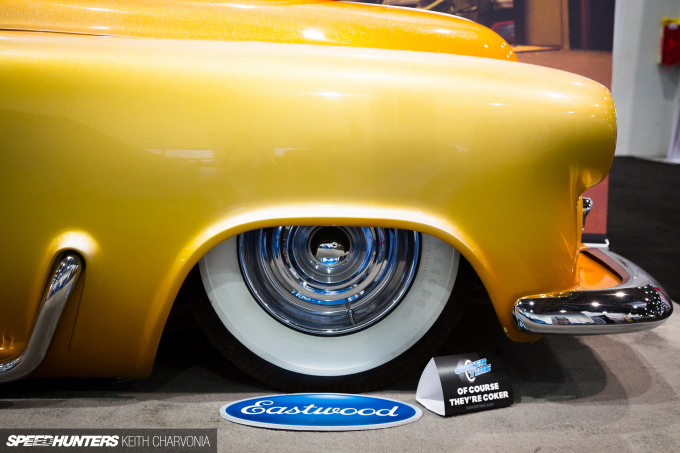 Of course, the kustom Chevy was slammed, riding on air and tucking nearly half of the front wheels.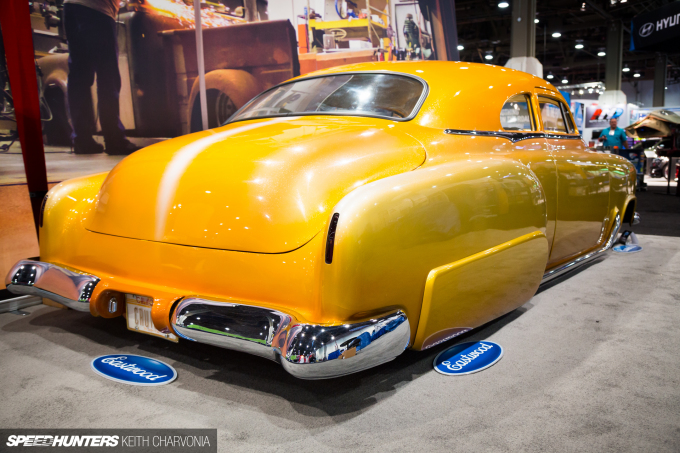 The rear wheels and tires were completely hidden under a set of Mercury Turnpike Cruiser fender skirts, reshaped to match in with the Chevy's rear quarter panels.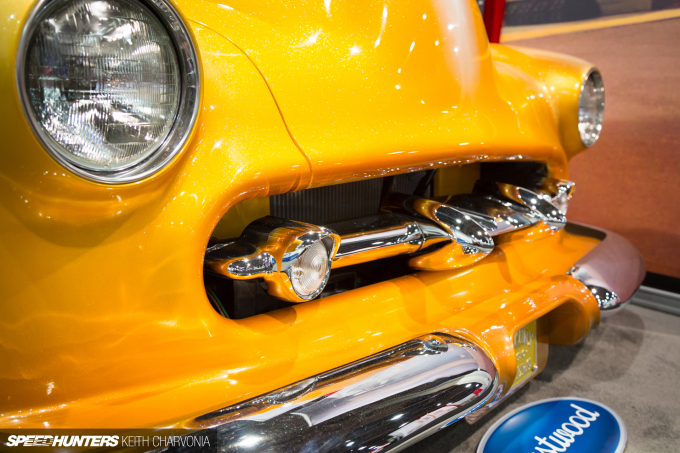 I had a hard time placing the front grille, and for good reason. A call to Winfield revealed that it's actually made from pieces off three different cars: '57 Chevy, '53 Thunderbird and '50 Caddy.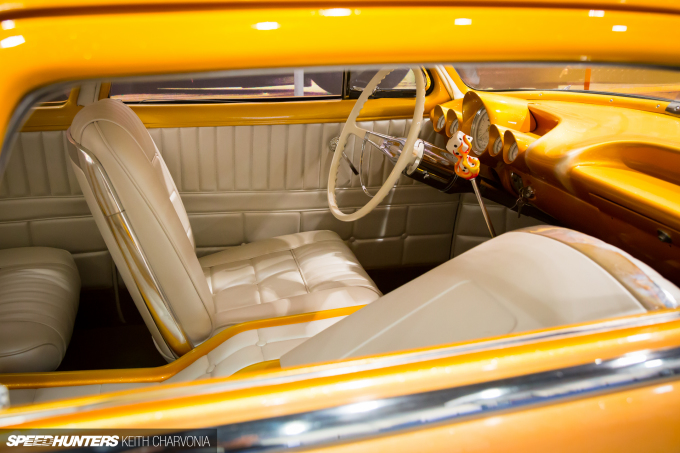 Cars of the '50s and '60s had so many great parts to choose from. Here we see '60s Thunderbird seats and a '59 Chevy dash which has been narrowed for a proper fit.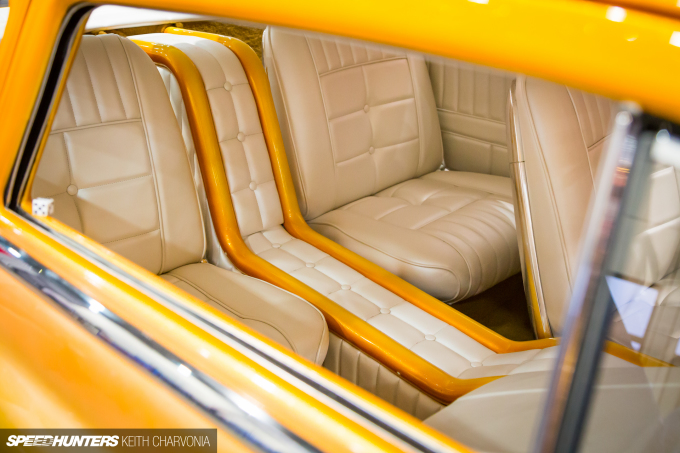 Four Thunderbird buckets were used, with two acting as the rear seats. A center console runs all the way through the car, and was made by simply bending tube and filling the center with upholstered panels.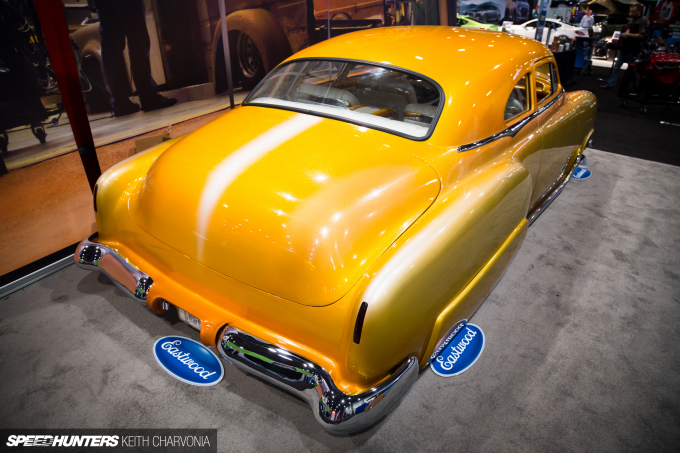 Gene is into his late '80s now, and still turning out world-class cars. The Chevy was built for two Japanese brothers, and after making its way to the Grand National Roadster Show and Sacramento Autorama, this true American kustom will be shipped to Japan where its owners are sure to be thrilled.
Keith Charvonia
Instagram: SpeedhuntersKeith
keith@speedhunters.com
Cutting Room Floor