Japanese Excellence
After so many years living in Japan, I often step back and think about this country and its people, which at times is so confusing and different from what those in the Western world may consider normal. Yet, Japan still manages to do just about everything so damn right.
Ever since the Japanese decided that it was time to step away from the dark ages and modernise their loved island nation, they approached their development in a curious way. Seeing as they had joined the party a good century too late, it would have been a futile attempt to try and catch up to the rest of the world from scratch; so they swallowed their pride, accepted that they were lagging behind and set out to observe the Western world, taking lots of notes in all areas of heavy and not so heavy industries. They brought home the knowledge, implemented it, refined it, sprinkled it with a lot of blood, sweat and tears, and a few decades later Japan was leading the world in all areas of technology.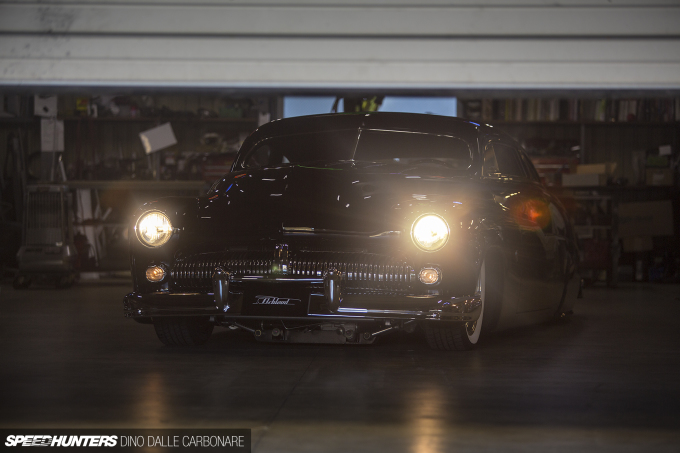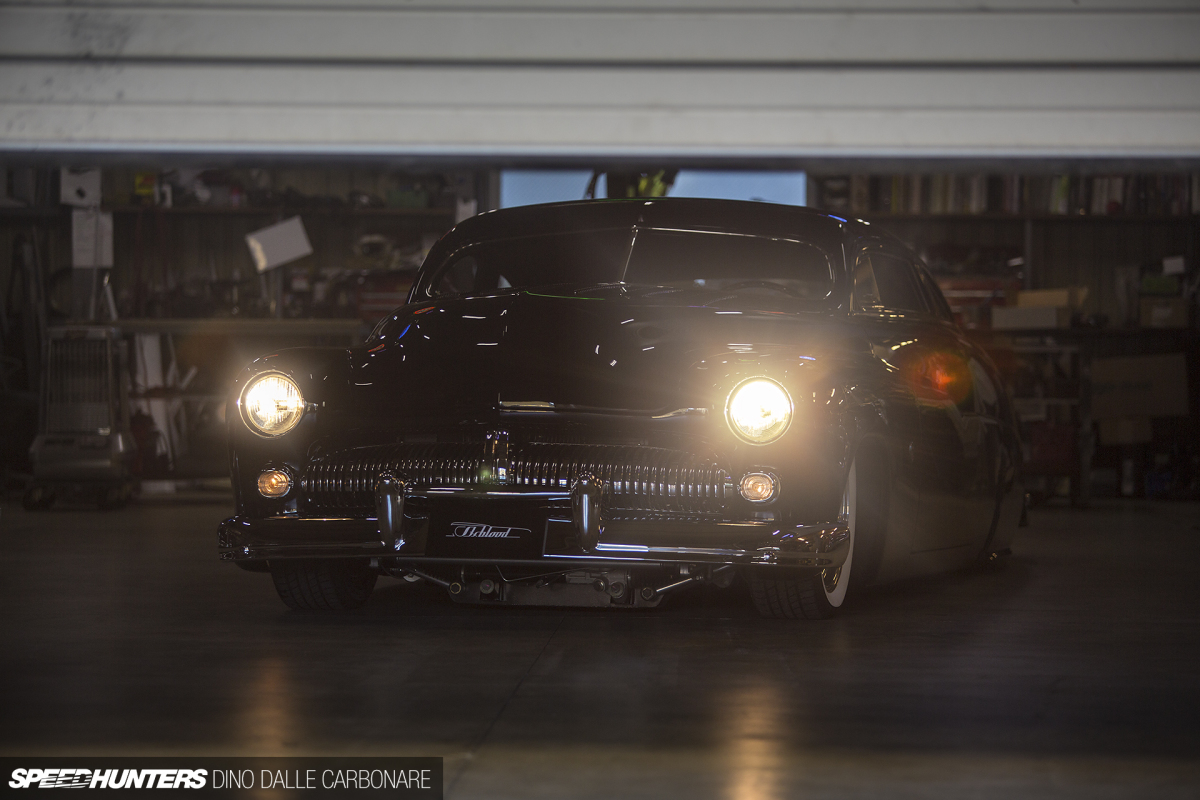 Now, maybe it's this sort of background that pushes the Japanese to still be so good at doing so many different things, like building cars for example. Or maybe the guys that are creating the cars we pore over just have a ton of talent. It's probably a combination of both, because when it comes to the custom scene there has to be a lot of 'looking to the West' for inspiration, as these definitely aren't your everyday sort of cars in Japan.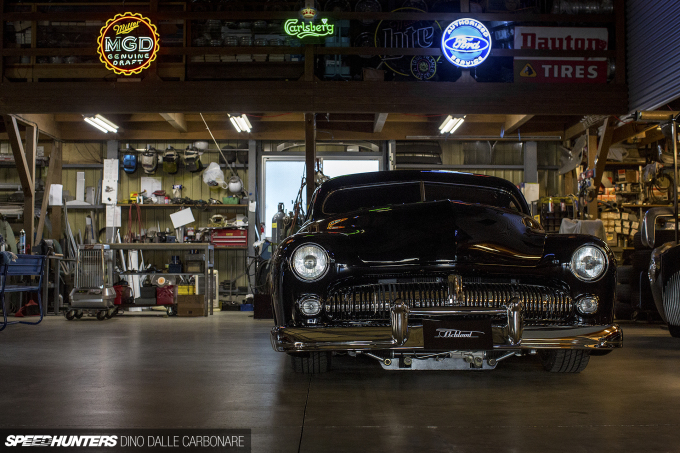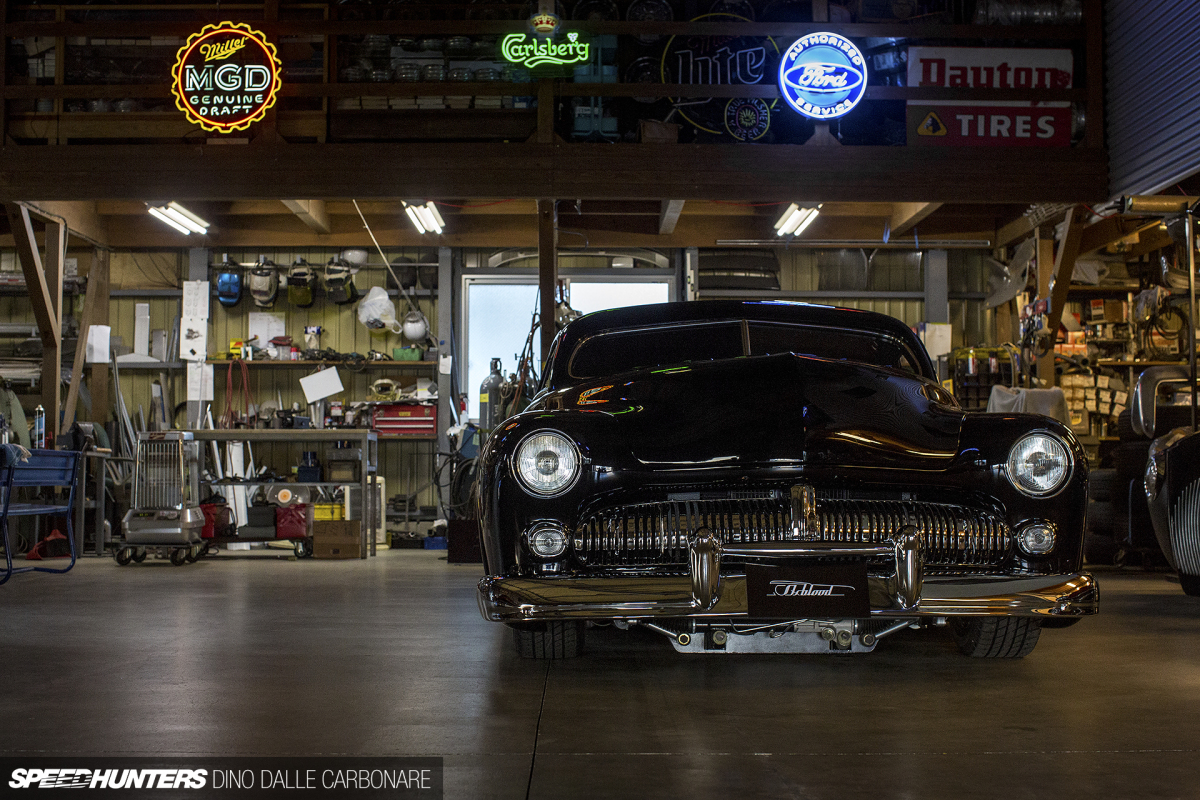 However, those at the forefront of this scene in Japan have been doing it for so long now that they've developed their own take and style on things. Fit Kustoms/El Classico is such a shop.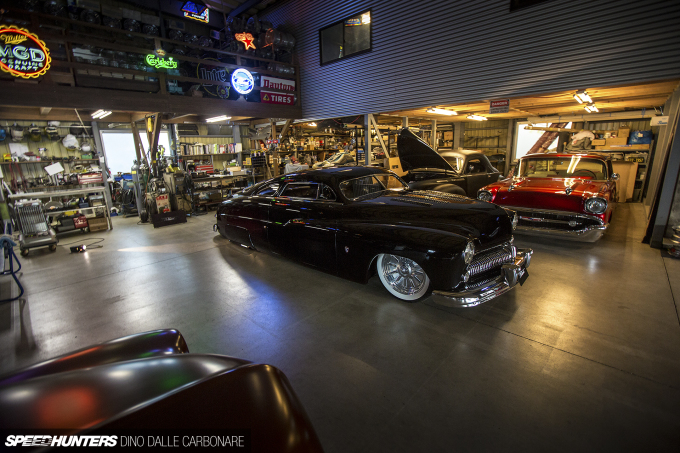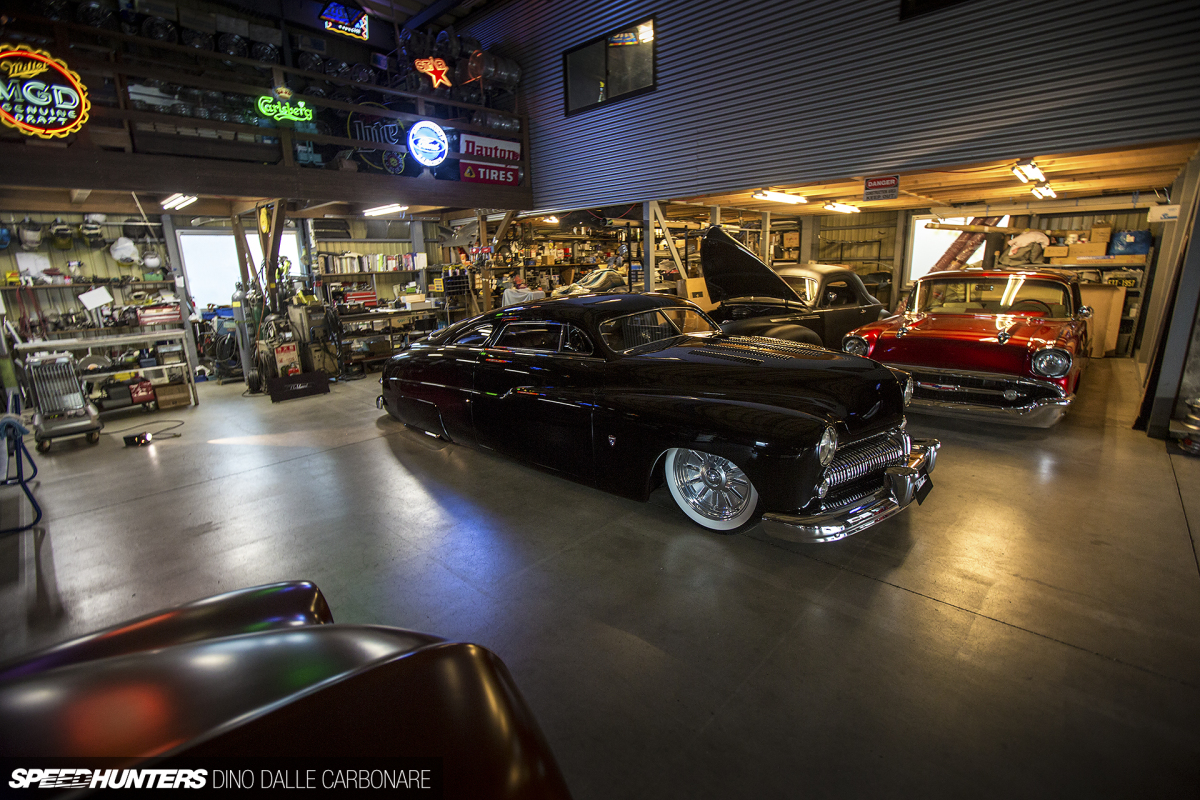 It's not the first time we've been here either; Mike dropped by the then new garage in Saitama a couple of years back, and took a look at a '57 Nomad which you can see nestled in the back of the picture above. But what brought me out to the workshop this time is the car that's parked front and center – the winner of the 2015 Best Kustom award at Mooneyes' recent Yokohama Hot Rod Custom Show.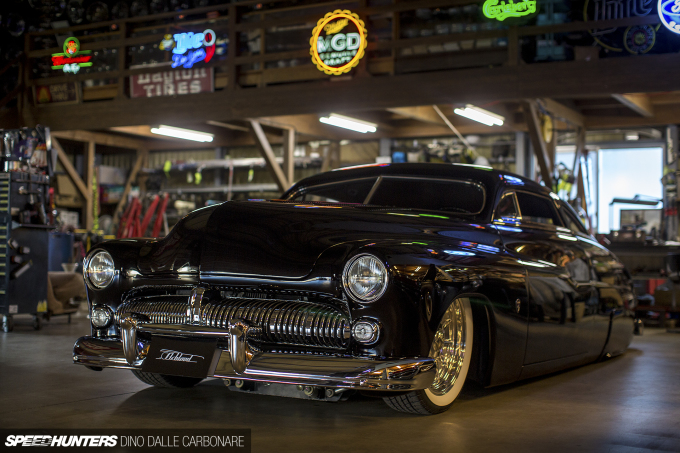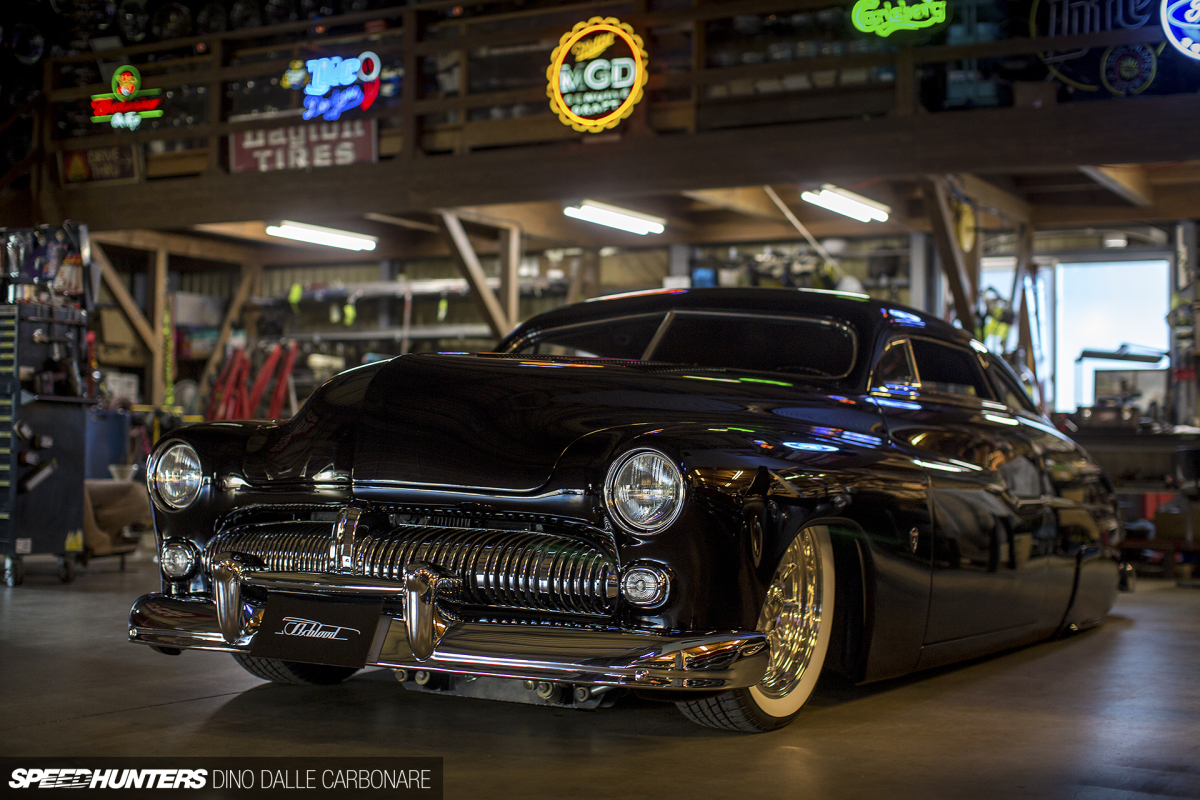 The moment I saw this 1950 Mercury Eight being polished and set up at the Fit Kustoms/El Classico booth I knew I had to feature it. Lead sled Mercs like this are quite popular in Japan's custom scene, but they usually feature complex and intricate color schemes that although are impressive from a technical point of view, are just a bit much for my taste. I like simple things, or at least cars executed in a way that they seem simple when you look over the finished project.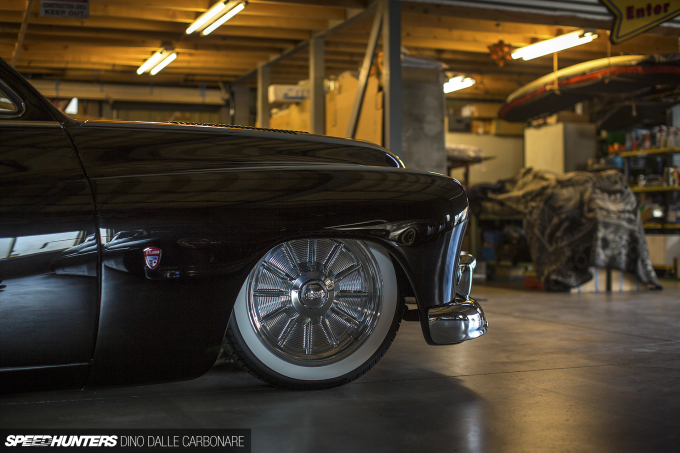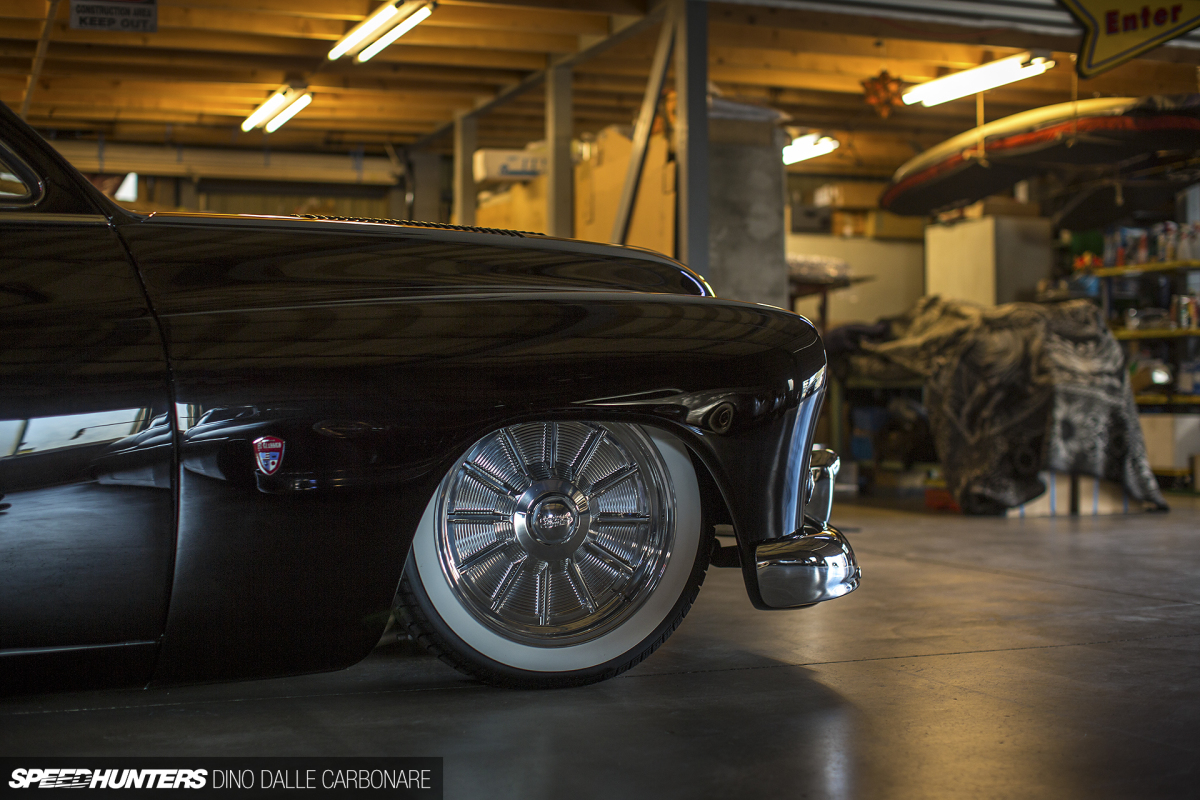 But don't worry, you'll understand what I'm getting at here after you've read through this feature in its entirety. And while the smooth, deep and glossy single tone color of the car was what initially drew me to it, there are so many more cool details.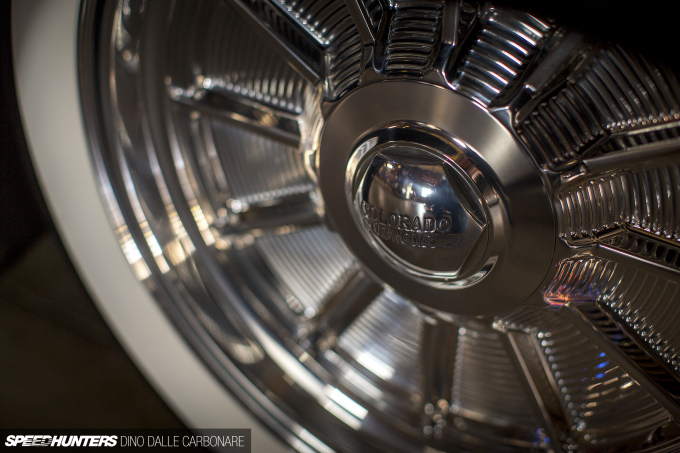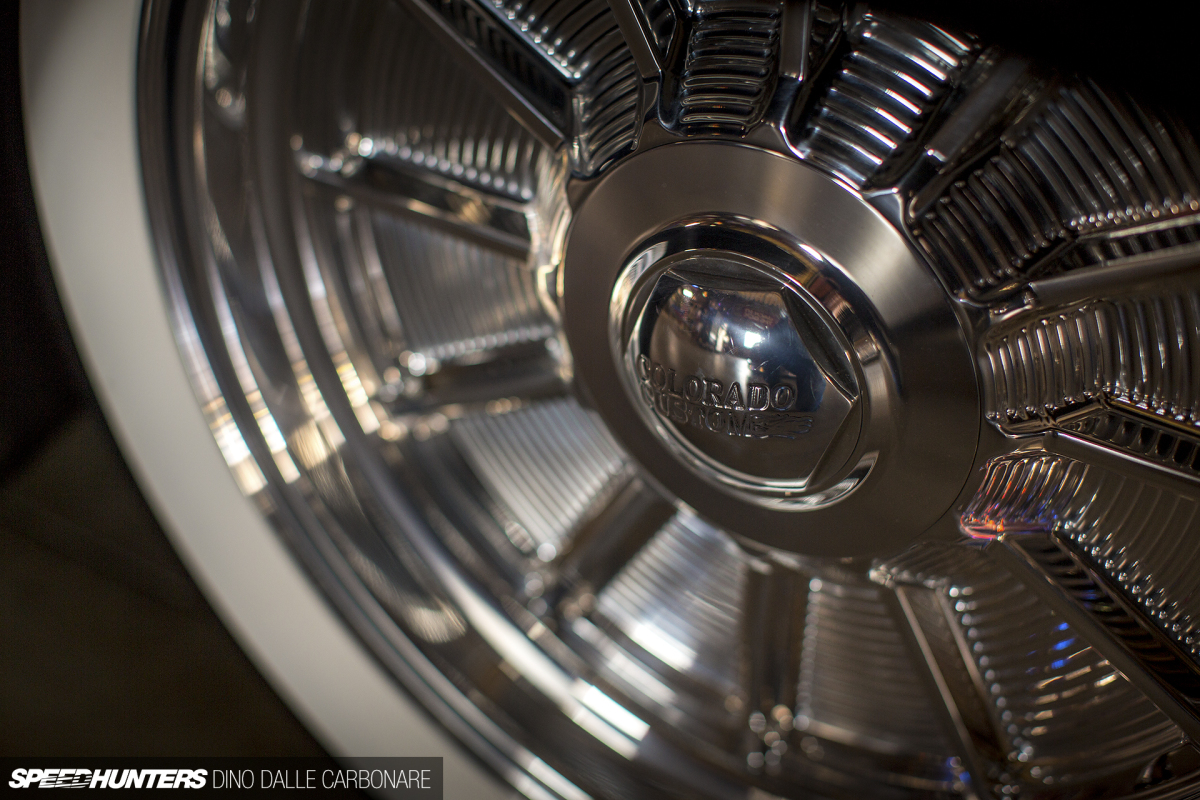 Like the Colorado Customs Segundo billet wheels.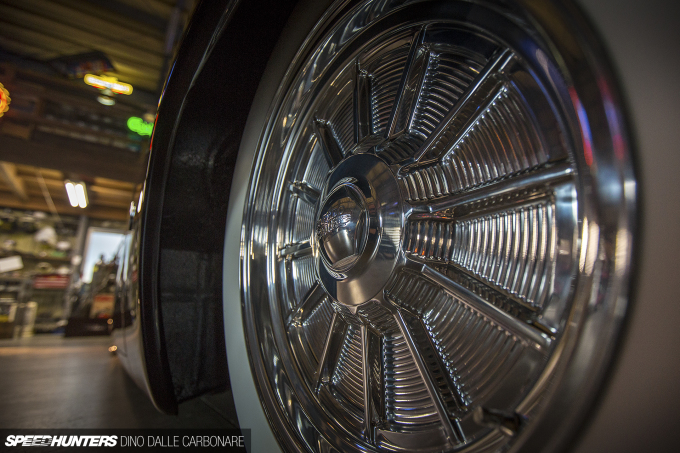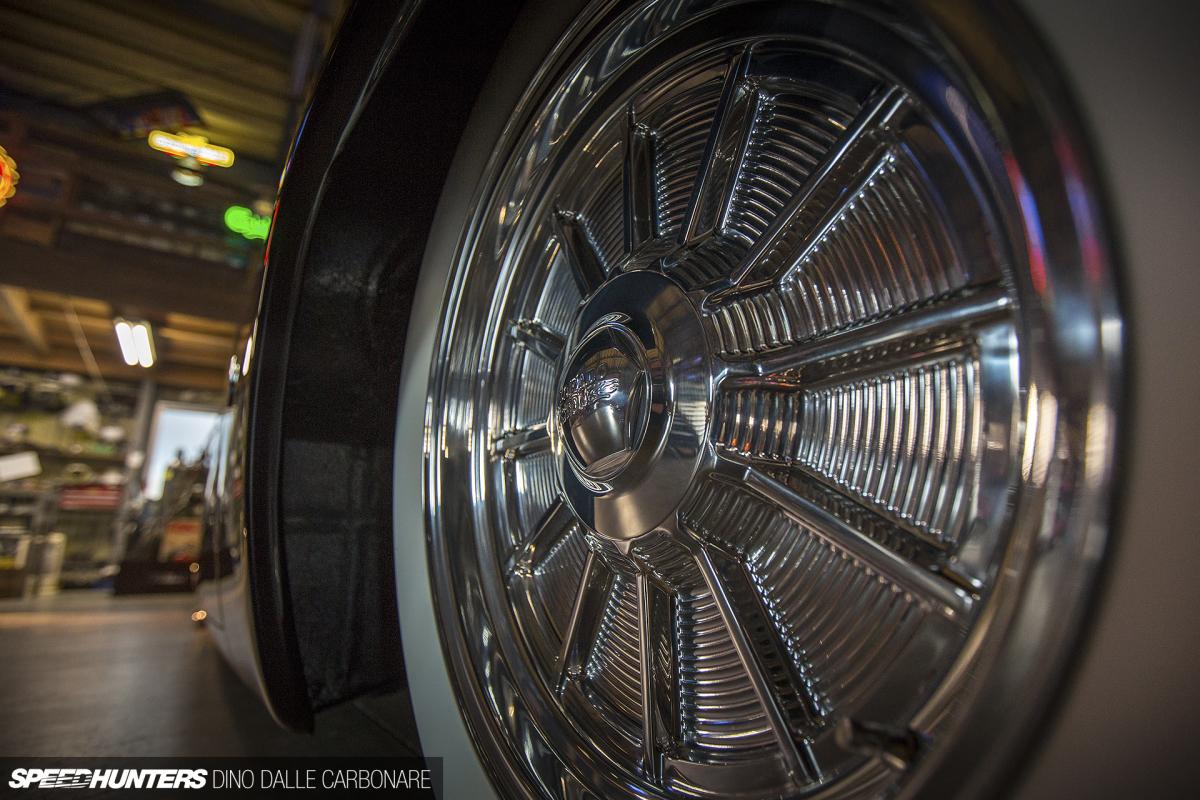 These were ordered in an unusually large 18-inch fitment and are shod with Diamond Back custom white-wall tyres sized 215/55R18. The Segundos really set the car off; not only because they provide a different look to most of the Mercs I've seen, but also because when it's parked up and aired out the rear wheels sit so deep up into the covered-off rear arches that you can barely see the tyres. These beautifully machined chunks of alloy also hide the made-to-order 6-pot Wilwood brake setup that helps haul the big sled down from speed.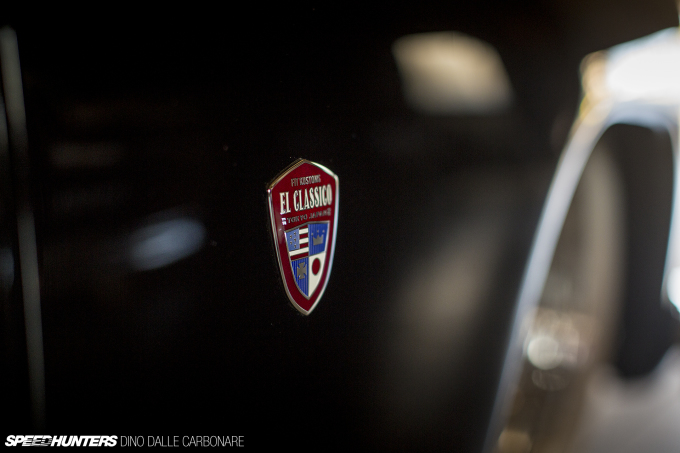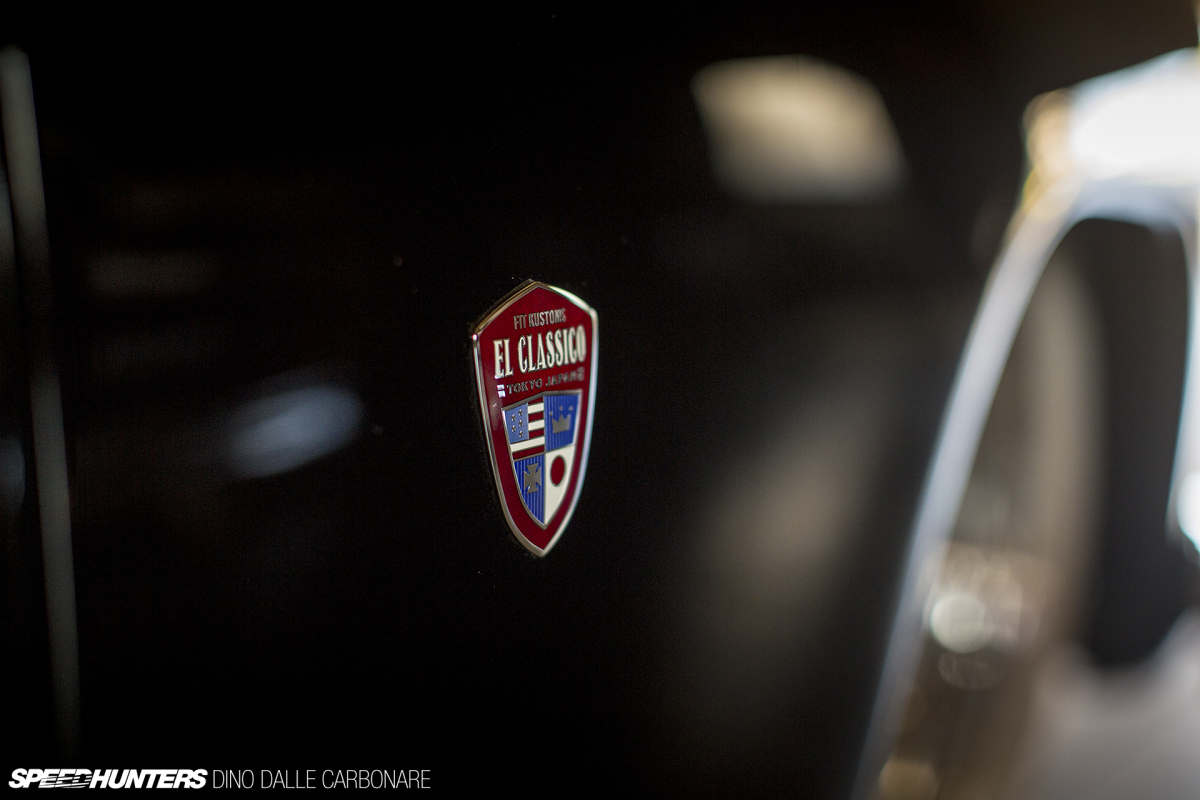 I often go on about attention to detail and execution, but it's something that really only stands out the most meticulously built cars I come across in Japan. And only the best that come out of this shop get to wear the 'El Classico' emblem. Remember it, because I'm sure this mark of excellence is one that many custom enthusiasts will strive to display on their own cars in years to come.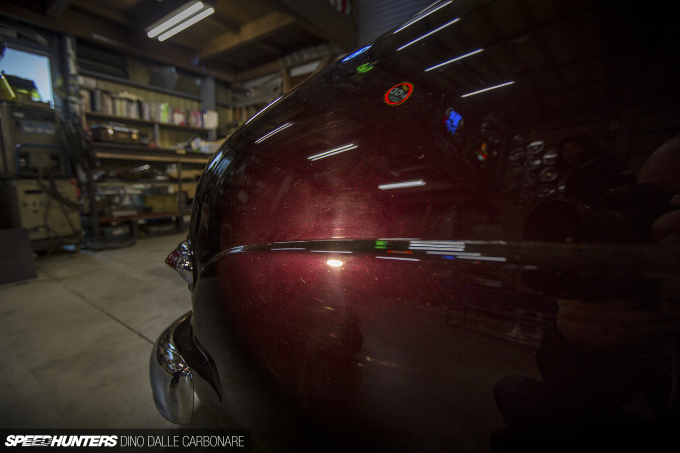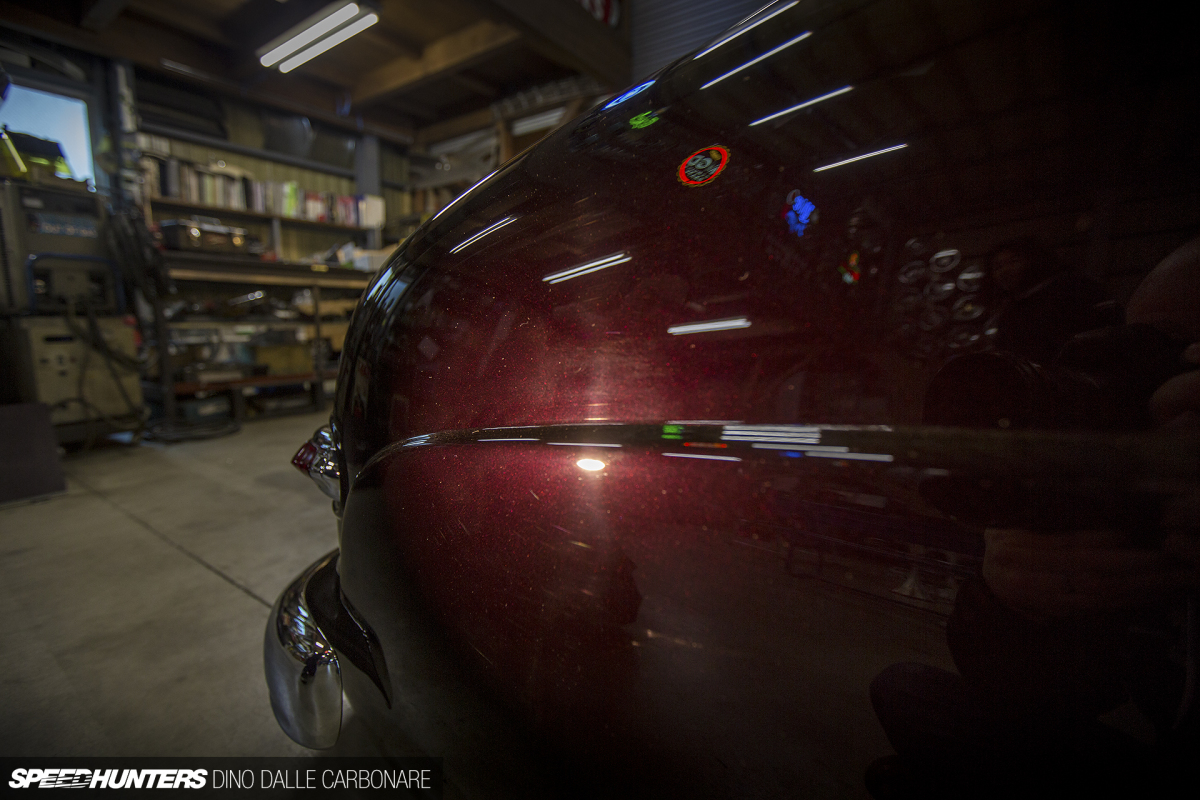 Sitting in the dimly lit workshop, the Merc might look like its sporting a plain black paint job, and that's what I thought too even after seeing it at the setup day of the Mooneyes show. But as soon as Sakuraba-san shined a light onto the rear fender, the car's name – Oxblood – all of a sudden made perfect sense.
I know what you are probably wondering, why not just bring it out and shoot it under the sunlight to get those deep metallic purple reflections to pop? In any other circumstance I would have probably done that, but this is a customer car that took a lot of money and time to get to this level of perfection, and a few days after my visit it was due to be put into a container and shipped to the US for a show. And I totally respect that; this is a unique creation, and seeing how careful Sakuraba-san and his mechanics were being with it told me just how much it meant to them, so I can only imagine what it must mean to its owner!
Time To Get Chopping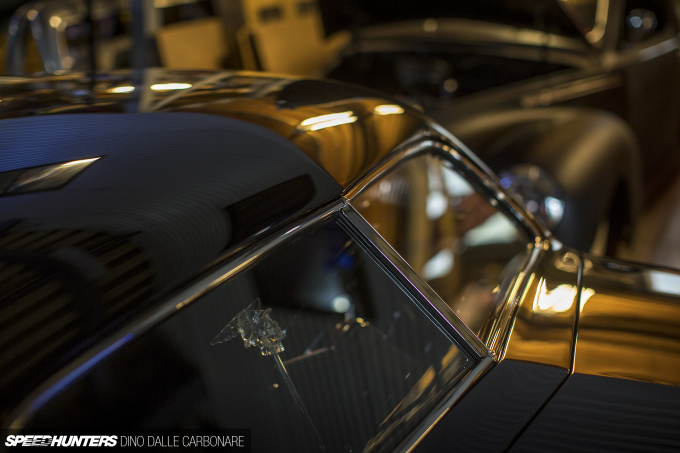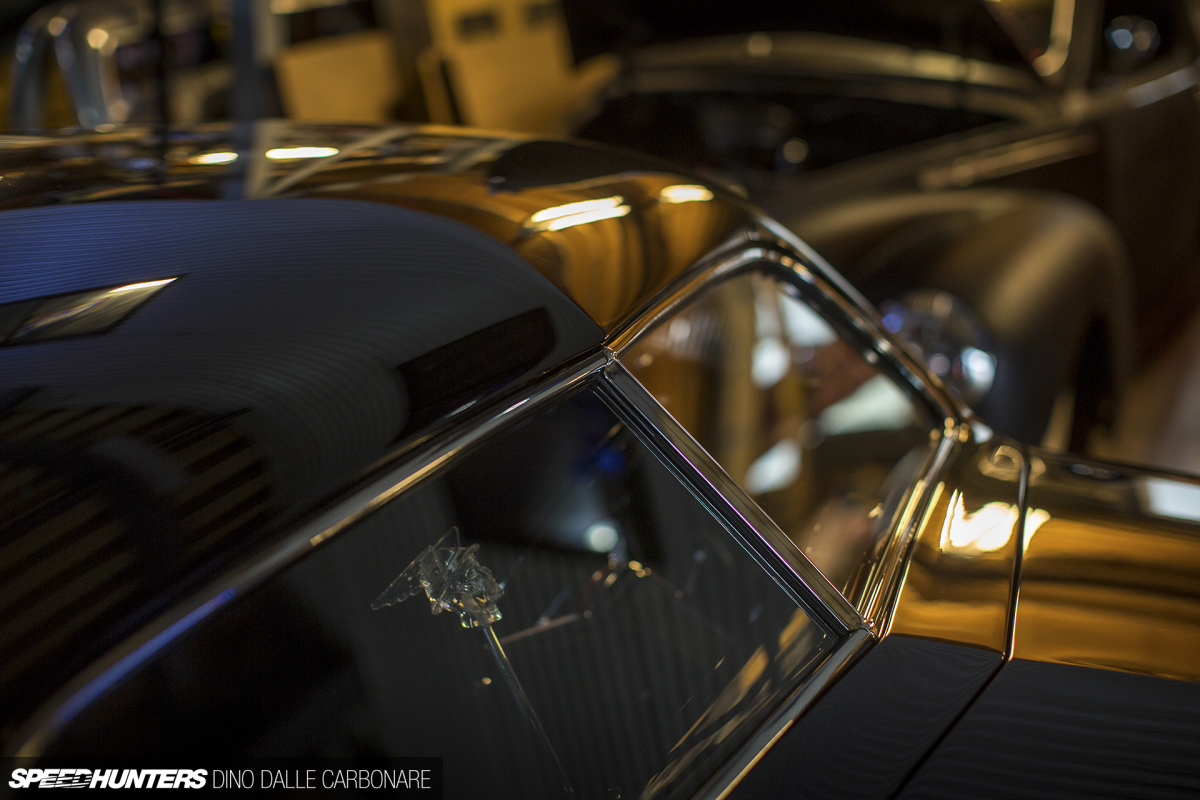 A ton of fabrication went into getting the roof chop to sit and look just right, and if you dig up a picture of how these Merc Eights looked from factory you can instantly understand what a roof lowering of this extent does for the overall appearance. The base car used for the build had been chopped previously, but Fit Kustoms refined the metal work along the entire roof line as well as around the front, side and rear glass. Speaking of, all the glass was custom cut for the car with special attention paid to the fit and finish.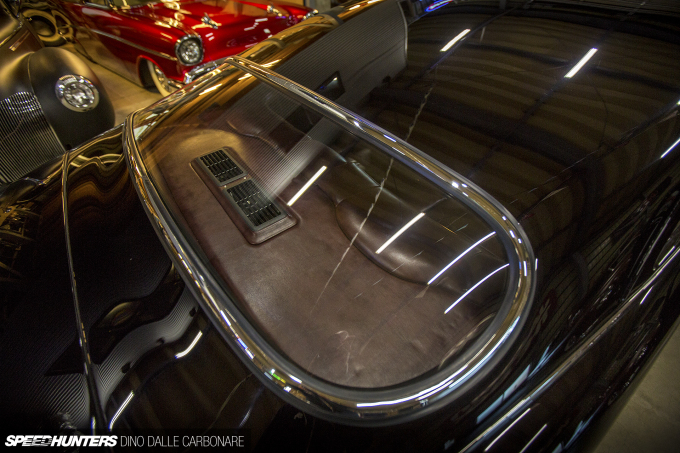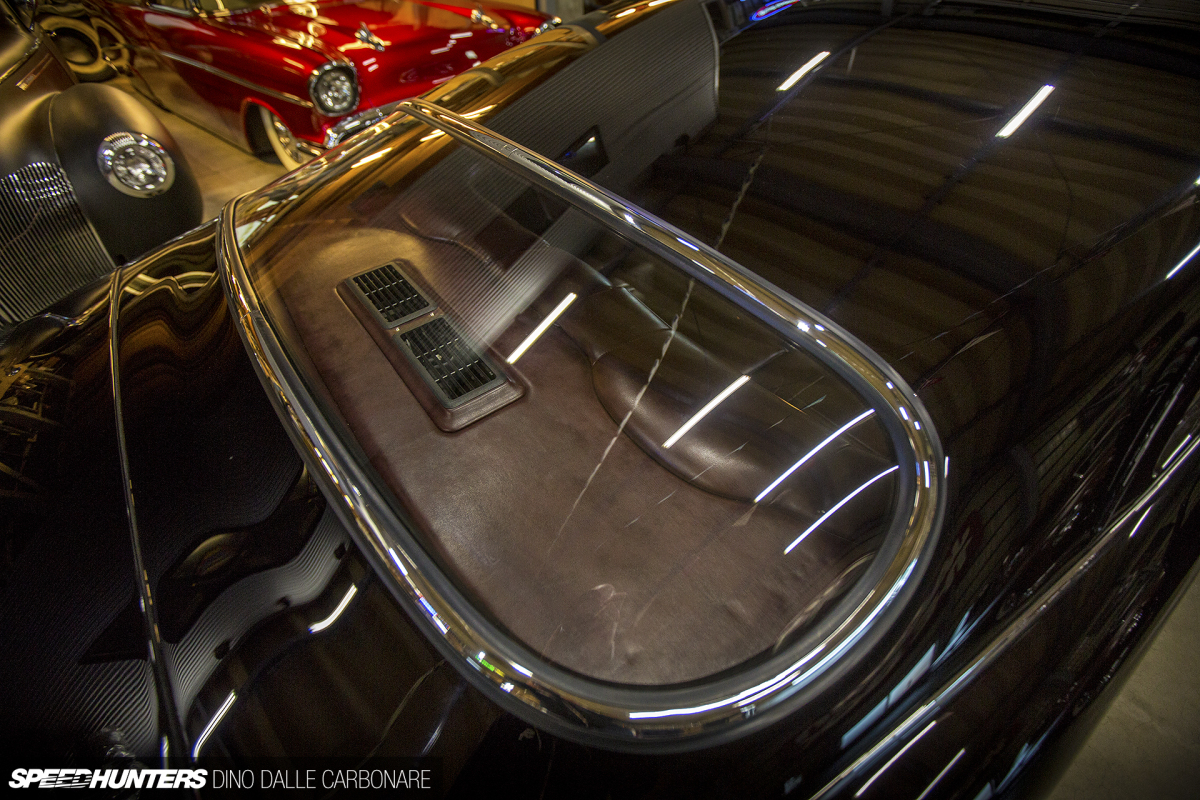 The angle the rear glass sits at is almost the same as that of the roof and trunk lines, and it's finished off with fresh chrome trim that can also be found around the rest of the Merc.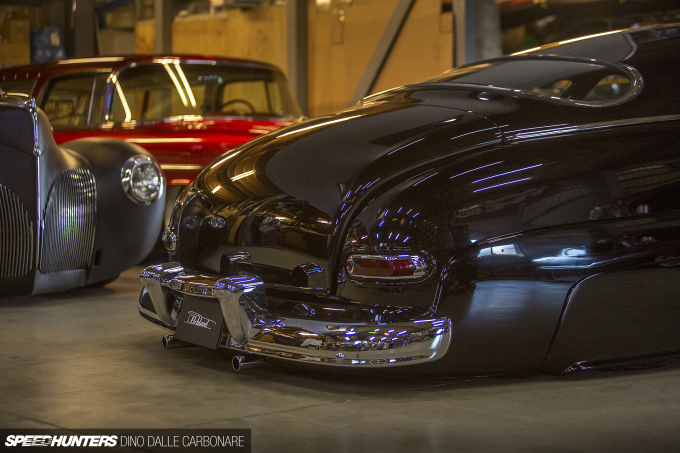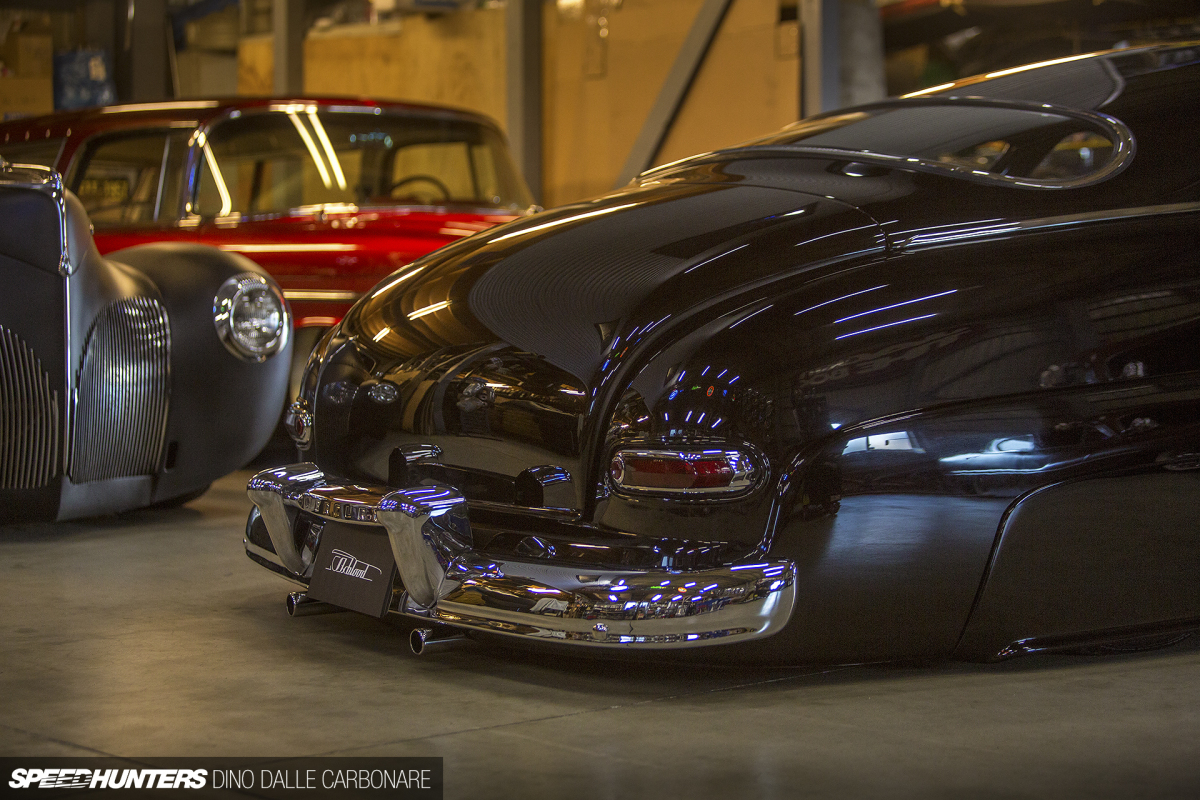 You'll probably get a better sense of the car's shape by looking at it from a lower angle. Like the front, the rear end sports slightly Frenched lights and bezels for a cleaner, more tucked look; something that has also been achieved by shaving every bit of trim right off, including the emblems, strips and door handles.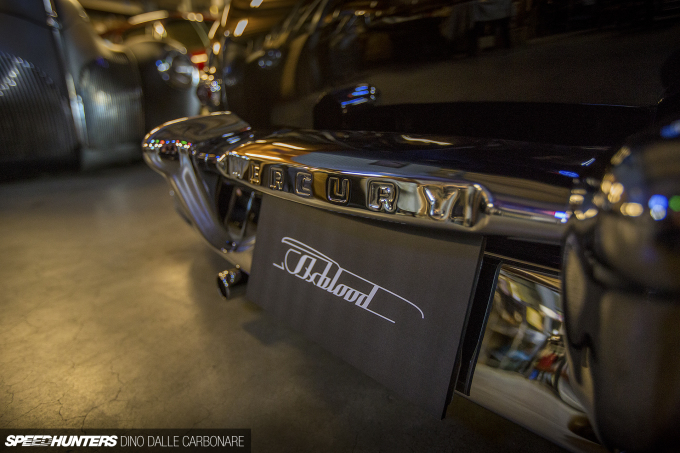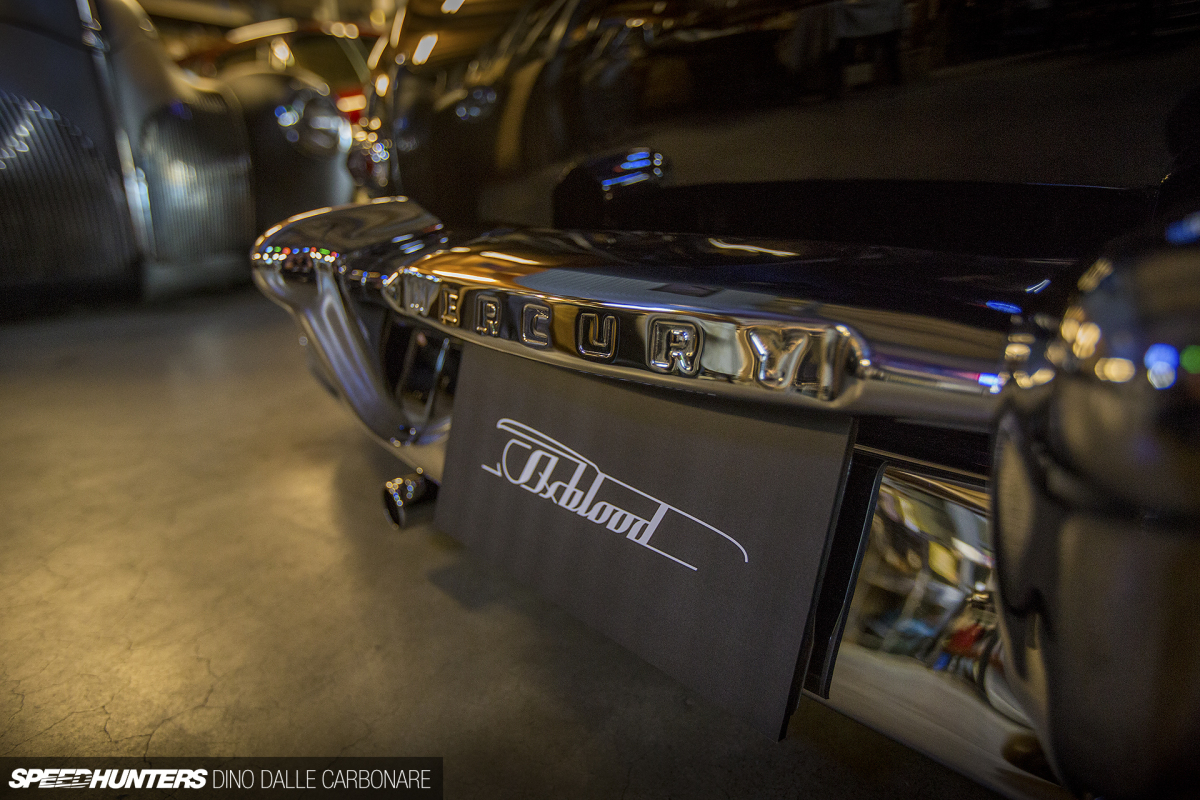 The big chrome rear bumper remains, sporting that iconic Mercury embossed central logo.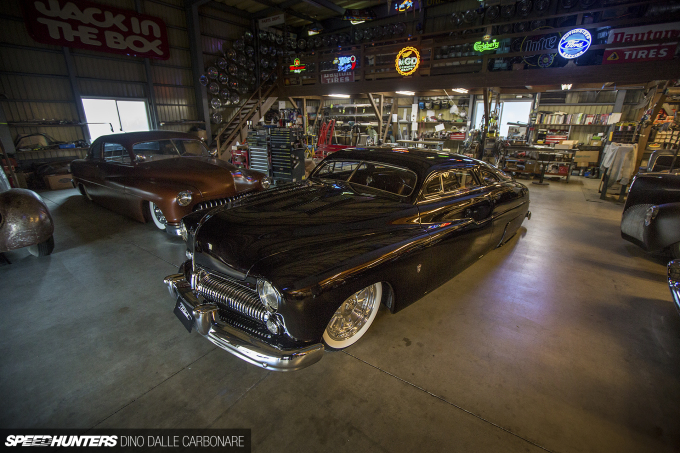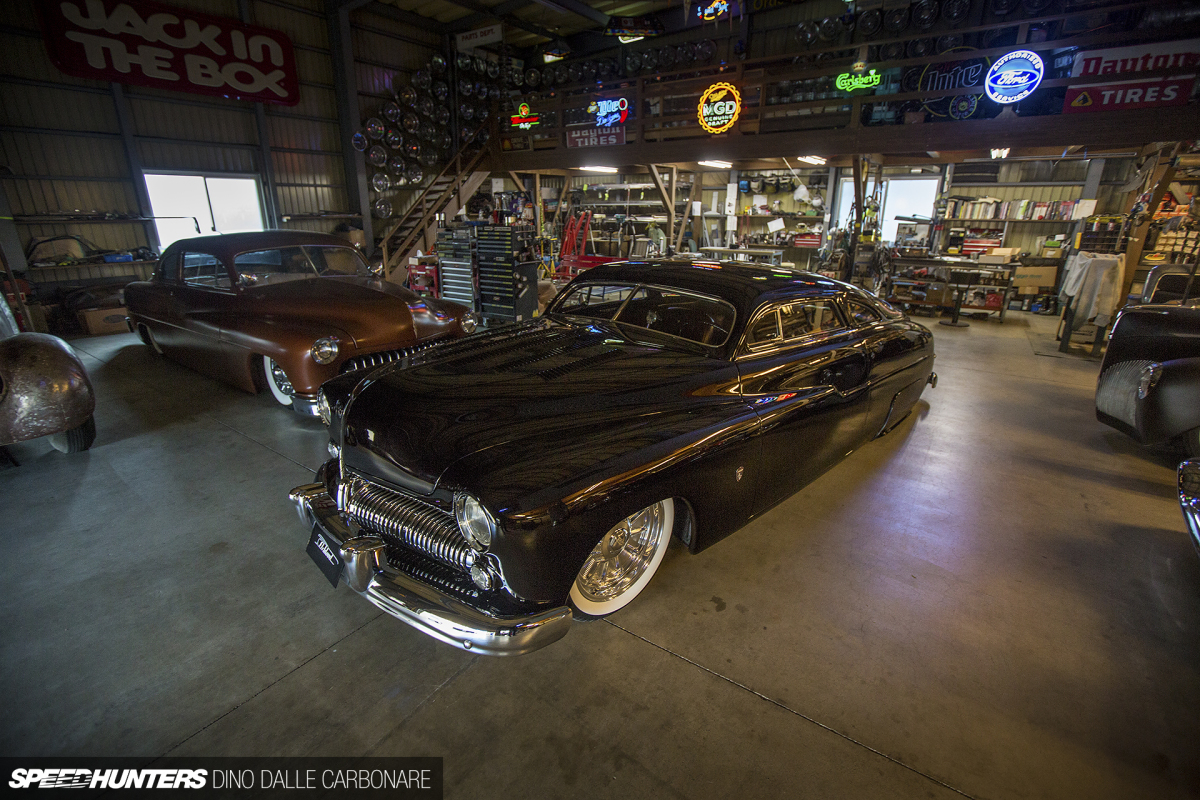 As you can imagine though, getting a car to look and sit just right means most of the work is hidden away underneath. Chassis-wise, the Merc features a Mustang II front clip conversion running tube arms and drop spindles, while the rear has been c-notched to get the back to drop right to the ground with the use of a parallel 4-link setup. It all rides on an AccuAir air suspension system with a pair of compressors feeding a small tank setup.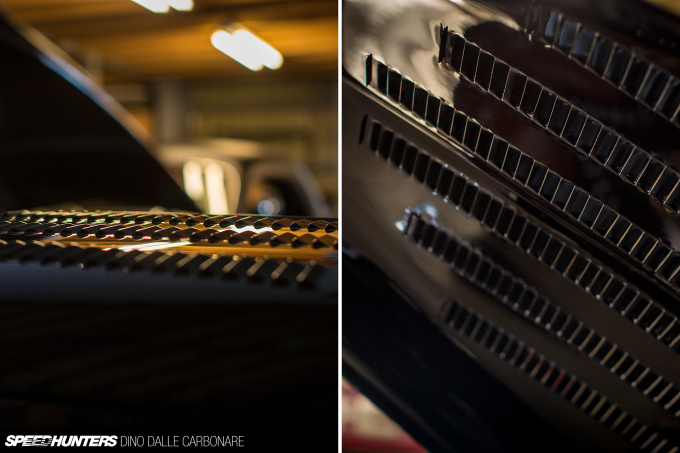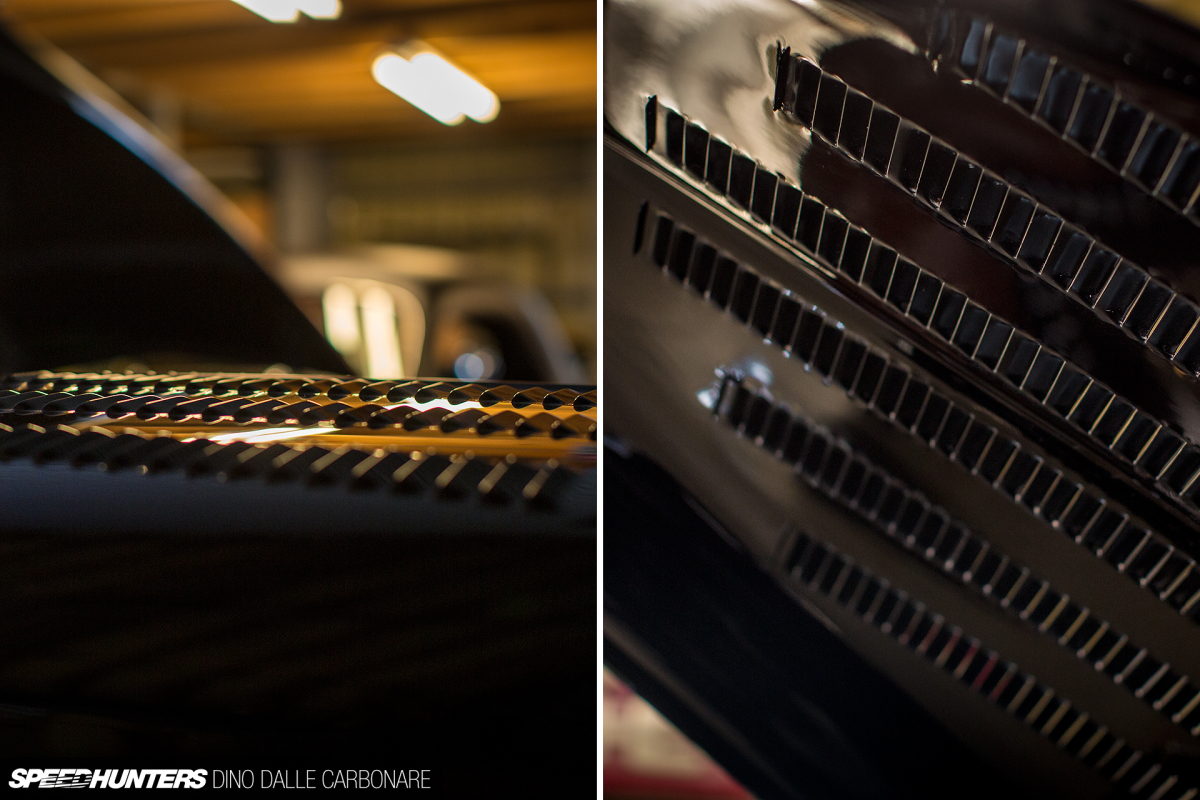 An old hot rodder's way to help dissipate heat from the engine bay is to louver the bonnet right above the engine, which is precisely what Fit Kustoms has done here. It's a functional yet style-oriented touch that looks really good.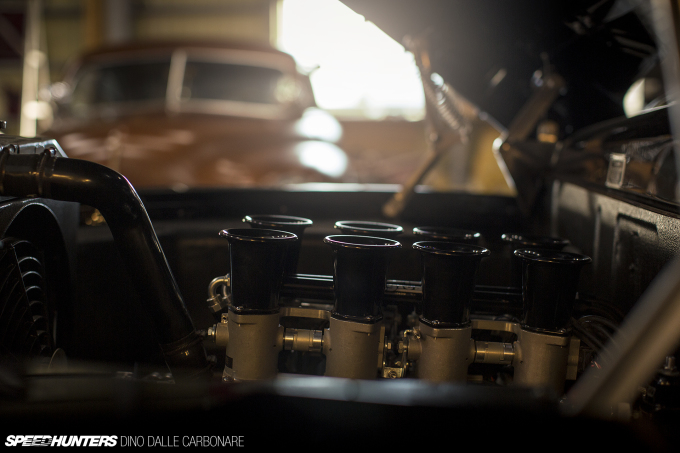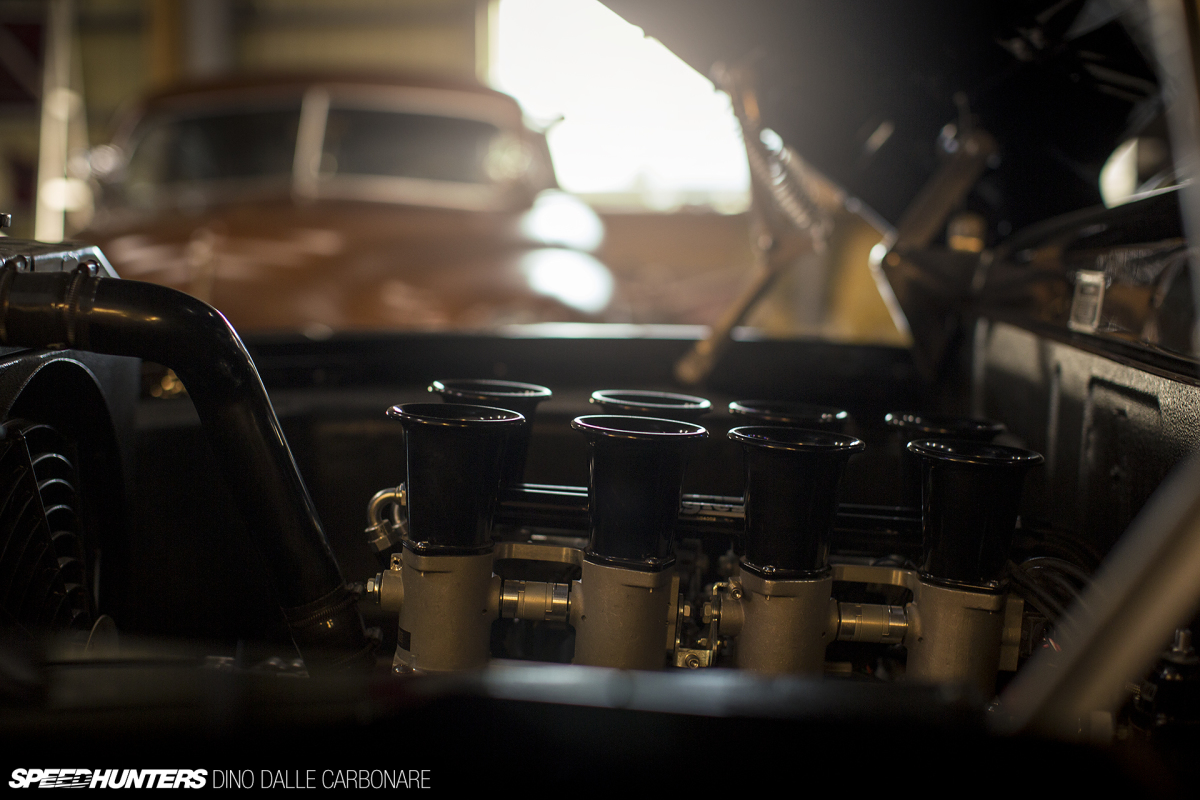 So what's the old Merc running? Well, like a lot of the cars that Sakuraba-san and his crew build, there was a big emphasis put on functionality. Japanese custom car owners drive the hell out of their cars, so having an engine that works without major headaches is a big priority.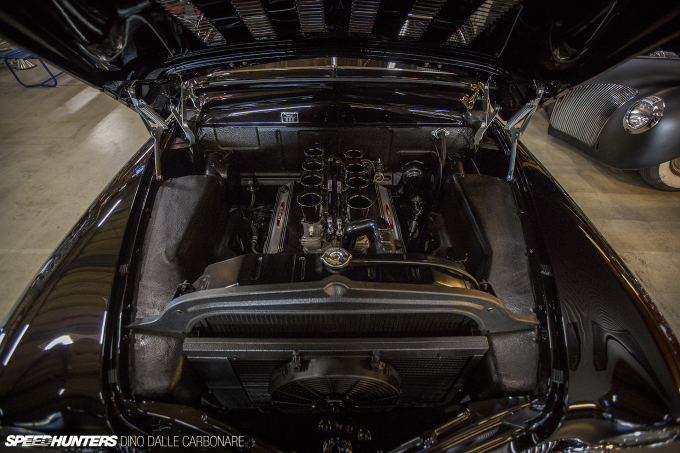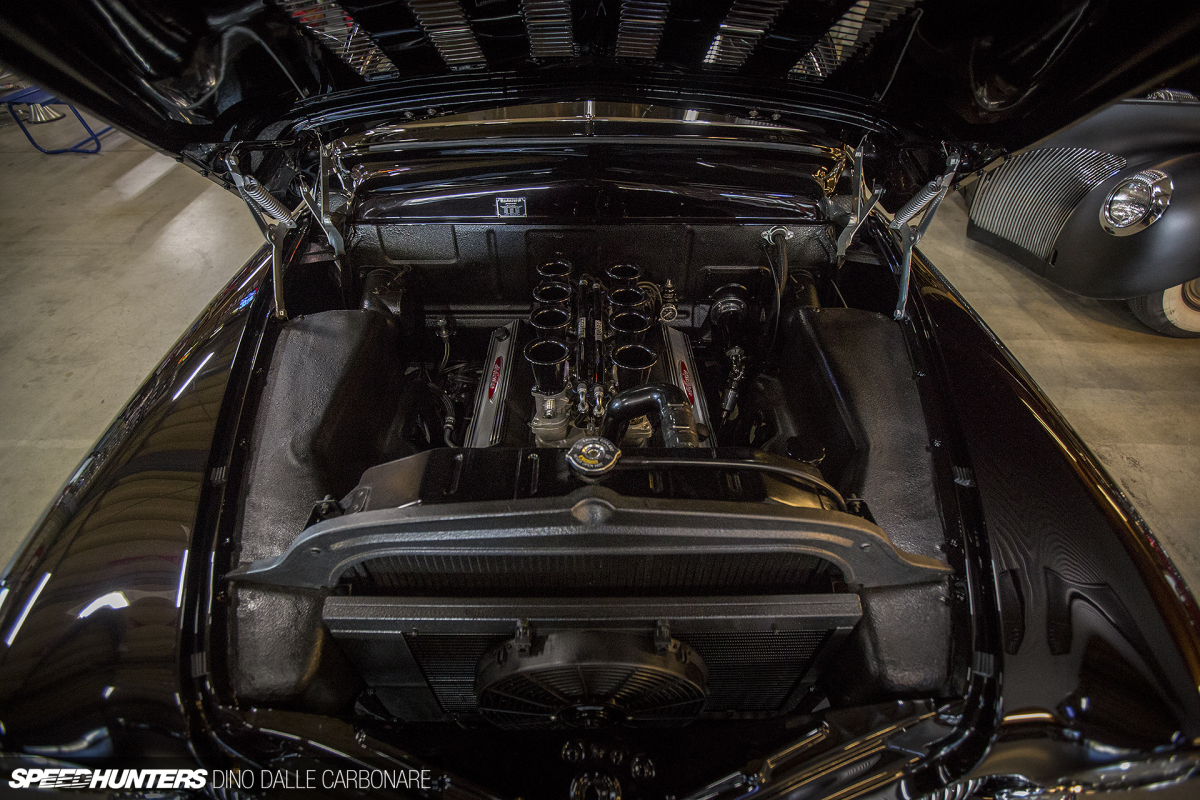 That's why a Chevy 350ci V8 crate motor was chosen for this project. It's a nice and simple engine able to deliver a broad spread of torque and a reliable 300hp straight out of the box.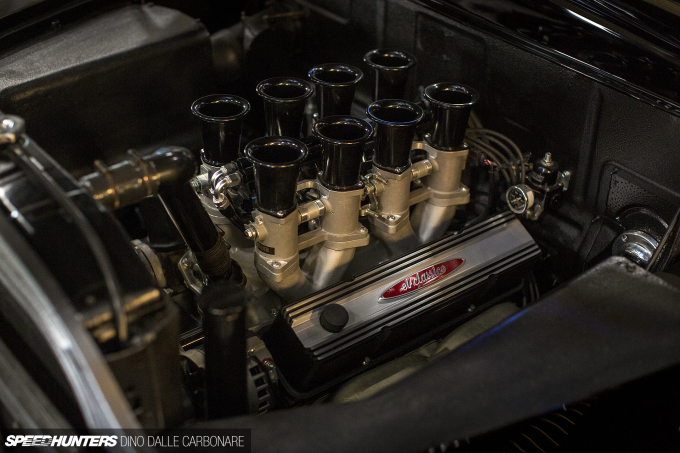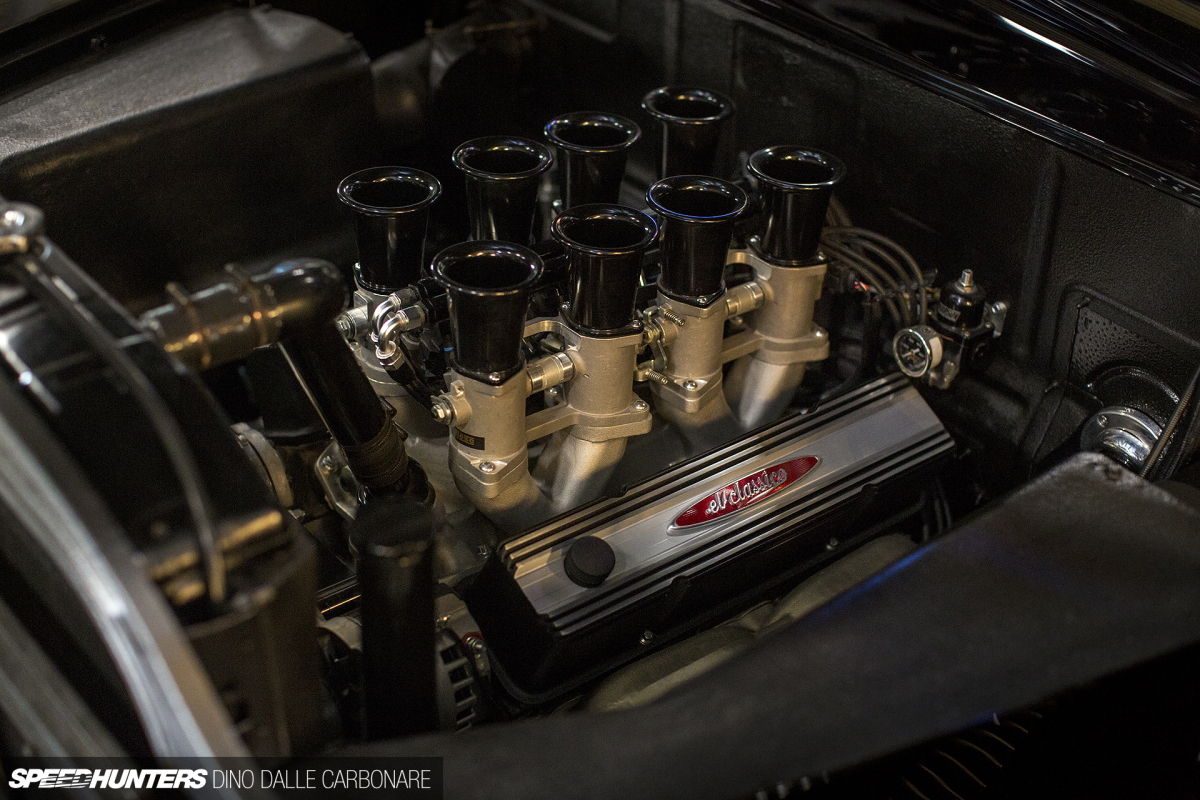 But that wasn't enough. A carb setup was just not going to do, especially in Japan where temperature and humidity variations through the year can create real issues.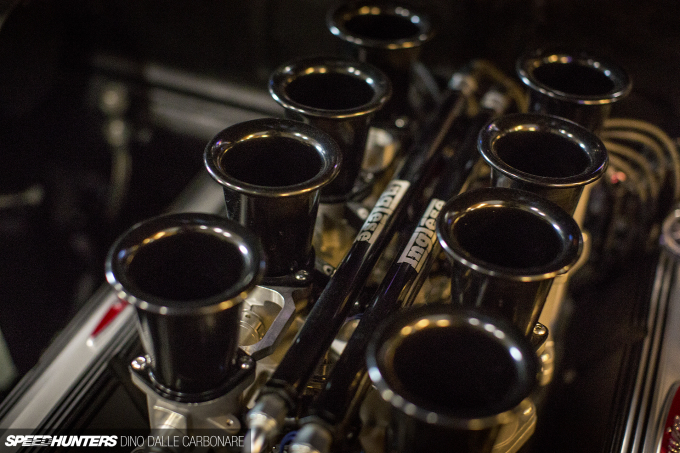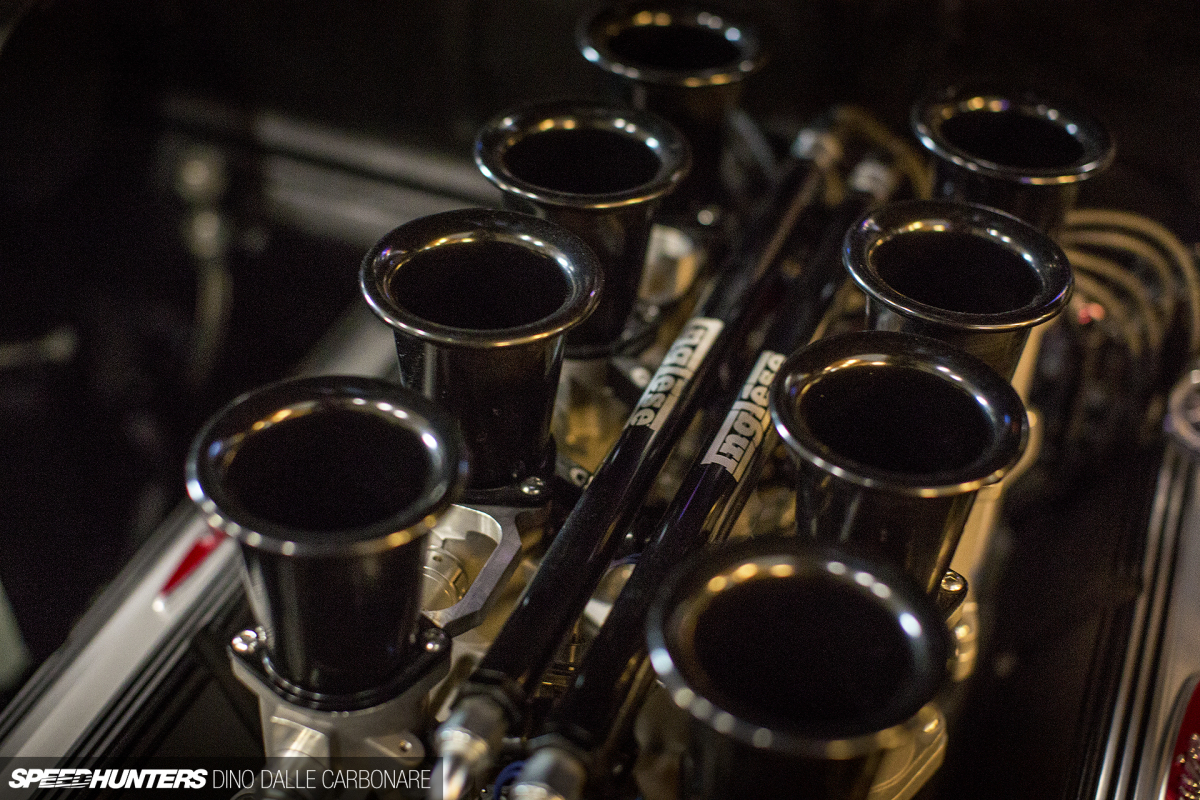 So that's why an Inglese eight-stack EFI setup (which retails for almost double what the crate engine does) was chosen. The self-learning ECU and injector setup are a 'fit and never worry about it again' solution and it adds a smoother feel and pick-up with noticeable power gains. To ensure the engine looked right in the Merc's bay though, a few custom touches were needed, including black powder-coating for the velocity stacks.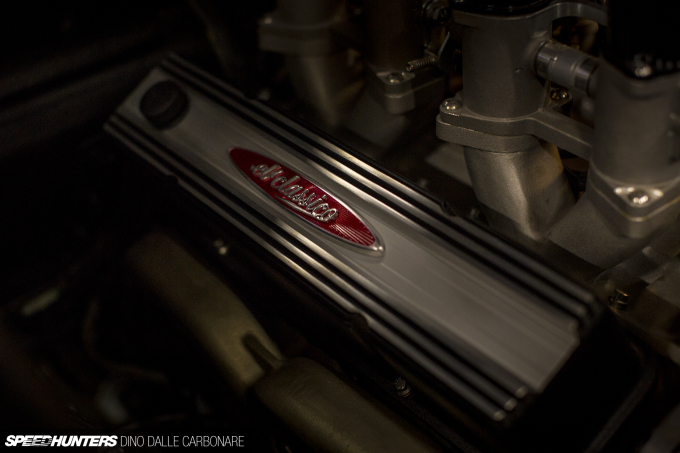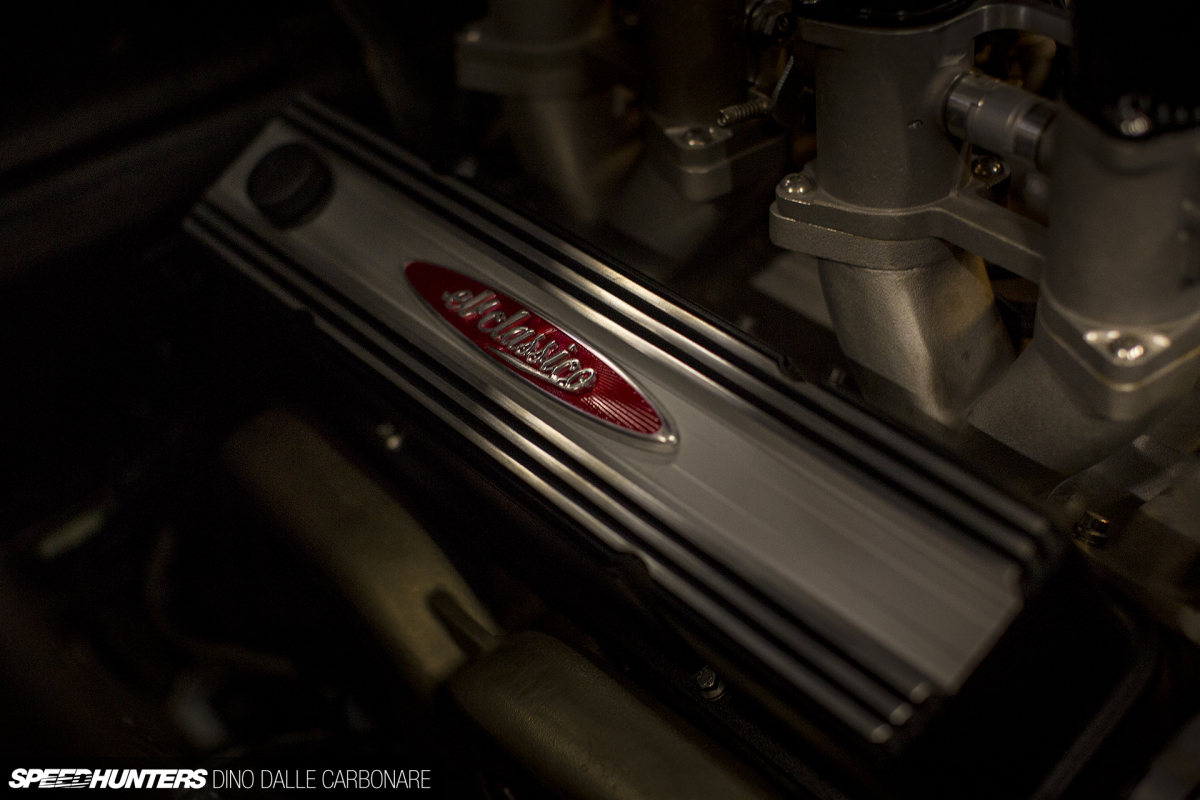 The valve covers are custom too; a new El Classico product that just gives that final touch of class to it all. The engine package is completed with a custom set of headers that converge in a one-off twin exhaust system which pops out centrally at the back end.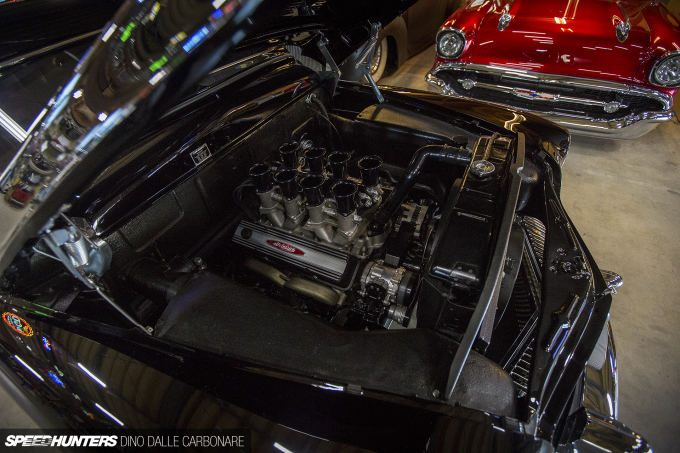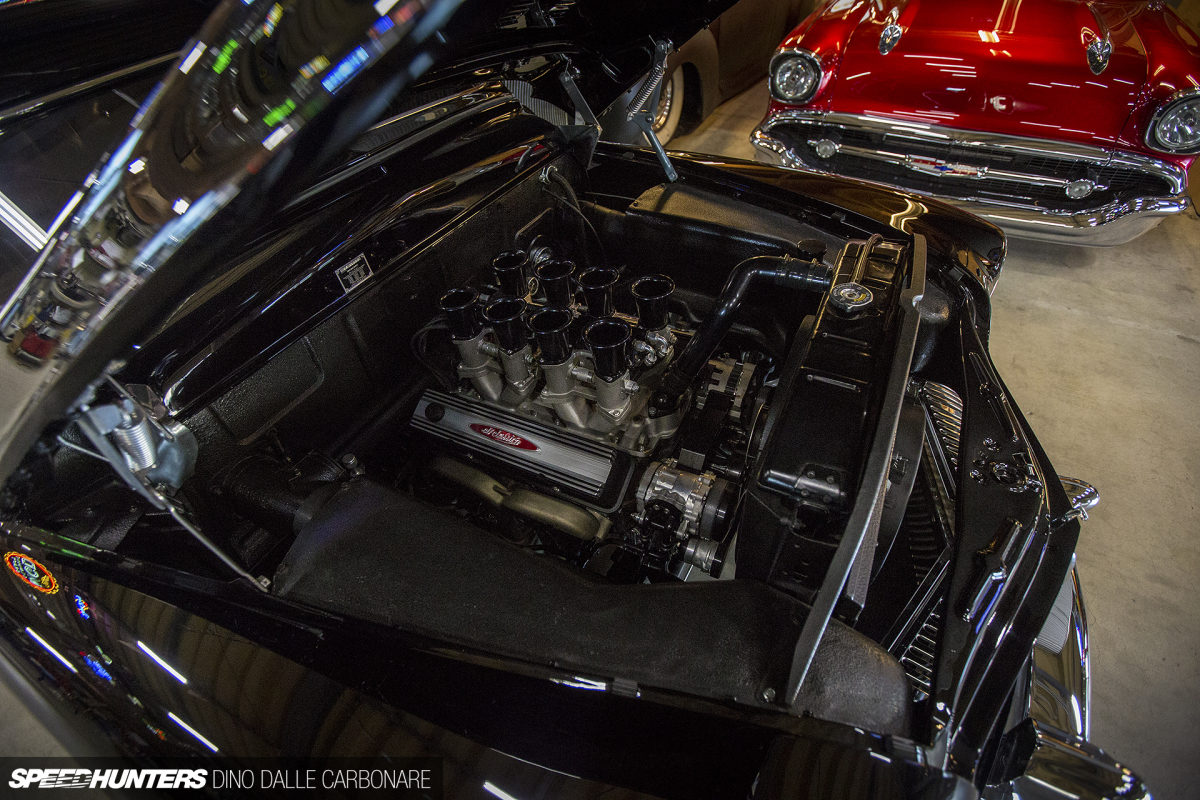 Sending drive to the rear wheels is a Chevy TH700R4 4-speed transmission linked up to a Currie Ford 9-inch rear end with positraction, giving the sort of seamless and velvety-smooth feel you would expect from a car like this.
An Interior To Die For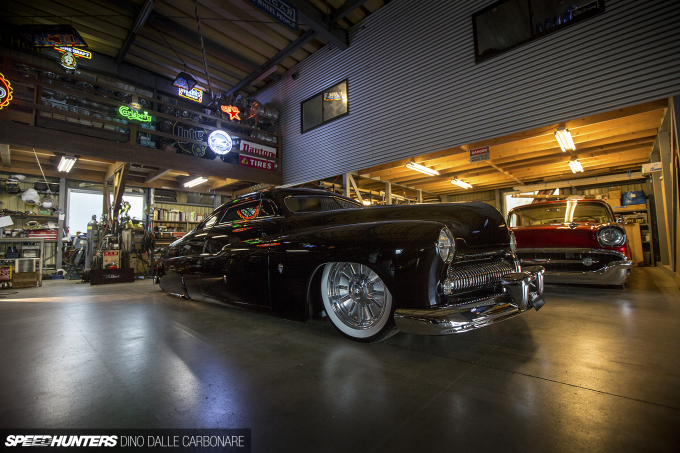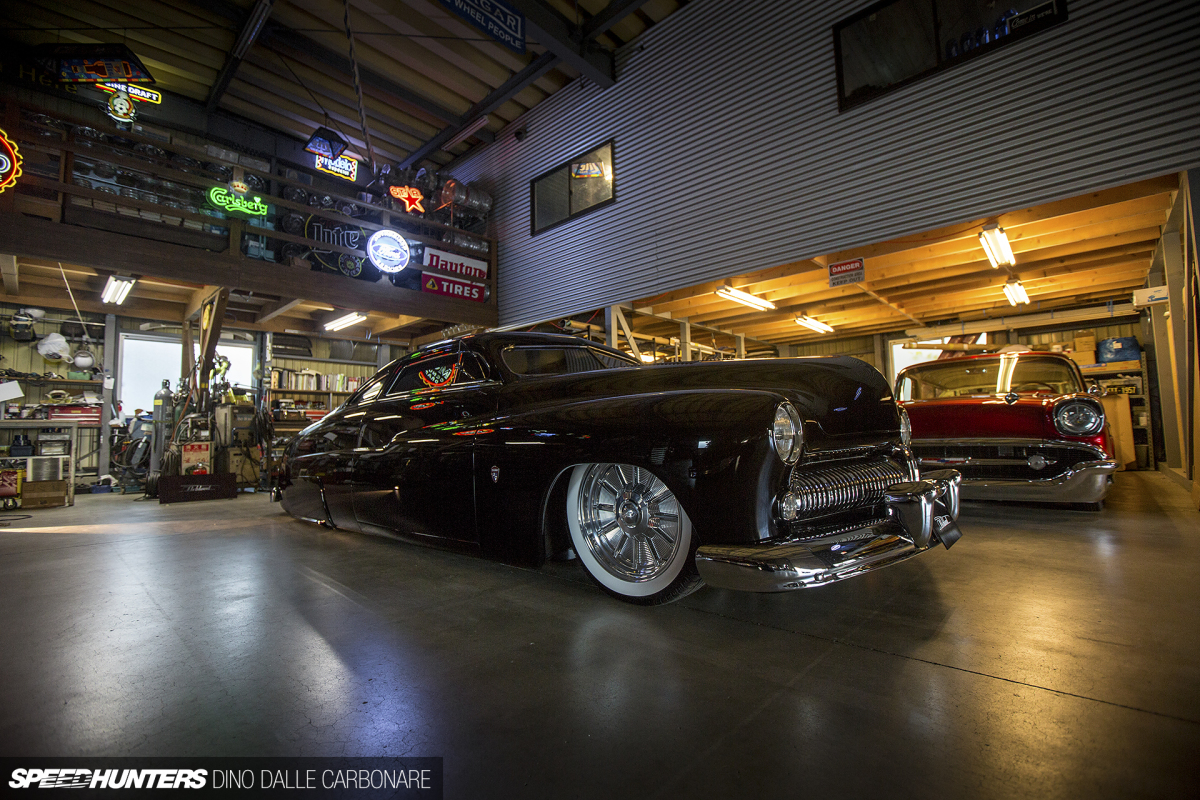 Impressed yet?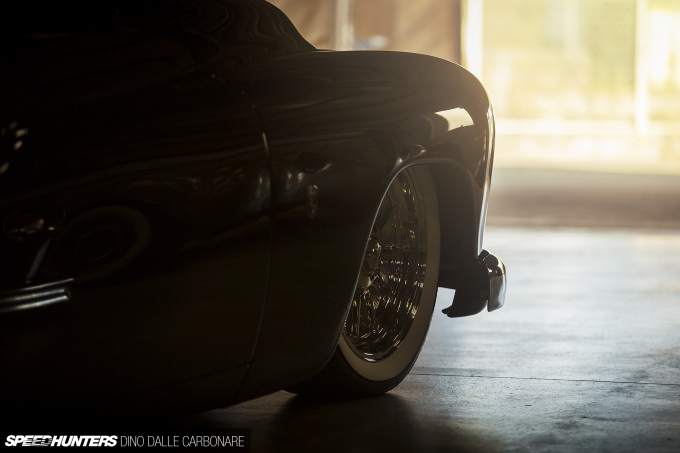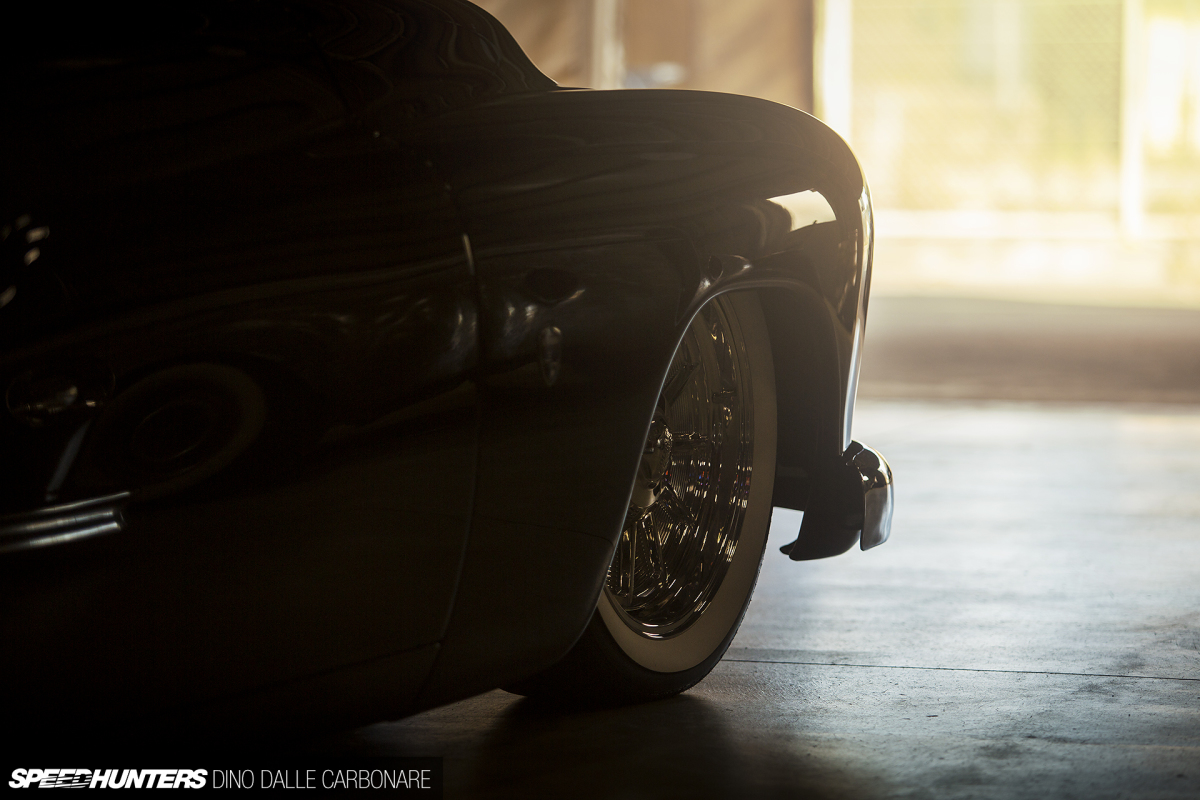 'Jaw-dropping' doesn't even begin to describe this car, but no one area impressed me more than what I was presented with when I swung open the driver's side door and took in the cabin.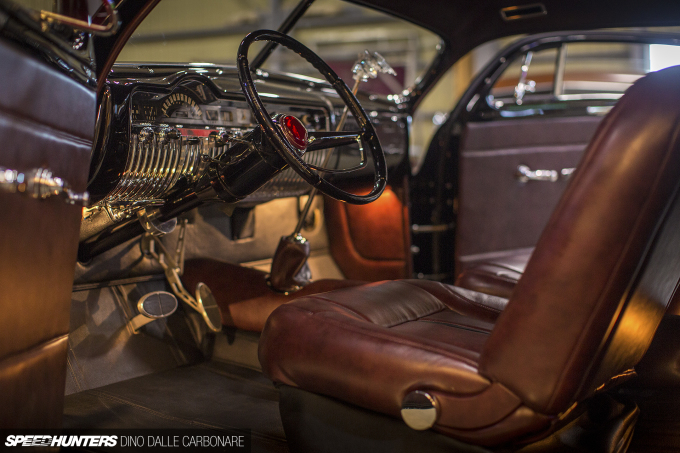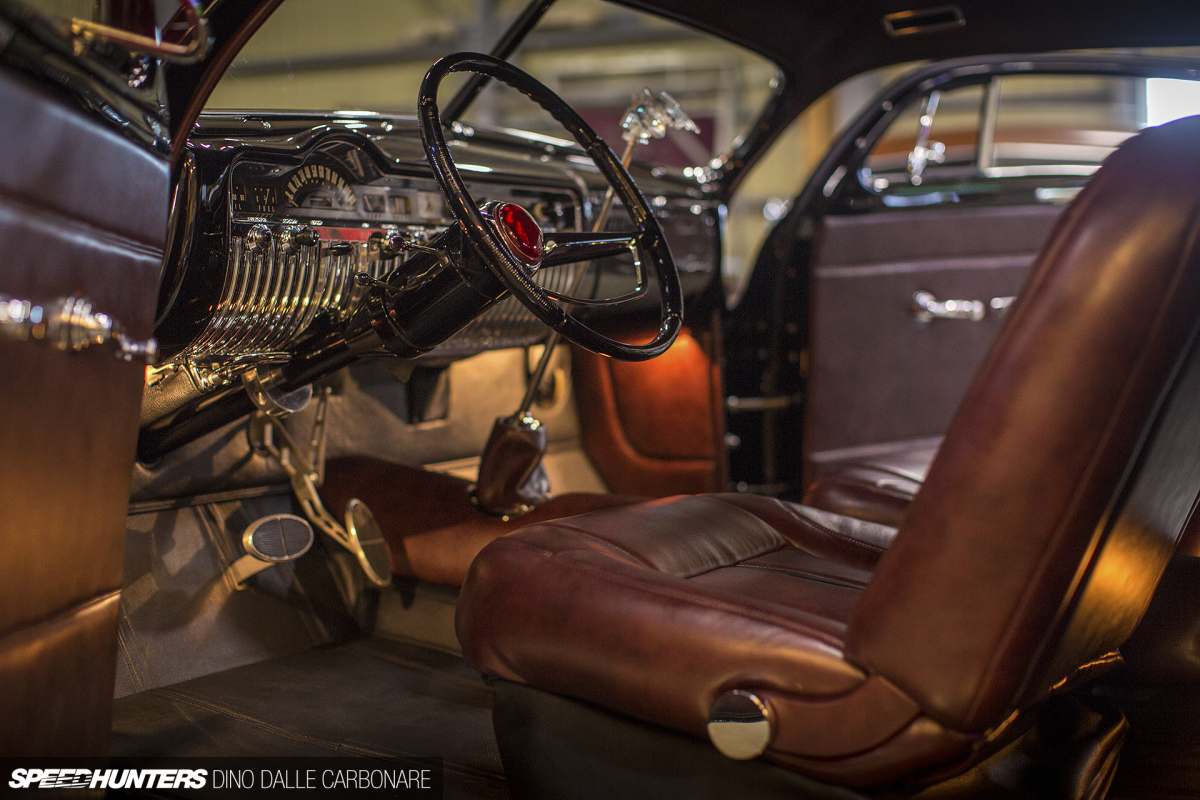 I've seen my fair share of custom interiors in a wide variety of cars, but this is on another level. First of all, the style; for me at least the worst possible thing I could see in a car like this would be some tacky FRP dash and a center console laden with modern digital dials and touches. Sure, it's a thing that a lot of people in the scene like, and it does have its place, but here an authentic, warm and welcoming '50s feel is alive and well. Secondly, the much talked about execution; everything from the choice of materials and colors down to the way they were combined. I mean, the floor and every single surface has been tightly clad in leather! All I could think about doing was hopping in the back wearing a smoking jacket, lighting up a fat cigar and sipping on a appropriately-aged Scotch whiskey while listening to some classic jazz on the radio!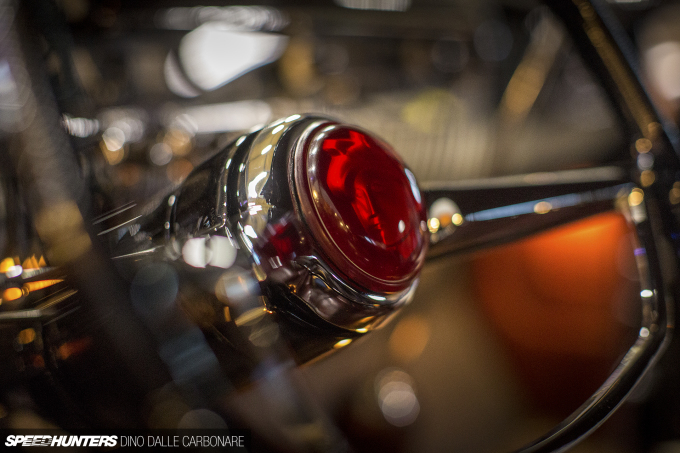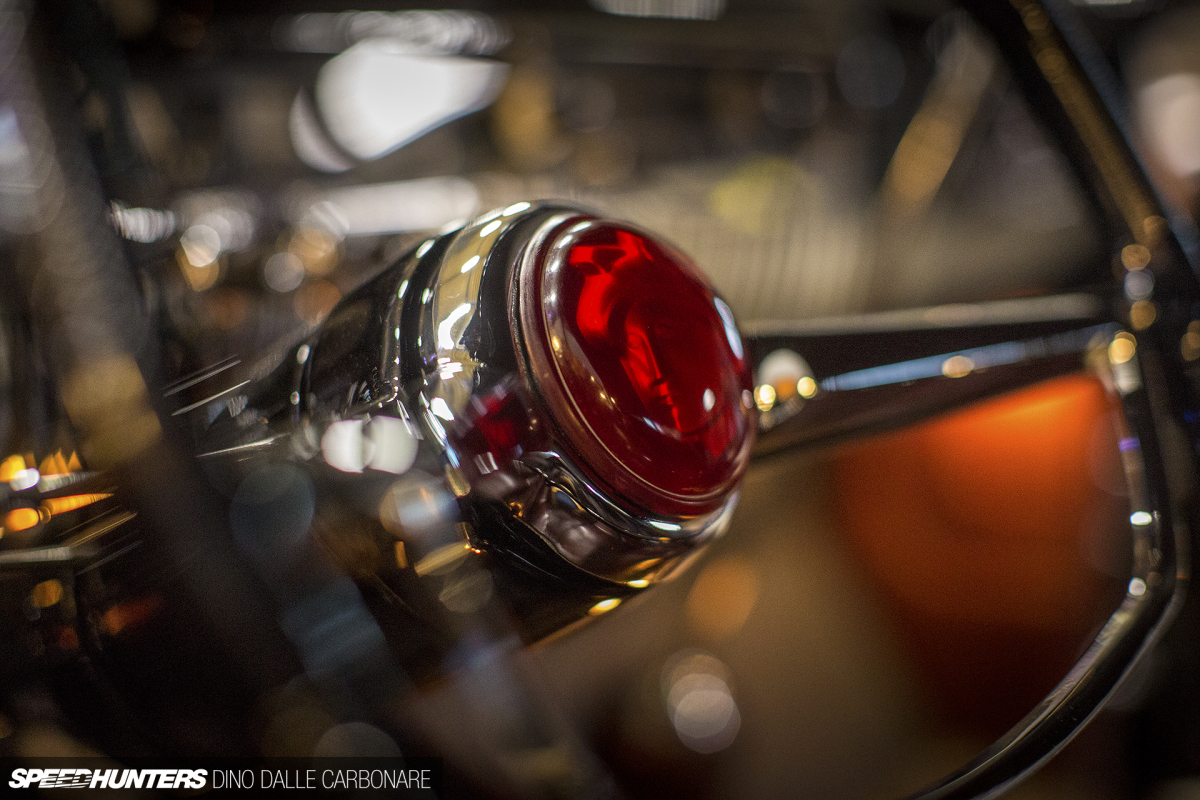 The interior was looked after by a shop in Saitama called 'Bastards', which despite having quite an unfortunate name, is certainly skilled in the art of custom trimming. It's all then topped off with the use of stock parts, like the beautiful Bakelite steering wheel with Mercury logo.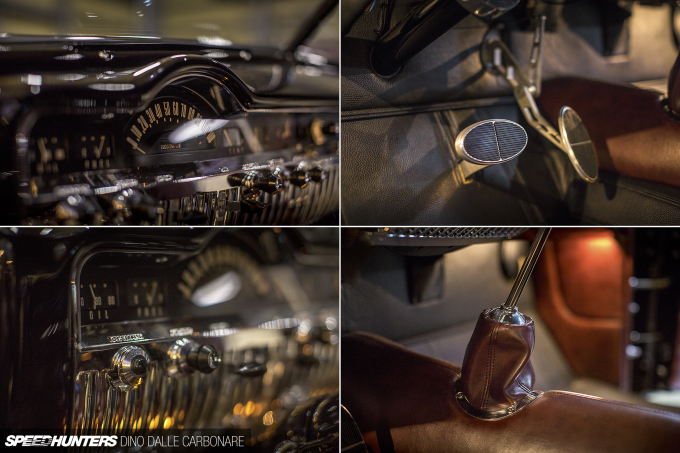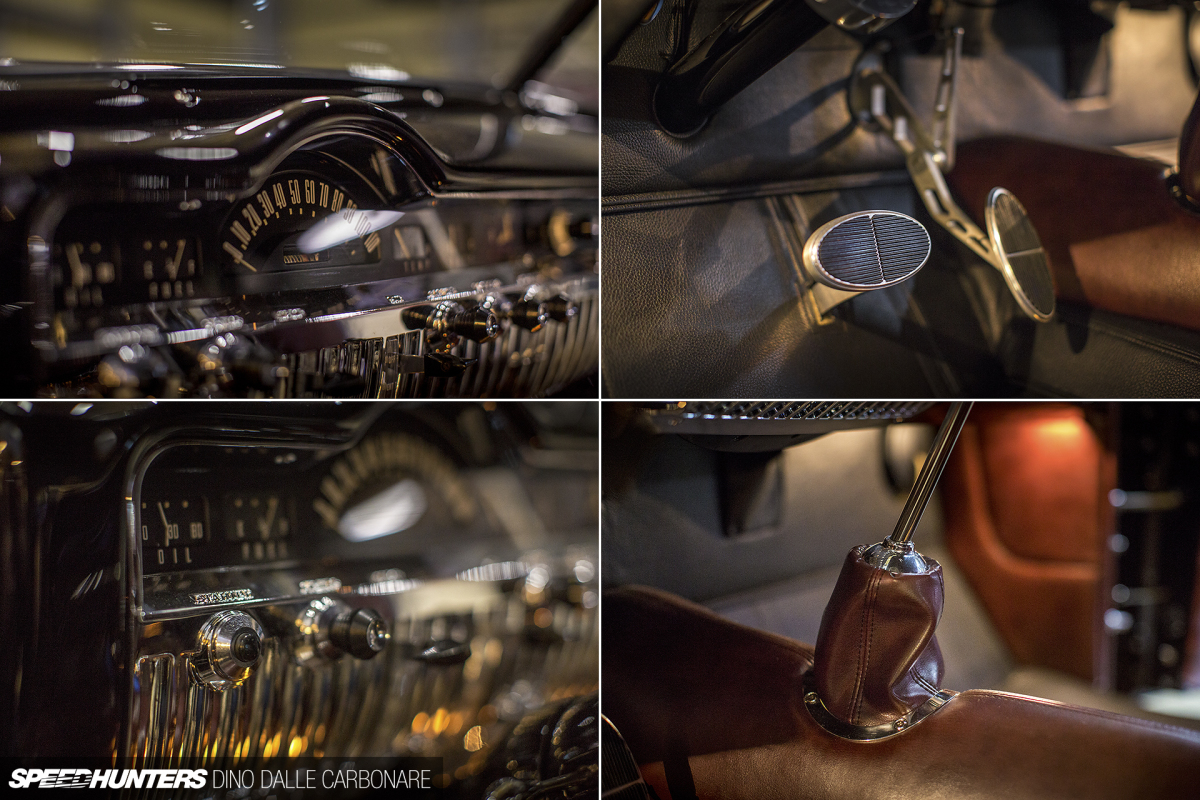 Then there's the chrome dash, the use of billet pedals, and even the special dressing up of things like the transmission tunnel and gear selector boot.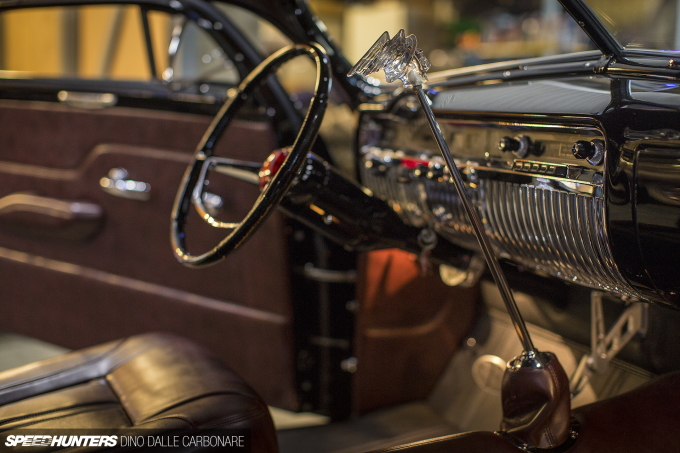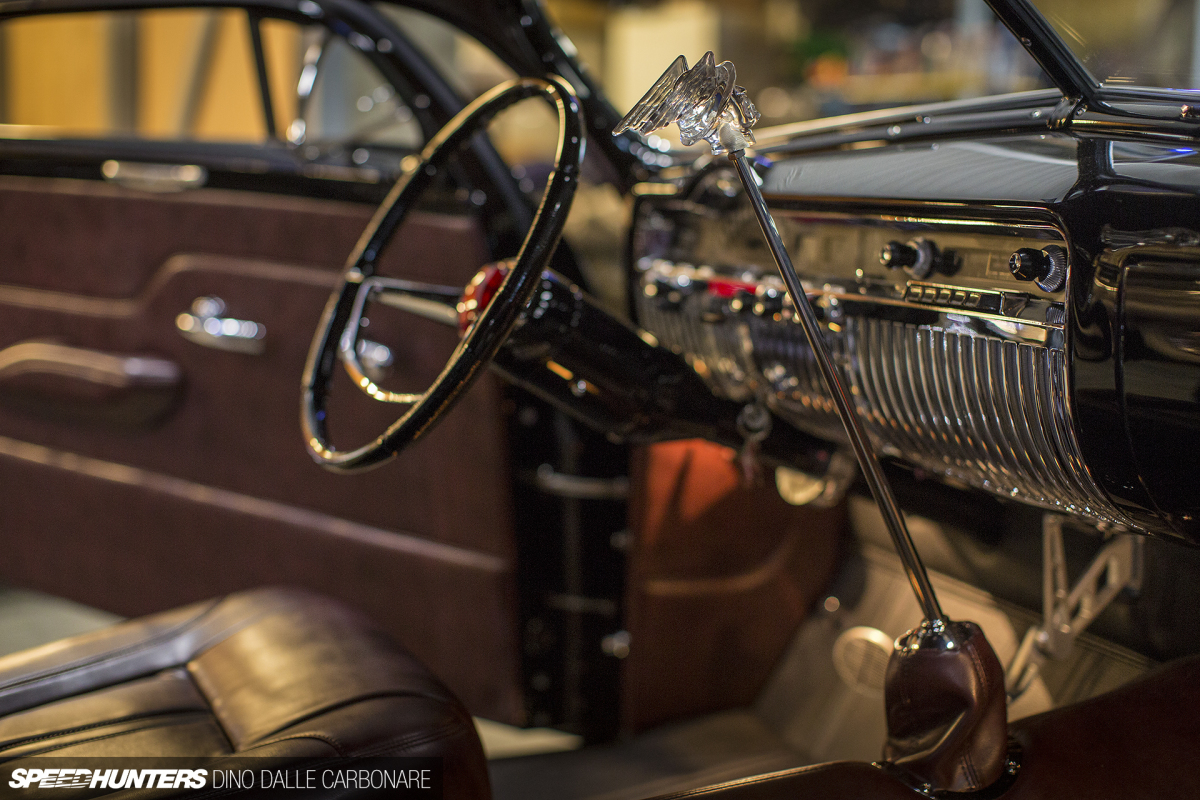 And speaking of the shifter, check out the glass Mercury ornament/shift knob. Amazing!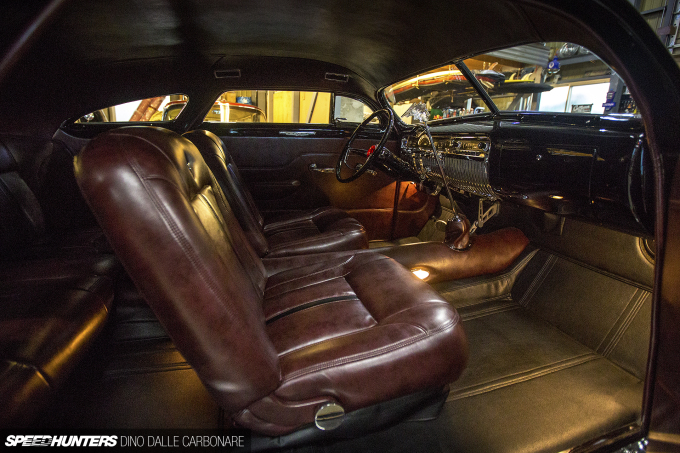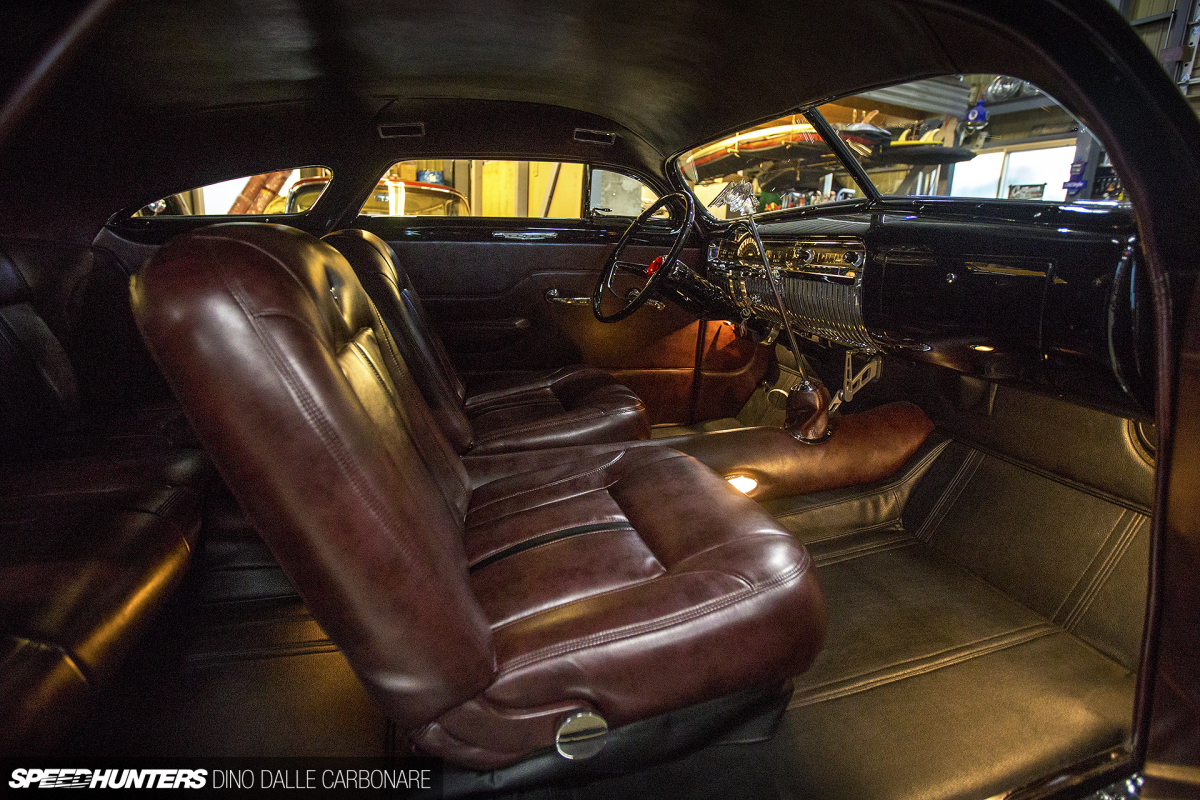 The oxblood leather used on the seats, transmission tunnel and door cards contrasts the black hide used on the floor and headliner. Given the little light that comes in through the short windows, it creates a dark cabin, but the warm illumination from behind the dash and along the transmission tunnel sets the ambiance perfectly. Like I said, smoking jacket and a glass of whiskey are a requirement for riding as a passenger in this thing!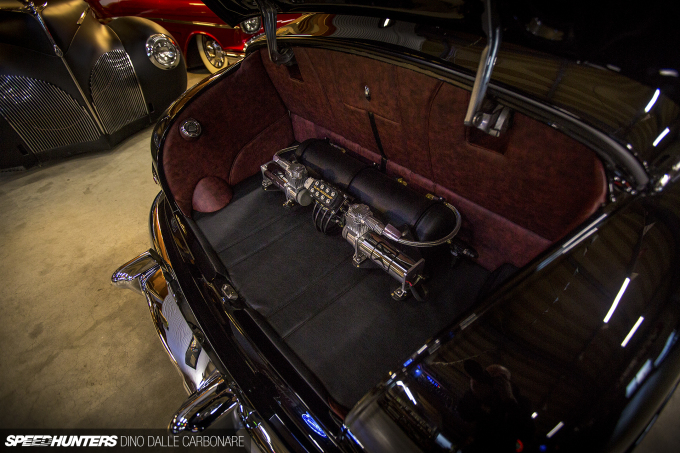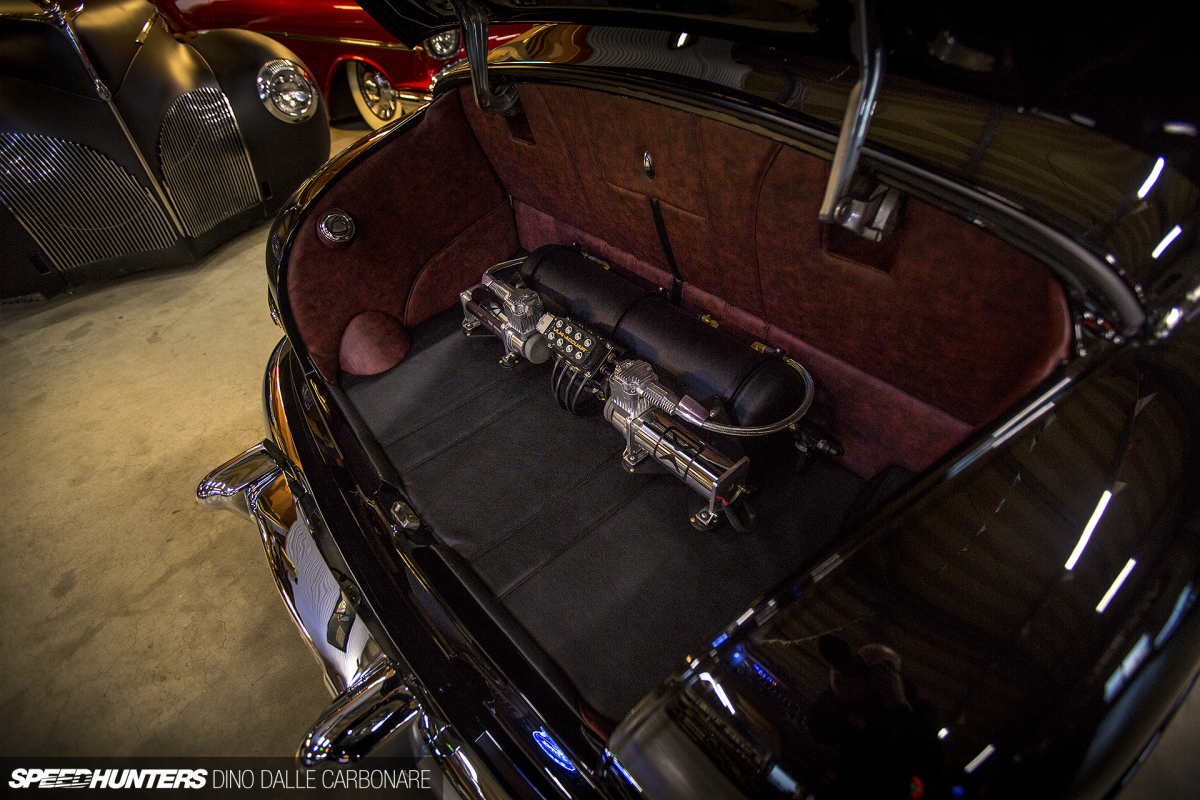 The trunk too is beautifully appointed; again leather abound, allowing the compressors and tank for the air suspension to take center stage.
I could talk all day about the beauty and alluring nature of this El Classico creation, but to really get the message across I think a video probably does it more justice. Hit play above and enjoy.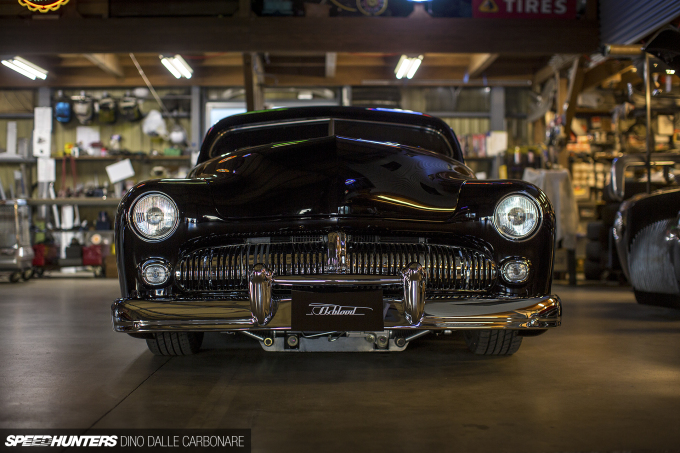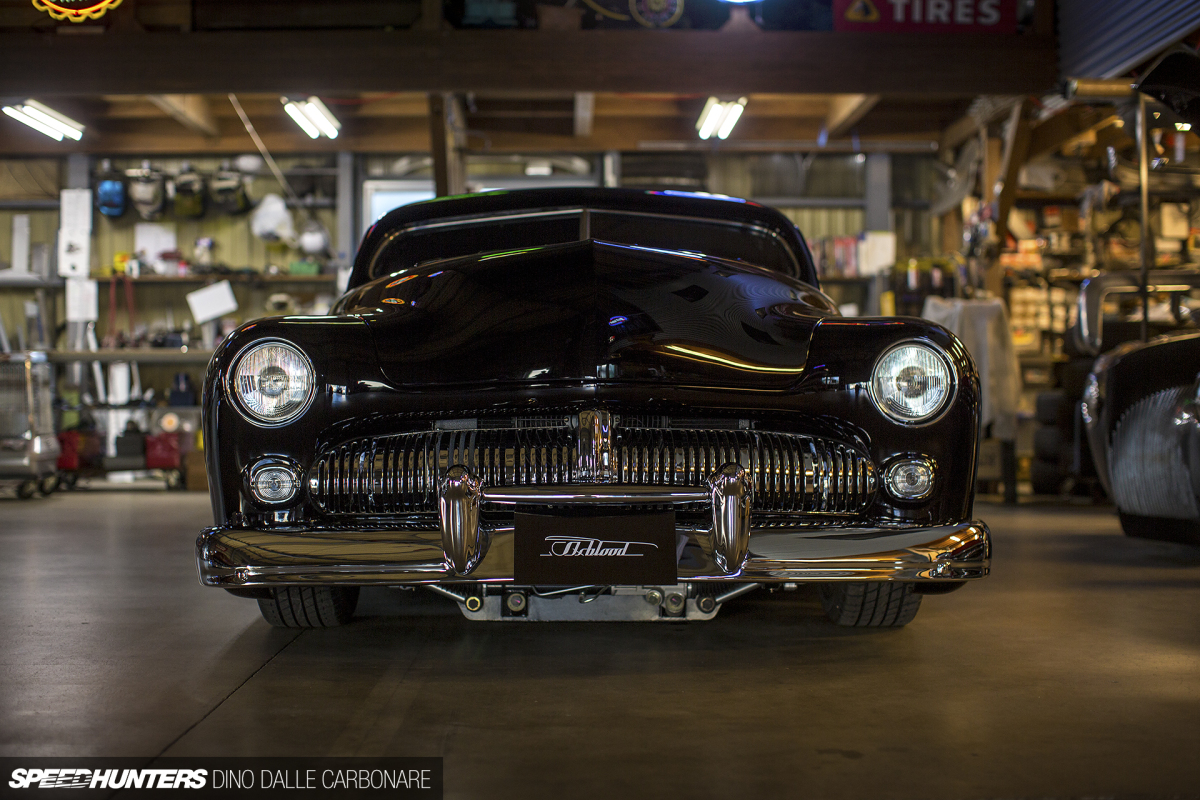 As Sakuraba-san told me, this car has its next six months fully planned out. After its return from the US it will be making its way back to Fit Kustoms where it will be stored until the summer when its owner will make his way up from the warm and tropical island of Okinawa and spend some weeks cruising around Tokyo and the general Kanto area, hitting up cruises, meets and another event. After that the car will be cleaned up and shipped down to Okinawa, which will become its home for the forceable future.
Dino Dalle Carbonare
Instagram: speedhunters_dino
dino@speedhunters.com