Expand Your Horizons
When you're invested in automotive culture in any way, shape or form, it's very easy to get drawn into one particular genre or niche. You can easily become a bit blinkered as to all of the exciting developments that happen outside of your pigeonhole.
My interest in cars has always revolved around drifting and Japanese marques, so I've made it one of my goals when Speedhunting to try and seek out projects and features that sit outside of my usual peripheries.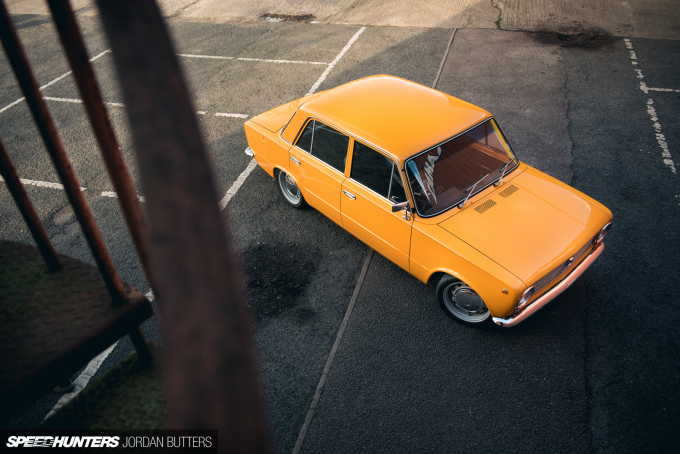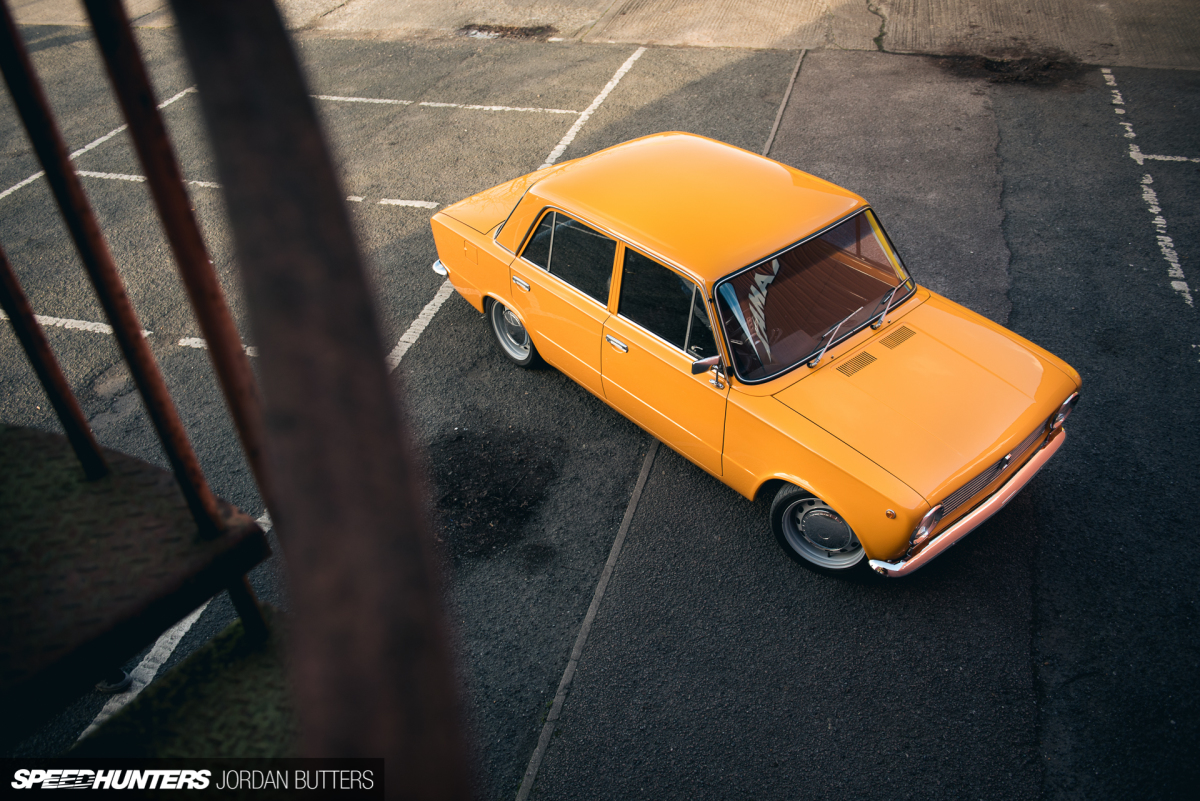 The idea behind this was suggested to me in a Yoda-like manner by fellow Speedhunter Bryn Musselwhite a few weeks back. Advice on board, seek out a wider understanding of different automotive cultures, I will. In doing so, I also hope to bring to the surface some of the incredible builds that might have flown under the radar had I just nestled down in my comfort zone.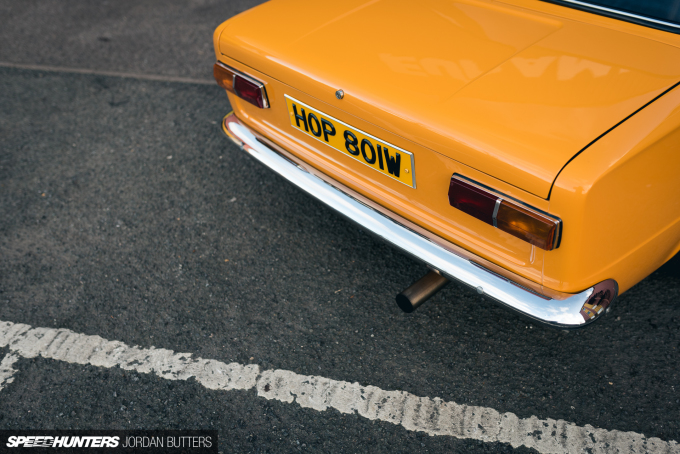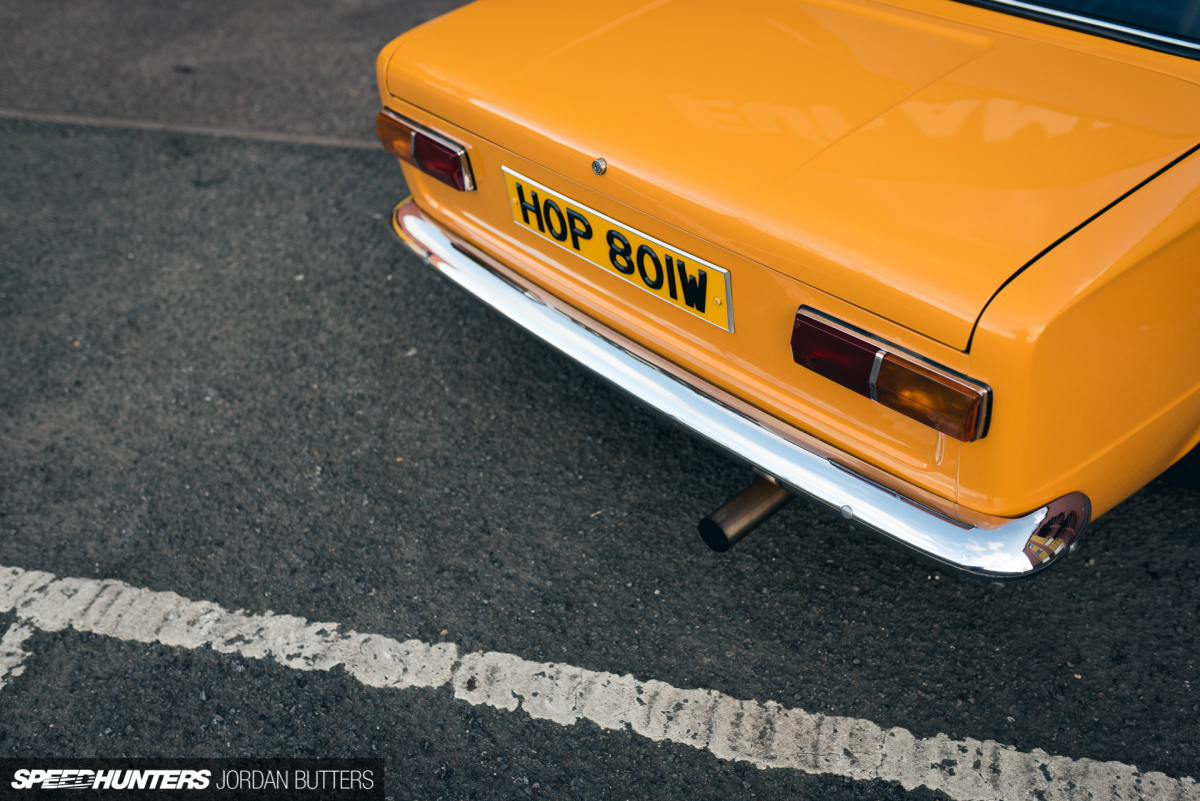 In order to advance my learning, Bryn pointed me in the direction of respected Ford tuner Dave Colledge. As well as building some of the UK's coolest and fastest classic Fords, Dave is owner of Retro Ford, a workshop that manufactures all of the bits required should you wish to transplant a powerful modern Zetec or Duratec engine into your classic blue oval. The Retro Ford workshop is a treasure trove of cool old Fords, but that's another feature for another day…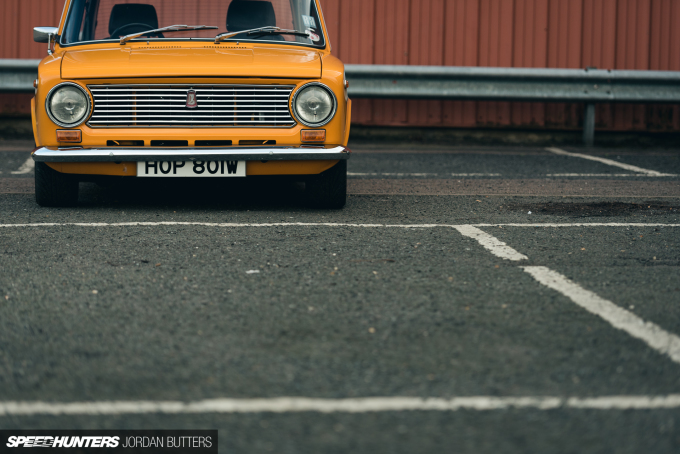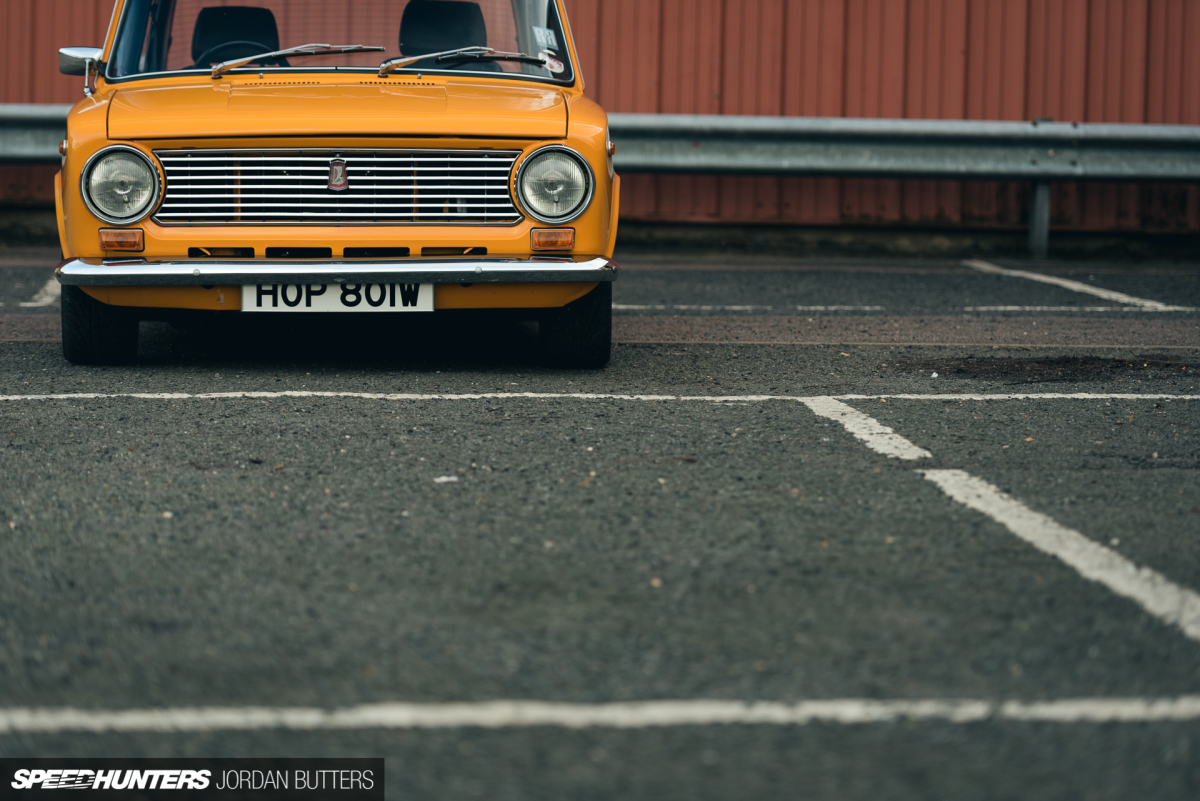 The reason for my visit this time, however, wasn't a Ford at all, but rather the curious creation that sits before you. This is a 1981 Lada 2101. An unsuspecting place to hunt for speed you might think? The story behind the build is a simple one – after helping a friend build a Zetec-powered Lada Riva, and seeing images online of slammed Ladas from Eastern Europe, Dave set his sights on acquiring and building his own Ford-powered Lada. Just because he could.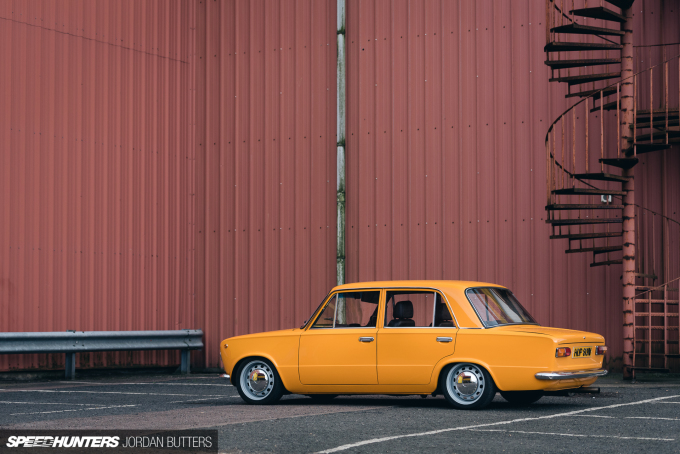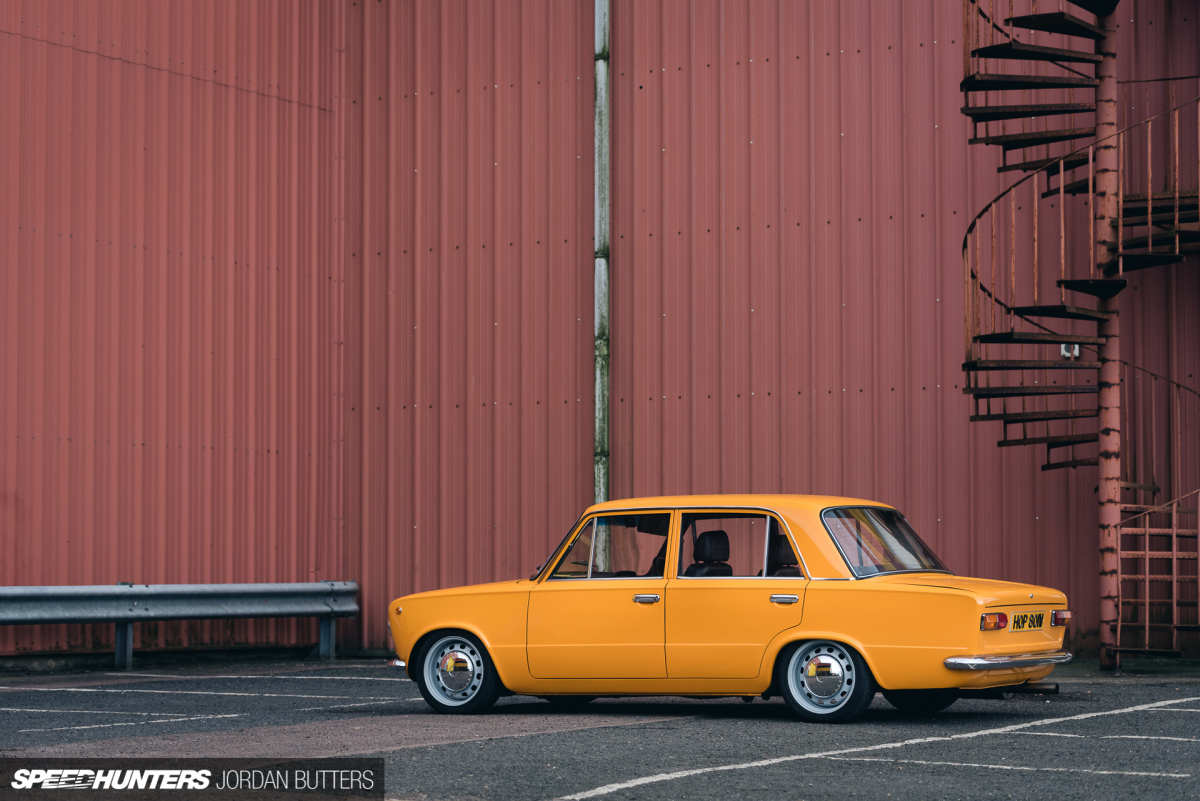 Rather than opt for another Riva, the ideal candidate was the more stylish VAZ-2101 model, sold as the Lada 1200 here in the UK. The 2101 was essentially a Fiat 124, reengineered to better suit the Eastern Bloc – it offered classic Italian styling mixed with solid Russian build quality. There are apparently over 800 differences between the Fiat and Lada models, but you'd have to be somewhat of a boffin to spot them. Two of the big changes were that the Lada body was constructed from a thicker-gauge steel and featured softer suspension to cope with the colder, more challenging climate.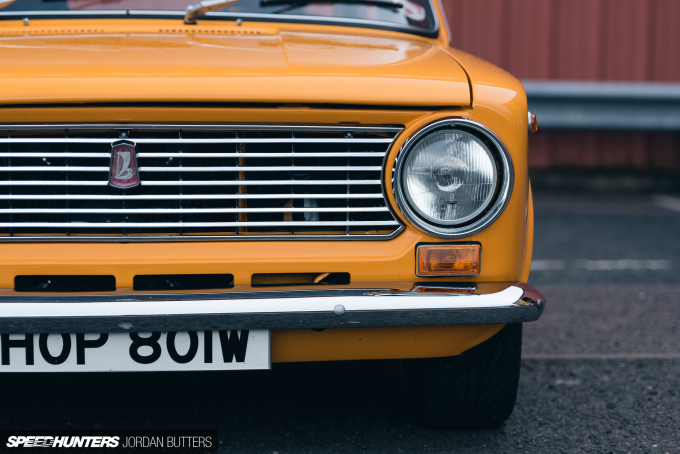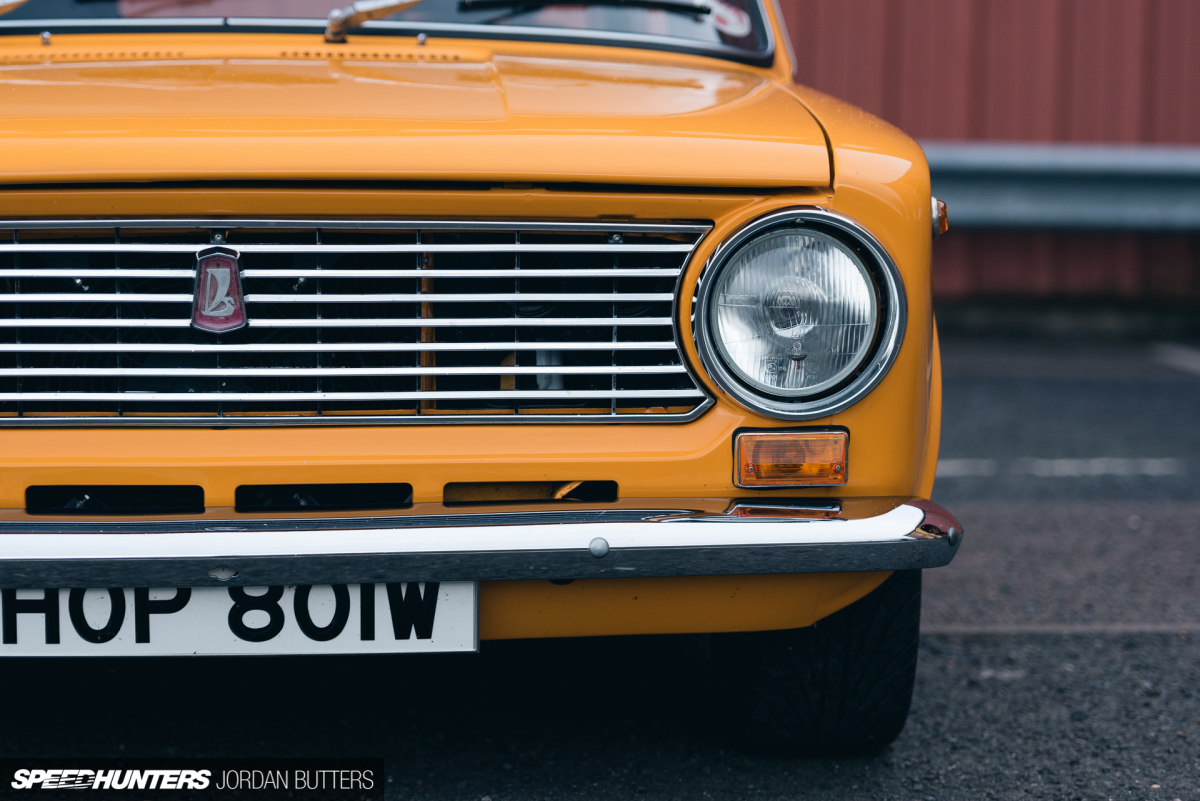 No stranger to importing classic Fords from around the world, Dave approached the Lada a little differently. While he could've sourced his 2101 for pennies from Eastern Europe, he had set his sights on obtaining a genuine, right-hand drive UK car. Having spent six months scouring for a suitable candidate, the Lada that you see in front of you popped up for sale at 8:00pm on a Friday night. By 8:00am the next morning Dave was standing in front of it, albeit it looked very, very different.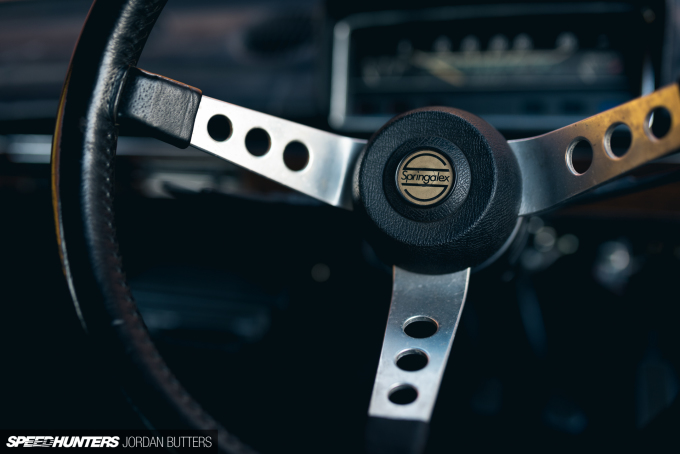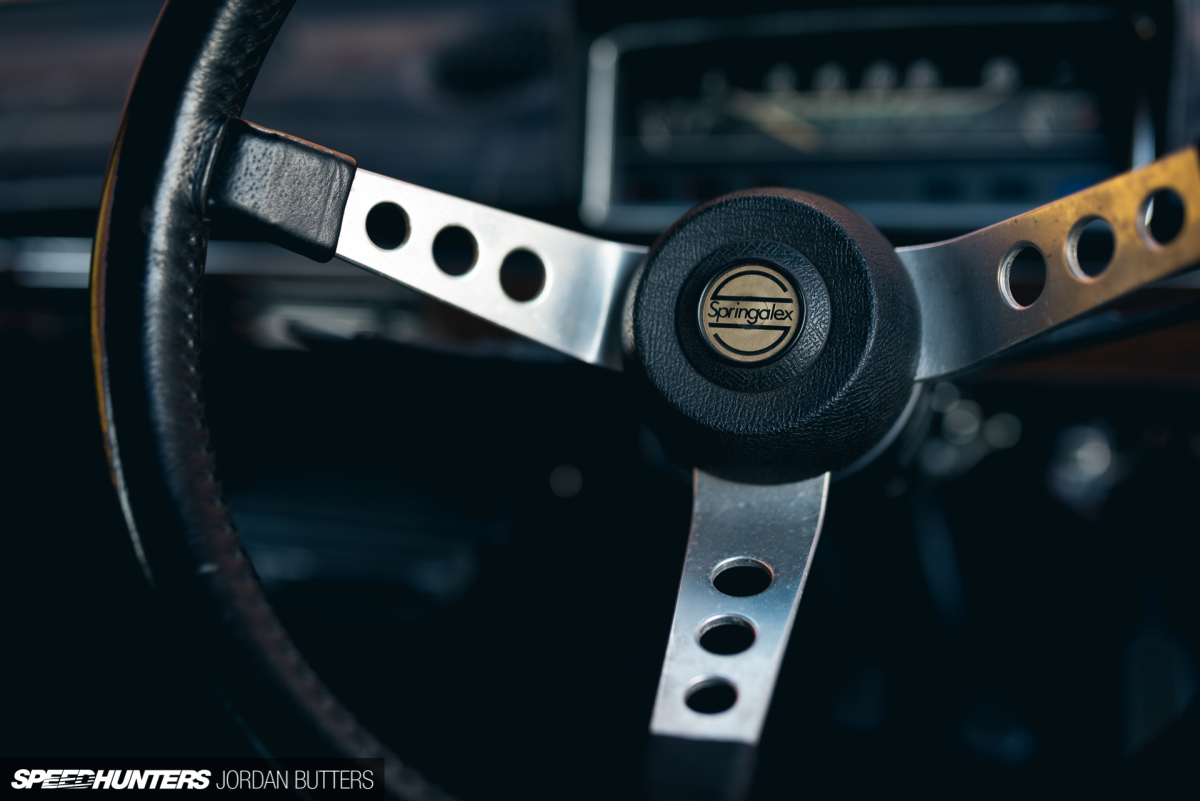 "It was shit," Dave states, rather frankly. "But it was the first one I'd seen in months, so I bought it for £500, with a view that something better might come up in the meantime." It didn't. The Lada packed a 1200cc engine with 4-speed box, less than ideal, so the first task upon getting car back to the Retro Ford workshop was set about killing the engine, which happened with haste. "It died doing a pretty good burnout," Dave commented, proudly.
Starting From Scratch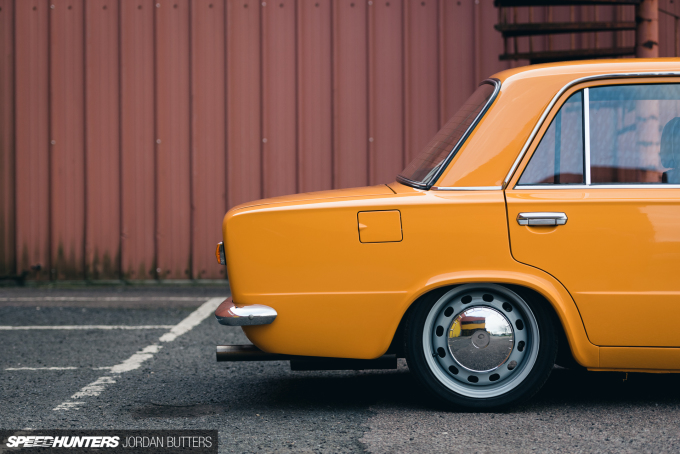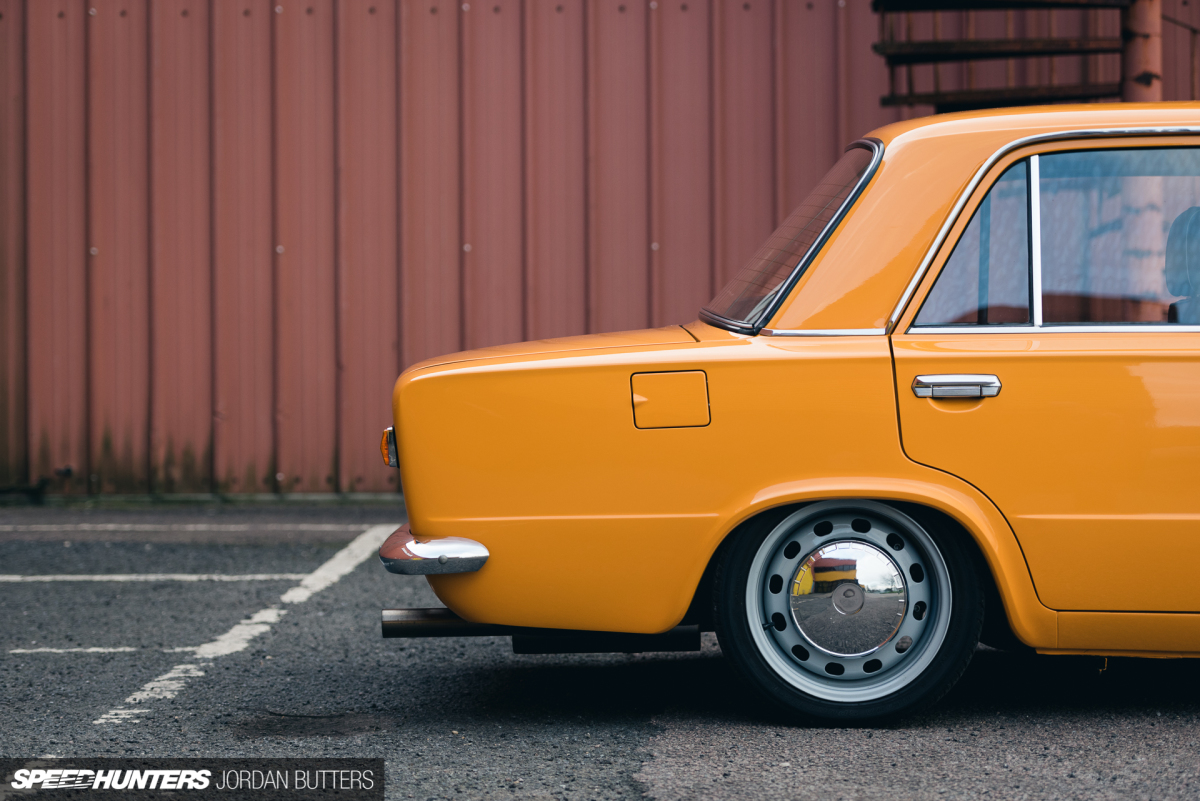 Engine out, the first job was tackling the Lada's bodywork and chassis. Donor parts were sourced from all over Europe before being lovingly crafted into place. The original rear quarters had seen better days so a new pair were found and bought from the Czech Republic, only to arrive and be missing the stylish swage line that runs along the length of the car. The rear quarters that adorn the car now are a seamless blend of the originals and the third party parts.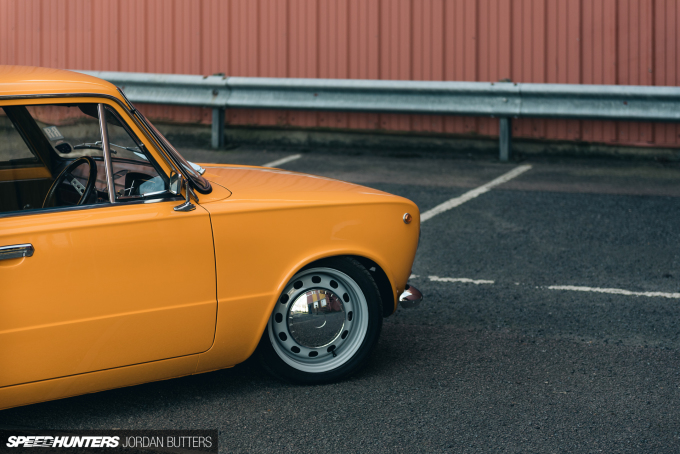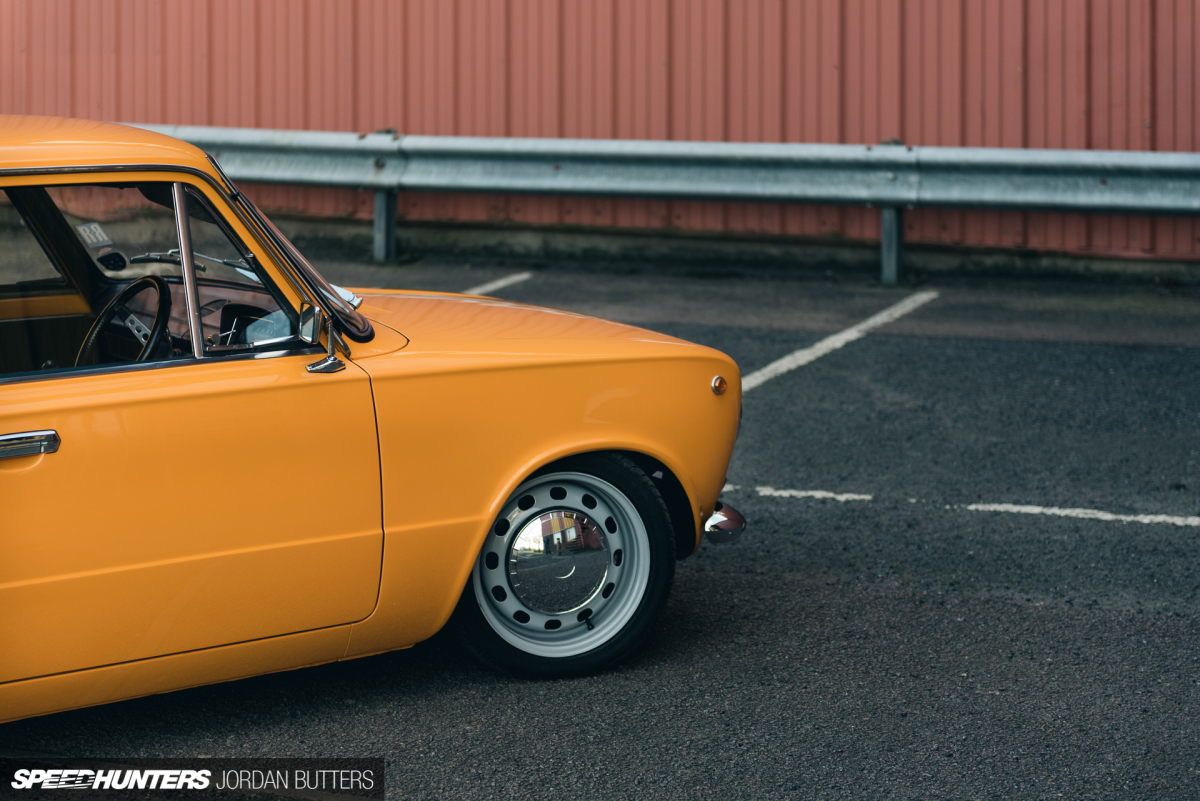 The front wings would prove just as challenging. Surprisingly, the original plans for the Lada were to have it 'rough and ready' and to use it for a spot of drifting, so a provision was needed to run a lot of castor. The stock 2101 wheel arches aren't the most accommodating in this regard, so they were cut, extended forward two inches and joined back together. As a result the front wheels now sit right in the corners of the car.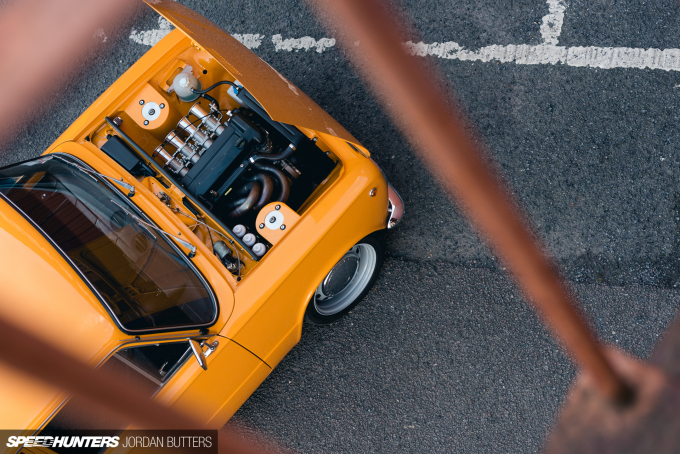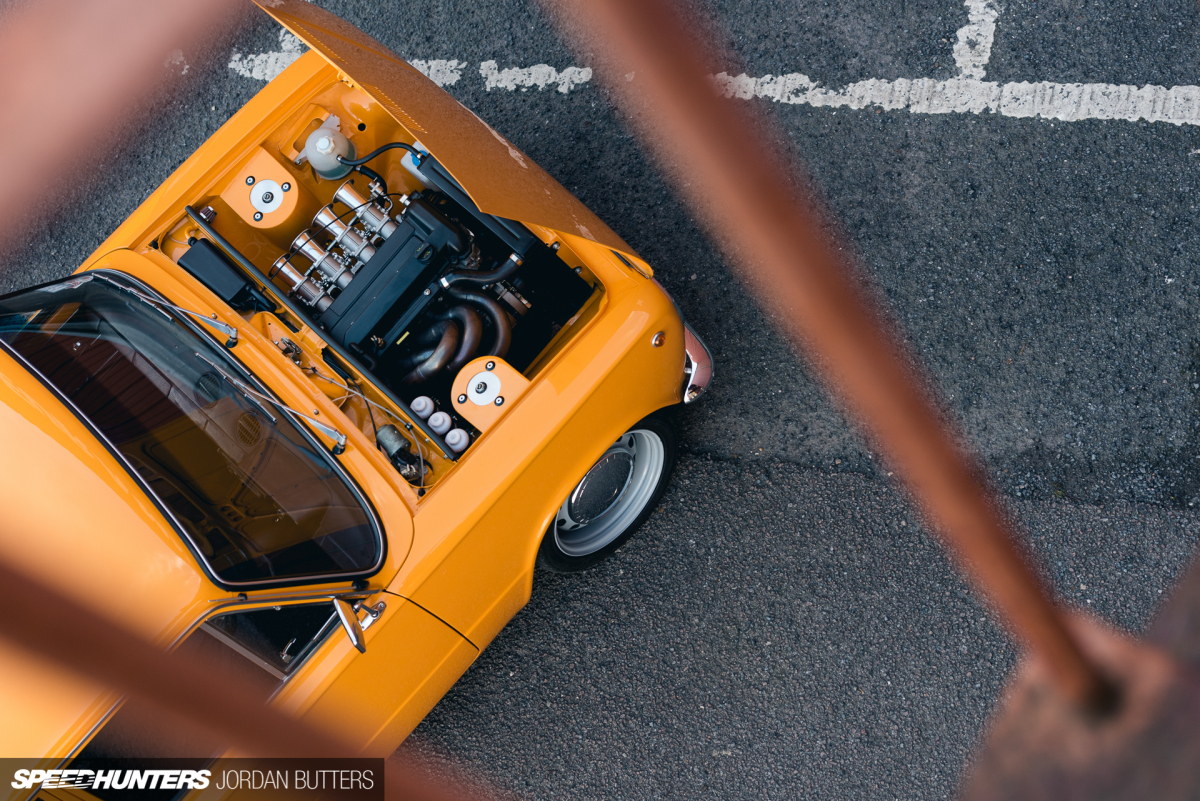 When it came to the engine, the Lada was only ever going to run a Ford conversion. A 2.3-litre Cosworth Duratec crate engine was the obvious choice. Offering good low-down torque and tune-ability, the Duratec unit is a popular swap in the old school Ford world, and a cost-effective alternative to the likes of the Millington Diamond engine, as found in Ken Block's Mk2 Escort.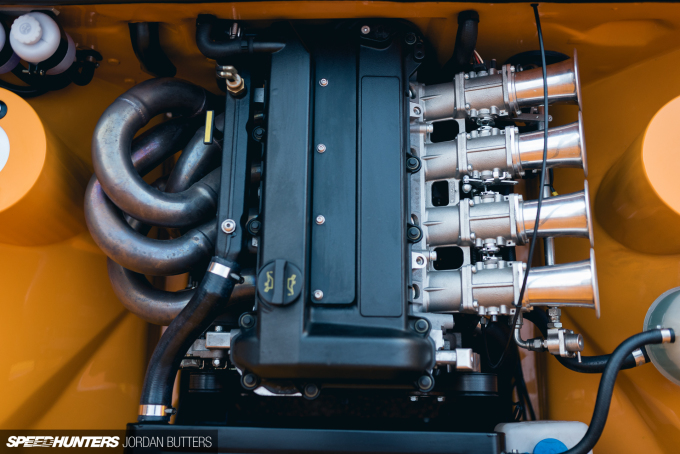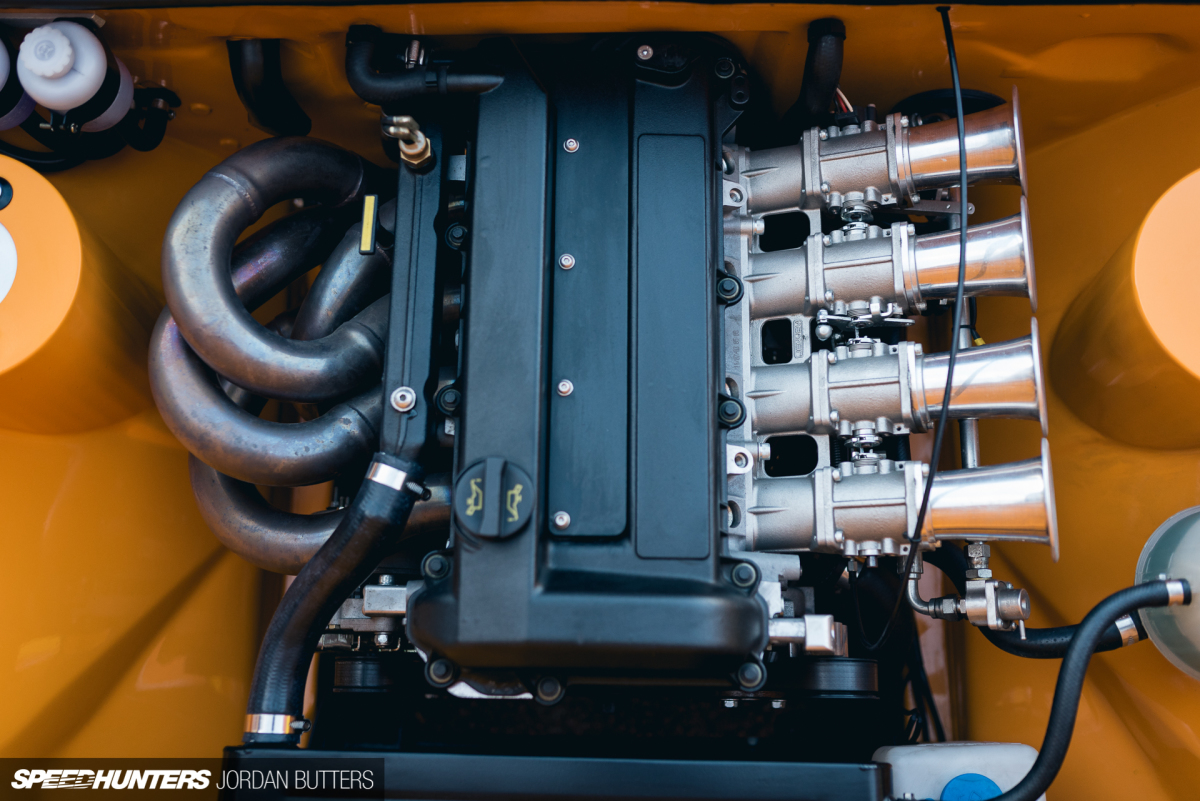 The engine is a tight squeeze – Dave wanted to use his own off-the-shelf Retro Ford mounts and sump, so he allowed the car's crossmember to dictate the engine's position. This, in turn, involved notching the bulkhead to allow the block to sit back far enough.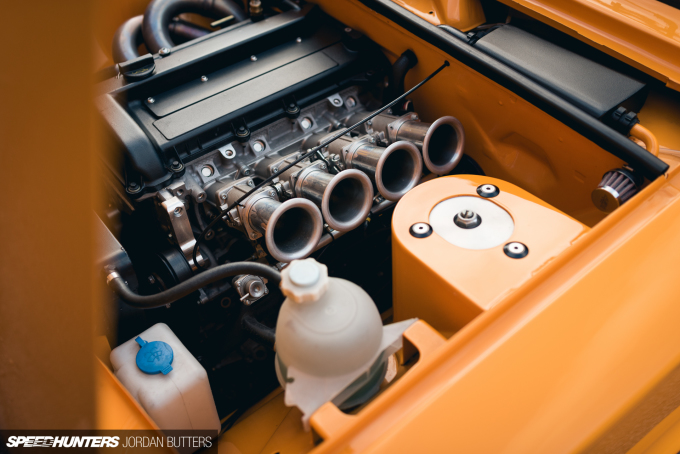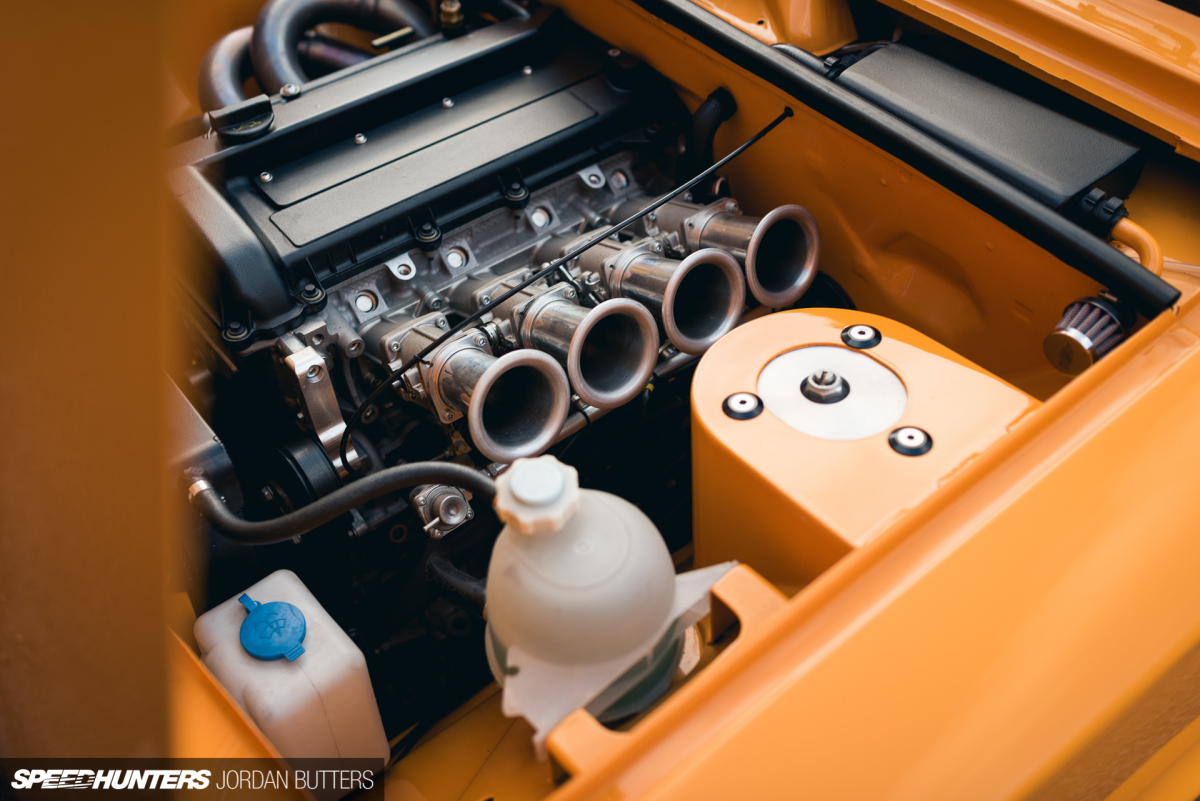 The engine has been breathed on with 1mm oversized valves, a ported head and Cosworth internals. A set of 50mm Jenvey throttle bodies give the Lada its bark, mounted upside down to keep the engine bay looking neat and tidy. Anything that can be tucked away and hidden has been. It's the attention to detail and quality of finish that really makes this little Lada stand out.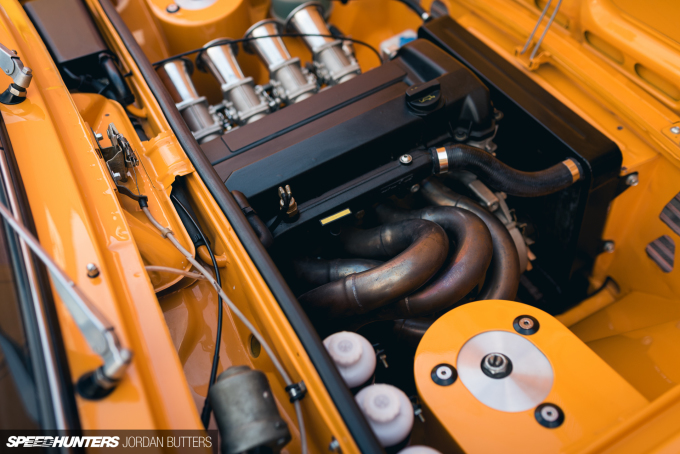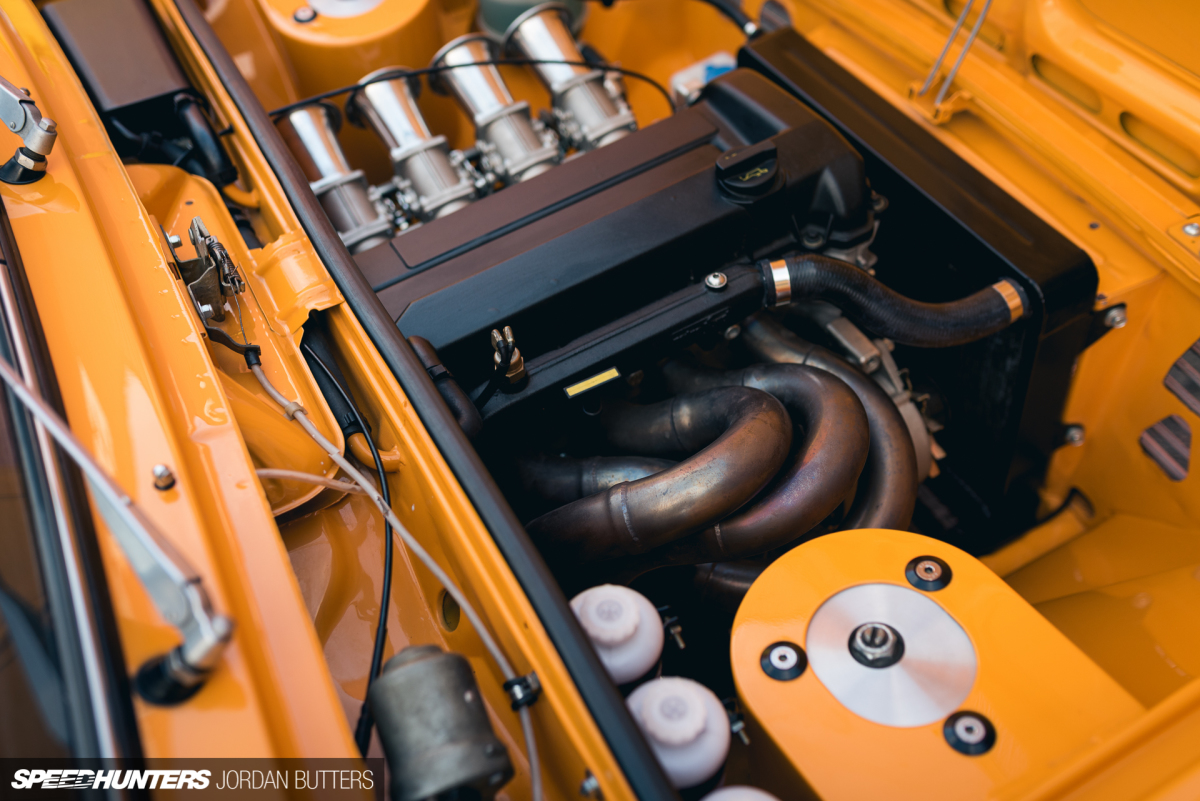 On the opposite side of the block a custom-made exhaust handles the hot stuff – 2-inch primaries run into a 2.5-inch re-packable stainless steel system. Space is tight, so the exhaust took a lot of tweaking to get just right – Dave estimates that he put around 40 hours work into the manifold alone.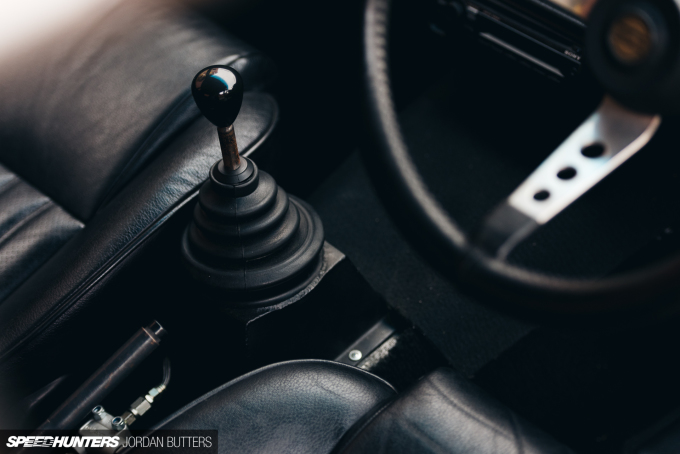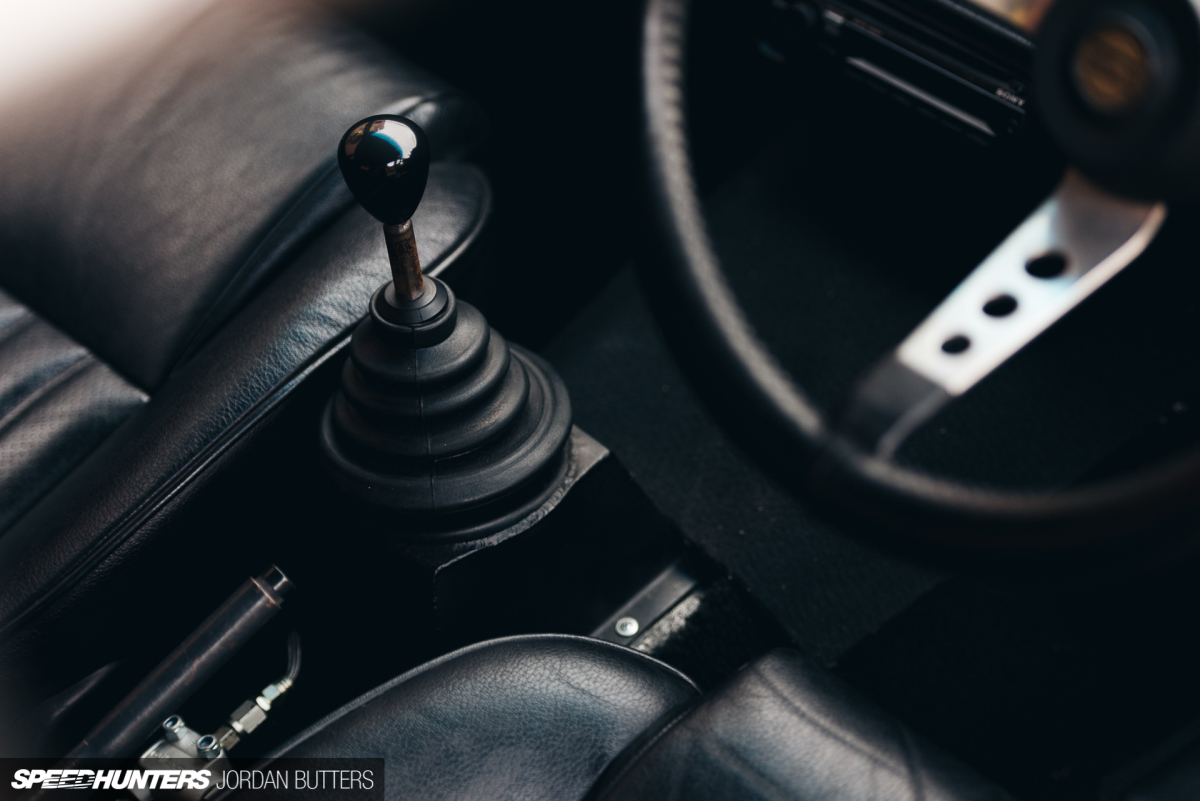 Further chassis work to the order of a custom gearbox and raised prop tunnel was required to house a Mazda 6-speed gearbox from an MX-5, which sends power to a Mk2 Escort rear axle via a single-piece prop, Salisbury-type plate LSD and Retro Ford uprated two-piece shafts. The result is around 235hp, making the car insanely good fun to drive.
Keeping It Simple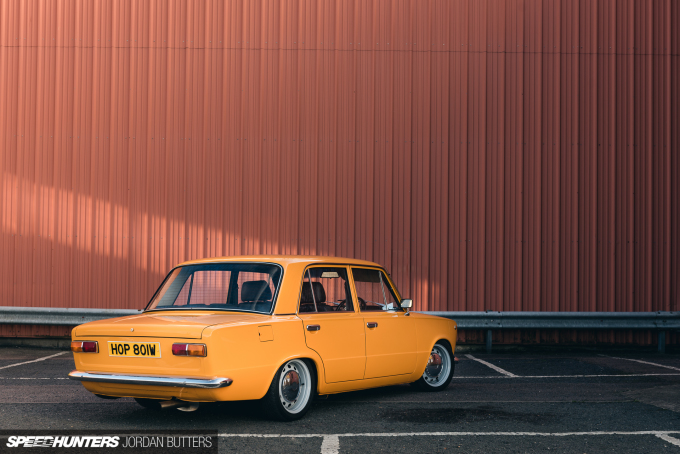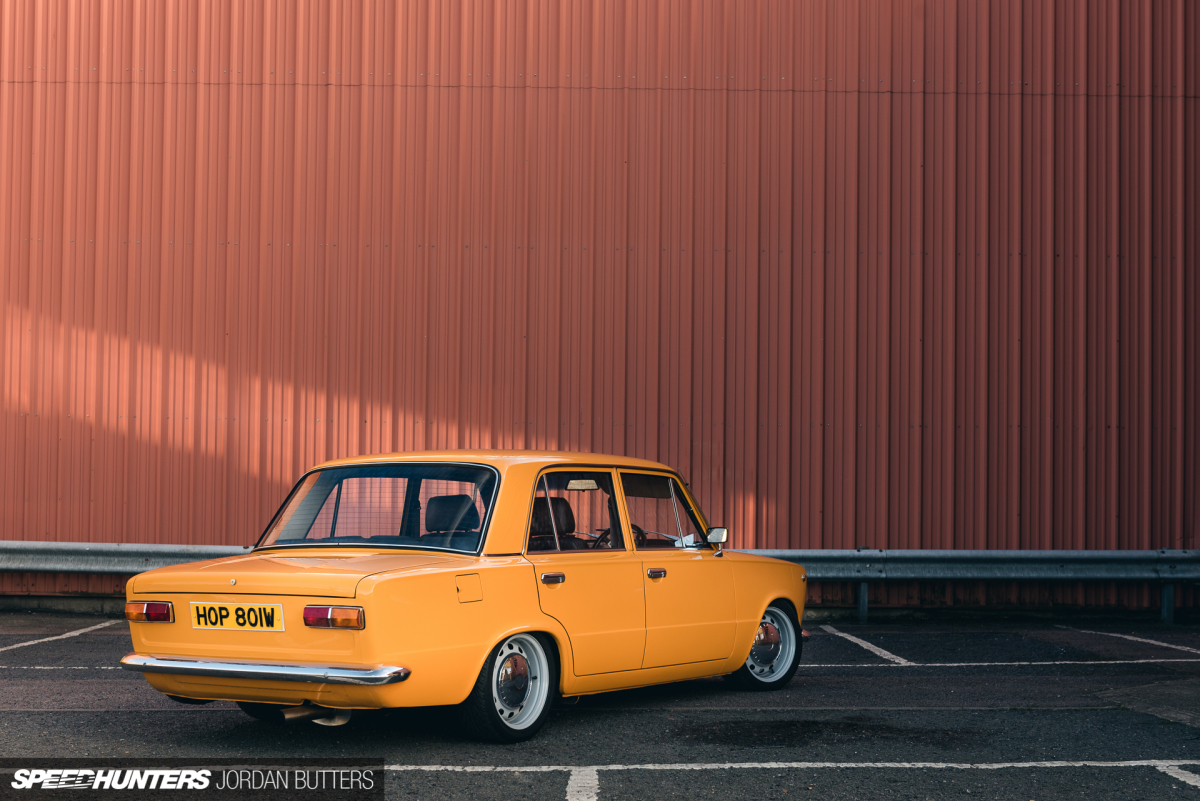 When it came to sorting out the suspension, the main priority was getting the car as low as possible. Aftermarket suspension components for Ladas aren't exactly commonplace so, once again, Dave turned to his extensive knowledge of the old school Ford scene to bring the car down to terra firma.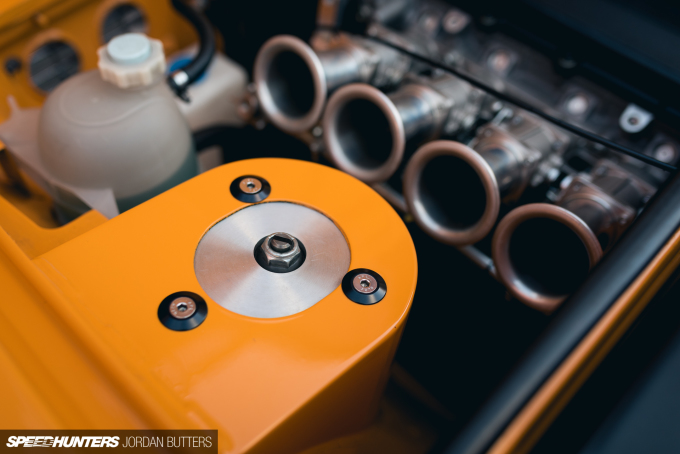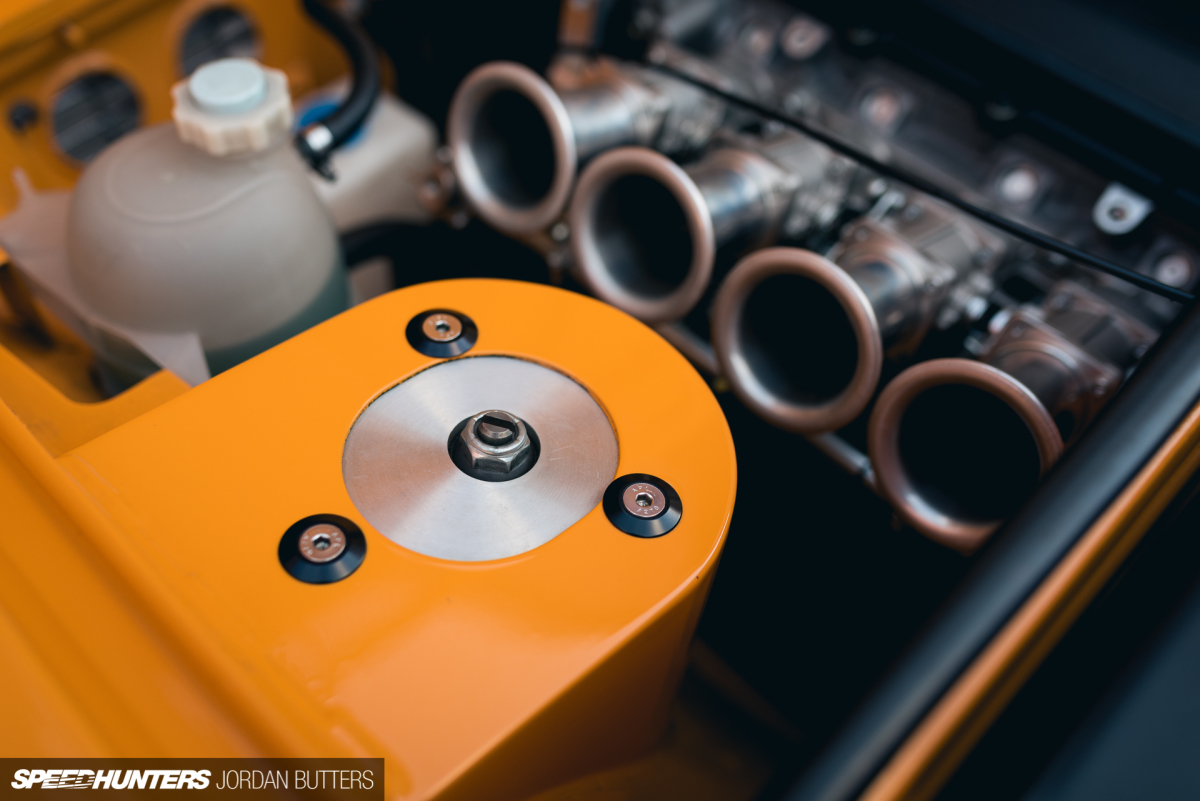 Those of you familiar with the Lada 2101/Fiat 124 chassis (don't all stand up at once) may have noticed the beefy strut towers. Long gone is the car's original double wishbone front suspension, replaced by a MacPherson setup. The towers were hand-crafted to host 2.8 Capri Bilstein struts with shortened tarmac inserts and feature slotted eccentric top mounts for extra geometry adjustment.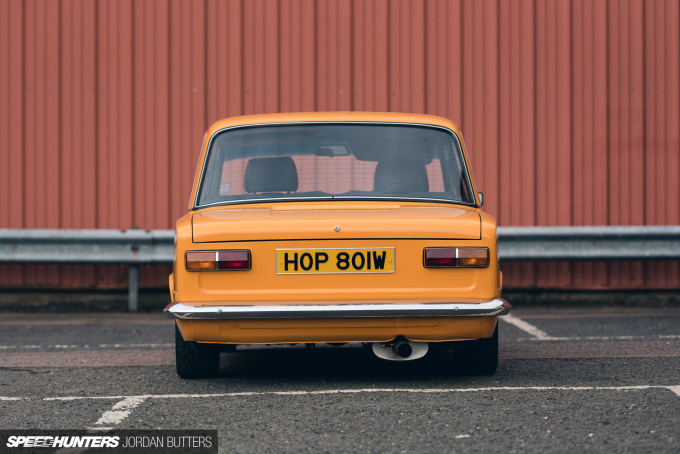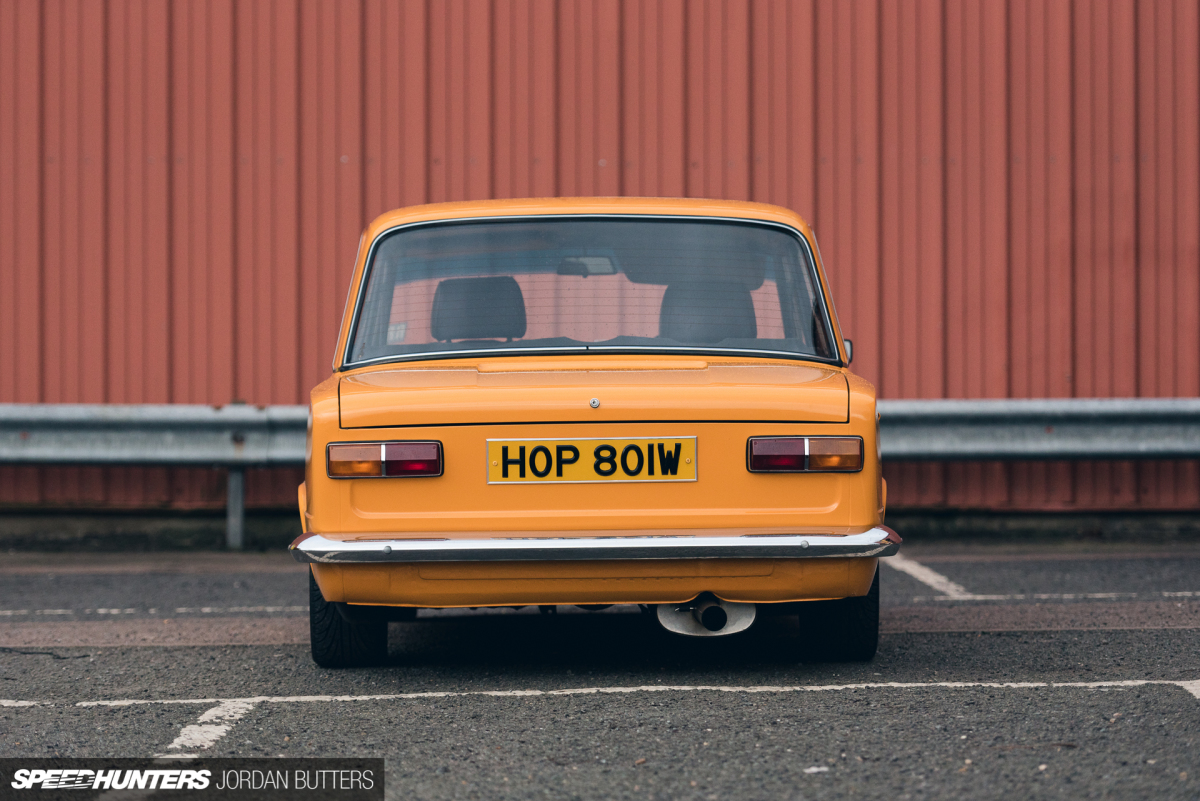 At the back the original Lada rear towers were chopped and raised substantially to offer the desired ride height. The rear suspension is the original Lada 4-link setup on steroids, poly-bushed all around with uprated mounts, thicker chromoly tubing and an adjustable rose-jointed panhard rod.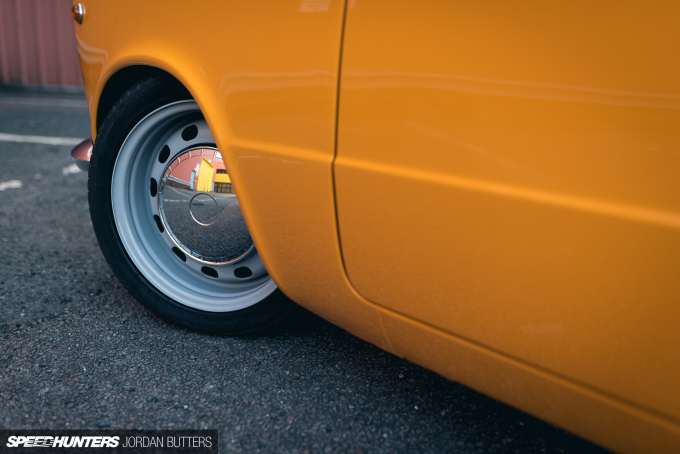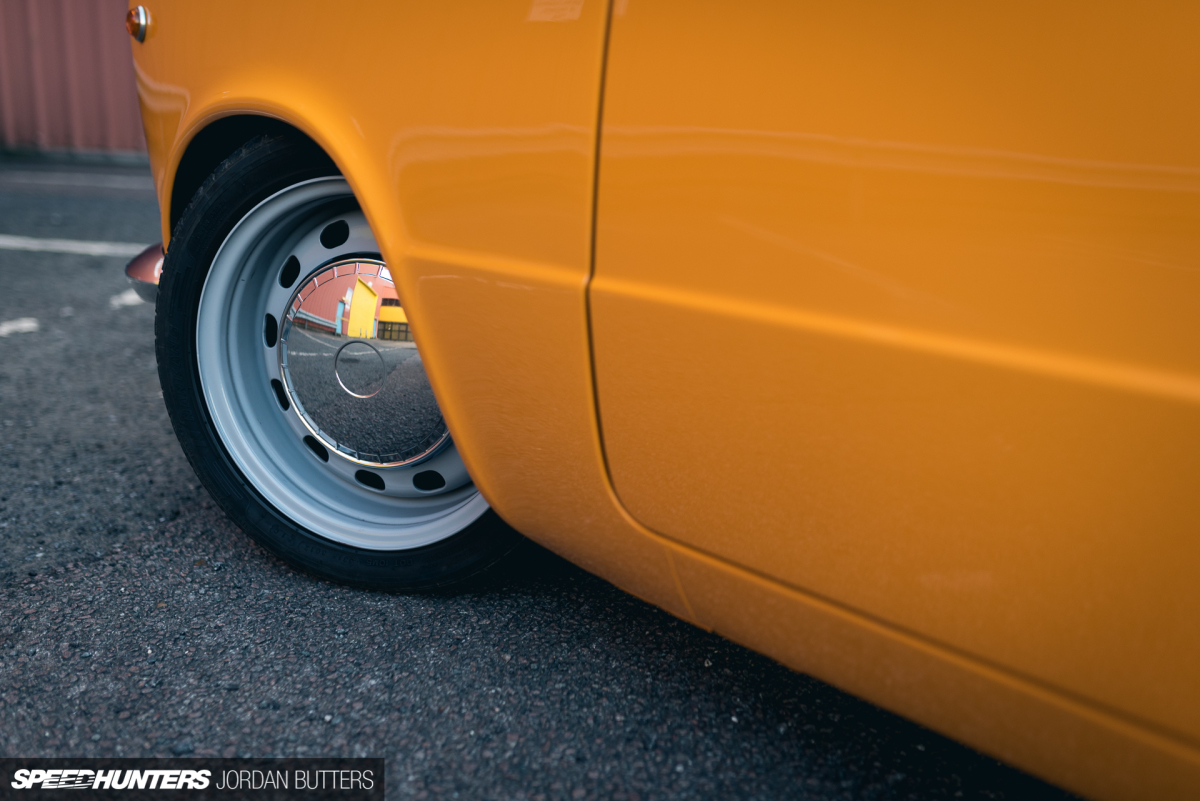 More custom work was called for when it came to wheel choice – Mk2 Ford Mondeo steelies were sacrificed to create the Lada's footwear. The outer rim and centres were separated before being flipped around and welded back together. Provisions to fit the original Lada hubcaps were also made. The wheels hide Rover MG TF AP Racing calipers with 304mm discs at the front and Peugeot 406 front discs with Lotus Exige front calipers at the rear. A mishmash of parts, but one that works.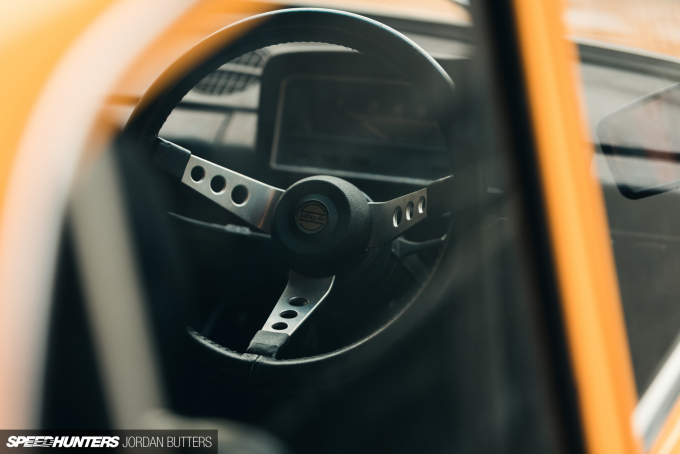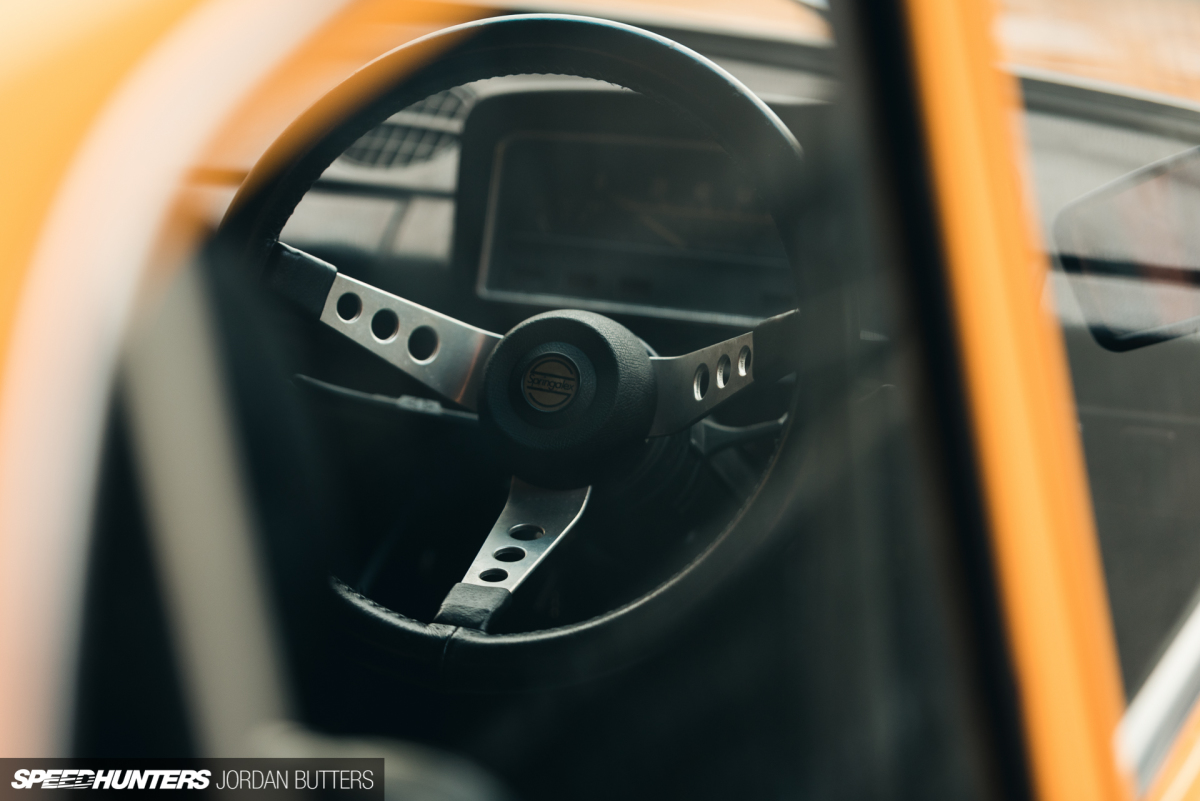 Peeking through the windows, there are few clues as to the Lada's potentent capabilities. A Springalex dished aluminium steering wheel the only obvious and immediate hint that this is anything more than a lovingly restored oddball.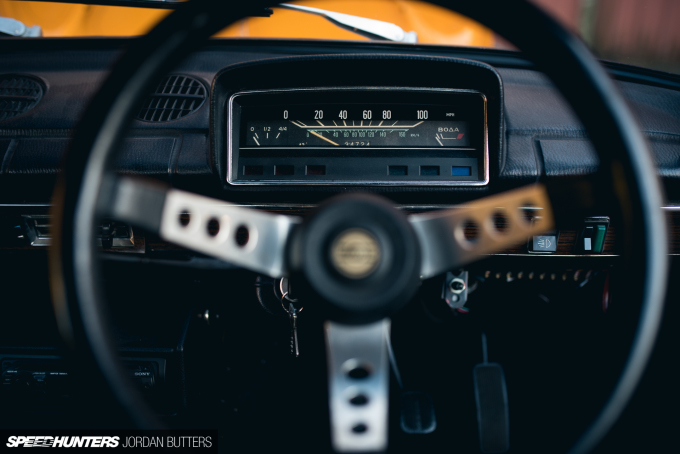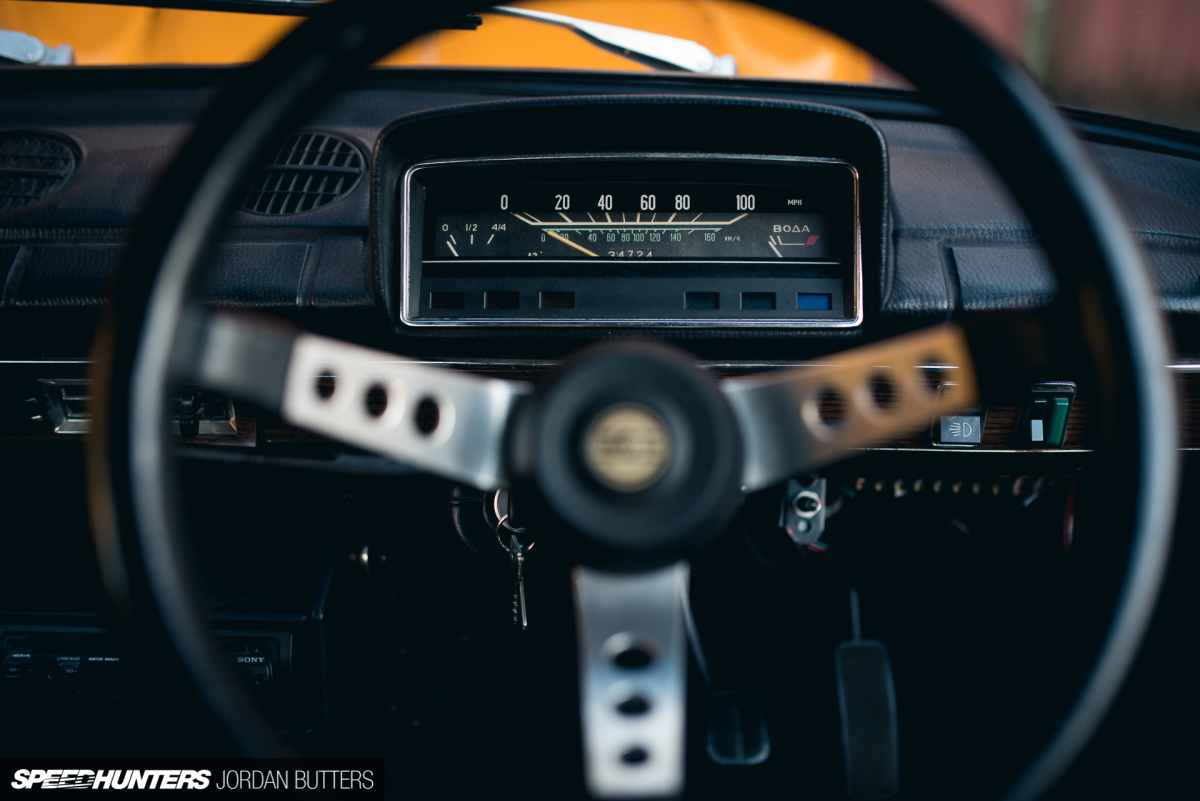 The interior is understated, and Dave has kept modifications to a minimum in order to retain the vast majority of the car's original Eastern Bloc charm. The original speedo tops out at 100mph – the Lada should be able to hit that I reckon.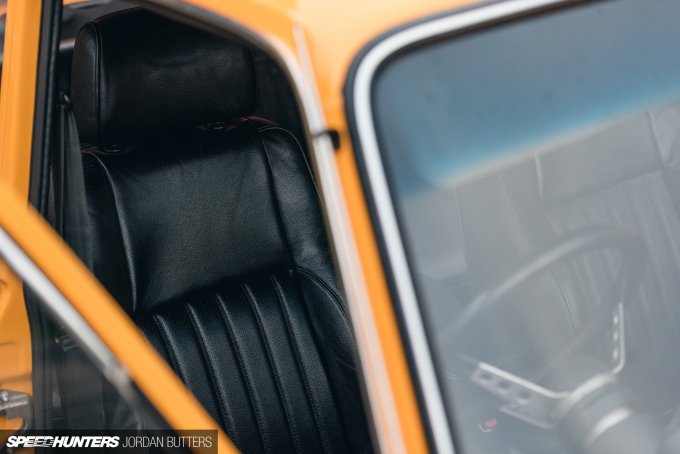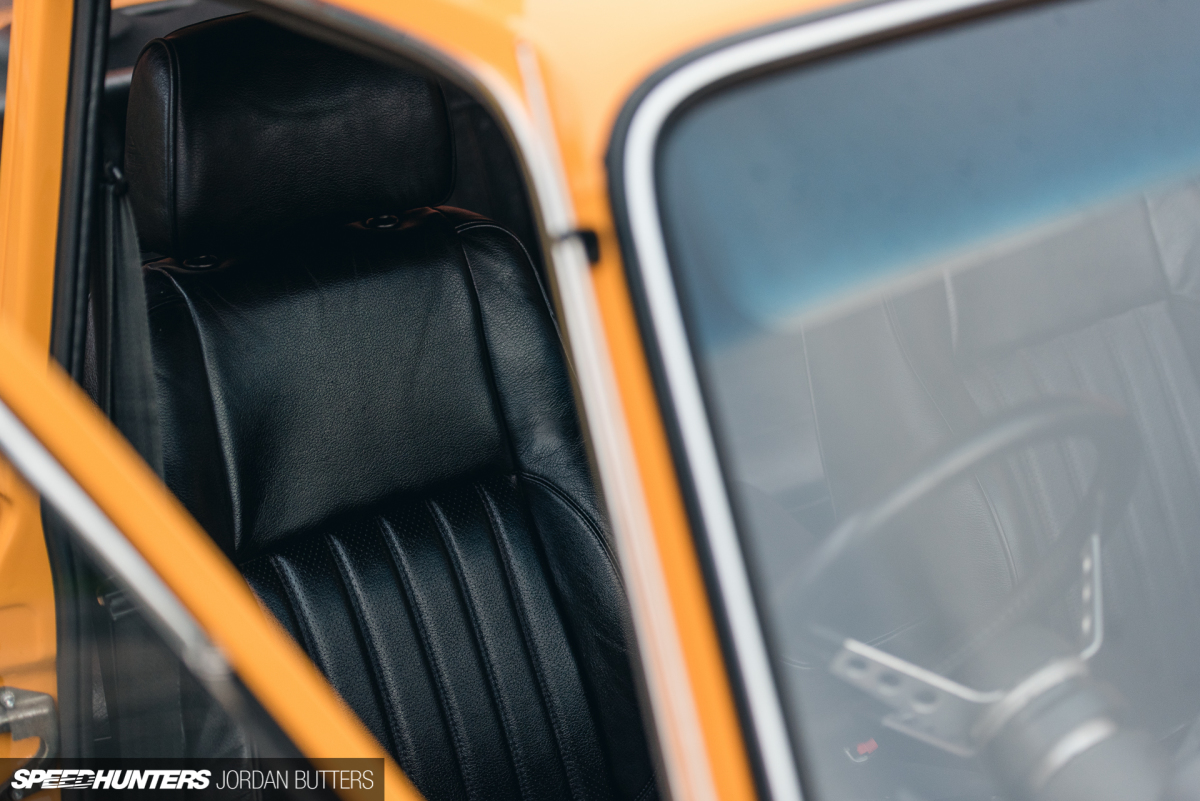 The front seats have actually been swapped. You would've originally found the black leather Momo perches in an Alfa Romeo 156, however they match so well with the rest of the Lada's trim that you'd have to be eagle-eyed to spot that they weren't originally intended for the car.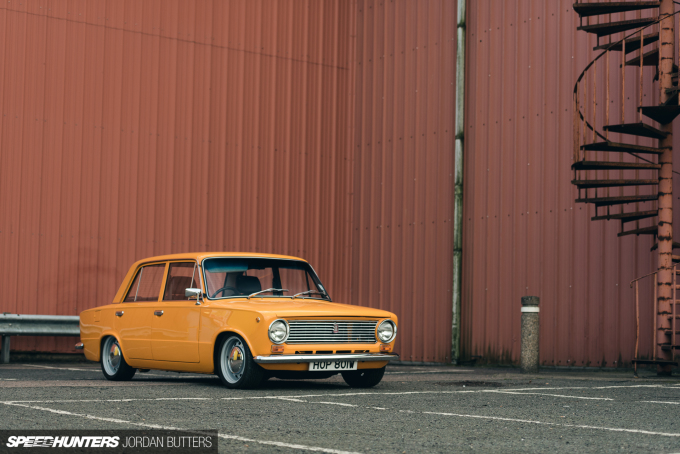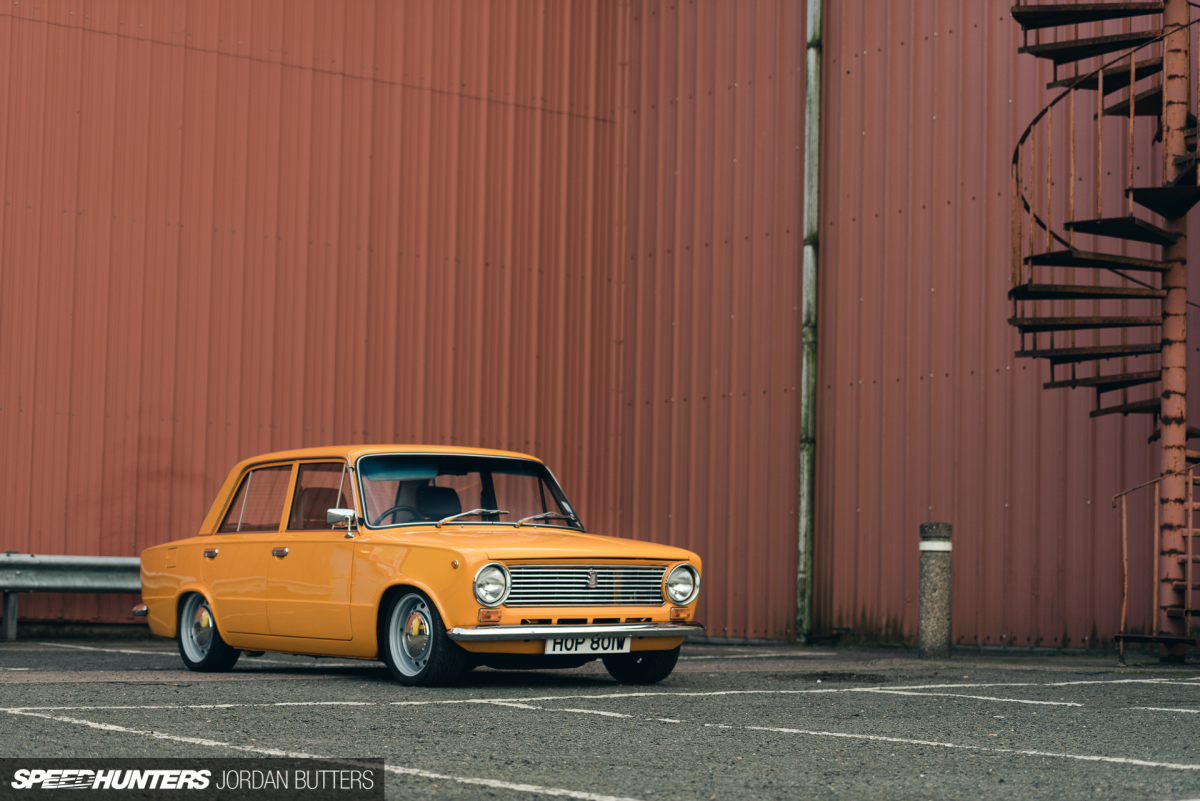 The exterior modifications are just as subtle, and well-executed. The front and rear bumpers sit on custom shortened mounts, bringing them close to the Lada's body. This involved reshaping the metal to better match the contours of the car and opting for an estate rear bumper, sourced from Belgium.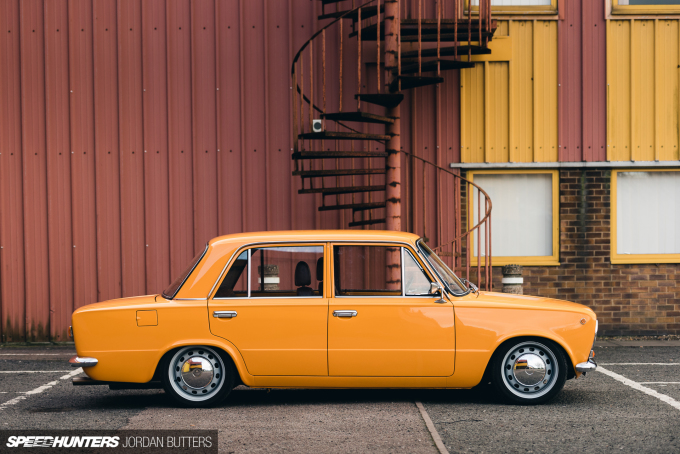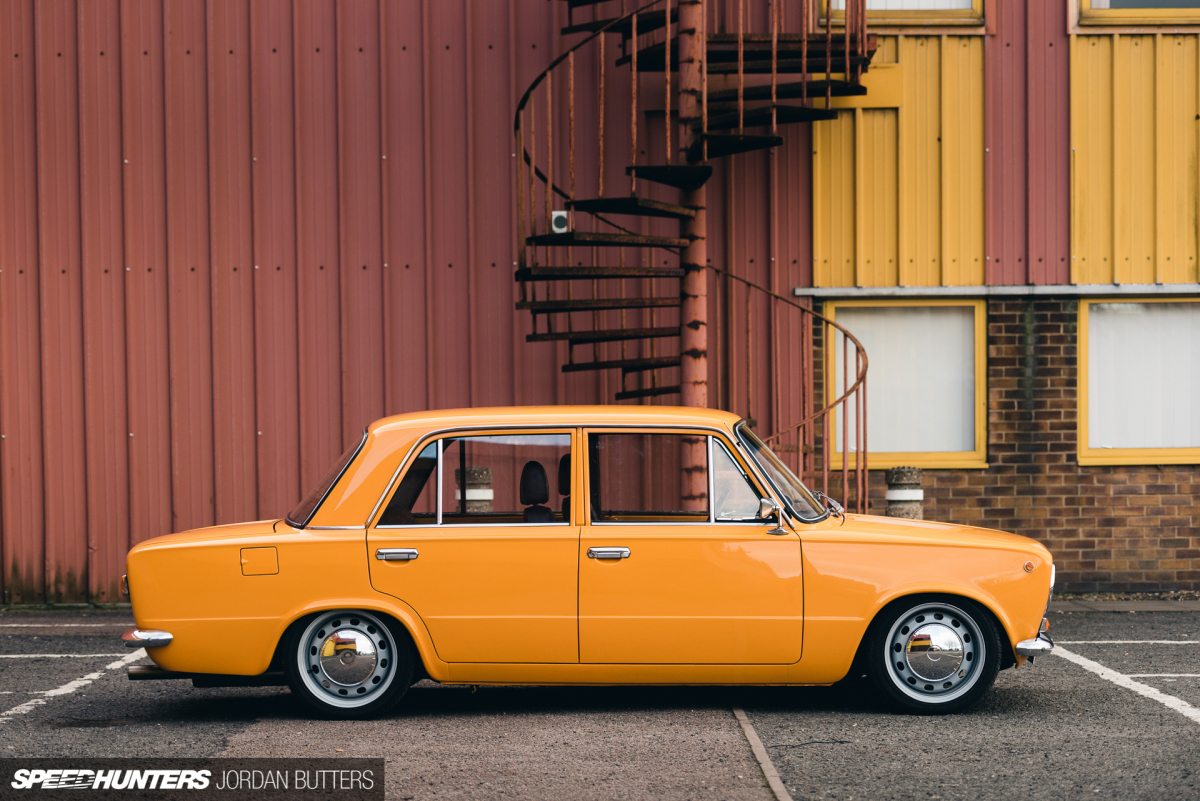 Extra attention was paid to correcting the Lada's questionable panel gaps too. This included cutting, repositioning and rewelding the door hinges to bring the rear doors into line. New door handles were sourced too, although this was an easier job than anticipated – these exact same handles are still being fitted to new Lada Nivas!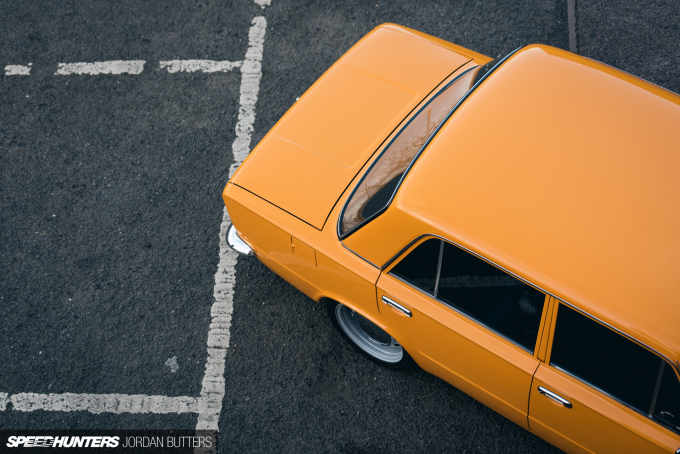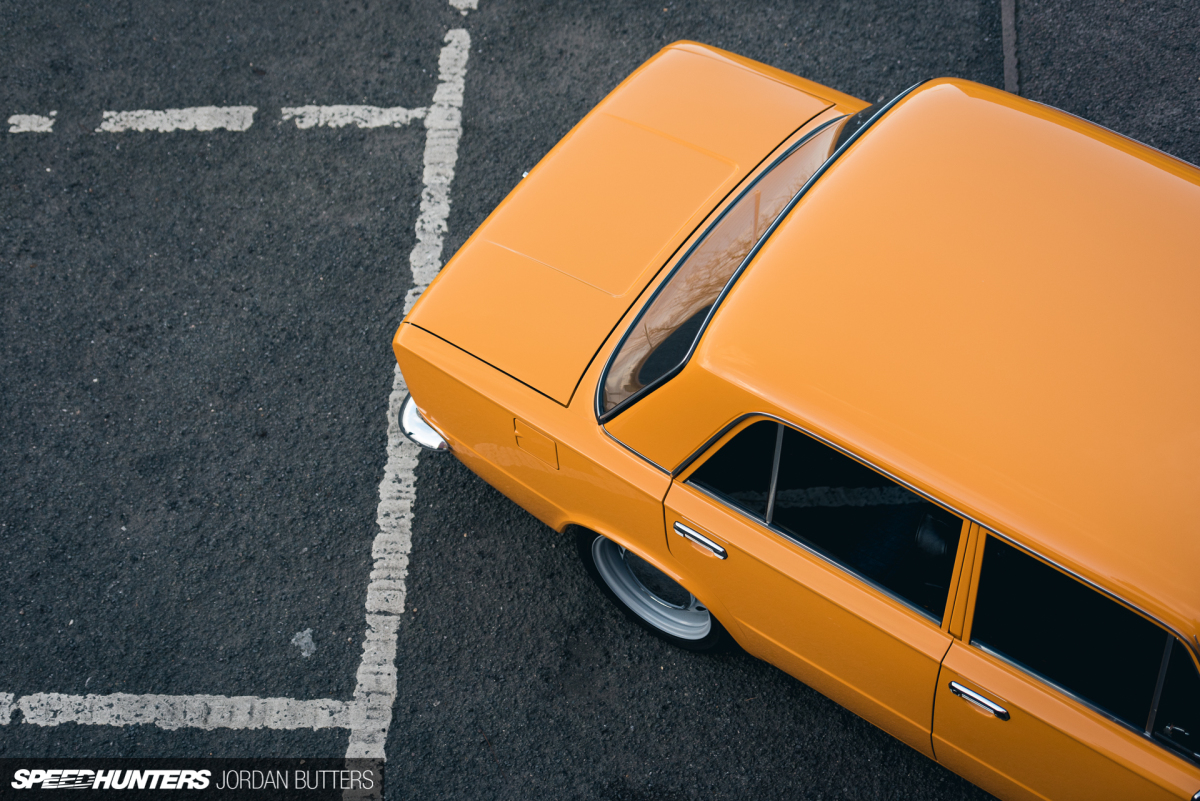 When it came to choosing a colour, Dave wanted something that didn't look out of place. "When you see a car painted in a colour that it was never originally available in, it always looks a bit jarring," he says. I would agree. With this in mind, he set about finding something that was close to a shade of orange offered on the 2101. Naturally, he found himself flicking through Ford colour samples, and the chosen shade of orange is a Ford fleet colour.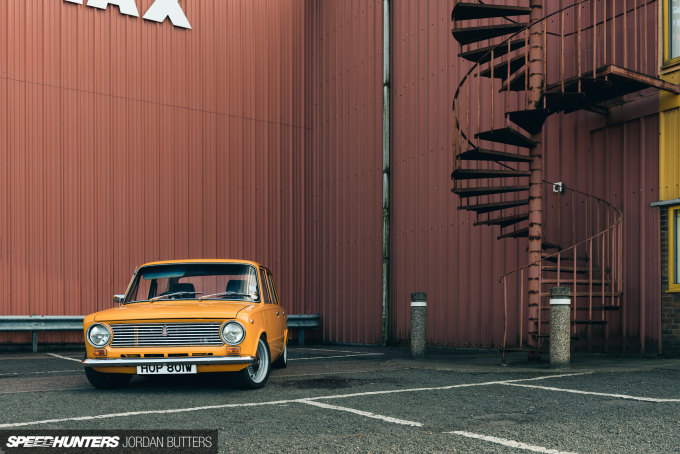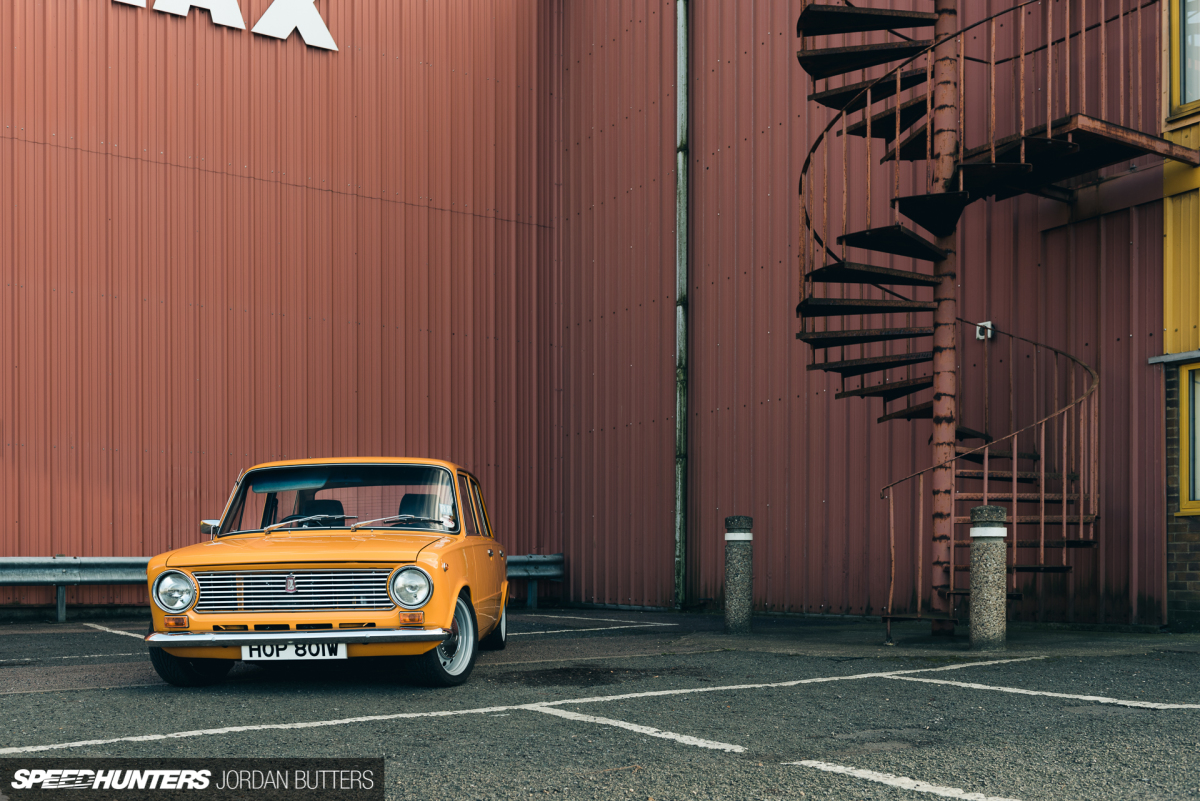 In some light the paint takes on more of a yellow hue, in others it's unmistakably orange. The colour matches the ethos of this little Lada perfectly – it simply screams 'fun' at you. Even at our remote industrial shoot location on a quiet Sunday the Lada draws attention. I'm not sure that the passers by know exactly what it is, but I can see them smiling nonetheless.
In typical UK fashion it wasn't long before the wind started howling and it began to spit with rain, calling an end to our shoot. Dave jumped in and fired up the motor, eager to show me what the Lada can do before it gets too slippery. I'll apologise now for the shaky footage and terrible sound. Headphone users beware.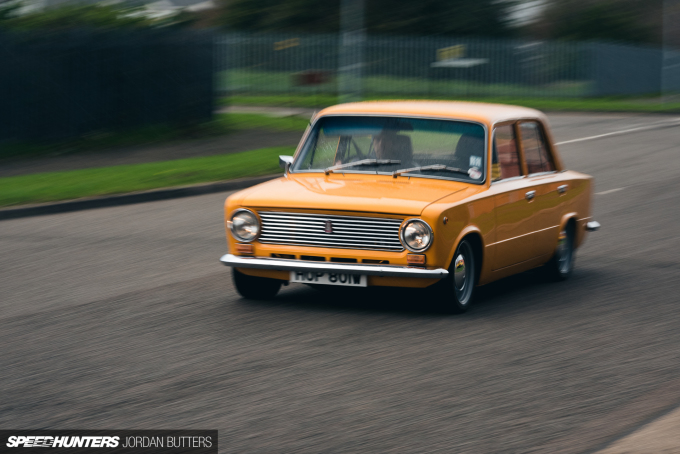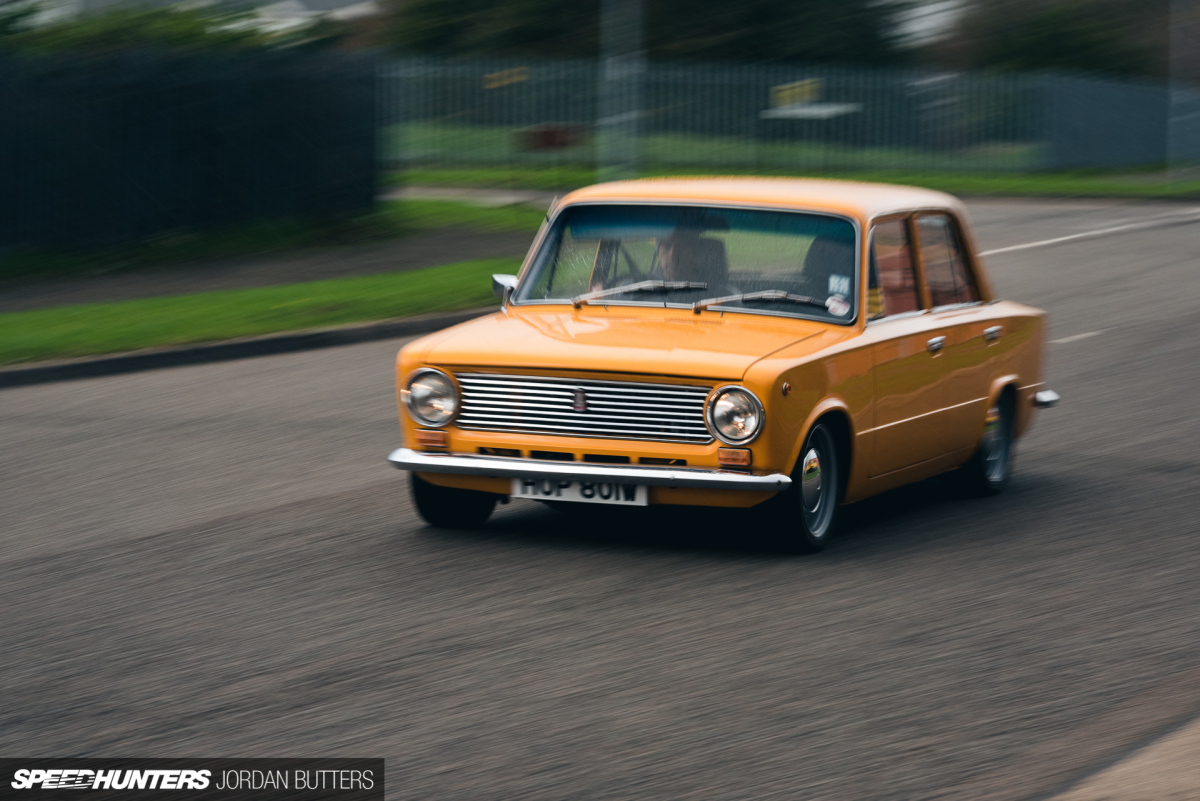 While it might wear many of Retro Ford's conversion parts, the Lada isn't intended as a demonstration piece, or a show of skill, but simply as a car to enjoy. It took just seven months to build from start to finish, consuming as much of Dave's spare time in between work as he could manage – this Lada has been built solely as a labour of love.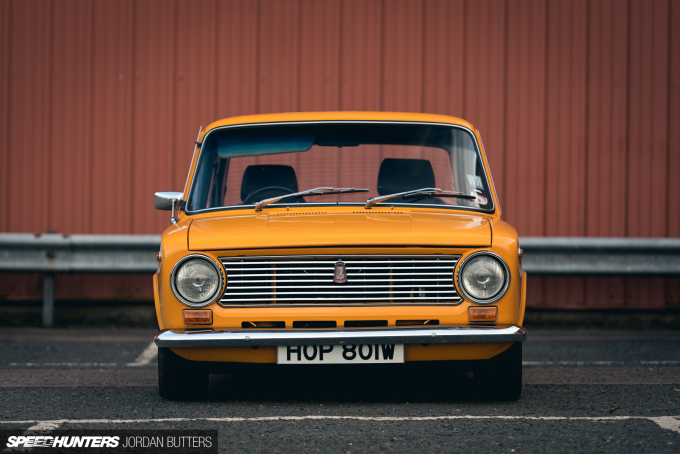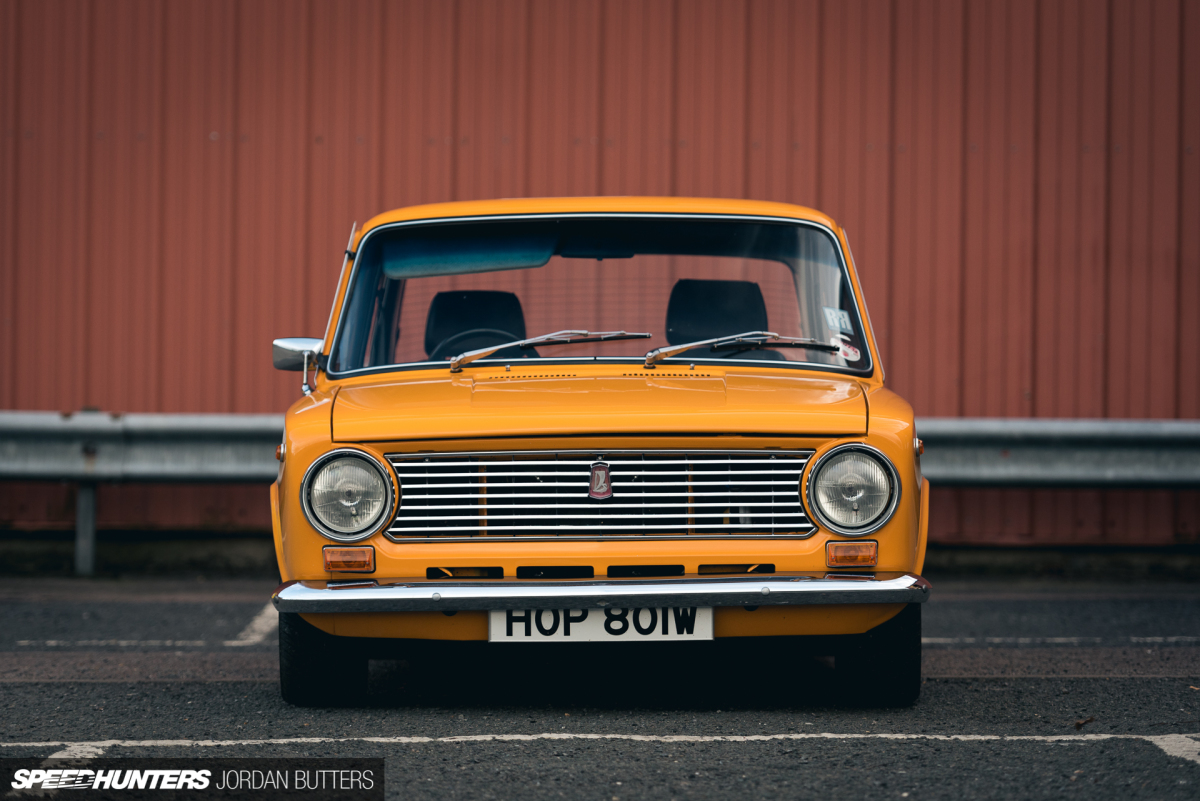 The British love an underdog, and I think that's what pleases me about this build. No one suspects a Lada to have this much time and attention spent on it, and even fewer expect one that has to be this blisteringly quick.
It may not be the sort of car that I'm usually drawn to, but I'm glad I've had my eyes opened – it's certainly a build that deserves appreciation.
Jordan Butters
Instagram: jordanbutters
jordan@speedhunters.com
Dave Colledge's 1981 Duratec Lada 2101
Numbers
Max Power: ~235hp
Engine
2.3-litre Cosworth Duratec, 1mm oversized valves, ported head, Cosworth rods & pistons, Retro Ford sump, Jenvey 50mm ITBs mounted upside down, custom stainless manifold, custom repackable stainless exhaust system, custom alloy radiator, Emerald ECU, custom breather system, Retro Ford water manifold, Retro Ford alternator kit, Retro Ford engine mounts
Drivetrain
Mazda Mx-5 6-speed gearbox, custom quick-shift, hydraulic Retro Ford Pinto paddle clutch, Retro Ford lightweight flywheel, single piece prop, Salisbury-type LSD, uprated two-piece Retro Ford driveshafts, Mk2 Escort back axle, 3.54 final drive
Chassis
Custom built front strut towers, chopped & raised rear towers, modified bulkhead, enlarged gearbox tunnel, raised prop tunnel, reinforced suspension mounts
Suspension
Converted to MacPherson strut, eccentric slotted top mounts, 2.8 Capri Bilstein front shocks with shortened tarmac inserts, rose-jointed Mk2 Escort TCAs, 2.8 Capri ARB with double-width brackets, 2.4 quick rack on custom steering column with Mk2 Escort Grp4 universal joint, AVO rear shocks, 4-link suspension uprated with chromoly tubing, polybushed throughout, rose-jointed adjustable panhard rod
Brakes
Custom adjustable bias pedal box, hydraulic handbrake with inboard bias adjustor, Rover MG TF AP Racing 304mm front brakes on custom bracket and bells, Peugeot 406 front discs with Lotus Exige calipers on rear
Wheels/Tyres
Custom 15×6-inch Mk2 Mondeo steels wheels with rims reversed, fittings for Lada hubcaps, 195/45R15 tyres
Bodywork
Fiat 124 front wings cut and extended, Lada 2101 estate rear bumper, custom mounts to tuck bumpers in
Interior
Springlex steering wheel, Alfa Romeo 156 leather front seats
Cutting Room Floor