Standing Out
If there's one thing I don't like about Japan it's the way society is forced to adhere to a predetermined set of steps. As soon as children start their first day at school they are entering 'the system' and will be forced to follow the same path that generations before them have gone through, studying and preparing themselves for a series of tests, exams and life goals that are there for the sole purpose of being passed. Actual understanding plays second fiddle in education, as does discovering and nurturing an individual's unique set of skills and talents.
Yes, Japan is very black and white. 'The system' attempts to eliminate anything outside of the expected norm, but because of those who choose not to conform – usually creative types – it will never succeed. These people are the ones you usually hear about; characters that stand out for their god-given qualities and follow an almost anti-social path for the greater good. In my experience, these are the people that can call themselves successful, be it through the things they are able to create, or through the wealth they have been able to generate from not becoming a lemming.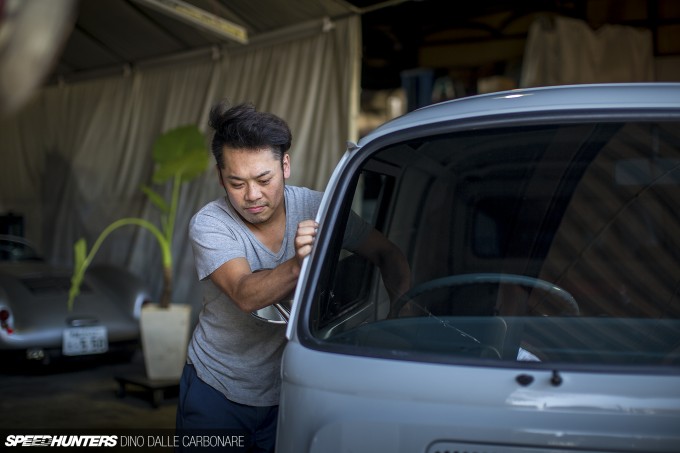 And I'm very fortunate, because through my job here at Speedhunters, I get to meet people like Tomoyuki Nonoshita on an almost daily basis. To the outside world, or 'the system' if you will, he would likely be categorised as a repair man. Tomo owns a little garage in Saitama called Silver Rest, and it's here he spends his days fixing, maintaining and restoring his customers' old VWs.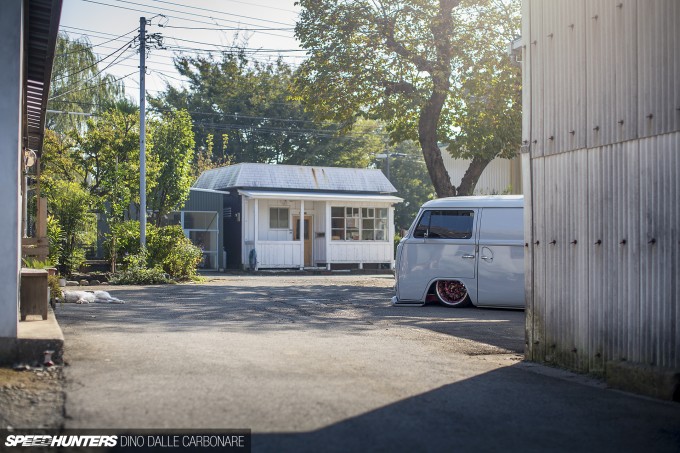 But Tomo is much more than that. He's a young guy with his own vision; a man that on the surface attempts to conform for the sole purpose of creating when nobody is watching. His 1972 VW Type 2 Panel Van is the perfect example of what it means to be creative. Built over a period of around 10 years, this van is still an incomplete project, but it's not too far away from completion.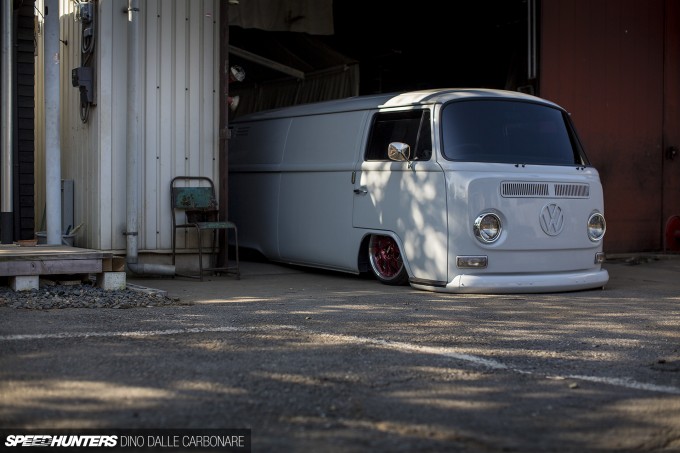 It's such a special vision in the whole VW scene that I couldn't help but feature it even before it's able to turn its chunky rear tyres under its own power. Read on and you'll see why…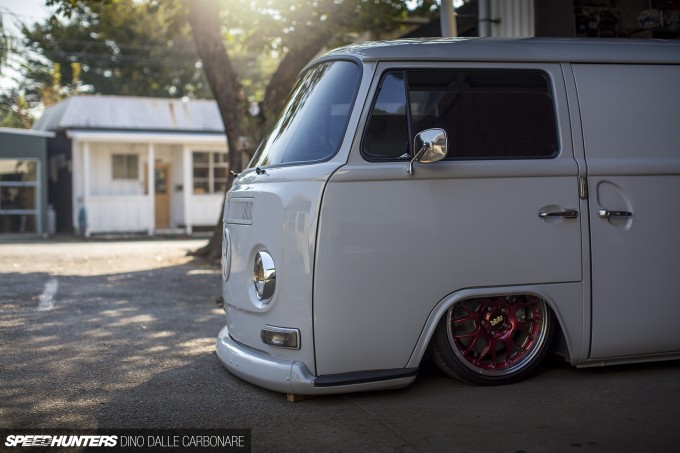 Tomo's van started off as a rusty US$1000 purchase back in 2005. He picked it up on the cheap with the idea of repairing its rust damage and getting it into a reliable state so it could be used as the shop's hauler. With plenty of loading space in the back it seemed like a great idea, but the more he looked at it, and the more he researched what people in other countries were doing with these things, his creativity sparked into life.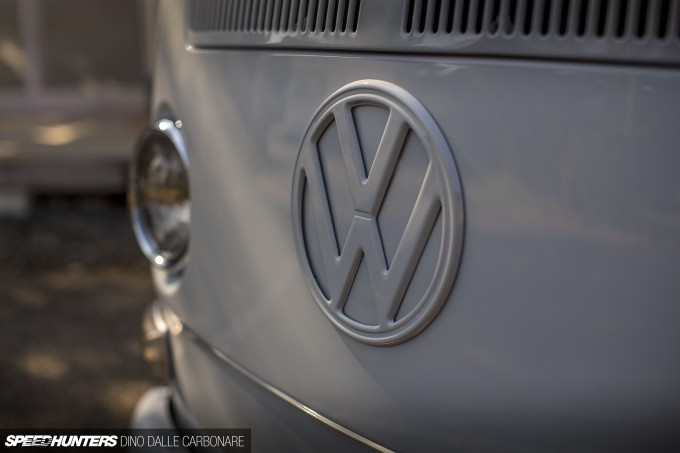 He thought the VW scene in Japan was a little too focussed on recreating old and respected styles, and that there wasn't enough experimentation or outside-of-the-box thinking. This had to change.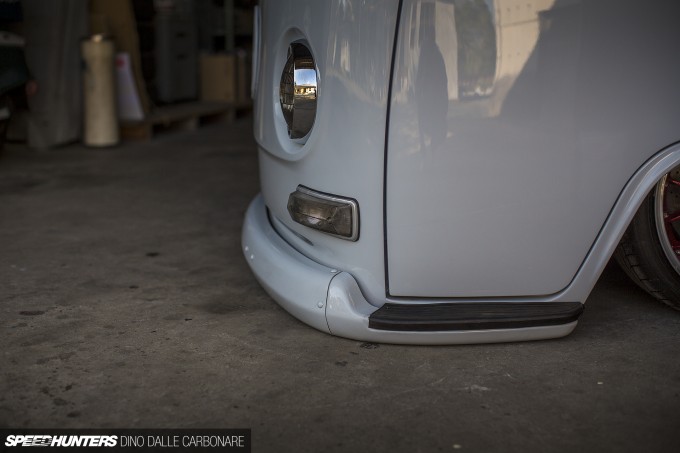 That's why the first thing Tomo did was prepare the chassis for a true slam.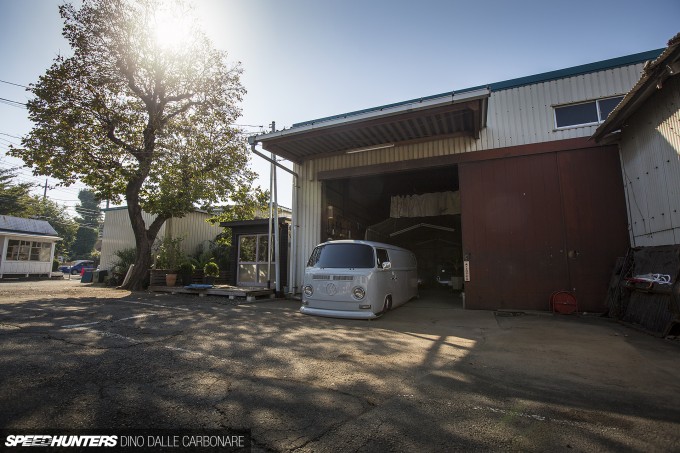 You just don't see VW buses on bags in Japan. Low is popular, but extra low is almost frowned upon as most feel like it's just too much. But just like in the conformist society that makes up Japan, anything that is done differently is instantly noticed. And that's why Tomo's Type 2 was an instant show-stopper at last year's Mooneyes Hot Rod & Custom Show.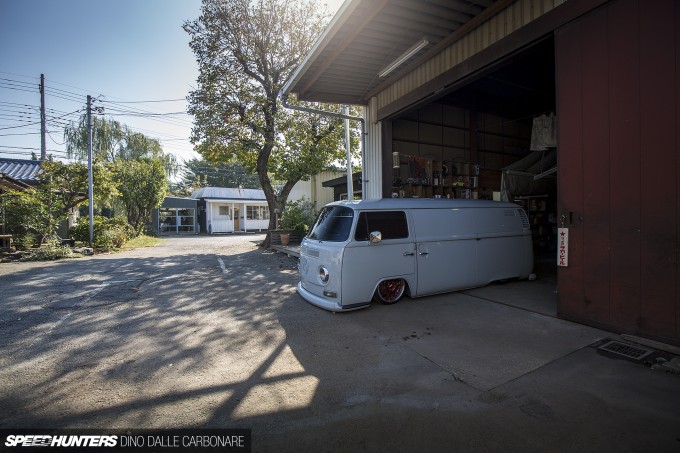 The time that Tomo has dedicated to this side project of his is mind-blowing. The reason it has taken so long is that he's not only done every single thing himself, but he can only work on it at night when all of his customer car work has been completed.
The Attention To Detail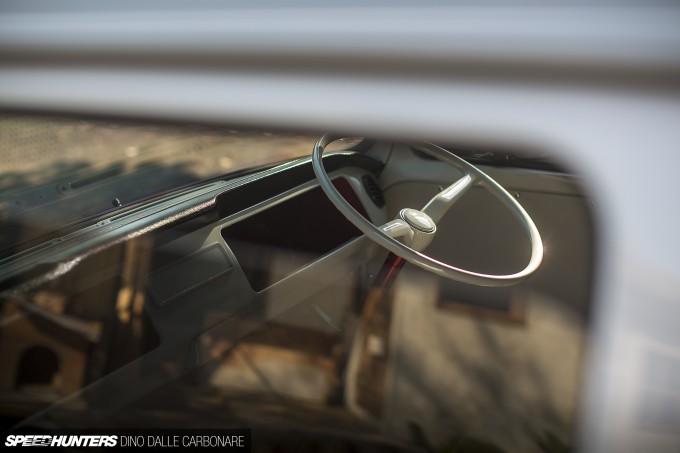 With no time goal set, it has allowed all of Tomo's creativity to flow. He's been able to try new things, change them, refine them and perfect them.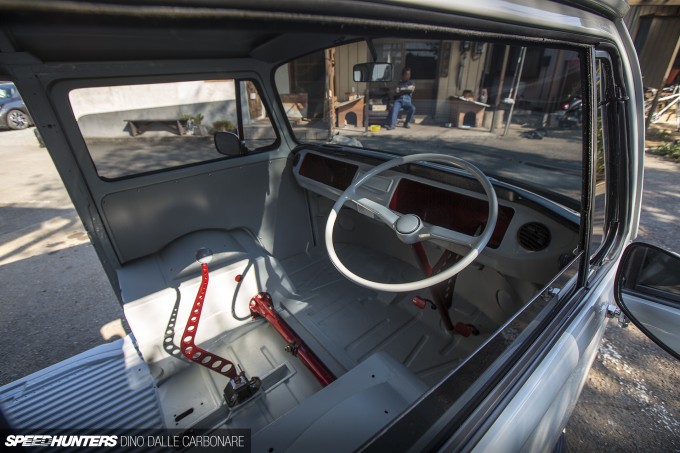 Tomo reckons there's about a year's worth of work to be done to get the old bus finished. Considering he's been at it since 2005, that's not long at all in the bigger scheme of things.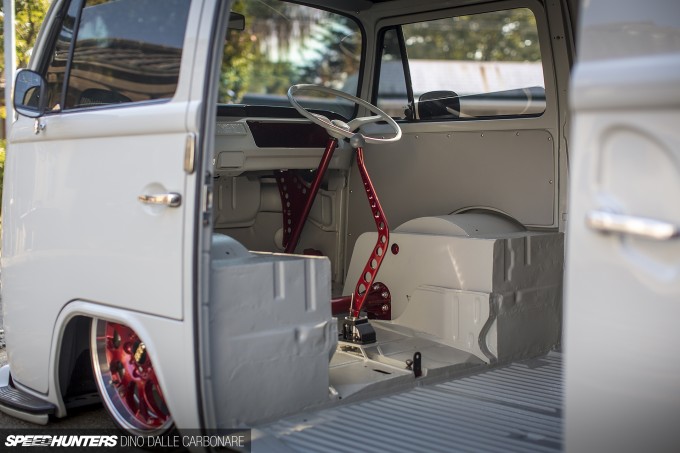 It's just the smaller stuff that needs addressing, like the interior and front cab. In order to get the van to sit right on its chassis when the air suspension is completely aired out, Tomo has tubbed and extended the front inner fenders so that the 17-inch wheels can sit snugly within them.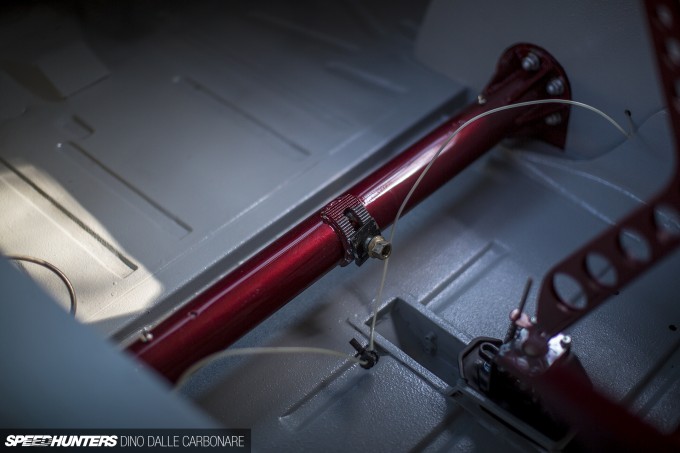 The front axle has been shortened to get the required tuck necessary for the slammed look, and is fitted with Old Speed drop spindles. Monroe shocks take care of the damping when the van is lifted to its driving height.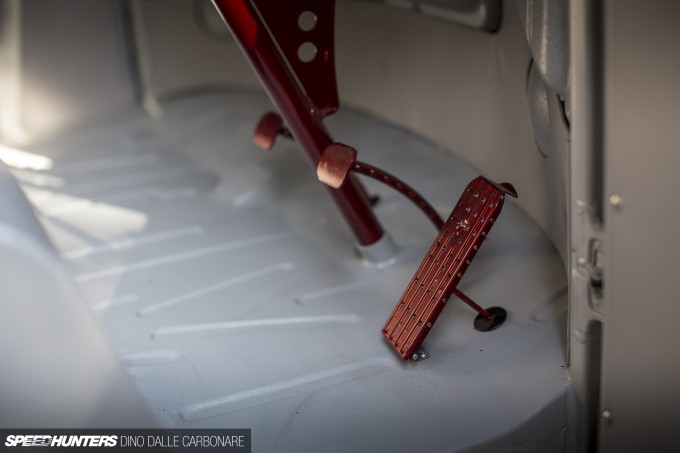 The floor was cut out and remounted higher to allow enough clearance to drive the van on a decently-low setting – something that took a hell of a lot of work.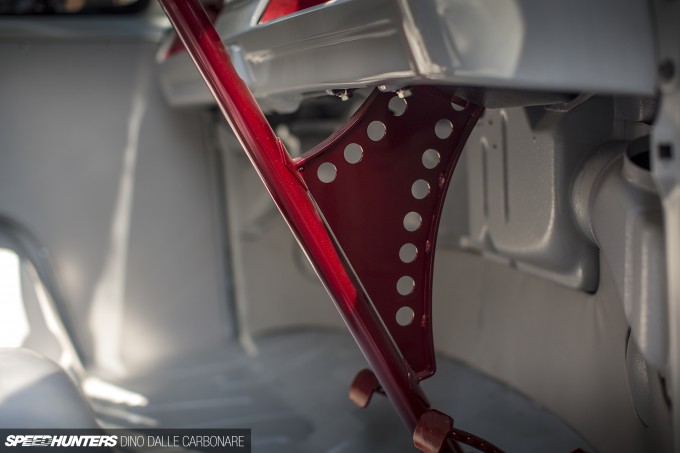 Tomo even created a custom steering column housing fixed in position under the dash, then painted it in the same contrasting candy red that's been used for all of the detailing.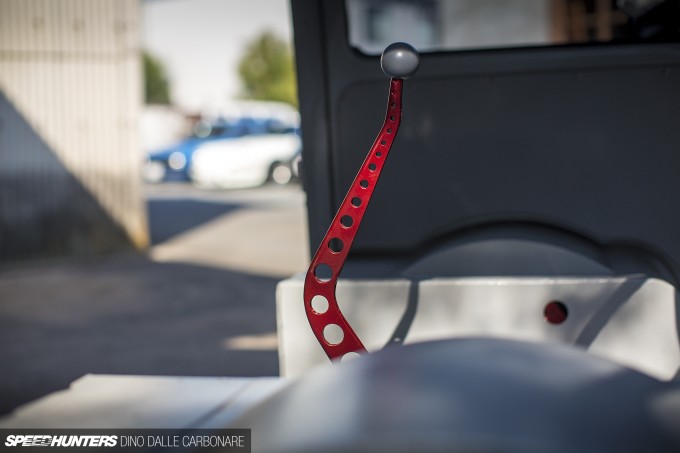 Simplistic elements are what make this van such a unique creation.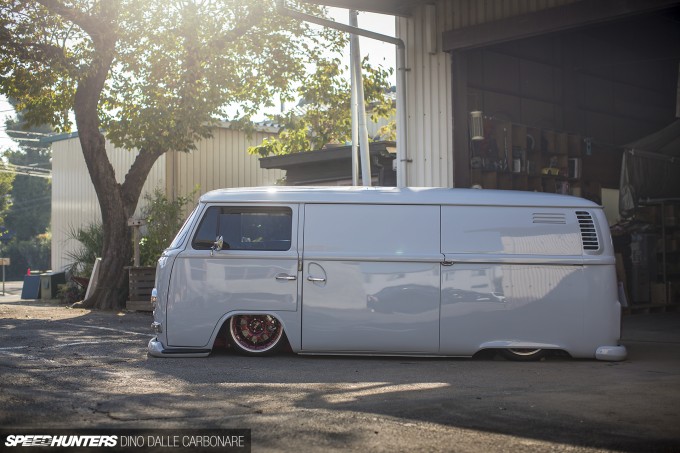 Tomo extended the rear fenders downwards about 4-inches to almost completely cover the rear wheels when the suspension is lowered. The choice of simple solid, yet very glossy Fiat 500 grey paint was a superb one as it really fits in with the whole concept behind it: making a strong statement out of pure simplicity.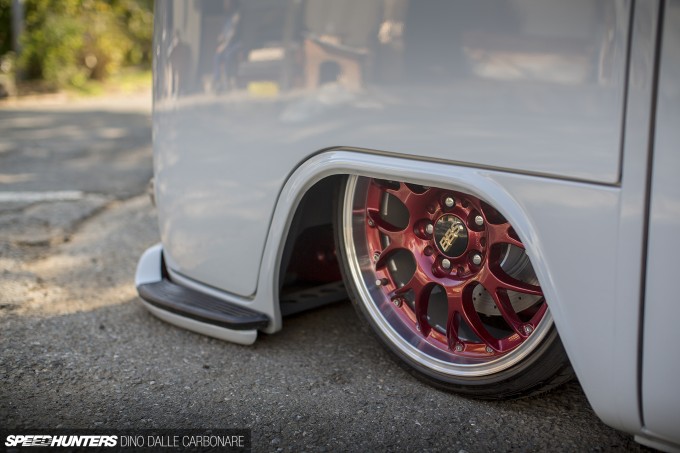 One of the things that I first noticed about Tomo's van on seeing last year at the Hot Rod Show was the fact that it was sitting on 2-piece BBS RS-GTs wheels. To me, that seemed beyond cool.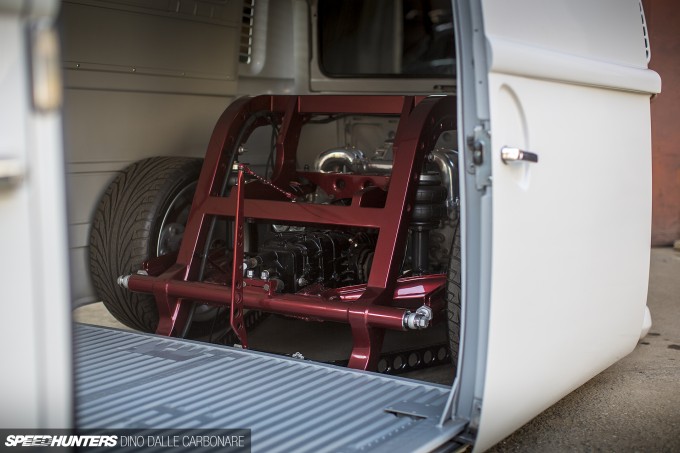 But that was before I had even taken a peek inside – specifically in the back. In order to get the van to sit just right Tomo had to create a complete custom rear end, something that started by him cutting off the entire rear section of the chassis, floor and engine room.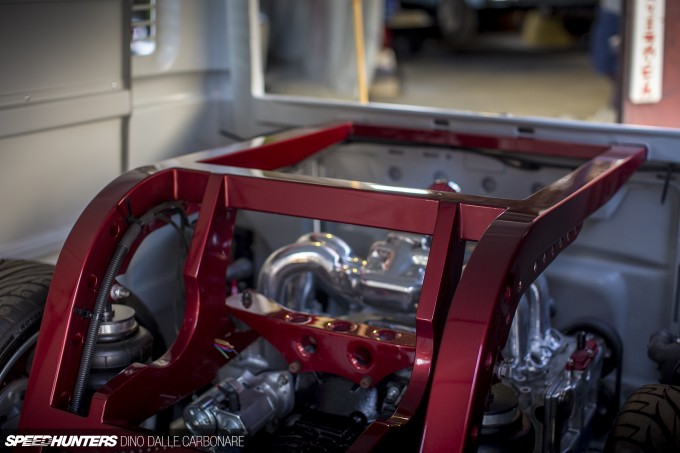 He then fabricated a set of raised frame rails that would also extend to the various fixing points for the rear suspension and the mounts for the engine.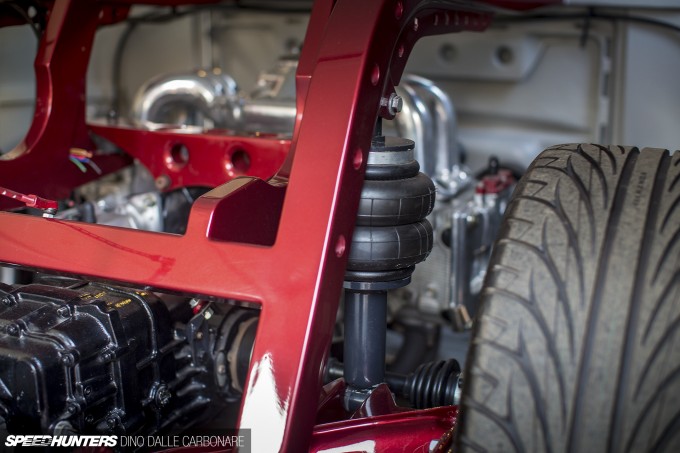 Years of work went into getting everything right; the schematics laid out on paper first and then turned into reality. The rear suspension is composed of a mix of VW Beetle and custom arms and custom shock absorbers combined with Firestone air bags. The stock VW 4-speed transmission has remained and turns the rear 18-inch wheels through a fresh pair of driveshafts.
Boxer Power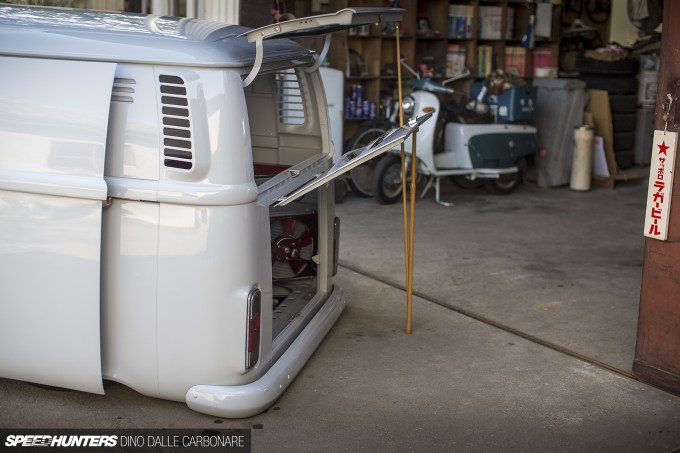 Can you say custom? The bespoke work out back didn't end there either… If you're familiar with VW vans and buses you'll instantly notice that something is not quite right. That's because Tomo shortened the rear gate and made the engine cover (or lower rear gate) taller.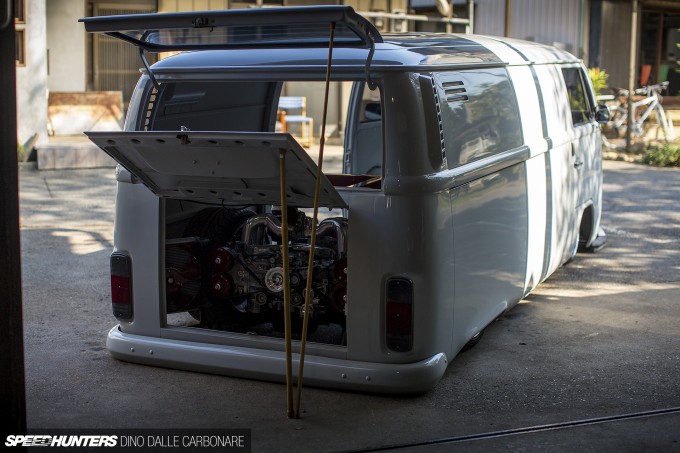 Suffice to say, it took a lot of custom fabrication work to get everything to line up and latch safely in place. But why go to all this trouble?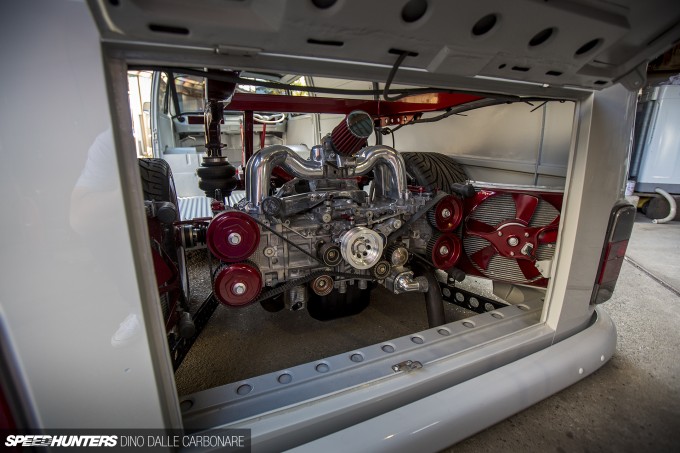 Well, it was all down to the engine that was chosen. You see, what Tomo really wanted to do with this whole project is put a very big emphasis on performance. He wanted something that would be exciting and exhilarating to drive, which meant that the stock air-cooled motor had to go. In its place is a Subaru EJ20 from a 1998 Impreza – the perfect flat-4 layout but with two very important twists. One, that it's an engine from a Japanese manufacturer and therefore a great choice to add some 'made in Japan' appeal, and two, the fact that it would definitely get people talking.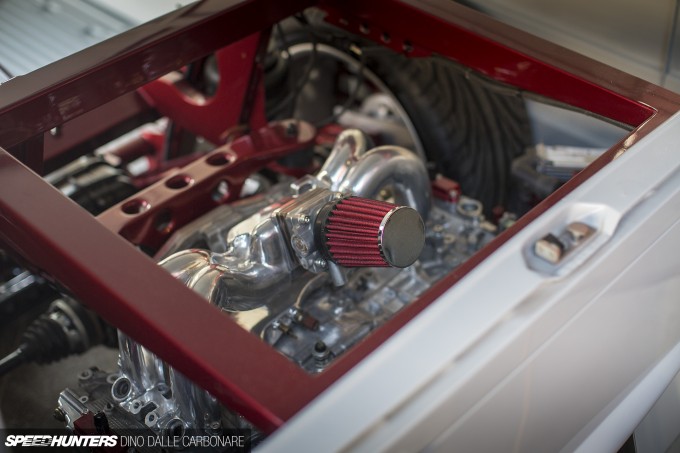 Tomo has spent some time polishing the intake plenum and color-matching the cam pulley covers, but he isn't quite done yet. Next on the list is turbocharging.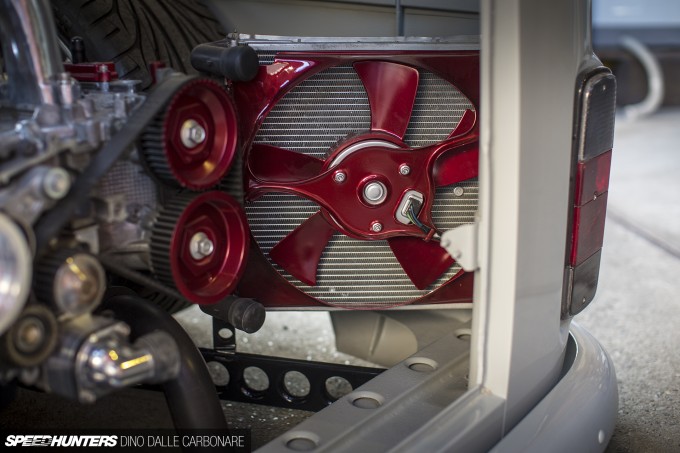 Tomo want's power and he's currently researching the best way to do that in a way that also looks cool. Cooling won't be an issue as he's already fitted a pair of side radiators with their own extractor fans to keep the engine running at optimal temperature, and with all the space he has at his disposal back there positioning an intercooler won't be too difficult either.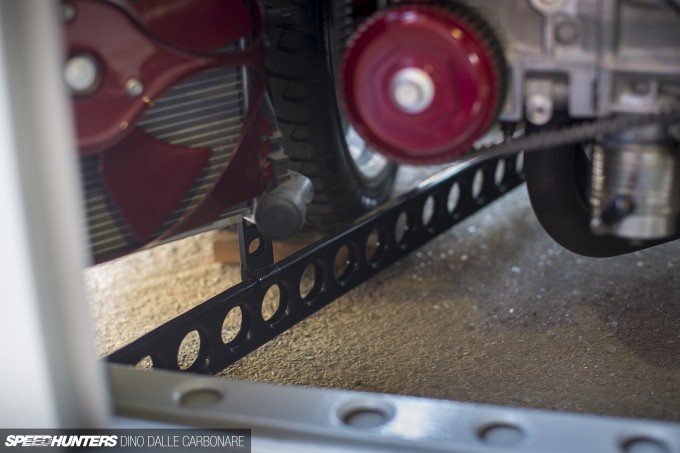 Once that's all in place it will then just be a question of fabricating an exhaust system and fine tuning the burble that has long since been lost from Subarus.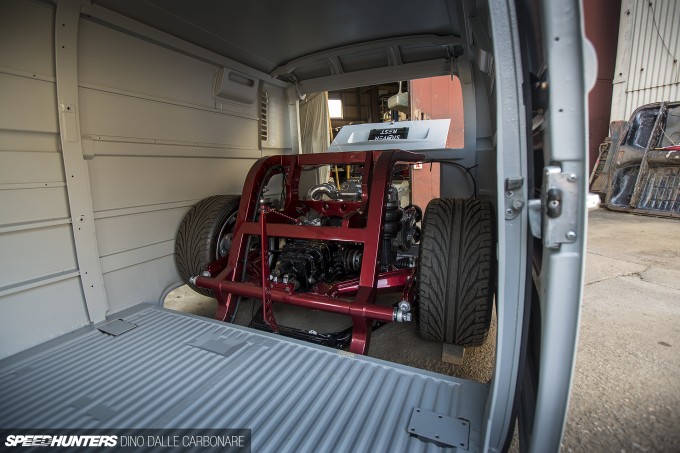 One other thing that remains to be done is creating a linkage from the shift lever to the actual gear selector on top of the gearbox. Then the Silver Rest Panel Van will be ready to hit the street and start burning rubber.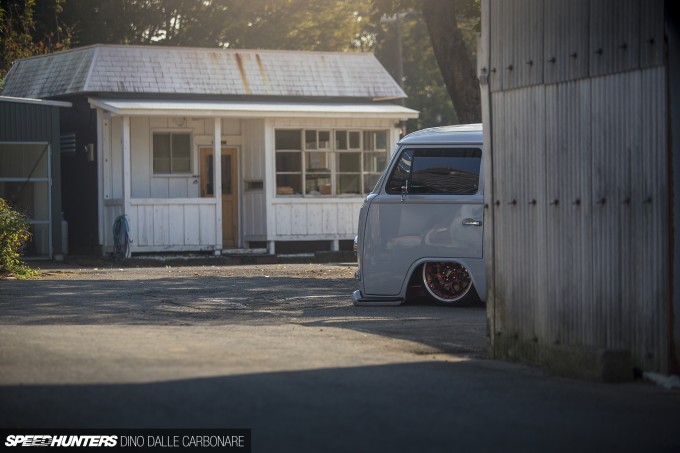 I found it inspiring to see this sort of dedication and vision beautifully displayed in front of my eyes. It's testament to what one talented guy with a hell of a lot of passion is able to create. Everything on the van except the paintwork was made by Tomo's own two hands.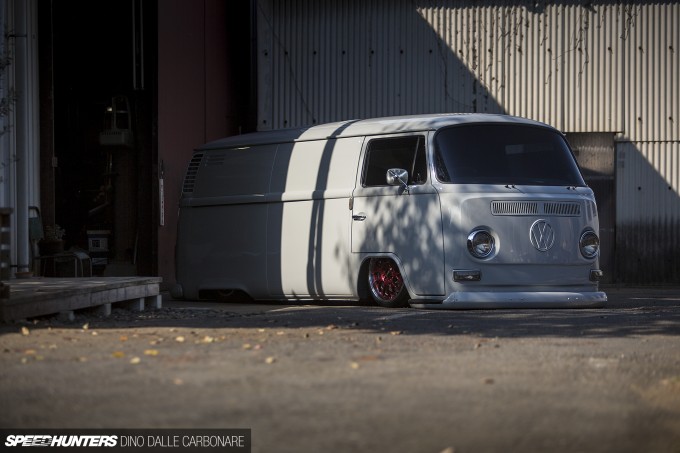 Japan is indeed a curious place. The need to categorise and homogenise its people may be something that worked in the generations that followed the end of WW2, but it's not a way that is going to be working for much longer. And that's a good thing, because I know there is so much untapped creative talent in Japan that is just being drowned by an antiquated system that has truly come to the end of its road. Tomo and Silver Rest is just one example of that.
Dino Dalle Carbonare
Instagram: speedhunters_dino
dino@speedhunters.com
Silver Rest 1977 VW Type 2 Panel Van
Engine:
Subaru EJ20, polished intake plenum, cone filter, color matched cam pulleys, custom engine mounts
Driveline:
Factory 4-speed VW gearbox, custom adaptor & linkage
Suspension/Brakes:
Custom shortened front tube axle with Old Speed drop spindle, Monroe shocks & air bags, rear custom frame rails, VW Beetle top suspension arms, custom lower arms, Firestone airbags over conventional shocks, Mercedes-Benz 500SL Brembo calipers custom fitted at front
Wheels/Tyres:
BBS RS-GT 17×8-inch (front), 18×9-inch (rear), 195/40R17 (front), 265/35R18 (rear)
Exterior:
Full restoration, extended rear fenders, custom shortened upper tailgate, custom extended engine hood, Fiat 500 grey paint
Interior/Chassis:
Custom extended inner front fenders, cut & raised floor, custom steering rack housing & mounting brace, relocated steering box & master cylinder, custom shift lever