This Isn't LA
For some reason, people seem to think that slammed, wide-body cars only come from Los Angeles. While LA is a hub of automotive culture, it's not the only place culture exists in this global phenomenon we call a hobby. Coming out of Phoenix, Arizona, Paul Podobea's wide and low BMW 3 Series is a prime example.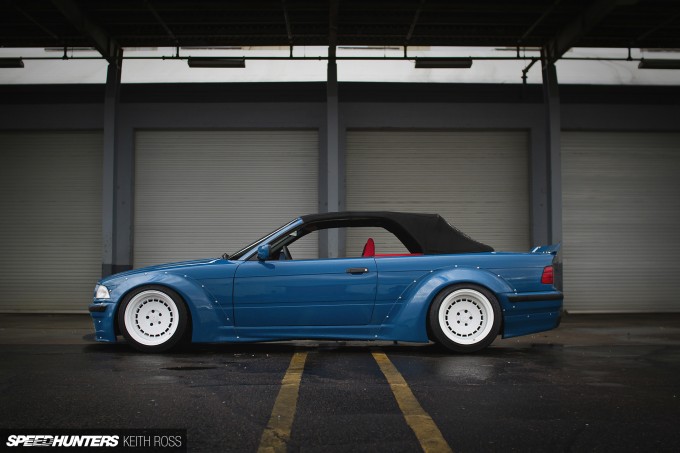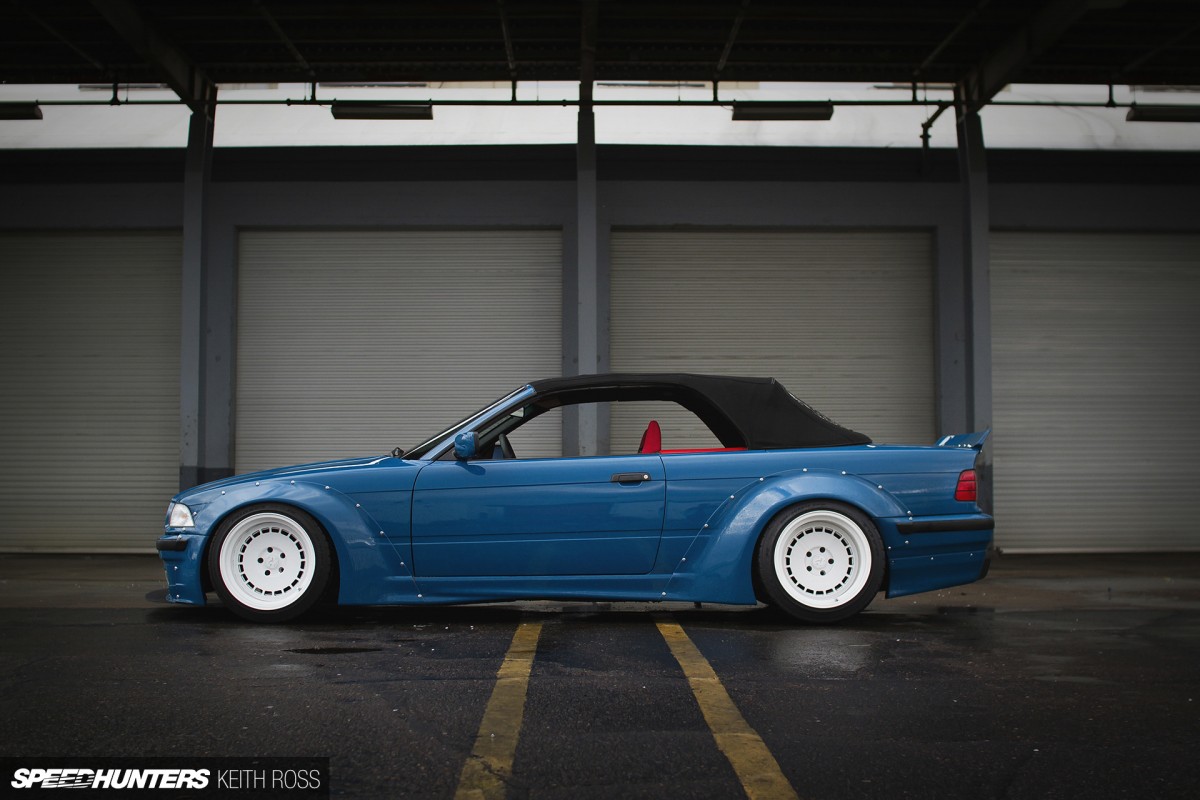 It all began with one image: a much anticipated sneak-peak rendering of Kei Miura's new E36 wide-body for Sarto Racing. The instant Paul saw it, he knew he had to have it.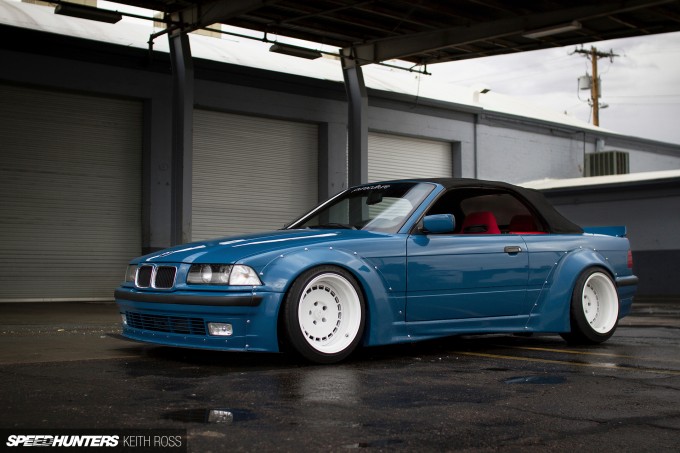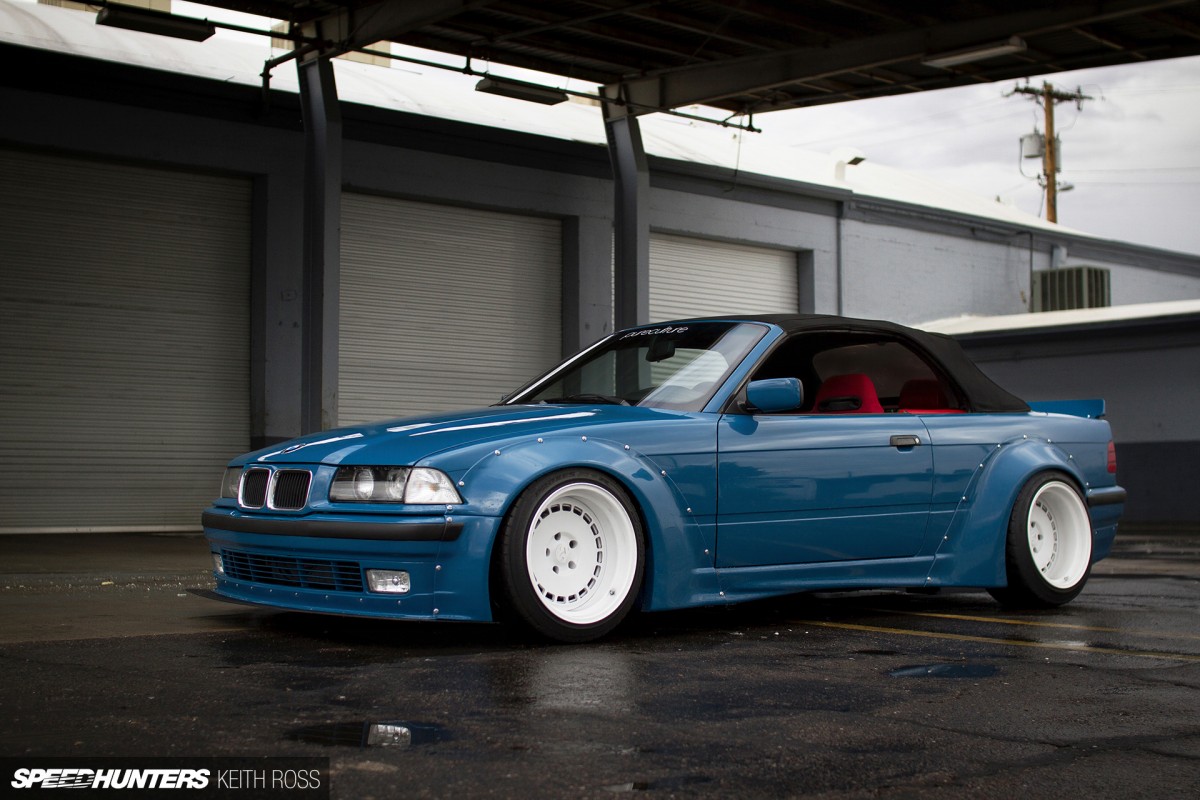 He started the search, eventually acquiring a low-mile convertible from a little old lady who treated the Bimmer with care. An M3 might have been a more desirable platform, but in this case Paul went for the cleanest example he could find, which was a 1995 325i.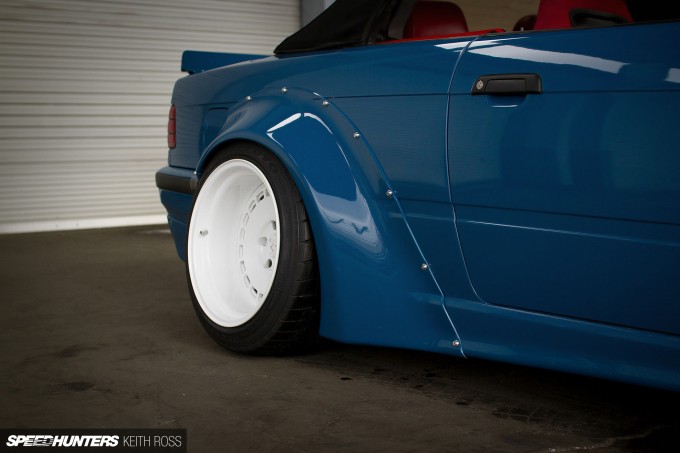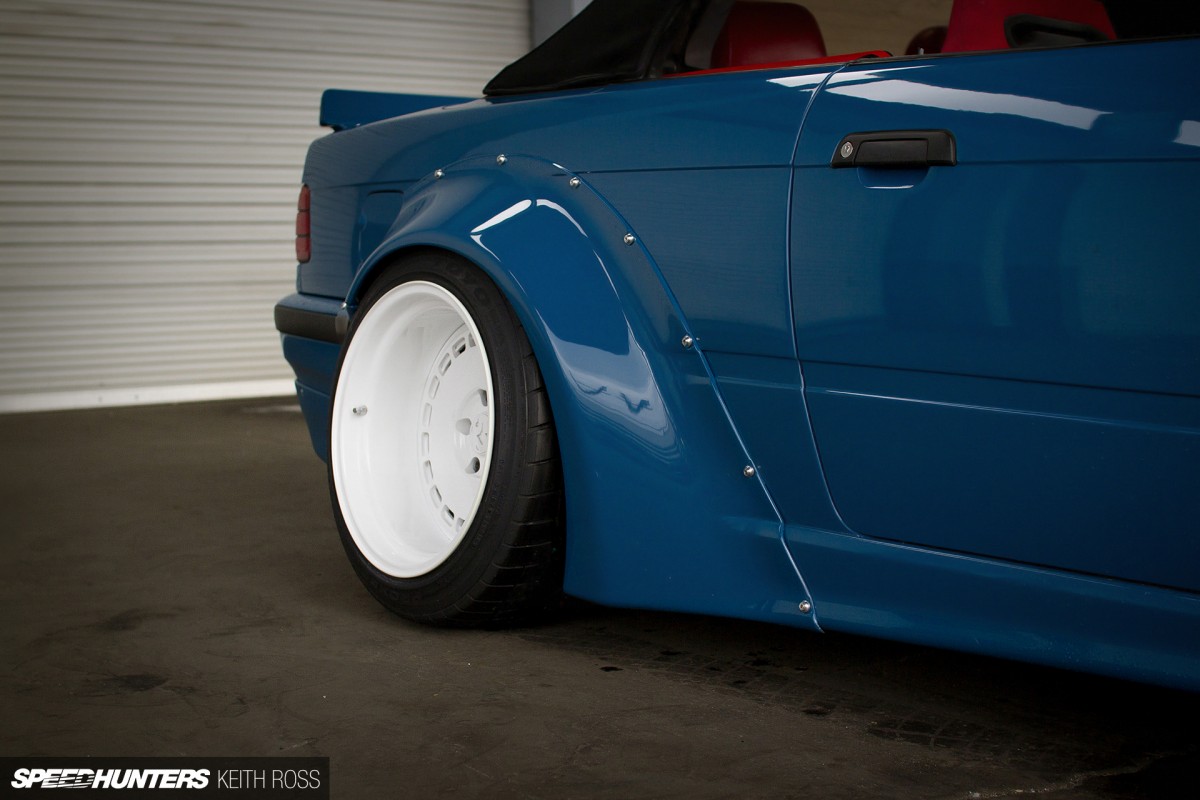 It was the perfect donor, because if you're going to build a 20-year-old car most of the candidates are going to be pretty thrashed. Starting with a clean car was a huge plus, especially with a short build timeline.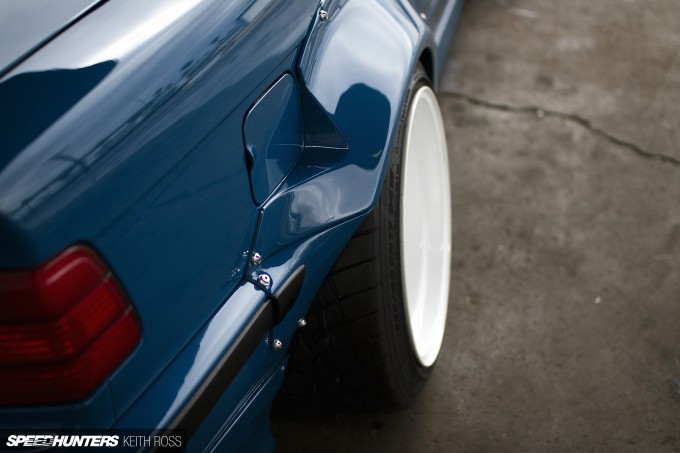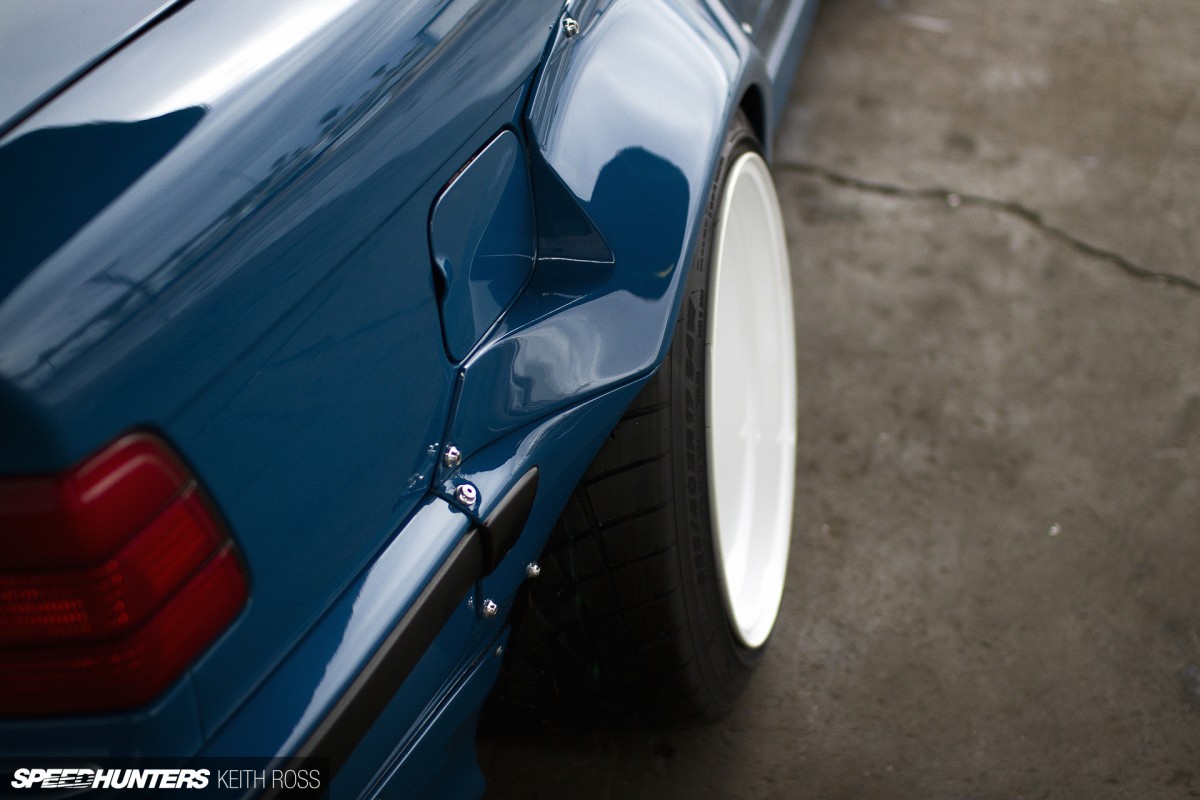 Paul was actually purchasing the 325i 'vert right around this time last year, and while he does have more plans for the car, we thought it was definitely ready to be unleashed here on the pages of Speedhunters.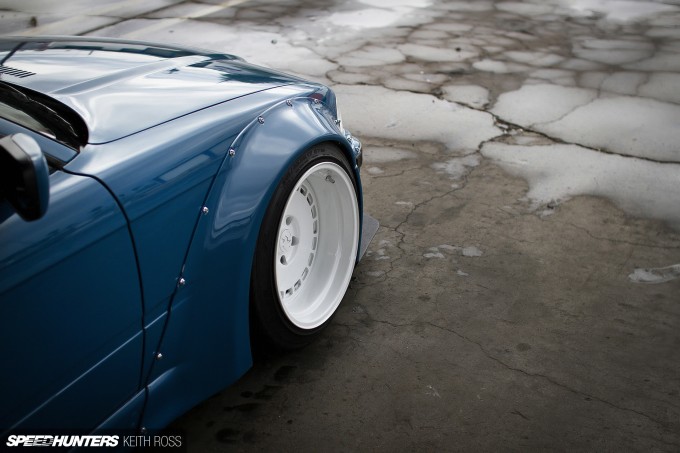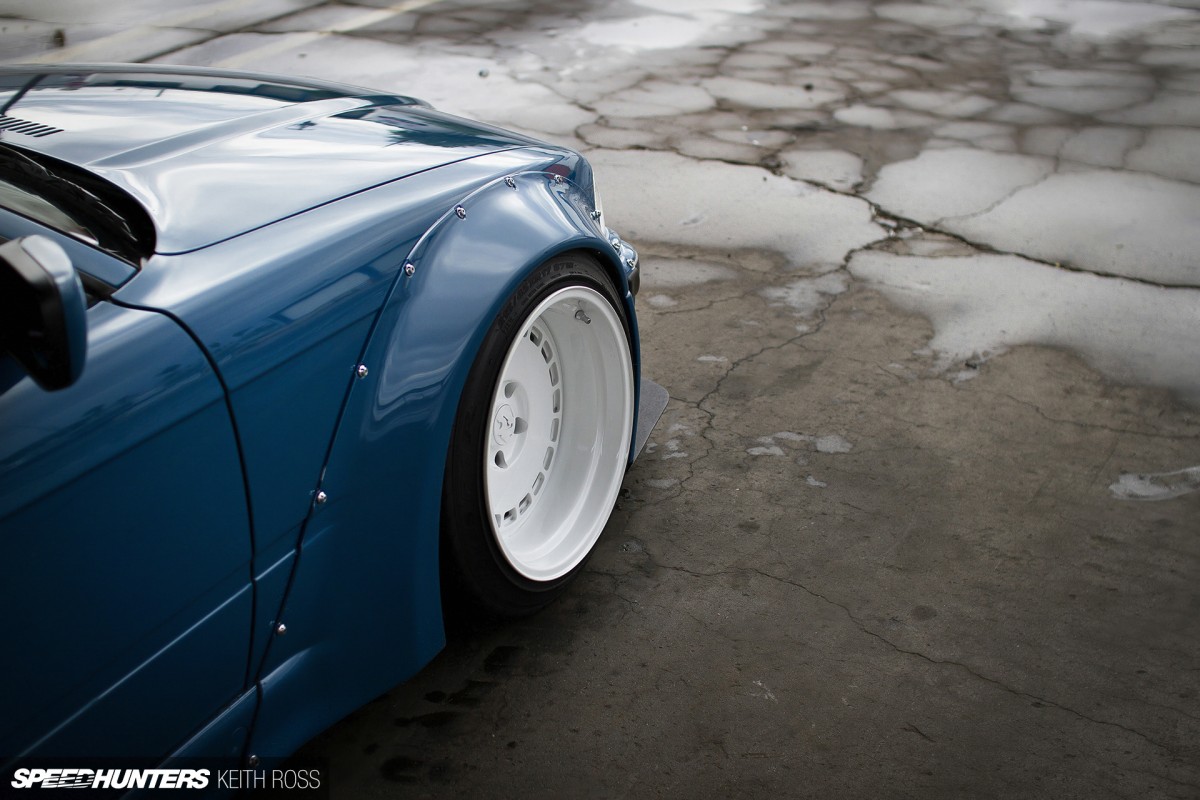 For the time being the car really is 'pure style,' with minimal performance mods and an emphasis on breaking necks.
The Perfect Combo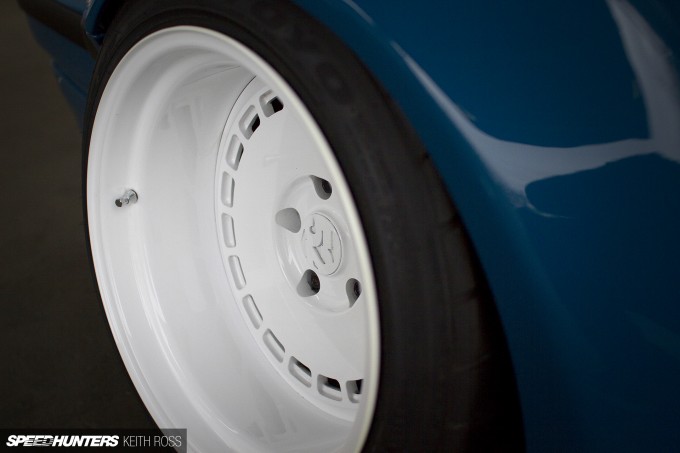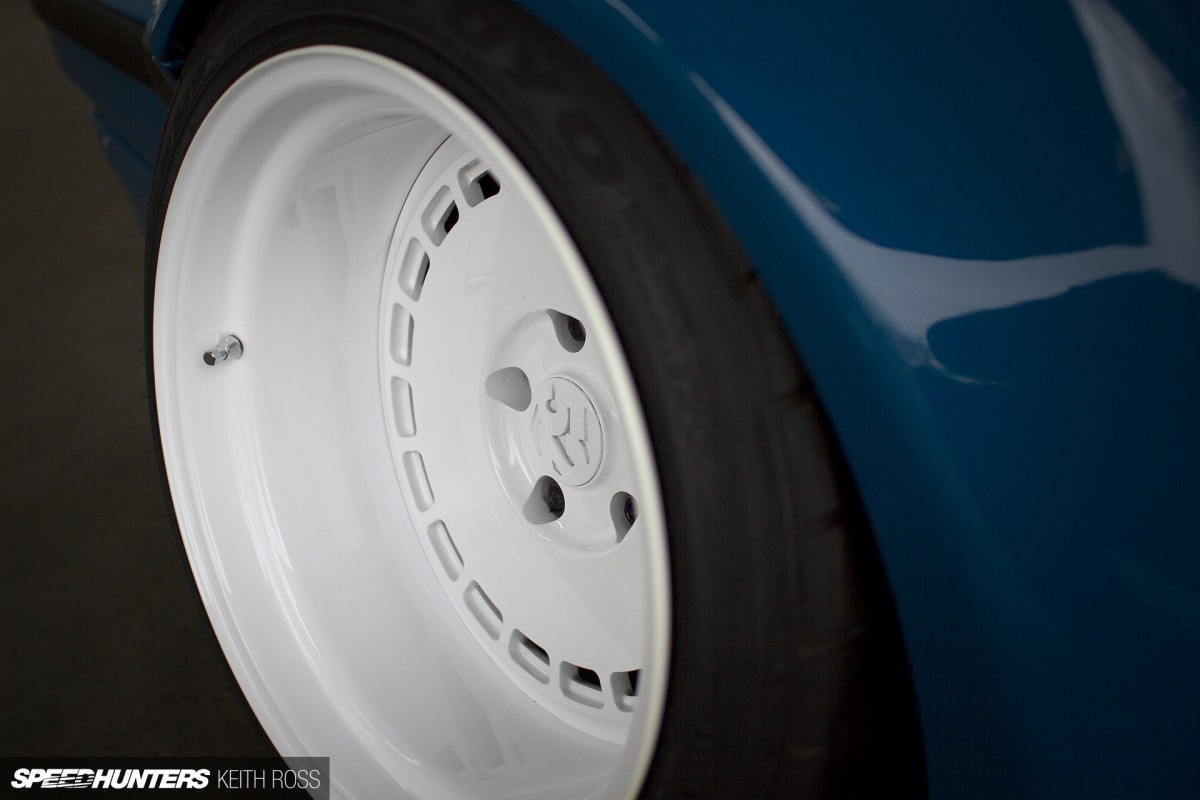 Paul decided early on that his E36 had to be Laguna Seca Blue, and once he settled on enormously deep-lipped Fifteen52 Evo Classics in the cleanest white you've ever seen, he knew he had an eye-popping combo.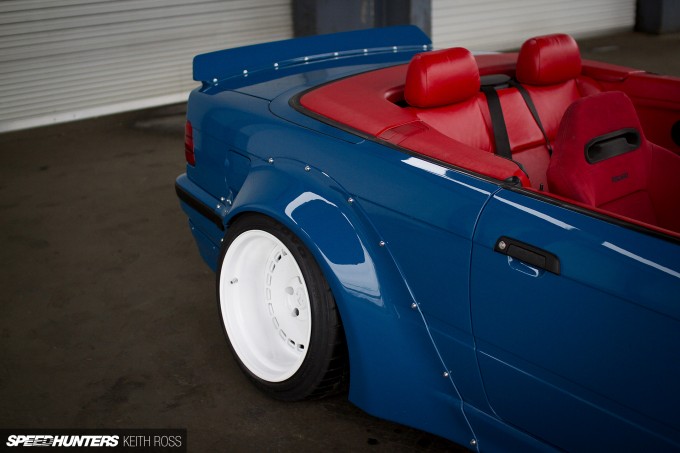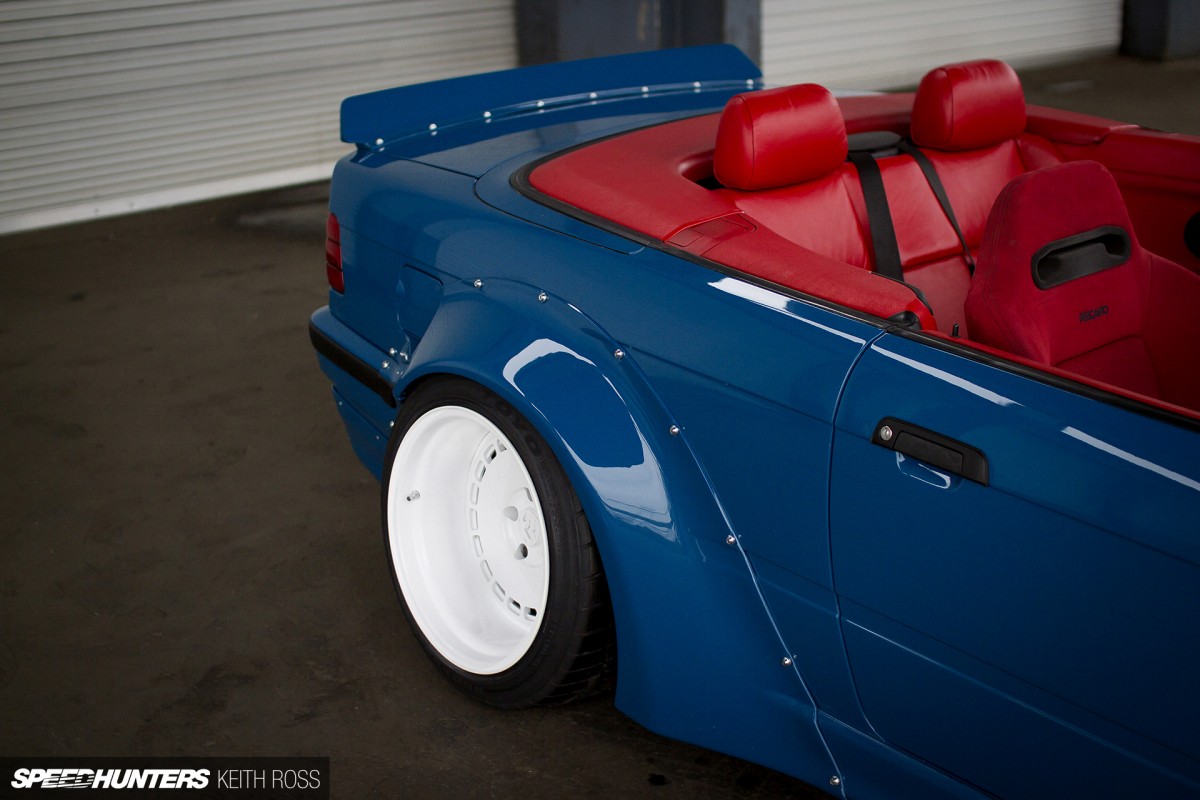 With the extreme contrast of bright white wheels against Laguna Seca Blue, Paul then opted to push things to the next level with an Imola Red scheme for the interior.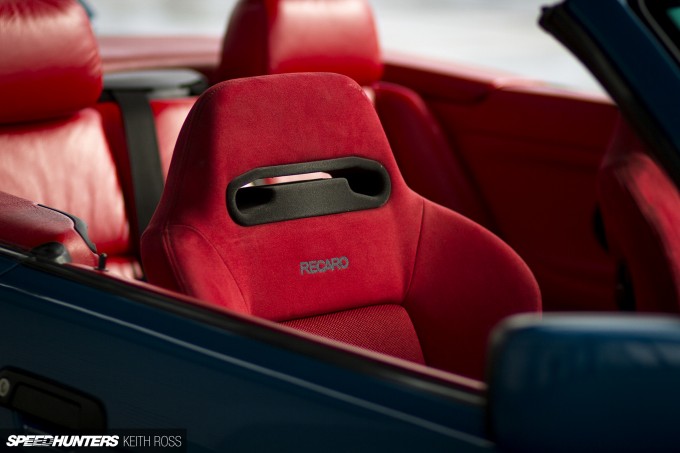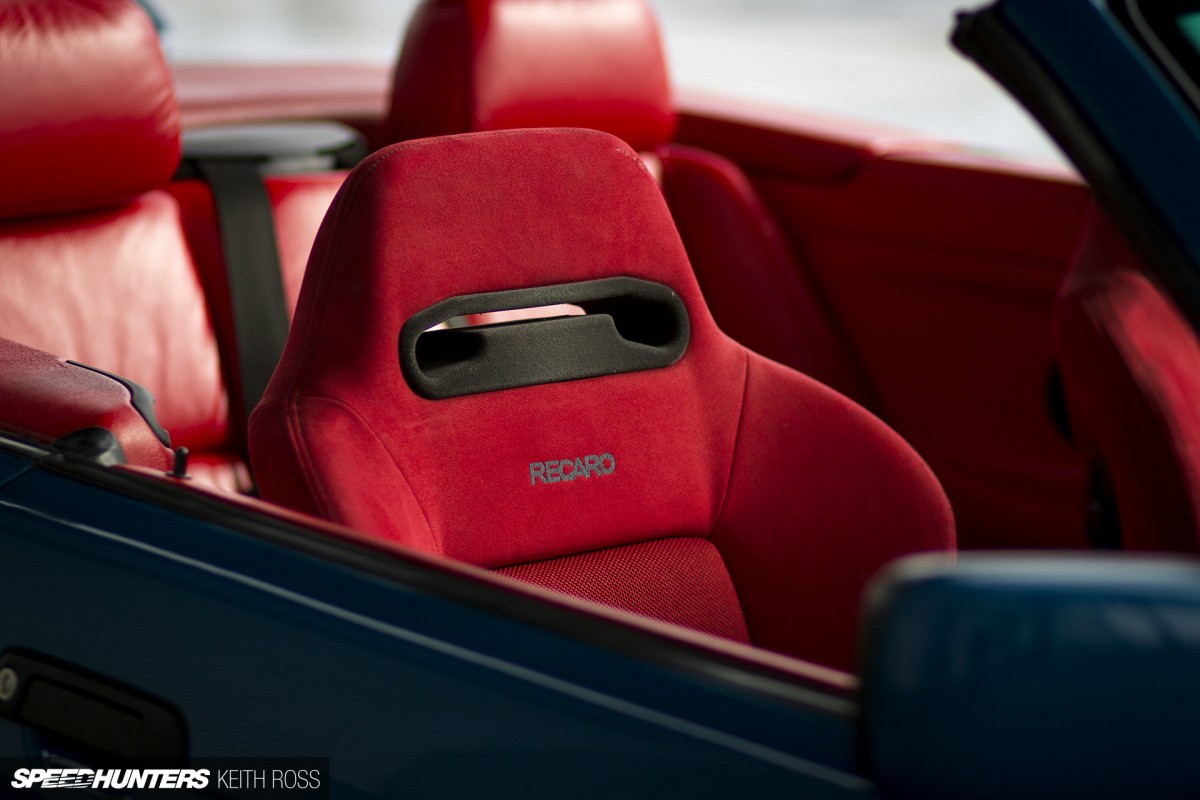 While I assumed it was a kitschy option from the '90s, I later learned that this is all custom. The leather and all associated panels were dyed Imola Red, then Recaros were sourced to match.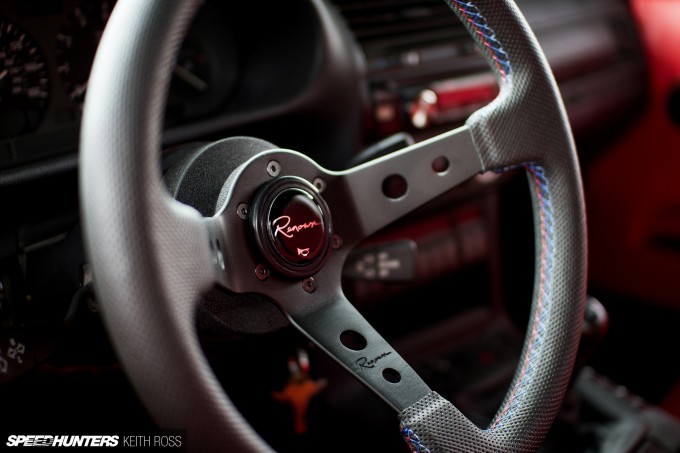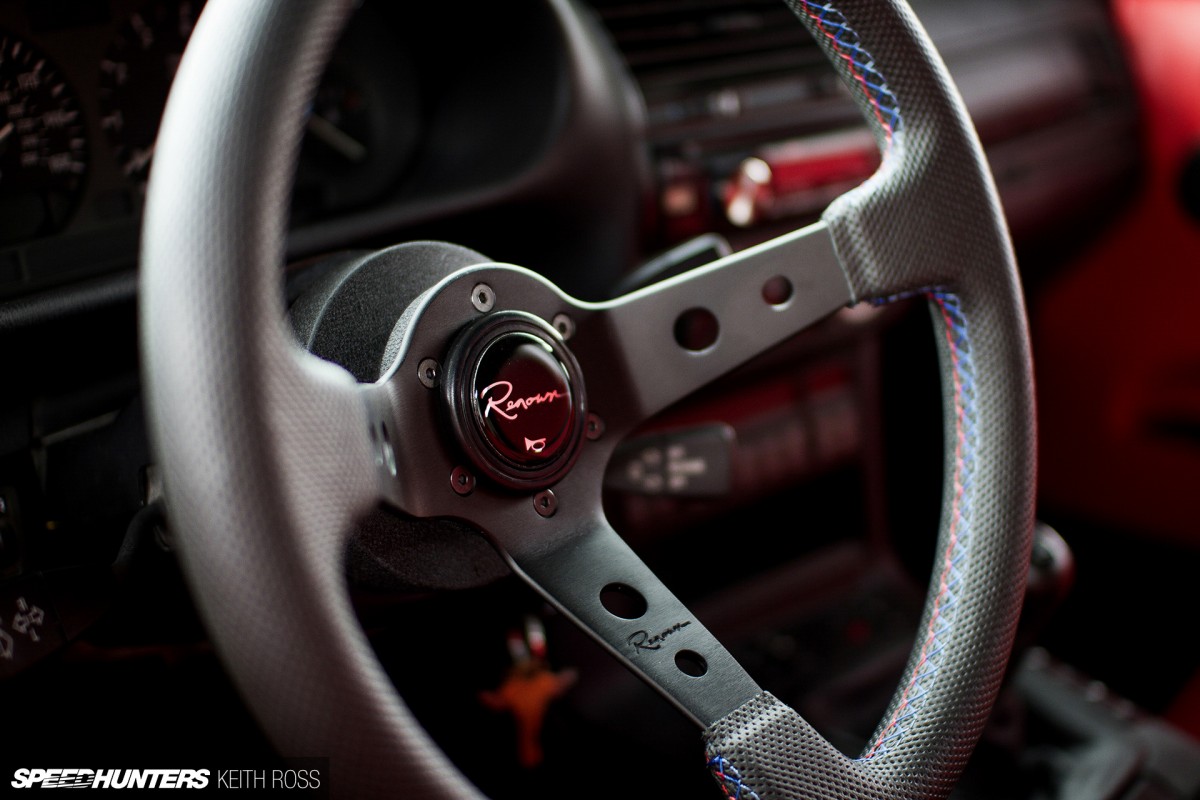 A Renown wheel with blue stitching ties everything back together.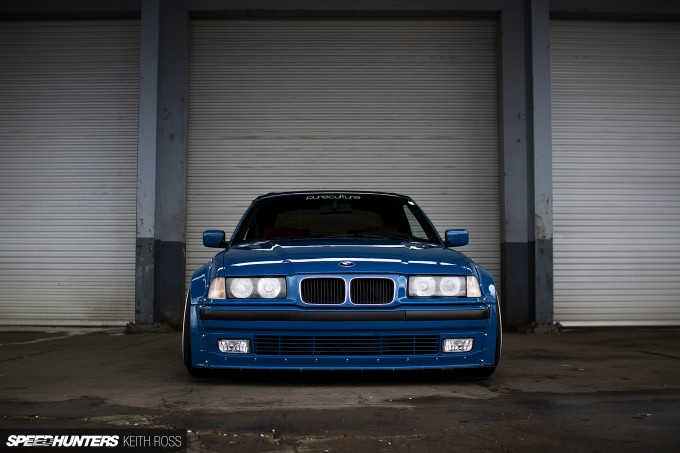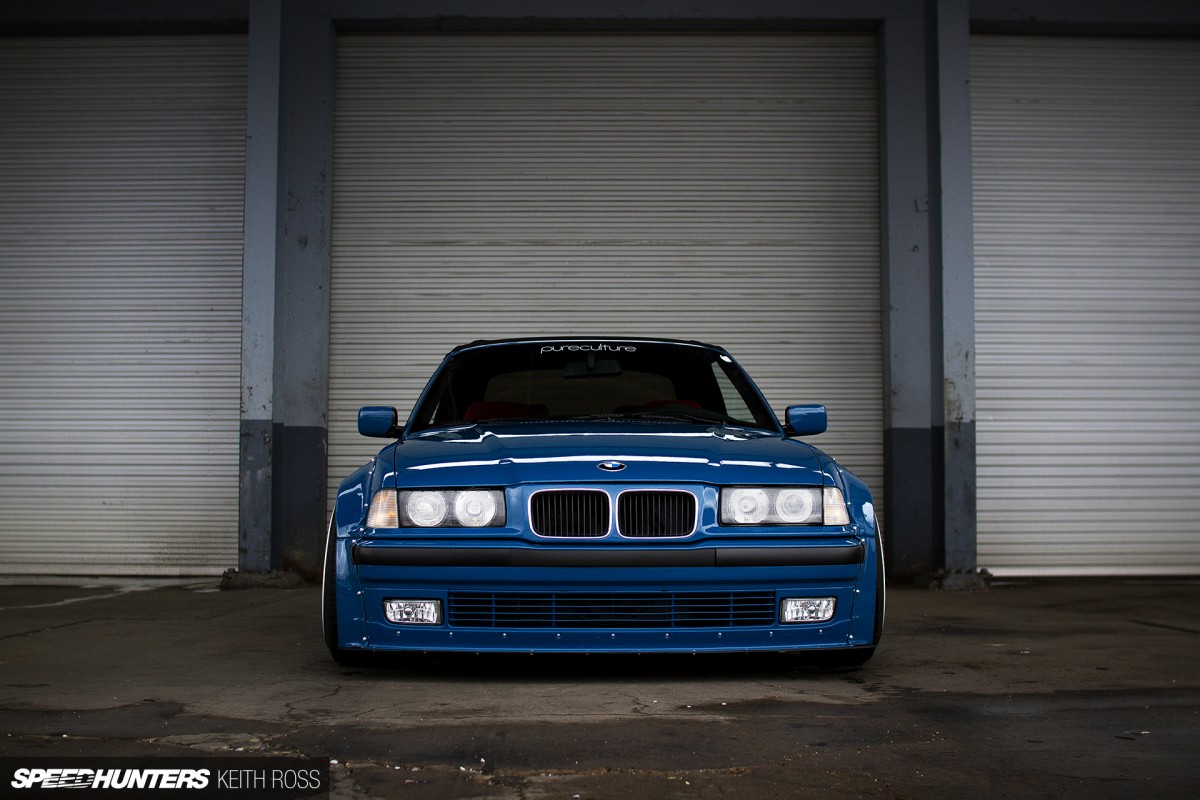 An E36 M3 certainly looks tough going down the road, but with Miura's flared arches Paul's 325i takes on a far more aggressive stance.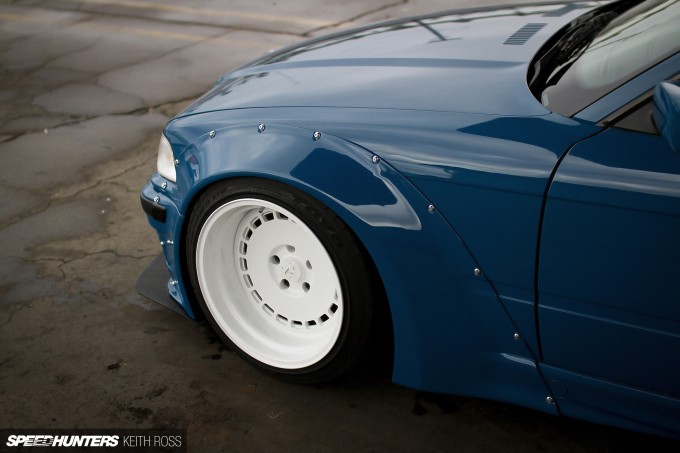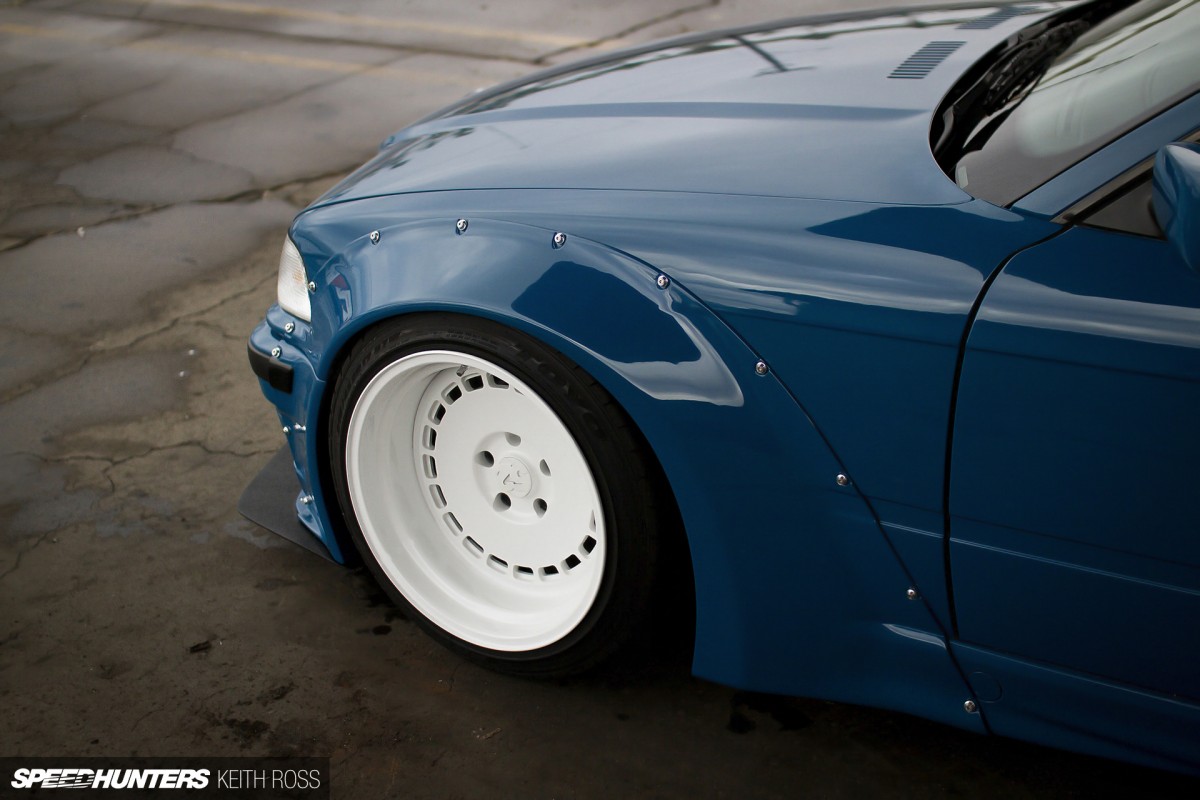 Filling out the front flares are 17×9.5-inch Fifteen52 Evo Classics with a 215/45 Toyo R1R stretched into place.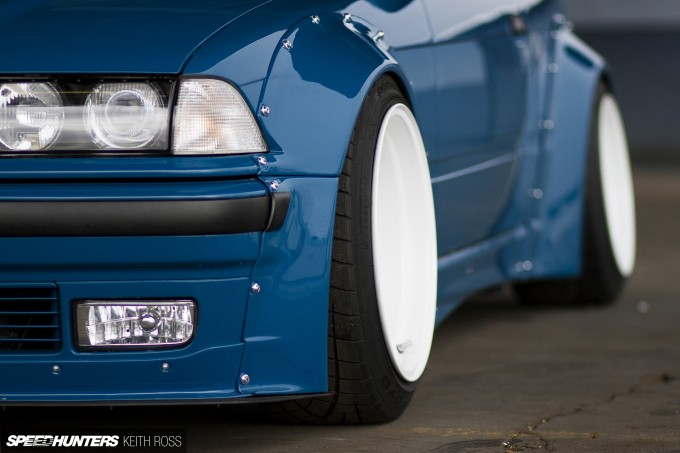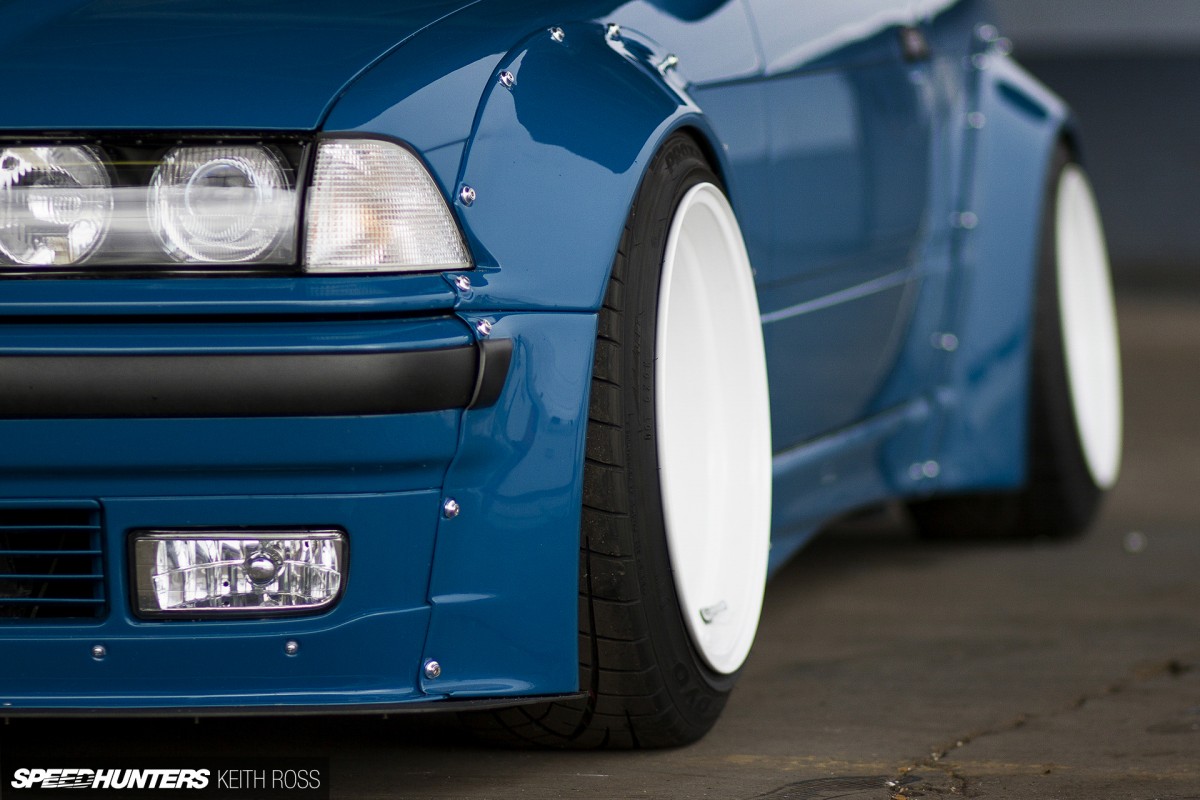 Three and a half degrees of camber make the fitment work up front.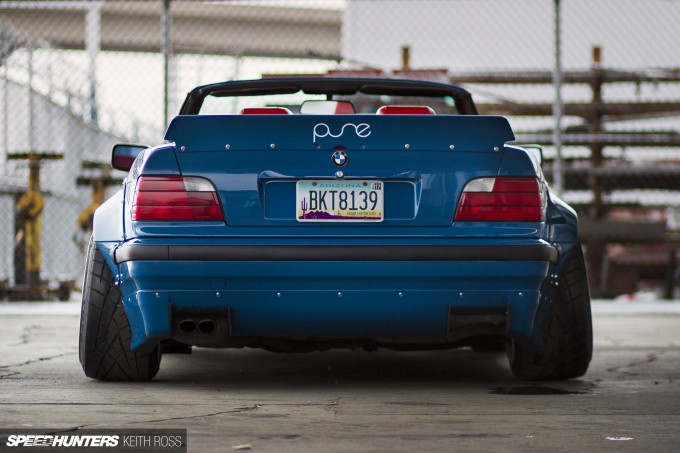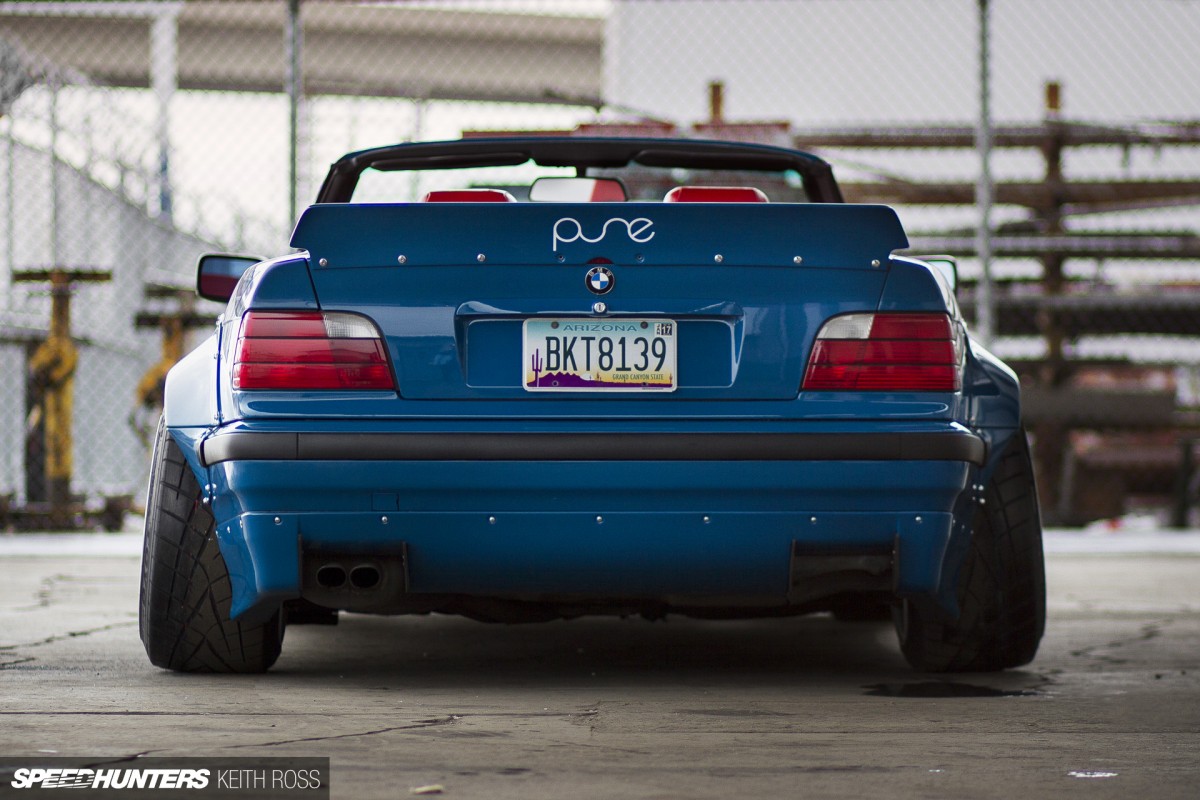 It gets a little more wild in the rear though, with six degrees of camber stuffing 11-inch wide wheels.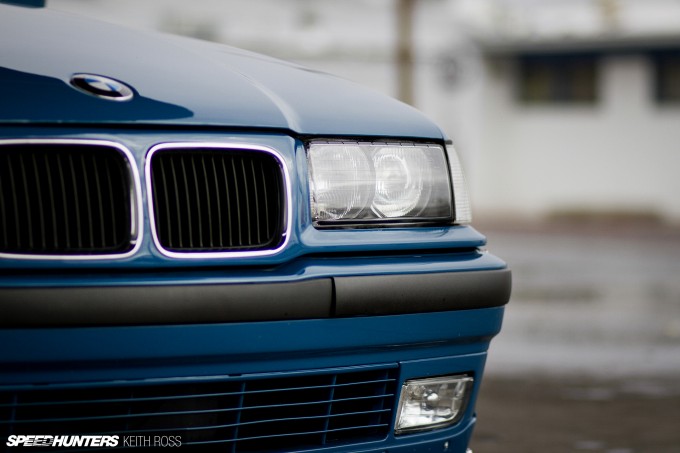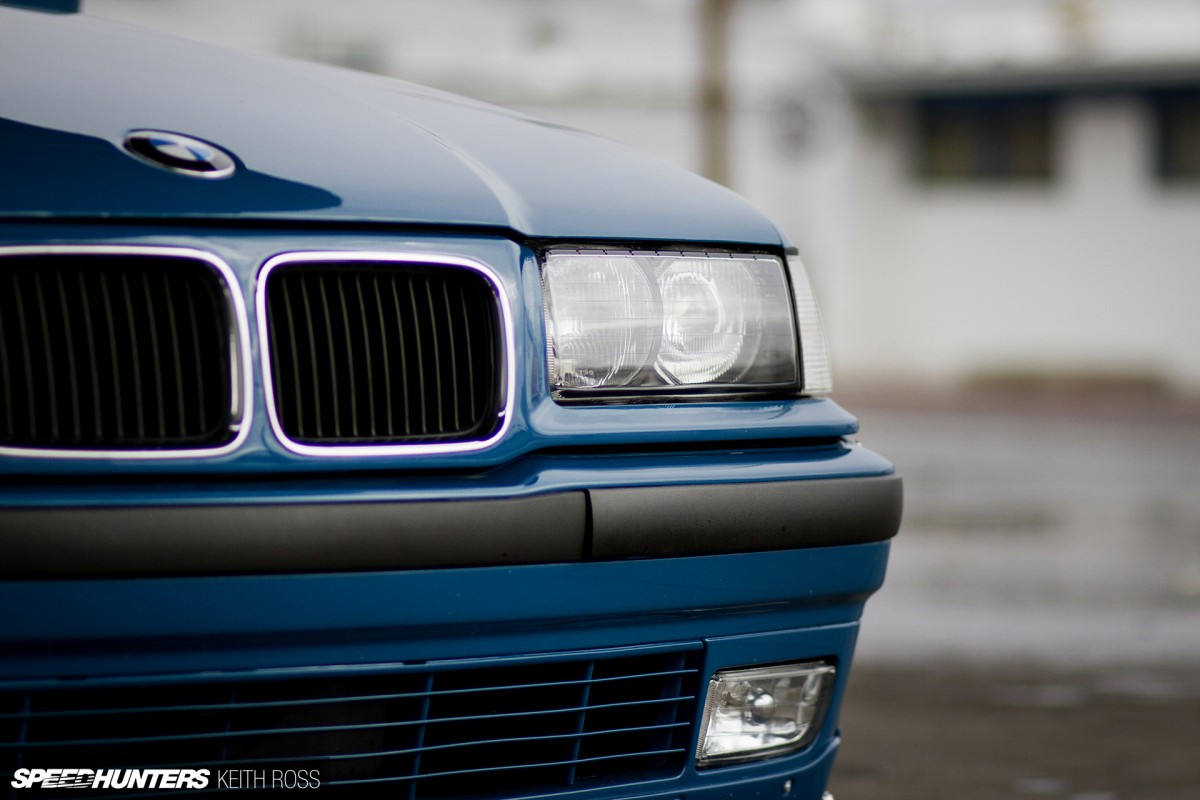 Apart from the Sarto kit, Paul didn't feel the body needed much else. The flares, wheels and color combination were already making such a bold statement, after all. So he just added a few factory upgrades, such as Euro-spec headlights and M3 sideskirts.
Sun's Out, Guns Out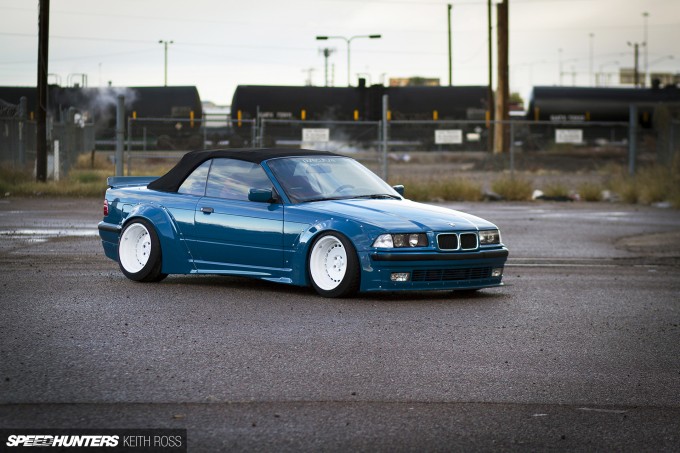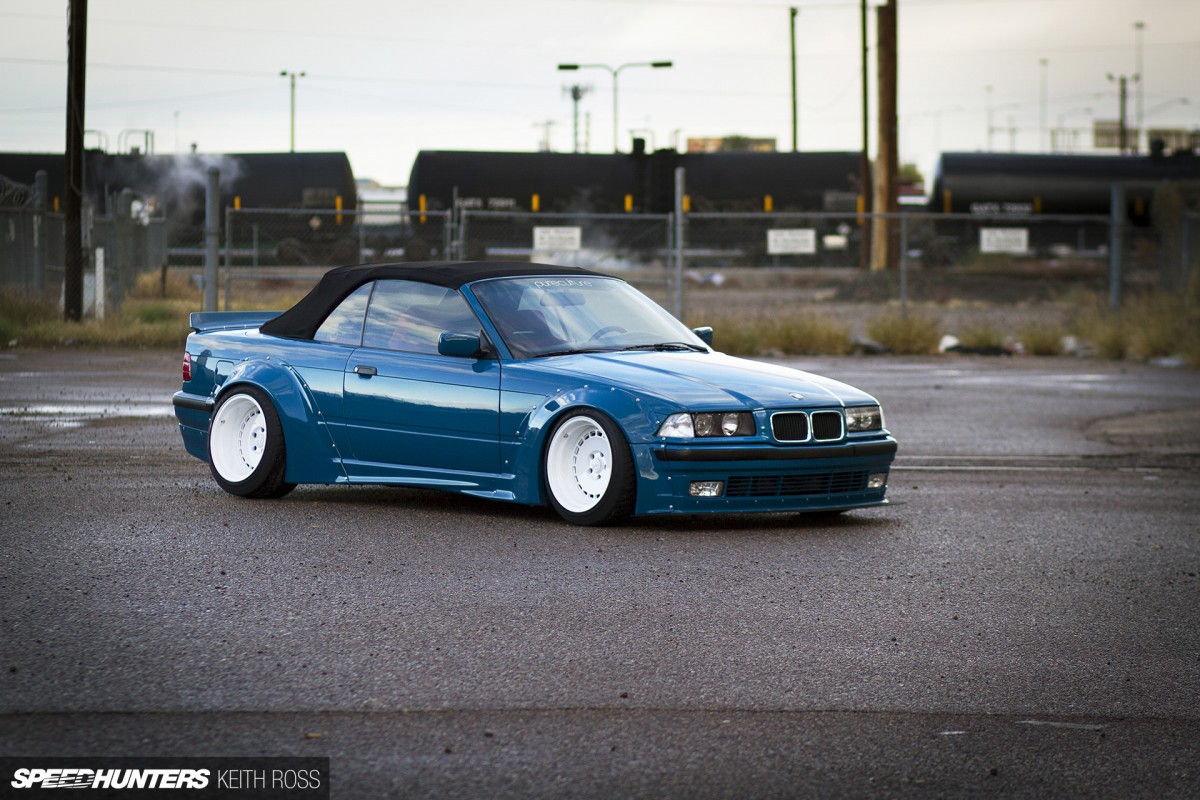 It was a rainy Arizona afternoon when photographer Keith Ross shot Paul's car, but fortunately the drizzle came to a halt long enough to capture the car with its top down.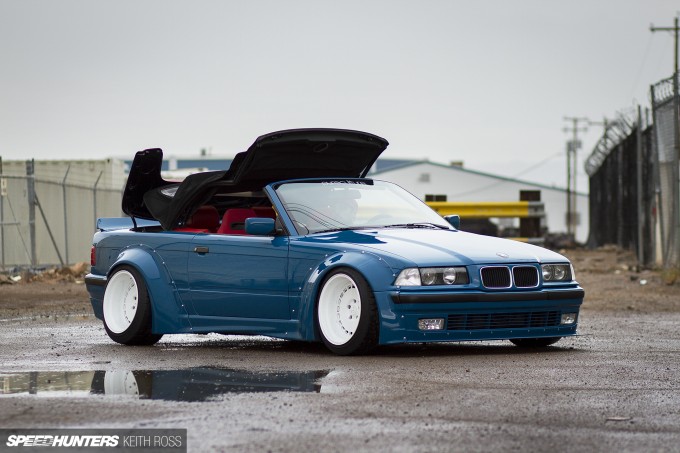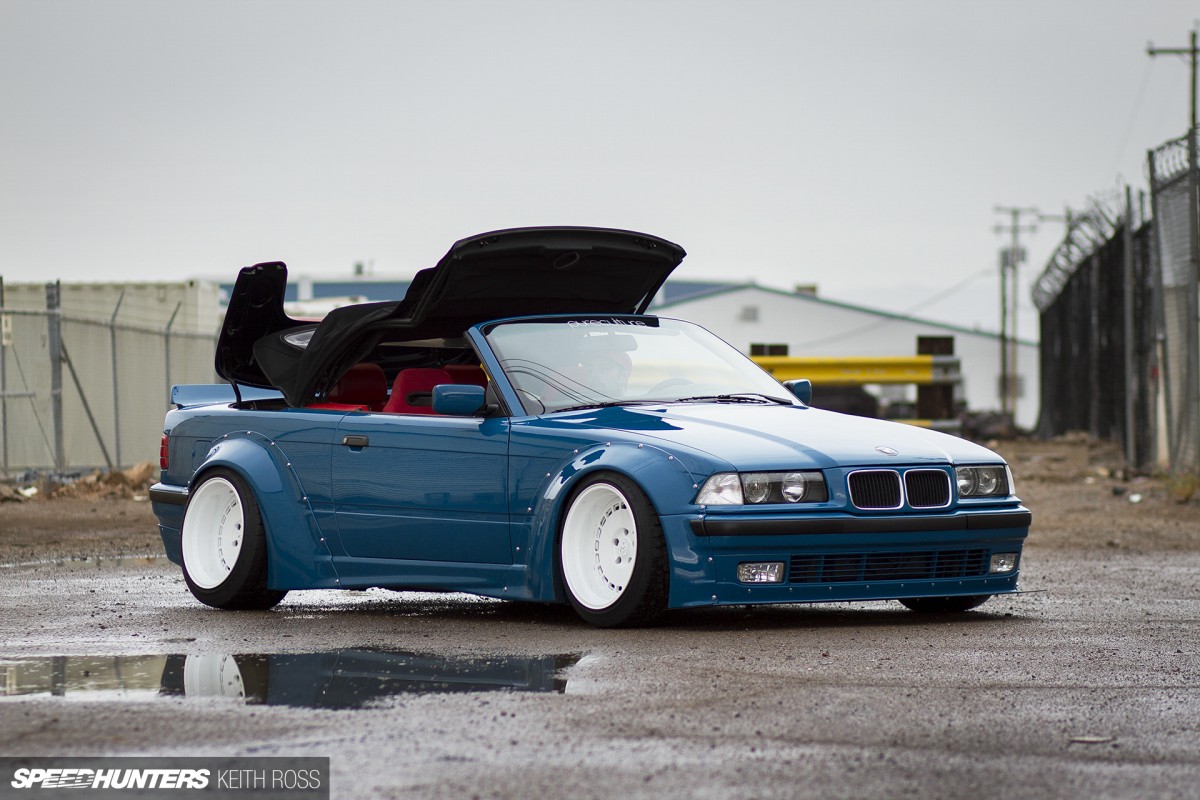 To me, this is what's so damn cool about Paul's build. How often do you see Rocket Bunnies running around without a top?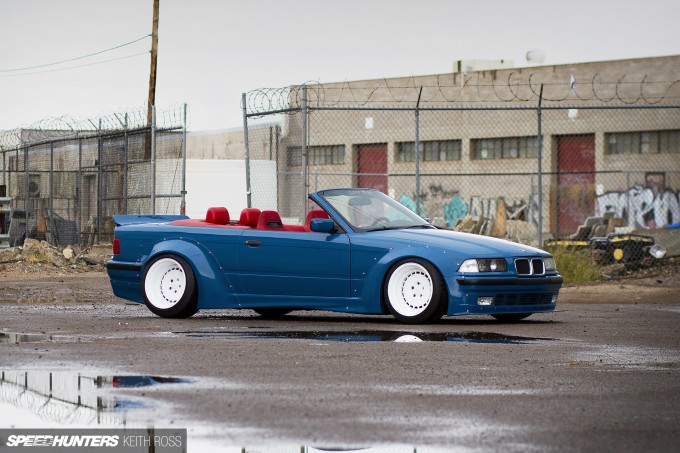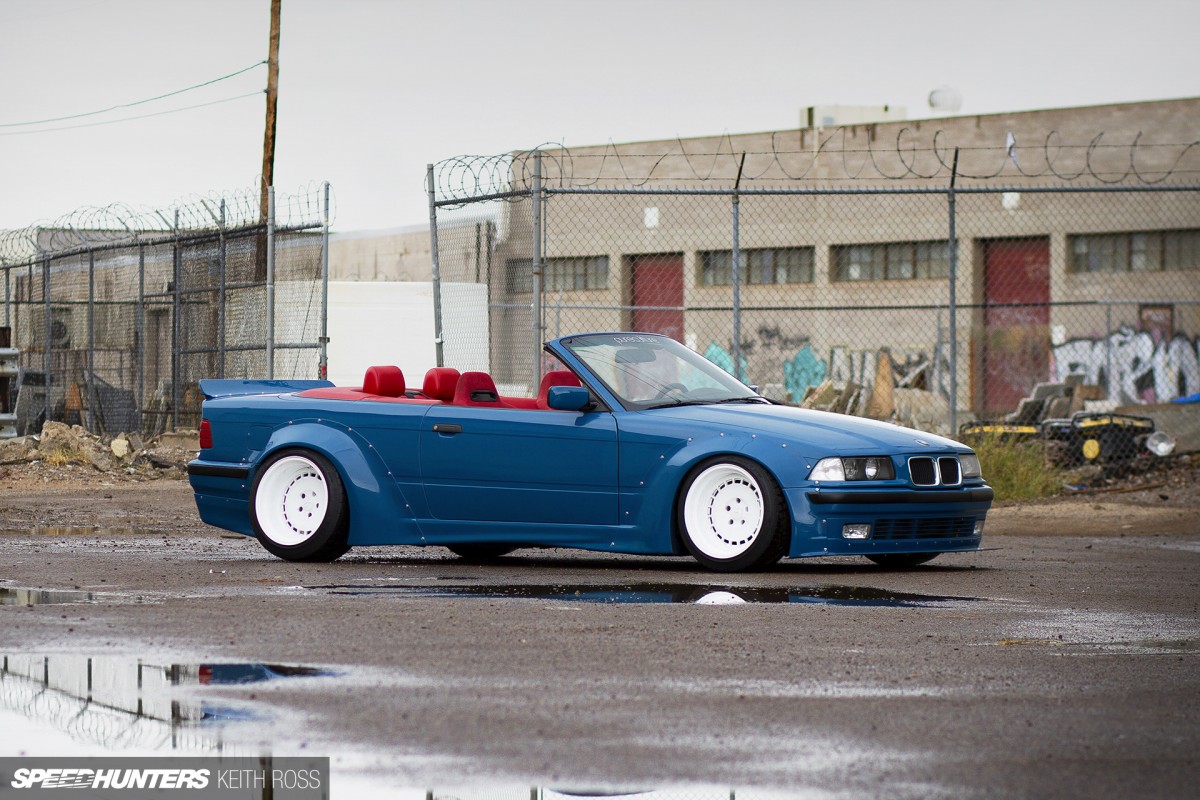 The E36 takes on this preppy sort of feel with its top down, but combine that with the attitude of Paul's build and you have something fresh and new.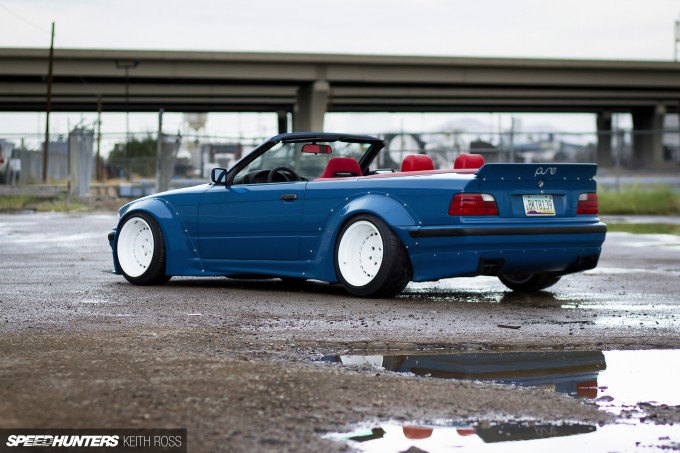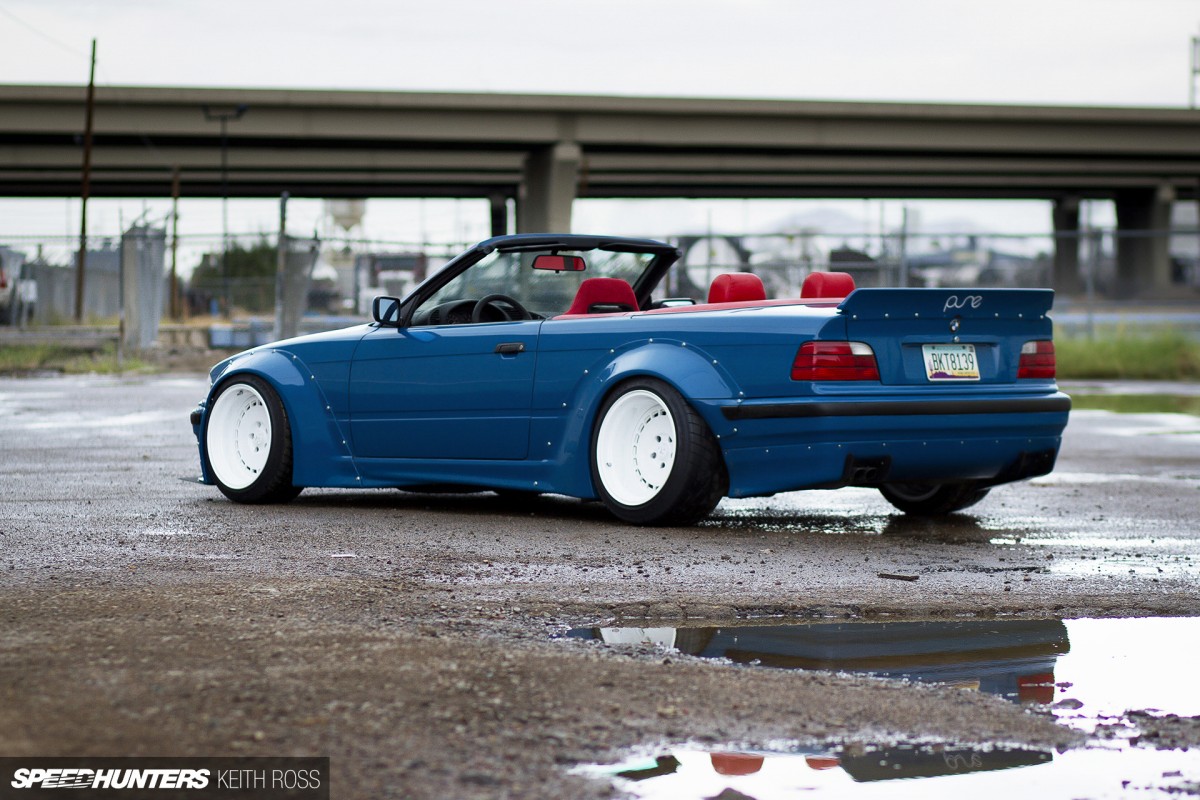 You get to appreciate the edgy color choices in full effect too.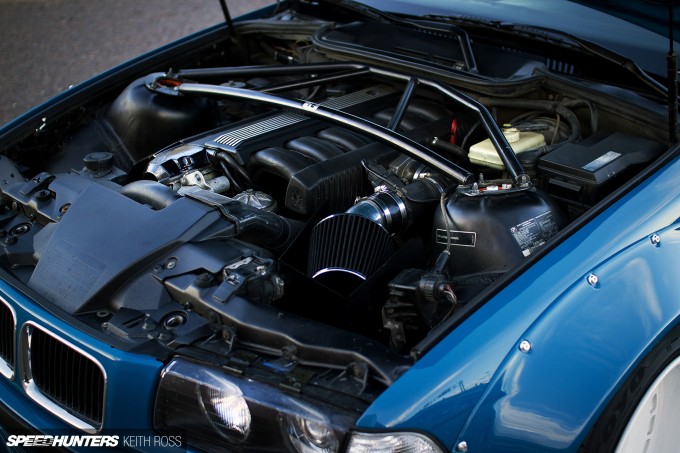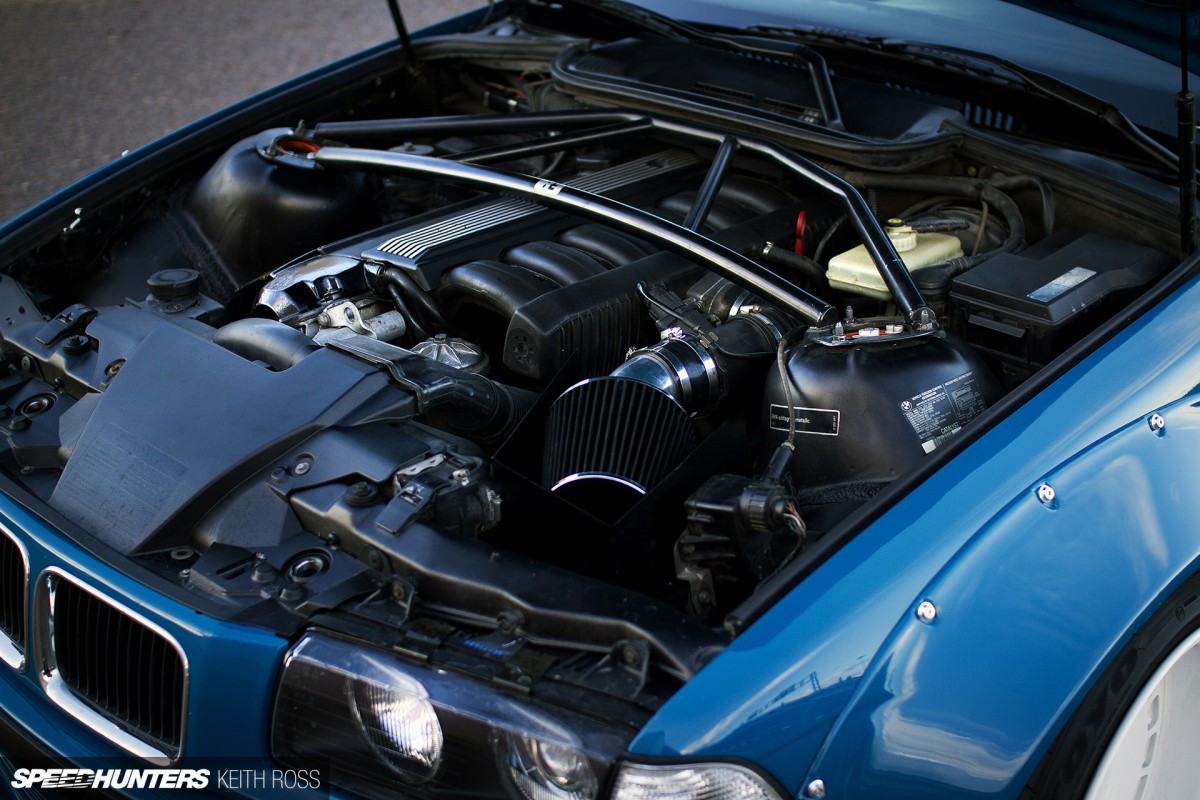 As stated at the beginning of this story, the build is really about style first. The silky-smooth straight-six has been left alone aside from an intake and cat-back, but that's just for the time being.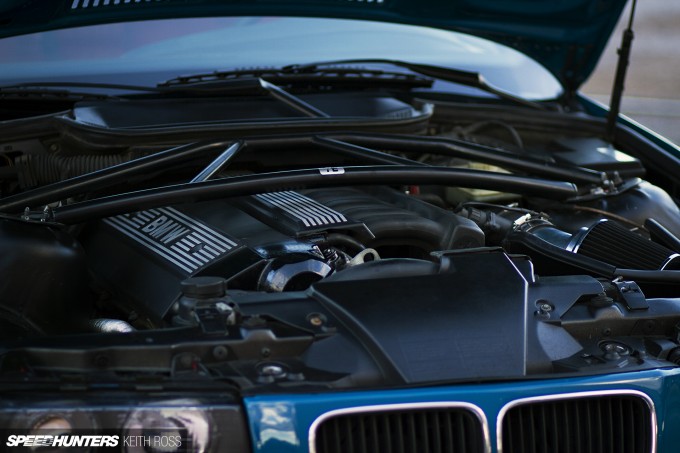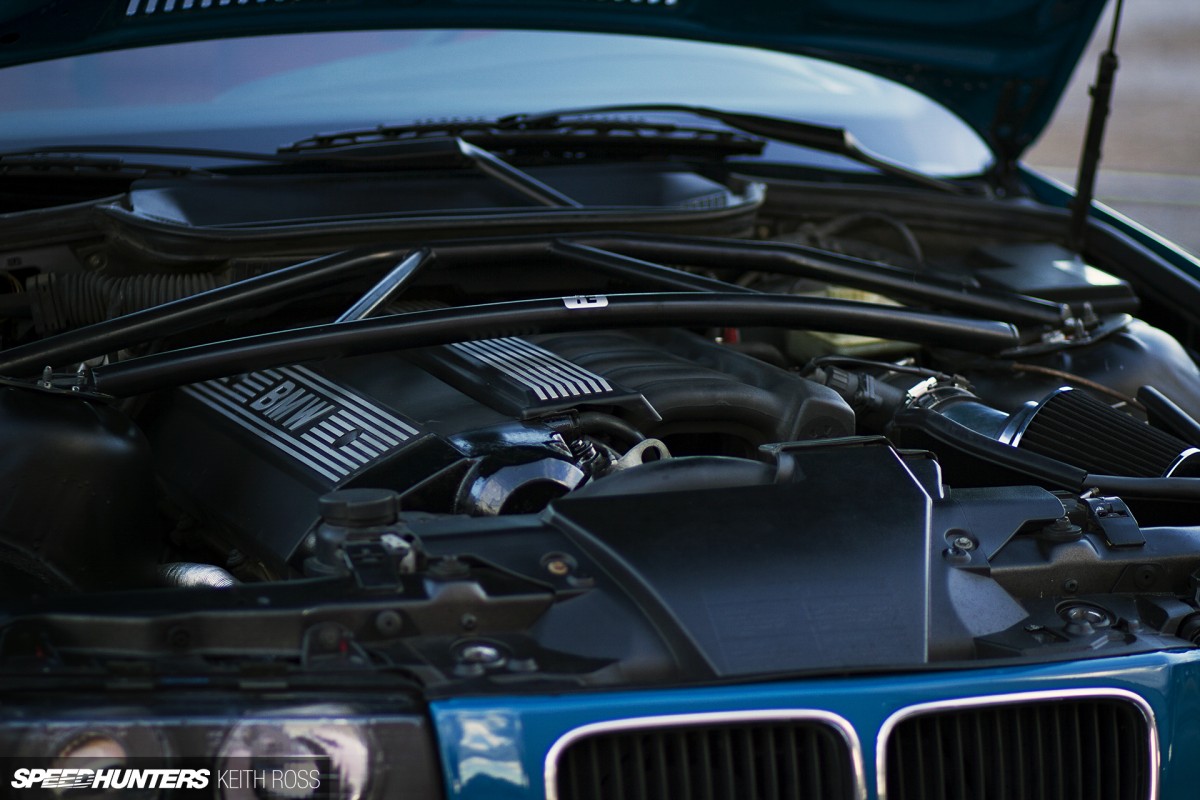 There's also a strut bar to stiffen up the handling and supplement the subframe reinforcements that Paul carried out while he was tackling the suspension.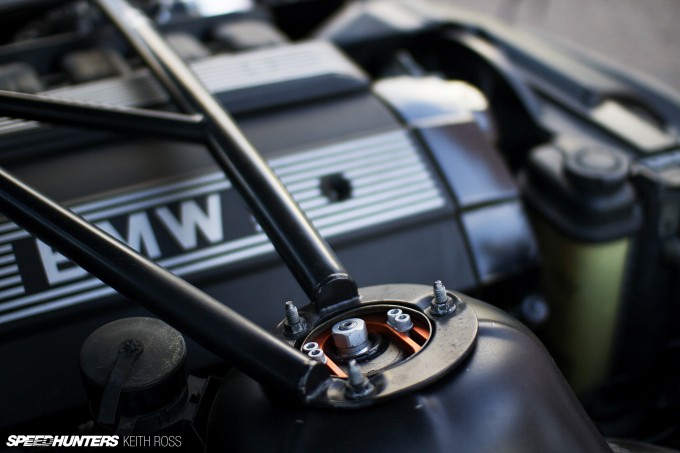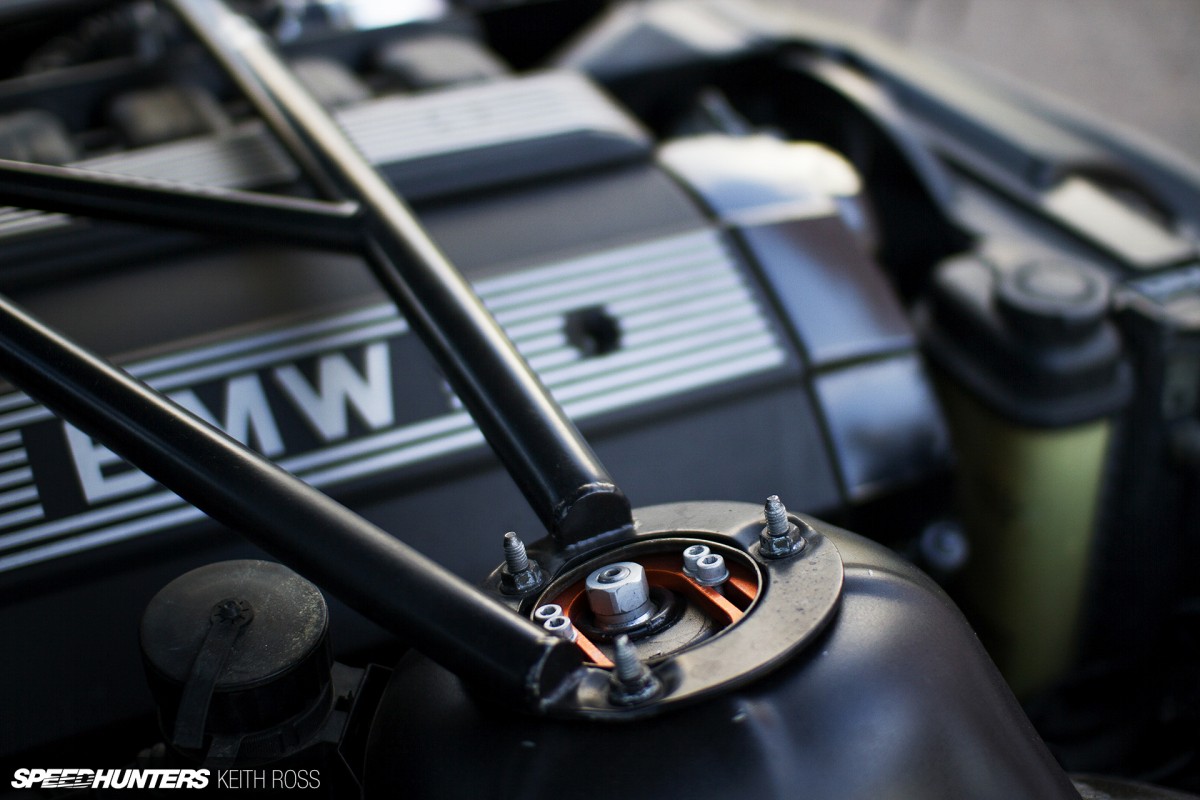 The strut bar ties in to the Ksport Kontrol Pro coilovers, with the camber settings maxed of course!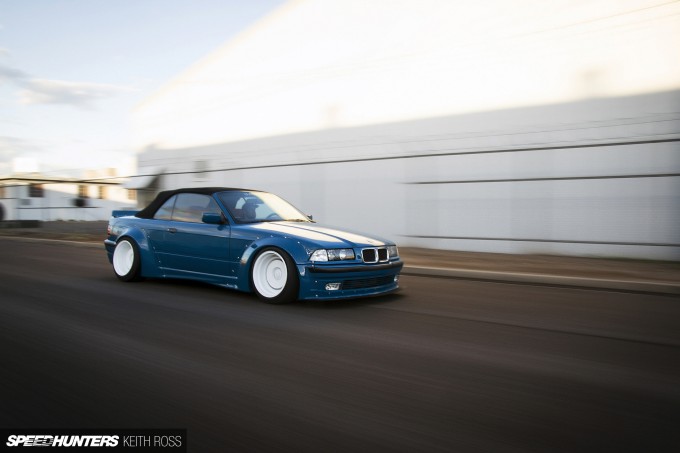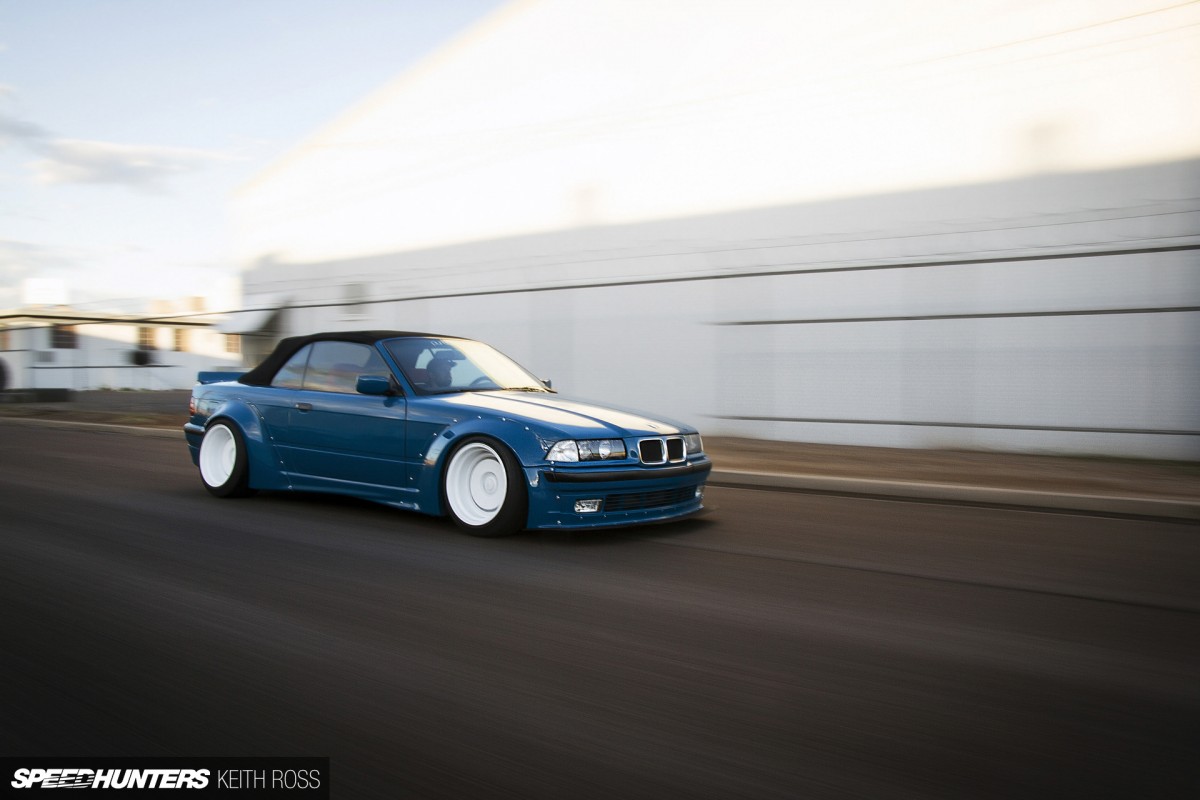 Next on Paul's list are a turbo and a rollcage, which should quiet any nay-sayers who will gripe about the build being all about looks. This was just the first phase, and we're looking forward to seeing this wide E36 continue to evolve.
Keith Charvonia
Instagram: SpeedhuntersKeith
keith@speedhunters.com
Photos by Keith Ross
Instagram: Keith602
Paul Podobea's 1995 BMW 325i
Engine 
BMW M50 2.5L, custom short-ram intake system, cat-back exhaust with Magnaflow muffler & deleted resonator, RK tune
Suspension/Brakes
Ksport Kontrol Pro coilovers, SPC camber arms, Rogan Engineering front strut bar, M3 front & rear strut tower reinforcement, BMW subframe reinforcement kit, Brembo brake rotors
Wheels/Tires
Fifteen52 2-piece Evo Classic 17×9.5-inch (front), 17×11-inch (rear), Toyo Proxes R1R 215/45R17 (front), 255/40R17 (rear)
Exterior
Sarto Racing/Rocket Bunny wide-body kit, OEM M3 side skirts, Laguna Seca Blue paint by Phoenix Collision & Custom Paint, clear corner lenses, Depo European headlights
Interior
Recaro SRD front seats, Renown 100 Motorsport steering wheel, Hub Sports steering wheel hub, Imola Red dyed interior
More BMW related stories on Speedhunters
Cutting Room Floor