Foxes In Europe
I have to be honest… When our friends at Sweden's Team Pony Drift asked if we wanted to fly down to their home city of Malmö from our headquarters in Stockholm to spend the day skidding some of their cars and improving our driving skills, I was hesitant. "What, driving those beat-up Fox Body Mustangs?" I had asked my colleague as I lifted my generously-proportioned nose high in the air.
A few weeks later, as I pinned the throttle and swung a big, wide arc to the soundtrack of a roaring V8 spitting out open headers, I realised I was a snob. A bonafide turbo-worshipping, JDM-obsessive and narrow-minded snob. But let's rewind a little.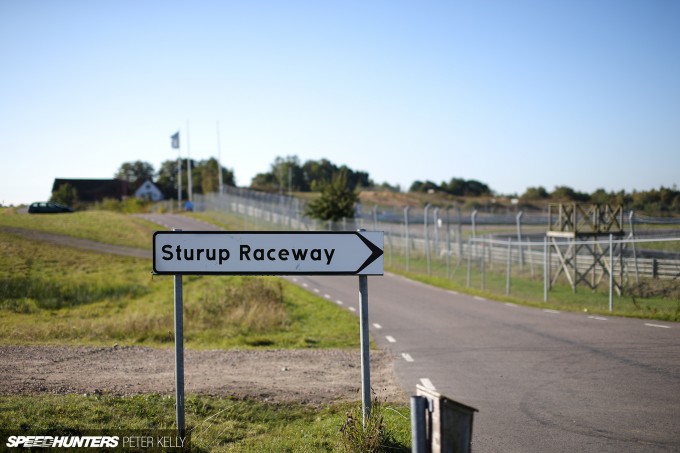 Early that morning, we had landed at the local airport in Malmo, looked at our phones and realised we could walk to the race track, Sturup Raceway, in only a few minutes.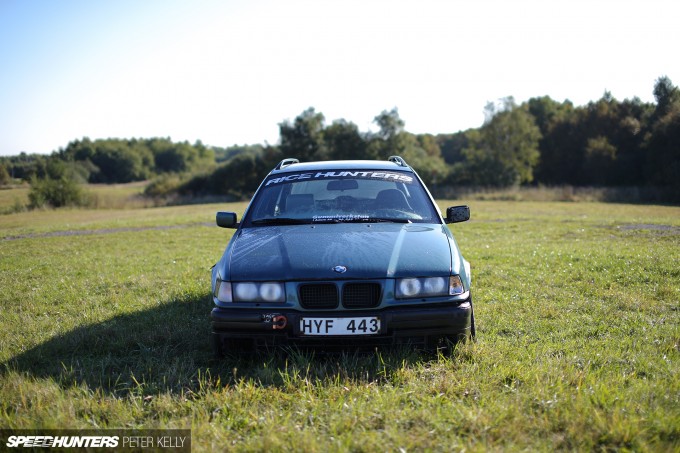 The stroll through the countryside was made interesting by this E36 BMW Estate wearing a 'Ricehunters' banner parked up on the side of the road. It's random moments like these that I appreciate how lucky we all are to be running something that's big enough to be parodied and then subsequently spotted in the middle of the countryside in Southern Sweden.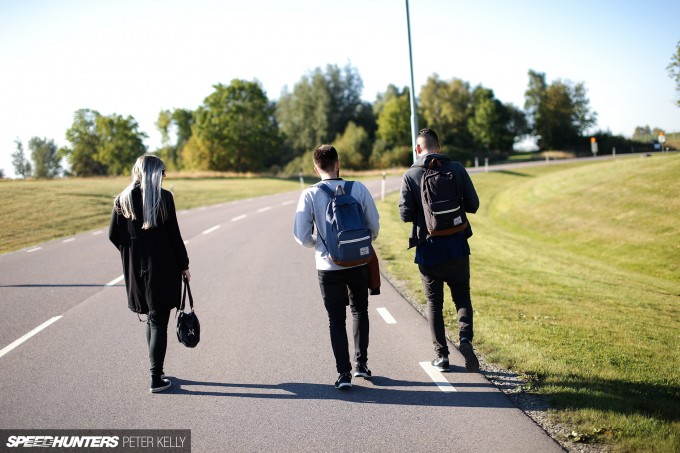 The Stockholm-based crew consisted of myself, community manager Taryn Croucher, designer Arslan Golić and our managing director Rob Bullough. We'd also be meeting Need for Speed's talented vehicle designer Bryn Alban at the track, who had driven down in his R34 Skyline from Sweden's second biggest city and home base of Ghost Games, Gothenburg.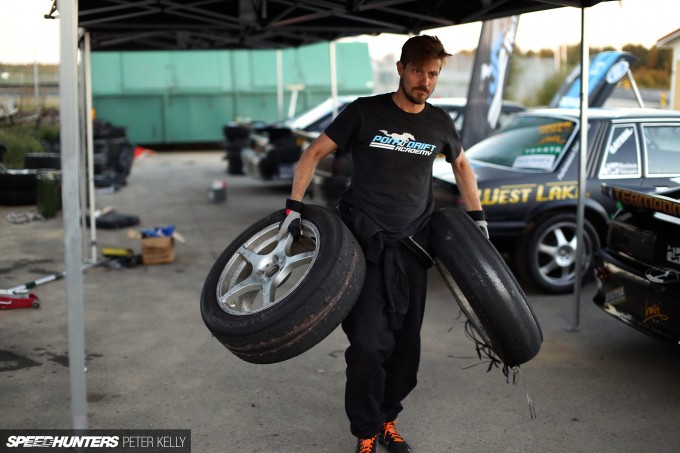 We had been invited by Michel Rayes, the head of Pony Drift Academy and its competitive arm Team Pony Drift. Pony Drift Academy, as the name suggests, is a school of sorts that allows anyone to come to Sturup Raceway and learn the art of oversteer; not in Nissan Silvias or BMW 3 Series mind you, but in Fox Body Mustangs, hence the Pony Drift name. Both Michel and his Lithuanian counterpart Ervin Arnaszus, who moved to Sweden a few years back to join TPD on a permanent basis, have always competed in Fox Bodies, and in fact were the first people in Europe to try drifting the lazy, and dare I say it, low-tech Fords.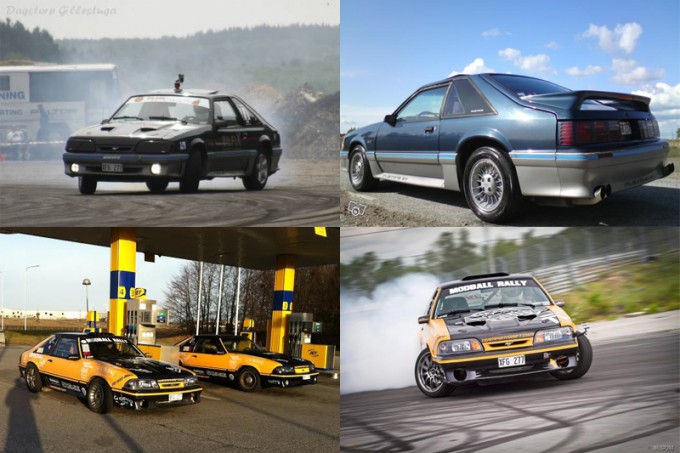 Images: Dagstorp Gillestuga and Bilsport
Michel is the first to admit that the Mustang is not a good drift car out of the box, and both he and Ervin made it very hard for themselves in the early days by choosing such a difficult platform to develop. "I started to drift on tracks in 2009 and had hell trying to get it right," explains Michel. "Going from a street drifting to the track was a huge difference; so much more was required from me as a driver, my techniques were poor and so was my car. But after learning the hard way – countless hours behind the wheel drifting, and many hours behind the laptop searching for answers – it eventually made me a better driver and I finally got the setup right on the Mustang."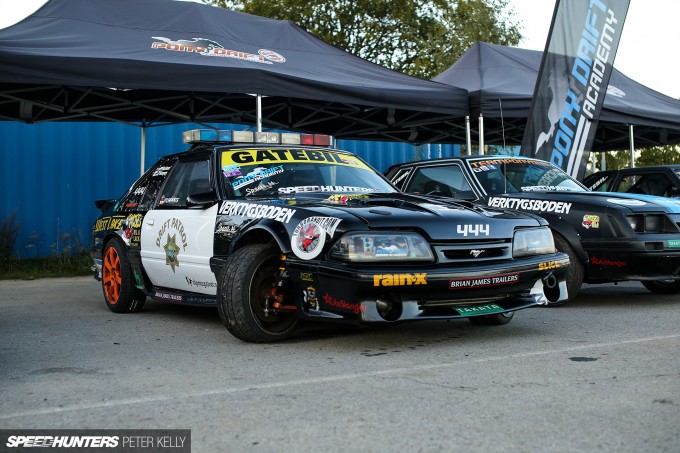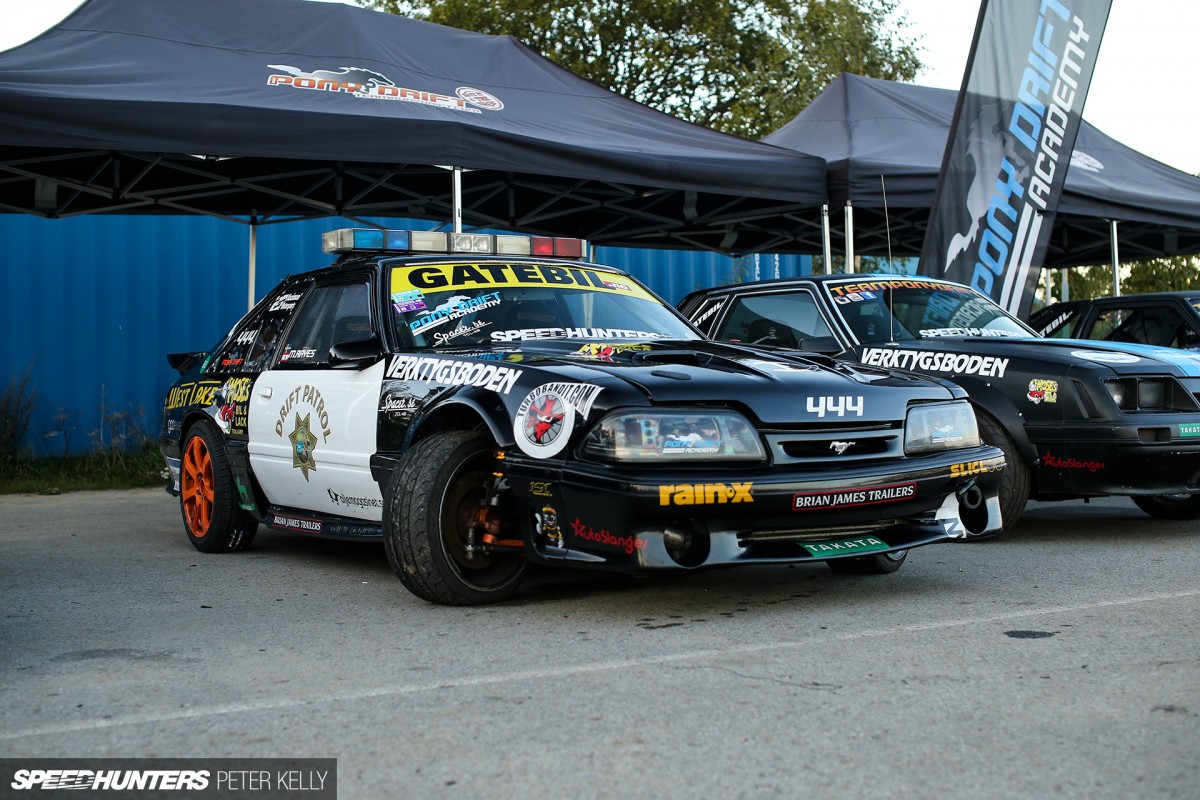 At that point, Michel started winning competitions and began getting a lot of questions about driving and set-up. One thing led to another and after buying fellow Fox Body drifter Dan Pina's monster Formula D 'Drift Patrol' car out of the States, he decided to put his original Mustang to good use and use it to start teaching others how to drift, with help from Ervin and a team of local drift-mad guys and girls.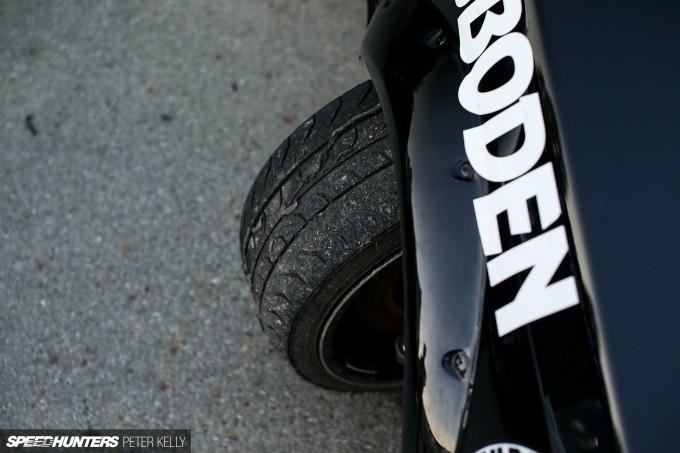 The Drift Patrol car has since been developed far further and is now running a monster turbocharged BMW M60B40 V8 setup pushing 650hp through an M5 gearbox. The lightweight Mustang is extensively modified underneath to get it to handle – just check out the lock provided by the E-Lock V2 steering setup in the front!
A Simple Formula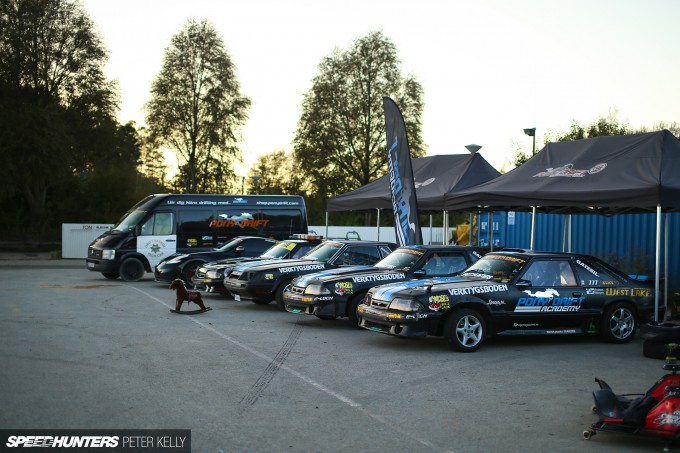 Drift Patrol is of course a full competition car. The Drift Academy cars were nowhere near as developed, and you wouldn't want them to be. These battle-scarred machines are surprisingly simple, and certainly don't run anything particularly fancy – perfect when you're putting complete beginners behind the wheel, day in, day out over the summer period.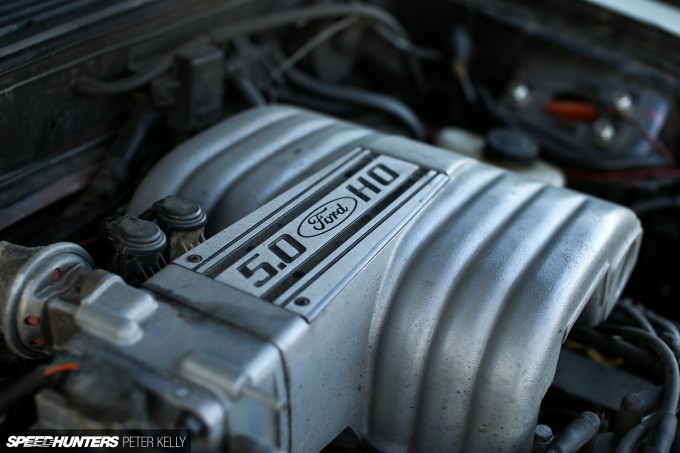 All the cars run factory 5.0-litre Ford V8s with some minor modifications to produce 350hp and around 550Nm, so it's all about low-down torque making for an easy learning curve and hopefully less binned clutches as a result.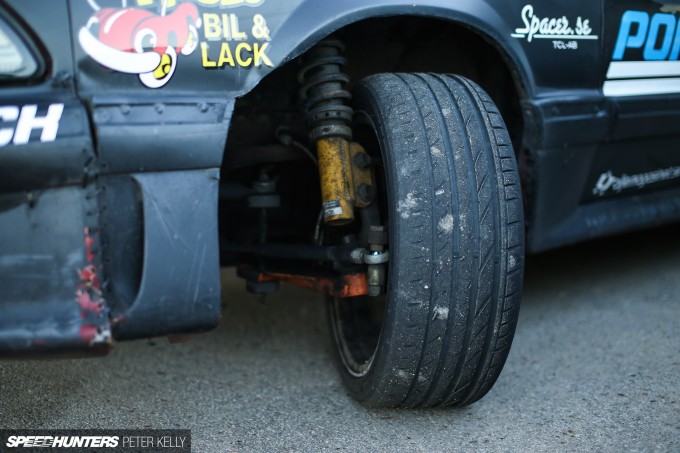 These cars also run an E-Lock kit, and although they provide less angle than the newer V2 kit in the pro car, there's still a huge amount of steering to play with.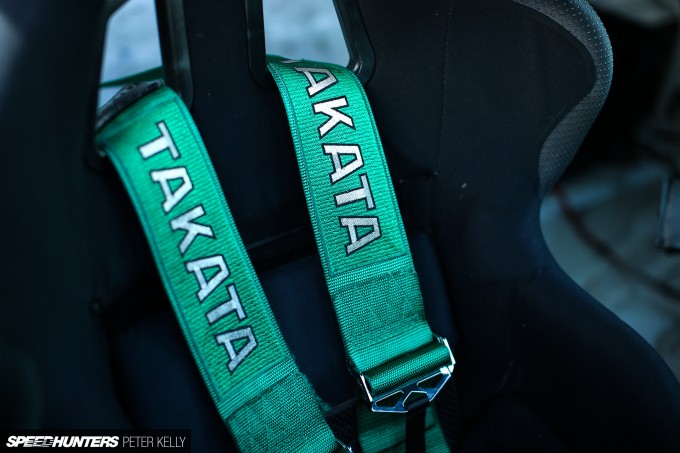 Inside, the cars are simple – stripped interiors housing a couple of Sparco seats and Takata harnesses…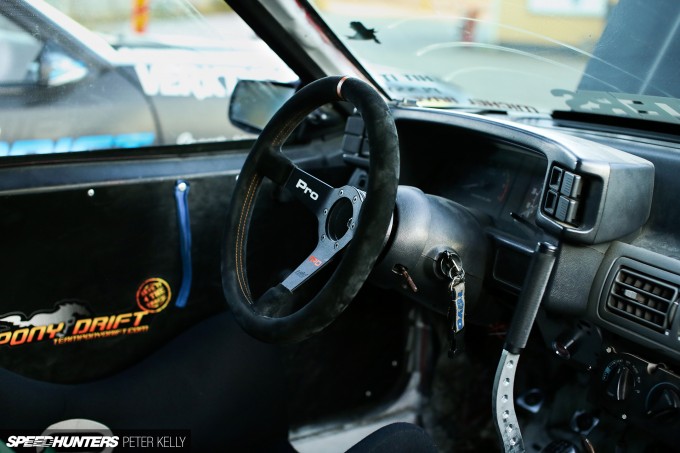 And hydraulic handbrake levers sitting next to custom TPD Pro Drift steering wheels.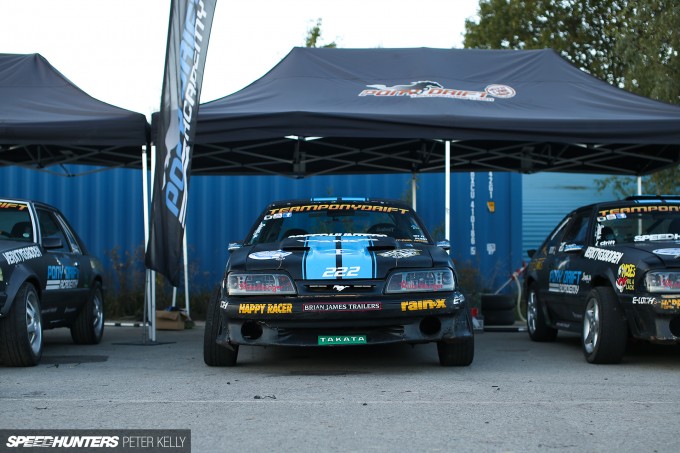 As for the rest of the setup, as any Fox Body owner can tell you, the stock suspension requires a bit of work to get it to handle. Michel uses coilovers, an adjustable panhard rod, full-length subframe connectors, a bump-steer kit, torque arm, gearbox bushes and solid engine mounts from Maximum Motorsports in California.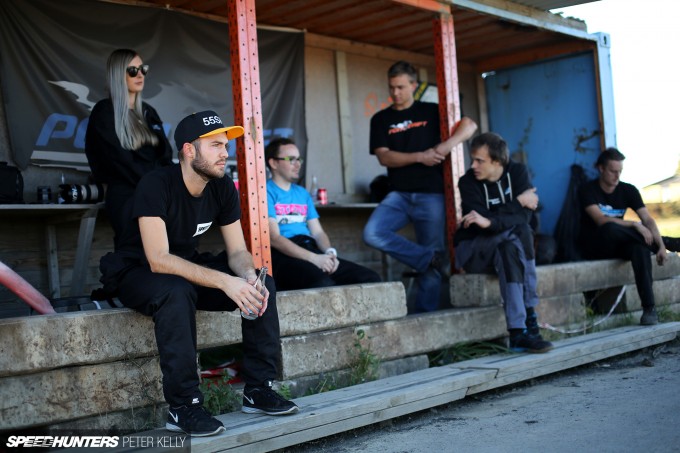 After a briefing and some coffee inside the office, we grabbed some race suits and helmets and headed out onto the school area, a pair of large concrete pans with courses set up and ready to go.
It's Tyre Destroying Time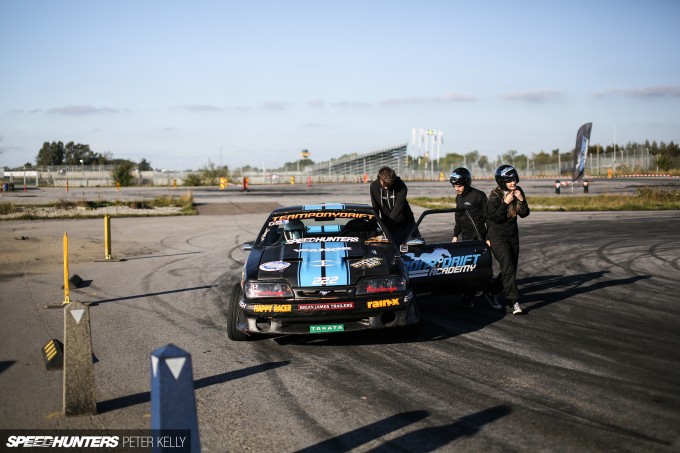 I don't think anyone, even Michel, can call these cars pretty. I'm sorry, but they're just not. A few seasons worth of hard driving hasn't helped what I personally consider to be a fairly ungainly-looking machine in the first place. But, regardless of my opinion, they're not built to look good. They exist to provide a solid base for people to learn to drive in, and sometimes that means gaining a few dents and scratches along the way. For their intended purpose however, I was about to discover that these cars are perfect.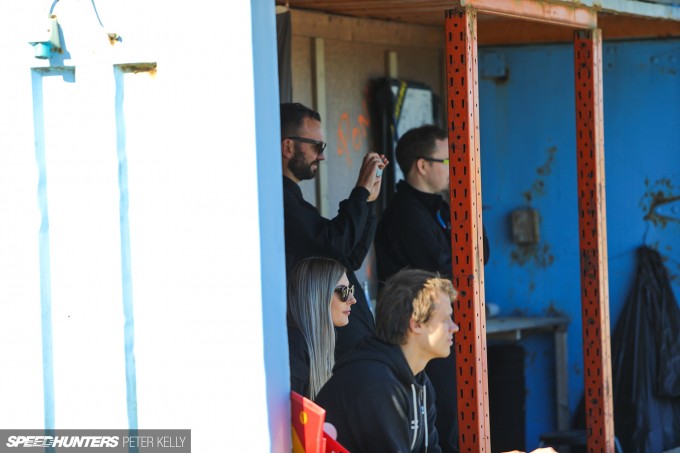 Considering my recent driving experience behind the wheel of Project X in Japan, I was feeling pretty confident as I strapped myself into 'Pony 1′ for my first drive. Michel was in the seat next to me and I was desperately trying to listen to his advice about piloting these Mustangs, but all I could hear was a voice in my head saying, "Dude, don't even listen to him, you're the man. You have a drift car in Japan, you're the real deal. You don't need any help."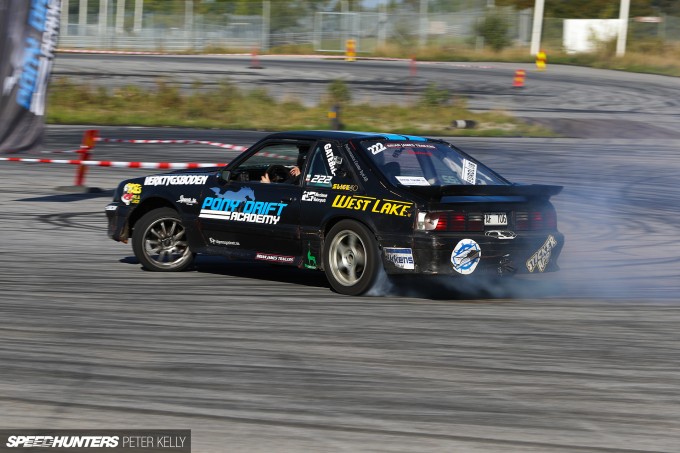 Aaaand… then I spun. Then I spun again. Who knew skidding a lighter, shorter car with a completely different power delivery would be such a challenge?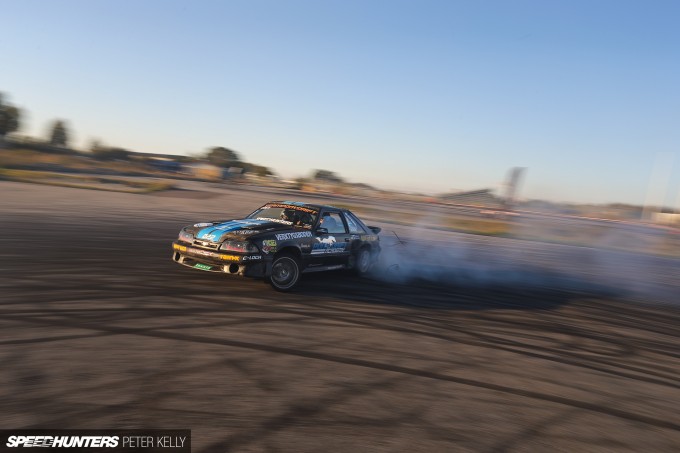 After spending some more time with Michel and the car, I slowly began to adapt to the instant power and quicker, snappier handling. Whereas in my own car – a big, long and very heavy Z30 Toyota Soarer running a stock 1JZ-GTE – I am able to stay on the throttle a little during the switch, and to jump back on full power as soon as I have the line right, in these cars the power was instant and very touchy. As soon as I tapped the gas as the car swung on transition, I'd loop it. I couldn't work out what I was doing wrong at first, but eventually Michel got it through my head that I needed to allow the car to transfer its weight and settle before getting back on the loud pedal.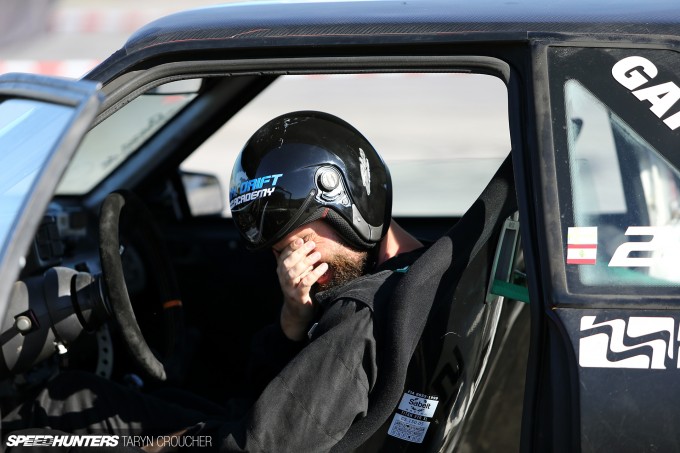 And that pedal only got louder after I ran a little wide at one point, removing the exhaust system and leaving only the headers to direct gasses out into the wild. I'm not proud of it, but I'm pretty sure the car sounded heaps cooler for it, so I'll stop short of apologising.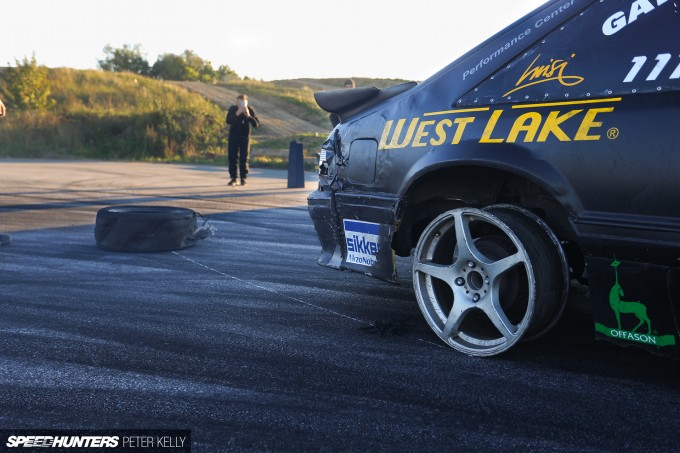 It's amazing how much of a difference it makes to your learning curve when you have someone who knows exactly what they're talking about, telling you exactly how to fix your problems. Instead of just making the same mistakes over and over again, if you're humble enough to really stop, take a breath and listen to some sound driving advice, you can improve at a crazy-fast pace.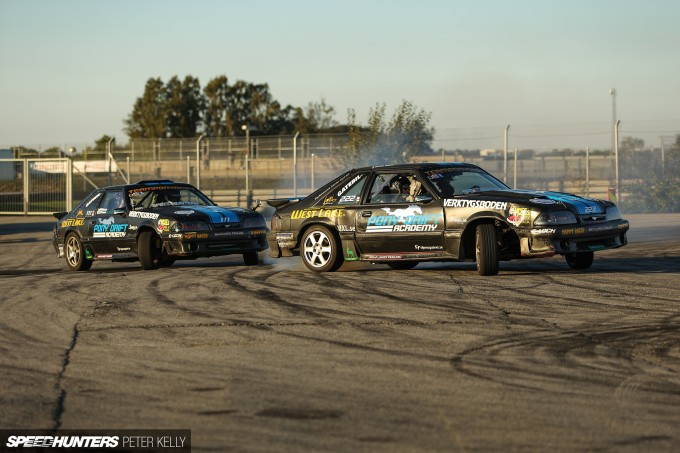 This went for all of us too. A couple of the guys, Rob and Arslan, had never drifted a car before, but by the afternoon they were hanging off that hydro handbrake and lighting up the rears around the short course with huge smiles on their faces. I love seeing people reach that moment when it 'clicks' for the first time and they suddenly understand what the car is doing and how they can tell it what to do next.
We weren't all beginners though… Early that morning, I'd quickly found my new arch-rival in the form of Need for Speed's Bryn Alban. Bryn has quite a bit of driving, drifting and racing experience and it soon became obvious that he was the man to beat – not that it was a serious competition of course, but you know how these things go! You've got to be suspicious of any person that brings their own helmet to a drive day… In the video above you can see one of Bryn's first runs; it's interesting watching this and remembering how tempting it is to simply dab the throttle lightly to get around the course thanks to all that low down torque, but Michel sitting in the passenger seat soon corrected that with some skilful 'put your ******* foot down!' hand gestures.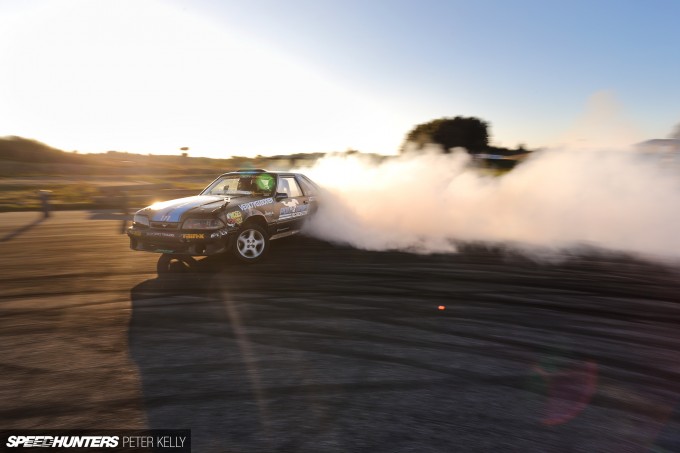 Bryn was clearly better than me, but once I learnt that there'd be a fun little qualifying-style competition at the end of the day, I so badly wanted to take the #1 spot from the quietly confident Welshman.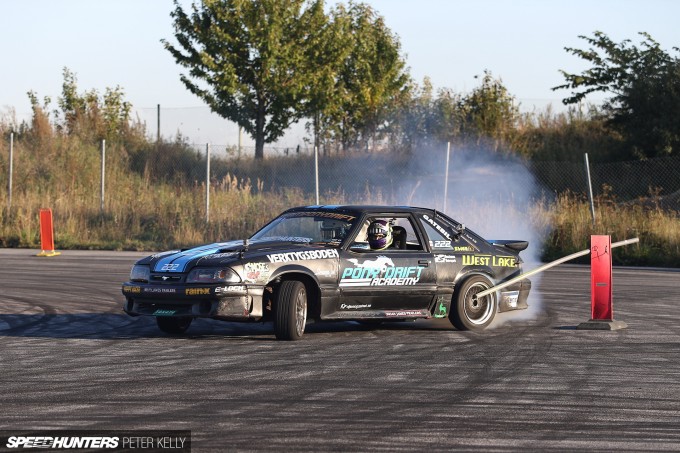 The trial was simple: a full speed sprint into a big right hander that tightened up before switching left and heading towards the finish. The instruction was to run the outside wall – or fence in this particular case – before tightening up to smash a clipping point (aka the big floppy stick that's super fun to pummel), just before switching to the left and heading for the end of the section making as much smoke as possible.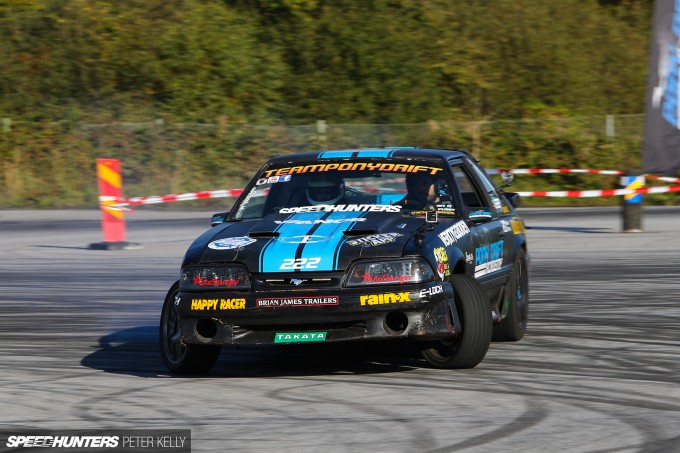 It's not exactly Formula D, but I've never drifted with any sort of competition in mind, and it was a blast! Every one of us completed at least one successful run hitting all the clips and putting a decent score on the board – pretty impressive for a bunch of people that had never skidded a car before.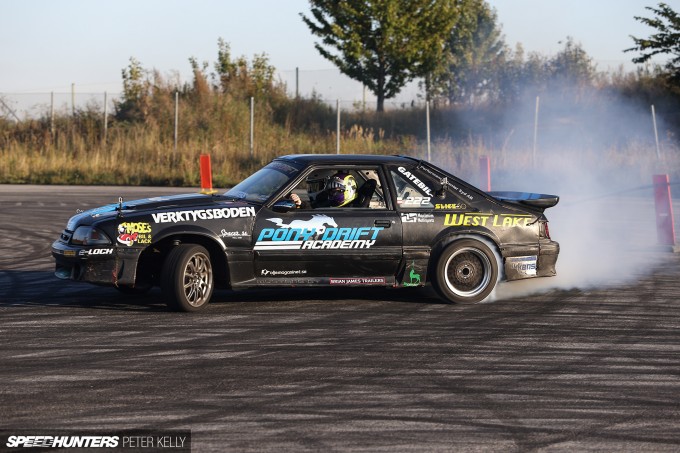 I was very happy to have hit all the clips on all my three practice and three competition runs, but after seeing Bryn lighting it up with a better line and smoother transitions on one run in particular, I knew I would have to settle for second place, with Rob close behind in third.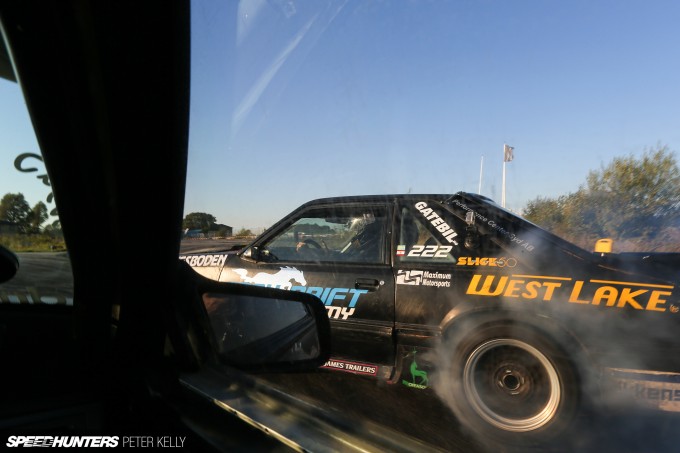 The day was finished off with some battle driving, which was an absolute blast. Michel and Ervin jumped behind the wheel to show us some really close proximity driving, and it was completely hilarious…
After feeling pretty confident in our own ability to drive these Mustangs, it's a real knock to jump in the passenger seat and see what these cars can really do with the right people behind the wheels!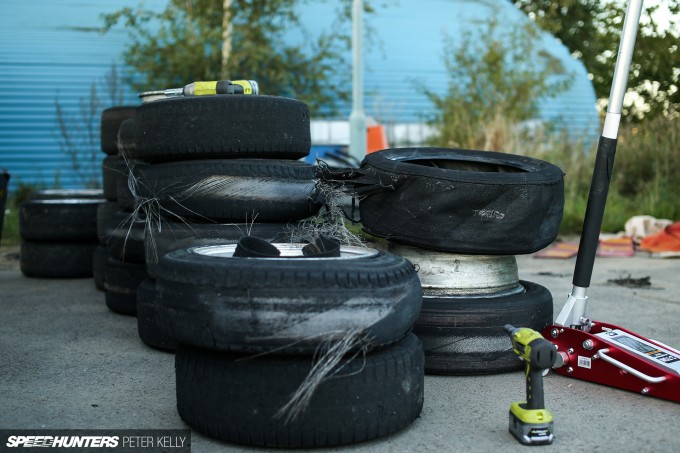 Our day out with Team Pony Drift really gave me a new appreciation for a few things – firstly, you're never too good to stop, shut the hell up and listen to someone who can offer you good advice and guidance. I learnt a lot about drifting that day – I think most importantly understanding how a different car behaves when sideways, and then being able to adjust your driving style to suit.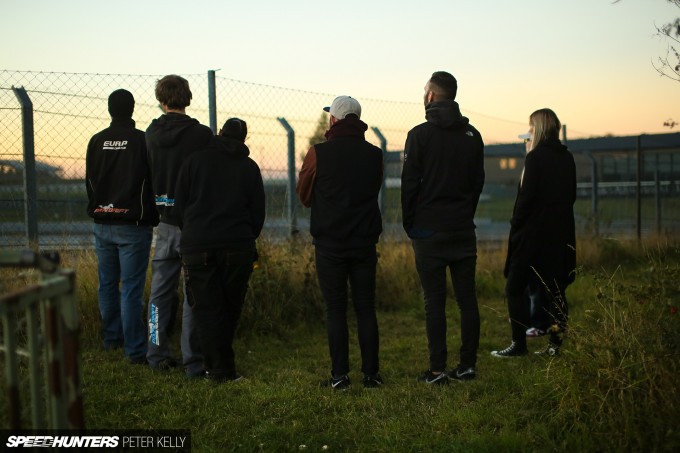 Secondly, as the sun began to set and we all walked over to the main circuit to watch a twilight track session full of some very nice machinery, I realised that sometimes, due to my nomadic Speedhunters lifestyle, I forget that driving and enjoying cars should be a group activity whenever possible. I loved giving these Fox Bodies absolute death for sure, but it was being able to do that whilst hanging out with a bunch of friends – both old and new – that really made the day memorable.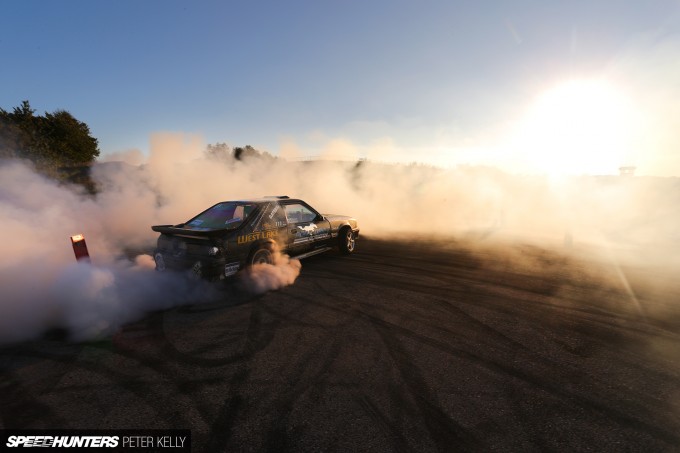 Lastly, just like I mentioned at the very start of this article, I realised that I've been a snob for way too long. Sure, I can appreciate cars of all types – you couldn't do my job if you didn't – but it's not until I parked myself behind the wheel of something like a Fox Body Mustang – a car I have always been very 'meh' about – that I realised I've been too close-minded and too set in my ways. Lesson learnt.
A massive thank you goes out to Michel, Ervin and all the crew at Pony Drift Academy – what a wild ride. In turn, Pony Drift would also like to take the opportunity to thank all their partners and sponsors for their support. If you're in Sweden and want to improve your driving, these are the guys to get in touch with.
Peter Kelly
Editor-in-Chief
Instagram: speedhunters_pedey
pedey@speedhunters.com
Additional Photos by Taryn Croucher
Instagram: taryncroucher
Twitter: @taryncroucher
taryn@speedhunters.com