Barbados
When you think of Barbados, the first thing that will probably come to mind are pristine beaches and five-star resorts. I bet you would not think of car culture, let alone a thriving JDM tuning scene.
I had no idea what was in store for me when I headed to the independent island nation earlier this year for Red Bull Global Rallycross. A couple of my peers had told me about how much the locals love stage rally, and that every year there's a big event that drivers from all over the world are invited to compete in, so obviously rallycross would go down nicely here. But what about street cars and performance tuning?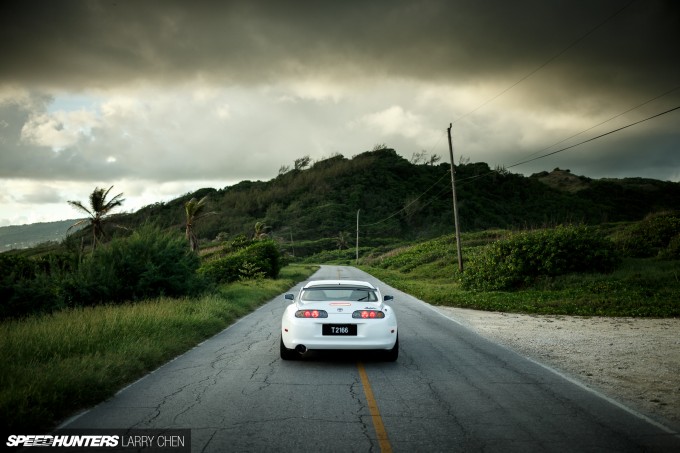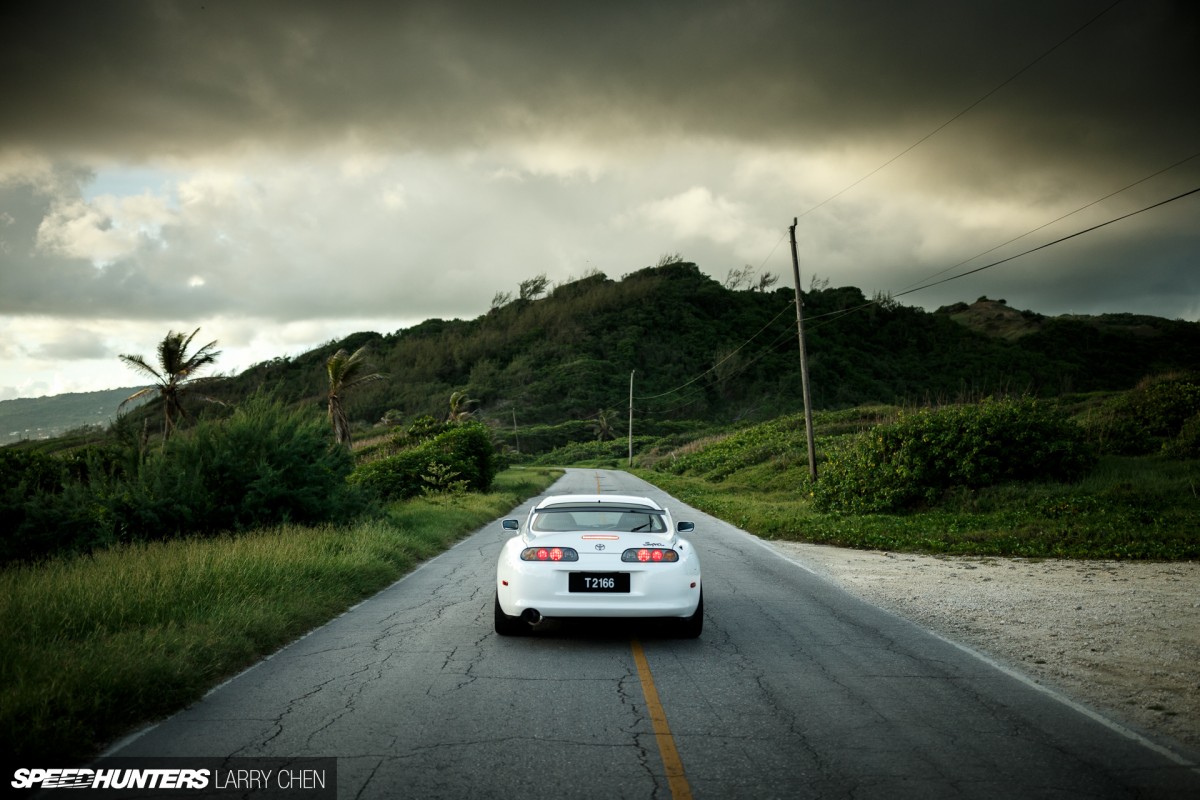 How is it possible you ask, that there could be a thriving car culture on an island that's only 21 miles long and 14 miles wide? Well, I was about to find out for myself…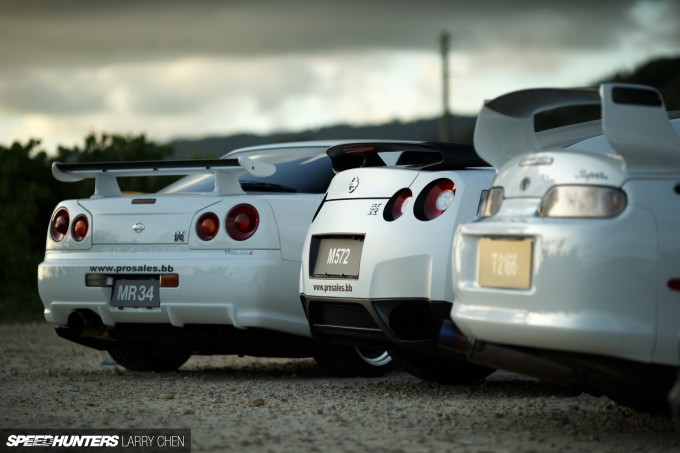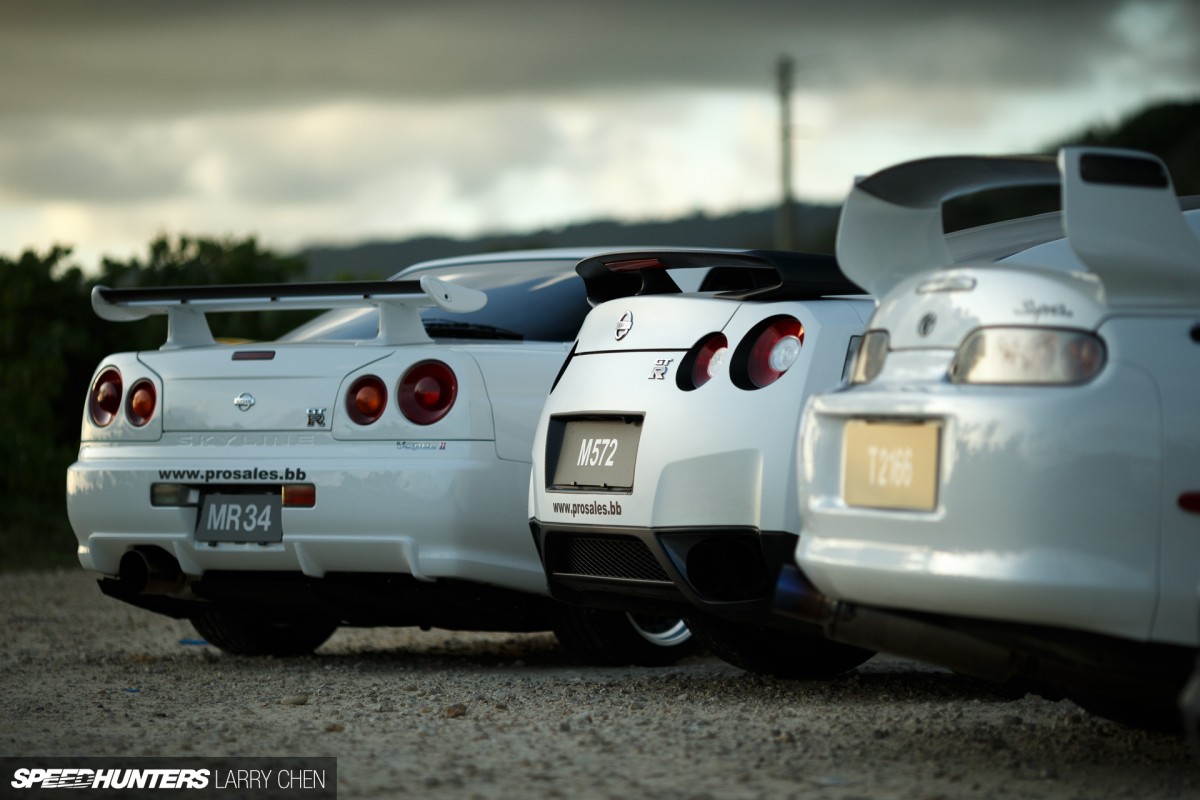 After I started posting a few photos on Instagram from Bushy Park Speedway, which was recently transformed into a world-class racing facility and is definitely the best race track between the Caribbean islands, a few local enthusiasts sent me direct messages, inviting me to come and check out their local nightly meet.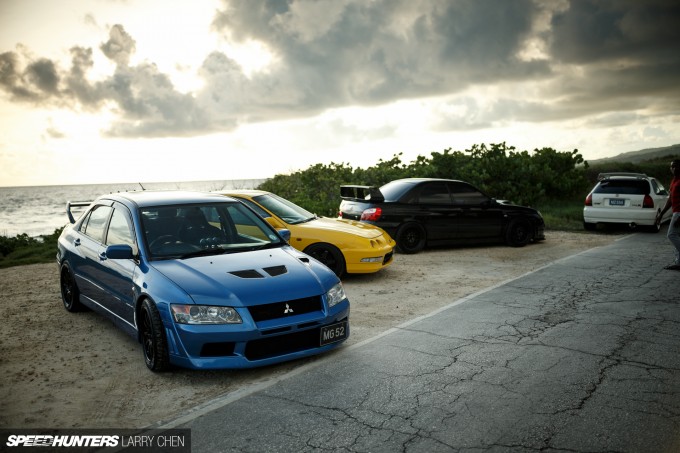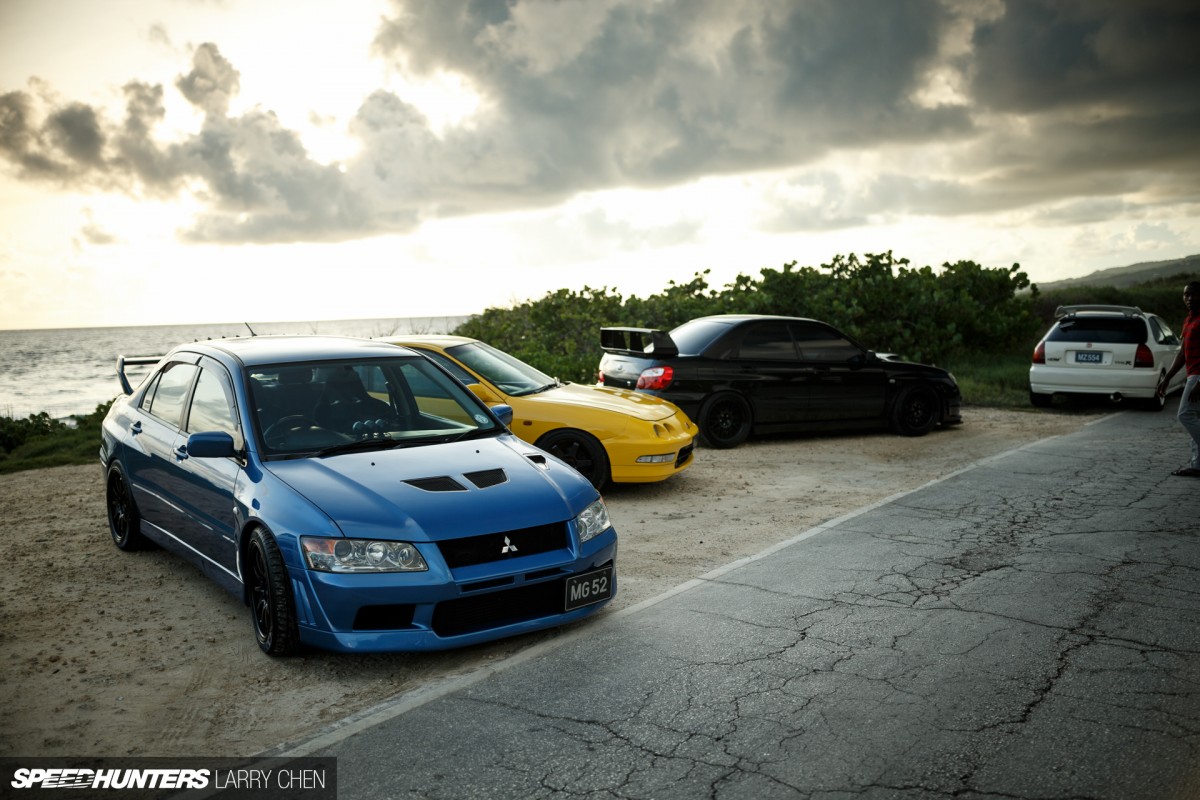 I was intrigued, and because I had my own rental car I figured it would be cool to see what they had to offer. Although, I have to admit that I was quite sceptical, because up until this point all I'd seen driving around the island were jalopies.
Night Meet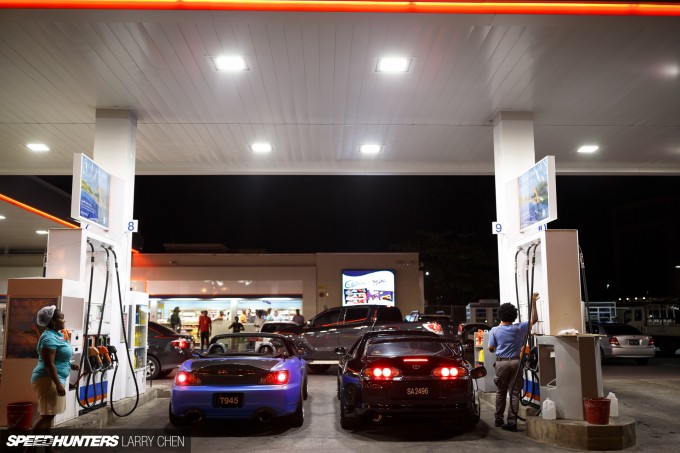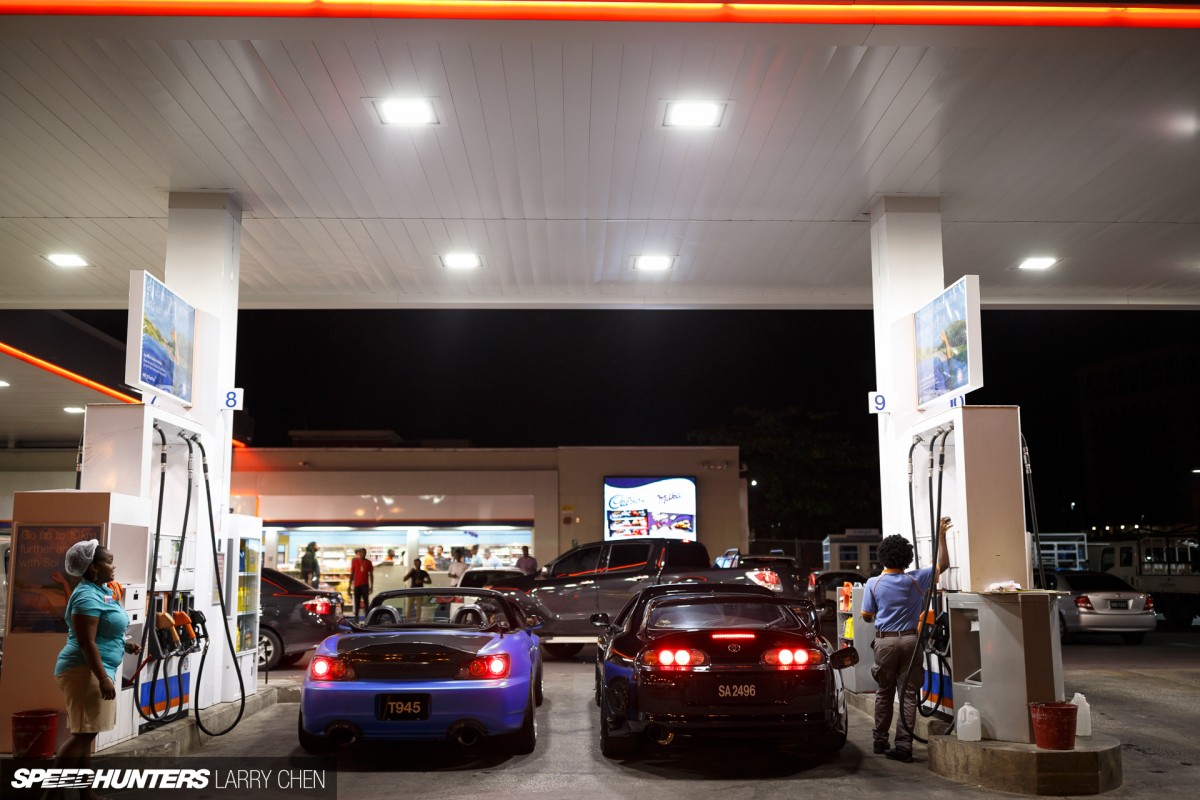 It was pretty late, and I'd just gotten back to the hotel after a full day of shooting at the track when I received a call from a guy named Jade telling me a meet was happening, and that I should stop by. He gave me the address, so I headed out to this fuel station in the middle of the island.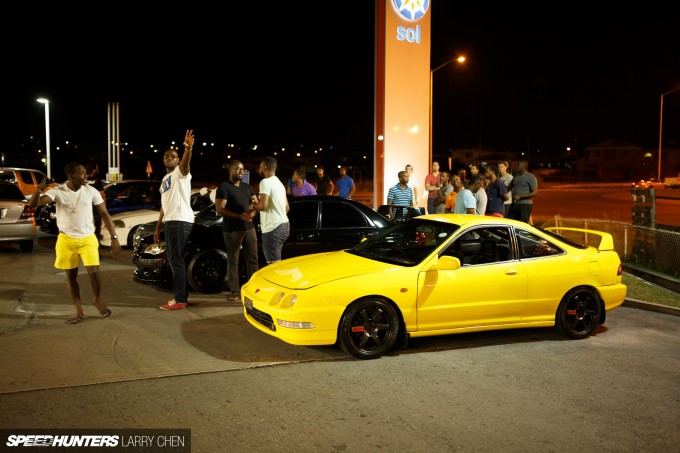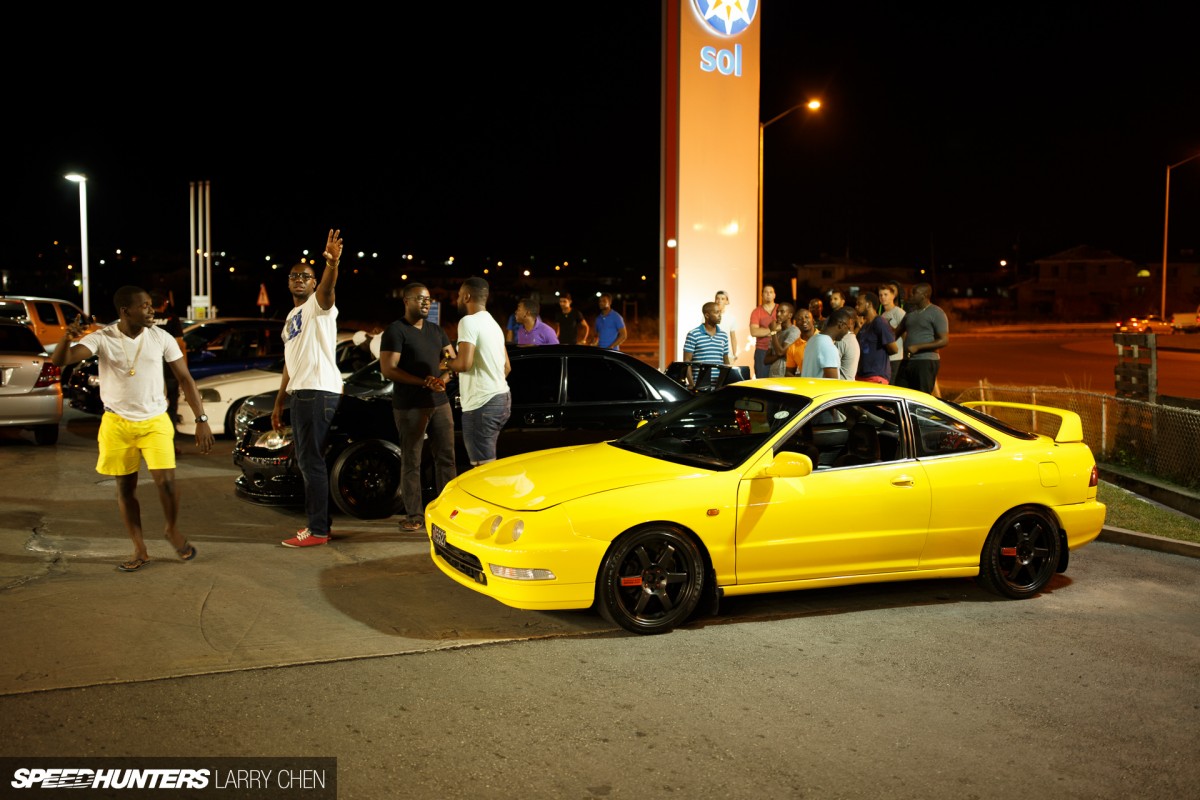 As soon as I pulled up I saw a group of guys standing in the parking lot waving me down. My hair was kind of out of control by then, so I guess I was easy to spot.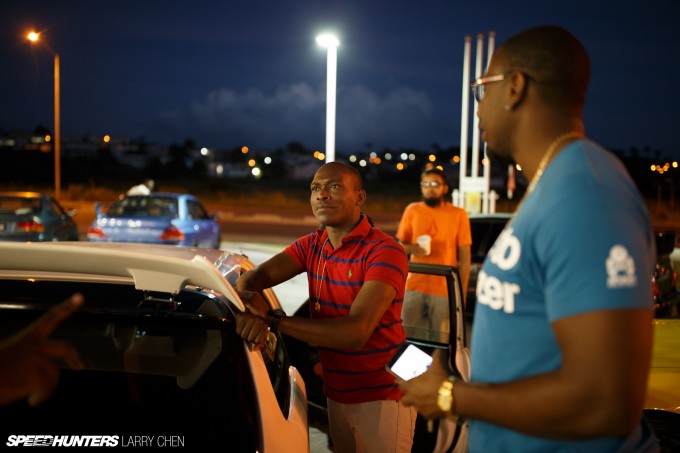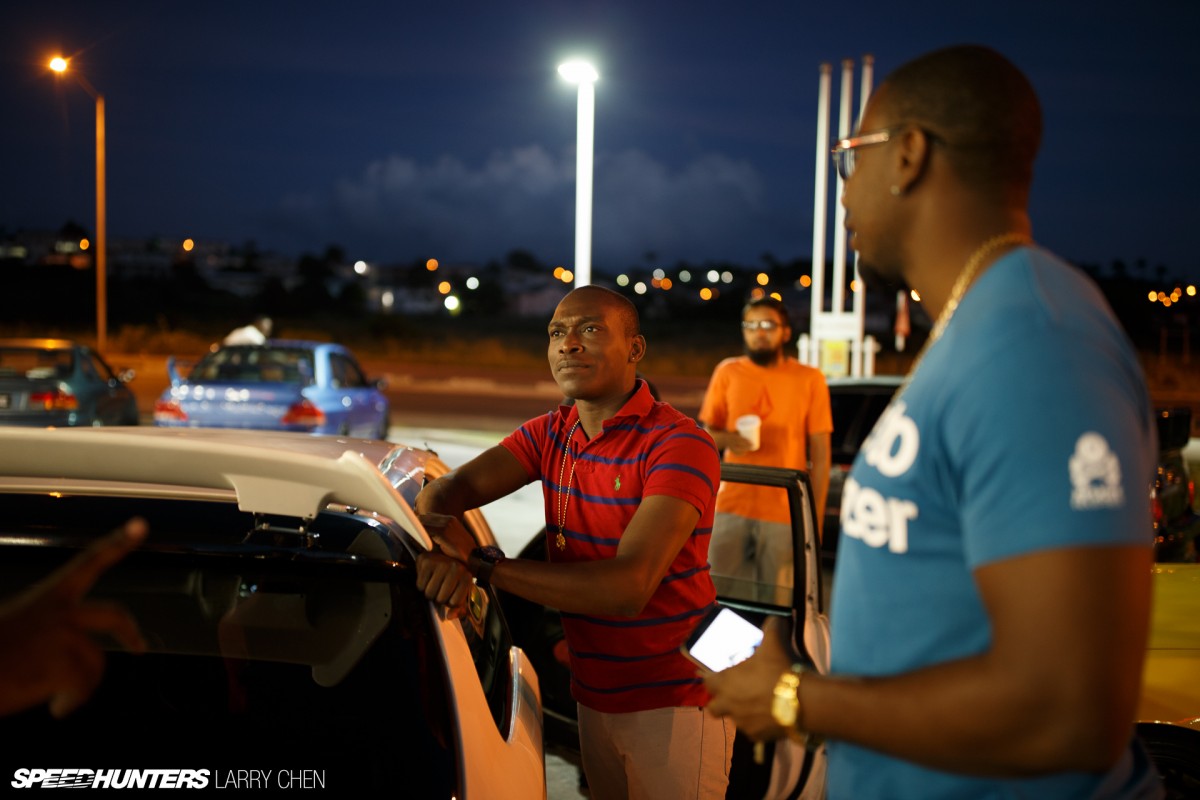 Right away Jade introduced himself to me, and to his friends. These guys have a car club called JDM Squared and they were really looking forward to giving me a taste of Bajan car culture.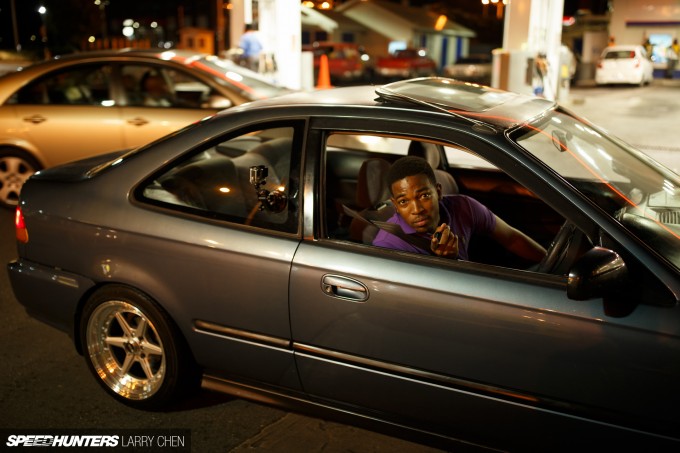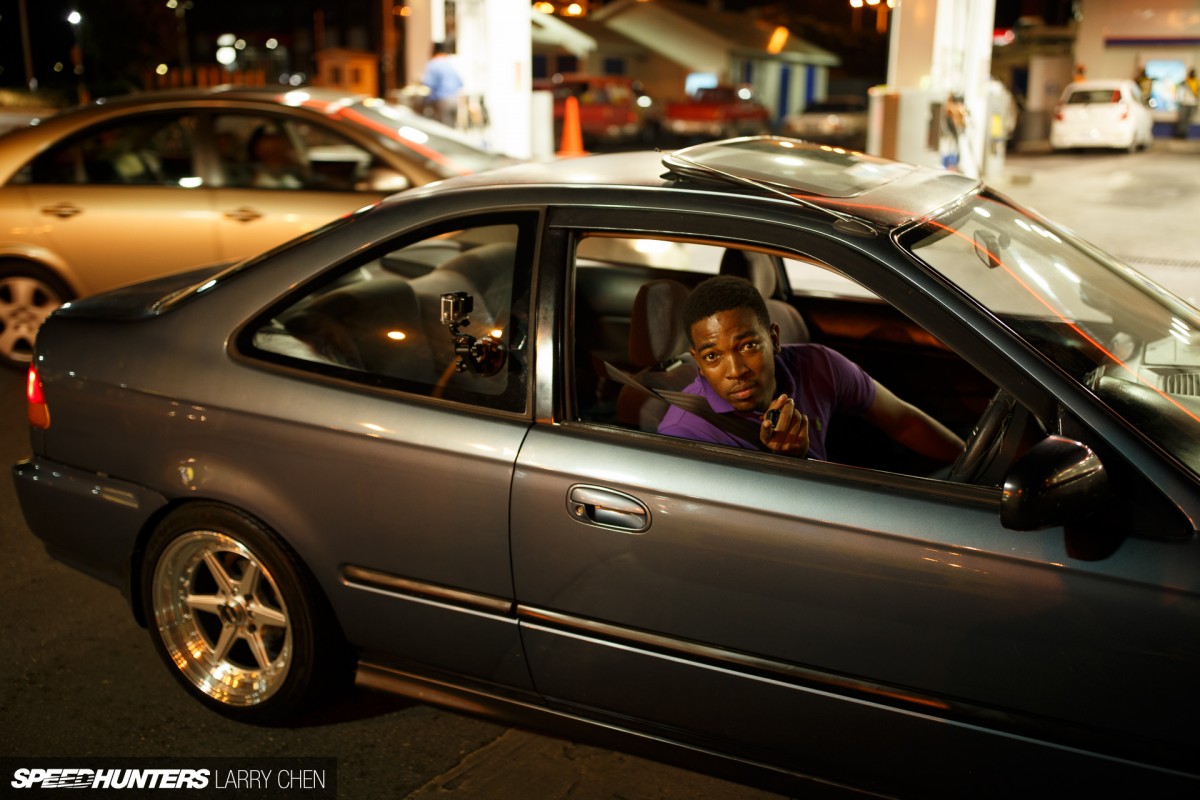 It wasn't long until more people showed up with their cars. Apparently they put out an island-wide notice that I was going to be attending the meet that night.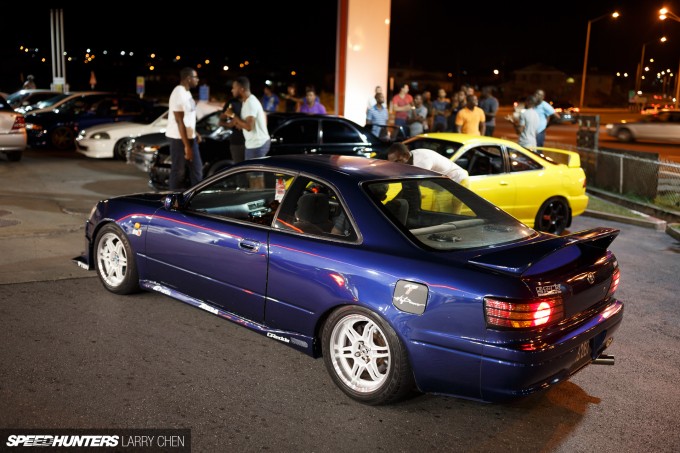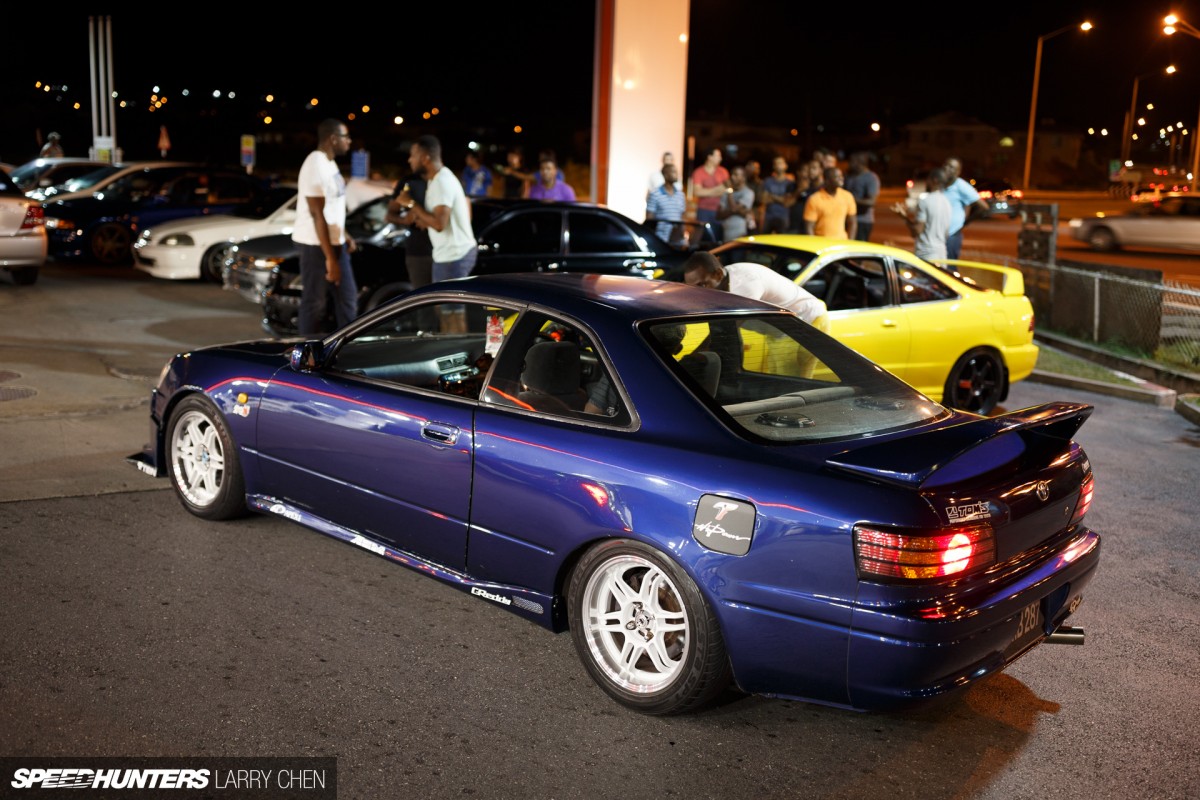 So what's up with all the right-hand drive Japanese cars you might be wondering? Well, in Barbados they drive on the left and many of their used cars come directly from Japan.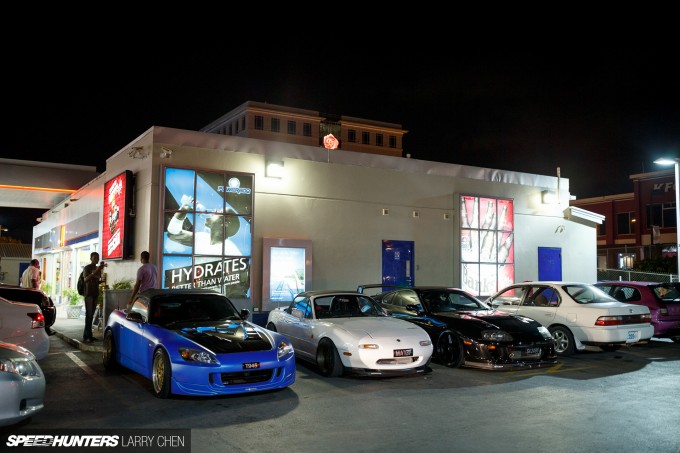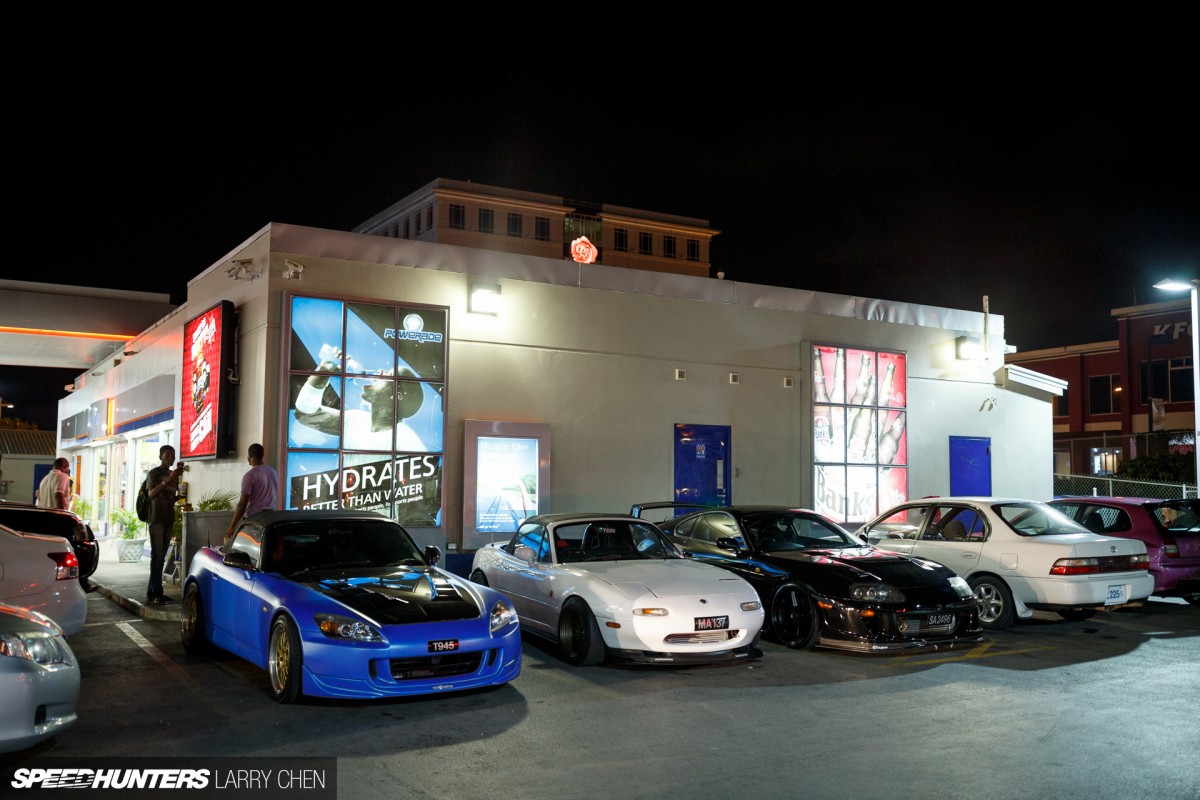 However, it's not a free-for-all like in some countries. You can only legally import a car that is up to five year old – anything else requires 'special methods' as the locals told me.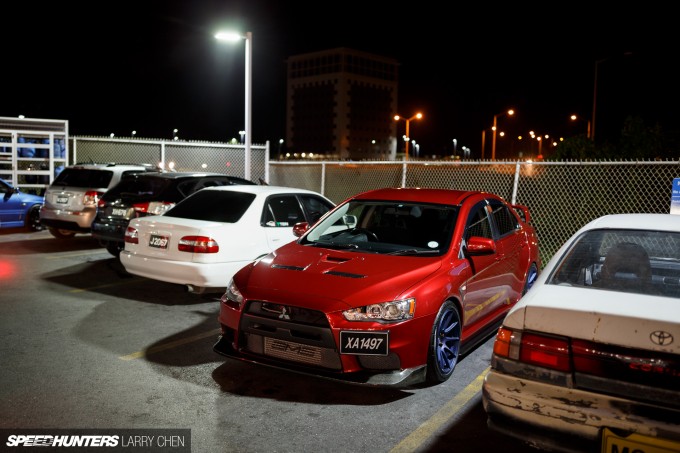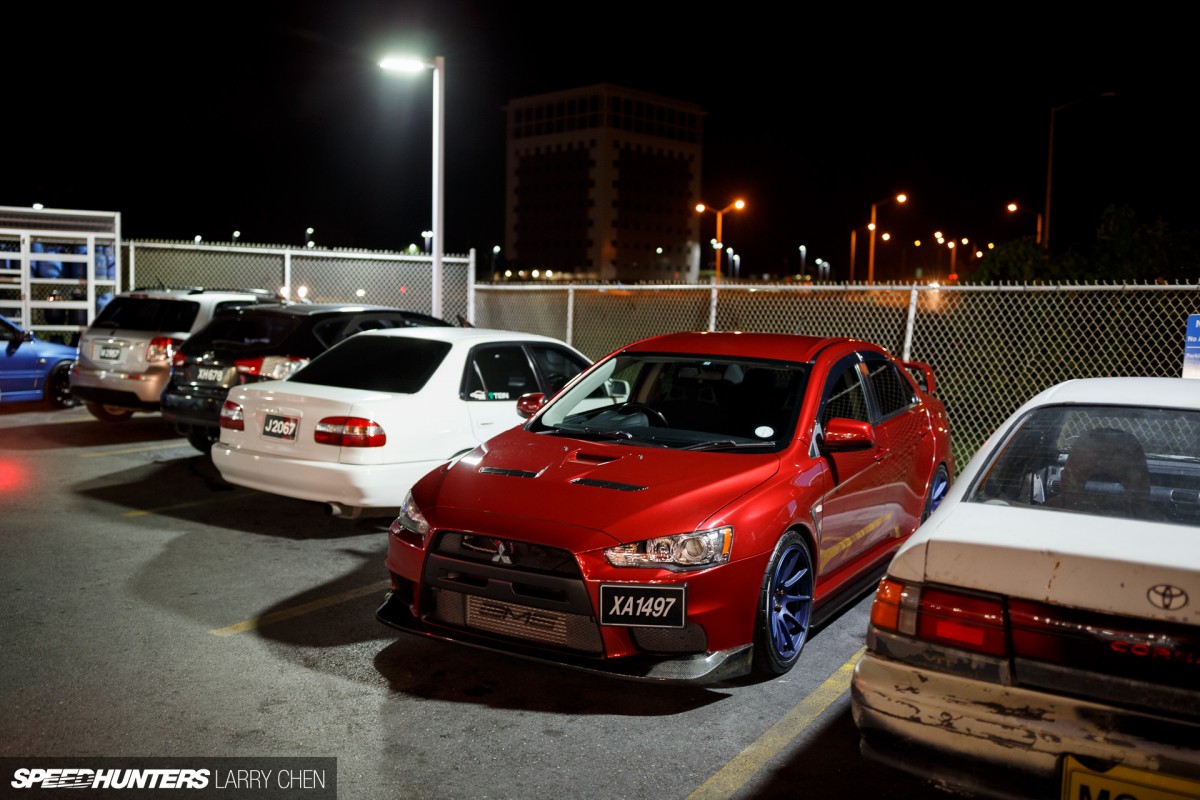 On top of that there is a 200 per cent import duty on cars. While that's not as bad as Singapore, it's still not so easy on the wallet for the average car enthusiast.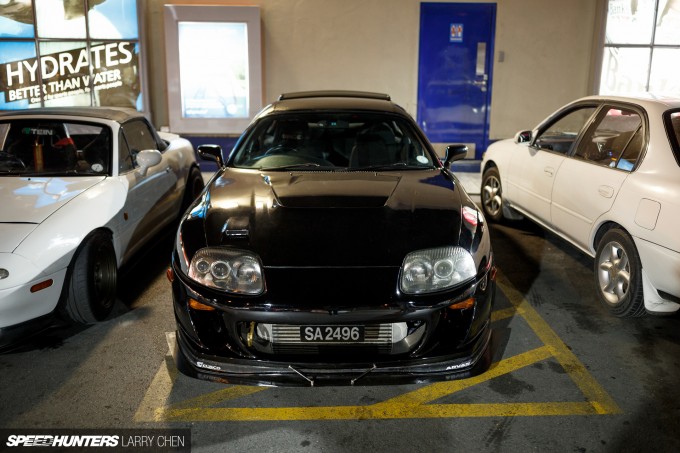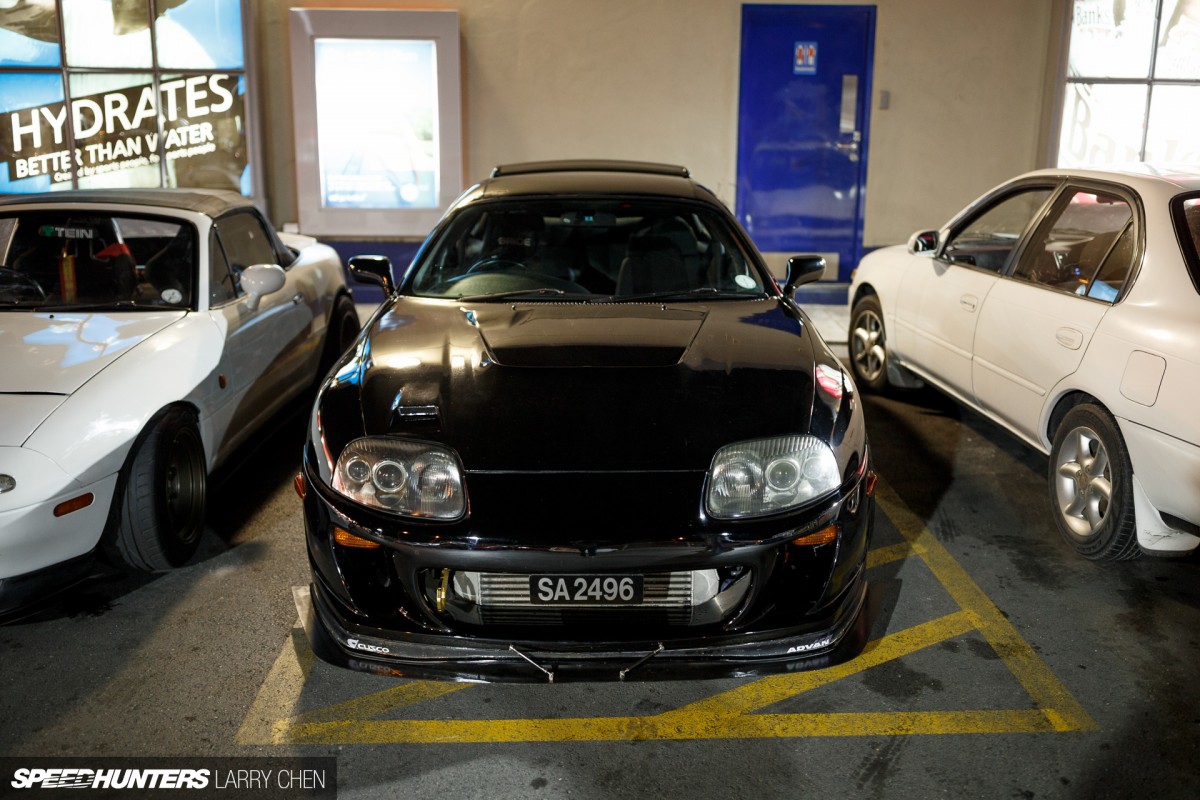 Considering there are less than 300,000 people living on the island, I was already impressed from what I had seen just walking around the service station.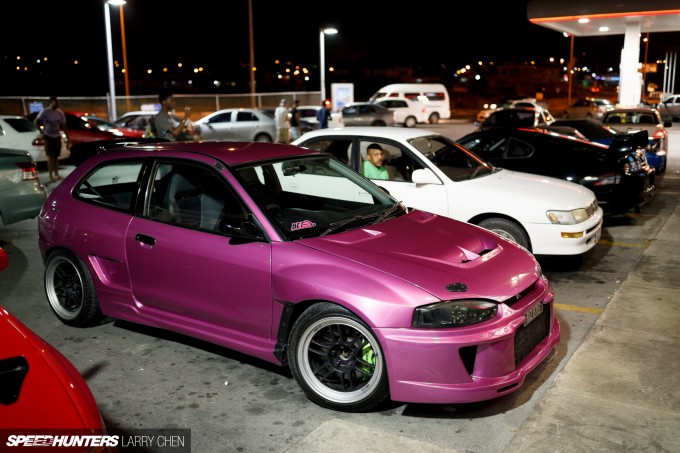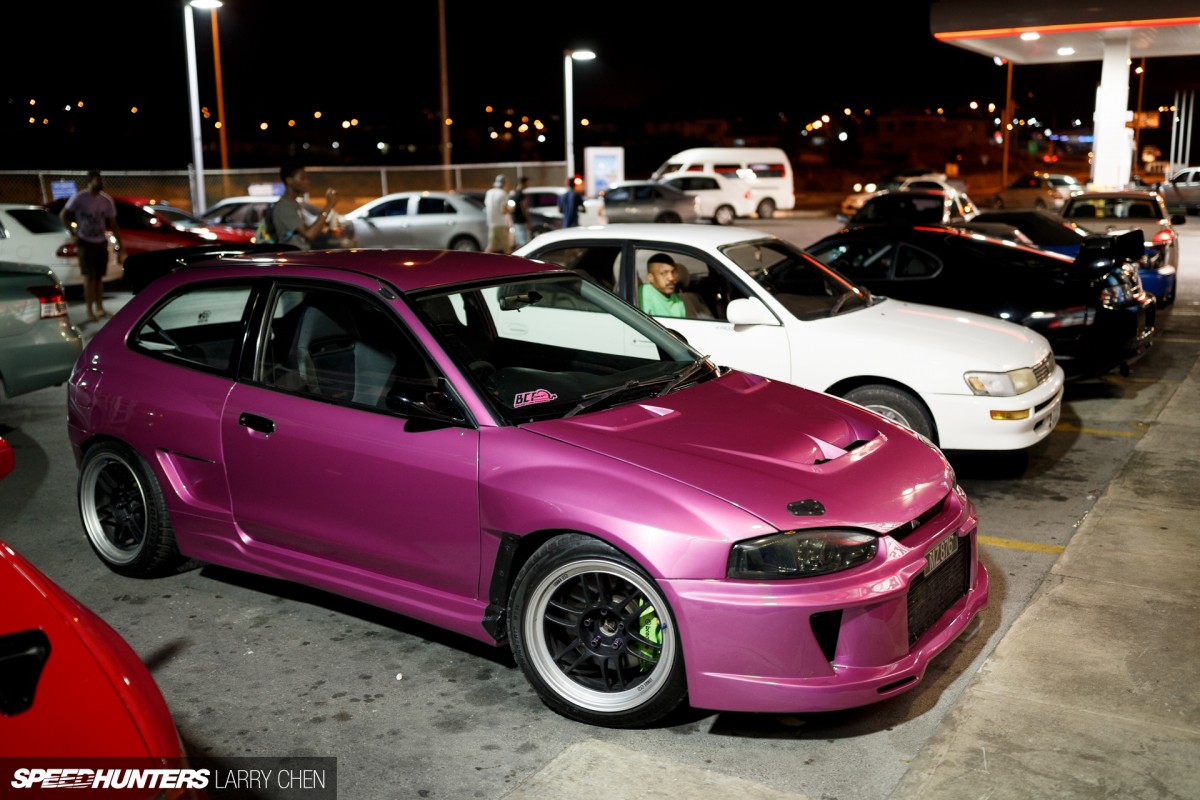 Then I came across this – a 1997 Mitsubishi Mirage Colt fully converted to a baby Evo. Under the skin is a Lancer Evolution VI front sub frame and a Lancer GSR rear sub frame, with power coming from a 2.4-liter 4G64 with a GT3582R turbo. I thought to myself, what an interesting mix of cars.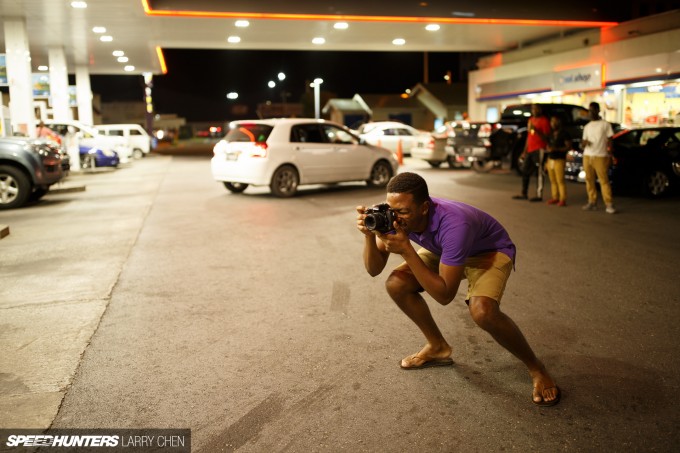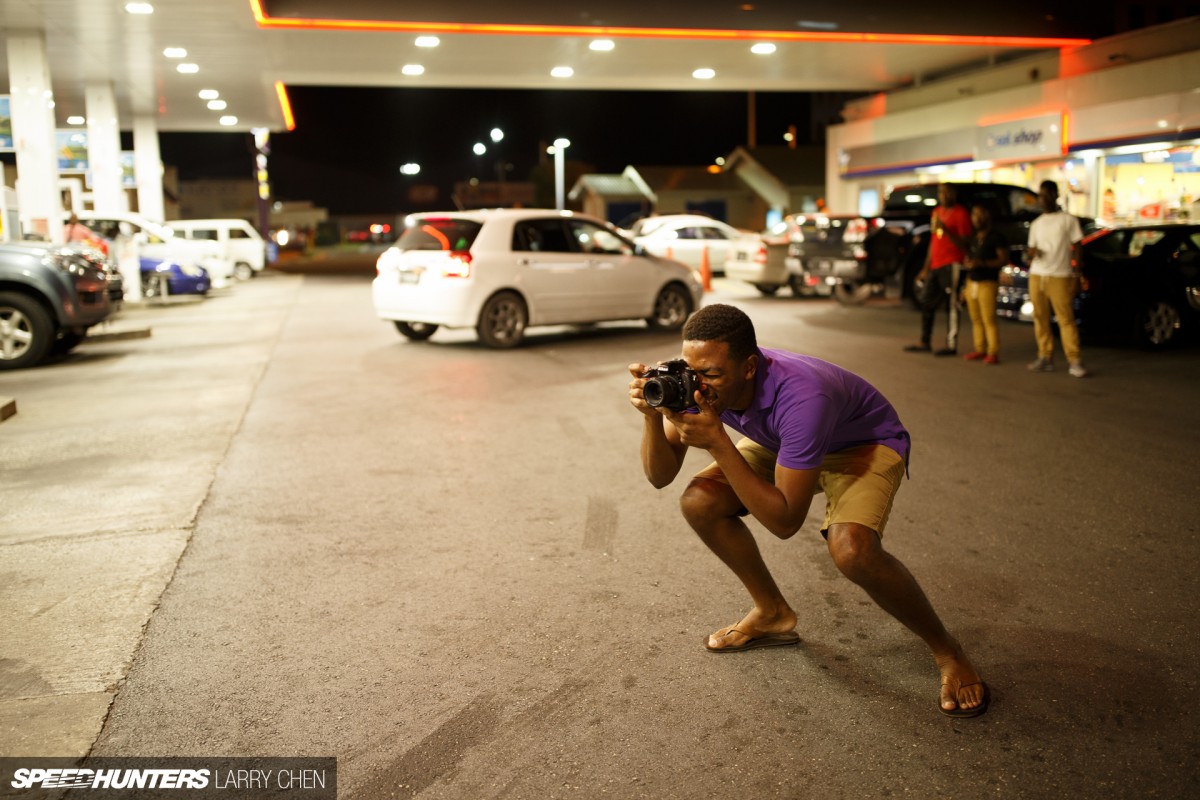 This is Nealiho, one of the car photographers on the island and an avid hunter of speed. I knew it was going to be a good night when I saw him bust out this awesome photo-stance right in the middle of the gas station forecourt.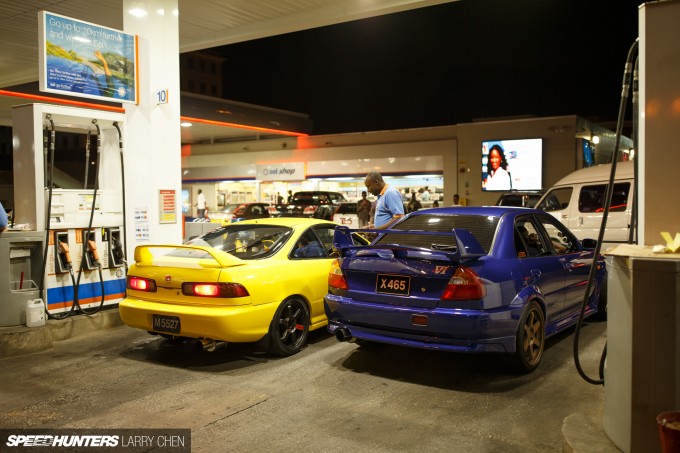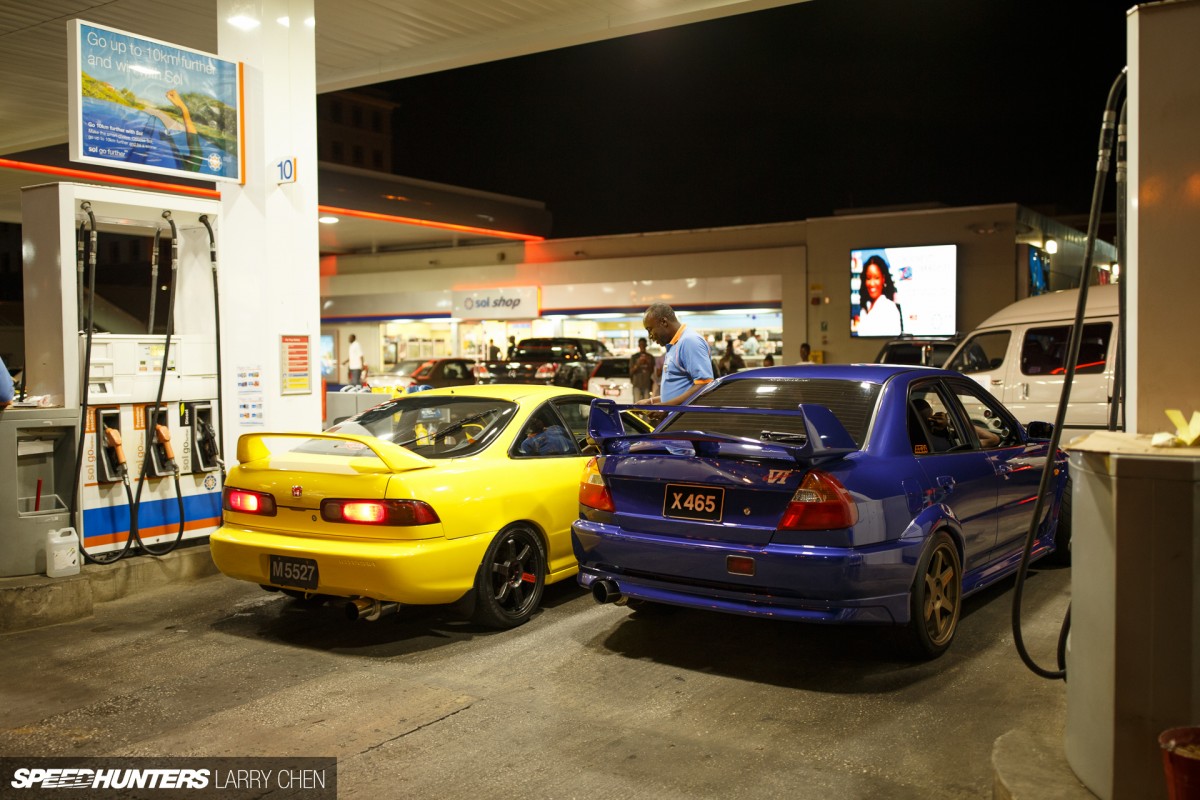 What was interesting to me was how no one seemed to mind that all these motor-heads had just shown up and formed a flash-mob car meet.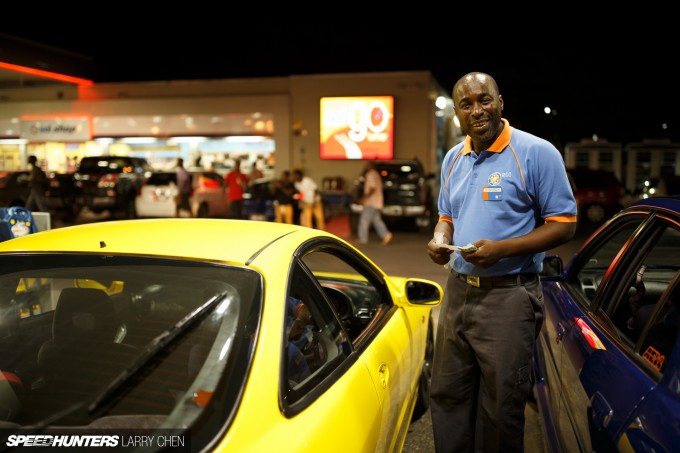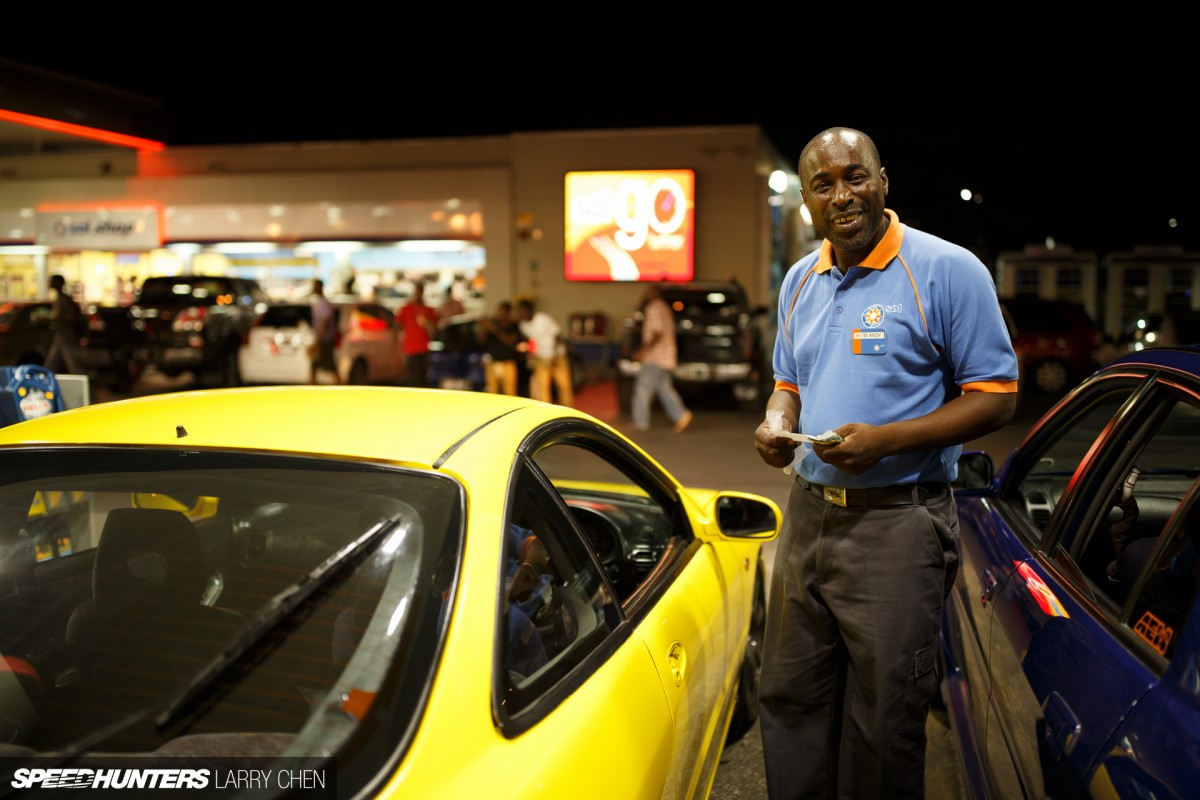 I asked the attendant what he thought of it, and he told me that they welcome it, as it brings in so much business.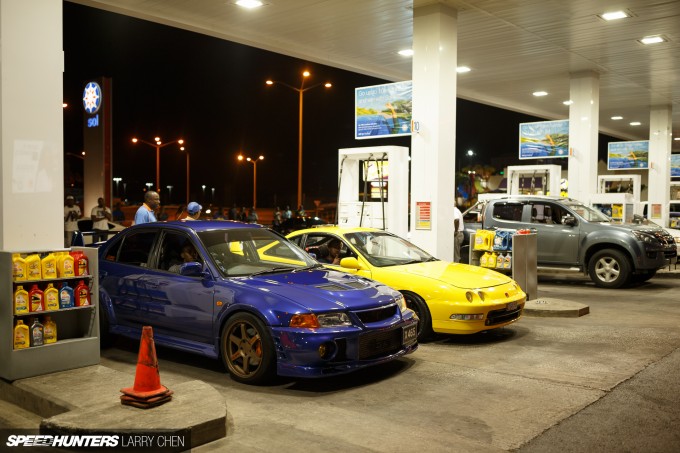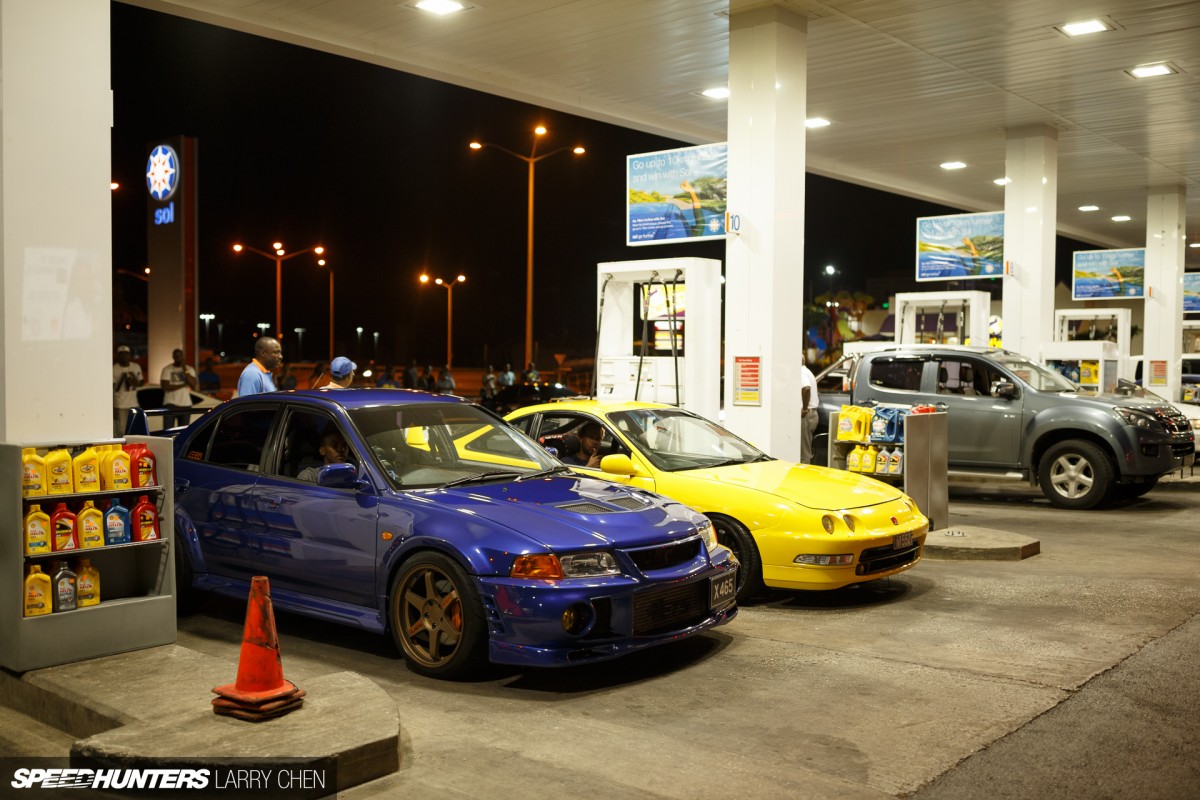 There was talk of a little cruise around the island, but of course I only had my rental car. I was worried to leave it at the station if I were to ride with one of the guys, because doing the same thing in Los Angeles would see your car towed away in a matter of minutes.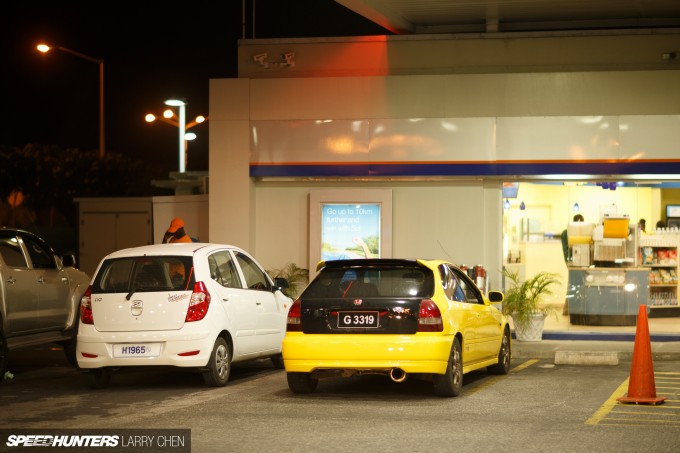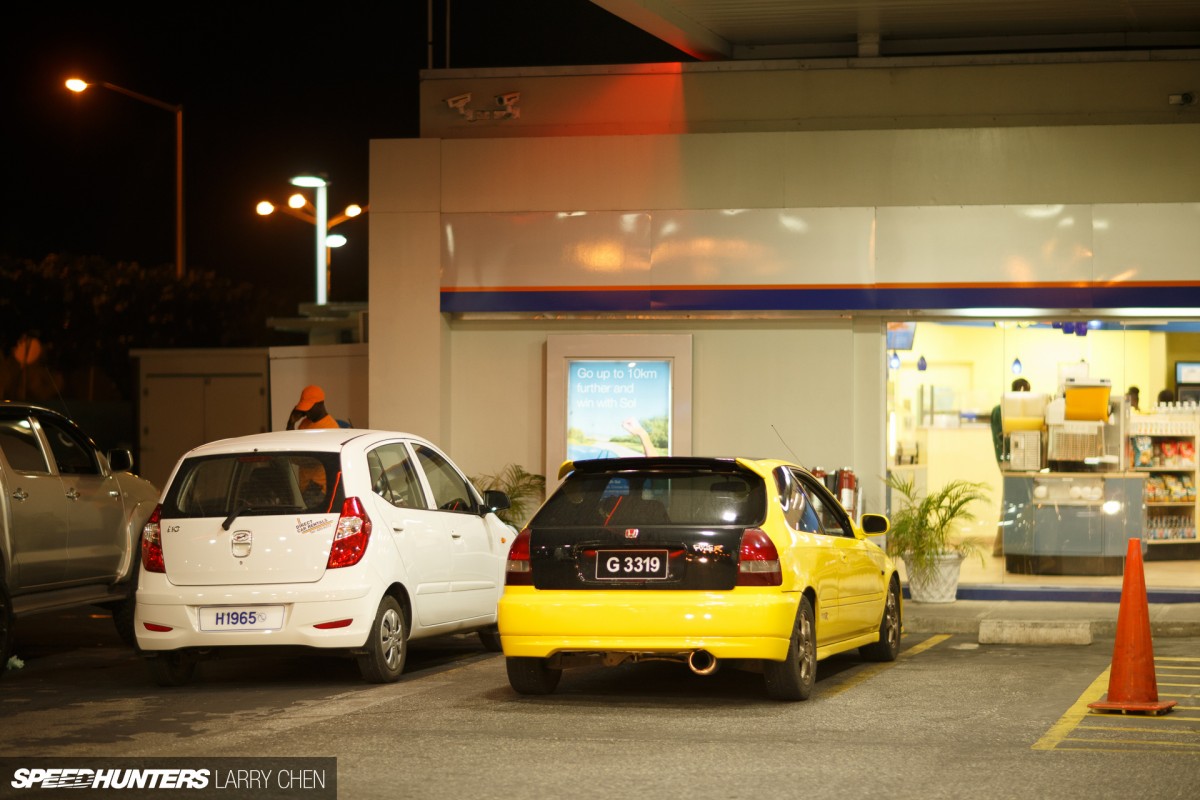 But the guys assured me that in Barbados no car has ever been towed away for this reason. So I left my little Hyundai parked right out in front.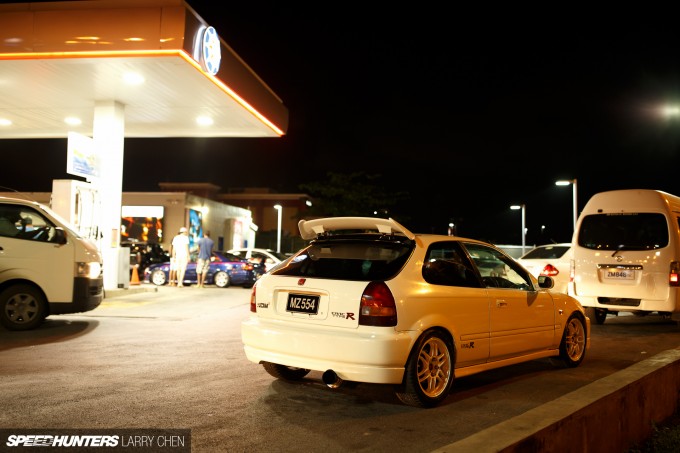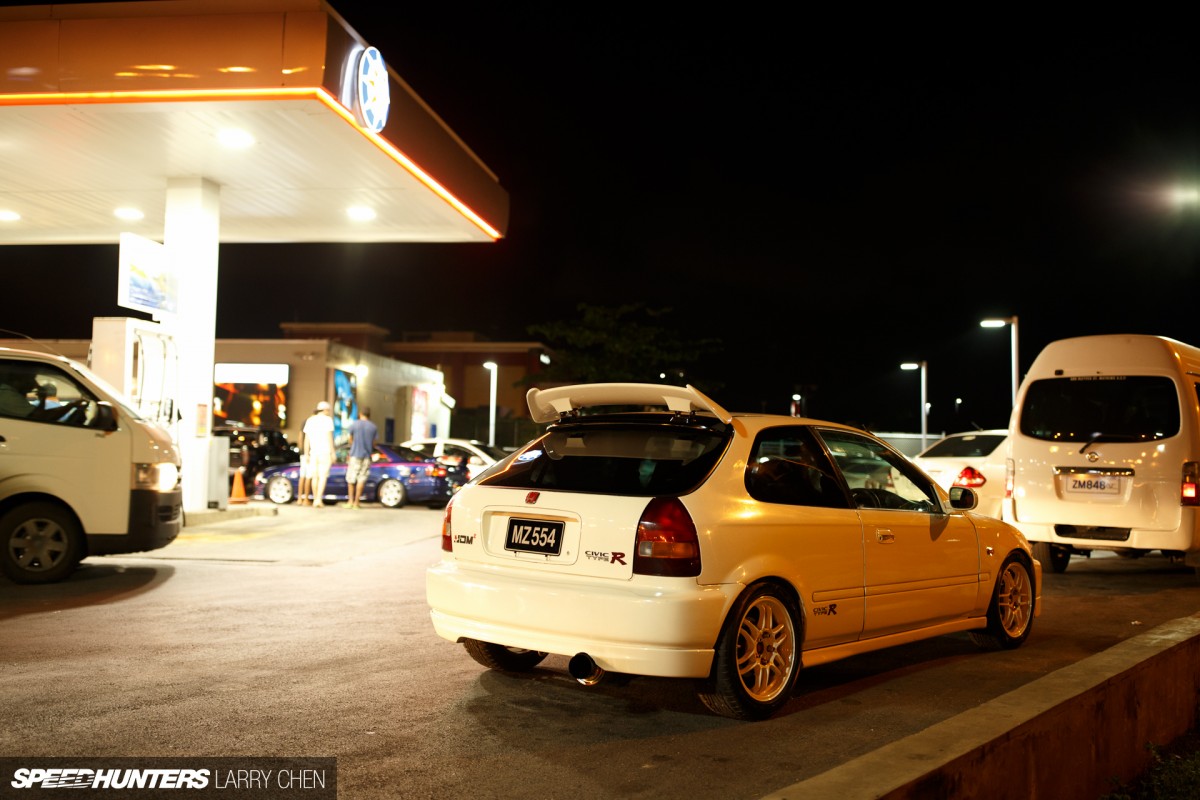 I jumped in with Jade in his EK9 Honda Civic Type R, a model that's considered pretty normal Japanese performance car fare to the locals, but something extremely rare in North America.
Cruise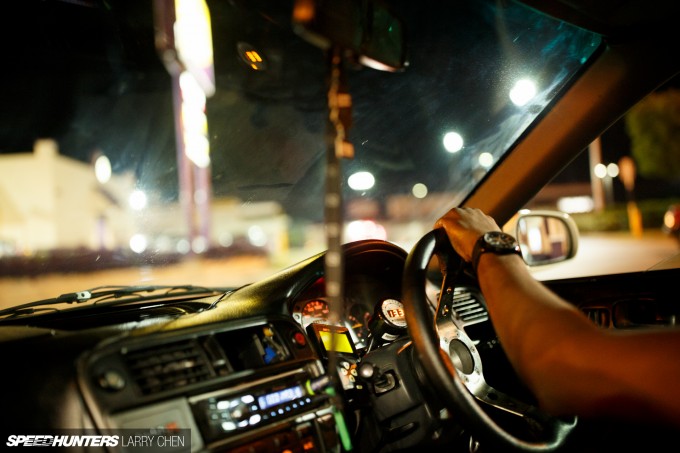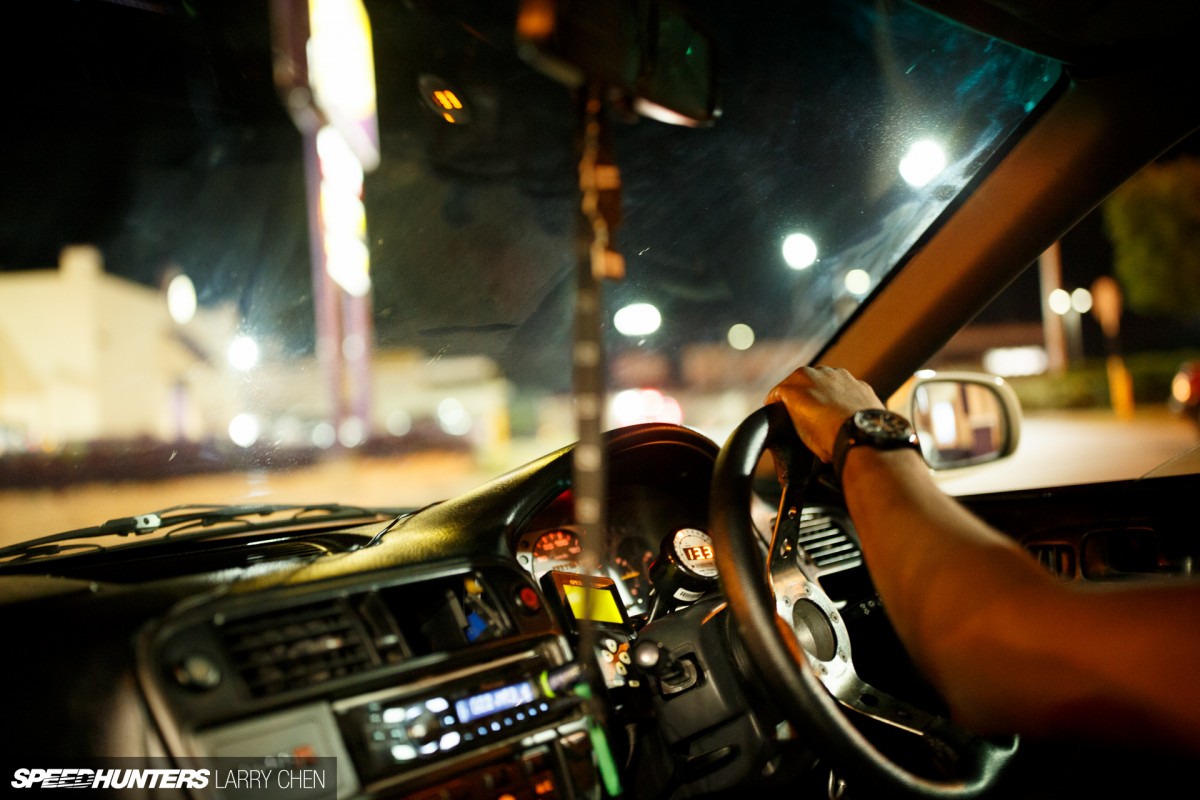 I really can't stress just how physically small Barbados is, so I was wondering where we could possibly cruise to. After all, the JDM Squared crew told me that they've pretty much driven every single road on the island.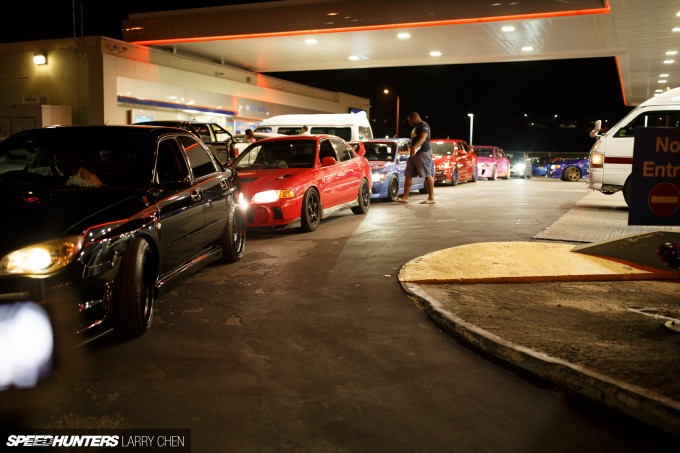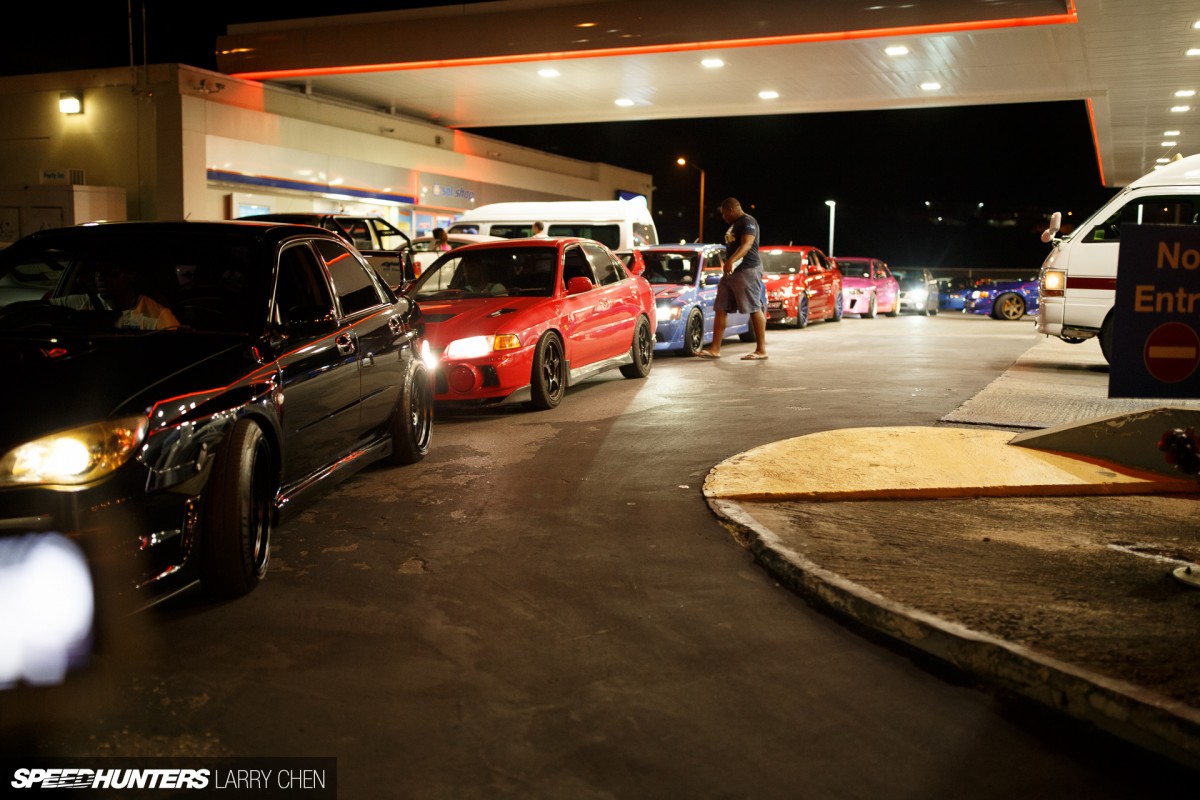 As I pondered this, I turned around to see a long line of cars getting ready to roll out. Because there aren't many places where all the cars could park together, we headed for a university parking lot.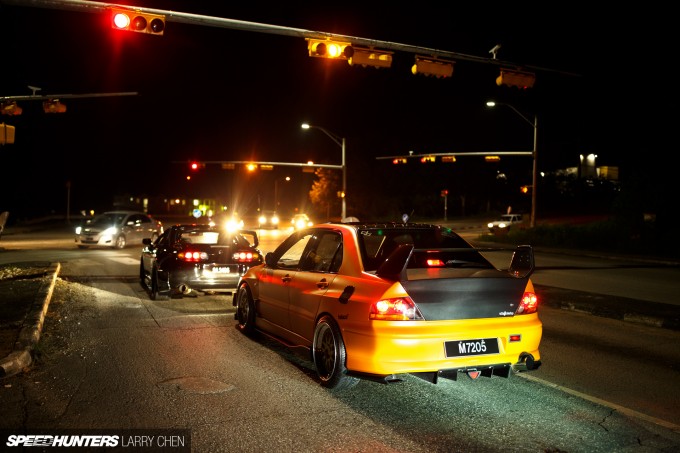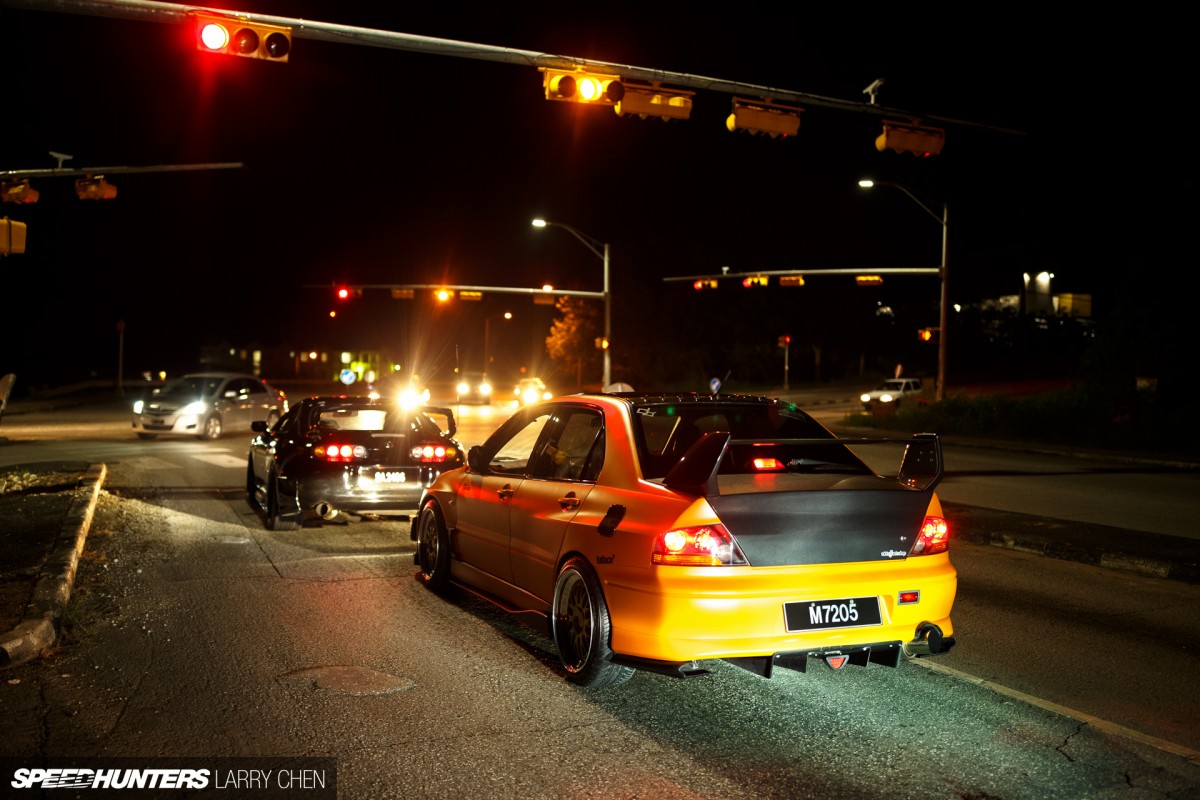 Blasting through the streets of Barbados with all of these highly-modified Japanese cars was surreal.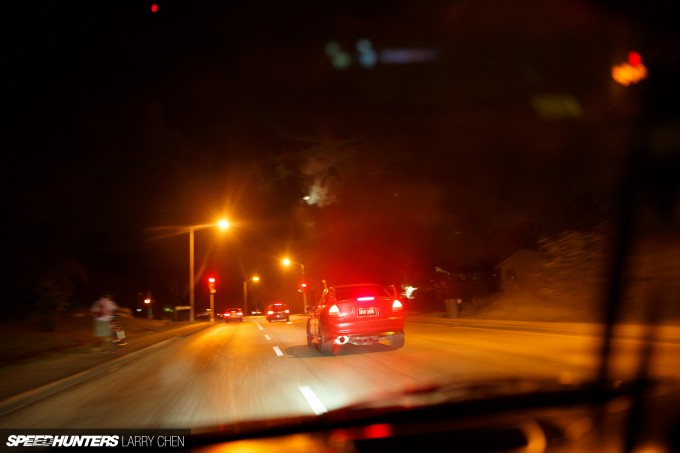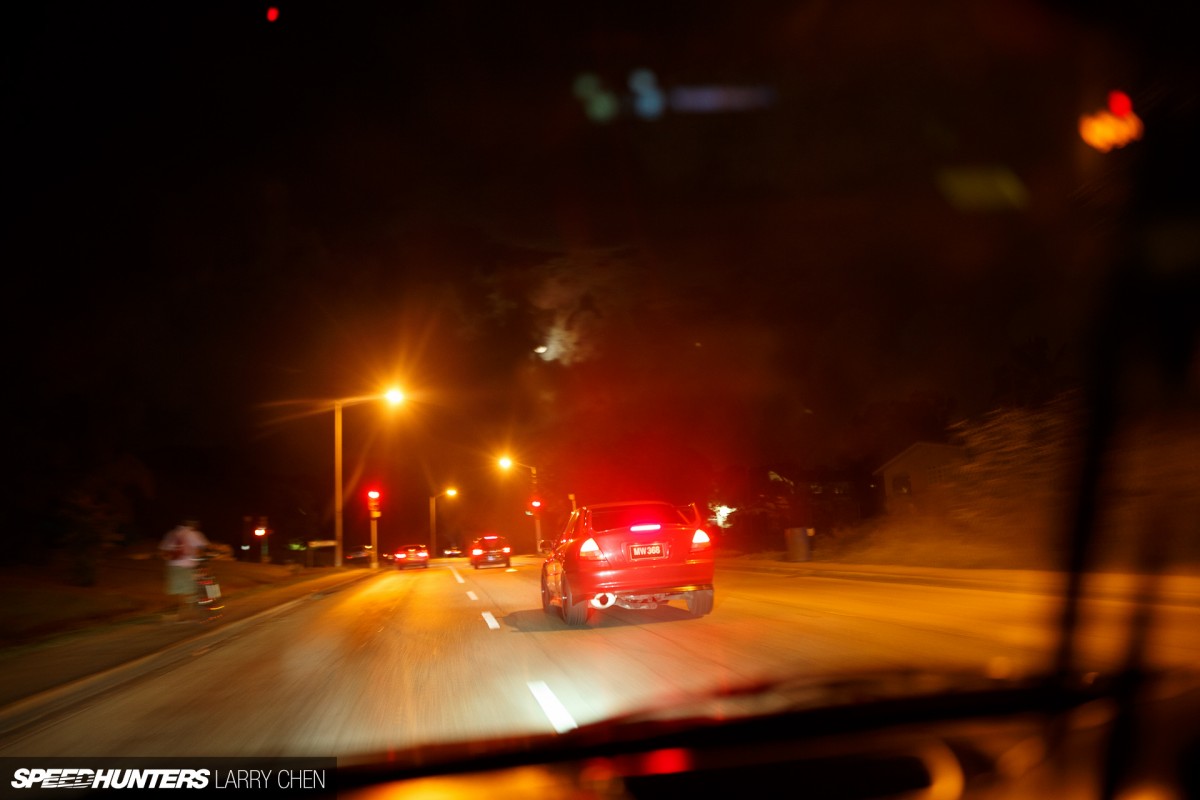 On top of that, I was in an a Civic Type R, and on the left side of the road no less.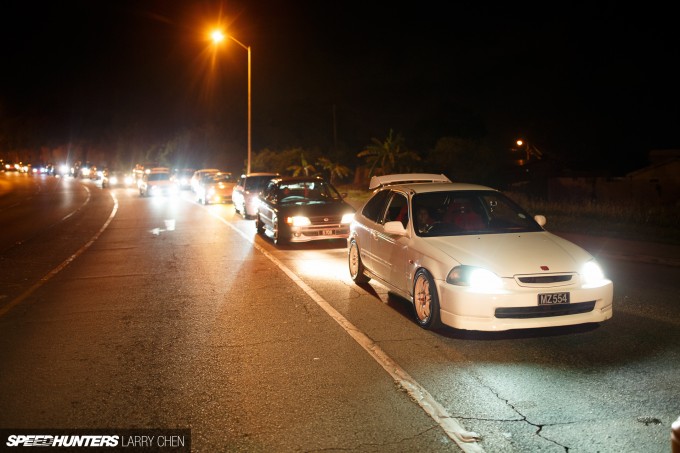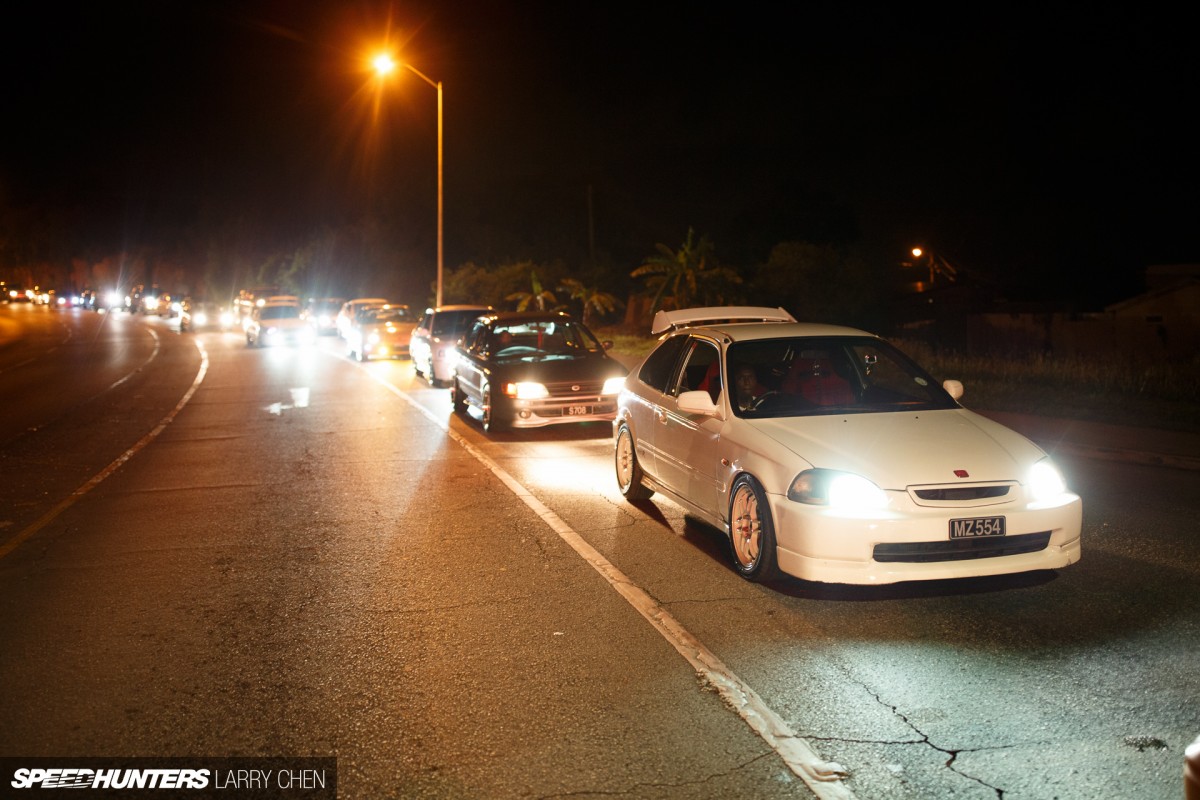 At this moment I definitely did not feel like I was on a Caribbean island. At the same time it was humid as all hell.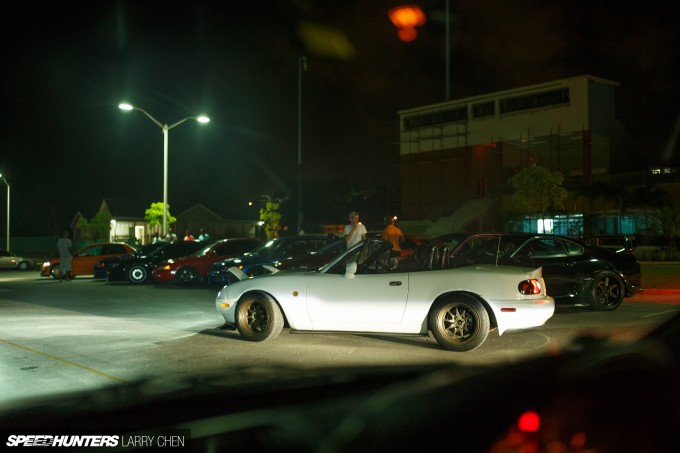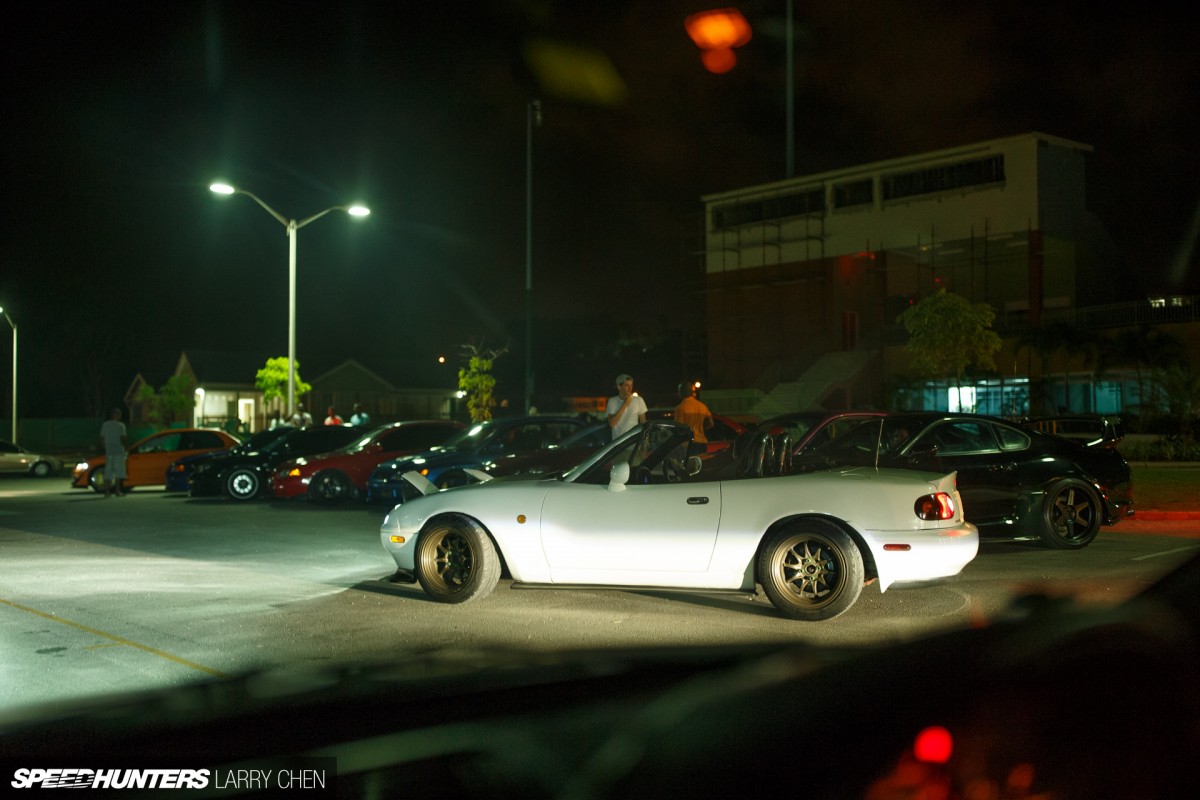 We pulled up to the university parking lot to find that many other cars and their owners had already arrived. This was the perfect opportunity for me to delve deeper into Bajan car culture.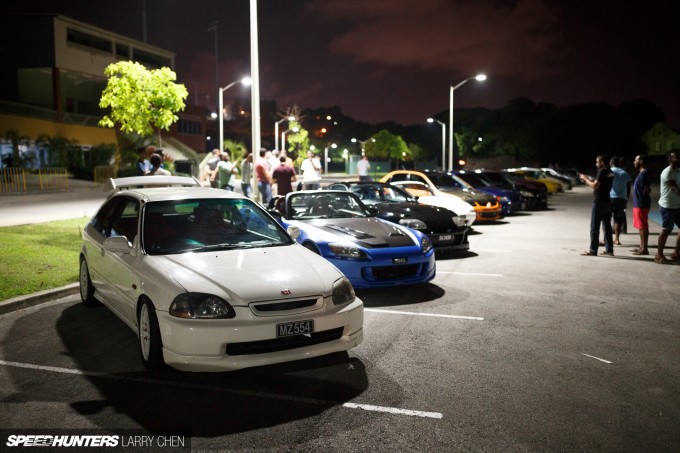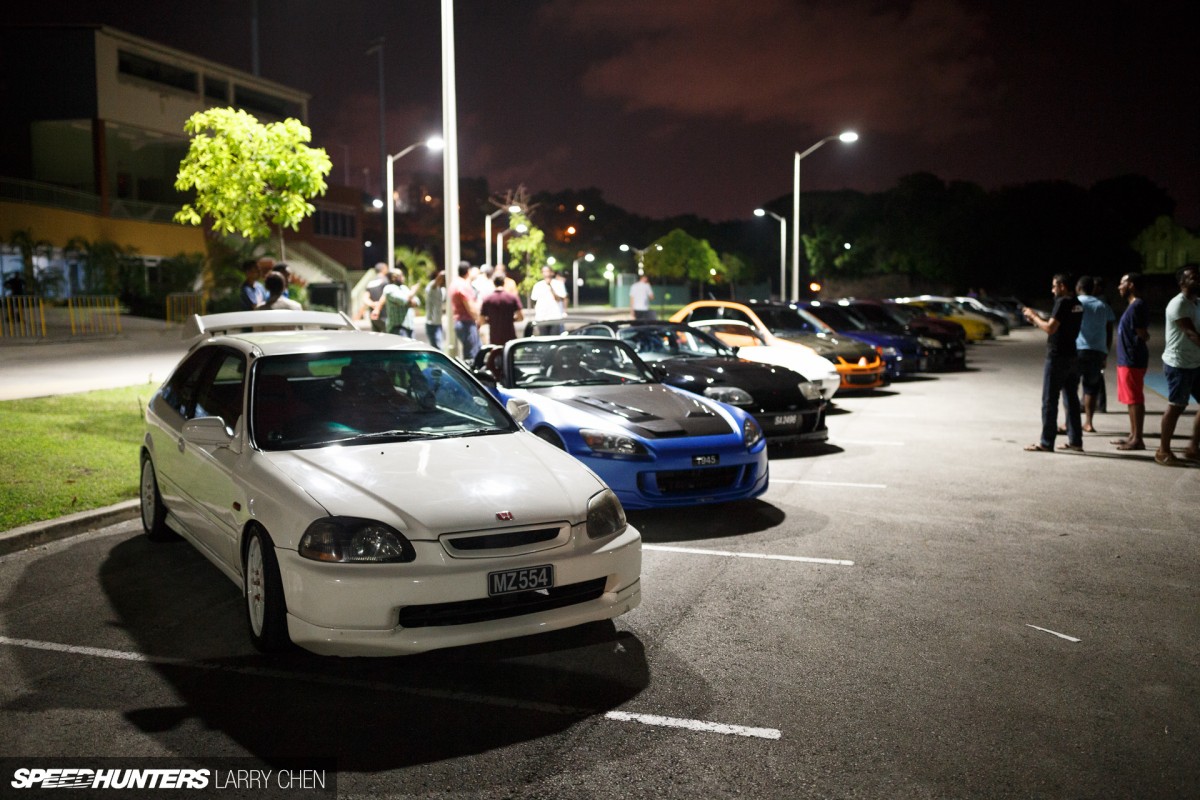 While there are not many resources on the island for those who have cars, these guys make the most of what they've got.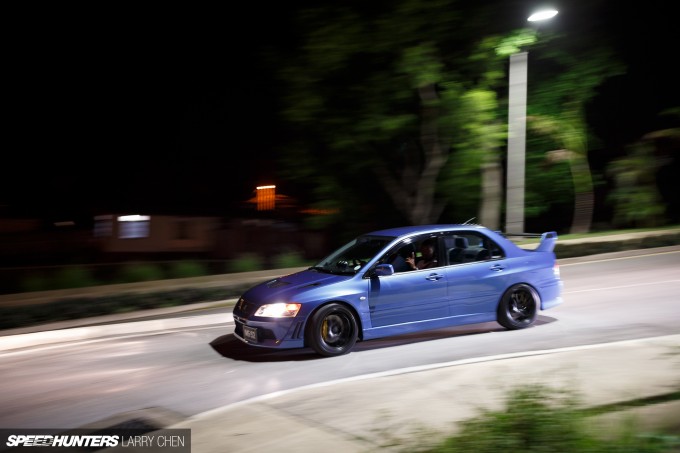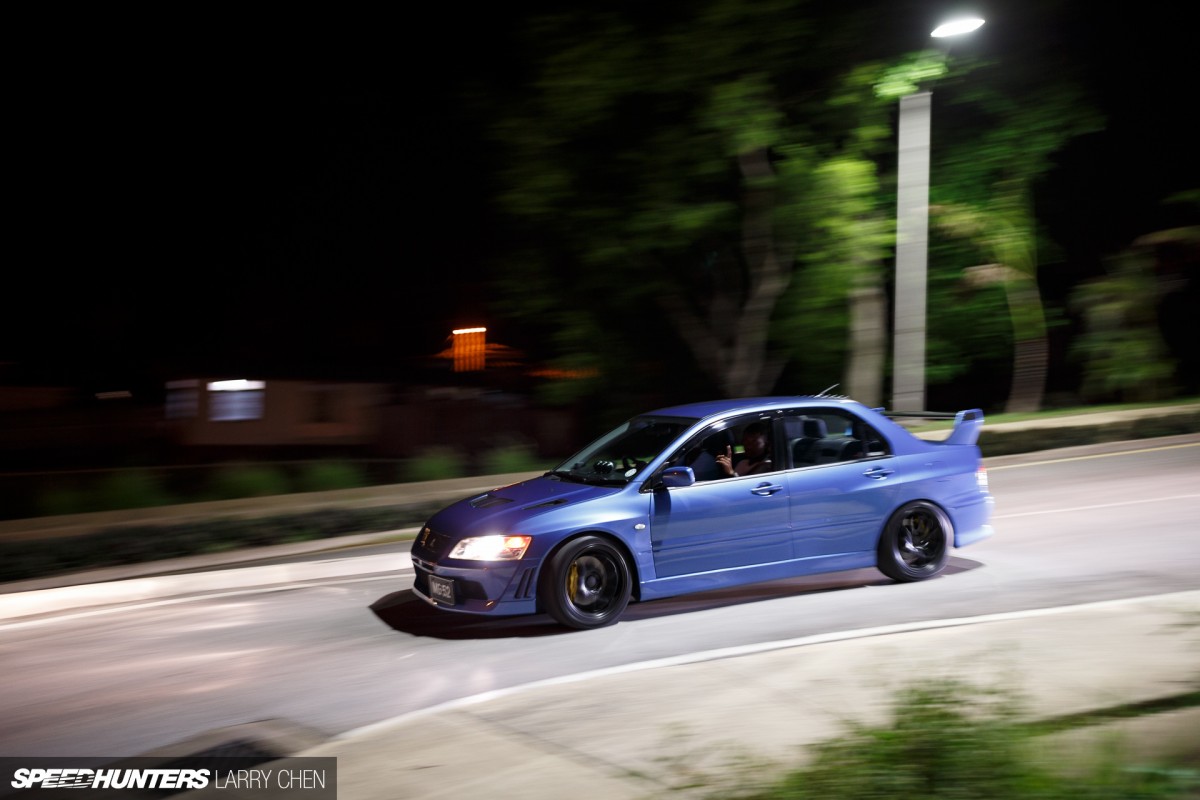 There are only three tuning shops and one dyno in Bardados.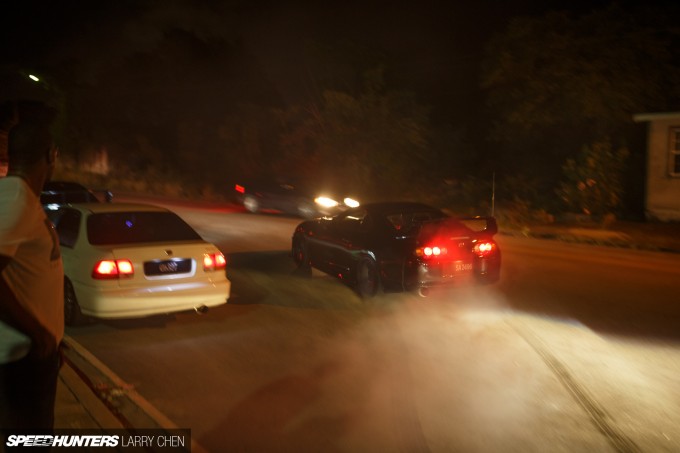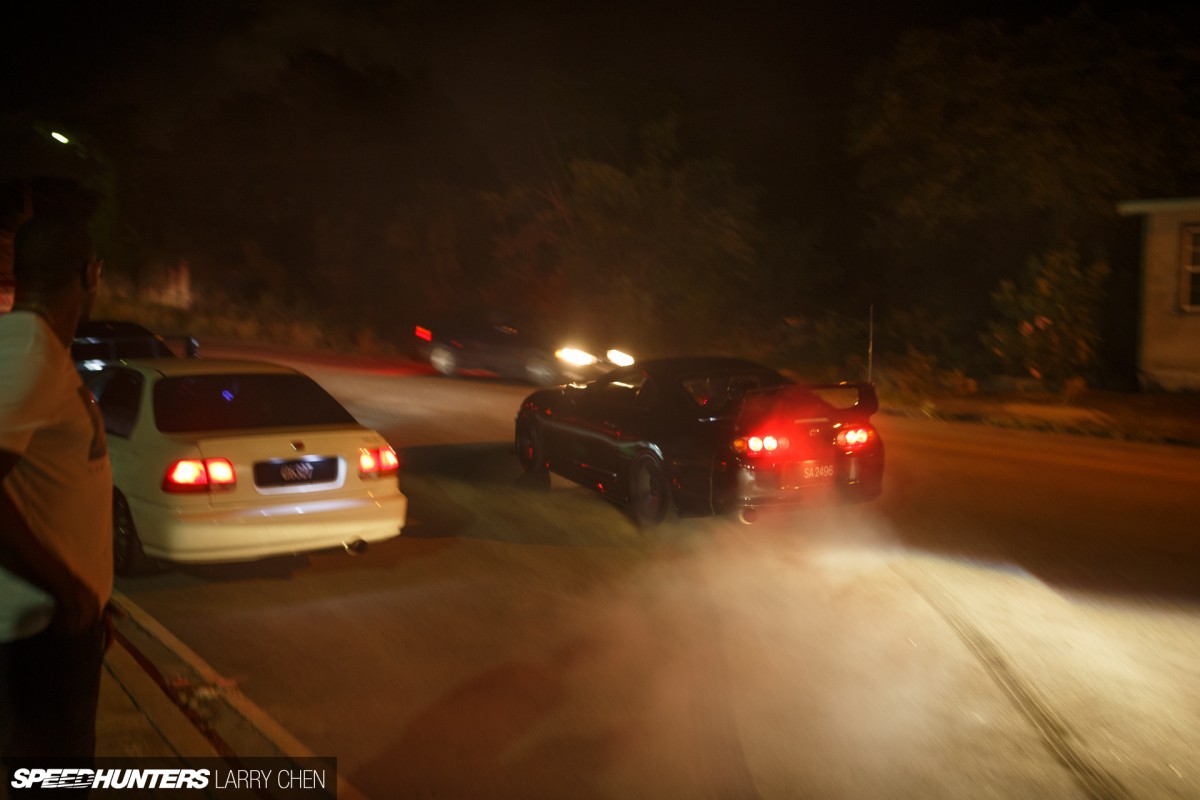 But the quality of fuel delivered to the island varies so much that most of the tuning that goes on happens on the street with a heavy right foot.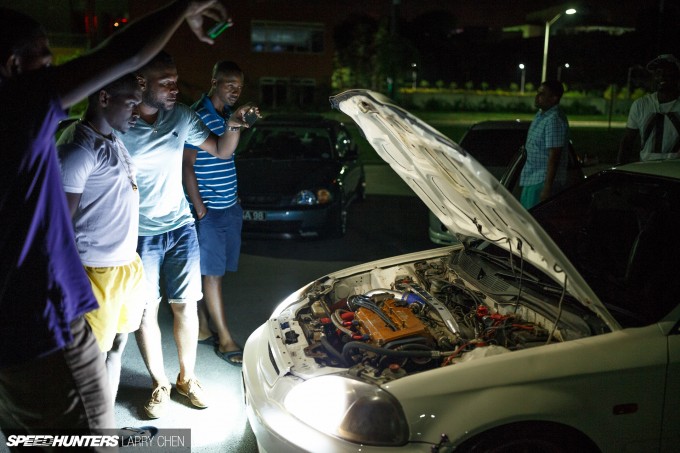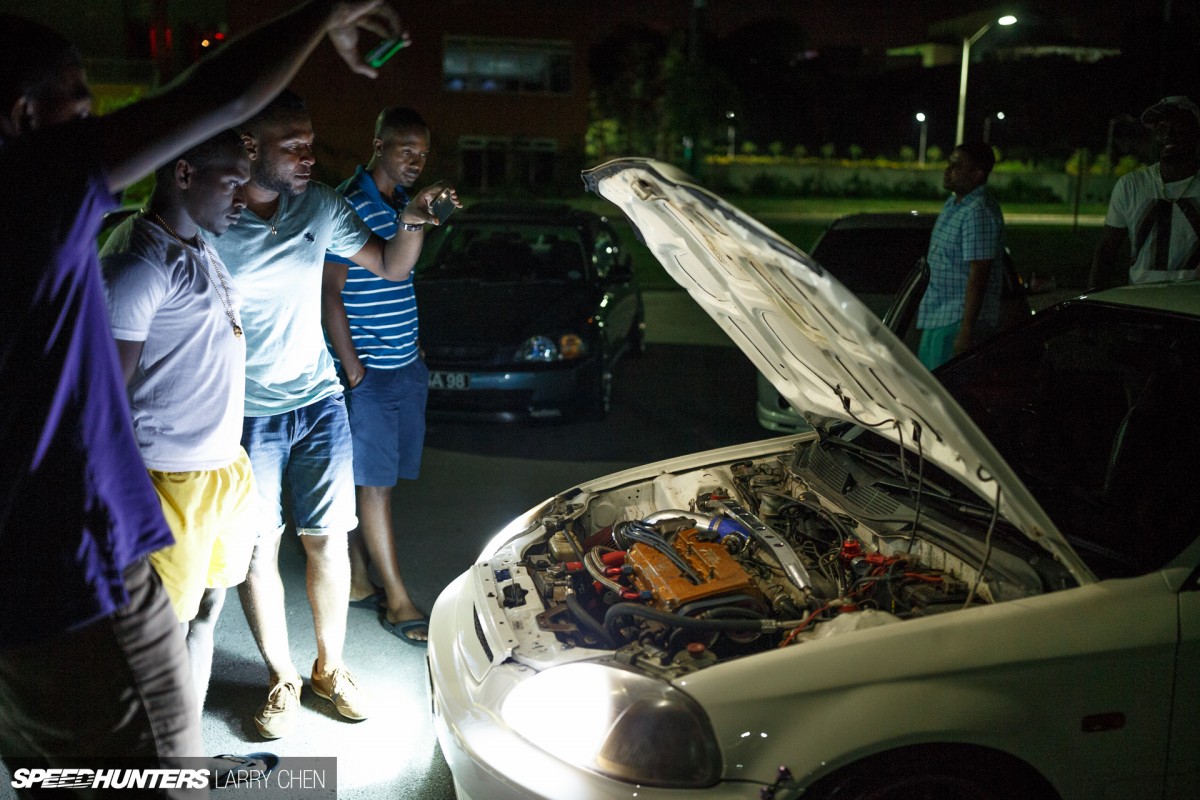 As I walked around the carpark this EK4 Honda Civic Ferio Si sedan immediately piqued my interest, and apparently it's one of the faster front-wheel drive cars on the island. The owner's name is Junior Moore, and he pretty much did all the work to this FF monster himself. It has some goodies that would make any Honda tuner salivate, including a Darton-sleeved B18C block with Wiseco 84mm forged pistons and DD Tech Stage 2 camshafts, just to name a few of the upgrades.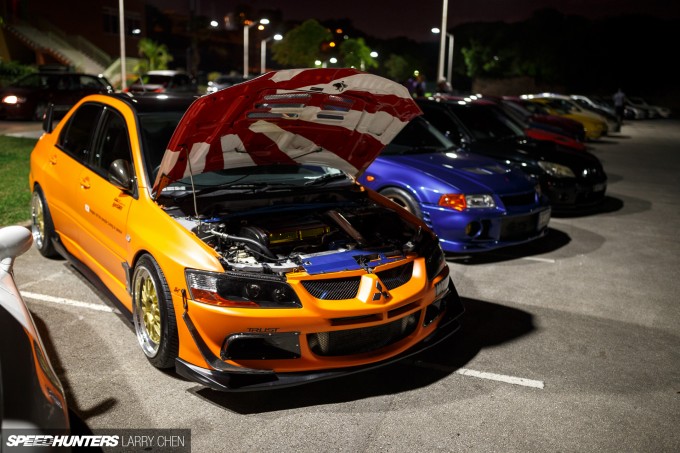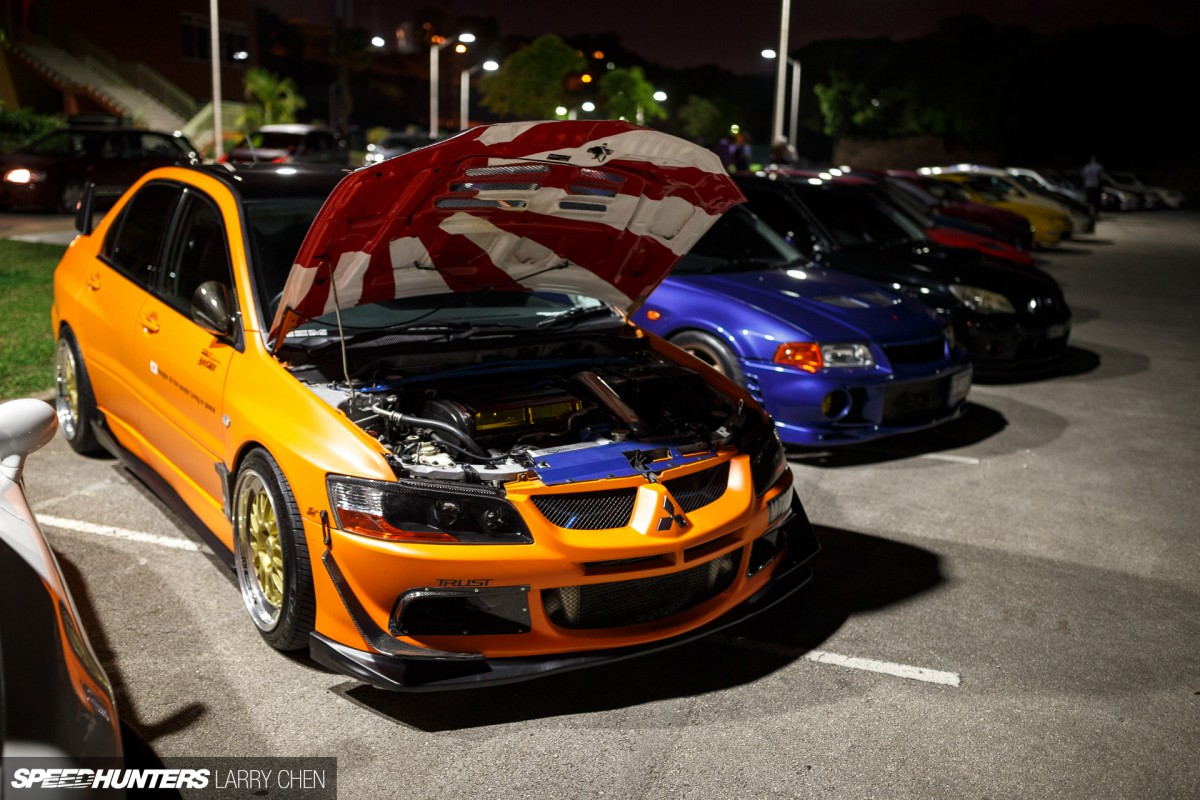 While the Bajans are real Honda fanatics, they also love Mitsubishi Lancer Evolutions of all generations. Evos provide relatively cheap speed, but they also have the looks to boot.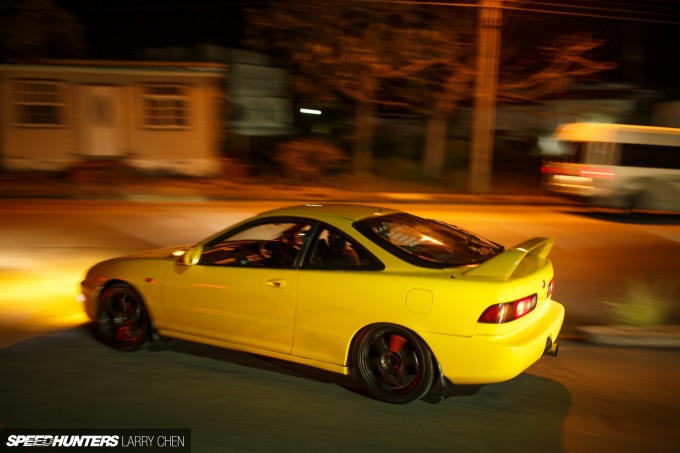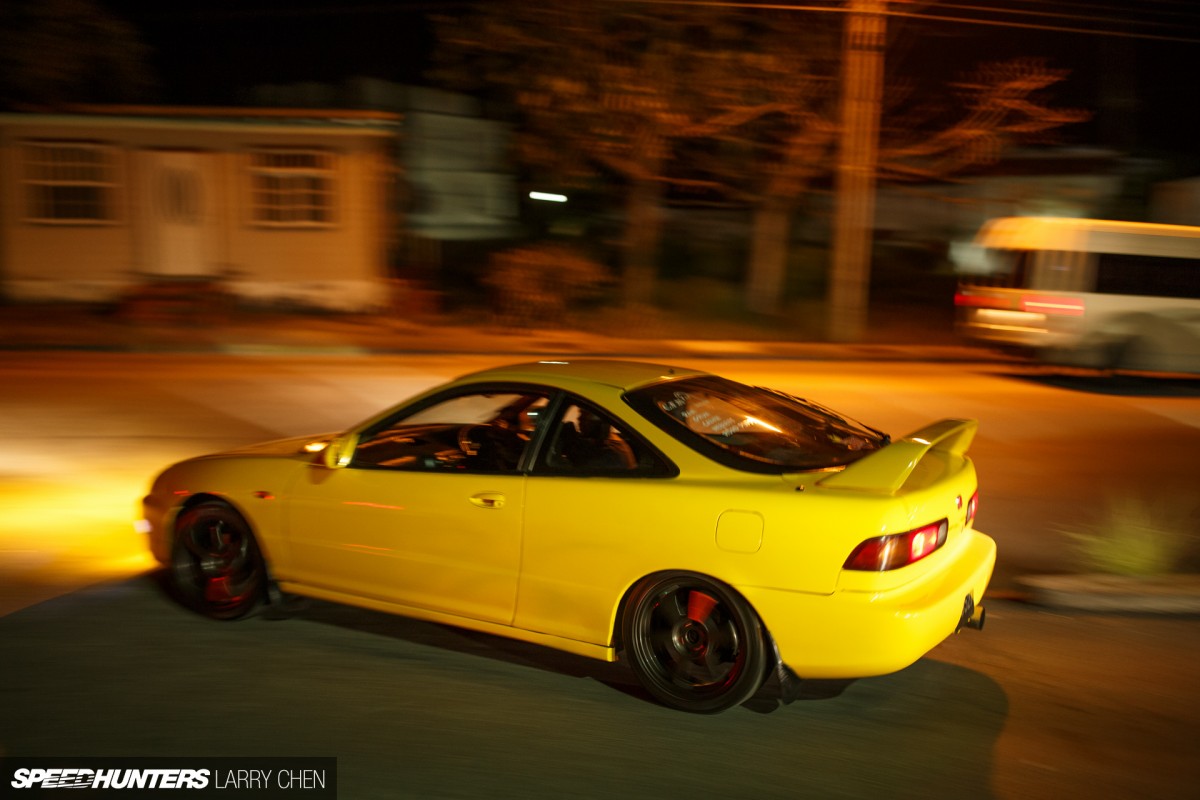 From what the guys told me, Bajan's like speed – especially straight-line acceleration. This then, is pretty much what everyone tunes their cars for.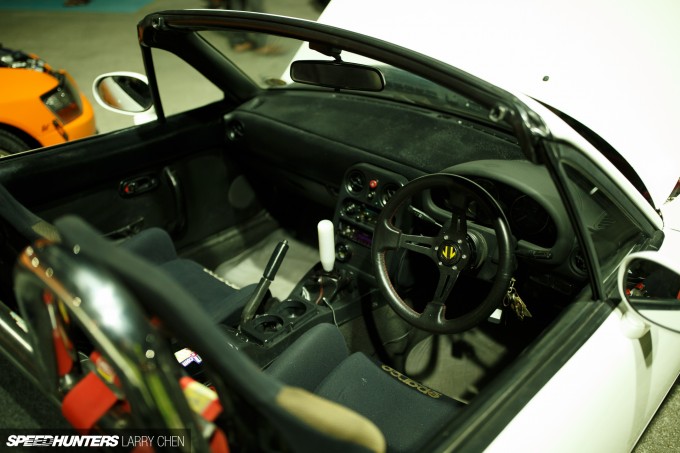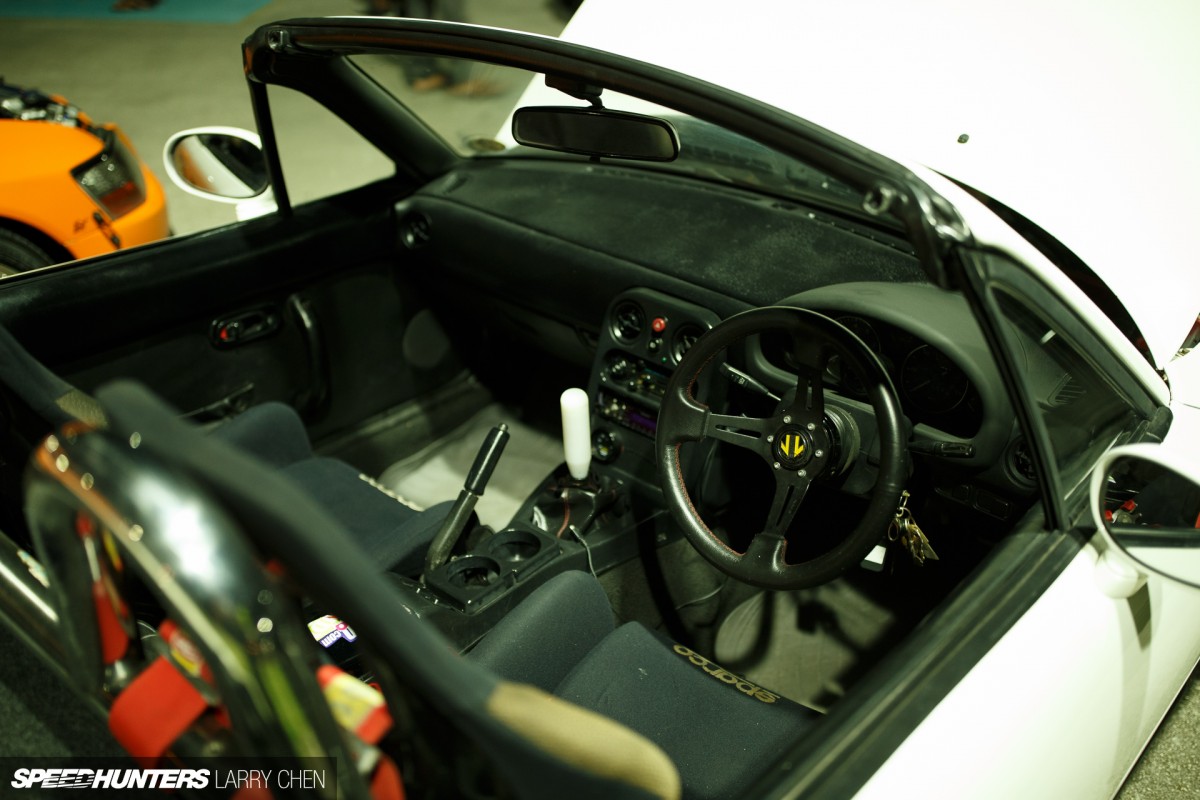 Stance cars don't really exist because there's no real use for them, not to mention that the roads are very rough and most of them have gigantic potholes. So where do the guys with performance and tuned cars race?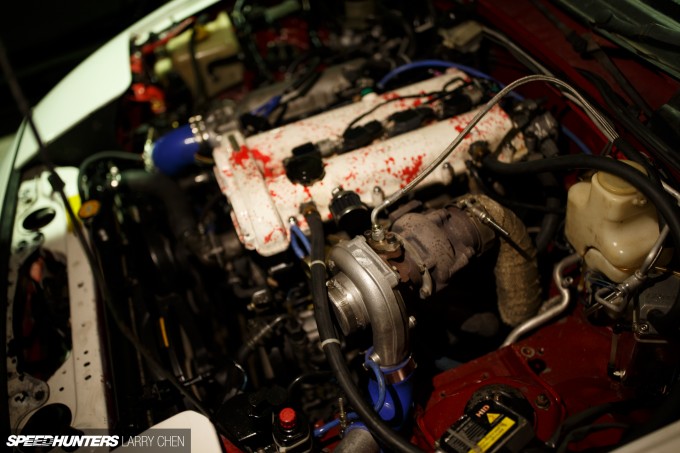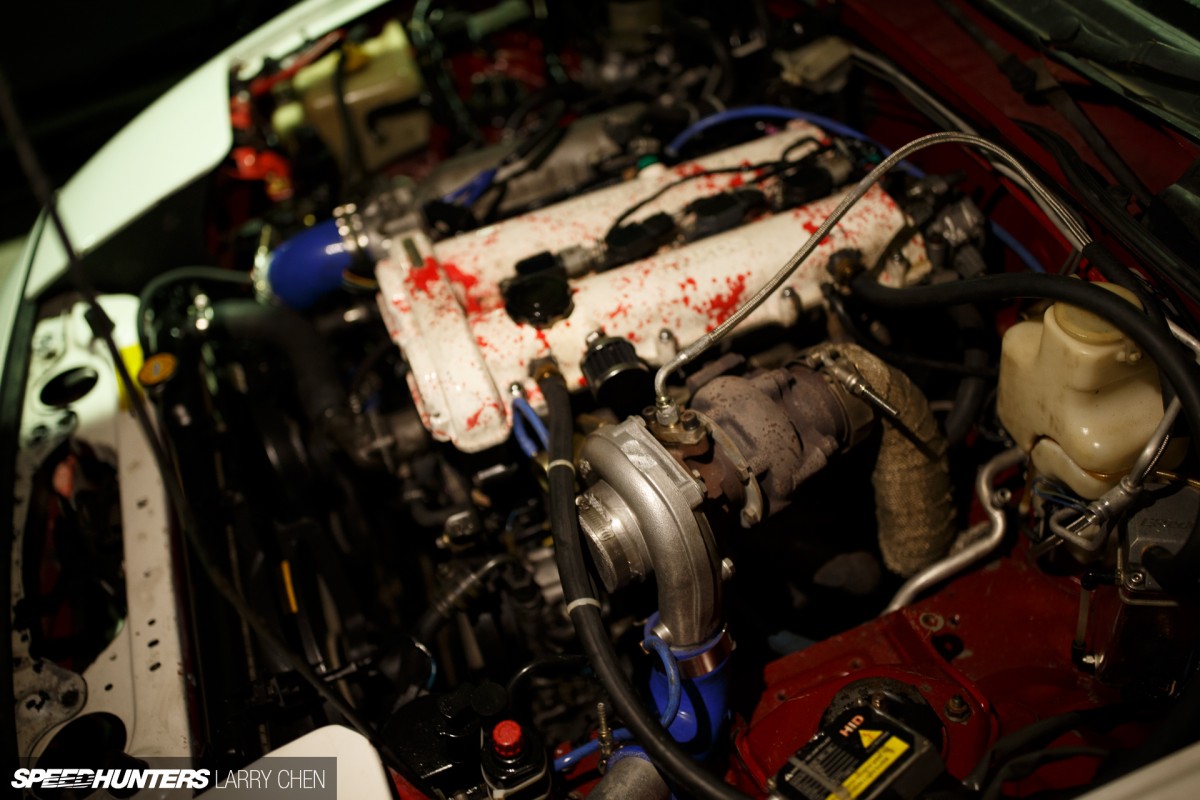 They hold 1/8th mile drags at Bushy Park (the same place where Red Bull GRC was held), by just sectioning off the front straightaway.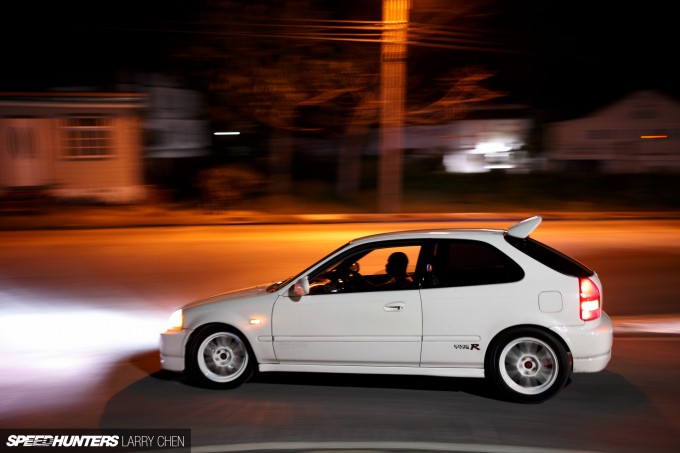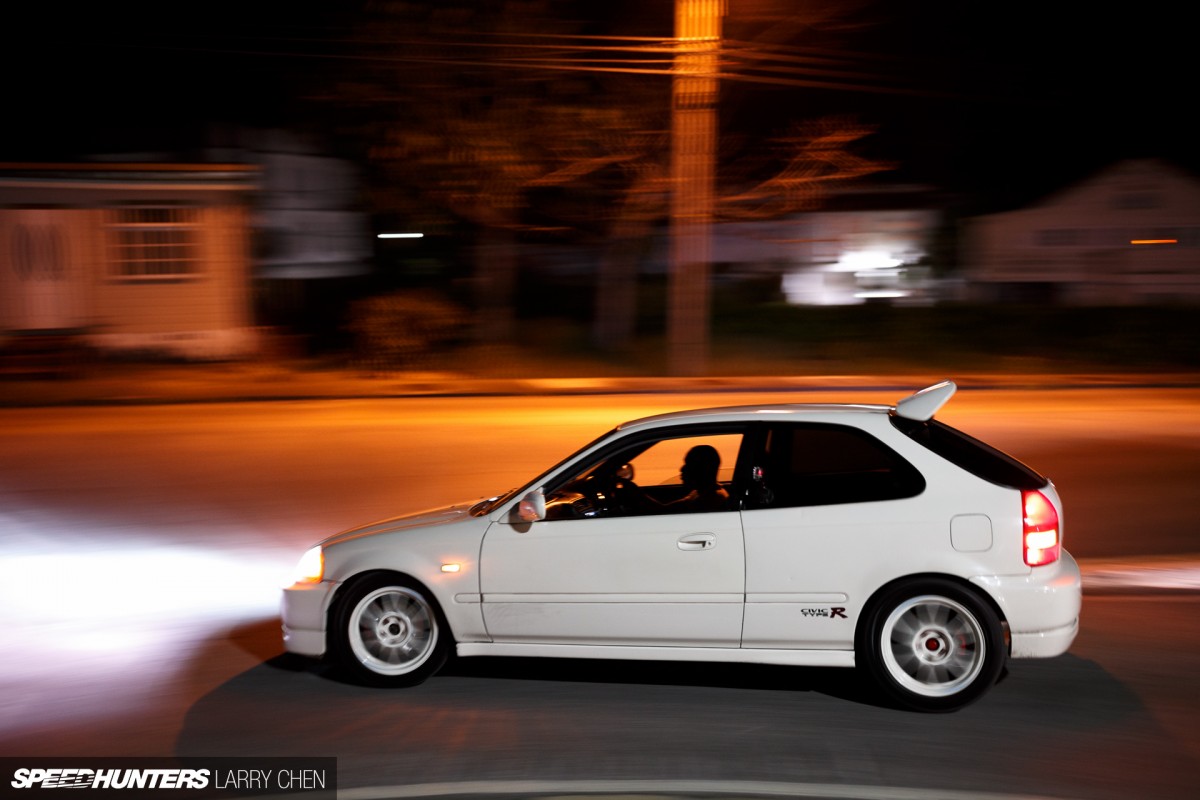 At one point the government allowed some of the local enthusiasts to close down a highway to run full quarter-mile drags, but for whatever reason that's not allowed anymore.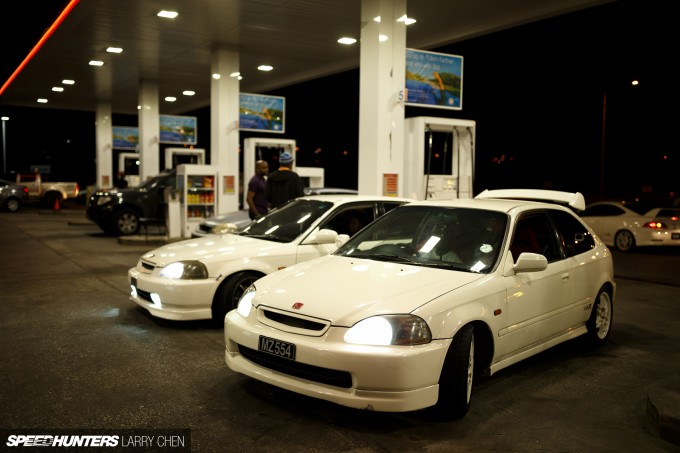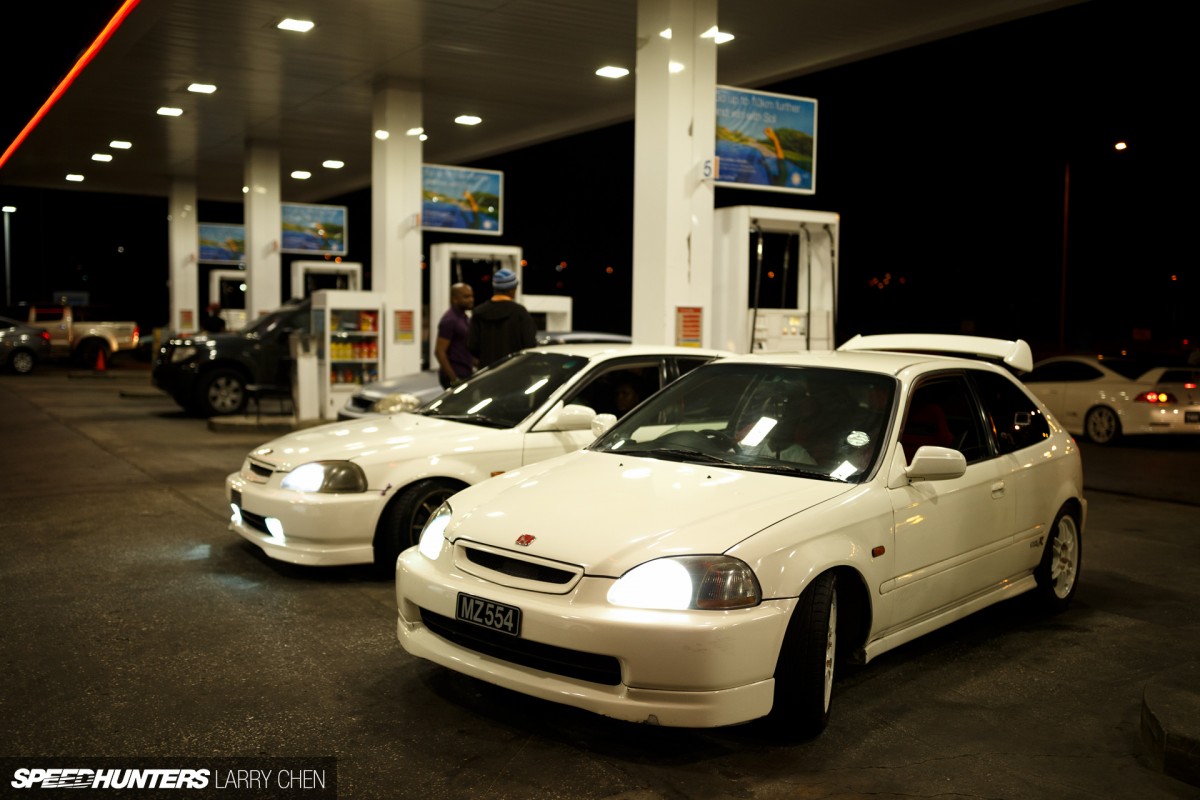 So now some have resorted to racing on the one highway that runs the length of the island, which of course is the only stretch of road that's two lanes wide. Being a main route, it's also kept in excellent condition.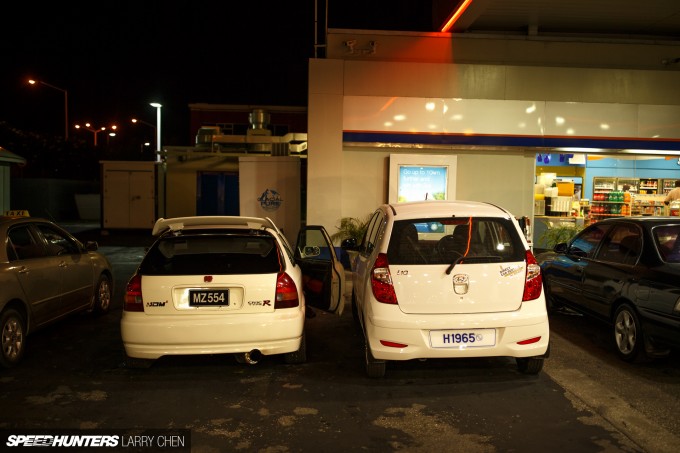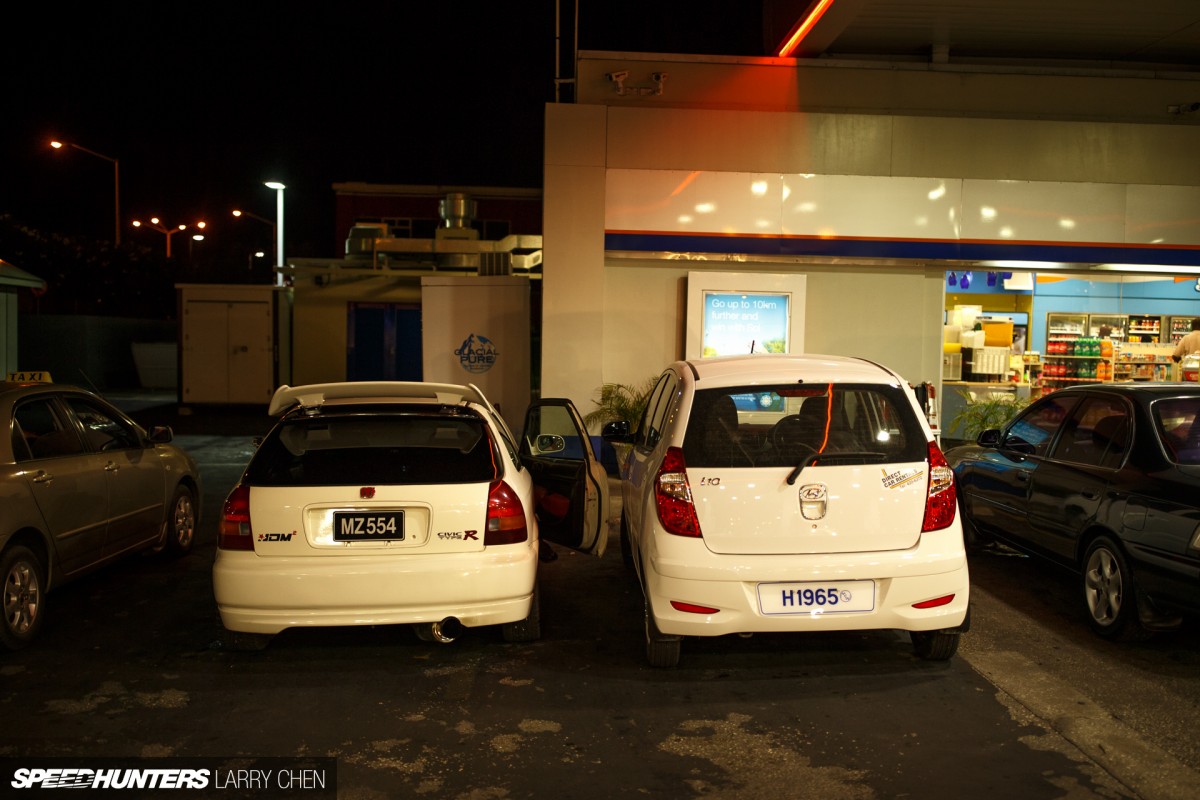 On our return to the service station where I originally met up with the guys I was happy to see that my rental had not been towed away. After chit-chatting all night about cars, it was time for me to head back to the hotel as I had a long day of shooting rally cars ahead of me.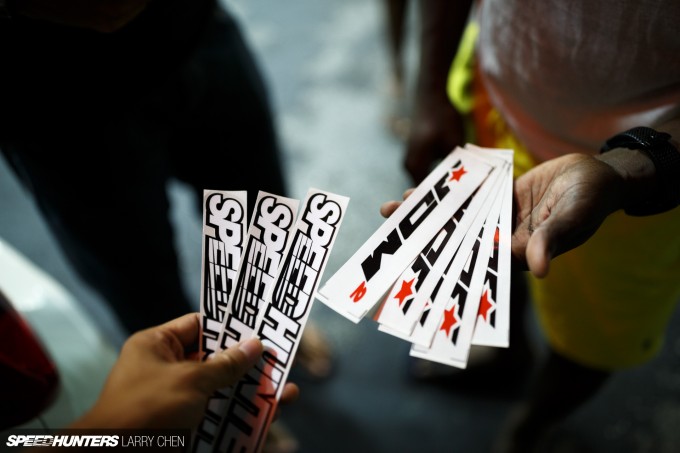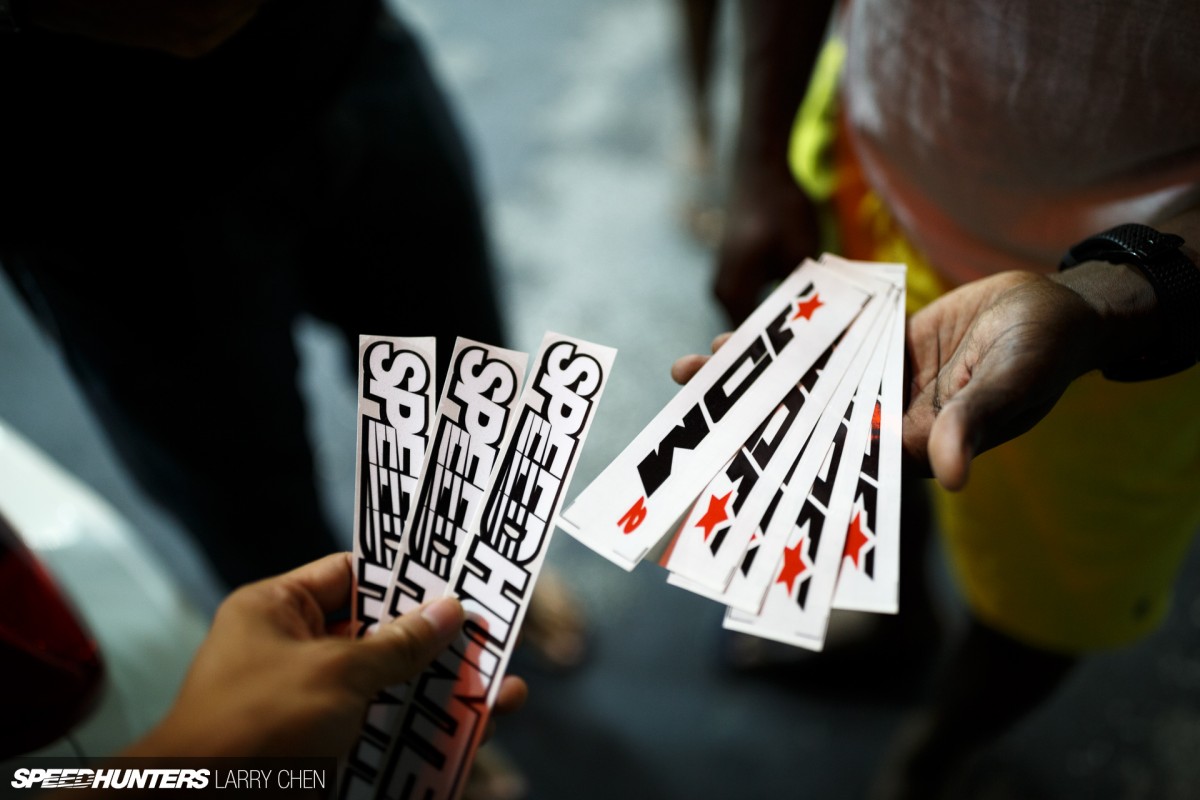 We exchanged decals and agreed to meet once more before I left the island – this time at sunrise on the east coast with the entire JDM Squared crew and their friends.
Sunrise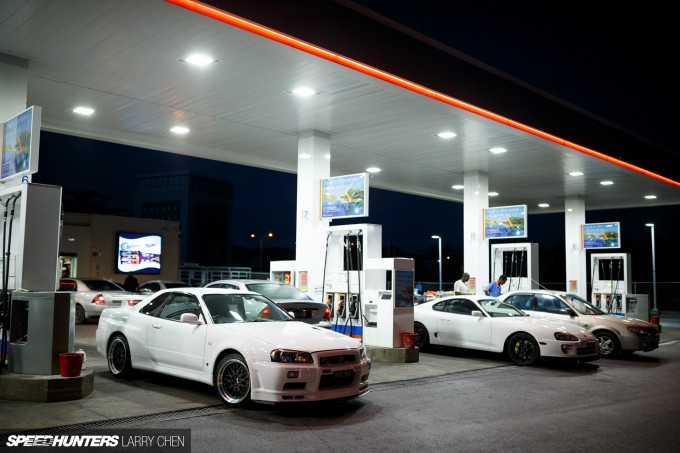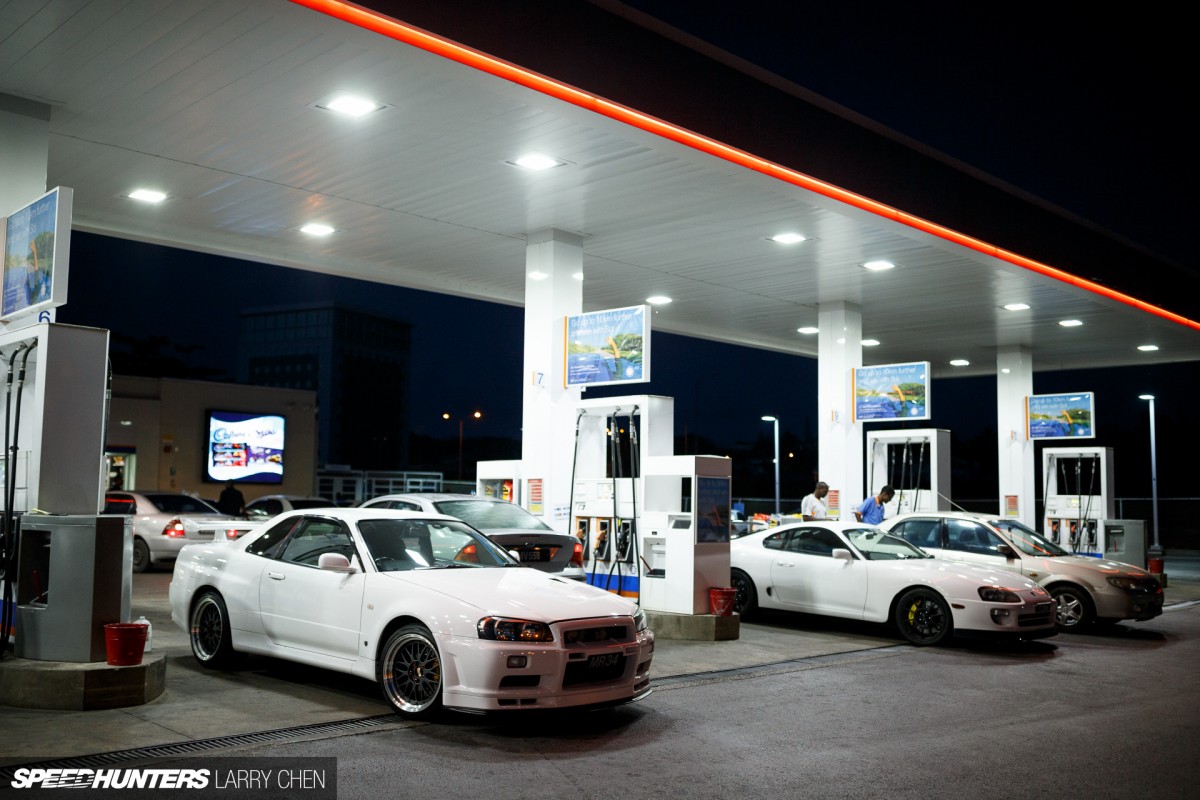 For my final day on the island I left my hotel room at 5:00am and a few moments later met up with Jade and the rest of the JDM Squared guys back at the same service station.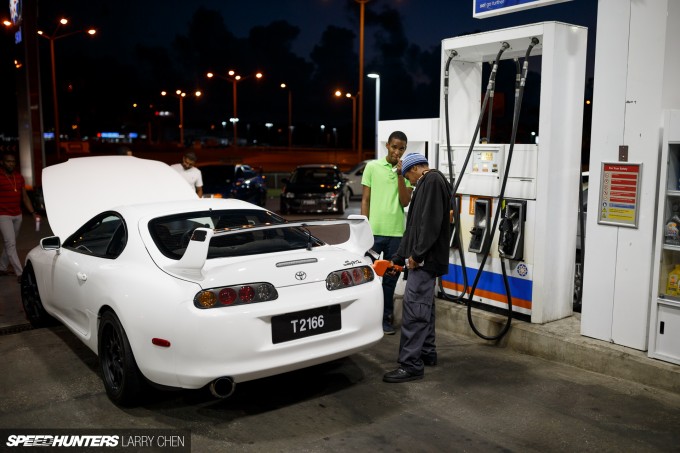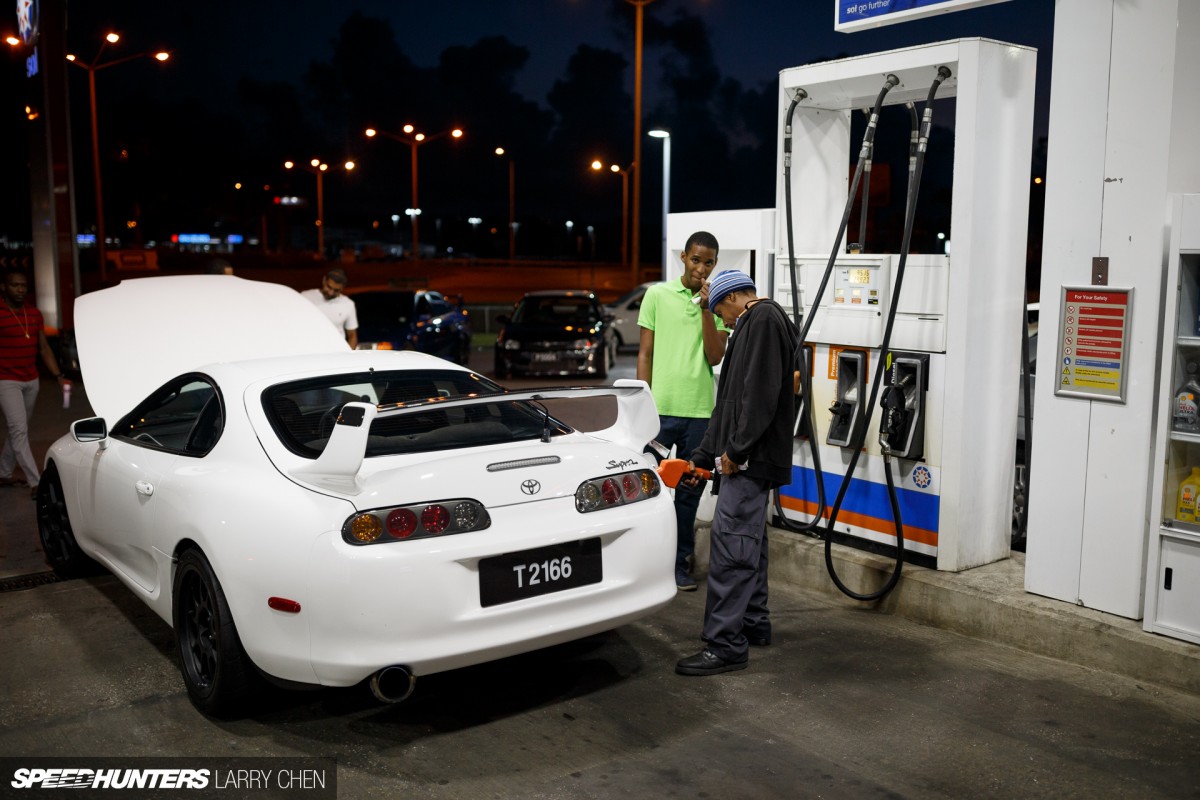 This time there were some extremely clean cars in waiting.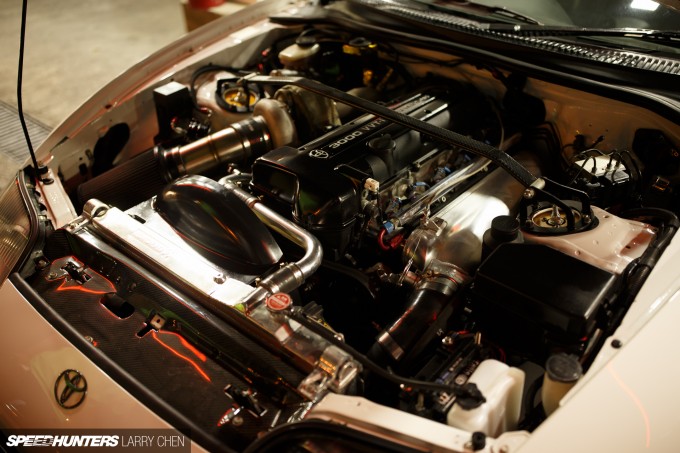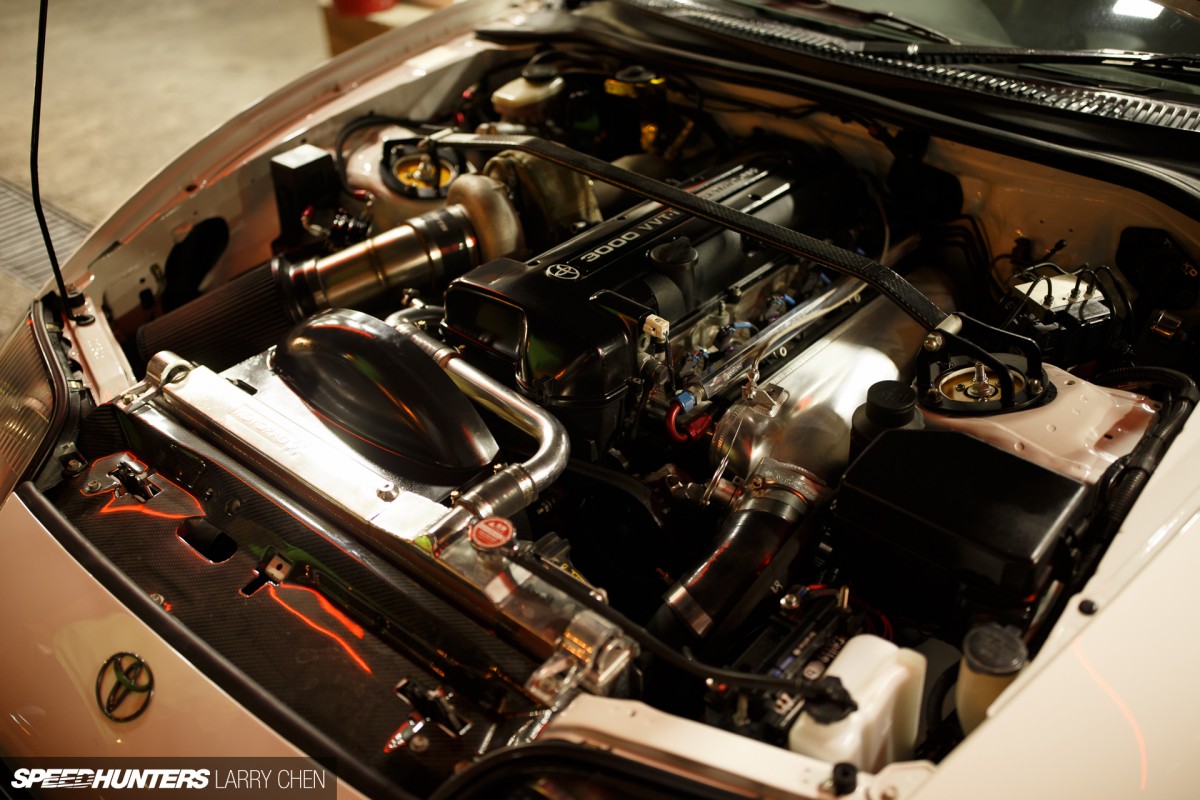 This Supra is one of only six examples on the island, and it's very nicely modified with a big single turbo conversion to boot.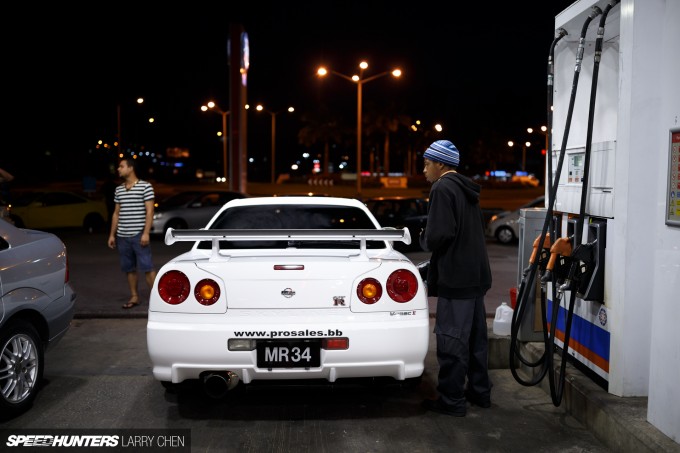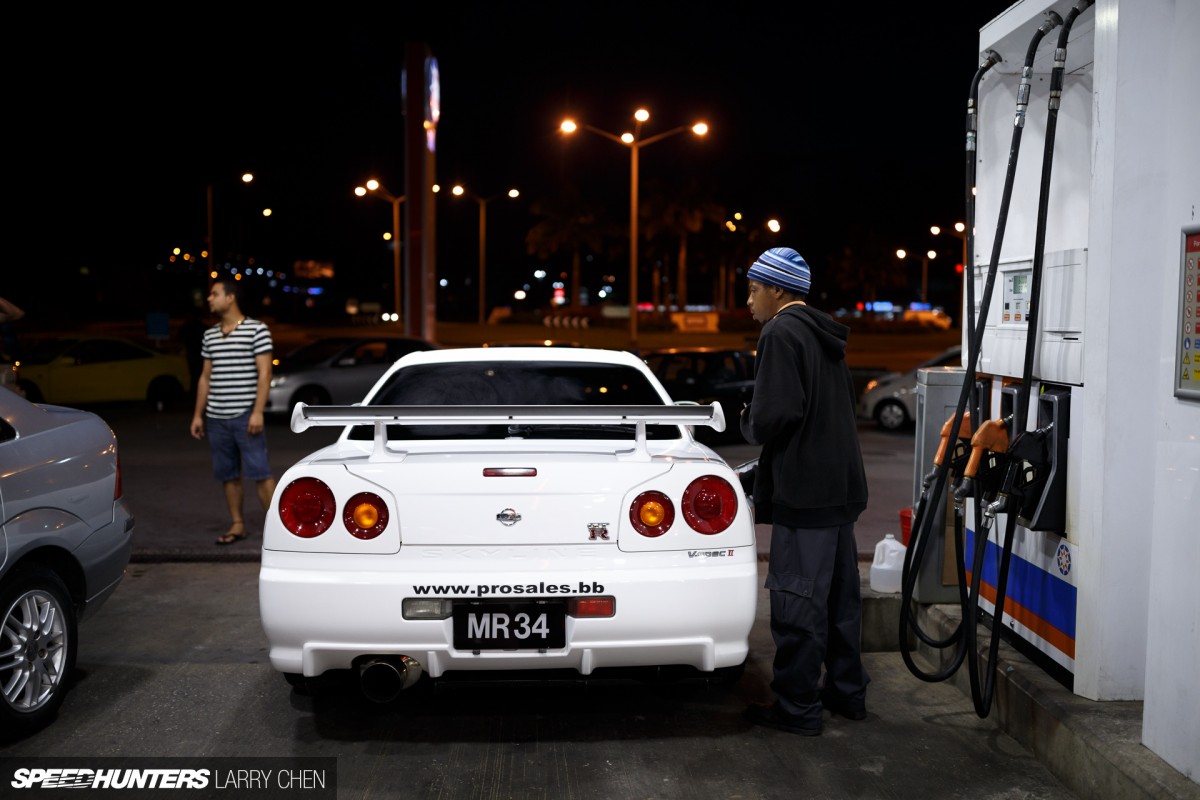 And this R34 Nissan Skyline GT-R Vspec II? This is the only one of its kind in Barbados. Both the Skyline and the Supra belong to Pro Sales, which is one of those three tuning shops on the island I mentioned earlier.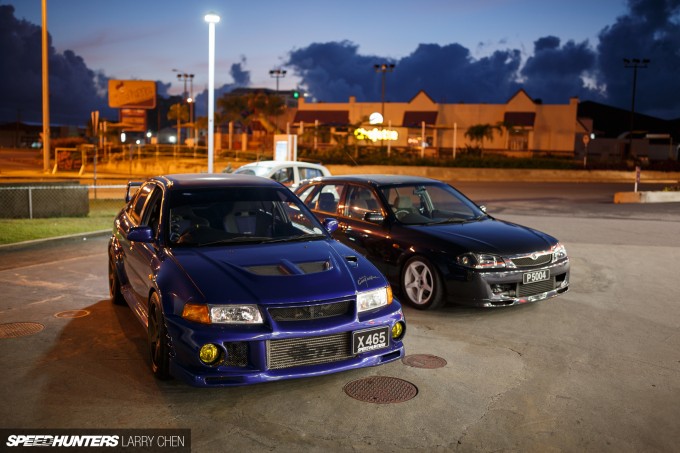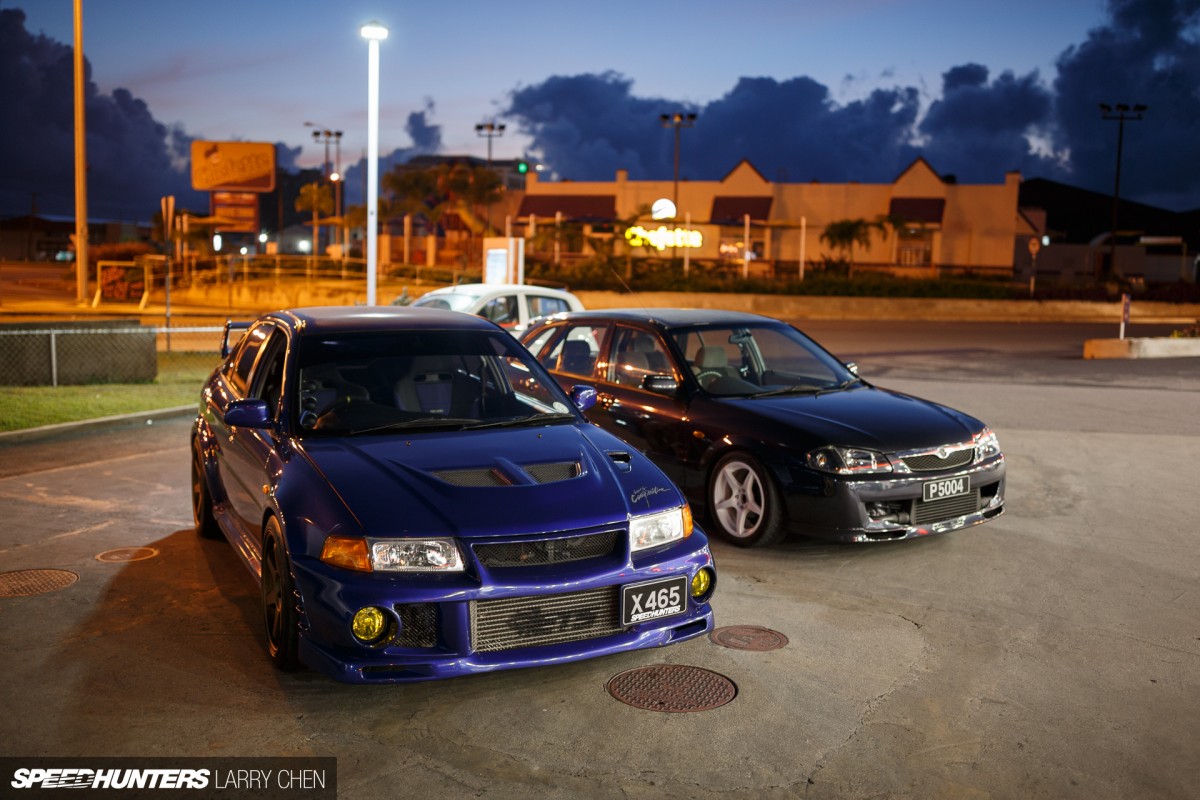 At 5:45am sharp we left in convoy for our east coast destination. Bajan car enthusiasts don't really like heading out that way because the roads are not very well maintained, but as I was about to find out, the scenery was utterly amazing.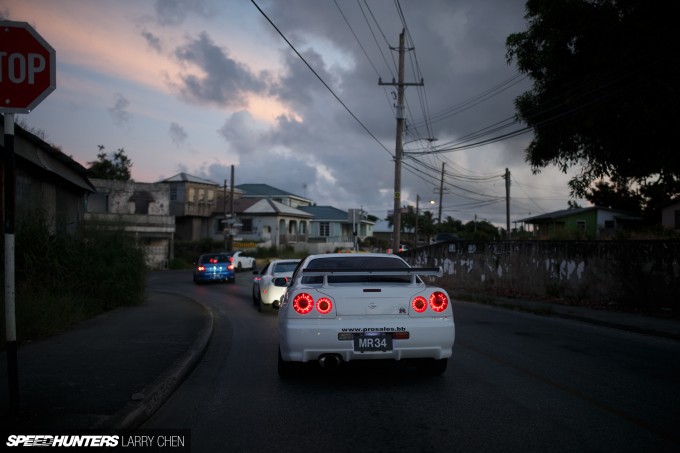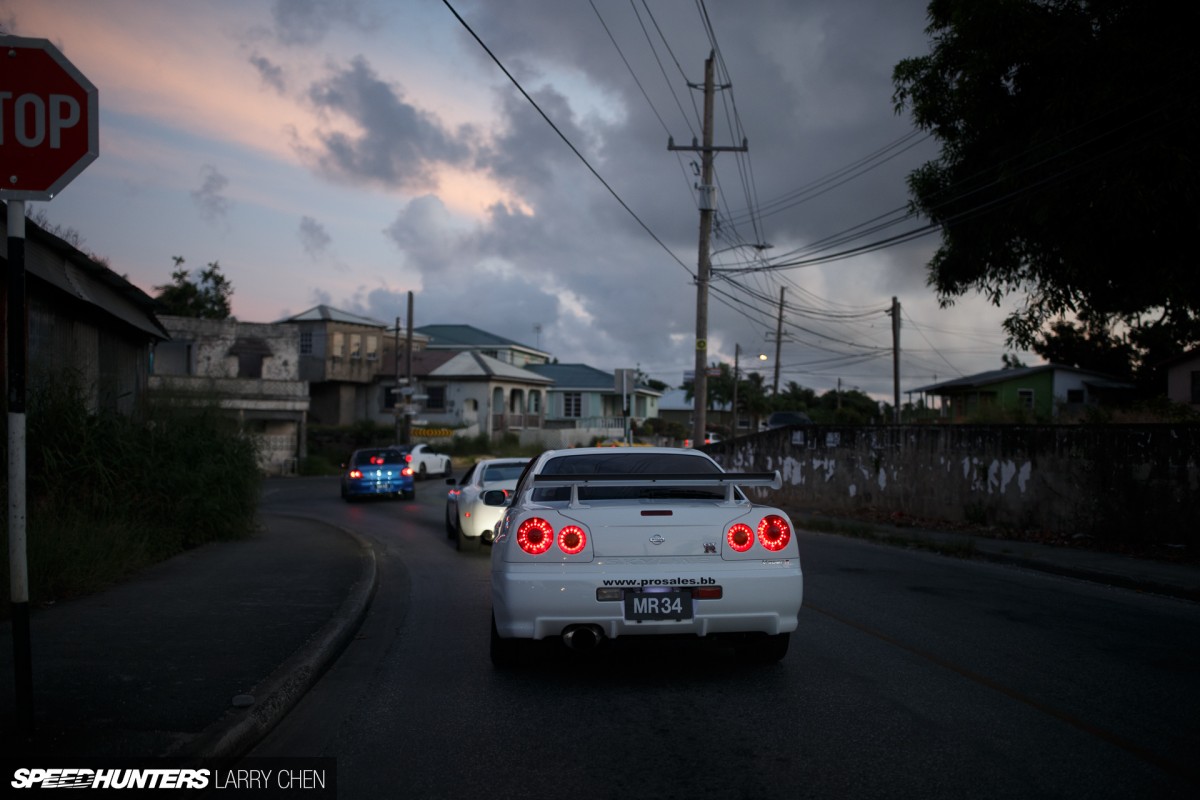 In and out of small streets, we weaved our way through the city and into the countryside. I was following the bunch in my rental car, all the while wishing I was behind the wheel of Ole Orange Bang.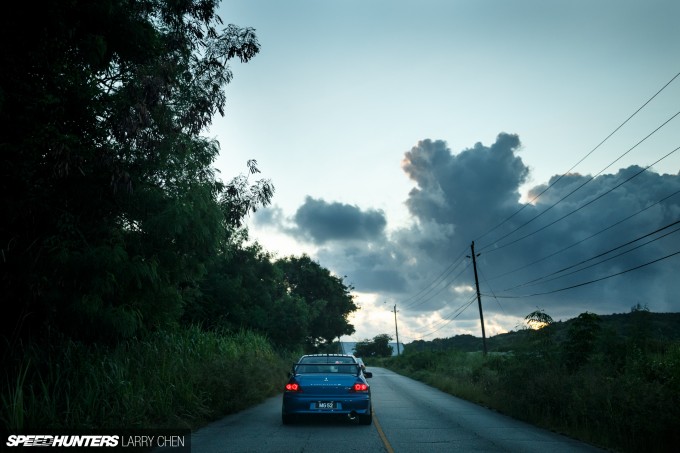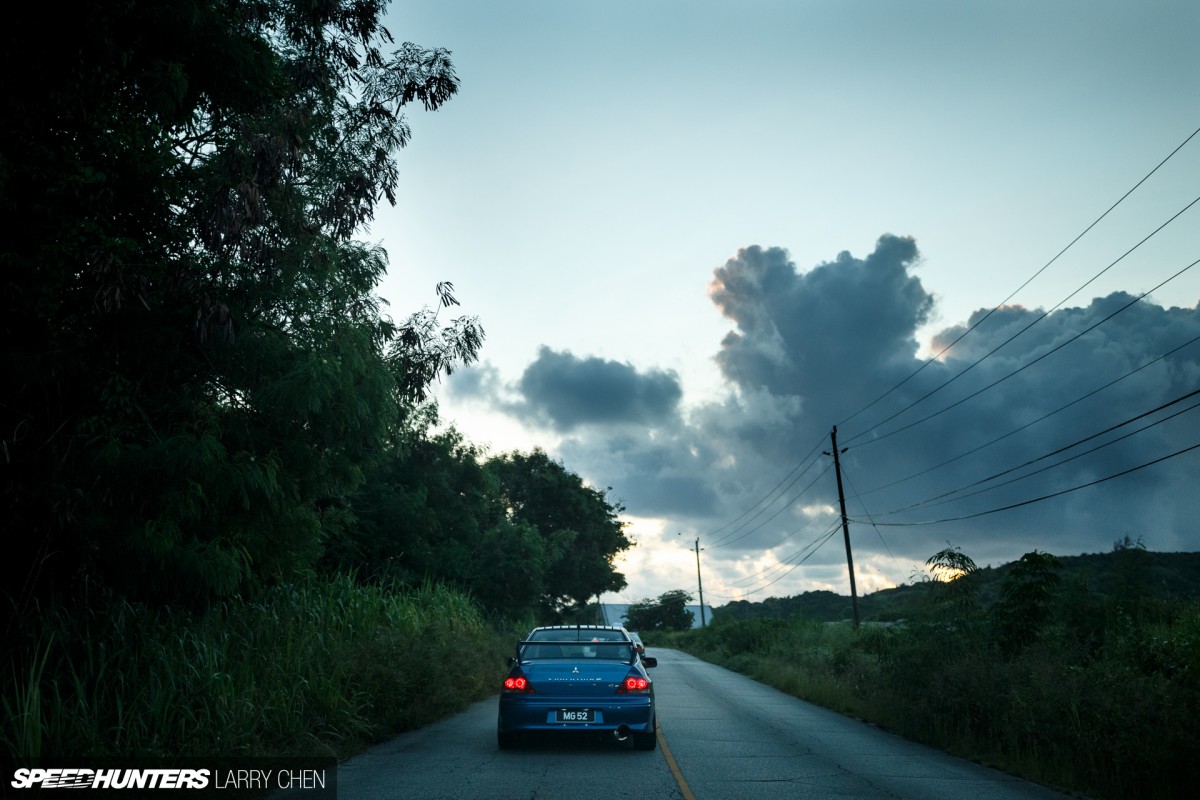 Pretty soon there was nothing but trees and an epic backdrop.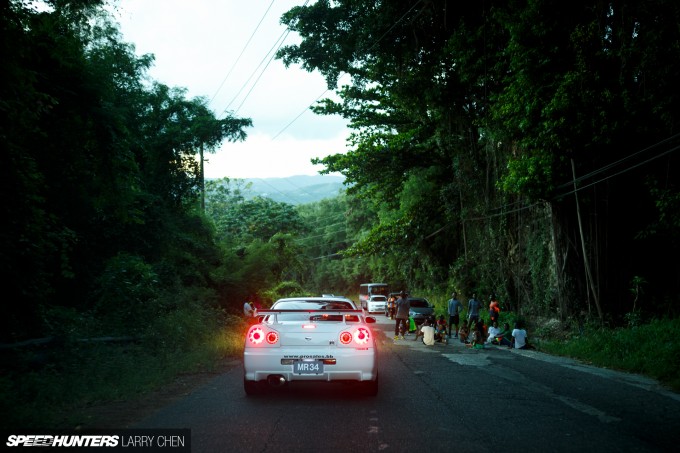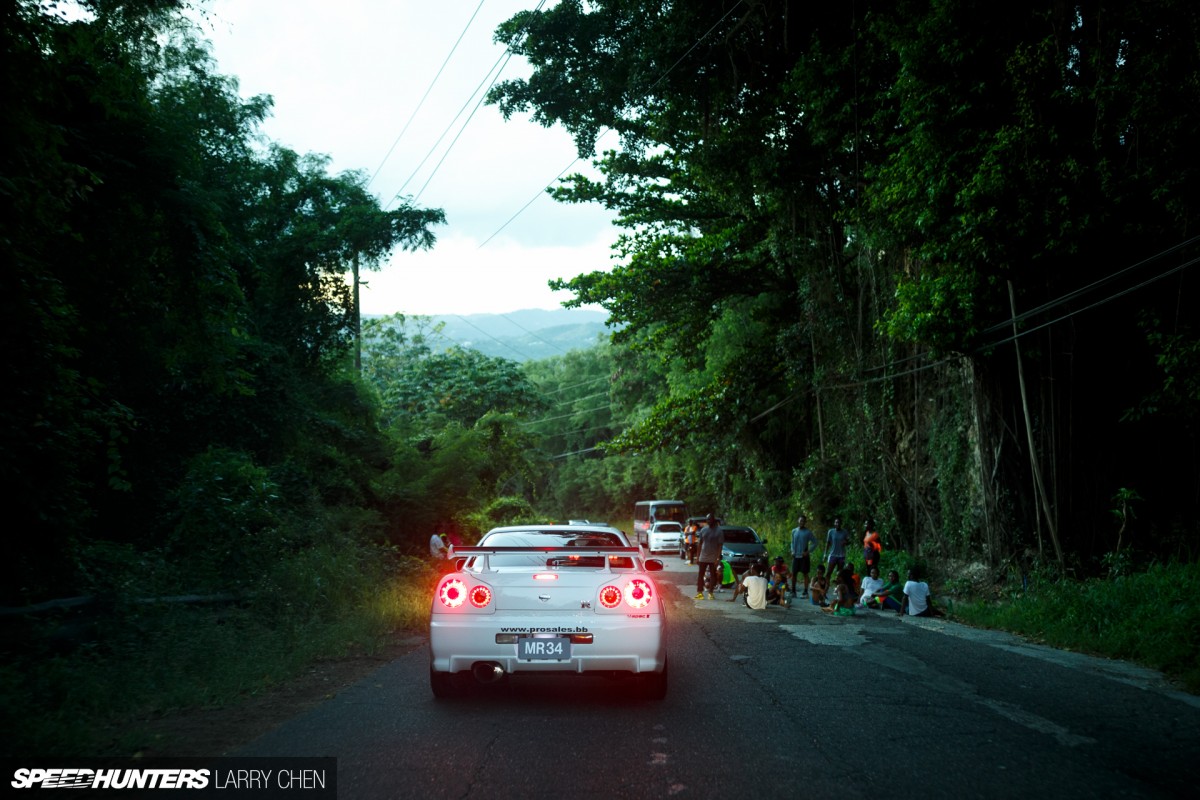 I wonder what the locals thought as we passed by… Seeing so many highly modified Japanese cars traveling in one group would turn heads anywhere outside of Japan, let alone on a tiny island in the Caribbean.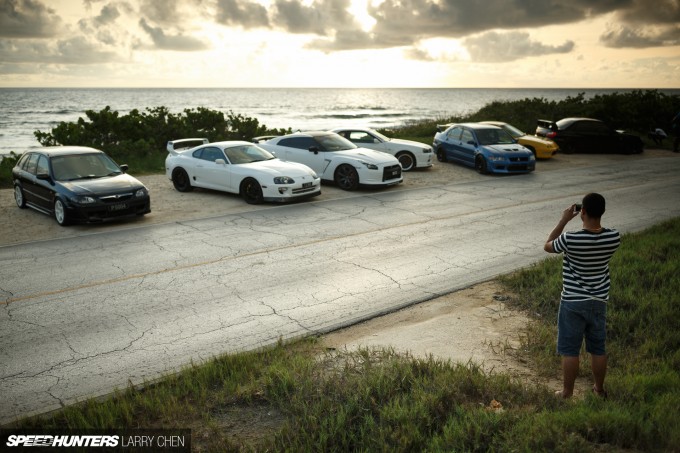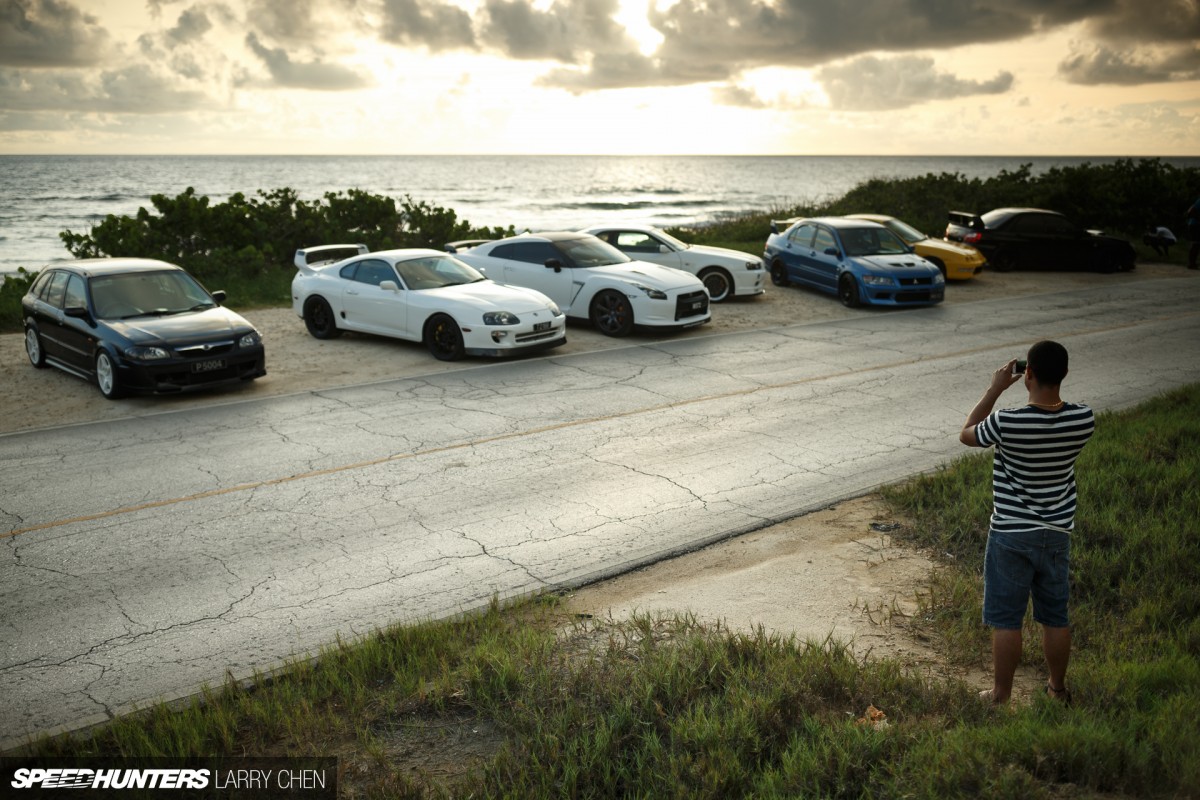 We arrived at last, and just in time as the sun was rising from the horizon.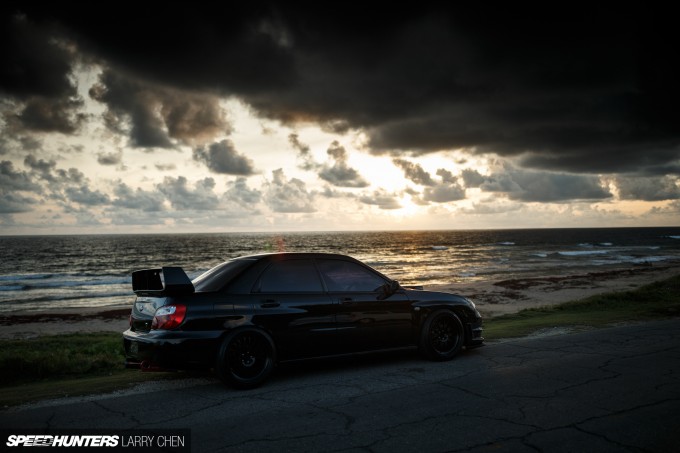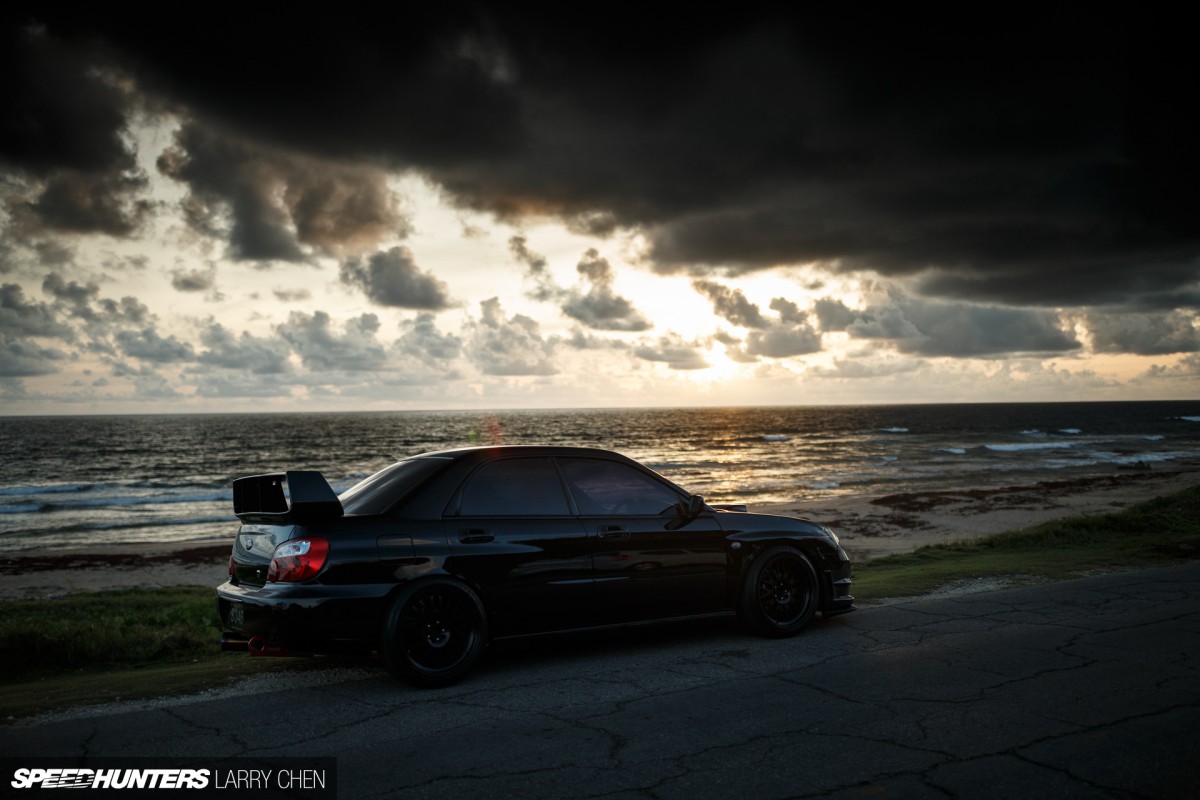 These guys genuinely love their cars. It's a way of life for them.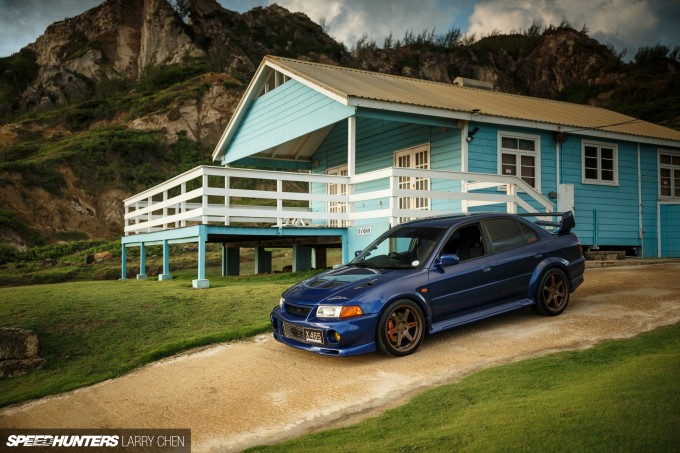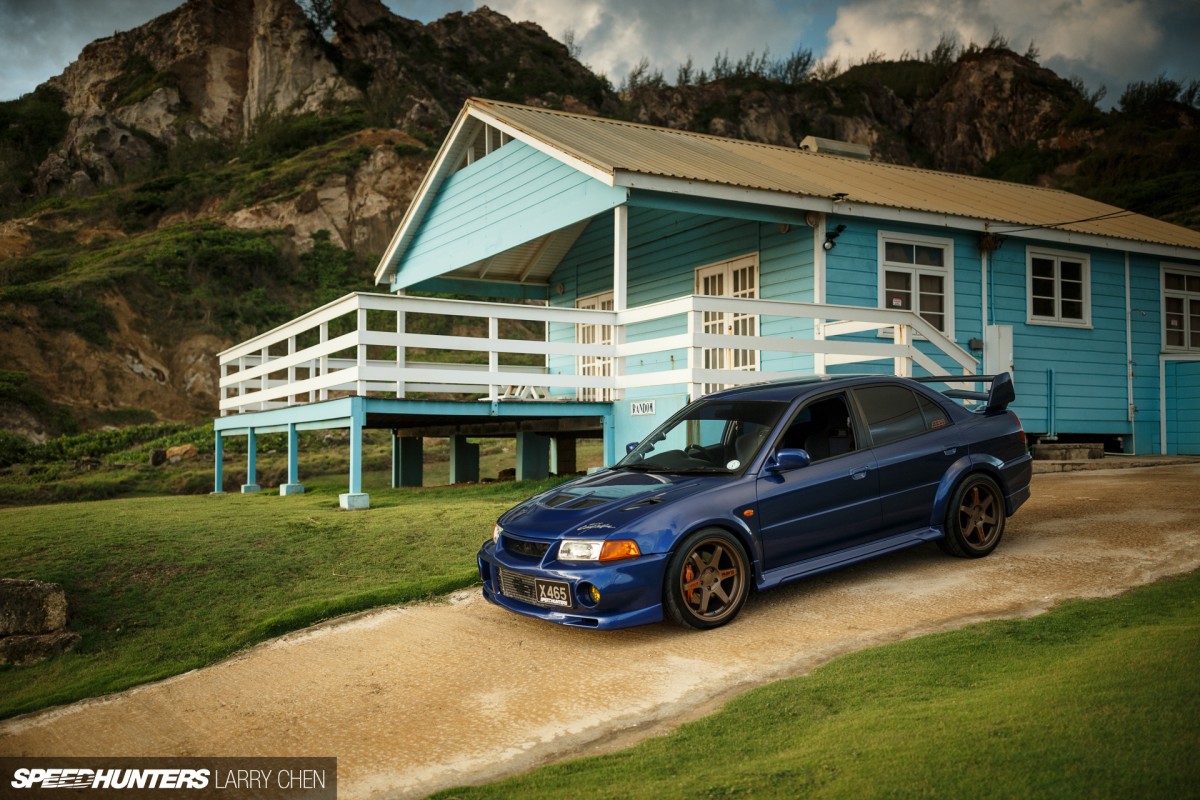 There's almost no reason to have such transportation on a island this small, but these guys are the few that actually put miles on their vehicles for nothing more than the fun of it. The general population just does not understand.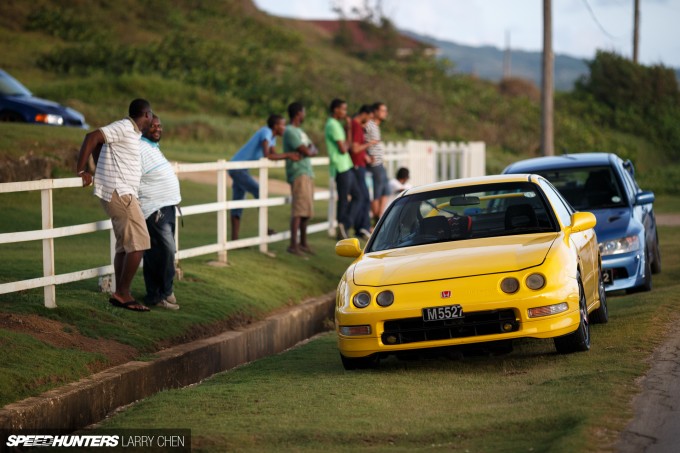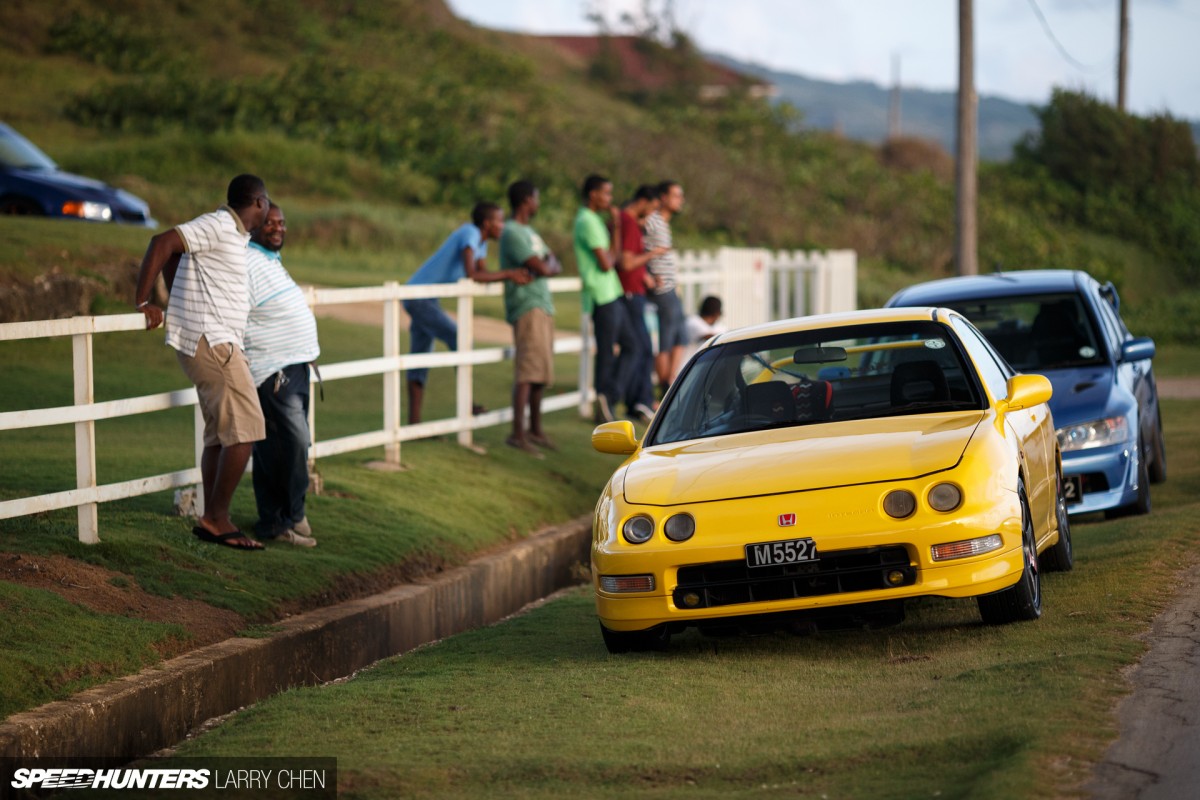 Just like in Singapore, the enthusiasts here know exactly how many cars of a certain make and model there are on the island. For example, there are only eight Honda S2000s and just two Nissan Silvia S15s – both of them Spec Rs. The scene is that small.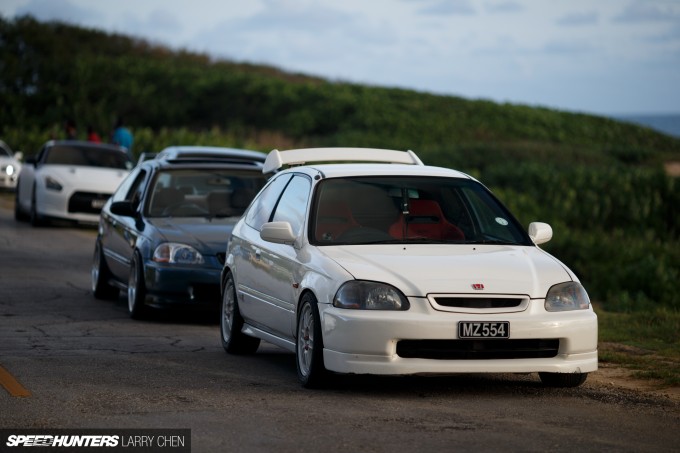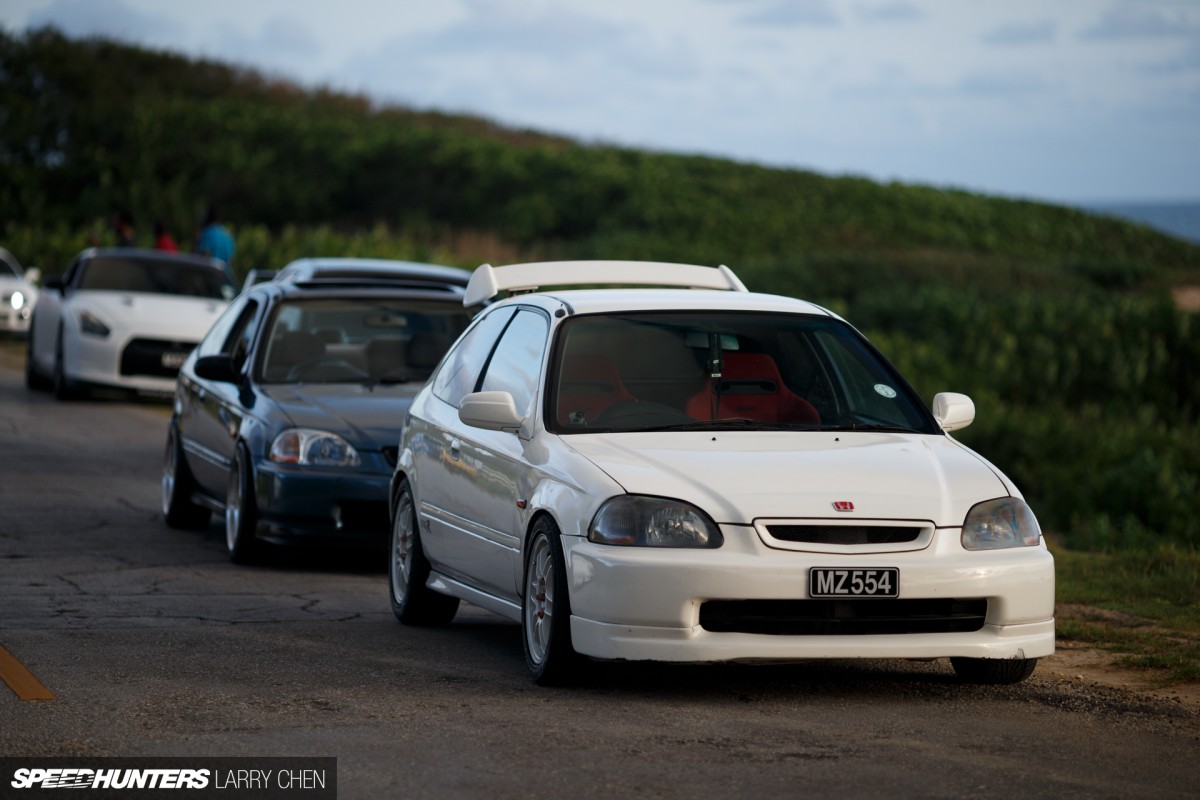 What I also found interesting was that pretty much everyone knows what is under the hood of each other's builds.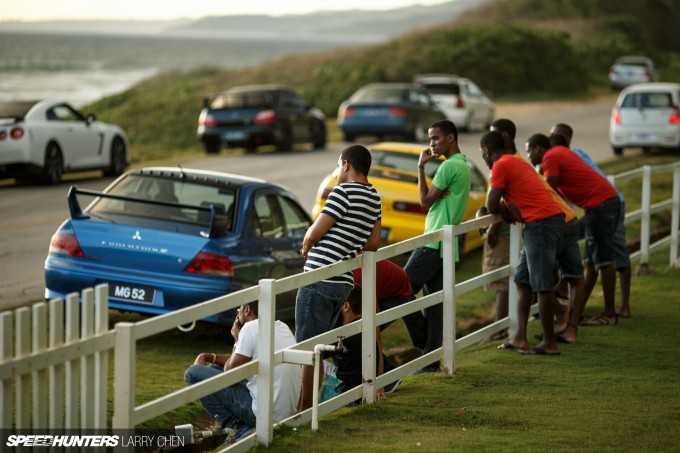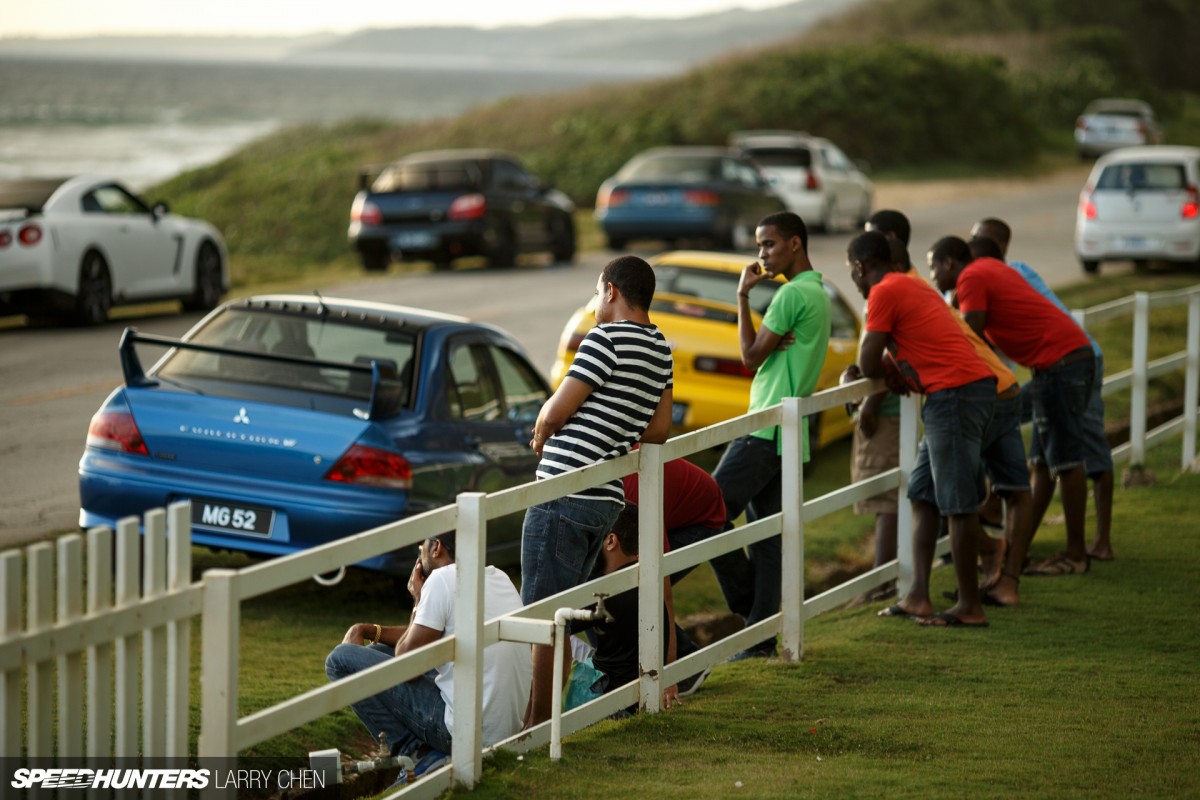 As the guys explained to me, a build may start out as a sleeper, but before you know it everyone on the island will know what you are running.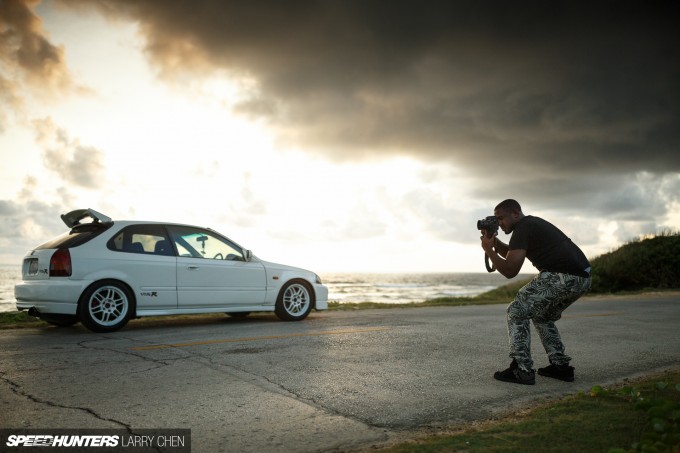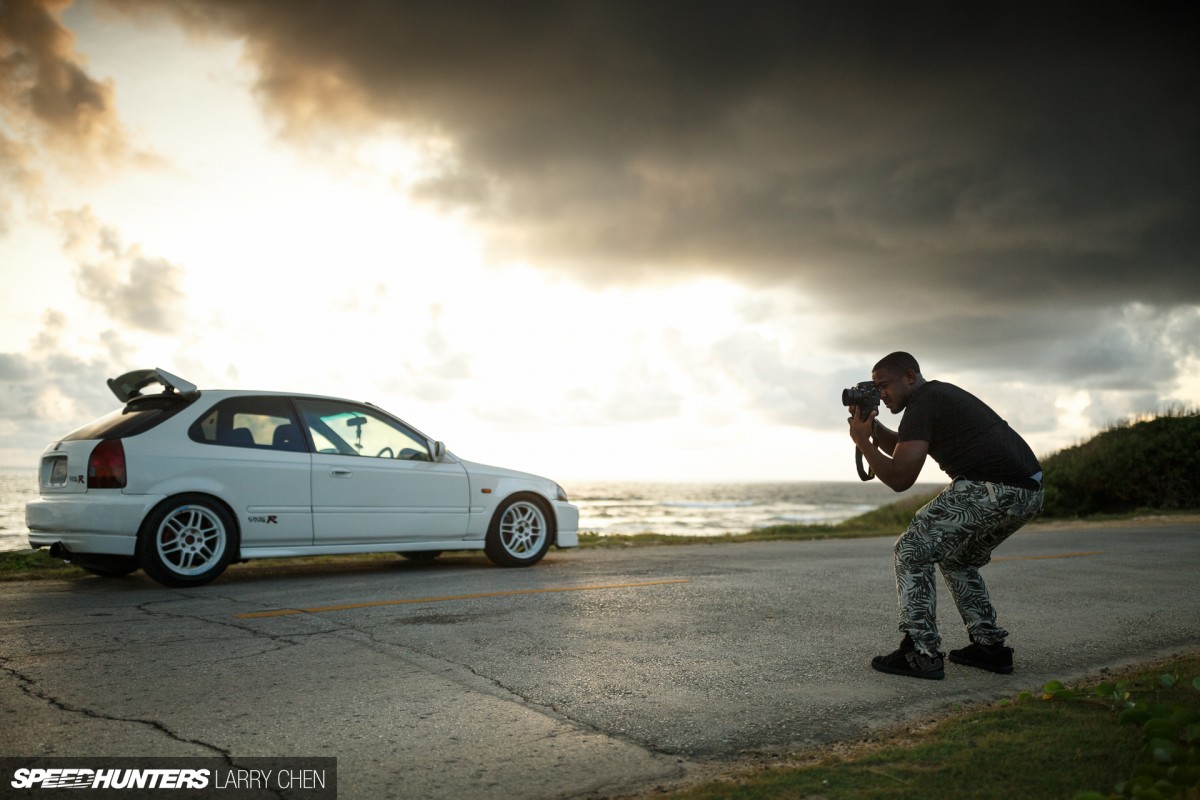 At the end of the day it's all in good fun, because those who race just do it for bragging rights anyways. When there's money involved it's not so fun anymore.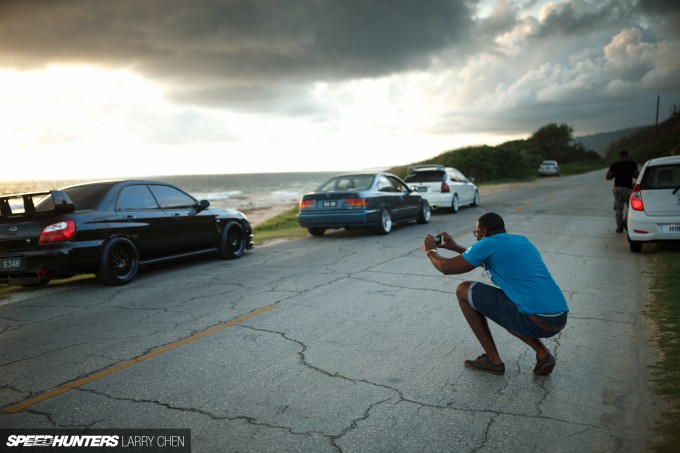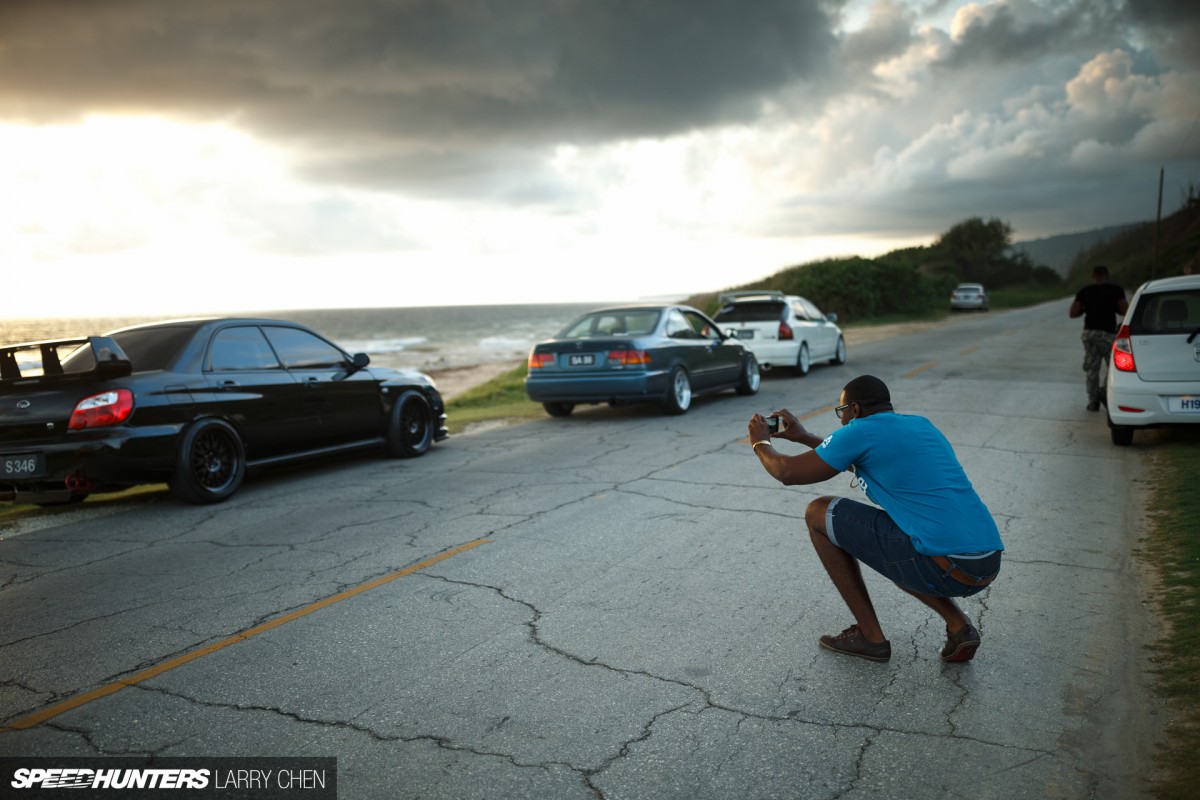 It's so amazing to me that we live in an age where you can experience Japanese tuning culture on a tiny island in the Caribbean, even though none of the guys in the scene here have stepped foot in Japan.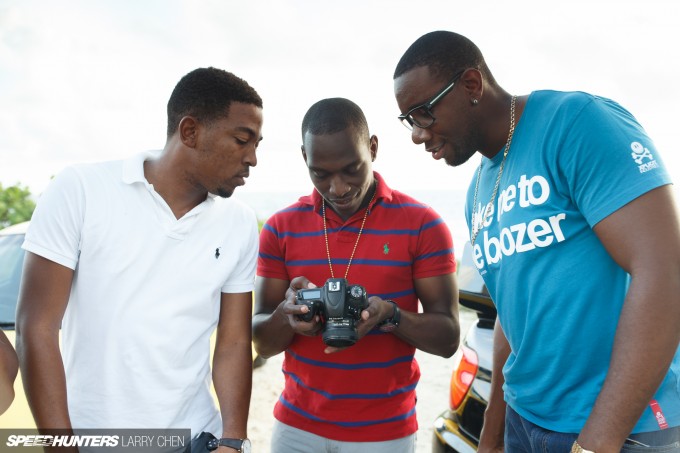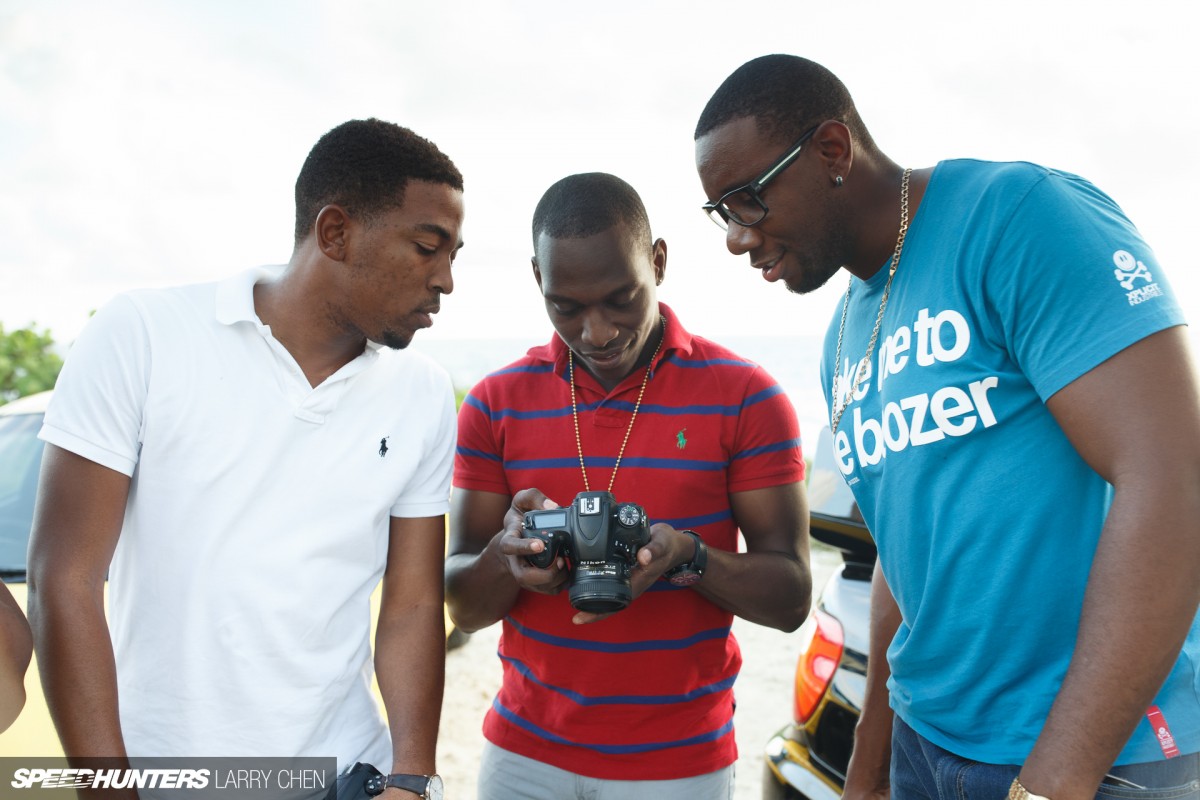 And that's the fun thing about car culture; pretty much everywhere I've traveled in the world I've instantly been able to make friends, because we all love the same thing, just slightly different variations of it.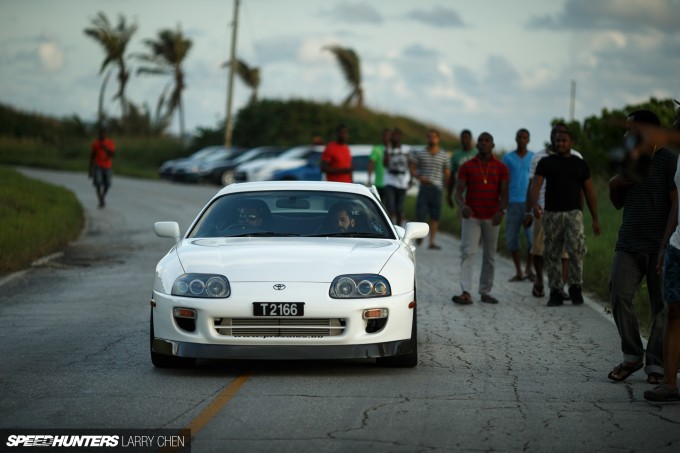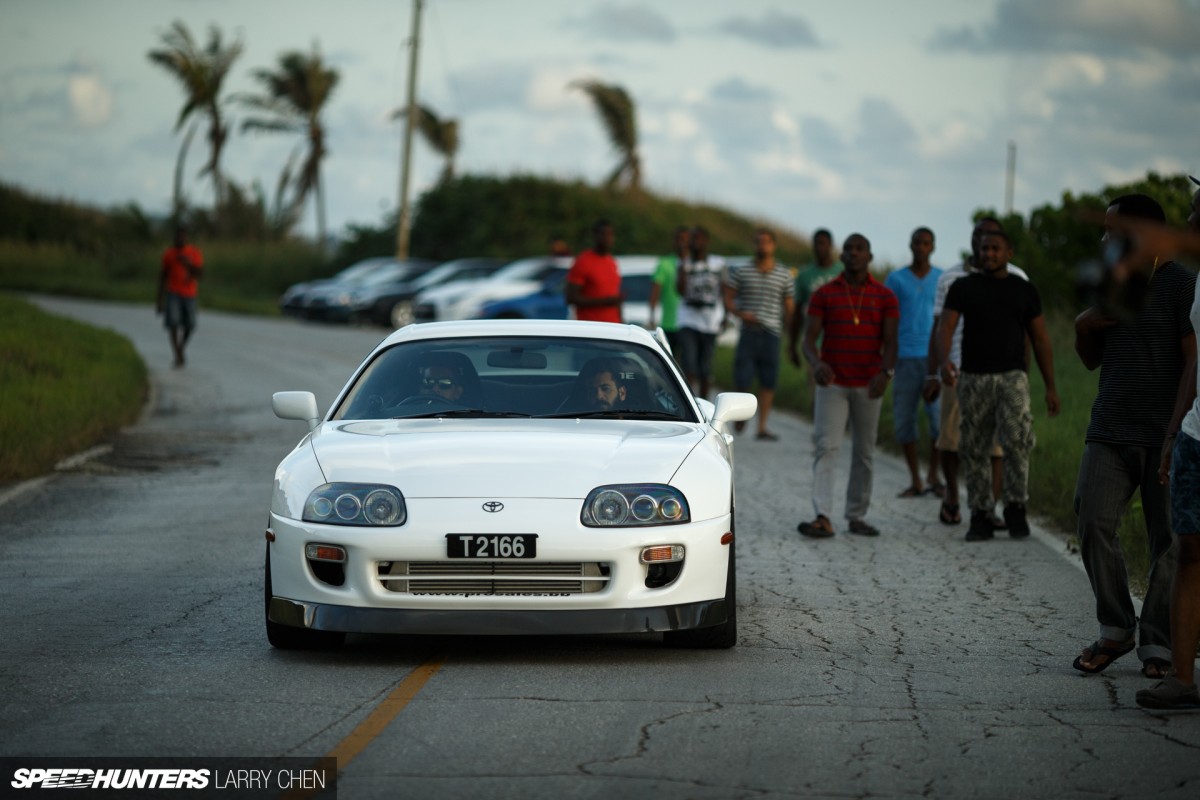 And honestly, that is the best part. The twist that each community puts on car culture is what makes it interesting across the board.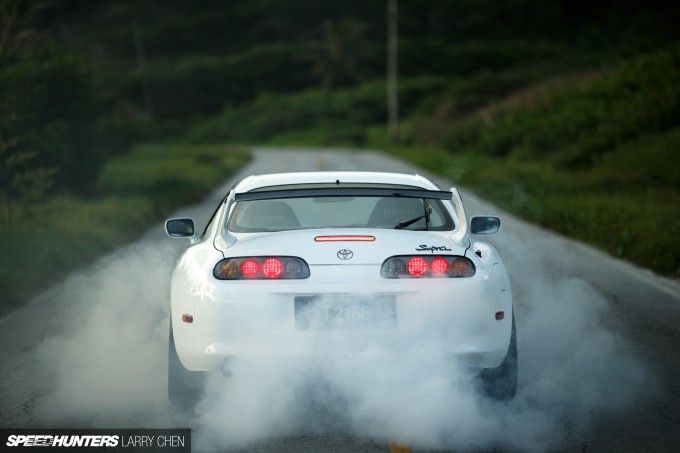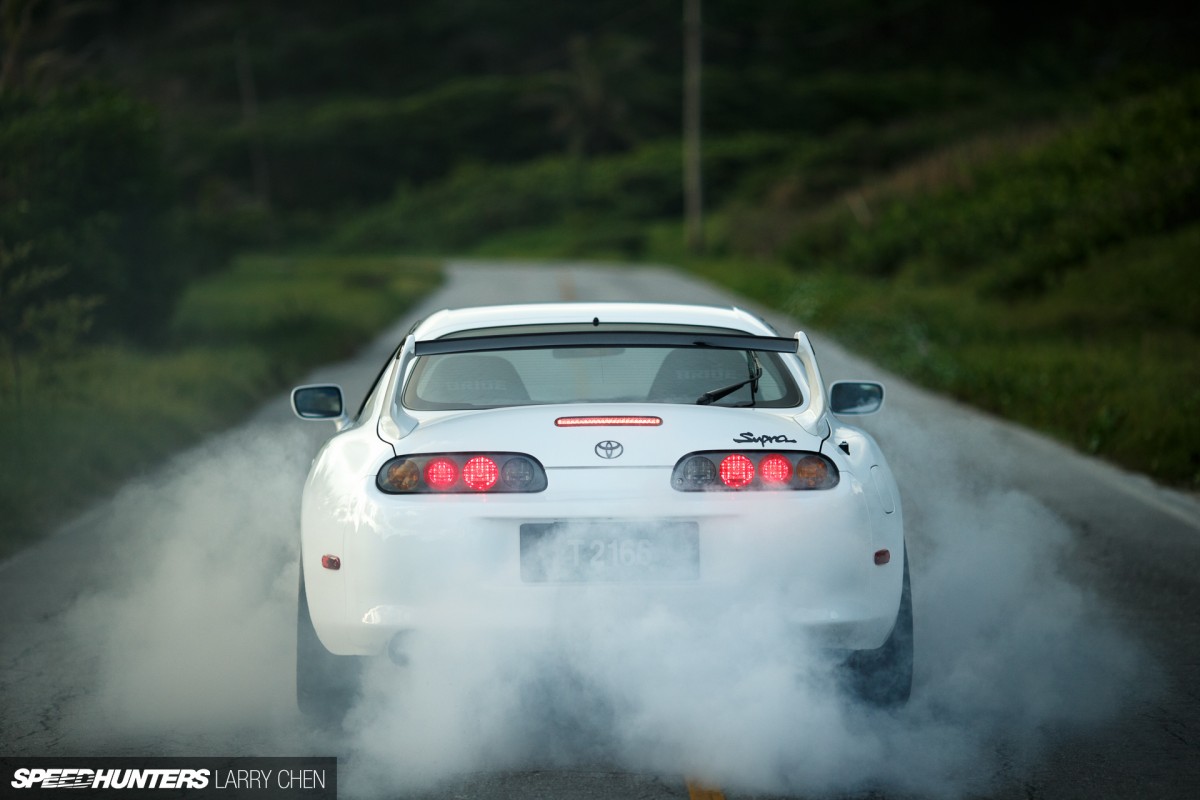 So next time you guys are traveling abroad, don't be afraid to hit up a local organised meet, or even a petrol station gathering like I did.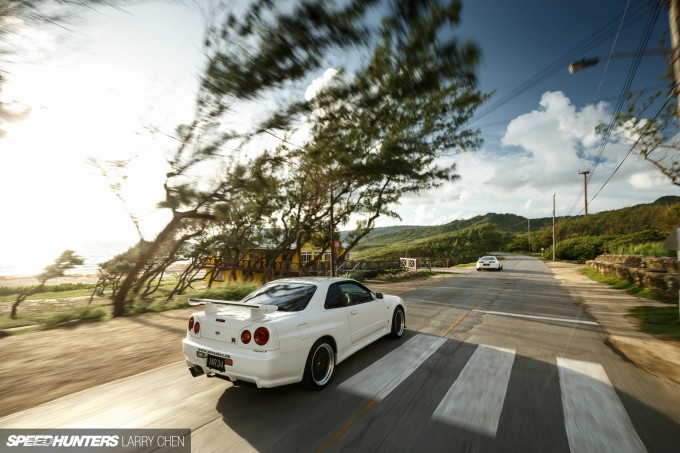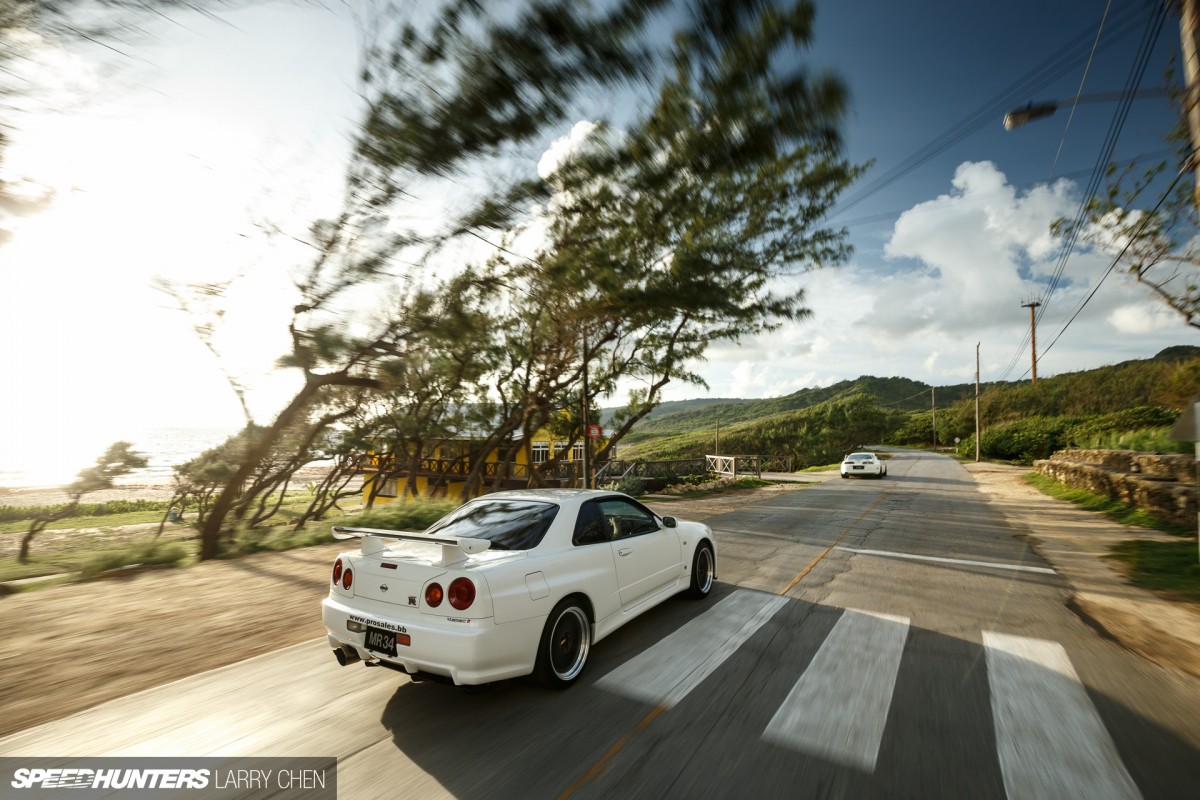 You just never know what cars you will see or who you will meet.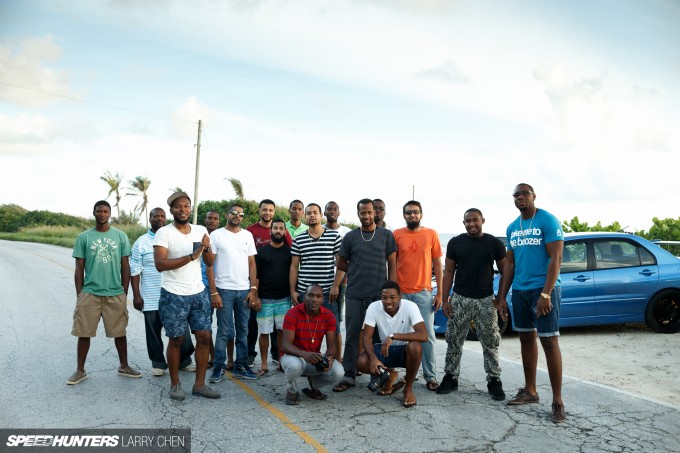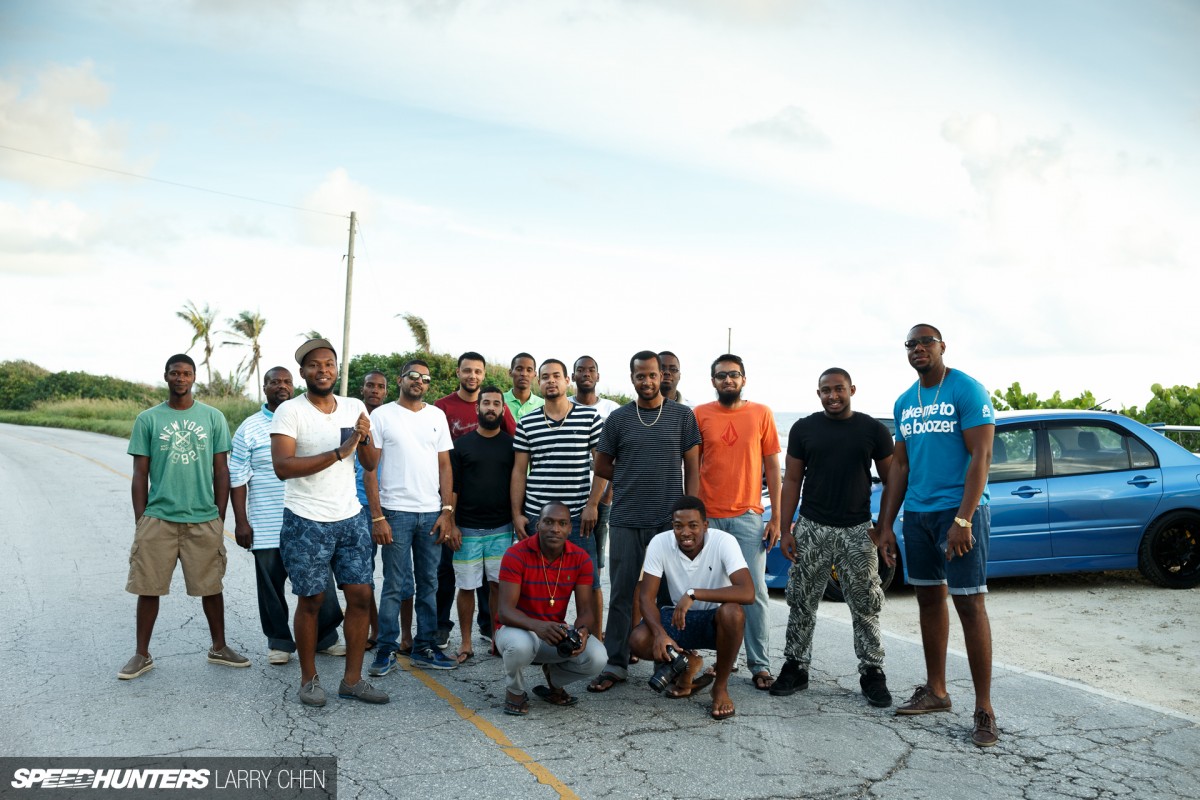 I want to thank Jade Alleyne, Nealiho Hope and Dwayne Thomas as well as the rest of the JDM Squared crew and their friends for giving me an authentic taste of Bajan car culture. Hopefully I can come back one day and check out this amazing little country's rally scene…
Larry Chen
Instagram: larry_chen_foto
larry@speedhunters.com
Cutting Room Floor