It's that time again where we take a look at some of the fantastic artwork that's been shared with us as part of our Automotive Art theme.
If you enjoyed parts 1 and 2, you're going to enjoy this third instalment just as much. From digital illustrations to pencil sketches and even paintings, once again there's a whole lot of variety in here. So sit back and prepare to be inspired…
Jose Gonzalez – Detroit, Michigan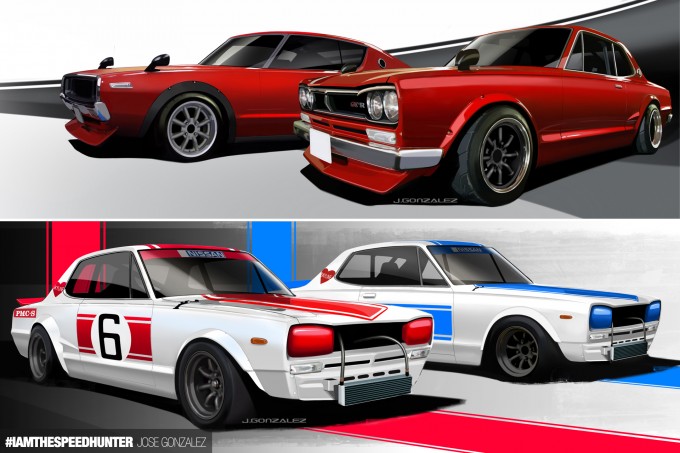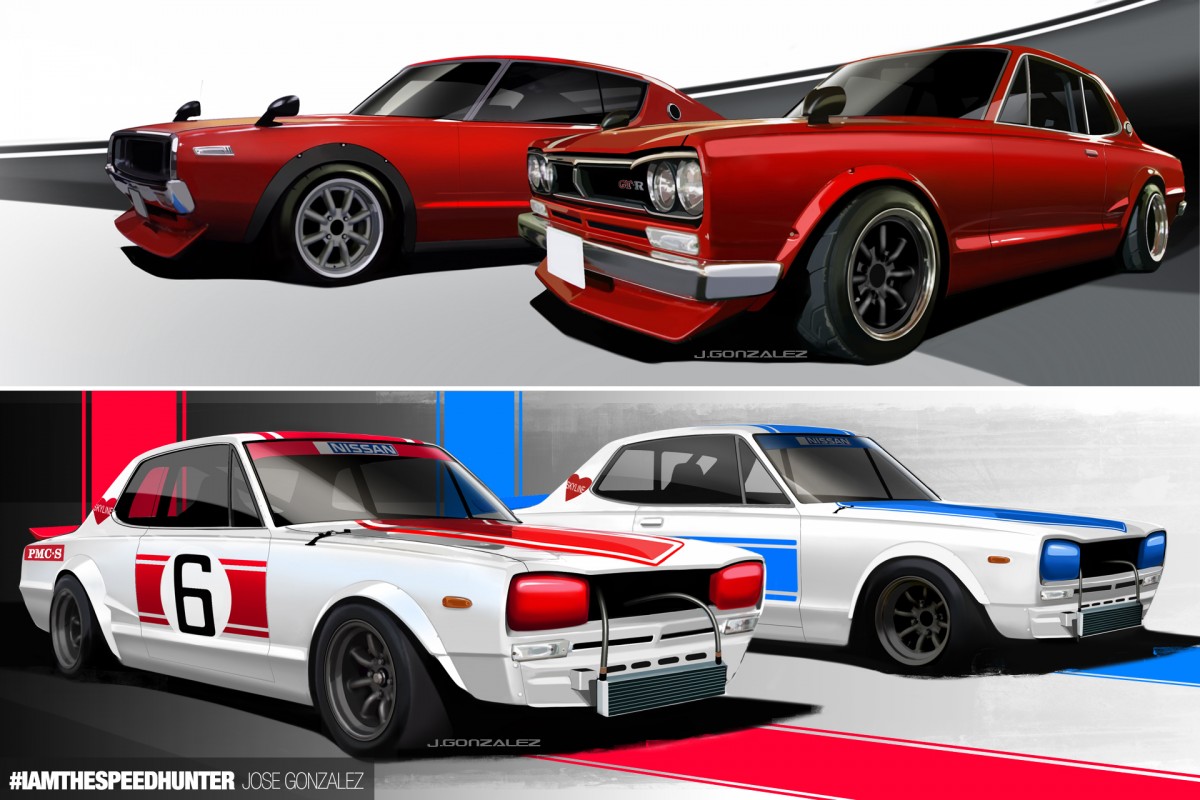 Jose from Detroit works as an automotive designer, but naturally he still finds himself creating art in his spare time. The above drawings have a cool story behind them – Jose is actually currently building his own Nissan Hakosuka Skyline, and he created this as gift for JDM Legends which originally sourced the car for him. We're not only envious of Jose's project car, but of his design skills too!
Andrew MacLean – Melbourne, Australia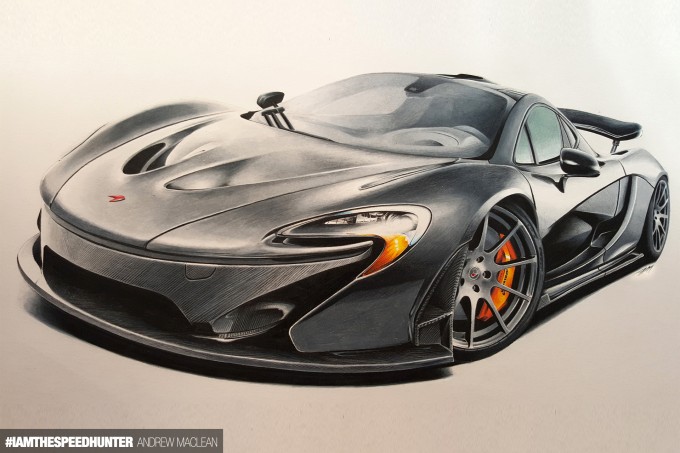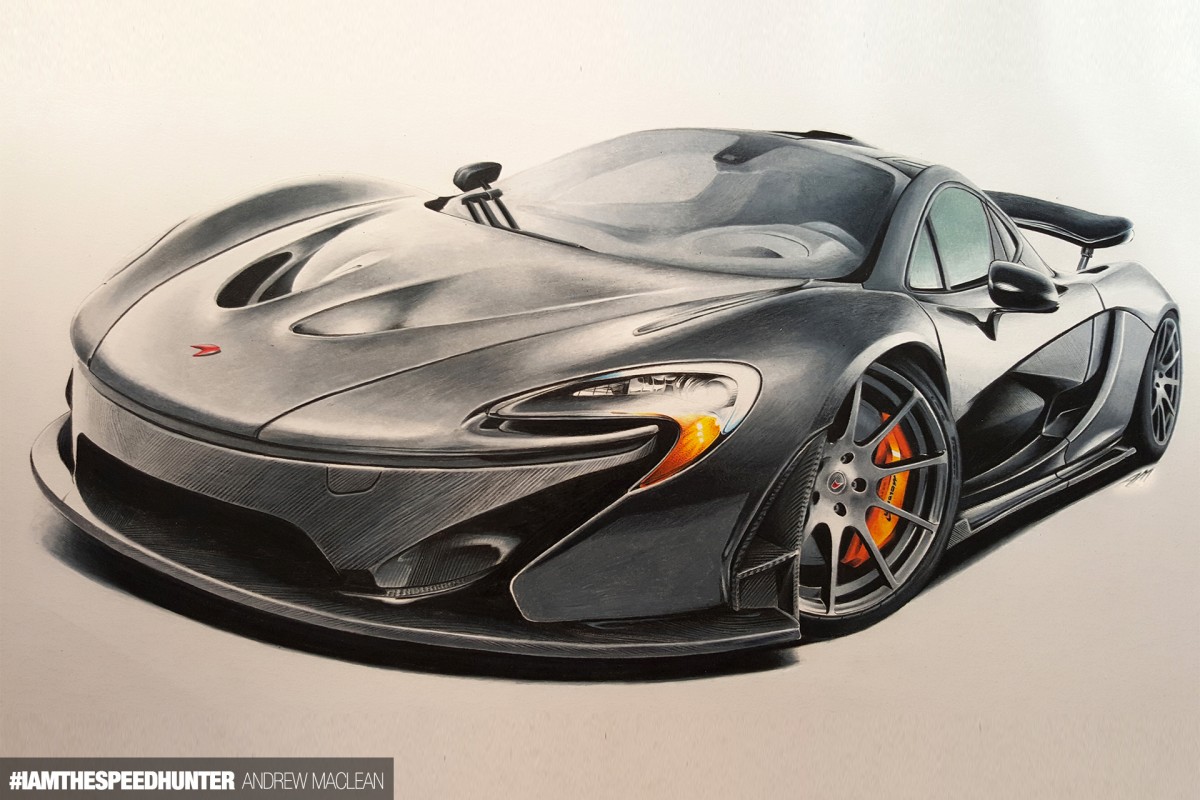 We're loving this awesome McLaren P1 sketch by Andrew MacLean, who took an interesting approach to this drawing in an effort to create something a bit different. Instead of copying an image straight from the internet, he sourced the basic outline of the P1 from Assetto Corsa, moving the camera around until he found this specific angle. He then studied other images to recreate the more detailed parts and the shading for the lighting. The finished result is stunning.
Alan and Stuart Macey – USA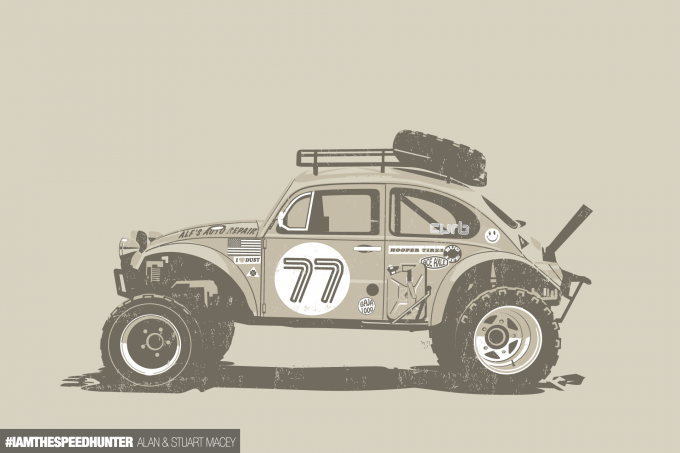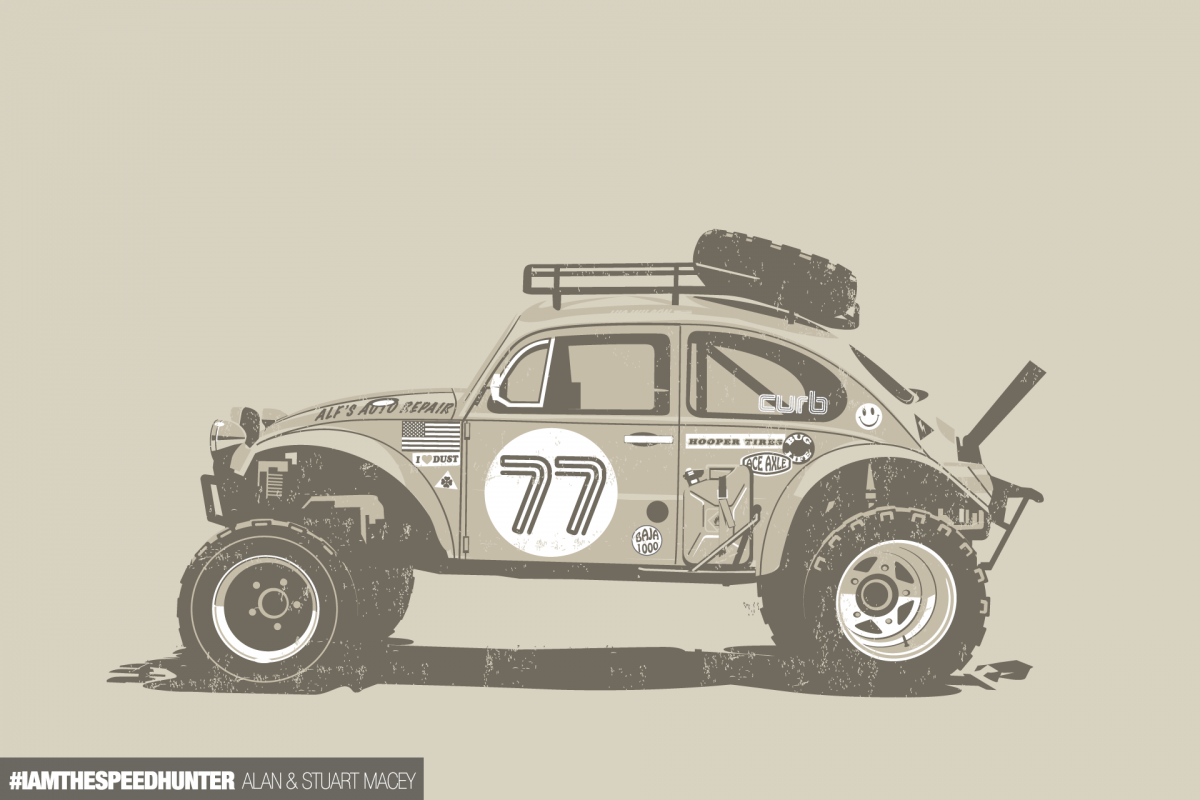 Next up, this vintage-style print of a Volkswagen Beetle off-roader was shared by a rather unique father and son partnership. Alan and his dad Stuart both work as car designers by day (Alan working for Jeep in Detroit and Stuart for Hyundai in California), but in their free time they like to collaborate on their own personal art projects, for which they've created their own brand, Curb. Alan writes, "Since we don't get to spend much time together living on opposites sides of the country, passing these pieces back and forth via email and discussing were we'd like to take our brand is a great way to bond and keep in touch despite our hectic lives."
Chris Gray – Illinois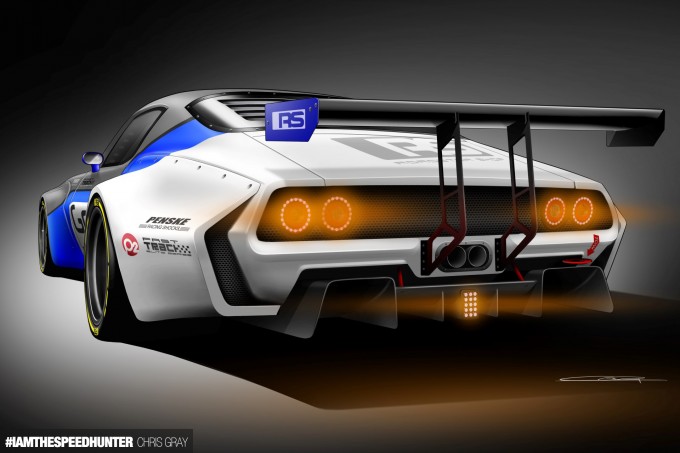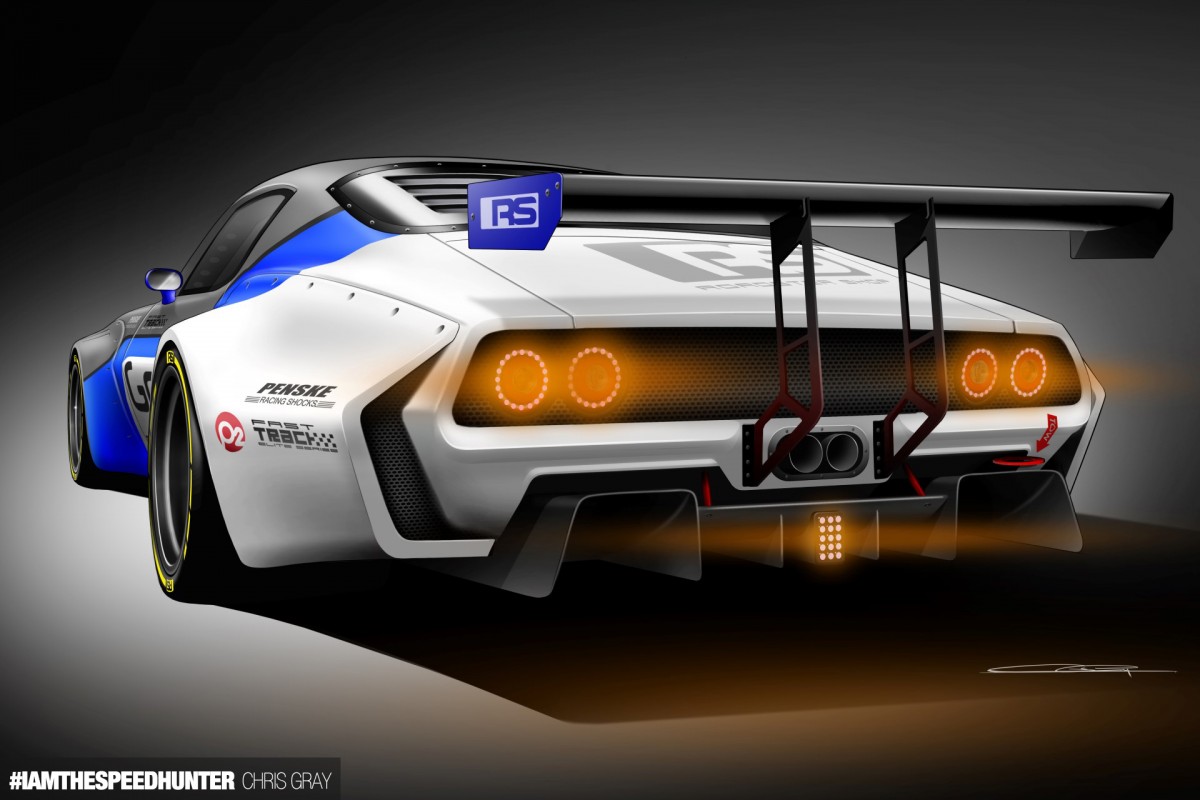 'Hello, what do we have here?' is the thought that popped into our heads when we first opened Chris Gray's email and saw this monster wide-body Camaro staring back at us. Chris has a pretty incredible job; he works as an automotive designer at The Roadster Shop in Illinois, a hot rod and custom vehicle shop which specialises in chassis building, performance pro-touring style builds and high-end hot rod and custom builds. Chris writes, "I'm lucky enough to be the creative starting point for drawing up whole concepts, which includes designing everything down to 3D modelling the one-off parts and pieces that go into them."
Chris says that his favourite build he's worked on has to be Rampage - an incredibly badass second-gen Camaro which we actually featured here as part of our 2014 SEMA Show coverage. The video above shows the beast in action on the track for the first time – definitely worth a watch!
Dennis Salnikov – North Carolina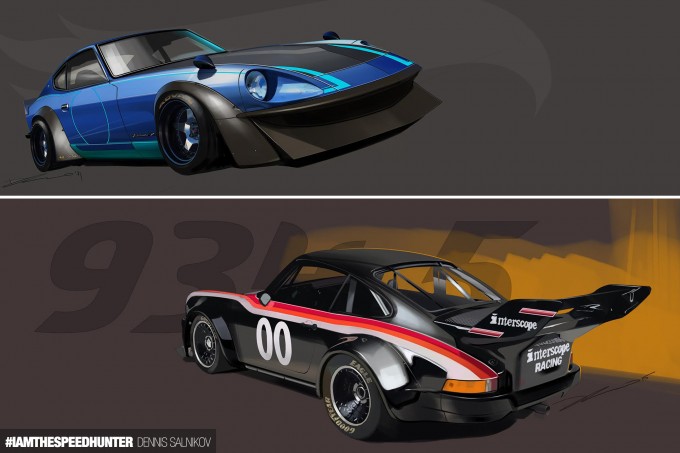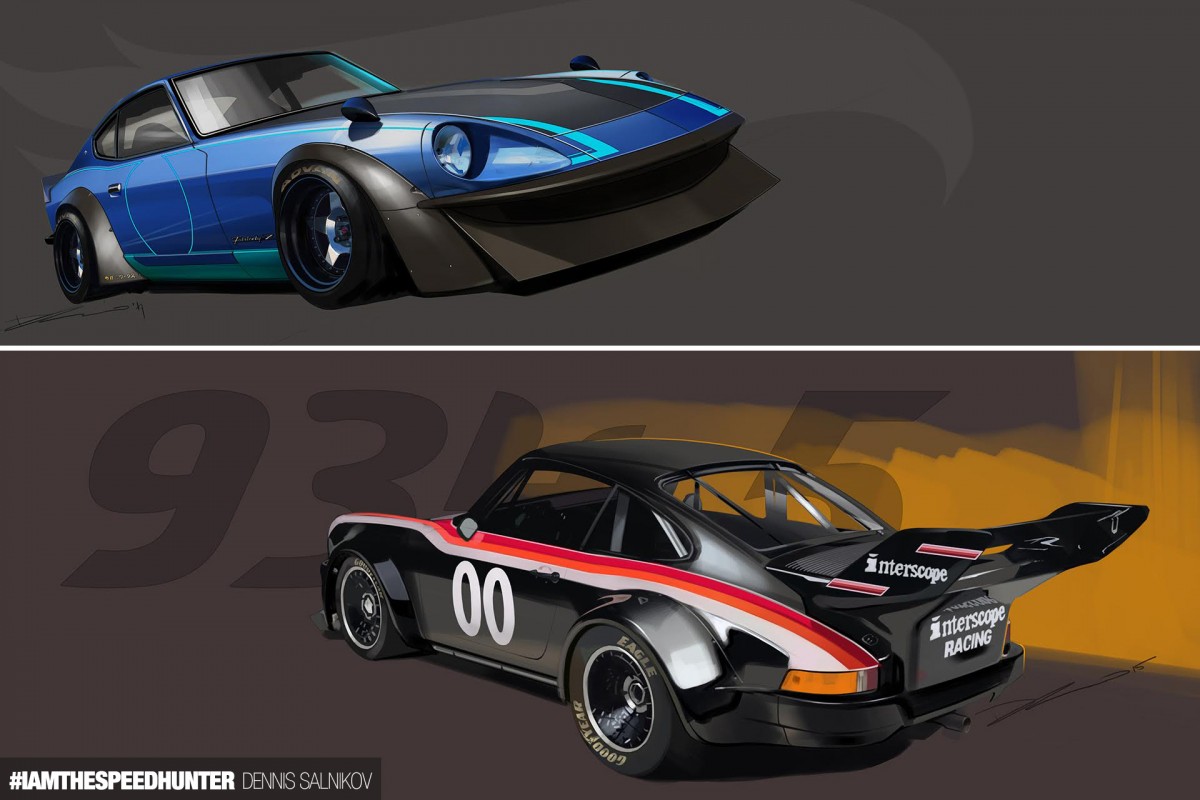 Our next submission is from Dennis Salnikov of North Carolina. Dennis first got into automotive illustrations thanks to his Datsun 280Z. He tells us, "The whole reason the art gig started was that I wanted to envision my S30 in its final form – proper wheels, color, body work, etc… That was roughly back in 2008. Even since, I've been sketching cars for friends and clients." These two drawings, including Jun Imai's S30 (the top image), certainly stood out to us. You can see more of Dennis' work, plus his car on his Instagram here.
Filip Malbaša – Serbia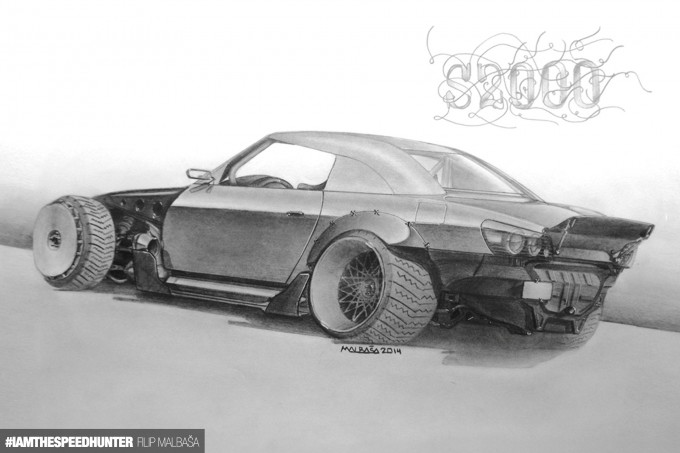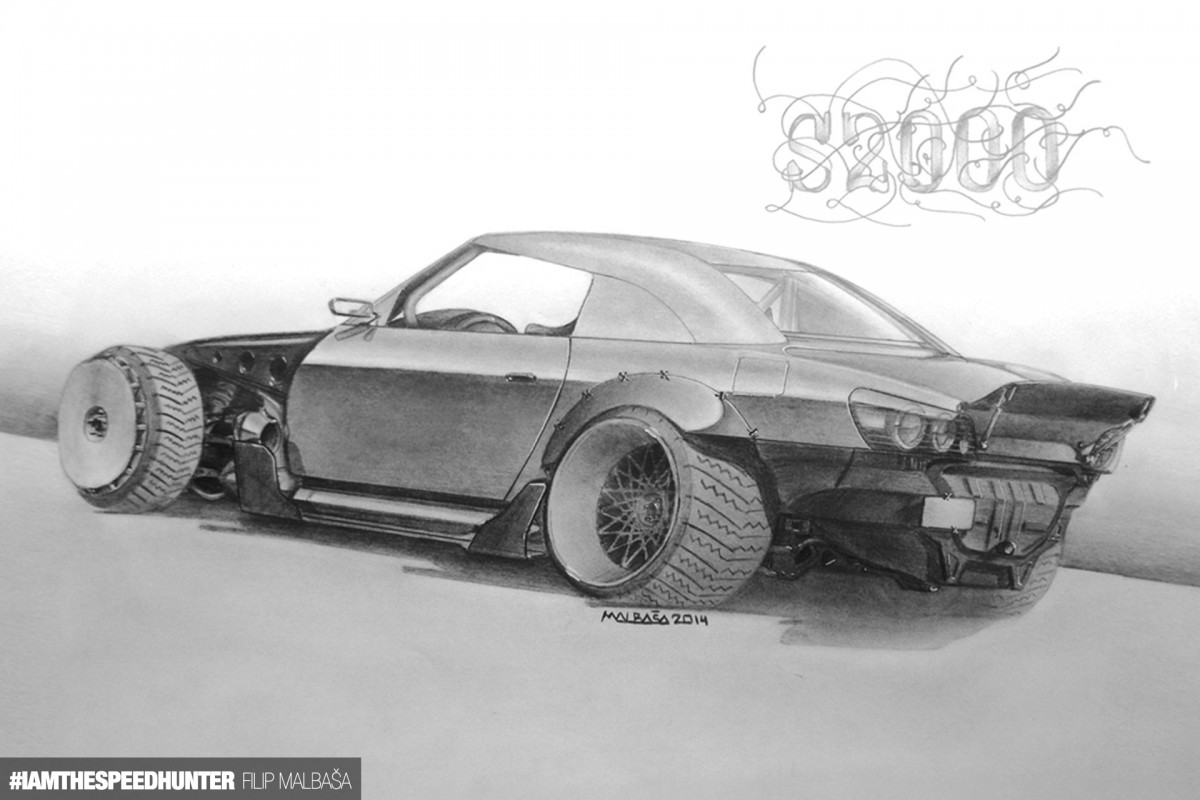 20-year-old Filip from Serbia sent us some cool examples of both hand-drawn and digital art, but this raw sketch of a modified Honda S2000 really made an impression. This drawing was just something that Filip created for himself – the exposed chassis up front gives it an almost rat-rod-like look, and the turbo-fan front wheels are an unusual yet cool choice. Nice one, Filip!
Jasser Silvennoinen – Finland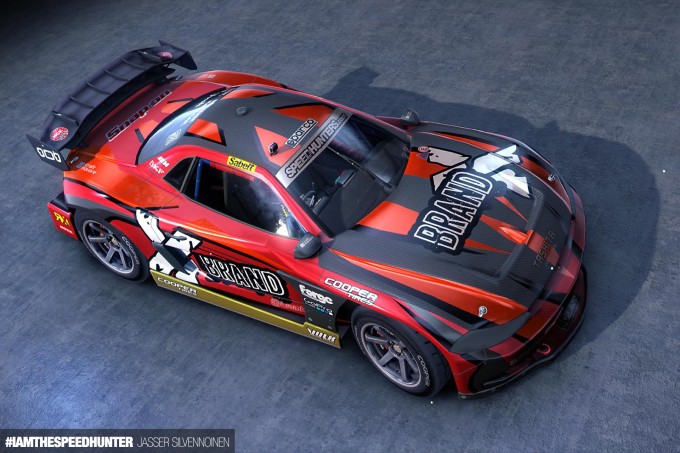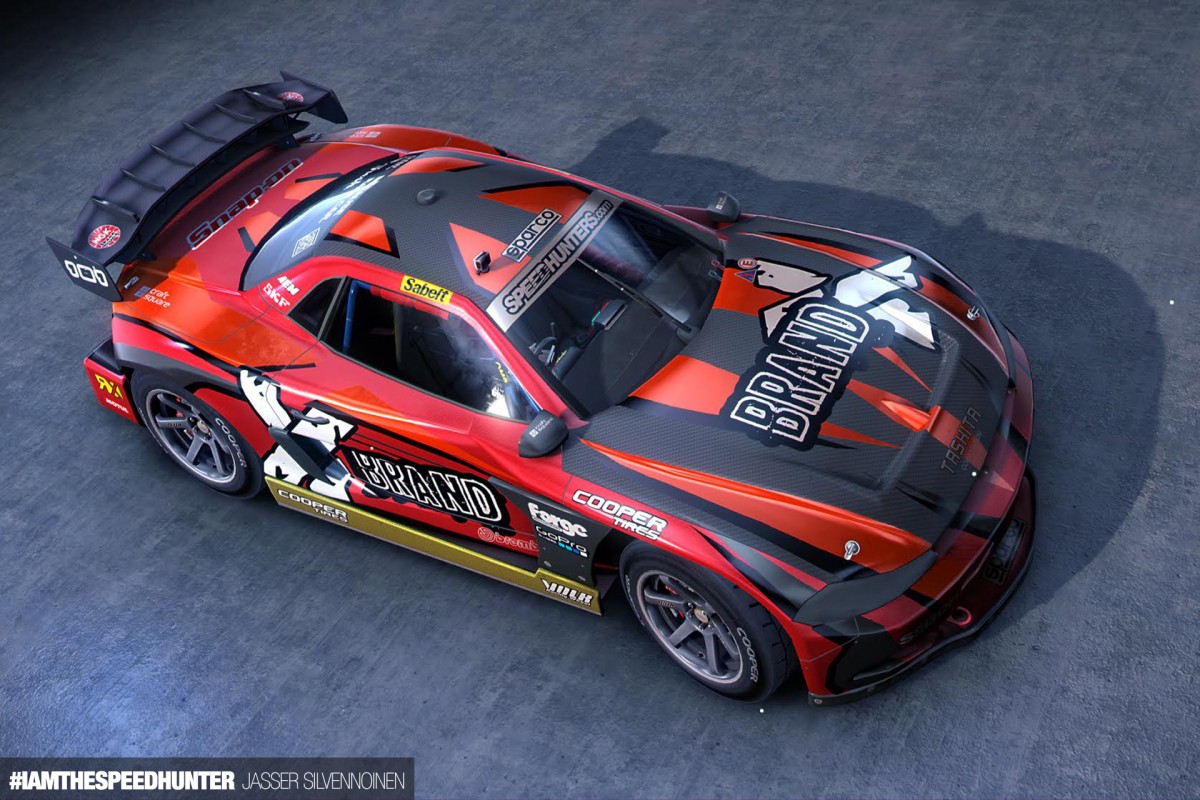 Jasser from Finland shared a rather interesting project with us – a realtime 3D car he's created, inspired by the car Tashita from the '90s PC game Carmageddon. Jasser explains his design process, "I wanted to make a modern, realistic version of this car – how it might actually look if someone really built it. I took inspiration from various rally cars and Japanese sports cars from the '90s to draw the initial sketches. From there I modelled a few 3D 'block' models, using these to sketch the final design, which I then used to create the exact 3D model. The design eventually got twisted into the mad rallycross/hillclimb racing machine you see here!"
If you have a reasonably new Windows-PC and Unity Web Player, you can try the viewer application yourself to see the car in realtime here.
Cristian Maza - Argentina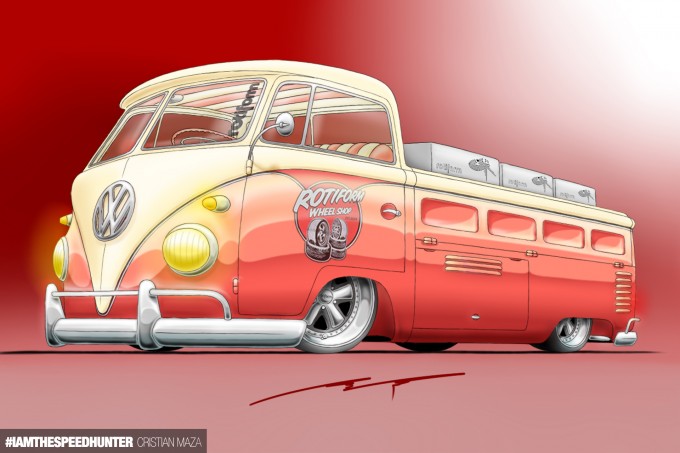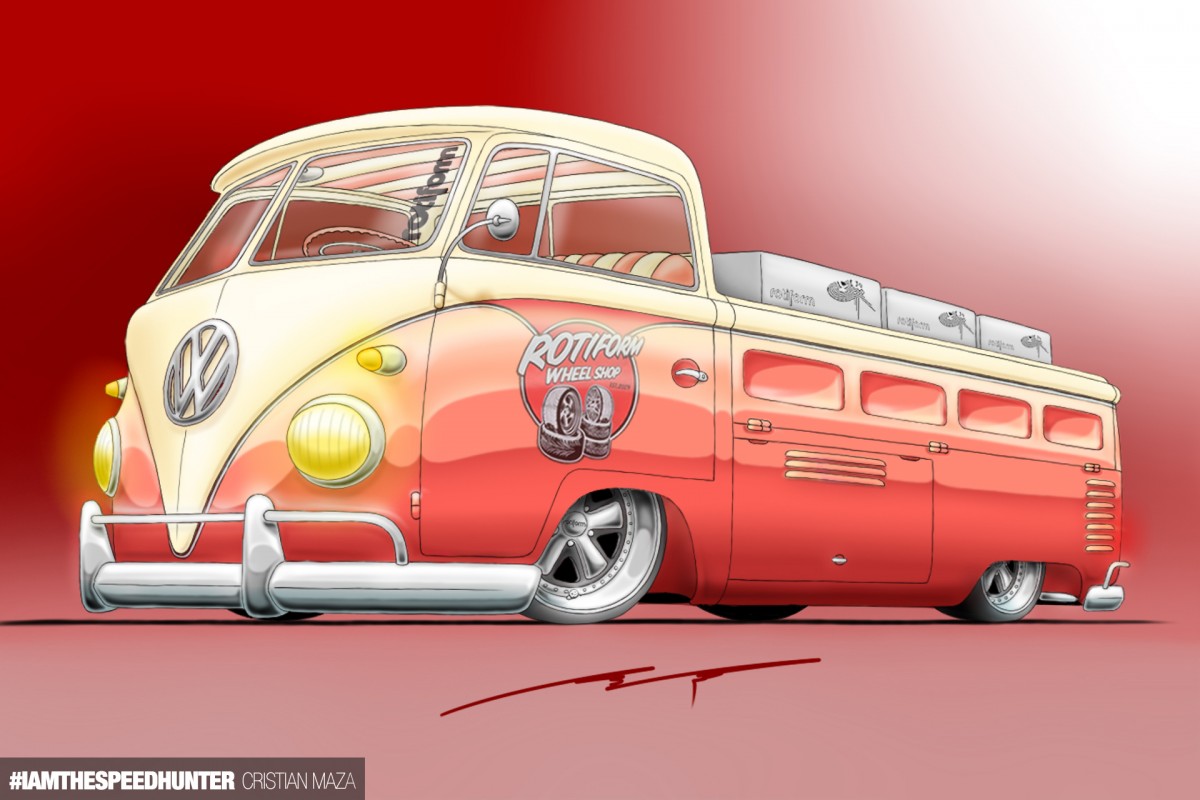 How cool is this Rotiform-inspired Volkswagen van-turned-pick-up-truck sent to us by Cristian Maza?! Christian's a graphic designer who absolutely loves cars, so of course most of his spare time is spent creating drawings of customised rides – usually of the classic American or European variety. Christian creates his art digitally using a graphic tablet, but still based on hand-made sketches. He firstly uses the software program SAI for tracing the lines upon the scanned sketches and the adding of base colours, then Adobe Photoshop for the addition of light effects, textures and backgrounds.
Make sure to check out more of his work here. And on a related note, we think Rotiform should seriously consider this as their next project car – what do you think?
Gerald Pilare – Daly City, CA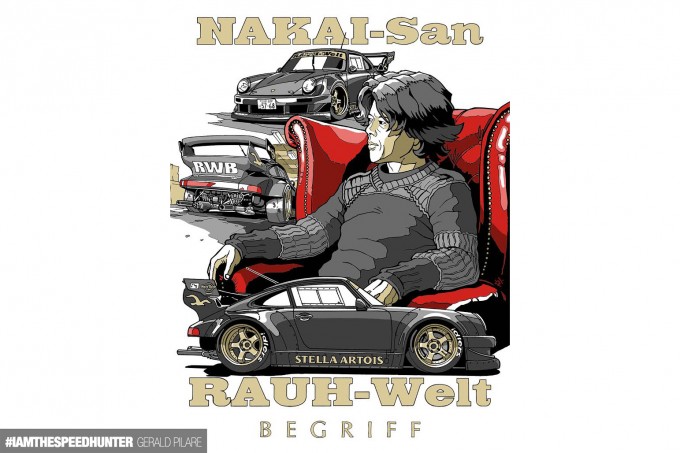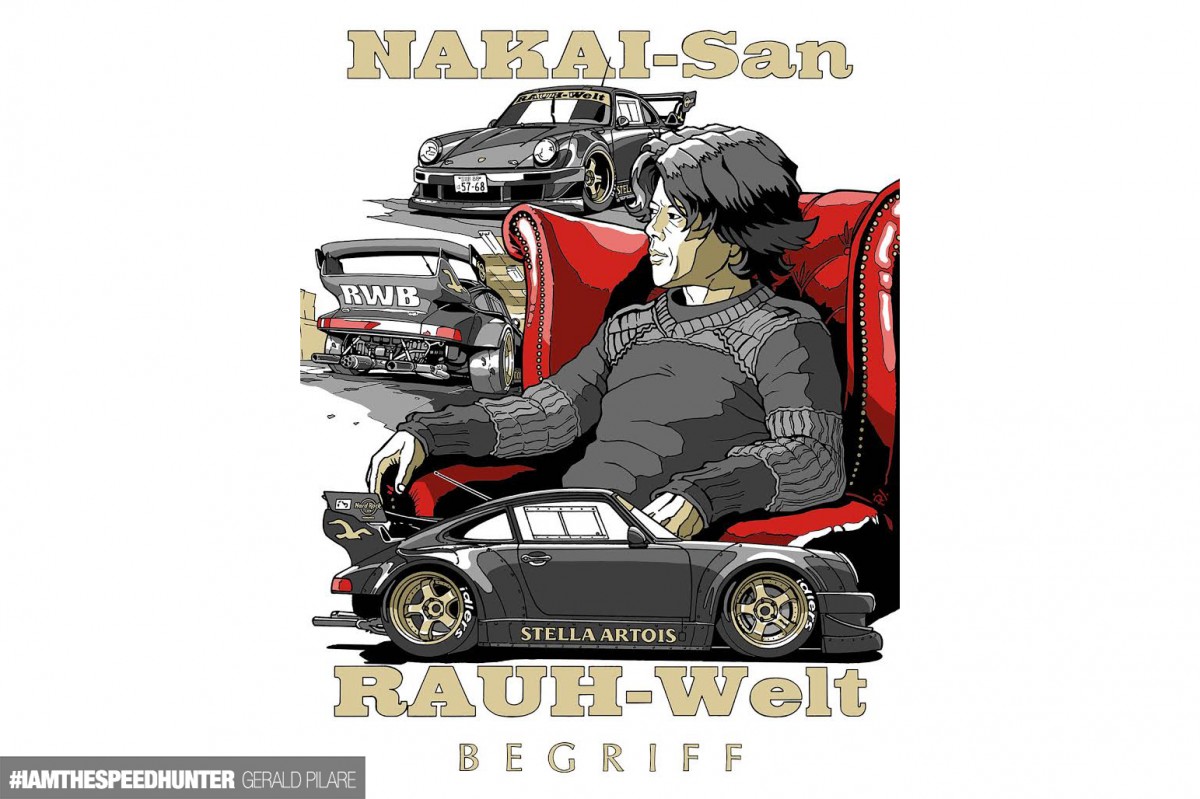 Gerald Pilare has been into cars for as long as he can remember, and like so many of us he's found himself captivated by Japanese Porsche builder Akira Nakai of RAUH-Welt Begriff. Drawn by hand and then scanned into a computer for final editing and colour, this awesome tribute poster he's created features Nakai-san's personal Stella Artois 930 build as well as the man himself in his well-known plush red armchair. Gerald writes, "I like to think he's contemplating his next project!"
Alex Zaharia – Madrid, Spain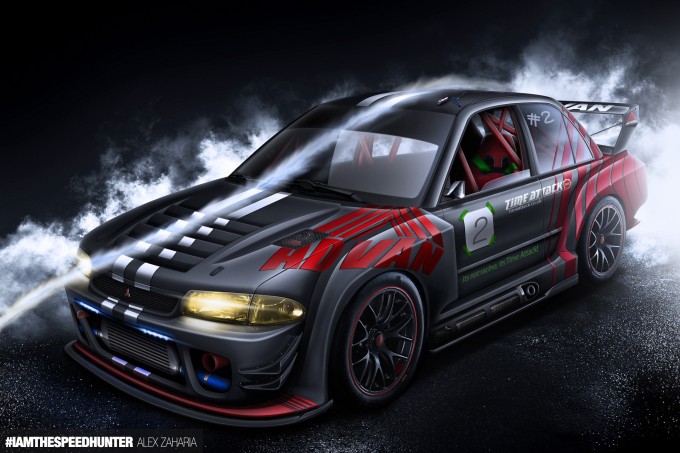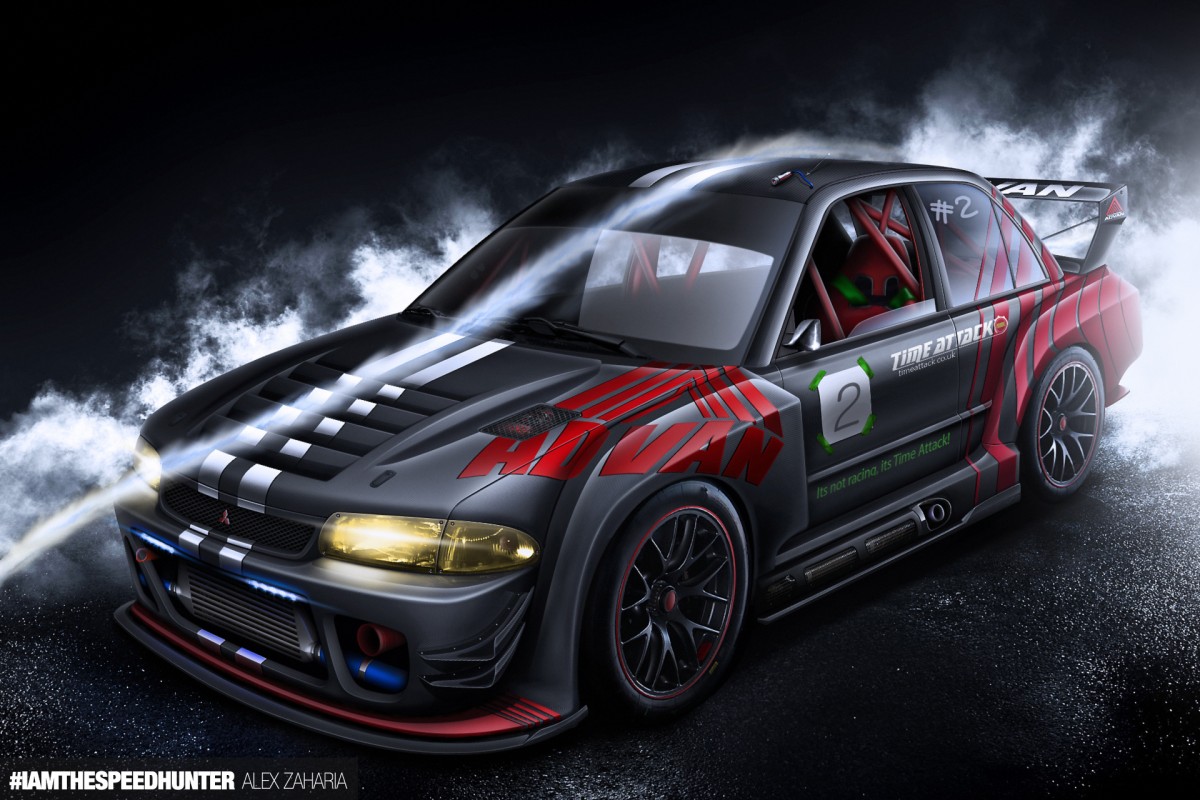 Self-taught Photoshopper Alex got into the art of digital tuning after a friend issued him a challenge to create something, and he's been at it for over a decade now! Alex tells us, "Digital tuning was started to get pretty popular back '05 – there were a lot of forums with competitions, so I started entering every competition I found, and I basically just went from there. I do my entire work from scratch, brushing all the car and using some donors for minos details." This staunch-looking time attack Mitsubishi Lancer Evo II was created for a competition, with Alex having designed the body kit himself.
Shimizu Fraibo – Nara, Japan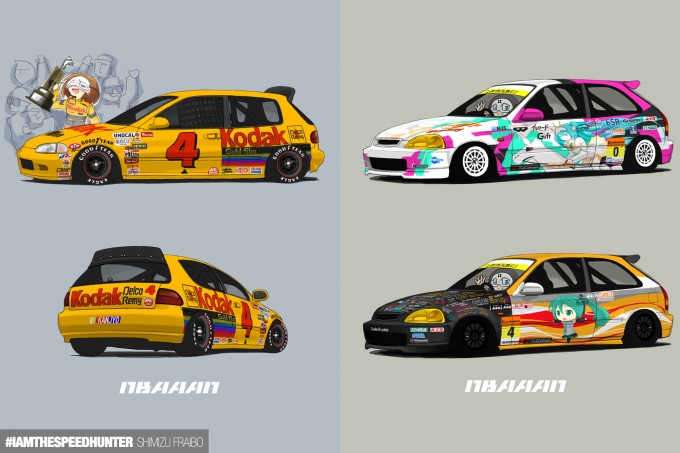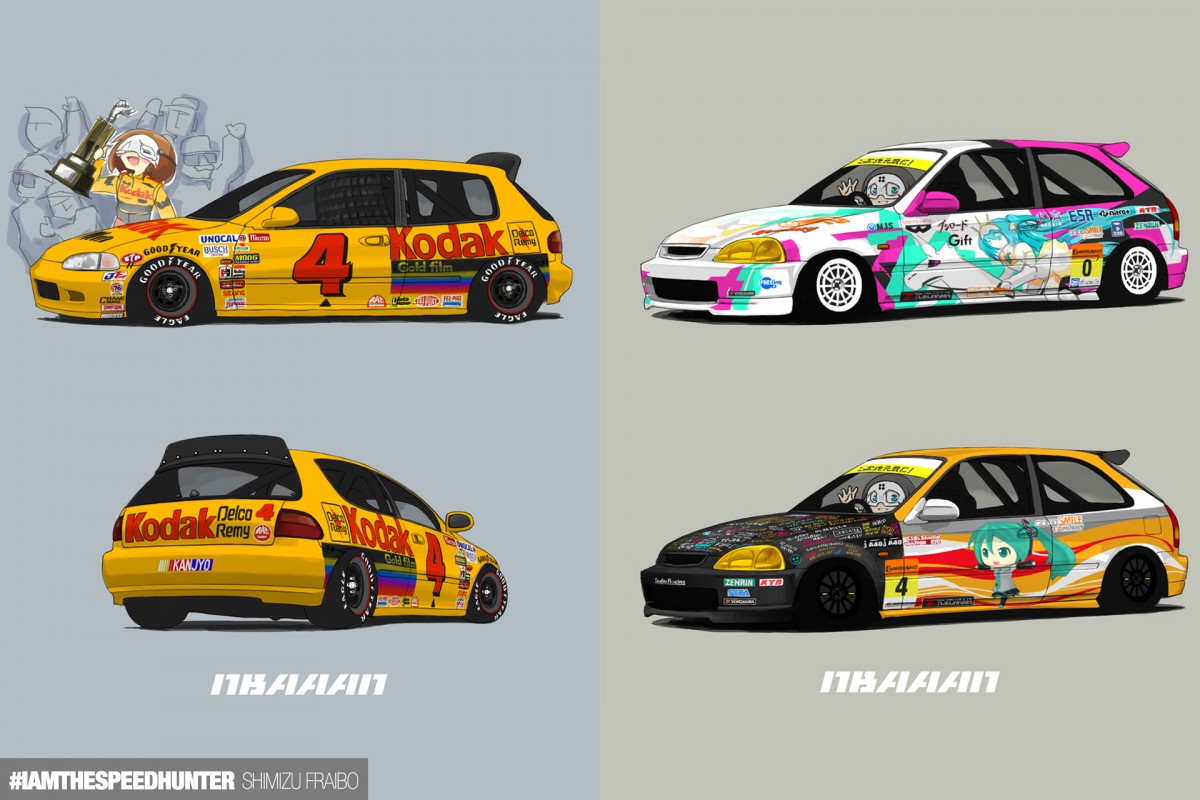 A lover of motorsports and all things VTEC-powered, Shimizu Fraibo sent us these neat Kanjo racer-inspired illustrations. His subjects of choice? An EG and EK Civic coupé, of course! Fraibo-san says that he tries to capture the essence of circuit and street racing in his drawings, and like many others residing in the Kansai area of Japan, he has a soft spot for small, nimble Honda hatchbacks. Some more really cool designs (including a Nissan 'ID-SX' concept!) can be found on his Instagram here.
Benjamin Chereque – Lyon, France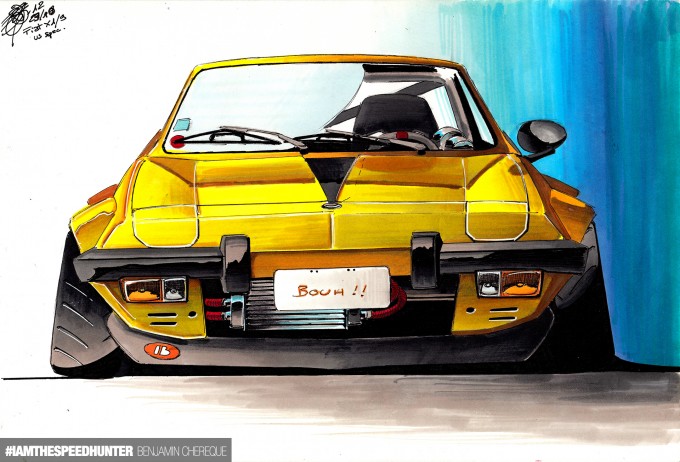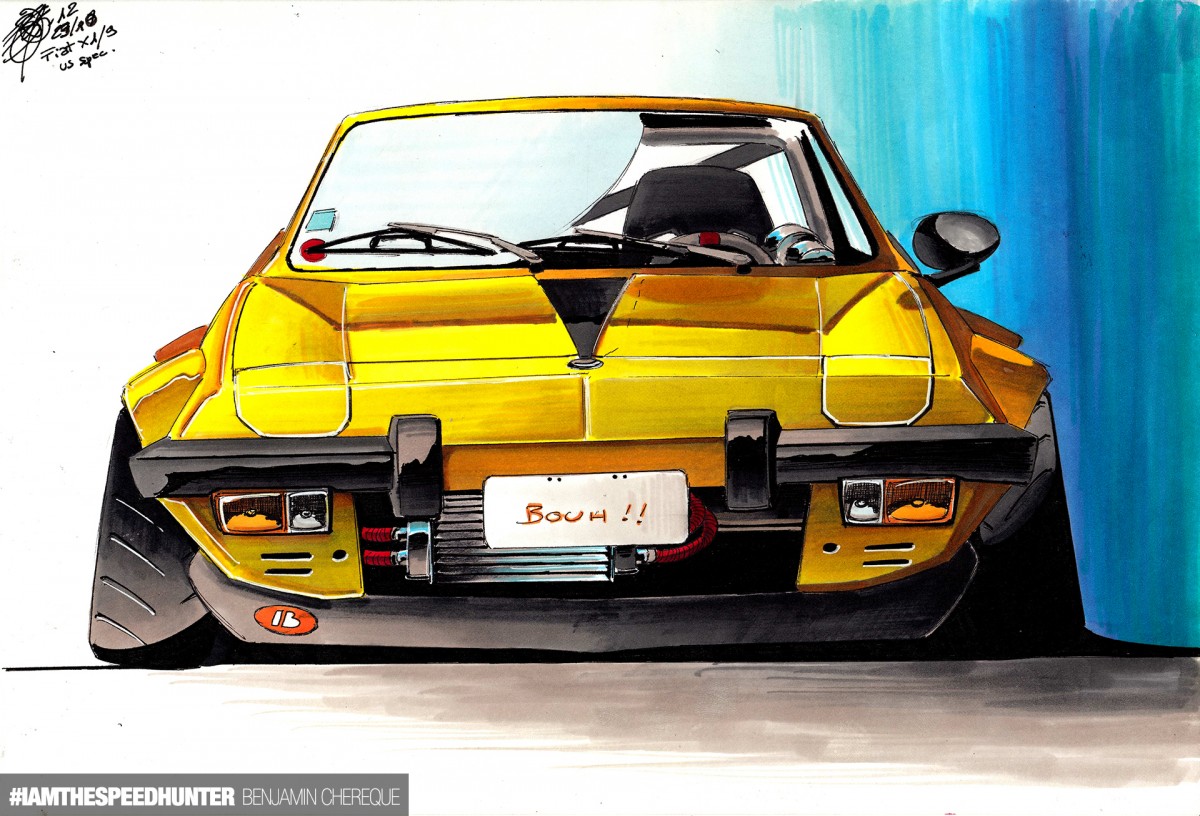 All-round petrolhead and 3rd-gen Honda Prelude owner Benjamin Chereque loves Speedhunters almost as much as he loves drawing cars as his hobby. Benjamin might use more traditional methods (A4 paper, alcohol markers and the cheapest scanner money can buy) to create his art, but the subject matter here couldn't be further from that. The drawing above features an extremely angry-looking, race-prepped Fiat Bertone X1/9 with massive flares and an aggressive stance, so we can only dream about what Benjamin has imagined for underneath the hood. You can check out more of his art here.
Corey Park – South Korea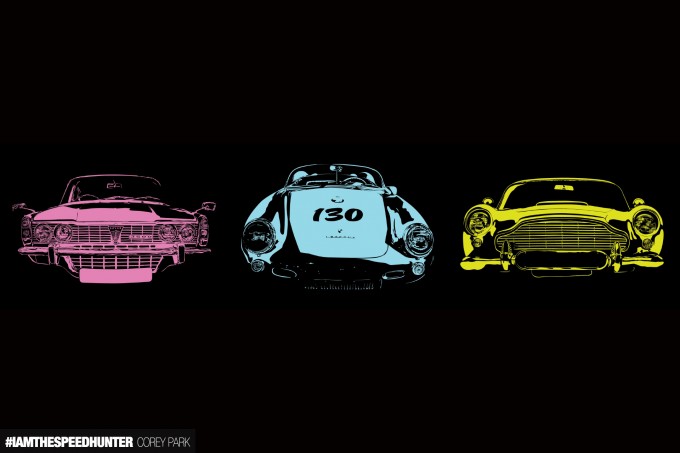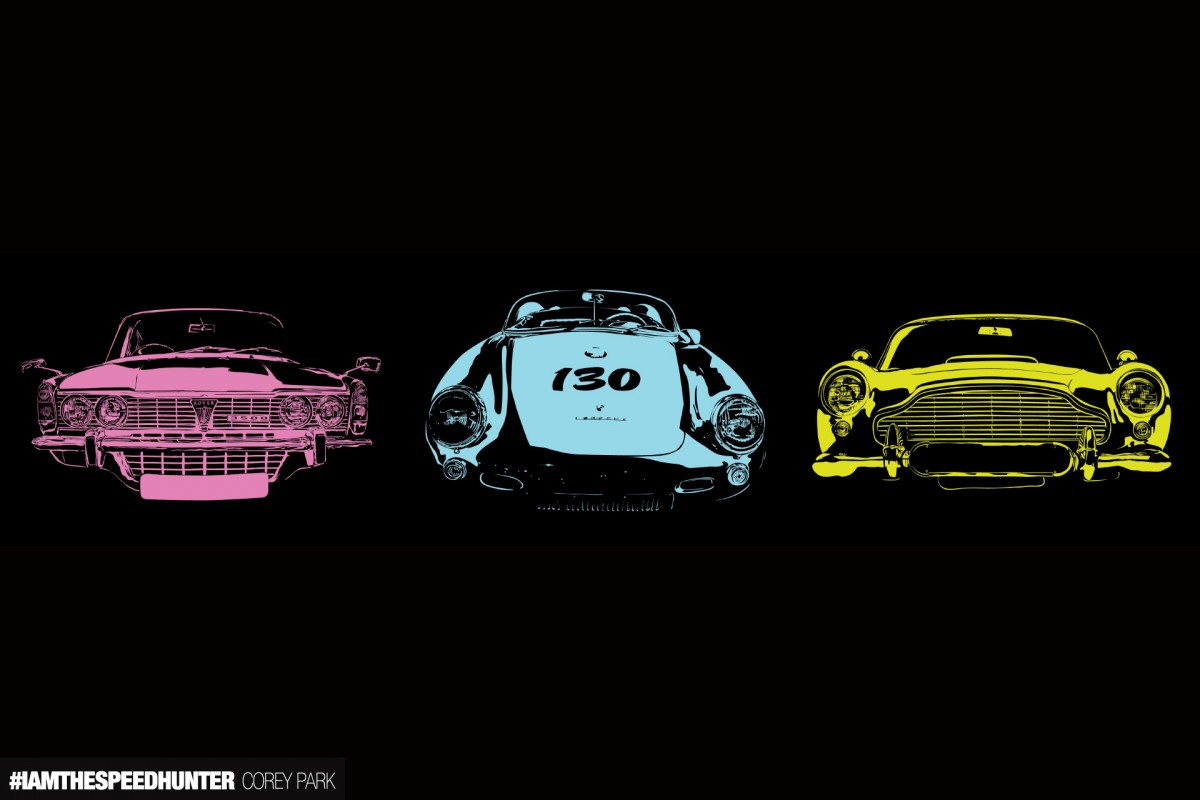 Here we've got a cool set of very distinctive duotone images created by Corey Park from South Korea. This particular style is something Corey has developed for a reason that you might not expect – Corey's colour blind, so he likes to choose simple colours where everyone can see his work the same way he can; something that's become a popular theme in his art. Corey explains, "Here we've got Grace Kelly's Rover P6 3500, James Dean's Porsche 550 Spyder and James Bond's Aston Martin DB5. I chose to illustrate these cars as they're not only beautiful, but they have something darker in common: they're all famous for the terrible accidents they went through – although with the DB5, that story was fiction of course!"
Painting by Tom Havlasek, submitted by Sean McLean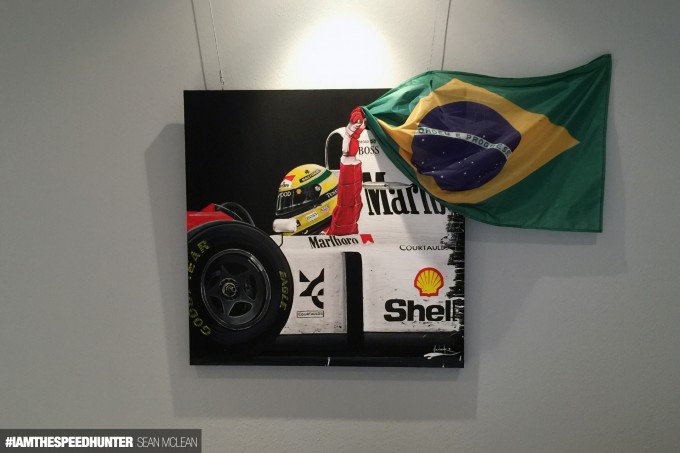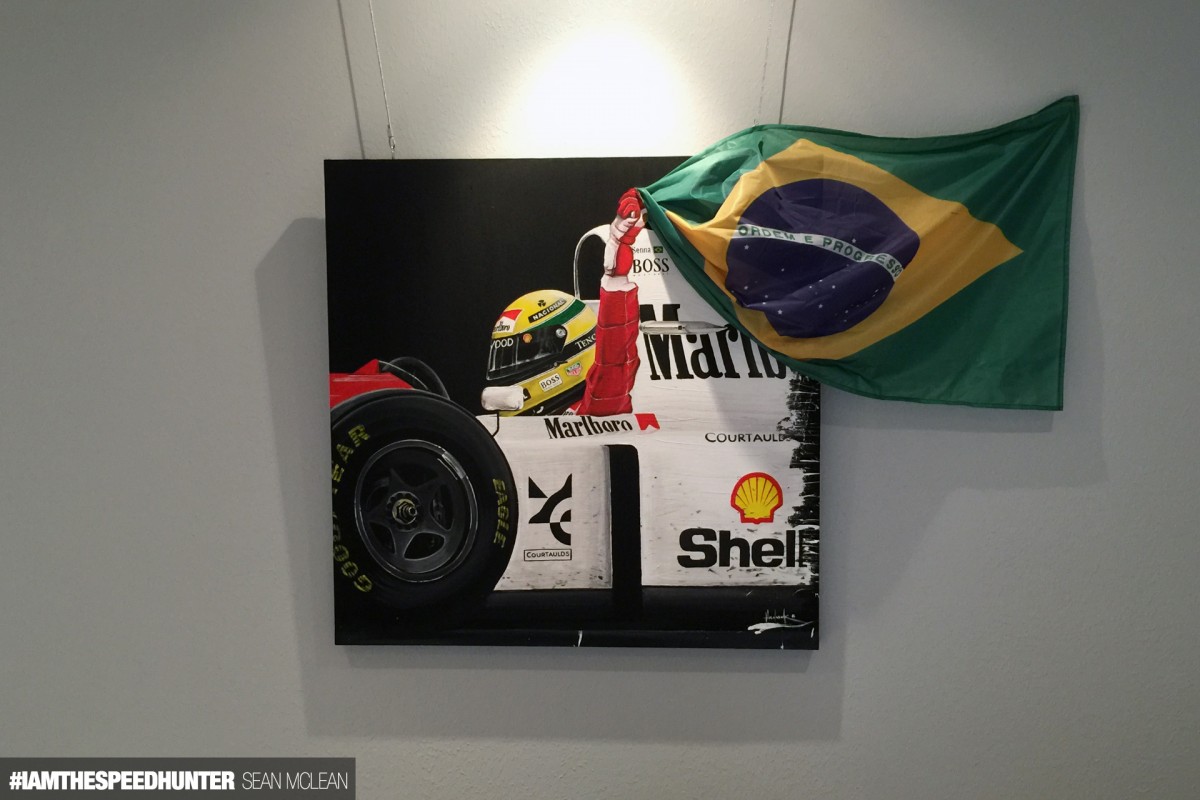 Sean McLean wrote in to us saying how he can't draw a straight line, but that he knew of someone who could. This awesome Ayrton Senna painting hangs in Sean's office, and it was produced by an artist named Tom Havlasek who creates some brilliant motorsports-inspired artworks, of which you can see more here. Thanks for the submission Sean!
Shintaro Maeda – Olathe, KS USA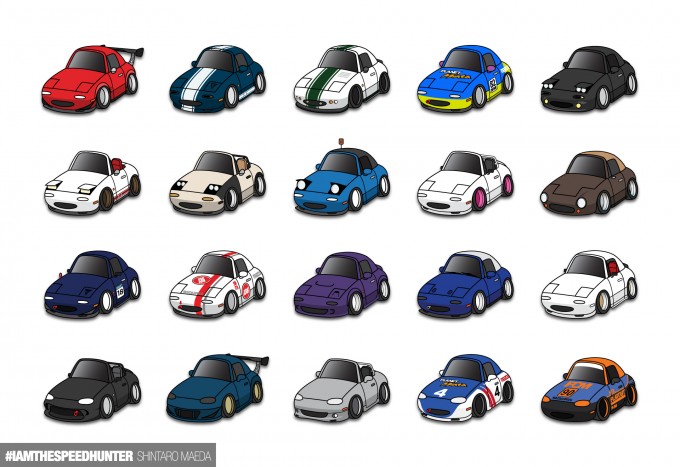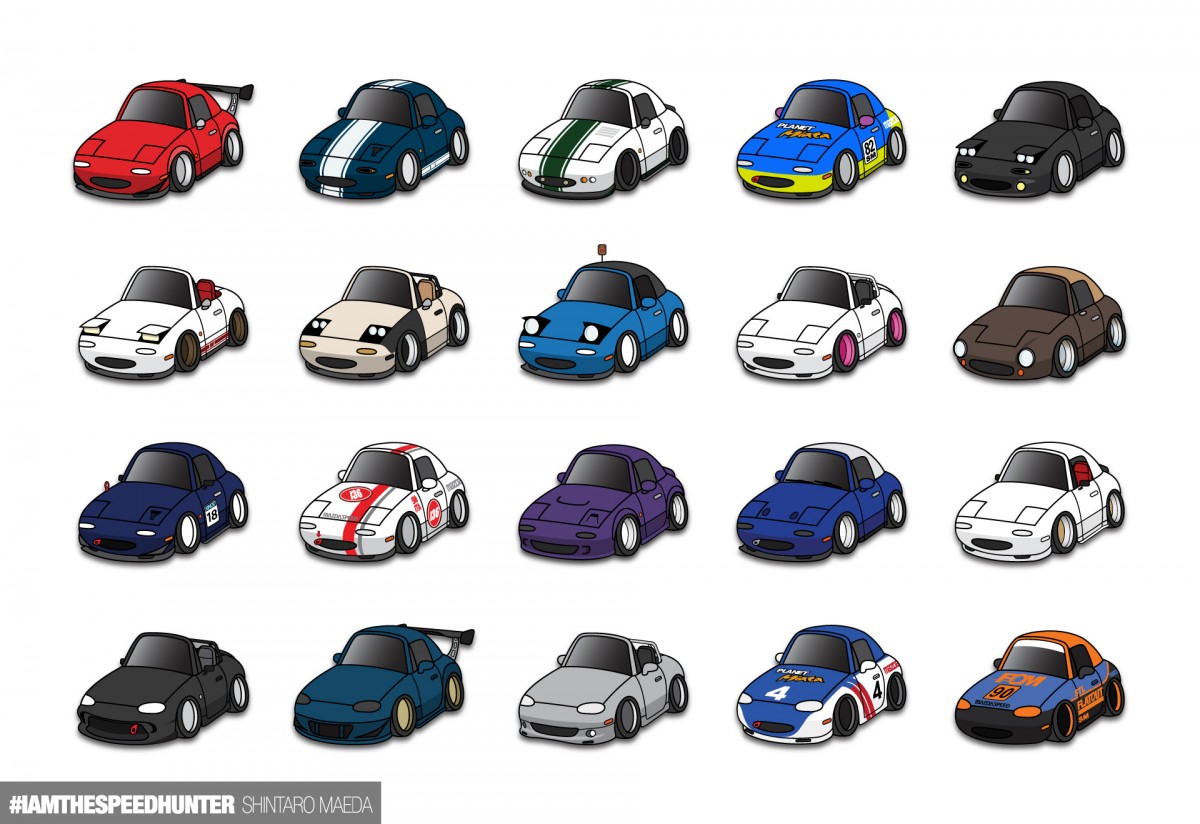 Last but not least, how cool is this assortment of modified NA and NB Mazda Miatas sent in to us by Shintaro Maeda!? Shintaro's a sponsor at MazdaRoadster.net, and he's been drawing some of the forum member's car over the past few years. As you can see, he now has quite the collection! You can check out more of Shintaro's artwork over on his Facebook page.
Once again, we'd like to extend a huge thank-you to everyone who submitted for this feature. Please note that we're not accepting any new art submissions for this theme (as we still have more piled up from the original call-out), but stay tuned for Part 4 of our Automotive Art showcase coming up in another fortnight's time!
Story curated by Taryn Croucher
Instagram: taryncroucher
Twitter: @taryncroucher
taryn@speedhunters.com
More Automotive Art theme stories on Speedhunters
More IAMTHESPEEDHUNTER stories on Speedhunters
About #IAMTHESPEEDHUNTER
We created #IAMTHESPEEDHUNTER to allow you the opportunity to share your skills and car culture experiences from around the globe with the rest of the Speedhunters audience. How do you get involved? It's simple…
Speedhunters.com – Watch out for our monthly announcements on how you can take part and submit your content to feature in one of our monthly themes!
Instagram – Follow us on Instagram at @TheSpeedhunters and tag your own car culture images with #IAMTHESPEEDHUNTER
Twitter – Follow us on Twitter at @SPEEDHUNTERS and share your tweets with the #IAMTHESPEEDHUNTER hashtag
E-Mail – If you've been to a cool event and captured some amazing images, be sure to e-mail them to us on iamthespeedhunter@speedhunters.com and tell us a little bit about the event